Meet Latin American Artisans
One of the absolute best cures for work doldrums, is to learn from someone else who does what you do - someone who has passion for their work, and a different perspective on how it should be done.
I help burnt out creative professionals meet, learn from, and spend time with Latin American artisans in their related industry.
Imagine being stuck in a deep work slump. Working 50+ hour weeks, scrambling to meet deadlines, only to end up sleep deprived and disillusioned. You need a break, but a week long beach vacation is not going to provide long-lasting positive effects in your career.
Instead, imagine meeting local artisans (artists, musicians, weavers, milliners, shoe makers, potters, dancers) who teach you their artistic process, materials, and way of life. You may suddenly remember why you love music, fashion, art, design, in the first place!
You'll have new inspiration for songs, clothing or textile designs, paintings, logo or banner artwork, etc.. When you return to work, you'll not only feel rested and refreshed, but excited to implement your new ideas. You'll come back a more inspired professional than you were before your trip.
Examples of creative industries with strong counterparts in Latin America:
Fashion
The amount of colorful, striking, and complex textiles in Latin America is astounding. Visit any market and you will be blown away by the variety and quality of the traditional dress, blankets, rugs, etc.
The opportunities to meet with weavers, dyers, knitters, milliners, and shoe makers are plentiful and rewarding.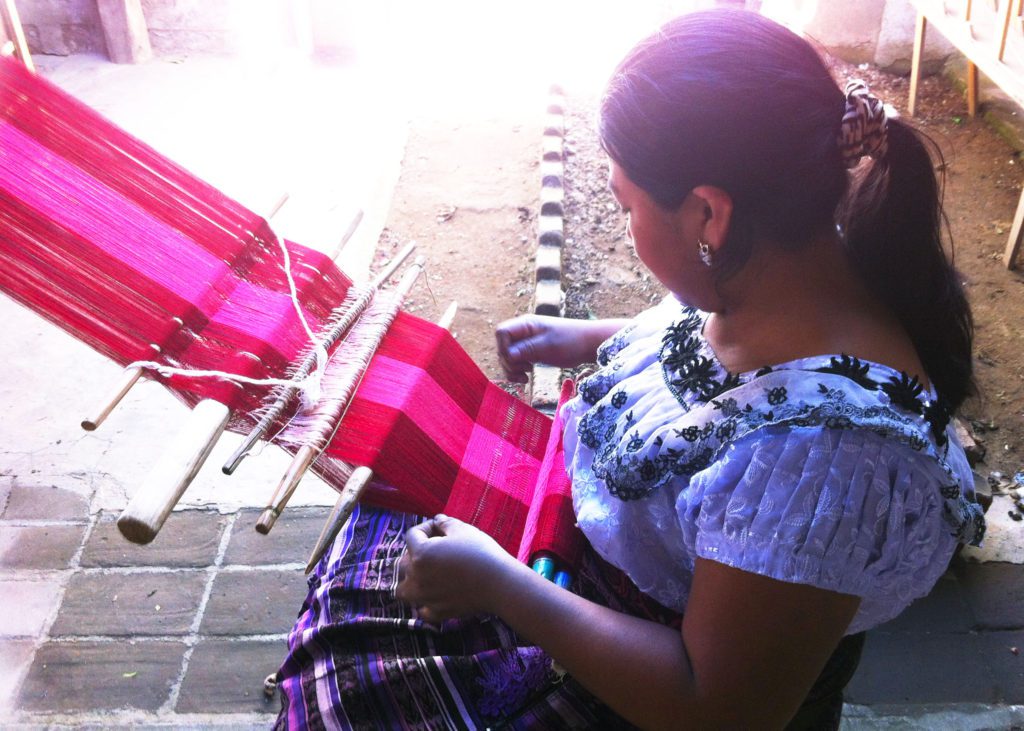 A weaver demonstrating her trade at a women's coop in San Juan la Laguna, Guatemala.
A lesson in natural dyes in Mexico.
A weaver working on his loom in Oaxaca, Mexico.
Music
Music is such a strong part of Latin American culture and is varied through each country. Meet with local guitarists, marimba players, and timbale or conga players.
Learn from traditional or modern musicians, collaborate together on songs, and watch street performances.
Art and Design
Just a walk through almost any town or city will reward your eyes with so much visual stimulation. Latin America is a colorful place, filled with colonial buildings, ornate doors, and modern murals or graffiti.
Art museums and galleries are plentiful in big cities. Artists, painters, potters, sculptors, and carvers are everywhere. See them working on their craft, learn their techniques, and become inspired for your next project.
Mural on the wall of a restaurant in Colombia.
Sculpture by Colombian artist, Fernando Botero, in Bogota, Colombia
Beaded mask on display in Mexico City, Mexico
Artisan shop selling traditional masks in Quilotoa, Ecuador.
A colorful mural in the streets of Oaxaca, Mexico
Colorful garage door in Quito, Ecuador
Creative industries are unique in that you can't simply clock in and clock out each day. You must have fresh ideas, inspiration, and ammunition for every step of every project. If you only focus on output all the time, you will hit a wall and no longer be able to create. Gathering inspiration is vital to your career.
Give yourself the gift of fresh creativity for your next big project.