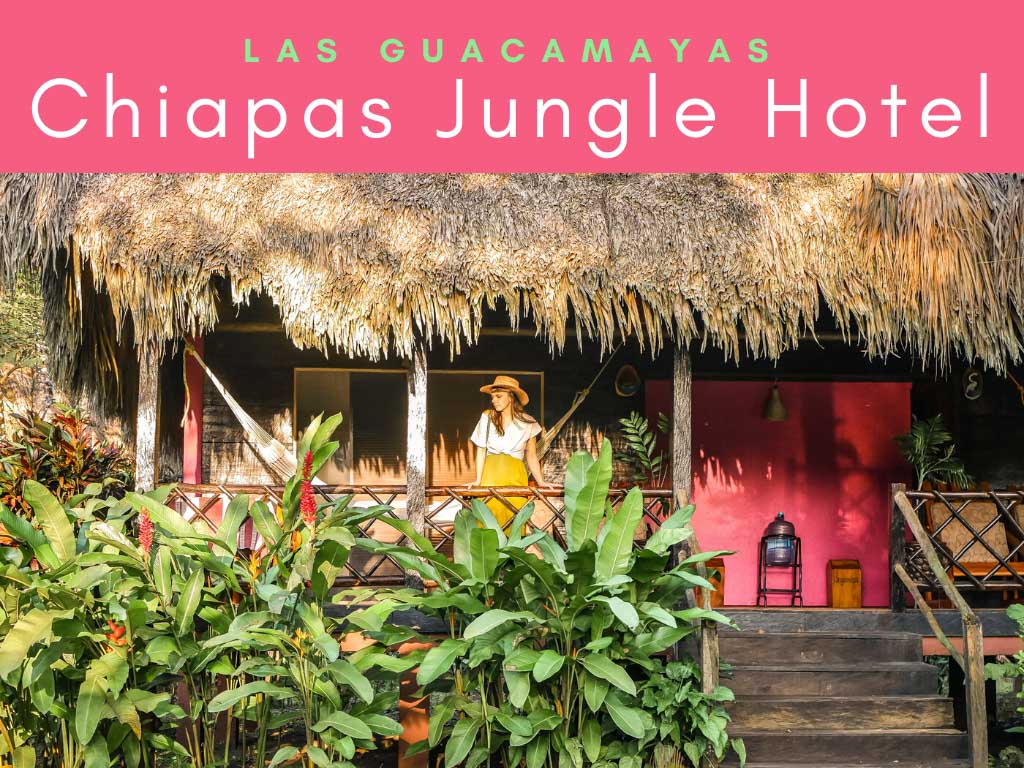 On my first trip to Chiapas, I ran out of time to make it to the Lacandona/Montes Azules Chiapas jungle and I really regretted it. So on my last trip to Chiapas, I made it a priority to make it to this remote and lush natural region. So I booked 4 days at Las Guacamayas and thoroughly enjoyed interacting with wildlife, being surrounded by untouched jungle, and disconnecting from city life.
Here's more about the eco-lodge, the Chiapas jungle region, and what you can do during your stay in hotel Las Guacamayas.
Disclosure: This post was written in partnership with Las Guacamayas. As always, every thought, opinion, and experience is my own.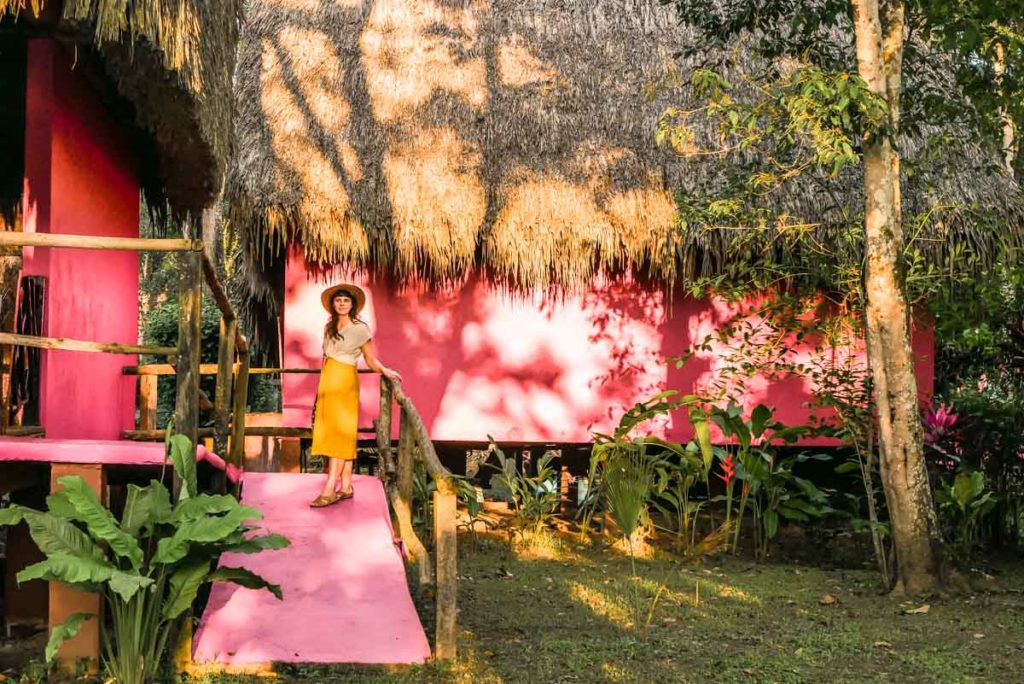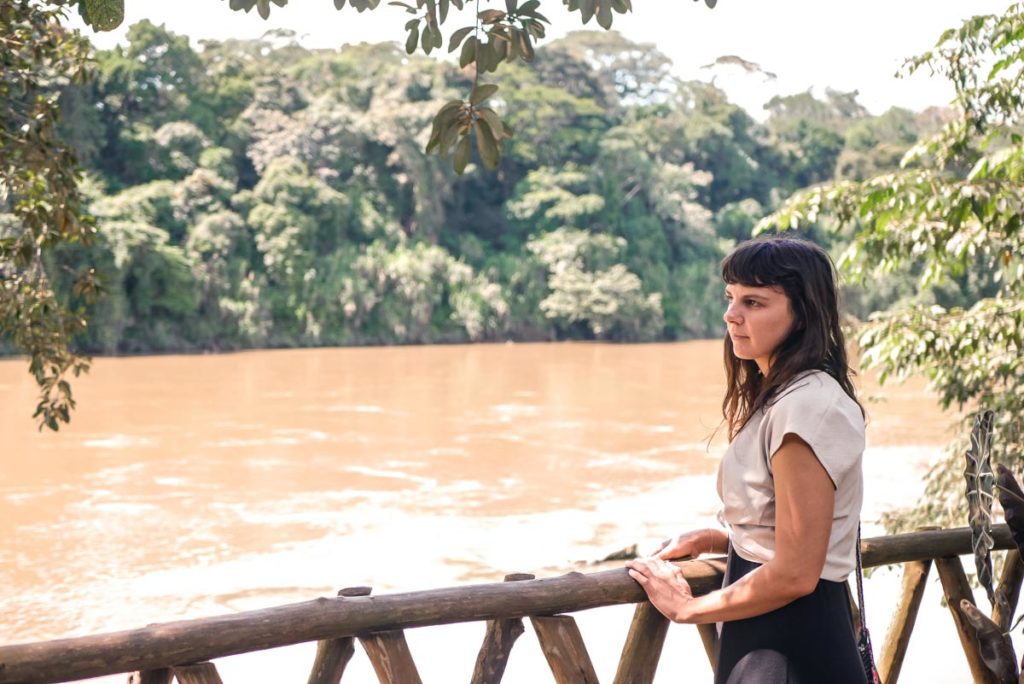 See Amazing Wildlife Every Day: Chiapas Jungle
By far, my favorite thing to do in the Chiapas jungle was check out the incredible wildlife. Everyday at hotel Las Guacamayas was filled with monkeys, exotic birds, deer, and more.
Viewing monkeys has always been very special to me. So being able to see them every single day of the stay, often multiple times a day, and sometimes right outside my cabin door, was a very cool experience. We mostly saw howler monkeys and a few spider monkeys.
When arriving at our cabin we found a baby deer on the walkway curiously walking up to us. It licked our hands and sniffed around for minutes. Growing up on the east coast of the USA, I'm so used to deer being too terrified to be within several feet of me. This was adorably shocking.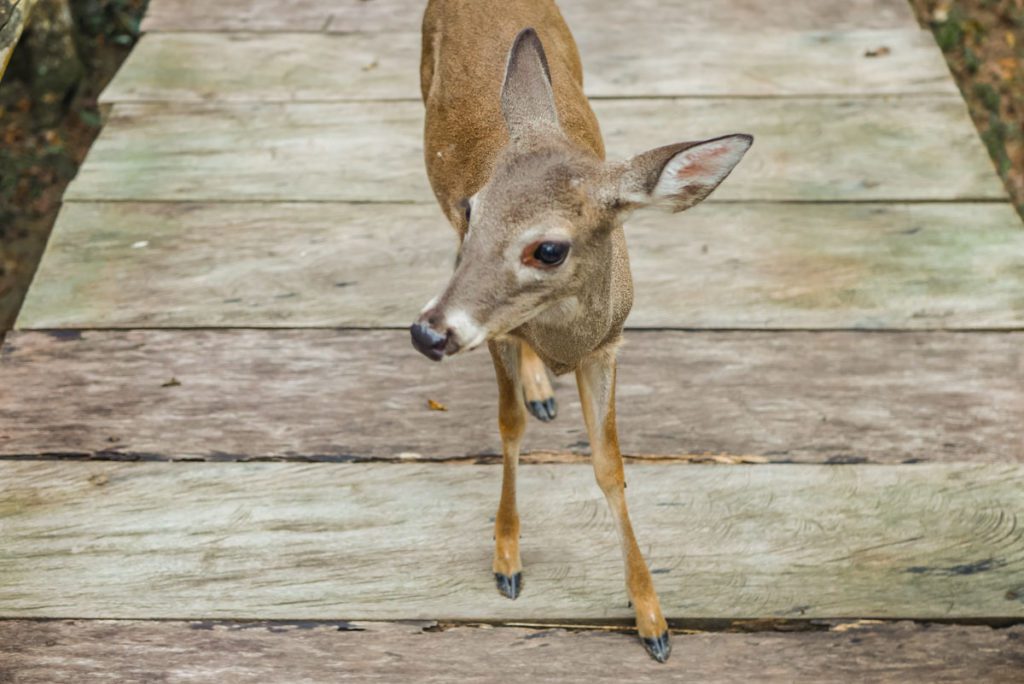 The number of birds is incredible. The guacamayas – the colorful exotic bird that the lodge is named for – are everywhere. You can see them flying in pairs and settling on tree branches. The lodge also has a little sanctuary to protect them, and there is a larger sanctuary in the adjoining community where you can observe them up close.
Besides that we saw toucans, and countless other tropical birds. This would definitely be a bird watching paradise.
When we took a guided hike nearby (more on that below) we saw tons of birds, frogs, lizards, jaguar tracks, and monkeys. We also took a boat tour and saw more amazing birds, monkeys, otters, crocodiles, and more.
There is always something so special about seeing wildlife up close, but much, much better when they are living in their natural environment, undisturbed and free.
Disconnect from City Life: Hotel Las Guacamayas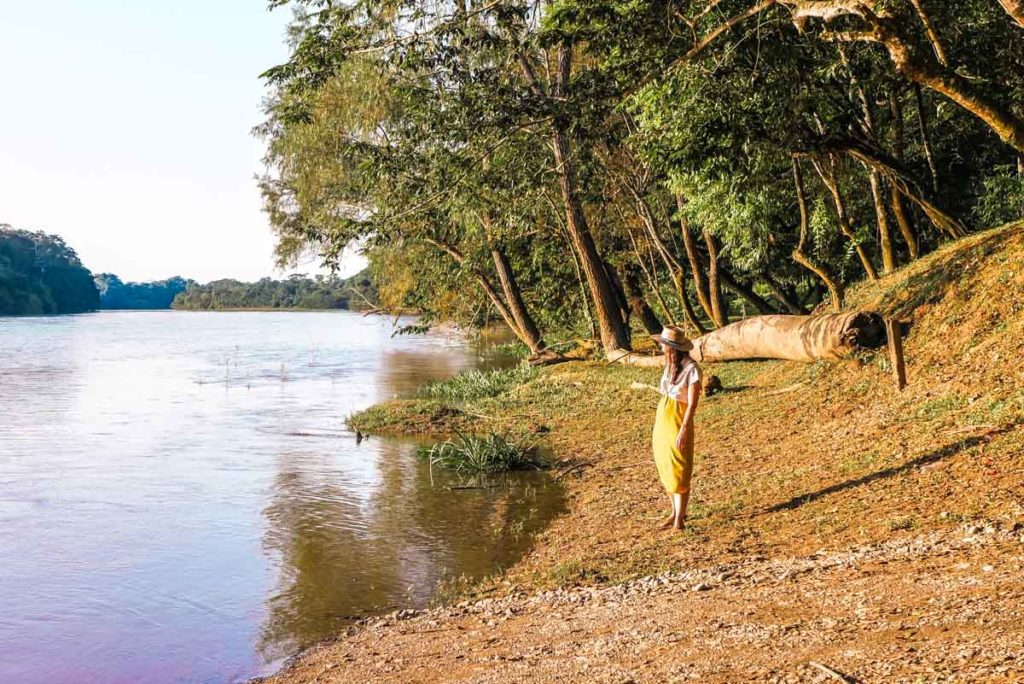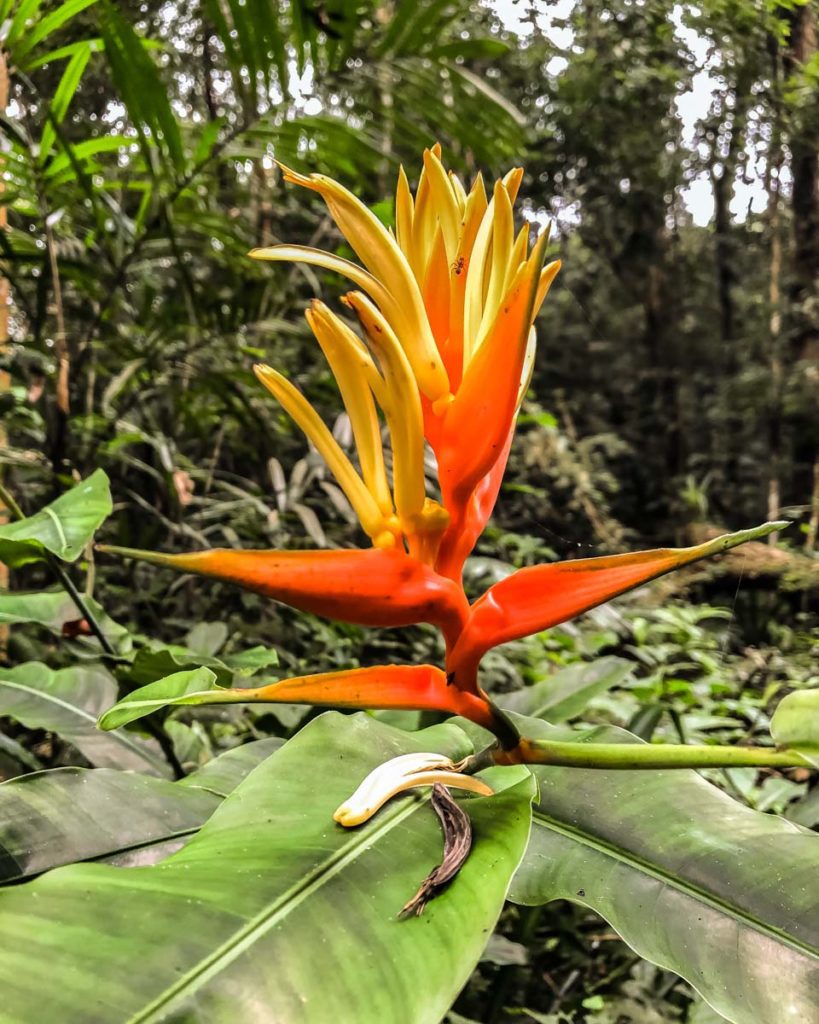 This is always something I have trouble with – letting myself take time away from technology, work, etc.. So heading to a place in the Chiapas jungle where the idea is more or less necessary is a real vacation for me.
There is access to the internet here at hotel Las Guacamayas, but only in the reception area. I'd have to plan a couple of times a day when it made sense for me to check my work email, make a social media post, etc.. And once or twice the internet just was out for a bit. I knew that going to the remote jungle, 5 hours from the closest city, would mean I'd have to prepare my workload to be go-with-the-flow these days. And it was actually great to have limited internet access for a couple days.
If you're on a real vacation (my digital nomad self has trouble making that happen), I think having this digital detox would be a great experience. I found myself after these days reaching for my phone less often, feeling more calm, and much more rested.
Be Surrounded by Lush Leafy Nature: Chiapas Jungle
There is just something about how it feels to be surrounded by huge, lush, vibrant green plants. That's what I imagine first when I think of the jungle. Banana trees, monsteras, huge textured leaves, palms of every shape and size, birds of paradise flowers, every type of fern, and just a general vibrant, neon color of green I never experience elsewhere.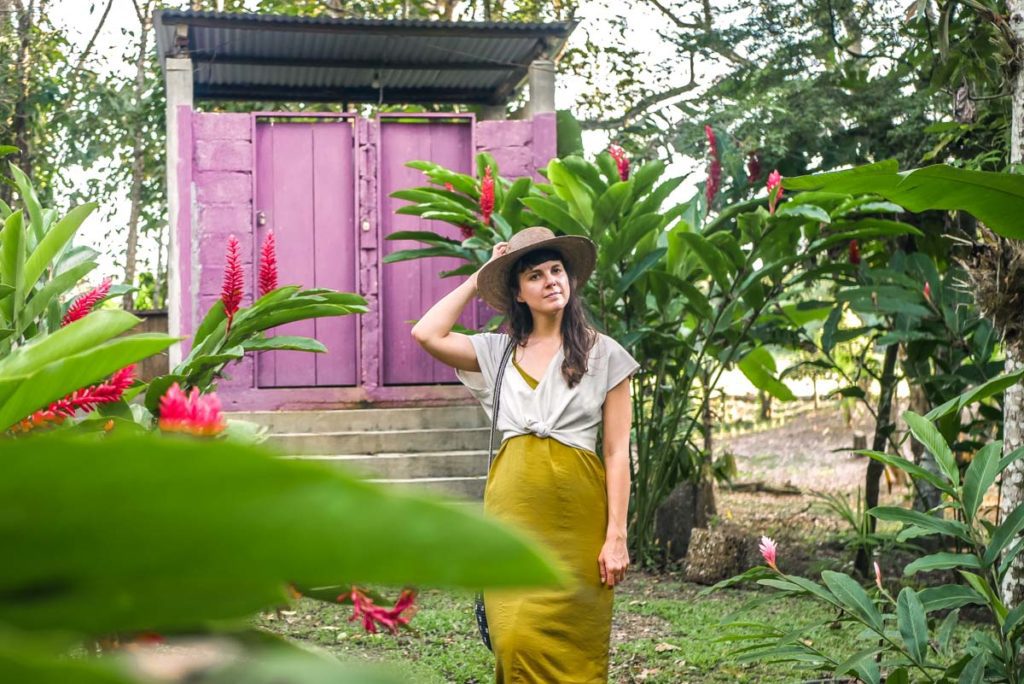 I loved every moment i got to spend walking through pathways surrounded by lush green jungle at hotel Las Guacamayas. And hiking forest paths bordered by giant jungle trees. Plus exploring the rivers that are lined with lush plant life. Like the wildlife – there is something that our human nature very strongly connects to with plant life, and it's really powerful.
Access to Eco-Tours & Activities: Hotel Las Guacamayas
We got to experience a couple of different activities and tours that hotel Las Guacamayas offers.
The first was a relaxed hike through the Chiapas jungle. It was a pretty simple 2 hour hike, but we saw and learned a lot. It felt like a great introduction to this area and the plant/wildlife. We saw jaguar footprints, interesting mushrooms of every size, shape and color, monkeys, birds, frogs, and so many leaves that looked like they were on steroids (in a good way).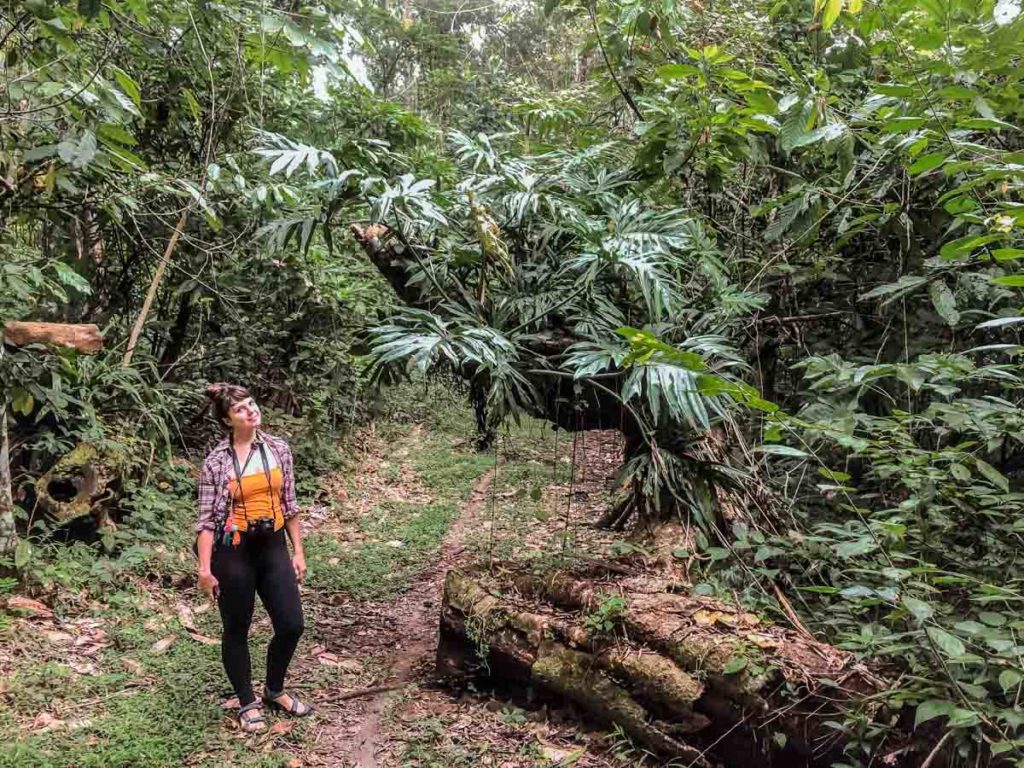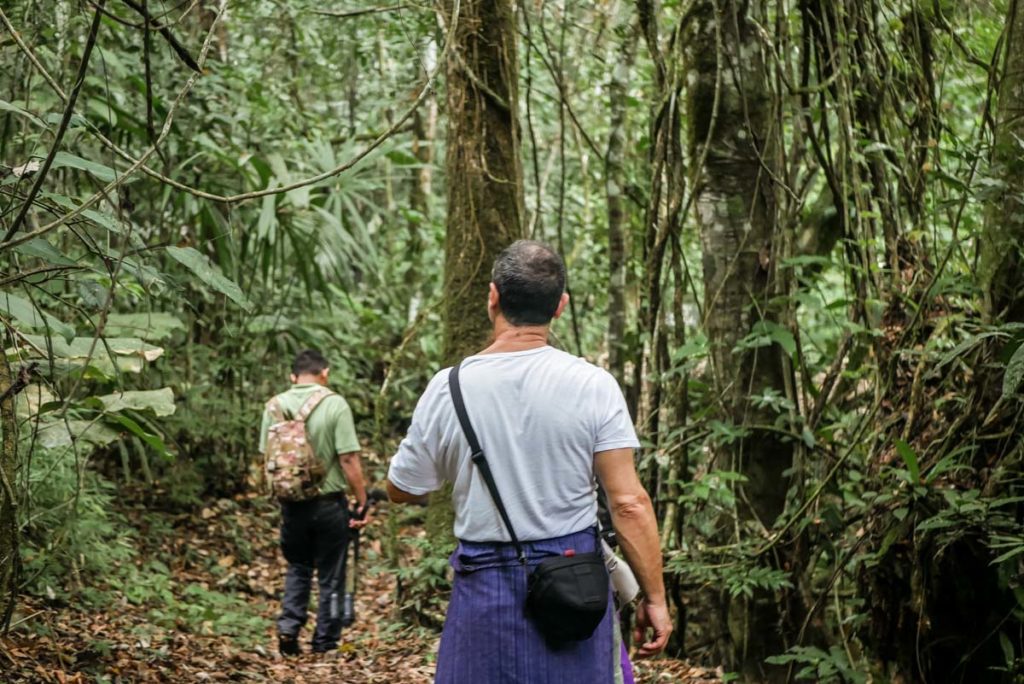 We learned about different plants and what they are used for, saw very old, huge trees, and just had the chance to marvel at how the ecosystem all works together.
Another day we took an early morning boat tour down the river. I highly recommend this tour – it was gorgeous and fascinating. We spent a few hours heading down the Lacantun river that the hotel Las Guacamayas sits in front of. We would stop occasionally when our boat captain caught site of an interesting thing to show us – like wildlife, or interesting plants and trees.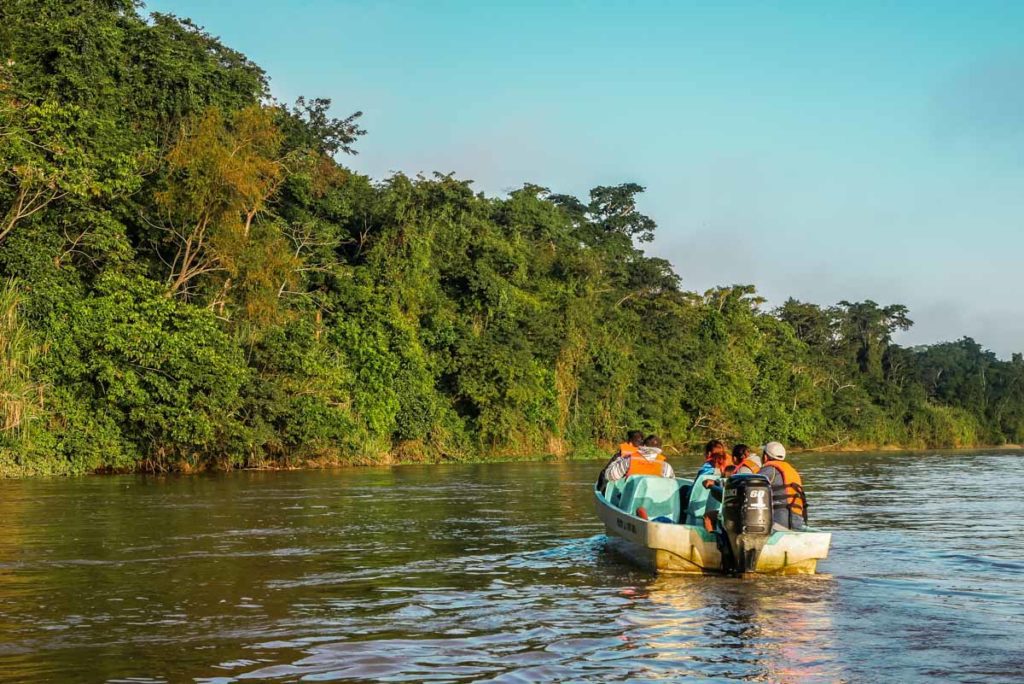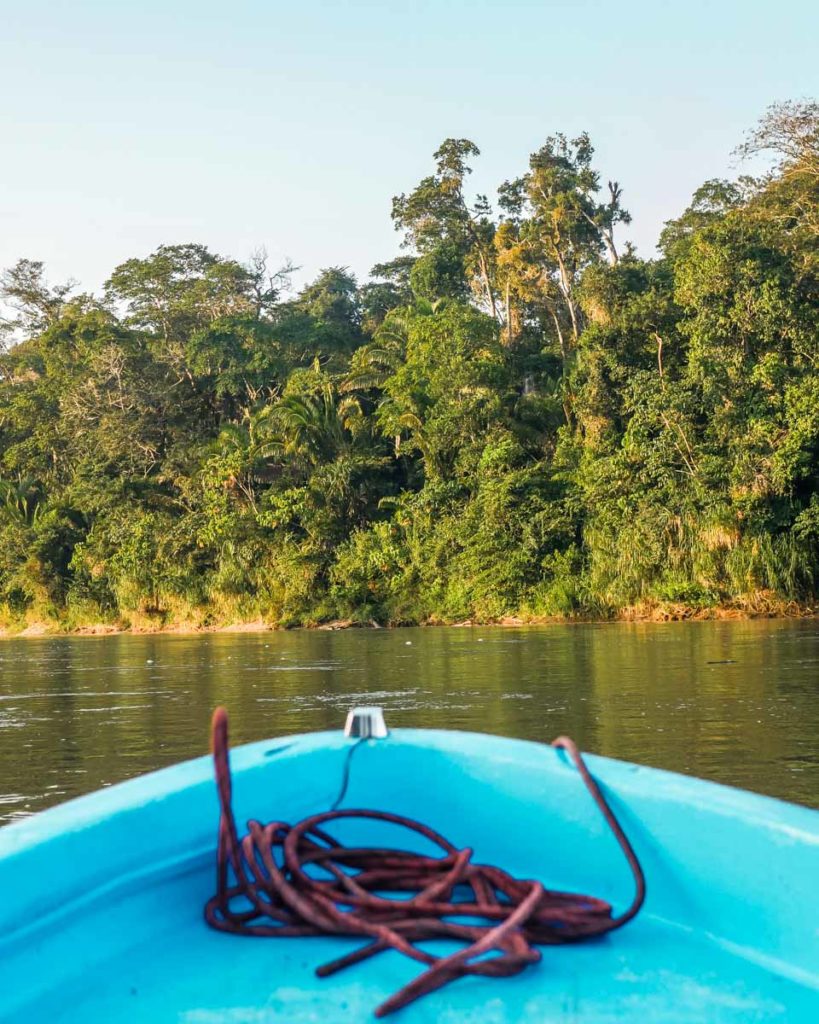 At this time of day, the calm water was gorgeous, we would see the lush jungle reflected in parts of the water, and the fog was rolling in creating a dramatic and magical setting. This is also a great time of day to see wildlife. We spotted all types of tropical birds, including guacamayas and toucans, lots of monkeys, otters, and a crocodile.
I will recommend that you bring lots of layers. Even though this is the jungle, it can be very chilly in the morning, especially cruising along the cool water.
Comfy Private Cabins with all the Amenities: Chiapas Jungle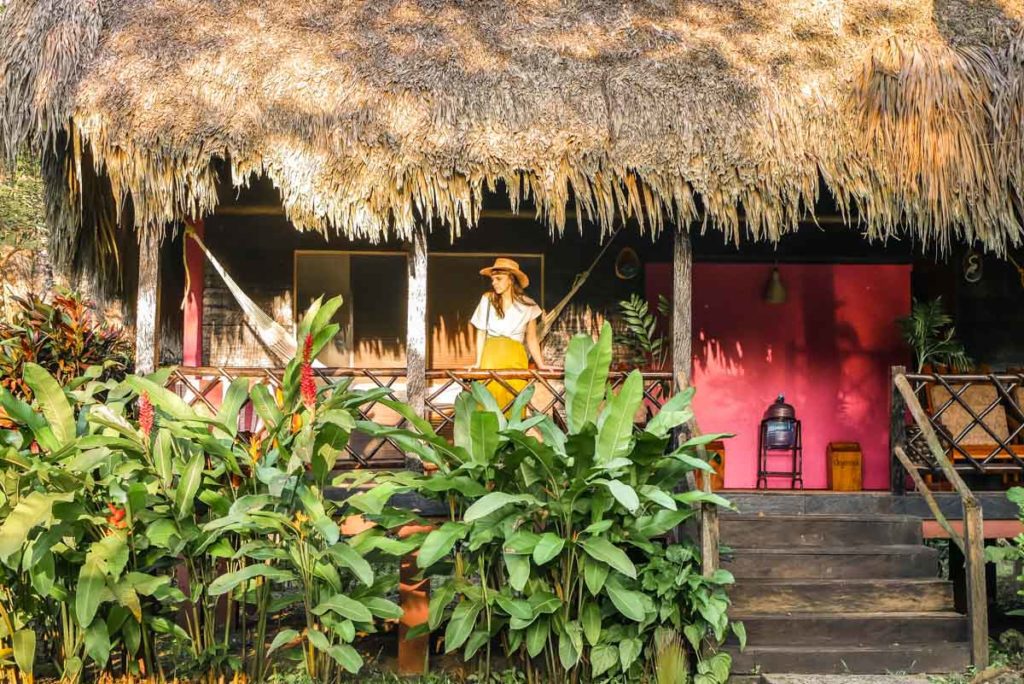 I was really pleasantly surprised to find how comfortable and well equipped the cabins were at this Chiapas jungle lodge. Our private cabin came with two double beds, a fan, lots and lots of shelf space (yay!), and a modern bathroom. There was hot water in the shower, and eco-friendly soap/shampoo in dispensers (yay for no mini plastic bottles!).
The cabin is also completely encased in a screen. This helps a lot to keep mosquitos and unwanted critters out. However it is an eco-lodge so I still recommend bringing bug repellent and remembering to apply often, especially at night. This is mostly to protect you when you are out and about.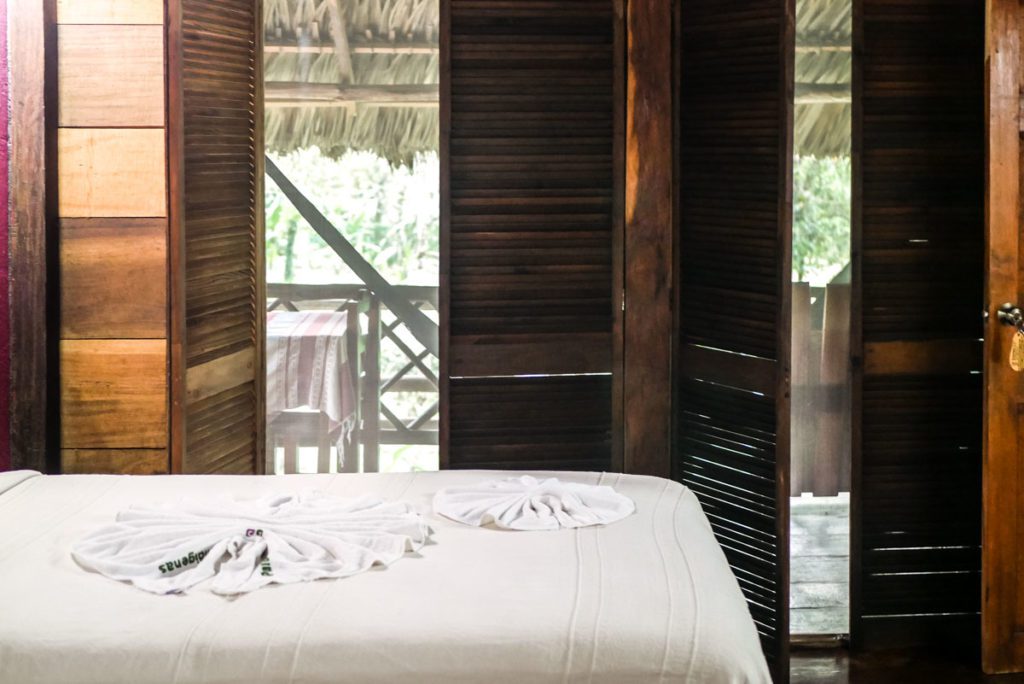 The cabins at hotel Las Guacamayas also have great ventilation. I had assumed that it would be a bit hot in the jungle, but the cross ventilation, palapa roofs, and tropical construction ensures lots of air flow. We only used the fan one night. It can also get cooler than you might think (we had a couple of quite chilly nights), so I'd definitely recommend bringing layers.
Each cabin also has a private front balcony with chairs and hammock for relaxing. They keep a filled garrafon of water in front of each cabin. I loved this because I really hate having to chase and search for drinking water during my hotel stays. When they leave you a tiny bottle or jug, I always need to ask for much more. This was great to have fresh water right outside to refill anytime of day or night.
On-site Restaurant with Tasty Food: Hotel Las Guacamayas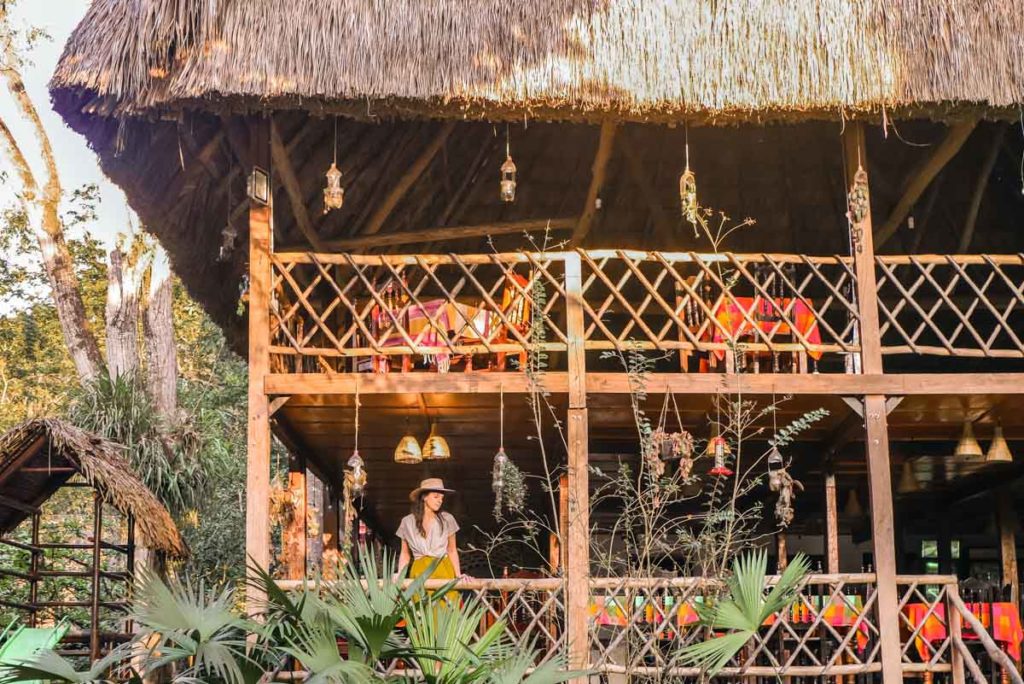 I'm often suspicious of hotel restaurants, but was really happy to find that the on-site restaurant at hotel Las Guacamayas is really good. We ate here for almost every meal for 4 days, and everything was tasty, full of flavor and fresh. There is also a big enough variety that you won't get bored after a few days.
Helpful Staff and Knowledgeable Guides: Chiapas Jungle
Everyone at hotel Las Guacamayas was so helpful when we needed something or had a question. They quickly and easily booked us on tours, and gave us info on how to arrive and get away by public transportation. And when it was time to leave, they took us with our luggage from the hotel to the main street to catch the colectivo.
Our guides on both the hike and the boat tour were friendly and super knowledgeable. We learned a lot from them and really enjoyed their company and helpful attitude.
How to Arrive by Public Transport: Hotel Las Guacamayas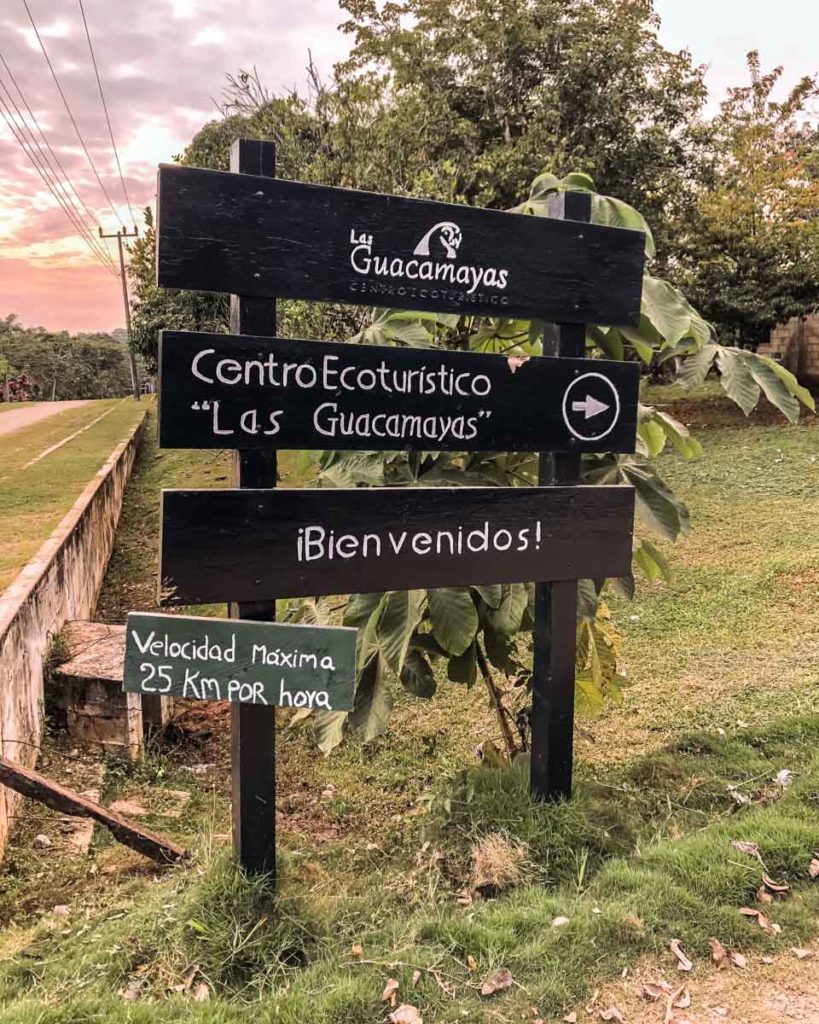 There is very little information online about how to get around the Lacandona Chiapas jungle without a car, so I want to provide a few directions here.
From San Cristobal de las Casas, take a colectivo to Comitan (Your hotel will tell you where to catch these colectivos). This takes about 2 hours. From that station, you will walk just a few meters continuing south along the highway to a bus stop in front of a gas station. Here you can catch the colectivo to Zamora Pico de Oro. Tell the driver you are getting off at hotel Las Guacamayas, and they will drop you at the road that leads into the lodge. This part of the journey takes about 5 hours. It's just about a kilometer walk from there.
Final Thoughts: Chiapas Jungle Hotel Las Guacamayas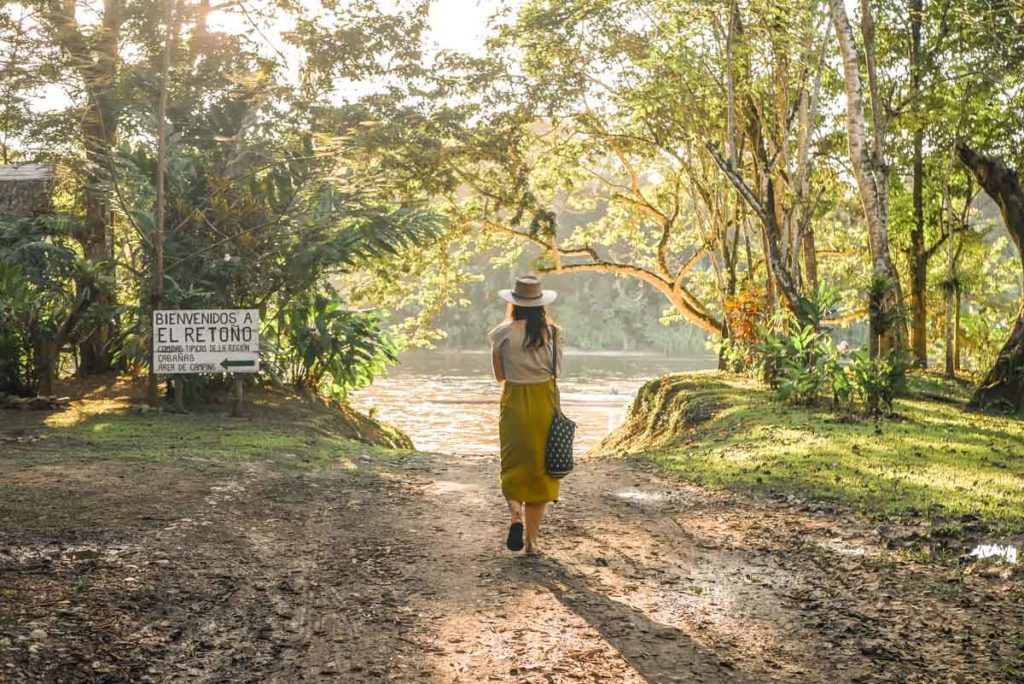 This was one of the most unique stays I've ever had in Mexico. It felt like I was dropped in the middle of the remote jungle in another country. Nature-wise, it reminded me of certain parts of Central America, but culture-wise it still felt like Mexico.
Seeing the incredible and varied wildlife up close throughout every day was my favorite part. I love seeing these amazing animals in their natural habitat and learning about them. And being surrounded by lush leafy greens always makes me feel closer to nature.
Hotel Las Guacamayas is a great place to base yourself to explore this remote, untouched, special part of Mexico. I highly recommend getting off the beaten path and taking at least a couple days to immerse yourself in this Chiapas jungle region. It felt much more natural, authentic and vibrant than my visit to Palenque last year.
Hotel: Las Guacamayas
Social Media: Instagram, Facebook, Twitter.
Best For: Adventurous and nature loving travelers. Well equipped for families and groups.
Price: $1635 MXN (about $82.5 USD) and up for private rooms, depending on season and room. Basic rooms with shared bathrooms and dorm rooms from 330-765 MXN. Check booking link below for current rates.
Includes: Drinking water, eco-friendly toiletries, wifi in the reception only, on-site restaurant, access to tours and activities.
Location: Sociedad Cooperativa Ara Macao de R.L. de C.V., Marques de Comillas, Chiapas, Mexico
Book Here: Reservations
---
For other Chiapas travel tips, check out my Chiapas post here. And if you are headed onward to Guatamala, Oaxaca, or elsewhere in Mexico, I have lots more posts to help you with your planning!
Pin it for Later!