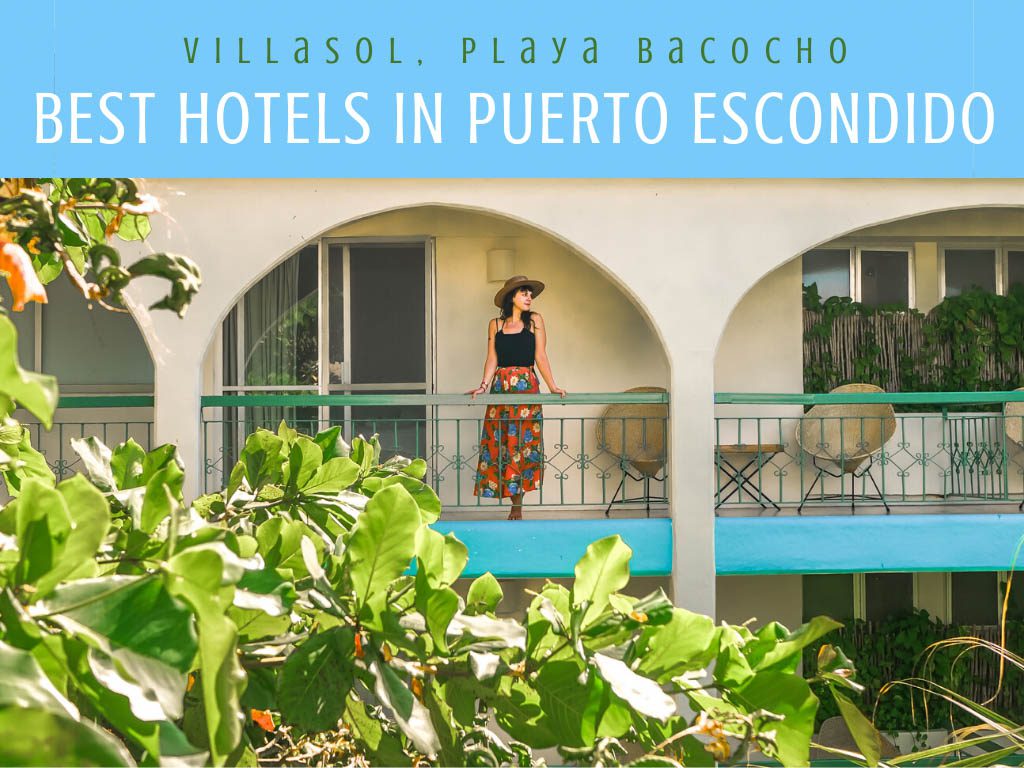 One thing I love about the Oaxaca coast is that there are so many different types of beaches and hotels, you can find something perfect for every type of traveler. Villasol is one of the overall best hotels in Puerto Escondido because it fits the needs of so many – families, groups, couples, and more. This hotel and beach club is located on Playa Bacocho, Puerto Escondido, one of the prettiest and quietest beaches in the area. Add 2 pools, a restaurant, a bakery, and a gorgeous beach club and you have a whole vacation wrapped up for you.
Disclosure: This post was written in partnership with Hotel Villasol. As always, every thought, opinion, and experience is my own.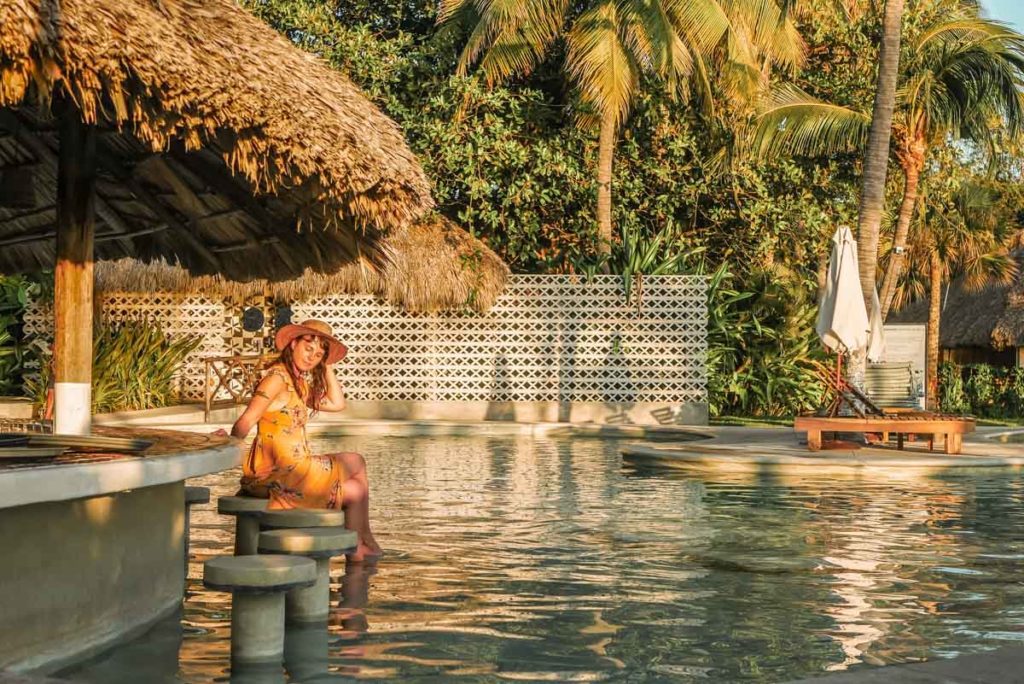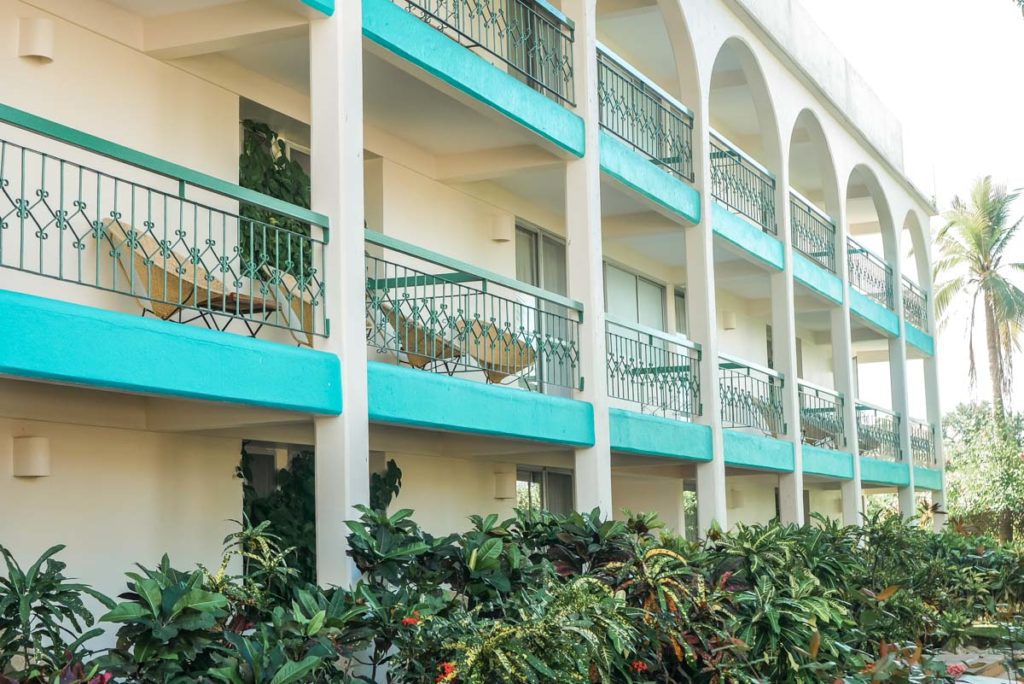 And if you are looking for the most unique airbnb in Puerto Escondido, scroll to the end of the post to read about the cutest airstream next to Villasol that gives its guests access to the Villasol beach club.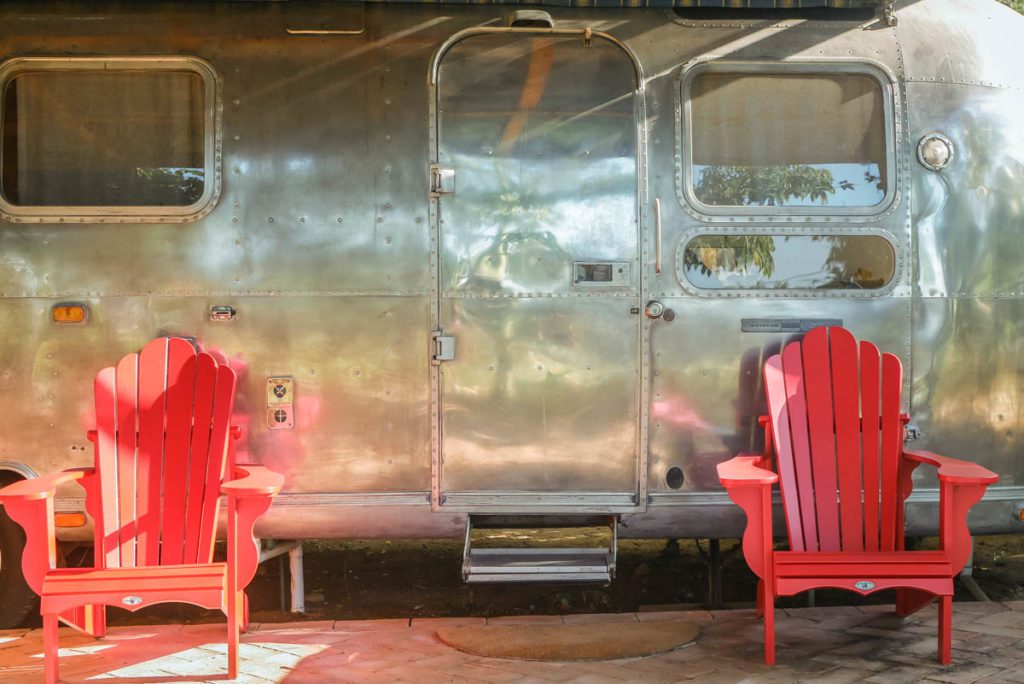 Beautiful Beach Club: Playa Bacocho, Puerto Escondido
I think my favorite part about my 4 day stay at Villasol was heading to the beautiful beach club everyday. The hotel is located up on a hill, and the beach club is just a 5 minute drive down to the sand in the free hotel shuttle (or a 10 minute walk if you prefer). Unlimited use of the club is included in your stay, which makes Villasol one of the best hotels in Puerto Escondido. Many other beach clubs charge a fee to rent the beach chairs, or require a minimum spend.
The Villasol Beach Club has a huge beautiful pool with swim up bar, a second smaller pool, tennis courts, a ping pong table, and a restaurant that overlooks the ocean and Playa Bacocho, Puerto Escondido.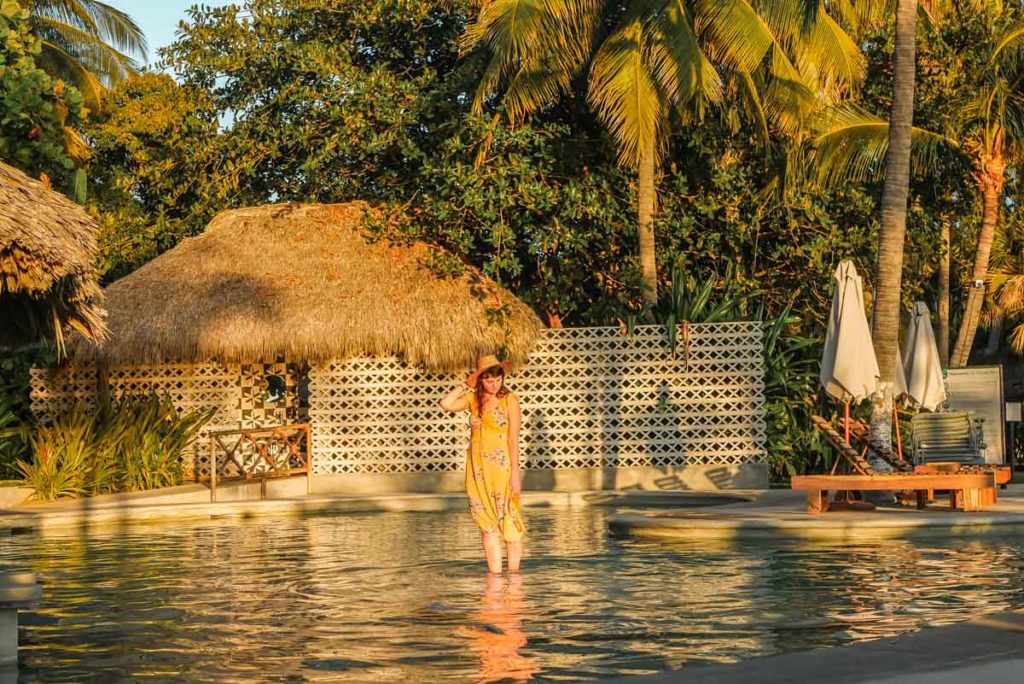 The pool is surrounded by comfy lounge chairs, and the bar offers two happy hours a day so you can sip a pina colada as you cool off in the water. Tall palm trees and leafy tropical plants line the grounds, and the buildings have natural thatched roofs.
The beach club's restaurant, Pez Gallo, has a variety of tasty options like ceviche, fish tacos, and fresh cocktails.
The club also does movie nights on the beach every Wednesday during the winter season. We watched the 80s movie Splash during our stay and it was so fun to put my feet in the sand and watch the movie as the stars twinkled above.
Two Pools: Best Hotels in Puerto Escondido
When I am at the beach, I want access to the water as often as possible. I love staying at a hotel with a pool, so what's better than a hotel with a pool? A hotel with two pools. 🙂
Actually, Villasol has 3 pools – 1 large pool, with a separate section for children, at the hotel, and the large beach club pool, as well as the smaller beach club pool. You can spend the afternoon swimming in the beach club pool gazing at the sea, and the take an early morning or night time dip in the hotel pool.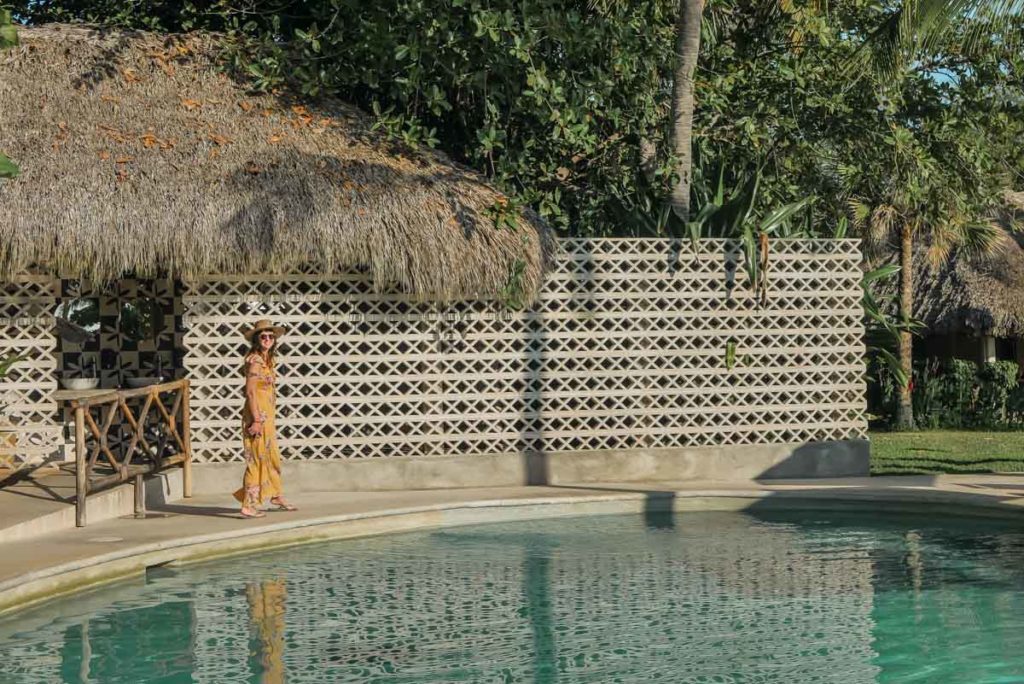 The pools are especially nice to have as much of the Oaxaca coast isn't swimmable, including Playa Bacocho, Puerto Escondido. However, Villasol is right next door to my favorite (swimmable) beach on the whole coast, Playa Carrizalillo (more on that below).
Proximity to Playa Carrizalillo: Best Hotels in Puerto Escondido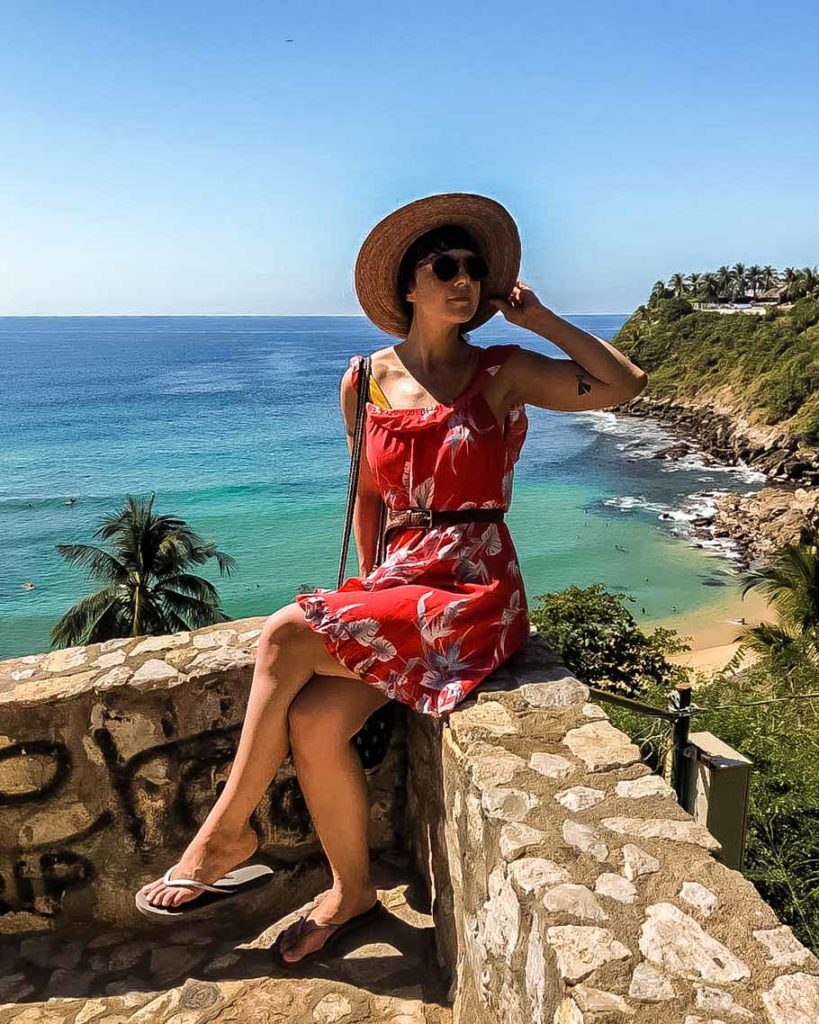 In my opinion, the most beautiful beach on the Oaxaca coast is Playa Carrizalillo. This little cove beach offers a stunning view as you arrive from above, and gentle turquoise waves are perfect for a swim.
This beach is only a 15 minute walk from Villasol, or a 5 minute taxi ride. We made the easy walk over twice during our stay, and strolled over a couple times at night to the restaurant strip for dinner and drinks. You can also easily take a taxi to any of the other Puerto Escondido beaches including Zicatela (15 minutes) or La Punta (17 minutes). Villasol is one of the best hotels in Puerto Escondido to be in a quiet peaceful location, and still have easy access to all the different beaches, communities, and nightlife in Puerto.
Vintage Decor + Vibe: Playa Bacocho, Puerto Escondido
I love the great retro beach vibe at Villasol. Think the classic 1950s & 60s beach movies in the US, but remodeled buildings, fresh paint, and well cared for pools and patios. Add in pretty retro style furnishings, and graphic vintage-style art, and the spaces have a charming and cool design vibe.
On-site Restaurant: Best Hotels in Puerto Escondido
The convenience of having a restaurant just steps from your room is so relaxing and makes Vilasol one of the best hotels in Puerto Escondido. You can choose to add breakfast as a package when you reserve your room, or purchase it a la carte. We had breakfast here almost every day and it was fresh and tasty. I especially liked the chilaquiles and the sopes.
You can also eat lunch and dinner here, so this is an incredibly convenient option if you're staying in Playa Bacocho, Puerto Escondido. You don't have to worry about heading out into other parts of town unless you want to. You could choose to just relax at Villasol during your whole stay if you prefer, which might be a nice option for families with young children or groups vacationing together.
Off-the-Beaten Path Beach: Playa Bacocho, Puerto Escondido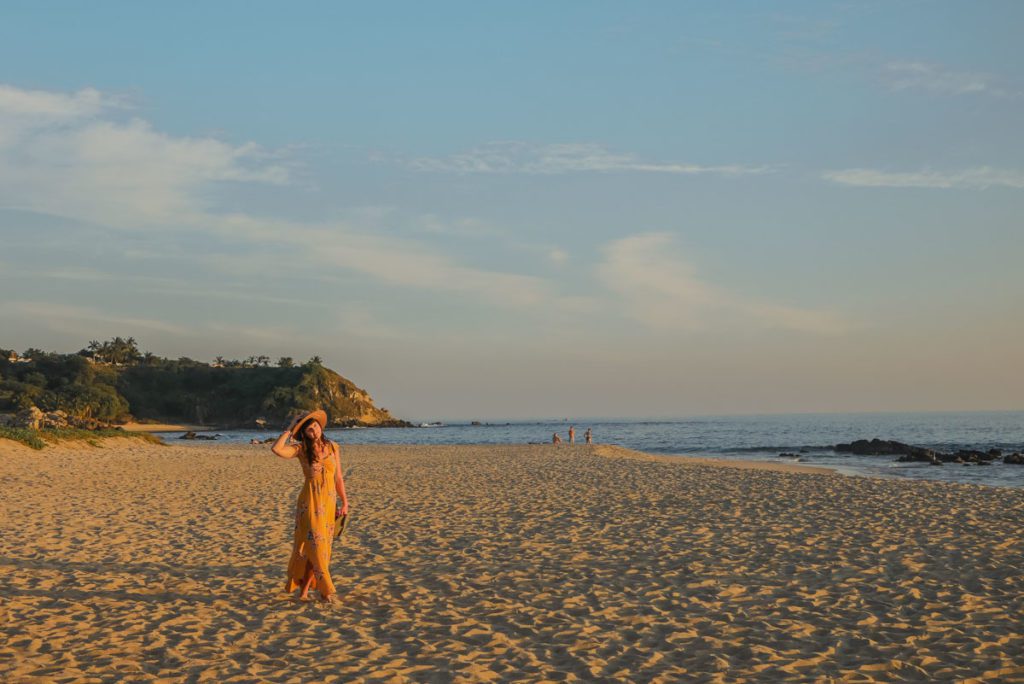 There are so many beaches in the town of Puerto and they each have their own personality and vibe. Playa Bacocho, Puerto Escondido is one that often gets skipped over, but it's especially beautiful and peaceful.
The beach here isn't swimmable (which is also the case in a couple other Puerto beaches like Zicatela), but it's dramatic and picturesque. There are a cliff and some rock formations on the southeast side. And the rest of the beach is a wide open stretch of yellow sand with steady blue waves.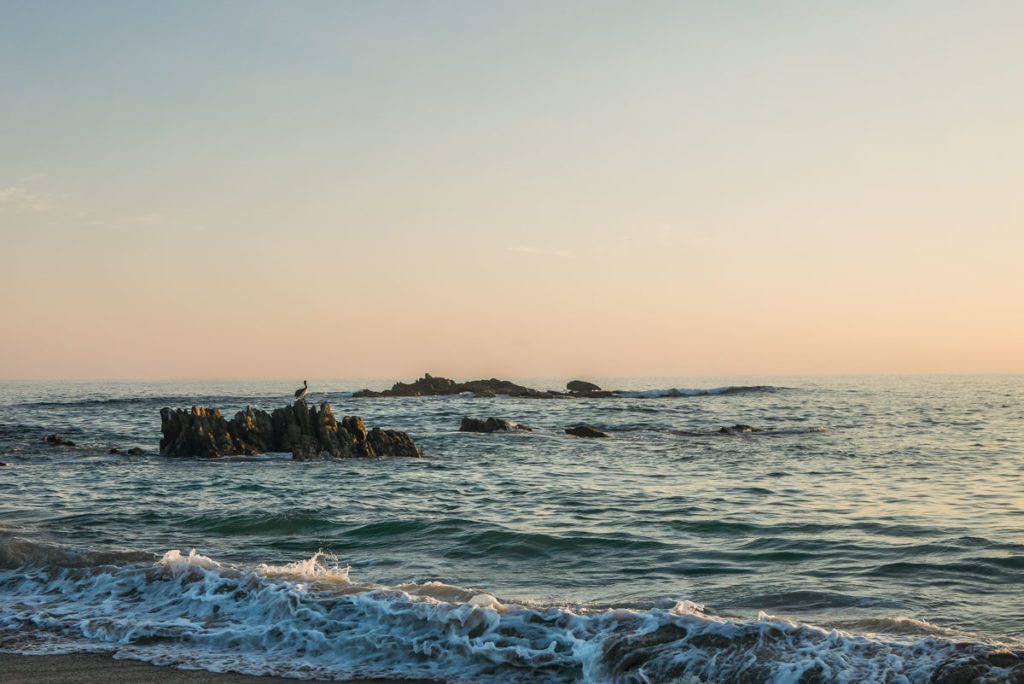 There is another small neighboring beach called Playa Coral that you can walk to during low-tide. I didn't get a chance to visit it this time, but have heard it's very pretty.
Another great thing about Playa Bacocho is that they do a baby turtle release here every night. This activity is very special to take part in or simply watch. This release is put on by Vive Mar, an organization that is trying to reverse the effects of declining sea turtle populations in this area.
Comfortable Rooms With All You Could Need: Playa Bacocho, Puerto Escondido
The hotel rooms at Villasol have everything you could need for a relaxing and comfortable vacation. The in-room air conditioning is powerful and comfortable, the huge king bed is comfy, and the bathroom comes equipped with free drinking water, toiletries, and a hair dryer.
There are a table and chairs in the room which is helpful if you need to work or use your laptop. And the closet is large and includes space to hang and fold clothing, and open your suitcase (I hate when hotels don't have any space to store your belongings!).
My favorite part of my room was the balcony with a view of the lush leafy grounds, pool below, and a glimpse of the ocean. The balcony has cute natural fiber chairs, and plenty of space to spread out. I even did yoga out here one morning, and had breakfast here (room service) another morning.
El Capitan Airstream – The Most Unique Airbnb in Puerto Escondido
The last night of our trip, we stayed in the super unique and stylish El Capitan airstream. (If you haven't used Airbnb before, you can get up to $55 off your first bookings here.) This vintage airstream is right next door to Villasol hotel and is on a property with lots of lush tropical plants.
The airstream has been remodeled and outfitted to be super comfy. The whole back is filled with a giant king size bed. There is also a sink, a sofa, and a desk (yay for being able to comfortably work from my laptop!).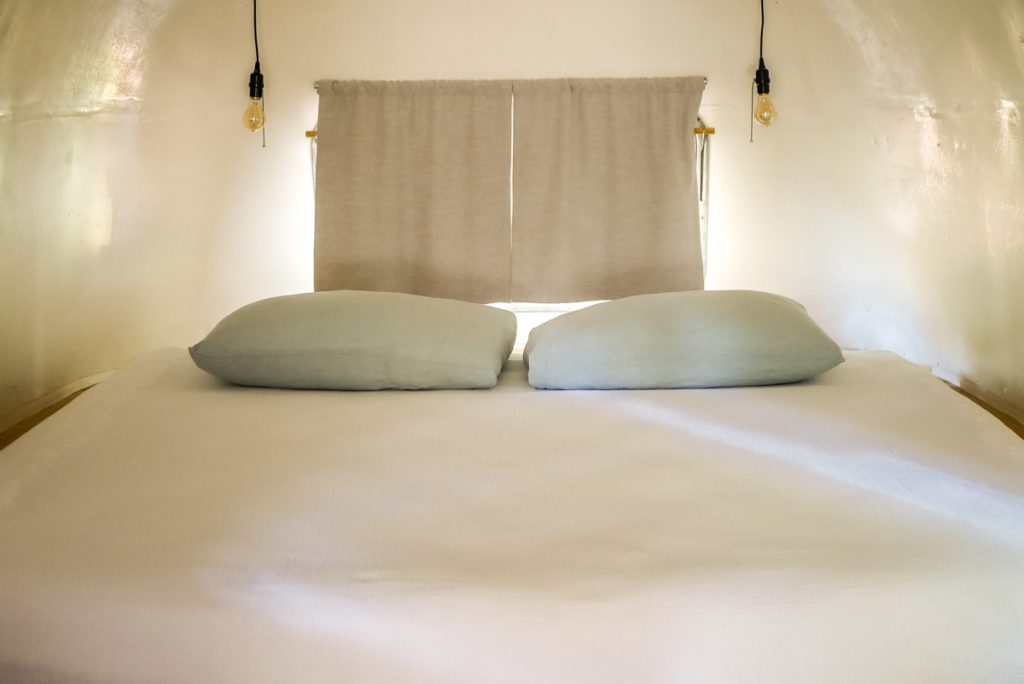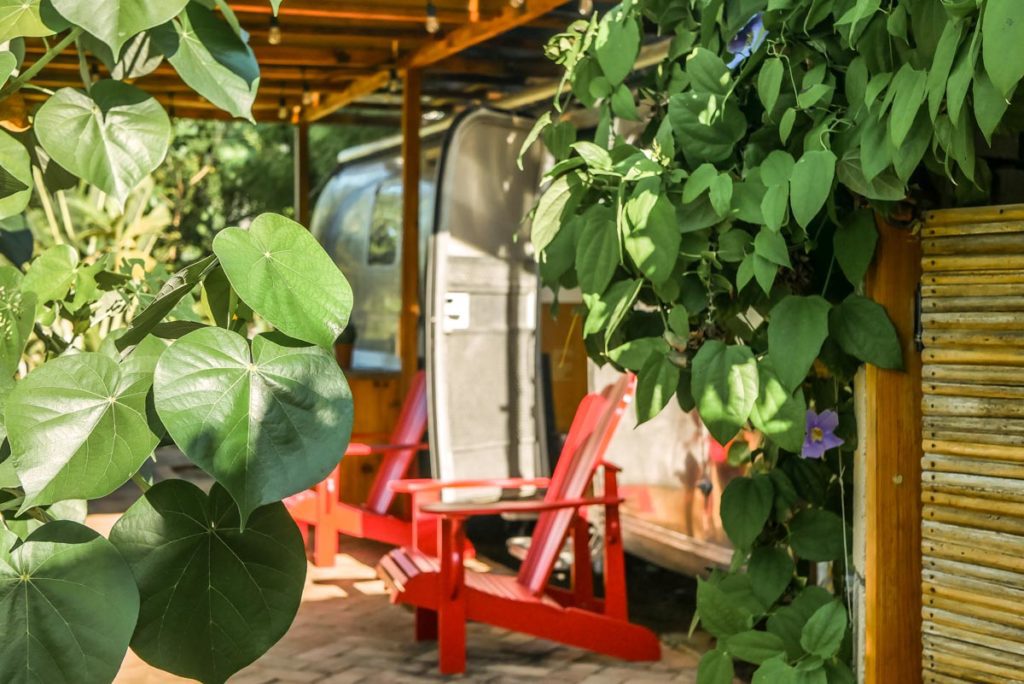 Since this is a stationary airstream, the inside is very roomy as they built a kitchen and bathroom outside.
One side of the airstream has an outdoor kitchen with everything you would need to cook – a stove, drinking water, pans, utensils, etc..
And the outdoor bathroom is very beautiful – two round brick structures – one with a shower and one with a toilet, and an outdoor sink.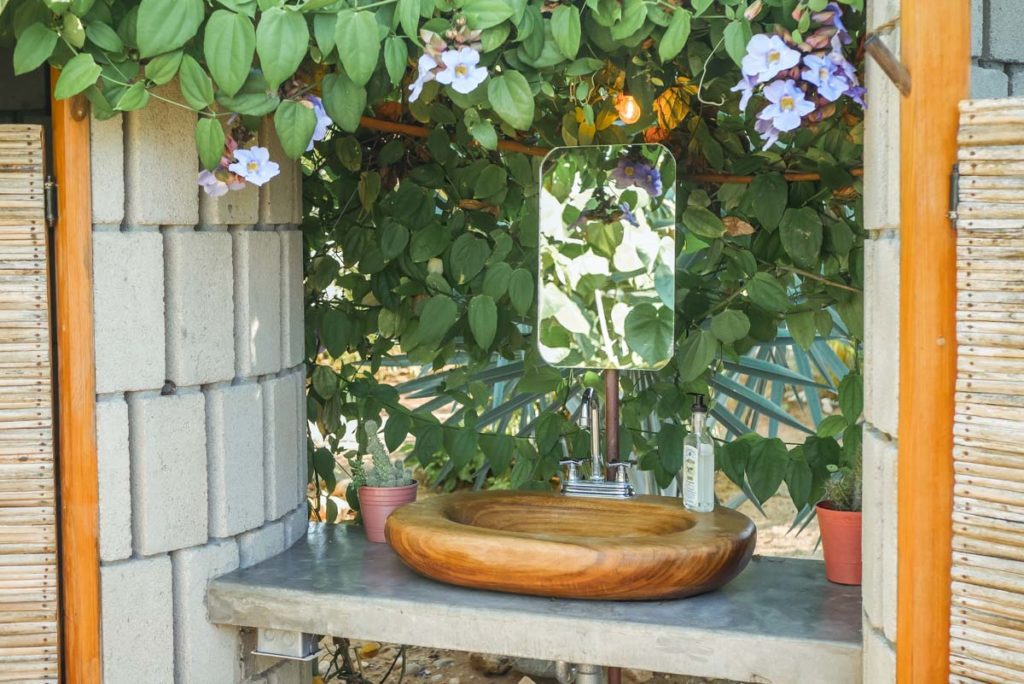 The airstream and property is lovely and stylish, and very romantic at night with the strung up lights. I only wish I had had more time to spend in this cute space. All guests have access to Villasol's pool, restaurant, and beach club.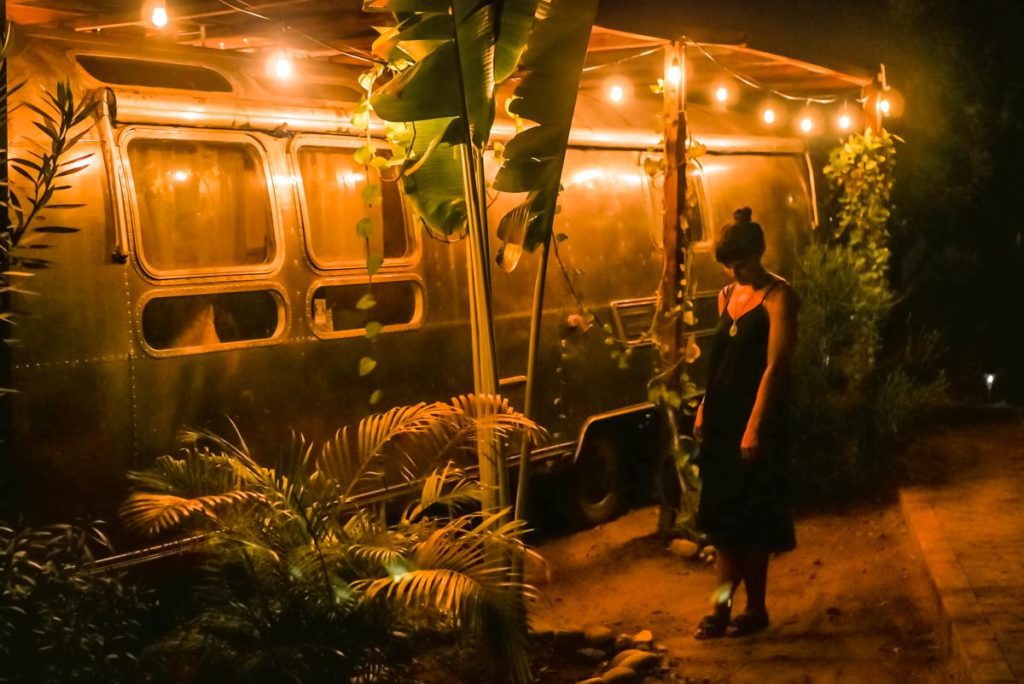 Final Thoughts: Villasol Puerto Escondido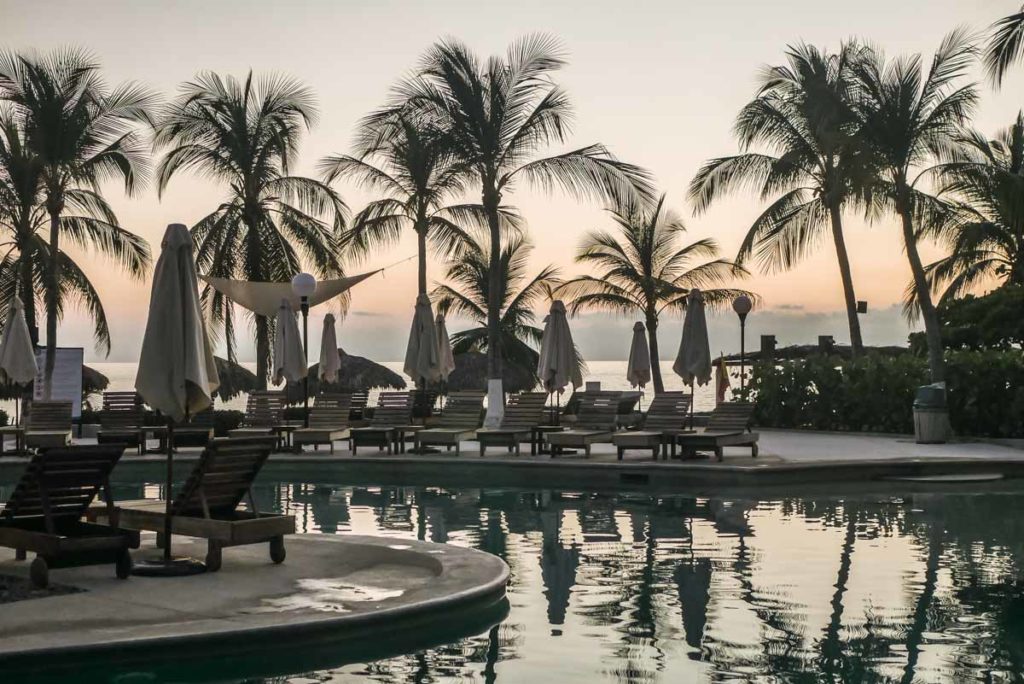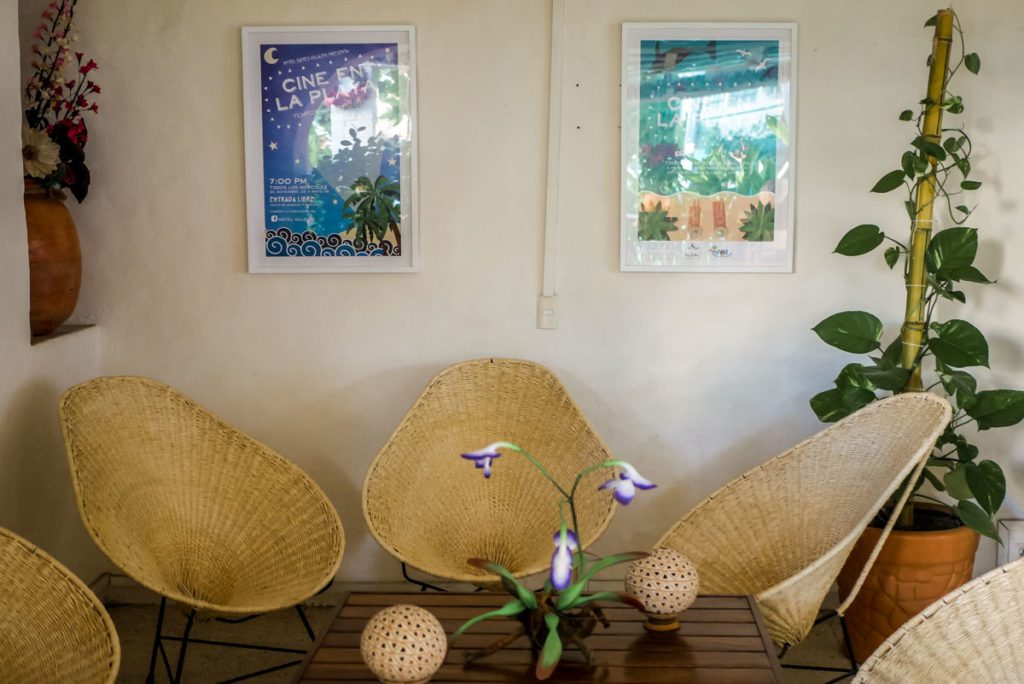 Villasol hits so many marks for being one of the overall best hotels in Puerto Escondido. You have access to everything you could need on a vacation in one place, a beautiful tranquil beach, helpful staff, great food, comfy rooms, and multiple pools. I would happily stay here again. It's a perfect place to have a true, relaxing vacation and to enjoy everything that Playa Bacocho, Puerto Escondido and the town have to offer.
Hotel: Villasol
Social Media: Instagram, Facebook, Twitter.
Best For: All types of travelers – but especially for families, groups (or extended families), and couples.
Price: $1150 MXN (about $61 USD) and up, depending on season and room. Check booking link below for current rates.
Includes: Drinking water, toiletries, wifi, pool, beach towels, on-site restaurant (can add breakfast package at booking), full beach club access including shuttle.
Location: Playa Bacocho, Puerto Escondido
Book Here: Reservations
---
For other Puerto Escondido travel tips, check out my Puerto posts here. And if you are headed to other parts of Oaxaca, onward to Chiapas, or elsewhere in Mexico, I have lots more posts to help you with your planning!
Pin it for Later!