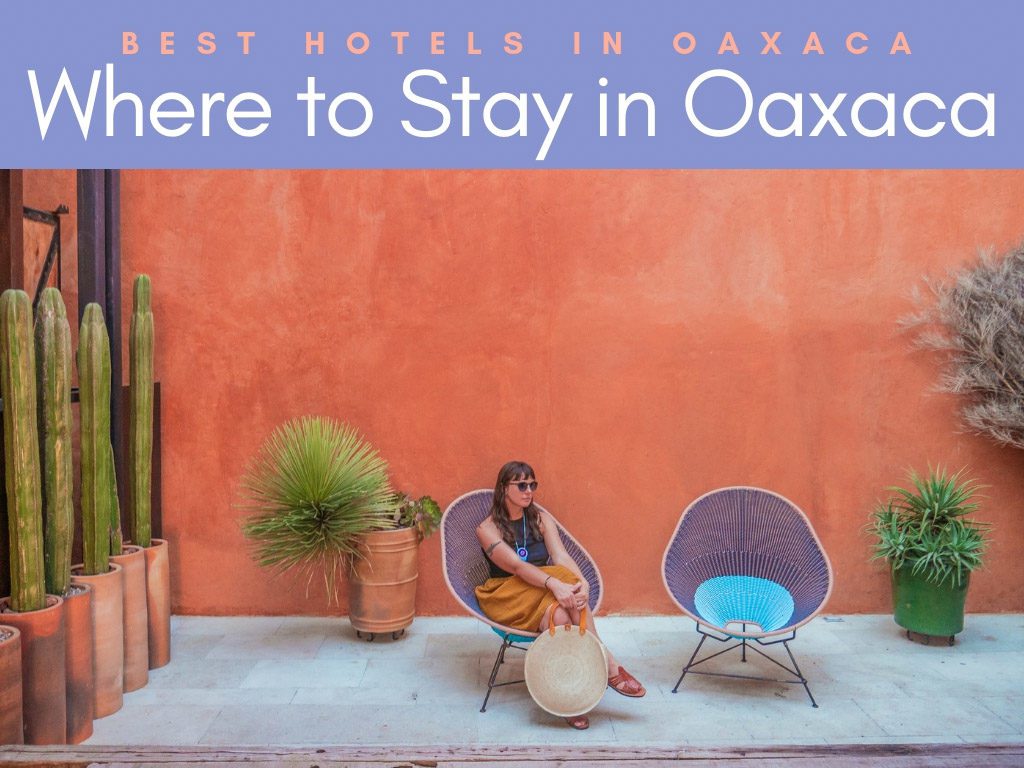 One of my most frequently asked questions is – where to stay in Oaxaca? So I put together a list of the best hotels in Oaxaca. I will only be including hotels that I have stayed at and loved or that I have very strong recommendations from trusted sources. There are hundreds of hotels in this city, but I feel confident about each and every one of these below.
I'll keep this list updated as I try some new hotels out, or when I get more trusted info. This list is not meant to be exhaustive, but narrowed down to some the best hotels in Oaxaca that I trust.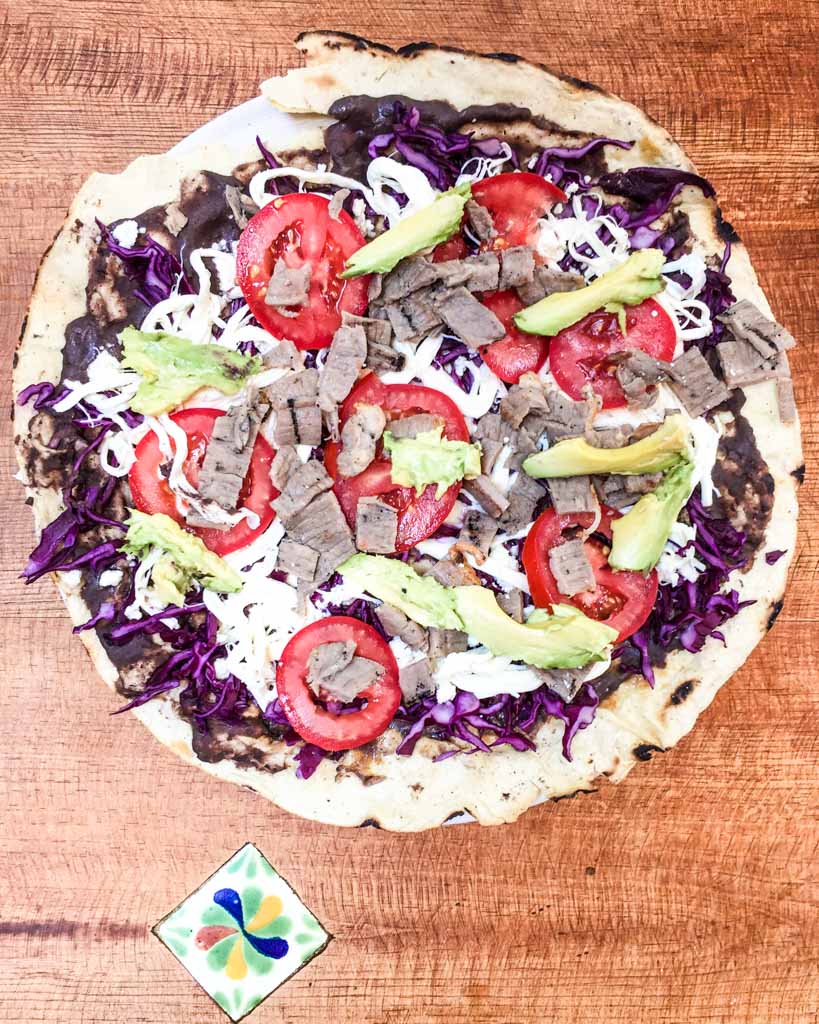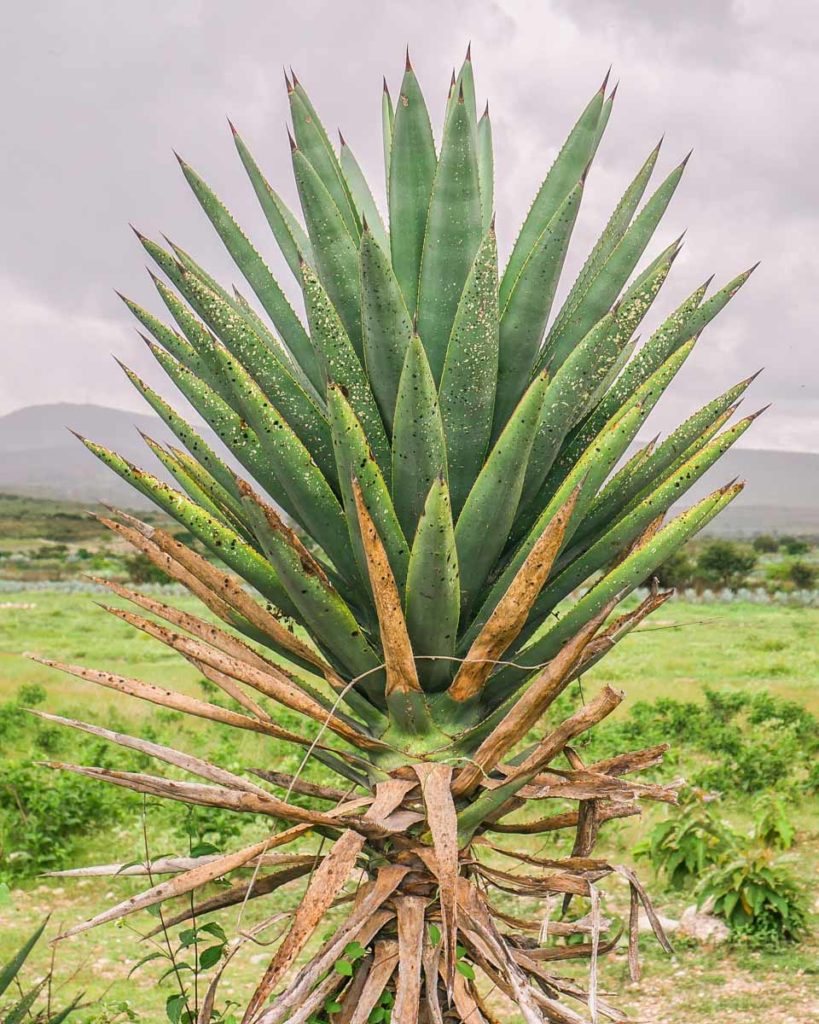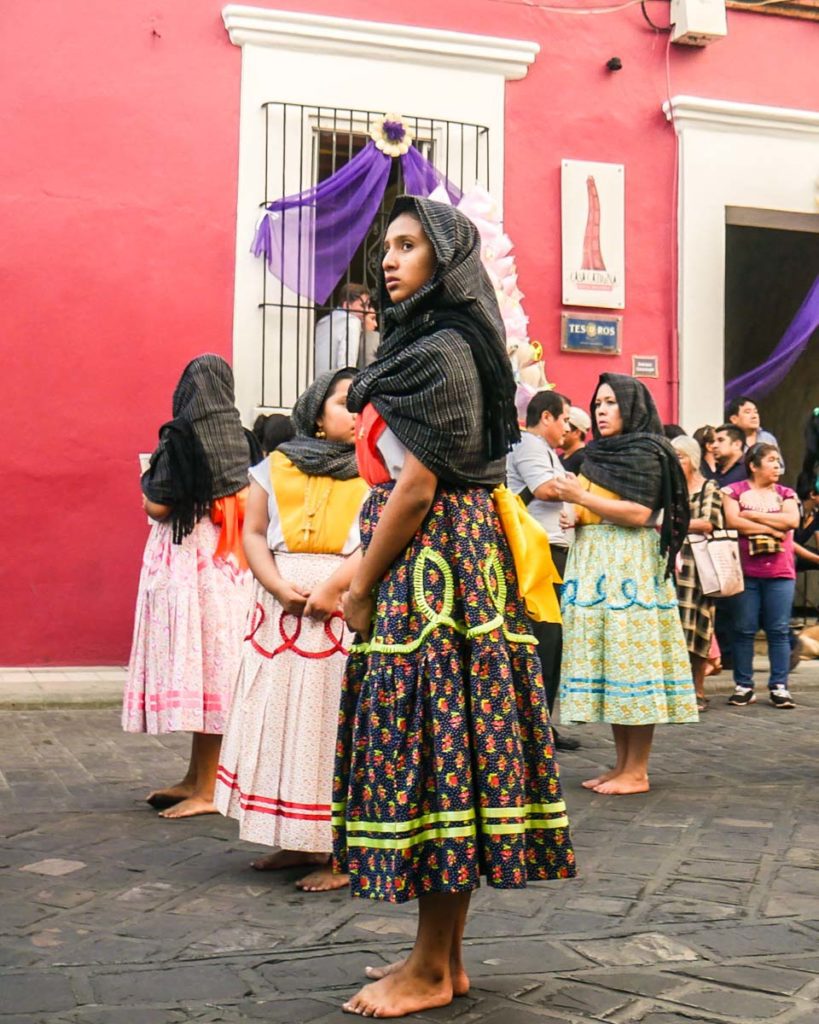 I've divided the list out below by budget. A couple of my favorite hotels in Oaxaca are near the end of the list, but scroll through to find the right one for your travel style and budget.
If you prefer Airbnb, search here for your Oaxaca Airbnb.
And if you're visiting Oaxaca, check out my all my Oaxaca posts – including the best restaurants, best dishes to eat, what to do, the best artisans to visit, and how to get to the Oaxaca coast.
The Best Hotels in Oaxaca
Budget/Hostels (Up to $50 USD): Where to Stay in Oaxaca
A Simple But Nicely Designed Budget Hotel: Un Sueño
Un Sueño is a simple but nicely designed hotel tucked on a residential street on the north end of the Centro. The property features plenty of outdoor spaces to enjoy like the patio and a roof terrace. Continental breakfast is included in your stay. It is a few minutes longer to walk to some of the tourist sites, but still within 10-15 minutes of everything, and this neighborhood is quiet and has a local feel.


A True Hostel/Backpacking Experience: Iguana Hostel
Iguana Hostel is a true hostel. It attracts a backpacker crowd, has an in-house bar, and a friendly atmosphere. If you are on the backpacker trail, looking to make new friends, or on a tight budget, this is a good hotel in Oaxaca for you.
Iguana Hostel includes breakfast, has lots of comunal hang out areas, a roof terrace, a shared kitchen, and its central location can't be beat.
A Simple But Pretty Oaxaca Hotel: Hotel Azucenas
Hotel Azucenas is tucked in a quiet cobblestone neighborhood, yet is still just steps from the biggest tourist destinations.
It's a small hotel with simple rooms, but has a pretty roof terrace with a great view and is a great overall value.
This is where to stay in Oaxaca if you are on a budget but want a comfortable and well-located room.
Beautiful Casitas 15 Minutes from the Centro: Villas Punta Azul
This portion is written in partnership with Villas Punta Azul. As always, every opinion and shared experience is my own!
Villas Punta Azul are 4 architect-designed casitas just outside of the city. Each casita is the size of a comfy hotel room, with a desk, closet, bed, night tables, and modern bathroom. You have every amenity and modern comfort you need.
And just outside your door is a gorgeous garden filled with agaves of all shapes and types, cacti, well-designed patio spaces, and mountain views on both sides. Every morning you wake up to bird calls, morning light, and fresh mountain air.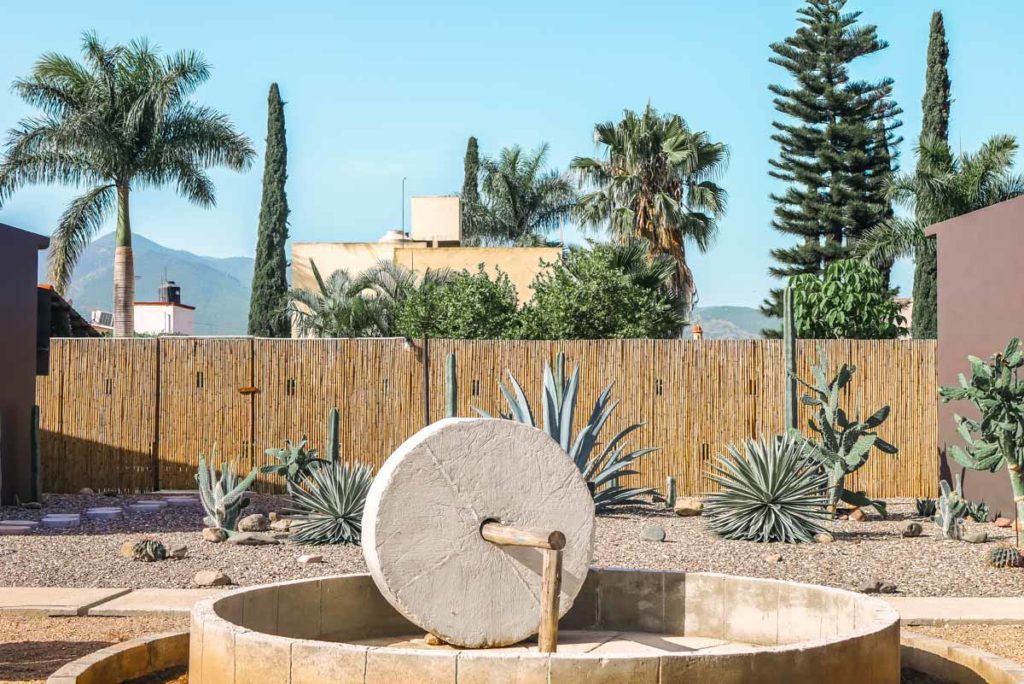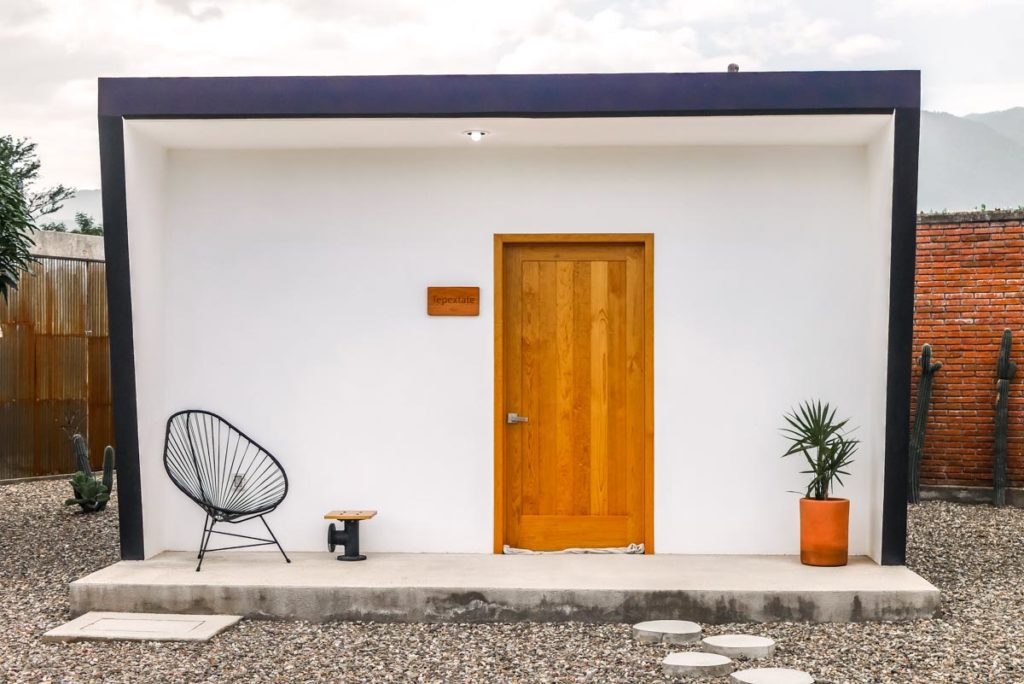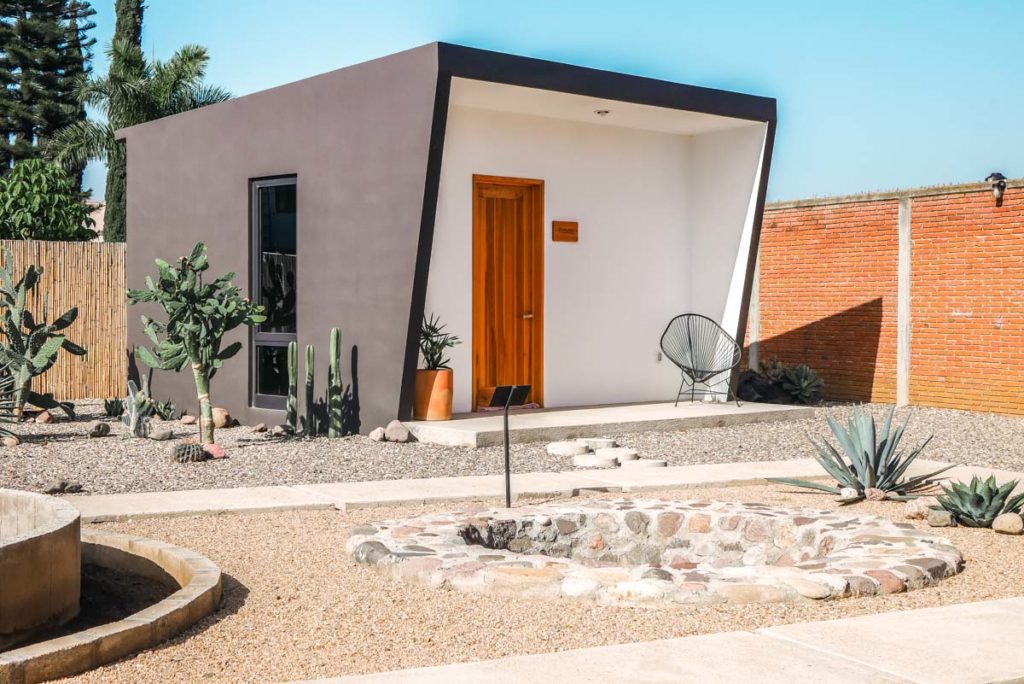 Yet you are just a 15 minute drive from Santo Domingo and everything the historic center has to offer.
I think this is a great option for those that want to rent a car and take advantage of the amazing day trips, especially towards the east, like Hierve el Agua, Mitla, Yagul, Tlacolula market, Teotitlan rugs and weaving, and more. These are some of my favorite and most recommended sites, and very easy to reach from these villas not far off the highway in that direction. Or this is an excellent jumping off point for day trips into the Sierra Norte mountains.
I spent two nights in the Tepeztate villa and it was just lovely. I really wish I had more time in this peaceful and beautiful setting. Anytime I needed anything, the hosts were a quick Whatsapp message away.
The villas also have a pequeño mezcal museum on-site, showing the process of how mezcal is made from start to finish.
Moving forward during the Covid-19 pandemic, the hosts have already put in place a seamless zero contact check-in and many sanitization processes throughout the property.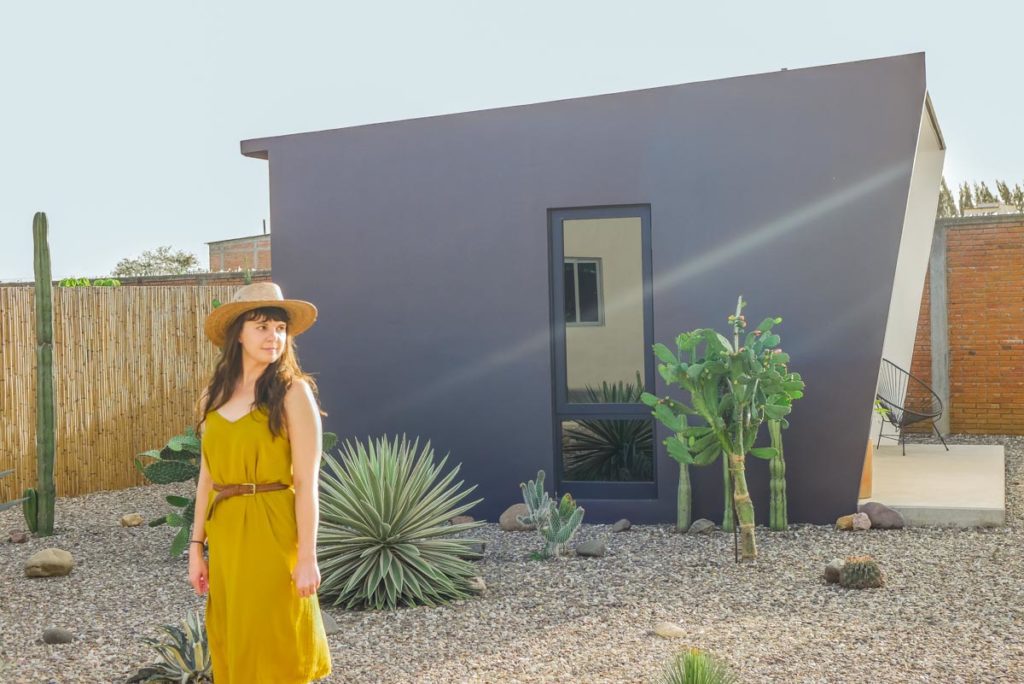 Mid-Range ($50-100 USD): Best Hotels in Oaxaca
I've received recommendations for this Oaxaca hotel from several trusted people. I also was able to take a quick walk through and enjoyed the modern and pretty decor.
The most special thing about Hotel Con Corazon is that they are a partnering with local NGOs to create educational programs for local students. Their goal is to make the transition from secondary to high school more accessible for marginalized children.
They include a very good full breakfast and there is a pretty seating area inside and garden outside. There are also several roof terraces to enjoy the sun and the view.
The location is on the western edge of the centro, but in an area close to many amenities and with a local neighborhood feel.
Artistic + Architectural Hotel with a Beautiful Pool: Casa de Arte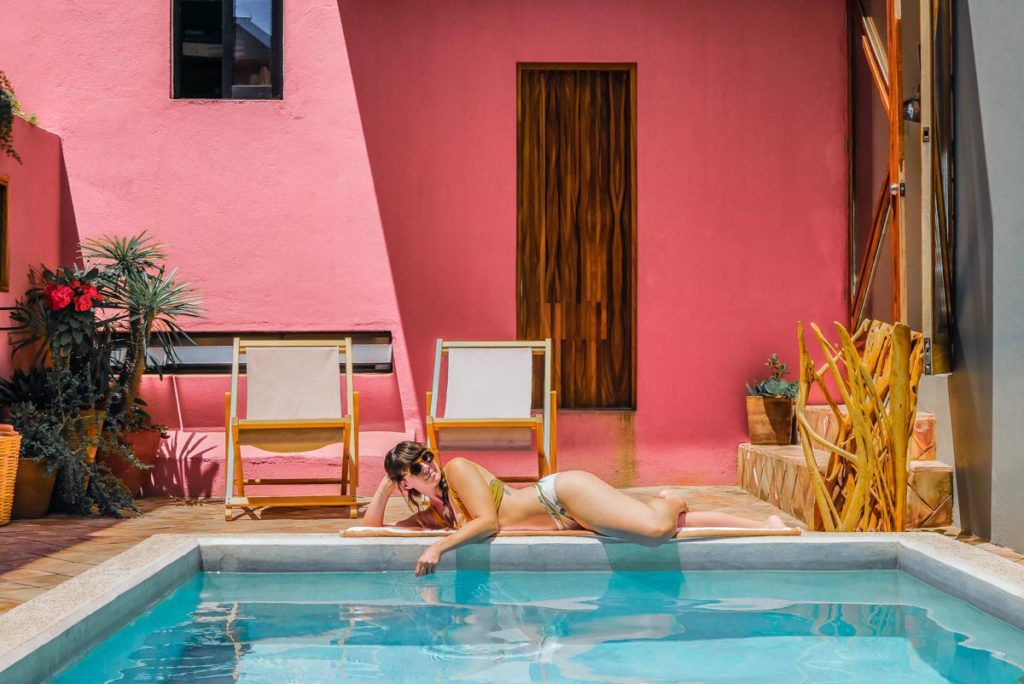 This portion is written in collaboration with Casa de Arte. All opinions are my own, this is one of my new favorite hotels in Oaxaca!
I feel like Casa de Arte should be in the luxury section, because it is so gorgeous and incredibly comfortable, but the price point puts it a little below $100 usd (depending on the room and season). It's an amazing deal for such a beautifully designed boutique hotel.
This Oaxaca boutique hotel has 7 rooms filled with sleek modern furniture, pretty tiles, wood accents, and local textiles.
The hotel is also an art gallery. Each room is filled with the works of different artists, and the hallways and common areas also display artwork.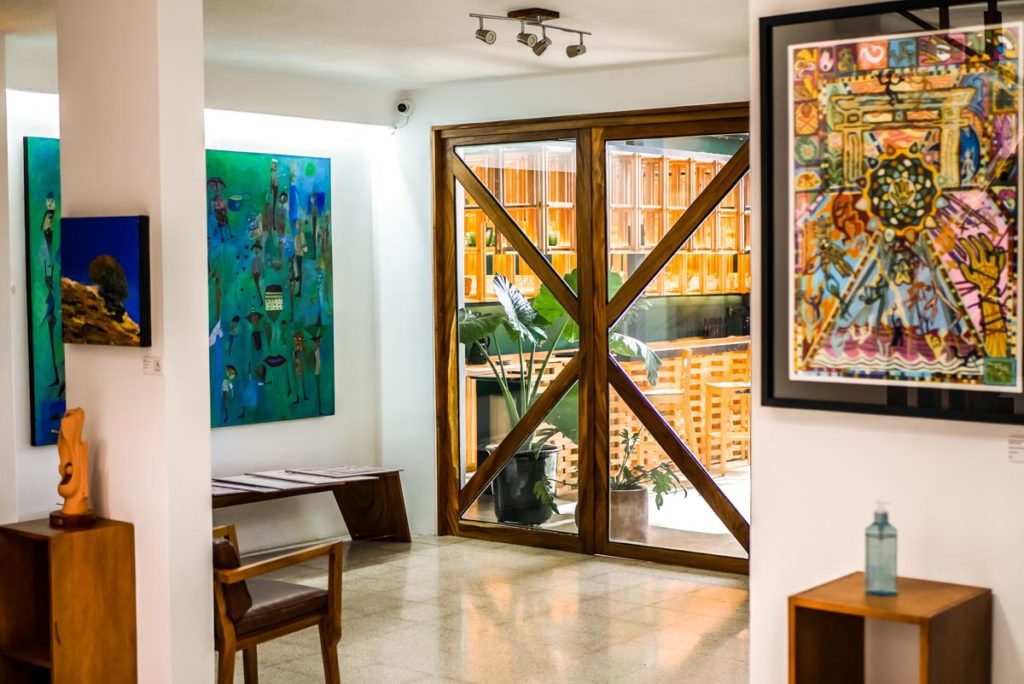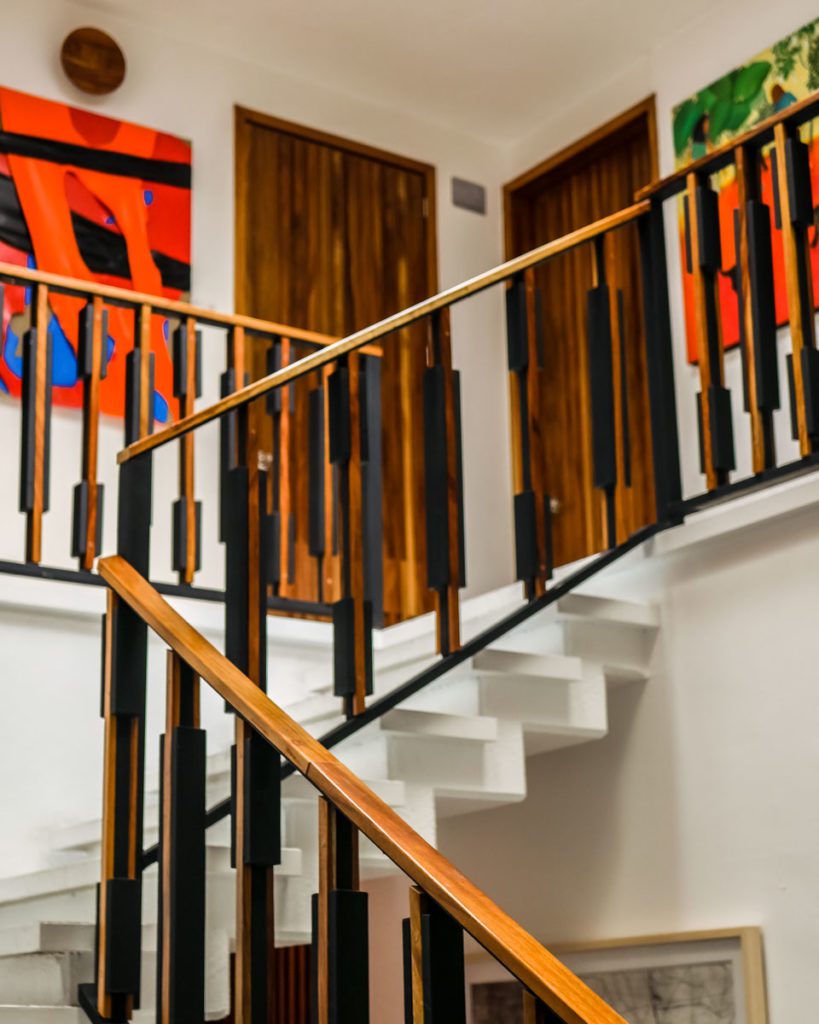 There is an in-house restaurant that serves delicious fresh breakfasts like enfrijoladas, chilaquiles, omelets, fresh fruit, and more.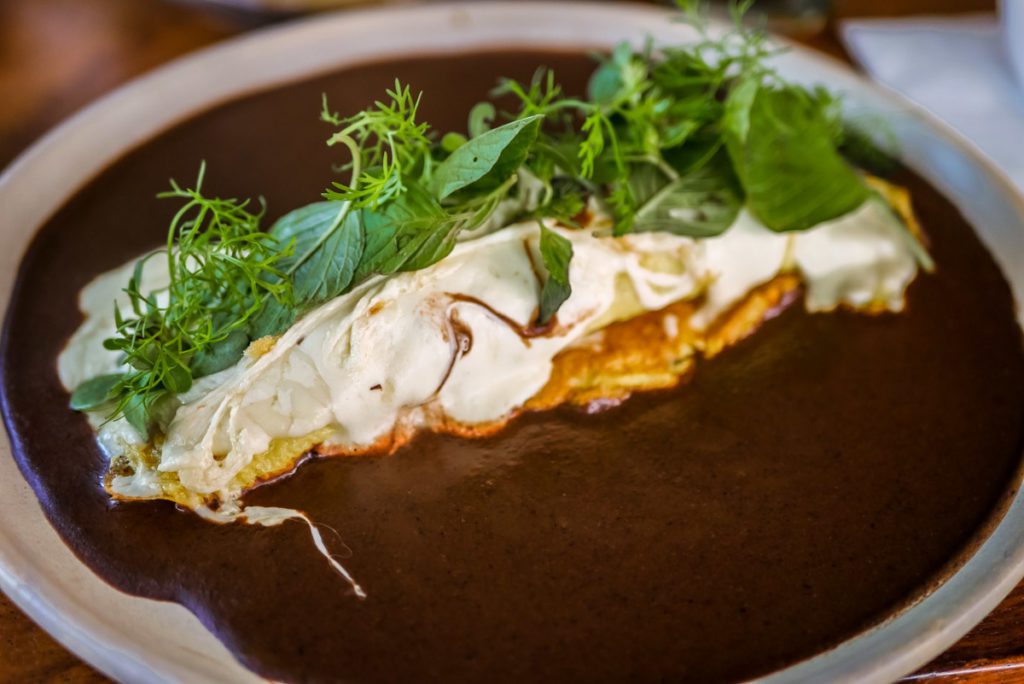 One of my favorite parts of the hotel is the gorgeous pool terrace. The pink walls contrast beautifully with the turquoise water, and there are comfy chairs to hang out in and lots of leafy plants.
During my stay, I had the pleasure of staying in the Mandimbo room, a large suite with a living/seating area, a comfy king size bed, and most importantly a large bathtub. This is a huge luxury in Oaxaca and was lovely to soak in.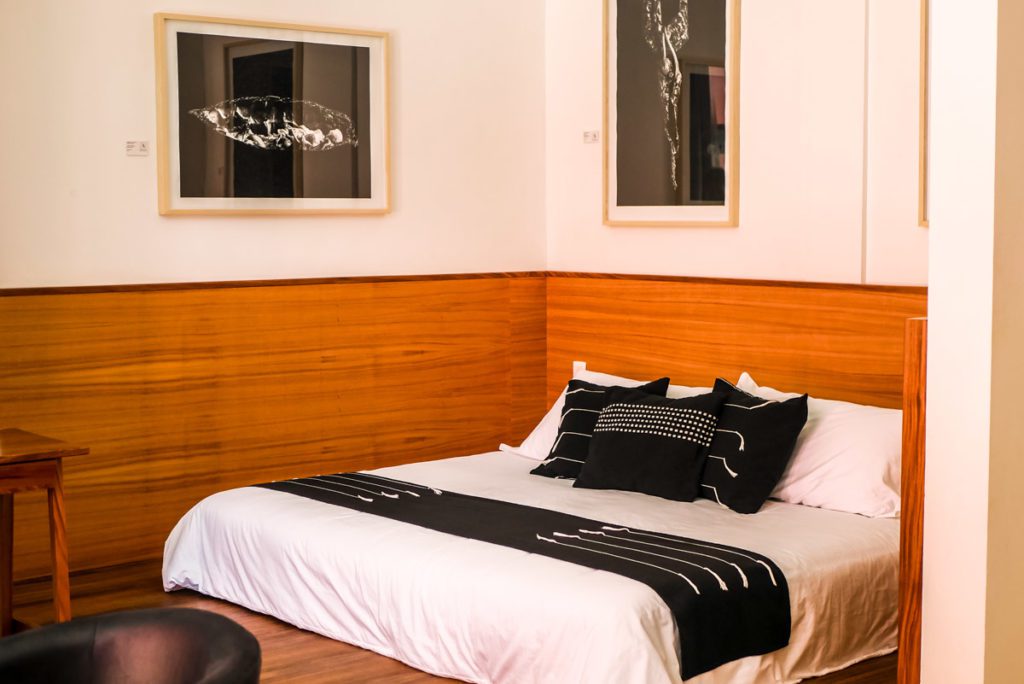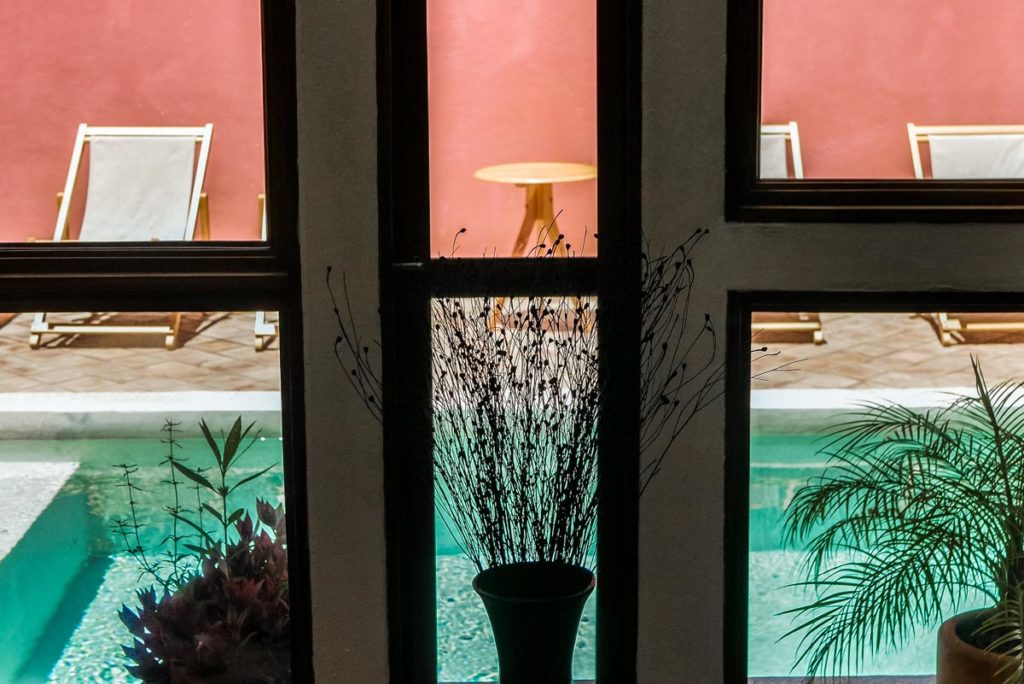 Case de Arte is located just north of the Centro in the La Reforma neighborhood. This neighborhood has lots of wide tree lined streets, and some really great restaurants. It's also an easy 20-25 minute walk to Santo Domingo, or a very short taxi ride.
This brand new design-lover's hotel is quickly becoming one of my favorites in town. It's unique, a feast for the eyes, super comfortable, and filled with great amenities.
This hotel is where to stay in Oaxaca if you love having a pool and a pretty traditional style Mexican accommodation. The courtyard at Casa de la Tia Tere is beautiful – full of leafy greens with the pool in the center.
The building is full of bright rooms, dramatic archways, and an open center courtyard.
There is also a roof terrace and good breakfast included.
This hotel is located on the eastern side of the centro, but still close to many amenities and sites.
El Diablo y la Sandia and Boca del Monte are some of the best hotels in Oaxaca for people who love pretty design and an intimate atmosphere. My couple of pictures don't do it justice – click through to see some of the beautifully curated decor.
They have two locations: one on the west side of the centro on a pretty pedestrian street – called Boca del Monte el Diablo y la Sandia, and one on the east side of centro called El Diablo y La Sandia.
The design in both hotels is beautiful – clean lines but lots of colorful accents and traditional textiles.
A great breakfast is included and there are pretty common areas to relax inside or outside on the patio or roof terrace.
This is the place to stay for artistic travelers who want a well-designed and quiet hotel.
Upscale/Comfort/Luxury ($100+ USD): Best Hotels in Oaxaca
Perfectly Designed Boutique Hotel + Cafe: Casa Antonieta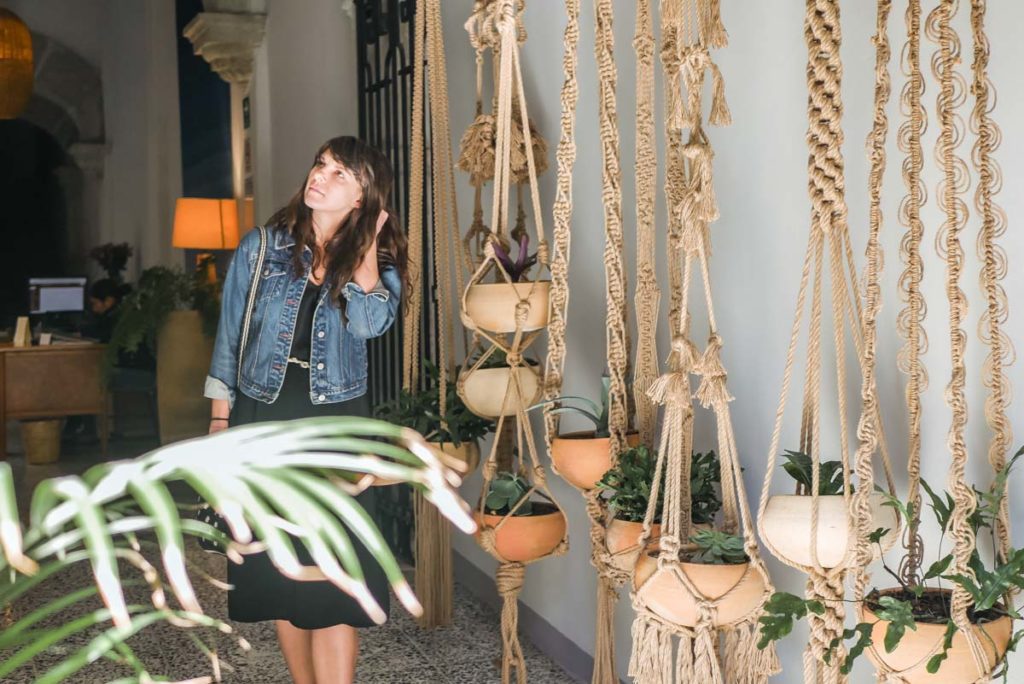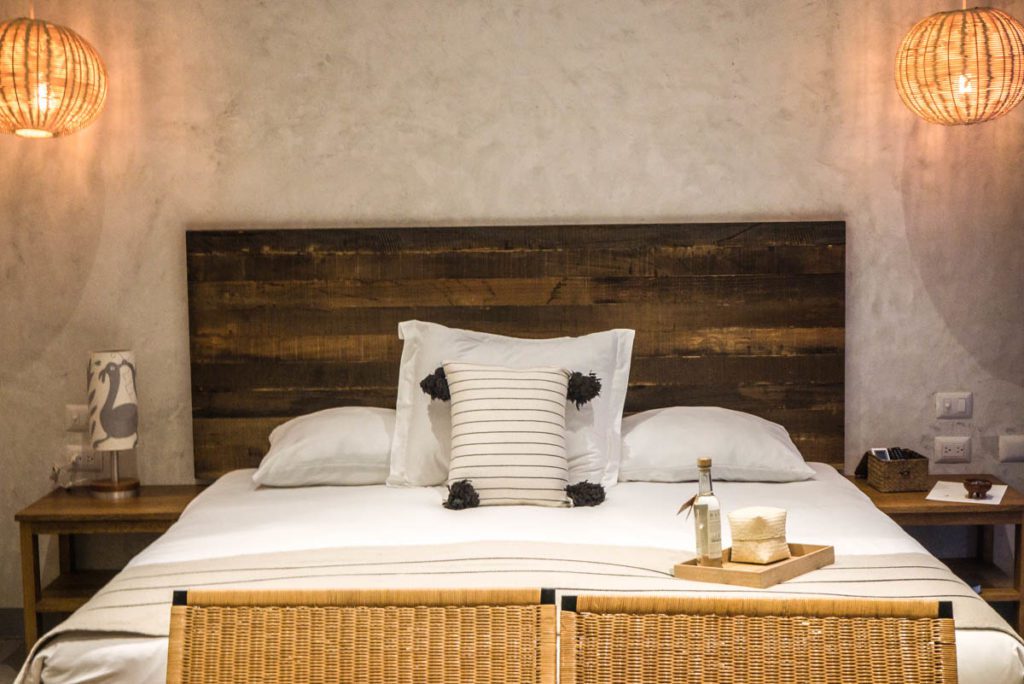 This portion is written in collaboration with Casa Antonieta. All opinions are my own, this is one of my favorite hotels in Oaxaca!
If you're looking for a hotel with amazing design, Casa Antonieta is the perfect choice and is one of my absolute favorite hotels in Oaxaca city. This little boutique hotel has only 6 rooms centered around a beautiful patio in a historic building. In fact, the building is part of the first buildings in the city, built in the mid-1500s!
Each room is tastefully decorated with beautiful furniture, rugs, and artisan details. Beds are huge and comfy, robes and slippers are provided, and some rooms have their own pretty patio.
Case Antonieta is attached to and located just behind one of the best cafes in Oaxaca, Muss Cafe. You can enjoy some of the best coffee in the city, fresh sandwiches and salads, or a mezcal or cocktail in the stylish cafe, or in the shared leafy patio. Muss is my favorite place to work from my laptop, so I'm often enjoying the cafe and fast wifi here.
The location can't be beat – only 3 blocks from the Zocalo (central square), and walking distance to any of the sites in the Historic Center. It's also right next door to one of my favorite museums (the Textile Museum) and the beautiful San Pablo Cultural Center.
Free coffee is available each morning, fast wifi at any hour, air conditioning, 24 hour reception, and the hotel is pet-friendly.
This may seem like a small thing, but one of my favorite amenities is that the rooms also stock a yoga mat for your use. I haven't seen this in any other hotel and I thought it was such a great idea. I prefer to do yoga everyday if possible, and usually lug my mat along with me on travels. But I love the idea of my hotel providing one so I don't have to worry about traveling with my own.
Case Antonieta is definitely one of the best places to stay in Oaxaca and one of my absolute favorite hotels and cafes (Muss Cafe).


Colorful Oaxacan Decor + Super Comfy Accommodation: Casa de las Bugambilias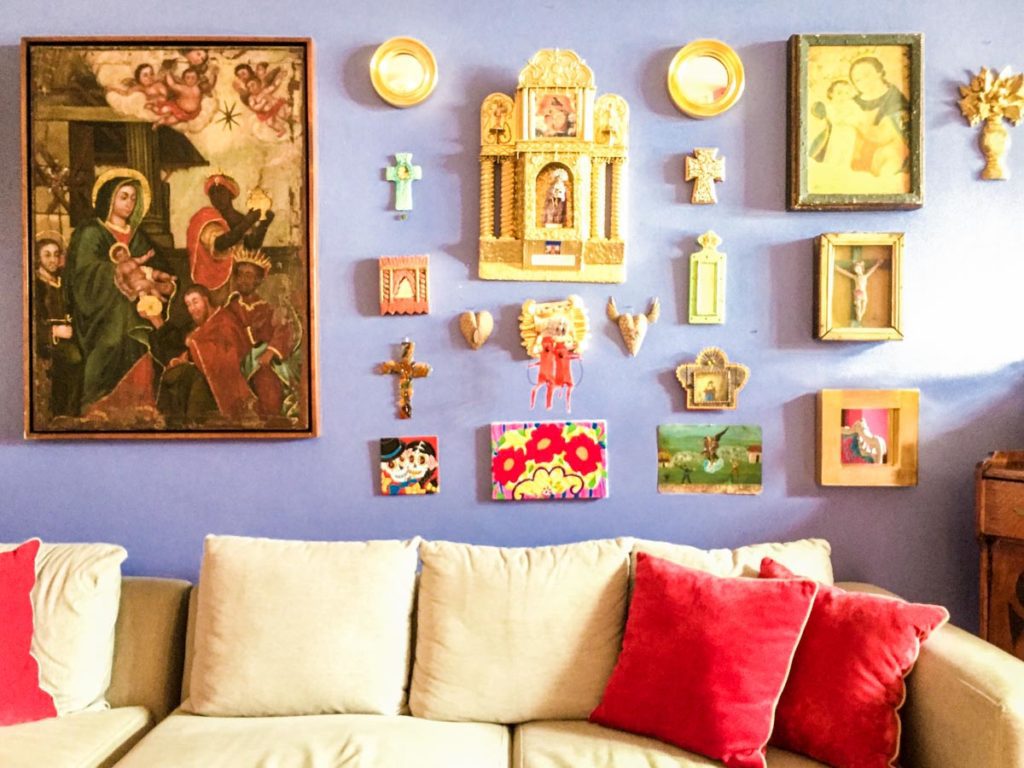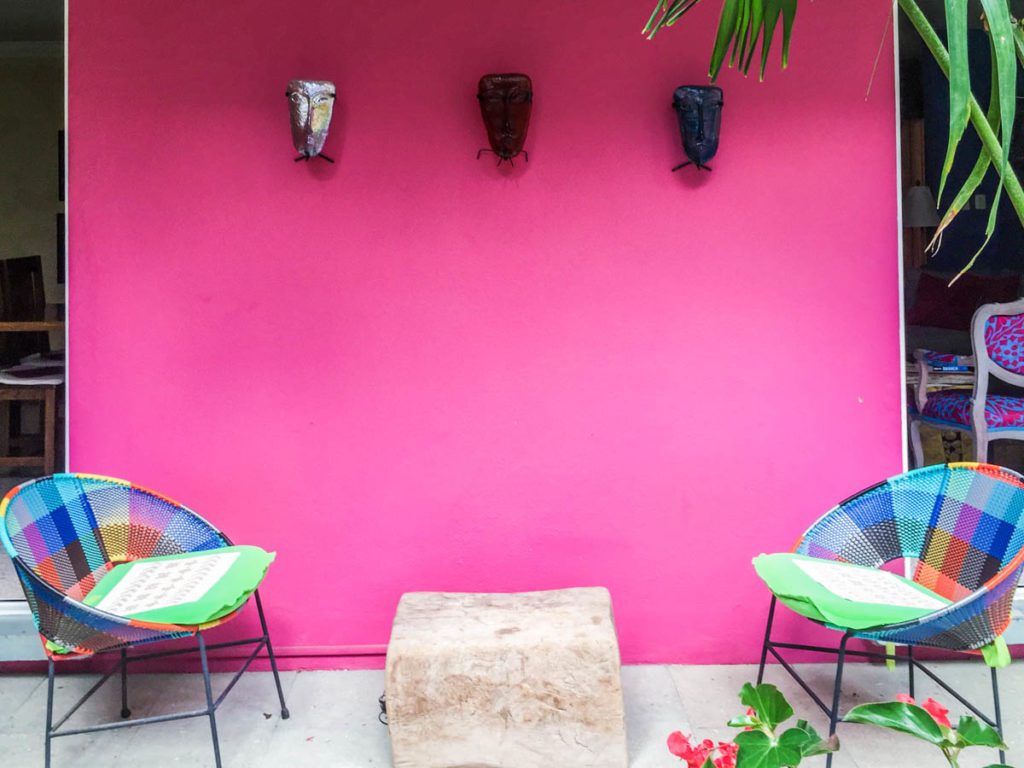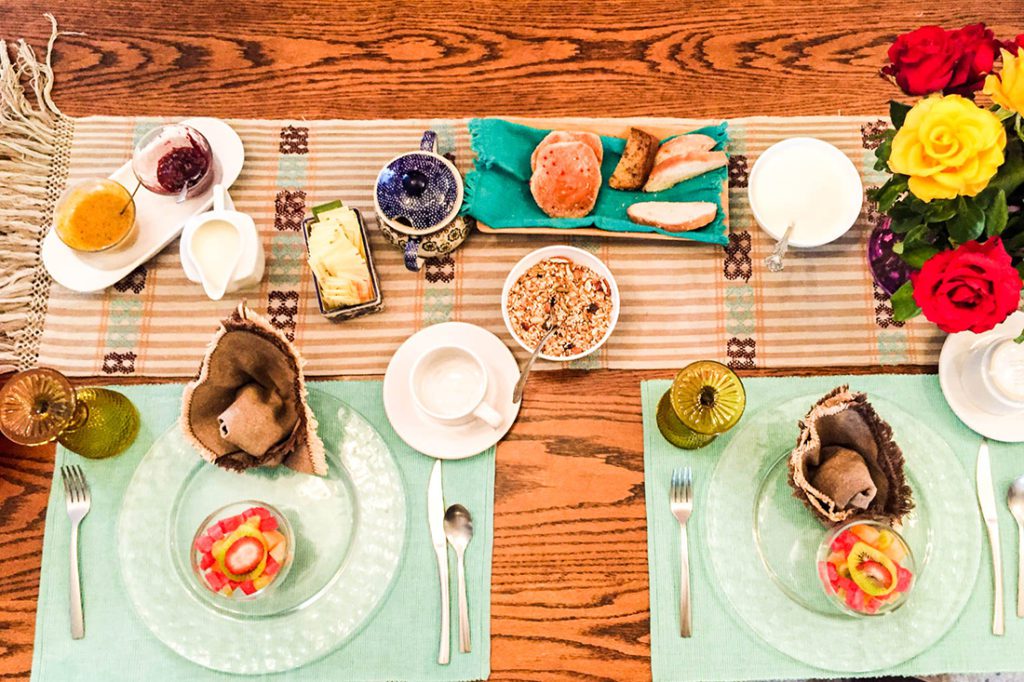 Las Bugambilias is one of my favorites. Of course I haven't stayed everywhere, but this hotel is really lovely and has so much to offer.
Casa de las Bugambilias is one of the best hotels in Oaxaca all-around. The rooms are tastefully decorated with pretty vibrant accents, and the common areas are filled with colorful details and traditional art.
There is an exceptional gourmet, multi-course breakfast every morning that will be the perfect start to your day. The staff is warm and wonderful, the in house tour agency is one of my favorite guides in town, and the location could not be more perfect – just a half block from Santo Domingo.
I couldn't possibly say anything negative about this wonderful hotel. This is where to stay in Oaxaca for a very comfortable and memorable stay.
City Centro Oaxaca is definitely the pinkest hotel in Oaxaca. 🙂 The common spaces are full of vibrant pink walls, interesting cut outs, and gorgeous impressive cacti.
There is a small pool on the roof and a terrace to enjoy the sun and the view.
The furnishings are sleek and modern and a good breakfast is included.
The location is in Jalatlaco, a pretty and charming neighborhood full of windy, narrow cobblestone streets. This area is lovely and colorful, but a few minutes further of a walk to some of the main tourist sites.
This is where to stay in Oaxaca if you want striking design, in a charming and quiet neighborhood.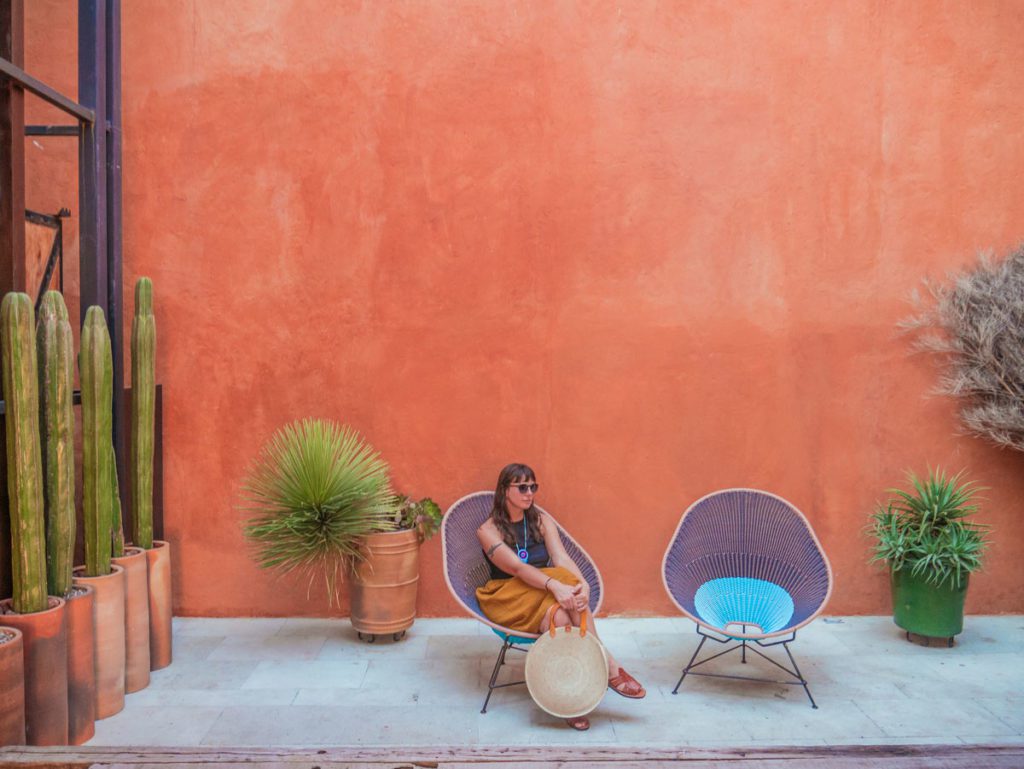 Hotel Los Amantes is an upscale and modern hotel right in the middle of all the action of the city.
The rooms are well designed and full of all the comforts one could need. The lobby and central courtyard are gorgeous, full of design-friendly accents. And the rooftop bar/restaurant has one of the best views of Santo Domingo and the city.
A good breakfast is also included.
This is where to stay in Oaxaca if you want an upscale and modern experience.
There you have it! I'll keep this list of the best hotels in Oaxaca updated as I try new hotels or hear new info. If none of the above hotels fit your needs, check the map below for more hotel options in Oaxaca.
Or check Airbnb below: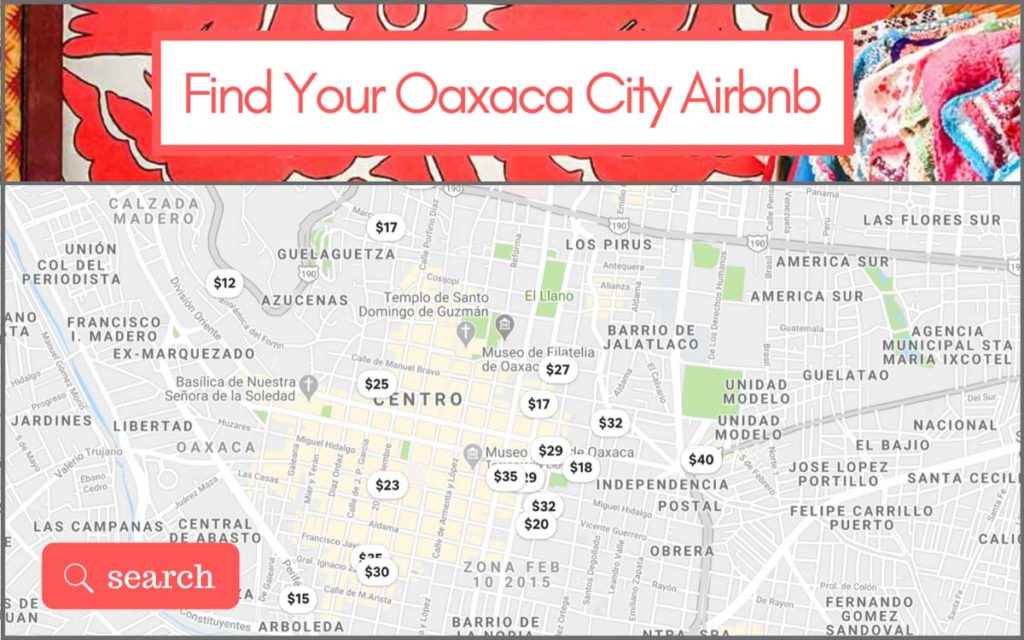 And if you're visiting Oaxaca, check out my all my Oaxaca city posts or all my Oaxaca coast posts – including the best restaurants in Oaxaca, best places to drink mezcal, Oaxaca beach guide, and 1 week coastal Oaxaca itinerary, and lots more.
Pin it for Later! Best Hotels in Oaxaca