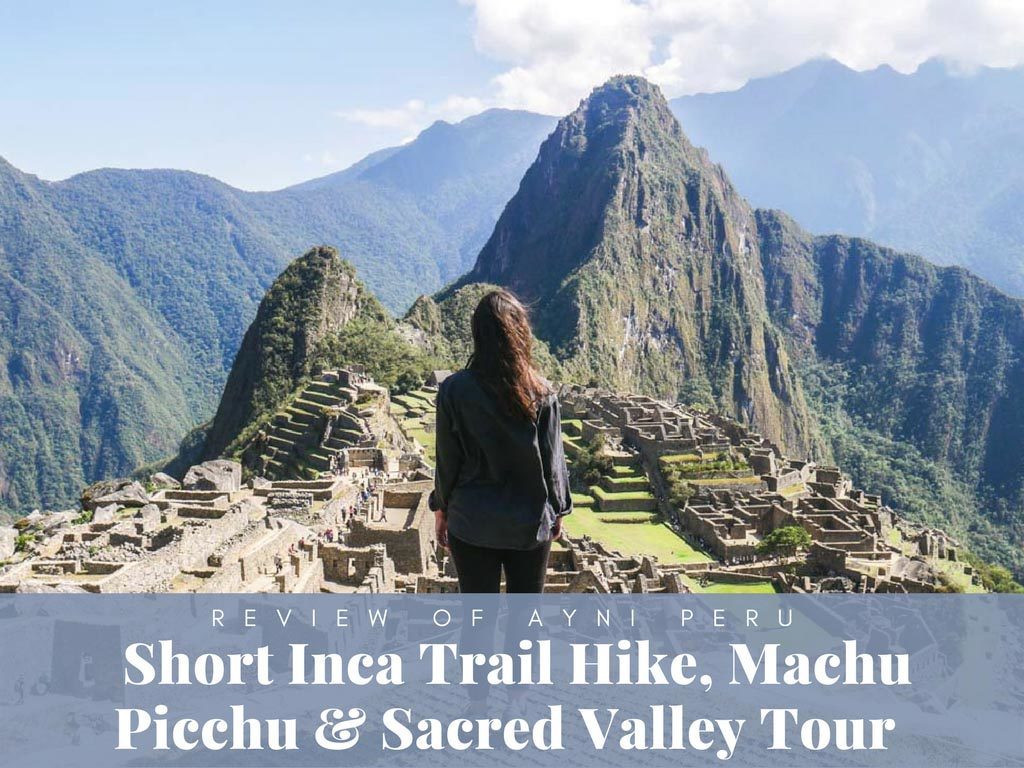 I feel like my time in the Cusco region of Peru was nothing short of magical - and I don't say that lightly. For 3 weeks we spent time in Cusco city, Ollantaytambo, and many of the surrounding towns and ruins. One of my absolute highlights of these weeks was our 3 day tour with Ayni Peru: 1 day seeing the best of the Sacred Valley, a short Inca Trail hike, and a visit to the gorgeous ruins of Machu Picchu.
There is a lot of debate about the best way to visit Machu Picchu - there really isn't one right way, it just depends on what you want out of your experience and how much time you have. I am thrilled we choose the short Inca Trail hike, arriving in Machu Picchu in the afternoon from the Sun Gate, and then spending the whole next morning there as well. This was the perfect visit for us.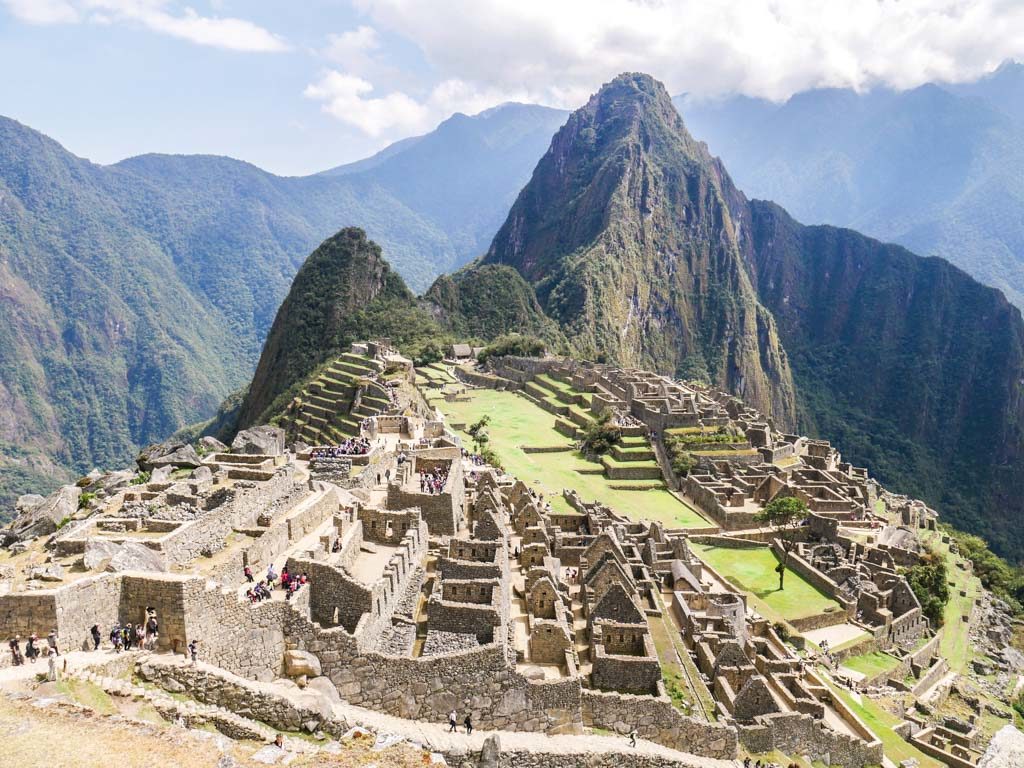 If you're reasonably fit, I highly recommend visiting Machu Picchu by the short Inca Trail hike:
The 1 day hike itself is full of gorgeous views, a waterfall, the super impressive ruin Wiñay Wayna, and some challenging climbs.
Seeing Machu Picchu for the first time from afar at the Sun Gate in the afternoon light, with only a handful of people around was a magical experience. This is still my favorite memory of the site. The actual site of Machu Picchu is very crowded, so it was really wonderful to experience it in a quieter and more intimate atmosphere first.
You get two opportunities to take in Machu Picchu - the afternoon you arrive on the short Inca Trail, and the next morning. This allows you to have enough time there, and also gives you twice as many photo opportunities.
This also saves time from doing the full 5 day hike, but still allows you to experience some of the best parts of the Inca Trail and have time to experience other things in the Cusco region or in other parts of Peru.
Yes it's challenging but I saw people way past middle age tackling it alongside us. If you try to prep with some exercise before arriving in Peru and give yourself at least a couple of days in Cusco to acclimate to the elevation, you should be fine!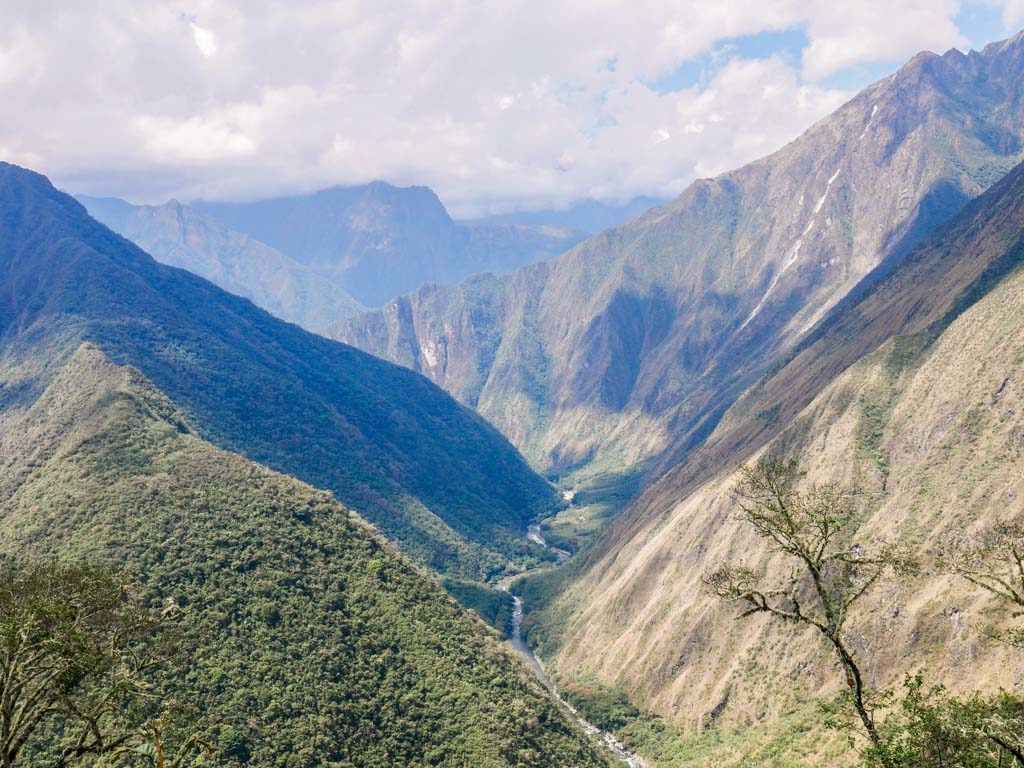 Short Inca Trail Hike, Machu Picchu & Sacred Valley Tour with Ayni Peru:
Pre-tour Briefing
Everything about our experience with Ayni Peru was professional and well thought out, starting with our pre-tour briefing.
We met with our tour guide Huber at a coffee shop in Cusco to hear about what we could expect on the short Inca Trail hike, Machu Picchu, and Sacred Valley tour. Huber gave us a full rundown of the itinerary - going into lots of detail and making sure any questions we had were answered.
It was great to have all the info beforehand so we could plan ahead, make sure we packed everything we needed, and get excited for our tour!
Salineras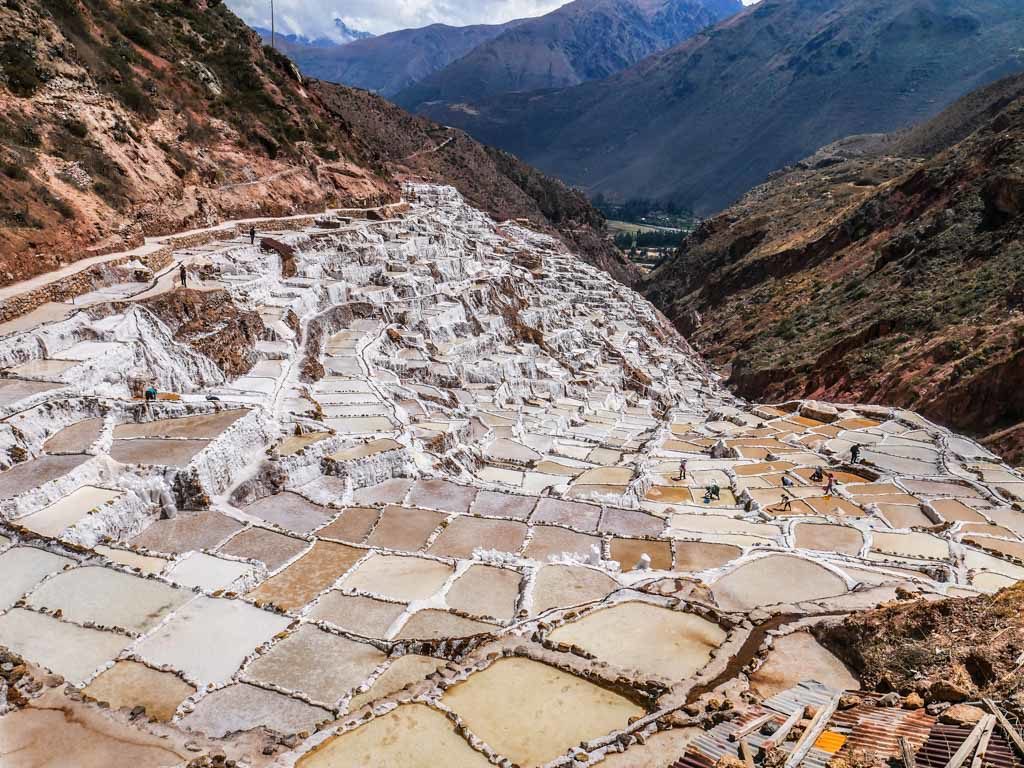 Our day started with getting picked up from our Airbnb, and then driving out into the Sacred Valley. Our tour guide, Huber, gave us a quick history lesson, and happily answered the many questions we had. We made a stop at a gorgeous scenic overlook, enjoying gazing at the giant mountains.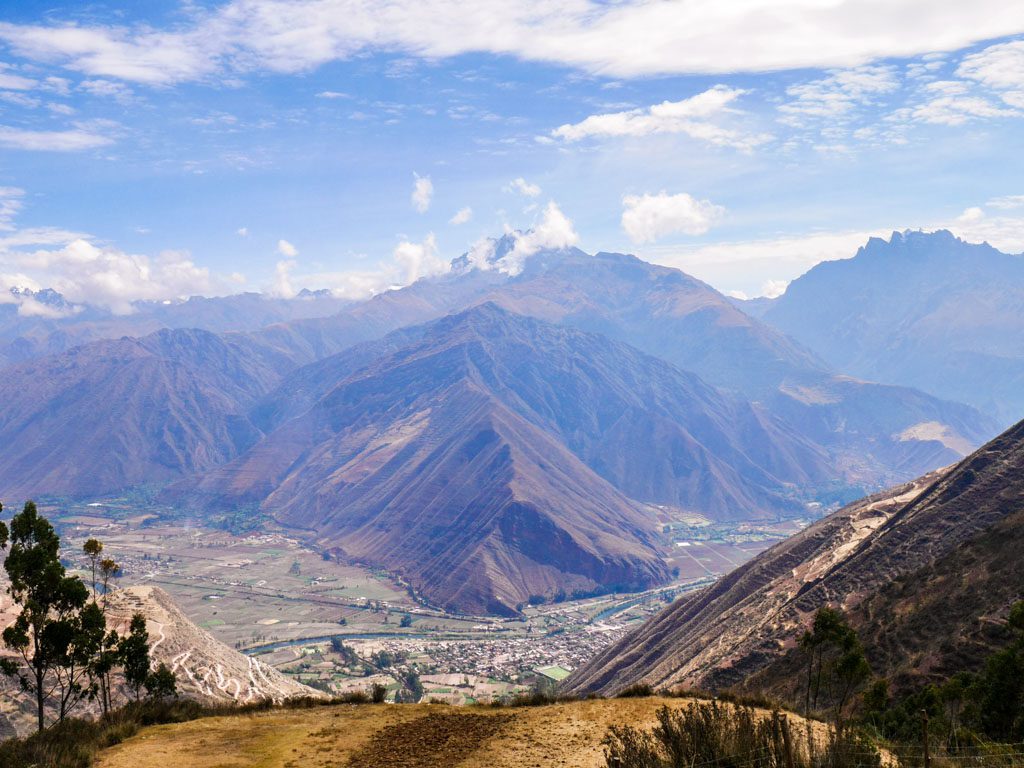 Then we went on to the beautiful salt pools of Salineras. These pools have been used since pre-hispanic times to harvest fresh salt. Each of the pools at Salineras is owned and worked by a local family. The salt production process includes adding naturally salty water that comes from a spring inside the mountain - they do this three times, letting the sun evaporate the water, until all that's left behind is thick salt.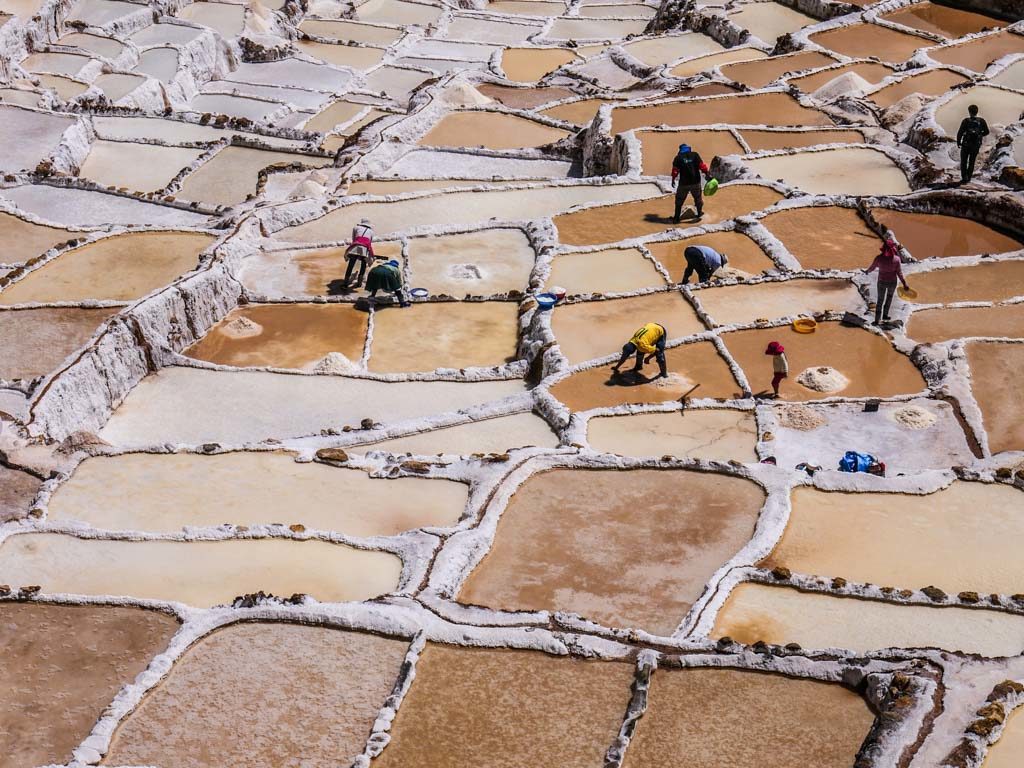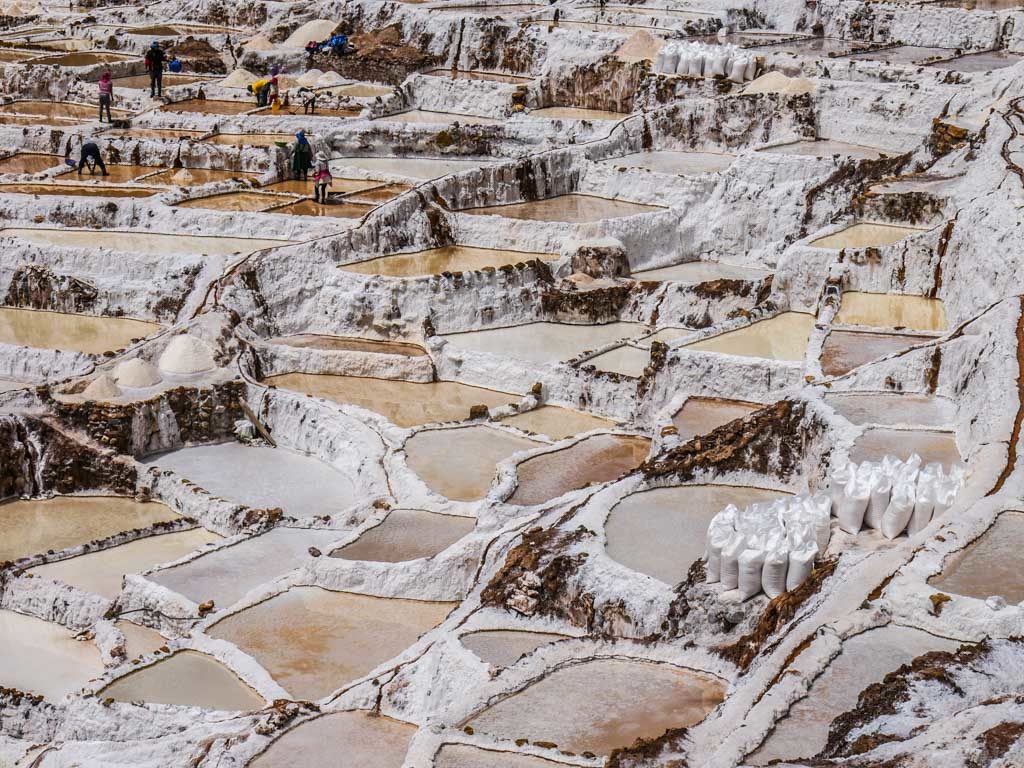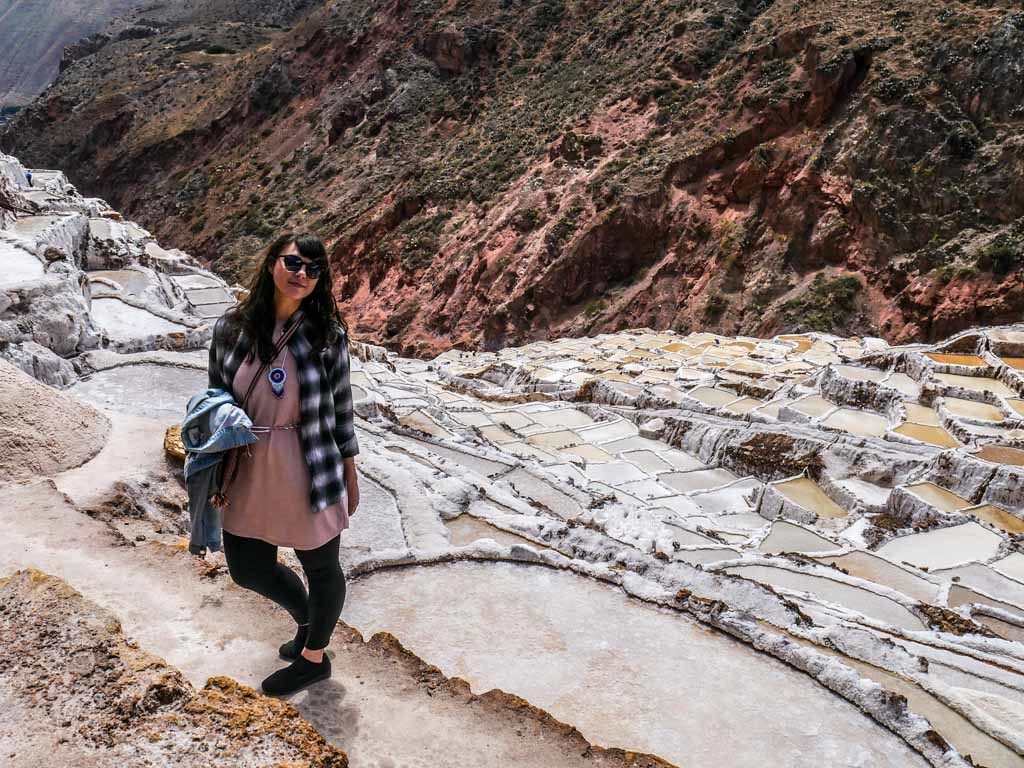 It was super interesting to watch and learn about, but Salineras is also an incredibly picturesque place. The 5000 pools are all located on the edge of a mountain, and range in colors of beige and pink, depending on where they are in the salt production process. It's amazing to gaze out at Salineras from above, and it's a great photo op!
Chicha Workshop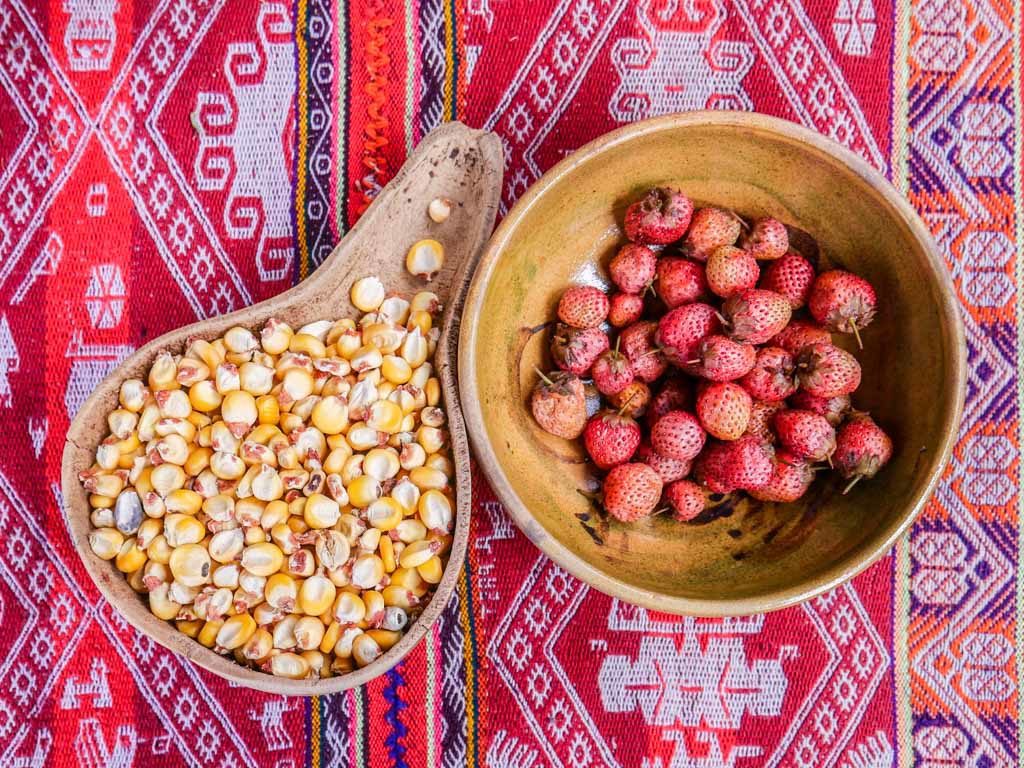 Next we drove to Makichay, a chichería on to the outskirts of the town of Urubamba to learn all about the traditional drink of chicha.
Chicha is a beverage that's been produced and drank since Inca times by the locals. It's made from boiled corn and water that has been fermented. Chicha is lightly alcoholic, and is drank by almost everyone. It's a tad bit like kombucha or pulque, but with it's own flavor, ingredients, and production methods.
I LOVE to learn about cultural things while traveling, so this was a really amazing experience for me. Learning about something as pivotal as food and drink in a culture gives so much insight into their lifestyle and history.
Fun fact: you can tell if a home is selling fresh chicha on any particular day if they have a stick with a red plastic bag out front!
Here's the Chicha process: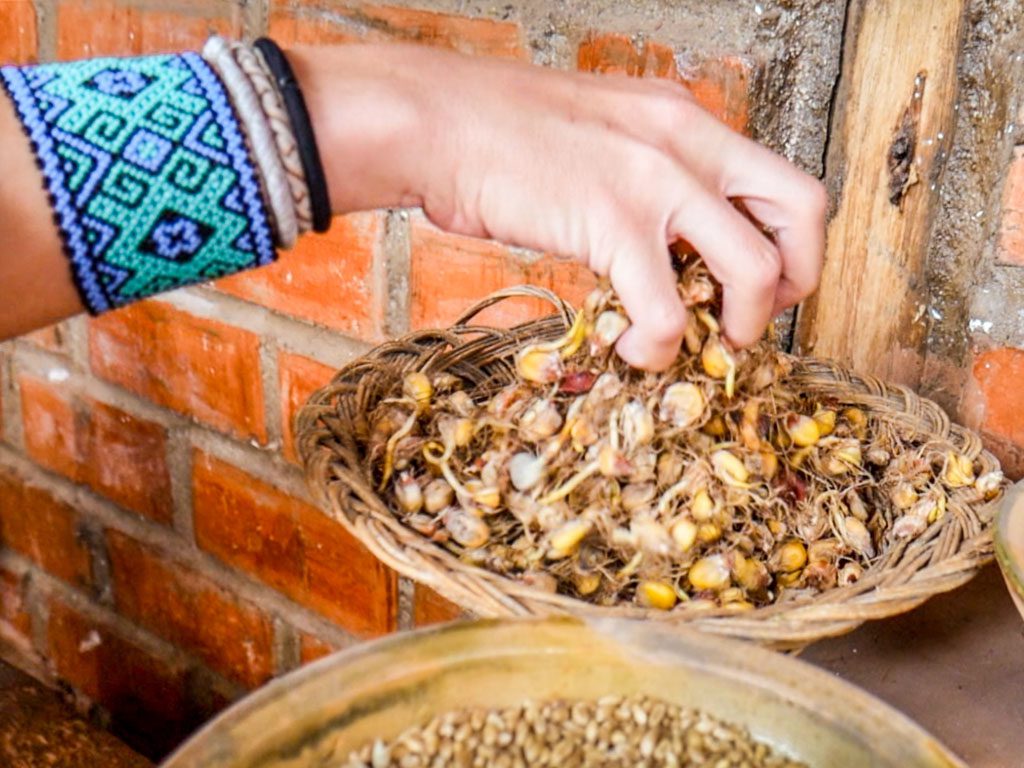 First, we watched as the raw initial ingredient, sprouted corn, was ground on a stone tray with a large and heavy stone instrument. Then they asked us to give it a try. It was really hard! The stone is super heavy, and it takes a lot of strength to grind.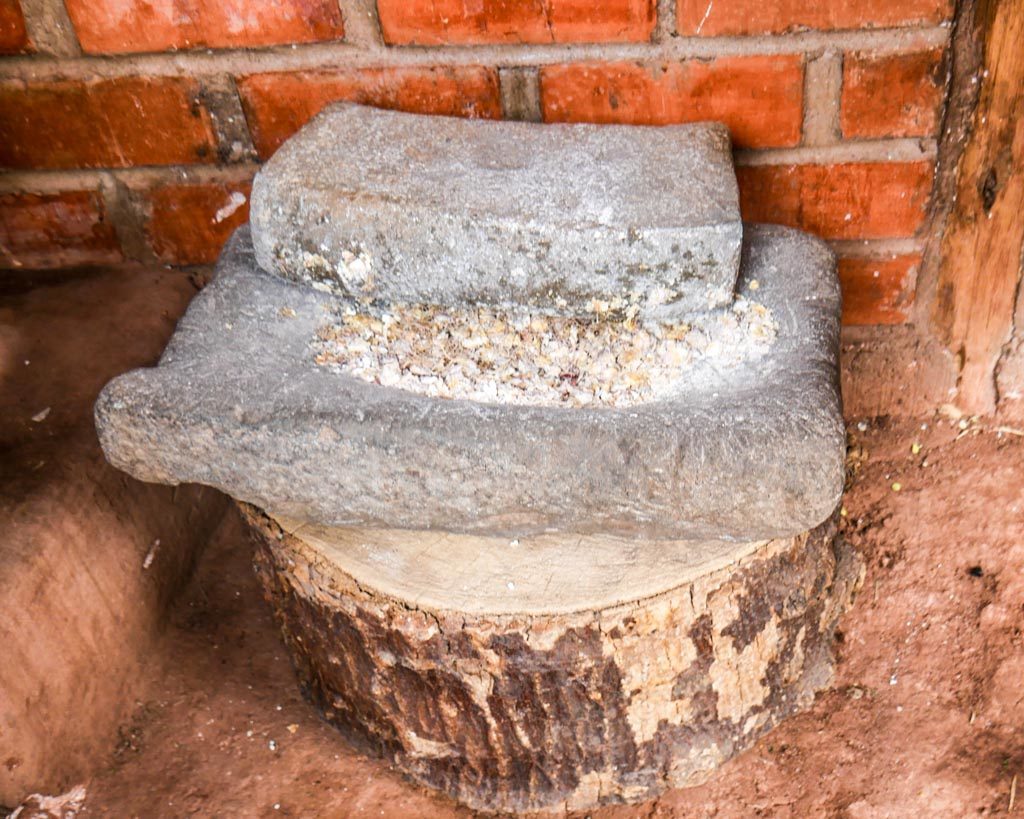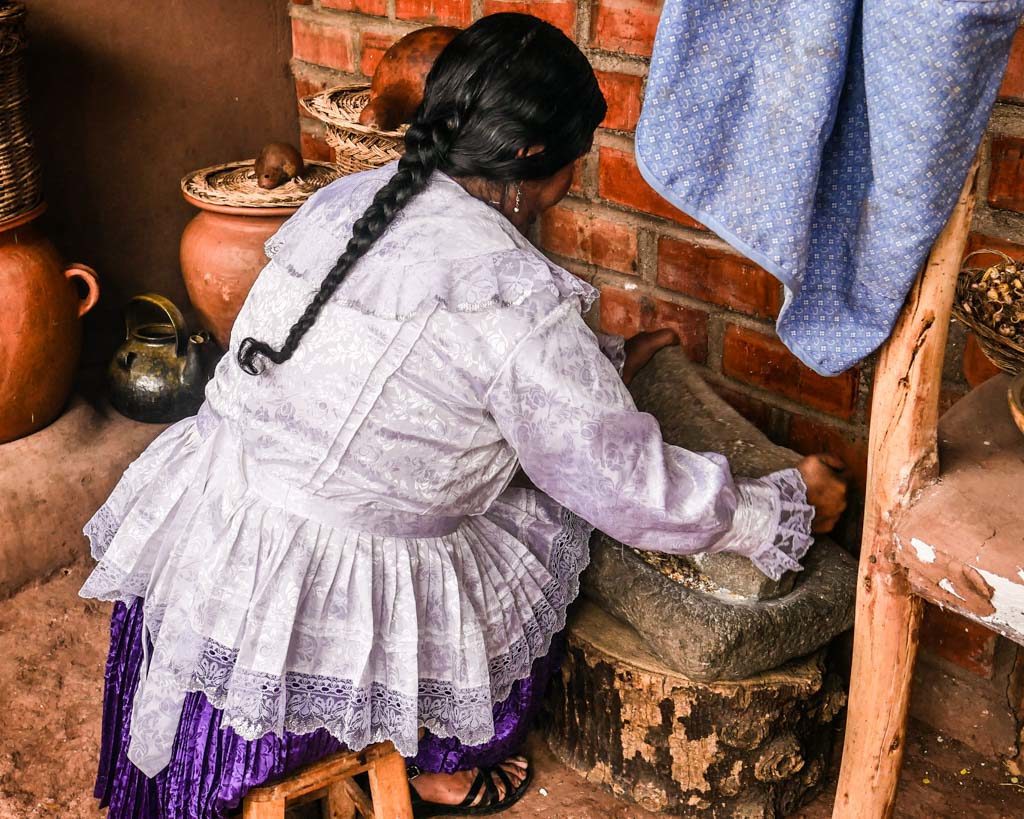 They do this with84 kilos or over 17 pounds of the corn to make one clay pot of Chicha (like the ones below in the middle of the photo). That is a lot of grinding!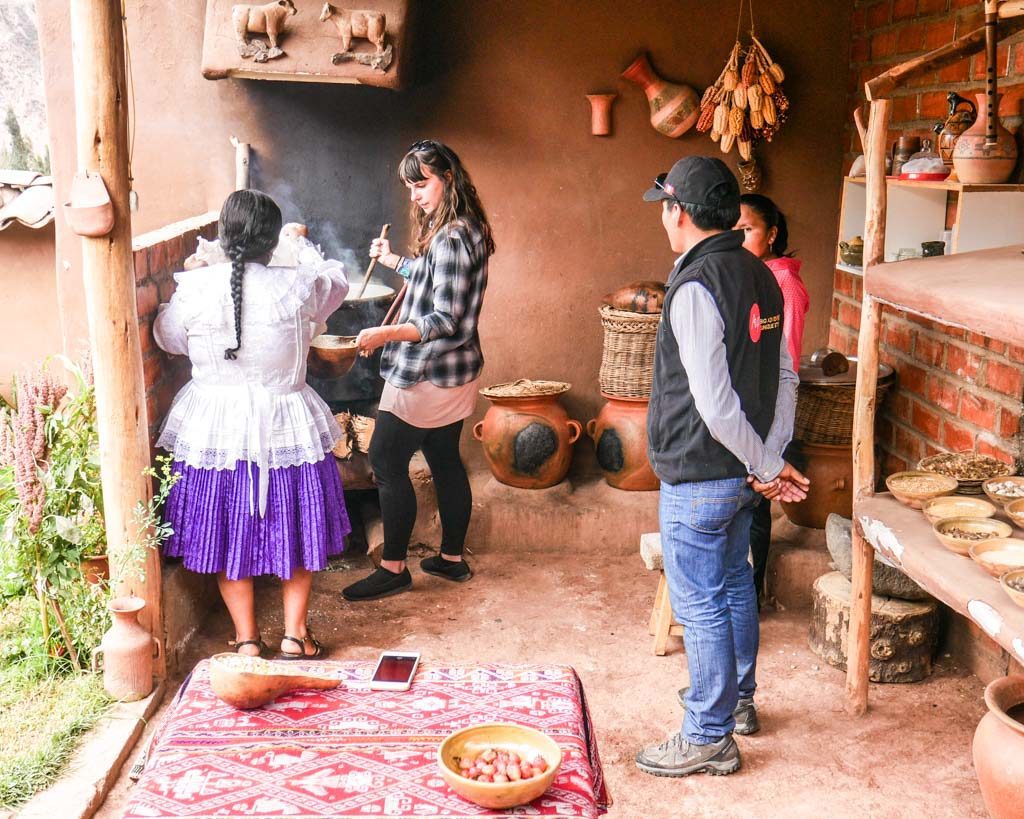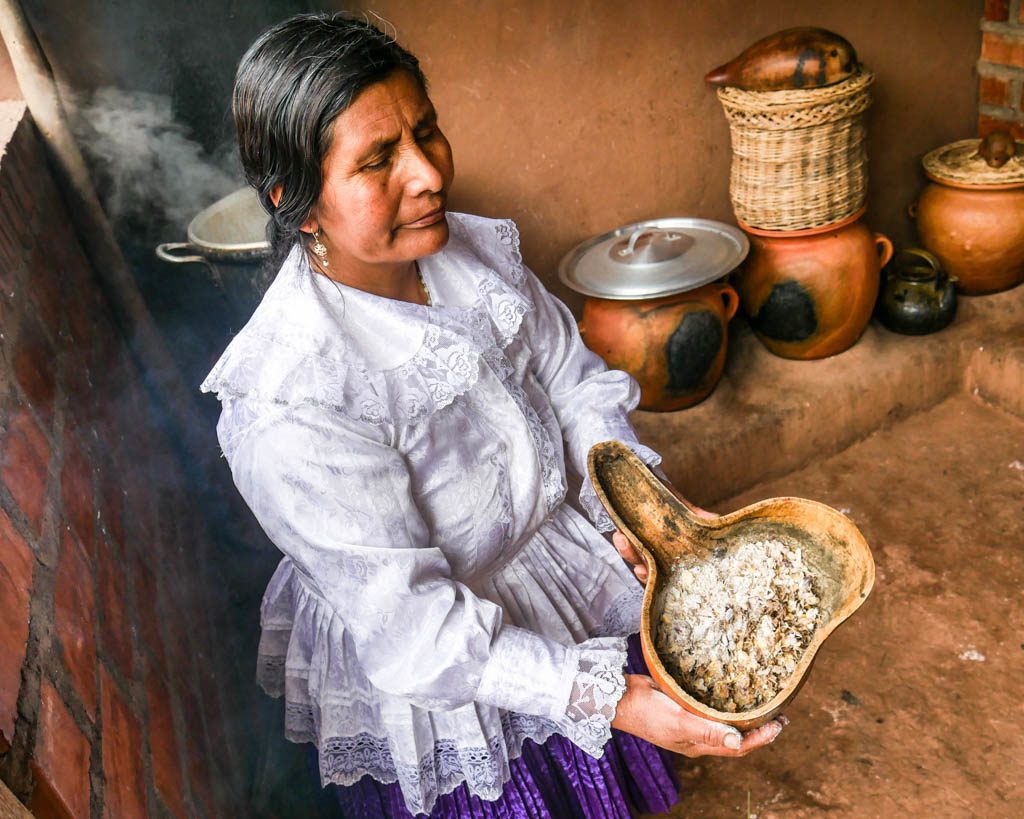 Next they take the ground corn mixture and add it slowly to a huge boiling vat of water, while stirring constantly so it doesn't get stuck together.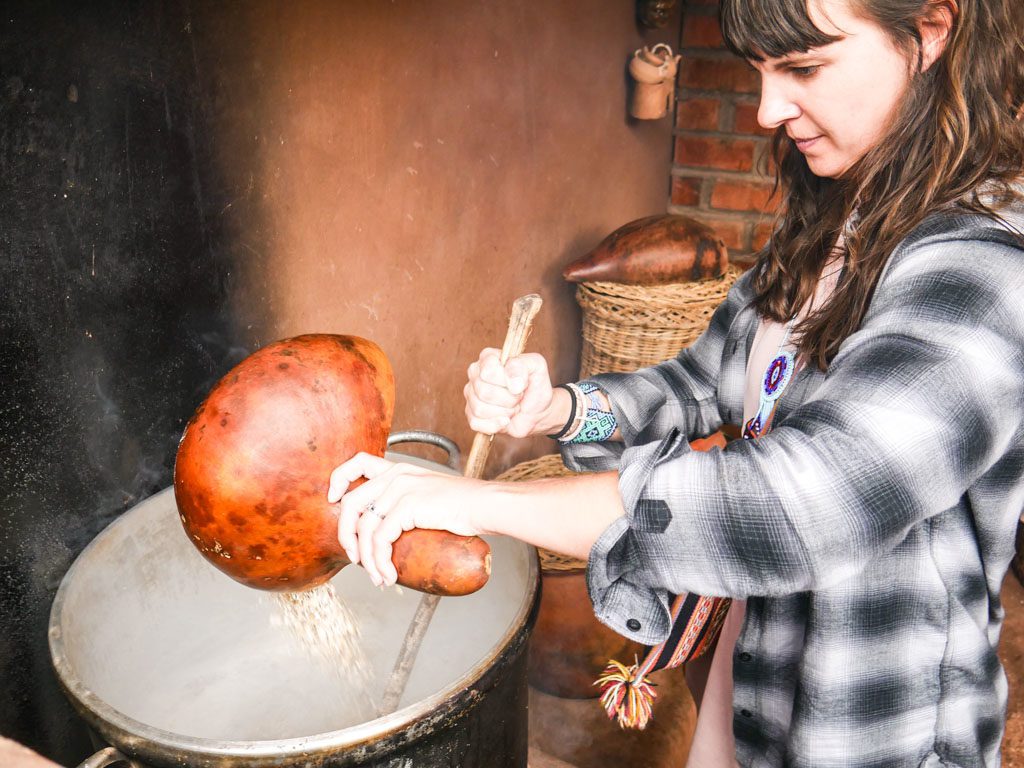 The chicha mixture then boils for awhile. After that, it is slowly transferred and strained through a wicker basket with a homemade strainer made from dried reeds. They transfer the chicha mixture with dried gourds like the one below. EVERYTHING is done with natural and traditional tools.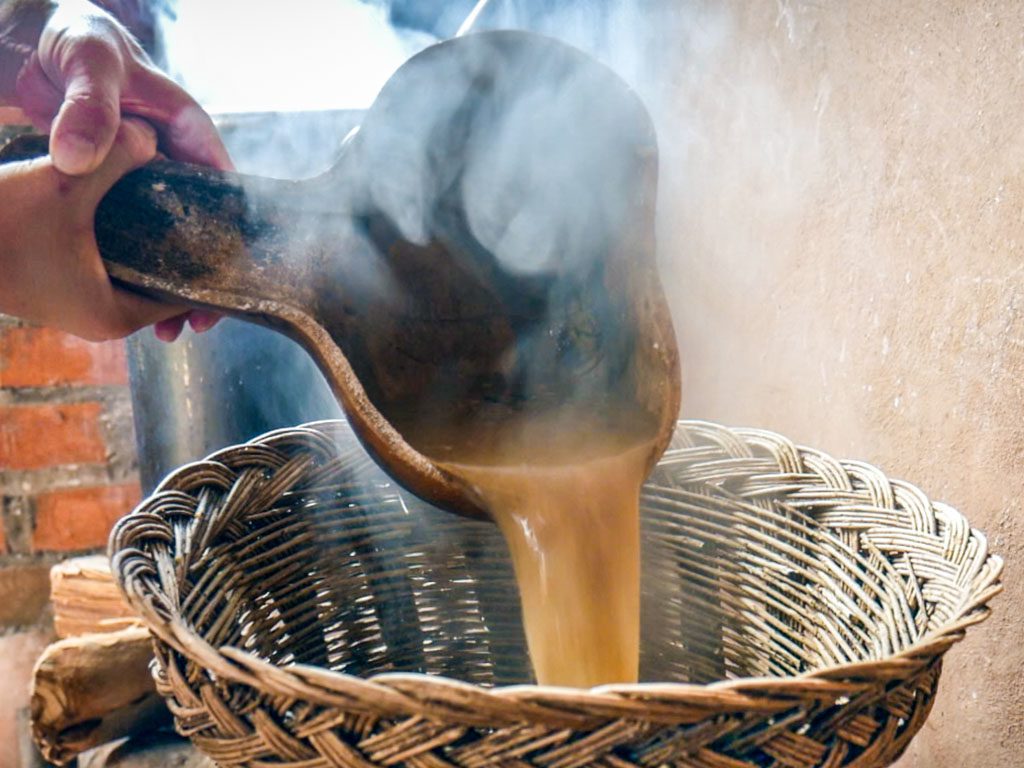 Next the chicha mixture is left to ferment for a day or so. They then will mix together different pots to get different strengths of fermented chicha. For example, they might mix one clay pot of chicha that has fermented for 2 days with one pot that has fermented for 1 day, to get a mixture that has a fermented strength that is just right.
During certain seasons they also make Fruitillada. This is a special chicha that is made with additional ingredients and is delicious! They use ingredients like cinnamon, anise, celery, fennel and other herbs to make a new version that is light, a little sweet, and really tasty.
After making the chicha, we had lunch that the family prepared for us. Everything tasted great, was fresh and filling.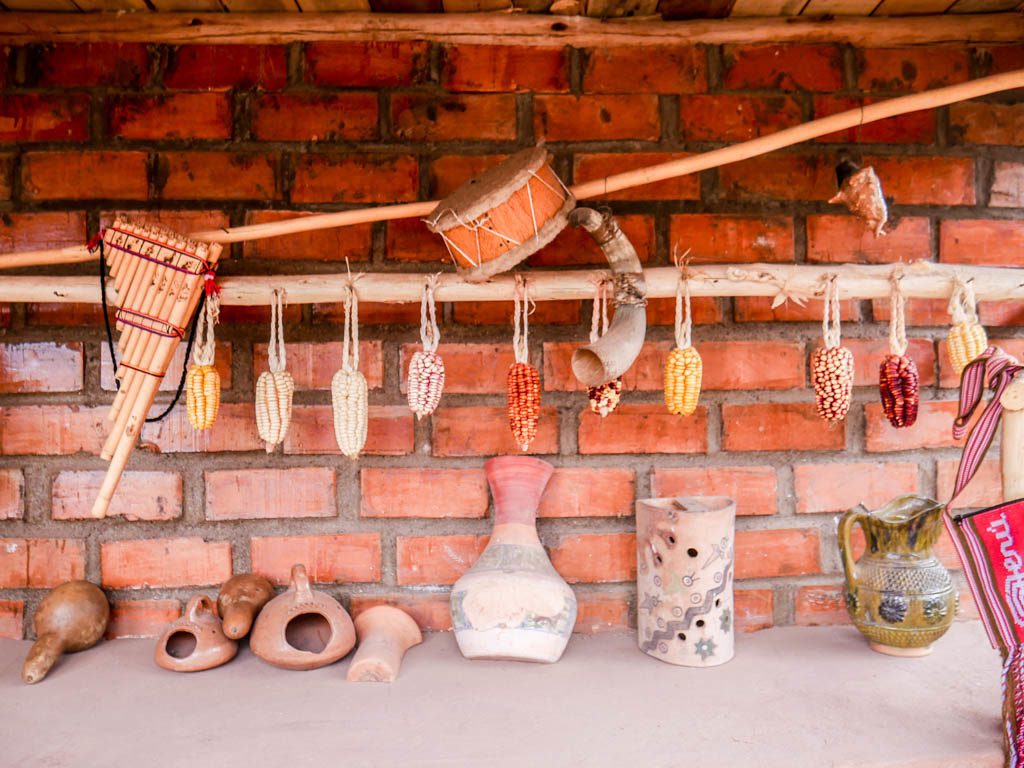 The family does this process to make chicha EVERY single day, and sells it from their home and storefront.
The family at Makichay was so welcoming and sweet. We had a great time learning from them, and getting to know them throughout the afternoon. This was experience was a great compliment to all the nature we enjoyed on our short Inca Trail/Machu Picchu/Sacred Valley tour.
Waterfall Hike/Homestay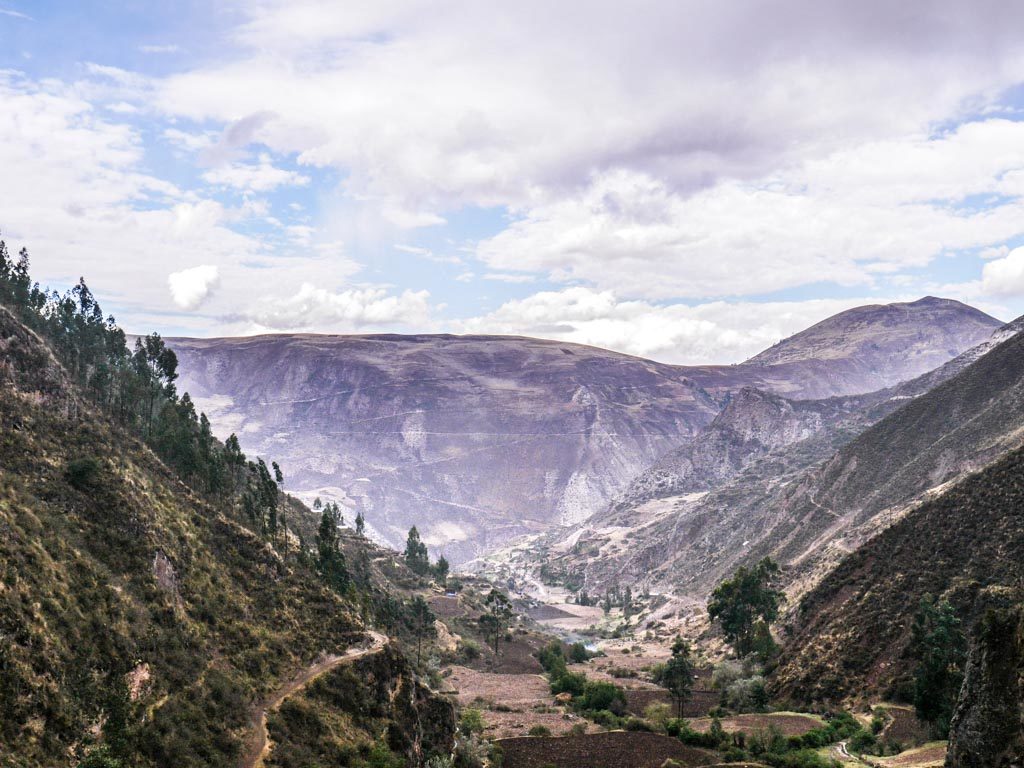 Our final stop for the day was a little remote village called Soqma. The ride itself was pretty breathtaking as we went further and further away from the highway and wound our way up switchbacks in the middle of dramatic mountains.
Once in the village, Huber, Justin and I left the van and began our hike up to the waterfall at Perolniyoq. It's not a long hike, but is up a bit in elevation and is mostly uphill, so you should pace yourselves. Once we reached the waterfall, we were pretty amazed. It's very wide, tall and powerful. You will most likely have the whole waterfall and hike to yourself since Perolniyoq and Soqma are so remote.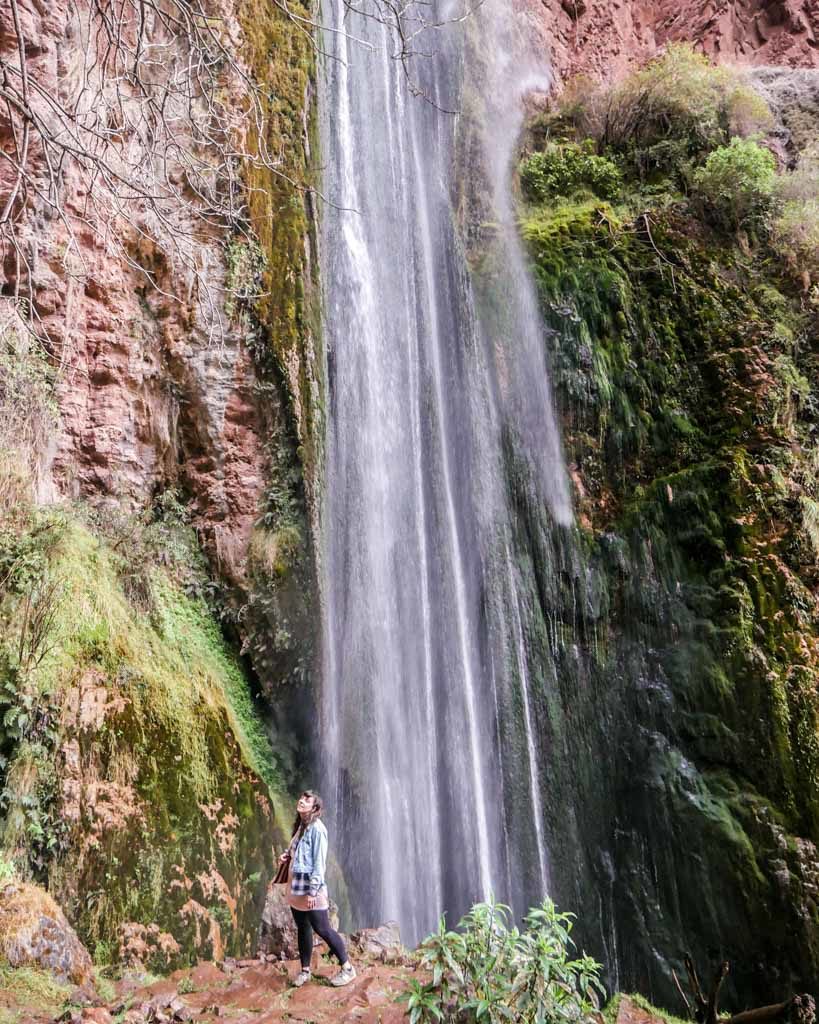 There is also an Inca ruin by the same name, Perolniyoq, at the top of the cliff that the waterfall descends from. Huber gave us the option to continue up to the ruins, but we were a bit tired and felt like the sun would be setting soon, so we opted to just climb a little bit higher to get a good view from below. If you're looking for an Inca ruin that you can have all to yourself, with an amazing view of the valley below - check out Perolniyoq in Soqma!
Then we made our way down and settled into our homestay for the night. I'm of the opinion that homestays are an important way for us as tourists to really understand the local way of life, and to give our tourist dollars to those who deserve/need them. We got a glimpse into the lifestyle in a traditional village and learned a bit about the locals' routine, meals, and home life.
The homestay was rustic but comfortable. We had a large room to ourselves with three beds (though we only need two). There were plenty of warm blankets on the beds for the really cold night. There was a basic bathroom but with running water and a toilet. Meals were also hot and filling. We left glad to have a better understanding of how our lives differ to those who live in rural Peru.
Short Inca Trail Hike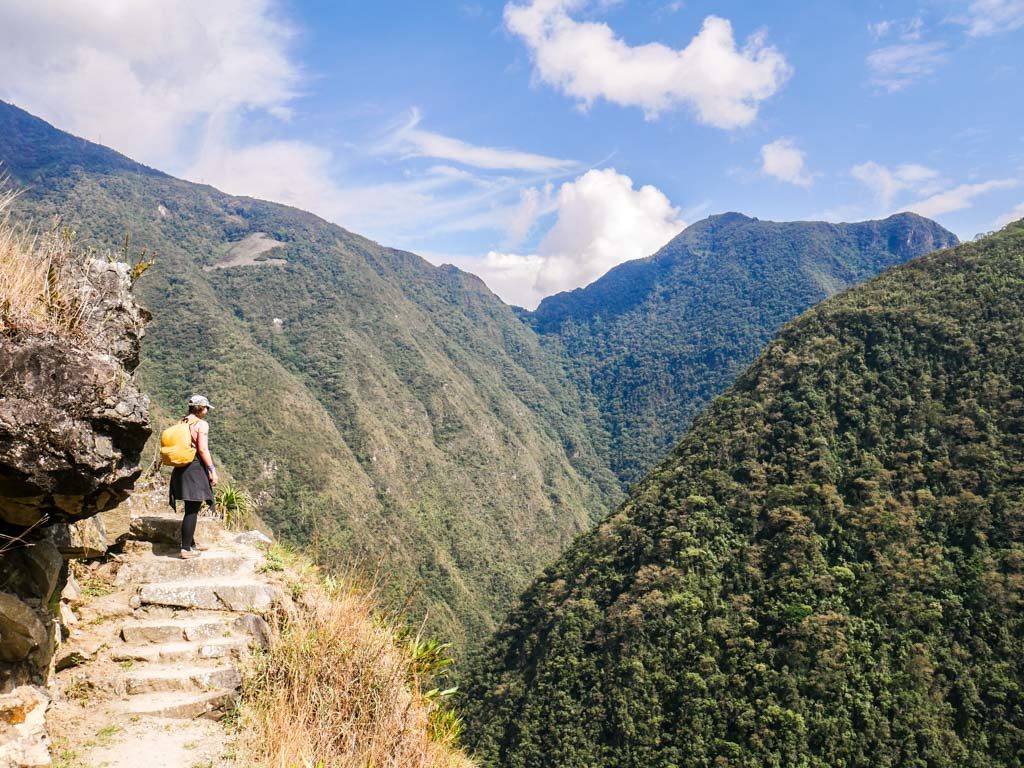 The next day we woke with the sun, had breakfast, and hopped in the van to make our way to Ollantaytambo. Once there, we were guided to the train station, given specific instructions by Huber on where to exit the train, and given our train tickets and lunch.
We got on the train a short while later, and relaxed in the comfortable seats as we watched the scenery go by.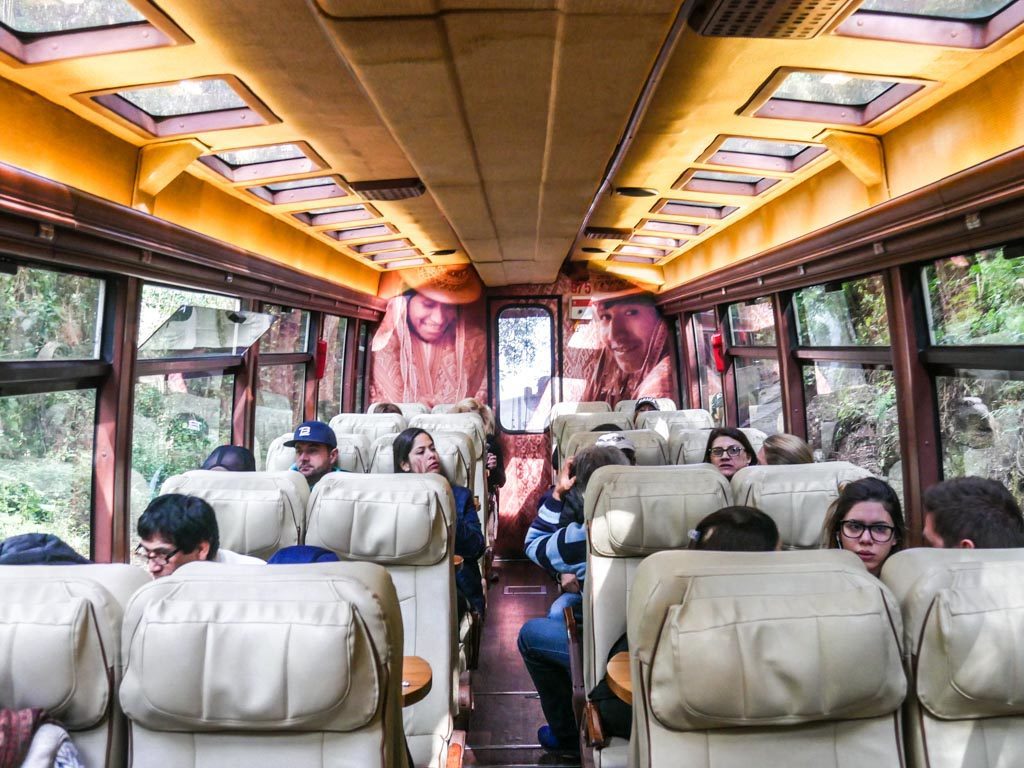 We got off at km 104 - the stop for the short Inca Trail  hike. We were met by our next tour guide, Greco, as we stepped off.
We then set off, Greco checked us in with our permits at the checkpoint, and then we stopped only a few minutes later at our first Inca ruin of the short Inca Trail hike! Greco gave us some backstory on the trail, the ruin, and how these towns acted as a network for travelers who needed to hike between Cusco and other cities like Machu Picchu.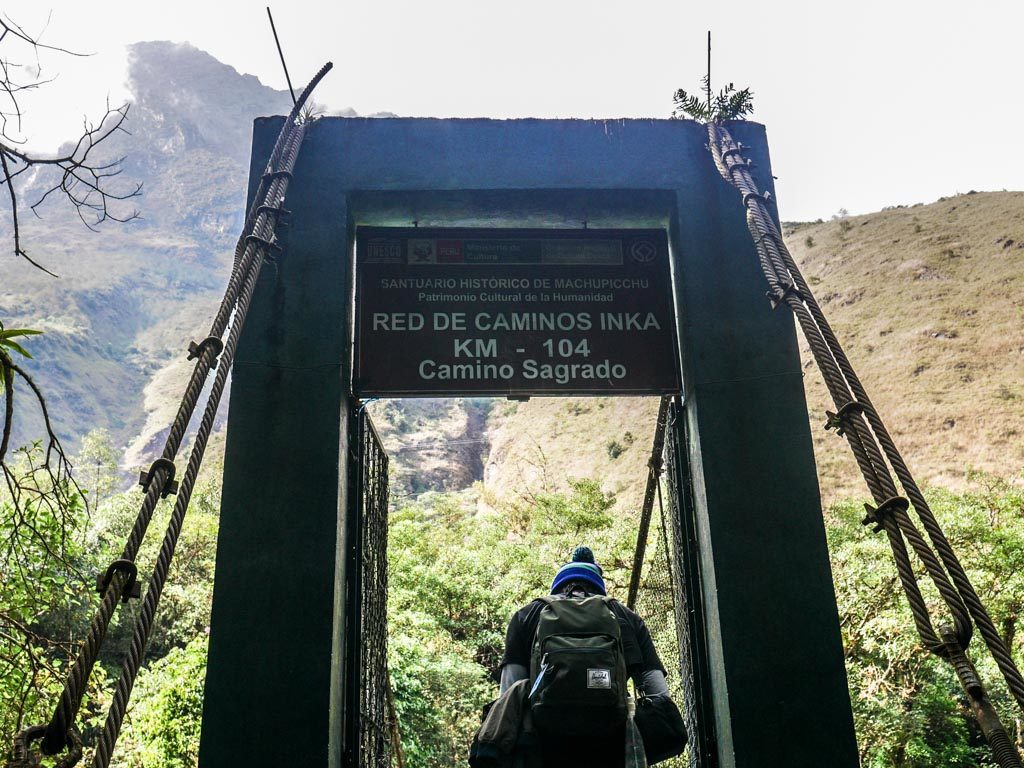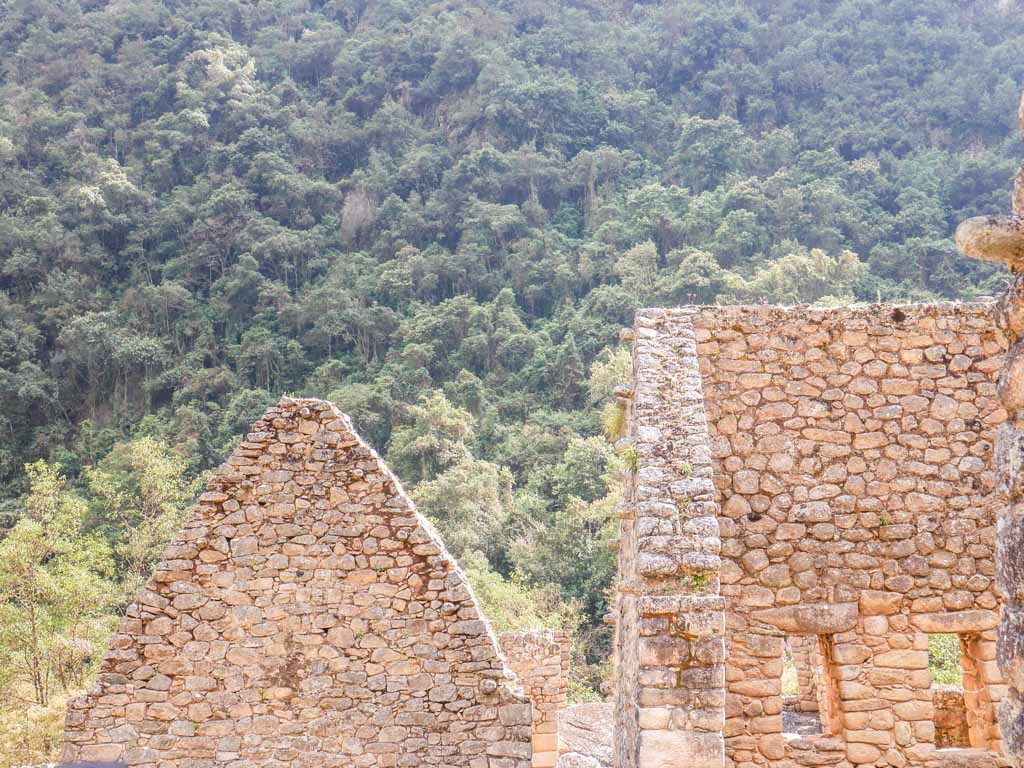 We continued on, going up and up. The first portion is the steepest, and then the trail continues to go up, but at a gentler pace. We chatted with Greco along the way, asking questions about the history, the trail, or just chatting about life.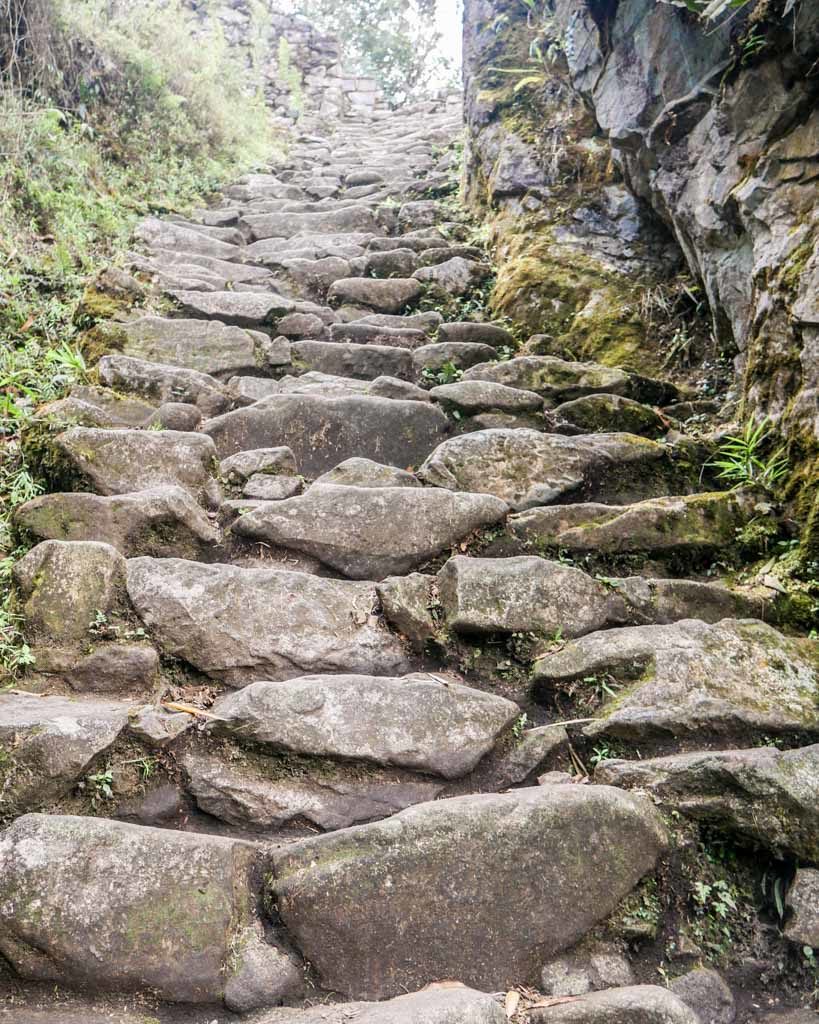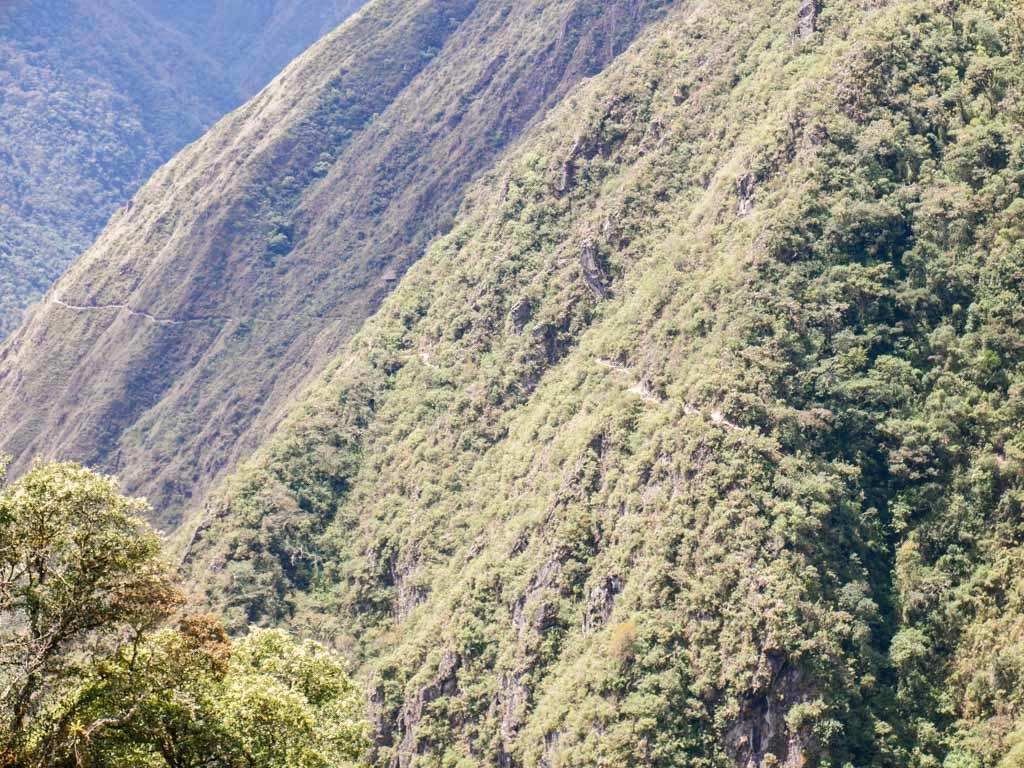 We were greeted with amazing views of the mountains and Sacred Valley that just kept getting better as we went up on the short Inca Trail hike.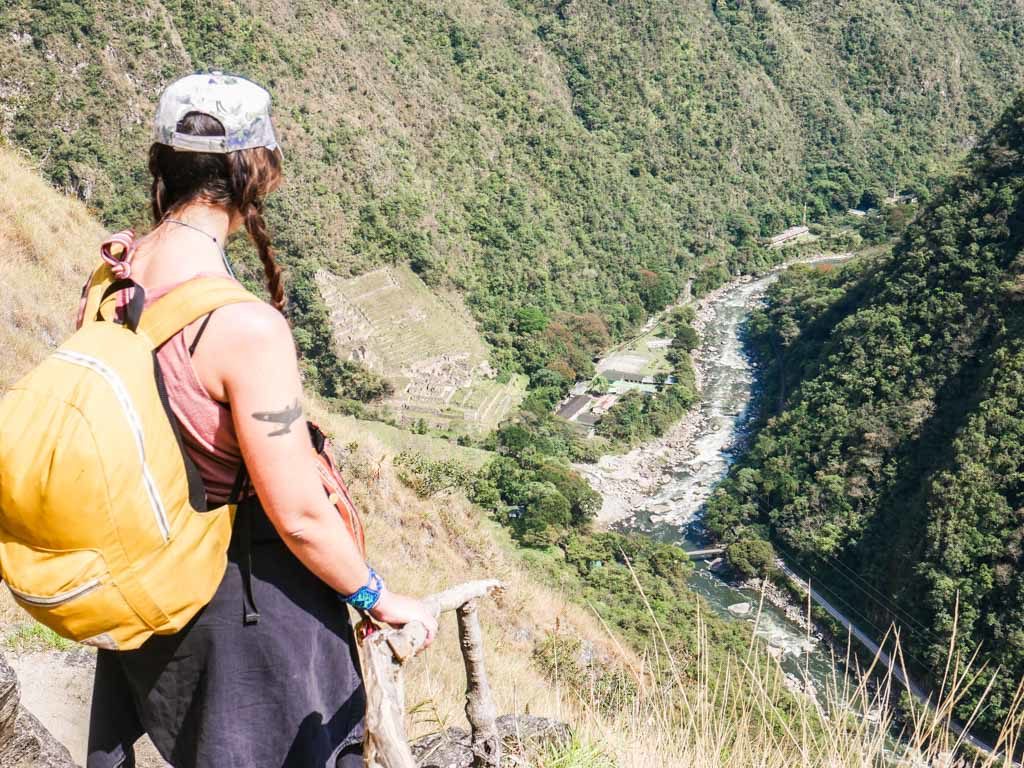 We arrived at a waterfall and then shortly after, at the impressive ruins of Wiñay Wayna. I guess these ruins get overshadowed by Machu Picchu, since I've never heard of them, but they were simply amazing. They're on a very steep part of the mountain, so all the terraces are narrow and seem to shoot straight up. The site is super green, and the buildings were interesting.
We stopped here to learn more about how the area was used for agriculture by those that lived in Machu Picchu. Greco told us lots of interesting facts, including that Wiñay Wayna means "Forever Young" in Quechua.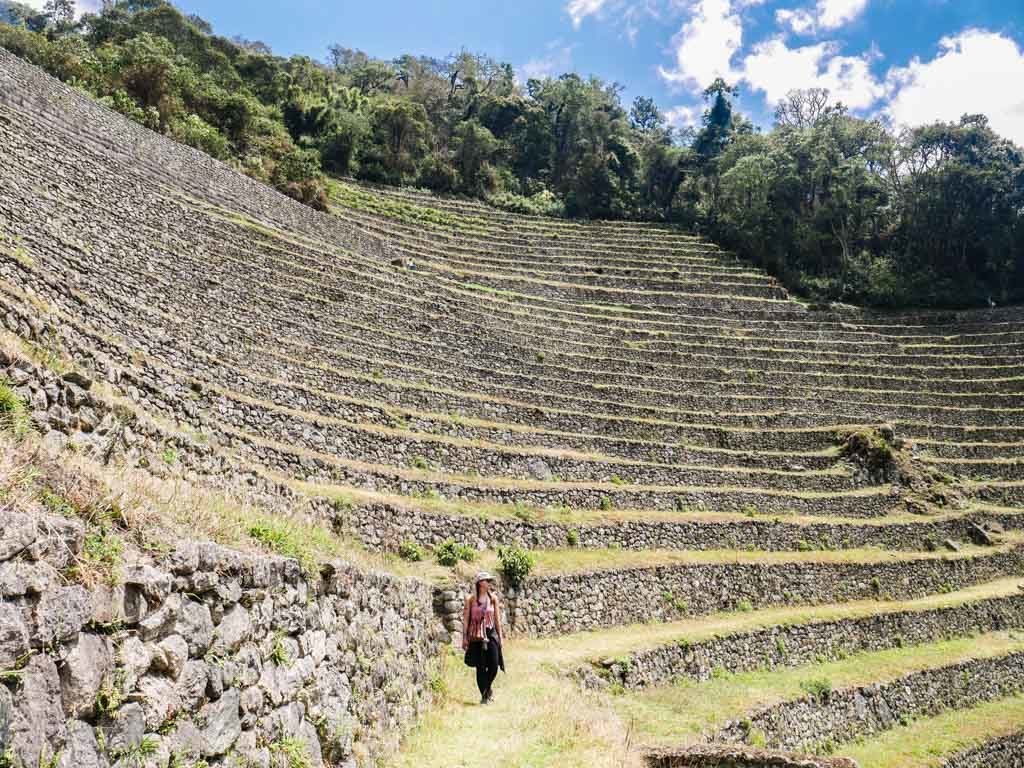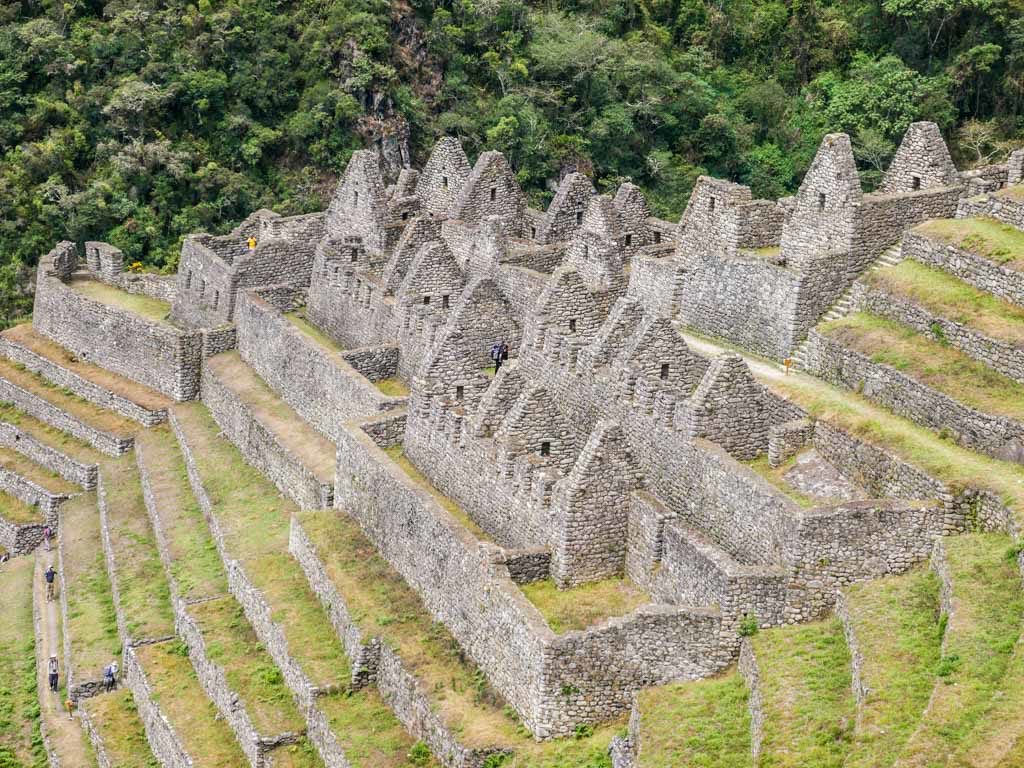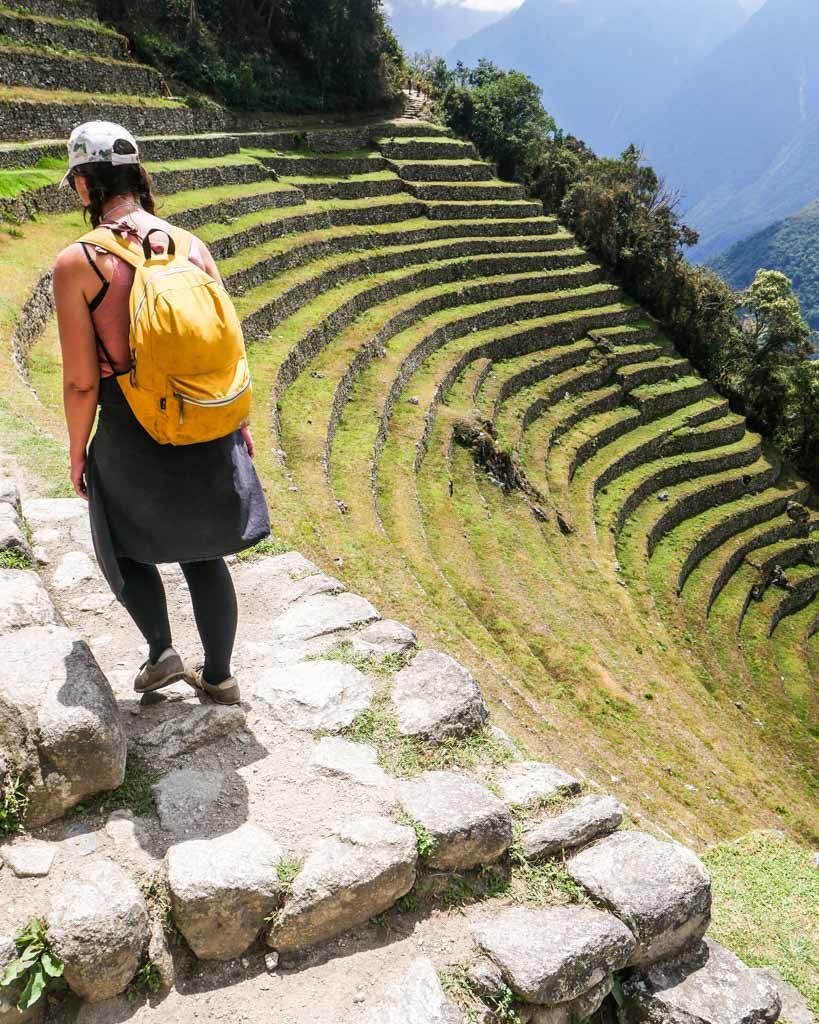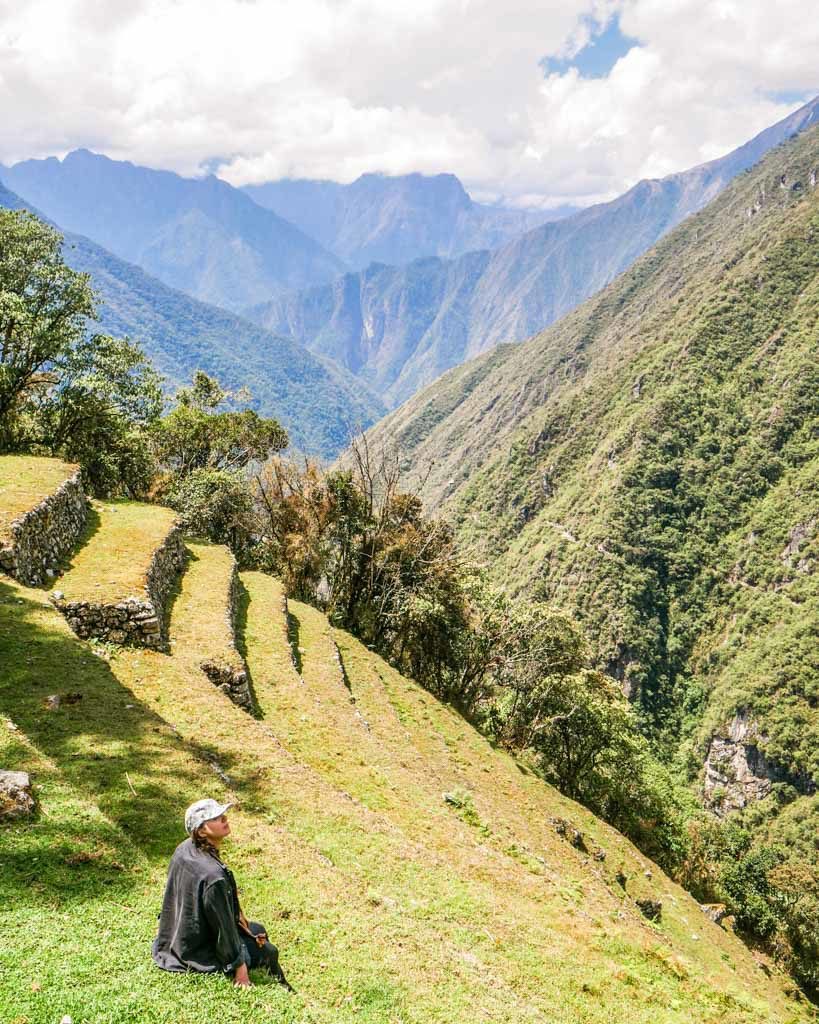 We continued on further, the landscape changing to be a bit more shaded and jungley. We came across some cute llamas and more amazing viewpoints.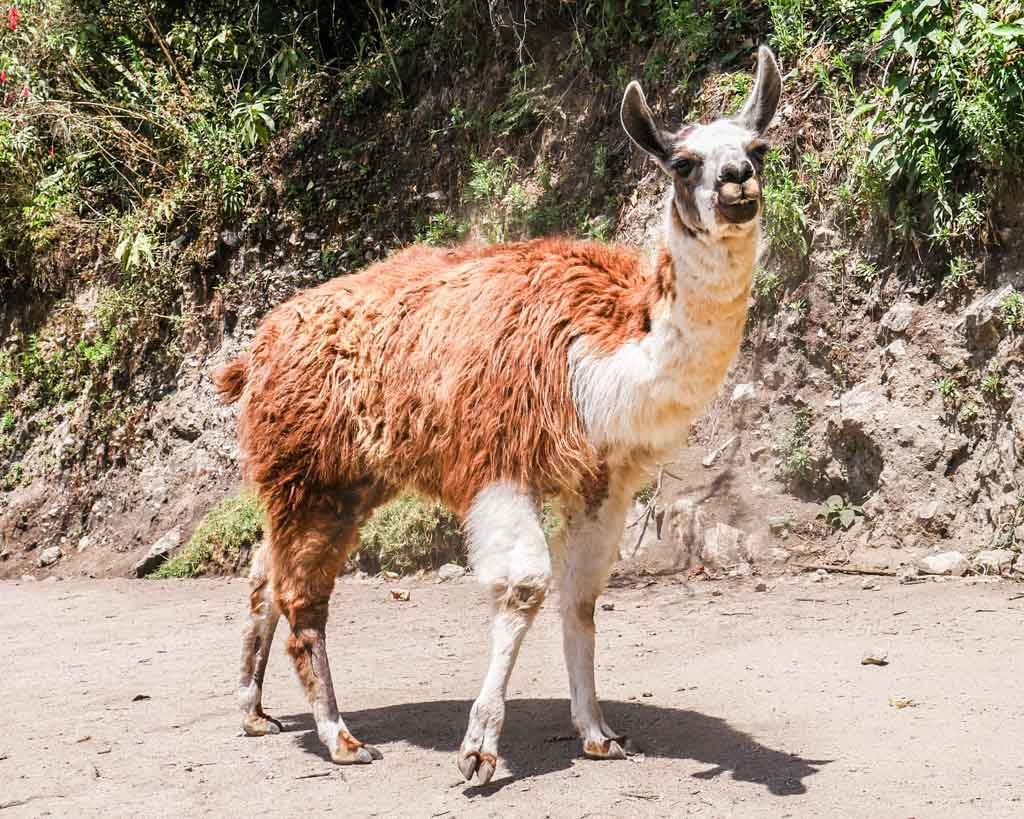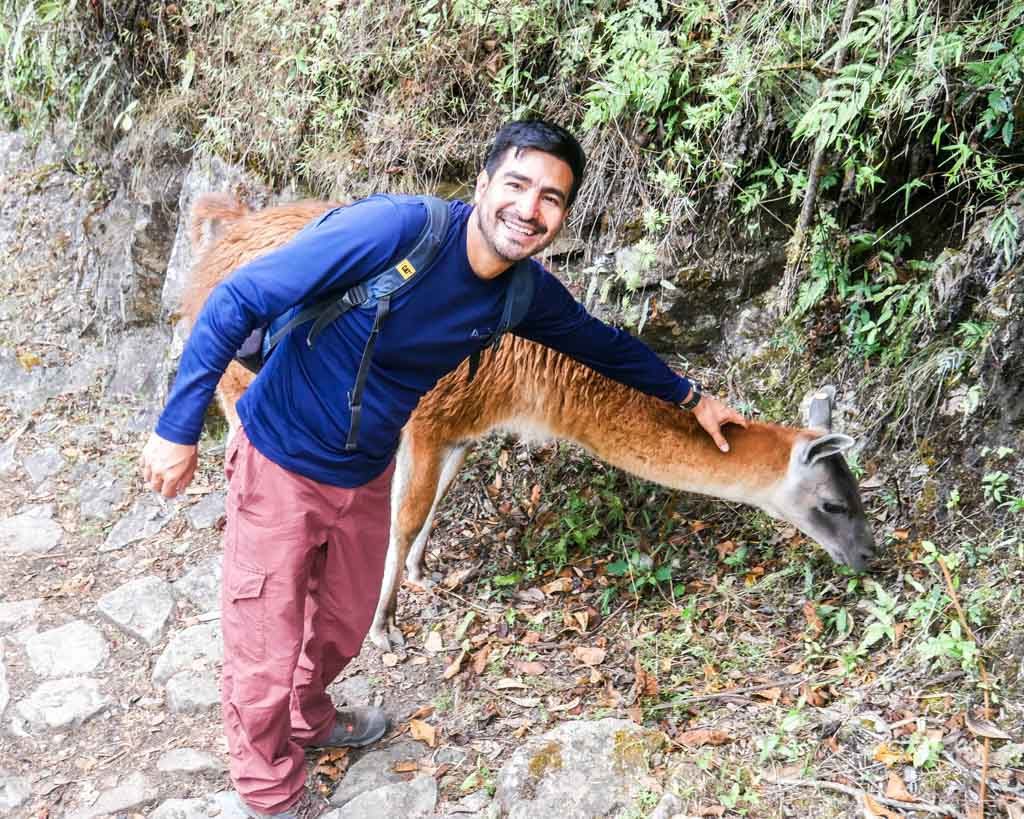 Machu Picchu Visit 1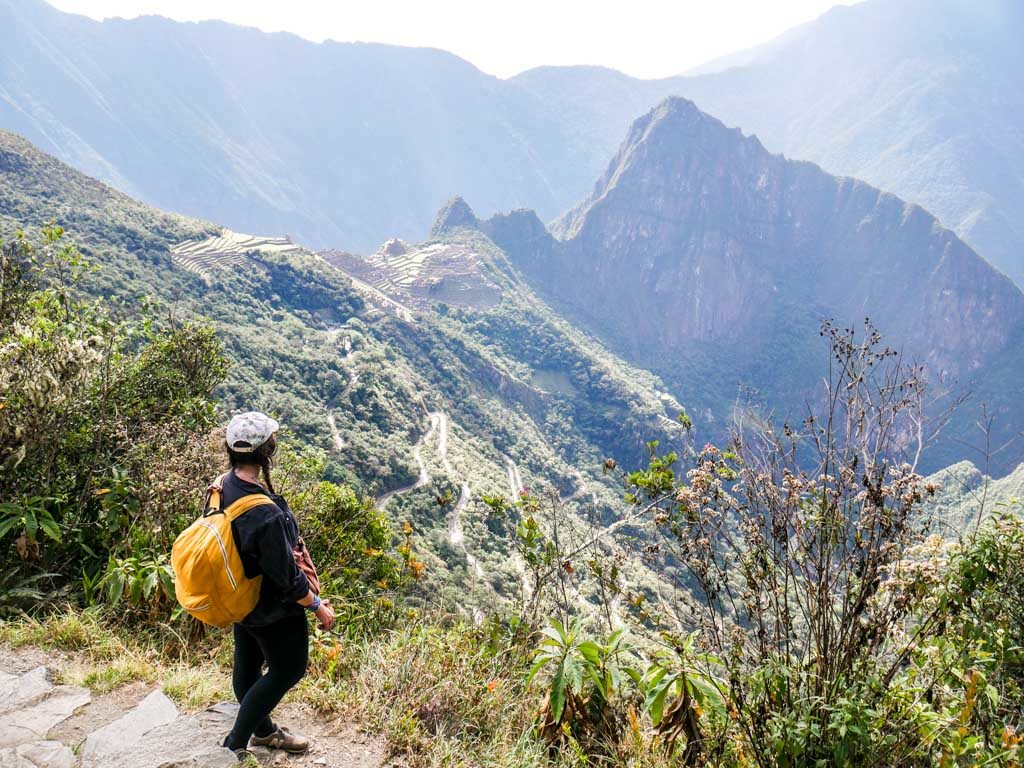 And then we arrived to the Sun Gate.
This is my favorite memory from visiting Machu Picchu. After a challenging and amazing short Inca Trail hike for most of the day, we walked up the last steps at the Sun Gate, and were rewarded with a stunning view of Machu Picchu across the valley. The afternoon sun made the site glow yellow, and the peaceful setting of the Sun Gate allowed us to really enjoy taking in this amazing site.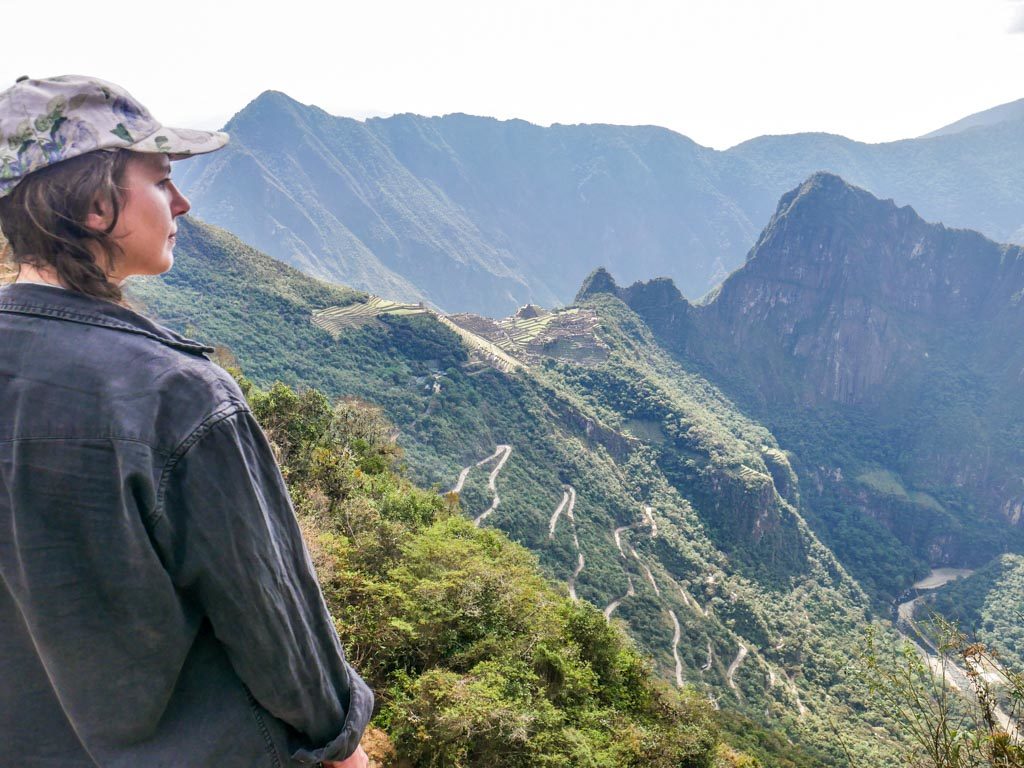 The thing I can't stress enough is that Machu Picchu is very crowded. It's one of the 7 new wonders of the world, so attracts people from all over every single day. This isn't to say you shouldn't go, I think it's a magical place - beautiful, well-restored ruins set in on indescribably gorgeous mountaintop. But it was a bit hard for me inside the crowded ruins to have quiet moments to take in the majesty of it all.
But the Sun Gate was the perfect place for that kind of experience. You can sit, and gaze in quietness. When we were there, there mere maybe 20 other people. I feel so glad that my first sighting of Machu Picchu was from this special place.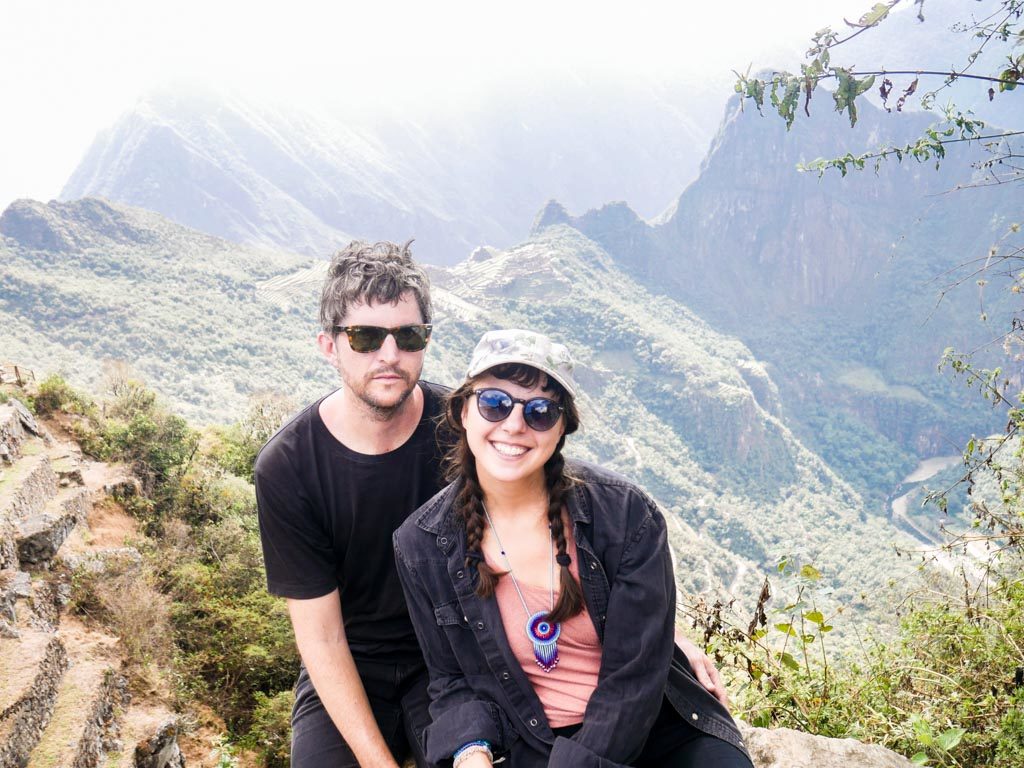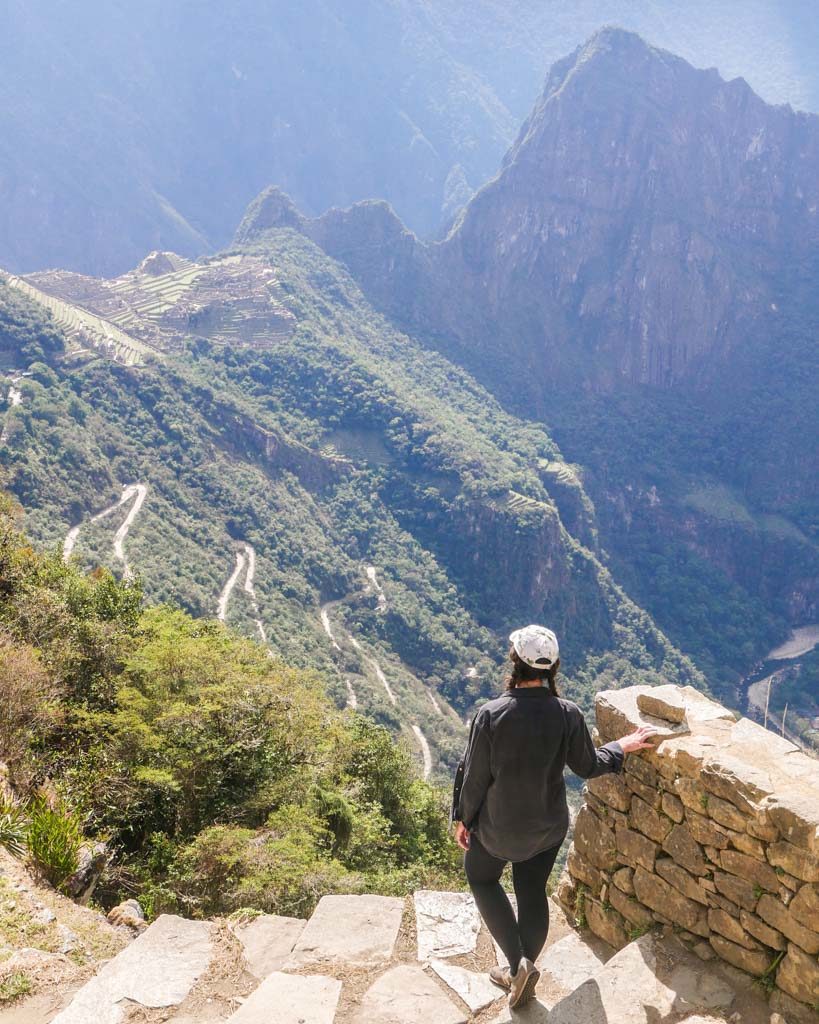 After we took it in for awhile and snapped some pictures, we walked down the path to the actual site. Once there, we walked to the area just above the main part of the ruins - where the most iconic photos are taken. I was so glad we were going to get two opportunities to photo Machu Picchu, and with different light. The afternoon golden light was great, and there was an approaching storm a ways off that gave the surrounding mountains a moody aura.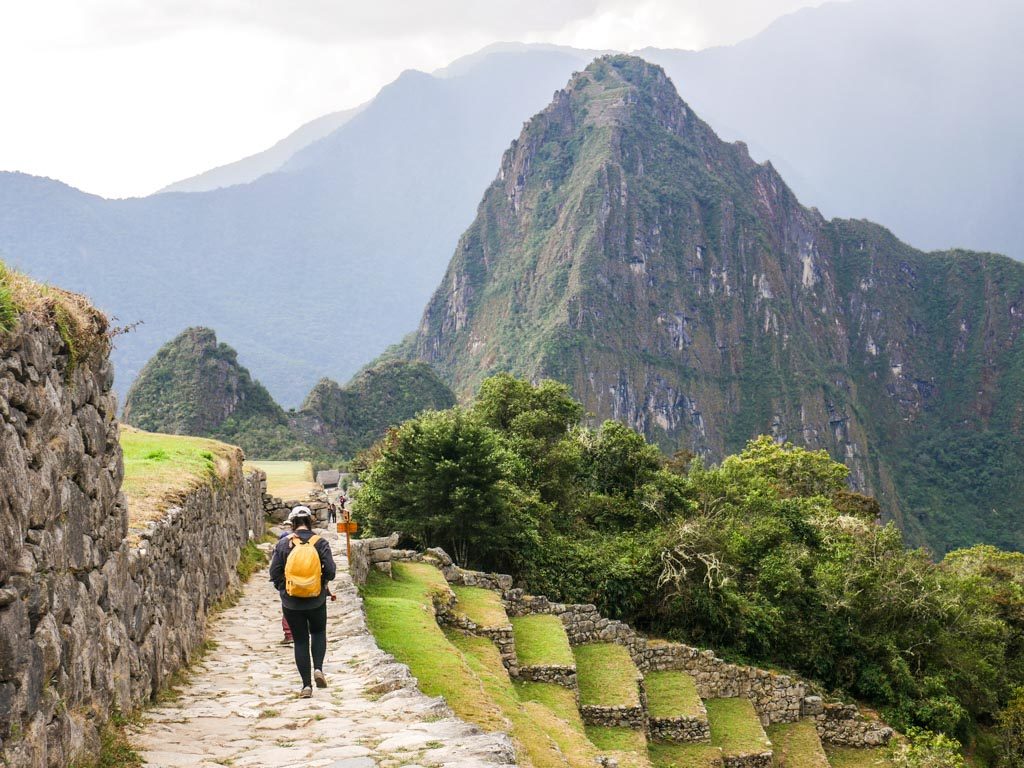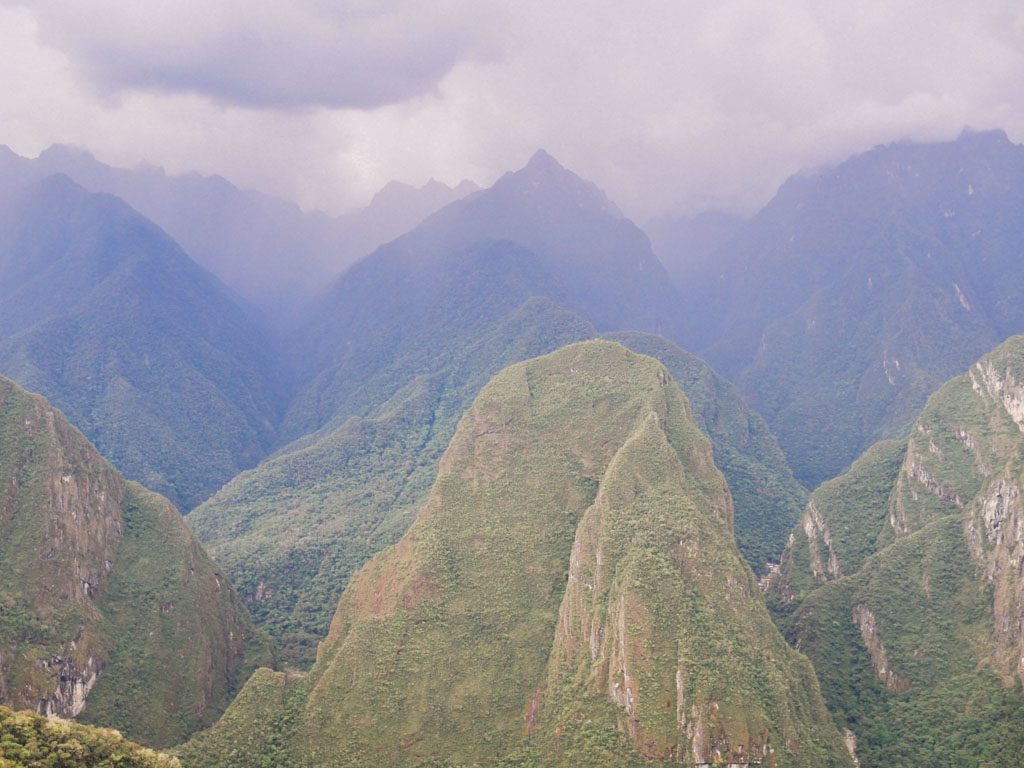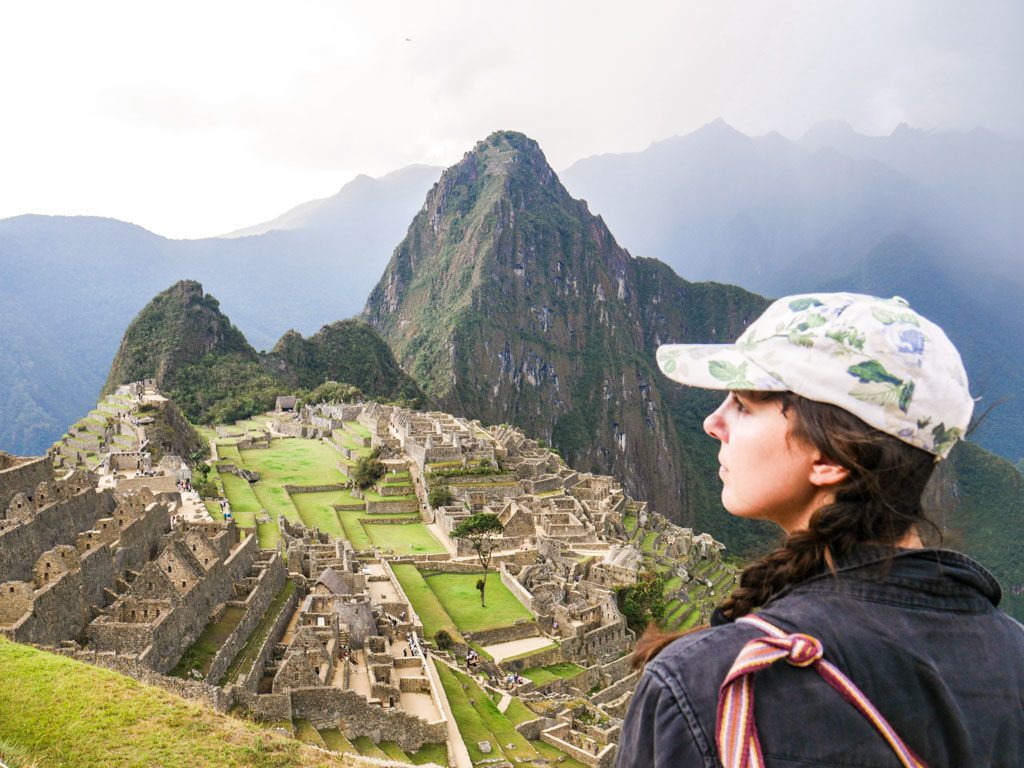 Greco told us a bit more history, and then we descended a short way to the bus that would bring us down to the town of Aguas Calientes for a night's rest.
Aguas Calientes Hotel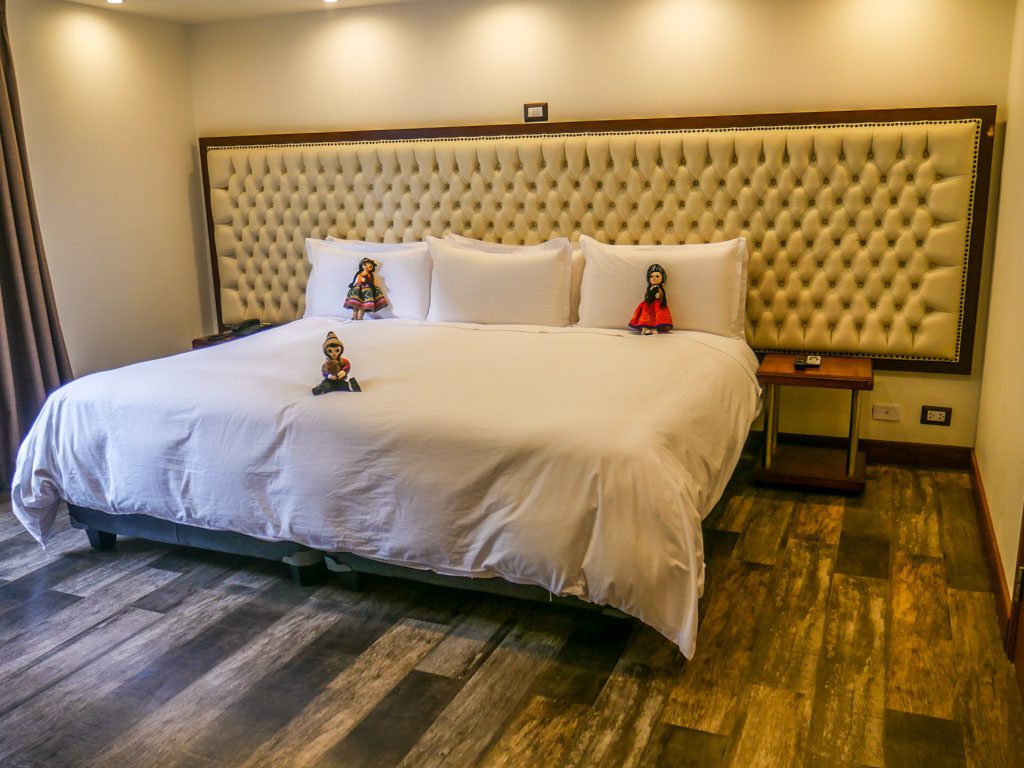 Greco rode with us on the bus that descends the steep switchbacks to the town of Aguas Calientes in the river valley, and then walked us to our hotel.
Our hotel, La Cabana, was a luxurious and welcome place to rest after a long day's hike. The bed was large and comfortable, the shower room had plenty of hot water, and the big jacuzzi in the room was a welcome site. I spent a couple hours in there that night letting the hot water relax my muscles.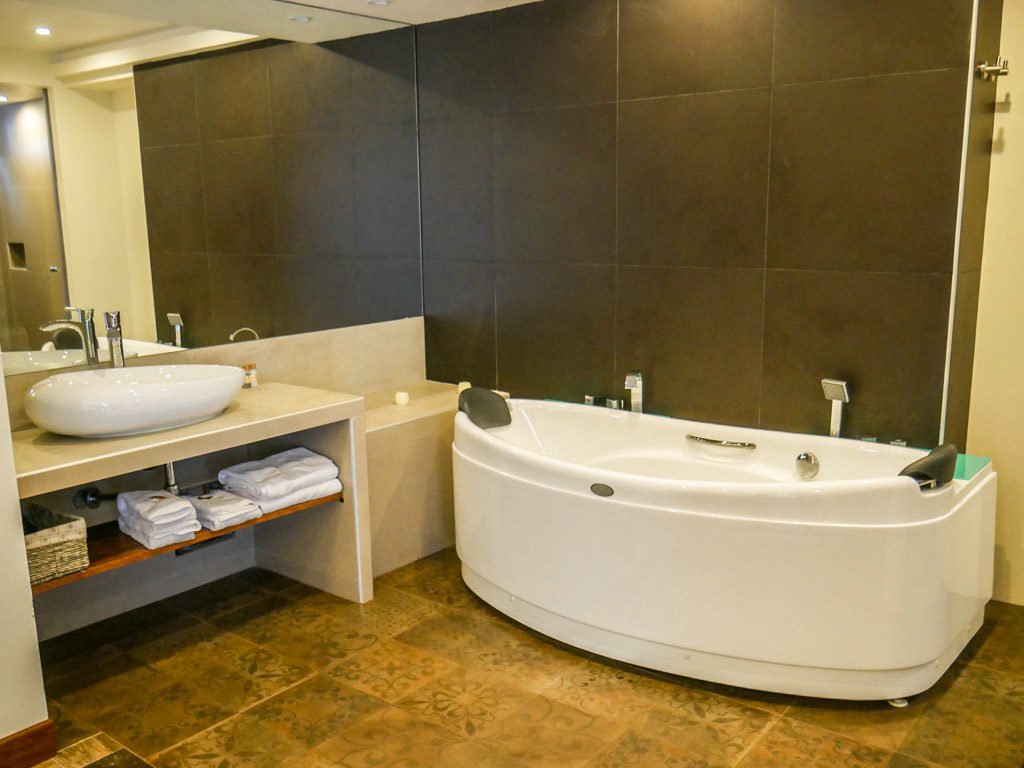 The hotel also offers a buffet breakfast that is included in the stay. We enjoyed yogurt, granola, fruit, eggs, and coffee before meeting back up with Greco in the morning.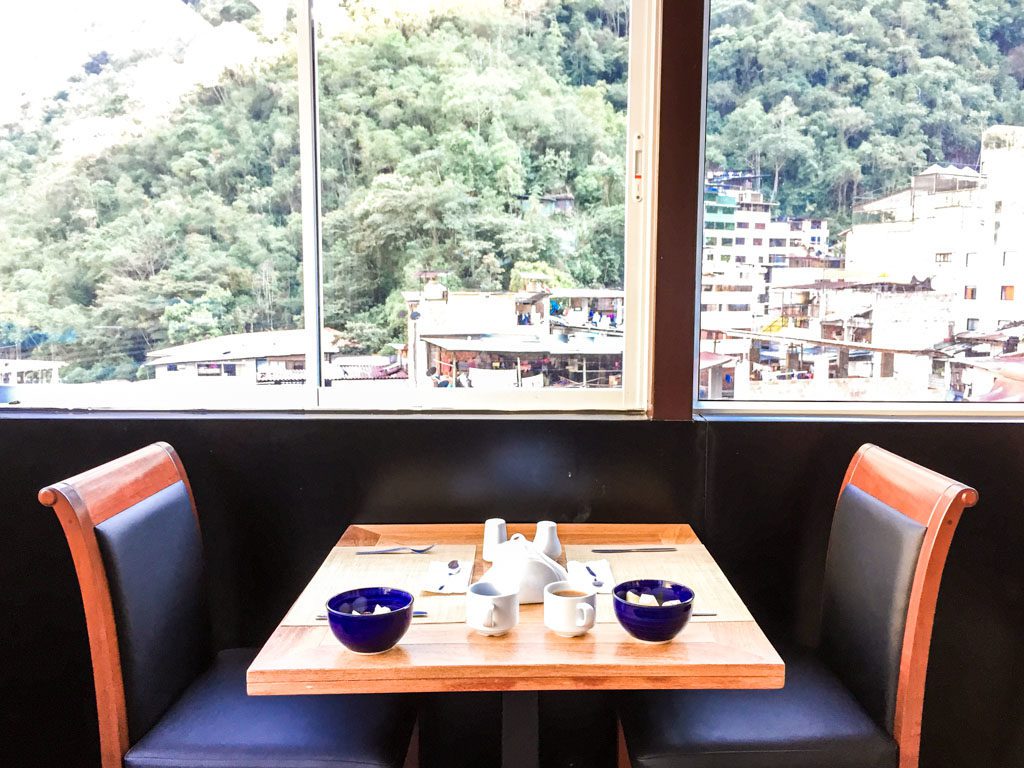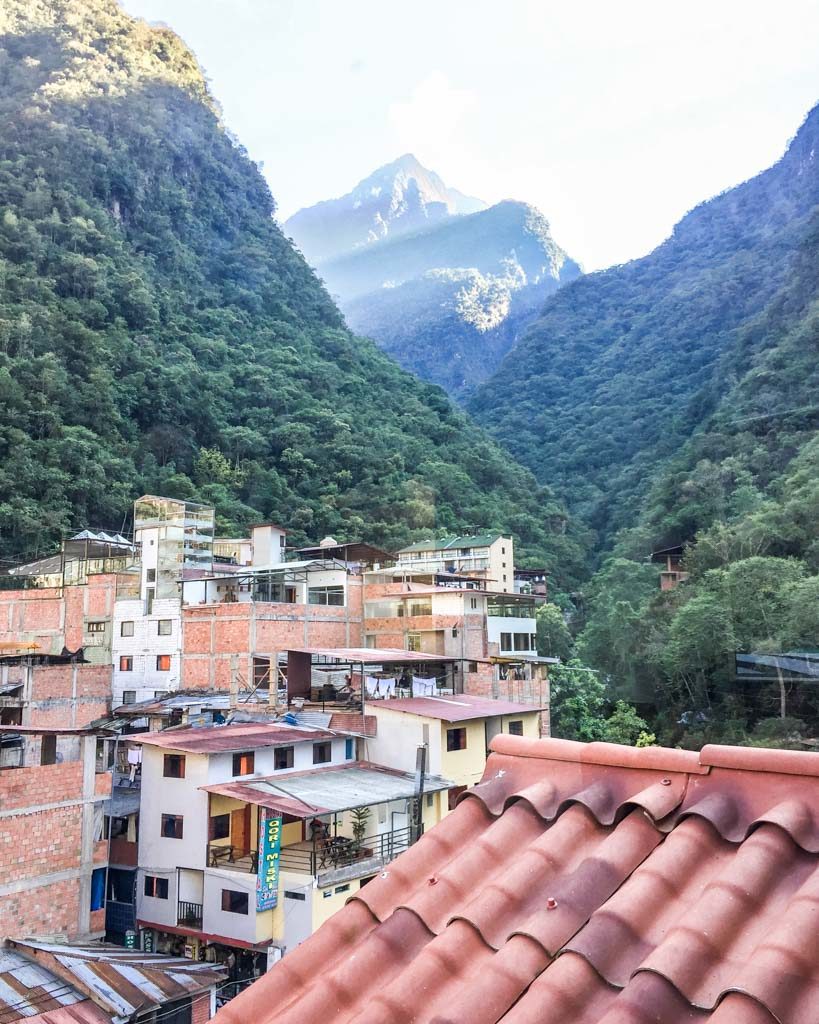 Machu Picchu Visit 2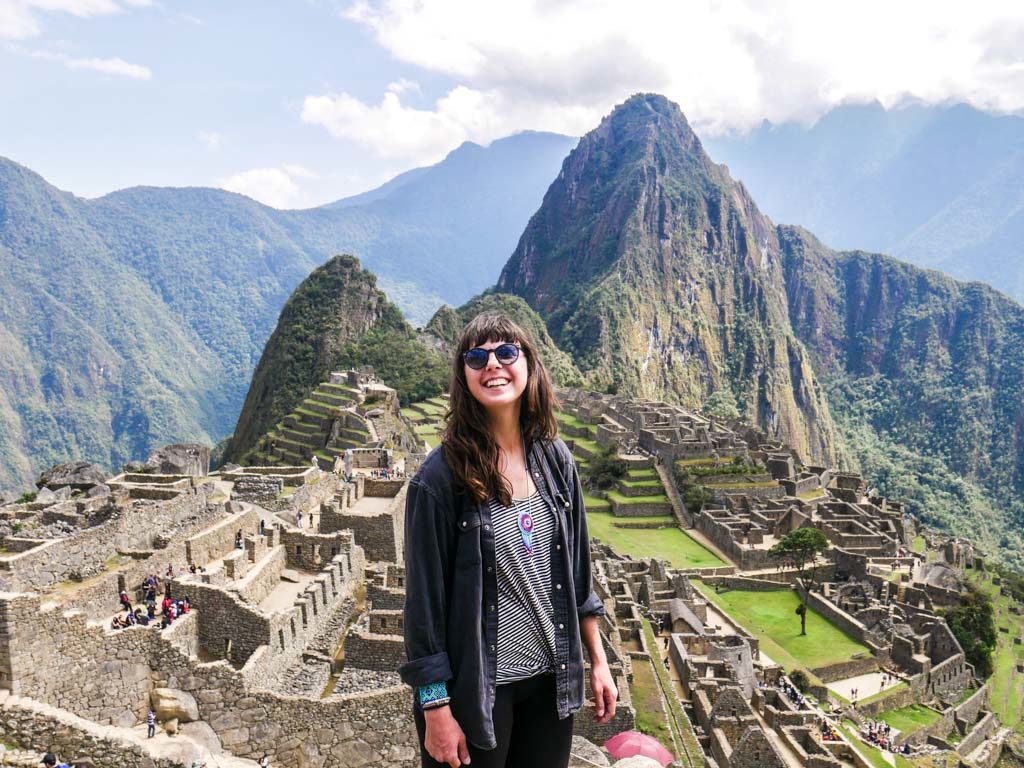 On the third morning, we met back up with Greco at the appointed time, and then made our way to the bus to head back up to Machu Picchu.
Because of Greco's great advice, we decided to avoid heading to the ruins really early - like every other tourist in the whole town was doing! We woke up early and peeked out our window to see the line for the bus winding blocks and blocks back at 6am. We're glad we didn't have to wait in that long line. Instead, we headed up at 9am, and got right on the first bus that pulled up.
We got up to the site, Greco checked us in at the checkpoint, and then gave us the option to go back up the the overlook point we ended at yesterday, or to go right in the lower part of the ruins. We opted to go back up to the overlook point so we could get some more pictures at a different part in the day and make sure we had all the photos we wanted.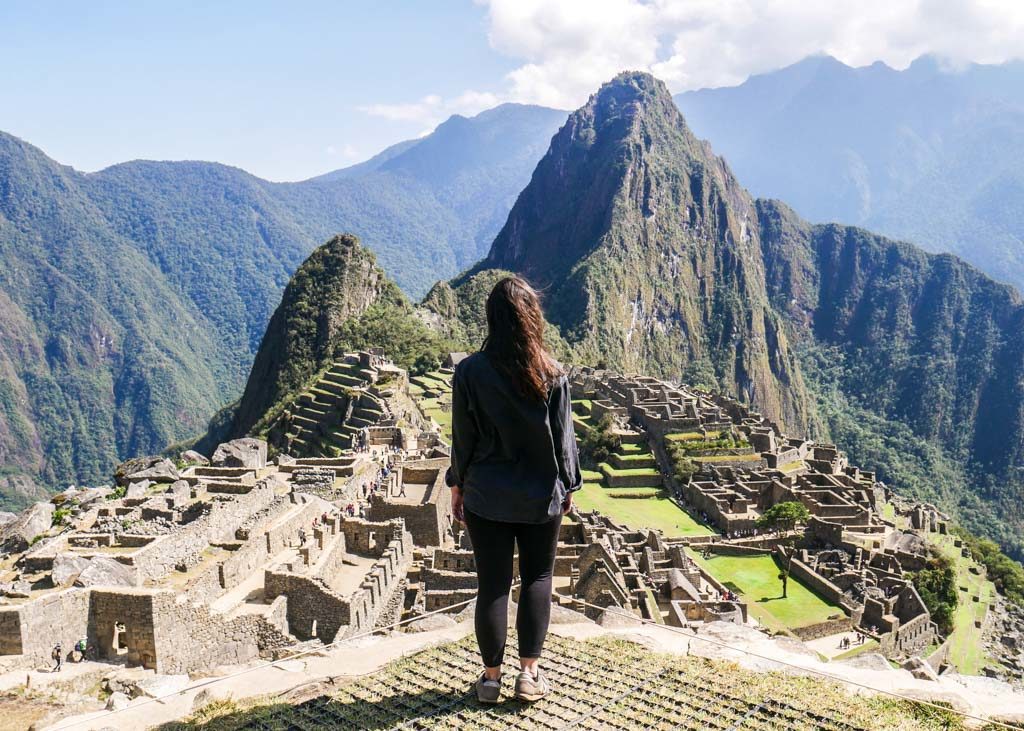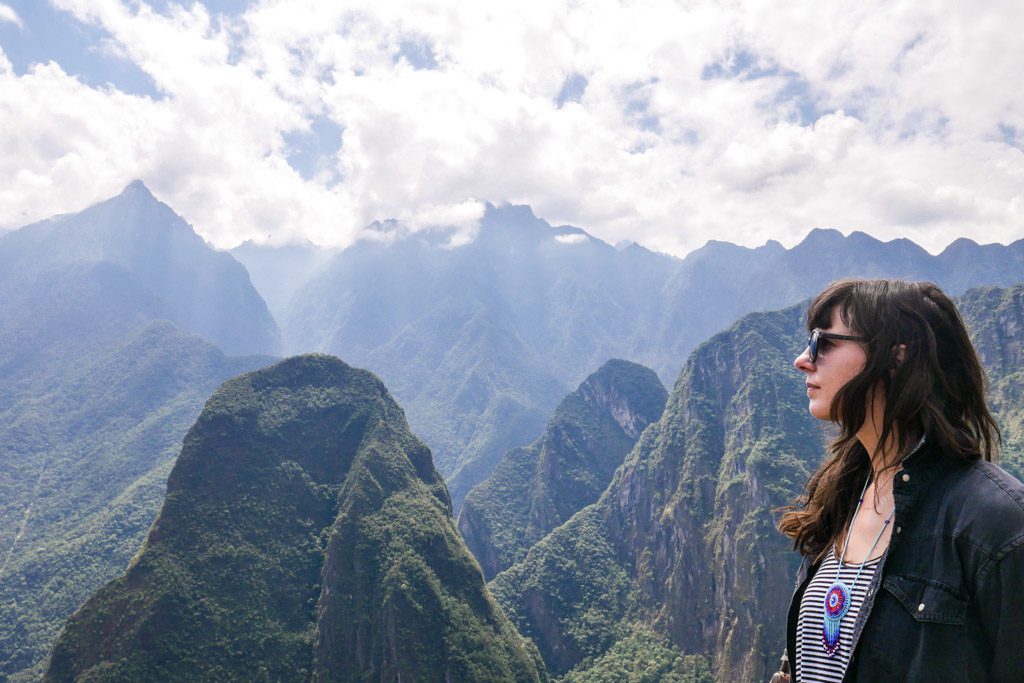 After taking a zillion more photos, we stopped and Greco gave us more history about what the site of Machu Picchu was used for, how it was discovered again in modern times, and what the different parts of the structure were for.
We then walked down and through various parts of the site, learning a lot about the Incan culture, the Incan religion, lifestyle, and history. Greco was a great teacher, he had lots of interesting facts to share and was always welcoming of questions.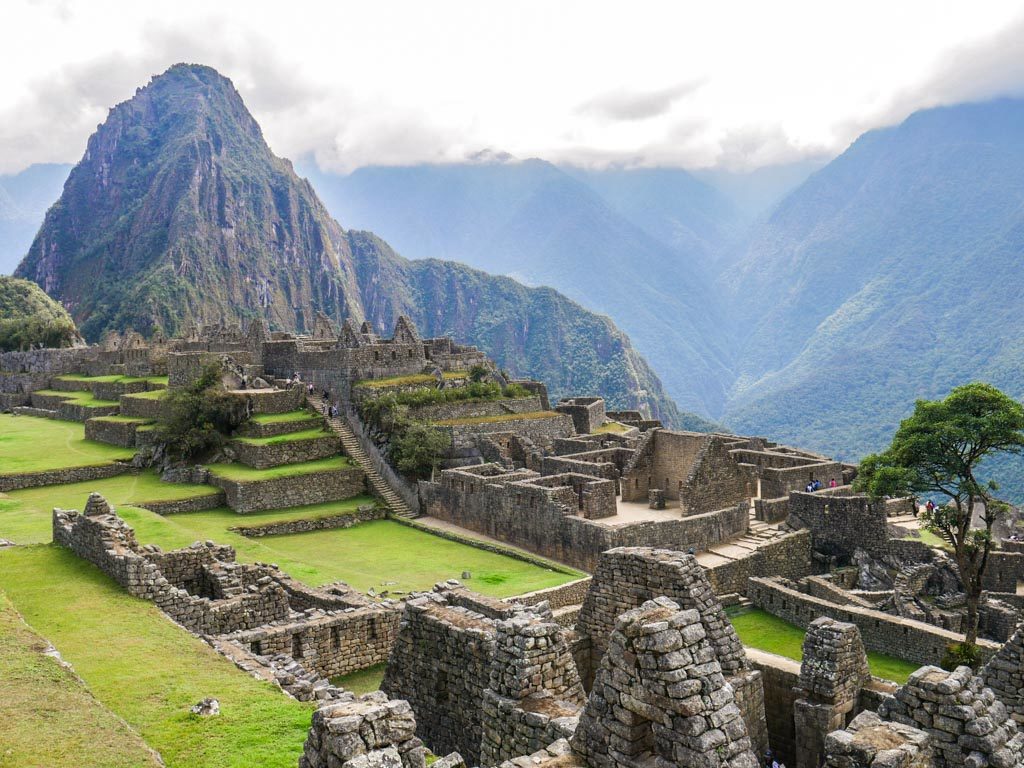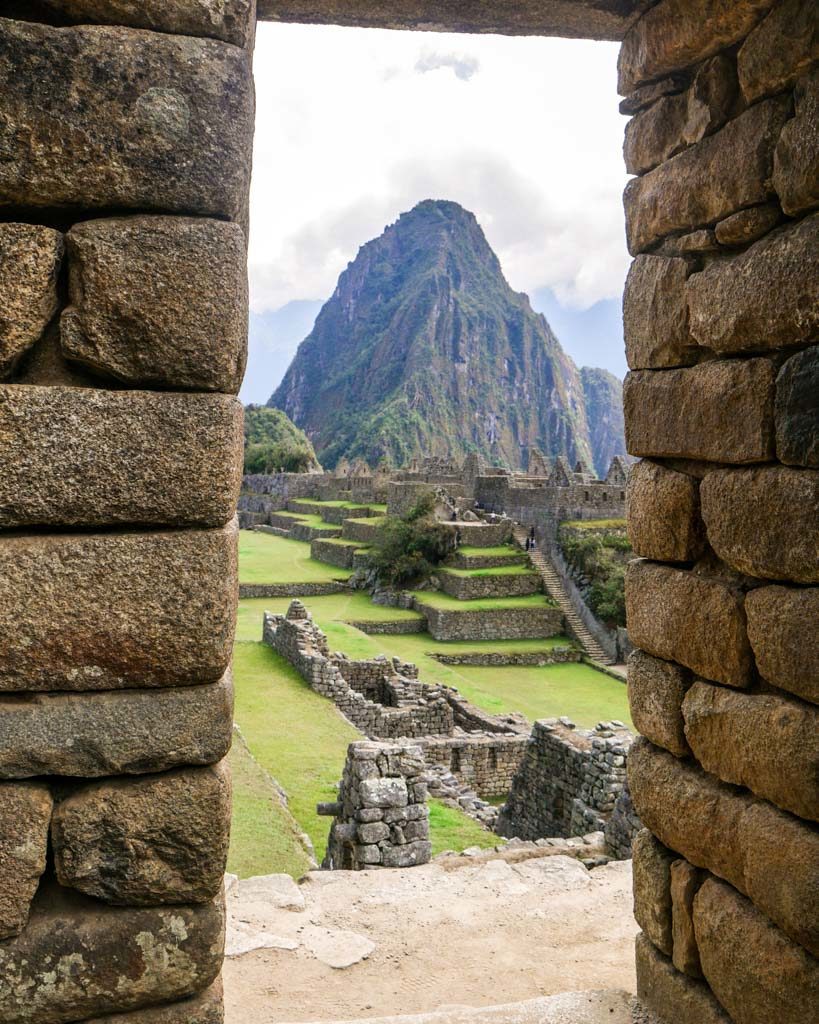 After a couple hours, Greco wrapped up our guided tour. He gave us detailed directions on when and how to get on the train to return to Ollantaytambo, where we would be met with our driver.
We said goodbye, and wandered around the site for a while longer. We took breaks, sat and enjoyed the site, the llamas, and the scenery.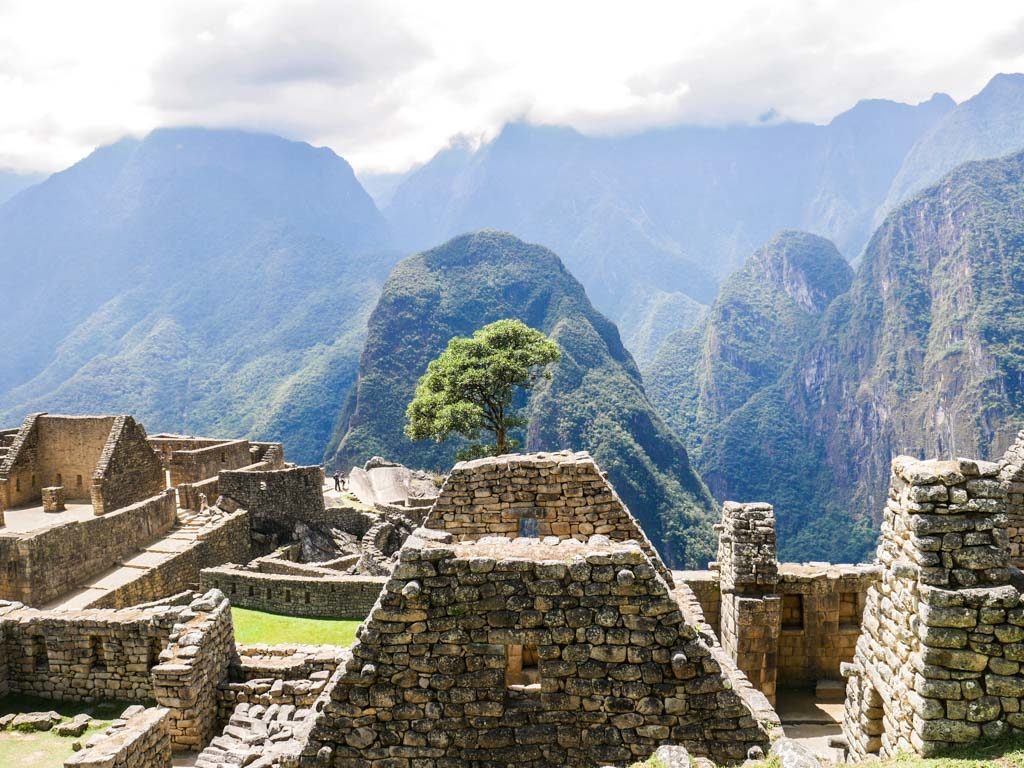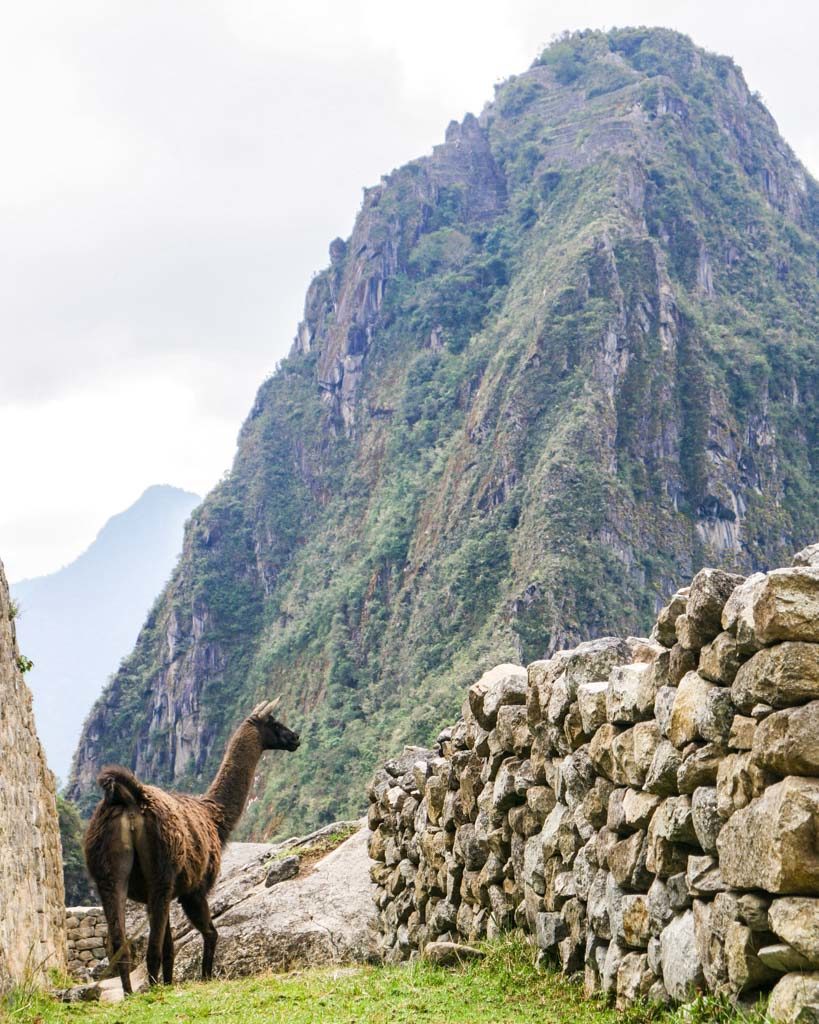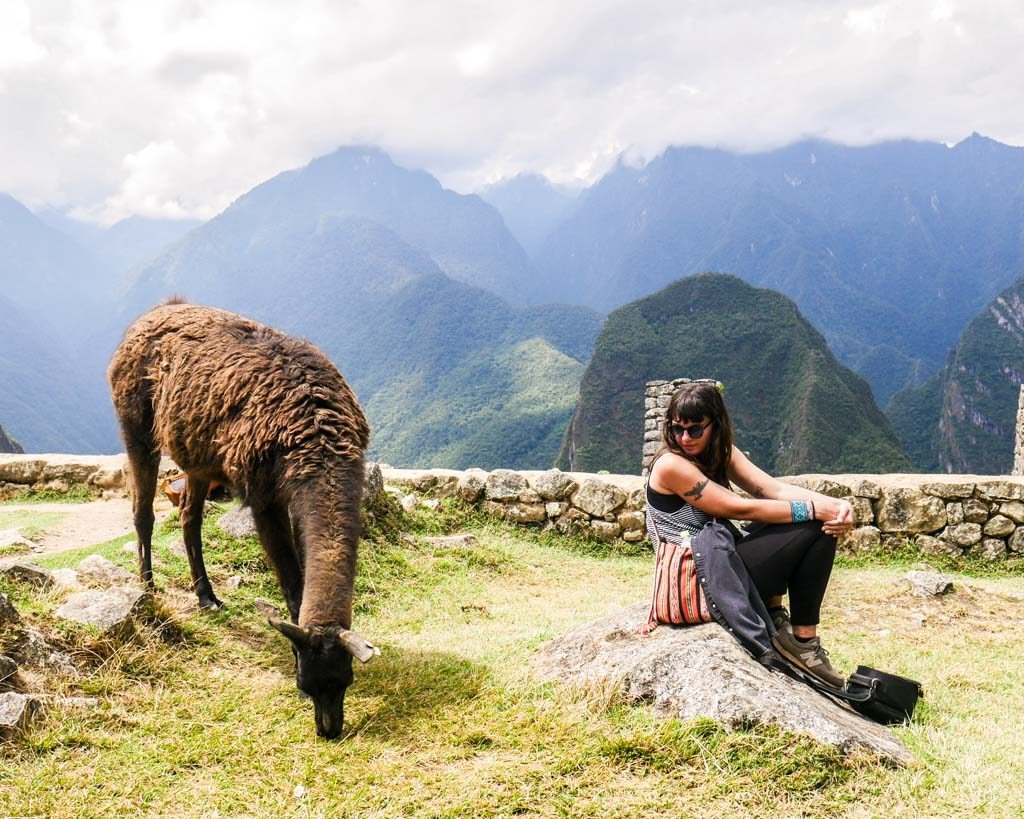 Finally we left, headed back on the bus and arrived back in Aguas Calientes.
We had enough time for lunch - so we ate at a Chifa (a Chinese restaurant), and then grabbed our bags from the hotel and headed to the train station.
Stopping to Try our Chicha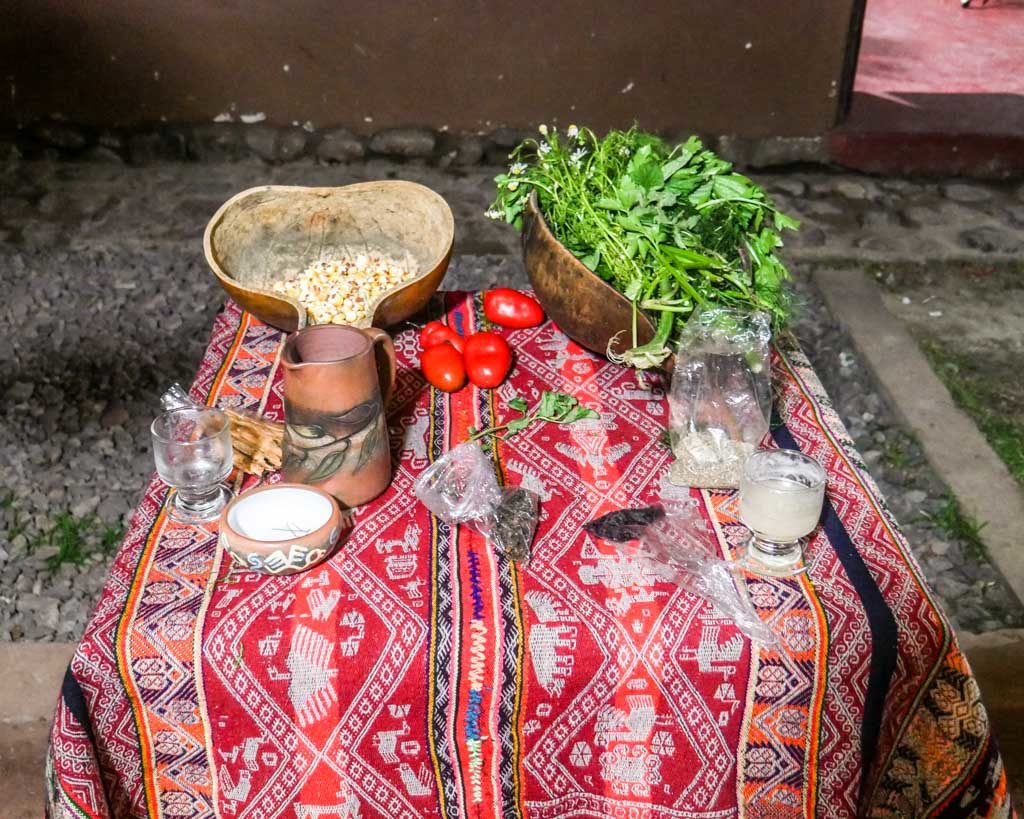 After we arrived back in Ollantaytambo from the train ride, we were greeted by our driver, Alex, who we were with for our first day and a half of the tour. We chatted about our time at Machu Picchu, and made our way back towards Cusco.
Along the way, we stopped at the same chichería we had our workshop on day 1. During the workshop we helped to make their daily batch of chicha, which would now be ready to drink on it's second day of fermentation.
We were a bit tired from our 3 days of adventure, and a long morning at Machu Picchu, but once we arrived and got talking to the family, we were so glad we stopped again. They received us warmly and showed us the chicha that we had helped make 2 days before. They then showed us how to make frutillada - the special version of chicha with added herbs and flavors - and made a special batch for us while we visited.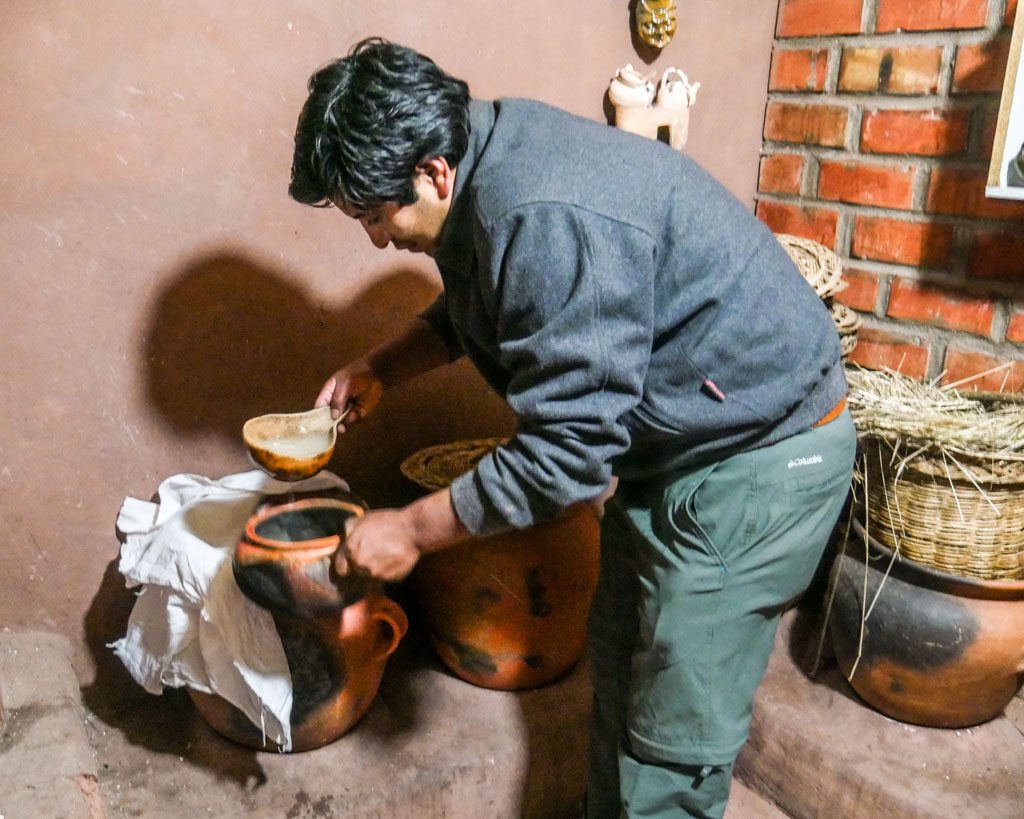 Justin played Sapo - his new favorite game, while I learned more about the chicha process. Sapo is a really fun drinking game that is popular in chicherías. It's a wooden stand with several holes and a metal frog in the middle. You try to throw metal coins into the holes or the frog's mouth to earn different amounts of points. Justin insists we are going to have to buy one for our future house someday!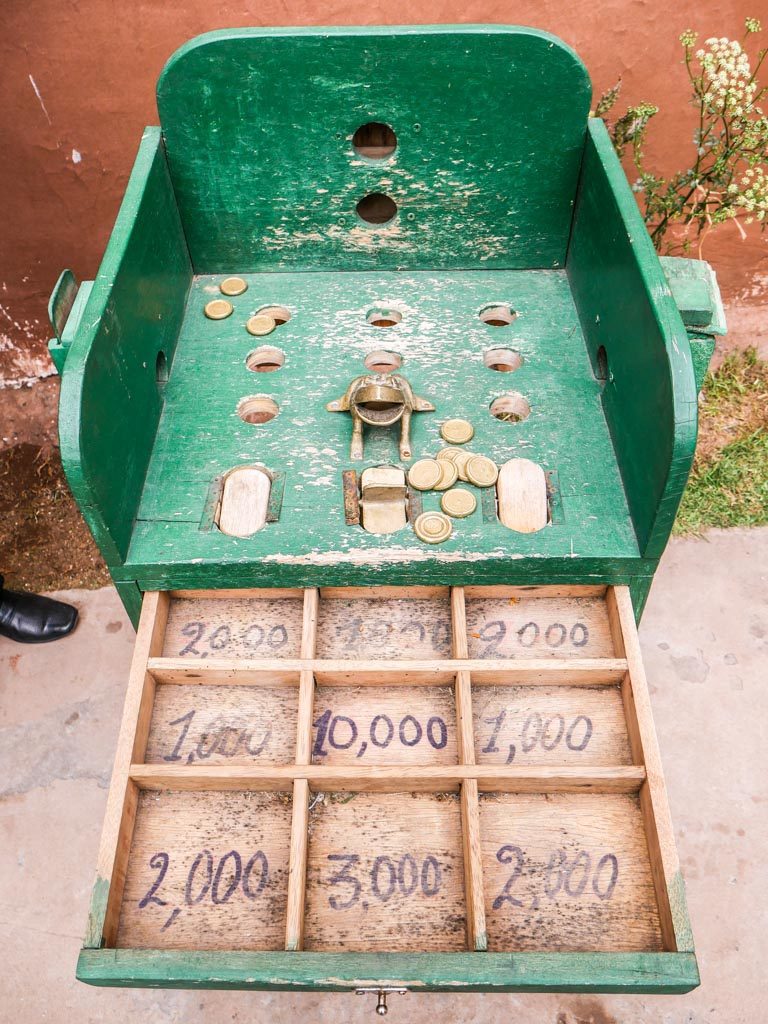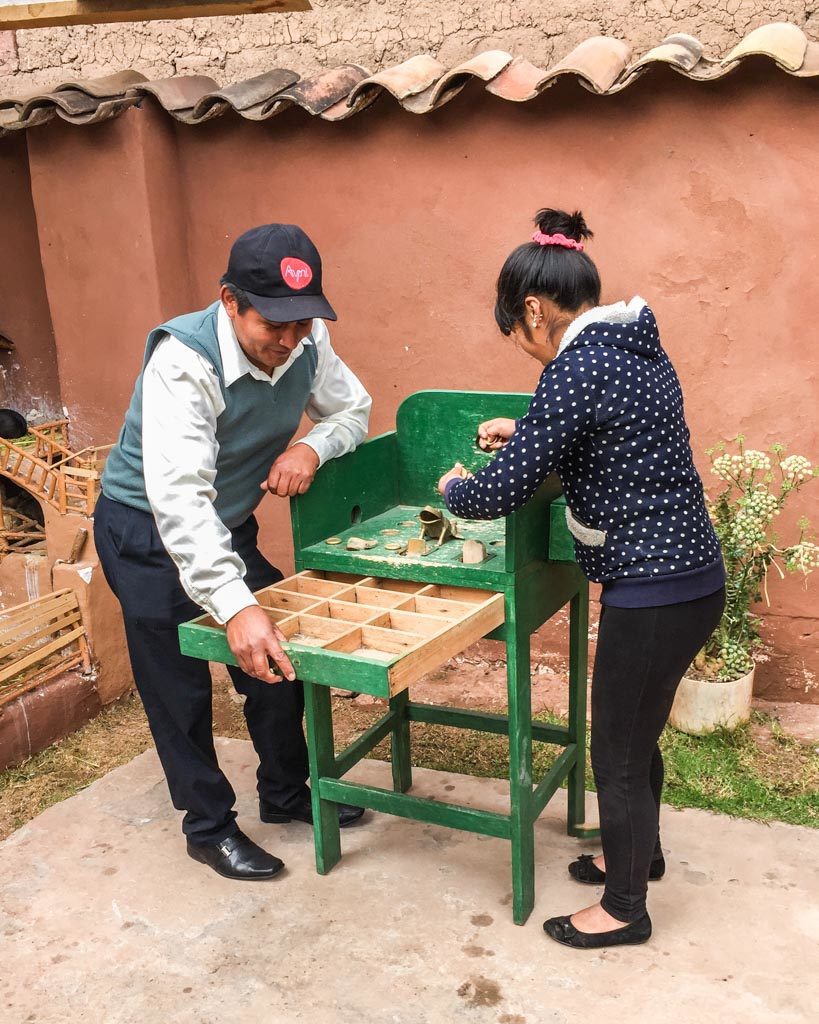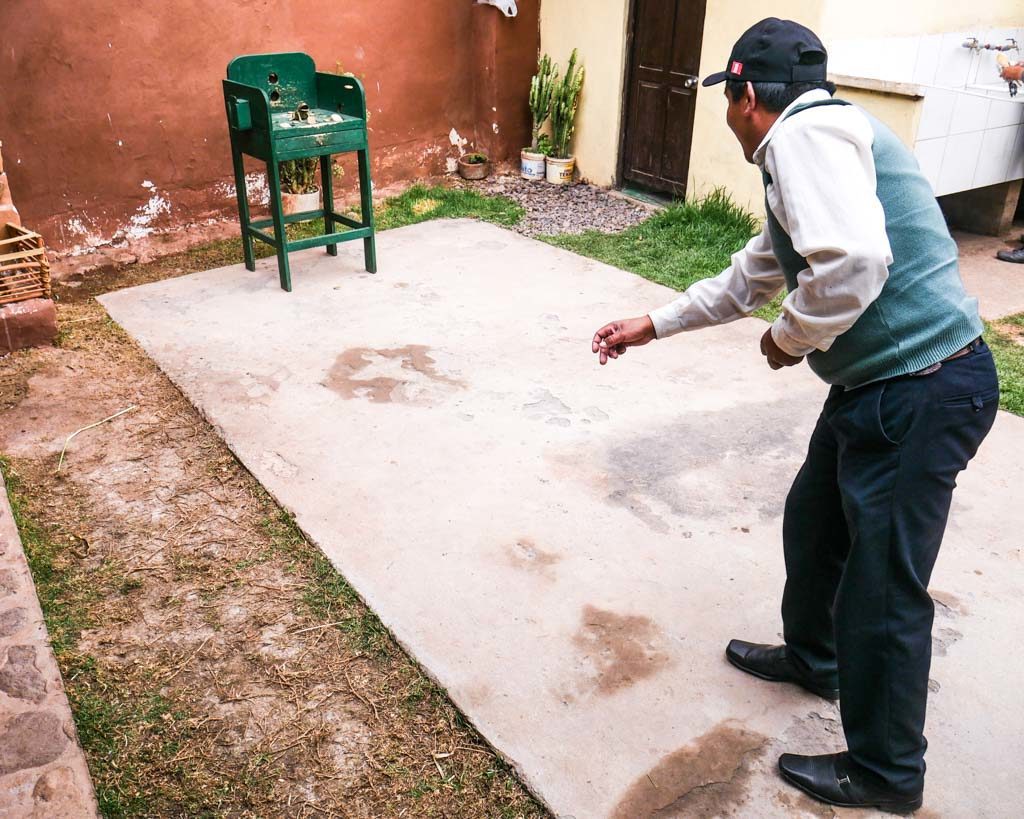 Then we had dinner - delicious kebabs and potatoes - drank the special chicha called frutillada, and chatted with the family for a long time. They were wonderful people and it was really a pleasure to get to know them, learn about chicha, and have some fun playing Sapo!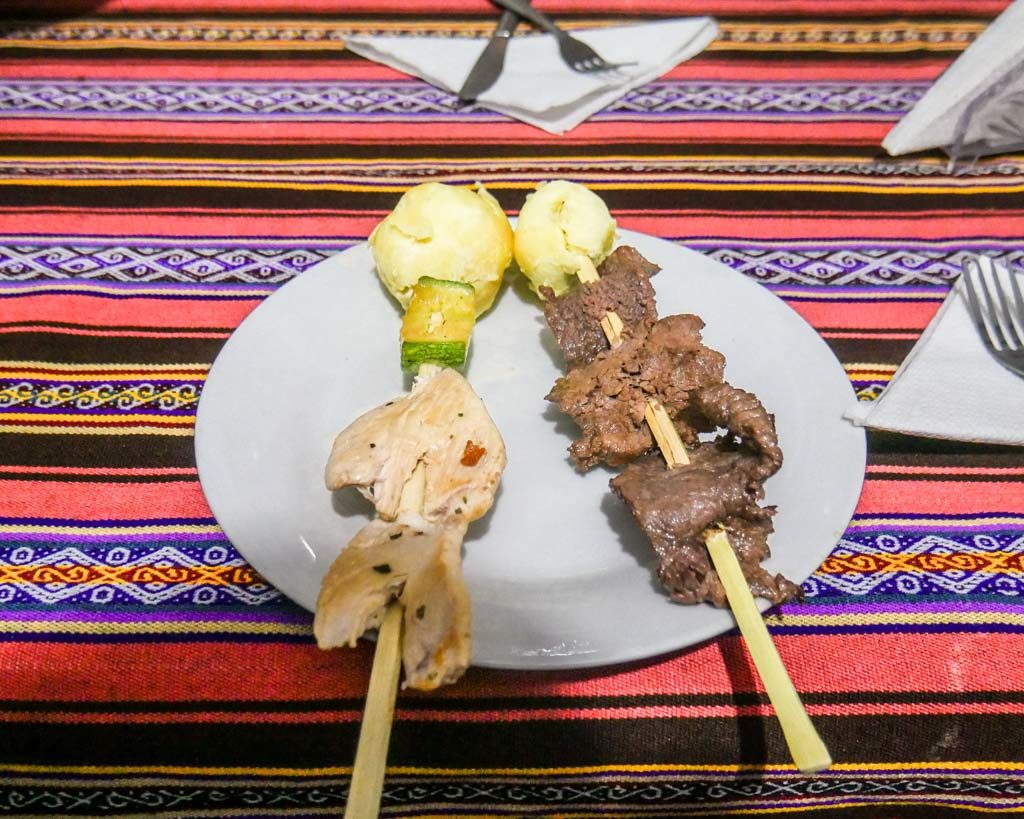 After that, we made the rest of the journey back to Cusco, chatting with Alex along the way.
Final Thoughts on our Short Inca Trail Hike/Machu Picchu/Sacred Valley Tour
Tours are tricky. When they are great, they are super amazing, but when they're not, they can ruin your experience. If a guide is cheesy or inauthentic, or if the tour is run badly, it really rubs me the wrong way.
I can honestly only say glowing things about Ayni Peru. I think they are one of the best tour companies I've ever experienced. Our two guides were extremely knowledgable and professional, while still being themselves and making us feel like we were spending time with friends. Our driver, Alex, was friendly and funny, and the chichería family was warm and wonderful.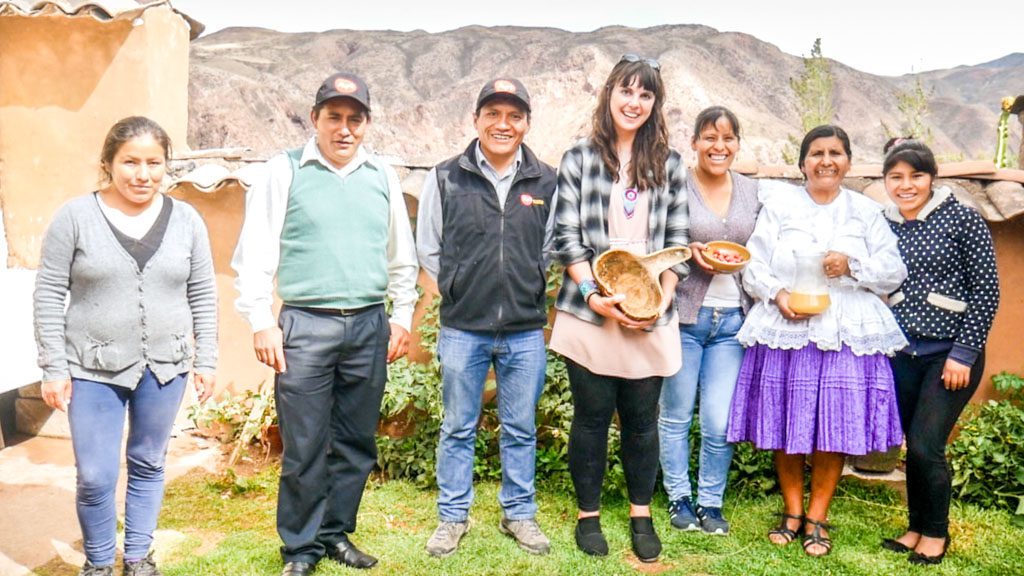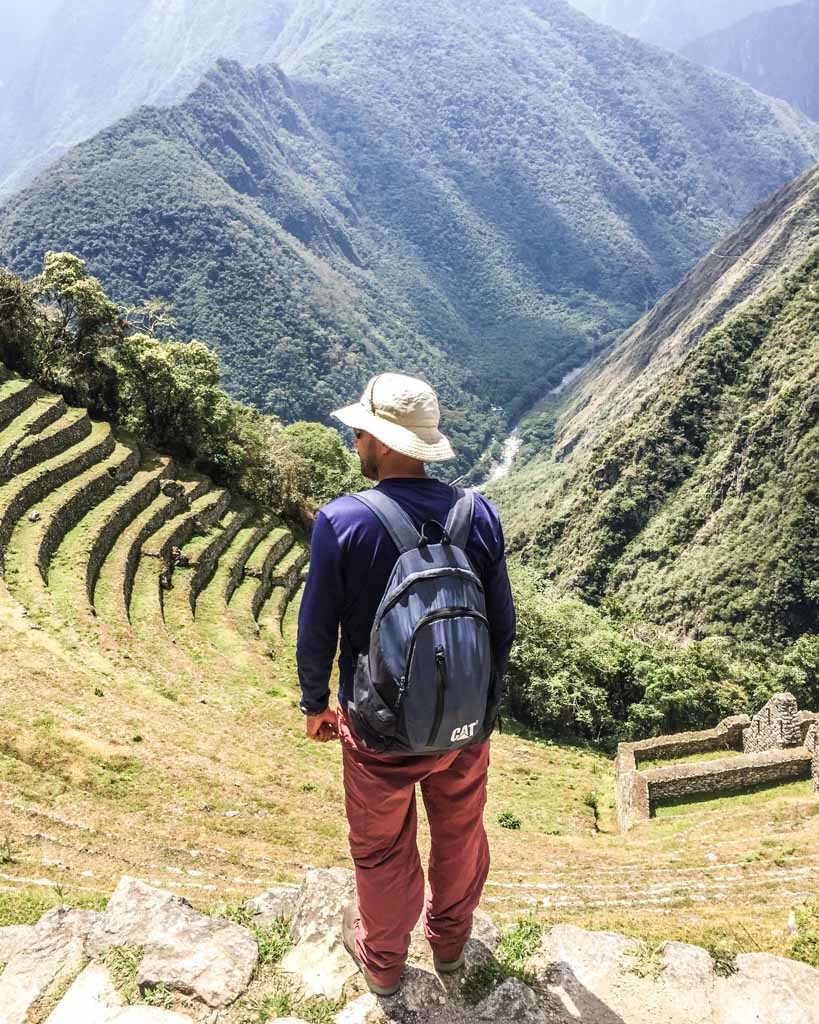 One thing I really appreciated was that the tour guide and driver ate every meal with us. This might sound like a small thing, but I hate when tour companies try to make the tour "professional" by separating the staff from the customers. I'd much rather spend time with everyone who is providing the experience for me.
Every activity and transition went smoothly, and they took great care to make sure we had every bit of information when we made a transition on our own (like riding the Machu Picchu train to start our short Inca Trail hike). All our meals were fresh and tasty, the sites we visited were beautiful and absolutely worthwhile, and Greco took great care to make sure we were moving at our own pace and felt good while doing the short Inca trail hike.
Another thing I love about Ayni Peru is their commitment to ethical and sustainable tourism. They work with local families and vendors for every step of the process. They've gone out of their way to find families in remote villages who are interested in hosting travelers on homestay - helping them get started in tourism that will benefit them economically. And their guides are all local Quechua people who are experts on the region and history.
I would wholeheartedly recommend Ayni Peru for anyone who wants to do the short Inca trail hike (or the long version!), visit Machu Picchu, or do any other tours in southern Peru. I loved them so much, we did a Rainbow Mountain 2-day trek a couple days later! More on that super incredible hike soon.
---
Tour Company:Ayni Peru
Location: Zaguan del Cielo O-18, Cusco
Tour Prices: Vary based on the tour and the number of people. Check out their tour pages for more information: https://www.ayni-peru.com/cusco-and-machu-picchu-tours/
Contact: [email protected]
---
Disclosure: This post was written in partnership with Ayni Peru. All opinions are my own, I wouldn't recommend anything I didn't love! I love taking tours with Ayni Peru so much that I did a second one a few days later.