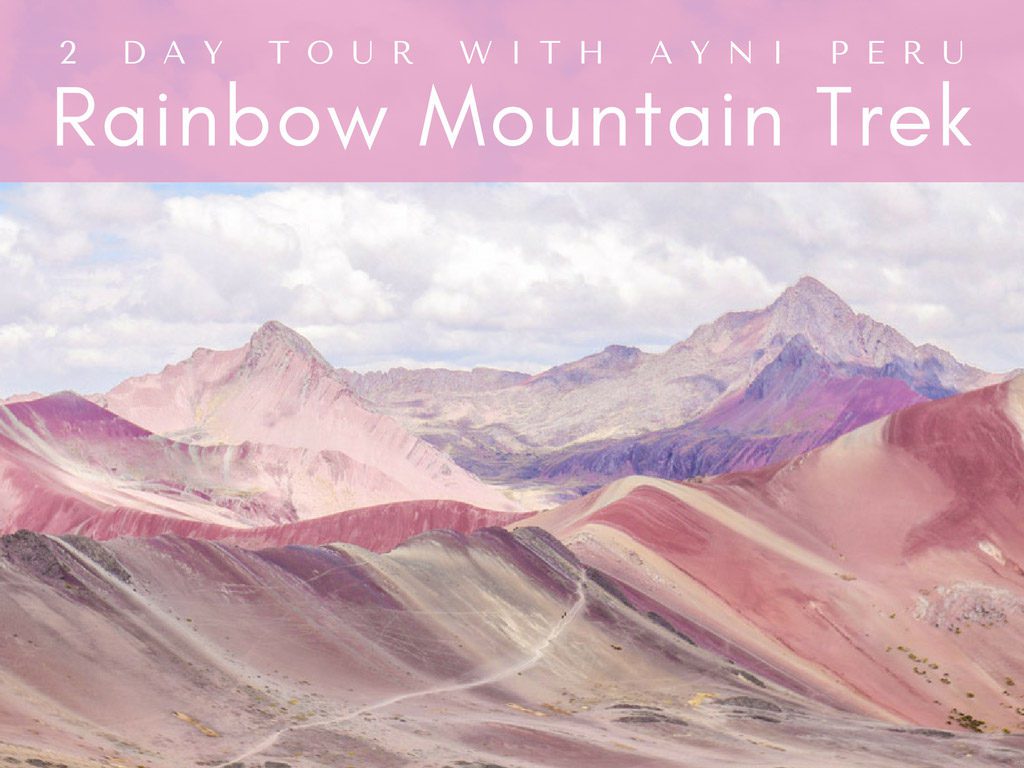 One of the very first things I knew I wanted to do when I got to Peru was the Rainbow Mountain trek. This hike is still fairly new on the tourist scene, but it's splashed all over social media - and I couldn't deny the unique beauty of the layered and colorful mountain.
So when I contacted Ayni Peru about doing a 3 Day tour to do the short Inca Trail hike and visit Machu Picchu, I decided to also sign up for the Rainbow Mountain trek a couple days later. I ALMOST think I liked the Rainbow Mountain trek better - but really they were both totally amazing in different ways.
The Rainbow Mountain trek was challenging, really challenging, and the scenery was otherworldly. I felt like someone had dropped me on Mars - nothing around for miles but high altitude wildlife, glaciers, and fresh clean air.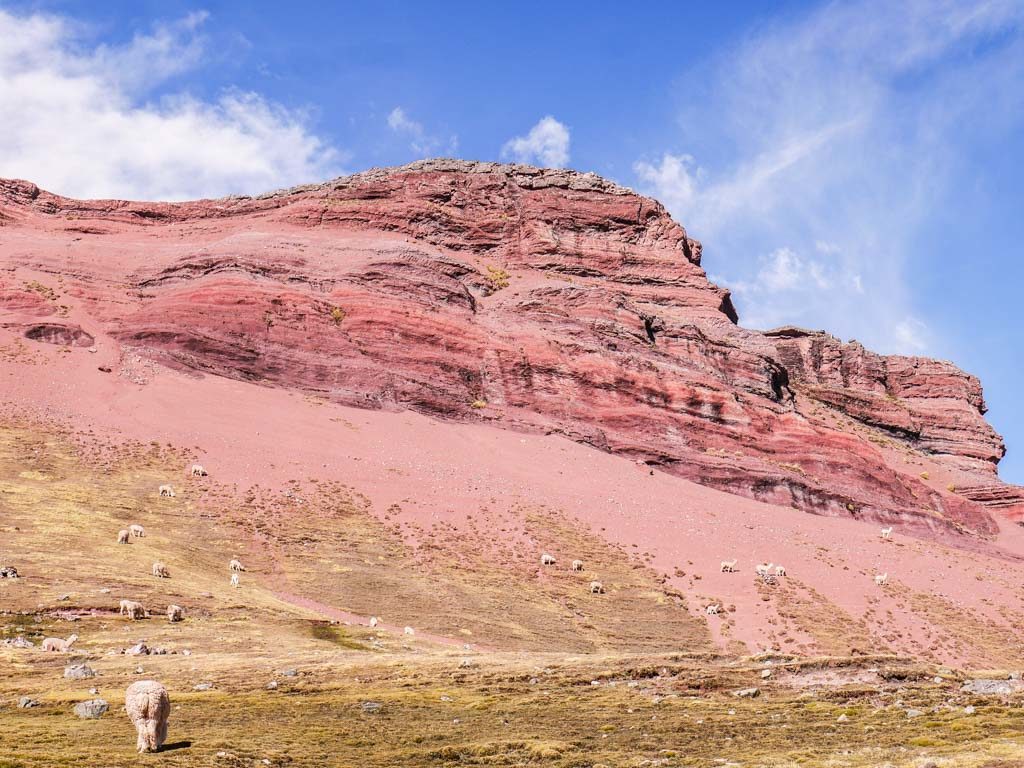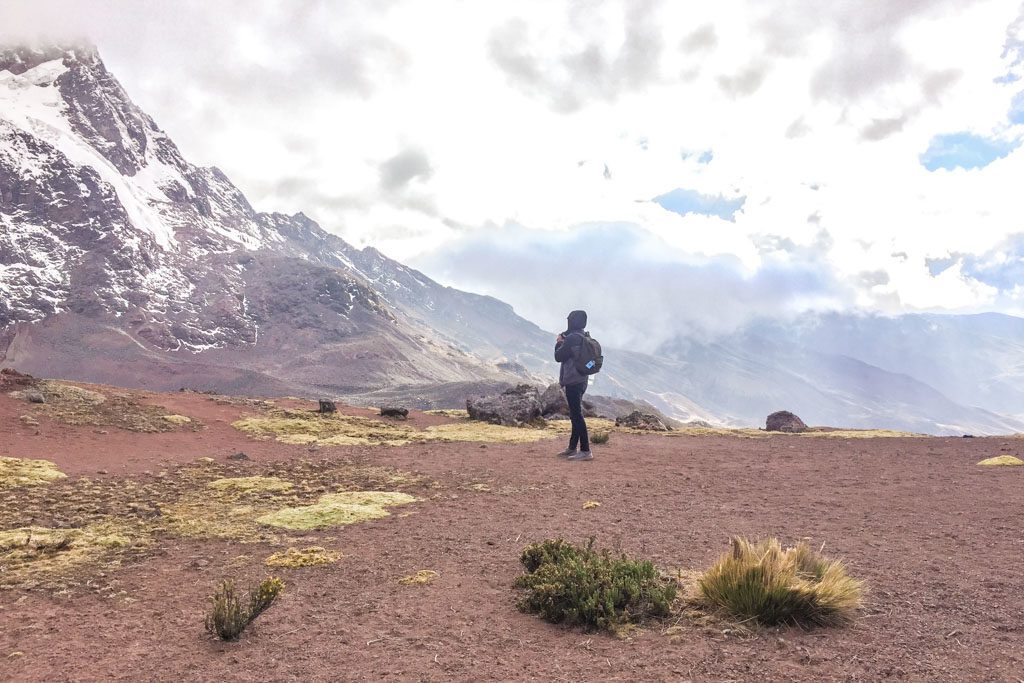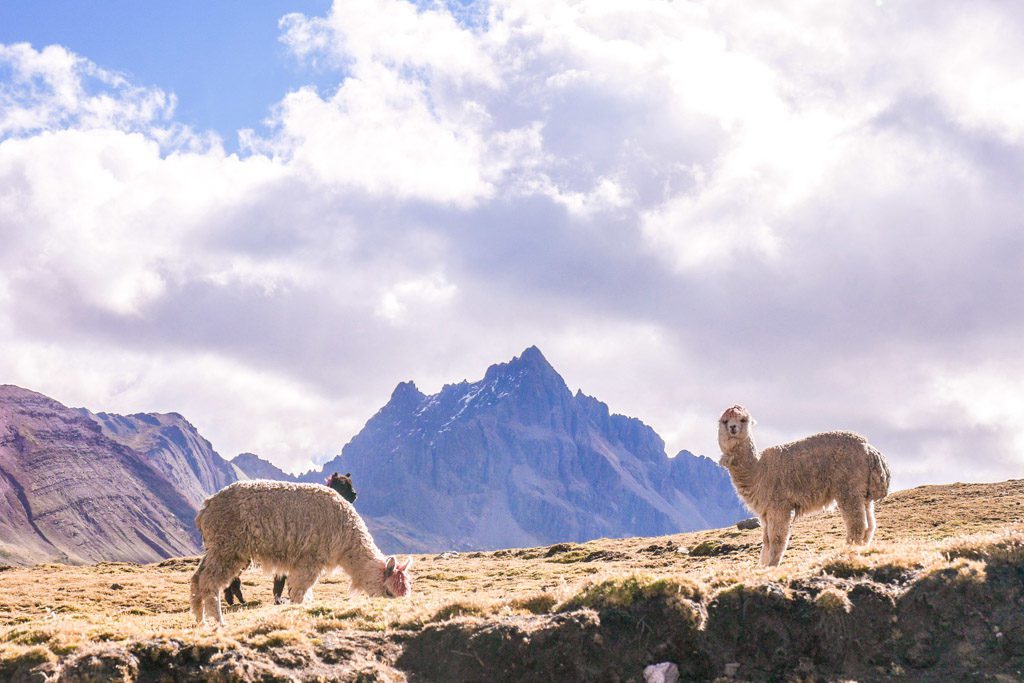 I hate when people tell me they enjoyed the hike more than the destination, but it really was true in this case. Rainbow Mountain itself was beautiful and special, but is filled with tourists who bypass this 2 day trek, and just walk straight up the mountain.
The really special and magical parts of this trek were the 1 ½ days of being alone in the wilderness, not coming across any other tourists or even locals, seeing incredible snow covered mountains, and challenging ourselves to climb at this high altitude. And spending the night at 15.5k feet, gazing up at crystal clear skies and listening to the wind howl and then quiet outside the tent was an incredible experience in itself.
So unless you aren't up to the challenge physically, I highly, highly recommend taking the two day Rainbow Mountain trek - I would have missed so much and not enjoyed it nearly as much if I did the one day tour.
Ayni Peru took amazing care of us the whole 2 days - from carefully monitoring our health at the high altitude, to whipping up gourmet meals from inside a tent, to making sure we were learning about the region and the culture.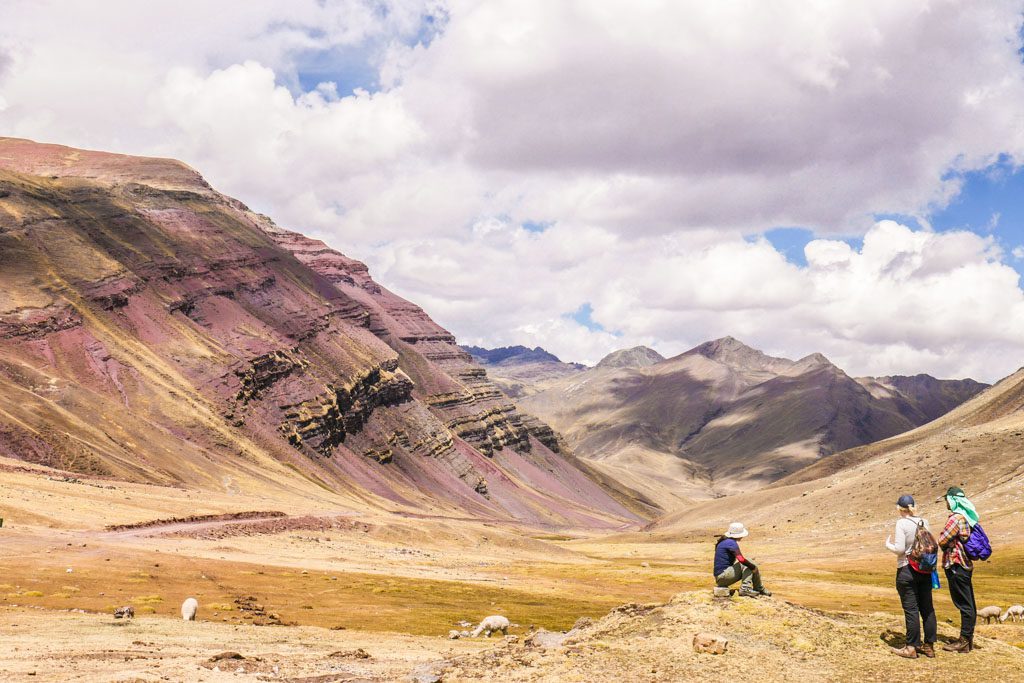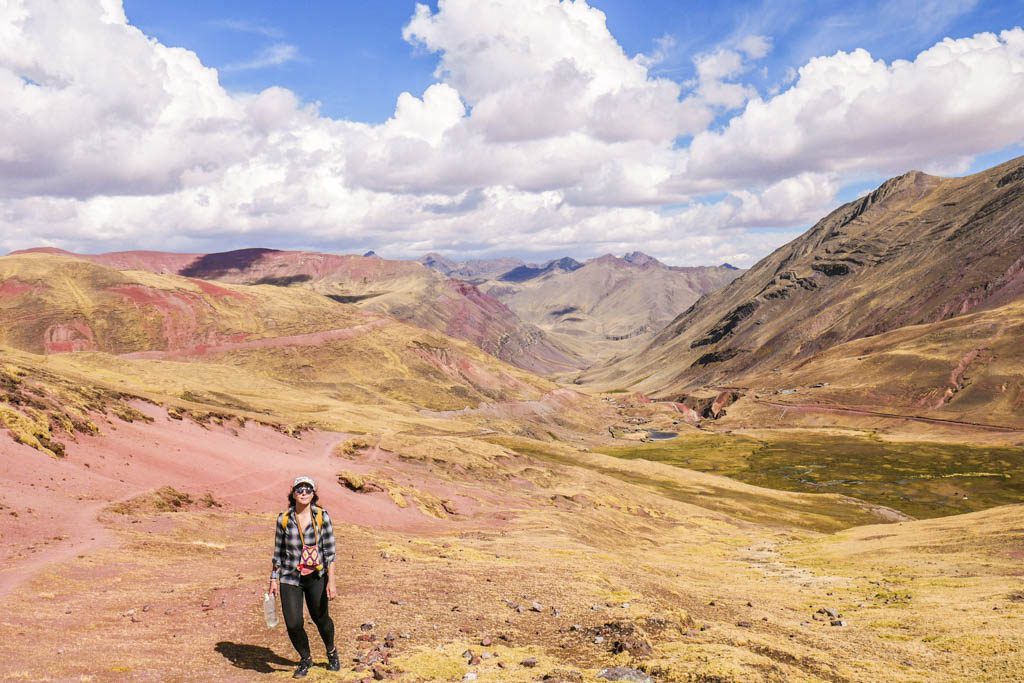 Rainbow Mountain Trek - 2 Day Tour with Ayni Peru
Preparing for the Rainbow Mountain Trek
Since we would be camping overnight, we were given a duffel bag each before the tour, to fill with things we would need for our night.
These duffels were then carried by horses along with our tents, sleeping bags, etc., while we only needed to carry our day packs.
Drive to Rainbow Mountain Trek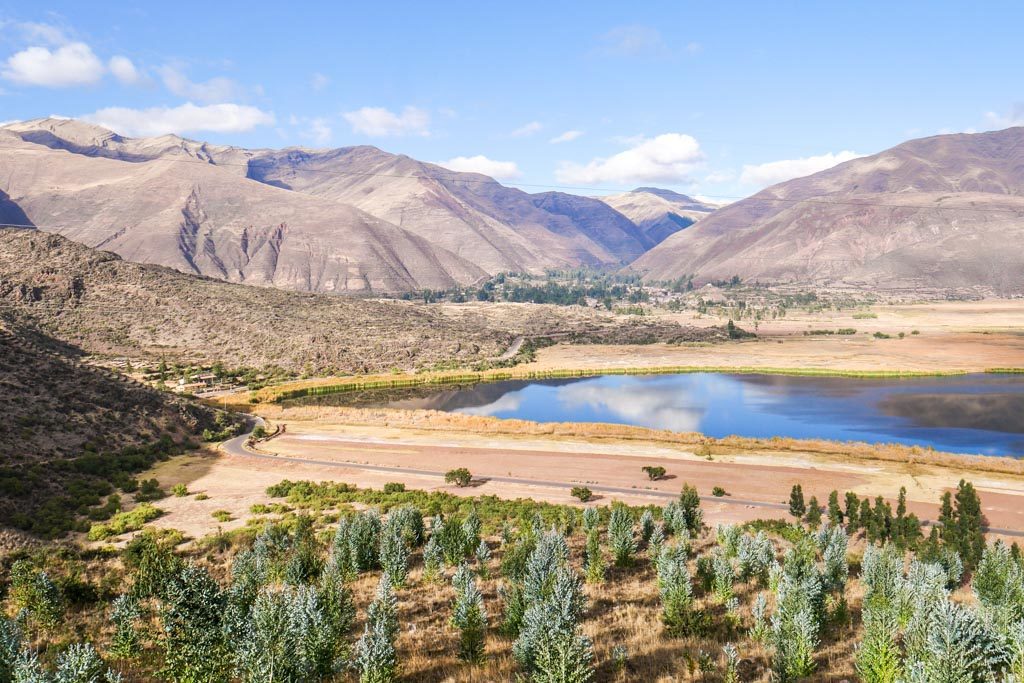 Our 2 day trek started off with being picked up from our Airbnb in Cusco, and making our way to the Ausangate Mountain range.
The drive takes some time - about 3 or 3 ½ hours, but Ayni makes a couple stops along the way to keep it interesting and allow for bathroom breaks.
We made a quick stop at a bakery in a town that is famous for their bread. We then made a stop at pretty viewpoint to take photos. Next we stopped in a town that has some ancient ruins, and some of the cleanest bathrooms I've seen in Peru. 🙂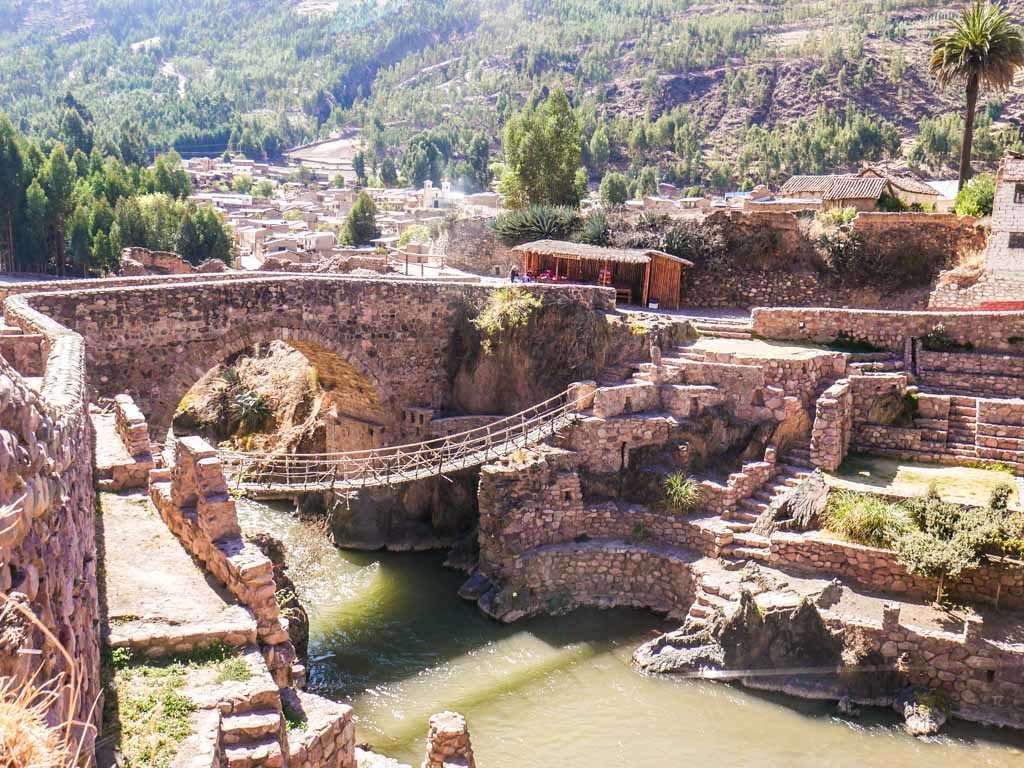 Finally we stopped at the last big town to browse their local market and pick up any fruit or additional snacks we wanted for the trek.
Side Hike to a Waterfall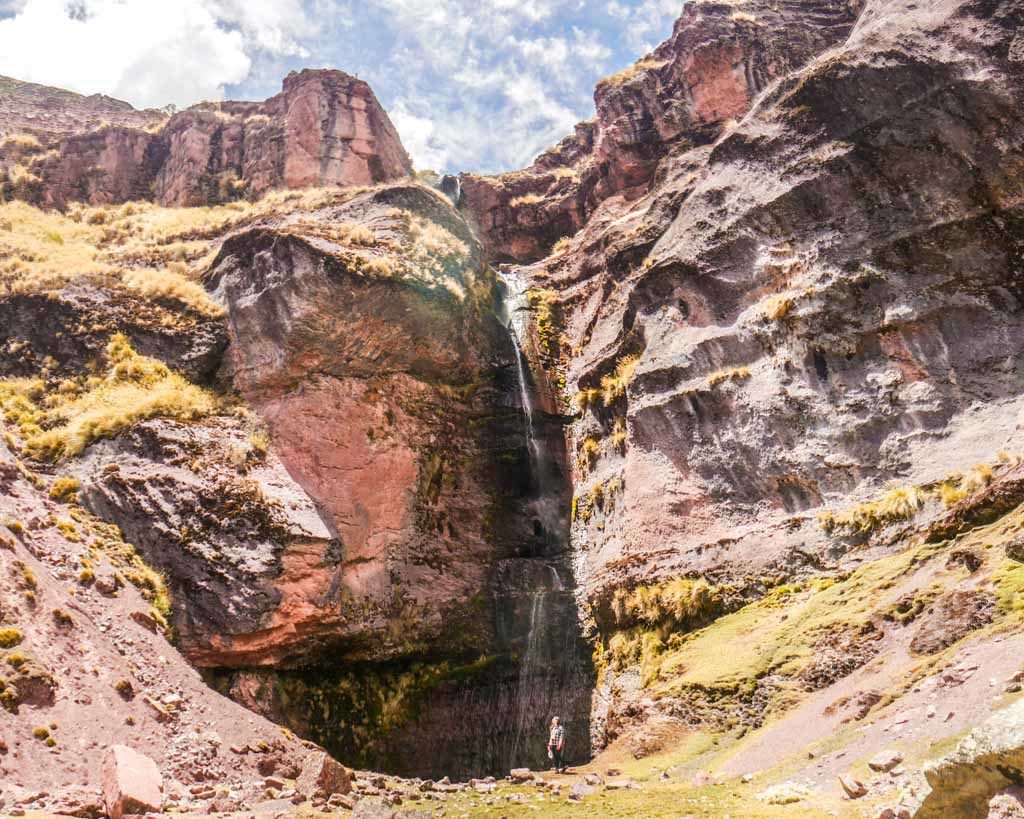 After weaving up and up switchbacks, we arrived at the start of the Rainbow Mountain trek in the Ausangate mountain range. We met our two local guides who would be helping on the trek - one who would walk with us and lead an emergency horse - in case any of us had altitude sickness and needed help. The trek started at over 12k feet and would reach over 16.5k feet - so the altitude is no joke!
The other local guide would be helping our chef prepare each meal and help set up, and tear down our mini camps.
As they started to prepare our first lunch, we did a short hike over to a waterfall nearby. The fall was very tall and surrounded by red cliffs. After taking some pictures, we returned to where lunch was being prepared, admired the alpacas wandering around, and then sat to have our meal.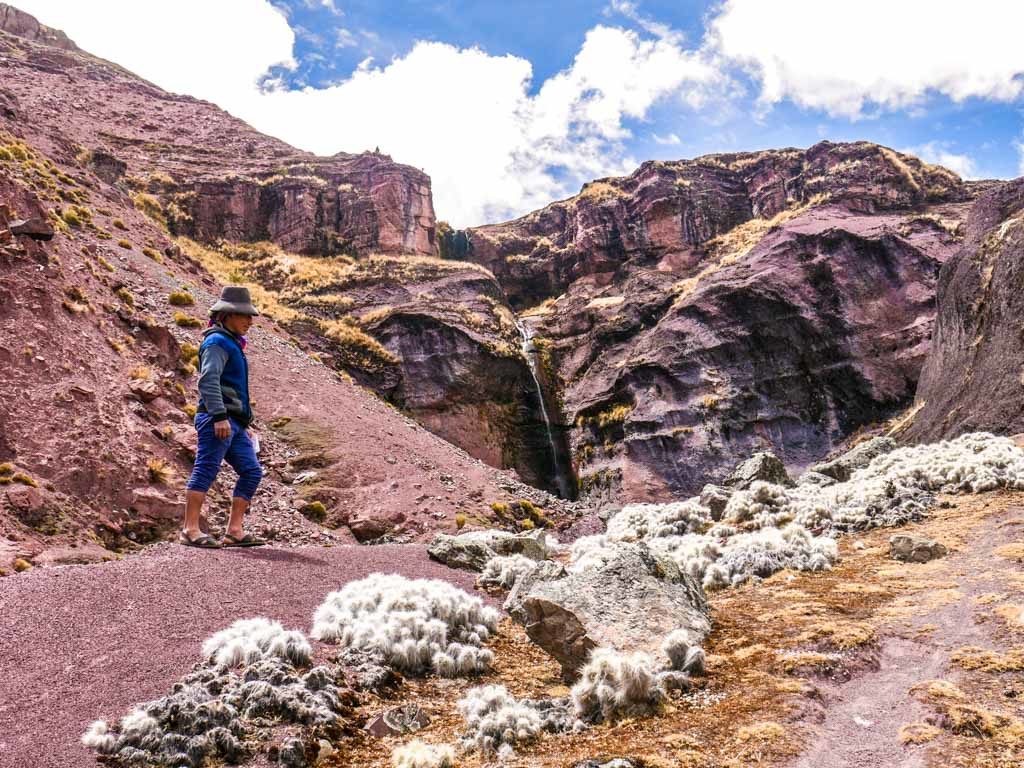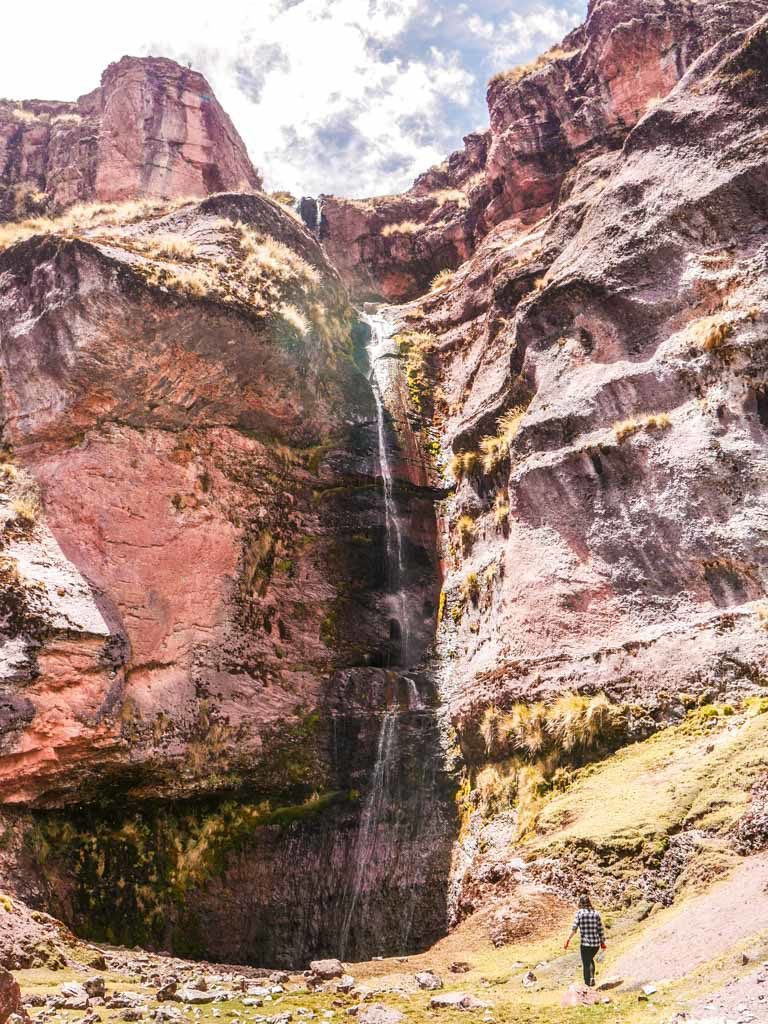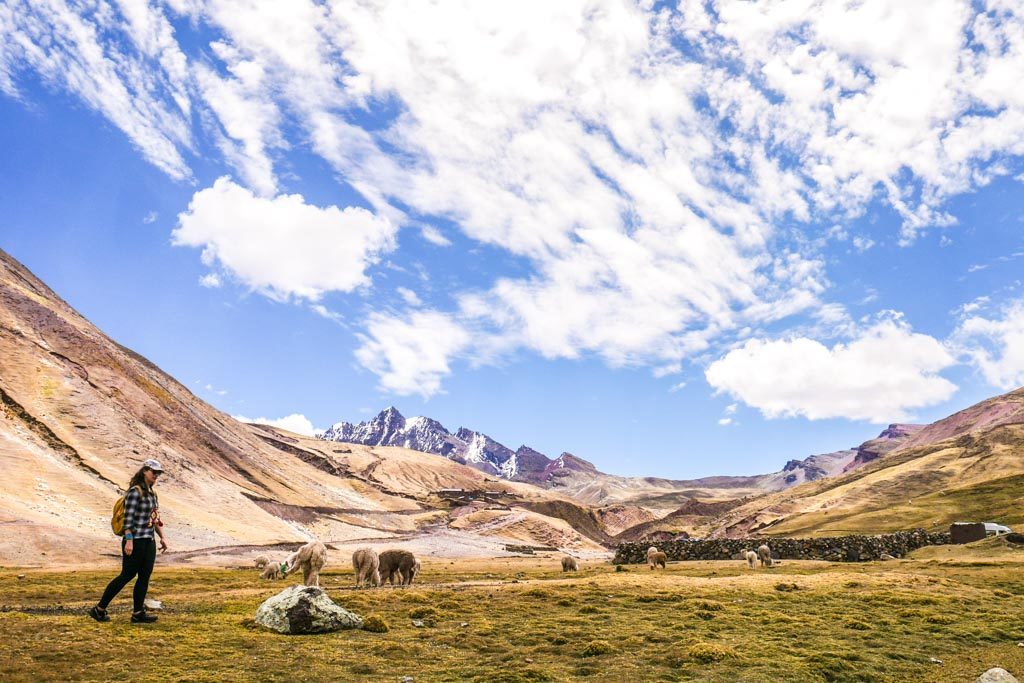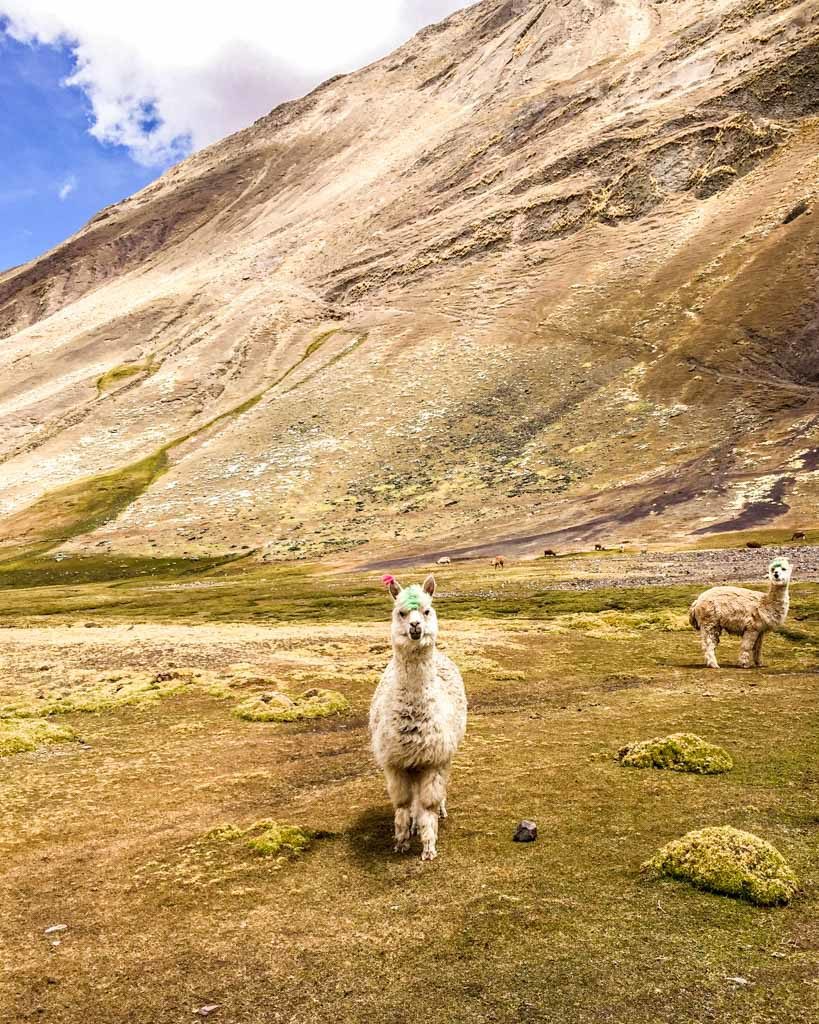 Gourmet Lunch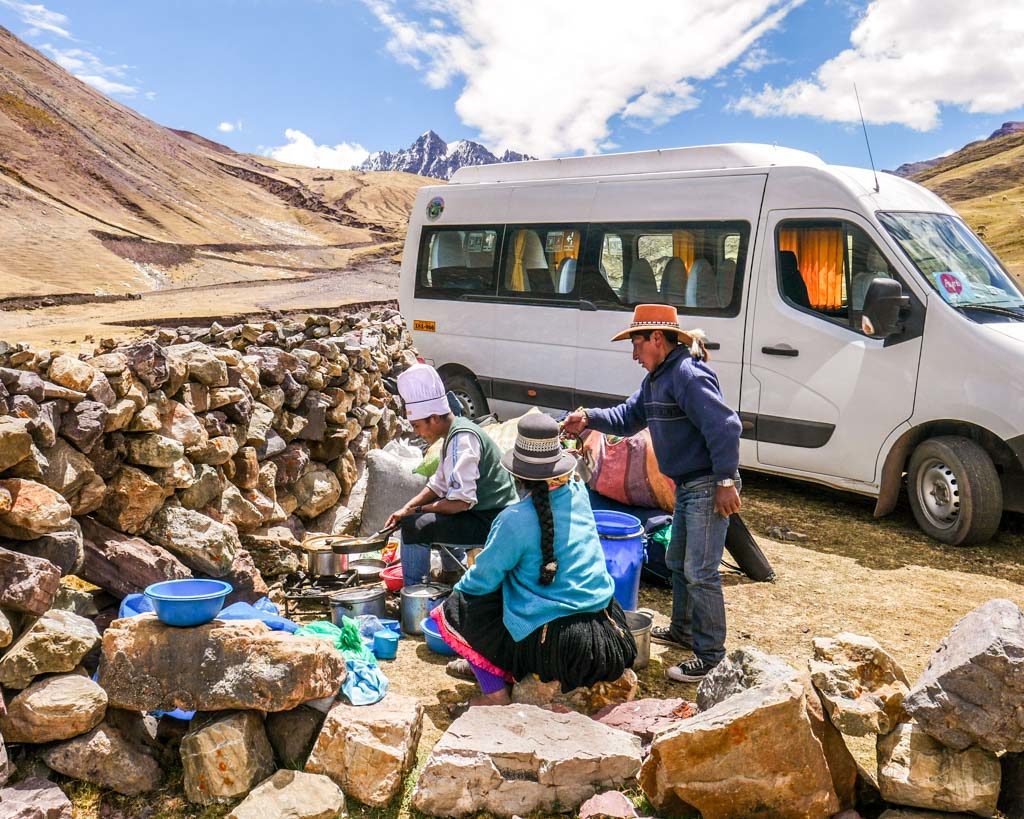 One of the great touches Ayni added was a system for us to wash our hands before each meal. They had individual small tubs laid out with clean water, and some liquid soap. We could wash off any dirt, rinse off the water, and then be ready to eat without any worries!
Our lunch was three courses and delicious. We started with fresh juice, and toasted garlic bread. We then were served hot soup, and finally some fresh fish, potatoes, veggies, rice, and salad.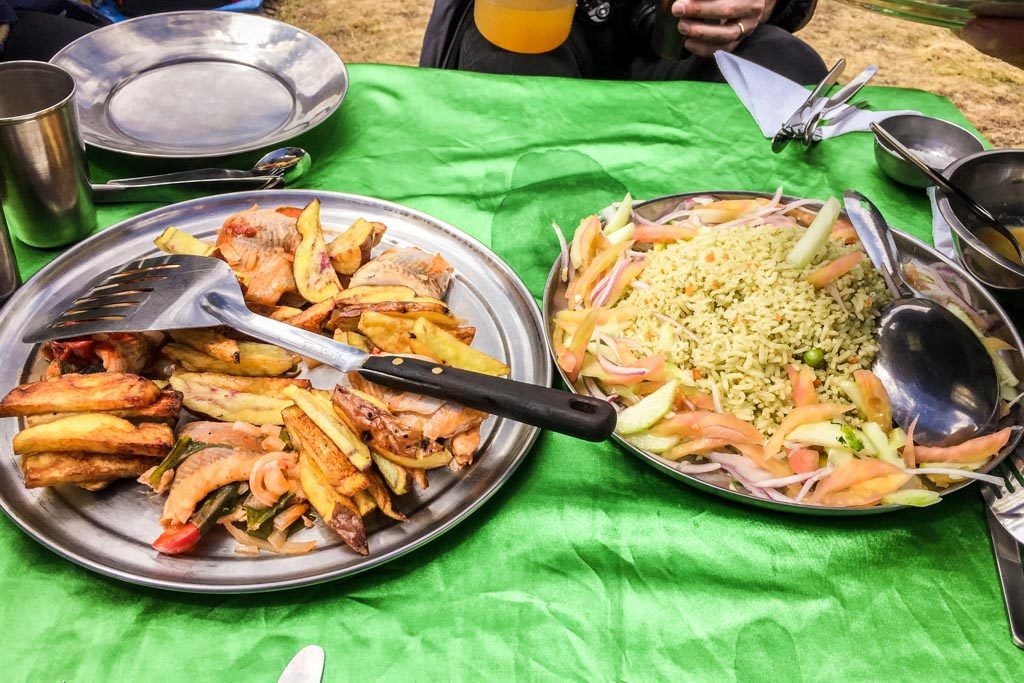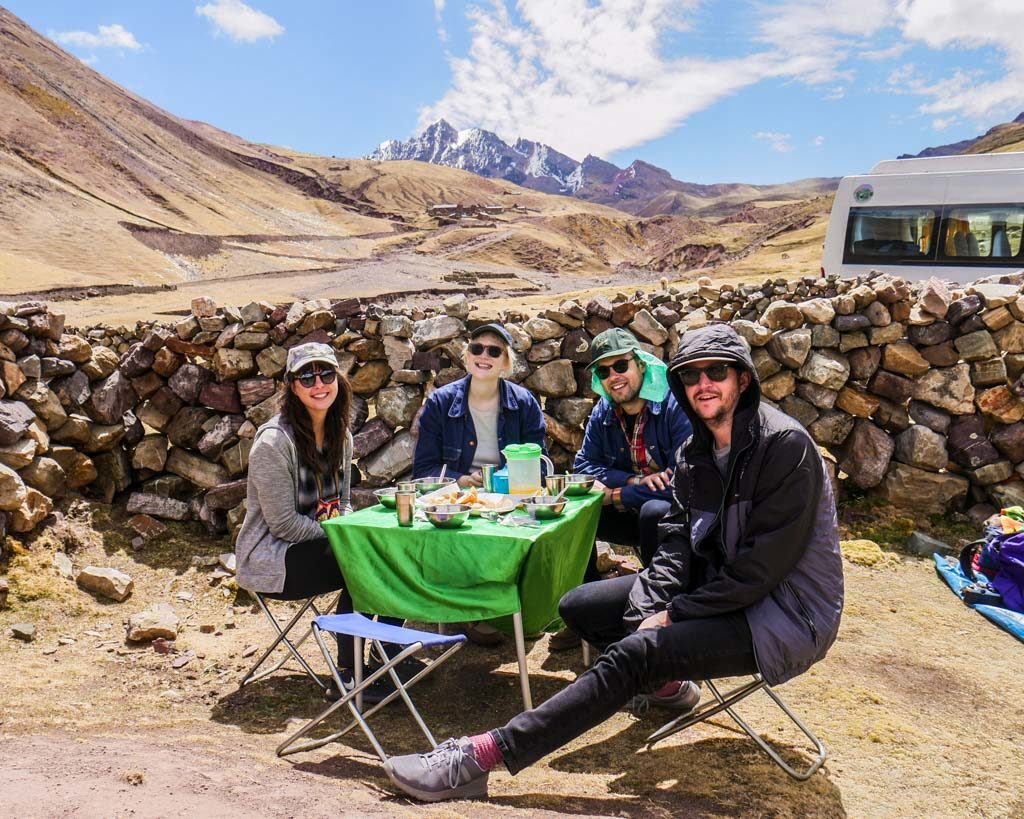 Our chef continued to amaze us throughout the trip on the delicious and well prepared meals he could create with so little equipment.
Starting the Rainbow Mountain Trek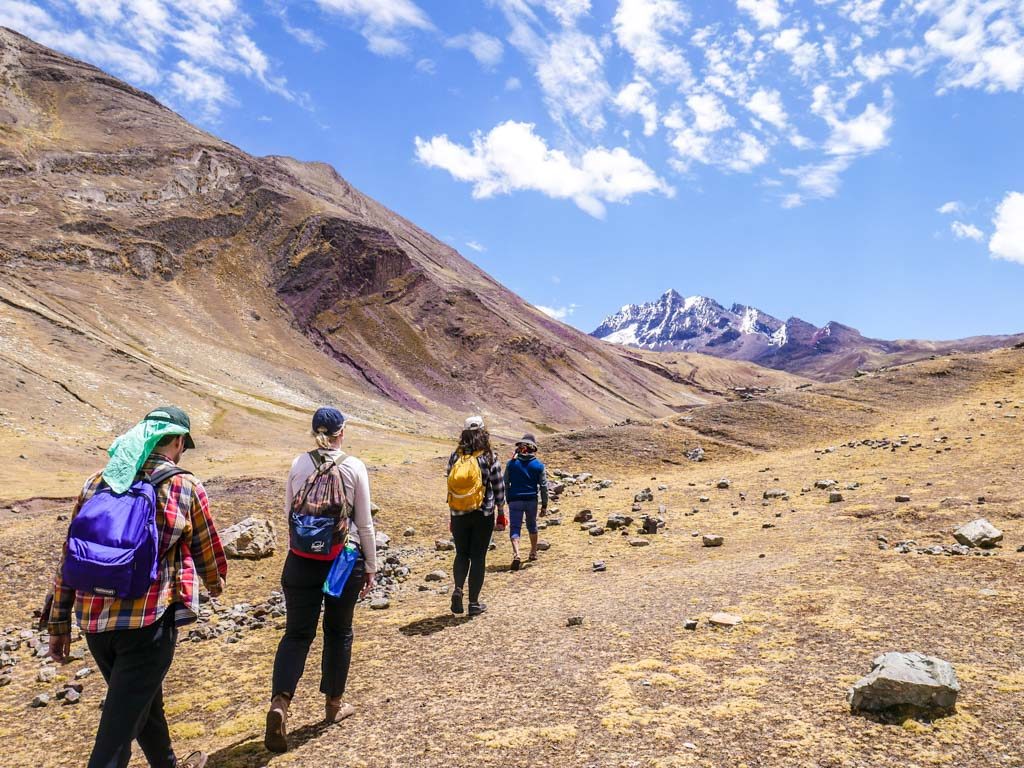 After finishing our meal, we began the Rainbow Mountain trek. The first part of the trek is a gentle uphill. The altitude is still very high, well over 12k feet, so we paced ourselves and got into a rhythm.
We stopped whenever we needed a break, or to take pictures and admire the scenery.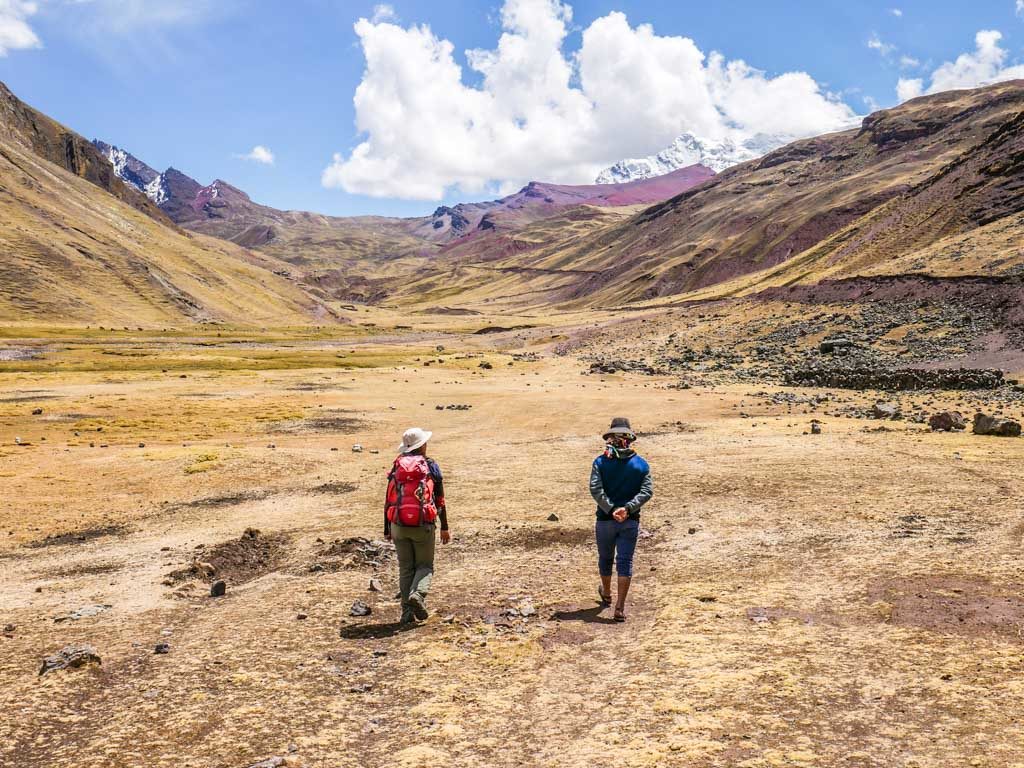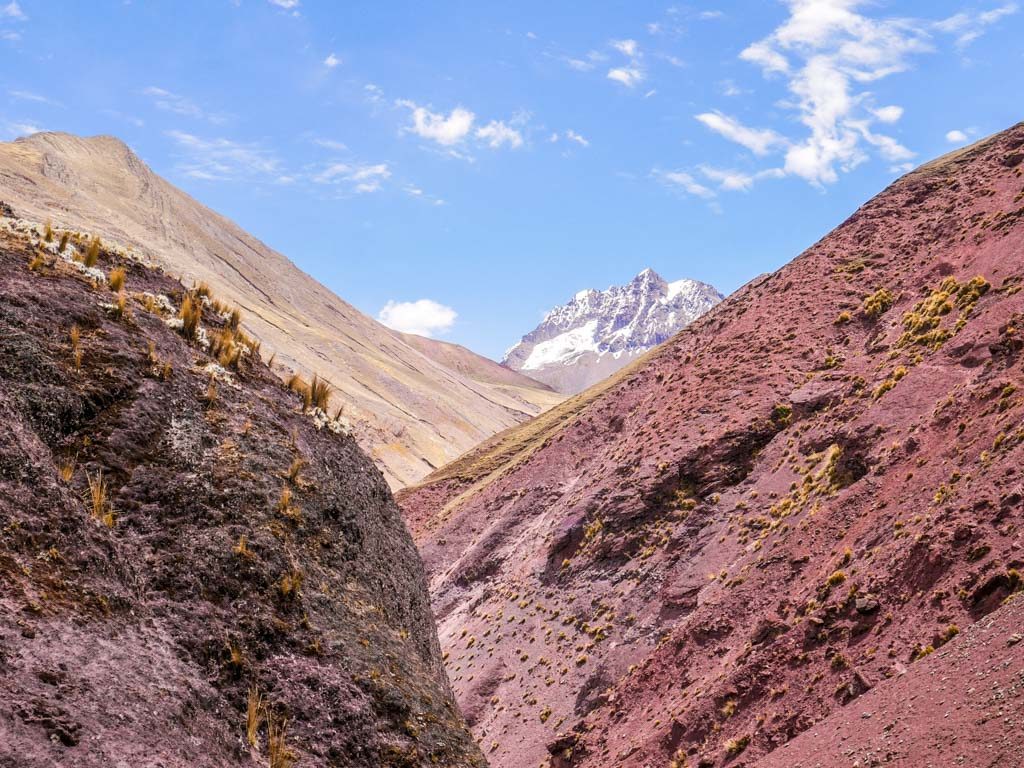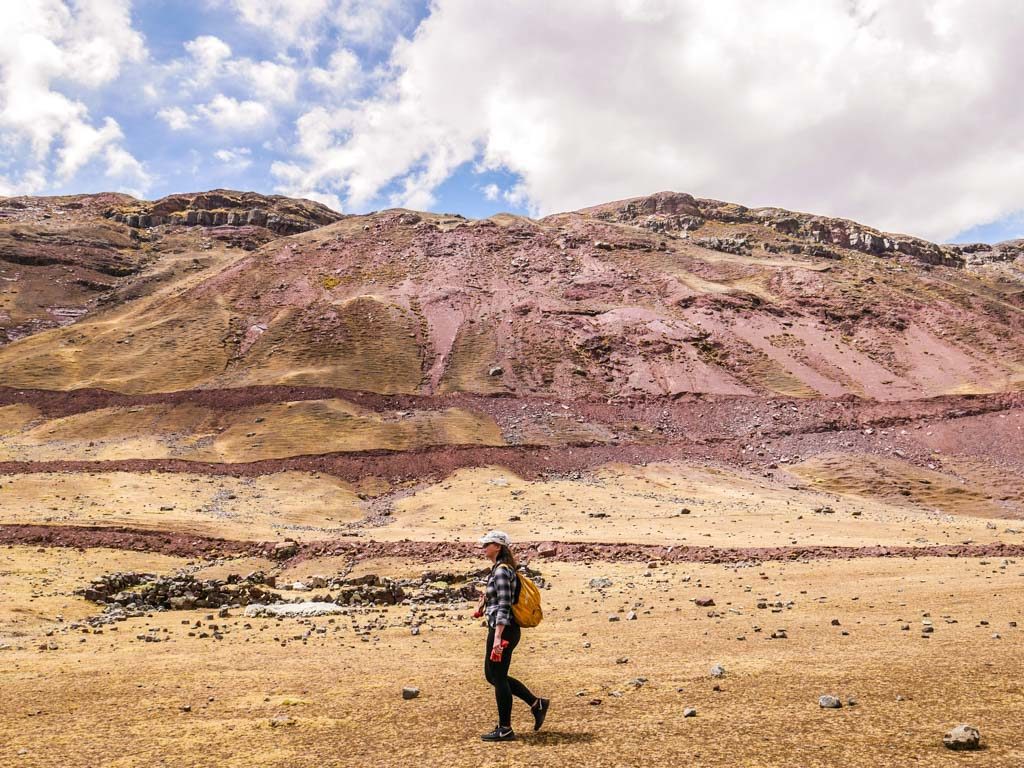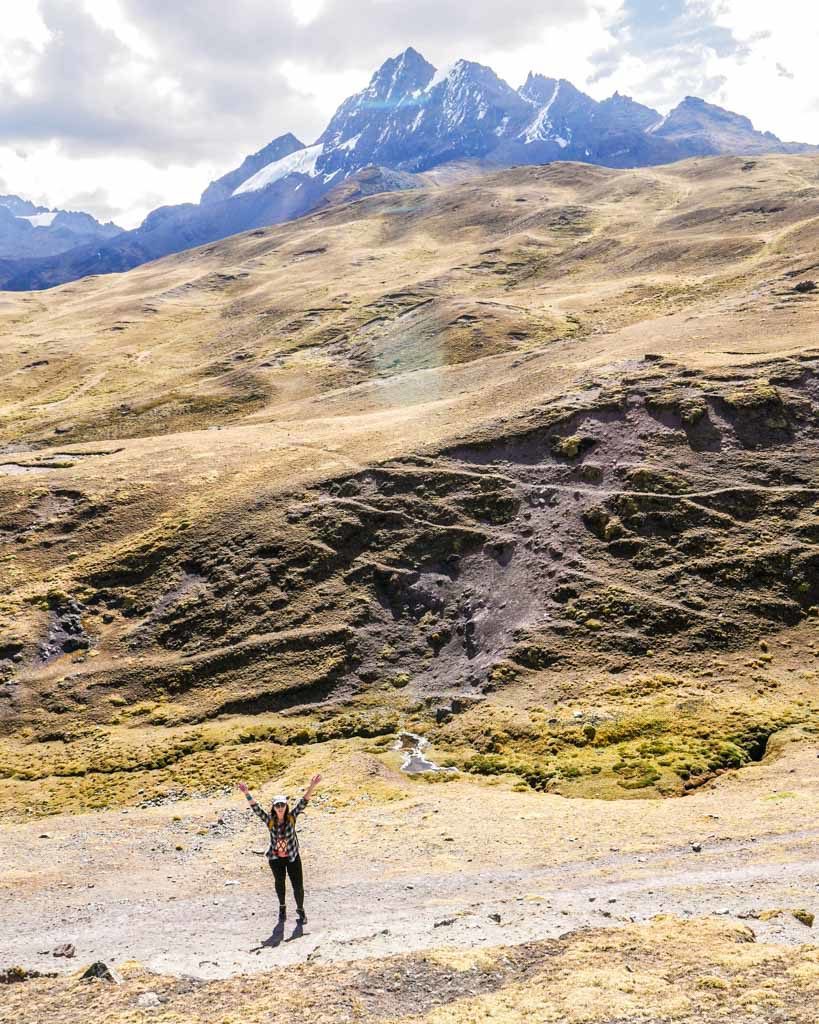 On one break, we were all enjoying a snack to regain our energy, and were surprised when our local guide, Roger, pulled out his guitar. He played us an absolutely gorgeous traditional song, while we sat in this remote and beautiful place.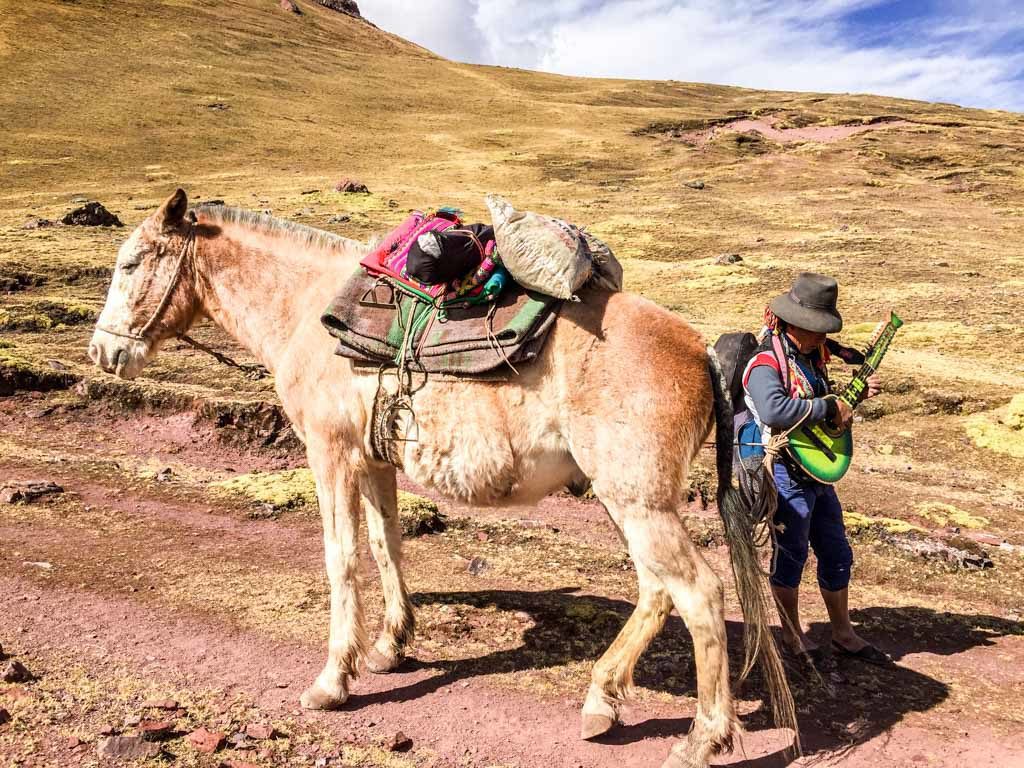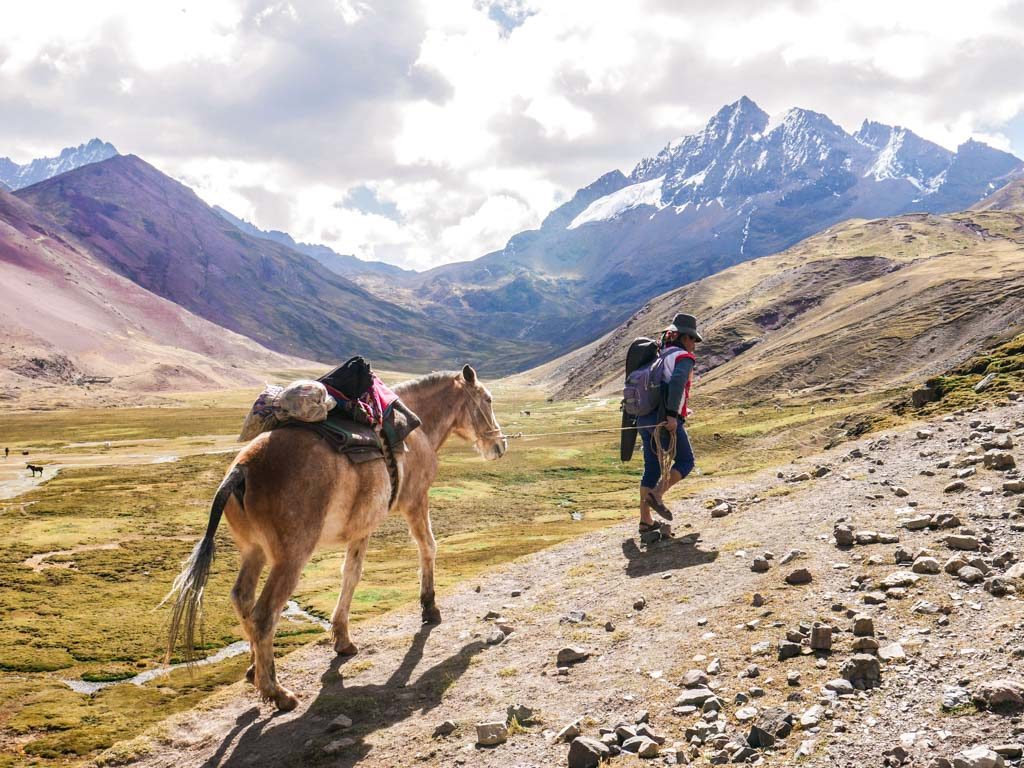 This is still one of my favorite memories from the Rainbow Mountain trek. It was a gorgeous and peaceful moment, and a glimpse into the local culture through music.
Decision to Hike up to Ausangate Viewpoint
Our Ayni guide for the Rainbow Mountain trek, Flor, gave us two options on our first day's hike. We could go straight to the campsite - continuing on the mostly gentle uphill slope. Or we could make a short detour up to a high pass that would give us a view of Ausangate mountain - the highest mountain in the Cusco region, and the peak that this whole range was named after.
After discussing with our fellow hikers, we decided that we'd like to see Ausangate mountain and the glacier lakes at its base.
This part was pretty challenging. We went from a gradual uphill slope at high altitude to a steep hike up a mountain pass. We made our way up slowly, but when we finally reached the top, it was totally worth it.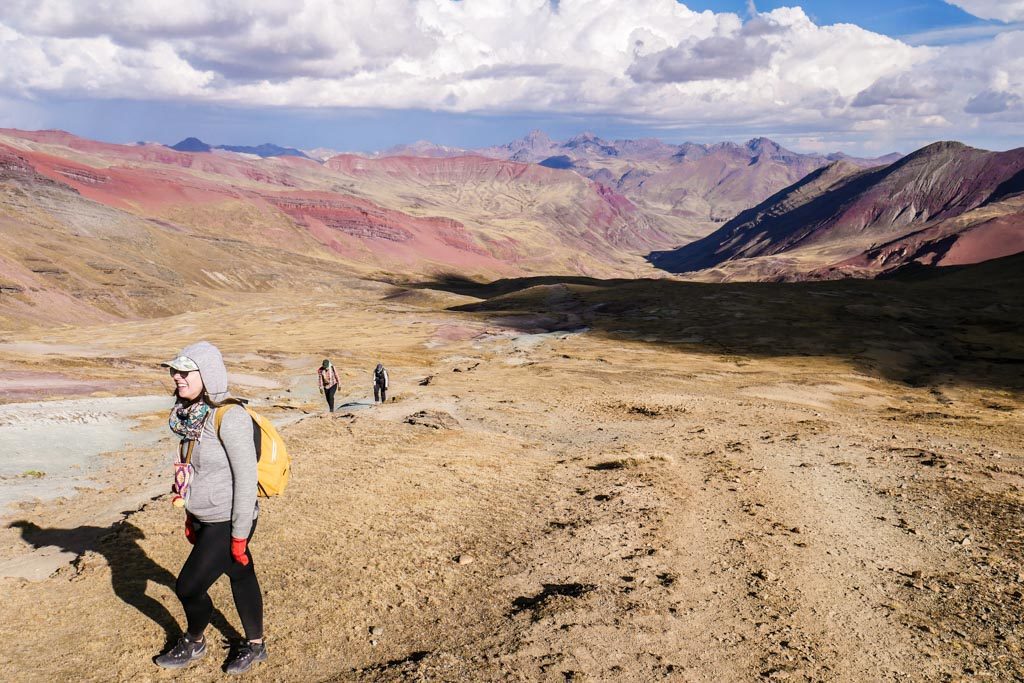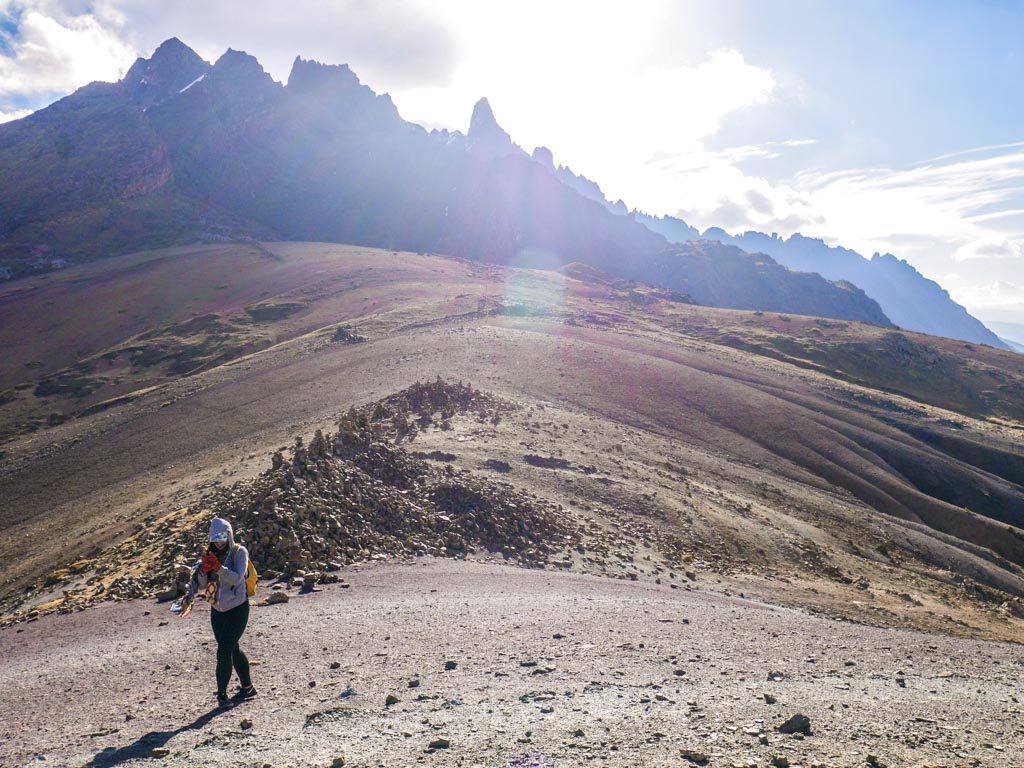 Ausangate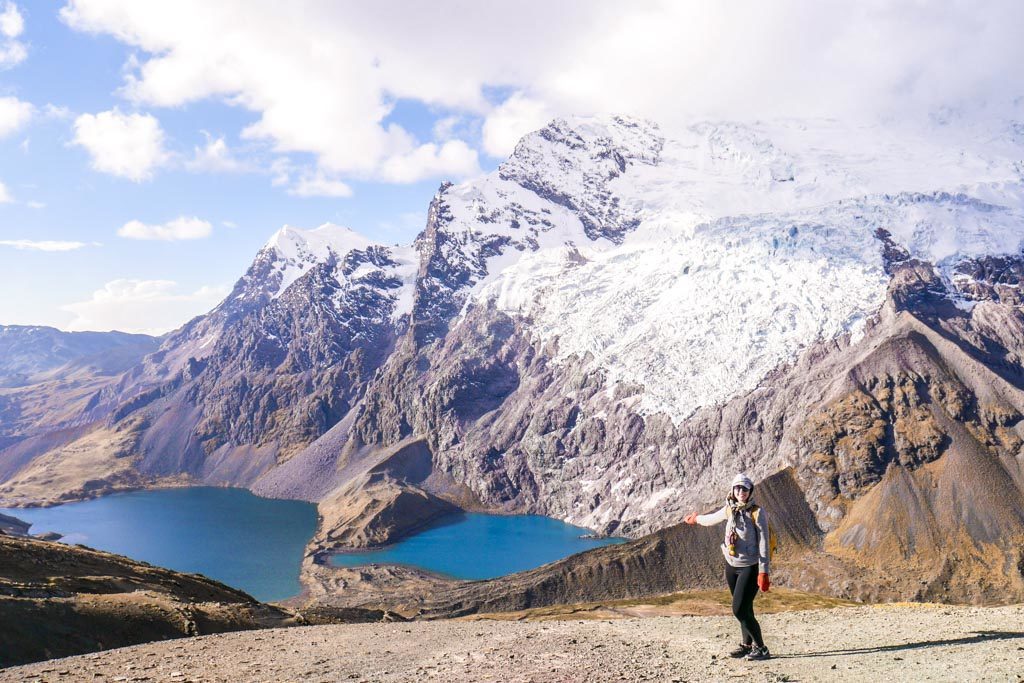 Ausangate mountain is stunning. At nearly 21,000 feet, It's huge and covered in glaciers. There were two bright blue glacier lakes at it's base. The wind was harsh at this high and unprotected pass, but we spent as long as we could marveling at the beautiful view and taking photos.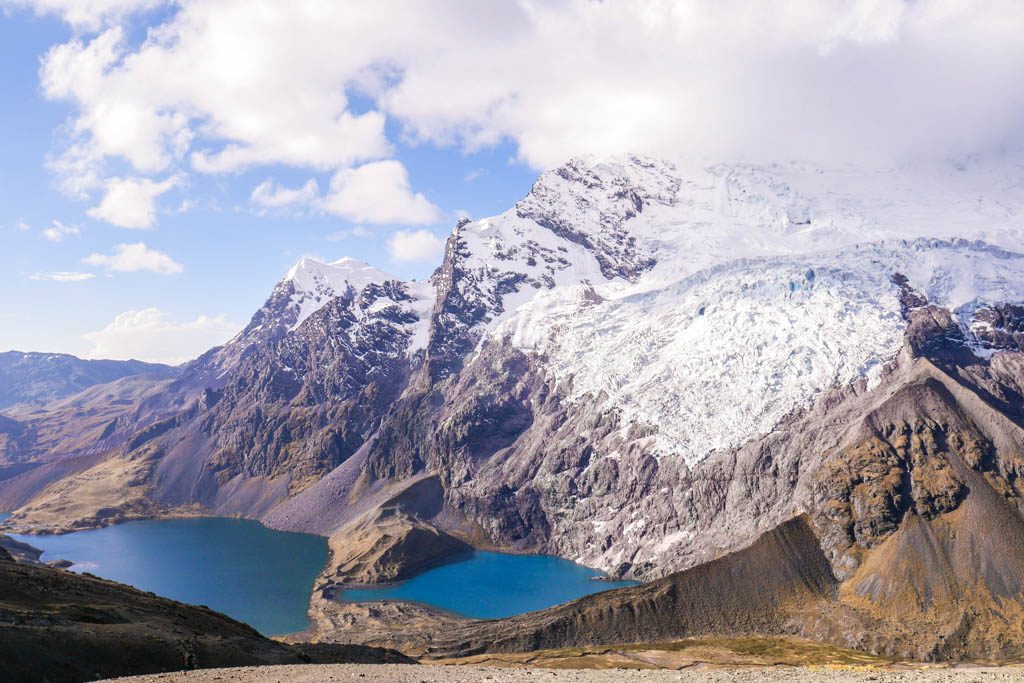 If you're worried about your physical fitness ability on the hike, you might keep that in mind when deciding if you want to add this part onto your Rainbow Mountain trek - it is a challenge. But for us, it was totally worth it and I'm so glad we saw Ausangate mountain, it's glaciers, and lakes.
Campsite and Dinner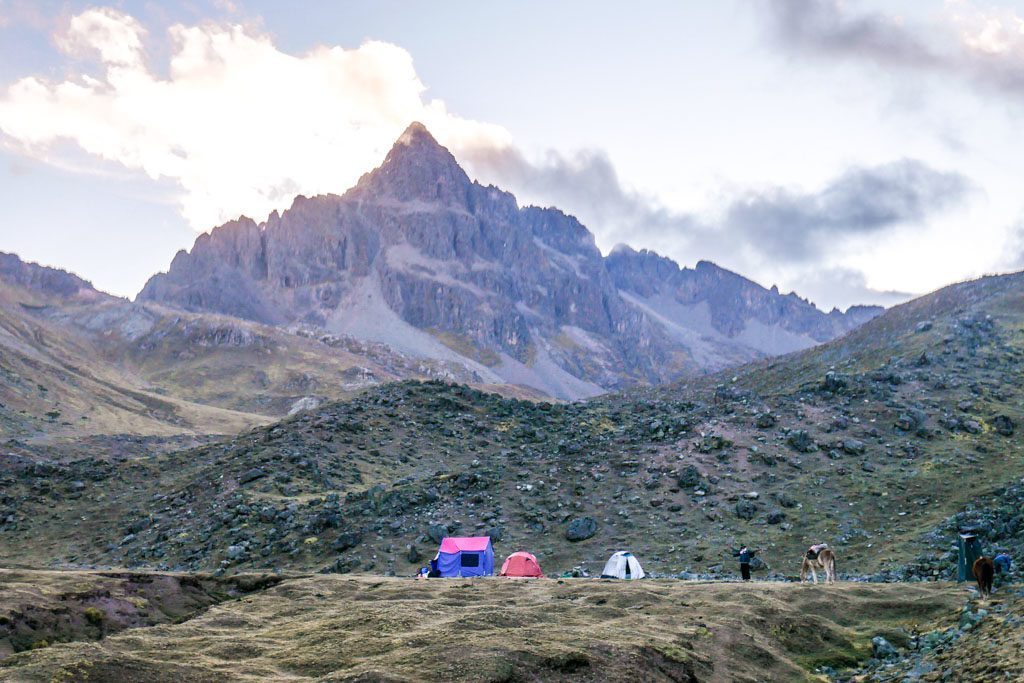 We made our way back down the mountain, and then through the valley towards ours campsite. This part was a welcome break, we mostly were climbing downhill.
The sun was beginning to drop and the temperature changed fast! We had mostly been hiking in a couple light layers up until this point, but once the sun dropped, we all pulled out as many layers as we had on us. Be sure to keep lots of layers in your day pack so you can add and remove as you need to - the weather changes dramatically at this altitude!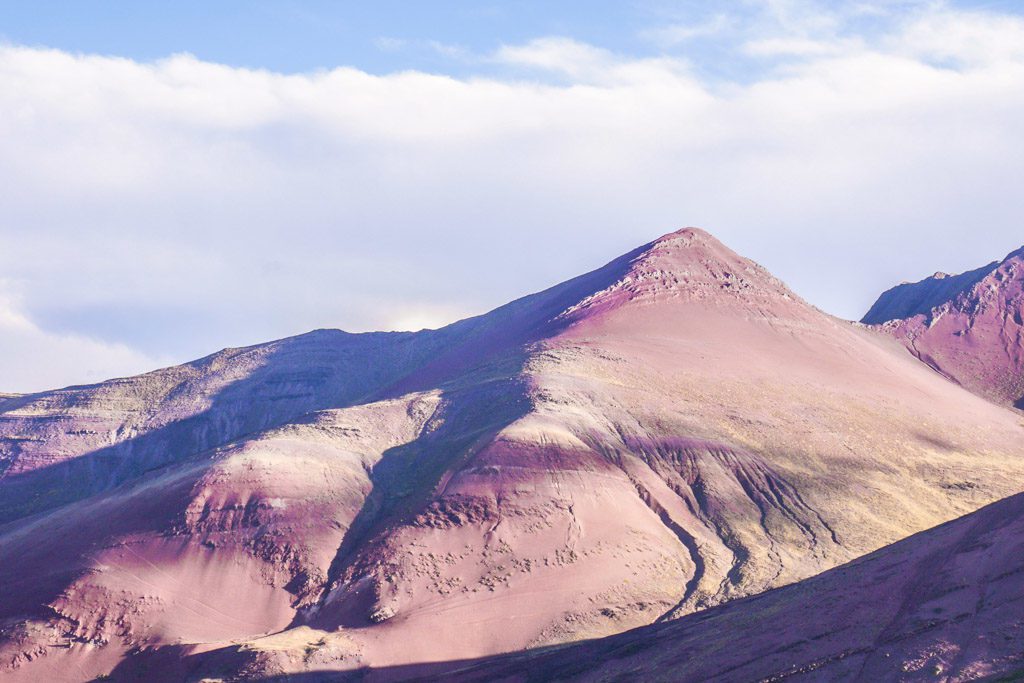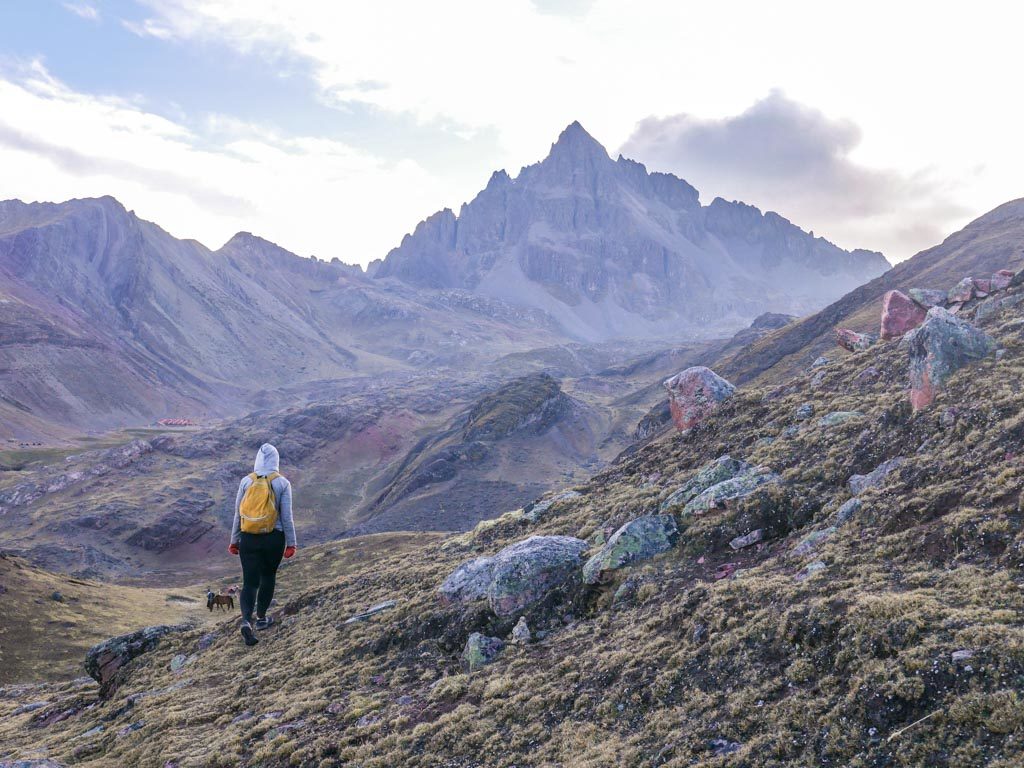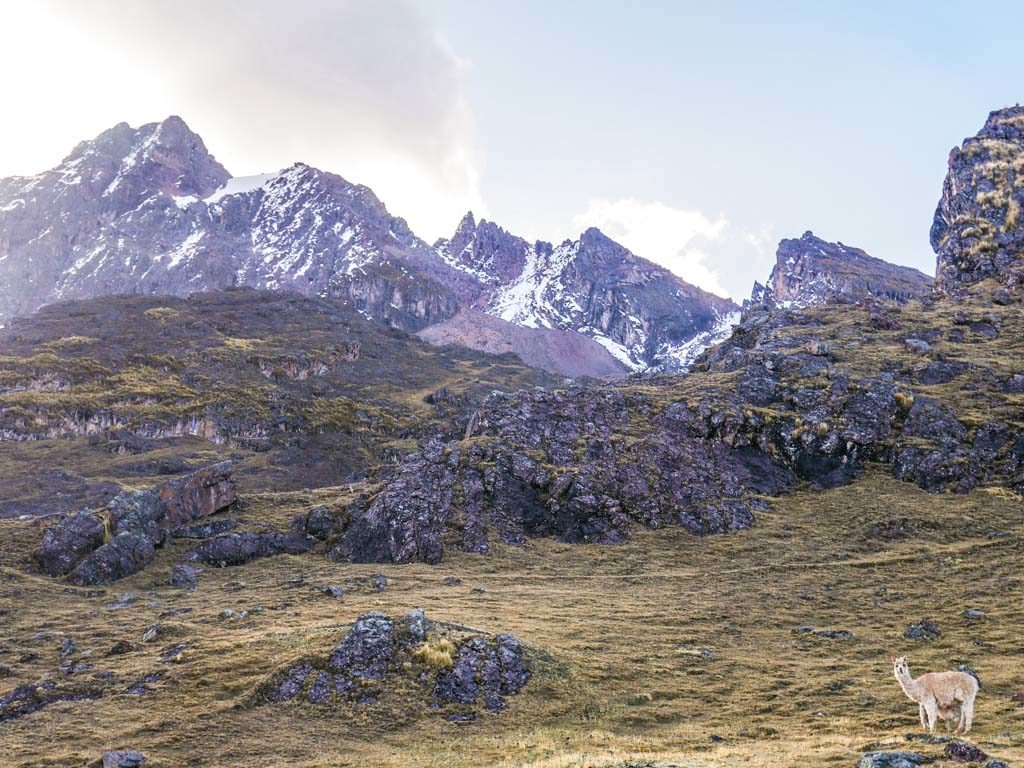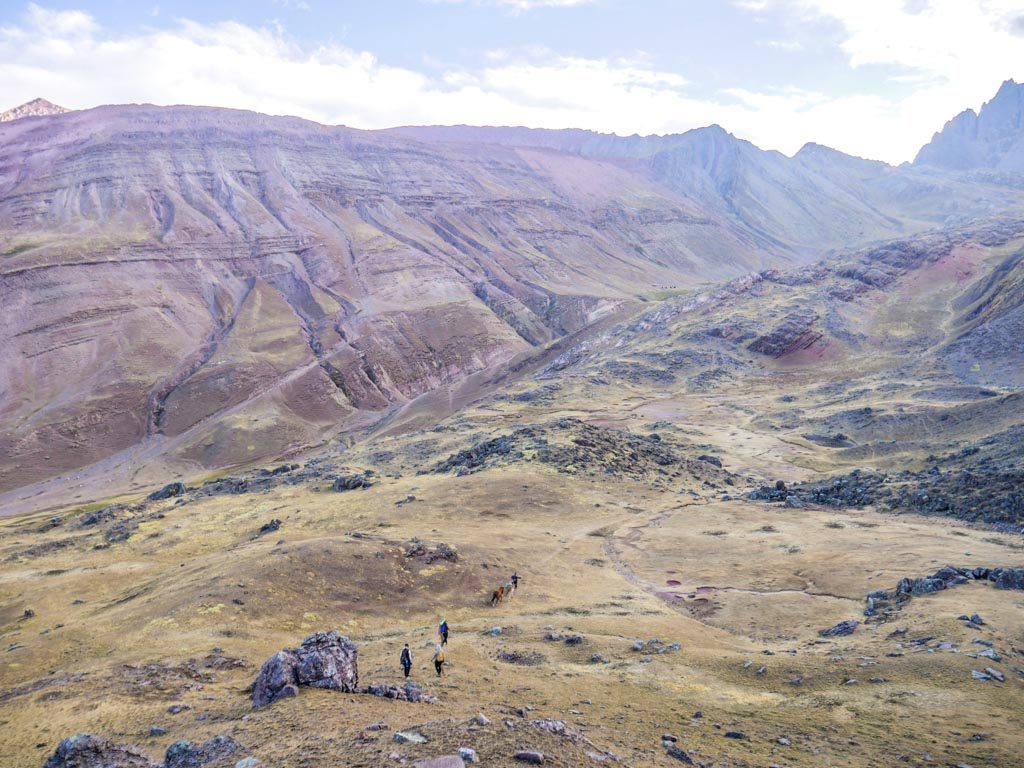 When we got back to the site, we all immediately changed and/or added as many layers as we had on us. It had truly gotten very cold by that time.
Our campsite was nestled in a small valley - but was very high in elevation. At 15.5k feet! Our tents were already set up for us - we crawled in ours and spread out our provided sleeping bags on top of air mattresses. We were also given a fleece liner to tuck inside the sleeping bags.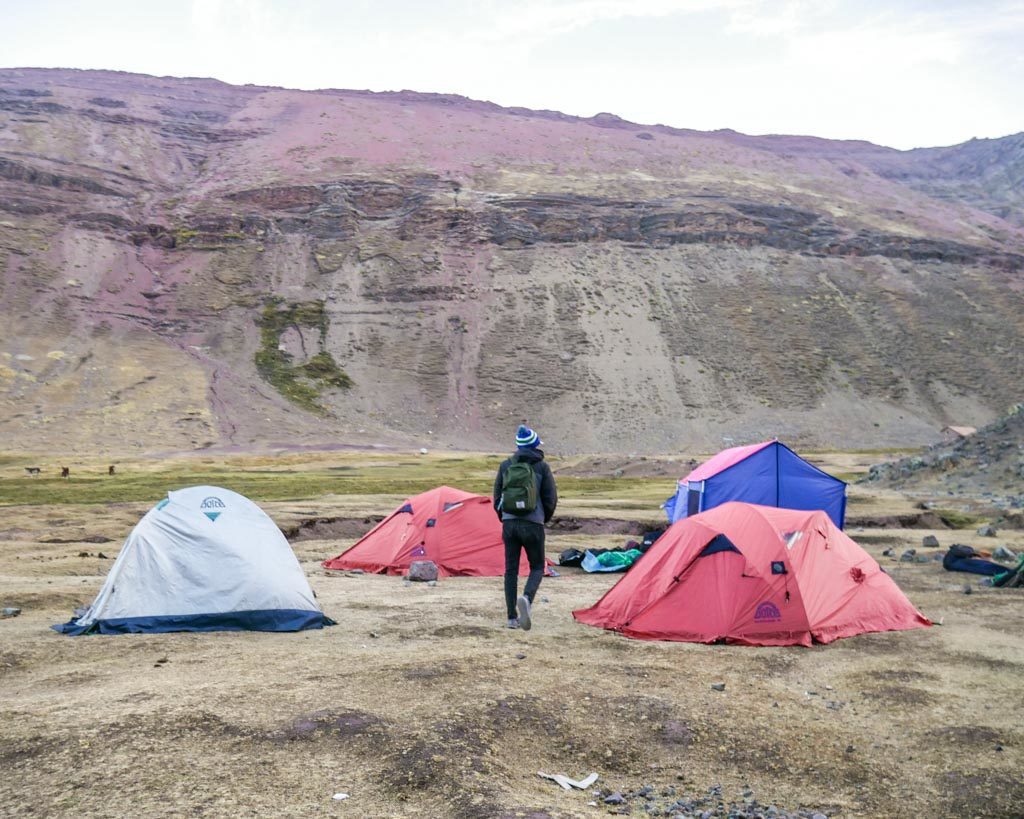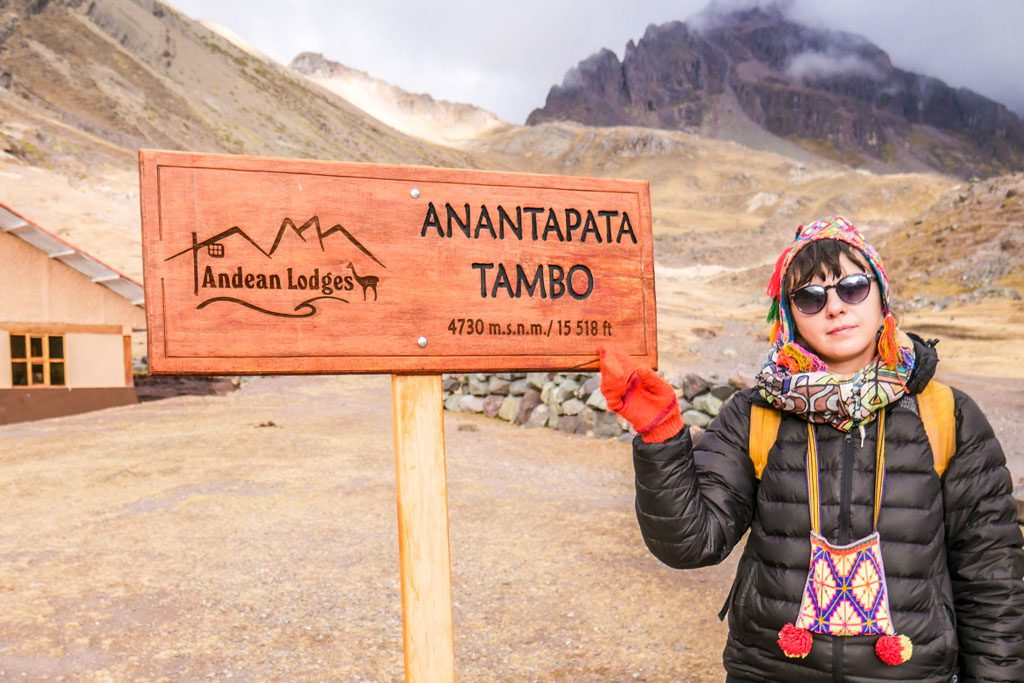 We then headed into the small communal tent to warm up with some tea, eat some snacks, and chat until dinner was ready.
We had another delicious multi course meal for dinner with soup, pasta, chicken, and potatoes, and even dessert!
We then returned to our tent to fall into bed. All camping gear is provided to you by Ayni, and everything, including a hot water to tuck into our sleeping bag, kept us comfortable throughout the night. I did have trouble sleeping, but it wasn't for lack of comfort or warmth. I have had trouble sleeping at high altitudes before, so I think this was the culprit.
The sky was absolutely clear. We had almost a full moon, so we couldn't see any stars, but the bright moon lit up the scenery.
Breakfast
Our morning wake up call was a pleasant one, as the guides brought us a steaming hot cup of coca tea to enjoy as we made our way out of our sleeping bags.
We gathered back in the communal tent, washed up, and then ate our filling breakfast.
Starting Day 2 of Rainbow Mountain Trek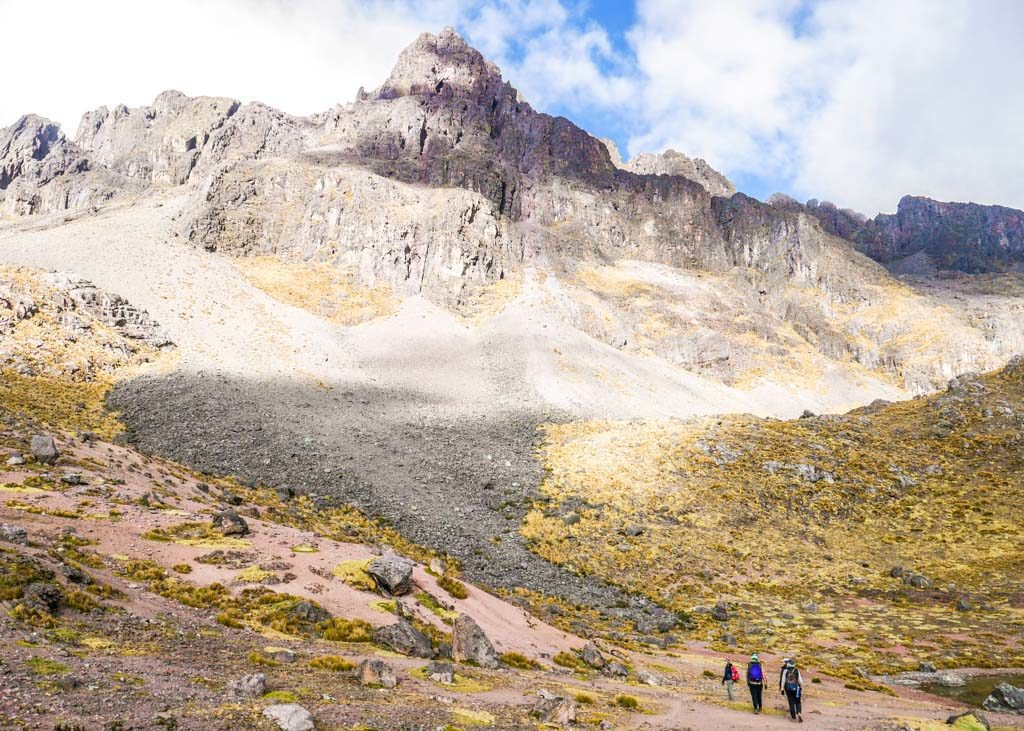 We started our 2nd day of the Rainbow Mountain trek around 6am. We were amazed to see that we had camped so close to the impressive mountain that we would be climbing next. We noticed that we were all moving at a slow pace - the elevation was so high now that we would be climbing slowly.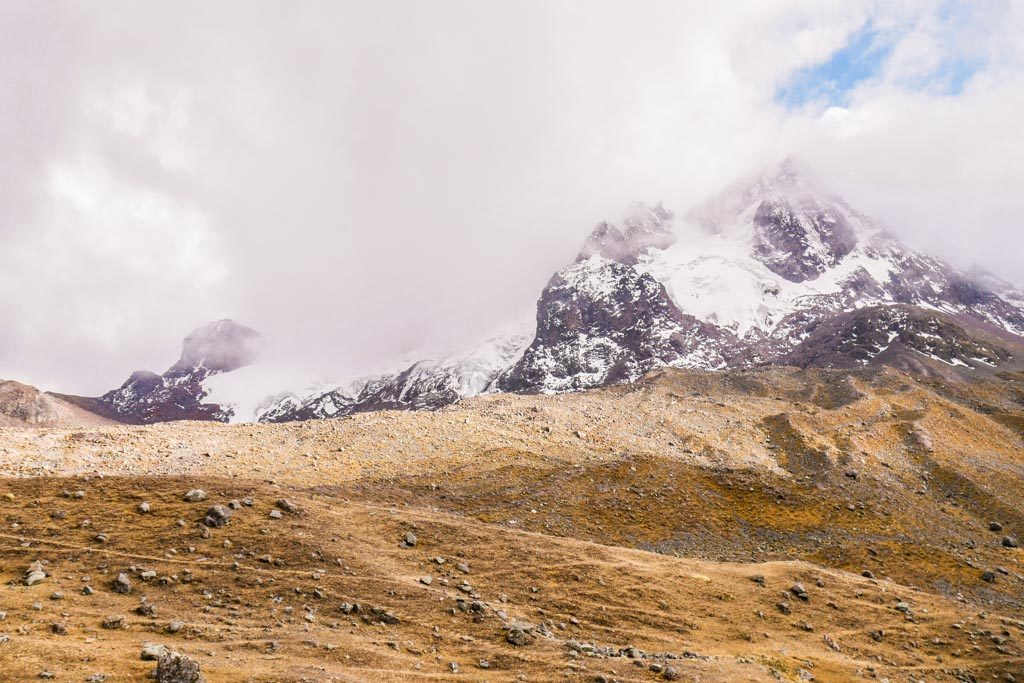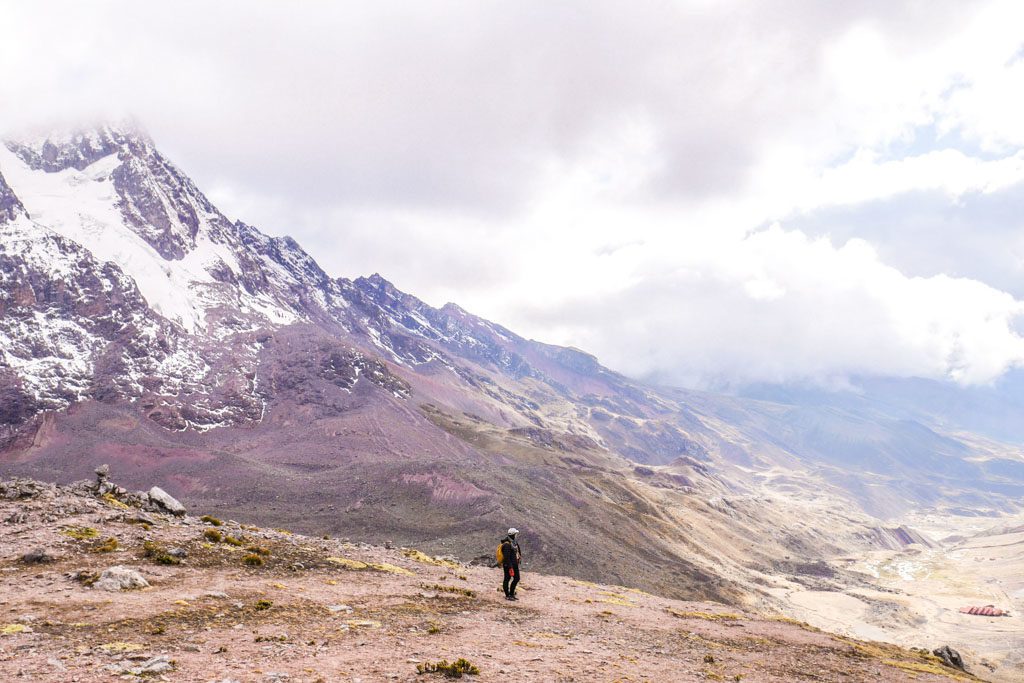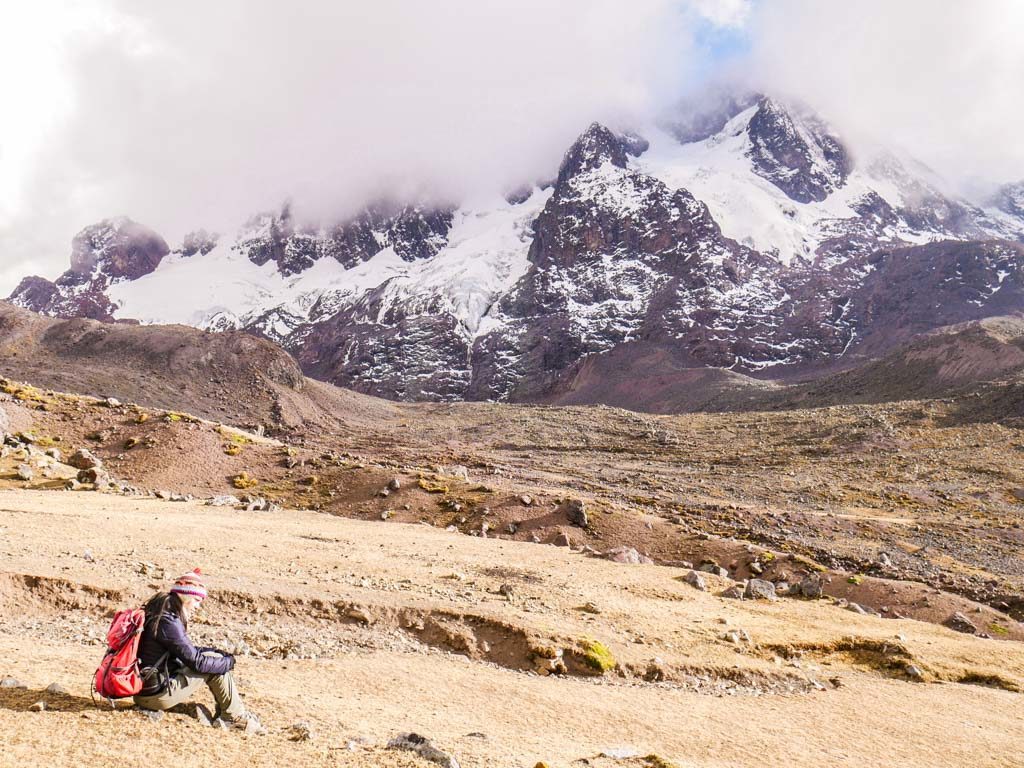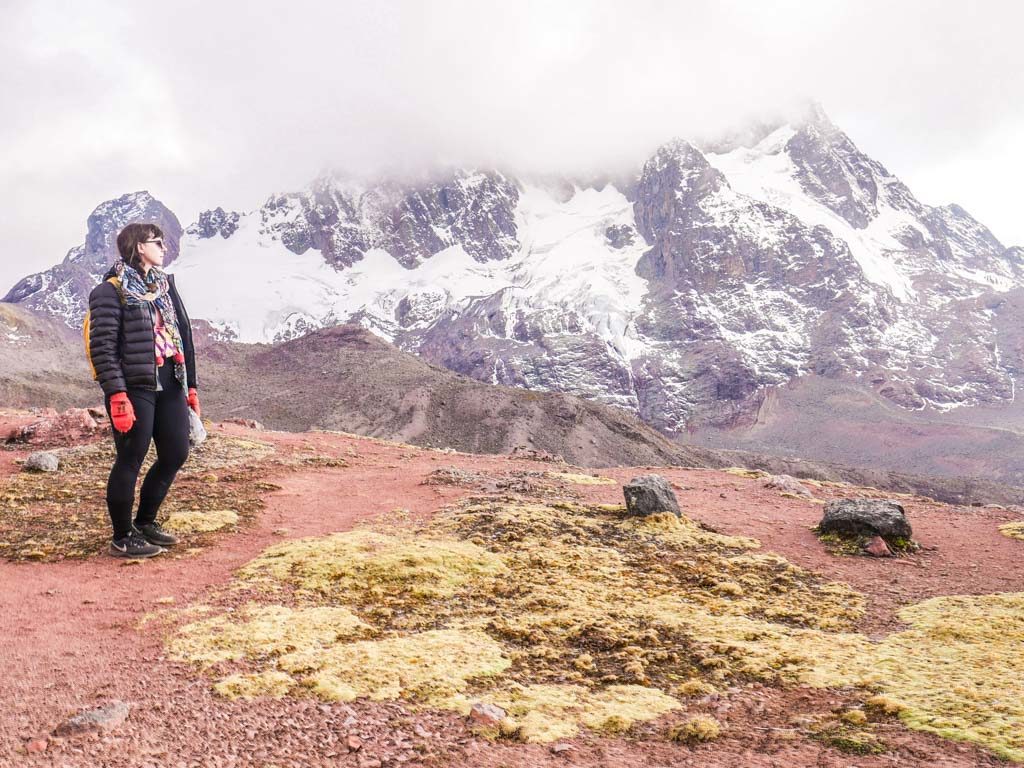 The 2nd day was a challenging one right from the start. We made our way up to the mountain pass, taking switchbacks, but still making our way up a steep mountain.
First 16.5k Pass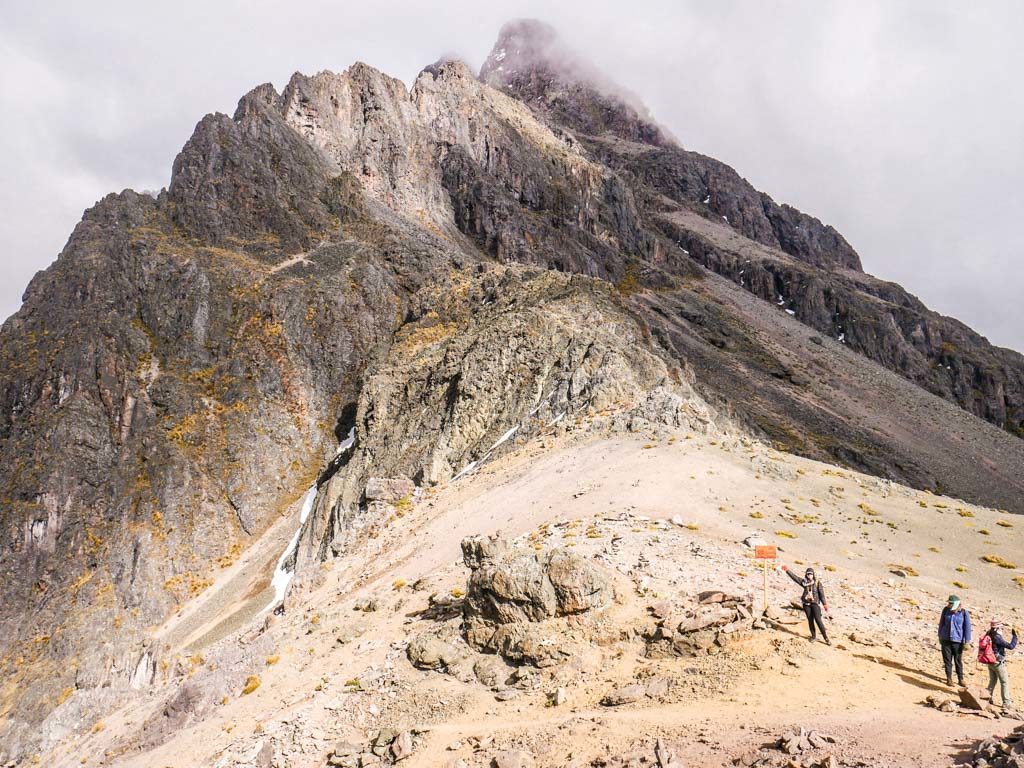 We finally arrived at the pass - at 16.5k feet! The top of the mountain was still quite higher to our right, but we admired the snow capped peaks, and saw that there were patches of snow very close to us. We then got a glimpse to the next part of our trek, climbing down into a valley with a lake, and then back up the other side, with Rainbow Mountain in the distance.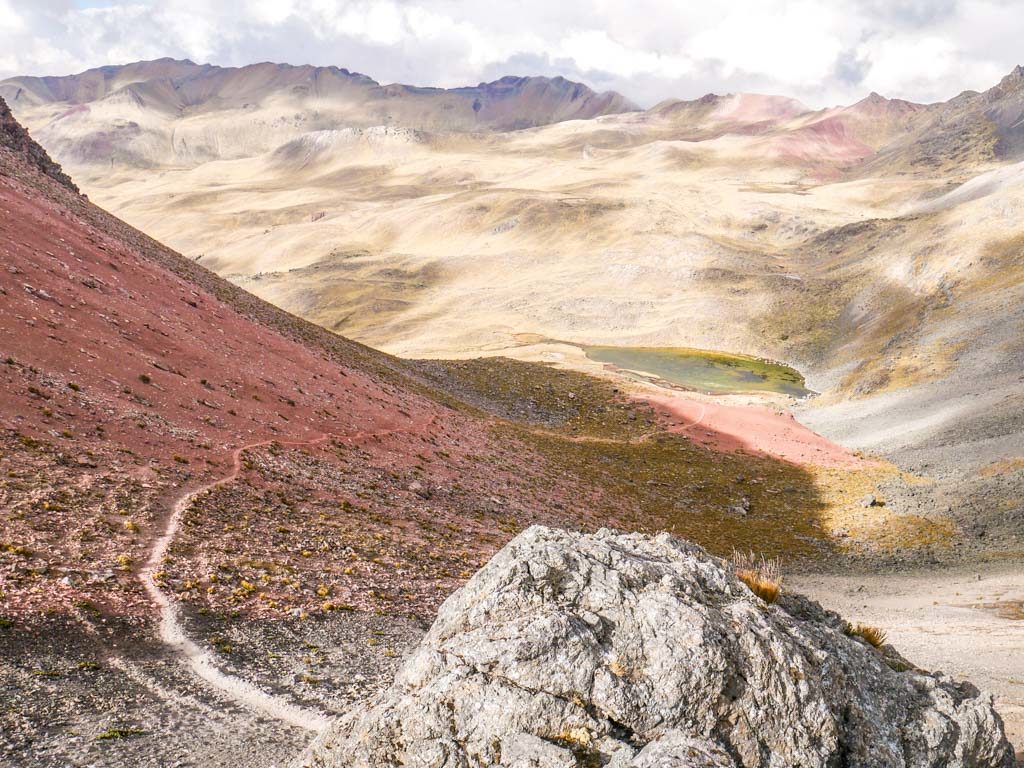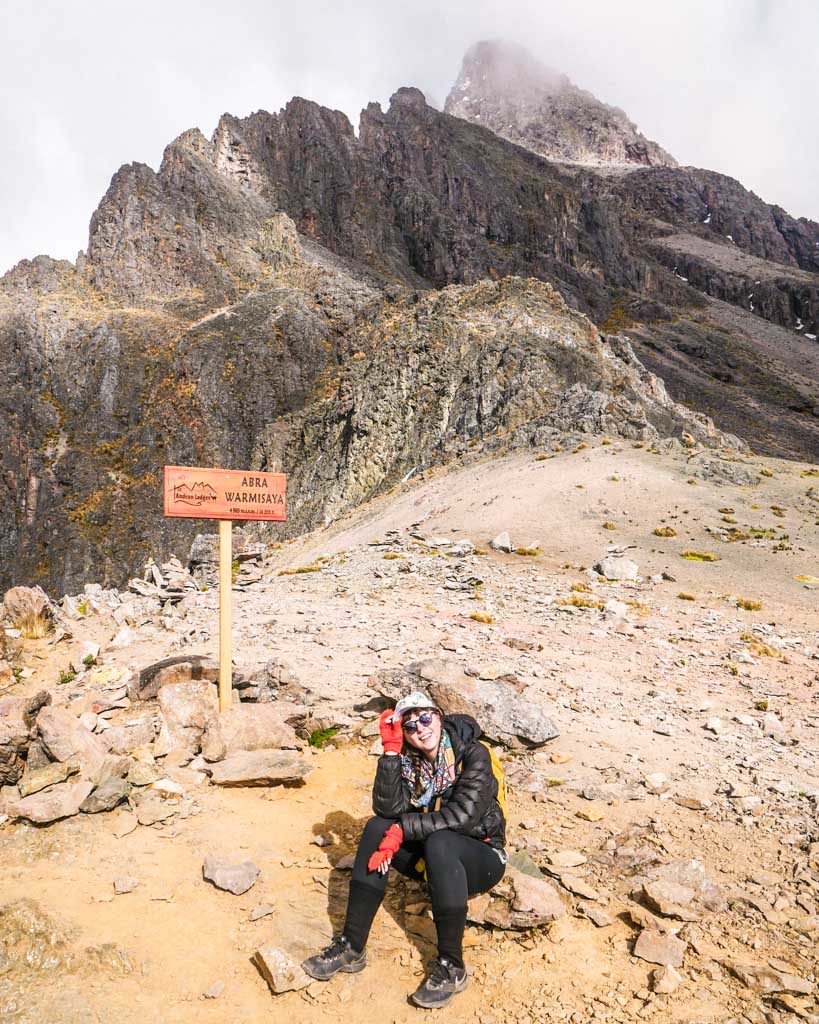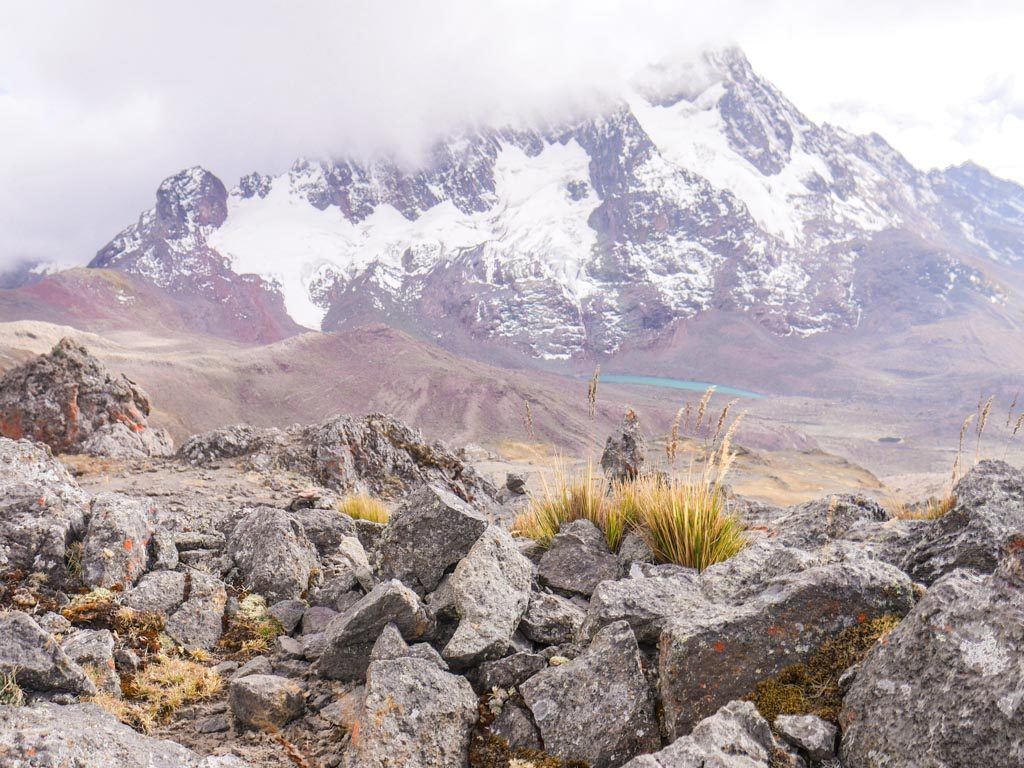 Lake, Wildlife, and Heading Back Up
We made our way back down the other side of the mountain, and then eventually reached a crystal clear lake. We watched fresh water trout swimming underneath the surface, saw a condor flying in the distance, and passed lots of chinchillas.
We took lots of breaks in this section. We were all pretty exhausted and had to pace ourselves slowly.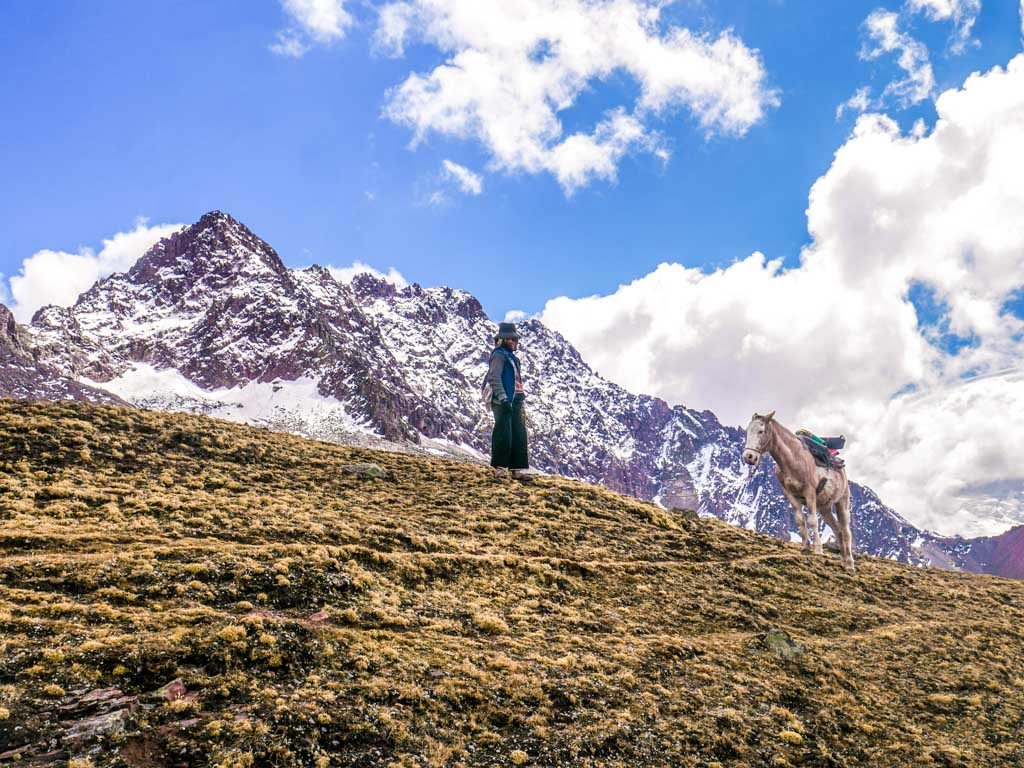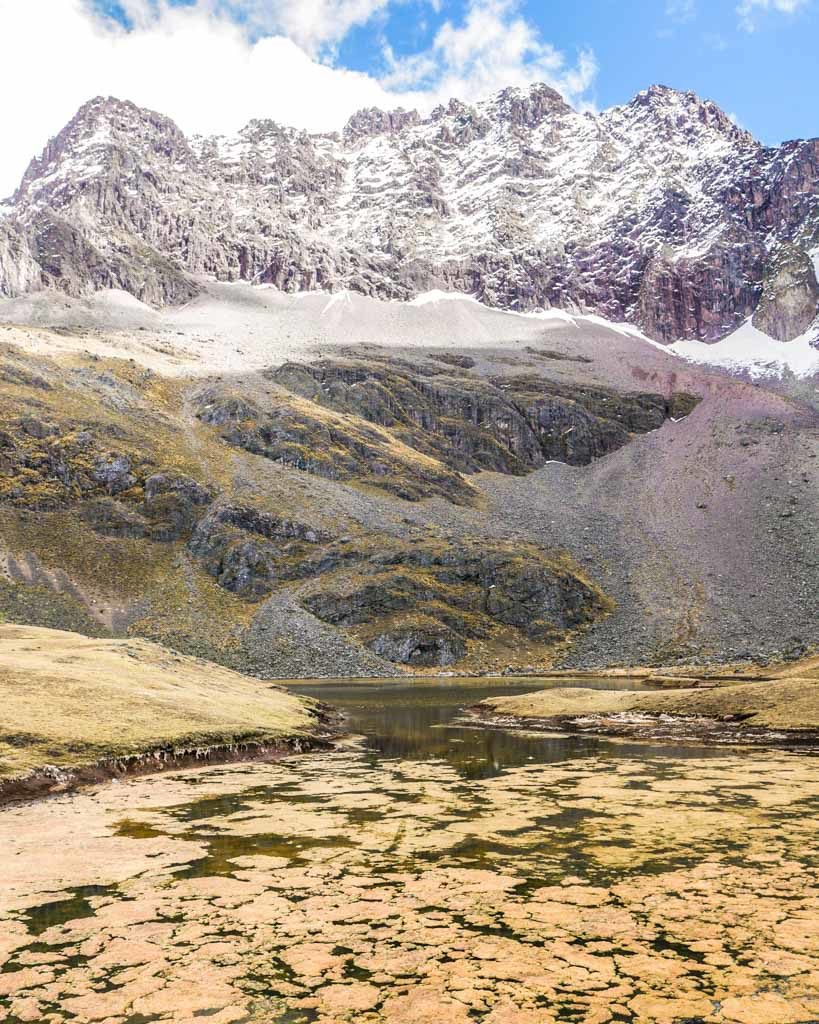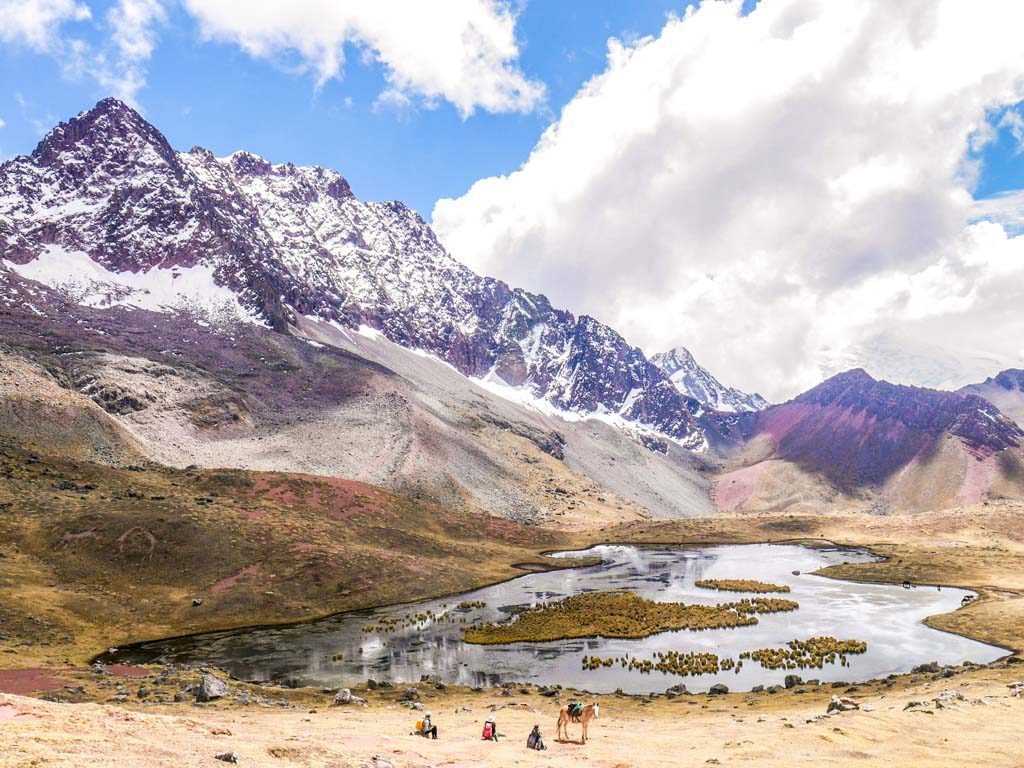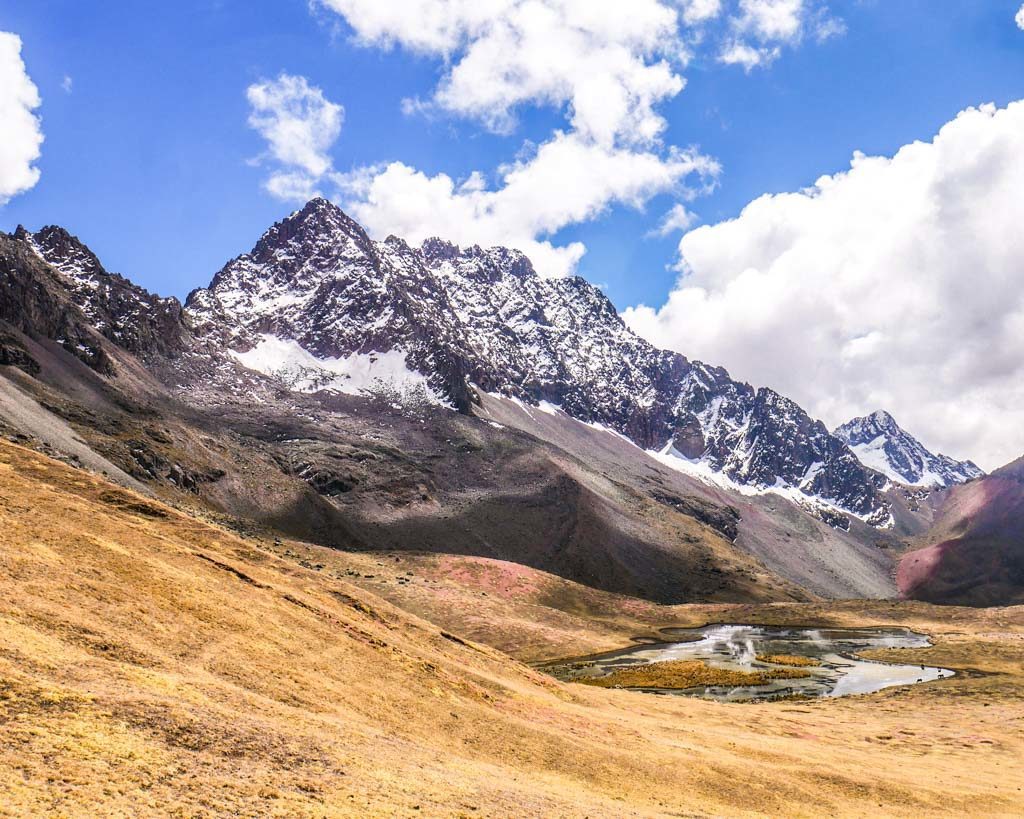 At one point, I felt quite dizzy and let Flor know. She had me lay down and then held my legs over my head for a period of time to reverse the blood flow and get oxygen back to my brain.
She was very calm and methodical and had me sit up in increments slowly to get back to normal.
One of the other hikers in our group had some nausea and altitude sickness problems as well, and Flor was extremely vigilant in checking in with us, seeing if we needed to take a break and use the emergency horse, and giving us advice to ease our symptoms. I felt completely confident that my health and well being was being looked after throughout the Rainbow Mountain trek.
Finally Arriving at Rainbow Mountain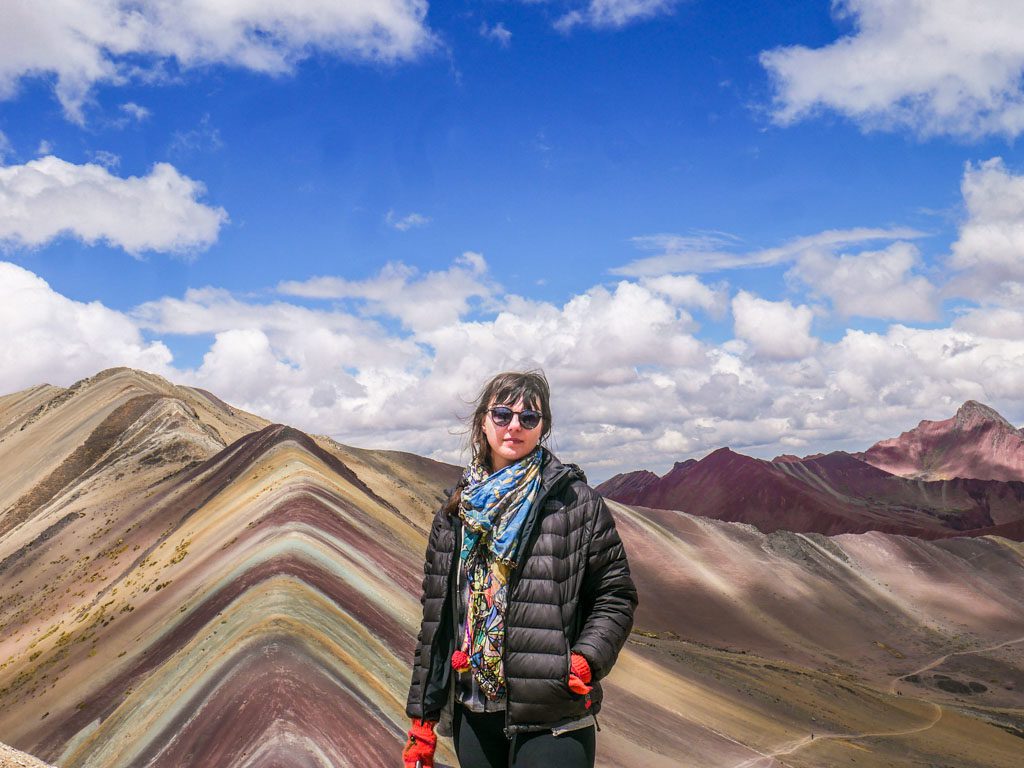 We slowly made our way back up, hugging the side of some mountains, until finally we arrived at the base of the last peak.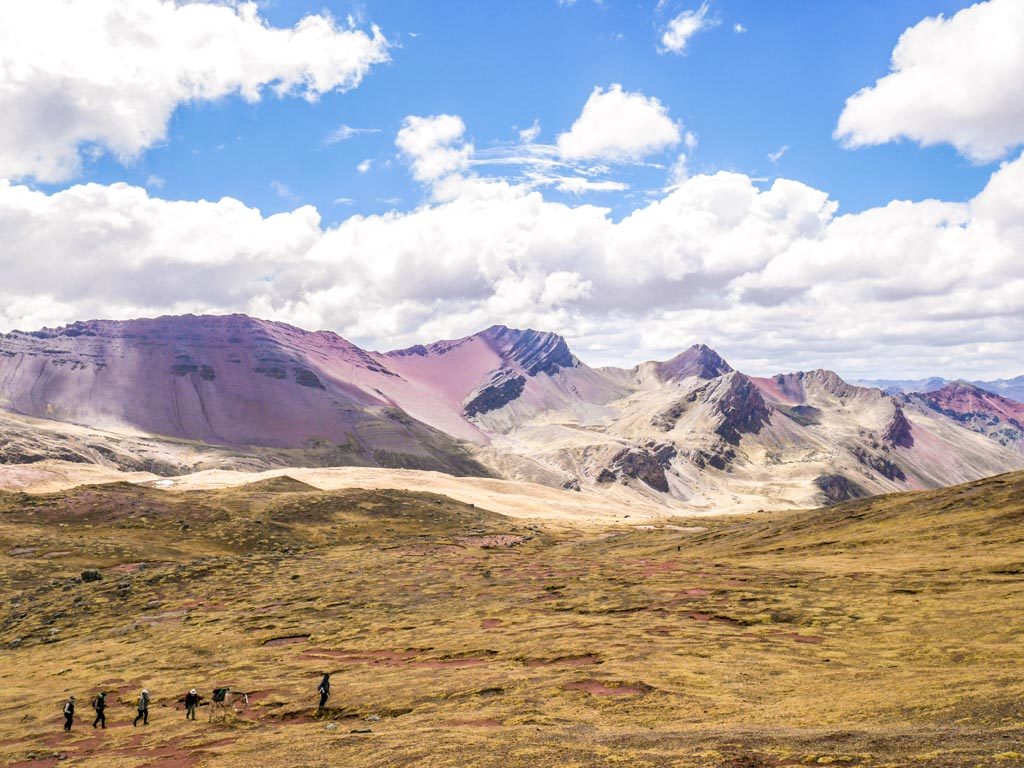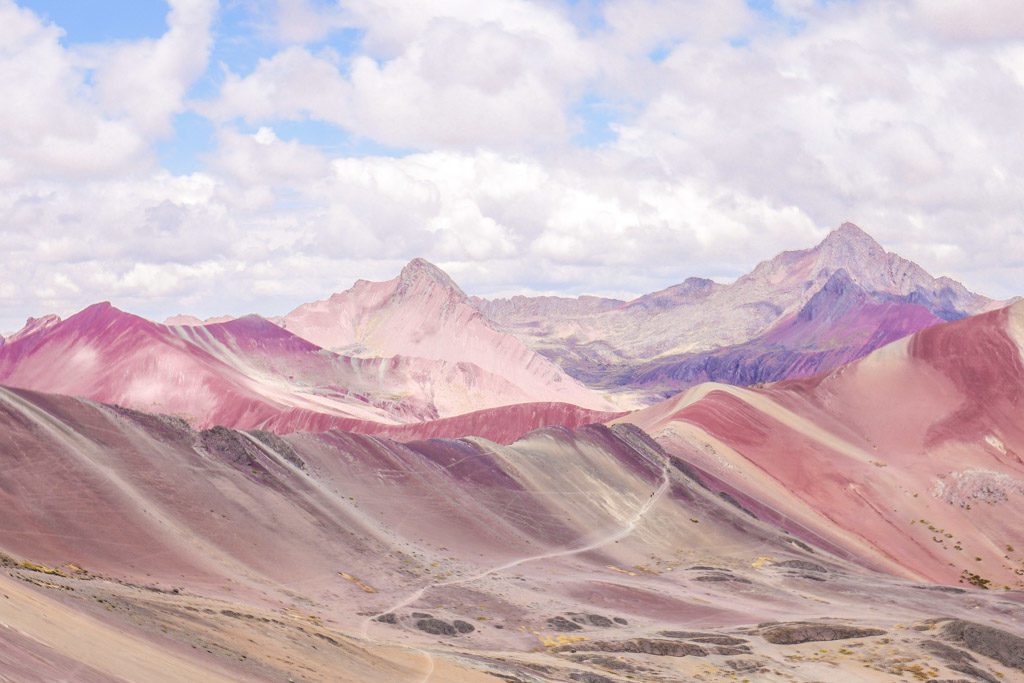 This peak is immediately in front of Rainbow Mountain and would serve as our lookout point for the mountain. We slowly climbed up the last steep portion and were greeted by 100s of people.
It was really quite a shock to see and hear so many people after being alone in our small group for 1 ½ days - not seeing any other people but a couple locals near the start of our first day's hike.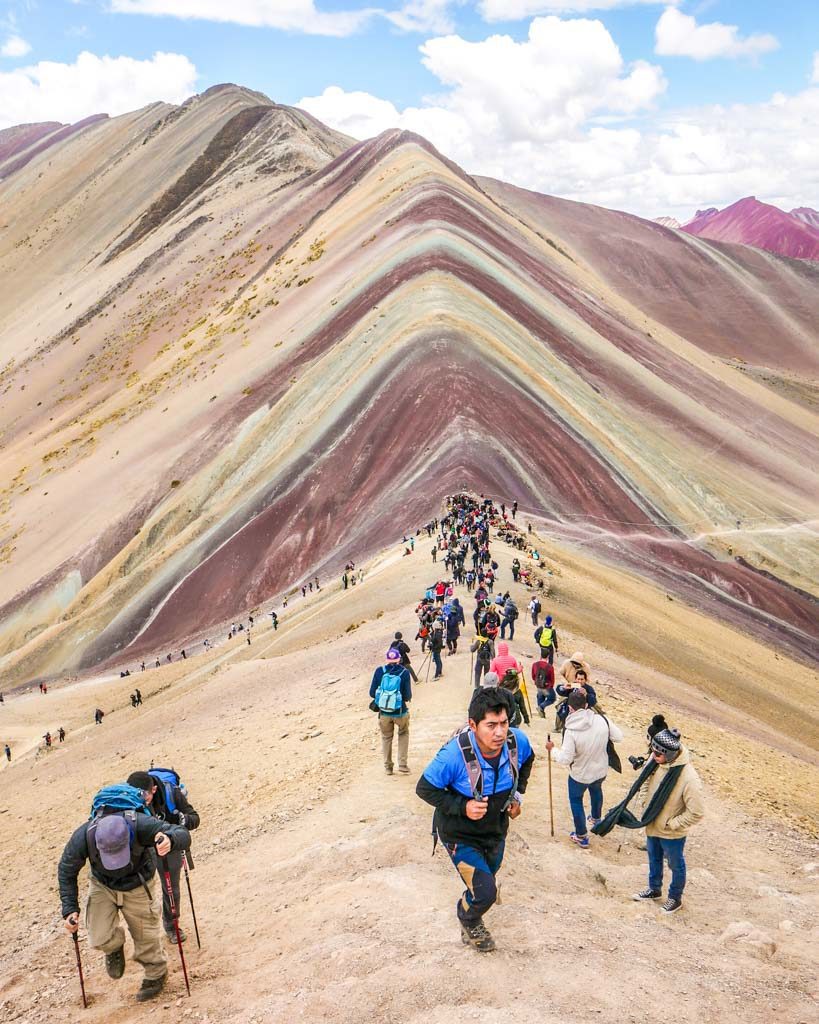 But once we got over the shock of the tourists, we looked up and saw Rainbow Mountain in front of us. It is incredibly beautiful - layers of red, pink, orange, yellow, brown, green and even purple.
We tried to figure out how we could take some photos without tons of people behind us in the shot, and then Flor came to the rescue! She brought us over to the side a bit to a point that only had a few people. We figured out the angle and took lots of photos of ourselves without anyone in the background. Such a great pro tip!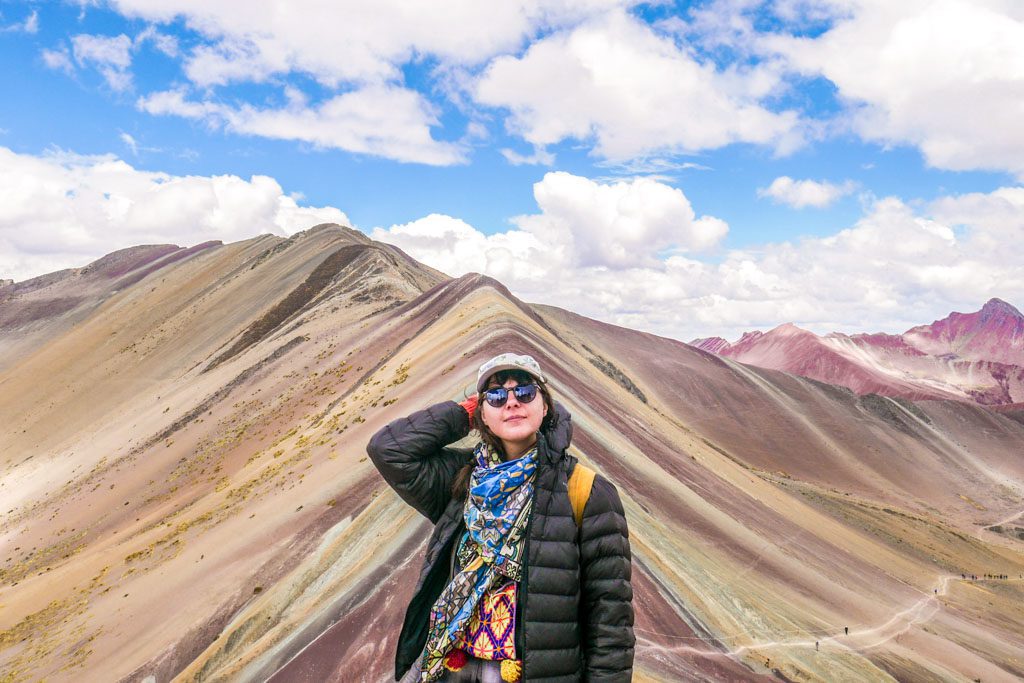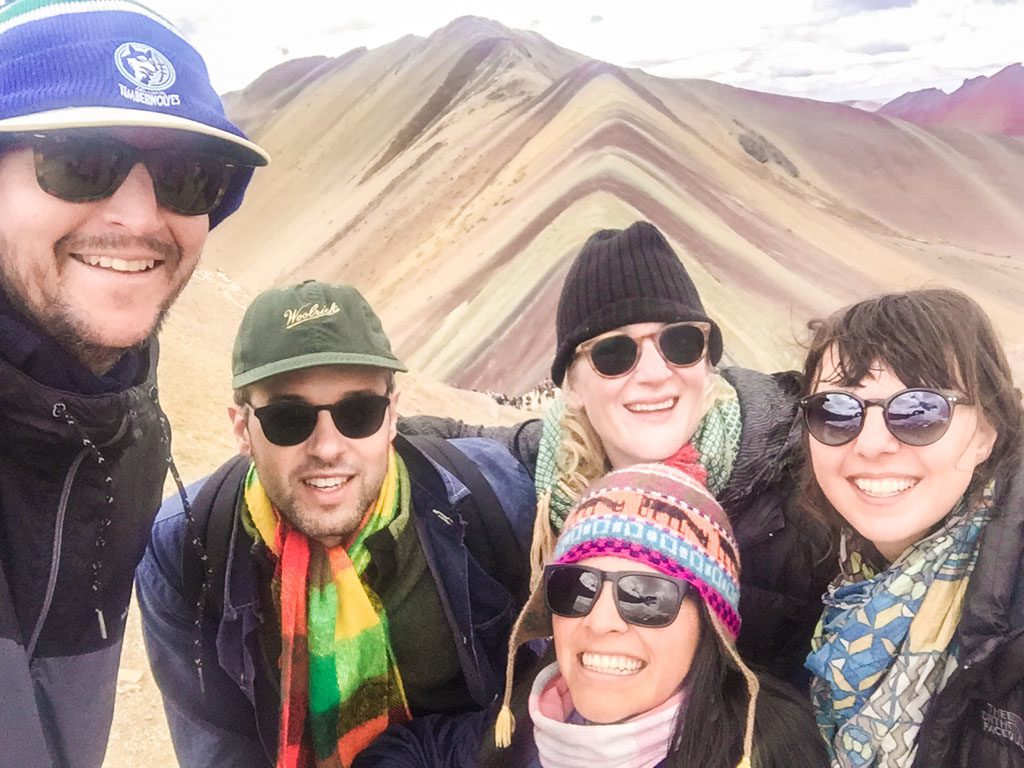 We then walked over a bit, and Flor gave us a background on the region, how it was used by the Incas, and how the Rainbow stripes were formed.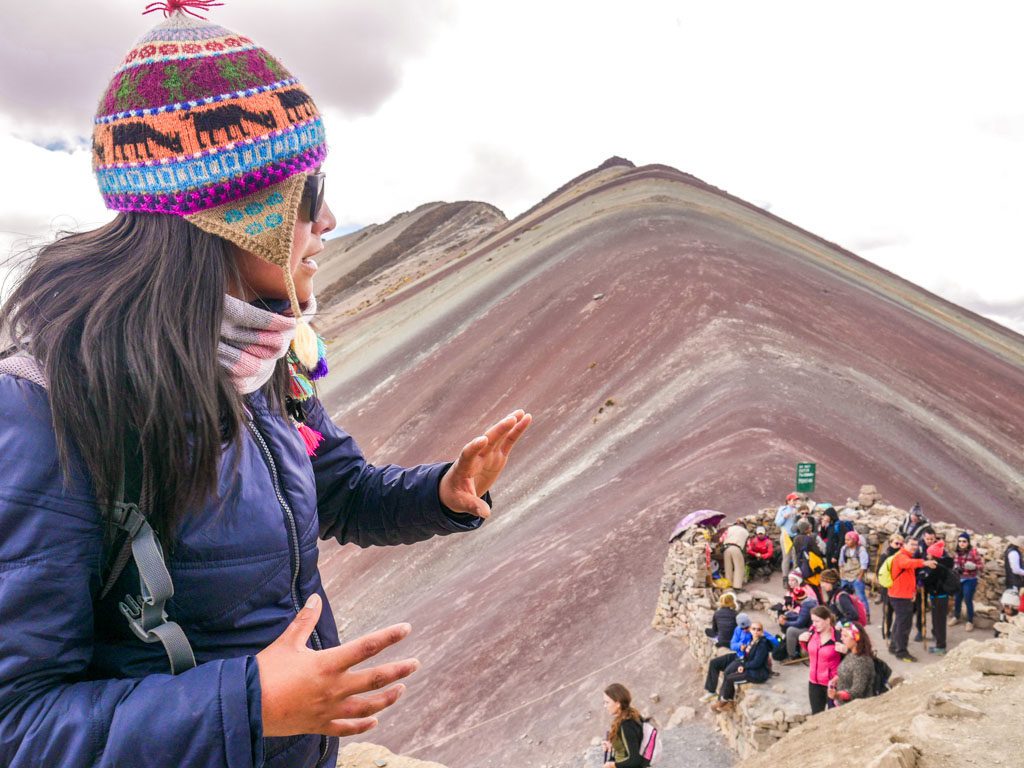 The different colors are formed because the earth is filled with different minerals. The red portions are filled with iron, the green portions are filled with copper, etc.
For many years, this mountain was covered by a layer of ice. But once the ice started to melt, the layers of sedimentary colorful rock were revealed.
Lunch and Wrapping up the Rainbow Mountain Trek
After learning the history from Flor, we made our way back down the other side of the mountain as it started to snow. We were now climbing down with dozens of other people - this is the way the tourists who visit for the 1 day hike ascend the mountain, so it's crowded and very different from the previous parts of our trek.
We climbed down and down and through a long valley.
Finally, we reached the "exit/entrance" for the Rainbow Mountain trek, used some restrooms, and then found our chef and guides who were preparing us lunch. We sat, exhausted, and enjoyed our last meal on the trek: salad, soup, pasta, veggies, potato, and egg. Everything was delicious and we were so hungry after our long day of trekking!
We piled back in the van, said goodbye to our local guides, and then I promptly fell asleep.
Final Thoughts on our Rainbow Mountain Trek with Ayni Peru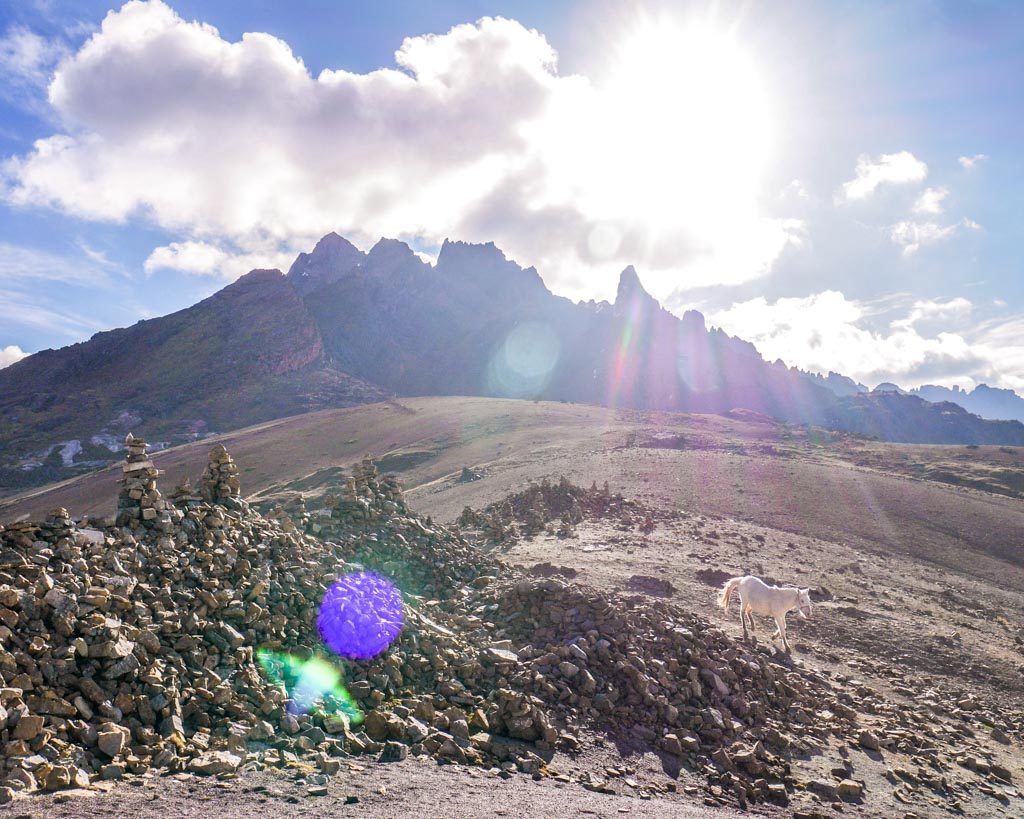 The Rainbow Mountain trek was absolutely one of the most challenging and most amazing treks I've ever done.
Everything about our experience with Ayni was fantastic. They were super professional but also friendly and warm. I always think that people are what makes an experience great, and Ayni is a company filled with great people. Our guide, Flor was awesome. She was knowledgeable, caring, vigilant about our health, but also just fun to hang out with and get to know. We chatted a ton during our two days together. I loved getting to know about her life and family, and also sharing about our life with her.
Every other member of the staff was awesome as well. Our local guide, Roger, was sweet and warm. He was a pleasure to spend time with over the two days. Our driver was Alex again, the same driver that we had for our first tour with Ayni. He was great, friendly, and anxious to learn more about us. The chef and our other local guide were amazing as well. I couldn't have asked for a better team.
The level of service and care put into the tour was also amazing. Knowing I would be camping in the wilderness, I didn't expect to eat much more than well prepared camp food. But I was amazed at the quality, flavor and presentation in our meals. Our chef obviously took his job seriously and provided us with delicious multi course meals throughout the trek.
The touches like the hand washing stations were so welcome after a long day of hiking.
The camping equipment was all high quality and kept us comfortable in the unforgiving environment.
I also really appreciate that Ayni is committed to ethical and sustainable tourism. They work only with local guides, use local ingredients for meals, and are careful to leave the environment just the way they found it.
If you like a challenging hike and want to see some incredible, otherworldly scenery that is untouched, I highly recommend this Rainbow Mountain trek, and highly recommend to use Ayni Peru as your guides. This was our second tour with them, and I would have no hesitation to recommend anyone to use this company for any Peru tour!
---
Tour Company: Ayni Peru
Location: Zaguan del Cielo O-18, Cusco
Tour Prices: 2D/1N Rainbow Mountain trek starting from $340 USD per person for groups of 4 or more https://www.ayni-peru.com/rainbow-mountain-peru-vinicunca-yauricunca/
Contact: info@ayni-peru.com
---
Disclosure: This post was written in partnership with Ayni Peru. All opinions are my own, I wouldn't recommend anything I didn't love! I love taking tours with Ayni Peru so much that this was my second tour with the company. 🙂