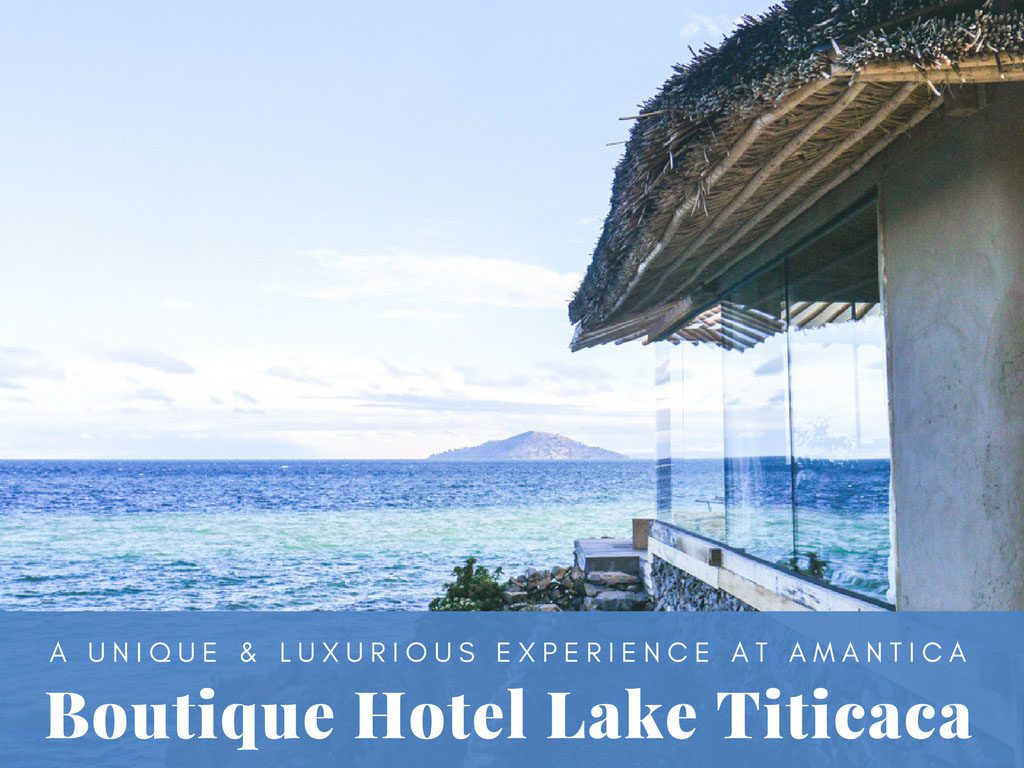 When I first found Amantica Lodge online, I immediately fell in love with this Peru luxury hotel. The design of the exclusive villa was everything I look for in a hotel - sleek, hip and beautiful. This seemed like the perfect choice for a boutique hotel Lake Titicaca experience.
The stay totally lived up to my expectations and more. My only wish is that I had more time to soak up the peaceful surroundings from this luxury villa!
If you're planning to visit Lake Titicaca, I highly recommend you go to the island of Amantaní. Puno can be skipped, or just used as a jumping off point. And I've heard from many people that the Uros Islands are over touristed (though I haven't been so can't give my own opinion).
But the island of Amantaní is a virtual utopia. It's a bit isolated, so the culture is very authentic and the people live much the way they did a century ago. There are no cars, no streets (only foot paths), and no wifi/cell signal. If you want to really know Peru, and disconnect in a gorgeous natural location, Amantaní is a great choice.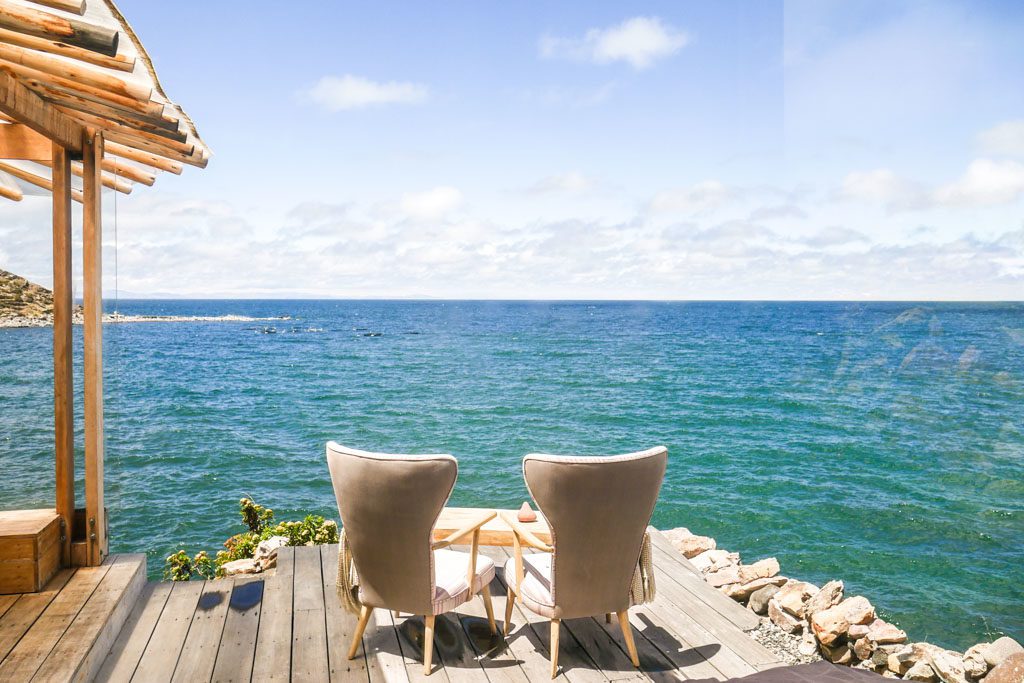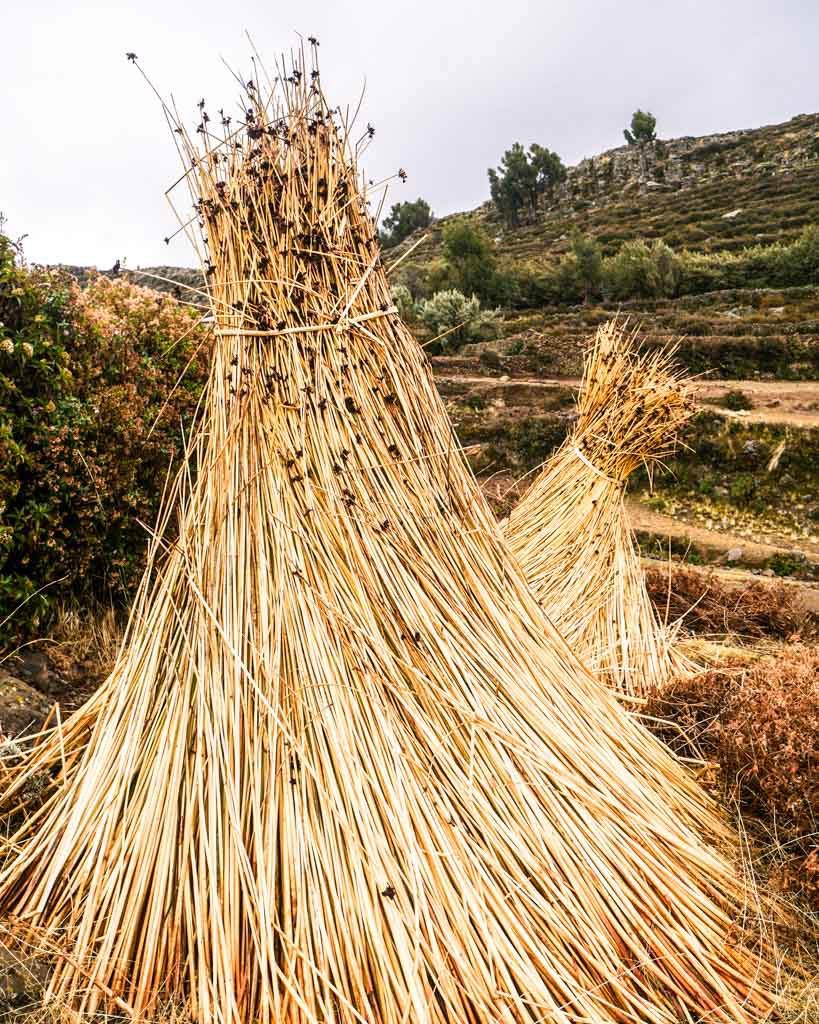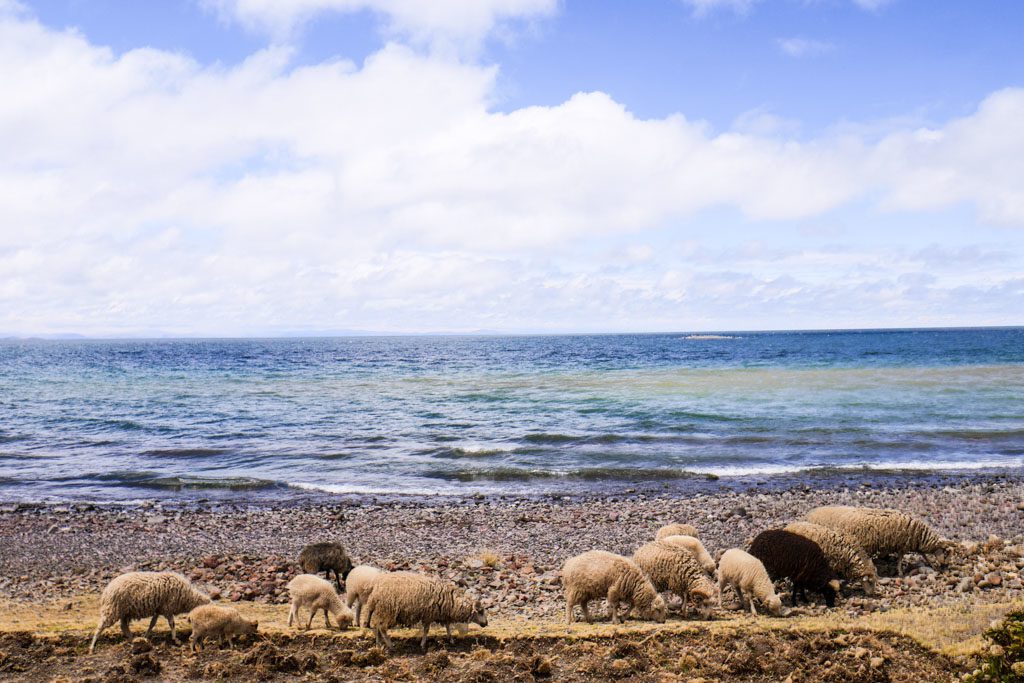 We spent our first night in Amantaní in the Peru luxury hotel - Amantica Lodge, boutique hotel Lake Titicaca. Check out all the details below of one of the most unique hotels I've stayed in to date!
Boutique Hotel Lake Titicaca: A Luxurious Experience at Amantica Lodge
Well Designed Spaces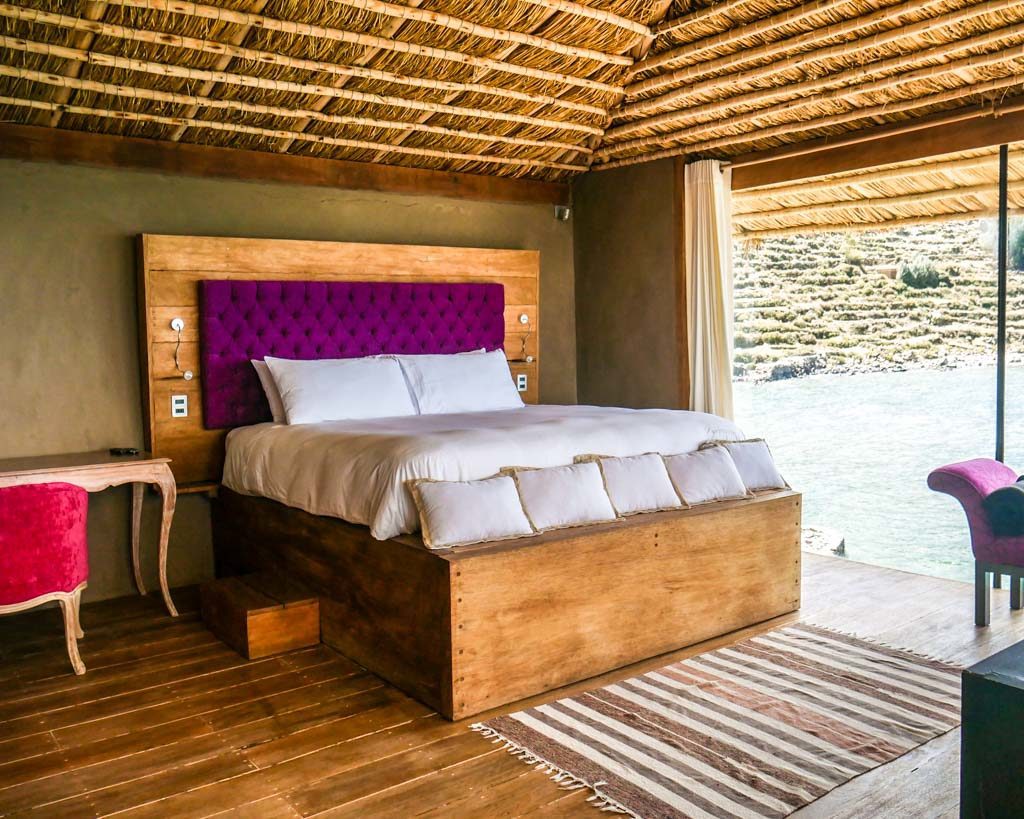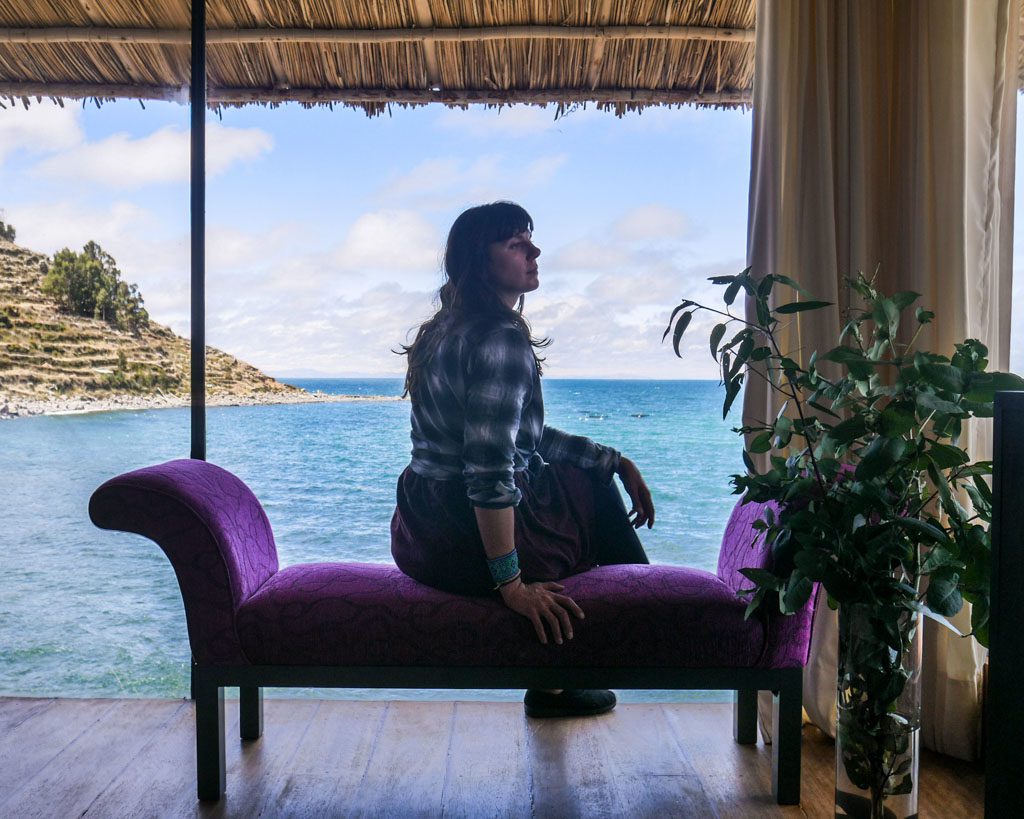 The first thing that drew me to Amantica Lodge was their beautiful, well designed spaces, as I viewed their photos online. It's obvious that a lot of care and thought went into the structures, as well as every piece of furniture or detail in the spaces.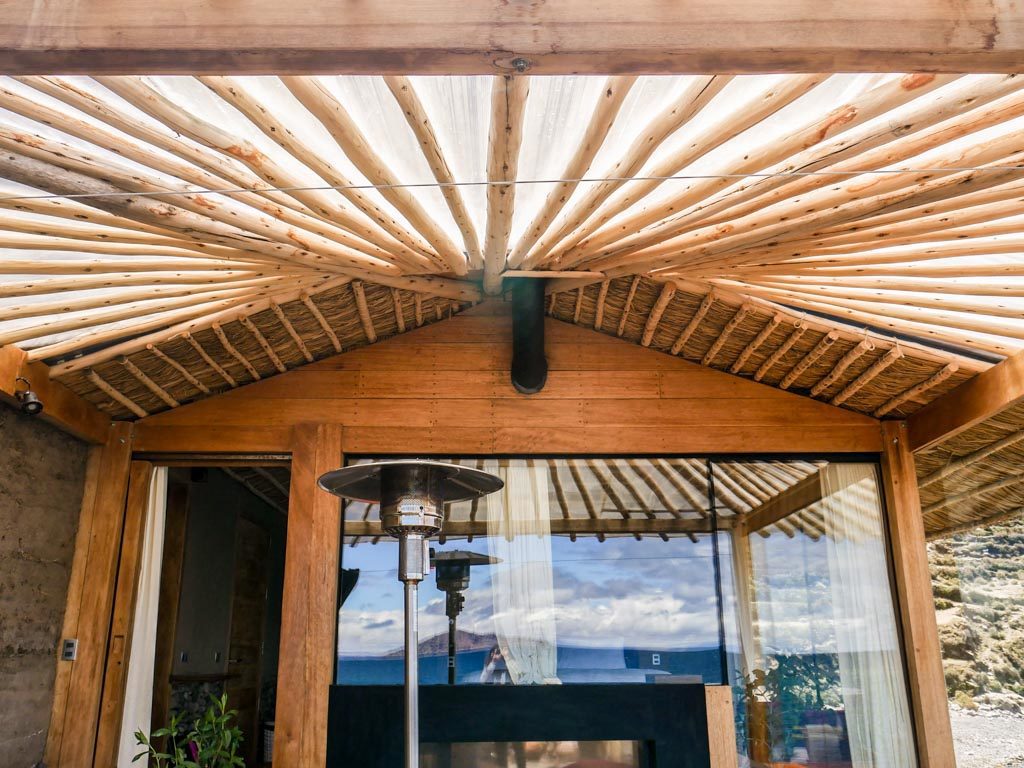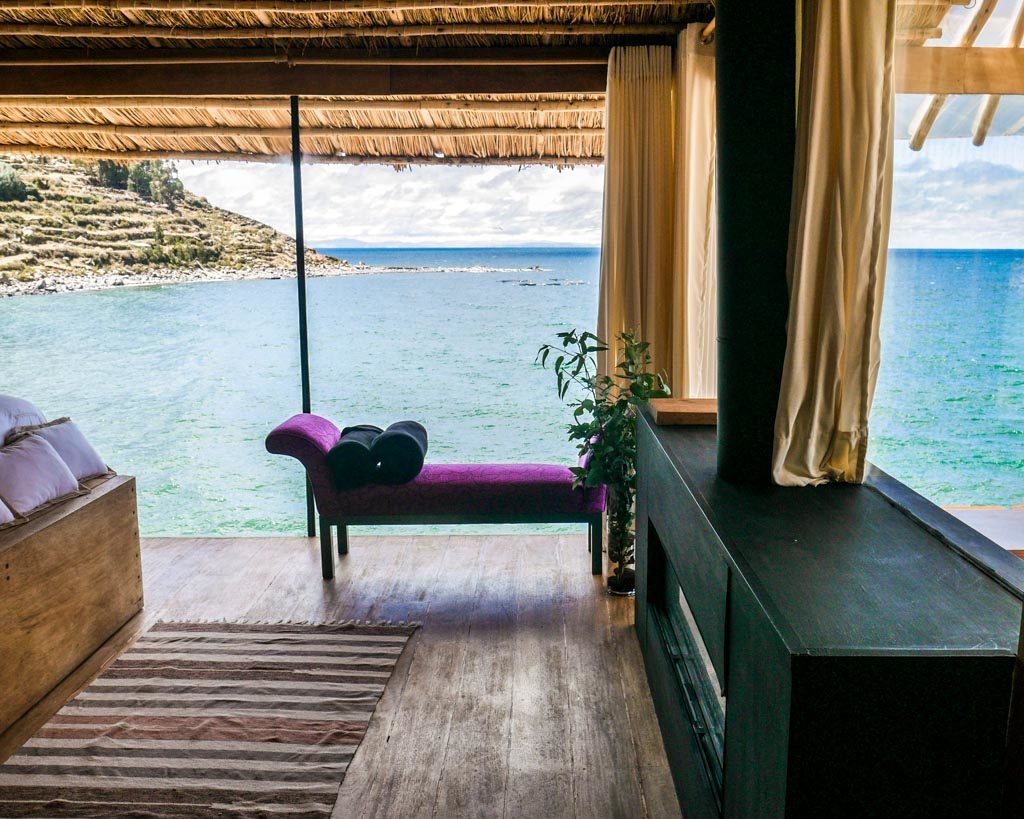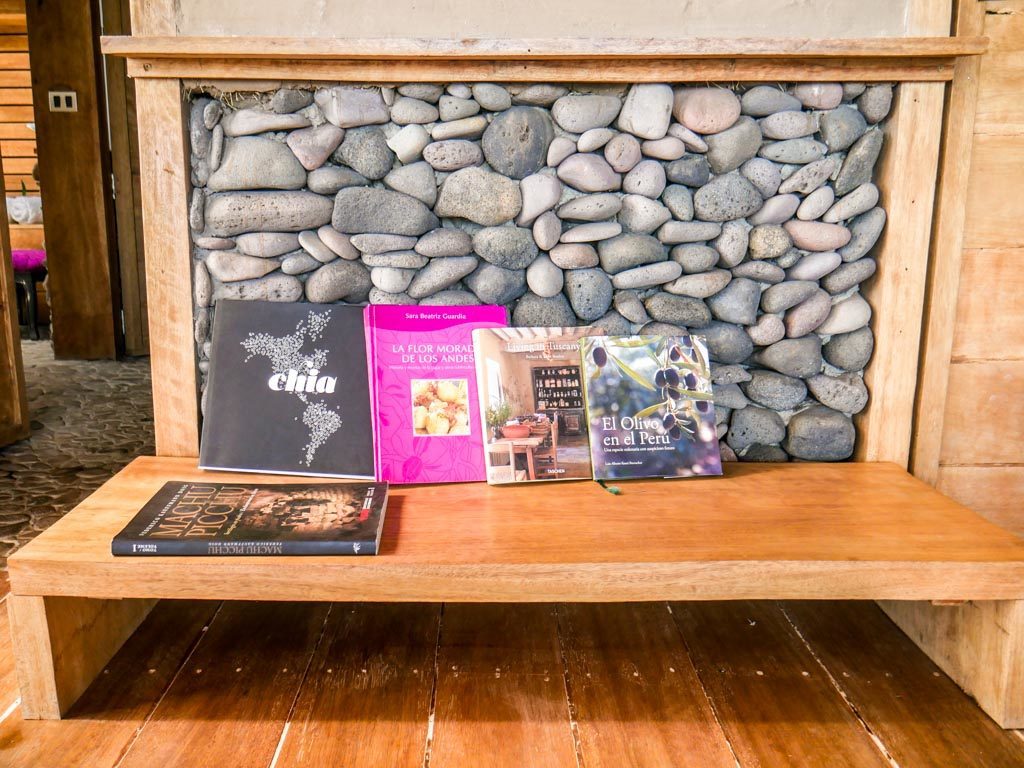 The buildings are also made with traditional materials and methods of construction.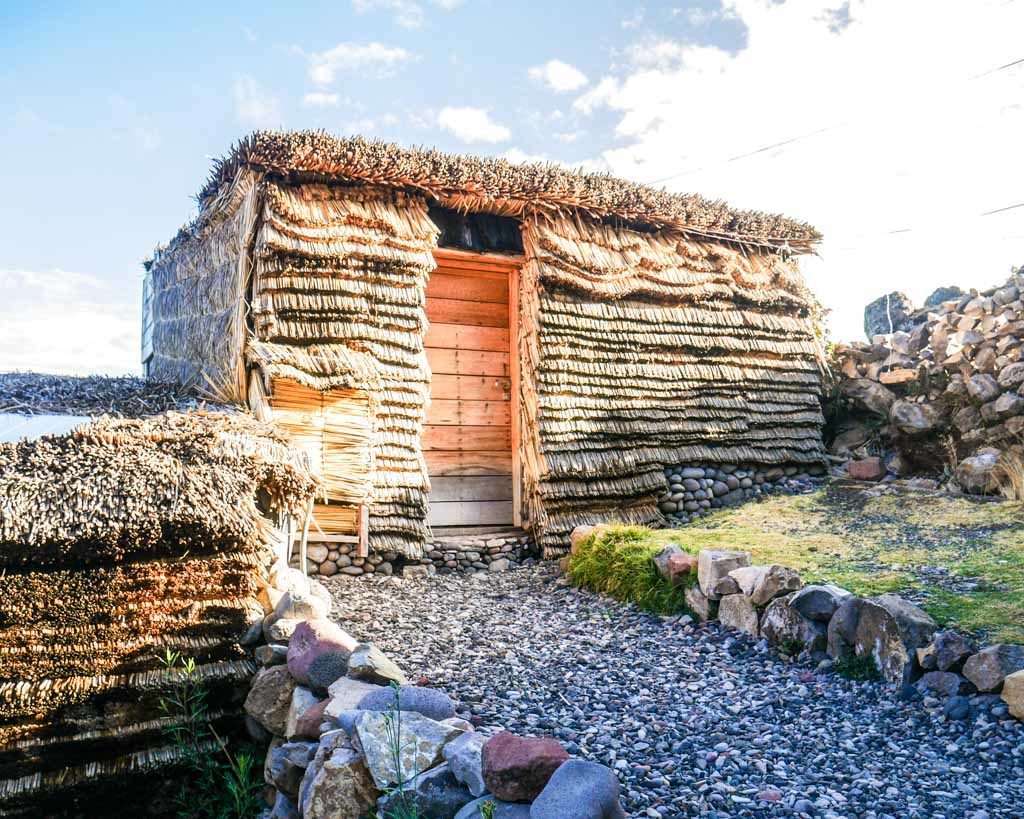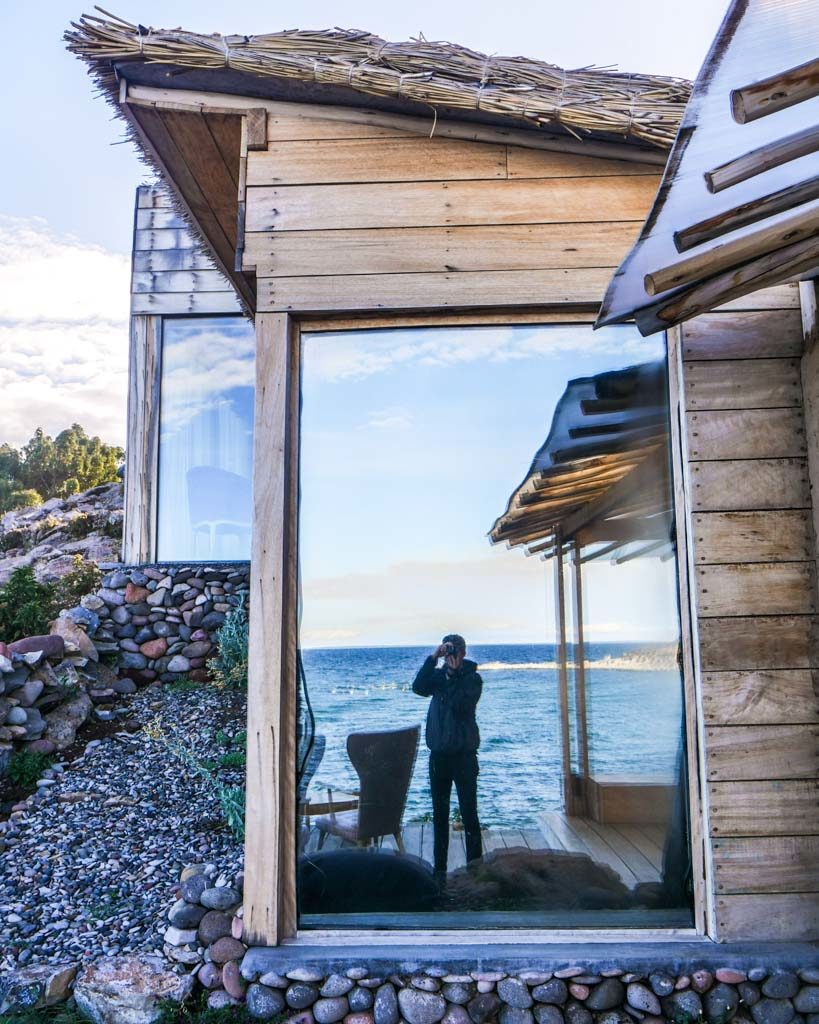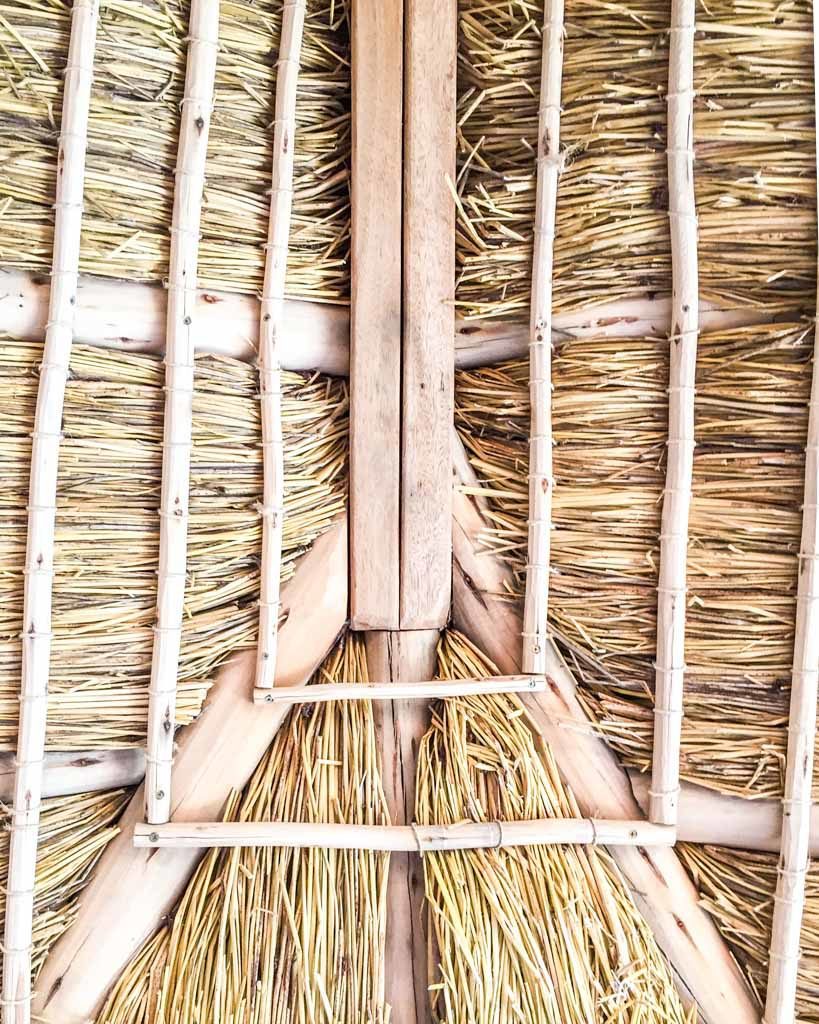 I'm a sucker for good design, so I loved noticing all the pretty furniture, shots of color, and the way every space flowed naturally into the next in this Peru luxury hotel.
Gourmet Meals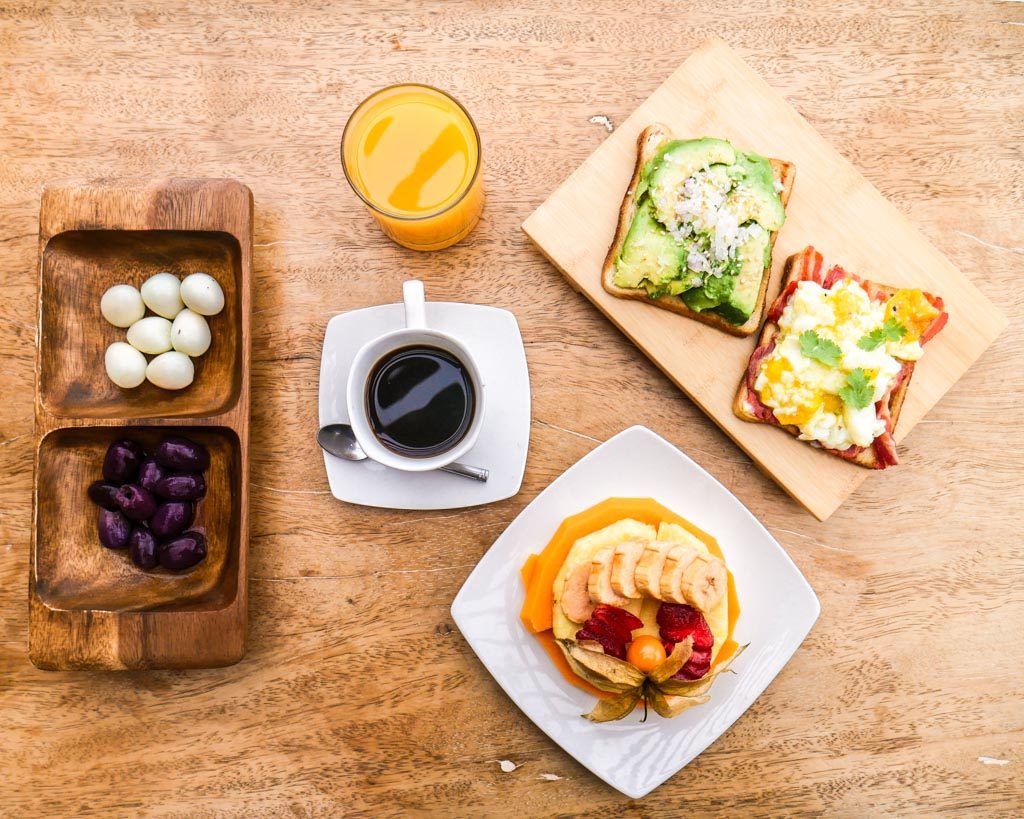 One of the absolute best parts of our stay at this boutique hotel Lake Titicaca were the fantastic meals, snacks, and drinks we were served throughout our stay.
You can choose to make your stay all-inclusive, and I recommend that you do! You'll want to spend almost every minute at Amantica Lodge, so you'll appreciate being completely taken care of.
Shortly after we arrived, we were served some delicious, freshly prepared snacks. Our chef brought us creamy guacamole with little empanadas stuffed with cheese, and freshly toasted and salted corn with bacon.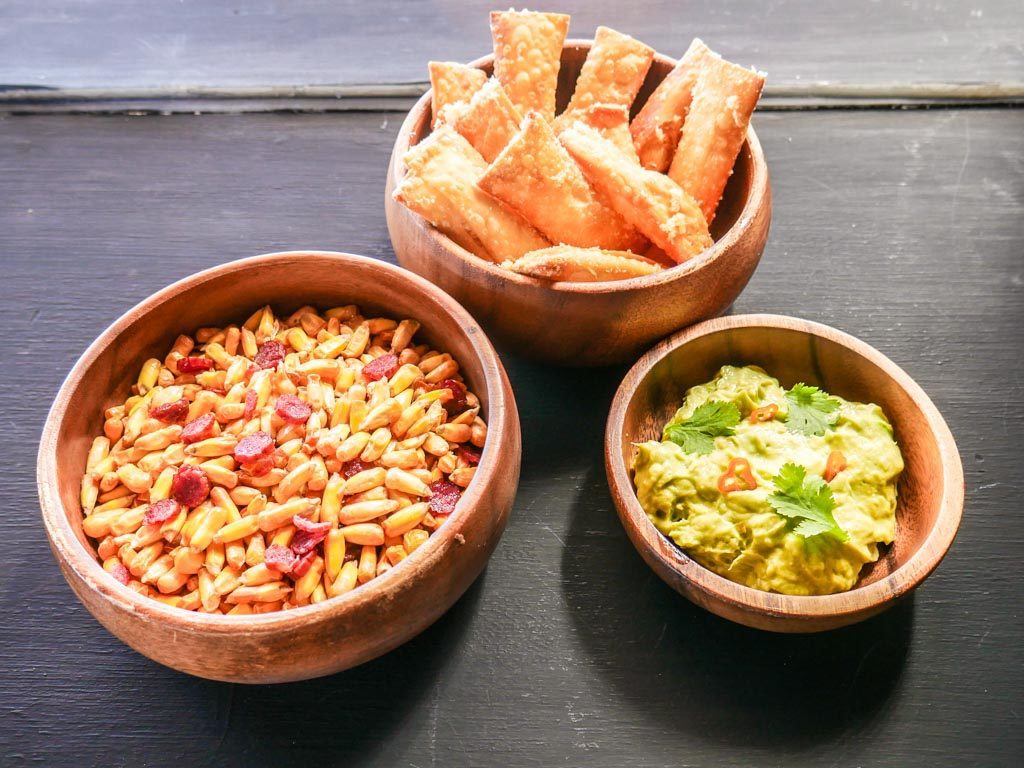 A little while later, we were served a 3 course lunch of fresh tuna on polenta rolls to start, followed by a tender beef entree, and finally a rice pudding dessert.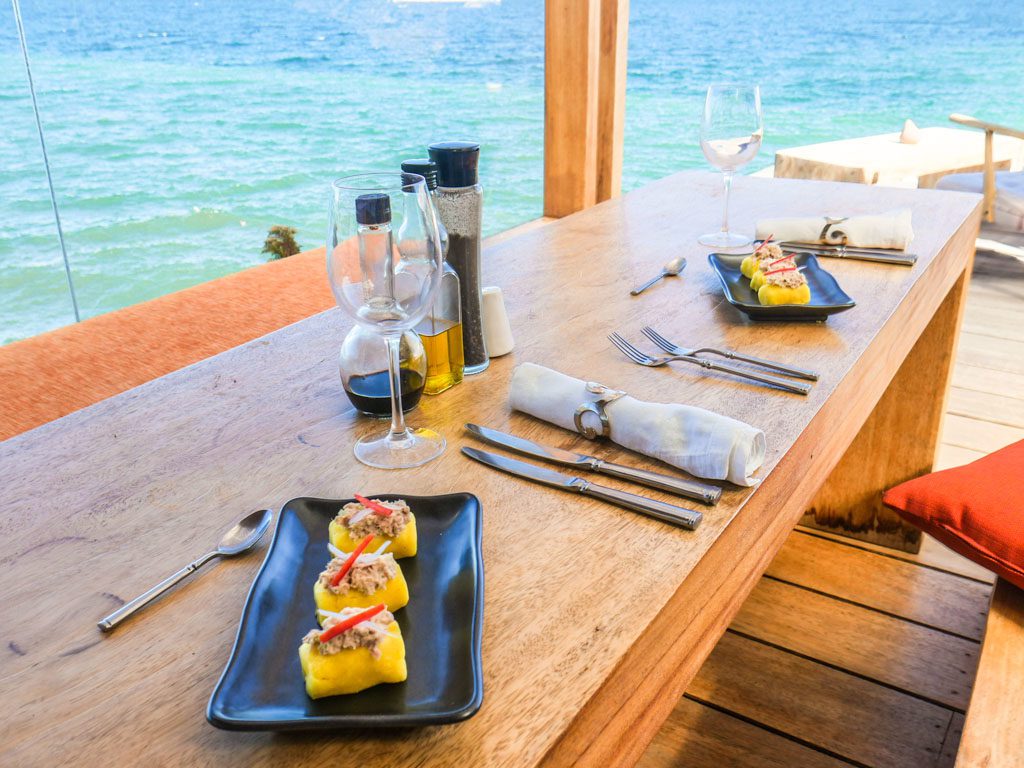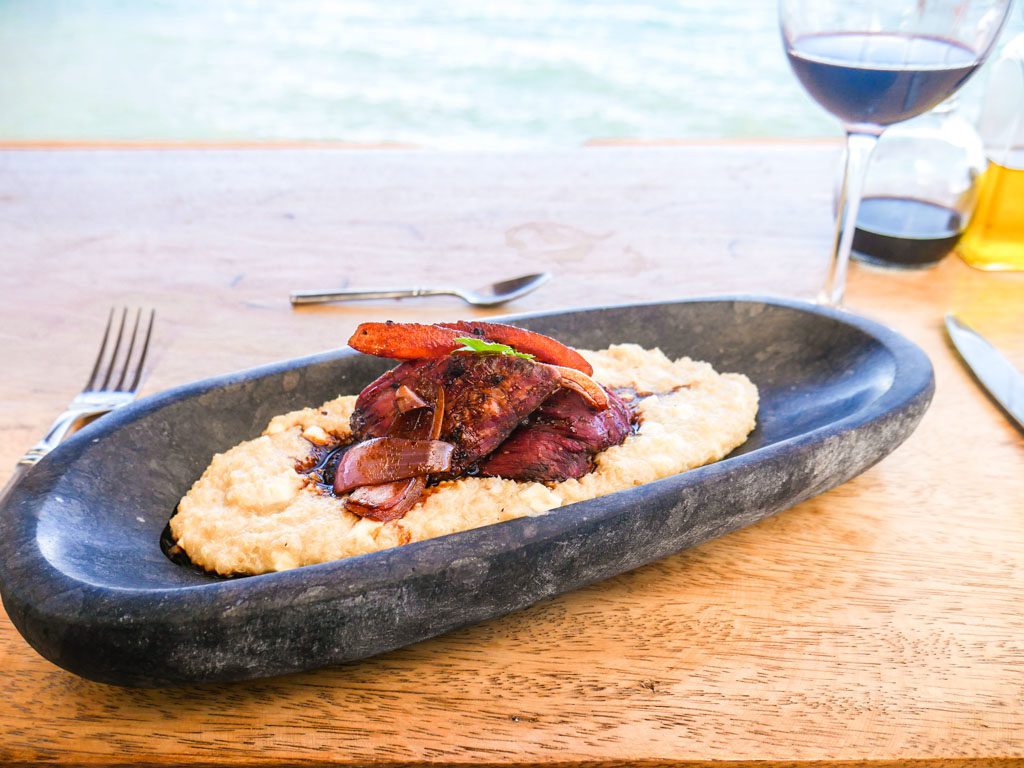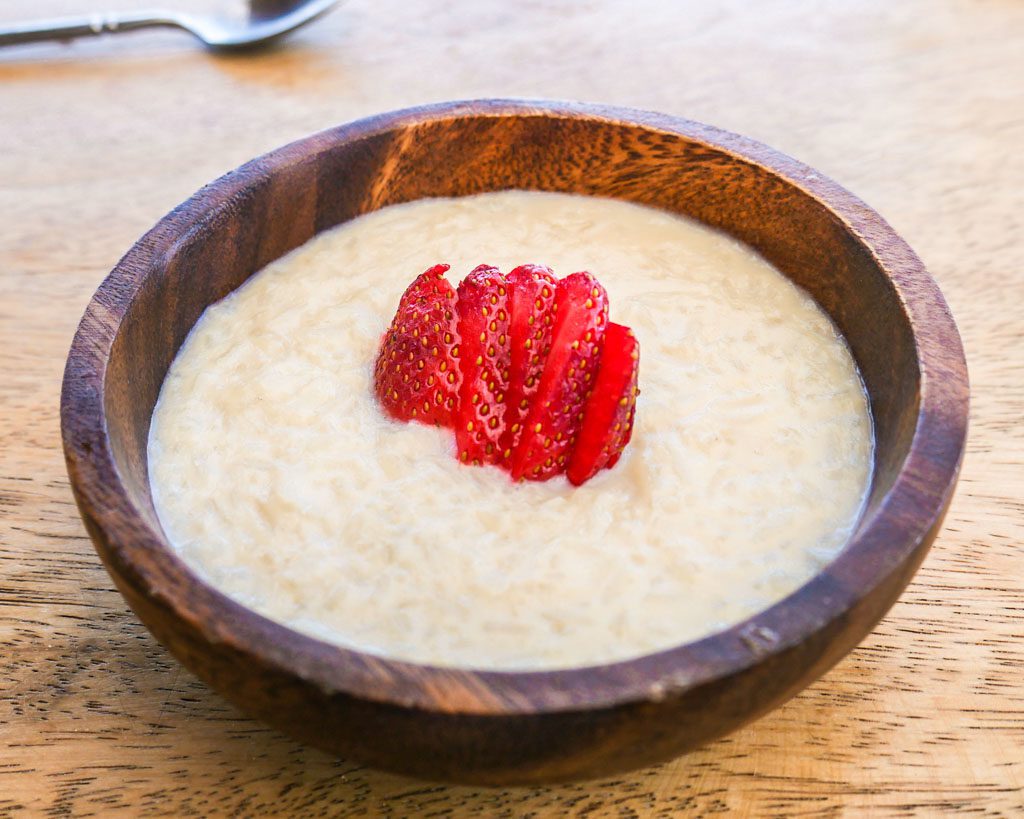 Later that night we enjoyed another 3 course meal. This time it was a dinner of a creamy squash soup, perfectly cooked chicken and fresh veggies, and a spin on apple sauce.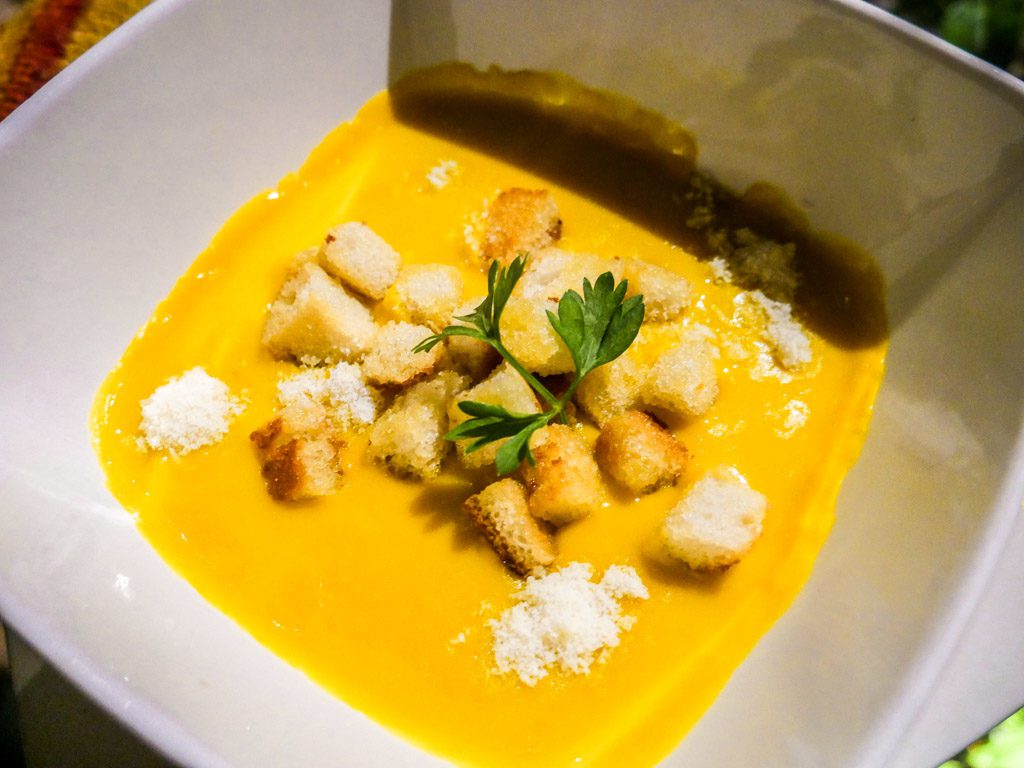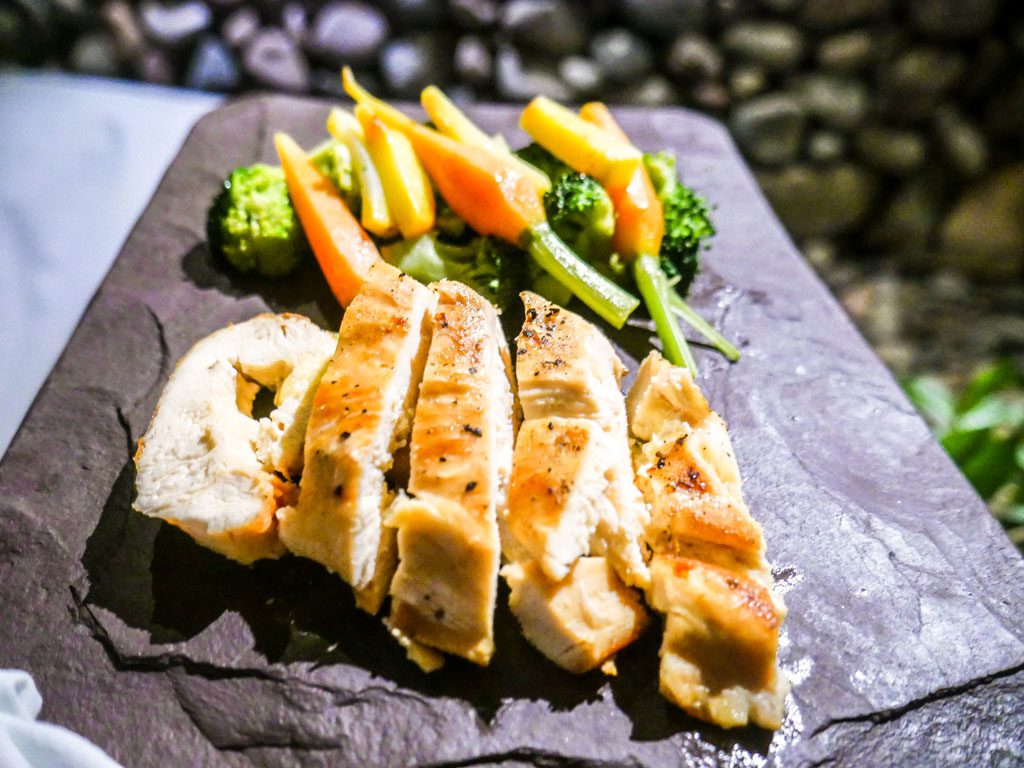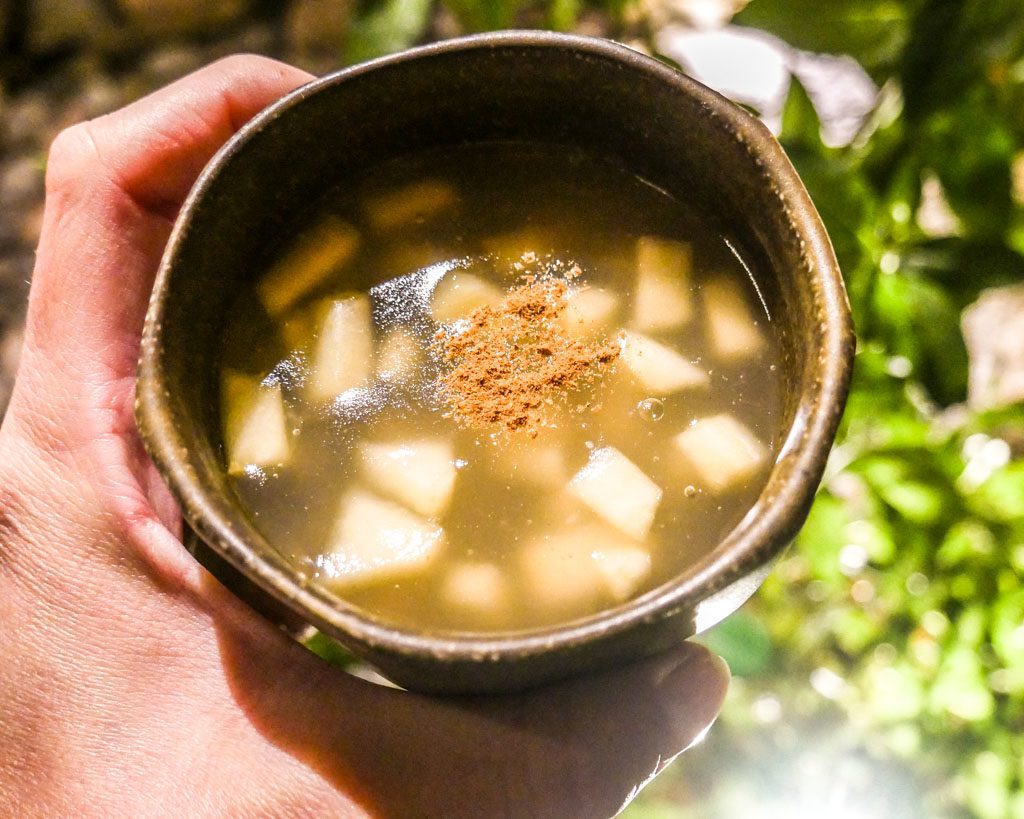 The next morning we woke up to a delicious breakfast spread. We had fresh (and I mean fresh!) fruit of mango, banana, pineapple, strawberry, and aguaymanto (golden cherry). Then a side of olives and mini hardboiled eggs. Finally we had DELICIOUS open faced sandwiches - one with avocado and one with bacon and eggs. It was by far the best avocado toast I've had and the bacon and eggs was delicious too. After that, the chef tried to ask us how we wanted our egg course. We had to politely let him know we were totally stuffed with delicious food and couldn't eat anymore. 🙂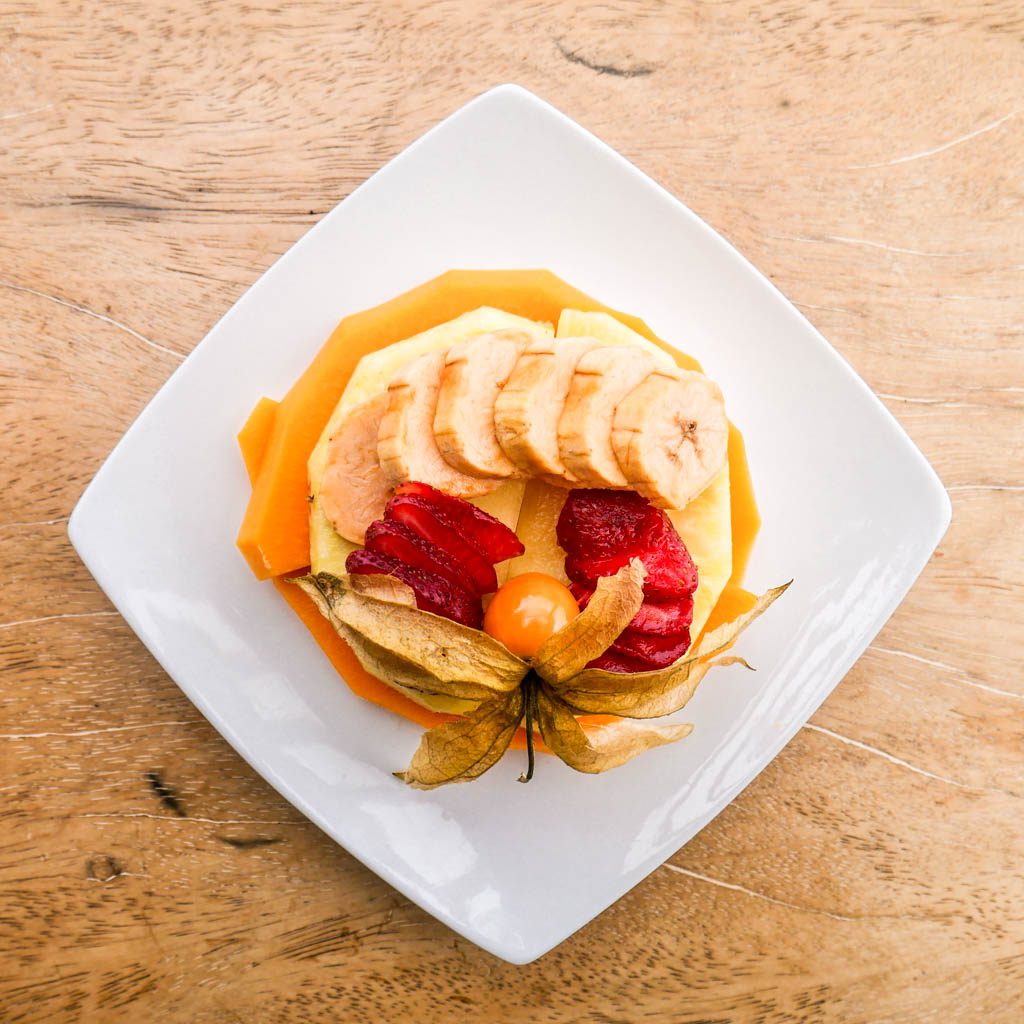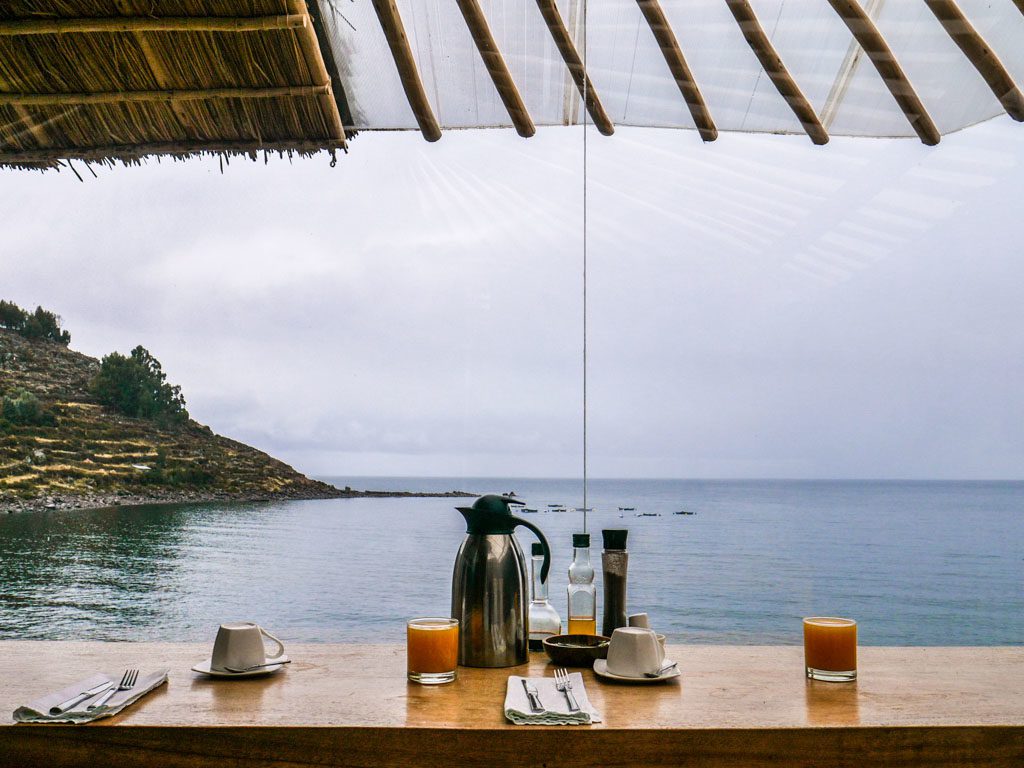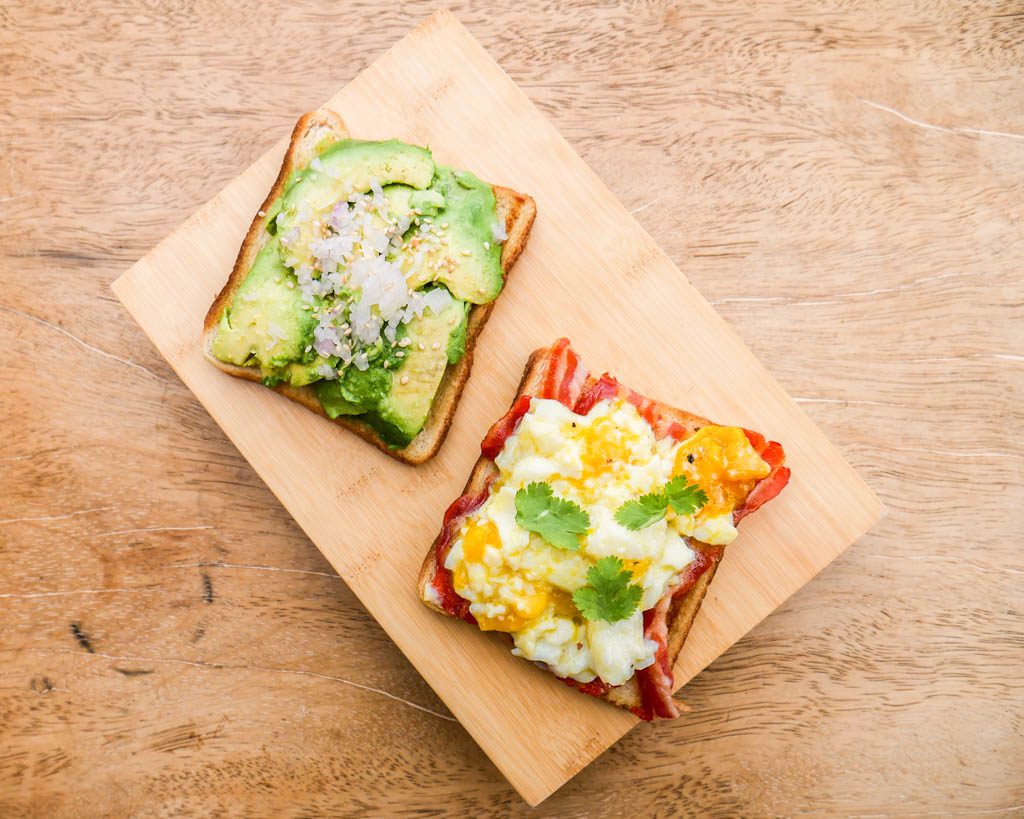 Our chef was also a really great person to get to know. We enjoyed chatting each time he brought us something else delicious to eat.
Lakeside Terrace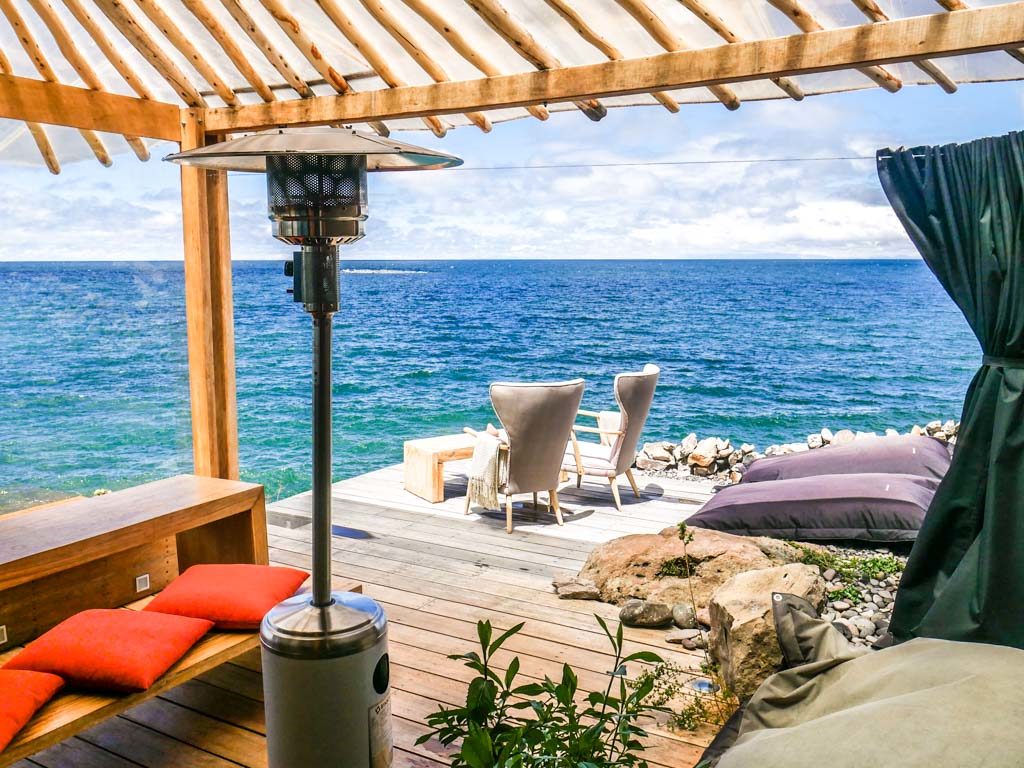 If I could have, I would have spent the entire stay on the terrace overlooking the blue lake. This boutique hotel Lake Titicaca was built right on the edge of Lake Titicaca, so the views from the terrace are unobstructed. The lake is literally just below your feet!
The terrace is built beautifully and intelligently. Right outside the door to the room is a covered area with a huge glass wall on the lake side, and a large dining table. This area is great when it starts to get colder after the sun goes down. Don't forget, Lake Titicaca is really high in elevation - 12.5k feet! So it's really smart to make an area that guests can retreat to for warmth, but can still enjoy the outdoors.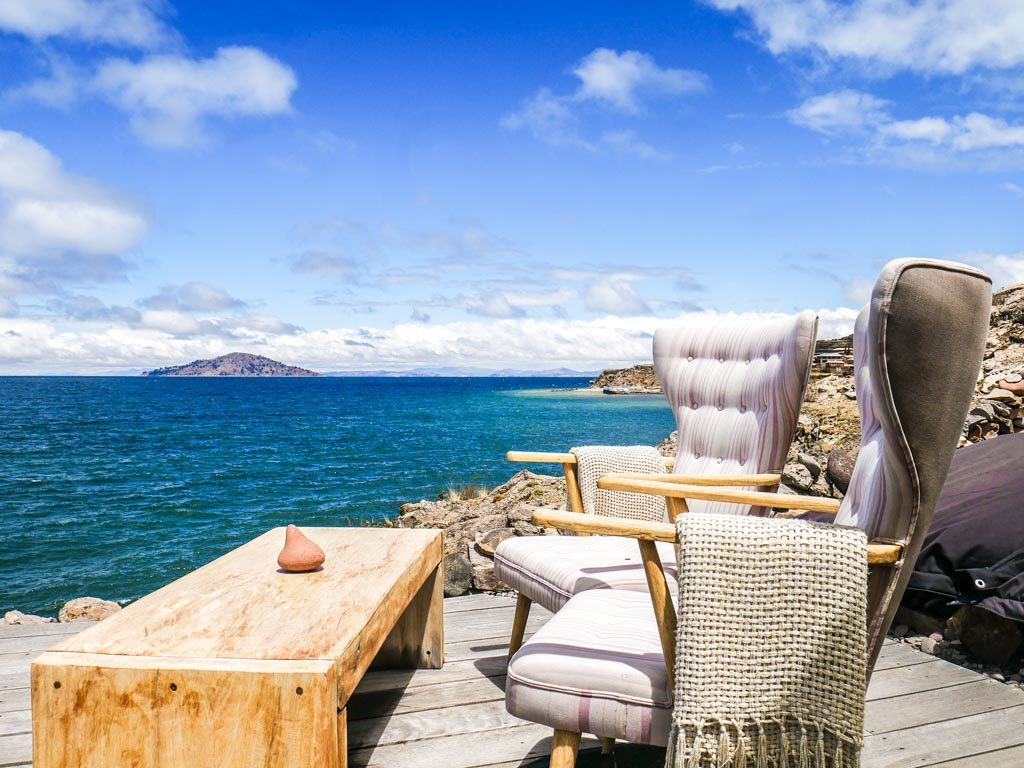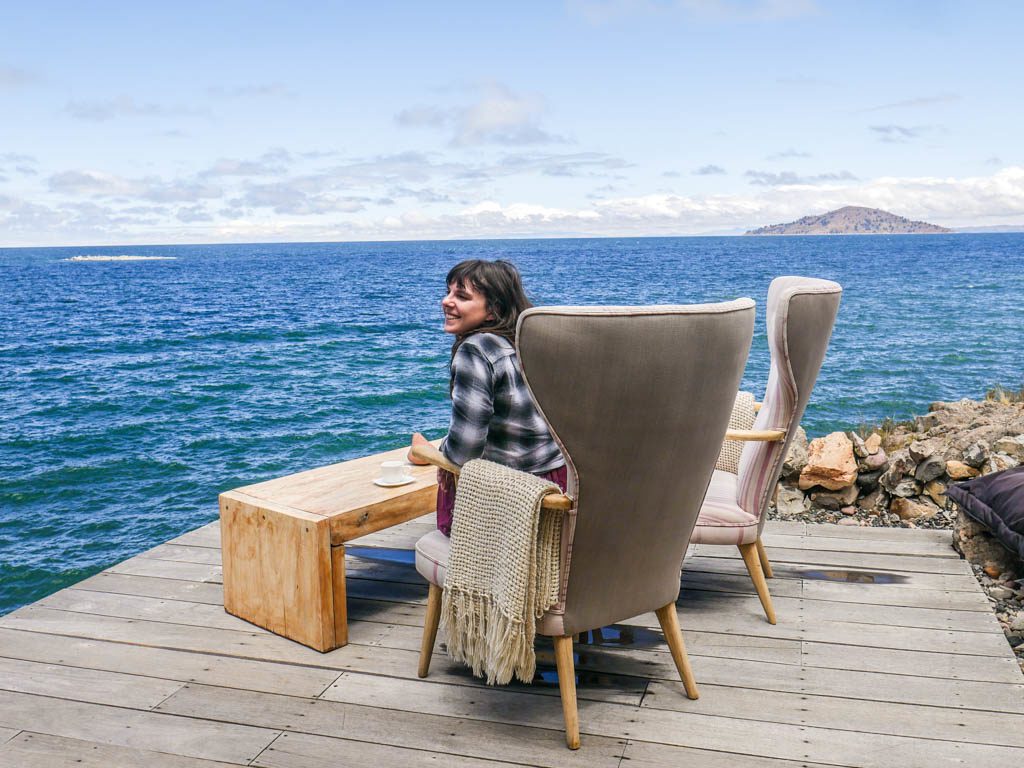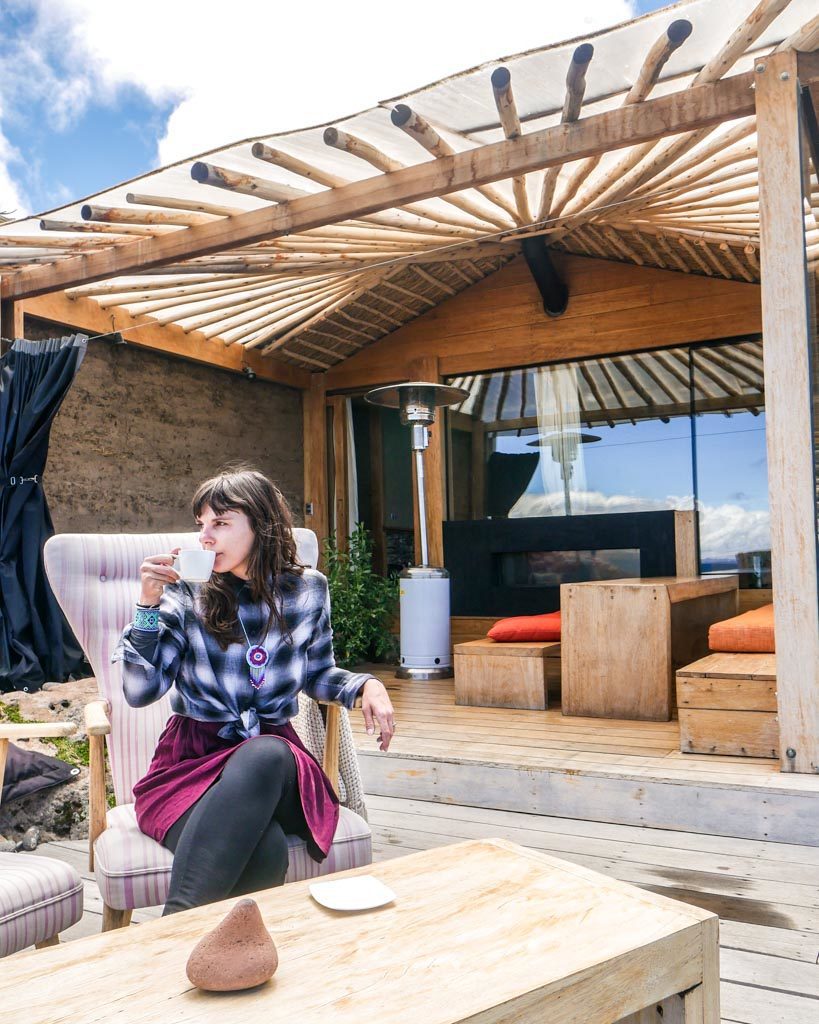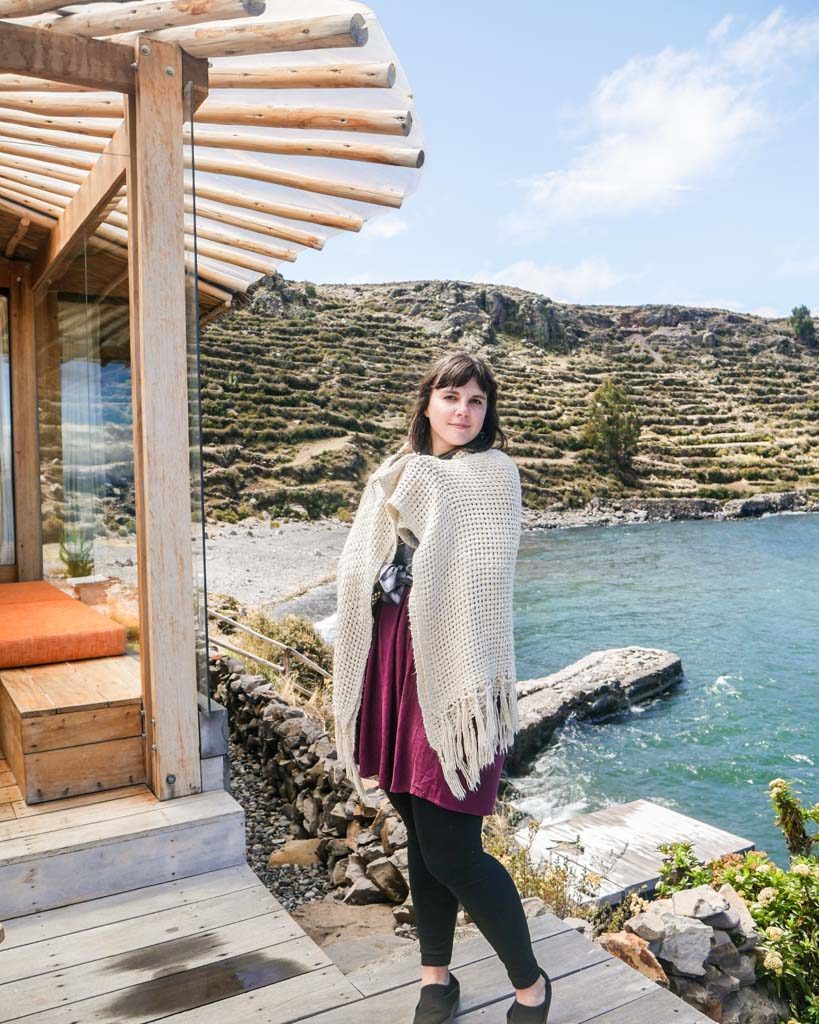 Past the partially covered area, is the open deck in this Peru luxury hotel. This area has some pretty chairs, a small table, and some warm blankets to wrap up in if you feel a chill. This is the perfect place to sit in the afternoon, stare at the seemingly endless blue, or enjoy a glass of wine with your partner.
Luxurious Tub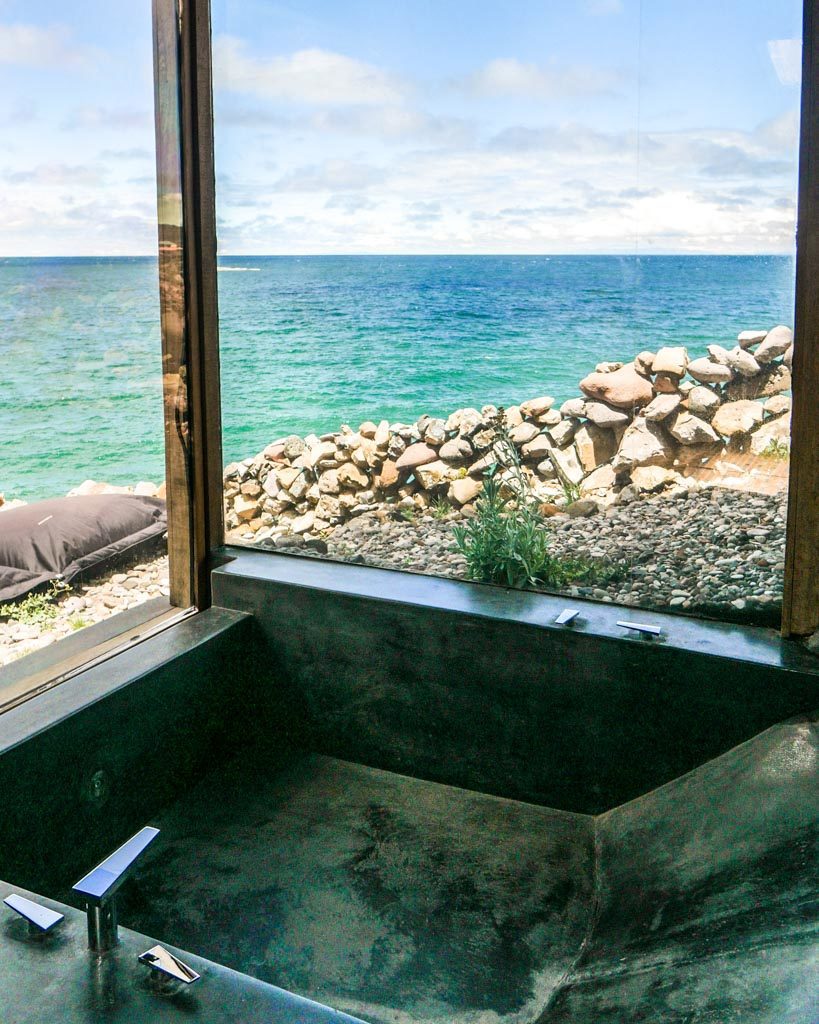 Ok, so maybe I would have liked to spend my whole stay in the tub. haha. But you'll understand if you see it! It's a GIANT tub made from natural stone, and is in the corner of the bathroom with huge glass windows that overlook the lake.
The tub slopes up gently on one side, and you can see some large naturally shaped stones at one end. This style of leaving stones in their place is descended from Inca times - they often left giant stones in the ruins and built around them. This is a sign of respect for mother earth.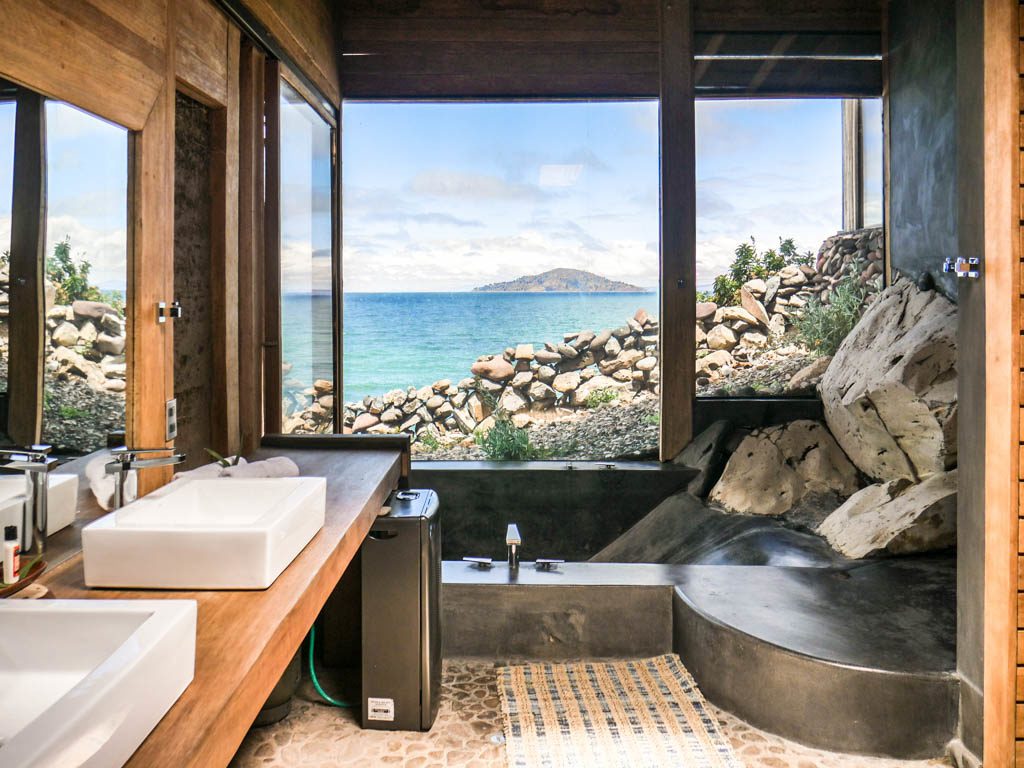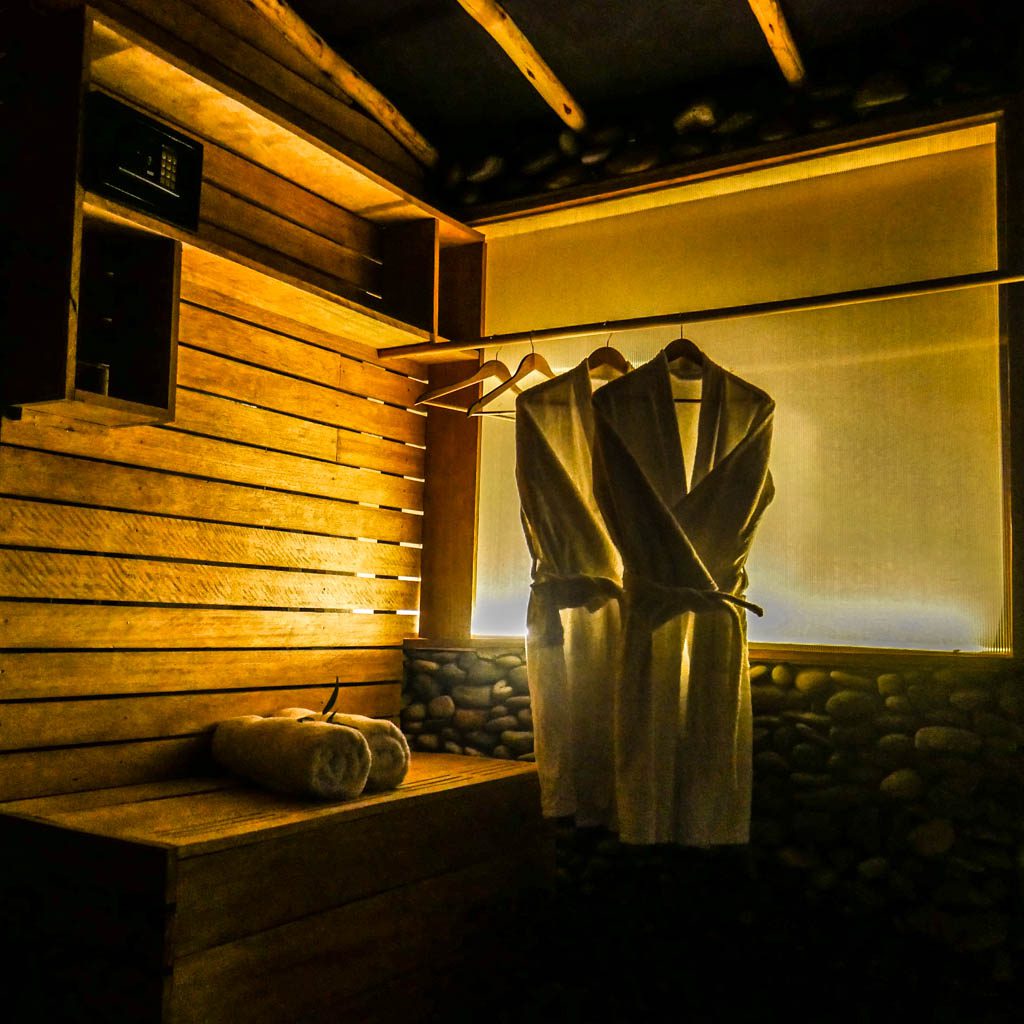 Our chef drew our bath while we enjoyed dinner, and then once we finished, we were ready to soak in the steaming hot water. It was an amazing experience. And would possibly be even better during the day when you could gaze out at the lake.
Very Large Bathroom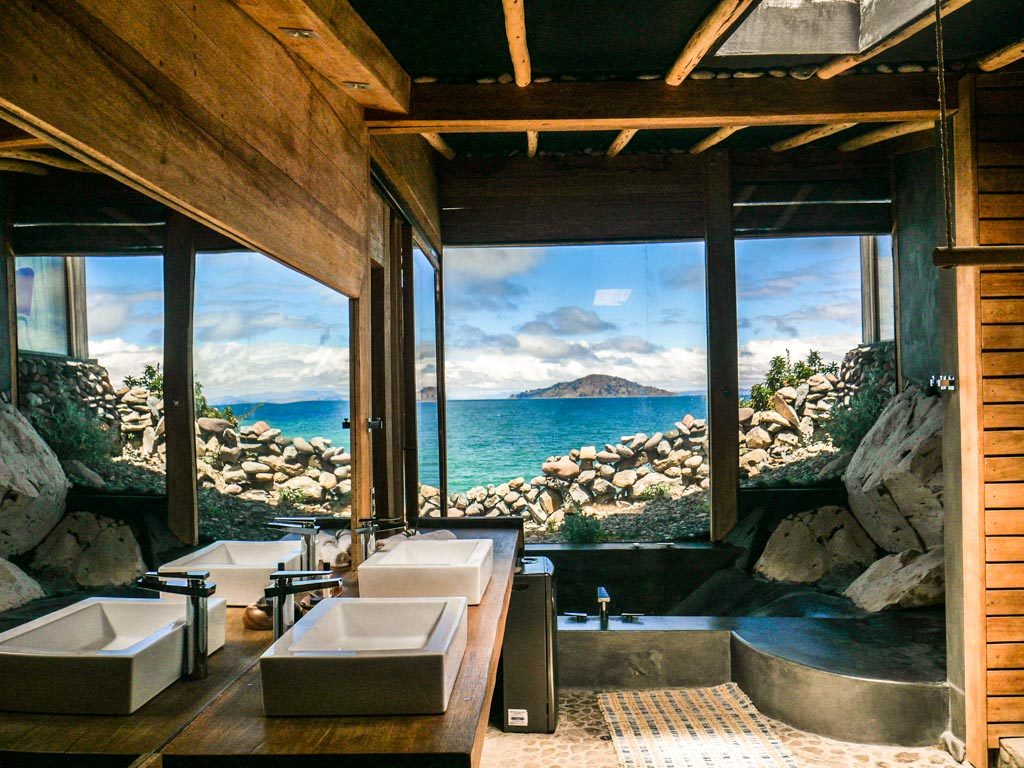 The bathroom itself is huge - it would be a whole New York apartment! There is a double sink, a little open closet with robes, tons of open space, the tub with open shower, and a separate little room for the toilet.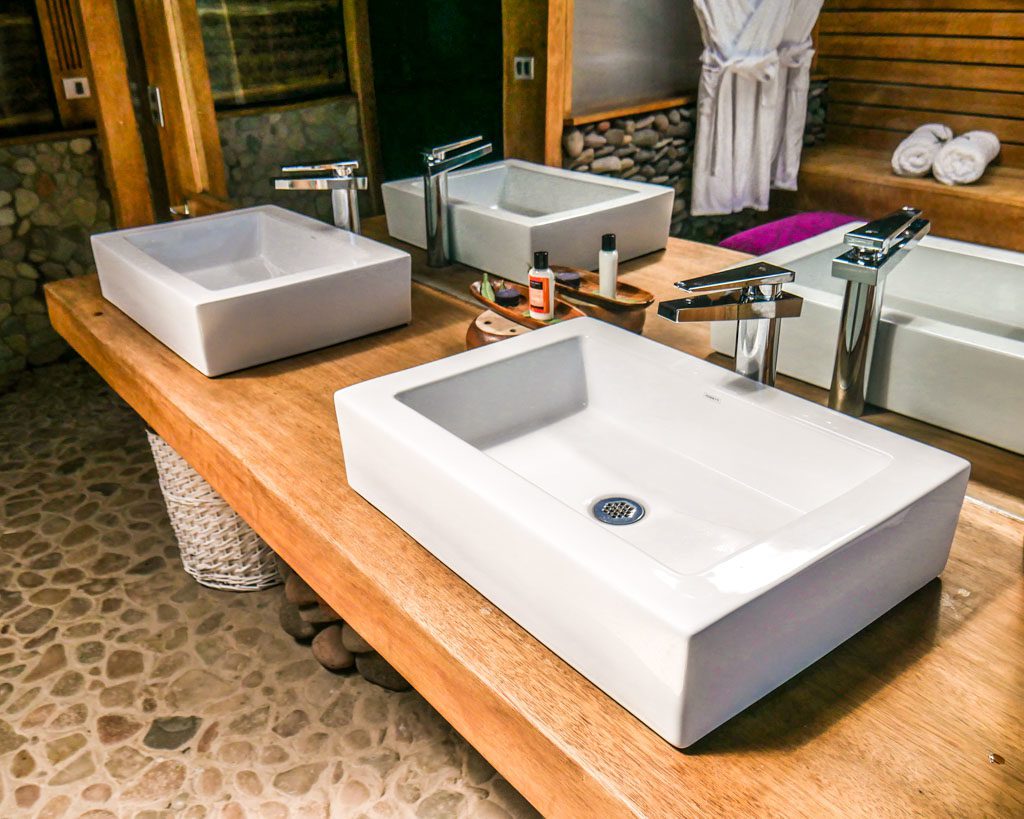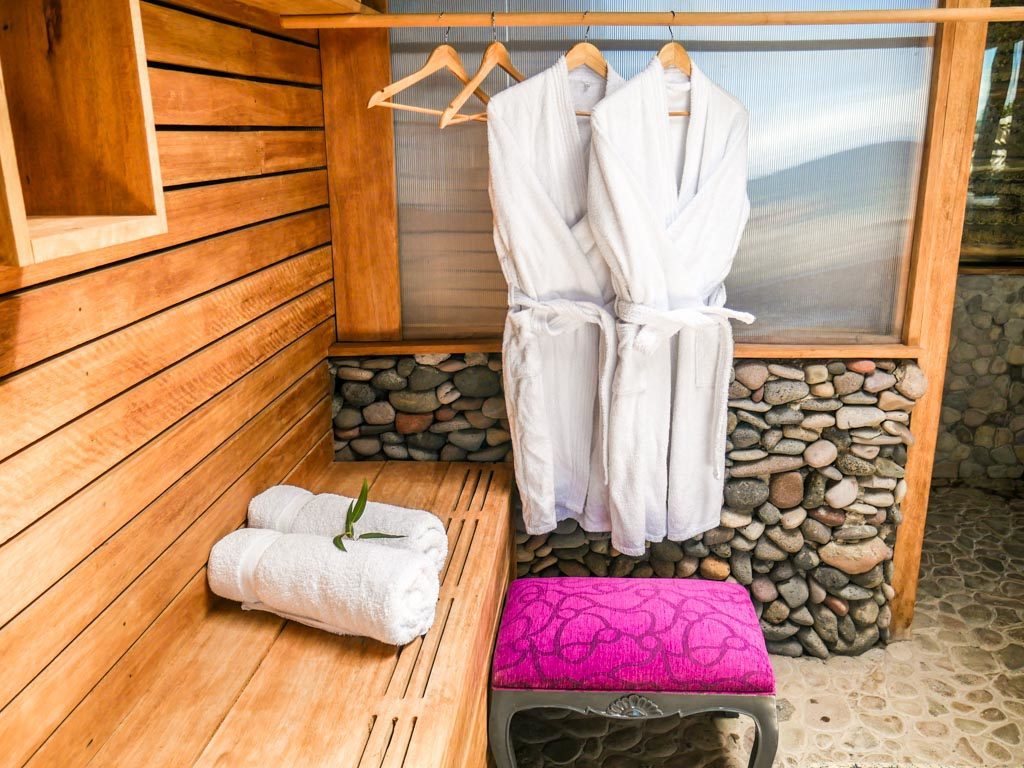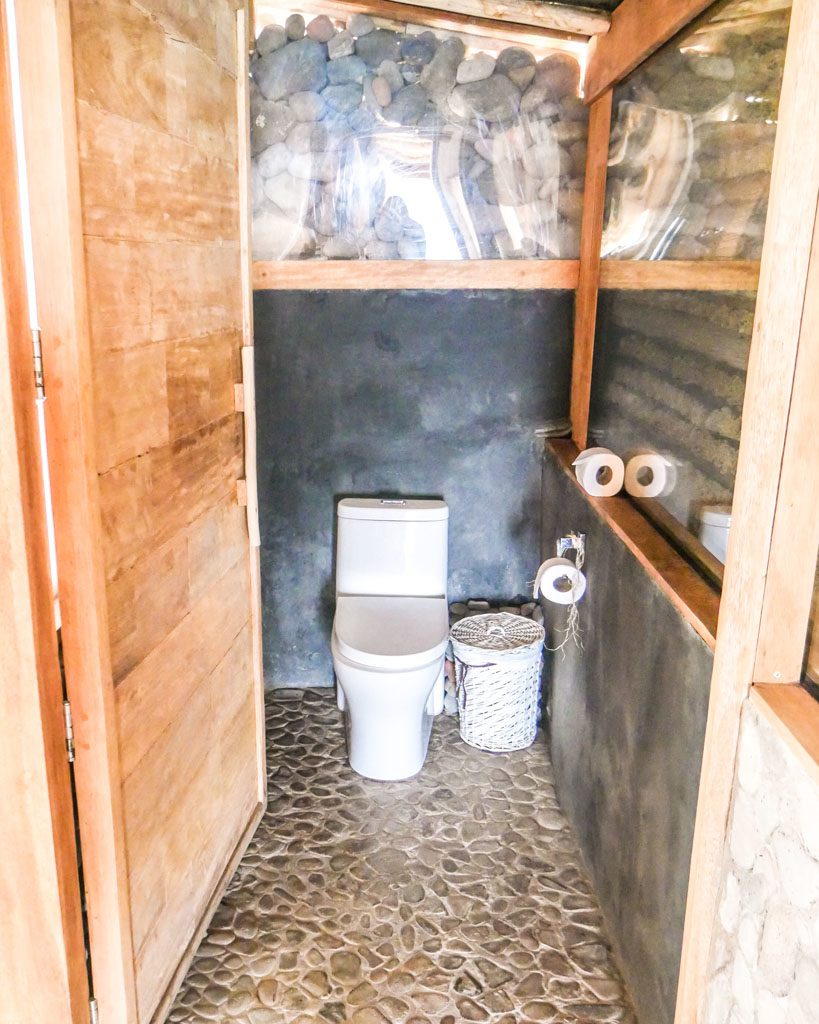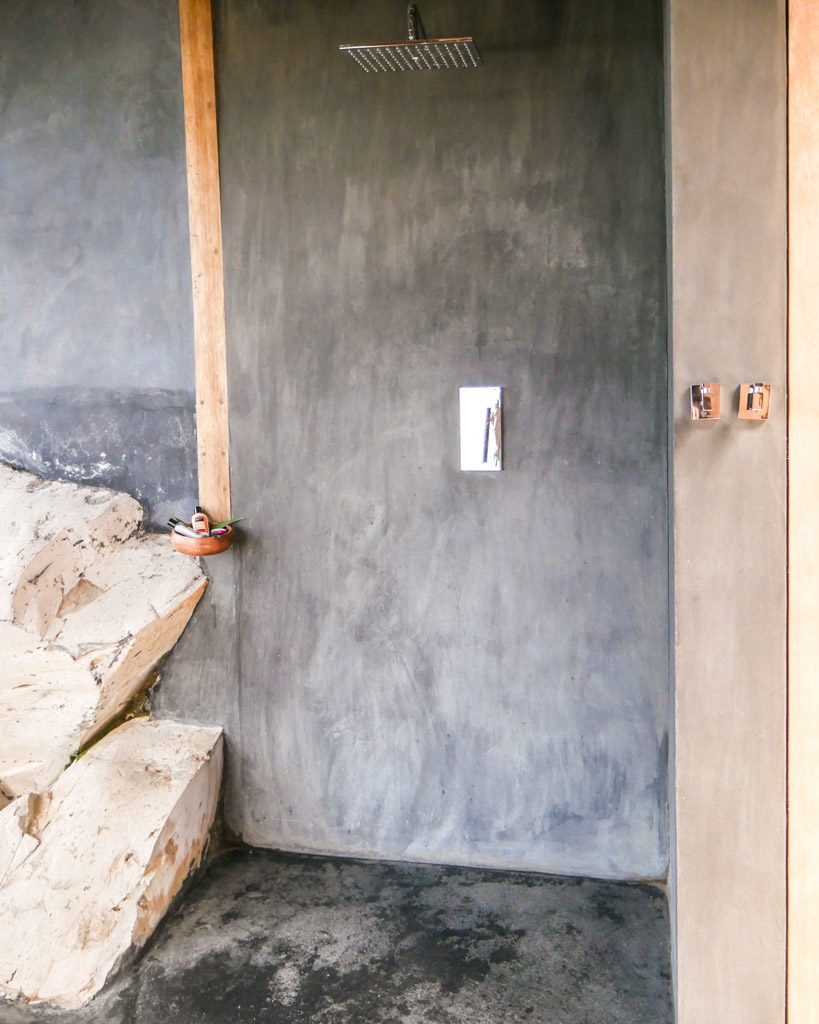 I also loved their unique complimentary toiletries. The soap was chicha (a very important traditional drink) scented - it was such a nice nod to the local culture and it smelled great too!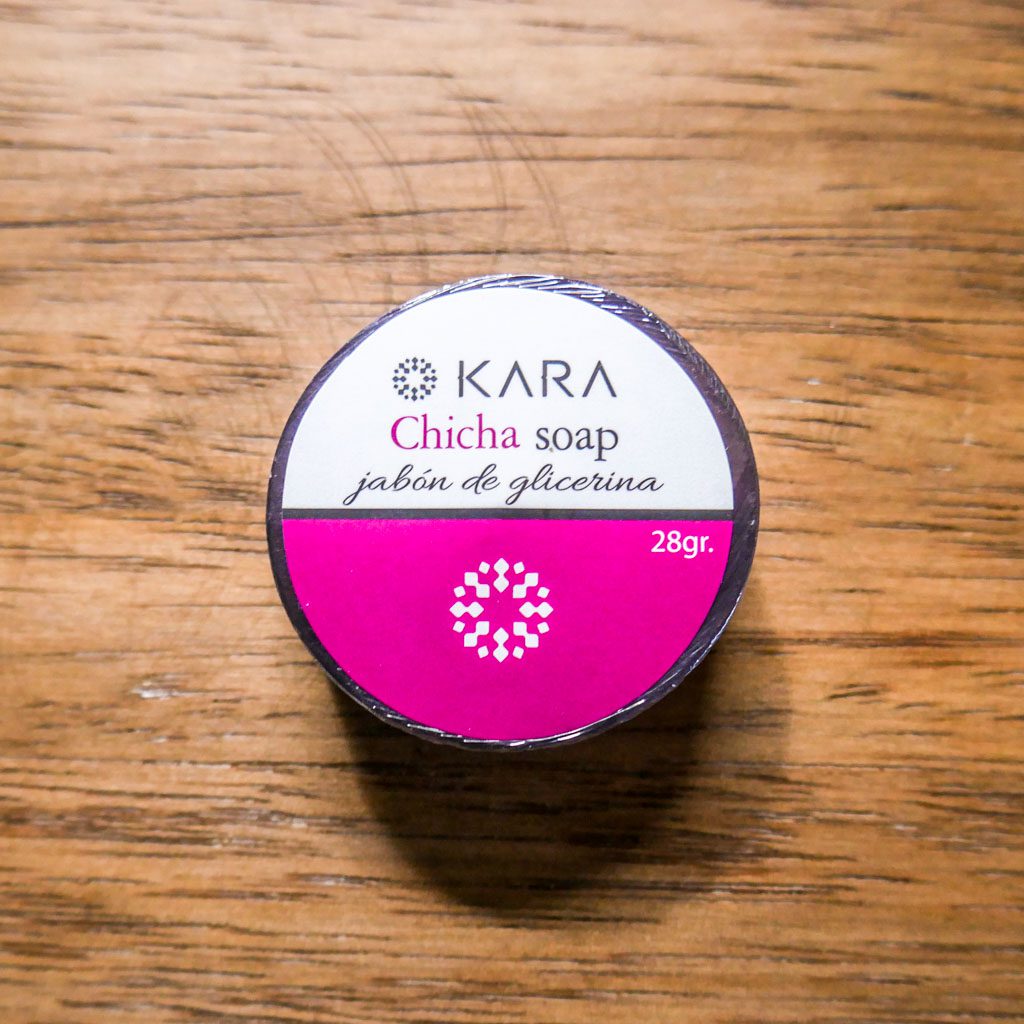 Super Comfortable Bed
The bedroom was spacious and the giant raised bed in the middle was incredibly comfortable. Once I layed down, I never wanted to get up!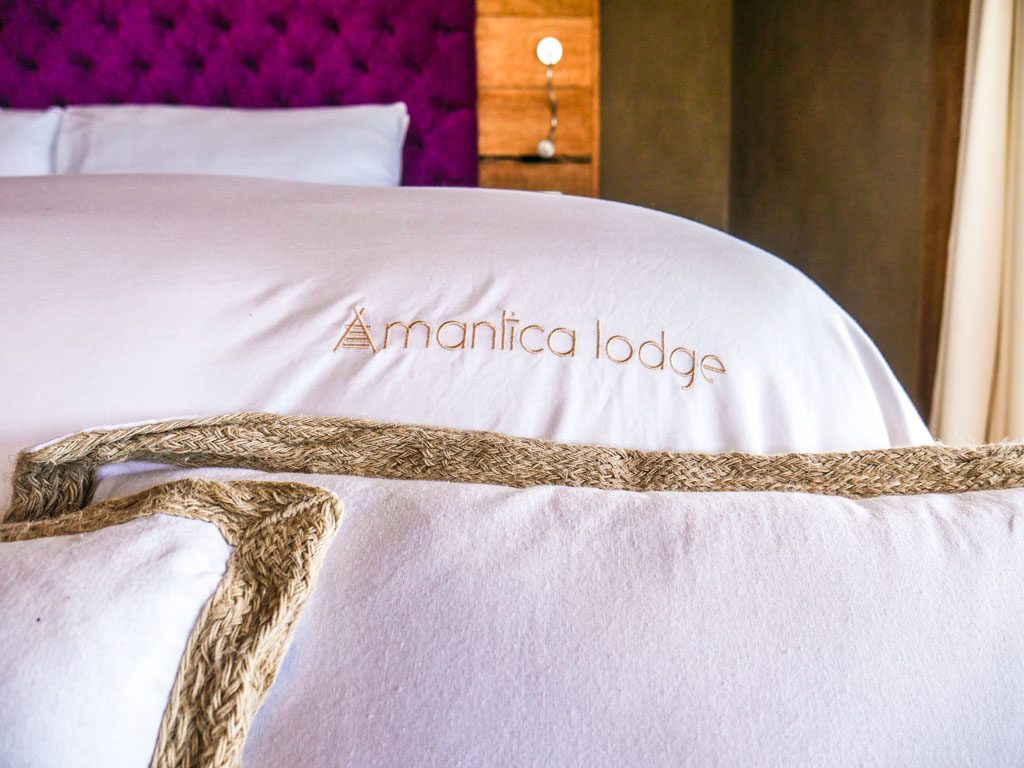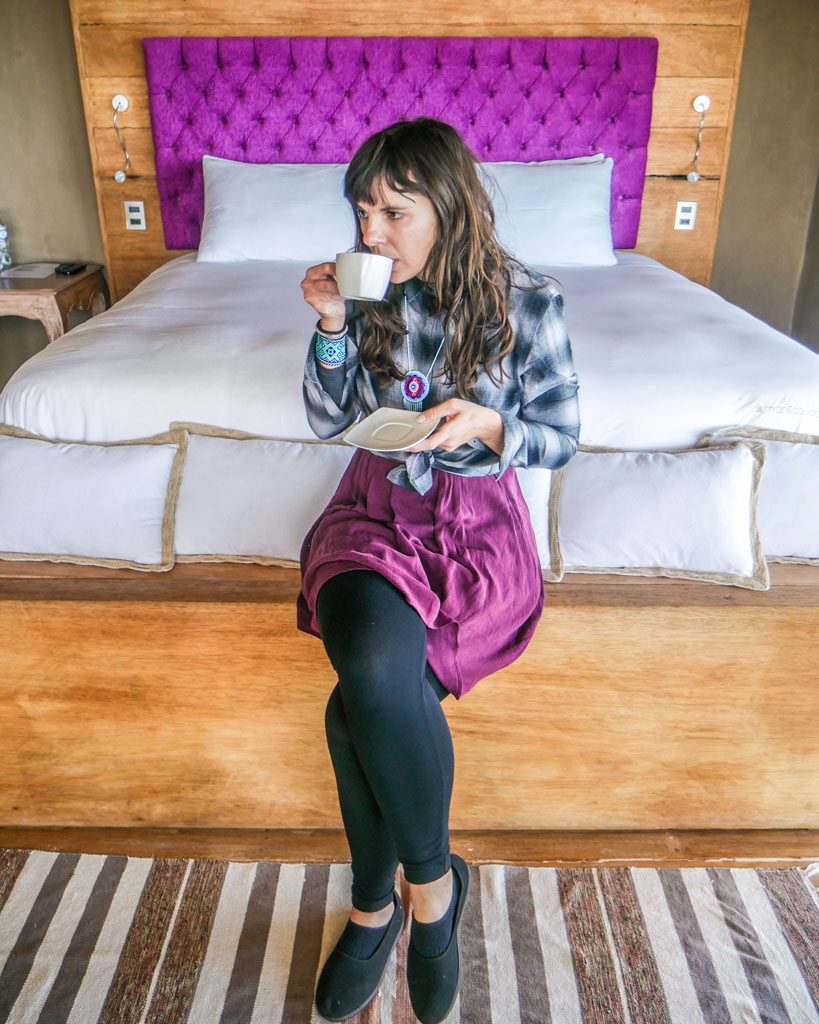 Fireplace, Heat Lamp & Space Heater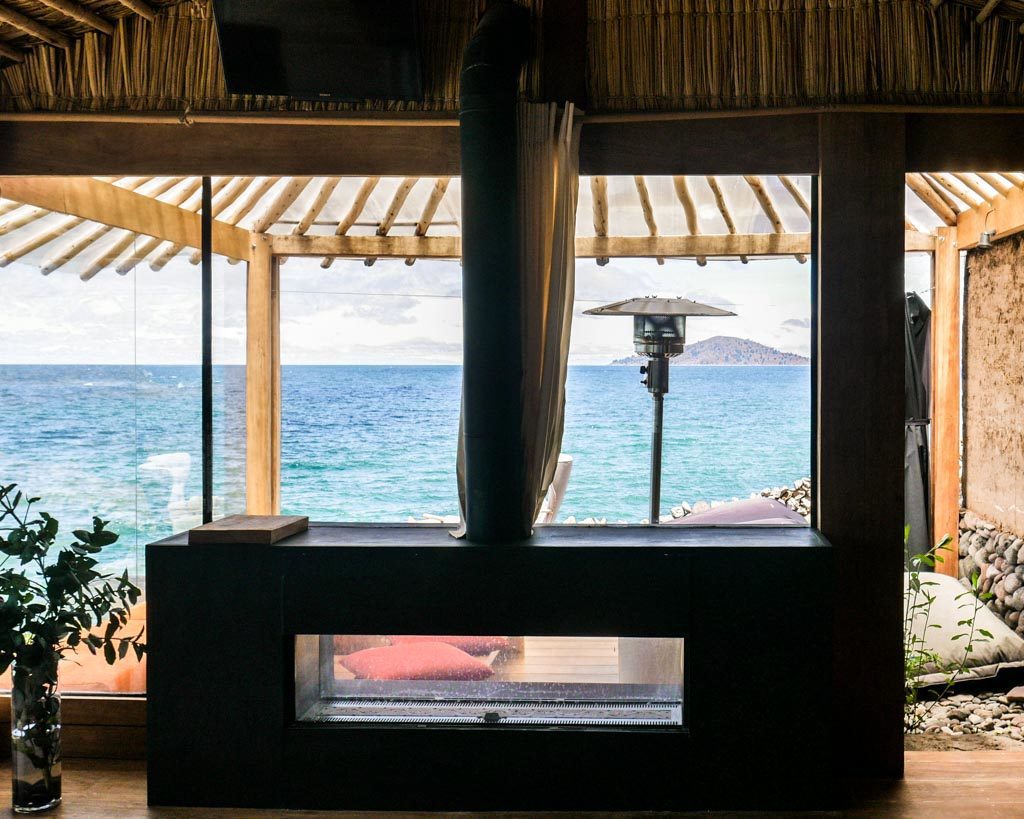 I loved all the touches Amantica Lodge added to make sure their guests are warm and comfy. There are heaters all around this boutique hotel Lake Titicaca, and you'll be glad when the sun goes down or the wind picks up!
There is a huge gas fireplace between the bedroom and the outside terrace. It's lovely to look at, but even better to sit in front of with a book, and occasionally look up to gaze out the glass at the lake.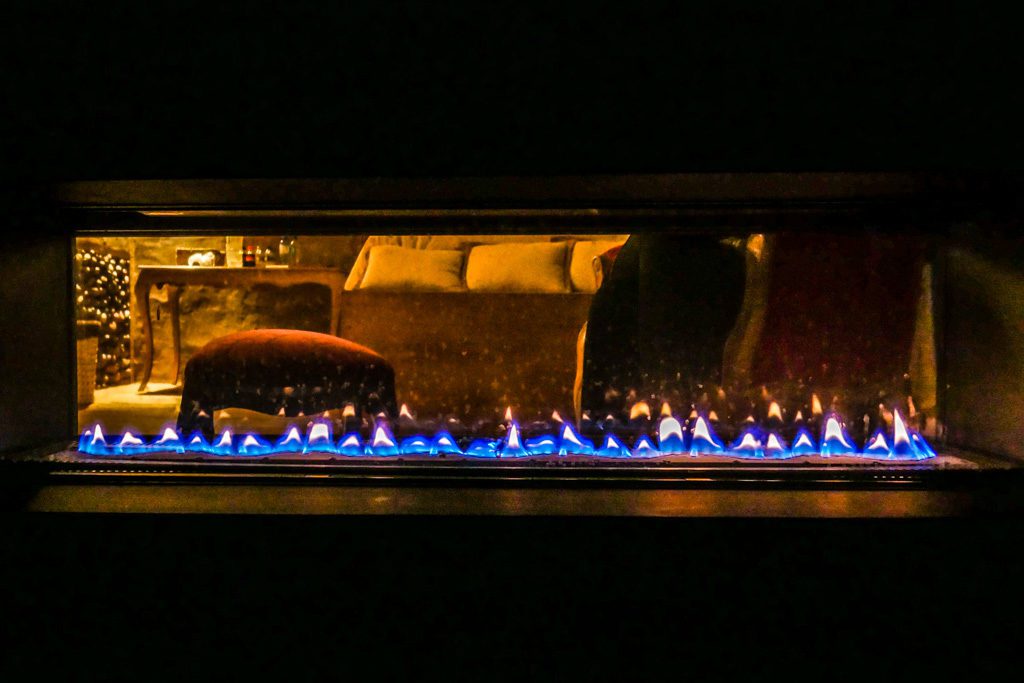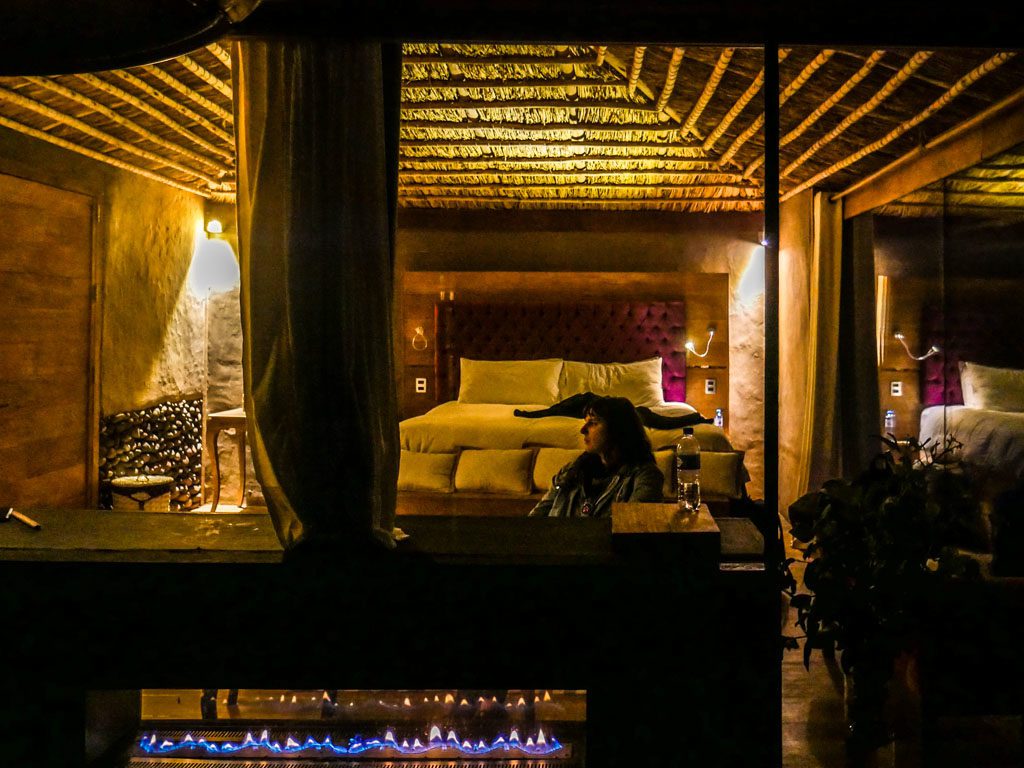 Out on the deck is a large heat lamp. This is great to crank up at night when you're enjoying dinner outside. It'll keep you cozy in the partially covered patio area.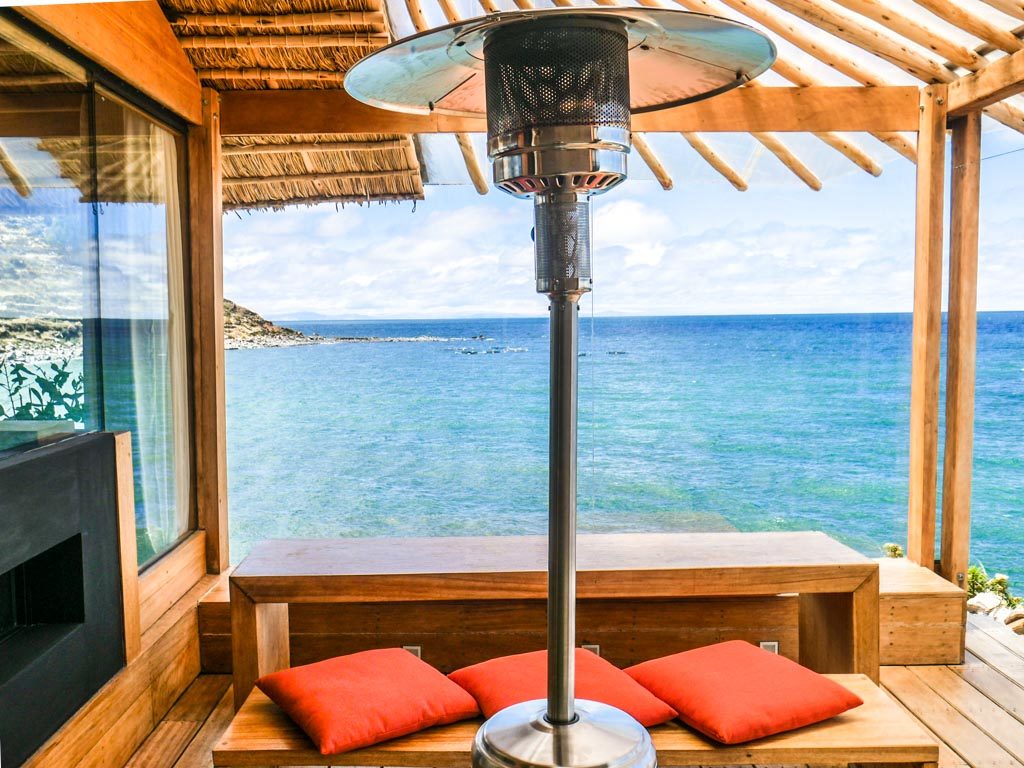 Finally there is a space heater in the bathroom next to the tub and shower. This is fantastic if you decide to do an evening soak or an early morning shower. You won't feel the chill as you jump into the water.
Second Bedroom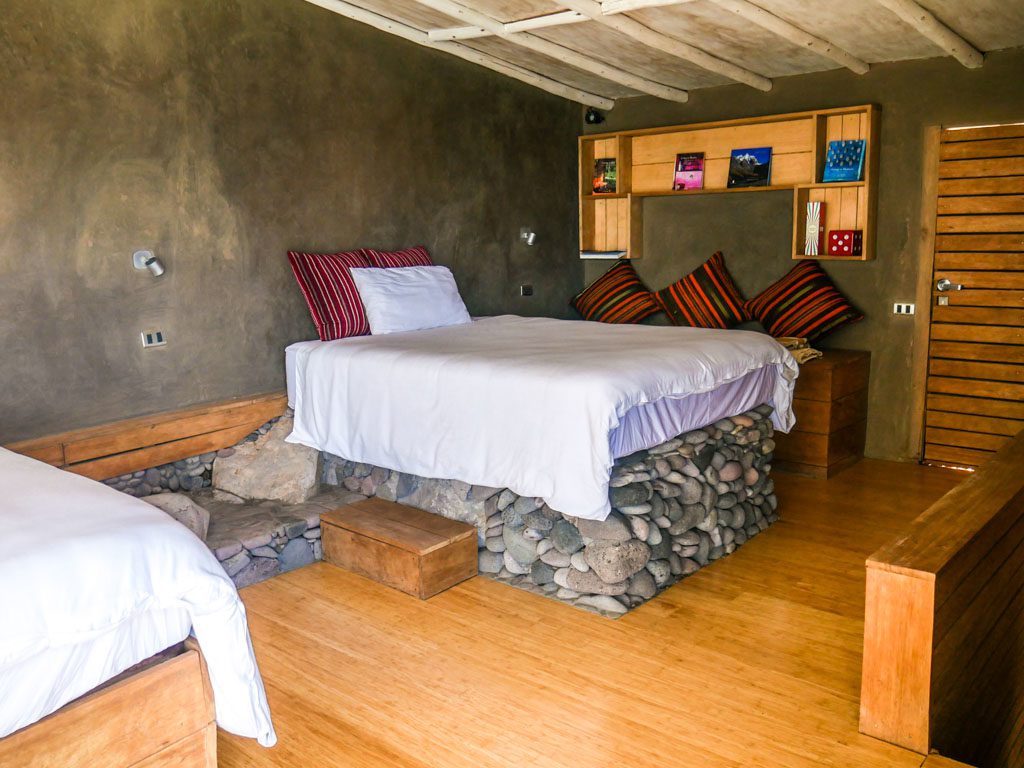 If the huge bedroom, terrace and bathroom wasn't enough for you, there is a large second bedroom. This room has two beds, so you can fit a whole family or a group of friends in this Lake Titicaca boutique hotel. They have capacity for 6 people.
The second bedroom is raised up a bit, and connected through the bathroom. This gives a bit of privacy to both rooms.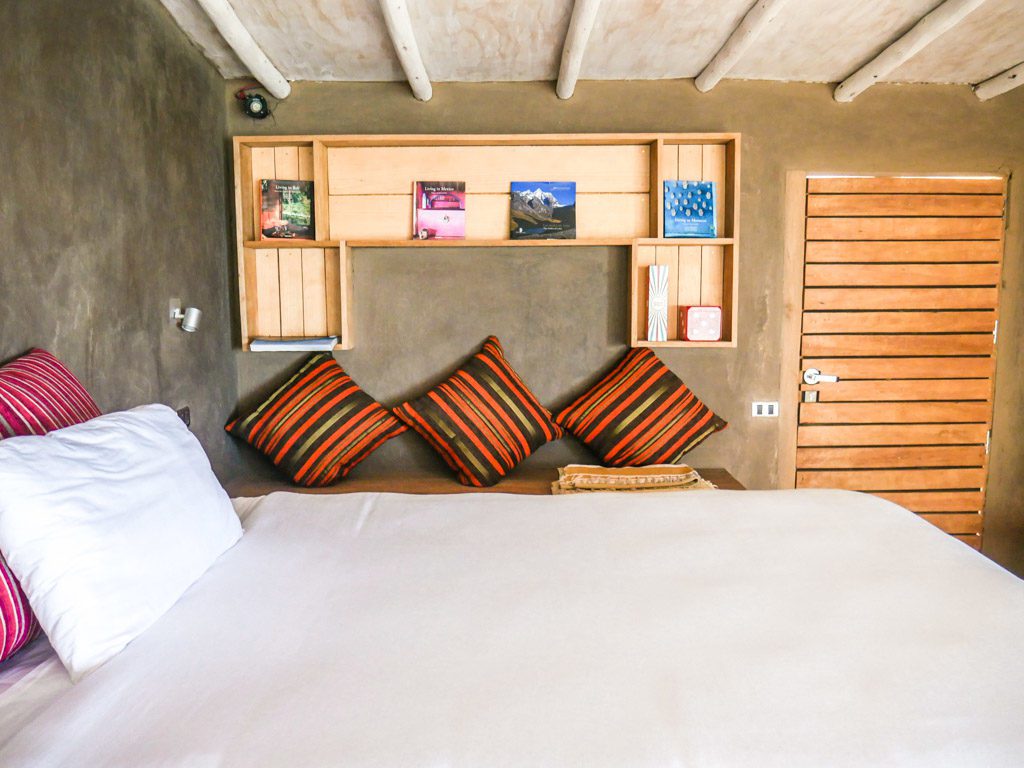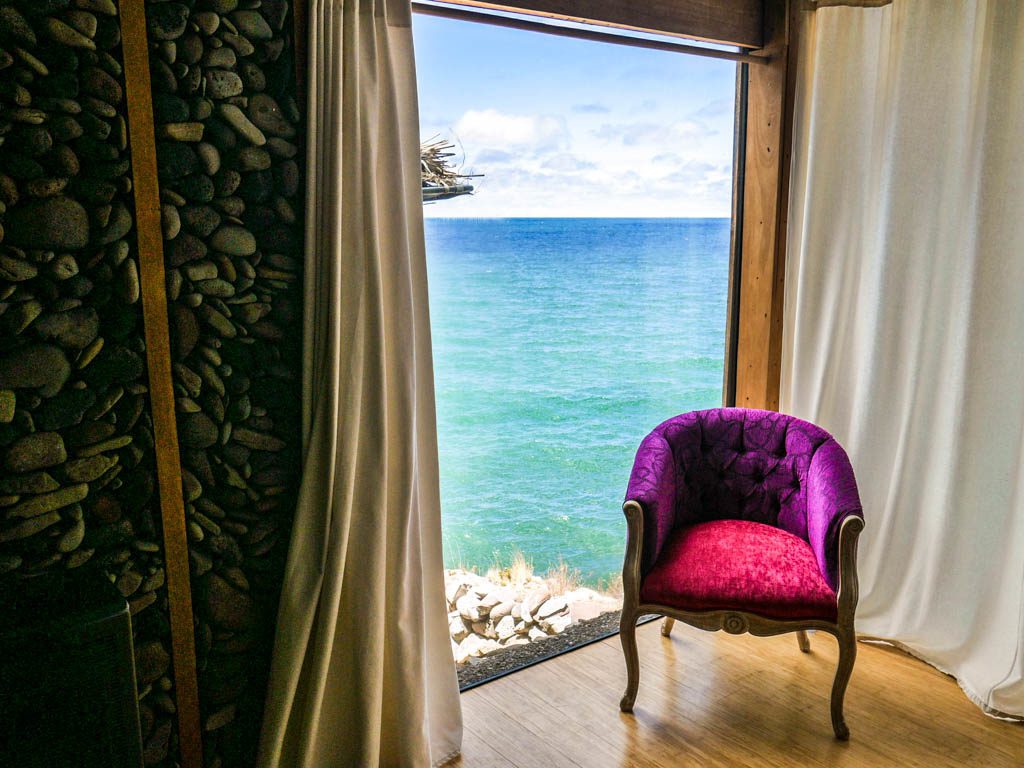 This room is well designed too, with great furniture and details, as well as a big picture window on one side for a lake view.
Peru Luxury Hotel Location
I've talked a bit about how special I think the Lake Titicaca island of Amantaní is - it really is unlike anywhere else I've ever been. The local Quechua people hold fast to their traditions - you'll see locals wearing traditional dress, farming in the traditional ways, and living simply.
They're also some of the warmest people I've met in Peru. Any time we had a question or needed directions, anyone we met was happy to help us and did it with a smile.
Even though this island is remote and has an authentic community, it does get a bit of tourism. Many people come here for homestays, will stay a night or two, and hike up to the highest points of Pachamama and Pachatata. But we noticed most of these homestays are on the other side of the island. On the side near Amantica Lodge, there aren't as many homestay opportunities, so you will mostly just see locals, with a couple tourists hiking through.
This makes for an extremely tranquil experience. You can hike in any direction to pass through the towns, or climb up cliffs or mountains on either side.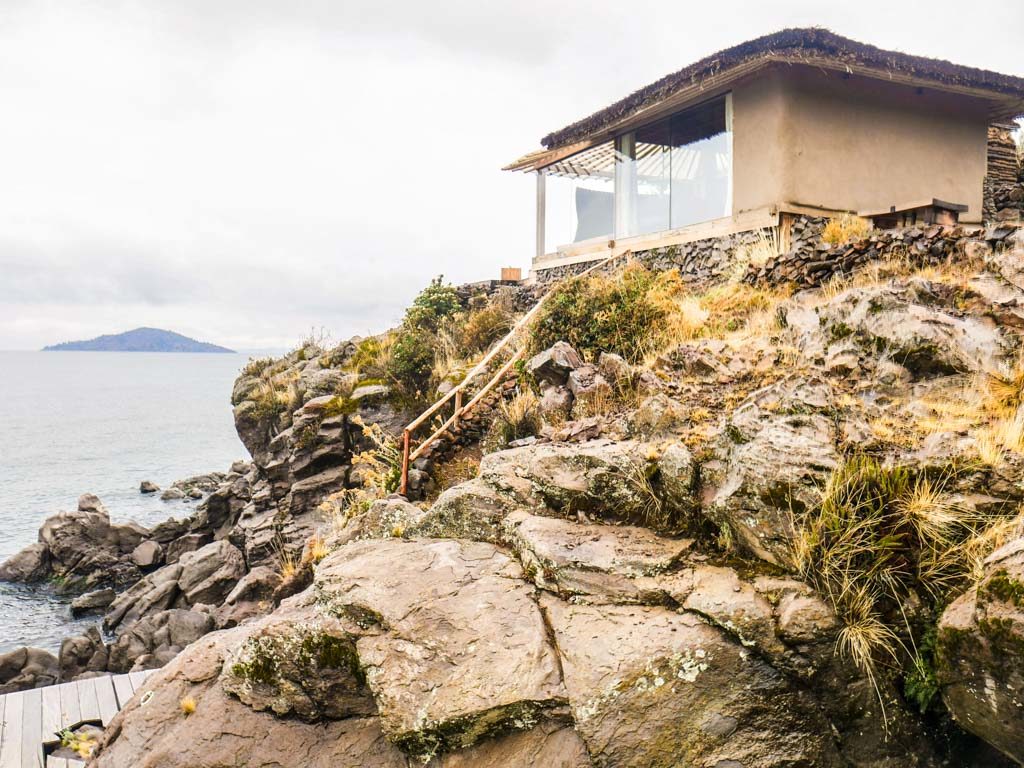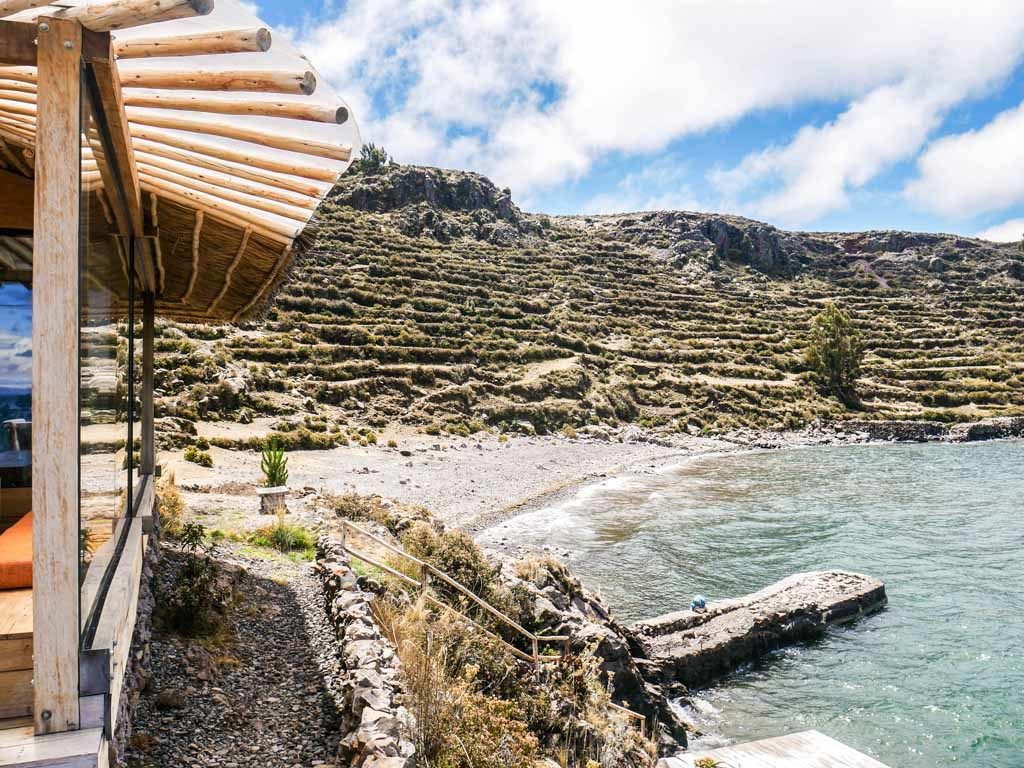 You won't want to leave this gorgeous boutique hotel Lake Titicaca's grounds, but you should definitely spend a little time walking in the nearby area. The hike up to Pachamama at sunset is truly magical. You can arrange this through Amantica Lodge, and if you arranged for the all-inclusive package, this activity will be included.
If you don't want to be gone that long, you can also hike up just to the north of the villa. There is a well cared for path that follows up the slope of the mountain and gives you a great view of the lake, the Peru luxury hotel below, and the island of Taquile straight out. This little walk doesn't take long and you don't have to climb a lot in elevation.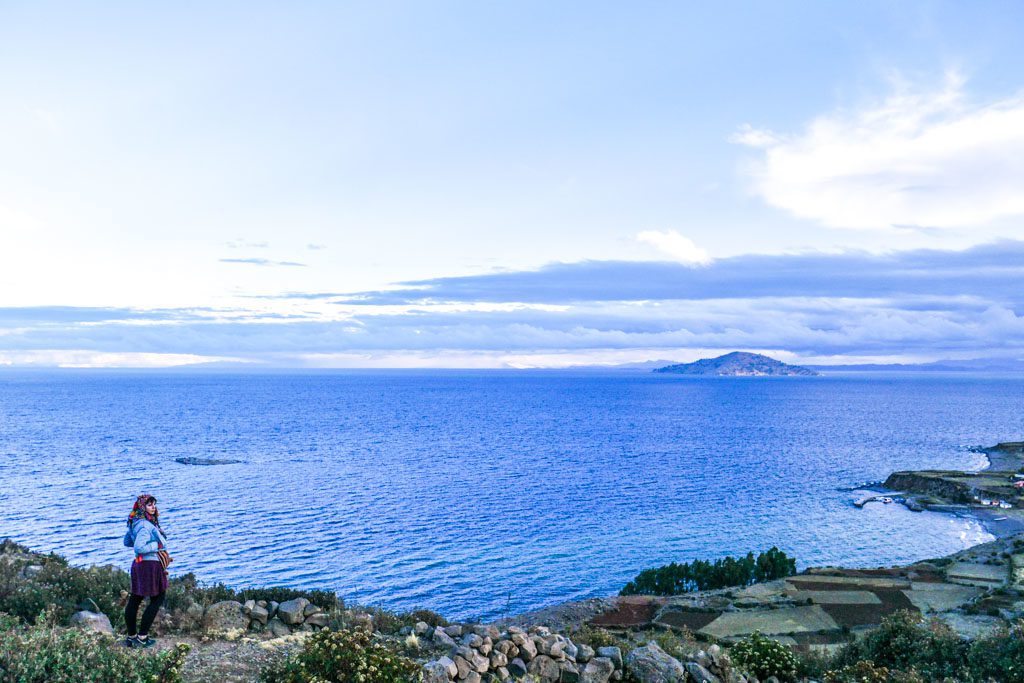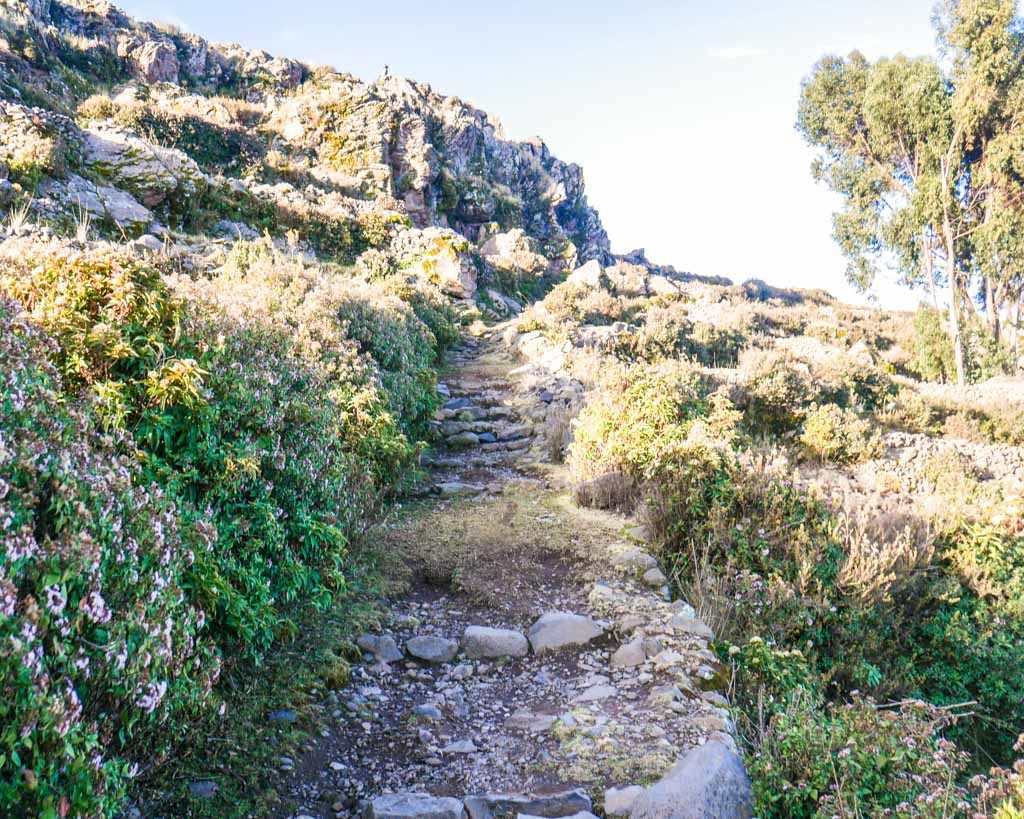 Exclusive Peru Luxury Hotel Experience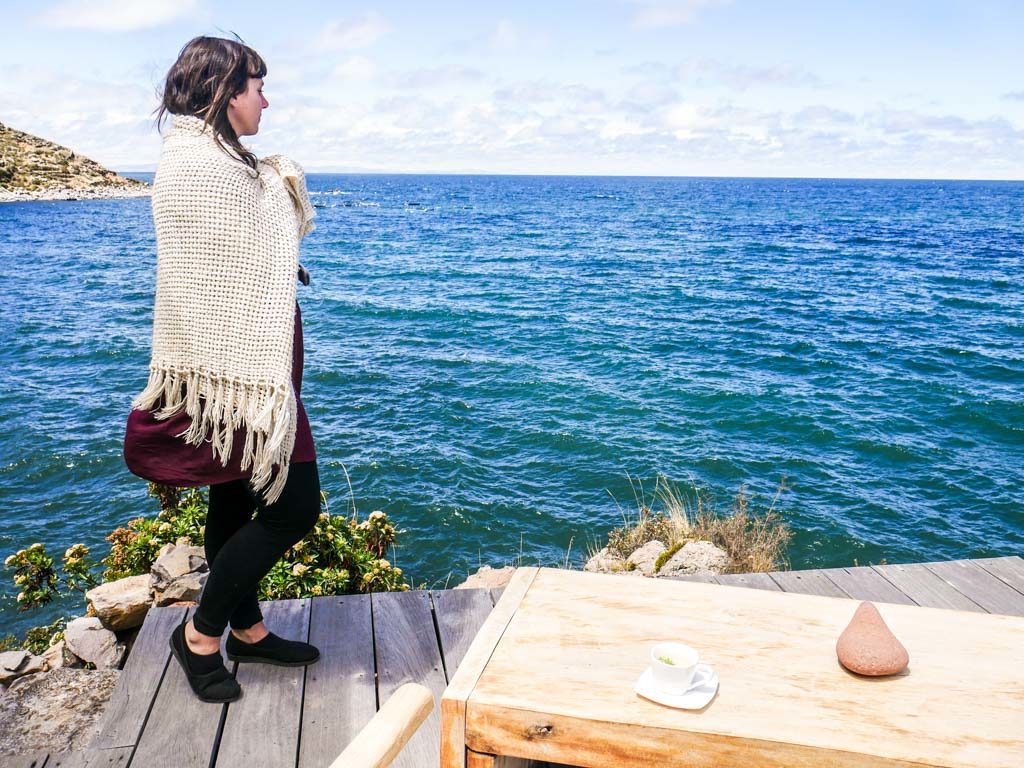 One of the most unique things about Amantica Lodge is that it is a totally exclusive boutique hotel Lake Titicaca. If you book the villa, you will have the whole grounds to yourself. At this time they only have this villa, and it's location is surrounded by nature.
You will have your complete privacy but still be able to look in any direction at the gorgeous scenery. It's really an incredibly romantic location.
Transportation
Amantica Lodge can arrange your transportation to this boutique hotel Lake Titicaca - and this is included in the all-inclusive package.
A boat ride from Puno takes several hours - about 3 1/2, but it's worth it if you want to be in an authentic and unmarred natural location.
It's also possible to come by land around the northwestern edge of Lake Titicaca, and take a boat from Chifron via Capachica. Let Amantica Lodge know where you are coming from and ask them the best way to arrive at their exclusive boutique hotel Lake Titicaca.
Level of Service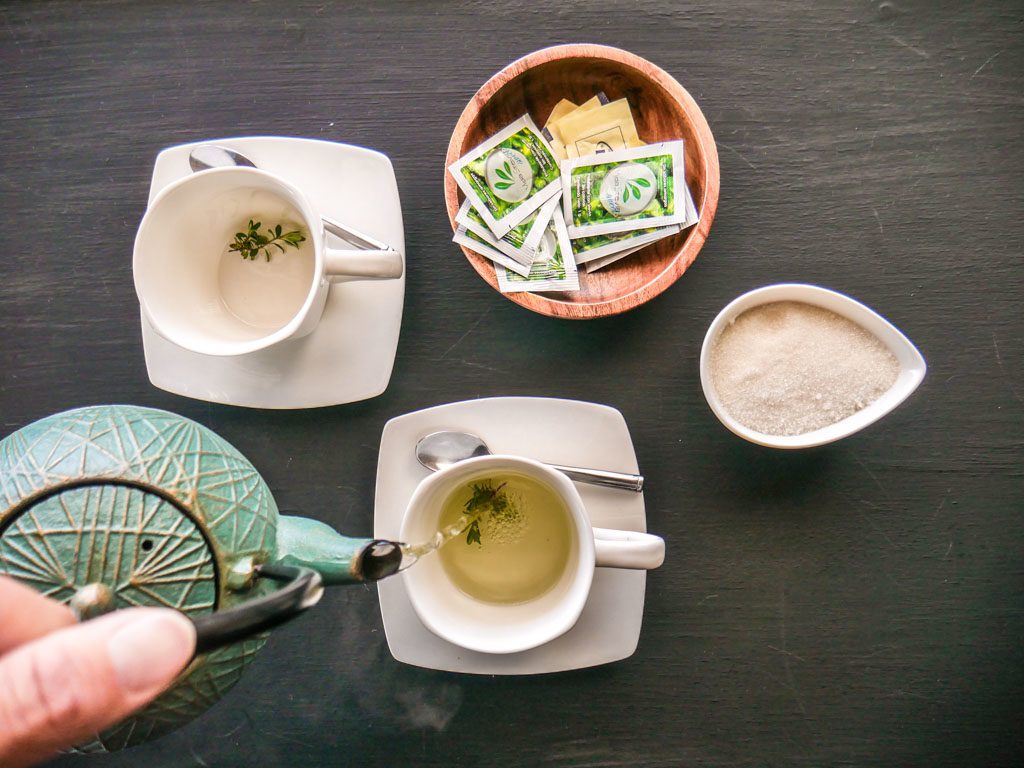 The level of attention to detail and service at Amantica was a pleasure. From the moment we arrived in our room, we were served hot tea with the local variety of fresh mint, and then shortly after, welcome snacks.
There are three staff members always available if you should need something - the chef, the concierge, and Oswaldo, the manager. They all made us feel so welcome and let us know they'd be happy to help us with any little thing.
We did a short walk with the concierge as he showed us the path we wanted to climb up before sunset. We chatted and asked him questions about the local way of life, what types of crops people farm, and questions about the geography. We also had lots of conversation with the chef. It's great to have professional attentive service, but also friendly real people who are happy to share a bit about their lives.

Boutique Hotel Lake Titicaca Activities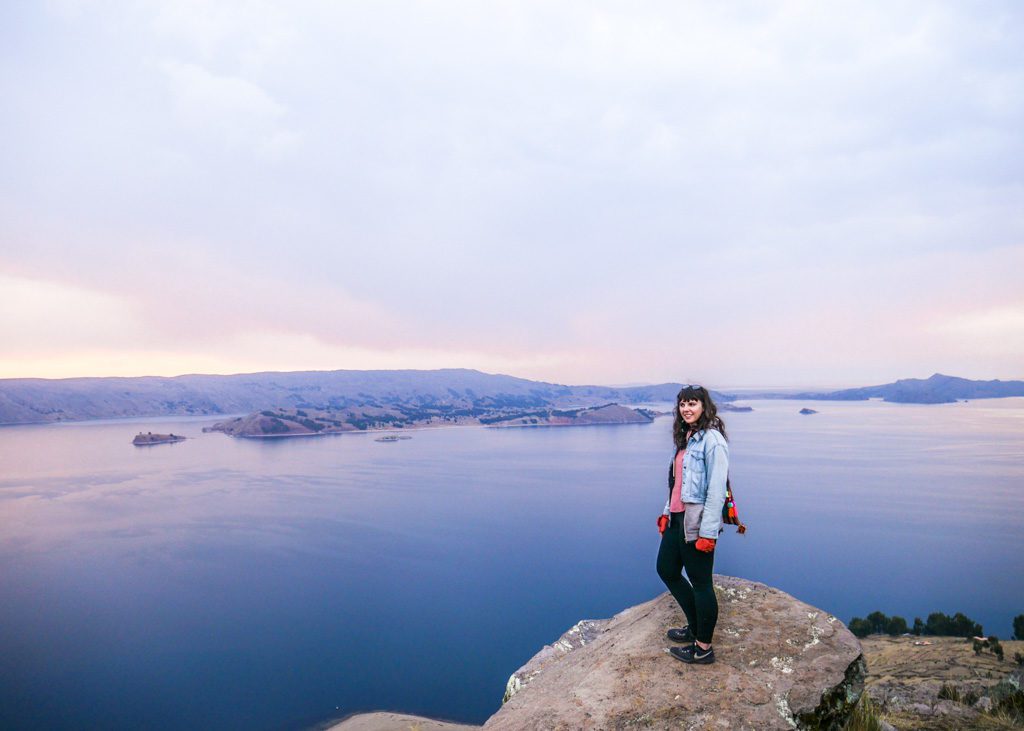 There are lots of activities to choose from at this boutique hotel Lake Titicaca. As I mentioned, the hike up to Pachamama at sunset is incredible and highly recommended. There are also other cultural options. We choose to have a coca leaf reading by a local shaman.
Coca leaves are a huge part of life in the Andes of Peru. Locals drink coca tea every day. These leaves also have a significance in the local religion.
The shaman came to our villa in the evening with his tools. He laid out a colorful blanket and took out a large handful of coca leaves. He then wrapped them up and had me hold them to my chest for a period of time.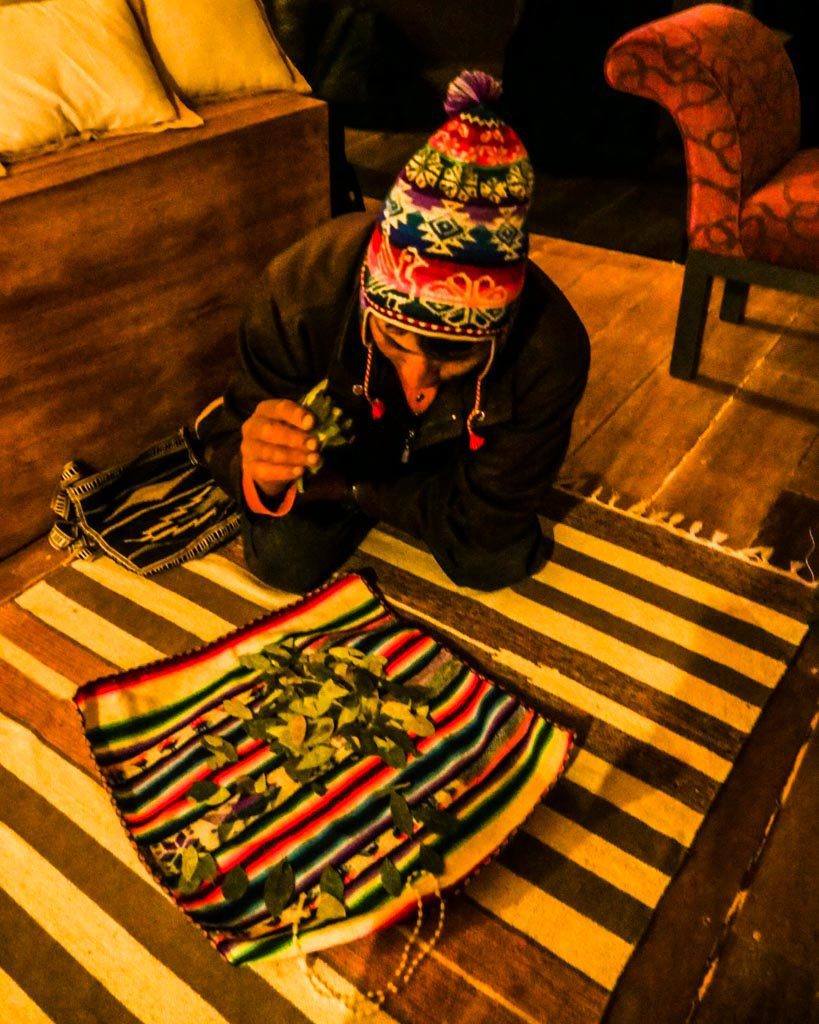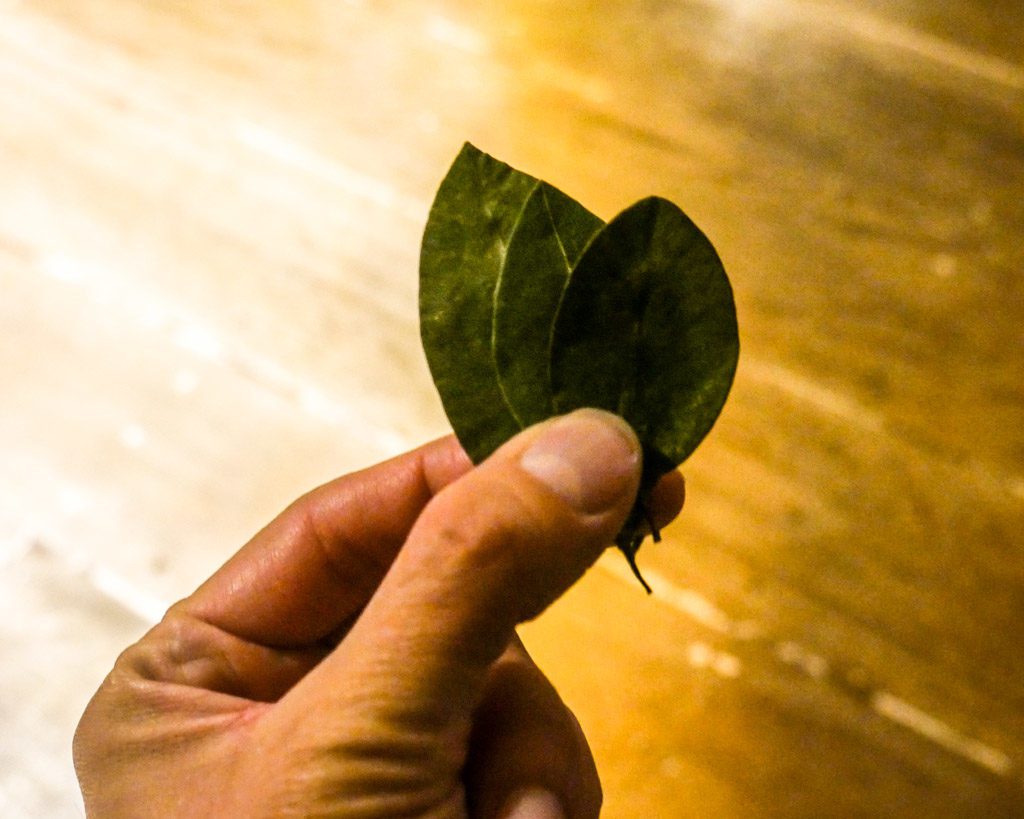 When I was finished, he laid out the blanket and then dropped the coca leaves down on it from above to see how they'd land. He set certain leaves at the top for different categories like "love, "wealth", and "home" and then we were able to ask questions and he would interpret the leaves.
It was an interesting cultural experience!
Final thoughts on the Boutique Hotel Lake Titicaca , Amantica Lodge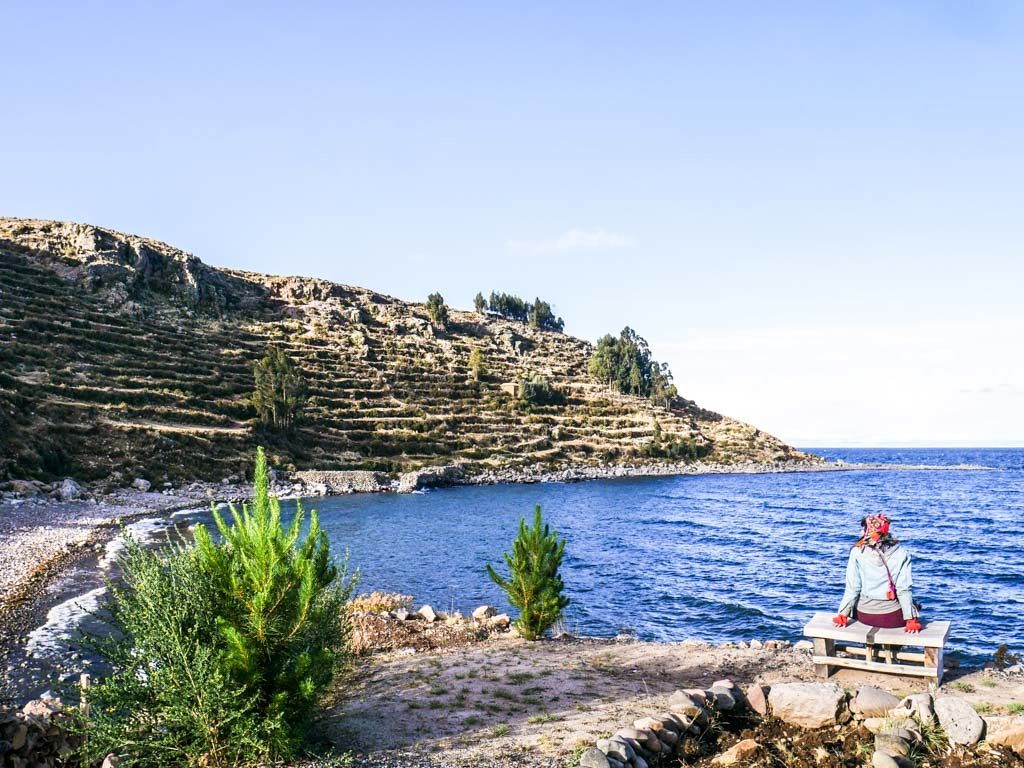 Our stay at Amantica Lodge is one of the things I'll remember most about my two months in Peru. It was such a unique and incredible place. It's really more than a boutique hotel Lake Titicaca - it's an experience. Every detail and every moment is carefully thought out.
I also really appreciate that Amantica Lodge is committed to social responsibility. This is extremely important to me, so I loved learning that Amantica contributes a percentage of their income to go to the needs of the local community, they hire and train locals for their employees, and they help build and refurbish local homes to enable homestay tourism. If you're going to spend money on a Peru luxury hotel stay, it should be with an ethical company that is involved and gives back to their community.
At Amantica Lodge, I felt like I could soak up the luxury hotel touches and comforts, but also immerse myself in the local culture and natural beauty as much as I'd like. I'd definitely recommend staying here for a once in a lifetime experience.
---
Hotel: Amantica Lodge
Social Media: Facebook, Instagram
Price: Varies depending on number of guests & season. Check their reservation page for more details.
Includes: 2 bedroom villa, with large private terrace, exclusive use of the villa and grounds, concierge, heat lamps and fireplace.
Location: Located on the shores of Lake Titicaca, the lodge is on the island of Amantani. Puno, Perú
Contact: reservas@amanticalodge.com
Reservations: http://amanticalodge.com/reservas.html?lang=en
---
Disclosure: this post is written in partnership with Amantica Lodge. All views and opinions are my own, and I wouldn't recommend anything I don't love!
Pin it for Later!