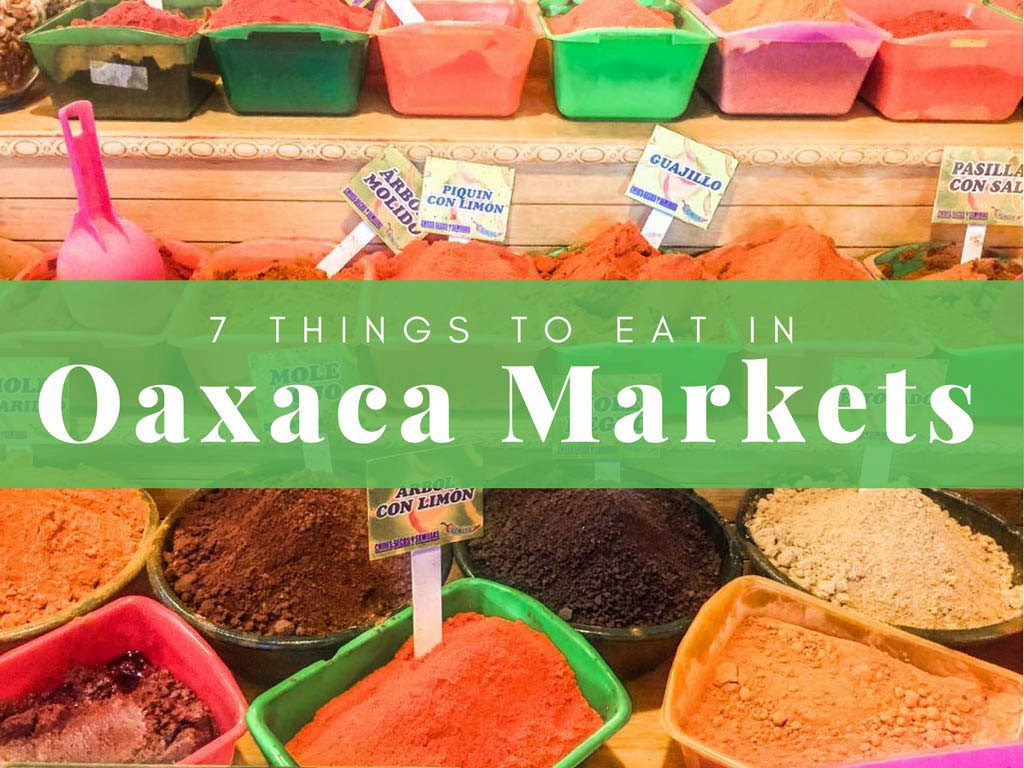 One of my favorite things to do in any Latin American city or town is visit the local markets to quickly get a feel for the local culture and taste the traditional food. I've been to the most famous Oaxaca Markets - Mercado Benito Juarez and 20 de Noviembre - dozens of times, but never get tired of perusing their stalls.
Over the years, I've found all my favorite stalls for whatever I'm looking for - tamales, tlayudas,quesillo, mezcal, etc. Now, if I don't have the time for a leisurely stroll, I can zip through to pick up all the most delicious things before I head home to enjoy them.

So if you're visiting the Oaxaca markets of Mercado Benito Juarez and 20 de Noviembre, don't get overwhelmed by the sheer size of the markets and number of vendors. Check out my list below of the most delicious things to taste and where to find them.
Tons More Oaxaca Food and Travel Posts
Search Oaxaca Hotels and Airbnbs Below:

Oaxaca Markets:
What to Know About Mercado Benito Juarez
& 20 de Noviembre

These two Oaxaca markets are super easy to find as they are just two blocks south of the Zocalo - the central square in Oaxaca. They are two separate markets, but are right next to each other, so it's easy to visit both in one go.
So what's the difference in these Oaxaca markets?
Mercado Benito Juarez: Oaxaca Markets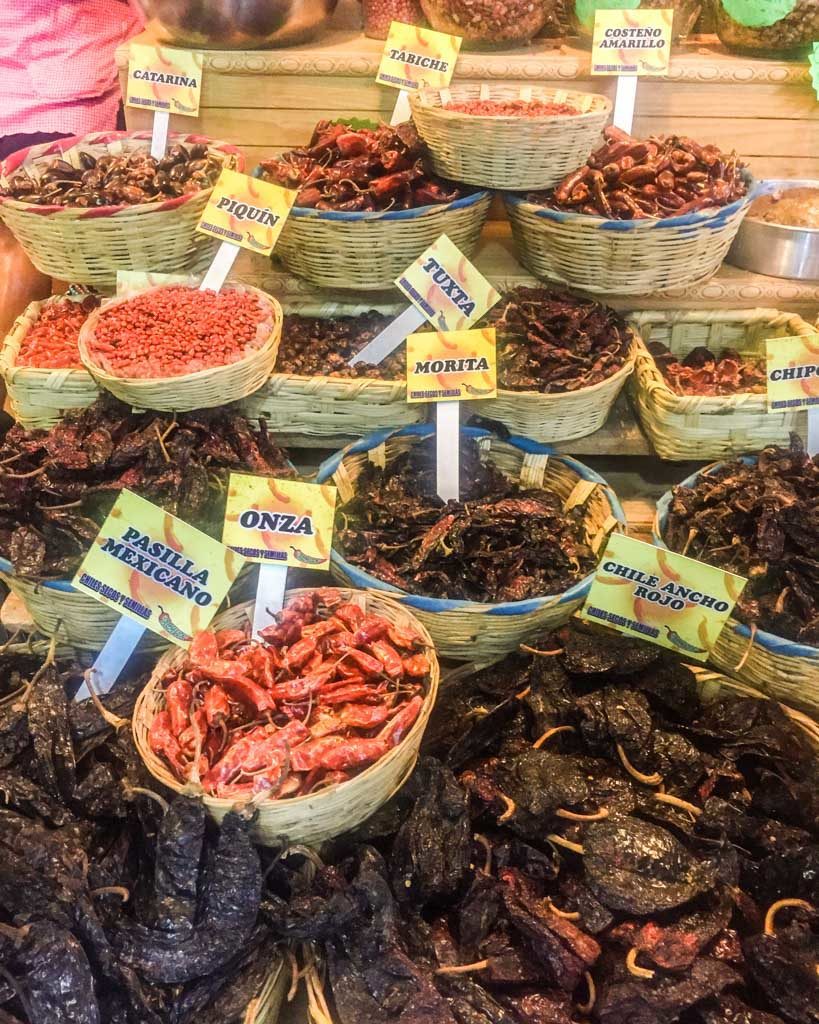 Mercado Benito Juarez is the northern of the two markets - it's between Las Casas and Aldama from north to south and Miguel Cabrera and 20 de Noviembre from east to west.
This Oaxaca market has almost anything you could ever need - produce, cheese, meats, fish, flowers, artisan goods, hair brushes, electronic accessories, leather goods - if you need it, it's probably there!
Plenty of tourists visit this market, but locals do too. It's a great Oaxaca market for tourists to feel comfortable, while still getting a glimpse at local culture.

Mercado 20 de Noviembre: Oaxaca Markets
Mercado 20 de Noviembre is directly south of Benito Juarez. It's located between Aldama and Francisco Javier Mina north to south and 20 de Noviembre from east to west.
This market is more focused on prepared food - it's full of little restaurants and vendors to sit and have a bite to eat. There are also a number of bakery vendors, and a few artisan food vendors that have things like mezcal, salsa, etc (though I'm not a fan of these pre-packaged foods, I say skip them and find the fresh stuff).

This is the market to go to have a tasty local lunch.
Find Flight Deals to Oaxaca:

What to Eat in the Oaxaca Markets
My list is a combo of things from both markets. But it's easy to do both in one afternoon and zig zag back and forth.
1. Tlayudas - Marie Alejandra's: Oaxaca Markets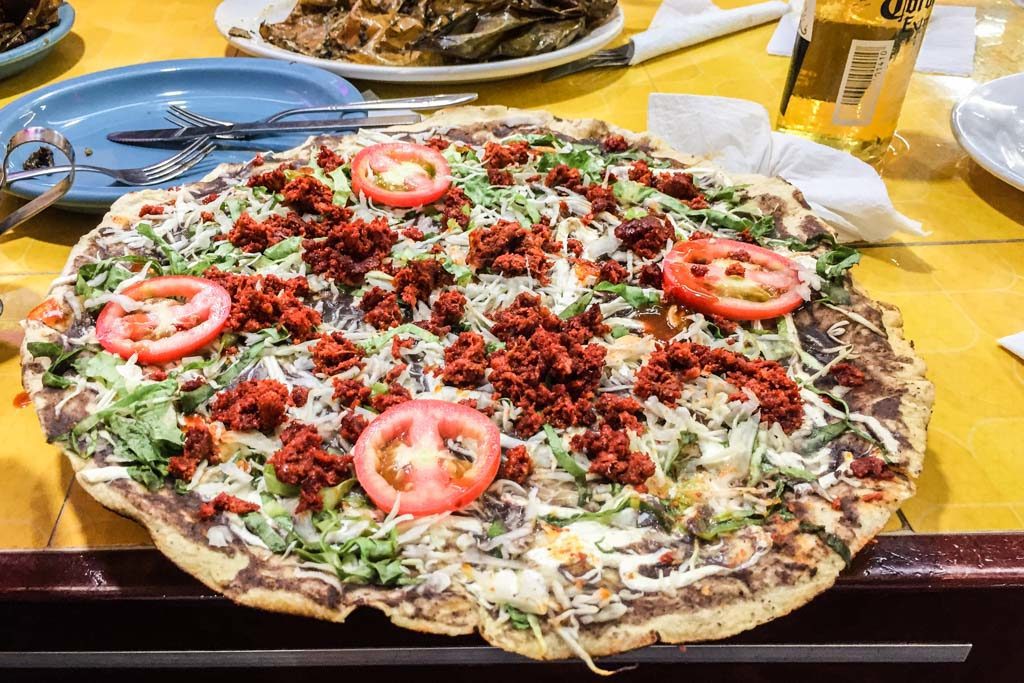 Tlayudas are a Oaxacan staple, and there is no better place to have them than at the Oaxaca markets.
If you're going to do this little food tour in one day, start by eating your first meal here, and try to be ready for another meal later - there is a lot of food to pack in! If you're in a group, you might want to share dishes to have room to taste it all.
If you enter through the Carne Asada, or Grilled Meat Hall, (but wait! Don't be tempted to eat here yet, this is coming later. 🙂 ) at the eastern entrance of 20 de Noviembre, walk to the end of the hall and then make a left when you reach the little restaurant vendors. Just a couple stalls down you will see Marie Alejandra's big yellow sign.
Order a tlayuda with your choice of meat - either tasajo (thin grilled steak), chorizo (spicy sausage), or cecina (thin and spicy pork steak). If you're looking to save room for more food, you can easily share one between two people. They are huge!
So What is a Tlayuda?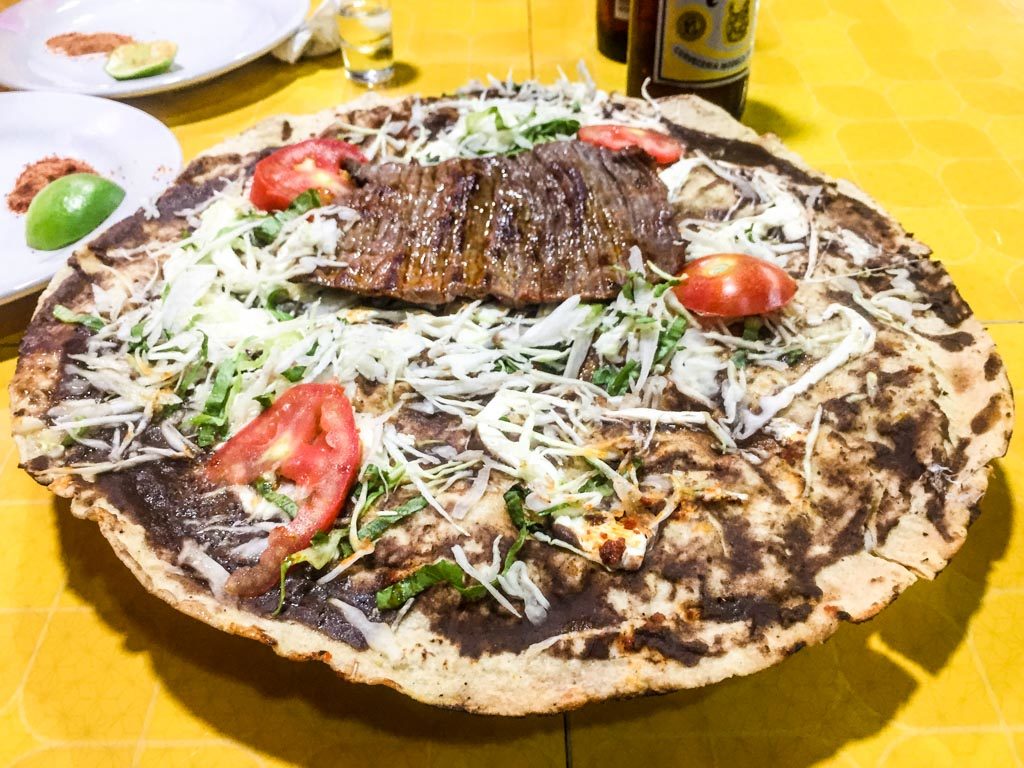 Visually - it's often compared to pizza because of the thin and large tortilla covered in toppings. But that doesn't describe the taste!
It's a giant tortilla, topped with a asiento (lard) and creamy bean mixture, then layered with quesillo, a Oaxacan cheese, and usually some veggies like cabbage, lettuce, avocado, and tomato. Then the tlayuda is grilled to perfection on a comal (a flat griddle) or an open flame. It's served either open face (like a pizza) or more often folded like a quesadilla.
2. Tamales - Mercado Benito Juarez: Oaxaca Markets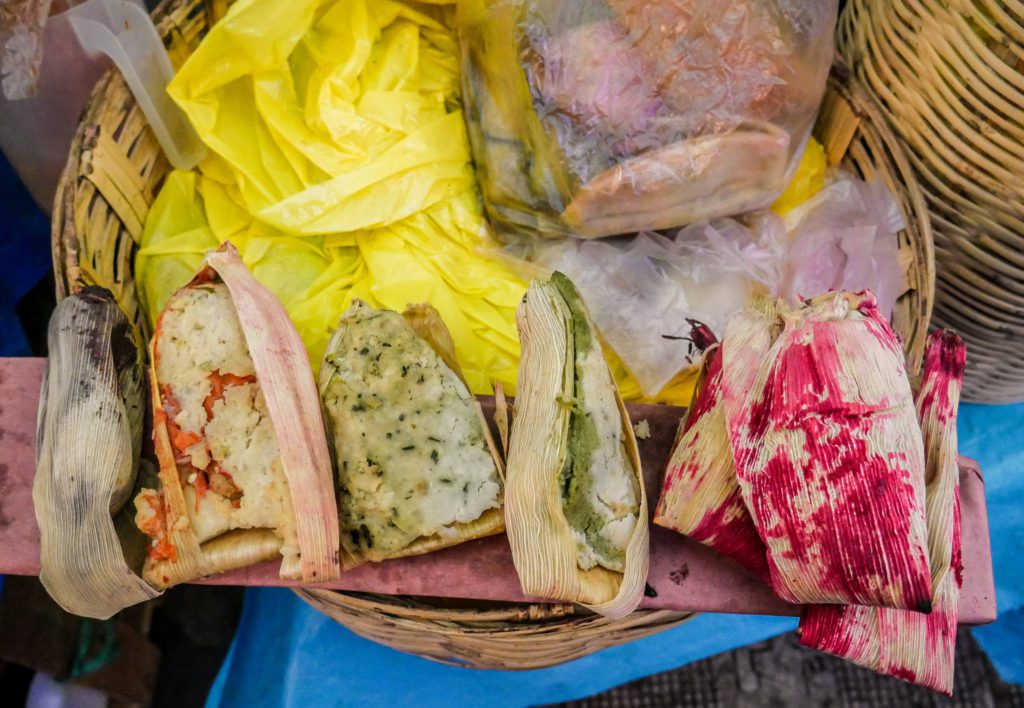 Enter the Mercado Benito Juarez from the eastern entrance on Calle Miguel Cabrera and make an immediate left in the first hallway. You'll then see a line of women selling tamales from baskets. I've had the tamales from the first two women in this row and they are both great.
The traditional tamales in this part of Mexico are mole with pollo (the famous dark salsa of Oaxaca, with chicken), chipil (a local herb), frijol (beans), rajas (peppers), and dulce (a sweet tamale). My favorites are the mole and chipil - both are delicious and flavorful!
So What are Tamales?
Tamales are Mexican comfort food. They're made from corn dough and a vegetable/meat/salsa of choice, and then wrapped in corn husks or banana leaves before being steamed. They are hearty and filling.
One warning: It's common for tamales to be prepared with bones inside to strengthen the flavor. Chew carefully and don't swallow them!
If you're too full to eat them right away, take them "para llevar" and have them as an evening snack or breakfast. They reheat super well if you steam them in a pot with a lid and a tiny bit of water.
3. Tejate - Mercado Benito Juarez: Oaxaca Markets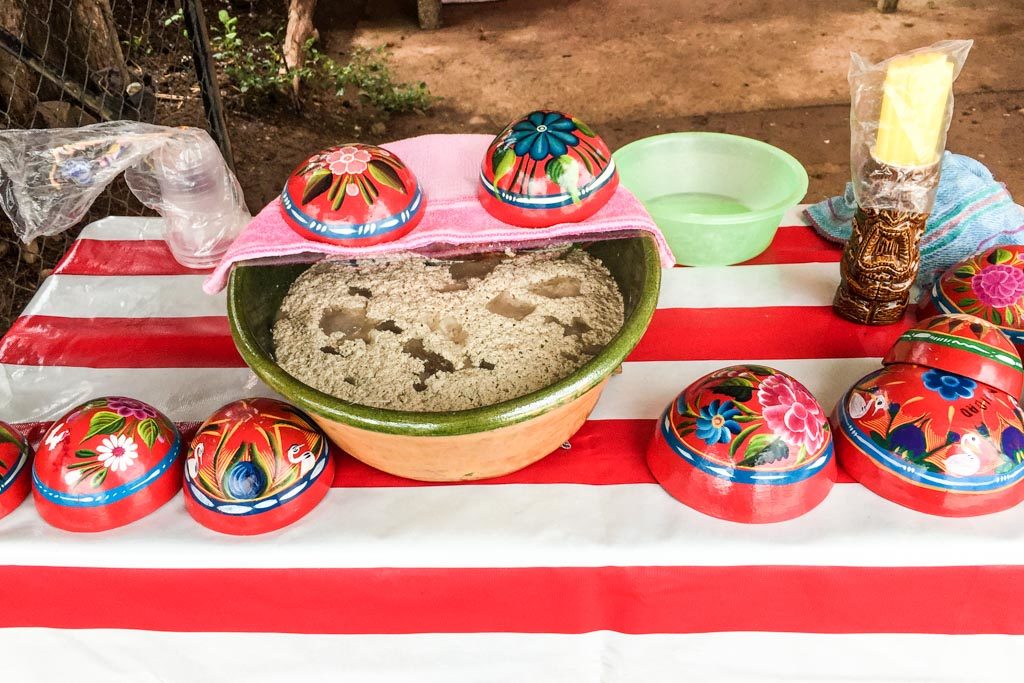 You might be getting thirsty, so head to one of the best places to try tejate in Oaxaca - Flor de Huayapam stand in Mercado Benito Juarez.
It's hard to describe exactly where this stand is, but it's more or less smack dab in the center of Mercado Benito Juarez. You'll recognize it by the large black sign that reads "Tejate", the curved wooden counter, and the likely crowd that will have gathered.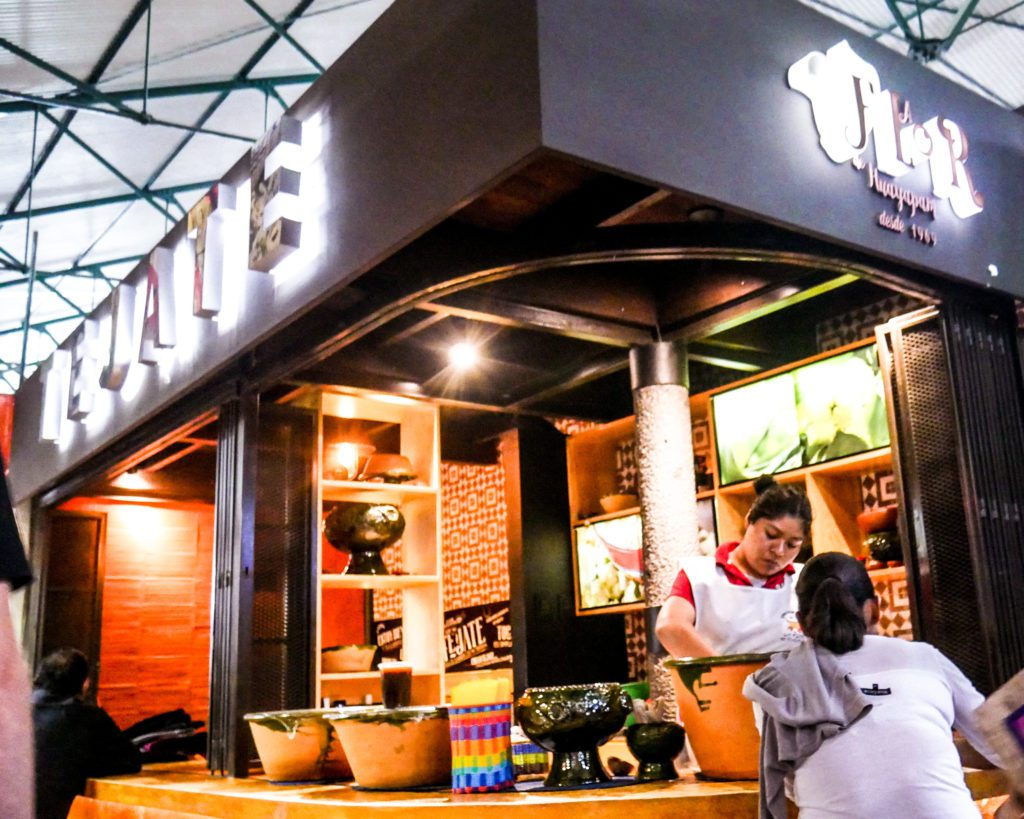 If you want to try it the traditional way, ask for it "en jicara" or in the brightly colored red bowl. Sit on one of the stools and sip it slowly.
If you're in a rush, you can ask for it "en vaso" or in a plastic to go cup.
So What is Tejate?
Tejate is a pre-hispanic drink made from toasted maize, fermented cacao (chocolate) beans, toasted mamey (a tropical fruit) pits, and flor (flower) de cacao.
All the ingredients are finely ground into a paste on a metate (a stone platform with a rolling pin-like instrument for grinding). The paste is then mixed with water slowly by hand in a clay pot.
You can spot tejate by the big clay bowl it's served in and the foamy beige top. Don't be alarmed by the foam – this is caused by the fats from the beans and other ingredients that rise to the top.
4. Quesillo - Mercado Benito Juarez: Oaxaca Markets


Next you might want to try some of the famous Oaxacan string cheese, quesillo. You'll see this cheese everywhere. It's sold as a ball - the cheese being wound around on itself.
Stop at any cremería and ask to try the quesillo cremoso and they'll cut you off a hunk to taste. It's creamy, rich and delicious. My favorite is from Queseria La Milagrosa, near the south end of Mercado Benito Juarez.
Consider buying some to make quesadillas later, or just to snack on.
So What is Quesillo?
Quesillo is a creamy, mild cheese that is a bit salty. It resembles mozzarella but is a little more salty and firm. It literally does come off in "strings" like American string cheese. You'll see women on the street pulling off strings to make tlayudas. No knife required!

5. Mezcal - Mercado Benito Juarez: Oaxaca Markets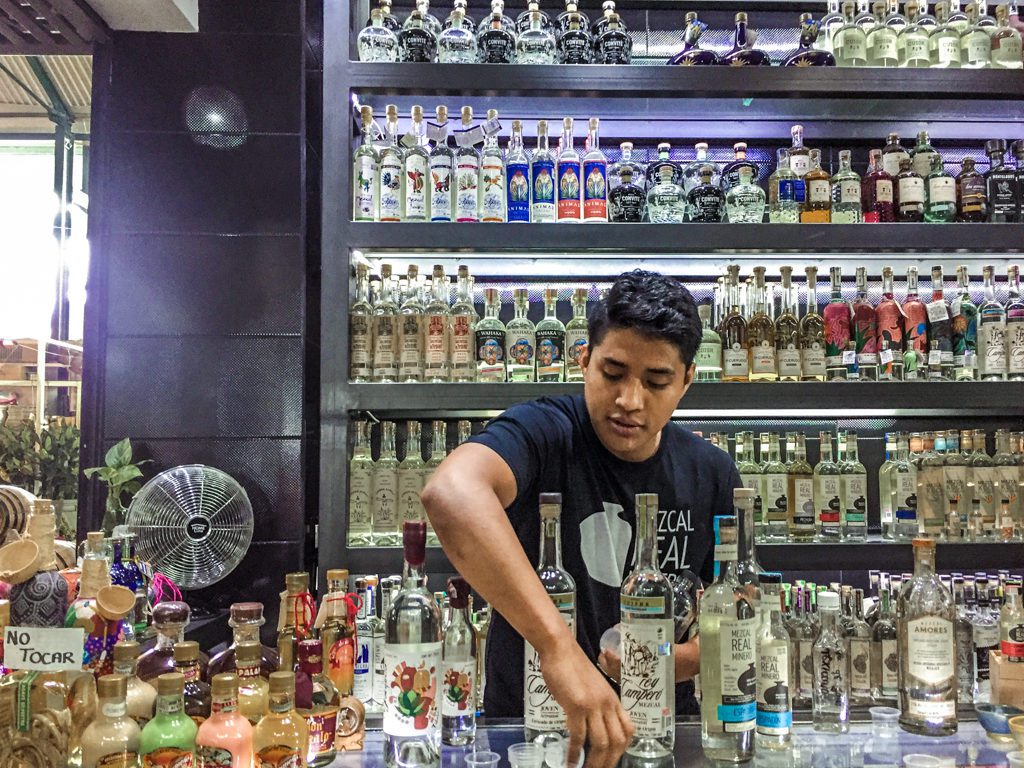 Next you will want to try some mezcal. This traditional Mexican spirit has the strongest traditions and culture in Oaxaca, so this is the perfect place to try it.
I'm a huge fan of mezcal, so I've tried it all over the city and valley - in mezcalerias (mezcal bars), from mezcal distilleries and farms, and from market vendors. Good mezcal is complex and amazing, you just have to know where to find it.
In my opinion, Candiza has the best mezcal in the centro, Look for the above sign. They'll be located near the center of the market east to west, and slightly toward the south end. Ask for the "botellas sin marcas" - these unlabelled bottles are from local mezcal farms that makes this spirit in the traditional ways. They have lots of varieties of the silvestres agaves (or the wild agaves), which are my favorite and the most fun to try because they all taste so different.

The fun thing about buying mezcal in Mexico, is that you can always ask to try before you buy! Ask to try a few of the flavors and then buy a few of your favorites.
So What is Mezcal?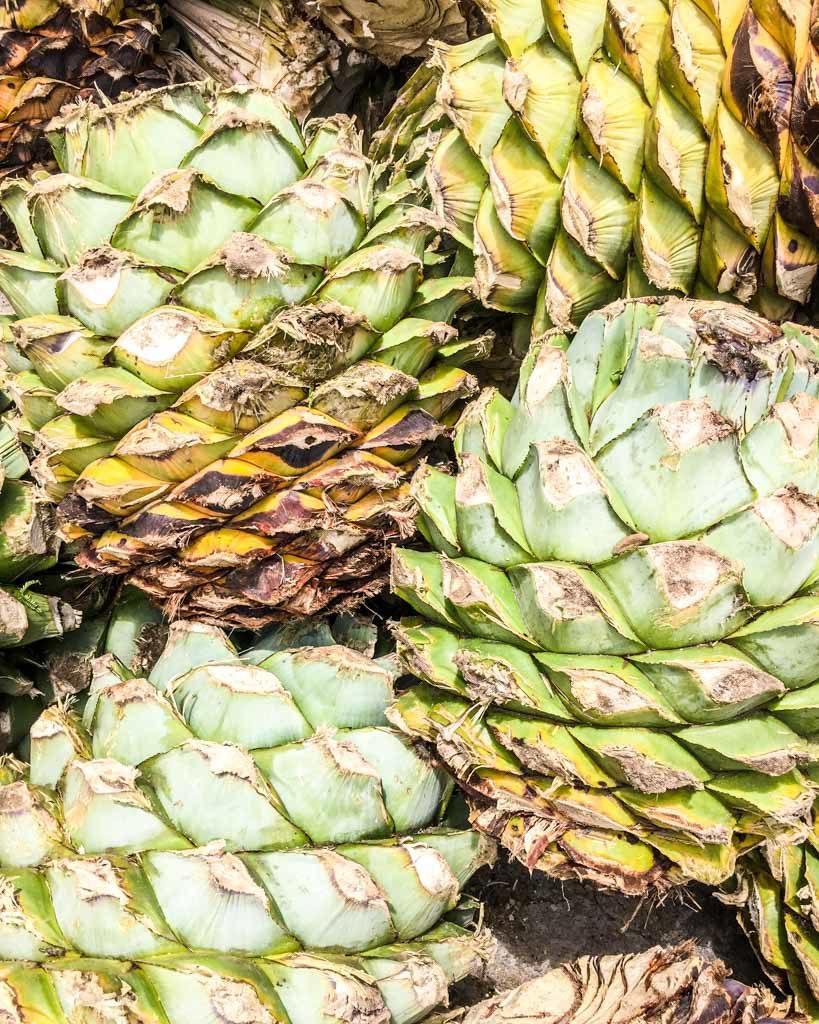 Mezcal is a traditional liquor that has been made in Mexico since pre-hispanic times. It is made from the same plant as tequila (the agave) but the flavor is totally different. Tequila is only made from blue agave, while mezcal is made from almost any other type of agave plant. And the production methods are very different. The agave hearts are wood-fire roasted in an underground pit before being smashed and then fermented.

Mezcal is also still almost always made in small batches on small farms. This keeps the traditional artisan methods alive and makes each mezcal taste different from another.
If you're not in Oaxaca and want to buy mezcal online in the USA and beyond, check out my post with my favorite brands available outside of Mexico.
And consider taking a Oaxaca mezcal tour and visiting the best Oaxaca mezcalerias.
6. Chapulines: Oaxaca Markets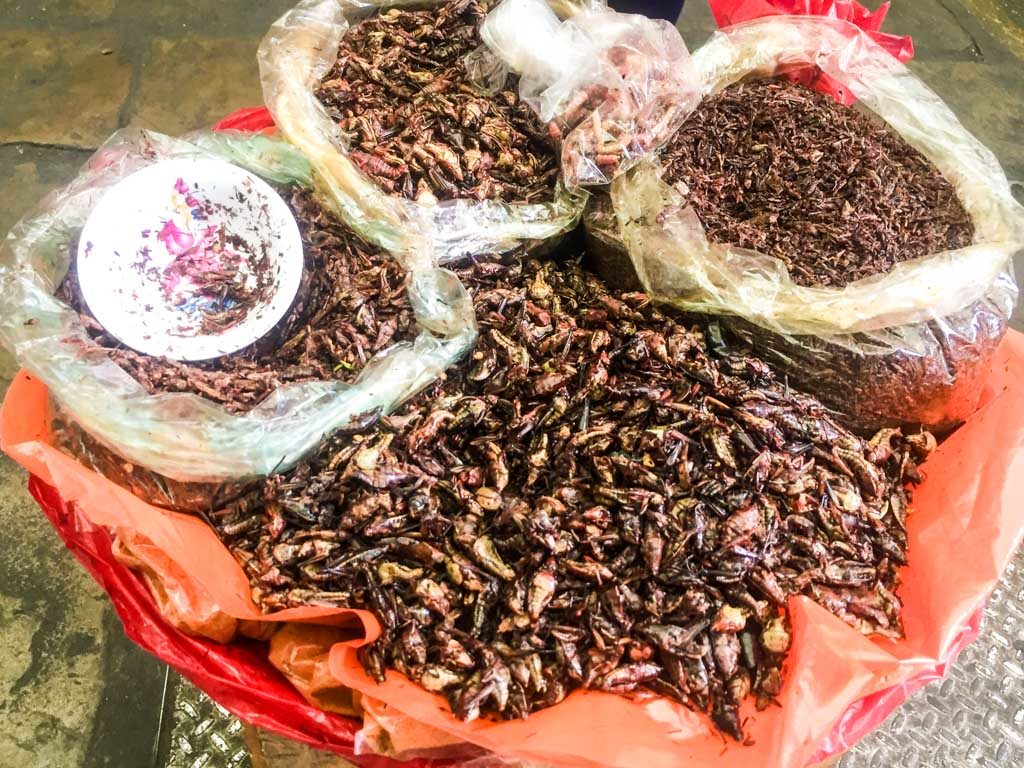 If you've done any googling about Oaxacan food, you've probably heard about chapulines - the most famous edible insect in Mexico.
So What are Chapulines?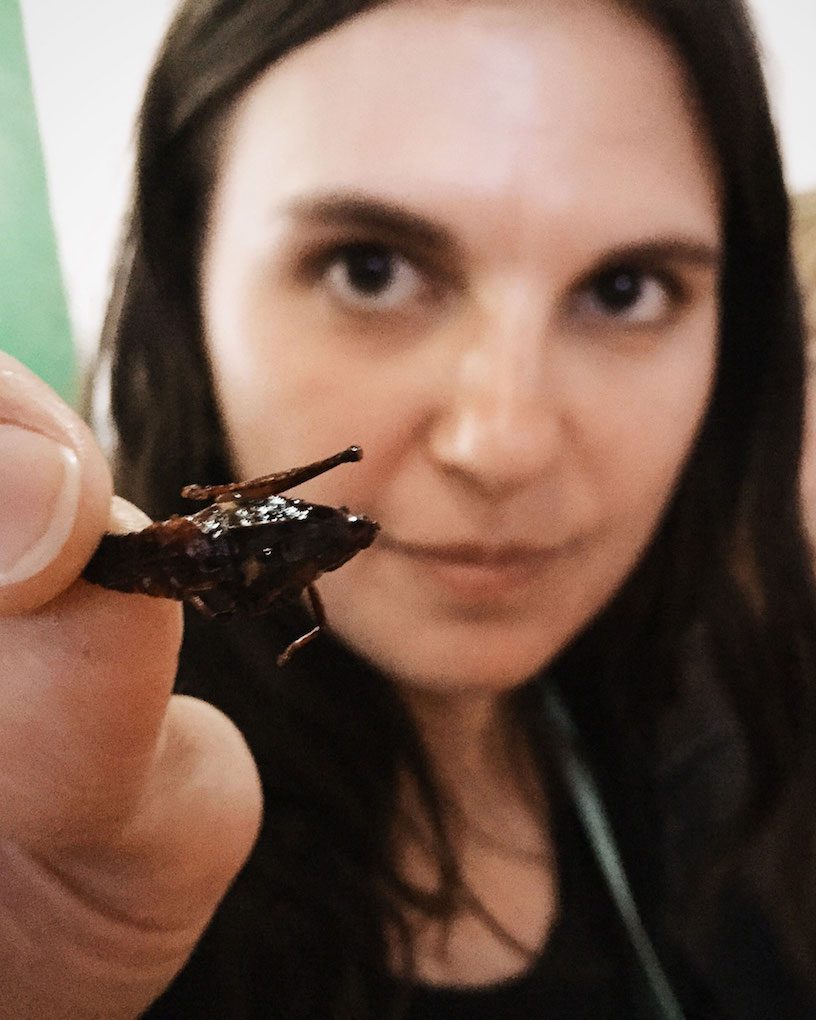 Chapulines are whole grasshoppers that are toasted, and often flavored with salt, chile, and lime.
Try to put mind over matter and try these local specialties. Once you get past the idea of putting a whole bug in your mouth, they're delicious! They're eaten as a snack and pair especially well with a cold beer or a mezcal.
Chapulines are sold all over these Oaxaca markets, but I've always had good fresh ones from the row of vendors selling them just outside of the Mercado Benito Juarez on the Calle Miguel Cabrera. You can ask to try them ("Puedo probarlo?"), and if you like them, you can buy a little bag to take with you. Each vendor usually has a few different bowls that have been flavored a bit differently.
7. Carne Asada or Grilled Meat Hall: Oaxaca Markets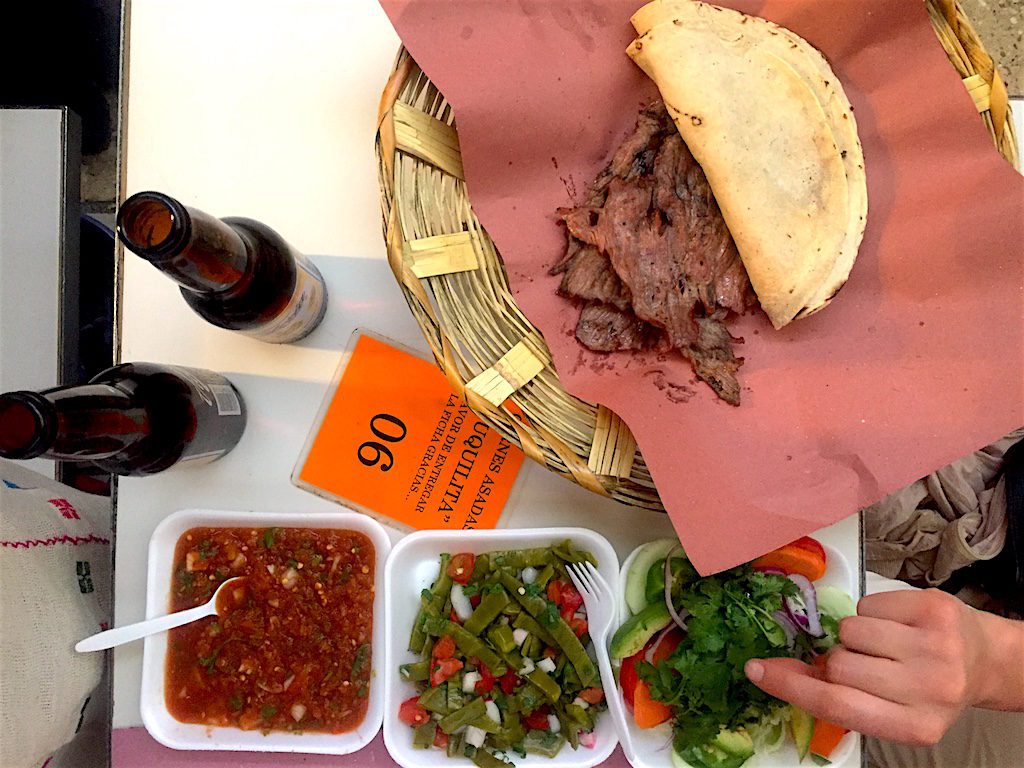 Finally, get ready for meal two at the Oaxaca markets! This time you'll be in for a unique dining experience, as well as a delicious meal.

Head back to the Carne Asada hall - you can enter at the eastern entrance of Mercado 20 de Noviembre. You'll find stall after stall of meat vendors lining both sides, grills blazing, vendors shouting at you, and smoke billowing out. You'll likely be intimidated but don't worry! I'll explain what to do.
How to Eat at the Carne Asada hall (or Meat Hall) in Mercado 20 de Noviembre
The ordering process has become more streamlined. First, visit a meat stall of your choosing and order the meats you'd like them to grill for you,The most common meats here are tasajo (thinly sliced beef), arrachera (steak), costilla (pork ribs), chorizo (spicy sausage). Any are good! They'll ask you how many portions you'd like. Anytime I've gotten one portion for two people it's been plenty of food. They'll then give you a number and you can take a seat at one of the booth and have table service for all the other ingredients - salsas, veggies, and tortillas, and pay all together at the end.

The veggie stand vendors will come around with trays of lots of condiments. You pick whatever you want, it's all a la carte. You will just pay for whatever you take. They'll have lots of varieties of salsas, pickled veggies, sliced radishes and cucumbers, limes, and more. It's hard not to go overboard here!

Finally, someone will come around with tortillas.

It's definitely a cultural experience, but also the food is REALLY good.
---
Observing the local culture at the Oaxaca markets is a great way to get to know a place. And even better to try all the most delicious foods while you're at it!
Have you been to the Oaxaca markets of Benito Juarez or 20 de Noviembre before? What was your favorite food?
Complete list of Oaxaca city posts

Complete list of Oaxaca coast and beach posts
Where to Stay in Oaxaca
Check out my full post about where to stay in Oaxaca for every budget and travel style.
Or if you prefer Airbnb, click below.
Or search more Oaxaca hotels below.
Pin it for Later!