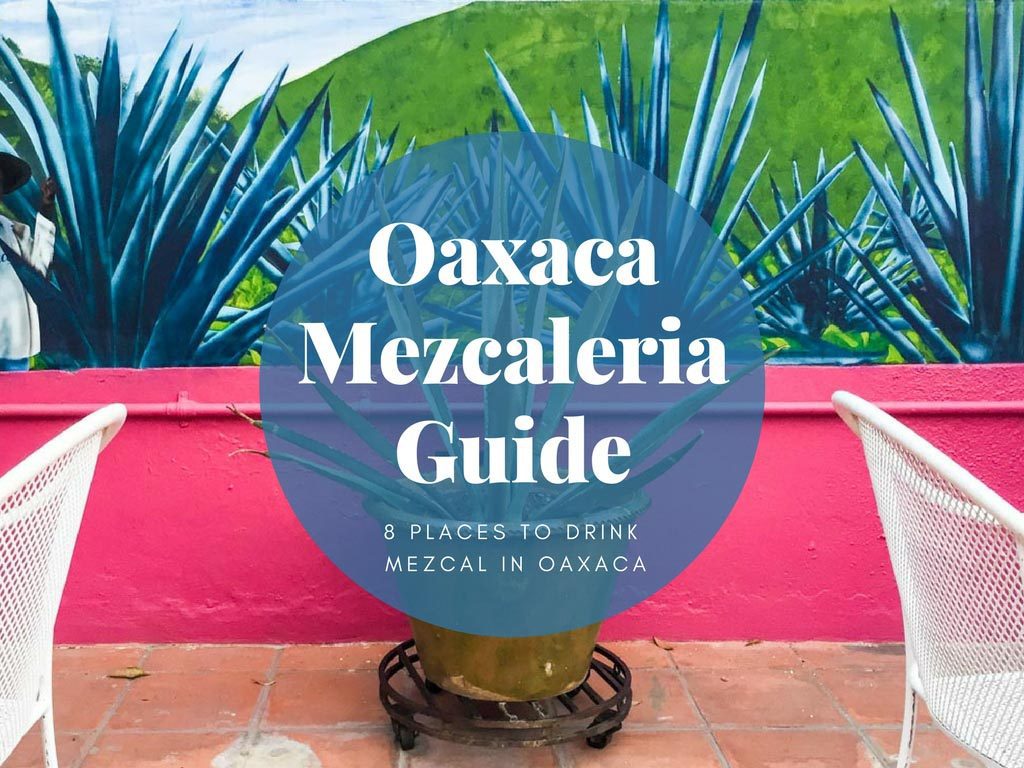 After visiting the city of Oaxaca for a collective total of about 9+months + now living here full-time, I've tried almost every Oaxaca mezcaleria in the Centro. I've narrowed down my list of favorites, each with their own vibe, depending on your mood.
I think mezcal is one of the most delicious things I've ever tasted. (I love mezcal so much, I did an intensive Oaxaca mezcal tour to visit some of the best and most traditional palenques & distilleries in the region.) And it's also the most fun thing to sample because the variations are endless. The type of maguey, the fermenting methods, and the pots used to distill the spirit all add their own flavors.
If you are looking for an immersive and hands-on Oaxaca food experience - join our April retreat + food experience - Milpa + Mesa, April 9-13 in Oaxaca city.
We'll be learning from local food experts, participating in traditional methods of planting/preparing/cooking, touring my favorite mezcal palenque, observing local holiday parades, eating some of the best food in the city and much more. More details here! Early bird pricing until February 1st only! $200 off.
Check out my list below of the best mezcal bars in Oaxaca. It also may be smart to start with in the order I present them - that way you can learn a bit about mezcal first, and you'll enjoy each tasting more along the way.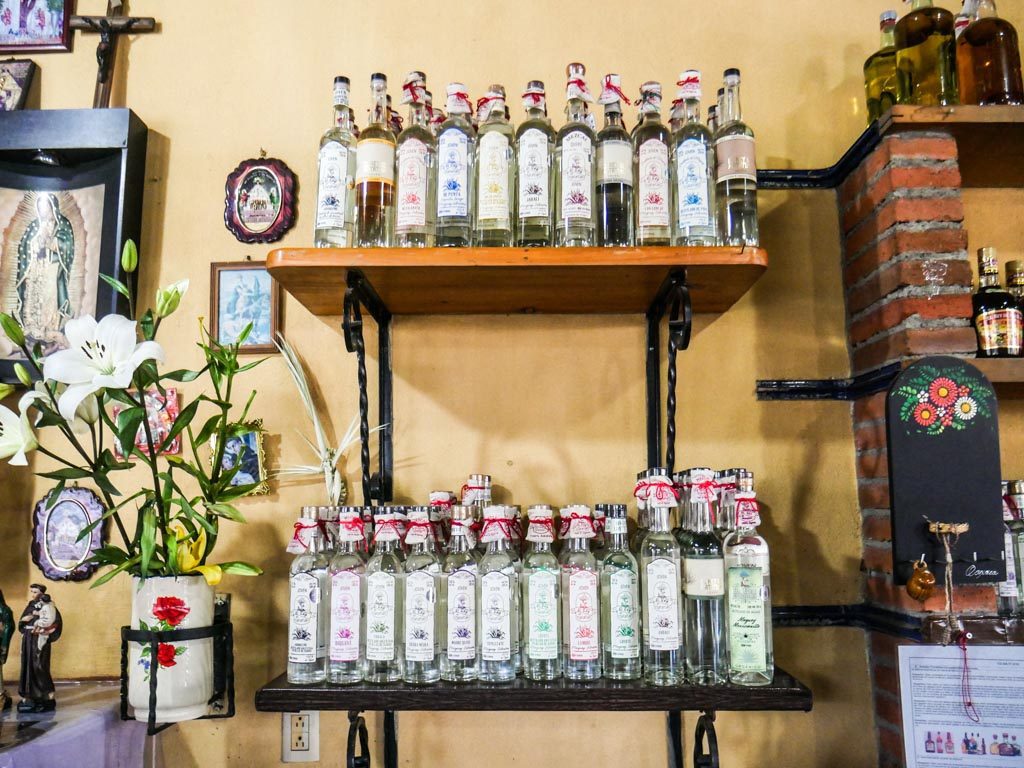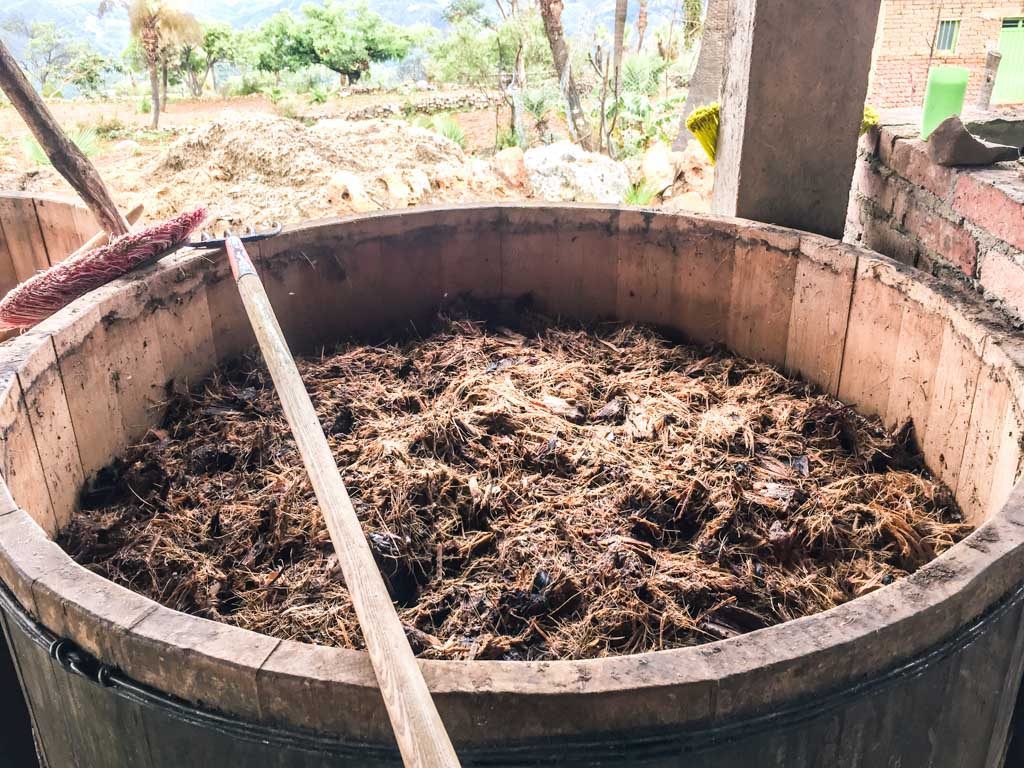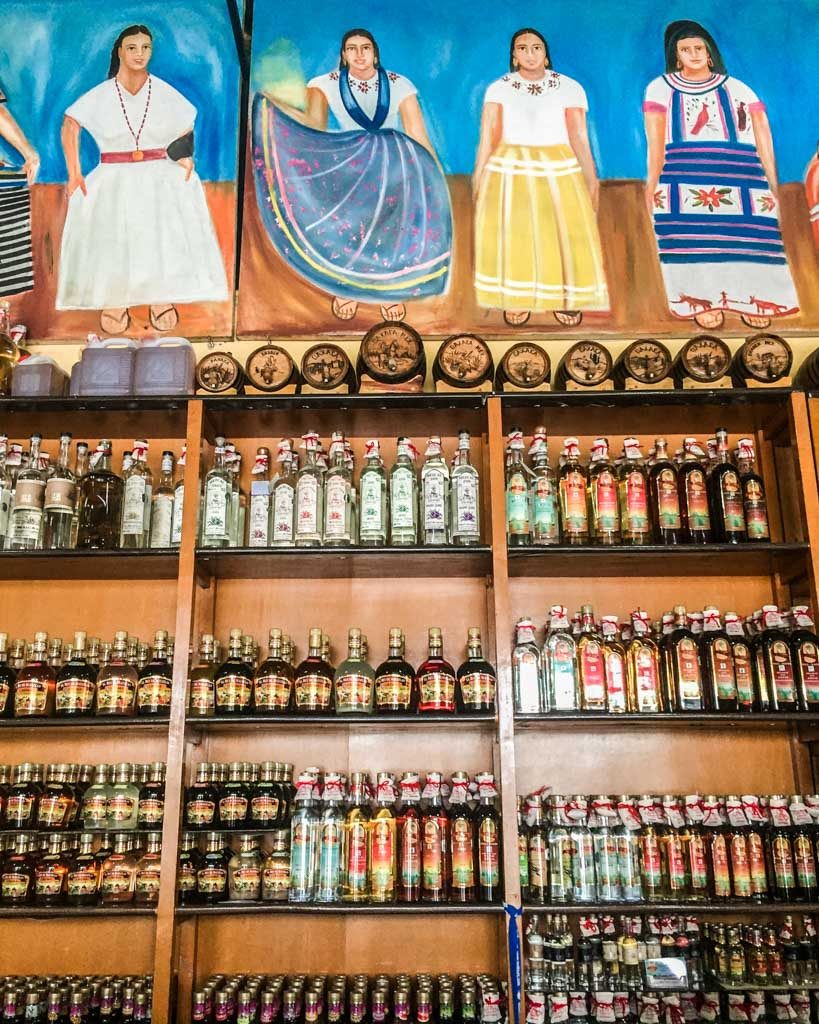 8 Oaxaca Mezcalerias to Taste Mezcal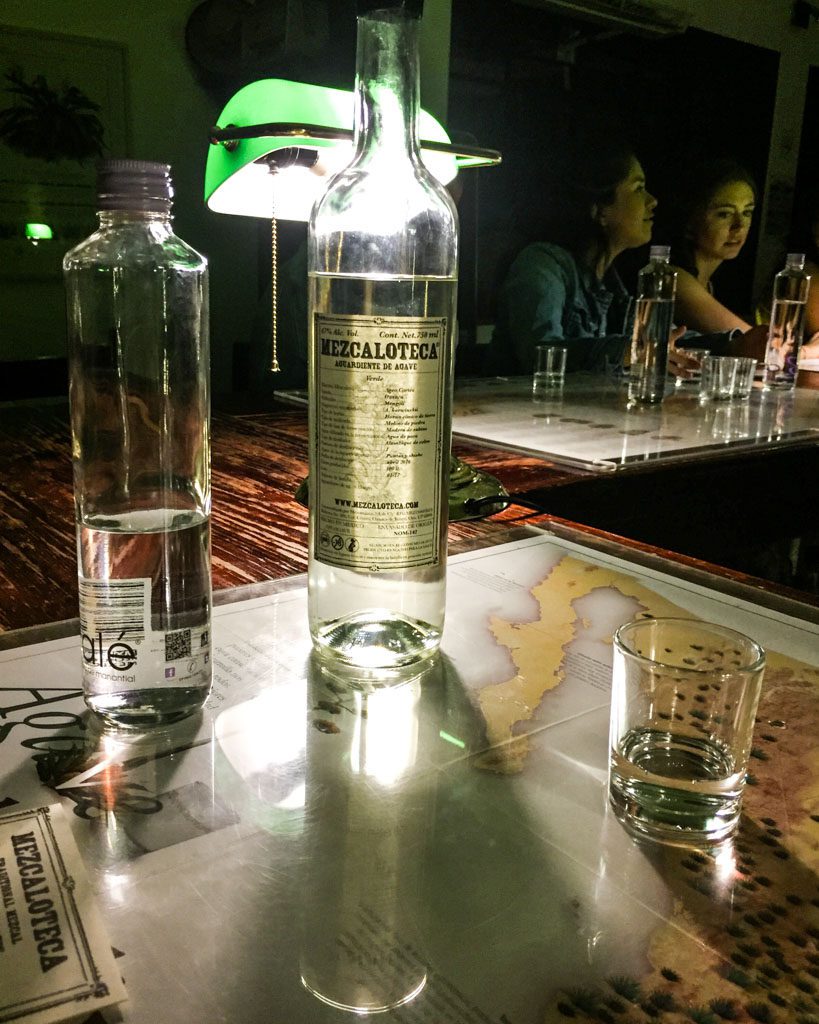 I actually avoided this reservations-only Oaxaca mezcaleria on my first couple trips, assuming that it was a bit of a tourist trap. I was wrong!

I went to a tasting when a friend was in town, and really enjoyed it. Even though I consider myself well seasoned in the ways of mezcal (I already knew how it was made, the difference between espadin and wild varieties, etc), I still learned a bunch of new things.

For example, I learned that aged mezcal (reposado and añejo varieties) are not actually considered mezcal, and you can tell if the alcohol content is correct in a bottle of mezcal if you shake it and see bubbles.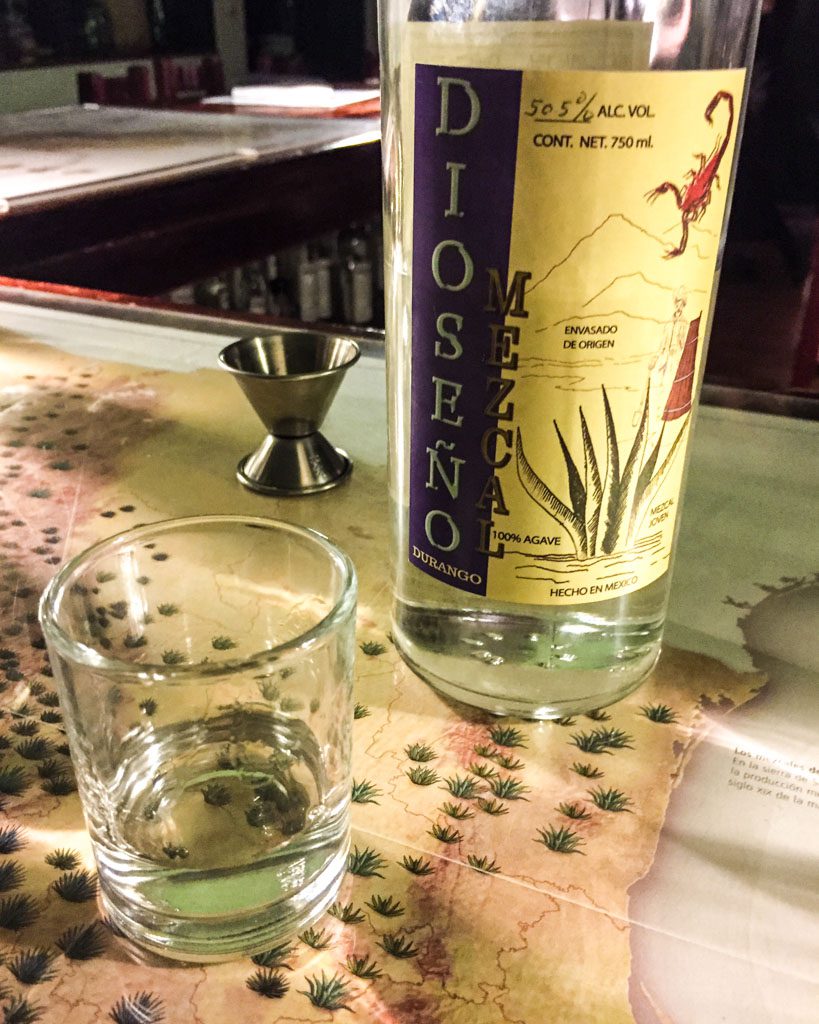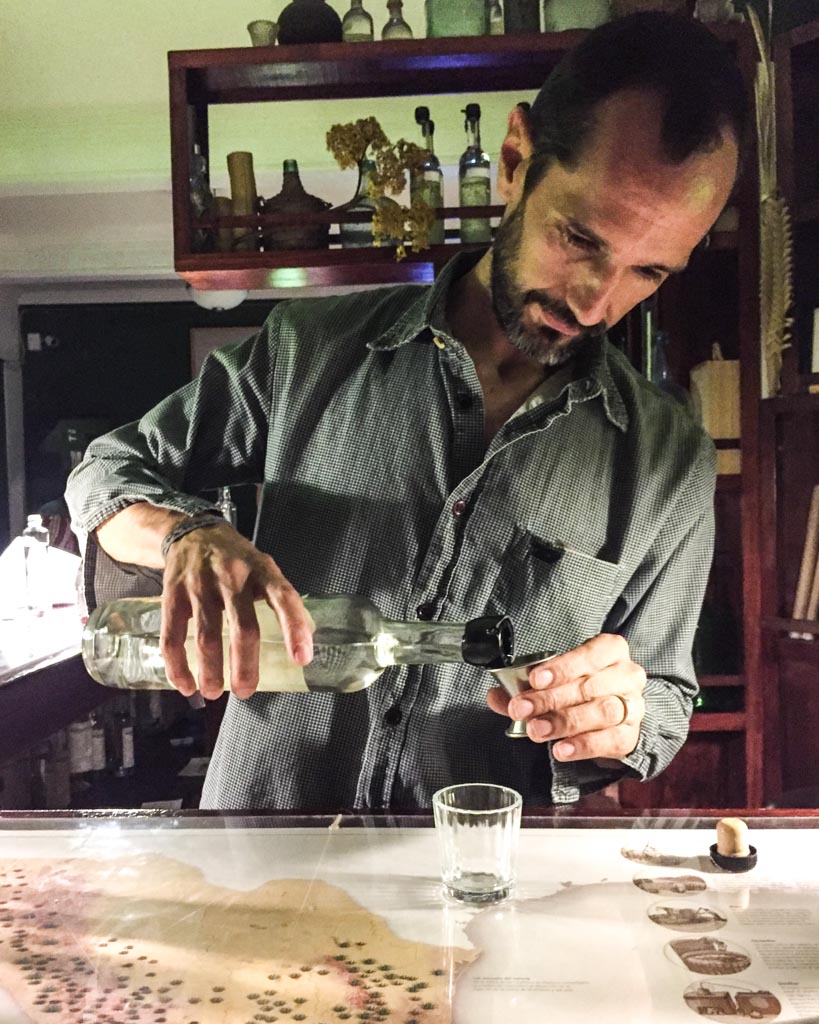 So whether you're a complete newbie or a bit of a mezcal connoisseur I recommend you start with a tasting at Mezcaloteca and round out your knowledge so you can appreciate all the other tastings.
Be sure to make reservations beforehand. And at the end, you can ask for a final taste of a mezcal of your choice. I recommend paying attention to the types of flavors that you enjoyed, and asking for more of that type of mezcal at the end. The tasting experts are super knowledgable and can find you something interesting and unique to enjoy.
Mezcaloteca
Reforma No. 506


In Situ is a tiny but great Oaxaca mezcaleria with lots varieties to sample. Head upstairs, and ask for recommendations. They source their mezcal from a variety of nearby farms.

Mezcaleria In SItu
José María Morelos 511

By this time, you may be craving a cocktail. Sabina Sabe is an adorable bar with delicious mezcal cocktails.
There are lots of nooks and crannies in this mezcaleria, decorated in a shabby chic style with pretty tiled floors.
All the mezcal cocktails we tried were delicious and balanced.
Sabina Sabe
5 de Mayo 209
This fun bar is large and located upstairs in the bright red building on the corner of Murguia and Reforma. Sit in the moody interior, or head out to the back patio.

My favorite thing about this Oaxaca mezcaleria is their unique menu. Next to their extensive mezcal list, they include symbols next to each that represent the types of flavors for each mezcal. So if you like a mezcal with a mineral flavor, go to the bottom symbol key, find the symbol that matches that (for example- a triangle), and then you'll see which mezcals in the list have that kind of flavor. It's a great way to know what you're getting without asking a ton of questions. And it's really interesting to see which mezcals have a combination of flavors!

It's also a great place to go on a weekend, with a lively crowd, and sometimes live music or a DJ.

Archivo Maguey
Murguía 218, Centro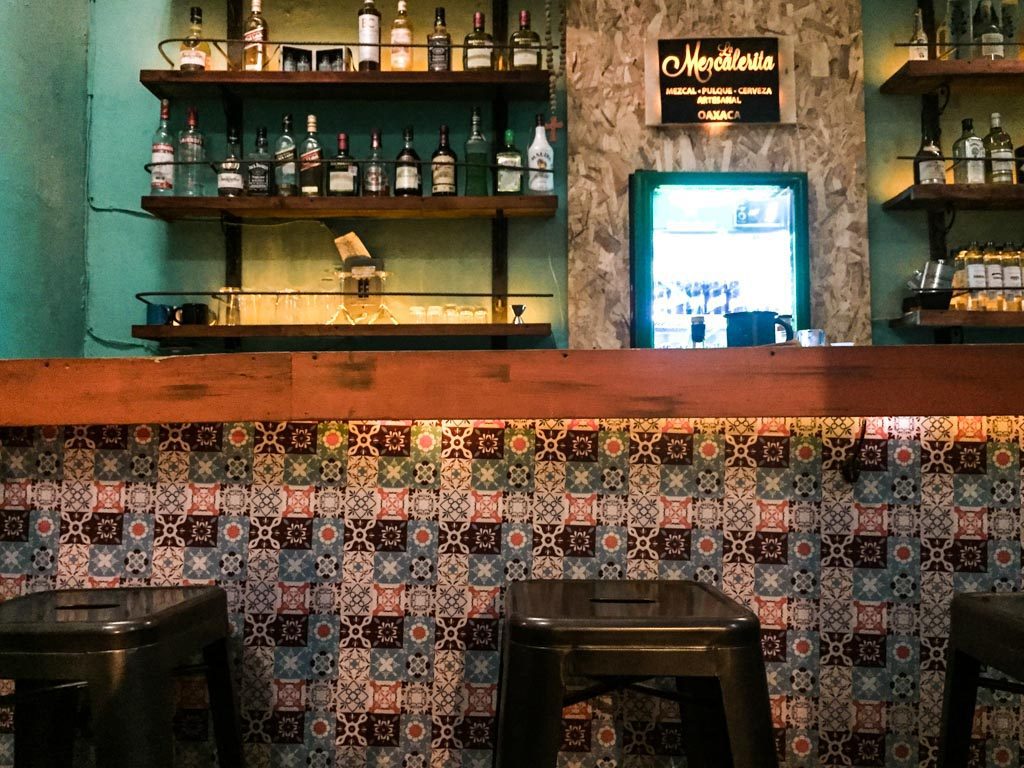 La Mezcalerita is one of my favorite Oaxaca mezcalerias because it's just got a great casual atmosphere. There are 3 cozy rooms downstairs, and a big patio on the roof for warm weather nights.

Along with the extensive mezcal list, La Mezcalerita has about a zillion artisanal beers from Mexico. This is quite a feat, as the craft beer movement is still somewhat in its early stages in this country. This is a great place to try an interesting Mexican craft beer along with a local mezcal.

La Mezcalerita
Macedonio Alcalá 706



Santisima Flor de Lupulo is another great bar to sample craft beer and mezcal. The numbers of varieties available are much fewer, as they take a more targeted approach.

They make their own beer in house, so there are usually 5-6 varieties available. These can range from traditional craft beer types to fun varieties like mango.

They also have several varieties of mezcal to choose from.

The staff here is always super friendly and helpful.

This is a small space so can get quite crowded on weekends.

Santisima Flor de Lupulo
Ignacio Allende 215
Cuish is an adorable little mezcaleria off the beaten path, south of the zocalo. It's about 5 blocks south of the zocalo and a couple blocks west. I wouldn't say this is a dangerous area, but I would still use caution as there are very few tourists on these streets. I'd recommend to take a taxi back if you're heading home on the later side.

Because this Oaxaca mezcaleria is off the tourist path, it's very local and authentic. I've only ever seen local Oaxacans here. It's also super cute - with nice tile, and pretty minimalist decor. You can sit downstairs or on the upstairs terrace.

The mezcal here is high quality and they have some interesting varieties.

Cuish
712 Mexico, Díaz Ordaz


Txalaparta is not exactly a mezcal bar (though they do have many varieties of mezcal) and more of a great bar/club. I think it's a super fun place to hang out on the weekend and get a feeling for Oaxacan nightlife.
This bar is huge, with a front room that sometimes has live music, a few side rooms, a back bar area, and a huge roof with an open terrace. Even though this is a huge space it can get packed on weekends after midnight.
Pick one weekend night where you'd like to go out, and head here around 11pm. If there is a band playing in the front room, they'll have a side entrance you can enter through to bypass the concert. Head up to the roof and grab a cold cerveza and maybe a mezcal. Enjoy the night air and don't be surprised if a stranger asks you to dance. Music ranges from traditional music, to salsa, to club music.
Txalaparta
Mariano Matamoros 208


---
Mezcal is such a strong part of Oaxacan culture, that I think it's essential to try. Even if you're not a big drinker or if you don't enjoy strong liquors, I think you should still get to know this cultural staple. Consider trying out the tasting at Mezcaloteca and then trying a cocktail at Sabina Sabe.

If you do like mezcal and/or are a foodie, take a tour of all the Oaxaca mezcalerias above and let me know which one you like best!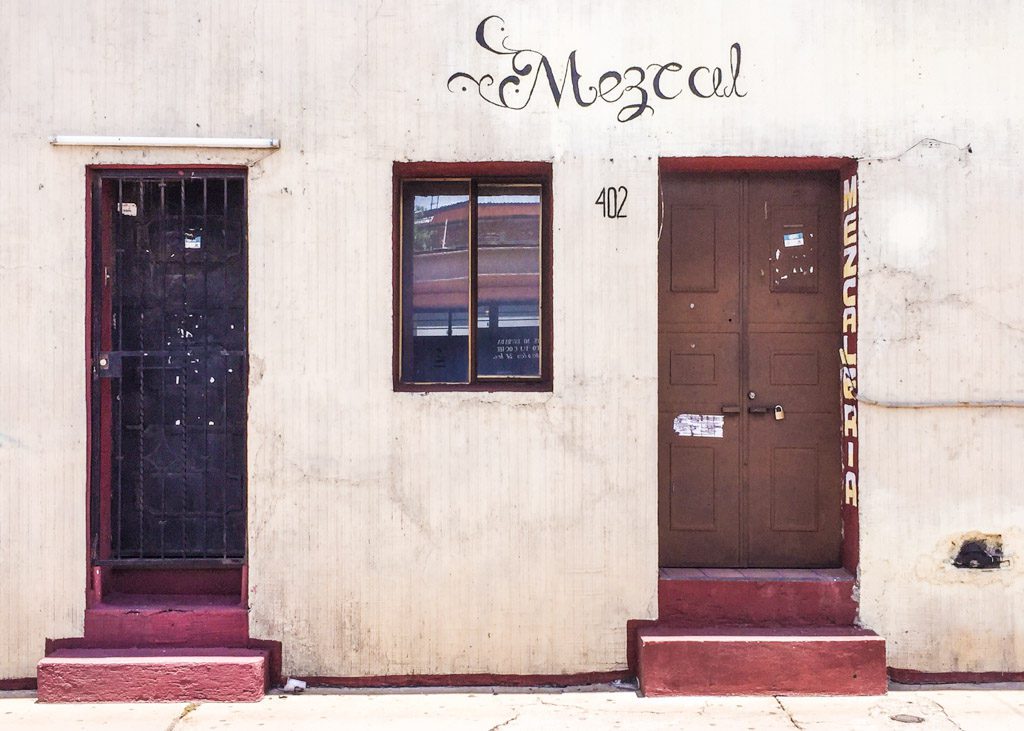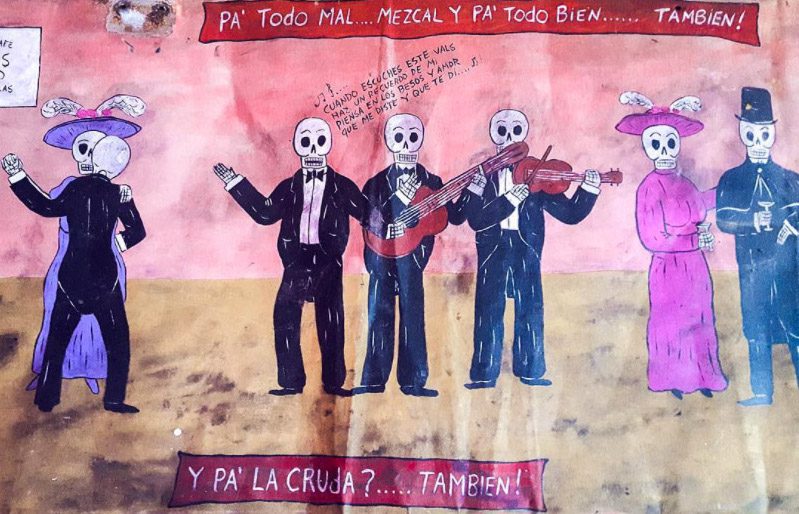 Love this poster: "For all that's bad...mezcal, and for all that's good, as well! And for the hungover...as well!"