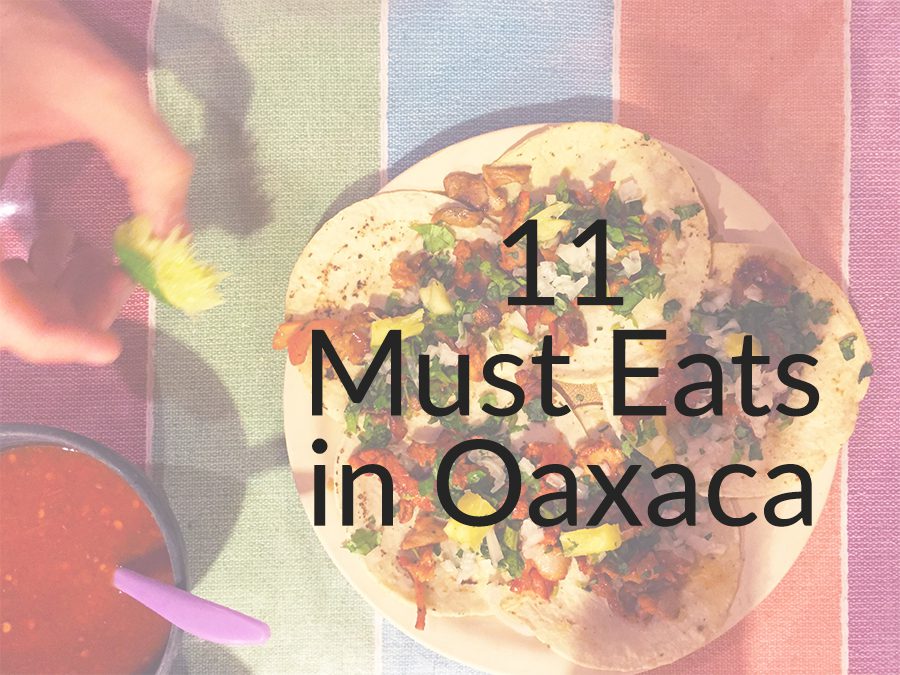 Ice cream flavored with rose petals, chile roasted grasshoppers, and soup made of squash flowers - what do these foods have in common? They are a few of the local dishes that make Oaxaca famous for their complex cuisine. How about some suckling pig, artisanal hot chocolate or small batch mezcal?
Did you know that Oaxaca has the most varied cuisine in Mexico?
Chalk this up to the many climates that make up this mountainous state (from tropical coastline to chilly sierra mountain air), as well as the 17 distinct indigenous groups that have contributed to the traditional food culture.
Complex moles, satisfying tlayudas, traditional tamales, hundreds of artisanal varieties of mezcal, and organic chocolate are just some of the most popular food and drinks to try.
Even as a hard-to-please foodie, you can eat your way up and down this city and and be amazed at the consistency and variety. From Oaxaca street food, to sit down traditional restaurants, to modern interpretations, it will all be flavorful, exciting and delicious. I've spent many months eating my way around this amazing, special city, so I want to share a few of my absolute favorite food experiences to date.
Below is a list of 11 of the most important traditional Oaxacan dishes and where to find them. If you are looking for something more exhaustive, check out my complete Oaxaca food guide post that includes everything from bakeries, to street food, to upscale experiences, to coffee shops, and more.
For tons more Oaxaca posts including: where to eat, what to do,
and lots of info about the Oaxaca coast: check out Oaxaca tag.
Search Oaxaca hotels below:
Here are 11 Must Eats in Oaxaca:


1. Tlayudas from Tlayudas Libres - Libres #212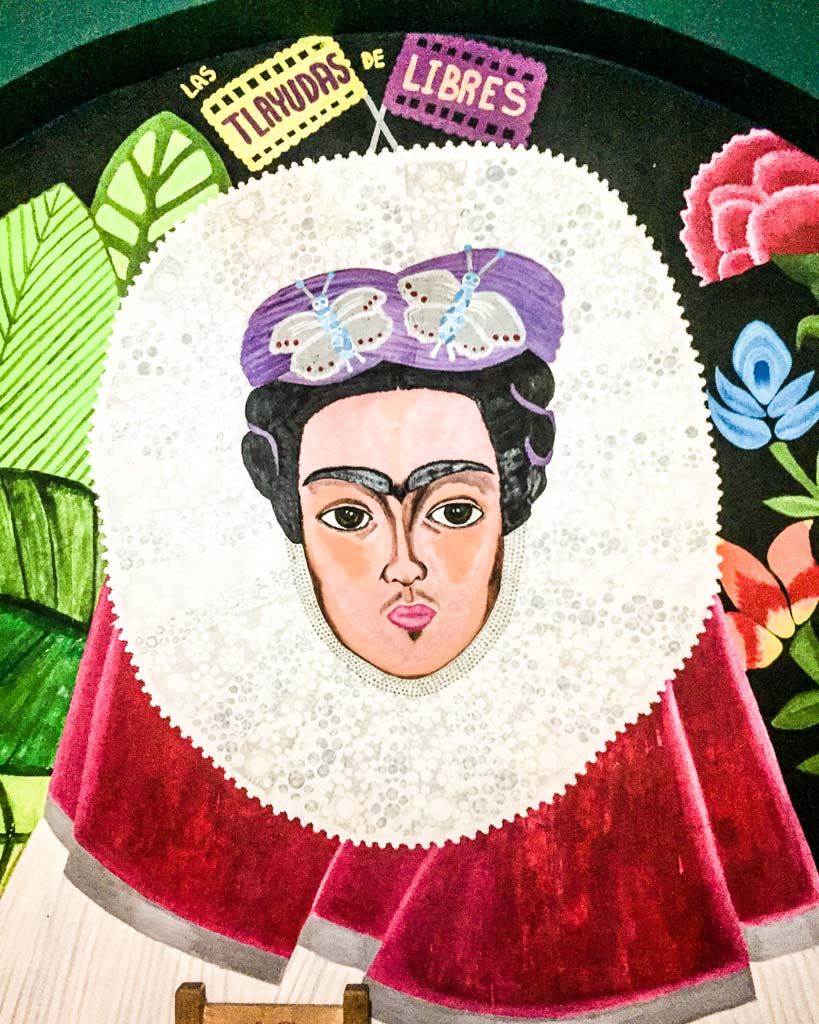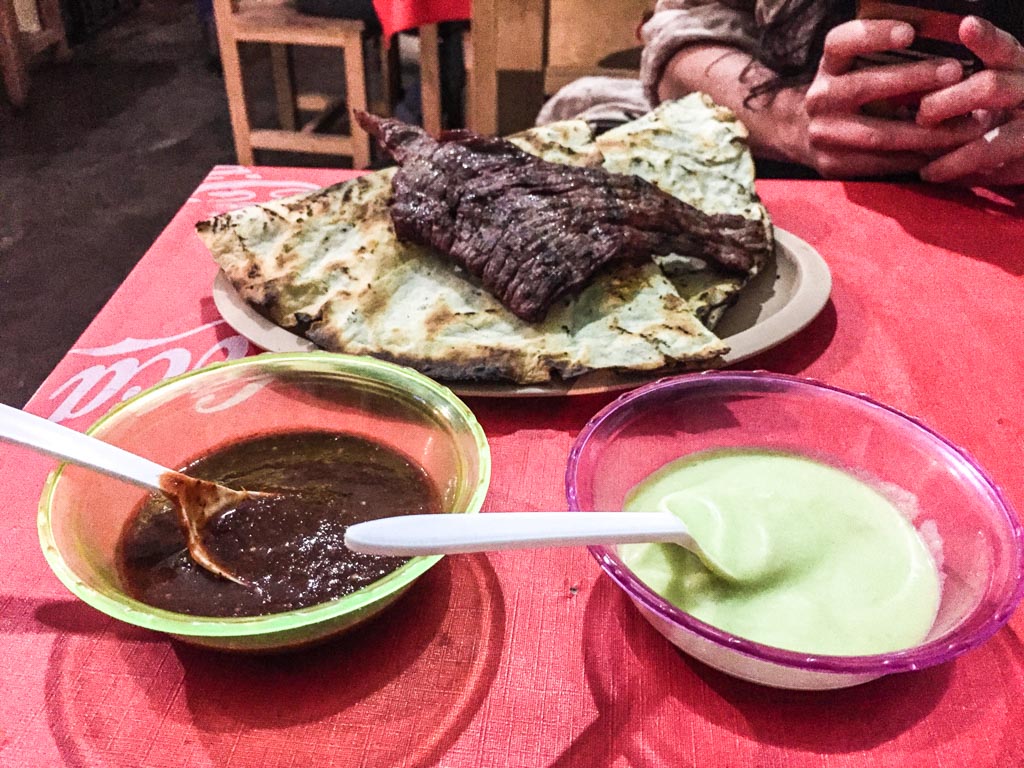 Tlayudas are the quintessential street food in the state of Oaxaca. Somewhere between a quesadilla and a Mexican version of a pizza, these huge tortillas are grilled on an open flame after being topped/filled with beans and lard, Oaxacan stringy cheese, cabbage, tomato, avocado, and your choice of meat.
They come either "open face" like a tostada, or folded like a quesadilla, and are smoky, filling, and delicious. You will find these everywhere you go in the city, but one of the best places to try them is the infamous Oaxaca street food spot - Tlayudas Libres. The food is grilled outside on a cart, and simple plastic tables are arranged in the building just inside. They are also open super late, so if you need an after-mezcal snack, this is a great choice.

If you're looking for the other two best places to eat tlayudas in Oaxaca, check out my blog post all about the most popular Oaxacan snack.

2. Chapulines from Mercado Benito Juarez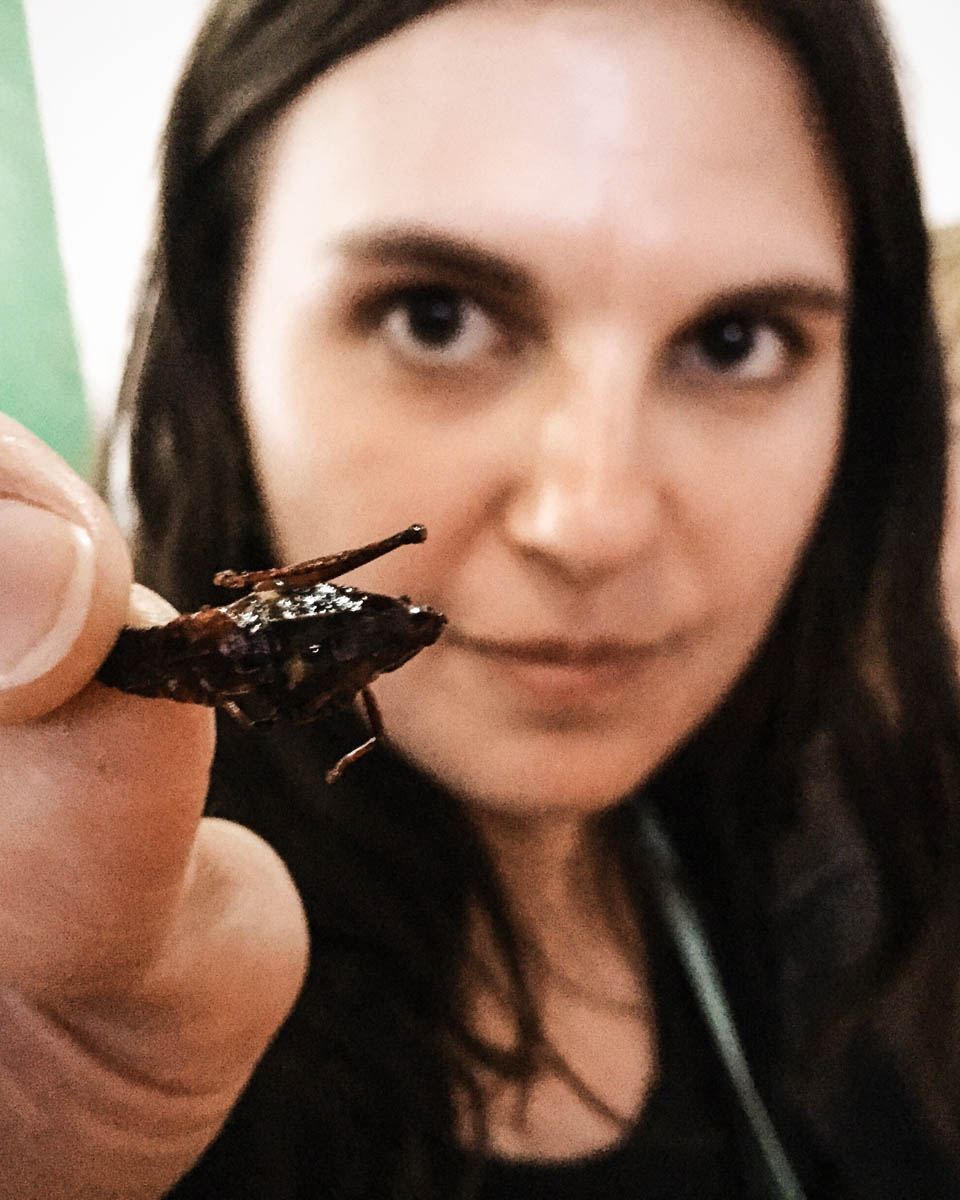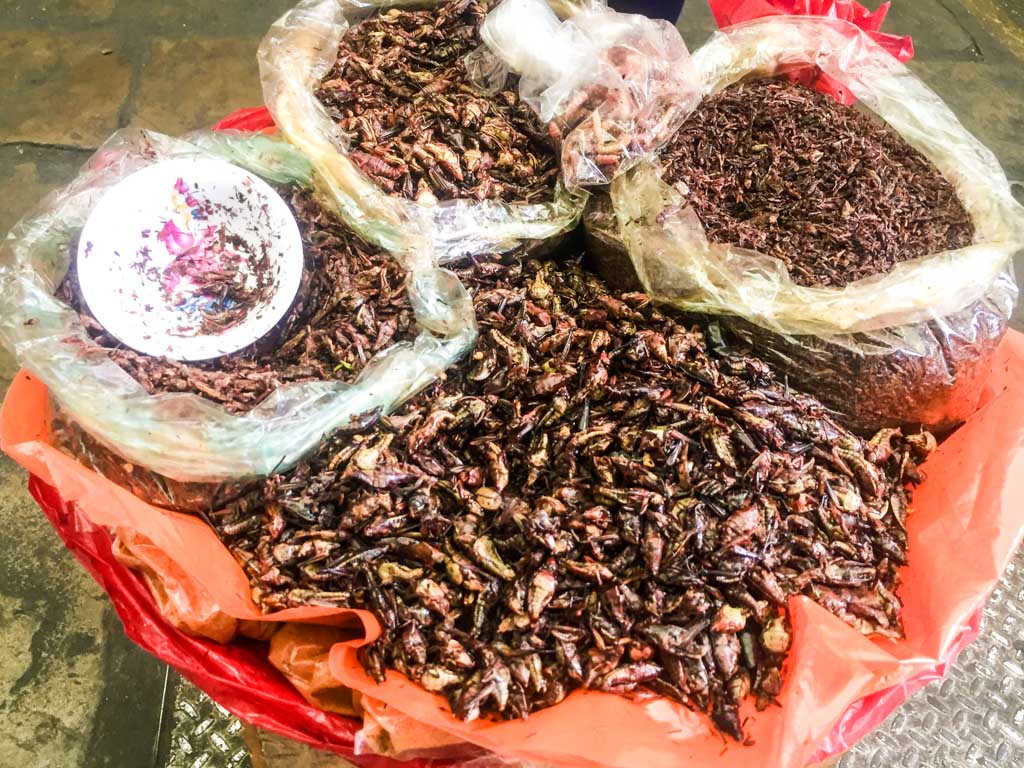 Chapulines are uniquely Oaxacan and slightly unsettling to some. They are whole, toasted grasshoppers, topped with salt and chili seasoning. You can find them in heaps in the markets, or on most menus in local restaurants.
I myself grew up quite afraid of all things creepy and crawly, but decided I was going to brace myself and try them during my first trip to Oaxaca years ago. I wasn't sorry. They are salty, and earthy and satisfying. If I tried to compare them to something, I could relate their flavor to elements of mushrooms (earthiness), nuts (saltiness/crunch), and nacho chips (for spice). They are perfect paired with the bold and smokey flavor of mezcal.
The sidewalks of the eastern edge of Mercado Benito Juarez along Calle Miguel Cabrera are lined with stands selling the crunchy snack. They'll have a few varieties, flavored with spices in different ways. You can ask to try one ("Puedo probarlo?") before you buy. Then order a small bag, and take them back to your hotel with some mezcal for a perfect nightcap combo.
You can also order them in a mezcaleria along with your choice of mezcal. Just try to order them somewhere you feel confident about their freshness. Stale chapulines are rather unpleasant.
Check out my post about what to eat in Oaxaca markets for other delicious things to try at Mercado Benito Juarez and 20 de Noviembre.
3. Mole Negro at Biche Pobre - Calzada Republica #600.
There are over 200 known preparations of mole (though 7 are most common) and most of them require 20-30+ ingredients! The time consuming, slow roasted sauces can take days to create.
Mole Negro is the most common, and in my opinion, the most delicious. It has a great balance of sweet and savory and contains: roasted chilis, bitter chocolate, onion, garlic, cinnamon, cloves, cumin, cilantro, among other things. It is most often served atop chicken with rice and steaming tortillas on the side. My favorite version of this is at Biche Pobre, an unassuming but delicious typical restaurant that I've visited many times.
4. Tamales from Mercado Benito Juarez
Yes the market again! But that is where some of the best food is to be found in Oaxaca.
Tamales are everywhere in this city, but the most authentic way to eat them is purchased from a woman in the market who made them in her kitchen that morning. To find the tamale vendors: enter the Mercado Benito Juarez from the eastern entrance on Calle Miguel Cabrera and make your second left. You'll then see a couple of women selling tamales from baskets. I've had the tamales from the first two women in this row and they are both great.
You'll find a few kinds: mole with pollo (the famous dark salsa of Oaxaca with chicken), chipil (a local herb), frijol (beans), rajas (peppers), and dulce (a sweet tamale).
Tamales are important all over the state of Mexico, but the varieties and methods vary from region to region, so be sure to try some Oaxacan tamales during your stay. My favorites are the mole and chipil.
If you are heading to the market and want to see what other delicious things you should try, check out my post about what to eat in Oaxaca markets.
5. Nieves Leche Quemada from Monte Alban - Ice cream vendor outside the entrance to Monte Alban
Nieves, or Oaxacan ice cream, can be found all over the city, there just happens to be a great ice cream vendor outside the Zapotec ruins of Monte Alban, just west of the city. If you visit the ruins, be sure to stop at the ice cream stand just outside the entrance. The flavors available in Oaxaca are unique and interesting. Leche Quemada, or "burnt milk" was delicious. Deep, rich, sweet, and tasting of scalded milk, I really enjoyed this sweet treat. If you don't make it to Monte Alban, there is a beautiful church, Basilica de Soledad, just northwest of the Zocalo, that has many ice cream vendors in its adjoining plaza.

6. Carne Asada from the Carne Asada Hall in 20 de Noviembre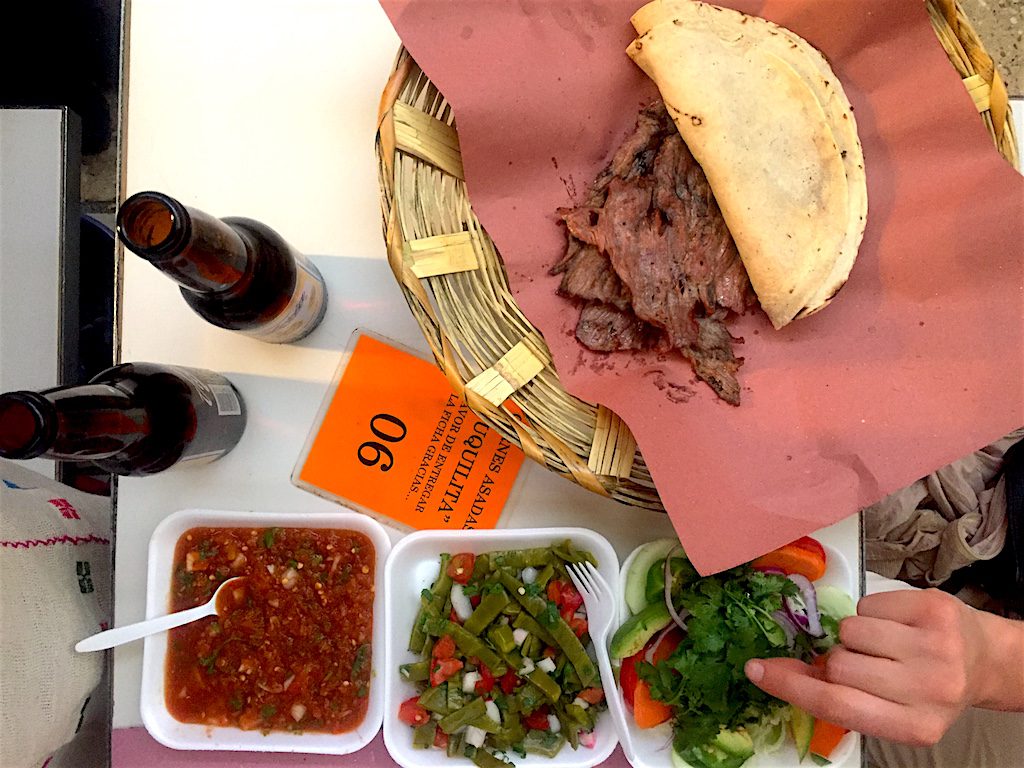 This time, my market suggestion is the southern of the two famous markets in the centro - 20 de Noviembre.
If you're a vegetarian, I'm sorry, this entry is not for you. But if you like grilled meats, you are about to have one of the most fun and delicious experiences.
The Carne Asada Hall in 20 de Noviembre market is a hall on the eastern side of the market that is filled with meat vendors selling raw cuts of meat on one end, and booths to sit and eat on the other. You order your choice of meat, they grill it on the spot, then you order your choice of veggies you'd also like grilled, your sides of fresh veggies and salsas, and tortillas. Then you sit and eat and eat while the smell of smoked carne wafts through the air.
There is a specific system to ordering that is a bit tricky to figure out on your first visit. I detail out the whole thing step by step in my what to eat in Oaxaca markets blog post (head down to #7 on the list).


7. Enmoladas at Cabuche - Miguel Hidalgo #1017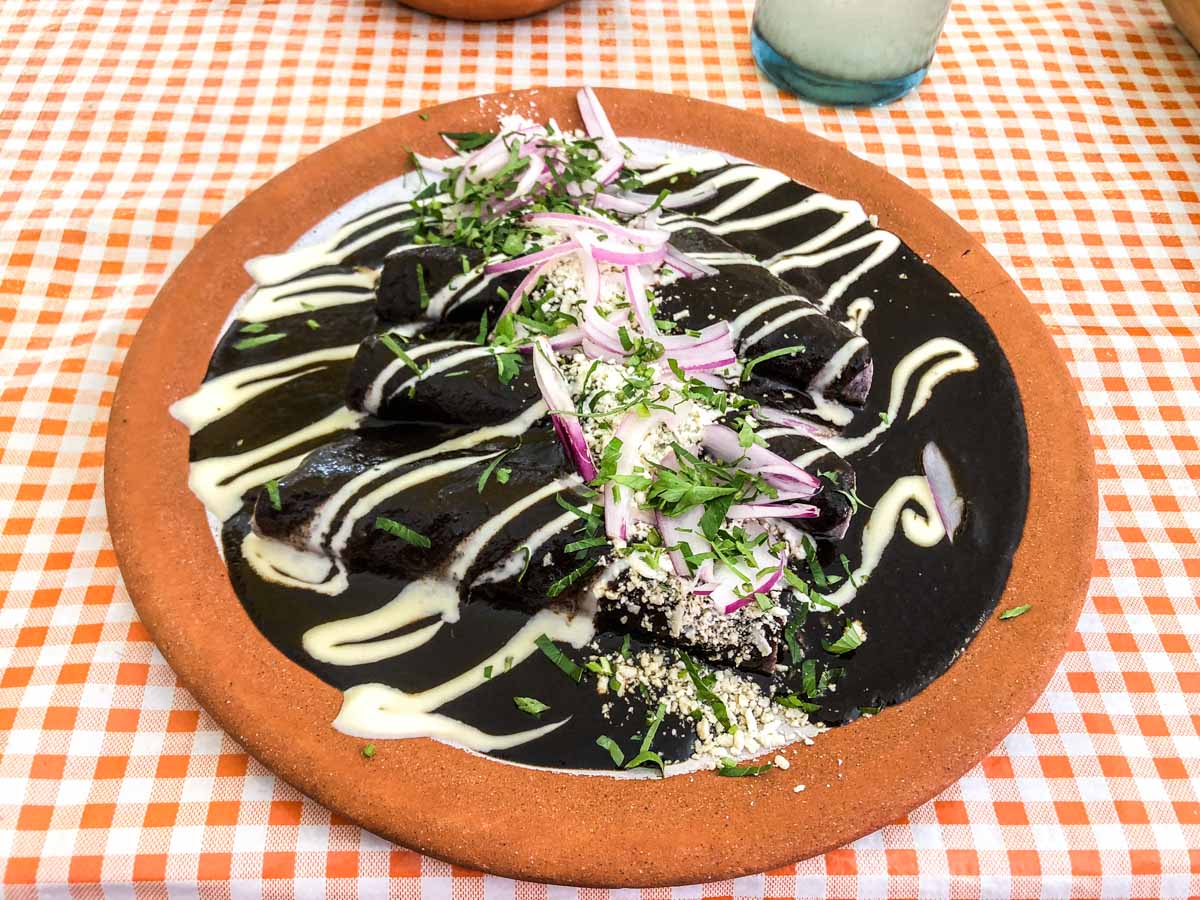 Cabuche is my go-to/favorite restaurant in Oaxaca. It's cute, cozy, has a great staff and every dish I've had is delicious. It's also centrally located and open for breakfast, lunch and dinner.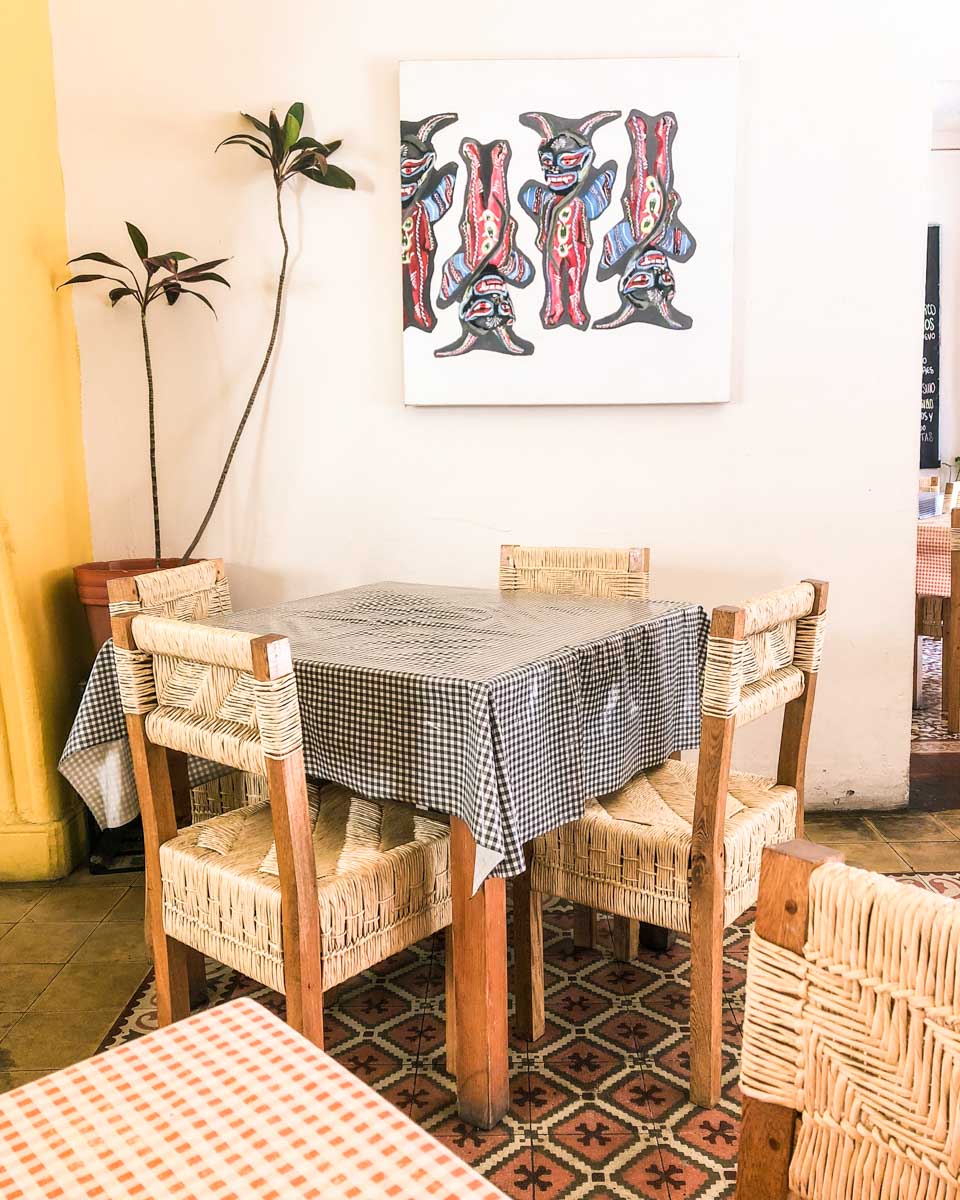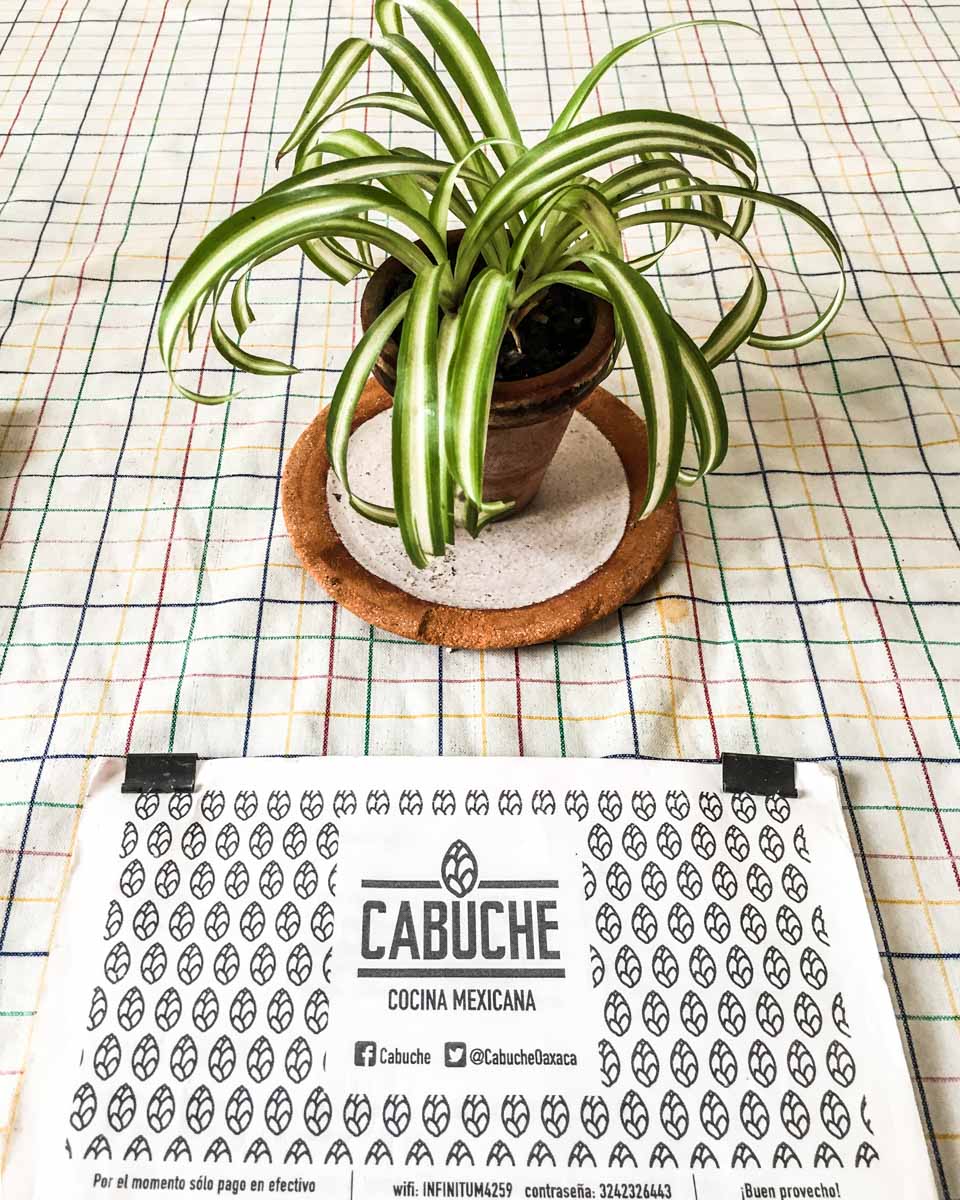 I think they have one of the tastiest pozoles in the city. But my favorite thing here is the giant plate of enmoladas - or rolled tortillas stuffed with chicken and drowned in a rich mole sauce (think similar to enchiladas, but with mole). It's totally delicious and perfectly prepared.
There are a couple cute front rooms and a little back patio and the meals are all served on cute servingware. They also serve house-made craft beer and pulque.

8. Tacos from Lechoncito de Oro -

Calle de los Libres y Murguia
Oaxaca is not famous for its tacos, at least not in the way that Mexico City is. But you can find amazing, delicious tacos here if you know where to look.
My favorite tacos in the centro are at the Oaxaca street food stand, Lechoncito de Oro. This stand, open in the evenings, serve only two types of tacos - both of lechon (suckling pig): lechon con pierna (leg), and lechon con chicharron (pork skin). I can't emphasize how delicious these are. It's a popular spot with locals, and for good reason. They're also open late, so a great after-bar stop.
9. Pozole from Tacos Roy -
Abasolo and Pino Suarez or Valerio Trujano just west of 20 de Noviembre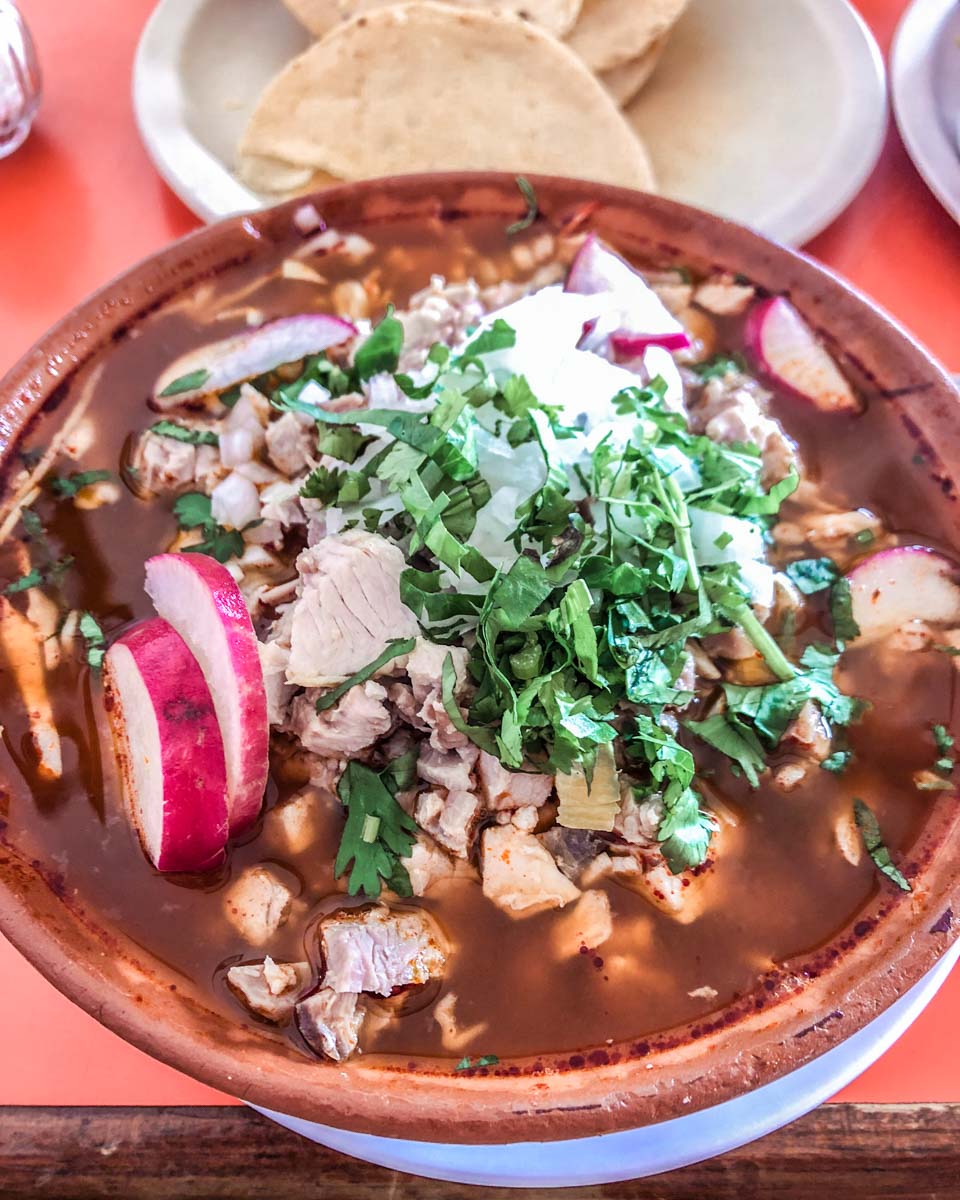 I love a traditional taqueria, and Tacos Roy is a perfect example. It's homey and comfortable, and often busy with locals. This Oaxacan chain has a few locations around the city, but my favorites are at the two addresses above.
They have a variety of great tacos, but my favorite thing to order here is the pozole. What's that? Pozole is a traditional soup made from hominy, your choice of meat, and topped with lime, cabbage, chile, radishes, avocado, crema, and scooped up with tostadas. It's the ultimate Mexican comfort food.
I love the pozole version at Tacos Roy, it's hearty and filling and hits the spot.
10. Tasting Menu from El Destilado or Criollo

-




El Destilado -

5 de Mayo #409, Criollo -

Francisco I. Madero #129
I couldn't choose just one upscale experience in this instance, but both El Destilado and Criollo are amazing in different ways.
Visit El Destilado if you want to hang out in a hip restaurant right in the middle of the Centro that has a great vibe, delicious food, and a fun staff. I've been many times - trying both the tasting menu and a la carte options. The food is consistent, delicious, and interesting.
Make a reservation at Criollo if you want a unique upscale foodie experience. One of the chefs from Criollo hails from Pujol (a Michelin star restaurant in Mexico City) and the food is inventive and exciting. This Oaxaca restaurant is at the edge of the centro, so takes a little more work to get to, but is absolutely worth it.
11. Tascalate, De Eses, and Tetelas from Itanoni
-
Belisario Dominguez #513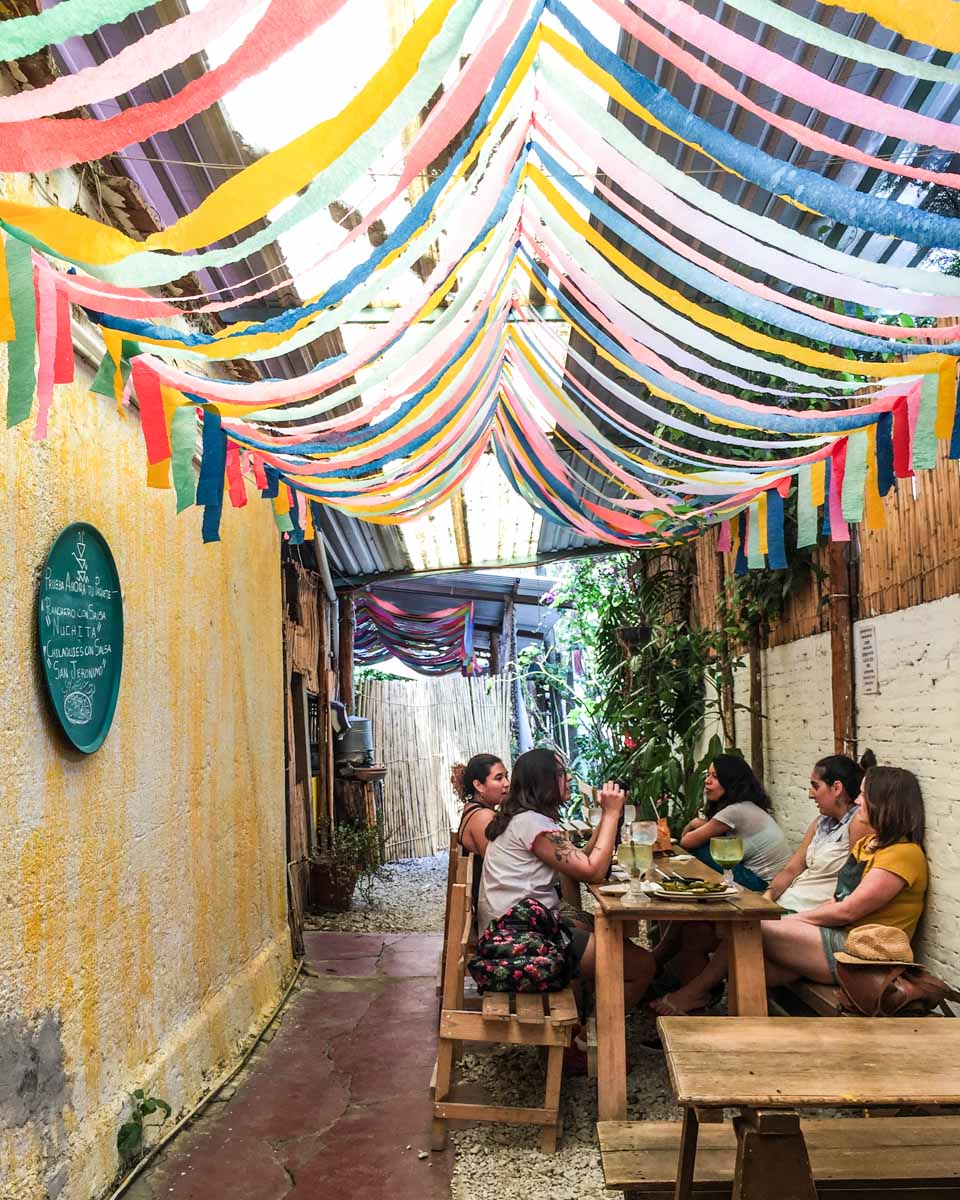 Itanoni's dishes are all based around heirloom corn in every incarnation possible. Every time we've gone, we've ordered way too many antojitos (snacks) to share and end up leaving stuffed. But it's worth it.
My favorite things to order are:
Tascalate - this is a beverage, but one of my absolute favorites in the world. It's a traditional non-alcoholic drink made from toasted maize, chocolate, achiote, ground pine nuts, vanilla, and sugar. It's super addicting. Order a jarra (pitcher) if you are going with a group of friends.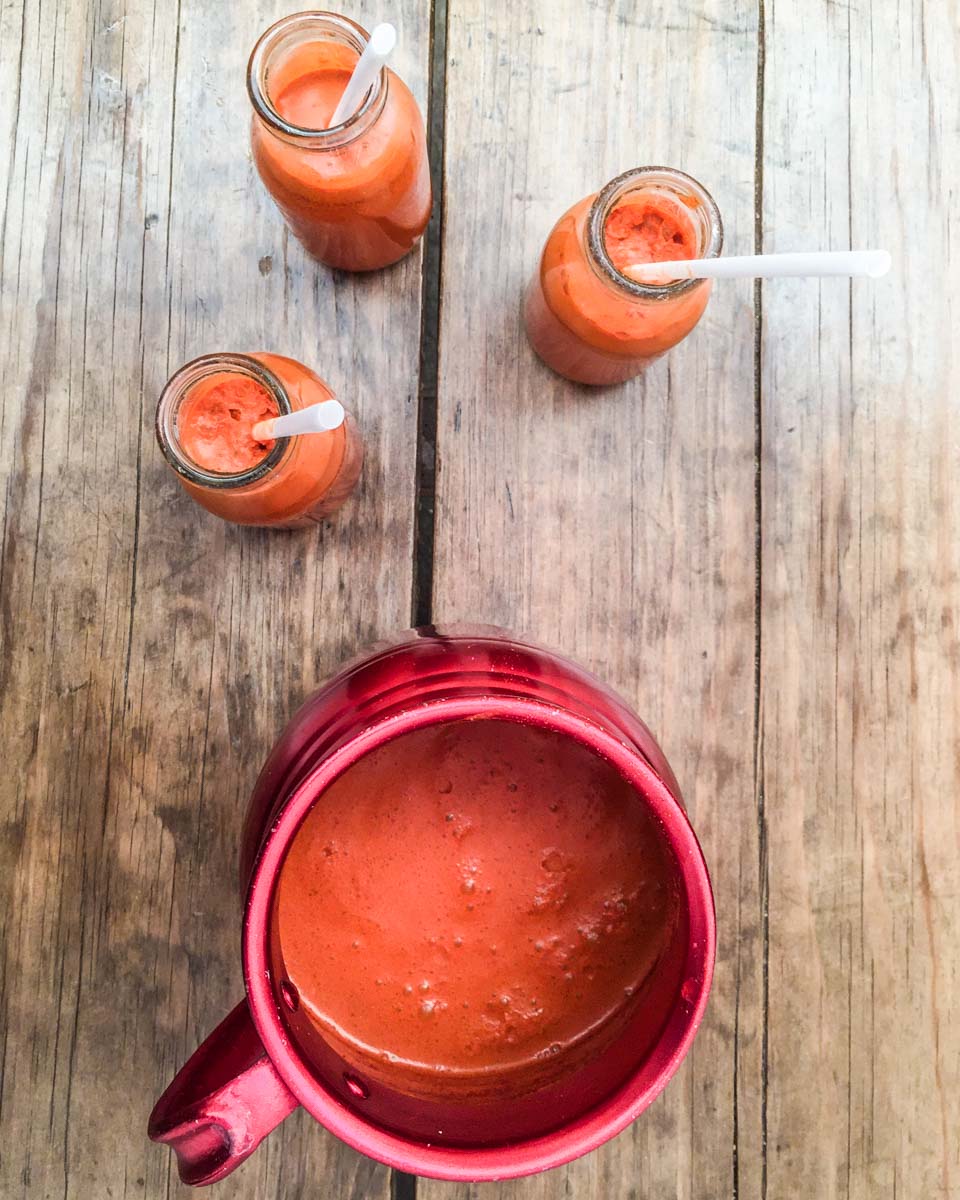 Tetelas - triangular shaped tortillas filled with your choice of stuffing. My favorite filling is cheese and mushrooms. Tasty and comforting.
De eses - these little tacos are super unique, I haven't found them anywhere else. They are a corn tortilla, rolled with a hoja santa leaf (a pungent herb that has notes of anise and pepper), and then stuffed with whatever filling you choose.
Try to save room for pan de elote - corn cake. It's surprisingly moist, subtly sweet, and a delicious way to finish your corn-filled meal.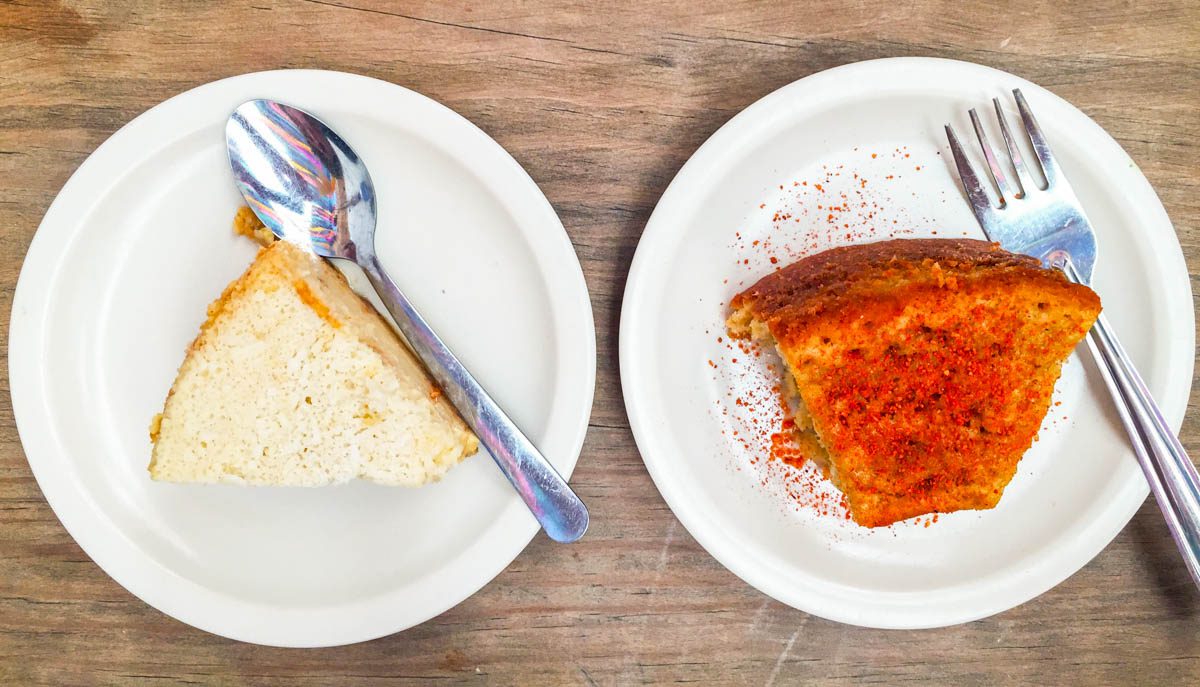 BONUS: 5 Things You Must Drink in Oaxaca:

1. Hot Chocolate from Mayordomo -

Francisco Javier Mina #219

The chocolate grown and produced in Oaxaca is famous, but not for making bars of snacking chocolate. The traditional and best way to consume chocolate in Oaxaca is by drinking it.
There are lots of places to try this drink, but the most famous is Mayordomo, and for good reason. This local chain (with so many locations), makes a delicious chocolate. Duck into any of these little chocolate shops and order a chocolate caliente. I'm not even a hot chocolate person, but can attest that these are totally delish. They are made the traditional way with molinillos to agitate the mixture, and from fresh local beans.
2. Mezcal Tasting at Mezcaloteca - Reforma #506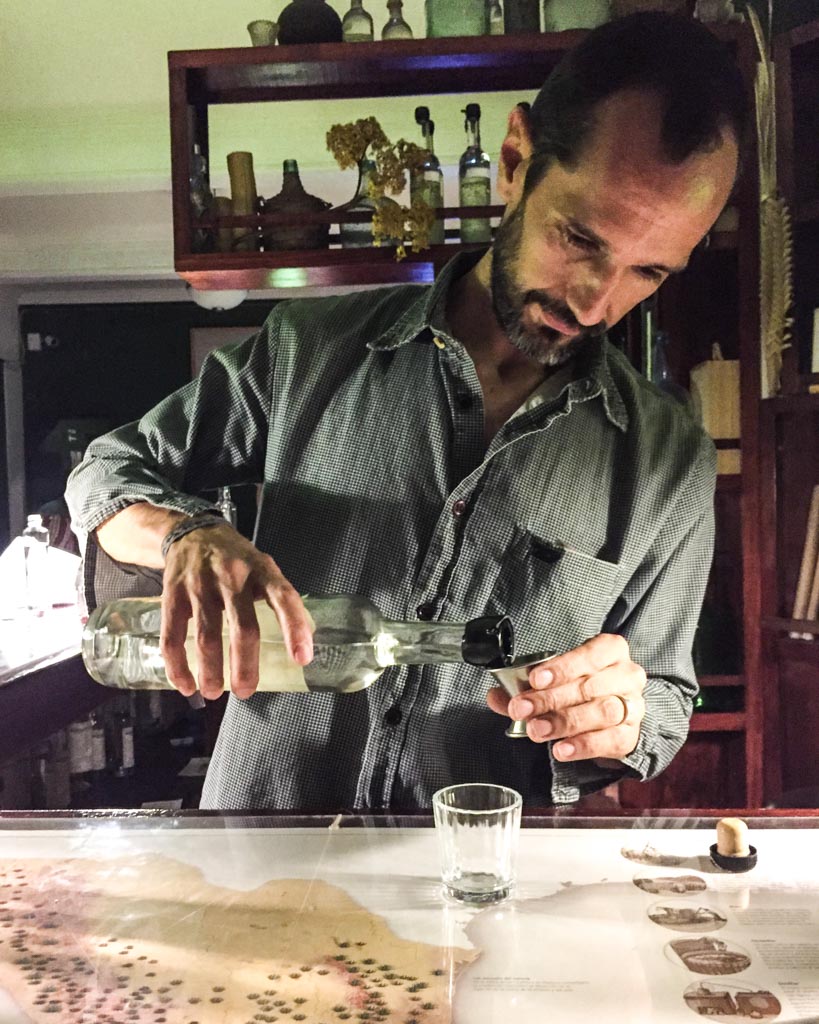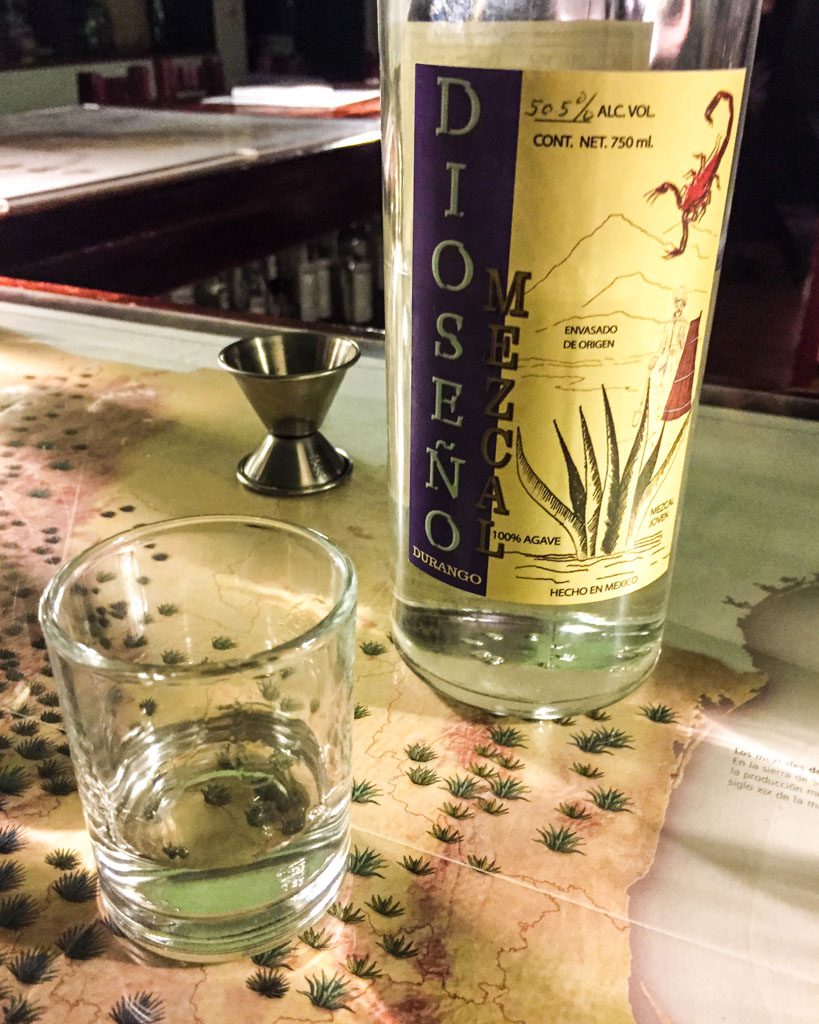 Mezcal is one of my favorite food items in the world. It's a liquor distilled from agave plants, but worlds away from it's more famous cousin tequila. Mezcal has been consumed since pre-Hispanic times, and is still made almost totally in small batches from traditional farms.
If you are new to mezcal, or even if you know a thing or two, I recommend doing a guided tasting at Mezcaloteca. I was a bit skeptical at first, so it took me a year or so to finally visit, but it was a great experience. I had already done a lot of study (haha) on my own, and thought I knew quite a bit. But I still learned a few new things that really have enhanced my enjoyment of this special drink.
I have many other favorite mezcalerias in Oaxaca that I absolutely recommend once you get your crash course. Check out my blog post for full details on the best mezcalerias in Oaxaca to try the best mezcal. And if you're really interested in this unique spirit, consider taking a Oaxaca mezcal tour to find some of the best distilleries in the region.
3. Mezcal Cocktails from Sabina Sabe -
5 de Mayo #209
Mezcal cocktails are still sort of a new concept. The correct way to drink mezcal is straight - and I prefer that, tasting all the special notes of each batch. But every once in awhile I like it in a refreshing cocktail.
My favorite cocktail bar in Oaxaca is Sabina Sabe. It's an adorable little spot with exposed brick, beautiful tiled floors, and a chic vibe. They have a great selection of cocktails. Just be sure to go on the earlier side on weekends as this is a popular spot.
4. Local Mexican Microbrews (and Mezcals!) from Mezcalerita - Macedonio Alcala #706-C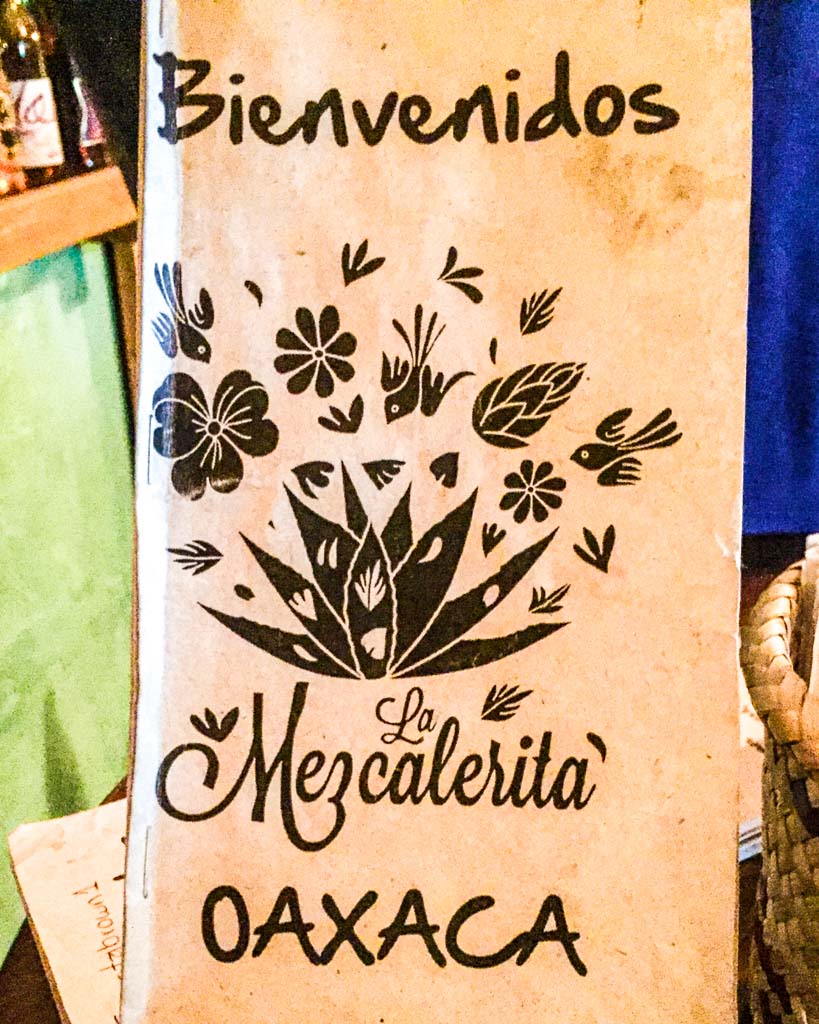 Mezcal deserves to be on a Oaxacan food list 3 times, and Mezcalerita is an awesome bar with several intimate rooms downstairs and a large roof terrace. The really special thing at La Mezcalerita is the huge variety of Mexican microbrew beers from all over the country (and also an extensive list of mezcals). It's a great place to hang out, nice decor, plus a comfy outdoor patio. Easy to waste away a few hours here.
5. Moka or Coffee from Cafe La Antigua - Reforma #401
Cafeto y Baristas is actually my favorite coffee shop (get their cold brew), but Cafe La Antigua is special because they do a fantastic moka (spelled with a "k"!) that combines local Oaxaca coffee with local Oaxacan chocolate. I'm not usually a mocha fan, but theirs was frothy, slightly sweet, and strong.