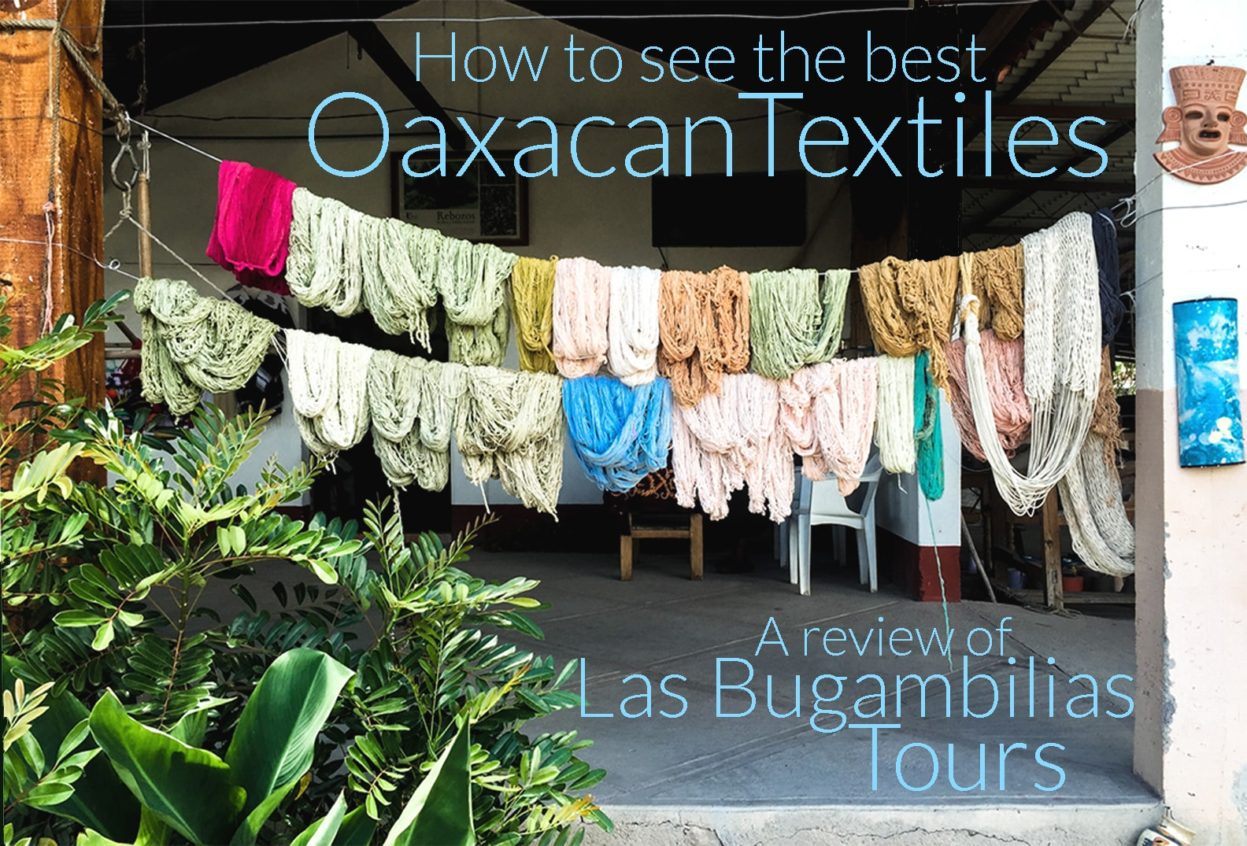 When you have a limited time in a city, how do you decide what activities, sights, and experiences to have and which to leave out?
And if that city is Oaxaca, the number of choices are massive: multiple ancient ruins, colonial churches and architecture, nature sites and hikes, amazing food experiences, mezcal farms and distilleries, and many pueblos with interesting artisan crafts like textiles, pottery, alebrijes (small colorful sculptures), etc..
I go back and forth on whether I want to take an organized tour while traveling. It can be nice to sight-see on your own, without a big group of tourists, and take your time to see sights. However, tours are often very time efficient, getting you to see many things all in one day. And if you pick the right tour operator, the guide can be super knowledgeable and take you to see things you wouldn't otherwise know how to find.
If you are looking for an immersive and hands-on Oaxaca food experience - join our April retreat + food experience - Milpa + Mesa, April 9-13 in Oaxaca city.
We'll be learning from local food experts, participating in traditional methods of planting/preparing/cooking, touring my favorite mezcal palenque, observing local holiday parades, taking a cooking class with a renowned Oaxacan chef, eating some of the best food in the city and much more. More details here! Early bird pricing until February 1st only! $200 off.
I had the good fortune of taking an awesome and informative day trip with Las Bugambilias tours during my second stay in Oaxaca. We had already seen many of the obvious tourist sights, but were intrigued to take a textile intensive tour, visiting the best weavers in the Valles Centrales of Oaxaca. It has been said that the great amount of biodiversity in the area has created the biggest variety of fibers and dyes in the whole country.
My background as a fashion designer gives me a deep love and appreciation for well made textiles, so I was excited to learn about the traditional techniques that the famous Zapotec weavers in the region use to create the vibrant Oaxacan textiles the region is so well known for. During our Oaxaca tour, we also made two unplanned stops along the way that were super interesting and exciting, helping us to learn about the region in a deeper way.
For tons more Oaxaca posts including: where to eat, what to do,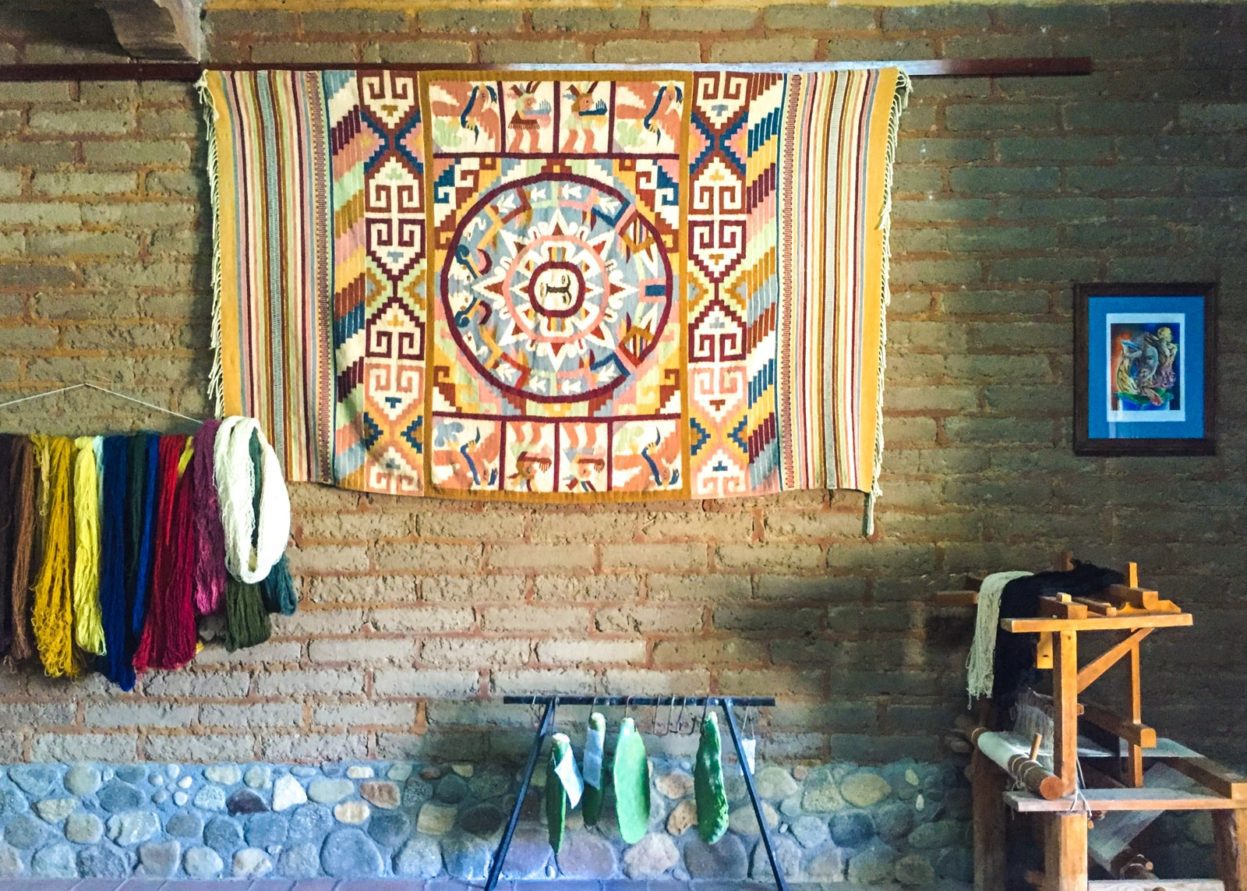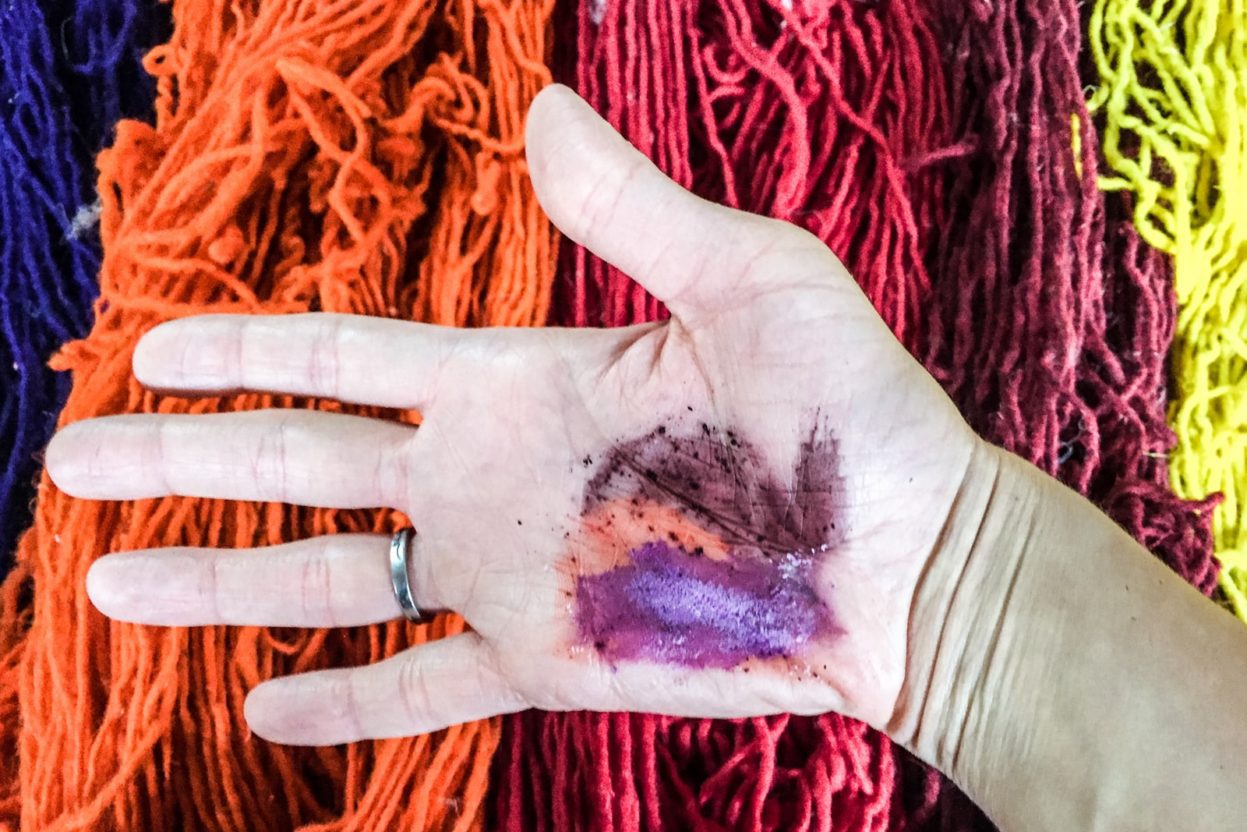 Below you'll find all the highlights of the day + my overall review of Las Bugambilias tours. And if you are interested in the delicious traditional spirit of mezcal, check out my post about the amazing Oaxaca mezcal tour I took with Las Bugambilias tours.
By the way, if you're looking for a great, well designed boutique hotel in Oaxaca, I can't recommend Casa de las Bugambilias enough! Their gourmet free breakfast is incredible, the location is perfect, and they take great care of their guests.
Search Oaxaca hotels below:
The Weaver Presentations
During our full-day tour we met with three exceptional weavers making beautiful Oaxacan textiles in various pueblos outside the city.
Teotitlán del Valle - Master Weaver Jacobo Mendoza Ruiz
Our first stop was at the studio of master weaver Jacobo Mendoza Ruiz. Jacobo is one of the most famous and accomplished weavers in all of Oaxaca. He won a national award this year in Morelia for his outstanding and complex woven rug.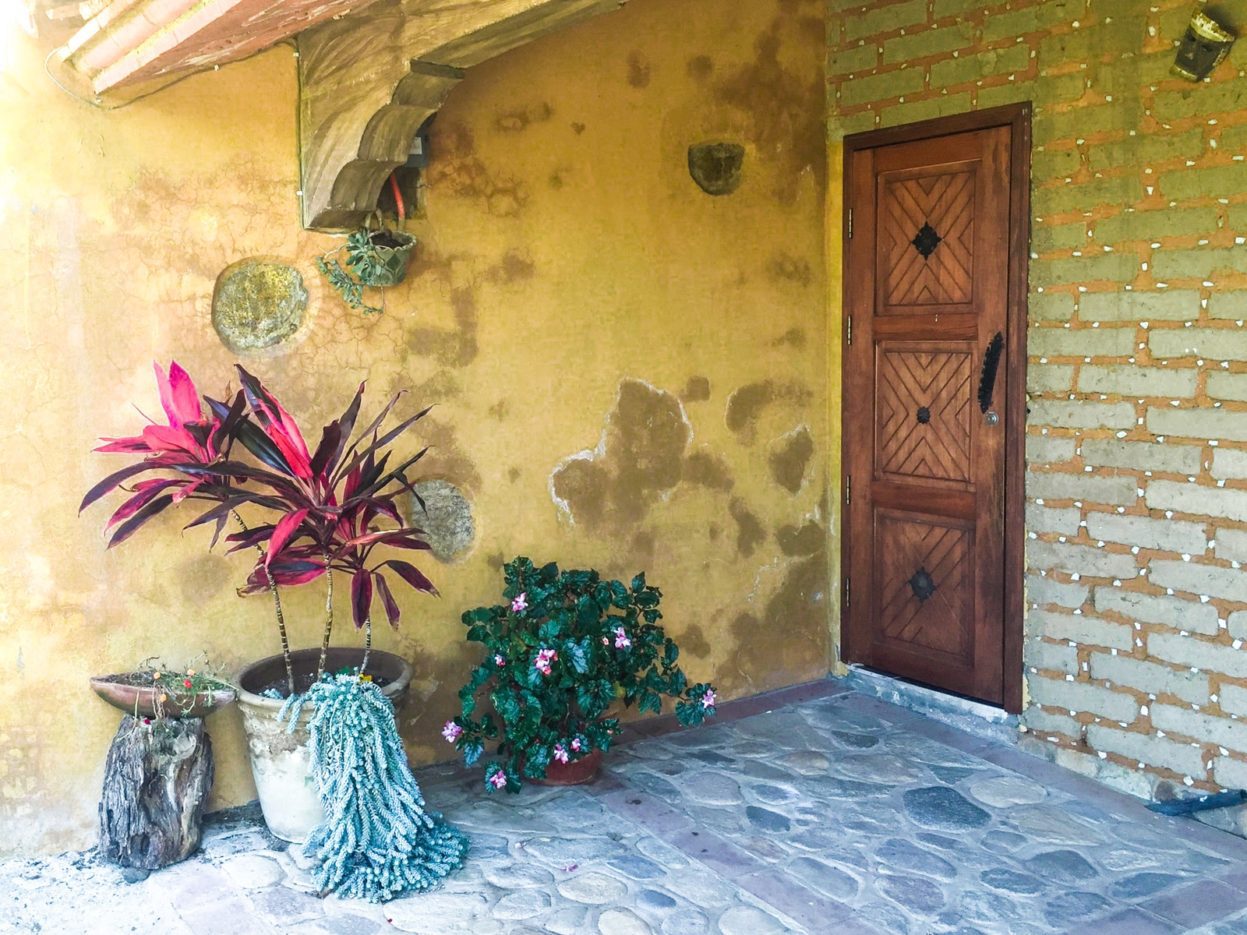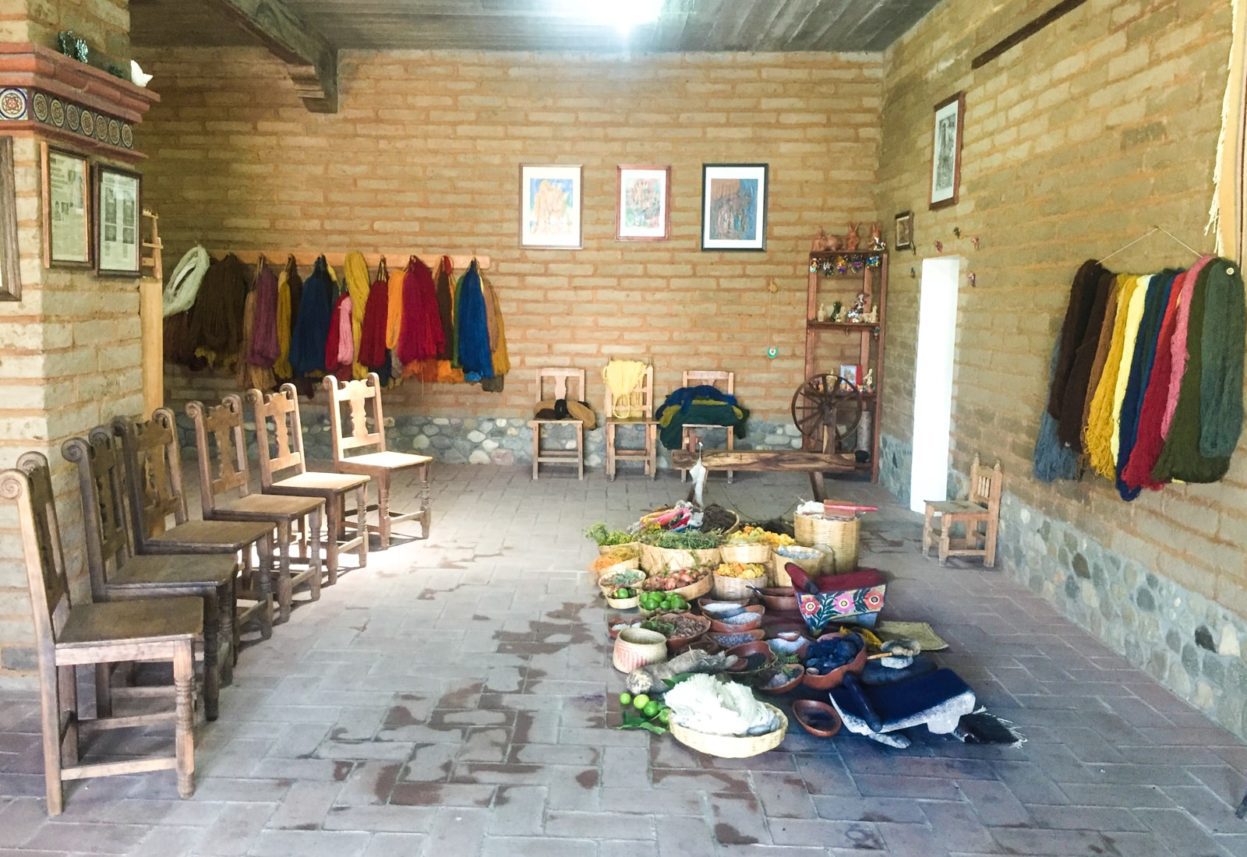 Jacobo uses natural and local fibers like wool and silk. He also only uses natural dyes made from local ingredients. It has become more and more common for weavers to use synthetic dyes, giving finished textiles a different look and affecting the color fastness over time.
Jacobo continues to use traditional ingredients like ground cochineal (a small insect found on cacti leaves), indigo, and sapote fruit. All of the materials are mixed in different ways to achieve a myriad of different colors and shades. Fibers are cleaned and prepped with other natural ingredients and soaps to allow the dyes to set properly.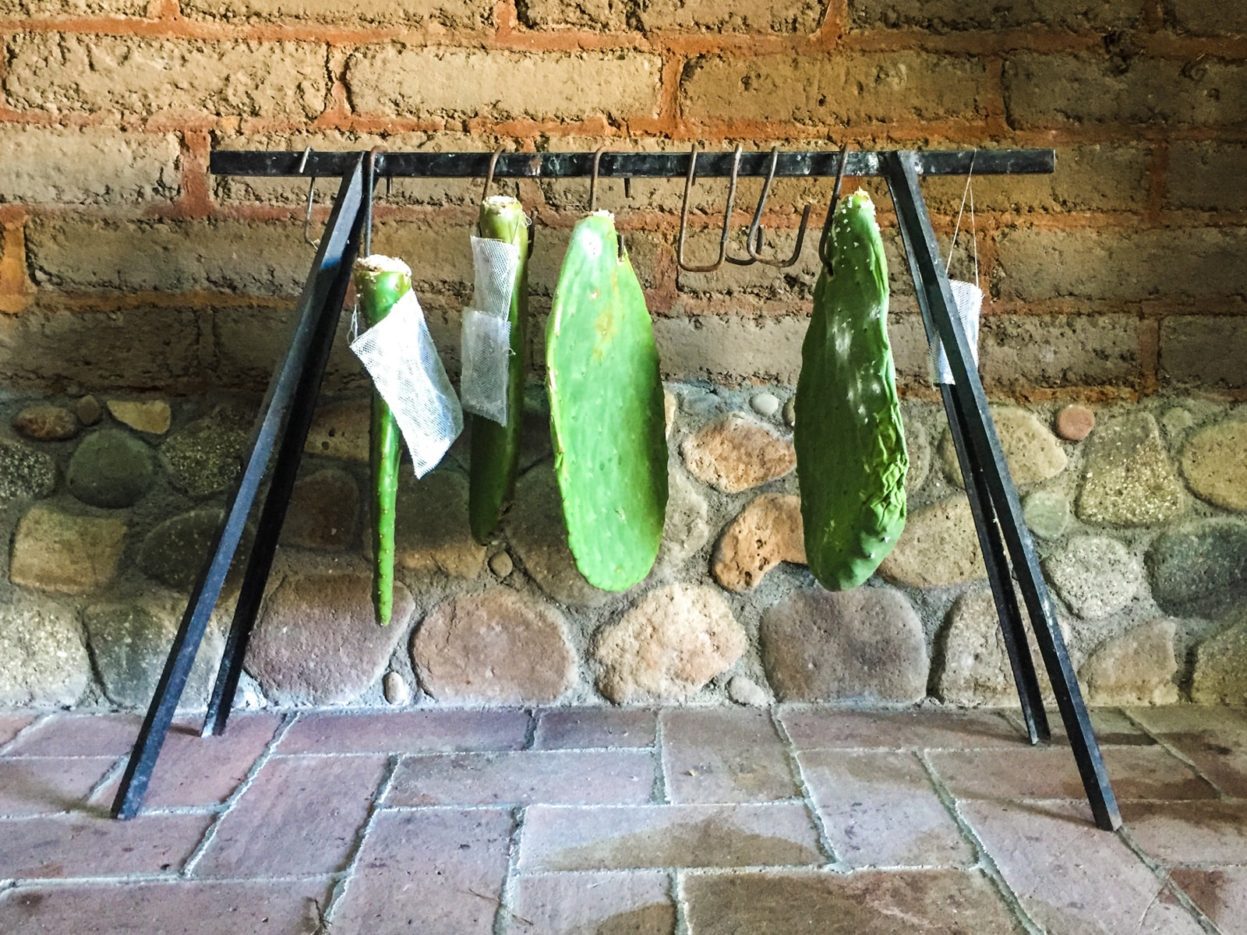 Cactus leaves with the small cochineal insects, used to create a rich red dye.
We watched his wife María Luisa Vásquez de Mendoza, a master weaver herself, clean the wool using two brushes combed against each other with the fiber in between. This process is surprisingly really difficult, and takes a lot of arm strength! Next Maria spun the cleaned fibers into yarn.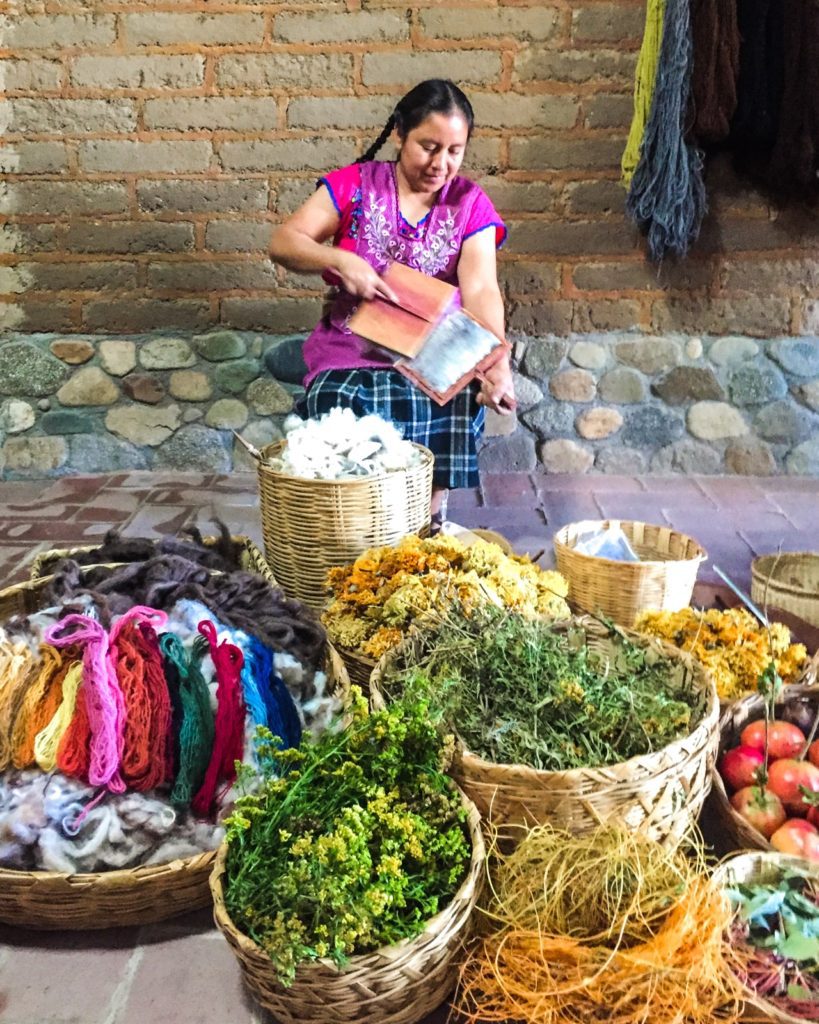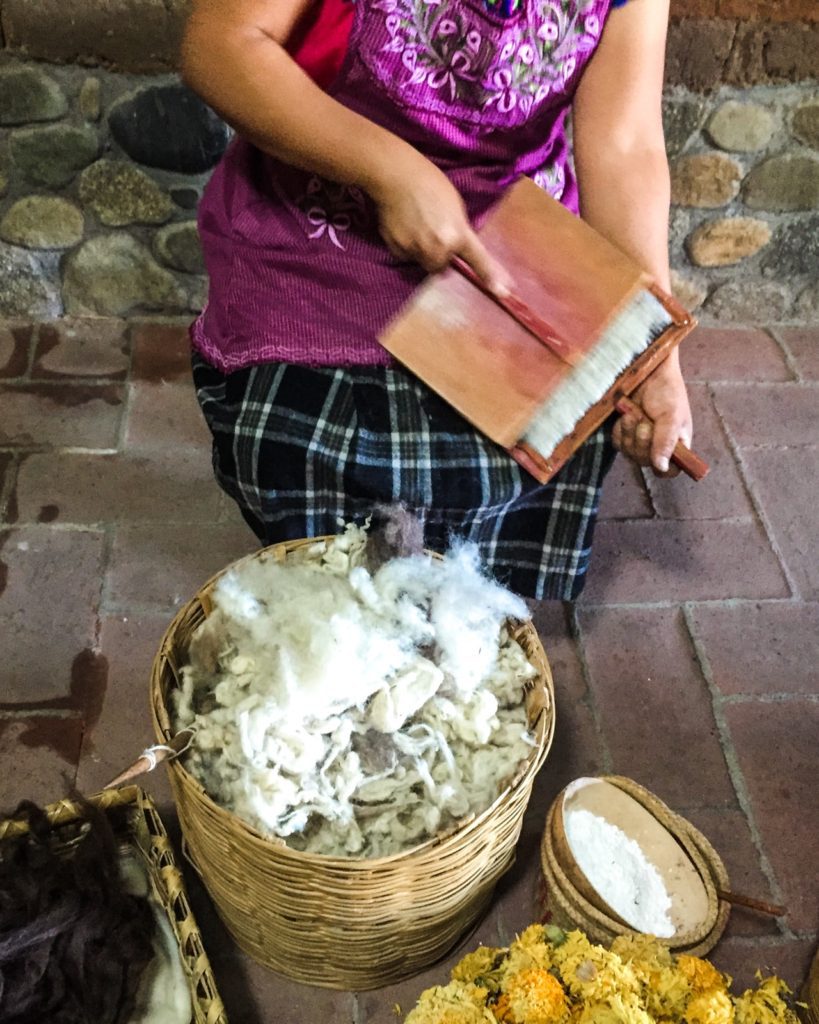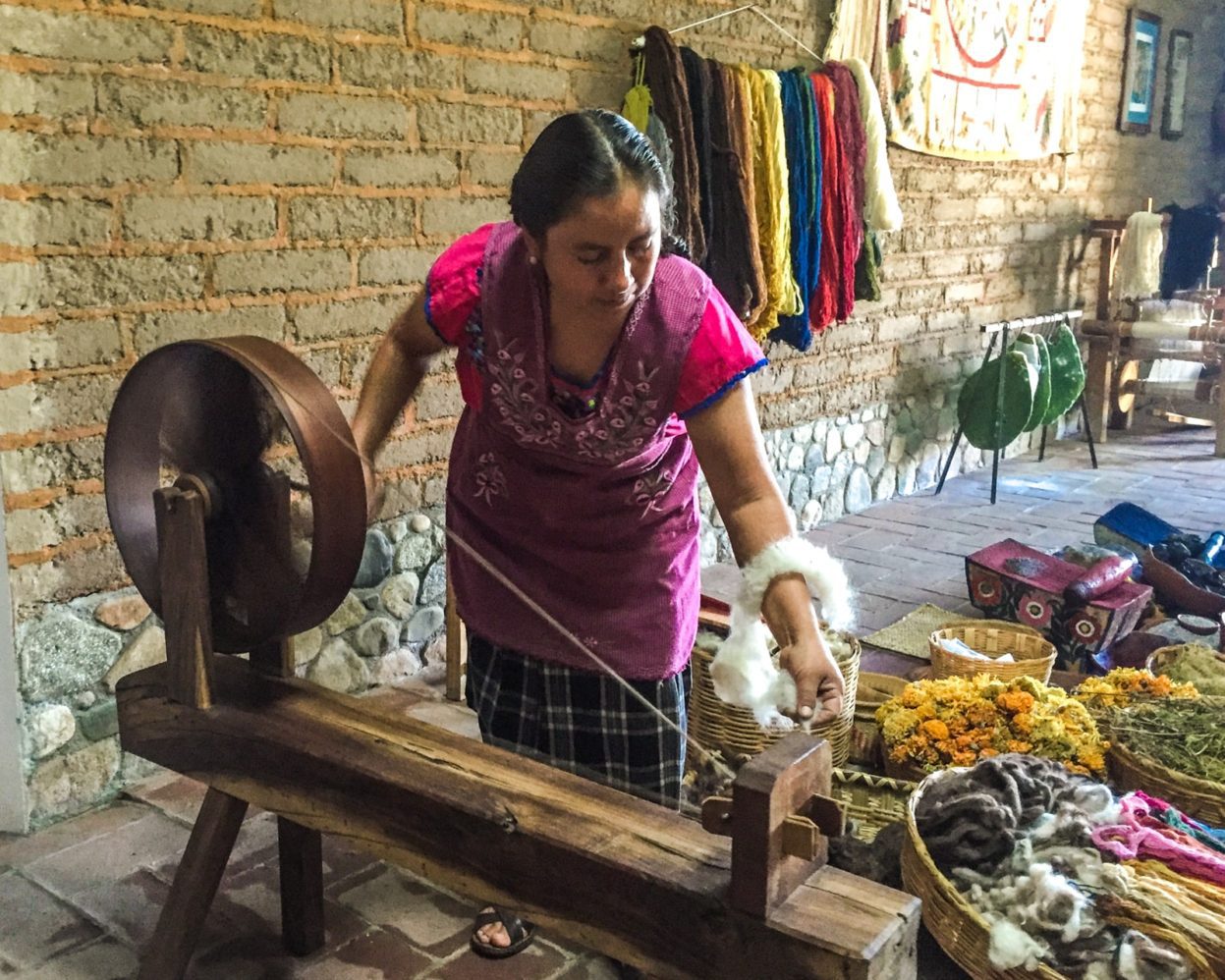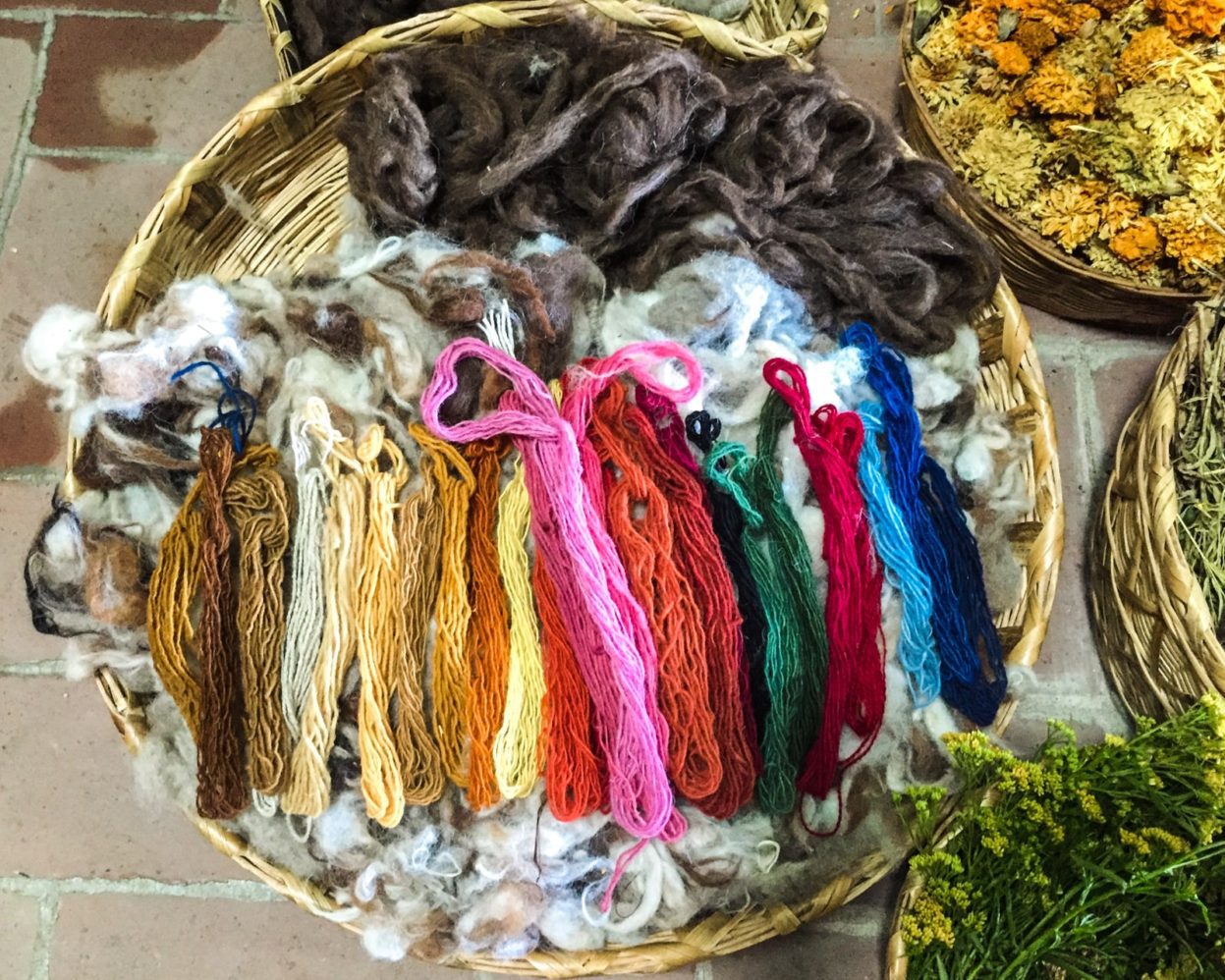 Then she showed us what ingredients they use for the dyes and how she grinds them on traditional metates, or stone boards with a grinding element similar to a rolling pin.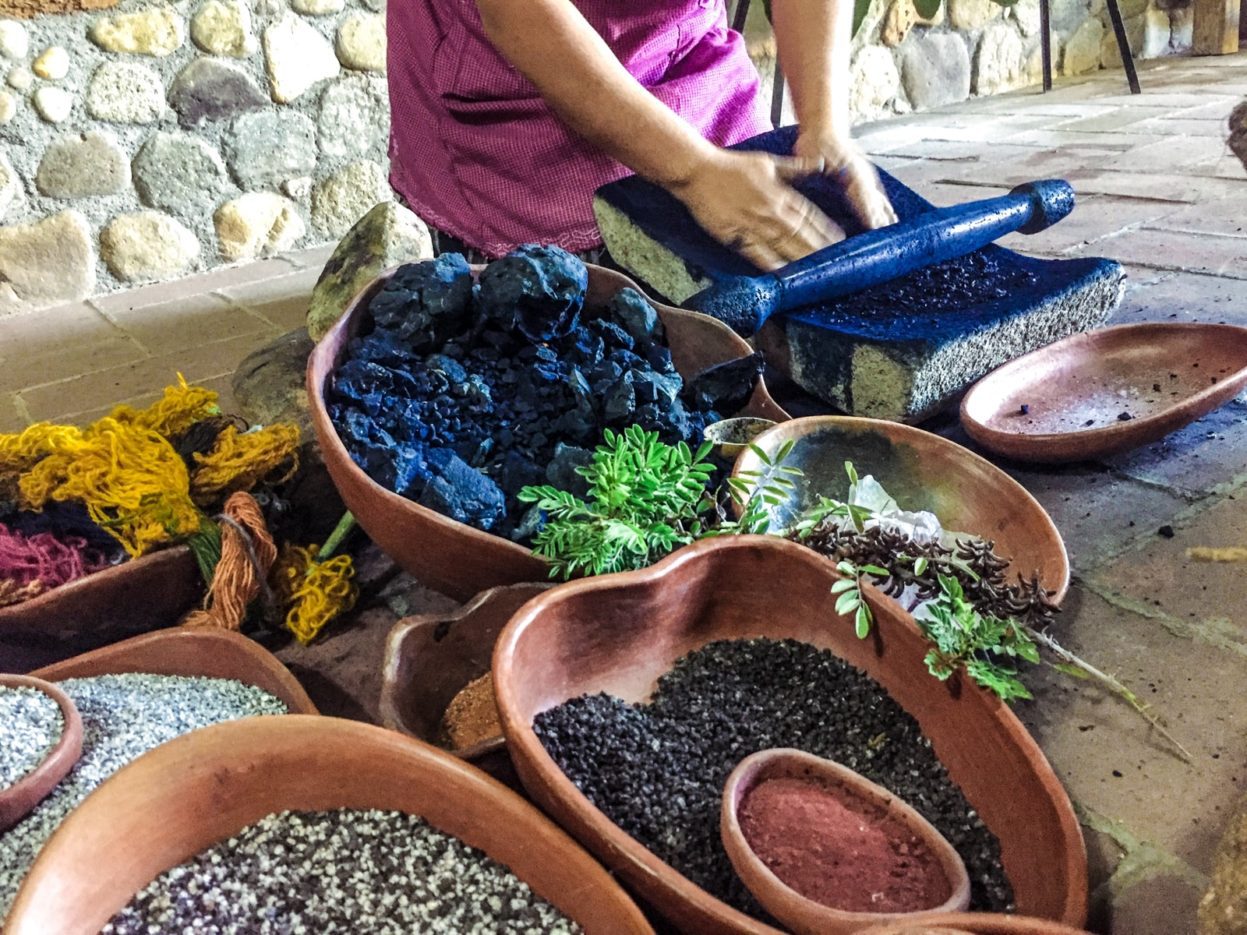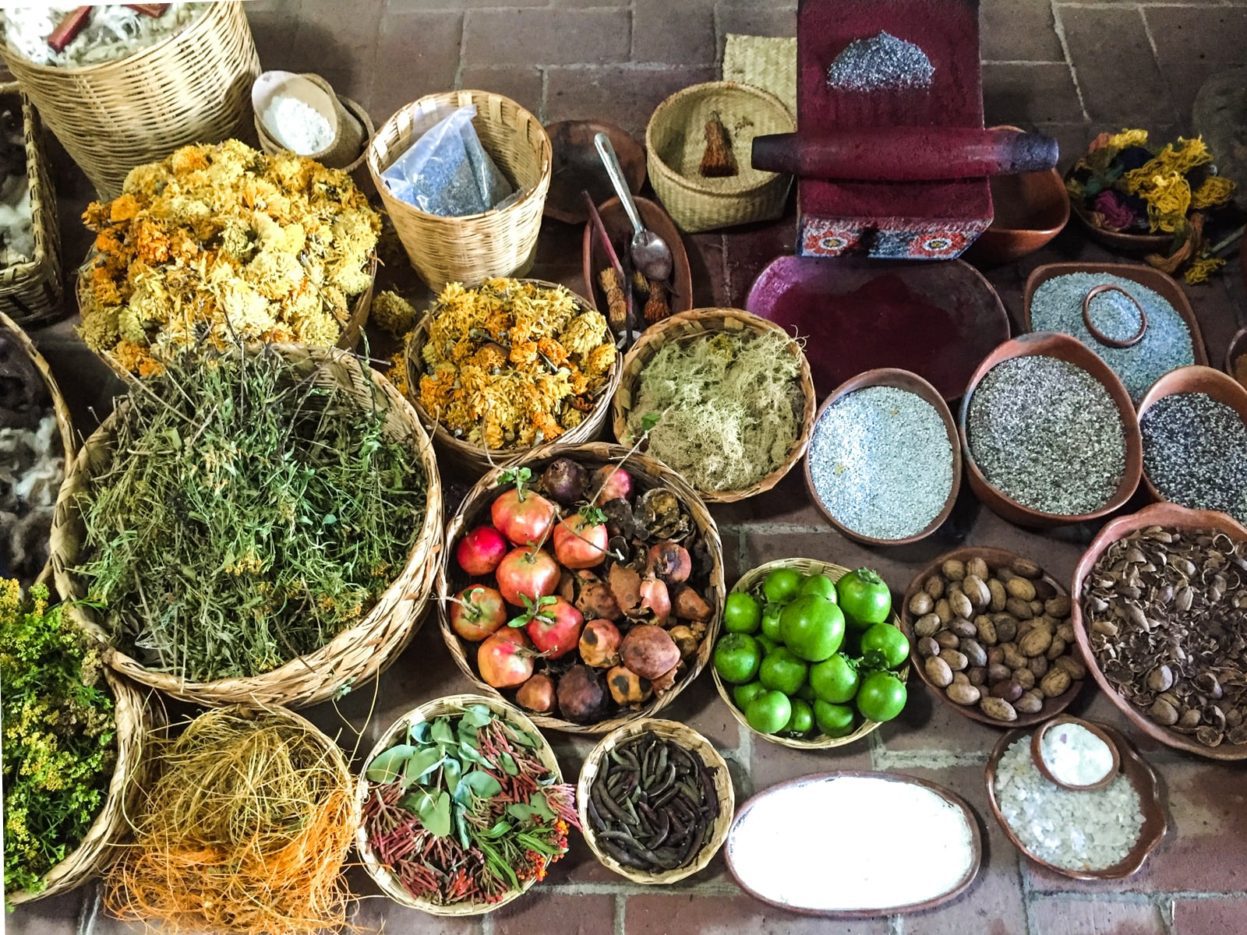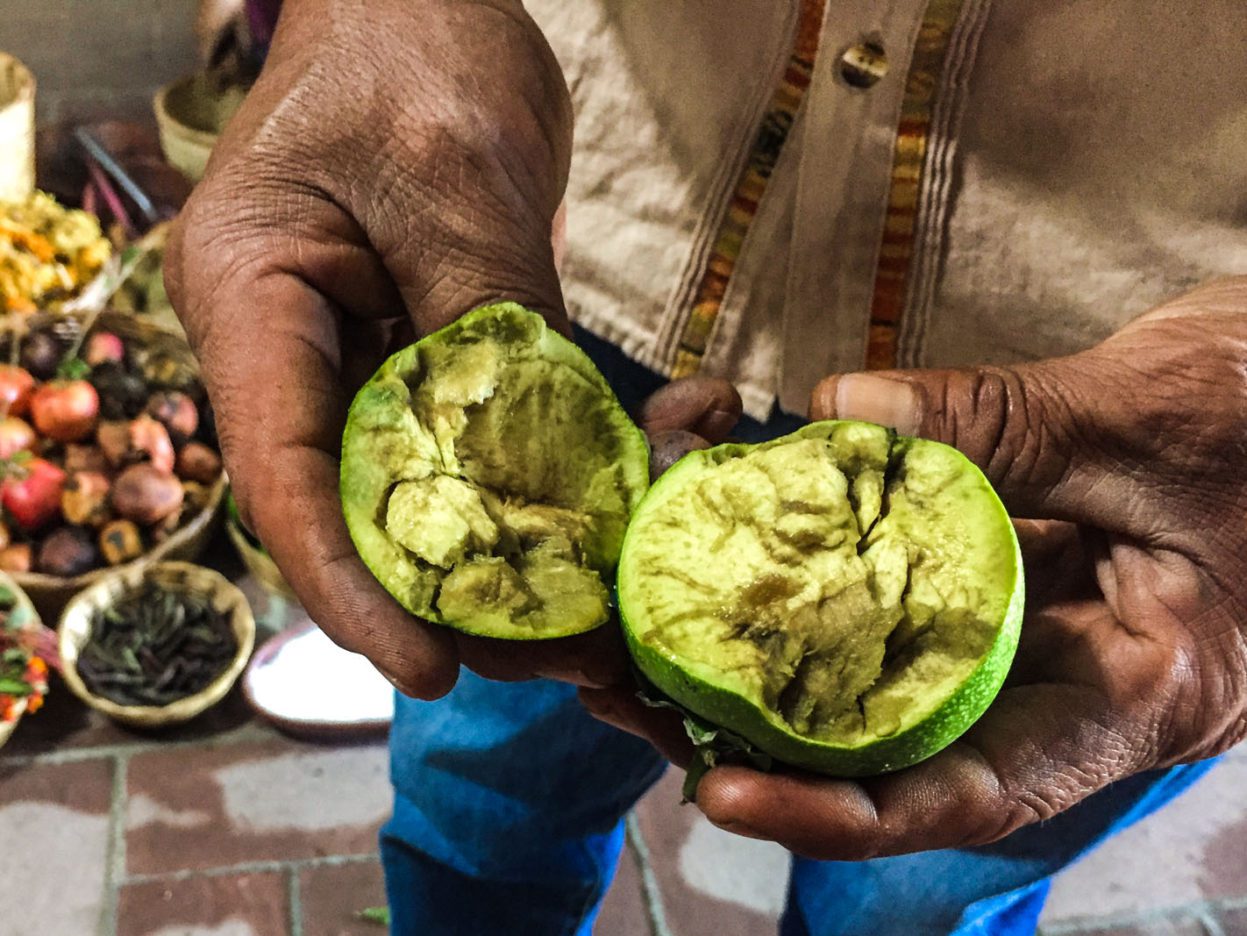 Sapote fruit is used for creating a rich brown dye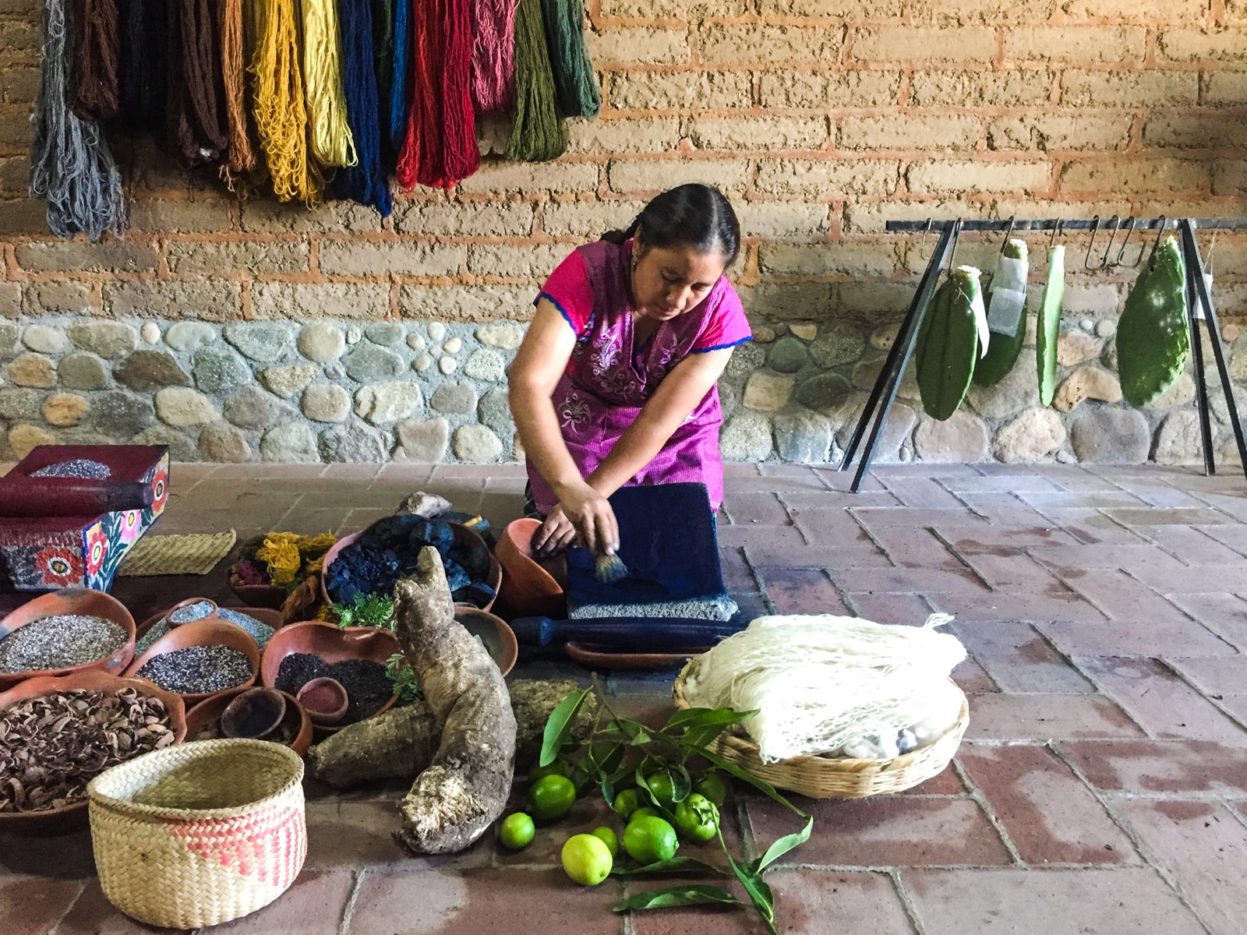 Grinding indigo on a traditional stone metate.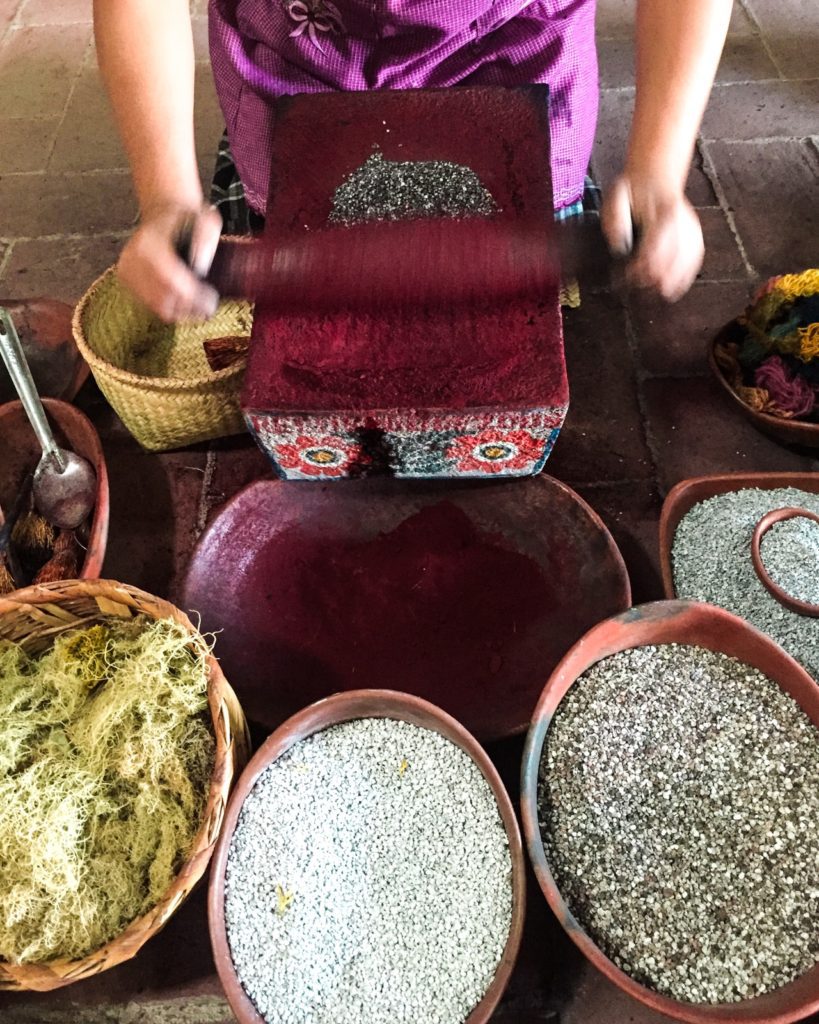 Next we went out back to the dyeing area. It was a semi covered corner of the yard with a wood burning stove. Two giant pots were steaming in the corner - one with indigo (blue) and one with cochineal (red).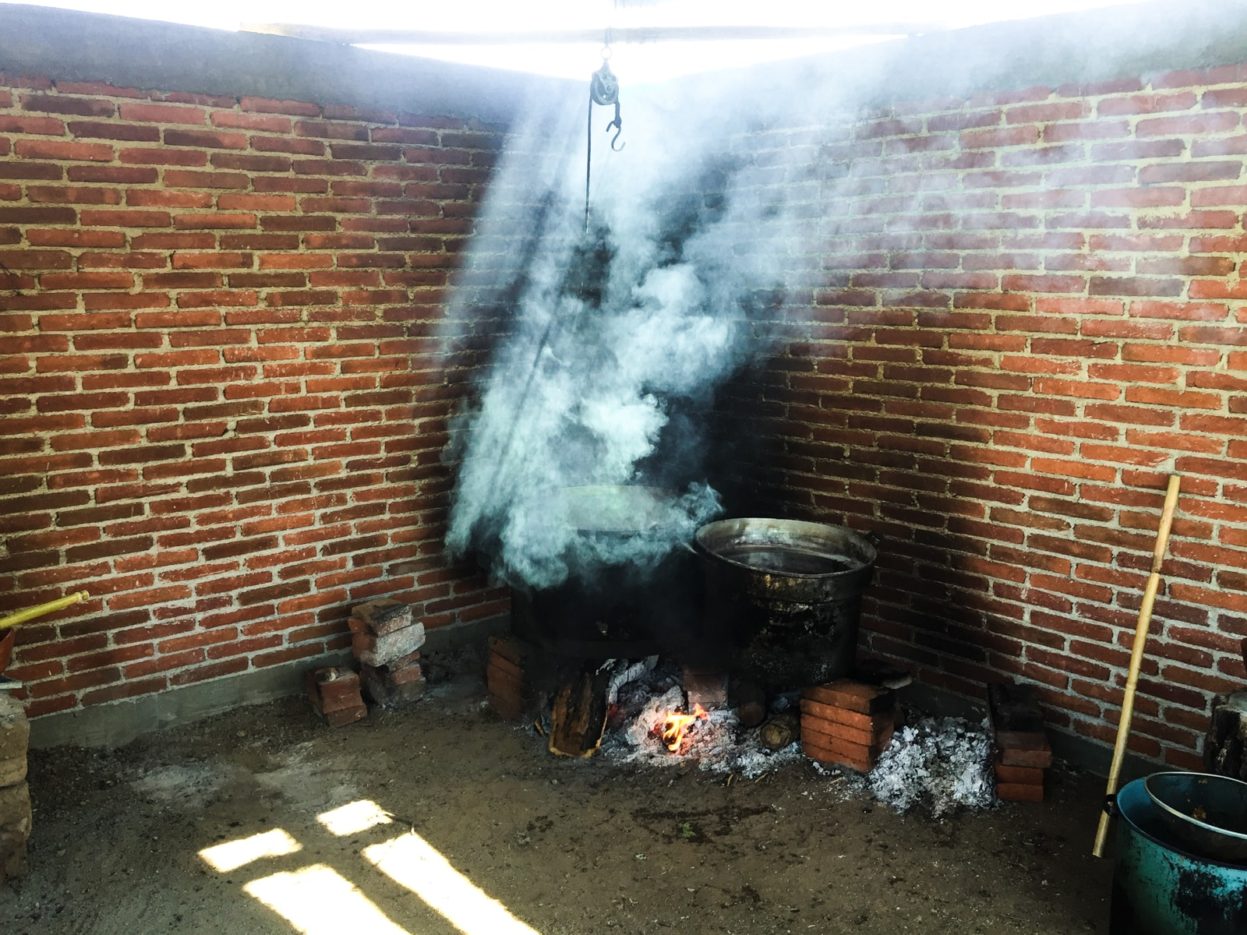 There was as separate pot with a boiled mango mixture that must be added to the indigo to get the blue color to absorb into the yarn. We watched as they dyed skein after skein of yarn in various colors. Jacobo and María would just add different ingredients to adjust the colors as they went along.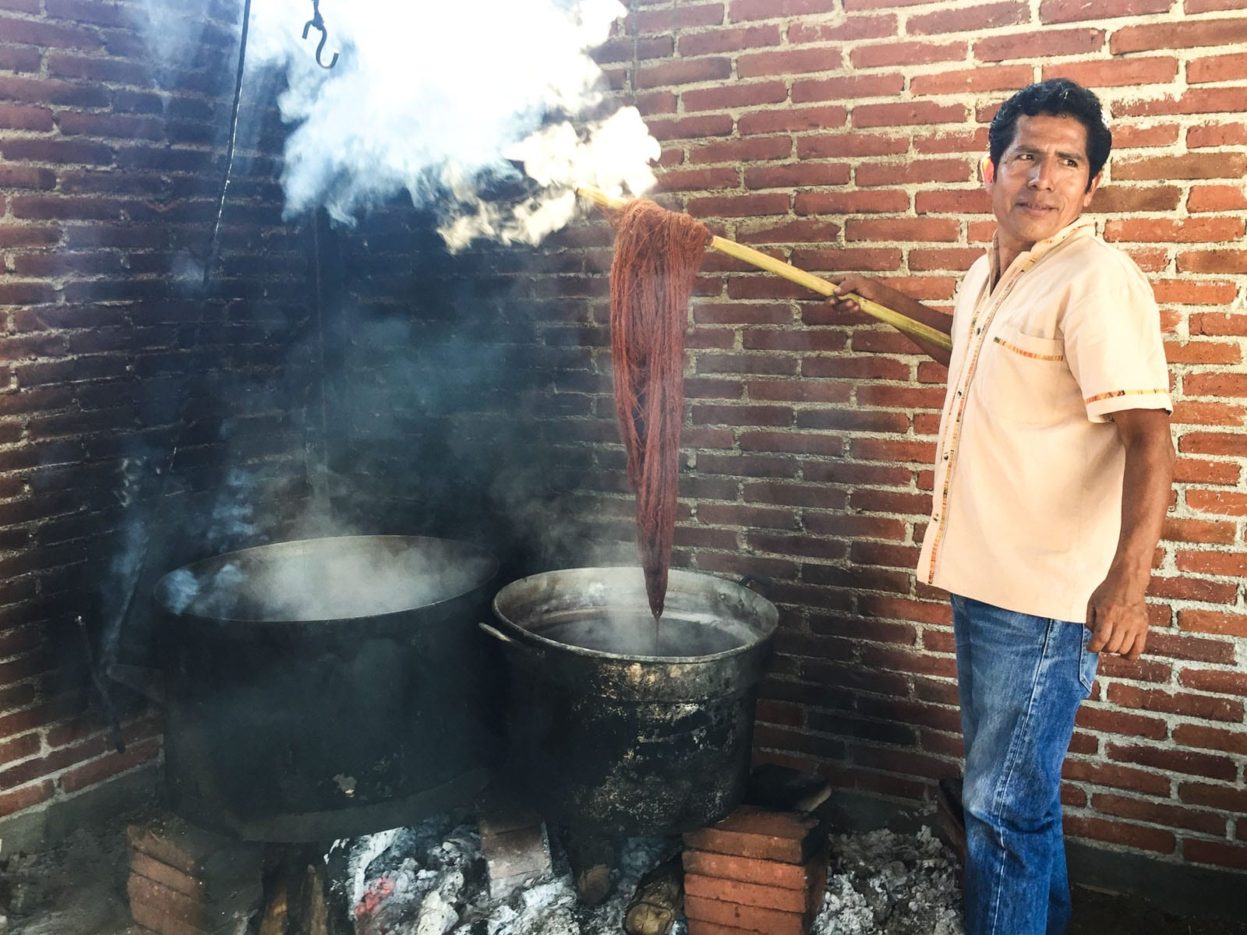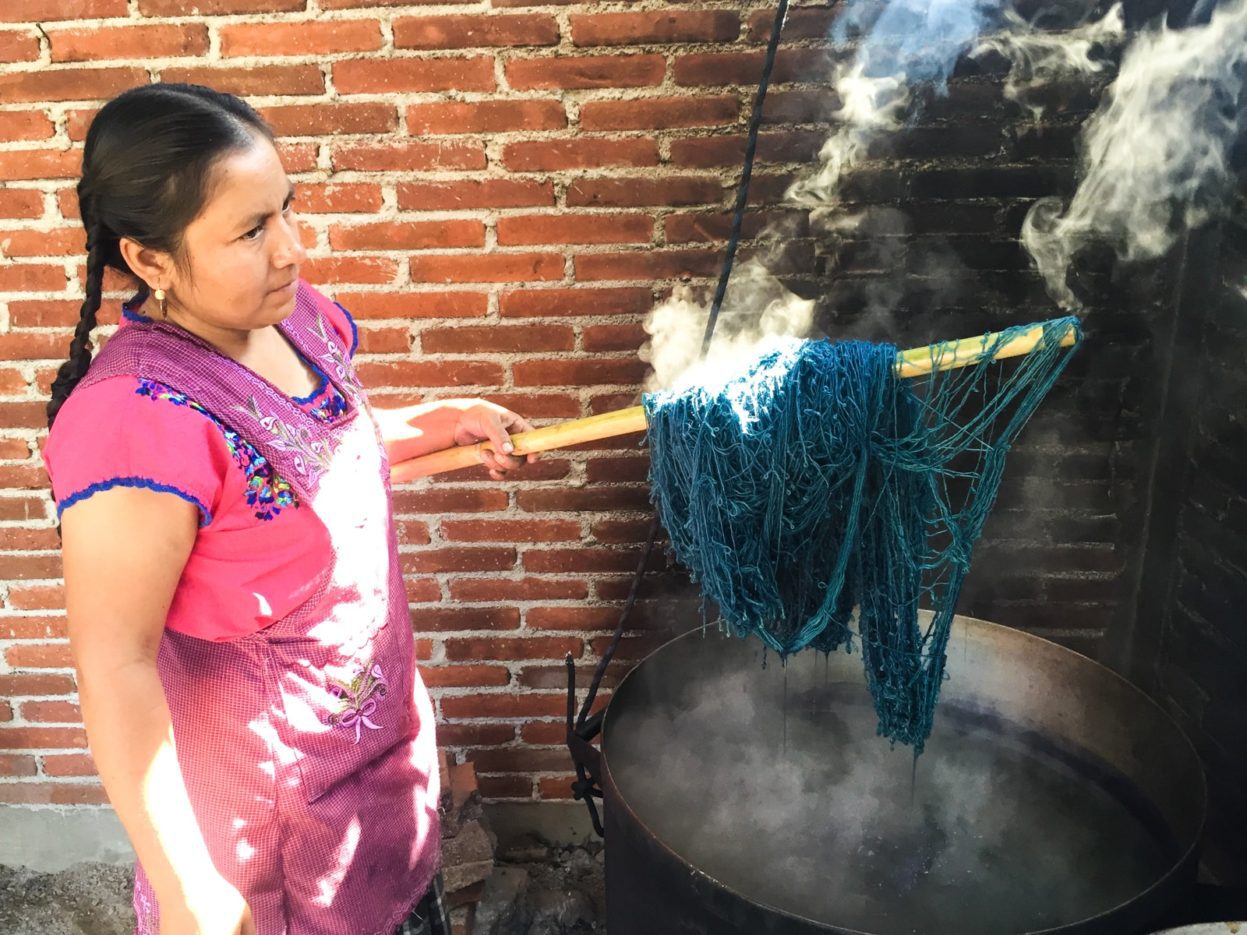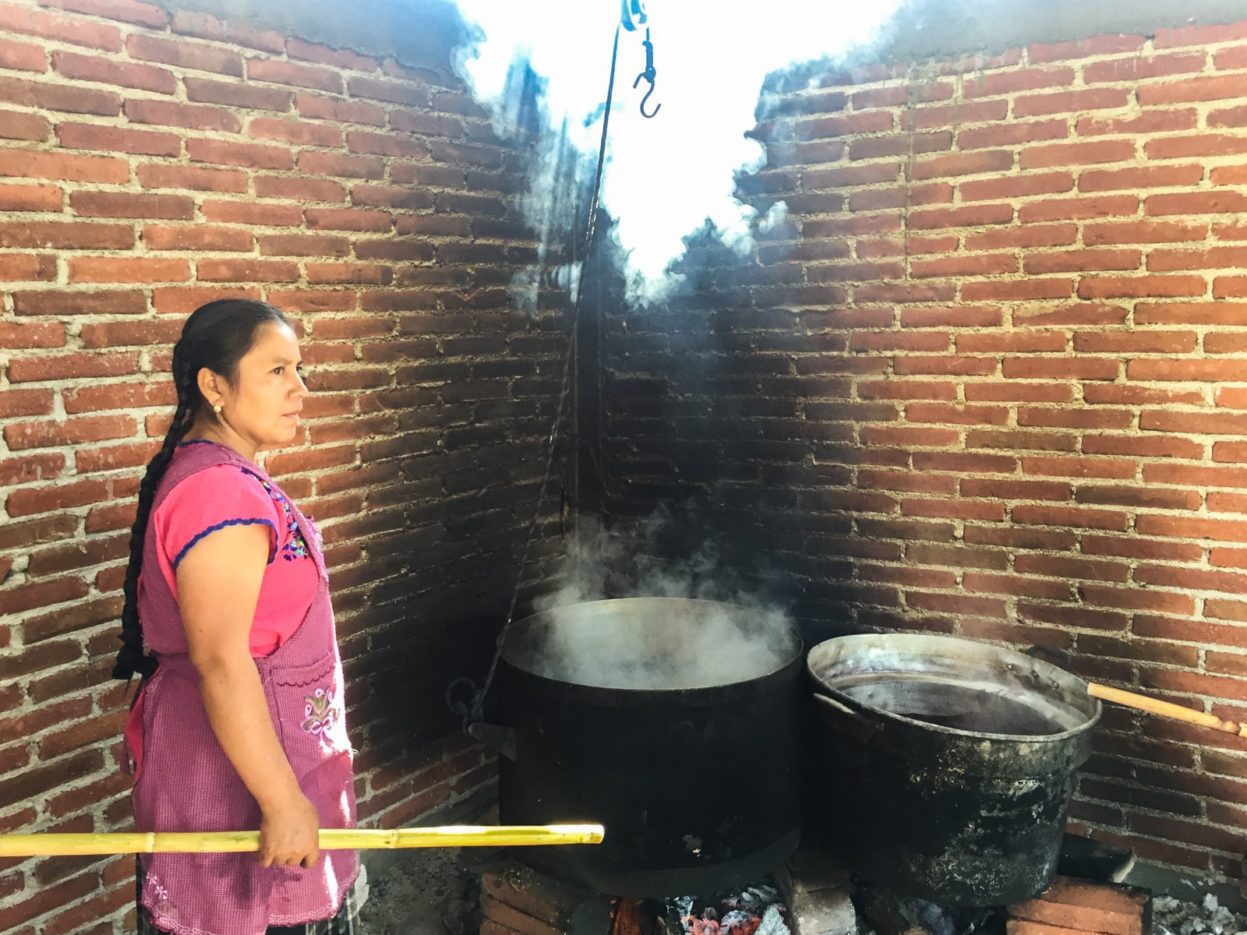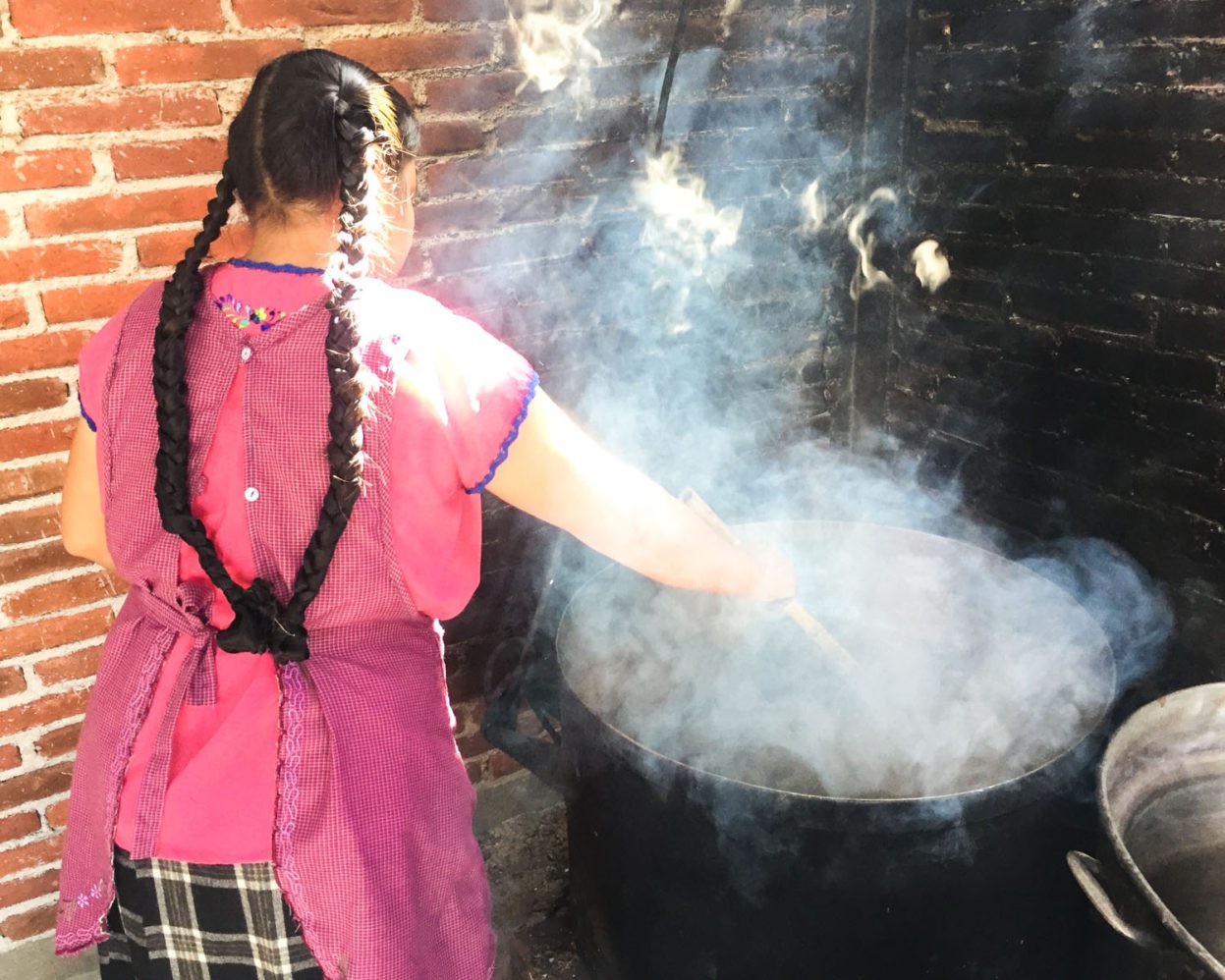 María stirs yarn in a boiling pot of natural dyes until the color sets.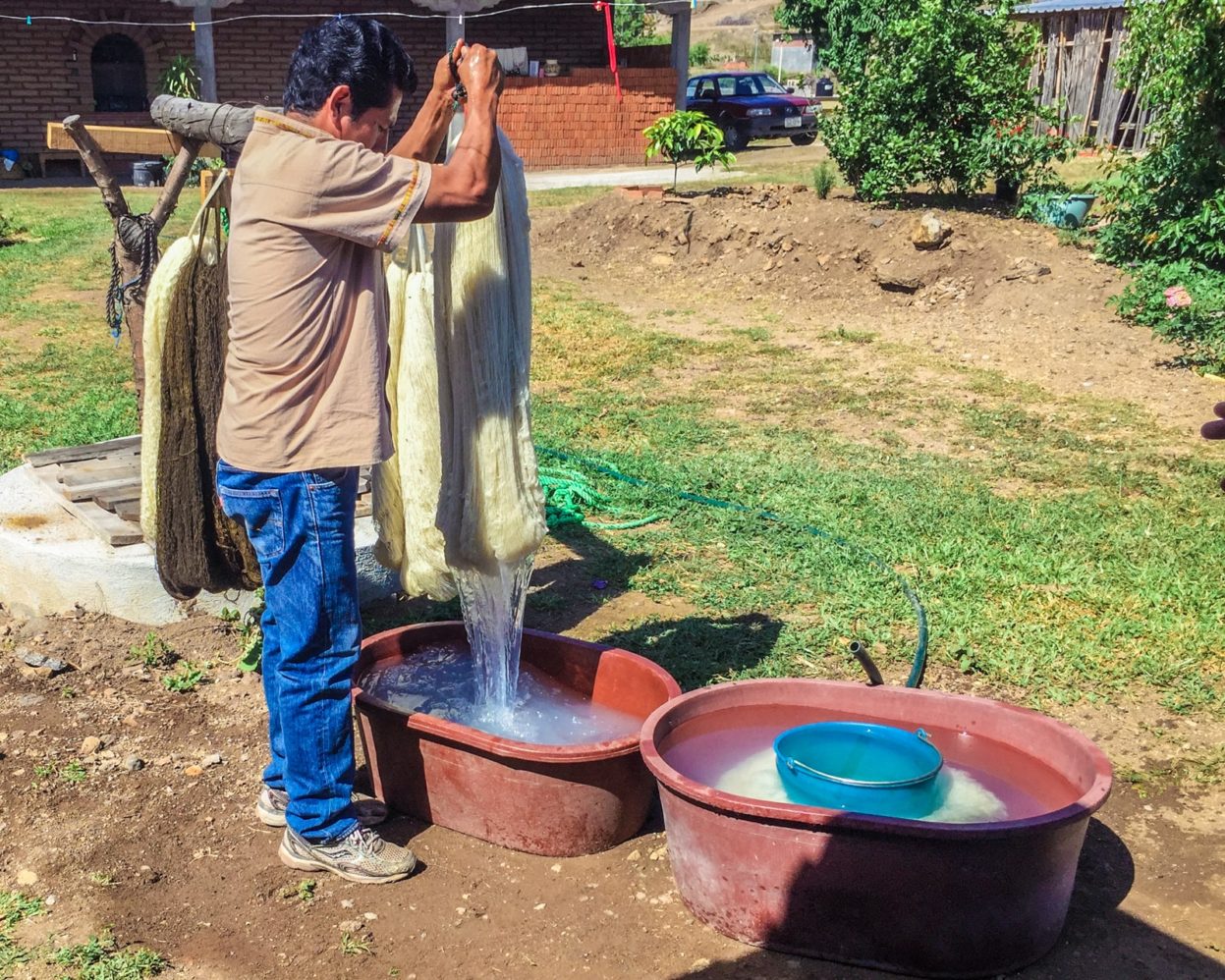 Jacobo washes the yarn with natural soaps before the dyeing process.
The rows of skeins were hung up to dry in a row on a rack, making a vibrant rainbow of color.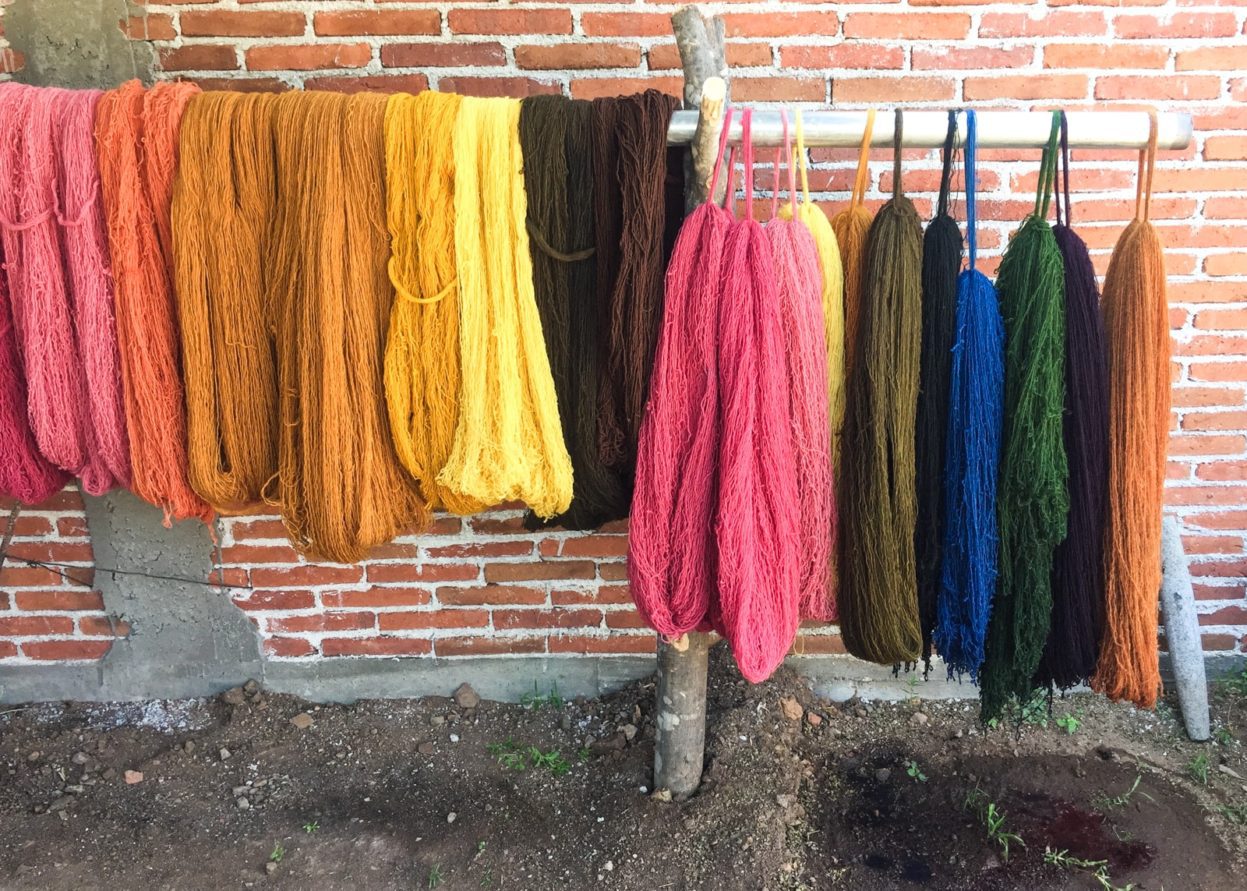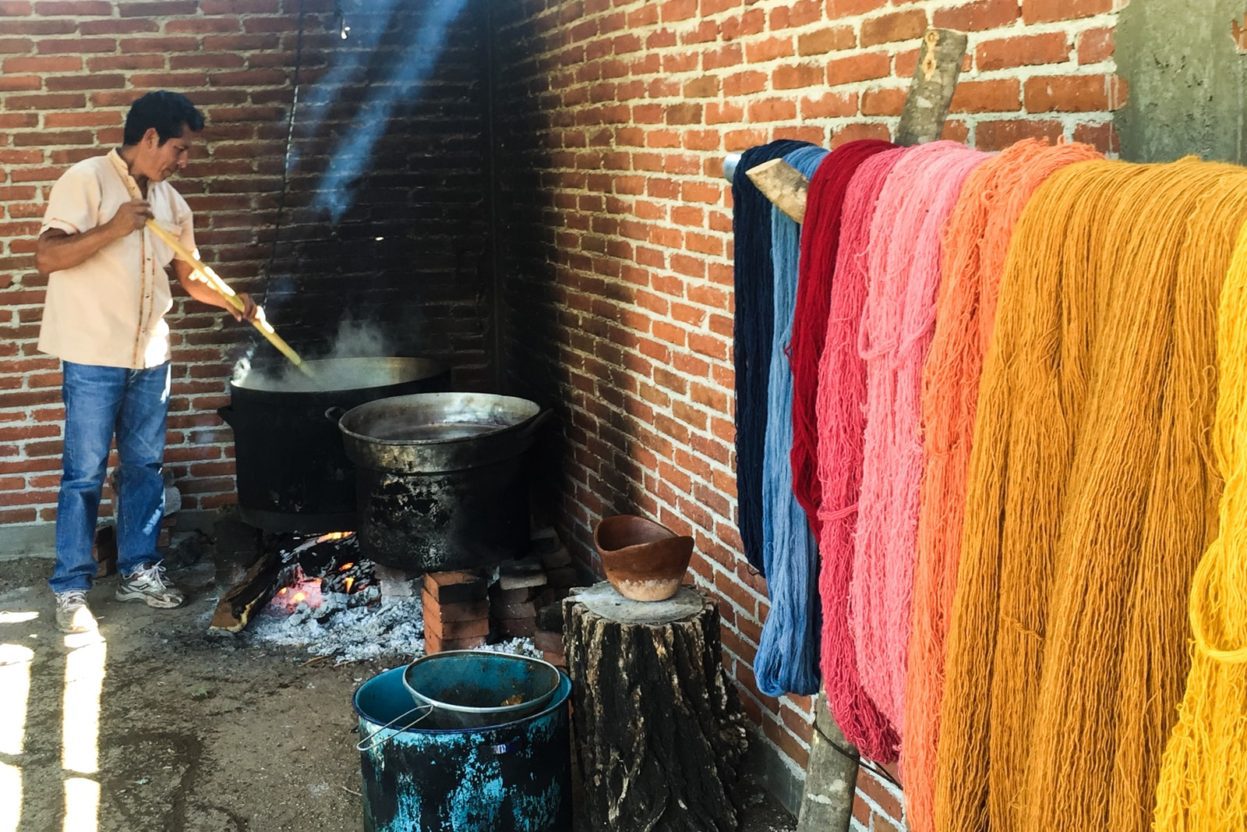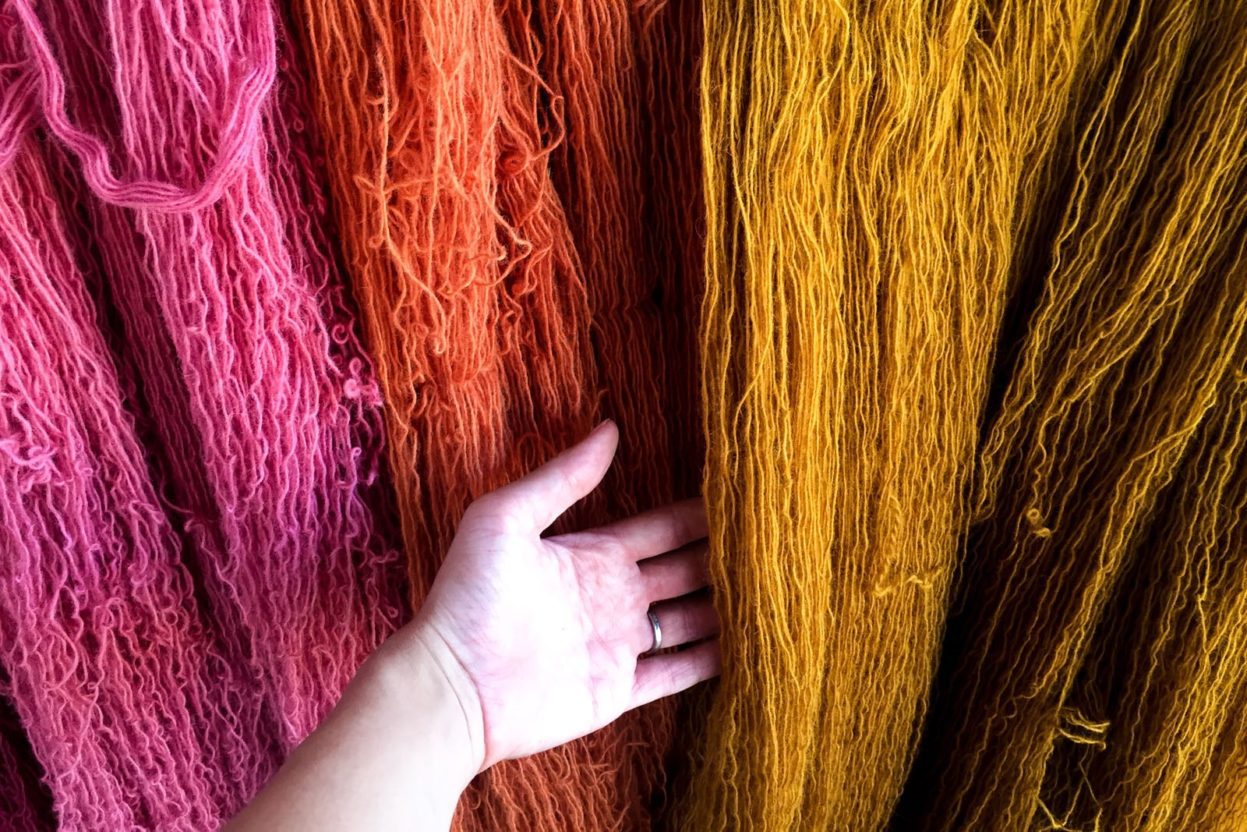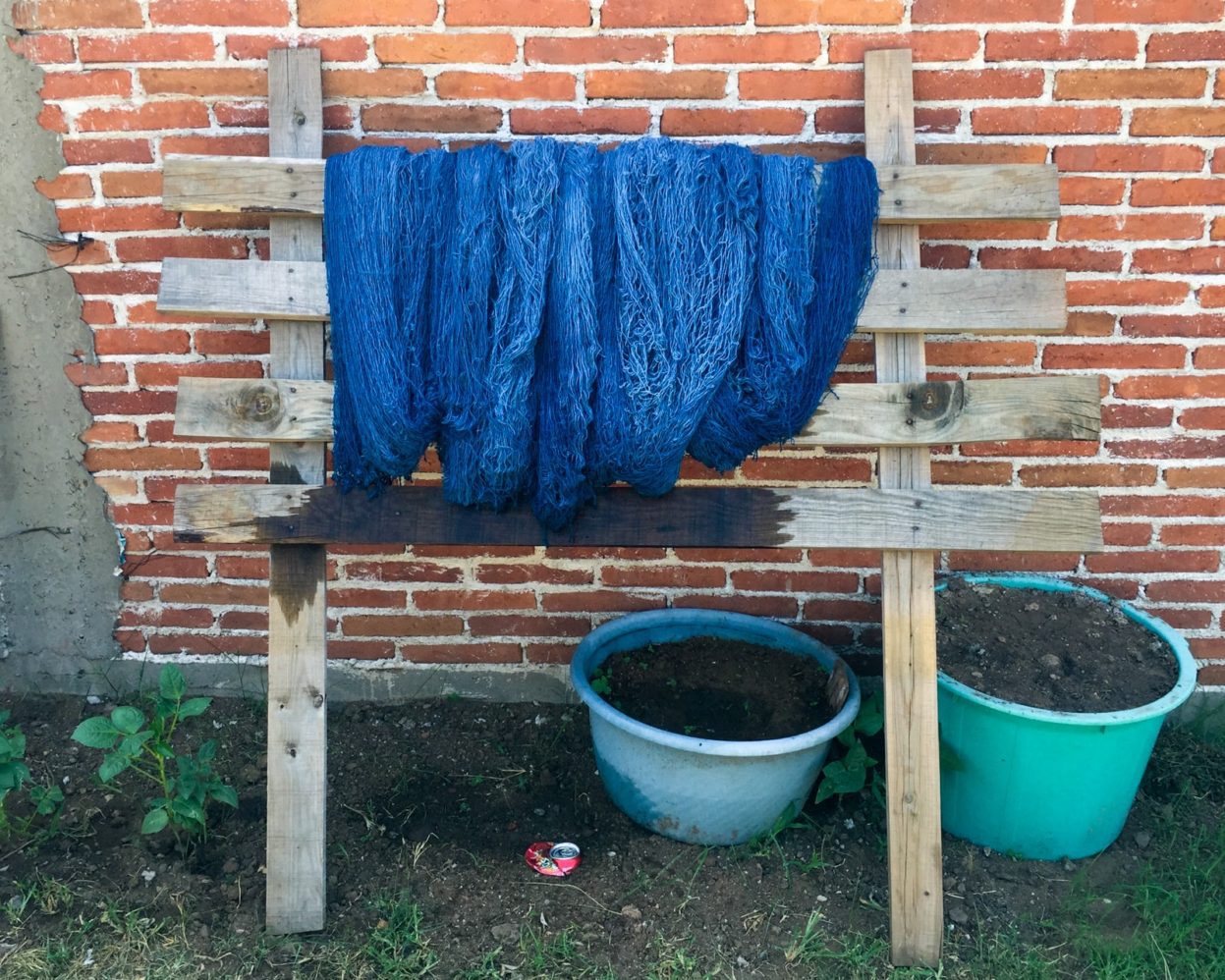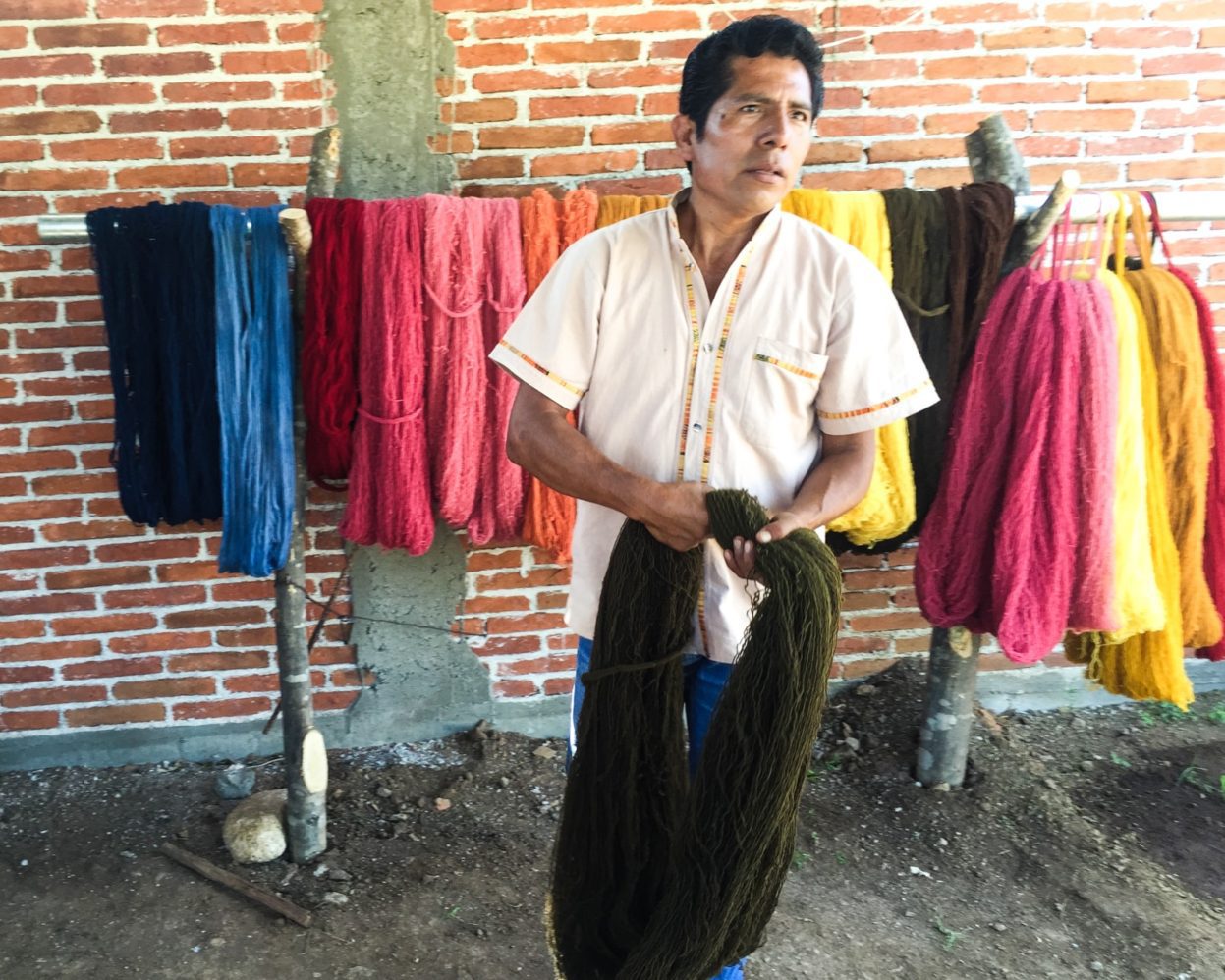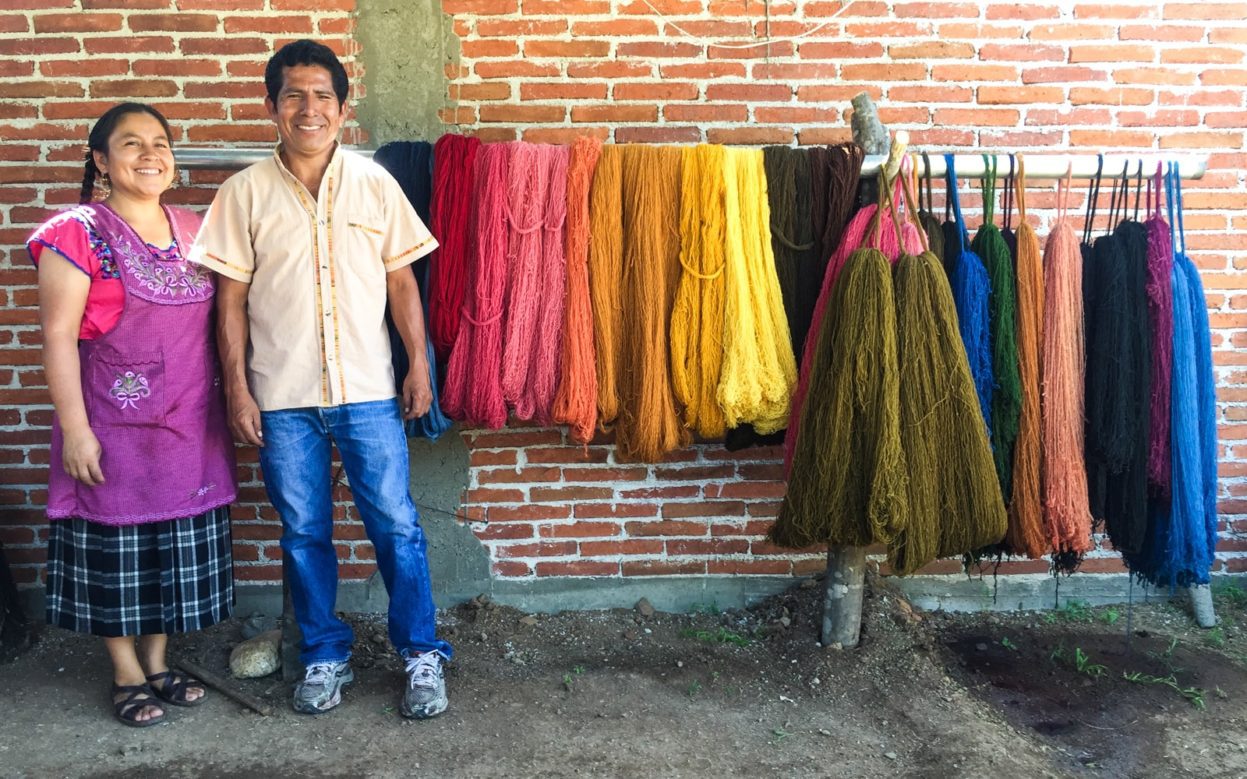 Finally we returned to the studio to see how Jacobo weaves his intricate rugs. He showed us the giant looms he works on, and how he changes color and makes the patterns as he goes along. Most of the designs are done visually as he works, without guides or tracing.
Contact:
Jacobo Mendoza Ruiz
(951) 524 4157
Avenida Benito Juárez #91
Teotitlán del Valle, Oaxaca
*It's recommended to make an appointment to visit the weavers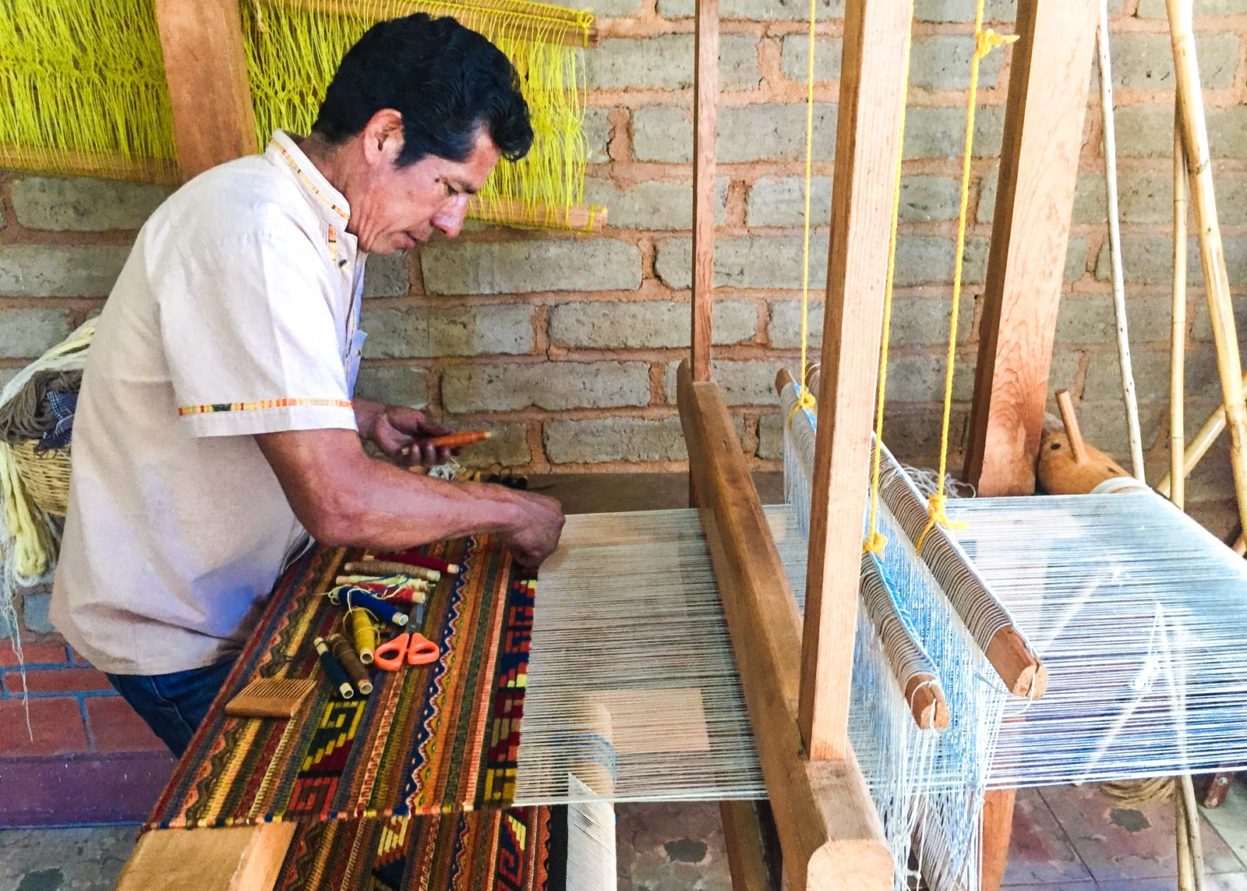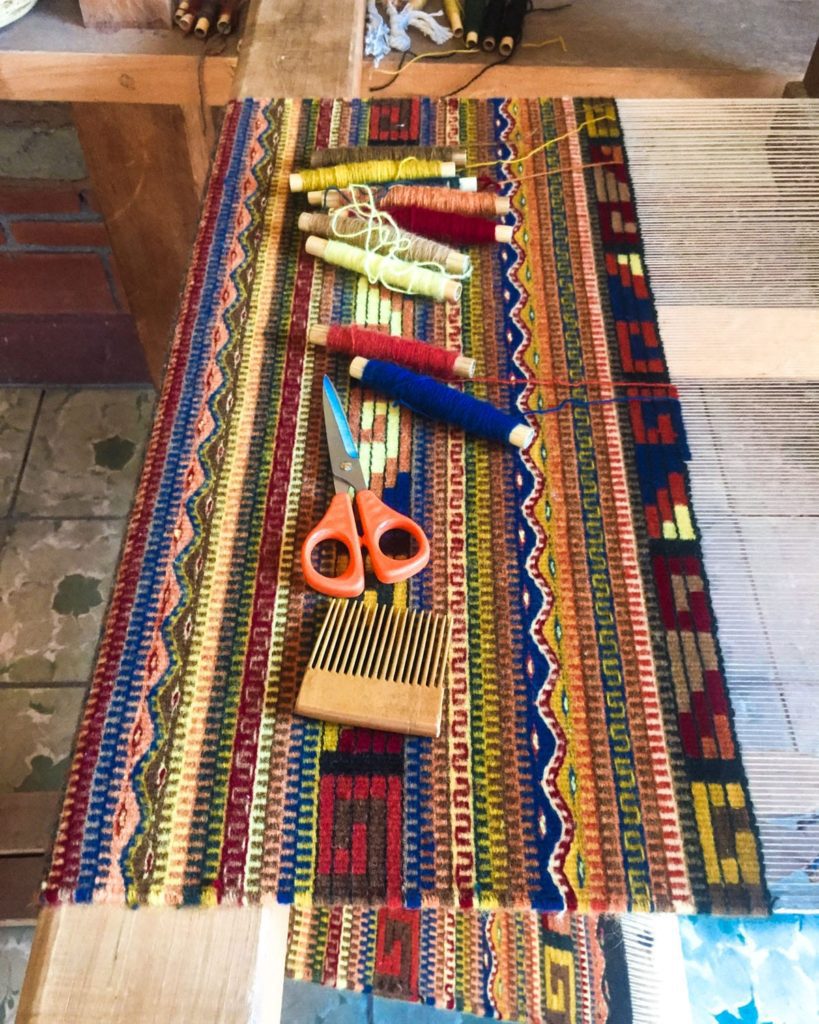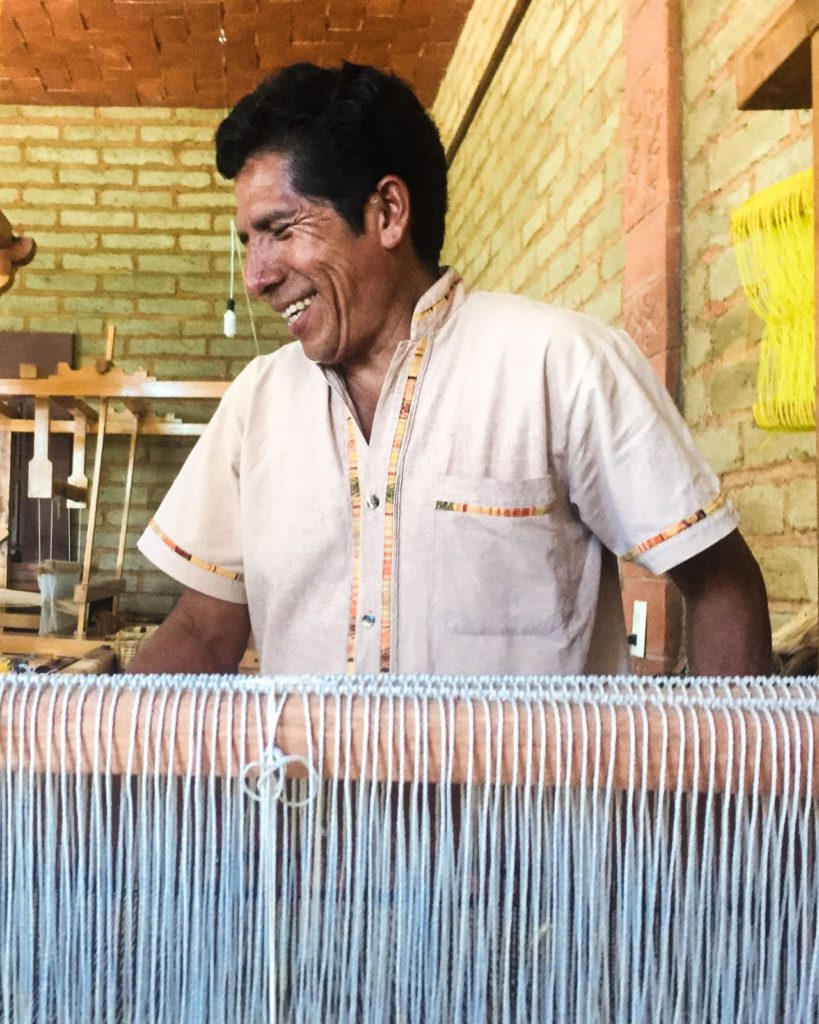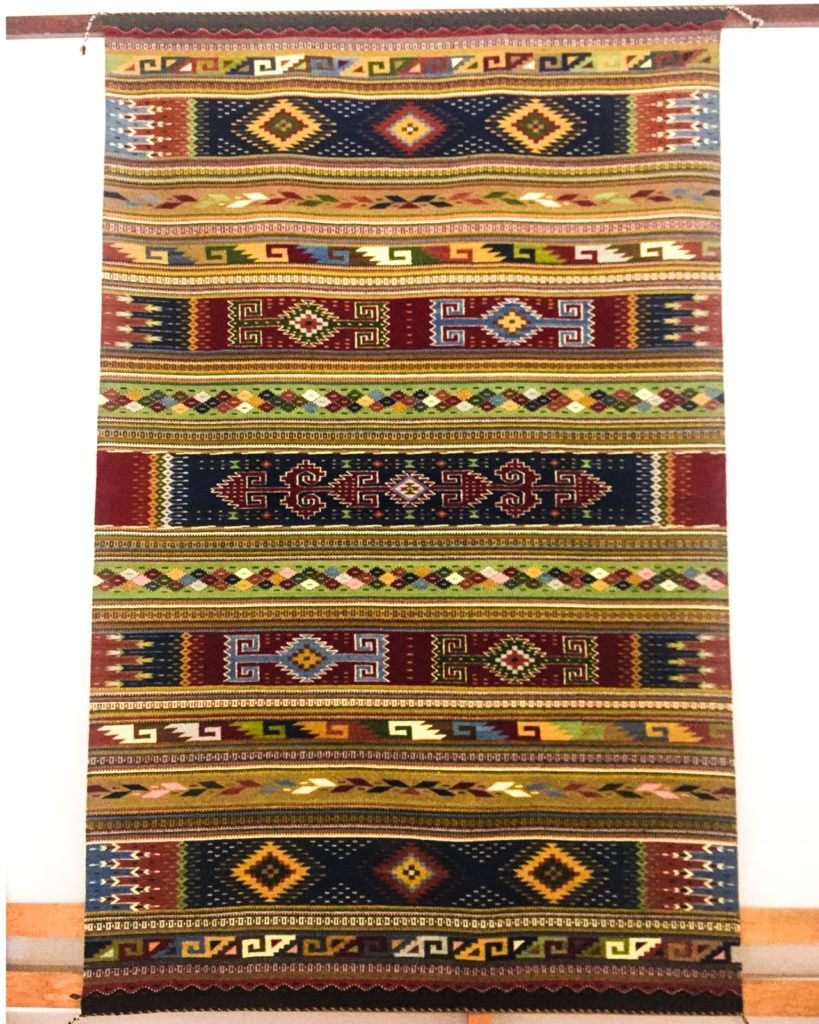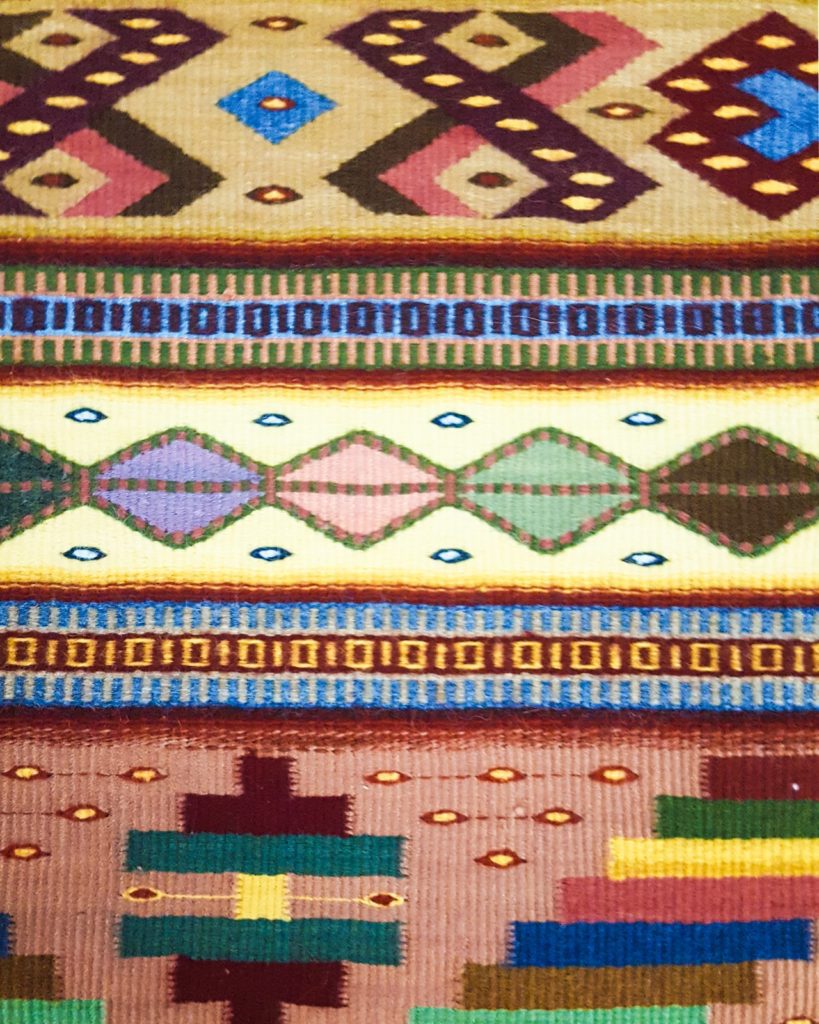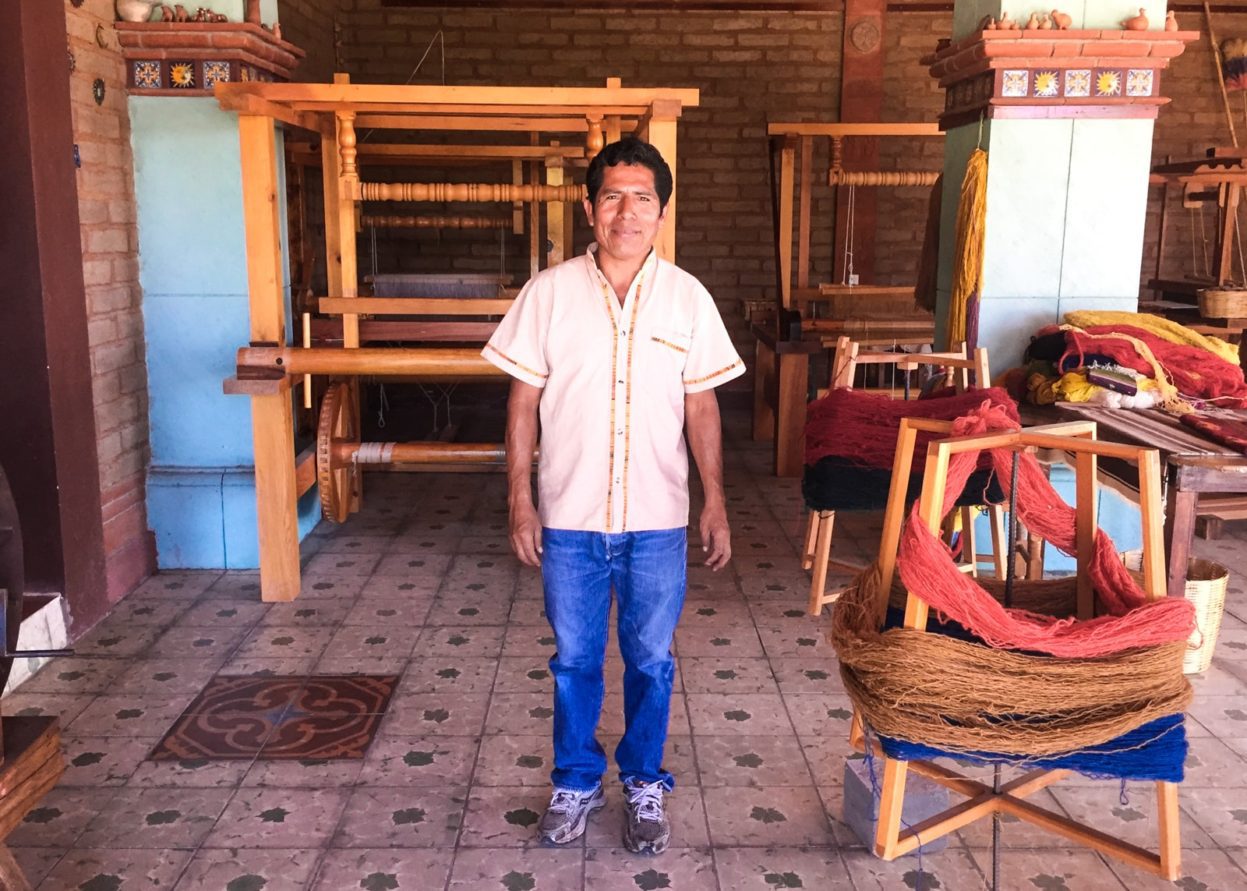 Mitla - Arturo Hernández Quero
Next we visited the shop of Arturo Hernández Quero. Arturo weaves by traditional backstrap loom, as well as by large wooden looms. He showed us the backstrap loom first. It is literally strapped behind the wearer's back and tied to a pole or a tree. The weaver stands several feet away from the pole so that the tension allows the piece to be stretched out in front of them as they work.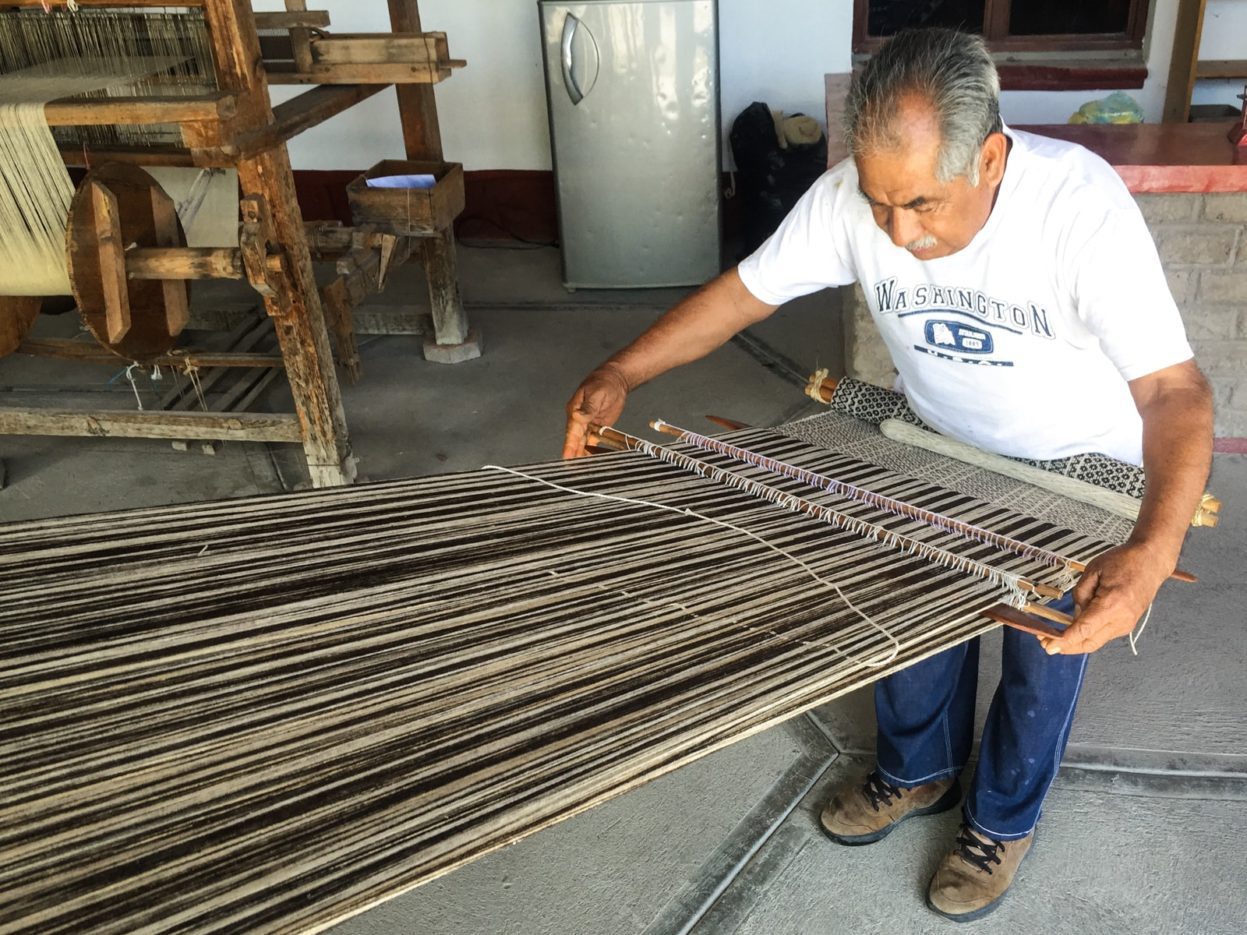 They use traditional wooden poles and tools to separate the colors of yarn and tighten the woven textile as they go. The technique is complex, but Arturo makes it look easy as he creates a traditional textile, with Zapotec symbols like cacao and corn.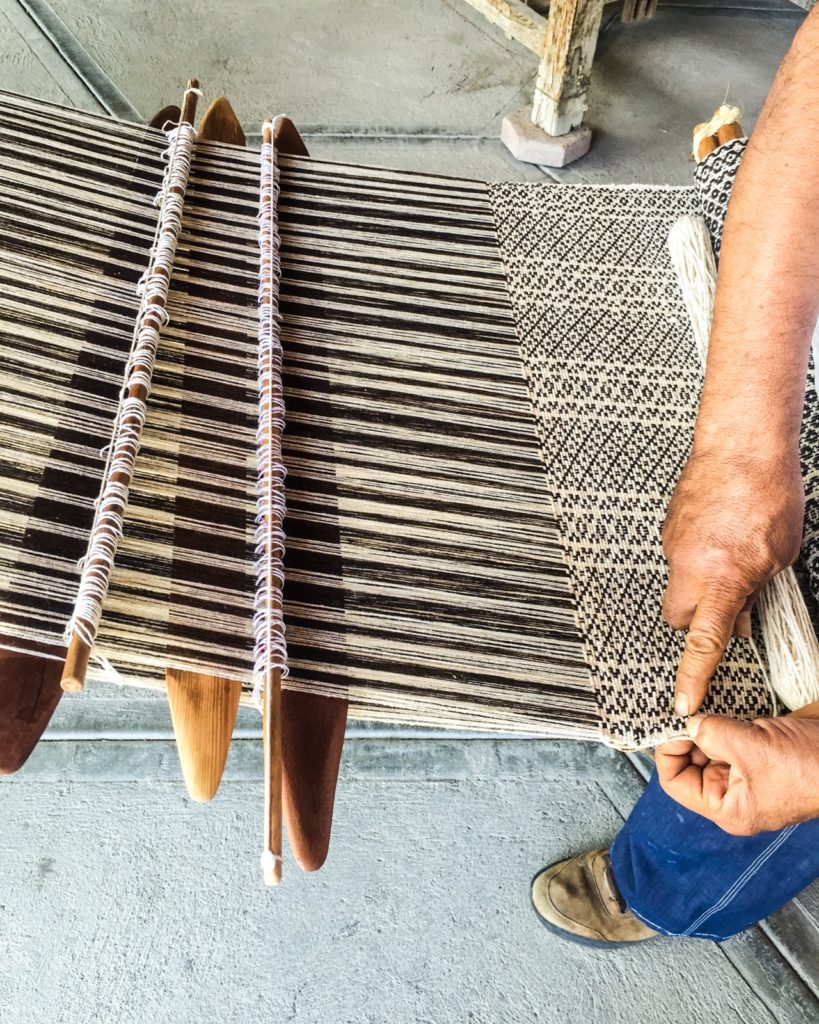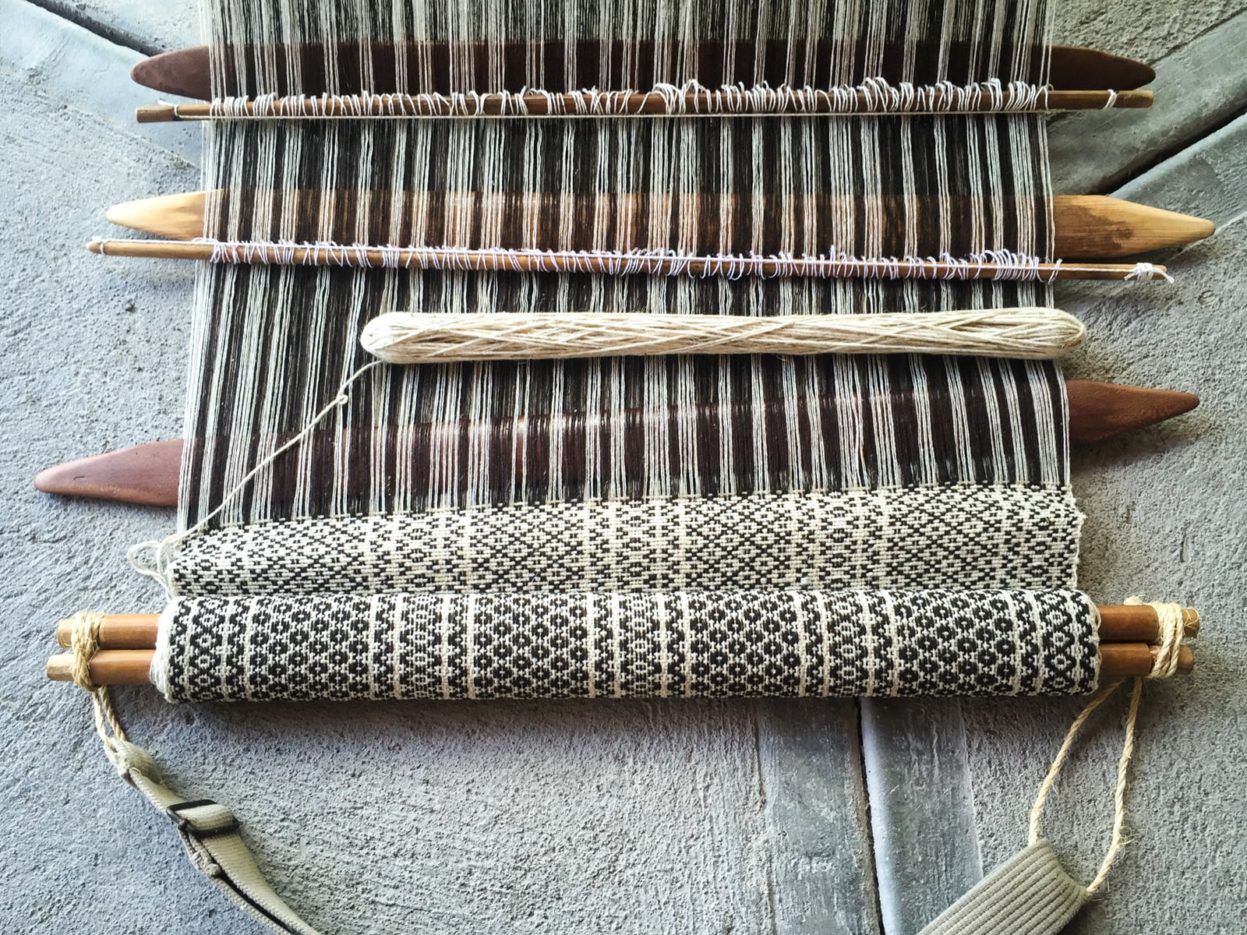 In contrast, he showed us how the large wooden looms work. He uses foot pedals as well as a hand lever that send the yarn back and forth across the textile. The textiles can be made much more quickly with this technique.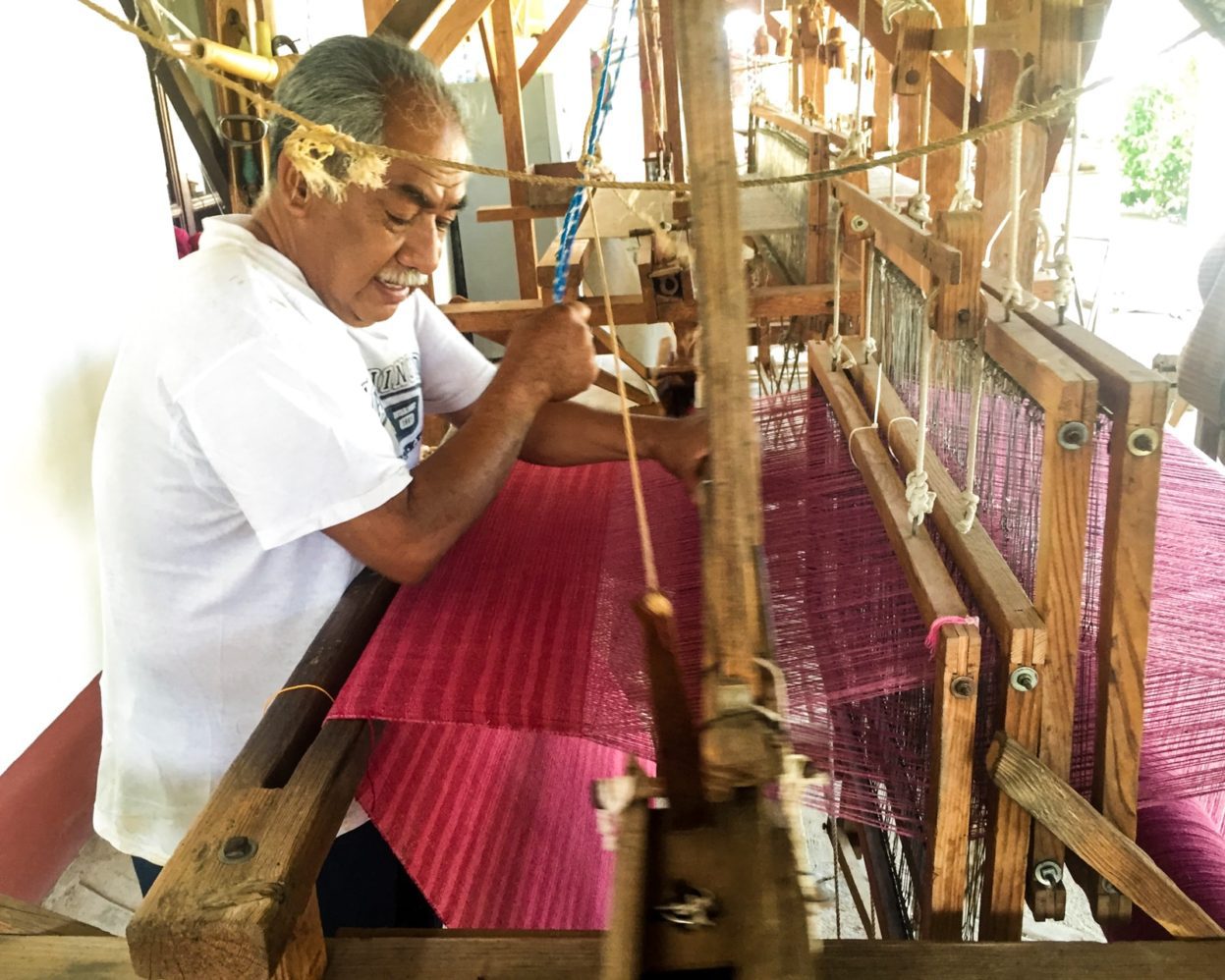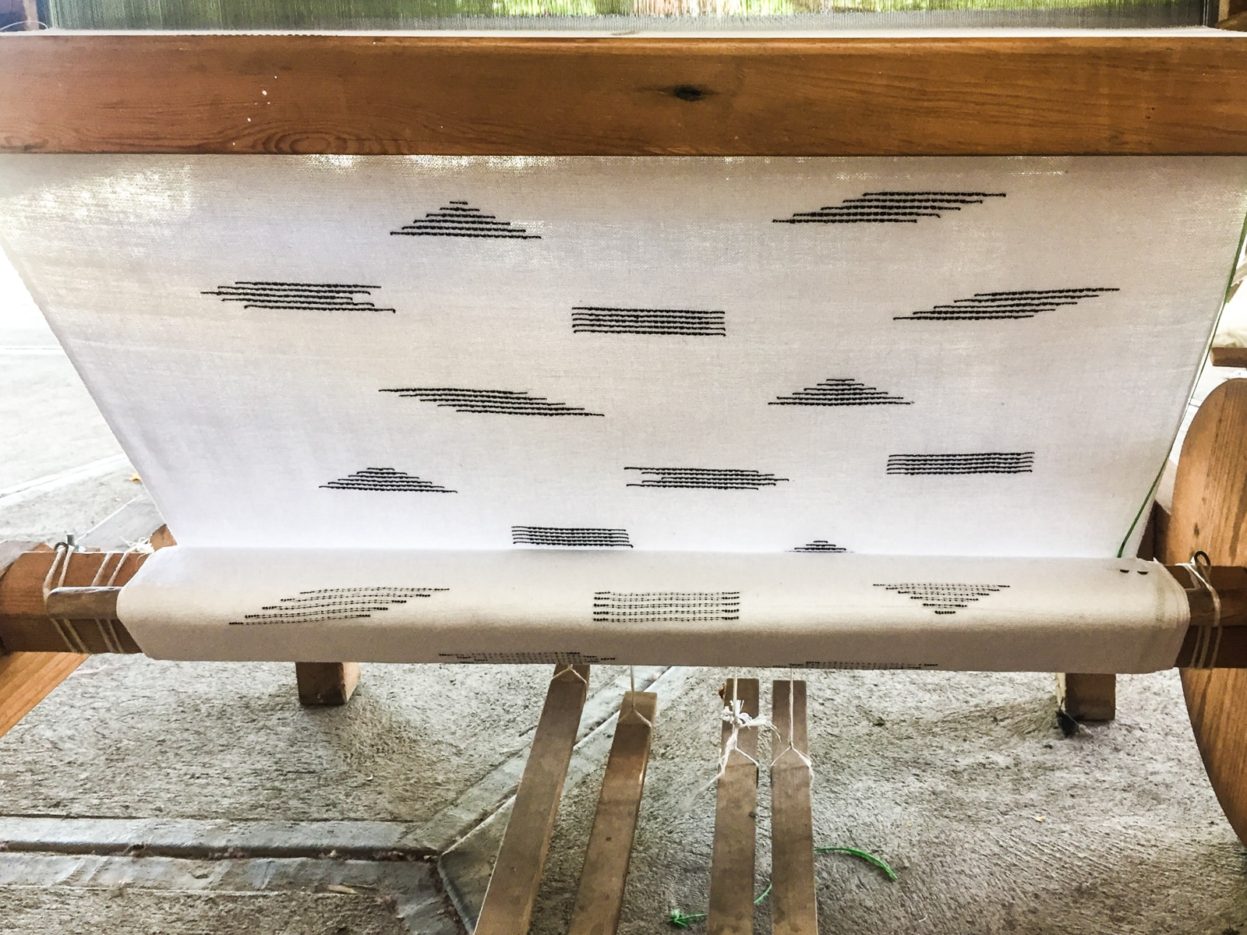 Next he showed us his dyeing process. He also uses natural dyes like indigo and cochineal.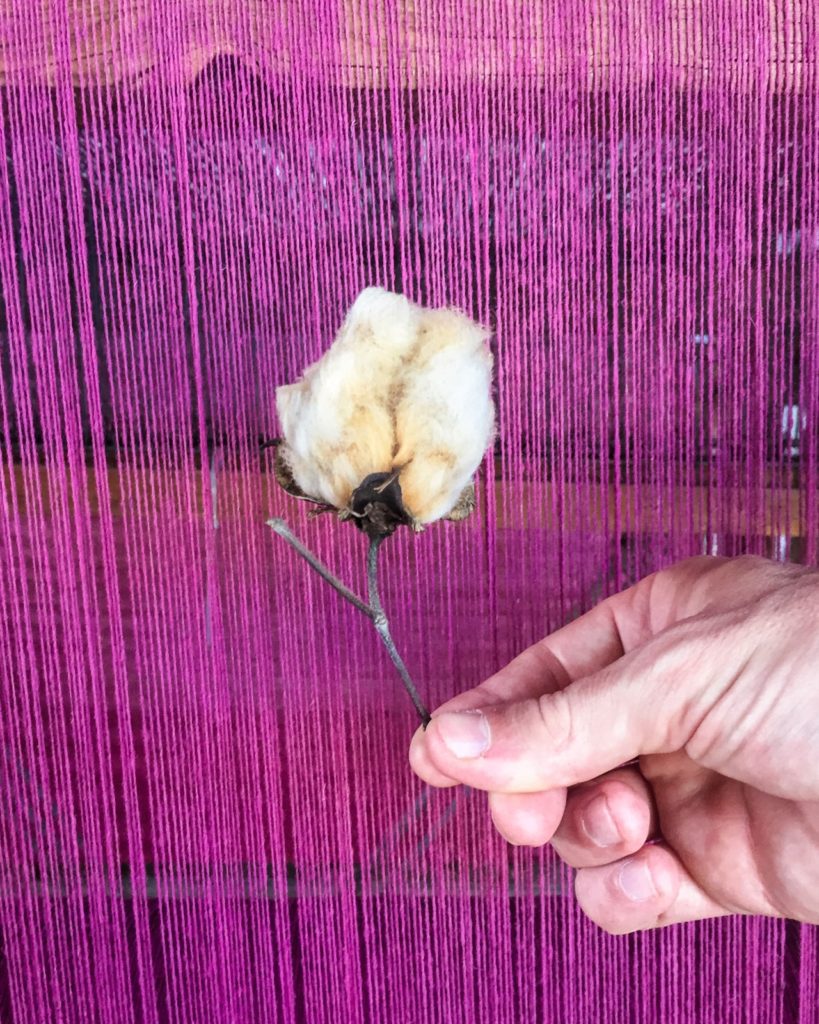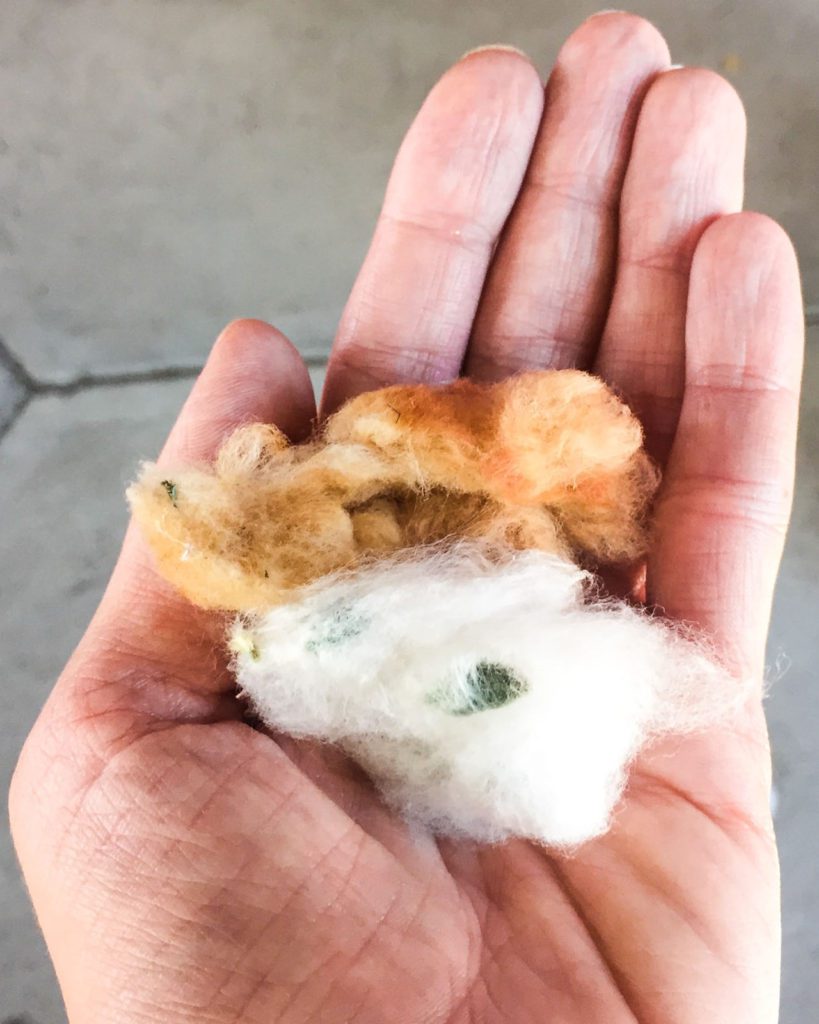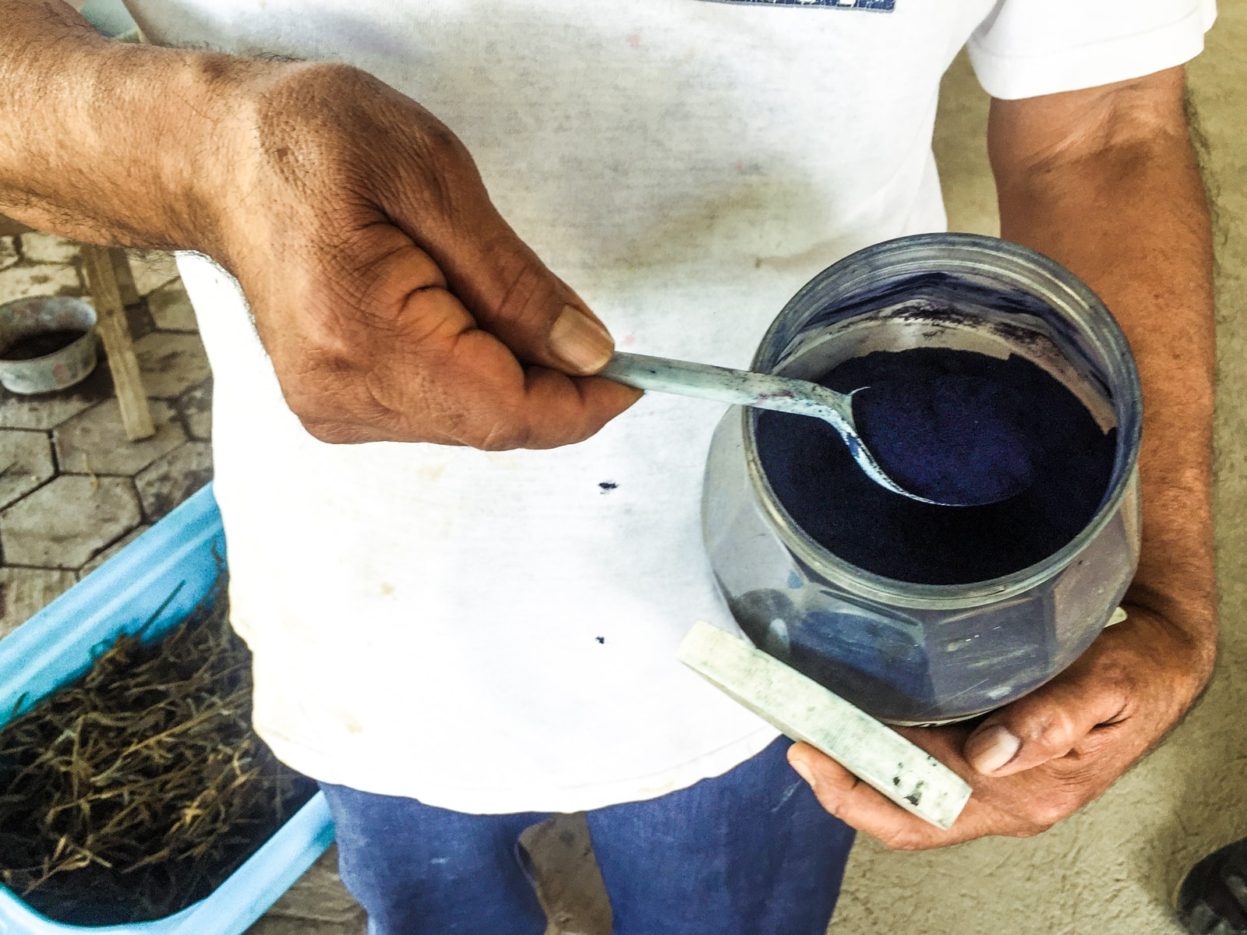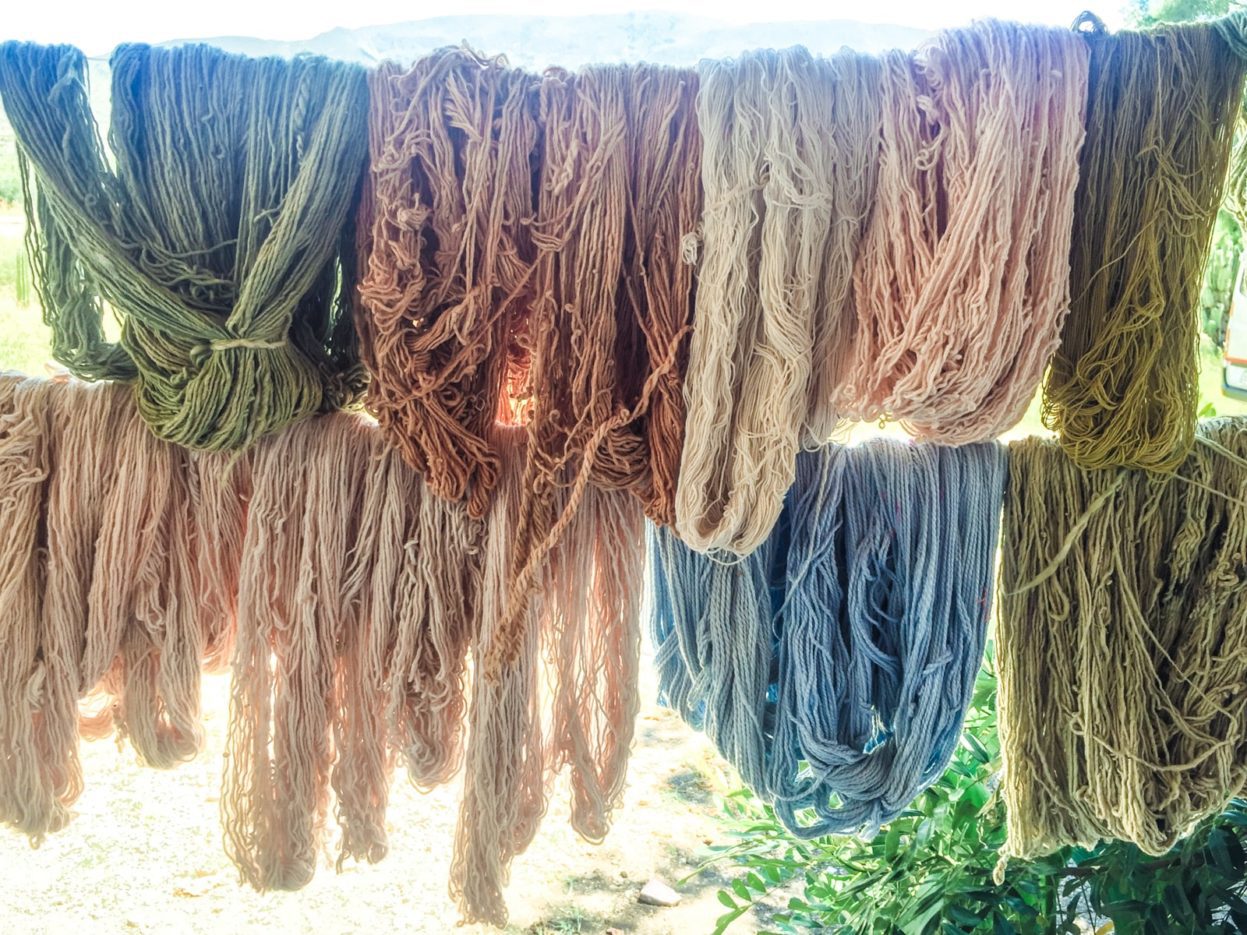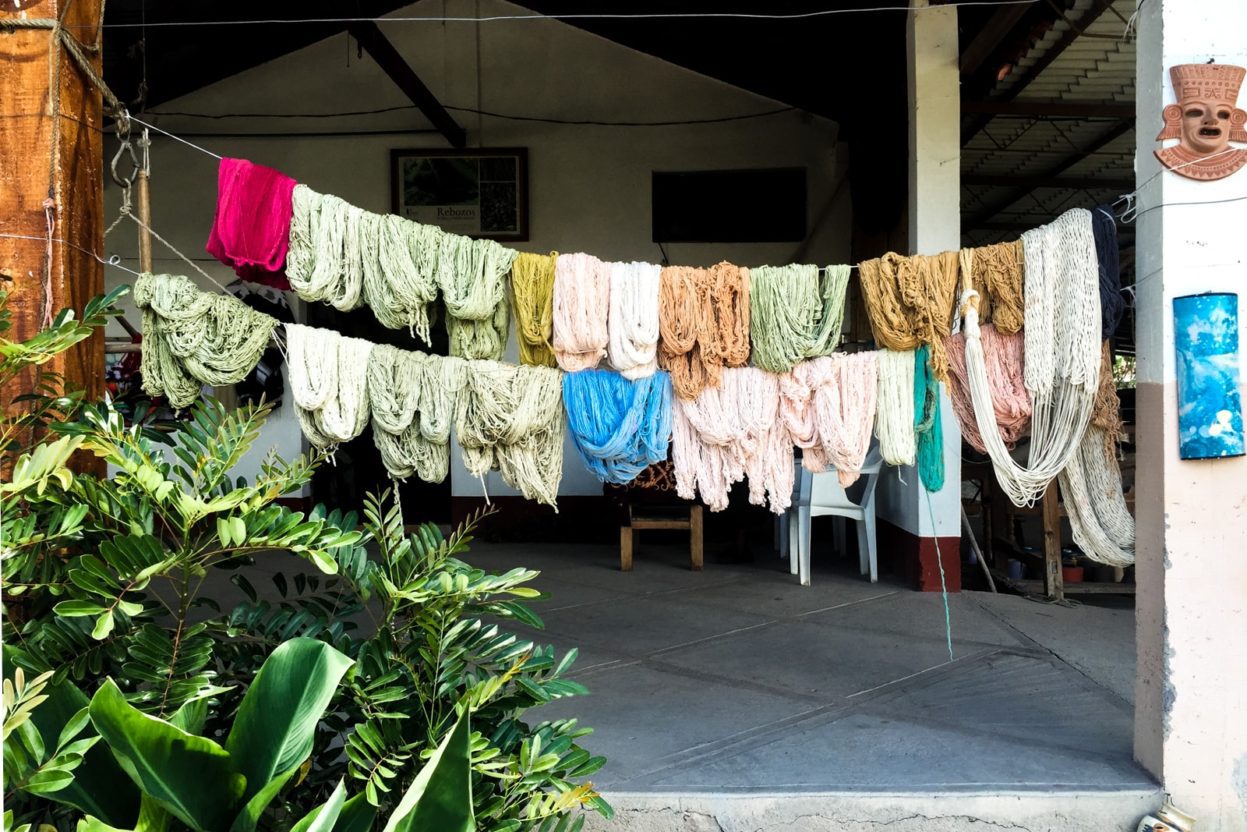 Arturo is currently using some dip dye techniques to create skeins of yarn with 3 or more stripes of color in a gradient (dark to light). I was really interested to see this, as this was a popular trend in the fashion world in New York last year.
Contact:
Mitla - Arturo Hernández Quero
951 243 2711
Carretera Oaxaca Mitla (250.67 mi)
San Pablo Villa de Mitla 70430
*It's recommended to make an appointment to visit the weavers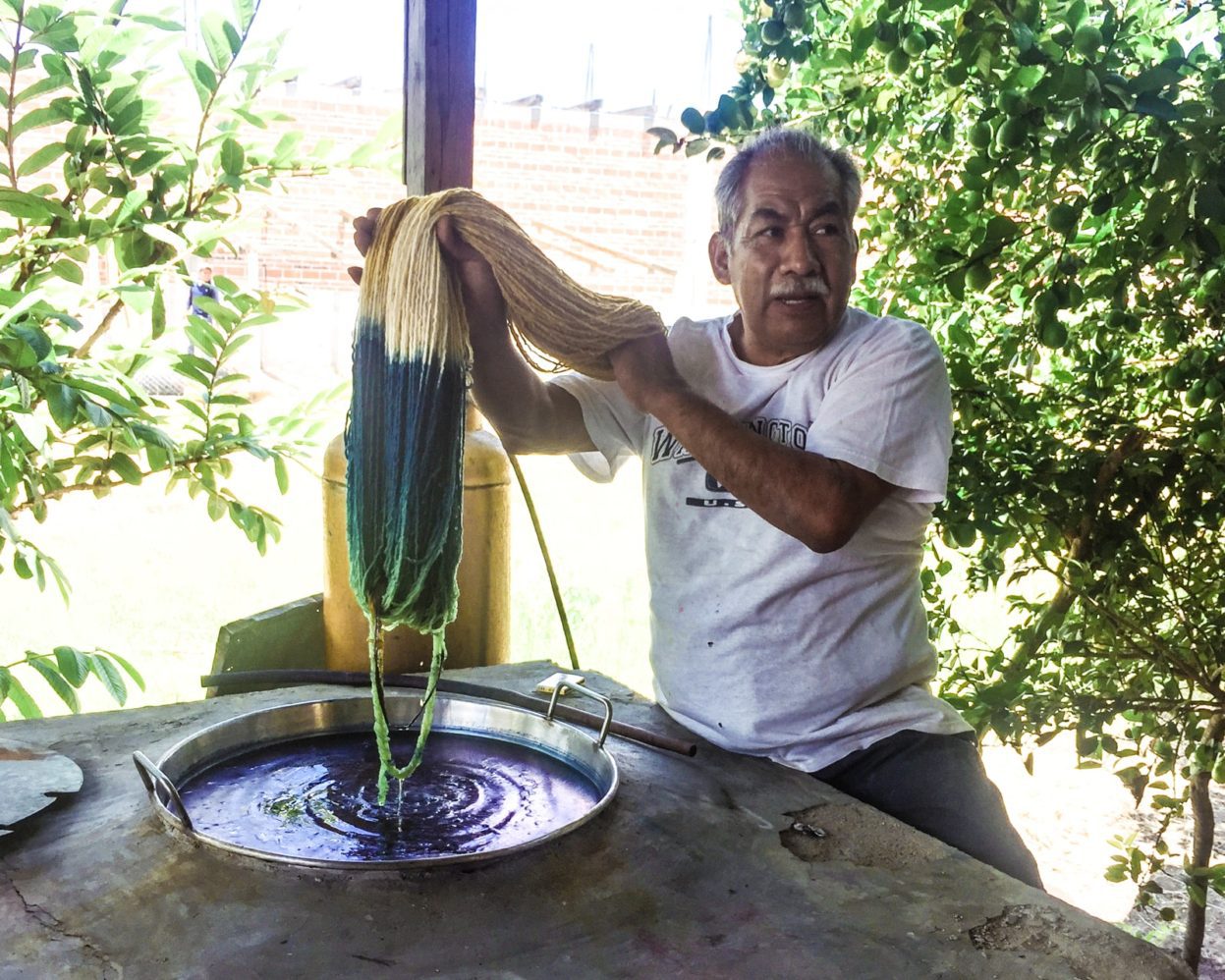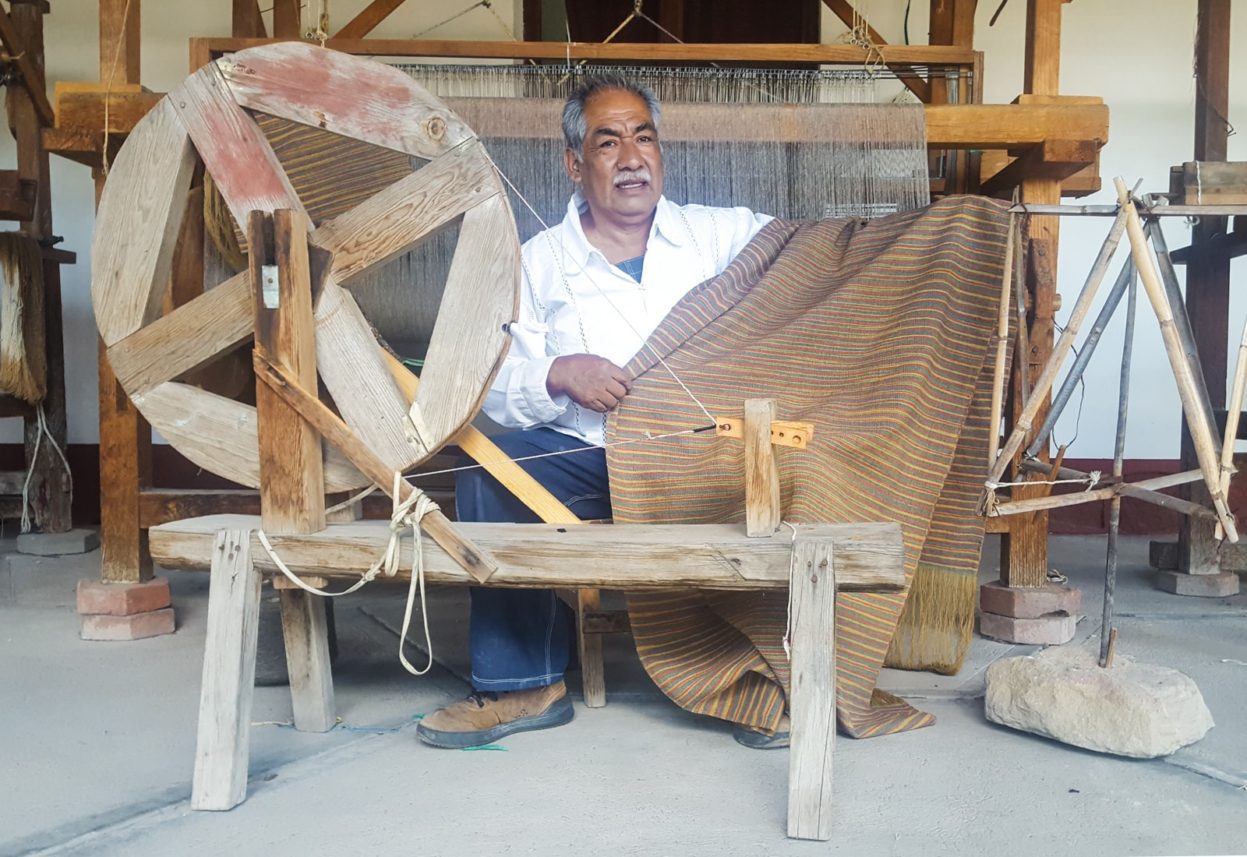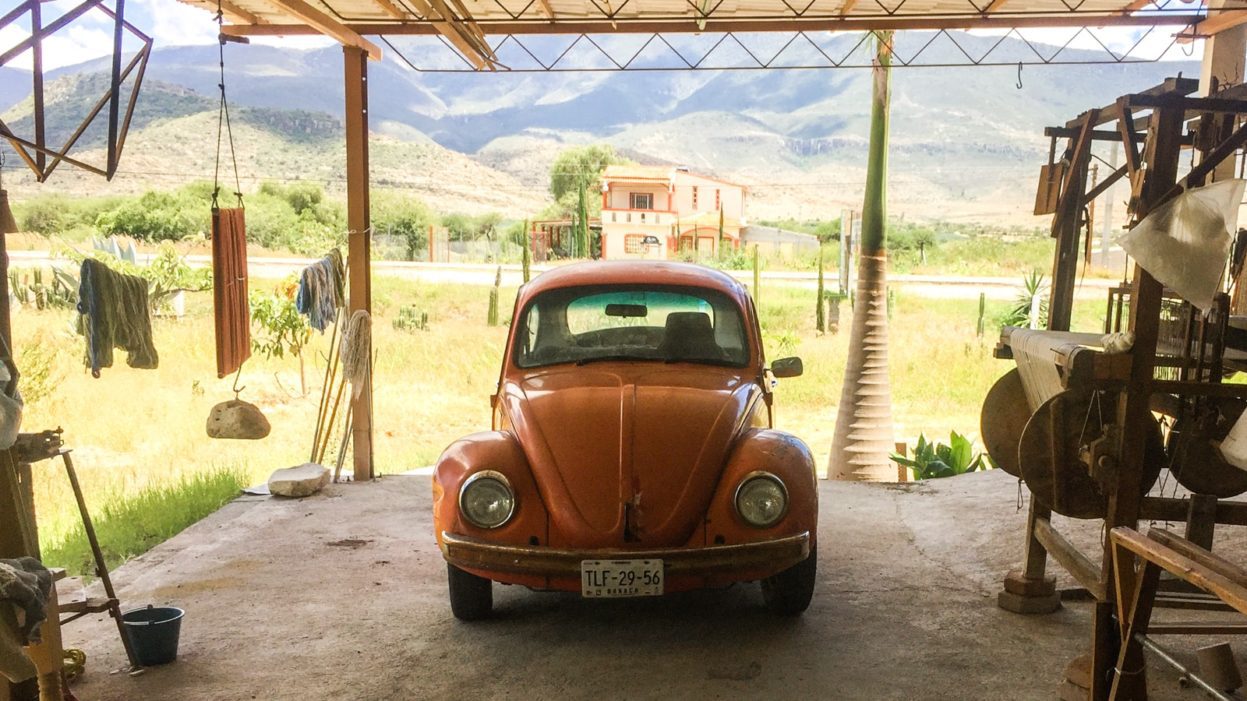 I couldn't resist a photo of this cute vw bug in Arturo's studio.
Santo Tomás Jalieza - Crispina Navarro Gómez
Our last stop on the weaving tour was in the small village of Santo Tomás Jalieza south of Oaxaca city. We visited the home of the Navarro Gómez family - 4 sisters and their mother all weaving together in a circle everyday by traditional backstrap loom. Their textiles were colorful and vibrant.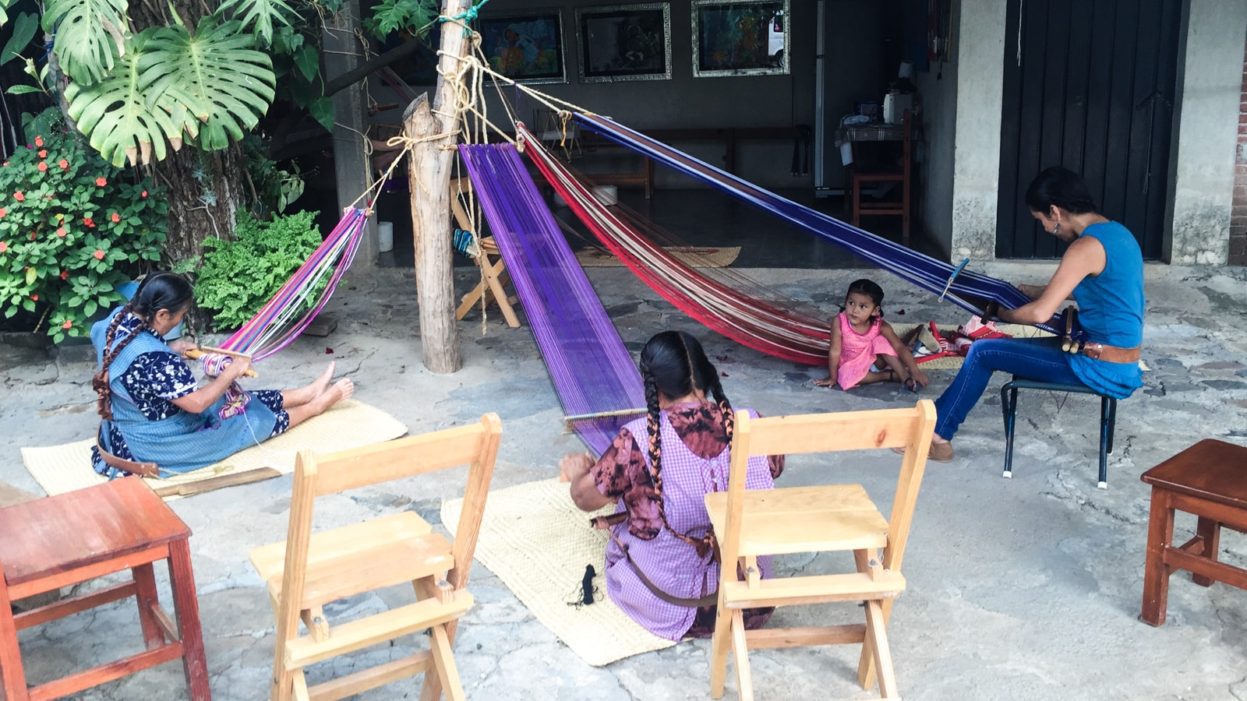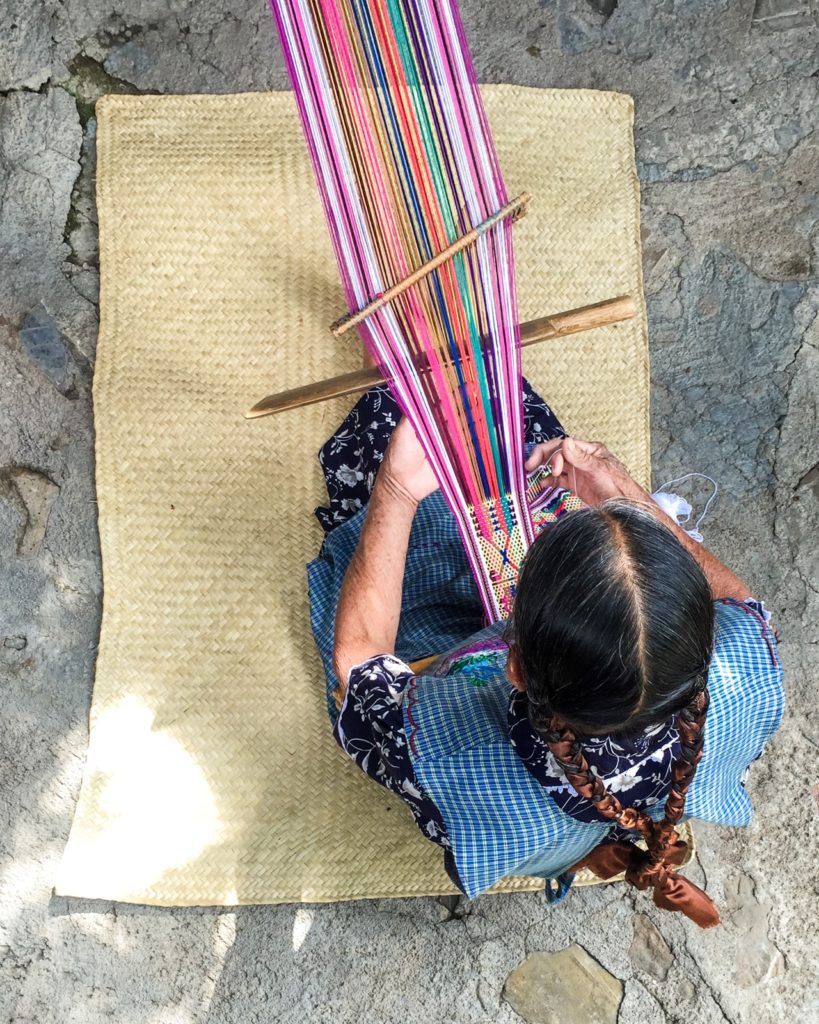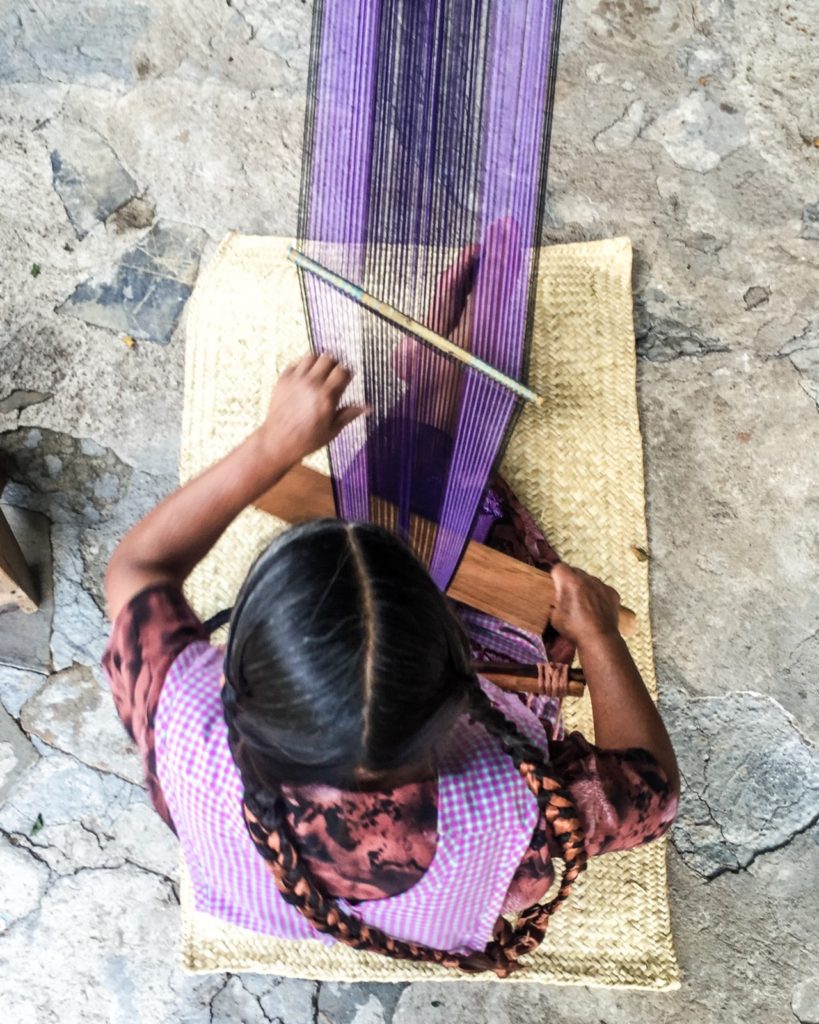 Crispina Navarro Gómez is the most famous weaver in the village and has won national awards for her intricate work.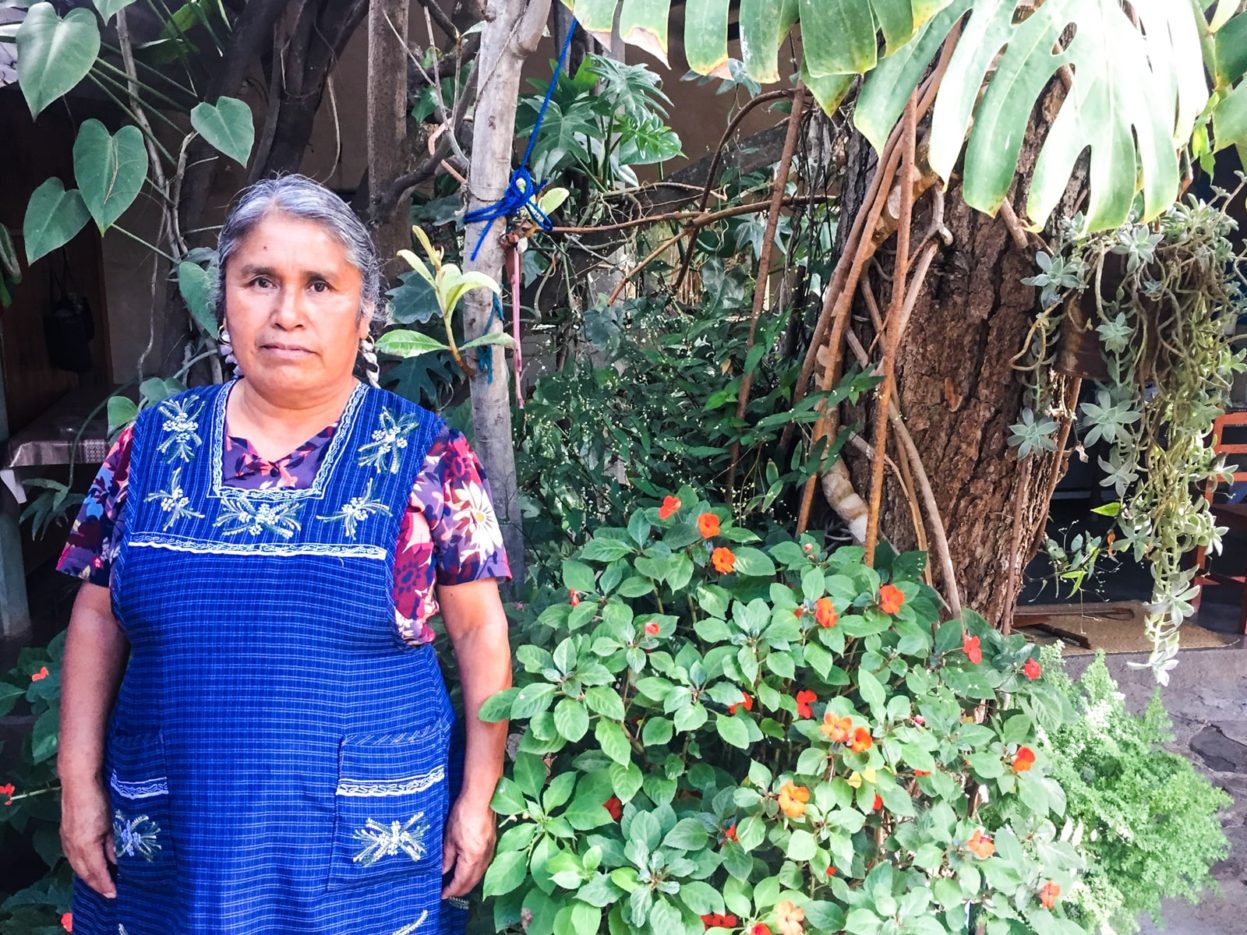 Crispina Navarro Gómez, an award winning and accomplished traditional weaver.
We loved watching them work and laugh together. Watching multiple generations spend the day together and continue this traditional weaving technique was inspiring and beautiful.
Contact:
Crispina Navarro Gómez
951 528 1114
Benito Juárez # 42,
Santo Tomás Jalieza, Ocotlán, Oaxaca
*It's recommended to make an appointment to visit the weavers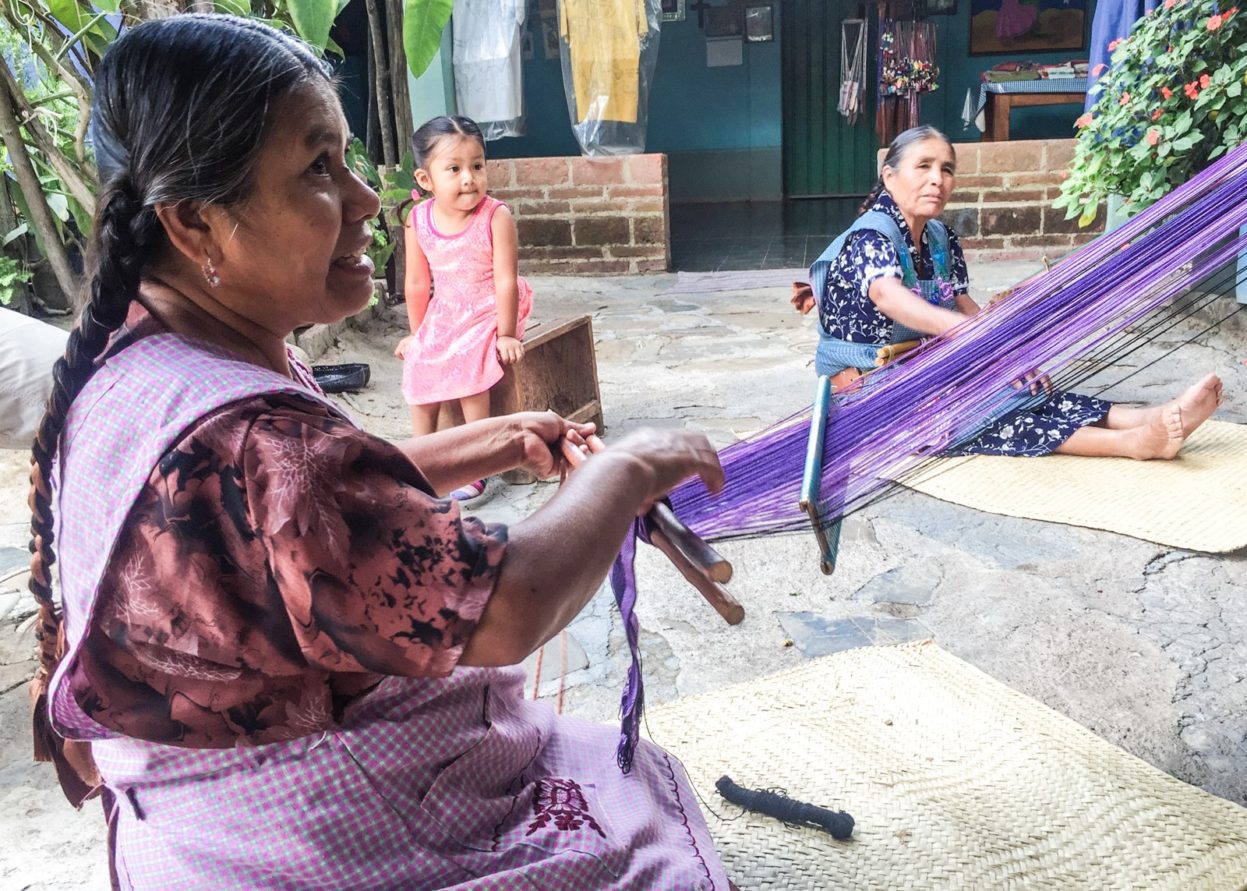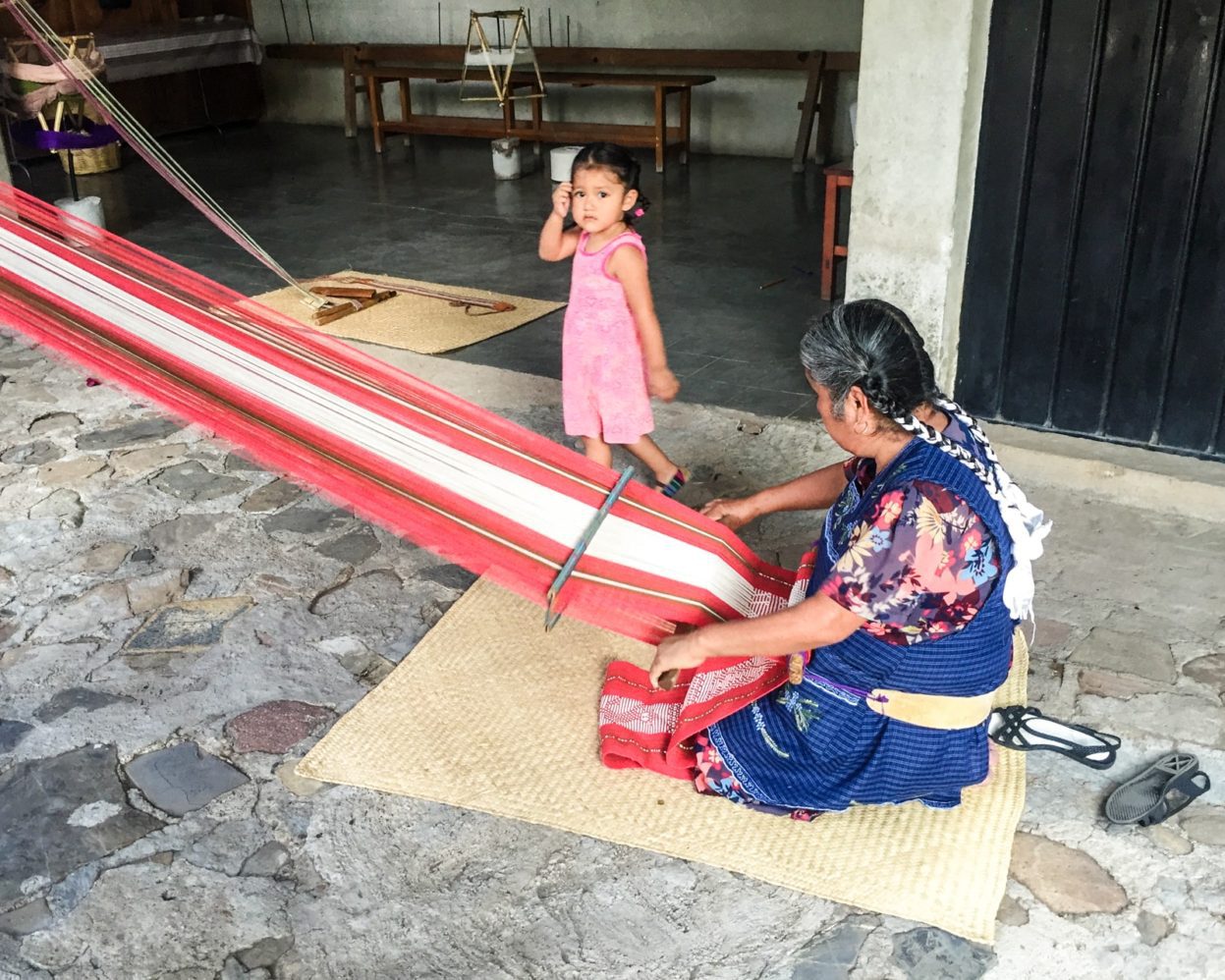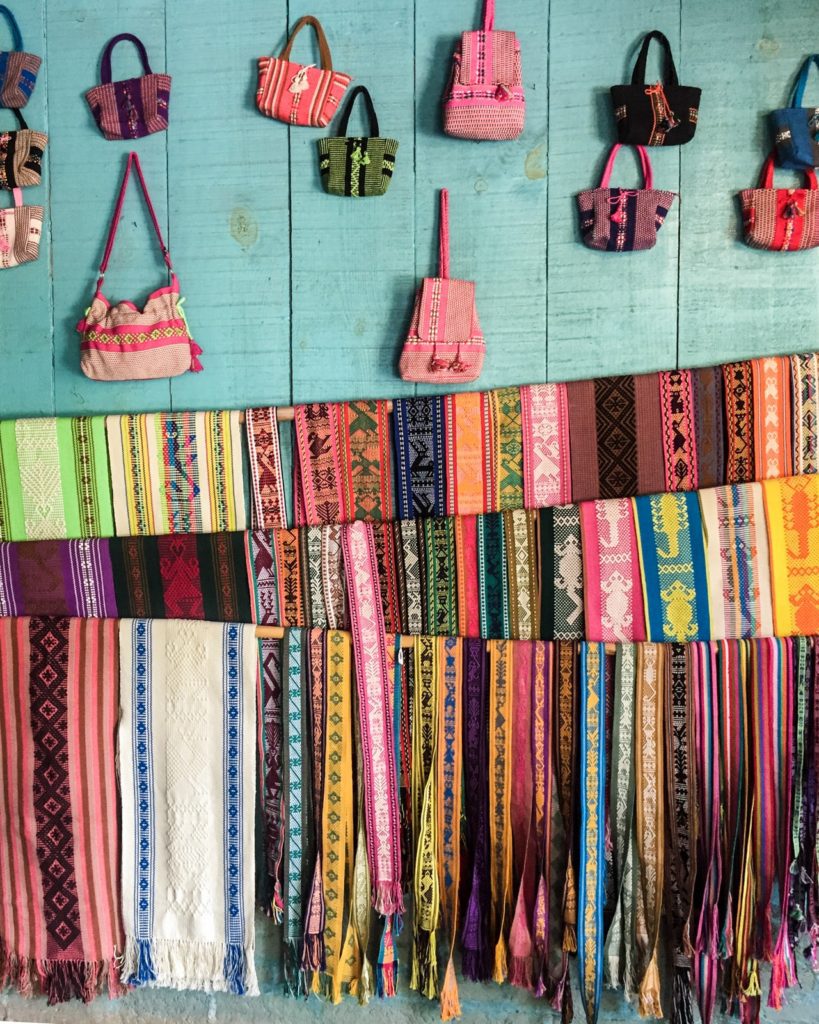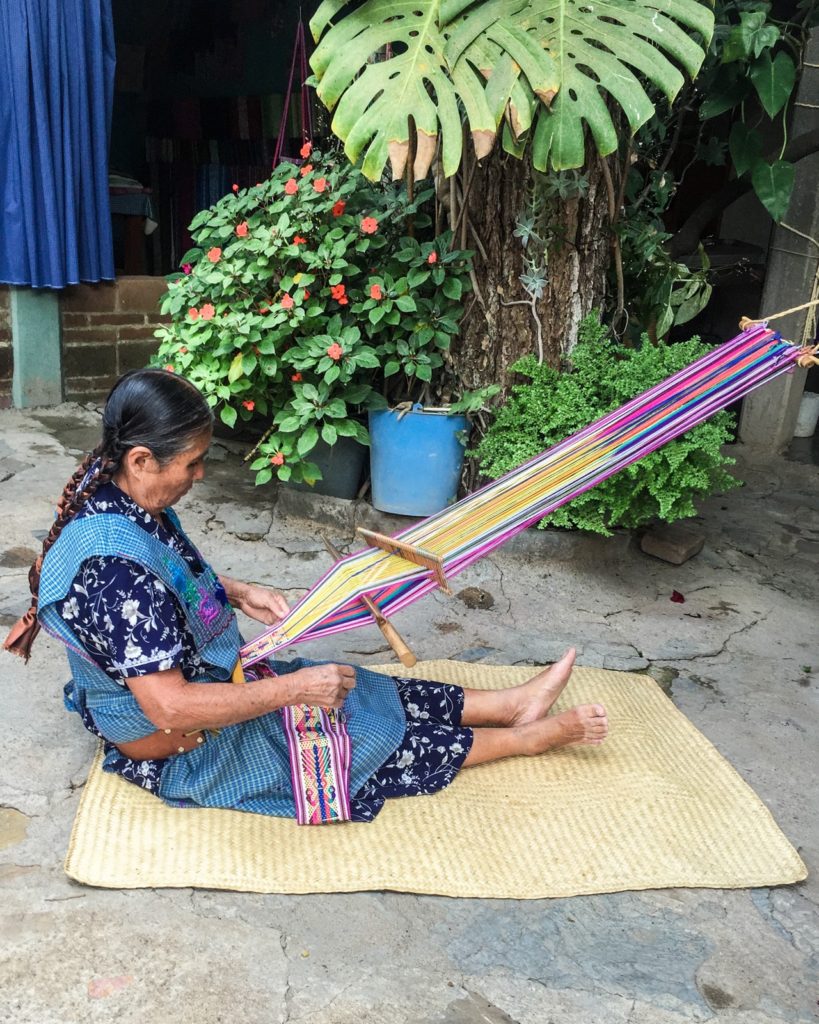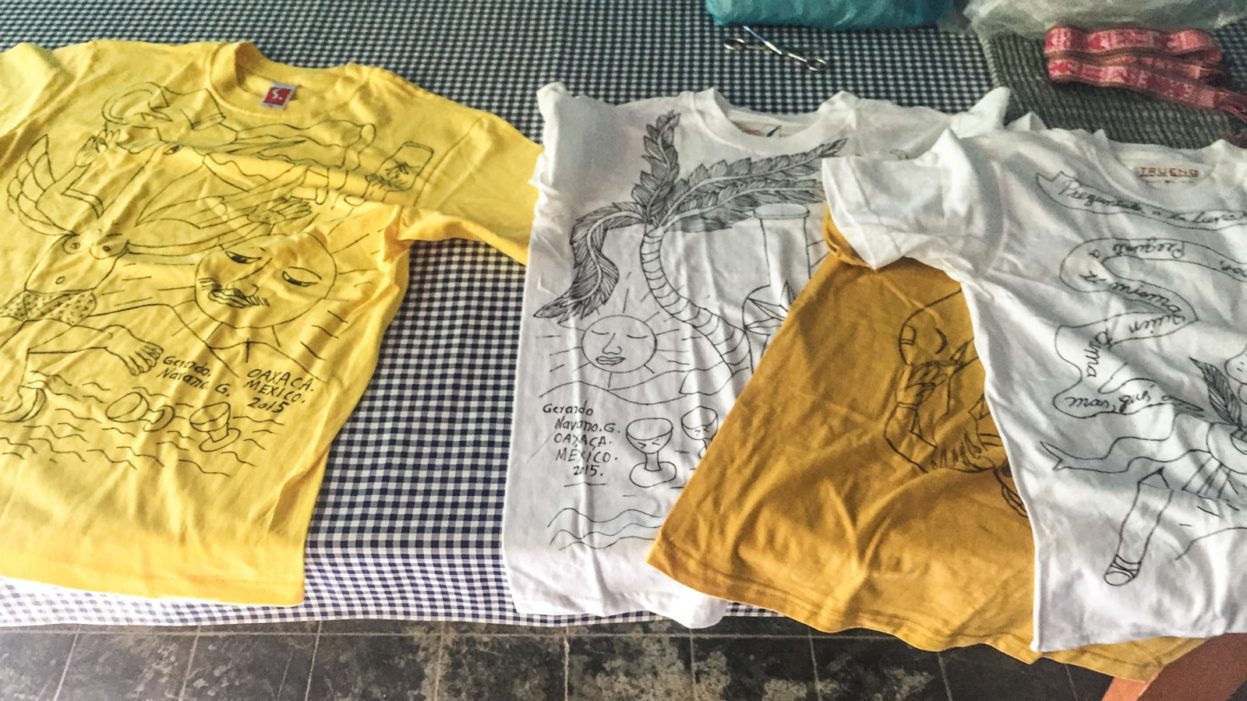 Very cool one-of-a-kind hand drawn t-shirts sold alongside the textiles.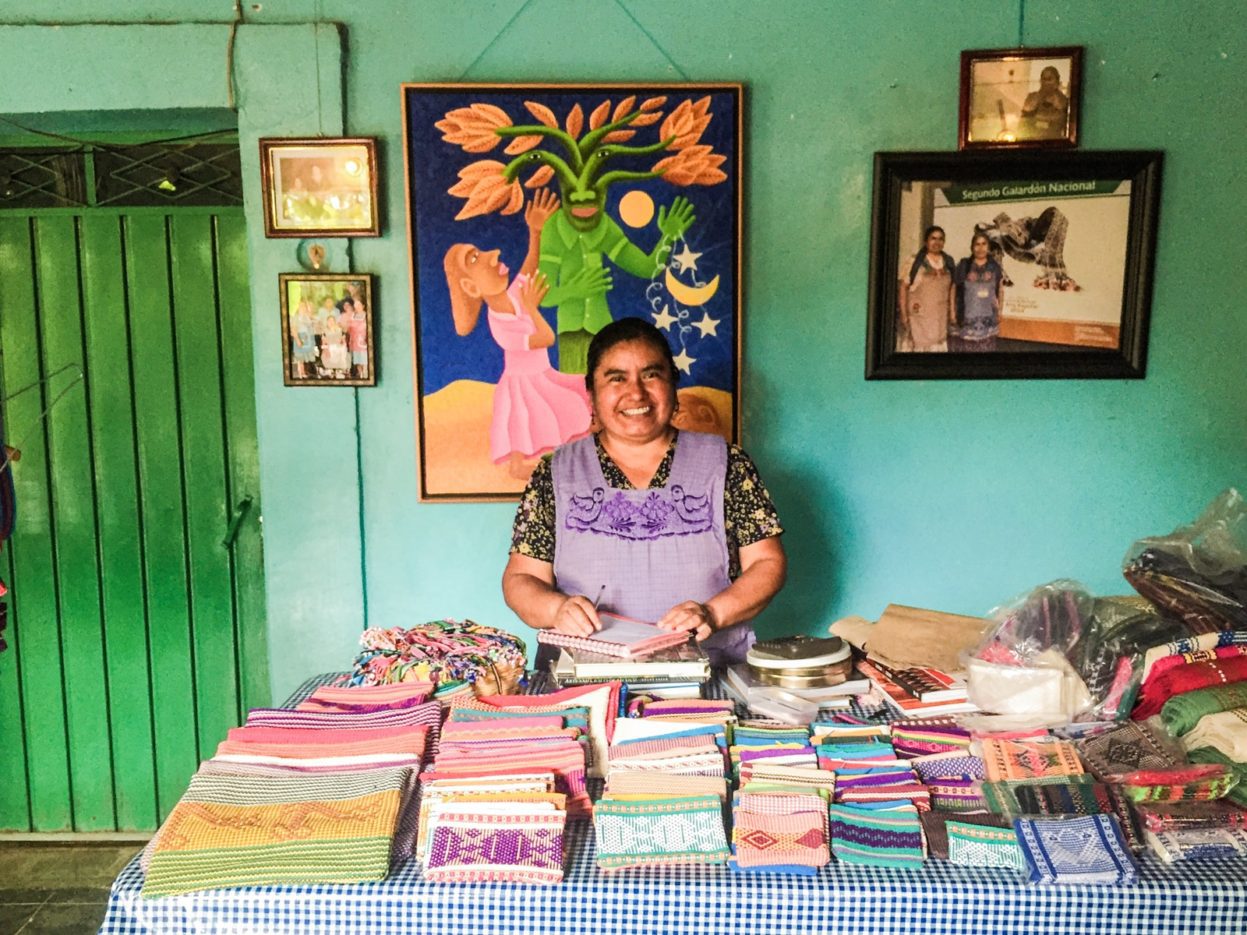 The Tour Guide
René is a pleasure to spend time with. He's knowledgeable about the culture, history, and traditions in Oaxaca and the Valles Centrales. But he never comes off like he's reading from a script (like many other tour guides I've experienced). He's very personable and conversational which I loved. We were free to ask any questions we had along the way, and he was happy to answer them.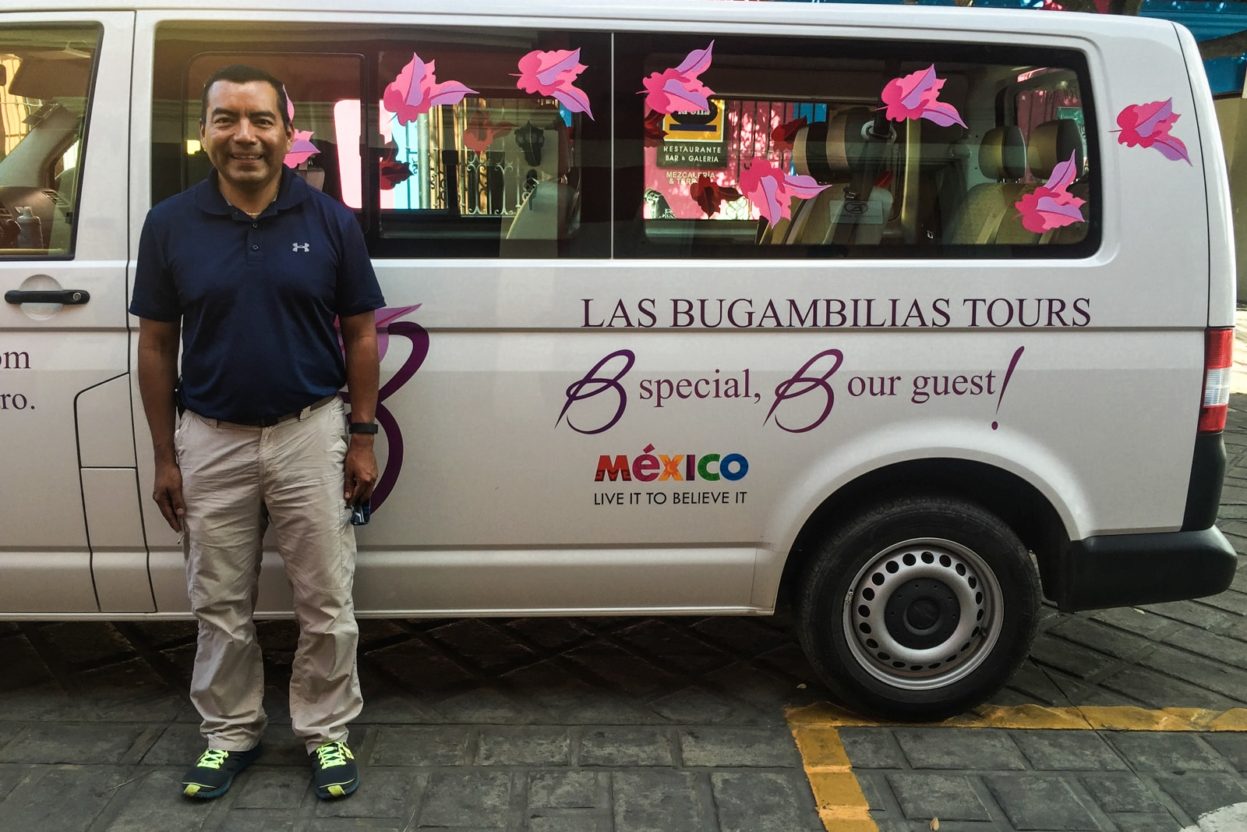 His knowledge of the area also allowed us to make two unexpected but very welcome stops along the way...
A Couple Unexpected Stops Along the Way
Because René's tours are totally customizable, there is freedom and flexibility to see exactly what interests you the most.
Pulque:
As we were driving from the lunch restaurant to the 3rd weaving village, Rene asked if we had tried Pulque before. I replied that we had once in Mexico City, but didn't love it there and wanted to try it again.
He replied that there was a great Pulquería right on our way in Santiago Matatlán. We pulled in front of a brightly colored but tiny shop and were promptly served fresh pulque made that morning. To my surprise, it was light, sparkling and refreshing - nothing like the slimy version we had tried before. We loved it so much we bought 2 liters to bring home with us. René kindly stored it in his cooler in the back of the van.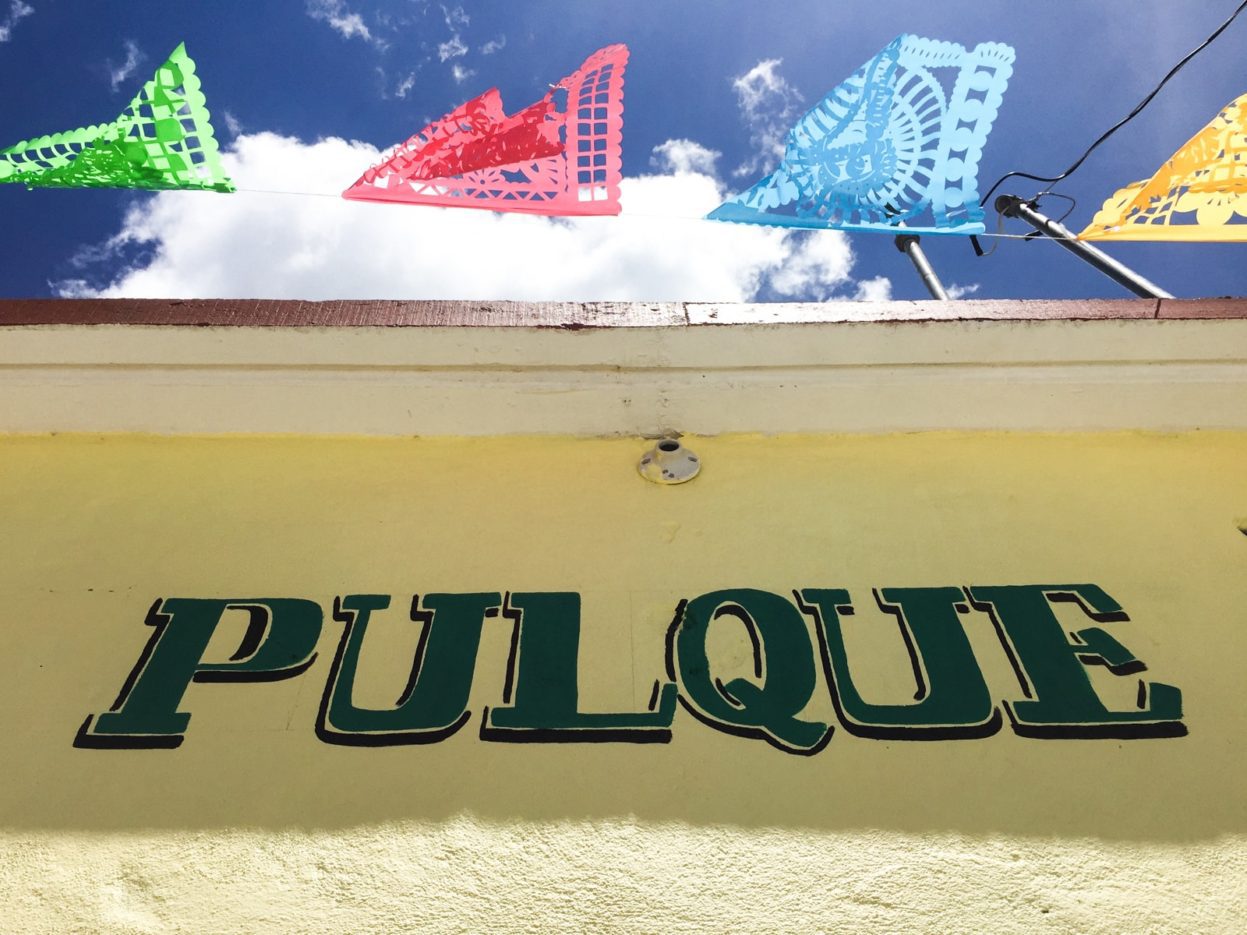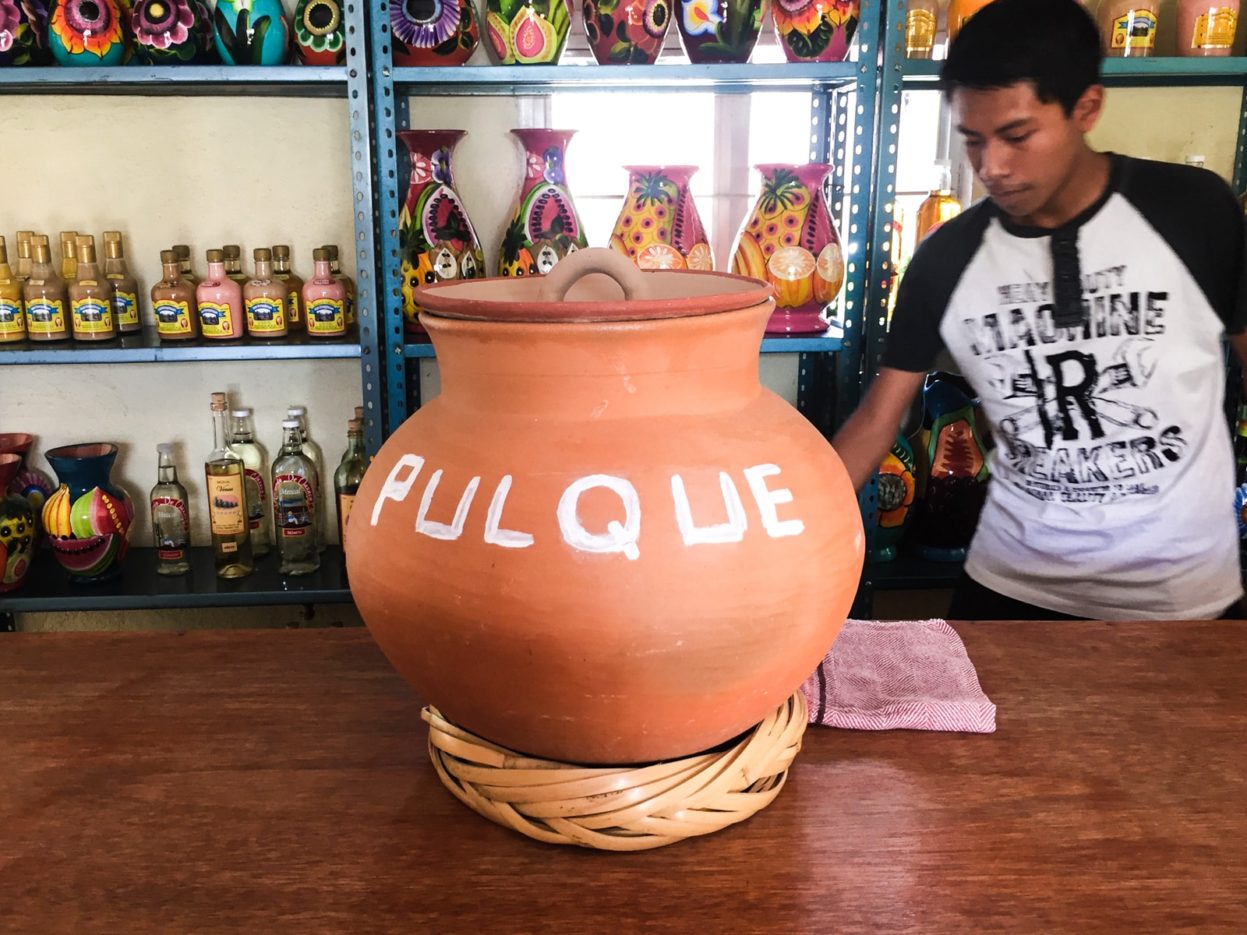 Mezcal
Our second pleasant surprise came shortly after. René asked if we liked mezcal. I replied "of course!" and he informed us that there was a woman in a nearby town who was famous within mezcal enthusiast circles. She sells the mezcal straight out of her home, and her son makes the mezcal nearby.
We walked into her simple home and were shown the two types she had - Espadin (the standard variety of maguey) and one type of Silvestre (a wild maguey plant). We sampled both and were blown away, especially by the wild variety. We immediately asked to buy some. We handed her an empty plastic bottle, and she filled it up from her giant jug.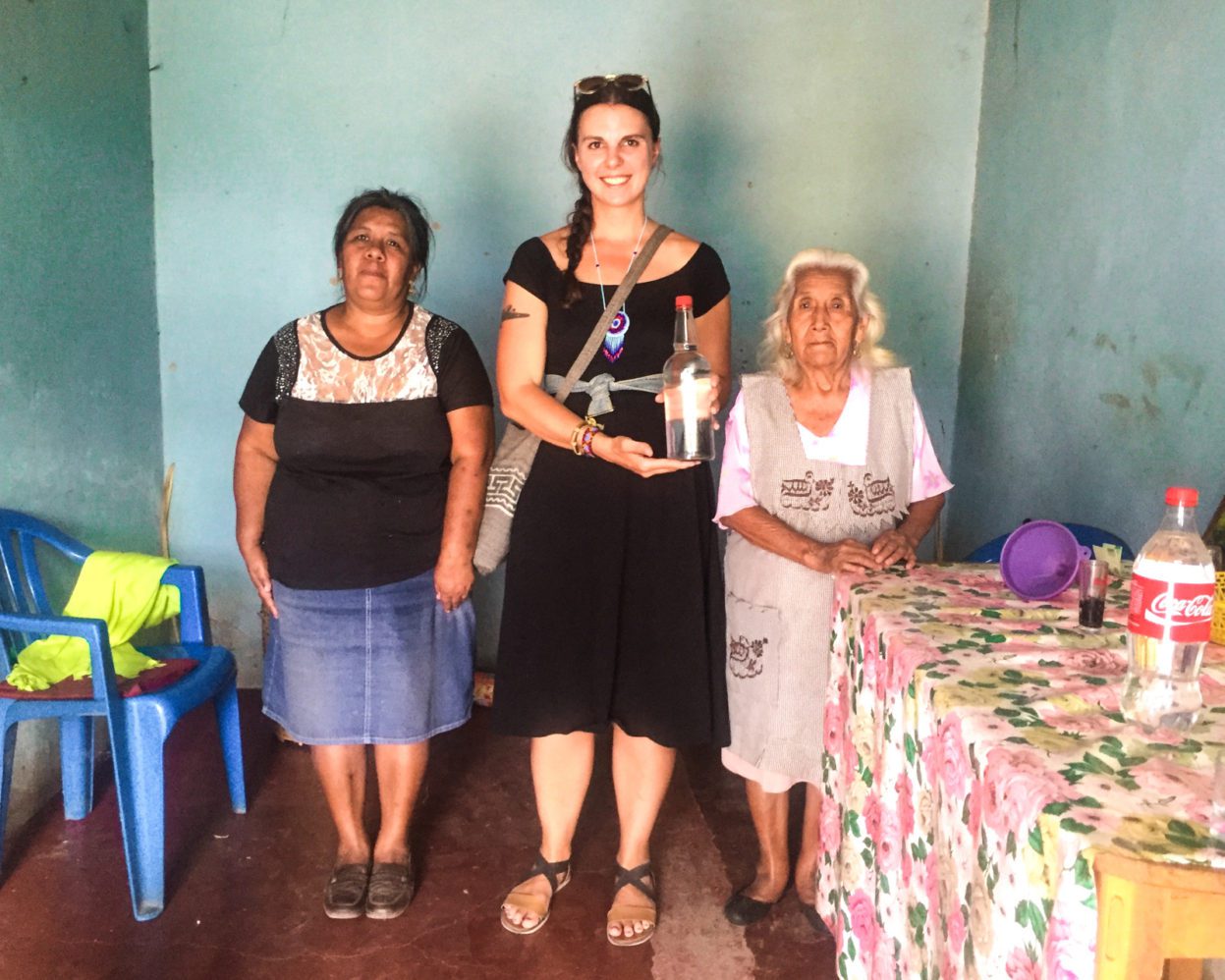 Meeting Angela Angeles, a famous off-the-beaten path mezcal seller.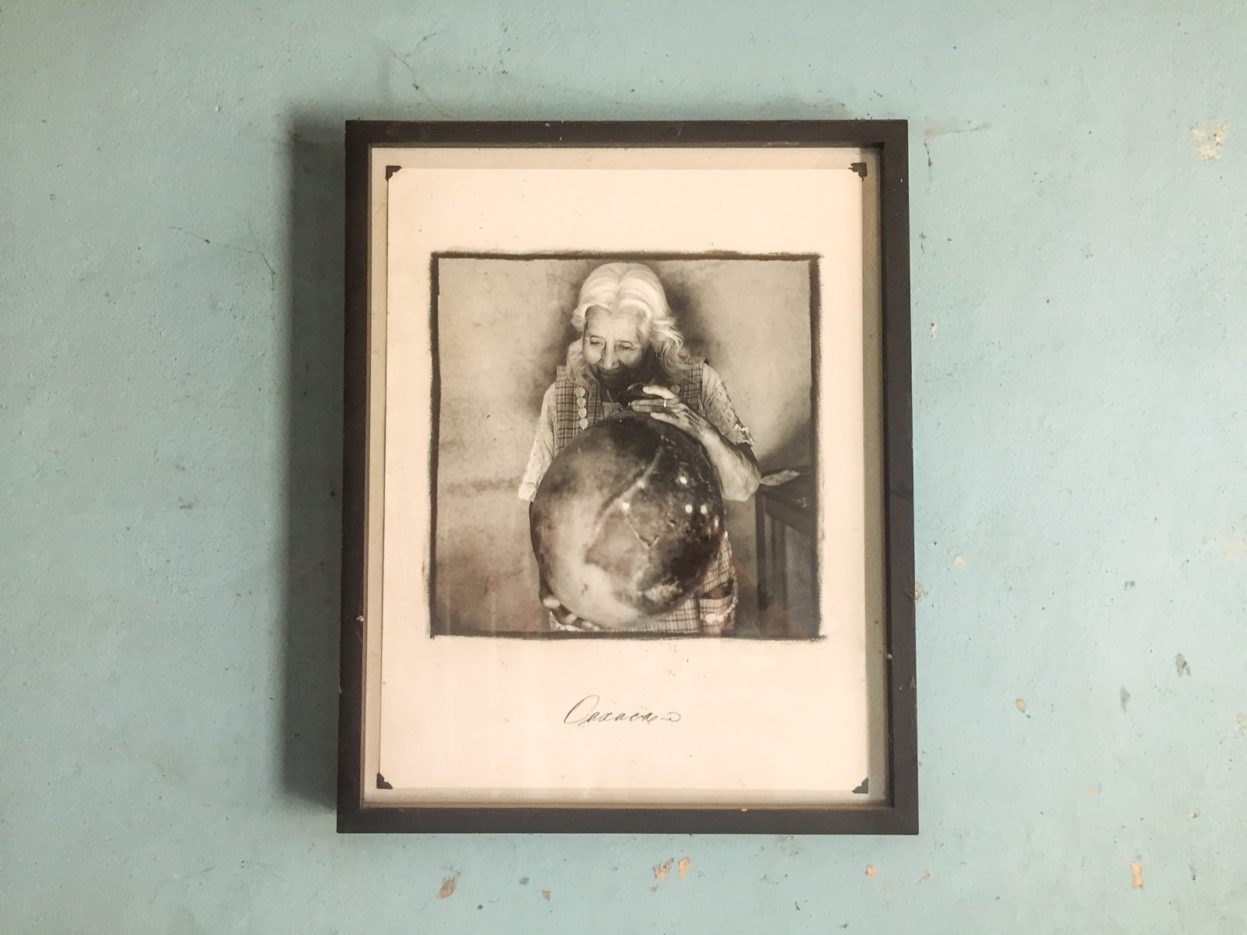 My husband and I love mezcal. Really love it! And we try different varieties anytime we can. We have never had such a complex and flavorful version before. I felt so happy to have had the chance to find this off the beaten path mezcal experience.
The Lunch
I have been on quite a few tours in my time, and one thing I can always count on is a bad to mediocore lunch. It's almost expected for a tour to stop at one of the overrun and giant comedors that cater to bus and van tours.
The lunch on this tour was totally different. We did stop at a big restaurant on the main road, but the food was outstanding. The restaurant was called Zapata, and the building was an old mezcal distillery with kitschy decor throughout and a cactus garden in the back.
The service was impeccable and our food, delicious. We shared a chapulines and guacamole dish to start served with tortillas. Then we sampled the tlayuda arrachera and the sopa Oaxaqueña. Everything was fresh and flavorful.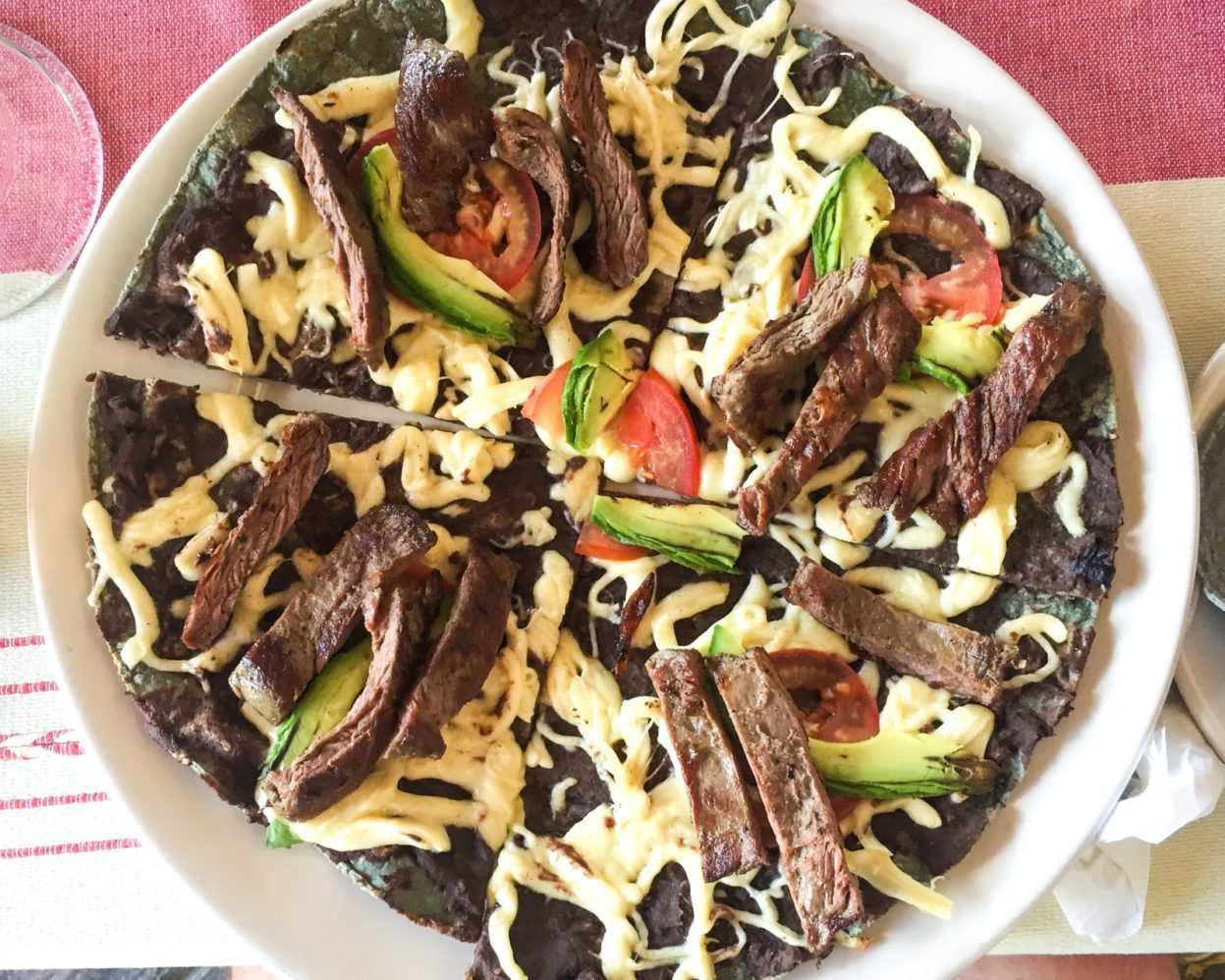 The Comfort
The Las Bugambilias tour van is very new and comfortable. It seats a large group, if you have one, with plush seats and A/C available. René also supplies purified water during the day.
We were able to sit back and relax, and let René take care of all the details.
Nothing. Really and truly nothing. It was such a wonderful day, learning about longstanding cultural traditions, artisan techniques, history, and the local people. I felt so lucky to have been able to meet all the talented weavers and as well as the little known mezcal seller and the pulque vendor.
René was a pleasure to spend time with. He made conversation, gave helpful information about the towns, people, and traditions, and then also gave us some space to relax during one of the longer car rides between towns.
Conclusion:
Las Bugambilias Tours are a great resource to finding the best local artisans and also some off-the-beaten path experiences. The tours are totally customizable so you can choose if you want to focus on one subject - like Oaxacan textiles - or if you want a variety of experiences, like ruins, artisans, and mezcal distilleries. René also provides a special Oaxaca tour for holidays like Day of the Dead, Christmas, and Semana Santa.
---
Tour name: Las Bugambilias Tours
Social Sites: Facebook
Price: For a private 8/hr Tour - $25/hr for 2 people, $35/hr for 3-8 people, $25/hr for 9-18 people. (All prices $USD)
Includes: Free purified water, comfortable van with A/C
Office Location: Reforma 402, Centro, C.P. 68000, Oaxaca, Oax. México
Contact: [email protected]
Booking: https://lasbugambilias.com/tours/
---
Disclosure: I was offered a free tour with Las Bugambilias in exchange for an honest review.
All opinions are my own!
---