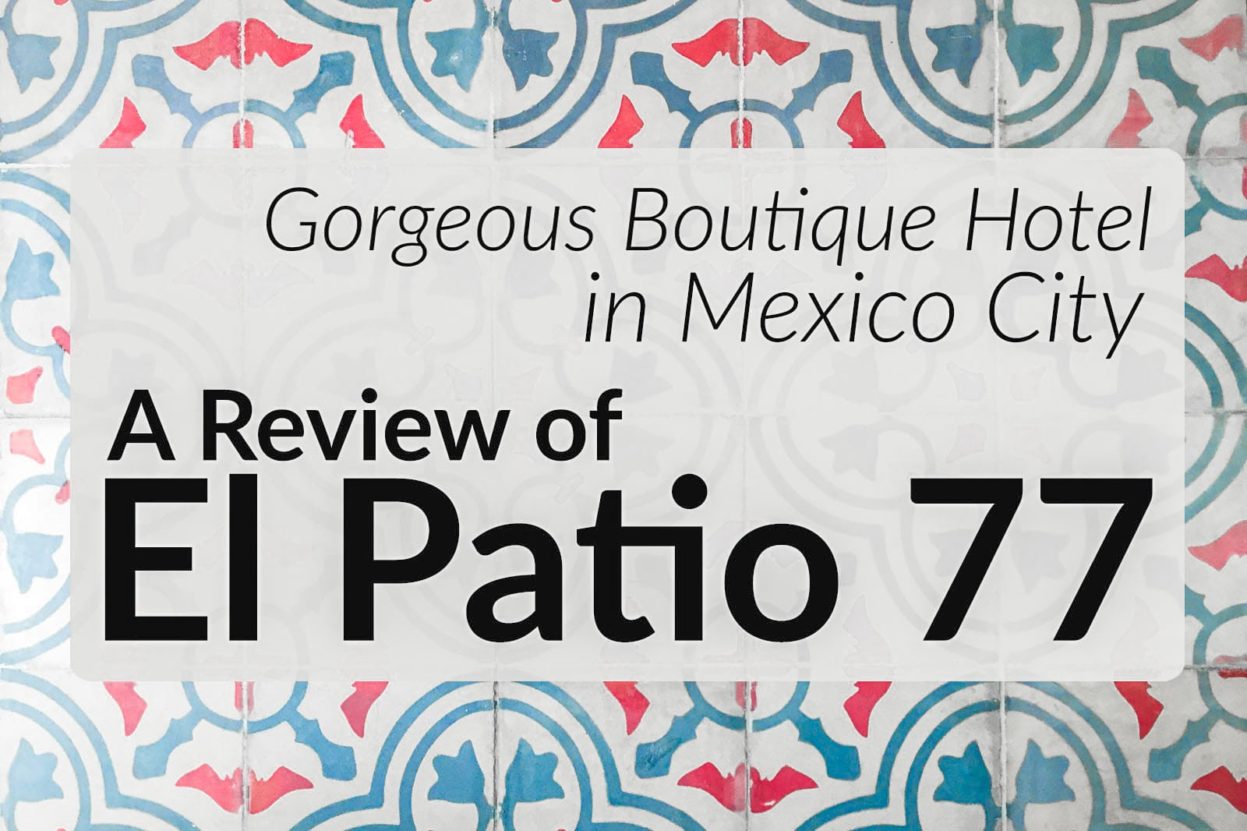 I adore Mexico City. The cultural and creative energy there is pulsing, yet everyone is relaxed and moving at their own pace. It feels a bit like the excitement of New York, mixed with the relaxed sensibility of LA (if people were eating street tacos and speaking in Spanish).
So anytime I have a chance to pass through, I'm thrilled. I spent almost 3 weeks there earlier this year, and it just wasn't enough to absorb the best of this enormous city. This time, we'd be passing through for a quick 48 hours before catching a flight back to the US. After booking with El Patio 77, I was excited to explore a new up and coming neighborhood and all it has to offer - San Rafael.
We had an awesome two days strolling the historic streets, eating delicious food for each and every meal, and checking out a couple sites we missed our first time around. We were lucky enough to do all that from our beautiful and comfortable oasis at El Patio 77.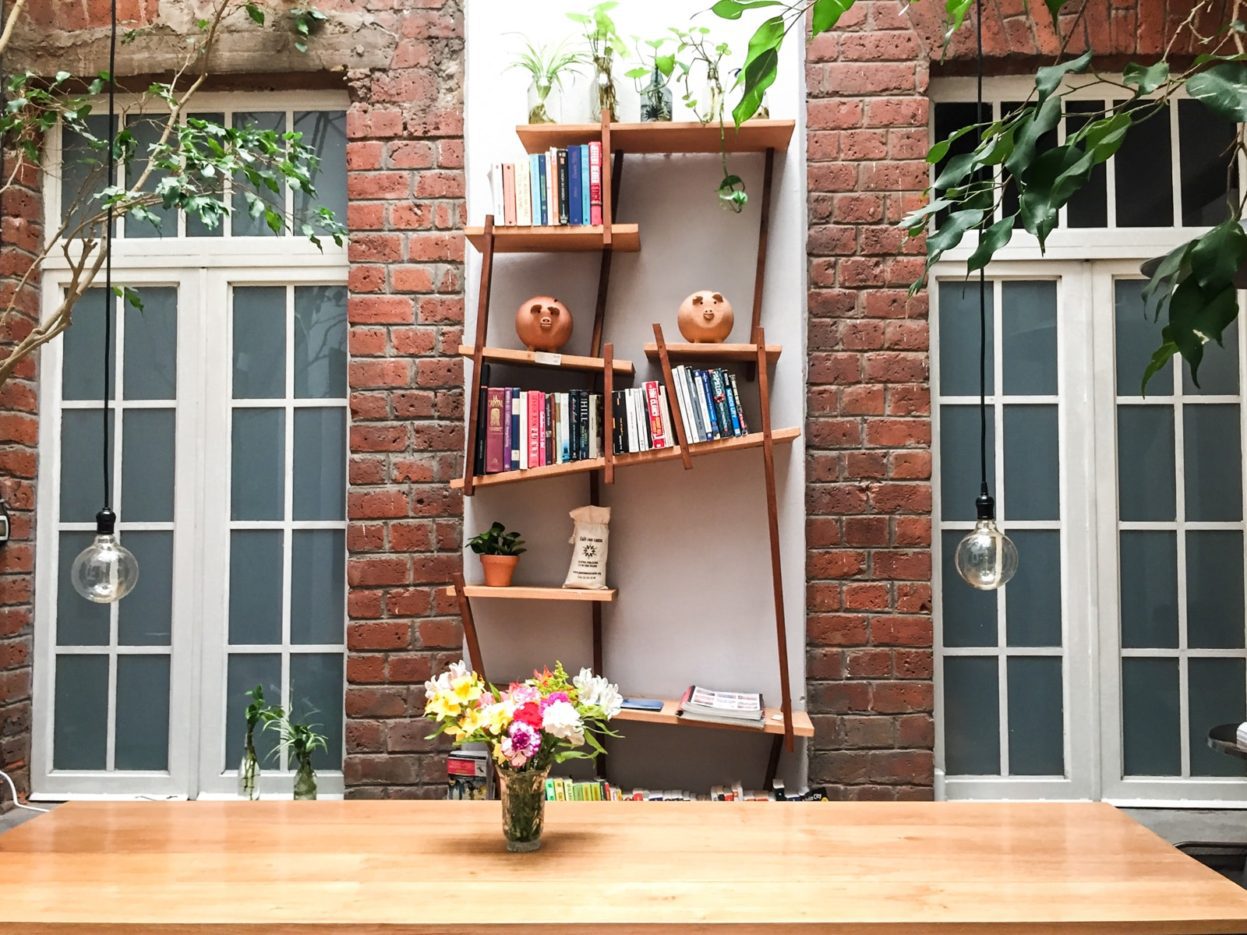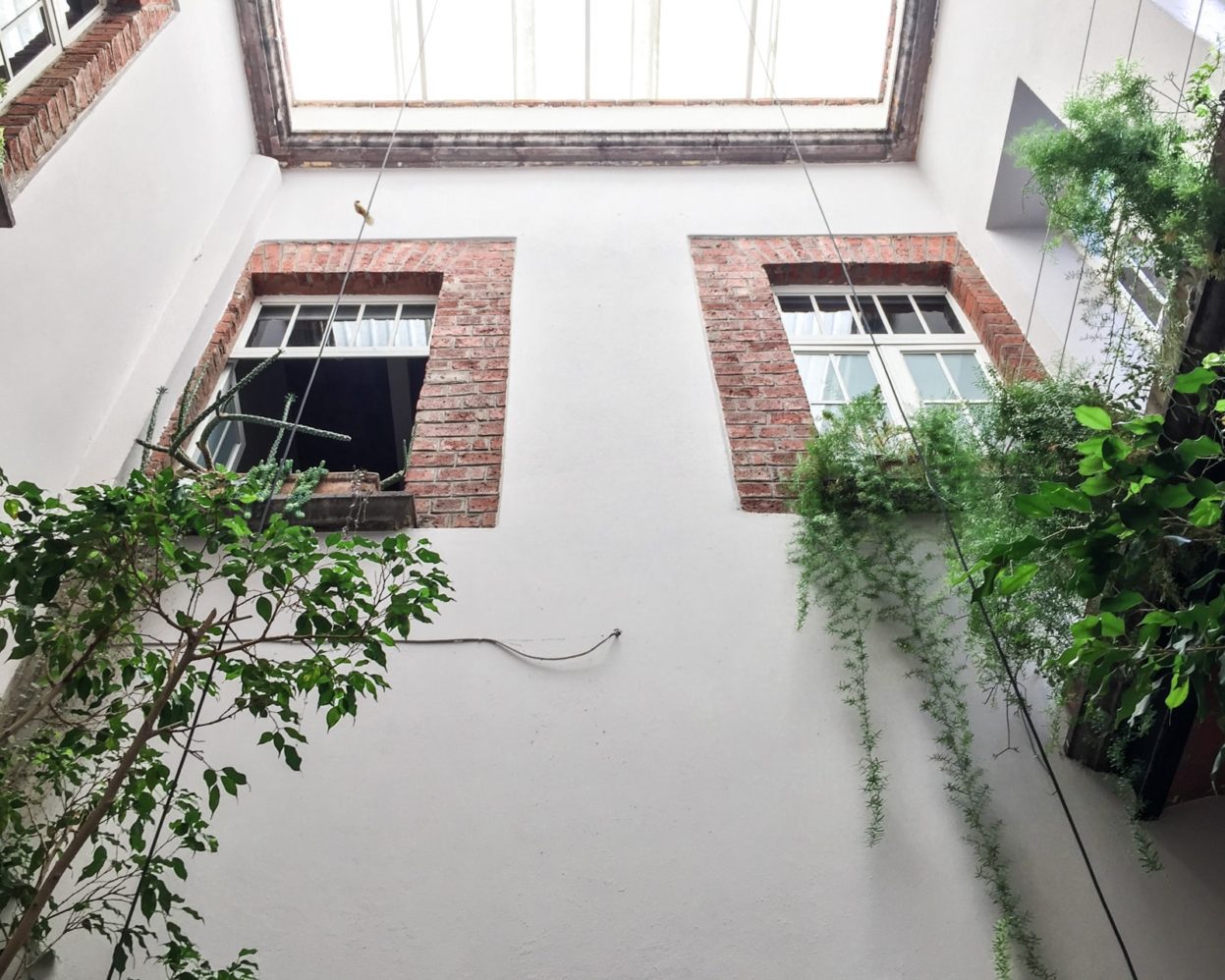 Below you'll find everything you need to know about my new favorite boutique hotel in Mexico City, lots of photos of their beautiful historic building, and a video tour.
Beautiful Historic Building
El Patio 77 is located in a 19th Century mansion in a historic neighborhood of Mexico City. The mansion has been divided into 8 rooms, and still retains its historic feel. The dark wooden staircases are both original and the rest of the house has been tastefully restored with tiles and furniture that accent its history.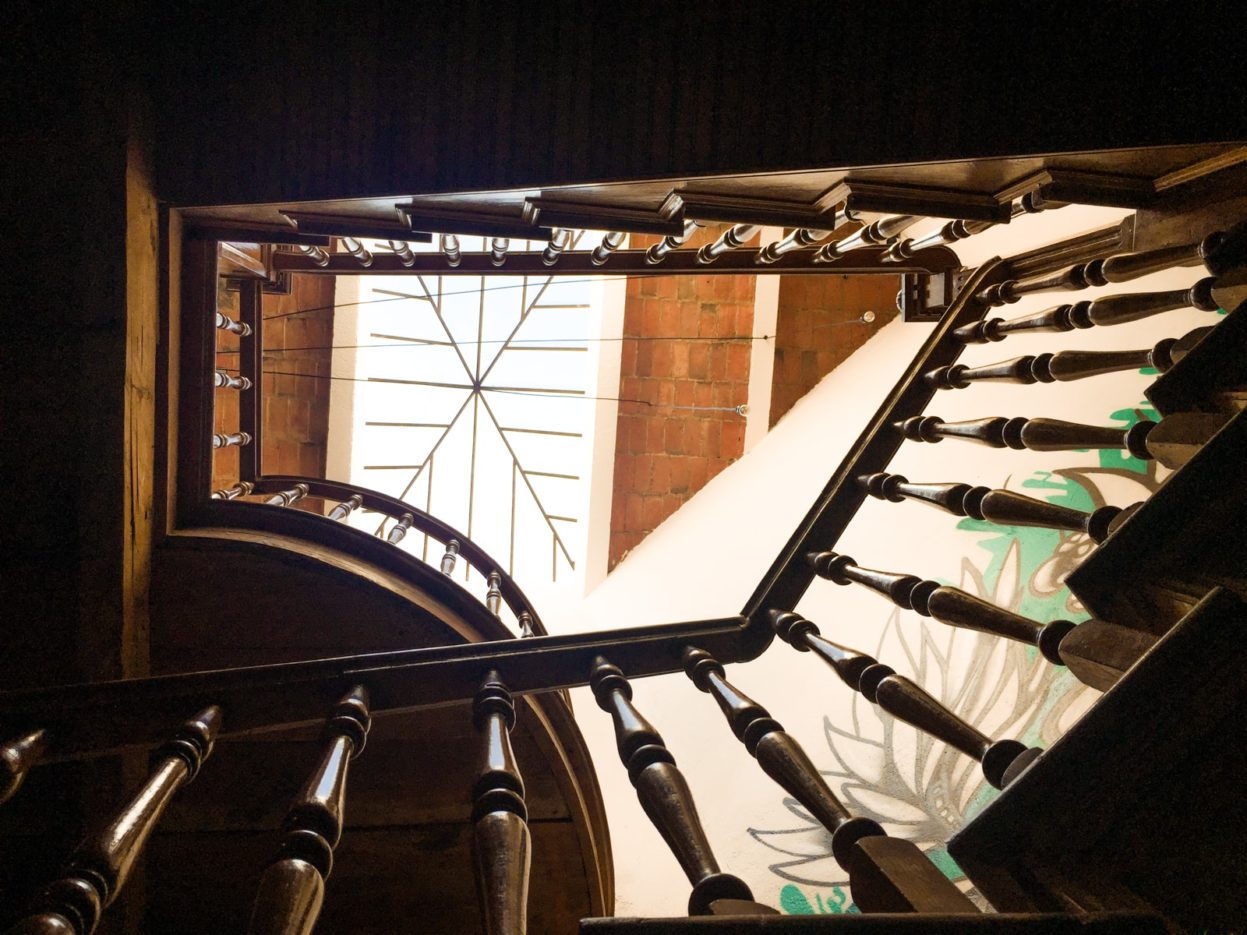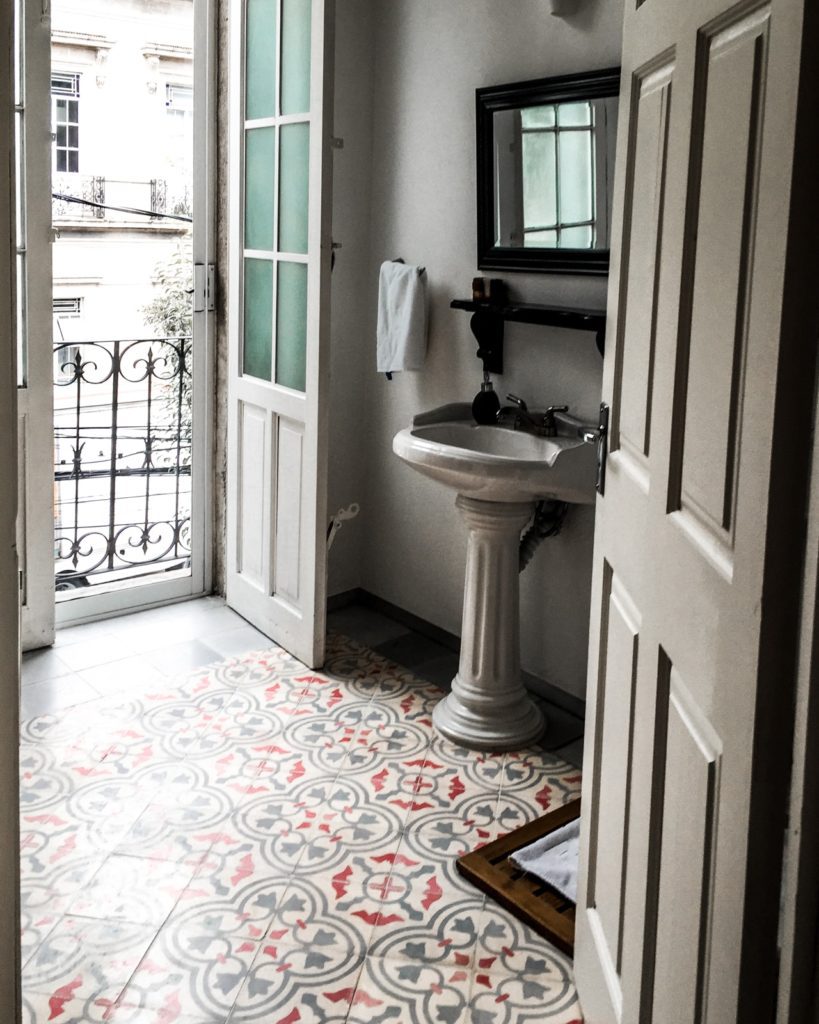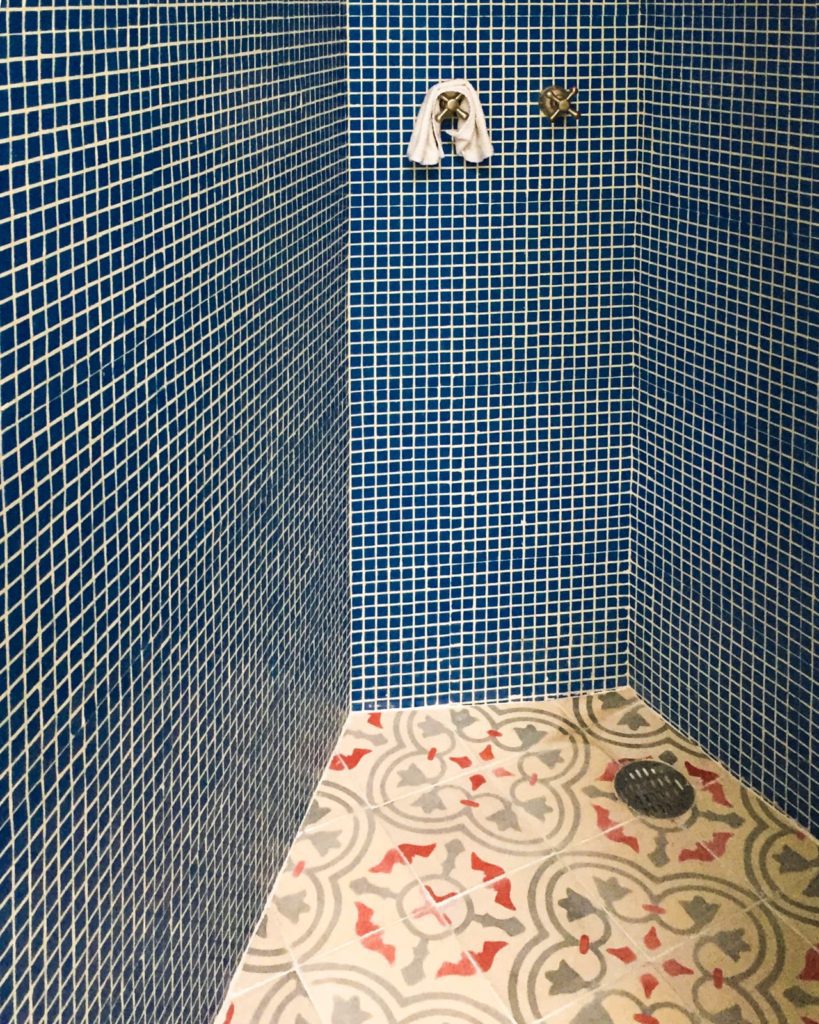 The vaulted ceilings, stained glass skylights, and the second wing all added to the ambience of the antique building.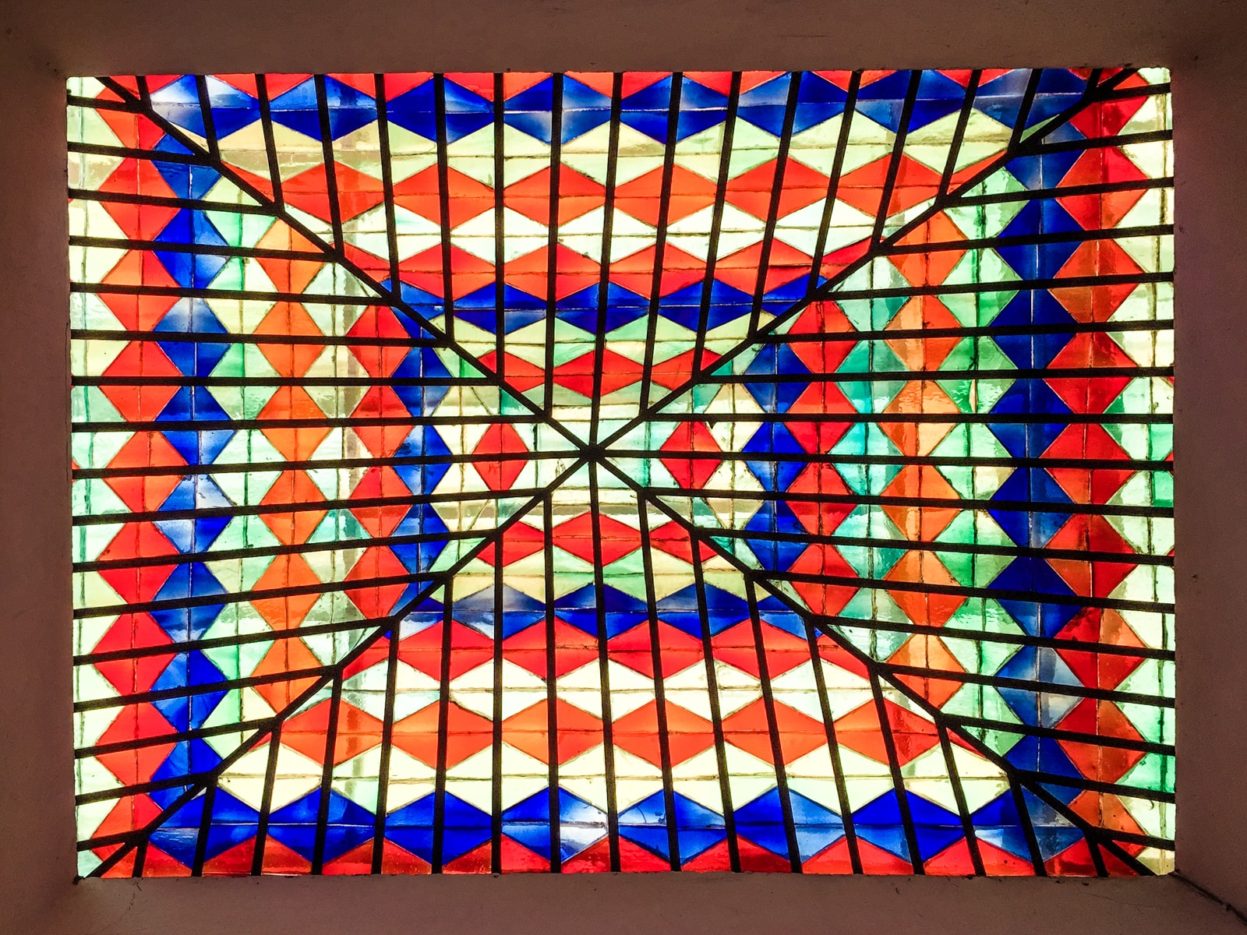 Perfectly Designed Spaces & Corners
In addition to the building being a beautiful historic space, the hotel has been very carefully and beautifully decorated. I felt like every corner was a perfect Instagram photo.
The front entrance is a giant and intricate metal gate.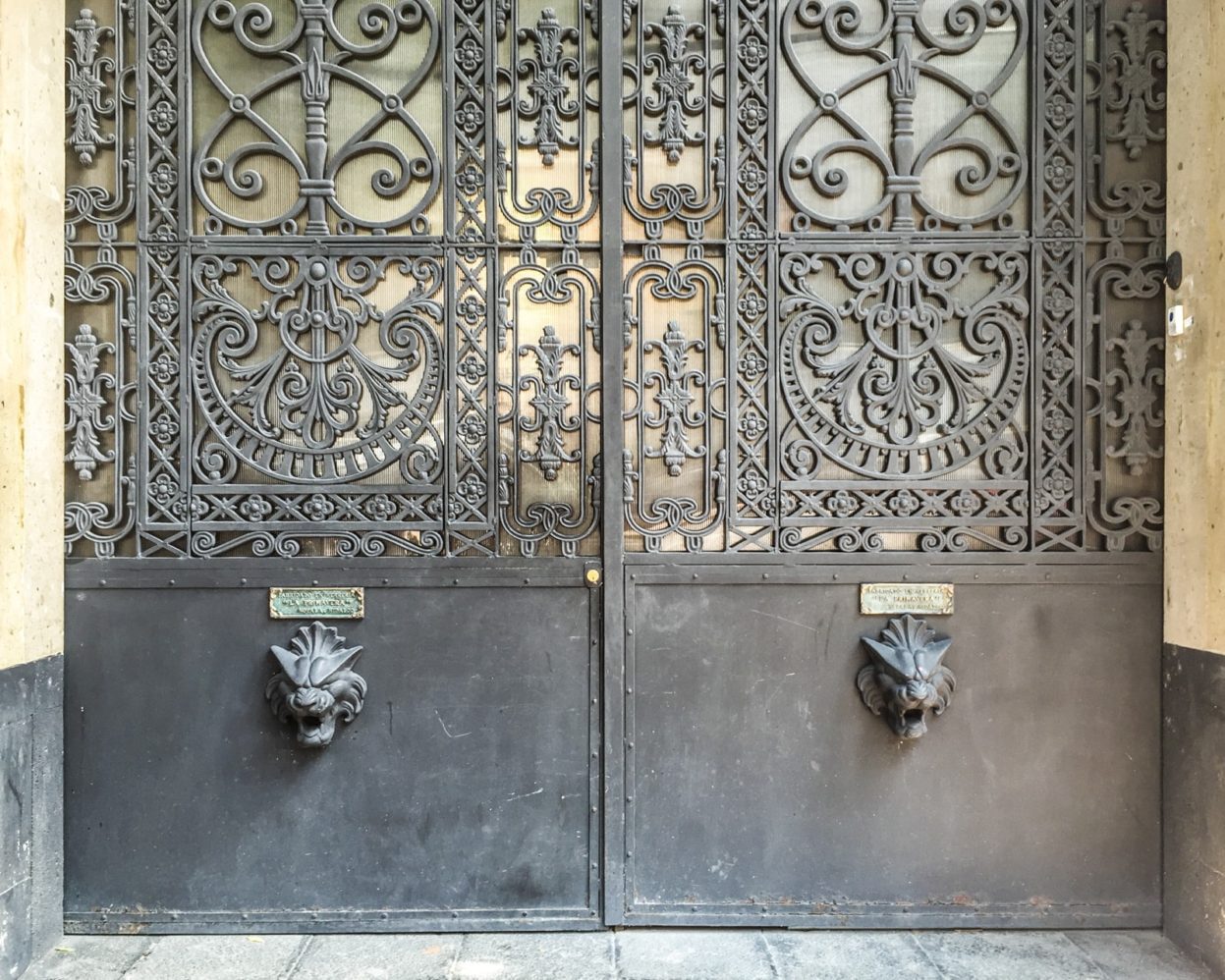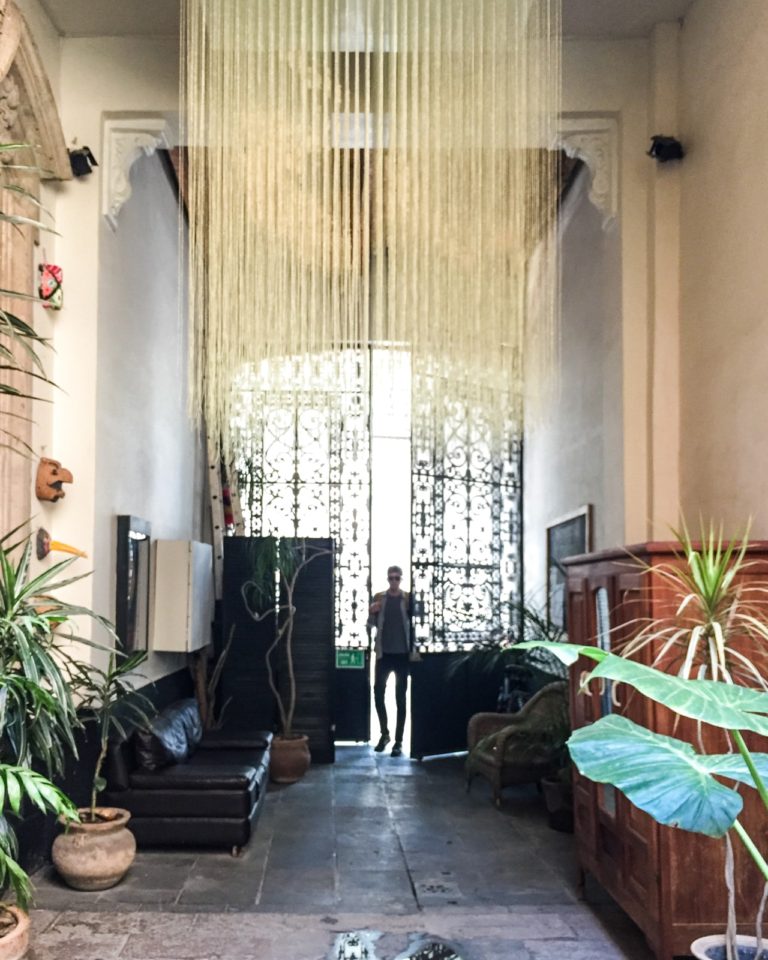 Lush green plants fill the entryway, leading to a fountain in the back.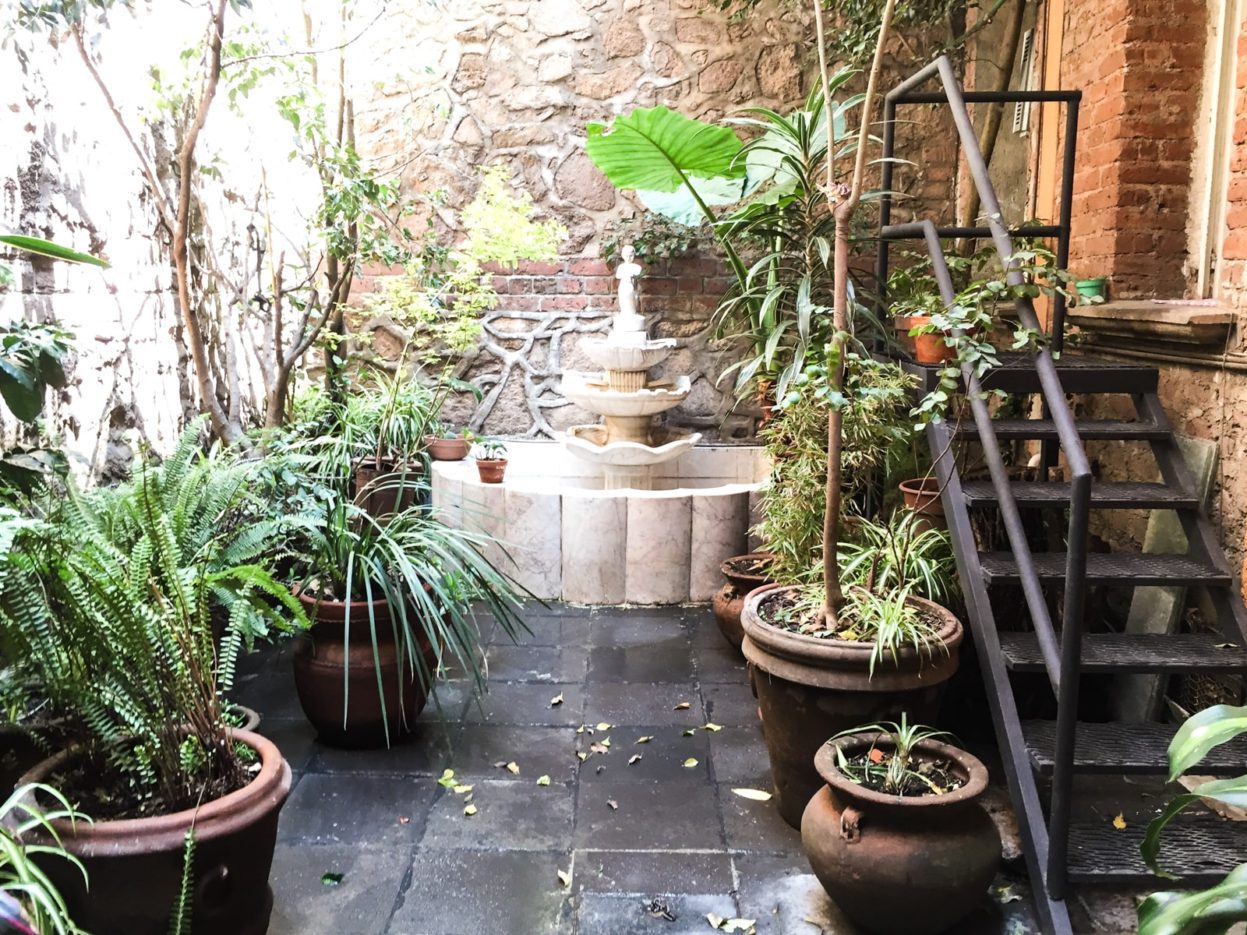 Much of the furniture are restored vintage pieces, including the couches in the living room.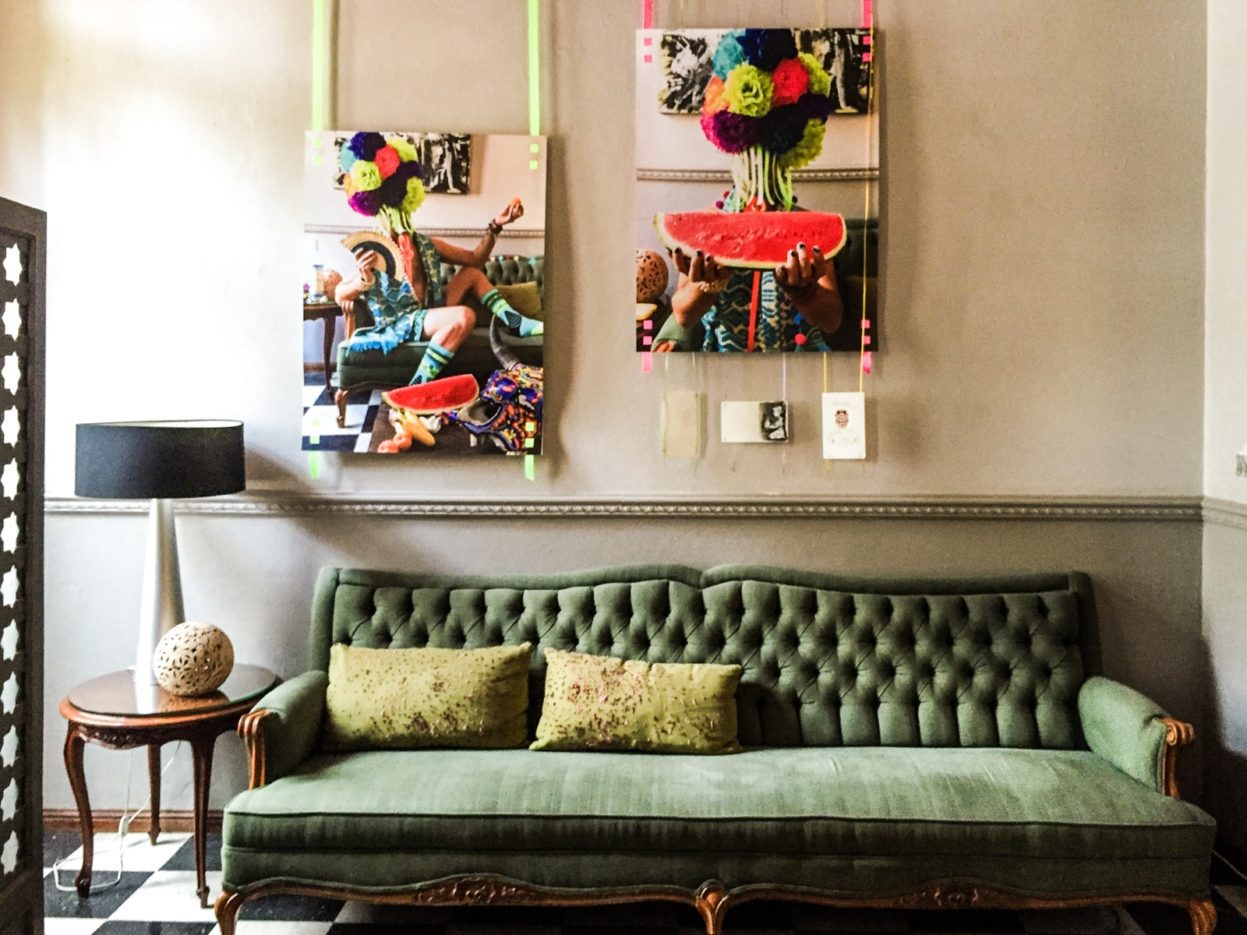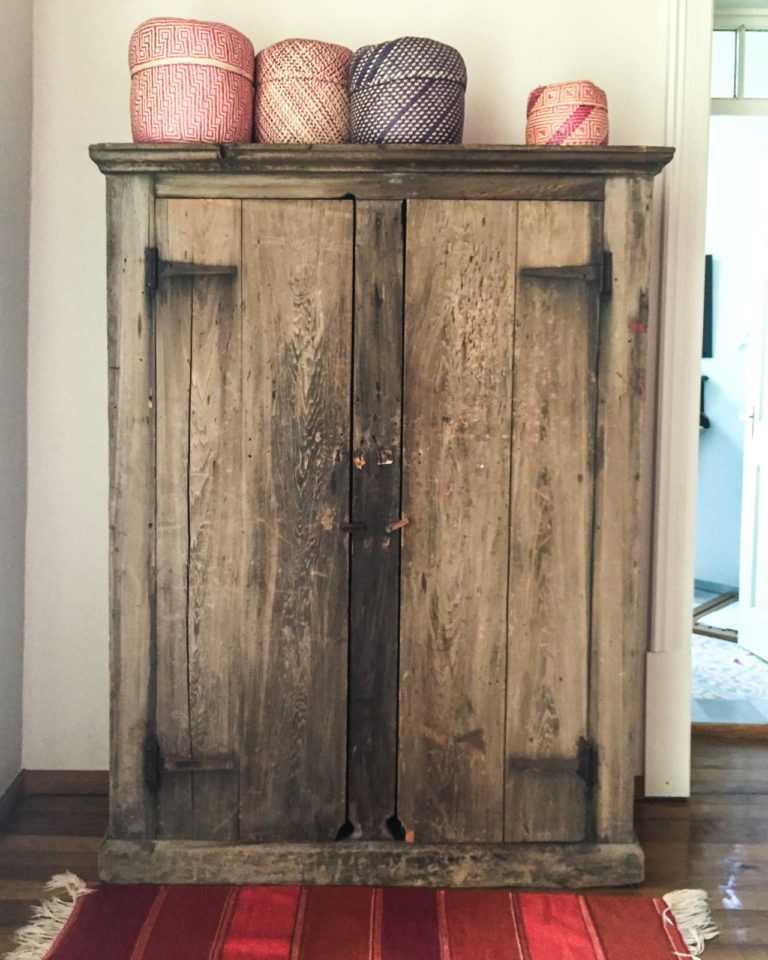 The dining room is filled with wooden tables and brightly colored chairs.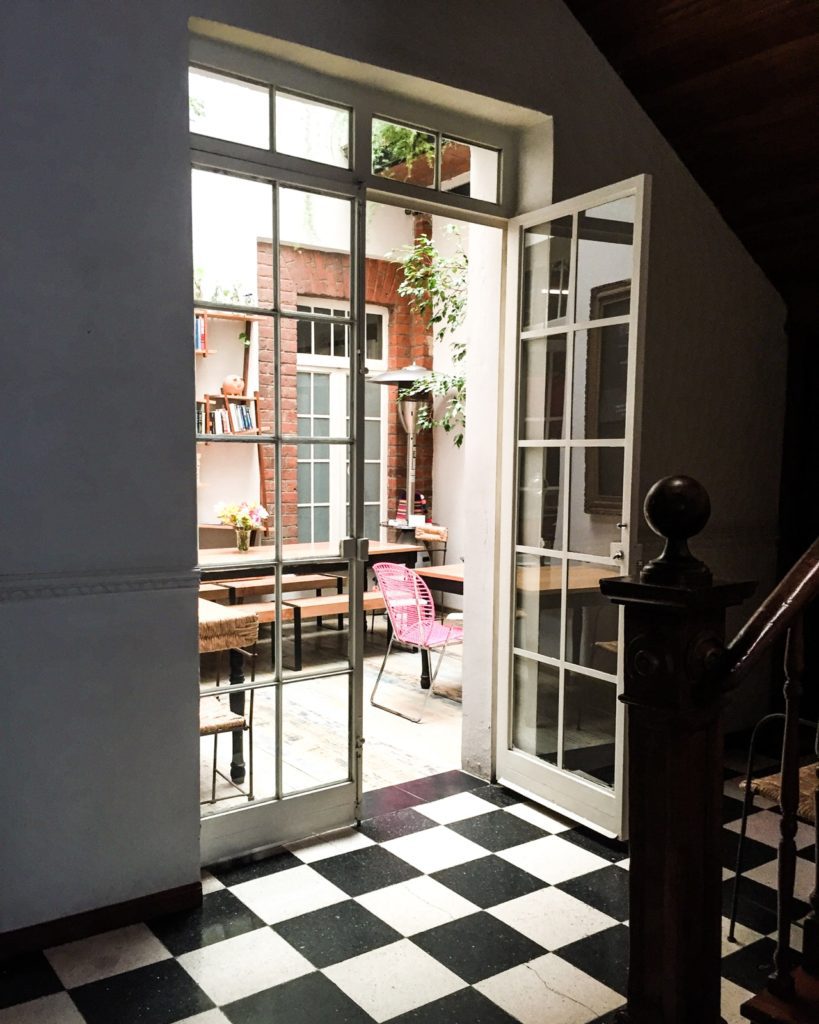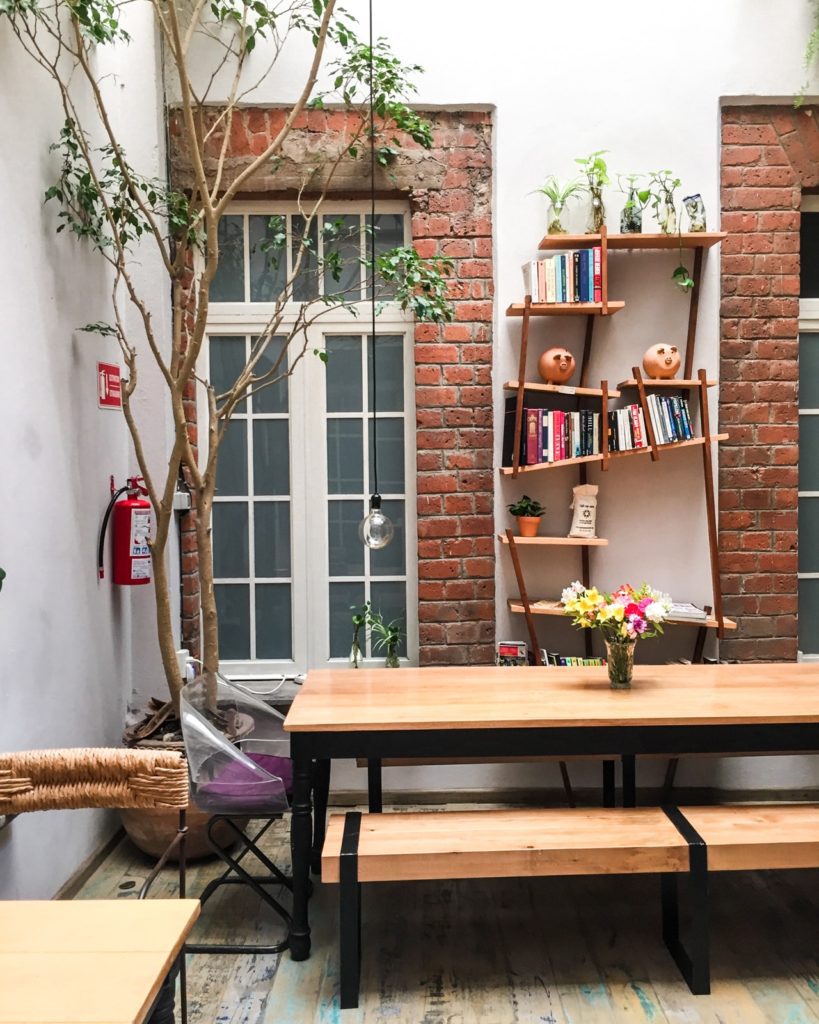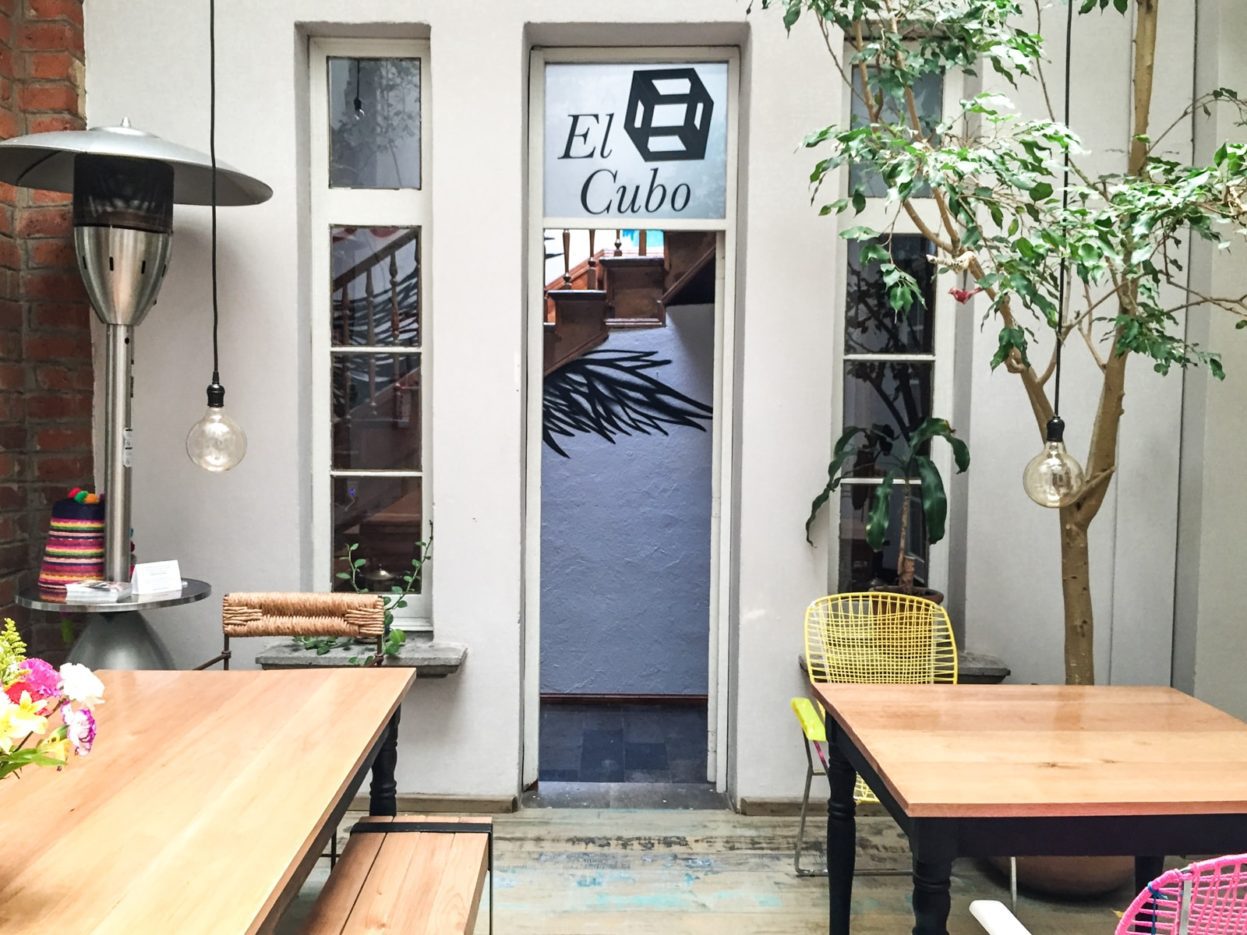 The second wing's staircase is surrounded by a giant and colorful mural.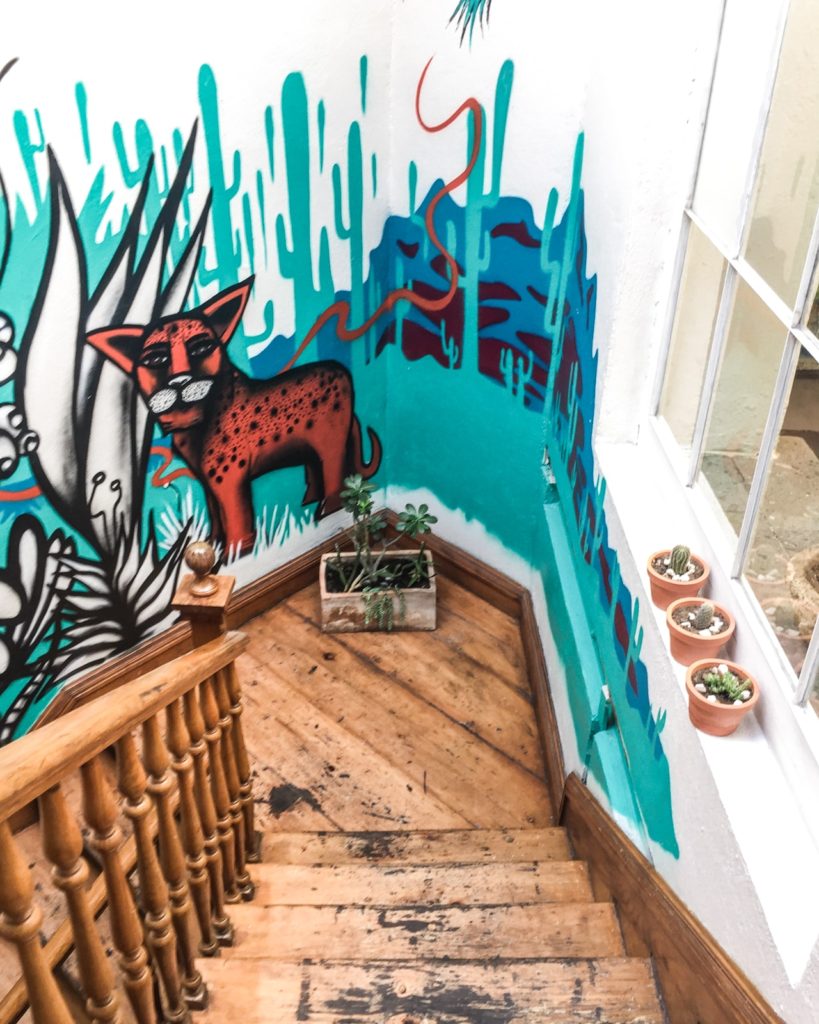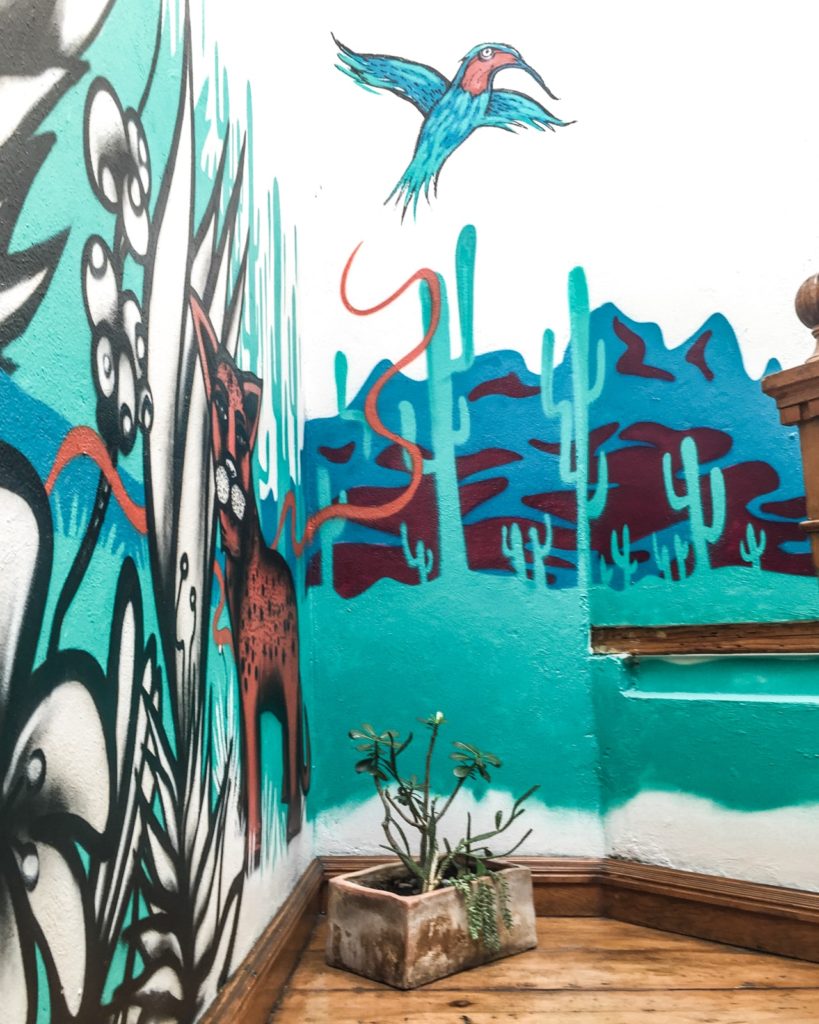 The bedrooms are all decorated around a particular state of Mexico. We stayed in the Oaxaca room (very appropriate since we had just left Oaxaca after 6 weeks in that beautiful state!). All the art and artisan pieces were sourced directly from Oaxaca. Each room has a distinct feel from it's given region. And the bed was large and comfortable with luxurious sheets and pillows.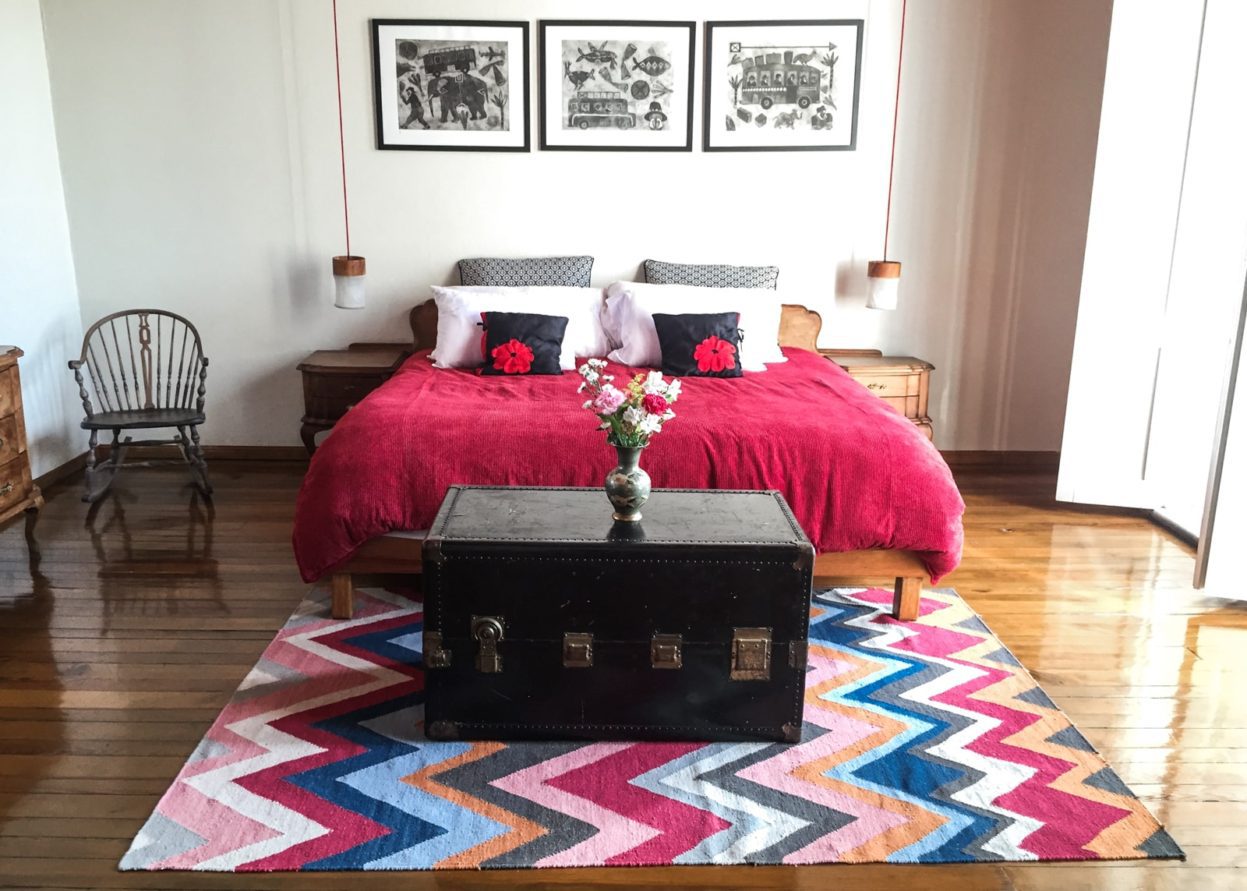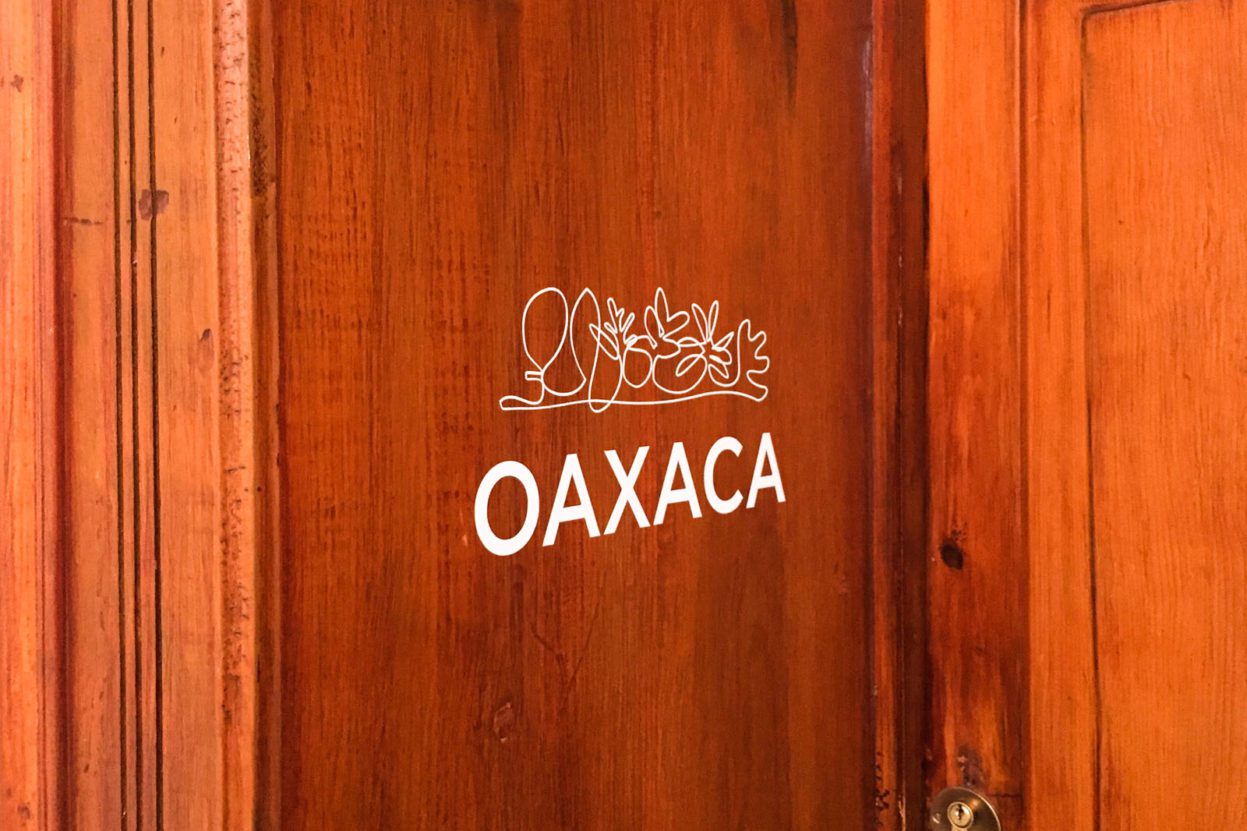 The hotel also does a fantastic job of making use of natural light. Our room included a wall of full size windows and doors onto the terrace. In the common areas, huge skylights over the staircases let daylight stream in.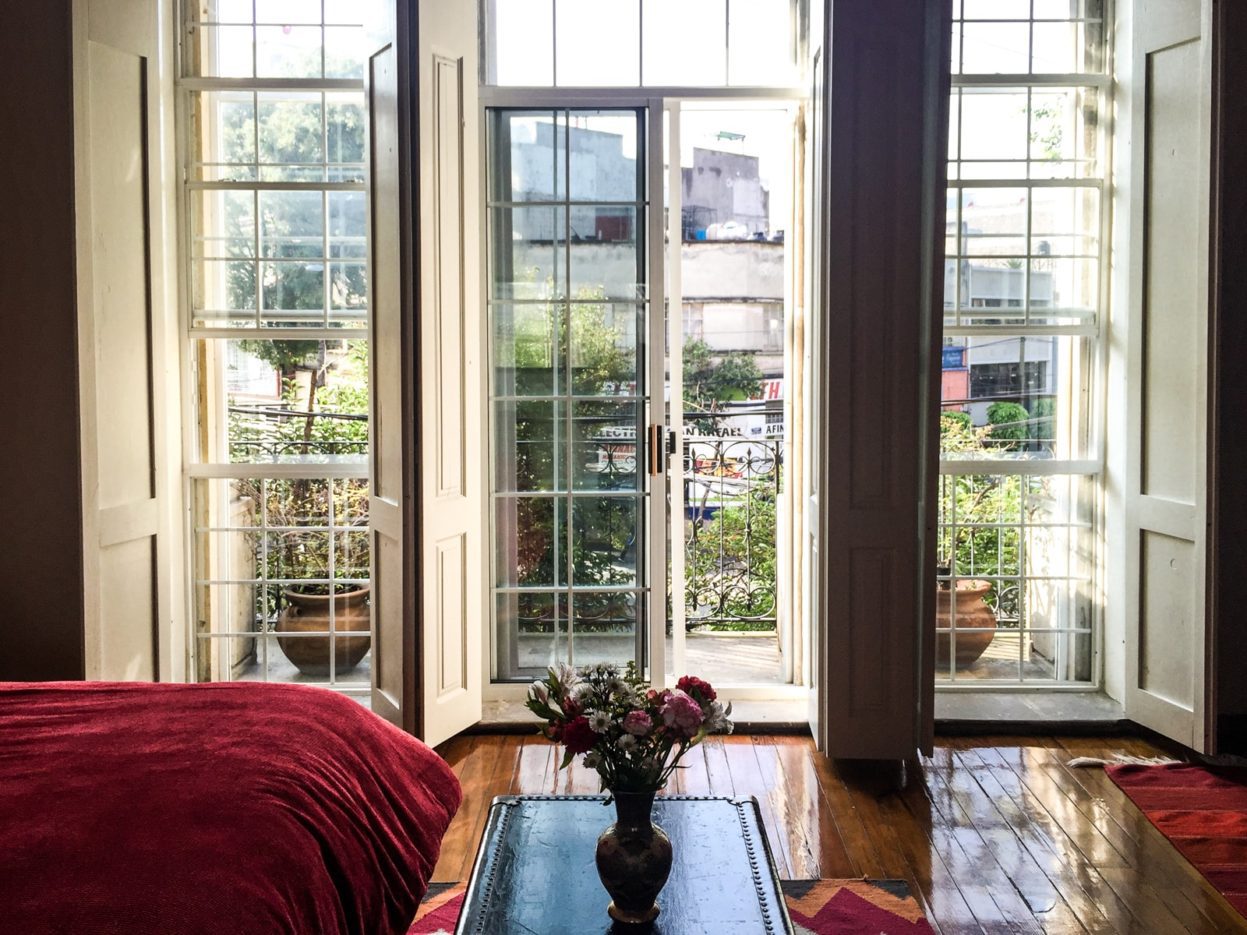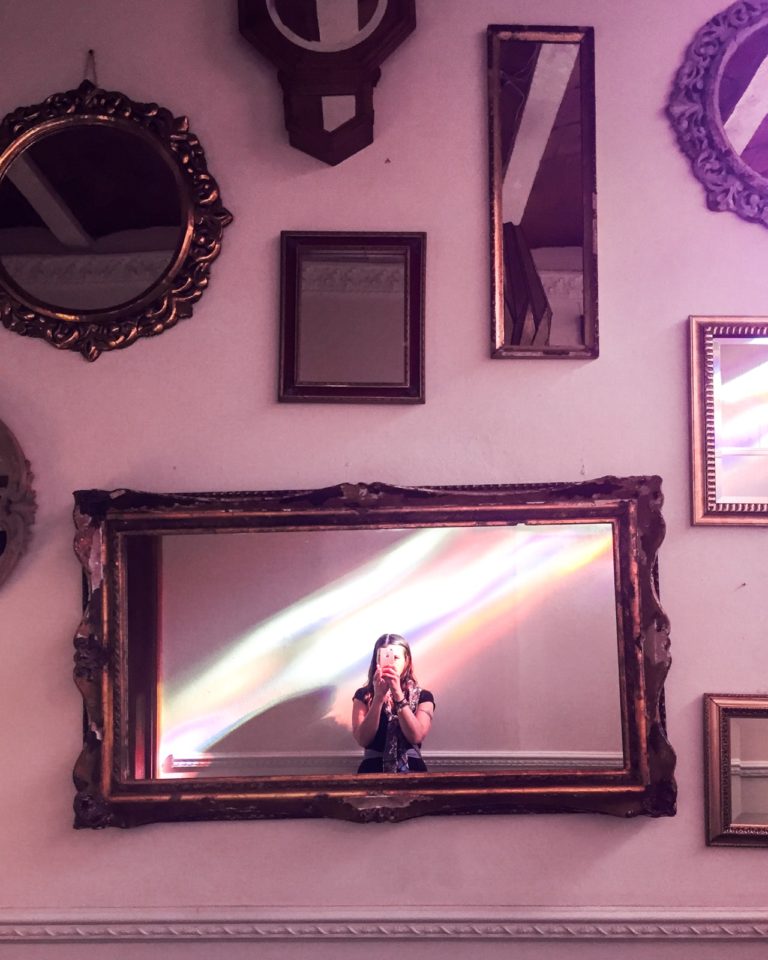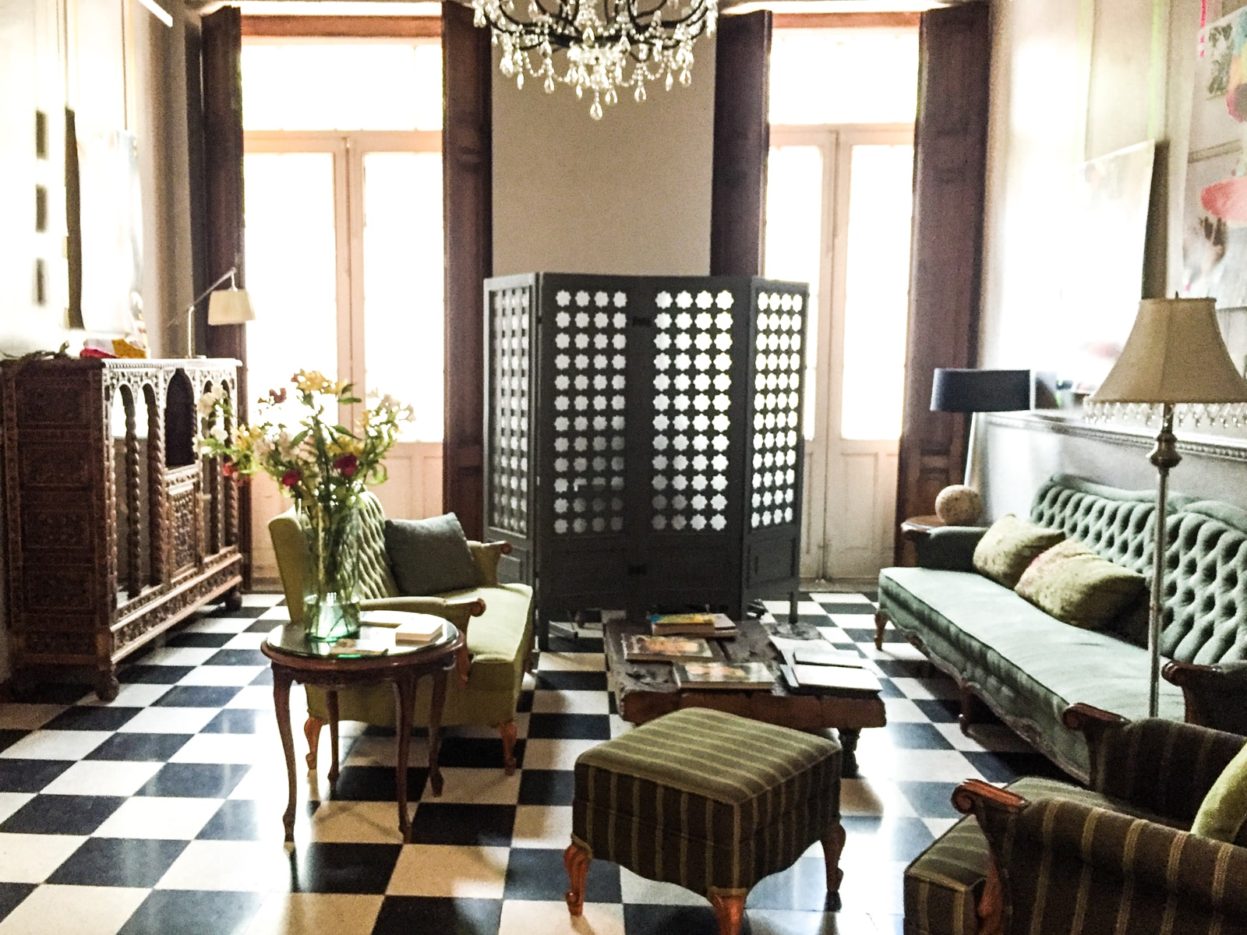 The hotel also operates as an art gallery - with rotating shows of mostly local artists. The current exhibit was a colorful addition to the vintage decor.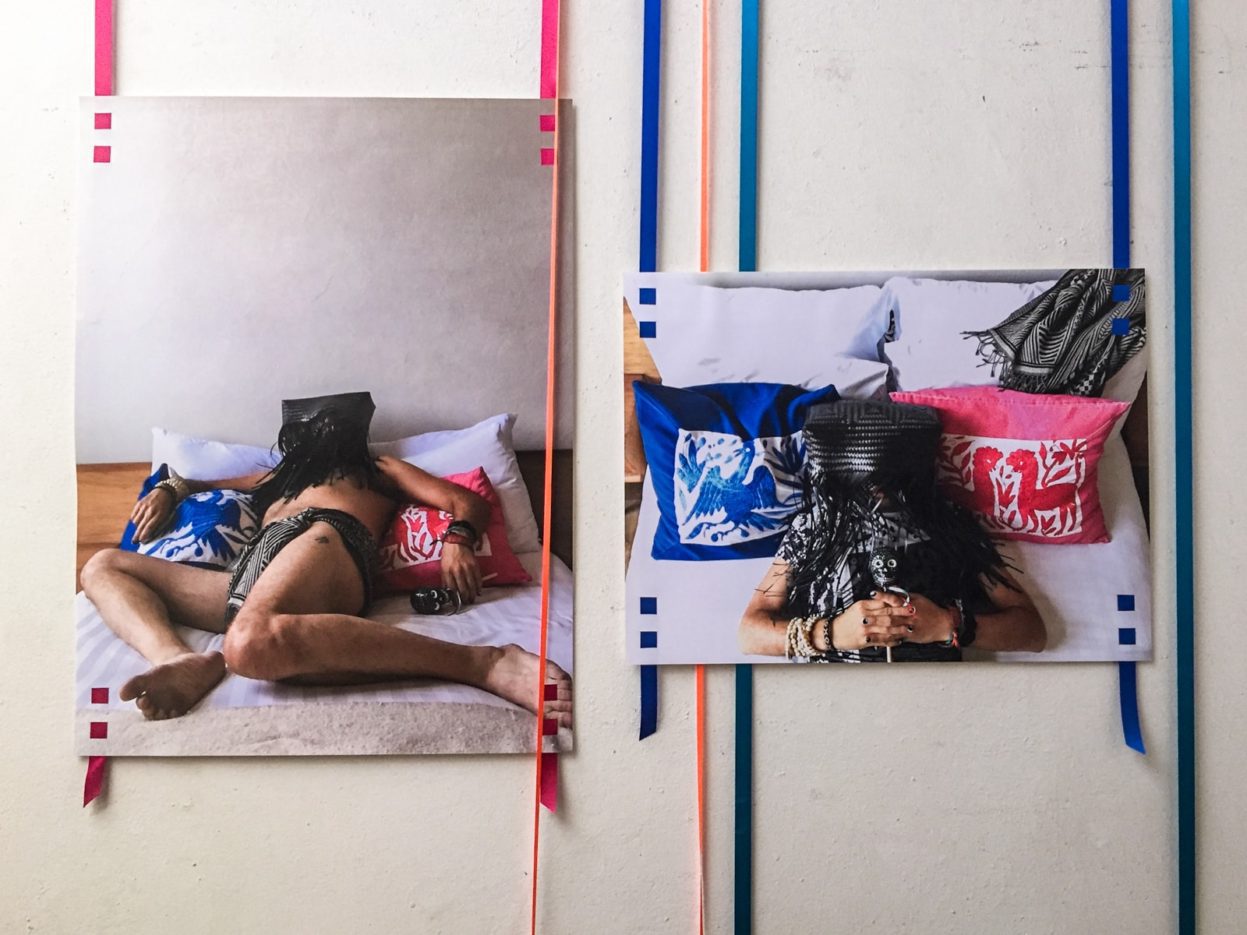 Every detail and corner was thoughtfully planned. Nothing felt cluttered or misplaced. I was very impressed with the care and well executed design throughout this boutique hotel in Mexico City.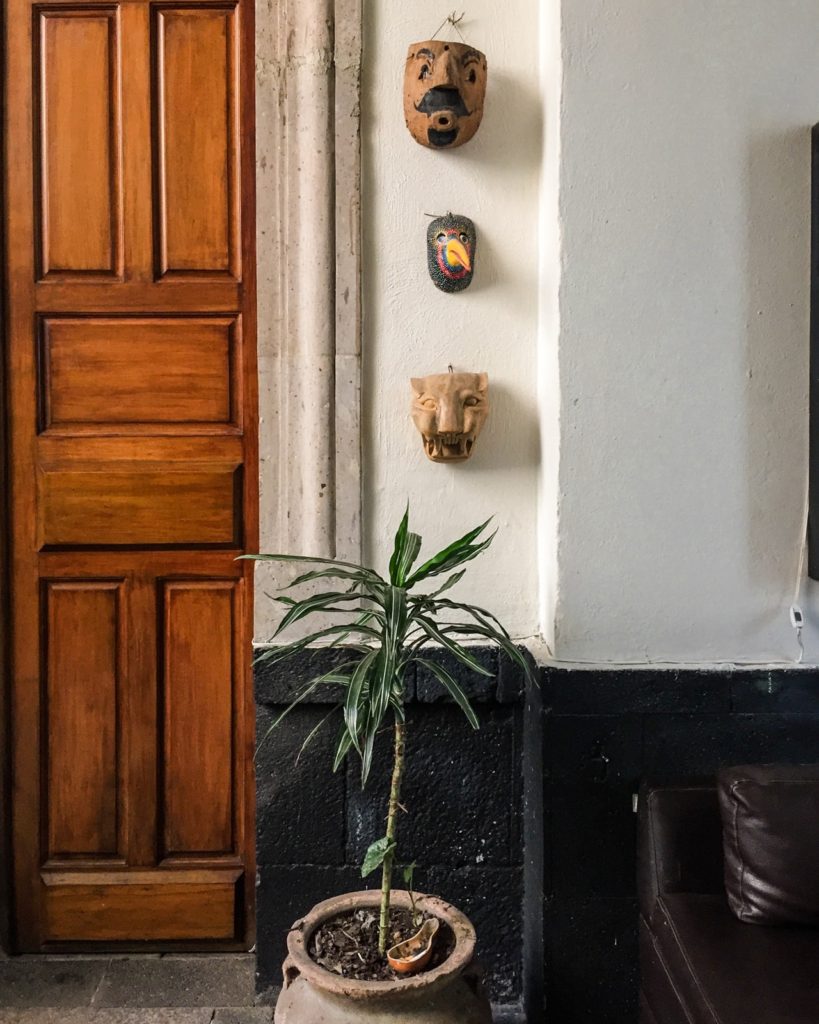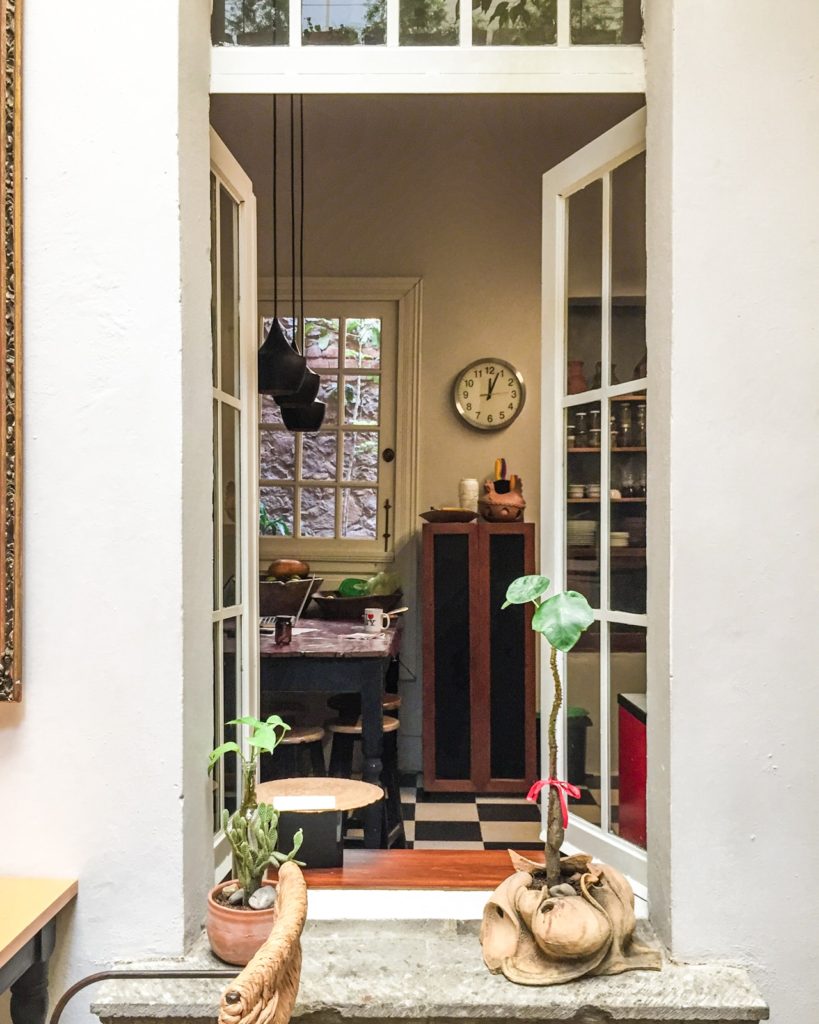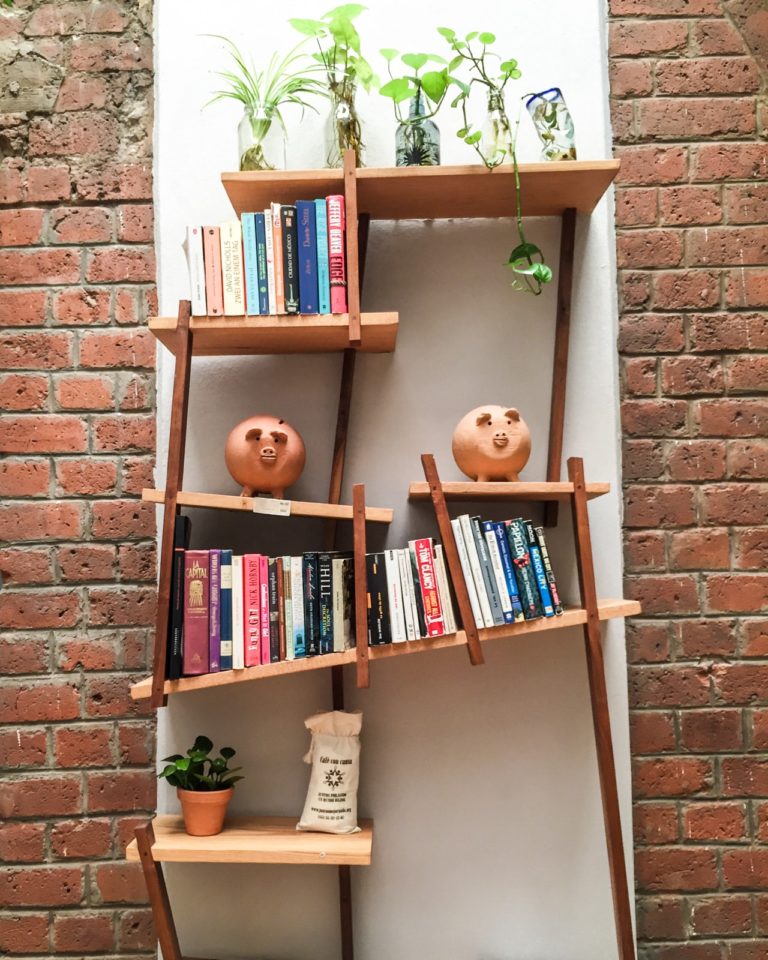 Eco-friendly Practices
One of the most notable things about El Patio 77 is their dedication to Eco-Friendly practices. Many hotels choose to save water by not changing sheets or towels daily, or provide eco-friendly toiletries. El Patio 77 goes way above and beyond that.
The most interesting and exciting innovation is their use of rainwater for showers and faucets. They then use a system in the basement to clean the used shower and tap water, and then recycle it as water to flush the toilets. I found this system so ingenious and inspiring. Why use perfectly good fresh water to flush waste down the toilet? The whole system is sustainable and something all hotels should aspire to.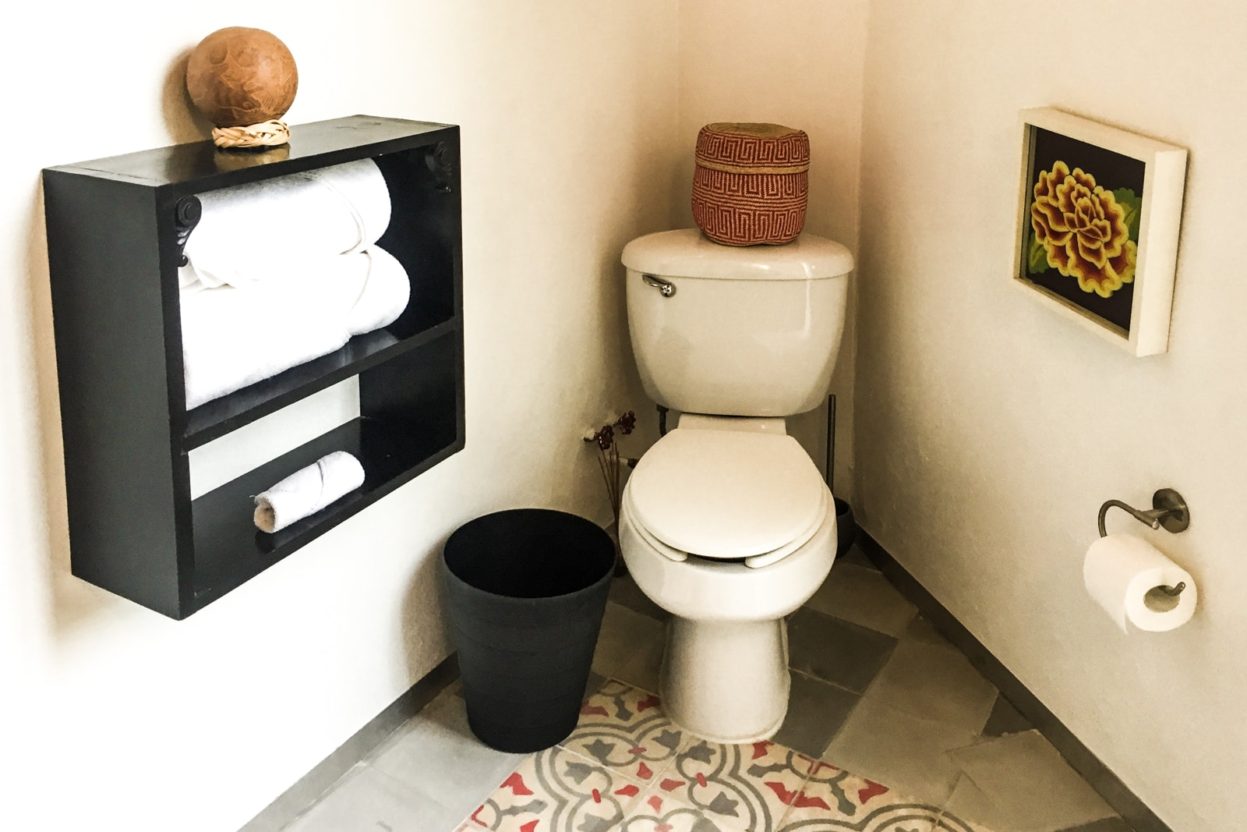 They also use solar panels and have motion sensored lights to conserve electricity. Finally, they don't use plastic water bottles to provide drinking water for guests. Instead they fill a pitcher with clean drinking water that is left in the room with glasses for the guests use. Refills are available at any time.
Free and Delicious Breakfast
El Patio 77 is a B&B, so a 2-course breakfast is provided each morning in the beautiful dining room.
All the food is made fresh when you arrive to the table. The juice is freshly squeezed and served alongside your coffee. We then enjoyed fresh fruit with yogurt to start. The main course changes each day - we had quesadillas with freshly made pico de gallo.
I always love a hotel that allows me to prepare for my day with a provided breakfast. Even better if the food is delicious and fresh!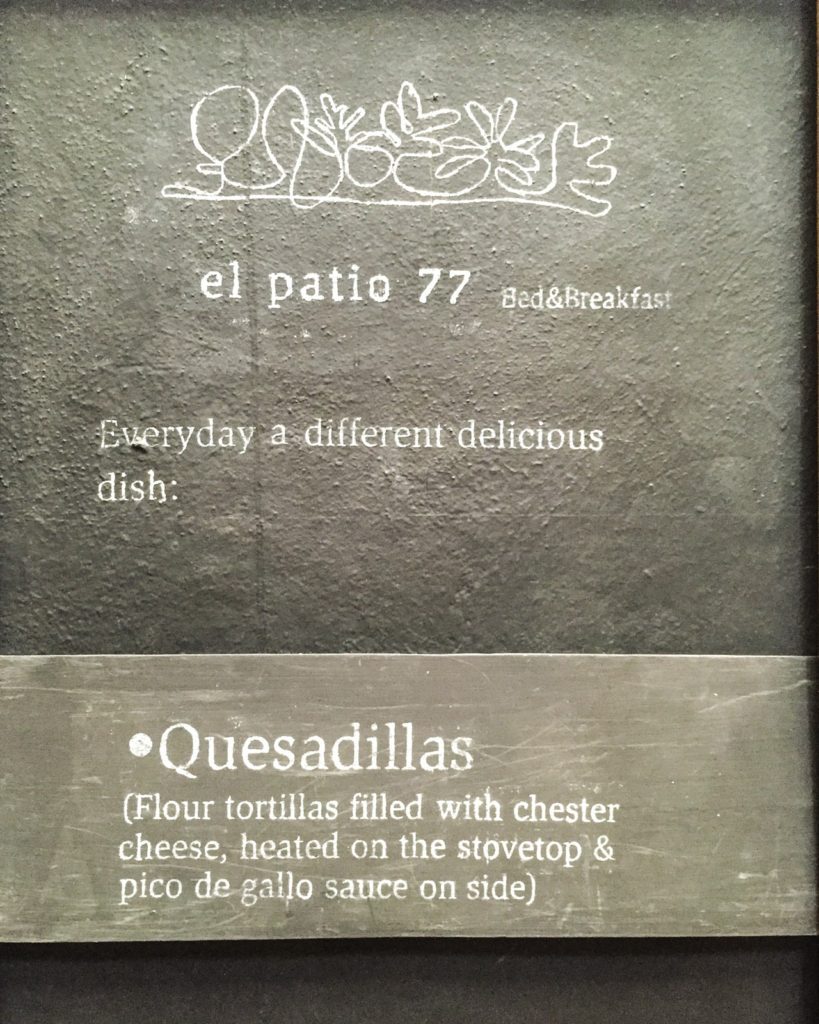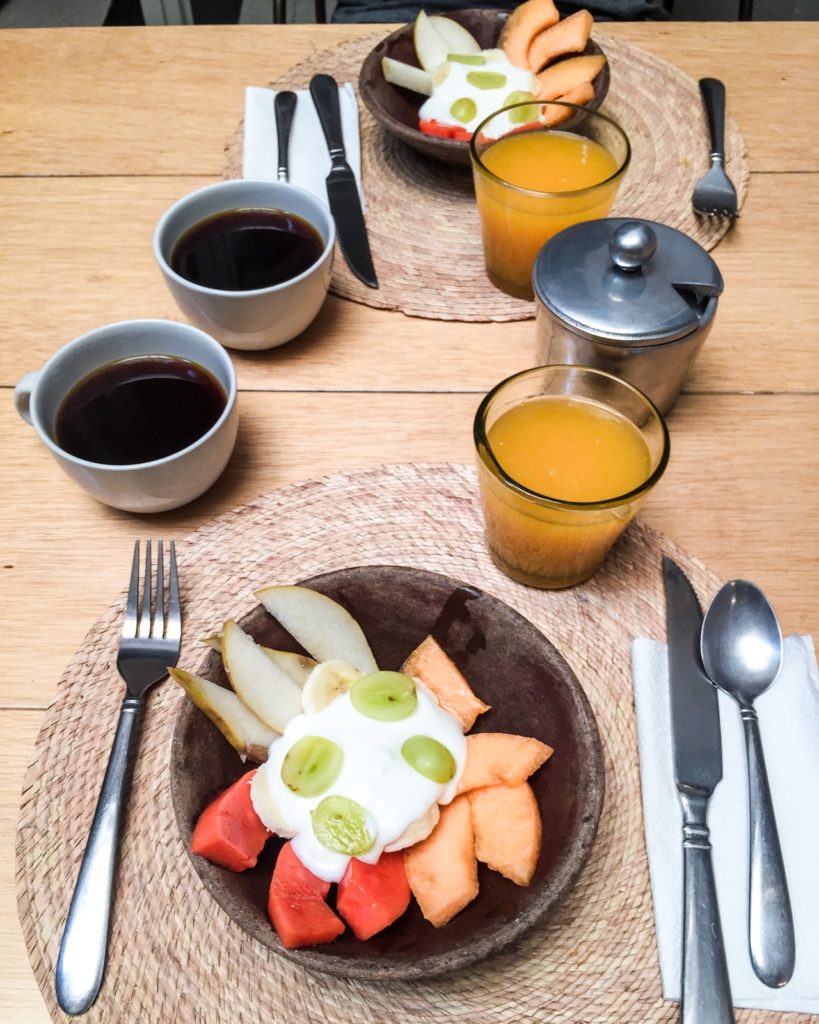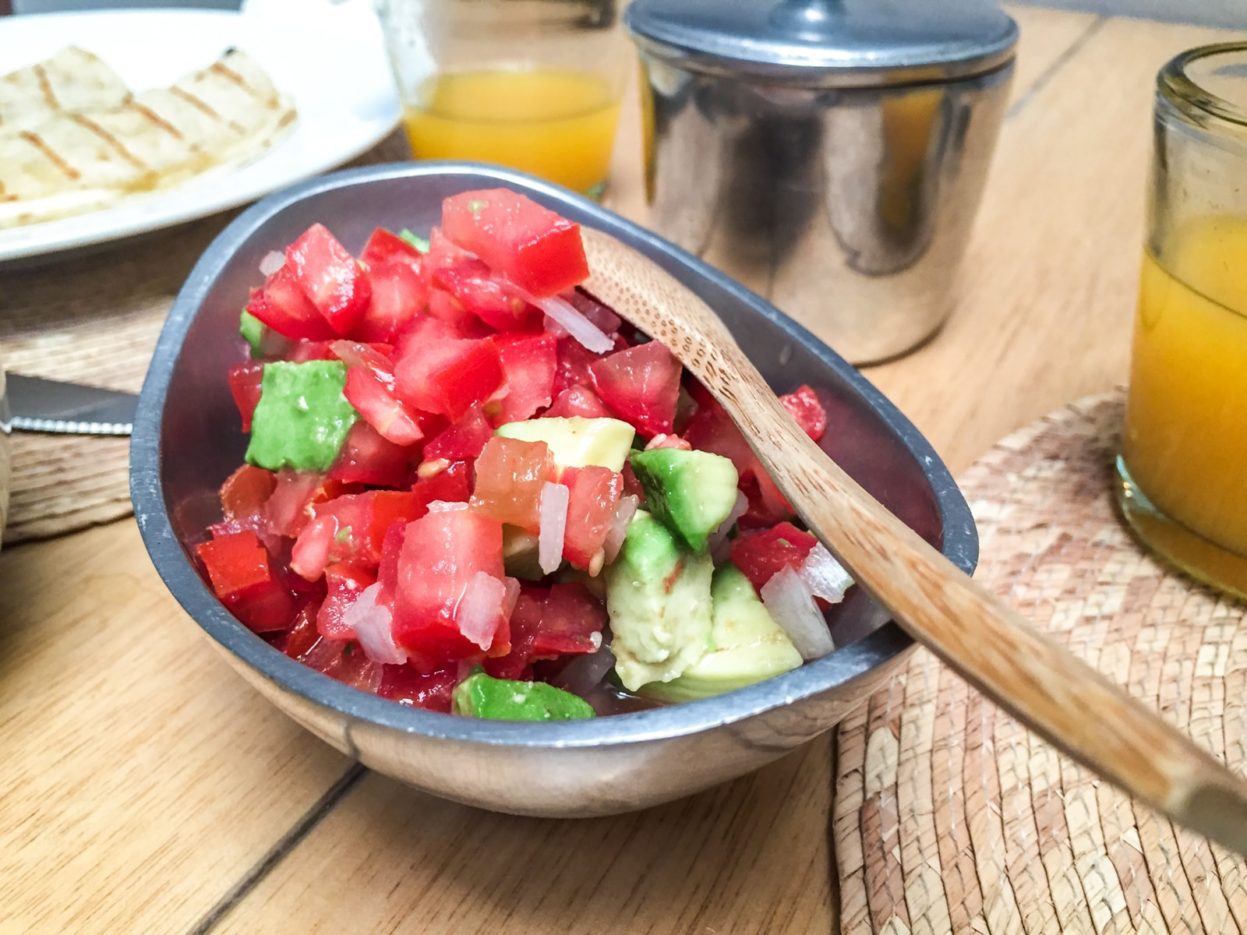 Exceptional Staff
The lovely staff at El Patio 77 really went above and beyond. We arrived while it was pouring rain, and were happy to see an open umbrella and a smiling face at the taxi door, almost as soon as we pulled up. We were then received warmly with an offer of organic mezcal and water while we checked in on the vintage couch in the lobby.
Our departure from the hotel was at the very early (and painful) hour of 3:30am. The staff was kind enough to leave us some fruit in the kitchen and a prepped coffee maker. All we had to do was turn the coffee maker on, and sip our coffee as we struggled to get our eyes open for our early flight. Such a nice gesture.
Another great touch is their personalized and easy to use map of key areas in the city. I thought this was such a smart way to help guests find the best things to do during their stay. Mexico City is beyond big, so it makes sense to narrow the map and suggestions down to the most popular areas, as well as the staff's specific recommendations in the area.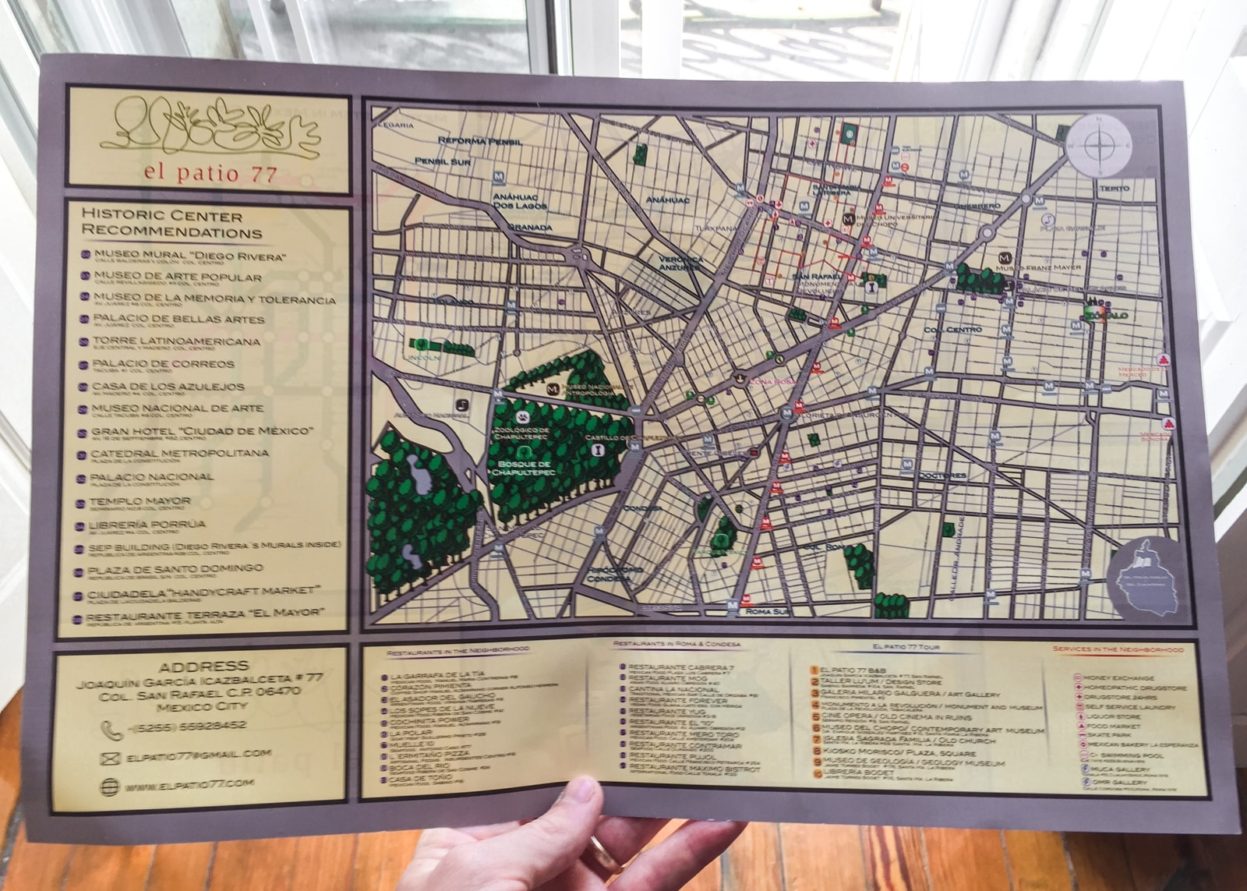 During our two days at the hotel, the staff worked hard to make sure we had everything we needed, and were given all the best info and tips on the neighborhood. We really felt warmly welcomed and at home at El Patio 77.
Strong Wifi
After months of decent internet, we were treated to fast and reliable "Mexico City" internet speeds. We were able to catch up on uploading our photos to the cloud, stream tv shows, and get some work done.
A Great Up and Coming Neighborhood
At first the little-known neighborhood of San Rafael may seem like a weak point of the hotel, but I heartily disagree. We loved getting to know this historic and local neighborhood better.
The two most common neighborhoods for tourists to stay in are the Centro and Roma. While both are beautiful and interesting, it's fascinating to stay in an area that is wholeheartedly Mexican and lacking in tourists. It's also an "up and coming" area, so there are a lot of great restaurants, galleries, and coffee shops popping up. I discovered one of my new favorite restaurants in Mexico City there, Cochinita Power. They specialize in Cochinita (slow stewed spicy pork) everything - tacos, tortas, chilaquiles, etc. Delicious!
The architecture in the San Rafael is another huge selling point. It is one of the oldest neighborhoods in the city, beginning as a place for the wealthy to settle outside the Centro. This accounts for the large number of mansions, many with French influence. It continued to be a growing area over time, so the styles and periods of architecture are varied and interesting. Some of the first works of Luis Barragan - Mexico's most famous architect - are in San Rafael, and 383 buildings in this relatively small neighborhood are classified as having historical value. I loved taking walks and stopping often to take photos!
The third great thing about San Rafael is its proximity to the best the city has to offer. Mexico City is a great city to walk, so I love when I'm in an area that is an easy and comfortable walking distance to where I want to explore. El Patio 77 is a nice walking distance from some of the biggest attractions: 30 minutes to the Centro, 45 minutes to Roma Norte, and 45 minutes to the Museo Antropologia and Chapultepec Park. The metro subway is also only 3 blocks away, so you can easily get to any of the further attractions as well.
As far as location goes, this boutique hotel in Mexico City is pretty perfectly situated!
Nothing!
I legitimately can't think of a thing. El Patio 77 is a gorgeous and yet comfortable boutique hotel. All the details are well thought out, and everything runs smoothly. The staff is wonderful, and cares deeply about the guest's comfort.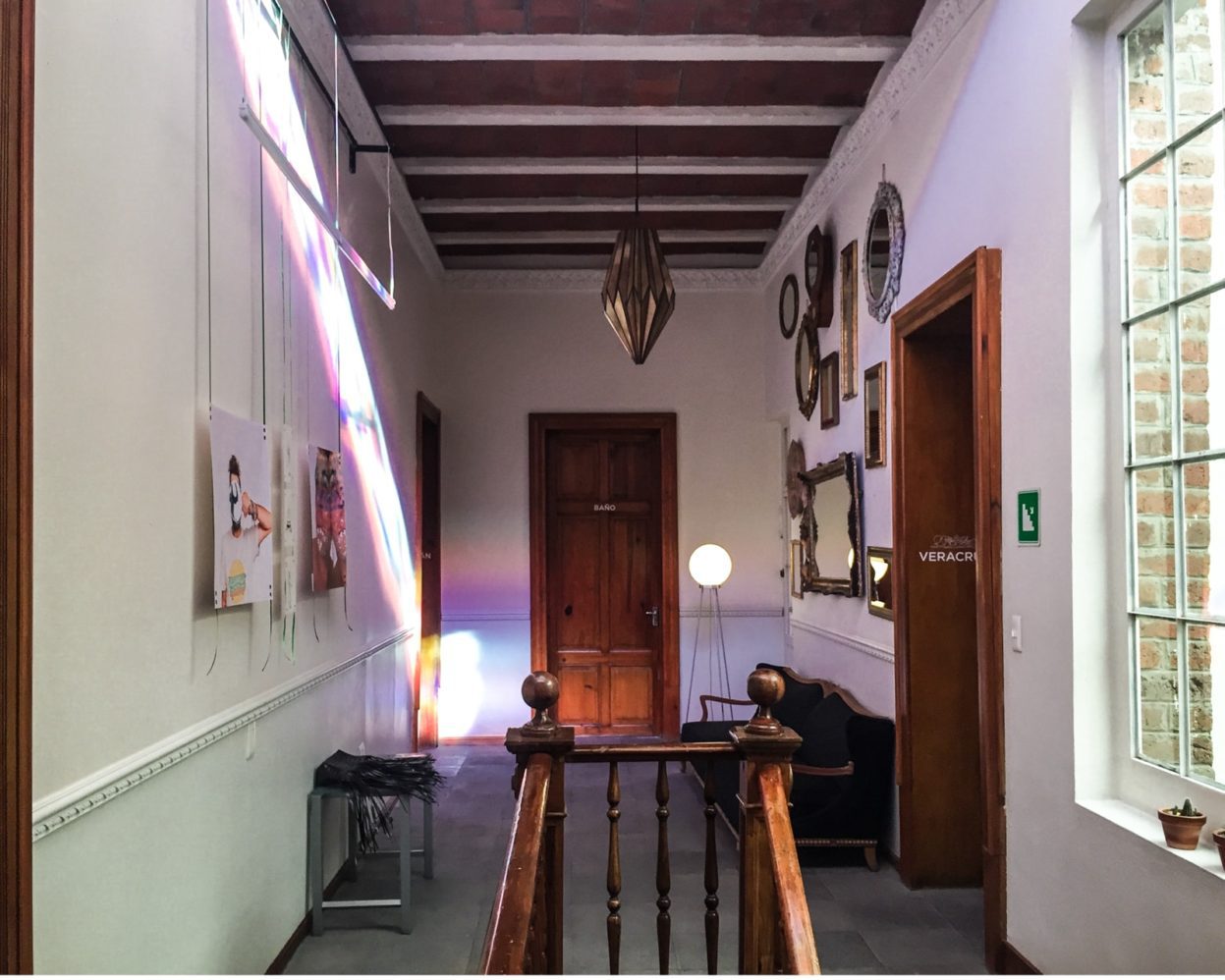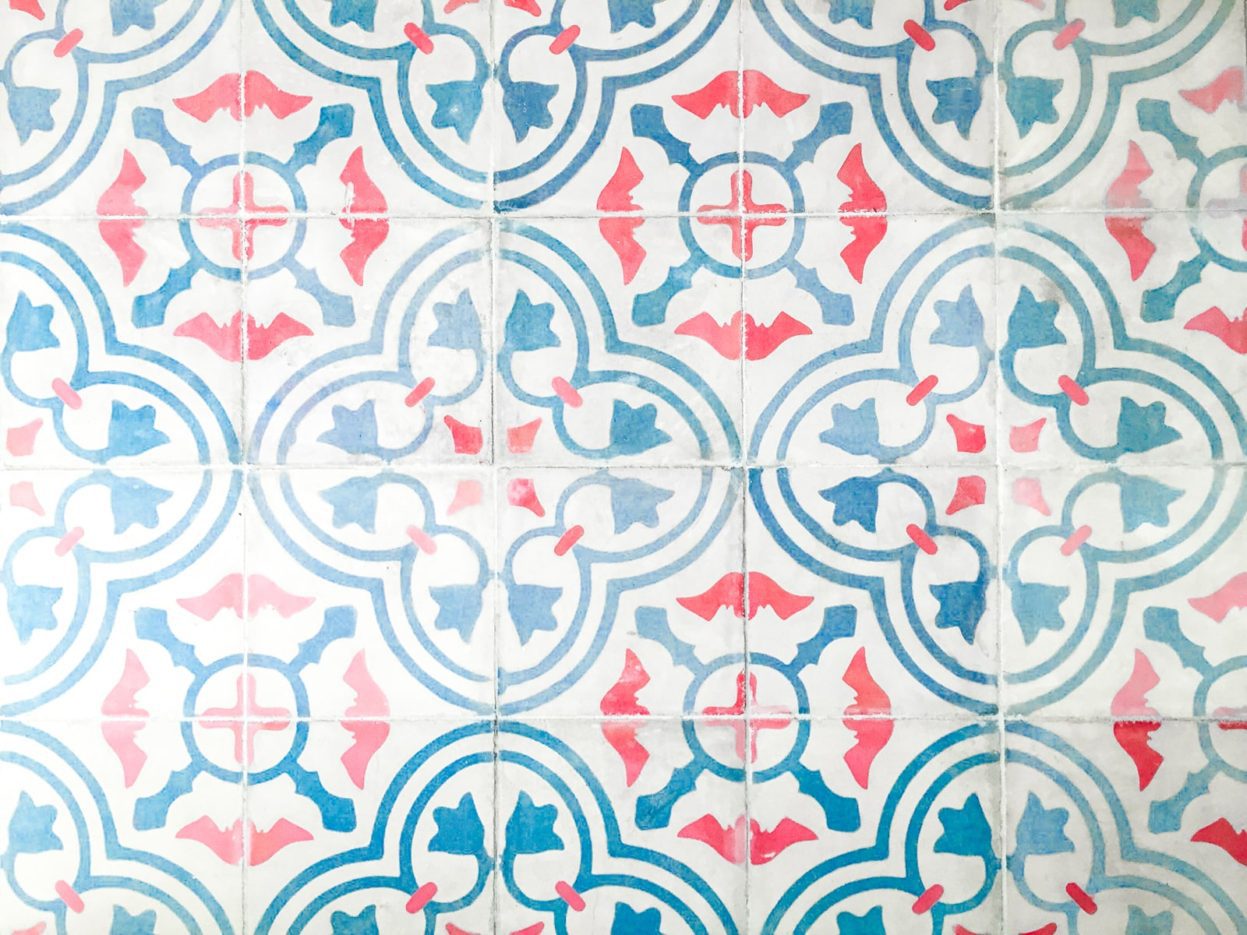 Conclusion:
The value of what you get for the price is great: a hotel this stylish and well run feels like a steal at just around $100USD/night. Their progressive eco-friendly practices are a huge plus, their staff is super helpful, and the neighborhood is a great jumping off point for exploring Mexico City. I very much hope to return to El Patio 77 soon!
---
Hotel: El Patio 77
Social Media: Twitter, Facebook, Instagram
Price: $86-121USD based on double occupancy
Includes: Free breakfast (fresh fruit juice, coffee, fruit, and a main dish), wifi, free computer access. 6 rooms with private bathroom, 2 with a shared bathroom.
Location: Icazbalceta 77, Colonia San Rafael, México DF
Contact: [email protected]
Reservations: http://elpatio77.com/Rooms.html
---
Disclosure: I received a free stay at El Patio 77 in exchange for an honest review. All opinions are my own!