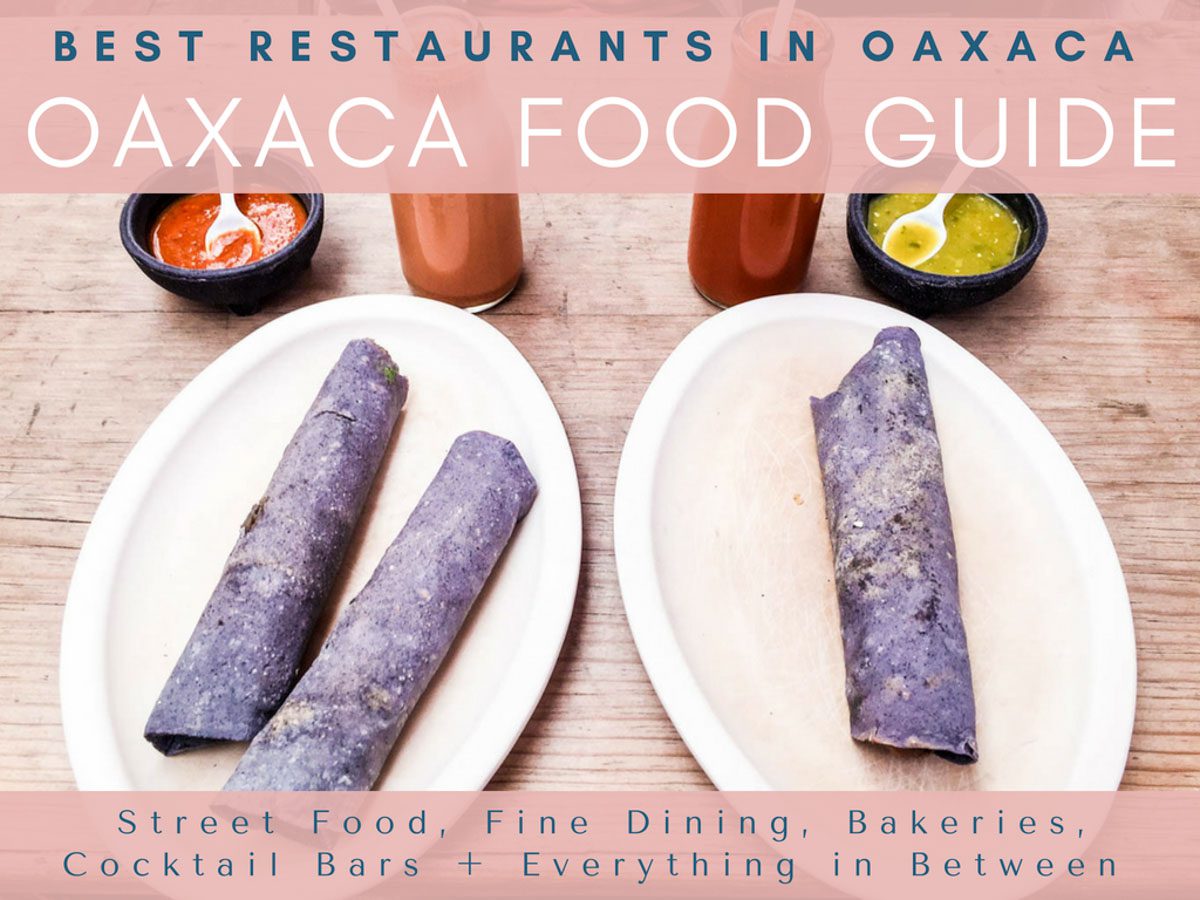 The time has come for me to put together a comprehensive Oaxaca food guide of all the best restaurants in Oaxaca, a place that has pulled me into its orbit again and again.
After years in this city, I've been able to experience living in different neighborhoods as well as villages outside the city, eating on the street, in traditional comedors, and in trendy restaurants.
Rescheduled dates coming soon!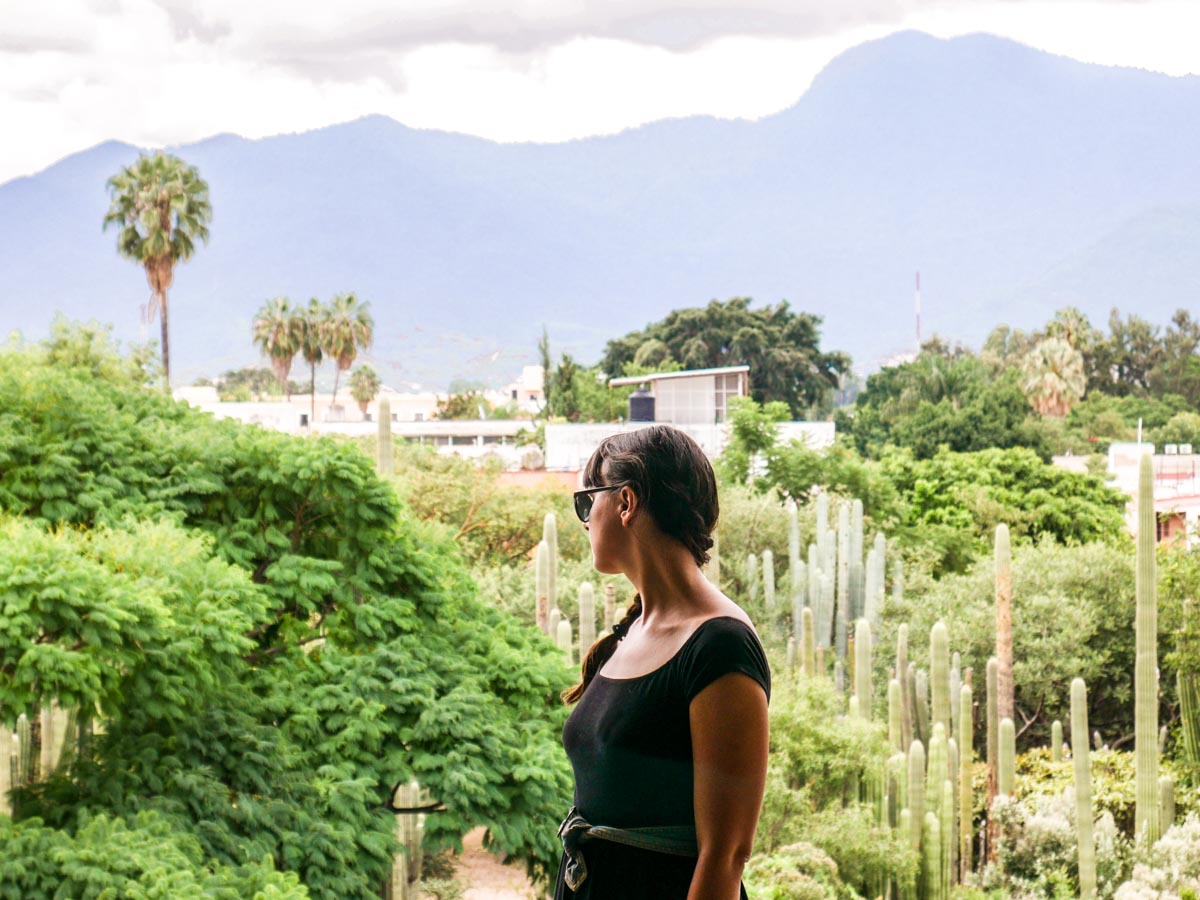 A couple of years ago, after my first visit to the city, I wrote a blog post - 11 Must Eats in Oaxaca. I've continued to update it, so that post is relevant - but it focuses on 11 must eat Oaxacan dishes and where to find them. But after many, many more restaurants, markets, and food stands, I wanted to write something much more comprehensive - an ultimate Oaxaca food guide.
So this aims to be a complete list of my favorites, broken down by category. I've included bakeries, street food, market eats, traditional restaurants, mid-range spots, upscale restaurants, coffee shops, and where to drink cocktails, mezcal, artisanal beer, and coffee in this Oaxaca food guide.
I continue to update this post as I try new places or restaurants close and open. I want to keep this Oaxaca food guide current and relevant for the best restaurants in Oaxaca. Of course I'm one person who hasn't been everywhere, but I've been many places, developed a long list of favorites, and will continue trying new places in the years ahead.
Happy eating! You picked one of the best places in the world for it. 🙂
Tons More Oaxaca Food and Travel Posts
Search Oaxaca Airbnbs and Hotels Below:
Bakeries: Best Restaurants in Oaxaca
Think Mexico doesn't do delicious bread? Think again. There are a couple absolutely fantastic bakeries in Oaxaca centro.
Boulenc: Oaxaca Food Guide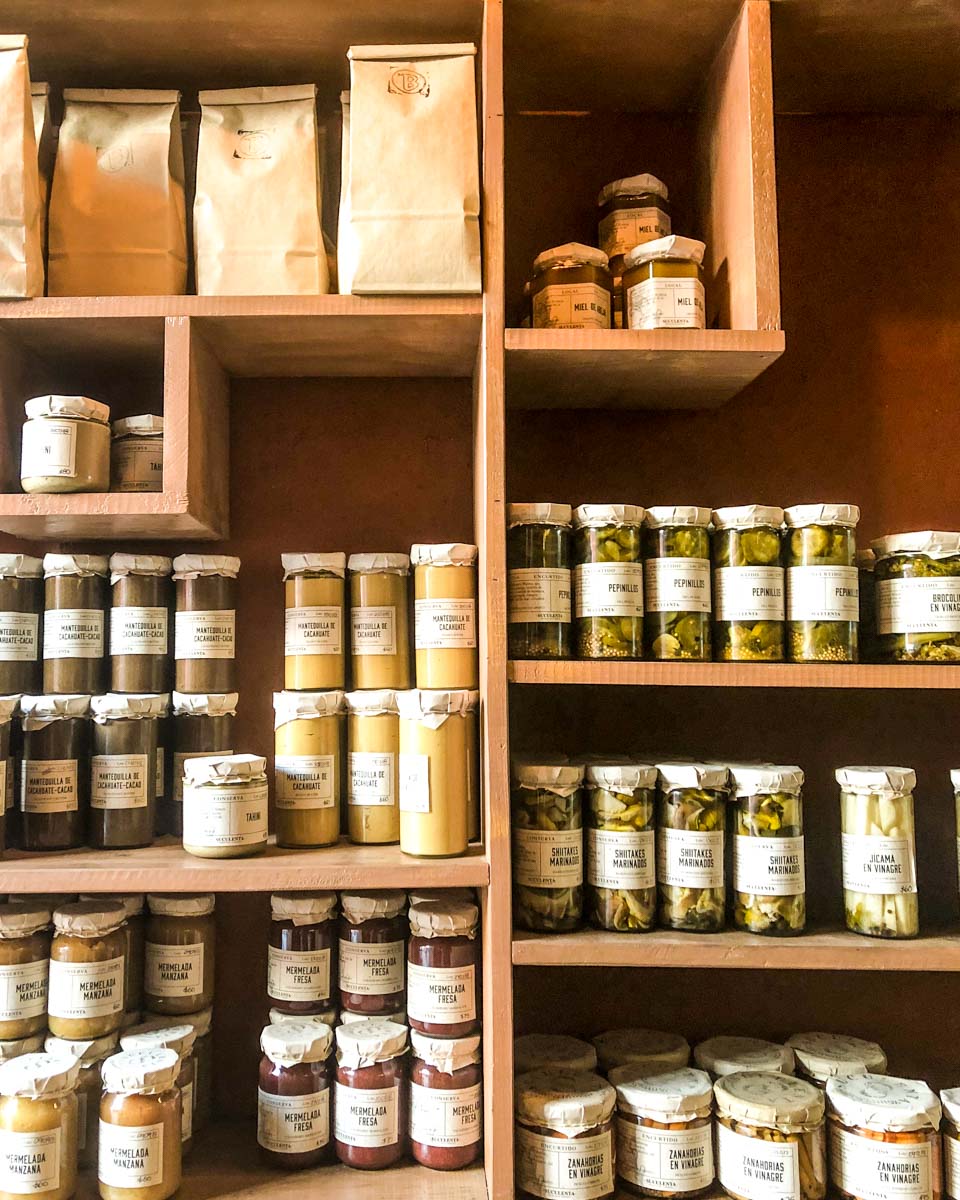 If you've done any Googling about best restaurants in Oaxaca, you've most likely already come across this local institution in a Oaxaca food guide. The Mexican founder perfected his European style bread and baked goods before opening Boulenc in 2014 with two friends.
Grab some fresh baguettes and croissants from the bakery, or head next door to the restaurant and sit down for some tasty food.
Highly recommend the wood-oven pizza, the burger, and the mushroom sandwich in the restaurant, and the chocolatin, fresh baked bread, and jars of salsa matcha in the bakery.
Their space is lovely - very shabby chic. They also sell jams, pickled vegetables, and other locally made artisan food goods in the bakery and their store Suculenta next door.
Pan con Madre is one of my favorite bakeries. This is also a European style bakery. My favorite things here are the focaccia (omg), the fresh english muffins, and the sesame loaves.
Besides that, they have an absolutely excellent homemade granola. They also often sell coffee by the kilo here.
This cute bakery is tucked next door to the famous Tierra del Sol restaurant (see below in "Upscale Experiences"). The selection is huge, and everything I've tried is delicious. Come for a morning pastry, or pick up some dessert after dining at Tierra del Sol.
Find Flight Deals to Oaxaca:

Street Food: Oaxaca Food Guide
Las Tlayudas de Mina y Bustamante: Best Restaurants in Oaxaca
I don't think anyone actually calls this tlayuda stand by the above name, but that's its location - at the NW corner of Mina y Bustamante, just a block from 20 de Noviembre Market.
These tlayudas are super legit and one of my favorites in the city. Order one and have a seat at the tiny cart counter (if you can find a spot) or a plastic stool nearby. Be sure to order some chocolate atole, too - it's delicious.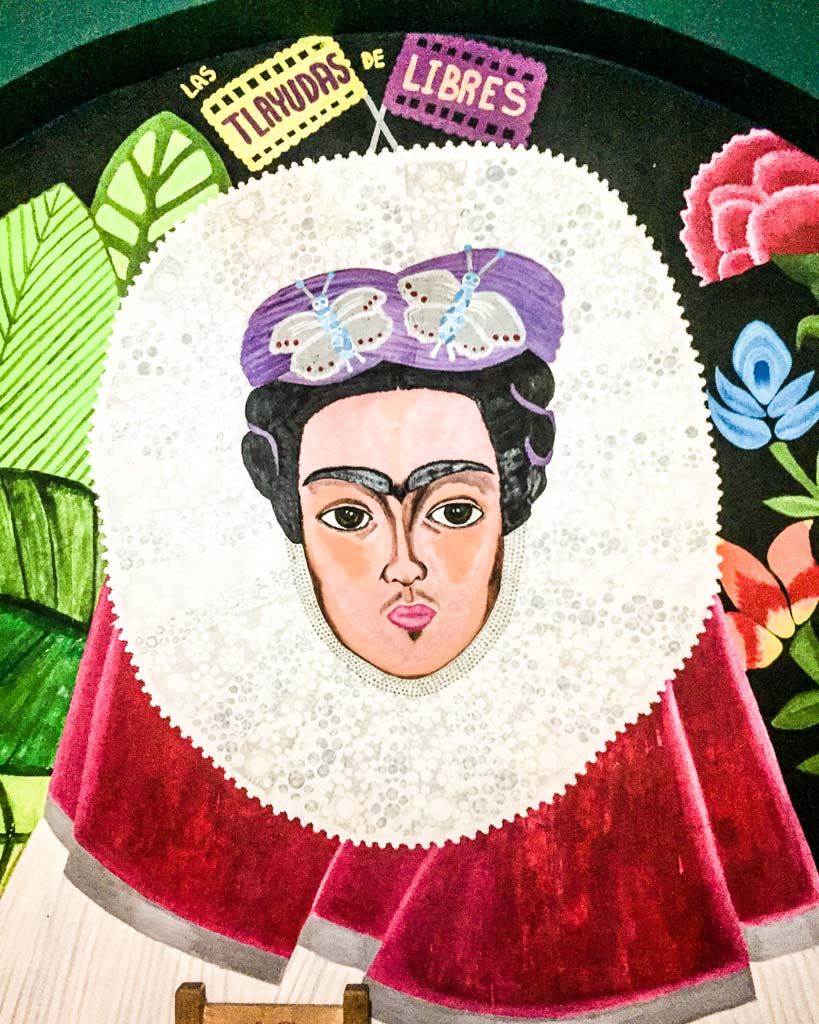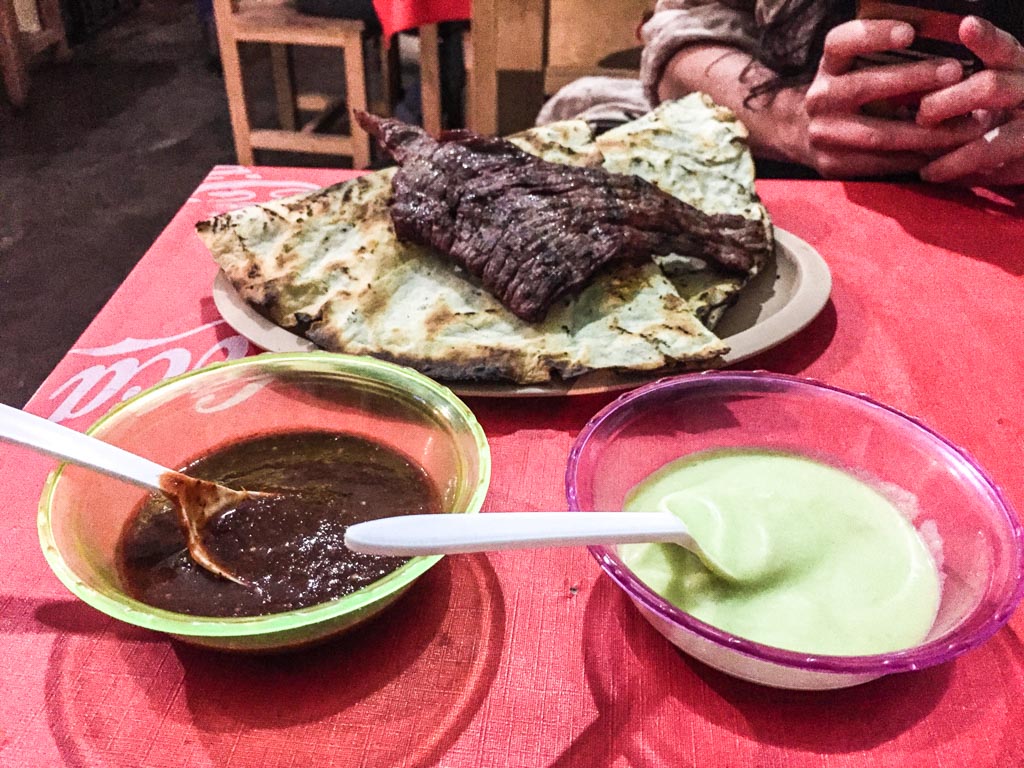 Tlayudas Libres isn't a secret, you can find it here and there in lists of the best restaurants in Oaxaca, but it's delicious and a classic so I had to include it in my Oaxaca food guide. They make perfectly grilled tlayudas on the grill outside and have some seating inside off the street. This spot is also open super late, so if you need a snack after a few mezcals, this is a solid solution.
This is a local spot that I didn't even know about for years, but visited on the recommendation of a local. La Chinita's tlayudas are some of, if not THE best in the city. Be aware this is a local street food stand that doesn't cater to tourists. It's not in a dangerous area, but a less touristy area, so I just recommend using common sense, walking well lit streets, and being aware of your surroundings. But if you are an adventurous traveler, this is an awesome nighttime dinner place!
You take a number when you arrive, wait for it to be called, then place your order. Once your tlayuda is ready, take a seat on a plastic stool (if you can find one open! This place is always busy), and enjoy.
Esquites Stand in El Llano: Best Restaurants in Oaxaca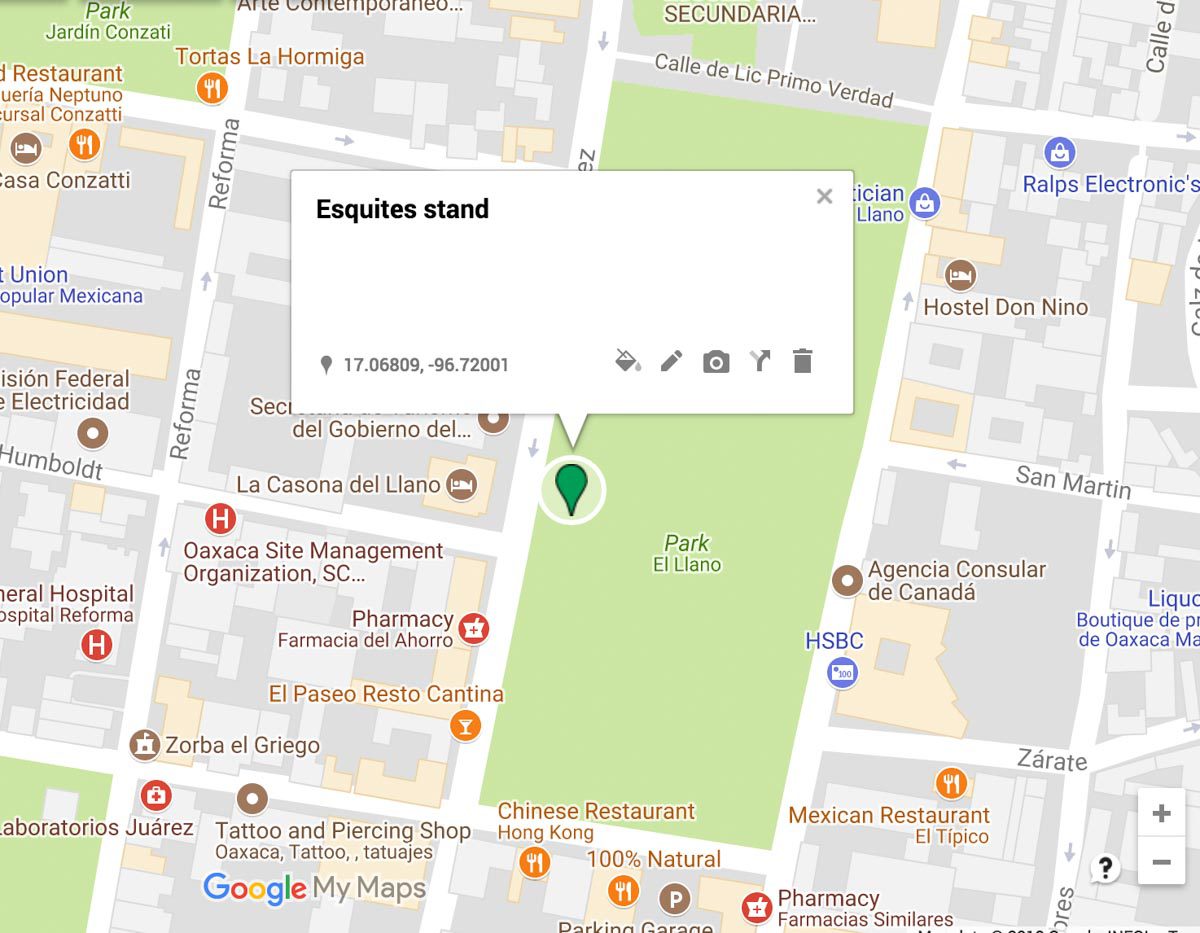 Esquites are boiled corn served in a cup. Add crema, mayo, chile pepper, salt, lime - and presto, you have a tasty snack. It's so delicious and a very popular Mexican evening bite.
There are many esquites vendors in the Zocalo, and on random street corners. Many are good, but the best, in my opinion is in El Llano park. You will be able to tell because they always have quite a long queue.
Check the map above for the approximate location on Ave Benito Juarez, close to the intersection with Humboldt.. Generally opens after dark.
Take a seat at this street side stand and order some delicious memelas, an important local breakfast or dinner. Also try an empanada, a tortilla filled with mole amarillo and chicken. Memelas San Agustin is always busy and tasty.

Speaking of late night delicious food, Lechoncito de Oro has some of my absolute favorite tacos in Oaxaca. They make only two types of tacos: pierna (pork leg) and chicharron (pork skin). Both are incredibly delicious. Definitely try both.
They also have another location east of the centro - I haven't been there, but am sure it's delicious as well.
This is an absolute must in my Oaxaca food guide for tacos.
Tacos del Carmen is a street stand is just across the street from La Popular and serves up memelas and tacos during the morning and early afternoon. At night, just next to it, another street stand serves up similar food - memelas and quesadillas.
Taco Tour: Best Street Food Oaxaca
If you want a local to show you around to some hidden taco spots, then check out this taco tour. You visit 5 taquerias you wouldn't know how to find on your own with a variety of meats and styles, stroll through picturesque streets, and sip some delish mezcal in between.
Market Food: Best Restaurants in Oaxaca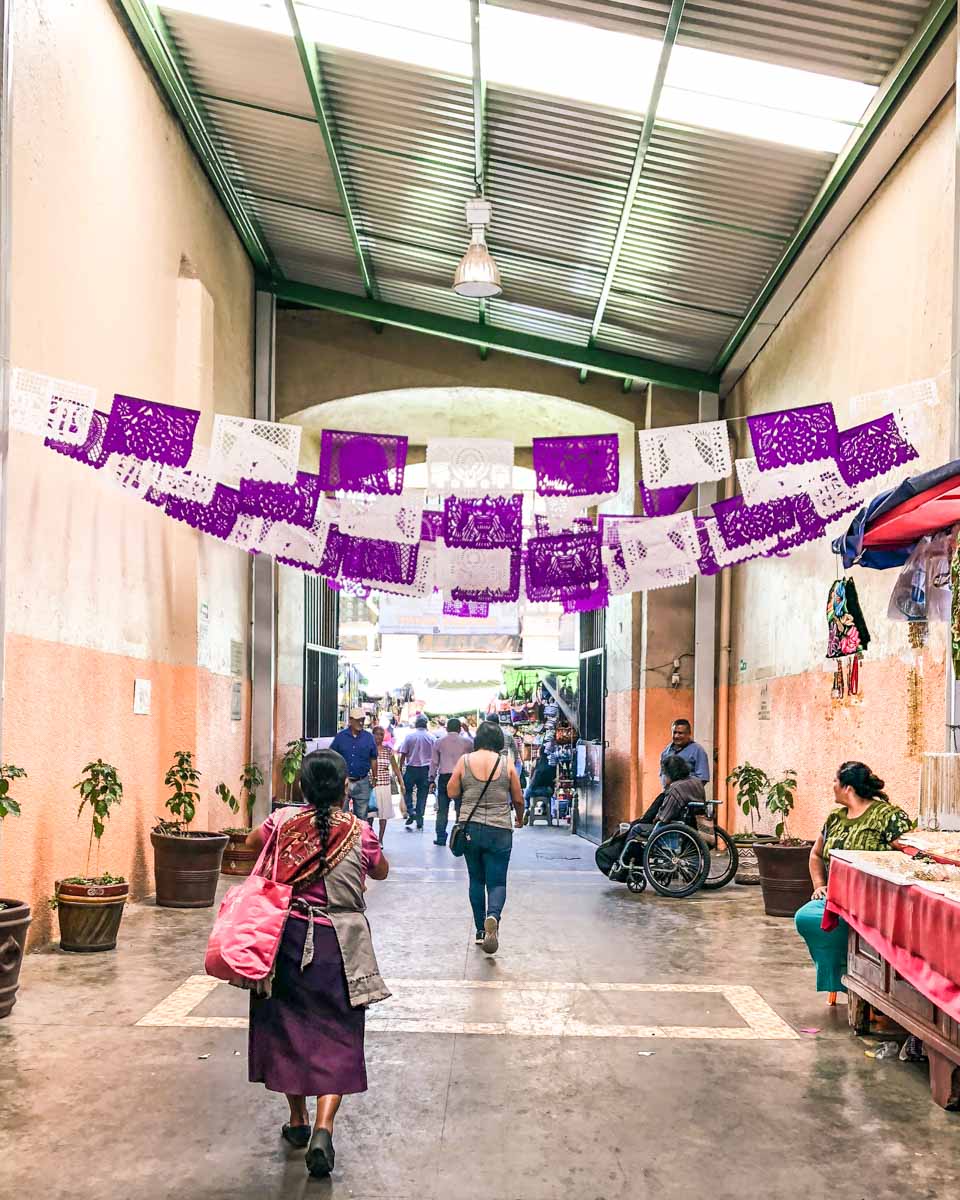 I loooove visiting markets when I travel, and the ones in Oaxaca are some of my absolute favorites, jam packed with delicious food.
I wrote an extensive blog post already about what to eat in Oaxaca markets: Mercado Benito Juarez & 20 de Noviembre - highlights include tlayudas and the tastiest grilled meats in the Carne Asada hall. Full details in the post including where to get tamales, chapulines, drink tejate, and more.
Memelas in La Merced Market: Oaxaca Food Guide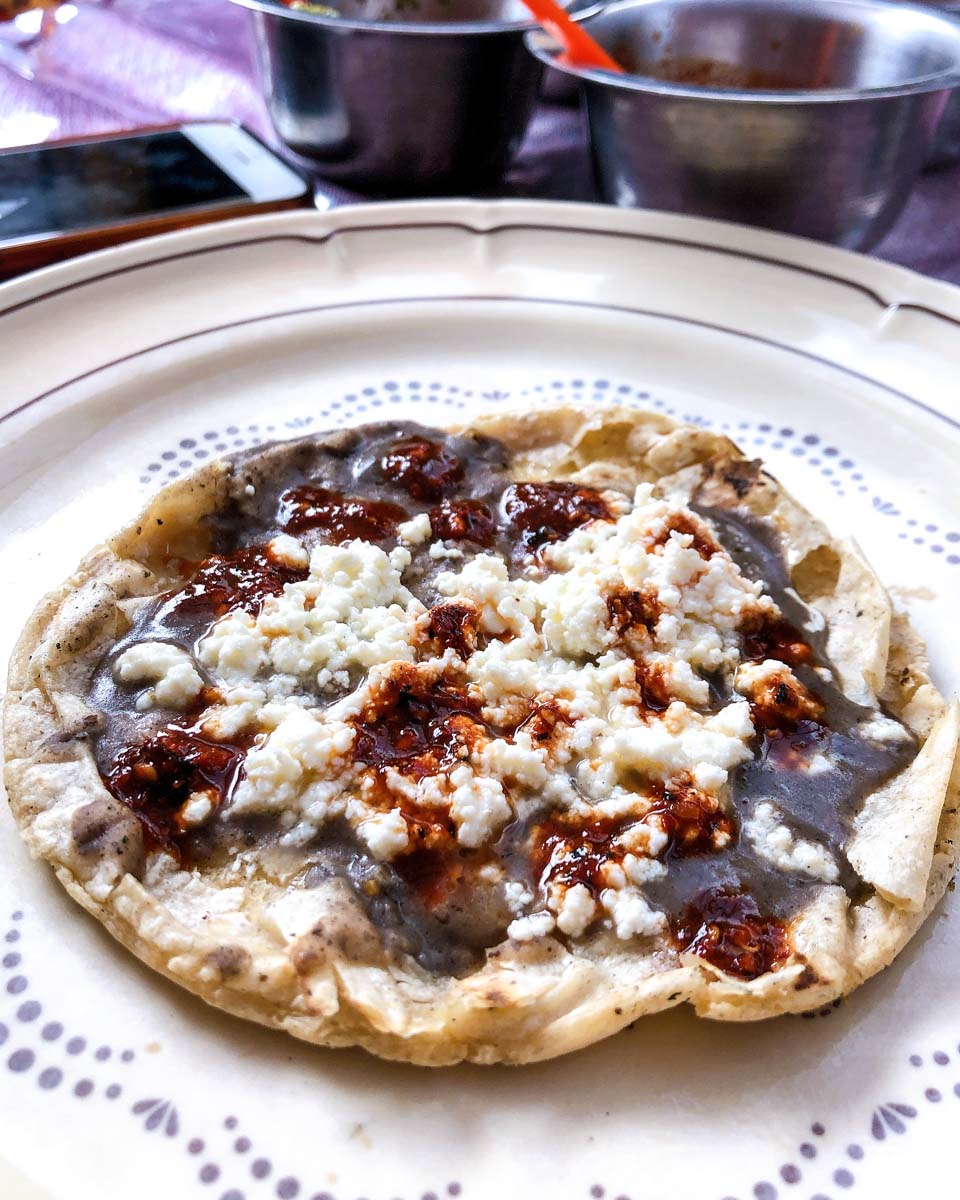 Taste this delicious and traditional breakfast food at La Guerita in La Merced market.

Traditional Casual Restaurants: Oaxaca Food Guide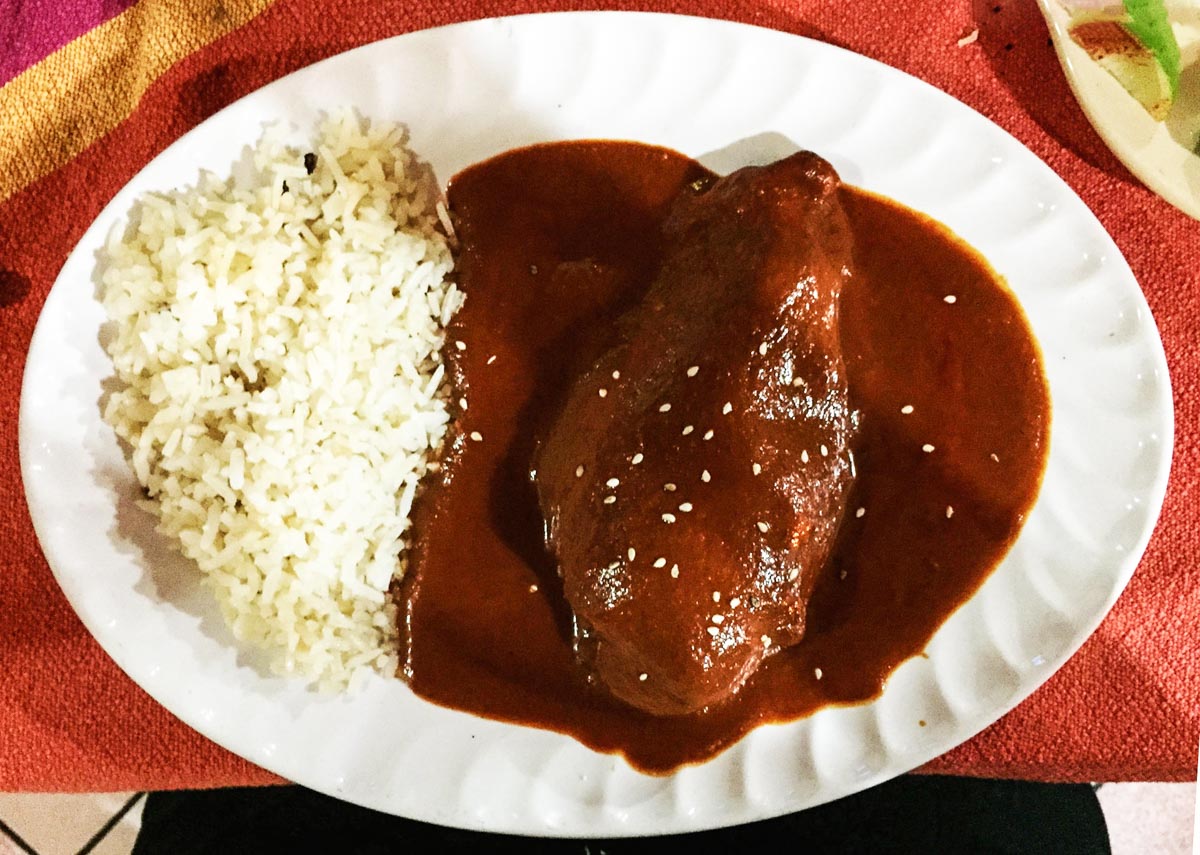 Biche Pobre is one of the first restaurants I tried in the city, and in my opinion still one of the best restaurants in Oaxaca. It's a traditional local spot, filled with families having a big shared lunch. It's no frills, but still very comfortable and a great place for taking in the local culture.

I love the mole negro here (which is a dish you really have to try when coming to Oaxaca). They also have great tamales and chiles rellenos.
Tacos Roy: Oaxaca Food Guide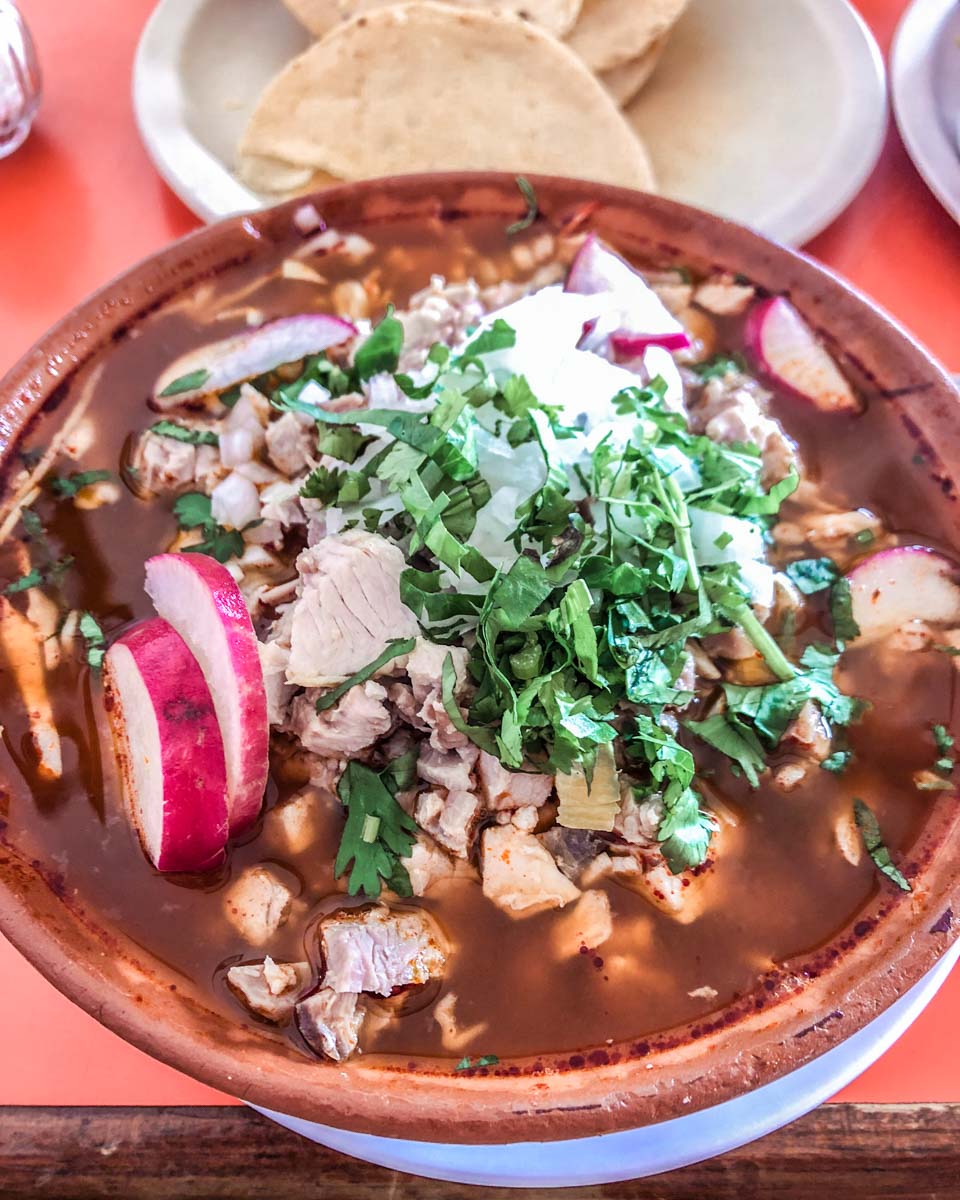 Tacos Roy is another classic in my Oaxaca food guide. It's a small local chain that has several locations in the city, my most visited on Valerio Trujano and Abasola/Piño Suarez. The tacos here are tasty, but my favorite thing to order here is pozole. What's pozole? A suuuper delicious traditional soup that includes hominy, your choice of meat, and is often topped with cabbage, crema, onion, radishes, and other tasty toppings.

If you are looking for one of the best restaurants in Oaxaca to try pozole, Tacos Roy is a great choice. My other favorite pozole spot below...
This tlayuda spot is only open 3 nights a week - Thursday, Friday and Saturday for dinner. It's very simple - walk in the hallway passing the tlayuda grill and have a seat in the open courtyard.
The tlayudas at Las Animas are absolutely delicious - perfectly grilled, crispy and smoky. They also have a tlayuda enmolada - or a tlayuda with mole sauce instead of the normal asiento. The tlayudas are on the smaller size (or rather, they are about the appropriate size to eat in one sitting. but you will find them quite a bit larger just about everywhere else).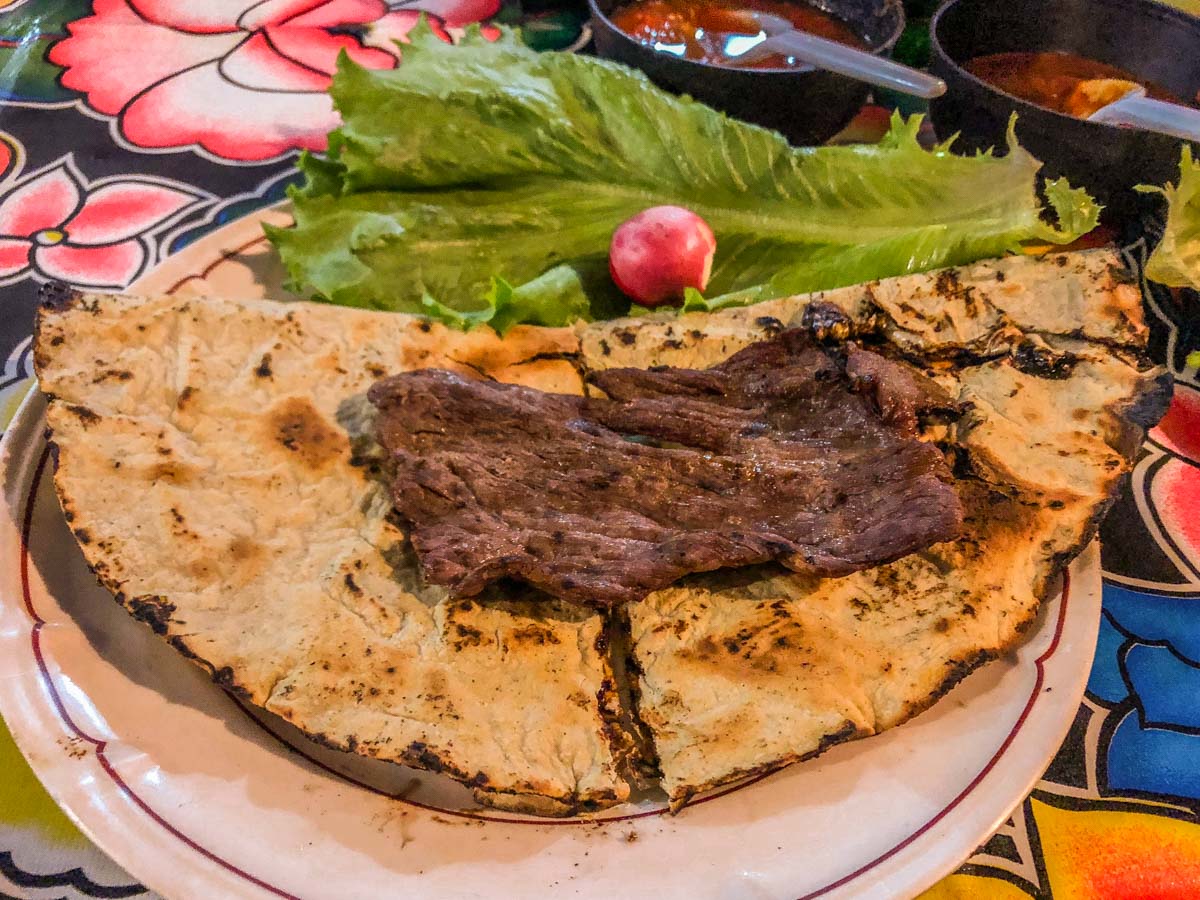 Since this is open late on weekends, it's a good Oaxaca food guide choice for before or after some mezcals.
Garnachas, Various Locations: Oaxaca Food Guide
There 3 different garnachas places in the Centro that I love. 2 of the 3 are very casual places that have a few tables in the front or side room of the families' homes.
La Garnacheria serves tasty garnachas on their patio. Open late afternoon/nights.
Comedor Istmeño Casa Juichitan serves garnachas and other tasty food from the Isthmus during the day.
El Son Istmeño is a bit more like a typical restaurant with a larger menu and lots of seating in an outdoor open patio.
Mid-range Restaurants: Best Restaurants in Oaxaca
Write it down, save it to your Google Maps, this is a must-visit in Oaxaca. Levadura de Olla has a full proof menu full of traditional Oaxacan dishes that are all served flawlessly. This is an excellent place to taste Oaxacan mole, tamales, soups, and heirloom tomatoes and veggies. My two favorite dishes:
Ensalada de jitomates - 10 or 11 types of heirloom tomatoes served fresh on a bed of beet purée. Every tomato has a distinct and delicious flavor.
Tamal de requeson (soft cheese) with flor de calabaza (squash flower) served with delicious mole negro and mole coloradito (a red mole).
Levadura de Olla is also a beautiful restaurant with a large open patio. The drink menu is full of great mezcals and some great traditional drinks like agua de maiz (corn water, incredibly refreshing), tepache (fermented pineapple drink), and ticunchi (made from socoyul leaves and the pencas of the agave papalometl). Make a reservation before visiting.
Cabuche: Best Restaurants in Oaxaca
Cabuche has it all: a lovely, simple atmosphere, great staff, and totally delicious food. Everything I've had here has been superb - and I've been here many times.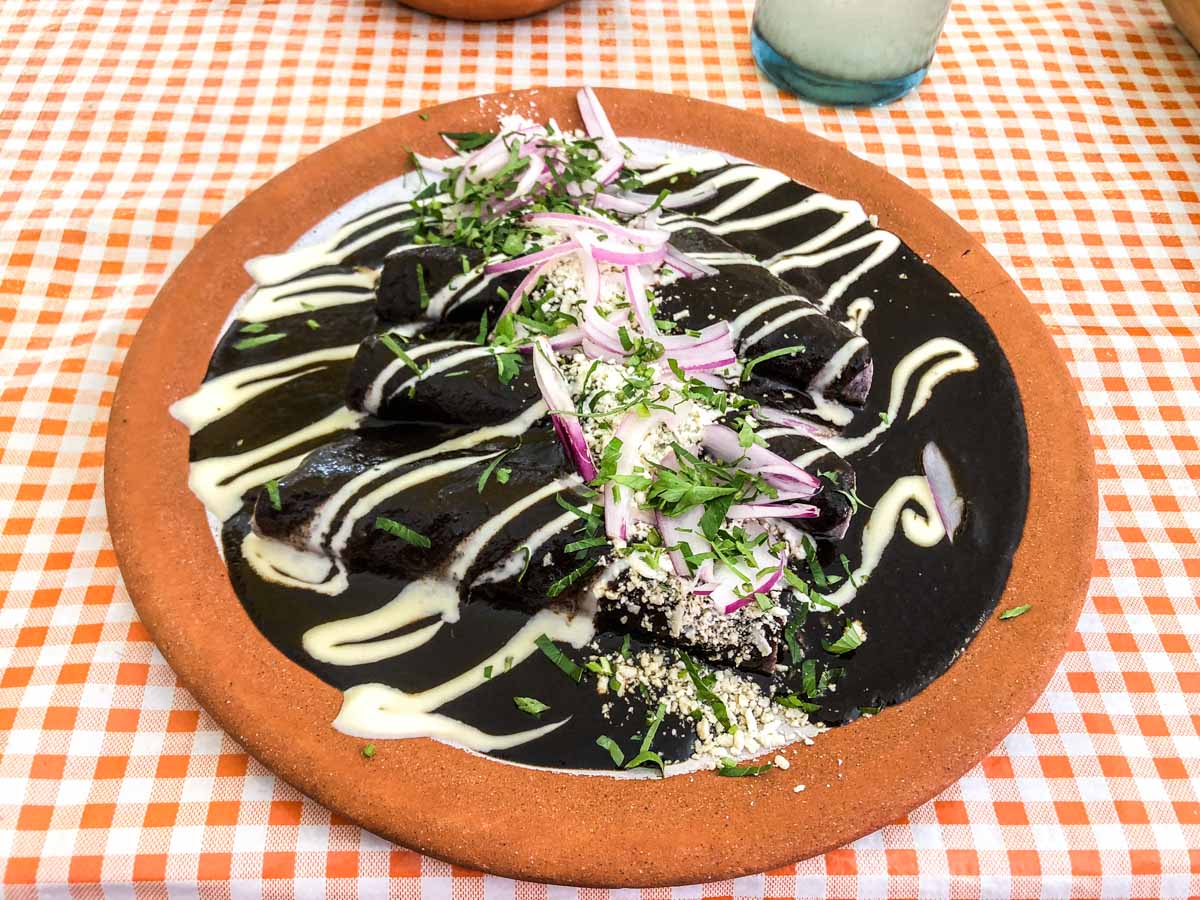 The standouts here are their pozole verde (super super good), cochinita pibil tacos, and the enmoladas. Be sure to also order their agua of the day (flavored water) or maybe an artisanal beer or house-made pulque.
Cabuche is open for breakfast, lunch or dinner, so is perfect for anytime of day. This is a can't miss on my Oaxaca food guide!
Boulenc: Best Restaurants in Oaxaca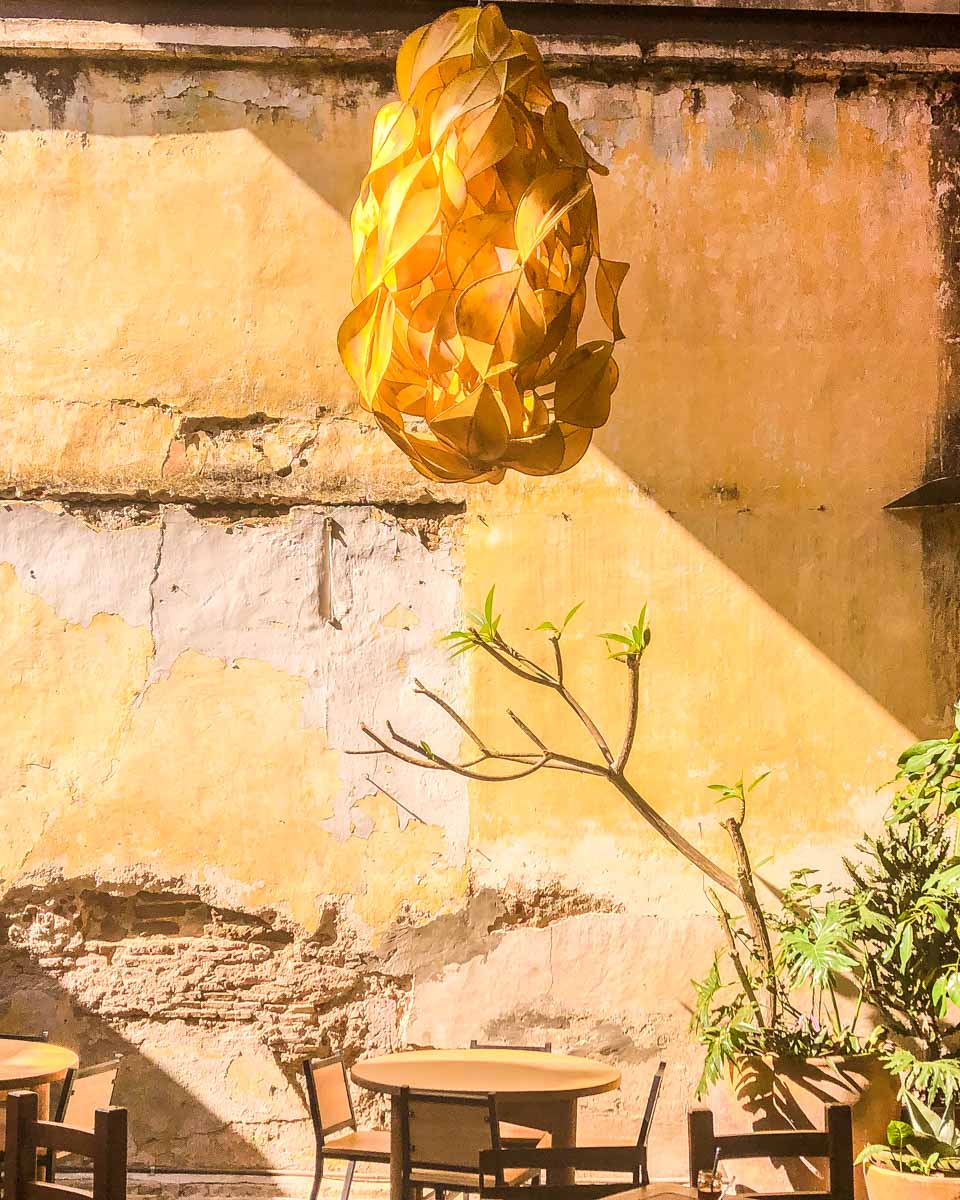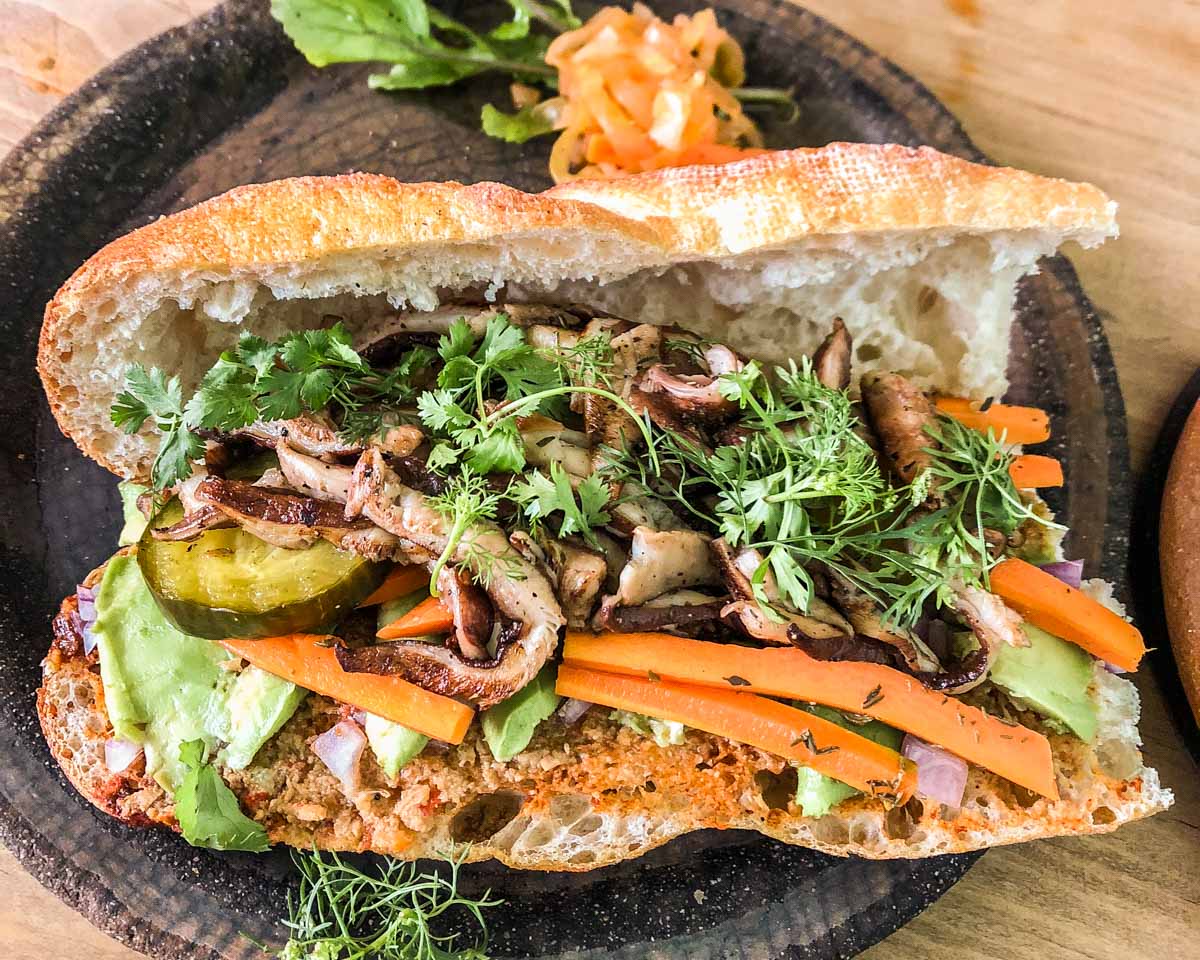 I mentioned Boulenc earlier in the bakery section, but they have an adjoining dining room for eating in as well. It's a super cute spot with rustic decor, and an indoor/outdoor space.

Their sandwiches, salads and pizzas are all delicious. The pizzas are made in a wood-fired oven in the corner and are very legit.
It's a cool spot, and they also occasionally have live music.
Itanoni: Best Restaurants in Oaxaca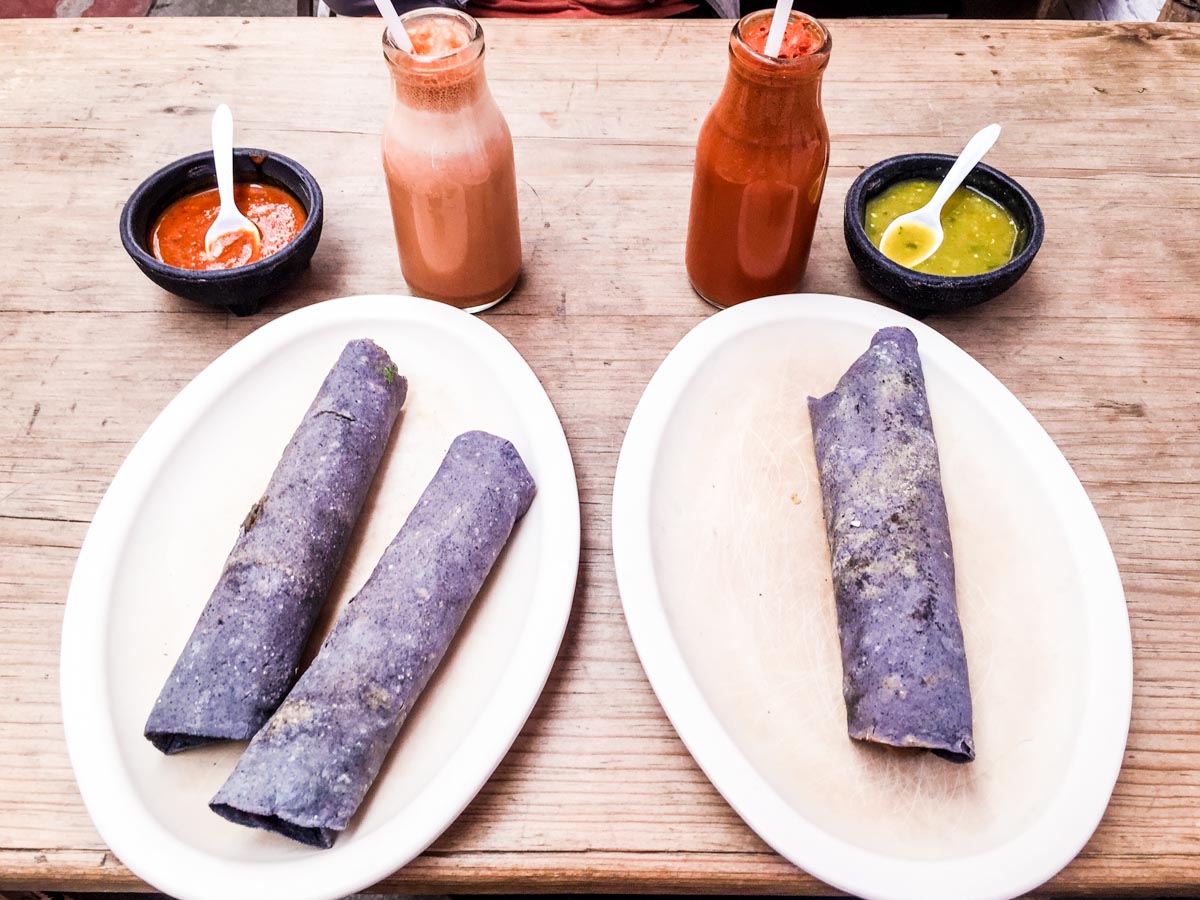 Itanoni has gained a little online buzz as well, and for good reason. This restaurant's claim to fame is the heirloom corn varieties they use to make each and every dish in the house. From the freshly made tortillas, to the tamales, to the traditional drinks made from corn, to the corn cake for dessert.
Technically this Oaxaca food guide restaurant is outside of the centro (so maybe should be in that section below), but it's really only a few blocks from the Centro in a neighborhood called La Reforma. Plus it's a must visit, in my opinion.
The menu here is huge, but here are my favorite things to order at Itanoni, one of the best restaurants in Oaxaca:
Tascalate - this is a beverage (pictured above) and is my favorite thing at Itanoni. It's a traditional non-alcoholic drink made from toasted maize, chocolate, ground pine nuts, achiote, sugar and vanilla. It's amazing - trust me. If you're in a group - order the jarra (pitcher) to share.
De ese - this snack is a tortilla stuffed with an hoja santa leaf (adding an anise/peppery flavor) and whatever other ingredient you choose.
Tamales - their tamales are delicious. That is all.
Tetelas - triangle shaped tortillas stuffed with goodness. My favorite stuffing options are cheese or mushrooms.
Pan de elote - for dessert, the subtly sweet corn cake is perfect. If you still have any room.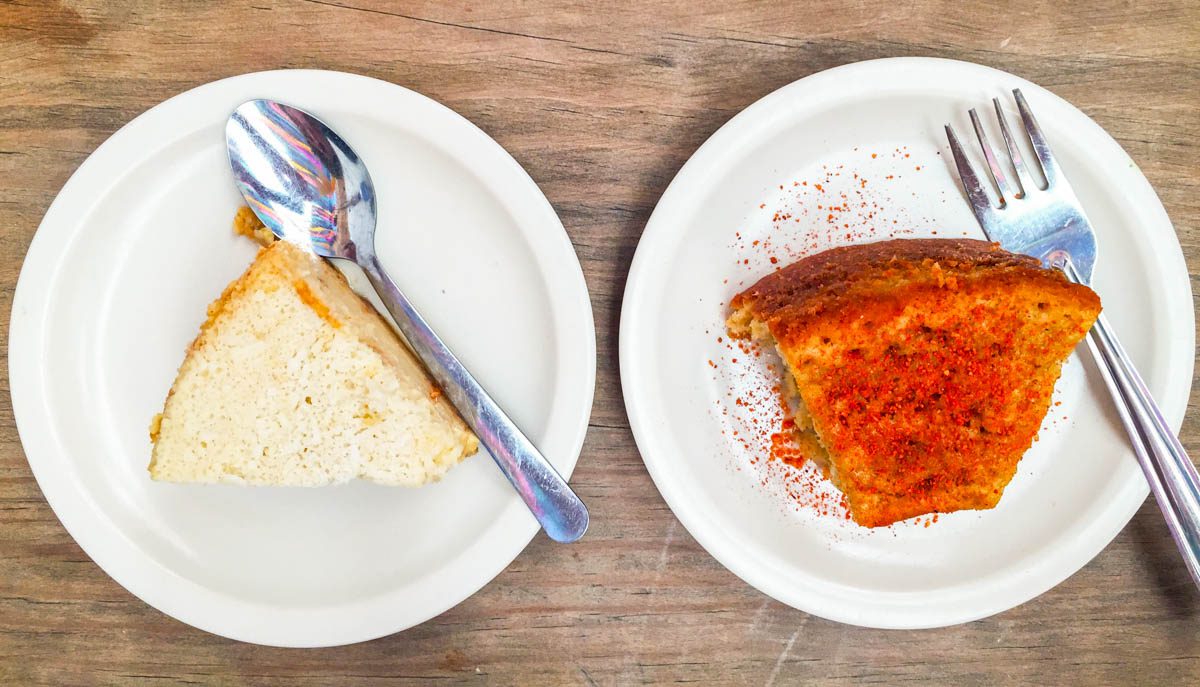 Itanoni is definitely one of the best restaurants in Oaxaca to indulge in all things corn. It also has a cute casual atmosphere open to the street and colorful streamers strung up and down the side dining room. Open for breakfast and lunch.
La Popular: Best Restaurants in Oaxaca
La Popular a very simple and small dining room that always feels lively (mostly because it's, well, very popular!), and also doubles as an art gallery. The food is good, the atmosphere is great, and it's very centrally located just one block from Santa Domingo.
I like to order the tacos de cochinita pibil or the quesadillas de huitlacoche.

They also have a second location, just one half block up Garcia Virgil to the north, lovingly called "La Otra (Popular)."
My favorite thing about the La Populars is the atmosphere and variety of options. It's a great place to go with a group, with lots of food options, beer, mezcal, and a fun, lively vibe.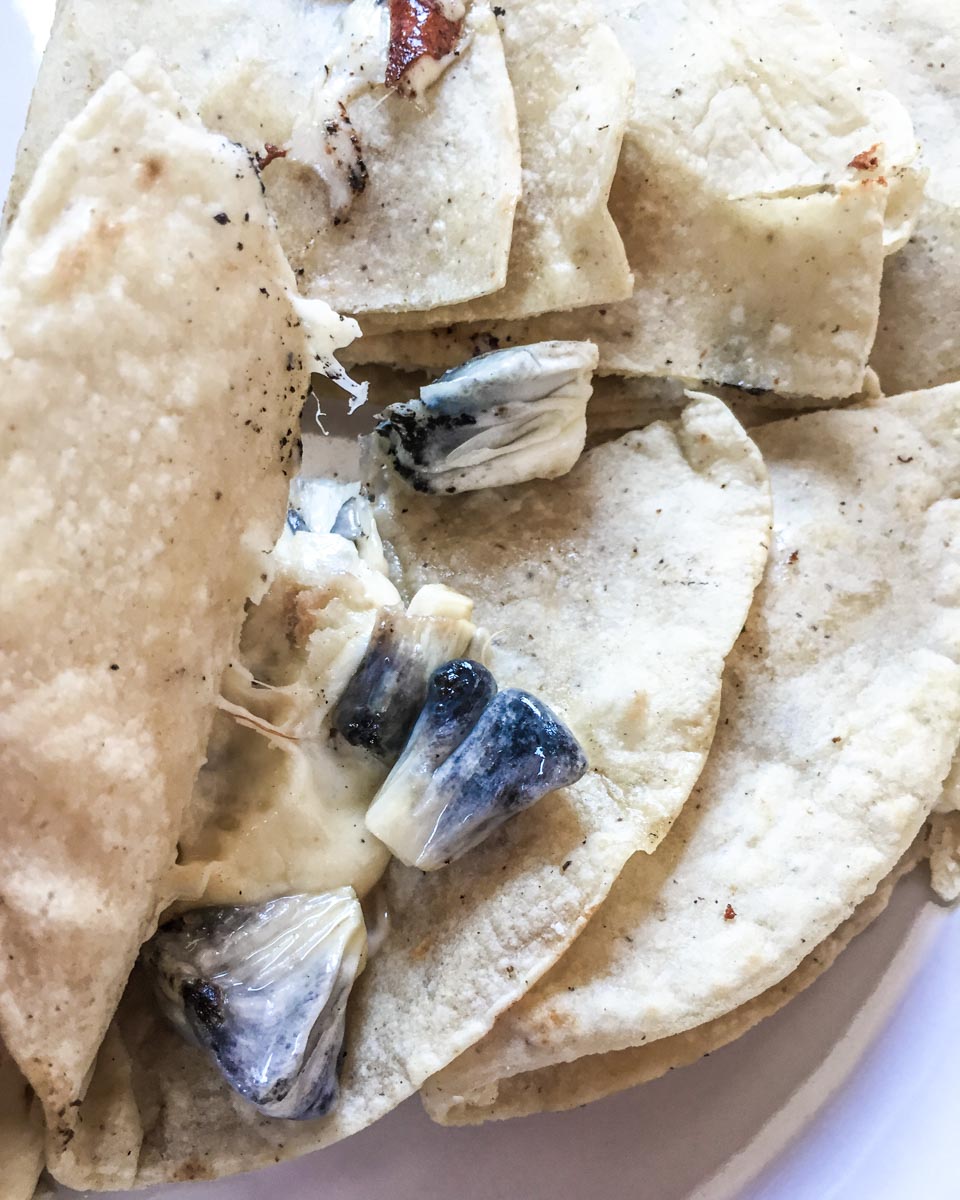 Casa Taviche: Best Restaurants in Oaxaca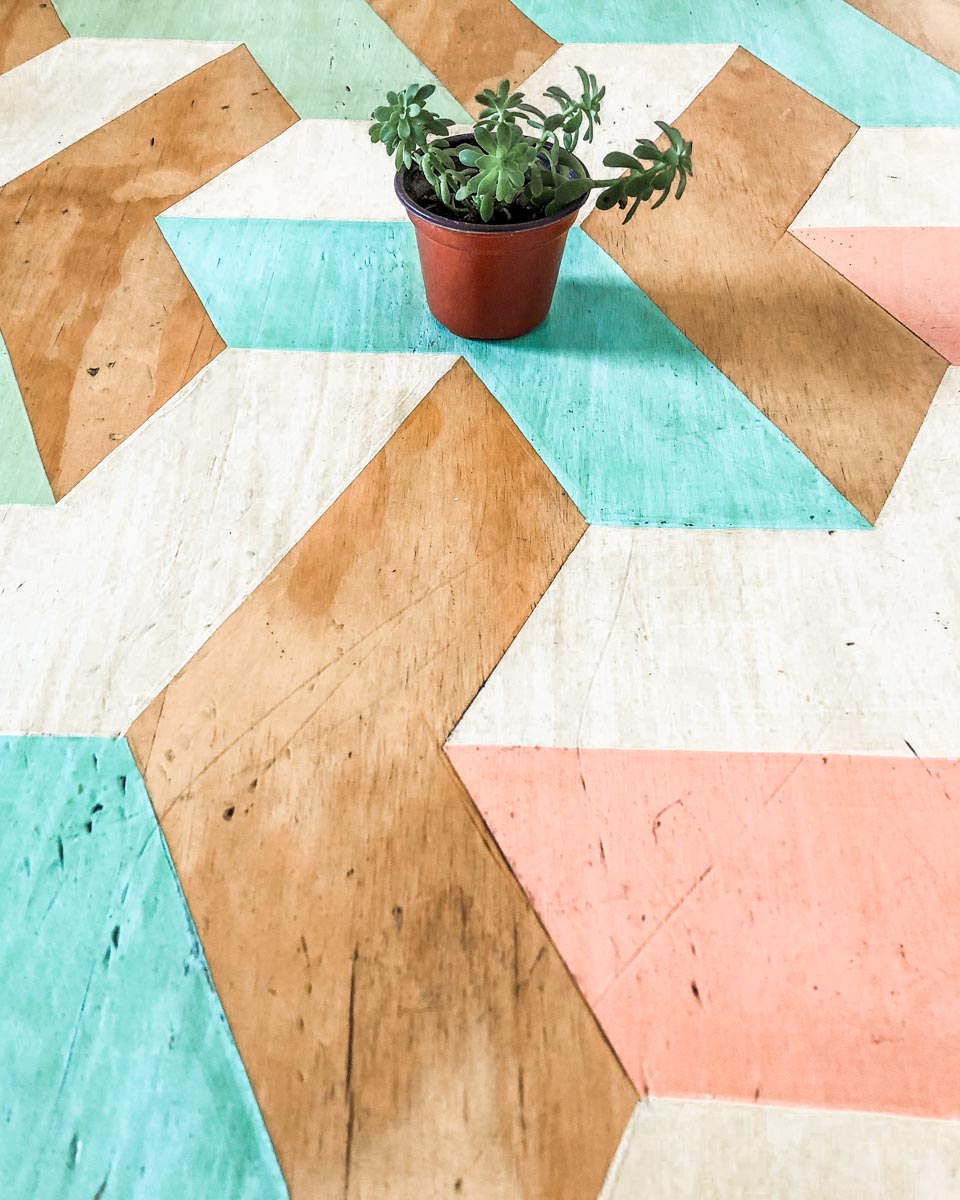 I had Casa Taviche on my list for a couple years before I finally made it over for lunch. It's centrally located and easy to find, I had just somehow missed it before.
The dining room is adorable with cute and colorful geometric designs painted on the tables and chairs, and colorful wall accents.
They typically serve a menu del dia - or a menu of the day. This usually includes 3 courses and a drink all for a reasonable price. The dishes are beautifully plated as well as delicious and fresh.
Casa Taviche is one of the best restaurants in Oaxaca to try out a typical (though slightly more upscale) menu of the day.
El Quinque: Best Restaurants in Oaxaca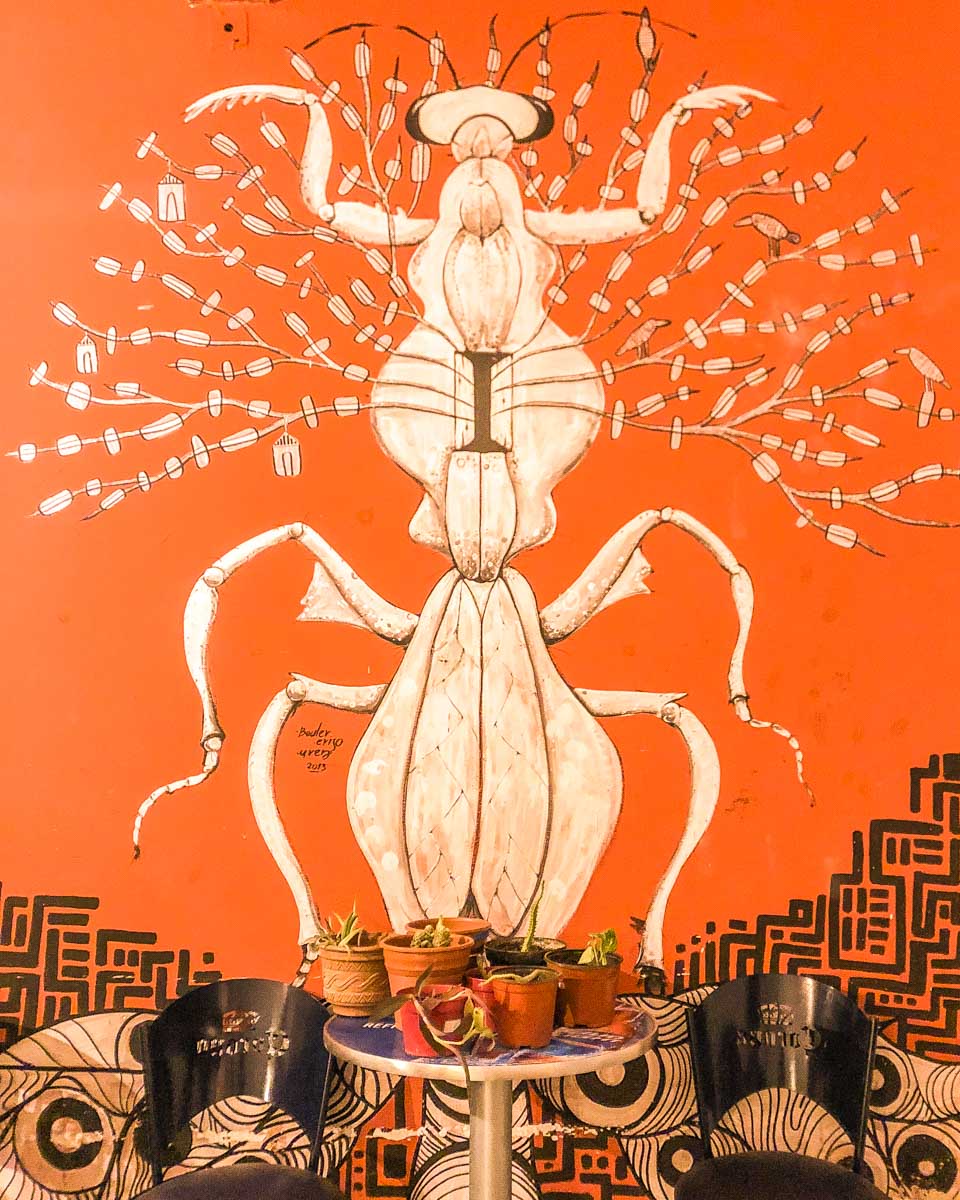 El Quinque serves the best burgers. Really - they are exceptionally high quality and delicious. I rarely order anything else here because I prefer to keep having the amazing burgers.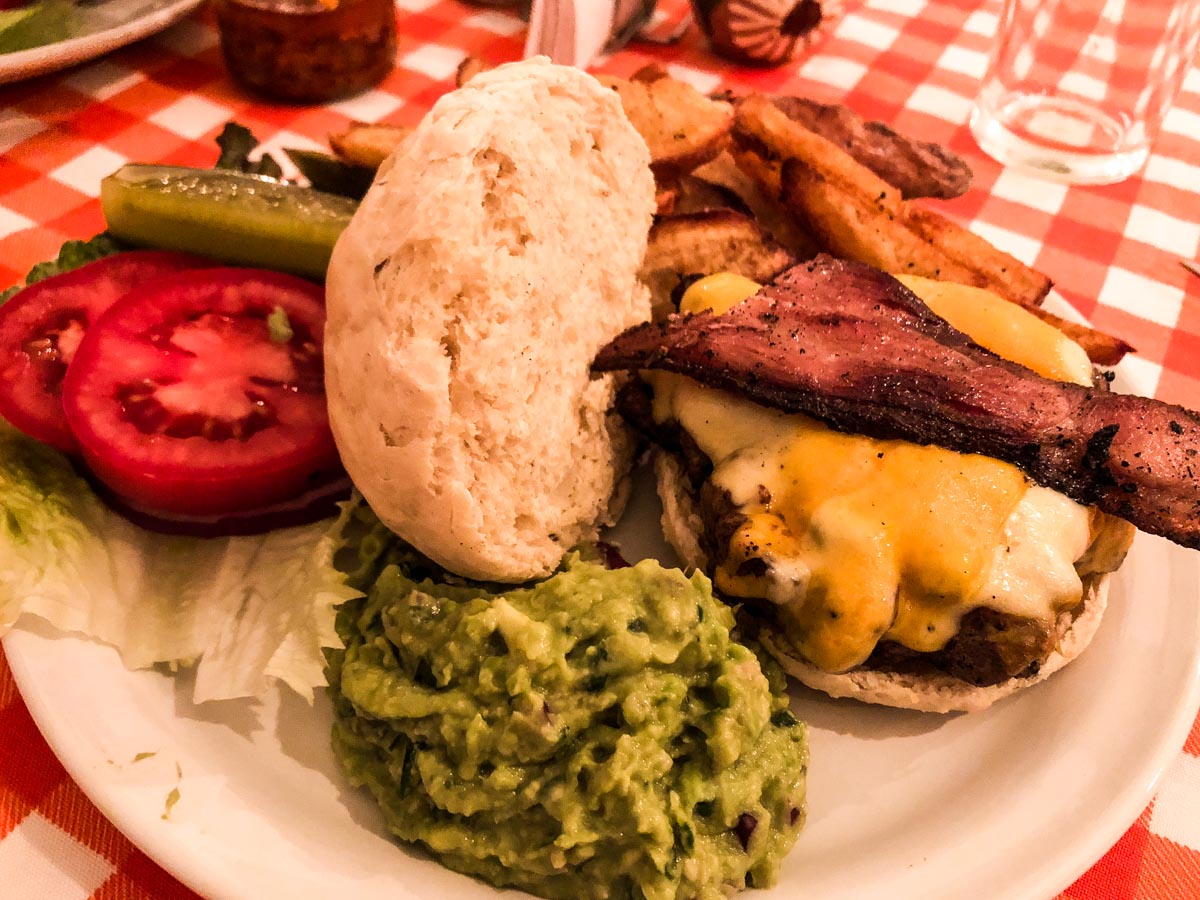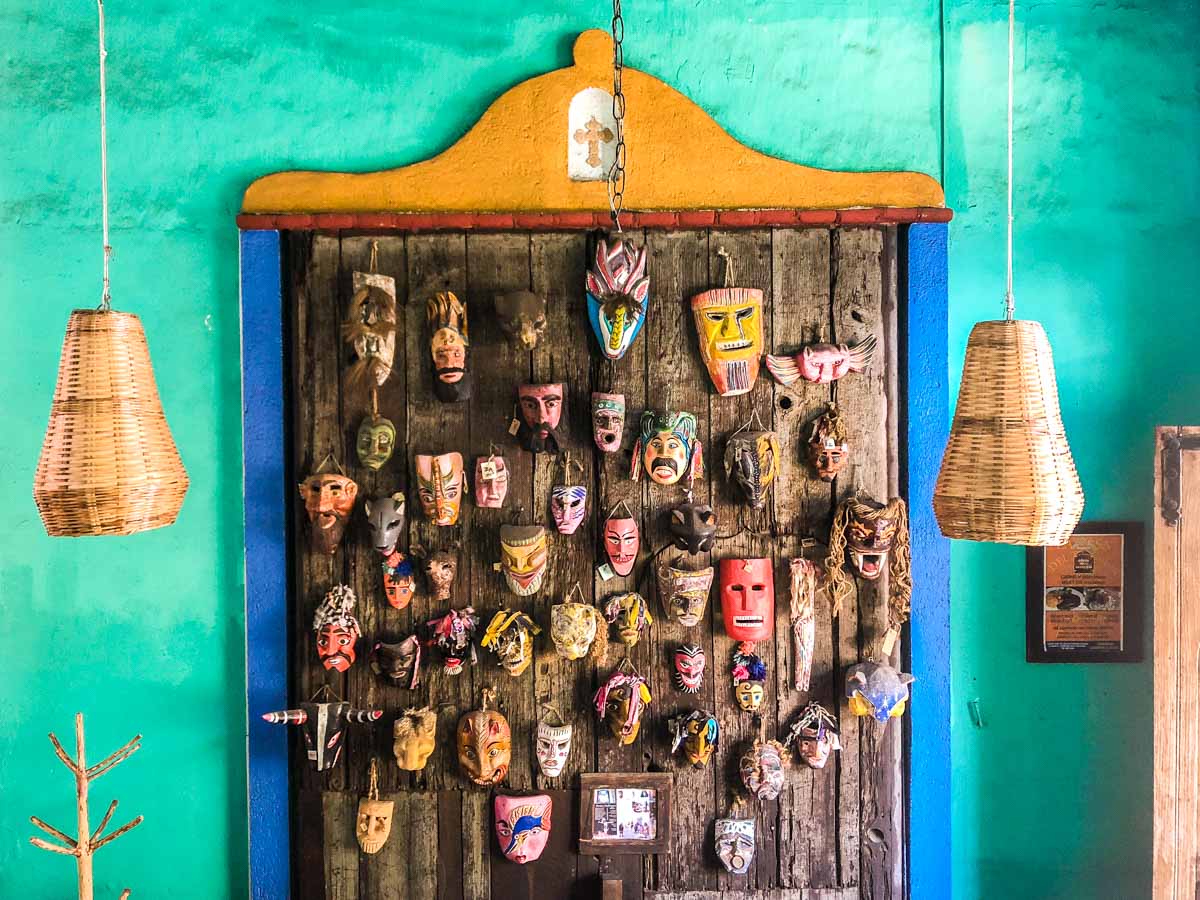 La Casa de Tio Guero is a colorful and spacious restaurant not to far from Santo Domingo in the Centro. The food is also super good. The chilaquiles are one of my favorites in town, and the chile relleno is always fresh and tasty.
Onnno: Best Restaurants in Oaxaca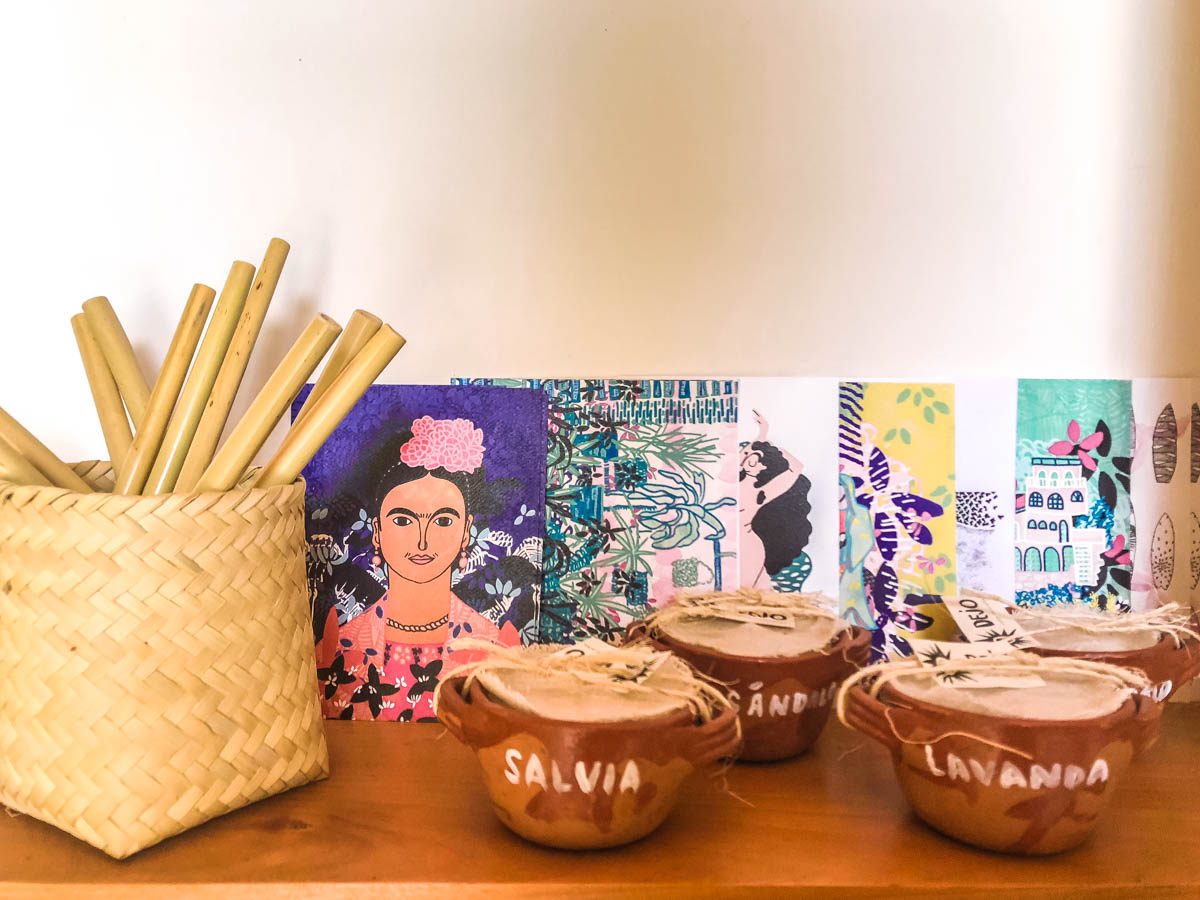 Onnno is one of the best lunch spots in town. They serve sandwiches, toasts, salads, and an array of freshly made juices, kombucha, and coffee. They have large communal tables, cute decor, great service, and a newly opened back patio space. Highly recommend!
Chepiche Cafe: Best Restaurants in Oaxaca
Ever since I tried this adorable restaurant tucked in the quiet neighborhood of Xochimilco, it's become one of my favorite breakfast spots. The large leafy green courtyard has spread out tables and the decor is simple but cute. The dishes at Chepiche are beautifully plated and just as tasty. It's definitely worth the extra couple minute walk from centro.
This rooftop taqueria and cocktail/mezcal bar is above El Destilado (see upscale restaurants below). This is the more casual spot to hang out for awhile, drink, snack, chat, and enjoy the view of Santo Domingo. The cocktails at El Techo are excellent and the tacos are tasty. Open evenings.
I have this spot in my cocktails section, but the food at Sabina Sabe is also delicious. This restaurant/bar is beautifully decorated with pretty tile, modern furniture and exposed brick. Sit in the restaurant or the bar and order a few plates to share and a cocktail or mezcal to sip. Often busy, especially on weekends. This also falls somewhere between mid-range and upscale.
Maguey y Maiz: Best Restaurants in Oaxaca
Maguey y Maiz is another restaurant that is somewhere between mid-range and upscale. The dining room and patio is well-designed but still feels casual and comfortable. The food is delicious and well-prepared. I love the chilaquiles for breakfast.
Tastavins: Oaxaca Food Guide

Romantic and nice, but with casual pricing, Tastavins is a cute place that is great for a nice dinner or date. Their specialties are Spanish tapas and wine. Finding wine in Oaxaca is not the easiest, so I love that they have a big wine list to choose from. There prices are excellent - for the tasty food and for the wine. I recommend a pasta dish and tasting some of the Mexican wine from Baja California. This the spot in this Oaxaca Food Guide to go for wine.
La Biznaga is a well-decorated restaurant with a pleasant back patio, great service, and tasty food. They have some really great mezcal here and the food is fresh and well prepared.
This restaurant/store is beautiful, well-curated and delicious. The main concept behind the project is all things fermented - often with interesting combinations and techniques. The front shop has a beautiful collection of home goods, as well as Asian food items and natural wines that can be hard to find elsewhere around the city. On the back patio, they serve delicious food on weekends, Asian dishes using Oaxacan ingredients alongside interesting and funky natural wines. They also sell food to take away.
Upscale Experiences: Oaxaca Food Guide
Alfonsina: Best Restaurants in Oaxaca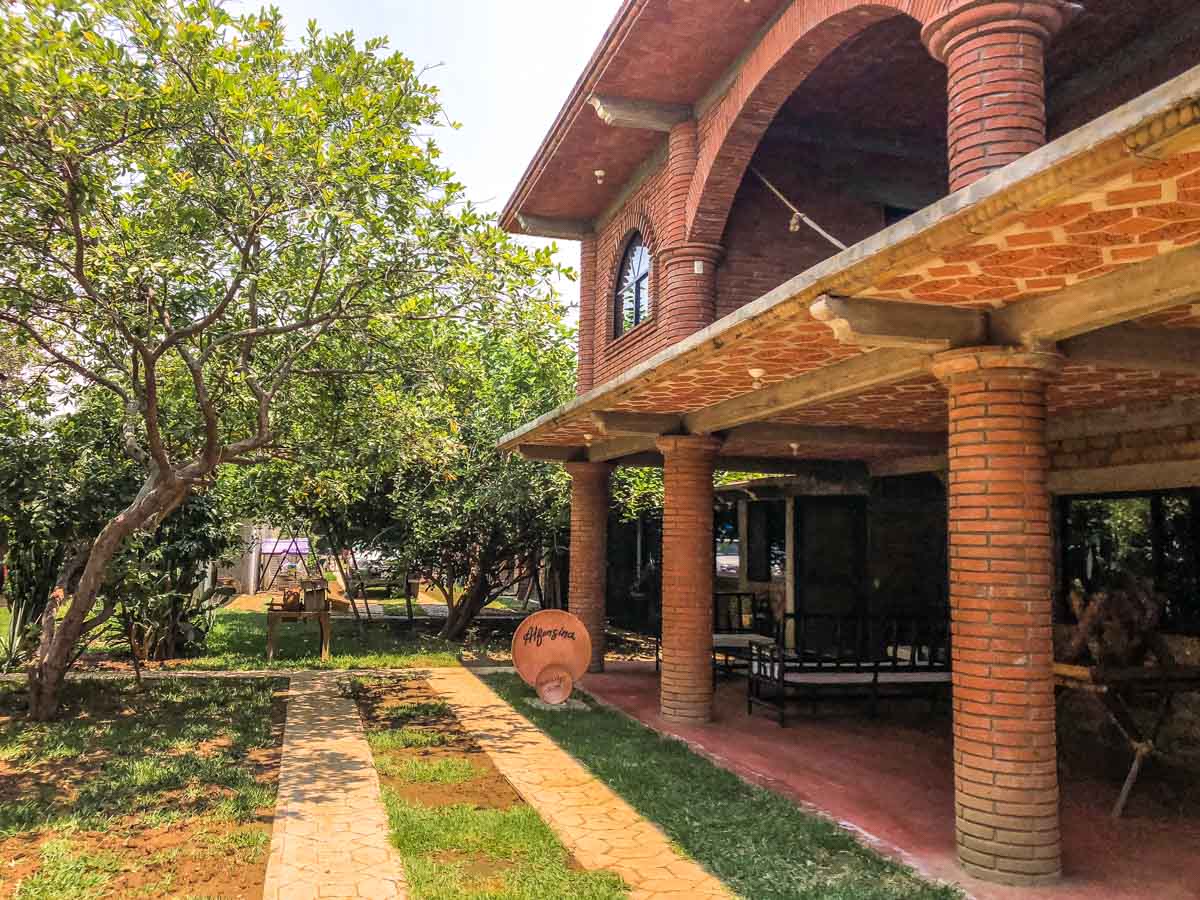 Alfonsina is a very special place. It's run by Jorge León, a chef that was in charge of the most important food item at Pujol (arguably the most famous restaurant in Mexico) - the mole. He's now started his own restaurant and tasting menu in his family home in the small village of San Juan Batista La Raya, near the airport. Everything about the experience is wonderful, from the feeling of the traditional pueblo home, to the rustic table next to the open air kitchen, to the delicious and perfectly prepared dishes. You can make a reservation (required) by messaging their instagram here.
Teocintle: Best Restaurants in Oaxaca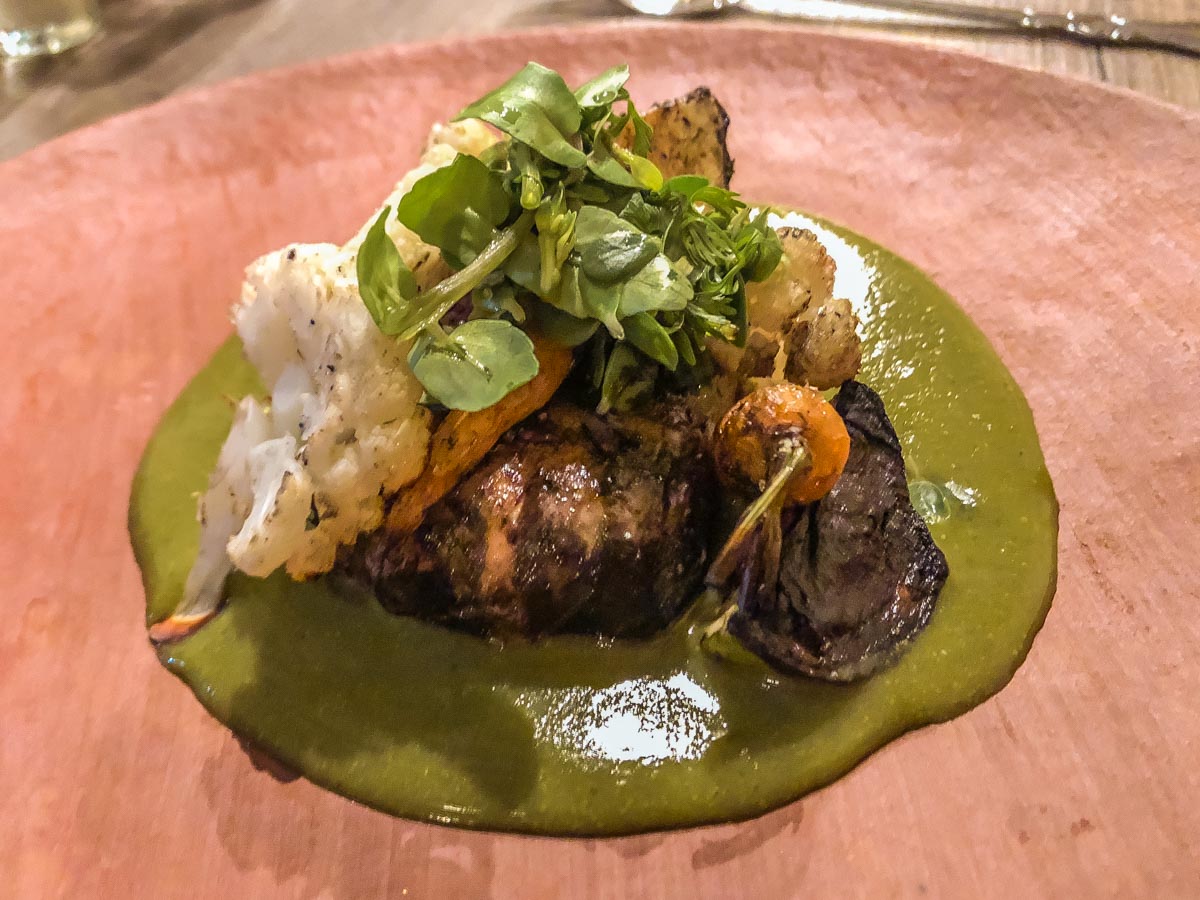 Teocintle is a restaurant run by a group of chefs from the Mixteca region of Oaxaca. They serve a 5 course tasting menu using native ingredients, but the goal is a modern and innovative interpretation. The food is always fresh and interesting.
El Destilado is stylish, the staff is wonderful, the food is delicious, and the mezcal and cocktail list is fun to explore.
I've been several times, done the fun tasting menu a couple times, and ordered a la carte other times.
Make a reservation and be sure to try their huge variety of interesting mezcals, including the mezcal de mole.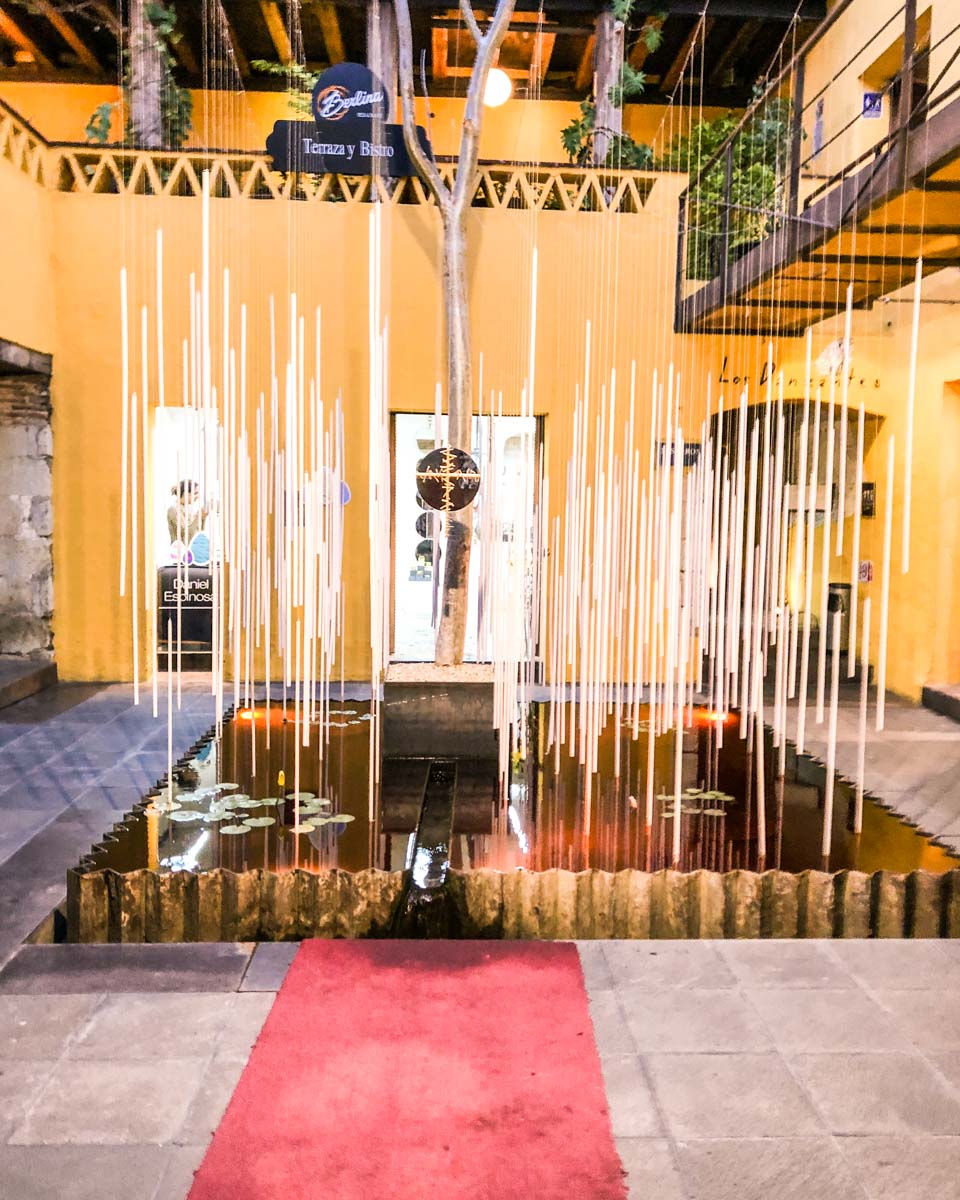 Los Danzantes is a classic Oaxaca restaurant that serves excellent traditional food. You'll certainly find them on most best restaurants in Oaxaca lists, and for good reason - they do traditional food well.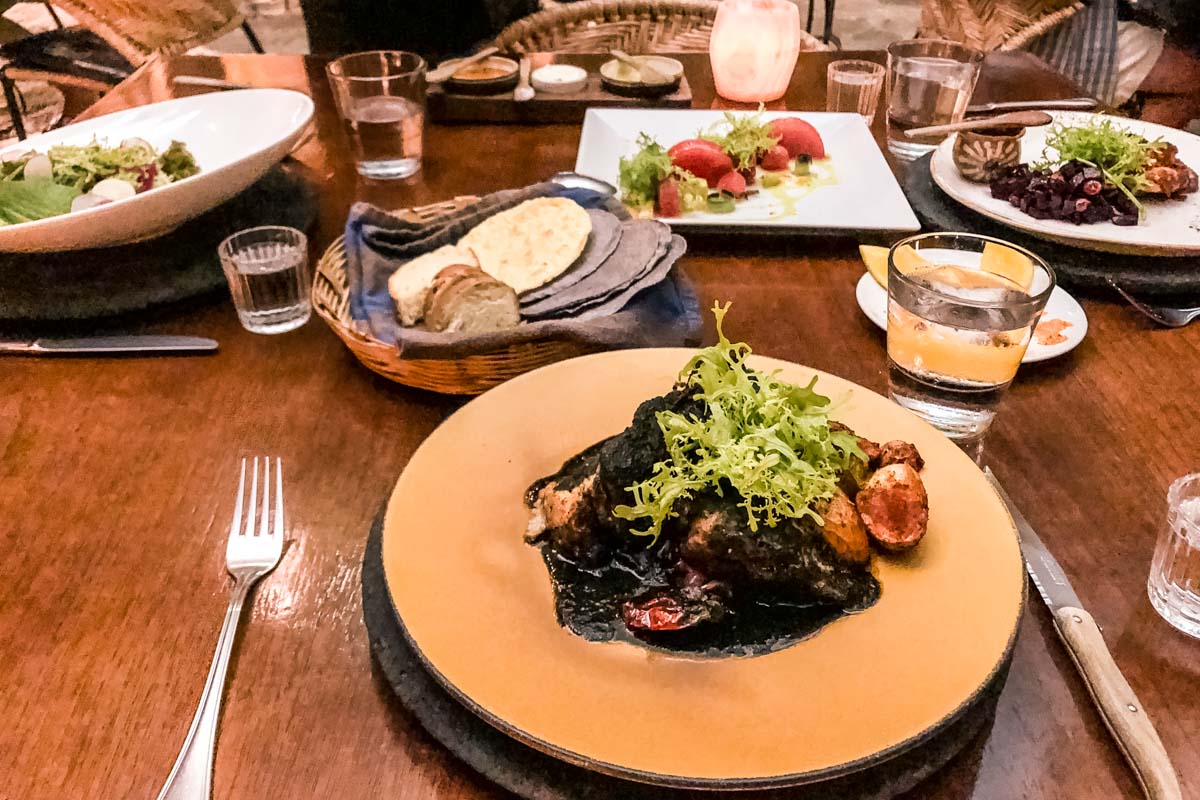 Their outdoor terrace is lovely and chic, perfect for a romantic dinner.
They also bottle their own brand of mezcal. Reservations recommended.
Criollo: Oaxaca Food Guide
Criollo is a word used in Mexico to denote that some food ingredient is indigenous to the area and an heirloom variety. This name seems to reflect the restaurant's connection to Oaxaca's traditional cuisine. It's also one of my favorite restaurants in Oaxaca.
The restaurant was created by 3 partners, including Enrique Olvera, of Pujol fame, and chef Luis Arellano. That should be enough to convince you to head to Criollo asap.
The location is tucked away at the edge of the Centro, but finding it is well worth the extra couple minute walk or taxi ride - it's a gorgeous space with a lovely courtyard. And the food is wonderful - inventive and still respectful to its Oaxacan roots.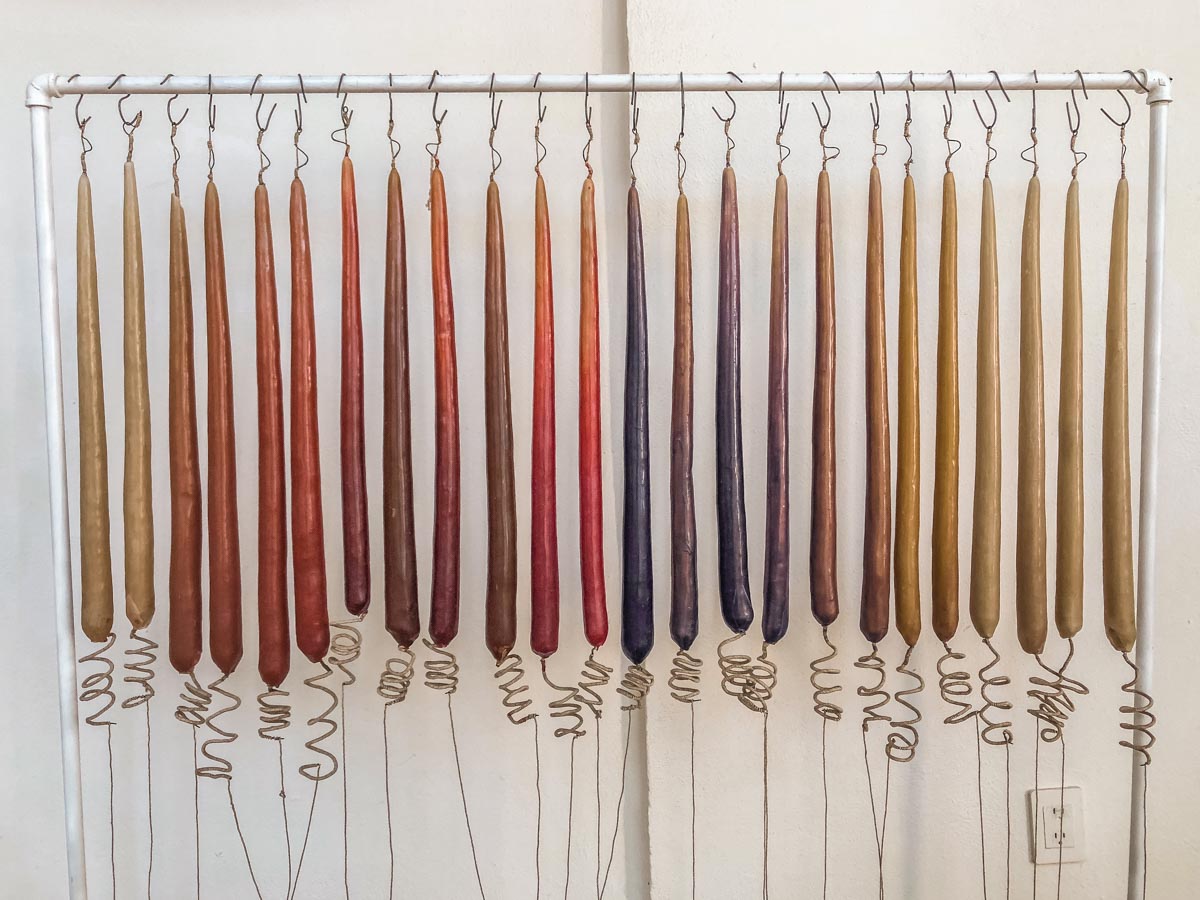 I had the pleasure of dining here when it was still in its soft opening, then a few times for the tasting menu, as well as their a la carte breakfast menu. Everything is incredibly delicious, interesting, and beautifully plated. I would definitely say it's one of the best restaurants in Oaxaca for upscale dining. Reservations required.
Expendio Tradicion is beautifully decorated and serves tasty, fresh dishes.
The restaurant is in a gorgeous space - lots of beautiful tile, wood paneled ceilings, and a grand open courtyard.
Be sure to order one of their mezcal cocktails, which are refreshing and flavorful.
Outside of Oaxaca Centro: Best Restaurants in Oaxaca
Chances are you will be spending most of your visit in the centro, where most of the tourist attractions, hotels and tourist amenities are. But if you find yourself venturing out, have a rental car, or are just curious about typical Oaxacan life, check out some of the great Oaxaca food guide choices outside of the tourist zone.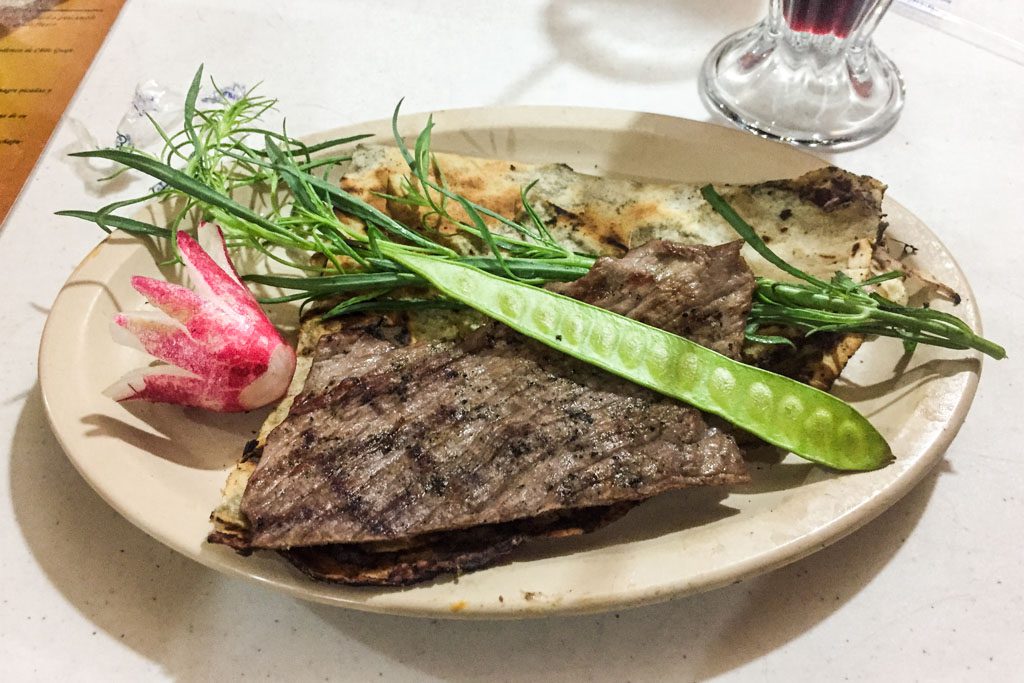 Tlayudas Doña Flavia is one of the best restaurants in Oaxaca (in my opinion) and also one of the best places to eat tlayudas in Oaxaca.
Tlayudas are giant round tortillas topped with asiento, quesillo (Oaxacan string cheese), then grilled to perfection. They are sometimes served open faced (like a pizza), but more often served folded.
One of the tastiest tlayudas in Oaxaca is at Doña Flavia's, a traditional tlayuderia with two locations - one an unassuming local spot on the highway heading out east towards Tlacolula, and the other in La Reforma, just north of the Centro.
If you are doing any day trips out east to Hierve el Agua, Mitla, Tule, Teotitlan de Valle to see the weavers, etc.. you can make a stop at Doña Flavia's on the way back for dinner, or take a taxi to the Reforma location.
Luz de Luna is one of my favorite restaurants in this Oaxaca food guide, but a big reason for that is that I've spent many months living in San Andres Huayapam, the little village outside of Oaxaca city where this restaurant is located.
But this restaurant is also super delicious. Everything I've had here is wonderful - from the tlayudas, to the pozole, to the freshly made aguas del dia.
It's also an adorable restaurant. Very cutely decorated, without being over the top. The staff is warm and friendly, and the restaurant can get quite busy on weekends when city-dwellers come out to Huayapam for a visit.
This is another spot that might not make your itinerary if you just have a couple days in the Centro. But if you plan to do any exploring of the Sierra Norte, you might want to make a stop at Luz de Luna for a tasty meal on your way back to the city.
If you do stop in Huayapam, be sure to taste some delicious tejate, a traditional drink that originates from this village.
I have two favorite tacos in Oaxaca - the first are the lechon tacos at Lechoncito de Oro (see the street food section above), and the second are the carnitas tacos at Carnitas la Luz.
I first tried this local taqueria because it is close to the Chedraui grocery store I used to visit while housesitting nearby. But this taqueria quickly became one of my favorites.
The carnitas are incredible - melt in your mouth incredible. And the servers bring you an array of beautiful homemade salsas plus pickled onions to use to your heart's desire.
Carnitas la Luz is one of the best restaurants in Oaxaca for delicious tacos.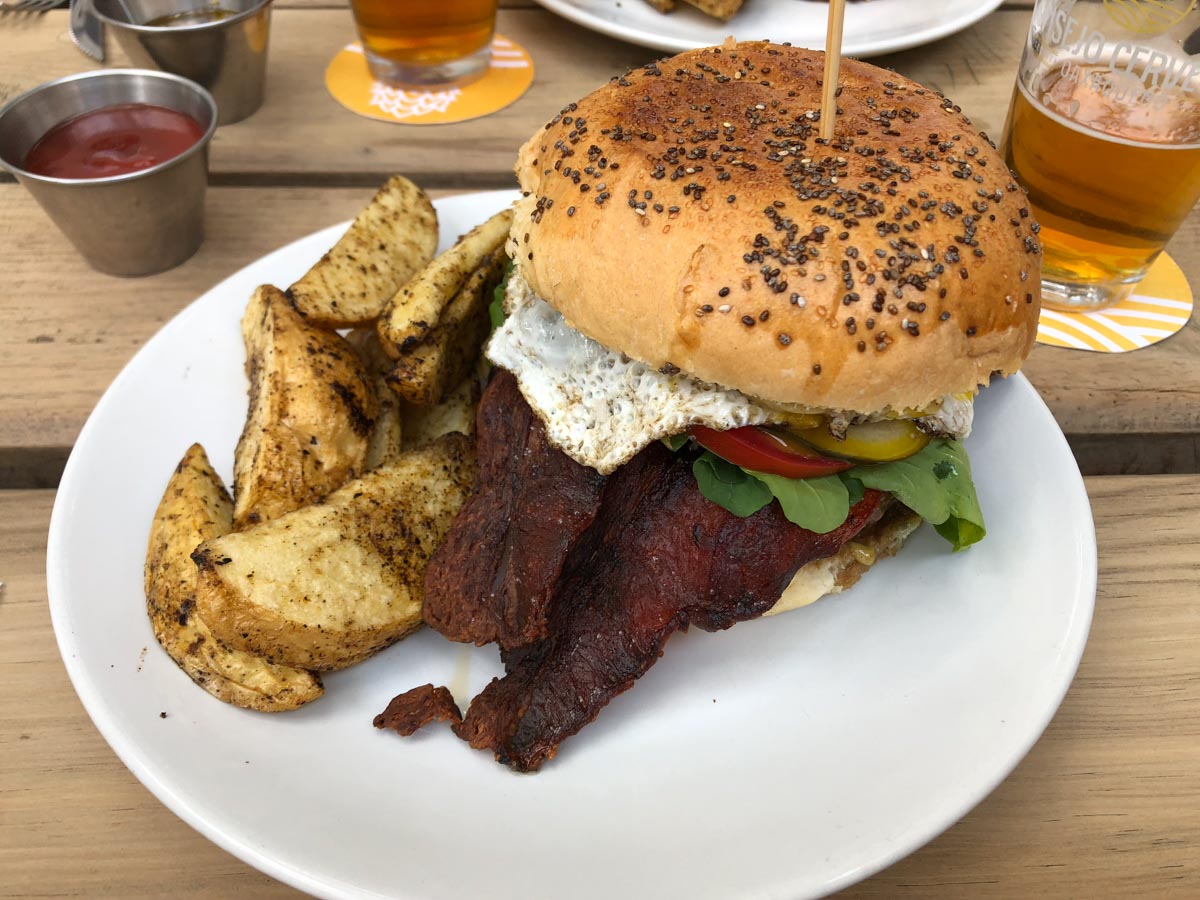 Consejo Cervecero is a brewery and a pub. It's a great place to experience modern Oaxacan beer and bites. They have a restaurant and tap room in the Reforma neighborhood, and a tasting room in the Centro.
Consejo Cervecero brews the most famous local artisanal beer. You'll see their two most popular varieties all around town - Boy Stout and Rey oh Baby (2 amazingly cute names).
They also serve typical bar food, but their burgers are super delicious.
If you're looking to see what locals eat when they aren't having tlayudas or mole, Consejo Cervecero is a great place to try out!
Tacomiendo: Best Restaurants in Oaxaca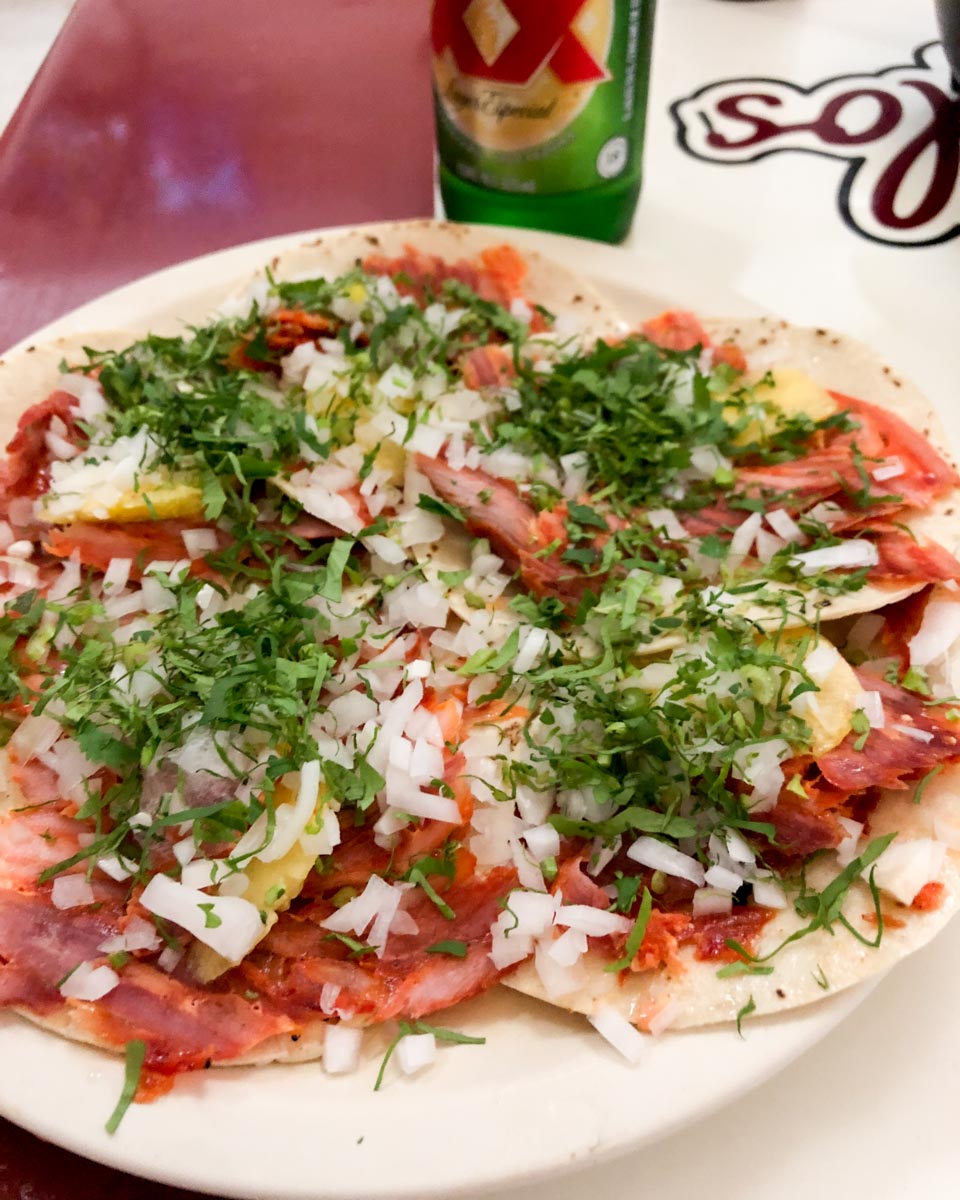 This taqueria has the best tacos al pastor in Oaxaca. They use a chile from the Mixe region that is unique and different than typical al pastor, but super delicious. Tacomiendo is a traditional taqueria in the La Reforma neighborhood.
This local spot has some of the absolute best memelas in town. Located in the La Reforma neighborhood, Doña Mago (also called Alfolí) is almost always busy, and the speed that the señoras work to prepare the memelas on the grill is impressive.
This little spot in La Reforma has the most delicious seafood cocktail I've ever had. It's spicy and a bit less sweet than typical versions (not ketchup-y!). Definitely recommend ordering a couple cocteles from Marisqueria Cristina.
El Bichón: Oaxaca Food Guide
El Bichón has THE best costillas, or ribs. This casual traditional restaurant is just outside the Centro in the local neighborhood of 5 Señores. Order a set or ribs, and a botana Oaxaqueña.
Playa del Carmen is one of my favorites for seafood. Order a seafood cocktail of fish, shrimp, or a mix of lots of seafood, some costalitos (little fried dumplings), a tostada de pulpo (octopus), and the pescado al mojo.

Where to Drink Mezcal: Oaxaca Food Guide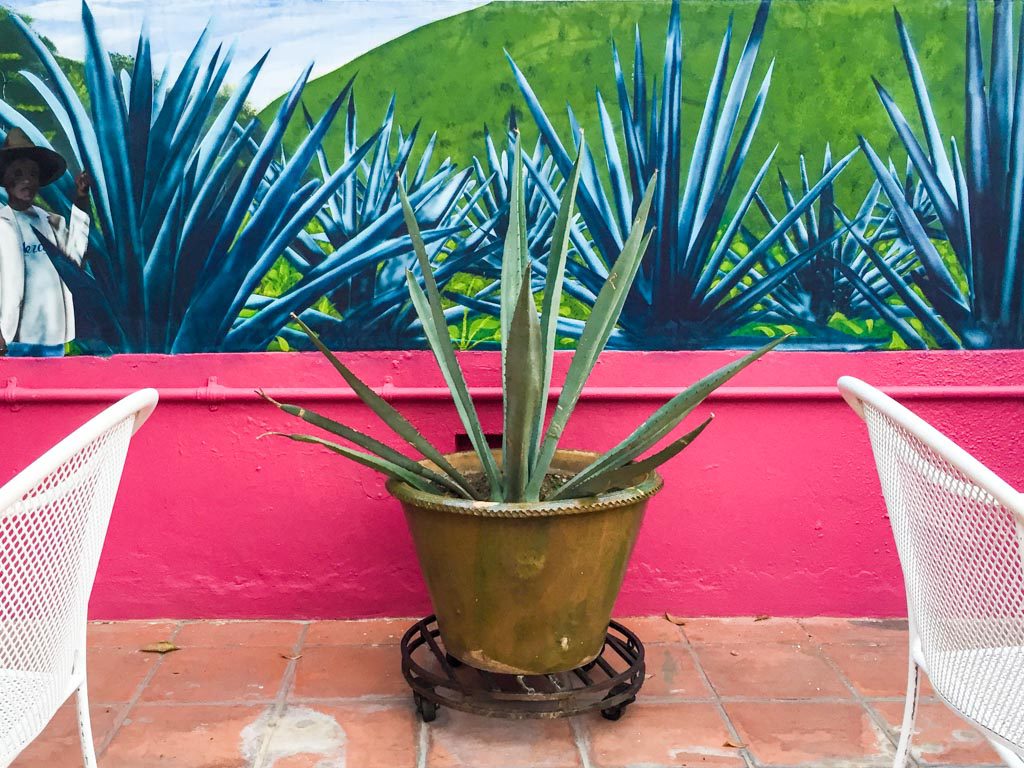 In my opinion, drinks deserve a place in any Oaxaca food guide, so below you'll find my favorite places to drink mezcal, cocktails, artisanal beer, and coffee.
I've written an extensive post with my favorite places to drink the best mezcal in Oaxaca: 8 awesome mezcalerias. Head there to the full details! And if you're interested in learning lots more about mezcal, consider taking a Oaxaca mezcal tour to some of the best and most traditional distilleries. Or peek below for where to drink cocktails, artisanal beer, traditional hot chocolate or coffee in this Oaxaca food guide.
Where to Drink Cocktails: Best Restaurants in Oaxaca
Sabina Sabe is a gorgeous and cool cocktail bar in the Centro. The space is beautifully decorated with rustic brick walls, pretty tiled floors, and great mood lighting.
The cocktails are delicious and the place has a great lively vibe. Get there early on weekends!
Mezcalogia is one of my favorite mezcalerias (see link for best mezcalerias above) but they also have some of the best mezcal cocktails in the city.
Where to Drink Artisanal Beer: Best Restaurants in Oaxaca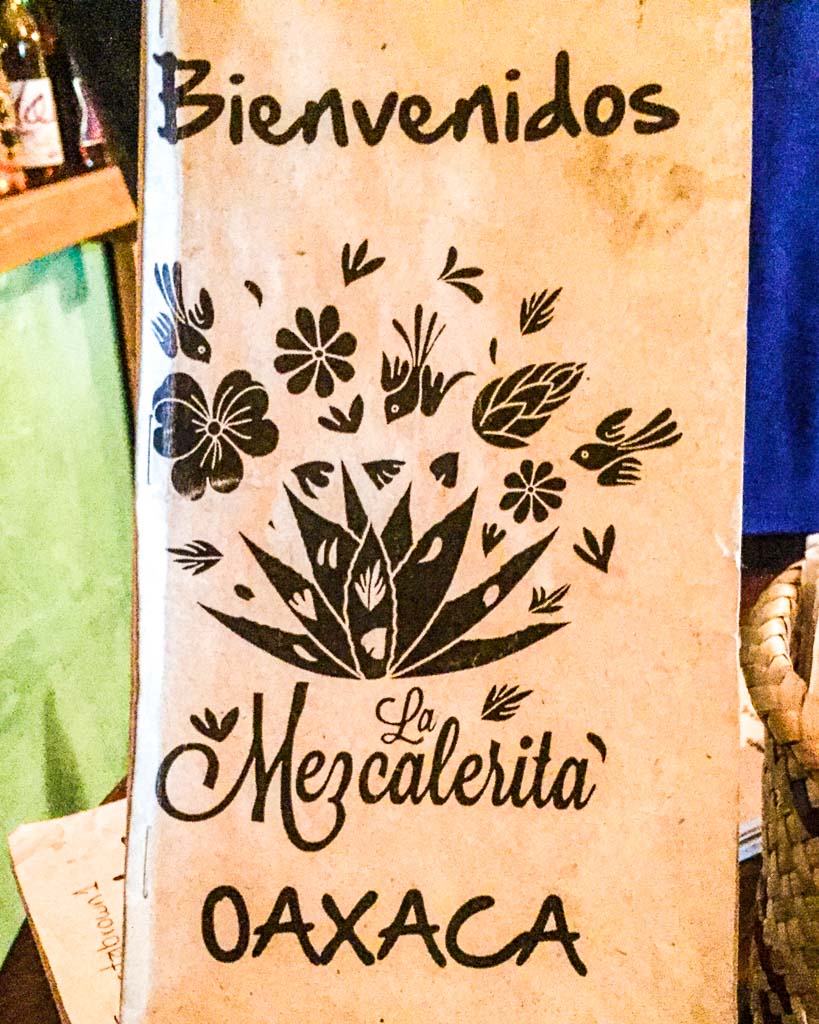 La Mezcalerita is one of my favorite bars in Oaxaca so it definitely needs a spot in this Oaxaca food guide. There are a couple bars in small rooms in front, a small courtyard inside, and a large roof terrace.
The amazing thing about La Mezcalerita is the sheer size of their artisanal beer and mezcal menu (they also earned a spot in my best mezcalerias in Oaxaca blog post). And not only are there a lot to choose from, but all are from Mexico - divided out in the menu by regions of the country. I couldn't begin to guess how many there are to choose from, but it's fun to try new varieties each time. They also serve pulque.
Santisima Flor de Lupulo is another of my favorite beer spots in this list of the best restaurants in Oaxaca. They brew their own beer here, and always have a few varieties on tap to try. The tiny bar only has a couple tables, but has a warm and friendly atmosphere. They also serve tasty sandwiches.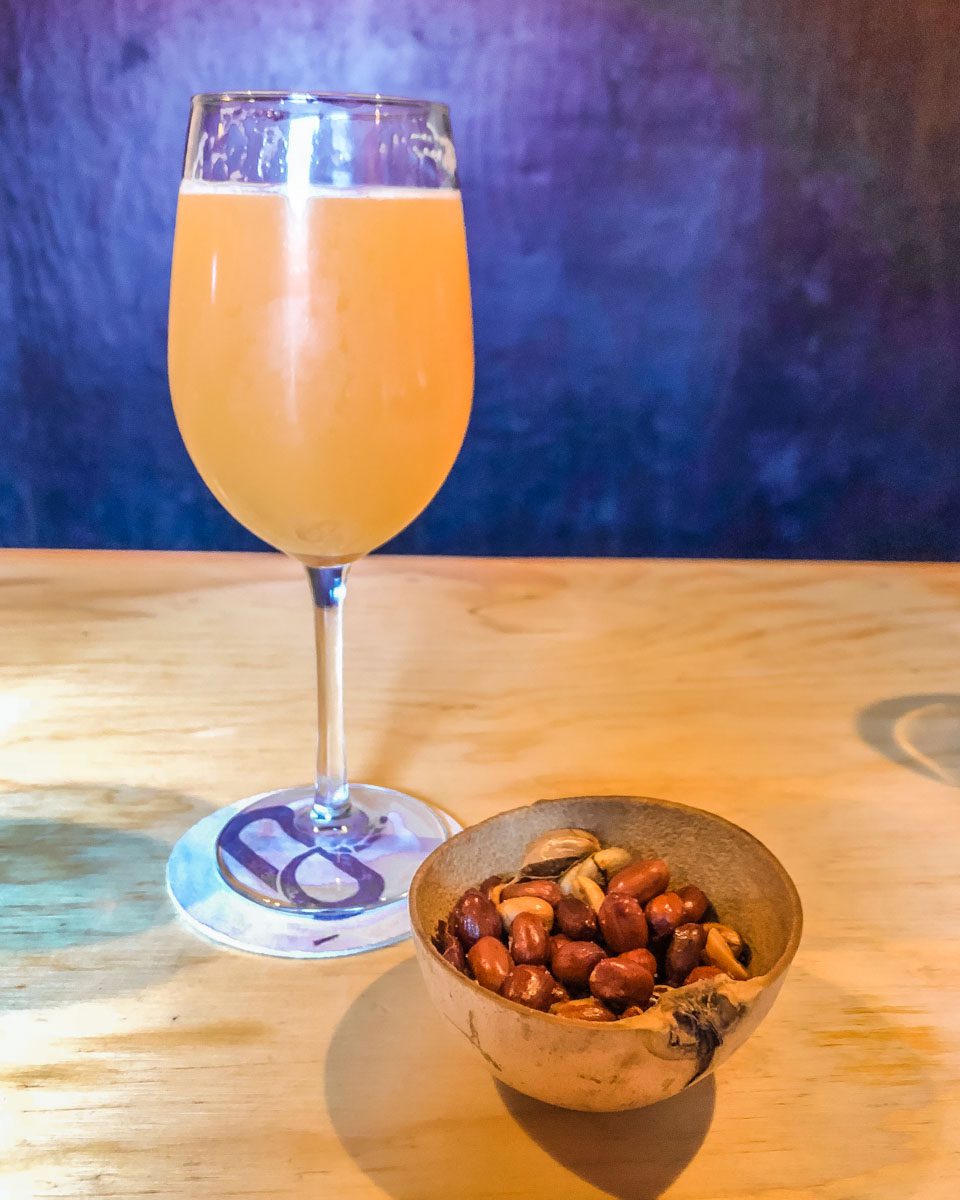 This brewery makes my favorite artisanal beer in the city. Punta Cabras is owned and run by 2 Oaxacan locals and a brewer from Baja. They are super sweet and friendly people and the beer is delicious. The tasting room is cozy and comfy. Check their instagram for days/hours open. Definitely a must stop on this Oaxaca food guide!
I mentioned
Consejo Cervecero
above in the "Outside of Oaxaca Centro: Best Restaurants in Oaxaca" section. Consejo Cervecero is the biggest artisanal brewery in Oaxaca, and for good reason - they make great beers. They also have a tasting room in the Centro.
Hot Chocolate: Oaxaca Food Guide
Hot chocolate is a very important and traditional food in Oaxaca. Chocolate is rarely eaten solid here, but traditionally enjoyed in warm liquid form. Head to Rito Chocolateria, where you can taste some of the best high quality cacao in beverage form.
Coffee Shops: Oaxaca Food Guide
It wouldn't be a complete Oaxaca food guide if I didn't include cafes that serve some of the delicious locally-grown Oaxacan coffee.
This coffee shop and bar is right next to the Textile Museum (a recommended stop). Duck into this cute space before or after the museum for an espresso or a mezcal. This is also one of my favorite places to work from my laptop since the wifi is fast. They serve sandwiches and salads, and also serve mezcal and cocktails if you are visiting later in the day. Muss is attached to the gorgeous
Casa Antonieta boutique hotel
, which is one of my favorite hotels in the city. This also means that you can sip on your coffee in the beautiful shared leafy courtyard, or in the stylish front cafe.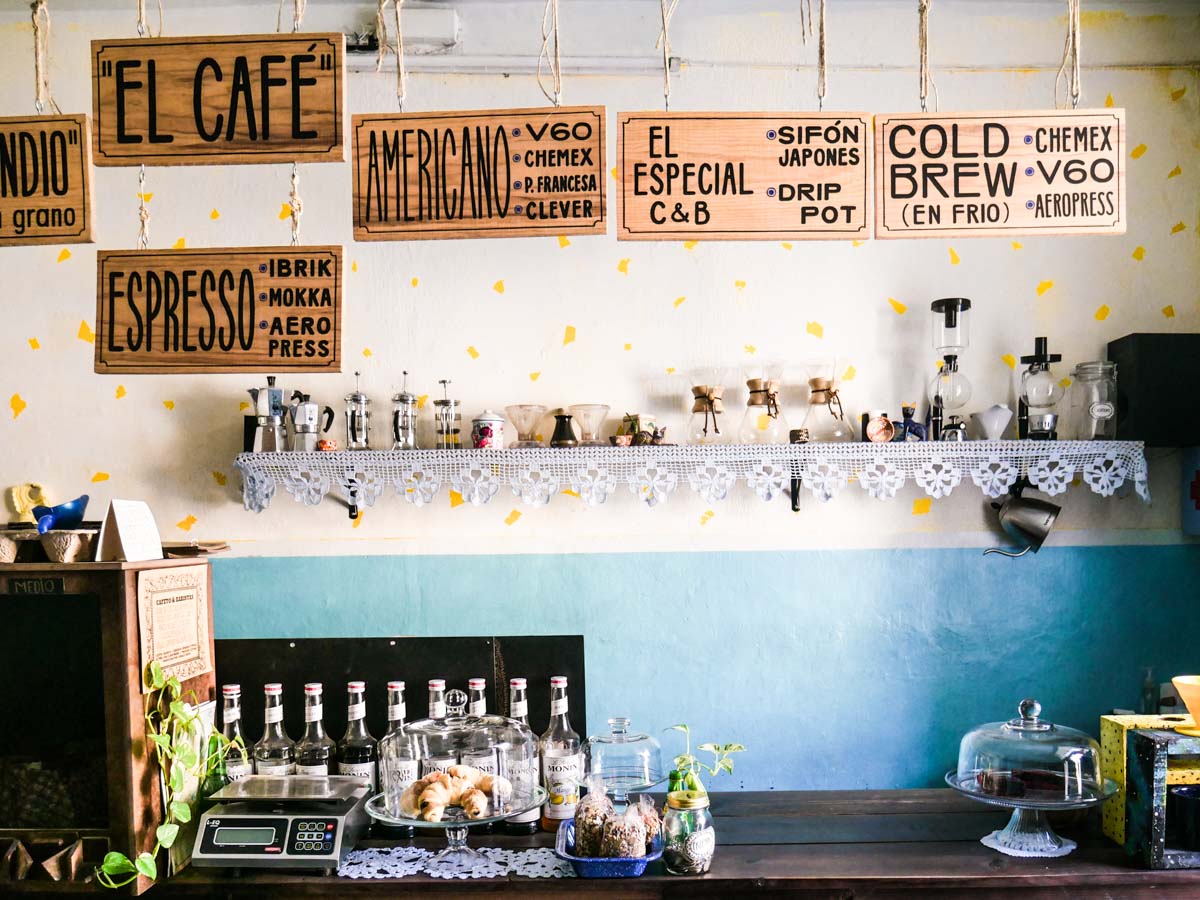 Cafeto y Baristas is tiny, but cutely decorated with little cacti and succulents, and kitschy wallpaper. The baristas know how to make a mean cup of coffee and they also have excellent cold brew. You can also buy beans to go.
Cafe Nuevo Mundo is local institution, and a great coffee shop to hang out in for awhile. It's a large space with several rooms. They also make great coffee and you can purchase beans to take home.
Cafe Brujula is another very popular Oaxacan coffee shop. They have several locations - my favorite is the one near the Zocalo. It's a big space, and pleasant to spend time in for awhile. They have a large central courtyard lined with tables that is great for catching up with friends over coffee or working from your laptop.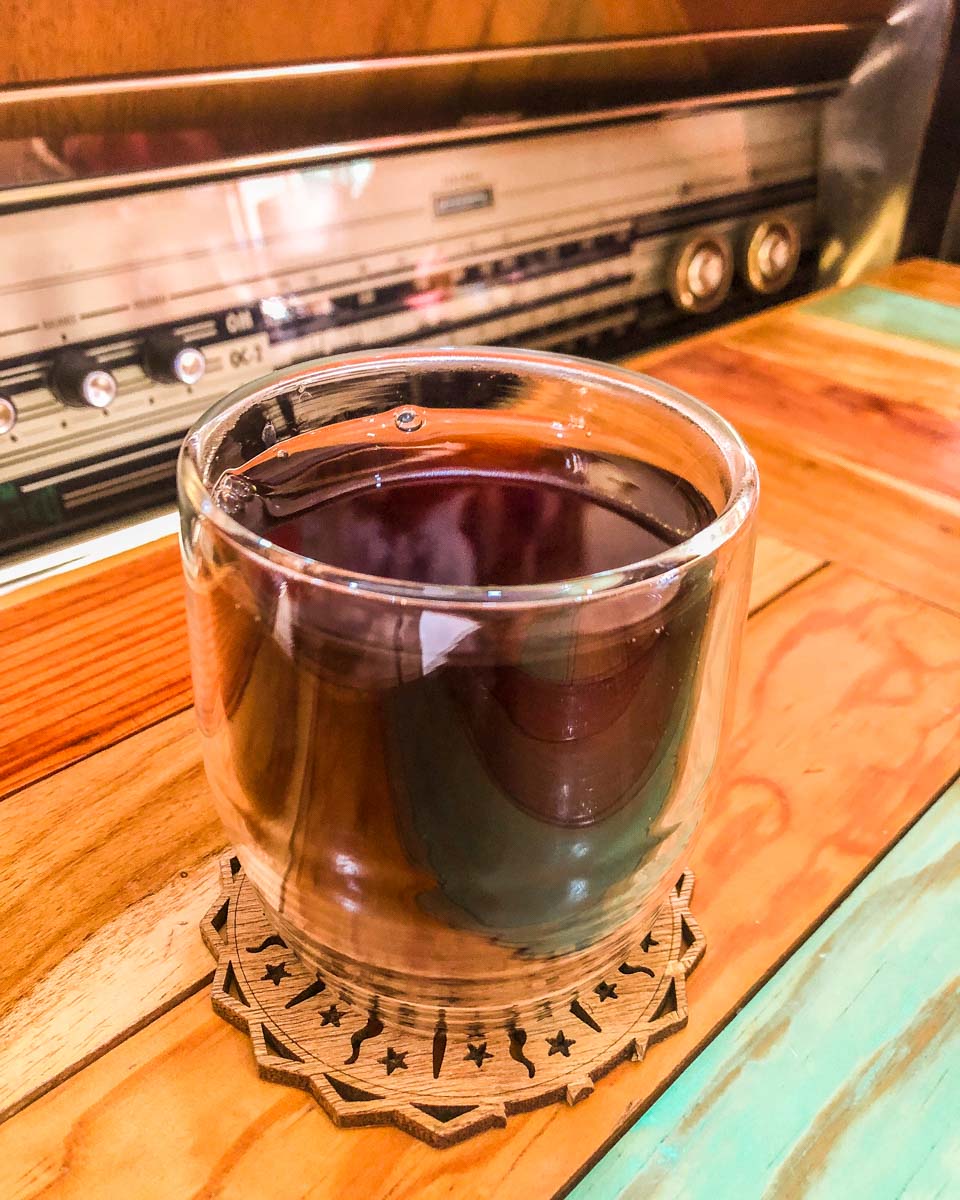 Everyone at Caracol Purpura really knows their stuff. Every time I visit, the baristas spend lots of time telling me all about the beans they have (usually 4 different varieties from Oaxacan growers in different regions of the state - they seem to know everything about the beans, from the farms' history to how long they have been growing the coffee). They'll also explain which bean is best brewed in which method (Chemex, Aeropress, V60, etc.). The coffee is well balanced and delicious. The original location is cute in a quieter residential part of the centro, and there is another location close to Mercado Sanchez Pascuas. You can also buy this delicious coffee by the bag. One of the best coffee shops on this Oaxaca food guide!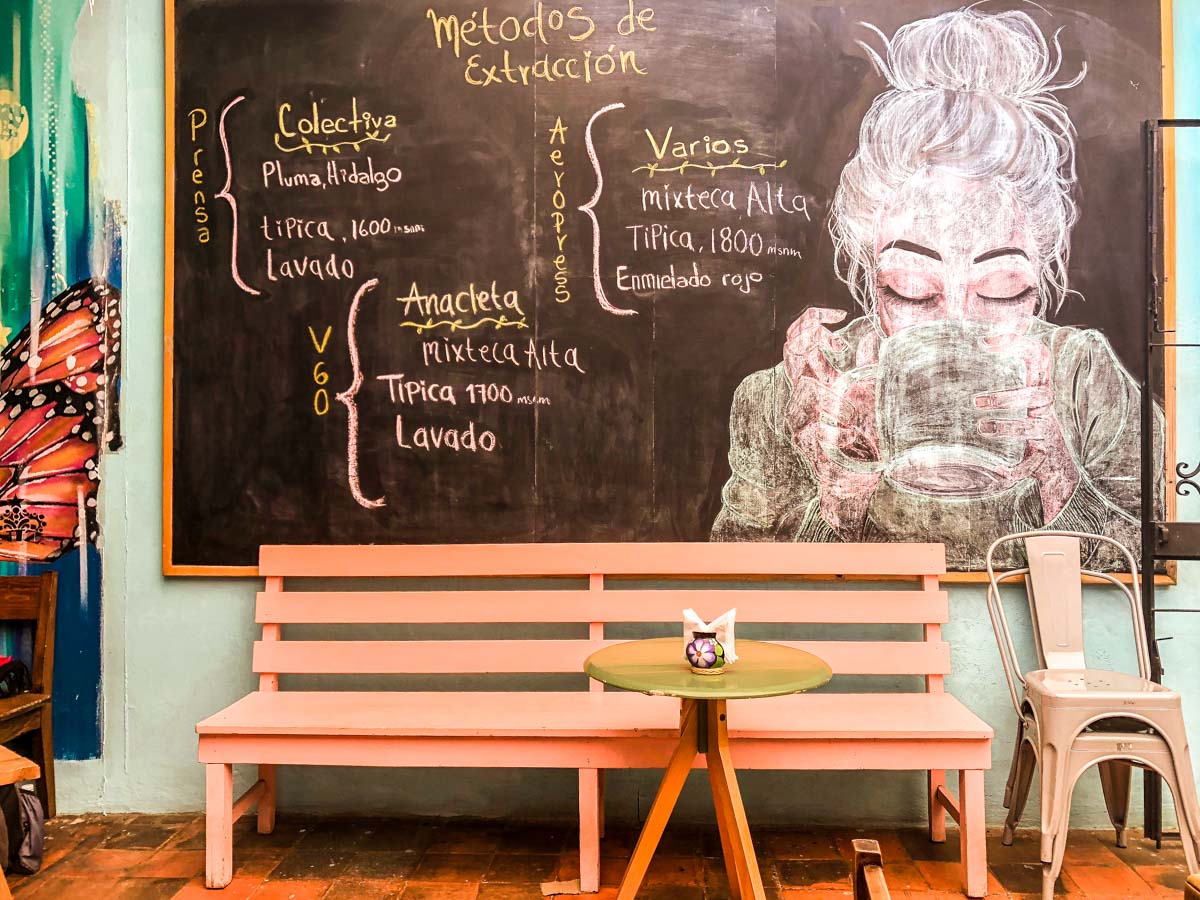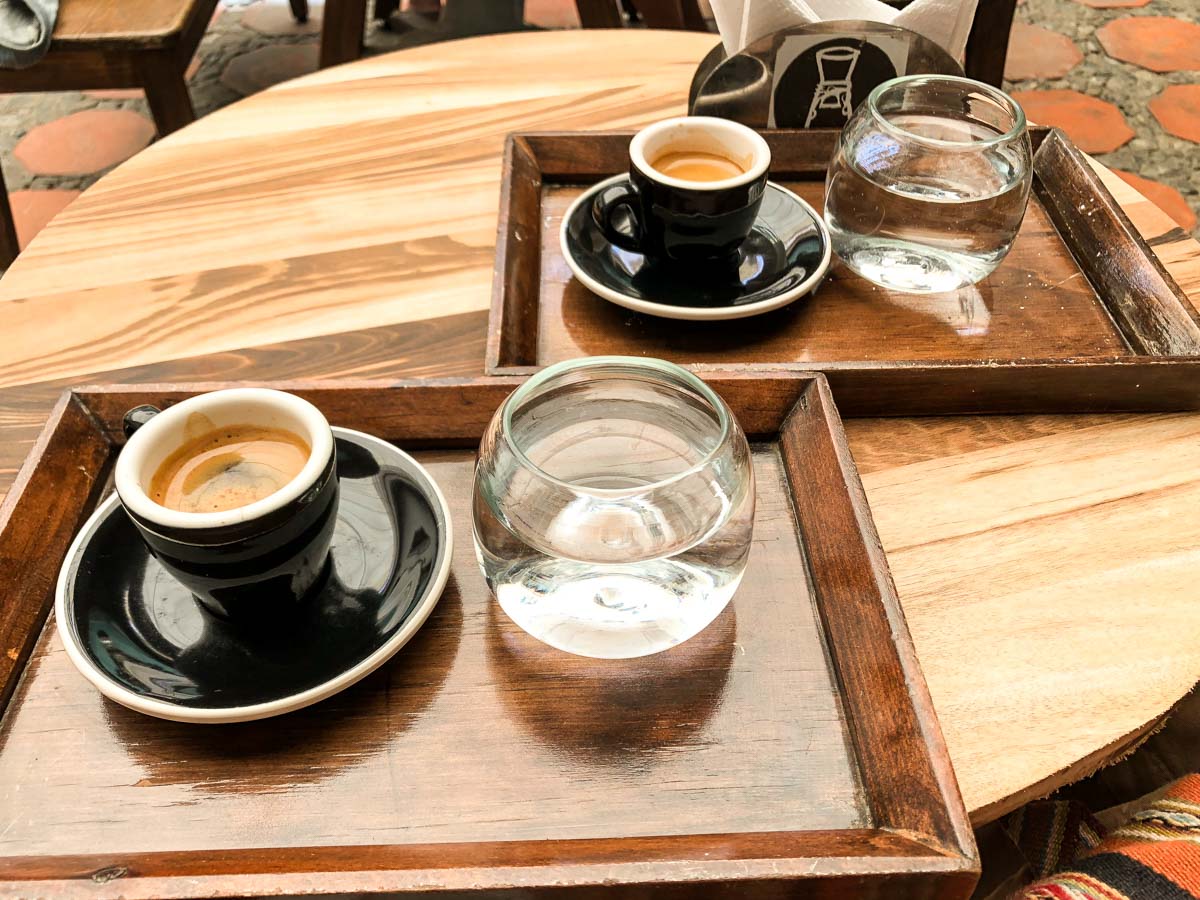 Cafebre is a great coffee shop super close to all the big sites in the Centro. They make a great espresso and the staff is friendly. The space is a big open courtyard and is a lovely place to work or hang out for awhile.
This is a coffee shop that was recommended to me by one of my favorite tour guides, and I love it. They have a great cold brew and a cute little space. Mondo is in the north of the Centro, in a leafy residential area that is lovely to stroll through.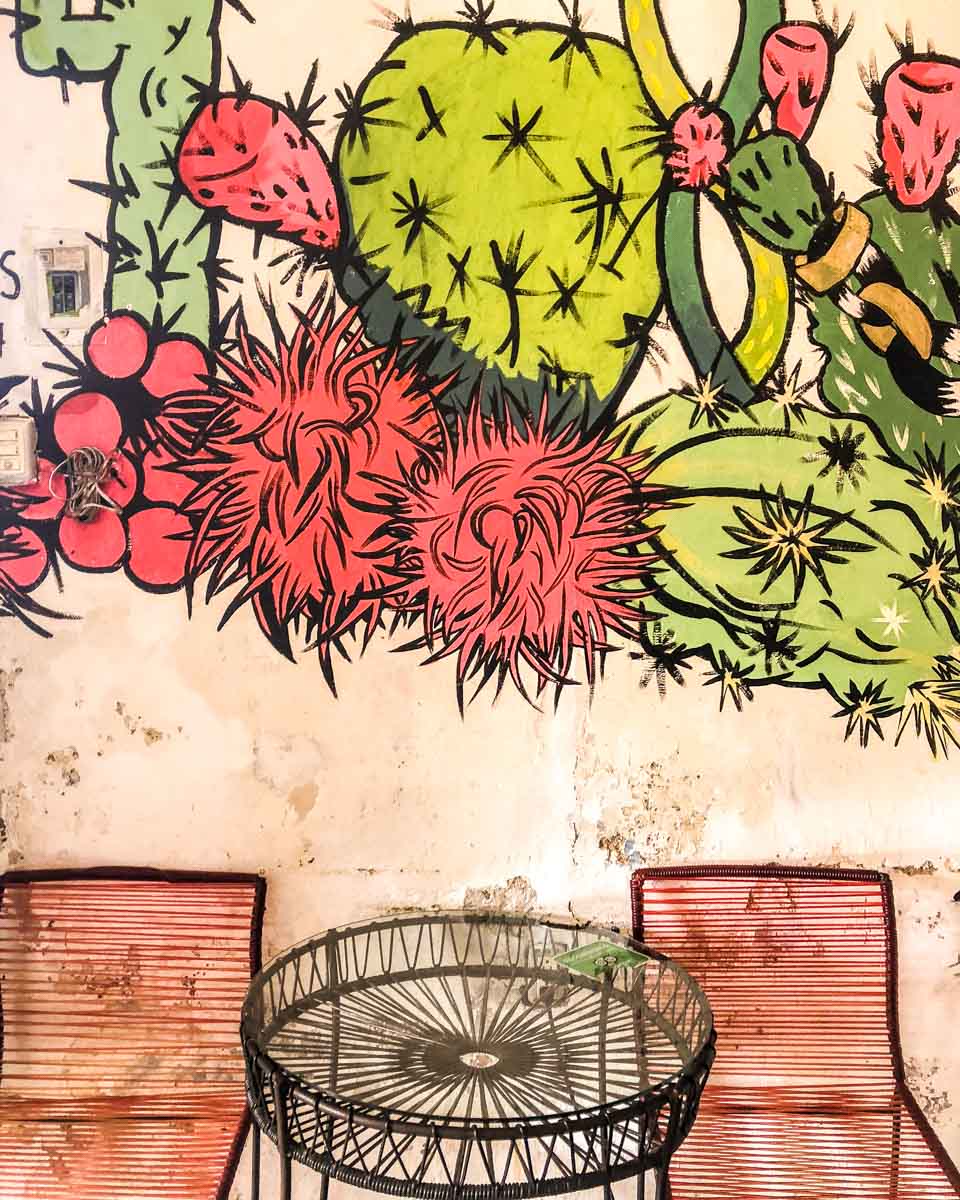 This Oaxaca coffee shop is located on the most beautiful plaza in the Centro, La Cruz de Piedra.
Cafe el Volador
is a tiny but cute space with some fun art on the wall.
---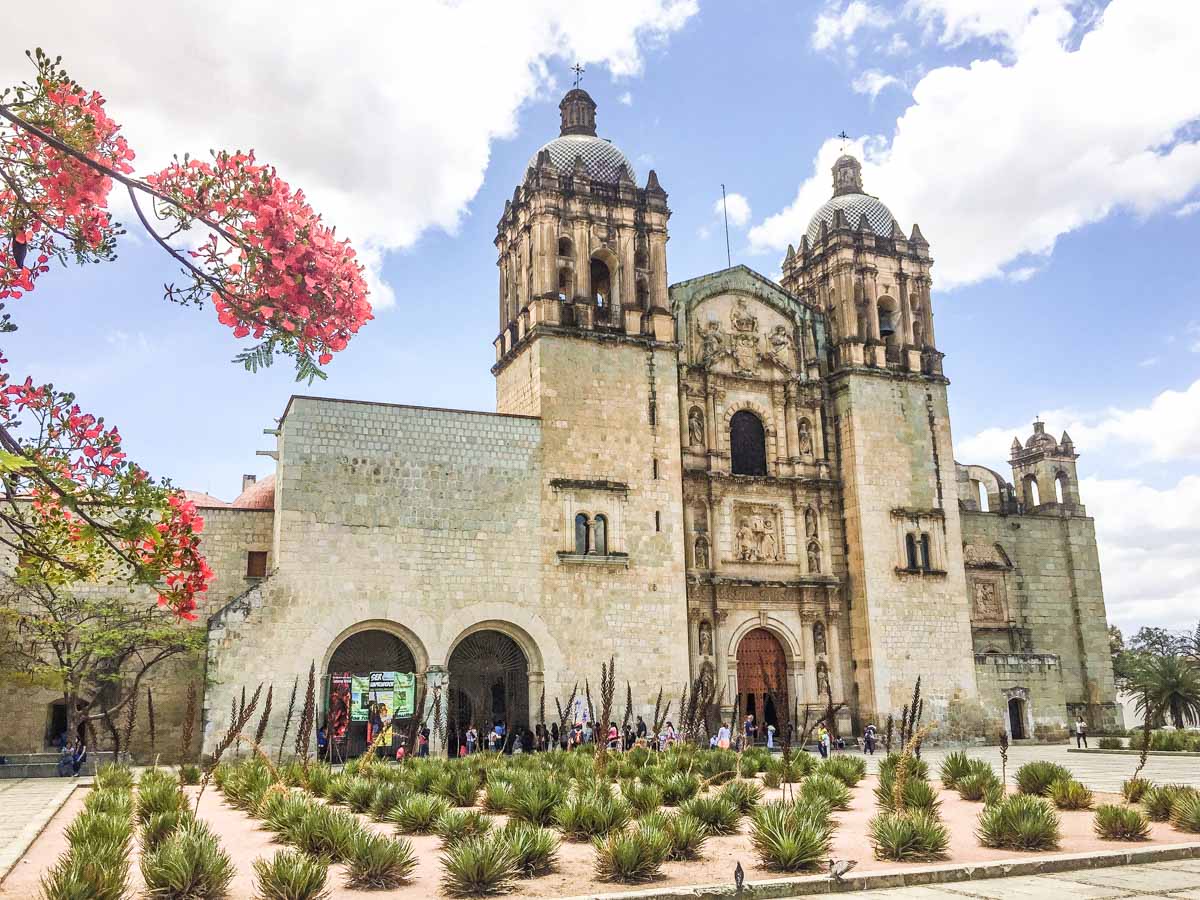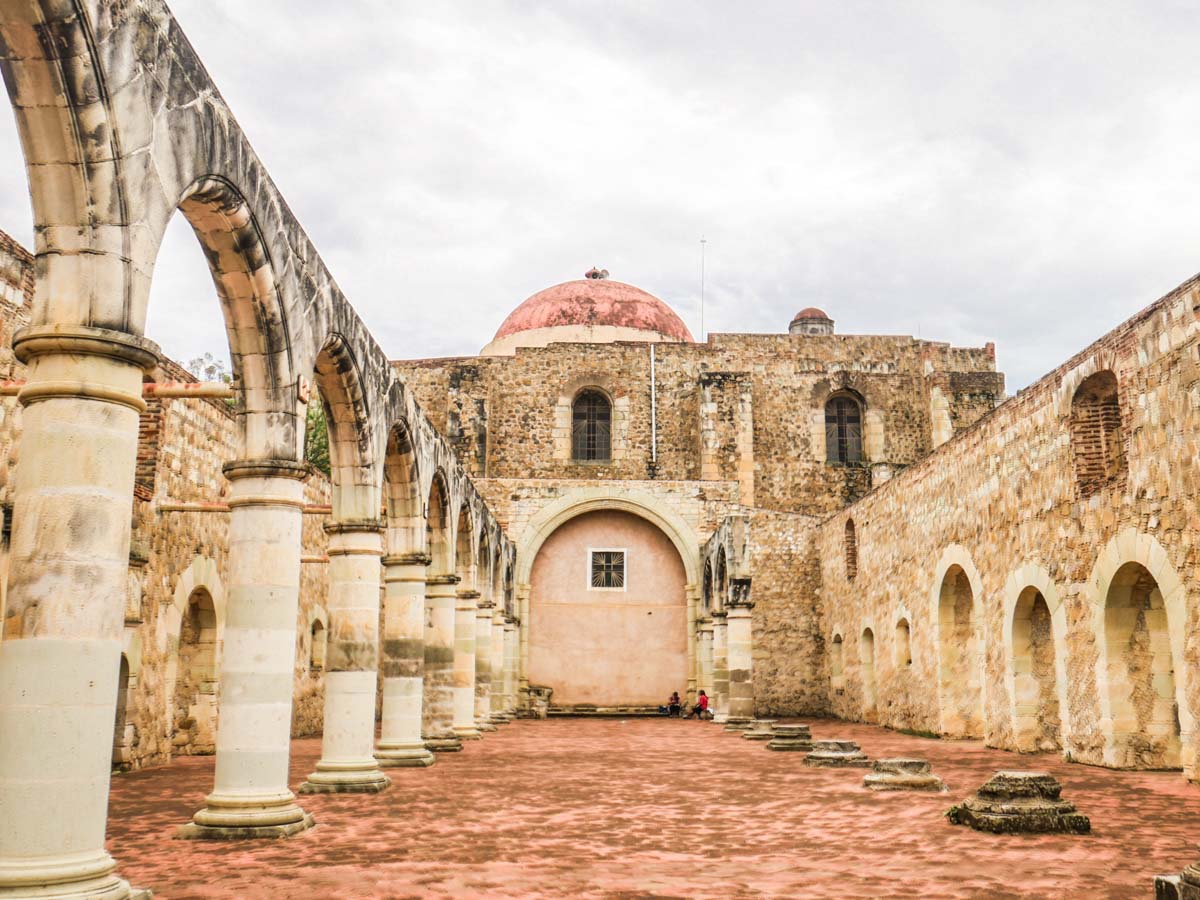 And there you have it! My Oaxaca food guide from my last few years in my favorite city in the world. I'll continue to update this best restaurants in Oaxaca list, but please feel free to drop me a note below if you have something to add!
More Oaxaca on the blog:
Food Recs:
7 Things to Eat in Oaxaca Markets
3 Best Places to Drink Tejate in Oaxaca
Oaxaca Mezcaleria Guide: 8 Places to Drink Mezcal in Oaxaca
Hotel Reviews:
Where to Stay in Oaxaca: Hotels for Every Budget
Oaxaca Boutique Hotel Casa de Las Bugambilias
Furnished Oaxaca Vacation Apartments Casa de los Abuelos
Artisan Guide:
How to see the best textiles in Oaxaca
Oaxaca Coast - tons of beach guides, transportation info, and a complete 1 week itinerary.
Or find all Oaxaca posts here.
Find Your Oaxaca Airbnb or Hotel Below: