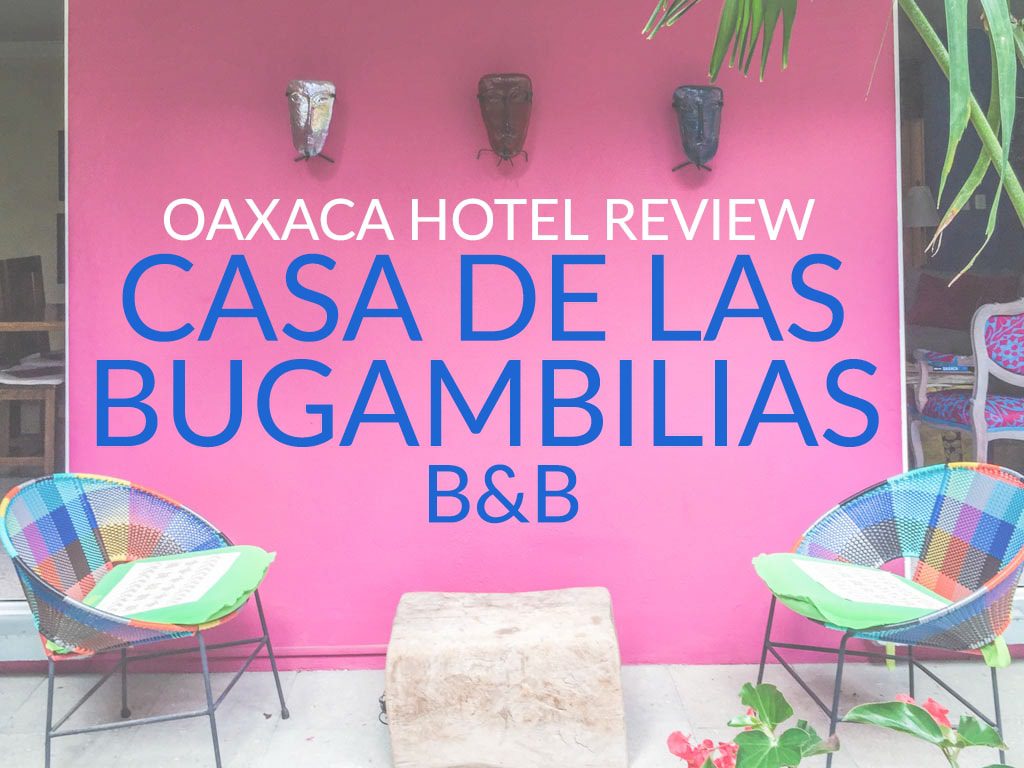 It's probably pretty obvious by now that Oaxaca is one of my favorite cities in the world. Few places have it beat for its high level of culture, complex food, delicious mezcal, colonial architecture, and surrounding natural beauty.
So when I was planning my second trip to the city, I knew what I wanted in my accommodation. I wanted to be between the Zocalo and Parque El Llano, within easy walking distance to all the great things the Centro has to offer. And I wanted a helpful staff who could give us the inside scoop on the teacher's union protests that were going on at that time, as well as info on the upcoming Guelaguetza (the biggest annual folk festival in the city).
We found this and a lot more at the wonderful Oaxaca hotel, Casa De Las Bugambilias. This adorable B&B was perfectly situated, and made us feel spoiled by the attentive staff, incredible breakfasts, and comfortable beds.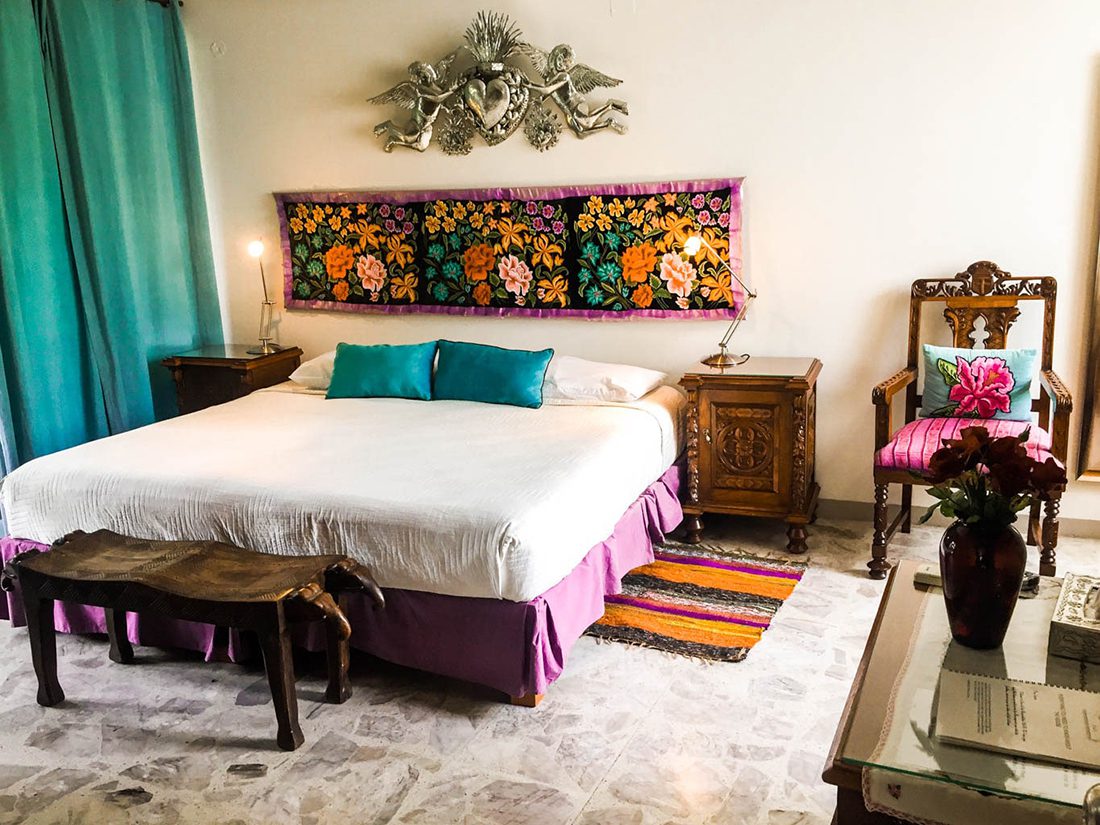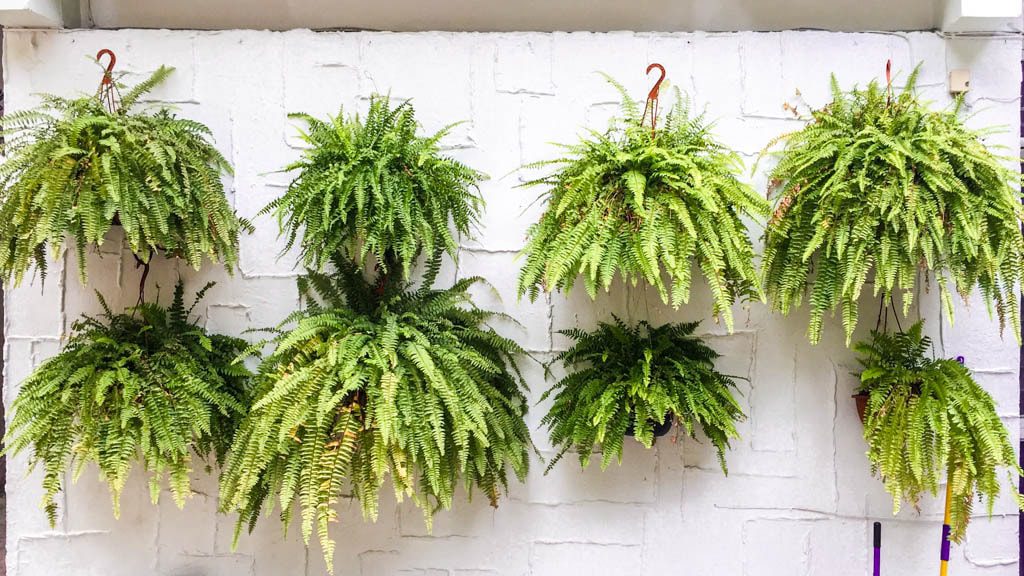 Gourmet Breakfast
As I've previously mentioned in other posts, I love when a hotel, hostel, or guesthouse offers a complimentary breakfast. It's so nice to roll out of bed, eat on-site, and give myself a few minutes to decide what I'll do for the day.
Las Bugambilias takes it a step further by offering a delicious 2-course breakfast. Ingredients are local and organic, and the meals are really special. During our stay we had local baked breads, homemade jams, fruit with yogurt and granola, fresh juice and coffee, memelitas con nopal (toasted corn cakes topped with cactus), huevos rancheros, and an omelette with fresh veggies and verde sauce topped with pomegranate seeds.  All the food exceeded my expectations and the experience was a wonderful way to wake up.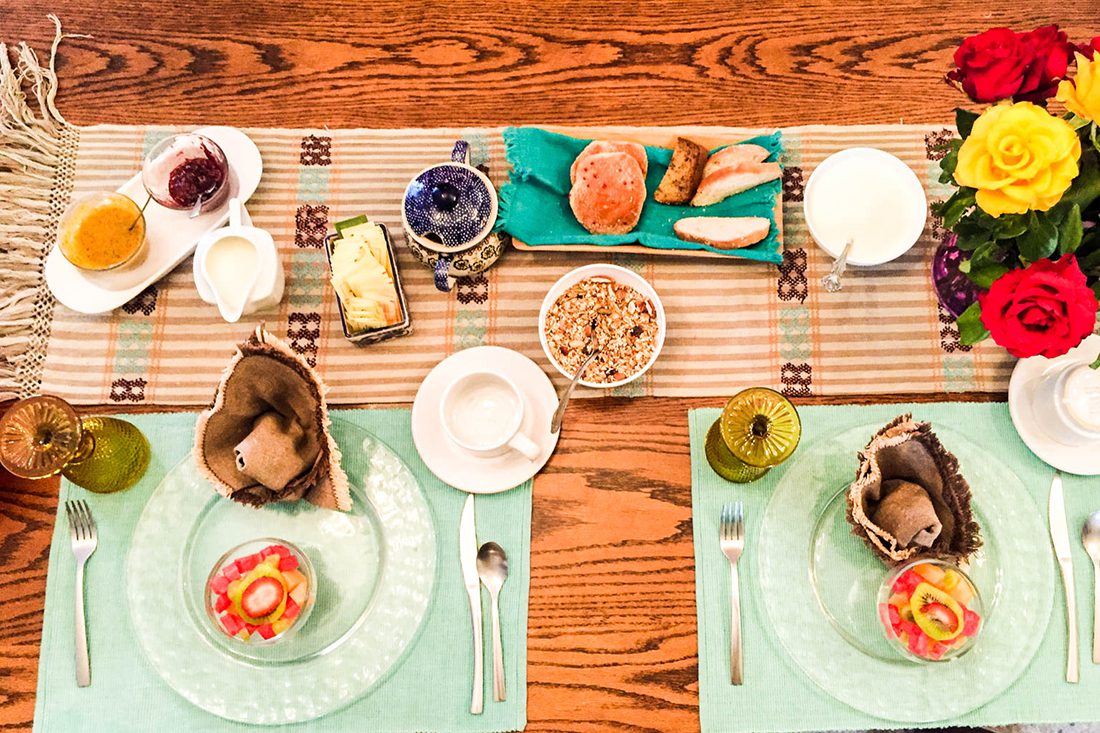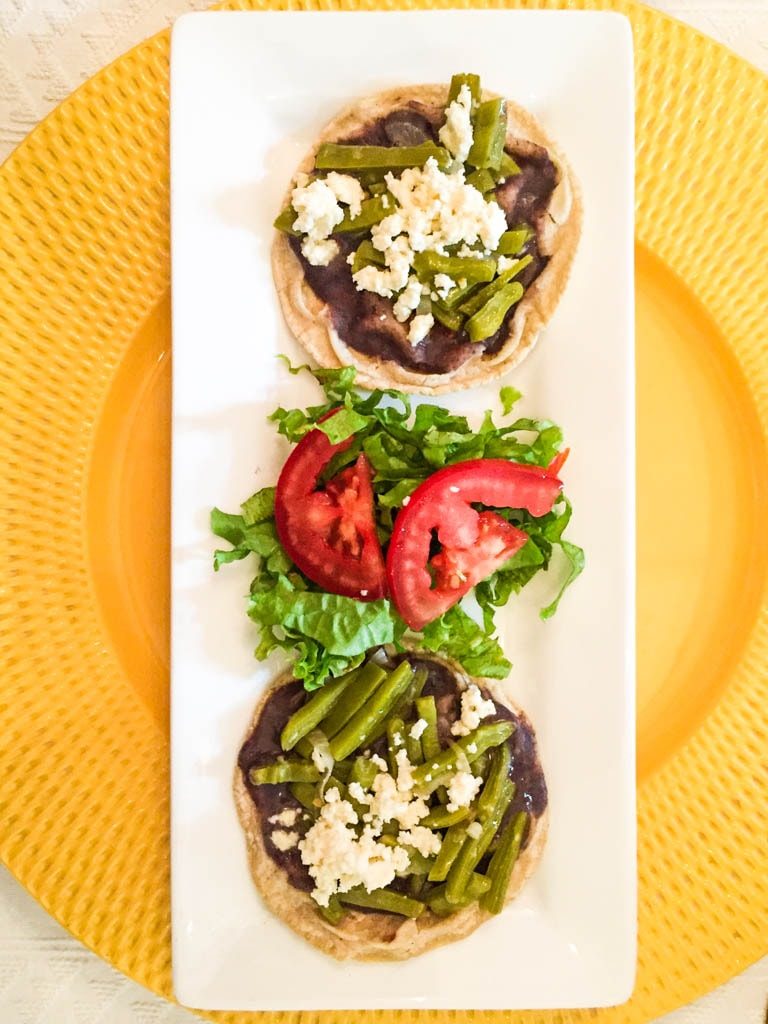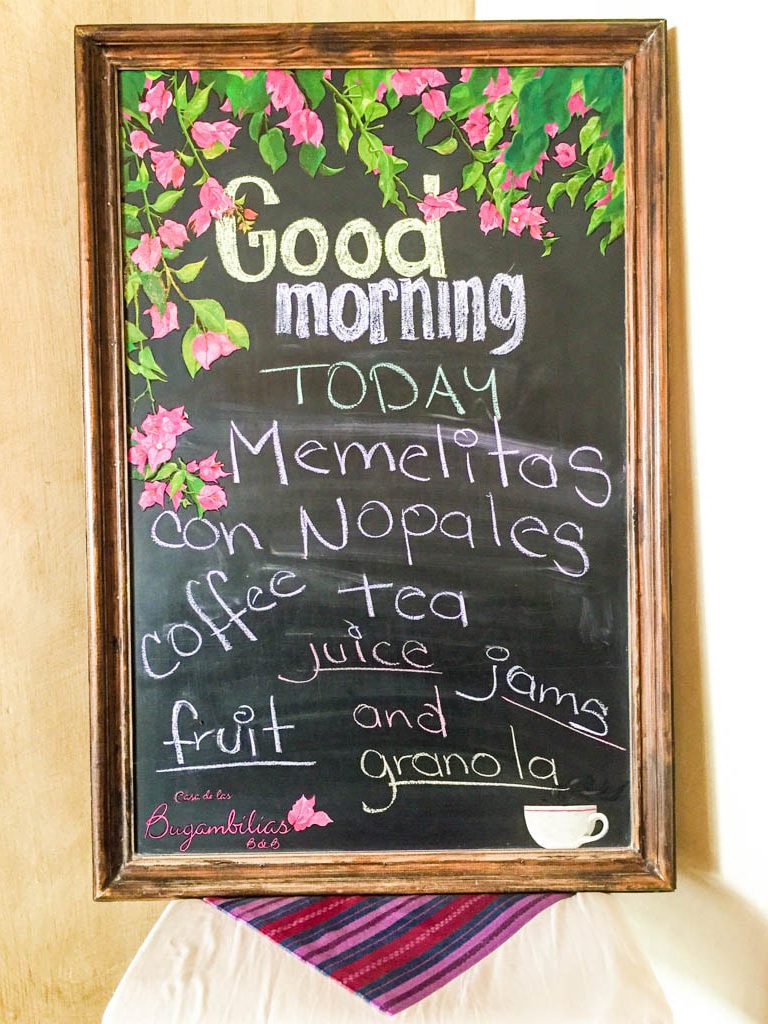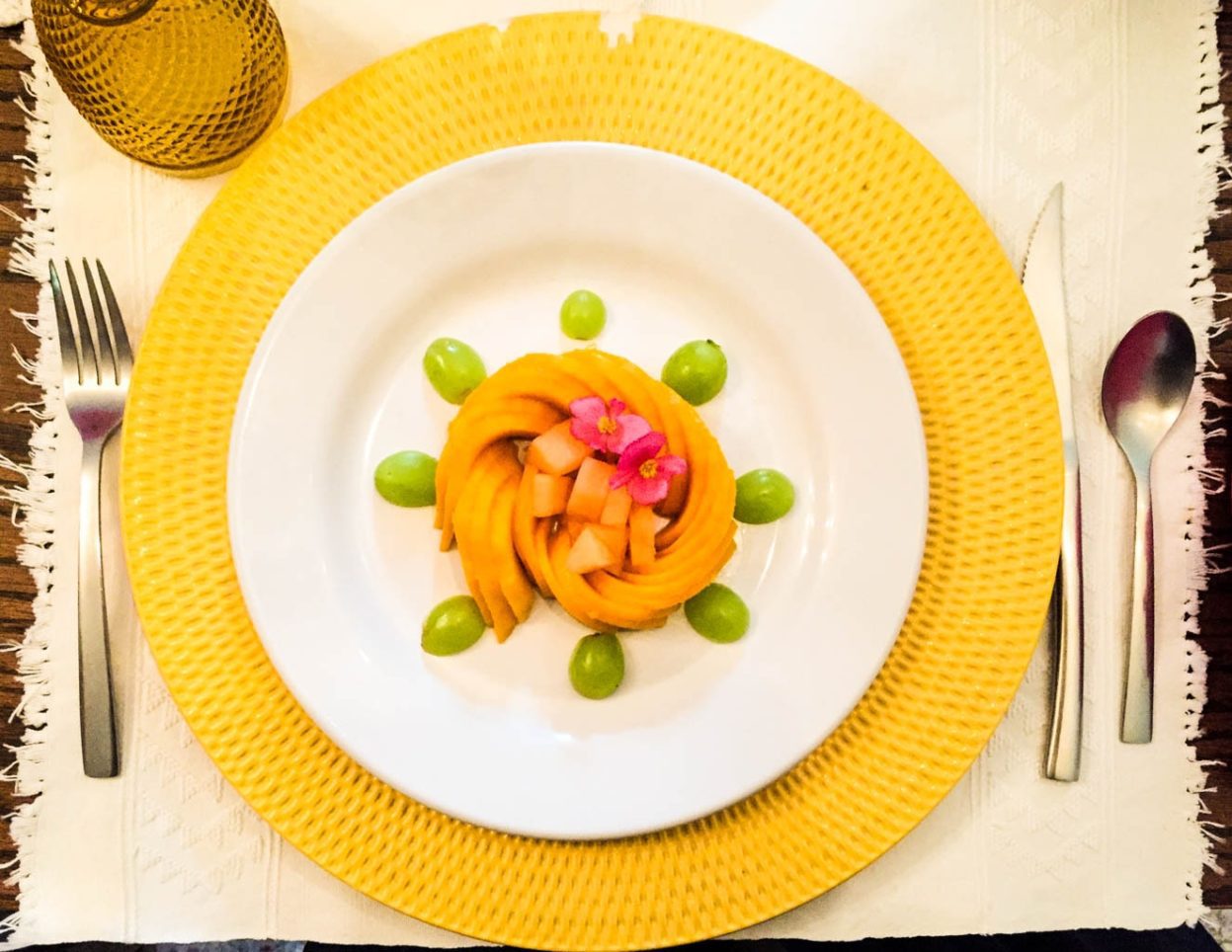 Warm and Helpful Staff
Casa De Las Bugambilias is a true B&B. You feel the warmth of being in a family's home, but with plenty of your own privacy. The staff went above and beyond to make sure we knew everything the city has to offer and where to find it. Any question was welcome and happily answered.  We loved chatting in the mornings with Adriana, the manager and her husband Rene, the hotel's tour guide.
The hotel can also arrange tours to learn about textiles and weaving, pottery, and woodcarving. They can also take you to any of the local archeological sites, or make a customized tour based on your interests. Or you can arrange to have a traditional Temazcal ceremony - a ritual including a steam bath, massage and meditation. A further option is to take cooking classes with the renowned chef Pilar Cabrera, of next door restaurant, La Olla.
The staff speaks English and Spanish.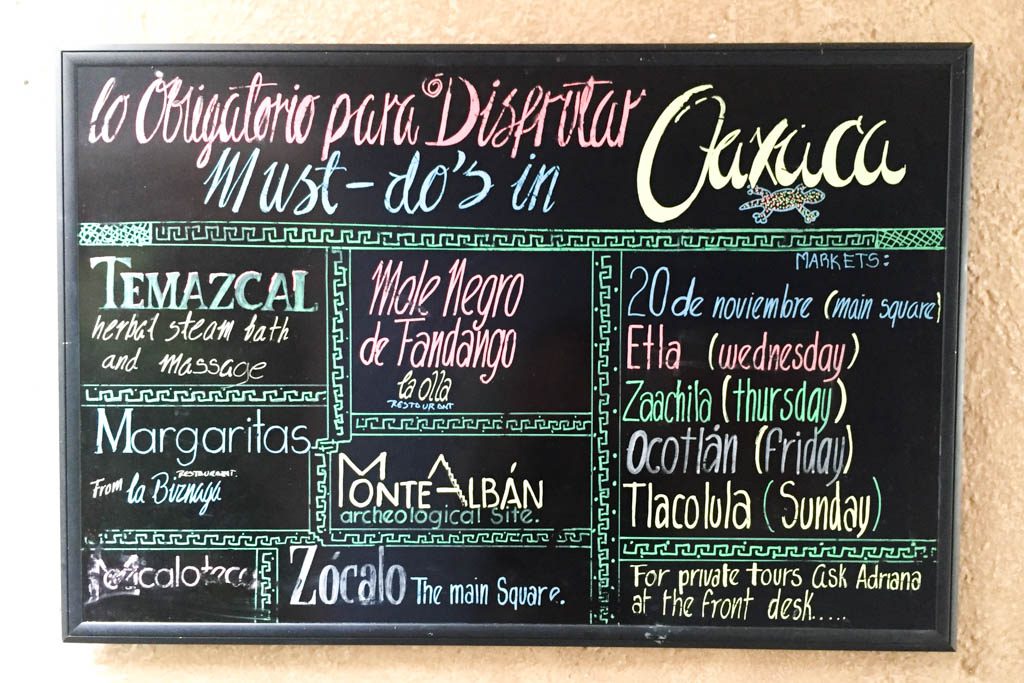 Location
The location of Casa De Las Bugambilias can't beat. It's 1 block from Santo Domingo de Guzman - the big church and former monastery that serves as a gathering point for locals in the city. The hotel is also 6 blocks from the zocalo - so an easy walk to the other central meeting point in Oaxaca.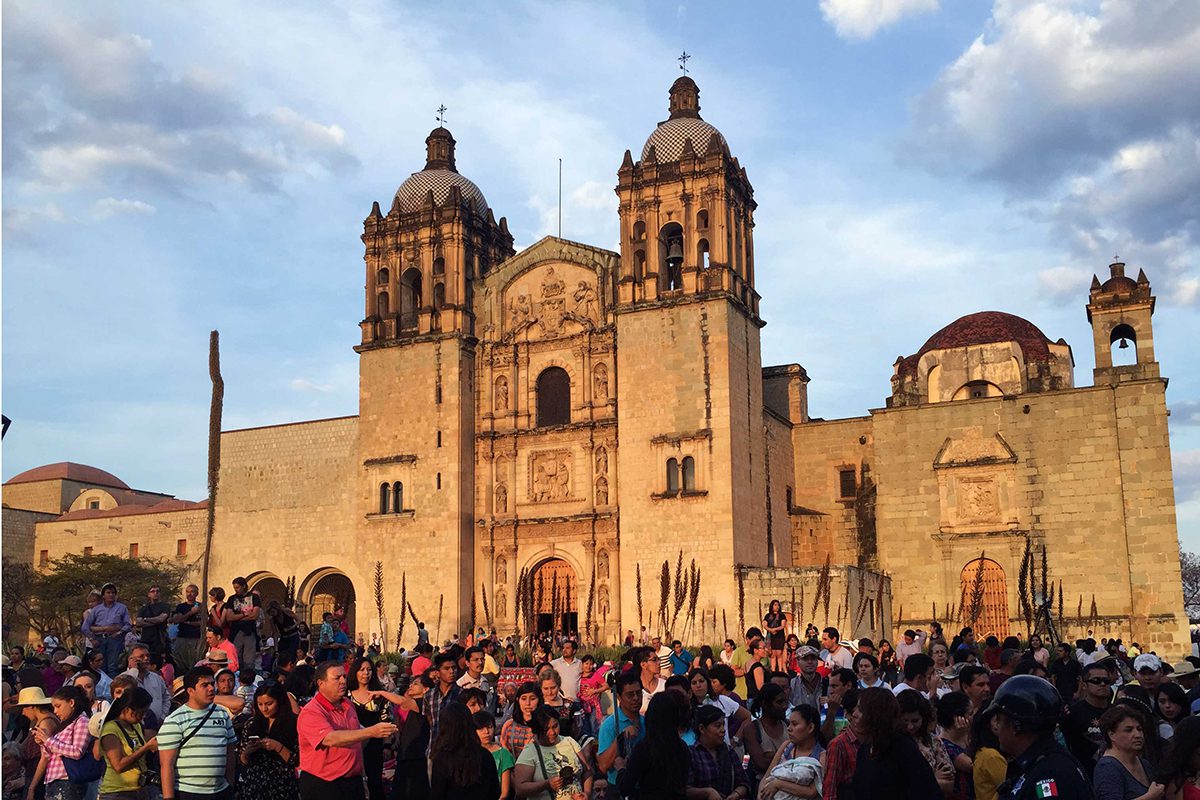 Santo Domingo de Guzman church - just 1 block from the B&B
The hotel is surrounded by cafes, restaurants, and bars. Next door is La Olla - one of the most acclaimed restaurants in the city. Across the street is Cafe La Antigua - a great coffee shop and breakfast/lunch cafe. We were never far from the best food and entertainment in the city.
Comfortable Beds and Rooms
Each room at Las Bugambilias has a large comfortable bed with high quality bedding. Rooms are painted in bright inviting colors, with warm Mexican accents or folk art.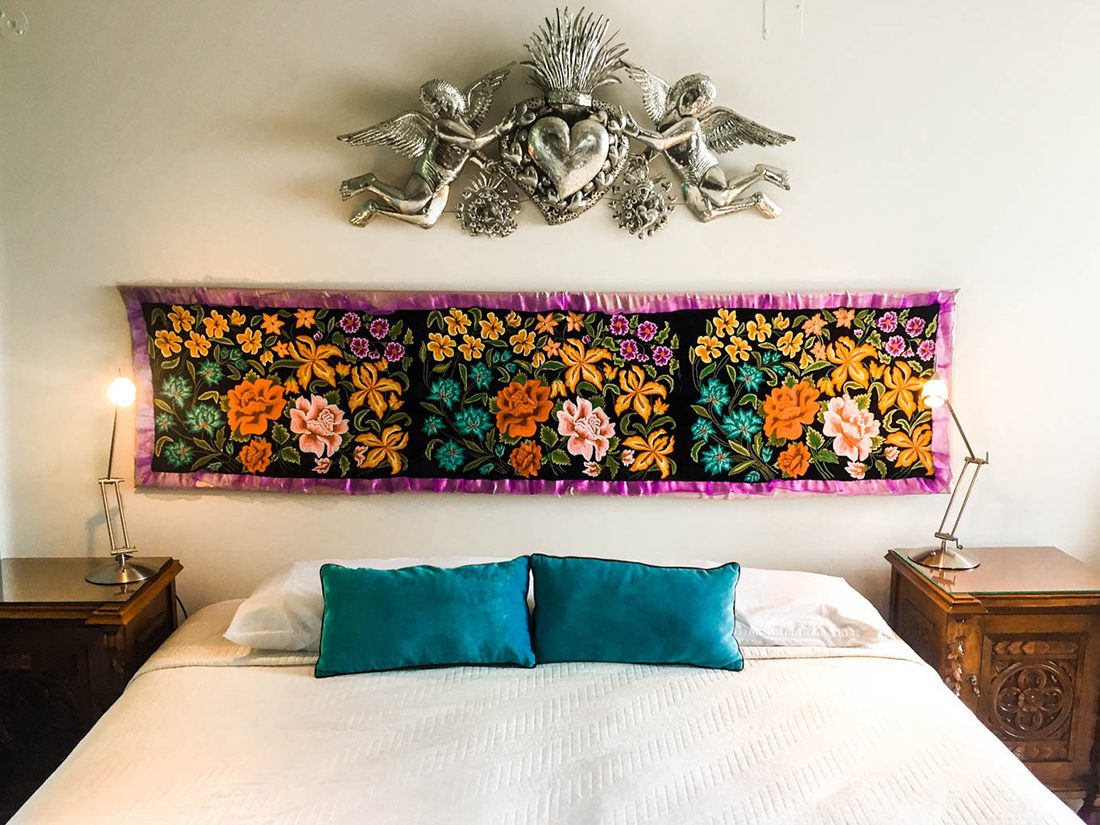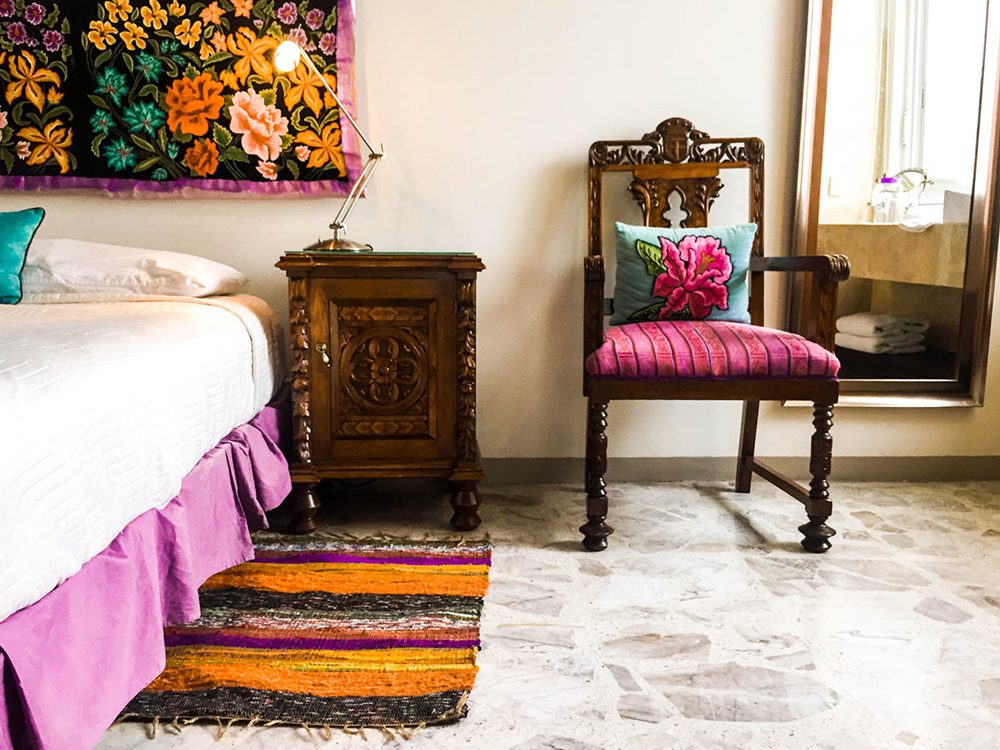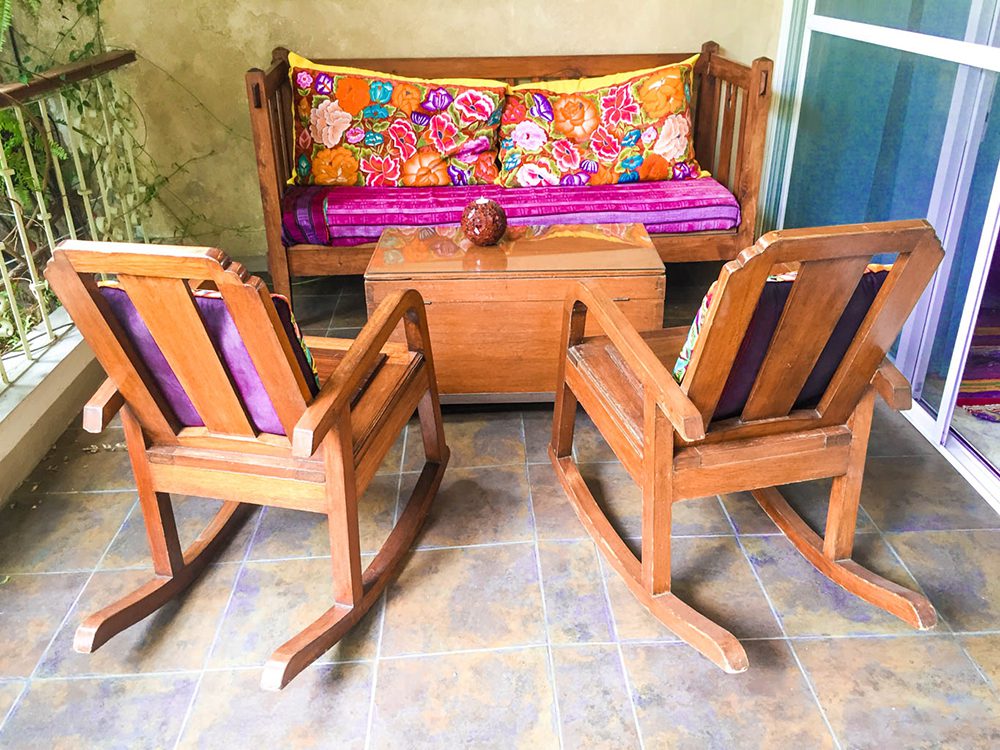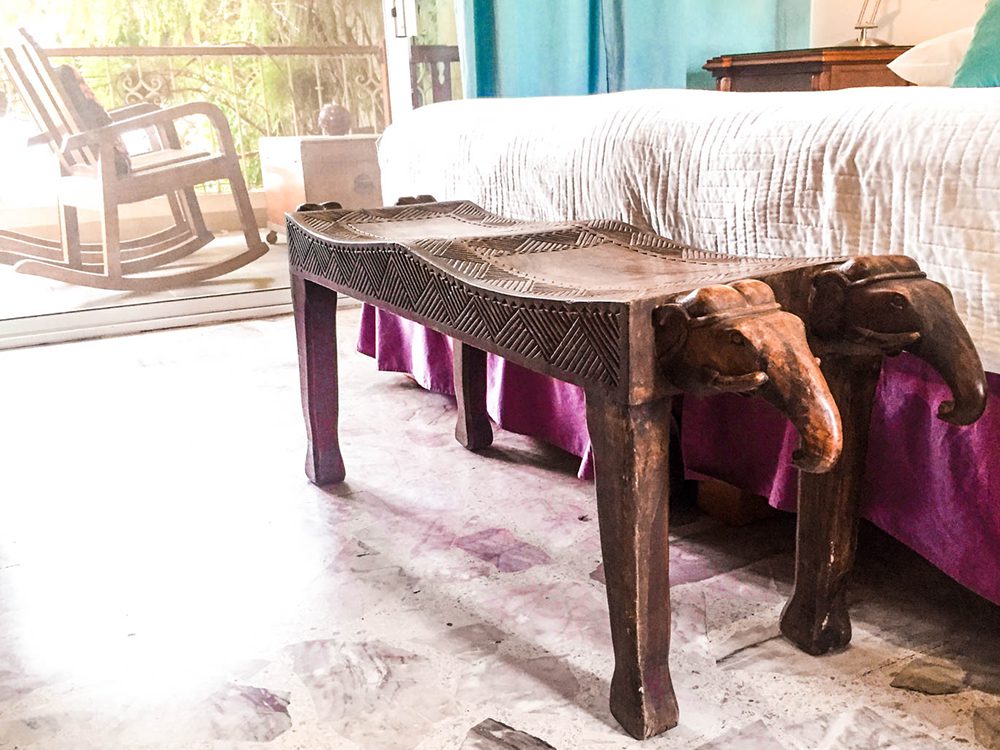 Some rooms have air conditioning (which in my opinion, isn't really necessary in the temperate climate of Oaxaca), and all rooms include a fan.
Modern Bathrooms
Our room had a completely modern bathroom - so we had hot full-pressure showers, a big sink area, and a modern toilet.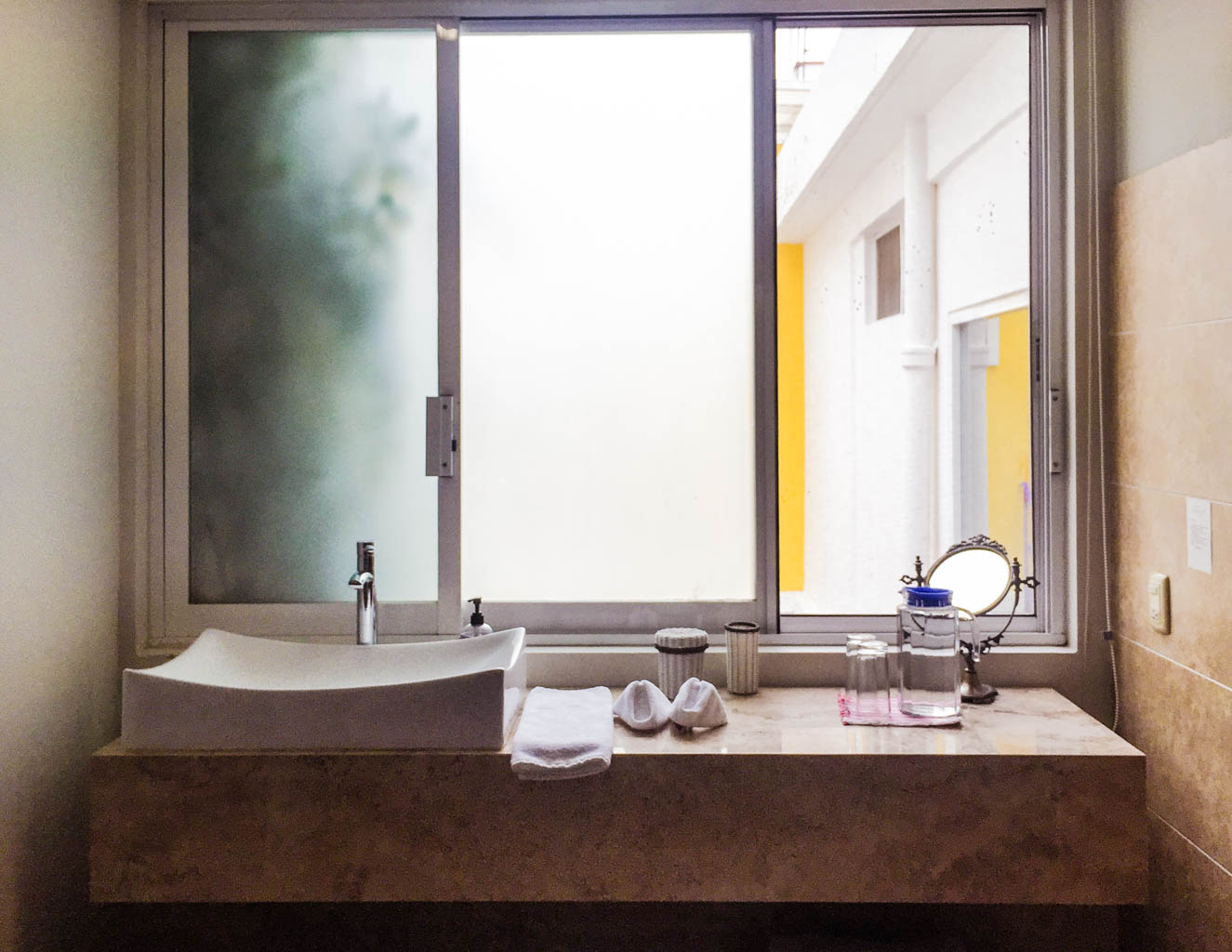 Mexican Folk and Modern Art
The hotel is filled with colorful Mexican accents. Most walls are lined with Mexican folk art, or modern art. Statues are in the courtyard, and brightly colored walls are throughout the building.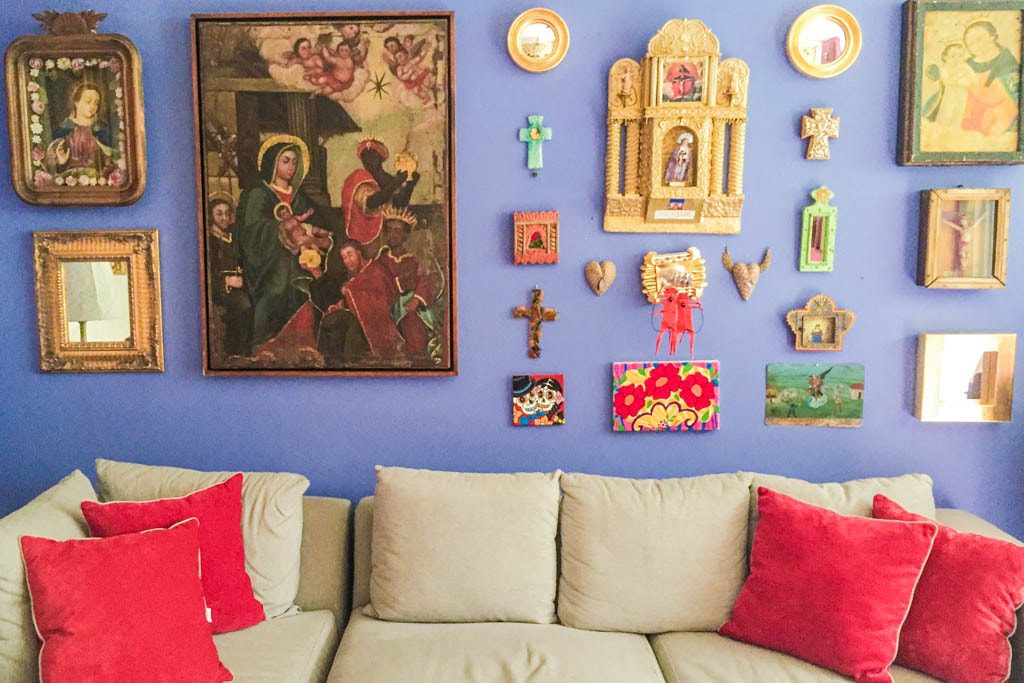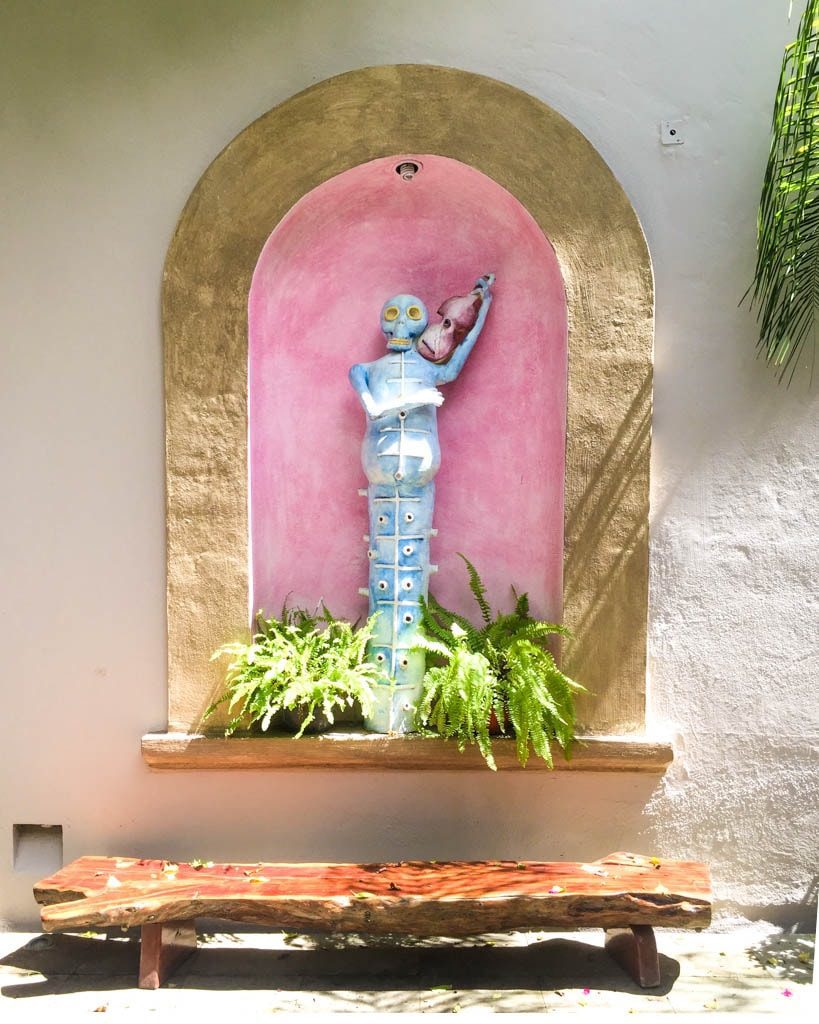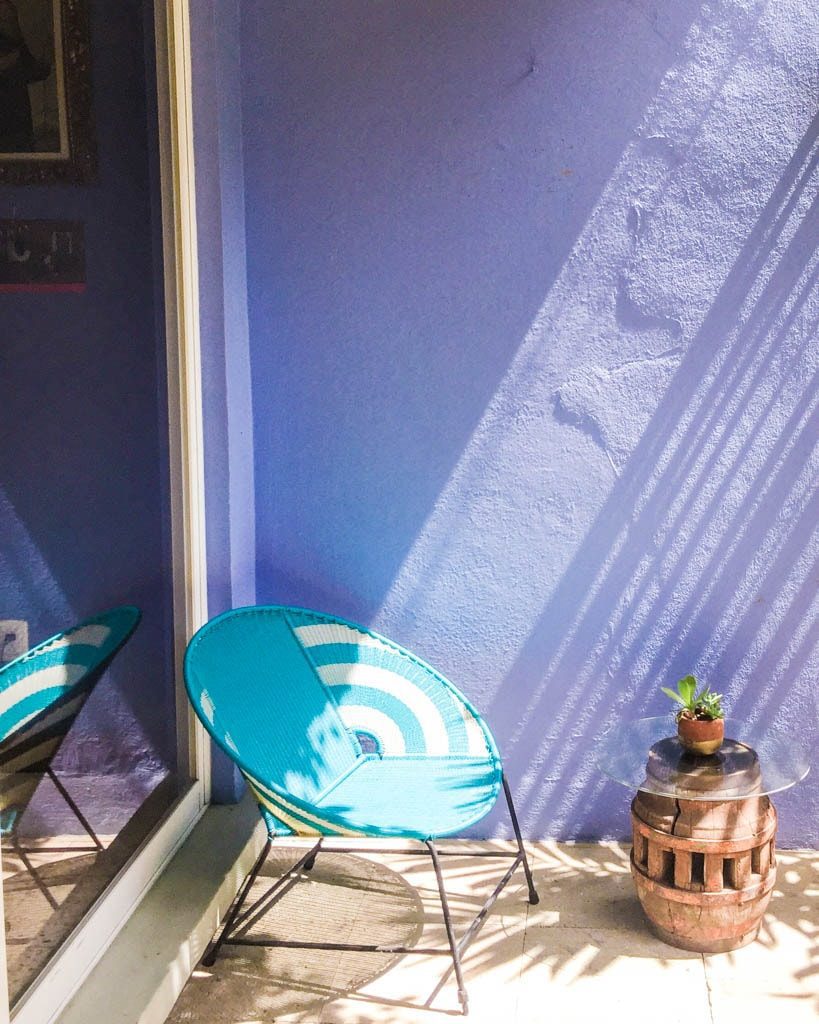 Beautiful and Comfortable Common Areas
The second floor has a communal living room with comfortable couches and a tv. Next to the sitting area is a library full of shared books and a desk with a computer for guests' use.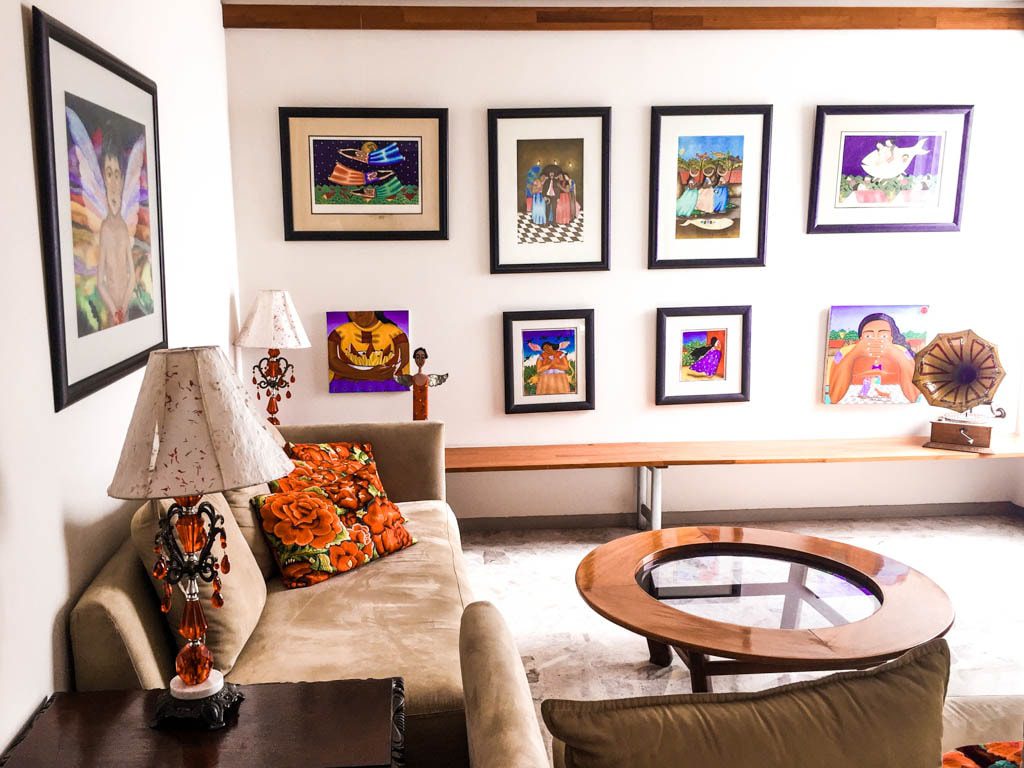 Downstairs are more couches next to the kitchen. The dining room has a beautiful large wooden table for guests to eat breakfast.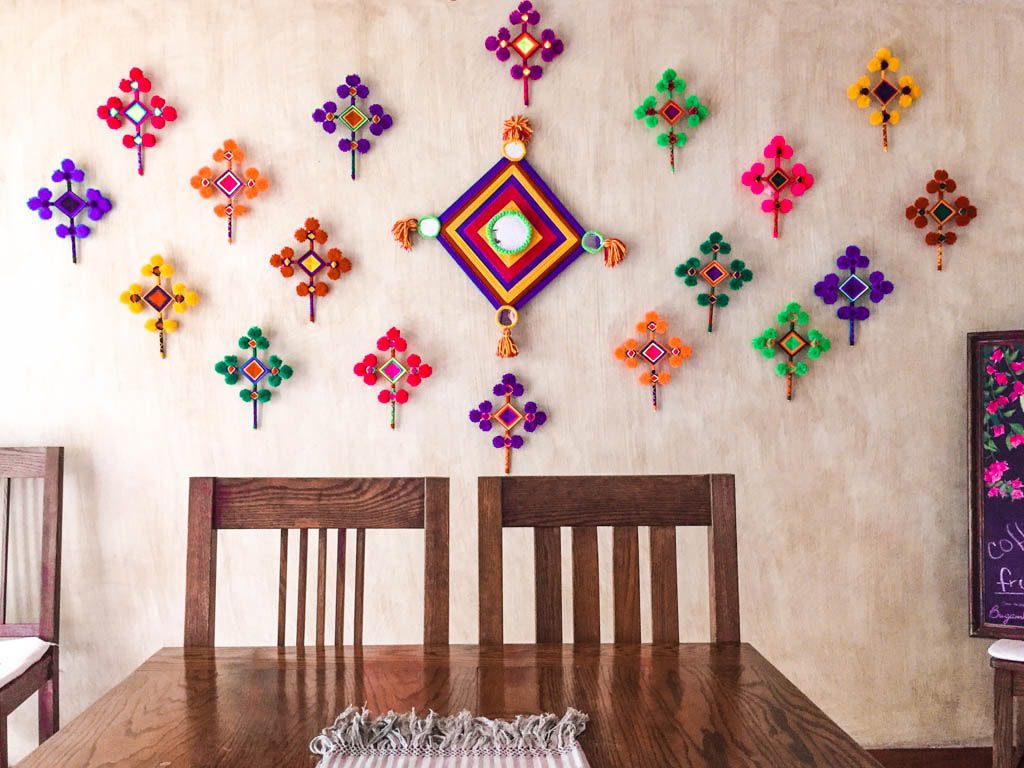 Outside is a large courtyard with tons of tropical plants, and tables and chairs for relaxing.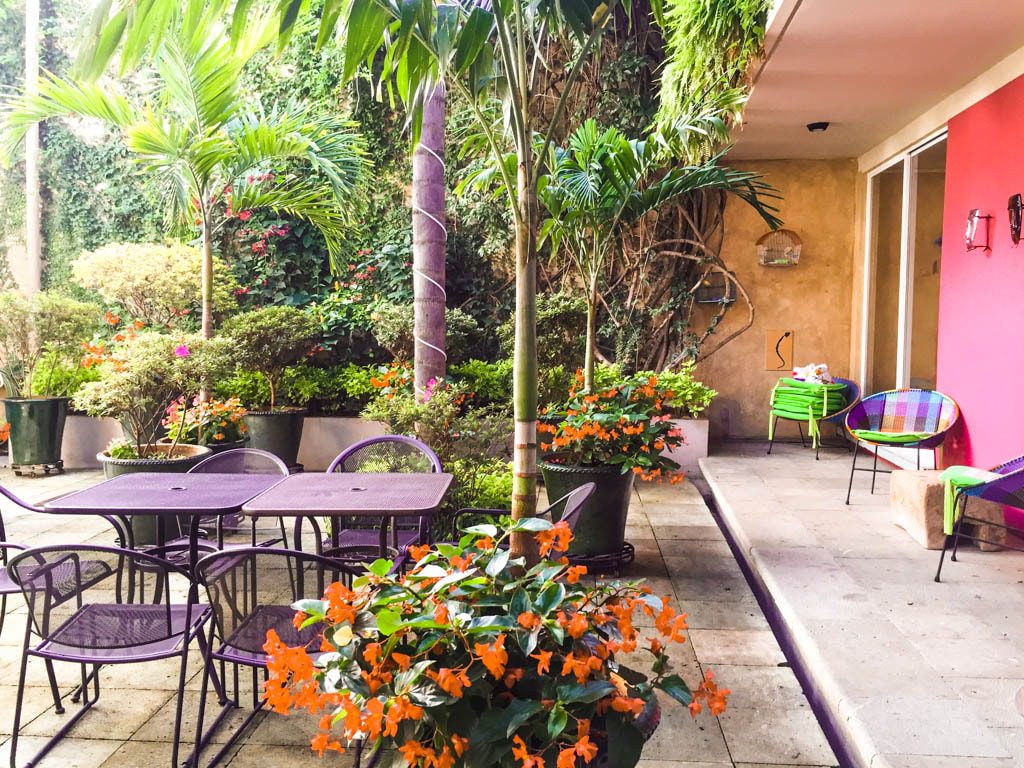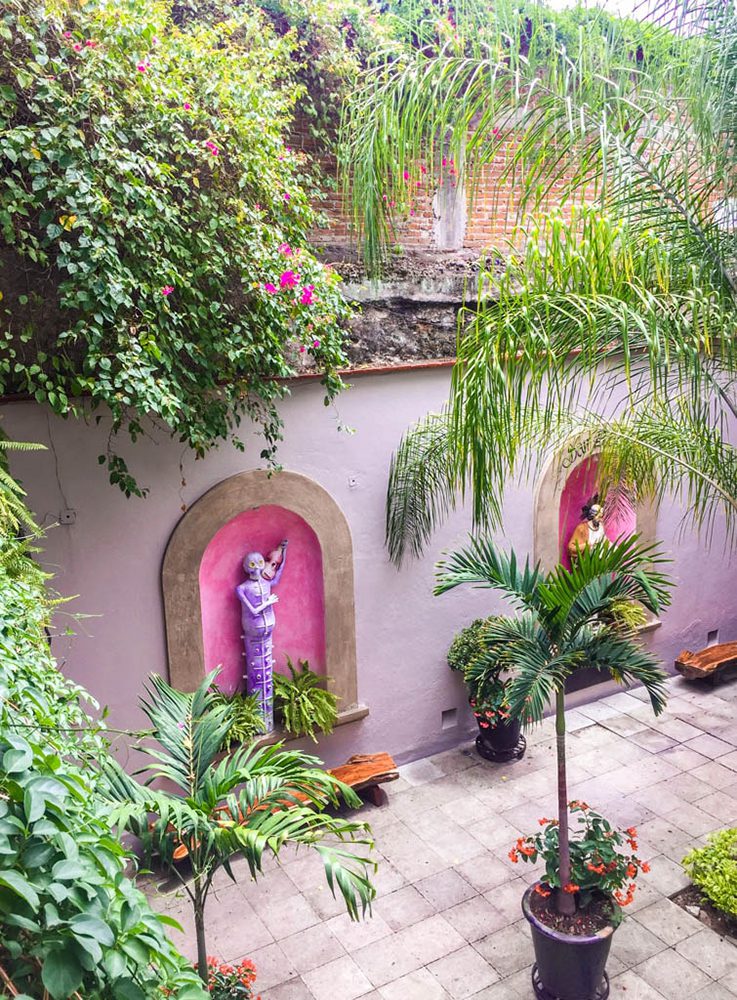 Roof Terrace
There is a lovely roof terrace above La Olla Restaurant that guests of Las Bugambilias have access to. There are pretty tables and chairs, a brightly colored mural of maguey plants, and a great view of the city and surrounding mountains.
This is the perfect place to have a happy hour cocktail as you watch the sunset. Buy some local mezcal and sip it slowly as you watch the lights come on in the city.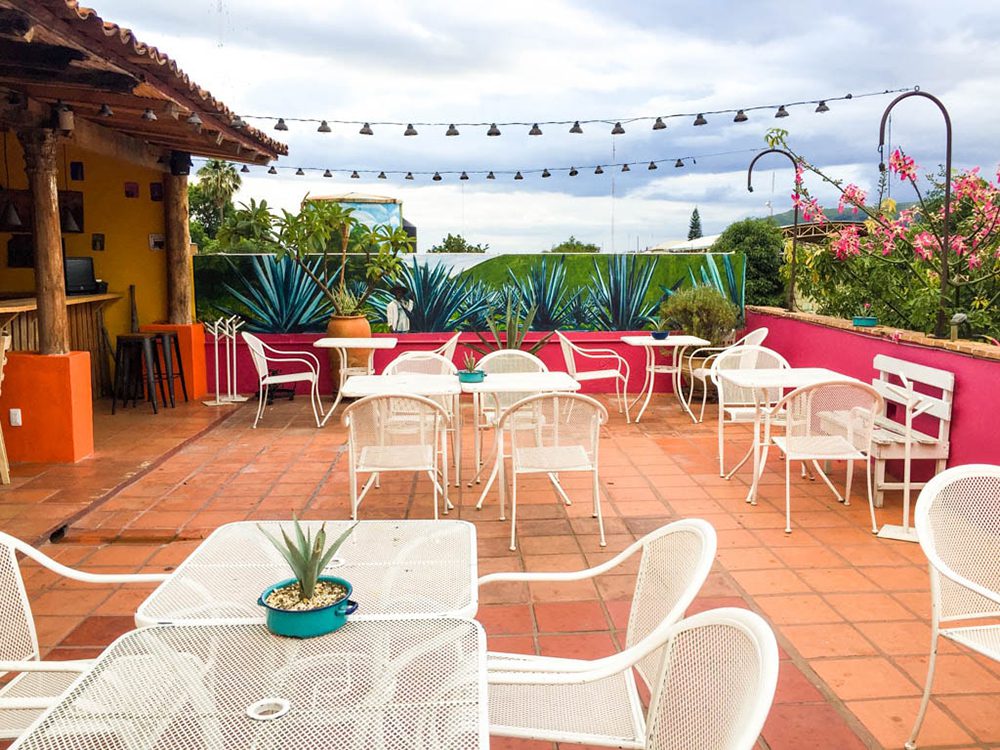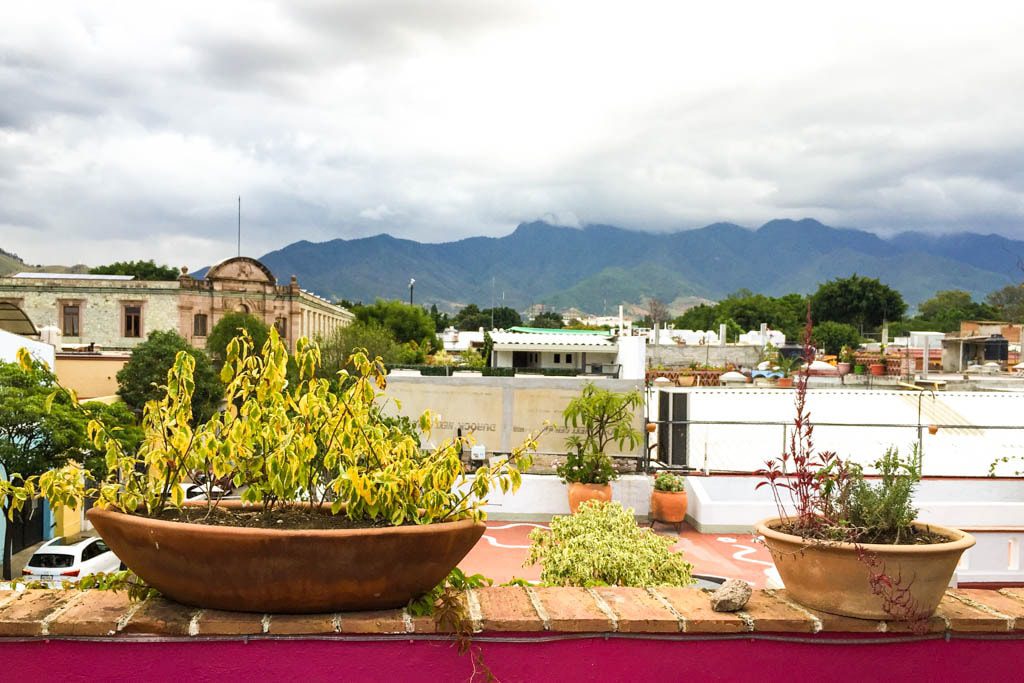 Strong Wifi
I'm always on a quest to find strong wifi in Latin America, and Casa De Las Bugambilias allowed me a break from my search. The wifi there was great in our room, as well as the common areas. We were able to catch up easily on some work and planning while there.
Free Drinking Water
This sounds like a small thing, but it feels like such a big convenience. When traveling in Latin America, we're used to having to plan out when and how much water to buy before we return to the hotel each night.  When our hotel offers free purified water, it feels so nice not to have to worry about that. I wish more hotels would offer this!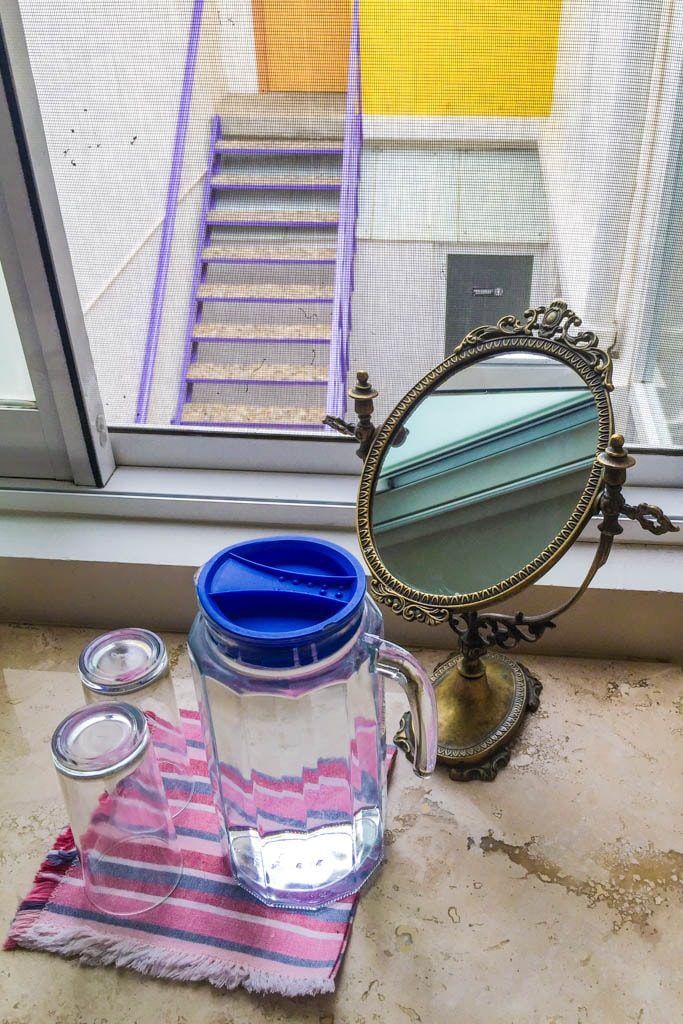 Nothing! Just Keep in Mind This is a B&B
Our stay was so comfortable and enjoyable, I can't think of anything the hotel needs to improve upon.
The one thing guests should keep in mind is that this is a Bed and Breakfast, so there is some interaction between the guests. Breakfast is served between 8-10am, so guests come down to the dining room anytime between those hours to eat. This usually means you'll be eating with other guests. There are also many other common areas like the courtyard, living room, computer room, and roof terrace.
We loved this atmosphere. We happened to be there at a very slow time (during the teacher's protests in July 2016), so we only shared breakfast with one other couple, but we really enjoyed chatting with them and learning about their travels. We shared tips on what to do and what to eat in the city as we enjoyed our morning meal.
If you're looking for a big corporate hotel, this isn't it. But if you want a warm family atmosphere with plenty of privacy in your room, Casa De Las Bugambilias is a perfect choice for your Oaxaca hotel.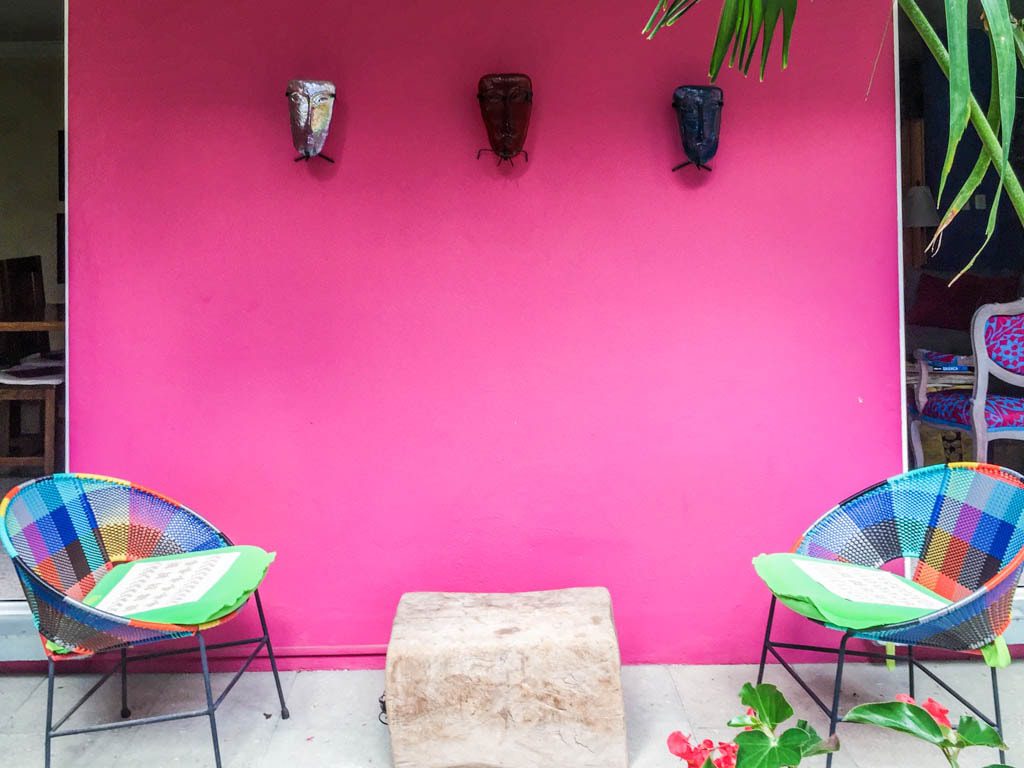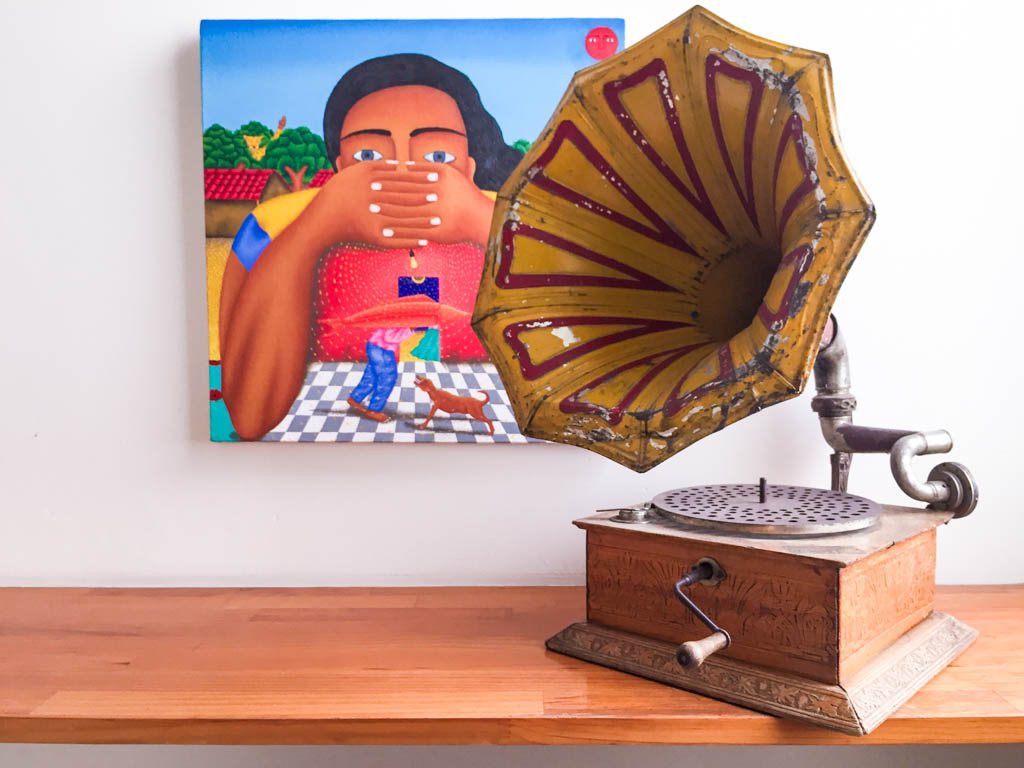 Conclusion:
Casa De Las Bugambilias is an exceptional B&B. I highly recommend it for anyone who wants a true Oaxacan experience in a comfortable and beautiful space. The staff will help you with everything you want to know, and you'll start every morning with a gourmet breakfast.
---
Hotel name: Casa De Las Bugambilias
Social Sites: Facebook, Twitter
Price: $80-150
Includes: Free gourmet 2-course breakfast, strong wifi, communal area with tv, books, and computer, some rooms with air conditioning, free international calls to the US and a few other countries.
Location: Reforma 402, Centro, C.P. 68000, Oaxaca, Oax. México
Just 1 block from Santo Domingo de Guzman Cathedral
Contact: [email protected]
Reservations: https://lasbugambilias.com/reservations/
---
---
Disclosure: I was offered a free stay at Casa De Las Bugambilias in exchange for an honest review.
All opinions are my own!
---