I'm not sure exactly when I became fascinated with surfer culture, but I think it was around the time I first saw Endless Summer, the wonderfully cheesy 60's documentary with a bangin' soundtrack about a couple of dudes who travel the world chasing the perfect wave. I was ready to buy a VW van and head south of the border before I realized I didn't know how to surf. And, oh yeah, I'm kind of afraid of the ocean.
Don't get me wrong, I LOVE the ocean. It's all of those perfect cliche things everyone says it is: infinite, powerful, mysterious. Actually these are precisely the reasons I find it wise to swim in calm water where I can touch the bottom.
So why did I go to a beach that has monster waves and a dangerous riptide?
Here's what I loved about Puerto Escondido:
Surfer's Everywhere:
I was pretty in awe of all the surfer's there. You can't be a novice to surf on this beach (though there are tons of surf schools for all levels – beginners can surf in gentler nearby beaches). I would sit on Zicatela beach everyday at sunset to watch the best surfers wait for, and sometimes catch the perfect wave. And I wasn't alone in this fascination, every evening there would be a line of people sitting or standing in front of the pipeline, waiting with baited breath. If someone caught a great wave, everyone would cheer. It felt like a community event.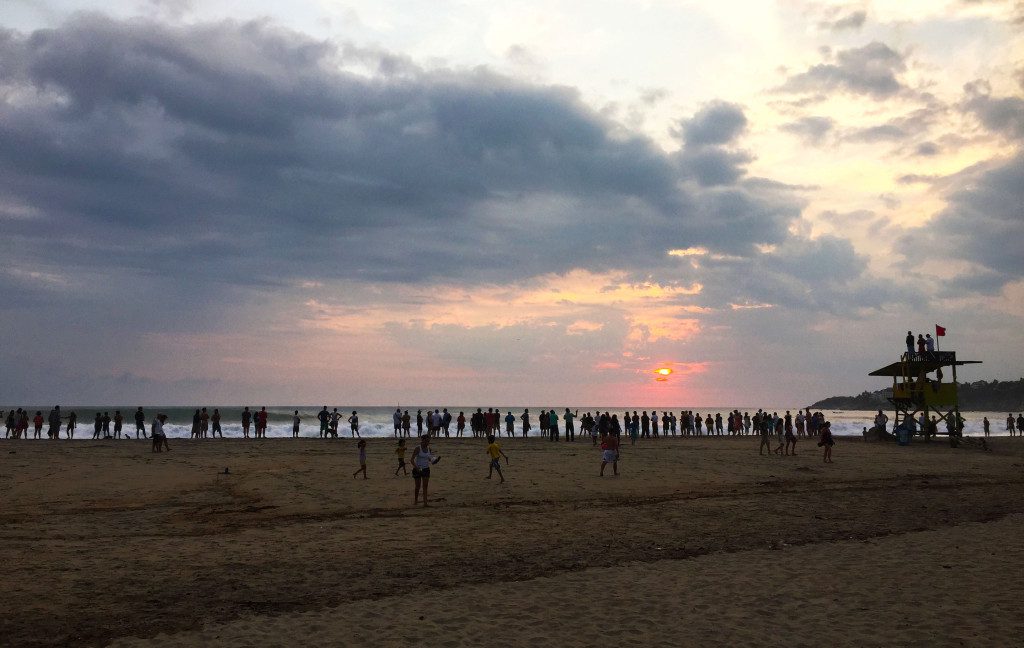 The waves are always large and powerful, and they get larger in the rainy season (May-October). For some reason, the first couple of days that I arrived in March coincided with abnormally giant waves. I don't think I can accurately explain how powerful and incredible these waves were. They sounded like thunder from my room, and I could see them cresting above the palm trees from my balcony. Oceans are humbling, and this one was especially so.
Gorgeous Cove Beaches:
There are several other beaches in Puerto Escondido that are safe for swimming: Playa Marinero/Principal, Playa Manzanillo/Puerto Angelito, and Playa Carrizalillo. I didn't care much for Playa Marinero/Principal – this felt like an area that had been popular ten years ago and had been left to fall apart slowly. Playa Manzanillo/Puerto Angelito are two beaches in one cove that are separated by some large rocks in the center. The beaches here are very pretty, but often very crowded with families.
The real crown jewel here is Playa Carrizalillo. This is one of the most gorgeous beaches I have ever seen (rivals Tulum for beauty, but in a different way). To get there, you have to enter from the street, and walk down 167 steps to the beach. The viewpoint from the top of the steps is breathtaking.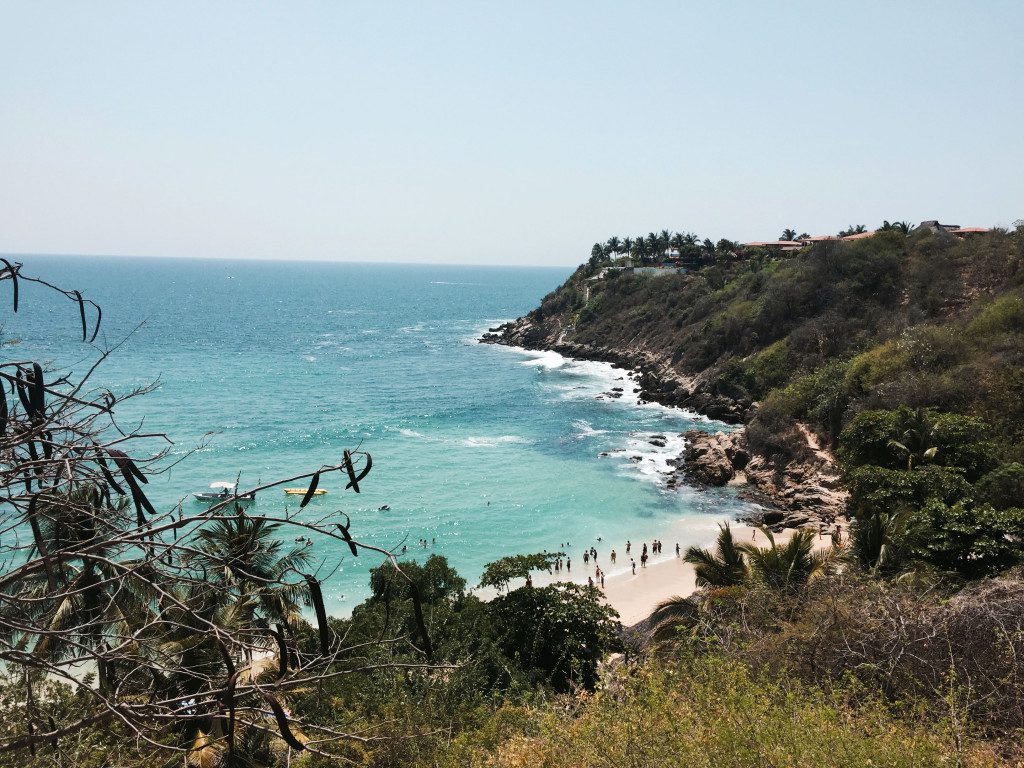 Once you reach the bottom, you're in a small horseshoe-shaped cove with rocky cliffs on both sides. Small waves break against each edge of the horseshoe, and beginner surfers take lessons there. The middle section is great for swimming. After the first couple steps of shallow water, the bottom drops off steeply to 5-7+ feet. This creates a strong current right at that drop off, but the waves are gentle and create an almost perfect wave pool. It's fantastic for hours of floating, swimming, and catching small waves.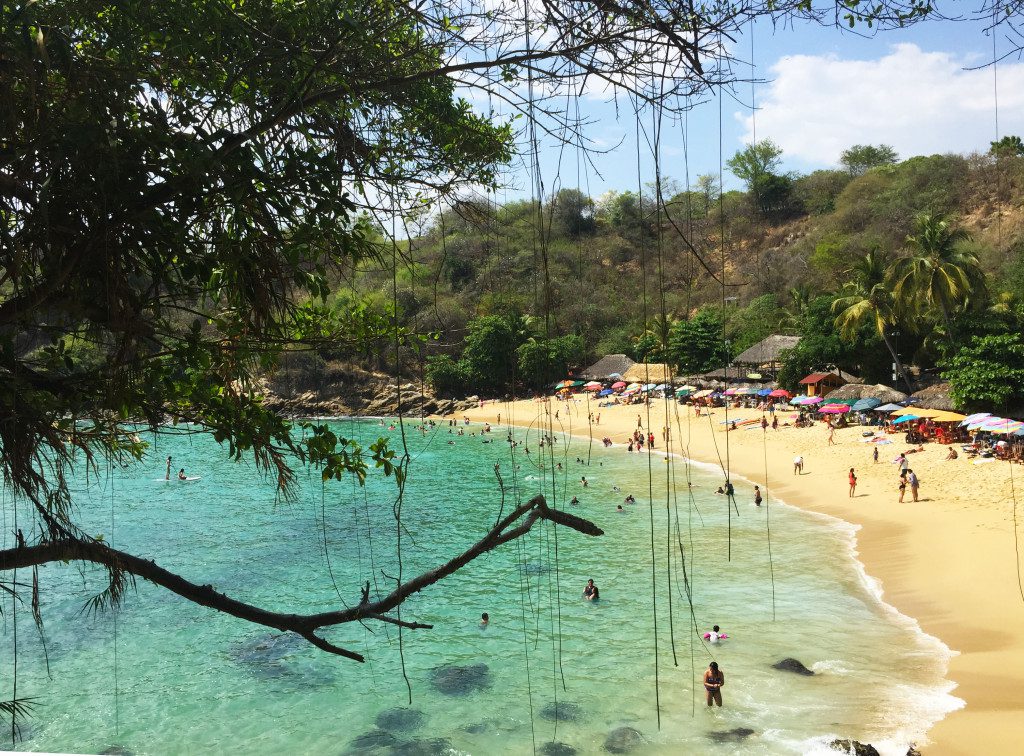 Right at the foot of the water, several restaurants have lounge chairs and tables to use between rounds of swimming. Some require you to pay to rent them, other's require a minimum food/drink spend that is usually 200-300 pesos for a pair of chairs. You can also bring your own towel to lay out, but the beach area is very small and the sun is strong.
Andador Sea Walk:
This is a really fun walk that winds over stone steps and pathways with the ocean on one side and cliffs on the other. The walk starts at the western edge of Playa Principal and ends at a scenic overlook called Sueno Posible on a cliff before Playa Manzanillo. A lighthouse is just above on the cliff, which provides many photo ops as you wander along.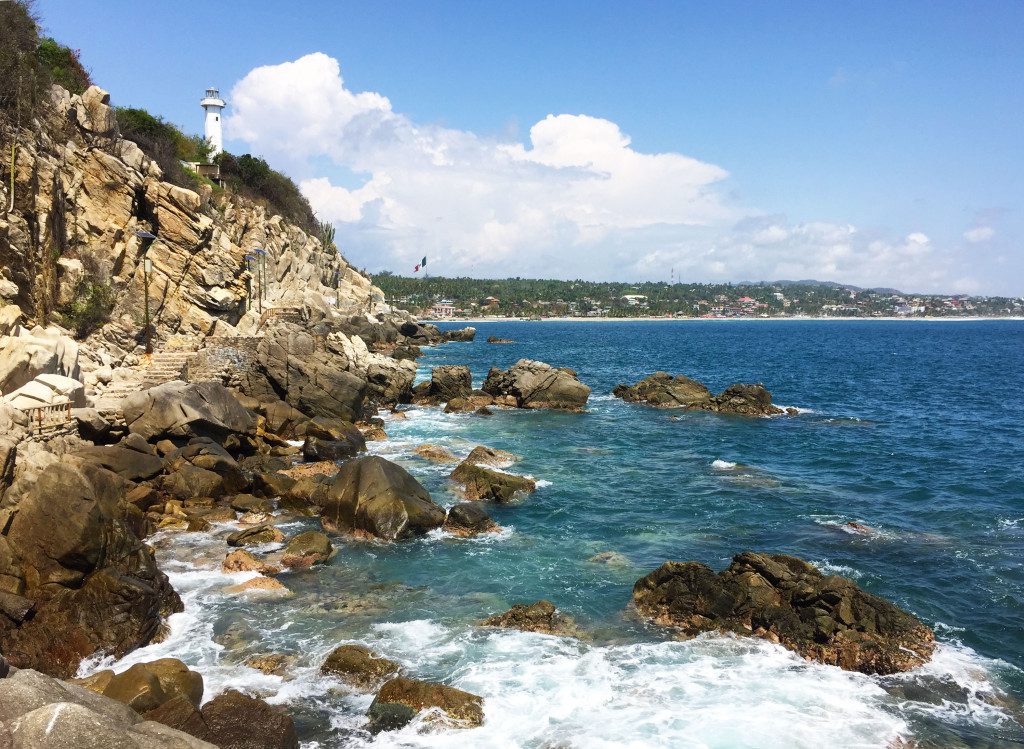 *Note 1 – the waves crash right up on some of the lower pathways during high tide. It's best to time this walk with low tide, unless you don't mind getting wet and walking over slippery rock.
*Note 2 – Bring plenty of water! This is a mile long path under the hot sun. There isn't anywhere along the way to purchase more water.
To start, walk to the western edge of Playa Principal. There will be a little jetty and some public bathrooms. Keep walking past that and you will see a turtle statue with a mermaid on top. This is where the path starts. The rest is self explanatory. Follow the path as it winds around until you reach the overlook.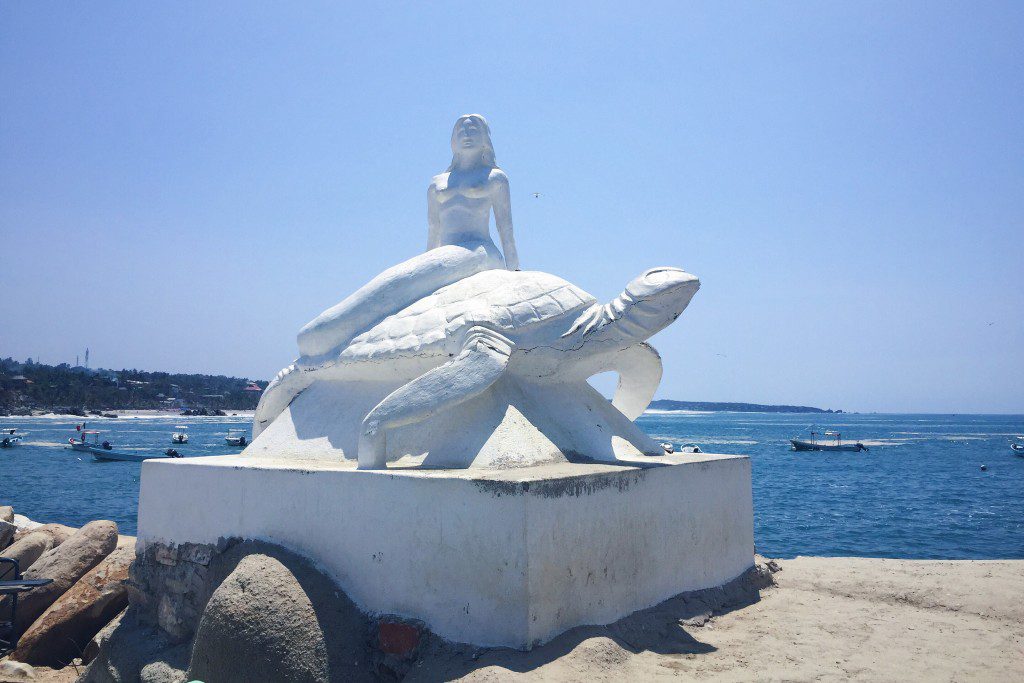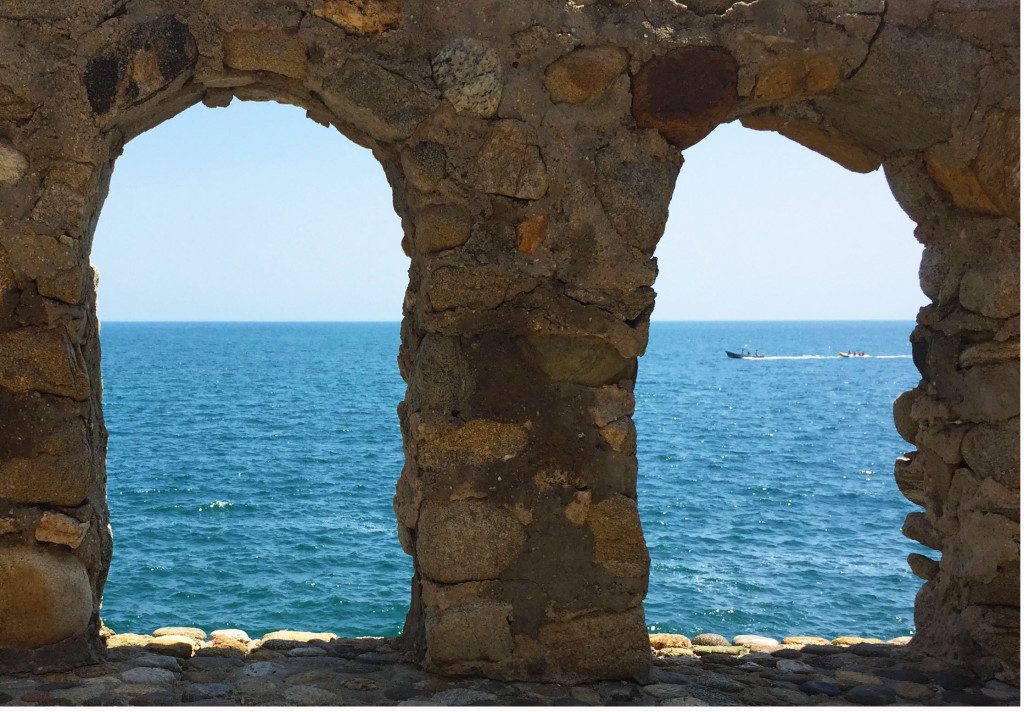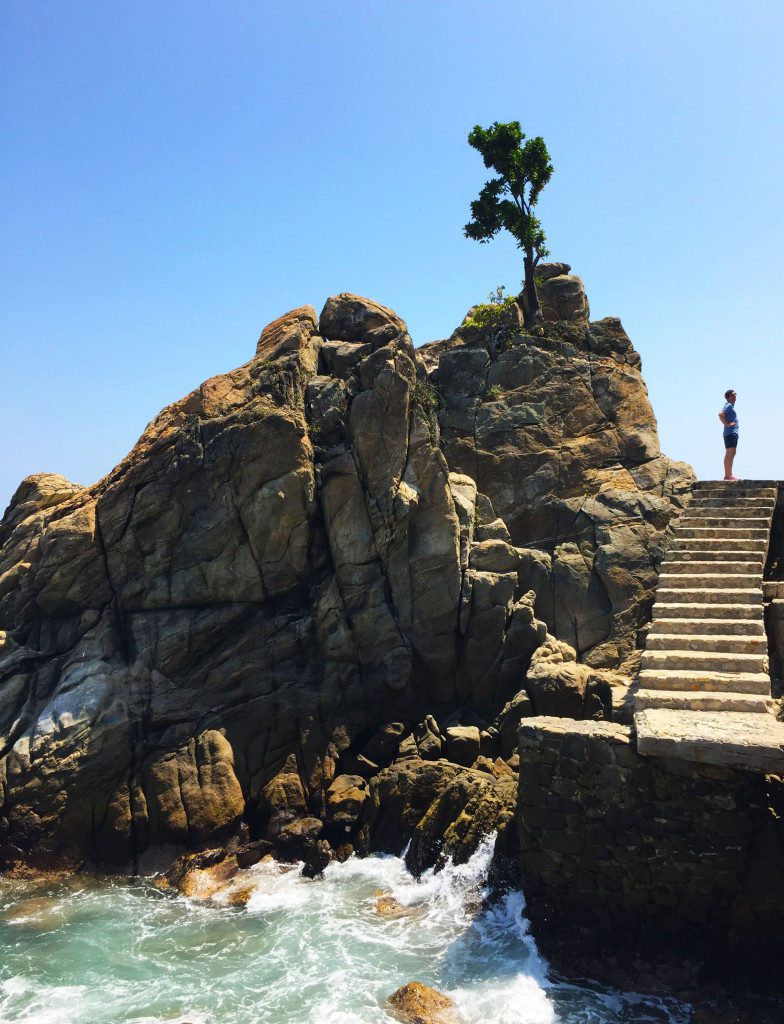 ---
My Favorite Restaurants in Puerto Escondido:
The Late-Night Tlayuda Grill:
(alley off of Calle del Morro between the OXXO store and Calle de Las Brisas)
The best and most fun food I had in PE. Each night around 9-10pm, a grill and folding table are set up in an alleyway off Calle Del Morro. Two women will slather huge tortillas with lard, beans, stringy cheese and various fixings + the meat of your choice before it gets grilled to perfection. Stumble over after a few mezcals and go nuts with the creamy green avocado sauce. Super cheap and super good.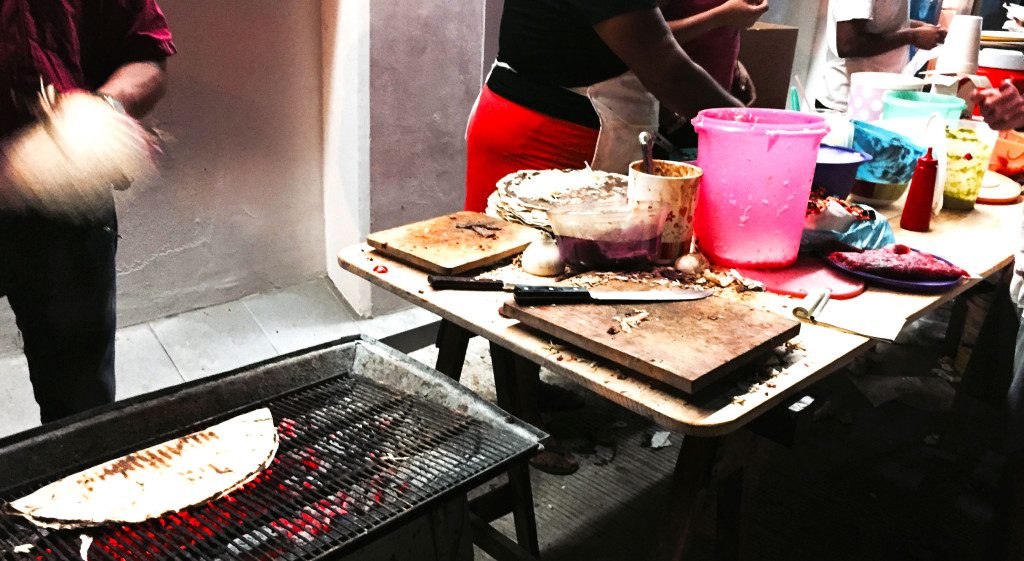 Fish Taco & Beer:
Calle del Morro
Not necessarily traditional Oaxacan, but delicious fish tacos of all kinds, great mezcal, and a TV that loops old surf videos from the region.
Casa de Dan:
Calle Jacarandas No 14
Comfortable, laid-back decor and fresh, good breakfasts. Great licuados (fruit smoothies). I've also heard they have great fish tacos on Friday/Saturday nights but wasn't able to make it to try them.
Terraza Zicatela
Calle del Morro across from Bungalows Zicatela
One of the only beachside spots that actually had great food and great prices. Had the best michelada of my life (and learned that a Victoria beer base is the original and best way to go), delicious enchiladas verdes and fresh tortilla chips with standout homemade salsas. All with an ocean breeze and a thatched roof.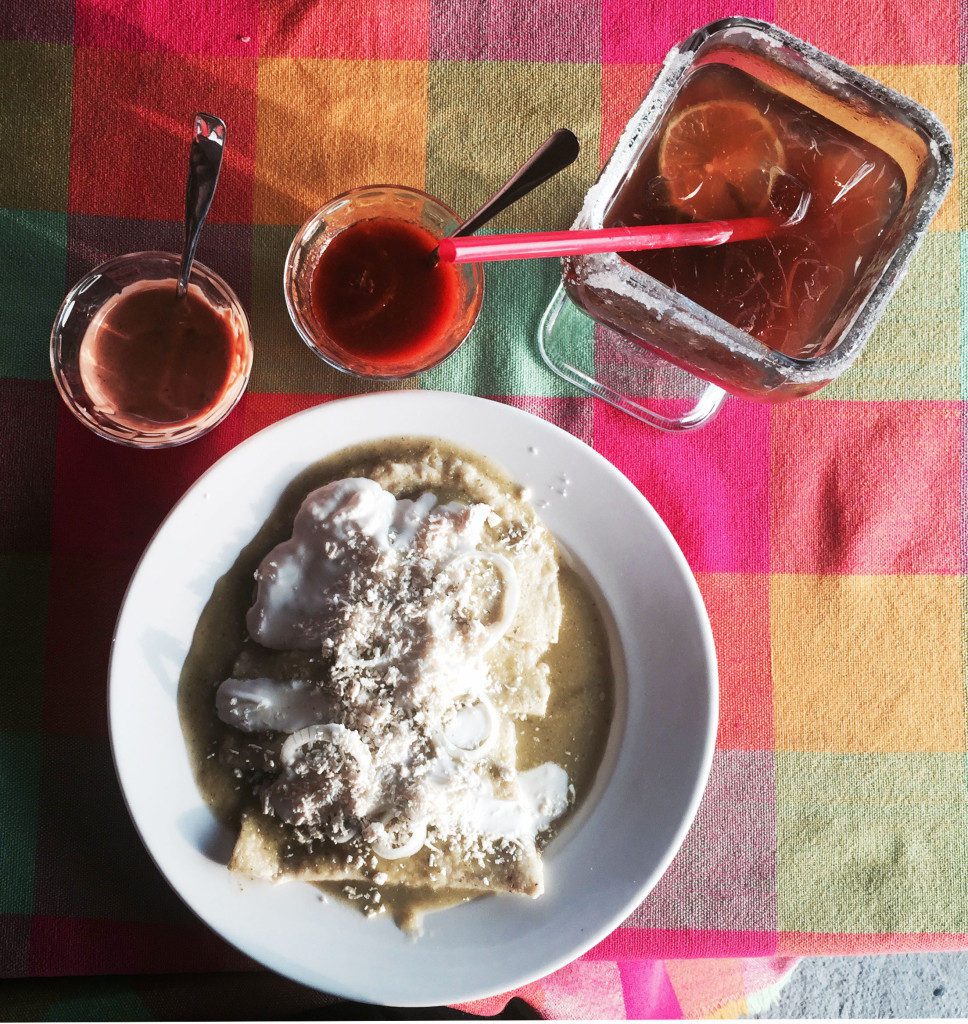 La Juquilena
Just North of the Central Market
We wandered into this local open air spot after heading north out of the Mercado Central. It was the middle of the afternoon but they were busy, so I took that as a good sign. My husband and I shared our first tlayuda of the trip and an enchilada de pollo. Both were super delicious and incredibly cheap.
Other safe bets:
Mangos:
Calle del Morro between Hotel Arco Iris and Hotel Rockaway
Good value breakfast
Cafecito:
Calle del Morro next to Hotel Rockaway
A local staple. Always busy, good service, extensive menu.
Bars:
Casa Babylon:
Calle del Morro just north of Bungalows Zicatela
Often has live music. Good, cheap mezcal, an extensive Mexican mask collection, and a library exchange.
Best Tourist Agency:
Viajes Dimar
Calle del Morro next to Hotel Rockaway
Fair prices, good customer service. Lots of excursions. Can also rent cars here.
---
If you're looking for a gorgeous beach with plenty of rugged natural beauty, very few American tourists, waves of all sizes, and all the micheladas and mezcals you can handle, this should be your next stop.