We haphazardly threw together a vague day-trip plan the night before – get up early, rent a car, and knock out three adventures – a boat tour of Chacahua lagoon, then on to the turtle sanctuary in Mazunte, and finally drive up high into the inland mountains to explore the tiny, coffee-growing village of Pluma Hidalgo. As it turns out, we only made it to one of these destinations, but added in some impromptu stops along the way.
Signs for guided tours are all over Puerto Escondido, Oaxaca, but my husband and I were lucky enough to be traveling with two friends, so renting our own car financially made sense. We rented from Viajes Dimar on Calle del Morro on the Zicatela strip. It was only about $80US to rent a small SUV for a full day. With gas this probably cost us about $35 total per person. Not bad!
We took off from Puerto Escondido around 9am. After about an hour of trying to get some "to go" breakfast (not a fast concept in Mexico), we were on the road around 10am. We felt it was too late to fit in Chacahua so we drove East on highway 200 and passed lots of jungley farms and comedors until we reached Pochutla. We made a left onto the unmarked road that travels north, and started winding through some steep switchbacks, up and up. The scenery was getting very mountainous and we were constantly oohing and ahhing at the vistas. We reached the intersection of 175 and headed South a few miles until we reached Pluma Hidalgo. By this time we were comparatively high in elevation from our start at sea level – around 4260 feet with steep drop offs and no shoulder on the narrow road.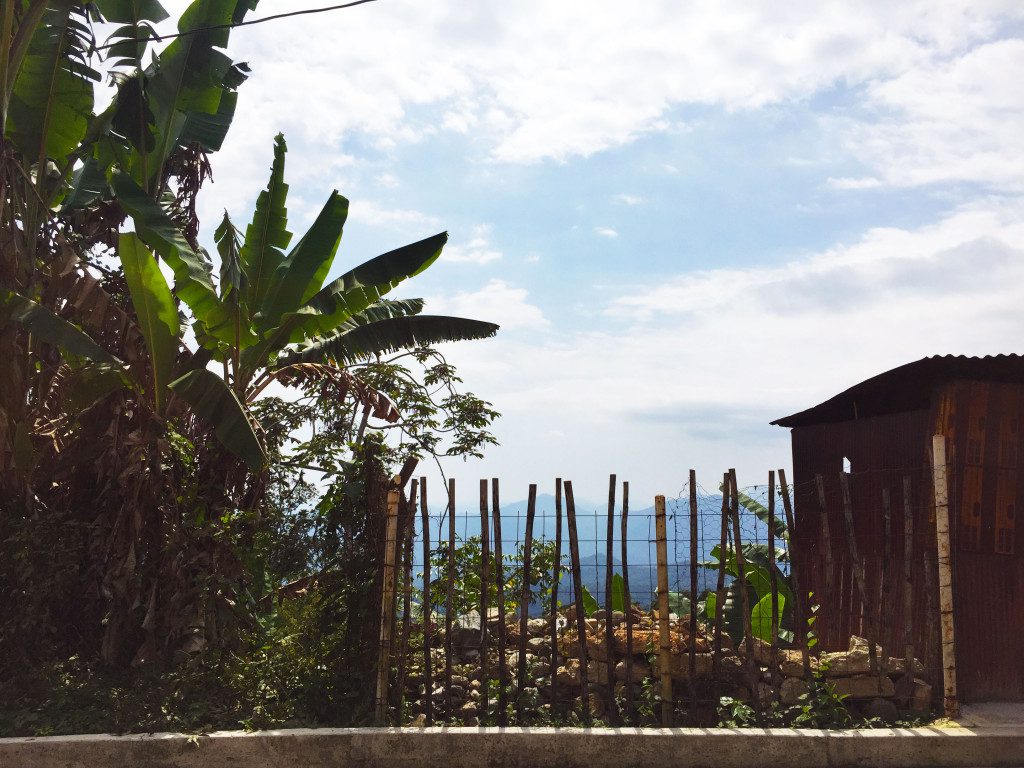 The town of Pluma Hidalgo is incredibly picturesque. We took hundreds of pictures each and were on a visual overload the whole time. Pluma is known for it's coffee farms and roasteries. In the main square you'll find the main roastery in town which produces Cafe Diamante. They roast beans from the local coffee farms and sell them all around the state of Oaxaca. They also offer free tours of 3 of the Fincas (coffee farms) nearby. We weren't able to take the tour because we arrived too late in the day, but it sounded like a great option. We didn't realize at the time how popular this coffee was in the area until we went to Oaxaca city later in the week and saw the Pluma coffee everywhere. We bought beans here, and were also treated to a fresh cup of coffee. When we asked the roaster how many cups of coffee he drinks a day he replied "Dos Litros" (8-10 cups)!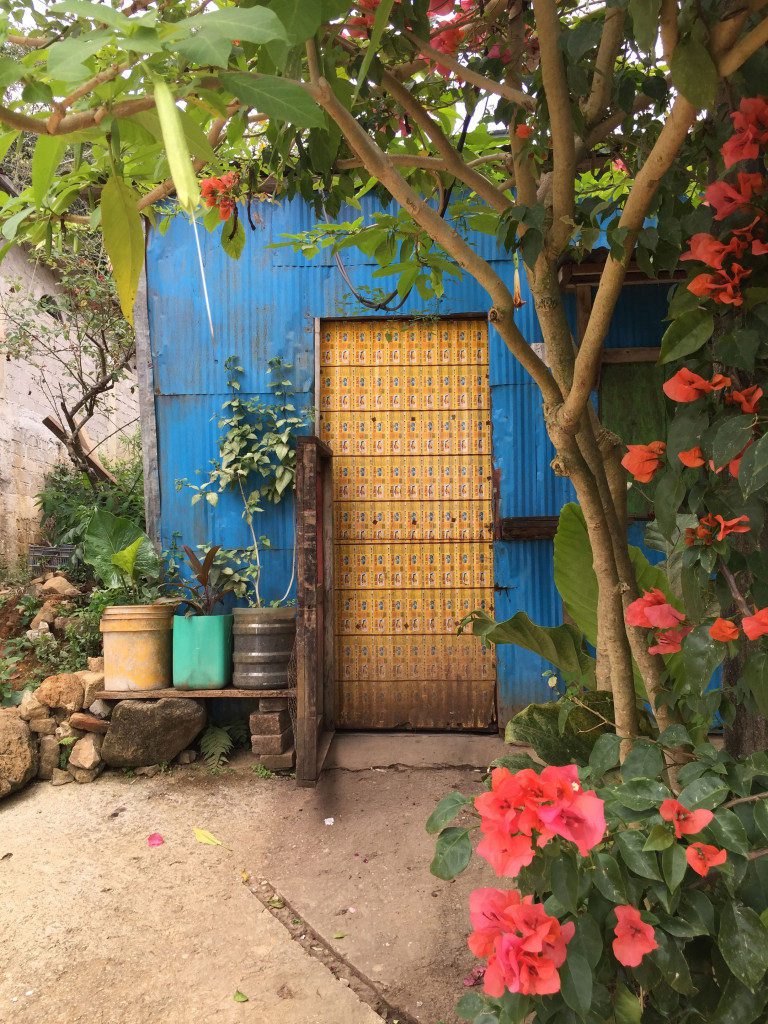 We spent most of our time here walking around the gorgeous winding streets. It's a tiny town – from the main square the streets veer steeply up or down in each direction. There was a street that sloped steeply down and then winded through spaced out homes and farms surrounded by jungle foliage. Then there was a street that went straight up a steep hill where the road met the rooftops. A group of boys flew kites from one of the roofs and laughed at us when we asked what was the best thing to do in town.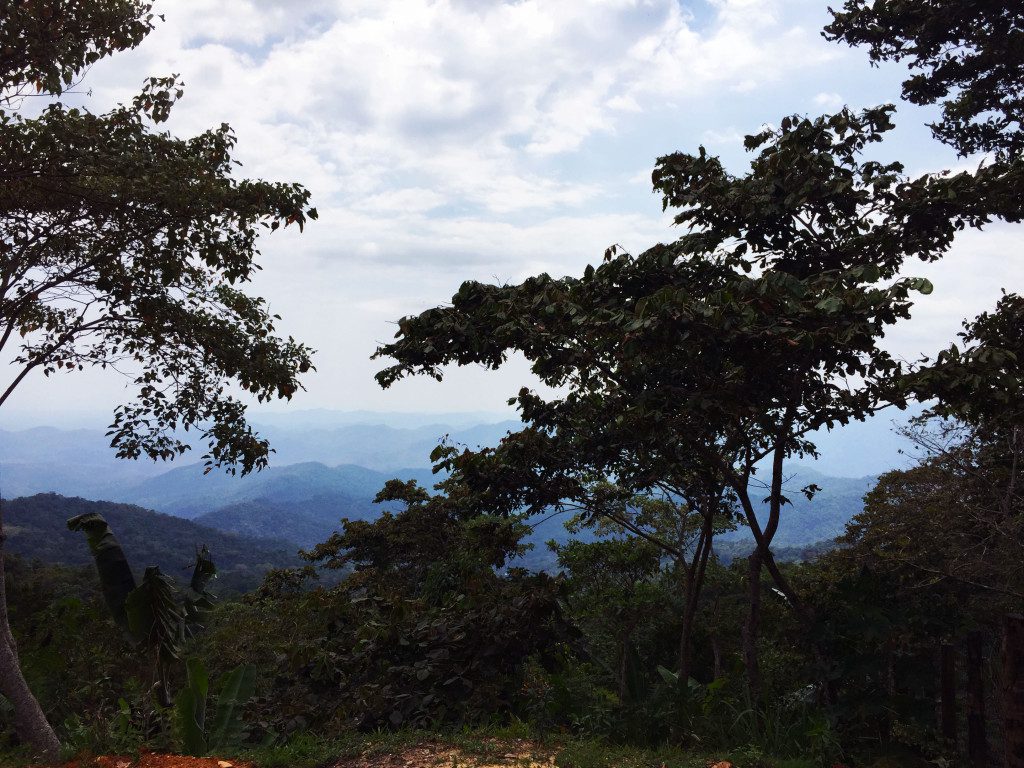 It's hard to express why we loved this town so much, but it just had an incredibley secluded feel, and was full of vibrant colors, as well as breathtaking views. It was well worth the trip up the winding mountain roads.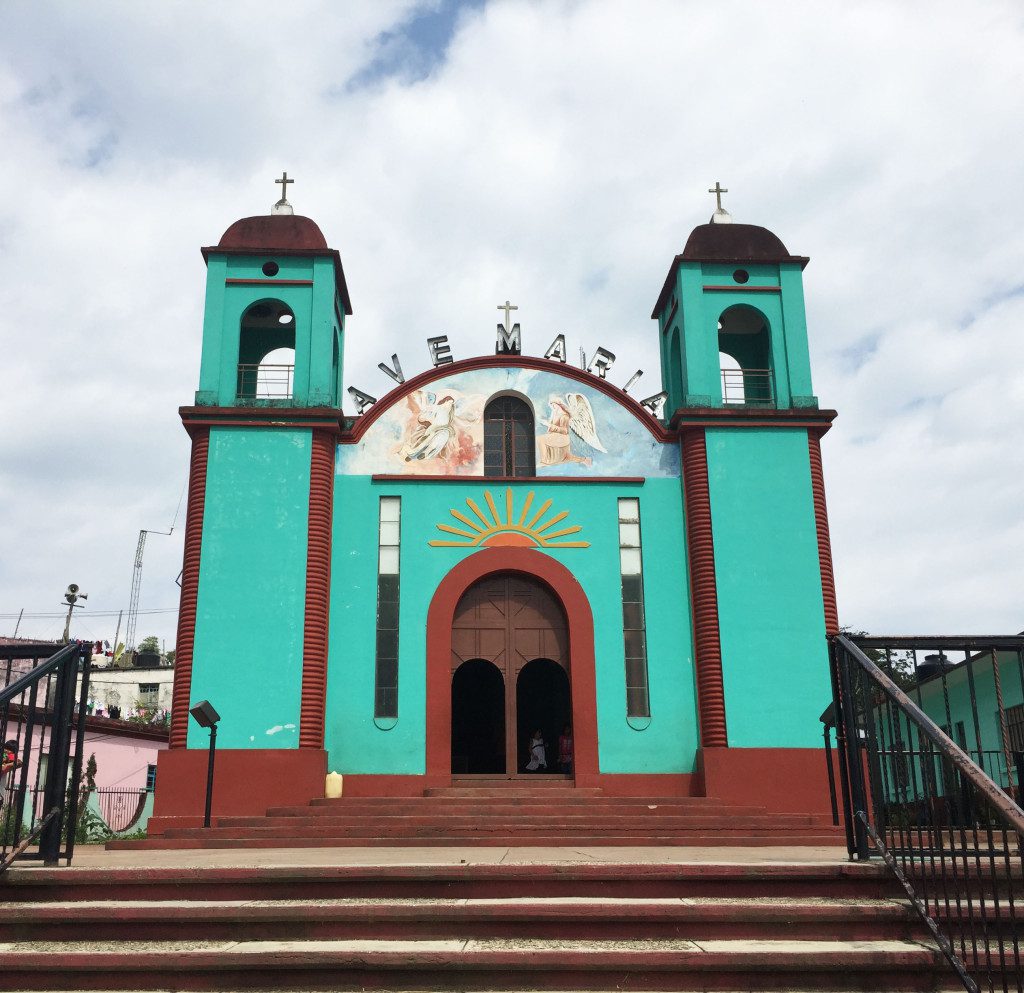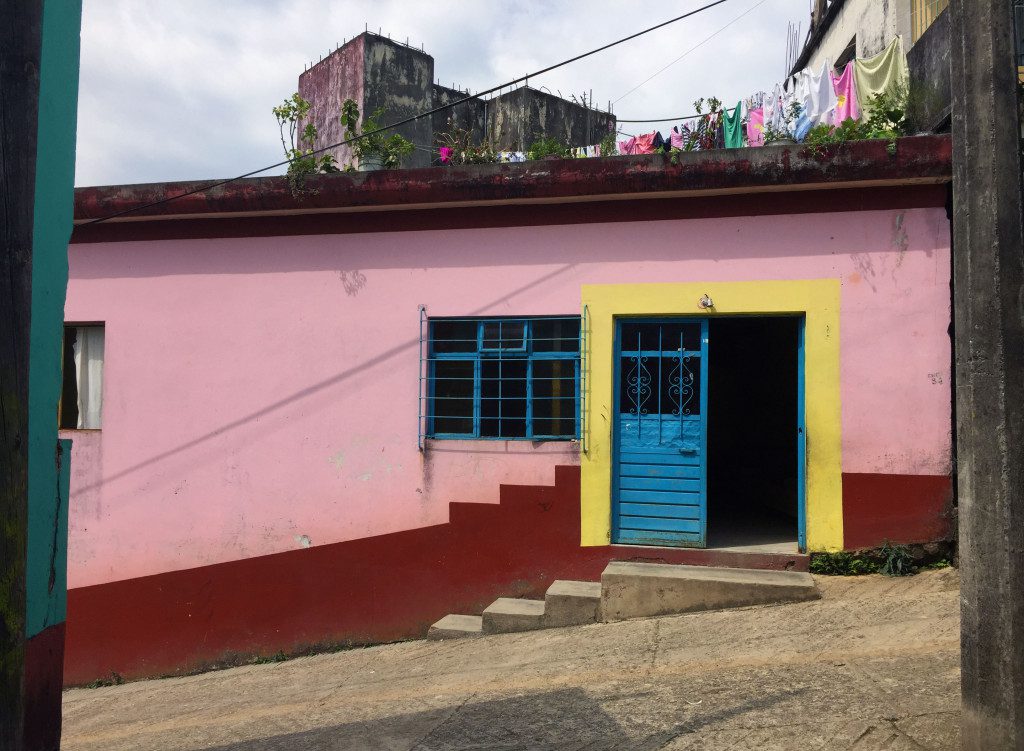 By the time we were ready to leave, it was around 2pm. We met some local people in the roastery that disuaded us from going to Mazunte and said we should really check out the Bahias of Huatulco. I'll admit, I was skeptical of Huatulco – I had this idea that it was nothing more than an all-inclusive resort town. I think there is a part of the Huatulco coast that is like this, but the Bahia we went to was peaceful, deserted, and wild.
Huatulco has 9 bays but we were only able to make it to one of them – San Agustin. We drove south out from Pluma down highway 175. Definitely check with locals about the conditions of this road before driving it. We came across a huge landslide at one point where half the road had collapsed down a very steep ravine. This was enough to freak all of us out before driving swiftly away. This was in April in the dry season. It might be best to avoid this road during rainy season.
We drove through the town of Huatulco (which is inland) and stopped at the main intersection with Highway 200 for dinner. We ordered tlayudas at a roadside stand before heading to San Agustin.
We drove down a very long, very dusty, dirt road for about 30 minutes to travel the 8km to the Bay. There was very little at the end of the road. It looked like there were a couple comedors and possibly hotels, but everything seemed very small and deserted. I was surprised since I had expected to see western style resorts. We parked the car and walked over the sand dunes only to be taken aback by the beach before us. There wasn't another soul around – it looked like a deserted island with high, jagged rocks on one end and a long expanse of untouched sand on the other.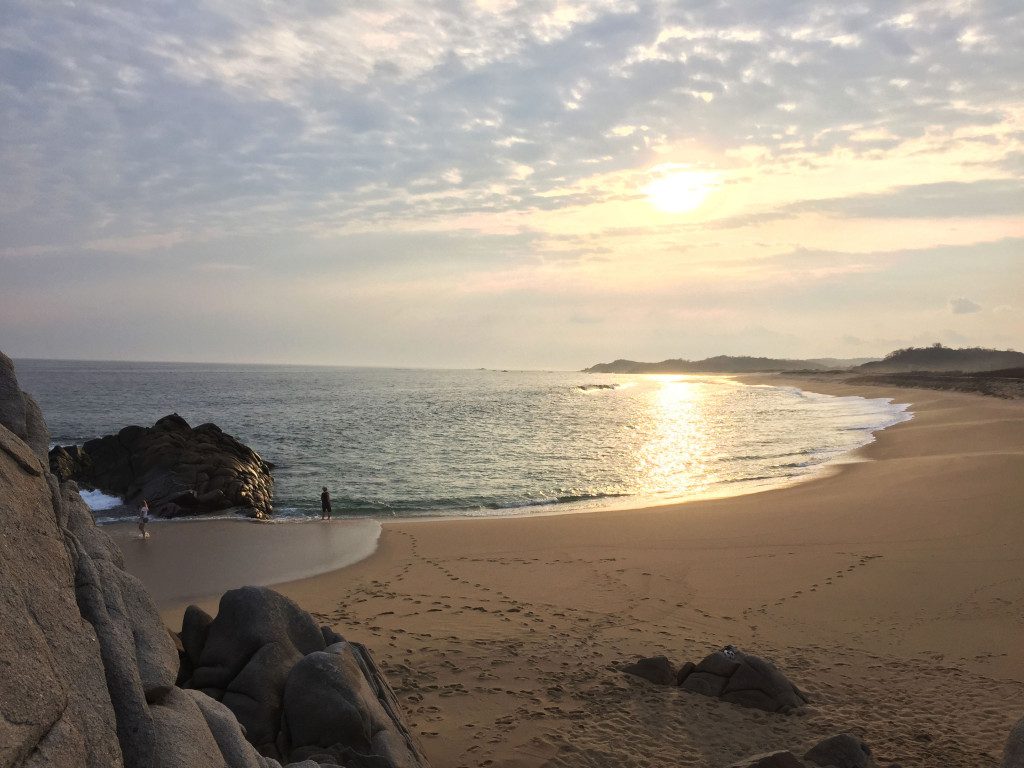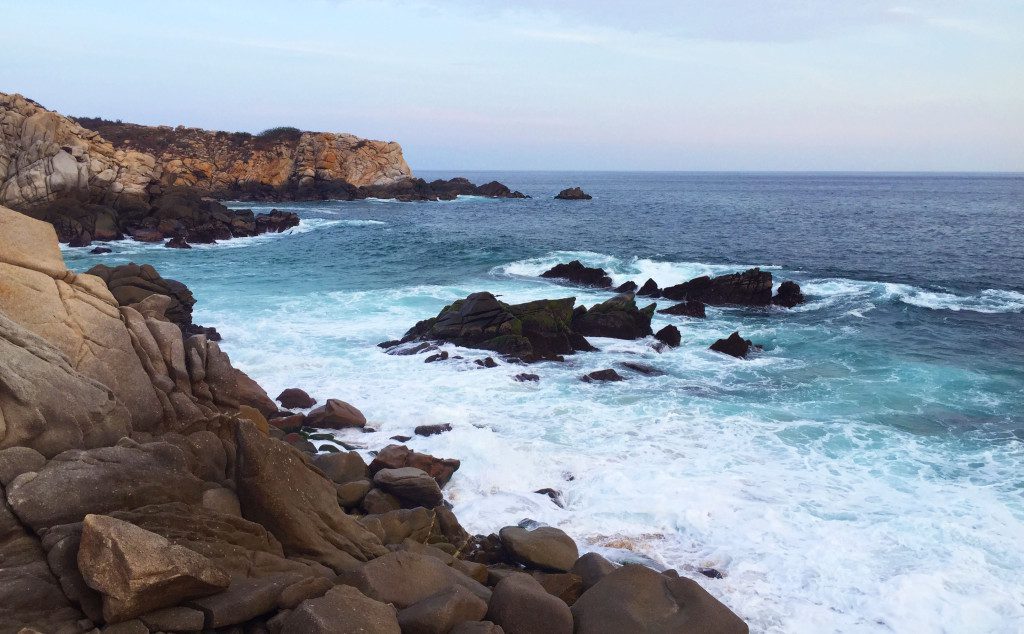 We climbed the rocks, waded in the water, and searched through untouched rows of seashells before watching the sunset. It really exceeded my expectations and wasn't even something on my radar before it was suggested to us that afternoon. I highly recommend taking some time out to discover one or two of these remote bays.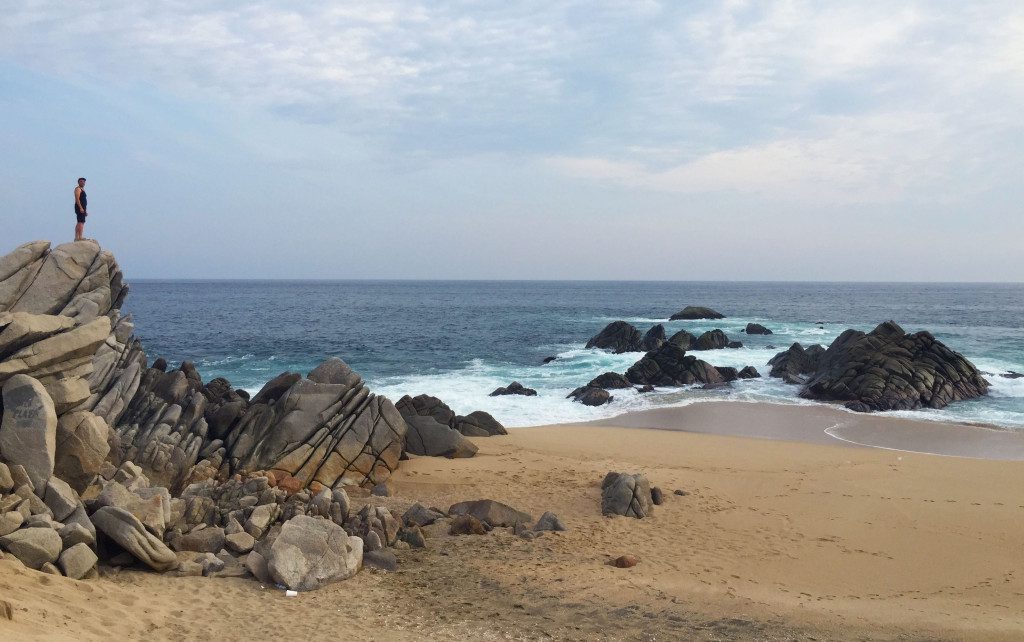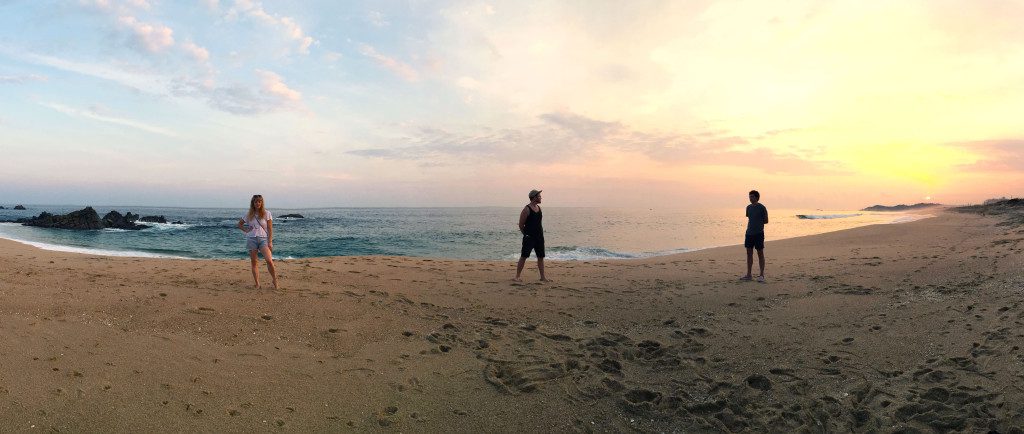 Our drive back felt long, especially since we were driving after dark on unlit roads, but all in all it was a fantastic trip. We loved discovering these two unique areas that we wouldn't have visited otherwise.
If you like to explore remote towns and beaches and don't mind driving on roads that will make your heart beat quickly, I'd definitely recommend exploring Pluma Hidalgo and the Bahias de Huatluco by rental car. If you're not up for driving, you can hire a taxi driver for the day – just negotiate the rate beforehand!