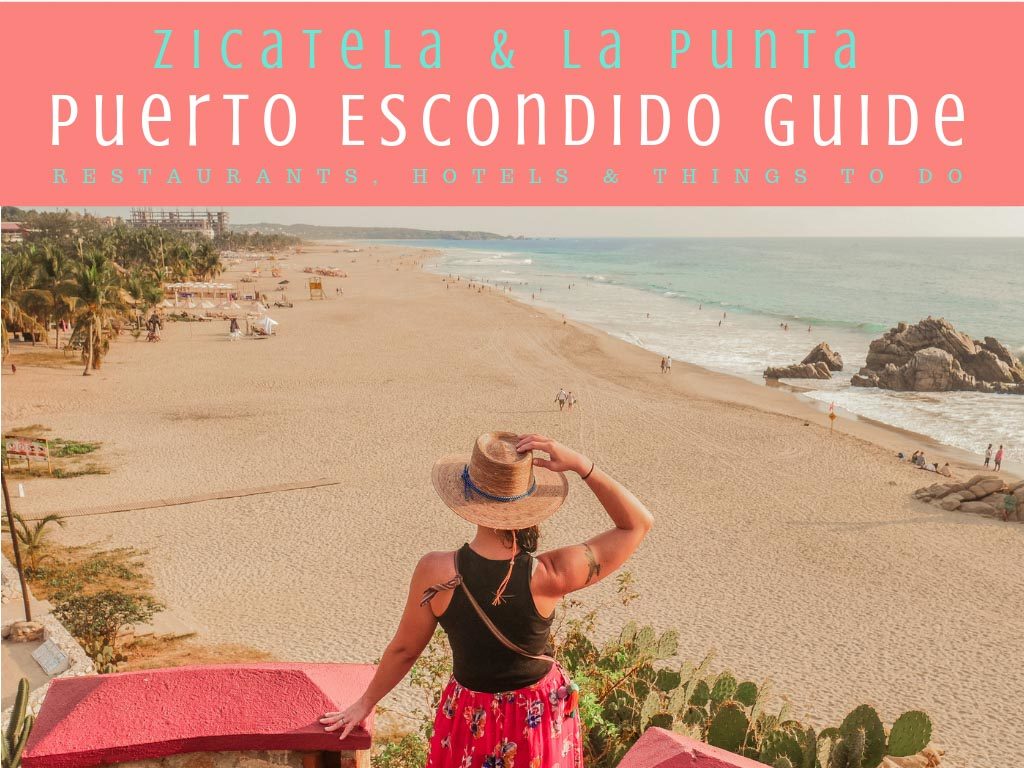 I've now visited Zicatela, Puerto Escondido on 3 trips – and plan to return many more times from our home base in Oaxaca. I've gotten a good handle on all the best things to do in Puerto Escondido – including releasing baby turtles, cliffside walks, and the best swimming beach in town – so I wanted to share them here, along with some of my go-to restaurants and places to stay in Zicatela and La Punta, Puerto Escondido.
Puerto Escondido is a surfing mecca, due to it's infamous and absolutely giant wave on Zicatela beach. But even if you are not an avid surfer, there are plenty of other things to do in Puerto Escondido, great swimming beaches, and lots of character to be found.
If you are looking for an immersive and hands-on Oaxaca food experience – join our April retreat + food experience – Milpa + Mesa, April 9-13 in Oaxaca city.
We'll be learning from local food experts, participating in traditional methods of planting/preparing/cooking, touring my favorite mezcal palenque, observing local holiday parades, eating some of the best food in the city and much more. More details here! Early bird pricing until February 1st only! $200 off.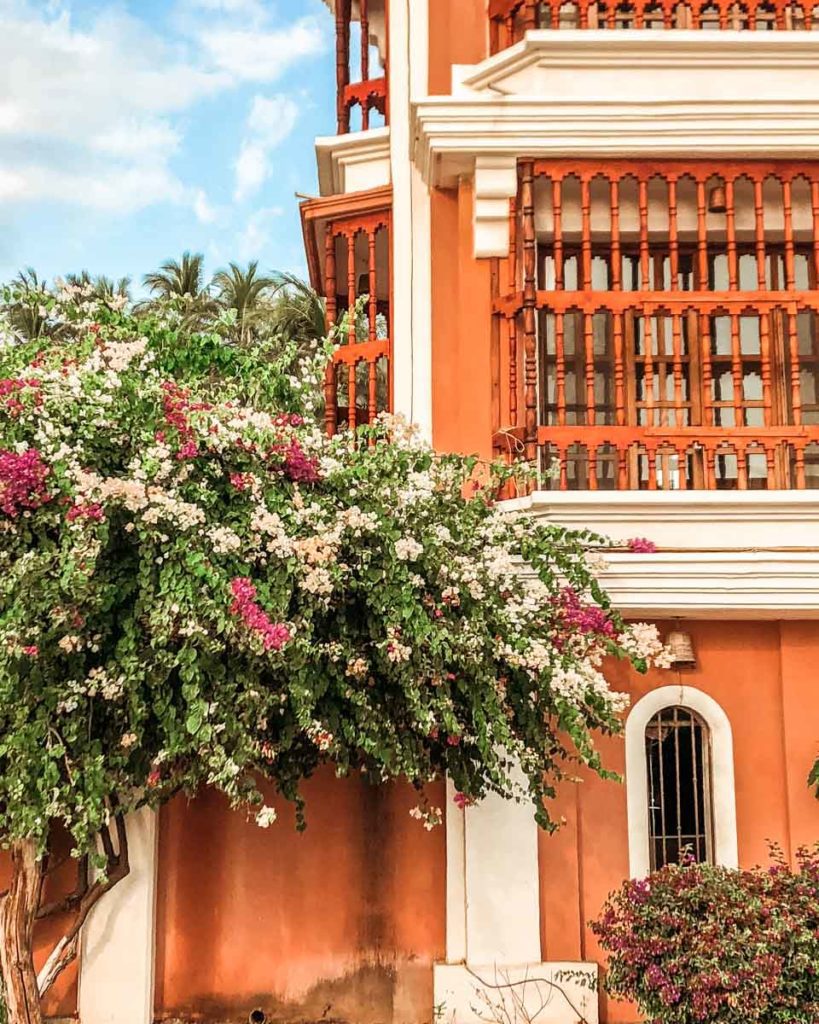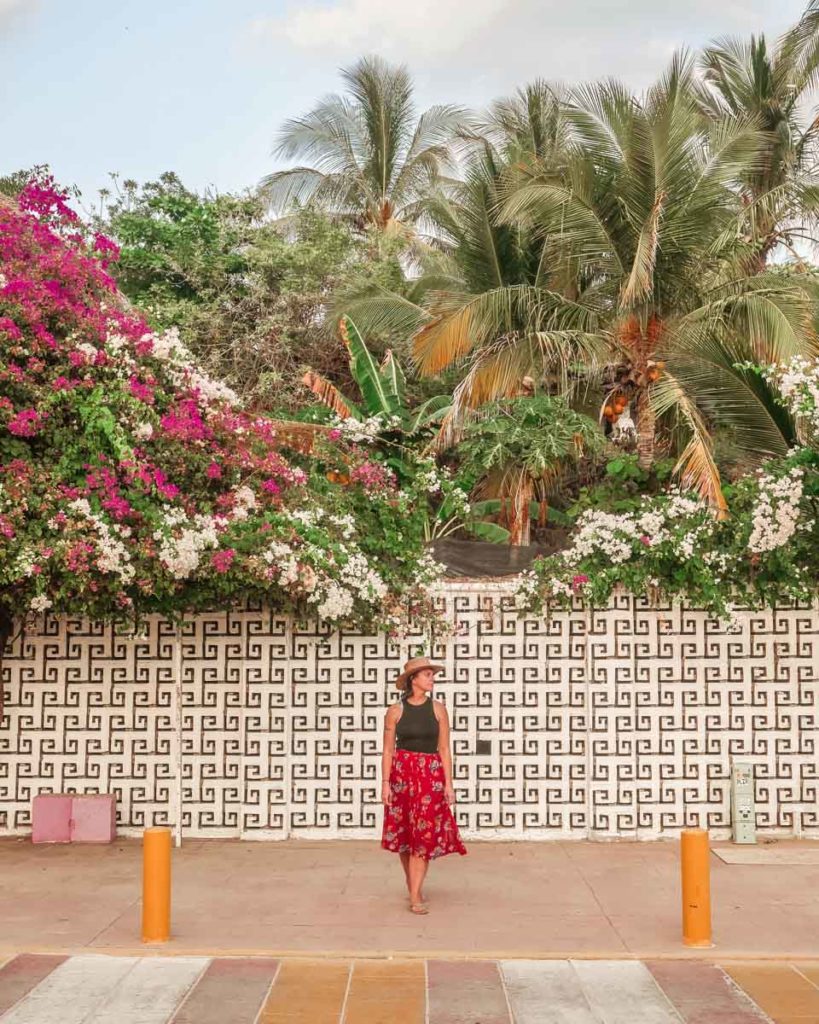 Below you'll find the best things to do, the best Puerto Escondido restaurants, and where to stay in Zicatela and La Punta.
Things to Do in Puerto Escondido: Zicatela & La Punta, Puerto Escondido Guide
Swim at Playa Carrizalillo: Things to Do in Puerto Escondido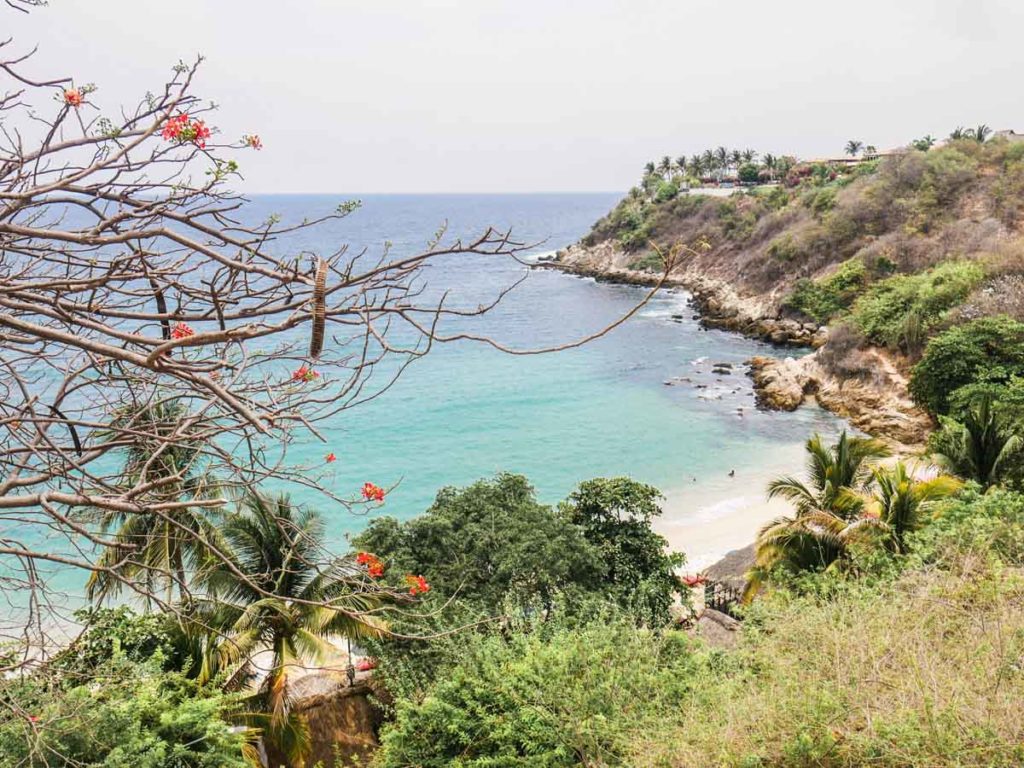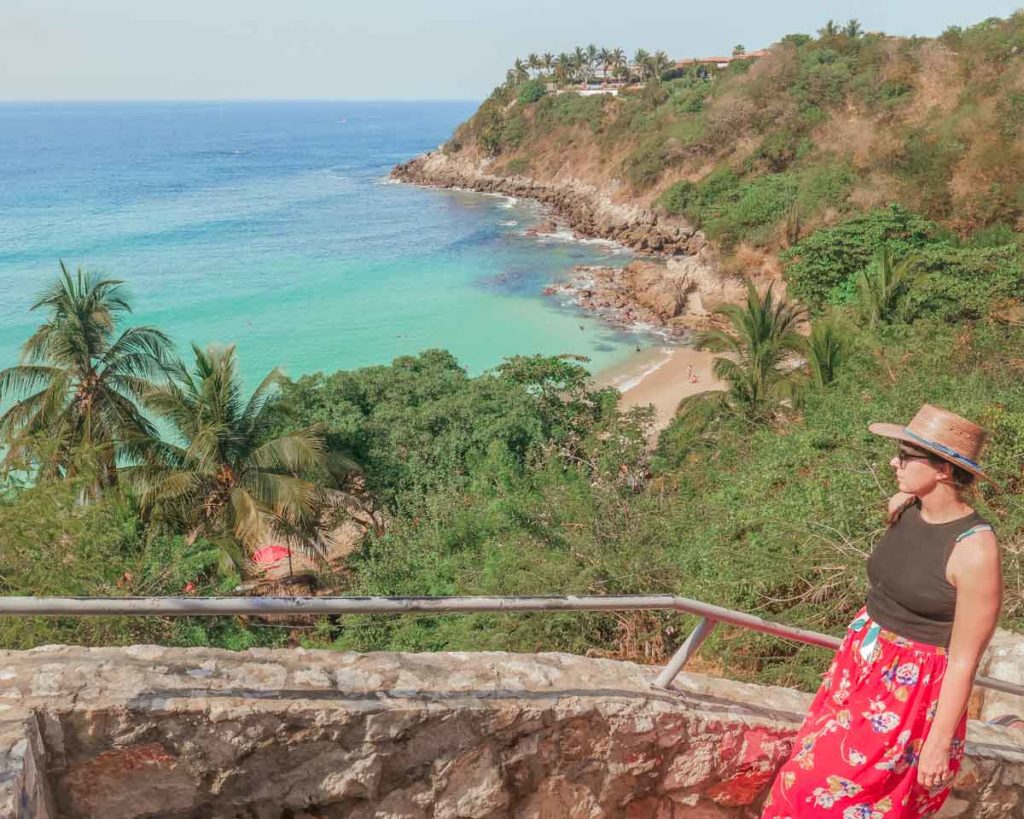 For me, this is the first thing to do in Puerto Escondido. Last trip, we set aside our whole first day to lounge/swim/lounge/swim at gorgeous Playa Carrizalillo.
Playa Carrizalillo is one of the most beautiful beaches in Oaxaca. You enter at the top, and have to descend many stairs to get to the sand below. Because of this, you get a stunning view of the picturesque cove and turquoise water below. Definitely a great place for a Puerto Escondido photo op.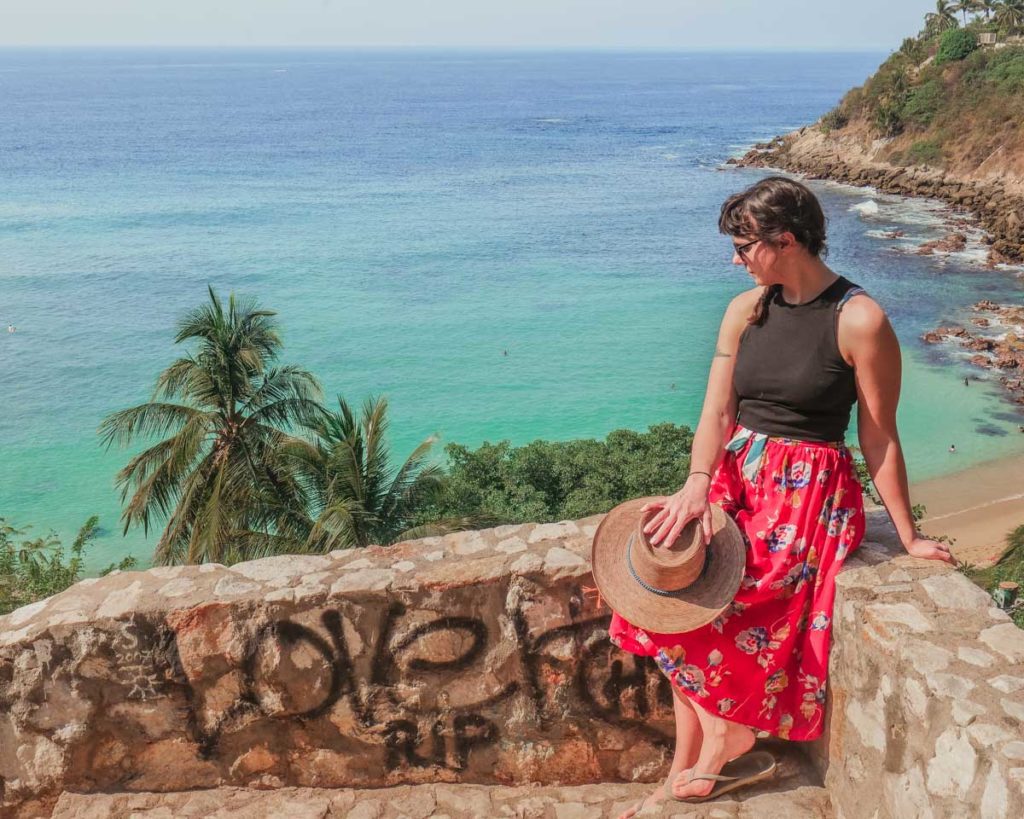 The water is calm and safe for swimming and produces an almost perfect wave, like a wave pool. There are a few little beach restaurants that rent chairs out (usually you just need to spend a minimum at the restaurant during the day – around 200 pesos).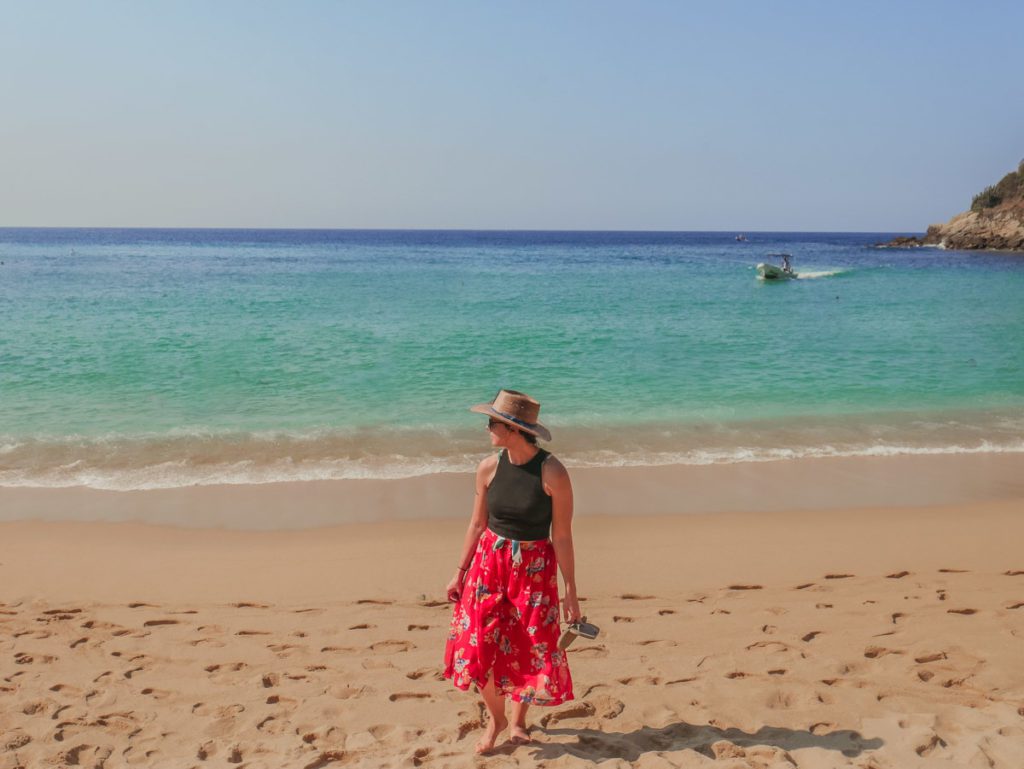 I prefer not to stay in this area because it's quite sleepy without a lot of amenities. This is why I usually stay in Zicatela or La Punta, Puerto Escondido. But it's perfect for an afternoon or full day of relaxing and swimming.
Turtle release at Playa Bacocho: Things to do in Puerto Escondido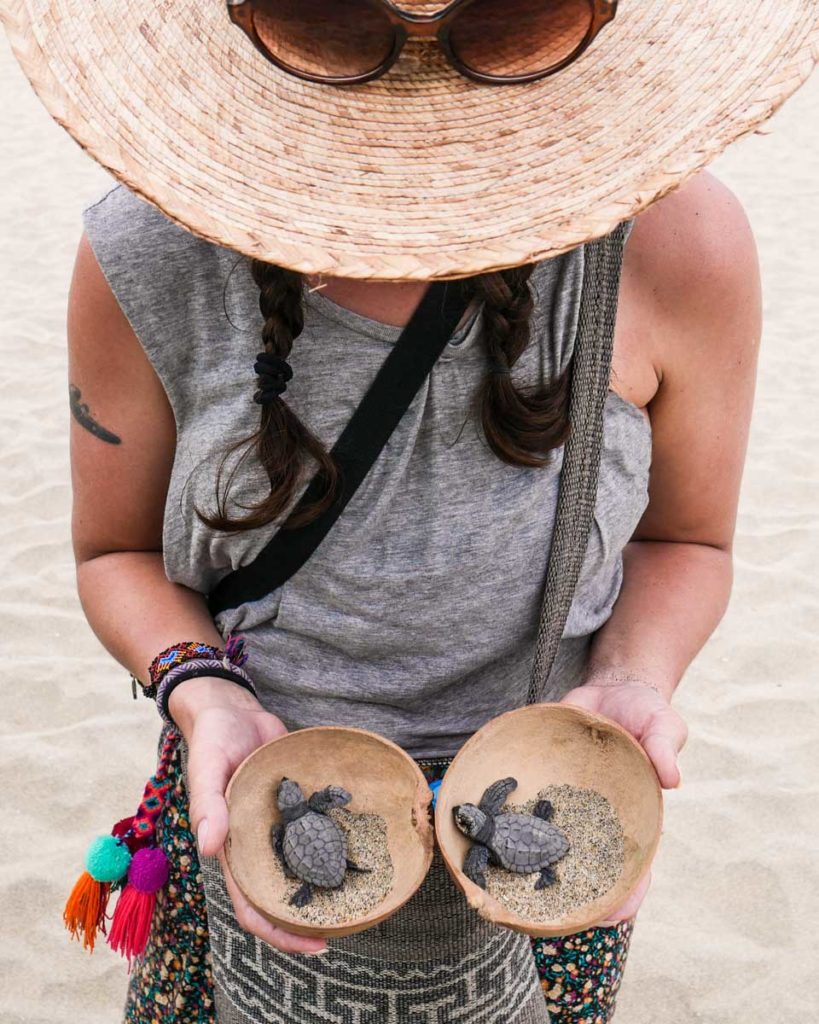 We participated in a turtle release a couple of years ago at Playa Bacocho and it was a great experience. This beach is tucked away on the northwestern edge of Puerto Escondido and is usually quite empty.
I recommend arriving a bit before the turtle release so you can walk around and enjoy the pretty beach. There isn't a ton to do here, but it's nice to walk and explore the picturesque coastline for a little bit.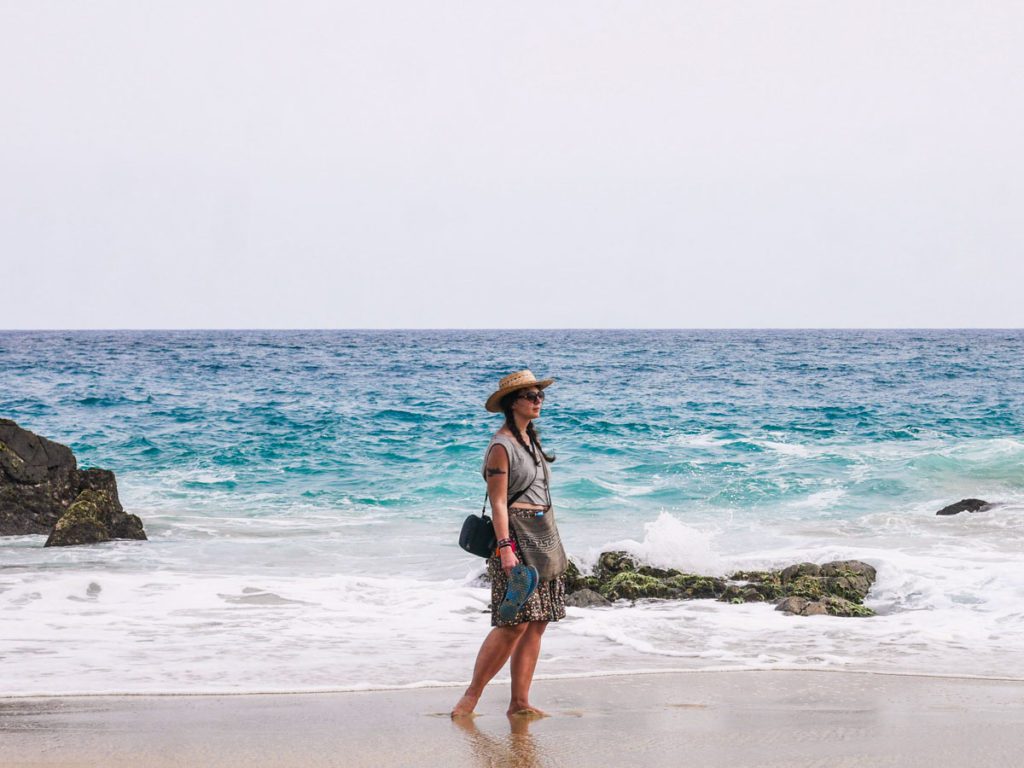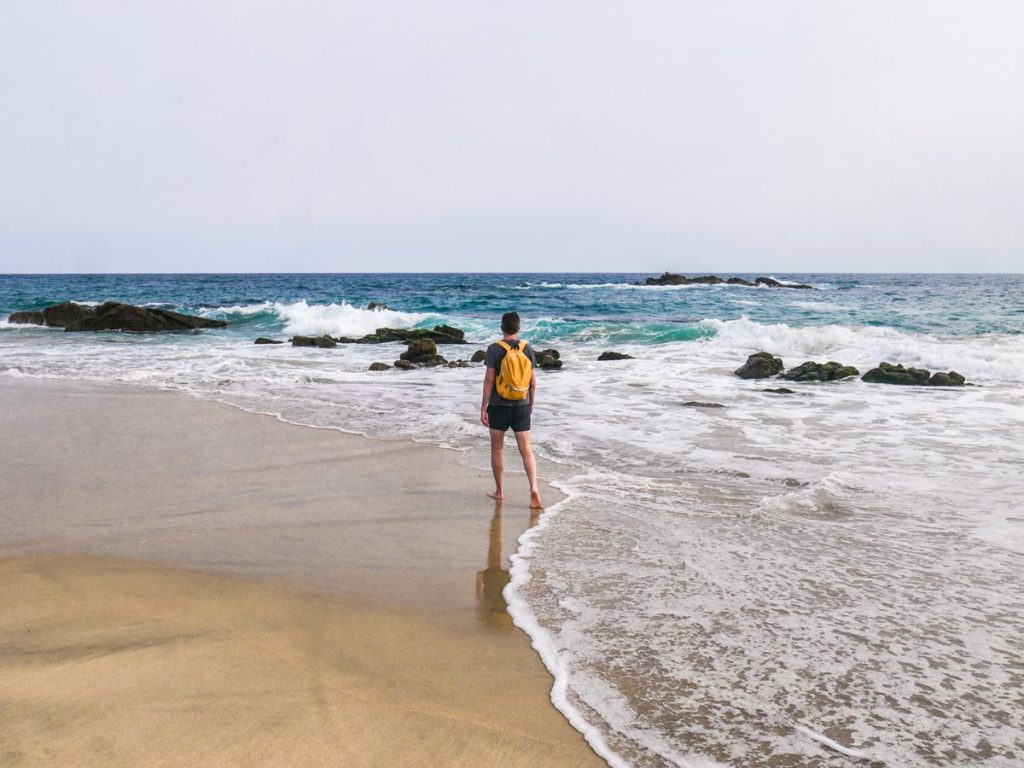 The turtle release happens everyday at 5pm (seasonally – usually October to May. Confirm with your hotel). You can take a taxi here on your own and ask to join. There is a beach palapa – it will be obvious where you sign up and pay (cost is around 100 pesos at the time of writing this).
You'll be handed your jicara (gourd shell) with a tiny baby turtle and some sand. And when the time is right, around sunset, you will release them into the ocean.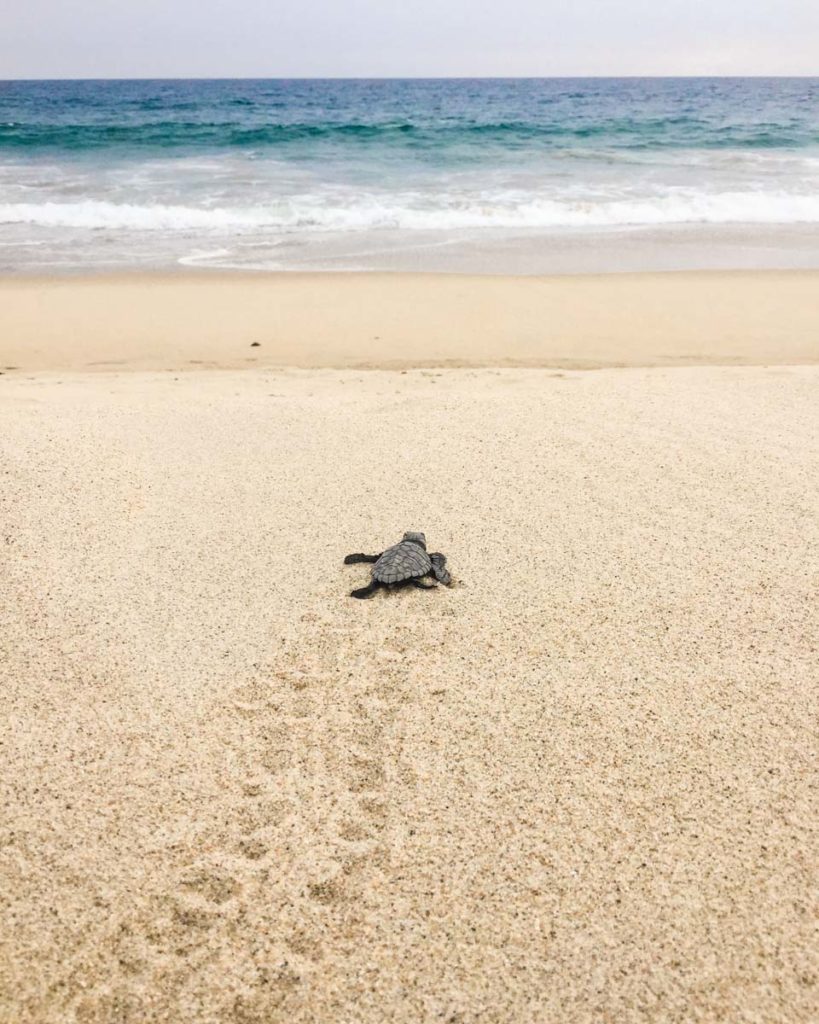 It was a pretty special experience in a beautiful place. I'd recommend it as one of the best things to do in Puerto Escondido
Andador Escénico: Things to do in Puerto Escondido
This is a lovely walk/small hike you can do along the sea with some great views. You'll climb stone steps and follow concrete pathways with the ocean crashing on one side and cliffs on your other side.
The walk starts at the western edge of Playa Principal (near where the Mirador Turistico is on Google Maps).
A couple tips:
Be aware of the tides and try to time your walk with low tide. Some of the lower walkaways might be covered in high tide.
Bring plenty of water! It's not a super long walk (it's about 1 mile) but you are totally exposed and there aren't any amenities. Also be sure to bring a hat and sunscreen.
I haven't done this walk in a couple of years, so it might be a good idea to check with your hotel/hostel to make sure it's still in good condition.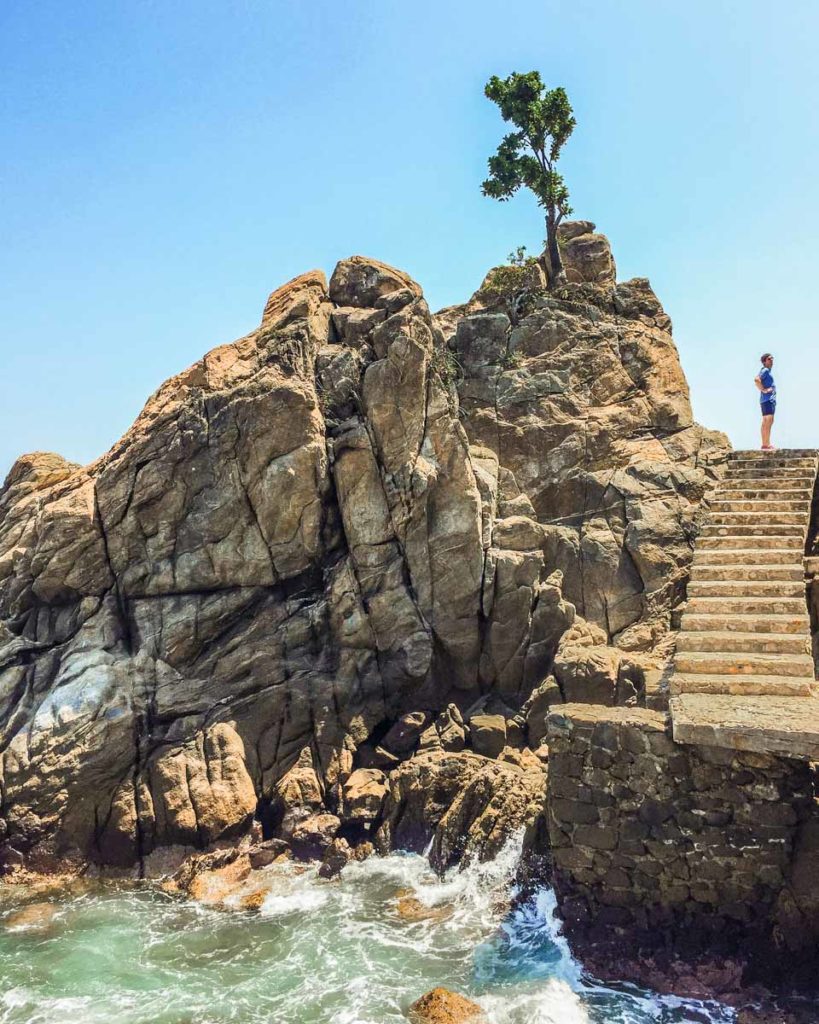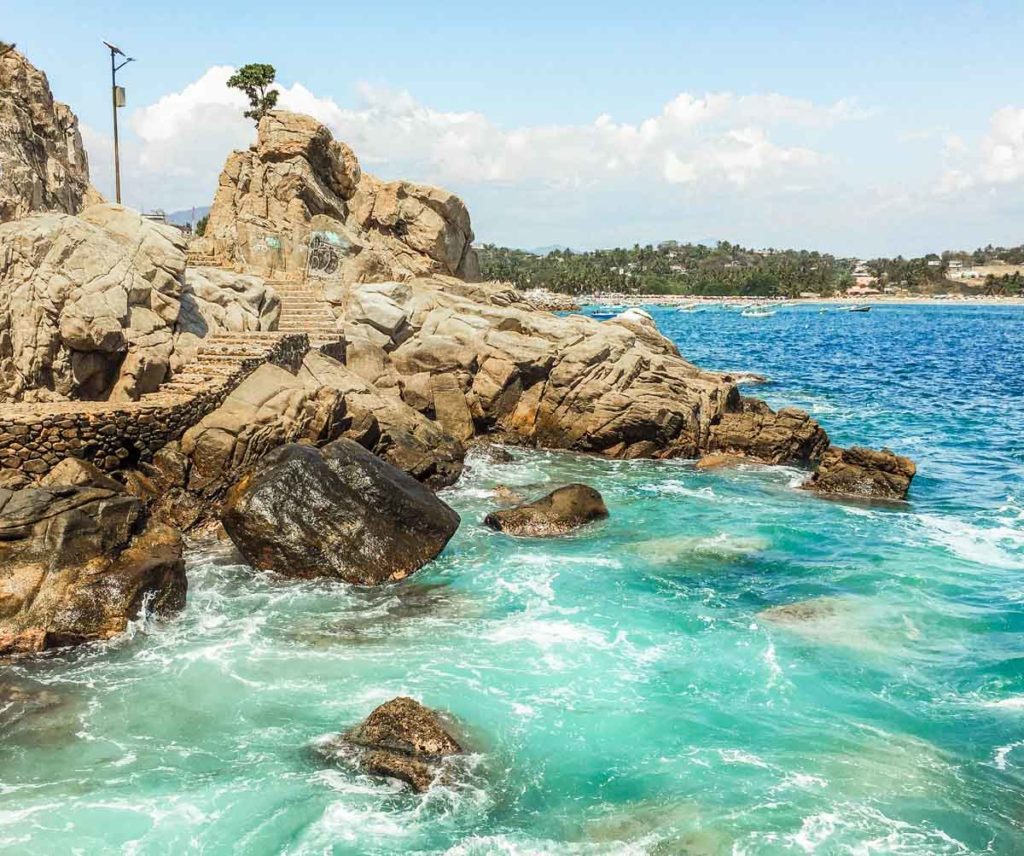 The route:
Start at the western edge of Playa Principal. You will see a turtle statue with a mermaid on top. The rest of the path is obvious to follow and ends at an overlook. This overlook is near Eglantina condos, here you can cut into the neighborhood and walk to a main street to catch a taxi.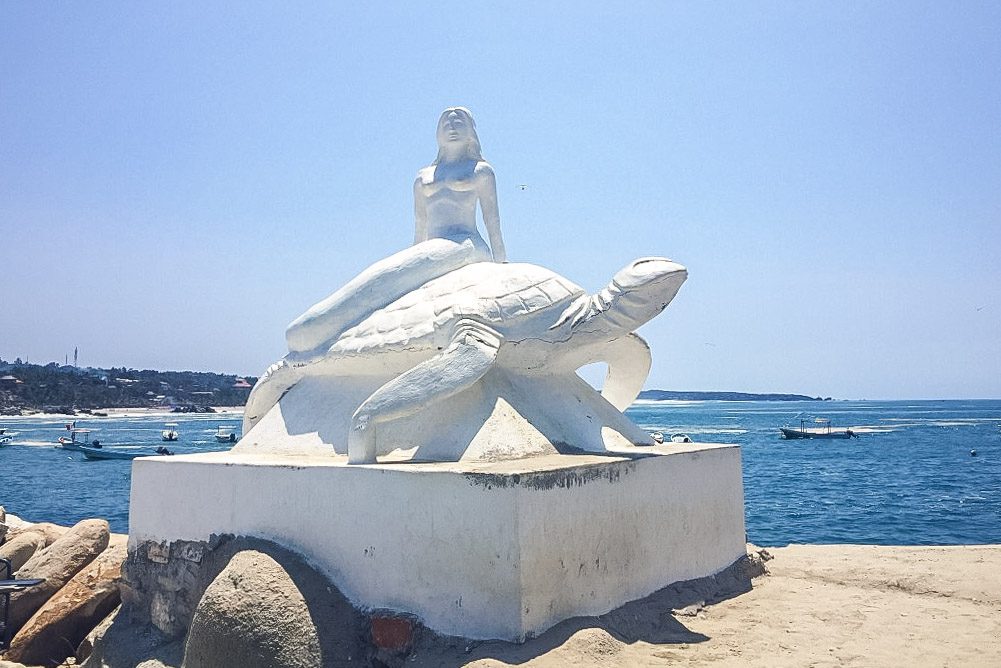 This site has a map and some pictures.
Watch the Sunset at Zicatela: Things to do in Puerto Escondido

Yes, watching the sunset is absolutely one of the best things to do in Puerto Escondido. You can probably enjoy it from anywhere, but the best place to watch is on the beach – either the main part of Zicatela, or from the cove of La Punta, Puerto Escondido
From Zicatela's main beach you will be facing west so you have a head-on view of the dipping sun over the water. Most nights you will find some expert surfers tackling these giant waves, and every night just before sunset a group of skydivers descend on the beach. There is often a big crowd of spectators sitting on the ridge of the beach, taking in the changing colors and the people watching.
From La Punta in Puerto Escondido, the sunset is slightly different. From La Punta, the angle of the sunset is different because the beach curves around in a hook shape. This means the sun sets more to your left, near the rocky point. There will be surfers here as well, but in a more accessible wave.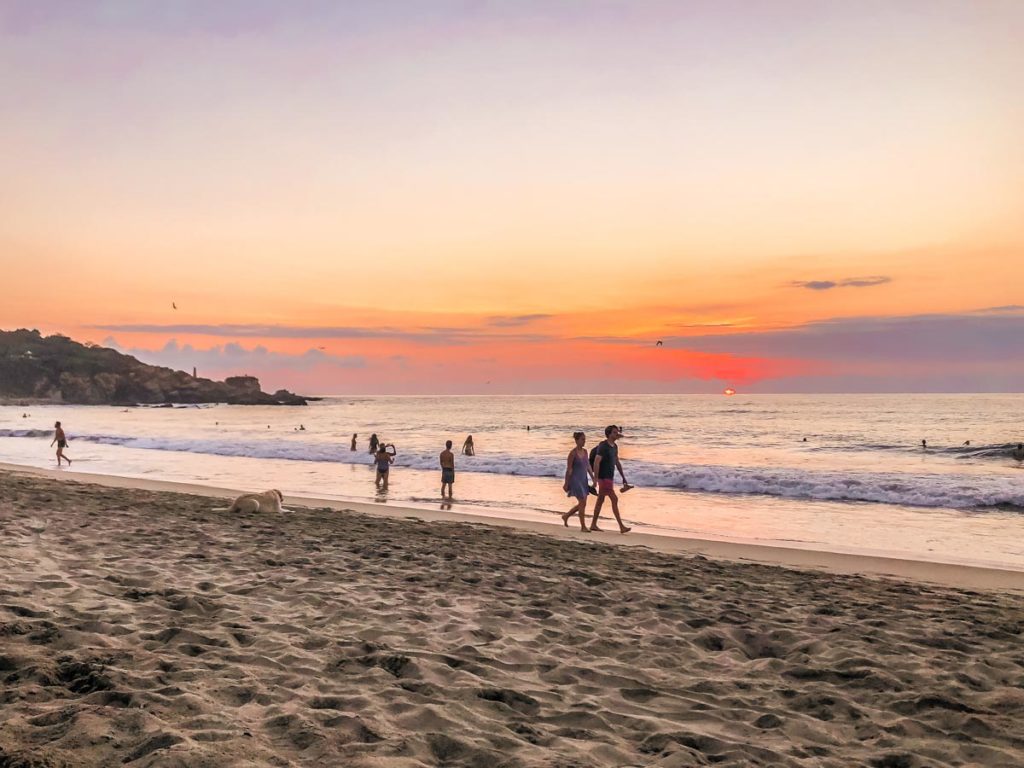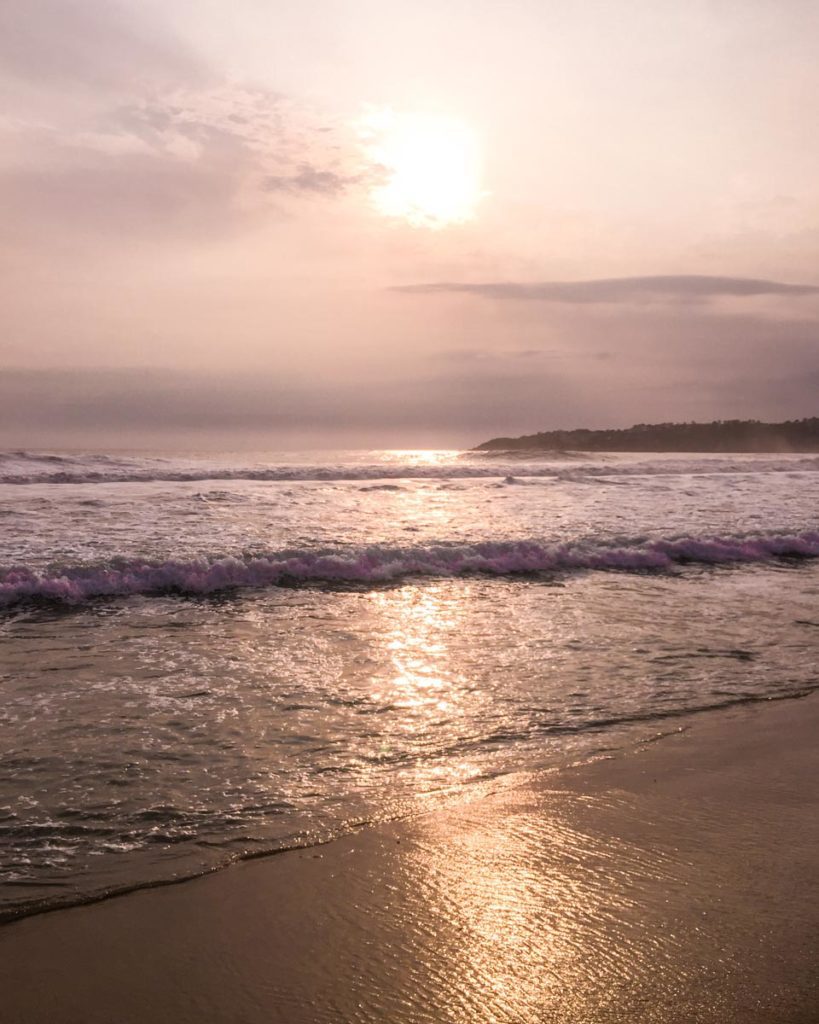 Both spots are a great place to take in the nightly sunset.
Take Surf Lessons: Things to do in Puerto Escondido
Puerto Escondido and Zicatela specifically are famous for surfing, so why not try your hand at it? Surfing is definitely the one of the most popular things to do in Puerto Escondido so there plenty of lessons and board rentals to be found.

Don't approach the main beach Zicatela wave unless you are a super pro surfer – it's really dangerous otherwise. But there are plenty of places for beginner or intermediate surfers.
La Punta, Puerto Escondido is a great surfing spot – it has a consistent wave off the point. You can find plenty of lesson or board rental options in this little community.
If you are a true beginner, consider Playa Carrizalillo which has a consistent gentle wave in a beautiful location.
Take a Day Trip: Things to do in Puerto Escondido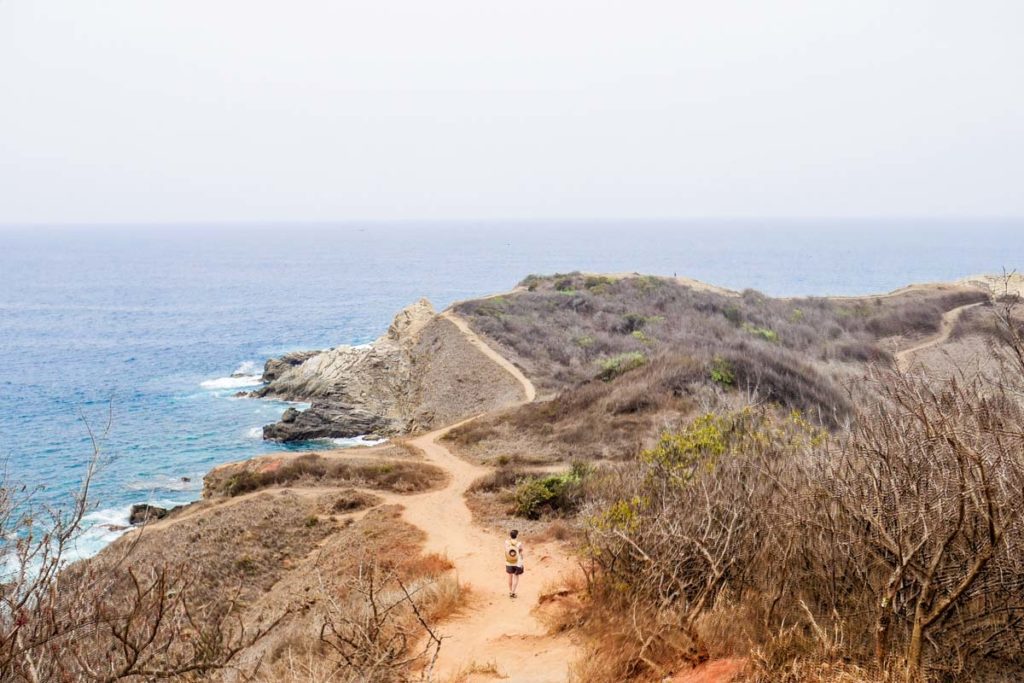 There are tons of day trip options – the bioluminescent tour of Manialtepec Lagoon, coffee farm tours, whale watching (during the winter season), touring the lagoons of Chacahua, hiking Punta Cometa in Mazunte…
Check with a local tour agency (we liked Viajes Dimar) or rent a car for the day and go exploring. We rented a car one day and drove up to beautiful Pluma Hidalgo (famous for it's delicious coffee and incredible mountain views) and one of the remote and empty bahias de Huatulco. Check out this older post detailing the day.
Puerto Escondido Restaurants & Bars: Zicatela & La Punta, Puerto Escondido Guide
Zicatela, Puerto Escondido Restaurants
: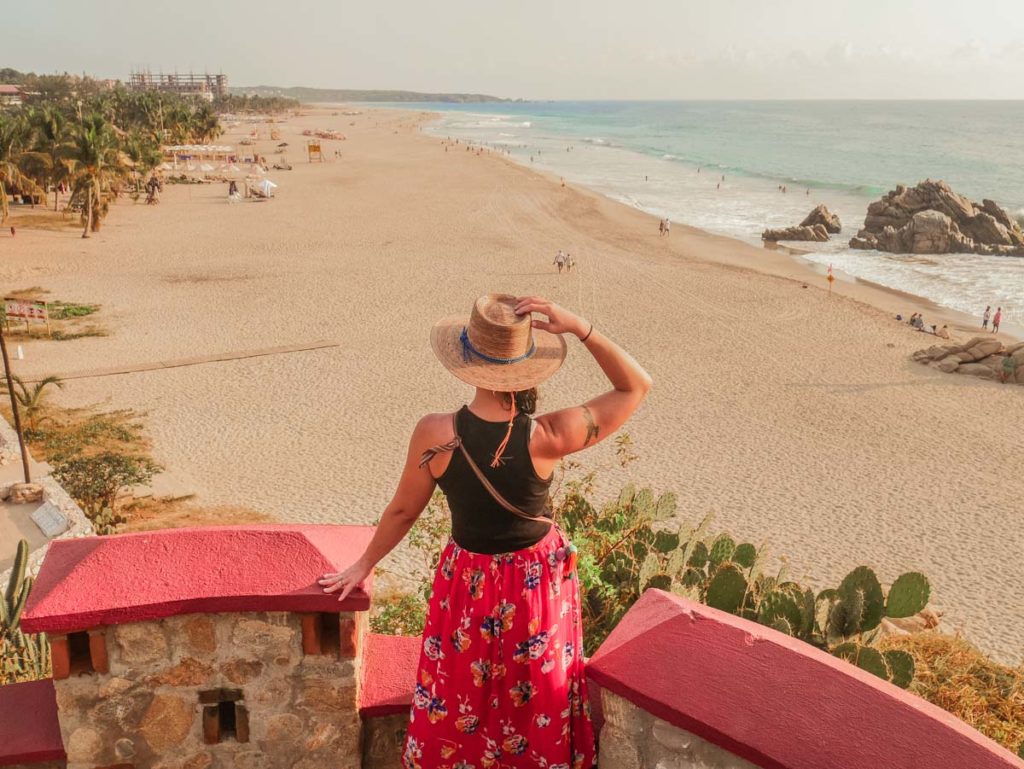 Night-time Tlayuda Street Stand:
(alley off of Calle del Morro between the OXXO store and Calle de Las Brisas)
I still think this is one of the best things I've eaten in Zicatela, Puerto Escondido. This street food stand opens at night, look around the corner from the Oxxo and walk down the alley before having a seat. Watch the women grill the tasty tlayudas in front of you and enjoy. One of the most authentic Puerto Escondido restaurant experiences to have on Zicatela beach.
Just as the name indicates – a Puerto Escondido restaurant to eat delicious seafood tacos and drink beer (and mezcal). They also loop old surf videos on the tv.
This is a popular Puerto Escondido restaurant and for good reason. It's up off the main Zicatela strip, but only a couple minute walk. They have great breakfasts, licuados (fruit smoothies), and a comfy and cute atmosphere.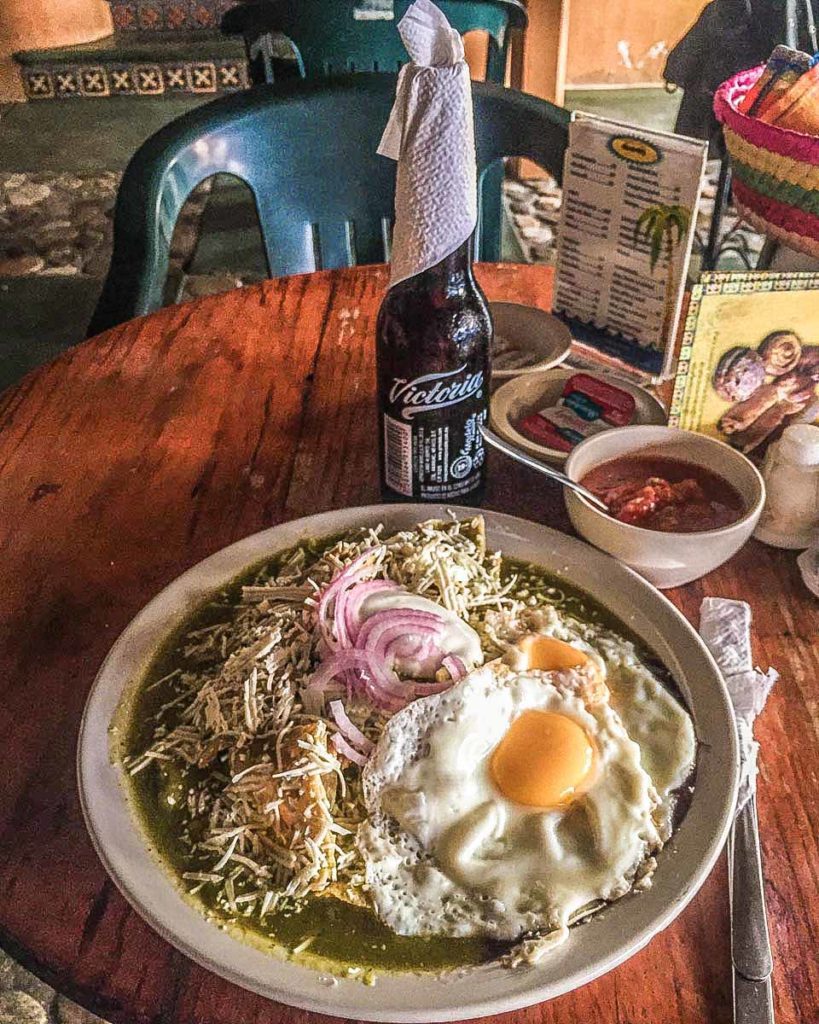 This is a Puerto Escondido restaurant staple that has solid breakfast and lunch options.
This is a coffee shop/bar combo that has good mezcal prices, an extensive mask collection, and live music. A good Zicatela spot to hang out for awhile.
La Punta, Puerto Escondido Restaurants: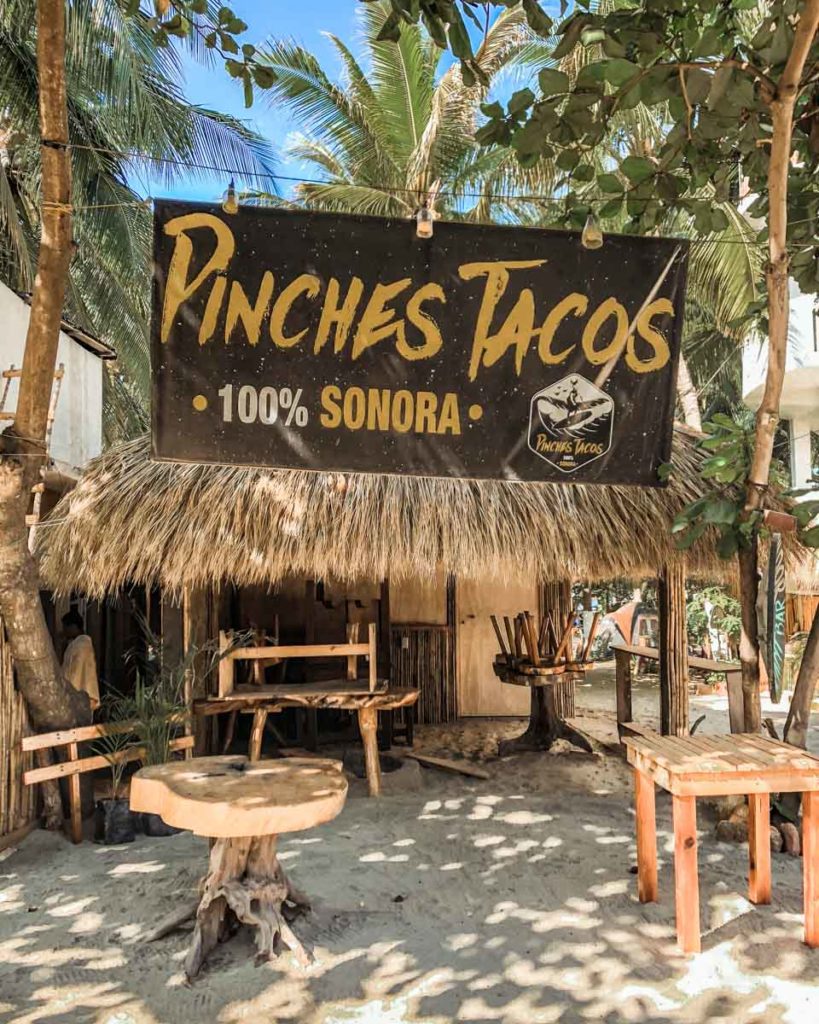 These Sonora (northern Mexico) style tacos are delicious. Lots of seafood options, and a bar full of fresh salsas and salads to pile on. This is the Puerto Escondido restaurant I will be beelining to first on our next trip.
This is a solid breakfast or lunch spot. We started everyday here on our last trip and enjoyed the acai bowls, eggs, and coffee.
This Puerto Escondido restaurant is very rustic – just a few tables in the sand and an outdoor kitchen, but the burger is delicious – really exceeded our expectations.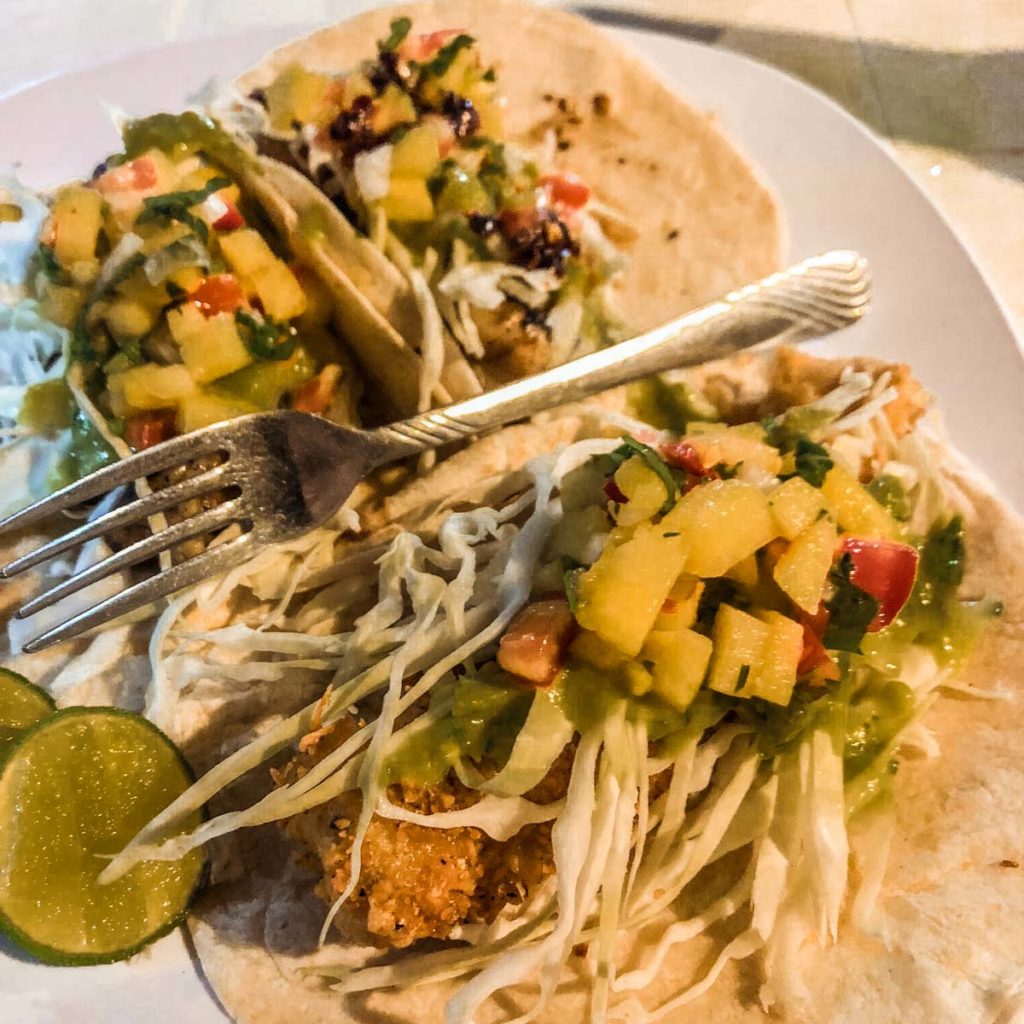 The tacos here are solid – northern Mexican style seafood tacos. This feels like a local Puerto Escondido restuarant run by a local family and we enjoyed blowing bubbles with one of the kids who was running around.
I can't really speak to the food here, we only had guacamole, which was above average – but this is a great place to set up in some beach chairs in front of the ocean for the day. There is no cost to rent these chairs, and not even a minimum spend (which is the norm) – they just ask that you order something. The service was super great, and it's a nice Puerto Escondido restaurant on the beach to relax.
Bar Next to Pinche Tacos
I can't find the name for this place anywhere, so it must be pretty new. But it's a cute space with a couple swings at the bar, rustic decor, and a nightly happy hour cocktail special.
Where to Stay: Zicatela & La Punta Puerto Escondido Guide
I've stayed in several different hotels/Airbnbs, here are a few that I would recommend.
Zicatela, Puerto Escondido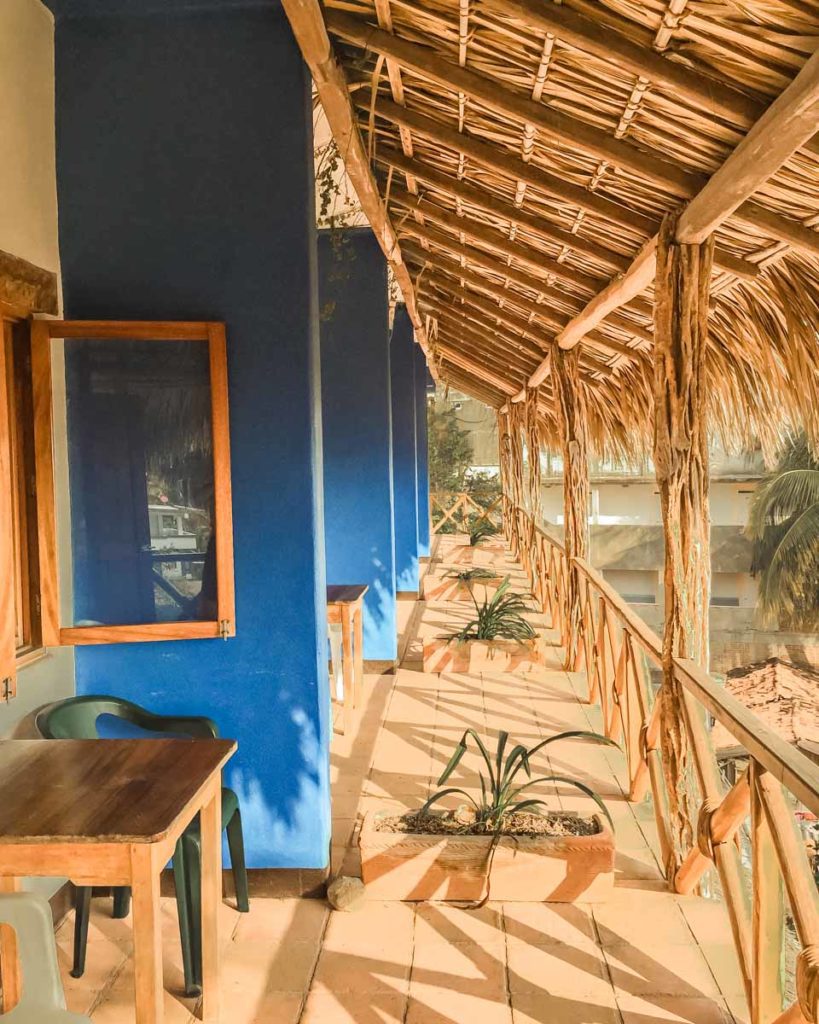 This is the first Zicatela hotel we ever stayed in when visiting 4 years ago. And honestly, it's great. Simple and basic, but a great price with an ocean view from your private balcony (the name does mean Good View, after all).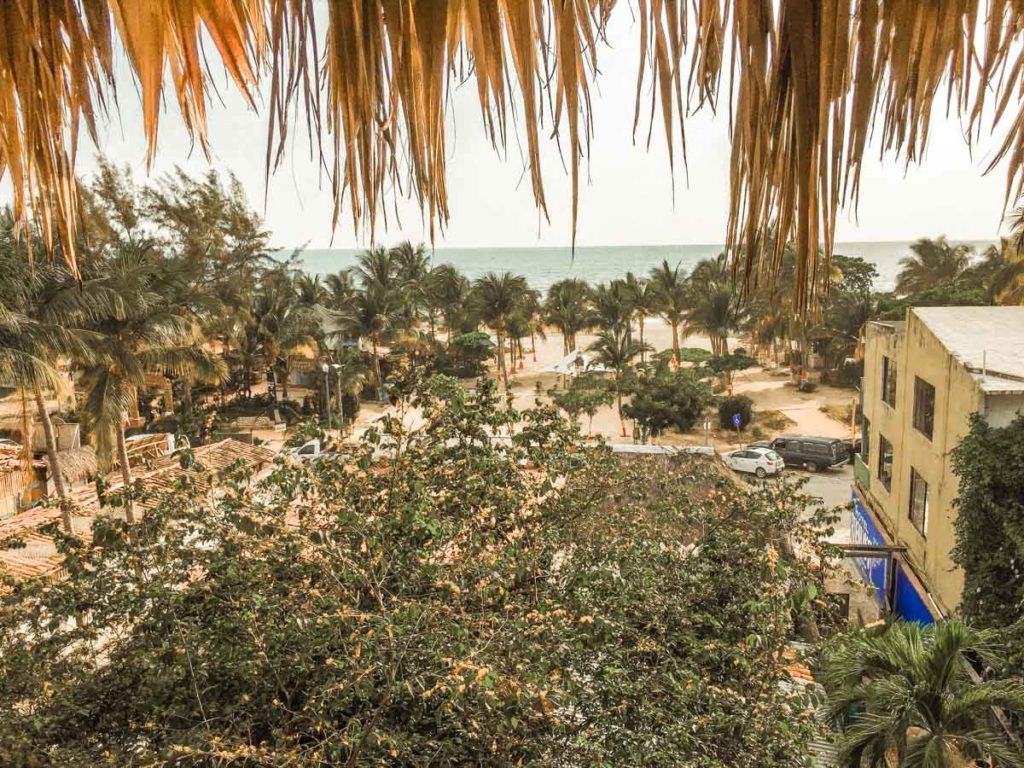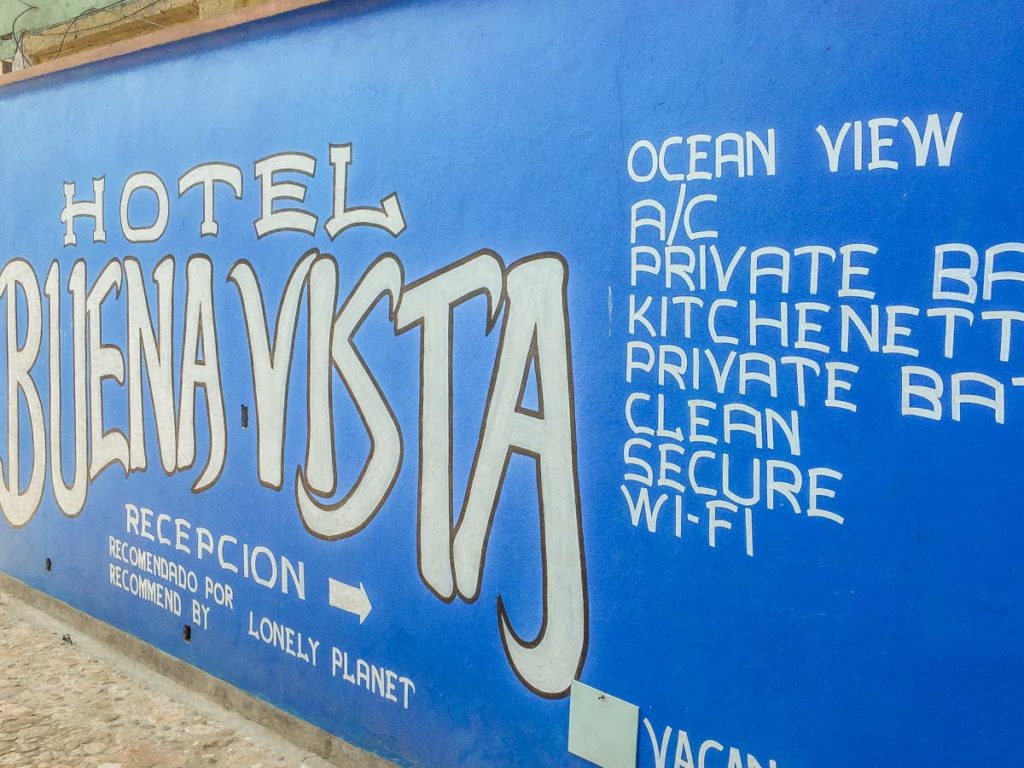 Like i said, it has been a few years since we stayed here, but it still has great reviews on Booking & Tripadvisor.
The one thing to keep in mind is that you have to climb a lot of stairs to get up to the room. But this is how you have such a great view!
Prices are super reasonable – ranging from around 600-900 pesos depending on season and room.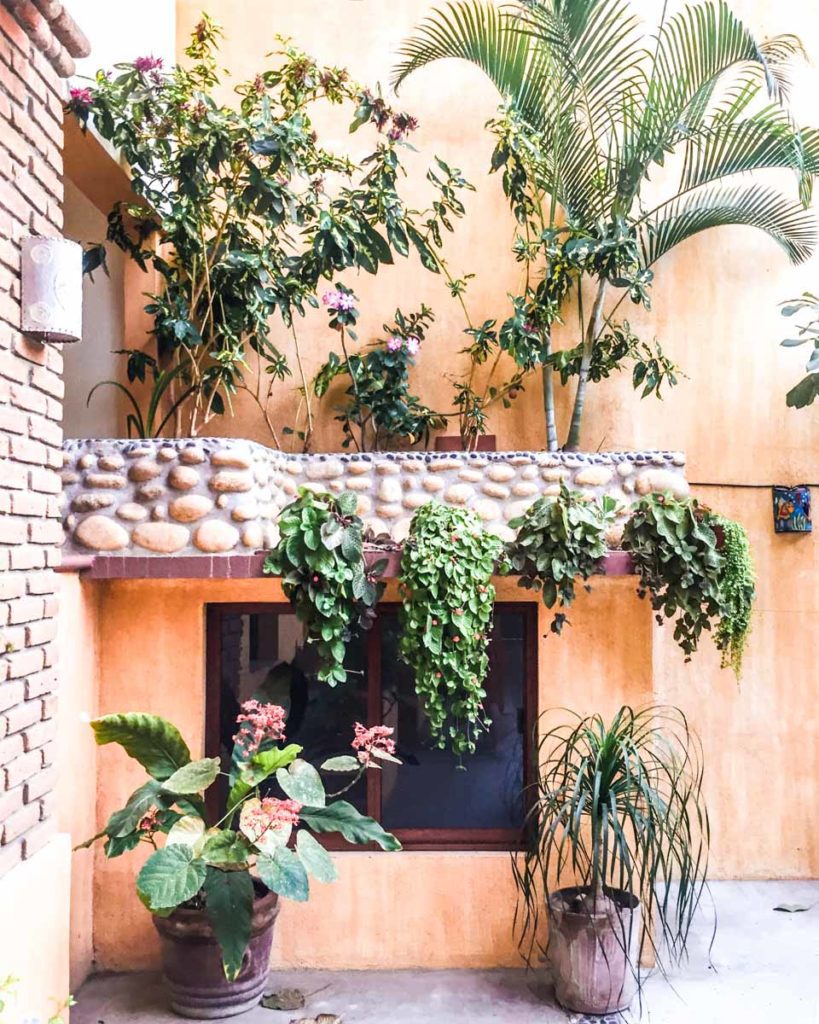 This is a pretty hotel/mini-apartment complex a little off the main strip of Zicatela. It's not right on the beach, you do have to walk a few minutes up some neighborhood roads, but then you are rewarded with a peaceful quiet location and an amazing view from the rooftop terrace.
This is the studio we stayed in for a week a couple of years ago. It has a big kitchen with just about everything you need, a full-private bathroom and a sitting area. It was totally comfortable and a great value for the price.
I even worked from here, and found the wifi to be reliable for video calls and everything else I need to do. A pleasant surprise in a beach community!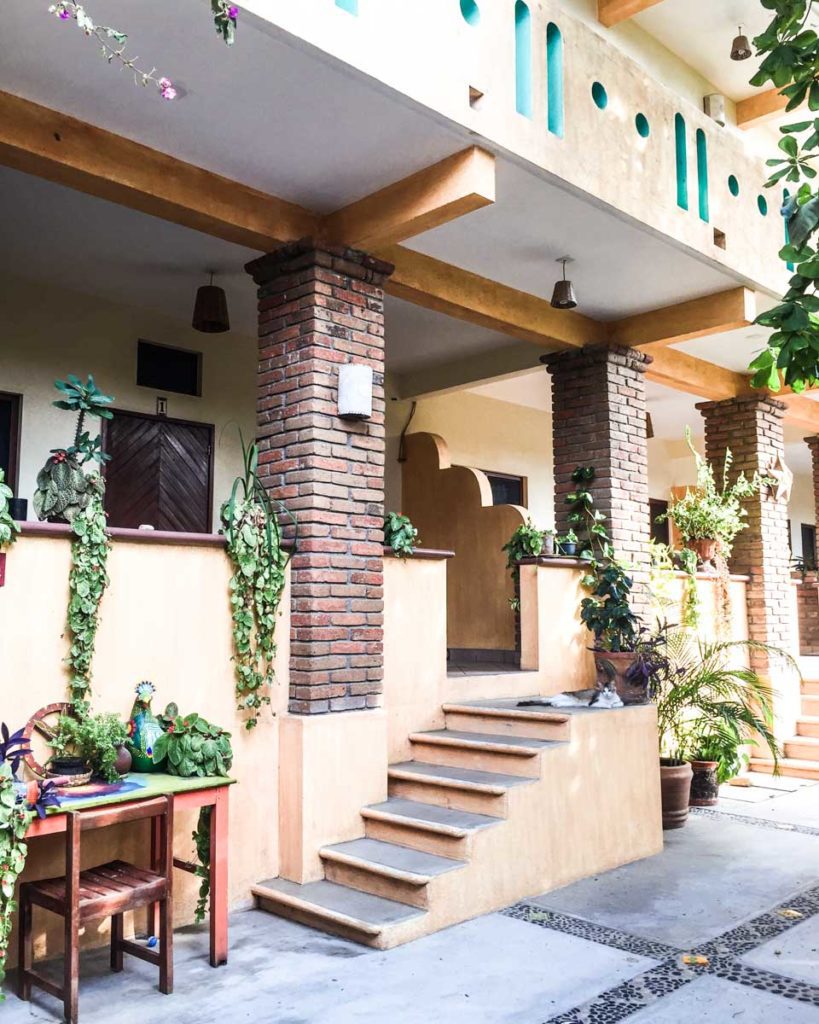 The roof terrace is great and yoga classes are often offered here.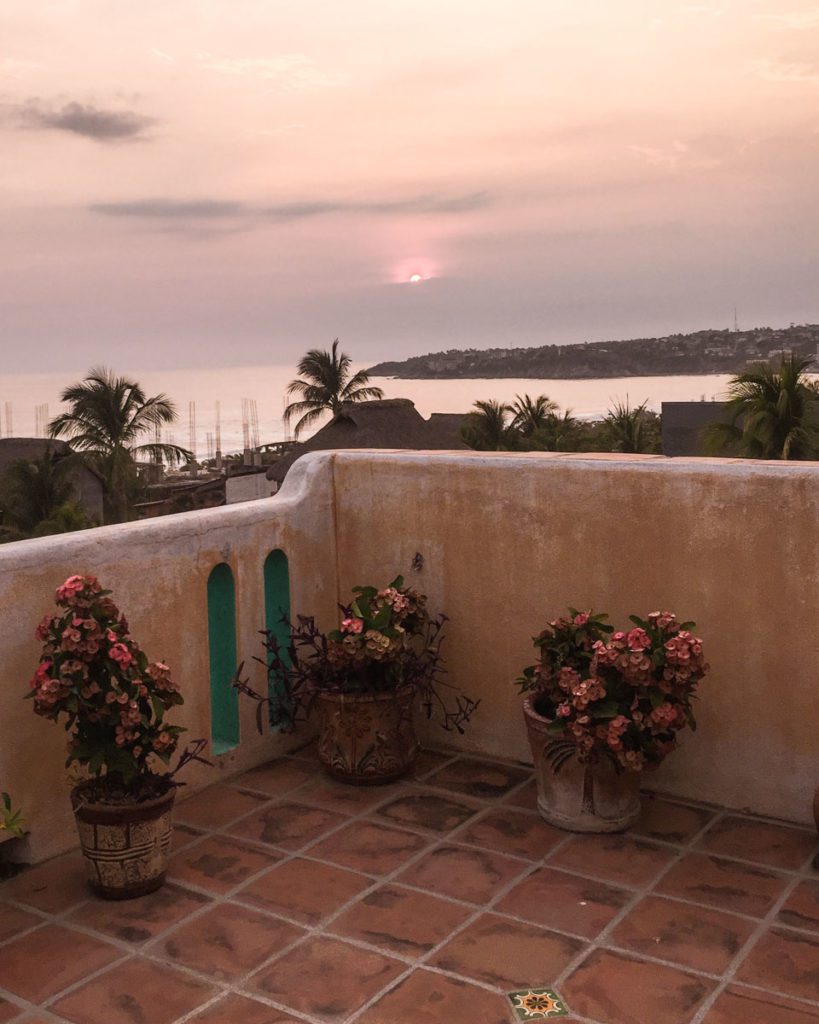 **If you haven't used Airbnb before, you can save $40 on your first trip by using this link.
La Punta, Puerto Escondido (Brisas de Zicatela)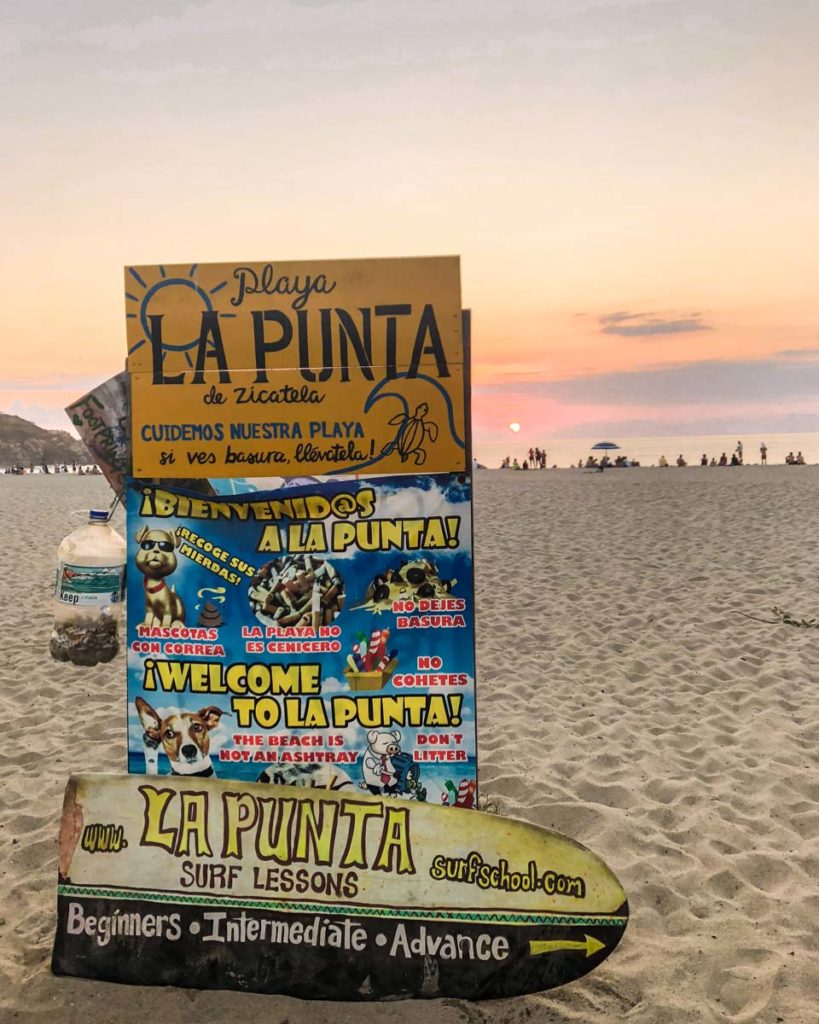 I won't recommend the Airbnb we stayed in during our last trip to La Punta, Puerto Escondido because I don't think it was a good value. But this is the new up-and-coming area in Puerto – complete with organic cafes and cute little boutiques. It's still a very rustic and chill area – it feels a bit like it's own village within the city.
I've heard great things about Frutas y Verduras – a hostel right on the beach – and Pantai – a boutique hotel.
Check this map for La Punta, Puerto Escondido accomodation options (and zoom out for other areas of Zicatela and Puerto Escondido):

Punta Pajaros, Puerto Escondido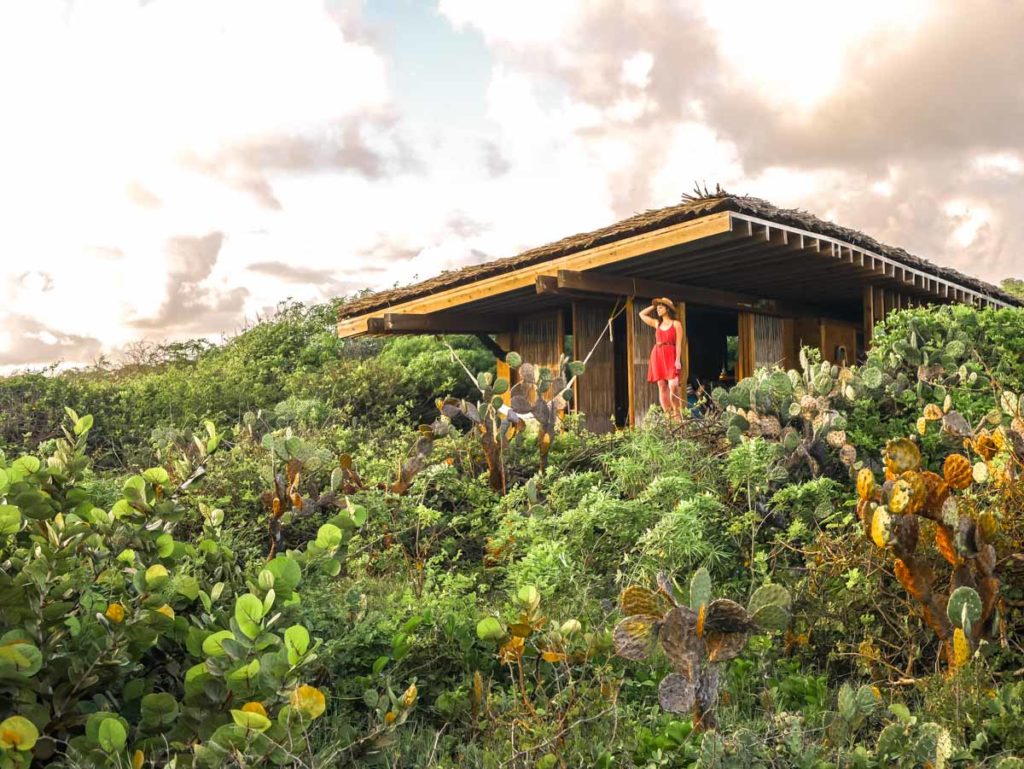 If you prefer something more off-the-beaten path, consider Punta Pajaros – a small artist community on a beautiful stretch of sand about 30-45 minutes drive from the center of Puerto Escondido.
Here you can tour Casa Wabi, the artist residency designed by Pritzer Prize winner, Tadao Ando, and find a few other amazingly designed hotels and vacation rentals. My favorite place to stay here are the gorgeous Casitas by the Sea. Each Puerto Escondido Airbnb was designed by Mexican architect, Alberto Kalach, and perfectly integrates with the natural surroundings. You can read my full review of the casitas at the link above and see lots of photos of the inspiring design. If you haven't used Airbnb before, you can get up to $51 off your first bookings here.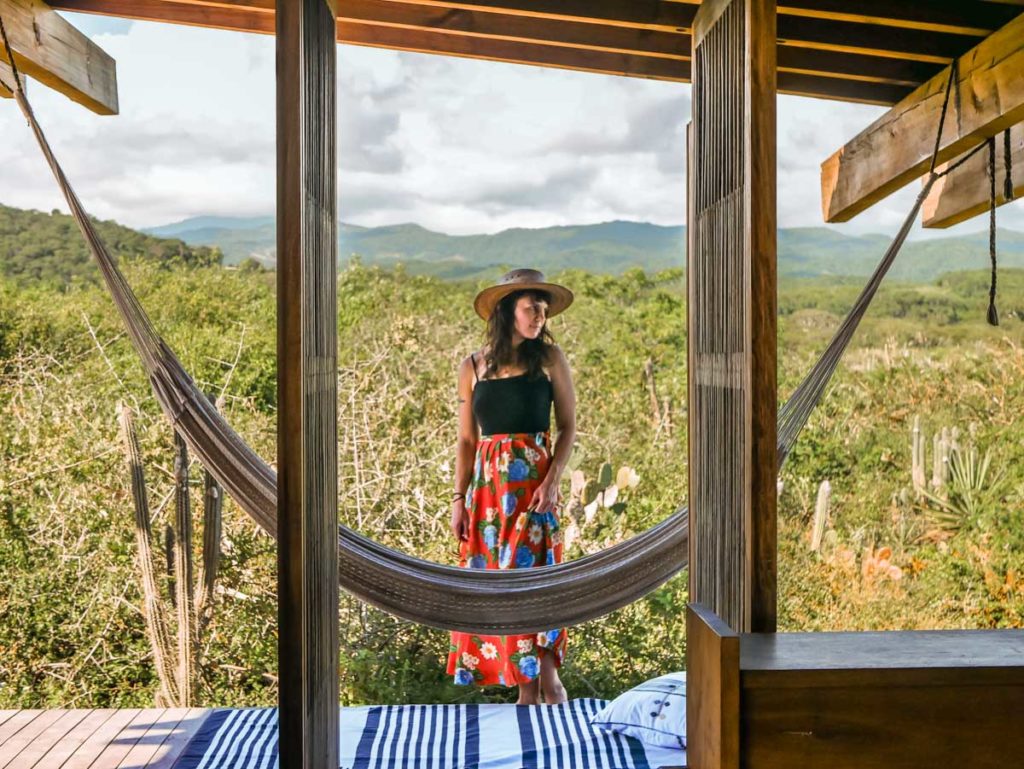 There are tons of other Zicatela or La Punta, Puerto Escondido accommodation options – check out the map above for some additional options.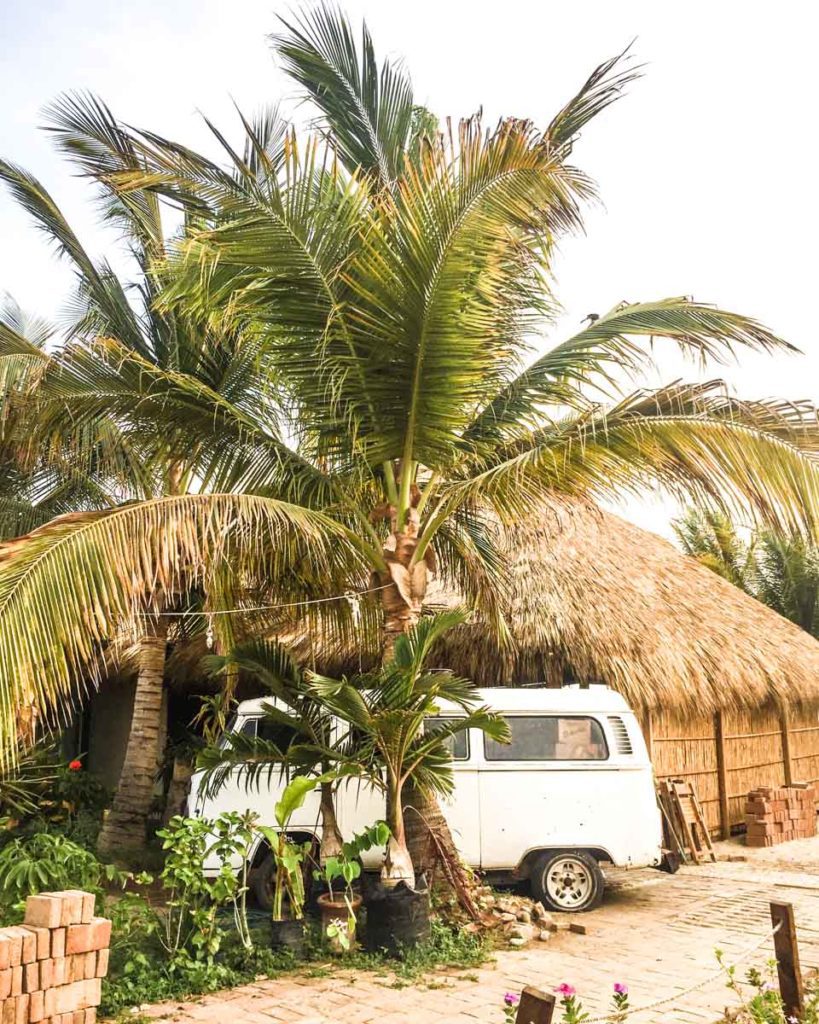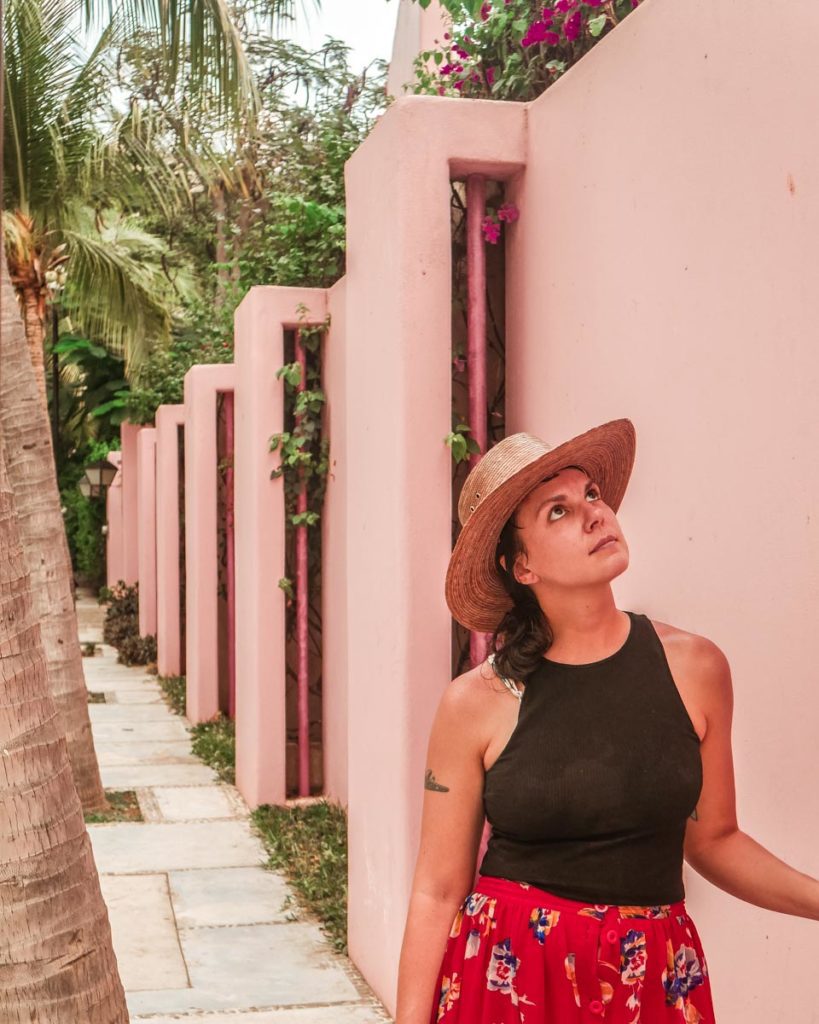 Puerto Escondido is a great off-the-beaten path beach town to enjoy swimming, surfing, and some real Oaxacan culture. And stay tuned for lots more Oaxaca coast guides – including the towns of Mazunte/San Agustinillo, one of my favorite hotels on the coast, and a complete coast guide breaking down my favorite beach towns.
What to Pack for Puerto Escondido:
Pin it for Later!