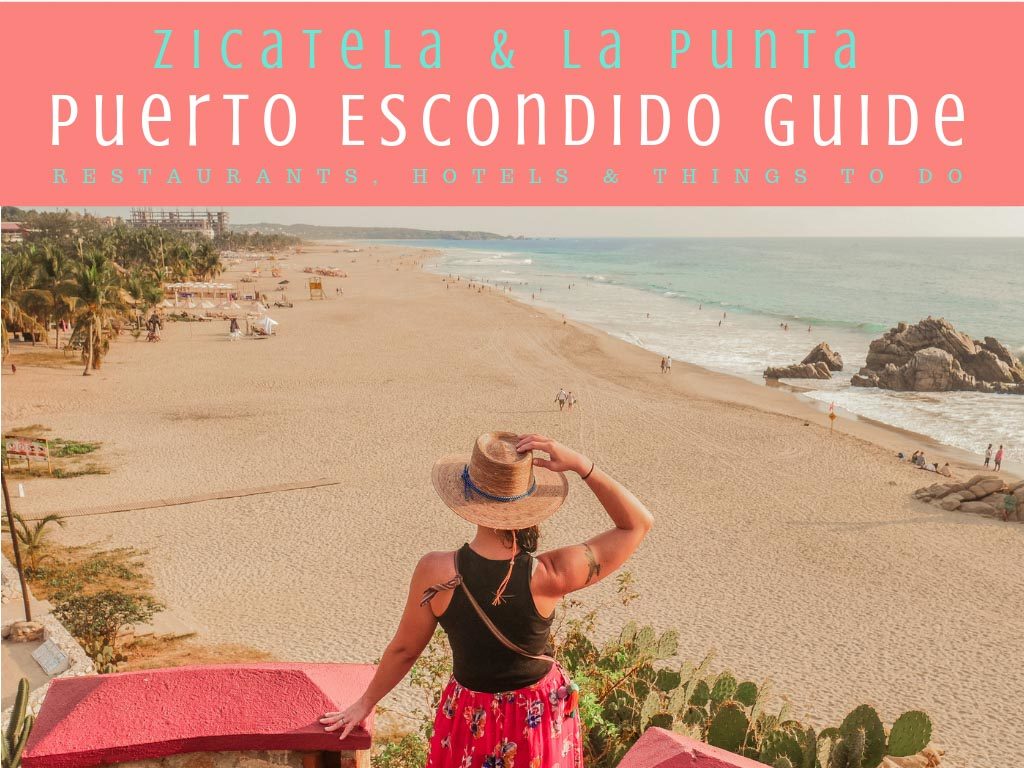 I've now lost track of the number of times I've visited La Punta Zicatela, Puerto Escondido – and plan to return many more times from my home base in Oaxaca. I've gotten a good handle on all the best things to do in and around Puerto Escondido – including releasing baby turtles, cliffside walks, and the best swimming beach in town – so I wanted to share them here, along with some of my go-to restaurants (including lesser-known local spots) and places to stay in Zicatela and La Punta, Puerto Escondido.
Tons more links for my other Oaxaca coast posts at the end of this post.
Puerto Escondido is a surfing mecca, due to it's infamous and absolutely giant wave on Zicatela beach. But even if you are not an avid surfer, there are plenty of other things to do in Puerto Escondido, great swimming beaches, and lots of character to be found.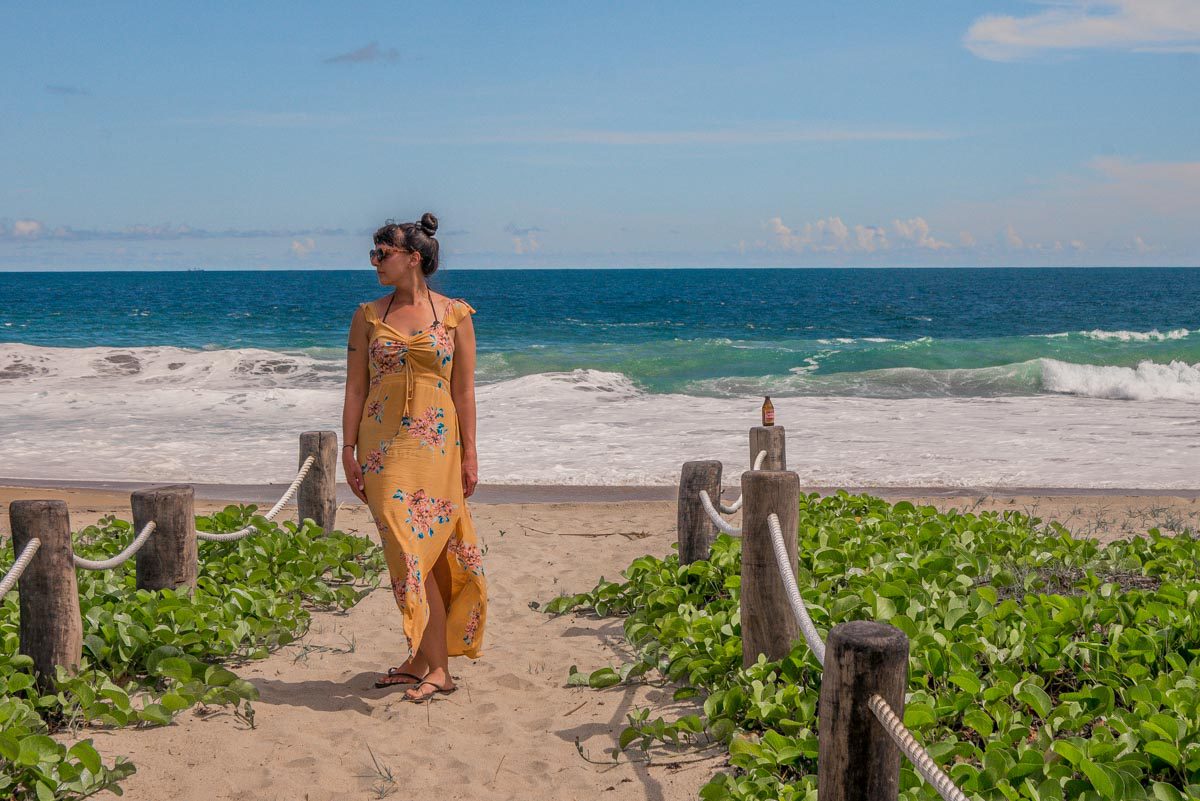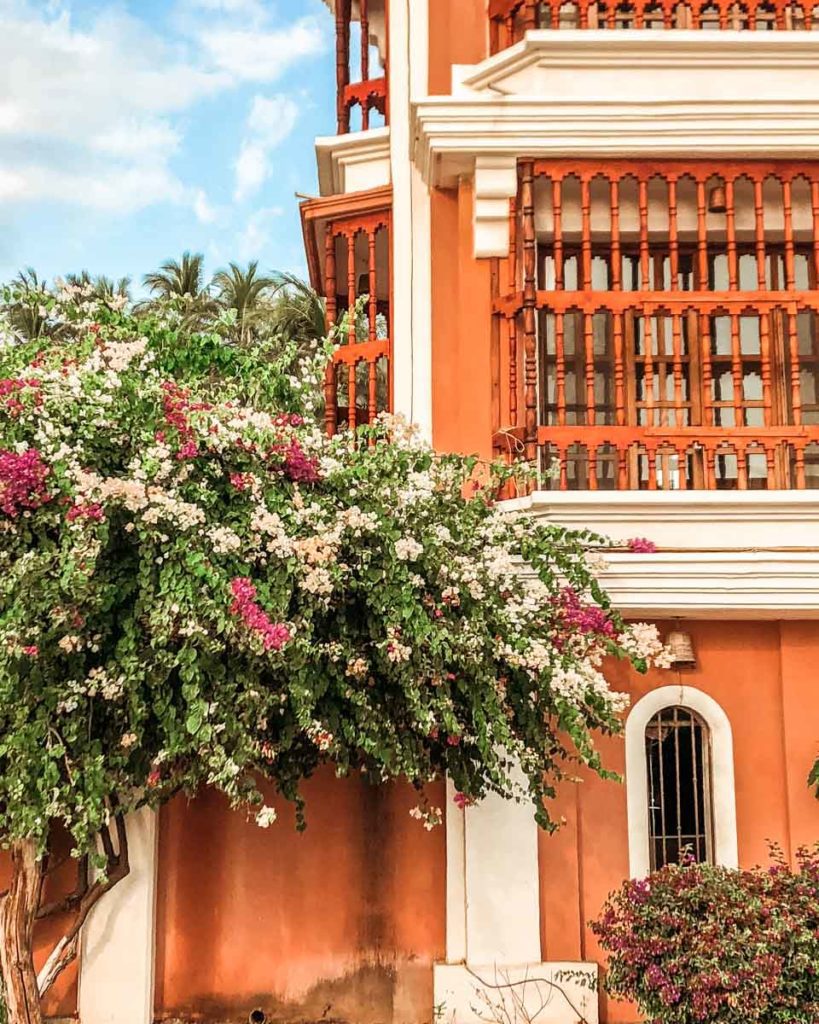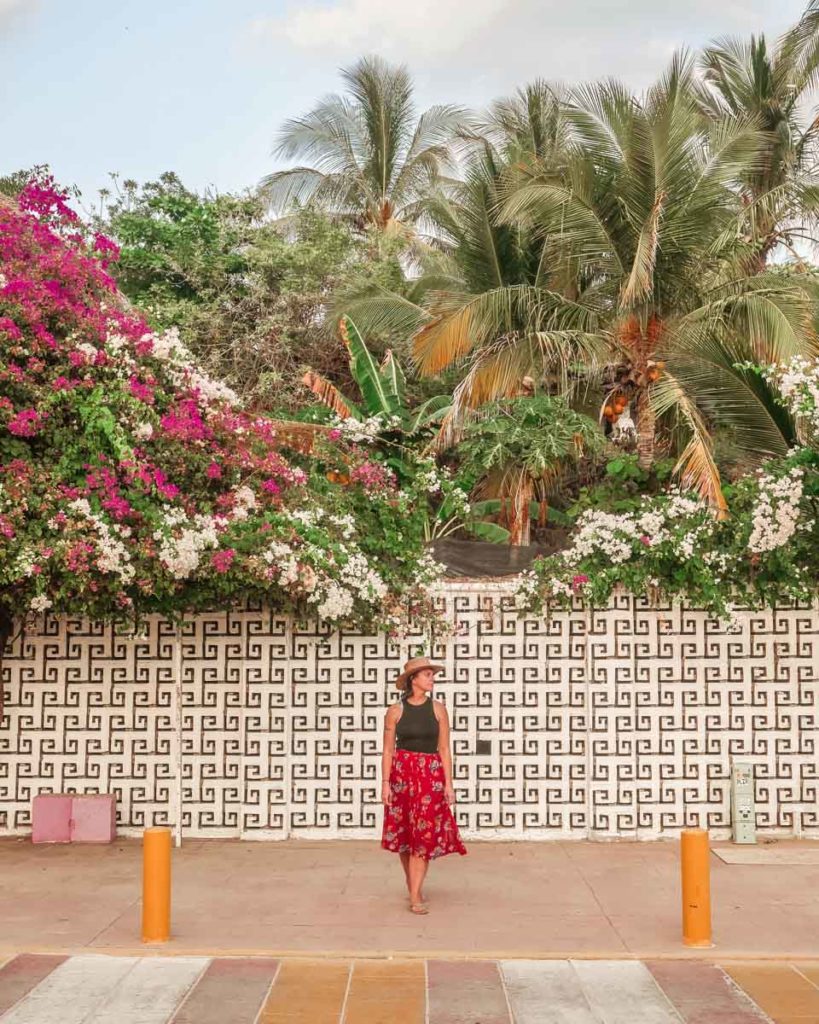 Below you'll find the best things to do, the best Puerto Escondido restaurants, and where to stay in Zicatela and La Punta.
Things to Do in Puerto Escondido: Zicatela & La Punta, Puerto Escondido Guide
Swim at Playa Carrizalillo: Things to Do in Puerto Escondido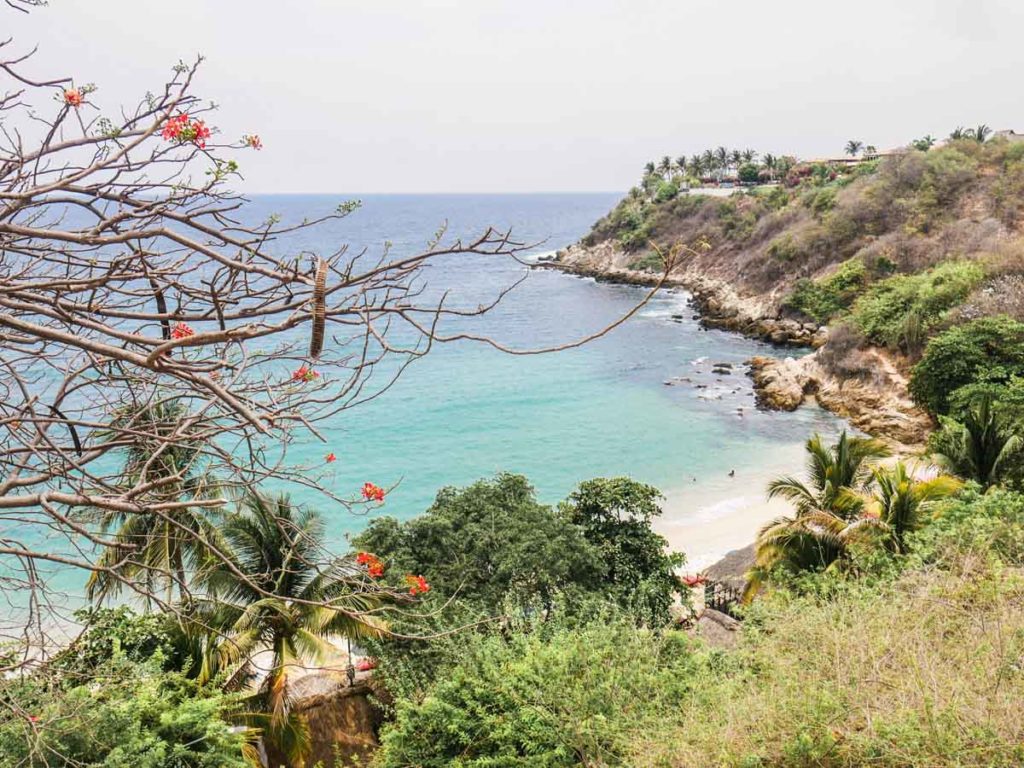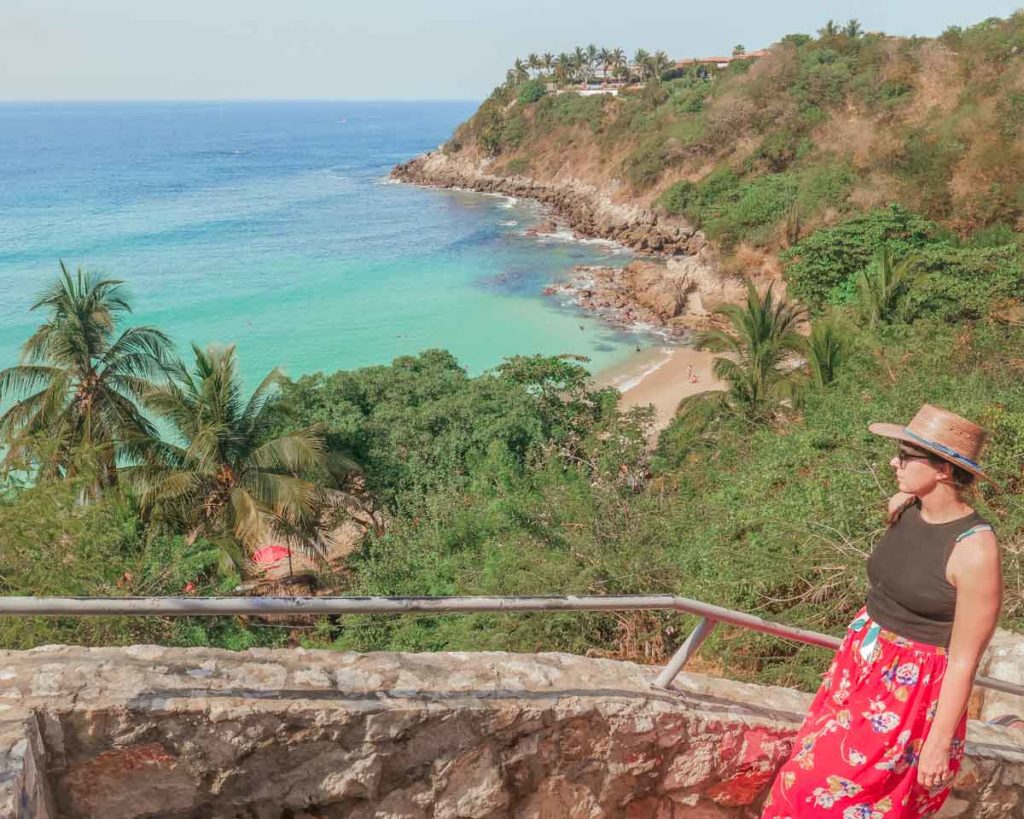 For me, this is the first thing to do in Puerto Escondido. I always set aside a whole first day to lounge/swim/lounge/swim at gorgeous Playa Carrizalillo.
Playa Carrizalillo is one of the most beautiful beaches in Oaxaca. You enter at the top, and have to descend many stairs to get to the sand below. Because of this, you get a stunning view of the picturesque cove and turquoise water below. Definitely a great place for a Puerto Escondido photo op. Arrive in the morning to beat the crowds and get your shot.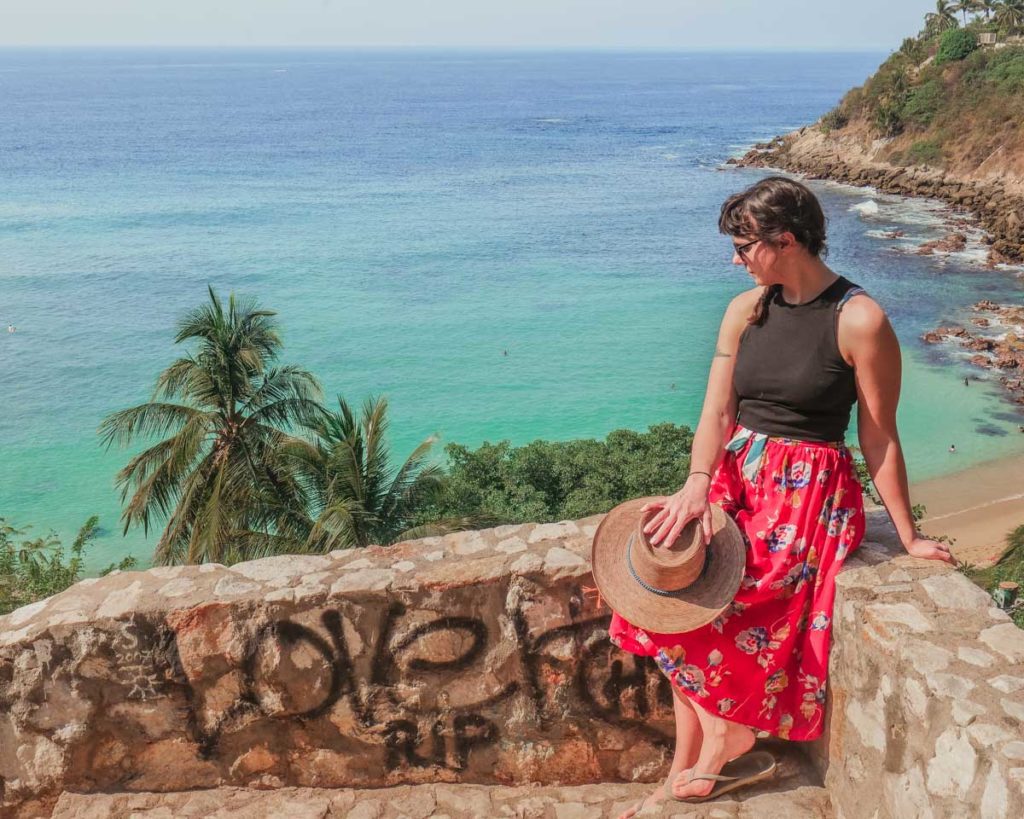 The water is calm and safe for swimming and produces an almost perfect wave, like a wave pool. There are a few little beach restaurants that rent chairs out (usually you just need to spend a minimum at the restaurant during the day – around 200 pesos).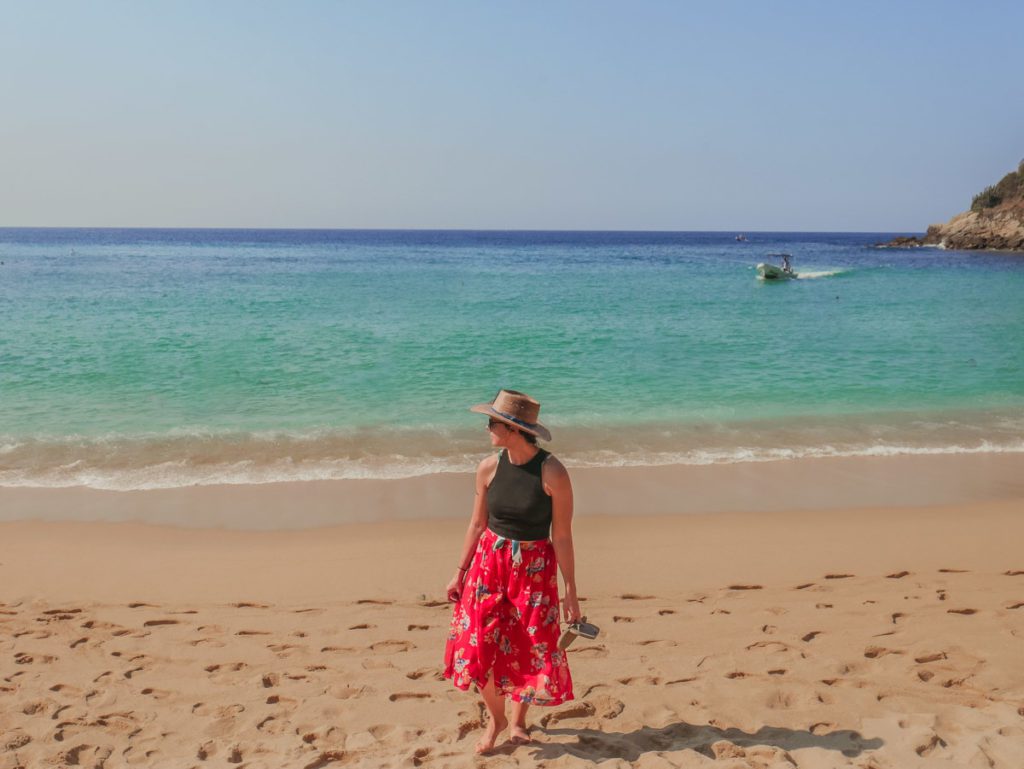 This part of town is called Rinconada, Puerto Escondido and is also a good option to stay if you want a relaxed residential area. It's quiet, the neighborhood is leafy and pretty. Then there is one "strip" of restaurants, cafes, and shops near where you enter Carrizalillo beach. This is a quieter and chill part of town, if that is what you are after for your stay.
Find your Zicatela and La Punta, Puerto Escondido Accommodation:
Turtle Release at Playa Bacocho: Things to do in Puerto Escondido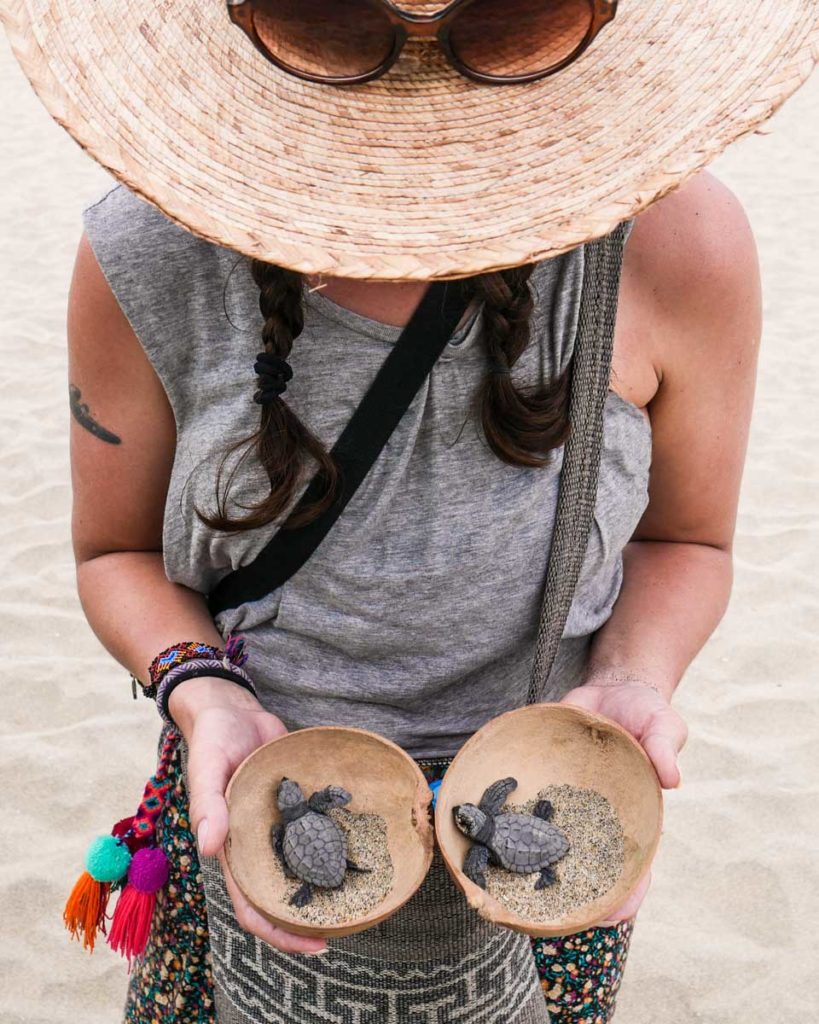 A few years ago, I participated in a turtle release at Playa Bacocho and it was a great experience. This beach is tucked away on the northwestern edge of Puerto Escondido and is usually quite empty.
I recommend arriving a bit before the turtle release so you can walk around and enjoy the pretty beach. There isn't a ton to do here, but it's nice to walk and explore the picturesque coastline for a little bit.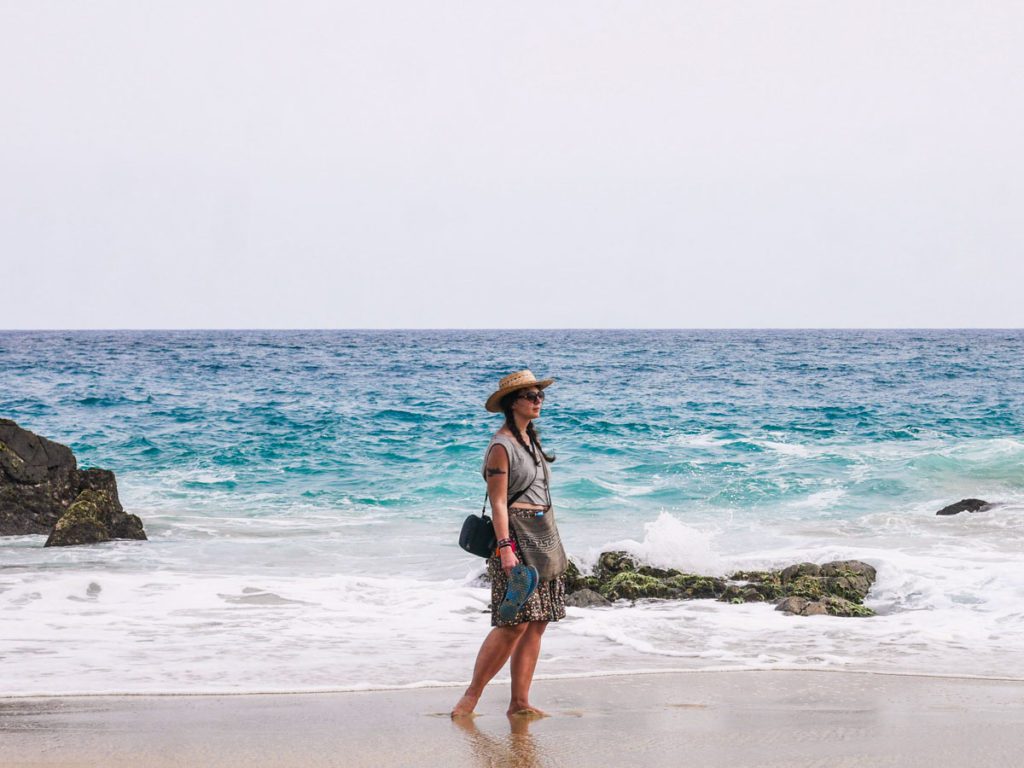 The turtle release happens everyday at 5pm (seasonally – usually October to May. Confirm with your hotel). You can take a taxi here on your own and ask to join. There is a beach palapa – it will be obvious where you sign up and pay (cost is around 100 pesos at the time of writing this).
You'll be handed your jicara (gourd shell) with a tiny baby turtle and some sand. And when the time is right, around sunset, you will release them into the ocean.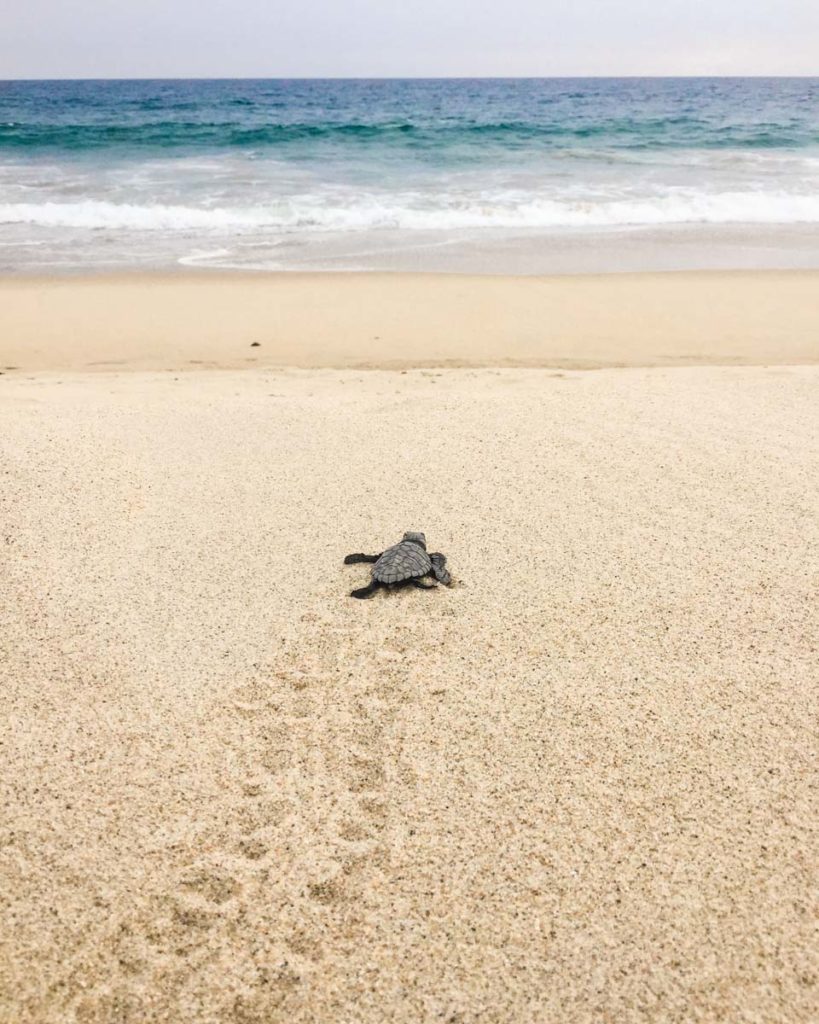 It was a pretty special experience in a beautiful place. I'd recommend it as one of the best things to do in Puerto Escondido. After, you can grab a sunset drink or bite at Pez Gallo. You can also come earlier and purchase a day pass at Club de Playa Villasol if you want to swim in a nice pool for the afternoon with access to the restaurant, bar, and a view of beautiful Bacocho Beach.


Watch the Sunset at Zicatela: Things to do in Puerto Escondido

Yes, watching the sunset is absolutely one of the best things to do in Puerto Escondido. You can probably enjoy it from anywhere, but the best place to watch is on the beach – either the main part of Zicatela, or from the cove of La Punta, Puerto Escondido
From Zicatela's main beach you will be facing west so you have a head-on view of the dipping sun over the water. Most nights you will find some expert surfers tackling these giant waves, and every night just before sunset a group of skydivers descend on the beach. There is often a big crowd of spectators sitting on the ridge of the beach, taking in the changing colors and the people watching.
From La Punta in Puerto Escondido, the sunset is slightly different. From La Punta, the angle of the sunset is different because the beach curves around in a hook shape. This means the sun sets more to your left, near the rocky point. There will be surfers here as well, but in a more accessible wave.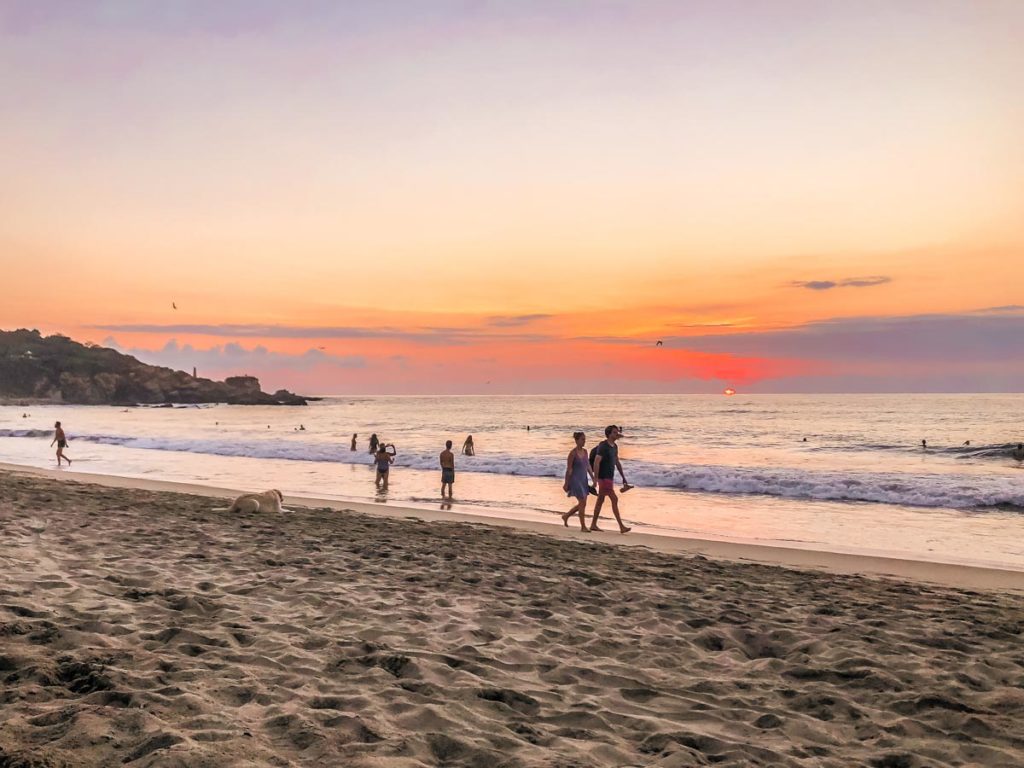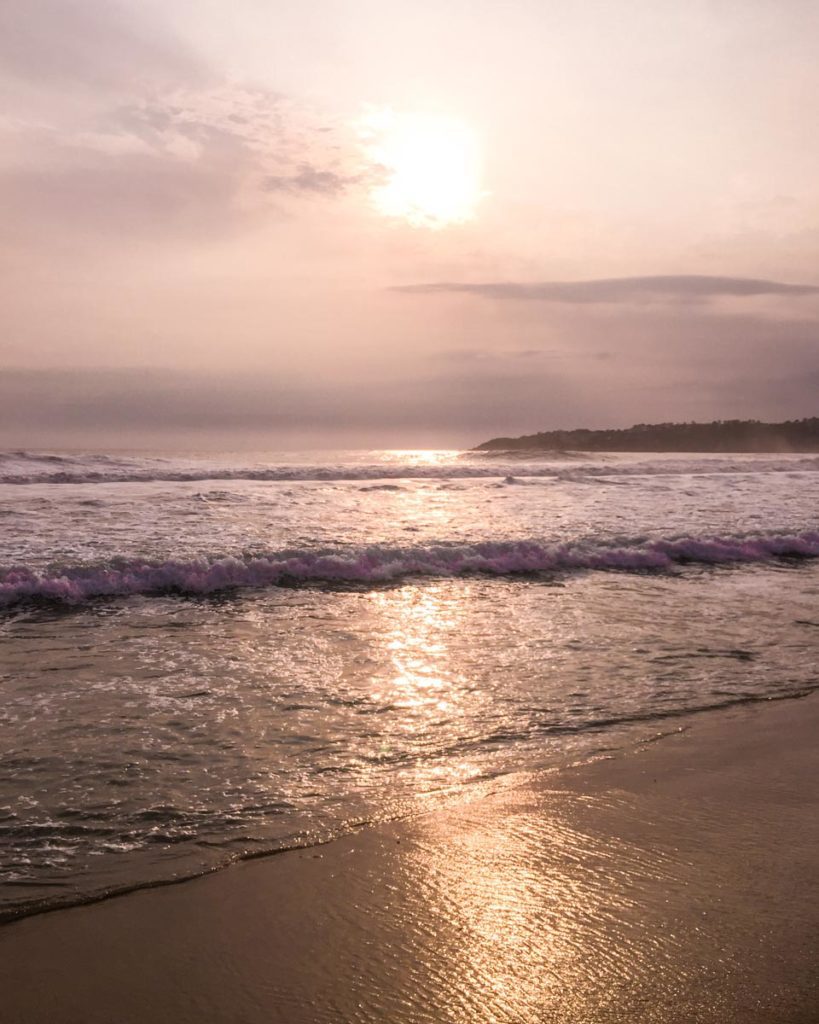 Both spots are a great place to take in the nightly sunset.
Take Surf Lessons: Things to do in Puerto Escondido
Puerto Escondido and Zicatela specifically are famous for surfing, so why not try your hand at it? Surfing is definitely the one of the most popular things to do in Puerto Escondido so there plenty of lessons and board rentals to be found.

Don't approach the main beach Zicatela wave unless you are a super pro surfer – it's really dangerous otherwise. But there are plenty of places for beginner or intermediate surfers.
La Punta, Puerto Escondido is a great surfing spot – it has a consistent wave off the point. You can find plenty of lesson or board rental options in this little community.
If you are a true beginner, consider Playa Carrizalillo which has a consistent gentle wave in a beautiful location.
See Dolphins, Turtles and Whales: Things to do in Puerto Escondido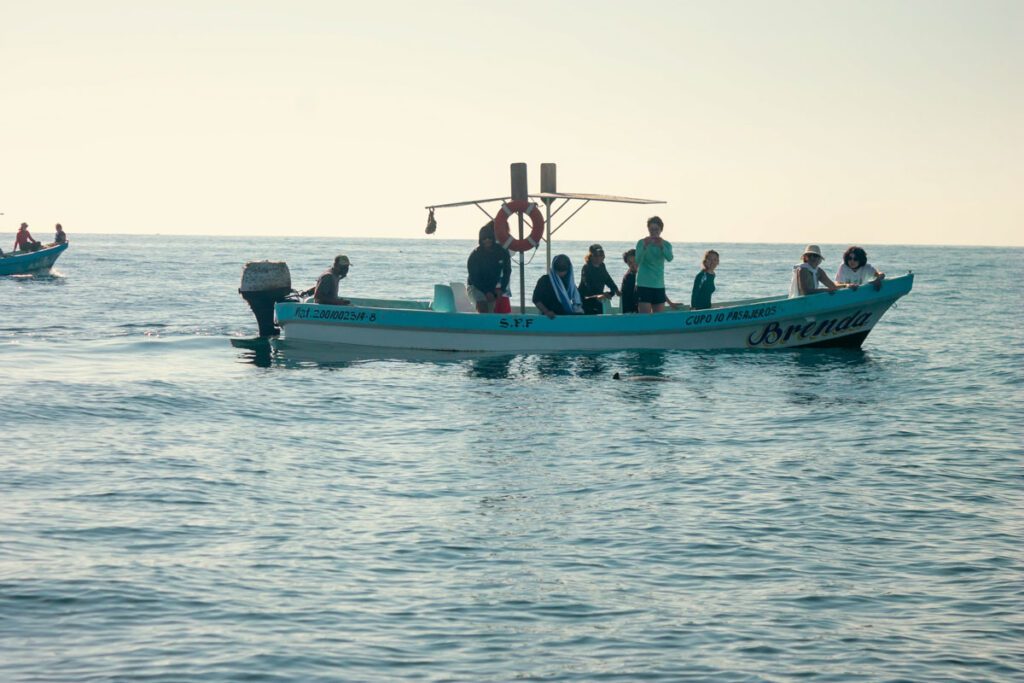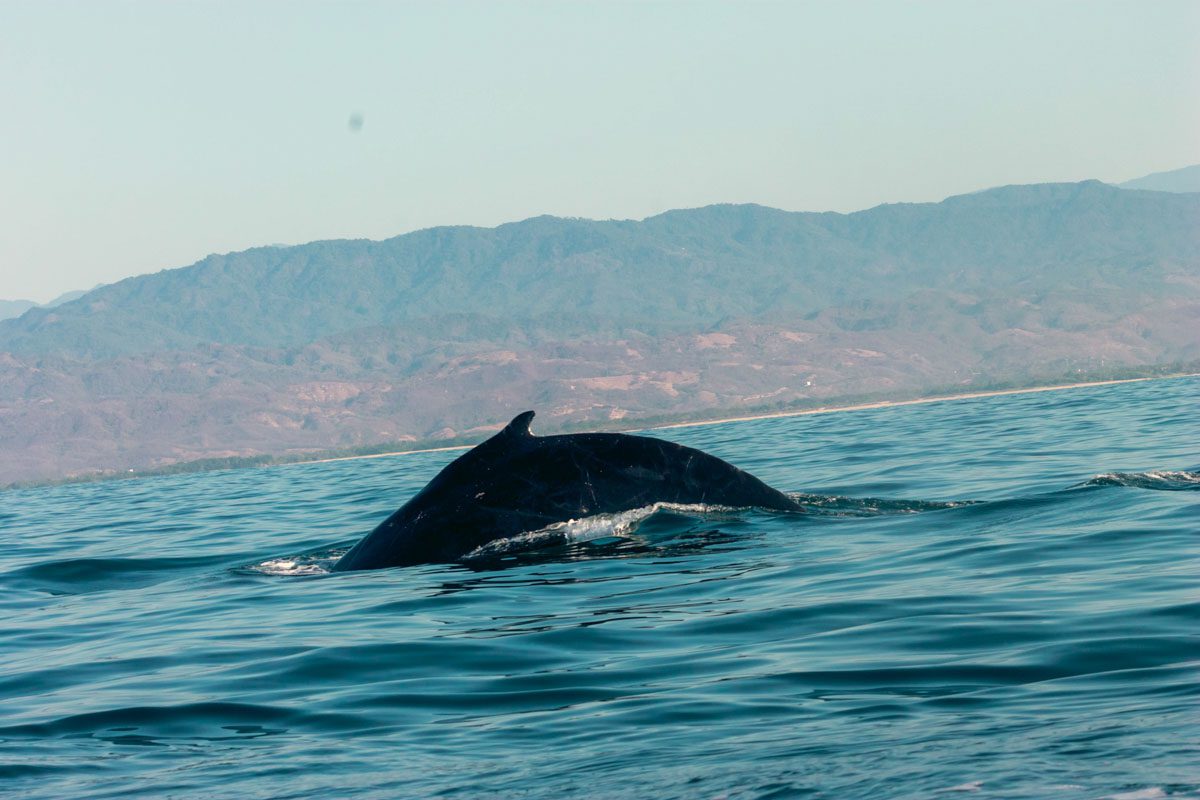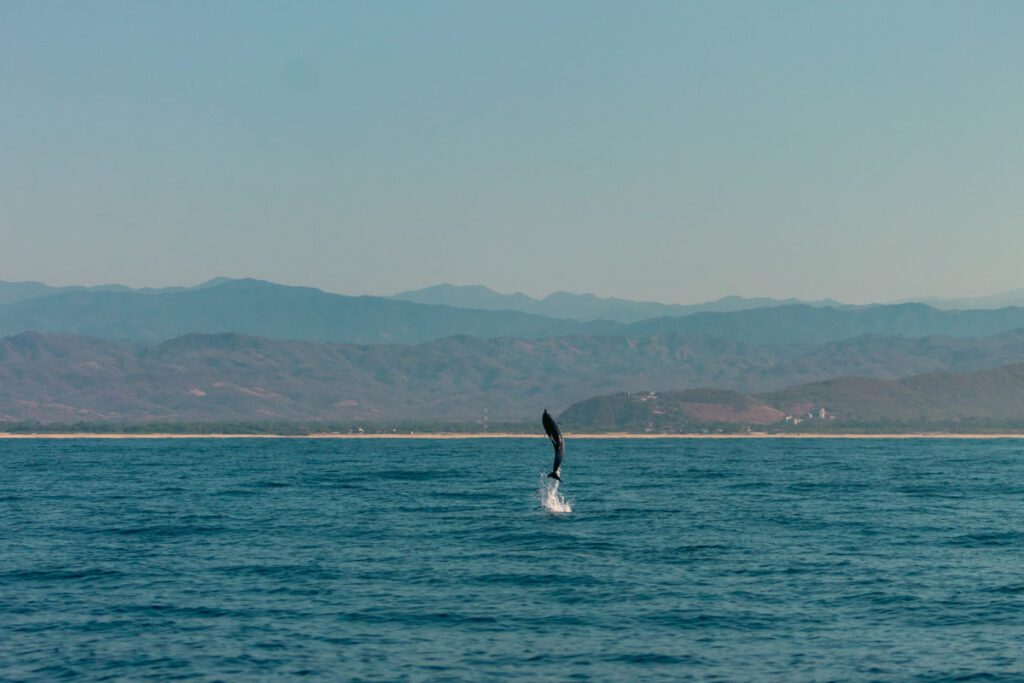 All year round you can take a tour to see lots of dolphins and large sea turtles in the ocean around Puerto Escondido. This coastline is famous for it's plethora of sea turtles and dolphins are plentiful as well. In whale season (December-February) you can see humpback, blue whales, orcas and more.
These boat tours generally all leave from the bahia principal early morning. Choose a tour guide who is respectful and doesn't get too close to the sealife. We used a provider called "Tours en Lancha" +52 55 2066 3010.
Day Trip to Mazunte or Beyond: Things to do in Puerto Escondido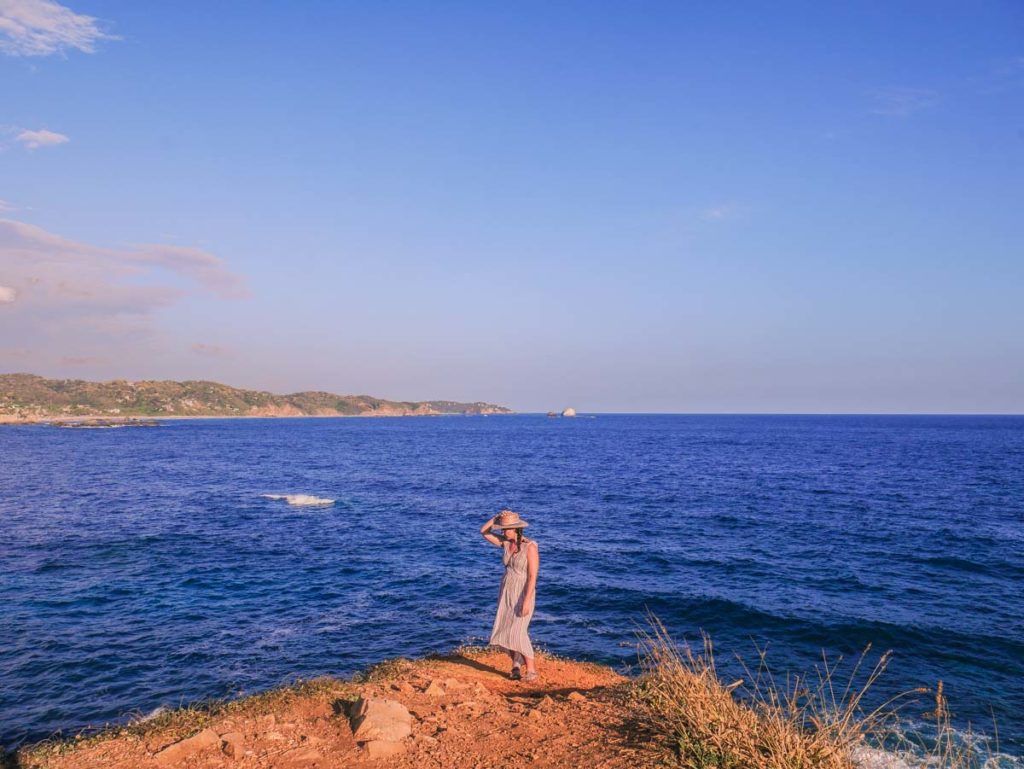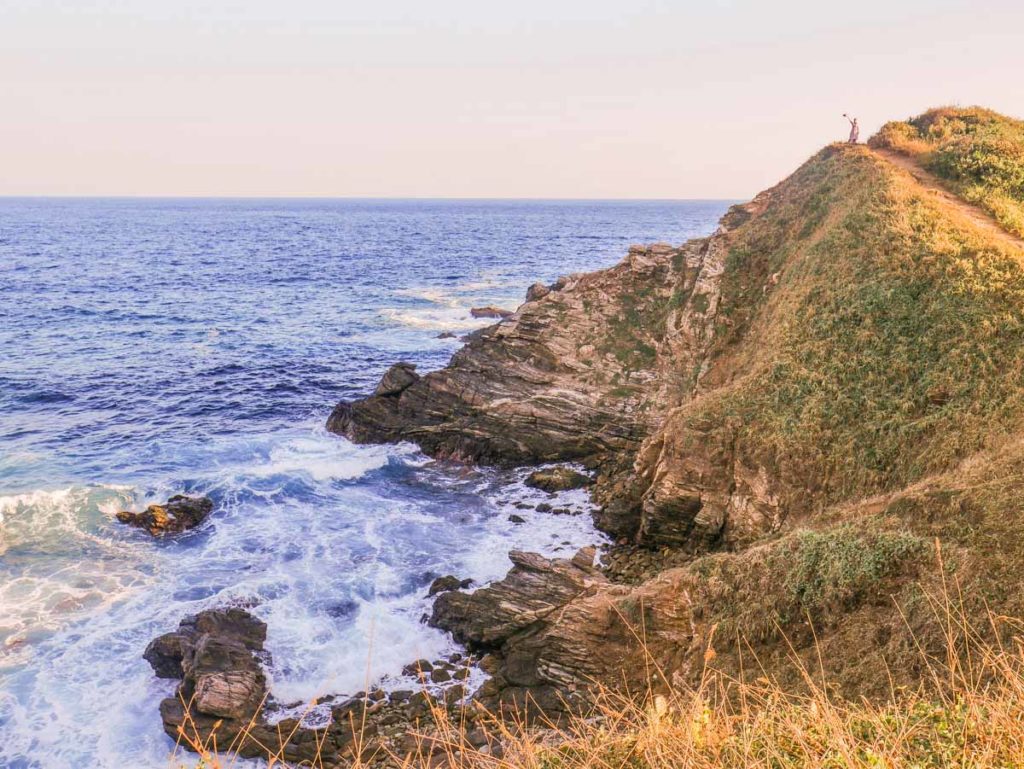 There are lots of day trip options – the bioluminescent tour of Manialtepec Lagoon, coffee farm tours in Pluma Hidalgo, visiting Casa Wabi and Punta Pajaros beach (see below), touring the lagoons of Chacahua (see below), hiking Punta Cometa in Mazunte (above)…
Check out my guide to Mazunte, San Agustinillo and Zipolite – three of the other most popular beaches to visit on the Oaxaca coastline. And this post details how to get from Puerto Escondido to Mazunte.
Check with a local tour agency or rent a car for the day and go exploring. We rented a car one day and drove up to beautiful Pluma Hidalgo (famous for it's delicious coffee and incredible mountain views) and one of the remote and empty bahias de Huatulco. Check out this older post detailing the day.
Visit Casa Wabi: Things to Do in Puerto Escondido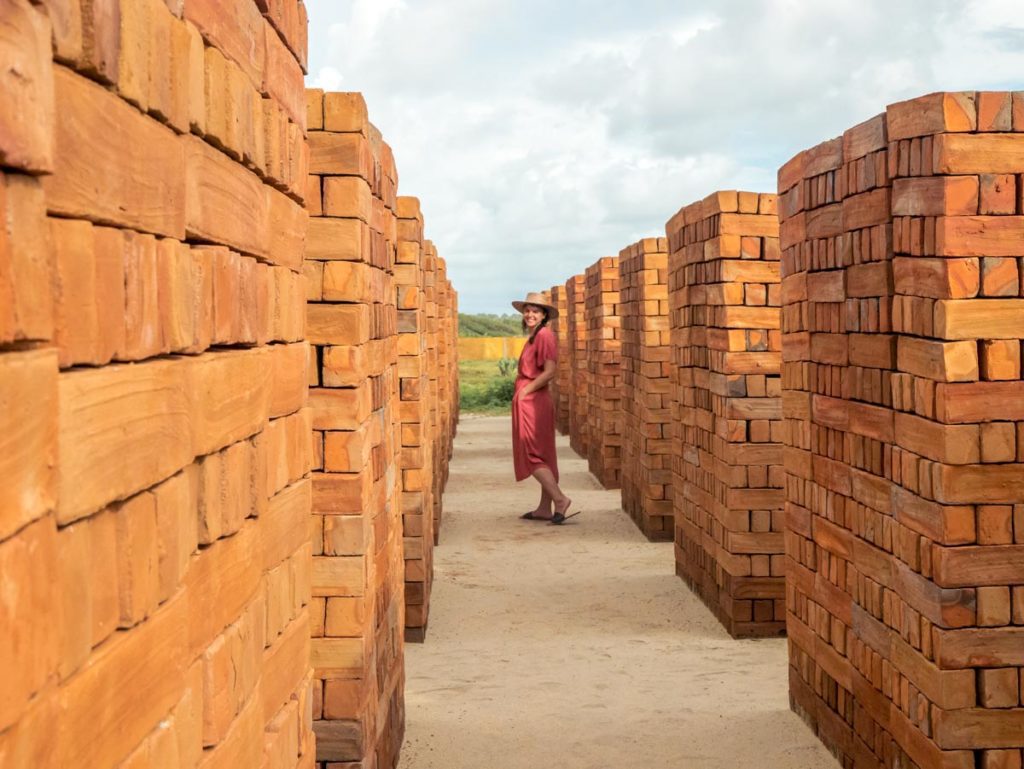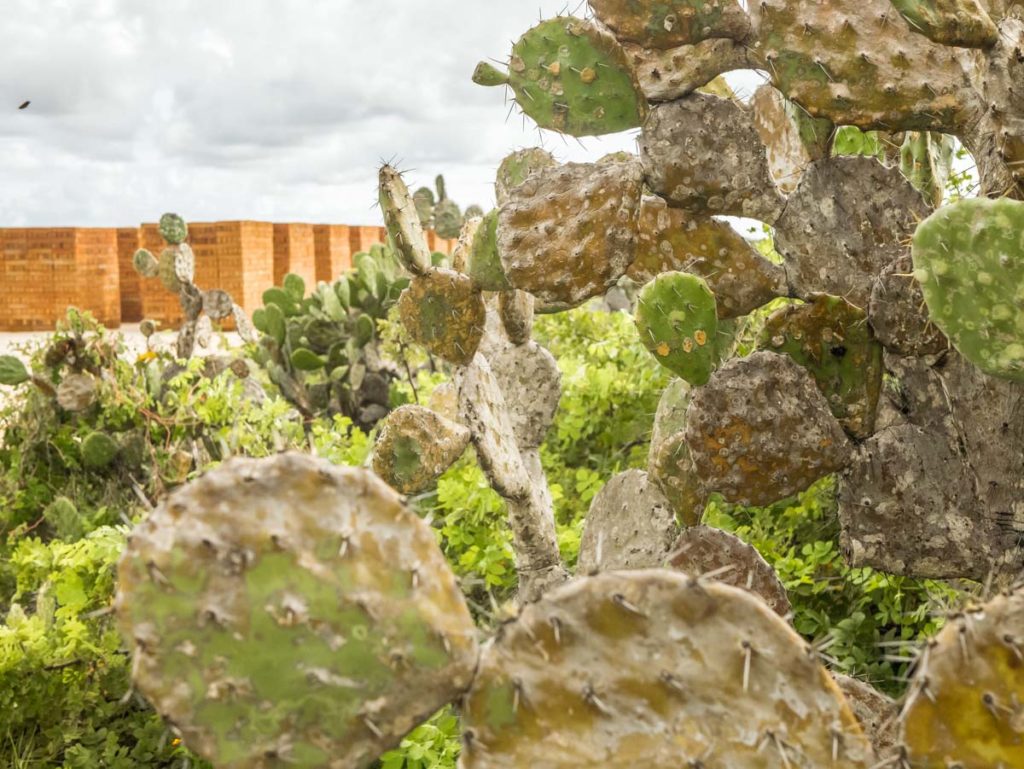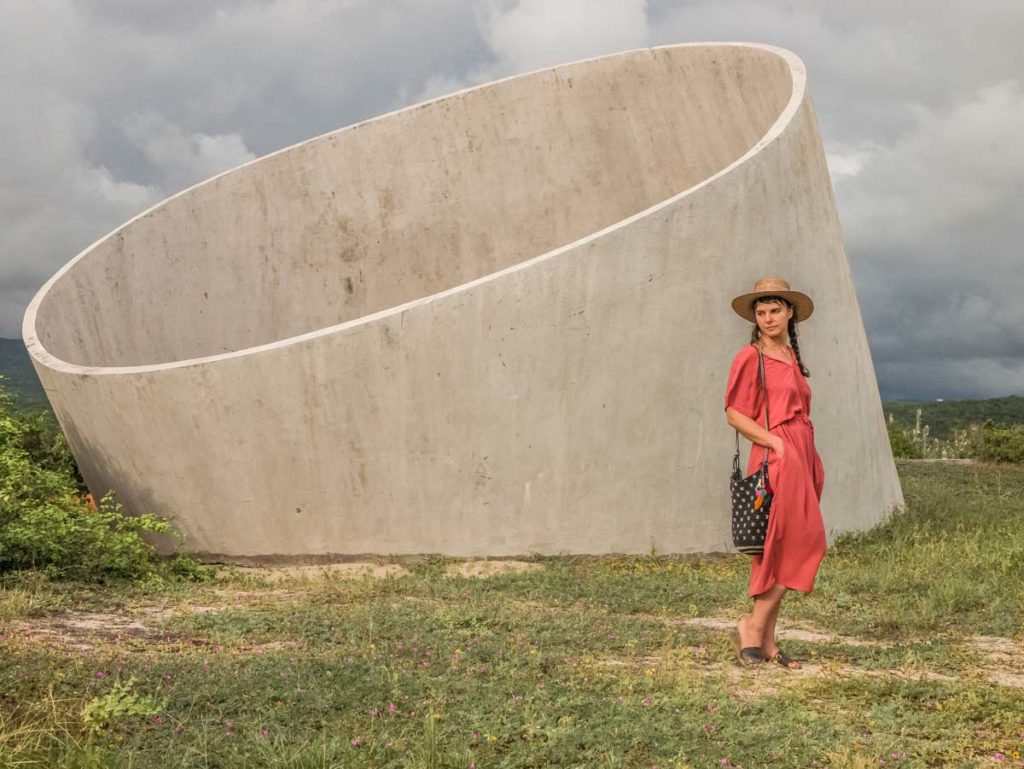 Casa Wabi is an art foundation built by renowned architect, Tadao Ando. This beautiful space offers artist residencies as well as social programs for the community.
You can visit Casa Wabi on guided tours only. Check the website above for available times and to reserve.
Casa Wabi is located a bit outside of Puerto Escondido on a beach called Punta Pajaros. You can take a taxi here, or rent a car to arrive. It takes about 30 minutes to arrive from Puerto. This beach has attracted an artistic and design-oriented community. There are now many homes for rent built by talented and famous architects, as well as a few unique hotels. This is an option to stay if you love design and want a more remote, off-the-grid experience. It's also great for an afternoon trip.
During your visit, stop at Cobarde Mezcaleria for a mezcal or dinner (make reservations). Or take a stroll on the beautiful and remote Punta Pajaros beach.
Take a Day or Side Trip to Chacahua Beach and Lagoon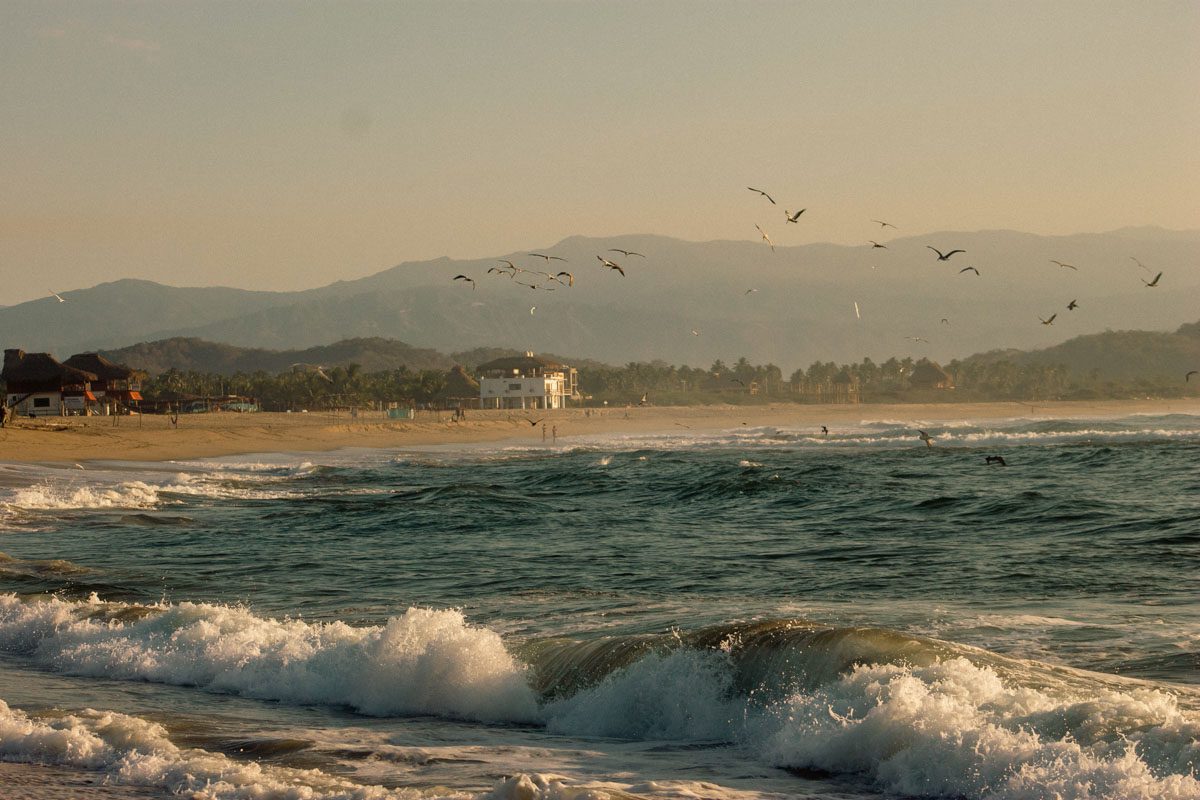 Chacahua is a National Park about one hour from Puerto Escondido. The beach of Chacahua can only be reached by boat, so it is a very relaxed, remote and naturally beautiful place. There are just a few restaurants and simple places to stay along the beach line. Camping is also popular here. Besides the gorgeous untouched beach, the lagoons and mangroves you pass in boat to reach the beach are gorgeous and full of flora and fauna. You can do a specialized tour to get to know the mangroves (if you do, I'd recommend an early hour to see birds and animals) or you can enjoy them as you pass through on the way to the beach.
Chacahua has an excellent wave so is popular with surfers. Besides that you'll mostly just want to relax, take beach walks, watch the sunset from el Faro (the lighthouse you can reach by a short boat ride), read, and eat fresh seafood. You can take a day trip or day tour here, but I would recommend staying for one night if you can. It feels like you've totally disconnected from the modern world.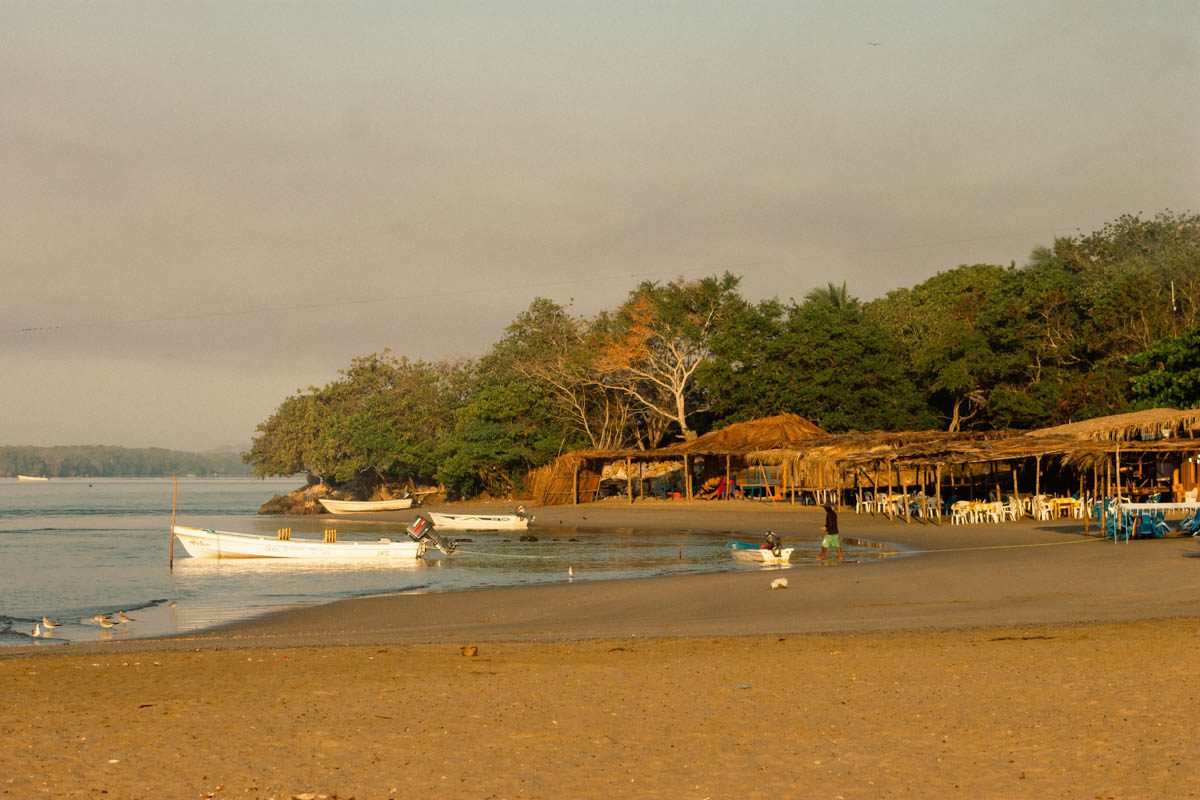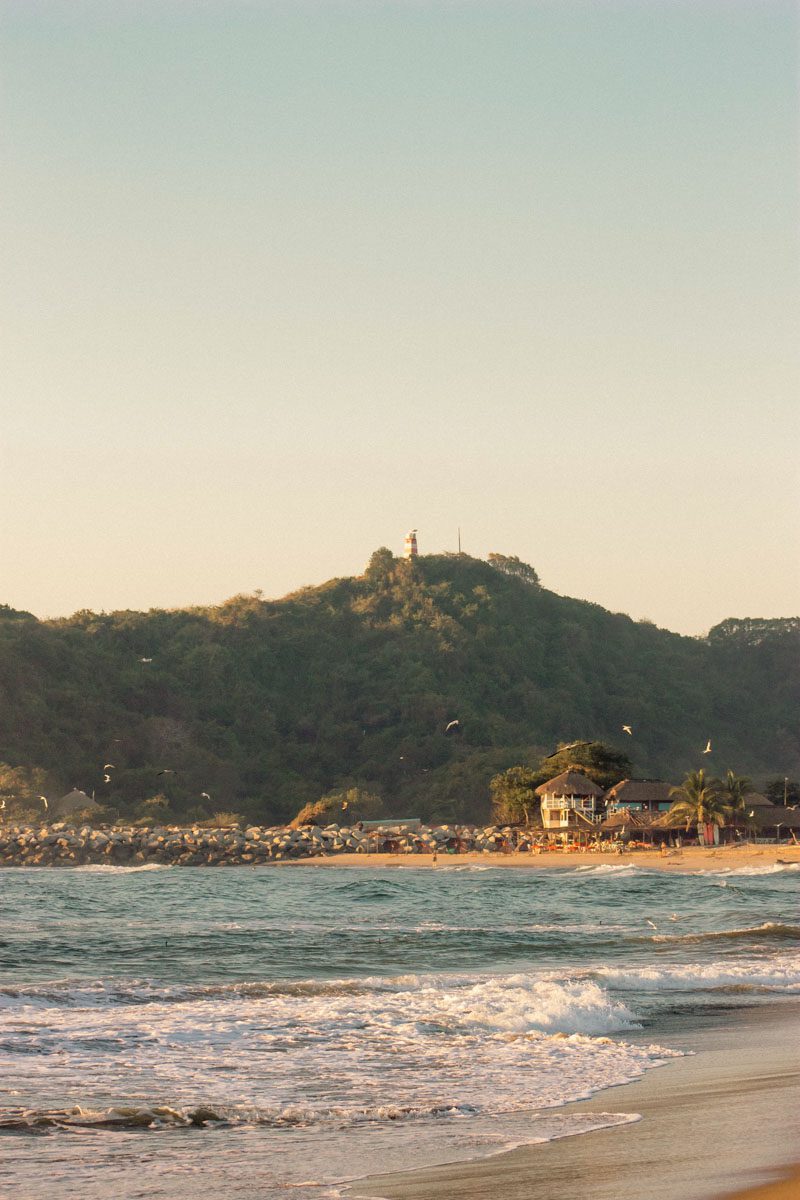 To arrive, you'll need to reach Zapotalito by car or taxi, and then take a boat from one of the docks to Chacahua. The boat ride takes about 30-45 minutes. If you prefer to arrive by public transport, you can take a colectivo (shared) taxi from Puerto to Rio Grande. Ask to get off at the intersection to Zapotalito, and then take a taxi to the town of Zapotalito.
Puerto Escondido Restaurants & Bars: Zicatela & La Punta, Puerto Escondido Guide
Zicatela, Puerto Escondido Restaurants
: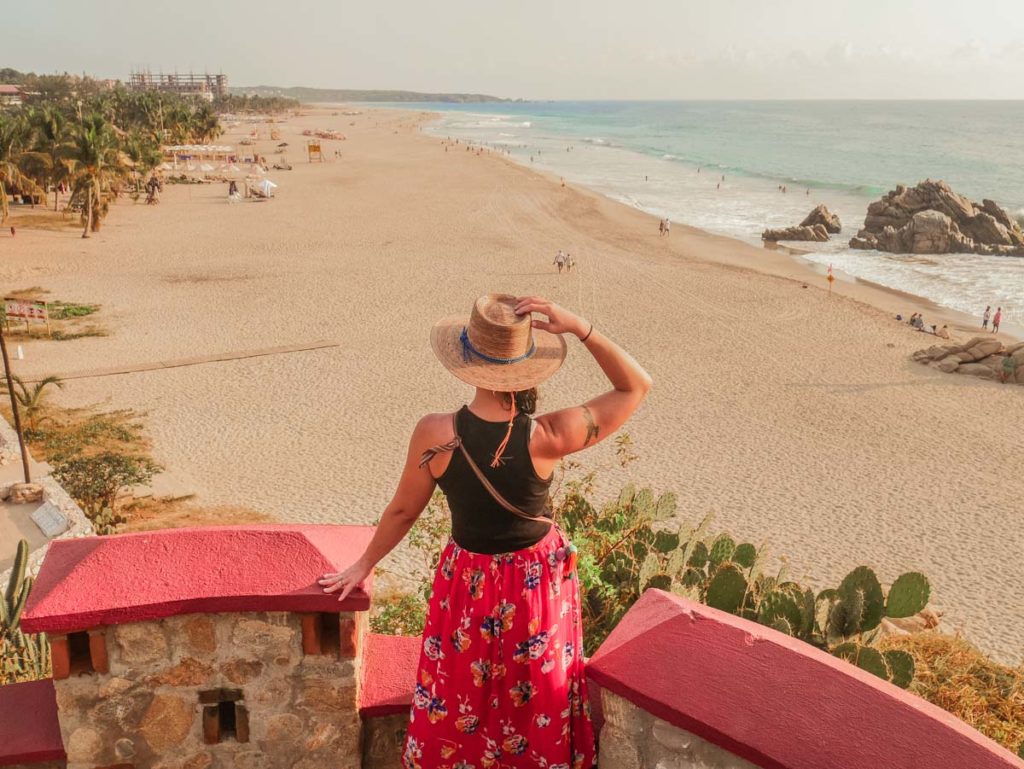 Night-time Tlayuda Street Stand:
(alley off of Calle del Morro between the OXXO store and Calle de Las Brisas)
I still think this is one of the best things I've eaten in Zicatela, Puerto Escondido. This street food stand opens at night, look around the corner from the Oxxo and walk down the alley before having a seat. Watch the women grill the tasty tlayudas in front of you and enjoy. One of the most authentic Puerto Escondido restaurant experiences to have on Zicatela beach.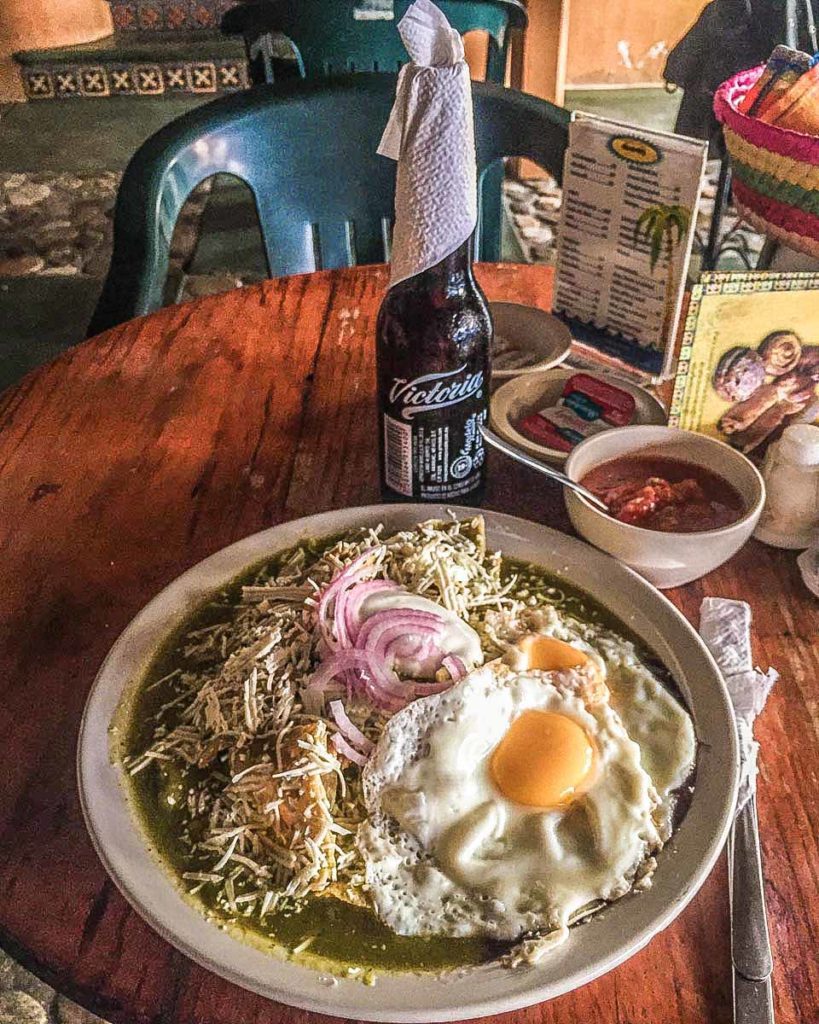 This is a Puerto Escondido restaurant staple that has solid breakfast and lunch options. They also have a great location in Rinconada, near Playa Carrizalillo.
This is a coffee shop/bar combo that has good mezcal prices, an extensive mask collection, and live music. A good Zicatela spot to hang out for awhile.
This is a popular Puerto Escondido restaurant and for good reason. It's up off the main Zicatela strip, but only a couple minute walk. They have great breakfasts, licuados (fruit smoothies), and a comfy atmosphere.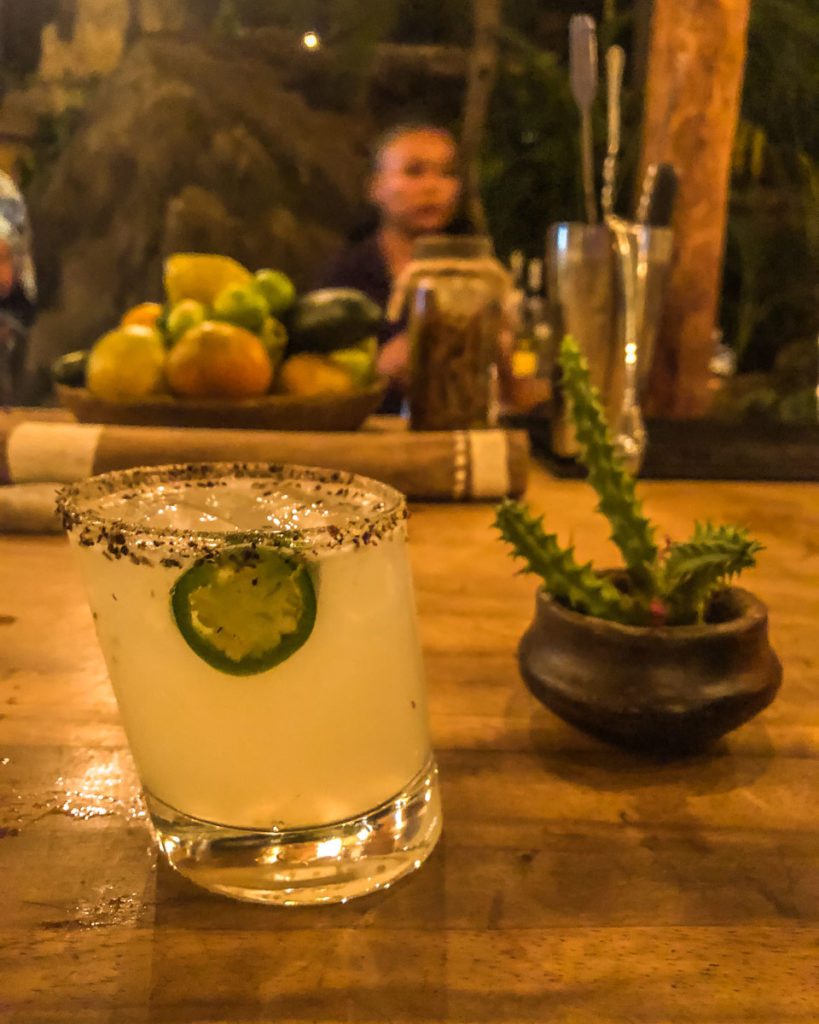 This is my favorite nighttime hangout in Zicatela, Puerto Escondido. It's an open air spot at the end of the main Zicatela strip. It's a combo of a restaurant (with multiple food stand options), bar, and club. They have some tasty cocktail options too. It's a popular hangout, so there is usually a good amount of people and good energy. They usually have djs later in the night.
La Punta, Puerto Escondido Restaurants: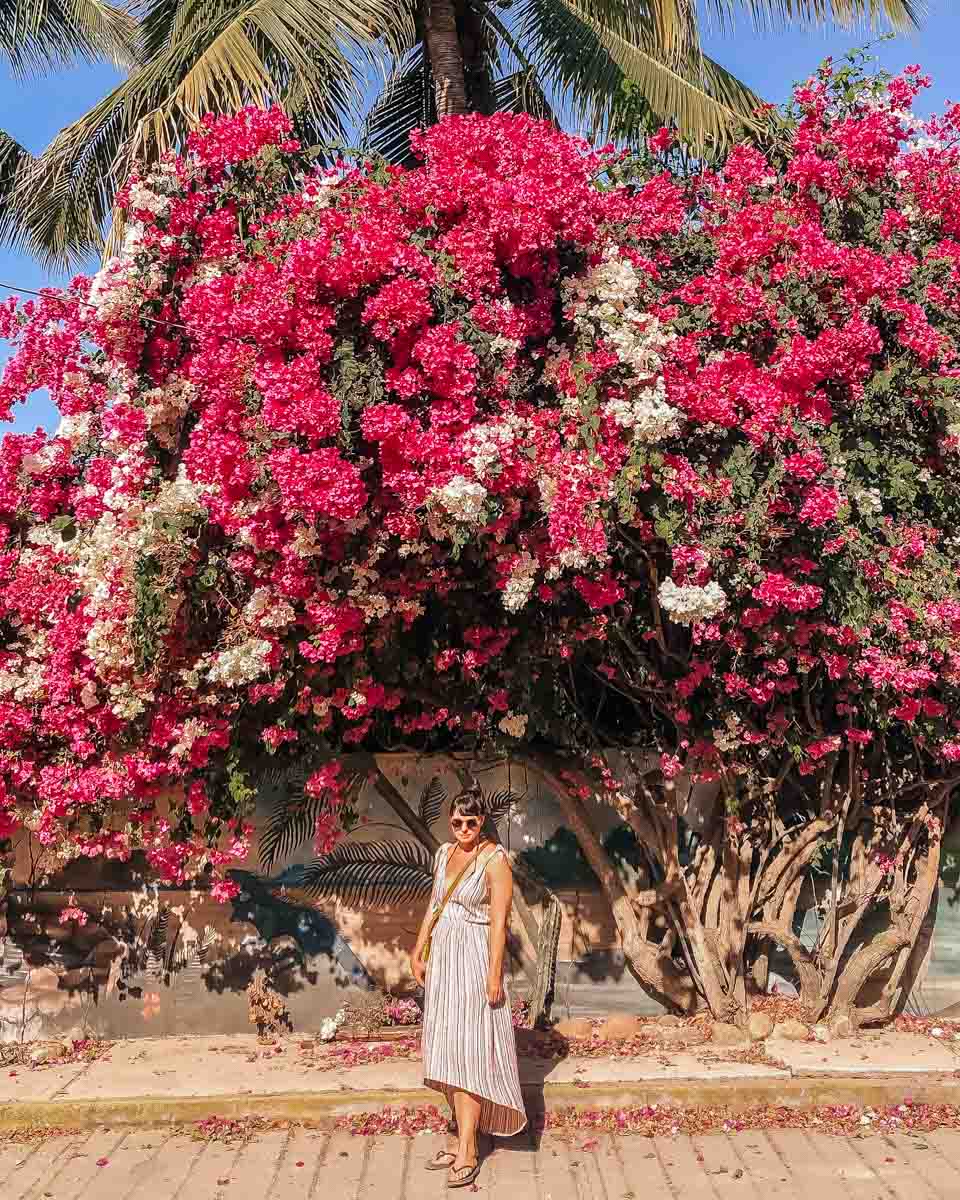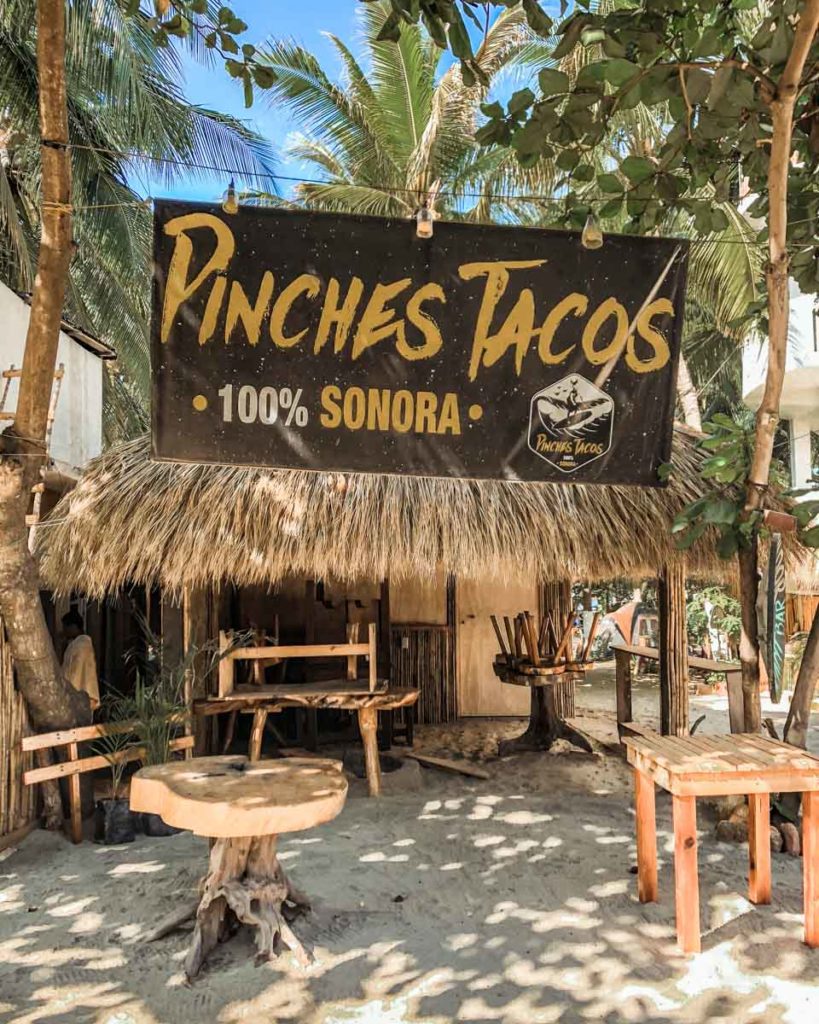 These Sonora (northern Mexico) style tacos are delicious. Lots of seafood options, and a bar full of fresh salsas and salads to pile on. This is one of my go-to's every trip. They also have a location in Rinconada (Playa Carrizalillo).
This is a solid breakfast or lunch spot. Enjoy the acai bowls, egg dishes, and coffee.
This Puerto Escondido restaurant is very rustic – just a few tables in the sand and an outdoor kitchen, but the burger is delicious.
This cute space has a few swings at the bar, rustic decor, and a nightly happy hour cocktail special.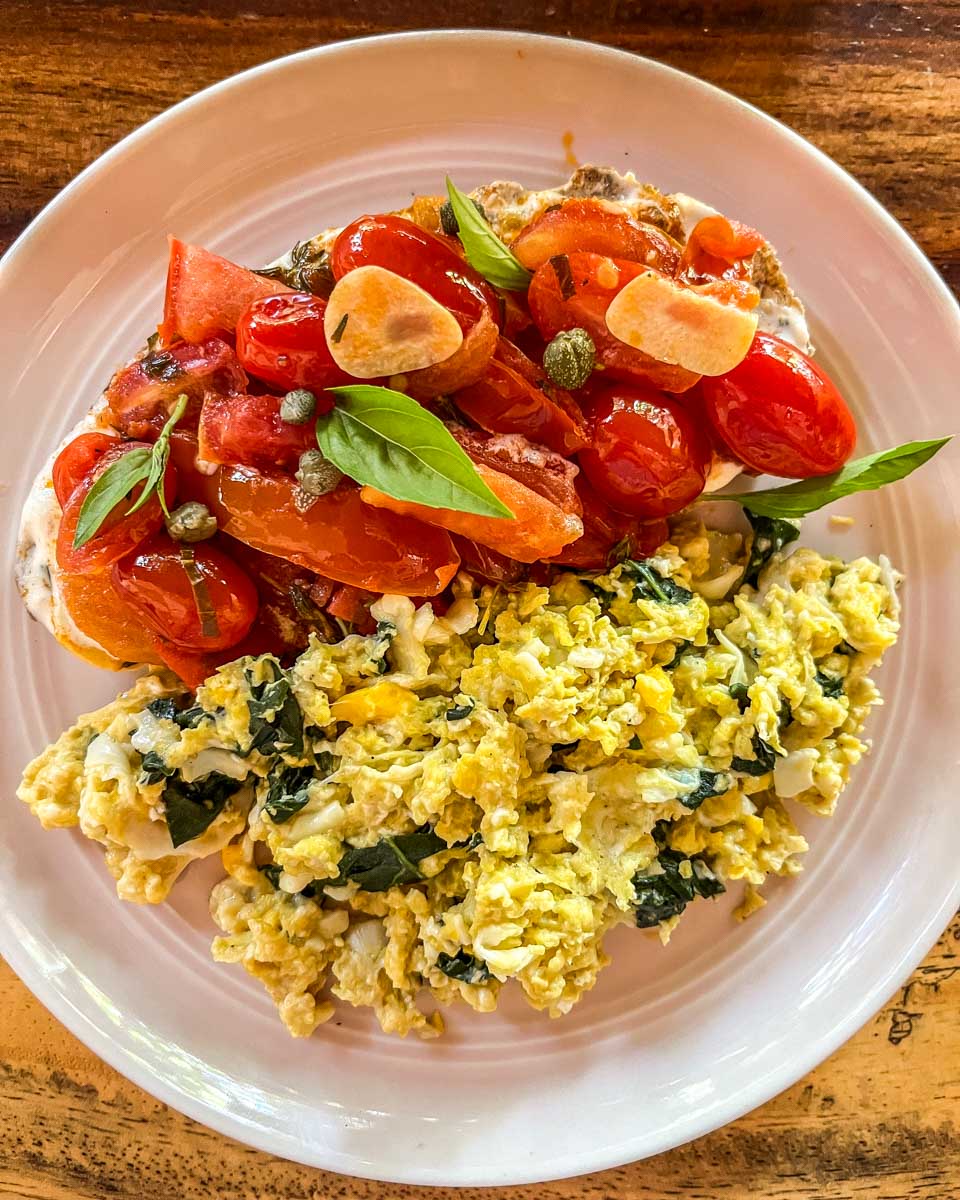 This was a great find on a recent trip. This spot is on the edge of La Punta (towards Zicatela), in a quiet area and serves breakfast and lunch. The casual atmosphere is comfy, and the food is delicious. Even more exciting is that they have great fast internet, so I ended up coming here each day early to work for a few hours. Great staff as well.
This is a great breakfast spot. Tasty and fresh breakfasts and cute decor. It's always crowded.
This Peruvian restaurant right in the heart of La Punta is absolutely delicious. We've tried many items on the menu and they are all incredible. And for this reason, this restaurant is almost always packed, so arrive early!
This pizza and cocktail restaurant is super comfy and really delicious. They are located in the heart of La Punta, and have two levels and a rustic, sand floor atmosphere. The pizza is really great, as well as the pasta and botanas. They also have a full bar with lots of cocktail options.
This cafe is super cute and has great coffee.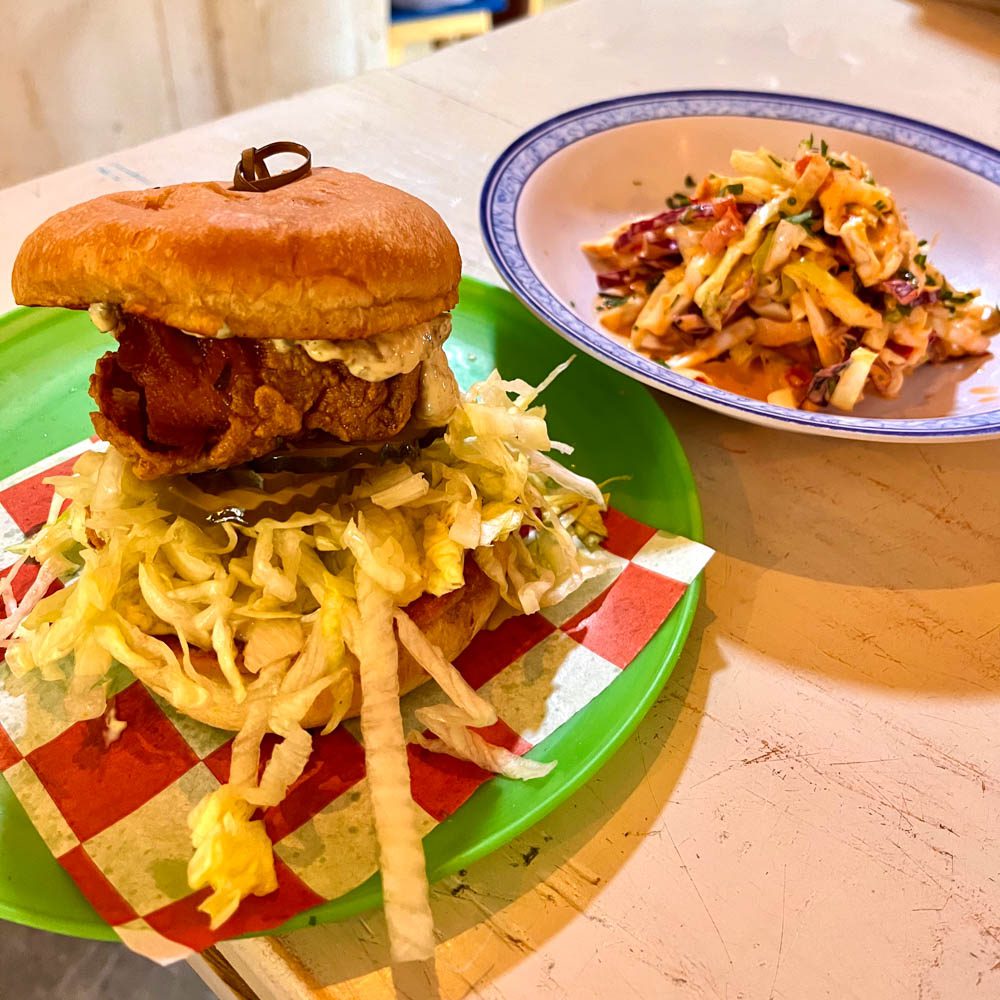 This little restaurant is just like it sounds, serving up all things fish. It's tucked in an alley where you're seating is on the edge oft he building. Try the fish tacos or the fried fish sandwich.
This is the sister restaurant of fish shack, but they serve up USA style bbq. The brisket is delicious, as well as the sides. They serve good mezcal as well.
Other Parts of Puerto Escondido, Restaurants: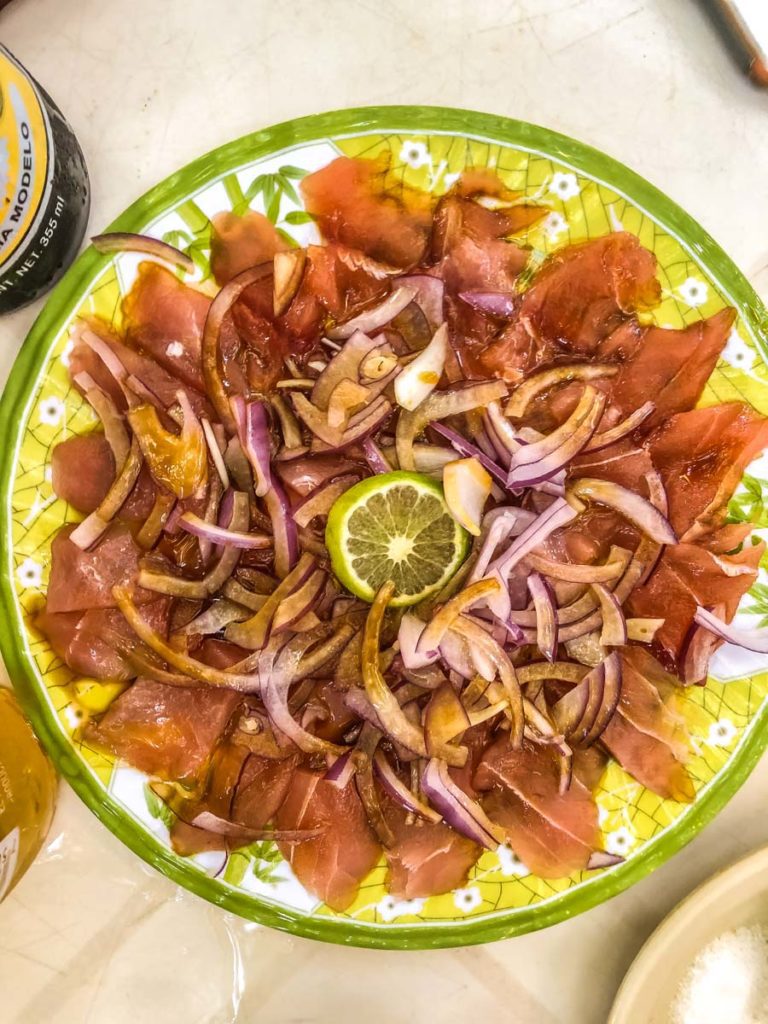 My favorite Puerto Escondido restaurant is a casual local spot located in the Puerto Escondido centro. This suggestion is probably for more seasoned travelers as it's not a tourist destination. You can take a taxi here and be sure to order lots of fresh ceviche, sashimi and a michelada. The atmosphere is simple – plastic chairs, sandy floor, and a car wash directly next door. But if you love delicious seafood and appreciate getting a taste of the local culture, this is a great spot.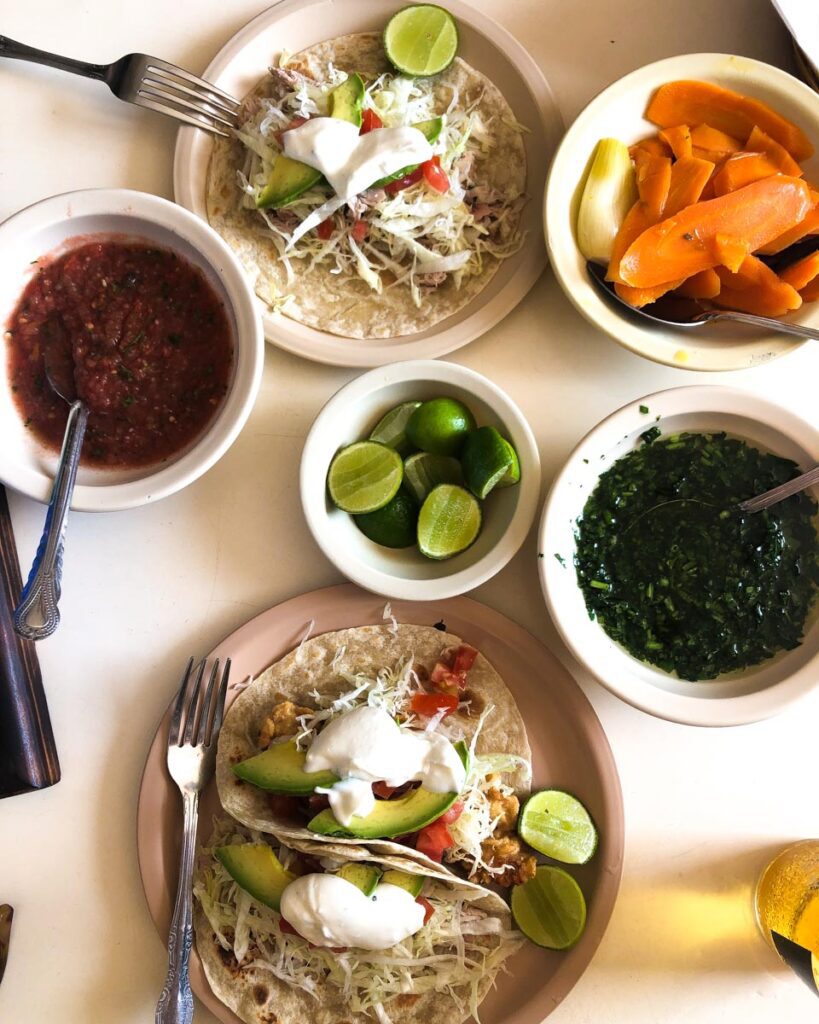 This casual taco joint is famous for their smoked marlin fish tacos.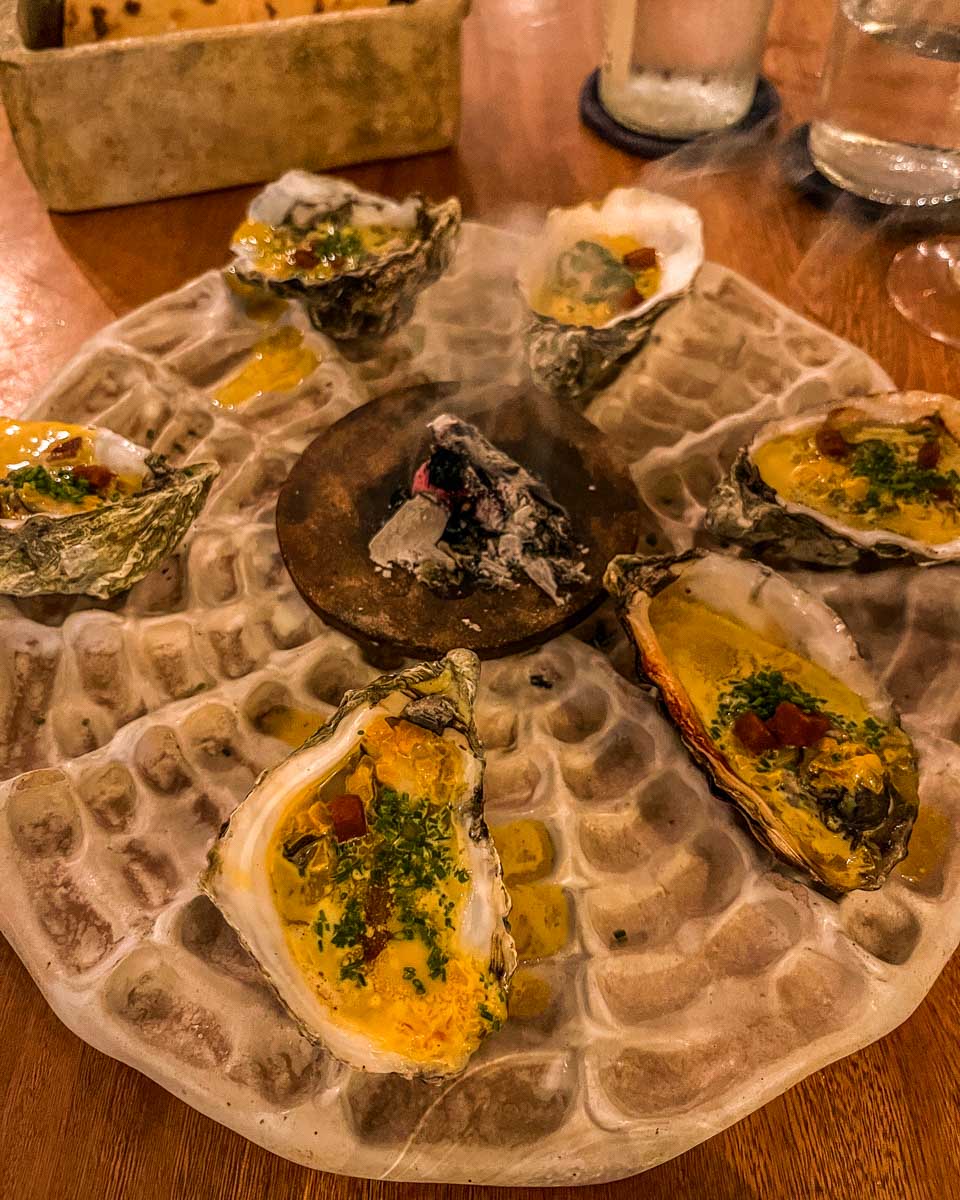 It took me several years to finally try this recommended restaurant, but it is absolutely the best high end restaurant in Puerto Escondido. On the Rinconada strip, this place serves an array of elevated seafood dishes (though they also have meat and vegetarian options) that are all incredible. Every dish we had was a 10/10. Recommended for a nice night out. Make a reservation. They also have great mezcal.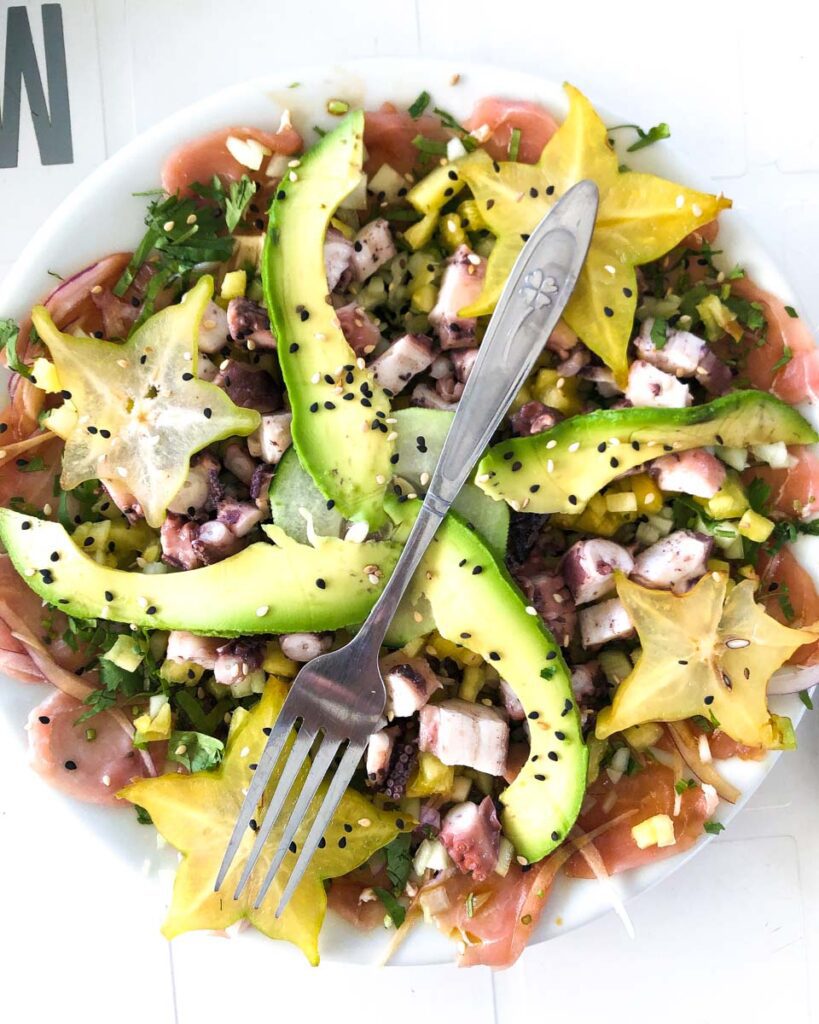 This is a local spot in the center of town that serves fresh seafood. Casual atmosphere with sand floor and plastic tables, and super fresh seafood served ceviche style or in cooked variations.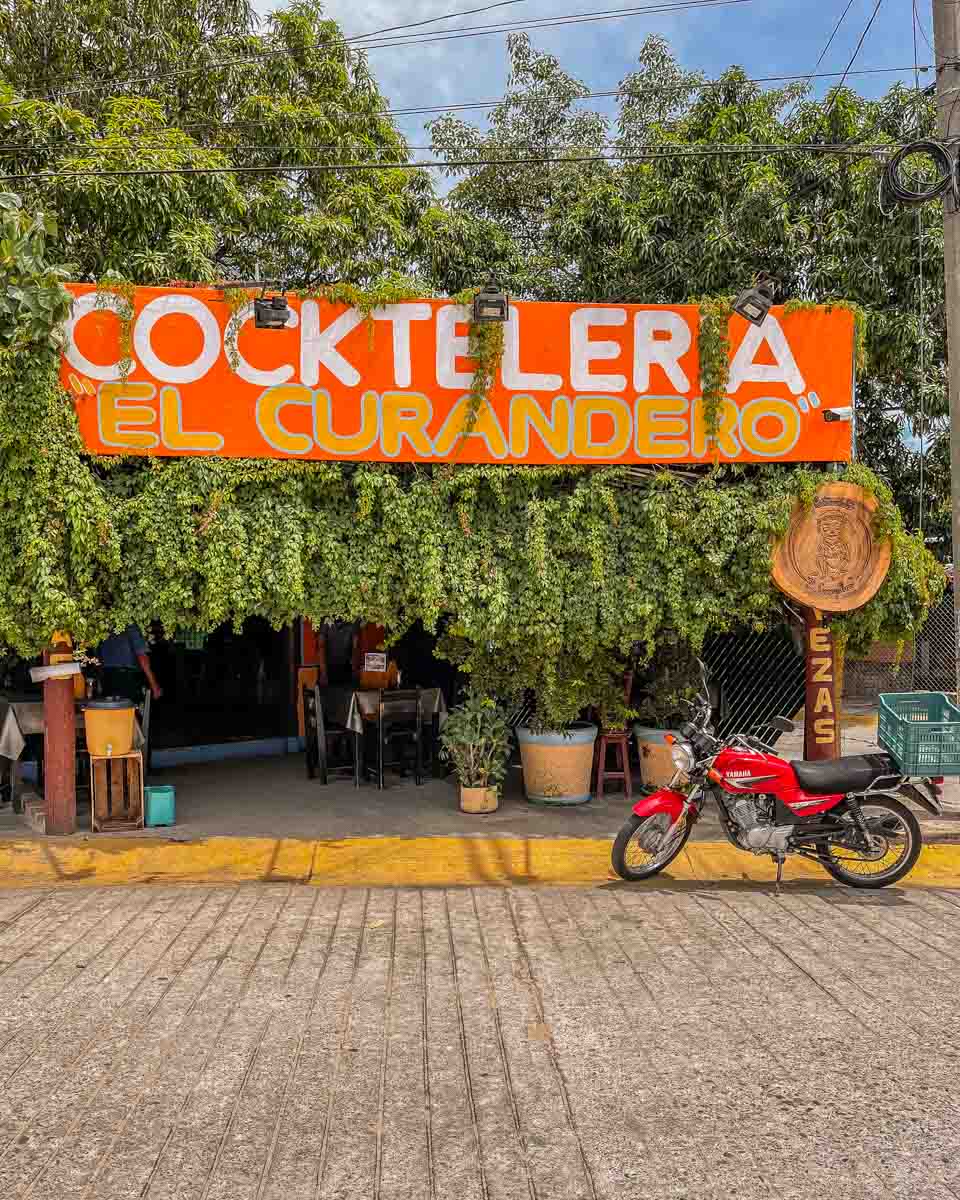 Another spot just across from La Morena, also very casual, filled with locals and serving super fresh and delicious seafood.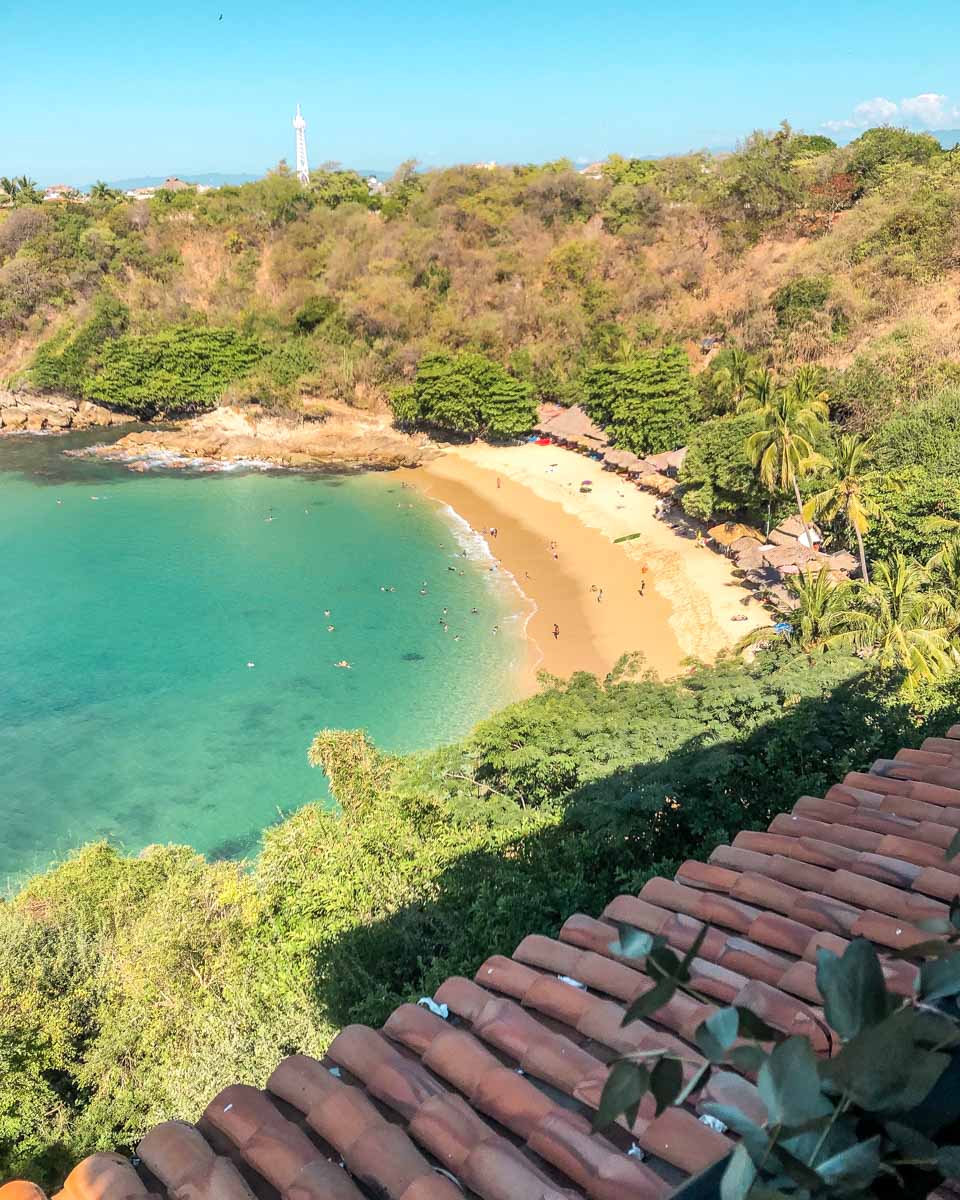 This restaurant is located within the hotel Villas Carrizalillo complex, and has a spectacular view over the Playa Carrizalillo bay. If that wasn't enough, the food is always consistent and really good. This is a favorite breakfast spot of mine, and the breakfast prices are really quite good for a high-end restaurant. This is also a great place for sunset cocktails or dinner.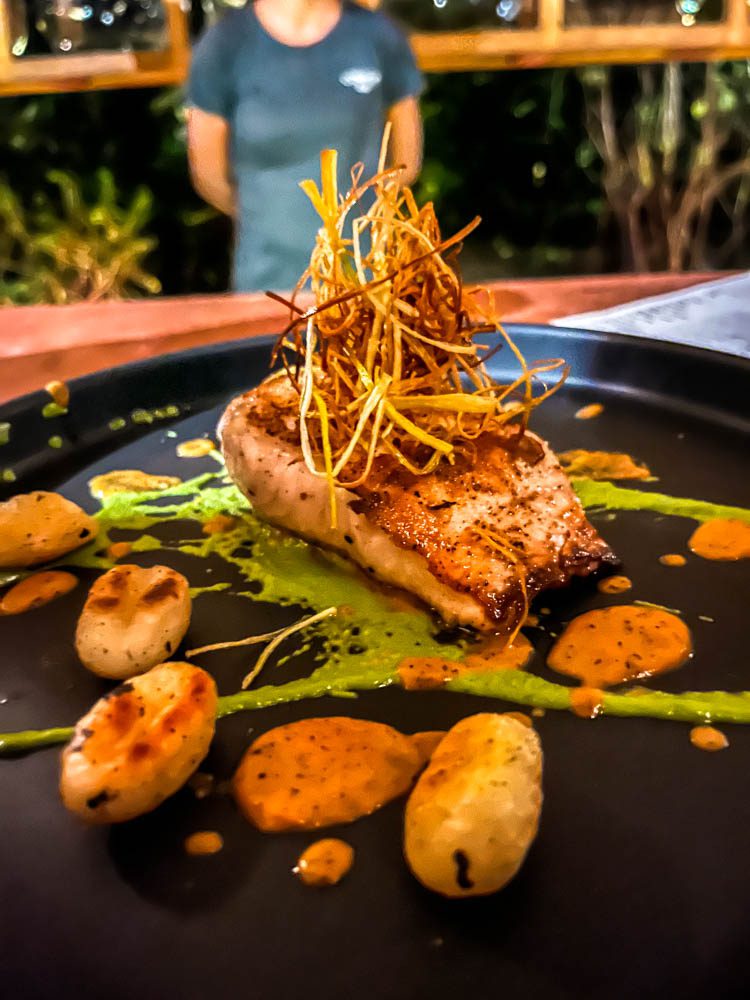 This mezcaleria and restaurant is outside of town about a 30 minute drive in the community of Punta Pajaros. They seem to have the most legit and delicious selection of mezcal I've seen on the coast, and the food is delicious. Make a reservation.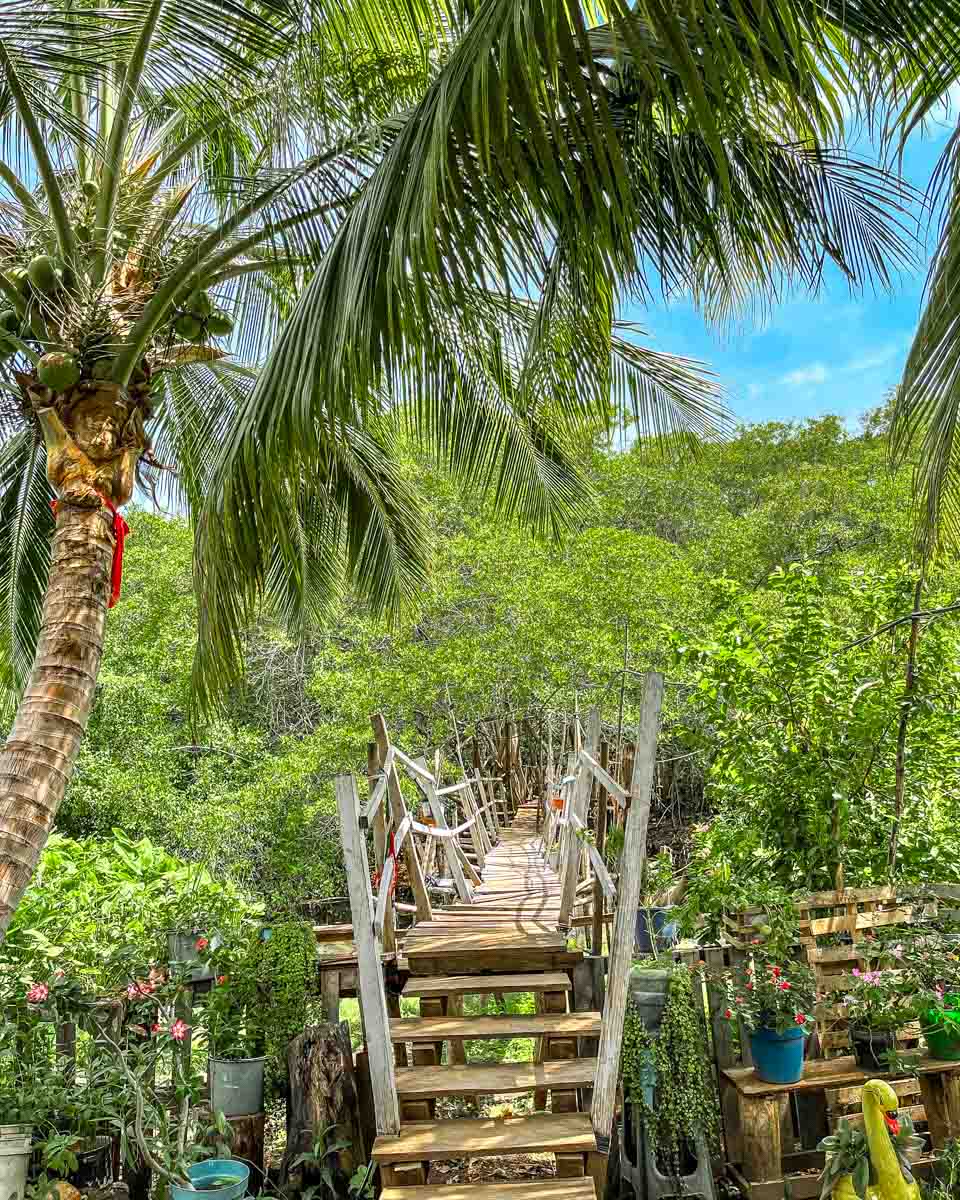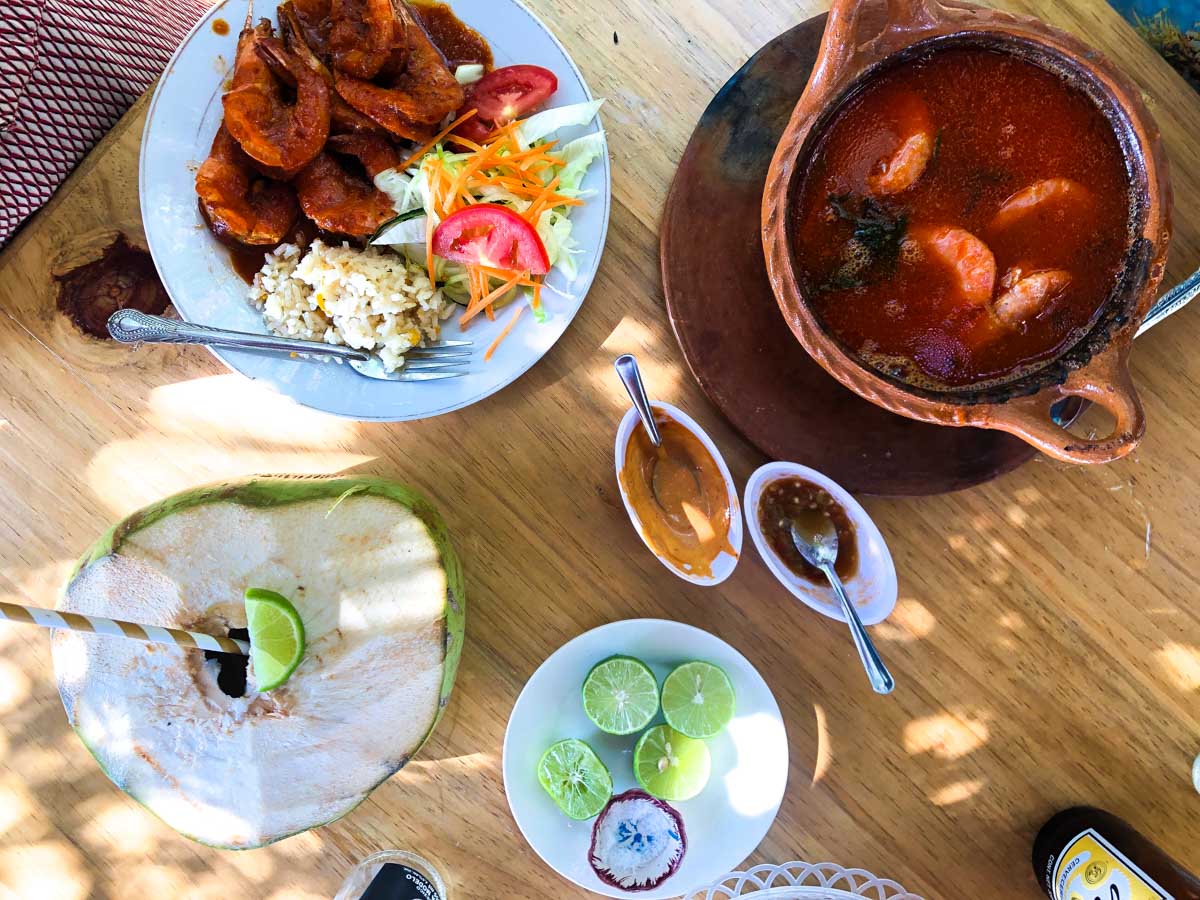 This is a family run restaurant built right over a mangrove, about 5-10 minutes drive from La Punta, Puerto Escondido. You arrive and walk across a long wooden bridge to reach the restaurant built on a wooden deck perched over the lagoon. The food is all fresh and incredible. My favorite dish is the camarones al ajillo (shrimp sauteed with garlic and guajillo chiles), and the fresh fish or caldo de camaron are delicious as well.
Where to Work Remotely: Zicatela & La Punta Puerto Escondido Guide
Puerto Escondido has had a reputation of unreliable internet, but the situation is improving. There is now a satellite option that has given some places access to fast speeds. You still need to manage your expectations, but there are several coworking options that have popped up that are reliable go-tos.
Try Selina, Casa Losadeli, and Coworking Oficina del Puerto. Sandala Cafe is also a good reliable spot for morning and early afternoon work.
Where to Stay: Zicatela & La Punta Puerto Escondido Guide
Below are accommodations for every price point, in various areas of Puerto Escondido. You can find everything from budget to mid-range boutique hotels, to luxury architect rental homes.
La Punta, Puerto Escondido (Brisas de Zicatela)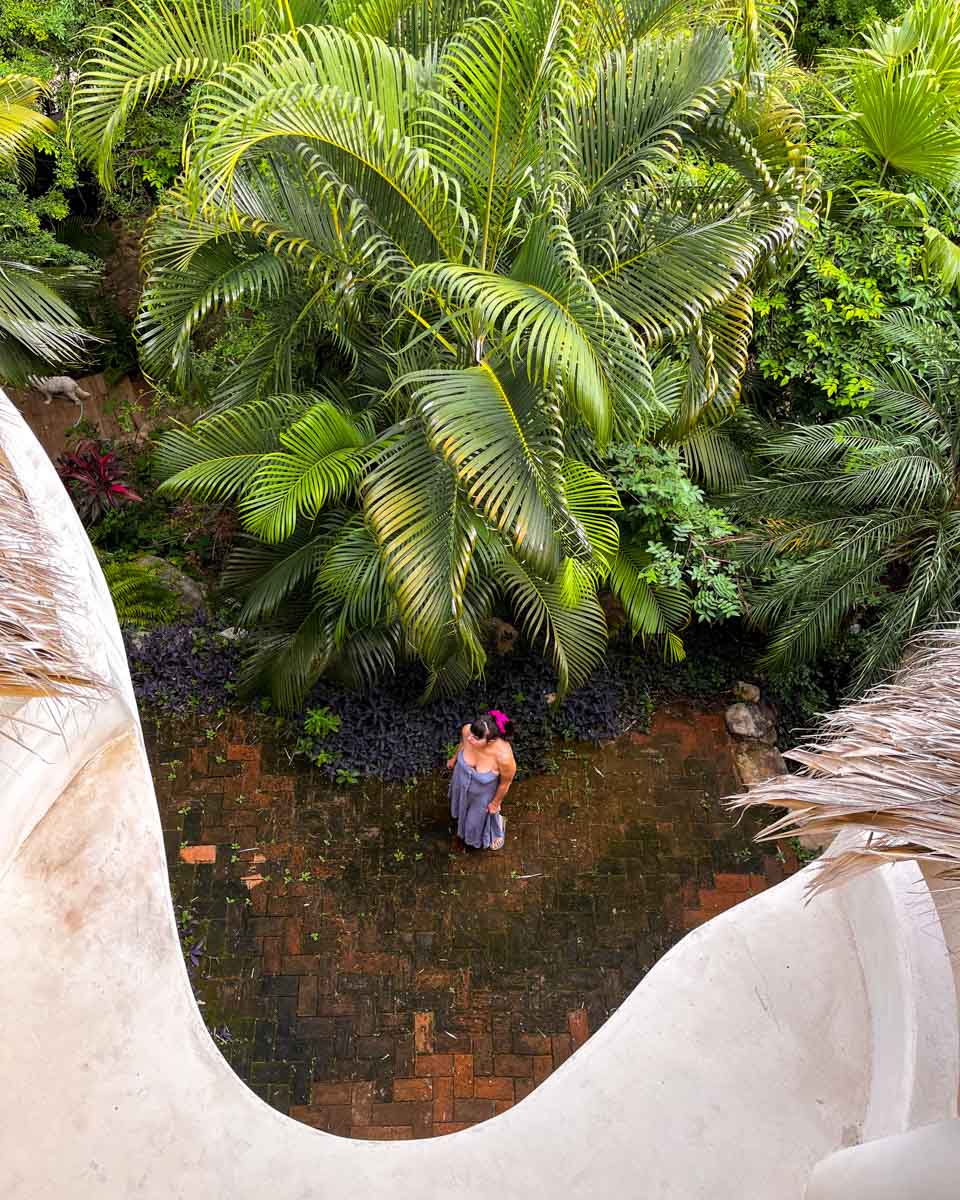 This cute boutique hotel has my favorite kind of design – clean minimal surfaces, mixed with warm natural tropical details. This hotel is just a couple blocks from the main strip of La Punta, so very easy to walk everywhere or catch a taxi to other parts of Puerto Escondido.
The hotel is super leafy, I loved how they intentionally integrated the natural parts of the land, keeping many trees and endemic plants. The rooms are thoughtfully decorated with enough beautiful details, but still remaining minimal and clean.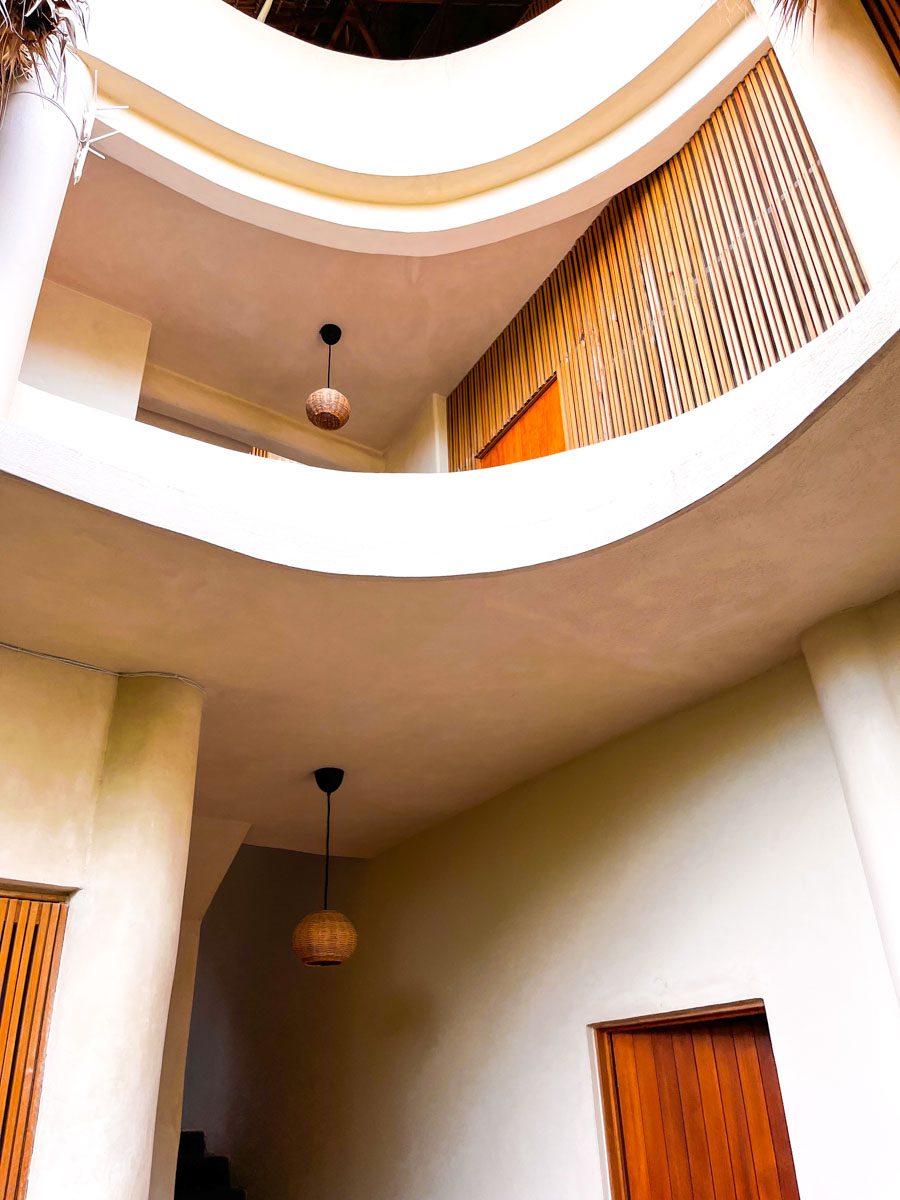 Our room was on the top floor and had a stunning view over the jungle and to the beach. Most of the room opens up to let the air flow in, and the large comfy bed has a mosquito net.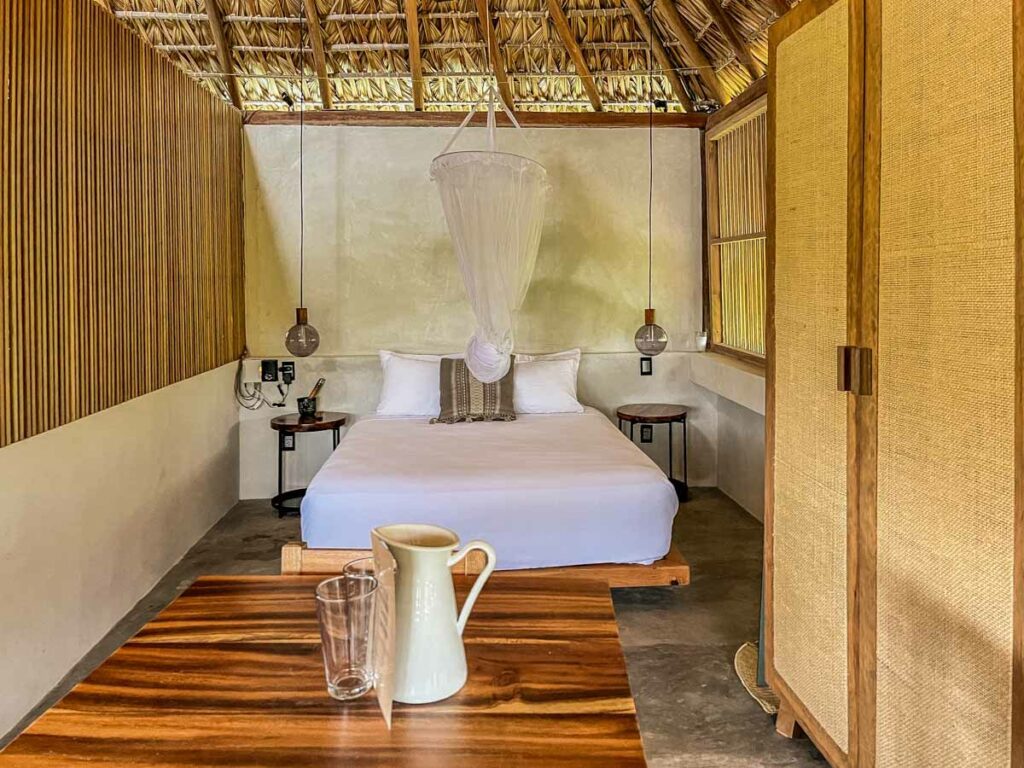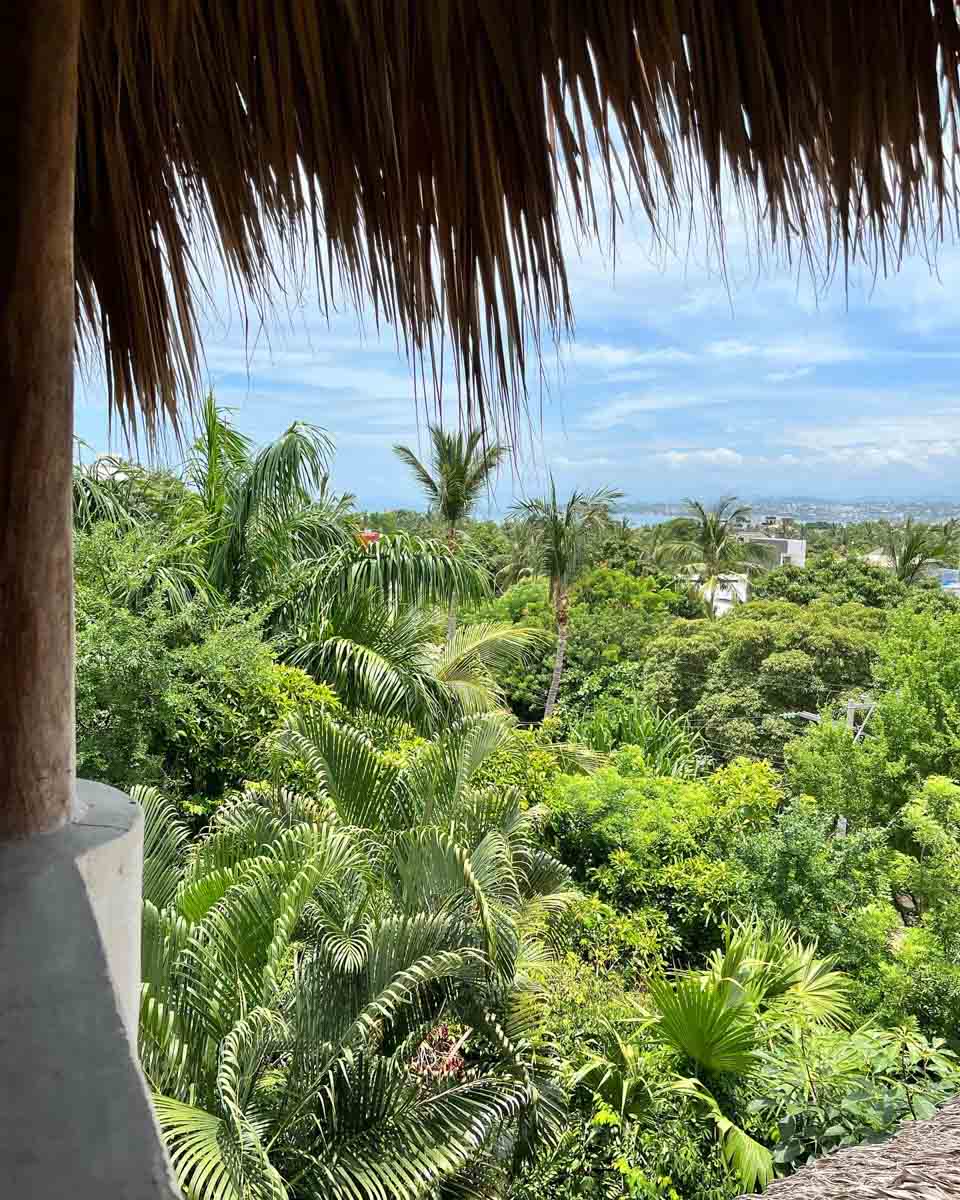 There is a shared kitchen which also serves a continental breakfast each morning of fresh fruit, local bread and coffee. And there is a lovely pool to cool off, surrounded by tropical greens.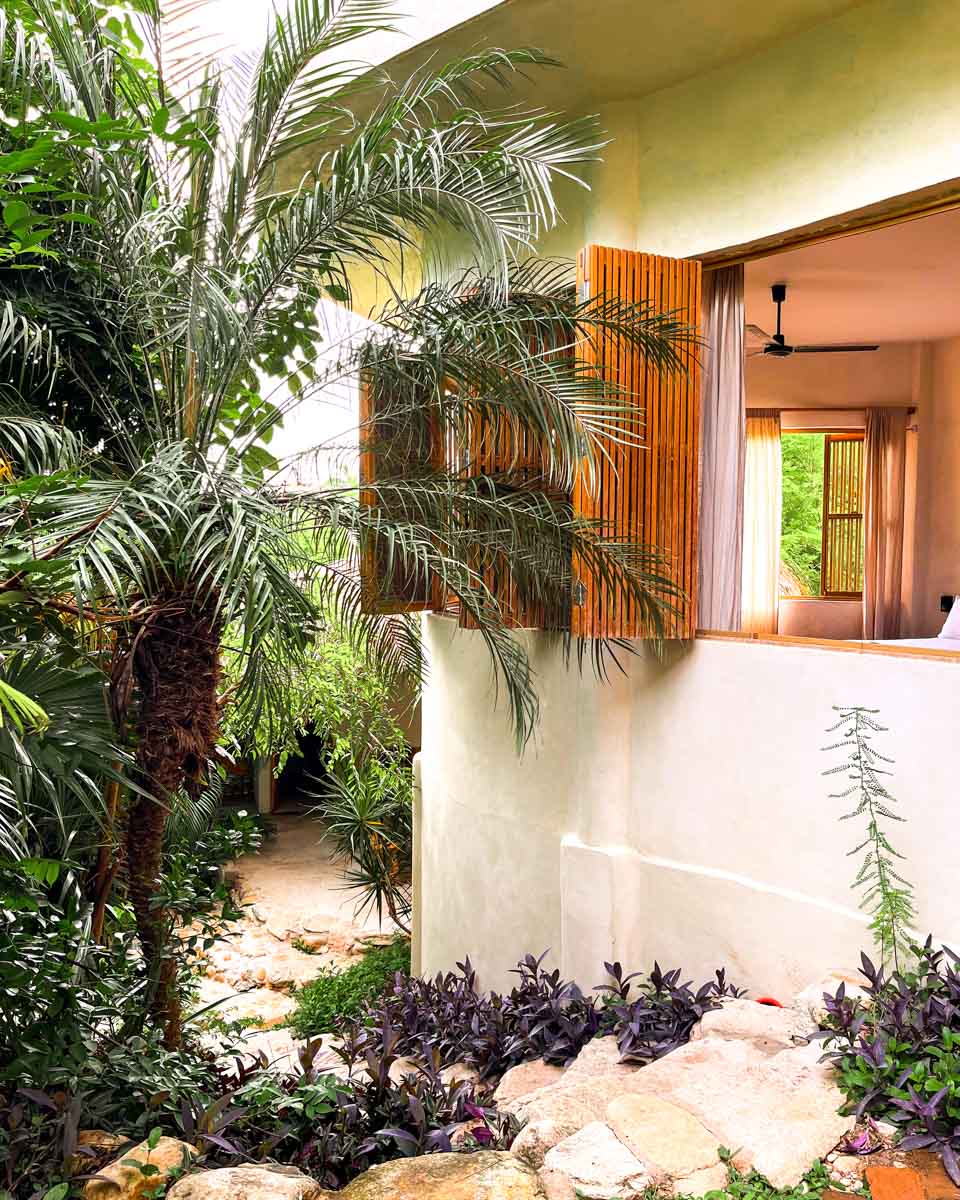 I loved our stay and would go back anytime. For me this is a great option for anyone who loves beautifully designed accommodation, at a reasonable price point, in a trending area of town.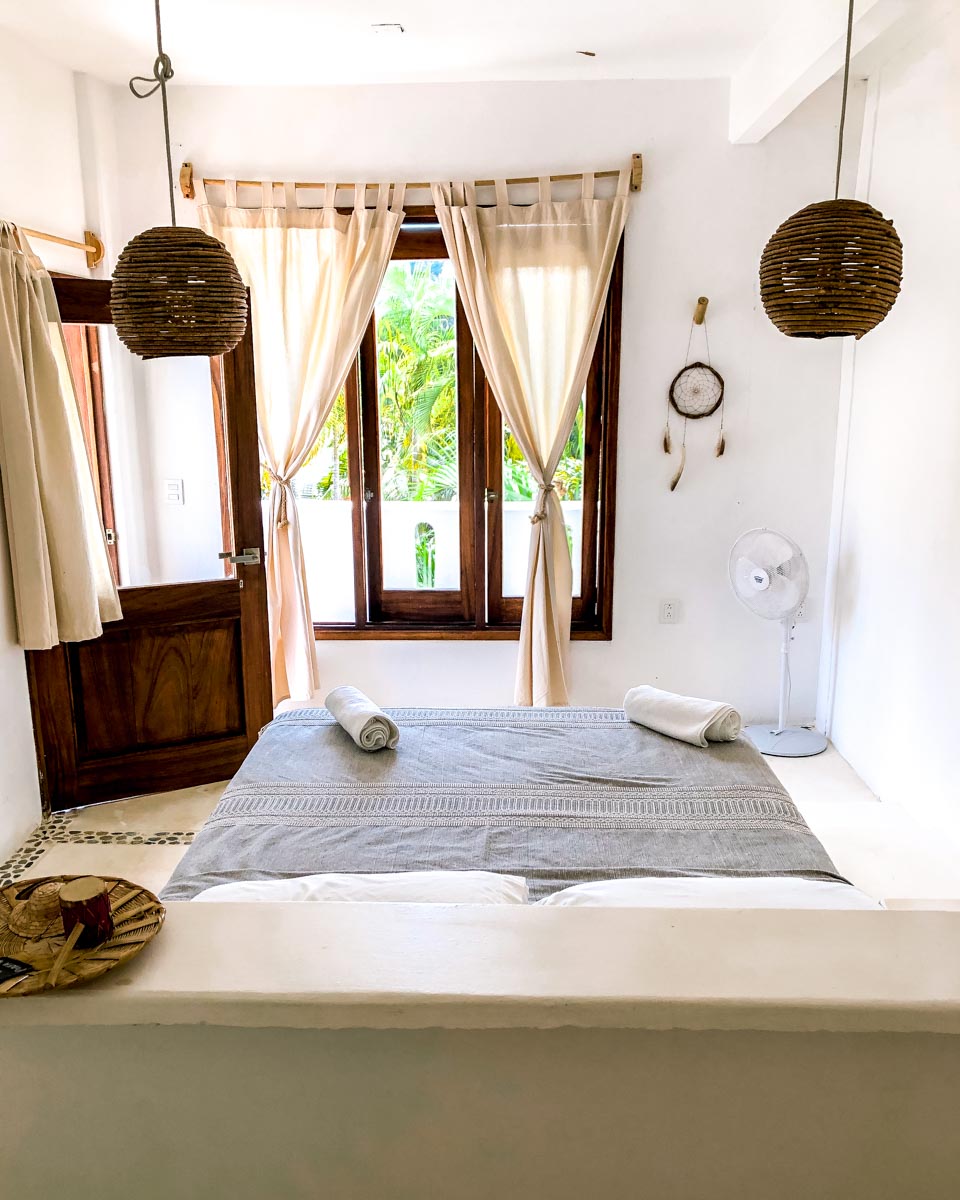 This boutique hotel is also just a couple blocks from the action of La Punta. They have a large lovely pool, a shared kitchen and clean minimalist design. Another good option with an accessible price point. You can read my full blog post about Casa Baba here.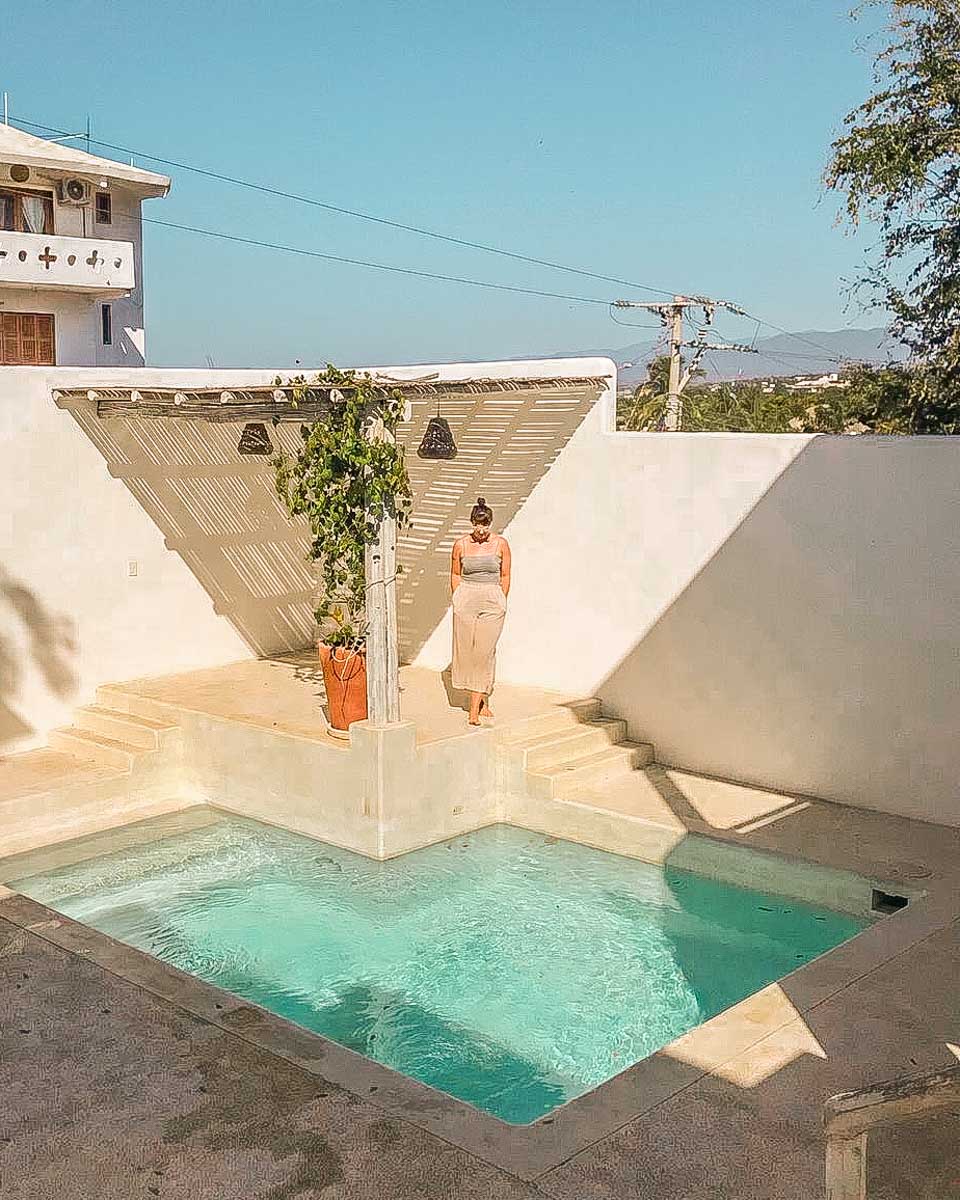 This is a small but comfy boutique hotel designed in a white Mediterranean style. There is a shared central pool and 6 rooms, each with its own balcony and kitchenette. It's in the same area as the above two hotels, so convenient to the beach and La Punta strip.
Find other La Punta hotels and accommodation here.
Zicatela, Puerto Escondido
Hotel Buena Vista: Budget Option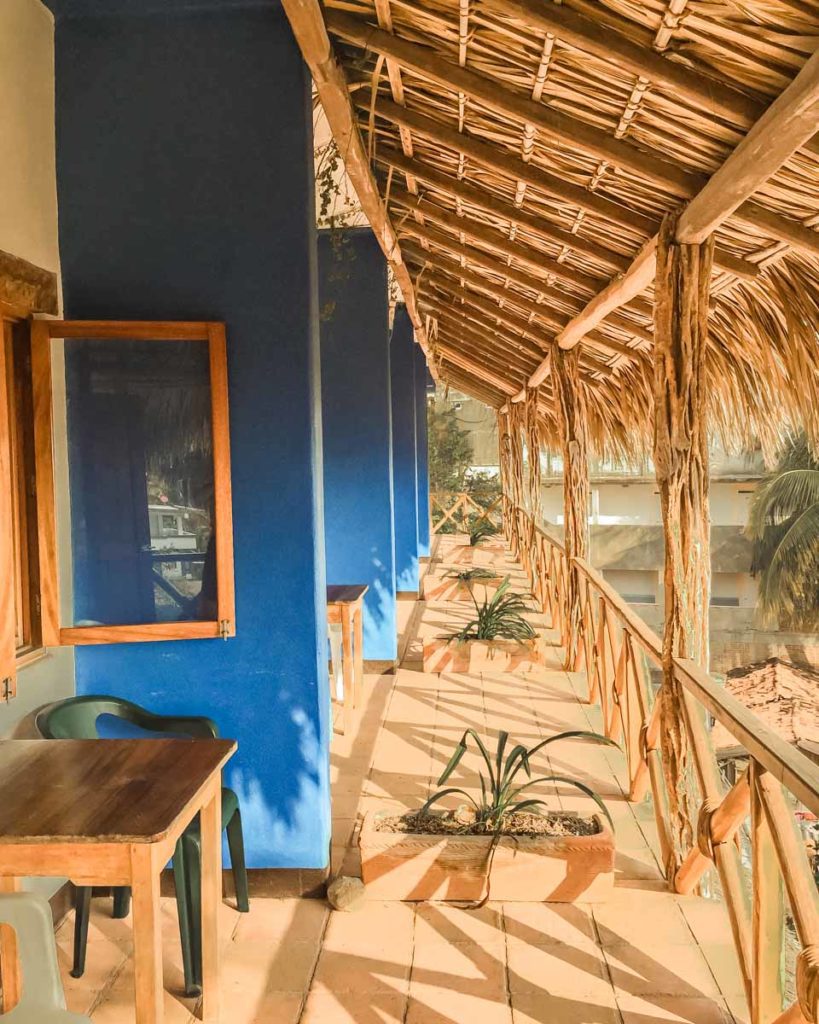 This is the first Zicatela hotel I ever stayed in when visiting 4 years ago. And honestly, it's great if you're on a budget. Simple and basic, but a great price with an ocean view from your private balcony (the name does mean Good View, after all).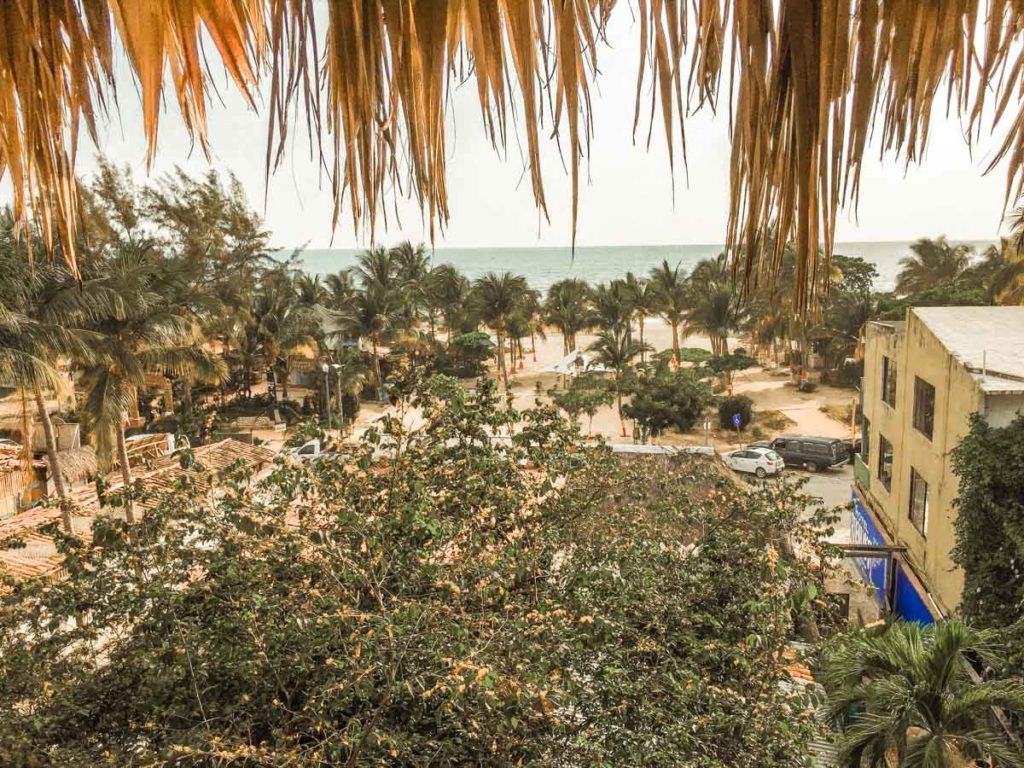 Like i said, it has been a few years since I stayed here, but it still has good reviews on Booking & Tripadvisor.
The one thing to keep in mind is that you have to climb a lot of stairs to get up to the room. But this is how you have such a great view!
Casa Mandala: Budget Option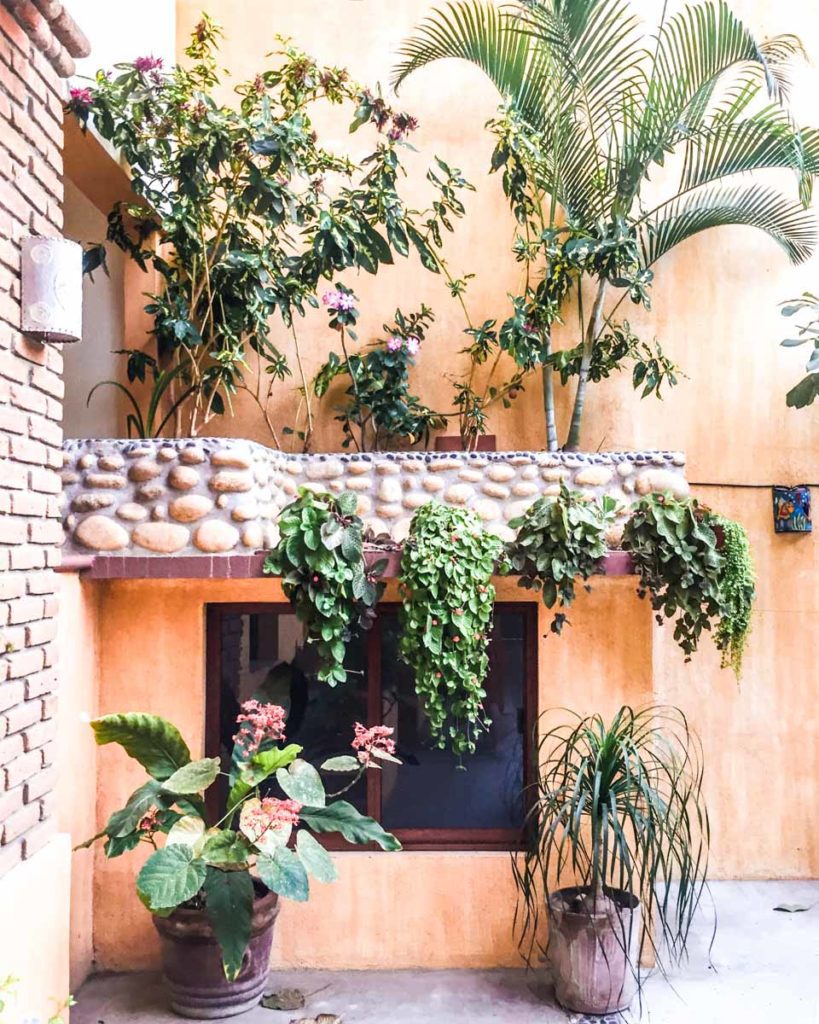 This is a pretty hotel/mini-apartment complex a little off the main strip of Zicatela. It's not right on the beach, you do have to walk a few minutes up the hill on some neighborhood roads, but then you are rewarded with a peaceful quiet location and an amazing view from the rooftop terrace.
This is the studio I stayed in for a week a few of years ago. It has a big kitchen with just about everything you need, a full-private bathroom and a sitting area. It was totally comfortable and a great value for the price.
I even worked from here, and found the wifi to be reliable for video calls and everything else I need to do. A pleasant surprise in a beach community!
The roof terrace is great and the views are stunning.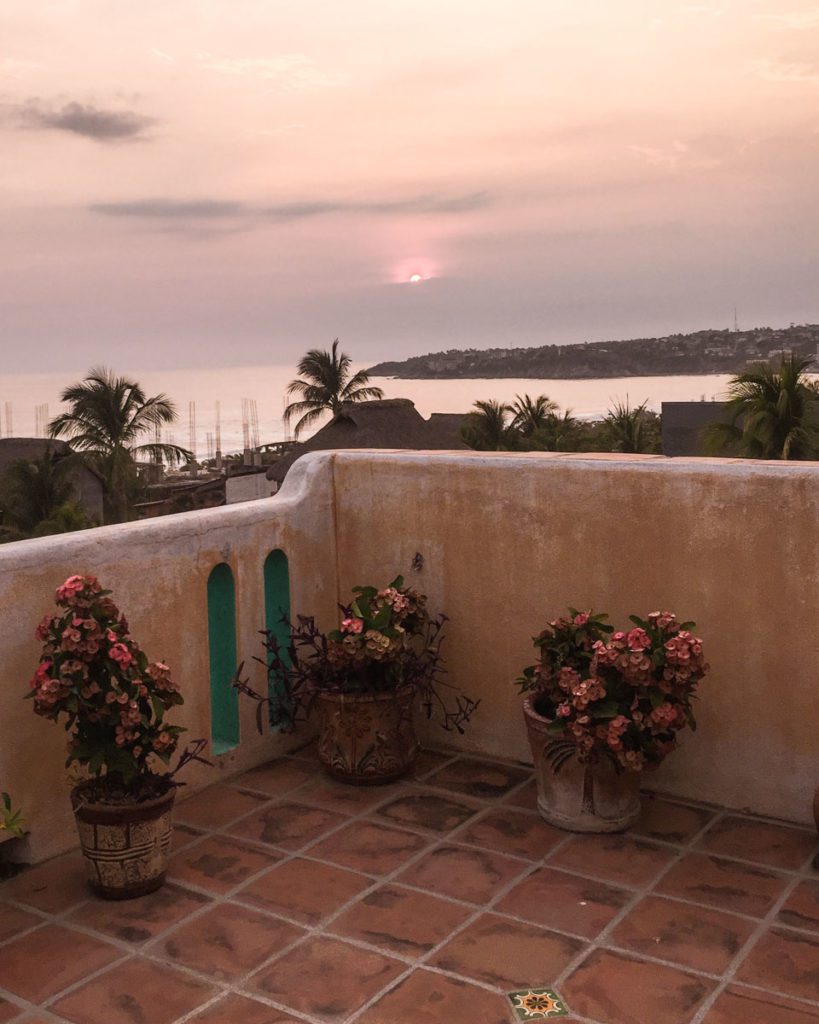 **If you haven't used Airbnb before, you can save $40 on your first trip by using this link.
Search for Zicatela and La Punta, Puerto Escondido Accommodation:
Other Parts of Puerto Escondido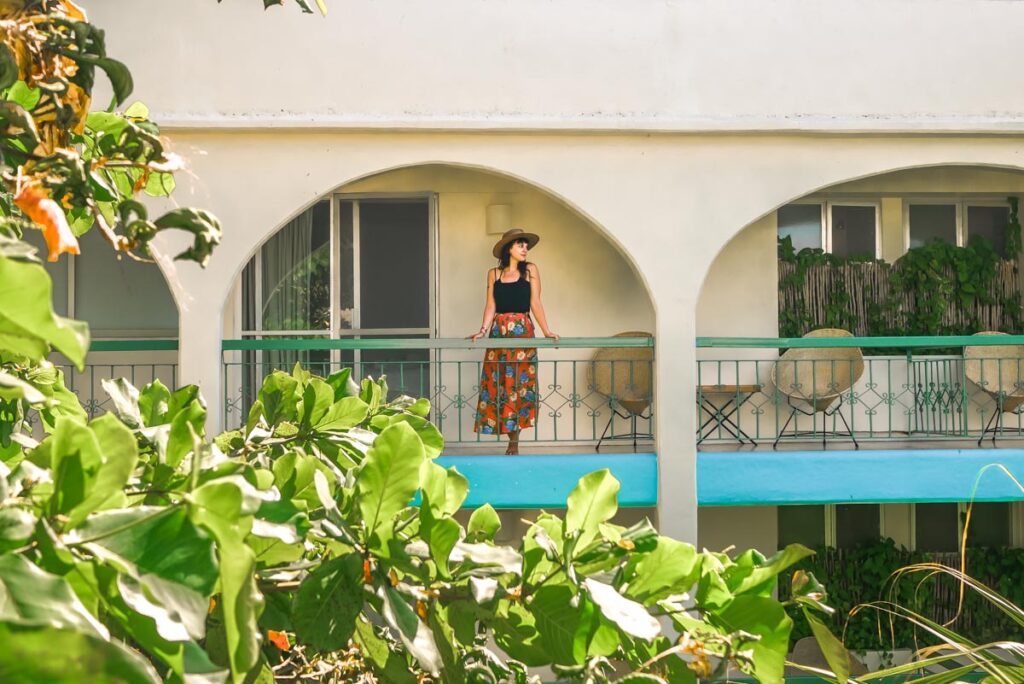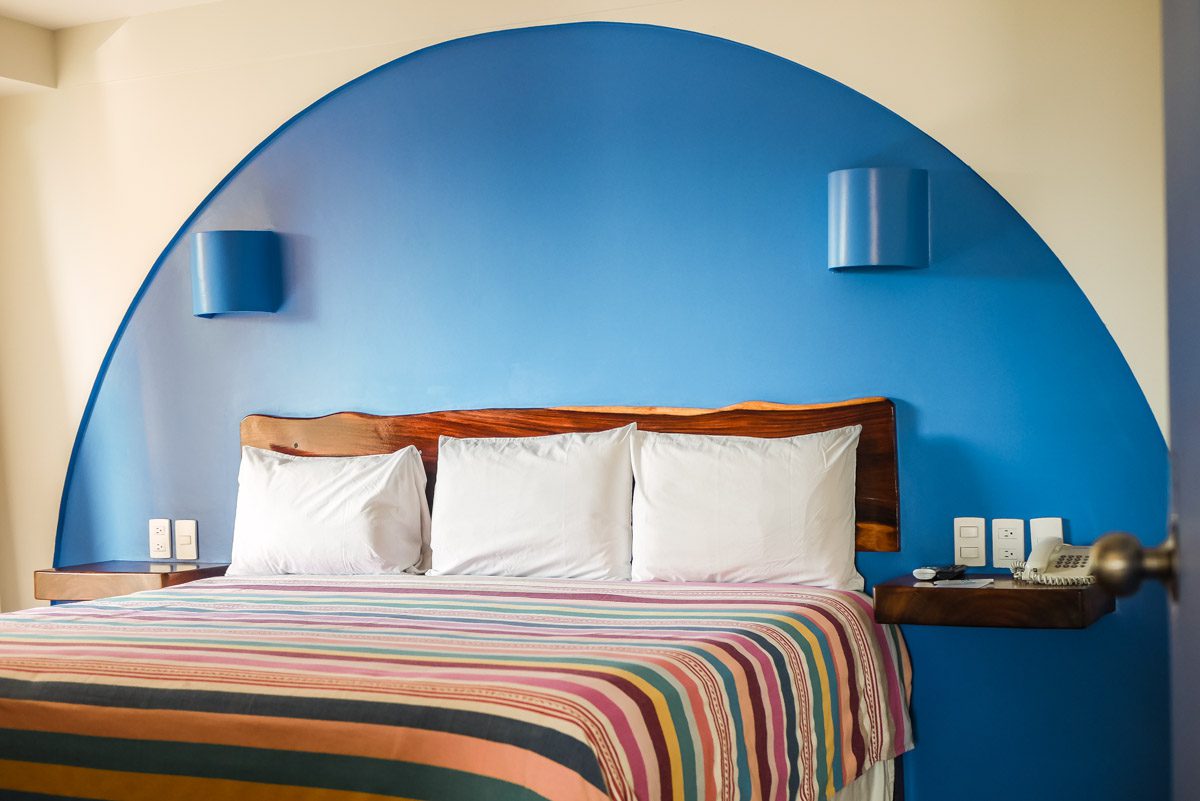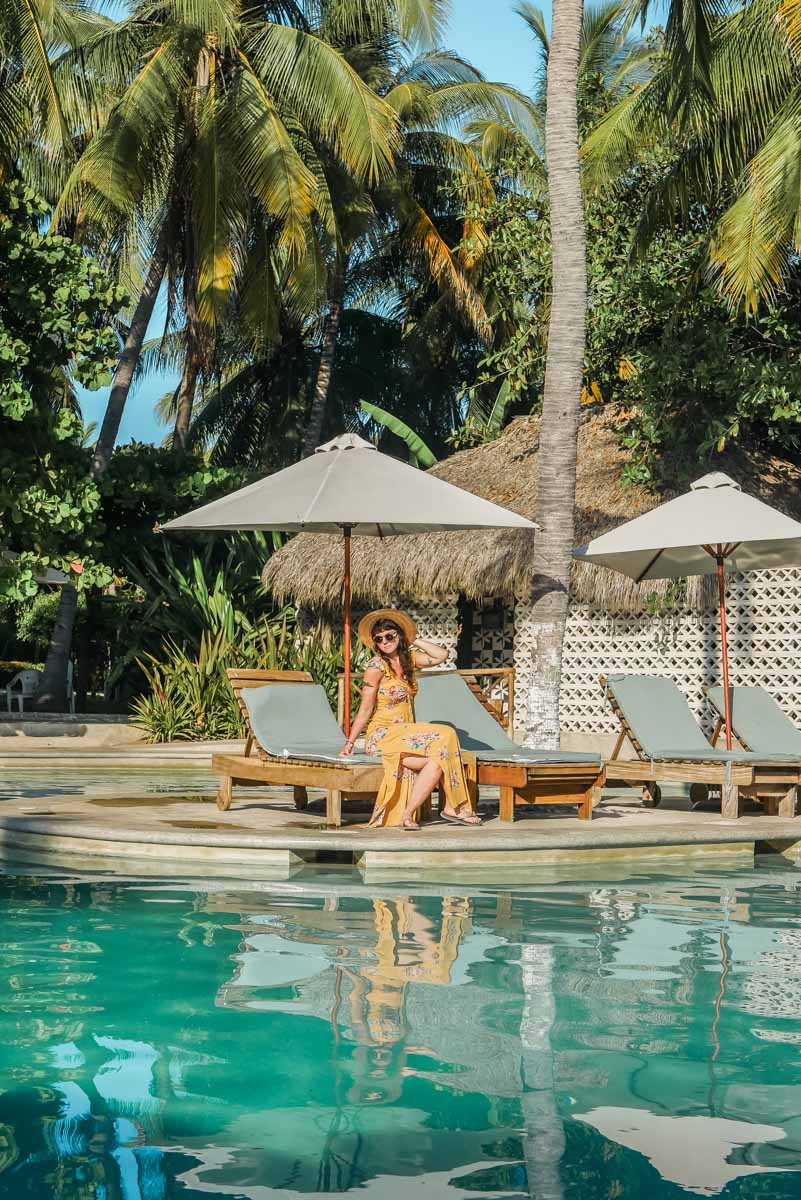 This retro hotel is a classic choice in the Bacocho area of Puerto Escondido. The building and details have a charming 60s vibe. This sizable hotel has a large pool and restaurant in the main hotel area, and then a beach club just down the hill right on the beach. You can take a 5 minute shuttle several times a day down or back up from the beach club (you can of course walk as well, it's very close, the hill is just steep). The beach club has a pretty pool, swim up bar, plenty of sun loungers, and a tasty restaurant, all with a view of beautiful Bacocho beach.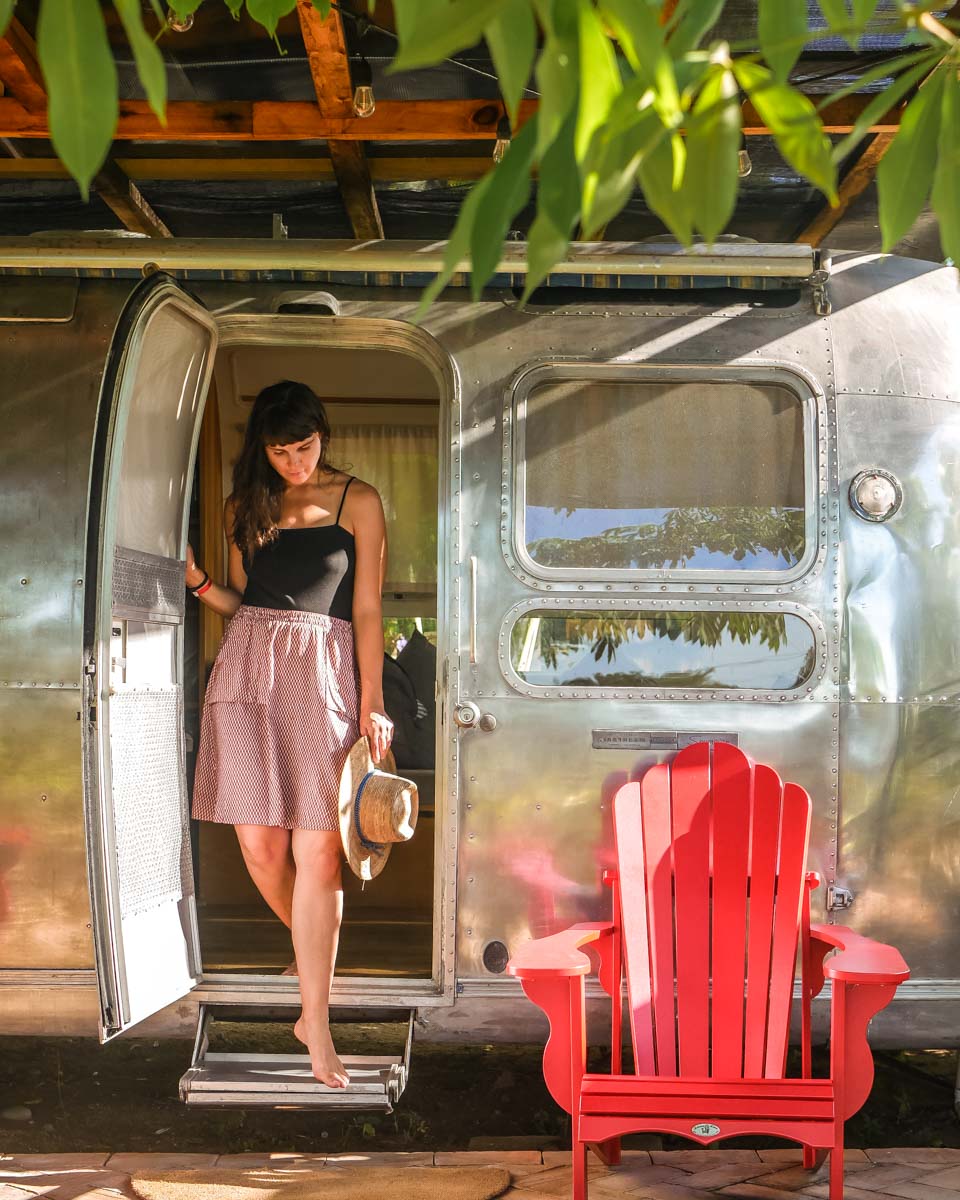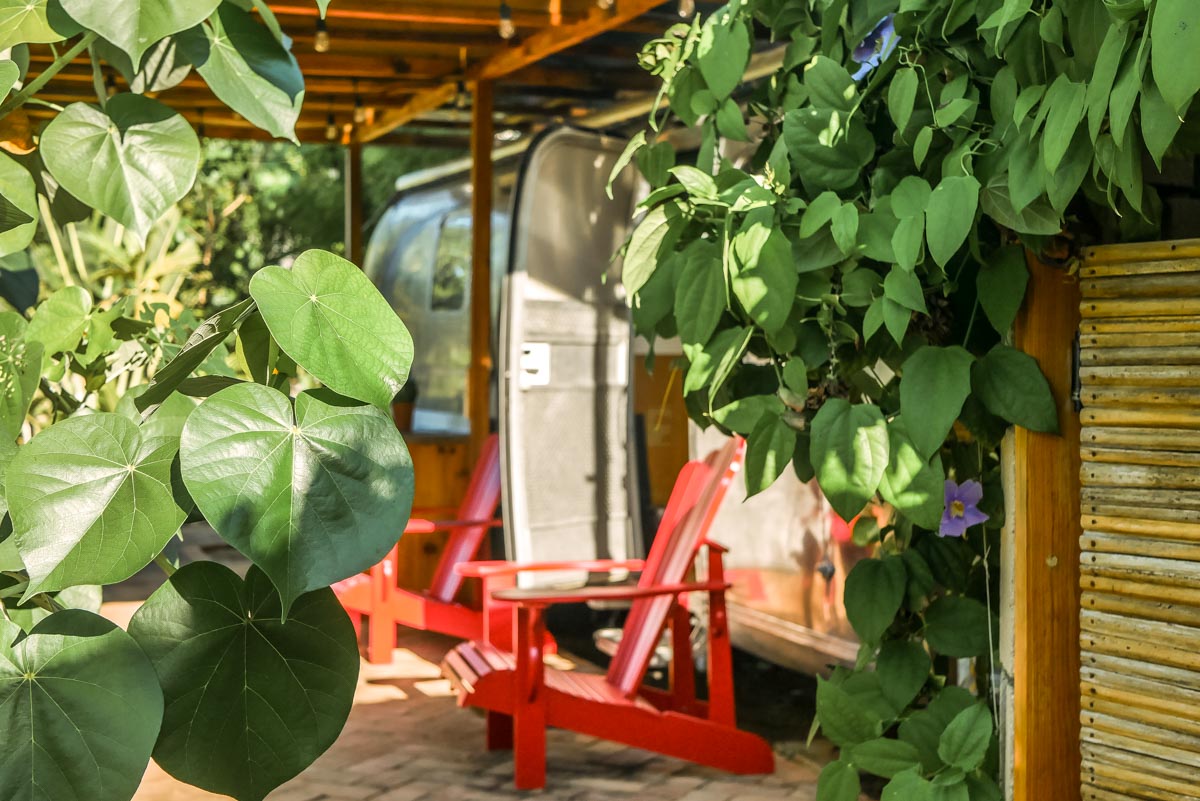 El Capitan is a cute airstream just next to Villasol in the Bacocho neighborhood of Puerto Escondido. This airstream is minimalist inside but with cute details, and the outside is leafy, with a small outdoor kitchen, bathroom, and hang out area. The airstream has a/c so you can be comfy while you sleep.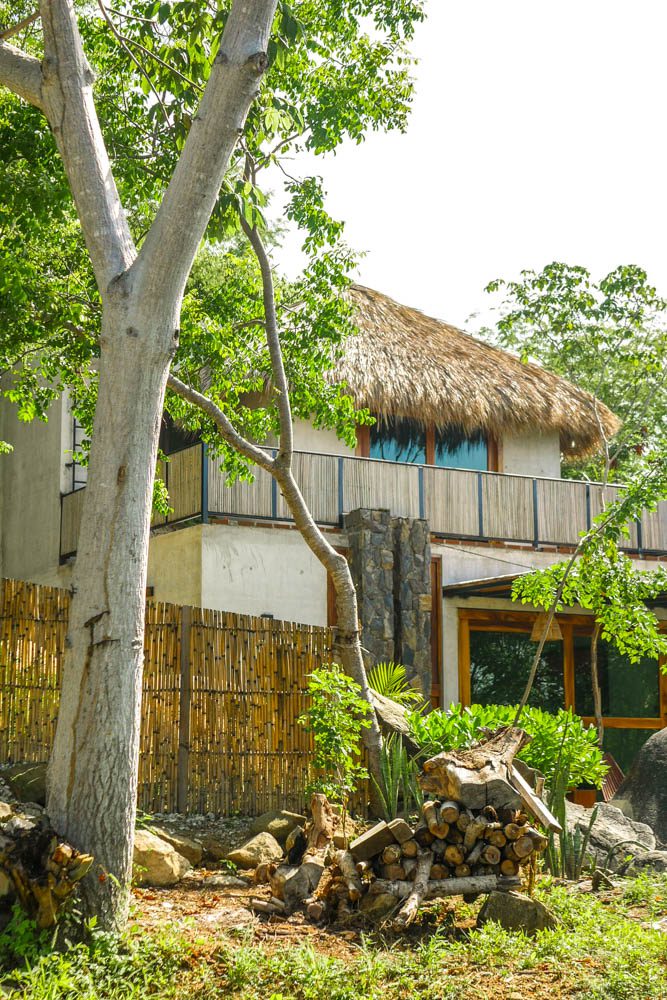 This Airbnb is 20 minutes outside of town, tucked in the jungle, on a hill overlooking the ocean. It's super peaceful and you'll be able to see wildlife and lots of foliage. The home features a full kitchen and living room, king size bed, balcony, and bathroom. The patio is roomy, includes a pool and grill, and is where you'll likely want to spend most of your time. This is a great spot for nature lovers and those wanting a peaceful escape.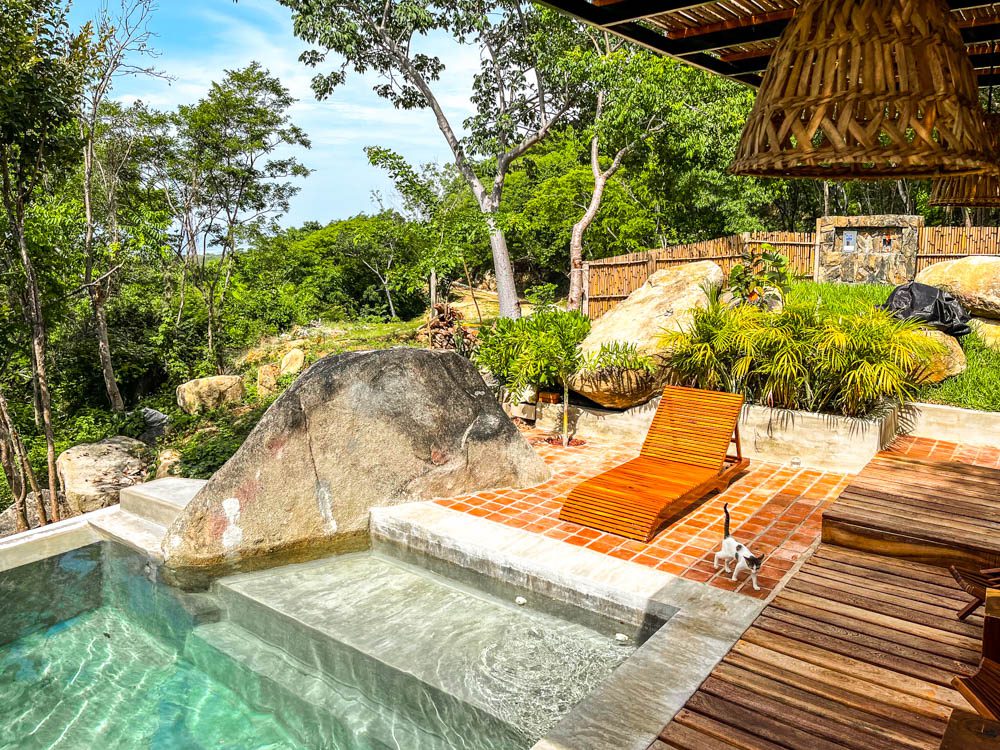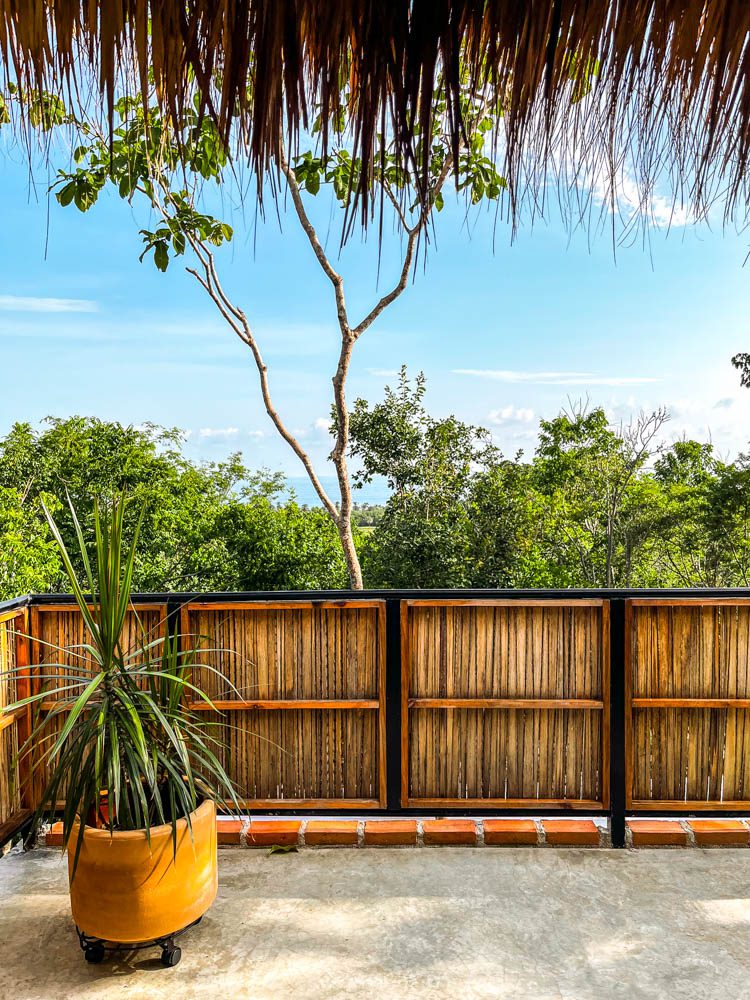 Punta Pajaros, Puerto Escondido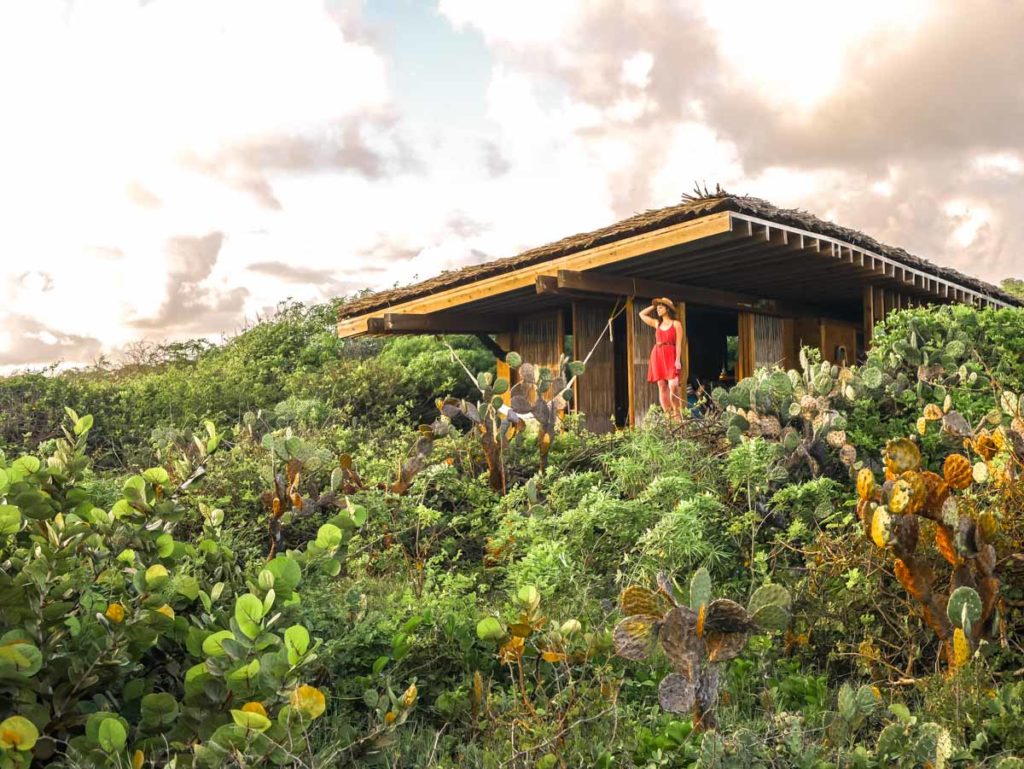 If you prefer something more off-the-beaten path, consider Punta Pajaros – a small artist community on a beautiful stretch of sand about 30 minutes drive from the center of Puerto Escondido.
Here you can tour Casa Wabi, the artist residency designed by Pritzer Prize winner, Tadao Ando, and find a few other amazingly designed hotels and vacation rentals. A couple options to stay: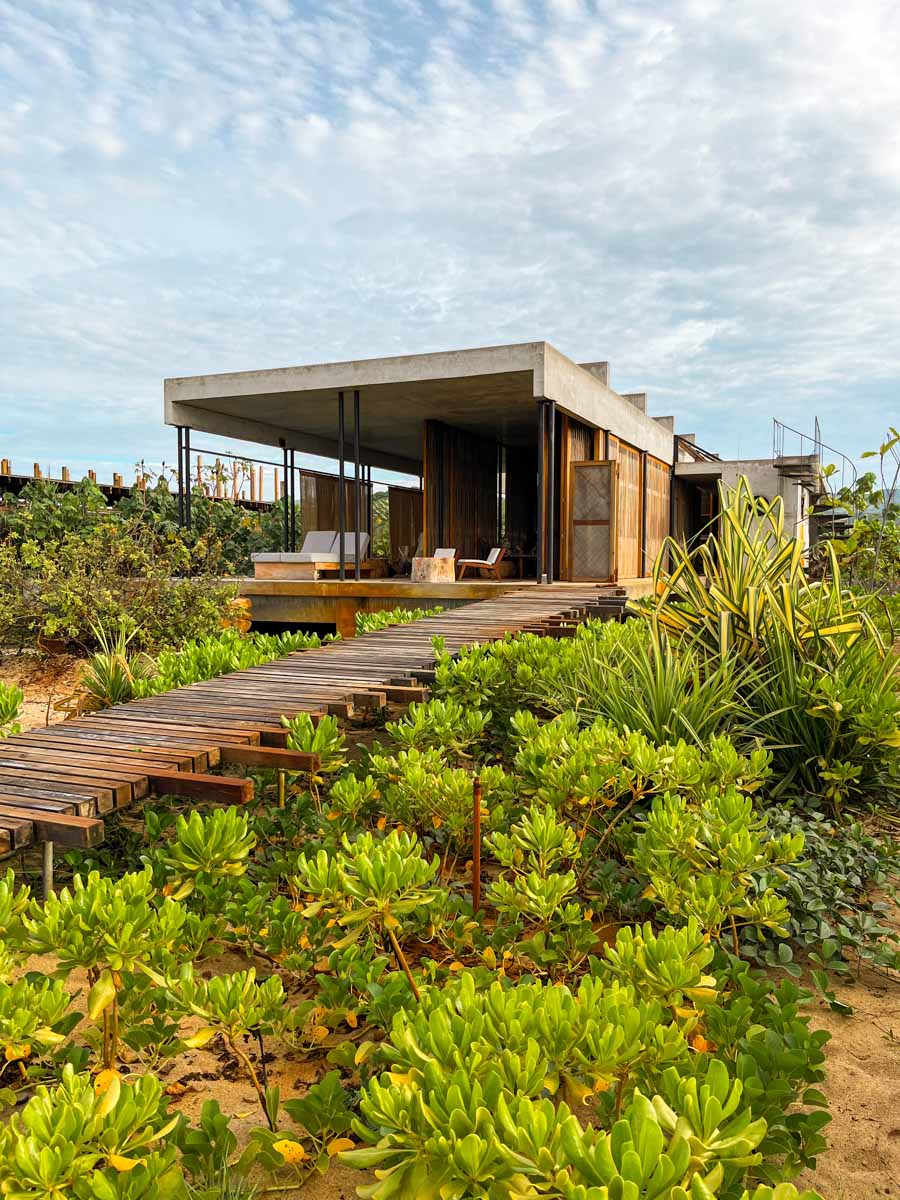 These two stunningly designed homes were created by architects, Julio Gaeta and Luby Springall of Gaeta Springall. These homes integrate perfectly with the peaceful nature of Punta Pajaros, and yet are filled with beautifully designed architect-inspired details.
Both homes open up almost completely, letting in the natural air flow from the ocean. Even when you close all the beautiful wooden doors, their slat design allows comfortable air flow, and all doors and windows are screened for your comfort.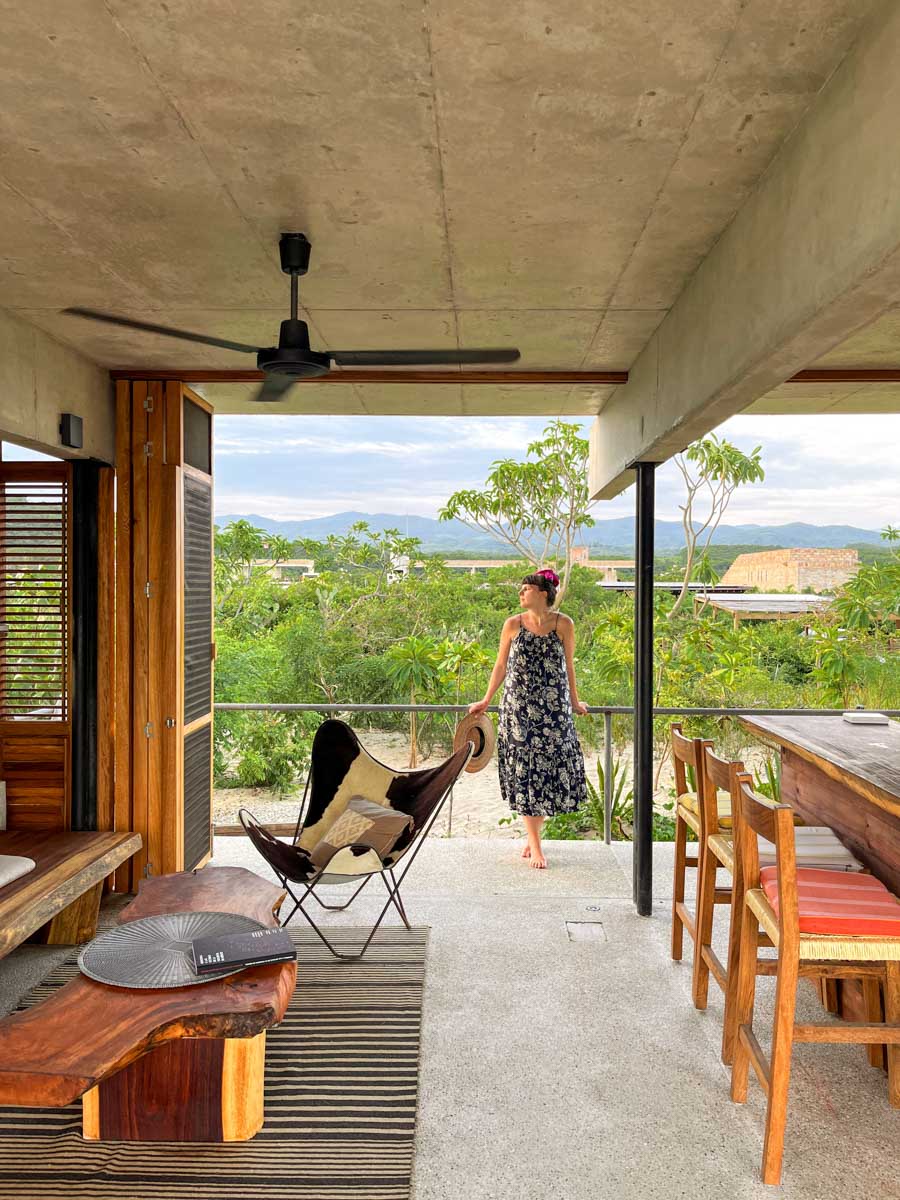 Each home has a private pool, and you can head to the roof to sip a mezcal as you gaze at the ocean, the jungle, or the mountains.
We had such a wonderful and relaxing stay here, the hosts are incredible warm and wonderful, and we'd love to return anytime. This is a really special place for anyone who appreciates well-designed and curated spaces. Full blog coming soon.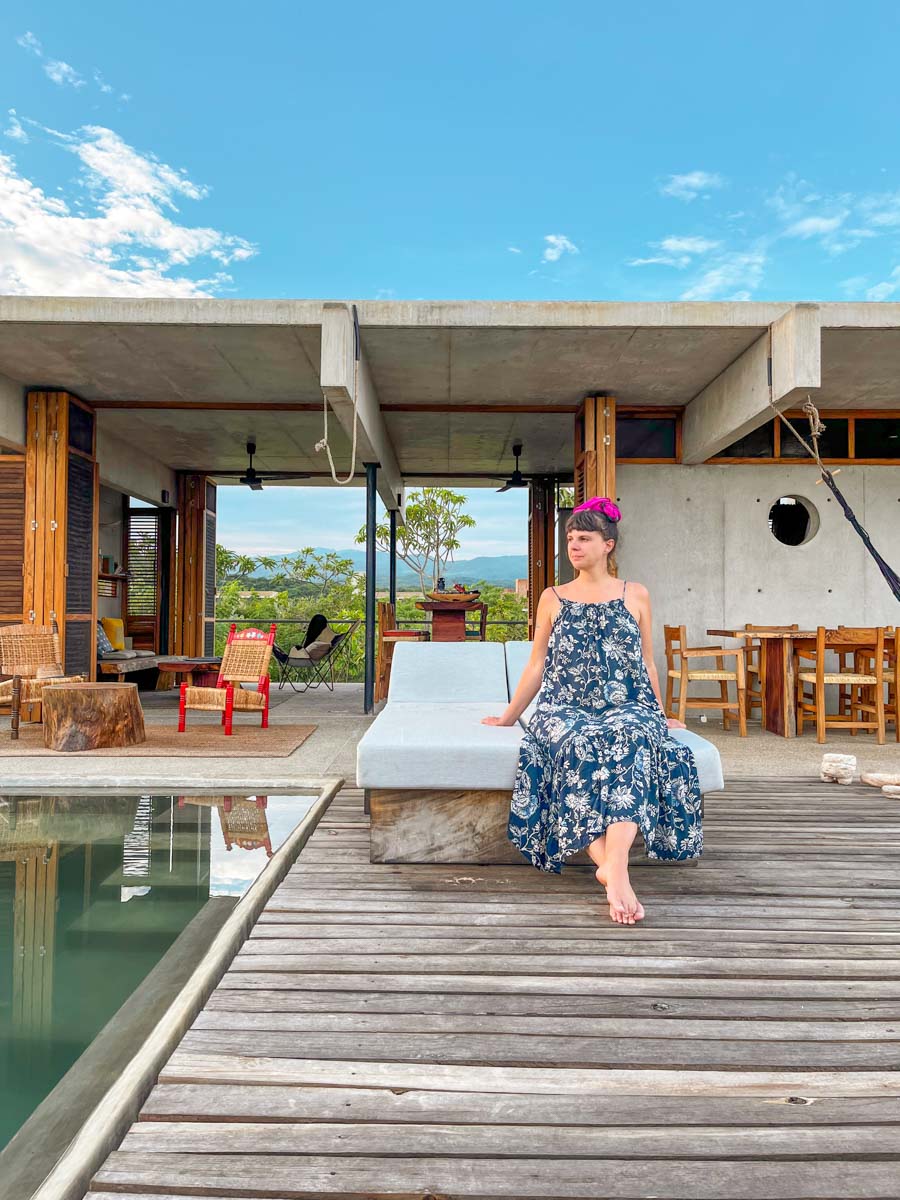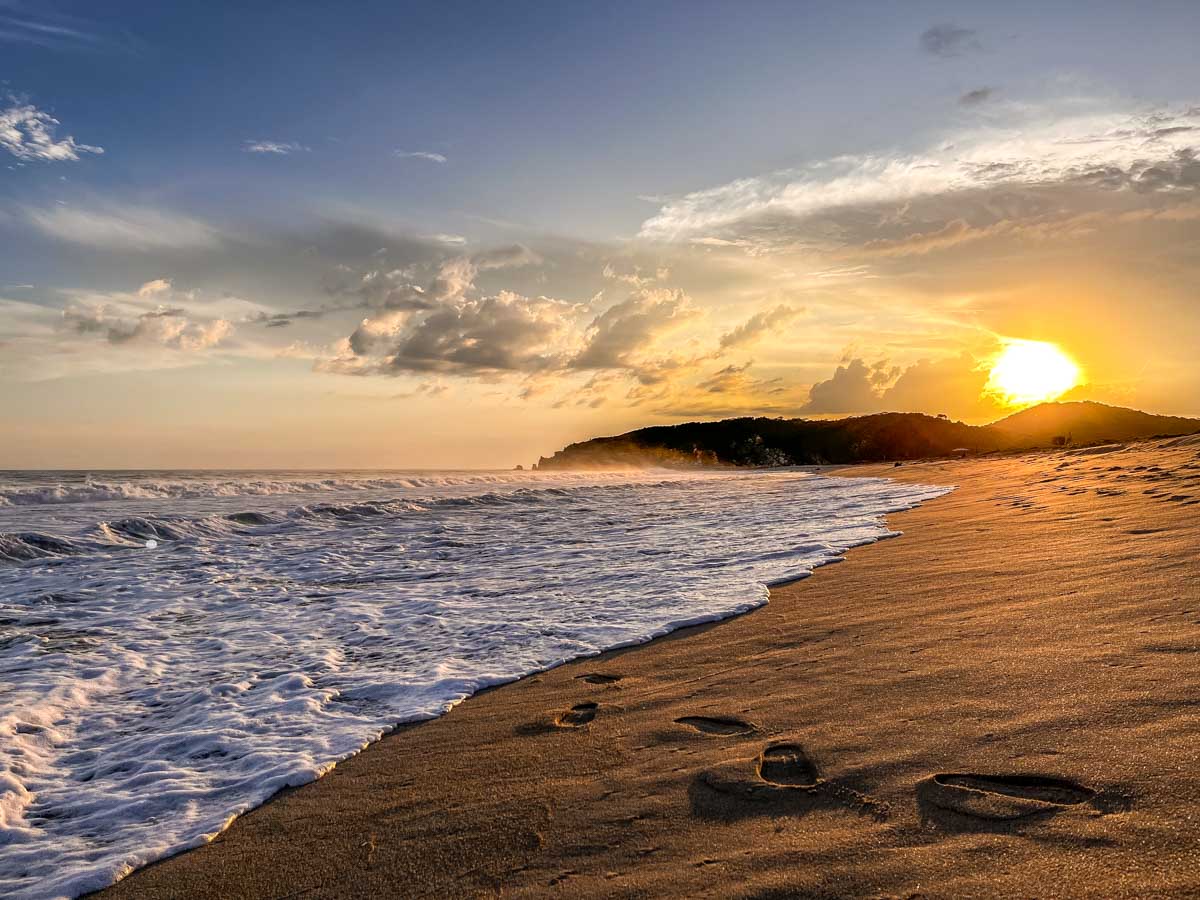 Casitas by the Sea
Each of these two Puerto Escondido Airbnbs was designed by Mexican architect, Alberto Kalach, and perfectly integrates with the natural surroundings. You can read my full review of the casitas here and see lots of photos of the inspiring design.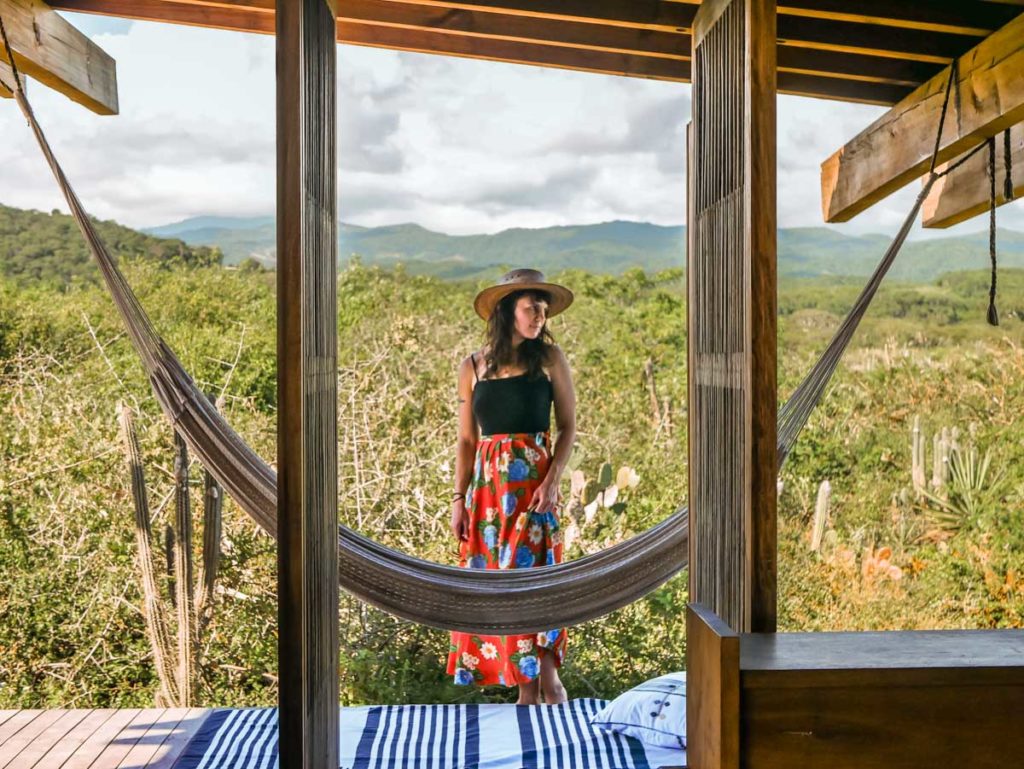 There are tons of other Zicatela, La Punta or other Puerto Escondido accommodation options – check out the map below for some additional options.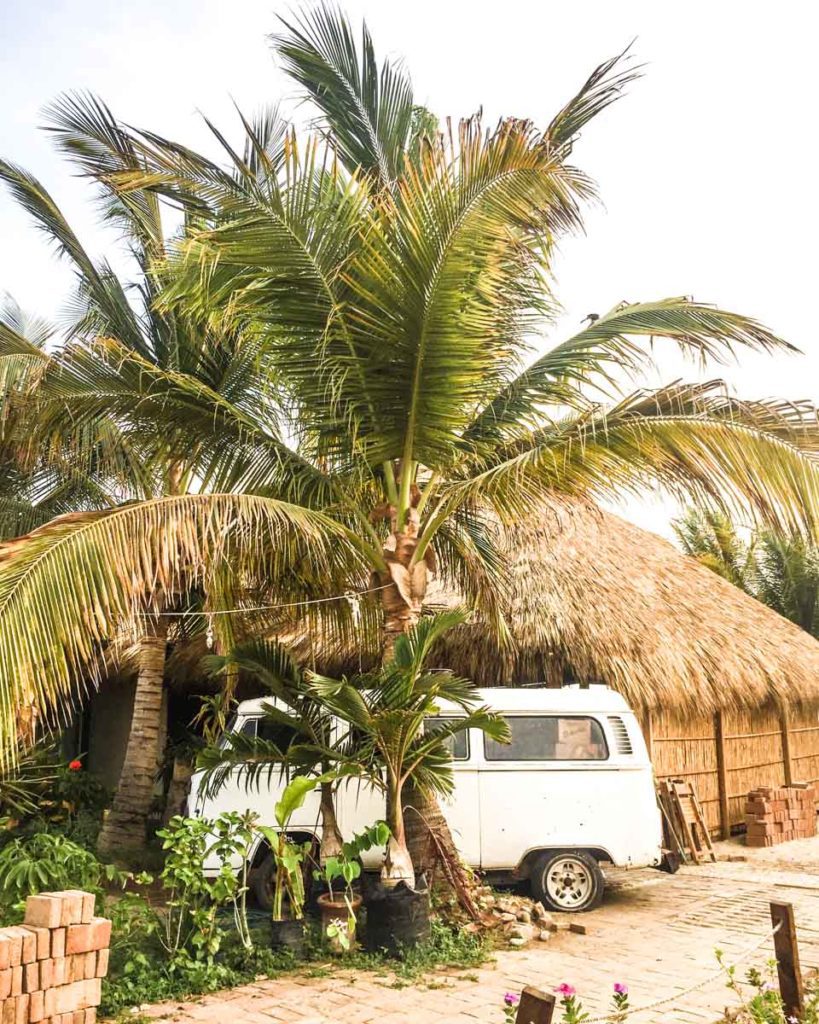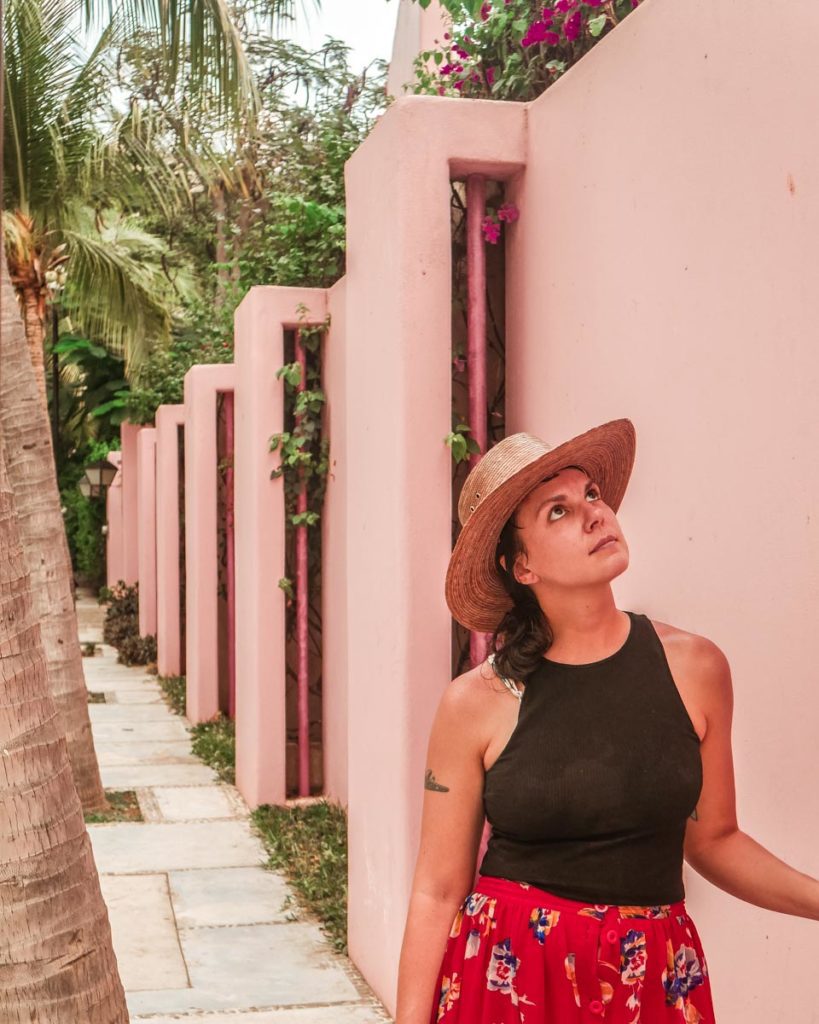 Puerto Escondido is a great beach town to enjoy swimming, surfing, beautiful nature, incredible seafood and some real Oaxacan culture.
More Oaxaca Coast Guides:
Complete Oaxaca beach guide, choose the best beach for your travel style.
Transportation:

How to Get to Puerto Escondido from Oaxaca.

How to Get to Mazunte, San Agustinillo, and Zipolite from Oaxaca.

How to Get from Puerto Escondido to Mazunte/San Agustinillo.
Hotels + Airbnbs:

Luxury Rental Home for Groups in Playa Estacahuite

La Punta, Puerto Escondido Hotel with a Pool

Beautifully Designed and Curated Hotel San Agustinillo

Boutique Hotel With a View in San Agustinillo.

Hotel and Beach Club in Puerto Escondido.

Design Lover's Airbnb in Punta Pajaros, near Casa Wabi.
Oaxaca city:

And tons of Oaxaca city posts here.


What to Pack for Puerto Escondido:

Pin it for Later!