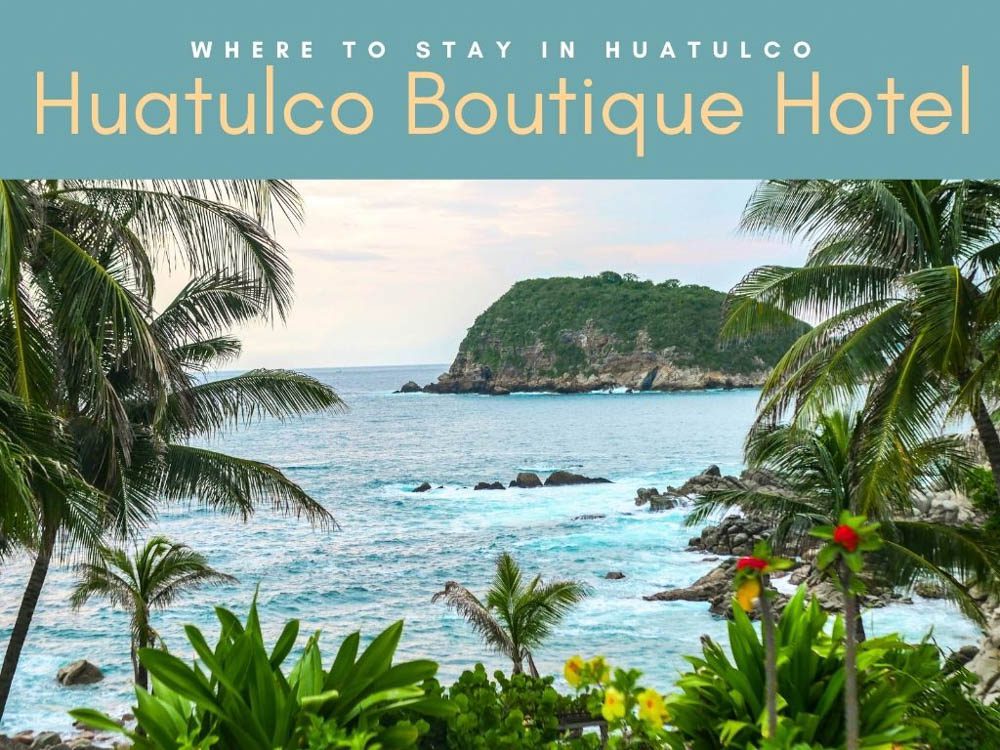 Though I've visited the Oaxaca coast countless times, it took me years to stay in Huatulco because I had trouble finding a Huatulco boutique hotel. There aren't many, this area is mostly filled with very large all-inclusive resorts. That's just not my preferred travel style. So when I found the charming Huatulco accommodation of Villas Fa-Sol and its incredible ocean front views, I knew I had finally found where to stay in Huatulco to explore its turquoise beaches.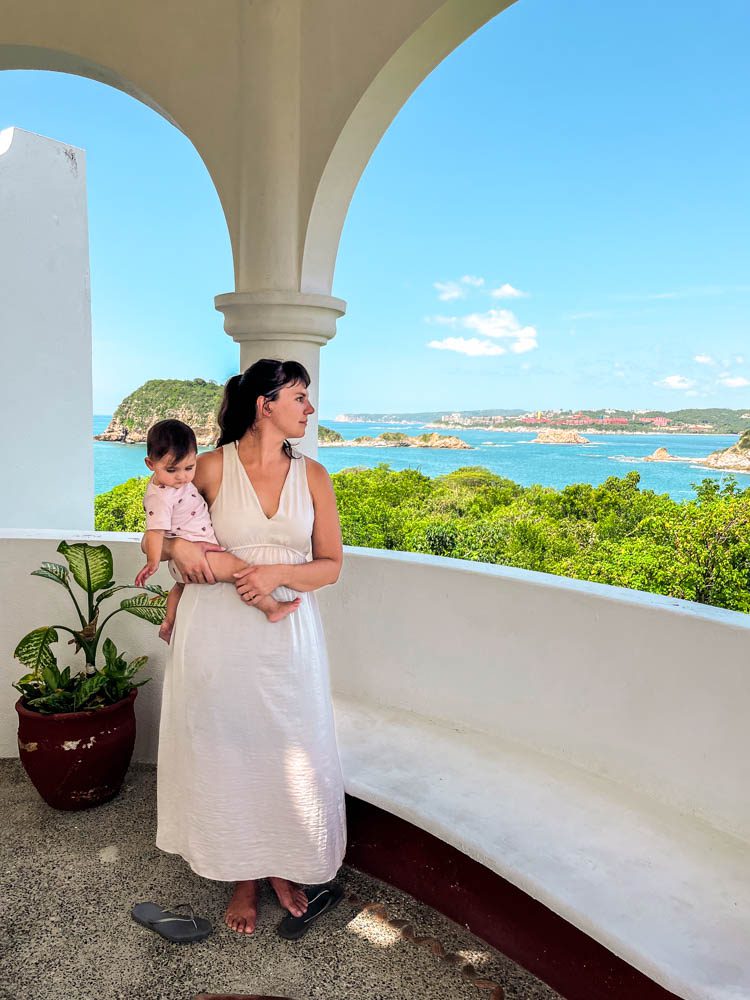 Pin it for Later: Huatulco Accommodation
Why Visit Huatulco?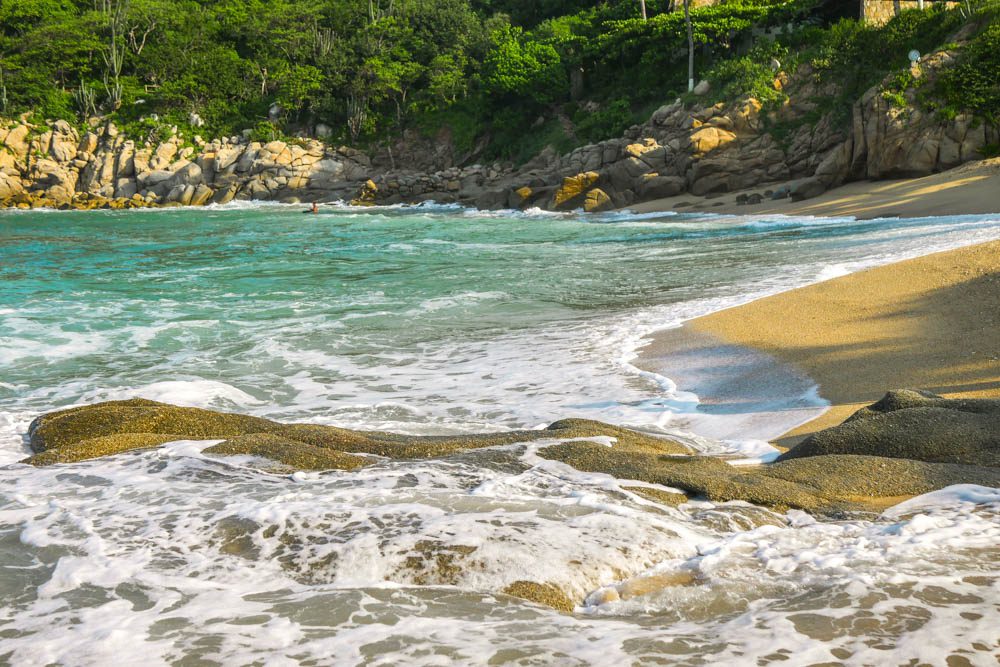 Huatulco is a coastal area and national park on the Oaxaca coast that features 9 distinct bays and 36 beaches. These bays make for clear turquoise waters surrounded by picturesque rocky outcroppings, and water that is calm and swimmable.
Each of the bays is distinct and there is plenty to explore by land and by sea. While most people come and camp out at a resort, I was eager to see as many beaches as I could and get to know this region.
Villas Fa Sol Huatulco Accommodation: Incredible Ocean Views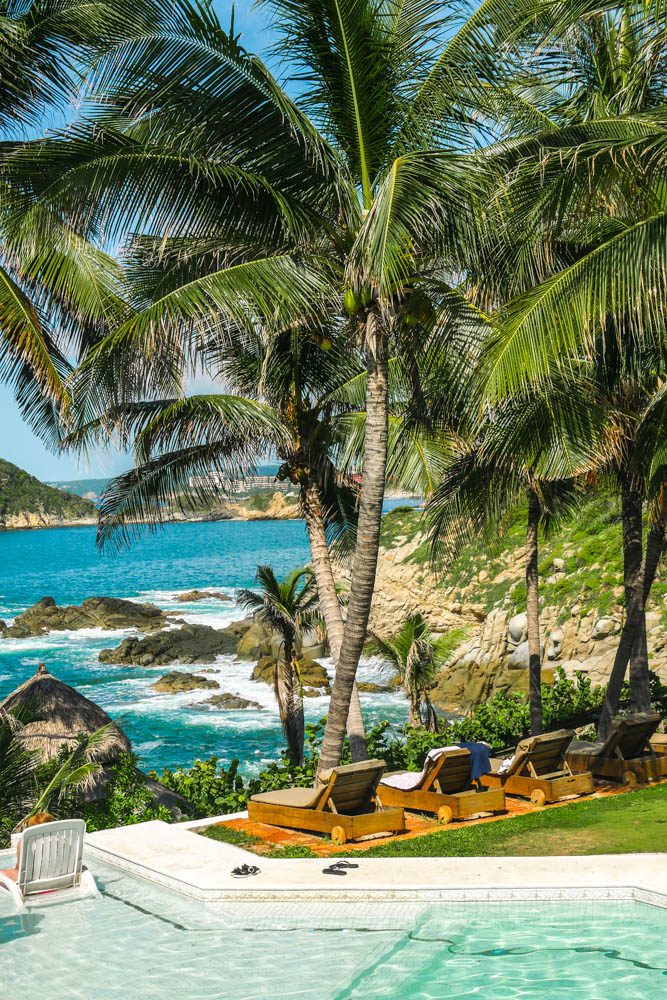 Not only is Villas Fa-Sol a charming Huatulco boutique hotel, but the views from all over the hotel and most rooms are stunning.
It's oceanfront on the edge of Tangolunda bay in Huatulco, but tucked in a quiet residential area.
This Huatulco accommodation faces the brilliant blue ocean with palm trees framing the view.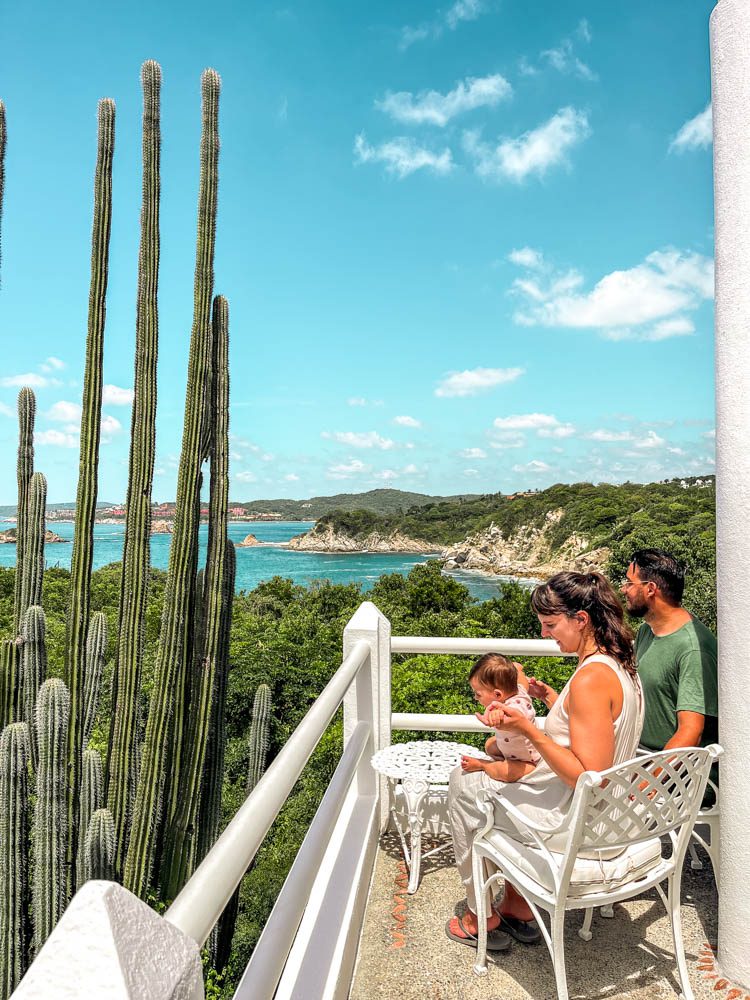 This was absolutely my favorite part of my stay, gazing at the ocean and the bays in the distance throughout the day.
Access to Two Little Visited Beaches: Huatulco Boutique Hotel
Beaches aren't private in Mexico, but these two beaches adjacent to this Tangolunda hotel almost feel like they are.
One tiny beach is just steps from the hotel and is a lovely place to dip your toes in the water, or sit in one of the beach chairs gazing at the sea.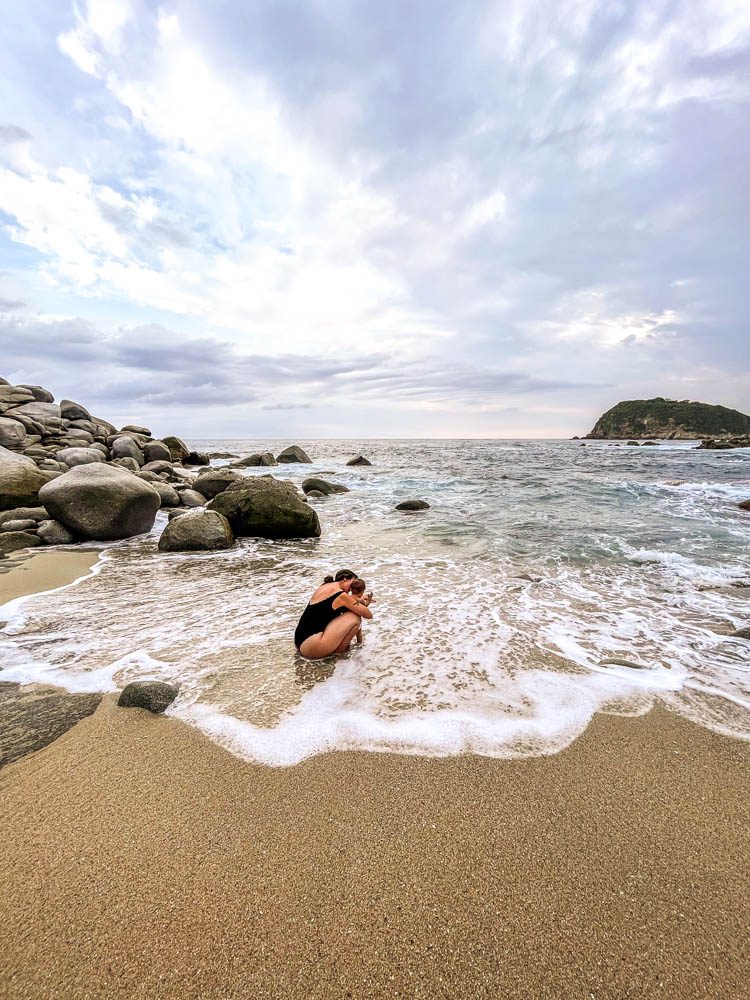 The other beach is slightly larger but still quite small. It's about a 5 minute walk from this Huatulco boutique hotel, through a small forest, and then you arrive to a picturesque empty beach.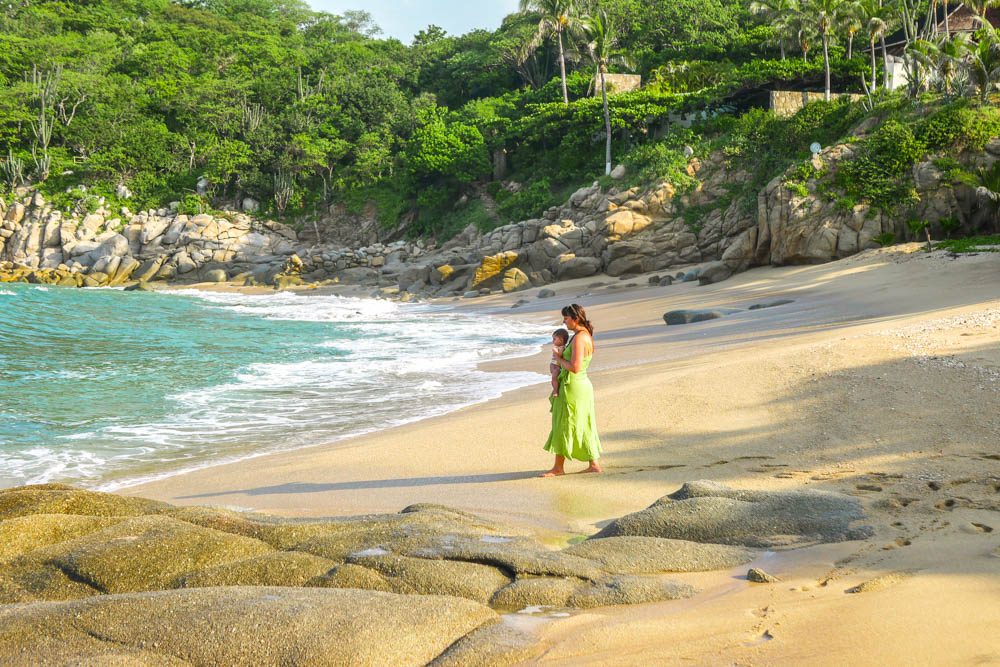 The walk is easy and well maintained, with just a short uphill walk up some steps to return. We did this carrying our baby and it was fine.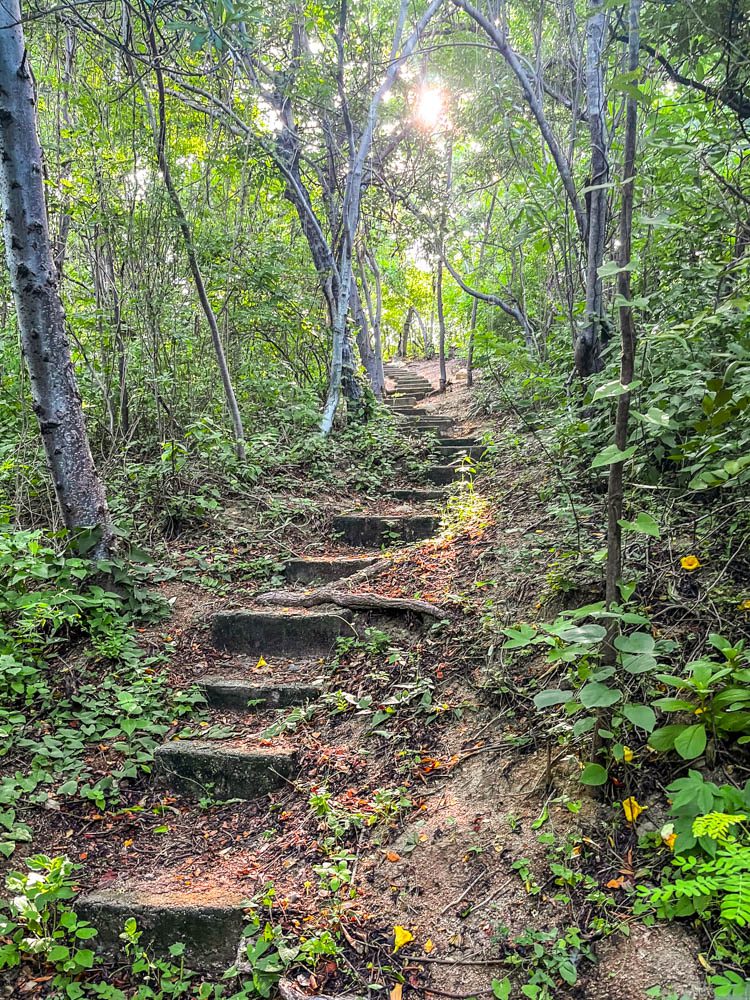 Two Pools: Where to Stay in Huatulco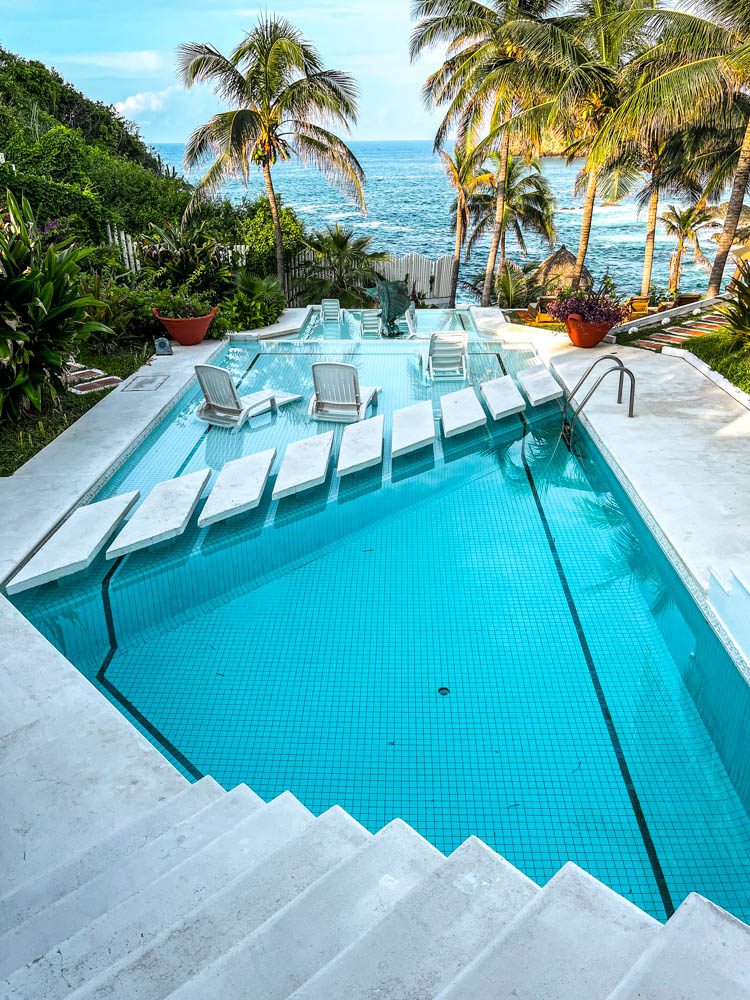 Villas Fa-Sol features two pools: one very large pool with two levels, and one small pool surrounded by greenery that feels more private.
The large pool faces the ocean and features lots of parts to enjoy. On the upper level there is a bridge that separates the shallow section from the deeper section. The shallow section is great for kids, or for sitting in one of the lounger chairs getting some sun while staying cool in the water. The deeper section features a small waterfall.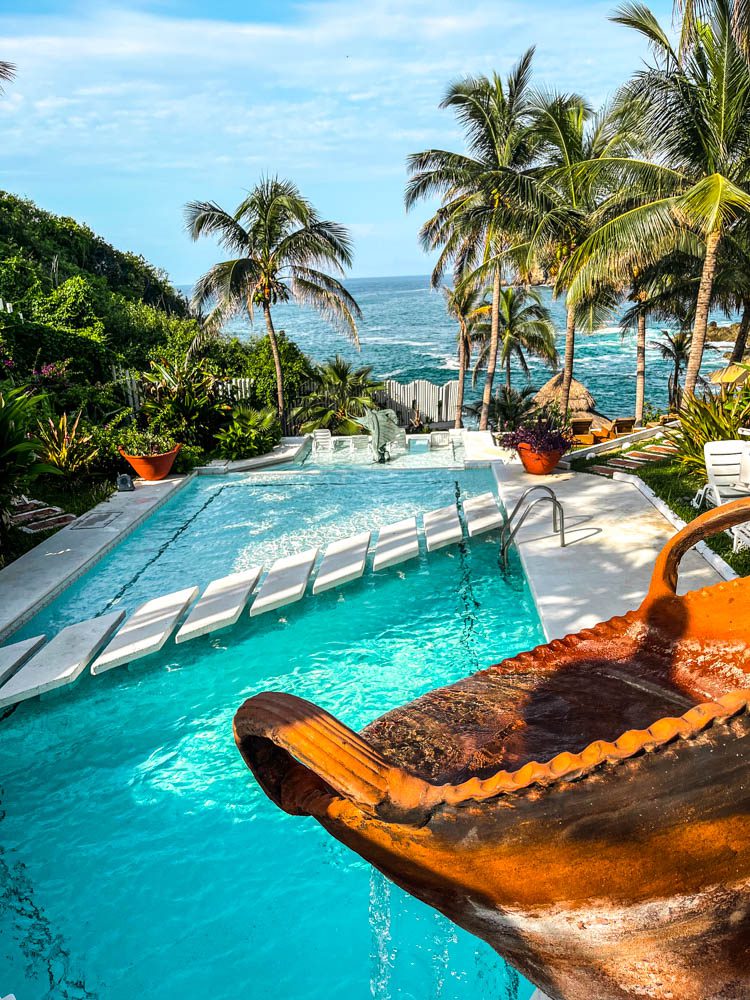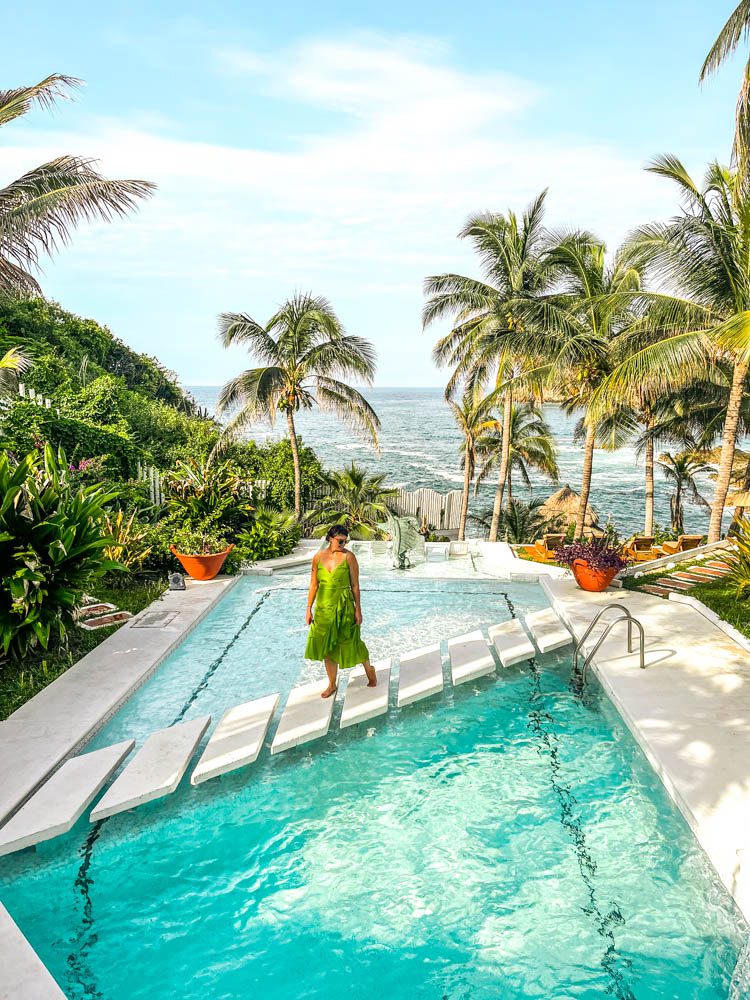 The lower section has a shallow section that Segways into a deeper section. That area is a bit bigger so good for swimming.
The second pool is much smaller, but also much deeper. It also has a more private feeling surrounded by jungle foliage.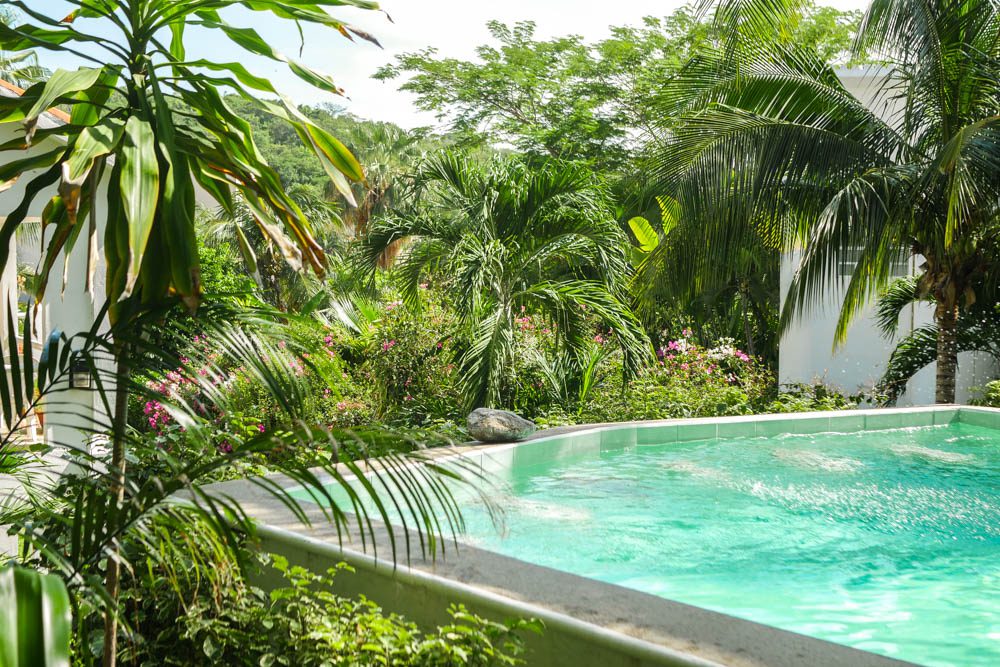 Comfortable Rooms and Grounds: Huatulco Boutique Hotel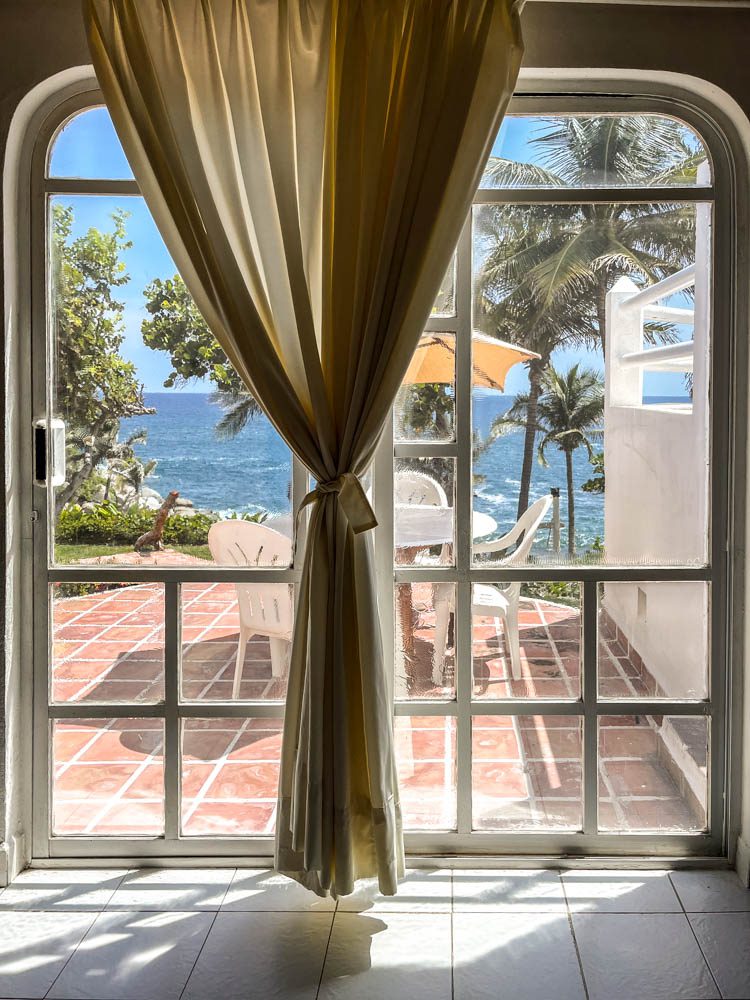 This Huatulco boutique hotel is very comfortable and features everything you need for your stay. There are rooms of different sizes. Ours had a small single bed in addition to our double bed, so would be great for a small family. It also had a dining table, a tv, a mini-fridge (always appreciate that!), and lots of room to move around.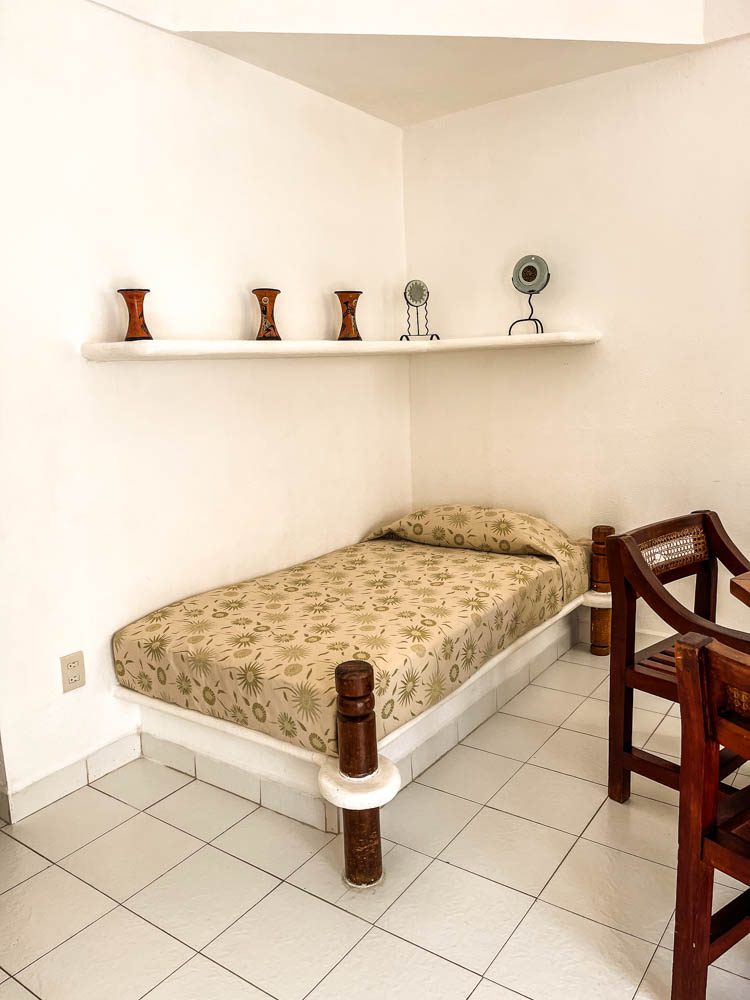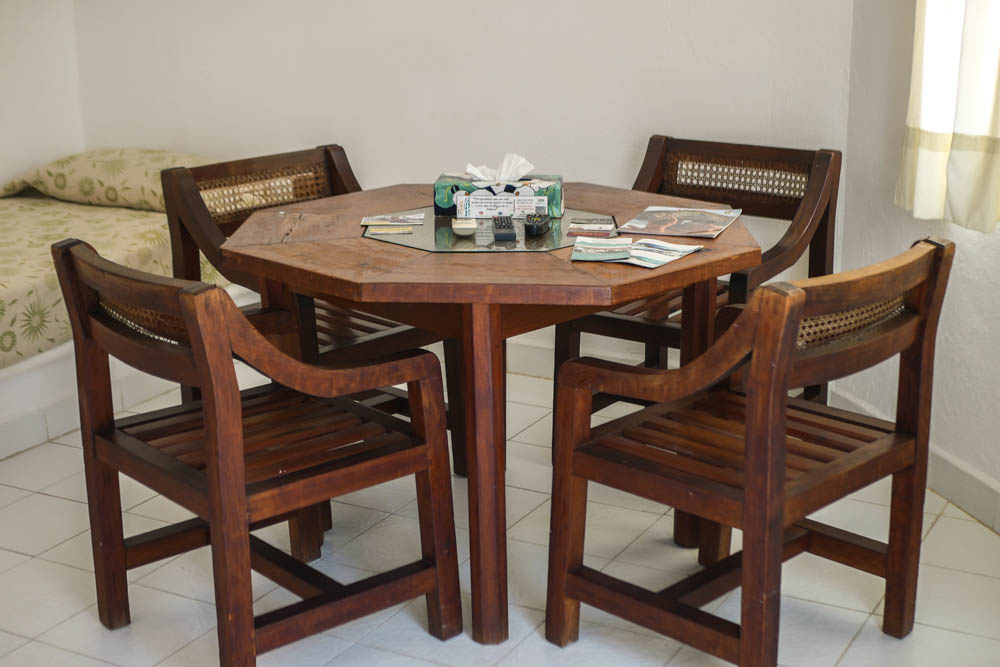 I also loved that there was a large closet with many shelves in between the main room and the bathroom of this Huatulco accommodation. This gave us plenty of space to store our things without them getting in the way.
The bathroom was a sufficient size, and there was plenty of hot water in the shower.
Besides the rooms, there are many common areas to hang out in this Tangolunda hotel. There are outdoor tables outside most rooms, as well as lounger chairs all around the pool, and down overlooking the beach. There is also a restaurant with ocean views. We had breakfast here every morning and it was tasty.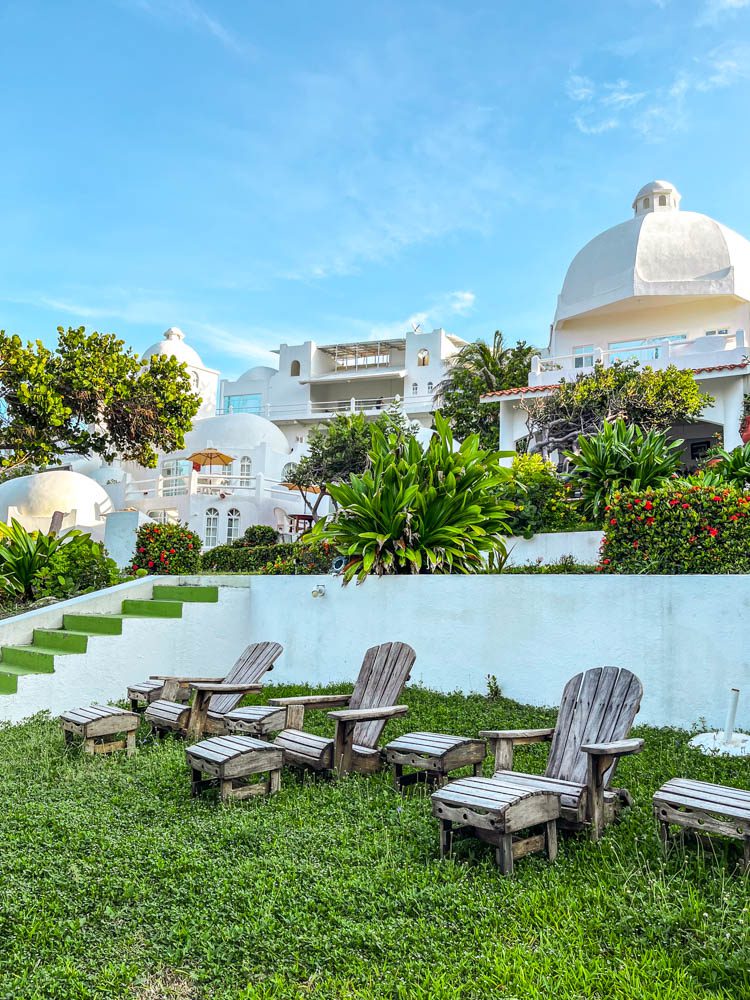 Great for Children and Families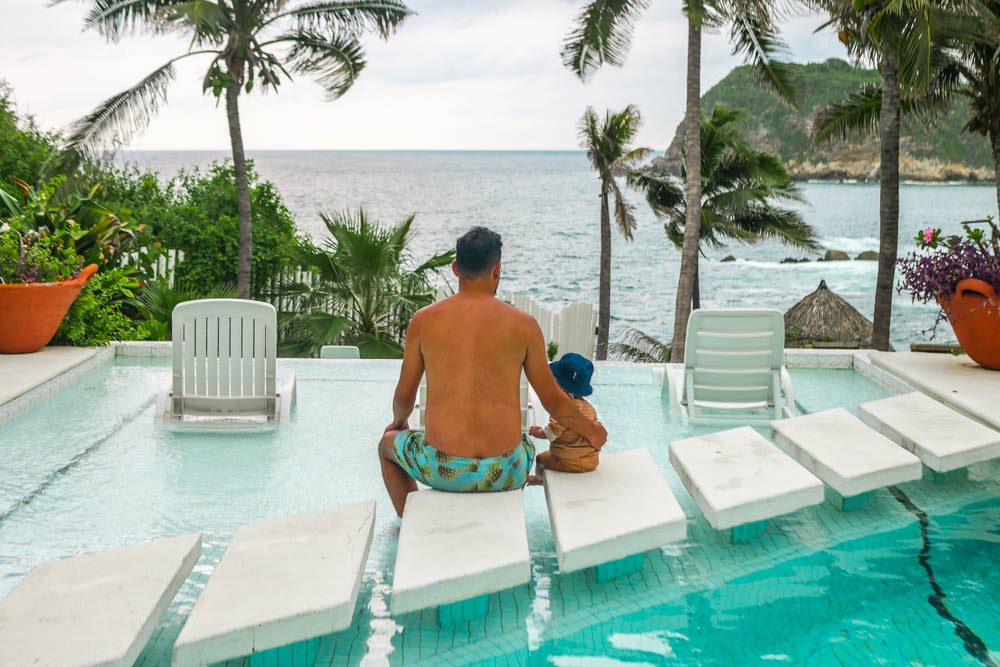 This Huatulco boutique hotel welcomes children and has plenty of space for them to enjoy their vacation.
There are many rooms available with multiple beds and the rooms are large with lots of space. There are also indoor and outdoor tables to eat, relax, or play games.
As mentioned above, the large pool has two different shallow areas that are great for children.
Kind Welcoming Staff: Huatulco Accommodation
The staff at this Tangolunda hotel were so kind from start to finish. They made us feel very welcome and that they were available for anything we'd need.
Conclusion: Huatulco Boutique Hotel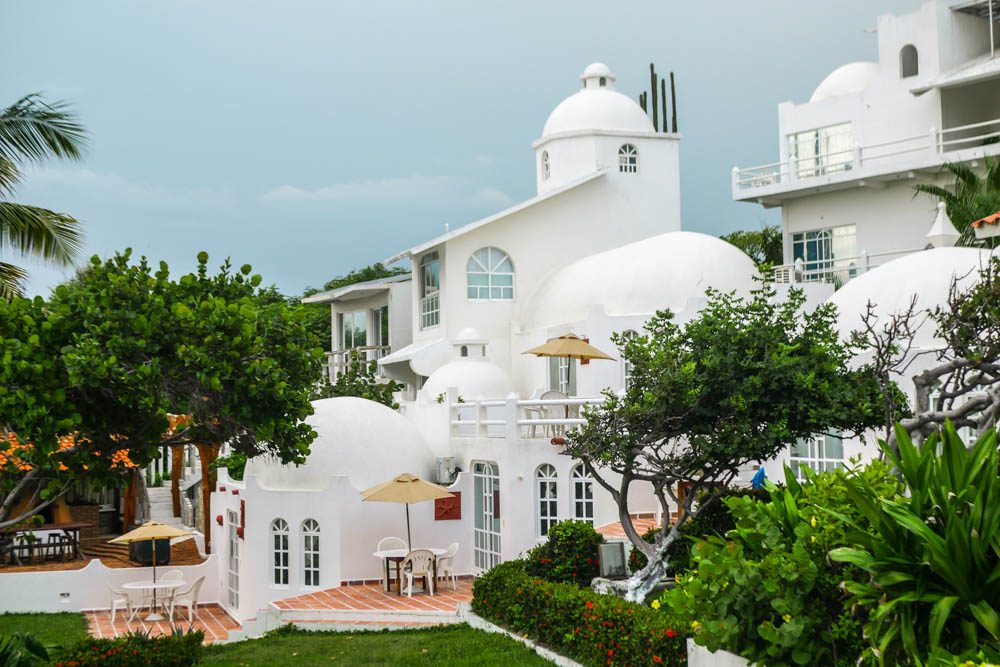 Villas Fa-Sol is a lovely and beautiful place to base yourself if you prefer small Huatulco boutique hotel with character and a personal touch.
The incredible ocean views, the kind staff, the comfortable rooms, pretty beaches, and lovely pools make this a great Huatulco accommodation for families, couples, or friends.
Hotel and Reservations: Villas Fa-Sol
Social Media: Instagram, Facebook
Best For: Families, couples, singles, groups. People who appreciate a small hotel with personalized service.
Price: From 2500mxn (about $140usd). Check the above link for current prices and availability.
Includes: A/C, wifi, 2 pools, access to restaurant, tv, mini fridge, ocean views, common areas, access to two beaches.
Location: Residencial Conejos Mza. 7 Lote 3ª, 5 y 18, Bahías de Huatulco, Oaxaca.
View all my Oaxaca coast Posts here.
View all my Oaxaca Posts here.
Pin it for Later: Huatulco Boutique Hotel