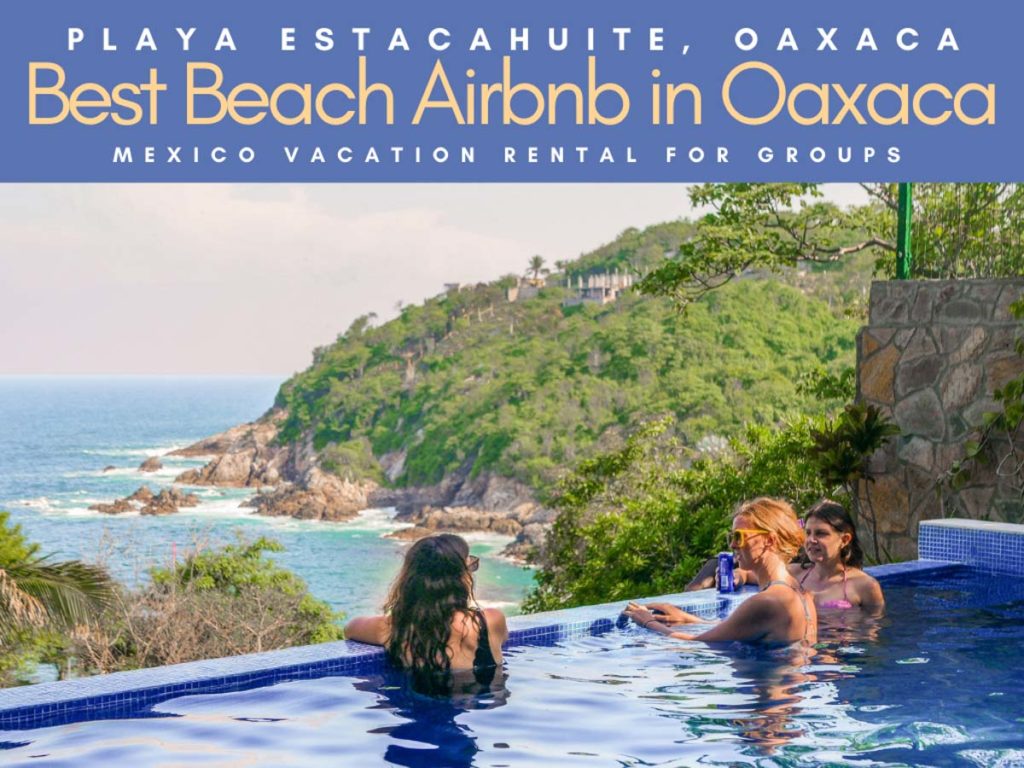 Bianni Beuú is hands down one of my favorite places I've ever stayed, and it's the best beach Airbnb in Oaxaca for groups of friends or families who want a gorgeous place to stay with lots of space and comfort. It's the kind of place you never want to leave, as this Mexico vacation rental has the most stunning view of Playa Estacahuite, Oaxaca, a delicious pool, a jacuzzi, tons of hangout spaces, and the most beautiful decor and architecture.
I really can't say enough about this gorgeous rental home in Oaxaca. But I'm going to break down all the features below, and include way too many photos because I just couldn't choose! This is the kind of place that offers a super memorable vacation with all the luxurious comforts you could ask for.
Disclosure: This post was written in partnership with Bianni Beuú. As always, every thought, opinion, and experience is my own.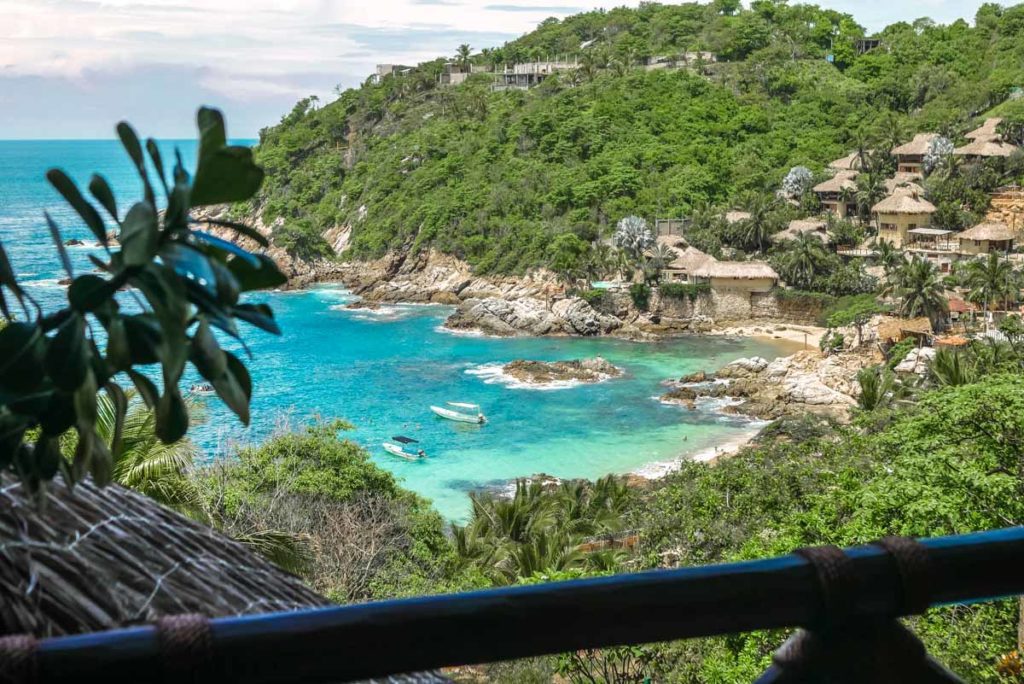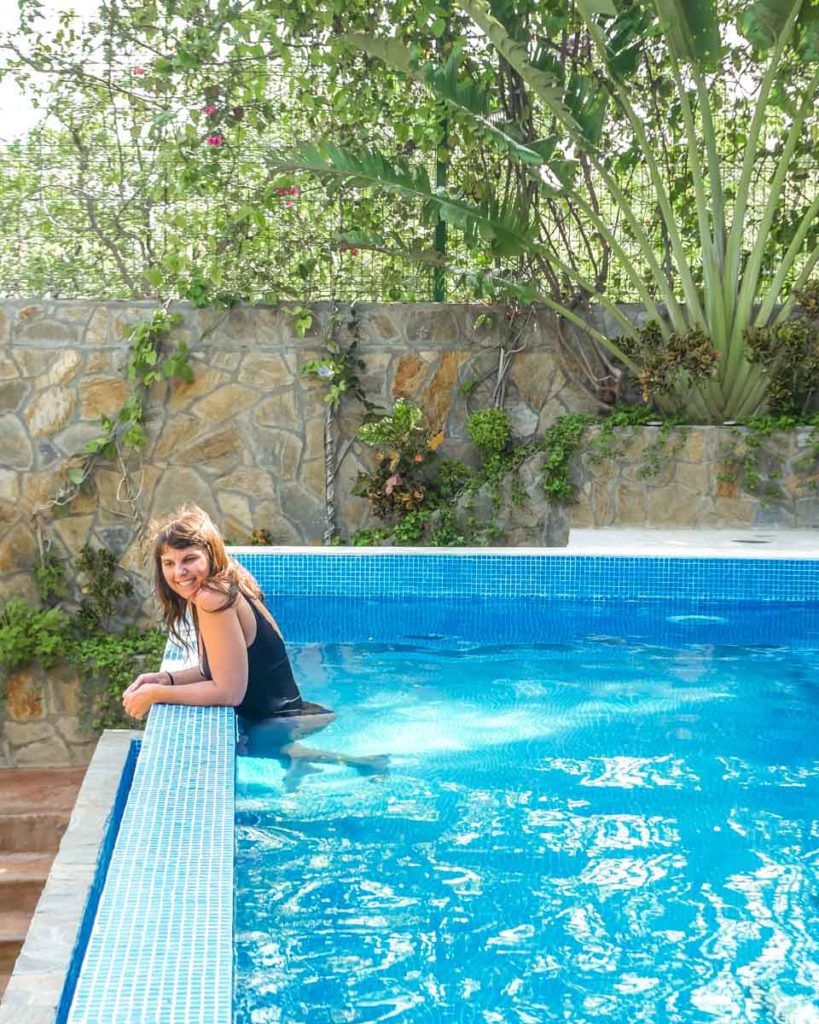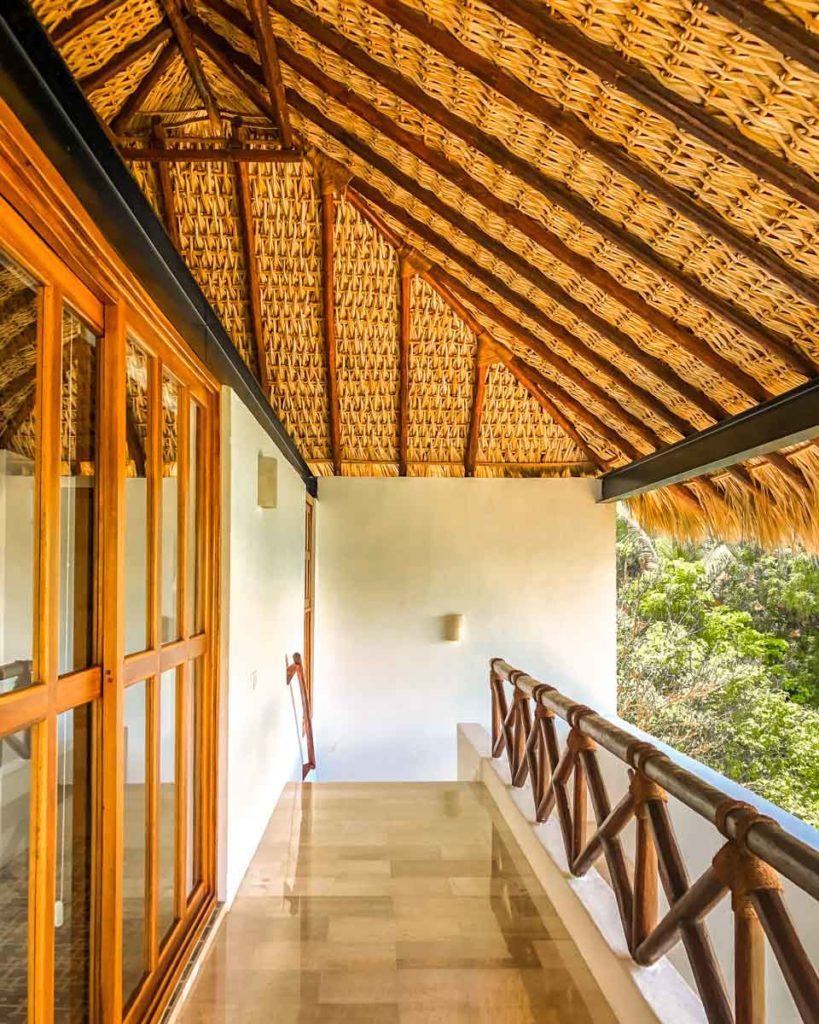 Amazing Beach Front Location: Playa Estacahuite, Oaxaca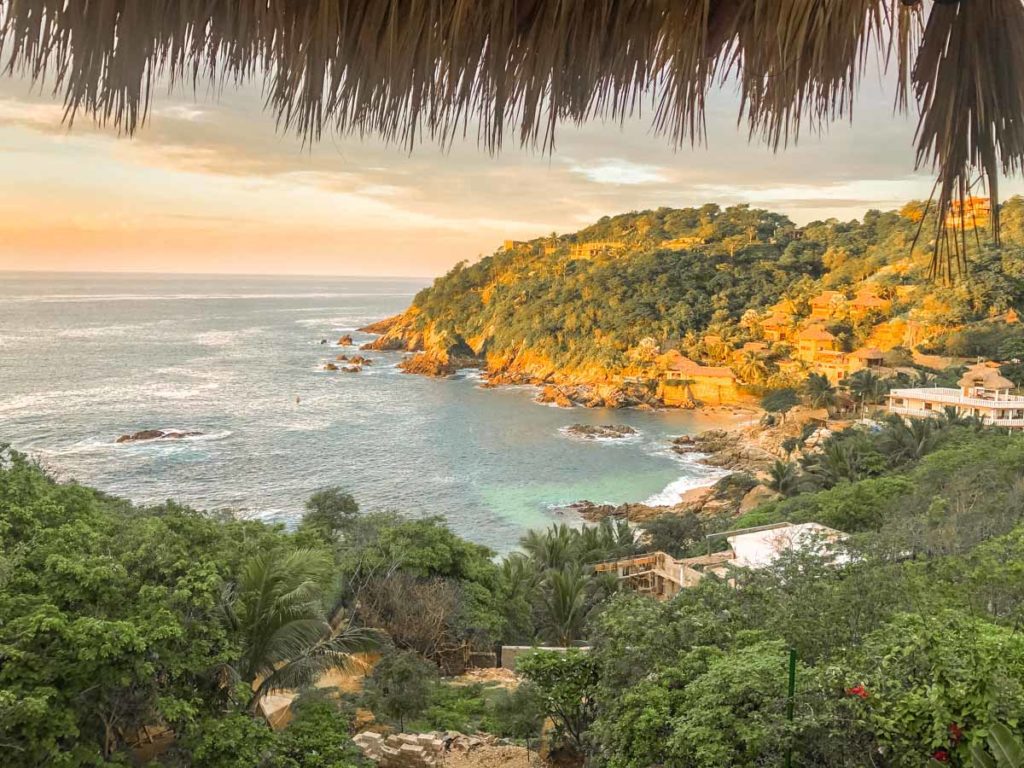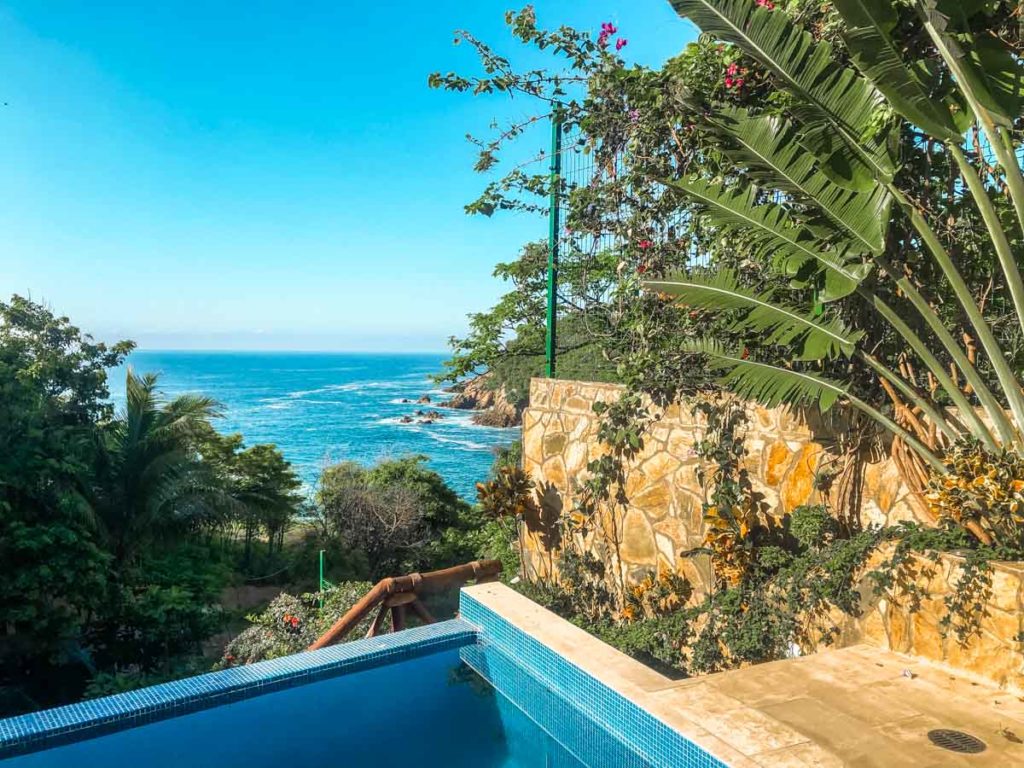 First of all, this Mexico vacation rental offers one of the best views I can think of, an aerial view of the perfect turquoise bay of Playa Estacahuite, Oaxaca. This beach is one of my favorites on the Oaxaca coast, yet still quite unknown and relaxed. The small bay is surrounded by picturesque cliffs, and the crystal clear water varies in shades of bright blue and turquoise.
From Bianni Beuú, you can see a view of this beautiful cove beach from every floor and just about every corner. You also have sweeping views of the rolling mountains that dip into the sea.
This is best beach Airbnb in Oaxaca because you can be quite content to just enjoy the beach views, or you can take the quick 5 minute walk down to Playa Estacahuite, Oaxaca and have your toes in the sand or go for a swim in the calm waters. This is a great beach for snorkeling as there aren't many people and there are rock formations that sealife like to gather in. You can also arrange boat tours here to see more of the coast and other sealife. Or, hang out at one of the simple beach restaurants that serve delicious seafood and cold beer.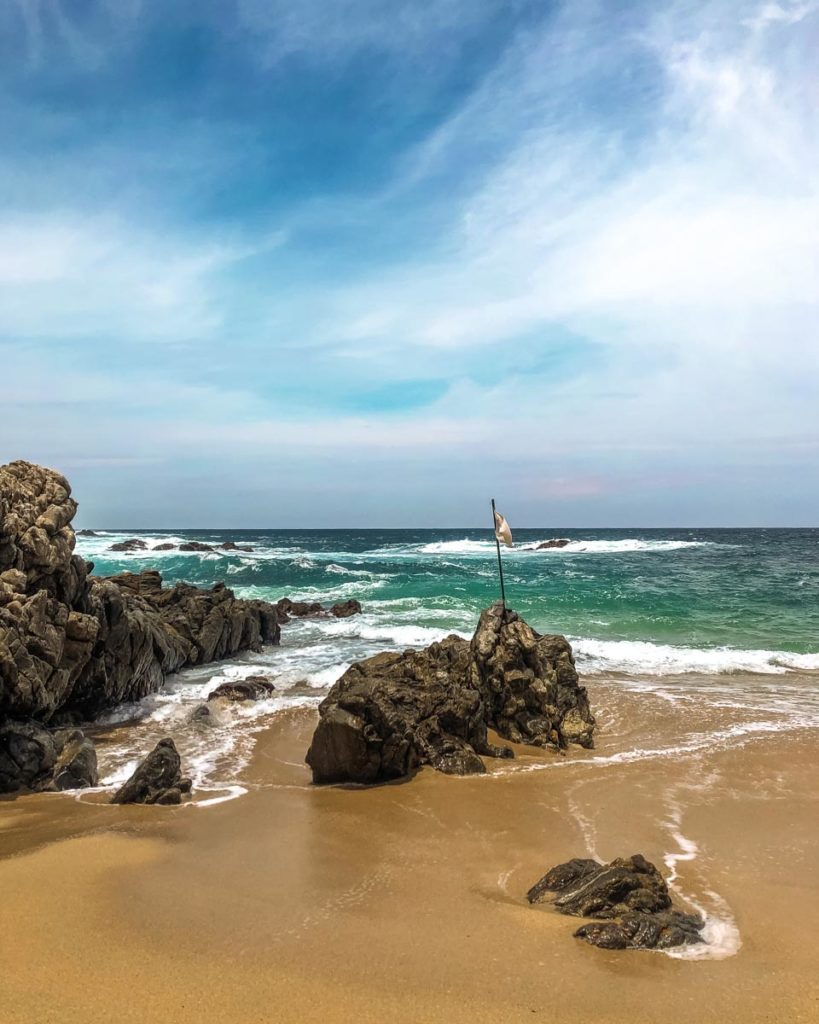 One of the days of our stay, we didn't even leave the home as we were just content to gaze at the incredible view of the beach as we splashed in the pool and enjoyed all the comforts of the vacation rental
Beautiful Artistic Design and Architecture: Best Beach Airbnb in Oaxaca for Groups
This Mexico vacation rental is carefully curated inside and out. The owner is an architect, which feels obvious once you step foot into the home. I had seen the photos of Bianni Beuú before arriving, but being in the space was a totally different experience. The tall ceilings, open plan rooms, and natural palapa roofs take your breath away when you enter.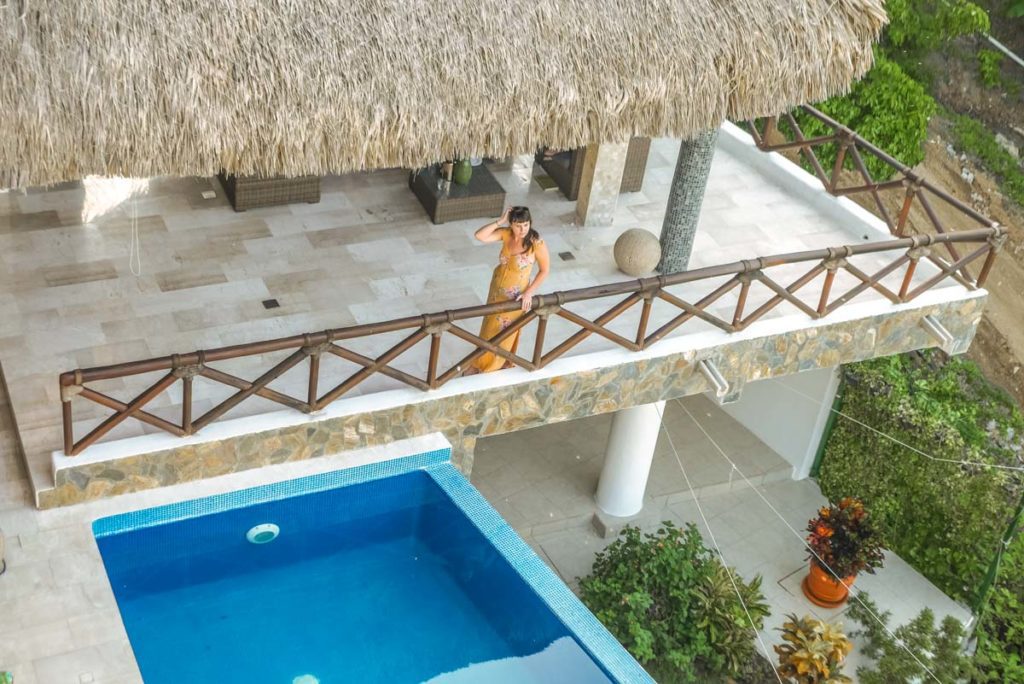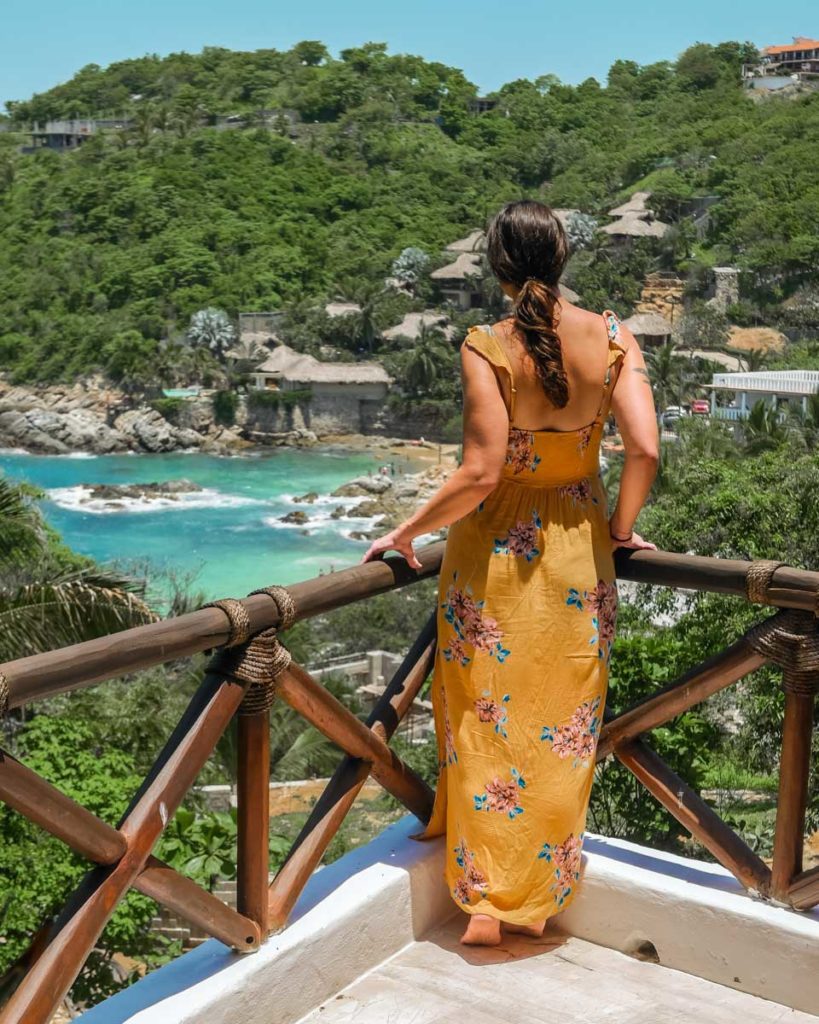 This is the best beach airbnb in Oaxaca for groups because it's large, but also the space is very thoughtfully distributed. The home sleeps 10, but is also 4 floors so every room is spread out and there is so much privacy and quiet to enjoy.
The top floor is a huge master bedroom suite with walk in closet and bathroom, plus a large roof terrace, seating area, and jacuzzi. This bedroom doesn't have a/c, but features a traditional palapa roof that promotes natural air flow, plus fans.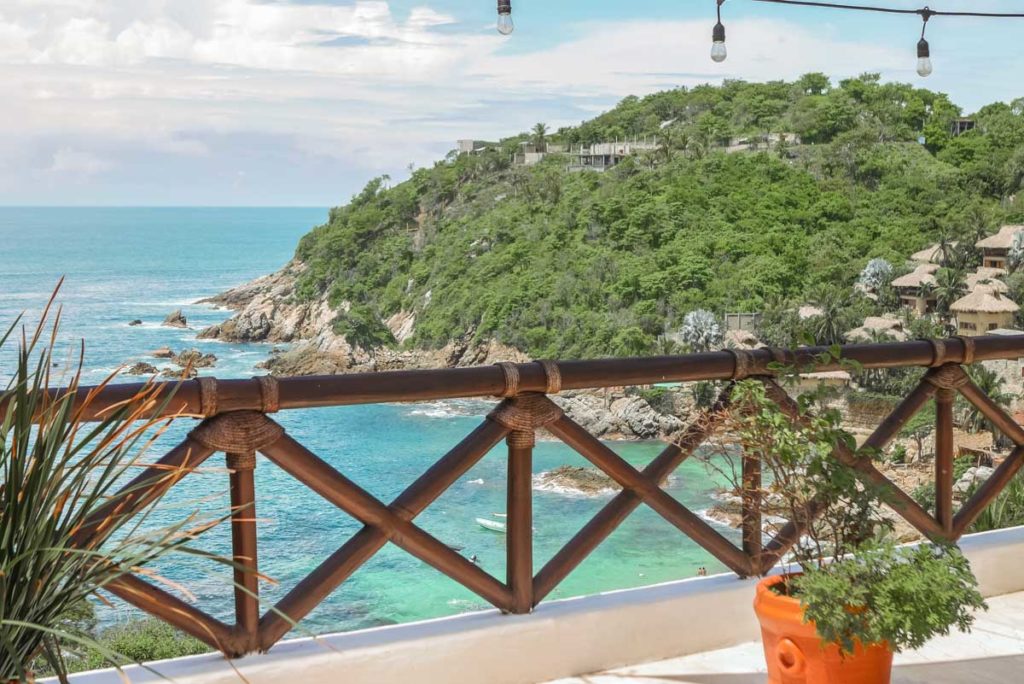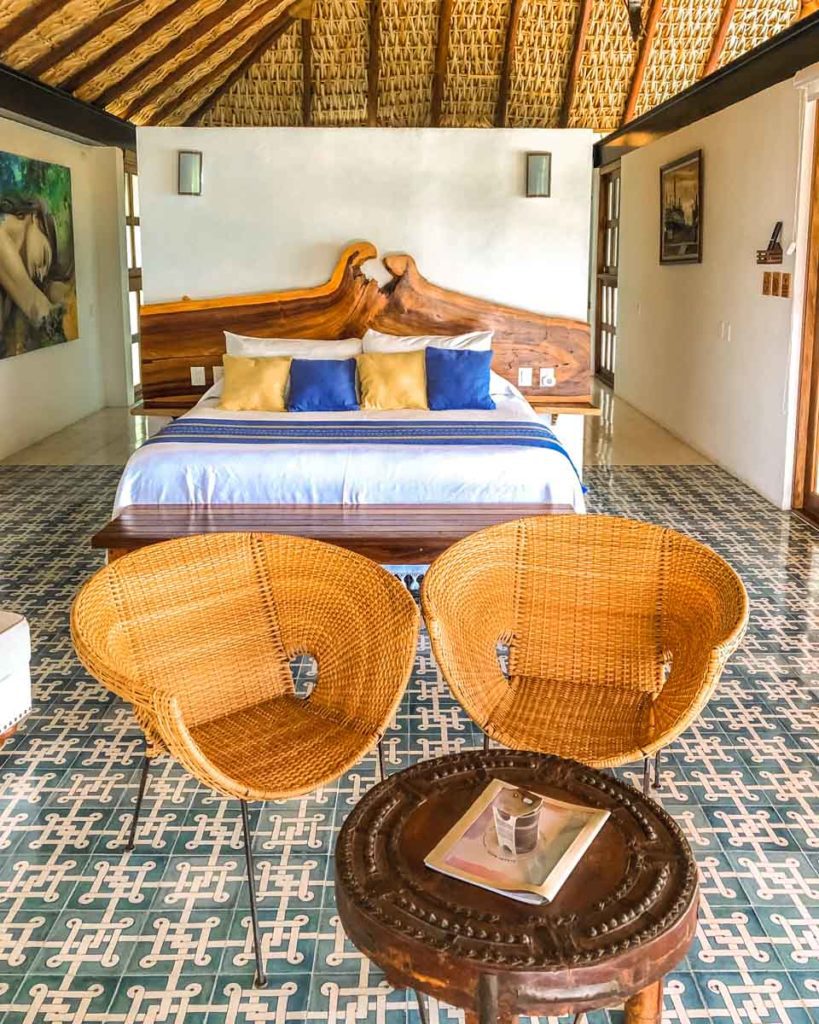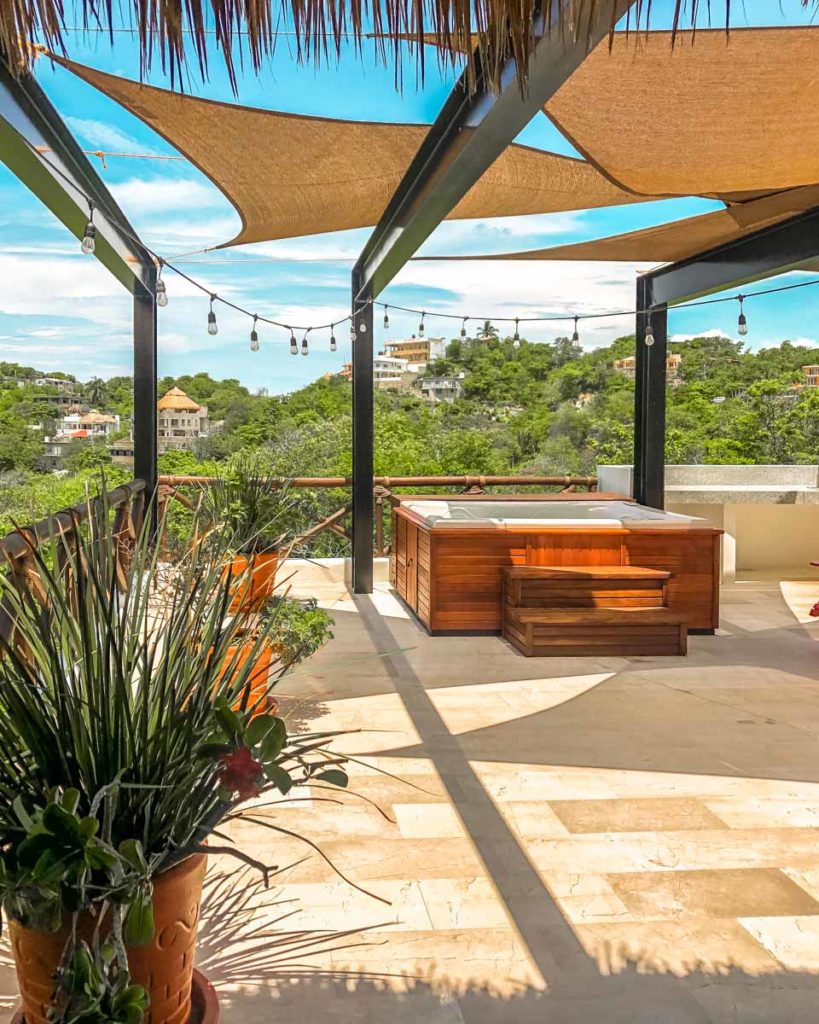 The middle/entry floor is a large entry/seating area, a bar/tv room, a massage room, and a bathroom.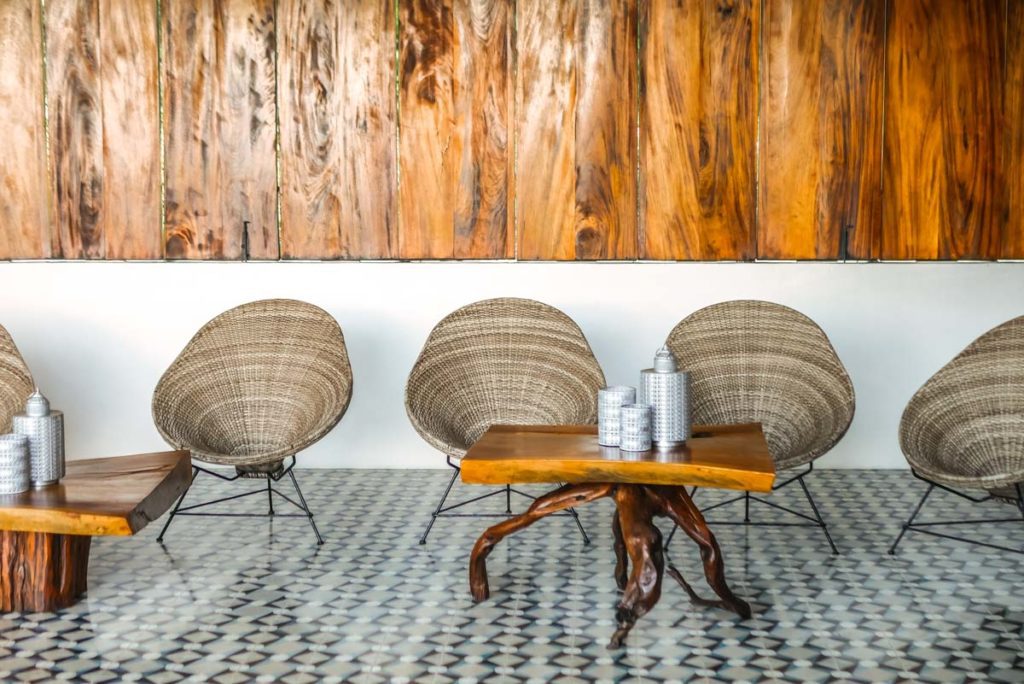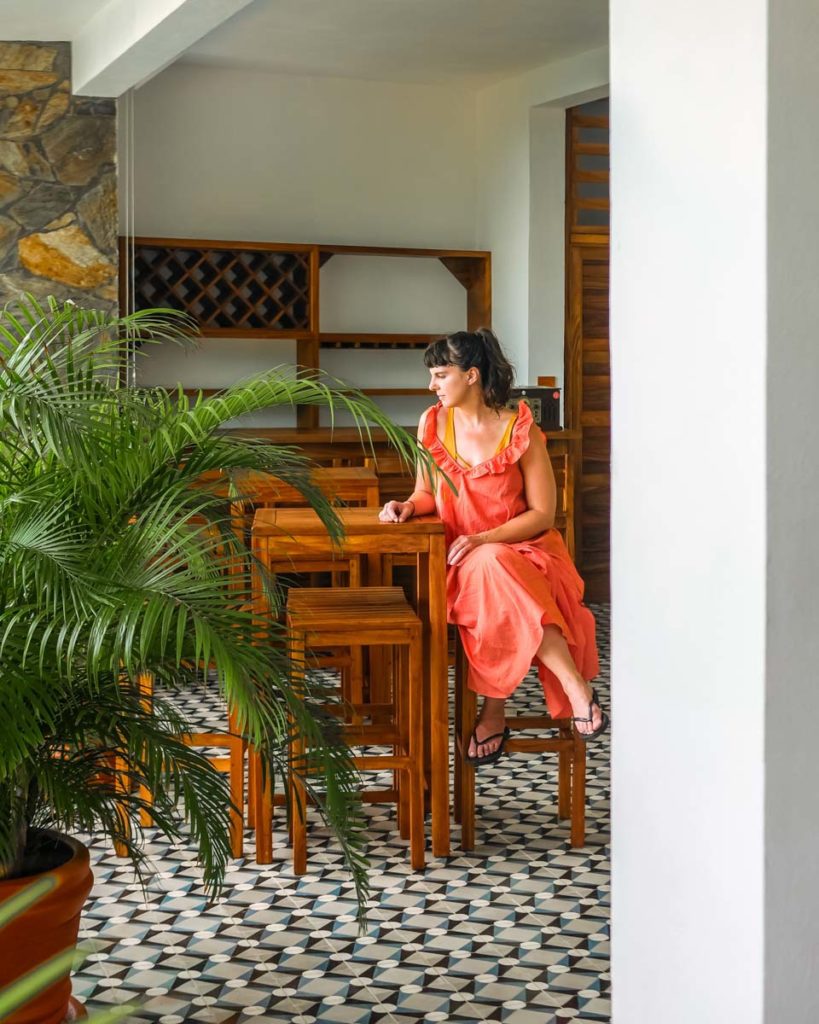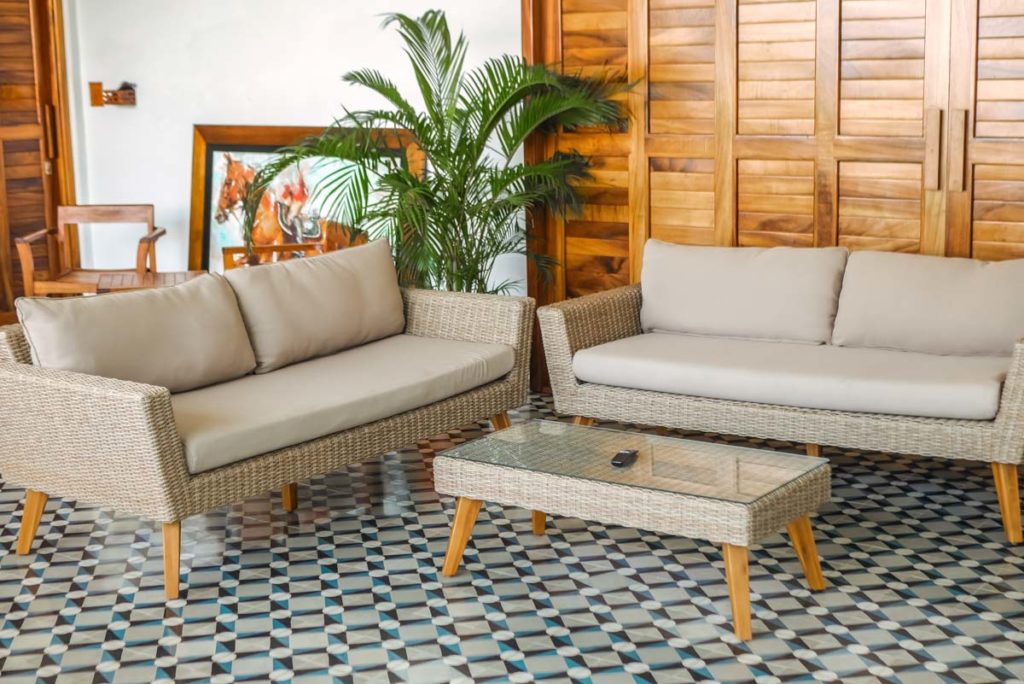 The 2nd floor features two large suites, the pool and a huge open air kitchen, dining, and living room. These suites have a/c.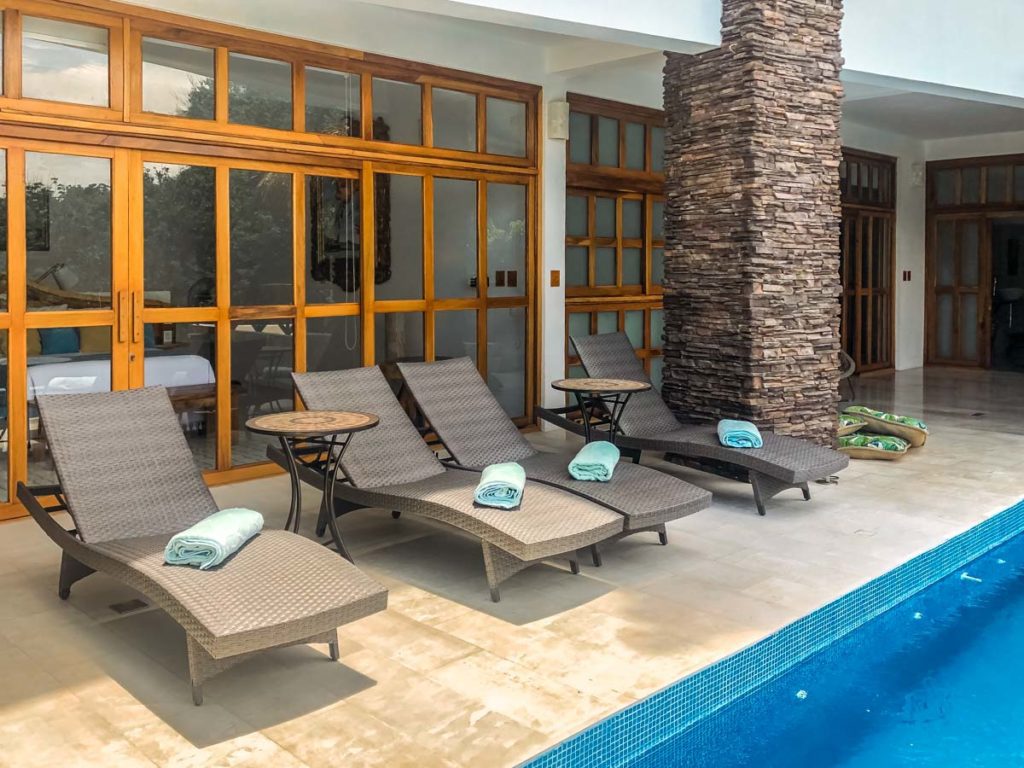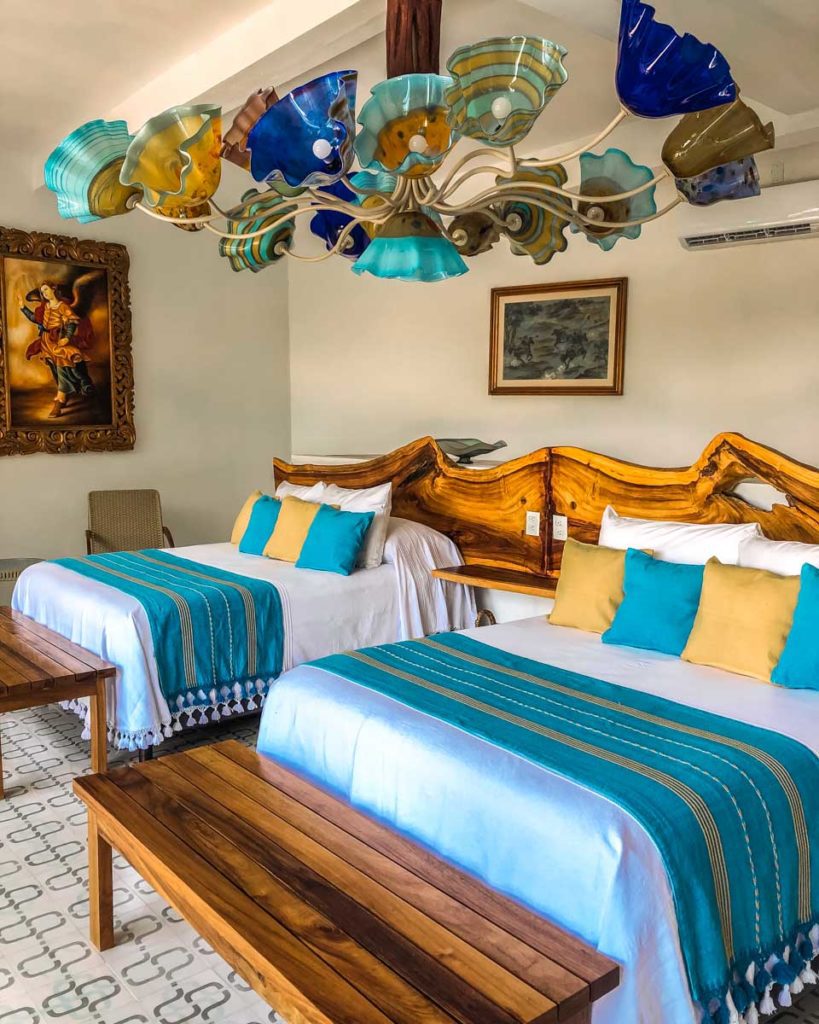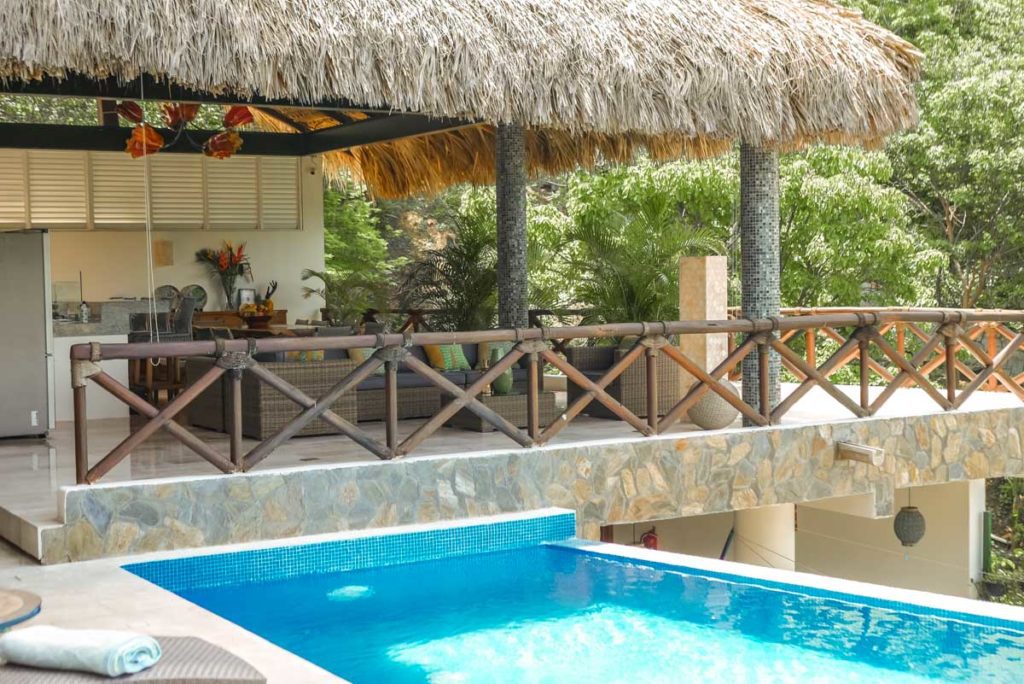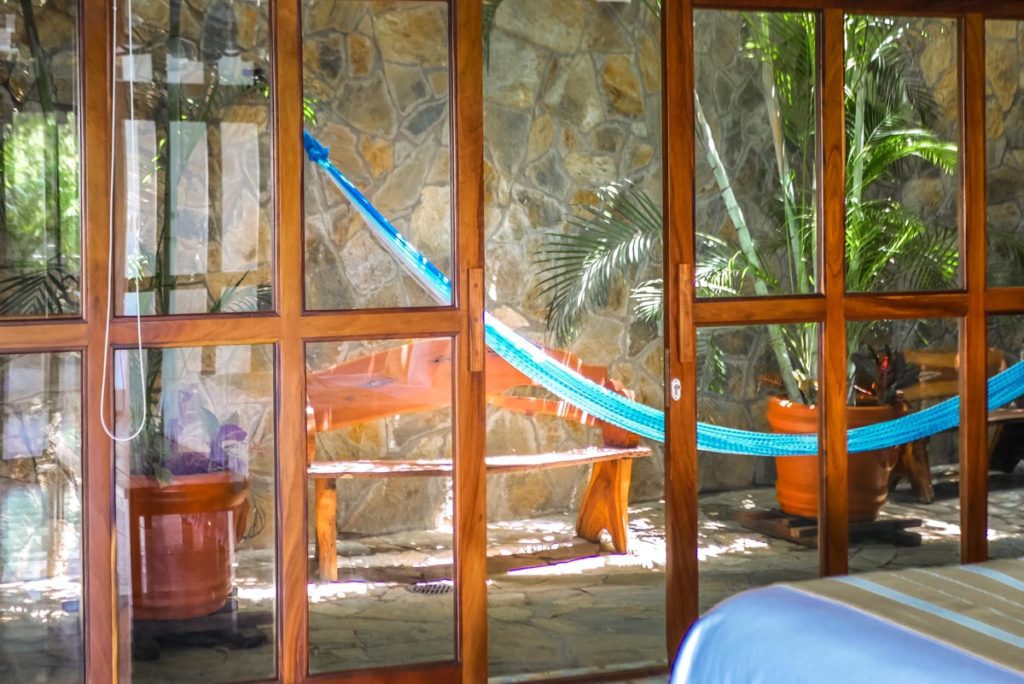 Finally the bottom floor is a simple suite with a bathroom and a/c.
Every space is curated with Mexican art and artisan work. My favorite part were the gorgeous tiles in almost all the spaces. They were all designed by Mexican artists and made in Oaxaca. They brought so much beauty and color to every space.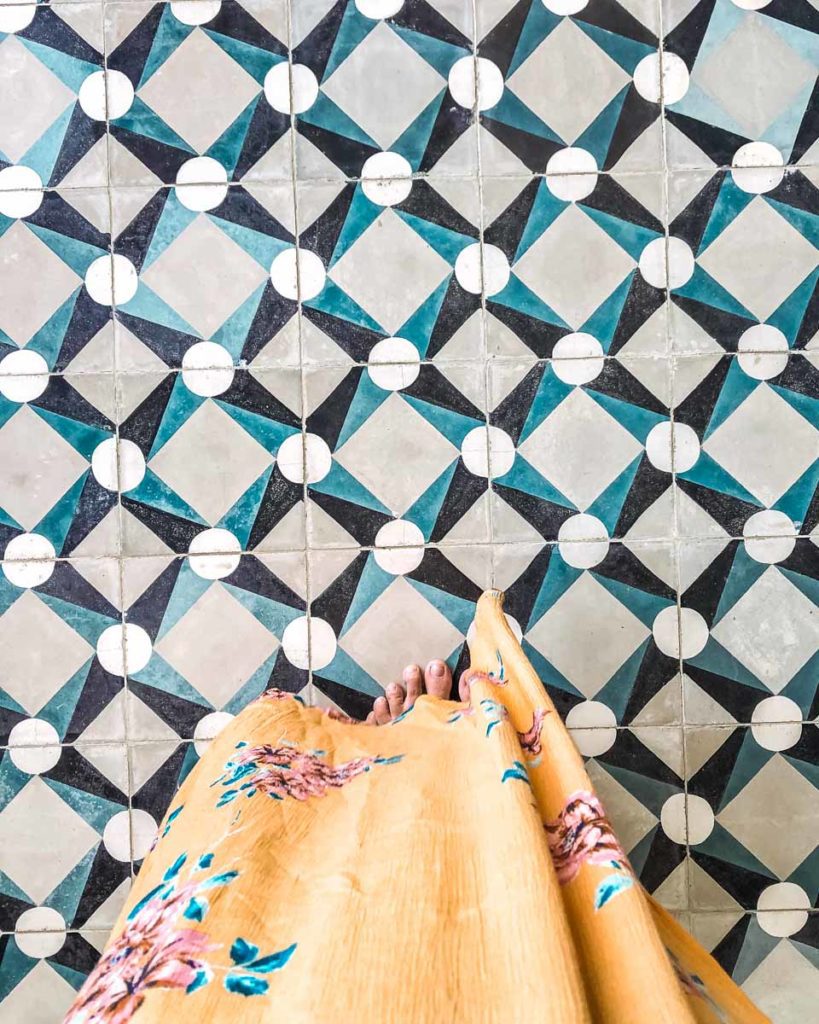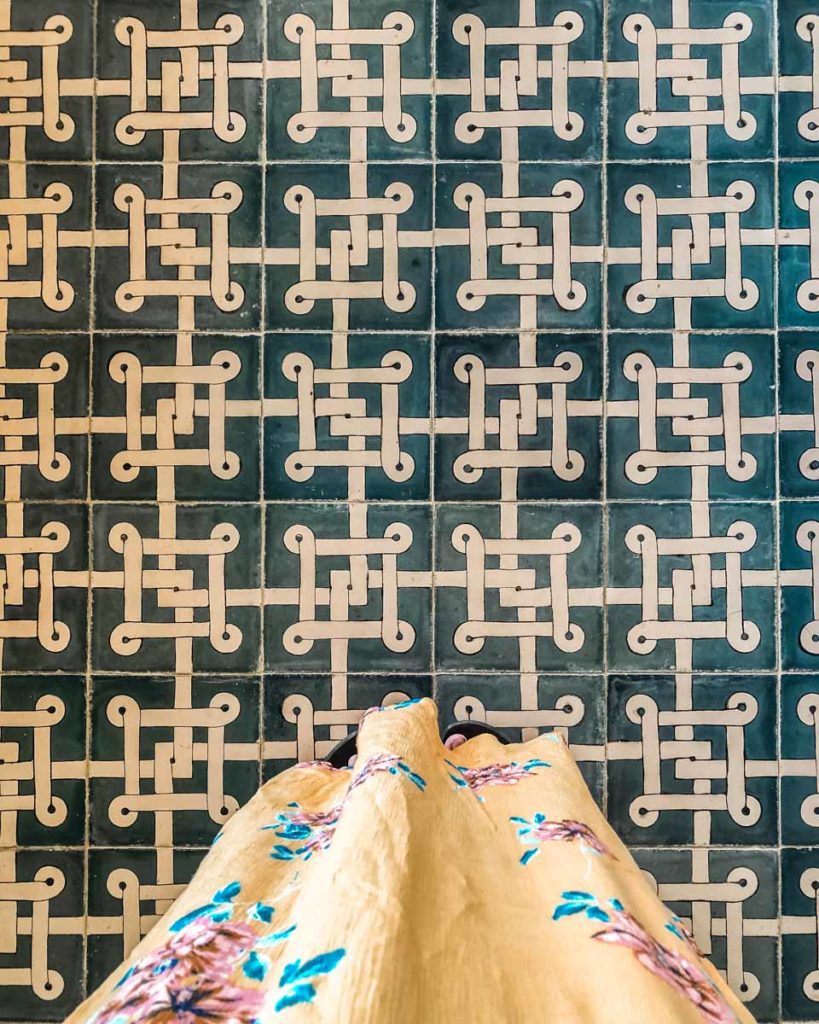 The huge chandeliers are made by hand in Jalisco, and the textiles are made by artisans in Oaxaca. Most of the furniture is made from gorgeous tropical huanacaxtle wood. All the design and decor feels cohesive, warm, and yet chic and luxurious.
Luxurious Large Comfy Beds: Mexico Vacation Rental
We slept in the top master bedroom and had a huge king bed that was super comfy. I had a hard time getting up every morning as the bedding and pillows were so luxurious.
The downstairs bedrooms feature 1 king bed, and the other 2 queen beds. The bottom bedroom has 1 queen bed. All feature high quality luxurious bedding.
Spacious Suites: Best Beach Airbnb in Oaxaca for Groups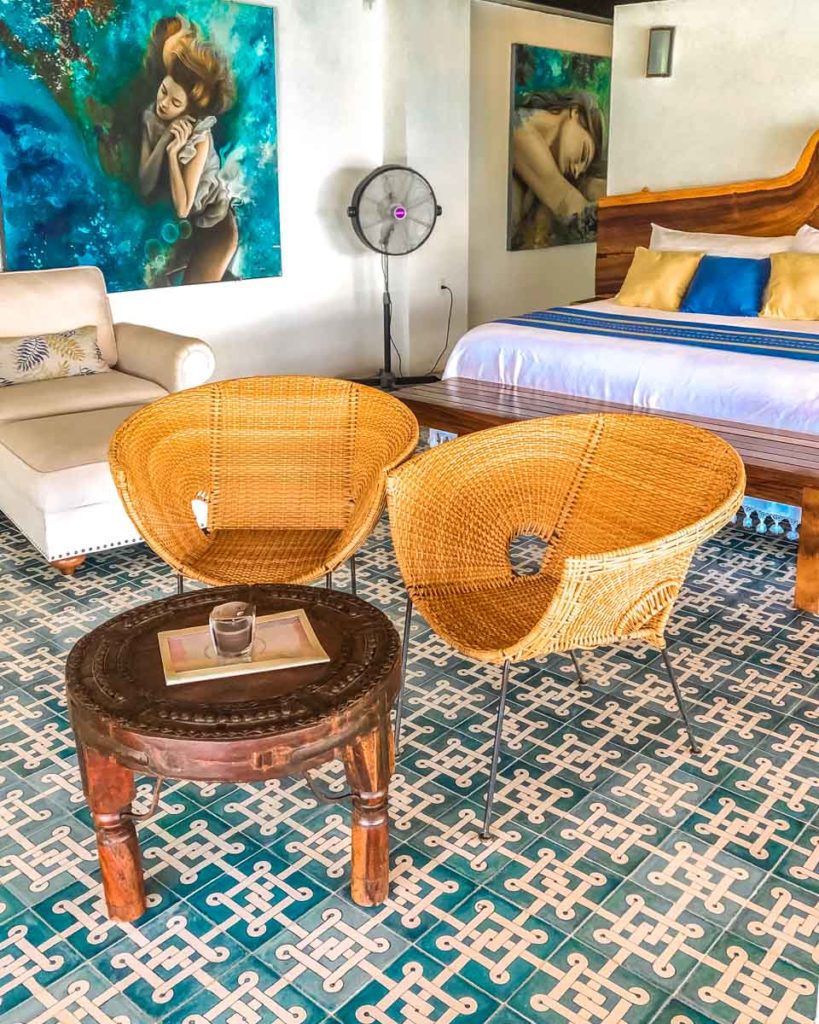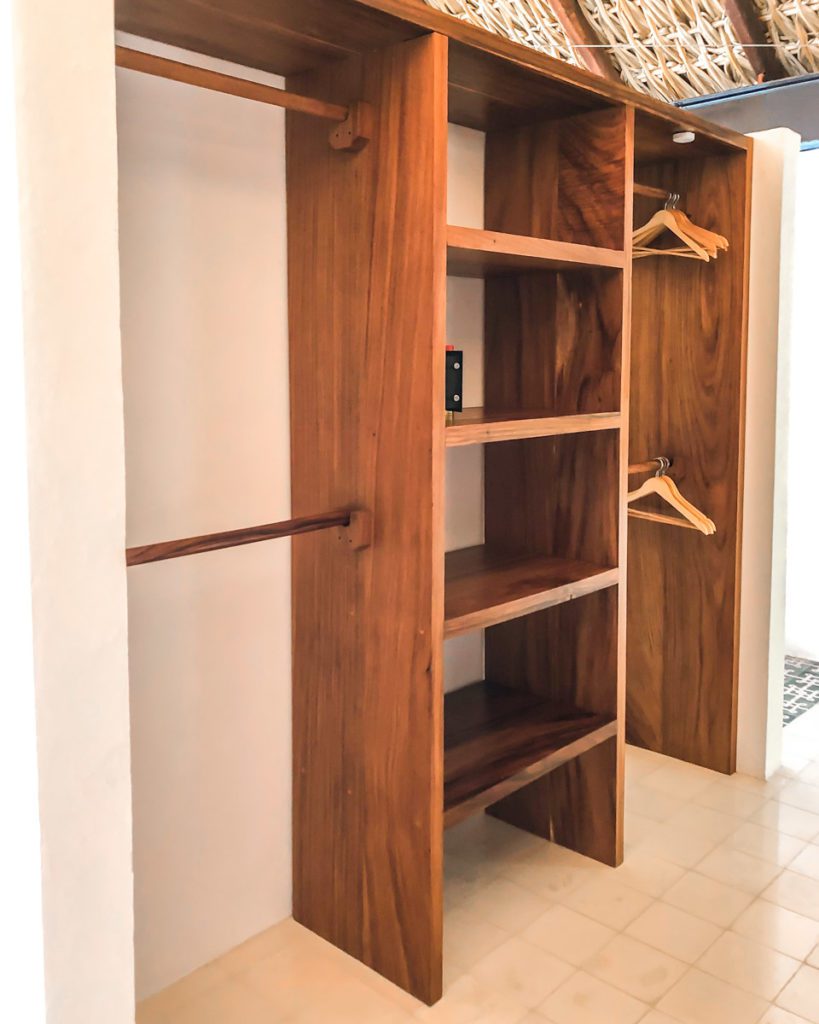 Every suite in this Mexico vacation rental is large and luxurious. The top master bedroom could be its own small home. The seating area and bedroom are huge, then there is a walk-in closet that would have more than enough space to move an entire wardrobe for 2 into, then a huge walk in bathroom with two sinks, tons of counter space, a large shower with rainfall shower head and toilet.
The downstairs bedrooms also are large suites with walk-in closets, desk space, and large bathrooms. The bottom floor bedroom is just a bit smaller, but still has plenty of extra space and a closet to store your belongings.
Lovely Pool and Jacuzzi: Playa Estacahuite, Oaxaca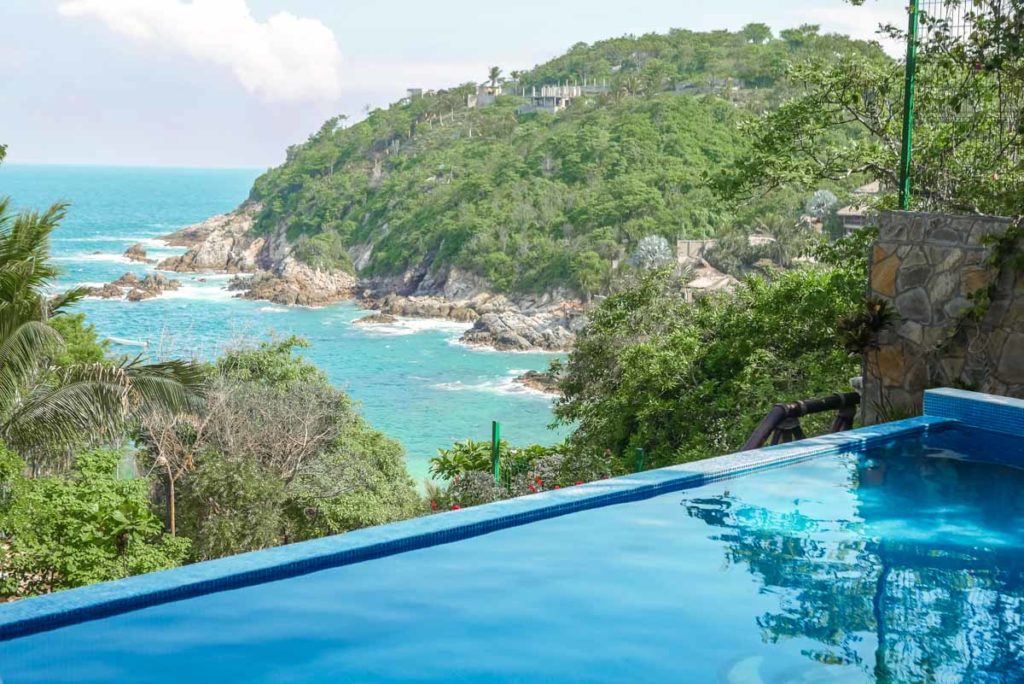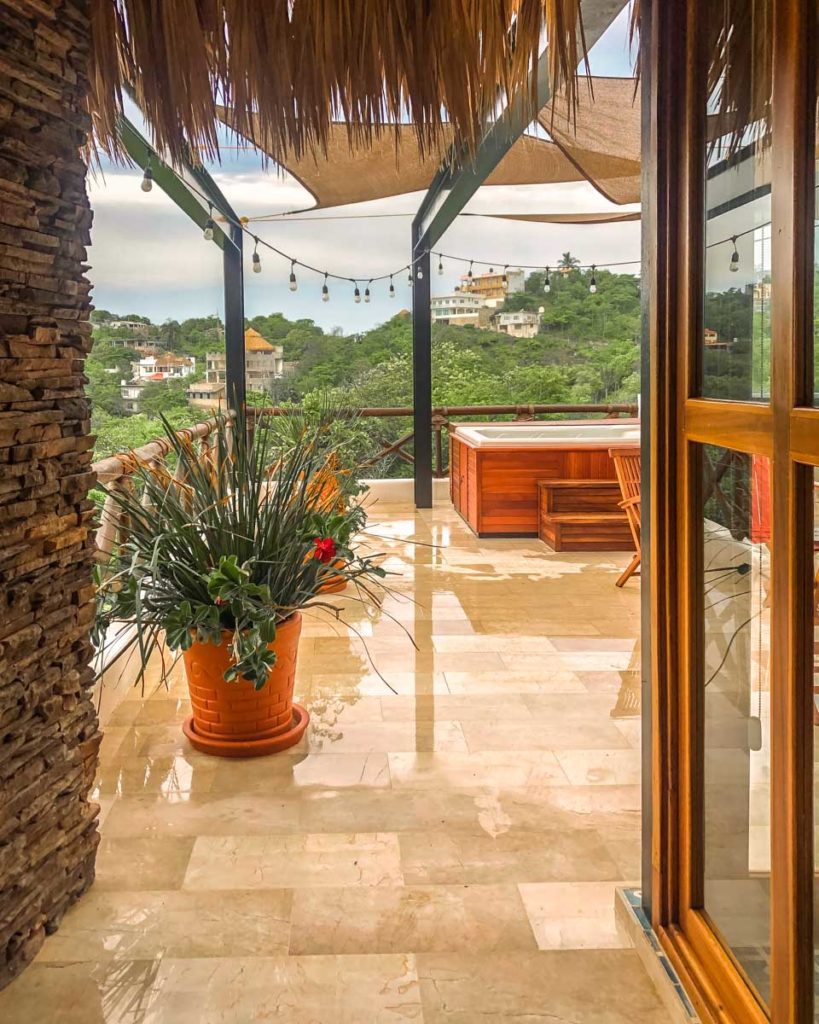 This is the best beach airbnb in Oaxaca for groups to enjoy a beautiful and private pool and jacuzzi. For me, a pool is essential during a beach trip. I love to swim in the ocean, but there is nothing like having a cool refreshing pool to dip into any time of day, especially during the hottest months.
We made good use of the pool, taking dips throughout the day, and lounging on the comfy pool chairs. The placement is perfect as it's right next to the large kitchen and living room, so we could prepare delicious micheladas or snacks and spend all day around the pool. The view from here of the beautiful Playa Estacahuite, Oaxaca bay is perfect, so you can enjoy being at the beach, while also having your own private pool and space.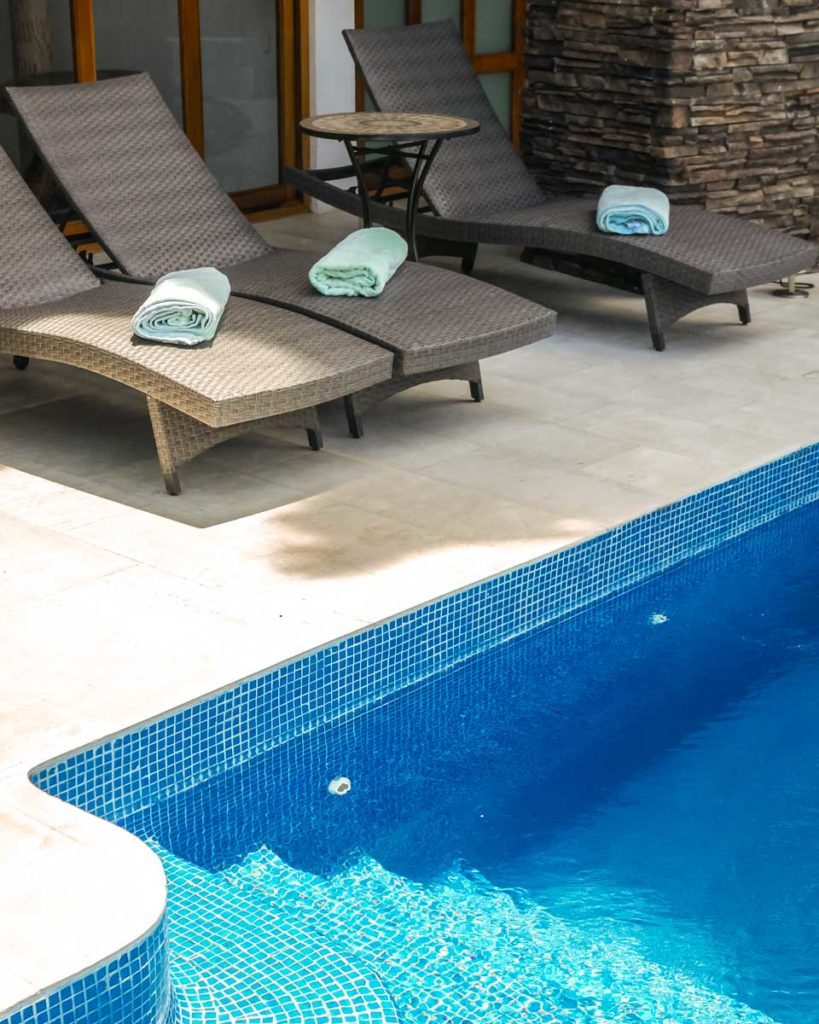 The roof jacuzzi is also lovely with another even more beautiful view of the bay and the rolling mountains. This is the perfect place to end your day, enjoying the sunset with a cocktail or the clear starry night.
Lots of Interaction with Nature, but Closed Bedrooms: Mexico Vacation Rental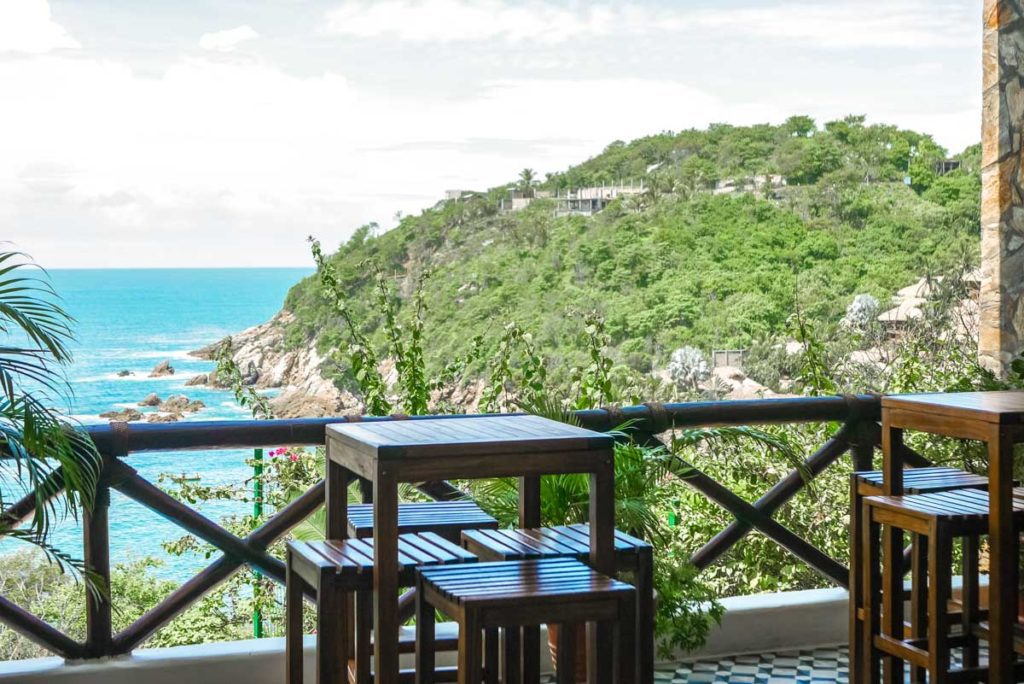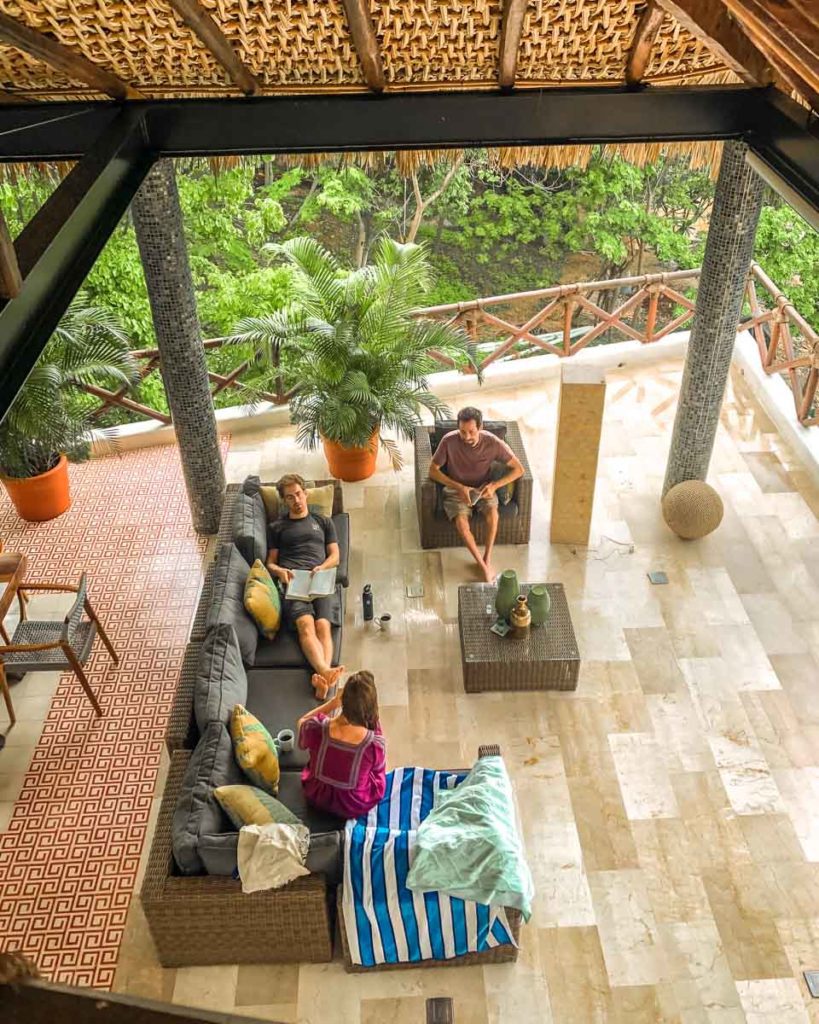 I absolutely love how the home and spaces are laid out in the Mexico vacation rental. Almost every hangout space is open air, with at least 1 or more sides without walls. There's so much ocean breeze that reaches all the corners of the house, plus sweeping views, and lush green jungle.
Then on the flip side, when you are ready to sleep, the bedrooms are totally closed so you can feel the utmost comfort. However, 3 of the bedrooms have floor to ceiling windows so you can enjoy the light and views. If you prefer privacy, they all have drop down black out shades so you can have your privacy and sleep in as late as you like. The bathrooms and massage room are also enclosed for your comfort.
I also love that the huge kitchen, dining and living room is all open air and connected. This is the best beach airbnb in Oaxaca for groups for many reasons, but a great place to eat is essential for groups. This is the perfect home to stock up on ingredients and cook and eat together at the huge dining table. The kitchen is very modern and is stocked with everything you need to cook a gourmet meal. Be sure to buy some fresh seafood from fishermen or vendors in Puerto Angel, so you can make some delicious fish filets or ceviche during your stay.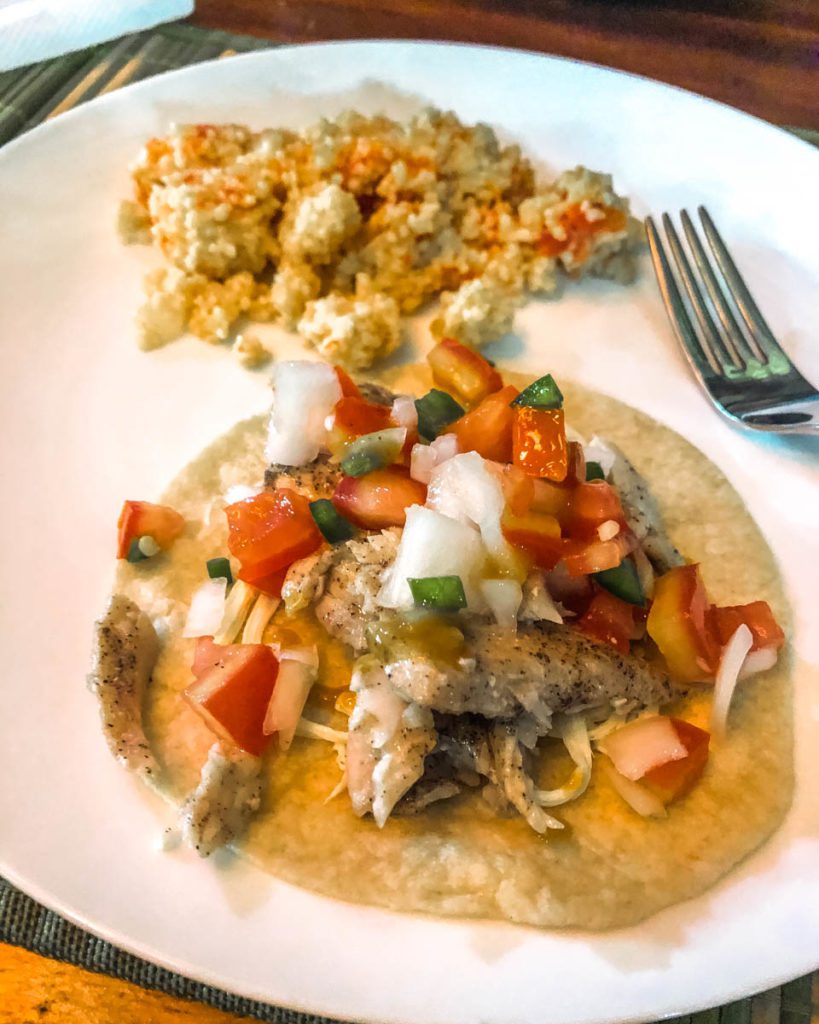 Many Hangout/Common Spaces: Best Beach Airbnb in Oaxaca for Groups
Another reason this is the best beach airbnb in Oaxaca for groups are the plethora of common spaces.
The common spaces in this Mexico vacation rental include: the pool, the open air living room plus kitchen and dining room, a beautiful and private stone back patio, the bar area which also features a large tv, the entryway/sitting room, and the rooftop terrace and hot tub.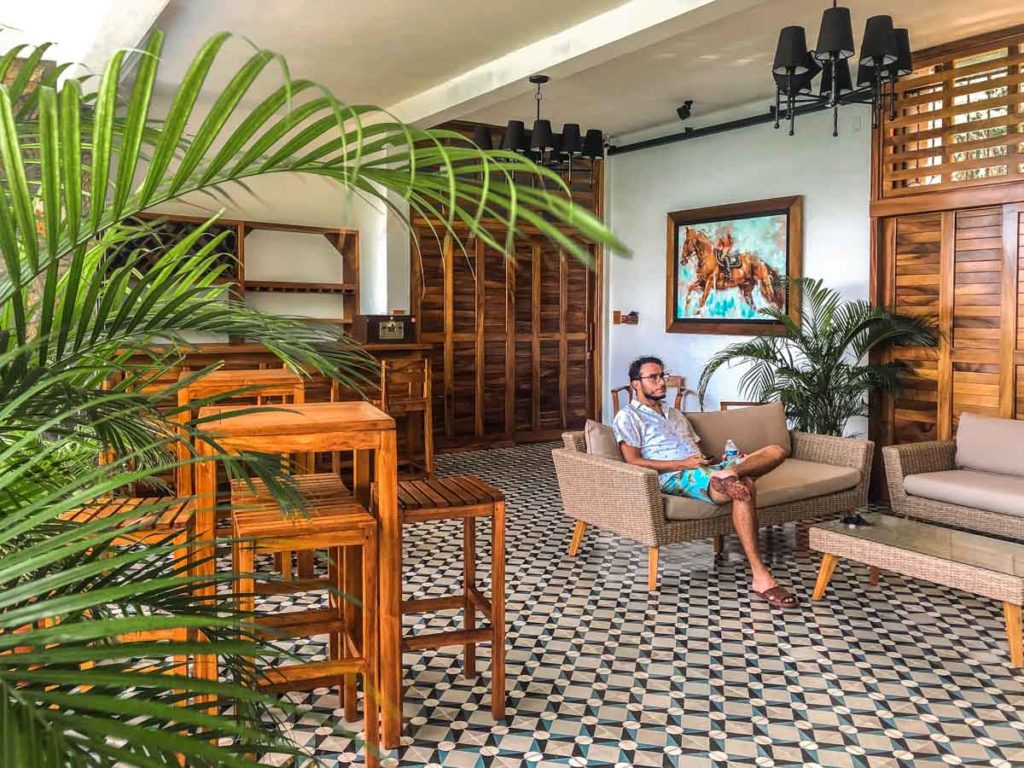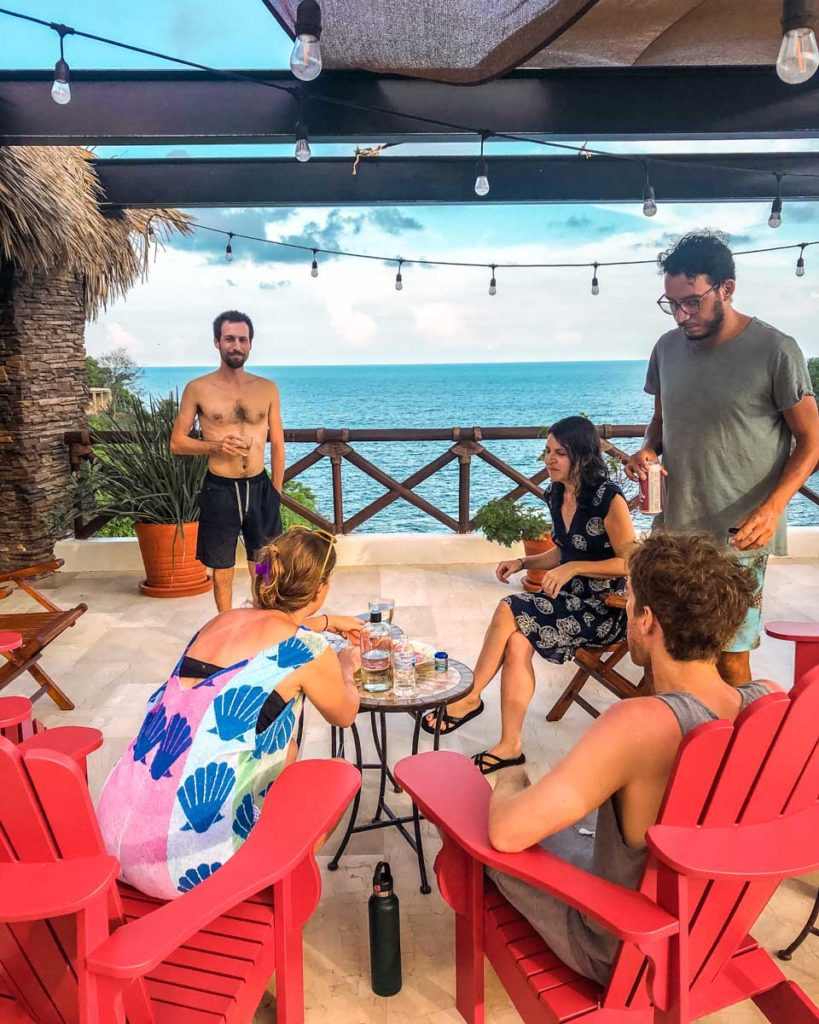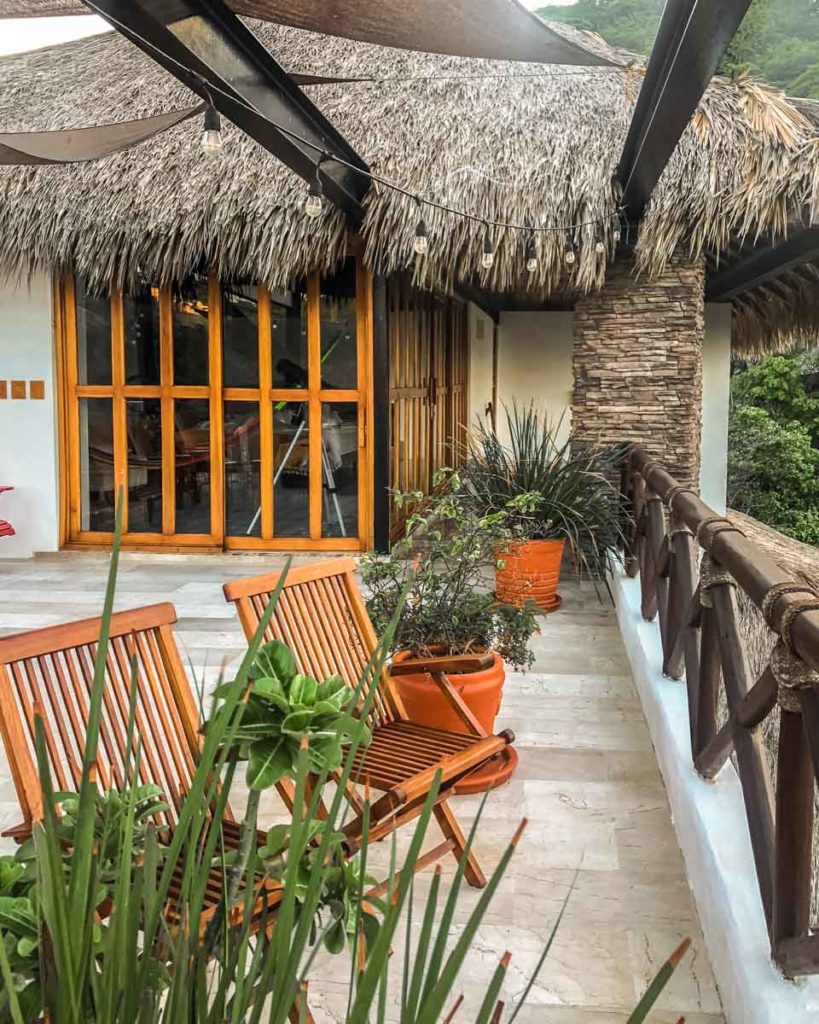 The day that we didn't leave the home, we didn't feel the least bit bored. We just moved around naturally between the common spaces, enjoying them all and the change of perspective and mood they have. And all common spaces have a beautiful view of Playa Estacahuite, Oaxaca.
This would also be a great place for a couple who wants a private and romantic stay. It's a huge space, but very romantic, and doesn't feel overwhelming.
Warm Staff and Quick Communication: Playa Estacahuite, Oaxaca
The entire staff of Bianni Beuú were absolutely wonderful. From my first conversations with the manager, Rebeca, I had every question answered quickly and thoroughly.
When we arrived, the staff had great Covid measures in place. We were given hand sanitizer, sprayed with disinfectant, and had our temperature taken. And since the house is almost all open air, it felt like an especially safe place to be during Covid. The staff cleaned the home thoroughly every day as well.
I had an unexpected emergency when my car broke down after arrival. Rebeca went above and beyond to find a mechanic, and communicate between us every day to make sure it got fixed. It was a stressful situation, but she made us feel that she'd do whatever she could to help us and make sure we still enjoyed our stay to the utmost.
Included Free Breakfast: Mexico Vacation Rental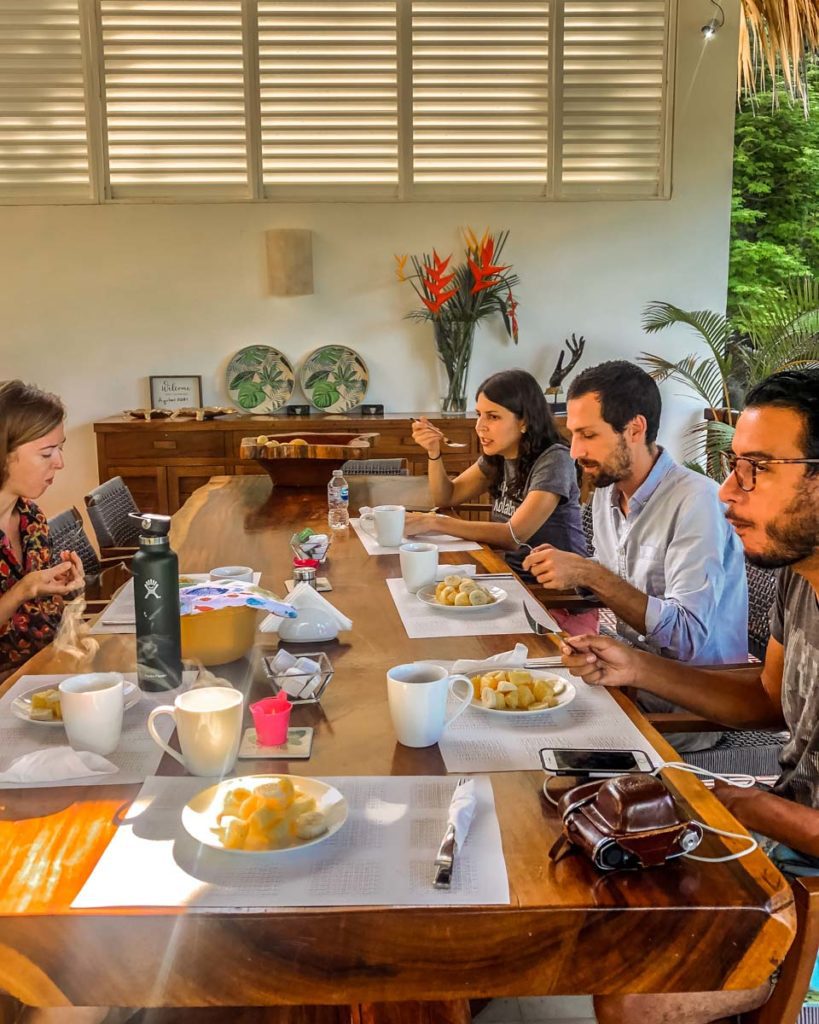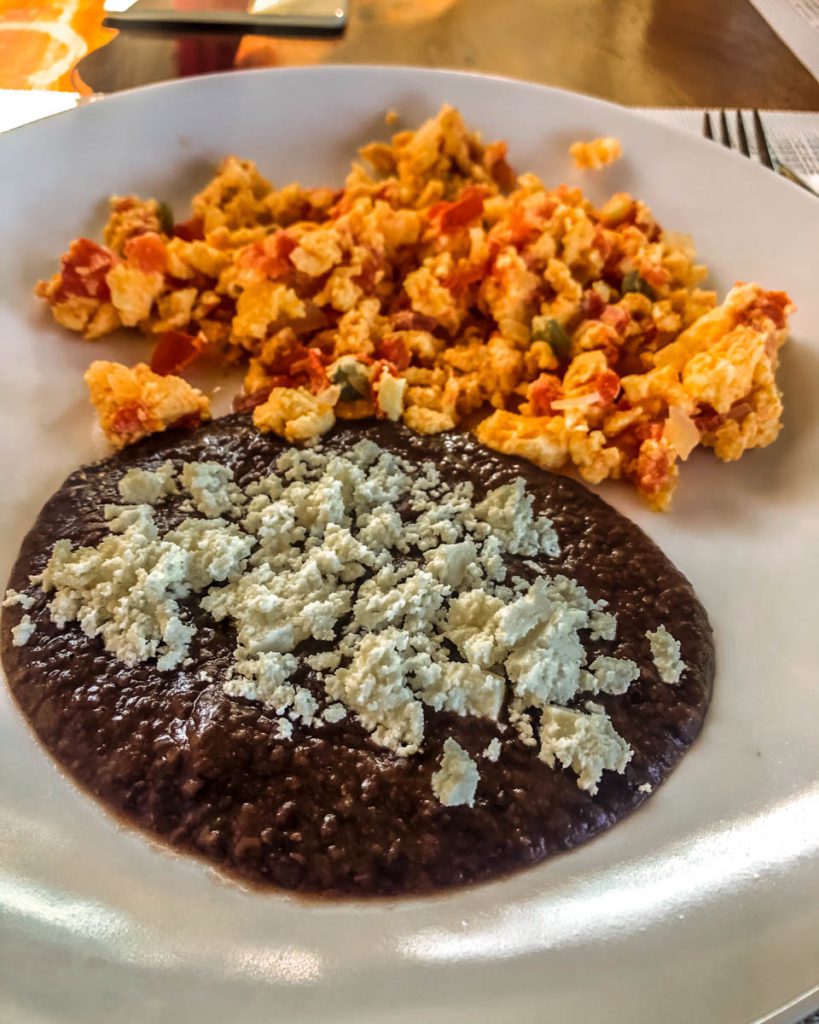 A continental breakfast is included with your stay that the wonderful staff make each morning. You can also upgrade to a hot breakfast as well. Every morning we had fresh fruit, coffee, juice, and a changing egg plate – like huevos mexicanos, eggs with bacon, beans, and fresh cheese, and eggs with ham.
Safe Mexico Vacation Rental Including Night Security: Best Beach Airbnb in Oaxaca for Groups
This Mexico vacation rental feels very safe, but you can feel even more secure knowing that there is a night watchmen on site every night.
On-Site Massage Room & Services: Mexico Vacation Rental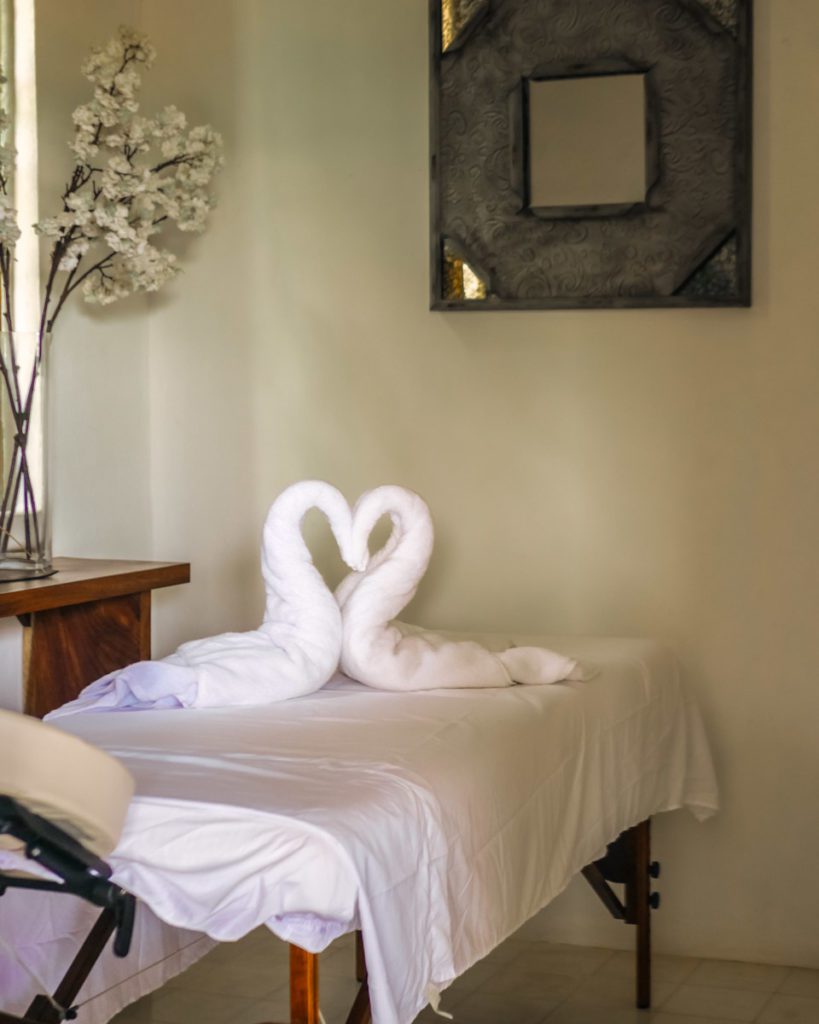 If you want to jump start your relaxing, you can schedule a massage on-site in the dedicated massage room. This room has a professional massage bed and everything else you need to totally relax.
Off-the-Beaten Path Beach But Just Minutes From Other Destinations: Playa Estacahuite, Oaxaca
One of my favorite things about this Mexico vacation rental is its amazing location on Playa Estacahuite, Oaxaca. I'm not sure why this beach isn't visited more. It's absolutely gorgeous, yet it's almost always very relaxed and not busy when I visit. So Bianni Beuú has a view and 5 minute walking access to this piece of paradise.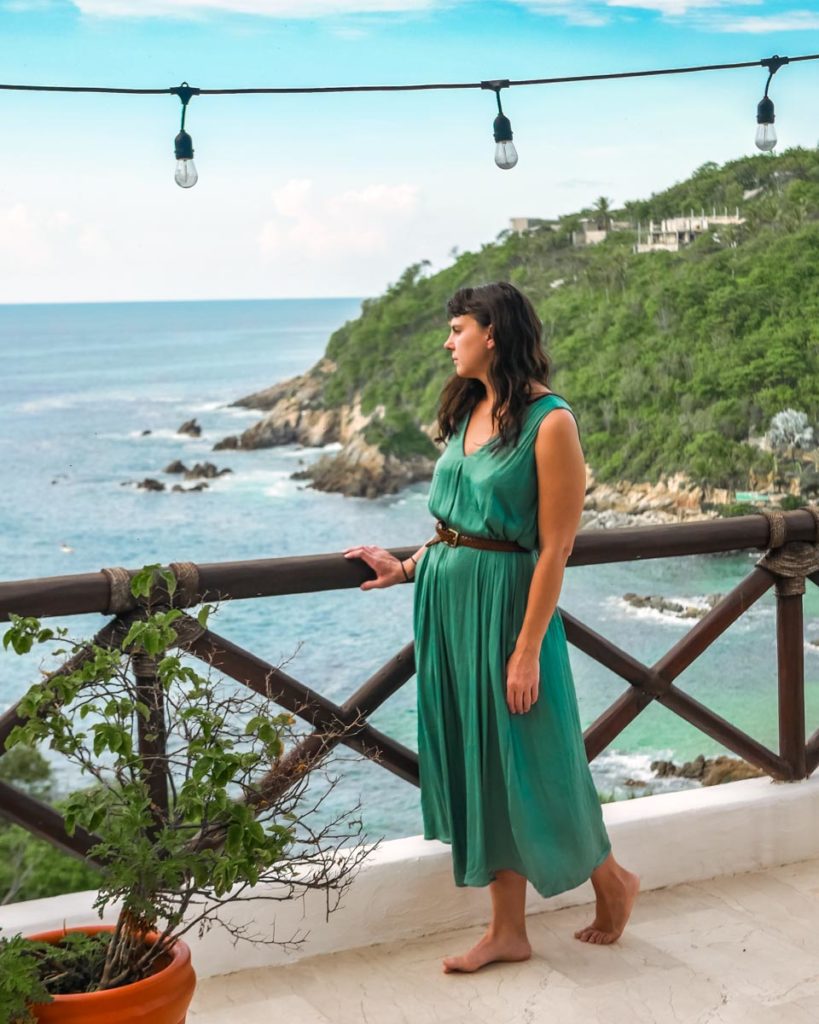 This little neighborhood of Playa Estacahuite, Oaxaca is totally chill, yet you can drive 5 minutes to the village of Puerto Angel for any amenities you might need, or 10 minutes to the beautiful beach destination of Zipolite. Drive another 10-15 minutes to enjoy the beautiful beaches and more touristed towns of San Agustinillo and Mazunte. You have the option to be totally private and relaxed in Playa Estacahuite, Oaxaca, or just go a bit down the road for more tourist infrastructure, restaurants, bars, and other amenities. This is the best beach airbnb in Oaxaca to offer you the best of both worlds.
Final Thoughts: Best Beach Airbnb in Oaxaca for Groups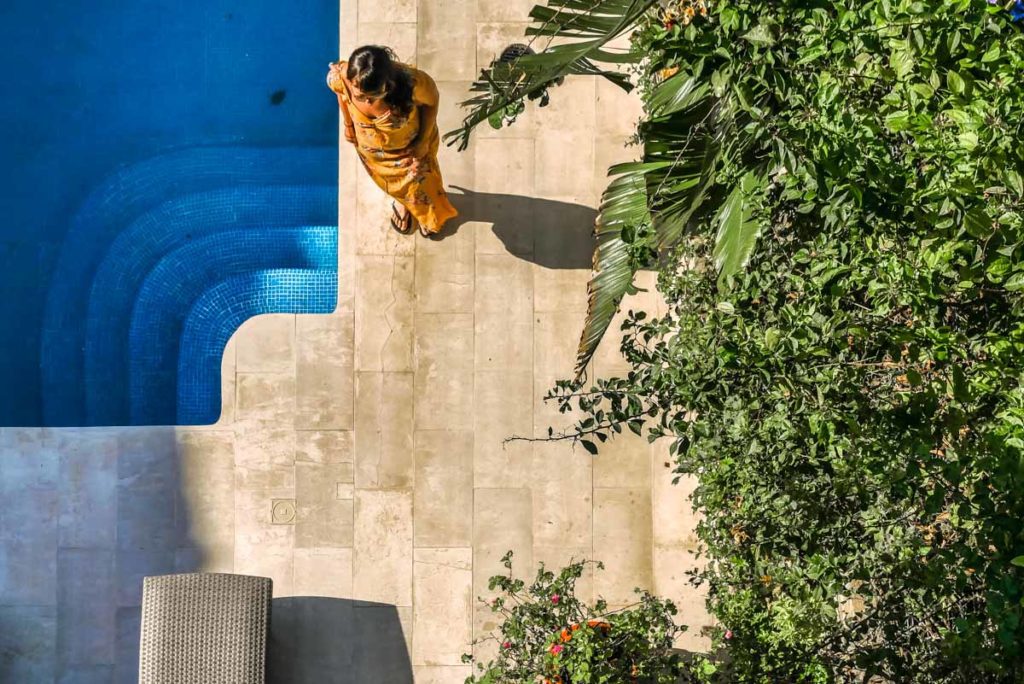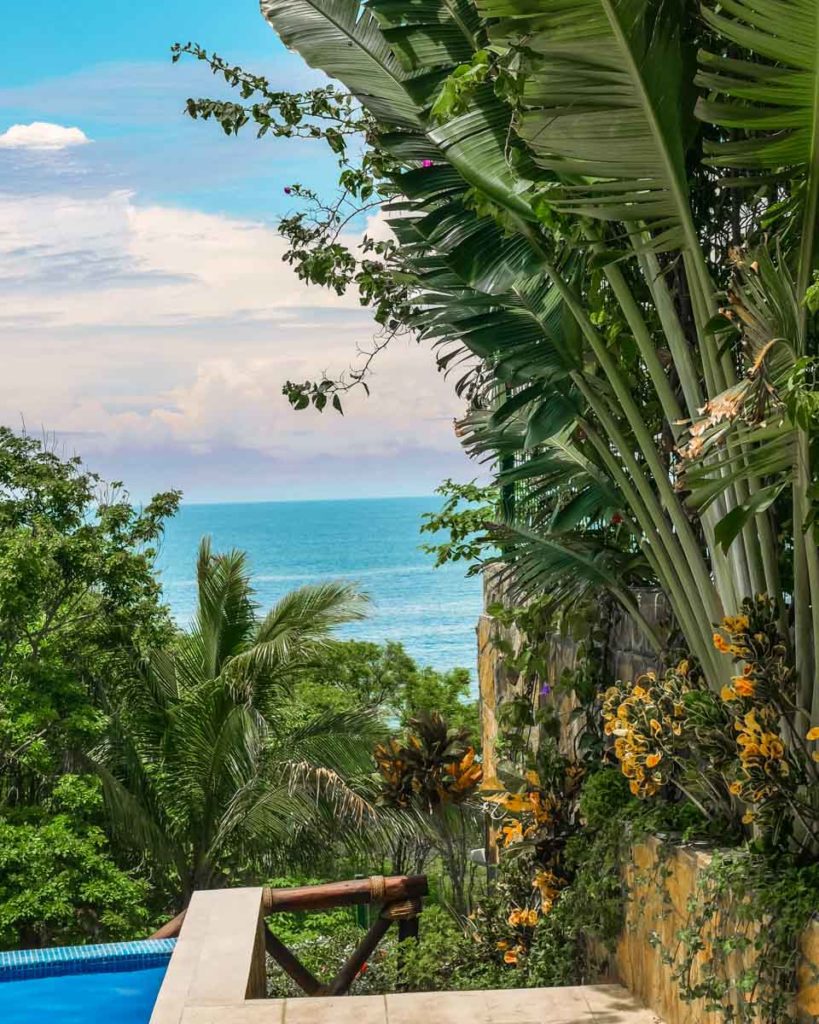 Bianni Beuú is one of the most special places I've had the pleasure of staying. From the moment I walked in the large ornate wood door and caught a glimpse of the beautiful artisan tile and the sweeping ocean views, to walking 5 minutes down to one of my favorite beaches, to enjoying every comfortable and beautiful moment in the thoughtful spaces, it truly was a memorable vacation. As I was going through all my photos to write this post, I had a yearning to go back soon. I heartily recommend this Mexico vacation rental for groups, those who want to disconnect, those who want a luxurious vacation, and anyone who wants an especially memorable stay. Beautiful, private, safe, super comfortable, and artistic.
Hotel and Reservations: Bianni Beuú
Social Media: Instagram, Facebook
Best For: Groups of friends or family, luxury travelers, couples who want a romantic and private weekend. Those who want a memorable vacation.
Price: Starting at $799usd or 16,052mxn/night. Sleeps 10 – 4 bedrooms, 6 bathrooms.
Includes: Large pool, daily cleaning, continental breakfast, night security, jacuzzi, stocked kitchen, satellite wifi, parking. Add ons: further meals, massage services on-site.
Location: Playa Estacahuite, Oaxaca
Pin it for Later! Playa Estacahuite Oaxaca Airbnb