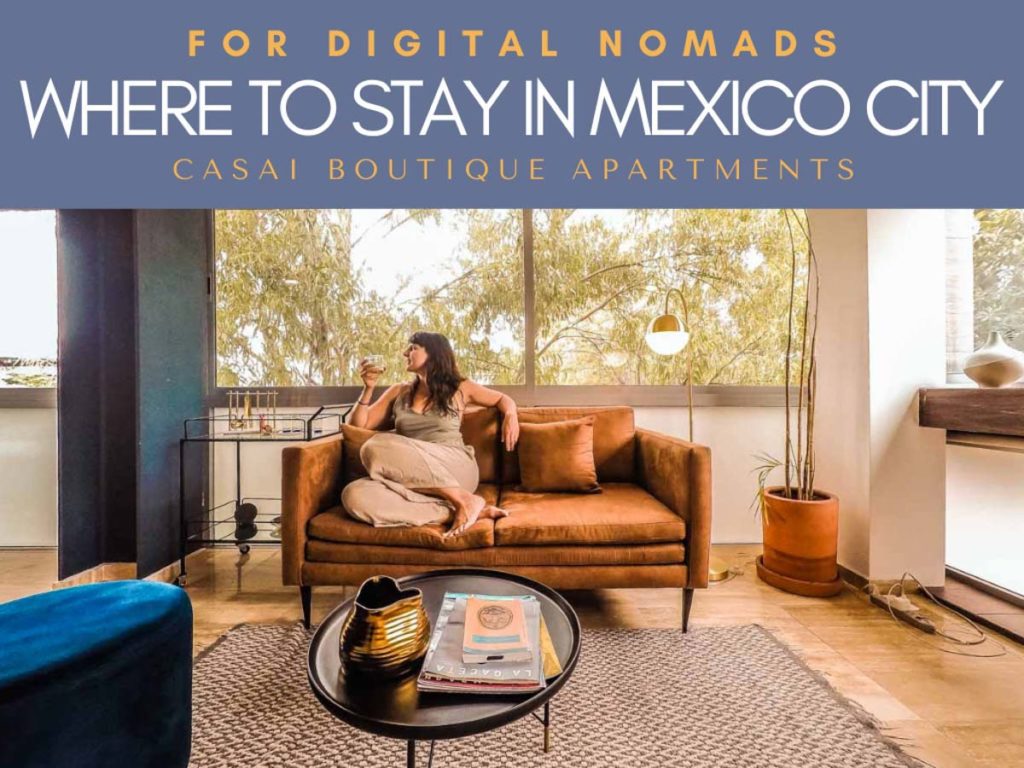 For digital nomads and many modern travelers, fast reliable internet is a must, and can be stressful to find in a hotel or airbnb. Countless times I've scoured airbnb and hotel reviews about wifi to see if I truly can feel confident it won't be a problem during my stay (and many times it has!). If you're wondering where to stay in Mexico City for Digital Nomads (or anyone who wants to stay connected), Casai Apartments are the perfect place to base yourself in CDMX.
Casai have hundreds of apartments to choose from in 6 beautiful neighborhoods in Mexico City. From efficiency studios to multiple bedroom apartments, you can find an apartment that fits your needs, style and budget. The internet is a huge plus, but there is so much more that makes these apartments incredibly comfortable, convenient, well thought out, safe and more. Read on for a breakdown on all the great features in the Casai boutique apartments.
Disclosure: This post was written in partnership with Casai. As always, every thought, opinion, and experience is my own.
Super Fast and Reliable Internet: Where to Stay in Mexico City
As I mentioned, the internet is incredibly fast and reliable at Casai apartments. As a digital nomad in Mexico City, I had to be sure that my video calls and work hours would go off without a hitch. When I first measured the internet on arrival it was 116mb download and 117mb upload. This was fantastic for me and never faltered during my 3 day stay.
Other things to keep in mind about where to stay in Mexico City for digital nomads – Casai often has rooftops or common areas to hang out in, and these also are equipped with wifi. My apartment building had a beautiful roof with lots of tables, comfy chairs, and wifi!
Sophisticated and Beautiful Decor: Mexico City for Digital Nomads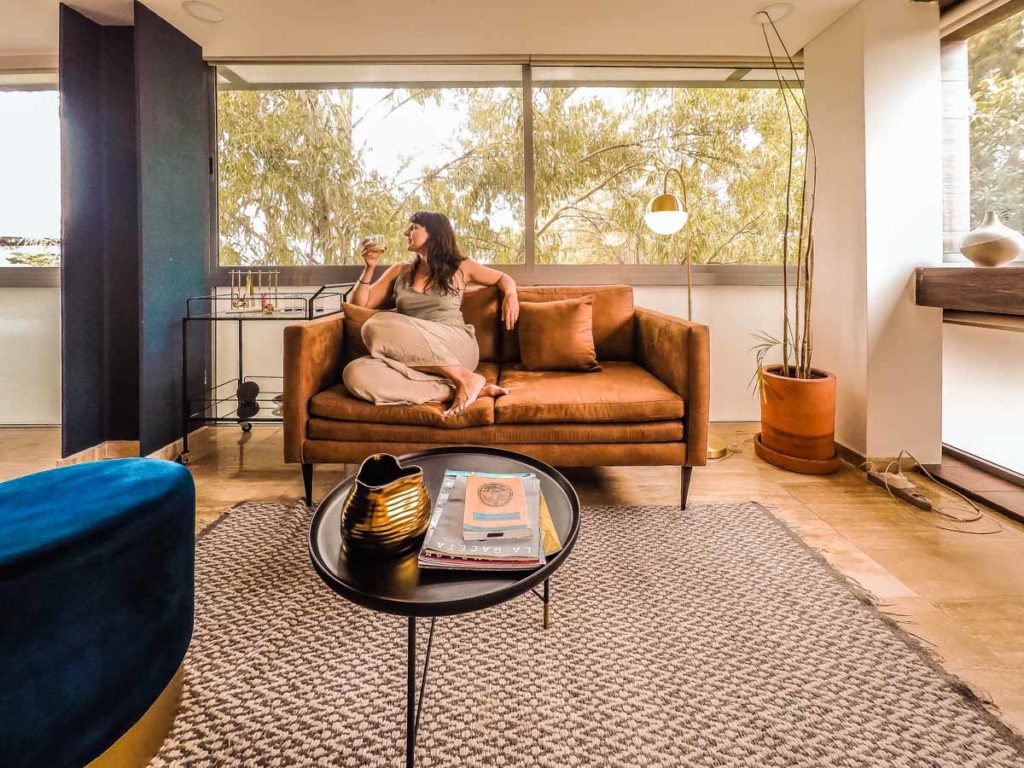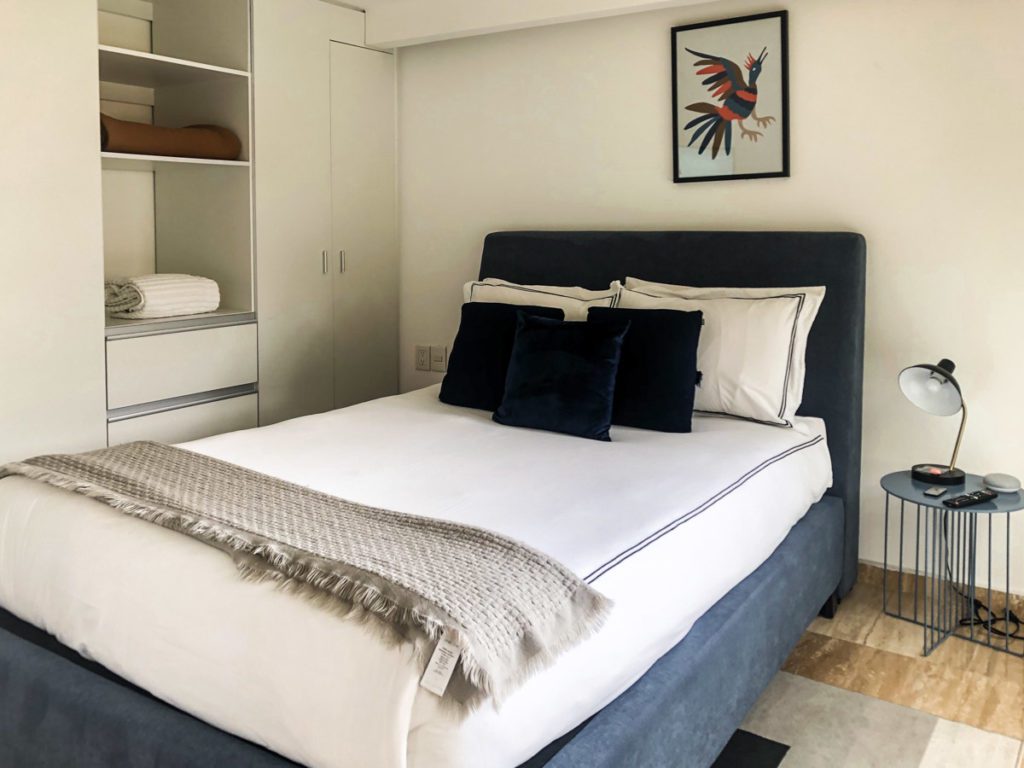 The Casai apartments are really tastefully and thoughtfully decorated. I loved the subtle vintage design in my apartment. The warm suede sofa, the gold floor lamp, the glass bar cart, and the minimalist Mexican art and photographs were perfect. Everything felt clean, but with enough warm touches that it doesn't feel like an airbnb without personality. It's a very comfy and warm space to spend time in.
Lots of Extra Amenities: Where to Stay in Mexico City
There were so many thoughtful touches and things in the Casai apartments that made the stay so much more comfortable than most airbnbs or hotels. The kitchen was stocked with an automatic espresso machine with pods for each morning. There was also dishwasher which feels like a huge luxury and a microwave.
A Fully Stocked Kitchen: Mexico City for Digital Nomads
I was so impressed with how stocked the kitchen was at Casai. There were plenty of plates, dishes, cups, pots, and more. They also left several goodies for us on arrival. The fridge was stocked with a few beers, water, and more. And there was a tray of local snacks and cookies to enjoy. There is also a water filter attached next to the faucet in the sink, so you have unlimited clean drinking water. This is where to stay in Mexico City for people who want to be comfortable, cook from your apartment occasionally, and feel at home.
Rooftops and Common Areas: Where to Stay in Mexico City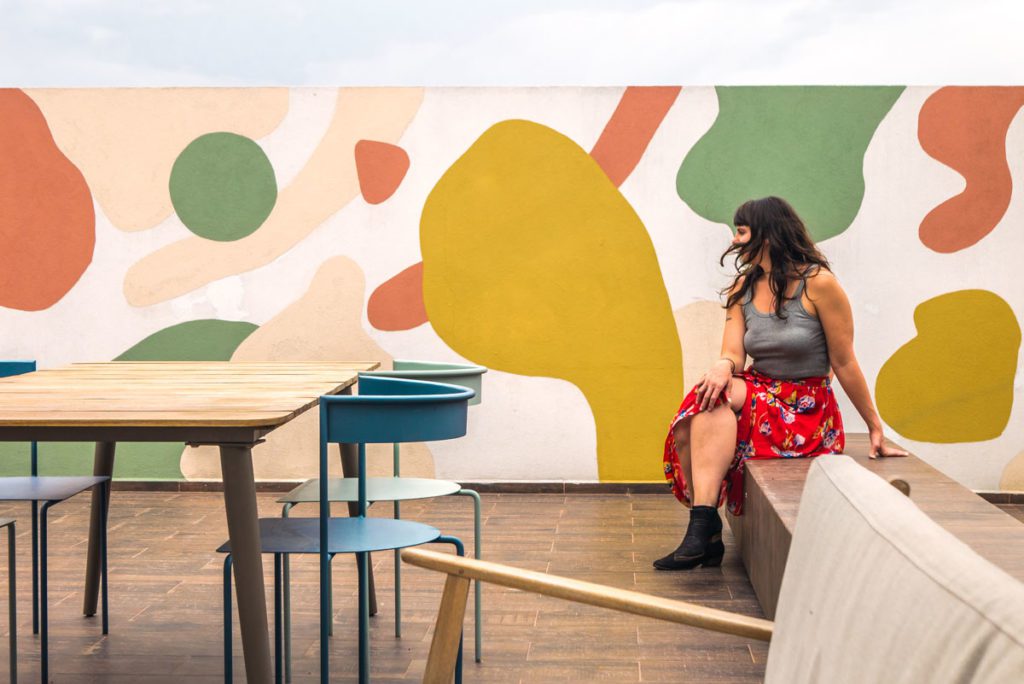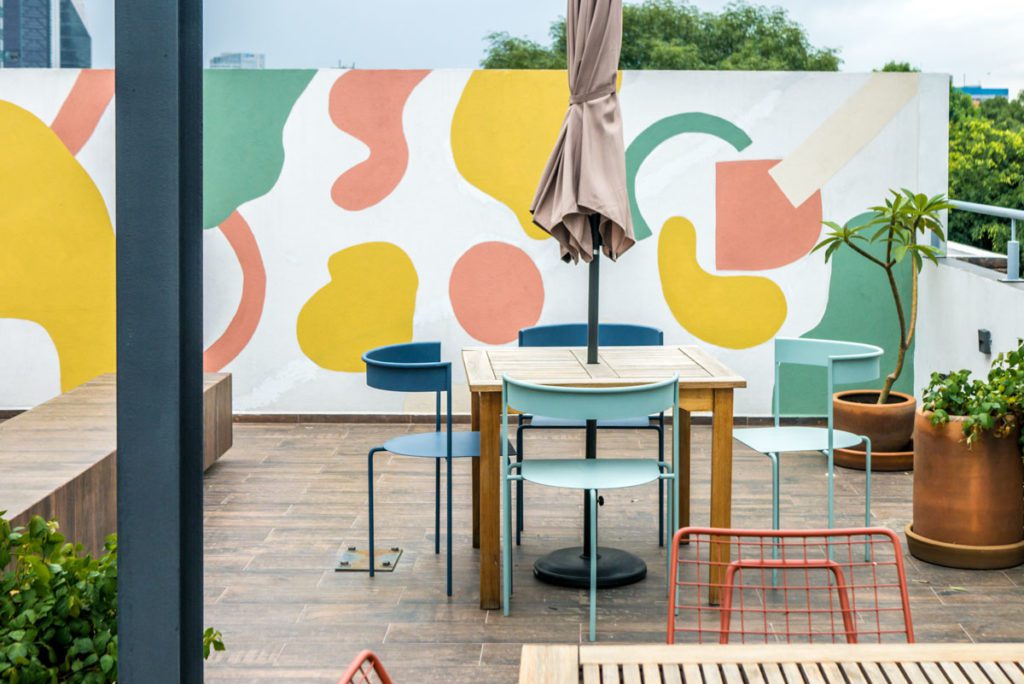 Our Casai apartment had a beautiful rooftop with a great view of Condesa. The rooftop was pretty large with lots of seating areas: couches, comfy chairs, tables and chairs, and a big umbrella for when it gets sunny. There is also a grill and a sink/washing area if you want to have a cookout. As I mentioned before, there is also wifi on the roof, so Mexico City digital nomads can take their laptops up and work in the fresh air.
Perfect Locations: Mexico City for Digital Nomads
Casai have apartments in some of the best Mexico City neighborhoods: Condesa, Roma, Polanco, Cuauhtemoc, Juarez, and Santa Fe. I chose to stay in Condesa, which is leafy, quiet, beautiful, and full of great restaurants, bars and shops. This is where to stay in Mexico City for digital nomads who want a beautiful and quiet location but so close to great things to do.
High Tech Connected Apartments: Where to Stay in Mexico City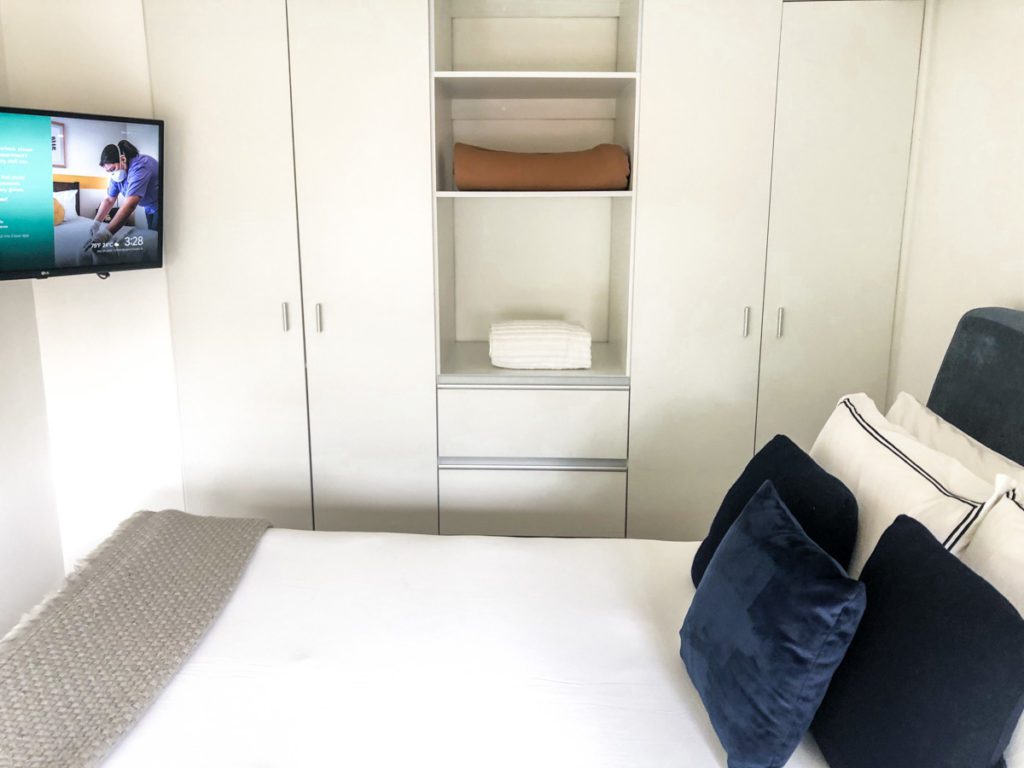 Casai takes their technology to the next level. Their apartments are totally connected. Their apartments have Google home and Chromecast, so you can easily control everything. They also have digital concierge and information services that are super easy to use to find info or request services. Finally, they have digital neighborhood guides for you to get the best out of your stay.
24 Hour Security: Mexico City for Digital Nomads
You can feel safe and secure at Casai apartments as they have 24 hour security at the door. There was always someone to let us in and out of the building and to verify that only guests were able to enter. This made us feel very secure.
Huge Array of Concierge Services: Where to Stay in Mexico City
The amount of concierge services that Casai offers is incredible. Browsing through their options I found: laundry, dry cleaning, bicycle rental, beauty or massage, food delivery, a wellness kit that includes a yoga mat and more, gym classes, car rental, and more. Plus they have personal concierges available 7 days a week for anything else you might need. And for Mexico City digital nomads, they also have a service to connect you to coworking spaces.
And if you are traveling during Covid, they offer a streamlined service to have a medical professional come right to your Casai apartment to perform a Covid test. This is so helpful for anyone needing a test before travel, and not wanting the stress of searching a test out and making sure they get the results back in time.
Views, Windows and Natural Light: Mexico City for Digital Nomads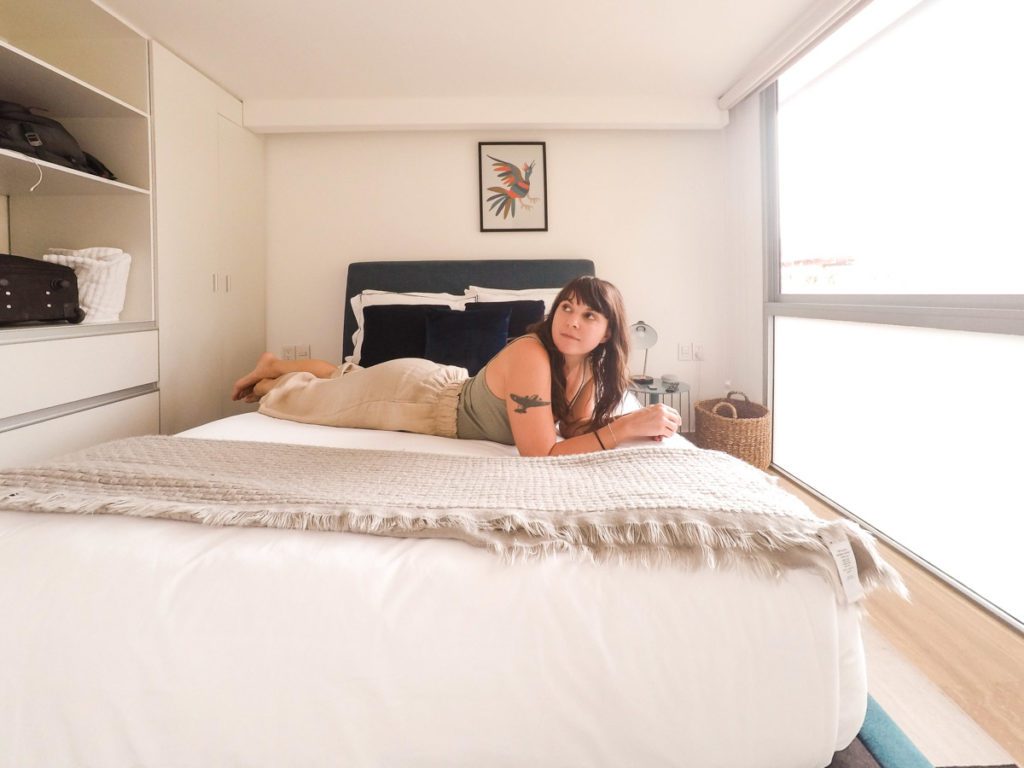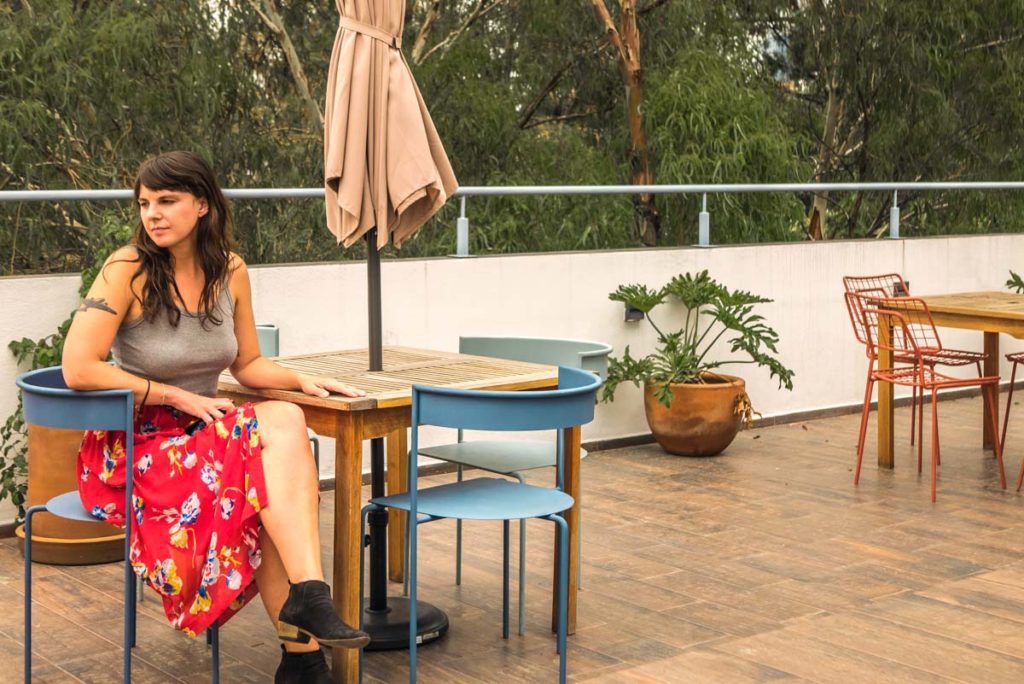 Our Casai Apartment had amazing natural light. There were large windows that wrapped around the entire apartment which gave us views of the many trees lining the street, birds in the morning, and lots of beautiful light. There are shades on each window so you can control the amount of light too, especially if you want to sleep in.
Conclusion: Where to Stay in Mexico City
The Casai apartments have so much to offer that they have to be one of the best options of where to stay in Mexico City, for digital nomads, or anyone else who values comfort, connectedness, safety, and beautiful spaces. I would happily return to Casai anytime I return to Mexico City. Especially to make sure I have great internet and feel right at home.
Hotel and Reservations: Casai
Social Media: Facebook, Instagram, Youtube, Twitter
Best For: Digital nomads, those who want an exceptionally comfortable and modern stay in a beautiful space, convenient location, and safe building.
Price: Starting at approx $57usd/night. Check booking link below to search for apartments and current rates.
Includes: Super fast wifi, drinking water, toiletries, city views, rooftop or common spaces, concierge services, stocked and full kitchens, Google home and Chromecast, 24 hour doorpeople, espresso machine.
Location: Mexico City, Mexico (Condesa, Roma Norte, Juarez, Cuauhtemoc, Polanco, Santa Fe)
Pin it for Later!