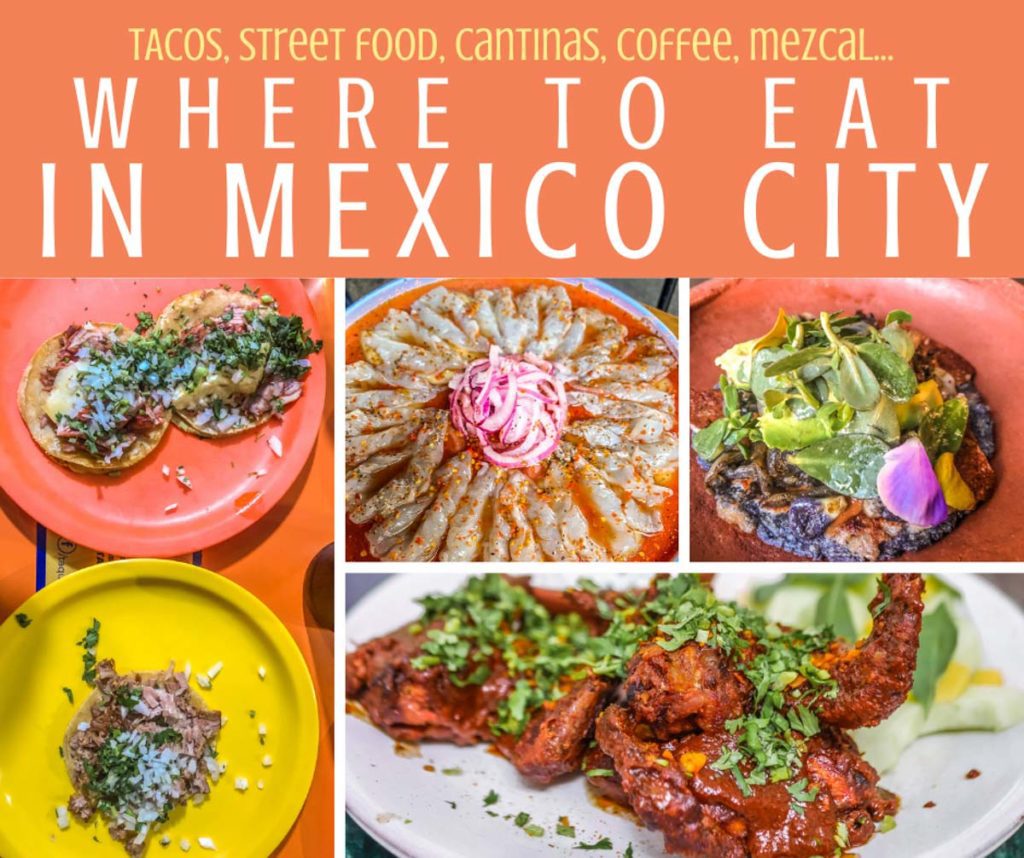 I put off writing this post for years because I wasn't sure there needed to be another "where to eat in Mexico City" guide out there. But because food is such a huge part of my travel experience and connection with culture & since I have several other posts about CDMX and I continue to spend time there and get questions, I thought it was time to finally put a big list together of all my favorite places to eat, drink, and be merry, some of the best restaurants in Mexico City.
This is just my opinion and the places I've fallen in love with over my multi-month stays and shorter visits. Everything from tacos on the street to a few high-end places that are well worth the splurge. Cantinas to wile away an afternoon, coffee shops to hang out and people watch, traditional food from all over Mexico, delicious chilaquiles and much more.
Taquerias and Street Food in Mexico City: Where to Eat in Mexico City
Tacos are the heart of Mexico City cuisine so taquerias are some of the best restaurants in Mexico City. This could be its own post, but I'll list out my favorite places to eat the tastiest tacos in Mexico City.
Los Cocuyos
Los Cocuyos is a classic taqueria in the Centro Historico. Order the surtido and the campechano (a mixture of meats, maciza and longaniza).
Taqueria Tres Coyotes
Taqueria Tres Coyotes is a great taqueria in the beautiful neighborhood of Coyoacan. Order the tacos al pastor here.
El Caguamo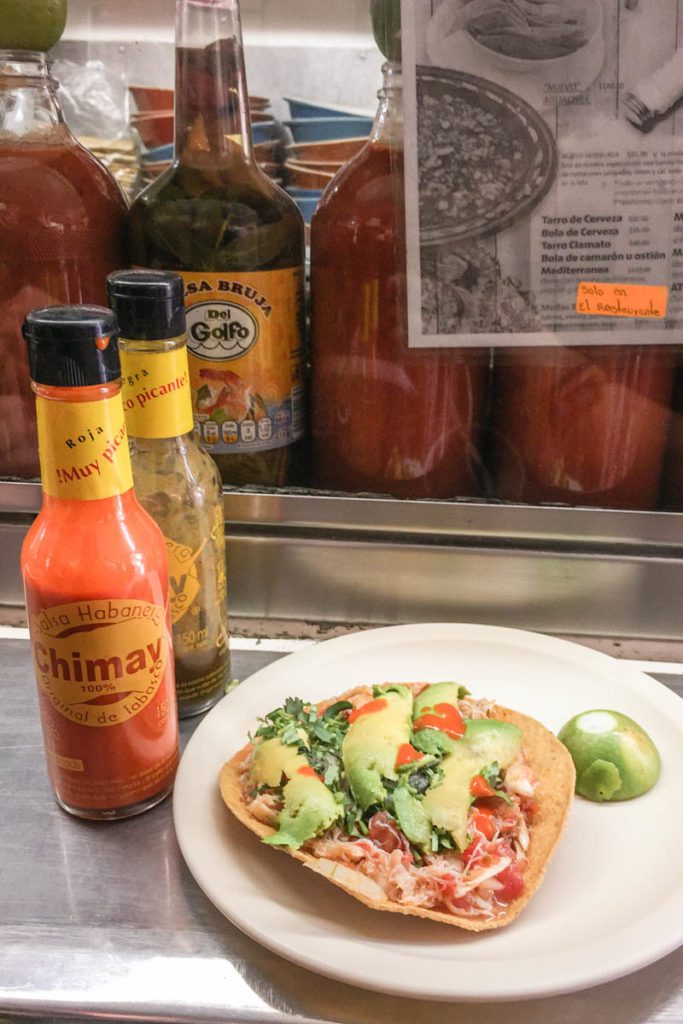 El Caguamo is where to eat in Mexico City for great seafood. This street food stand is almost always busy and serves fresh tasty seafood in the Centro.
El Vilsito
El Vilsito serves my favorite tacos in all of Mexico City. This popular taqueria in Navarte is a mechanic shop during the day and a bustling delicious taqueria at night. Come early or be prepared to wait and definitely order the tacos al pastor. This is a must in my list of where to eat in Mexico City.
Tacos Manolo
Tacos Manolo is another delicious taco spot in Navarte. If you're feeling hungry, stop by El Vilsito and Tacos Manolo in the same night, and then grab a beer at Los Cuates Cantina (see below "Where to Eat in Mexico City: Cantinas" section). Order tacos al pastor, suadero, and tacos arabes.
El Huequito
El Huequito is a renowned taqueria in Mexico City in the Centro. There are a couple locations. This is where to eat in Mexico City for tacos al pastor.
El Paisa
This is a favorite of my partner's and for good reason. The juicy taco meat that simmers in its own juices mean that the tacos at El Paisa are full of flavor. This is where to eat in Mexico City when you're in the San Rafael neighborhood.
Por Siempre Vegana
Por Siempre Vegana is a street food stand in La Roma serving only vegan tacos. Whether or not you are vegan, these are delicious. This is definitely where to eat in Mexico City for vegans and vegetarians, but also anyone who loves tacos.
Birria Street Stand in La Juarez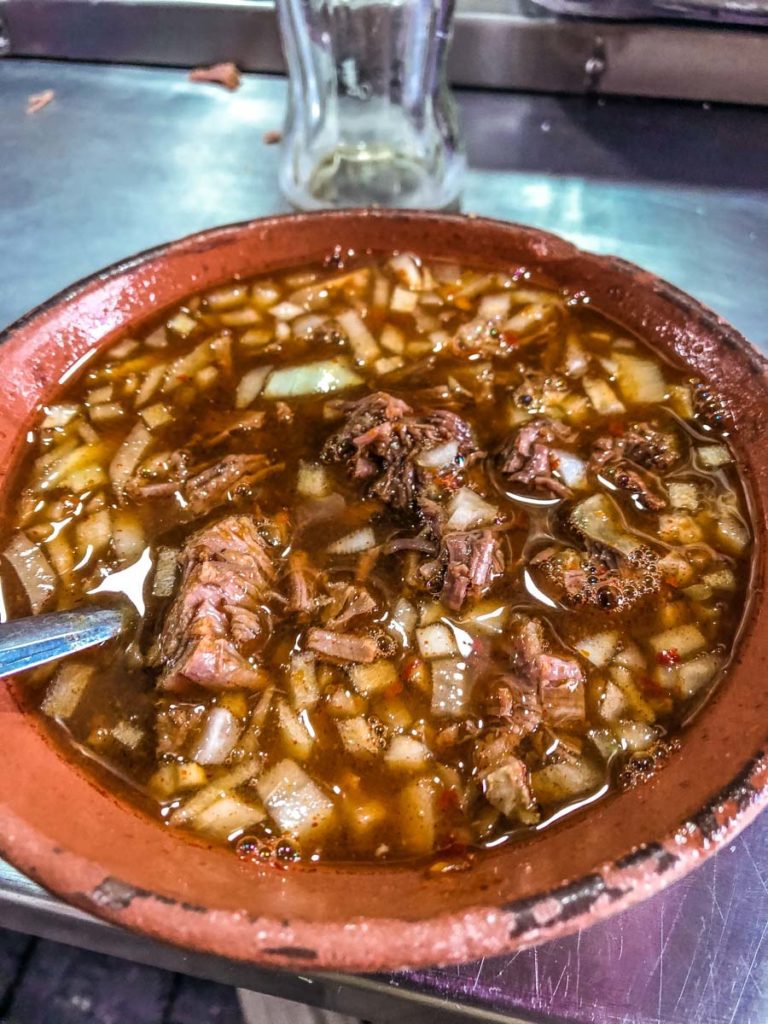 We've already established that I love birria, traditional stew from Jalisco. This unassuming street stand is the best birria I've ever had in Mexico City. I can't find a name in Google, but it's on the corner of in Londres & Napoles in La Juarez on the southwest corner. This rec came from my friend and favorite food tour guide, Anais.
Taqueria Orinoco
Taqueria Orinoco is one of the most fun taquerias for design, but also one of the most delicious. This is a must stop for where to eat in Mexico City and to snap a few pictures.
Cochinita Power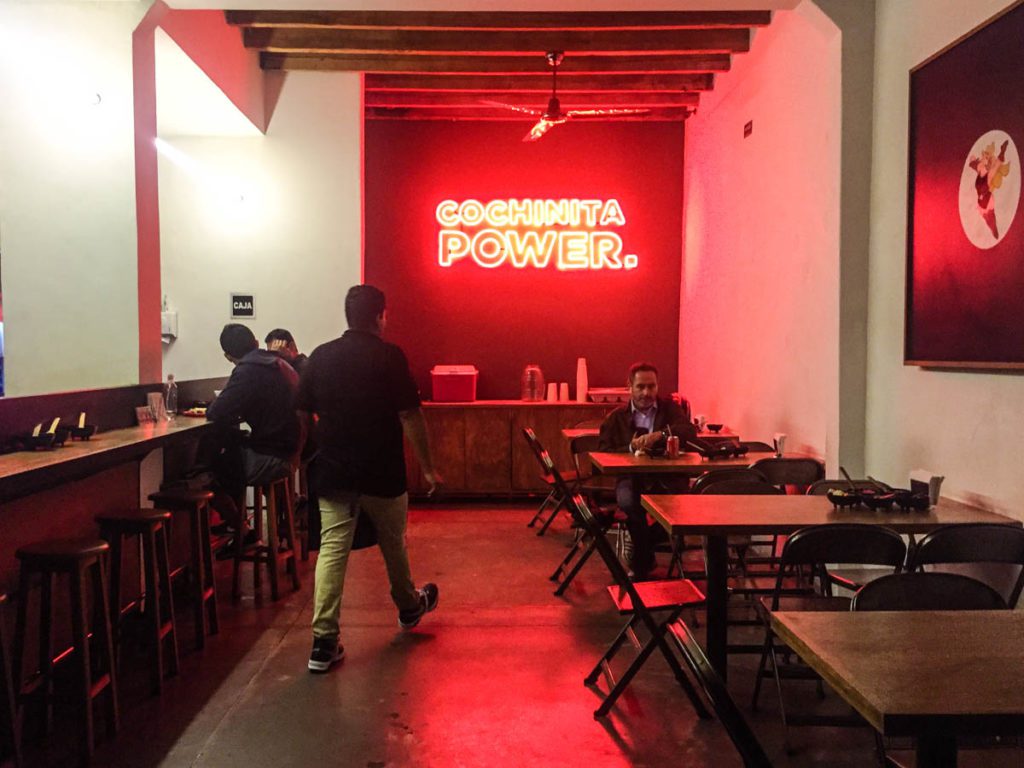 Cochinita Power is a little restaurant in the San Rafael neighborhood that serves everything cochinita pibil, a traditional dish from the Yucatan. Cochinita pibil is marinated pork in acidic juices and achiote and then slow roasted in banana leaf. This means the meat is super tender and also full of flavor.
Cafe Taco Bar
Cafe Taco Bar is a delicious and fun place to hang out in the evening in Roma Norte. They serve modern tacos with interesting ingredients and some of the best cocktails I've had in the city. This is where to eat in Mexico City for a fun evening out.
La Tonina
La Tonina was a rec from my good friend Beth who loves the San Rafael neighborhood, full of history, beautiful architecture, and amazing tacos. These tacos in Mexico City are northern style. Order the chilorio and huevo con machaca (egg with dried beef). This is where to eat in Mexico City to try some northern Mexican food.
El Habanerito
El Habanerito serves tasty Yucatecan food in Roma Norte. Order the tacos de cochinita pibil.
Taqueria El Greco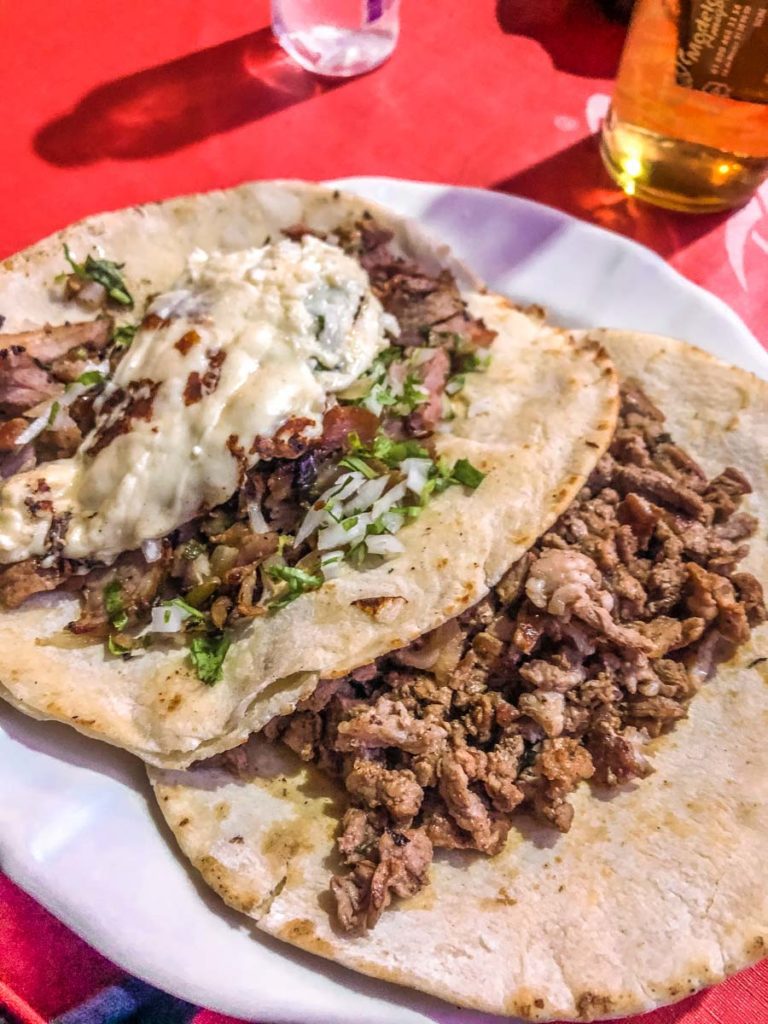 Taqueria El Greco serves tacos arabes, a style of tacos with Lebanese influence that uses thicker pita like bread as the tortilla and Doneraky meat, similar to how tacos al pastor are made, but using different spices and seasonings.
Taqueria Los Parados
This classic Mexico City taco spot was showed to my by my two chilanga friends, so I knew it would be amazing. Taqueria Los Parados is open quite late, so is where to eat in Mexico City after a couple chelas or mezcals. They serve a variety of tacos and they are all delicious.
Taqueria Alvaro Obregon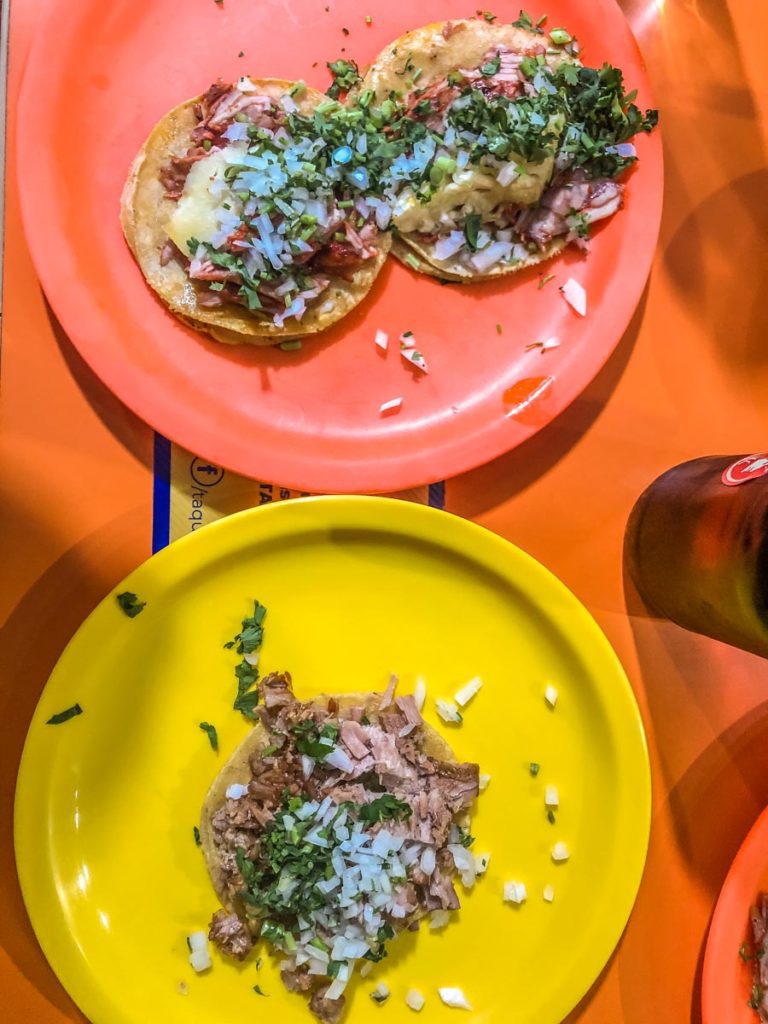 Tacos Alvaro Obregon is a solid taco spot located right in the center of the popular nightlife street. This is where to eat in Mexico City to start or end your night in La Roma.
La Esquina de Chilaquil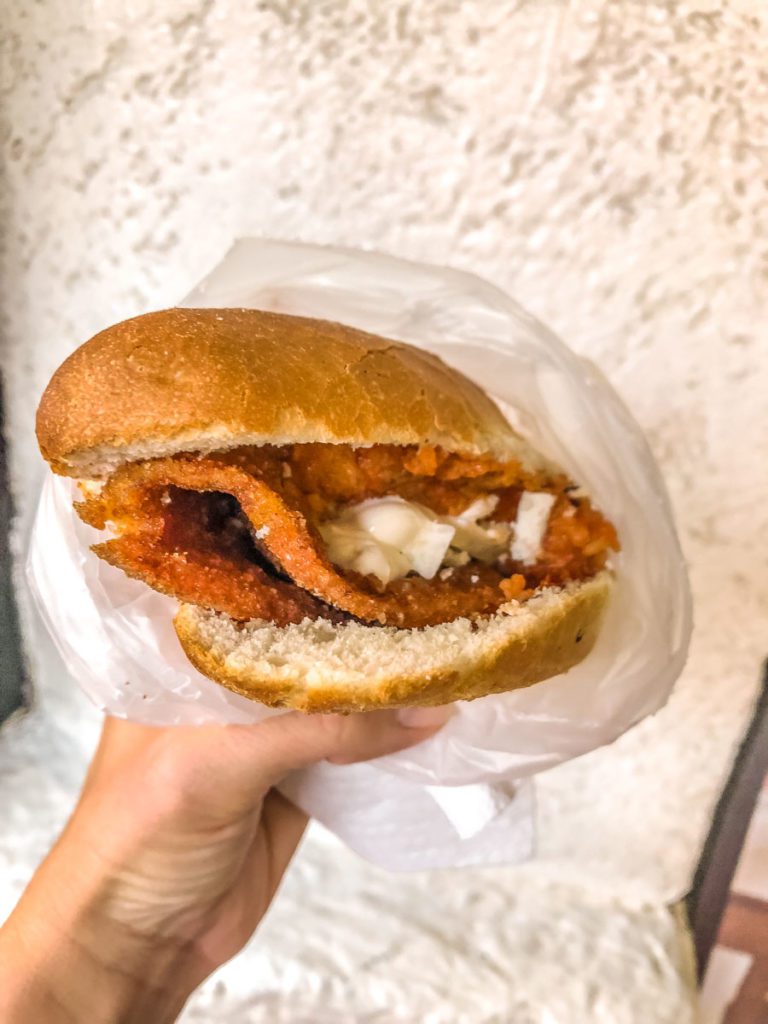 La Esquina de Chilaquil is a famous street stand that serves chilaquiles inside of torta bread in the mornings in La Condesa. These delicious tortas also have come with milanesa (a breaded meat cutlet), crema, onion and salsa. The line can be long, go early. This is where to eat in Mexico City for great street food for breakfast.
Tacos El Betin
Tacos el Betin is a delicious taqueria in the lovely neighborhood of San Rafael, a historic colonia that is brimming with interesting architecture. The best tacos to order here are the tripa and the al pastor, with some grilled onions on the side. This is anothe rec from my expert foodie friend Anais, so you know it will be amazing.
Traditional Restaurants in Mexico City
Pialadero
El Pialadero was a delicious recent find, serving traditional food from Jalisco. The best dishes to try here are the tortas ahogadas (drowned tortas) served bathed in a tasty salsa and the carne en su jugo, small pieces of flank steak that are cooked in their own juices and served with beans.
El Hidalguense
Barbacoa is famous throughout Mexico, but the most common version you'll find in Mexico City is from the state of Hidalgo. El Hidalguense serves delicious traditional barbacoa (slow cooked beef) in blue corn tortillas, tasty consome from the barbacoa, and mixoites, another slow cooked meat dish cooked inside a paper bag for super moist and tender meat.
Birria Santa Barbara
Birria is a traditional stew made with goat, beef, or sheep meat from the state of Jalisco and also one of my favorite things to eat. The broth is delicious and the steaming meat folded in a tortilla is satisfying. Birria Santa Barbara in Anzures is always busy during lunch time, and for good reason.
Tortas al Fuego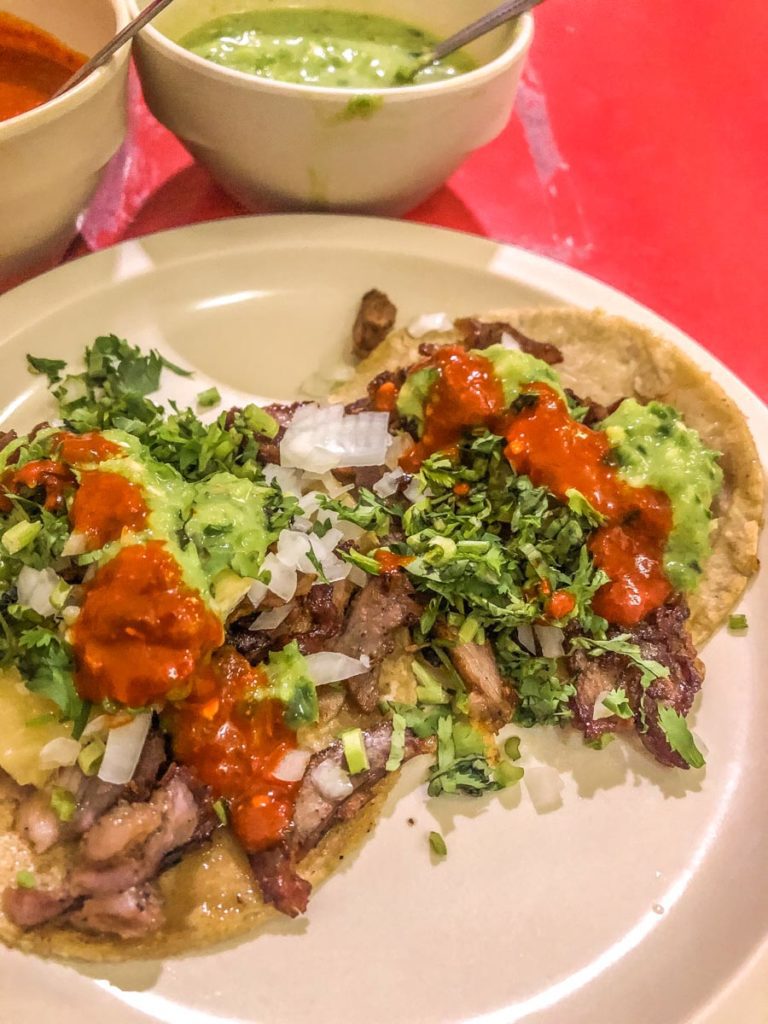 This small restaurant serves tacos, tortas, and a delicious sopa de tortilla (tortilla soup). Tortas al Fuego also in the middle of everything in Roma Norte so super convenient.
La Casa de Toño
La Casa de Toño is a pozole restaurant with a few locations around the city. Order the pozole here and pick your favorite toppings, like crema, chicharron and aguacate. Service is fast and efficient and the pozole is delicious.
El Moro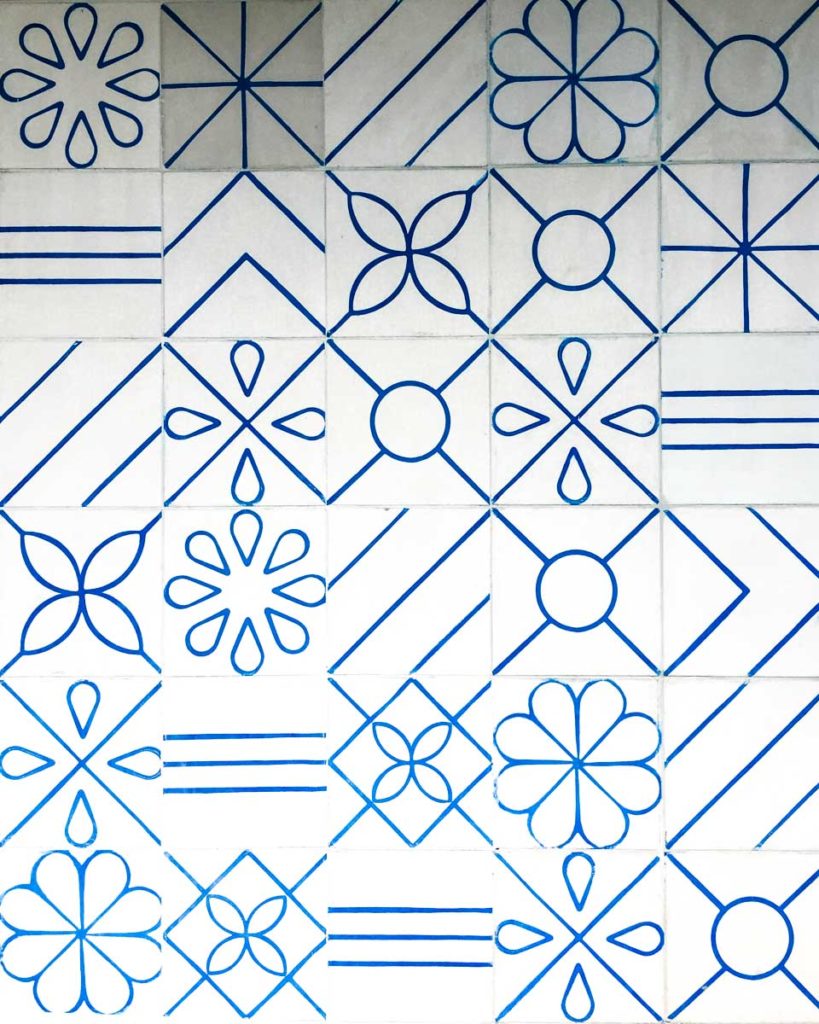 El Moro is a delicious churreria in Mexico City and a local institution. All of their locations have the beautiful tile pictured above, and serve super tasty churros and hot chocolate. Go early to beat the long line.
Teoixtla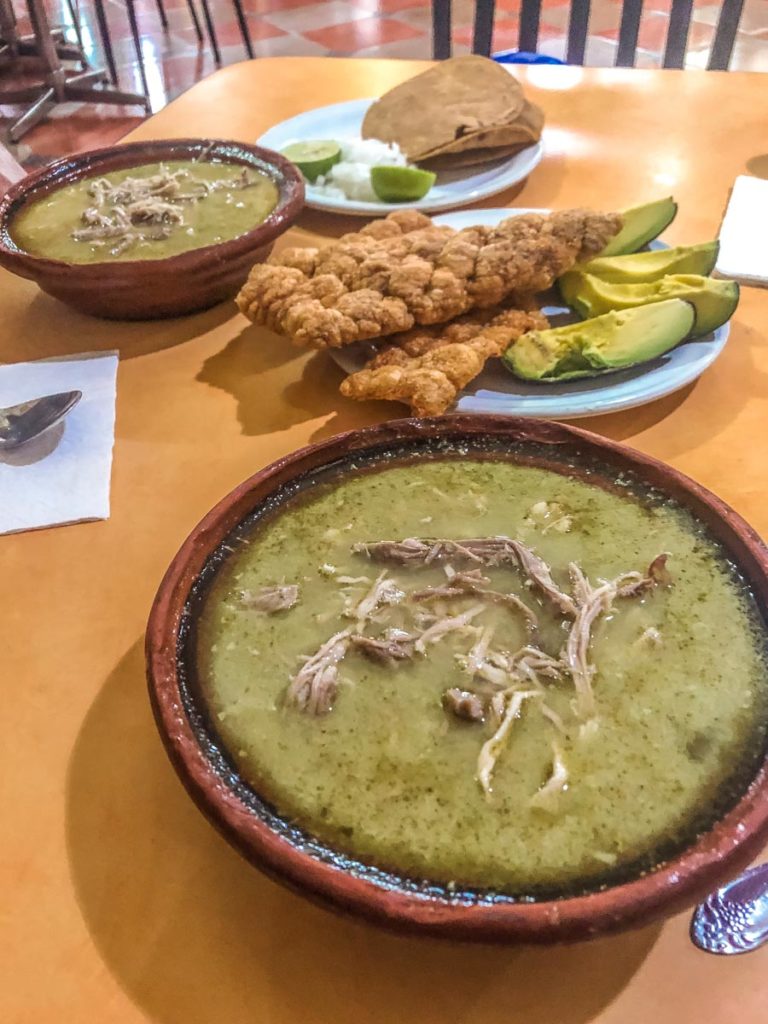 Teoixtla is a great spot in the middle of everything in Roma Norte to order pozole. Order the green pozole (Guerrero style).
Modern/High End Restaurants in Mexico City
Masala y Maiz
Masala y Maiz is a must. One of the most unique and delicious restaurants in Mexico City, this place fuses Mexican and Indian/West African flavors into dishes that surprise and delight you. The two super talented chefs, Norma Listman and Saqib Keval, draw from their backgrounds and create a rotating menu of delicious plates. I can't recommend it enough. Make a reservation, order several things to share and enjoy their fantastic wine list. This is one of the best restaurants in Mexico City.
Tetetlan
Tetetlan is a gorgeous restaurant that is also a cafe, yoga studio, store with artisan products, and a library. Originally, this was the horse stables of the next door home designed by Mexico's most famous architect, Luis Barragan. This restaurant is excellent paired with a visit to his home, El Pedregal, as we did. The architecture of Tetetlan is stunning, with it's volcanic rock, glass floors, open plan, and tasteful decor. I was then very pleasantly surprised by the delicious food. We ordered the huitlacoche as a snack, which was served on the cob and was mindblowing. It was so good we ordered more even though we weren't very hungry. This is where to eat in Mexico City for a beautiful atmosphere and delicious food.
El Parnita
El Parnita is one of my favorite places to hang out and eat on an afternoon and people watch. It's right in the center of Roma Norte and is always busy. The food is yummy, the atmosphere laid back but fun.
Expendio de Maiz
Expendio de Maiz is a must for where to eat in Mexico City. Their menu changes daily based on what is fresh and in season. You order however many plates as you have room for, each one delicious and interesting. The flavors and combinations are incredible and I've loved everything I have eaten here. Don't worry, if you have food restrictions, just let them know at the start of your meal. In my opinion, this is one of the best restaurants in Mexico City.
Best Coffee Shops in Mexico City: Where to Work and Sip Coffee
These are my favorite places to sip tasty coffee in Mexico City and for digital nomads to work from your laptops.
Cafe Avellaneda
Cafe Avellaneda is a small coffee shop serving delicious coffee in Coyoacan. This was recommended by a coffee expert Oaxacan friend so I knew it would be good!
Farmacia Internacional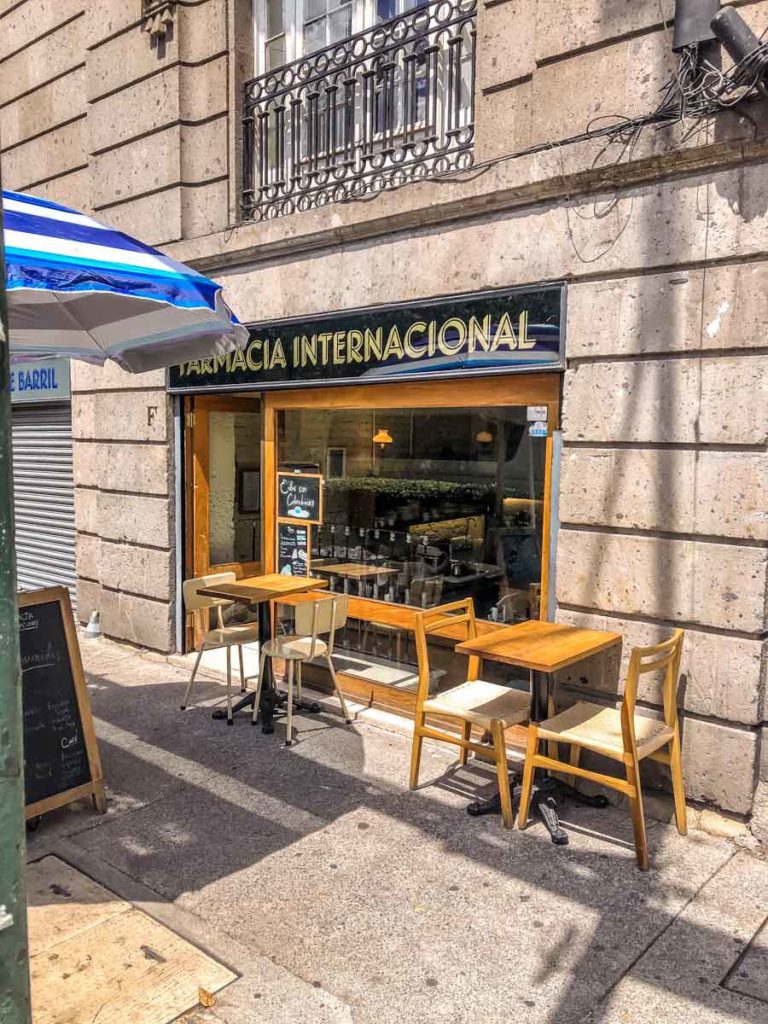 Farmacia Internacional is one of my favorite coffee shops in Mexico City to work from. The decor is adorable, the food tasty, and the coffee great.
Casa Cardinal – Roma and Condesa
Casa Cardinal is another of my favorite coffee shops in Mexico City to work from or just stop for coffee. They have two locations: in Roma Norte and in La Condesa and both are cute and comfy with reliable wifi.
Dosis
Dosis is another great cafe in Mexico City to work from or just enjoy some great coffee. The design and decor here is also very well done.
Cicatriz
Cicatriz is a great restaurant and coffee shop in La Juarez. This is where to eat in Mexico City for delicious modern and fresh food and tasty coffee in a great atmosphere.
Blend Station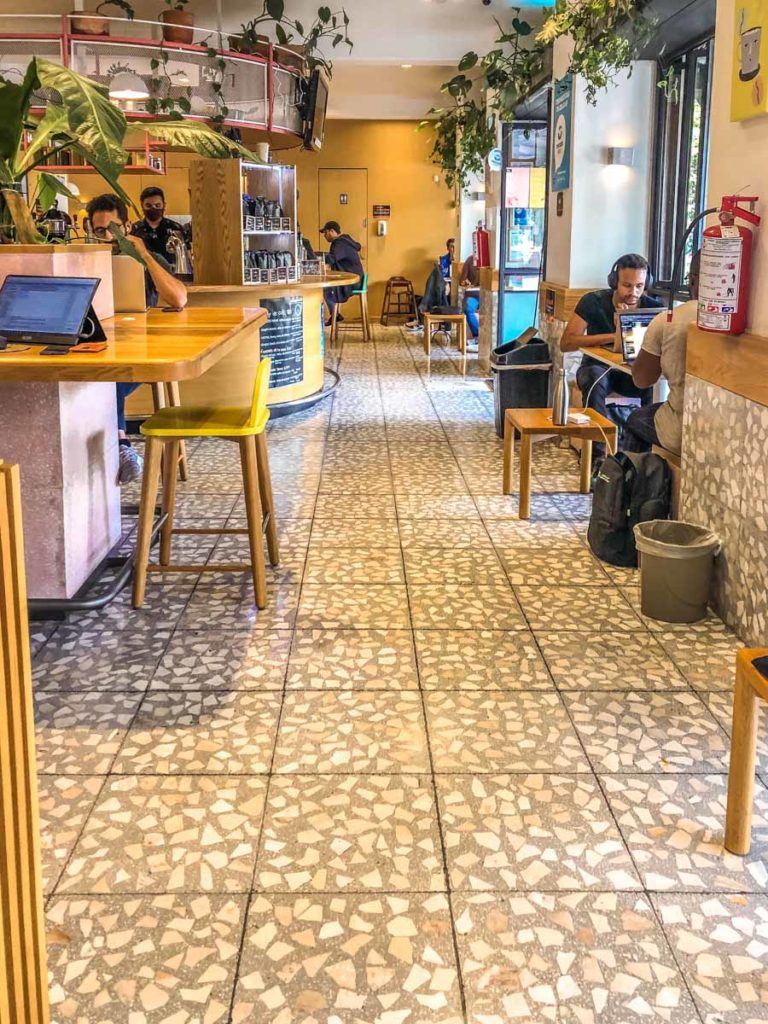 Another of my favorite places to sit with my laptop for hours. Blend Station has a couple of locations and they all have beautiful decor and super fast reliable wifi. The coffee is great and there are some snacks on the menu.
Camino a Comala – San Rafael and Santa Maria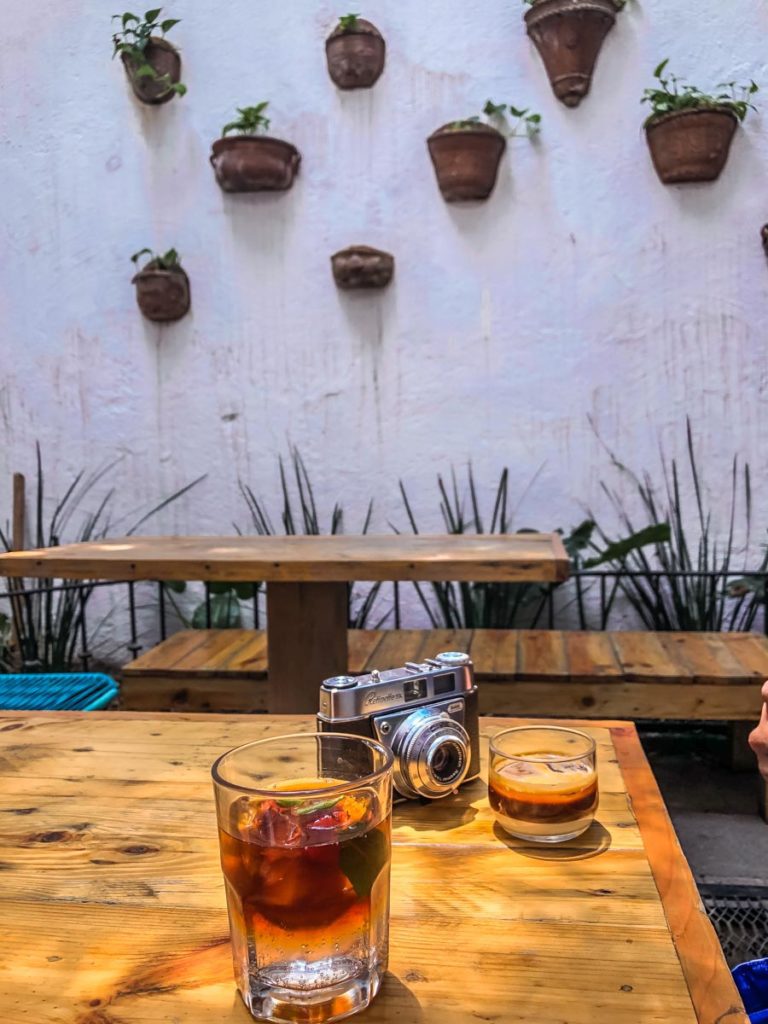 Camino a Comala are coffee shops in Santa Maria la Ribera and San Rafael, two of my favorite neighborhoods. They are both cute cafes with great coffee.
Pergamo
Pergamo is a beautifully decorated small cafe in the heart of Roma Norte. This coffee shop in Mexico City has good wifi, tasty sandwiches and great coffee and kombucha. This is where to eat in Mexico City for digital nomads and design lovers.
Forte
Forte is a great coffee shop in La Roma. I had the pleasure of having a coffee and chocolate tasting here, and the owner was incredibly knowledgeable and I learned a lot. The coffee was delicioux.
Maverick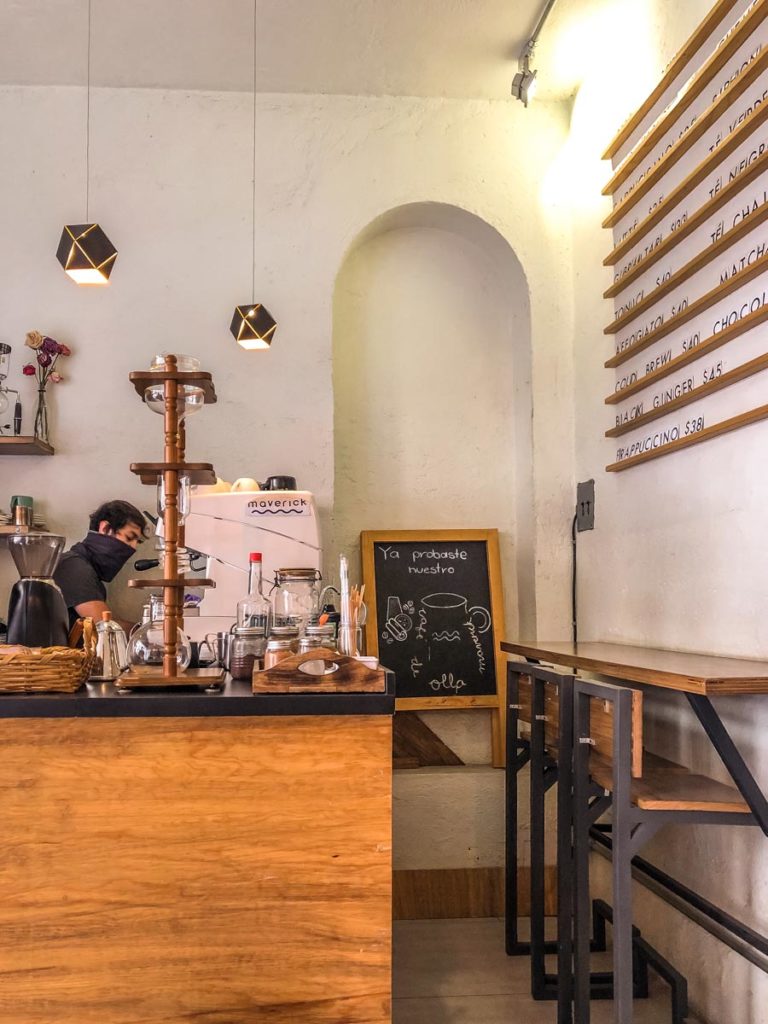 Maverick was a favorite new find recently in beautiful Santa Maria la Ribera. This small but lovely designed coffee shop has really tasty coffee.
Blom Cafe
Blom Cafe is another new favorite coffee shop in Mexico City. This tiny spot has some outdoor seating on the leafy street in front, tasty coffee and a few delicious natural wines.
Best Breakfast and Brunch Spots in Mexico City
Chilpa
La Chilpa is my favorite place to eat delicious chilaquiles in Mexico City. They have a build your own structure for their chilaquiles, which really isn't a gimmick, it's a way for you to eat the most excellent chilaquiles possible. Choose your type of chip, salsa (and heat level), protein, add avocado and more. I go every single trip and crave them all the time. This is a must in where to eat in Mexico City!
Fonda Margarita
I actually still haven't been to Fonda Margarita, but it's been on my list for years. This local institution is where to eat in Mexico City for a traditional breakfast. But be warned, I've always heard it's crazy busy and you have to go super early (hence why I still haven't been). I'll get my self out of bed early enough one of these days.
Cafe Nin
Cafe Nin is a beautiful cafe in La Juarez neighborhood with incredible pastries (from famous Panaderia Rosetta) and delicious food. Sit on the leafy patio on the street, the pretty side patio, or in the beautiful interior, and be sure to order at least one of the fresh pastries.
Panaderia Rosetta
Panaderia Rosetta is the most famous bakery in Mexico City and for good reason. The pastries are incredible, every one full of flavor and amazing combinations. And I'm not even a sweets person. But they are a must!
Cafe de Raiz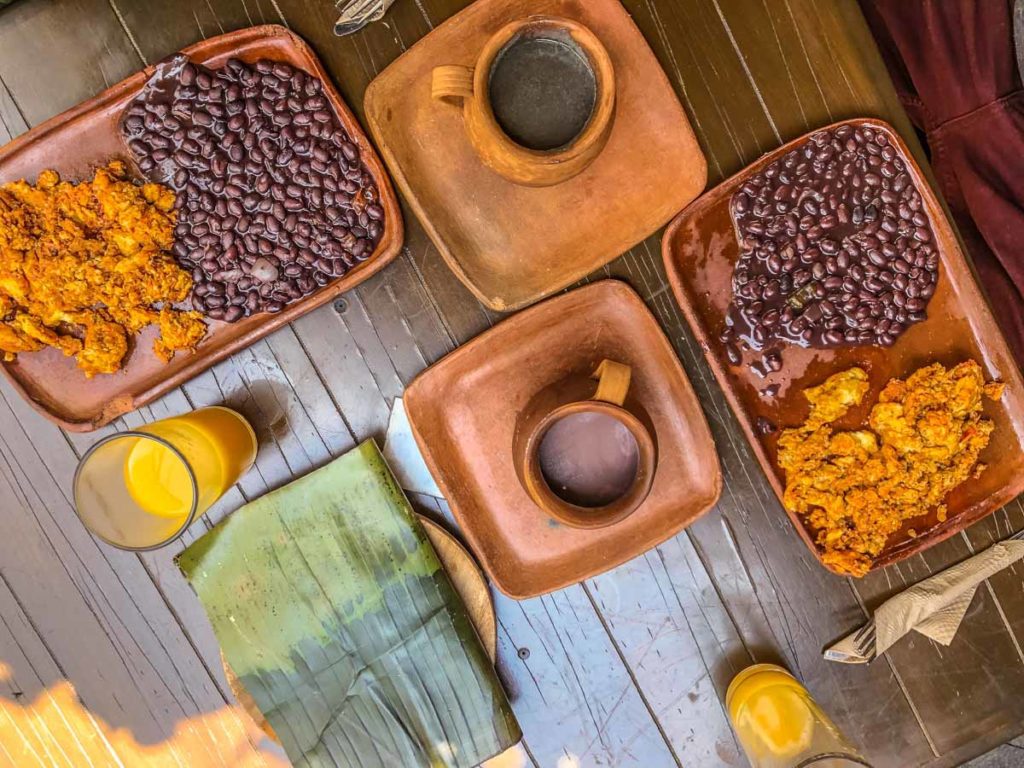 Cafe de Raiz serves delicious breakfasts from the Huasteca region of Veracruz. Their specialty is corn, cafe and cacao (chocolate) from Veracruz.
Lalo!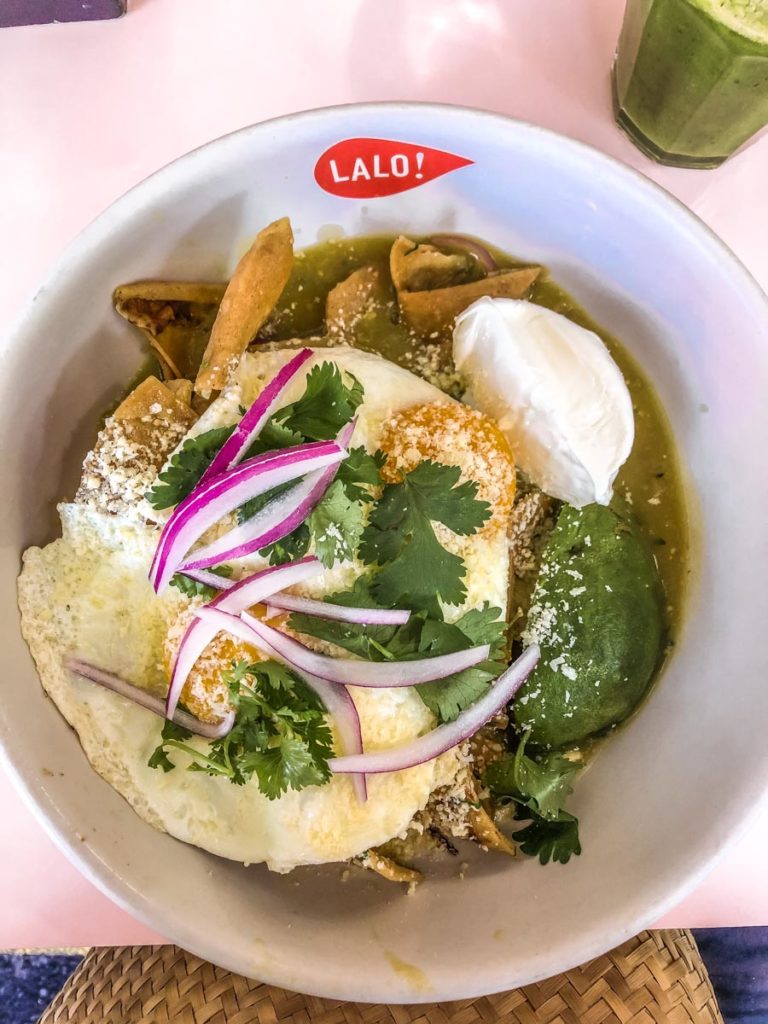 Lalo! is a popular breakfast spot and for good reason. I always order the chilaquiles, but their menu has a good variety, and there is a large indoor and outdoor patio.
Saint
Saint is an incredible bakery that was recommended by the amazing Norma Listman of Masala y Maiz. This beautiful spot is located in leafy quiet Condesa and the baked goods are incredible.
Best Cantinas in Mexico City: Where to Eat in Mexico City
Cantinas aren't just places to drink in Mexico City. Many cantinas serve incredible food along with their cold beers and mixed drinks. Cantinas can be some of the best restaurants in Mexico City, and this is where to eat in Mexico City for a fun afternoon.
El Sella
El Sella is a classic and very popular cantina in Doctores neighbhorhood (though quite close to La Roma). This cantina in Mexico City serves incredible Spanish-style food. Their famous for their chamorro, a roasted tender pork calf, but everything is delicious. We ordered the boquerones (anchovies), and blood sausage.
La Polar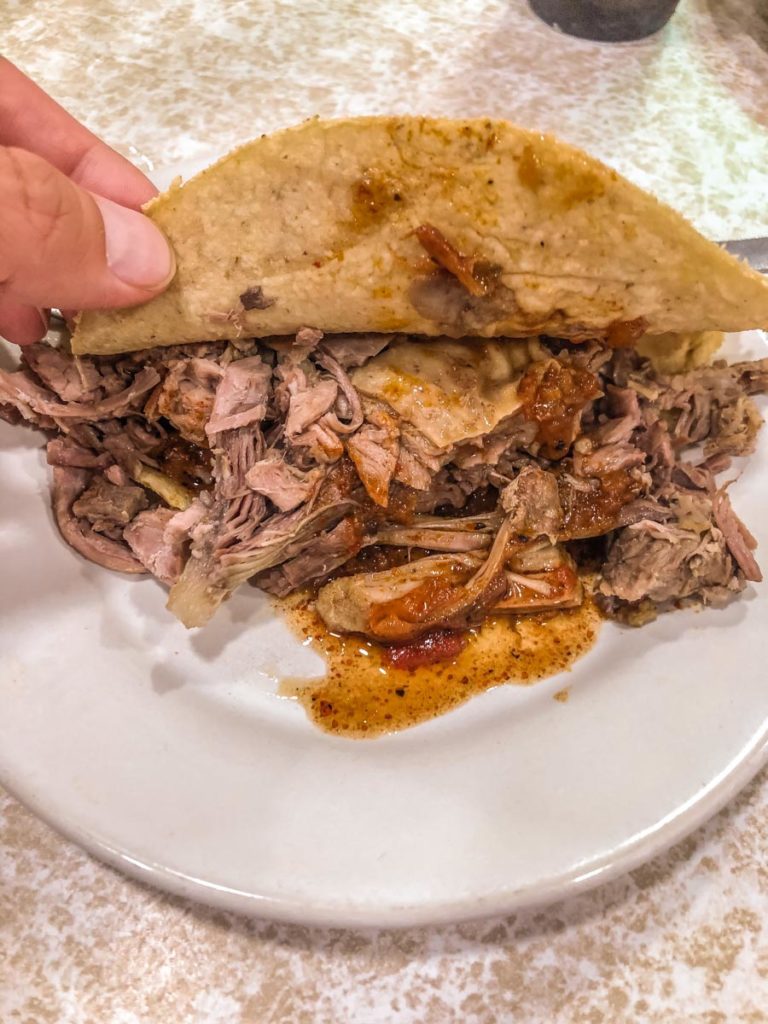 La Polar is another popular and classic Mexico City cantina located in San Rafael. This huge multi level cantina serves delicious birria and tacos de birria. You can almost always find live mariachi bands playing and families and friends celebrating here.
Villa de Sarria
Villa de Sarria was a cantina recommended by a local friend and we had a great time in this tiny spot in Roma Sur. The service is friendly and snacks arrive alongside your drinks.
Salon Paris
Salon Paris is a great cantina in Mexico City located in beautiful Santa Maria la Ribera. This traditional cantina features great food and great ambiance.
Boca del Rio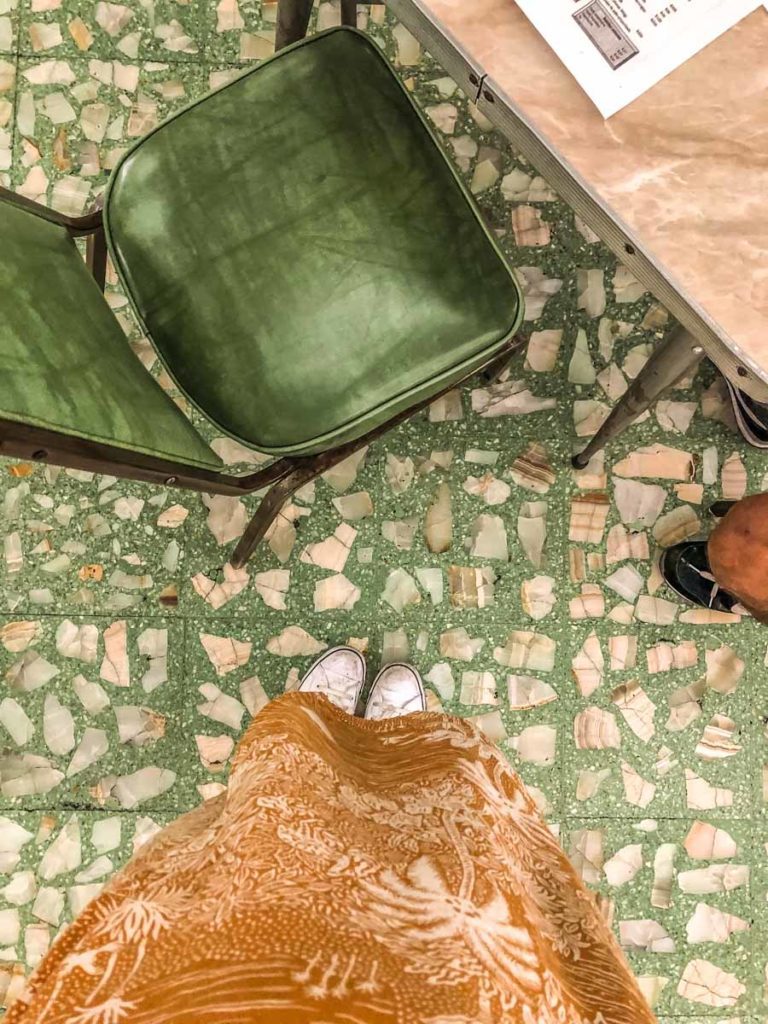 Boca del Rio is another traditional cantina that is a local institution in San Rafael. To be honest, I didn't love the food, but the ambiance and incredible vintage decor is absolutely worth a visit. Hang out with a couple beers and enjoy the retro ambiance.
Los Cuates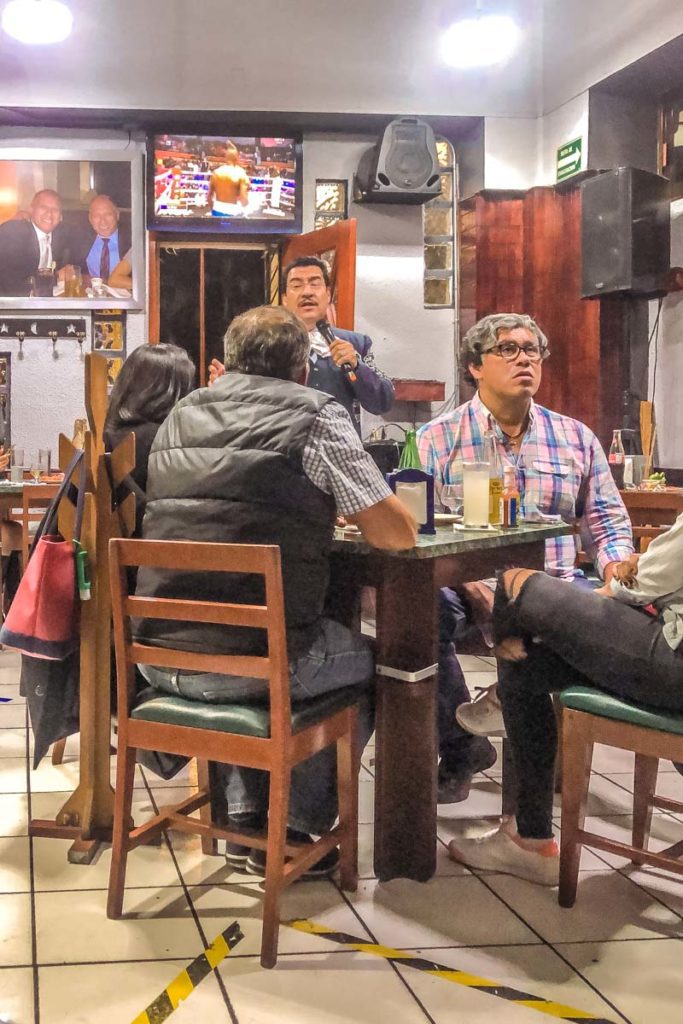 Los Cuates is a lively cantina in Navarte, filled with locals, live music and a festive atmosphere. Head here after some tacos from El Vilsito and/or Tacos Manolo (see above "Tacos: Where to Eat in Mexico City" section).
Best Mezcalerias and Bars: Where to Drink Mezcal in Mexico City
Bosforo
I haven't had a chance to go to Bosforo yet but all my most trusted friends rave about it. This mezcaleria is located in the Centro and fills up so go early or make a reservation.
La Clandestina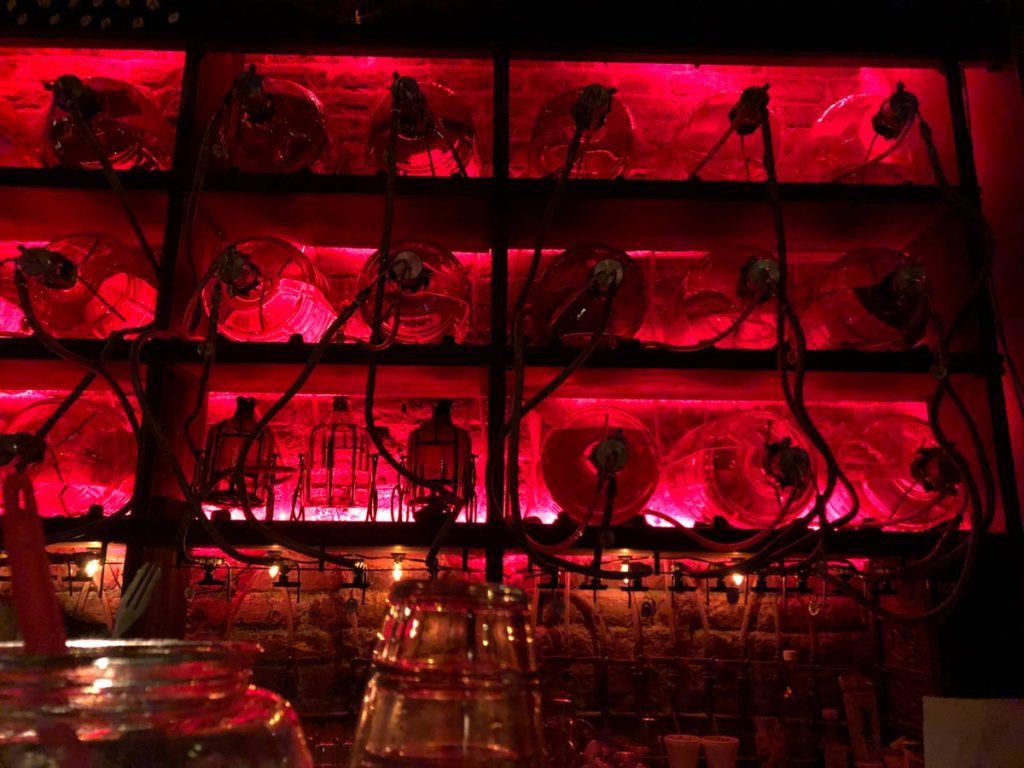 La Clandestina is one of my favorite mezcalerias to visit. The atmosphere is fun and the mezcal list is great.
La Lavanderia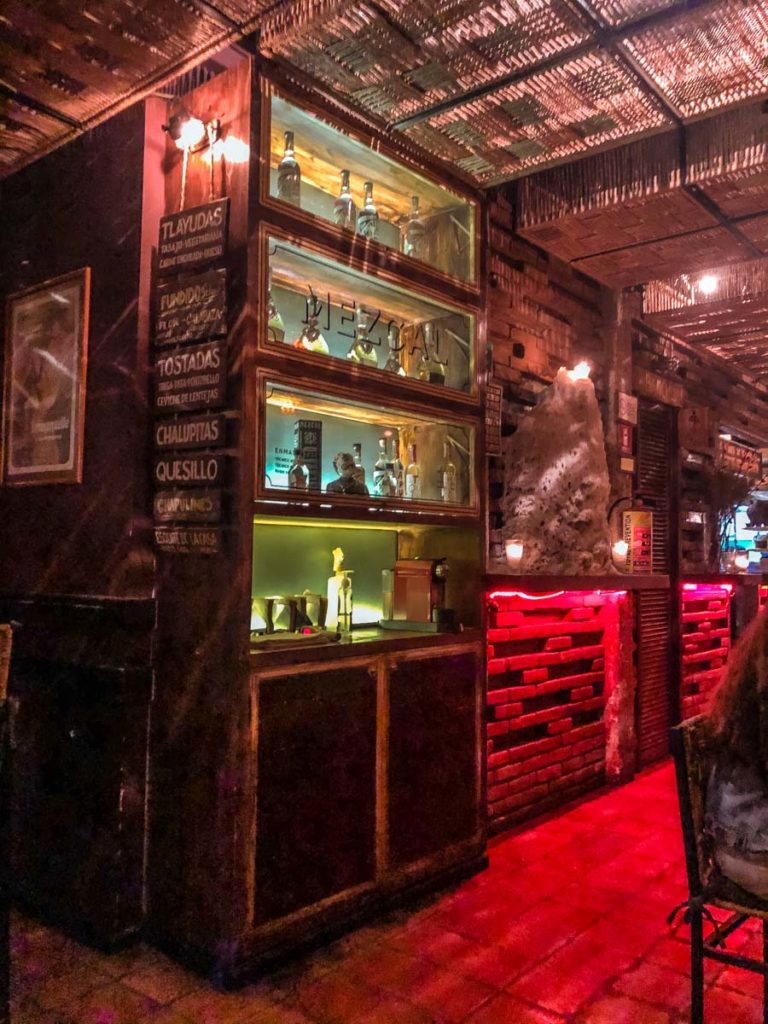 La Lavanderia is right next door to La Clandestina is actually from the same owners. The fun decor looks similar and the mezcal list is also great.
La Nuclear
La Nuclear is a traditional pulque bar nestled in La Roma. The decor here is fun and dive bar-ish, the pulque delicious, and they have some great mezcals, sotols, and more.
Seafood and Fish: Where to Eat in Mexico City
Don't sleep on seafood in Mexico City because it's landlocked. Seafood comes in fresh every day and there are some incredible marisquerias that will blow your mind.
El Pescadito
El Pescadito is another must for where to eat in Mexico City. The fish tacos here are beyond good. There are a couple locations, I tend to prefer the Condesa ambiance, but all are good. In my opinion, El Pescadito is one of the best restaurants in Mexico City.
Playas de Sinaloa
Playas de Sinaloa is a new favorite that I will not miss visiting every future trip. The seafood is incredible and beautifully presented. First of all, look at those micheladas! They were super fun and tasty. The aguachile had tons of flavor, fish tacos, tostada de pulpo…yum yum yum.
Los Sinaloenses
Los Sinaloanses was one of my favorite restaurants in Mexico City when I lived in Roma Sur for two months. This neighborhood spot is always full of locals at lunchtime. The ceviche and tostadas de marlin are spectacular.
International Restaurants in Mexico City: Where to Eat in Mexico City
Mog Bistro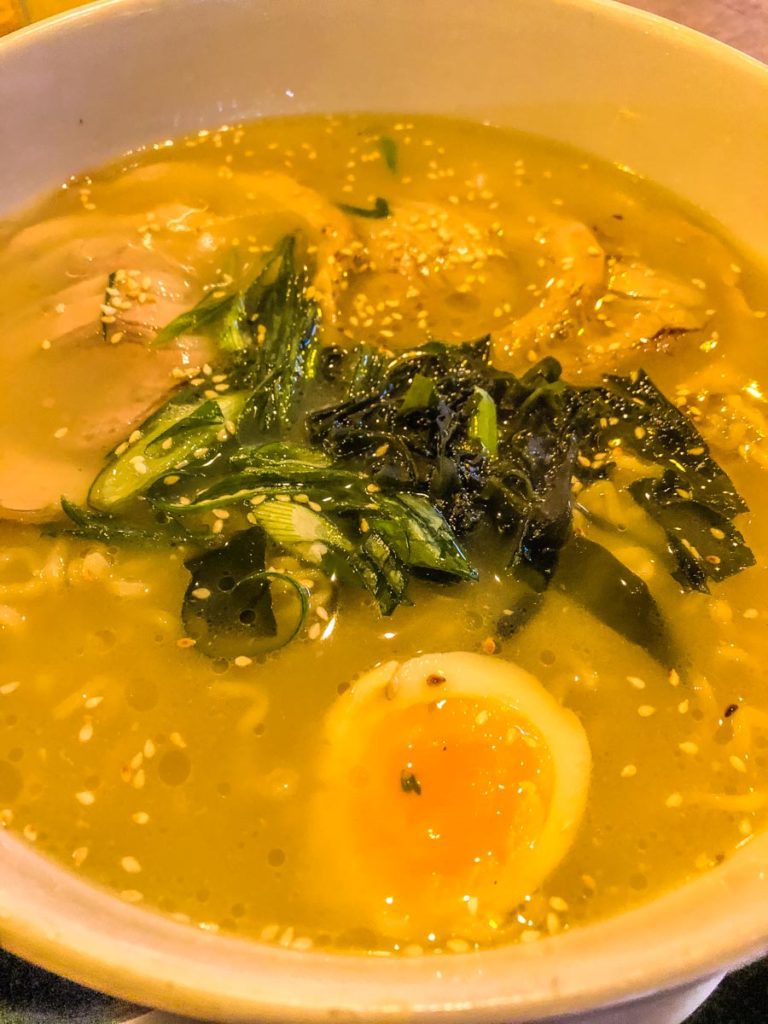 Mog Bistro is an always popular Asian fusion restaurant. The standouts here are the ramen and sushi and the atmosphere is great.
Kiin Thai-Viet Eatery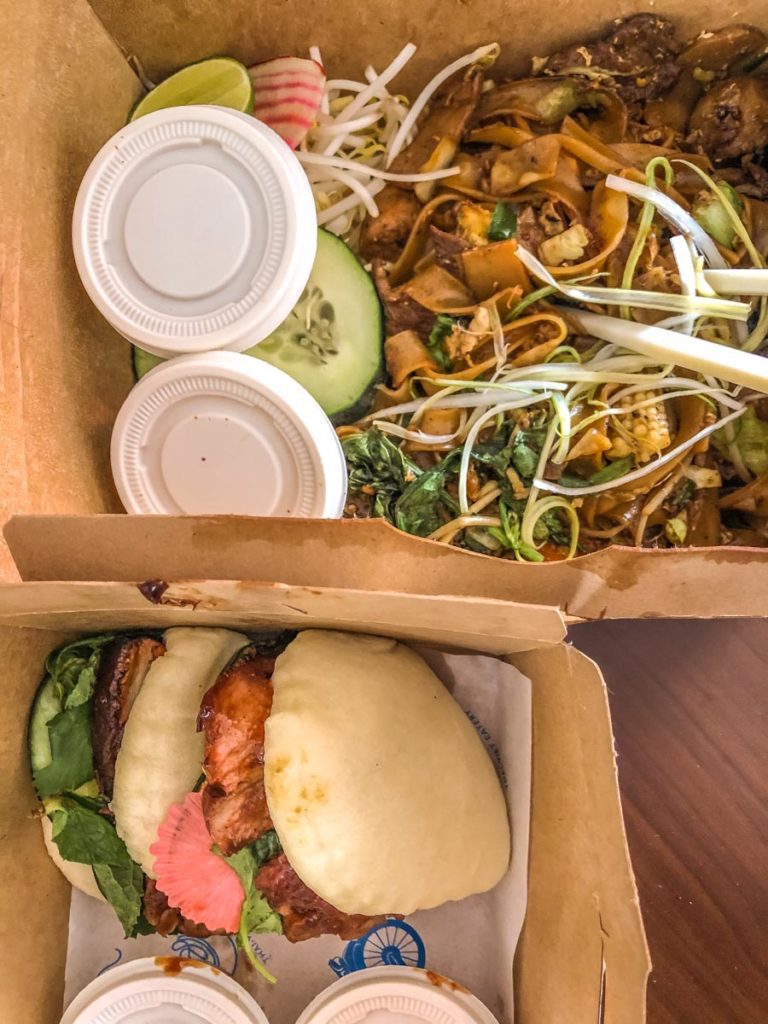 Kiin Thai-Viet Eatery has delicious Thai and Vietnamese food. I've only had the pleasure of eating this for delivery, but everything was super tasty, great texture, and authentic flavors.
Makan
Makan! I can't say enough about this Singaporean food restaurant in La Roma. The food is incredible. I went twice in a couple weeks and tried most things on the menu, everything blew me away. And the ambiance of the leafy garden is gorgeous, plus they have some great natural wines. Make a reservation before you go.
Pizza Felix
Pizza Felix serves delicious super tasty pizzas in the heart of Roma Norte. You can not go wrong here, plus their big open patio is beautiful and they have some great cocktails.
Frito y Cruel
Frito y Cruel is a small sandwich shops that serves perfectly crispy and hot chicken sandwiches. Seems so simple but they are perfectly done and so so tasty. A must stop of where to eat in Mexico City for chicken lovers.
---
That's a wrap! I'll try to keep this guide of the best restaurants in Mexico City updated frequently with new finds and up to date info. Where to eat in this giant city is a huge subject, but a very fun research project. 🙂
Check out my other Mexico City posts here, and all my Mexico posts here.
Pin it for Later!