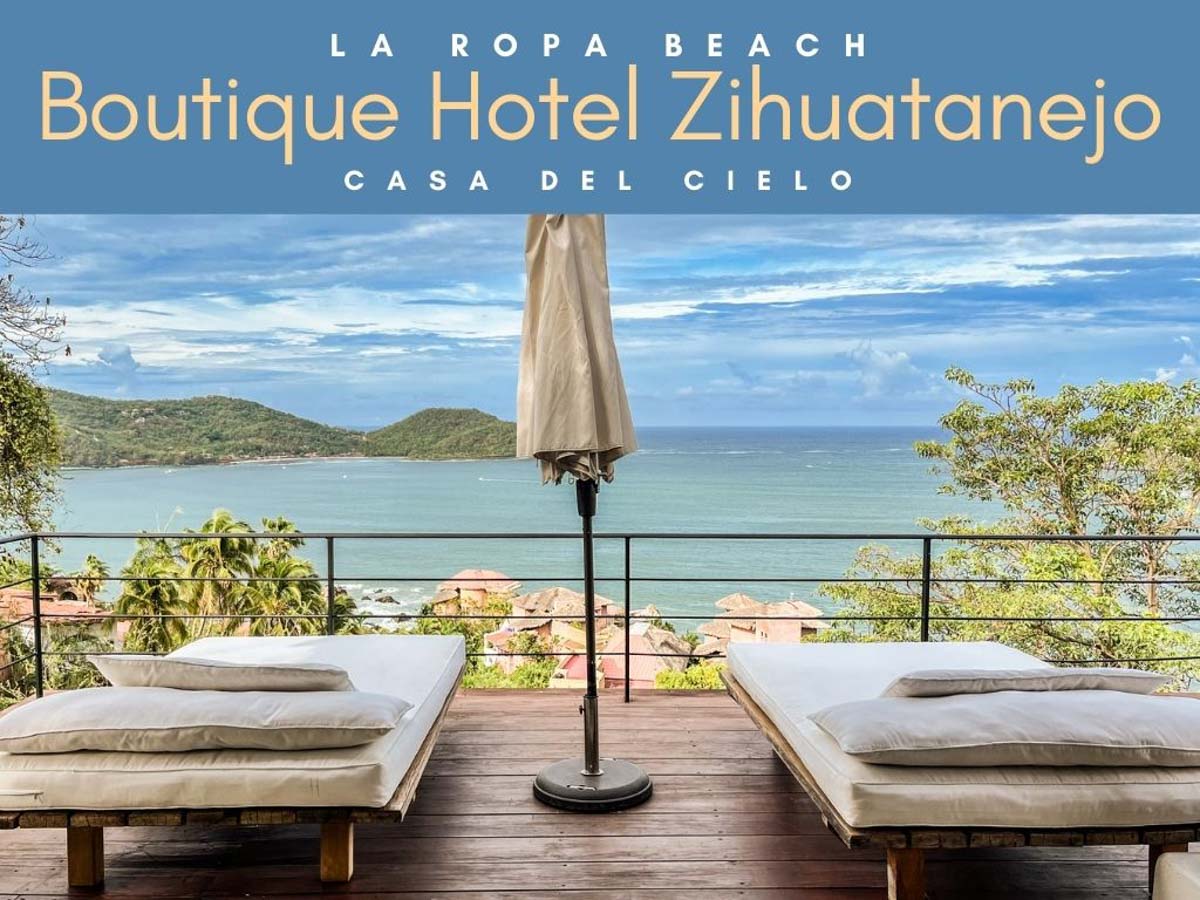 Zihuatanejo had been at the top of my list for years. I had been saving pretty hotels in the area on my Instagram, and at the top of my wishlist was Casa del Cielo, a boutique hotel in Zihuatanejo with gorgeous decor and a stunning view of La Ropa Beach and the picturesque bay.
I was finally able to visit this summer and I loved Zihuatanejo as much as I thought I would and enjoyed every moment of my three day stay at Casa del Cielo. This luxury hotel in Zihuatanejo is romantic, peaceful, and feels a million miles away from hustle and bustle, yet is just a 5 minute walk down the hill to Playa La Ropa, one of the prettiest beaches in Zihuatanejo.
Below I'll give you the breakdown of all the features of the hotel, and everything you need to know to decide if this is the right Zihuatanejo hotel for you.
Disclosure: This post was written in partnership with Casa del Cielo. As always, every thought, opinion, and experience is my own.
Stay tuned for my full Zihuatanejo guide coming in the next few weeks!
Pin it for Later! Hotel La Ropa Beach Zihuatanejo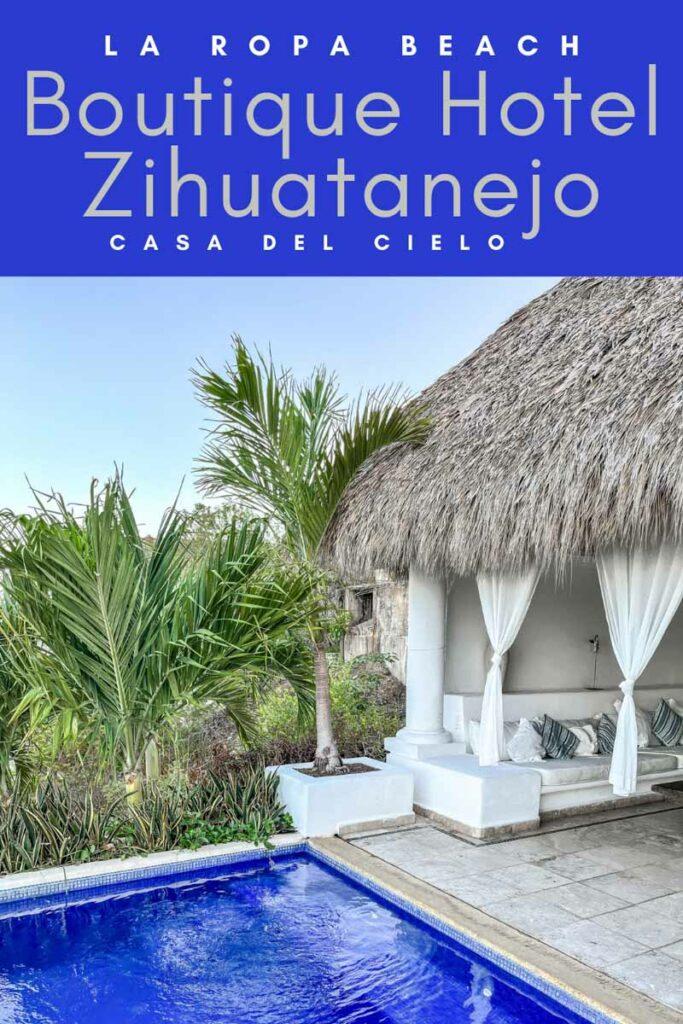 The VIEW: Hotel La Ropa Beach Zihuatanejo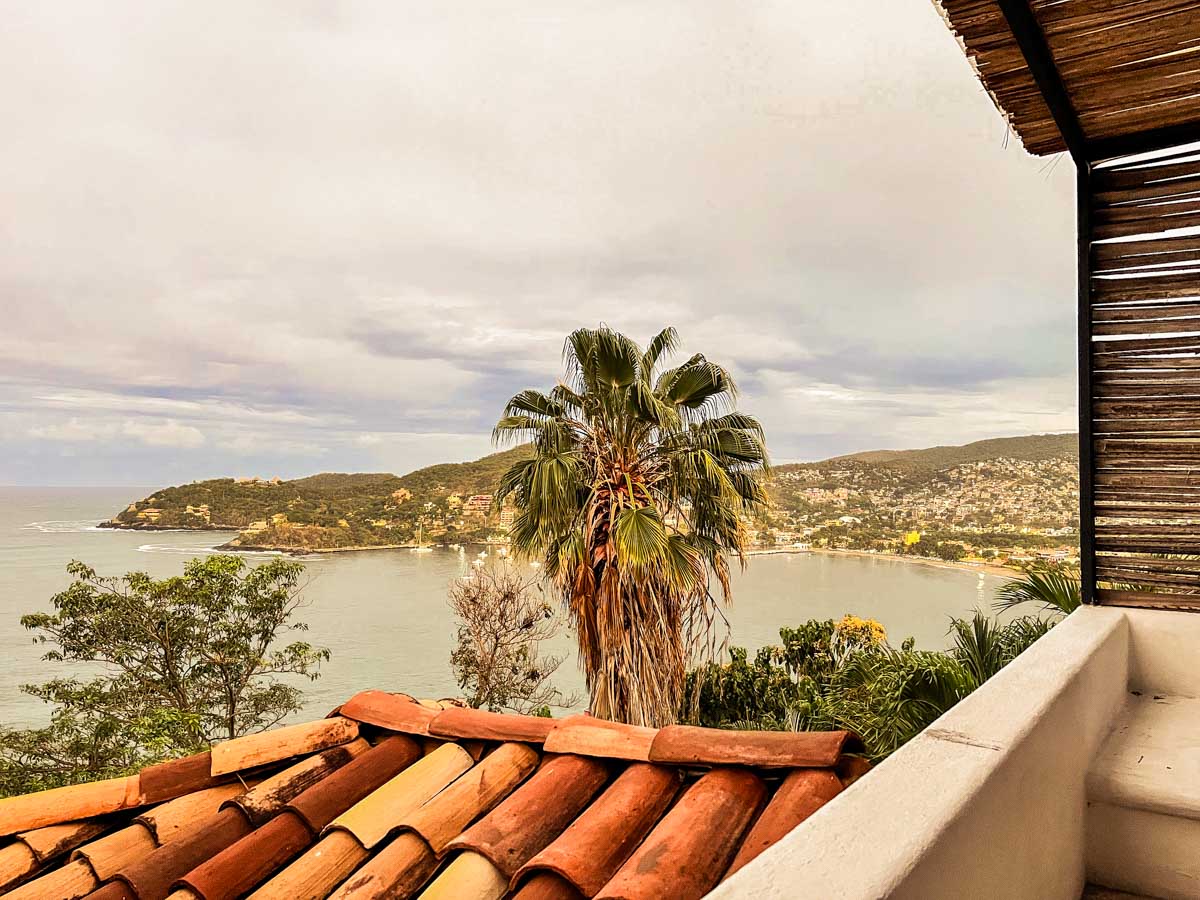 This has to be the number one stand out feature. The hotel is called Casa del Cielo for a reason, you feel like you are staying up in the clouds, with a birds eye unobstructed view of the whole beautiful Zihuatanejo cove.
We had the pleasure of staying in the penthouse suite, Las Nubes. But every space on the property seems to have a breathtaking view, including both pools, the kitchen, dining and sitting area. I don't know how many photos I took of the view, but I really enjoyed watching it change from the soft pastels of the sunrise, to the bright blues of the day, to the twinkling lights and ocean reflections at night. There is no better view in Zihuatanejo.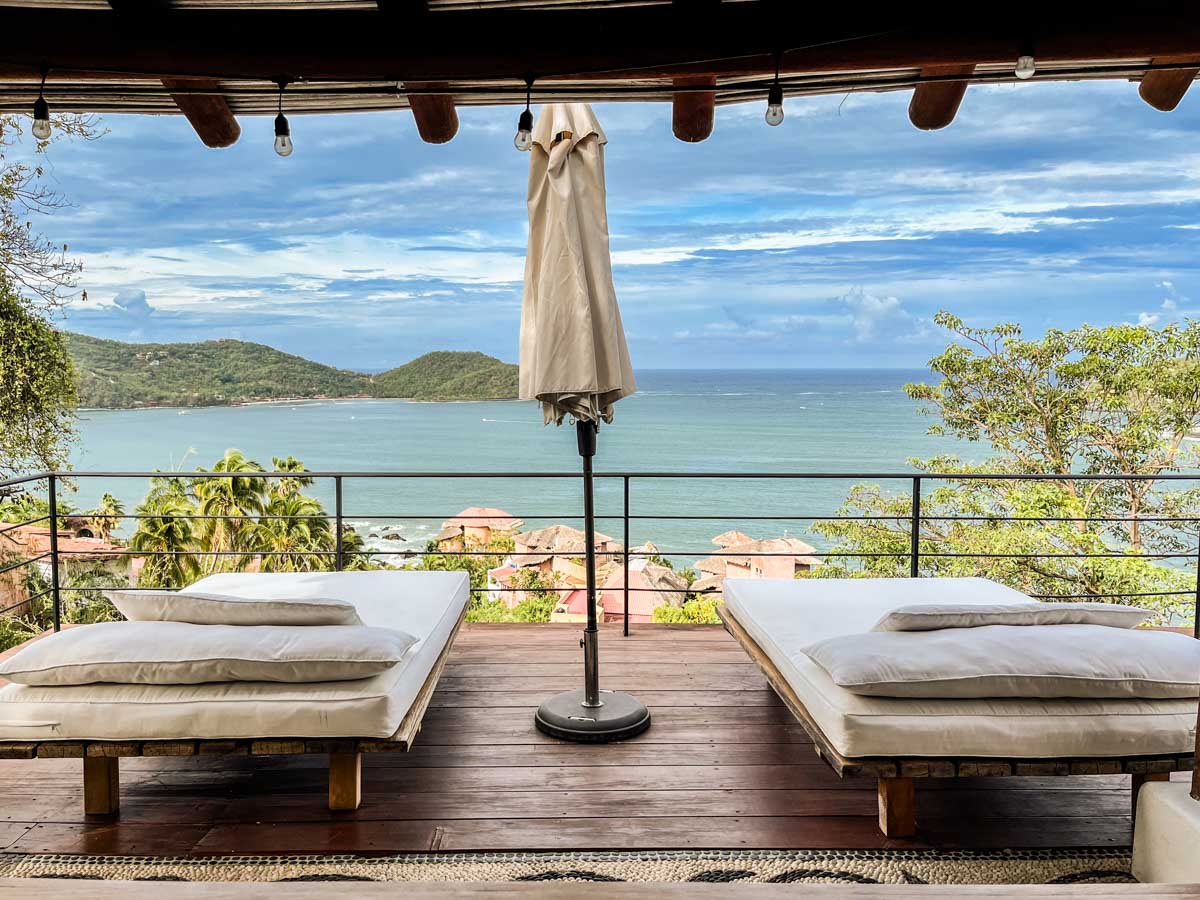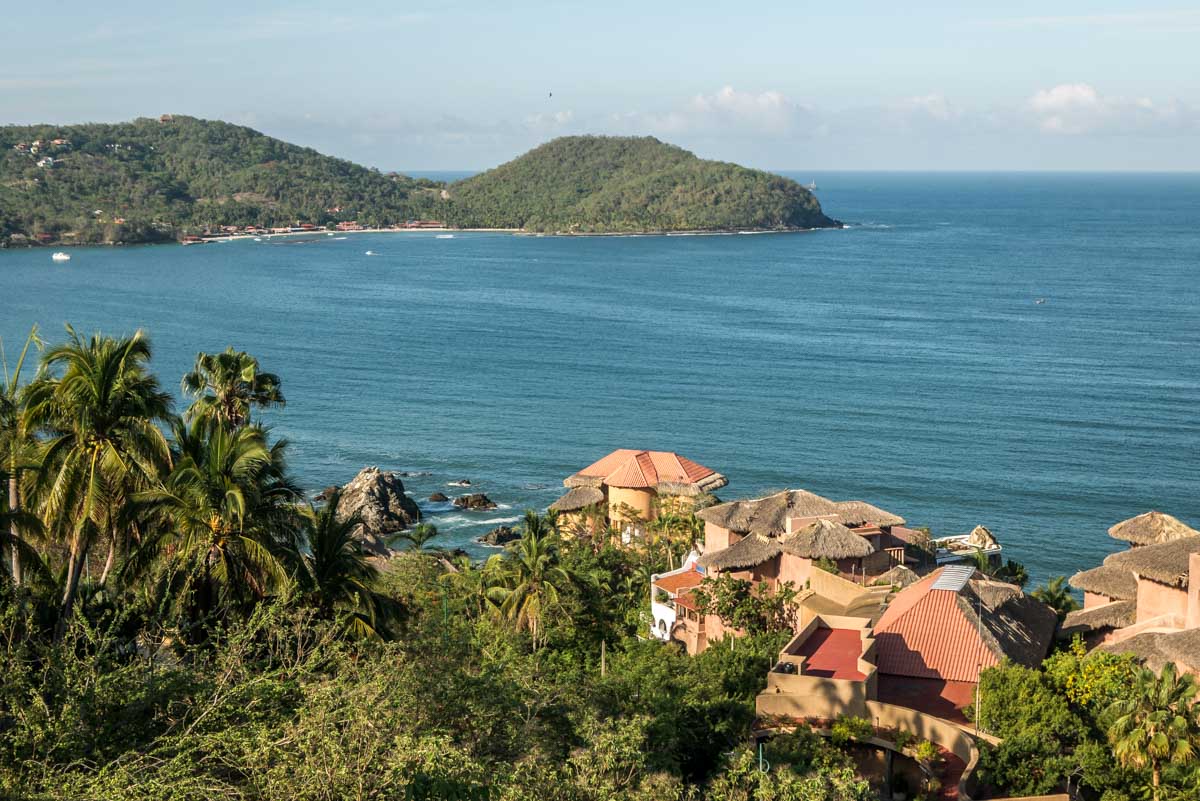 Just keep in mind, the flip side of this view is that there is a bit of a climb to arrive at the hotel. There are a few flights of stairs to arrive to the hotel from the main road above Playa La Ropa. Then the hotel is 4 floors itself. The hotel does have a fabulous kitchen, so we often would spend the day out, eat lunch in town, and then spend a relaxing night preparing dinner at the hotel and enjoying the view. This way we just climb the several flights once a day. The hotel staff will also help you bring your suitcases up and down upon arrival and checkout.
Beautiful Design: Boutique Hotel Zihuatanejo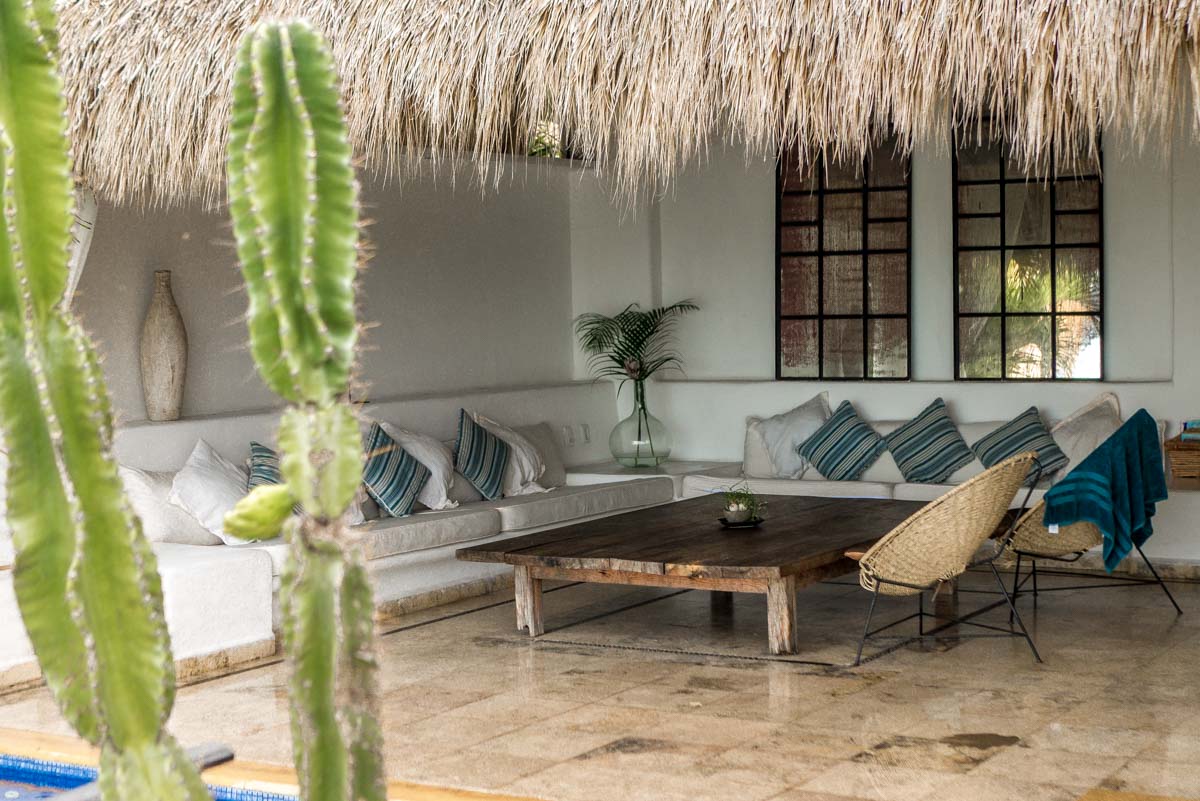 The design, architecture, and decor was so beautiful and exactly the style I love, that I was taking notes for future home construction. 🙂 The hotel was designed by Maru Pinto who took a half done structure and transformed it into the sanctuary it is today.
The whole building is a clean white, but with many warm wooden accents, as well as beautiful stone stairs and floors. Everything feels very natural, yet clean and uncluttered.
Sofas are all built into the wall with large plush cushions. Leafy greens line the grounds.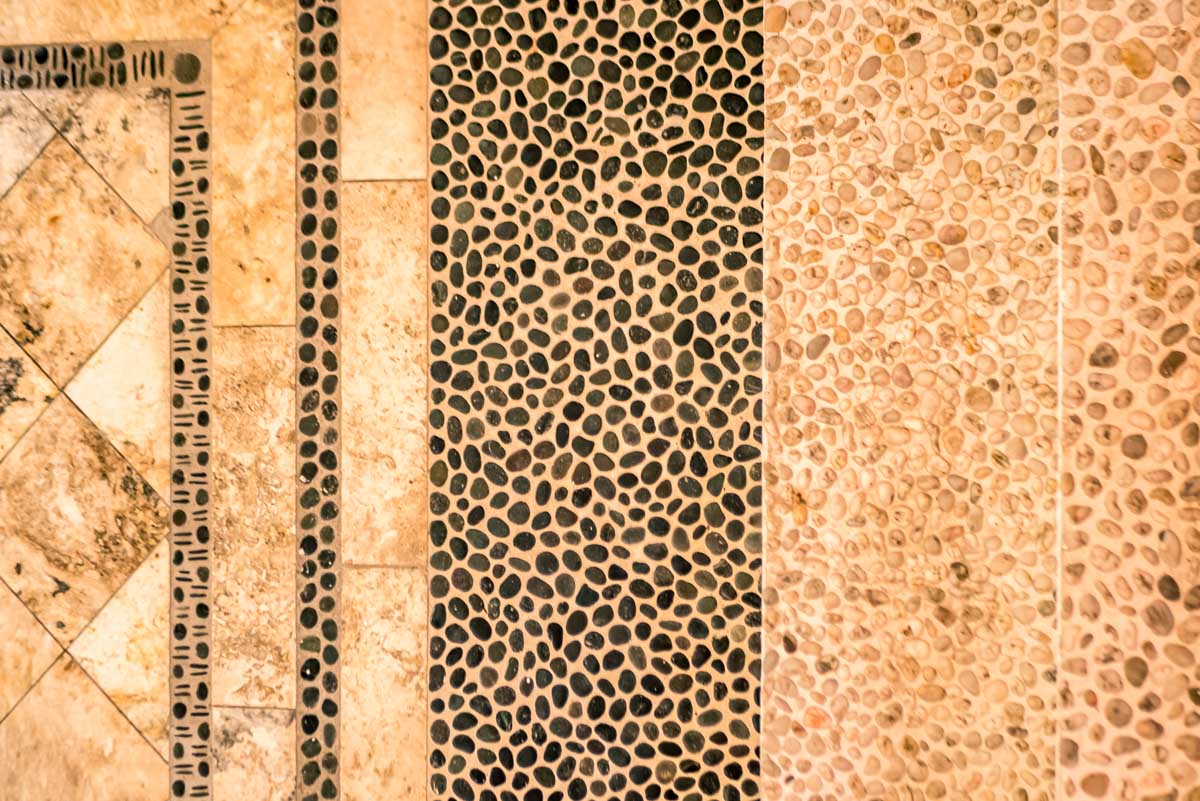 Two Pools: Luxury Hotel Zihuatanejo
There are two lovely and picturesque infinity pools to enjoy at Casa del Cielo. One is on the first floor and is a chic narrower size, with a large patio and hammock. This is a great spot for swimming laps.
On the third floor, and the main common area, there is a wider infinity pool next to the sitting area and dining table. Both have stunning views over the bay and are beautiful in different ways.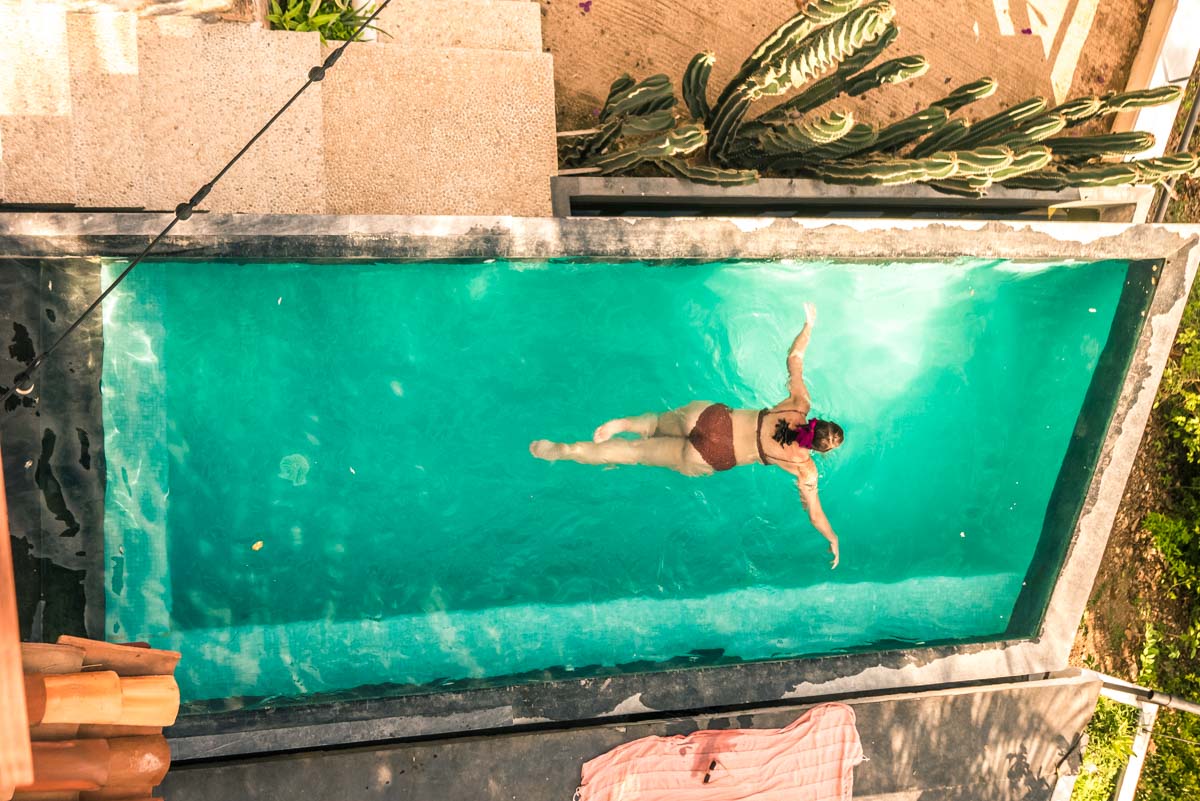 Common Kitchen, Living Room and Terrace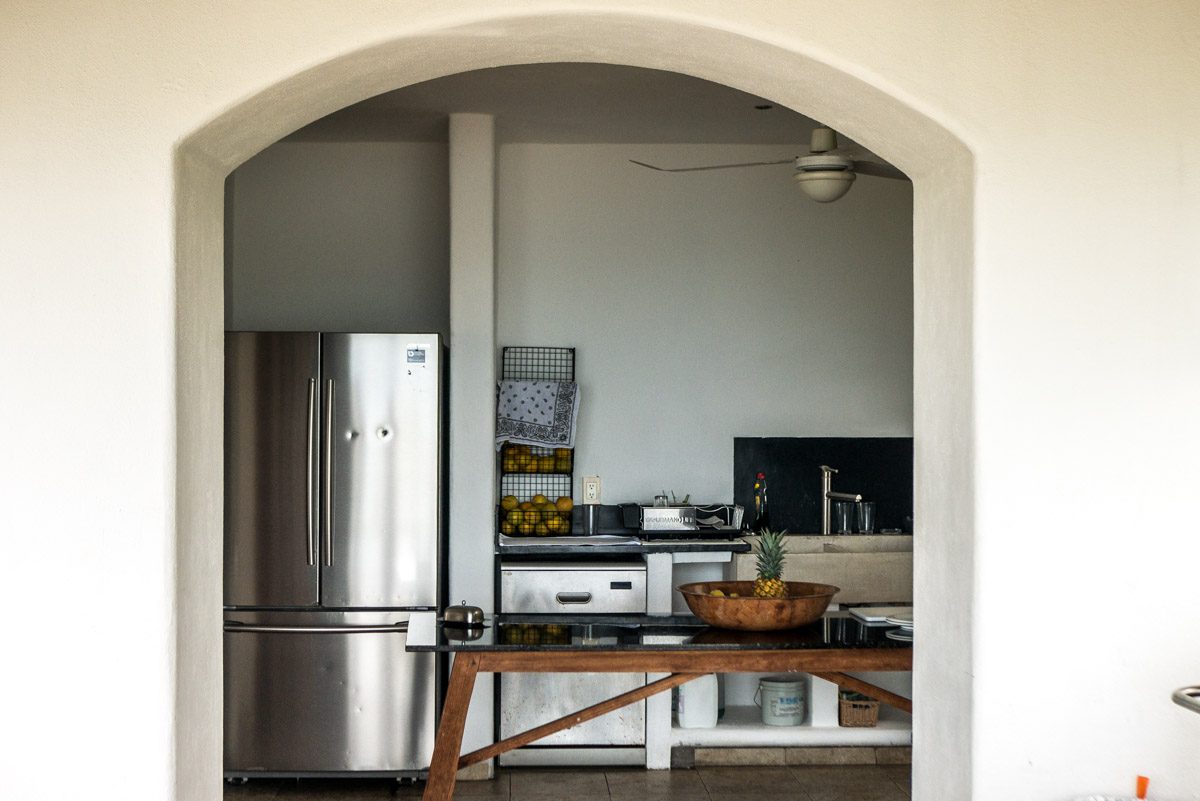 The common areas at this boutique hotel Zihuatanejo are so comfortable and lovely to pass time in. The pools and sitting areas are relaxing, comfy, and beautifully decorated. The dining table has one of the best views in the hotel, and is a beautiful long wooden table. There is also a tv room to relax and watch a movie.
The kitchen impressed me with its super modern and pro appliances. It's a comfortable, clean, and easy place to prepare a meal – from simple to gourmet depending on your mood. There is also a large pro-grill, if you feel like grilling up some seafood or steaks.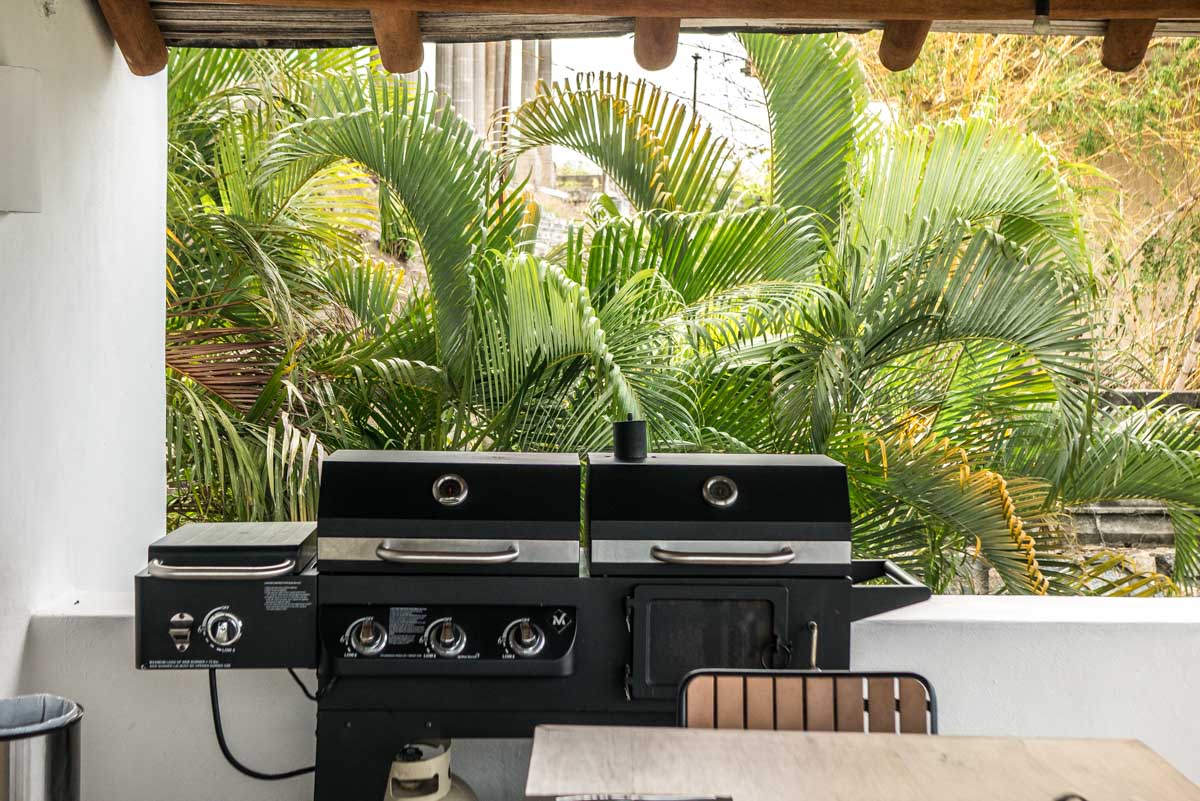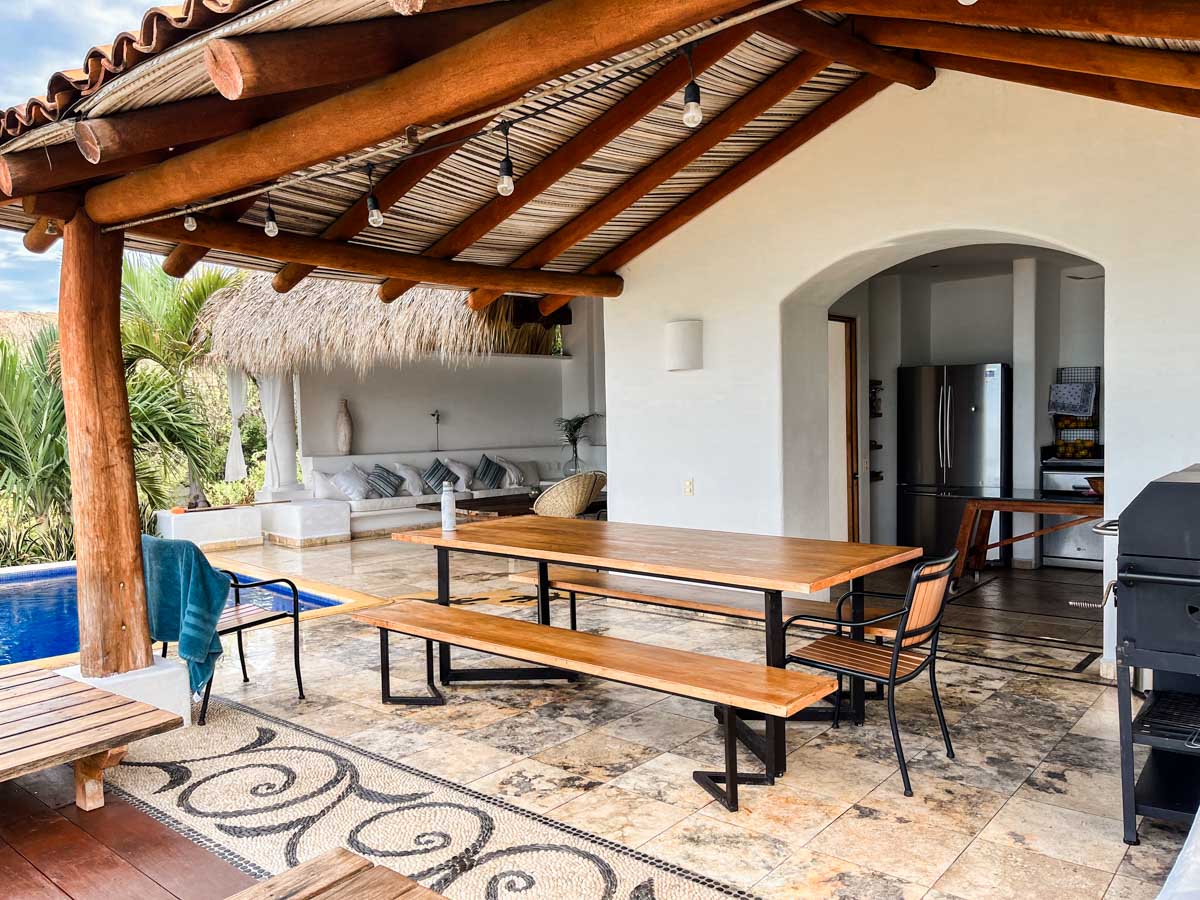 Comfortable Well Equipped Rooms: Hotel La Ropa Beach Zihuatanejo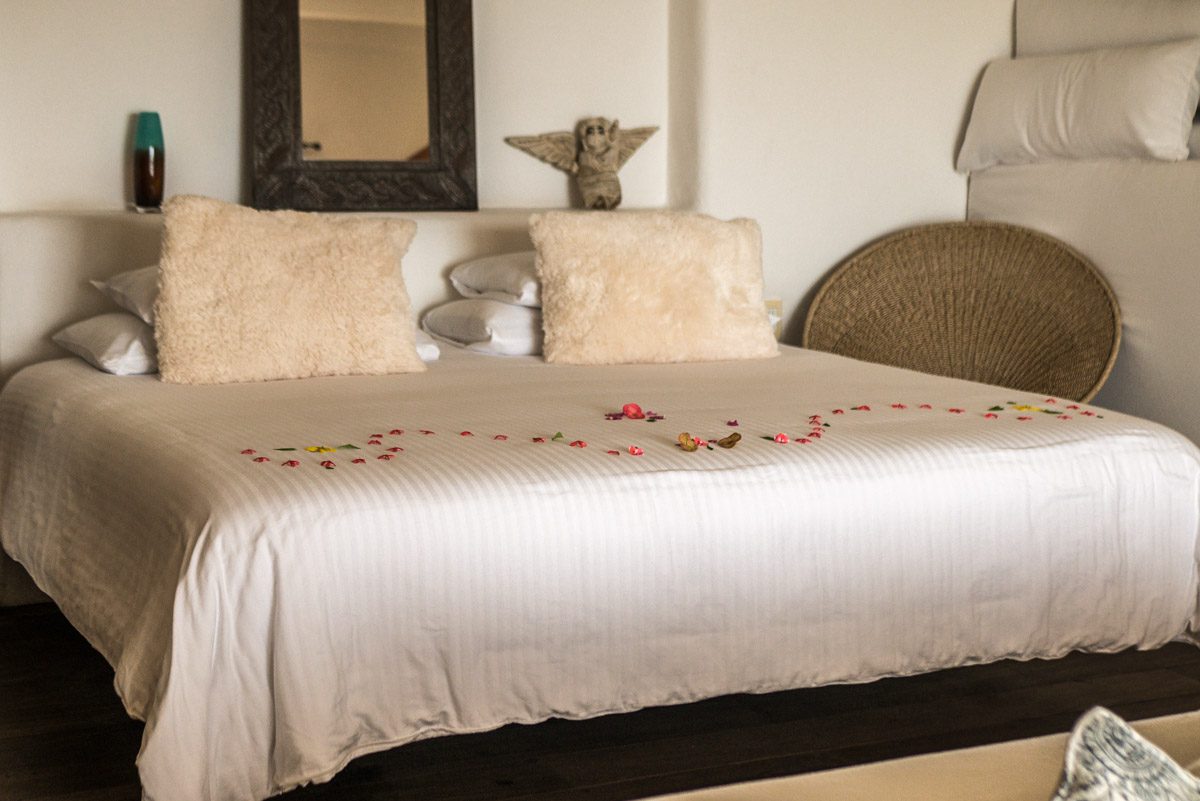 Each room has a terrace or patio. Our room, Las Nubes, had a beautiful large terrace with an incredible view that we could see from the large king size bed. We loved spending time on the private terrace each morning and evening.
We also had two huge closets – so much space to store our things with shelves and hangers.
Each room had air conditioning and fans.
The king bed was huge and comfy with premium sheets and pillows.
The bathroom was large and comfy with a rainfall showerhead, and luxurious shampoo, conditioner, and toiletries.
There was even a bluetooth speaker in the room to enjoy your own music.
Great for Groups Too: Boutique Hotel Zihuatanejo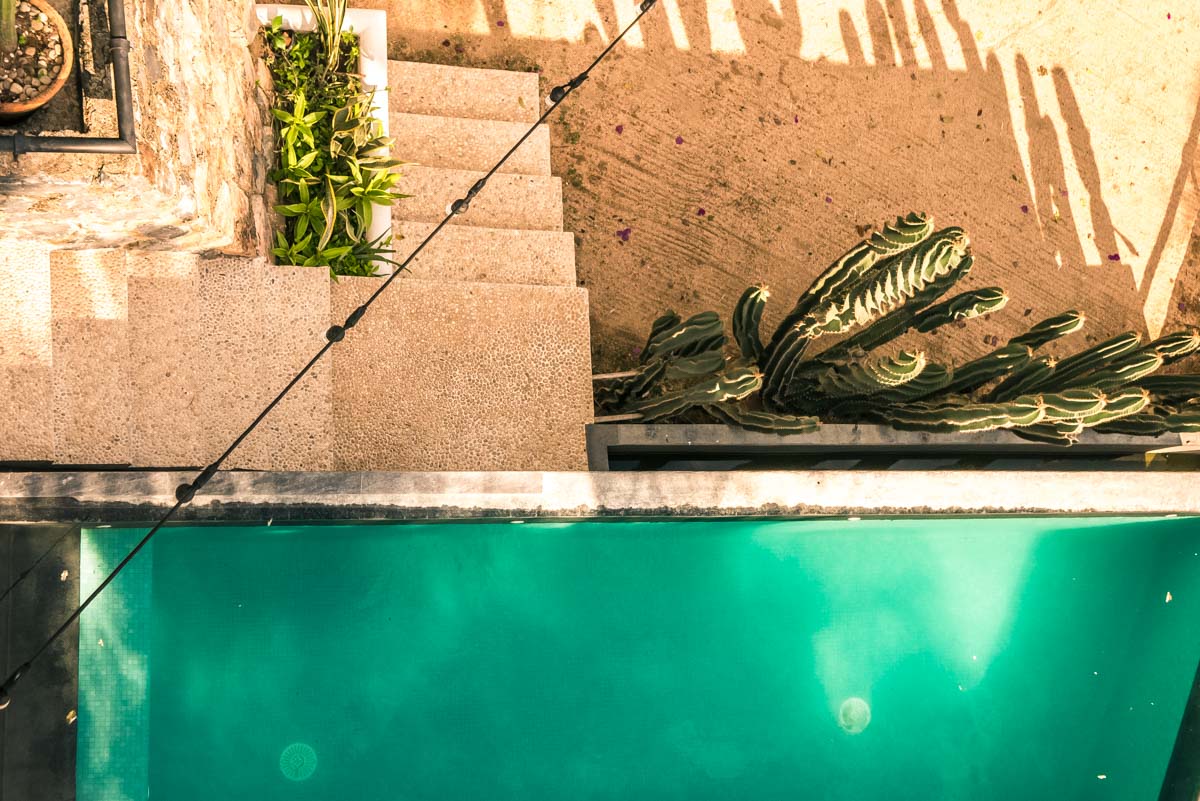 While we visited as a couple and found this hotel on La Ropa Beach Zihuatanejo to be very romantic, we also thought this would be a great place to visit with a group – family or friends. The hotel has a very comfortable balance of plenty of privacy when you're in your room, yet lots of common areas that would be great to spend time in with fellow travelers.
There is also an option to rent out the full hotel – if you have a friend trip coming up, a wedding, etc,.
Included Continental Breakfast: Luxury Hotel Zihuatanejo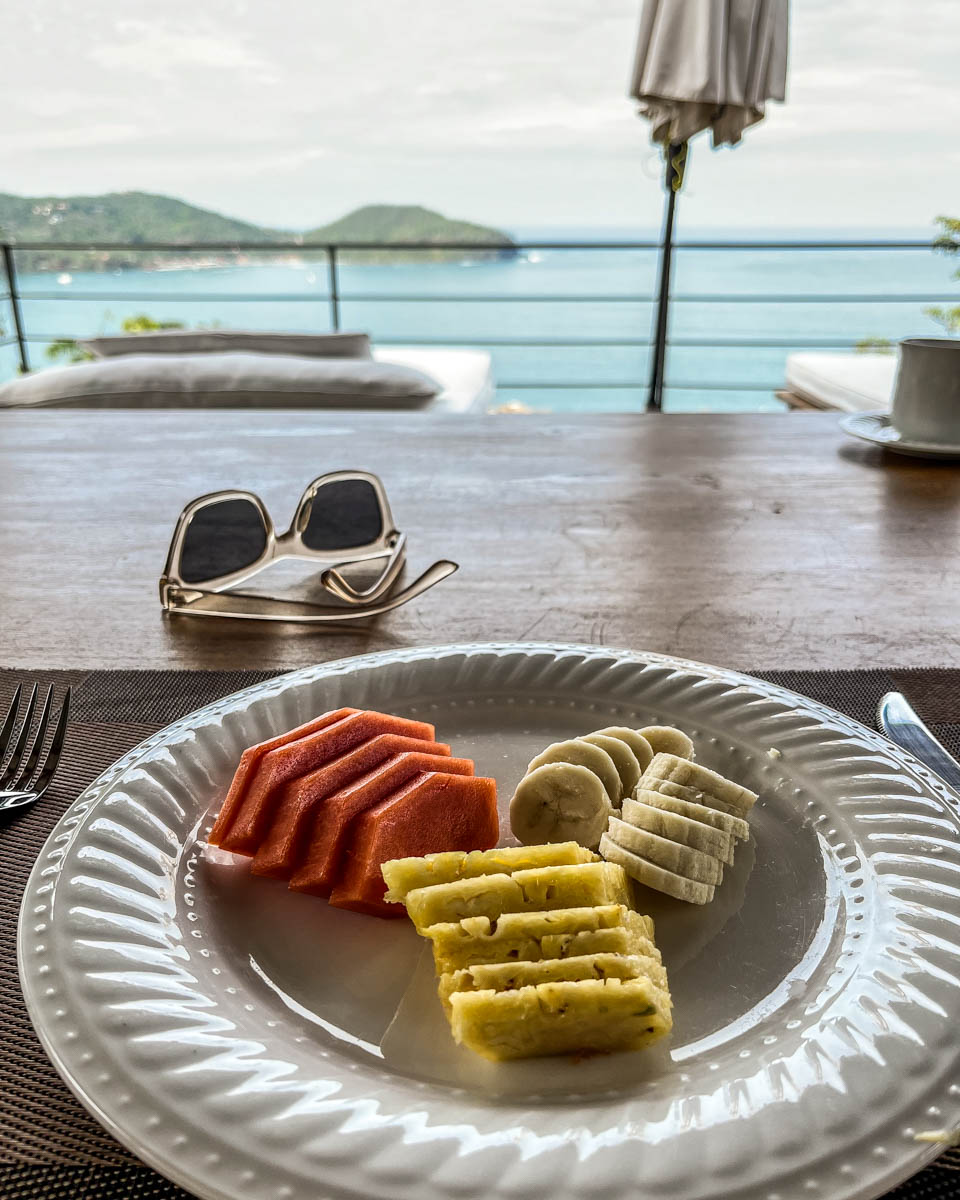 This hotel is a bnb, so you can enjoy fresh fruit, coffee, toast, and freshly squeezed juice steps from your room each morning. Breakfast is served at the large wooden table overlooking the stunning Zihuatanejo bay.
Excellent Value for Price: Hotel La Ropa Beach Zihuatanejo
One thing that surprised me the most was the excellent value you receive at this boutique hotel Zihuatanejo for the price. It's luxurious, incredibly comfortable, beautifully decorated, with the best view in the town starting at $122usd/night or 2270mxn/night.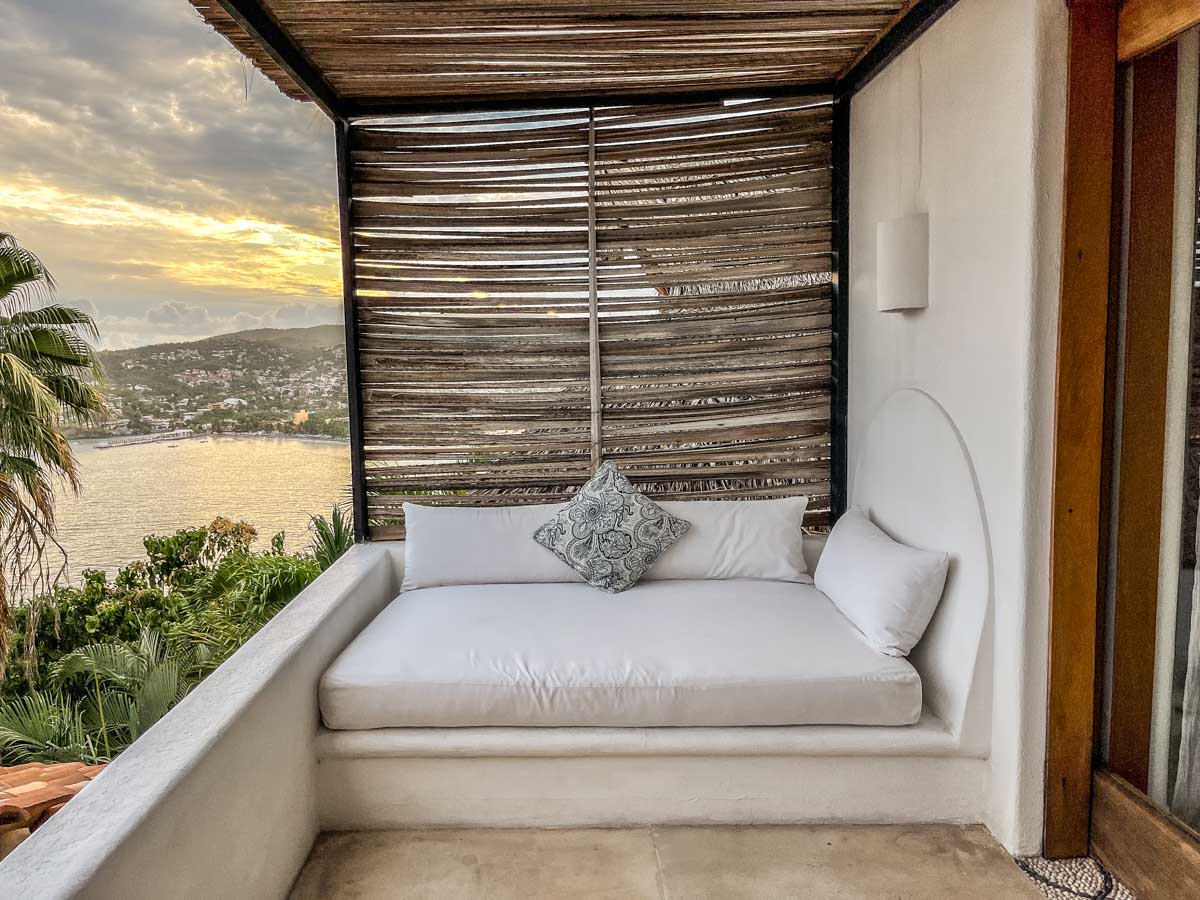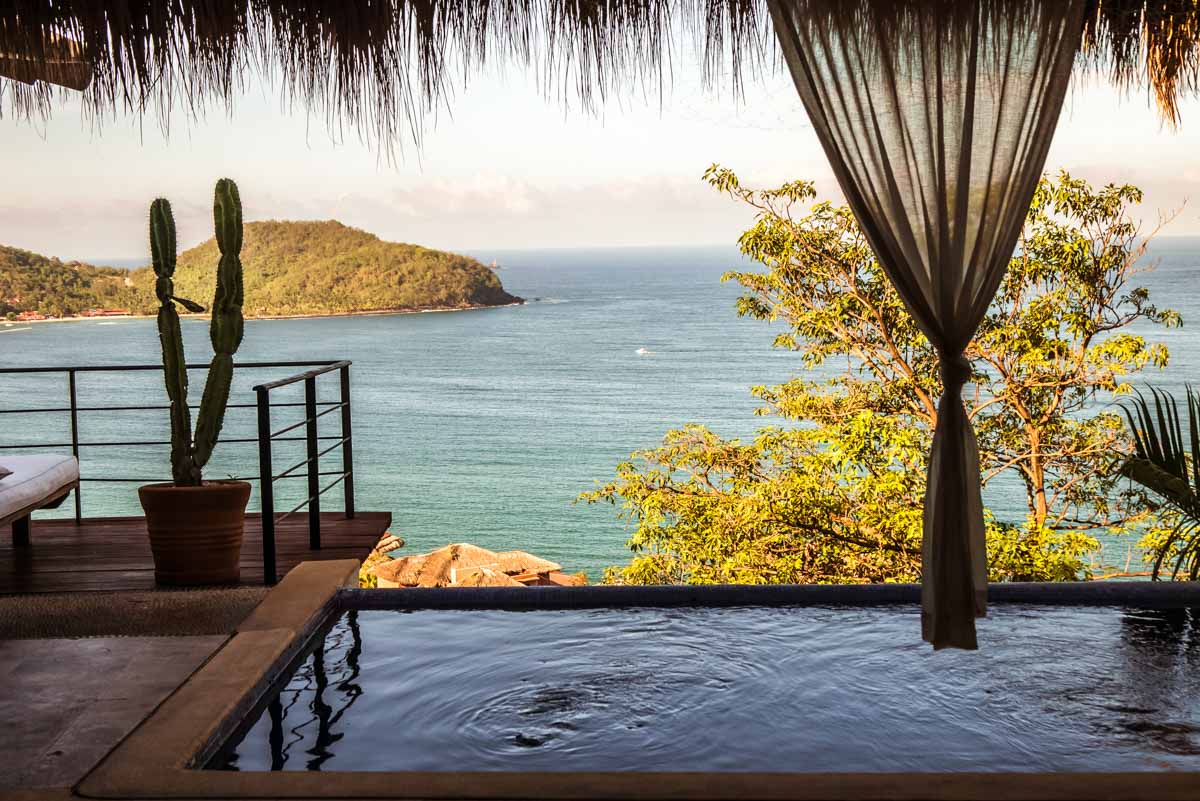 Final Thoughts:
This was a very memorable stay at a gorgeous boutique hotel in Zihuatanejo. I would love to return and keep soaking in the incredible views and beautifully designed spaces.
Hotel and Reservations: Casa del Cielo
Social Media: Facebook, Instagram
Best For: A romantic vacation, a friend trip booking multiple rooms, a peaceful solo getaway.
Price: Starting at approx $111usd/night or 2270mxn/night. Check booking link above for current rates.
Includes: Included continental breakfast, good wifi, plenty of drinking water, luxurious toiletries, stunning ocean views, plenty of common spaces, pro modern kitchens, in-room bluetooth speaker, private terraces/patios, two infinity pools.
Location: Carretera Escénica Playa la Ropa 21 La Ropa, 40880 Zihuatanejo, Guerrero, Mexico
Stay tuned for my full Zihuatanejo guide coming in the next few weeks! And check out my other Mexico beach destination posts here.
Pin it for Later!