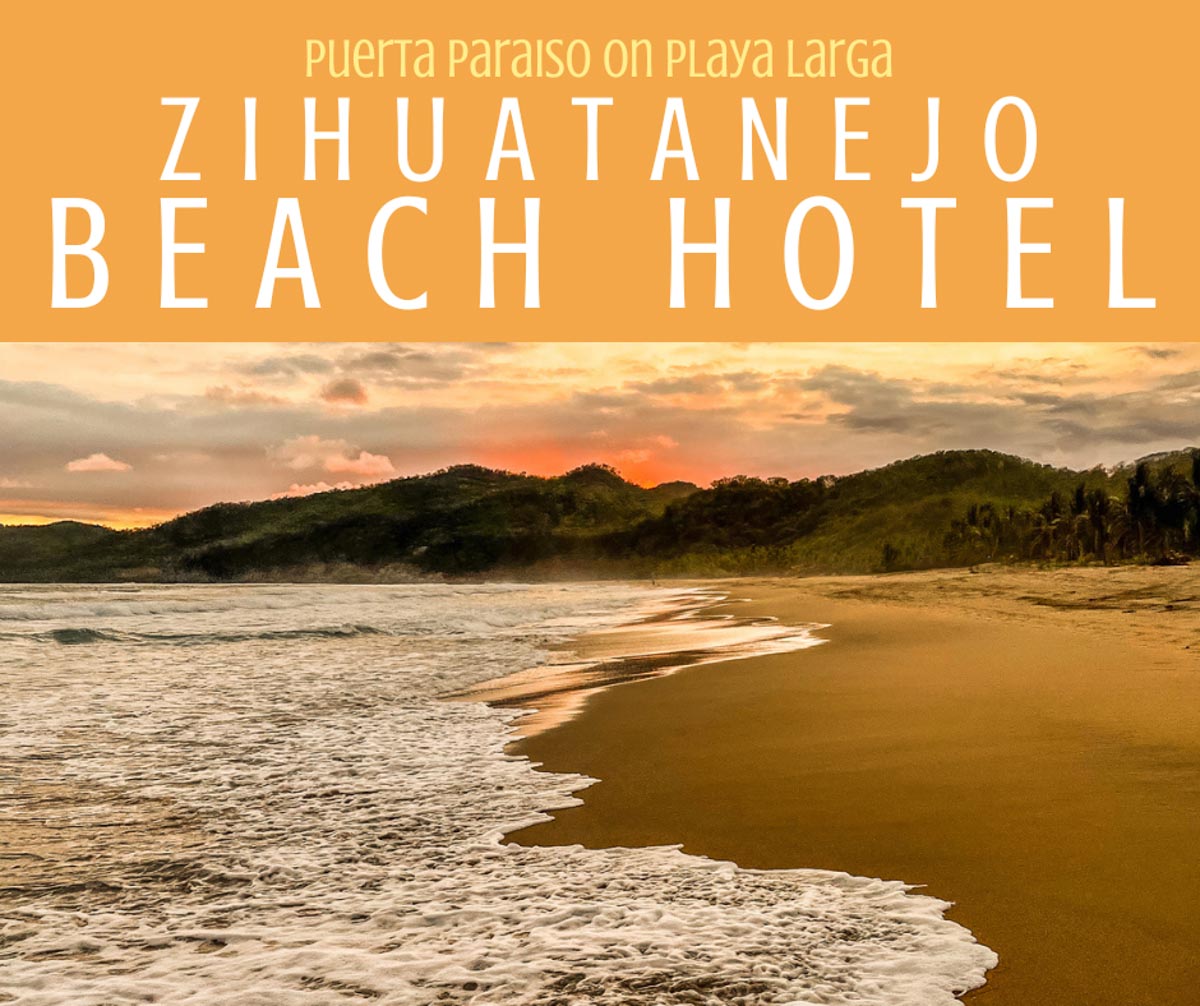 After a few days staying near Playa La Ropa, we retreated to the tranquil Zihuatanejo Mexico beach hotel, Puerta Paraiso. This hotel on Playa Larga is beachfront, so you can enjoy the sight and sound of the waves from many of the vantage points of the rooms and common areas.
We spent 3 very relaxed calm days in this oasis. Taking beach walks every morning and evening, swimming in the beautiful pool, and enjoying the plentiful tropical nature all around. Below I'll go into all the details of the hotel so you can decide if it's the right place for our Zihuatanejo vacation.
Disclosure: This post was written in partnership with Puerta Paraiso. As always, every thought, opinion, and experience is my own.
And stay tuned, full Zihuatanejo guide coming soon. I really fell in love with this amazing Mexico beach destination. You can find all my other Mexico beach posts here.
Pin it for Later!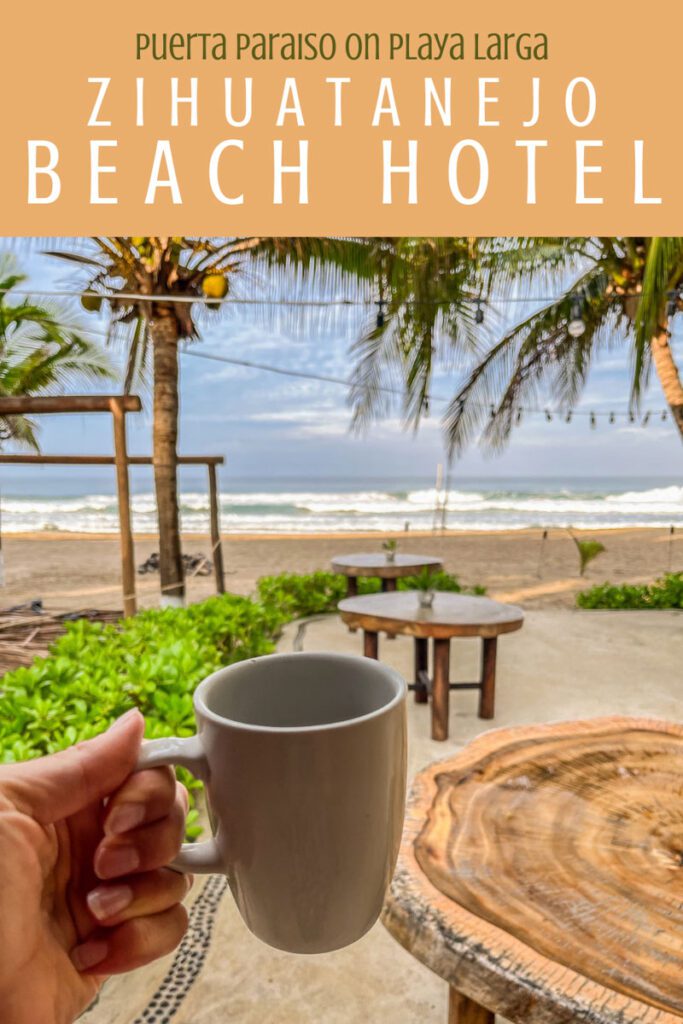 The Beach: Playa Larga Zihuatanejo
There is nothing like staying on the sand on vacation. When you can dip your feet in the ocean after only walking steps from your room, it feels like real luxury.
Playa Larga Zihuatanejo is aptly named, as it's a very long stretch of beach between Zihuatanejo town and the airport. Together with Playa Blanca and Barra de Potosi (which it shares the bay with) it's more than 12 kilometers long (about 7.5 miles), mostly undeveloped, and lined with palm trees and jungle. There are a few local beach restaurants, and a handful of hotels, but other than that, it's a peaceful natural area. This is open ocean, so not safe for swimming, but beautiful for exploring and walking.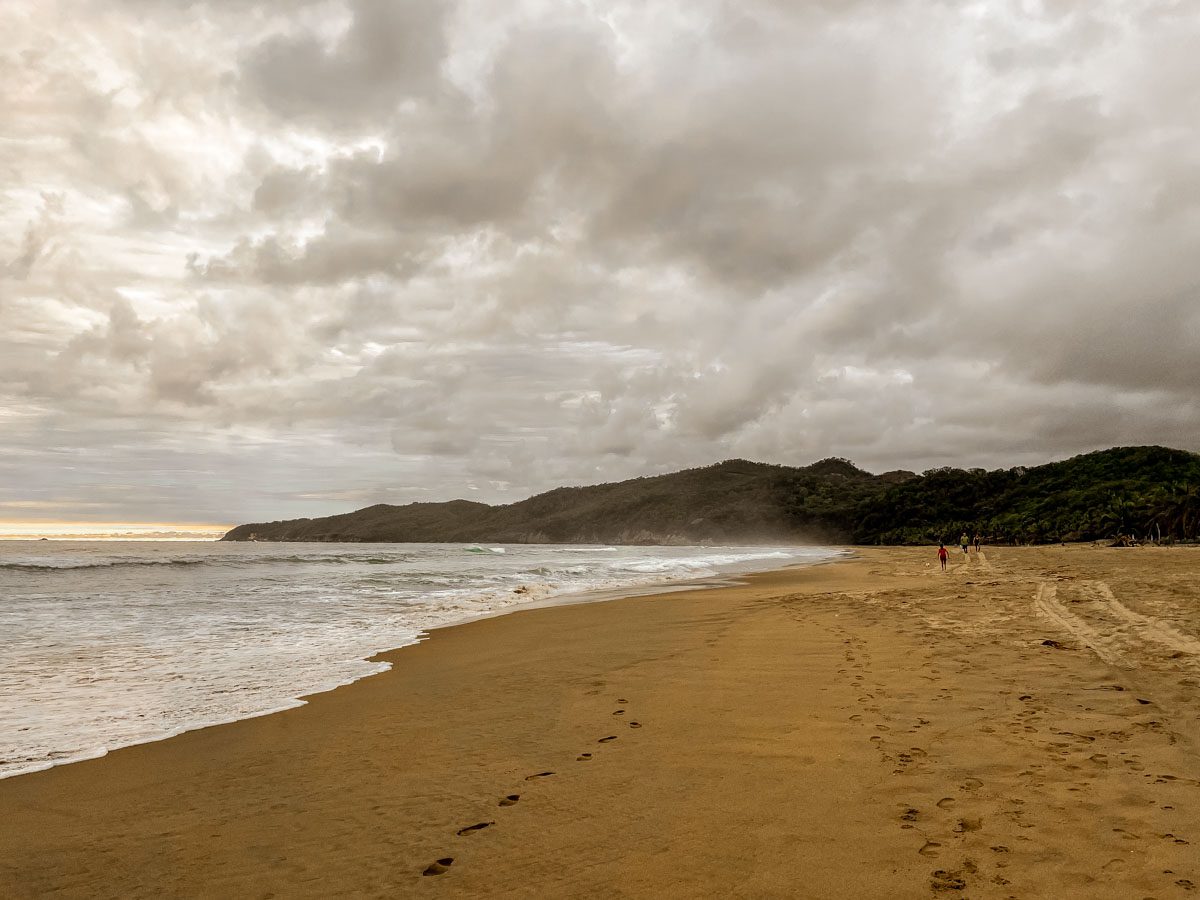 Every morning we'd get up and grab some cups of coffee that the hotel has ready for early birds, and walk the peaceful morning beach, usually only seeing on or two other people. If you walk towards the northwest, there is a rocky picturesque point, and an eco-reserve where you'll often see birds and other animals. If you walk in the other direction. You have miles and miles of beach to explore.
We visited during rainy season (in June) so many of my photos have a moody vibe, but we experienced all types of weather. We had bright sunny hours, some clouds, and some showers. All the views were quite picturesque and dramatic over the ocean.
We could see a bit of the ocean from our room, and any of the common areas like the pool, restaurant, and seating areas, all have front row views to Playa Larga Zihuatanejo.
The Beachfront Pool & Facilities: Zihuatanejo Mexico Beach Hotel
The common areas at Puerta Paraiso were beautiful, comfortable and wonderful to spend time in. This Zihuatanejo Mexico beach hotel has a gorgeous pool to cool off and wile away the hours. It's built with a natural stone border, stone in-pool benches, and the bottom also uses stone.
For me, I noticed several special touches about this pool that I really appreciated – 1) not too cold. It was fresh but not chilly to enter 2) the in-pool seating was perfect when I just wanted to sit with a limonada and relax 3) there is an umbrella for shade at one end, so if you want to be especially careful about the sun, just sit on one of the benches under the umbrella and enjoy the fresh pool water and the ocean view – perfect!
Around the pool are seating areas, including beach loungers. Next to the pool area is the restaurant with beautiful large wooden huanacaxtle (parota wood, a huge tropical tree endemic to the coastline) tables, and in front are a line of beach loungers on the sand to get a closer ocean view to Playa Larga Zihuatanejo. We had breakfast every morning in the restaurant and found the food to be fresh and tasty. The restaurant also serves lunch & dinner if you prefer to never leave!
Leafy Natural Grounds: Playa Larga Zihuatanejo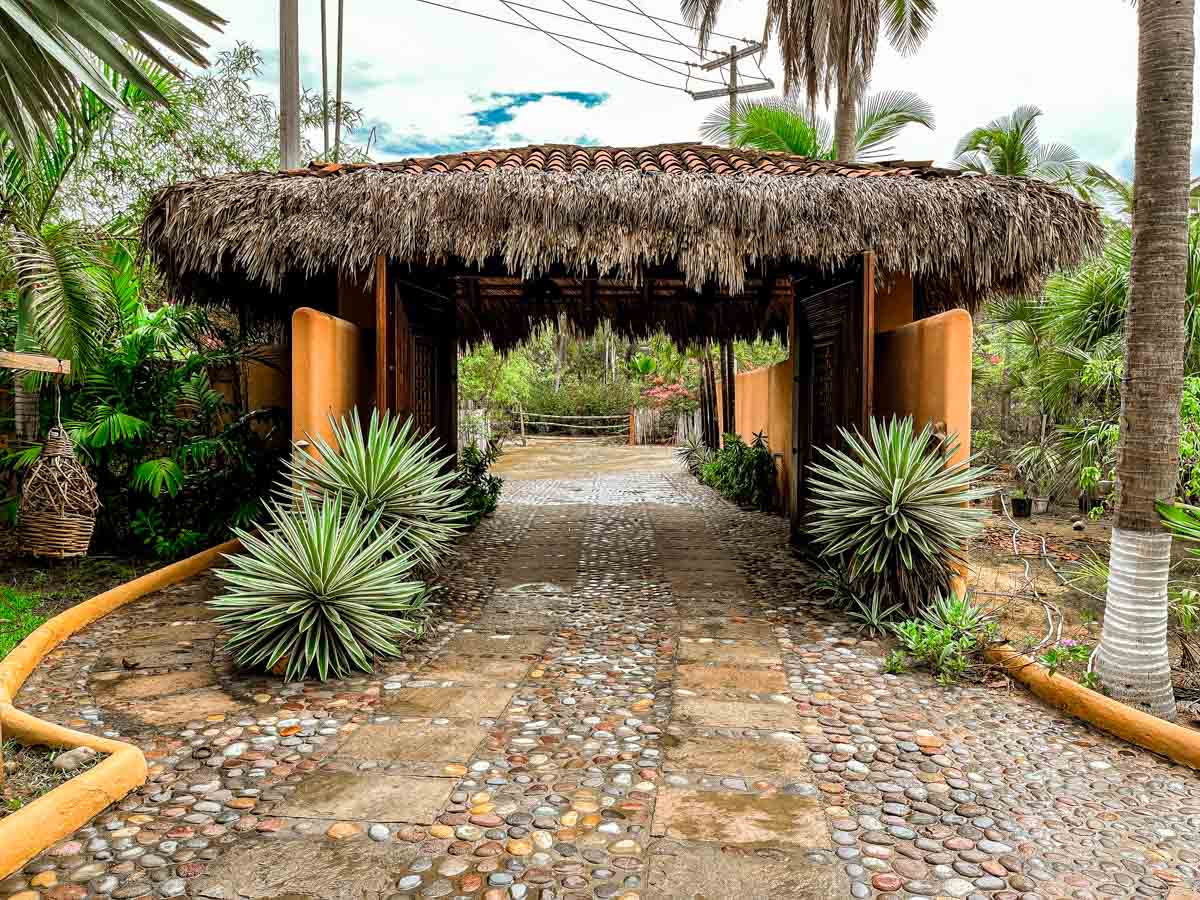 The large grounds of Puerta Paraiso are filled with various varieties of palms, agave plants, and leafy tropical plants. From the moment you pull through the entrance, you're surrounded by greens, and feel immersed in nature. For someone who loves plants, I really enjoyed wandering the grounds and taking leafy photos.
Big Spacious Suites: Zihuatanejo Mexico Beach Hotel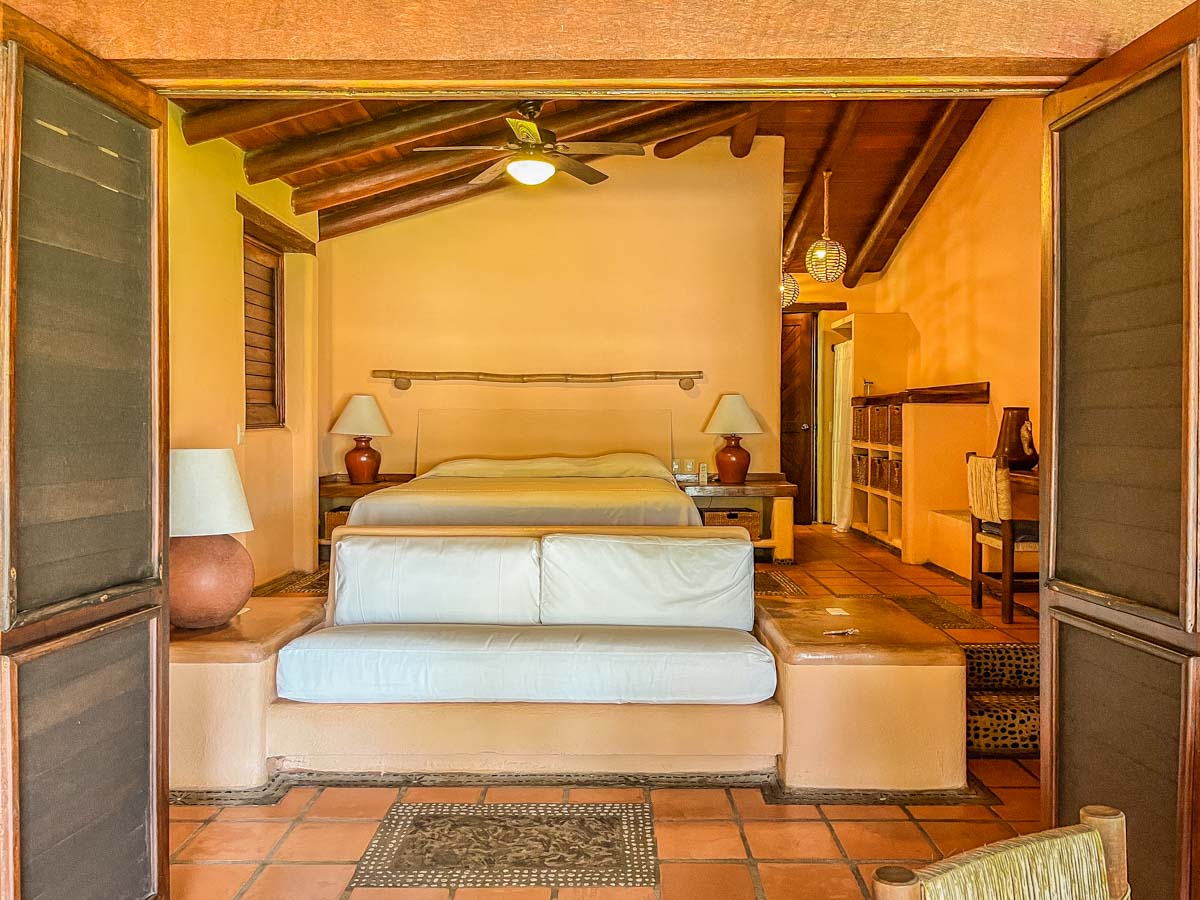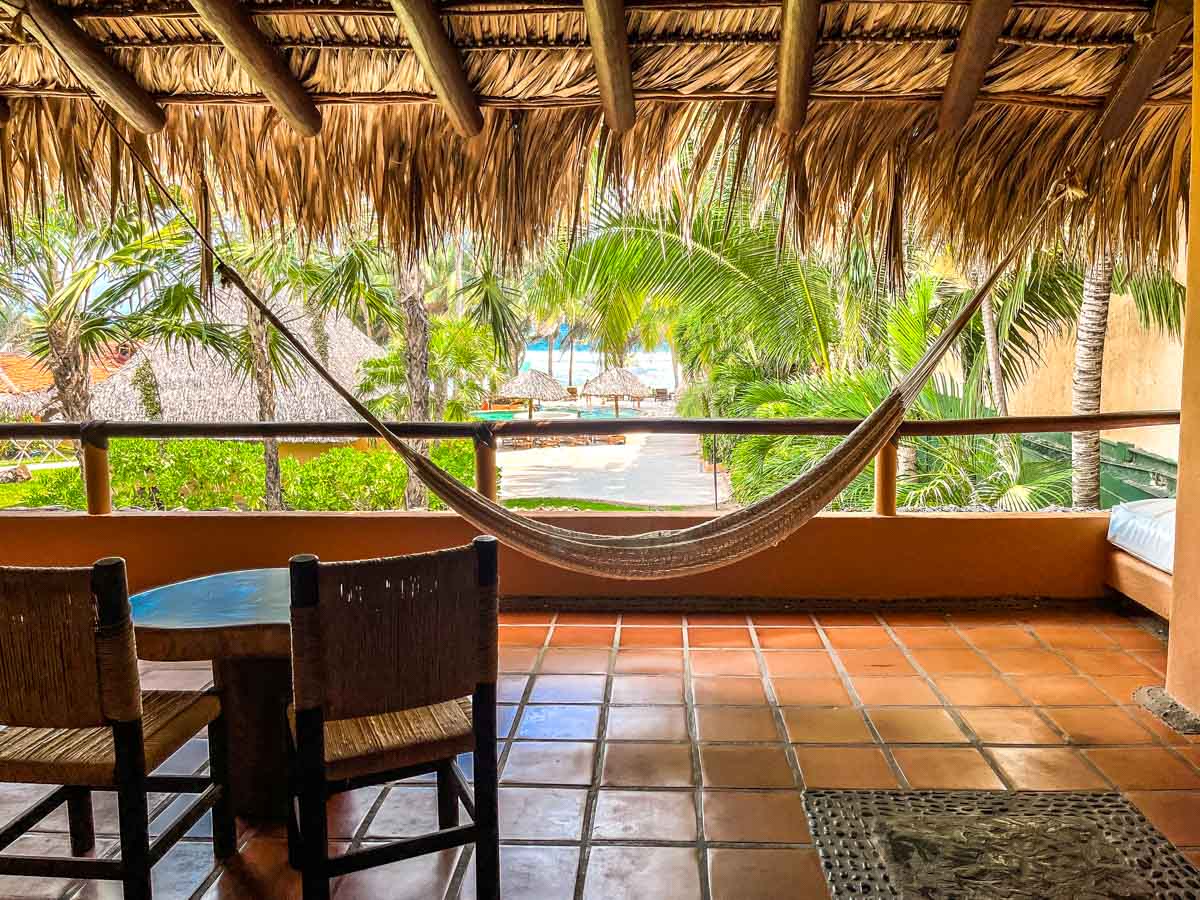 Our suite, #7, was huge and comfortable. We were on the second floor which allowed us a bit of an ocean view, as well as a view of the pool.
The king bed was large and comfortable. There was also a desk, a seating area, a private terrace with a table, an outdoor counter area and hammock, and a closet area with lots of baskets for organizing your things. This Zihuatanejo Mexico beach hotel also has a large bathroom with plenty of counter space and a shower with natural stone details.
The decor is a mix of minimalist concrete and warm tile, and natural details like stone, palm, and wood. It feels warm and welcoming while still feeling uncluttered.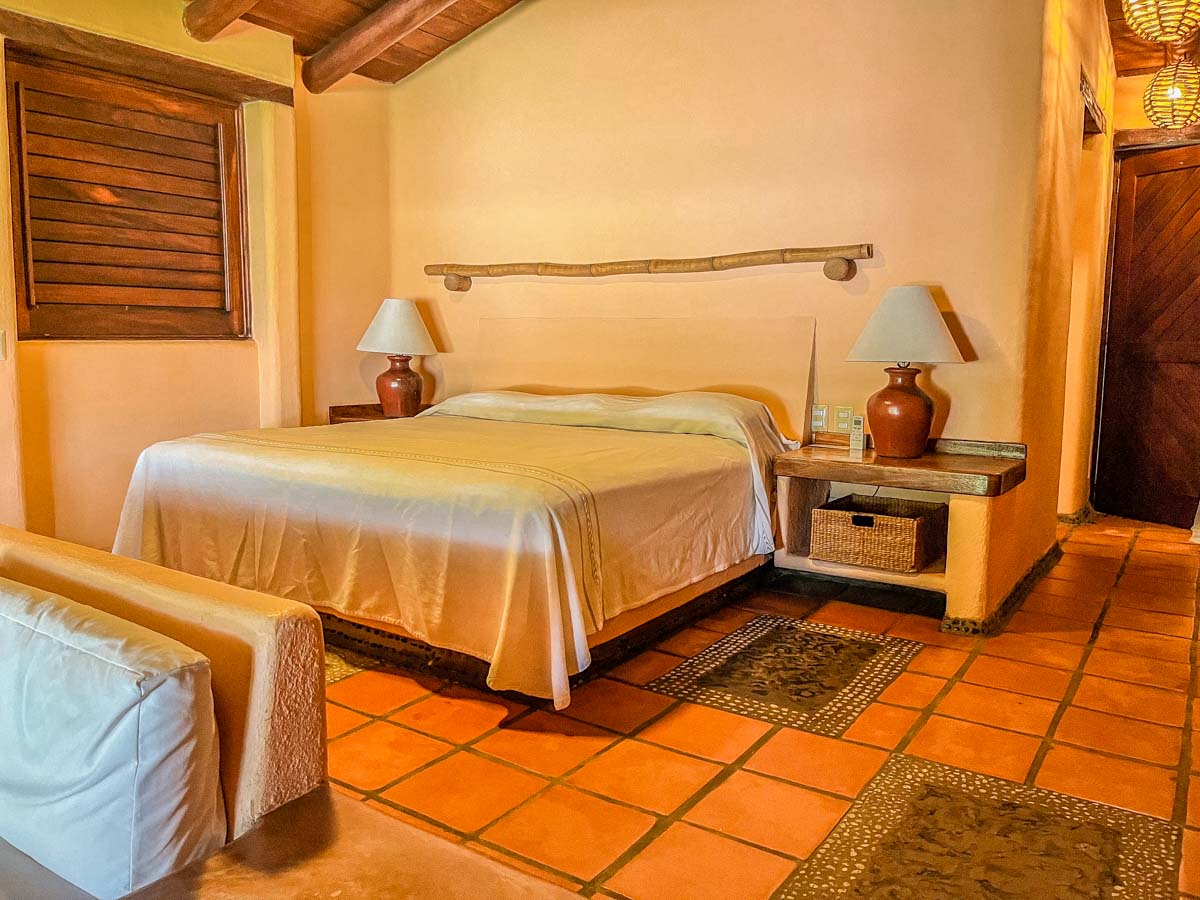 Natural but Convenient Location: Playa Larga Zihuatanejo
This Zihuatanejo Mexico beach hotel is perfect if you want a peaceful, natural, relaxing vacation, while still being pretty close to amenities. At the hotel, you feel a million miles from everything, but you're only a 15 minute car ride from Zihuatanejo centro, where you'll find tons of delicious restaurants, stores, markets, and other beaches.
You could choose to just completely disconnect and stay at the hotel, or go into town each day for lunch or dinner, visiting beaches, and exploring the area.
If you love nature, another activity that is very popular on Playa Larga Zihuatanejo is horseback riding. You could arrange a peaceful horse ride on the water's edge during your stay.
The Warm Staff: Zihuatanejo Mexico Beach Hotel
The staff at Puerta Paraiso really blew us away with how friendly and wonderful they were. From our arrival to our departure, they made an effort to get to know us, give us assistance or information, share personal stories, and more. We really felt taken care of and loved getting to know the lovely people here.
Final Thoughts:
This is a wonderful hotel for those who want to be right on the beach and enjoy a peaceful, natural location, while still being close to town. We enjoyed our days here and would happily return, wiling away the hours by the pool with ocean breezes and views!
Hotel and Reservations: Puerta Paraiso
Social Media: Facebook, Instagram
Best For: A romantic vacation, friends or family traveling together, a solo peaceful retreat. (note: the hotel is quite accessible with flat surfaces, and concrete walkways).
Price: Starting at $175usd/night (approx 3500mxn). Check booking link above for current rates.
Includes: Included drinking water, wifi, luxurious toiletries, direct beach access. plenty of beautiful common spaces, private terraces/patios, large pool.
Location: Cerrada de las Tortugas, Zihuatanejo, Guerrero
Stay tuned for my full Zihuatanejo guide. You can also find all my other Mexico beach destination posts here.
Pin it for Later! Zihuatanejo Mexico Beach Hotel