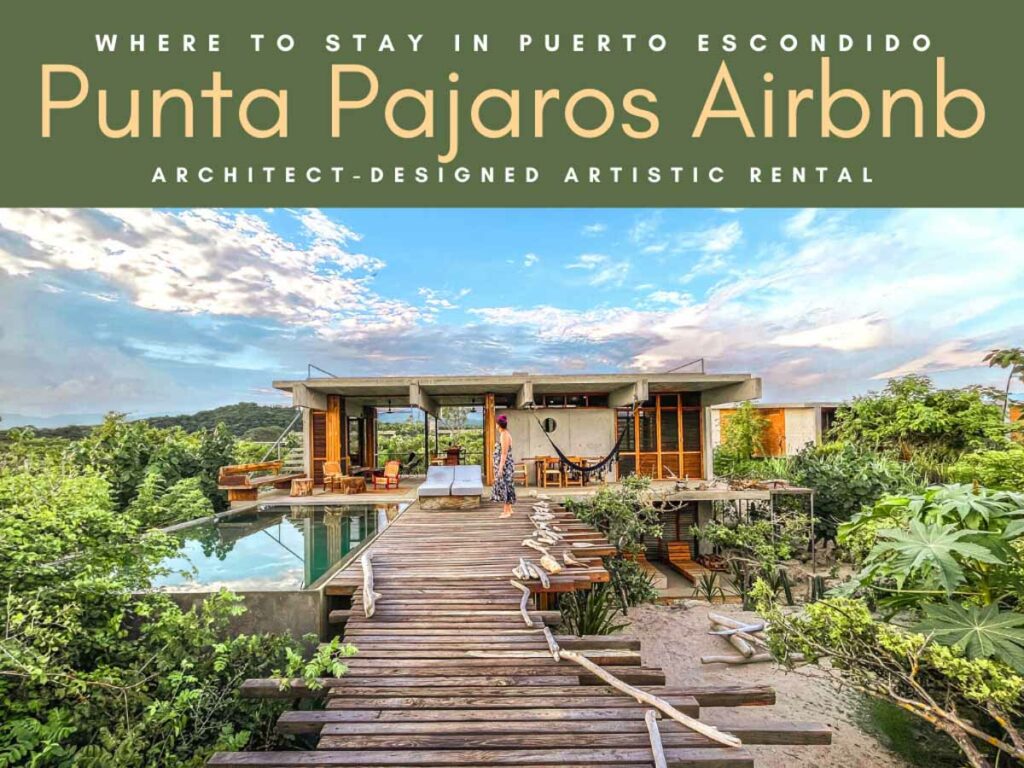 When I truly love a place, I take sooo many pictures. At my lovely 3 night stay at Casas Maria Matilda, I took 1500+ pictures and video 🙂 . This Punta Pajaros Airbnb quickly rose to the top of my 'where to stay in Puerto Escondido' list, hands-down.
So why is it so special? Do you appreciate beautiful design? Thoughtful details? comfort in every corner? Interaction with beautiful nature? A delicious private pool? A tranquil beach just steps from your room? Well those are just a few of the reasons!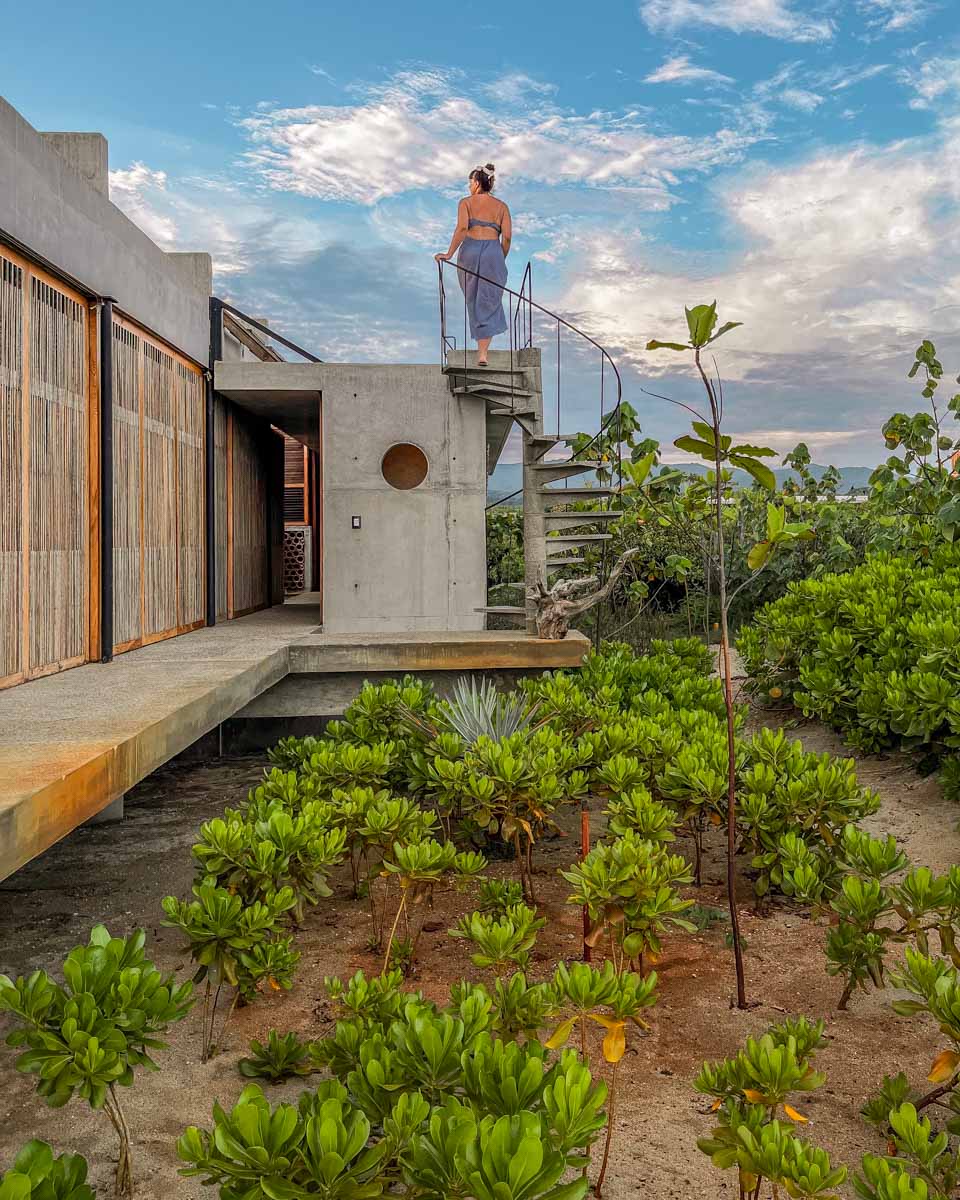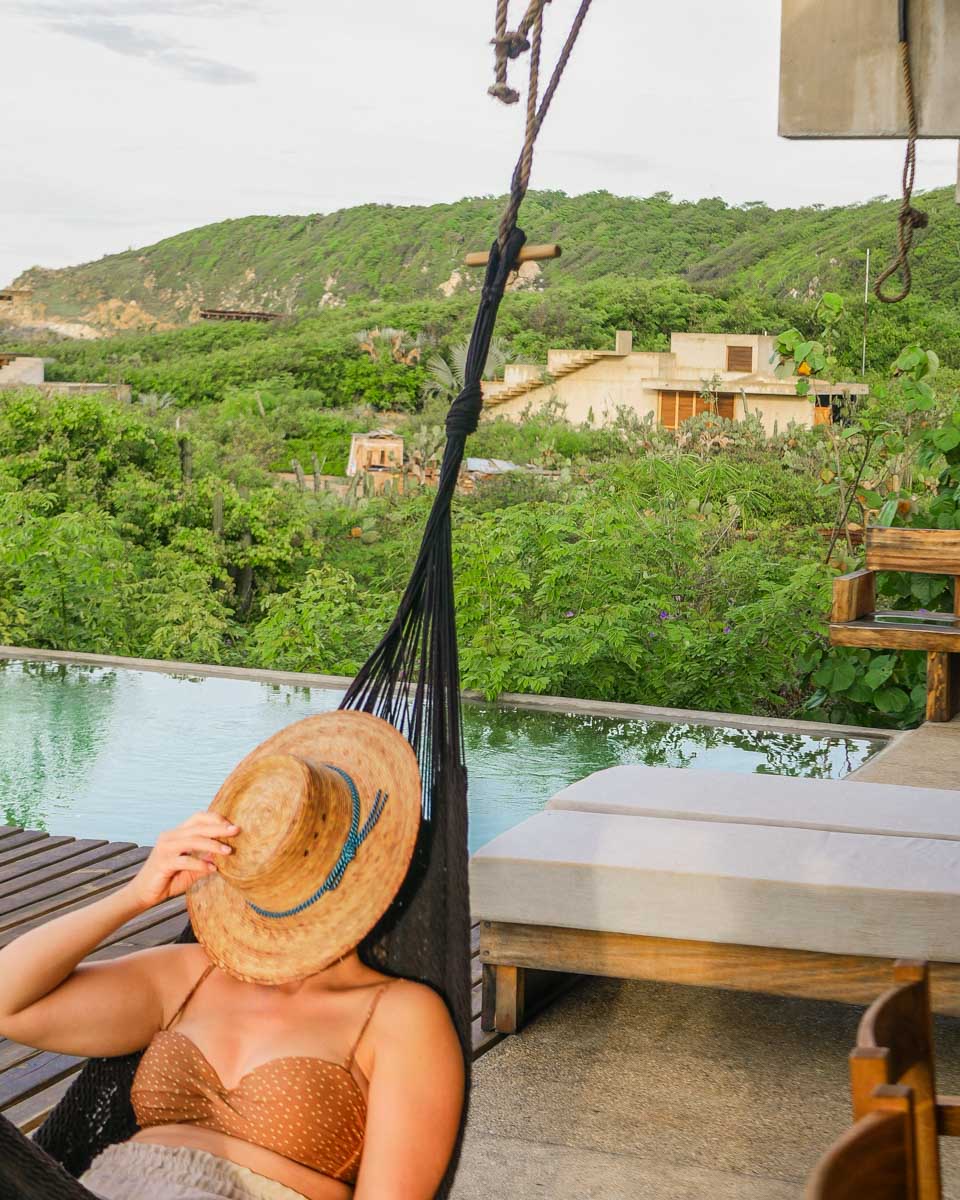 Punta Pajaros is a quiet stretch of beach about 30 minutes from the center of Puerto Escondido, that has attracted an artistic community and is seeing some gorgeous homes and hotels being built. Yet it's still very quiet and very nature-focused.
Check out all the reasons below that I think Casas Maria Matilda is one of the most special places to stay around Puerto Escondido, and to see some of the thousands of photos we took of the gorgeous homes and property.
Disclosure: This post was written in partnership with Casas Maria Matilda. As always, every thought, opinion, and experience is my own.
See all my Oaxaca coast blogs here.
Pin it for Later! Punta Pajaros Airbnb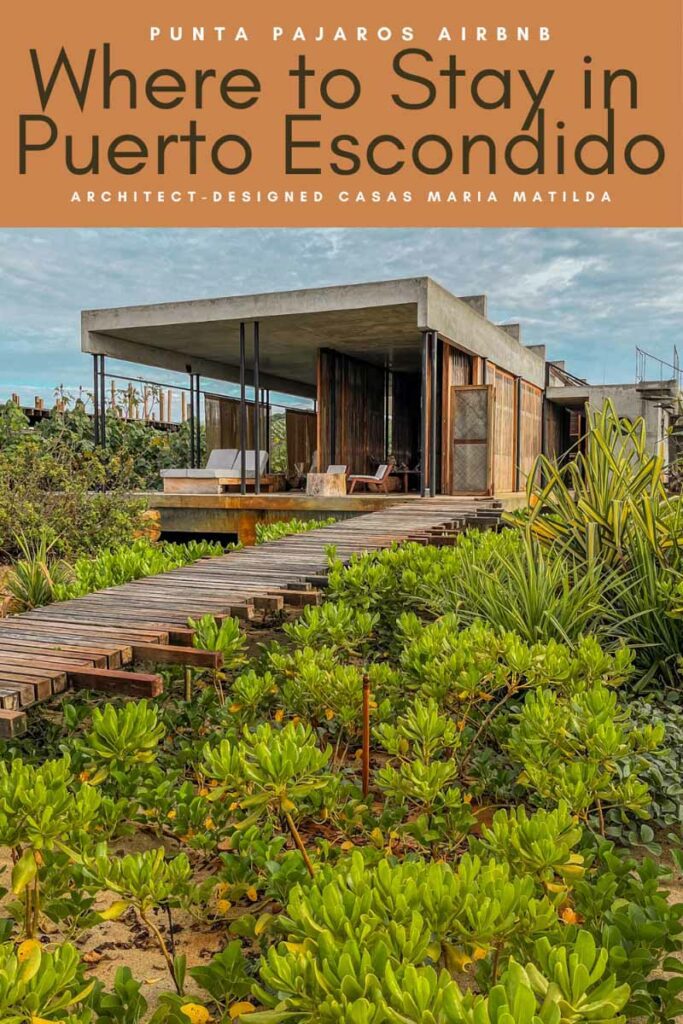 Gorgeous Architect-Designed Space: Where to Stay in Puerto Escondido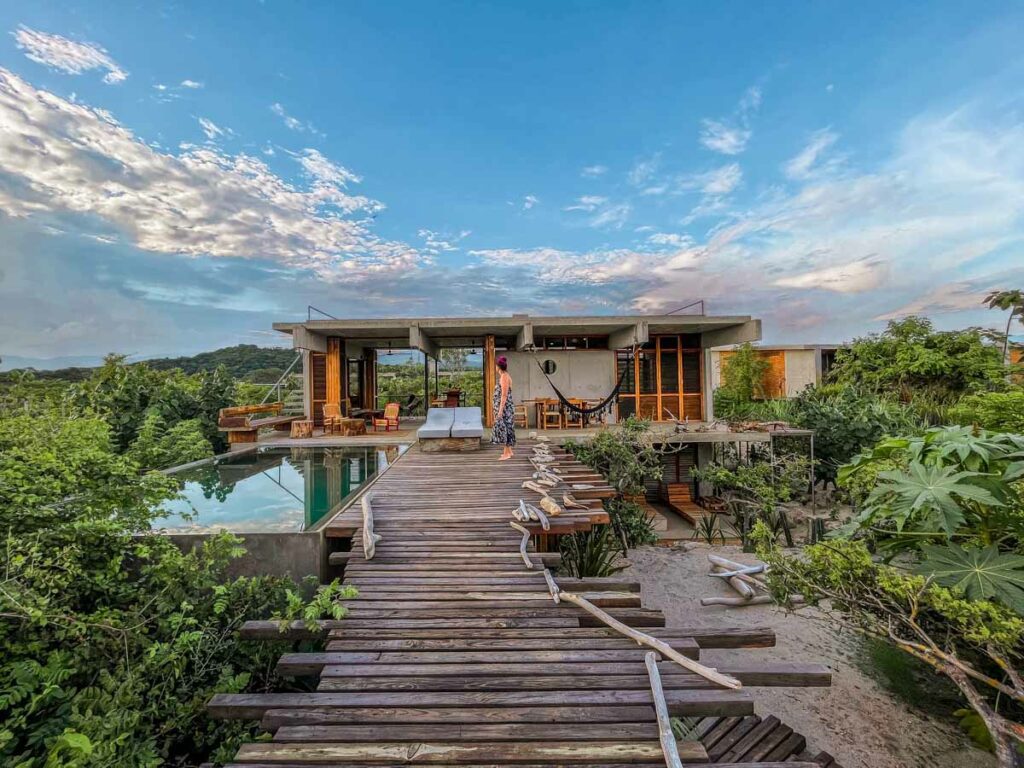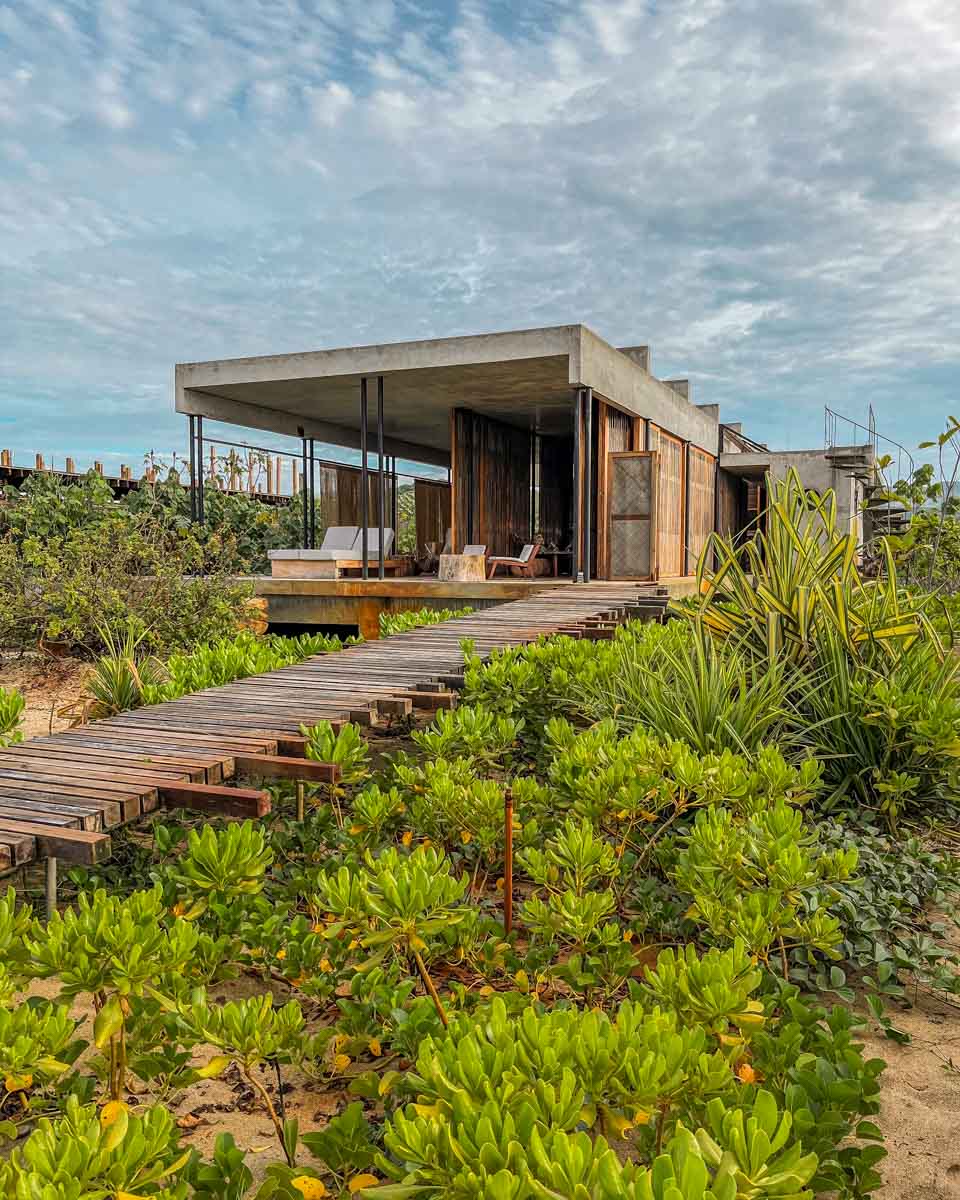 Punta Pajaros, Puerto Escondido is known for attracting famous and very talented architects. This started with the non-profit arts center Casa Wabi, built by award winning Japanese architect Tadao Ando in 2014. This brought in some special hotels and architect-designed rental homes, and the area has seen a lot of growth in the last few years.
In 2021, Gaeta Springall Architects, led by Julio Gaeta and Luby Springall, built two beautiful open plan homes on the stretch of Punta Pajaros beach. 
Casa Maria is a Punta Pajaros Airbnb with two levels, sleeps 6 guests, has two bedrooms (one on each floor) and two bathrooms, and is between the road and Casa Matilda. While you don't have ocean views from the ground floor, you do from the roof terrace, and the beach is a 2 minute walk down your private pathway.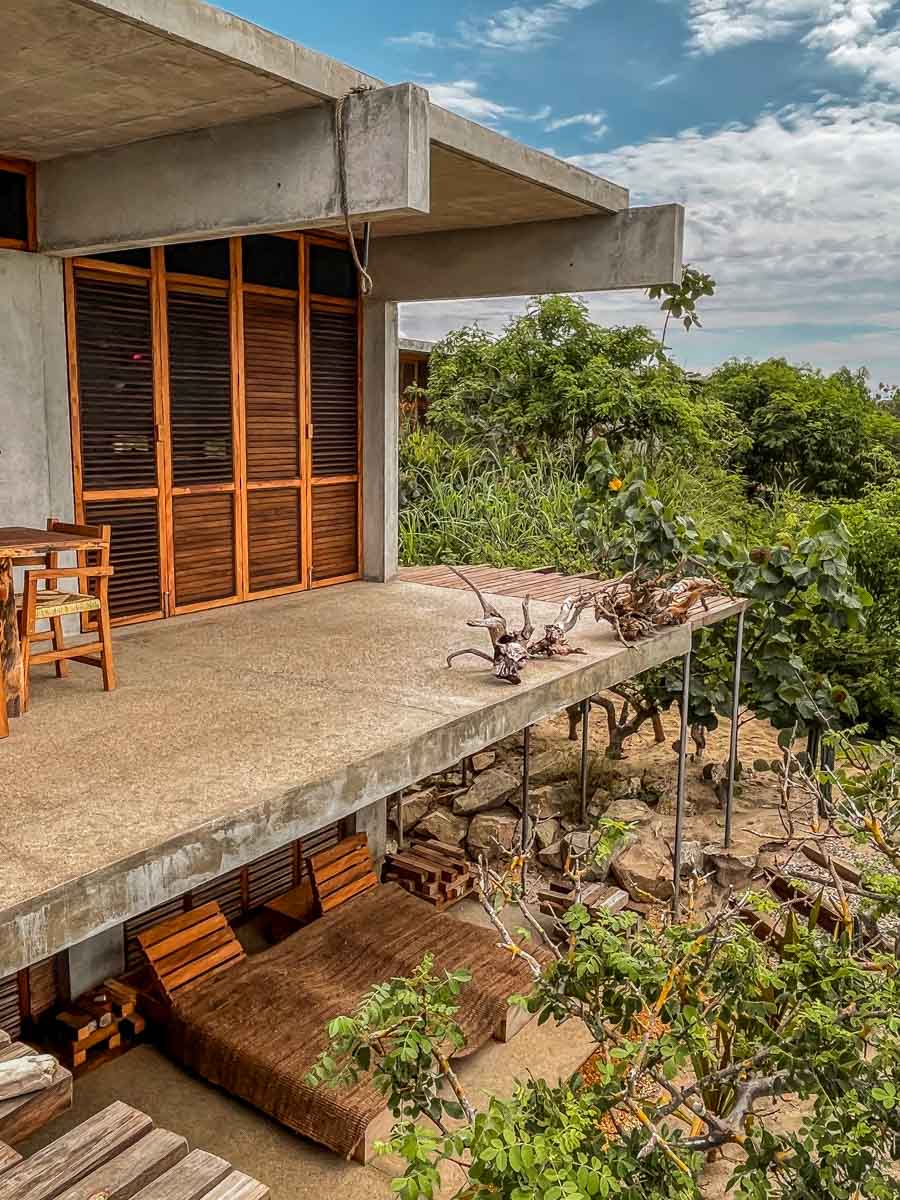 Casa Matilda is beach front, sleeps 4 guests, and has two rooms and two bathrooms.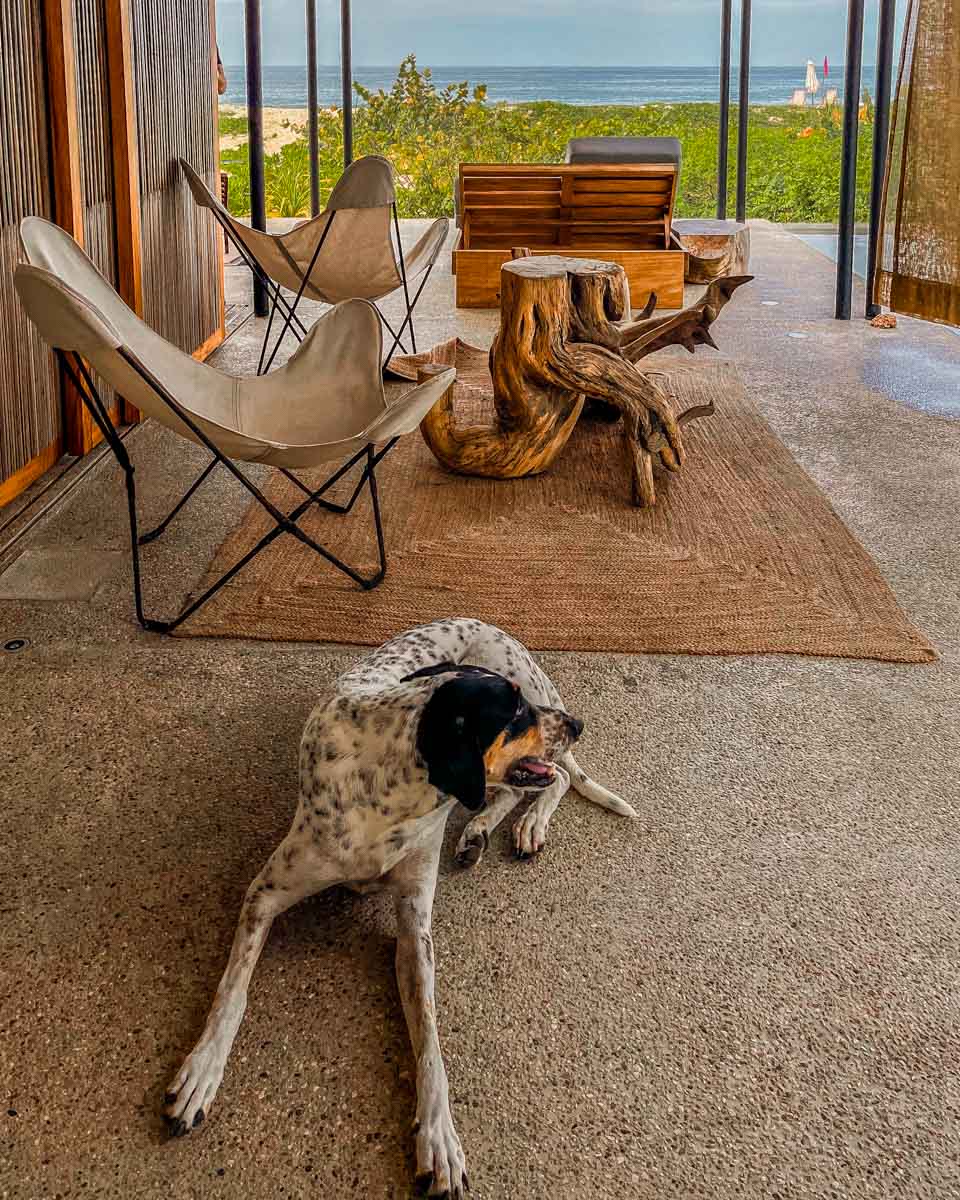 Both homes are gorgeous and straight out of an architecture magazine. The design is incredible, but also very functional and comfortable. This is where to stay in Puerto Escondido for design lovers and creatives.
Both homes open up almost completely via the wooden accordion doors. So the spaces feel huge and you can appreciate and enjoy the surrounding nature to the fullest. Yet when you close the wooden doors, there slatted features allow comfortable air flow and there is cross ventilation in every space. Beyond that, every room is fitted with at least one ceiling fan, so comfortable temperatures were never an issue for us and we stayed during the summer in August.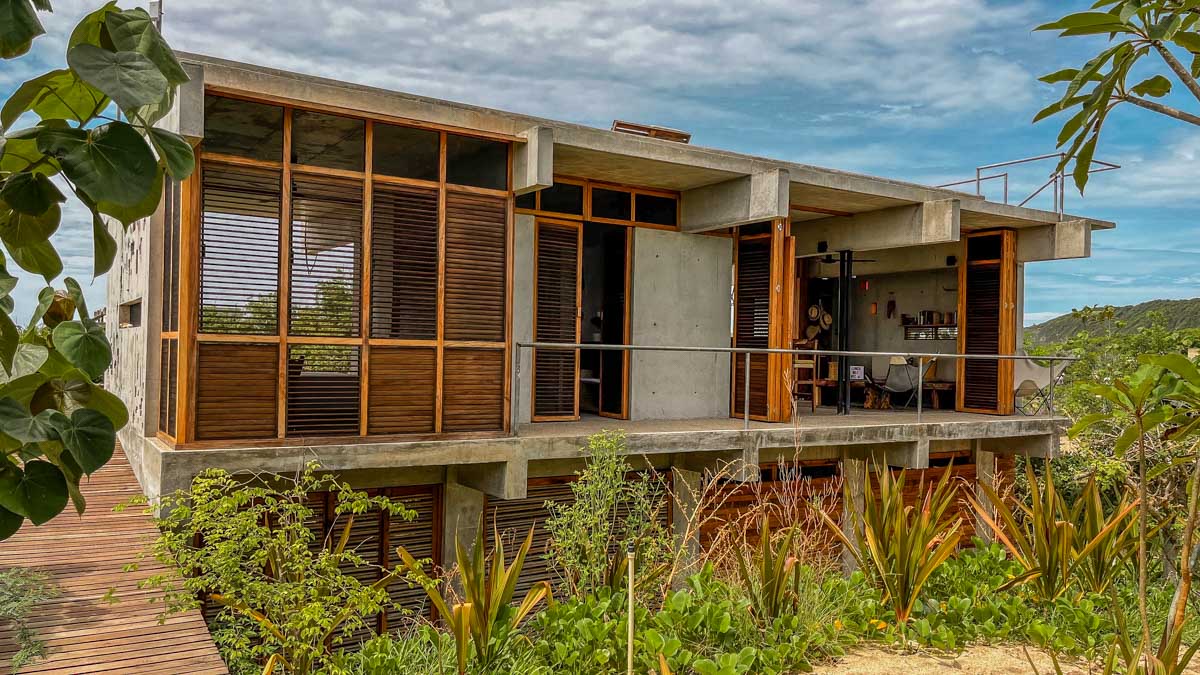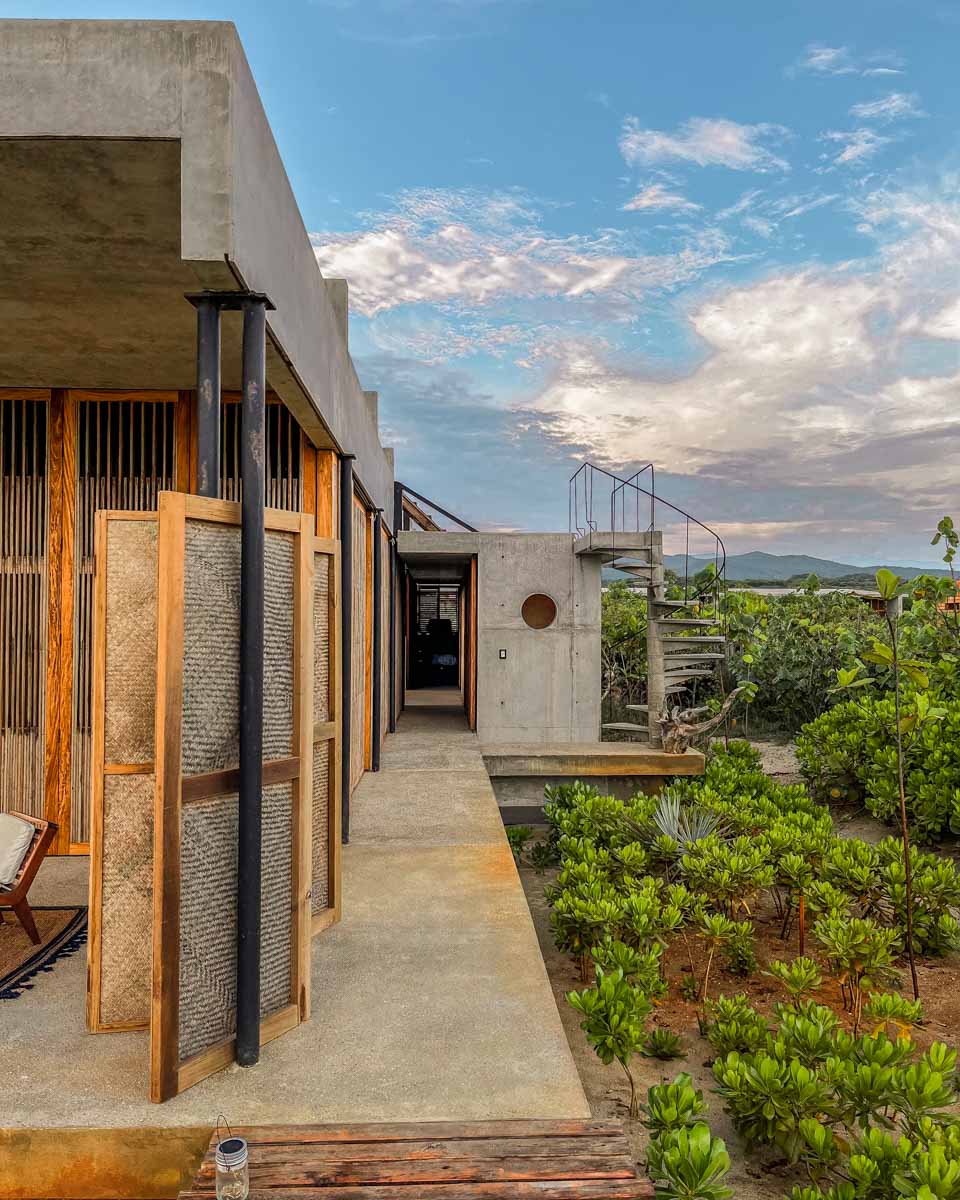 The homes for me are a perfect mix of smooth sleek surfaces, with local wood and warm natural accents. The spaces feel clean and uncluttered, yet warm and inviting.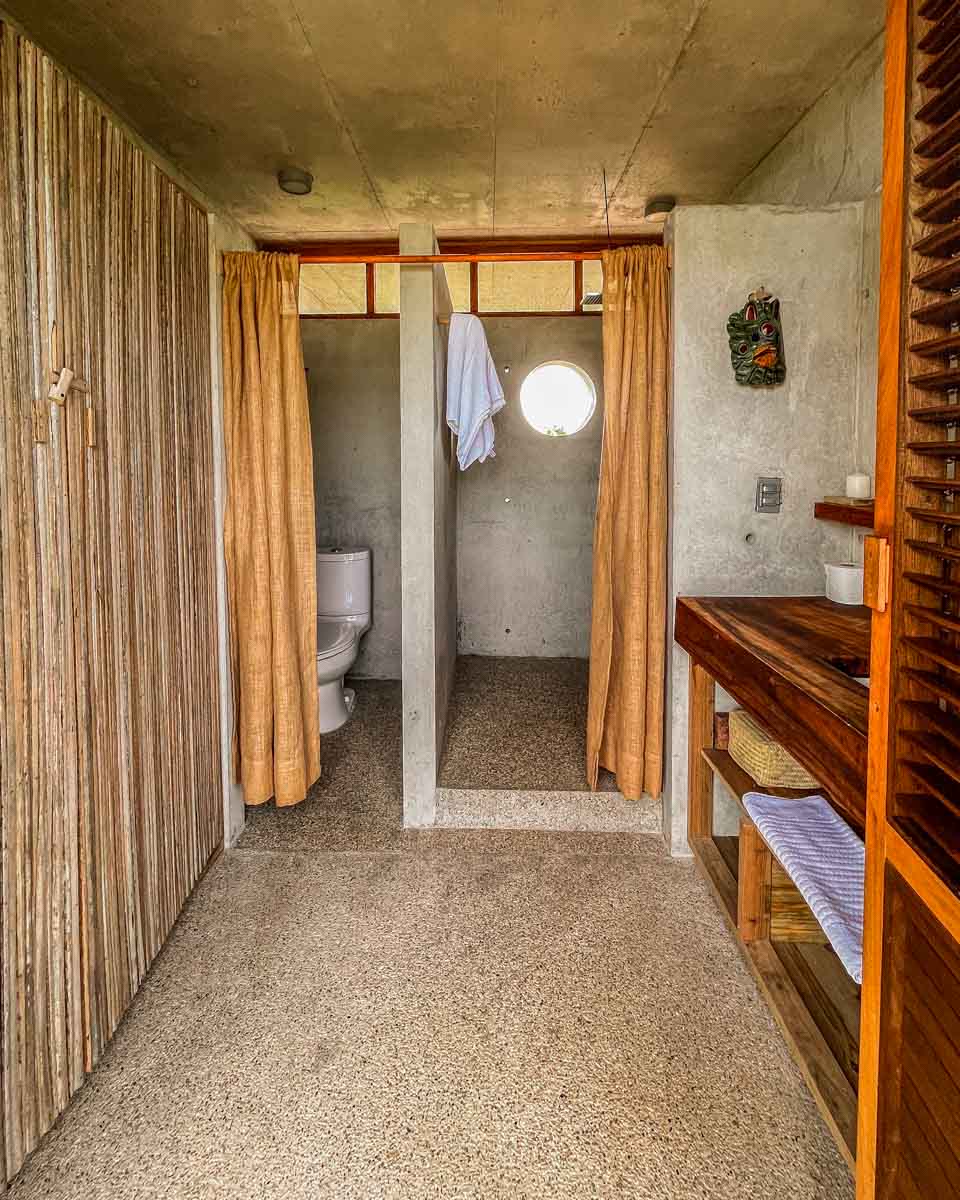 Full Home with Private Pool: Punta Pajaros Airbnb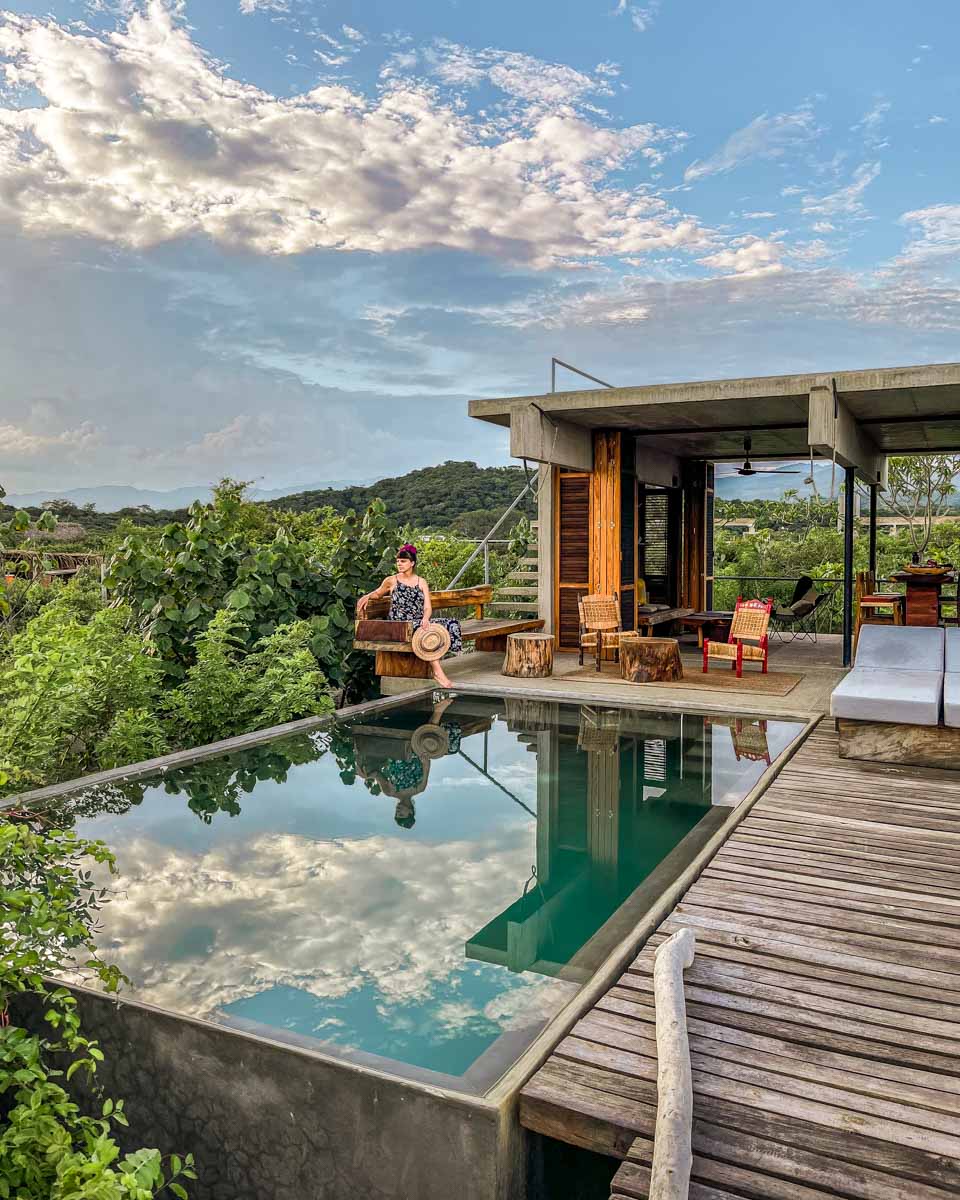 Each Punta Pajaros Airbnb is truly a complete home with a full kitchen, living areas inside and out, separate bedrooms, and their own private pool. We kept joking how we felt we lived there, and it would be very easy to never leave!
Because this area is very quiet with few amenities, it's best to bring most of your own groceries with you and cook and enjoy the kitchen. Breakfast is included (and delicious), but you'll want to plan for most lunches and dinners. The kitchen is roomy, comfortable and easy to use.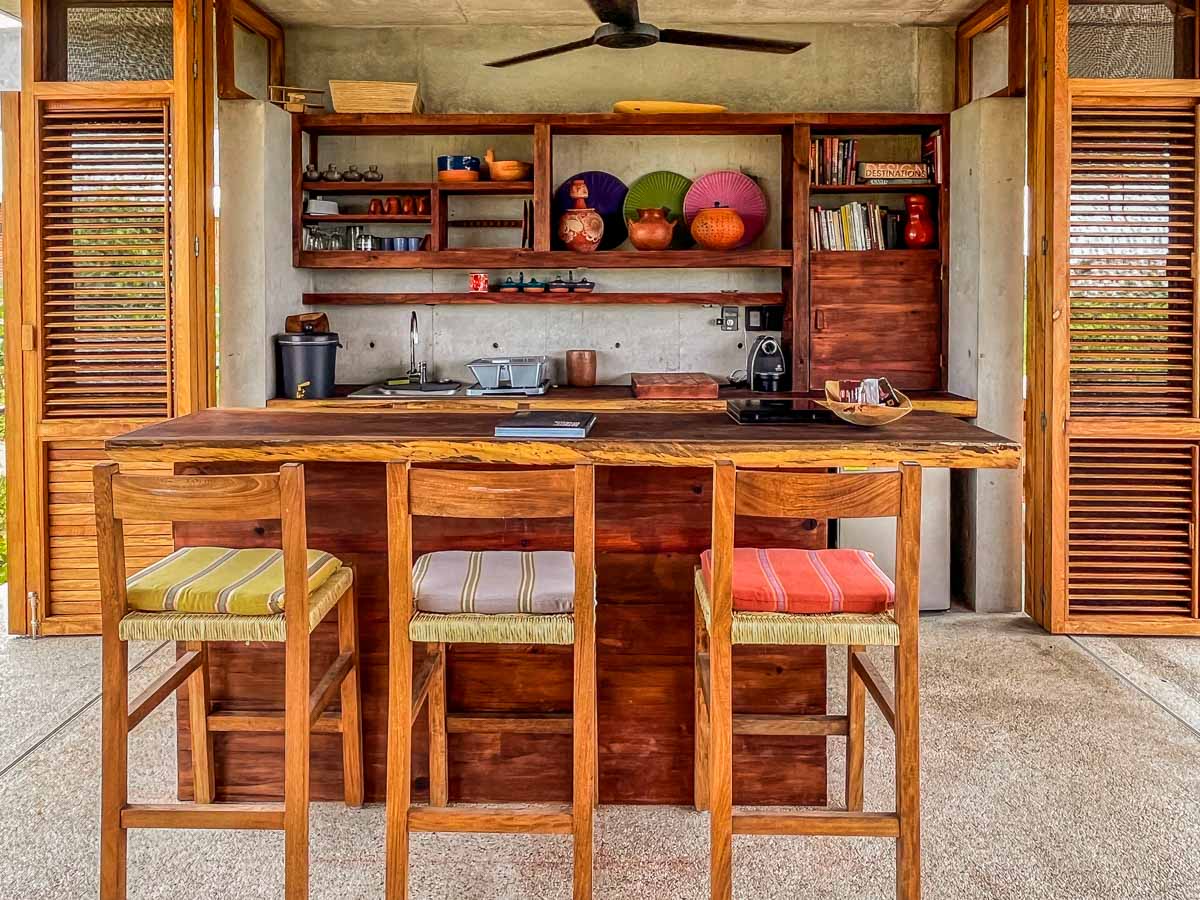 There are plenty of spaces to relax, from the roomy and extremely comfortable king bed, to the living room seating area, to the loungers or hammock by the pool, and the rooftop loungers that offer a view of the impressive inland mountains or the Punta Pajaros beach.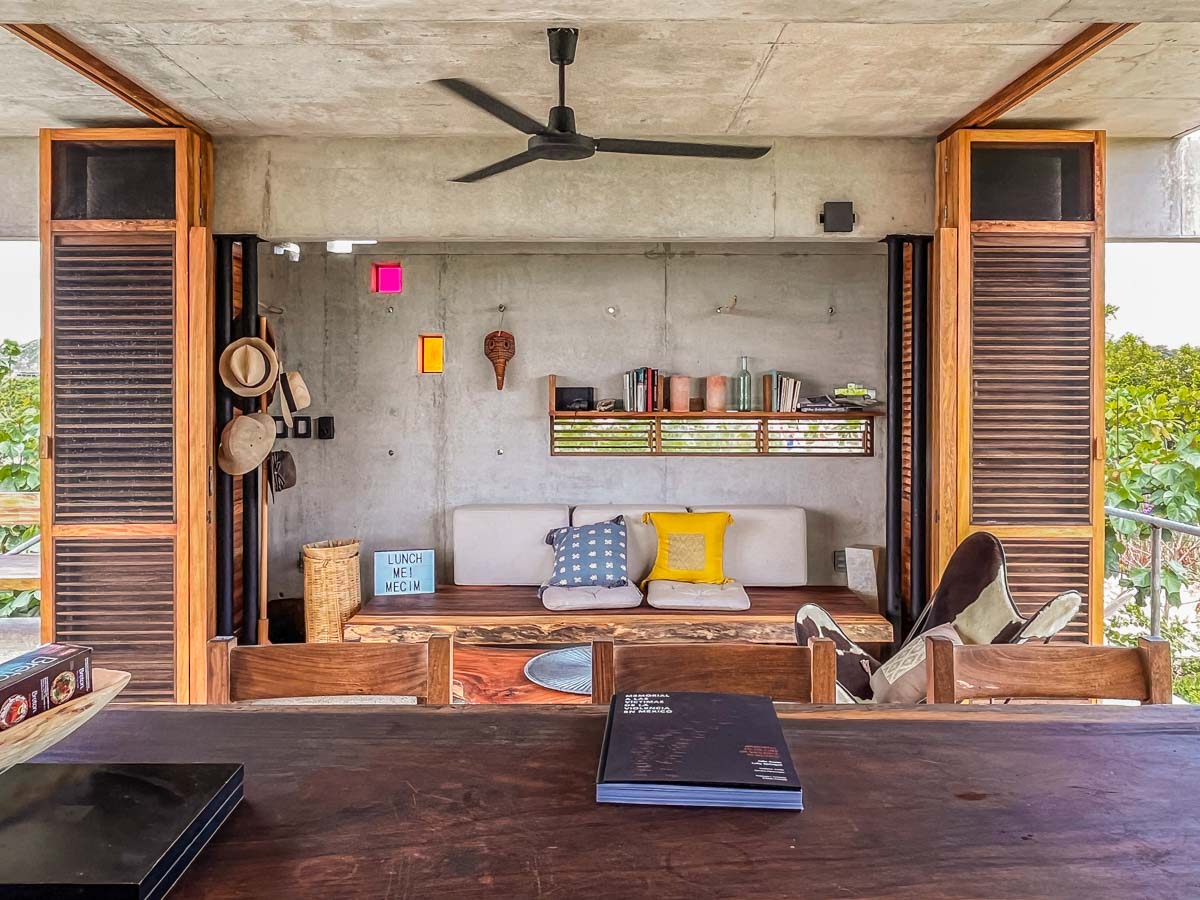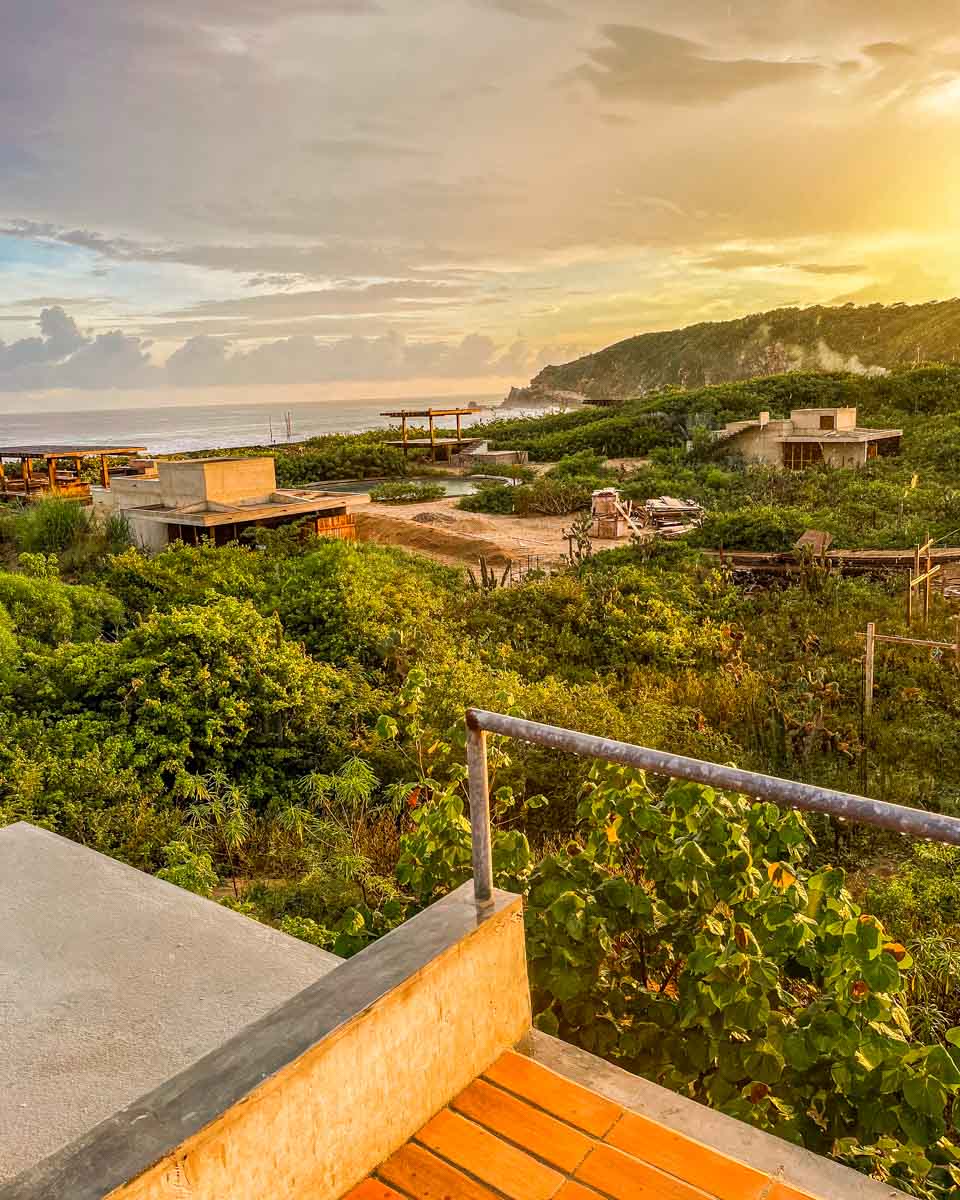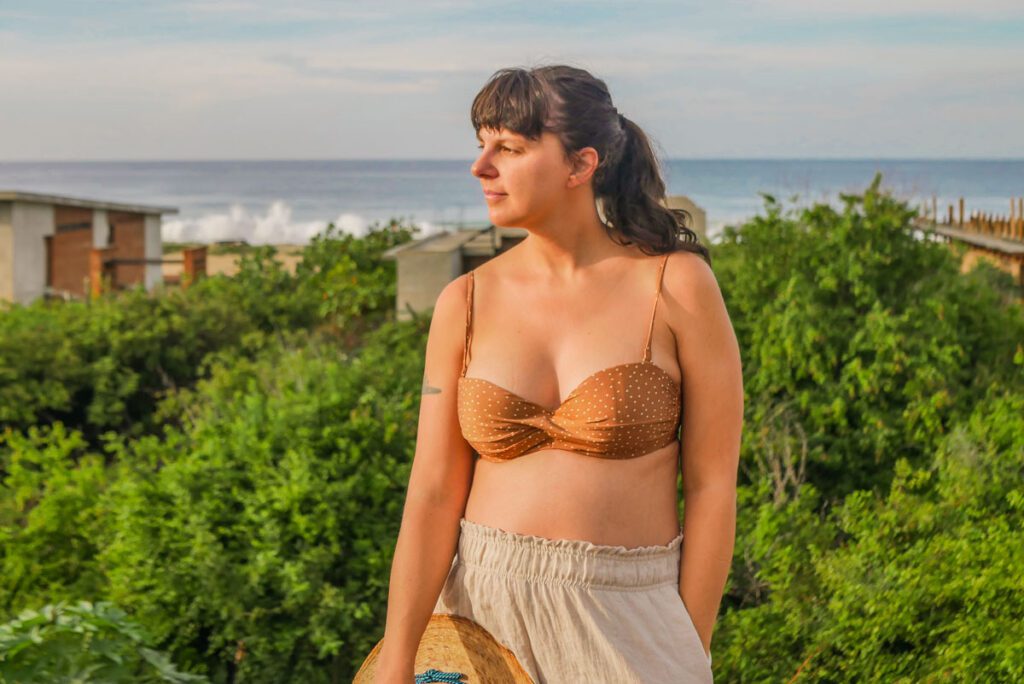 Having your own private pool is a delicious luxury. We enjoyed taking dips throughout the day, with the beautiful beach foliage on one side and the view of Casa Maria on the other.
Included Delicious Breakfast: Where to Stay in Puerto Escondido
Though this Punta Pajaros is independent and allows you lots of privacy, there is an included breakfast each morning, prepared by a chef, with plenty of fresh food and juice to enjoy from your private patio with a stunning view of the surrounding nature and/or ocean.
Each morning we were served a different main dish, with fresh fruit, a fresh juice and coffee.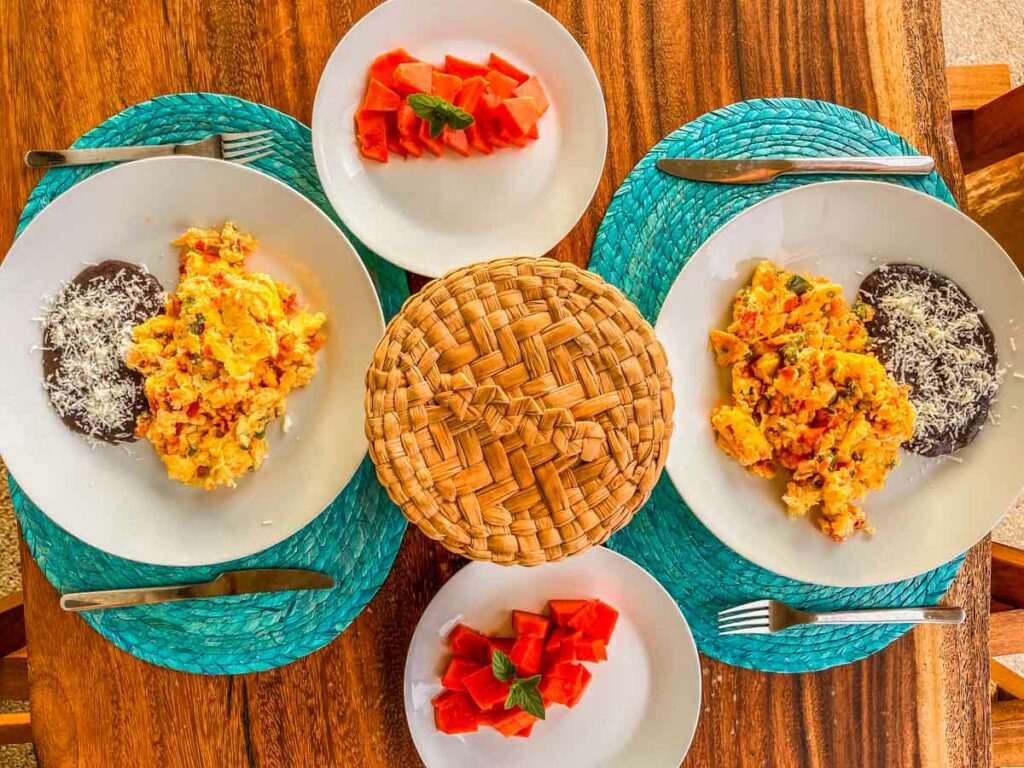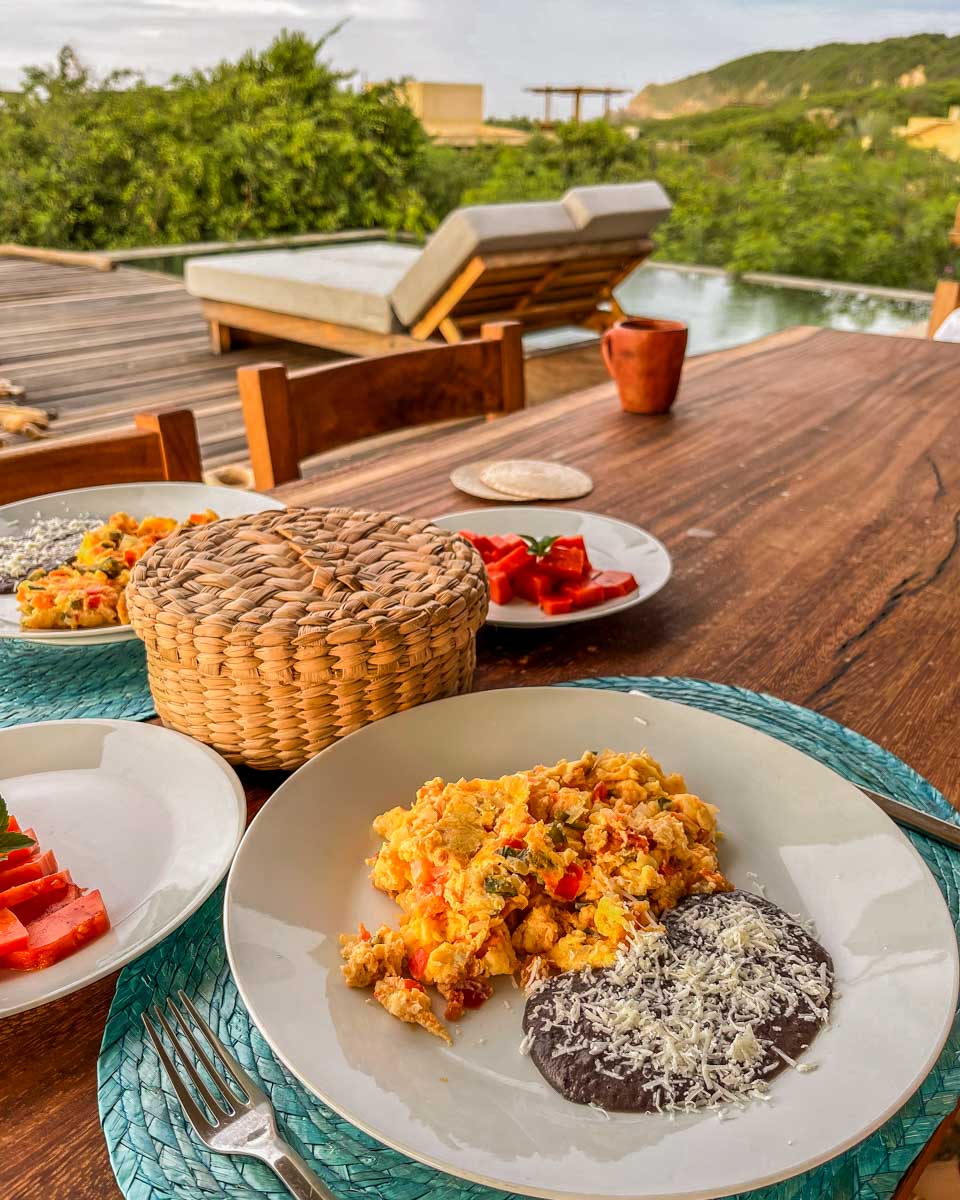 Interaction with Nature: Where to Stay in Puerto Escondido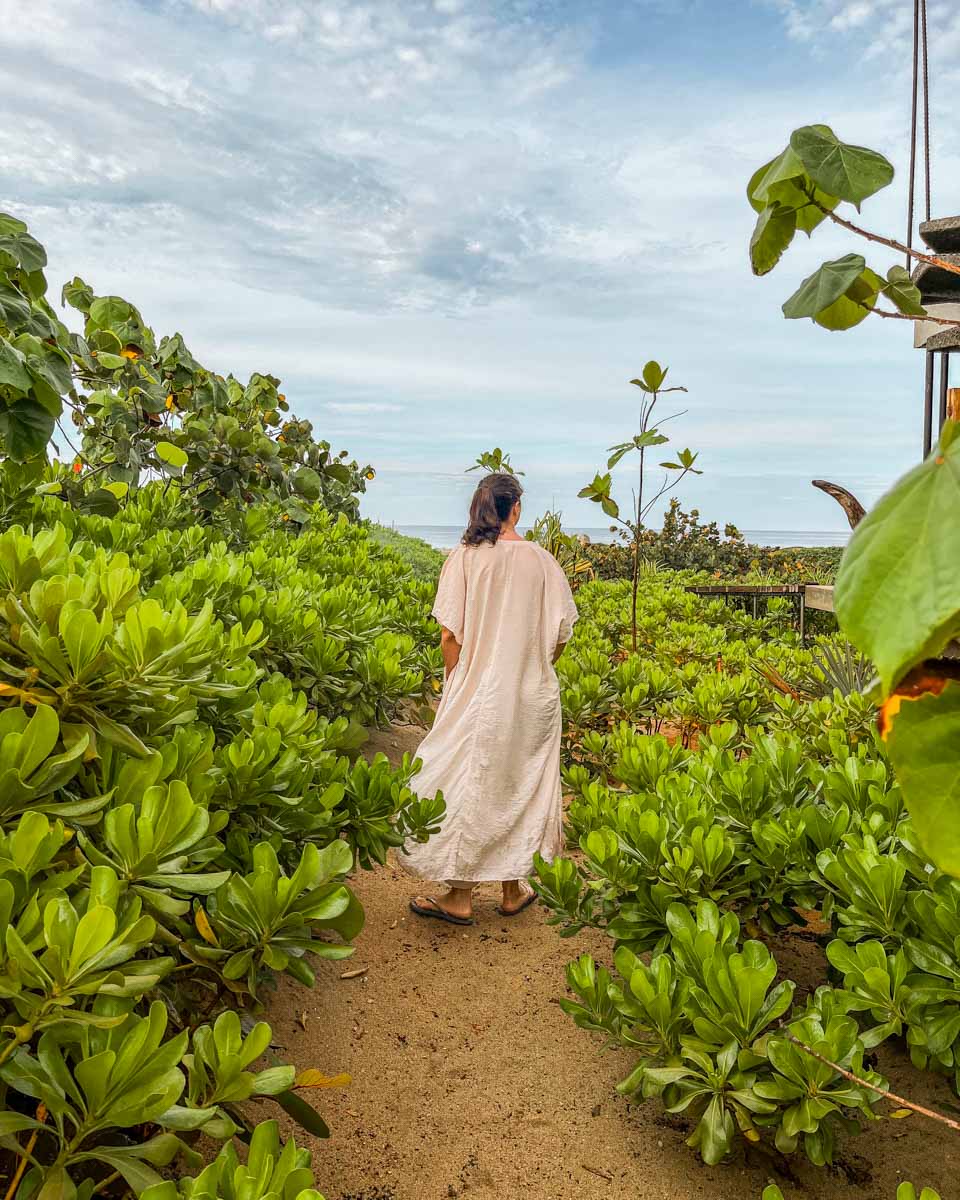 These casas are where to stay in Puerto Escondido if you appreciate and enjoy coastal nature, yet don't want to stay too far away from a town.
Because each Punta Pajaros Airbnb opens up completely, you can enjoy unobstructed views of the lush coastal foliage. The community of Punta Pajaros is very green, with low canopy plants, bushes, and cacti. This makes the area incredibly verdant, but doesn't obstruct views to the ocean or the surrounding mountains.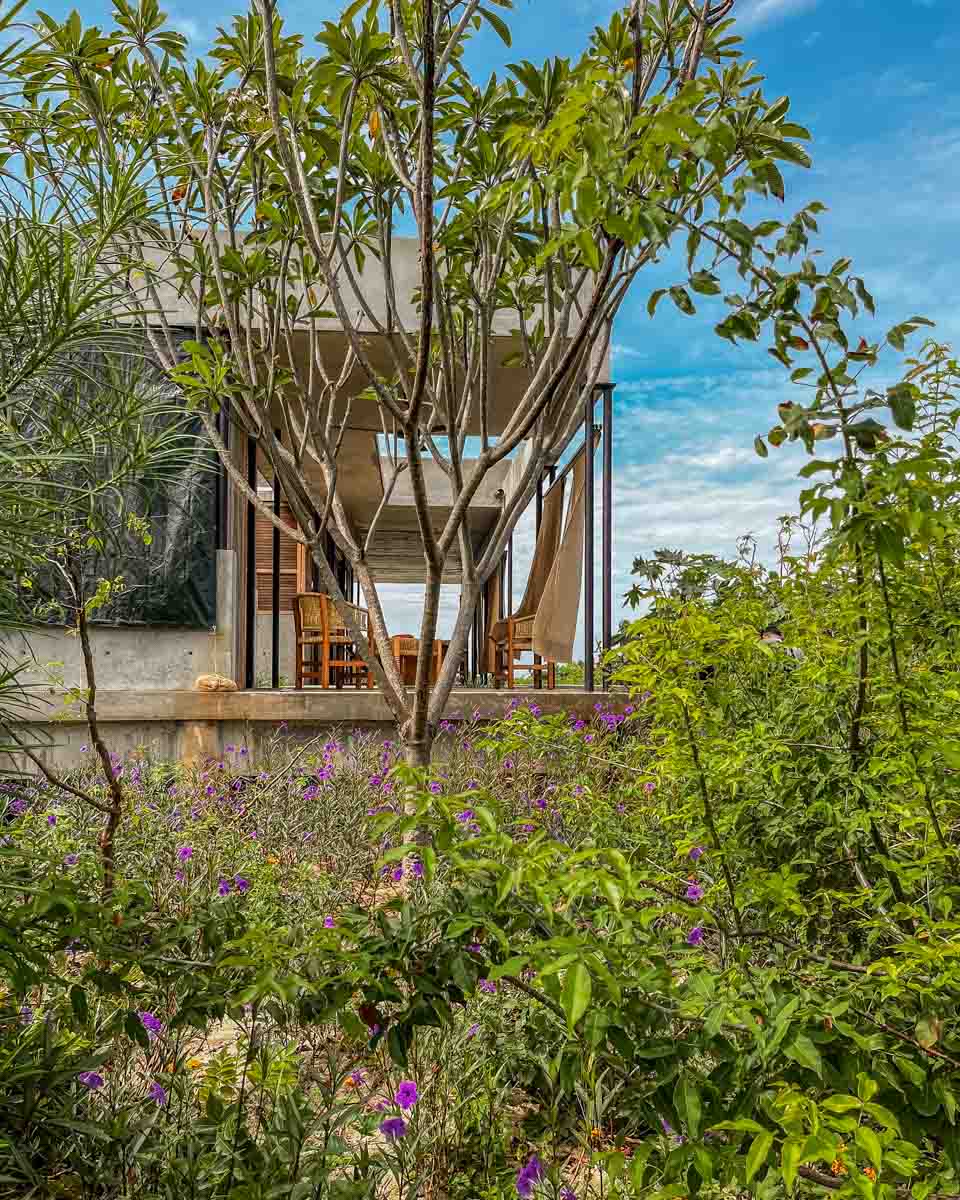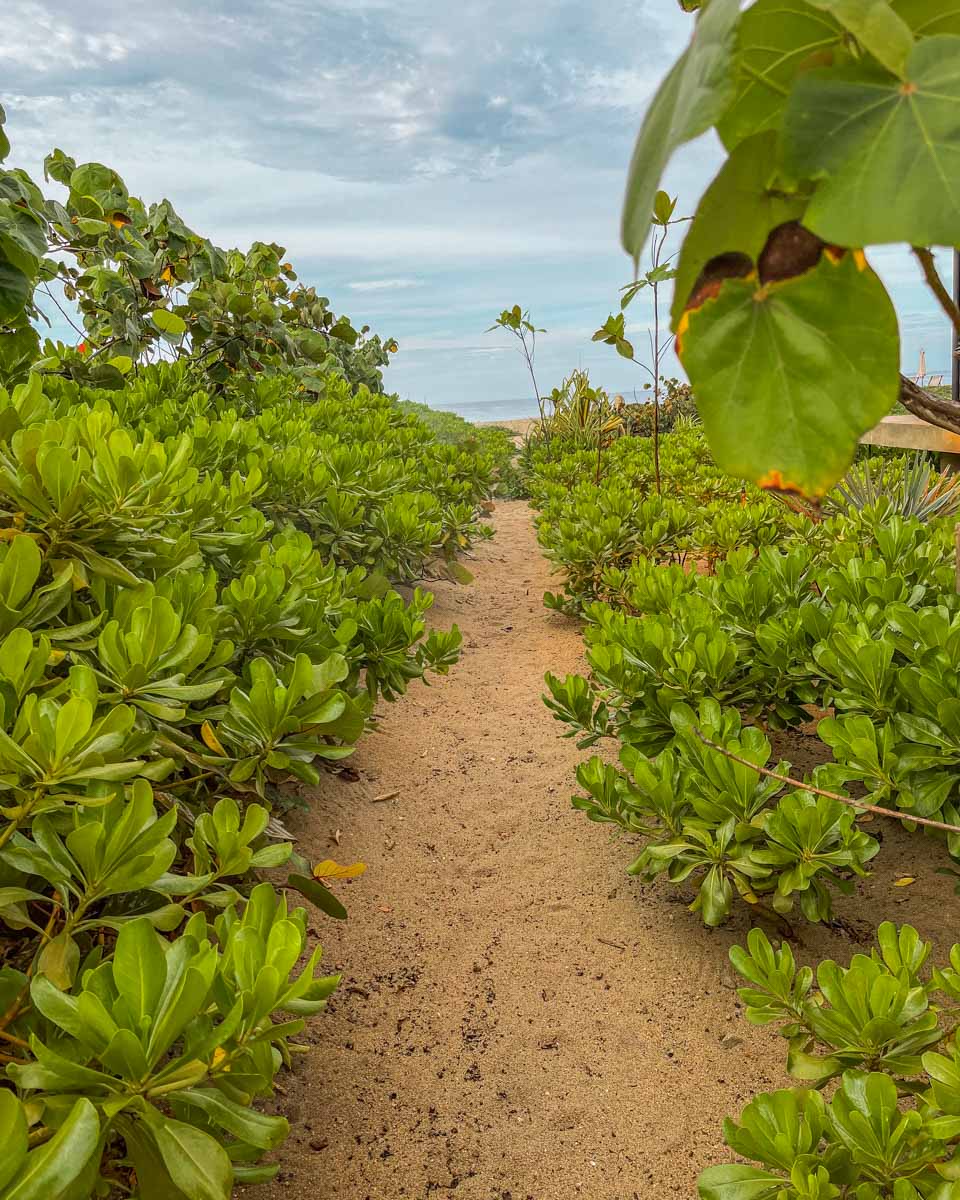 It's really quite special to see the surrounding nature no matter what you are doing during the day. Then at night, you can close up the house and/or your bedroom to rest comfortably.
The Beach: Punta Pajaros Airbnb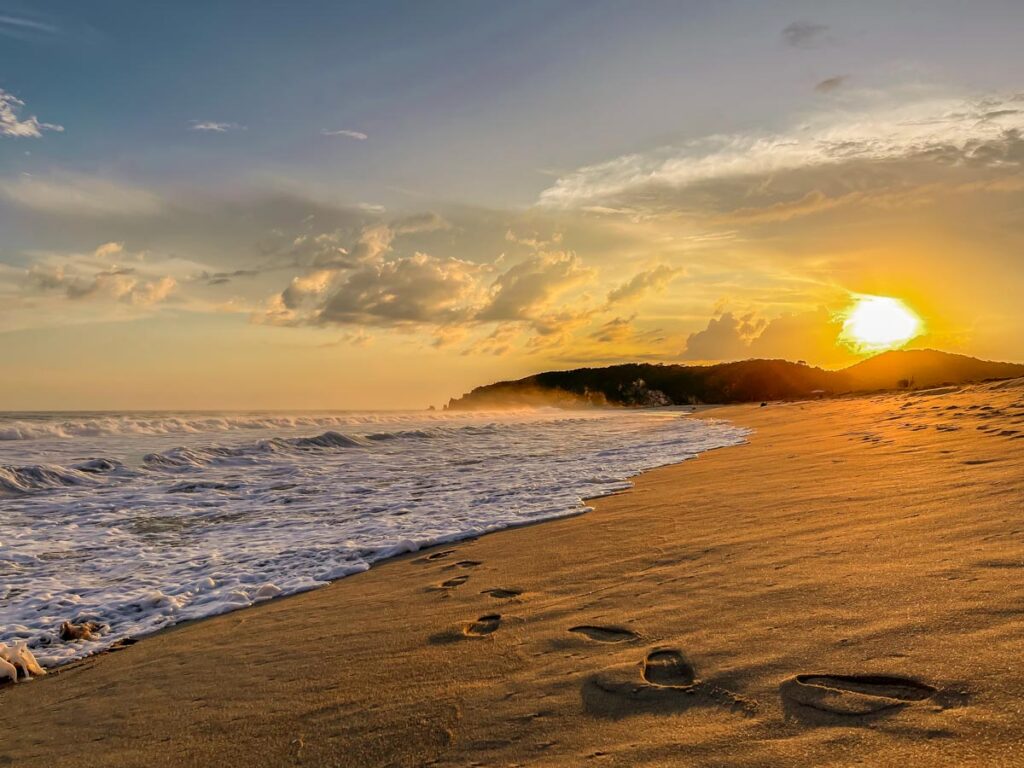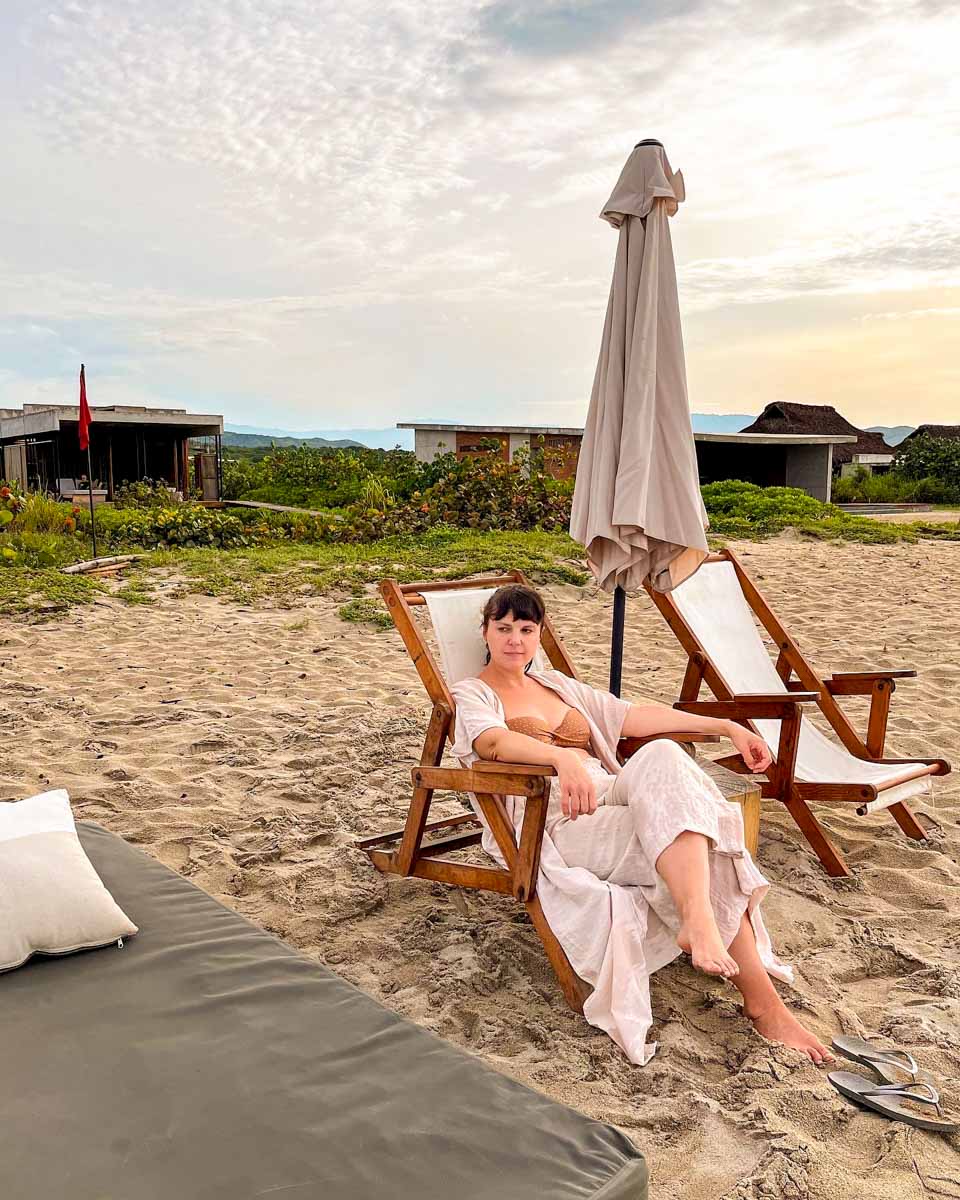 Punta Pajaros is a long stretch of open ocean beach. This means it's not swimmable, as the waves and currents are quite strong, but it's a beautiful beach with impressive waves and a long stretch of pretty sand to talk morning or evening walks.
Casas Maria Matilda happen to be on the end of the Punta Pajaros beach that's close to the cliff where the beach ends. This adds another beautiful view, to watch the waves crash against, or the evening fisherman pulling in their catch.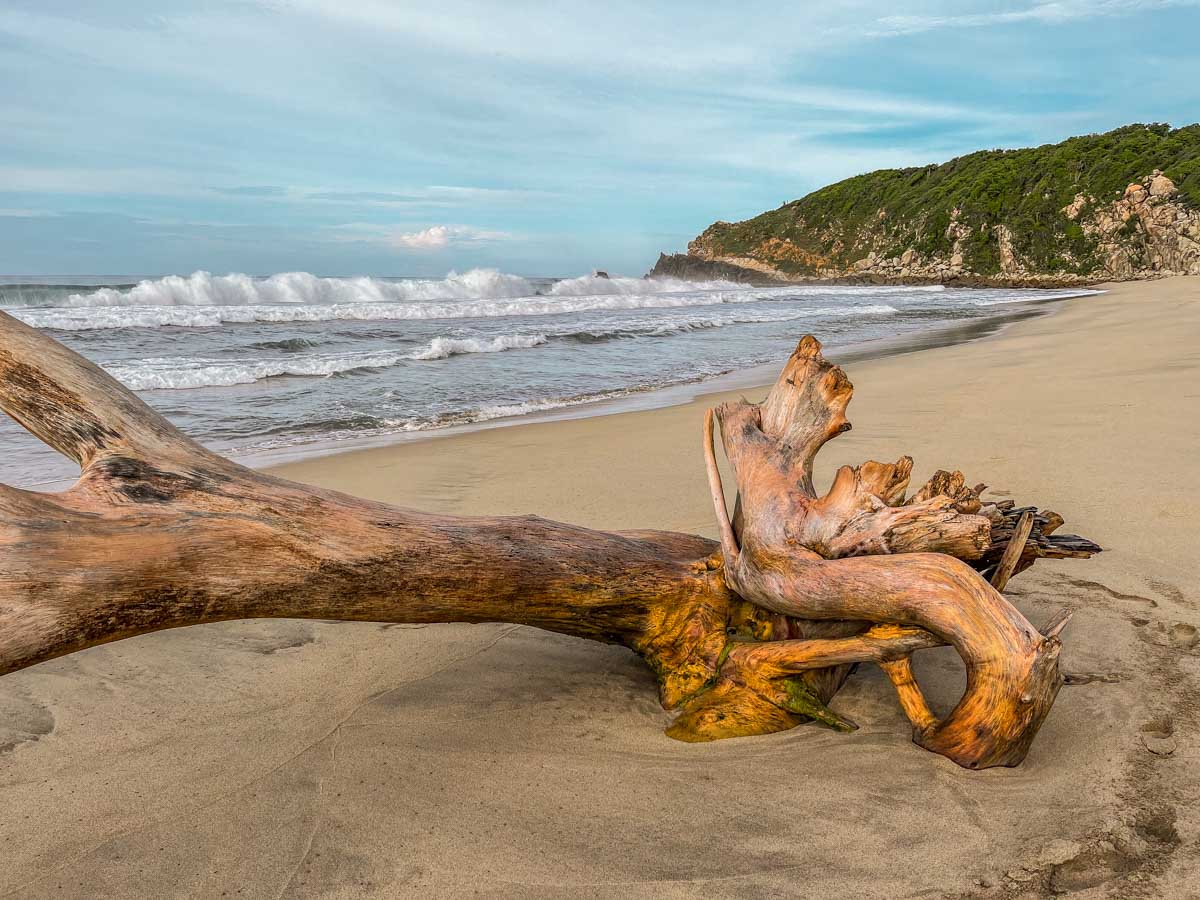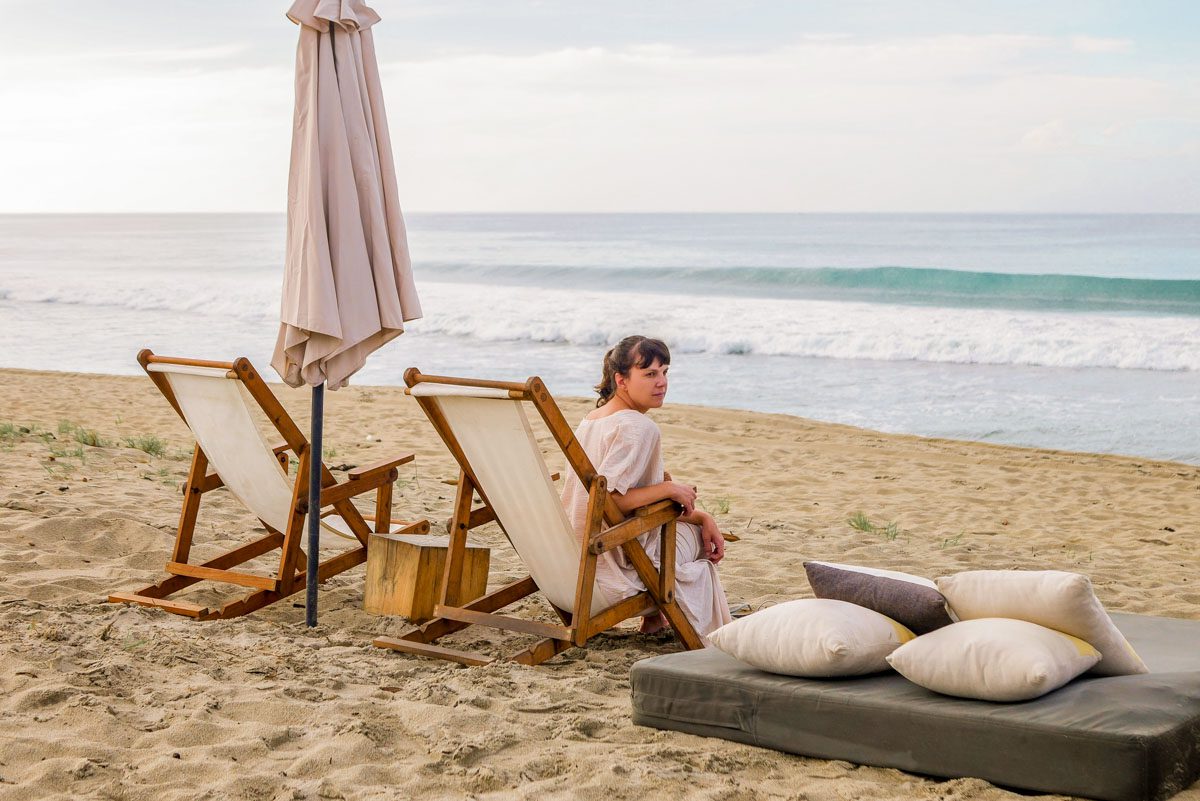 While you can't swim directly in the ocean, each home does have their own private pool for constant refreshment. Each Punta Pajaros Airbnb also is affiliated with Hotel Terrestre, so there are beach loungers in front of Casa Matilda to enjoy, as well as access to drink service from the hotel.
Quiet Remote Area, But Next to Some Amenities: Where to Stay in Puerto Escondido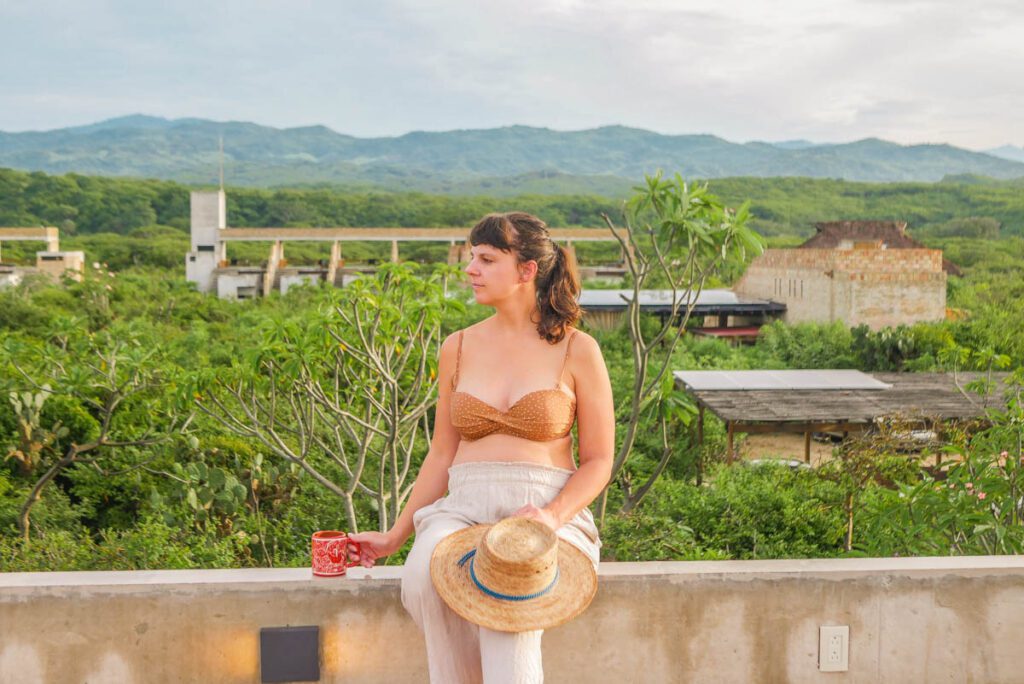 As I mentioned, Punta Pajaros is receiving a lot of buzz and starting to grow quickly in the last few years. However, there are still only a handful of rental homes and hotels on this long stretch of beach. It's truly a way to disconnect, relax, and feel at peace.
One other thing to note, even though there is construction that happens in the area, the community has negotiated a noise restriction, so you won't be bothered by unexpected loud noises during your vacation.
When I first stayed in Punta Pajaros in 2019, there were really no amenities. Our only option to "go out" was a happy hour reservation we made at Hotel Escondido one evening.
Now there are a couple of options. For restaurants, you have Cobarde, a mezcaleria and restaurant. They have an amazing (likely the best on the coast) mezcal selection and a truly talented chef who makes a set meal each evening. There is a restaurant at Punta Pajaros, villas with the same name as the beach, as well as a restaurant at Terrestre Hotel and Hotel Escondido. Finally there is Kakurega Omakese restaurant that has received rave reviews. There is one miscelanea, or small store selling non-perishable goods. In this community, reservations are required at all restaurants, so they are able to prepare.
I'd also recommend booking a guided tour at Casa Wabi during your stay. The architecture is stunning, and the center runs artist residencies as well as community projects.
Artistic Community: Punta Pajaros Airbnb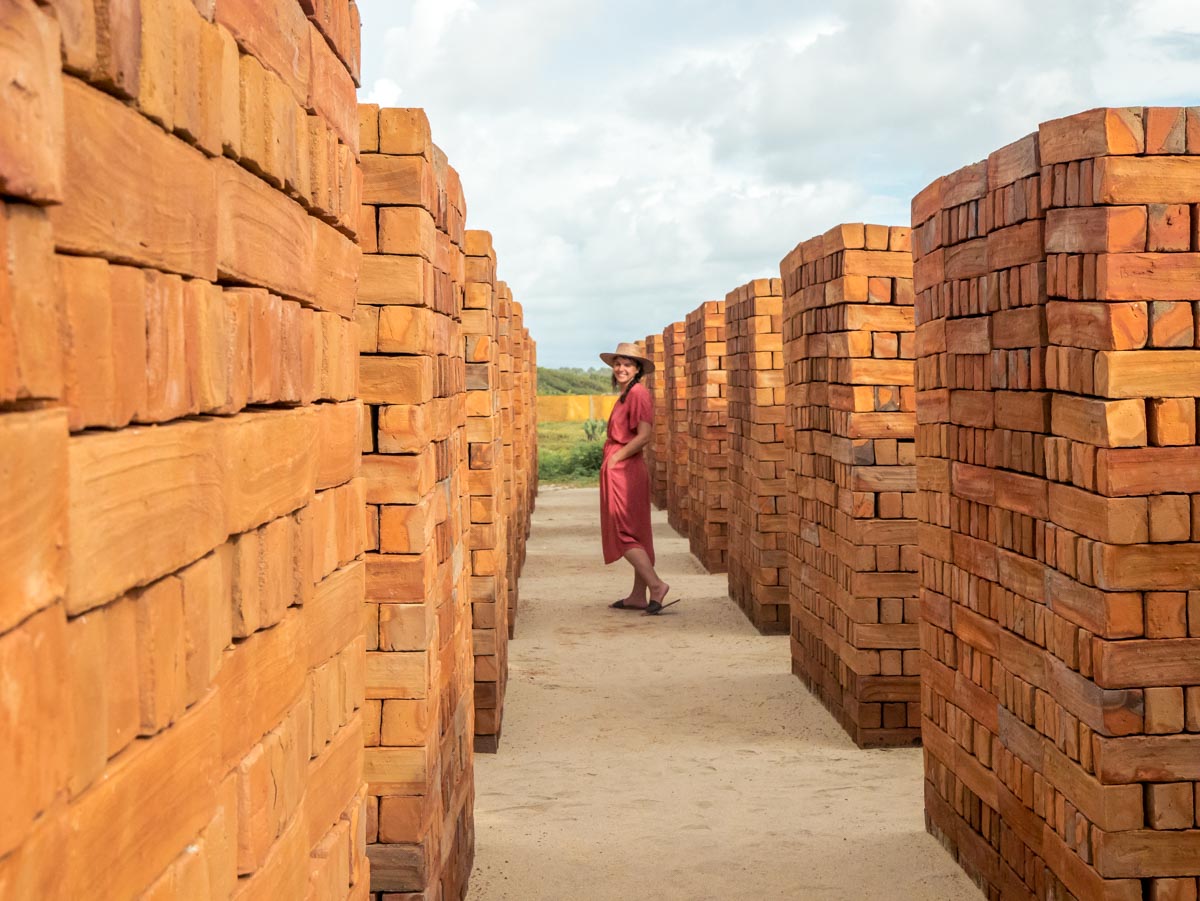 Besides being a quiet and beautiful area, Punta Pajaros has an artistic energy. As Casa Wabi began to attract other creatives, the artistic vibe flourished. From the architecture, to the guests, to the new restaurants opening, the creativity is flowing here. If you are an artist or work in a creative field, this is where to stay in Puerto Escondido to gain some inspiration.
Final Thoughts: Where to Stay in Puerto Escondido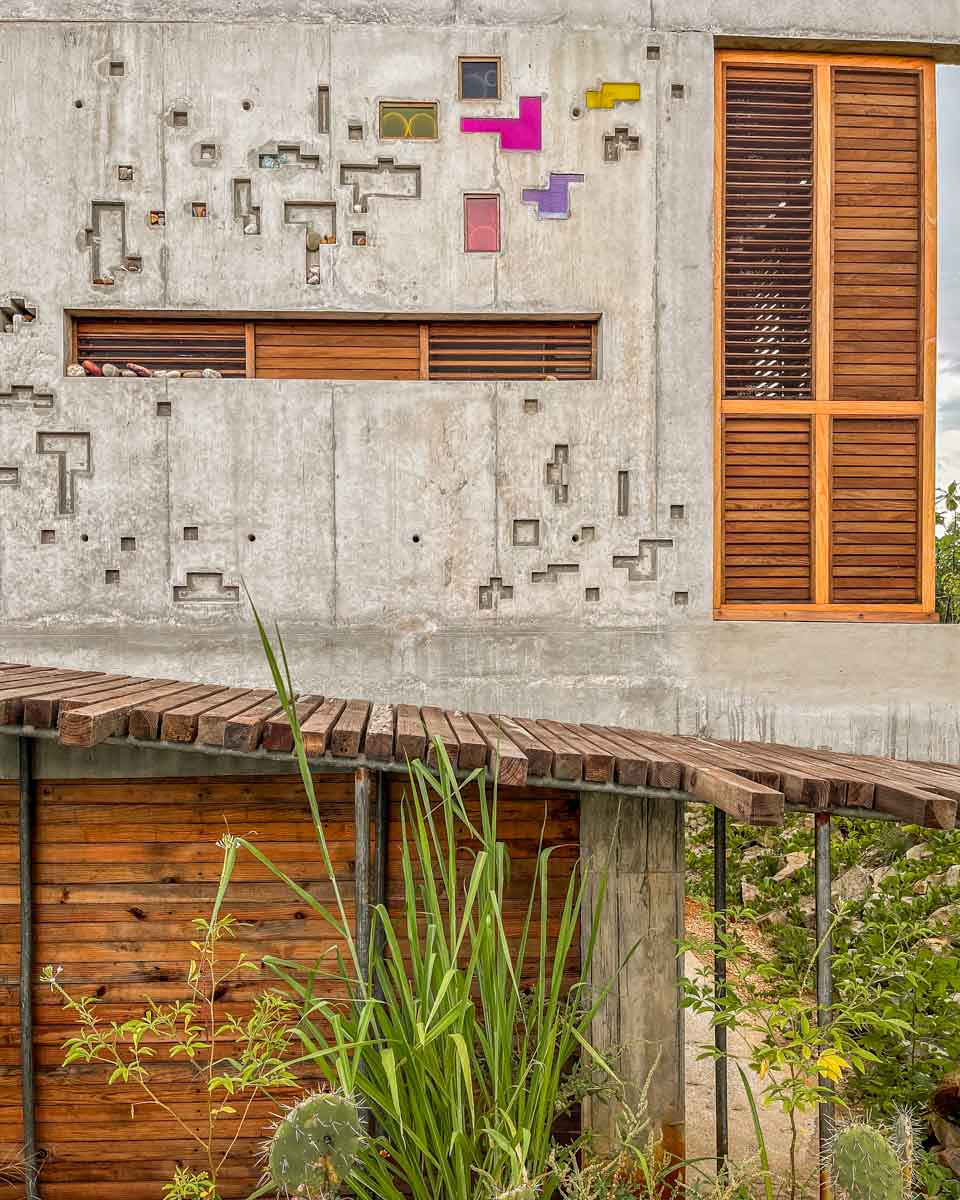 It's probably very clear I absolutely loved my stay at Casas Maria Matilda and would return in a heartbeat. These homes have a lot of soul and creativity, and are extremely comfortable and relaxing. We stayed in this Punta Pajaros airbnb at the tail end of our week long trip to Puerto Escondido and it was the perfect way to enjoy a few days of true vacation.
Hotel and Reservations: Casas Maria Matilda: Casa Maria, Casa Matilda
Social Media: Instagram, Facebook
Best For: A romantic getaway, small groups of friends or family, luxury travelers, design or creative minded people looking for an inspirational stay.
Price: Casa Maria starting at 6257MXN/$313USD, sleeps 6 – 2 bedrooms, 2 bathrooms. Casa Matilda starting at 6629MXN/331USD, sleeps 4 – 2 bedrooms, 2 bathrooms. Check links above for current rates.
Includes: A private pool for each home, included full breakfast, full kitchen, wifi, parking.
Location: Punta Pajaros, Puerto Escondido, Oaxaca
See all my Oaxaca coast blogs here.
See all my Oaxaca city posts here.
And all my Oaxaca food & mezcal posts here.
Pin it for Later! Punta Pajaros Airbnb