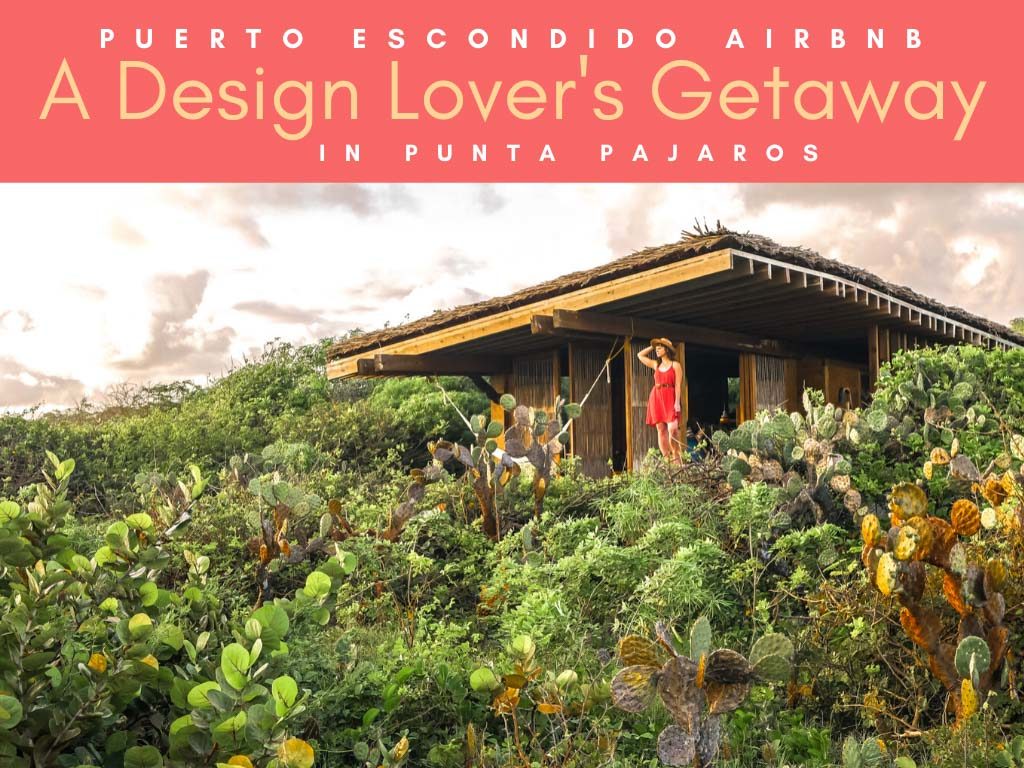 The reason I started this blog years ago, is because I worked in a creative industry (fashion) but was burned out & craved inspiration (alongside my insatiable urge to travel). Learning from local artisans, seeing amazing architecture, and visiting museums would fill me with ideas and a renewed desire to create. That's why I think staying in beautifully designed accommodation is not just a lovely experience, but can be inspiring and restorative. The gorgeous architect-designed Casitas by the Sea is a Puerto Escondido Airbnb that is perfect for designers and creative minds in off-the-beaten path Punta Pajaros.
Disclosure: This post was written in partnership with Casitas by the Sea. As always, every thought, opinion, and experience is my own.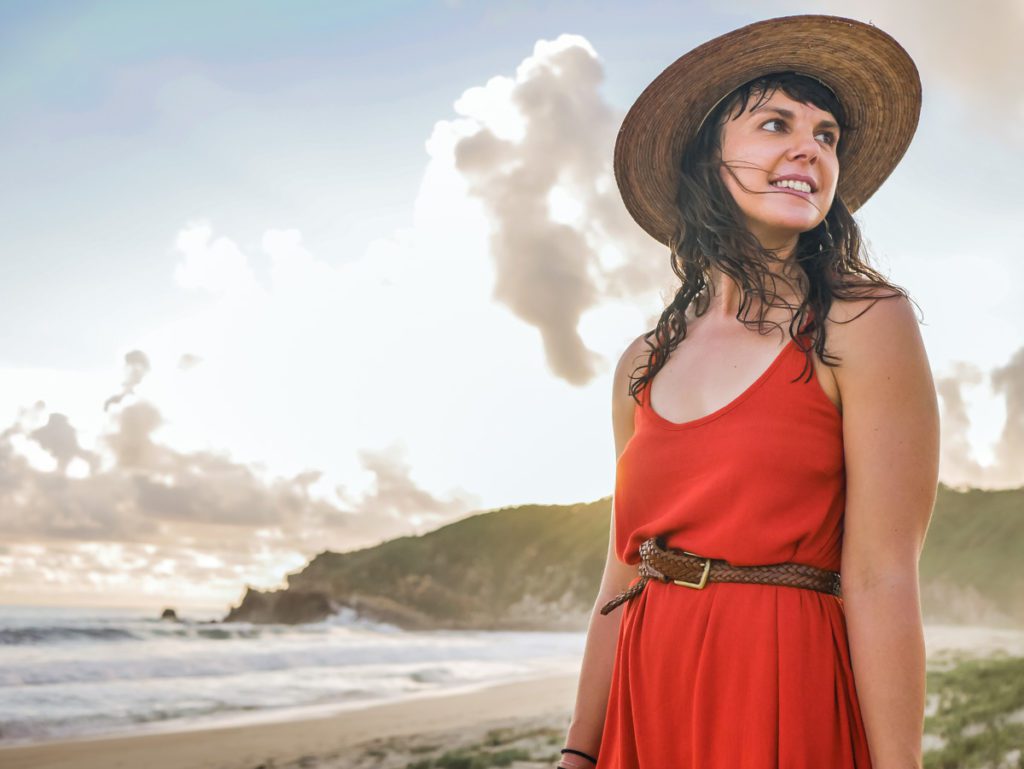 A Design Lover's Dream: Puerto Escondido Airbnb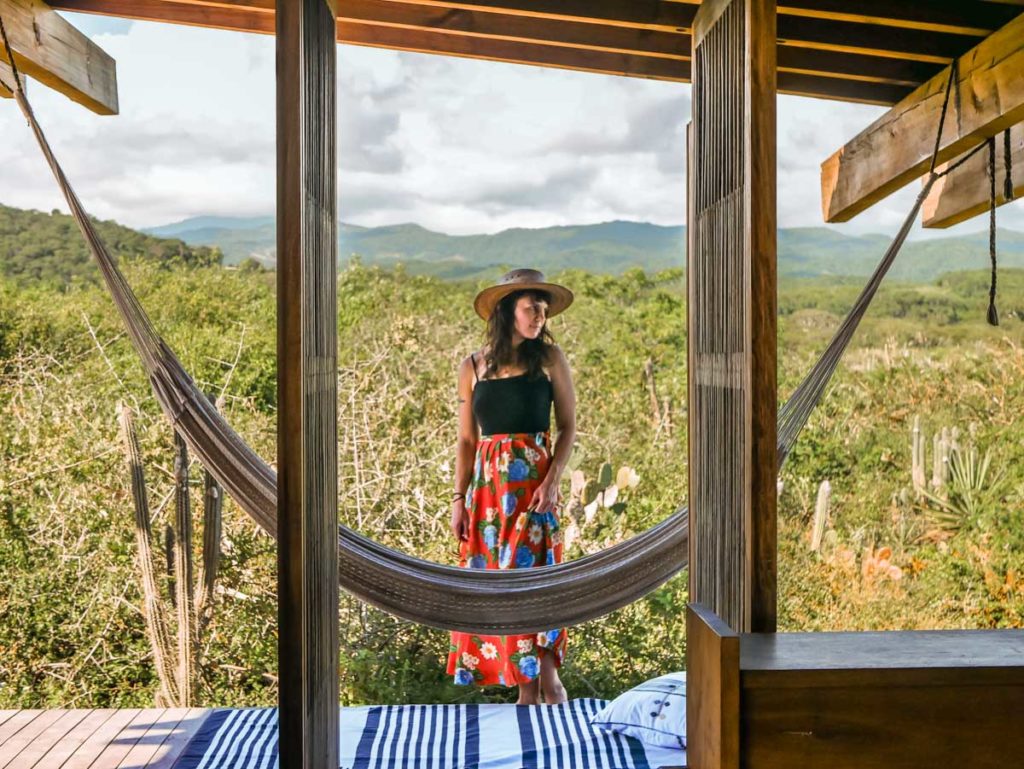 My favorite thing about Casitas by the Sea is how incredibly gorgeous and thoughtfully designed each Puerto Escondido Airbnb is. From the striking slope of the roof, to the natural materials used, to the optional open air design, to every detail inside – I kept finding new things to appreciate every day of my stay.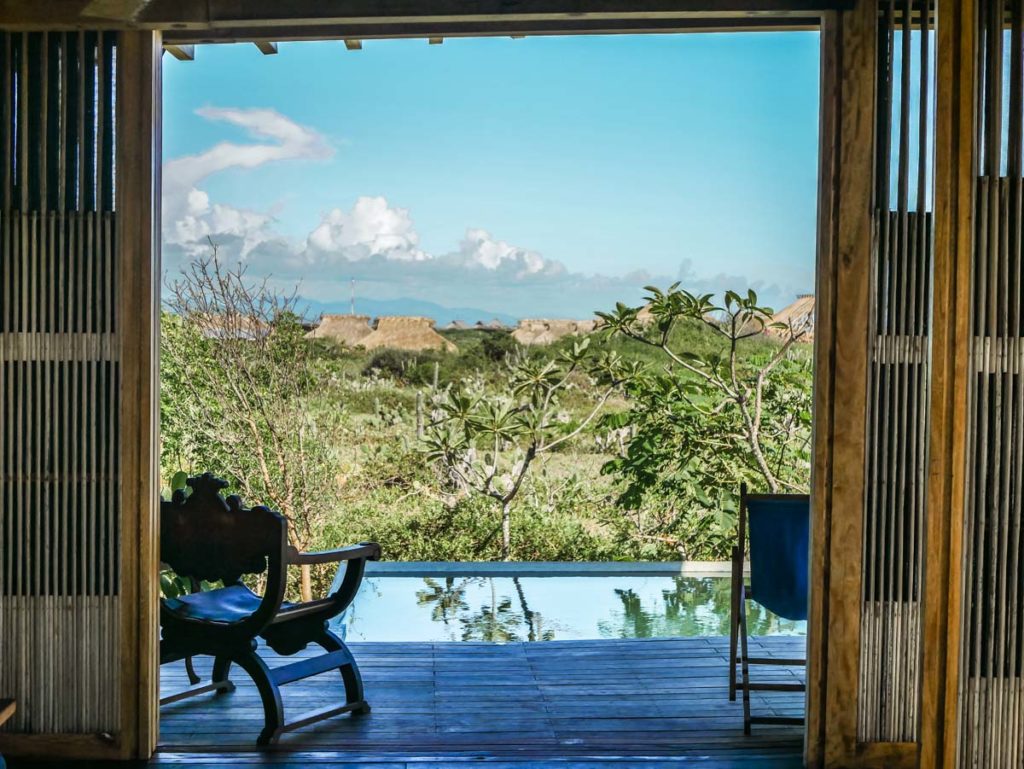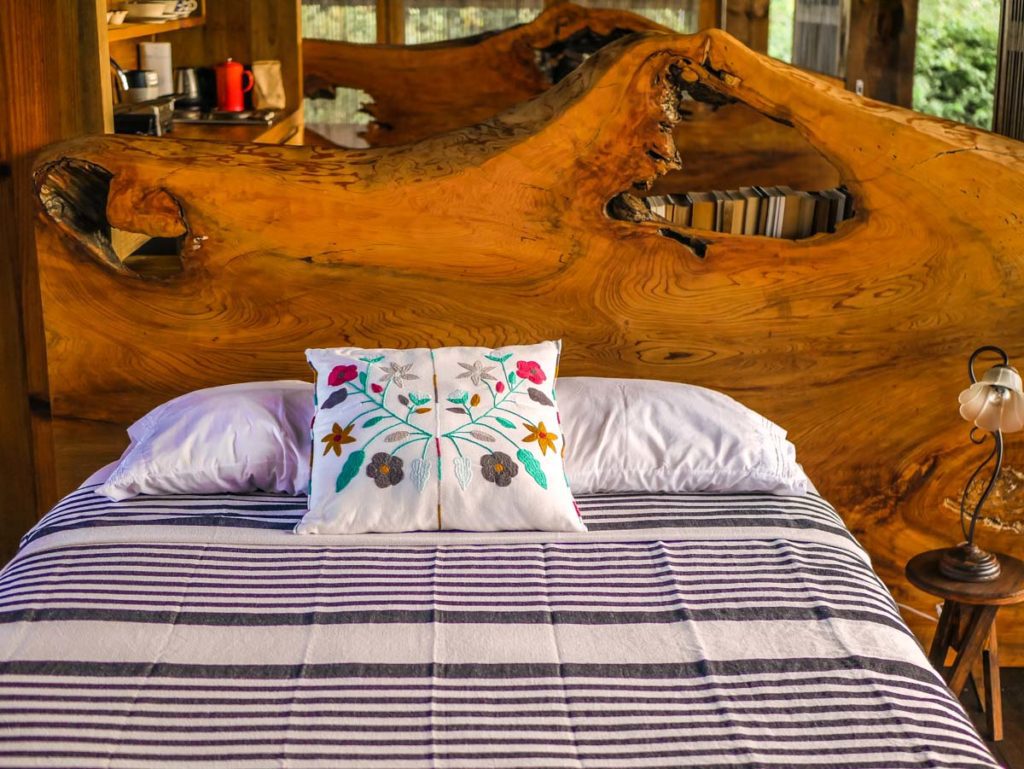 The casitas were designed by Mexican architect, Alberto Kalach, with a goal to seamlessly integrate with the natural surroundings. The casitas are mounted about a meter above the sand, so they don't disturb the Punta Pajaros environment. This also allows the rooms to better catch the ocean breeze through the sliding palm wooden doors that open on all sides of the casita. If you like, you can have the casita almost totally open to the fresh air, or close up the palm doors, and still receive air circulation through the screens. We liked to have the casita totally open during the day, and then secured at night to keep out any bugs.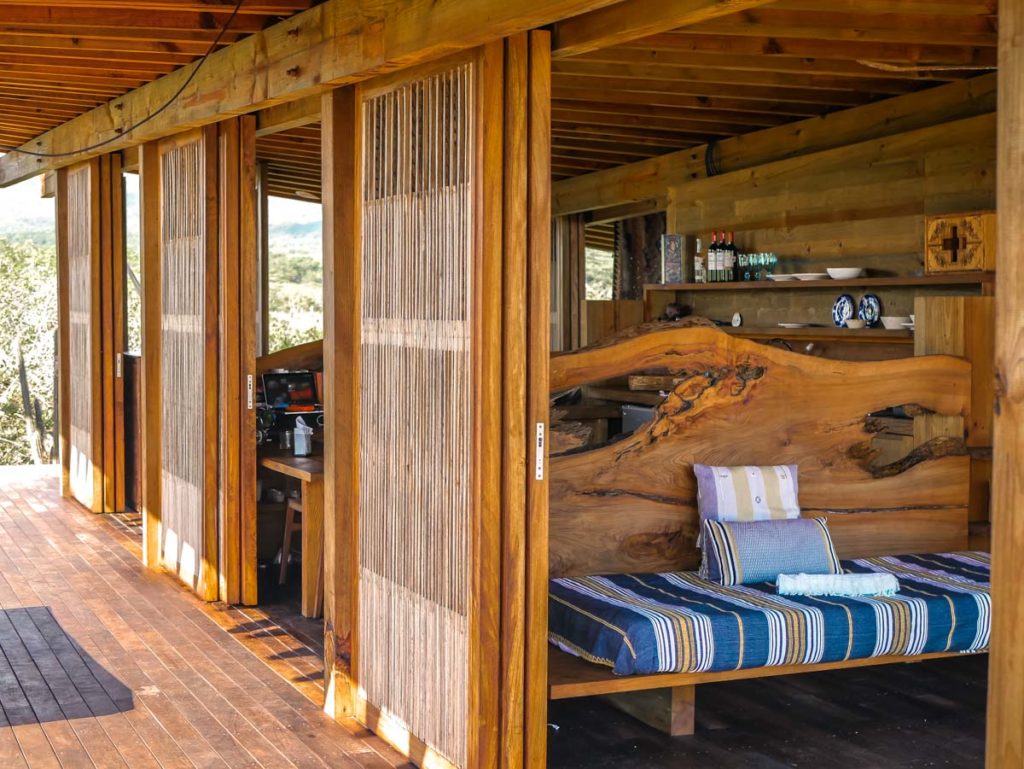 Each casita has a dipping pool (more on that below), a semi-outdoor alfresco shower, a hammock, and lots of other details that make them both beautiful and comfortable.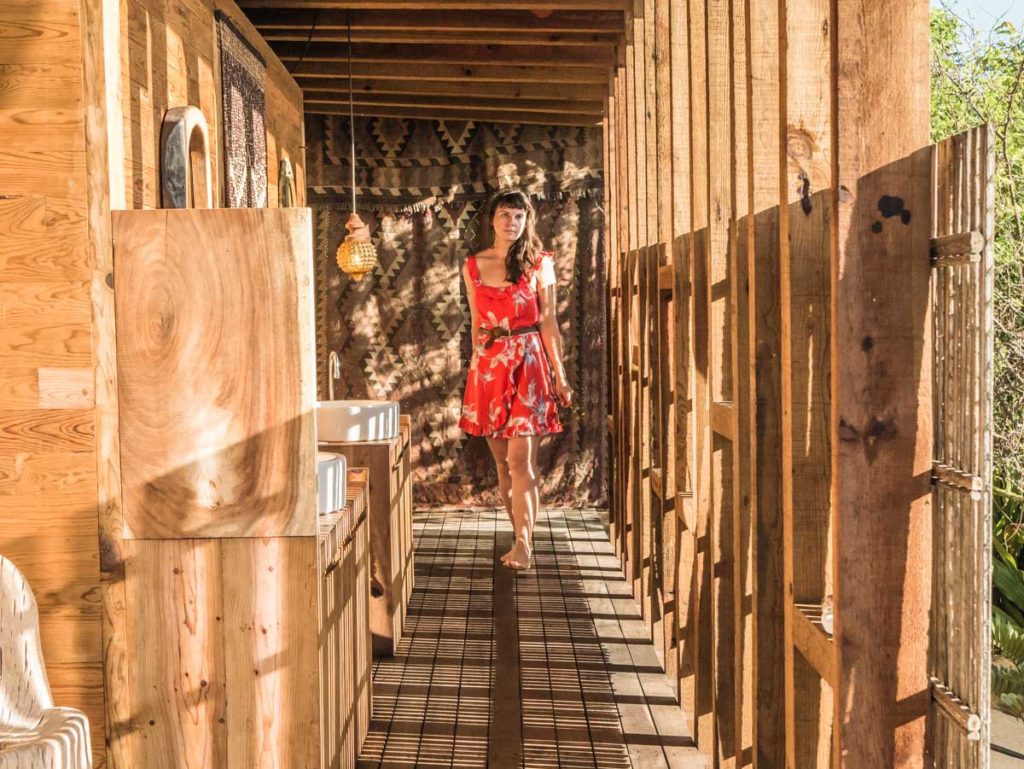 Private Pool: Punta Pajaros Getaway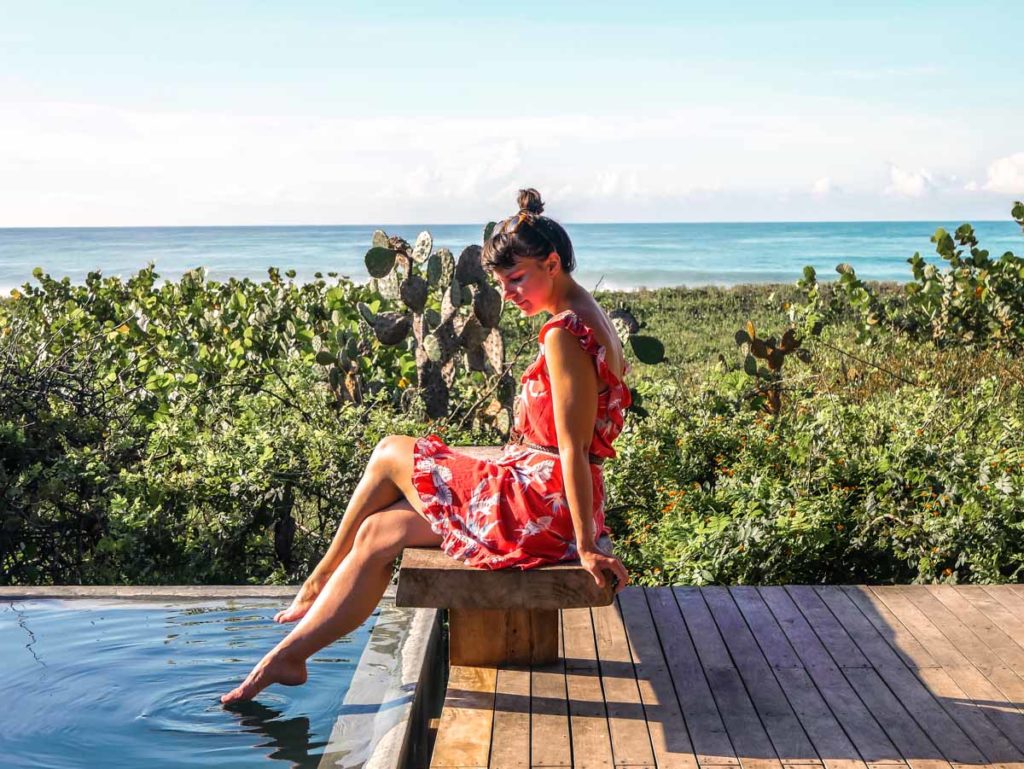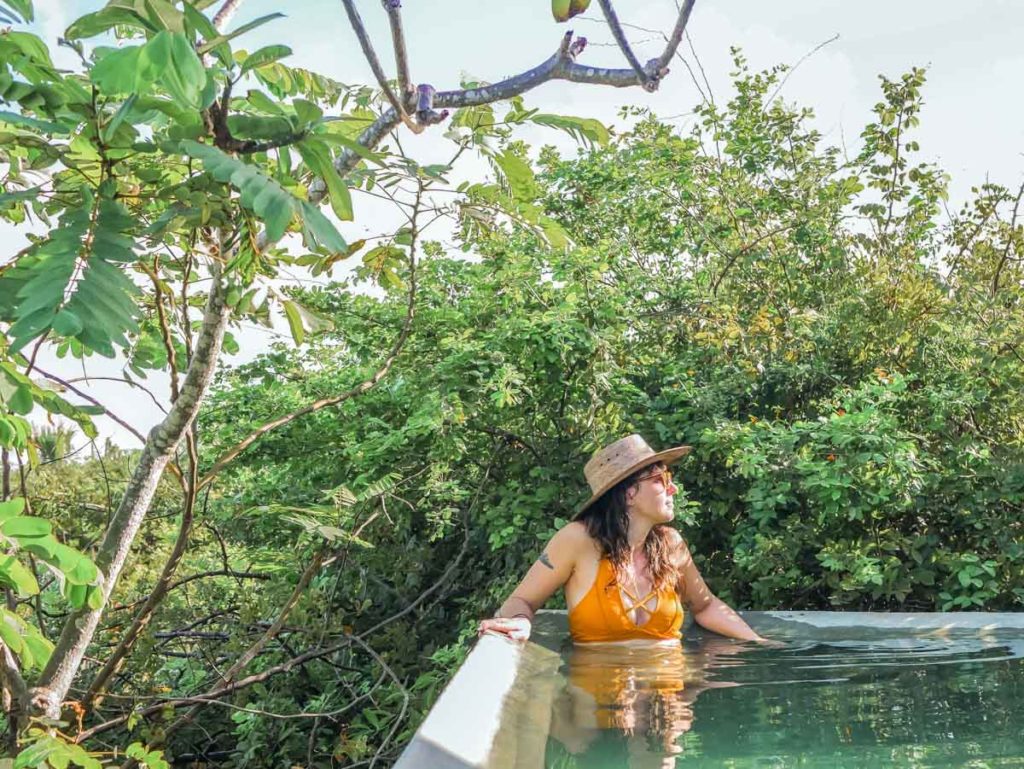 One of my favorite features about this Puerto Escondido Airbnb was the beautiful and refreshing dipping pool. We spent a huge part of our stay enjoying it. It was great for a morning after-yoga dip, several mid-day breaks, a cool-off after a walk on the Punta Pajaros beach, and for lounging with a cocktail in the evening.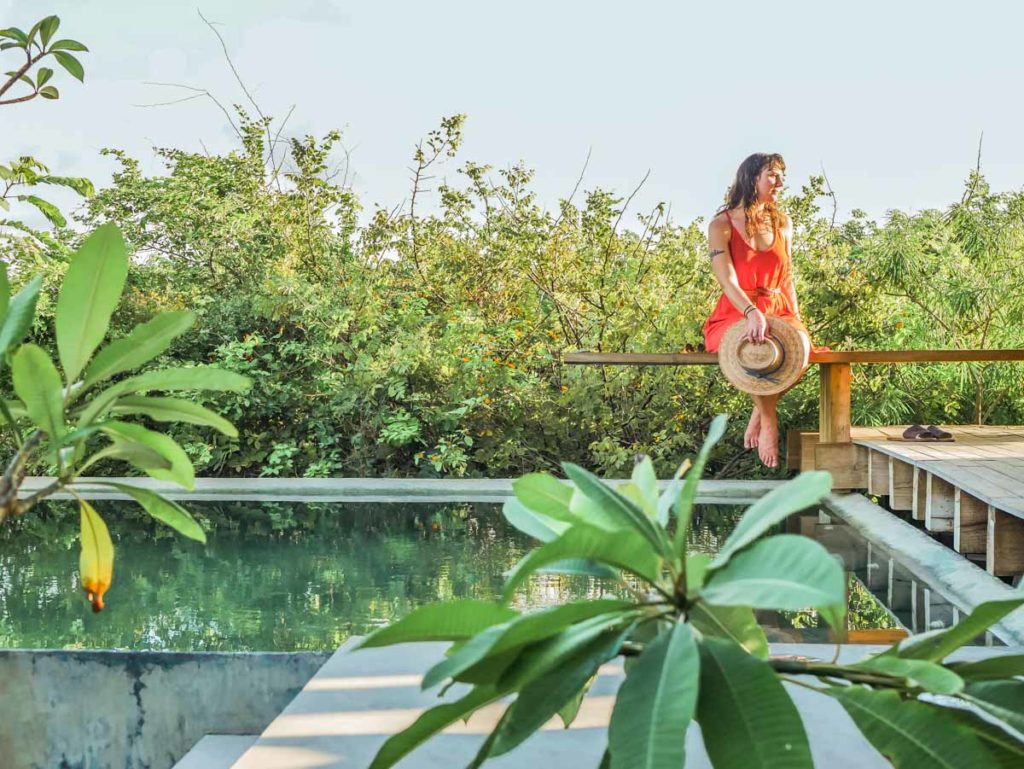 Natural Materials for Sustainability + Beauty: Puerto Escondido Airbnb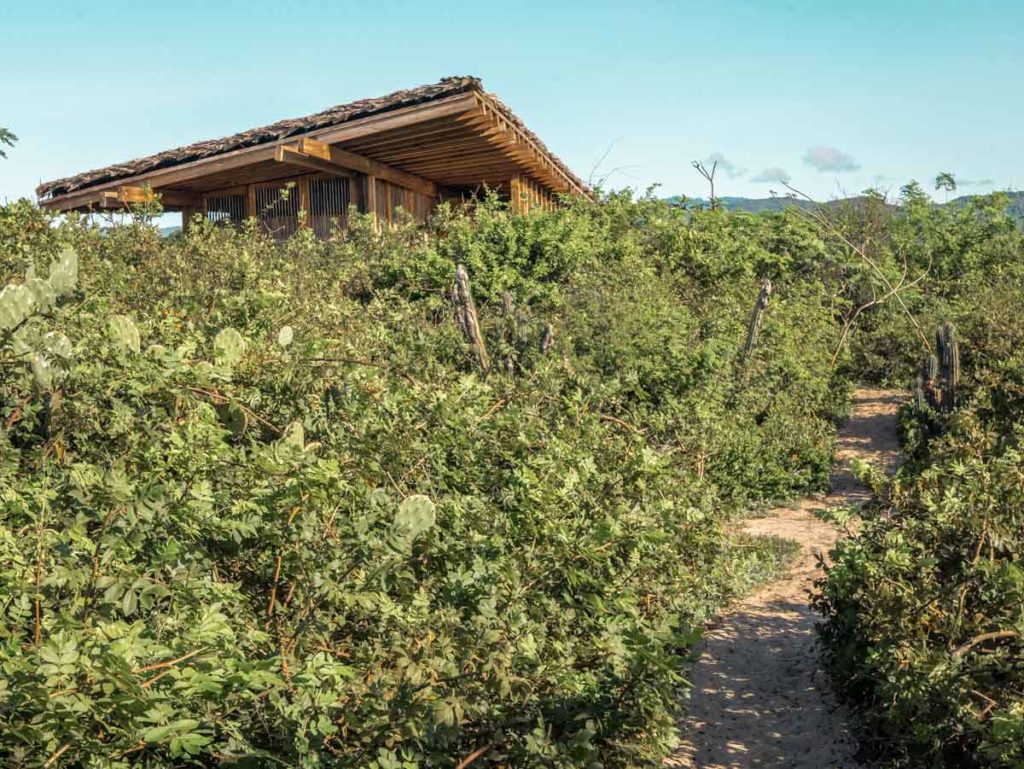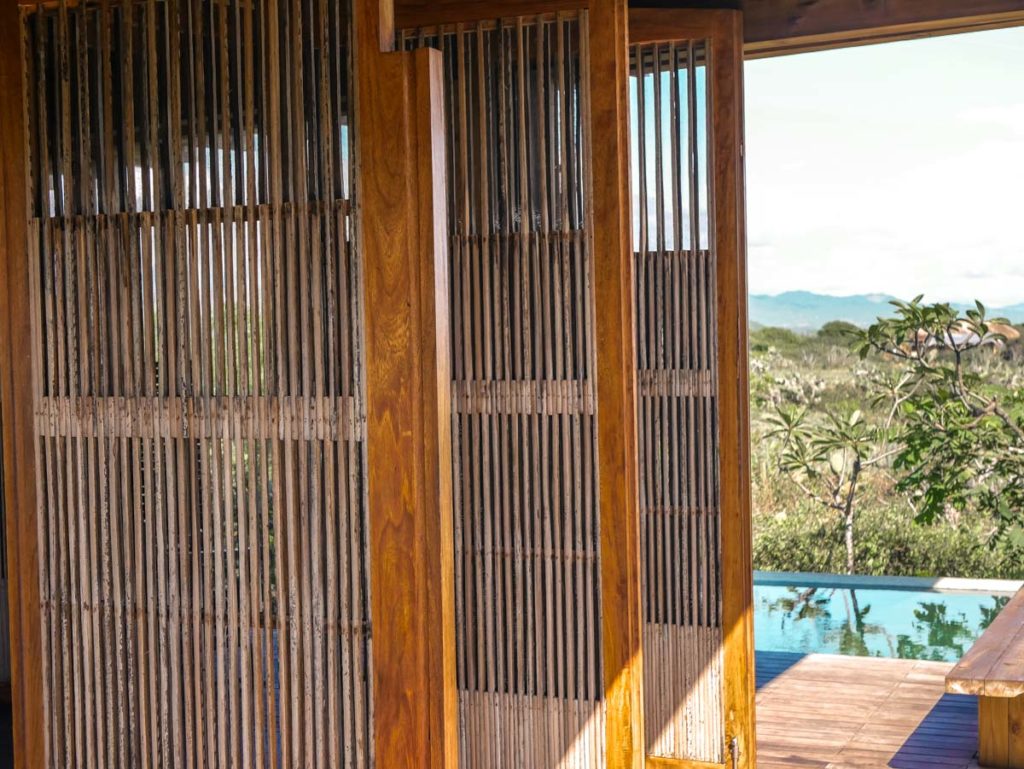 I love the way the casitas integrate with the natural surroundings without disturbing the environment. In fact, this regenerative project replanted 20,000 plants of different species in order to restore the native vegetation that was lost when the land was overused for agriculture. You can read more about the Punta Pajaros restoration project here.
Jungle + Beach View: Punta Pajaros Getaway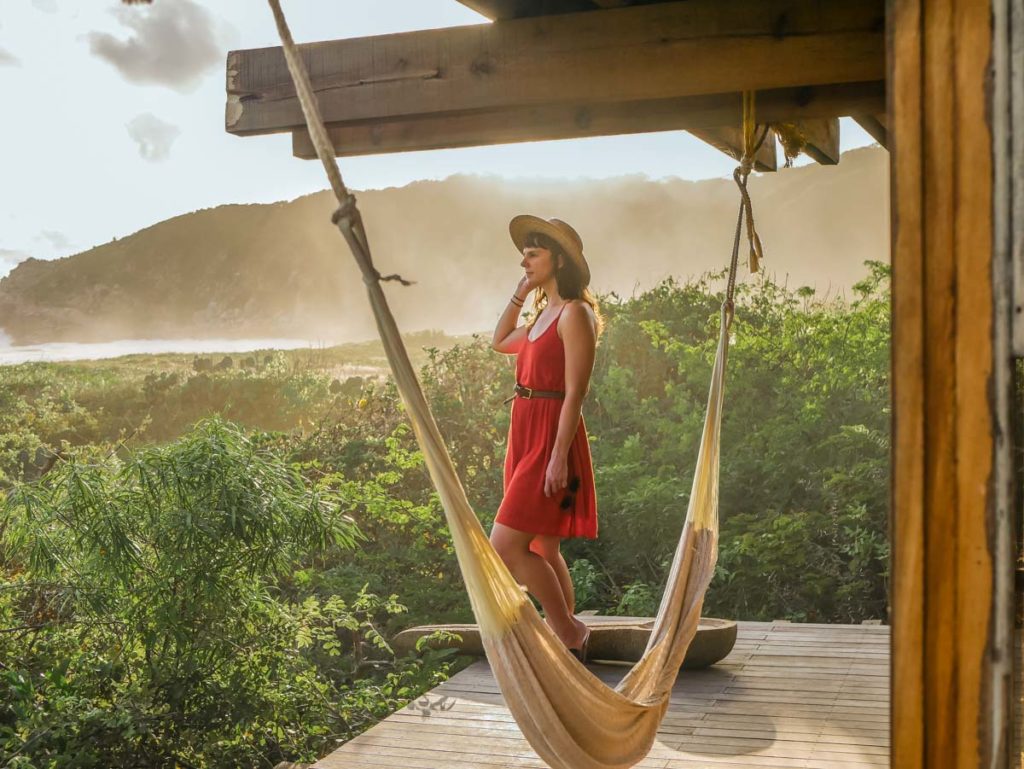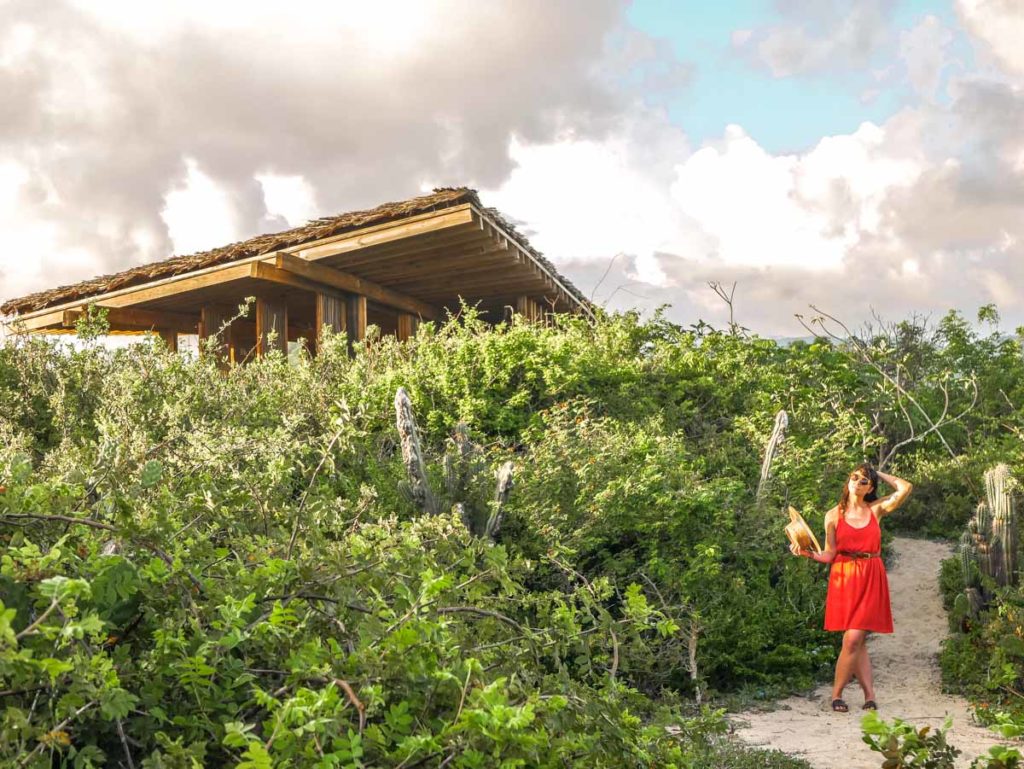 If you love nature, you will love spending time in this Puerto Escondido Airbnb. Both casitas are surrounded by the lush native vegetation that has been reforested in this area. The plant life brings a feeling of privacy and tranquility. Casa Mar has a spectacular ocean view on one side, and lush jungle on the other 3 sides. Casa Arena is just a few steps further inland, but you can still hear the breaking waves, and are surrounded on all sides by the pretty Punta Pajaros jungle.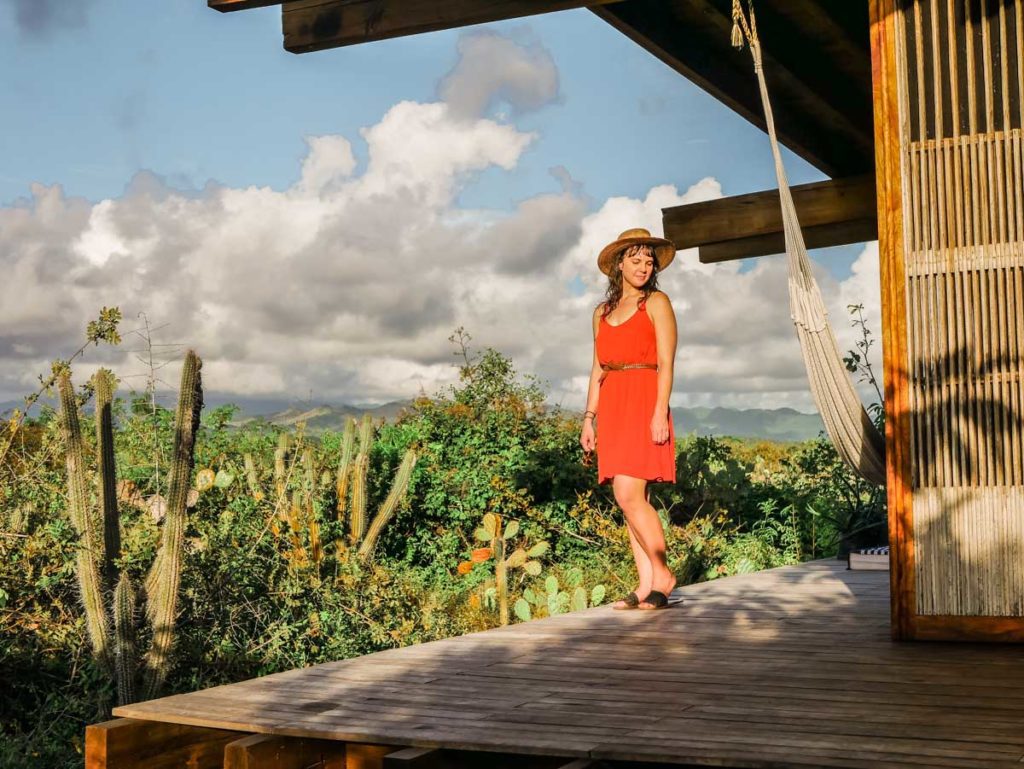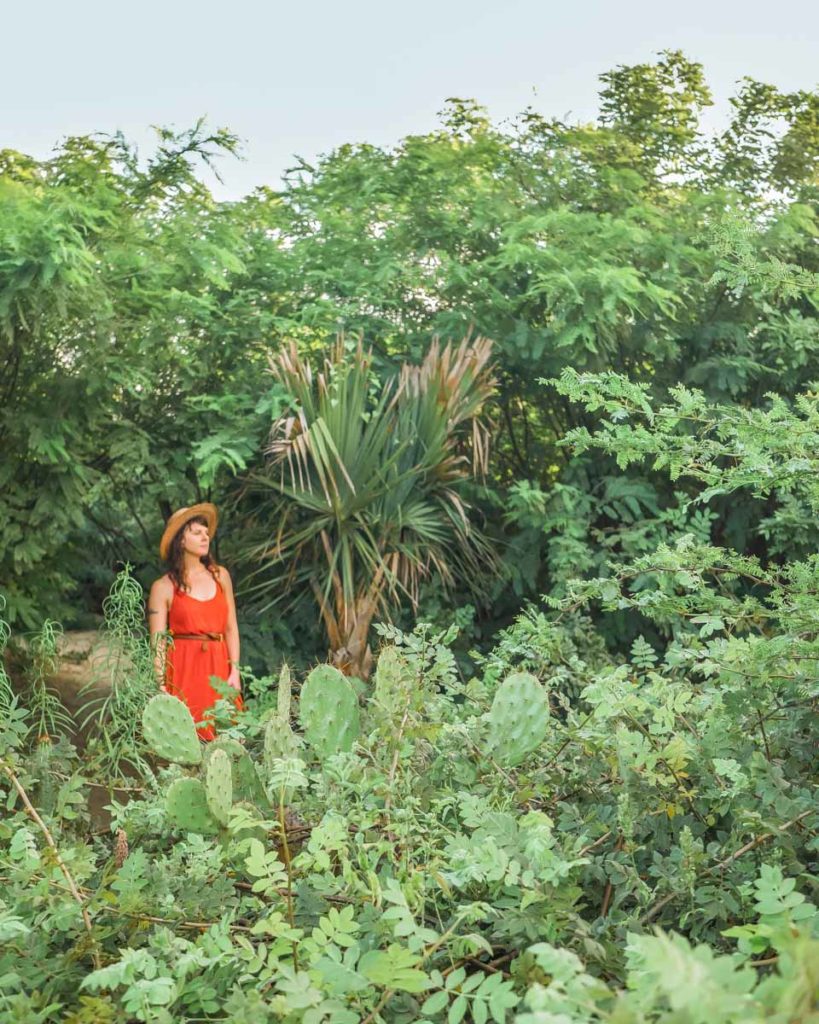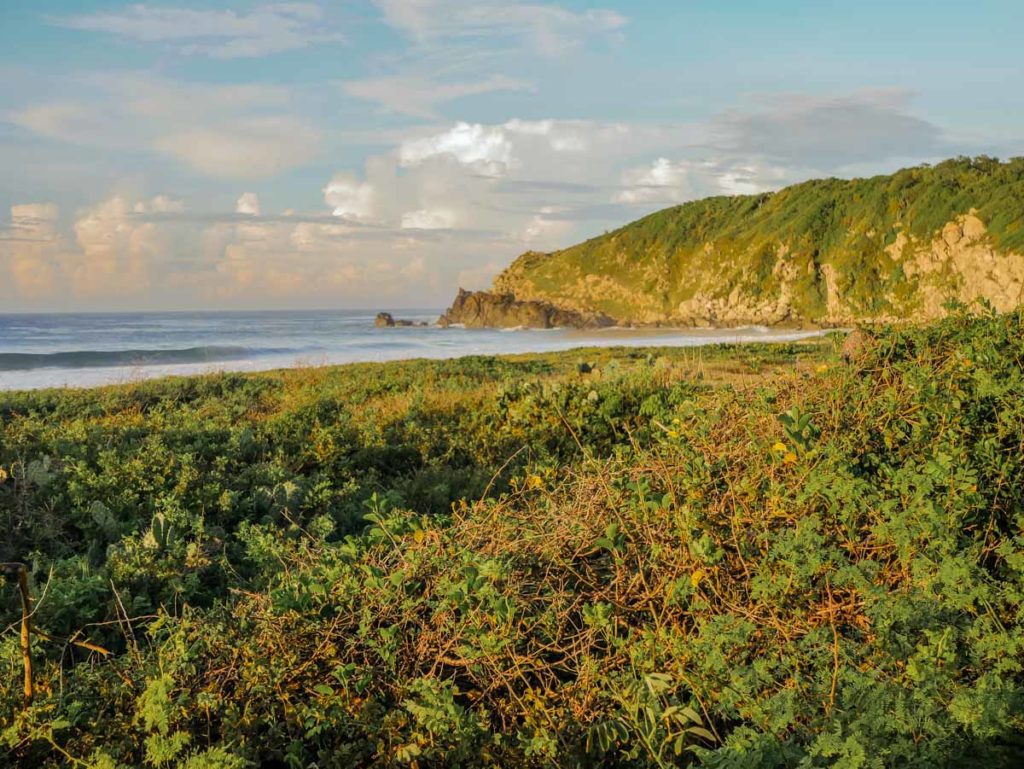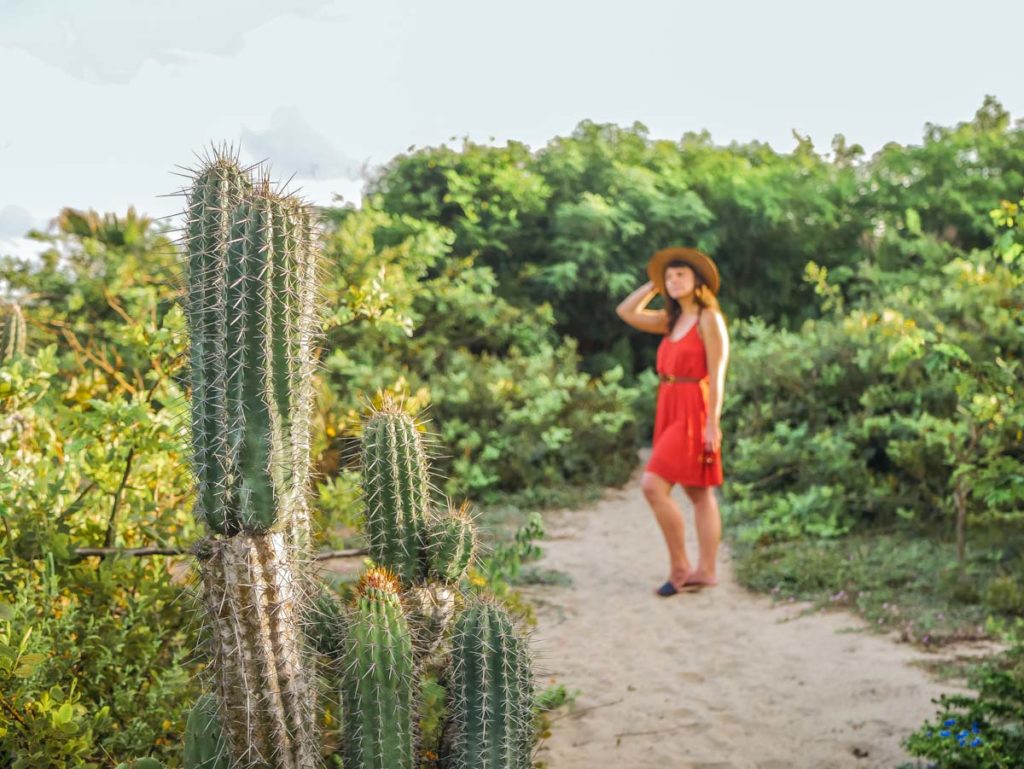 Tranquil Location for Disconnecting: Puerto Escondido Airbnb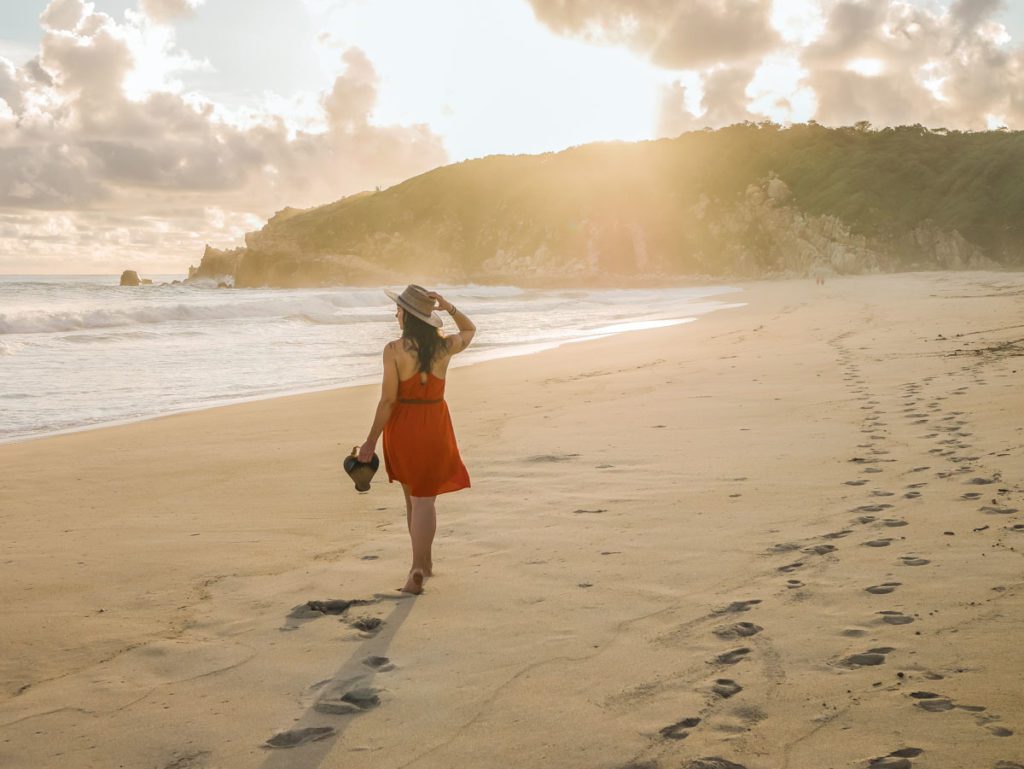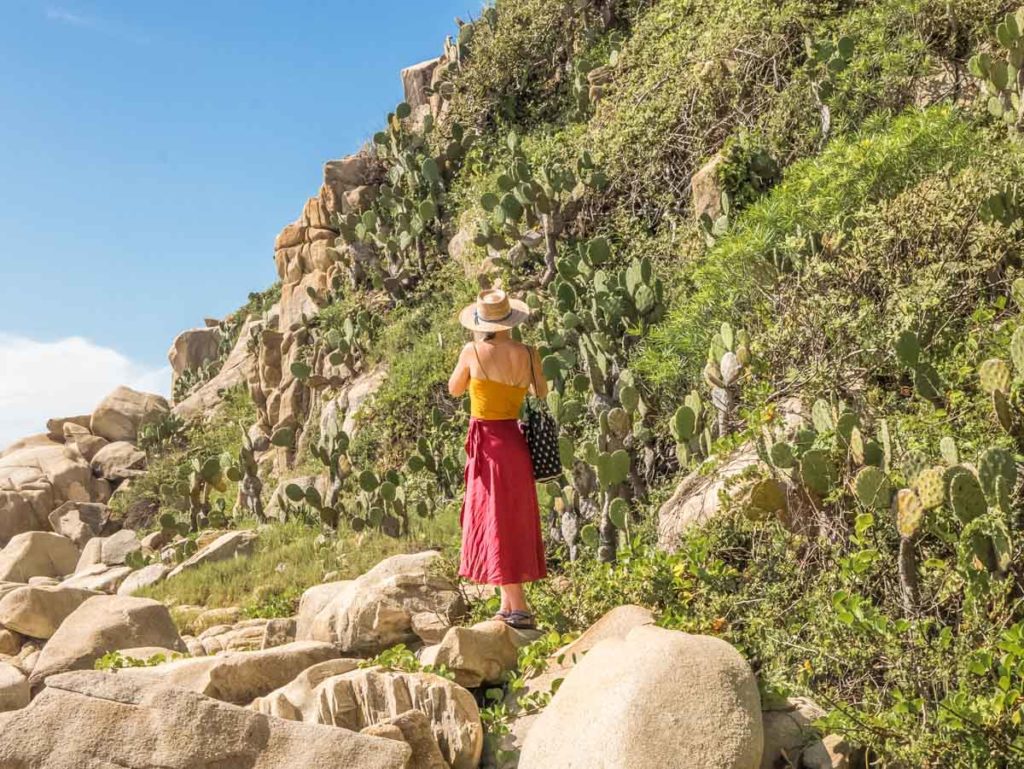 It's hard to believe that Punta Pajaros is only about a half hour drive from the center of Puerto Escondido, as it feels like you've found a hidden paradise.
Punta Pajaros is a long stretch of beach with only one hotel, a handful of scattered vacation rentals, and Casa Wabi – an artist residency (more on that below). It's a quiet area that allows you space to think and connect with nature.
I got up every morning shortly after sunrise and did a personal yoga practice on the deck. It was lovely to gaze out into the green jungle or to the breaking waves as I took time out for myself.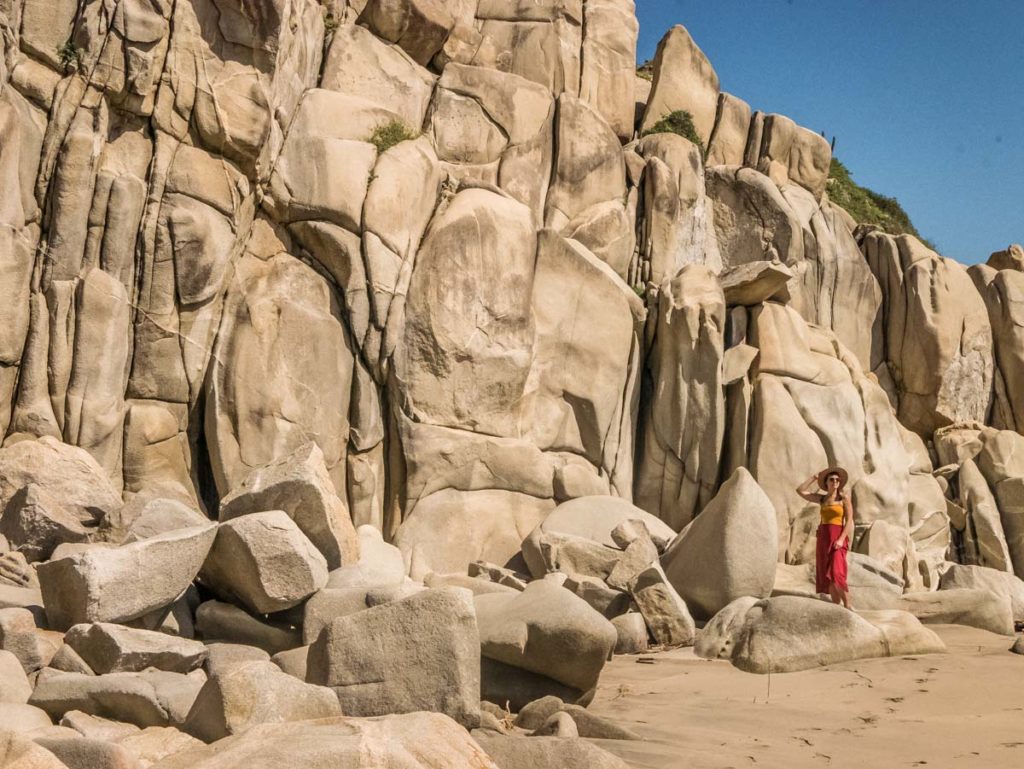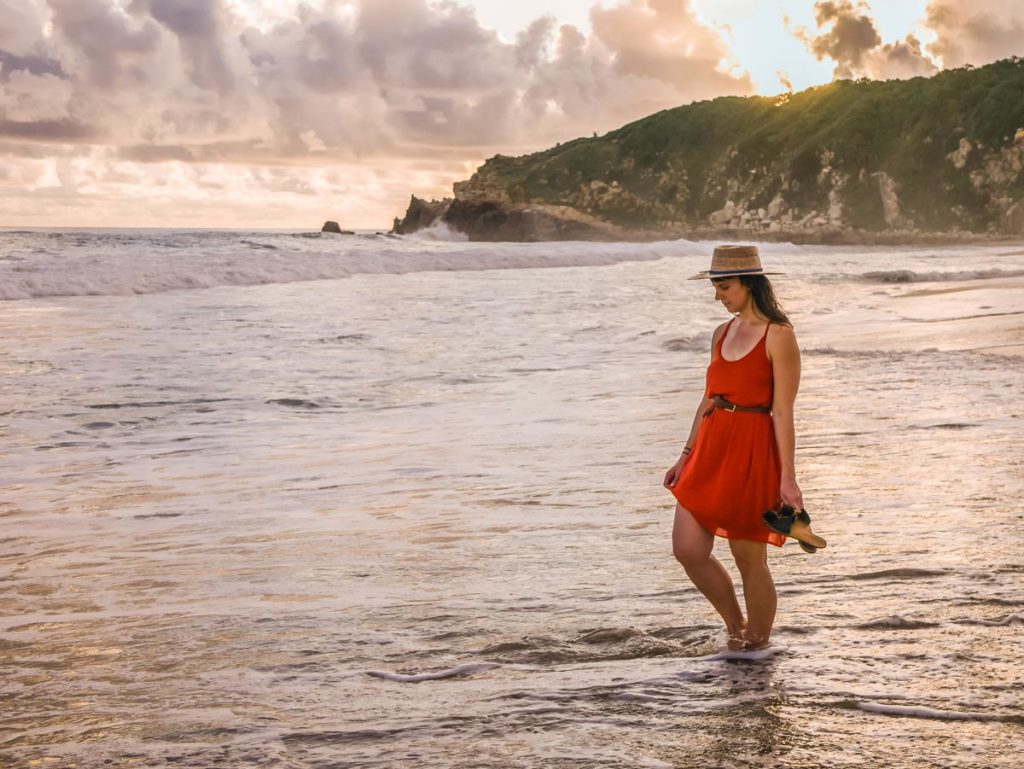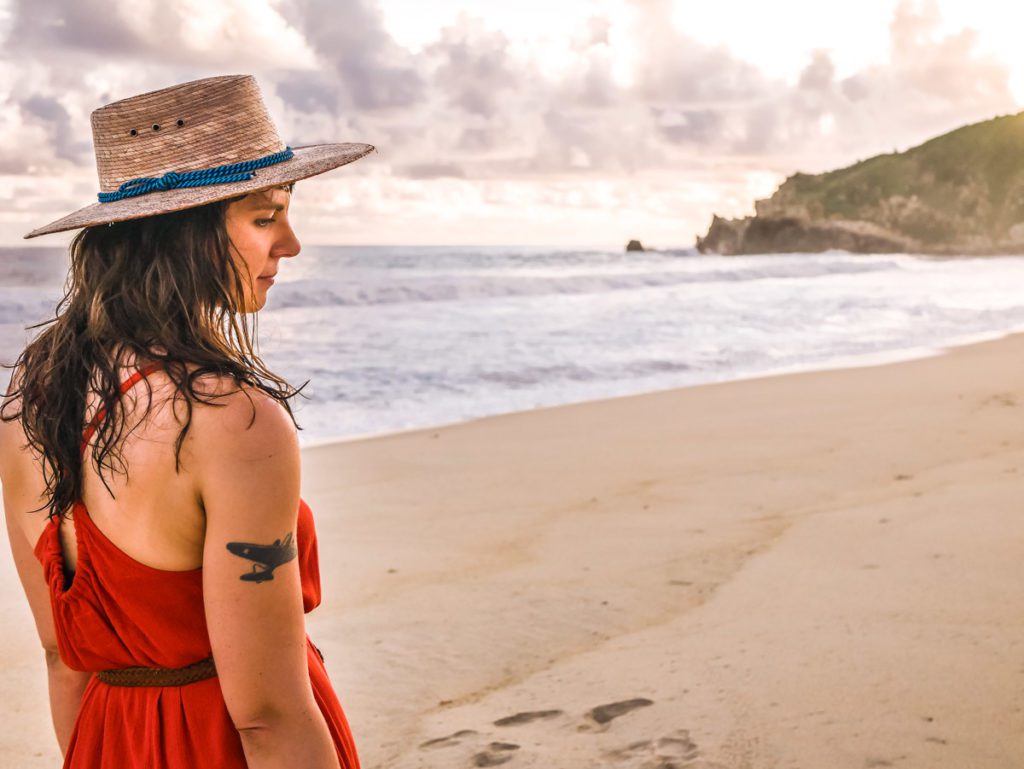 The beach and area of Punta Pajaros is still so off-the-beaten path that you will often have the sand to yourself. You can enjoy long morning or evening walks without crowds of people.
Nearby Design Destinations – Casa Wabi, Hotel Escondido: Punta Pajaros Getaway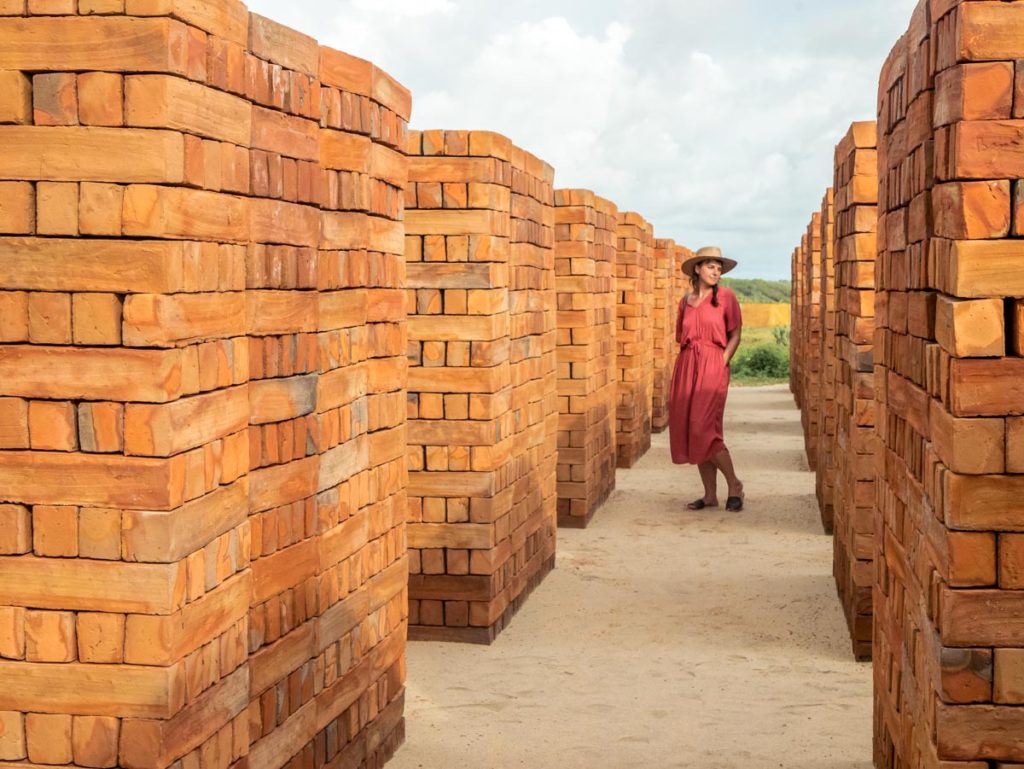 Not only is this Puerto Escondido Airbnb perfect for designers and creative travelers, but the community of Punta Pajaros is a great design destination.
You'll definitely want to visit Casa Wabi, the artist center and residency just down a short stretch of sand from Casitas by the Sea. Casa Wabi's mission is to promote the exchange of ideas between artists of different disciplines and the local community. It was designed by Japanese architect and Pritzer Prize winner, Tadao Ando. You can join a regular tour on Tuesday and Thursdays at 4pm or Saturdays at 10am.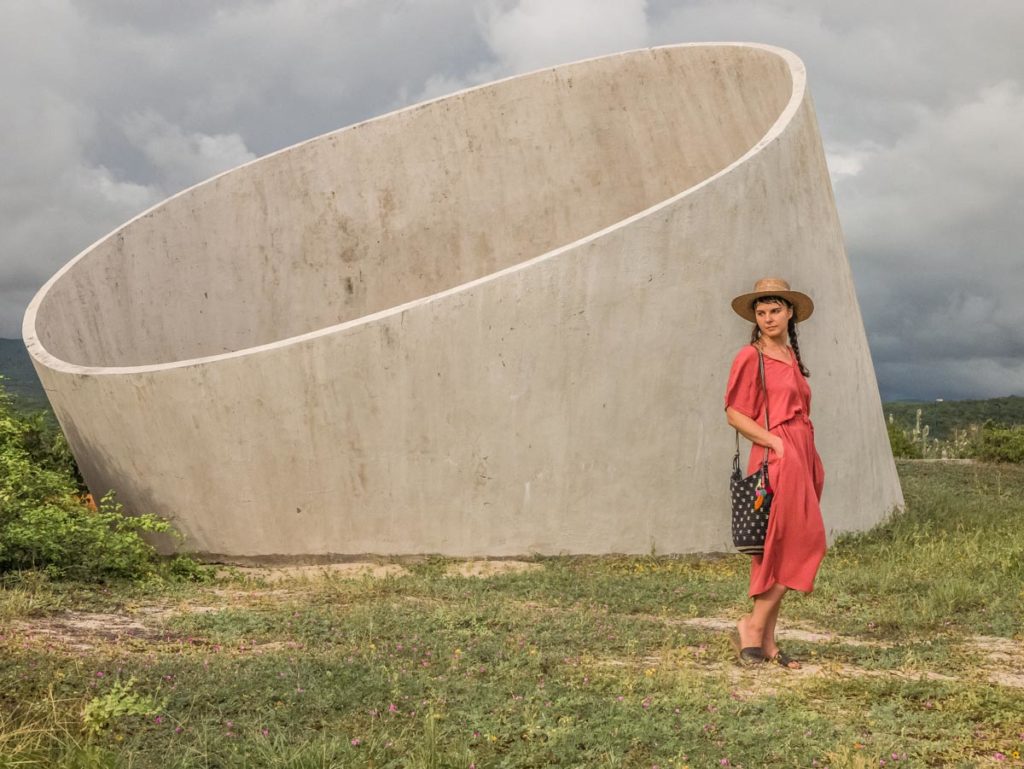 Another nearby spot to check out is Hotel Escondido, of Grupo Habita. This pretty hotel has an onsite restaurant that is great for some sunset cocktails or a dinner out.
Nearby Attractions – Manialtepec, Chacahua, Puerto Escondido: Puerto Escondido Airbnb
During my 4 days in Punta Pajaros, I was happy to just enjoy the beautiful casitas and spend time disconnecting in the tranquil area, but if you want more things to do, there are plenty of attractions within an hour's distance.
The town of Puerto Escondido has tons of restaurants, nightlife, beaches, surfing, and things to keep you busy. It takes about 30-45 minutes to drive or taxi there from this Puerto Escondido Airbnb.
Right next to Punta Pajaros is La Laguna de Manialtepec, a great place to see wildlife. But it's most famous for the bioluminescent phenomenon that can be experienced during a night boat tour.
In the other direction you can find Chacahua, a national park with mangroves, wildlife, surfing and a turtle and crocodile reserve.
Farther away you can reach the small but lovely beach communities of Mazunte, San Agustinillo, Zipolite, and Huatulco.
Things to Keep in Mind: Punta Pajaros Getaway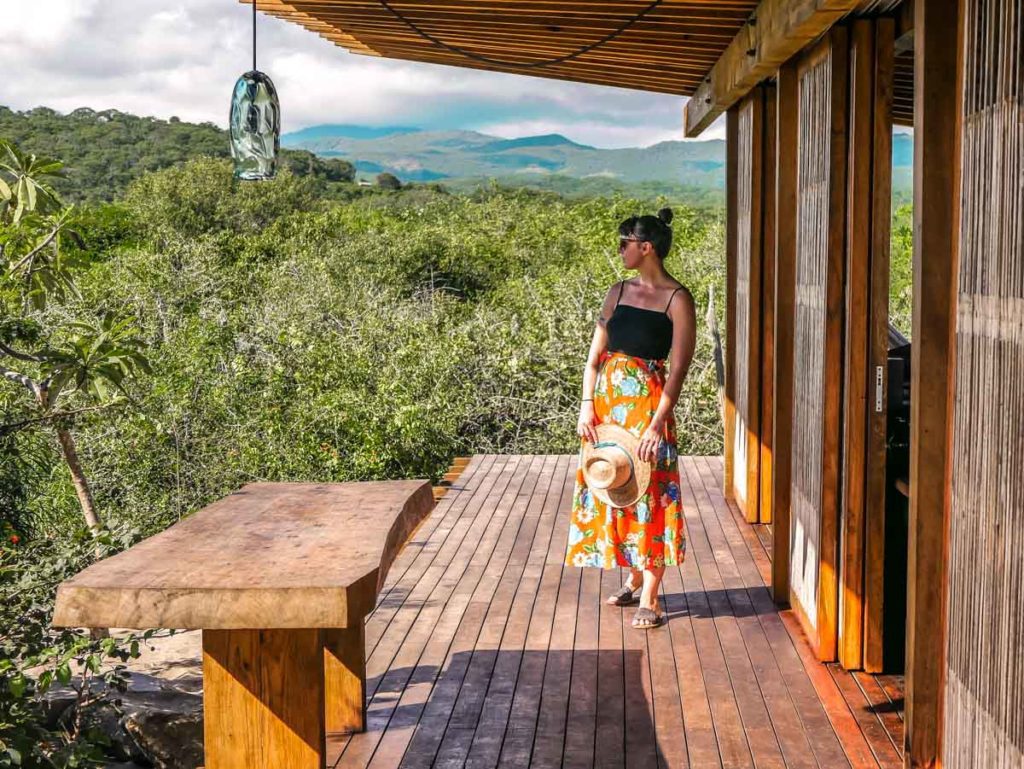 Punta Pajaros is a quiet, remote area. Though you are only 30-45 minutes from the center of Puerto Escondido, you'll want to expect to disconnect. You'll have all the comforts you need here – electricity, hot water, etc., but mindfulness should be practiced to minimize the environmental impact. And Casa Arena does have wifi, but as is common in more remote areas, it is possible that there might be outages.
This is a great place for people who want to disconnect from city life, enjoy the quiet, and be surrounded by nature. You can visit Puerto Escondido for some city hustle-and-bustle, but you'll want to be comfortable with a quiet, off-the-beaten path destination for most of your stay.
The Casitas by the Sea are self catering as with most Airbnbs. However, you can choose to add on prepared meals. The casitas offer a menu with plenty of options for breakfast, lunch, and dinner – you just need to give 24 hours notice. We elected to order prepared meals at this Puerto Escondido Airbnb for every dinner, and then stop at the grocery store on the way to stock up on things for breakfast and lunch (and margaritas). I also was so pleasantly surprised how well stocked the kitchen was – there was a bag of high quality coffee, a nice french press, a sandwich maker, plenty of spices and oil for cooking and even a welcome bottle of mezcal.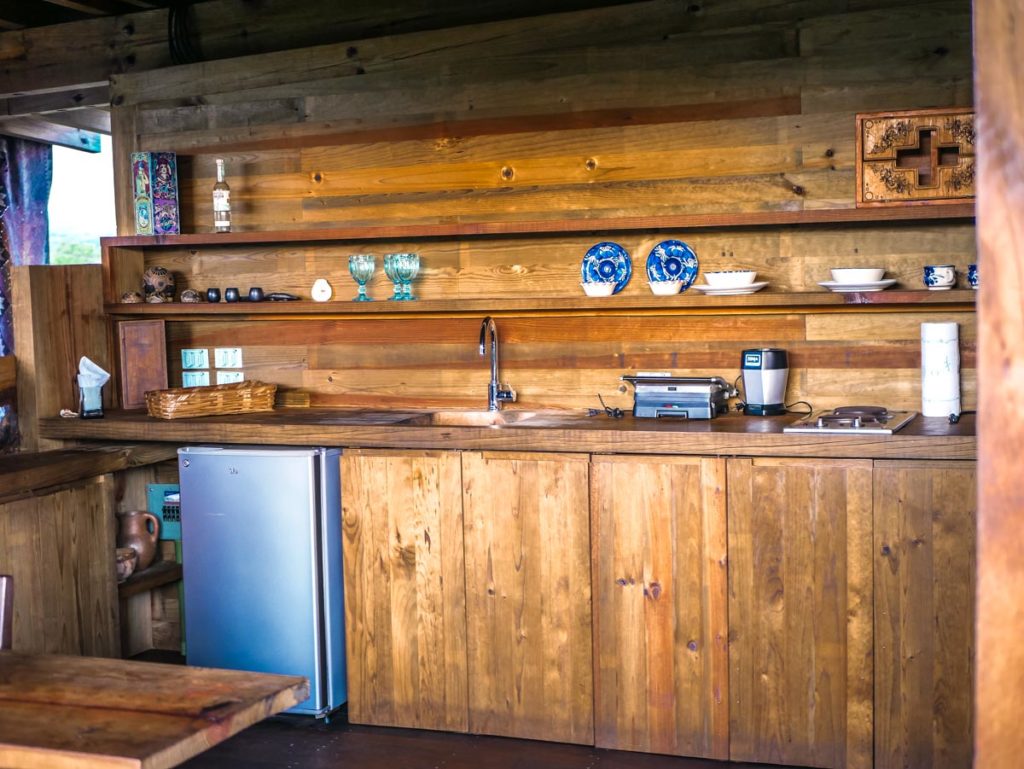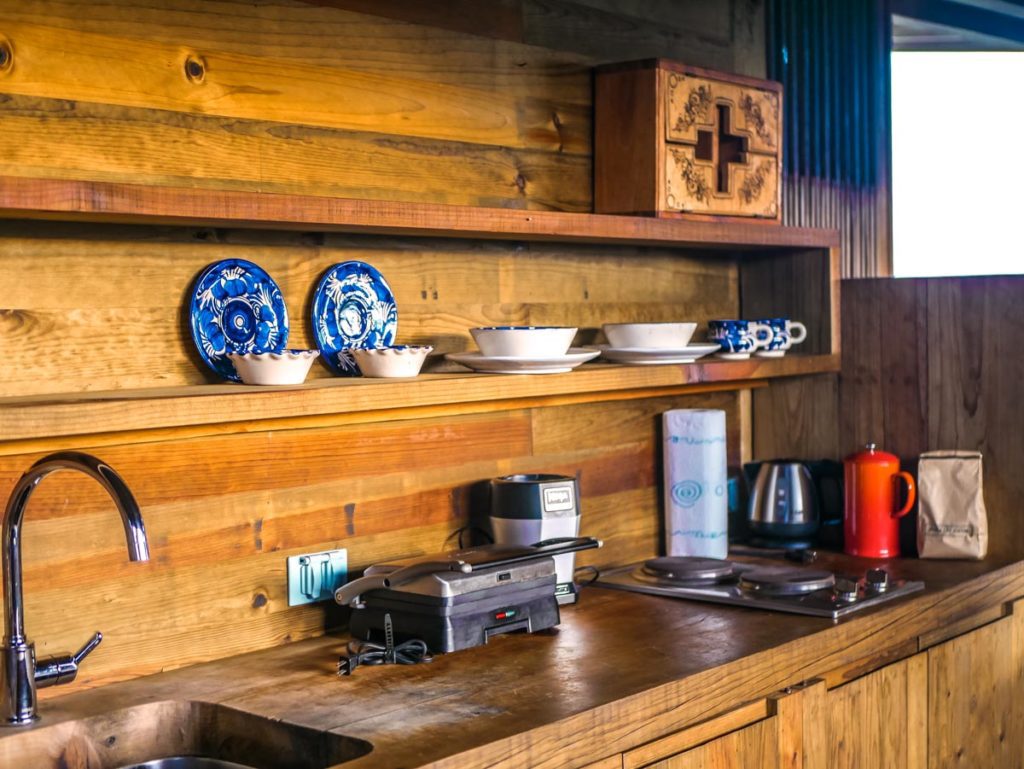 Keep in mind that the ocean isn't swimmable here as the current is strong. It's a beautiful stretch of beach that I enjoyed walking every day, and the ocean is lovely to watch. Each of the Casitas del Mar has a private pool, so I never missed the ocean swim.
Final Thoughts: Puerto Escondido Airbnb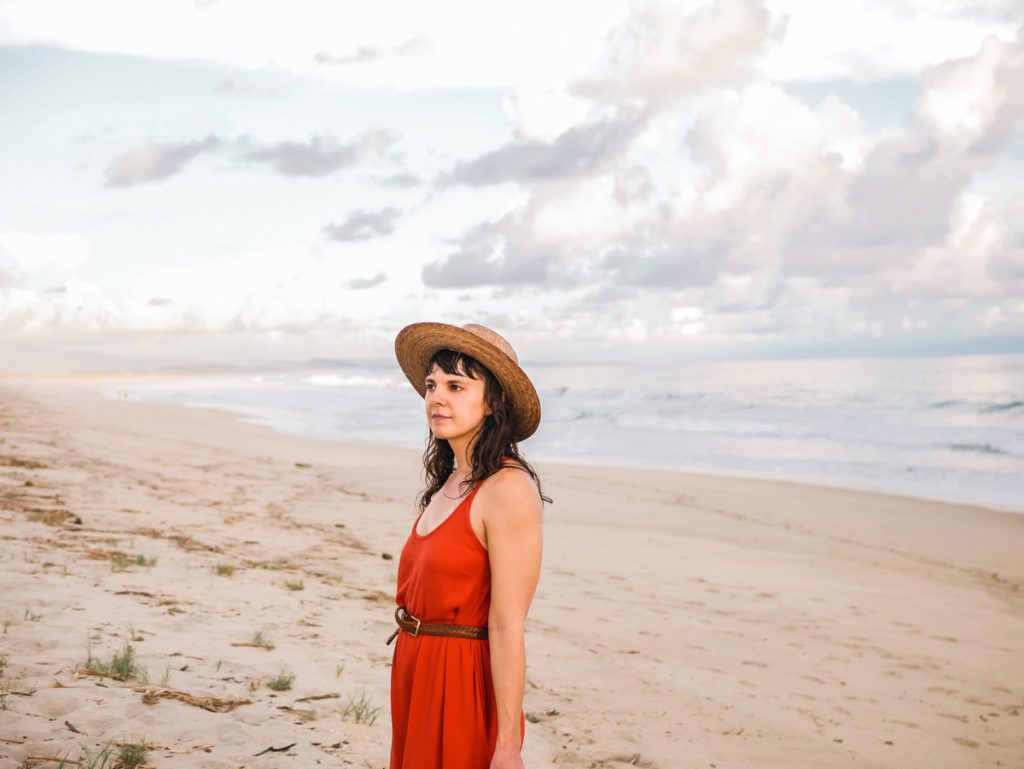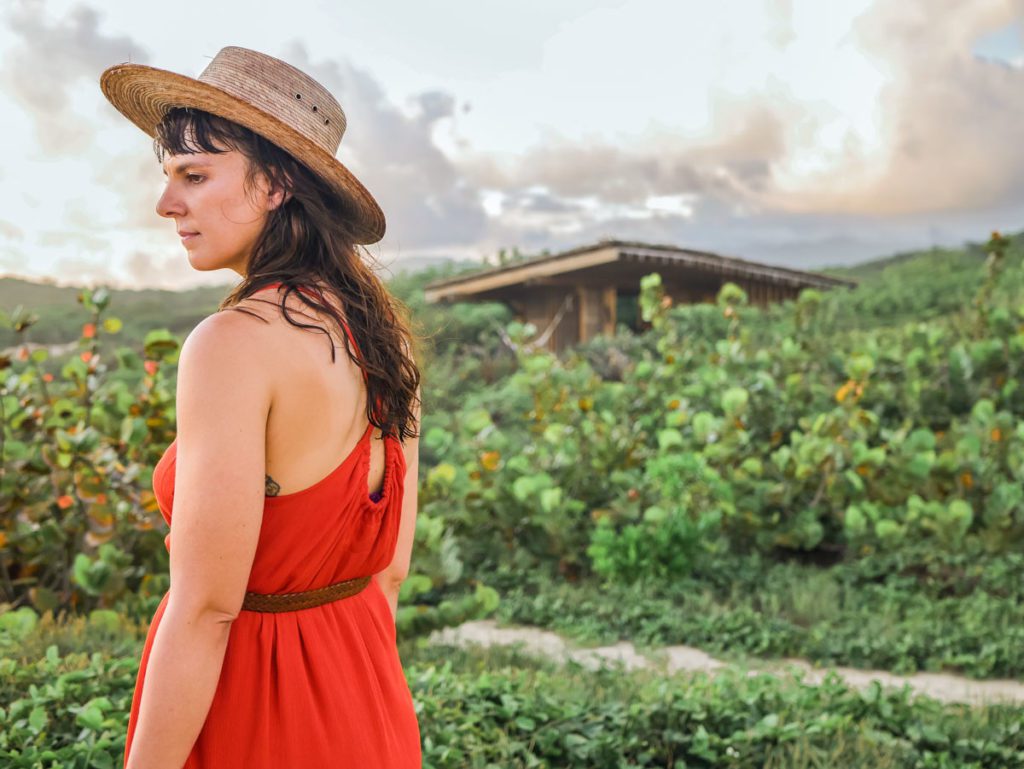 I loved exploring the remote and beautiful little community of Punta Pajaros during my 4 days at Casitas by the Sea. Every morning, I enjoyed waking up to the sound of the birds and the ocean, then doing a personal yoga practice from the comfort of my own deck.
Everyday was relaxed but full of plenty of ways to enjoy the surroundings – walking the beach, visiting Casa Wabi, sunset drinks at Hotel Escondido, but mostly just enjoying the private pool, the nature, and the gorgeously designed casitas. I felt refreshed and inspired after my stay in this design-lover's Puerto Escondido Airbnb.
Hotel: Casitas by the Sea
Social Media: Instagram, Facebook.
Best For: Designers or creative travelers who want an off-the-beaten path experience in a gorgeously designed casita.
Price: $220 USD and up, depending on season and casita. Check booking link below for current rates.
Includes: Drinking water, toiletries, wifi in Casa Arena, private pool (including maintenance), plenty of spices and oil for cooking, books, beach towels.
Location: Punta Pajaros, Puerto Escondido
Book Here: Casa Arena , Casa Mar. (If you haven't used Airbnb before, you can get up to $51 off your first bookings here.)
For other Puerto Escondido travel tips, check out my Puerto posts here. And if you are headed to other parts of Oaxaca, onward to Chiapas, or elsewhere in Mexico, I have lots more posts to help you with your planning!
Pin it for Later!