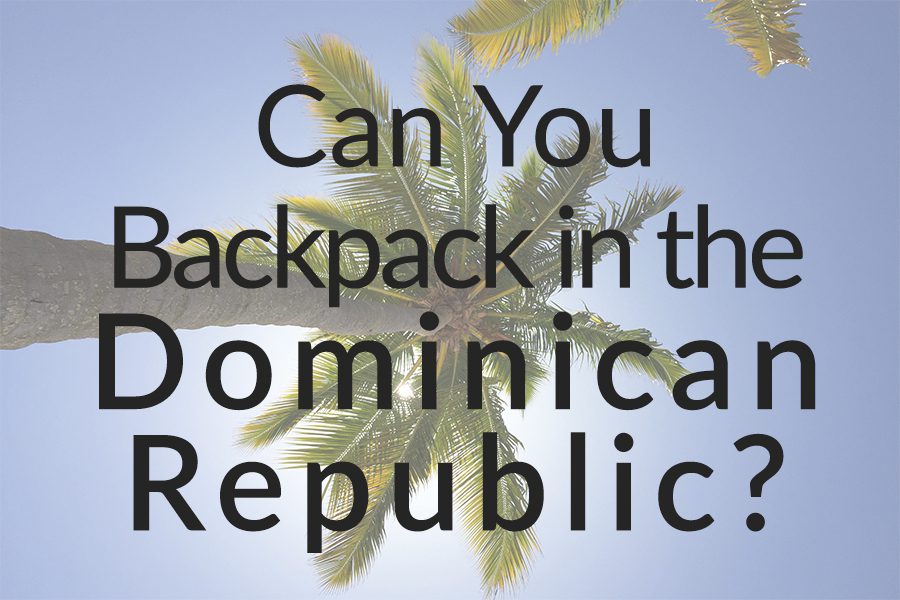 Are people backpacking Dominican Republic? This was the question that I asked myself before our recent trip. The answer is yes...but the information and online resources are few and far between.
Daily I'm bombarded with Groupon and Travelzoo deals to all-inclusive resorts in the Dominican Republic. Yet when I began my search for budget hotels or guesthouses and alternative transportation options, I hit a wall. Most of the tools I normally use were pointing toward resorts. When I googled how to get around the island, I was met with links for rental cars and expensive hotel shuttles.
So what did I do? I decided I was going to go to one of the most remote parts of the island, and do it all with only public transportation. I guess I enjoy a challenge.
My #1 best source of information for backpacking info in the Dominican Republic:
I am generally not a forum person. I've never spent time muddling through the depths of them for previous trips. I find it disconcerting when I come across the few really aggressive forum posters who attack others' opinions and plans. I prefer my information to be a little more balanced.
However, in the case of backpacking Dominican Republic, the Tripadvisor forums were my best source of real life DR info. That was where I found every bit of information about public transport, and helpful advice about how to use my time wisely. There are several experts on there who give out legitimate information for free. Amazing!
There is another forum called Dr1.com that contains a lot of information. It's geared toward locals, and mostly has posts about news items, but is worth a look.
---
Below I'd like to share the helpful information I gathered before and during our trip to the Dominican Republic.
We flew into Puerto Plata, traveled overland via public transit to Las Galeras - the last tiny fishing village at the edge of the Samana Peninsula. Here we found the most beautiful beaches I've ever seen, and all on a backpacker's budget over 9 days.
Buses
There are a few bus lines in the Dominican Republic, ranging from big air conditioned buses to cramped mini-busses that have the comfort level of chicken busses in Central America. Almost all busses run through the capital, Santo Domingo.
In my case, I was flying into Puerto Plata (in the north of the country - opposite of Santo Domingo) and traveling to the Samana Peninsula, so detouring through the capital would have been totally out of the way. Try as I might to get lost in the depths of Google, I couldn't find a solution.
When I finally stumbled into the Tripadvisor forums I found multiple posts about two separate bus lines that run from Puerto Plata to the Samana Peninsula - each one leaving only once a day. The posts were a bit old, so I created my own thread to verify that the information was current. The prompt replies from users included the bus company names, times, phone numbers, and specific info about bus stop locations.
So here is the breakdown if you have a similar itinerary:
Transportes Papagayo:
Leaves Puerto Plata every day at 6:30am. 4 hours to Samana, 350RD, phone: 1-829-376-8346 or 1-809-749-6415
This bus returns from Samana daily at 2pm.
Transporte Las Terrenas:
Leaves Puerto Plata every day at 1:30pm. 3 1/2 hours to Las Terrenas, 350RD, phone: 1-809-240-5302.
Both busses will pick up anywhere along the main highway if you call ahead to ask. In Cabarete, the best place to get picked up is the bus stop across from Janet's Supermarket.
Here is the most important thing to know when taking these buses - Call the night before to let them know you need the bus, and ask for the time they'll be there. This will require you to know a little Spanish, or you can have your hotel/hostel reception help you make the call.
They may pick you up if you don't call ahead, or they may be full. It's a safer bet to have them expect you, especially since there is only one bus a day. Also be very early to the bus stop! My bus came a full half hour early.
Guaguas
Guaguas are regular old pick-up trucks with bench seats along the perimeter of the truck bed. They are also one of the most common ways to get around the island.
You can flag them down anywhere, or grab them at any busy bus stop. They are very cheap, often crowded, but very efficient. You'll get a great view of the island, get close and personal with locals, and spend very little to get to where you're going.
During our trip, we took the Transportes Papagayo bus in the morning from Cabarete, and arrived in Samana 4 hours later. From there we had to take a Guagua the rest of the way to Las Galeras.
I was a bit worried about making the transfer, but it couldn't have been easier to find one. As I stepped off the bus I was greeted with "La Galera! La Galera! La Galera!" (On the Samana peninsula, locals don't pronounce the "s" sound, so Las Galeras is pronounced "La Galera"). 
The Guagua driver hustled us over to his truck, and they strapped our luggage to the roof. We crowded onto the wooden bench, and stared at the dramatic coastline and turquoise water as we criss-crossed up the hills to the little fishing village at the end of the road. The cost was 100 pesos per person (or about $2.23 dollars) and the ride was 45 minutes.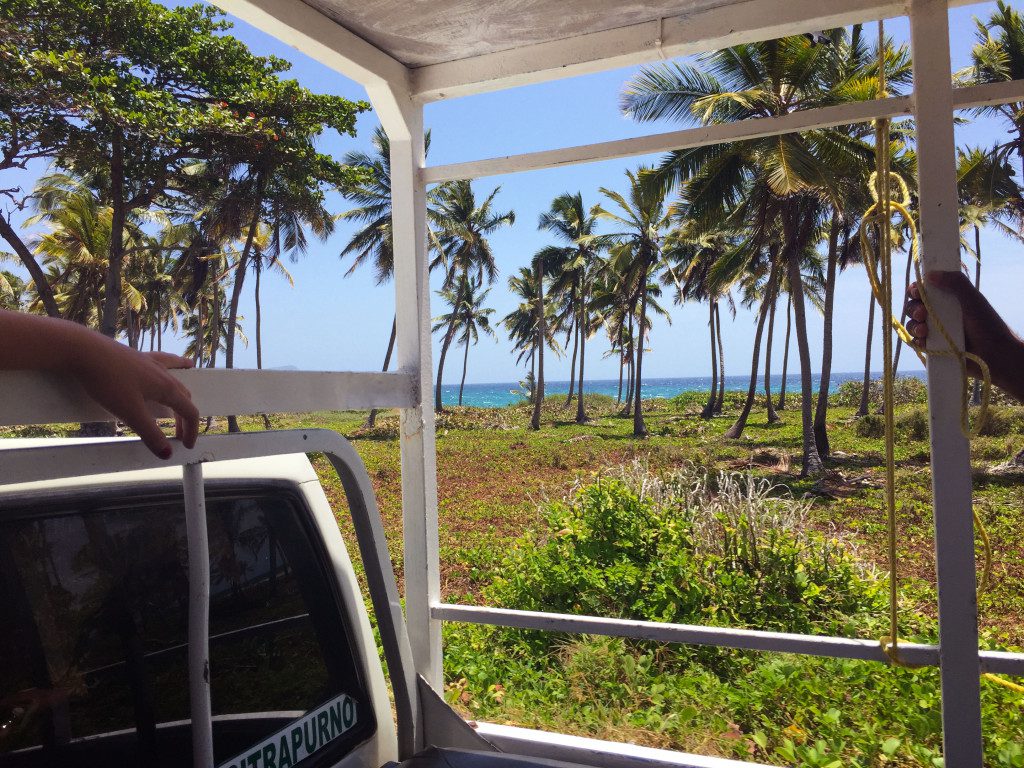 Motos/Motoconchos
The other most common form of transportation is hopping on the back of any old random motorbike that passes. This may sound unsettling, and it kind of is, but it's the way of life in the DR.
These motorbikes can fit 2 or even 3 extra people on the back. I watched beautifully dressed women ride side saddle and not even hold on as they sped by. I, however, held on for dear life and tried to enjoy the view. Prices are very cheap. Usually less than 25 pesos (or USD $.54).
Hotels in the Dominican Republic tend to be either very high end resorts, or very cheap guesthouses. In my experience, most of the guesthouses/budget hotels were pretty unimpressive. I've stayed in so many fantastic, well decorated guesthouses and hostels in Mexico and Central America, that I was surprised by the lack of effort that went into the budget hotels on the island.
There were a couple exceptions though - Check out my Hotel Tip for the lovely guesthouse El Pequeño Refugio in Las Galeras.
Again, I think the best source of info here is Tripadvisor, with a little Lonely Planet and Booking.com thrown in. I love to find travel blogs with specific posts about a country I'm visiting, so I can get someone's perspective alongside pictures, and valuable info. In this case, I really wasn't able to find much of anything relating to the DR on travel blogs.
If you have the flexibility to book once you get there, you will get much better rates (as is usually the case). There were a few options once we got to Las Galeras that were not found online and offered much lower prices. We payed between $30-$50 USD/night for our rooms in Cabarete and Las Galeras.
This is a tricky one. Good, healthy, fresh food can be hard to find in third world countries, and even harder on remote parts of islands. The 3 grocery stores in Las Galeras resembled bodegas in NYC - small stores, stocking mostly dusty canned food and nonperishables, beer, milk and eggs. The few pieces of fruit or produce were overripe or rotting in the heat of the store.
A better bet is to plan to meet the vegetable truck that comes through town twice a week, and stock up on all your produce. Everything on the truck is very fresh and cheap. Ask your hostel or guesthouse reception for their schedule.
Restaurants can also be tricky. Many don't go the extra mile to get fresh, healthy ingredients. Meals out are also somewhat high priced in proportion to other things on the island. Meals were $5 (for small meals or menu del dia at local restaurants) to $10-15/per person at most restaurants.
If you can find a guesthouse that includes a fresh and healthy breakfast, you will save money and feel good about eating well to start the day. El Pequeño Refugio serves a delicious and healthy breakfast for their guests.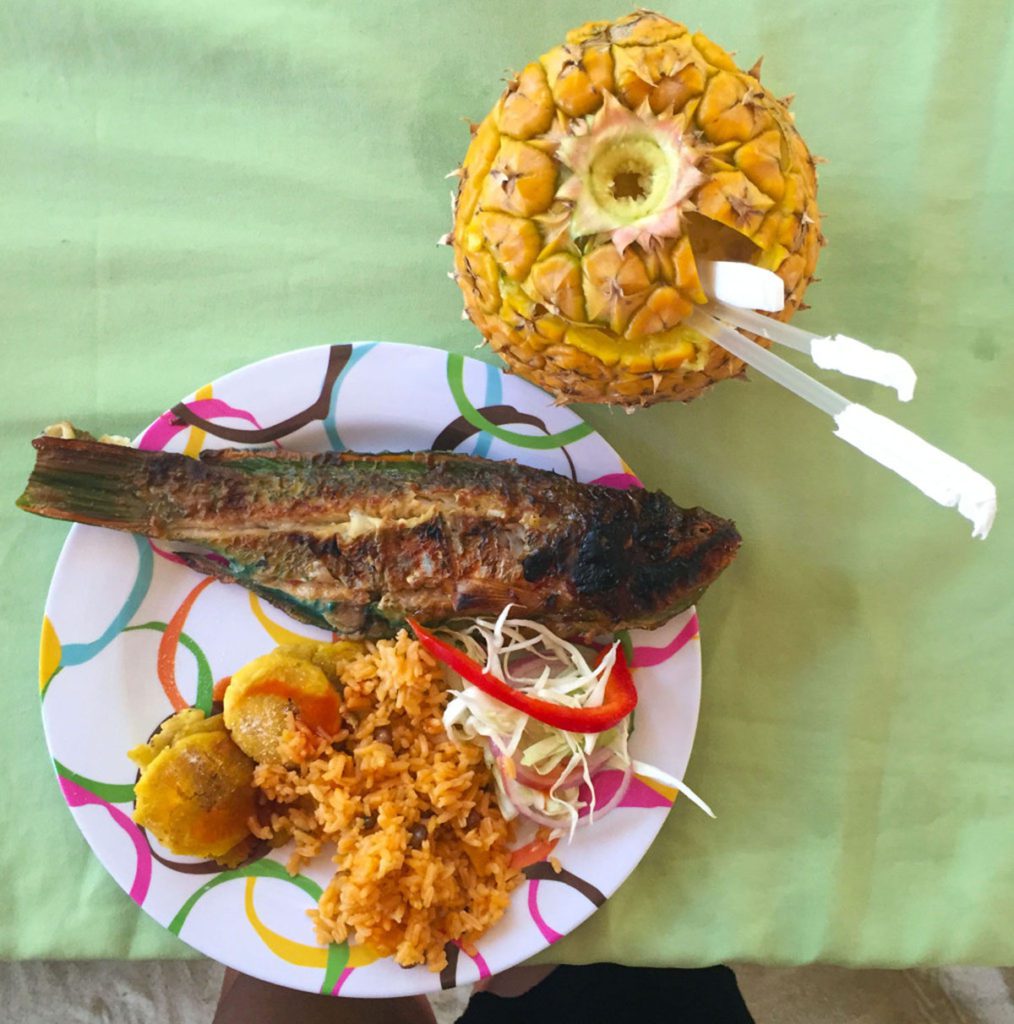 Our favorite restaurants in Las Galeras were:
End of the Road - Calle Principal and Jimi Hendrix
This little one room building on the main intersection in town specializes in burritos: breakfast, beef, chicken, and veggie. All ingredients are quality and fresh. The owner, Diane, is a fun person to chat with, and she freely offers up advice on what to do in the area. Highly recommended
C L'Aventura de John - Calle Principal
Pizza! Delicious well made pizza. Skip the rest of the menu and order the four cheese pizza. Be sure to ask for the spicy olive oil.
Beach Club Playa Grande - Just East of the Main Road on the Beach
This open air building on the main beach in town serves tasty fish served with generous portions of salad, tostones (fried plaintains), and rice.
Minin - East Edge of Rincon Beach
Another beach front restaurant, this one on Rincon beach. Sit on the patio overlooking the beach, and order the Mahi Mahi. This was by far our favorite meal of the trip. The fish was incredible, and as always, served with rice, tostones, and salad. 
---
Backpacking Dominican Republic or budget traveling in the Caribbean is not impossible, it just takes some creativity and a little extra work.
Ask questions in the Tripadvisor forums, and do as the locals do for food and transportation.