The first thing you'll be told to do in Las Galeras is "The 3 Beaches" tour. This entails hiring a small speedboat from the main beach in town and taking a tour of the three most beautiful beaches nearby - Rincon, Fronton, and Madama. We had loosely planned to do this, but ended up touring each beach in unconventional and wonderful ways.
One day, we were eating breakfast burritos at The End of the Road (one of the best food spots in town), and got to talking to the owner, Diane, about activities around town. She mentioned that her friend, Rudy, has a ranch and gives horseback tours to Rincon beach. The tour would take us through town, down dirt roads, up and down mountains, and finally to one of the top ten most beautiful beaches in the world (according to Conde Nast). We were sold.
Playa Rincon:
---
45 minutes later, Rudy met us outside the restaurant with three horses in tow. After a quick lesson in horse riding basics, we were cantering off down the main street in town. We then headed west down side streets, to alley ways, then to rustic dirt roads, as Rudy called hello to every local we passed. We finally reached the mountain trails where we rode through farmland and tropical forest.
I held my breath as the large beasts somehow gracefully kept their footing on steep rocky paths. We passed one deserted, perfect beach after another. I couldn't believe these stretches of sand were completely empty.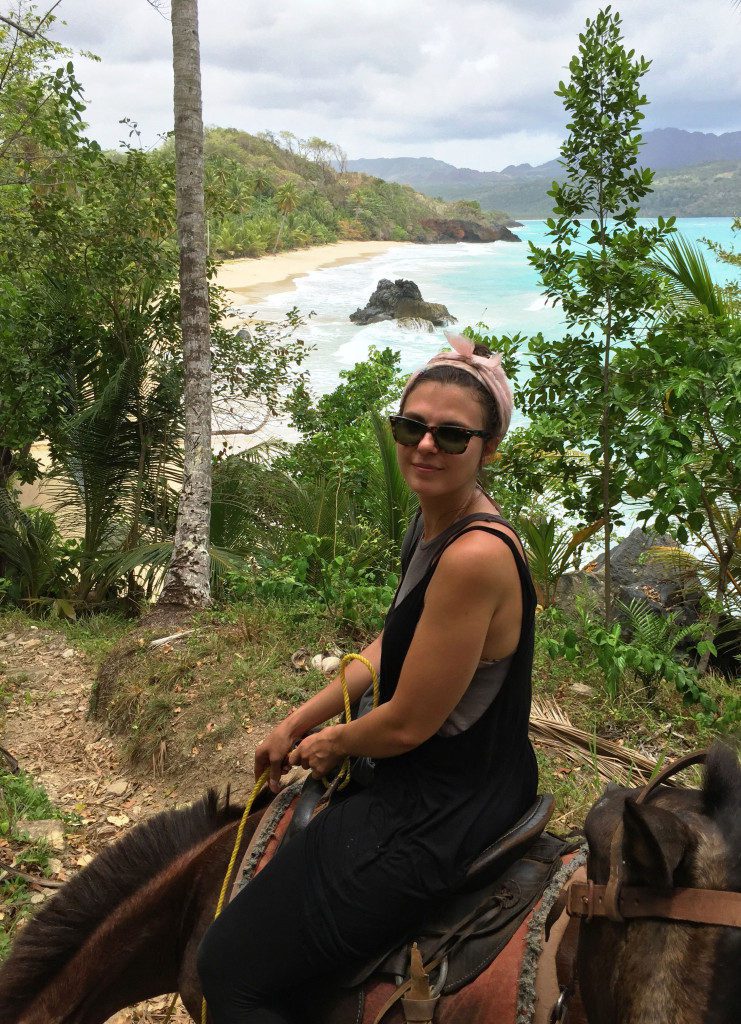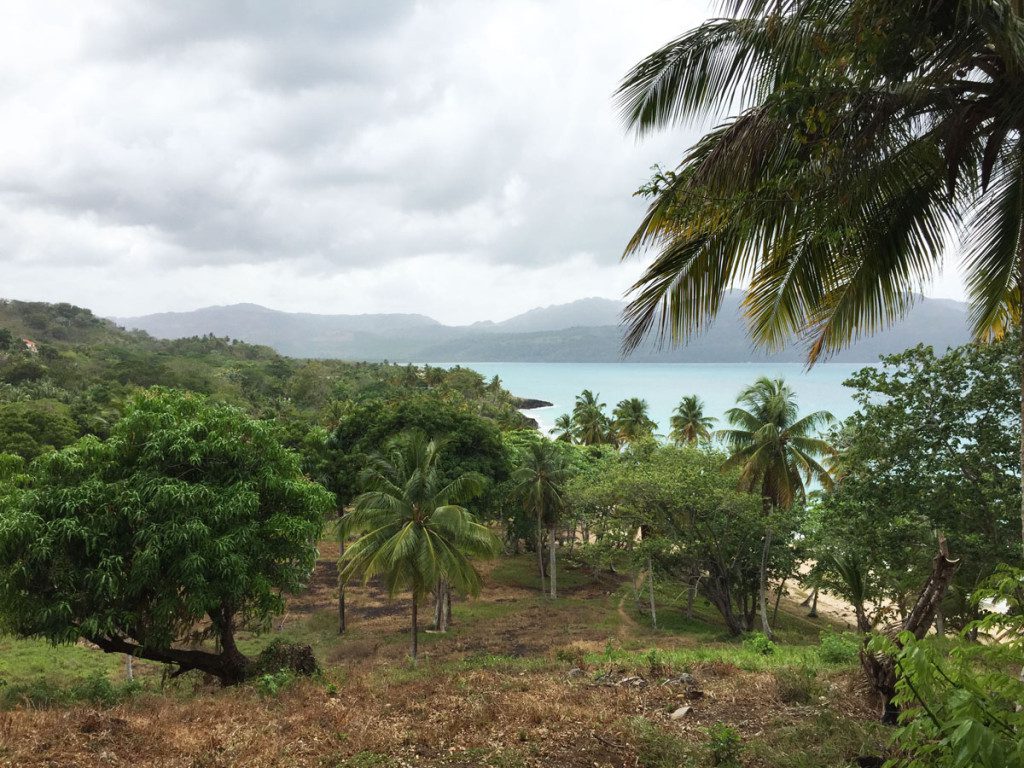 Finally we came down the last hill and saw Rincon beach before us: 3 miles of flat, sandy, white beach, lines of palm trees, turquoise water, and a chain of dramatic mountains framing it at the far edge. As we passed the first cement building at the beginning of the beach, Rudy called to the restaurant owner our lunch order and we continued on our way.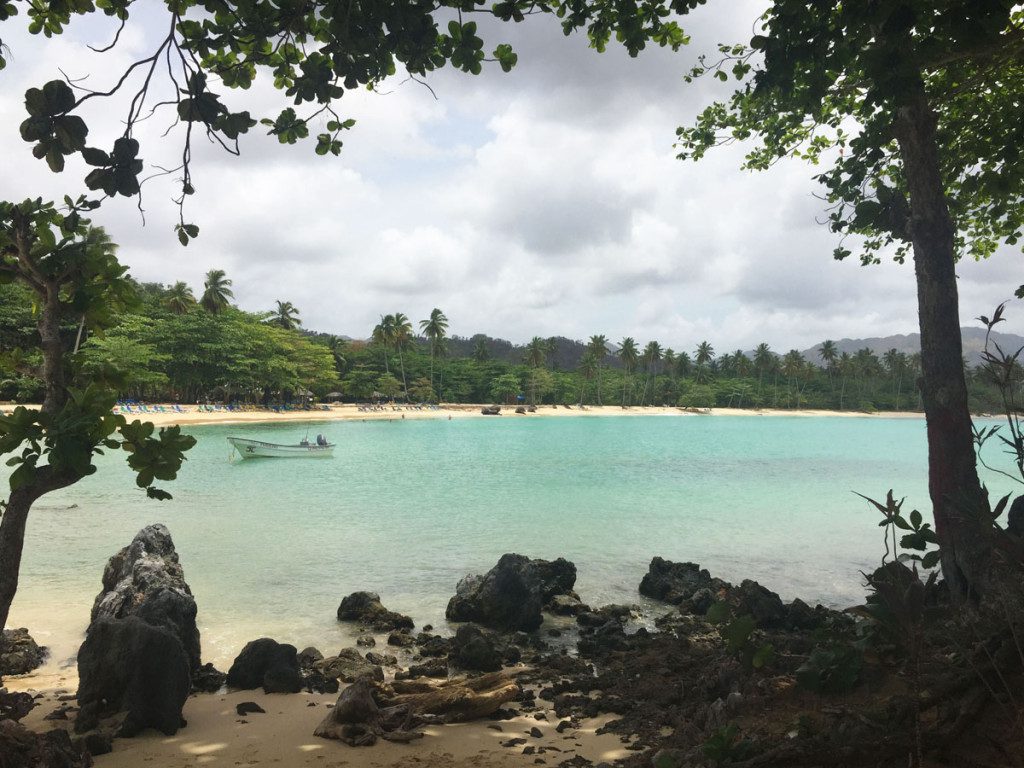 We trotted past the few people who were sharing the beach with us to the long stretch of open sand. Rudy then urged our horses on, and they took off at full speed through the surf. It was straight out of a movie. I squealed in delight over and over - I couldn't contain myself. At one point I thought I might fly right off the horse, but somehow I kept my balance.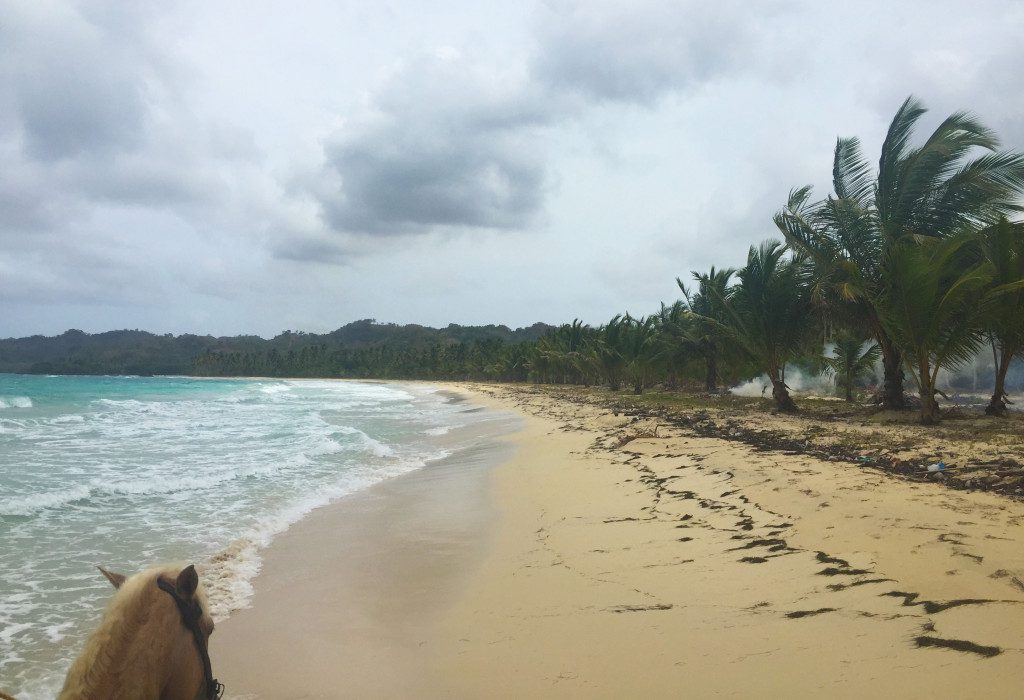 We rode all the way to the end before Rudy told us he had a special place to show us. We turned inland, through the palm trees, past some abandoned, scattered trash before coming across the most brilliant shade of green water. We learned that it is a mountain stream called Caño Frio that flows straight into the Caribbean. The pool was surrounded by trees, roots, and rocks. It felt secluded and undiscovered, and the water was fresh and cool. We sat quietly and then I watched as my husband took a running leap into the "magic water."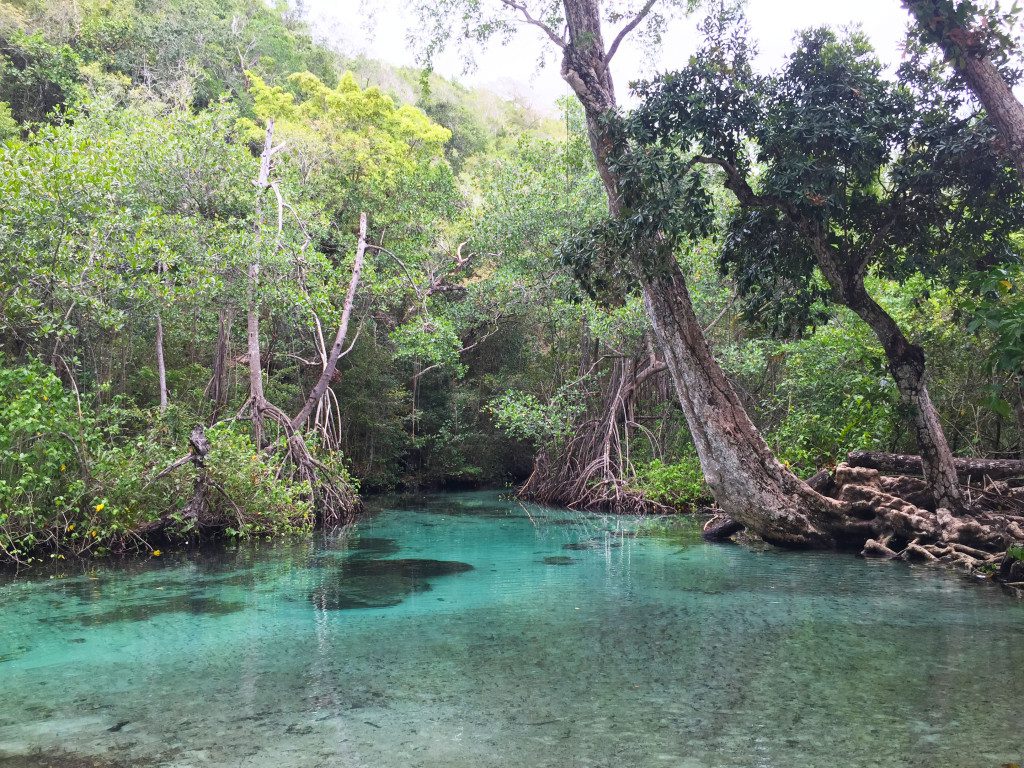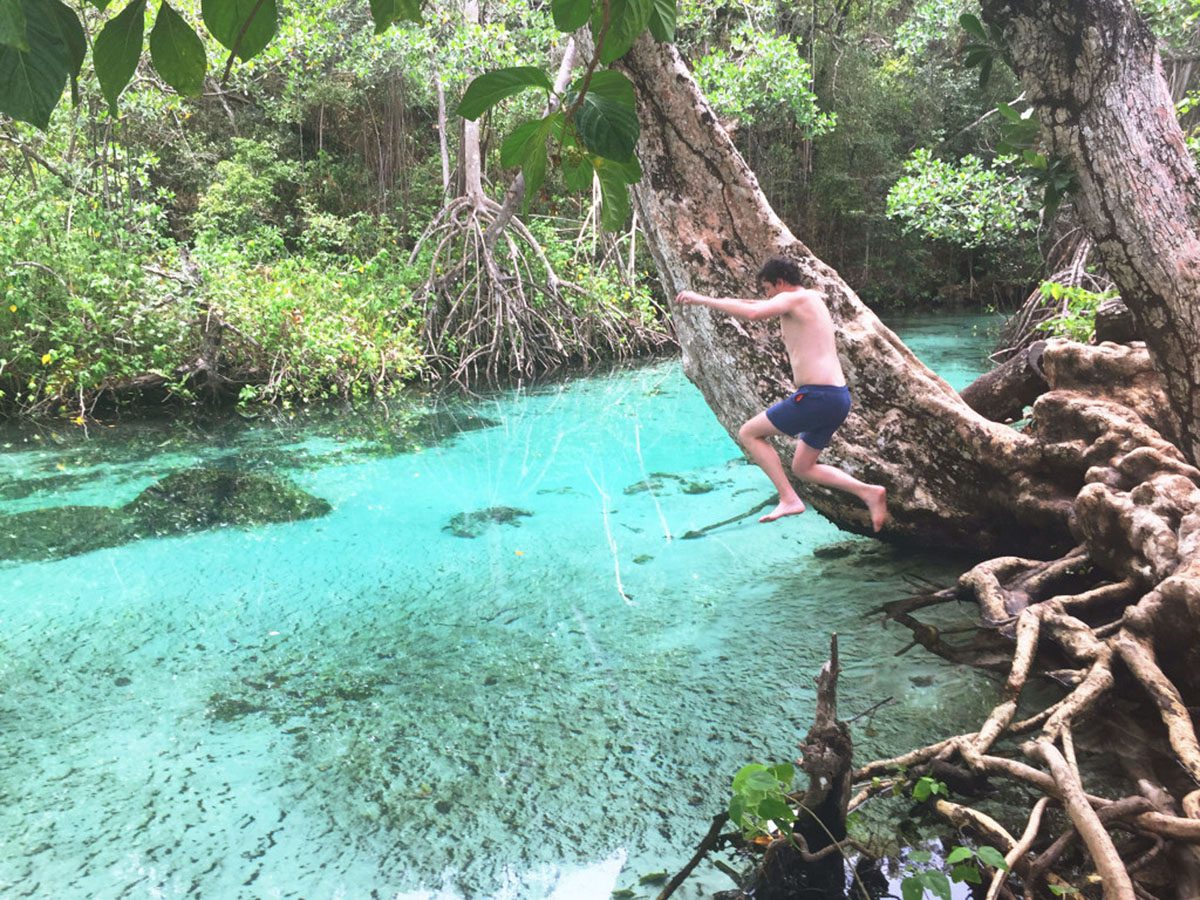 After a little while, we rode back to the beginning of the beach, and sat down for lunch. We stuffed our faces with the freshest mahi mahi steaks, tostones, rice, and tomato salad. Rudy offered us some of his Mama Juana. He explained that it's a traditional wine that is mulled with rum, roots, honey, and wood chips from many different trees. We sipped on some of the sweet syrupy liquor, relaxed, and gazed out at the most picturesque beach I've ever seen. It was incredible.
Contact:
(829) 305-3368
Playa Fronton:
---
The next day, we decided to take a hike nearby. We heard many warnings, advice, and opinions on the subject. Some told us it was too dangerous, some that it was fine if you got directions, and most said that you should at least take a guide and leave all valuables behind. We only followed some of this advice. Everything worked out fine for us, but precautions should be taken if you plan to venture out on your own.
We started out early, getting a ride out to the eastern outskirts of town with a friendly expat. We still had not decided what we were going to do - hike to Playa Madama (a closer, and more well traveled hike) or hike to Playa Fronton (a much further, vaguely explained, but exciting hike). As we asked for directions for both, we heard things like "open the barb wire fence and pass through the farmer's pasture to the next rock path." Our new expat friend had fairly clear directions to hike to Madama, but when asked about Fronton, he told us we would have to ask local farmers along the way because he wasn't sure. We set off down the path to both, stopped at the fork and looked at each other. Play it safe? Go for a once in a lifetime adventure? We see-sawed for two minutes before saying "screw it" and taking the right veering fork into the unknown towards Fronton.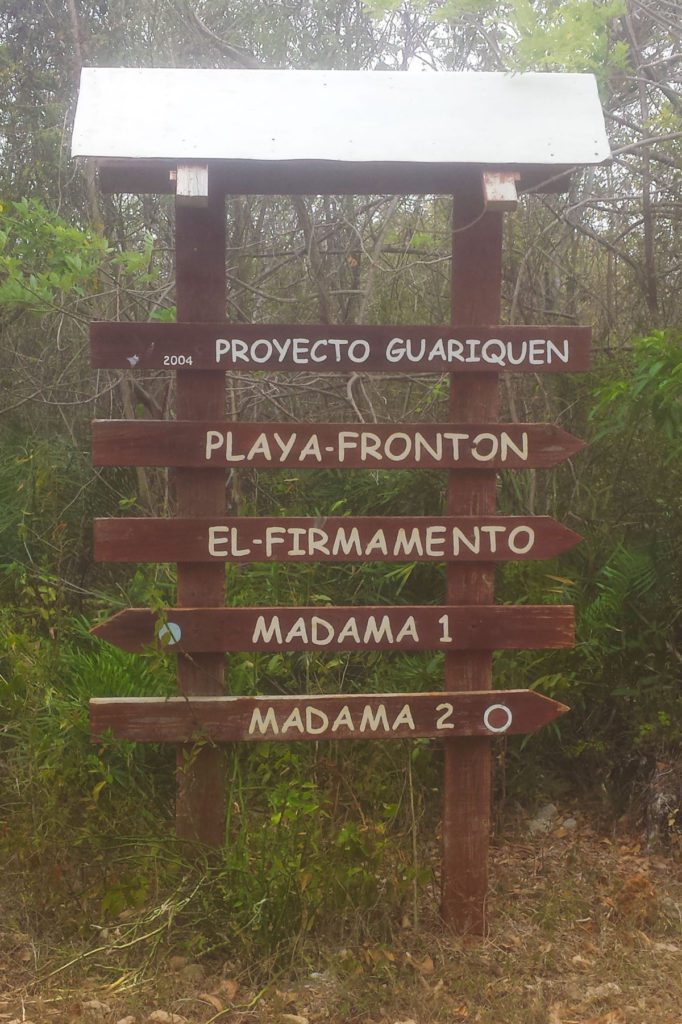 Fronton beach is the furthest beach east on the tip of the Samana Peninsula. It is shielded on it's western side by a sheer cliff, and is totally isolated. You can only reach it by hiking down the very steep cliff, or taking a boat in from Las Galeras. We knew it would be worth it if we could make it, but were very unsure if we would be able to find the right paths, as everything is unmarked and really only used by local farmers.
We took off down the red dirt road, passing several herds of massive cows and bulls each with a herder to keep them on track. The first time we passed a group, we sucked in our breath and flattened ourselves to the barb wire fence, praying the bulls kept to the center of the narrow road instead of stampeding over us. To our surprise, the bulls were extremely well trained and shied away from us as they passed.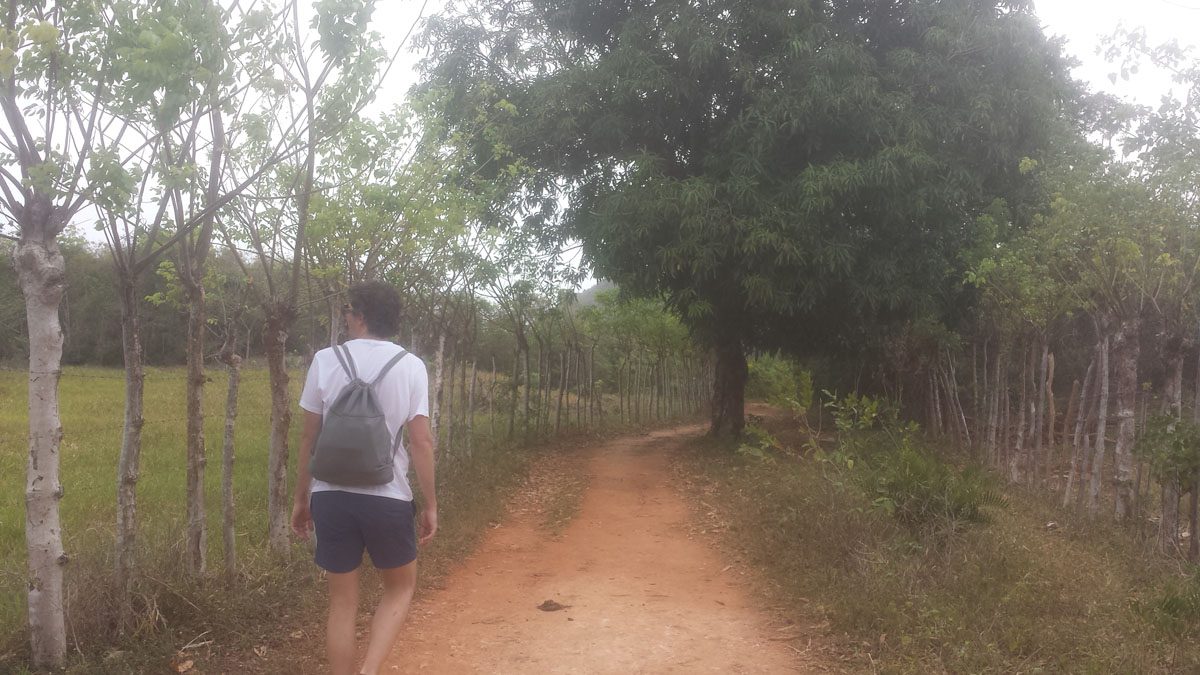 After walking for fifteen minutes or so, we started to wonder if any of the numerous foot paths off the main road were the right path. Finally we stopped at one, almost turning off down it, when we saw another herder coming our way. I asked him in simple Spanish if that was the way to Fronton and he told me no and gestured that we should continue down the dirt road we were on for much longer. He was going the same way so he indicated we should follow and he would show us. For the next 20 minutes or so, we had the amazing experience of following a local farmer and his herd of 6 bulls and cows up and down a hilly dirt path surrounded by jungle. Finally we reached a small rocky footpath that intersected with the road and he told us to turn there, mentioning that we would take that "Arriba, arriba, arriba" and continue for a long time. We thanked him, shook his hand and set off up the hill.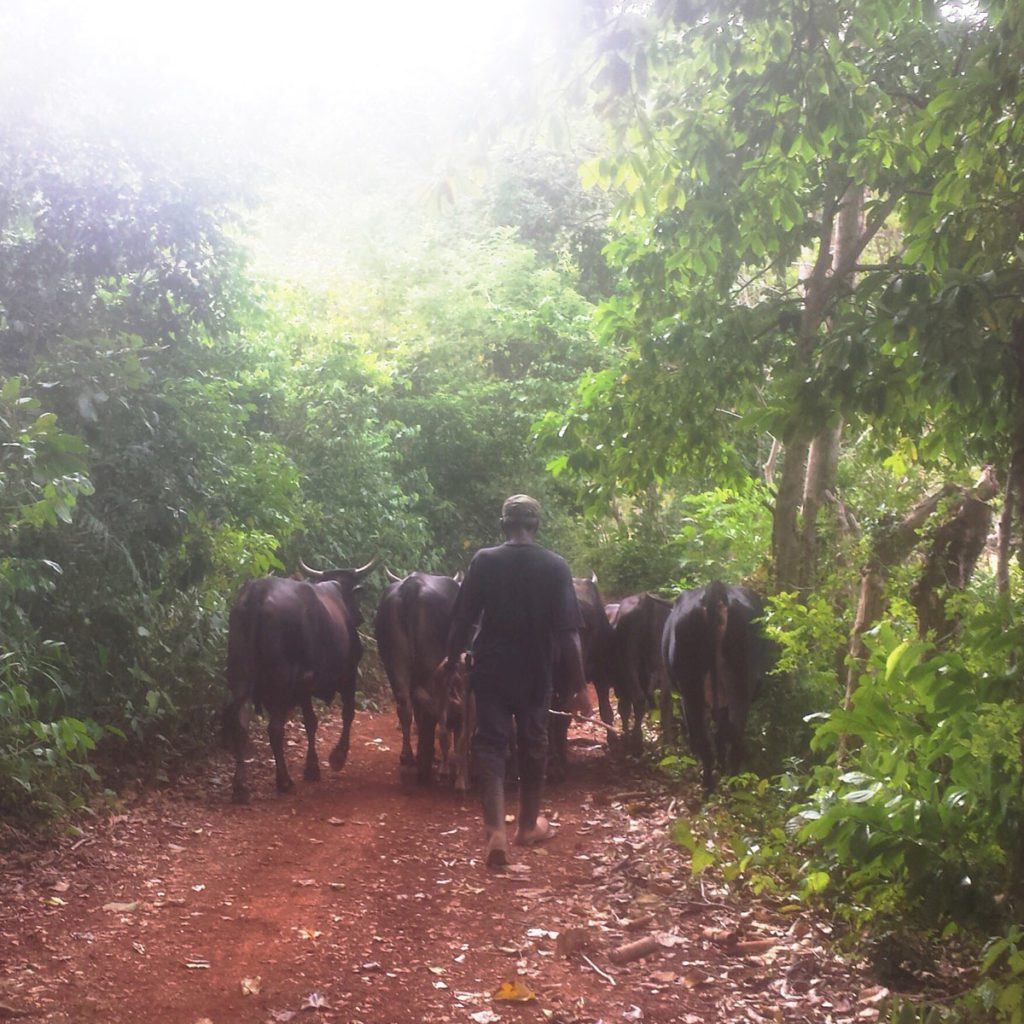 As instructed we climbed up and up and up the red rocky path. At the top we entered into a forest and continued towards the left. Anytime we intersected with another path, we questioned our directions, but then kept to the larger, more worn path. We continued through the forest, past some fields, past wild chickens, past some deforestation.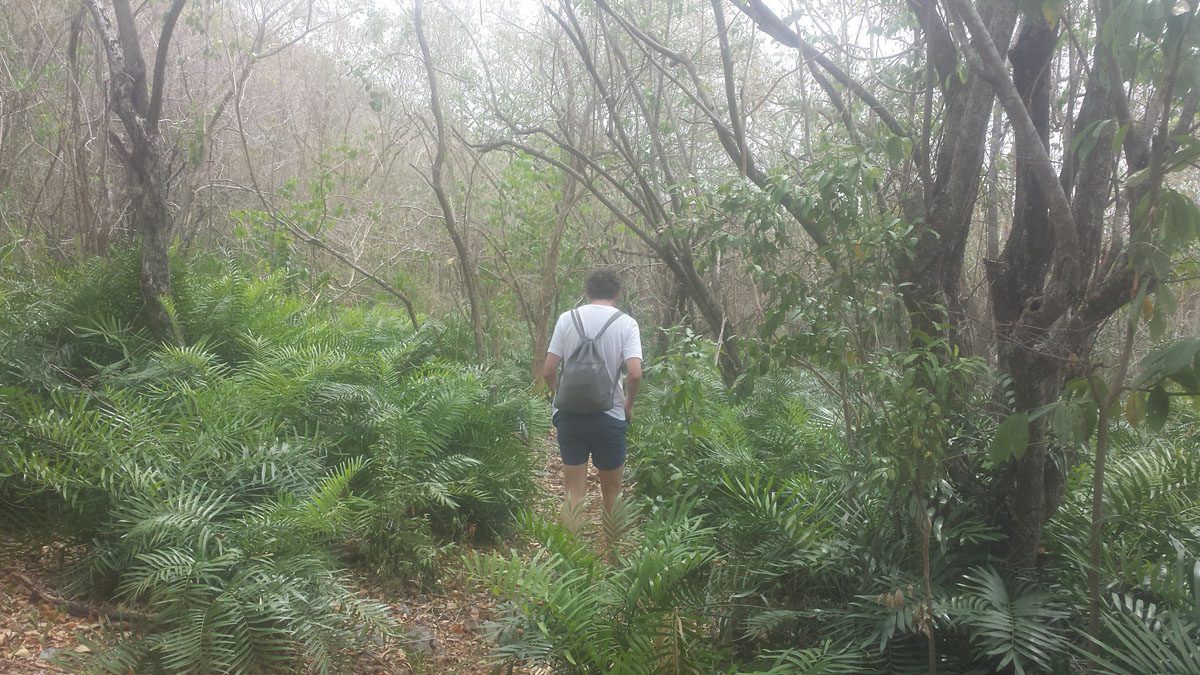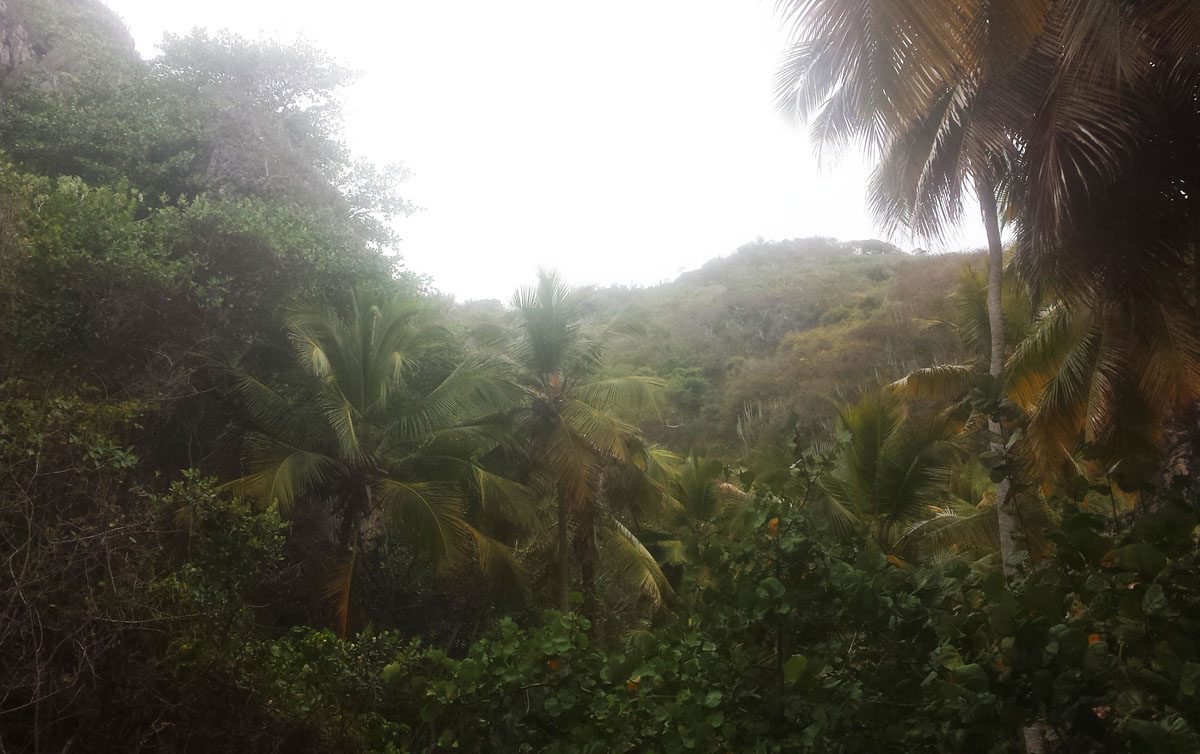 We didn't see anyone for miles and hoped we were on the right path. We later realized that this portion of the hike was following the ridge of the cliff back north parallel to the beach until we reached a part of the cliff that could be descended.
The cliff was tricky to climb down. It was the beginning of rainy season, yet very little rain had fallen yet so it was very dry. This surprisingly made a very slippery path, as the dry leaves slipped right off the dry crumbling dirt. My husband and I went very slowly, often using arms and legs to keep ourselves balanced and our footing secure. This part was very rocky, with huge rock outcroppings, and cacti growing out of the cliff next to palm trees.
We finally reached the bottom and stared up in awe at the enormity of the sheer cliffs surrounding the beach.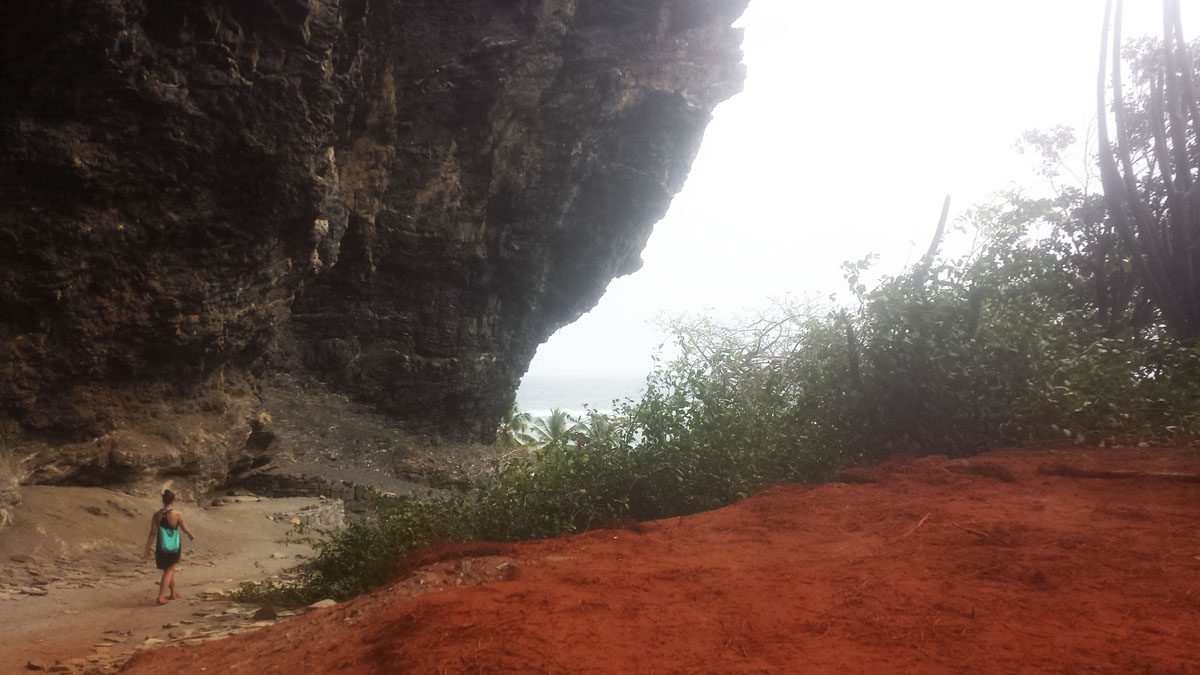 It's hard to describe the feeling of walking through the palm trees and arriving on the empty, wild beach. After hiking for miles, not seeing another soul around, and ending up on a beach that looked straight out of Swiss Family Robinson, we felt an eerie but awe-struck excitement. It was the most remote place I've ever visited and the most vulnerable I've ever felt. The somewhat cloudy skies, wind, and rough surf added to the ambiance. However, I wasn't afraid. We had taken precautions to leave all valuables behind at our guesthouse. We only took a small amount of cash for an emergency, my husband's slightly older phone for pictures, and some food and water.
We took quick dips in the ocean, and set up a picnic of peanut butter and raisin sandwiches, pistachio nuts, and water. After the long, difficult hike, the simple food was delicious and we sat in quiet contentment.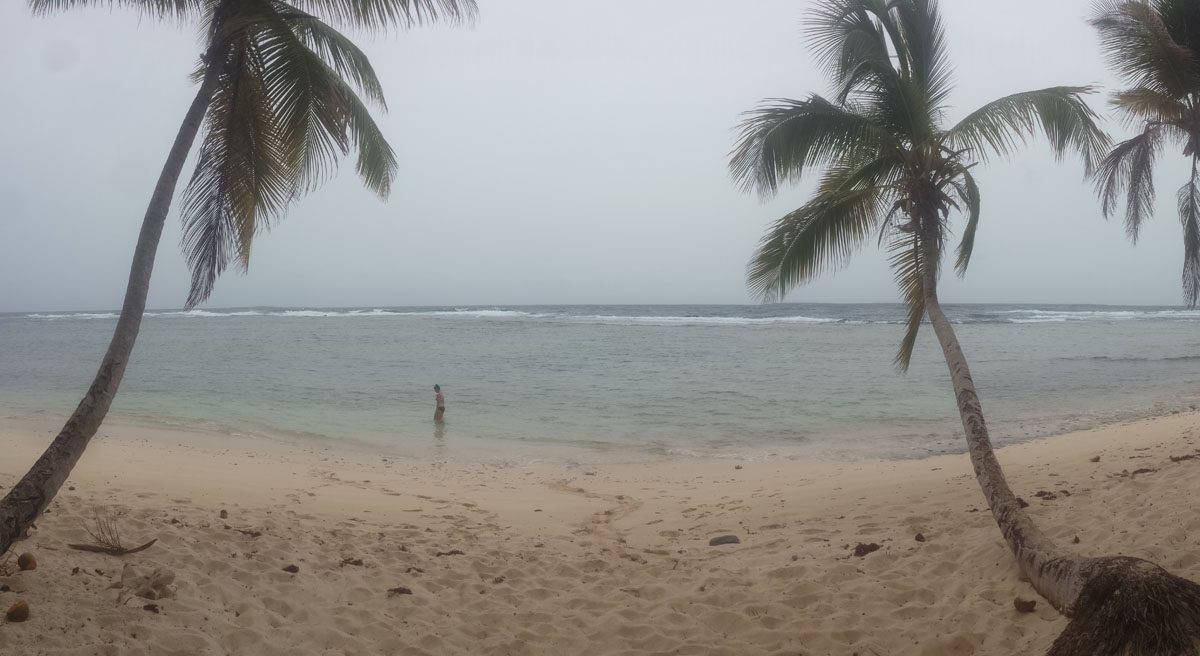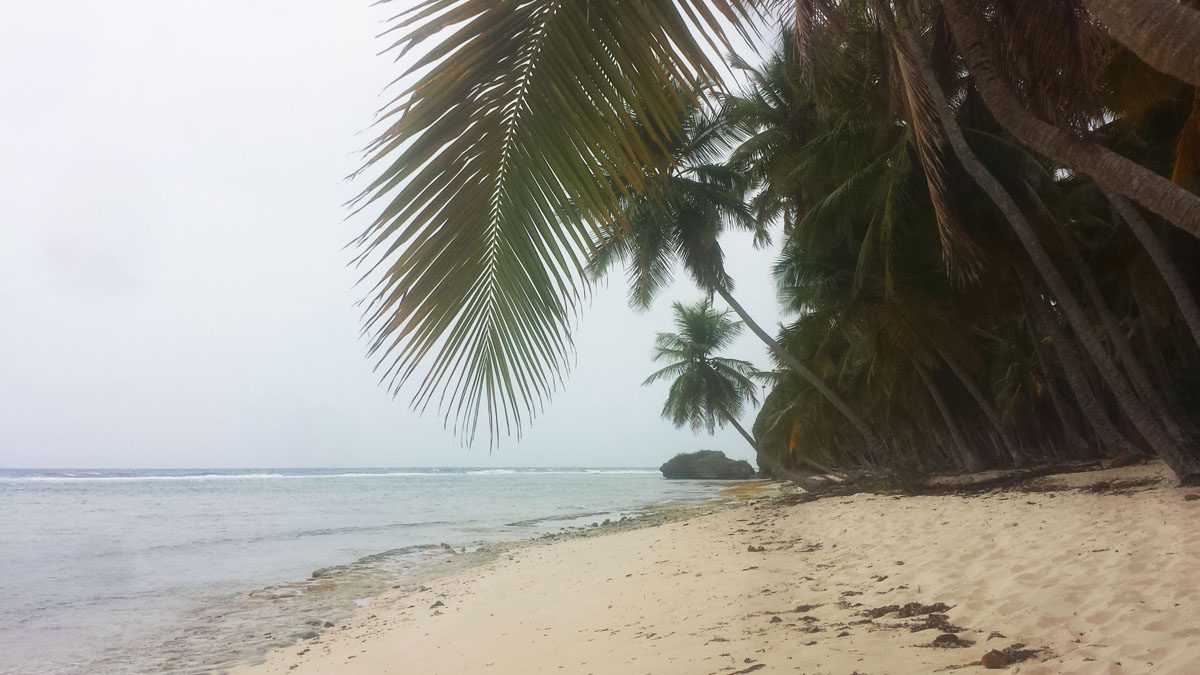 After about 20 minutes, we saw a speedboat on the horizon, coming towards us. We watched as it slowly made it's way to the beach and two passengers and the driver climbed out on shore. Coincidently, we had met the young couple on board before - we had all ridden the same minibus from Cabarete to Samana several days before. We said hi and then the driver asked if we wanted a ride back to Las Galeras. We looked at each other happily, negotiated a fair rate (luckily having enough pesos on us), and agreed to leave in one hour. We were so relieved that we wouldn't have to do the long, arduous hike in reverse. We loved that we made it through the challenge, but were happy to make our return trip much easier.
We spent our last hour there, walking down towards the southern end of the beach, past huge rock outcroppings, peeking in caves, picking up broken pieces of coral, and taking hundreds of photos.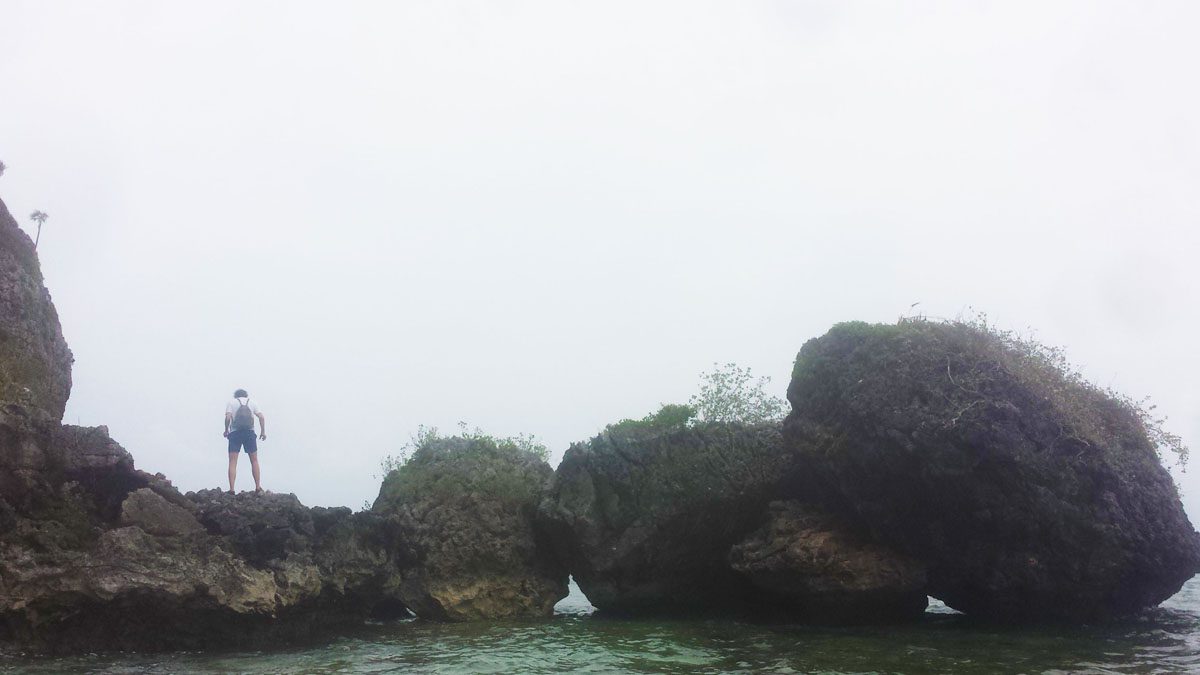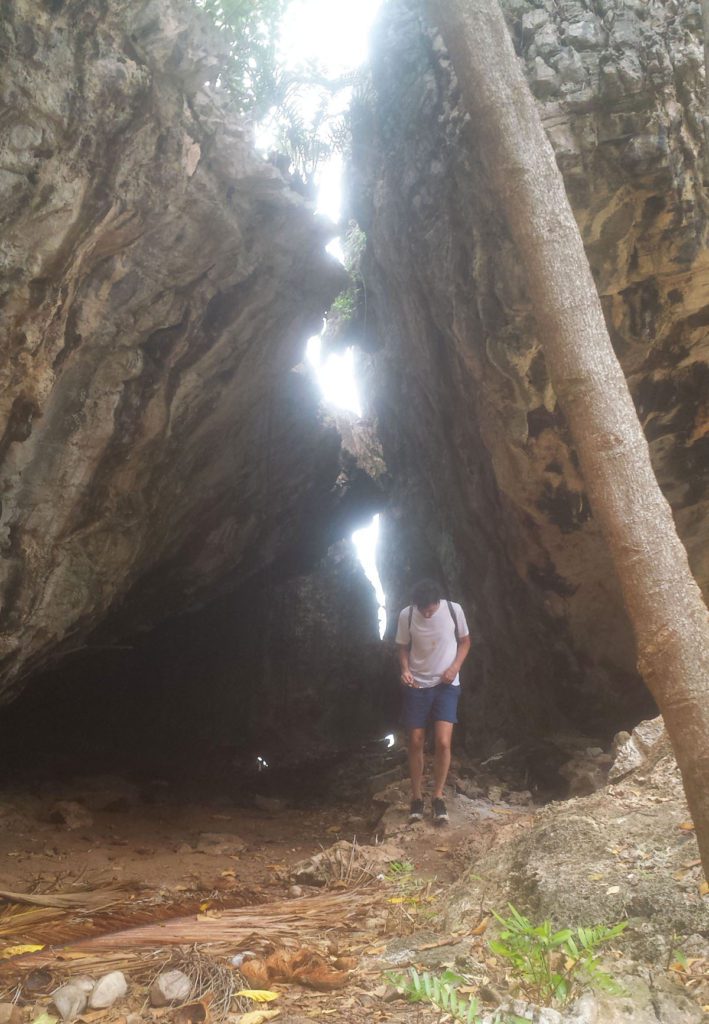 Leaving the beach was an adventure in itself. The wind was strong, and the surf was rough. Our small speedboat flew high in the air as wave after wave threw it up out of the water. We all laughed and gripped our seats tightly after each toss.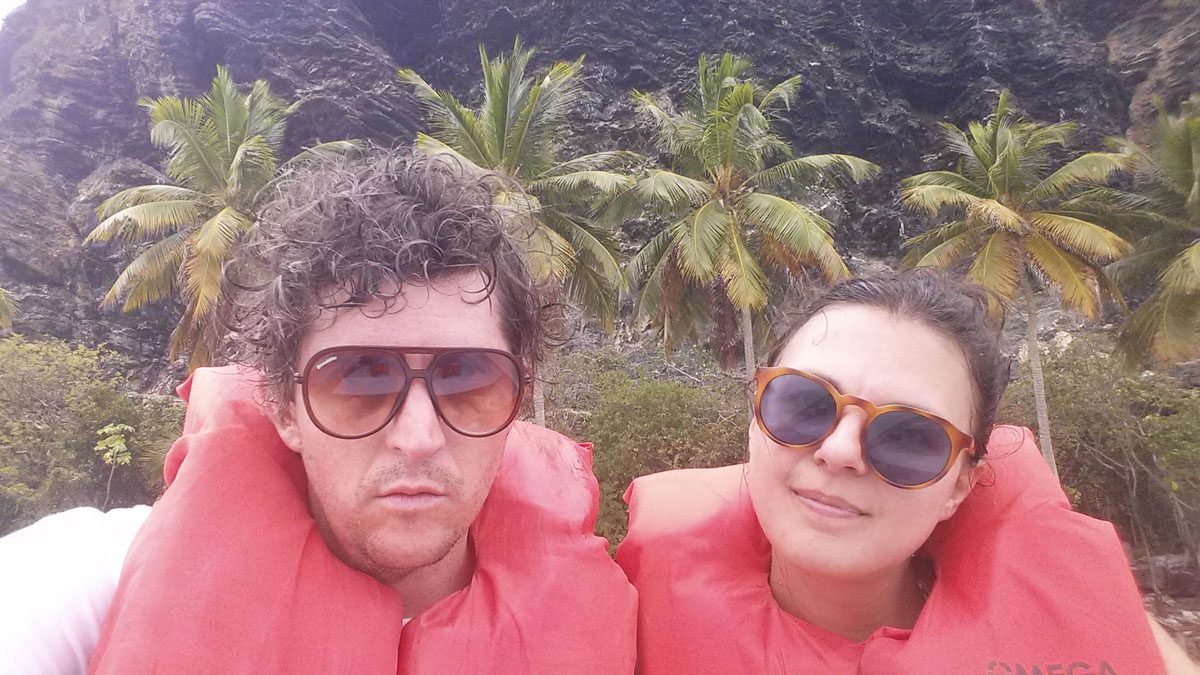 Playa Madama:
---
Finally we made it around the edge of the cliff towards the northern shore of the peninsula. The boat took us to the next beach - Playa Madama. The couple who originally rented the boat had purchased the traditional 3 beach boat tour, so we were thrilled to come along to see the final beach on our list.
Playa Madama is very small, but to me that was what was so magical about it. It's a tiny cove, with cliffs on either side, and a small and narrow white sandy beach in the middle. The water is incredibly still in the cove and great for a refreshing dip or snorkeling. We didn't have snorkeling gear with us, so we took our time floating and swimming in the peaceful setting. Only one other couple was already on the beach so we had it mostly to ourselves. The boat driver walked into the forest, cut down two coconuts, and fed us pieces of a mature coconut (fresh and sweet) as well as a young coconut (chewier and more earthy).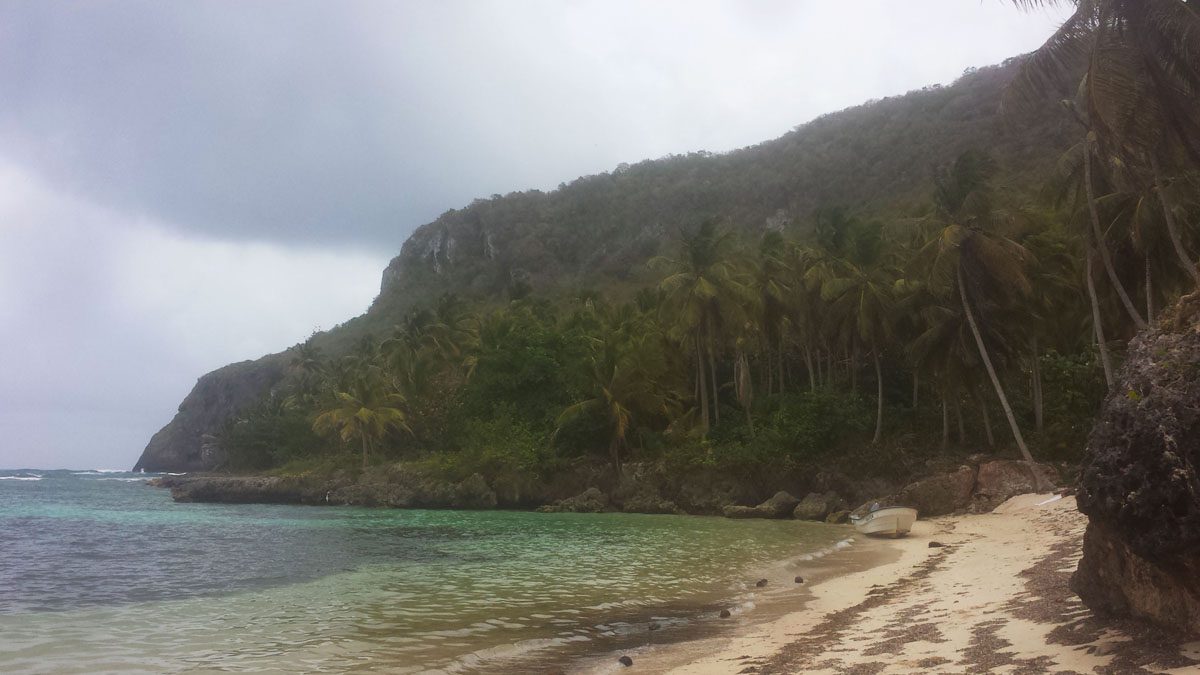 After another half hour, we got back on the boat and made our way back to Las Galeras. We were let out near the town beach, and strolled slowly back to town.
Contact:
I would suggest asking trusted locals in town (such as Diane at The End of the Road, Rudy at Rudy's Rancho, or your guesthouse host) how safety has been in the area and/or to get the name of a good local guide. If you do decide to go on your own, leave valuables behind. It may also be a good idea to arrange a boat pick up from your destination ahead of time for a relaxing journey home.
---
I feel incredibly happy that we found unconventional ways to see these three amazing beaches. The journeys we took to each made them that much more special when we arrived. They were all wild, remote, and beyond beautiful, and each had a very different aesthetic. The three beaches are not to be missed, whether by a traditional boat tour or otherwise.