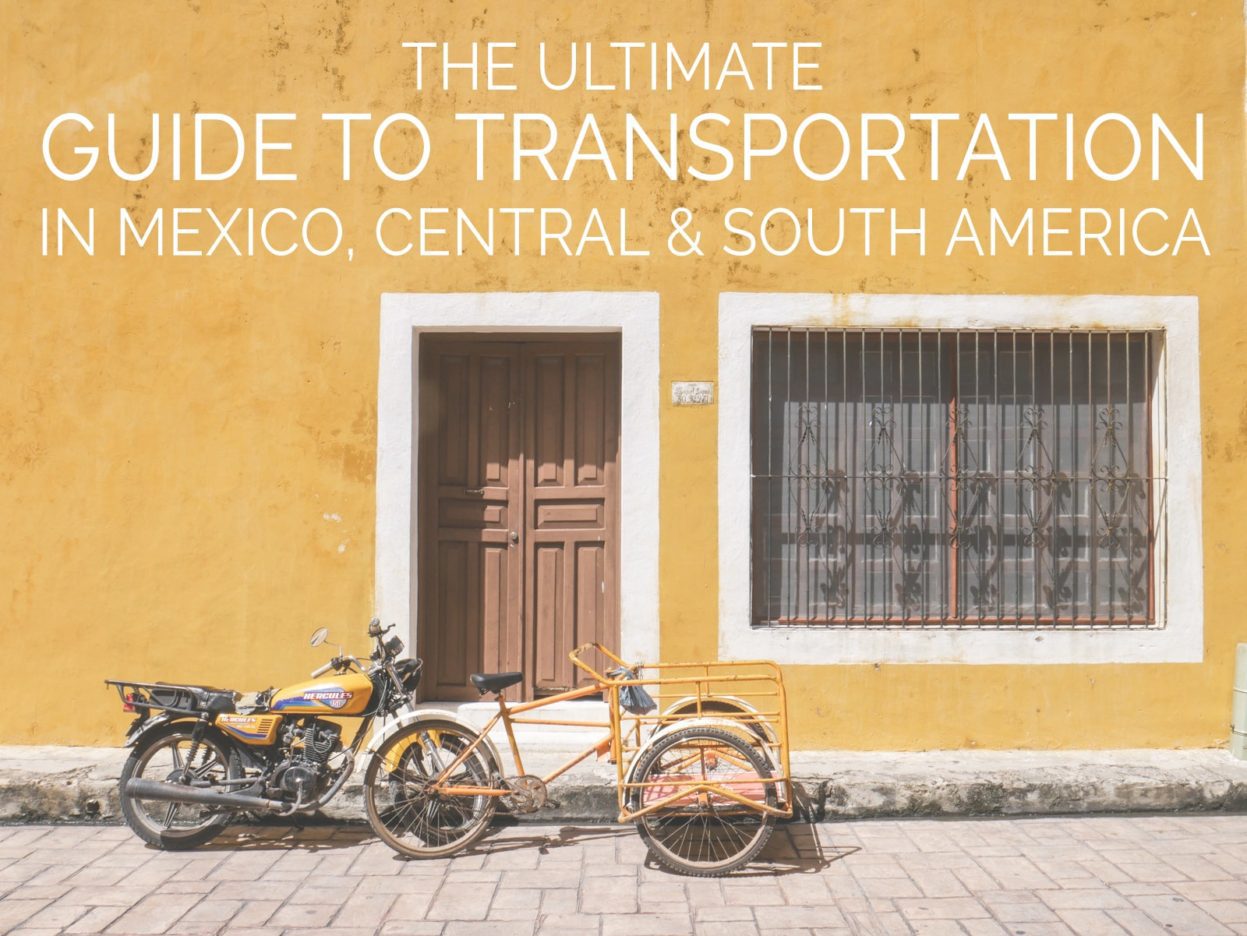 15 Ways to Travel Latin America by Bus, Boat, Tuk-Tuk & More!
Have you ever felt a little intimidated, or even terrified, to figure out how to navigate the plethora of options for transportation in Mexico, Central and South America?
Don't panic and book the incredibly overpriced private transportation you find online. Take a few minutes to understand the many tried and true modes of transport. Locals use them, mothers with babies in tow, men traveling for business, families, grandmothers, etc. These options are all safe to travel Latin America (granted you do your research and use common sense) - just learn about how each works, and you'll feel comfortable joining in the fun!
Bus
There are a few types of buses in Latin America - The Chicken Bus, the Modern Coach, and the City Bus.
The Chicken Bus
This is a right of passage when you travel Latin America. Usually found only in Central America - Guatemala, Honduras, Belize, El Salvador, Nicaragua, and Panama (Costa Rica has upgraded to the modern coach - see below). These are old US or Canadian school buses that have been reborn in Central America as pimped out, loud and colorful public transportation. They all list their destinations in the front window, and everyone crowds inside, sometimes sitting 3-4 people on one side of the bench.
My best advice is not to be intimated. Go to the "bus station" which will likely be an open parking lot full of chicken buses. Ask the men hanging around for the bus to the location you wish to go. They'll be happy to direct you to the right place. Take a seat on the bus and relax - transportation in Mexico, Central and South America runs on a more relaxed schedule.
Don't worry - the fare will be incredibly low - usually less than a dollar, and the people-watching will be incredible. You will also find vendors climbing on the bus at periodic stops - selling delicious snacks (mango, empanadas, chips, water, soda, local refreshing drinks in plastic bags with straws, etc.).
Just be sure to keep a close eye on your belongings. I prefer to keep my bag on my lap, or right above my head in the overhead rack. There have been cases of theft, so just be alert and aware.
Cost - <$1/per hour.
Verdict - Sometimes uncomfortable, especially for long rides. Up close and personal look at local culture. Affordable!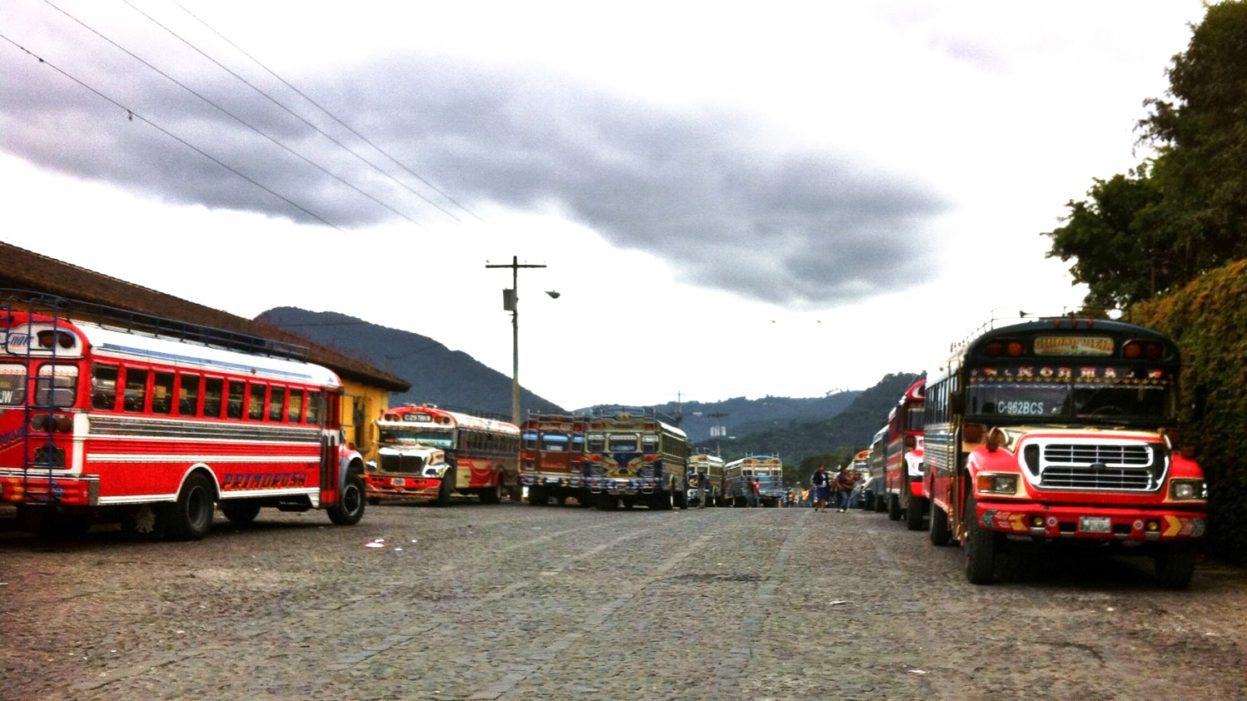 Chicken buses in Guatemala
The Modern Coach
This type of bus is more common as transportation in Mexico, Costa Rica, and almost all of South America. These buses really range wildly.

In Mexico, you have your choice of Second Class, First Class, and Executive Class Buses. Second Class buses are fairly comfortable, may or may not have air conditioning and bathrooms on board, and tend to make more stops (so less direct). First and Executive Class are all comfortable coaches, with plush seats, bathrooms on board, and usually movies playing. The Executive Class buses will give you snacks and refreshments, and feature seats that recline to almost sleeping position. Of course, price varies with each class.
In South America, most long distance busses are quite comfortable. In Colombia and Ecuador, there isn't much choice. All buses tend to be about the same, but they all run very well. They're all modern coaches, with comfy reclining seats, movies, bathrooms on board, and curtains in the windows. Prices are slightly higher than chicken busses, but still incredibly reasonable. In a lot of countries plan to spend about $1-3 per hour of travel. In some countries, there are problems with theft on the bus, so just be very aware of your belongings and keep valuables on your lap.
You still often have vendors climbing on at random stops - which makes a nice diversion and an easy snack break anytime you get hungry.


Cost - $1-3/per hour. More for the First and Executive Class Mexico buses.
Verdict - Very comfortable. Often have movies, reclining seats. Sometimes offer snacks and beverages.
The City Bus

In countries with Chicken busses, the local busses will be more of the same. Just look for the sign in the window to see where it goes.

In countries, with Modern coaches, the local busses will likely be smaller, older, and slightly dirtier versions of the long-distance busses. They usually don't have a storage space under the bus for suitcases, the seats are usually plastic, and everything looks a bit dingier. However, they are cheap and efficient.

Cost - >$1
Verdict - Dingey but efficient and affordable.

Colectivos or Cambis
These vans are common transportation in Mexico and Central America. They are passenger vans seating 10-15 people. They range in comfortability depending on how many passengers the driver tries to cram in - the general rule is that a colectivo is never full! Cost can be equivalent to the bus, or a bit higher if the colectivo is more direct.
To complicate the matter, sometimes shared taxis are called colectivos in parts of Mexico. Often they will have a different color paint than private taxis (for example, in Oaxaca, colectivos or shared taxis are burgundy, while private taxis are yellow). More about shared taxis below.
Cost - $1-10 (depending on distance)
Verdict - Will usually stop anywhere that someone flags them down, or asks to be let out, so sometimes more convenient than a bus.

Just note: on winding mountain roads, you will often be tossed around the van a bit. And you're at the mercy of the driver for bathroom breaks.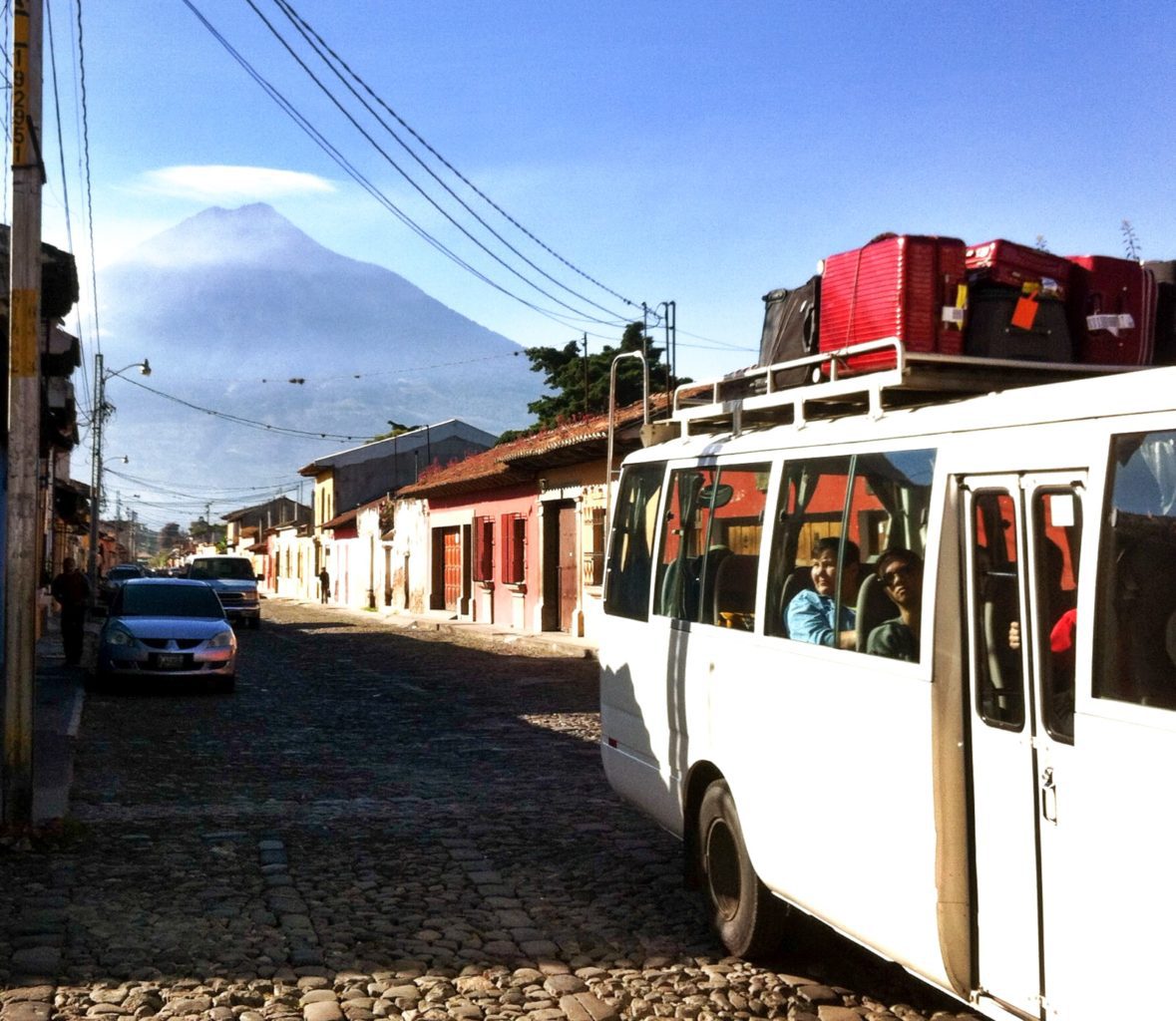 A colectivo in Guatemala.
Pick-Up Truck
There are a couple variations on this transit:
The Stand-up Truck Bed
This is common in Guatemala and other places in Central America. You pay a few cents, cram in next to some grandmothers and chickens, and grasp the railing around the side of the truck bed while trying to maintain your balance as you bounce along mountain roads.

Cost - >$1
Verdict - Very cheap, Up close and personal with locals, sometimes the only transit in areas without regular buses.
The Gua-Gua

This is one of the most common transit options in the Dominican Republic. It's a pickup truck with rustic wooden benches built in to the edges of the truck bed. There is usually a roof covering as well to shield passengers from the sun. It's slightly more comfortable than the stand-up variety, but you are often just as crowded. Passengers often crowd in the middle, and hang (literally) off the back.

Cost - >$1
Verdict - Very cheap, slightly uncomfortable, but often the only option in rural areas.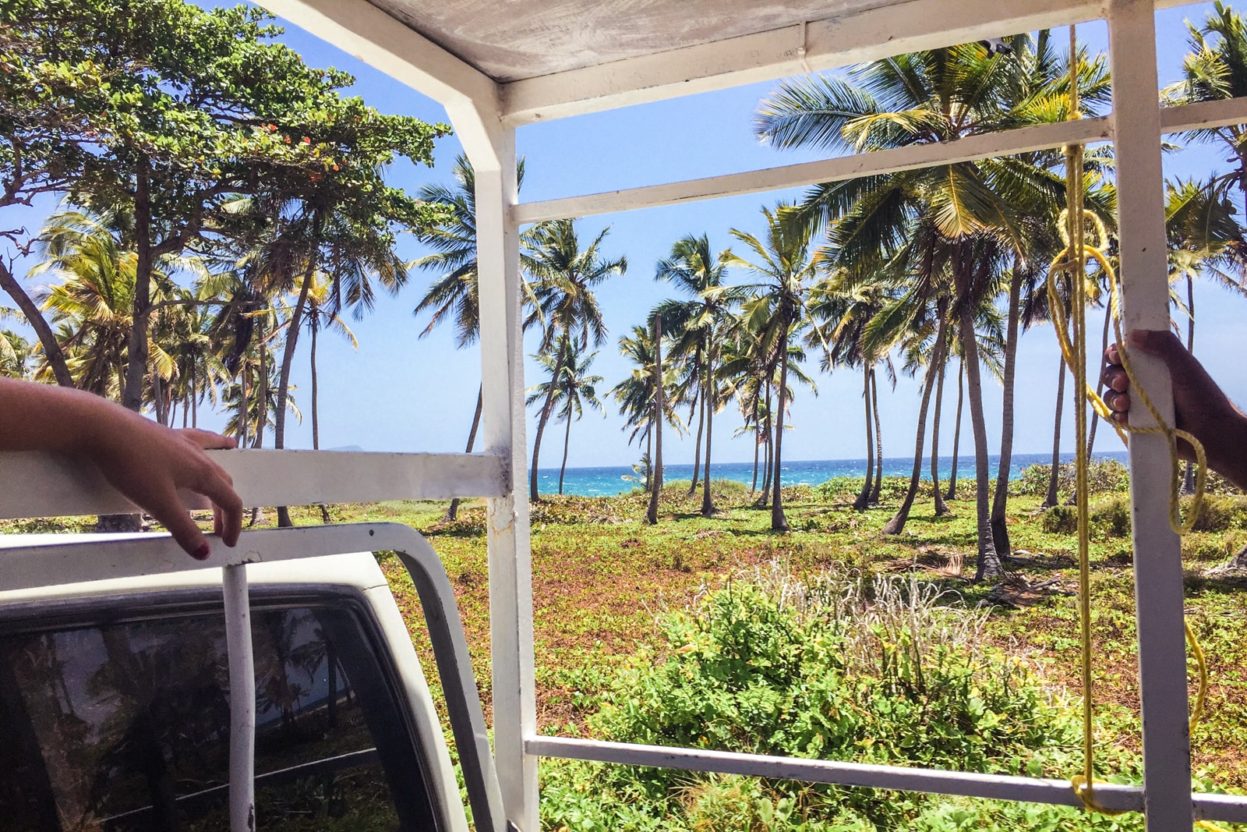 Traveling by Gua Gua on the coast of the Dominican Republic.
Metros

This is not a common type of transit in Latin America, but it can be found in some cities (major cities in Mexico, Panama City, Medellin, major cities in Venezuela, Lima, major cities in Brazil, Buenos Aires, Mendoza, Santiago, Valparaiso, and the capital cities of Puerto Rico and Dominican Republic). They are often new, clean, and efficient. They get you to your stop quickly, and are usually well marked and easy to understand.
Bootsnall has a great article on Metro systems in South America.
Cost - <$1-$1
Verdict - Seating and standing room, clean, efficient. Often link up to busses or other transit.

Chivas
Chivas are big trucks with colorfully-painted open air benches, and a roof. They are often used for tourist purposes in rural areas, or as party busses in cities. They can be super fun, but be prepared for blaring reggaeton and flashing lights.
Cost - $1-5
Verdict - Scenic, fun, loud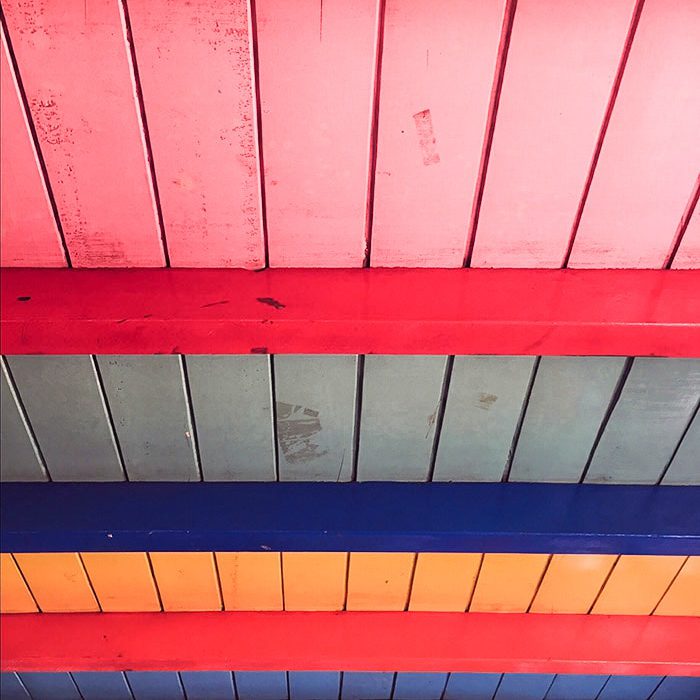 The colorful roof of a Chiva in Colombia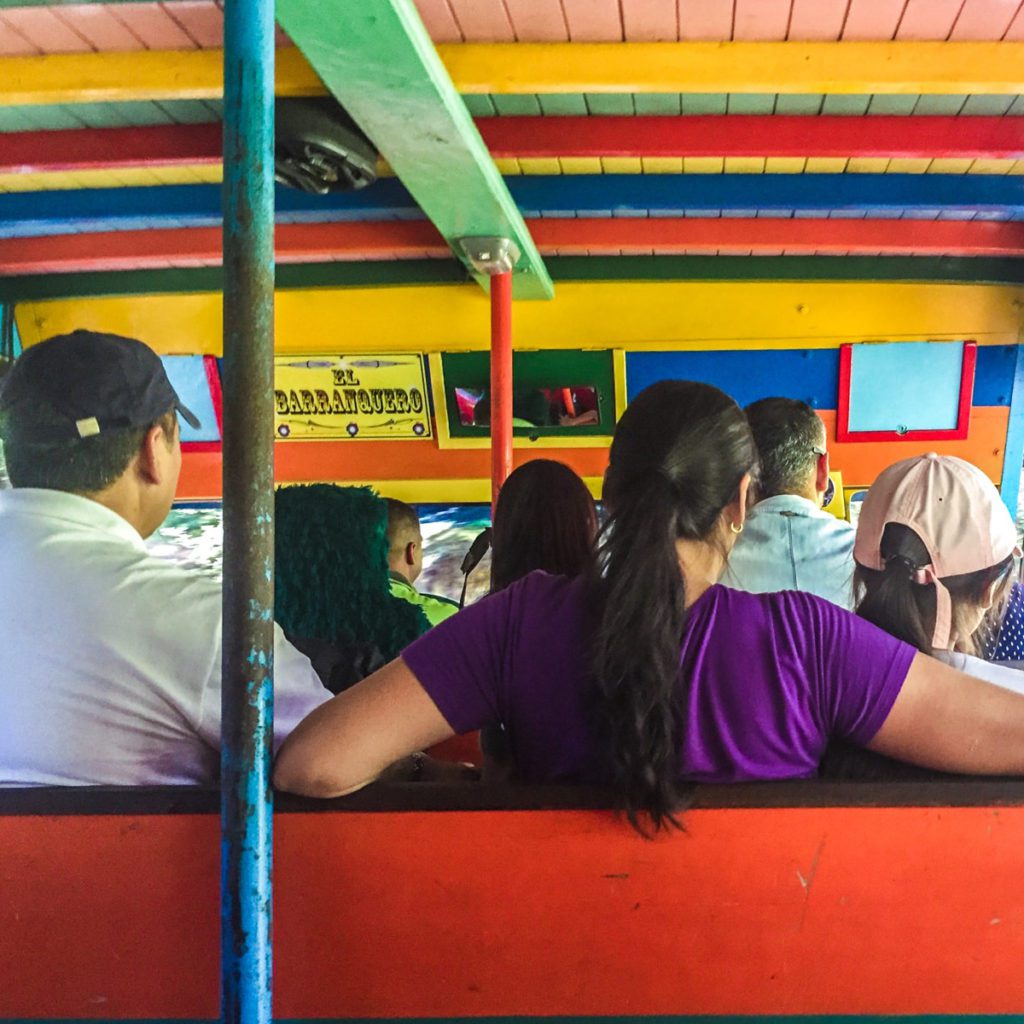 Riding in an open air Chiva.
Moto-Taxis
There are two types of Moto-Taxis:
Motorcycle Taxi 
This is the most adventurous. You will literally get on the back of a bike, hold on to your driver, and let the wind blow through your hair. Sometimes there is a helmet, sometimes not. This requires a lot of trust and a go-with-the-flow attitude. It can be a dangerous if you don't have a good driver, and the ride is not usually very comfortable. Proceed at your own risk.

Moto-Taxi with Front or Back Bench
These are motorcycles with a bench area either in front of the driver, or behind. Feels slightly safer than the above, with a bench, a railing, and a canopy.


These taxis are usually found in rural areas where cars are expensive, and buses don't go everywhere. We once had to ride 20 minutes with separate drivers down dirt roads in rural Colombia. Definitely an adventure. I remember wondering where our big backpacks would go, but the drivers non-chalantly threw them in front of themselves towards the handlebars. They expertly balanced our bags and the bike, winding down country roads, avoiding potholes, and singing along to the radio.

Cost - >$1-$3 (for long distances)
Verdict - Adventurous and very affordable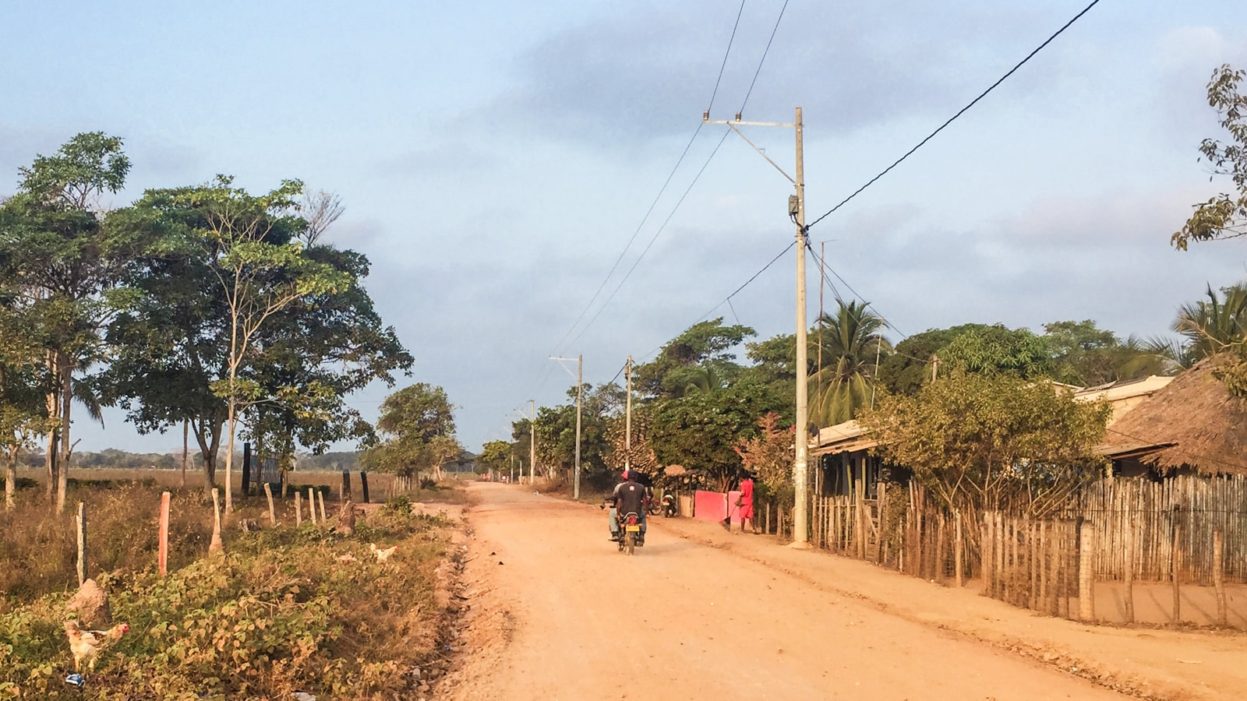 A moto-taxi - the only transportation in this part of rural Colombia.
Tuk-Tuks
These are similar to the moto-taxi's with benches, but look quite different. They are three-wheeled tiny oval vehicles with a bench in front for the driver and one in back to fit 1-3 passengers. They are enclosed except for an opening on either side to slide in or out. They're often found in rural areas where cars are less common.

Cost - $1-5 depending on distance
Verdict - Fast, easy, comfortable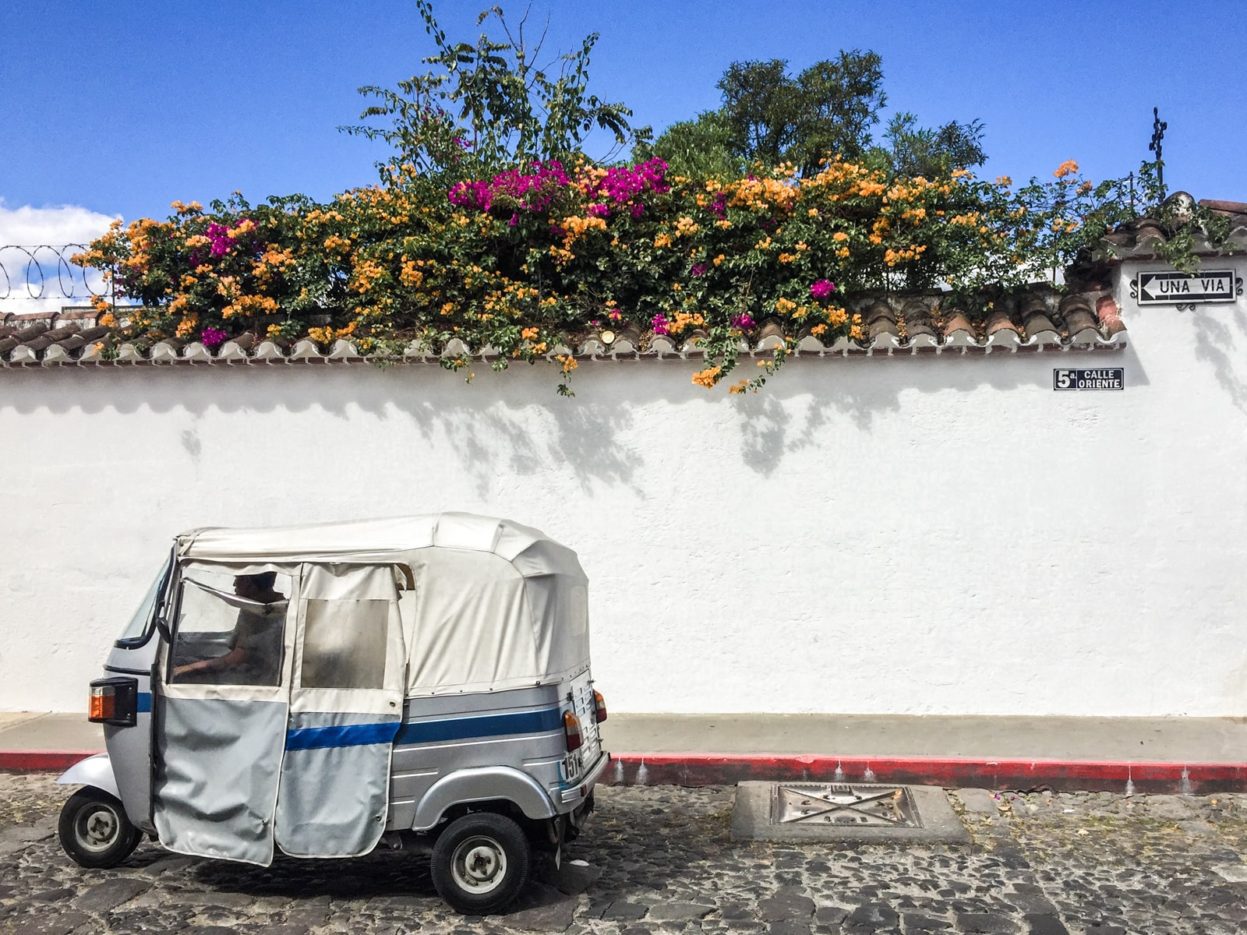 A tuk tuk on a picturesque street in Guatemala
Pedi-Taxis
You will see these occasionally in rural areas. Quite simply, it's a bike with an attached bench in front or back.

Cost - >$1 - $1
Verdict - Cheap, a slightly slower way to get around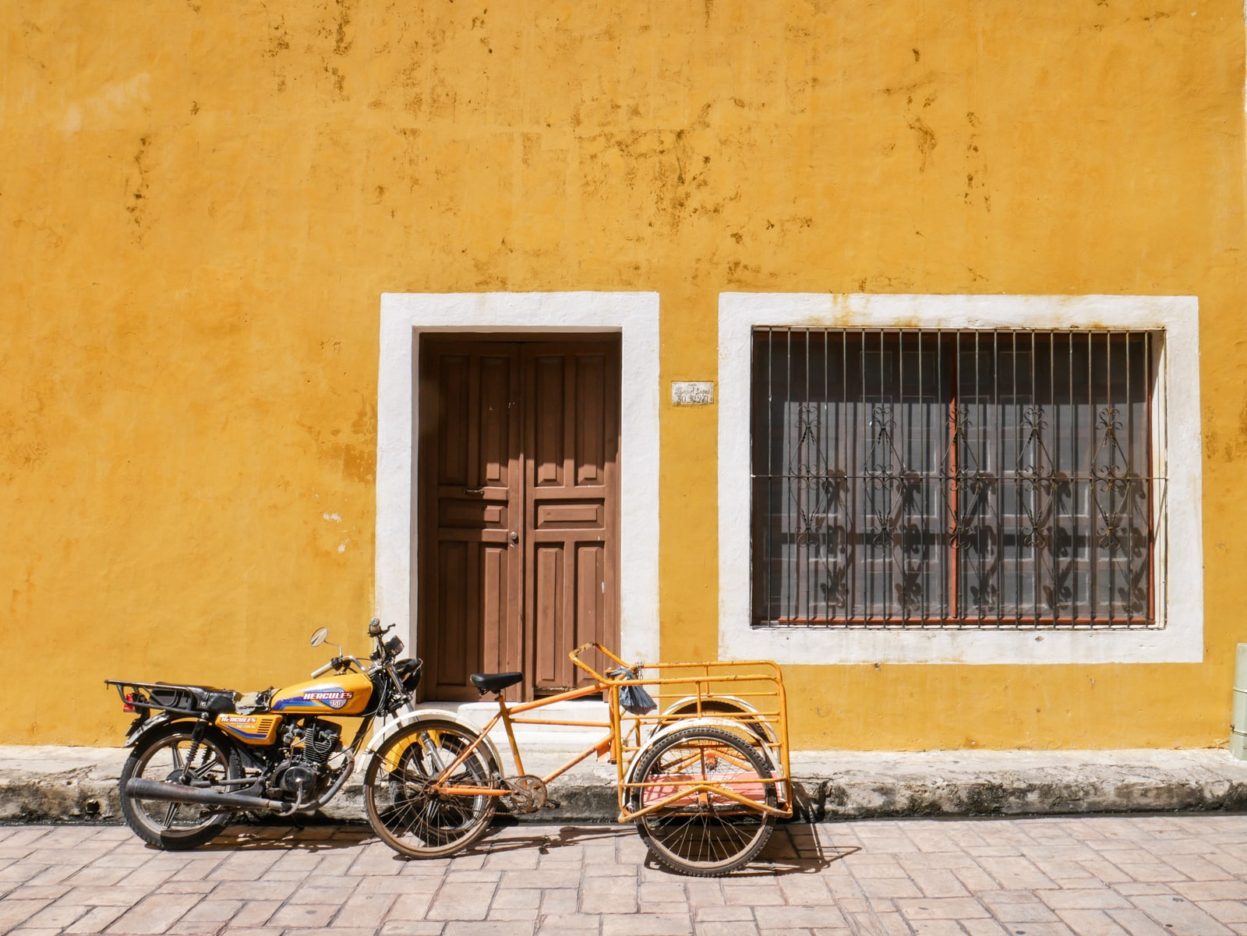 This pedi-taxi is most likely just used to transport goods around, but passenger pedi-taxi's have a bench in the front cart.
Cable-Car or Teleferico
This is a very fun means of transit - small enclosed cars, dangling from thick cables that usually run from a city, high up into the surrounding mountains. These are common in cities located in valleys in the Andes Mountains. They often connect the city with neighborhoods high on the mountainside, or with parks and green areas on the tops of the mountains.
It's a great tourist activity when visiting a new city. You will have a fantastic view of the city, as well as the surrounding areas. One of my favorite ways to travel Latin America.
Cost - $1-8.50 (sometimes a more expensive fare for foreigners, as in Quito)
Verdict - Super views, usually a tourist activity.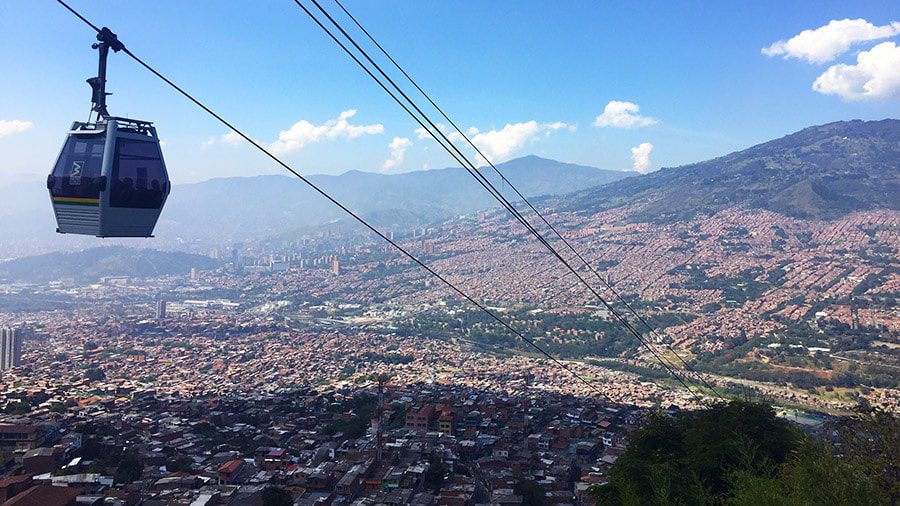 Stunning views from the cable car in Medellin, Colombia.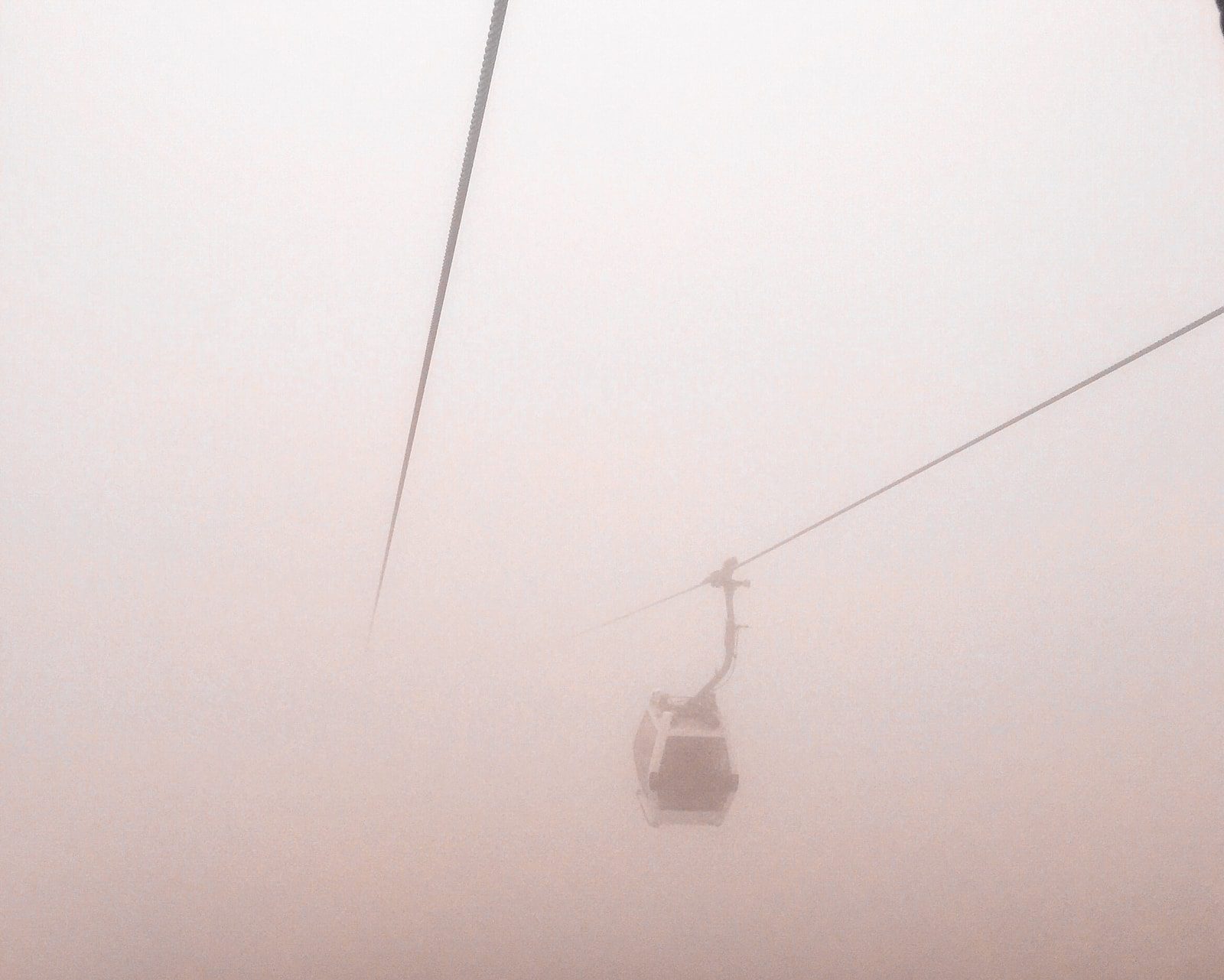 Traveling up a misty mountain by cable car in Ecuador.
Ferries/Lanchas
These are the common modes of transit in areas along coast, in lakes, or among islands. The modes of transit vary by size:
Ferries 
These are the largest of the transit boats. They are often two levels, and sometimes have room to transport cars. They usually are "tossed around" less by the waves, so are a better option for those prone to seasickness.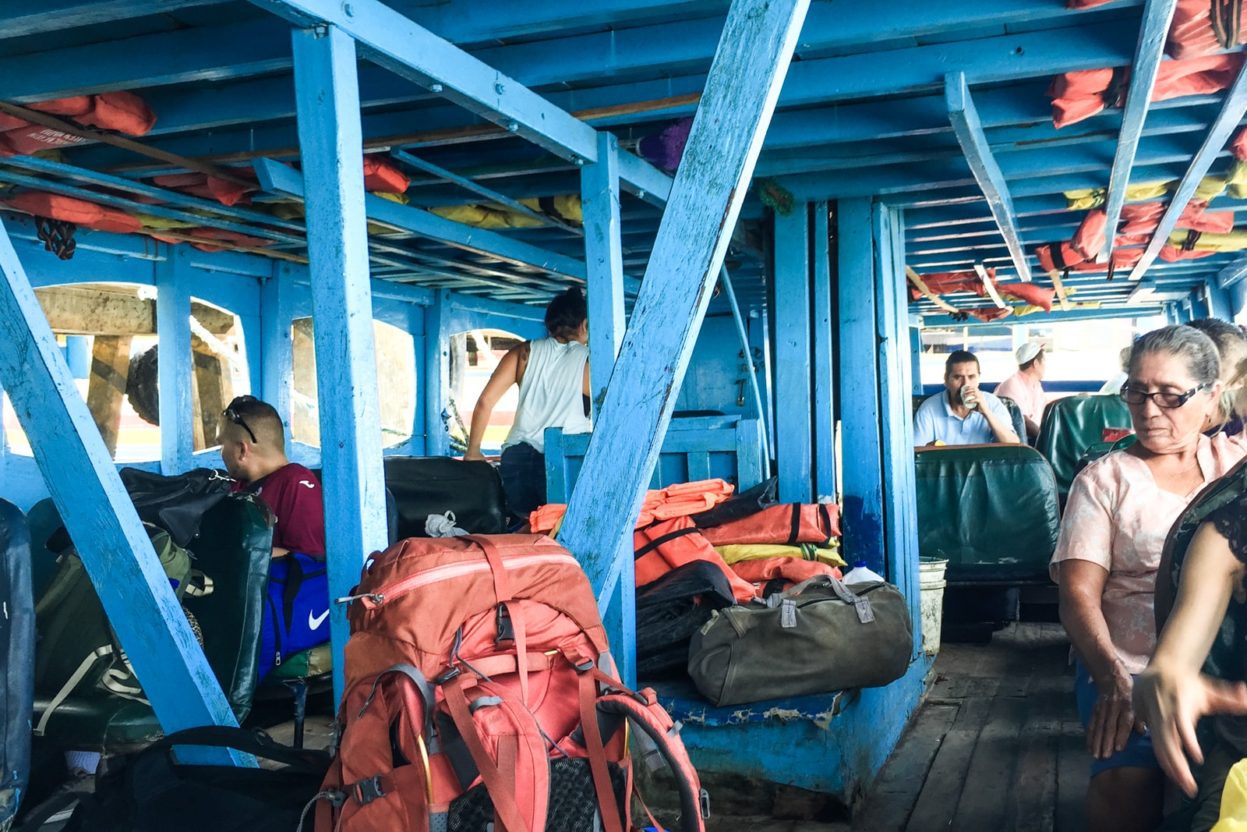 The inside of a ferry going to Ometepe, Nicaragua
Lanchas
These are smaller than ferries, but bigger than a small boat. They often still carry a couple dozen people, but are more prone to swaying with the waves.
Cost - $1-5 (depending on distance)
Verdict - Wet, wavy, but often the only way to get between water dominated areas.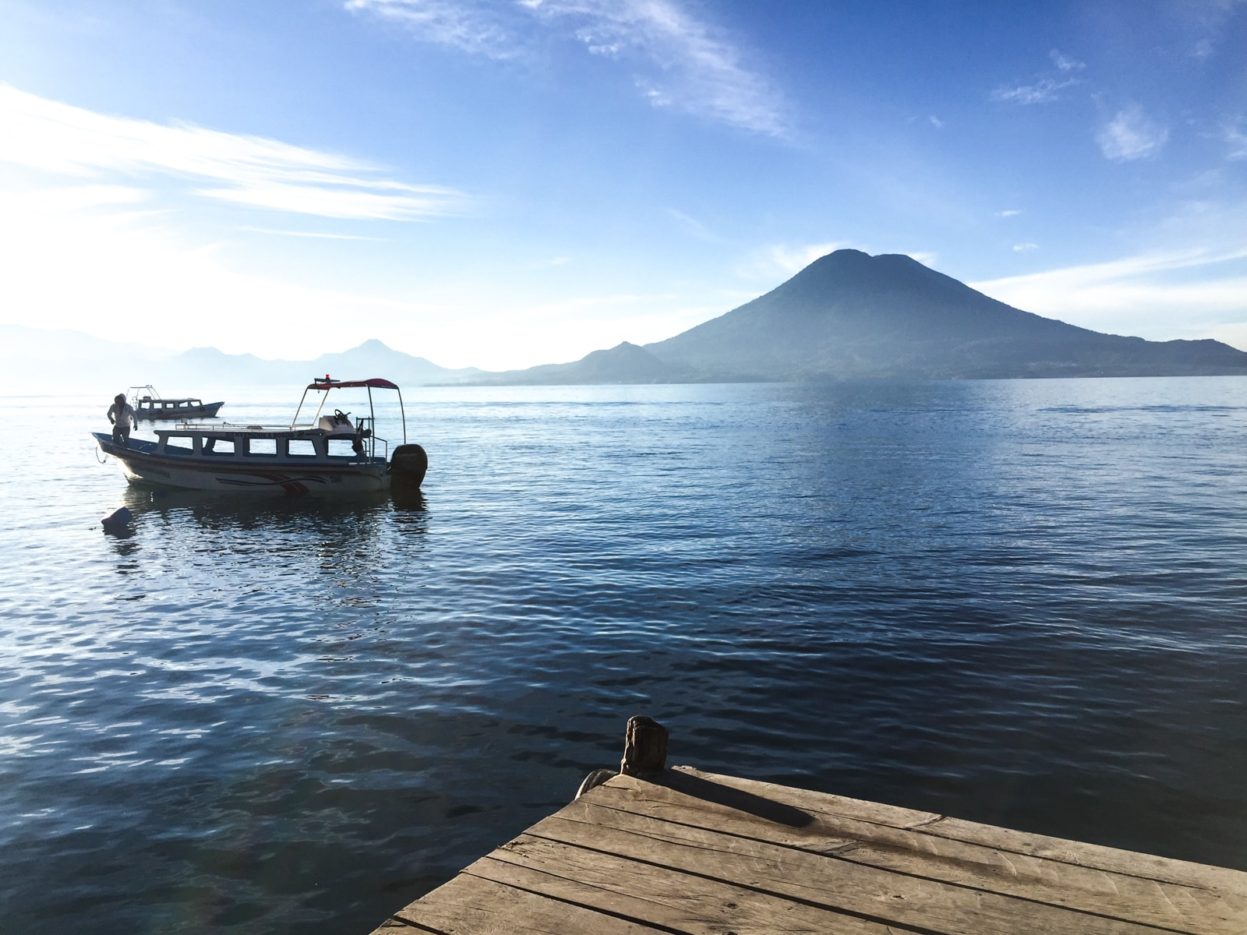 A lancha on Lake Atitlan, Guatemala.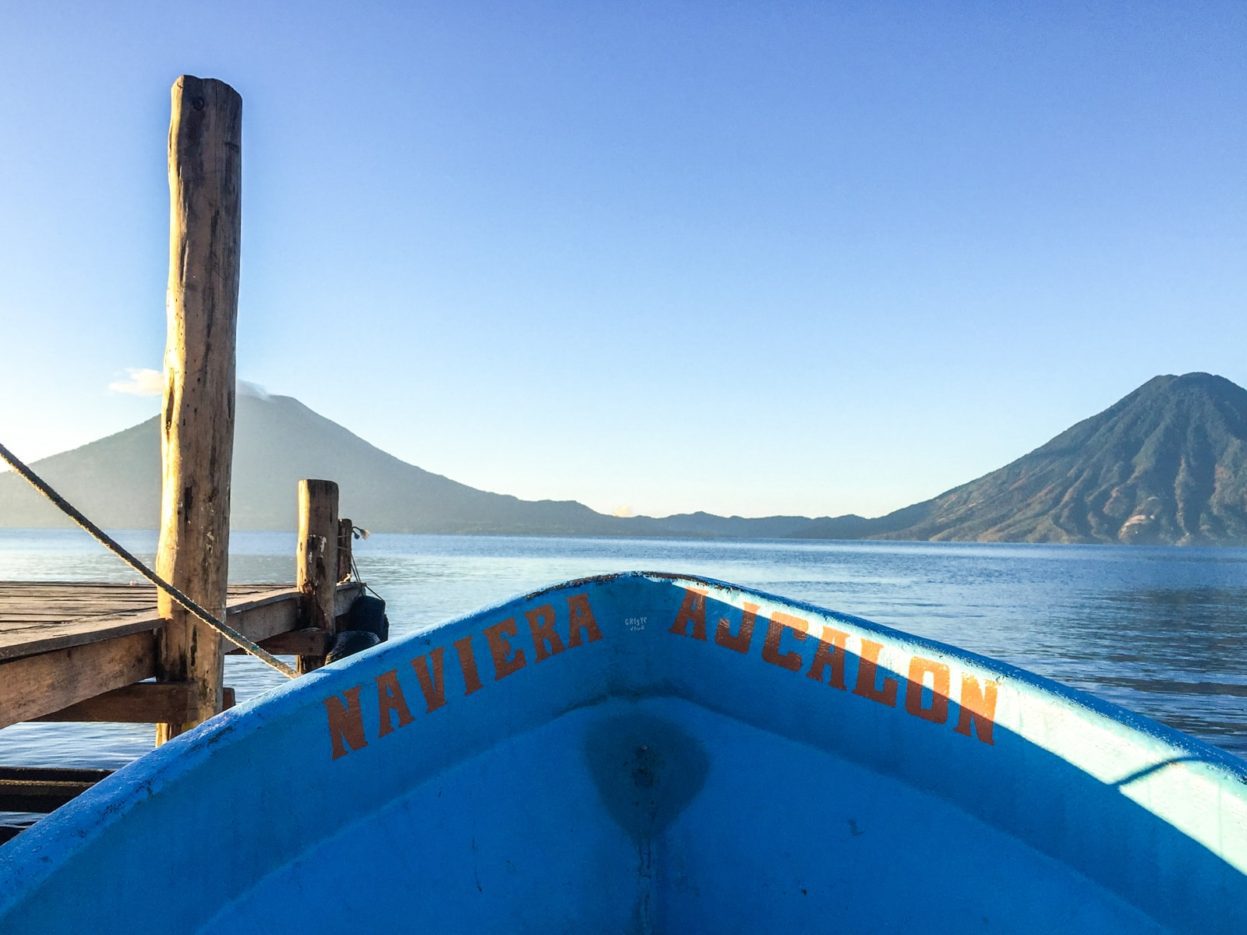 Views from a lancha.
Long Distance Sail Boats
This option is most common between Panama and Colombia - where the Darien Gap prevents people from traveling overland between the countries. Passengers charter the boat, usually through a company or captain. It's important to do your research - your captain will make or break your trip (not to mention be responsible for your safety in open water for extended periods of time).
Cost - $400-600
Verdict - Can be a completely amazing, breathtaking experience if you find the right captain. Do your research! Also keep in mind you'll most likely be sharing small quarters with 5-6 people. Have an easy-going attitude, and enjoy the view.
Trains

Long-distance trains are not common for travel in Latin America. If they do exist, they are usually geared towards tourists. This makes them quite expensive, but they are usually very scenic.
Cost - <$30-100
Verdict - Comfortable, scenic, expensive.
City Taxis
Good old taxis can be found in most cities when you travel Latin America. Some operate on a meter, some do not. Negotiate a rate before you enter the taxi (unless the driver specifies that he uses the meter).
There are also some random occurrences of taxi robberies in certain cities in Latin America. Be safe and either use an app to call a registered taxi (Easy Taxi and Tappsi are great and easy to use), or have your hostel, hotel, or restaurant call you a taxi.
In some parts of Latin America it's common for taxis to be shared. Sometimes the car has a different paint color than private taxis, but sometimes not.
Cost - $1-$20 (varies widely by city and distance)
Verdict - Comfortable, easy, a bit on the expensive side.
Uber
Yes Uber is now available in many Latin American cities! I've used Uber in Bogota, Medellin, Panama City, Mexico City, and Guadalajara. Check their website for a list of cities available: https://www.uber.com/cities/
This can be nice when you don't want to have to deal with the haggling involved with taxi drivers (or taxis trying to overcharge tourists). The price is also often much lower than a taxi. Plus it's more secure than flagging down a taxi on the street.
Some drivers speak English and some do not, so be prepared to give your destination in Spanish. It's best to enter your destination in the app when you make the request to make the trip as smooth as possible. Panama City, now has an option to request an English speaking driver for an extra $1.
Cost - $1-10 (depending on distance)
Verdict - Very comfortable, reliable, and cost effective
Plane

This is the least common way to travel Latin America, but it's still possible. Flying is usually quite pricey, but some countries have affordable domestic airlines. Colombia has the best deals of the countries we've visited. I've paid $30 and $33 per person for 1 way trips on Viva Colombia. This was actually less than some of the long distance bus costs between the same cities.
In other countries the cost will be many times more than the cost of overland transportation, but will save you time. If you're on a short trip, this can be a good option.
Cost - $30+ on budget airlines, $100-600+ on regular airlines
Verdict - A good option if you're short on time and okay with spending more $
Conclusion:
Some of my most fond memories are of times I've hopped on a Chicken bus, or wedged myself between a grandmother and some piglets on the back of a pick up truck. It's natural to feel a bit out of place, but the opportunity to see real local life up close is incredible.
I really urge anyone traveling in this part of the world to at least try one of the first 10 options during your next travel in Latin America. You might feel a llittle uncomfortable and out of place at first, but I bet you'll also get some smiles and "Buenos Dias" greetings, as well as a better understanding of the culture.
What's your most memorable experience with transportation in Mexico, Central or South America?
Side Note:
---
This is meant to be a comprehensive list but please let me know below if I've forgotten anything! This is a big part of the world with many countries and many regional differences. I used my firsthand knowledge plus some internet research to fill in the gaps.
I focused on ways people traditionally get from one point to another, purposefully leaving out options like horseback riding, or horse-drawn carriage rides - which are usually part of a tourist day trip.
---