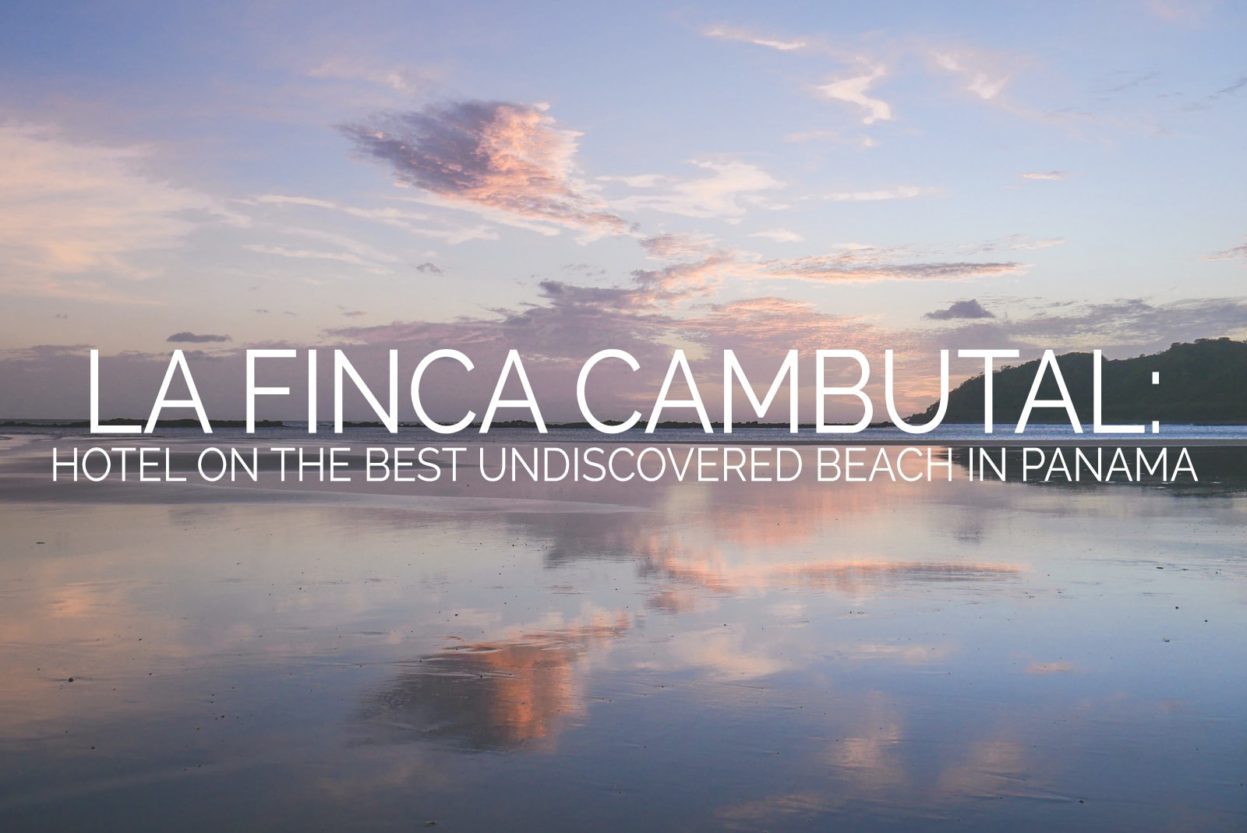 Panama really surprised me. In our 2 months in the country I spent time in such varied locations: from the ultra-modern and developed capital city, to Caribbean island towns only accessible by boat, to traditional farming towns with a cowboy culture.  
While we really enjoyed all the different regions we were able to visit, one area stood out above the rest - the Azuero Peninsula. This part of the country is a bit isolated from the rest, as it juts quite far south from the east to west mainland. Because of this, it has retained its traditional culture quite well. It was settled and developed by indigenous groups, and also has a strong Spanish culture passed down from settlers that is evident in the many colorful and vibrant festivals in the region.
The Azuero Peninsula also has some of the best beaches in the country. White, yellow, and black sand, big and small waves, surfing beaches, and fishing beaches.
Cambutal, the beach at the end of the road, was our favorite. Once you get there, you feel a million miles away from the rest of the world. The quiet, empty, and wild beach is inviting, and the locals and expats alike are welcoming. As far as I'm concerned, this is Panama's best kept secret, and I'm so glad we found it! We spent 4 glorious days relaxing on the beach, making friends, and enjoying some of the best sunsets I've ever seen from our oasis at La Finca, Cambutal hotel.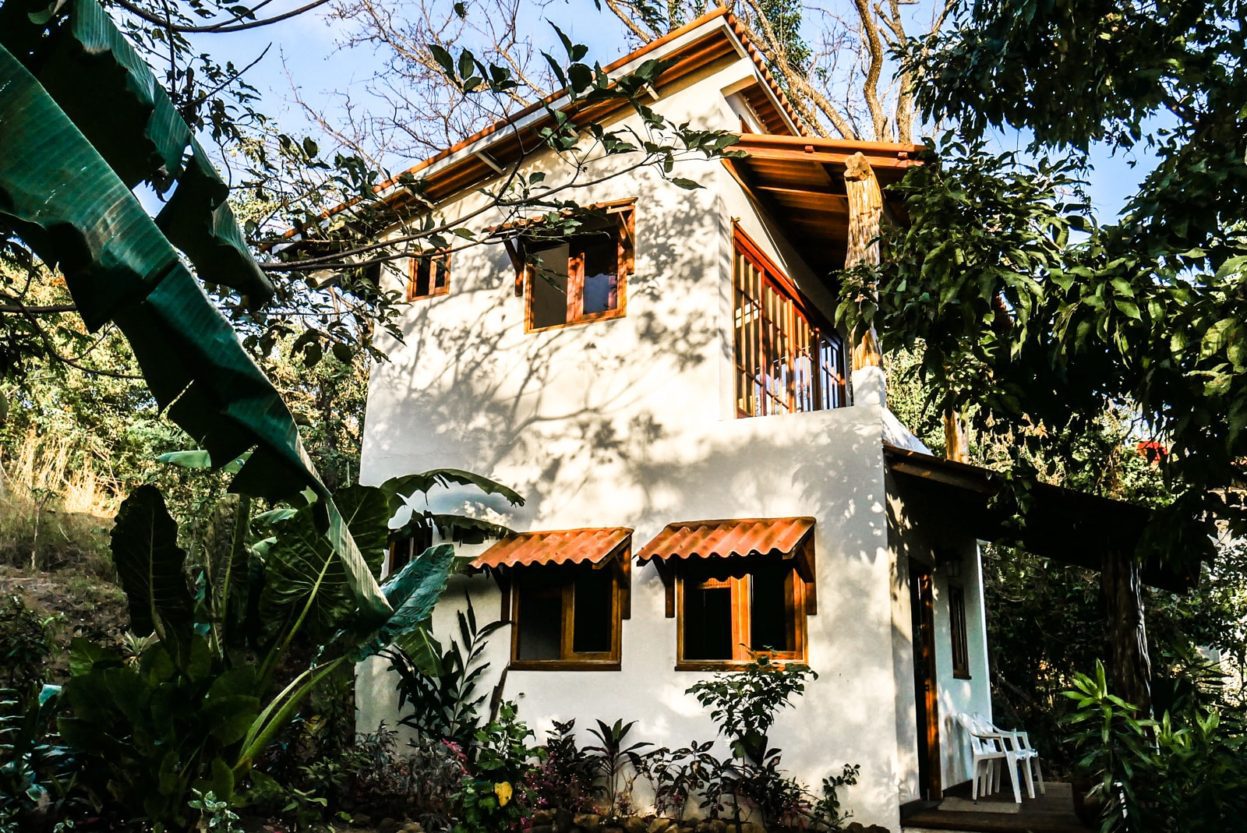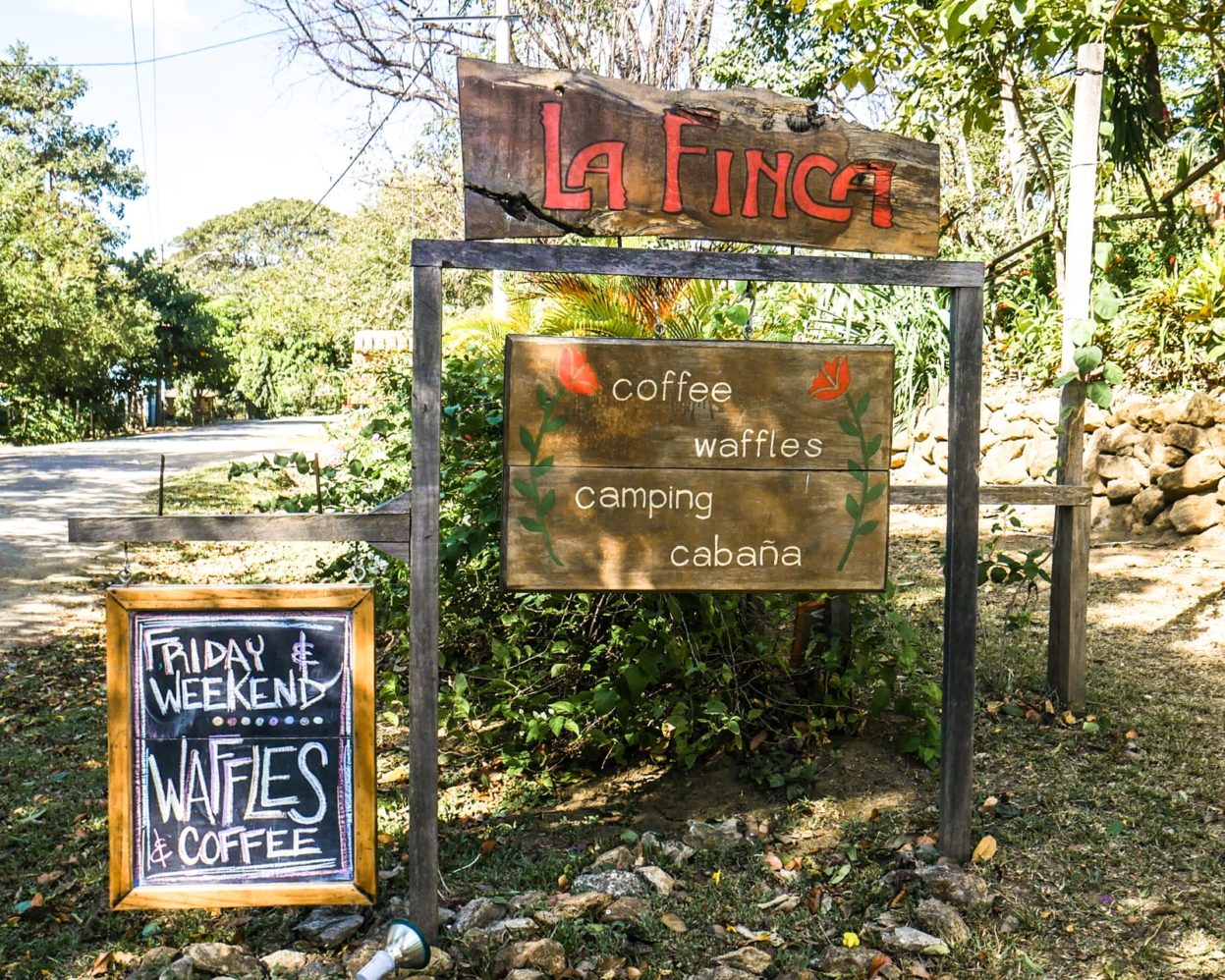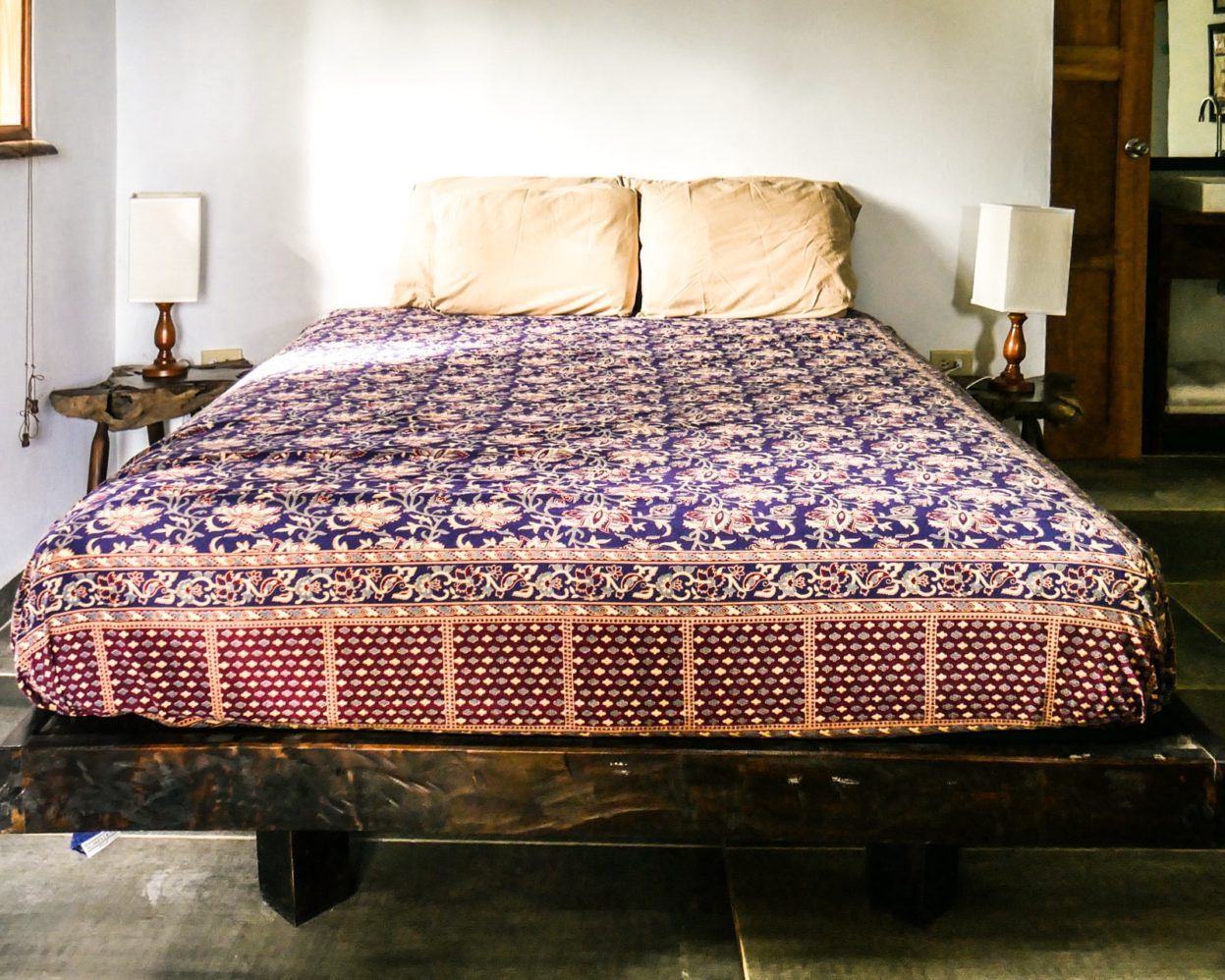 Abby and Sean McDonald, the sibling team behind La Finca, are a big part of the reason we had such a fantastic time in Cambutal. They're warm, friendly, and always eager to give you a suggestion or just sit and get to know you over a beer. We loved trading stories and getting to know them.
They've been in Cambutal for over 4 years, so they are experts on the region. If you want to know the best surf breaks, the best local restaurant, or the best nearby hike, all you have to do is ask! We felt like we had all the best insider information and got to know the little beach town really well during our four night stay.
Great Design in Cabañas & Common Areas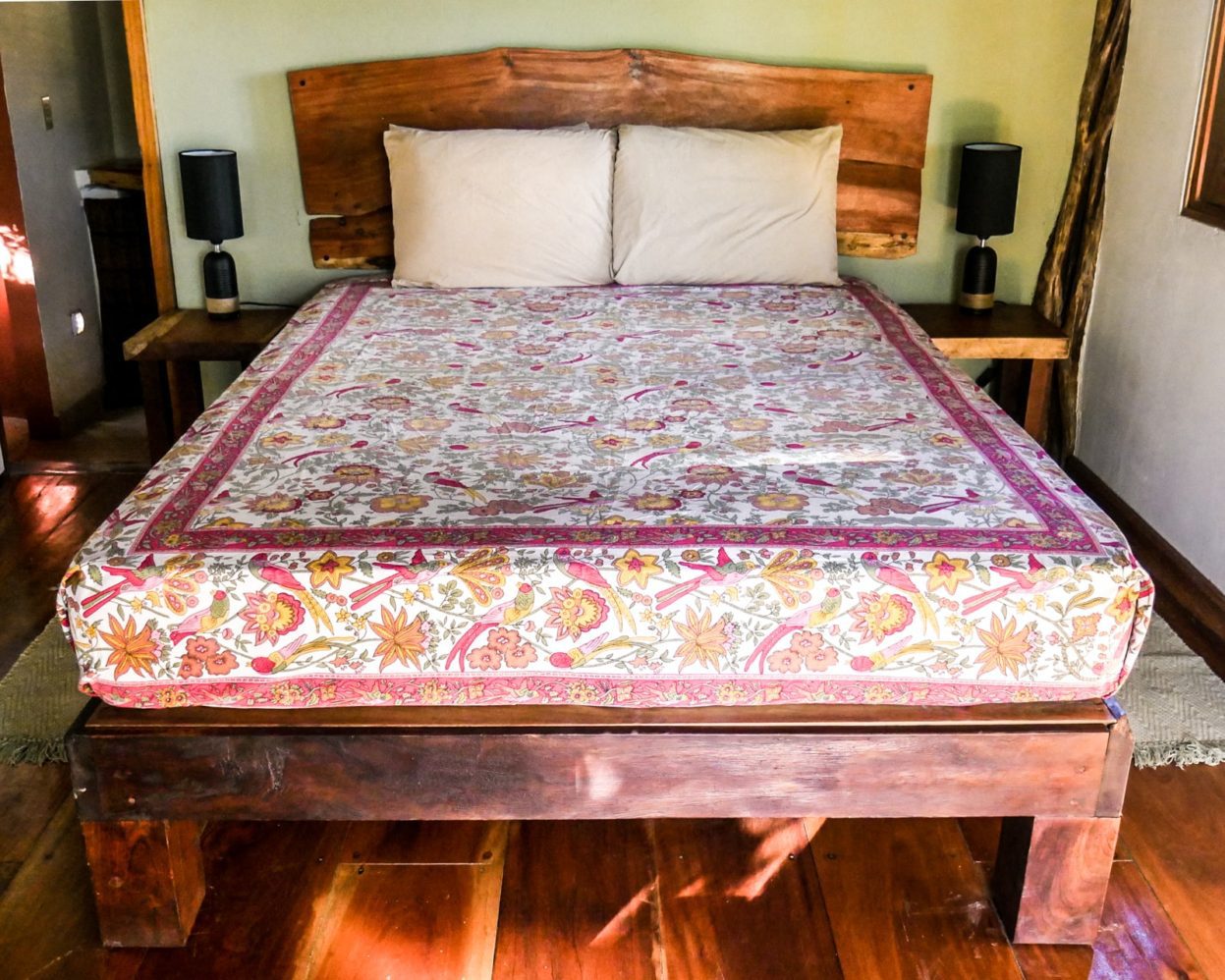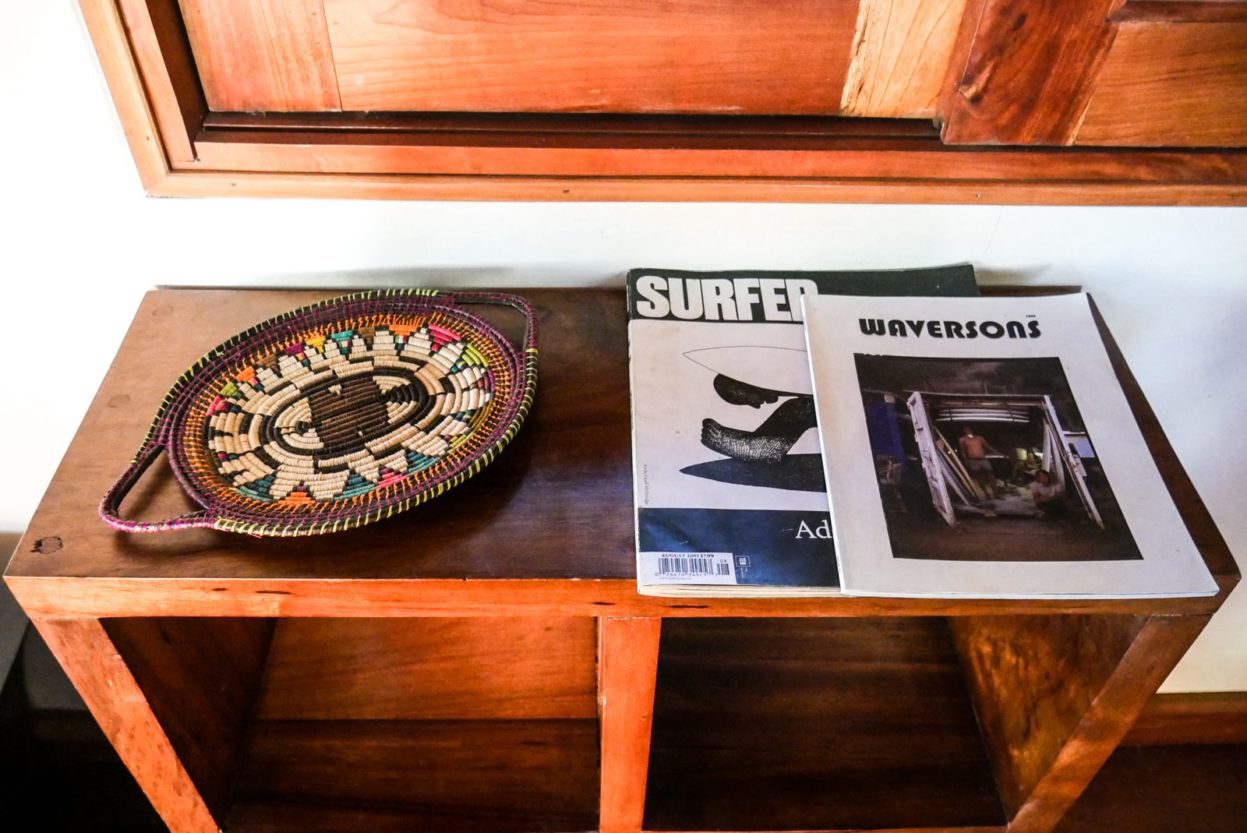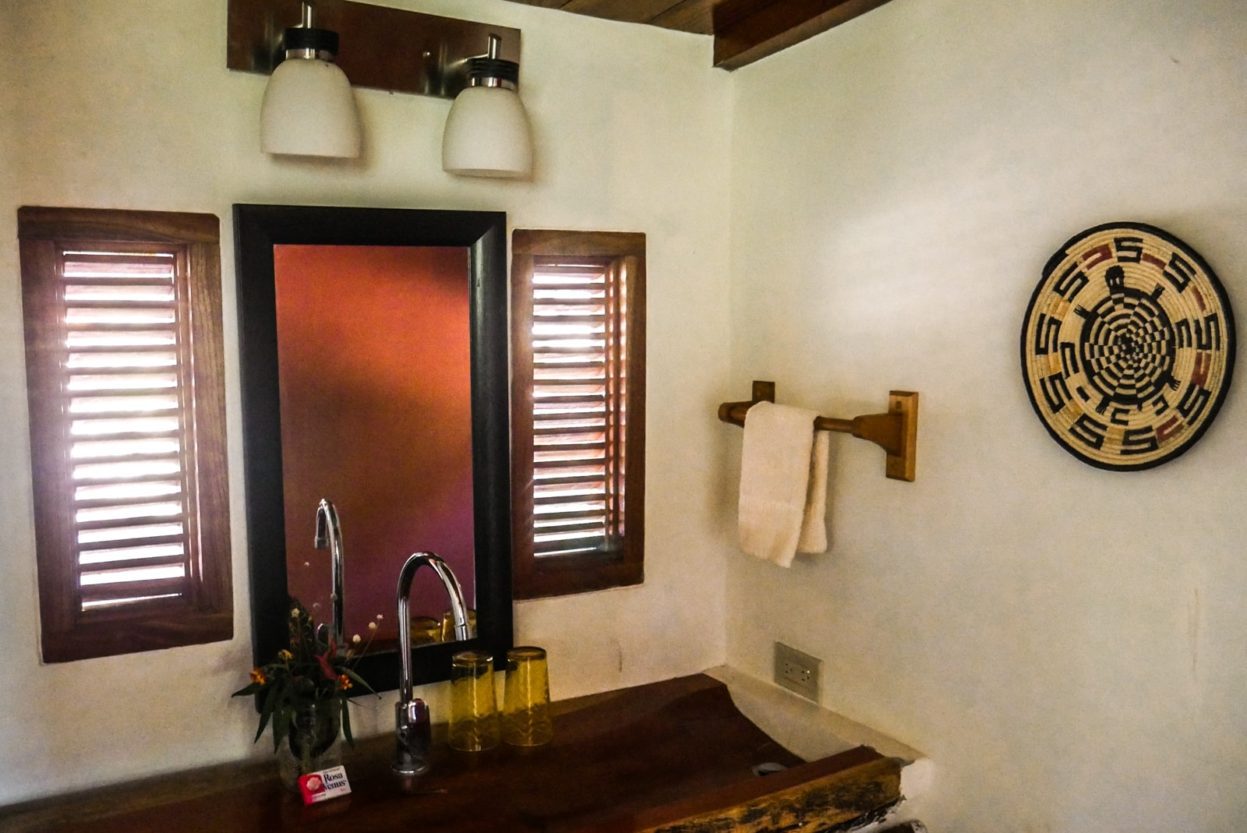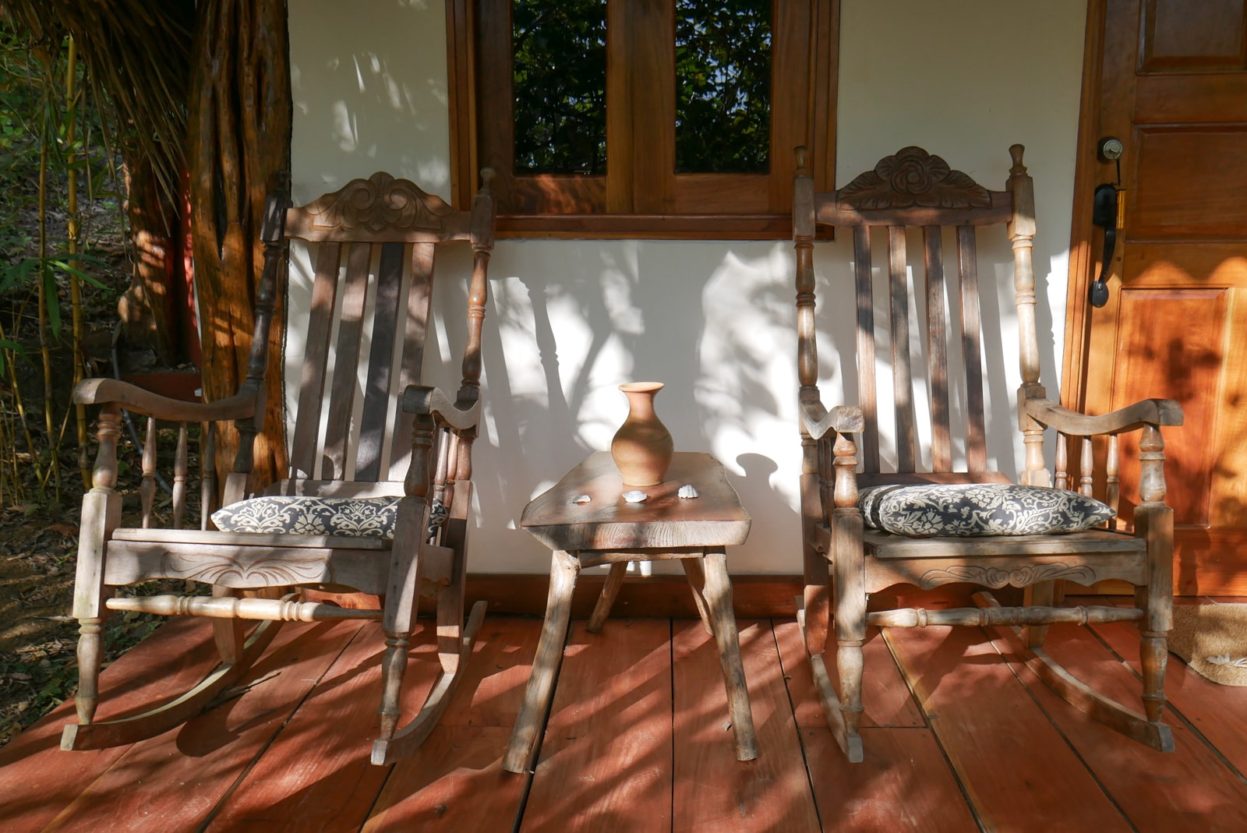 The first thing that attracted me to this Cambutal hotel was their great eye for design that was evident from photos on their website. I loved the rich wood furniture, the ethnic inspired linens, and the thatched roof structures.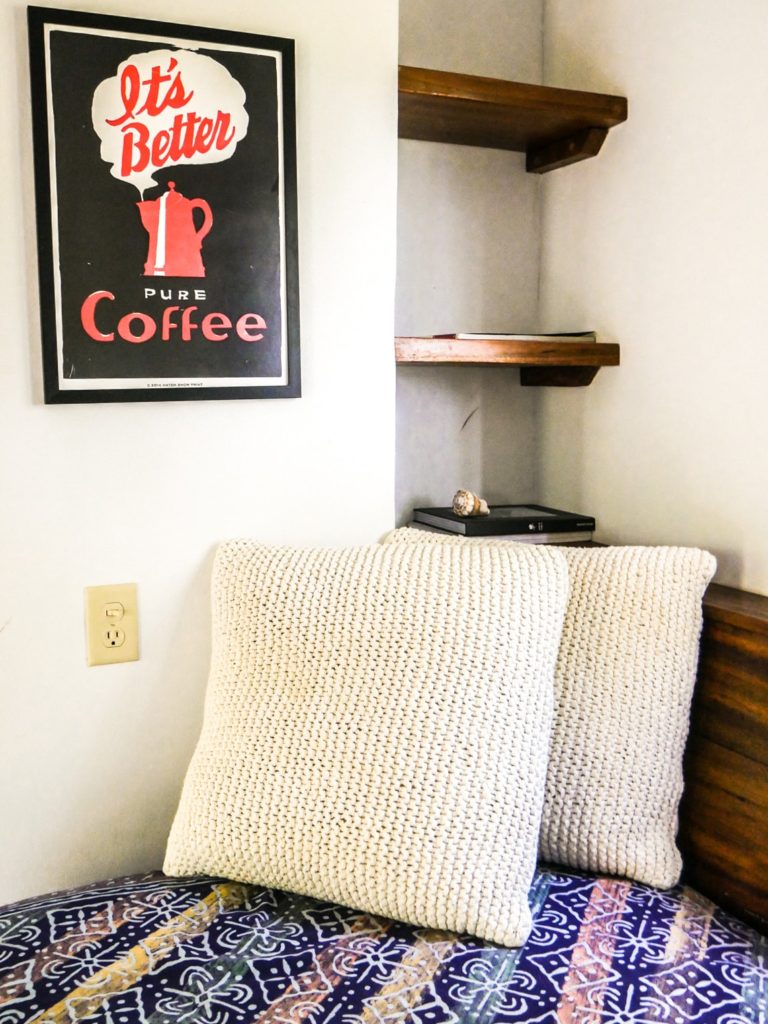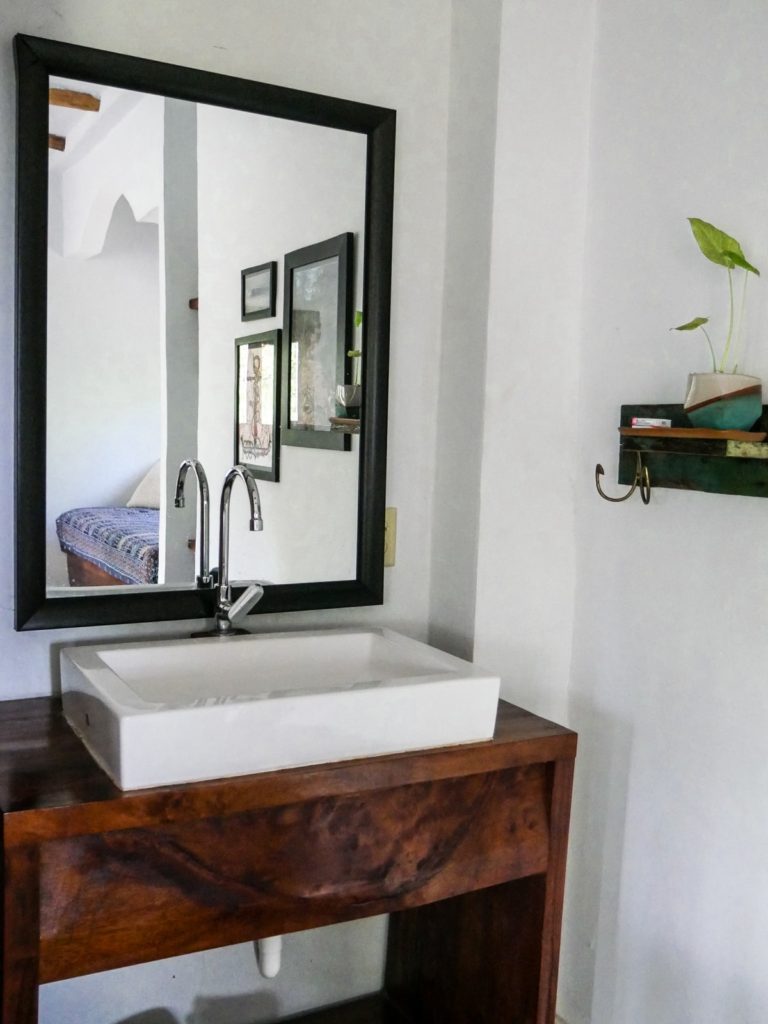 Once we arrived, I could see even more attention to detail. From the local artisan goods and hammocks, to the knit pillows, to the foliage in the rooms' showers - everything felt well thought out, attractive, and comfortable.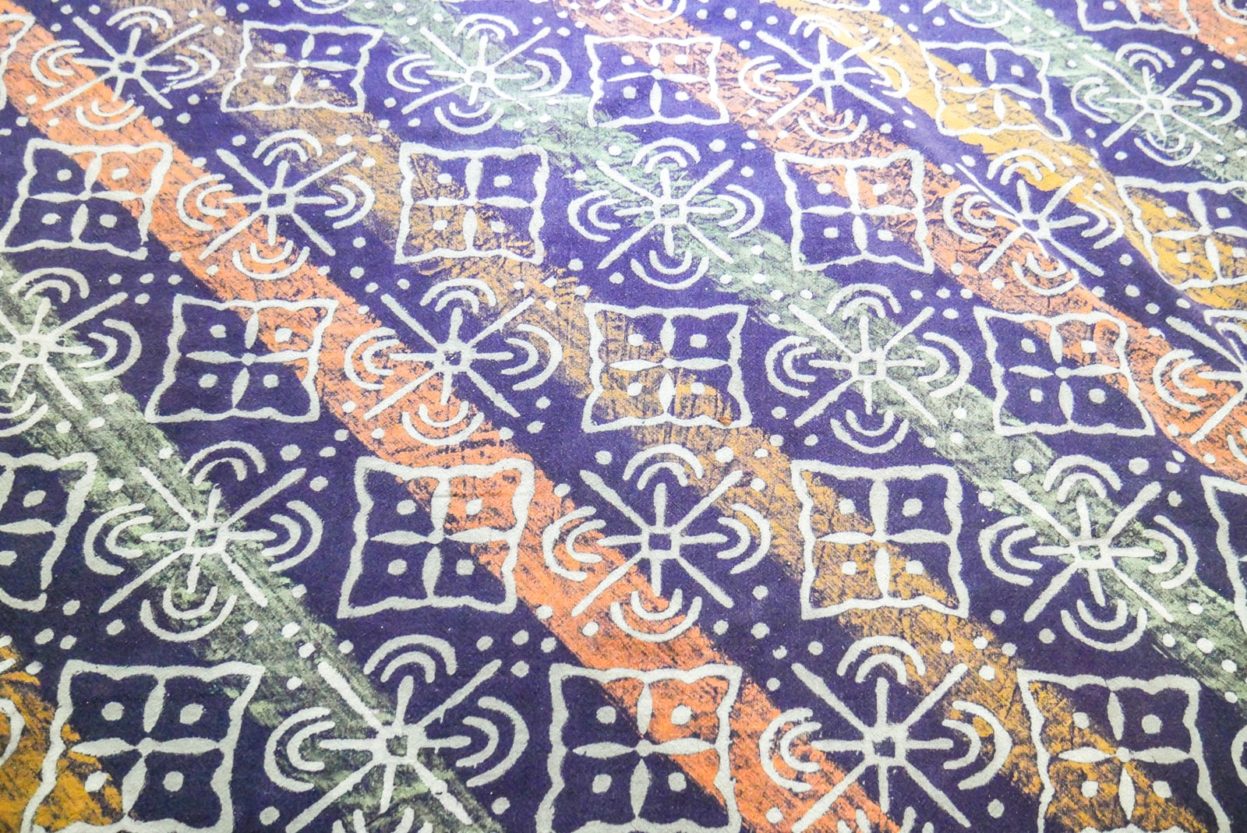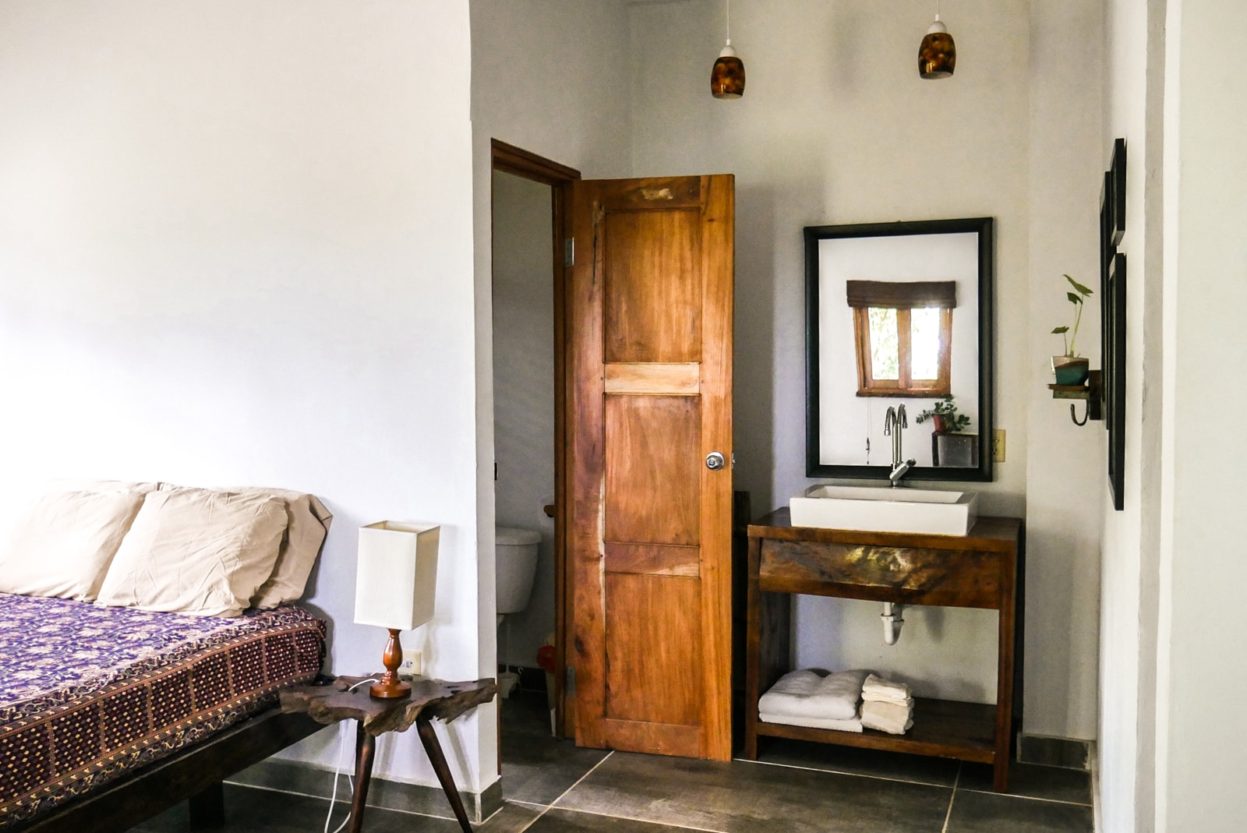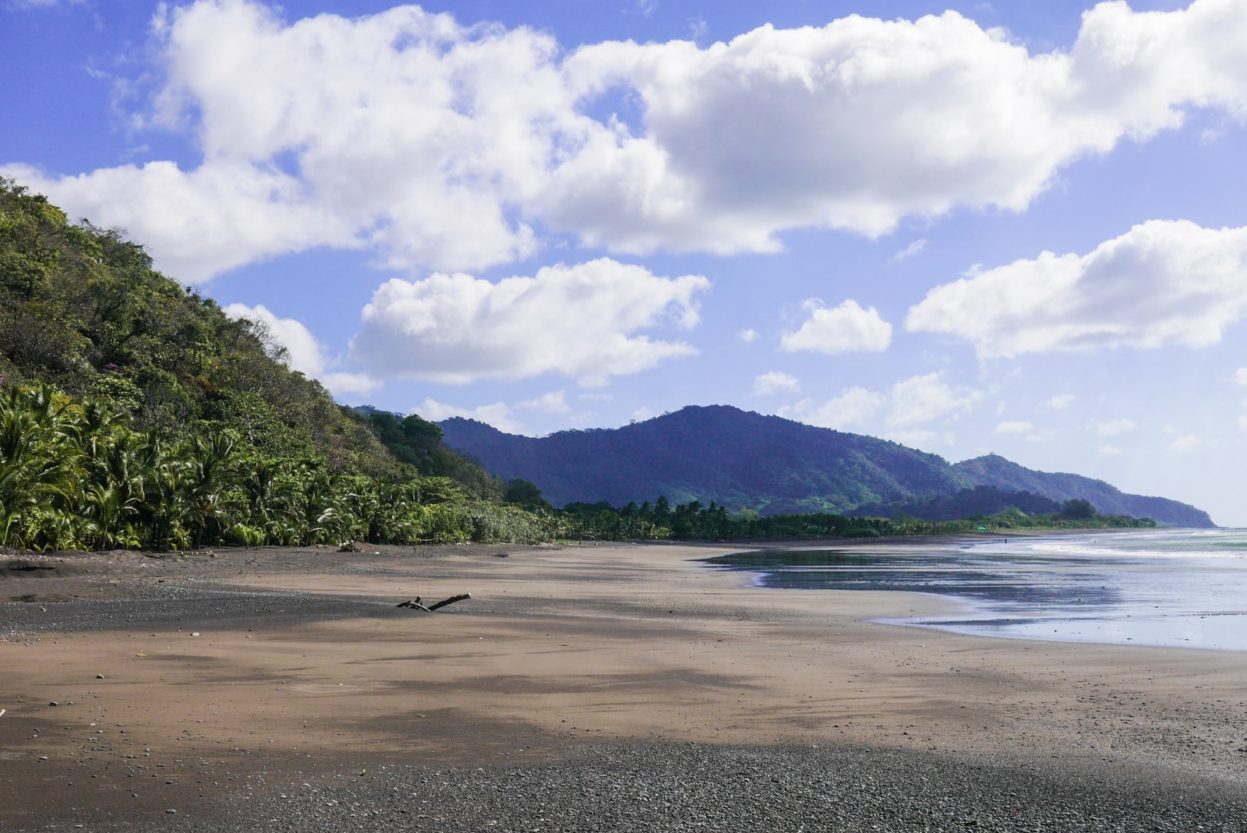 Warning - this might sound really ridiculous, but because I've been so lucky to travel long term and visit a lot of beaches all over Latin America, I'm not always stunned by each one I meet.
However, I seriously fell in love with the beach at Cambutal. It has the unique balance of being basically empty and undiscovered, but with a small and thriving local community. This means you can have the beach to yourself, yet still have a few options for food, hotels, and amenities. I've found this to be rare. I'll either find a completely remote and empty beach - and there won't be anything nearby, or the beach will be developed and have too many tourists. Cambutal, especially right now, is at the perfect happy medium.
Besides being undiscovered, it's just plain beautiful. It's a volcanic black sand beach with hills and mountains that rise straight up from the sand and narrow road. The beach is a super long U-shaped cove, so you can see the rocks jut out on either end, but there is plenty of beach to wander and explore. You won't find any trash, but you will find turtles nesting, especially if you come during turtle season from July-January. 
And the absolute best thing about the beach at Cambutal are the sunsets. The difference in the tide length from low to high tide is massive on the sand in front of La Finca - if I had to guess it was something like 250-300 feet. This means that when the tide is going out, you have a huge surface of glistening sand. If sunset coincides with low tide, you have some of the most beautiful reflections of all the pinks, oranges, and yellows. It makes for an incredibly epic sight. Every night we'd go out to watch, take photos and be in awe.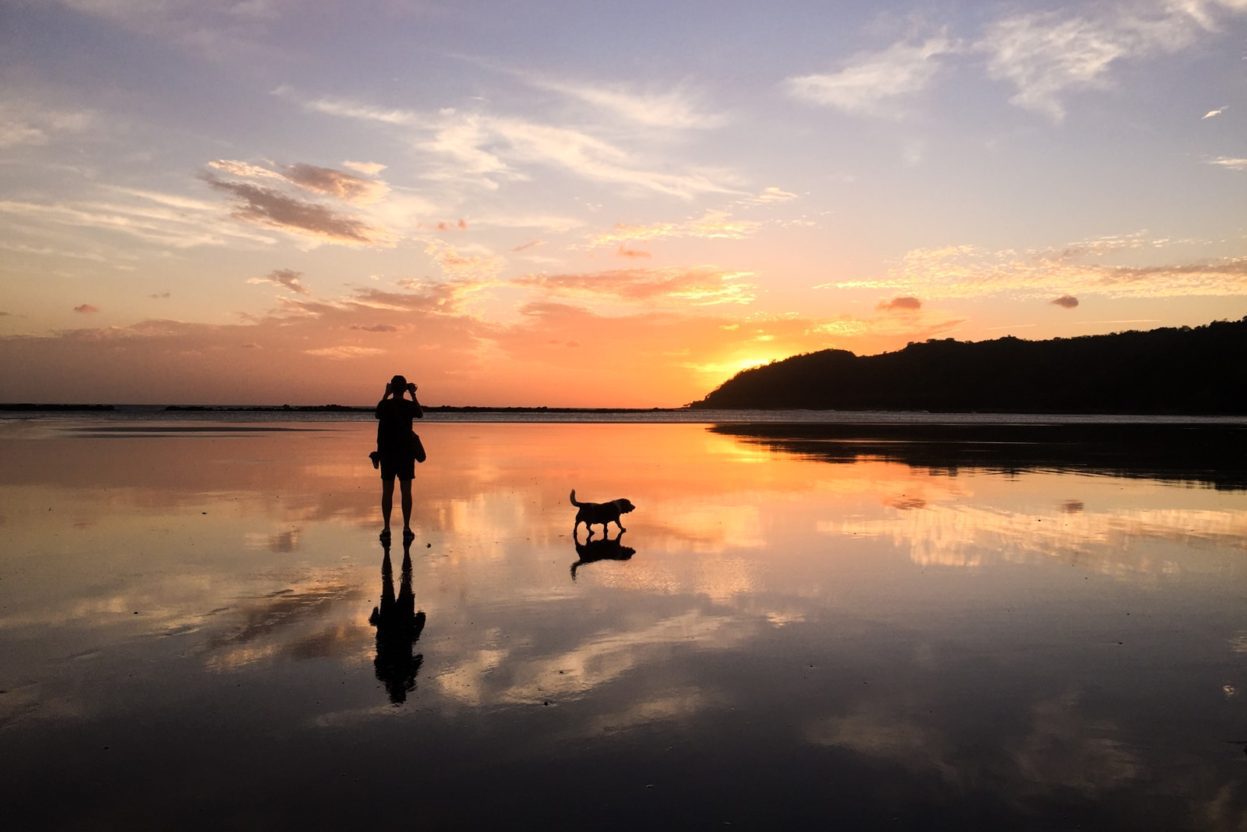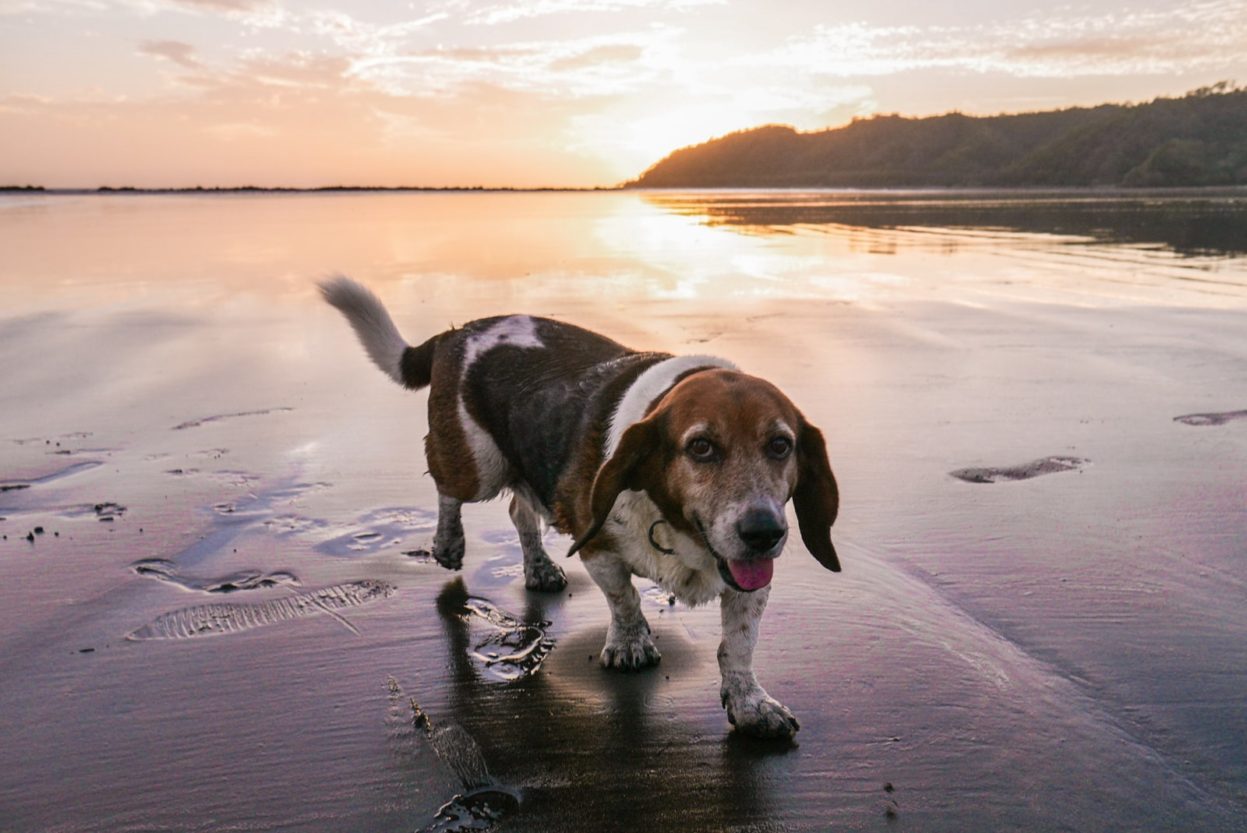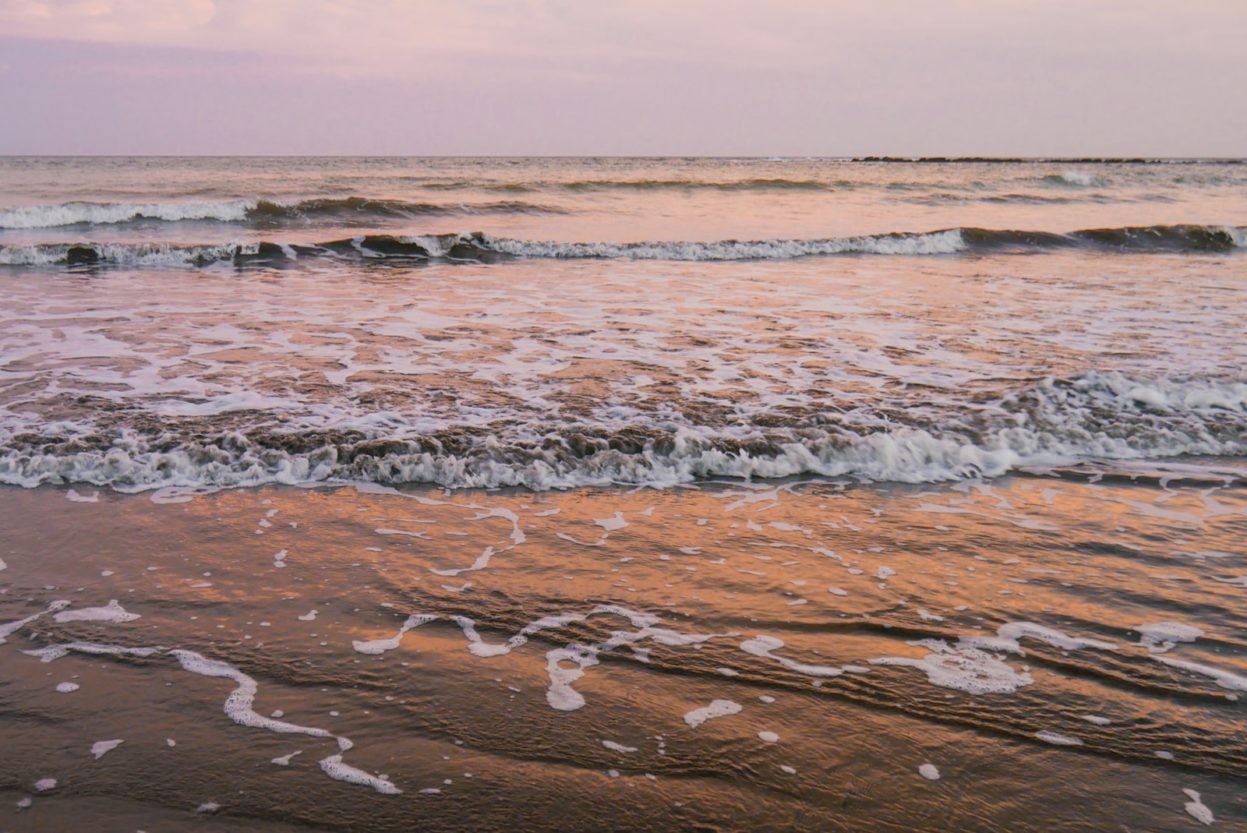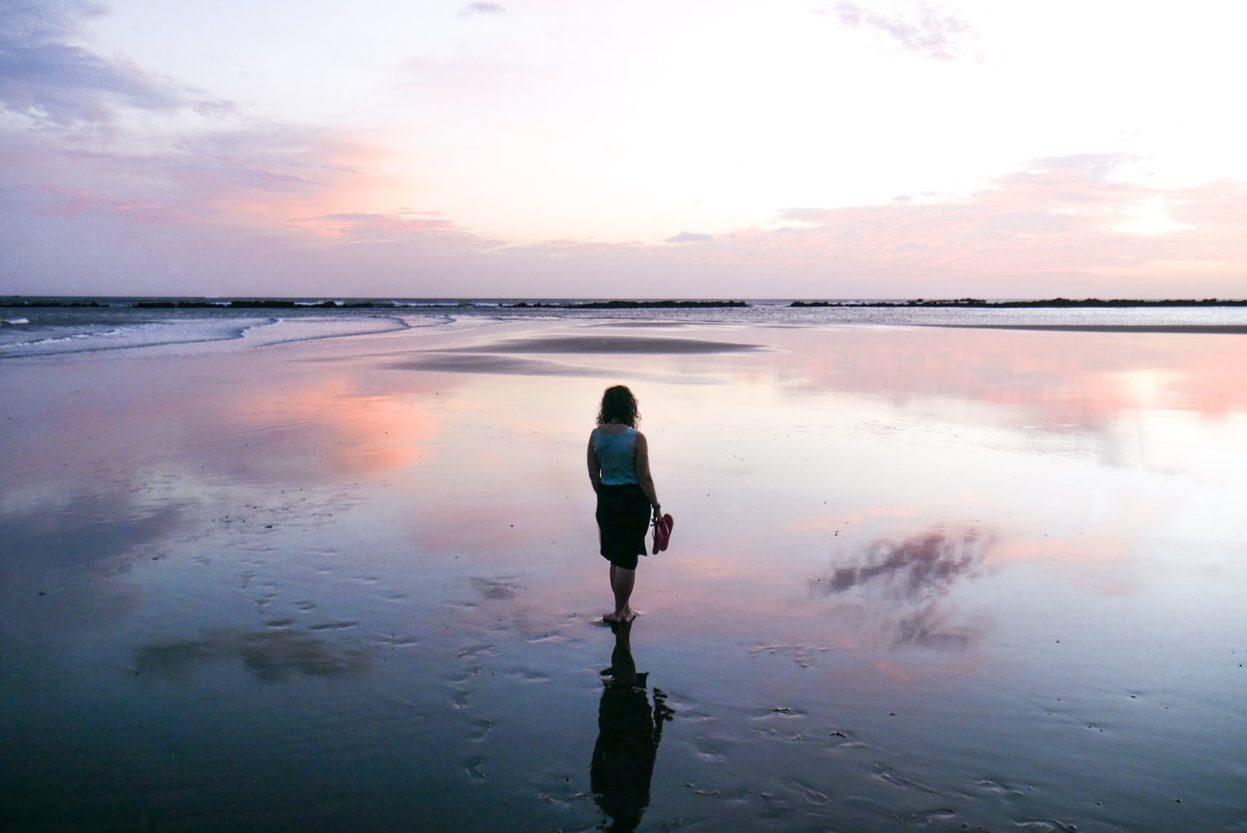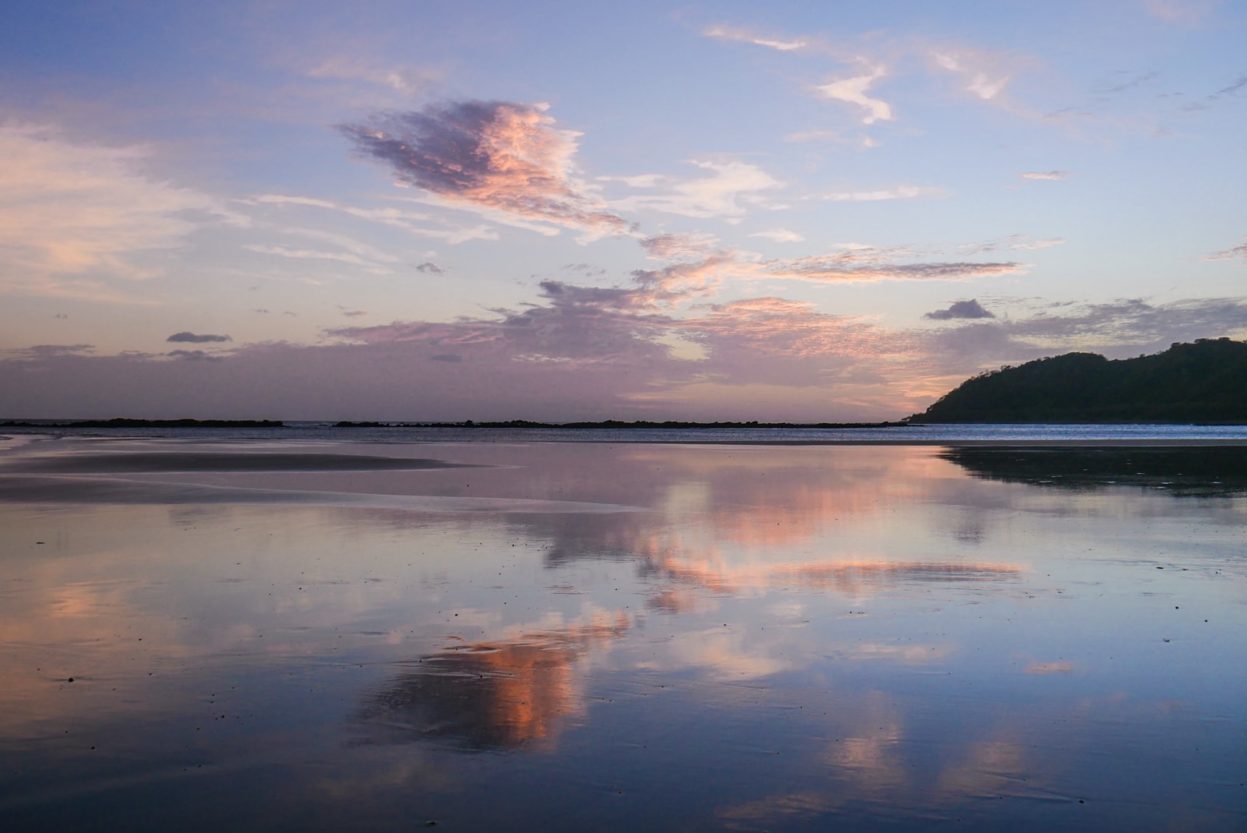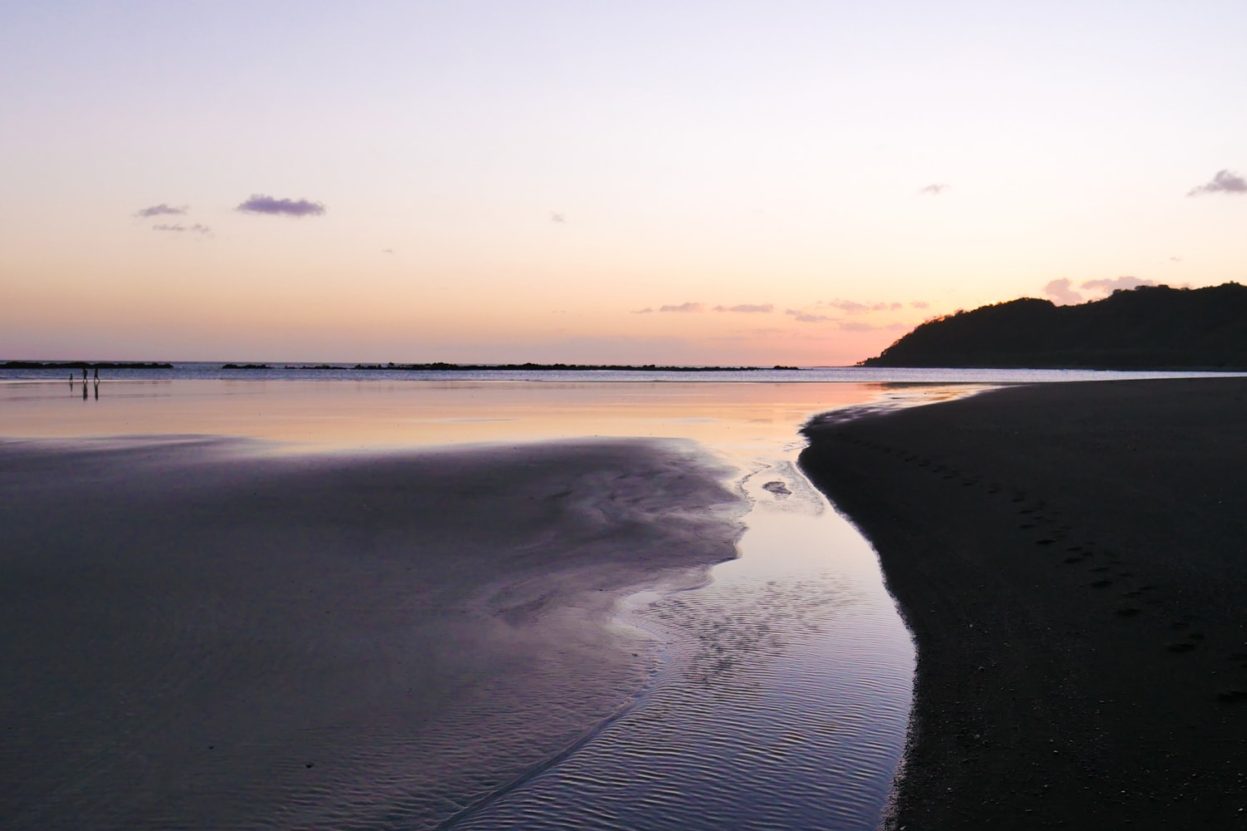 Great Location - Directly Across From the Beach
La Finca has a great location. This Cambutal hotel is up on a hill directly across the street from the beach. This means you could enjoy views of the water from the common areas, or the Cedro Espino cabana. And it would only take us two minutes to walk from the door of our cabana to the beach.
The little beach community of Cambutal is small, so everything is within walking distance - restaurants, hotel bars, etc. Just keep in mind that there is no minimarket on the beach, so bring any snacks, sunscreen, or bug repellent with you before arriving.
Ocean View From the Cedro Espino Cabana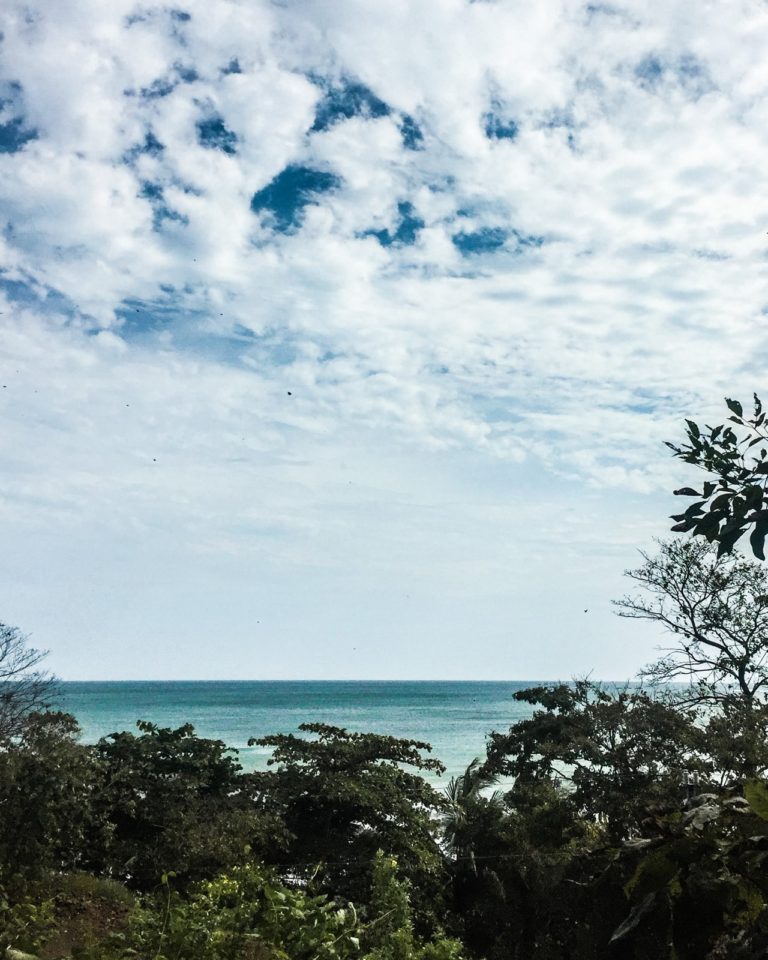 If you like to spend your beach retreat swinging in a hammock and staring off at the blue ocean, be sure to request the Cedro Espino Cabana. You can see the sparkling sea just beyond jungle canopy.
The showers at La Finca were beautiful and a pleasure to use. The shower in our cabana - Cedro Espino - had a wood floor bottom, a rainshower shower head, and some of tropical greens in the corners.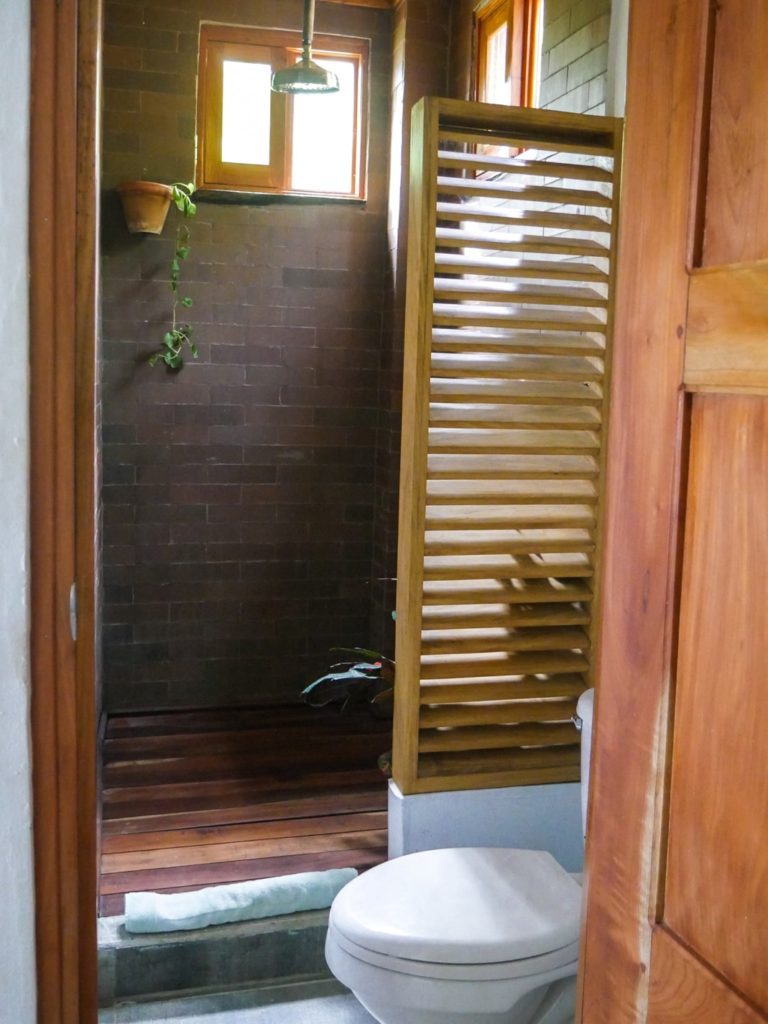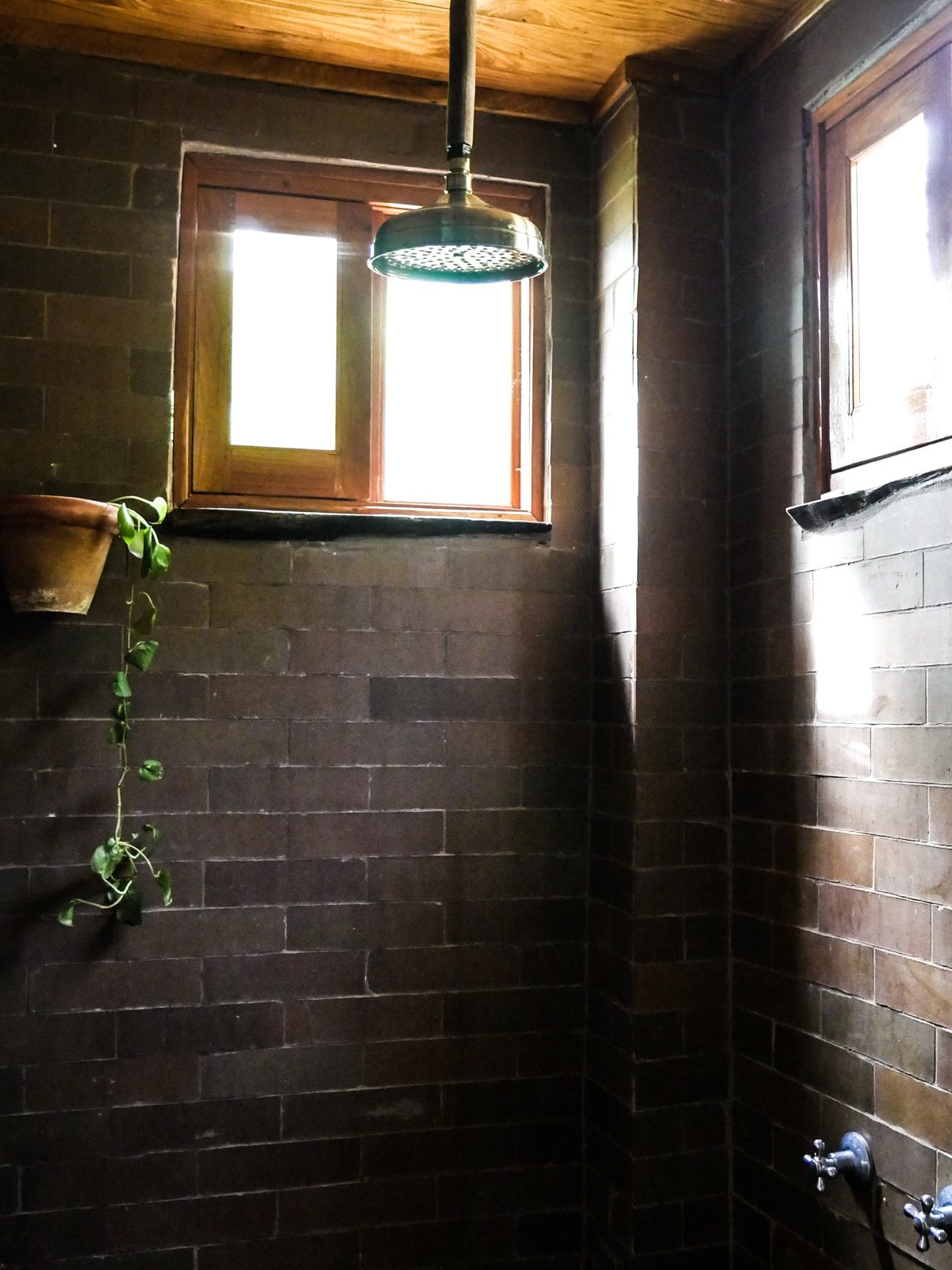 The shower in the Rancho Cabana has a unique indoor/outdoor concept. The beautiful oval room has an overhead covering, but has some open air space between the walls and the roof. It's painted a pretty rich red, and has a stone bench draped in tropical greens and a stone floor. It also features a rainshower shower head. I felt like I could spend all day in there!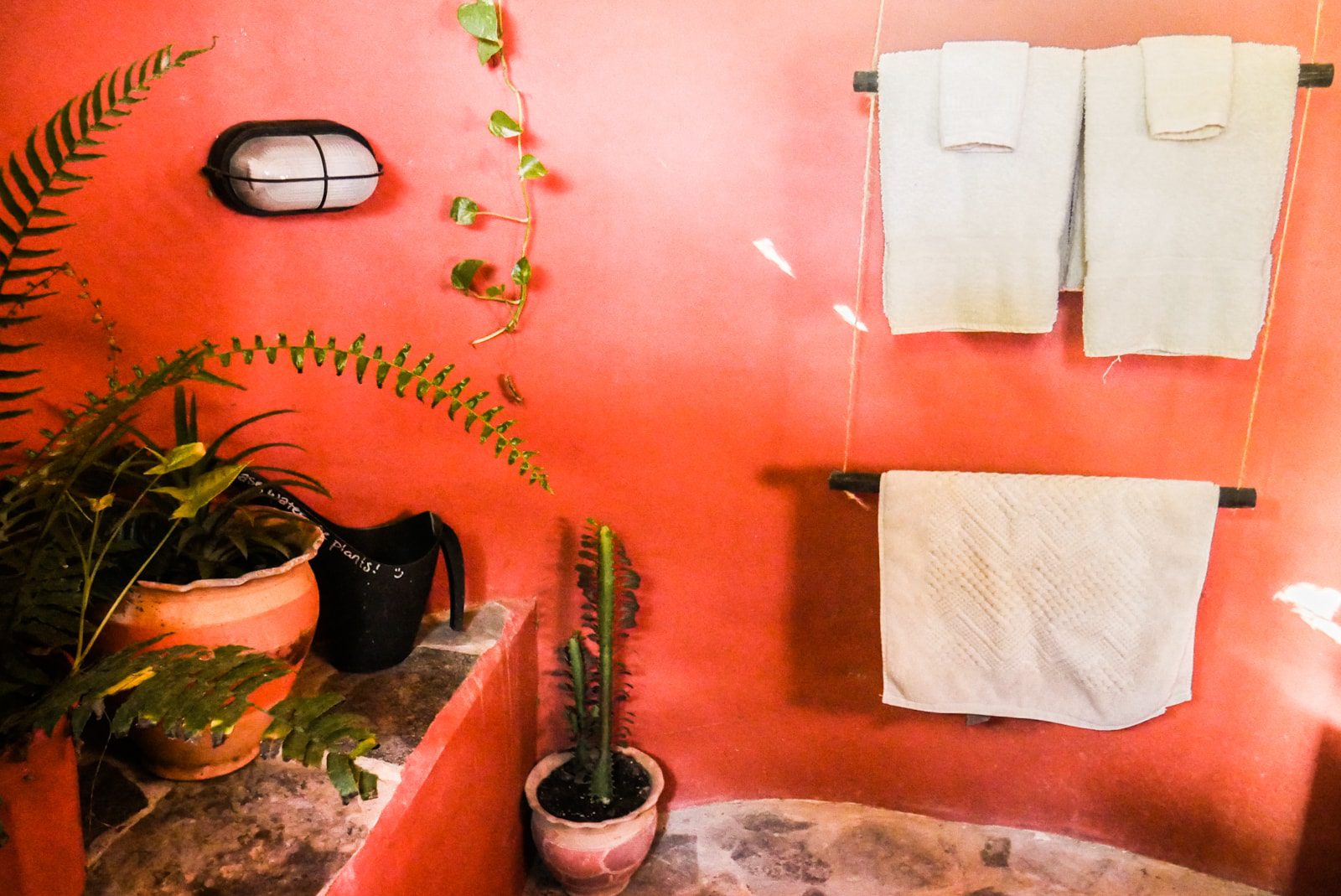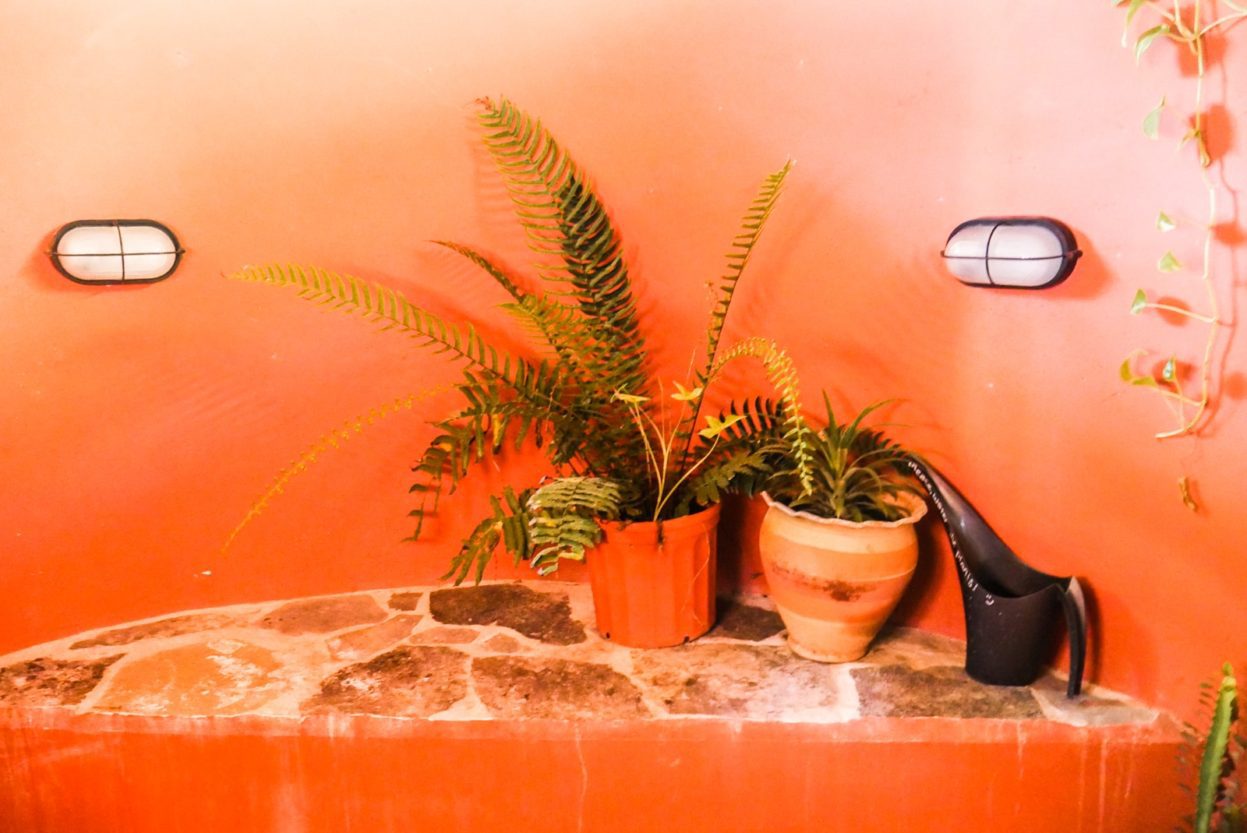 The Community
As I mentioned above, I think Cambutal is having a special moment before tourism really invades. It's quiet and naturally beautiful, yet there is a great community of locals and expats who are friendly and welcoming of all who visit. We were able to meet what felt like everyone in town, and even make friends in our 4 short days there.
Another great aspect of this community spirit are the activities that happen almost every night. Tuesday was pizza night at Hotel Playa Cambutal, Wednesday and Saturday are Tapas & Bar night at La Finca, and Thursday is Taco night at Hostal Kambutaleko. We attended each get-together and chatted with many of the same friendly people. There's plenty of community spirit in this little village. It made us want to stay awhile!
Fun Tapas & Bar Nights Twice a Week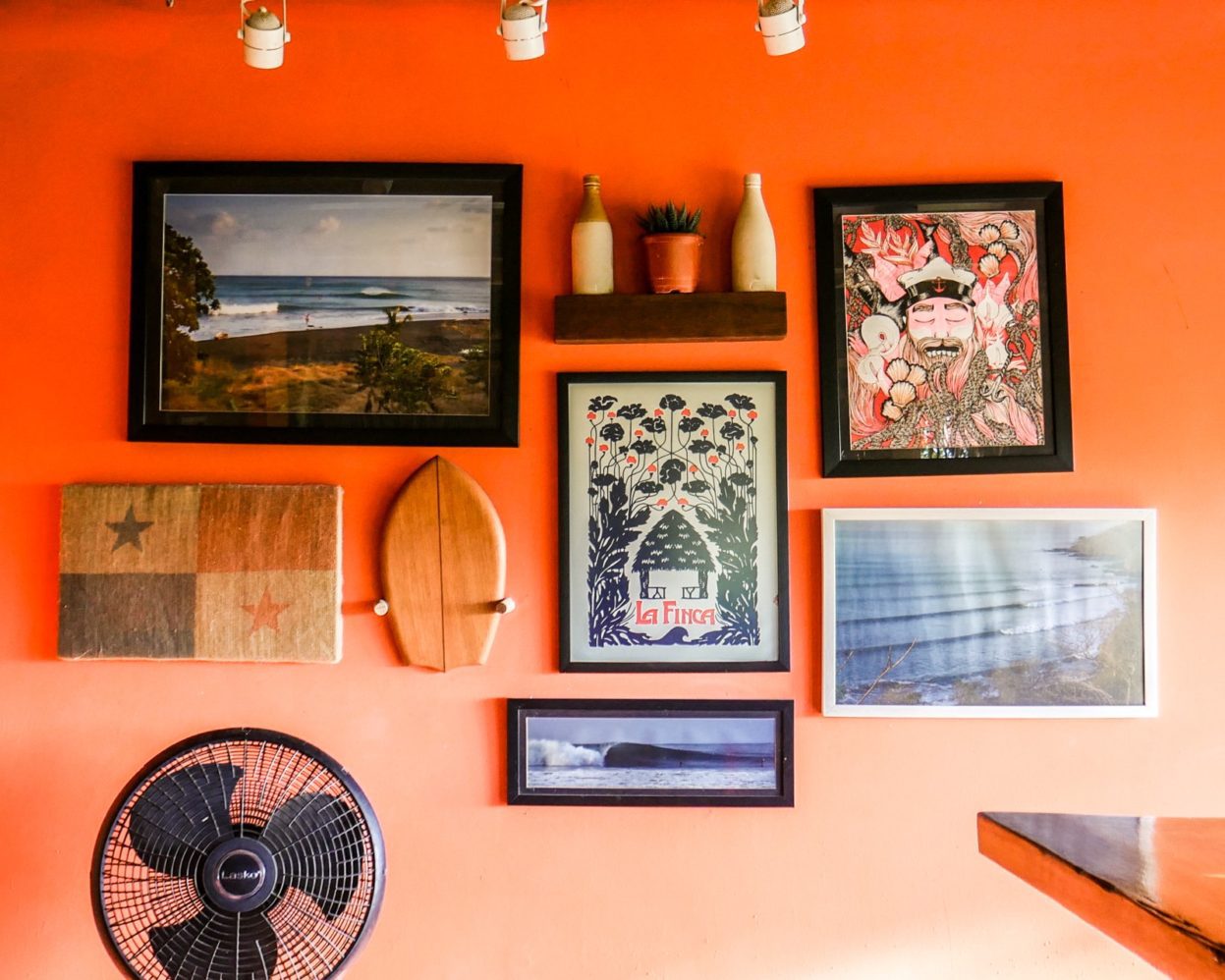 La Finca seems to host the best of these evening gatherings. We attended the Wednesday Tapas & Bar night and had a great time drinking their signature cocktails and making friends with locals and travelers. 
We've had our share of experience in hostels, and this was no hostel party night. This was a grown up get-together of people of all ages and backgrounds having a good time. It felt like we'd stumbled on our favorite well-designed local bar in Brooklyn. We were disappointed that leaving on Friday meant we had to miss the next one on Saturday!
Delicious Strong Coffee + Fresh Breakfast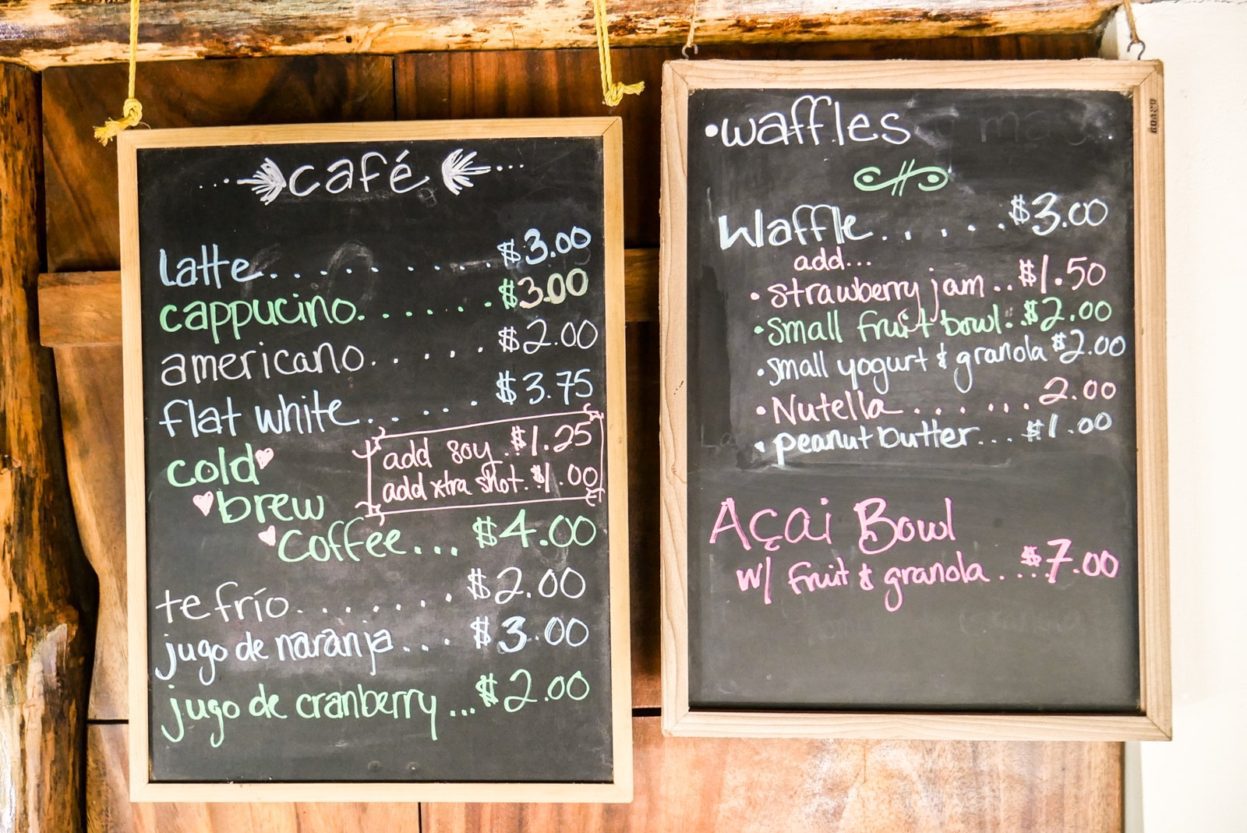 A good cup of coffee is one of those things that is sometimes hard to find in Latin America. It's so ironic because this part of the world grows some of the best coffee in the world! But it's often too expensive for locals, so instant coffee is prevalent.
However, the coffee at La Finca Hotel Cambutal is amazing. They source their coffee beans from the nearby region of Volcan - a town on the side of a volcano that is known to grow some of the world's best coffee. And La Finca uses an espresso machine so you can choose to have a strong and rich Americano to start your day.
A fresh and delicious breakfast is also available daily for guests. For $10 you get coffee, juice, and either a waffle & fruit or an acai bowl. We didn't get a chance to try the waffles, but we did thoroughly enjoy the fresh and delicious acai bowl.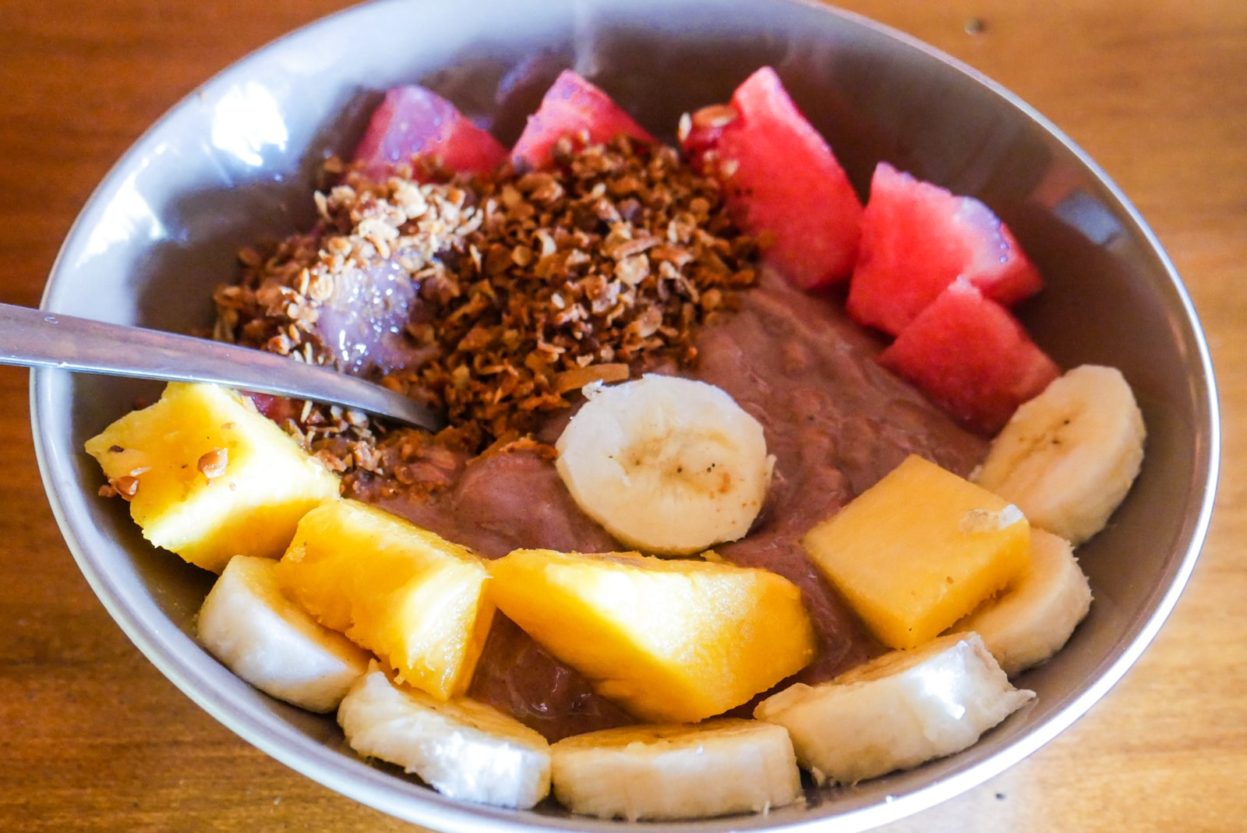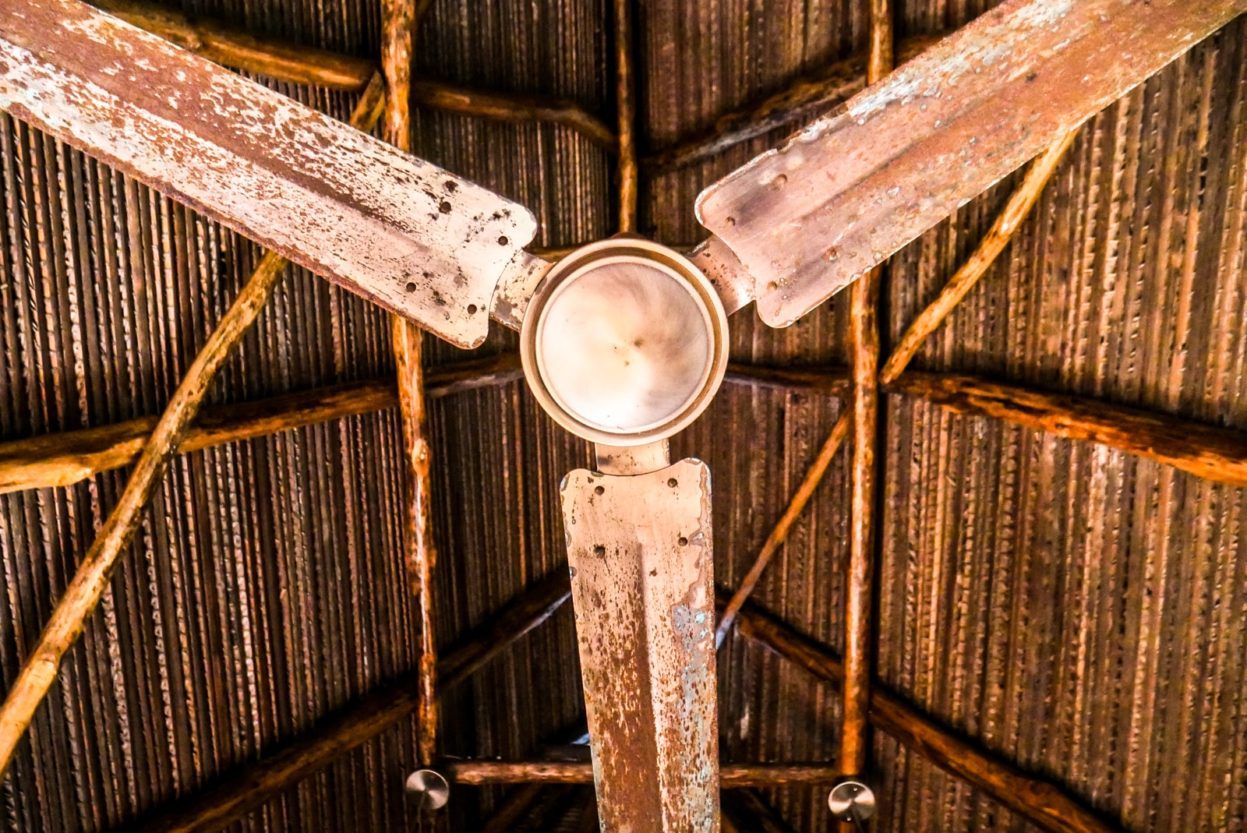 Isn't this copper fan gorgeous?
Panama is hot, so it's always nice to have the option of A/C if the heat gets too intense. Since La Finca is up on a hill, it generally gets refreshing ocean breezes, so the fan is often enough. But the a/c is there if you need it!
What to Keep in Mind - It's Off-the-Beaten-Path:
If you're the type of person who needs to constantly have a fast internet connection, or wants a selection of clubs to dance the night away, Cambutal is probably not for you. This is a beach that is literally at the end of the road. There are plenty of amenities to keep you fed and happy, but you won't find nightclubs, stores, etc.
While we were in Cambutal, the power went out for 2 ½ days. This was unusual - they occasionally have power outages if there is a storm, but never for that long. This was a bit hard for me because I work online and happened to have a deadline coinciding with the outage. However, if I had been on vacation, I wouldn't have minded one bit. It actually added a romantic vibe to the atmosphere. Each night we would walk to the hotel down the street with a generator, drink some beer over dinner, and then enjoy a moonlit walk back to La Finca.
If you're a go with the flow person who enjoys nature, this is the perfect place for your next vacation.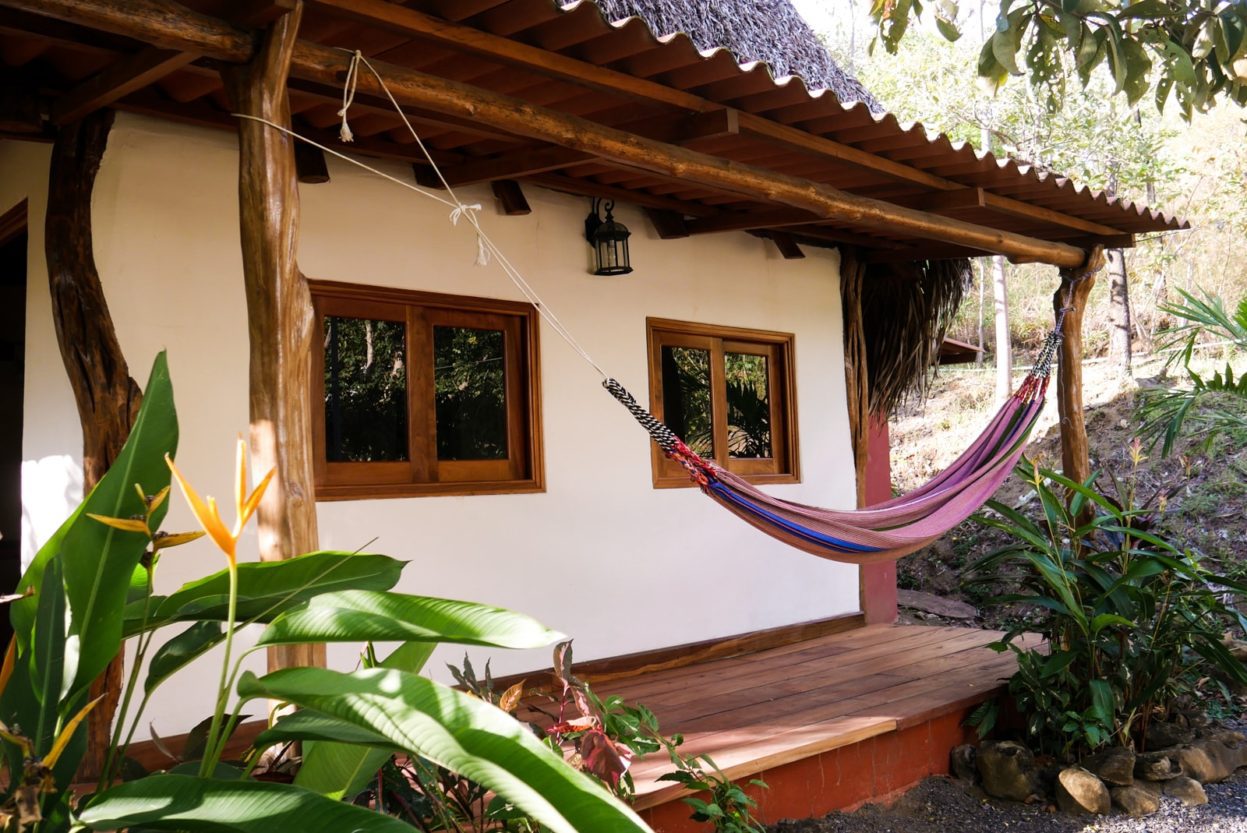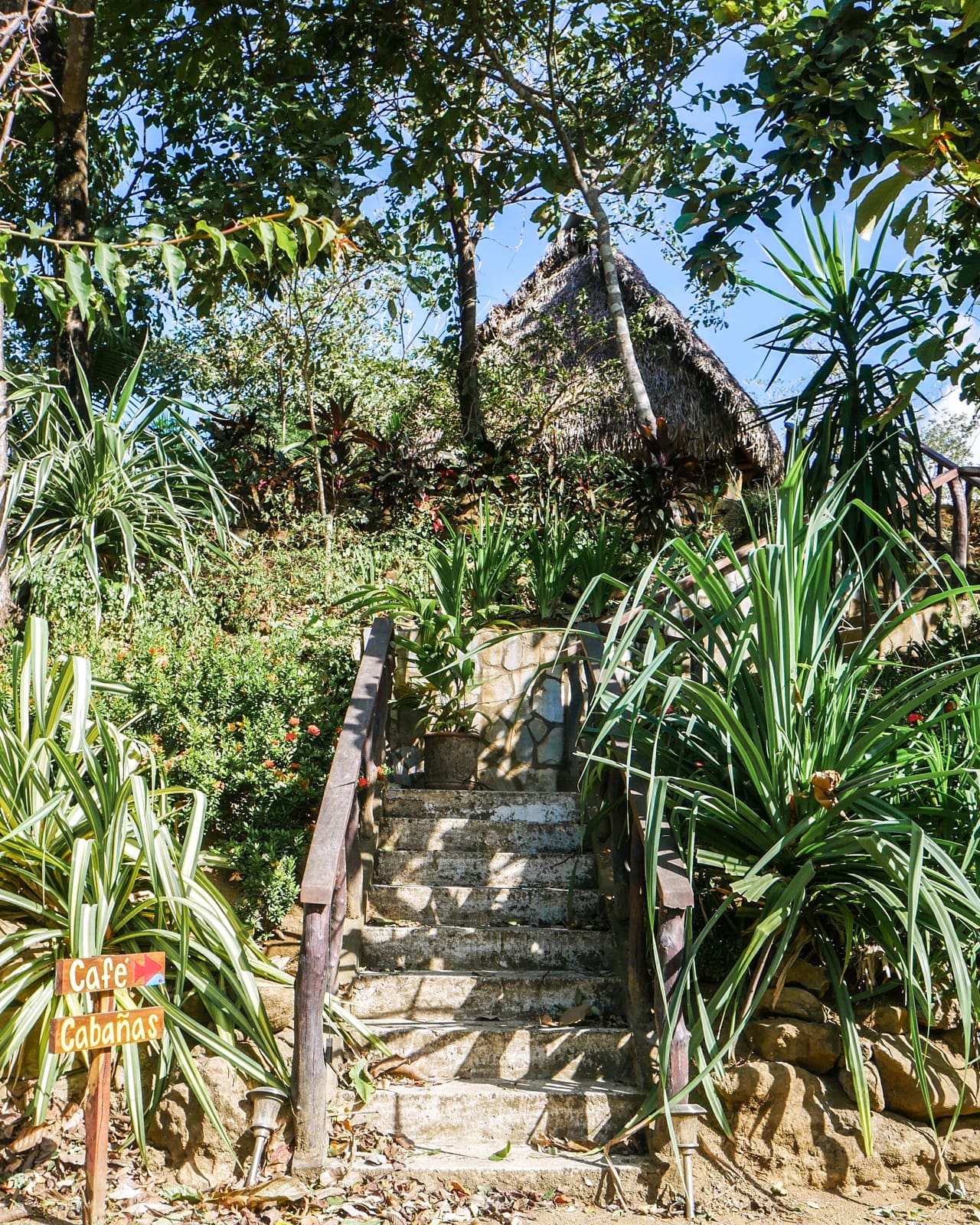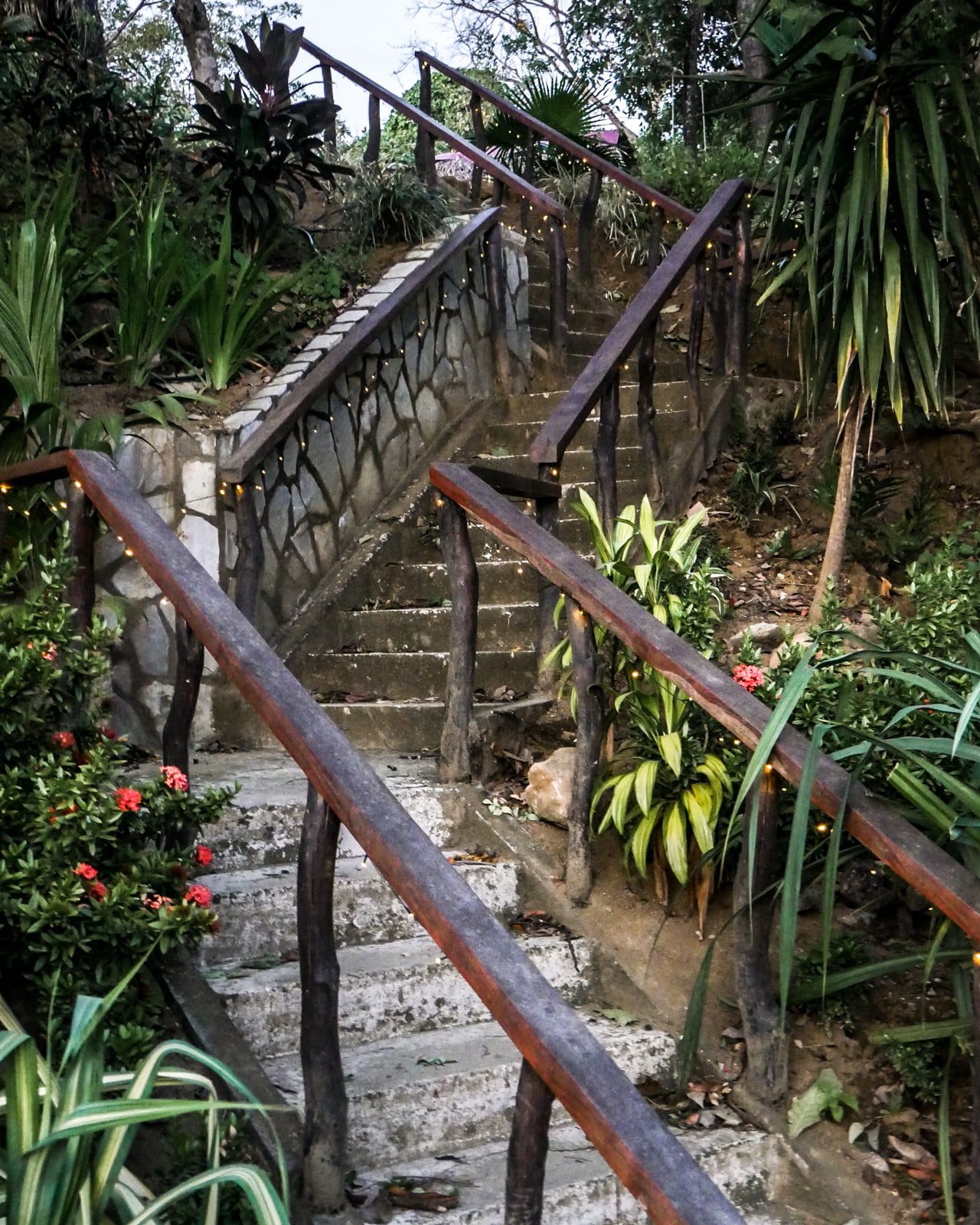 Conclusion:
Cambutal and La Finca are a perfect choice if you're even a little adventurous, appreciate a gorgeous undiscovered beach, and like to enjoy nature.
I didn't go into detail about surfing since I haven't yet gotten up the courage to learn, but Cambutal is a great surf destination. There are great waves, and Sean, an avid surfer himself, can give you all the best tips on where to go.
I really think that Cambutal is at a perfect balancing point right now between being off-the-beaten path, but having a great local community. I don't think this will last though when people catch wind of this amazing gem. Go now before it changes!
Justin and I both fell in love with the area and La Finca, and have decided we will definitely be back as soon as our schedules allow.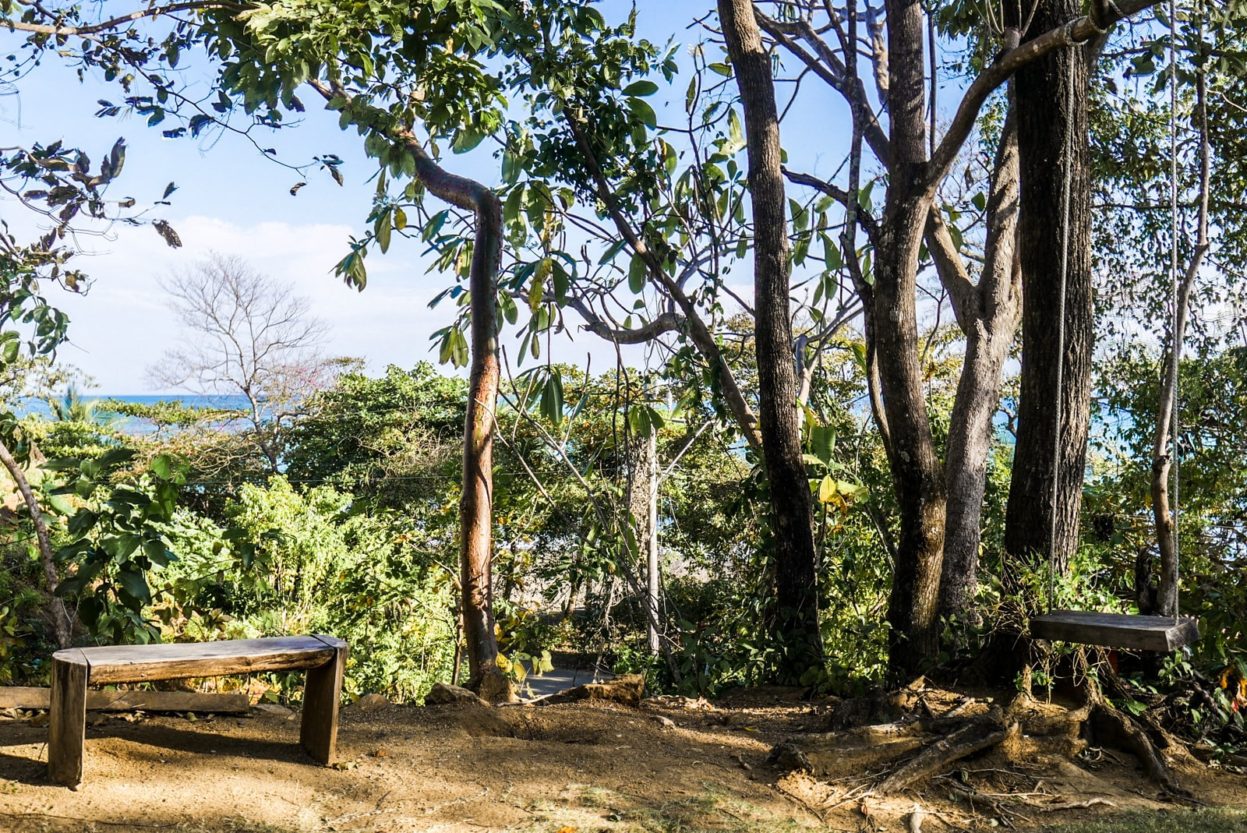 ---
Disclosure: I received a free stay at La Finca in exchange for an honest review. All opinions are my own!