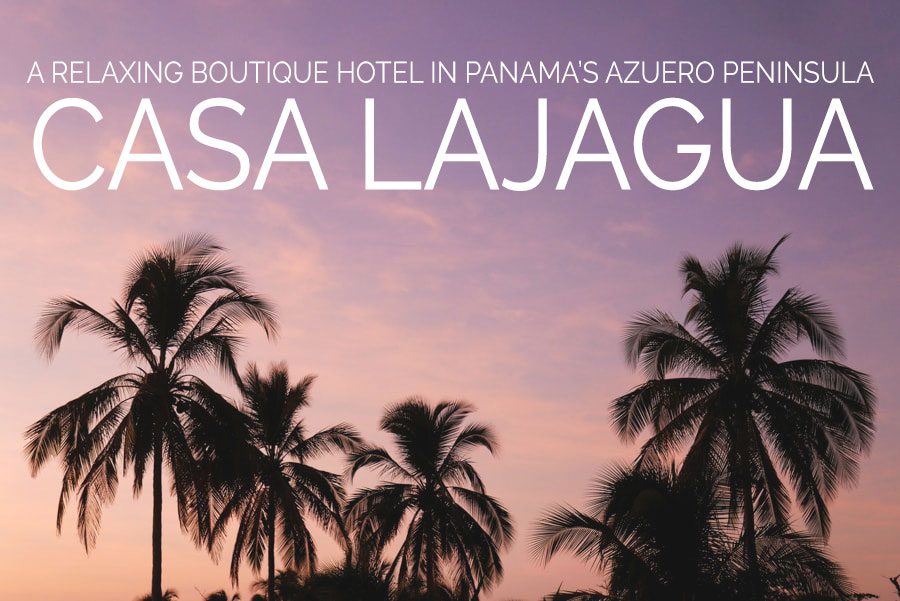 Panama saved the best for last. We spent two months in the country traveling to many of the big tourist destinations, but really fell in love with Panama's Azuero Peninsula during our last two weeks in the country. This area is thought of as the cultural heart of Panama - full of cowboys, ranchos, traditional festivals, friendly locals, rolling mountains, rainforest, and miles of untouched beaches.
We connected strongly with the people, both the locals and expats. We criss-crossed the whole peninsula by local mini buses (basically 10-15 person passenger vans). We were usually the only foreigners, but locals went out of their way to show us where the bus stop was, or explain which route to take. And we met expats who went out of their way to invite us to a get together at a friend's house, or show us their favorite beach.
A couple of our favorite people we met were Craig and April Lewis, the warm owners of the lovely boutique hotel in Panama, Casa Lajagua. We spent a week at their quiet and leafy retreat in Pedasi learning a lot about the area, getting the best tips on where to eat and what to do, and being treated like guests in their home. After a week, we were so relaxed we didn't want to leave!
Casa Lajagua in Pedasi is the perfect jumping off point for your time in Panama's Azuero peninsula. It's centrally located, with easy access to most of the beaches in the western/southern peninsula: including Playa Venao, Destiladeros, Arenal and gorgeous Isla Iguana.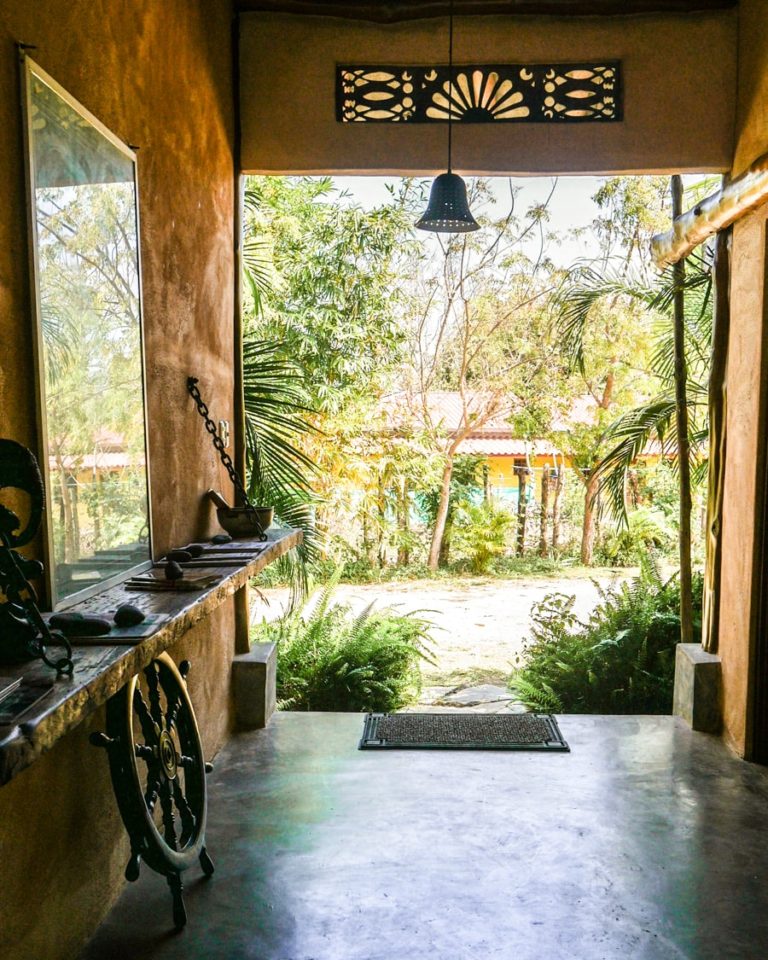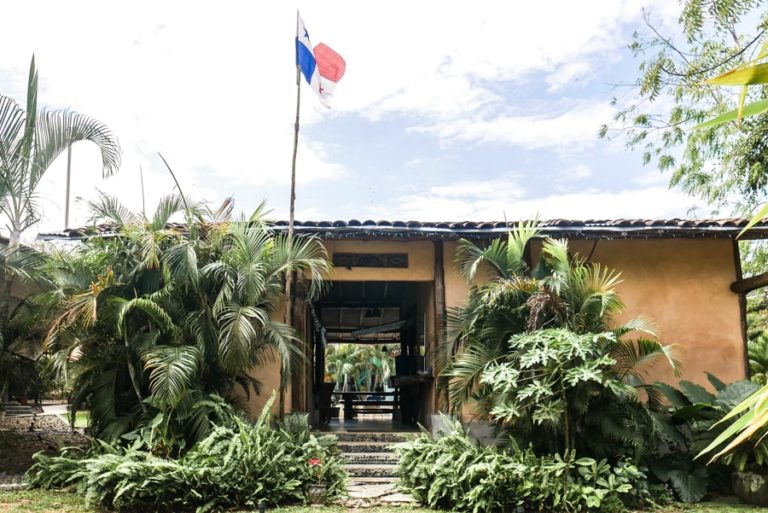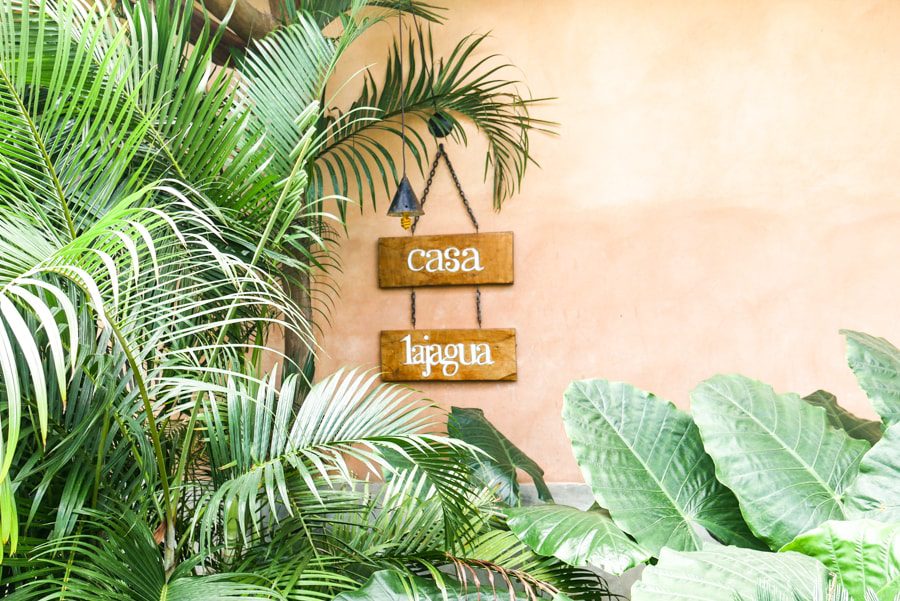 As I mentioned, Casa Lajagua is the perfect place to start your exploration of Panama's Azuero Peninsula. You can get there easily from Panama City by car or by bus. And then almost every beach is about 5-30 minutes away by car.
I highly recommend spending a couple days here, exploring the many beaches on the western/southern side of the peninsula during the day, and relaxing by Casa Lajagua's pool with a cold cerveza at night.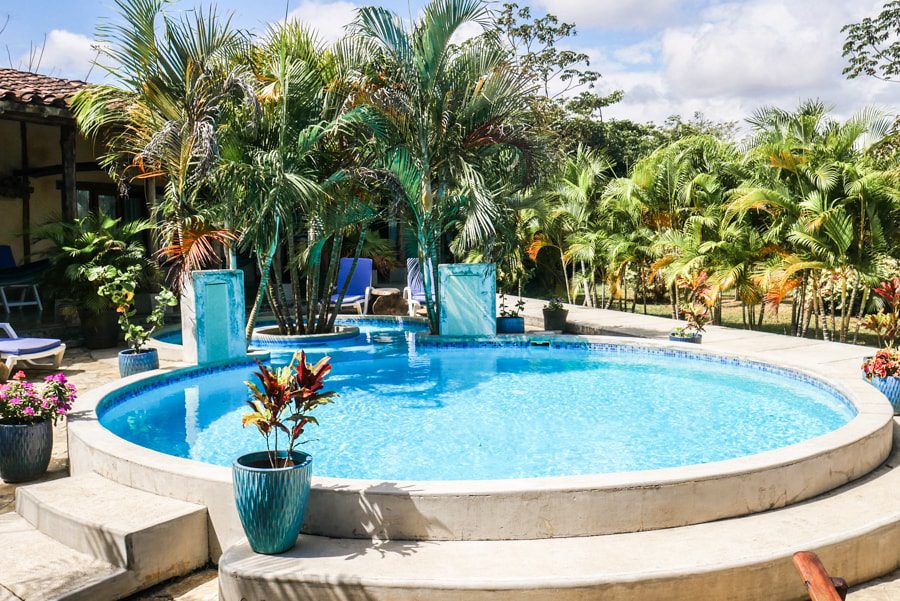 The hotel is also well located in the town of Pedasi. It's on the northern edge and is back from the road, so it's quiet and tranquil. But it's only a couple minute walk from any amenity you could need: restaurants, banks, supermarkets, etc. You can also take a walk or bike ride to a few of the closest beaches.
Free Bike Use
If you are traveling without a car (like we did), you can borrow the mountain bikes at Casa Lajagua for a ride to the closest local beaches. We took the bikes to the closest of the three - Playa Arenal. It only took us 10 minutes down (and 20 back, there is a soft incline on the way back up), and we were able to enjoy the landscape of farms, and green hills along the way. We even saw a couple caymans in a pond on the side of the road!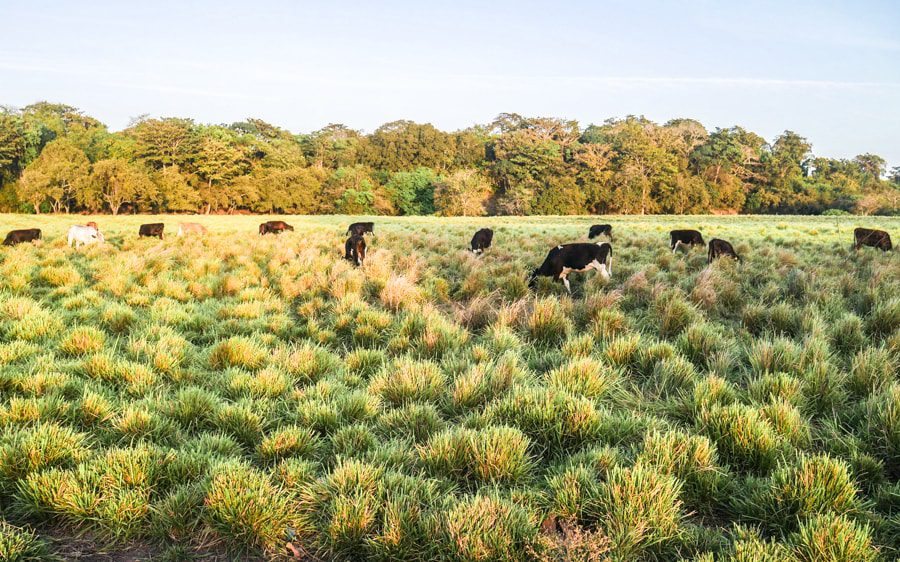 The Multitude of Beaches
I love to explore different types of beaches, so Pedasi is a great place to see many at once.
Isla Iguana:
Our favorite in the area was, hands down, Isla Iguana. This is a must visit if you are in Pedasi! It's a 55 hectare wildlife refuge island that you can visit as a day trip (no hotels exist on the island since it is protected).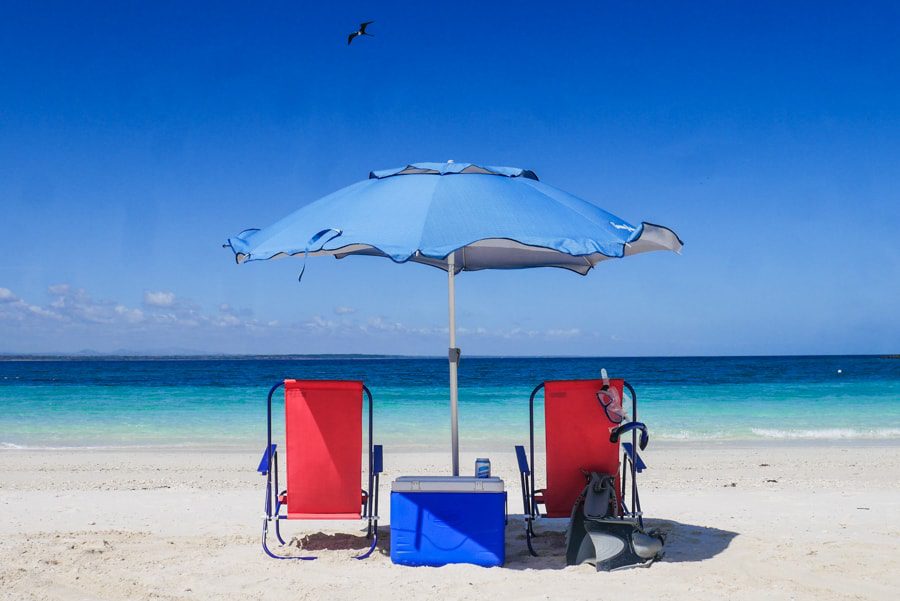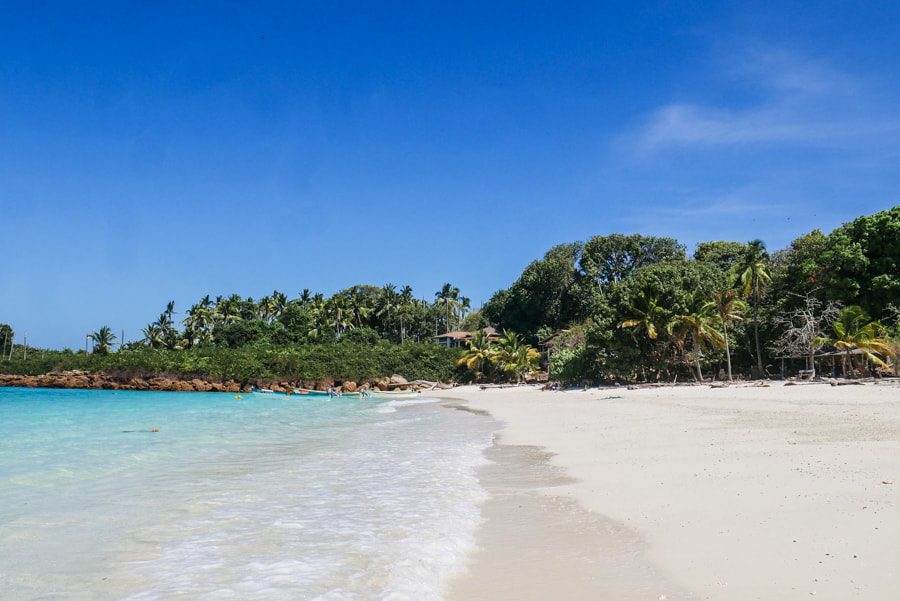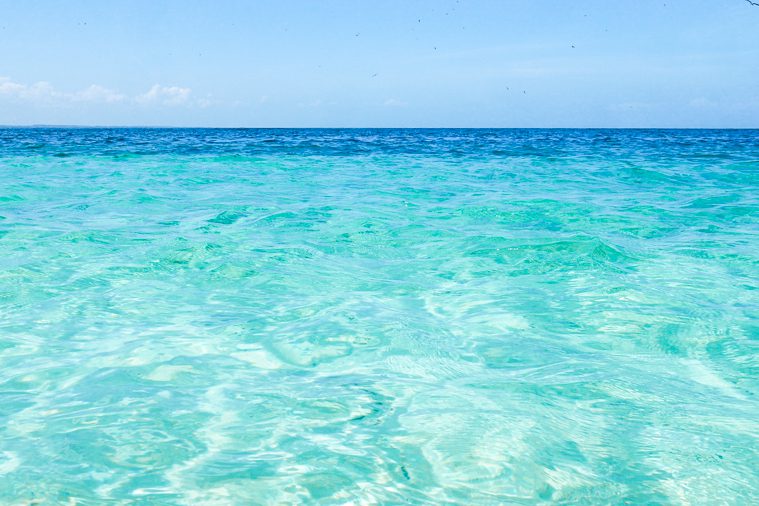 The island is beyond beautiful. It looks like it's straight out of a Caribbean postcard - bright white sand, crystal clear aqua and turquoise water, and lush jungle and dramatic black rocks.
We spent most of the day relaxing in our comfy beach chairs, and taking turns snorkeling in the water. The reef starts so close to the shore that you only need to wade out a few meters into the shallow water to see tons of sea life. We saw bright colorful puffer fish, eels, and even a huge sea turtle! And on the ride over we saw a family of dolphins.
I did finally peel myself off the lovely beach to explore the island a bit in the late afternoon. I took a circular path to the other beach on the island, starting with the path that veers towards the north/east. It was only about a 10 minute walk away, and there was literally no one else there. Swimming is not allowed there since it is a protected reef, but it was a gorgeous and rugged beach. I then took the eastern path back that ended on a hill overlooking Playa El Cirial, the main beach on the island.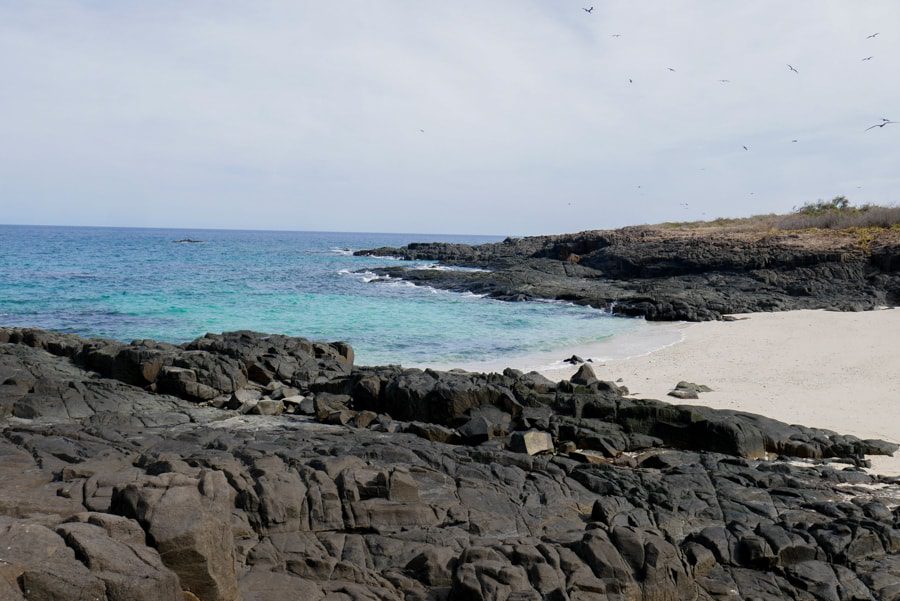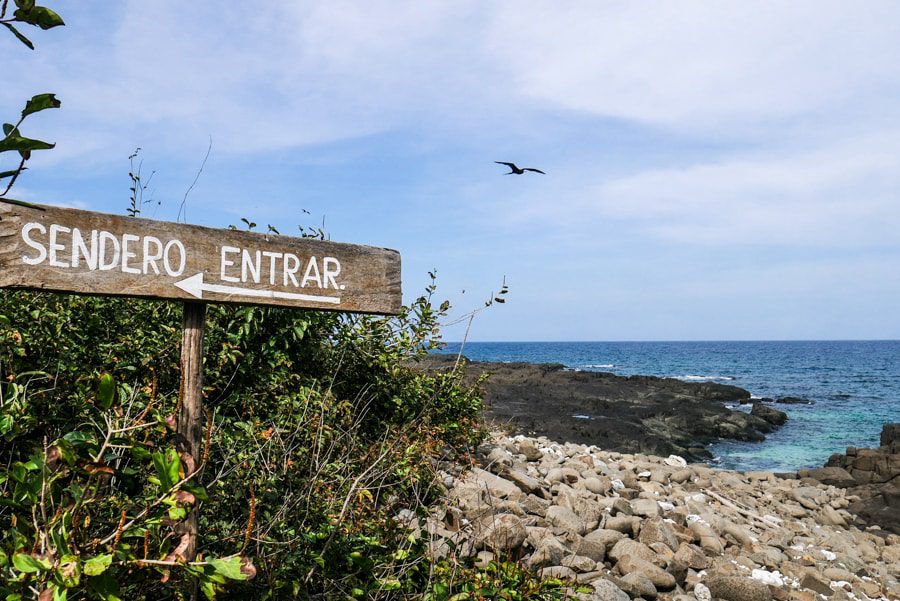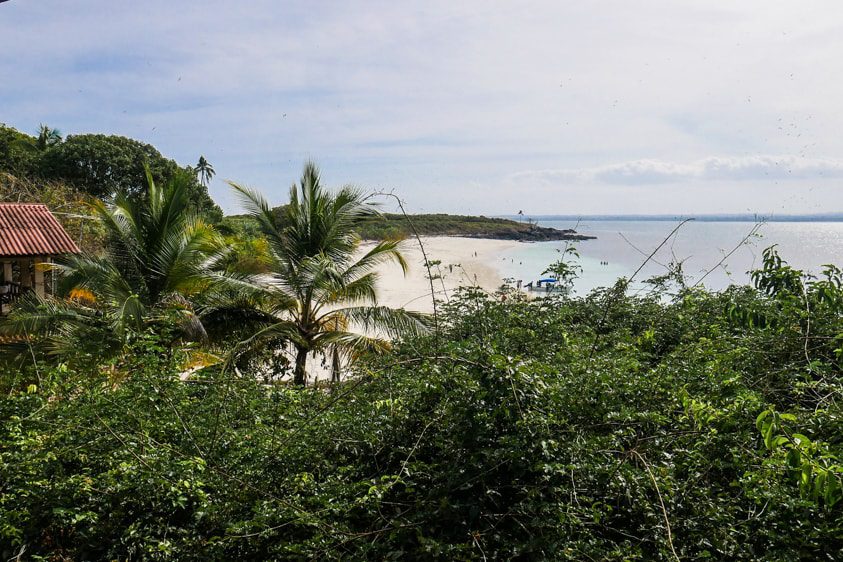 Casa Lajagua can arrange a day trip for you. They take care of all the particulars: the boat ride to the island, beach chairs, an umbrella, a cooler, snorkel gear, and even sandwiches for lunch, so you can just relax and enjoy the picture perfect island all day.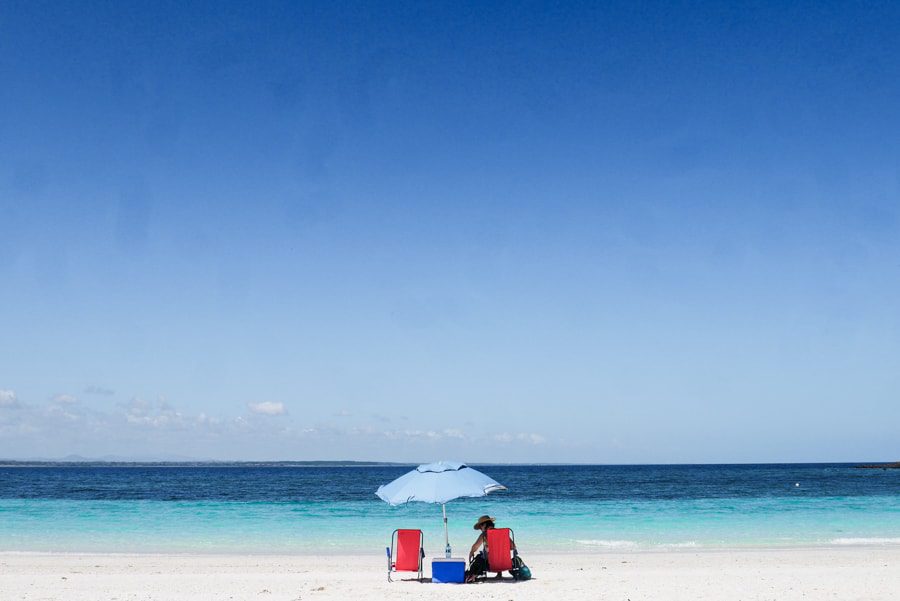 Playa Arenal:
The closest beach to Casa Lajagua is Playa Arenal. It's only a 5 minute drive or a 10 minute bike ride. It's a nice local beach with a long stretch of yellow sand. The water can be a little choppy if it's windy, but the waves are small so it's pleasant for swimming. There is also a little local restaurant that is supposed to have great fish (though we didn't have a chance to try it).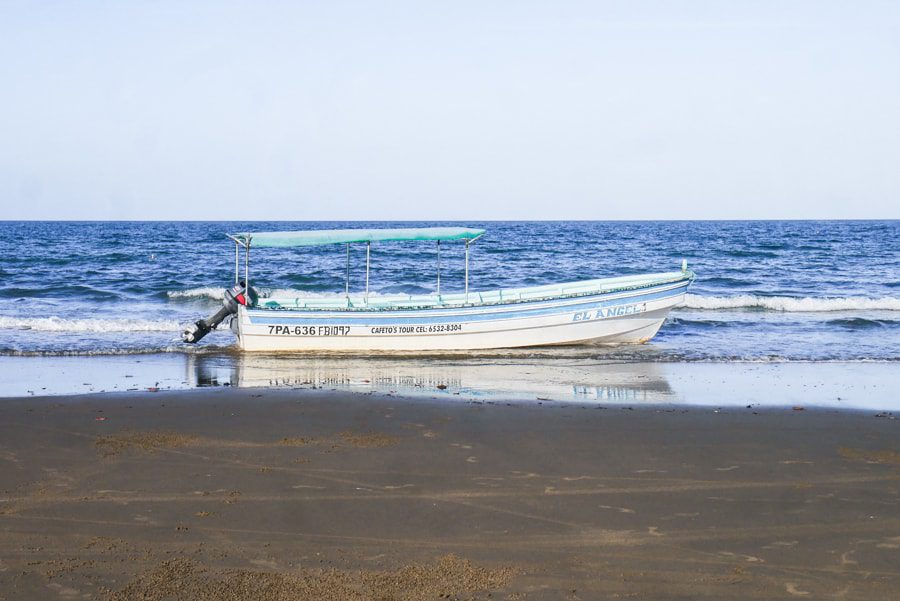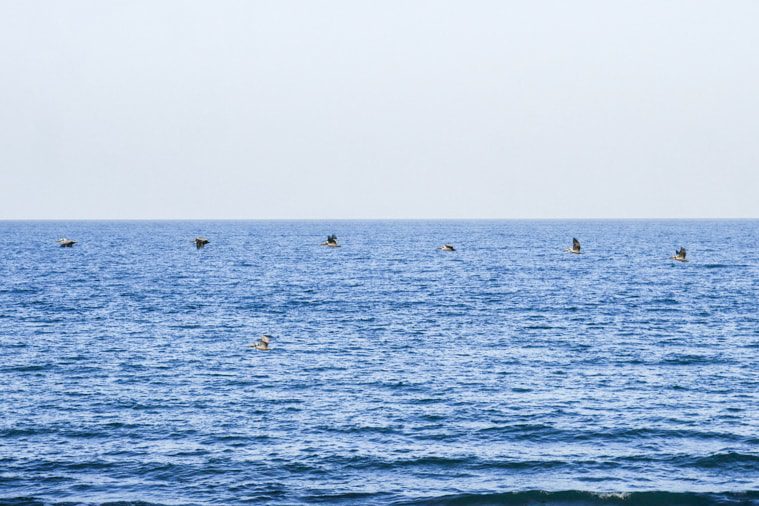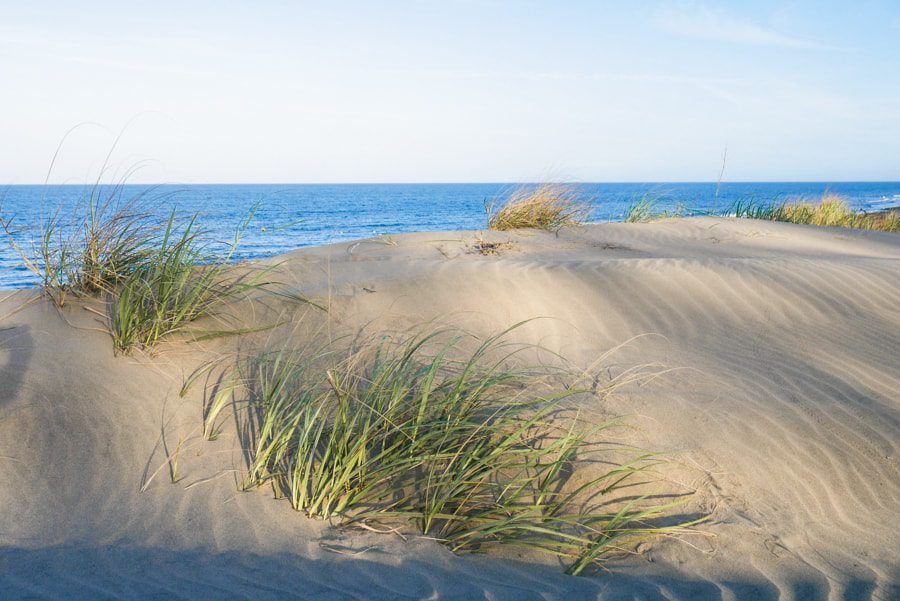 Playa Toro:
Another local beach a few minutes to the south. This beach gets very popular on weekends and holidays with Panamanians enjoying the area. The sand is a little darker, and there some big natural rocks on each end.
Playa Destiladeros:
This is a pretty beach on the southern side of the peninsula. It's usually pretty empty and stretches on quite a ways in both directions. The beach is wide and backed by lush green jungle.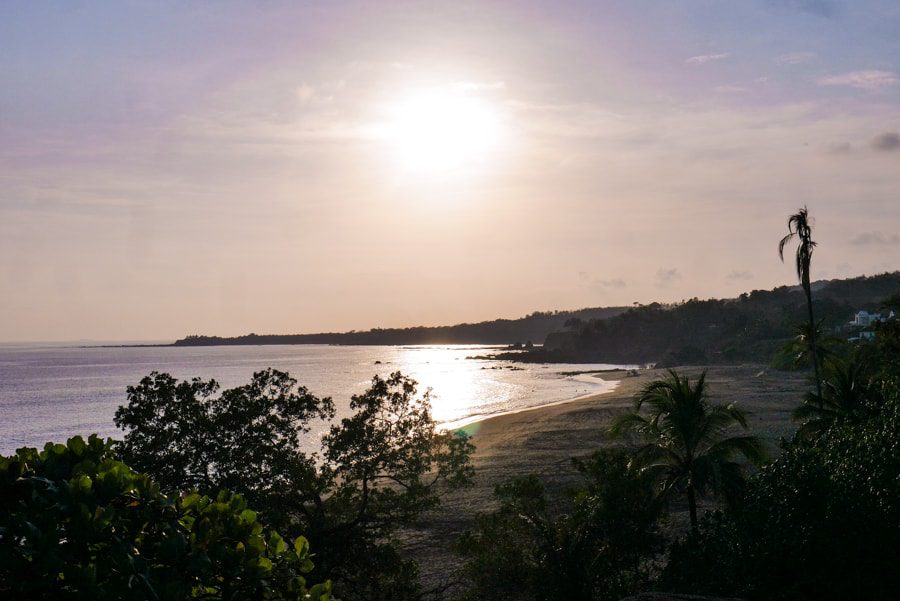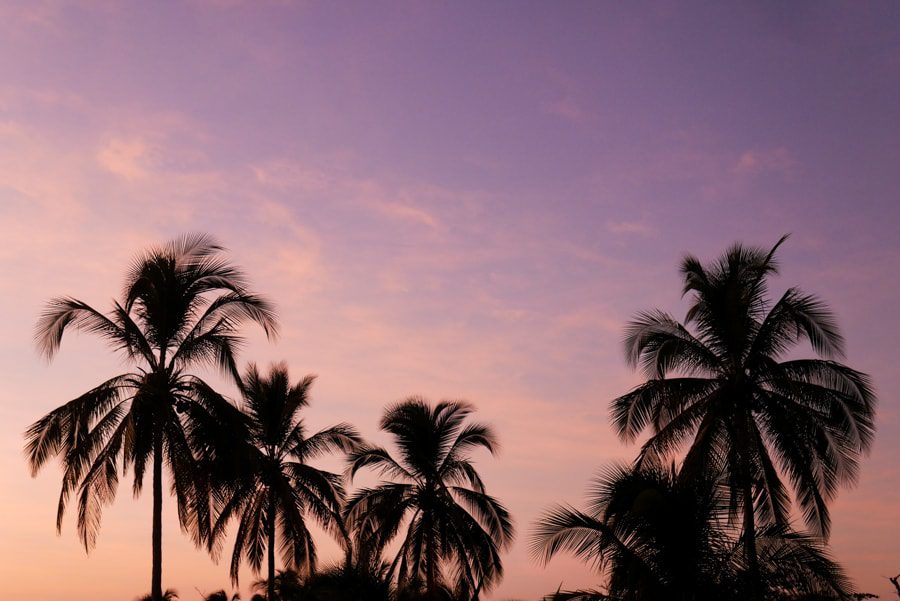 Playa Venao:
I have mixed feelings about Venao. We actually stayed in Playa Venao for three nights before heading to Pedasi. While the beach at Venao is beautiful and has perfect waves for surfing, I didn't love the town. Everything feels very over priced for Panama, we didn't find much variety in restaurants, and the crowd felt very young. I would recommend visiting Venao as a day trip from Pedasi. The town of Pedasi is much more pleasant and has a better variety of amenities and restaurants.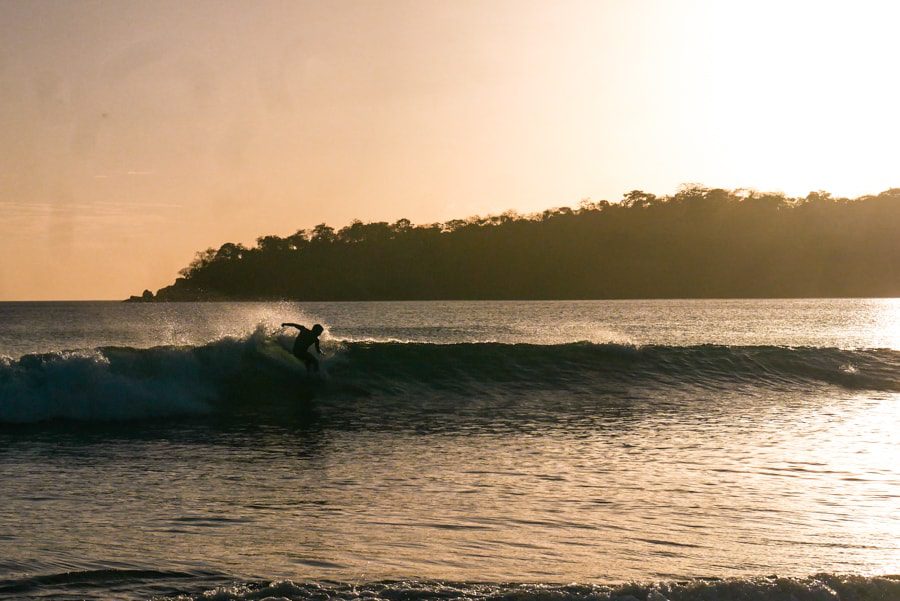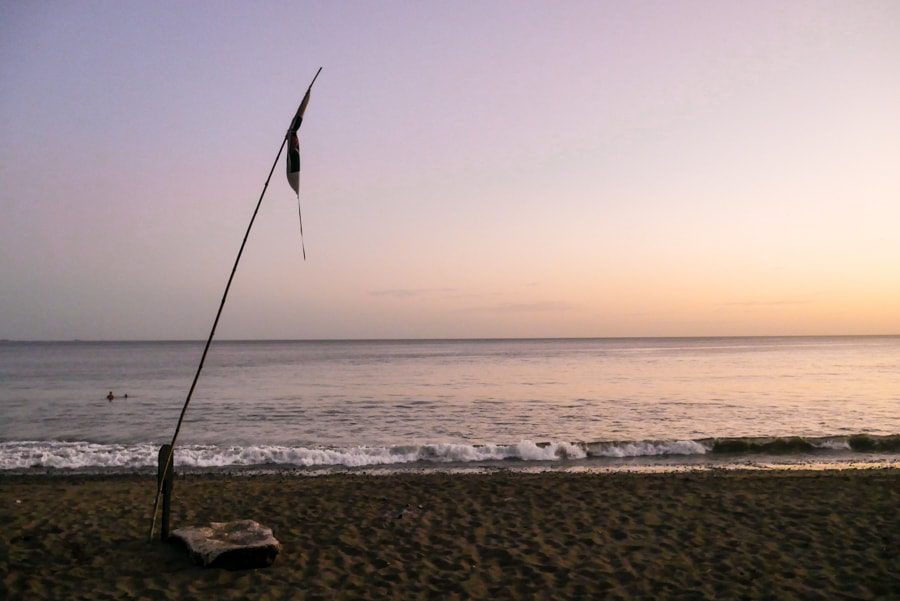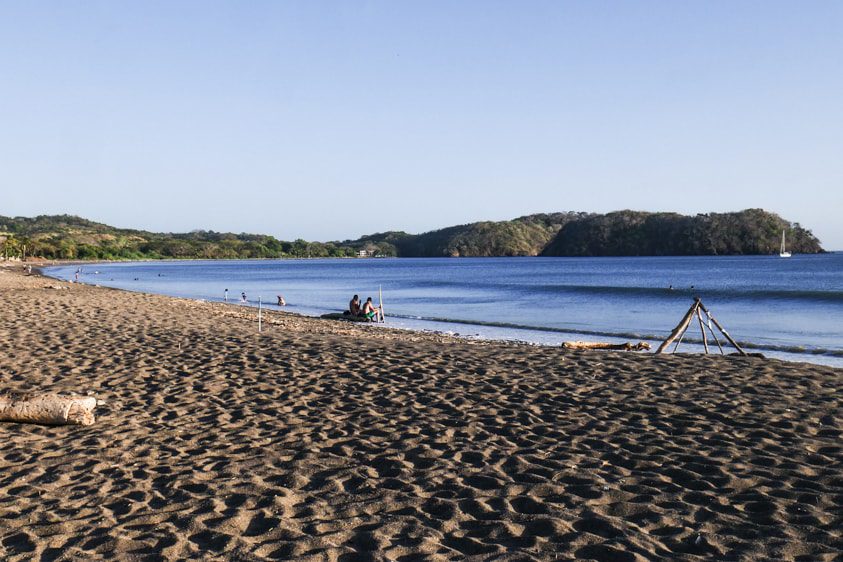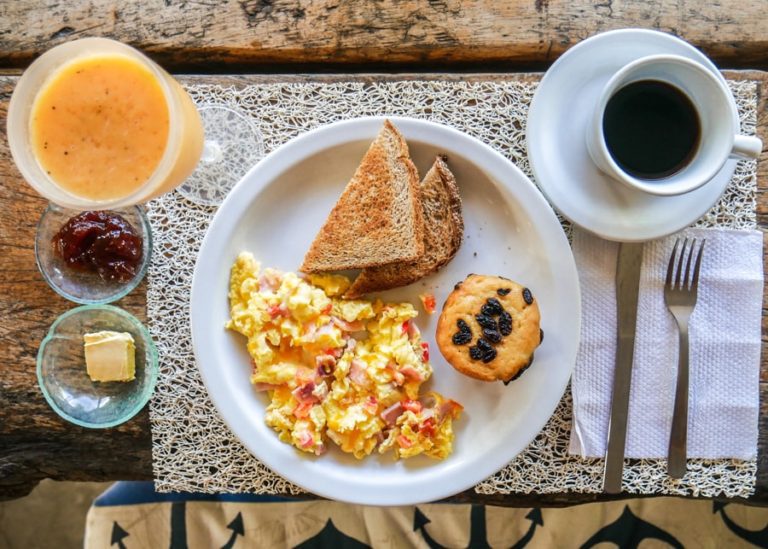 Casa Lajagua serves a fresh and delicious breakfast every morning from 8-9:30am. The breakfast is large and keeps you full until early in the afternoon. It usually consists of eggs, either bread/waffle/pancake, and a sweet. It's always served with coffee or tea, and their famous fresh fruit smoothies. It was such a lovely way to wake up!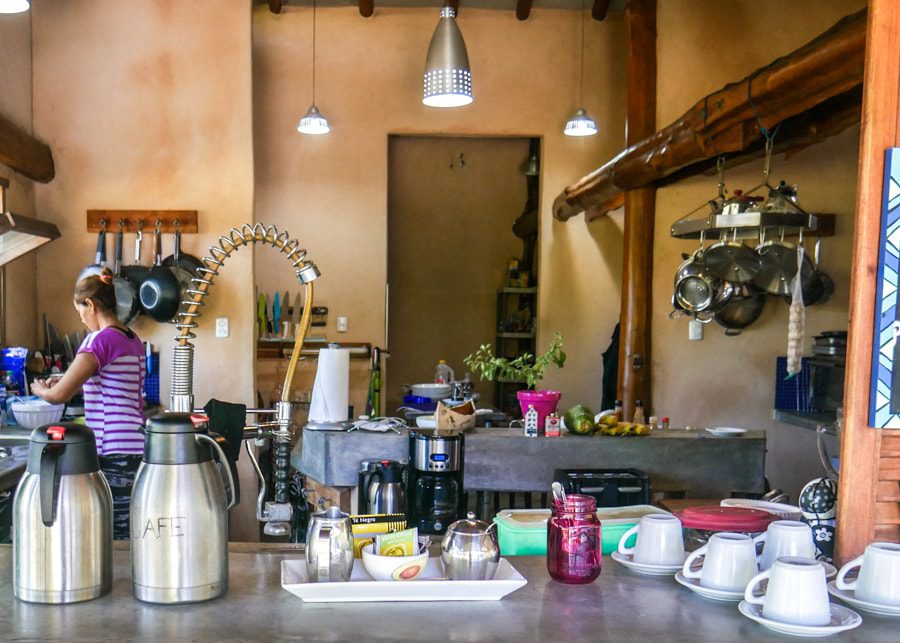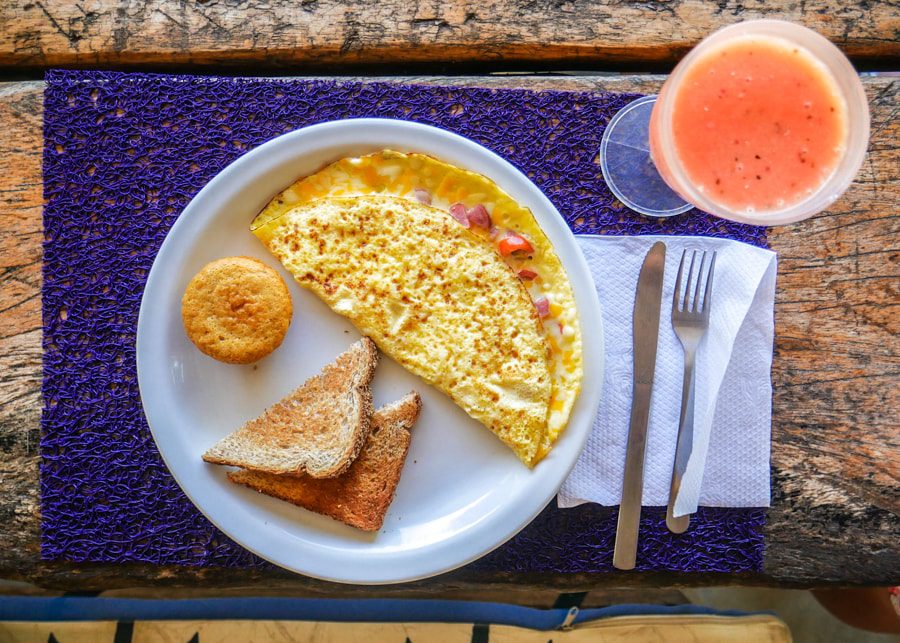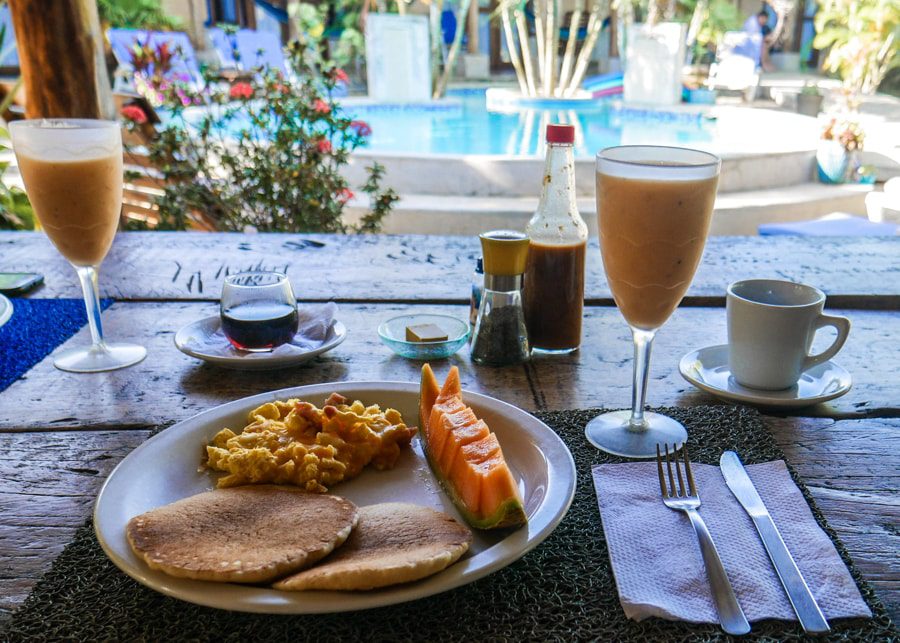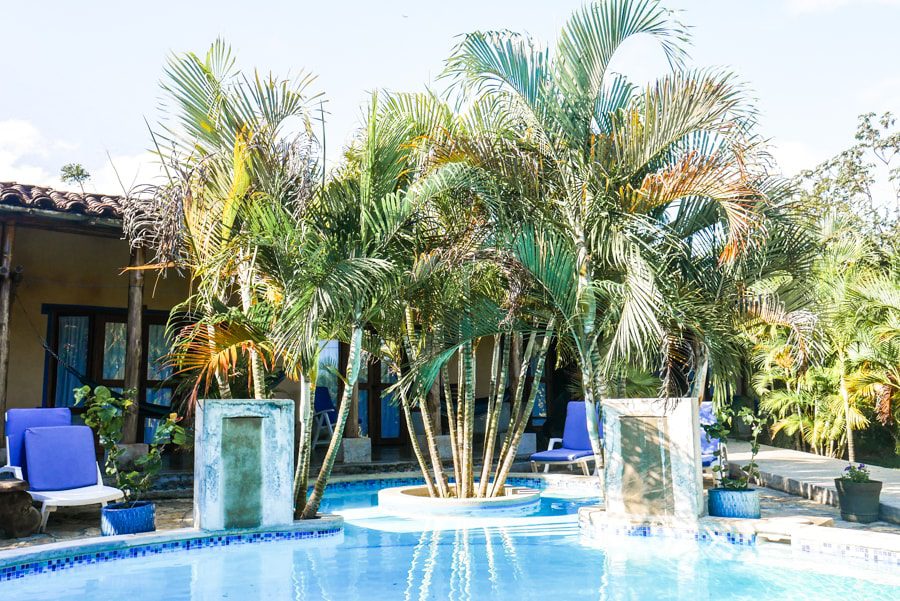 The centerpiece of the property is the pretty aqua pool surrounded by leafy bamboo greens. It's very pretty and offers a welcome break from the hot afternoons.
There are lots of pool chairs to lounge on, read a book, get some sun, and just relax after a day of exploring.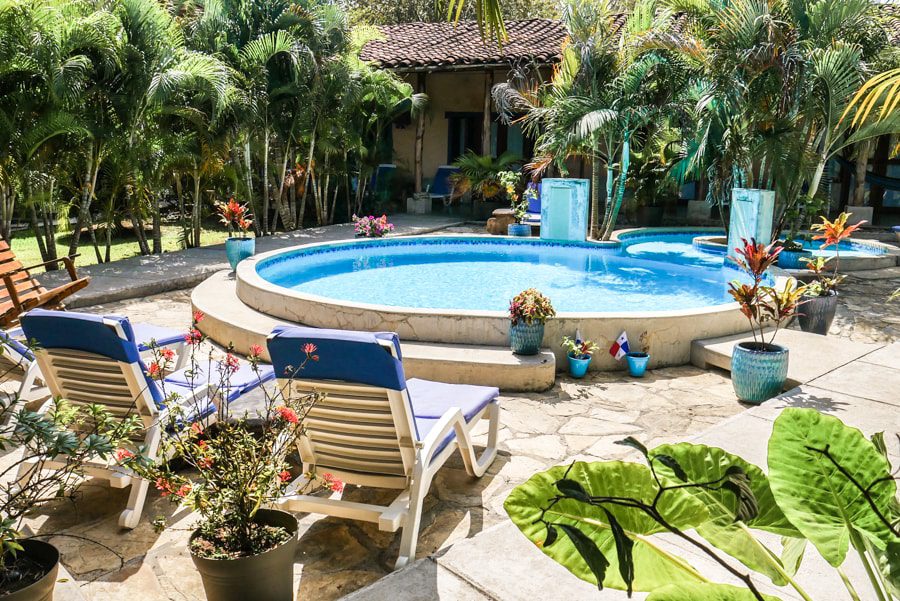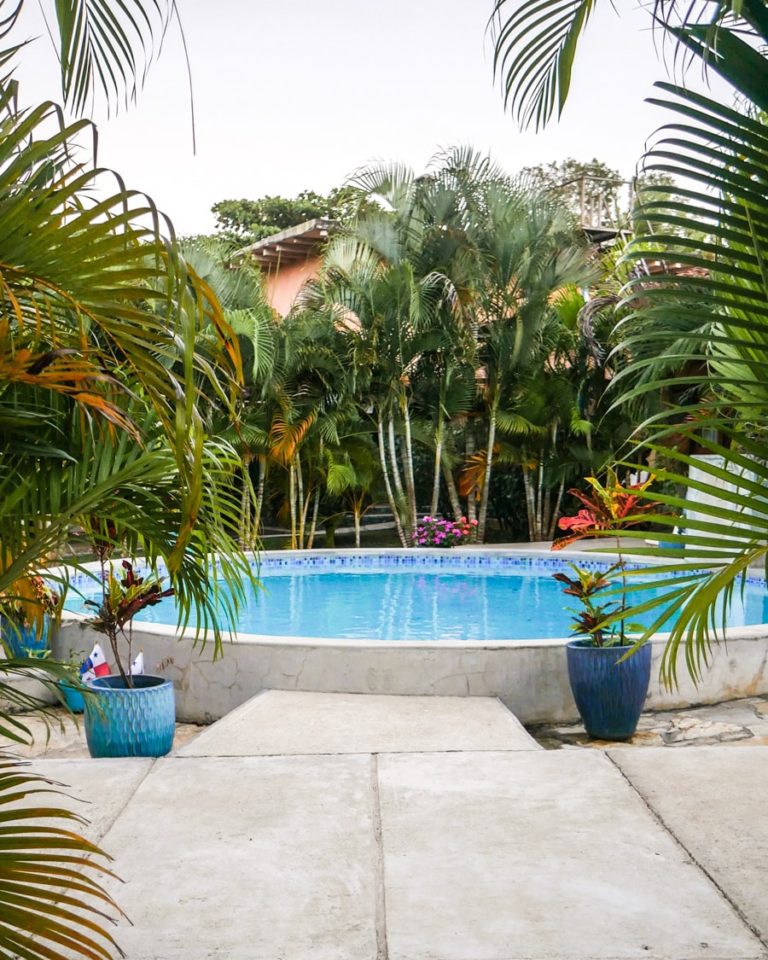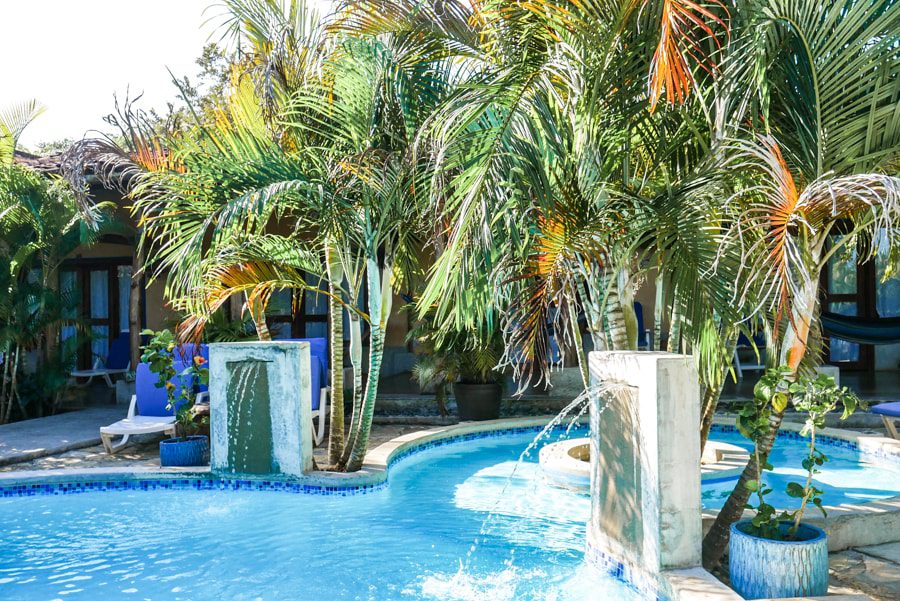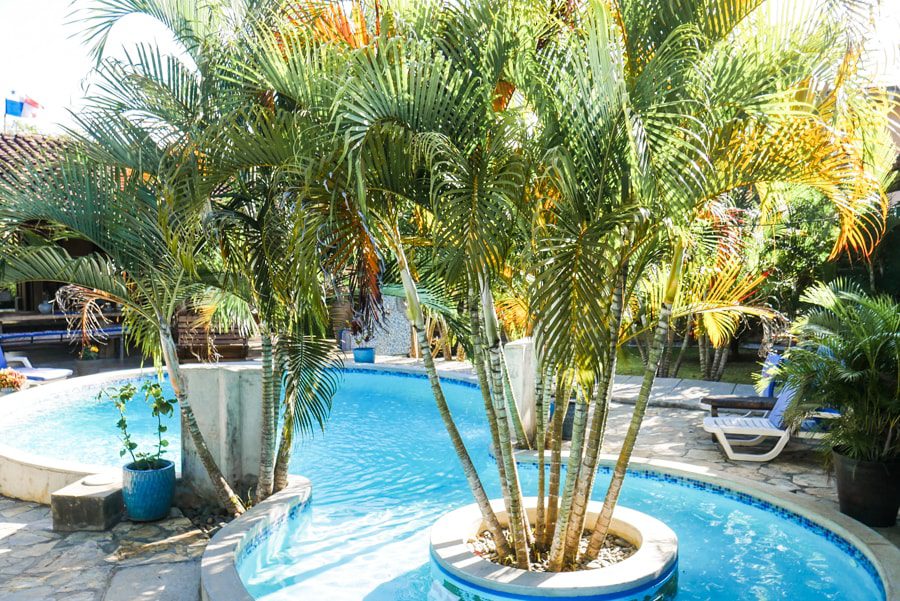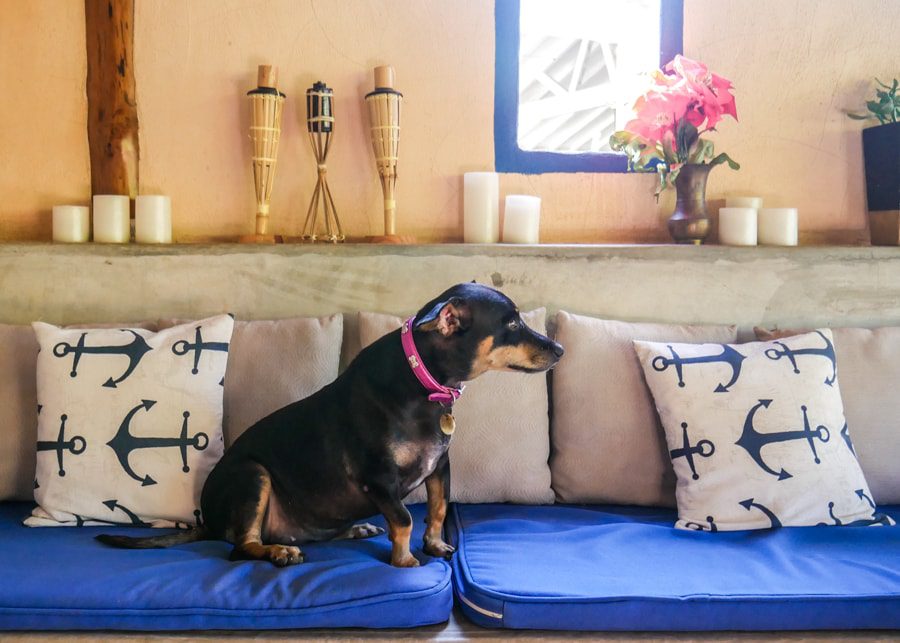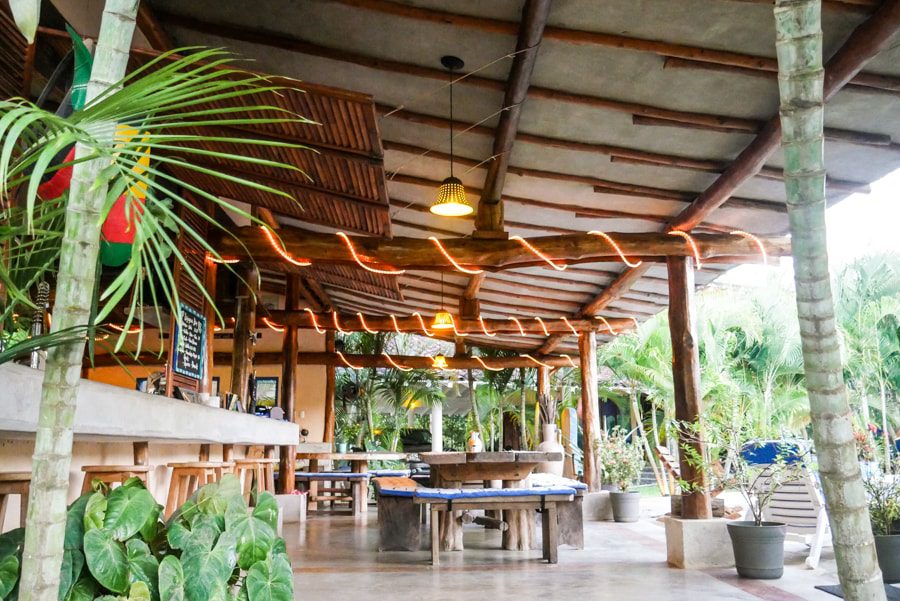 Casa Lajagua's common areas are comfortable and well decorated in a cute nautical theme. There is a large rustic wooden farm table in the main part of the dining room, as well as a smaller round wooden table with benches.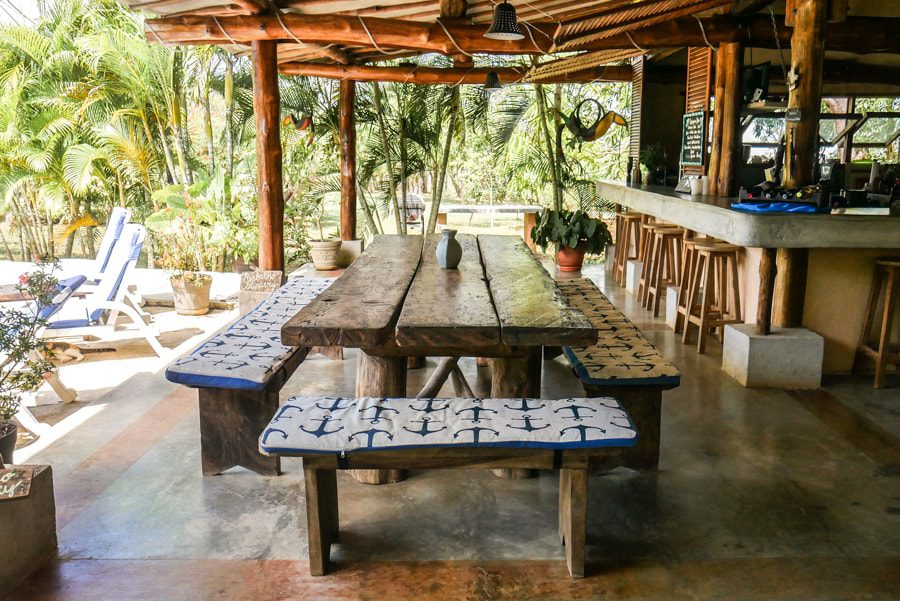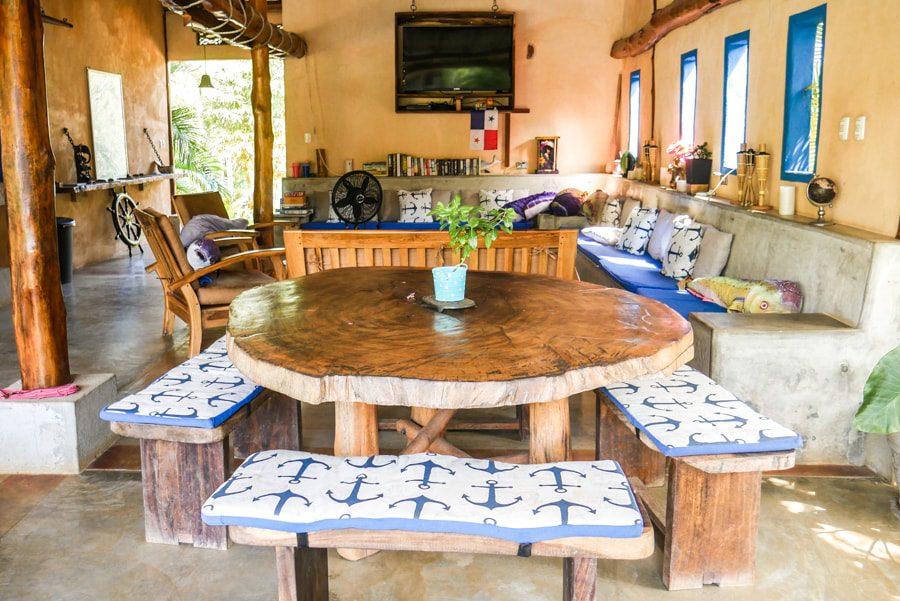 Next to the dining area is the open air living room with comfy cushions and pillows, books and games to use, and a large tv to enjoy.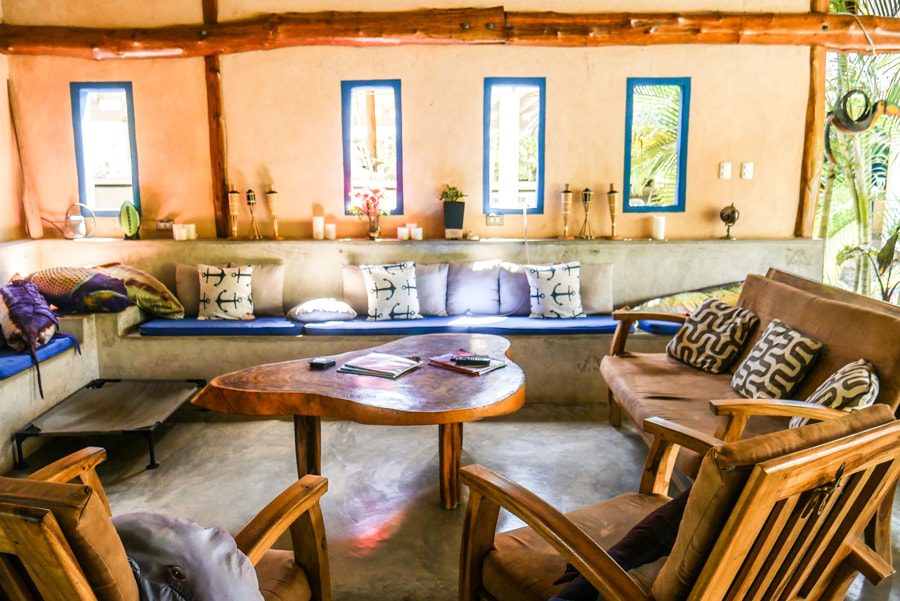 Outside of each room is a porch area with hammocks, lounge chairs, and side tables. There is plenty of space to enjoy the tropical days and nights outdoors.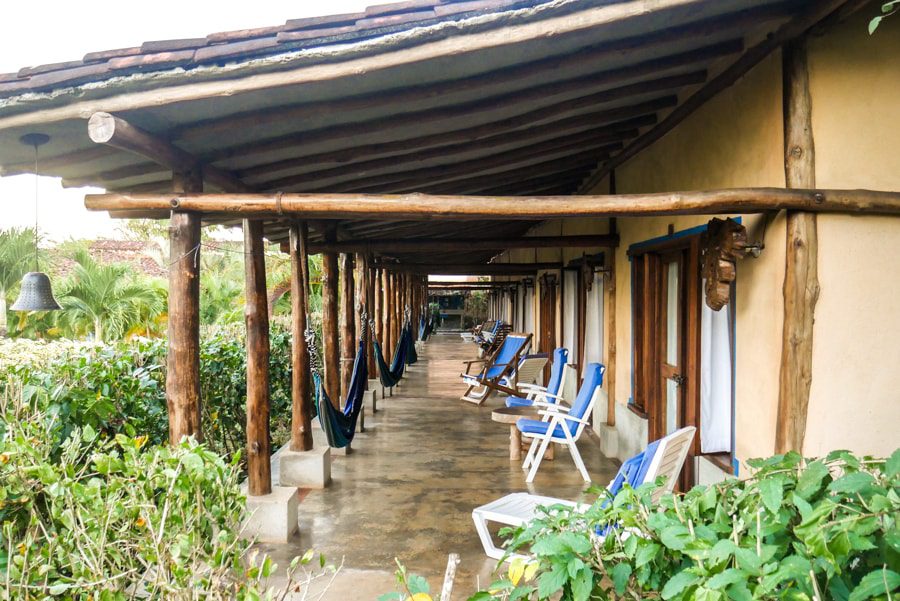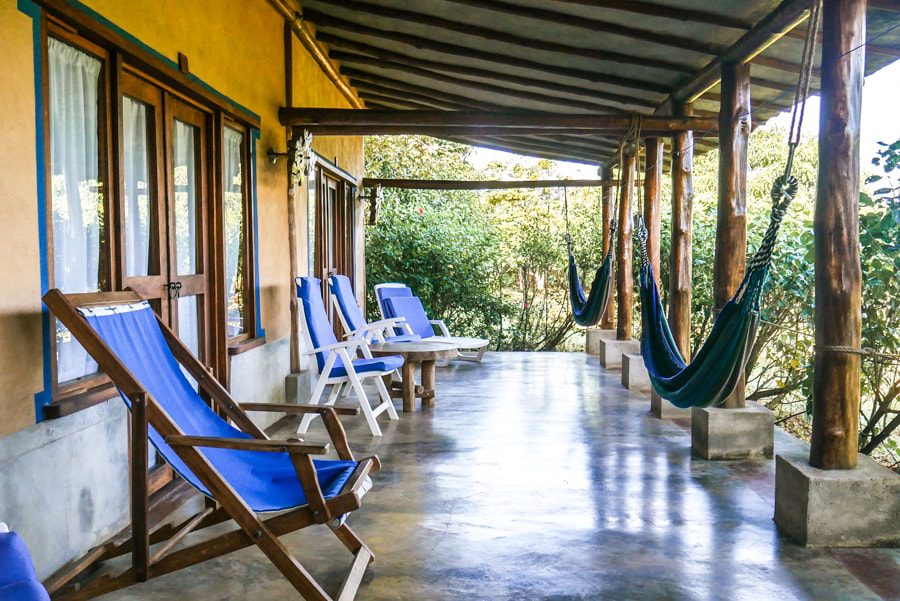 Large, Comfortable Rooms with a Great Layout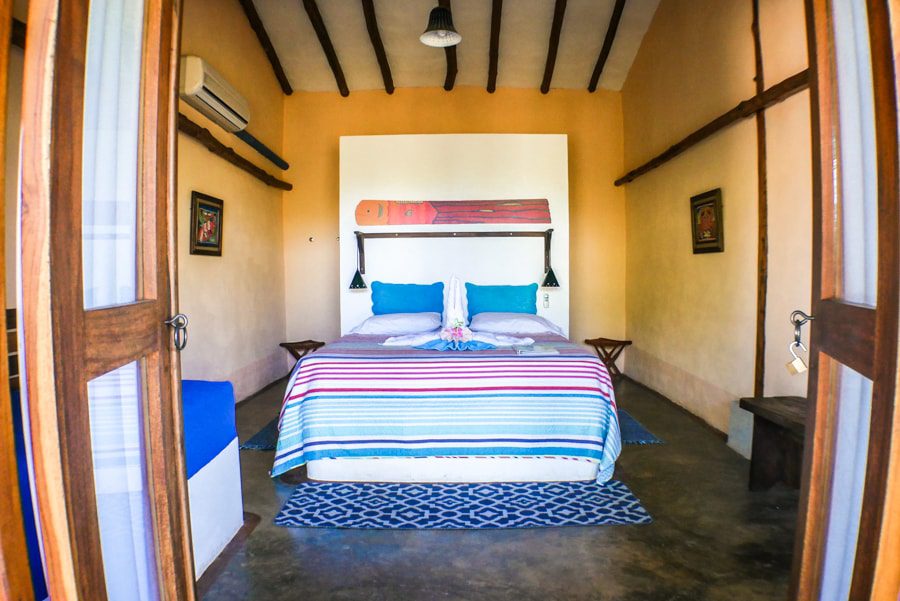 The rooms at Casa Lajagua in Panama's Azuero Peninsula are all spacious and have a really clever layout. The sleeping area is in front, and then there is a partition that also acts as a closet. On the other side of the partition is the sink area with two rooms on each side - one side is the bathroom and the other side is the shower room. We loved this unique layout, it made it feel like we had a mini-apartment all to ourselves.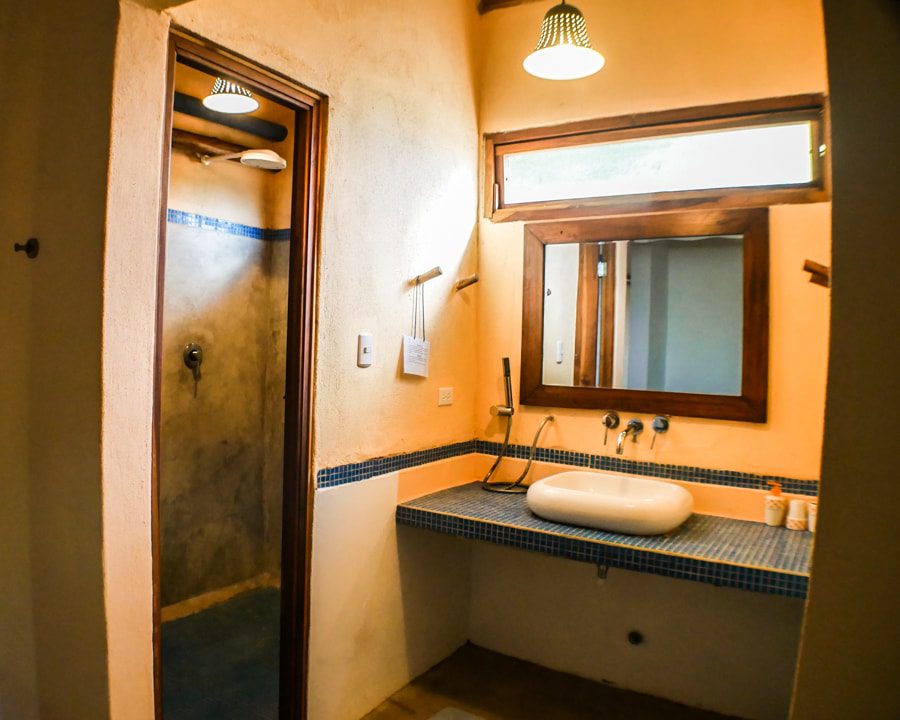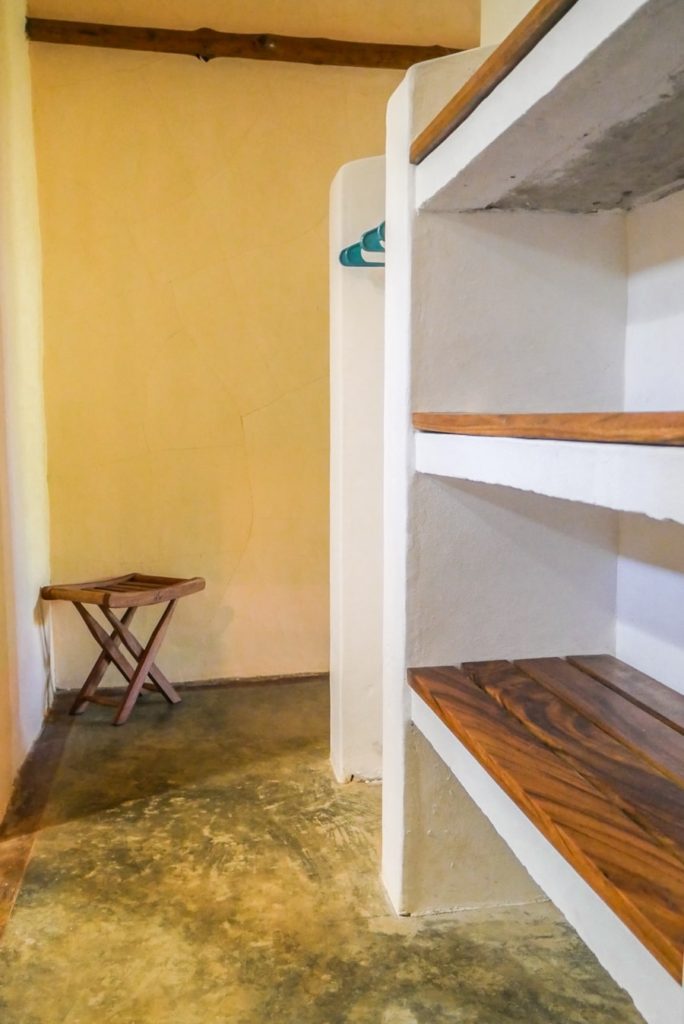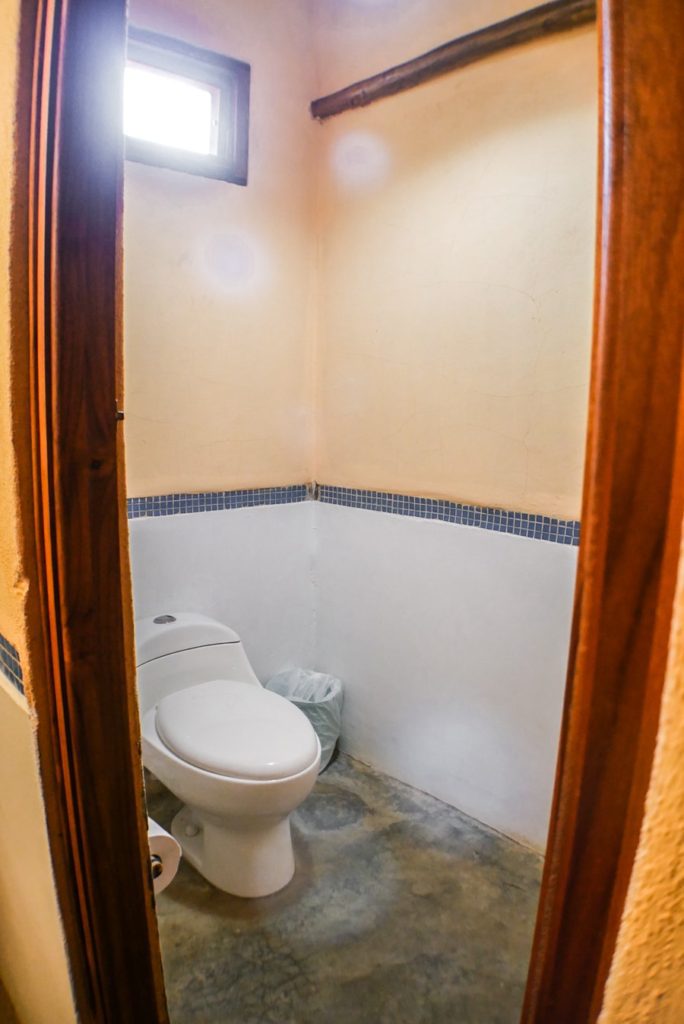 The front of the room includes a king or a queen bed, as well as a single bed in the corner that can double as a seating area. Our bed was so comfortable that I often didn't want to get up in the morning!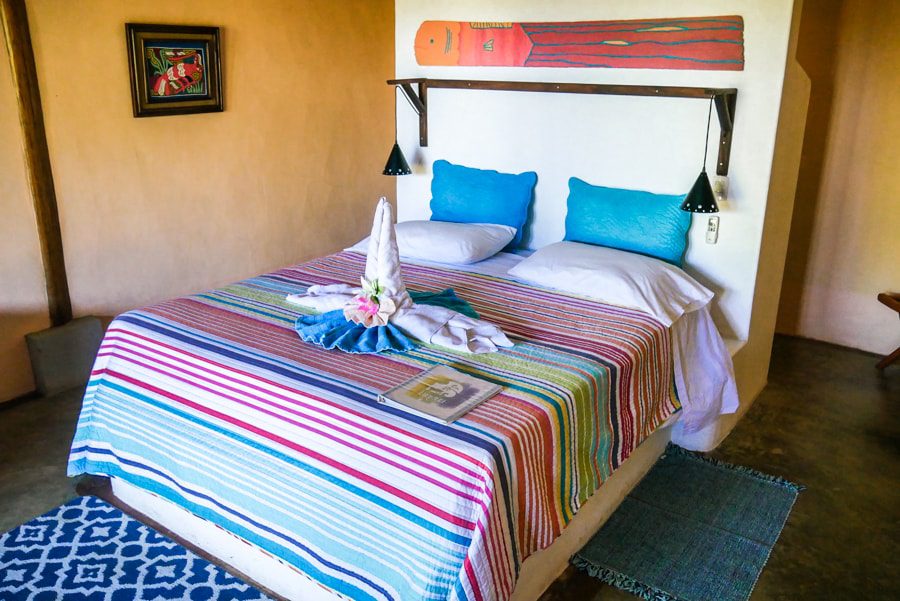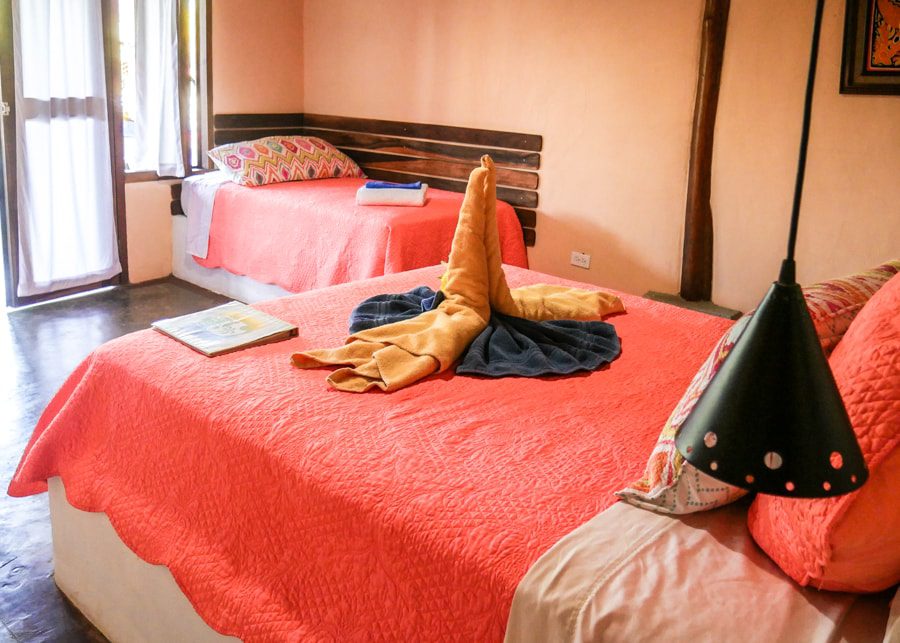 The ceilings are all high with an A-shape roof, making the room feel even more open and spacious.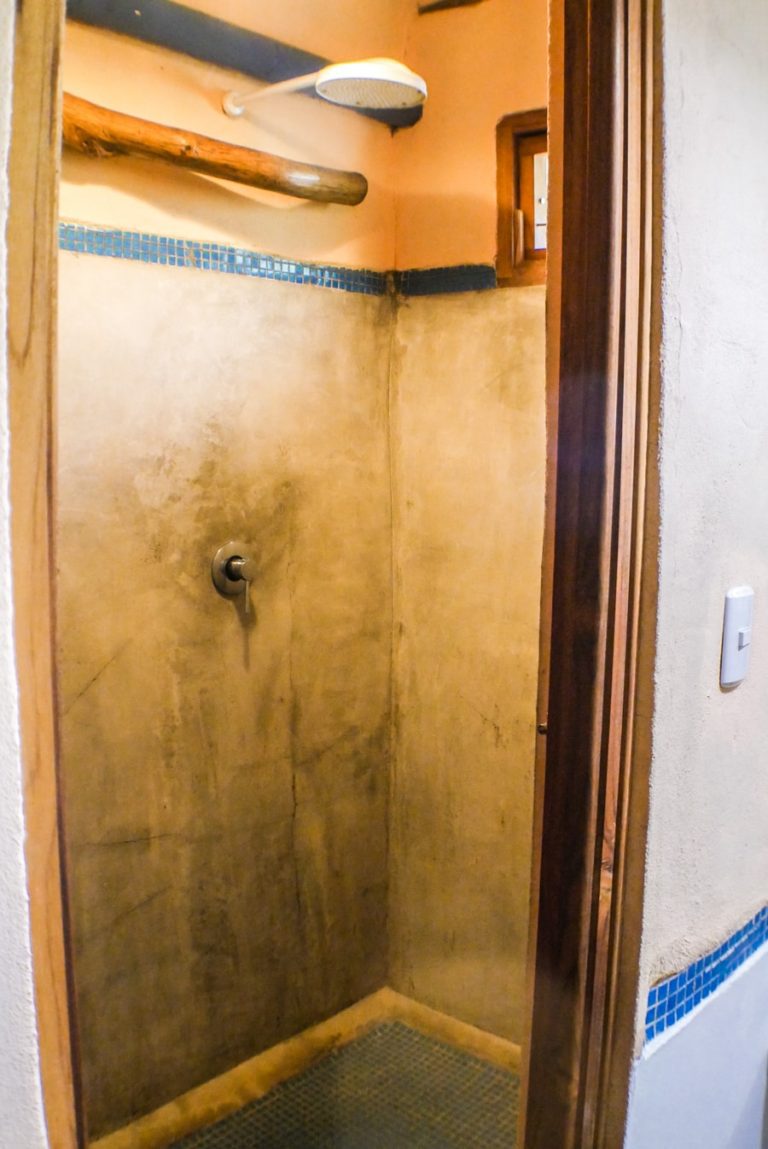 I know I am always going on about great showers, but they really aren't the norm in Latin America! However, Casa Lajagua has another great shower to add to my list of favorites. It's an entire room, with pretty blue tile on the floor and a little tile seat. It has a rain shower head with plenty of pressure and hot water.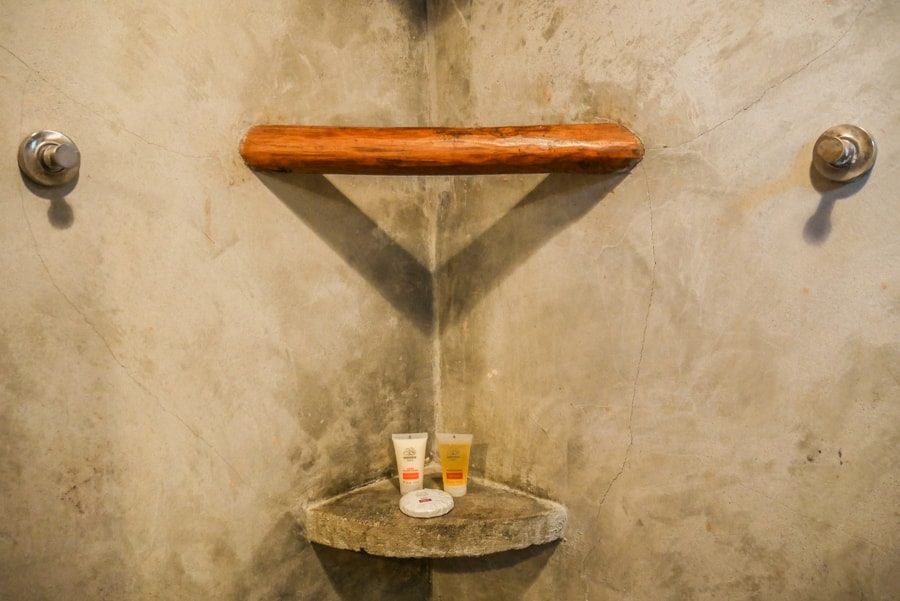 Air Conditioning
Each room at Casa Lajagua has powerful air conditioning, so you can beat the heat in this very hot part of Panama. It always worked well and kept us cool and comfortable at night.
Good Wifi
Good wifi can be hard to come by in parts of Panama, so I was thrilled to find a good consistent connection at Casa Lajagua. I had to do some work while there, and have a couple of video calls. The wifi was strong enough for me to get my work done!
Conclusion:
Panama's Azuero Peninsula was my favorite part of the country, so I highly recommend travelers carve out time to see this area. I think that Casa Lajagua in Pedasi is the perfect place to start your exploration of the peninsula. It's a cute and comfortable boutique hotel that is very conveniently located. You could visit 7 or more beaches from this one central location!
April and Craig are amazing and knowledgeable hosts. They can give you all the best tips on what to do, what to see, and where to eat in the area. They can also set you up with great tours to go fishing, surfing, horseback riding, or to visit the incredible Isla Iguana.
My Recommended Panama Itinerary:
1 Full day in Panama City - visit the Canal and Casco Viejo

A few days in Pedasi - visit Isla Iguana, the local beaches, surf at Playa Venao

A few days in Cambutal - enjoy this gorgeous undiscovered beach, surf and relax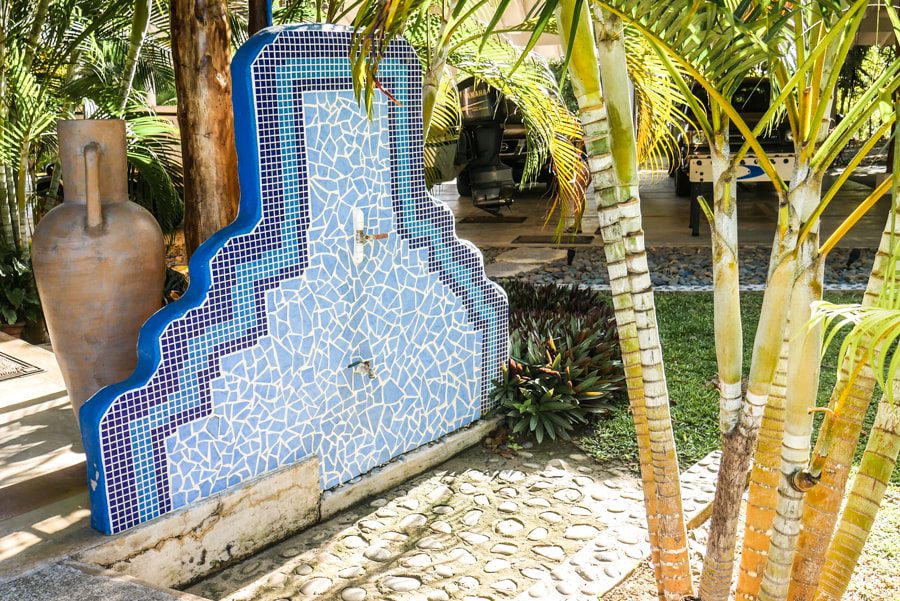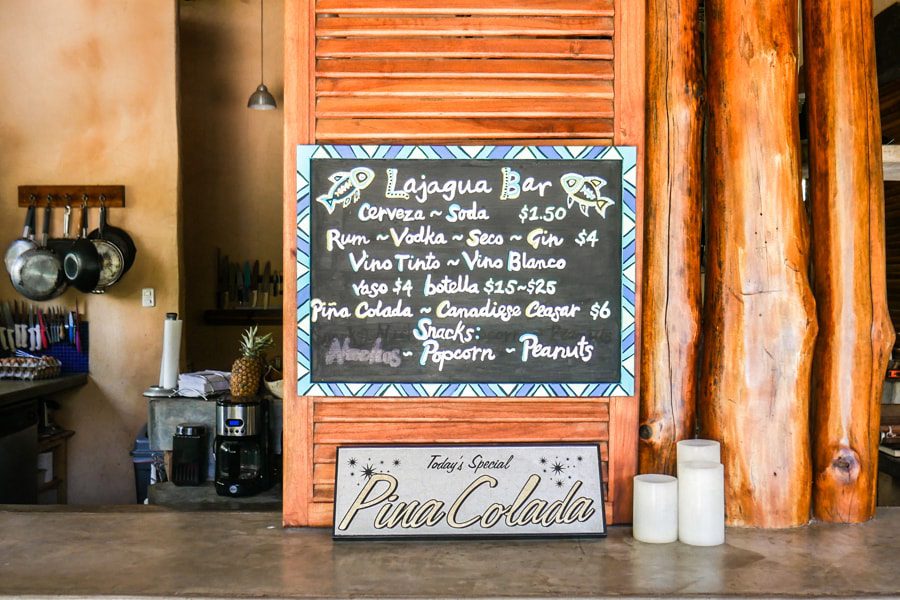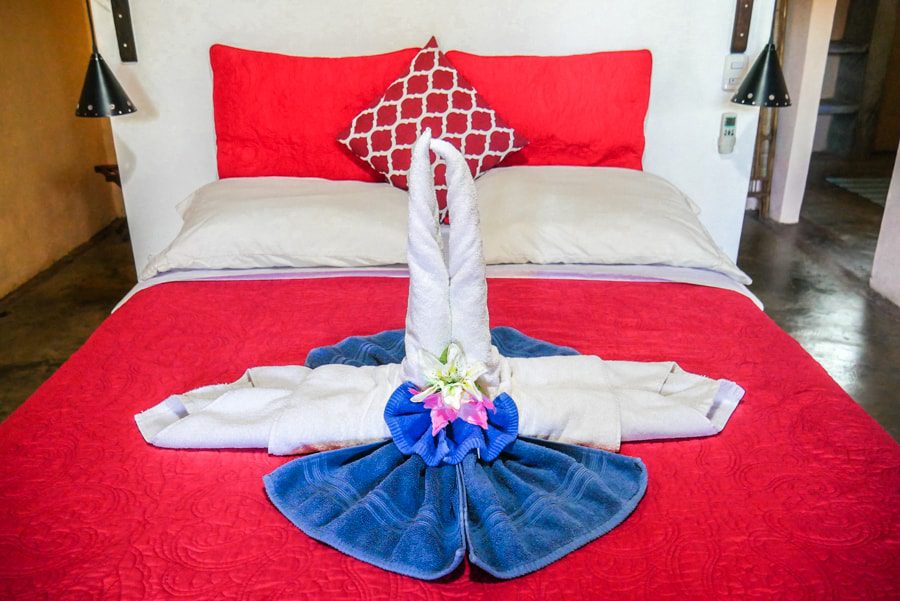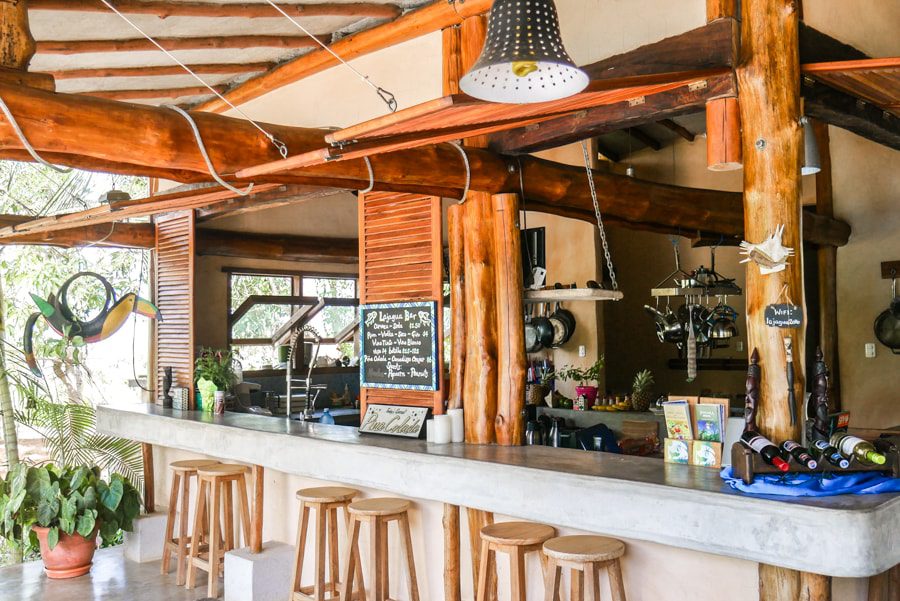 ---
Disclosure: I received a free stay at Casa Lajagua in exchange for an honest review. All opinions are my own!