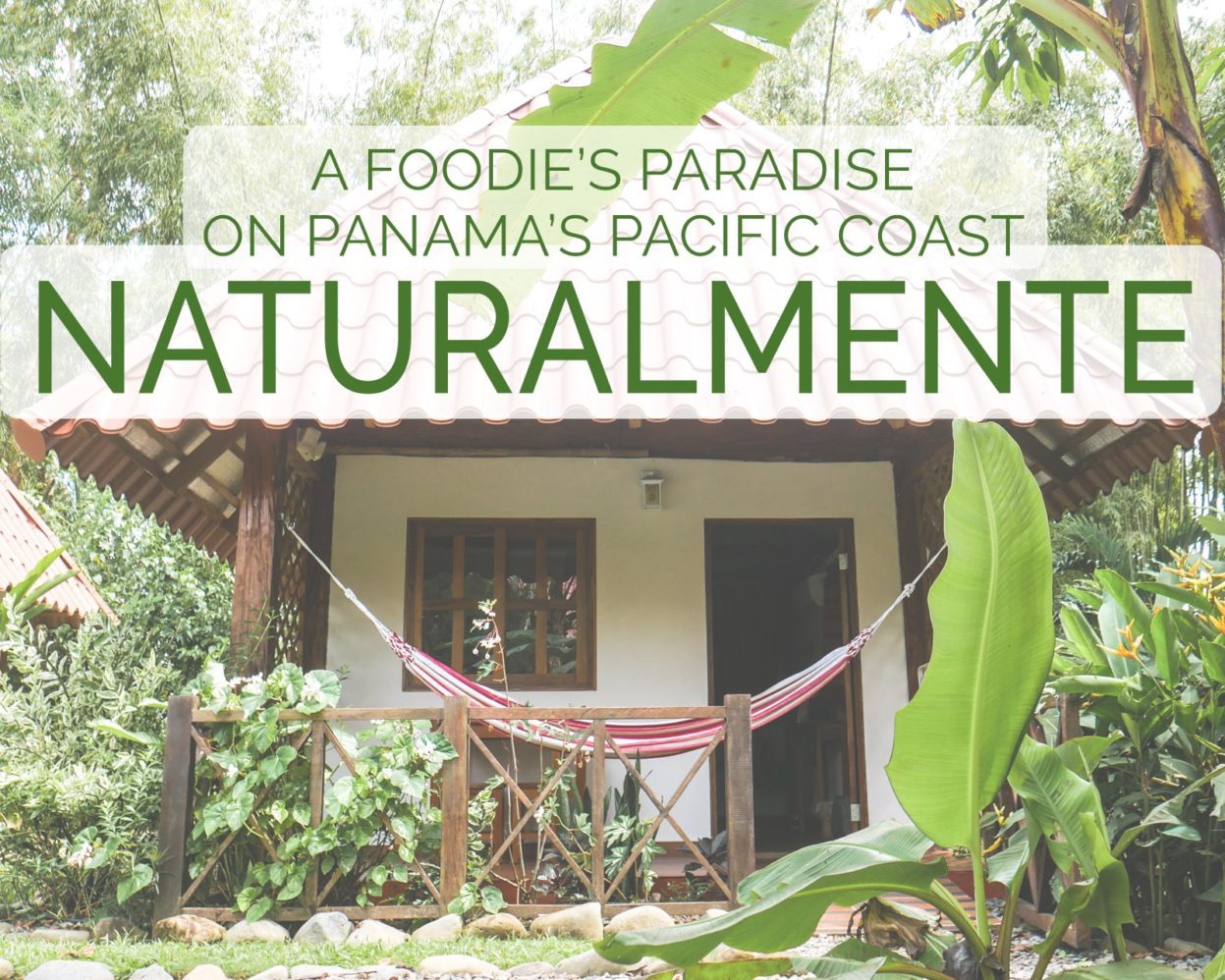 When we mentioned to anyone that we were heading to a hotel in Las Lajas Panama next, we were met with blank stares. Even many locals in the country hadn't heard of this tiny Pacific town minutes from a wide stretch of black sand beach. So it wasn't a surprise to us to find this 12km (almost 7 ½ miles) beach almost completely empty and undeveloped. If you like unspoiled, off-the-beaten path beaches, this should be on your itinerary in Panama!
We spent three lovely days relaxing, biking to the beach, and eating like kings at Naturalmente Boutique Bungalows. This hotel in Las Lajas Panama is owned by an Italian couple who are passionate about high-quality, homemade food. Every meal was an incredible experience (don't worry, I'll wax poetic about the food below). Las Lajas was the perfect place to relax, enjoy the lush nature of the Chiriqui province, and take long walks on an endless beach.
And if you're curious how to get to Las Lajas, scroll to the bottom of the post for detailed directions on how to get there from anywhere in the country by car, bus or plane.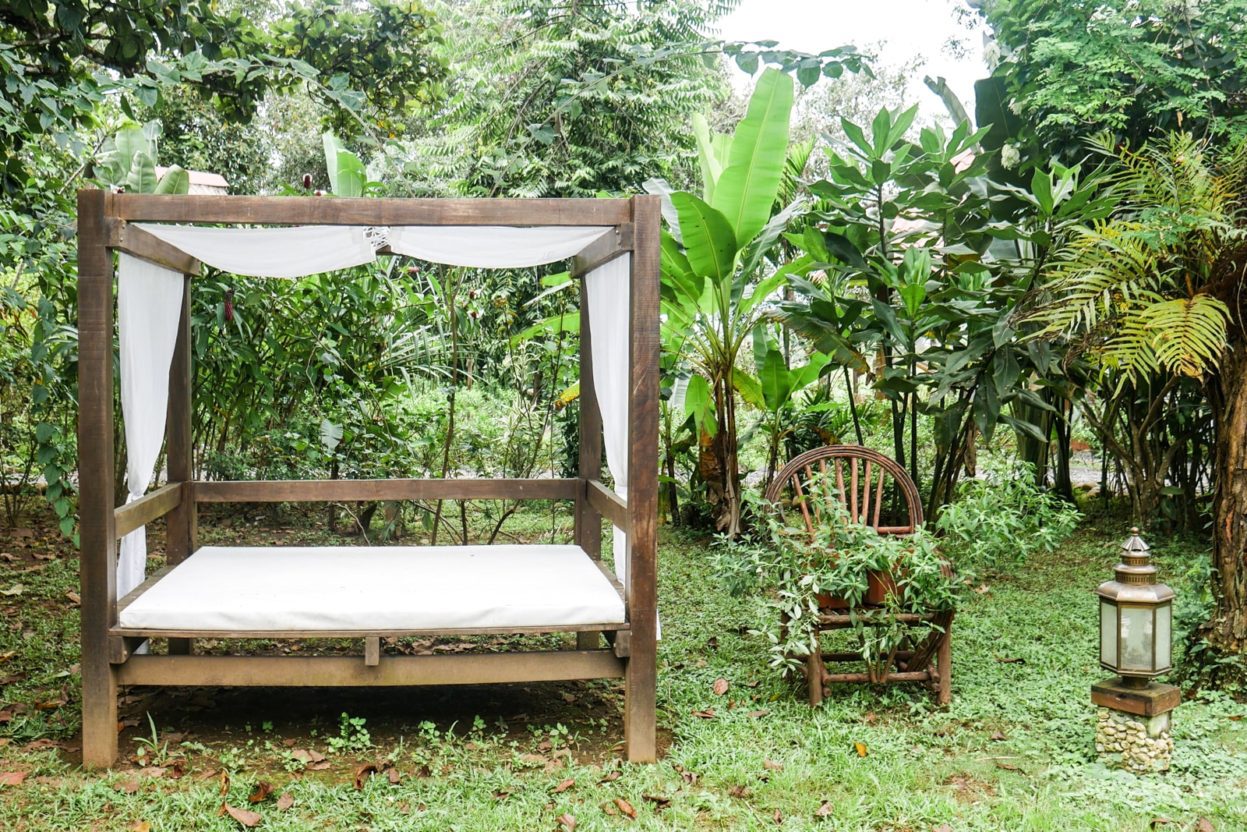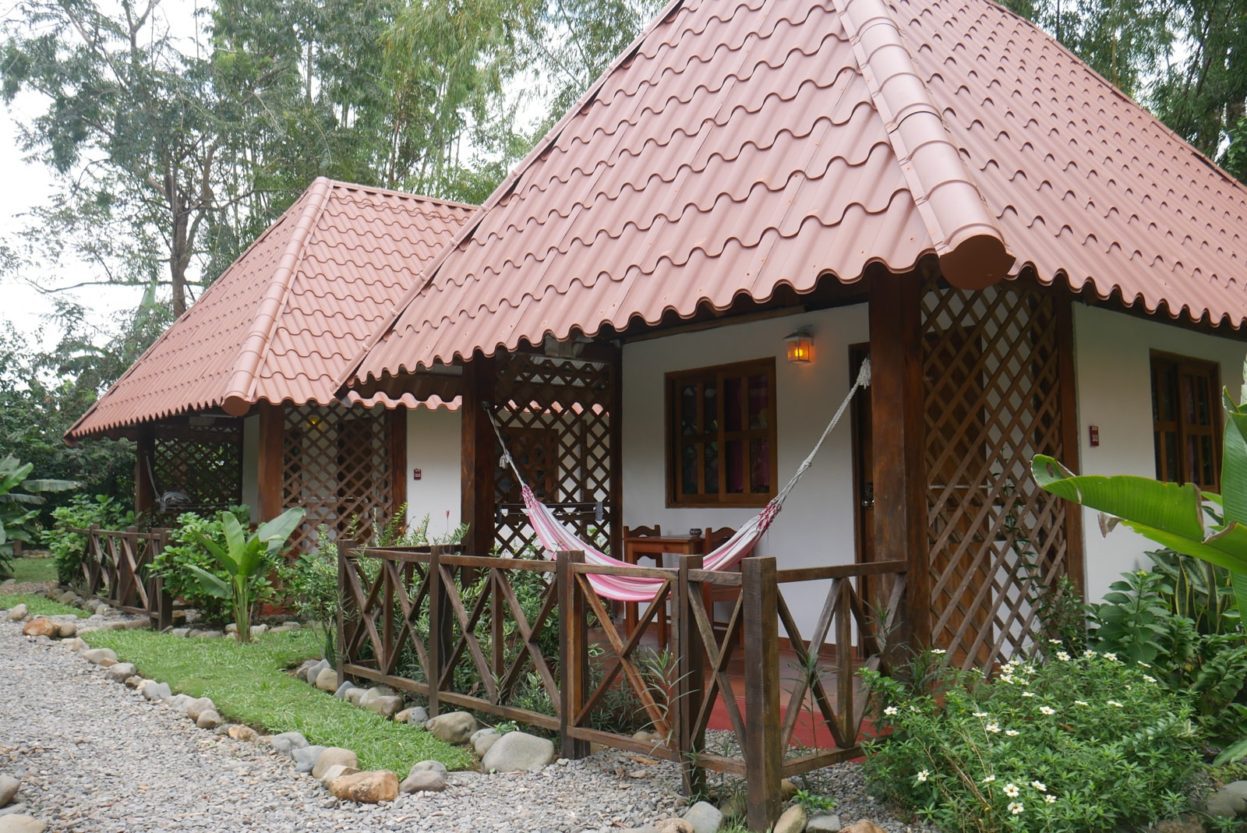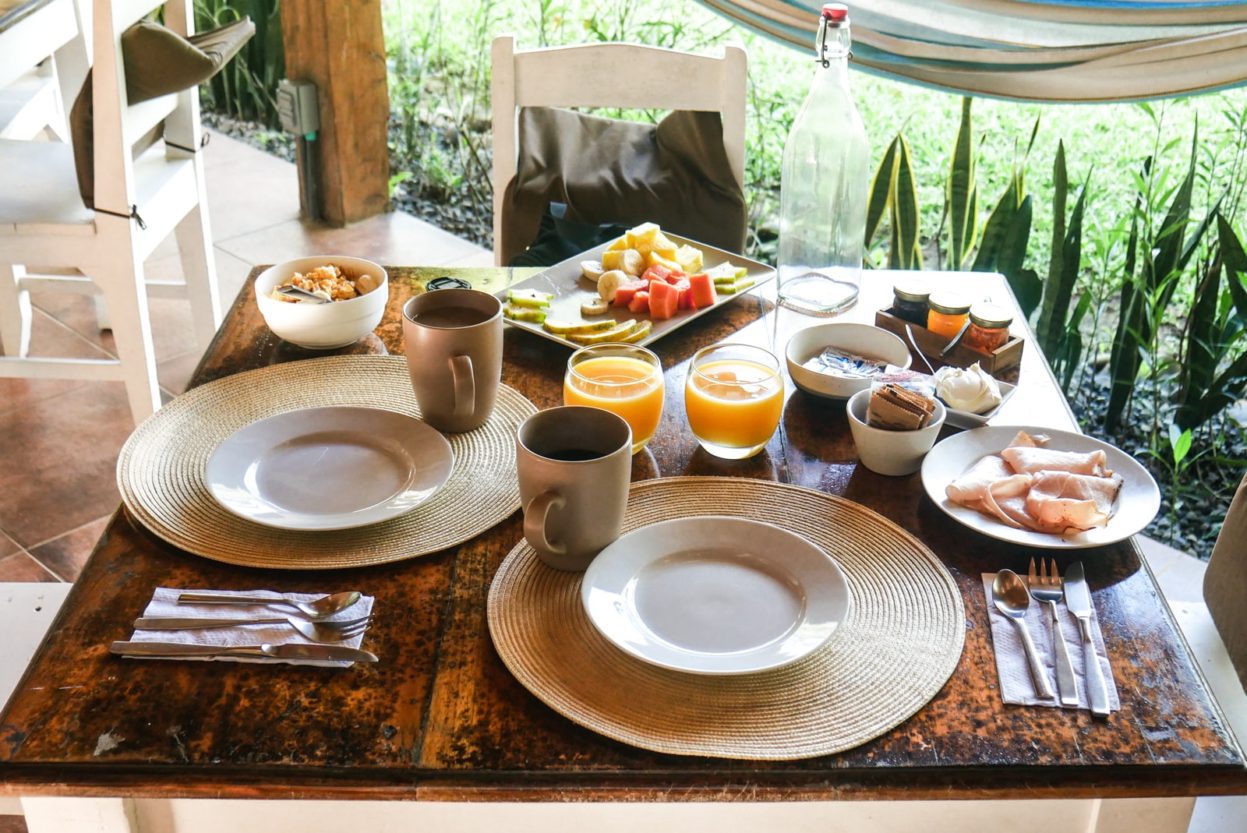 Panama is not necessarily known for it's cuisine. As with many Central American countries, the traditional dishes tend to be on the more simple side. Chicken and rice is the most common dish I've seen - fried rice with braised or roasted chicken pieces, and a couple of chopped veggies.
So when we were treated to the complex flavors, fresh ingredients, and carefully home-made dishes at Naturalmente, we were over the moon. My husband, the harshest food critic I know, couldn't stop raving about everything we ate.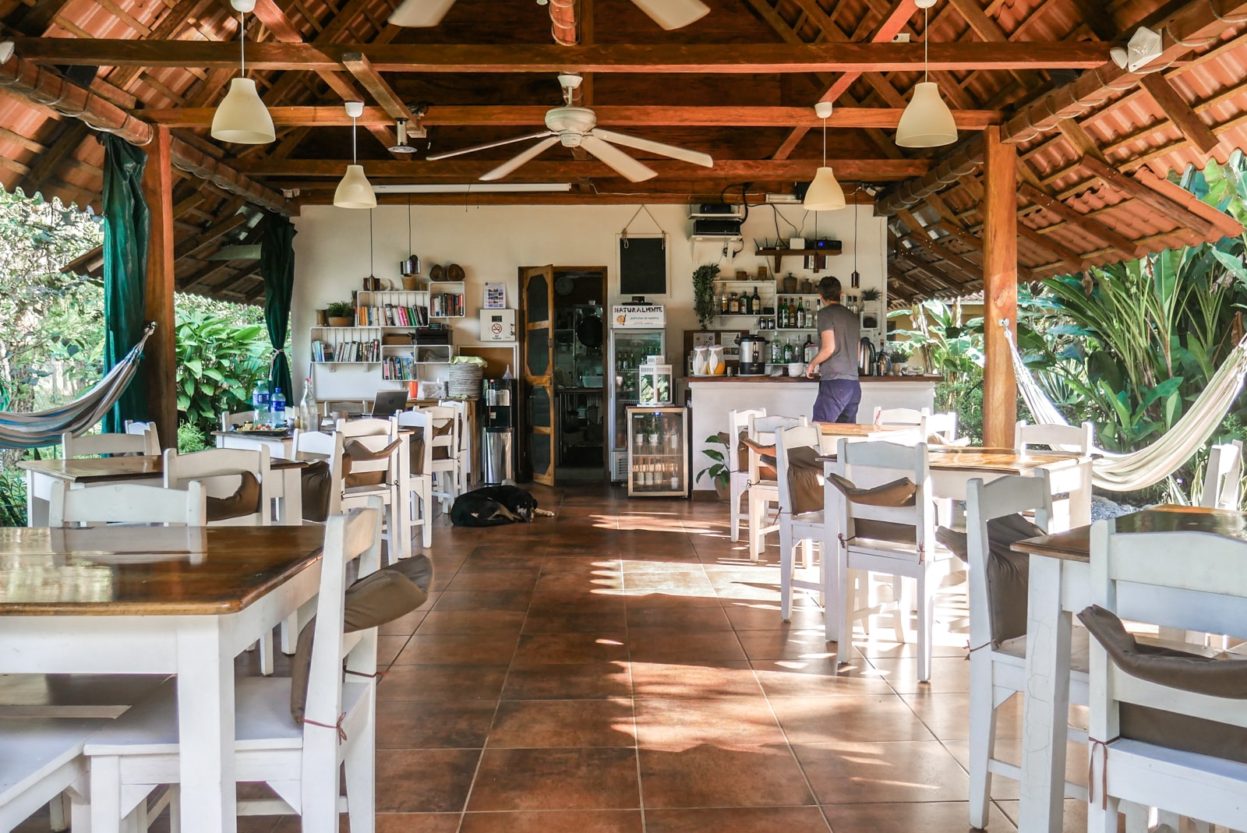 Naturalmente serves a complimentary breakfast every morning to their guests. You start with coffee, tea, and freshly squeezed fruit juice. And then help yourself to trays of local papaya, starfruit, bananas, pineapple, and maracuya, cornflakes, creamy fluffy scrambled eggs, and cured meats.
The best part of the breakfast was the whole grain homemade bread that Chantal, the owner, bakes fresh. It's served with a trio of locally made jams that were out of this world. My favorite was the ginger mango preserve.
They also open their restaurant for dinner daily at 6pm. We ate here every night (except Monday, when they are closed), and were delighted by every dish we tried. The caesar salad was so good we had it twice. The lettuce was crisp and fresh, the chicken was juicy and flavorful, and the croutons were crisp hunks of Chantal's homemade bread.
We had lasagna one night - it was super balanced with flavorful ground beef and creamy cheese. Another night we tried the burger, and it was one of the best I've ever had. The rolls were homemade, the high-quality beef was juicy, and the burger was topped with bacon, carmelized onions, and a homemade creamy dressing. I had to stop myself from licking the plate.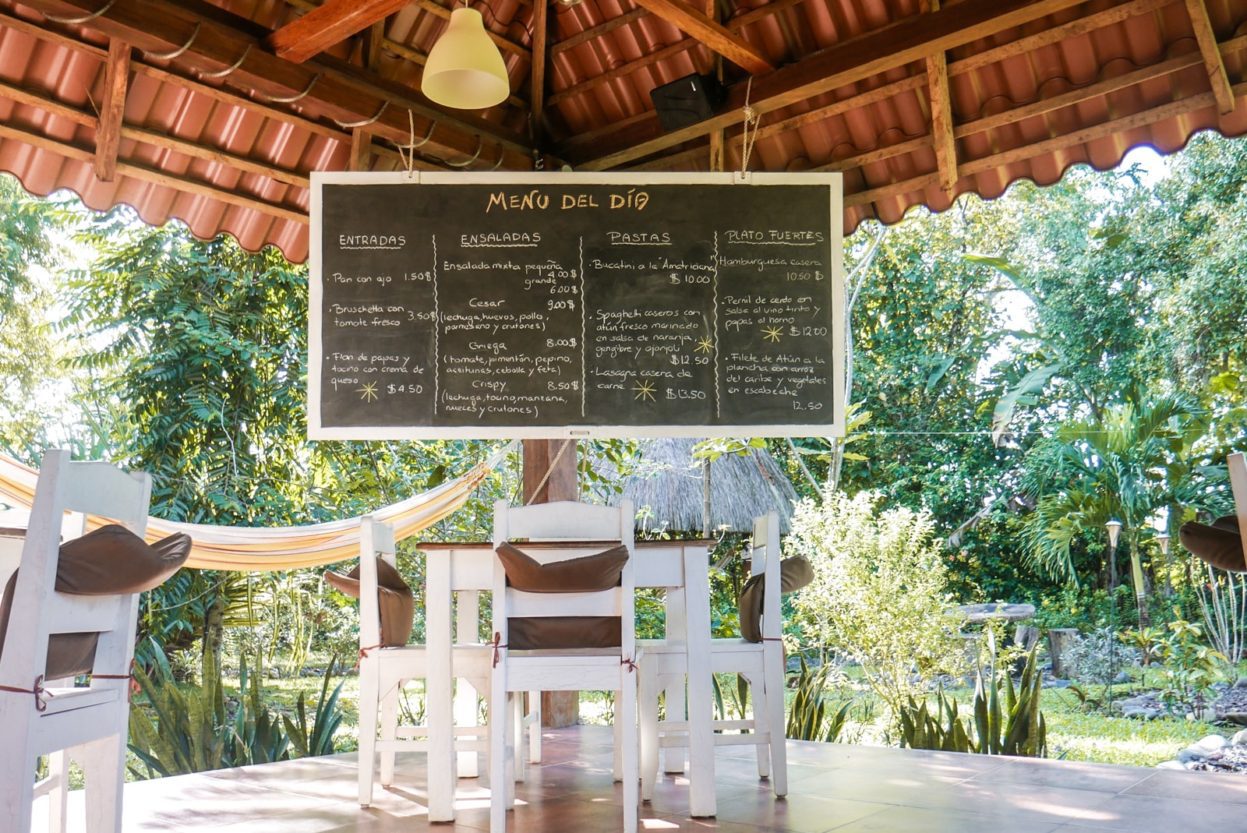 As if that wasn't enough, Naturalmente also has a pizzeria a few minutes away in the center of town. We biked over there on the night that the on-site restaurant is closed (Monday) and enjoyed a fresh, authentic Italian pizza.
A Wild and Untouched Beach

I think all beaches have their own personalities. Some are party beaches, some surfing meccas, and others tranquil Caribbean beaches.
Las Lajas, Panama is a beach for solitude and enjoying nature. Whenever we visited the beach, we saw a maximum of 2-4 other people. The beach is very long and flat and you can see for miles. It's perfect for taking long walks, looking for sea life, and watching birds overhead. On one walk we came across a washed up stingray. (Side note: so be sure to shuffle your feet when wading into the water here, to avoid sting ray injury!).
The water is nice for swimming. The waves aren't too big, so it's not dangerous. You can wade out a very long way before the water gets deep enough to reach your waist, especially during low tide.
There is very little development. We only came across a couple hotels directly on the beach, and one of them had no signs of life. There are a couple other structures, but they appeared to be abandoned. This is mostly an undiscovered beach, so it's a great way to see what the Pacific coast looks like without any big buildings distracting from its beauty.
Naturalmente Hotel is a 15 minute car ride to the beach of Las Lajas, or a 45 minute bike ride down a flat paved road.
Small But Luxurious Touches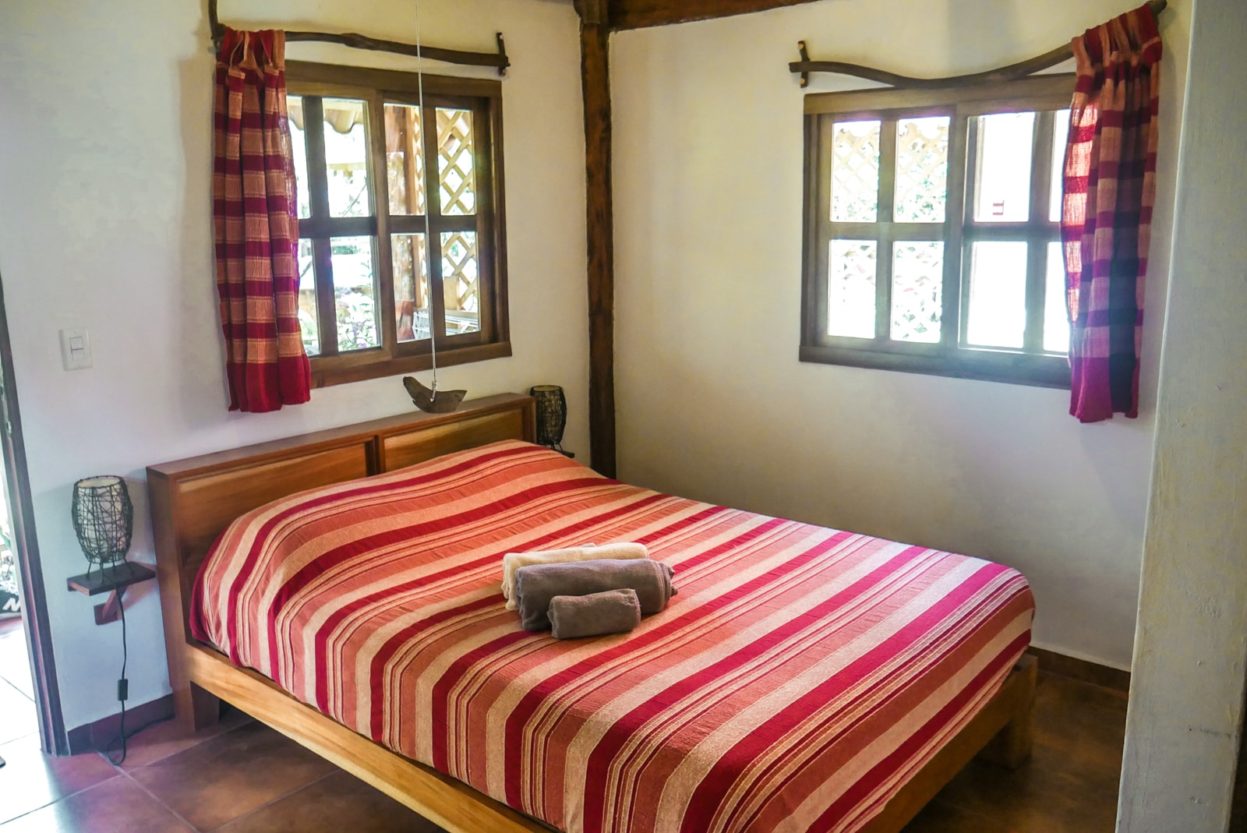 It's usually the small things that take a nice hotel stay and make it a great one. The attention to detail makes all the difference in a guest's comfort.
We loved all the little luxurious things about our cabana. The towels were high quality and fluffy, the toilet paper was extra thick, and our room always smelled lovely from the subtle scented sticks in the corner.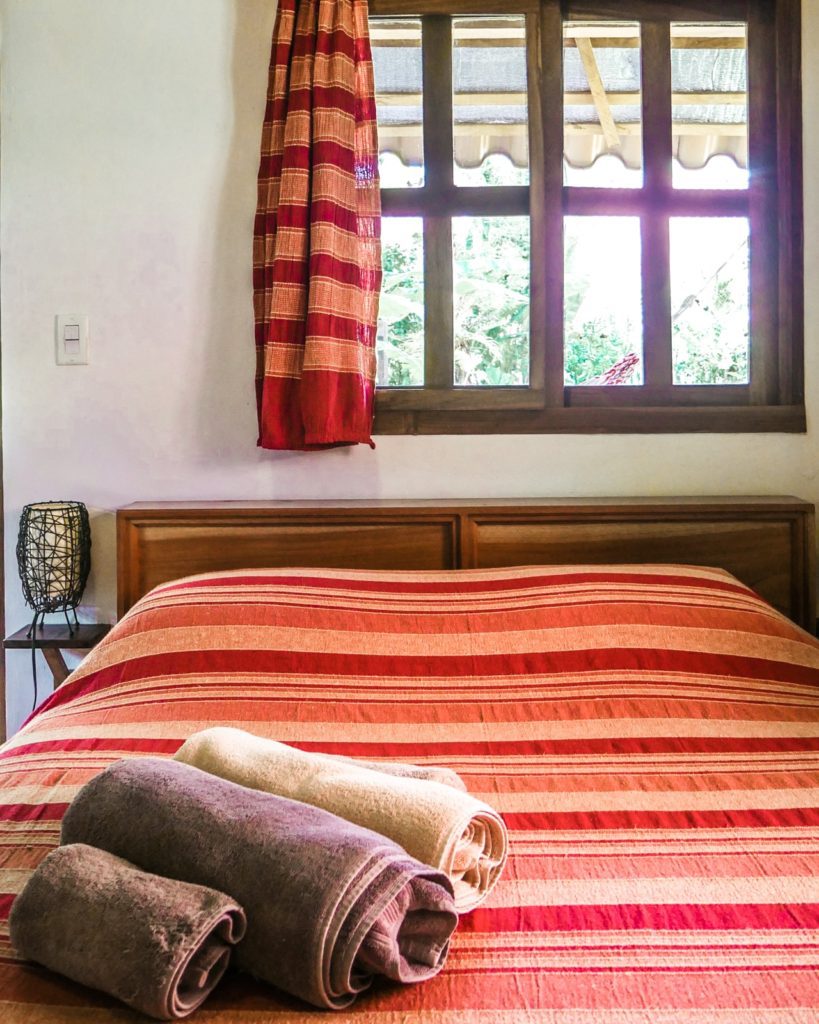 Plenty of fluffy, thick towels in each room.
See those little scented sticks at the top left corner? They made the room smell sooo good.
The rooms have A/C, but the overhead fan is often enough to keep you comfortable, especially at night.
We were also given an array of complimentary Parisian toiletries which smelled wonderful.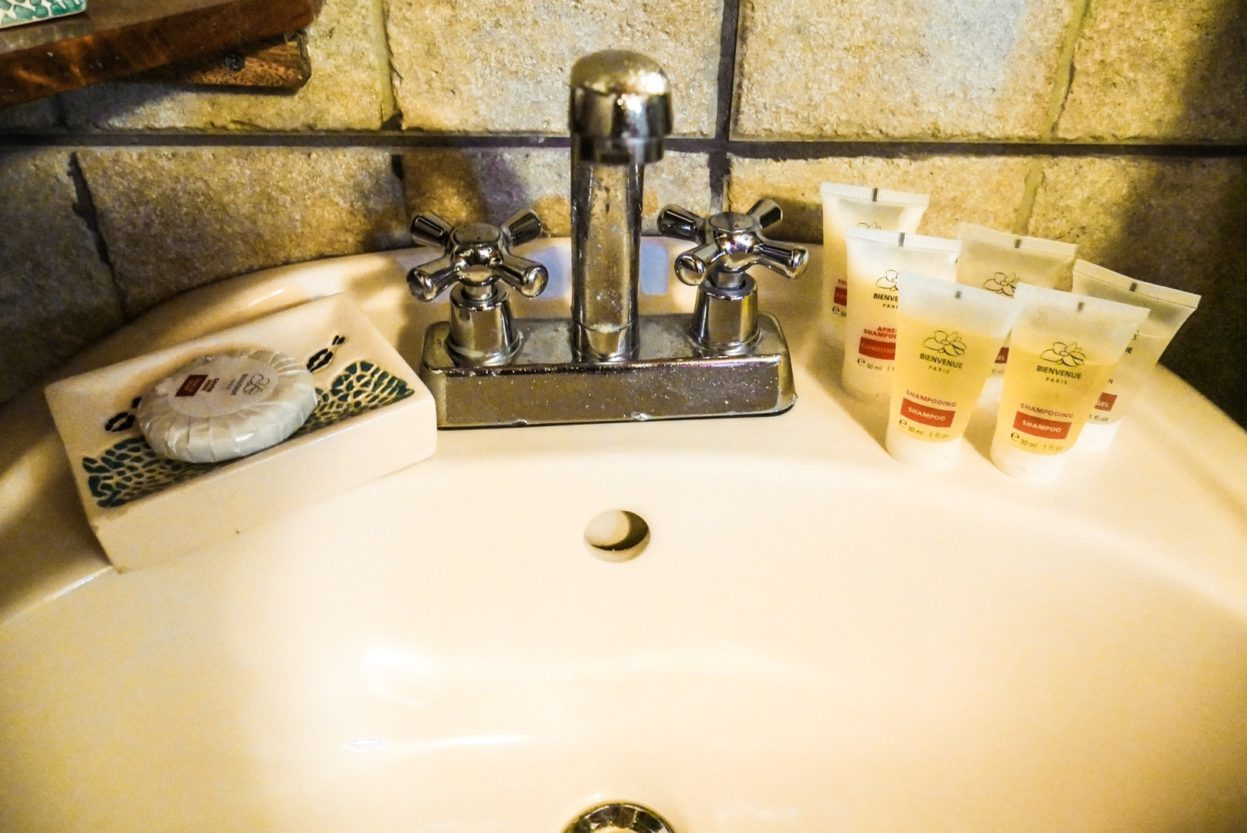 Free purified drinking water is also available.
Warm and Friendly Staff
I've recently been reminded that my love of a place is directly proportional to the relationships I've formed there. I could be in the most beautiful place in the world, but if I don't have good experiences with the locals, or don't make any friends, I won't fall in love with the location. I could write a whole blog post about this subject - how travel is most meaningful when it connects us to the world around us.
Because of this, the hotels I always remember the most fondly are those that have wonderful and warm staff/owners. Naturalmente is definitely one of these hotels. The owners, Chantal and Gabriele, are passionate about making sure their guests are comfortable and happy. From our first steps into the hotel grounds, I felt welcomed and at home. They're the perfect combination of helpful and professional yet warm and friendly.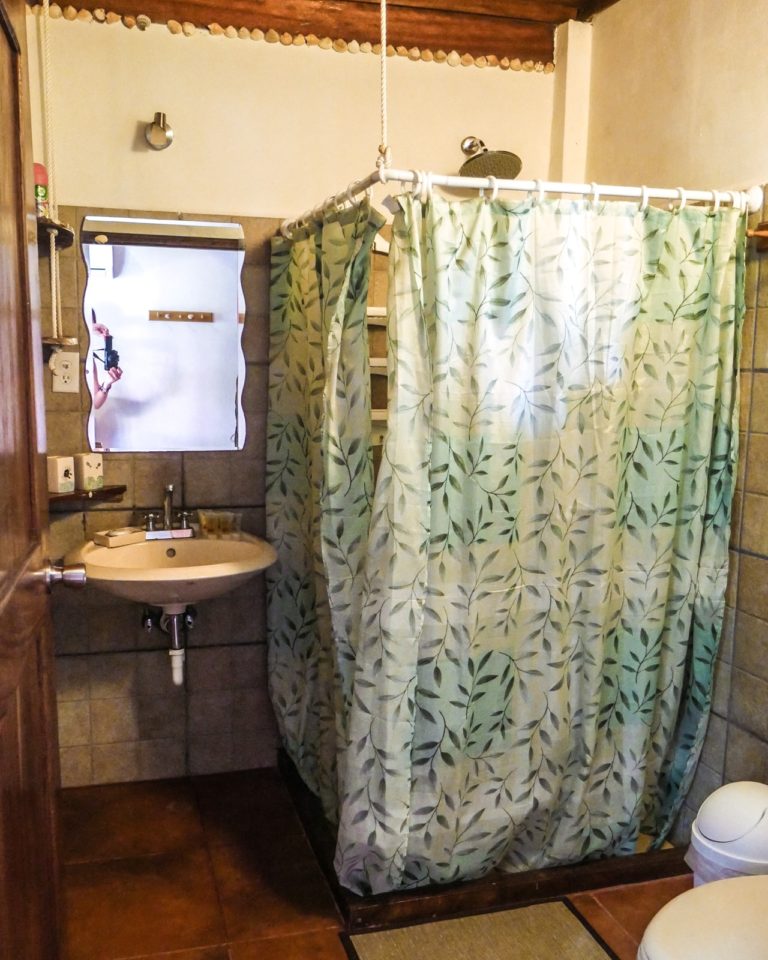 The longer I travel, the more I appreciate a fantastic shower. Maybe this has to do with all the random times I find myself in a very rustic shower in the jungle with a trickle of cold water to clean myself with.
Naturalmente's shower is fantastic. The water pressure is strong and there is plenty of hot water (often a hard to find luxury in tropical climates).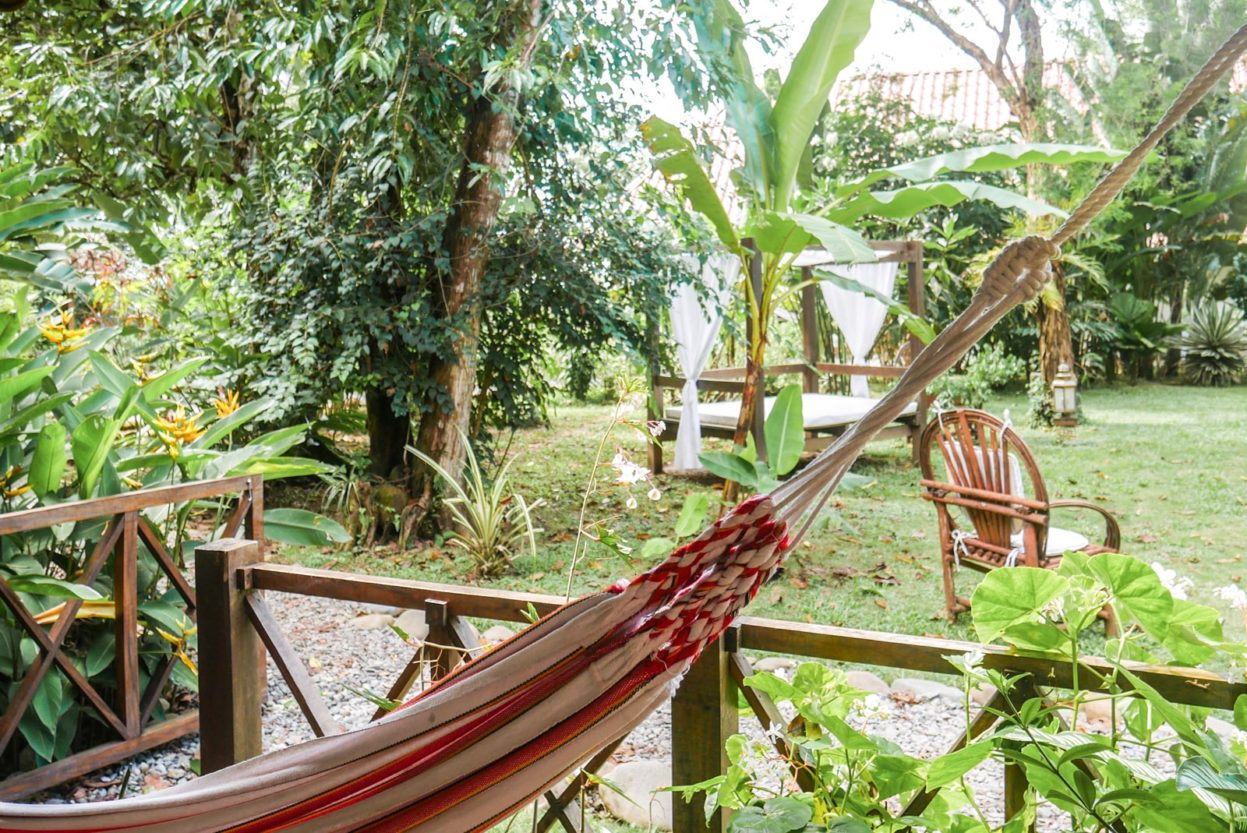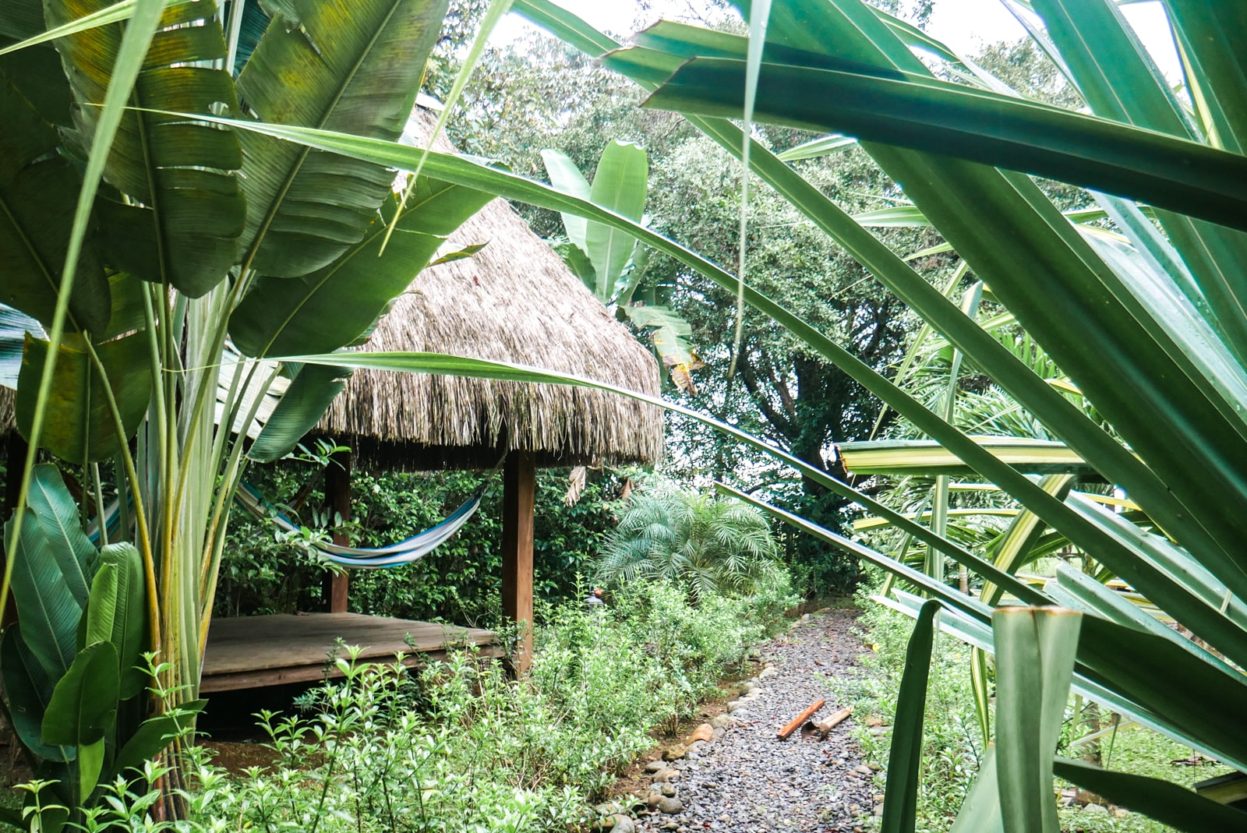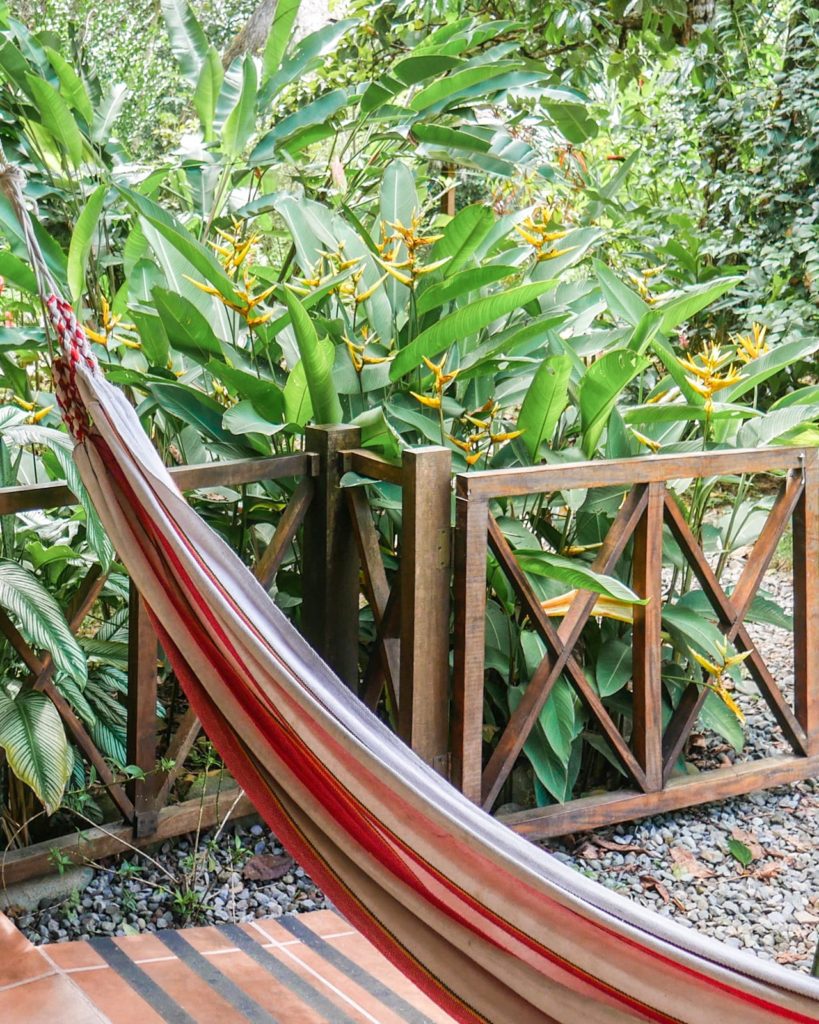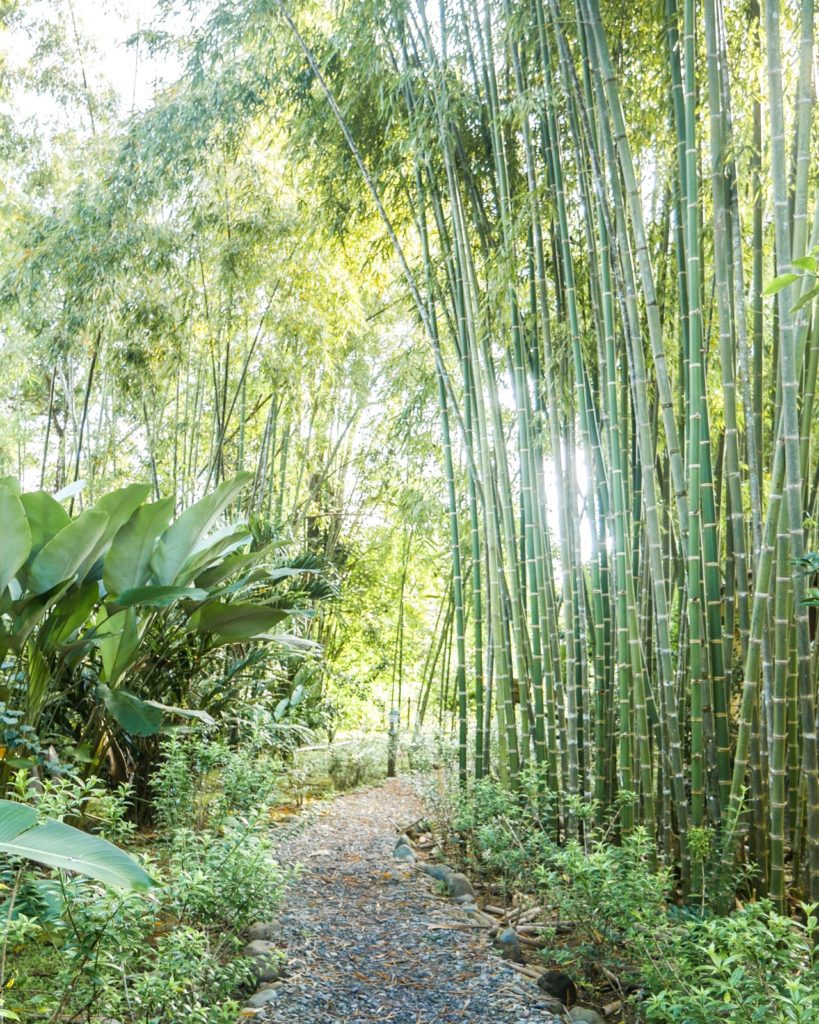 When I'm in the jungle, I like to feel like I'm in the jungle. The grounds of Naturalmente are filled with huge bamboo stalks, ferns, banana trees, cacti, and tropical flowers. I loved walking the stone paths between our cabana and the open air restaurant. The lush foliage also gives you the feeling of privacy.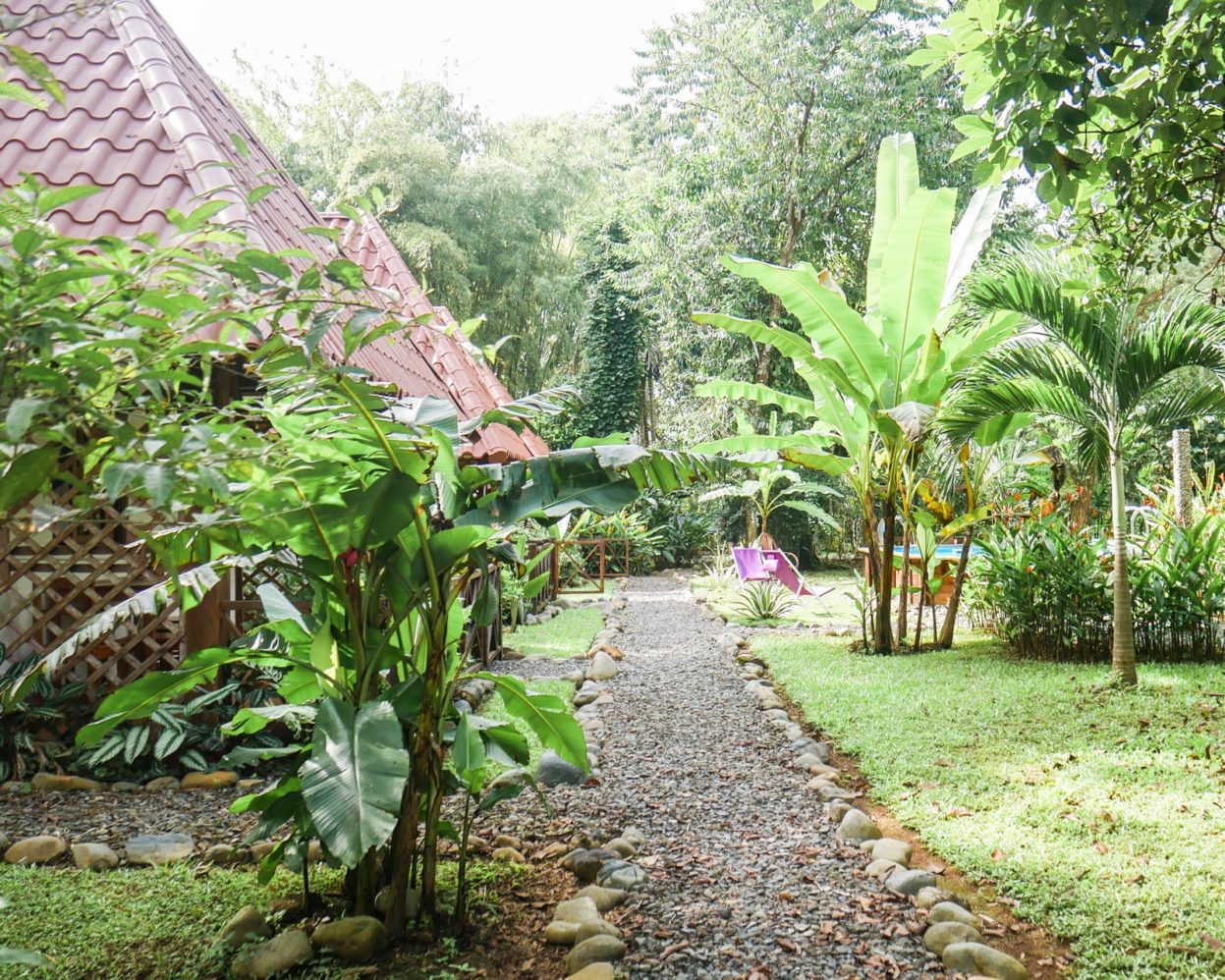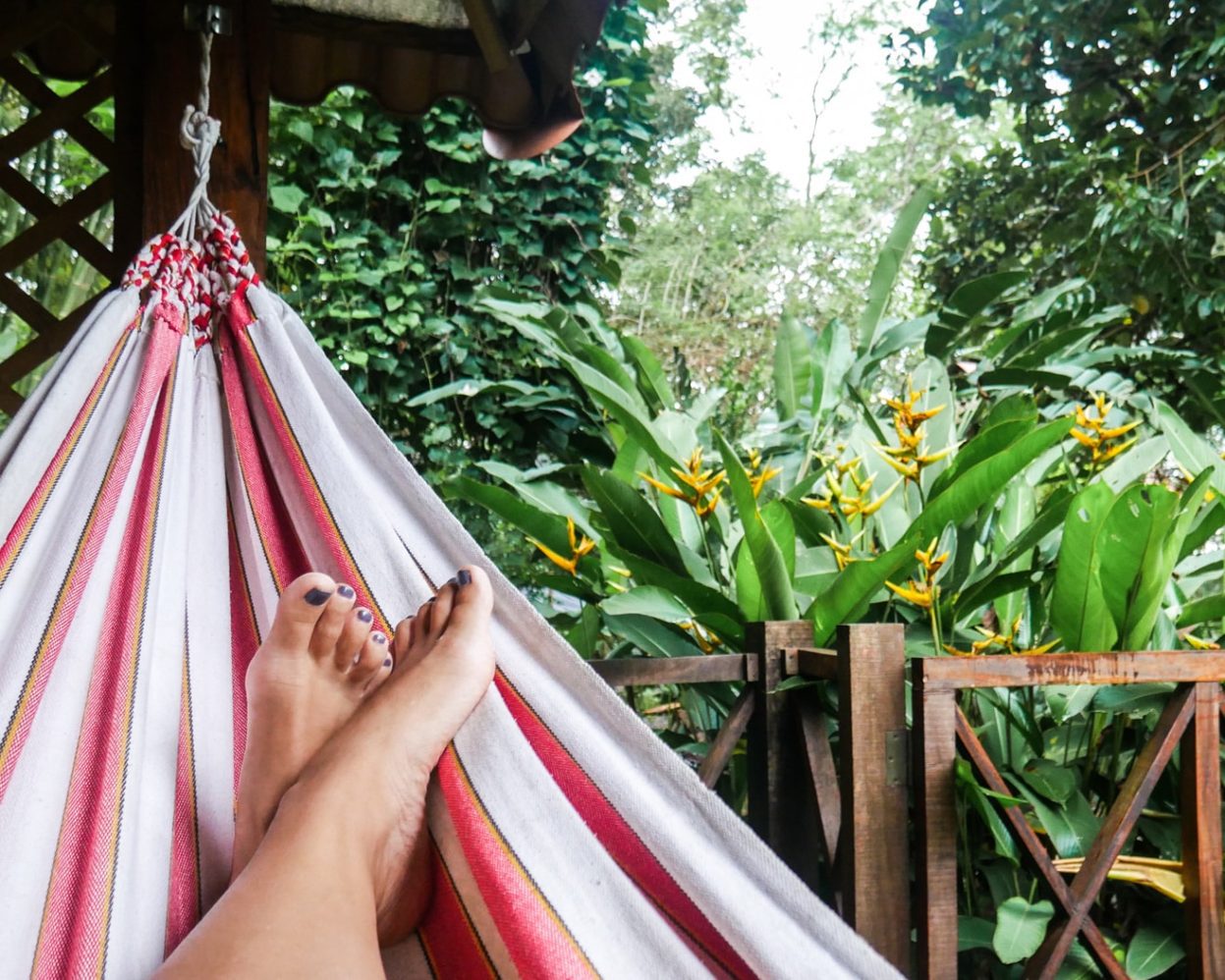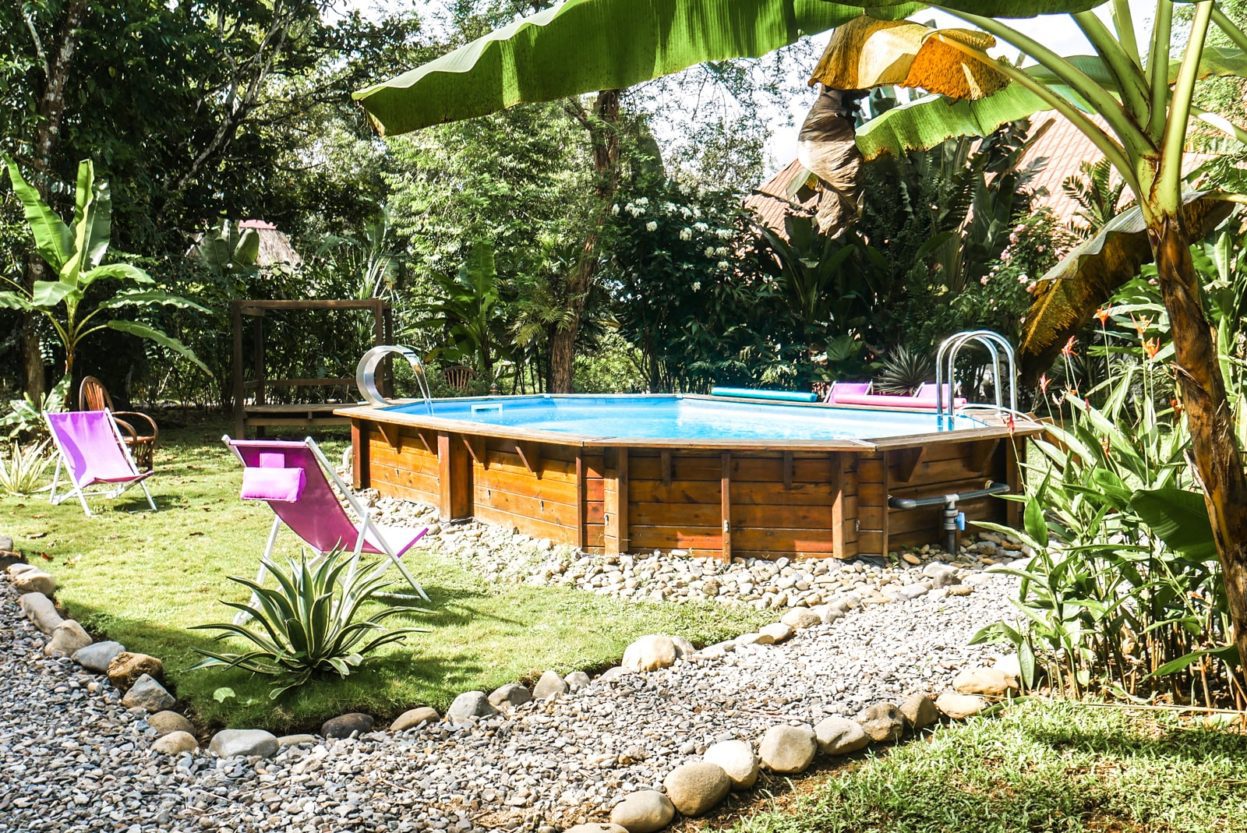 When you're this close to the equator and at sea level, it's nice to be able to cool off when the heat gets to be too much. Since Naturalmente isn't right next to the ocean, it's great to have an on-site pool to jump into. We enjoyed taking a dip after a long bike ride back from the beach, or after spending some time in town.
Affordable Price
The nightly rate is extremely reasonable for what you get. The rooms are very comfortable and large, equipped with A/C, a spacious and modern bathroom, and their own private terrace. Plus a delicious, large, homemade breakfast is available every day. For only $50-65/night for a private room, this is a steal in Panama!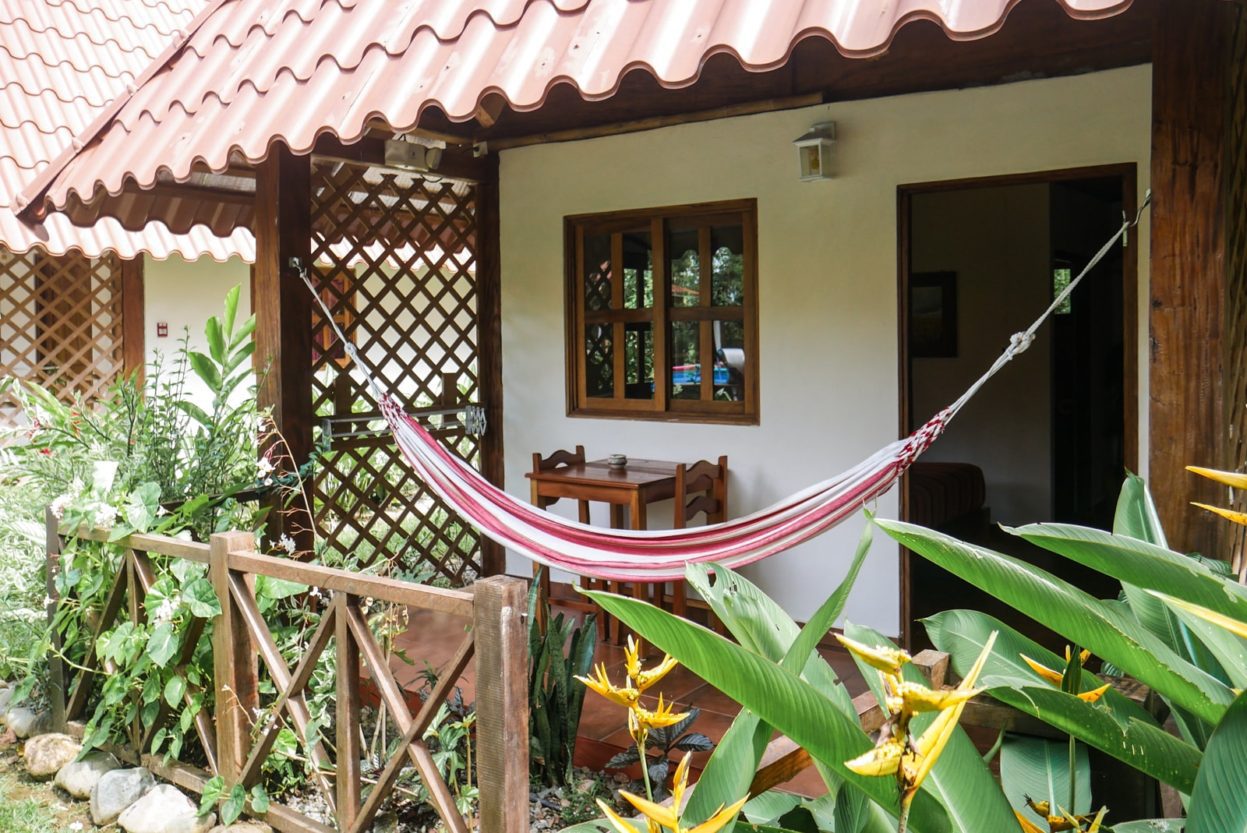 What to Keep in Mind - the Location:
Naturalmente hotel in Las Lajas Panama is tucked away in nature, so it's not right on the beach, or in the middle of town. This is a great place for people traveling with a rental car, or for adventurous and active travelers.
Justin and I weren't traveling with a car, but we like to be active, so we enjoyed riding bikes to and from town (10 minutes) , and down to the beach (45 minutes). Bikes are available to rent through Naturalmente.
You can also take a taxi anywhere for just a couple dollars.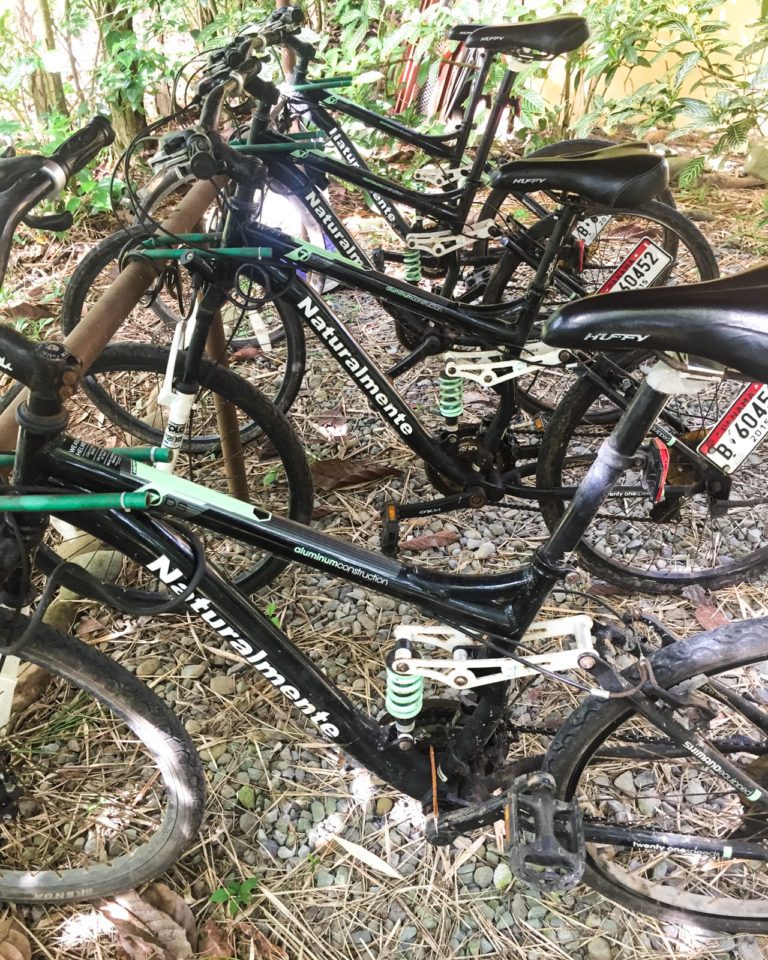 Another aspect of Naturalmente's location is that it's a very convenient stopover between Bocas del Toro or Boquete and Panama City. If you're taking the long 11 hour bus between Bocas and Pty or the 9 hour ride from Boquete to Pty, you might want to break up the journey by stopping over in Las Lajas for a couple of nights. It's conveniently located only a couple minutes off the Pan American highway, so it's not out of the way at all, and allows you to experience a different type of geography in this diverse country.
Conclusion:
If you're looking for a resort right on the beach where the wait staff will deliver you a constant stream of pina coladas, this isn't the hotel for you. But if like staying in a quiet jungle setting, and visiting a little-known untouched beach, Naturalmente hotel in Las Lajas Panama is a perfect choice! And if you enjoy great food, you'll savor all of the carefully prepared and delicious meals in the restaurant.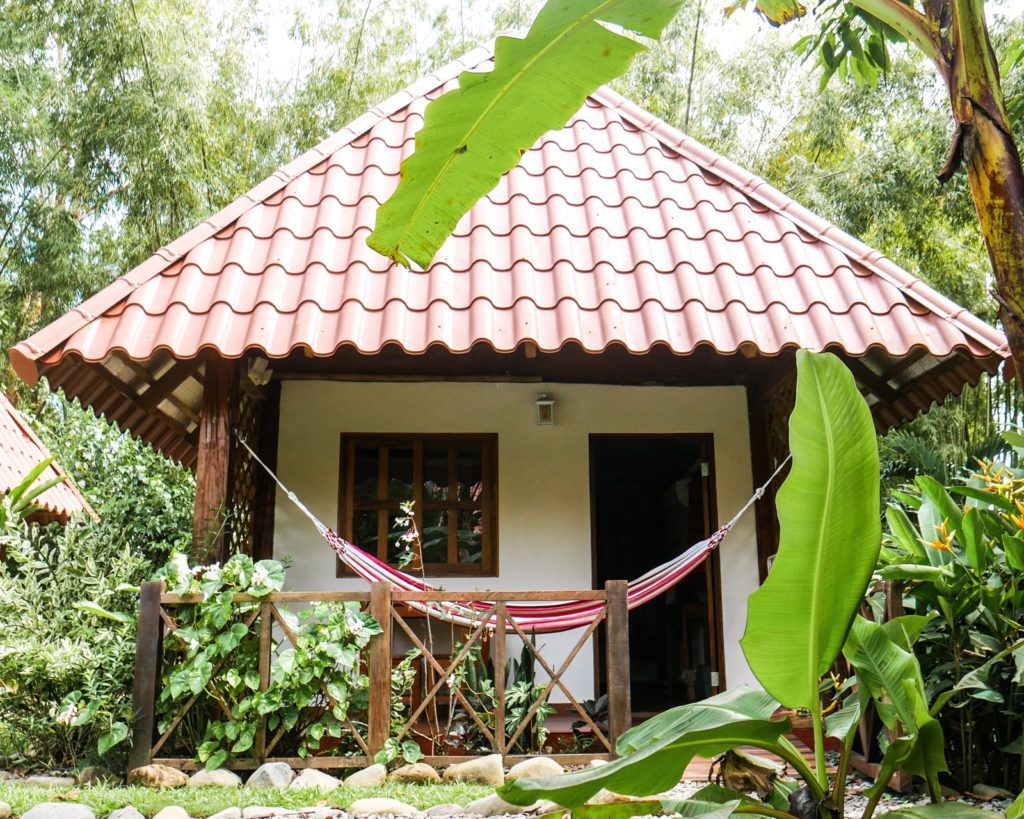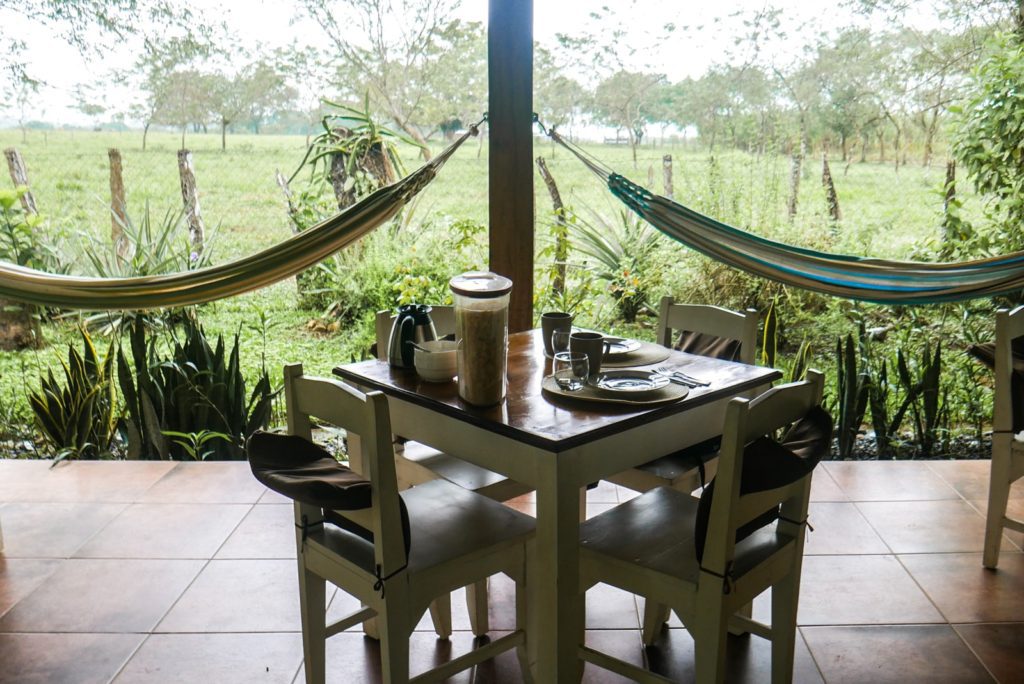 ---
Disclosure: I received a free stay at Naturalmente in exchange for an honest review. All opinions are my own!