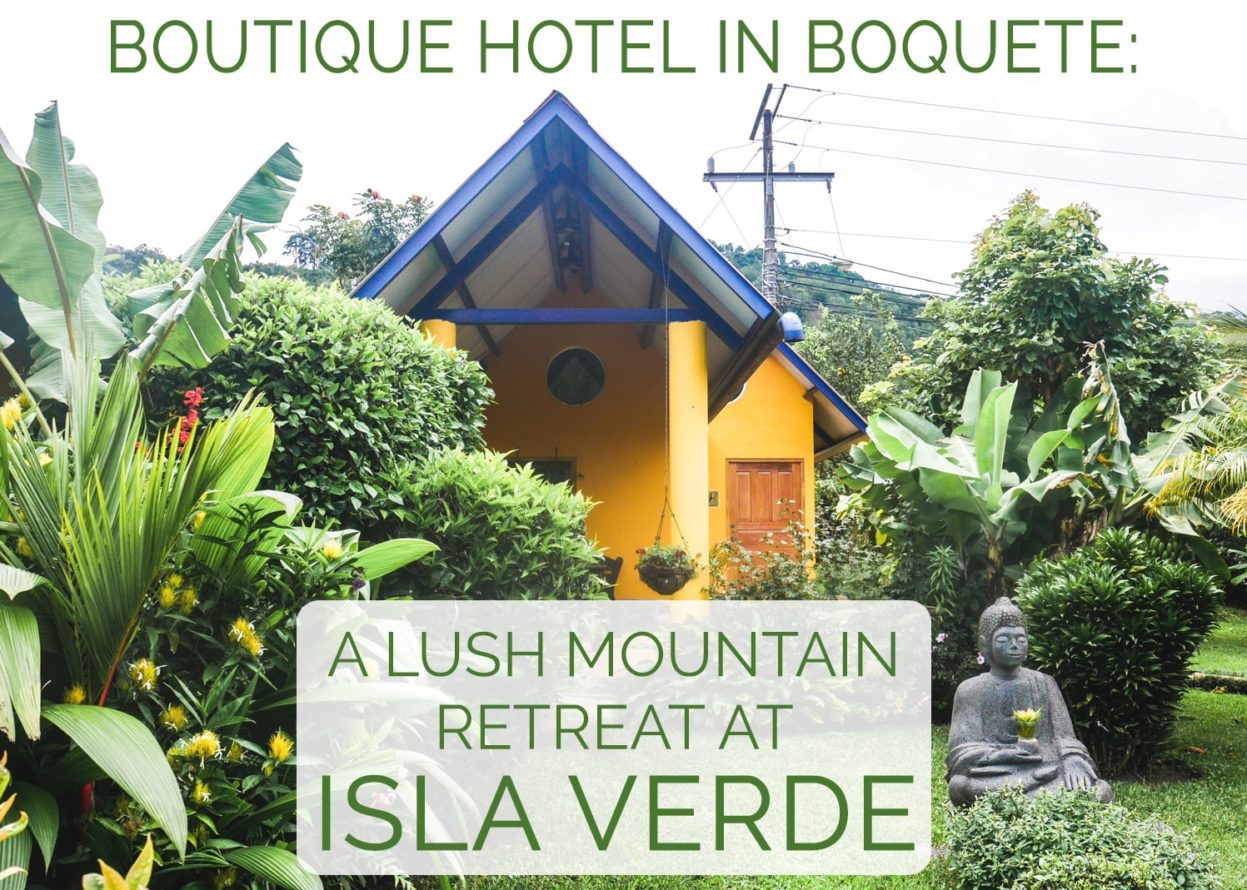 Our first stop in Panama was Boquete and the timing for us was a bit tricky. We had just come out of an intense week running back and forth seeing family in the States. And the month before that, my husband and I were apart while he worked on a music tour and I continued to travel in Belize and Guatemala. Suffice it to say, we were both exhausted and eager to catch up with each other, as well as some much needed sleep.
Isla Verde ended up being a perfect place for us to recoup on our first stop in Panama. The rooms were so spacious and comfortable and the grounds were so beautiful, we didn't want to leave this boutique hotel in Boquete! We did drag ourselves out for a couple long walks, and a beautiful waterfall hike, but the rest of the time we let ourselves enjoy sleeping in on the comfortable bed, getting some work done at the dining table, and catching up with each other over glasses of wine on the patio.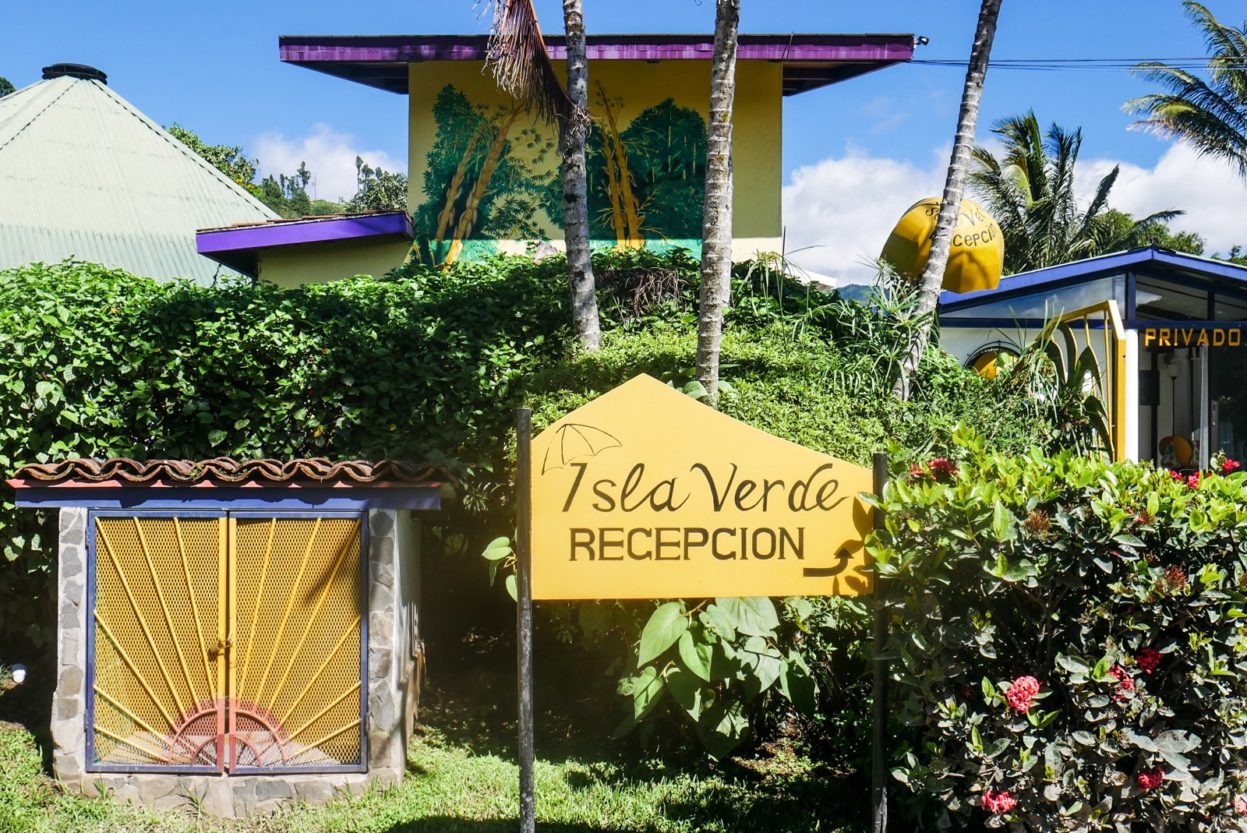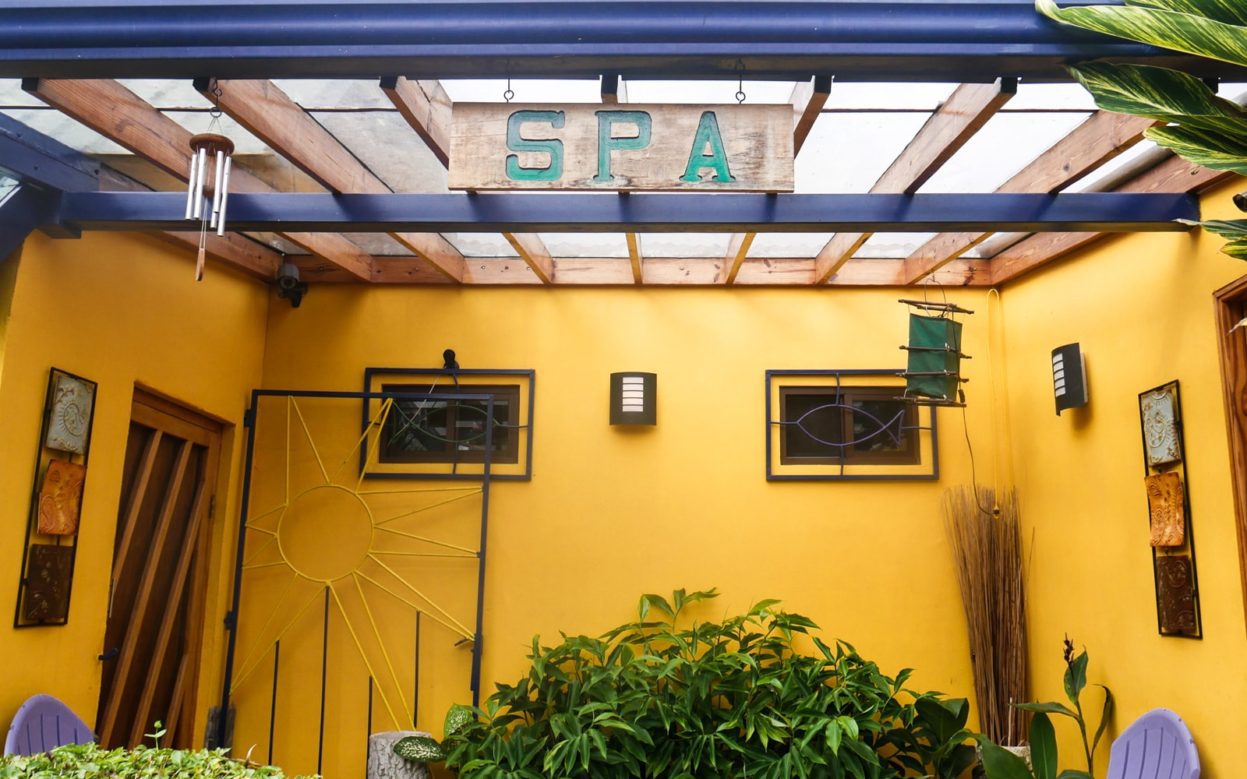 Below is My Review of the Boutique Hotel in Boquete - Isla Verde:
Lush and Beautiful Grounds
My favorite part about the hotel were the super lush and well thought out gardens throughout the property. Isla Verde means "Green Island" and this boutique hotel in Boquete definitely lives up to it's name. Most suites are free-standing cabins (though a couple buildings are two stories - with each level as a separate suite) and each cabin is enveloped in banana trees, bamboo, ferns, flowers, and various other greenery.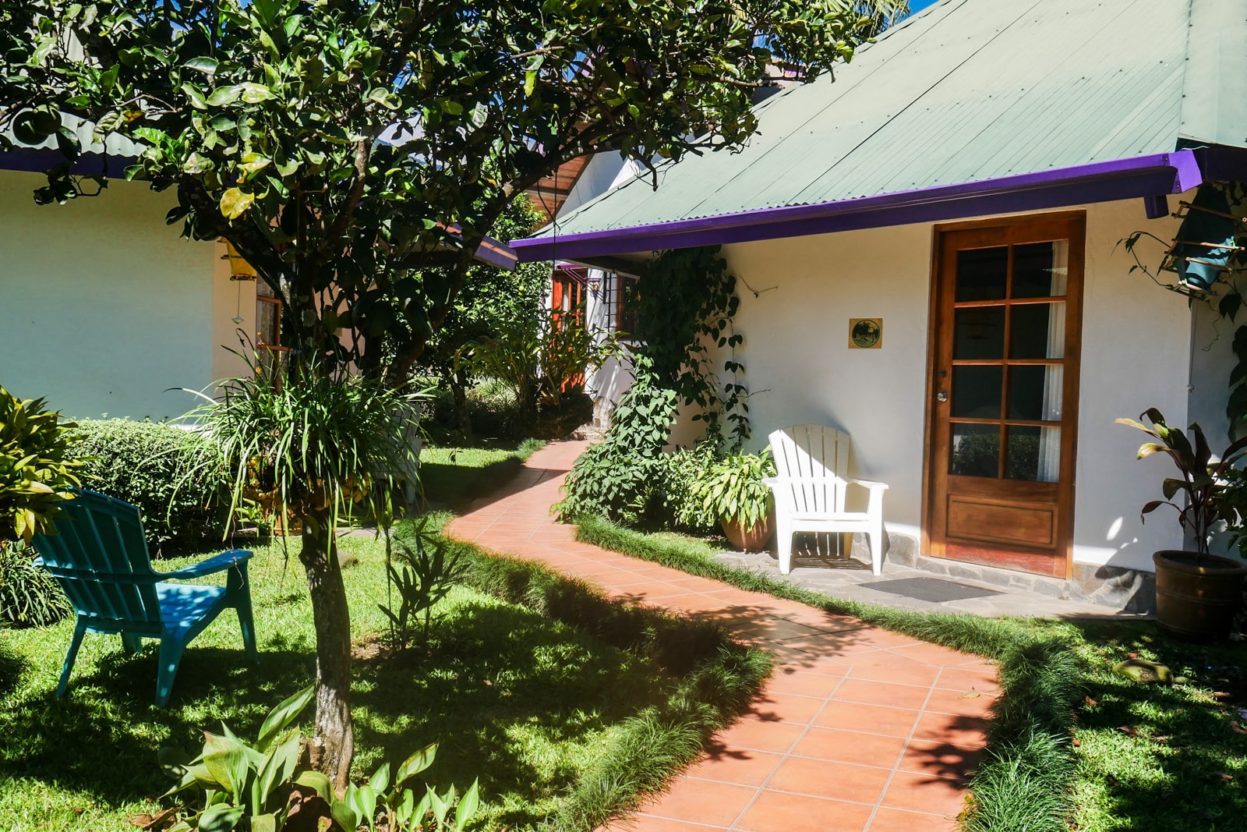 Each time we walked from from reception to our cabin, we enjoyed the lush surroundings lining the winding paths. Boquete is all about beautiful nature, so it was fitting to stay in a hotel that celebrated and nurtured the cloud forest setting.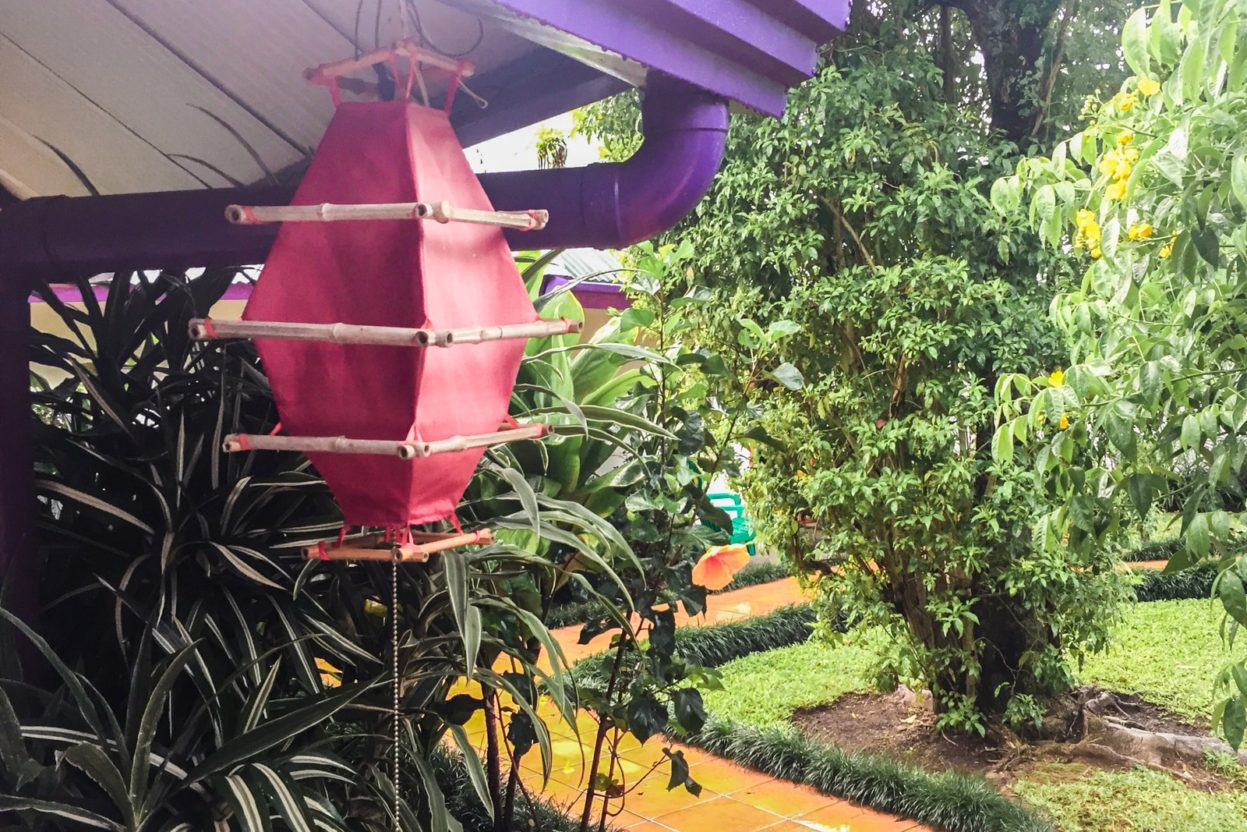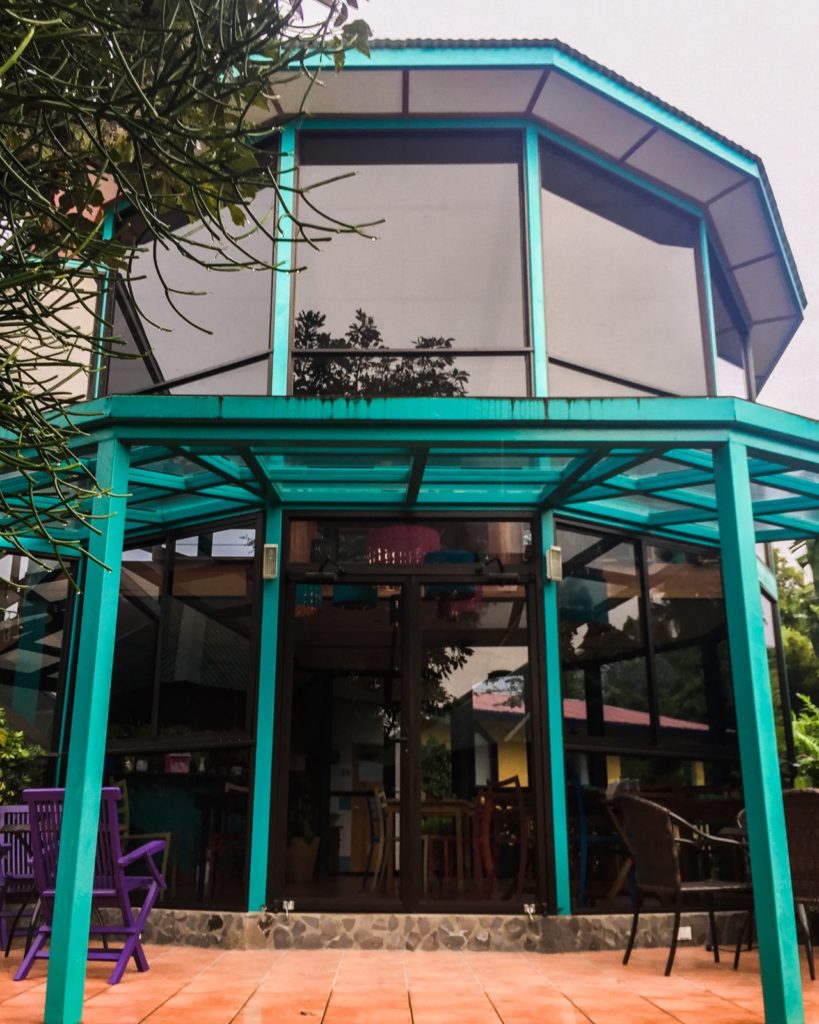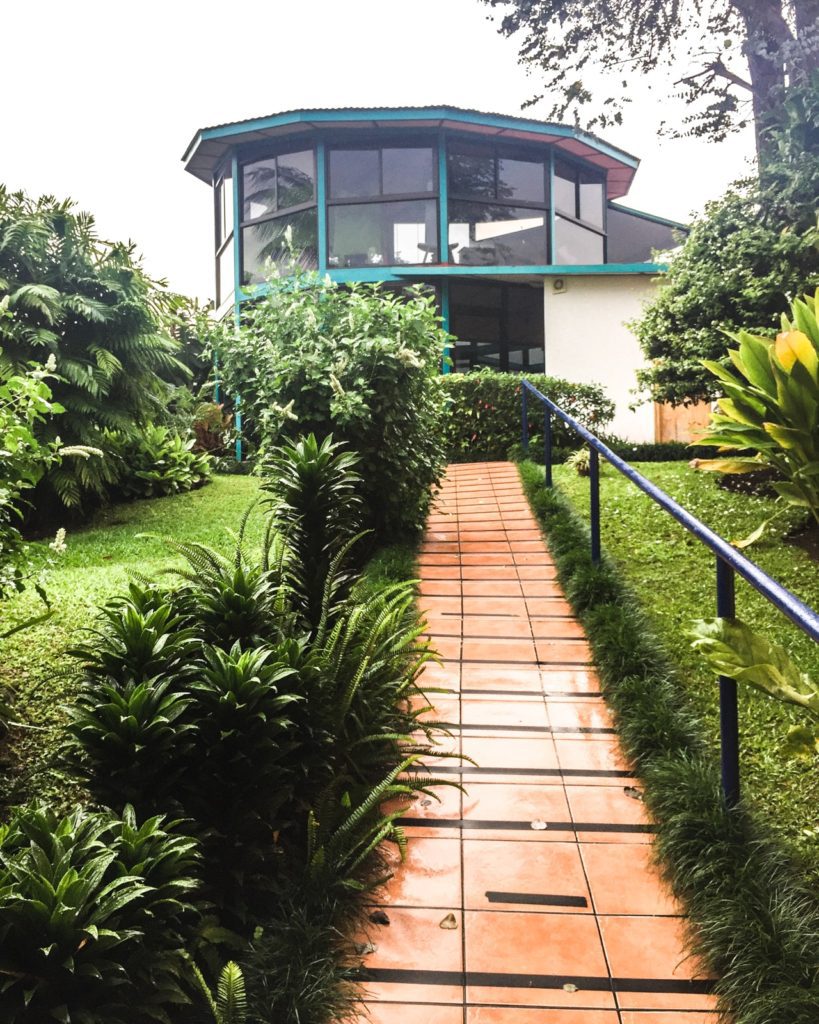 Private Outdoor Seating for Every Room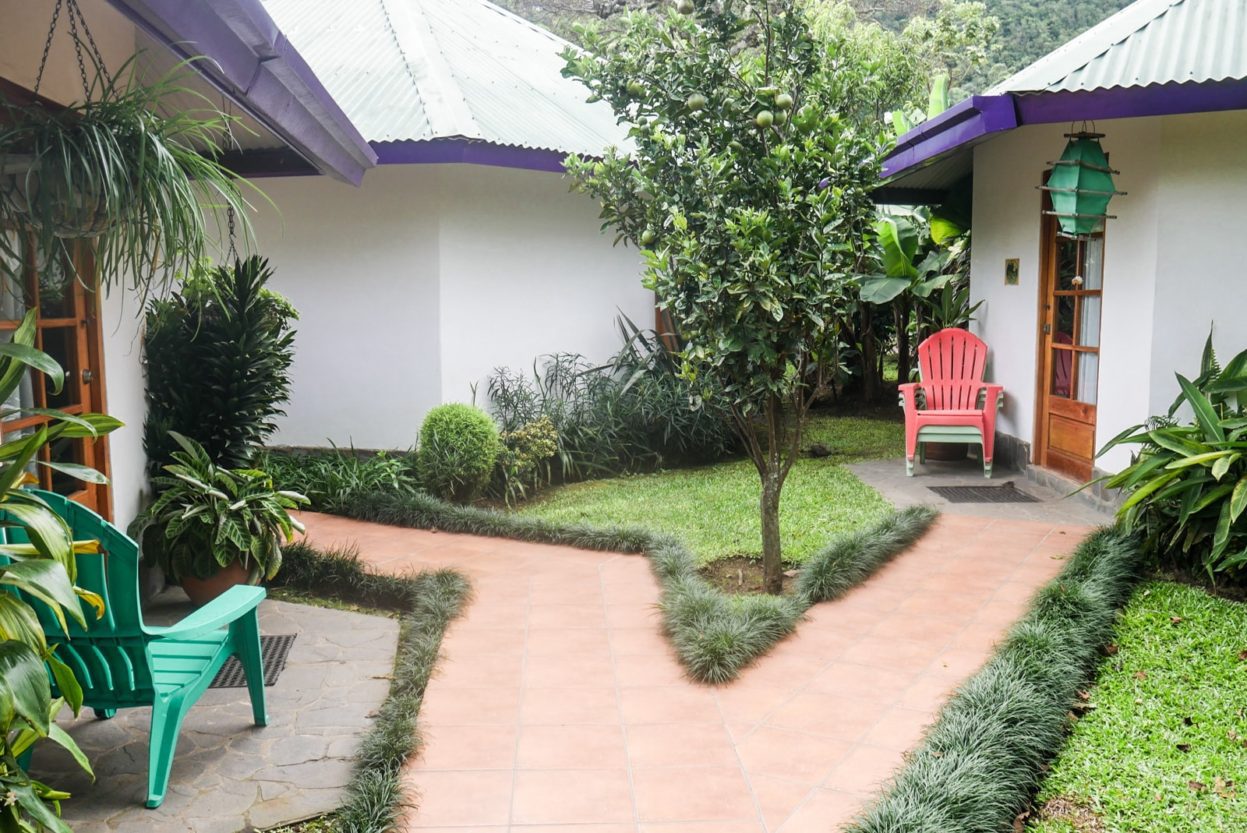 Every suite has its own outdoor seating area. Ours had a patio with a table, chairs, and a hammock for relaxing. Others had colorful adirondack chairs, while others had vintage park benches. Since the surroundings were so beautiful, it was great to have an outdoor space to sit and take in the tropical foliage, birds, and butterflies.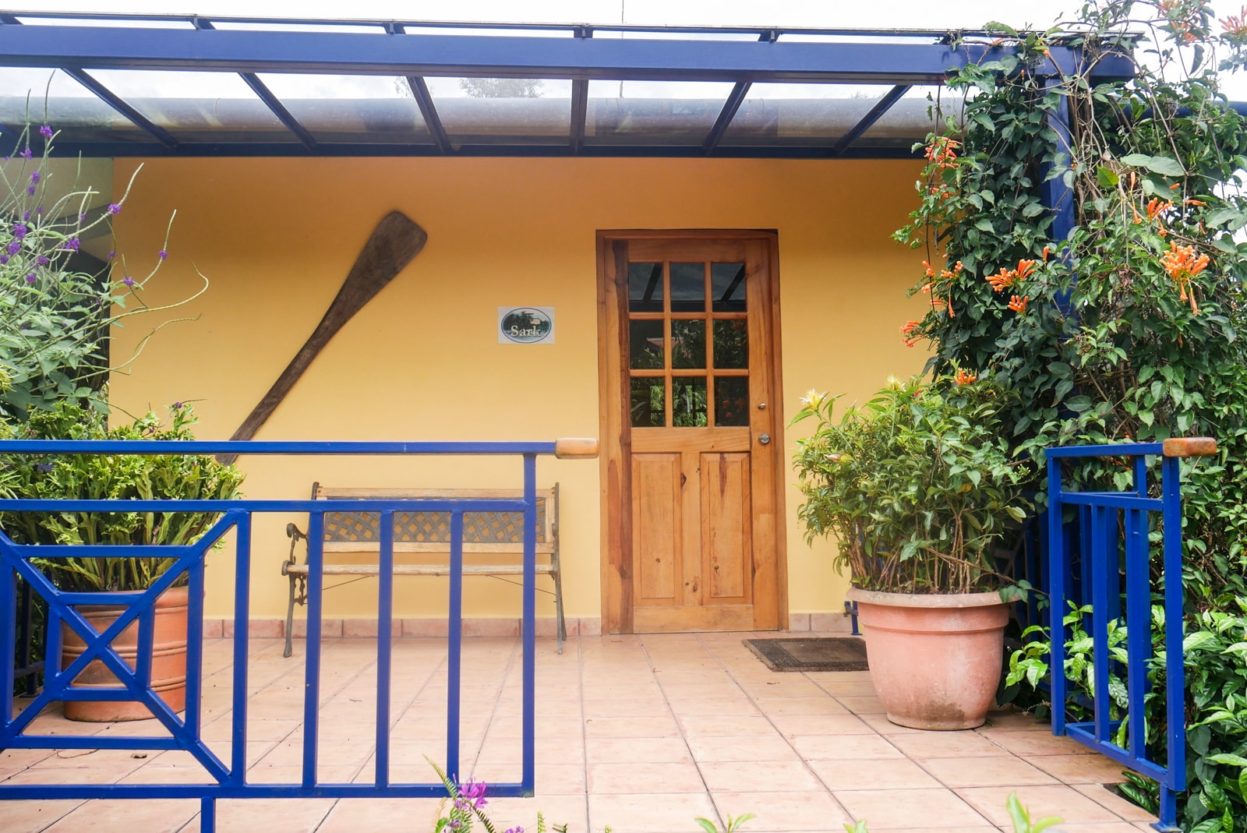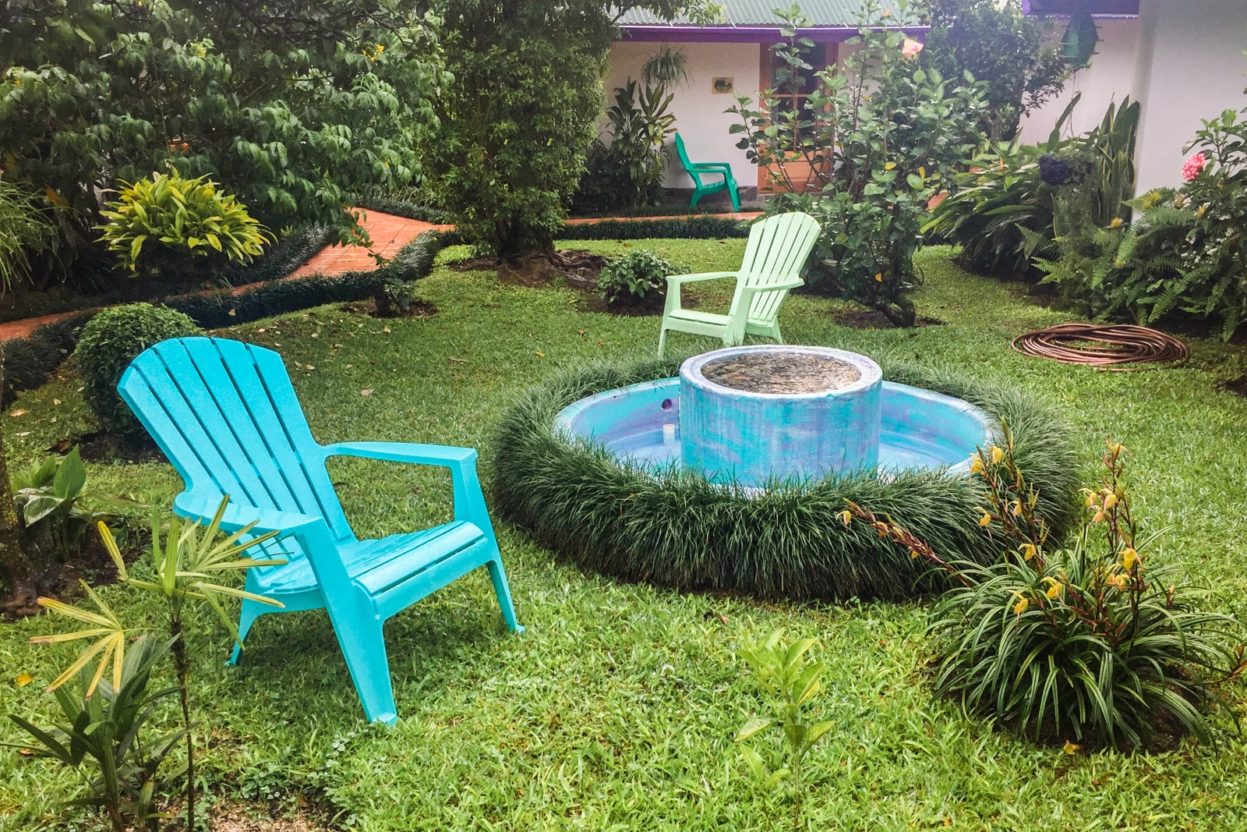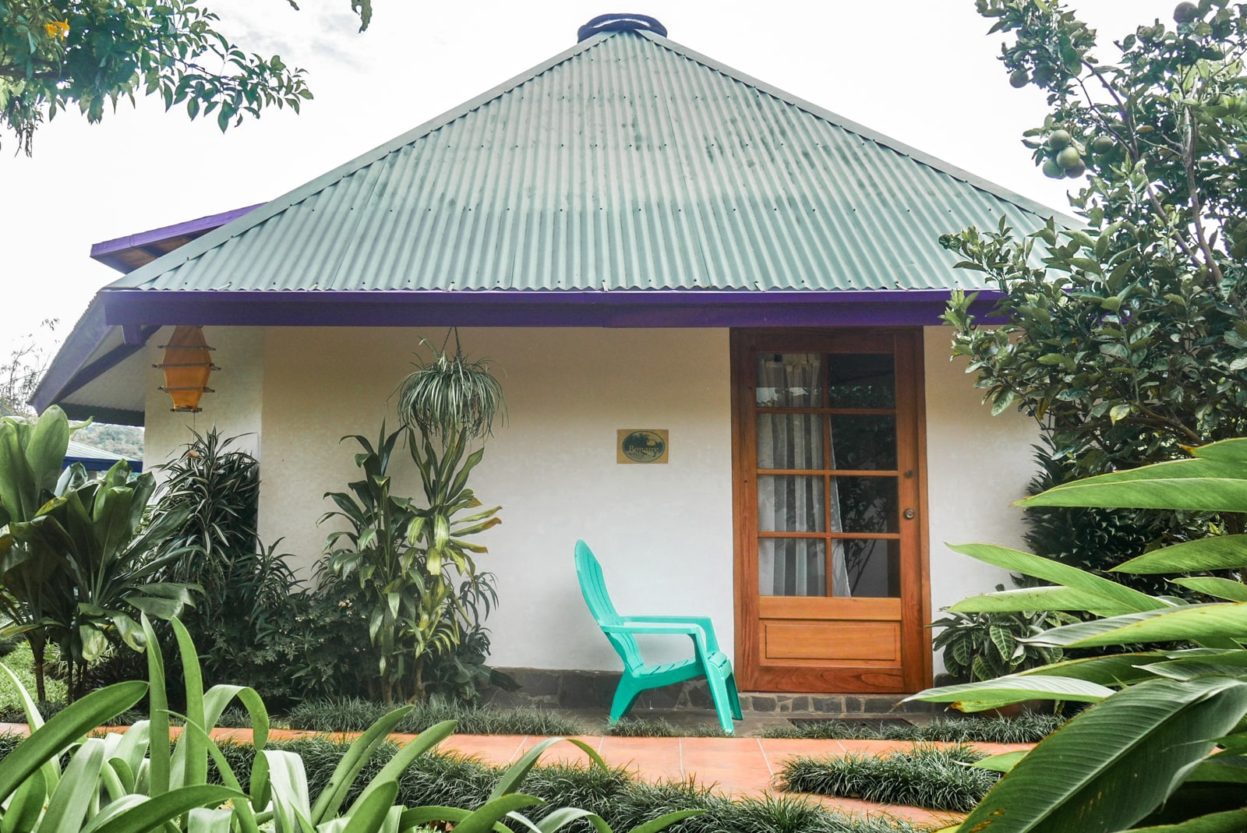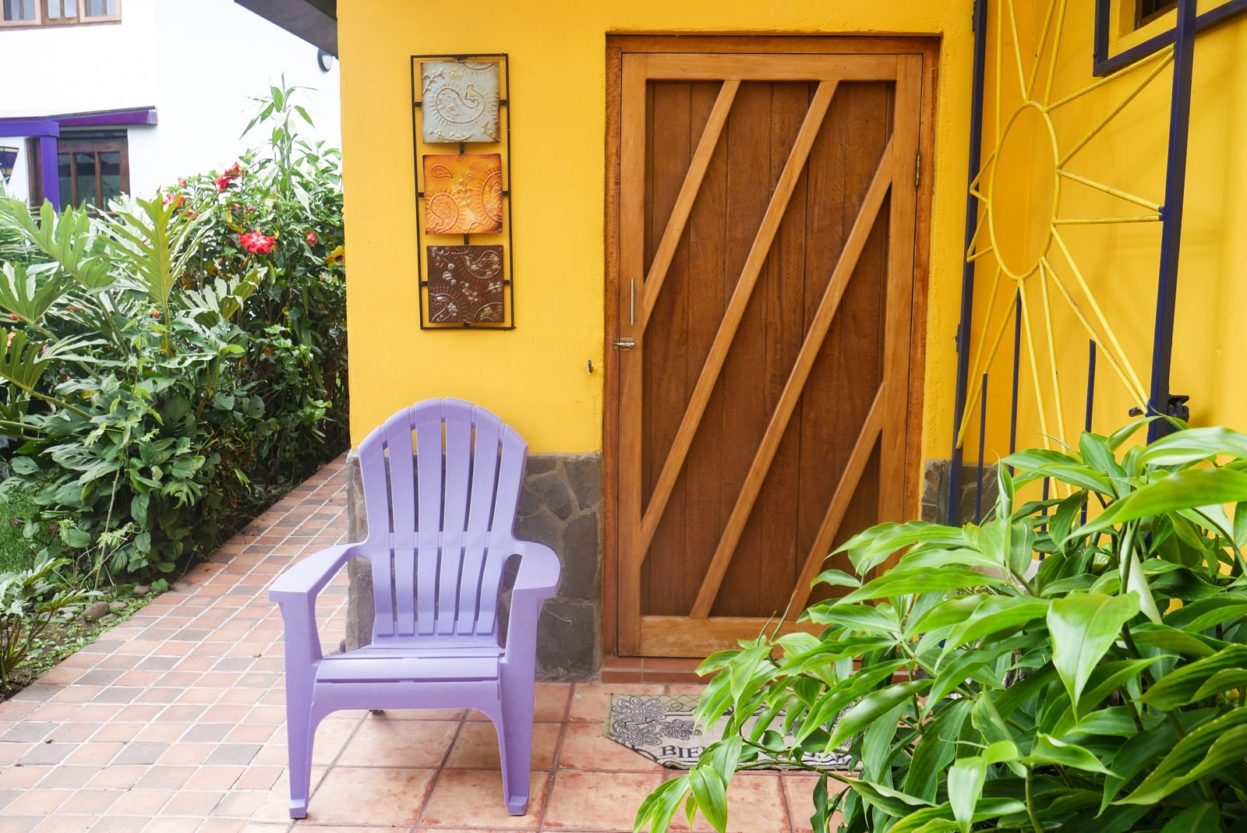 Small but Rushing River Next to the Property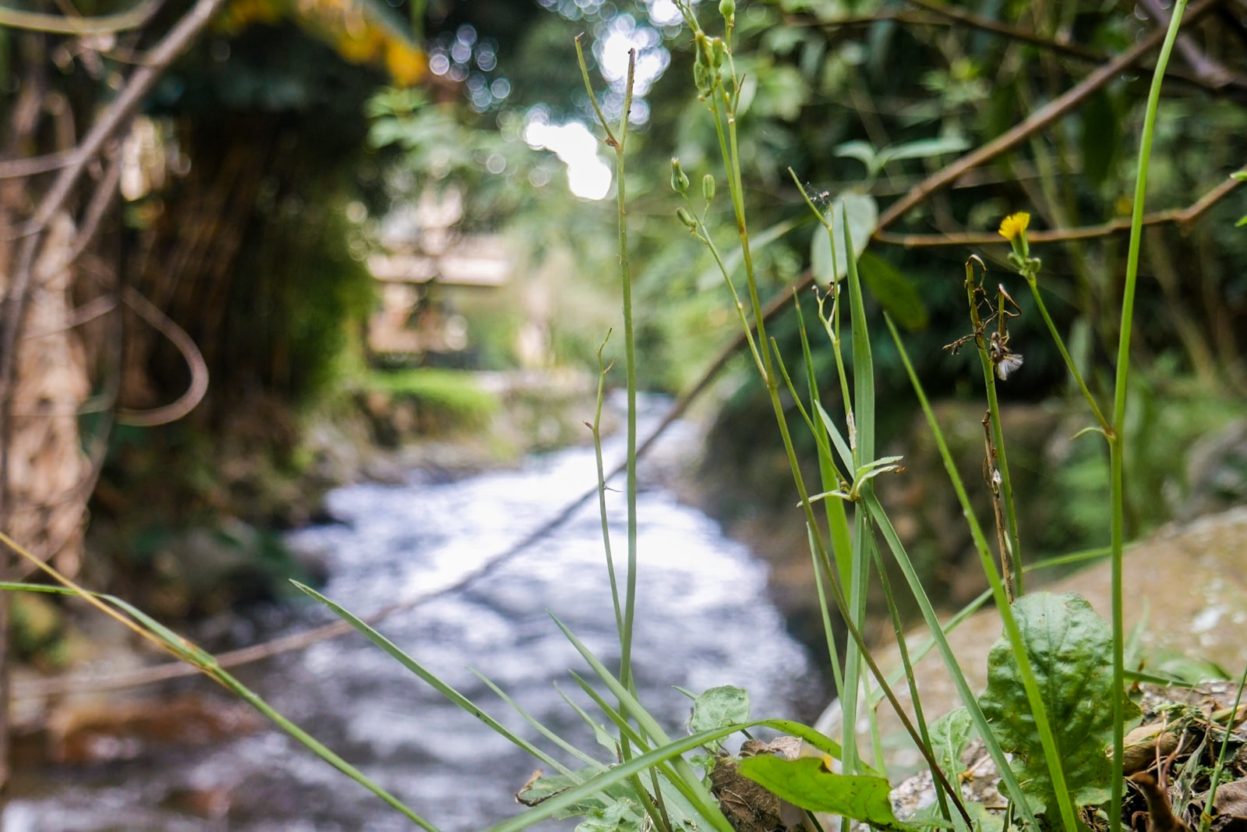 I've never stayed next to a river, and I was constantly struck by how soothing the sound of the rushing water was. It was the perfect white noise for reading a book, doing some work, or falling asleep.
Boquete is all about nature - lush cloud forest, striking mountains, and jungle wildlife. The adjacent river was a perfect addition to the rainforest atmosphere.
Good Basic Kitchen in Every Suite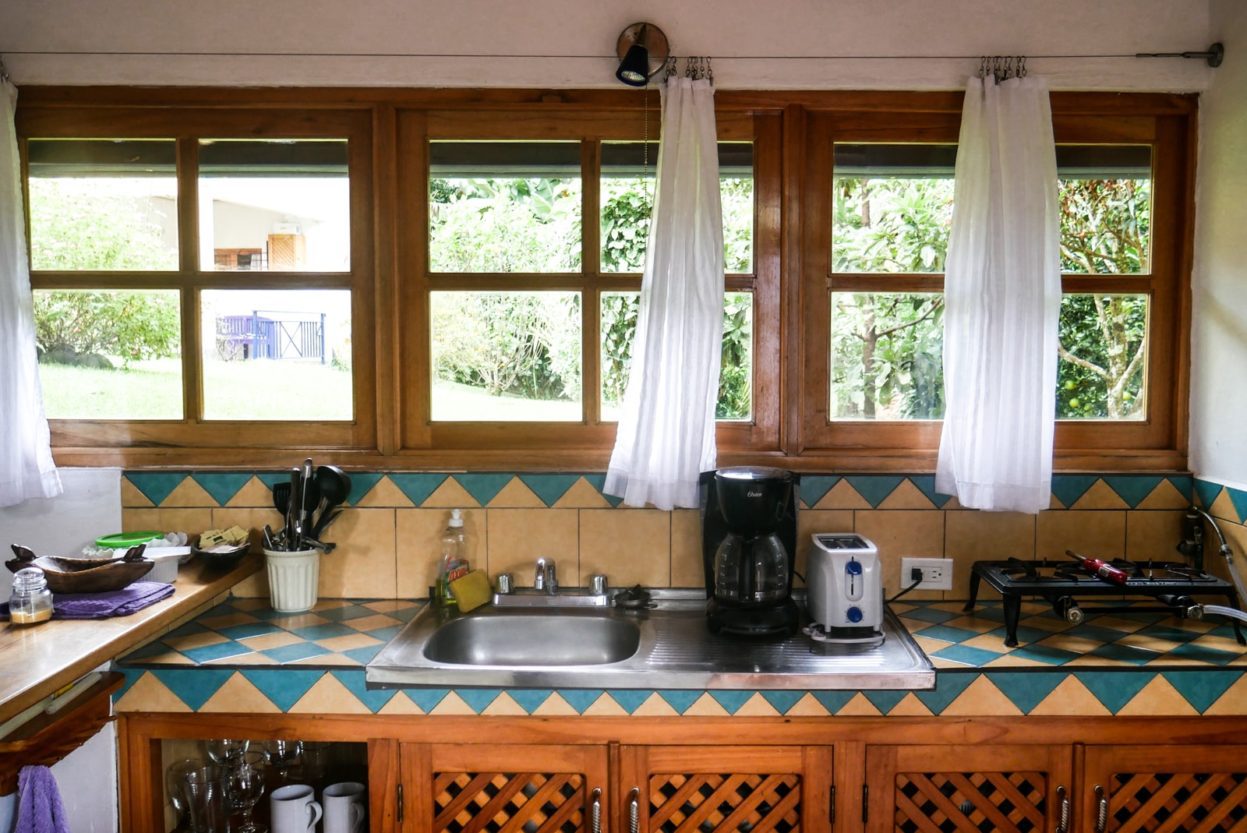 Every suite has a kitchen or kitchenette. Our suite had a portable gas stove, a small refrigerator, sink, coffee maker, toaster, pots/pans, plates, bowls, cups and utensils. We had all the basics we needed to make some meals at the hotel. We were even given a sample of some delicious local coffee grounds to brew for our first morning at Isla Verde.
Since we travel longterm, it's invaluable to have a place where we can prepare a few of our meals. We love to eat out and experience the local food, but it's nice to be able to prepare breakfast, or lunch at our temporary home.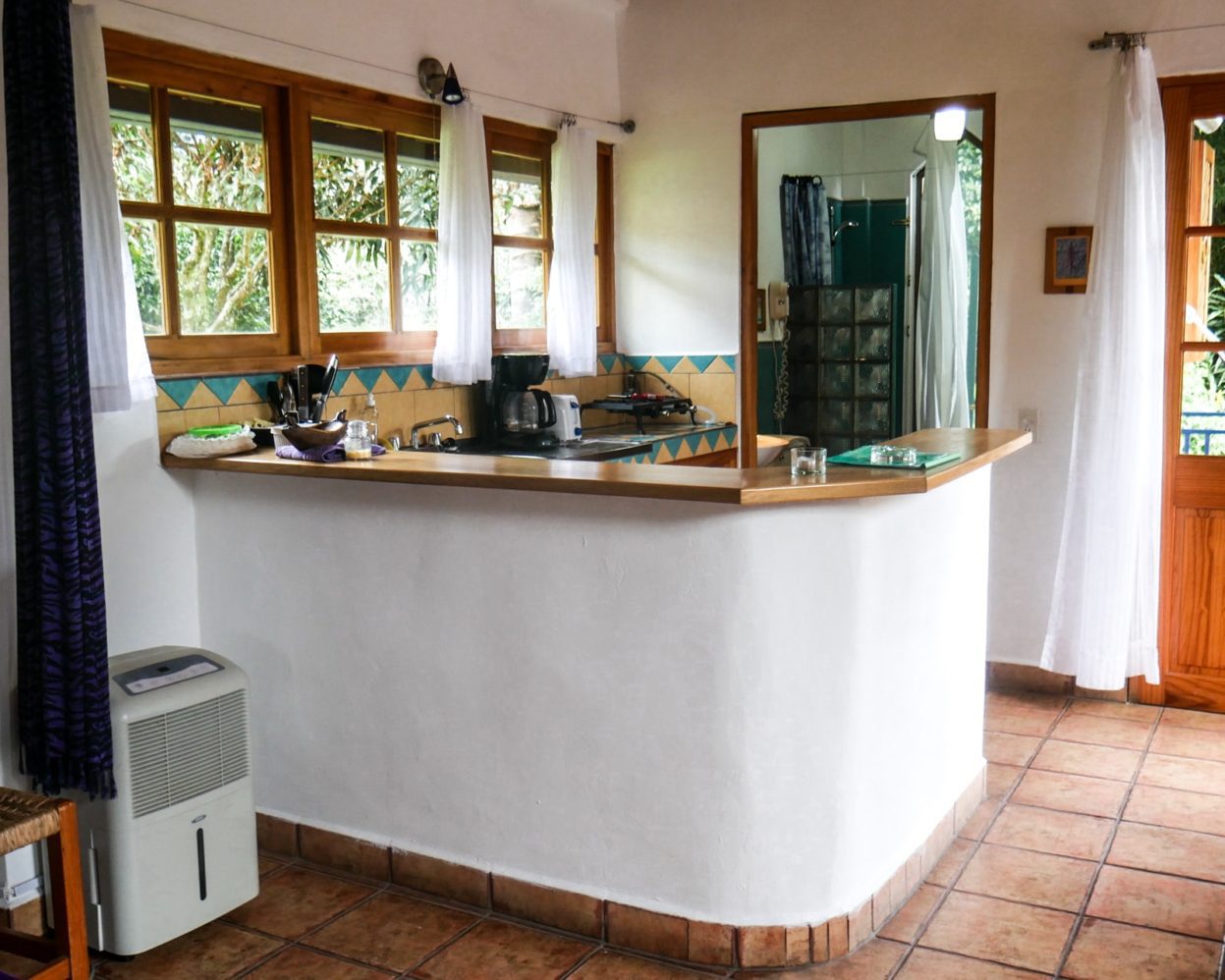 Large Suites Including Dining Area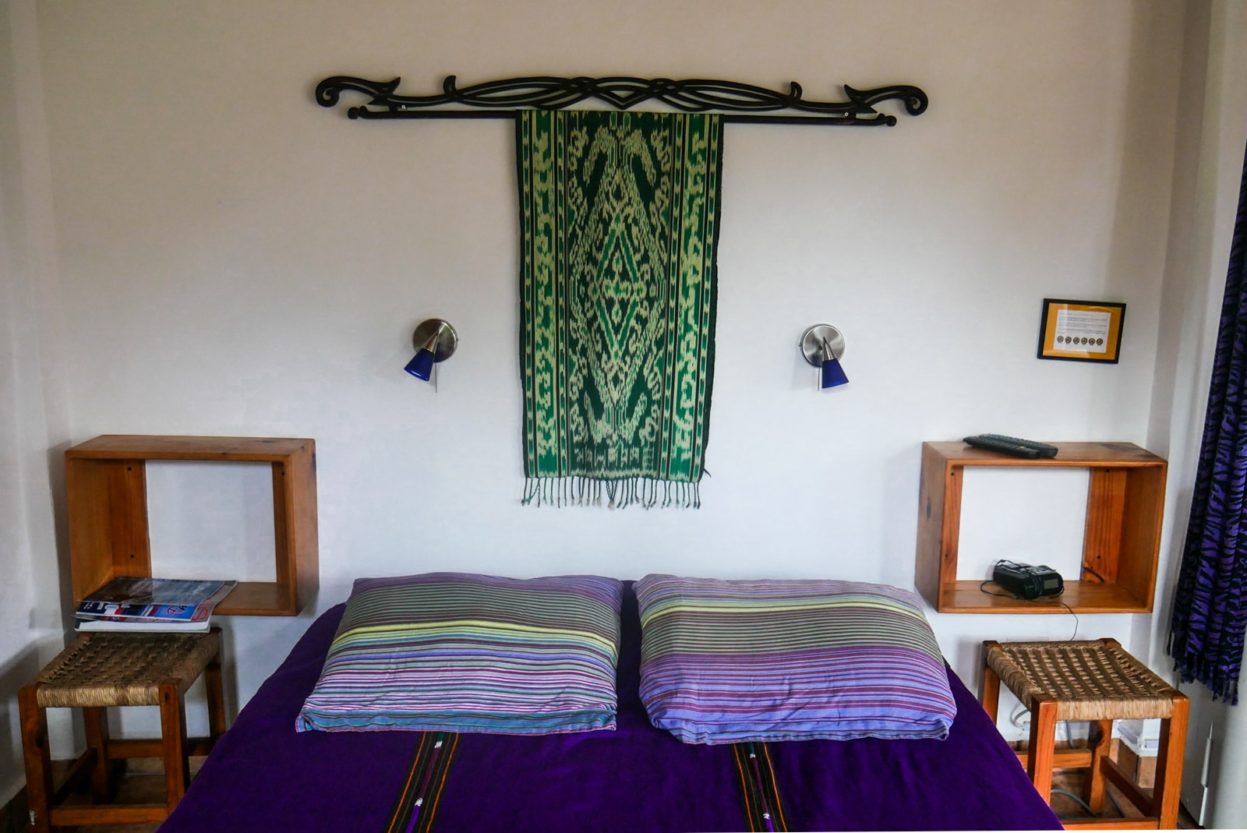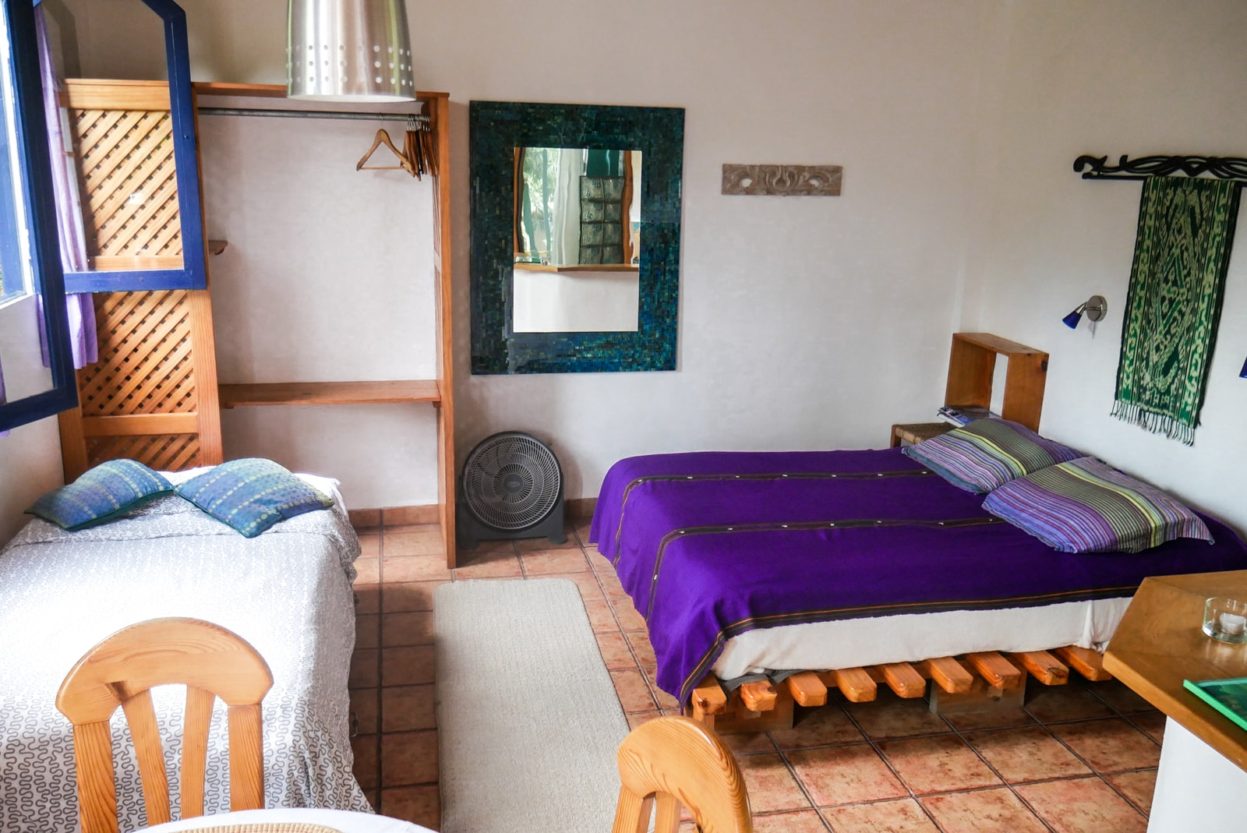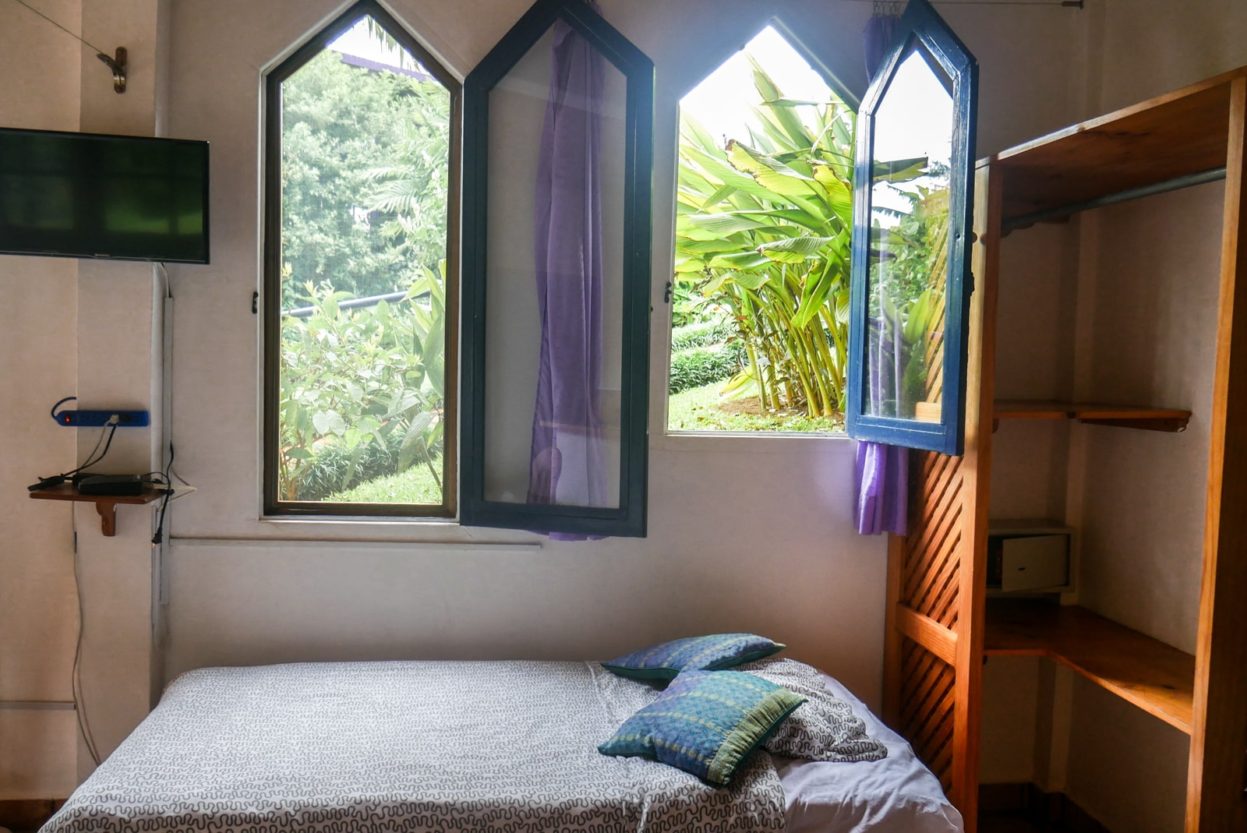 Our suite was super spacious. We had plenty of room for a double bed, a single bed, a dining area, a kitchen, and a large bathroom. We could easily spread out to rest, do some work, or cook our meals. There was a curtain we could pull between the bed and the kitchen in case one of us felt like a nap while the other wanted to be on our laptop at the table.
It was great to have a separate dining area to enjoy our freshly cooked meals from the kitchen. We felt at home in this large space.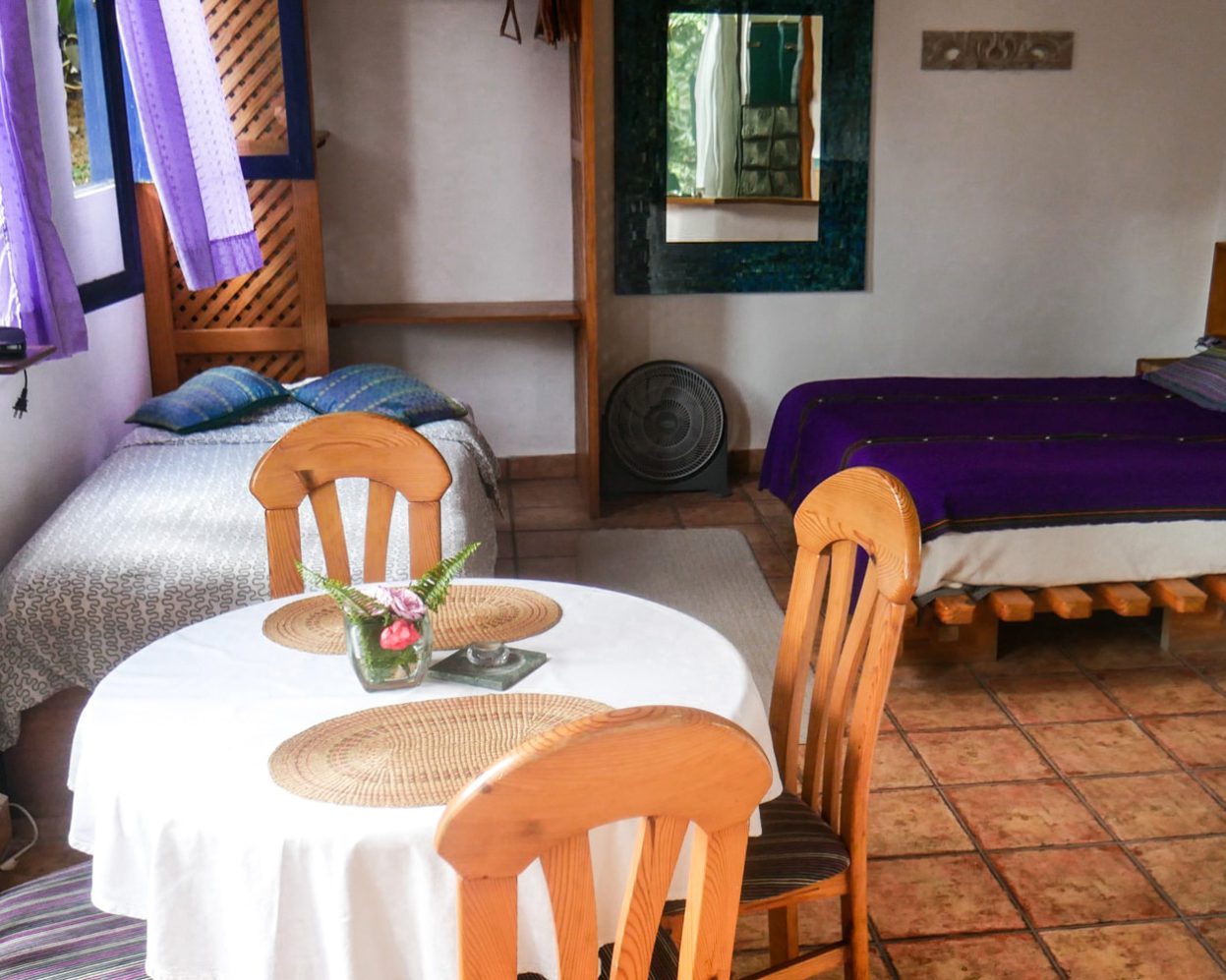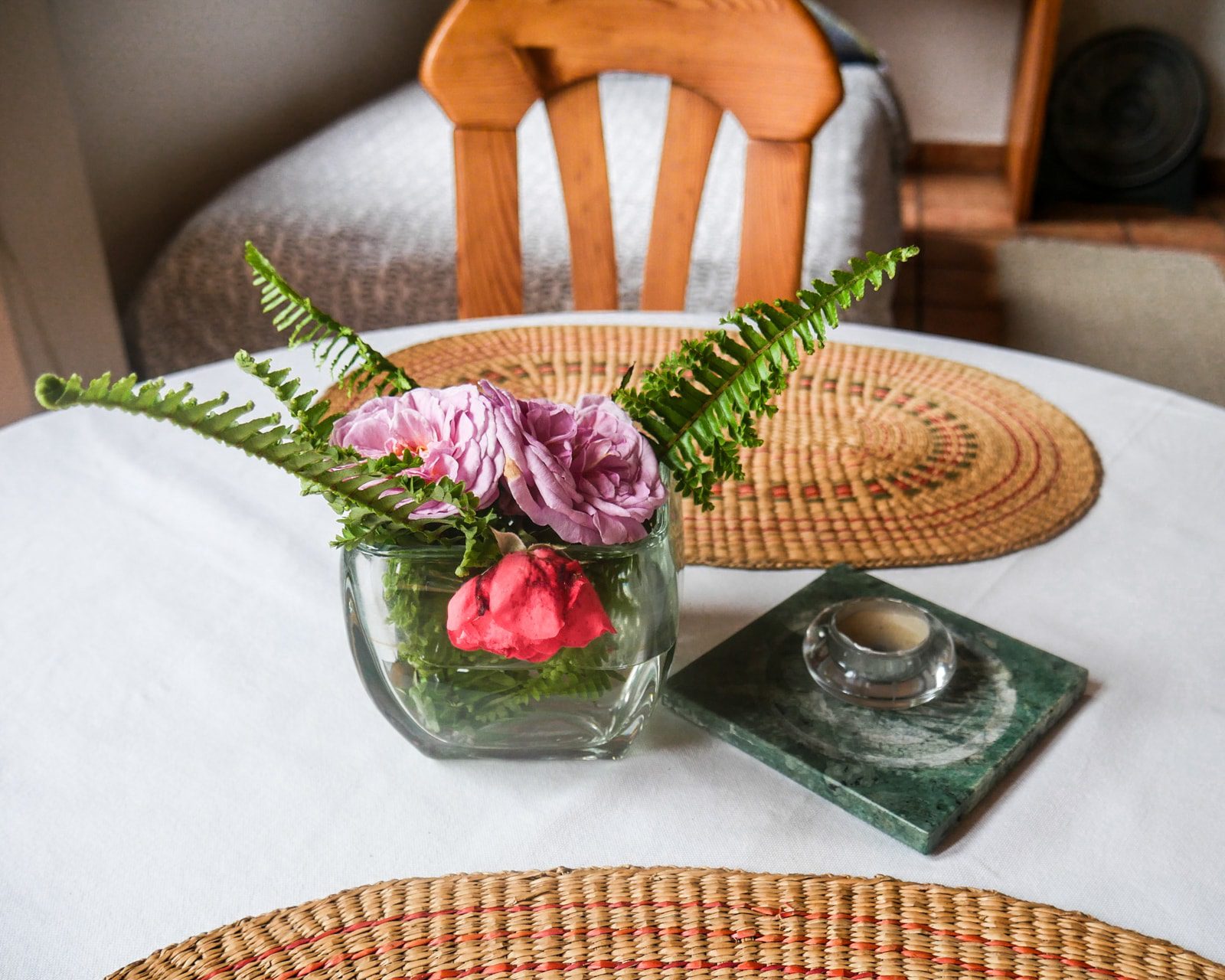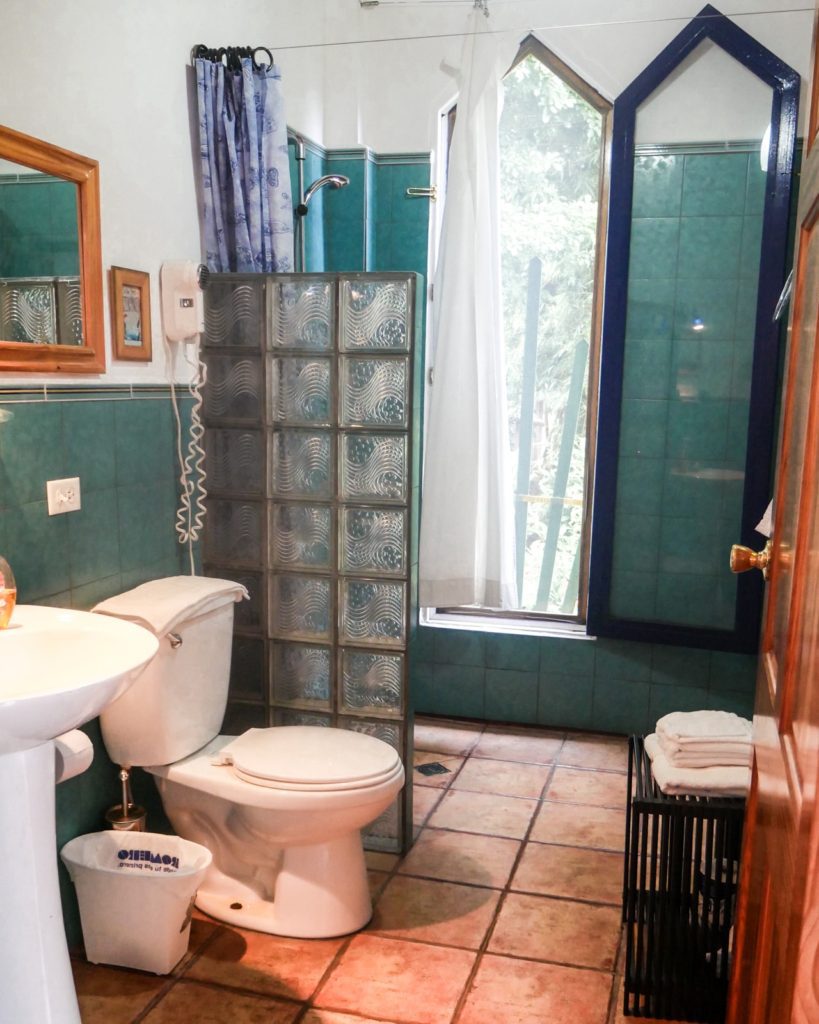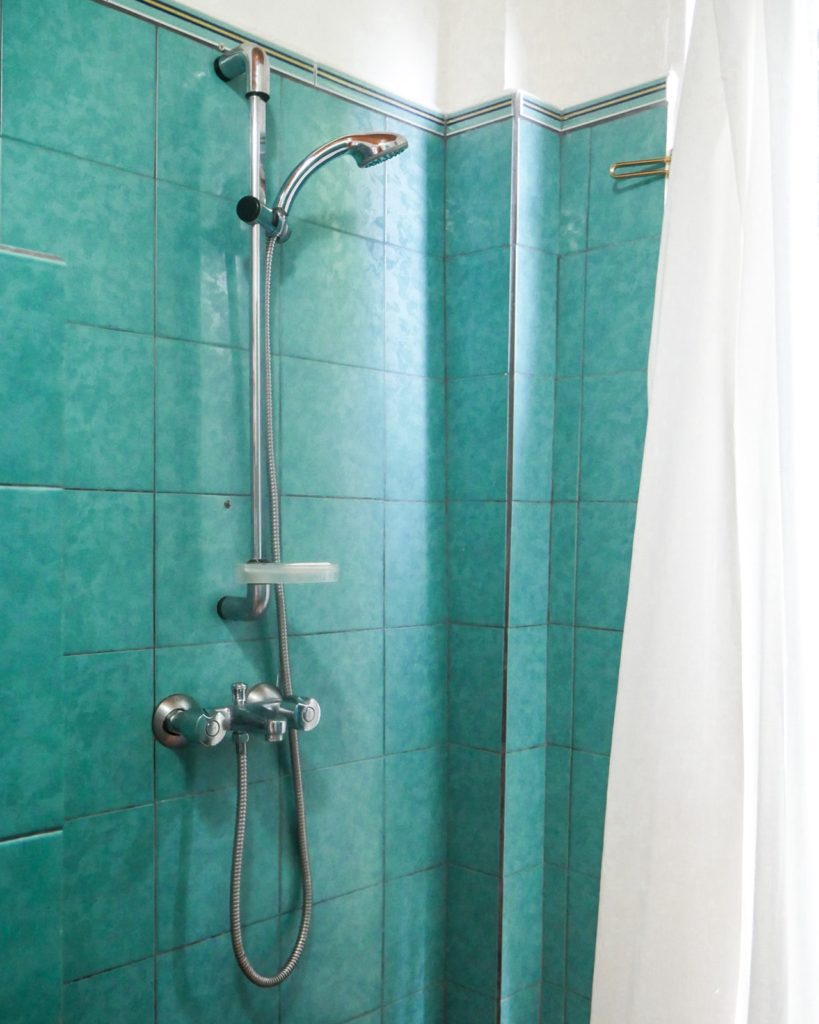 I LOVE a great shower. If I find one with hot water and good pressure, I'm in heaven. The shower at Isla Verde was just that. Since the weather is a bit cooler in the higher elevation of Boquete than in the lowlands, it felt amazing to take a hot shower after a long day of exploring.
There was a problem with the hot water during our stay, but the staff realized it even before we did, and bought a new part and repaired the problem right away.
There was also a big window in the shower that faced over the river, allowing you to enjoy the surroundings as you cleaned up.
Great Location Close to Everything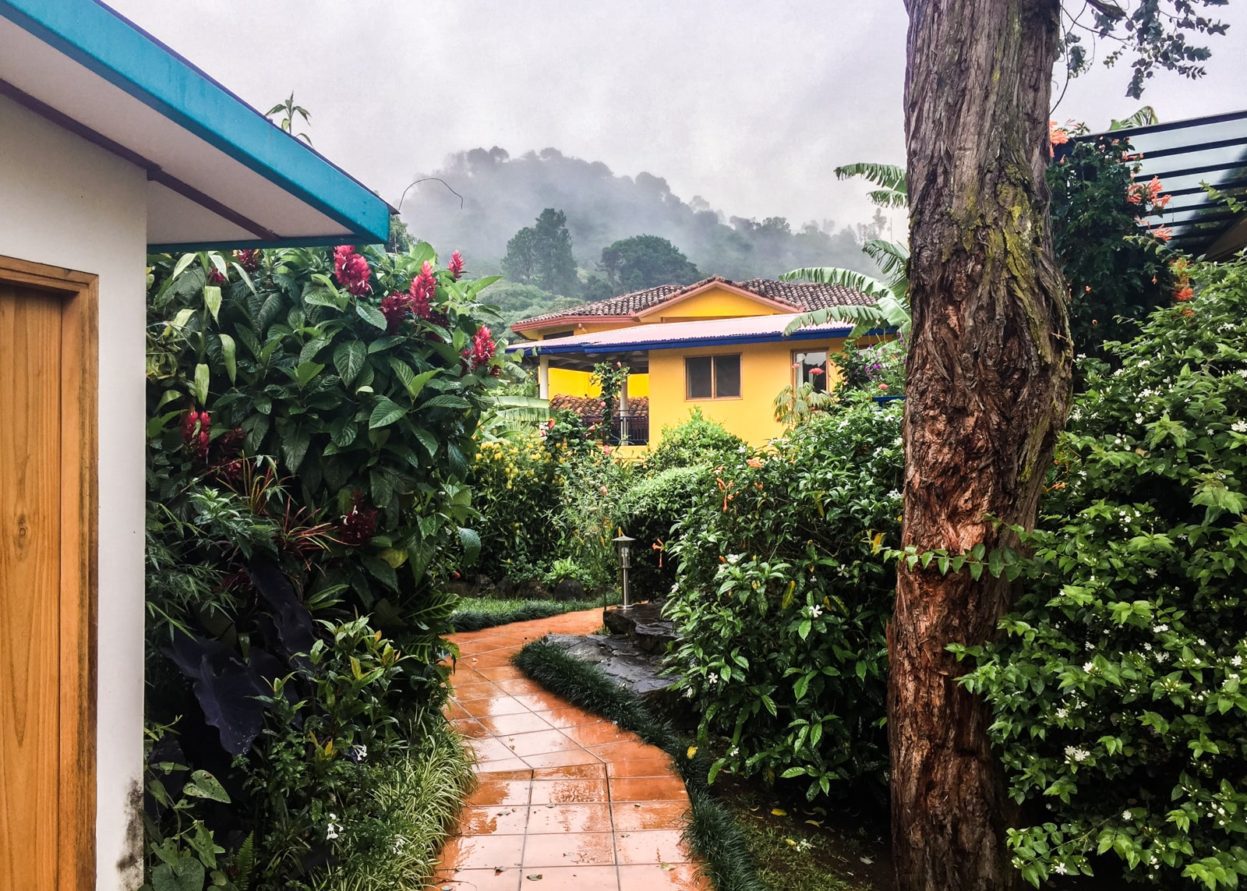 Isla Verde feels like it's a million miles from anything, but it's only 3 blocks from the main street in Boquete!
Isla Verde is just a couple blocks from the main street, giving the boutique hotel in Boquete a quiet location, yet super close to all the amenities of the town. It's only a 3 minute walk from the main street, where you can find restaurants, a couple bars, grocery stores, tour operators, and the main park.
We took the bus from David, and only had to walk 3 blocks from where we were dropped off to the hotel entrance. Anytime we wanted to find some food, or do an activity, we only had to walk 5-10 minutes to reach our destination.
Conclusion:
If you want a large and comfy apartment but also want the feeling of a boutique hotel in Boquete, Isla Verde is a great choice. From the lush gardens, to the fully equipped kitchen/kitchenette, to the convenient but natural location, we really enjoyed our stay here!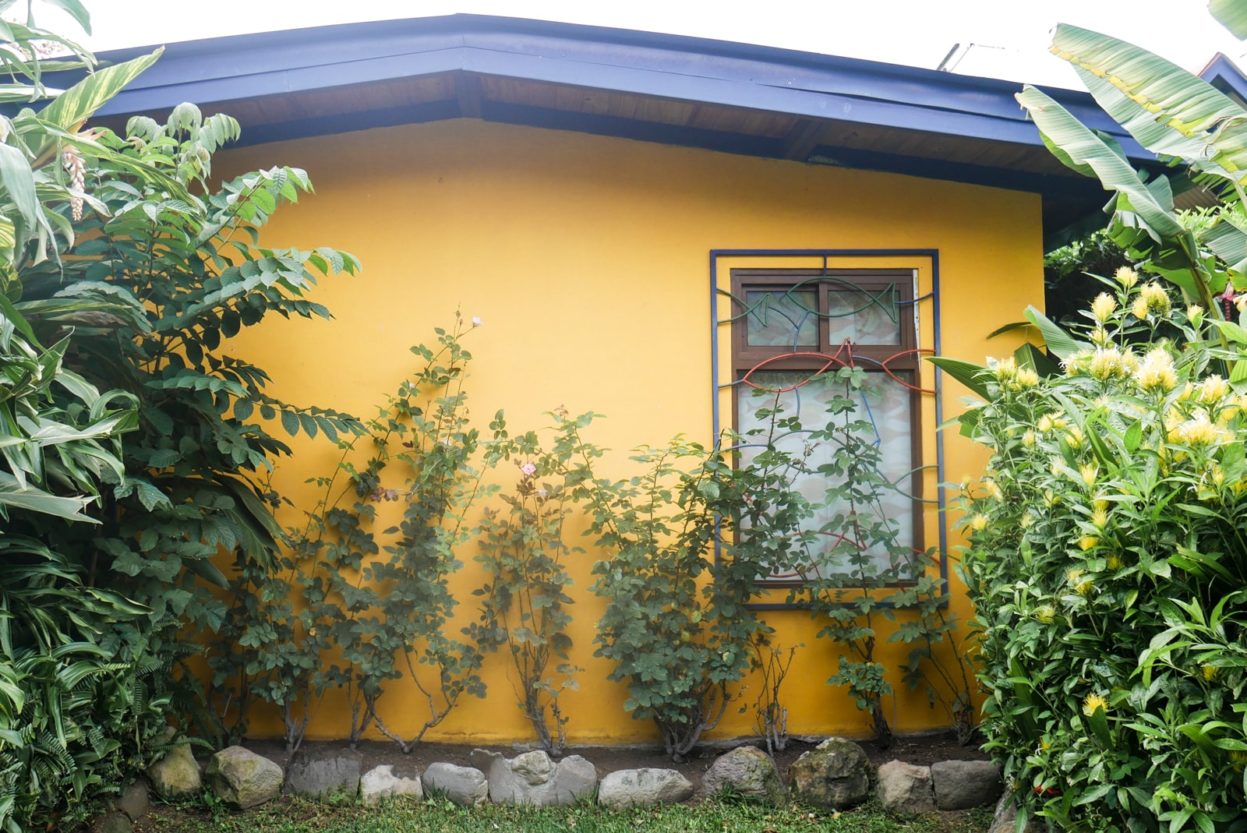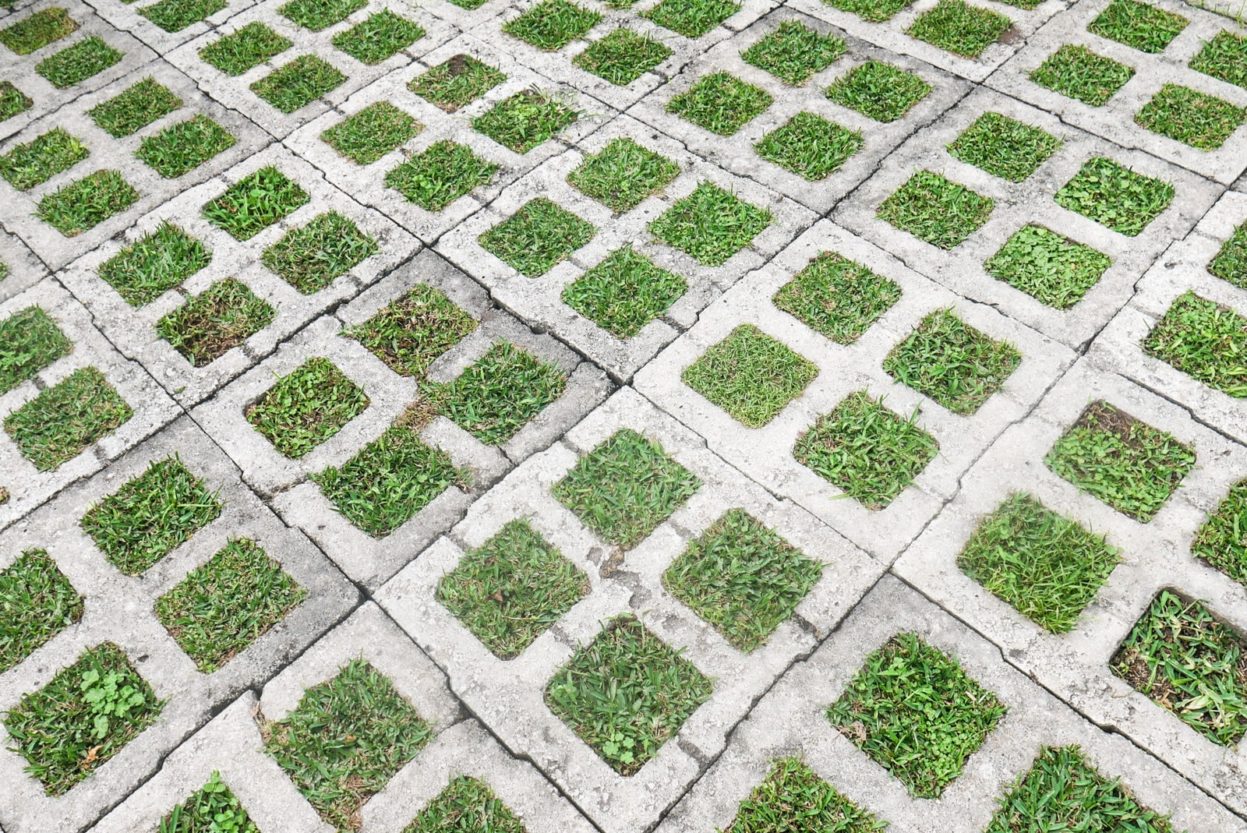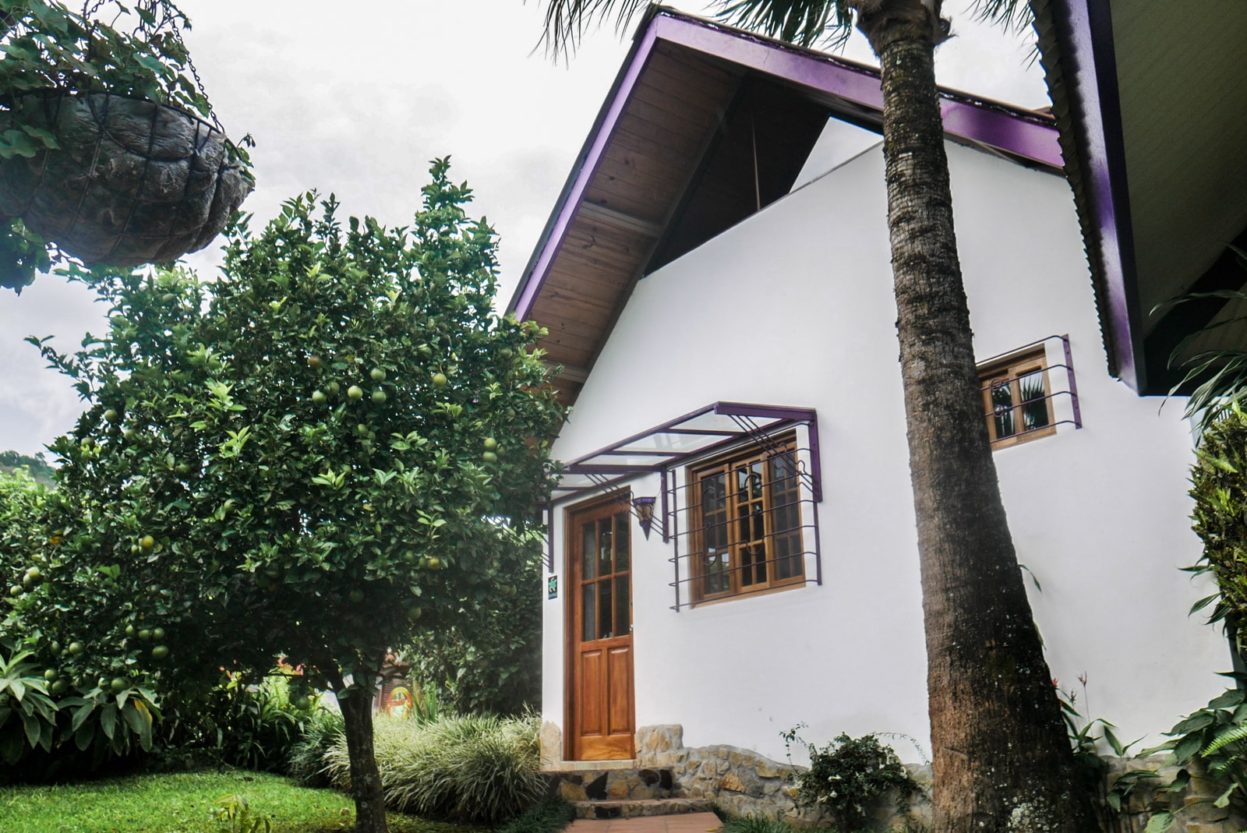 ---
Hotel: Isla Verde
Social Media: Facebook
Price: $110-160 per suite, based on double occupency (plus 10% tax). Rates may be lower during low season - June/November - contact for more details.
Includes: Kitchen/Kitchenette, private bathroom, cable tv, wifi. On site spa services available for an additional charge.
Location:  Ave. B Oeste, Bajo Boquete, Panama
Contact: [email protected]
Reservations: http://www.islaverdepanama.com/reservation-form/
---
---
Disclosure: I received a free stay at Isla Verde in exchange for an honest review. All opinions are my own!