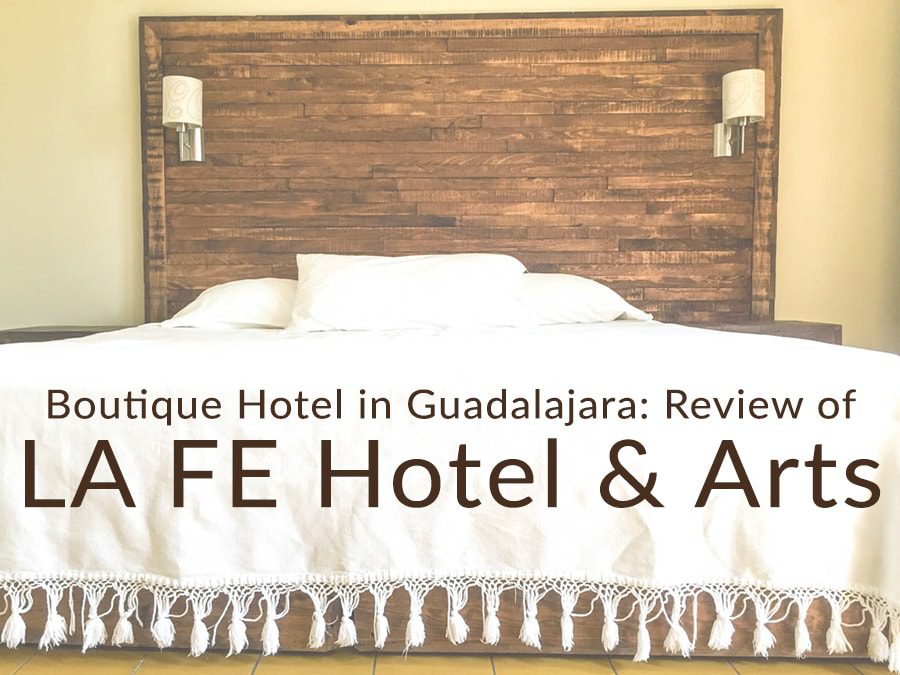 When I look for the perfect hotel in Latin America, I always like to find accommodation that balances authentic local charm with modern and comfortable amenities. LA FE Hotel and Arts does this perfectly.
This boutique hotel in Guadalajara is set in a gorgeous 1930's mansion that has been converted into a quaint 7 room hotel. Almost all of the colorful tiles in the hotel are original. There are few things I love more in this life, than vintage Mexican tiles. I may have spent a little too much time taking photos of my feet above these gorgeous tiles.
I enjoyed working and relaxing in the communal dining area with warm light filtering in from the courtyard, but then could retire to my very comfortable bed and turn on the air conditioning after a long walk around the city.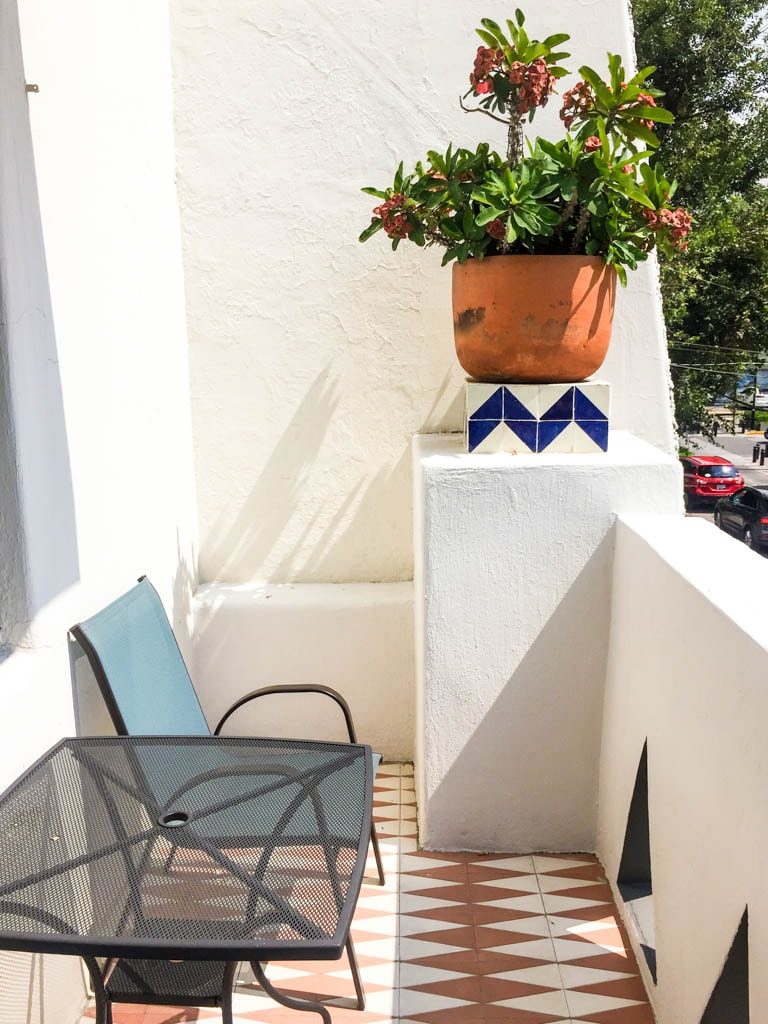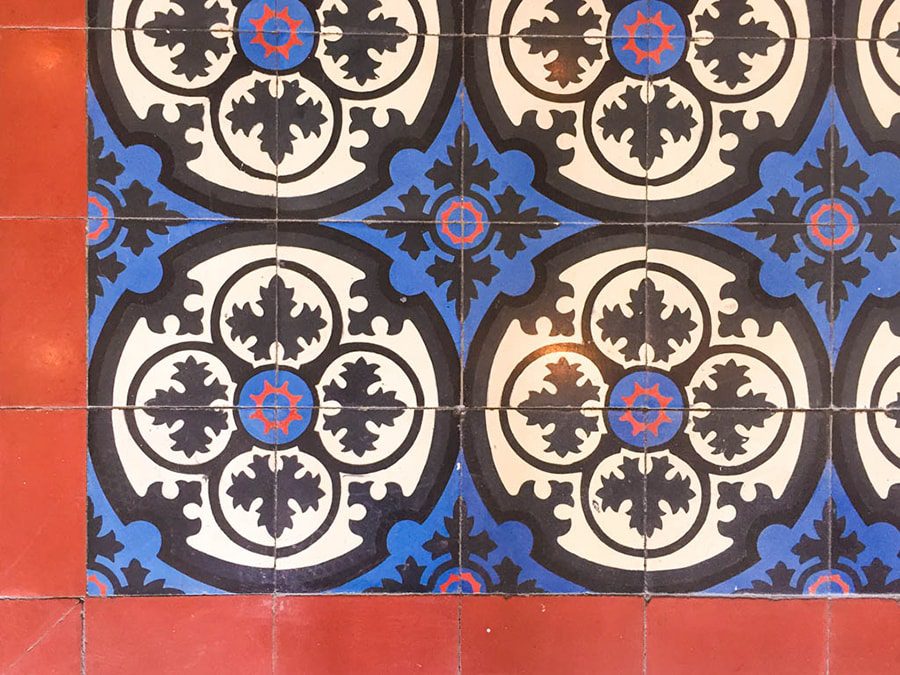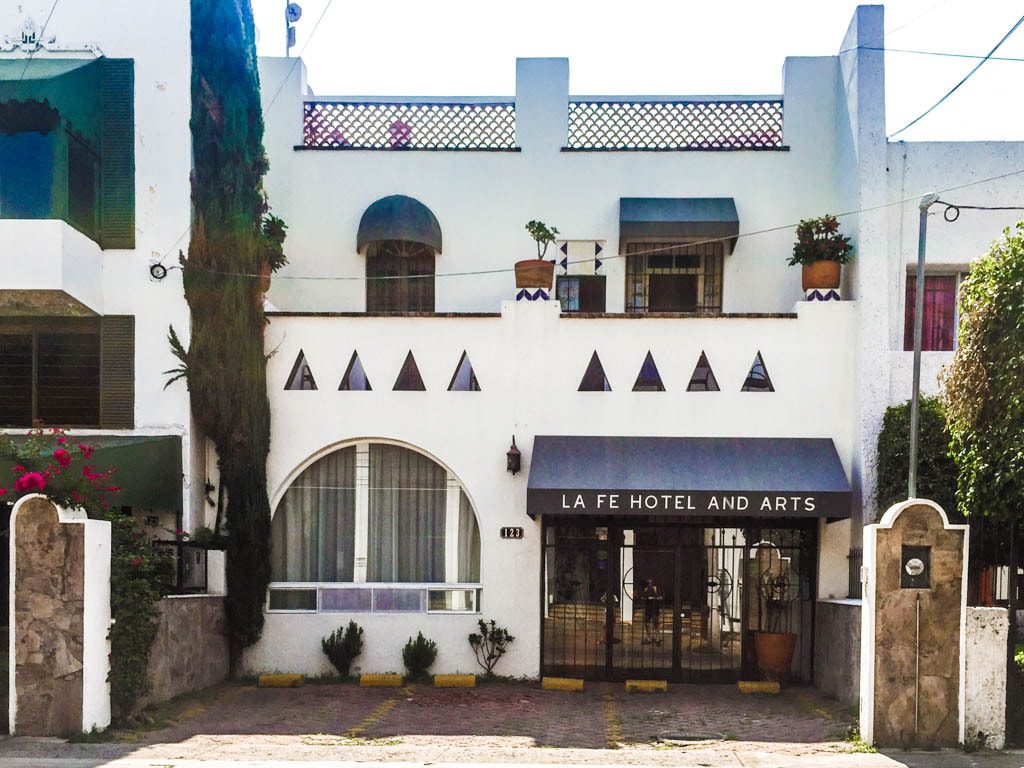 Location
I don't think this hotel could have been in a better location. It's 2 blocks from the lively and hip Chapultepec Avenue. All of the best new restaurants, bars, cafes, and shops line Chapultepec and the surrounding side streets. We never had to walk more than a few blocks to find great food or entertainment.
There are a couple other nice tourist destinations in the city - the Centro, Tlaquepaque, and Zapopan - to name a few. But I would recommend staying in Chapultepec. You'll have easy access to all of the tourist spots, but be in a great area to grab coffee in the morning or dinner and drinks at night. You'll also be surrounded by Guadalajarans enjoying a Sunday stroll down Avenida Chapultepec, or having a fun night out at one of the lively bars.
Friendly and Helpful Staff
Everyone who worked at LA FE was super helpful and friendly. If we needed any recommendations, they were happy to suggest a good coffee shop or bar. They also have someone at the desk 24 hours to buzz you in, or help in any way.
Great Prices
The rooms range from $50-75/night for double rooms. For such a beautiful hotel, comfortable rooms and a great location - the price is more than fair.
Continental Breakfast
The hotel serves a basic continental breakfast every morning from 7-10am (8-11am weekends). I was pleased to see I could have yogurt, fresh cut fruit, and granola each morning when I made my way downstairs. Other items, such as toast, cereal, peanut butter, and nutella are available as well.
I'm always excited to be staying in a place that allows me to wake up slowly with coffee and breakfast, rather than having to search out a spot while our stomachs are rumbling.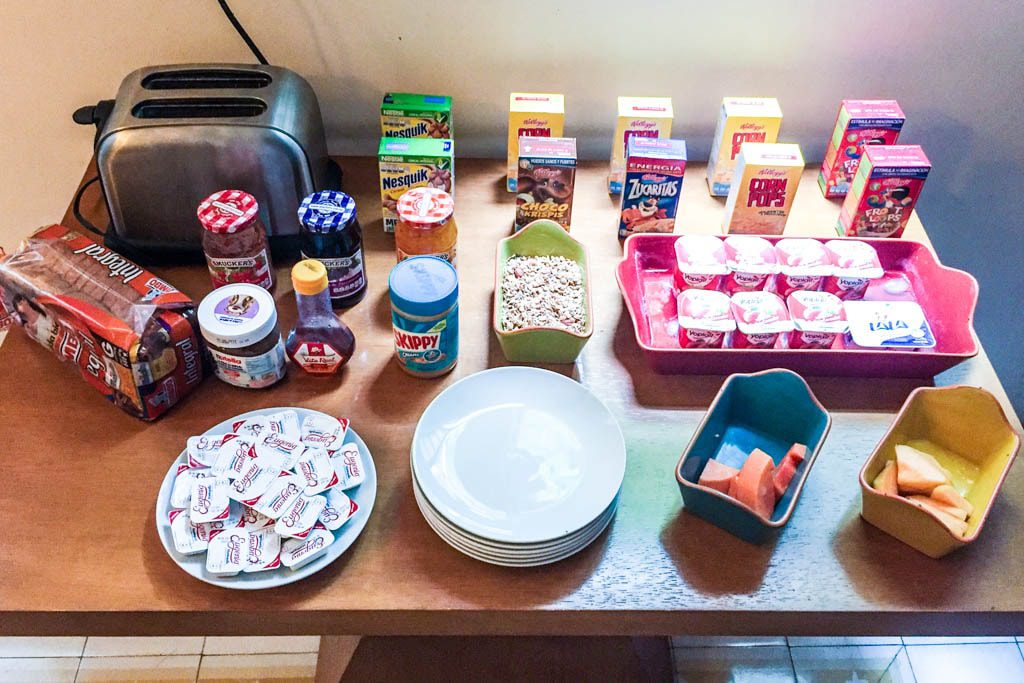 Comfortable Beds

The beds all seem to have new mattresses, super comfortable high quality pillows, and Mexican bedspreads. We had some of the best sleep we've had in a long time during our stay.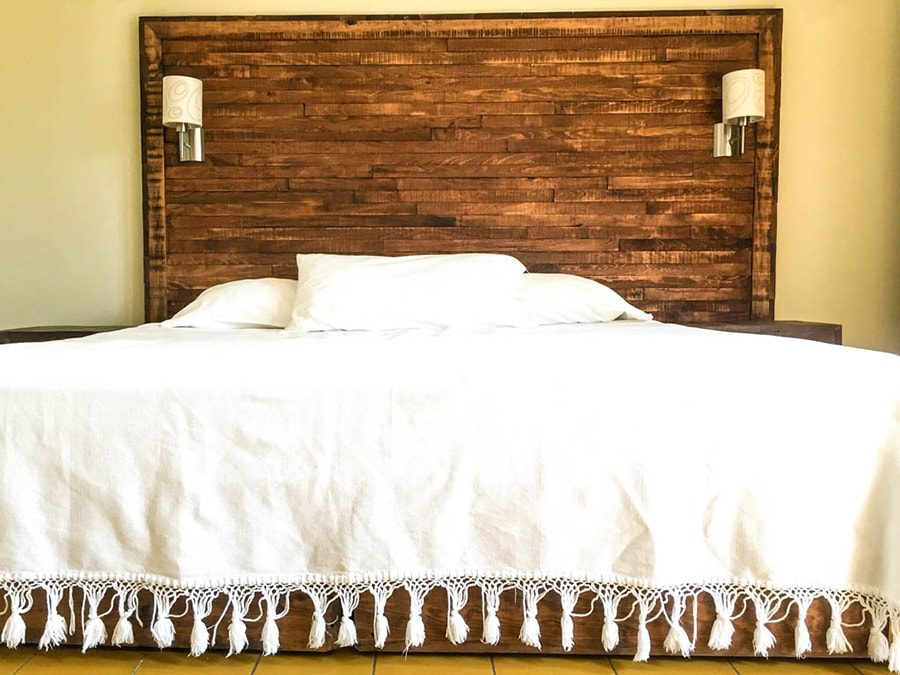 Hot Showers
Hot showers are not always the norm in Mexico. I was pleased to find the water was hot and the pressure was great.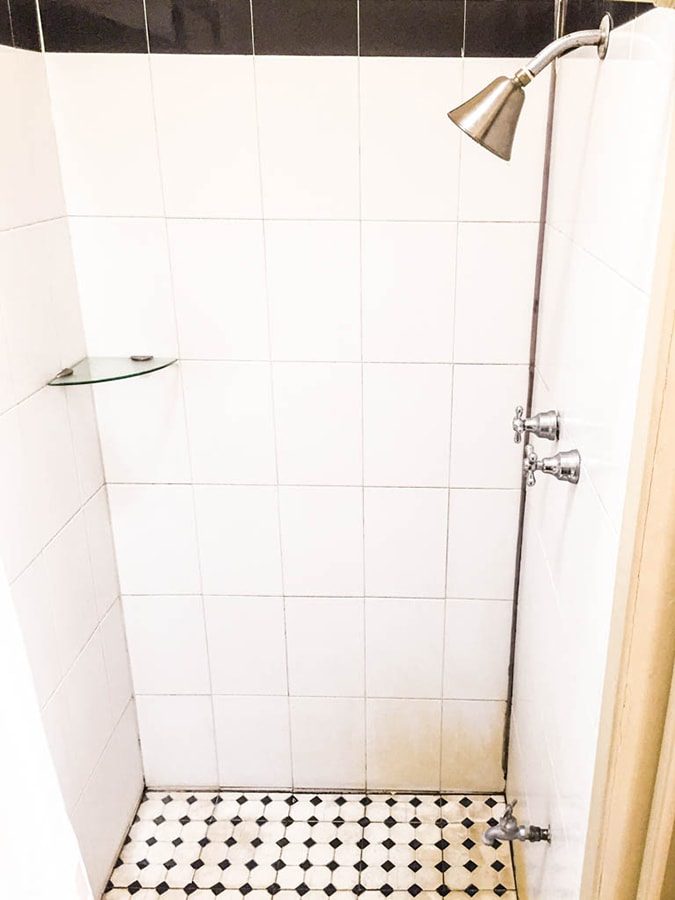 Really Well Decorated and Furnished

The hotel is thoughtfully decorated. As I mentioned, there are many authentic Mexican touches. The tiles are all original from the 1930s (with the exception of the front room reception which was previously a garage). There are original diamond cutout shapes in the front of the building, and pretty alcoves and a courtyard.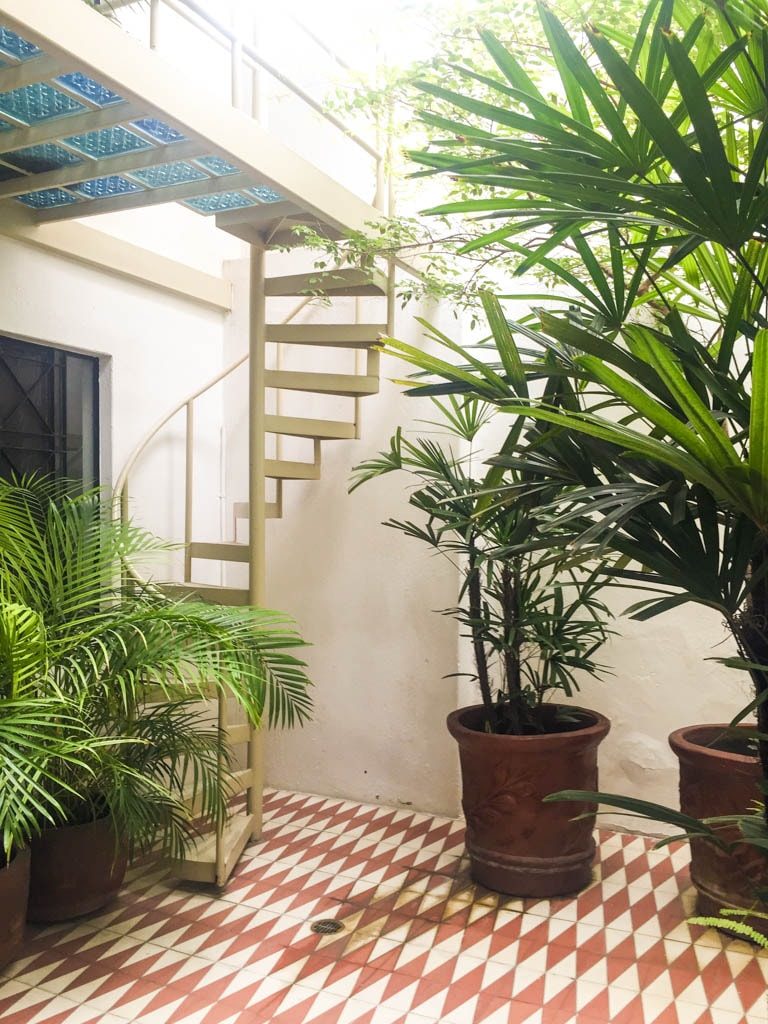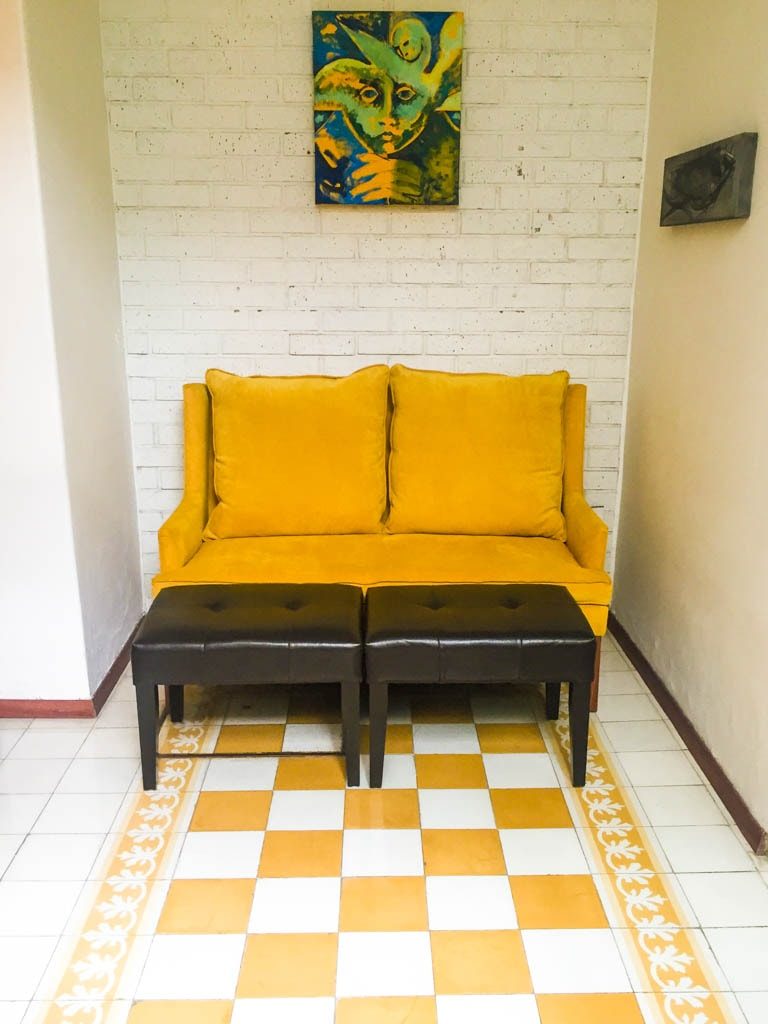 Then there are cute modern furnishings in the living and dining room, with a mid-century feel. The bedrooms have rich wood headboards, desks, and armoires.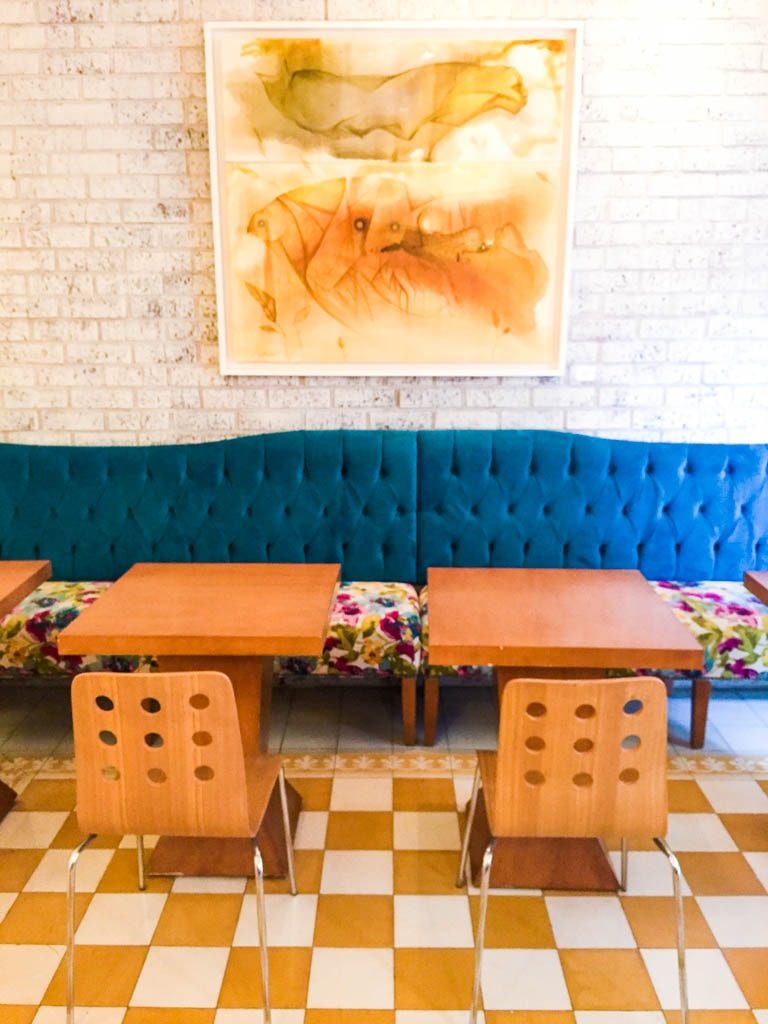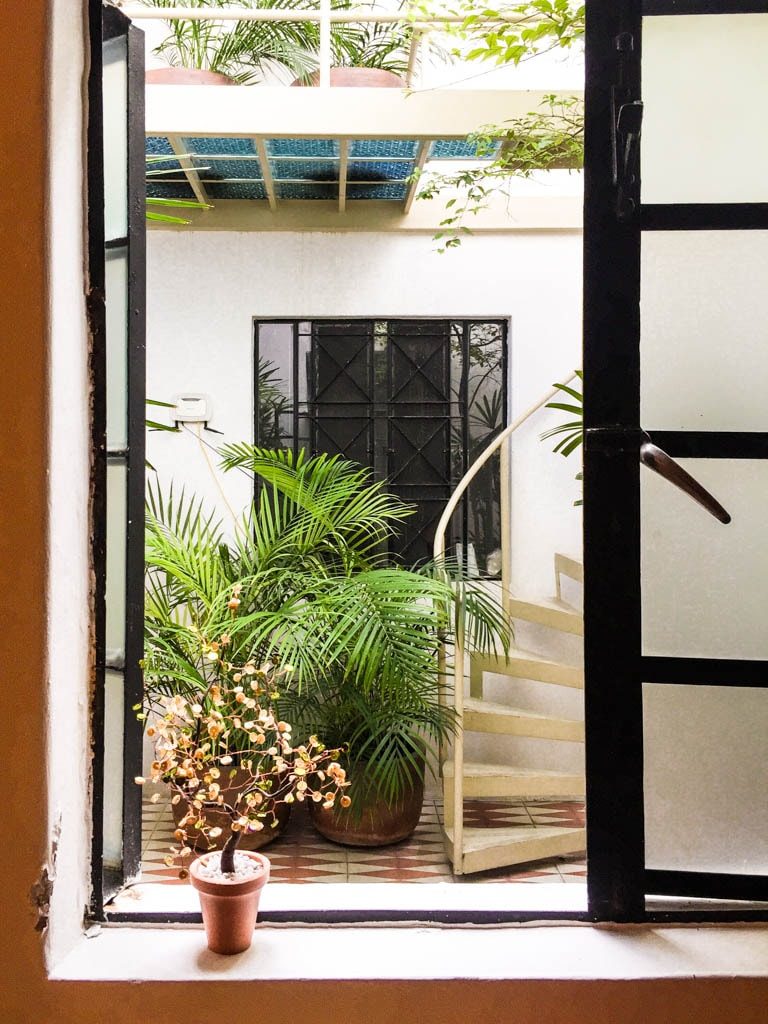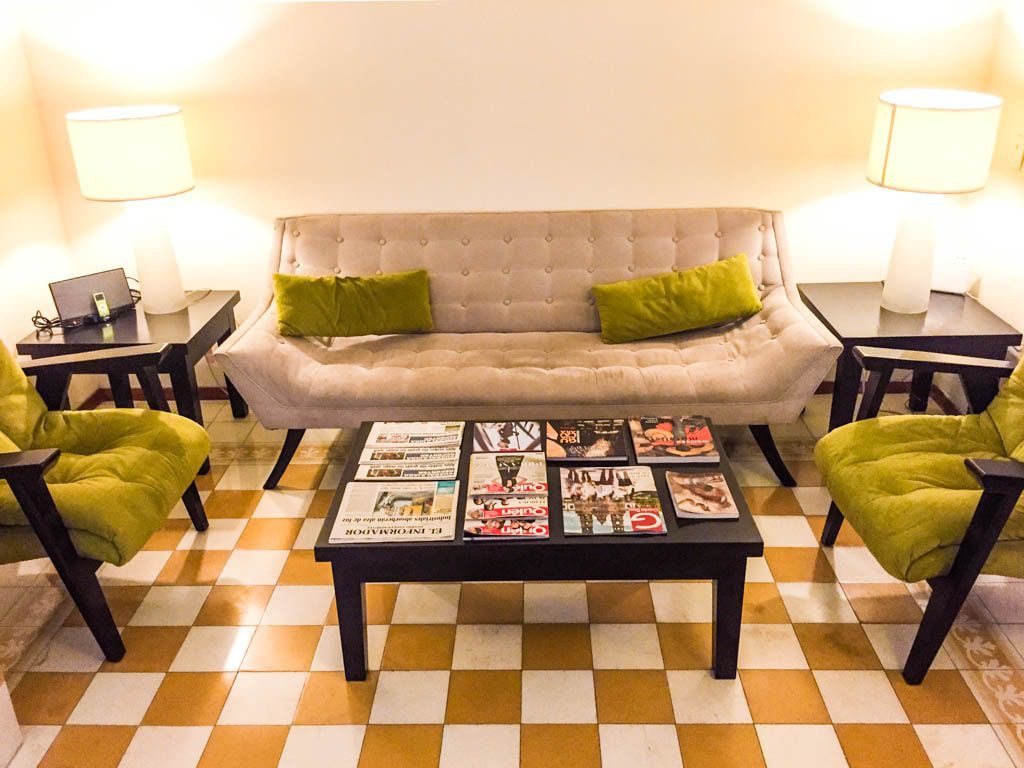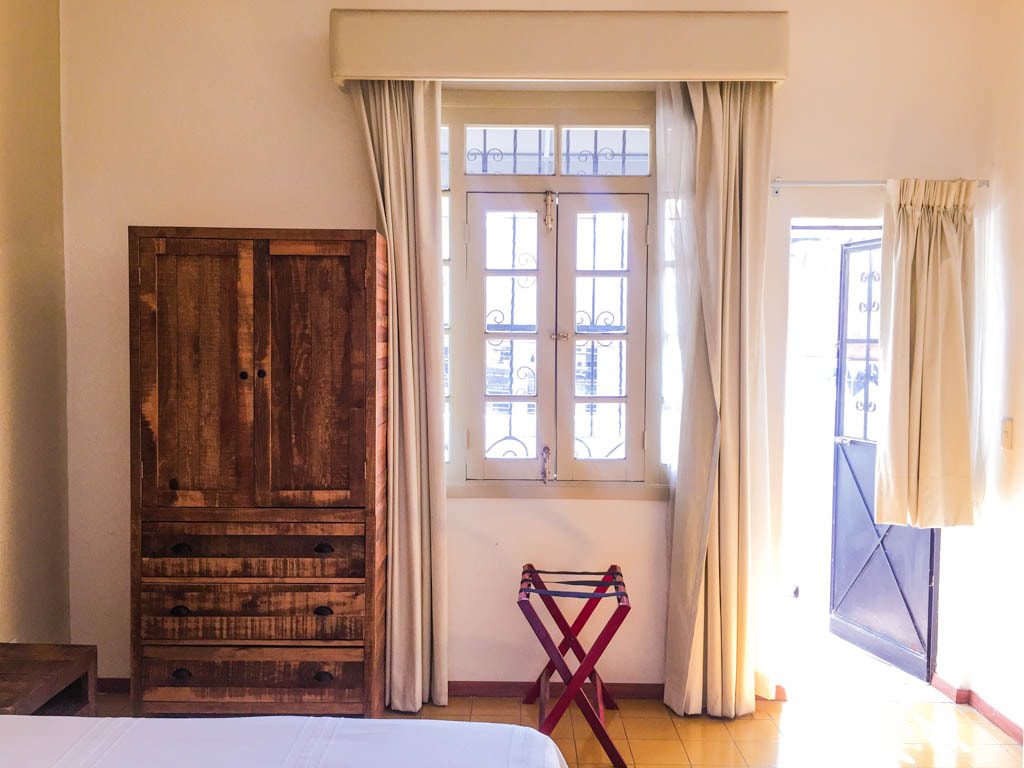 The hotel also is a rotating art gallery, so art pieces line the walls in the living room and reception.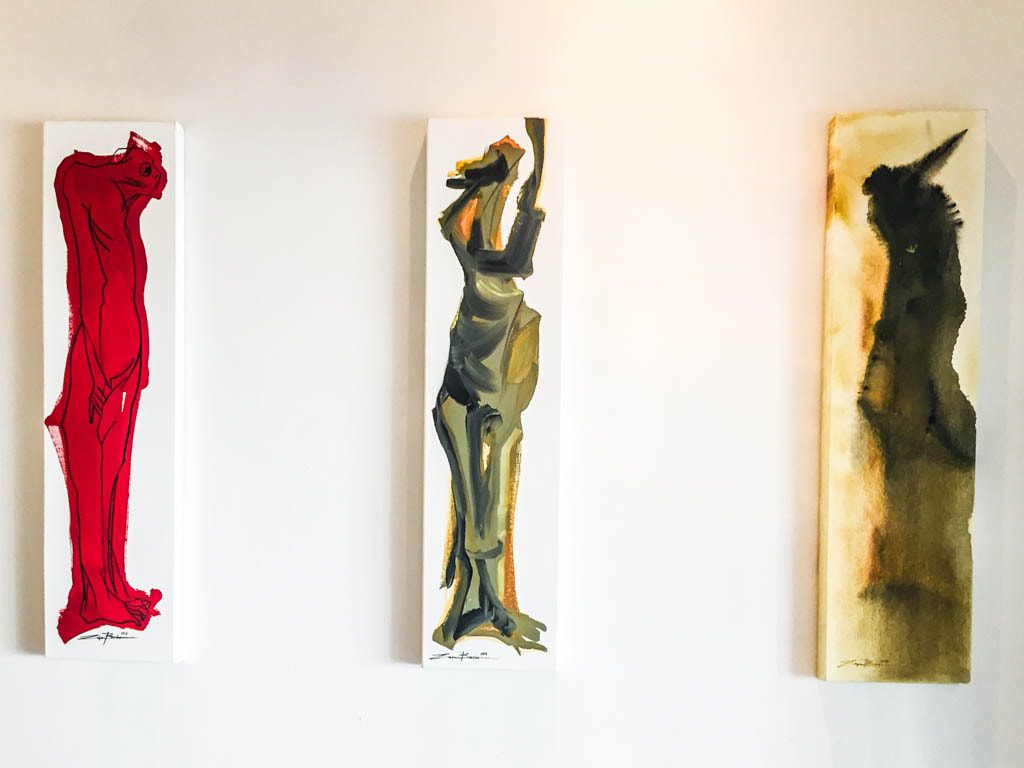 Nice Common Area for Eating Breakfast or Working
As mentioned, the living room and dining room are well decorated, and include a comfy couch, chairs, and padded bench in the dining room. The wifi signal is strong, so it's a great place to catch up on some work.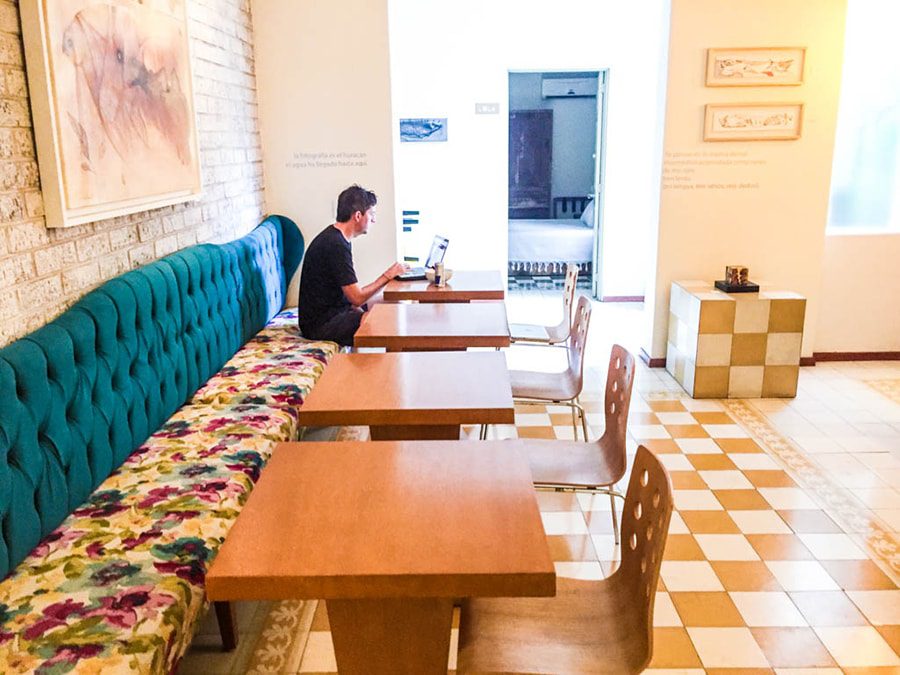 Which brings me to my next point...
Strong Wifi
The wifi signal was very strong for us throughout our stay. It seems to be great in the room as well as the downstairs common areas. I was over the moon about this, as we'd just come from rural Mexico where we struggled finding good internet for the previous 3 months.
Vintage Building
This was a tough one to come up with. Our stay was really wonderful and enjoyable. However, some people may not appreciate the vintage feel of a 1930's Mexican mansion. The building shows some wear in a few darker colored tiles, or a crack in the wall here or there. For me, this added to the hotel's charm, and made it feel like a more authentic experience. 
If you're looking for a completely modern building, this isn't it. But if you want to enjoy real Mexico, and still have comfortable amenities like air conditioning, strong wifi, and luxurious beds this is the spot for you!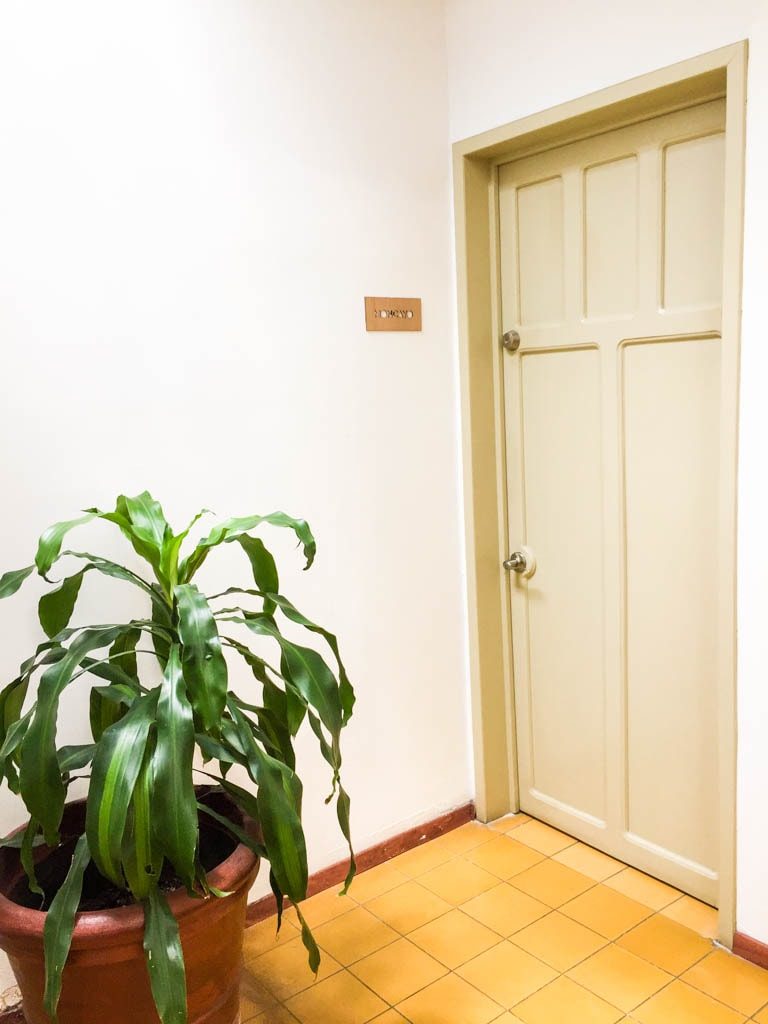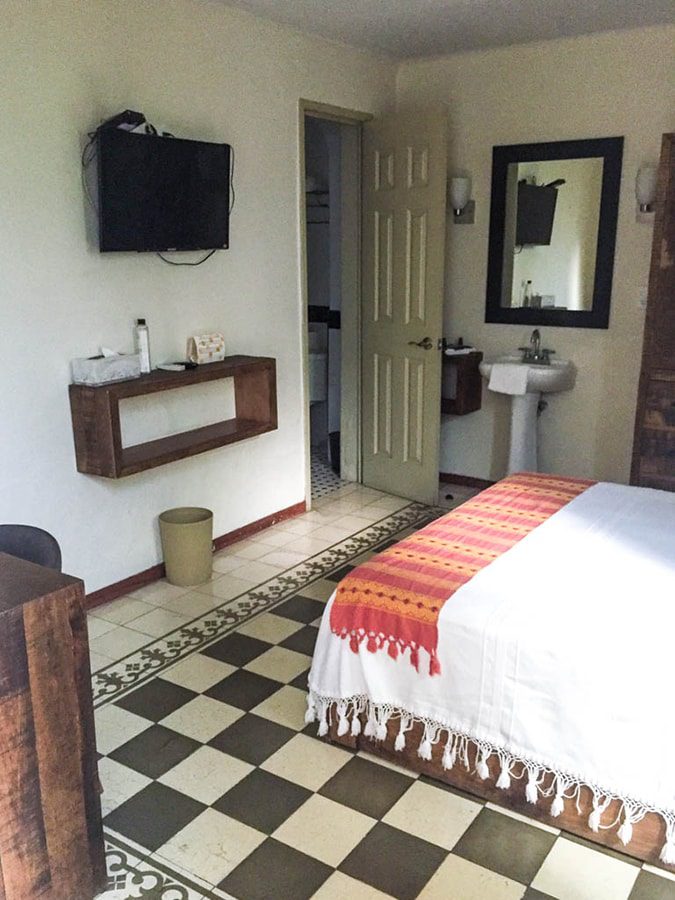 Conclusion:
If you're looking for a boutique hotel in Guadalajara, LA FE Hotel and Arts is a sure bet with a great location, nice prices, and a lovely aesthetic.
---
Hotel name: LA FE Hotel and Arts
Social Sites: Facebook,  Twitter
Price: $50-75
Includes: Free continental breakfast, parking, flat screen tvs, air conditioning, strong wifi, pet friendly
Location: Calle Gral San Martin 123,
Americana, 44160 Guadalajara, Jal.
Just 2 blocks over from Chapultepec - the coolest street in the city with restaurants, bars, cafes, and shops.
Contact: [email protected]
---
---
Disclosure: I was offered a free stay at La Fe Hotel and Arts in exchange for an honest review.
All opinions are my own!