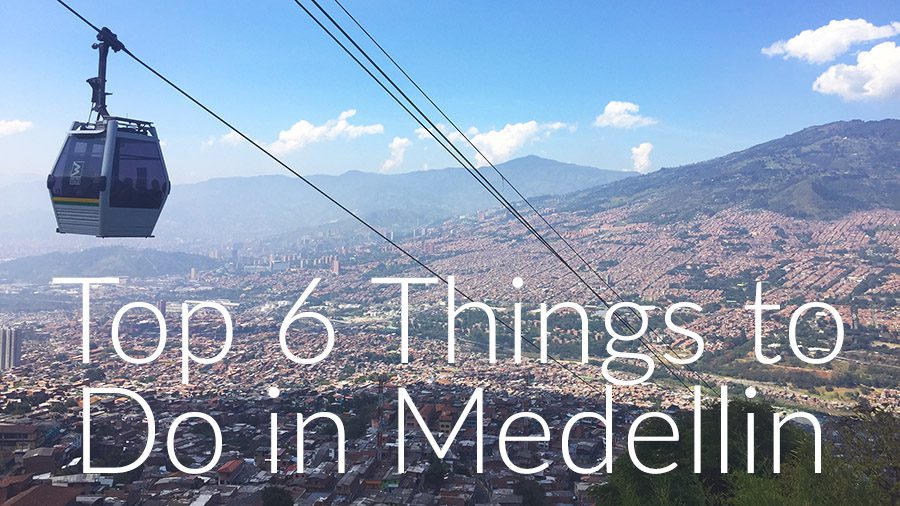 Where:
Medellin is located northwest of Bogota, in the state of Antioquia. Residents, called Paisas, are much more interested in their local culture than that of Colombia as a whole. Antioquians are very proud of their history, culture, food, and way of life.
The city is located in a valley surrounded by mountains. It's large and sprawling, and there are countless hikes, and adventure sports to try in the surrounding area.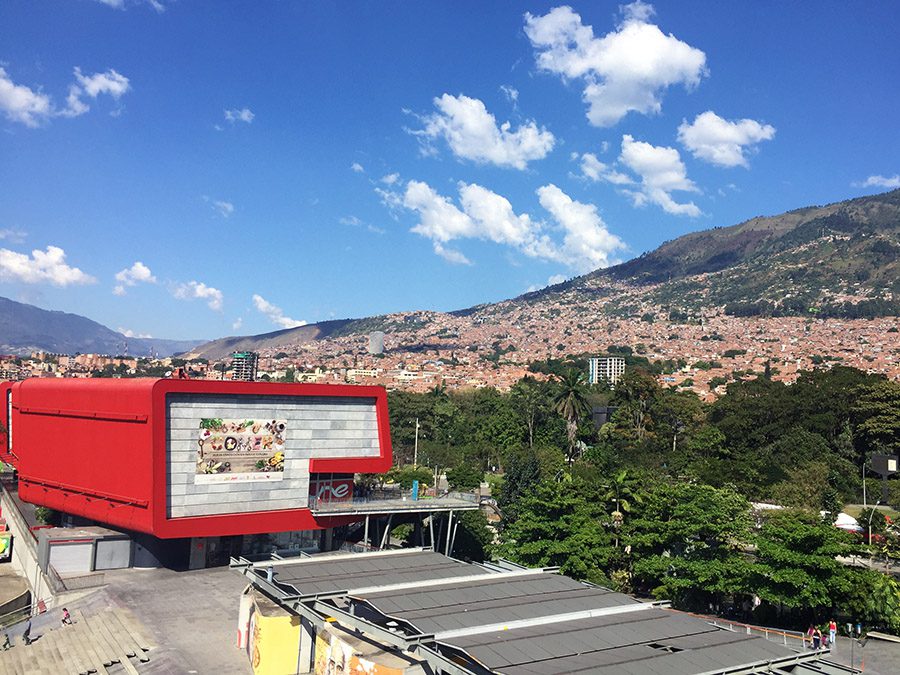 Why:
Medellin is distinctly different from Bogota. While Bogota is a pretty conservative and serious city, Medellin is laid back and friendly. Bogota is mostly cool and often wet, and Medellin is warm and dry.
Most of the architecture is more modern than in the capital, and blue skies and bright sunlight seem to brighten every street and corner.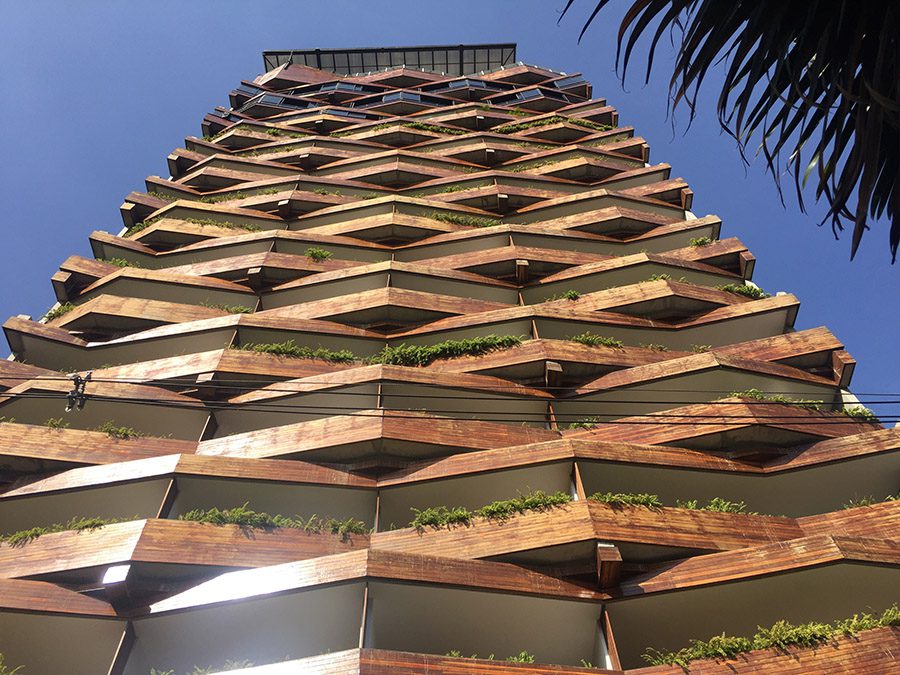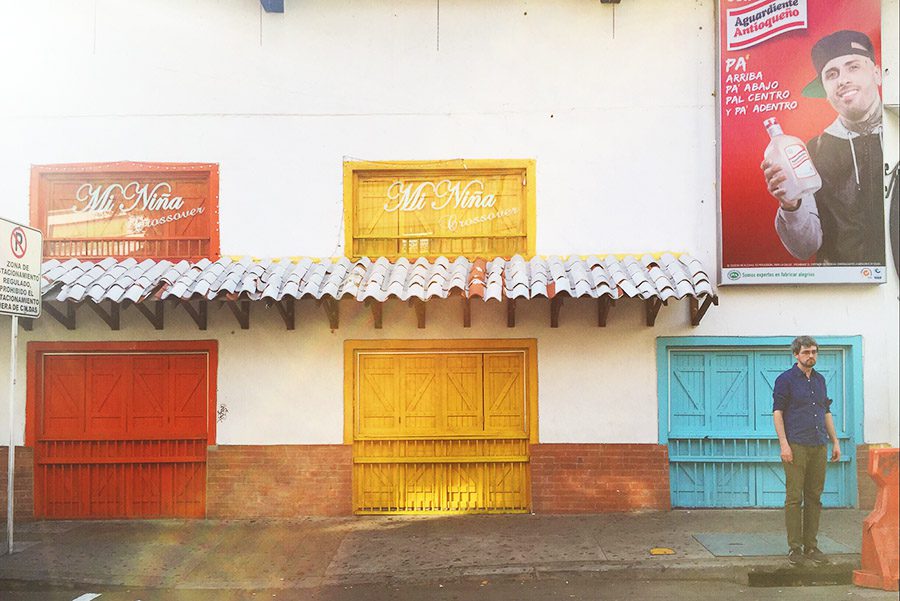 Medellin might be best known for it's famous drug lord, Pablo Escobar. During the 80s and 90s, his cartel ruled the city, supplying the USA with up to 80% of the its imported cocaine. Escobar became involved in politics, and corruption was rampant. This was a very dangerous time in the city, both for politicians and civilians that were caught in the cross-fire.
But in 2013, Medellin was awarded "City of the Year" by a global program sponsored by Wall Street Journal and Citi to recognize innovative urban centers. This just goes to show how far the city has come in the last two decades. It's now a safe, tranquil, and progressive city.
There is plenty of culture to be found in Medellin. And if nightlife is your thing, there is no shortage of salsa clubs or live music in the city.
Things To Do in Medellin:
Explore the Centro
Take an afternoon to explore the Centro. It's the oldest part of the city, full of museums, markets, and interesting architecture.
Take the metro train (very easy to navigate - see here for a map of the metro, and see Be Prepared below for more on public transit in the city) to the Parque Berrio station.
From there, walk to Botero Plaza. The famous Colombian artist, Fernando Botero is celebrated here in his birthplace, just as in the rest of the country. In Botero Plaza there are 23 large bronze Botero statues scattered around. Tourists take turns taking silly photos with them.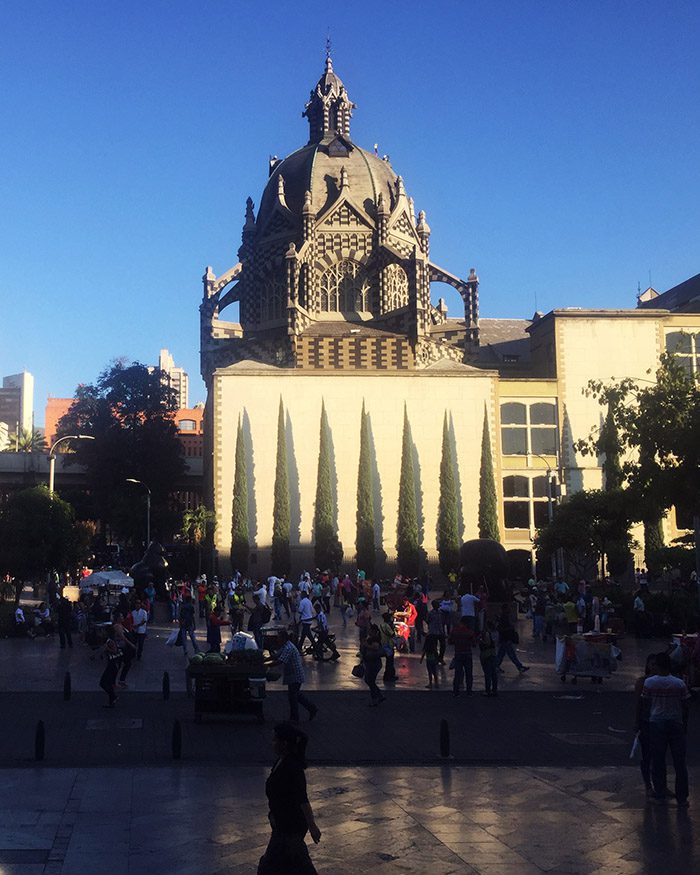 Next to the Plaza is the Museo de Antioquia, Medellin's art museum. Admission is 18,000COP Per person. There are, of course, lots of Botero pieces, as well as other Colombian and international art. There are quite a bit of modern and experimental pieces as well.
Hours are Monday-Saturday: 10am-5:30pm, Sunday: 10am-4:30pm.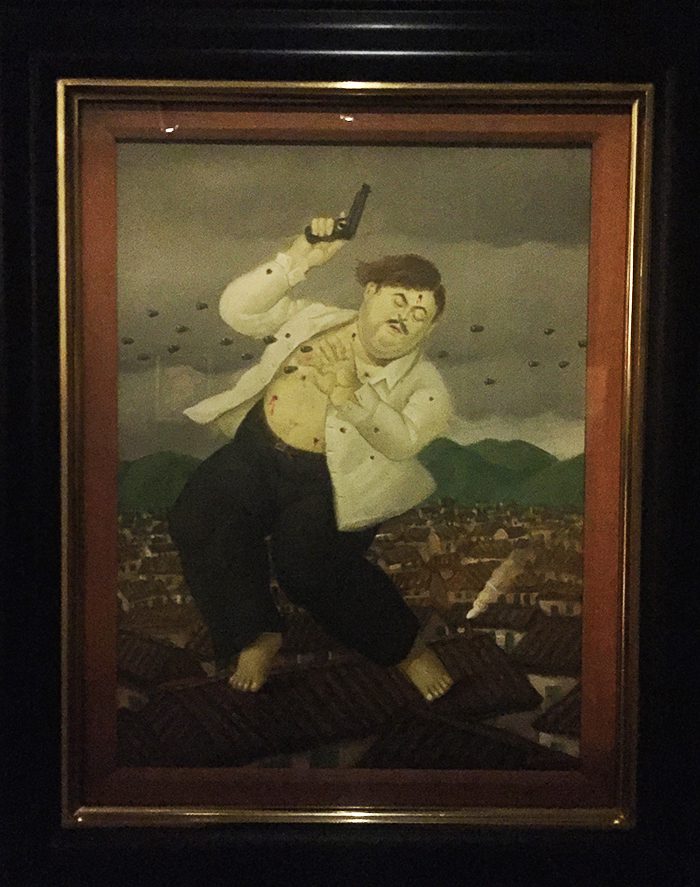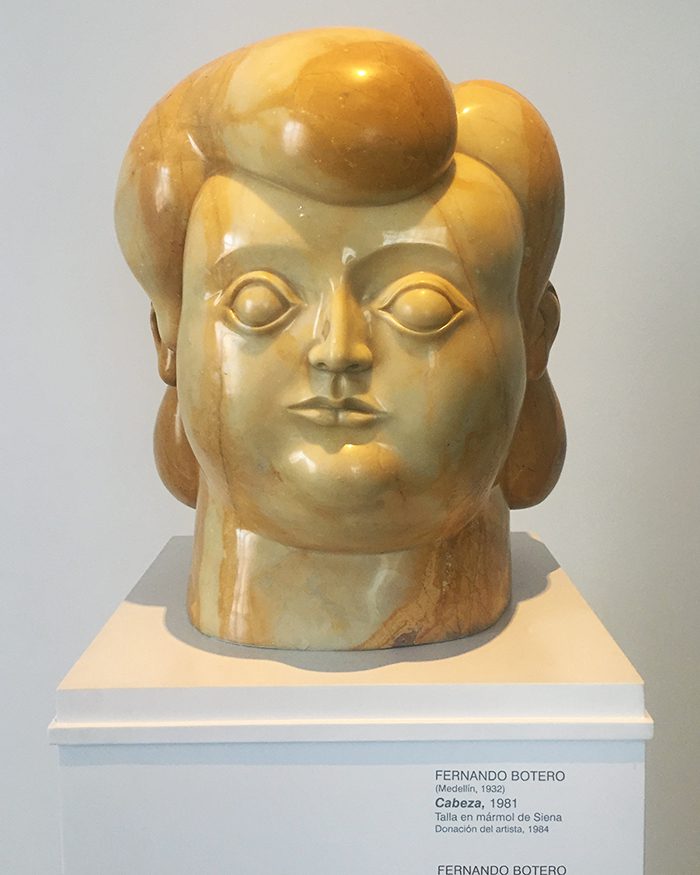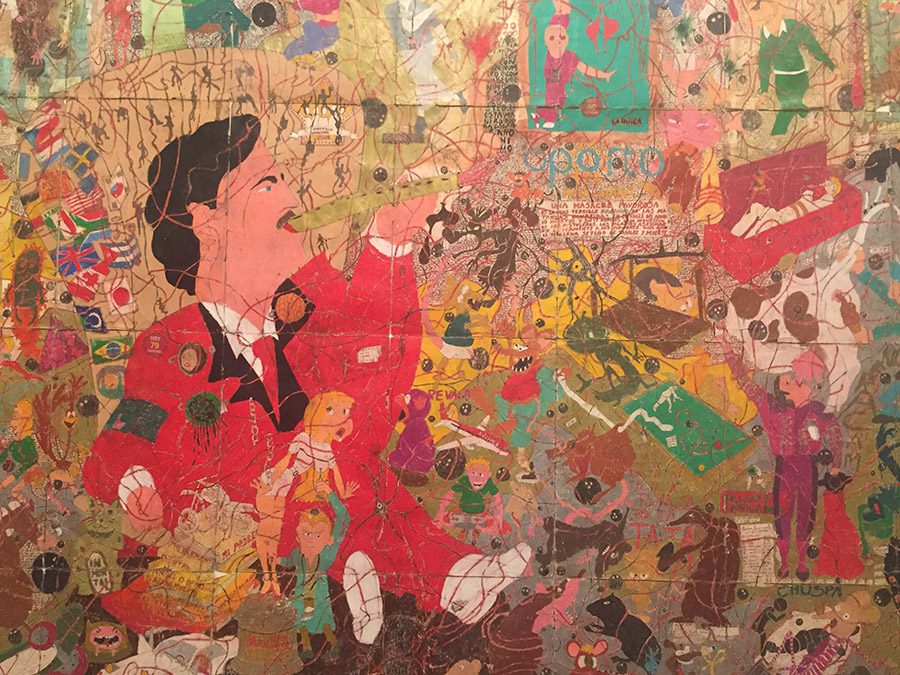 After the museum, head south through the busy streets filled with vendors. This area reminded me a lot like Chinatown in New York City - it's hectic, crazy, and loud. You can find almost anything you want here, from clothing to electronics to food.
If you come across a street food vendor selling grilled chicken on a stick, stop for some! It comes with a small roasted potato on one end, and an arepa (a thick corn tortilla) on the other. It's delicious and very cheap.
Visit the Museo Casa de la Memoria
Museo Casa de la Memoria is a museum dedicated to remembering those who were killed during Medellin's most violent time, and explaining the causes and effects of the drug cartel war.
While there aren't a lot of English translations in the signage, this is still a very powerful museum and worth a visit. The highlights for me were a section that projected life size video interviews with people who were effected by the violence at that time. Their testimonials were subtitled in English so non-Spanish speakers will understand clearly. Their stories were sometimes shocking, and almost always moving.
Another highlight was a room they used to memorialze those that were killed. There were pictures of each person with their family, and it was shown in a very emotional way.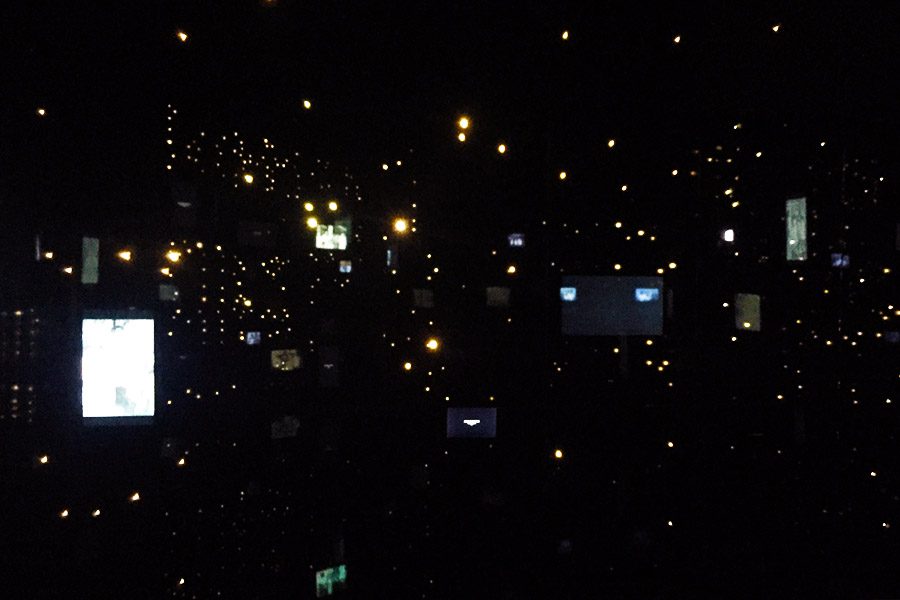 The moving memory room at Casa de la Memoria
This museum really puts in perspective how far the country and Medellin have come in the last 20 or so years.
Hours are Monday: 12-7pm, Tuesday-Friday: 9am-7pm, Saturday/Sunday: 10am-4pm. Admission is free.
Take a Day Trip to Guatape
While there are plenty of things to do IN Medellin, there are a couple great places to visit on a day trip. Guatape is a cute little town and a natural area of lakes.
The real reason to come to Guatape is the giant bizarre rock and the series of lakes nearby that appear like a scene out of a fantasy novel. The 10 million ton oblong rock juts up 650ft. from the ground and is surrounded by water that winds together around green fingers of land. The lakes are actually a hydroelectric dam, but the scene makes for a picturesque view, once you huff and puff your way up the 700 steps to the top of the rock.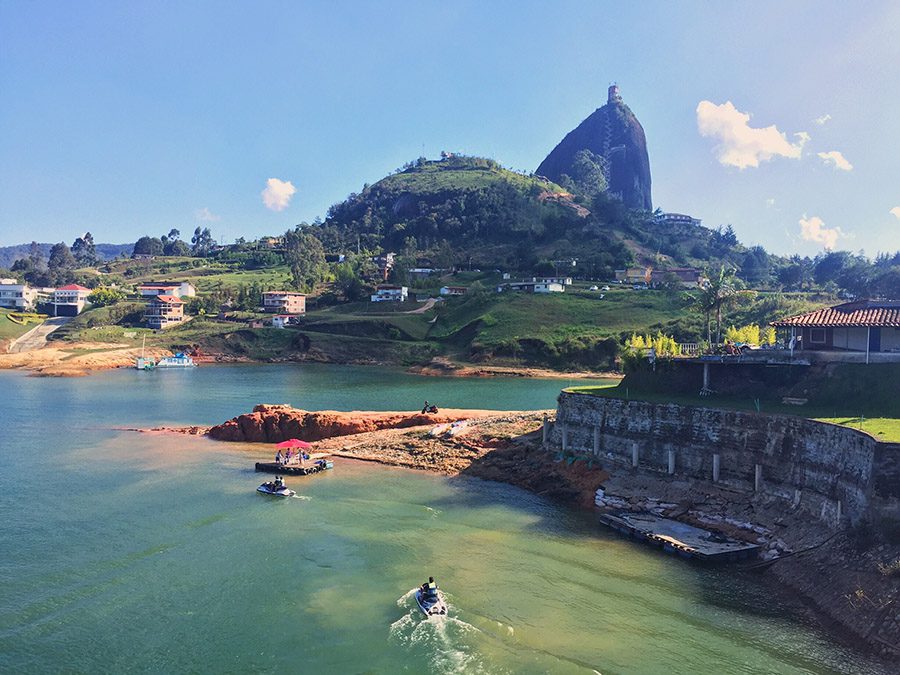 It's possible to visit as a day trip, or you can stay overnight if you have the time.
To get there:
First, take a taxi or bus to the Norte Bus terminal, and find a bus heading to Guatape. It's best to leave early. Guatape is 2 hours each way from Medellin. Bus fare costs about 16,000COP per person.

Or book a guided day tour below:
You can choose to head to the town first, or to La Piedra, the giant rock you can climb, surrounded by the lakes.
We were getting hungry for lunch, so we got off at the last stop - the town of Guatape. We checked with the bus ticket desk right away and bought our tickets for our return trip. On holidays or weekends bus seats can be sold out, so it might be a good idea to secure your return right away. The last bus returns to Medellin around 6:30pm.
There is no shortage of restaurants in the town. There are many especially around the town square
Take time to wander the streets of town. It's a very cute and picturesque place. All of the homes and business are bright and colorful and there are murals on the sides of buildings.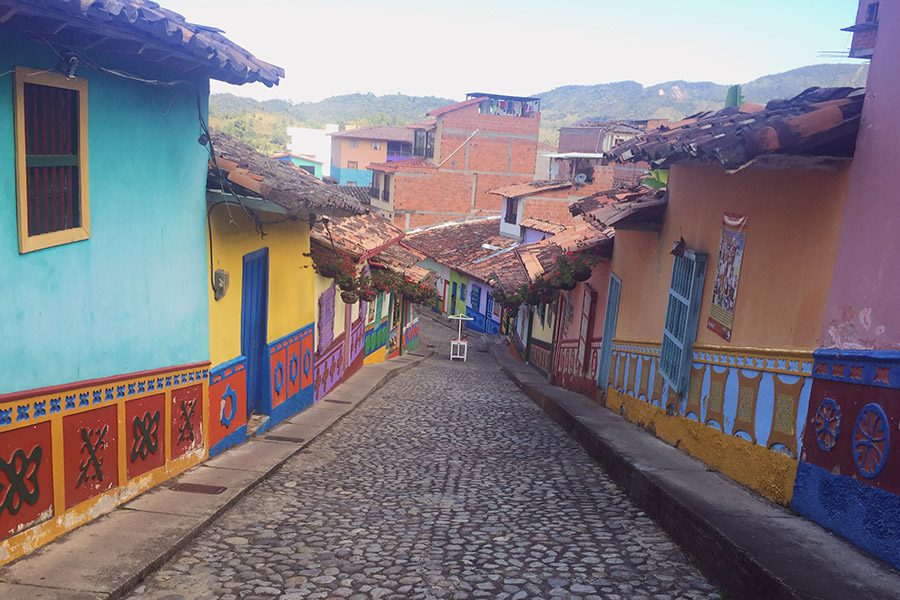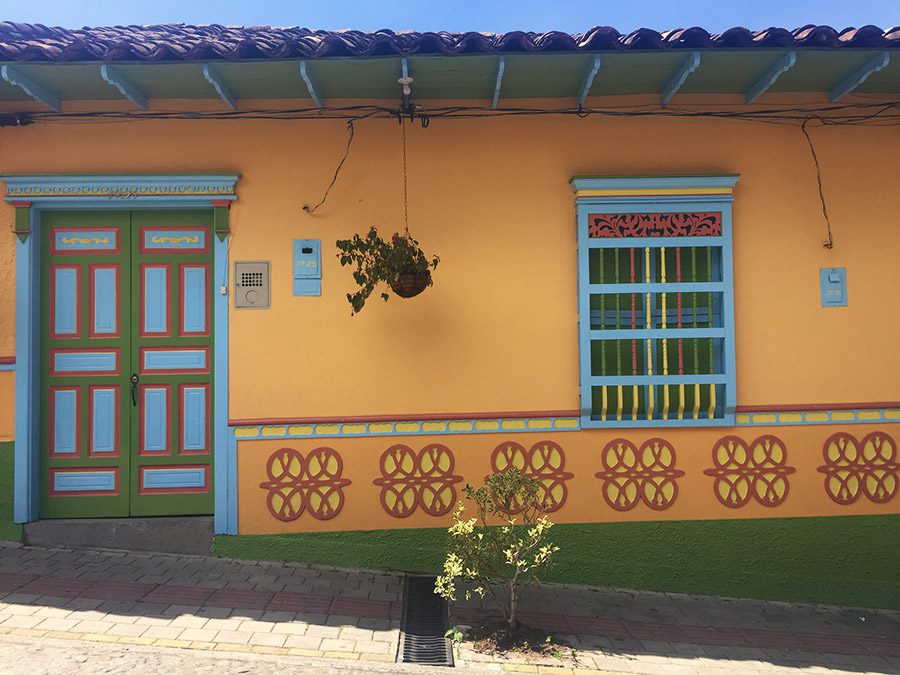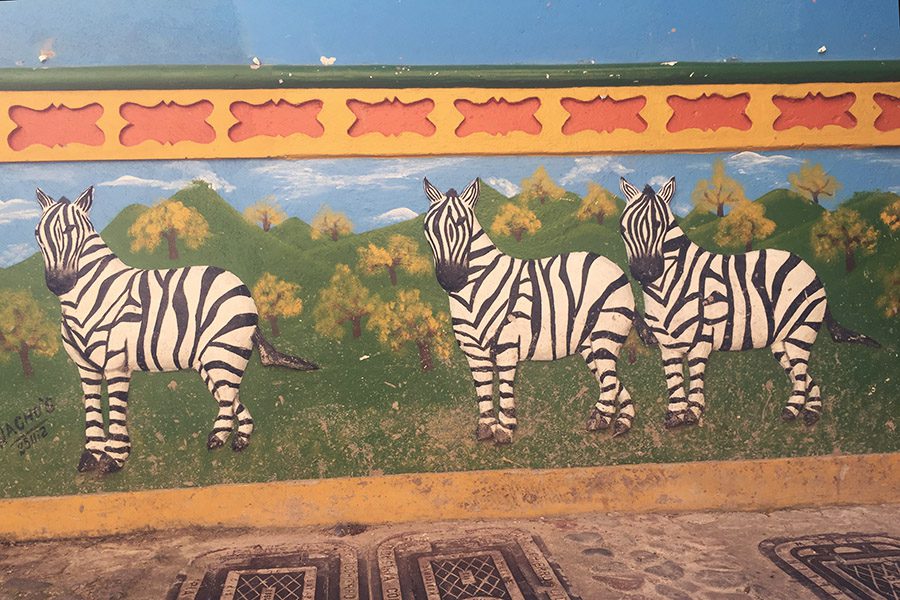 Be sure to find El Zocalito - it's a mini town square that is a little hidden. You walk through an alley, and down some steps, to find a little oasis between buildings. Ask a local which way to go if you're not sure.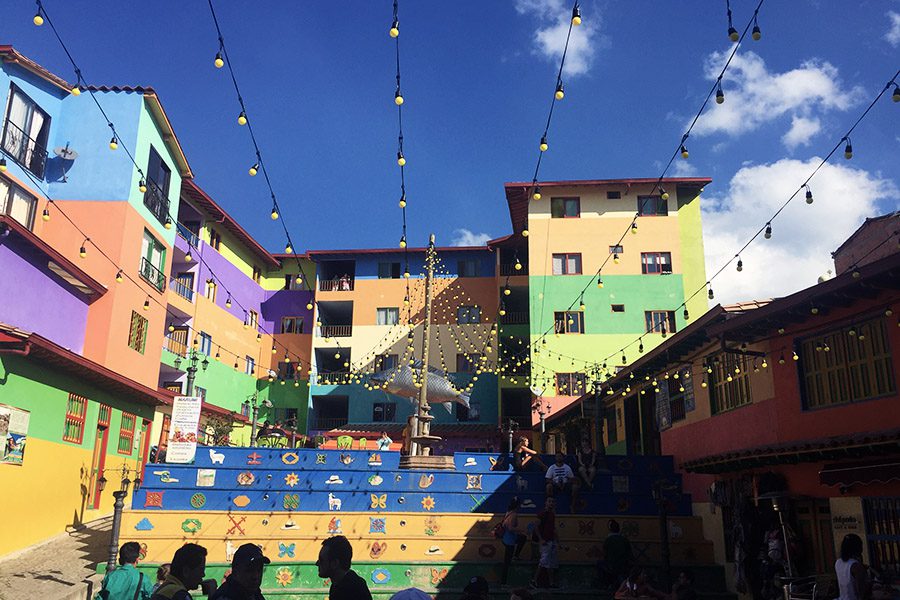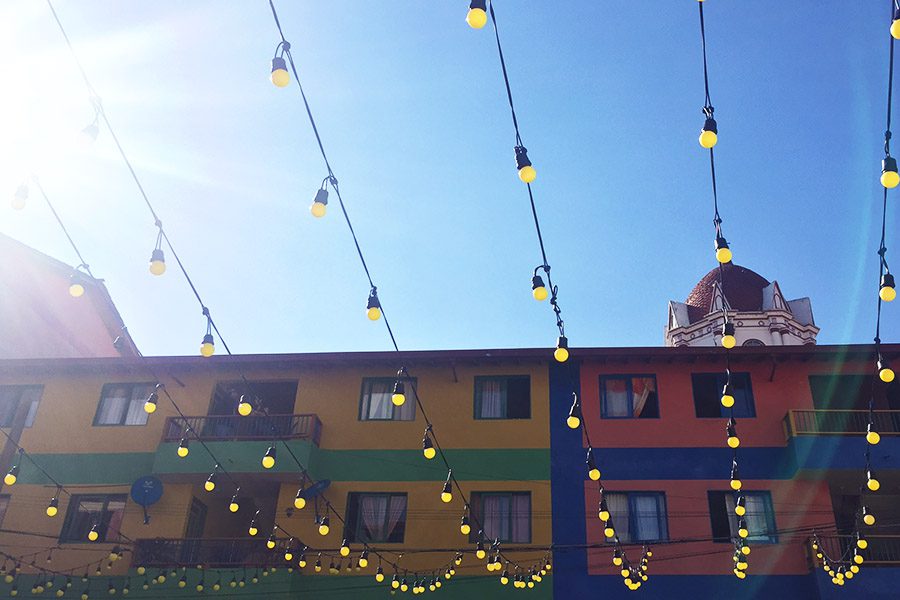 Once you are ready to head to La Piedra, head down to the street along the water (where the bus dropped you off). There should be lots of tuk-tuks (3 wheeled mini-taxis) waiting here. Ask one to drive you to La Piedra - the fare should cost around 5,000COP total.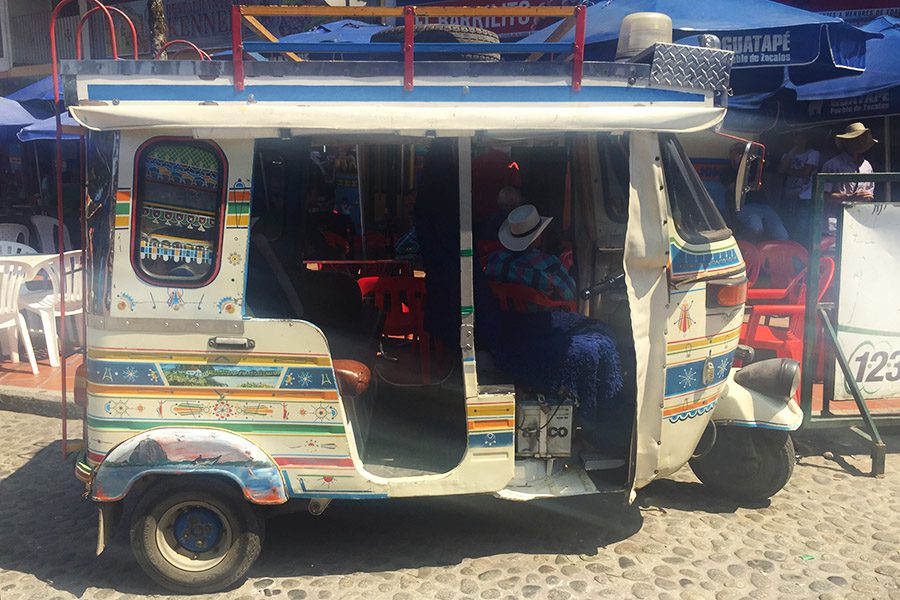 The ride is short - about 15 minutes, and then you are at the entrance to the giant oblong rock called La Piedra. It's surrounded by connected irregular shaped lakes that stretch on for miles.
To climb the rock you must pay an entrance fee of 15,000COP. You then climb up 700 cement stairs that wind back and forth up the side of the rock. Your legs will be burning, and you might notice the elevation affecting your lungs, but the views are definitely worth it. When you reach the top, there is a large terrace area to take pictures, rest, or drink a michelada.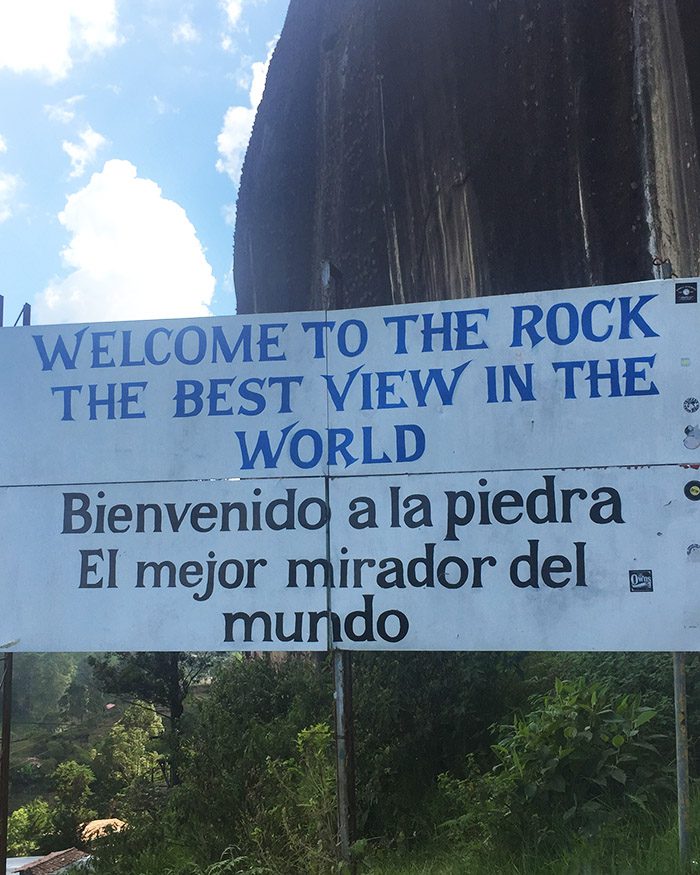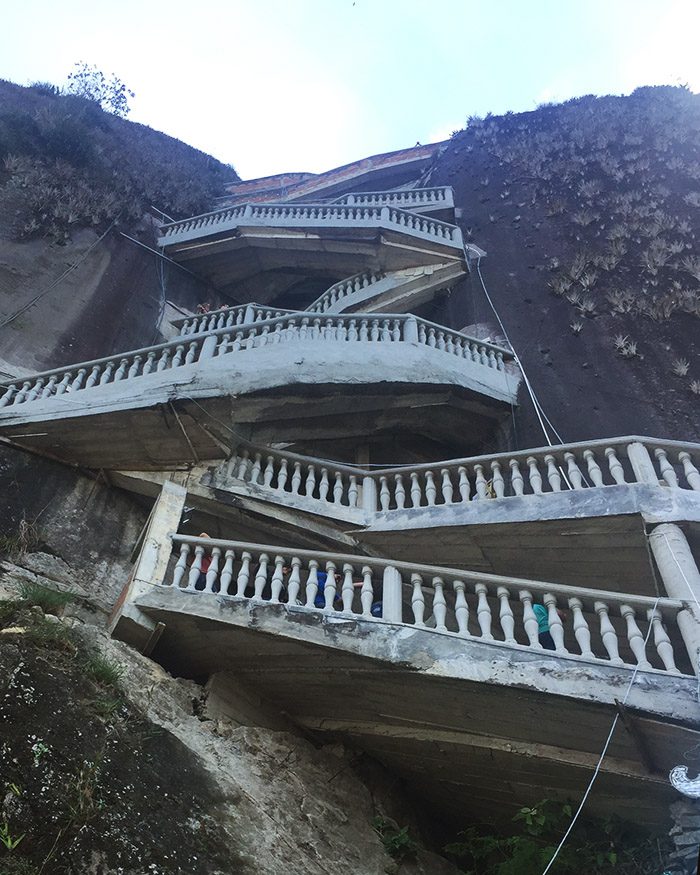 The stairs that criss cross up the side of the rock.
Spend a few minutes resting here, then go on to the small spiral mini-tower that is above that. You enter the little indoor gift shop and then follow the narrow staircase up and up. Each floor has another little gift shop tucked inside. The terrace at the top of this tower is small and usually crowded, but is great for photos.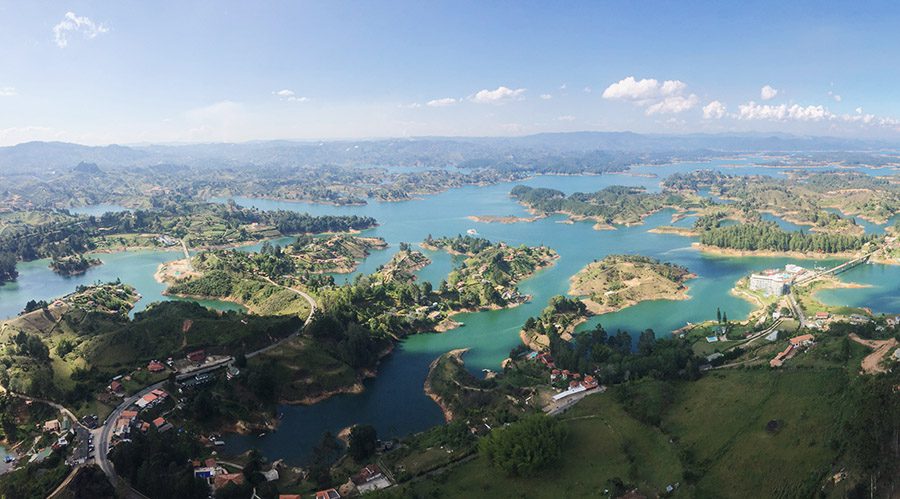 After you come back down La Piedra and make your way back to town, sit in El Zocalito, drink a coffee, and people watch.
There is also a stretch of vendors along the waterfront in town that serve food and micheladas, and sell clothing or souvenirs. This is a nice walk, and you can watch tourists zip lining across the lake, or the party boats leaving or returning with Colombians enjoying their holiday.
Ride the Cable Car Up the Mountain to Parque Arvi
One of my favorite things to do in Medellin is to ride the Teleferico (cable car) above the city. This public transit ride will give you the best view of the city, while giving you a better perspective on the makeup and class interactions in Medellin. Oh and you'll get to spend some time in nature too.
The slopes of the mountain contain the poorest neighborhoods in the city, called favelas. These used to be quite dangerous, but have changed drastically with the addition of the Teleferico, among other things. Now, the residents on the mountain have better access to city, and crime rates have fallen.
How to get there:
Take the Blue "A" metro line north to Acevedo station (See here for a map of the metro system). Here you can transfer to the Green "K" line which is the first part of the Teleferico (cable car). You'll wait in line to board the cars - they seat 4-6 people so you may be riding with a few friendly locals.
The ride is beautiful. You float about the huge sprawling city, and make your way up the side of the mountain. This is an amazing view of the city, and a great time for photos.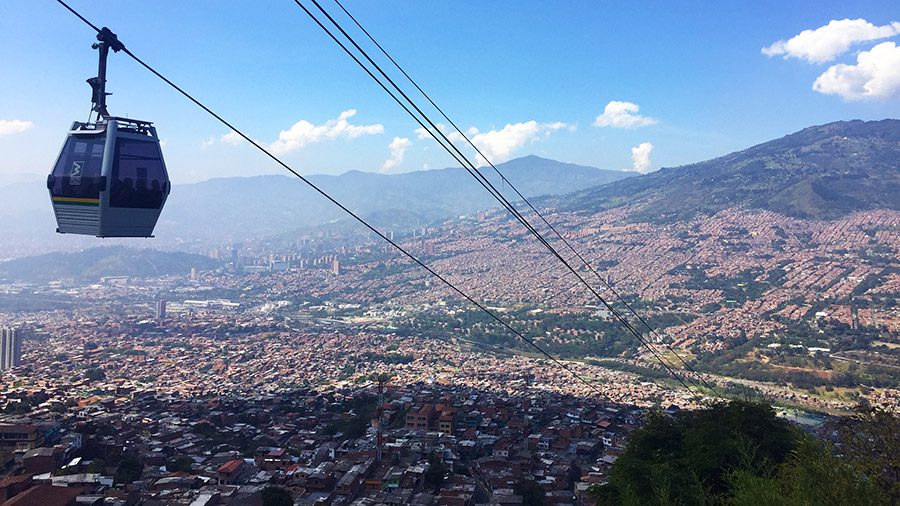 The cable car takes you up to Santo Domingo Station. Here you must transfer to continue up the rest of the way. We exited the station here and explored for a few minutes before continuing up. There are some great views here of the city, and there is a big impressive looking library called Biblioteca Espana you can explore.
Though this area is much safer than it used to be, still use common sense and be aware of your surroundings here. Don't take out expensive electronics or flash money around.
Head back into the station to the Teleferico that continues to the top, the Brown "L" line (towards Parque Arvi). The views continue to get better and better. Eventually you will reach the top and continue on horizontally across the top of the mountain. There is a lush forest here that you travel over.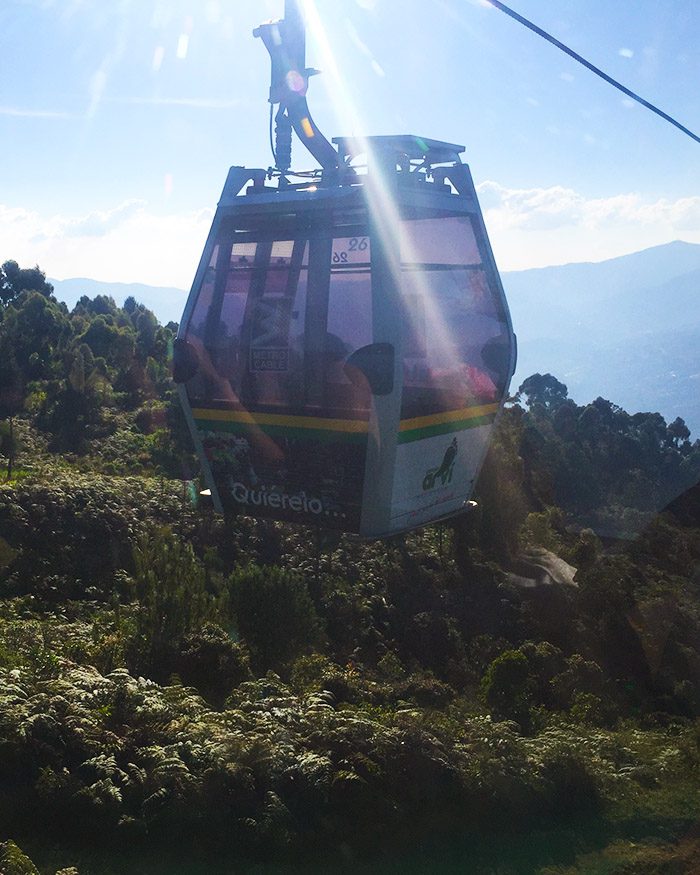 After about 15 minutes more, you arrive at Parque Arvi. Right outside the station, there is usually a small farmer's market. We loved wandering around it, sipping the hot chocolate, eating fresh local fruit, and trying empanadas.
This park is government protected land, and feels like you are hours away from the city. You can set out on a few hikes (guided or on your own), or you can continue on to another park called Piedras Blancas Ecological Park.
If you go to the road to the right of the entrance, catch a Chiva (a large, open air, colorfully painted bus) to the entrance. We were told that the walk was long and a bit dangerous.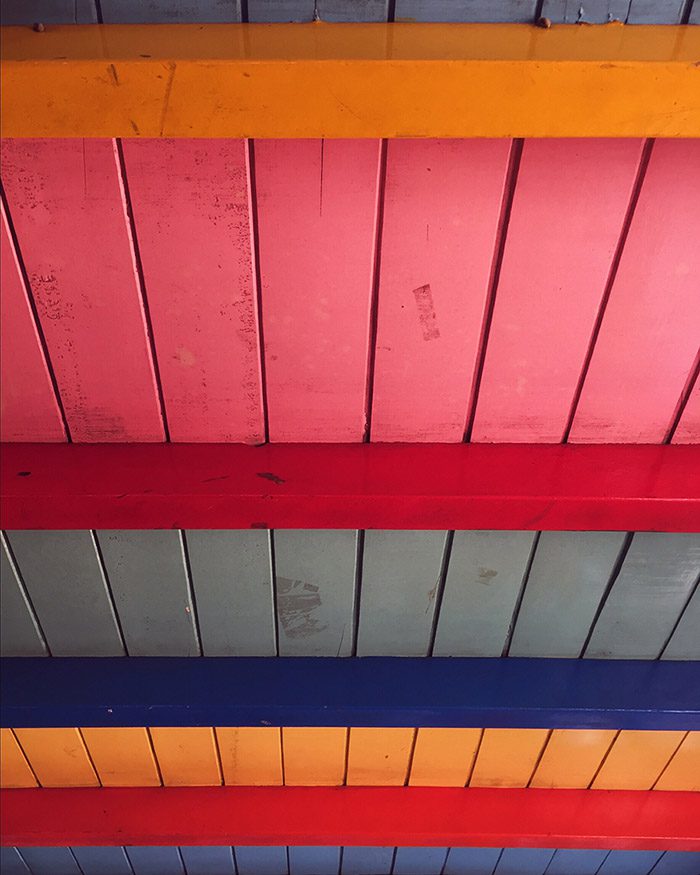 The colorful ceiling of a Chiva bus.
Once at Piedras Blancas, the entrance fee is 4,300COP  This park is well developed, with paved trails. This is a good destination if you want to have a relaxing afternoon strolling in a natural place. There is also a lake with row boat rentals. The park has a restaurant and a few bathroom amenities.
Amazing that this natural place is only a few minutes away from Colombia's 2nd largest city by cable car.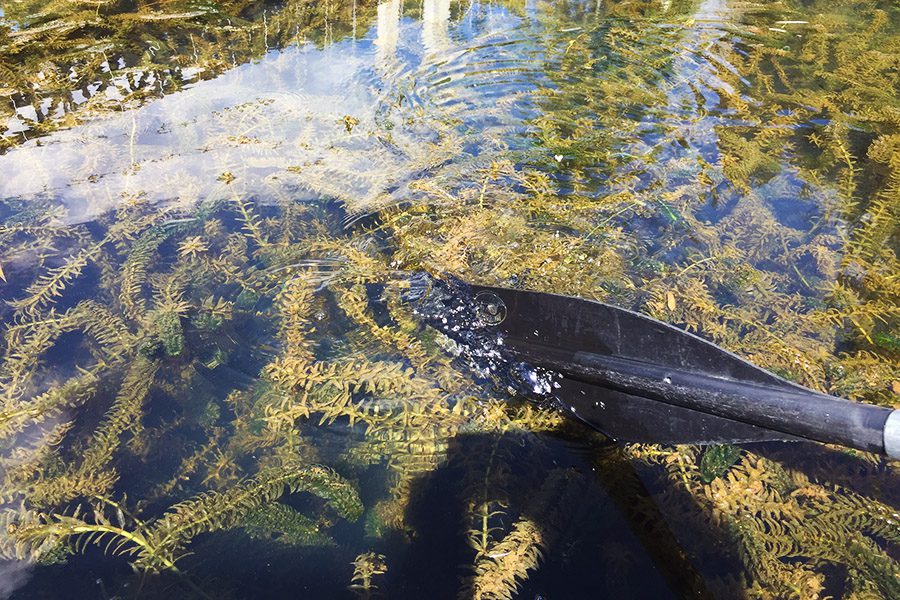 Aquatic life in the lake at Piedras Blancas Park
Eat Bandeja Paisa
Bandeja Paisa is the traditional dish of Medellin, and often considered the national dish of Colombia. It's a huge plate containing a little of everything - a couple chorizo links, shredded or ground beef, chicharron (pork skin), rice, pinto beans, avocado, baked plantain, an arepa, AND finished off with a fried egg on top!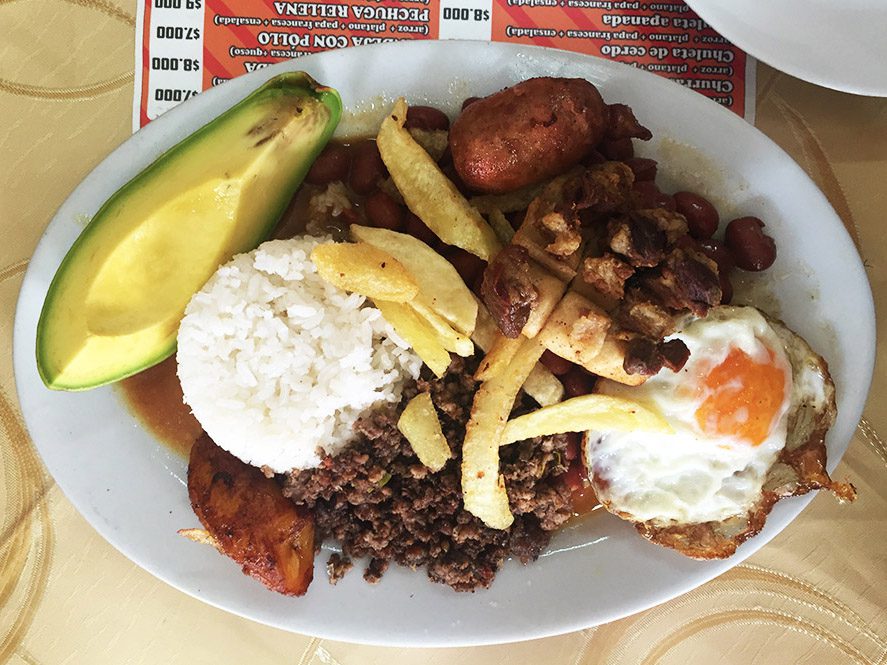 This dish was originally created to keep farmers full all day while working in the fields. Today, it's still eaten by many locals and is a favorite among tourists.
Just a warning, if you're not very hungry, you may want to share between two people!
We ate Bandeja Paisa at Hatoviejo in the Centro. This restaurant has a great reputation and had delicious traditional food. It's located on the 2nd floor on Carrera 47, No. 52-17. The restaurant also has 3 other locations.
Go out in Poblado
Medellin is famous for it's nightlife. There are salsa nights all over the city. Many hostels also have free salsa lessons early in the evening before all the participants head out together to a club.
Poblado is the epicenter of nightlife in this city. There are plenty of salsa clubs and hip bars in this neighborhood.
El Poblado park has a few bars lining the edges. On weekends, the bars are all full, and the people spill out onto the streets and fill the park to the brim. It appears to be legal, or at least accepted, to drink beers in the park, talk, and people watch.
Men with coolers pass by frequently selling beer, so you don't even need to head to the bar or the bodega to get a refill.
Be Prepared:
Weather:
Medellin has beautiful, Spring-like weather all year long. It can get quite warm during the middle of the day, and slightly cool in the evening. Dress in layers.
Transportation:
Medellin is not a very walkable city. There are many large highways criss-crossing the city that are hard to cross. It's better to take the metro, bus, or a taxi between neighborhoods.
The metro is great - fast, clean, and reasonably priced at 1,800COP per ride. The bus systems are also efficient and easy to use. Go here to find a map of the metro routes. Save it to your phone for reference while wandering the city. Medellin living also has a good post with further info on using the metro.
The airport is a bit of a distance from the city. It takes about 45 minutes in a cab and costs about 50,000COP to get between the two.
It's not recommended to hail taxis from the street. Always use Tappsi or Uber to request a secure taxi.