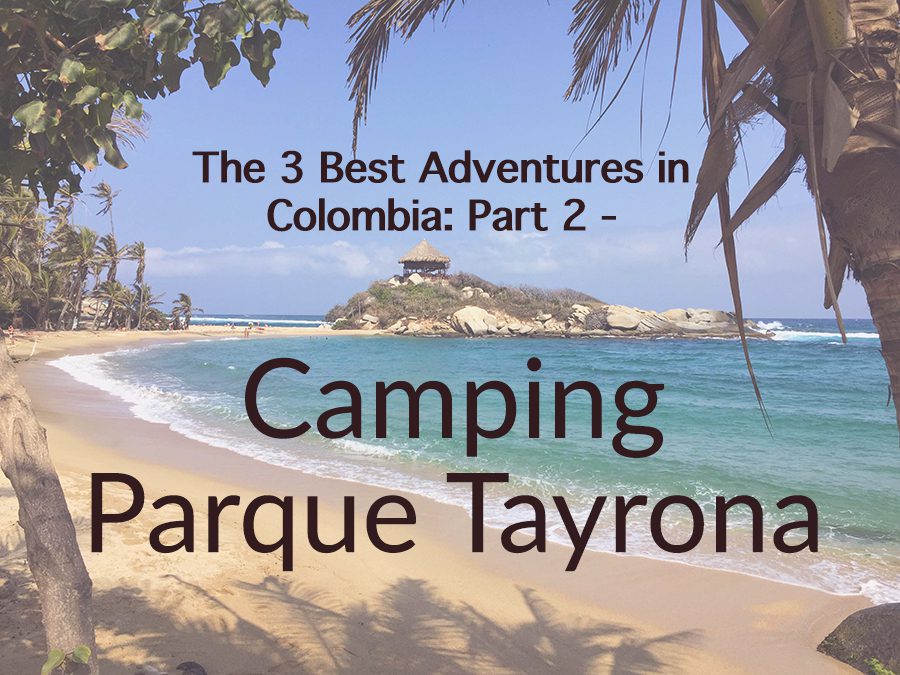 This is part 2 in my 3 part series about the best adventures in Colombia.
Head back to my previous post about hiking epic Valle de Cocora. And stay tuned for the final adventure in the series!
Here is Part 2 -
Where:
Parque Tayrona is a national park on the northeast Caribbean coastline of Colombia. It's well protected and wild, located at the foothills of the Sierra Nevada de Santa Marta.
It's about a 1 hour bus ride from the closest city, Santa Marta.
Why:
If you run into other travelers in Colombia, everyone will tell you have to go to Tayrona. This gorgeous nature reserve contains some of the most beautiful beaches in the world, pristine jungle, and winding paths over coastal cliffs. There are dozens of empty beaches without another soul around.
It's peaceful and wild in a way that is hard to find in any country, especially on this picturesque Caribbean coastline.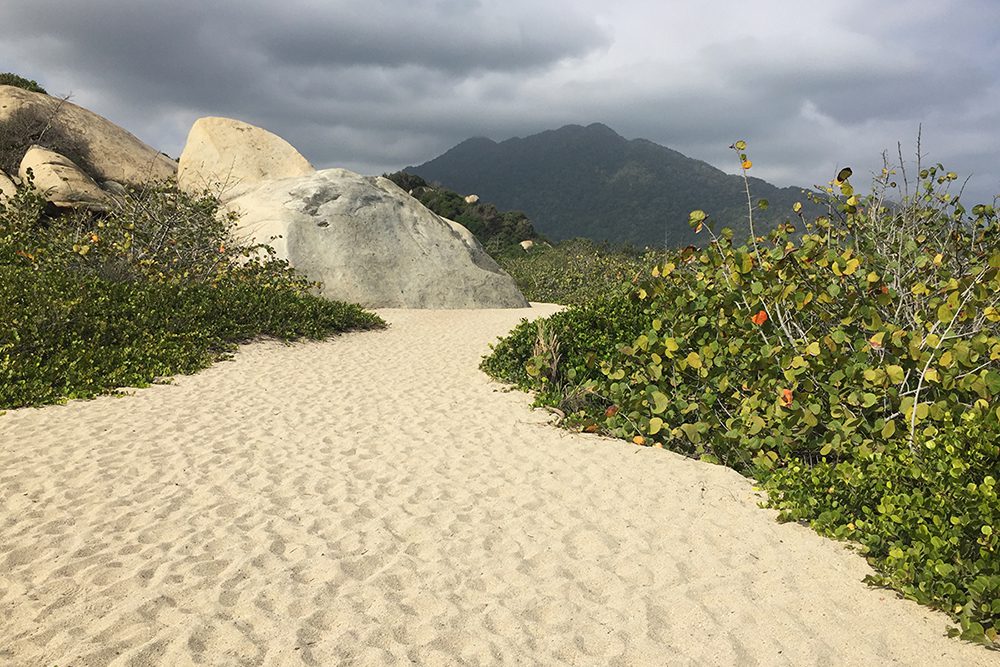 How:
You must hike into the park (there is no ground transportation), or you can hire a boat from nearby Taganga to drop you at Cabo San Juan. I definitely recommend the hike. It's beautiful, and a great way to explore the park as you make your way to your destination.
Take an early bus from Santa Marta to Tayrona. The park is very popular, especially in high season, so tickets can become sold out (they only allow a certain numbers of visitors a day).
The bus ride is about 1 hour and 7000COP. Once at the Zaino entrance, you will be required to take an orientation. The purpose of this class is to teach you to use the park responsibly. It seems to only be held in Spanish, but if you are a eco-conscious person who doesn't litter or disrupt the natural environment, you will know what to do.
You then go through a line to buy entrance tickets. Tickets are a little pricey at 40,200COP per person, but the experience is worth the cost.
After purchasing the ticket you have two options - to walk to the start of the hike, or to pay a small fee (3,000COP) to ride in a minivan to the entrance. I recommend taking the minivan. This portion is along a paved road for 5km, and is not particularly interesting. Save your energy for the beautiful hike ahead.
Once dropped off by the minivan, it will be pretty obvious which way to go. There will be locals trying to sell you horseback rides to camping locations inside. Or you can do the 1-2 hour hike yourself.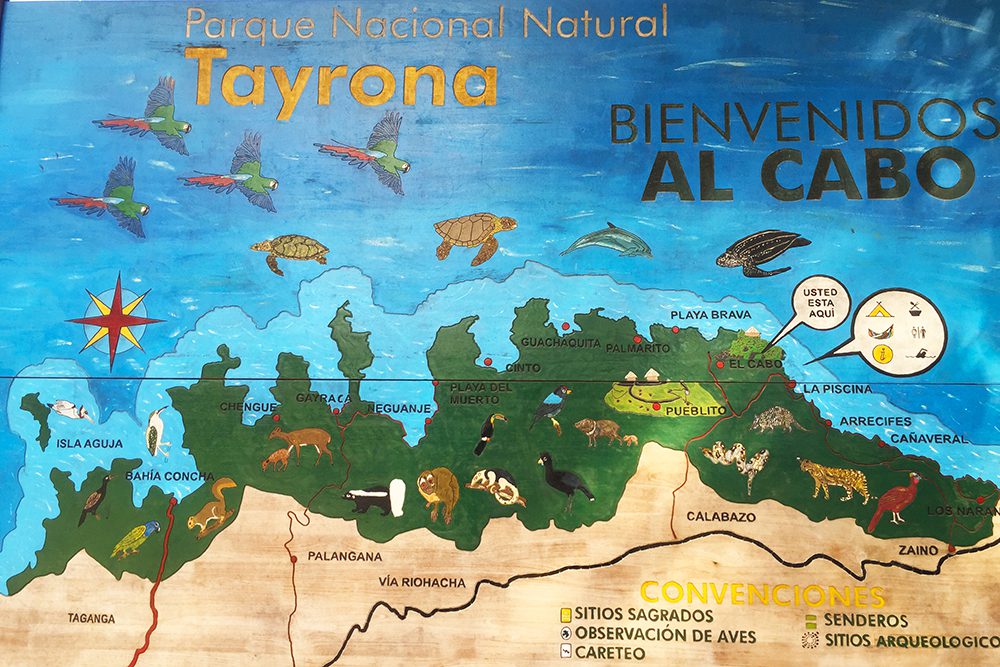 Illustrated map at the entrance of Cabo San Juan. Save this image to your phone before starting the hike for easy reference along the way.
Almost everyone who visits the park opts to camp overnight. There are a few cabanas for rent, but they are very expensive. There are three different locations to camp. I recommend Cabo San Juan. It is the furthest camping option from the entrance, but It's the most beautiful location, and has great swimming coves.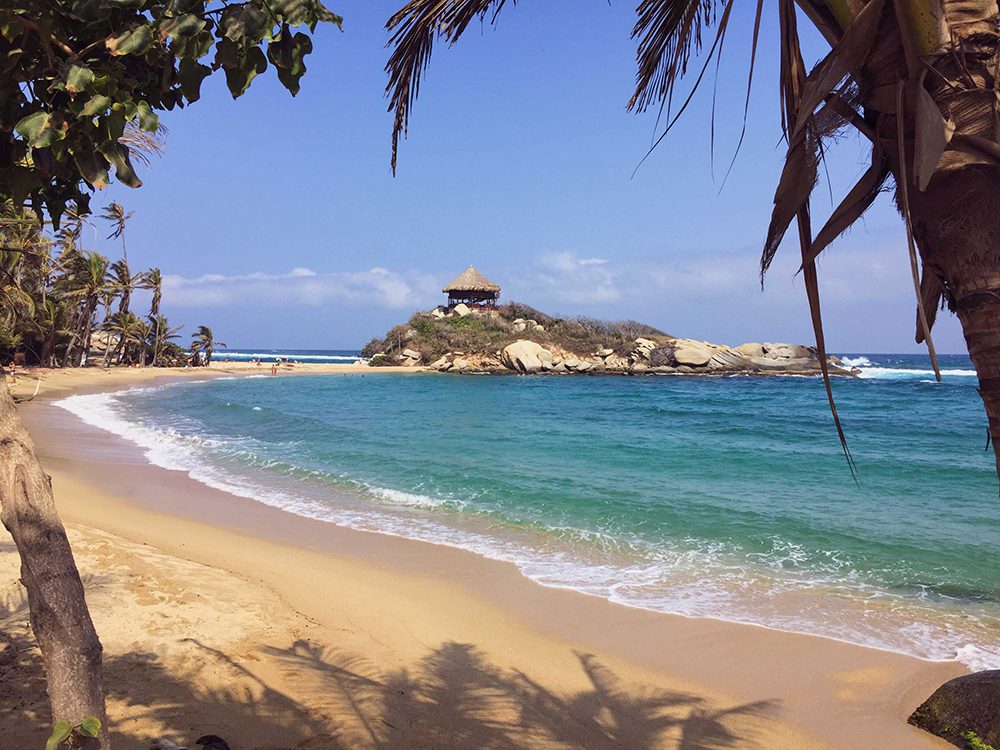 The picturesque beach at Cabo San Juan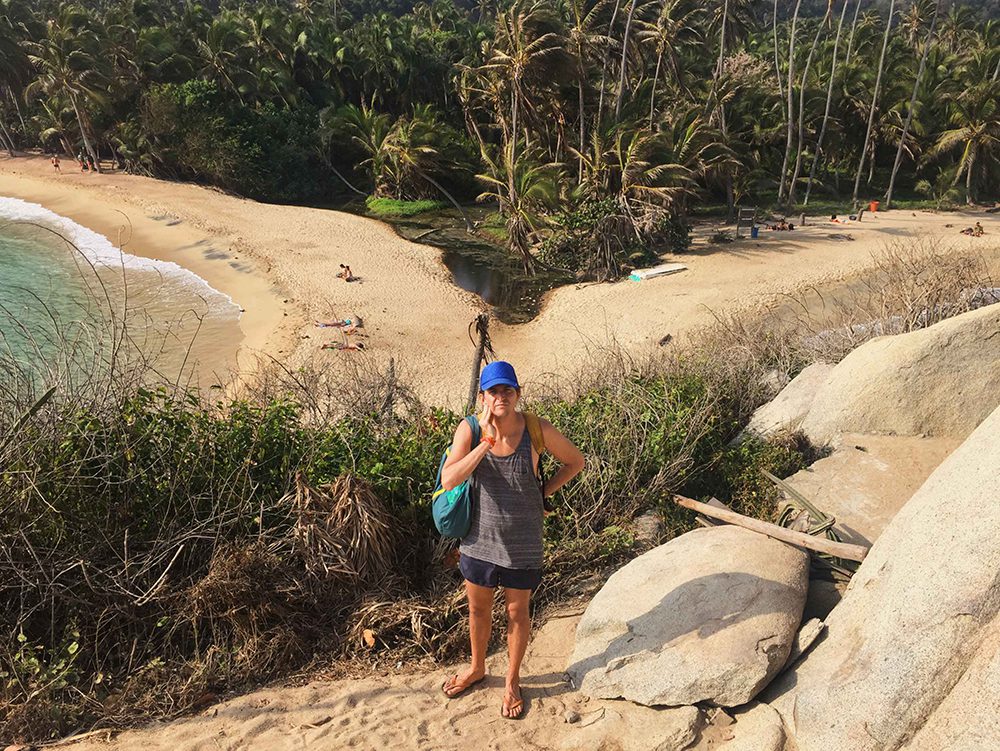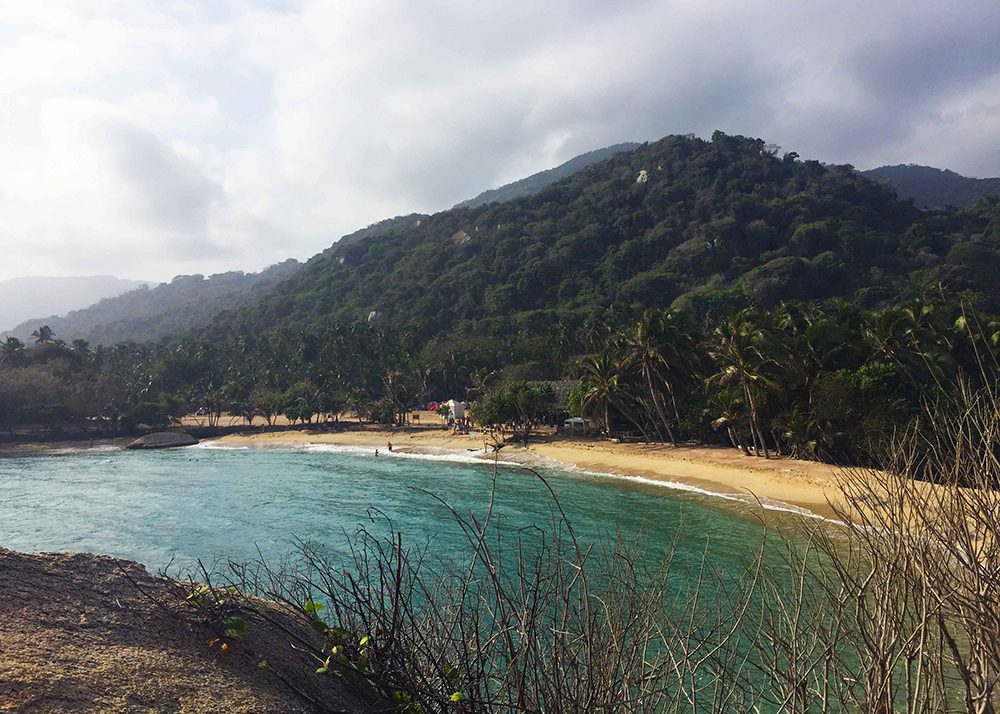 To get there, you follow the main path. The signs will point to Arrecife, a camping site you'll pass through on your way to Cabo.
The first part of the hike mostly consists of a wooden walkway. After awhile you will climb up and over a rocky hill, and get your first glimpse of the ocean.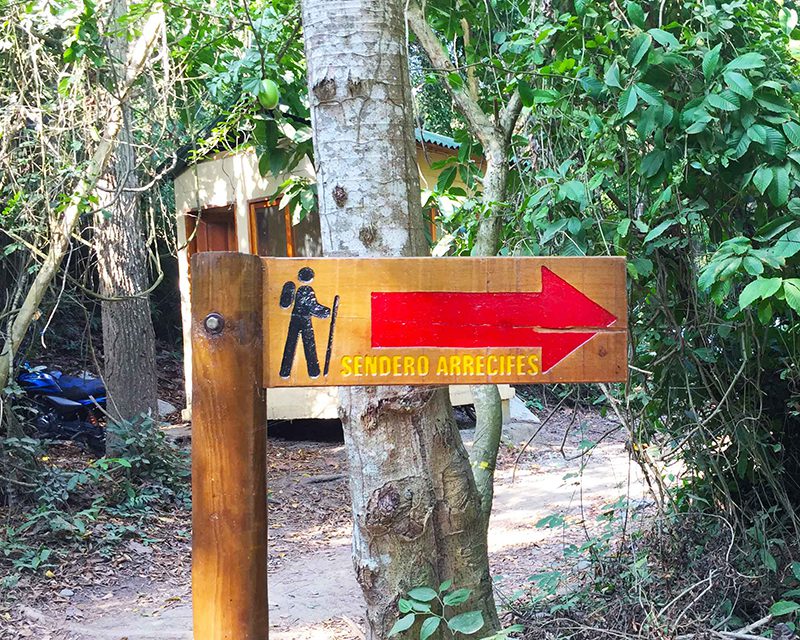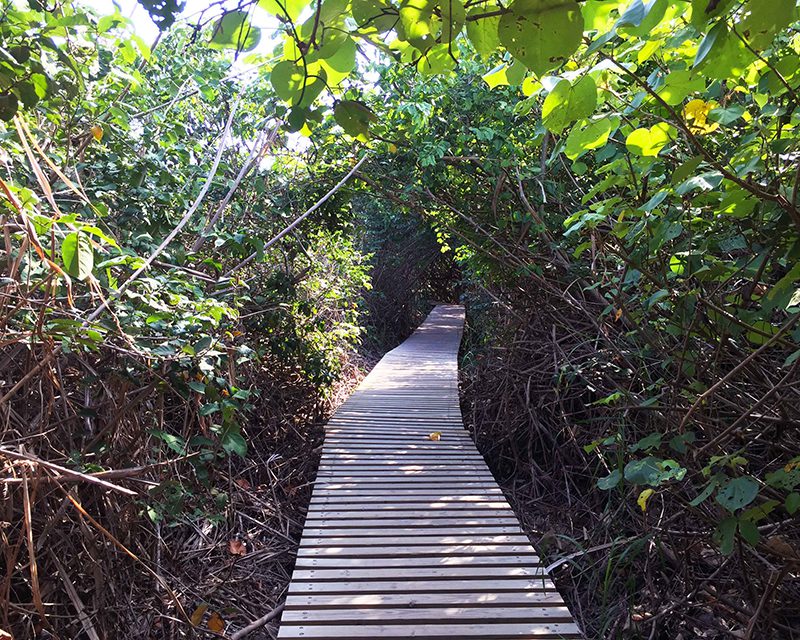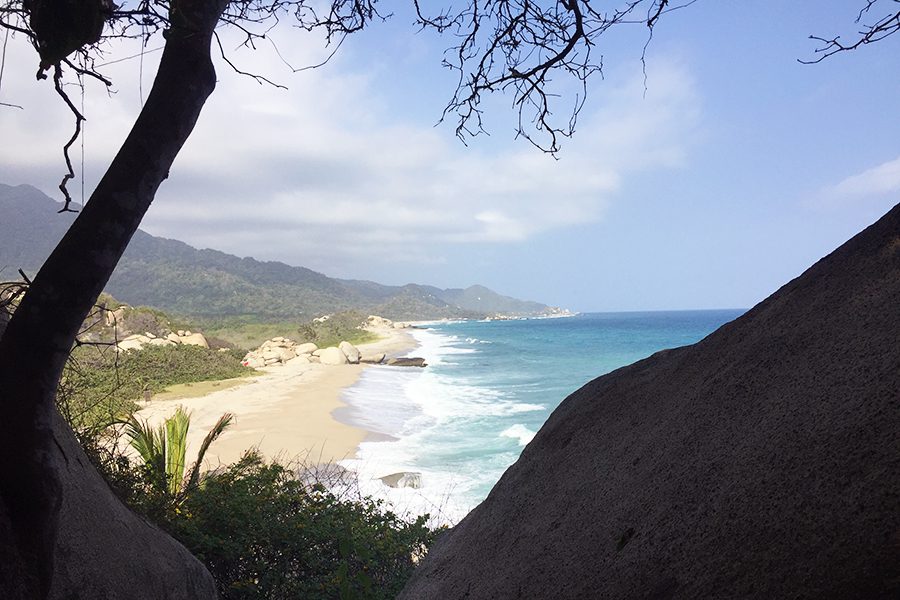 You'll continue down and walk through some sandy sections with sea grass, jungle foliage, and sometimes huge boulders on each side.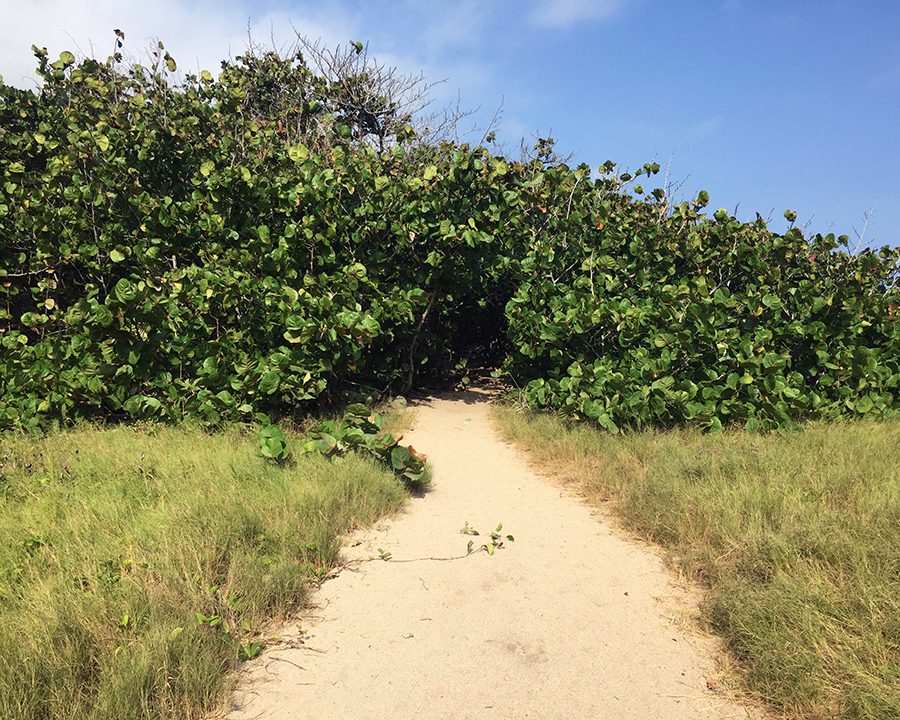 After about an hour, you'll come to the first campsite - Arrecife. Walk past the campsite towards the far end, and follow the signs towards Piscina and Cabo.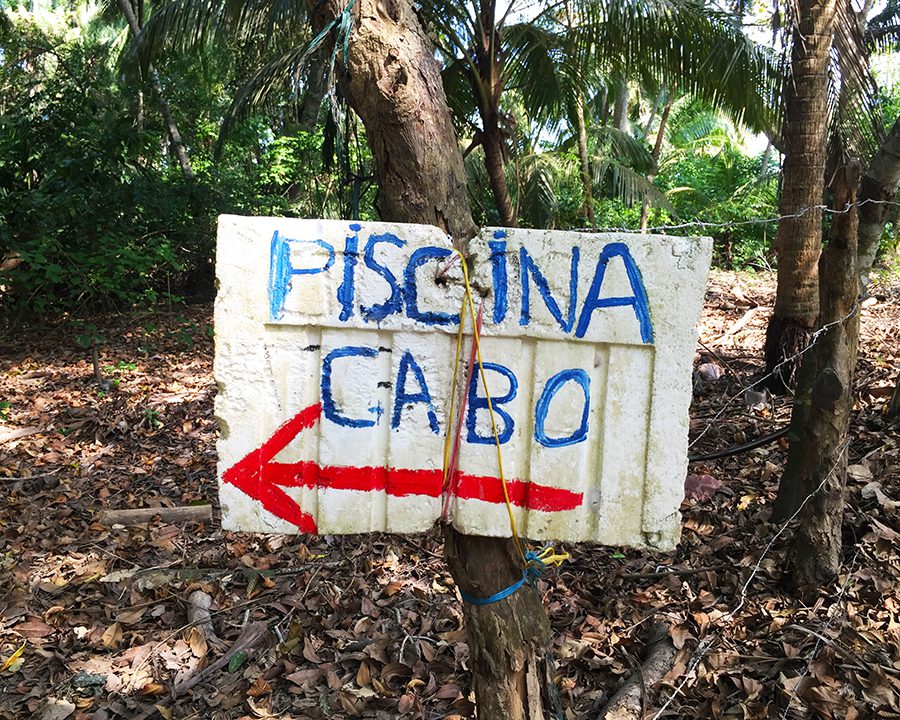 At one point the path will split in two. The right path will take you along the beach, and the left path will take you through the jungle. We took the jungle path on our way in and the beach path on our way out. Both are interesting and worthwhile. The jungle path has more coverage from the sun by trees, so may be a better option if you are hiking at mid-day.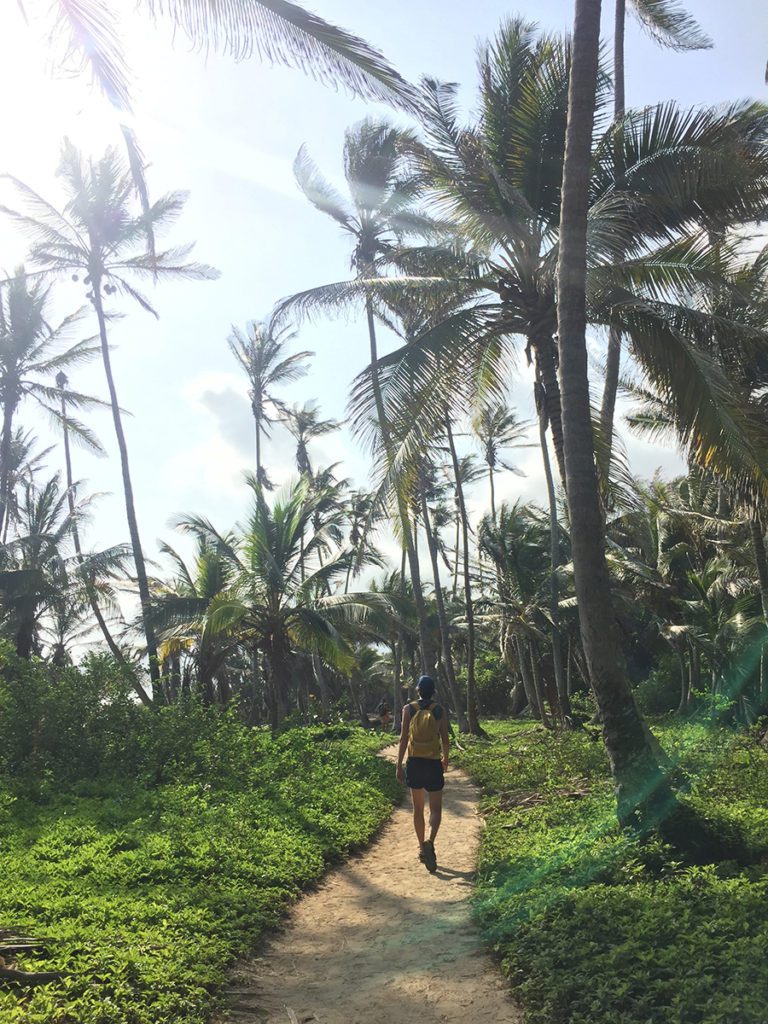 Finally, after another hour, you'll reach Cabo San Juan (total hike from starting point should be about 2 hours). Once there, you can choose to either rent a hammock or rent a tent. Hammocks cost 20,000-25,000COP per night and tents cost 25,000COP per person, per night. During busy times, hammocks are almost always sold out. That was the case for us, so we rented a tent, and that was just fine.
The tents come with two sleeping pads and were pretty comfortable at night.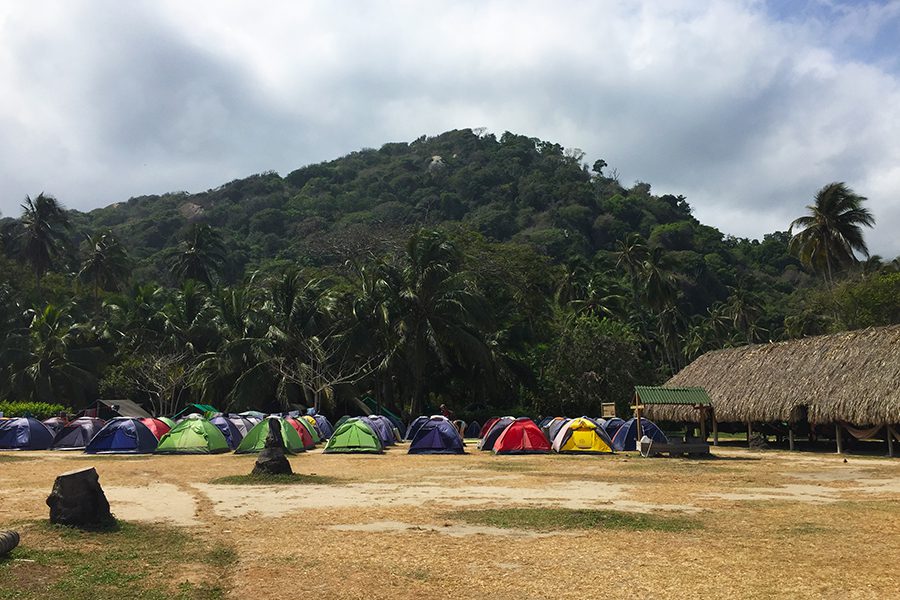 Shared toilets and showers are available onsite. During daylight hours, you must pay a small fee to use the toilets (and are provided toilet paper).
It is possible to do a day trip to Tayrona, but it would be a pretty long day to hike in and out and make the bus both ways. One night is great, but two nights is even better. There are beautiful empty beaches to hike to in both directions from Cabo. There is also a hike inland to a indigenous ruin called El Pueblito.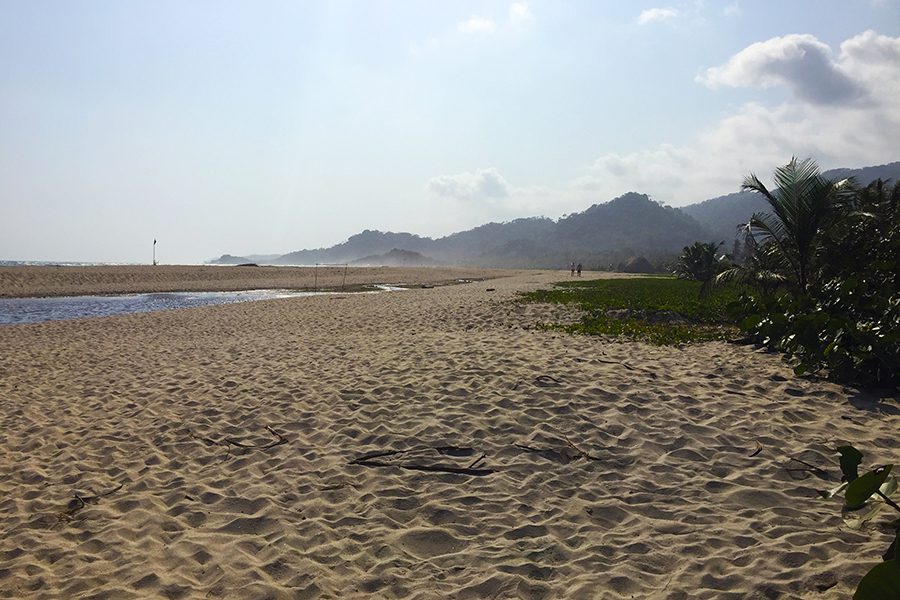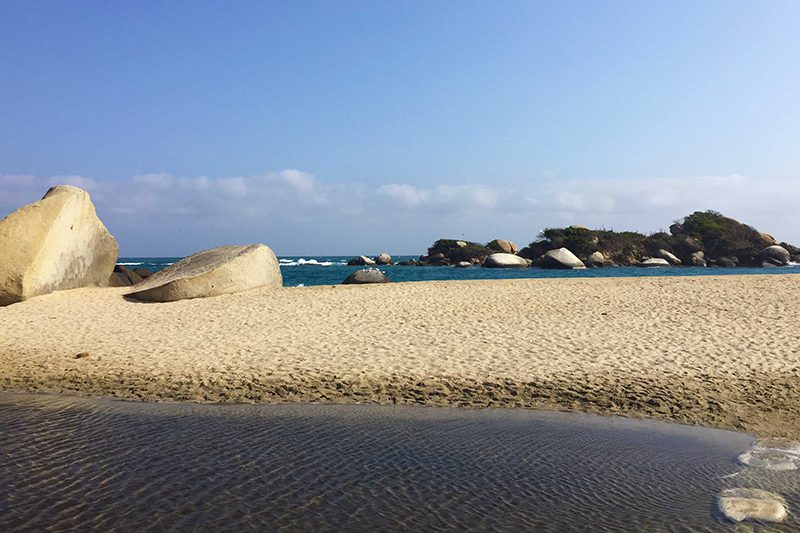 Be Prepared:
Food:
There is one restaurant in Cabo, but it is expensive by Colombian standards. If possible, bring as much water and unperishable food as possible. Peanut butter sandwiches are fantastic. Tuna, raw veggies, and nuts are other great choices.
The restaurant only serves meals at certain hours. Find these times on the sign, and line up outside a little before they open. Some people might not know the system and sit at the tables waiting for service. If you get in line early, you should be able to order and get your food much quicker.
Arrive:
It can get very crowded at Cabo during high season (December-January) or around holidays. Try to get an early start and go during the week if possible.
Sleeping:
Hammocks and tents aren't available to rent until 2pm. Even if you get to the park early, you'll have to wait to get your sleeping arrangements figured out. Try to get in line a little early and find a spot in the shade. There is one palapa on top of the rock that juts into the sea. There are hammocks here for rent, but these always go the quickest. If you can get one, you will have an amazing spot to fall asleep!
What to bring:
The sun is intense here! And mosquitos abound. Be sure to bring plenty of sunscreen, bug spray, and a hat. Stay in the shade during the hottest part of the day.
Bring toilet paper in with you. During the night, the bathroom attendant is not there, and there is no paper in the stalls. Same goes for soap. There is rarely any there and it's shared between many people. Better to bring your own or use hand sanitizer.
Bring a beach blanket or towel, and let this double as a sleeping sheet between you and the sleeping pads. The pads all look well worn and are of unknown cleanliness.
**Leave your suitcase or big backpacks at your hostel in Santa Marta and only hike in with a small pack. All hostels in Santa Marta are used to this and offer this service. Leave electronics there!
This should be your general packing list for Tayrona:
2 changes of clothes
Swimsuit
Hat and sunglasses
Beach towel or blanket (doubles as sleeping sheet)
Wear hiking shoes or sneakers in and pack a pair of flip-flops
Simple toiletries including soap or hand sanitizer
Toilet paper
Small emergency medical kit:  aspirin, bandages, diarrhea pills
Water (as much as you can carry)
Non-Perishable food and snacks
Sunscreen
Bug spray
Cell phone & charger OR camera (only for if you use it for taking pictures, there is no cell service! There are a few plugs at the restaurant to use for charging)
Use Santa Marta as a Jumping Off Point:
Santa Marta is the closest city and the go to stopover before/after camping Tayrona. It's not a lot to write home about, but we were pleasantly surprised by it after having no expectations.
It's a true Colombian city. There is a bustling food and nightlife scene.
Stay at Hostal de Jackie:
This great hostal is central to everything and very reasonably priced for the coast.
They also have a beautiful roof terrace where they offer free and filling breakfast in the morning, or drinks for purchase in the evening.
Plus they have a pool, a shared kitchen, and a super friendly staff.
Leave your big backpacks or suitcases here before heading to Tayrona.
Eat:
Street food:
Head to the Exito supermarket in the centro. Outside there are usually lots of street food vendors. We were big fans of the grilled meat and veggie skewers, the polenta and chorizo bowls, the fresh juices, and the chopped mango.
*Note that these vendors seem to be closed on Sundays. Try to go Mon-Sat.
Restaurant:
Head to Lulo for great, fresh fruit smoothies and gourmet arepas.
Coffee:
Be sure to stop at Ikaro Cafe anytime you need a caffeine fix. This coffee shop is super cute and serves delicious coffee. Try the cold press coffee on a hot day.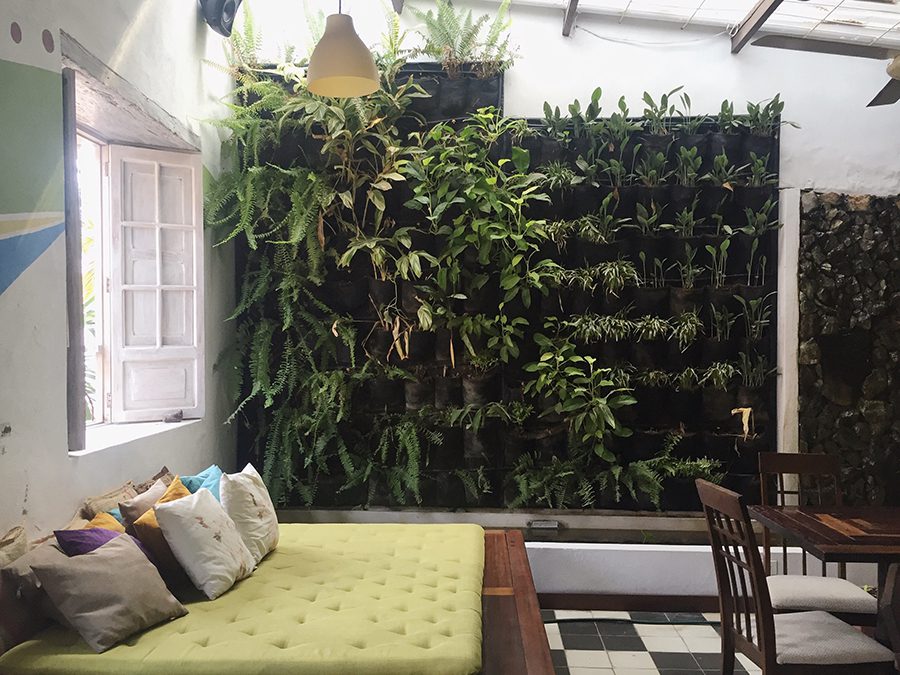 Cute interior of ikaro Cafe
Spend a Morning in Taganga:
This is a little beach village just next door to Santa Marta. It's a little rough around the edges (so I was glad we didn't stay overnight) but it's very beautiful and great for a swim.
You can easily take one of the busses from Carrera 5 in the Centro with "Taganga" written on the front for 1500COP. The ride is only a few minutes, and takes you up a coastal cliff and down the other side. The cove of Taganga is picturesque, and filled with boats. The water is very calm, making it a nice swimming cove.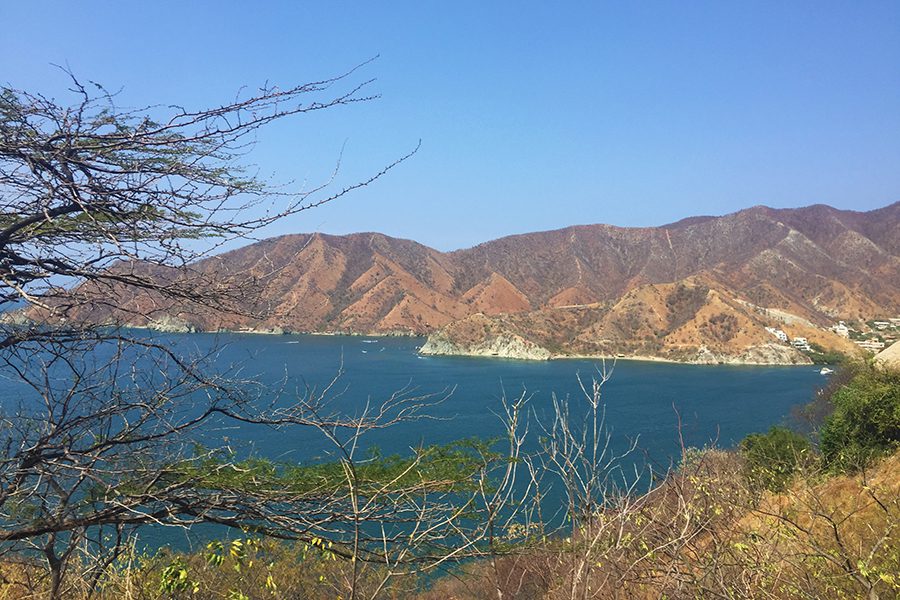 First glimpse of the bay from the local bus