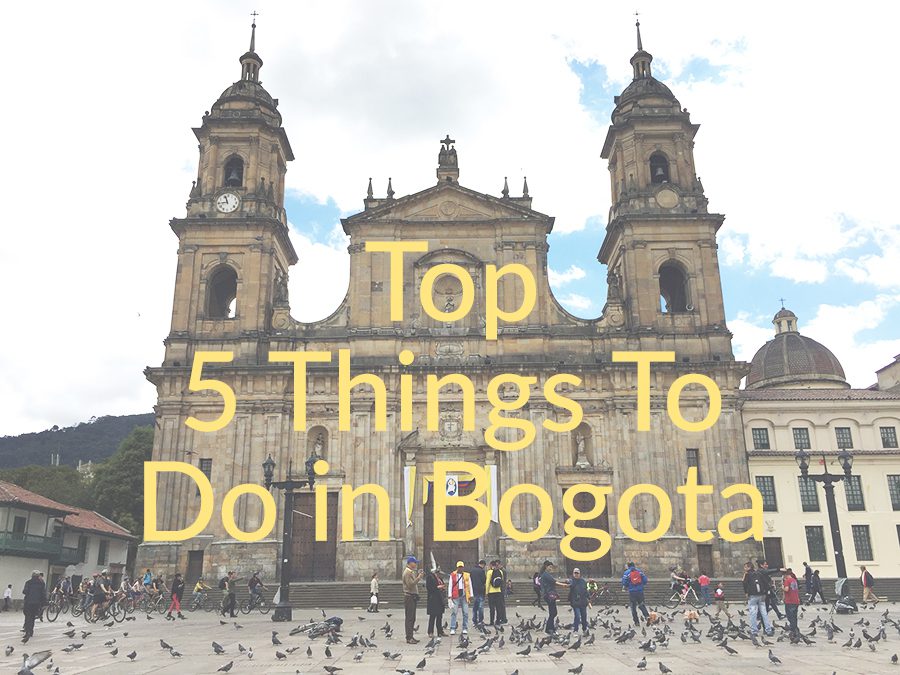 Where:
Bogota is located almost exactly in the center of the country, high up in the Andes mountains at 2644 meters (8675 feet). It's a huge city - with 6 1/2 million residents, but surrounded by beautiful natural places that can be reached on day trips or longer ventures.
Why:
If you go to Colombia, chances are you will fly in or out of Bogota. While the city receives the most tourism of any city in the country, most international tourists don't spend much time there.
It's a vibrant and worldly city, full of art, culture, and music. It definitely deserves a couple days of exploration at the beginning or end of your itinerary.
Visit Monserrate
Monserrate is the imposing mountain towering over downtown Bogota. There is a famous and iconic church on the edge of the mountain that is an important pilgrim destination.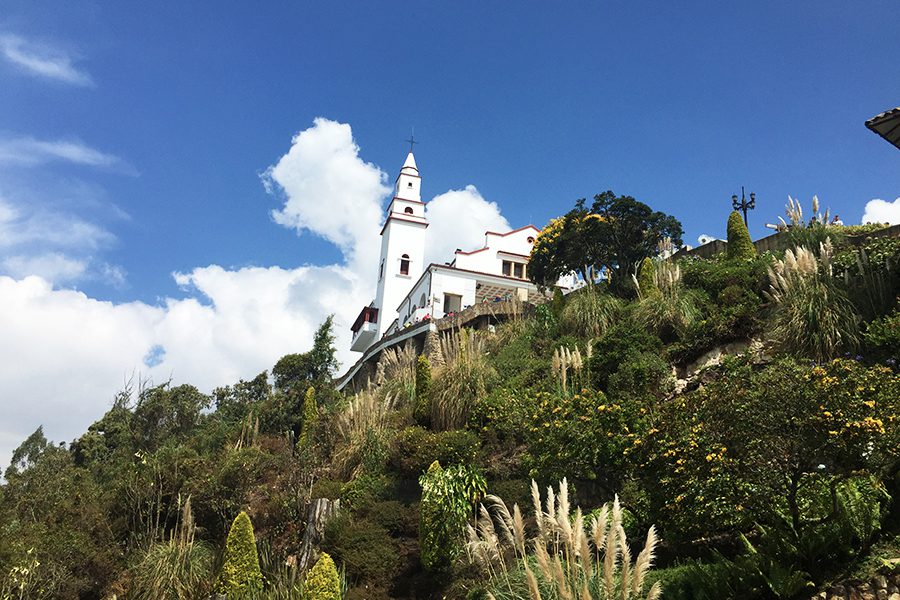 To get there:
Make your way to the entrance at the bottom of the mountain. You can either take a cab or walk from La Candelaria. If walking, be sure to follow the main busy road, for safety (Calle 22 which turns into Calle 20 is a good route).
Once at the entrance, there will be 3 lines of people. The first line is to buy tickets and the other 2 are to wait to for the Furnicular (a train that rides straight up the mountain) or the Teleferico (Cable Car).
The cost for a round trip ride is 17,000COP Mon-Sat and only $9,400COP on Sundays. When we visited, the line for the Furnicular was super long, but when we went around the corner of the building to find the line for the Cable Car, there wasn't anyone waiting and we were able to get right on. If you don't feel like waiting, take the Cable Car!
Since Monserrate is one of the most popular things to do in Bogota, it's often busy, and even busier on weekends. If possible, try to plan your visit during the week.
The ride up is pleasant, and you'll have some great views of the city.
Once at the top, you can climb up the few remaining steps to the church. There is an amazing view here of the city, as well as views of the green valley on the other side of the mountain.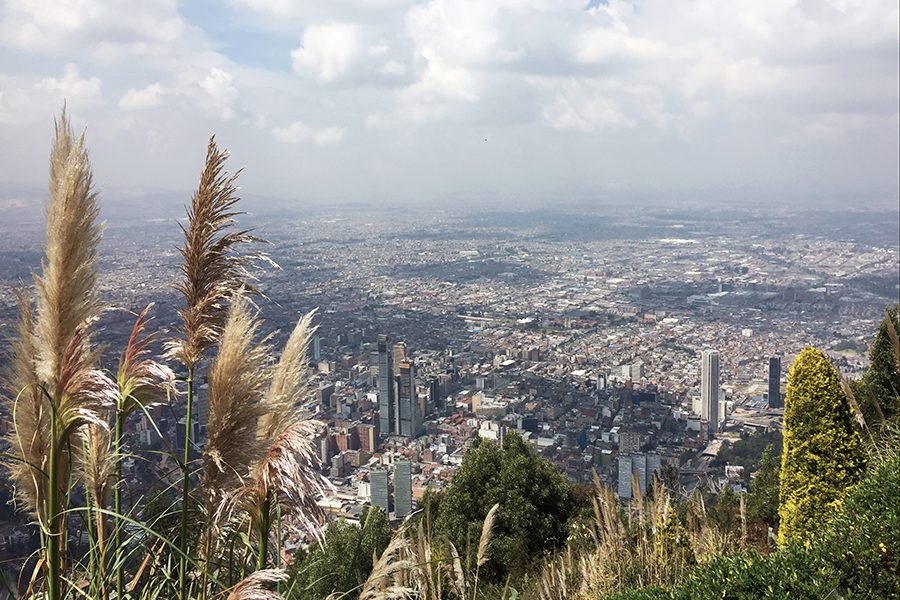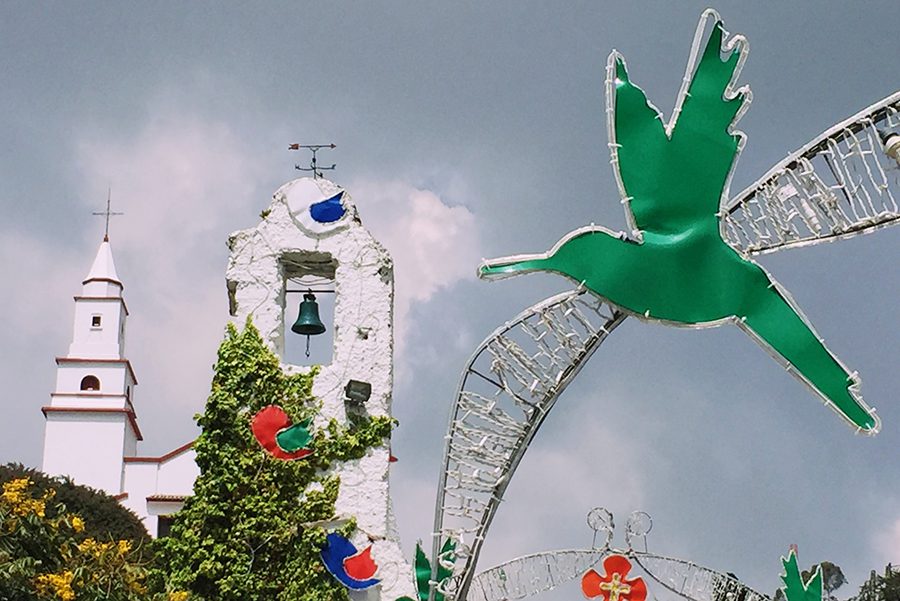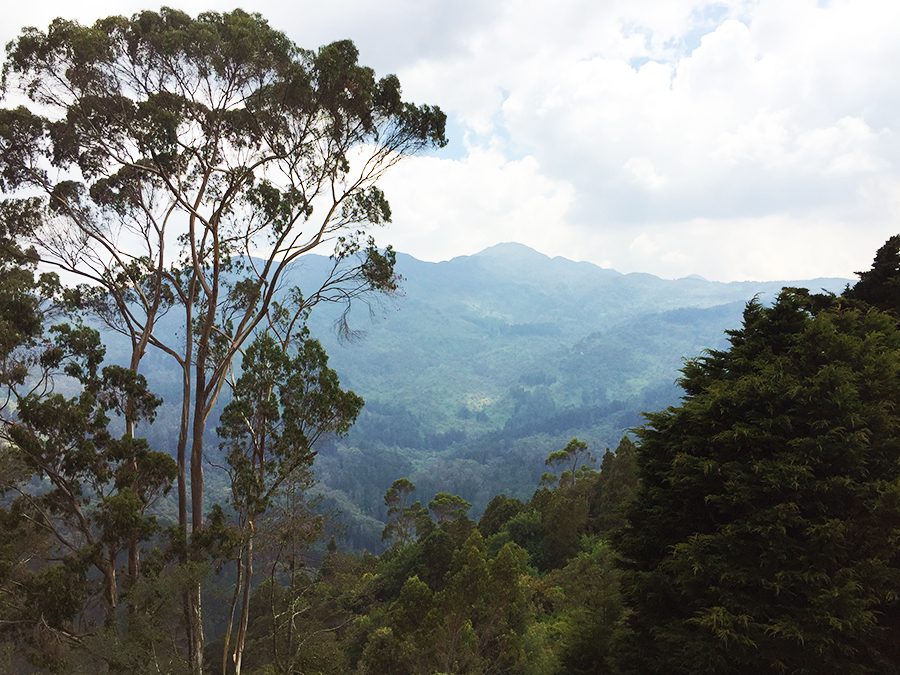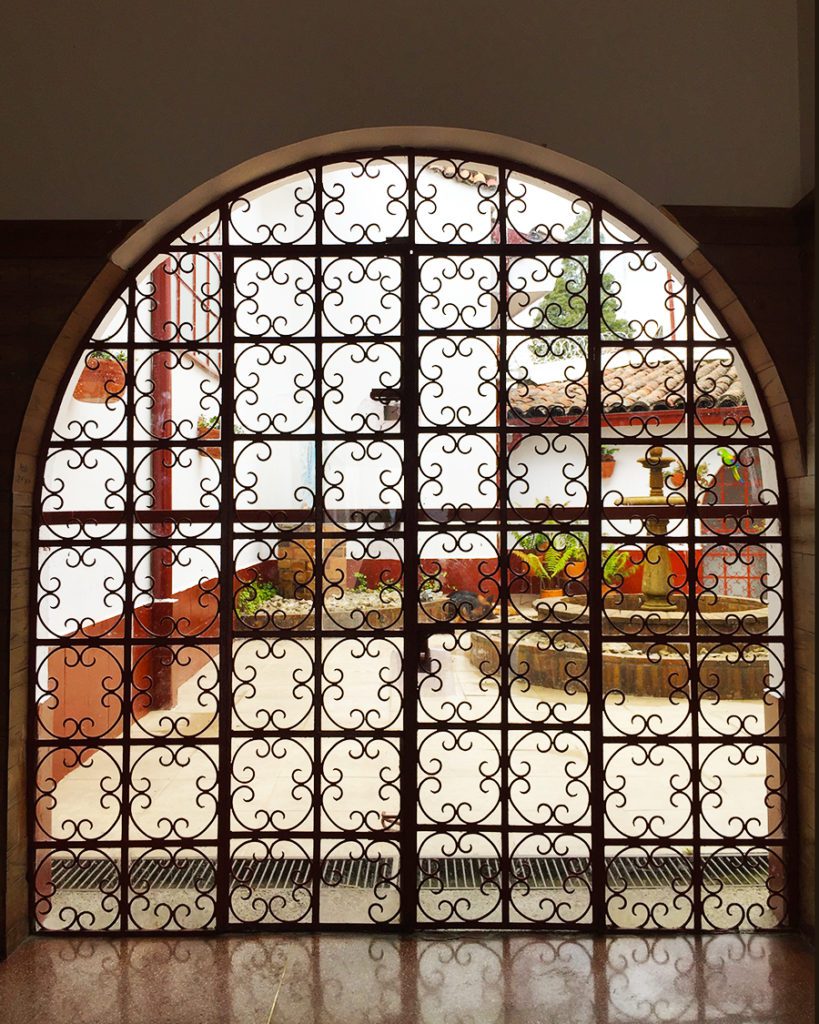 Spend some time wandering the grounds. There are lots of gardens and pathways to explore. If you see a man selling popsicles or "paletas", stop to buy one!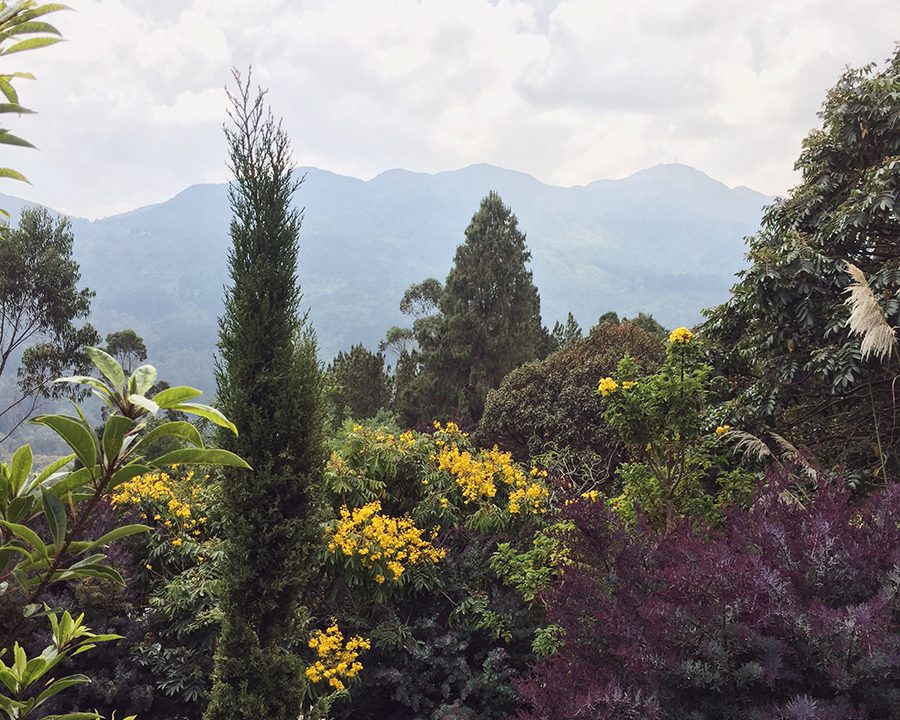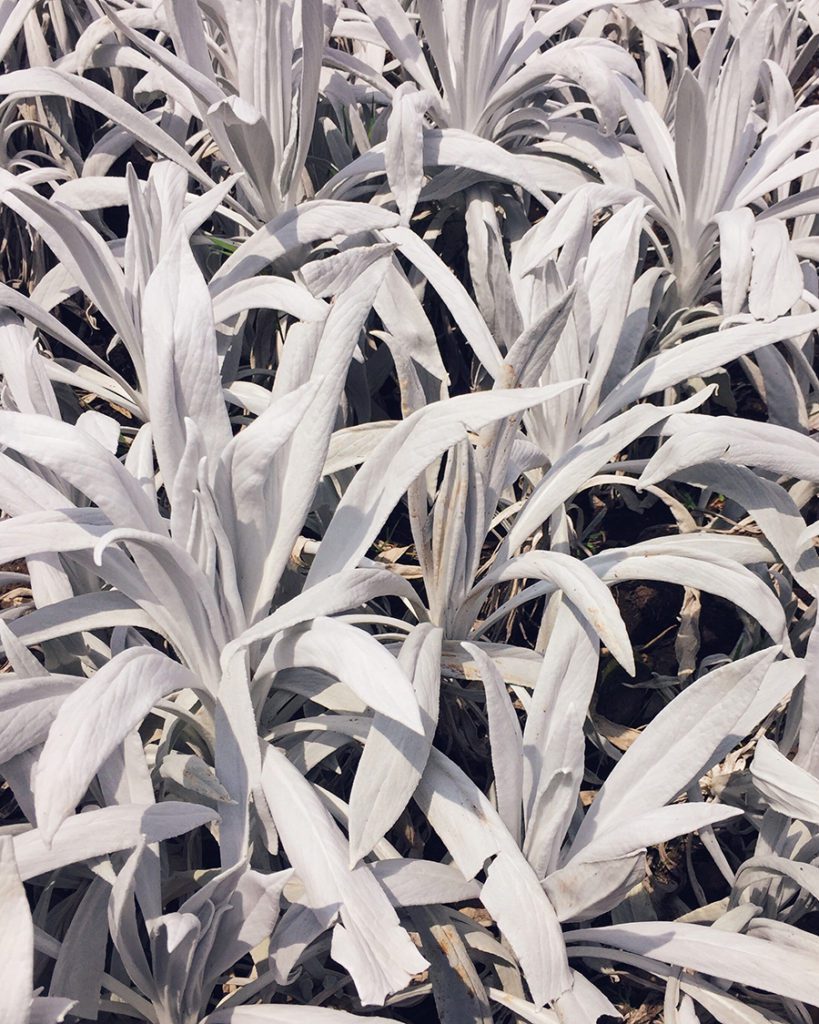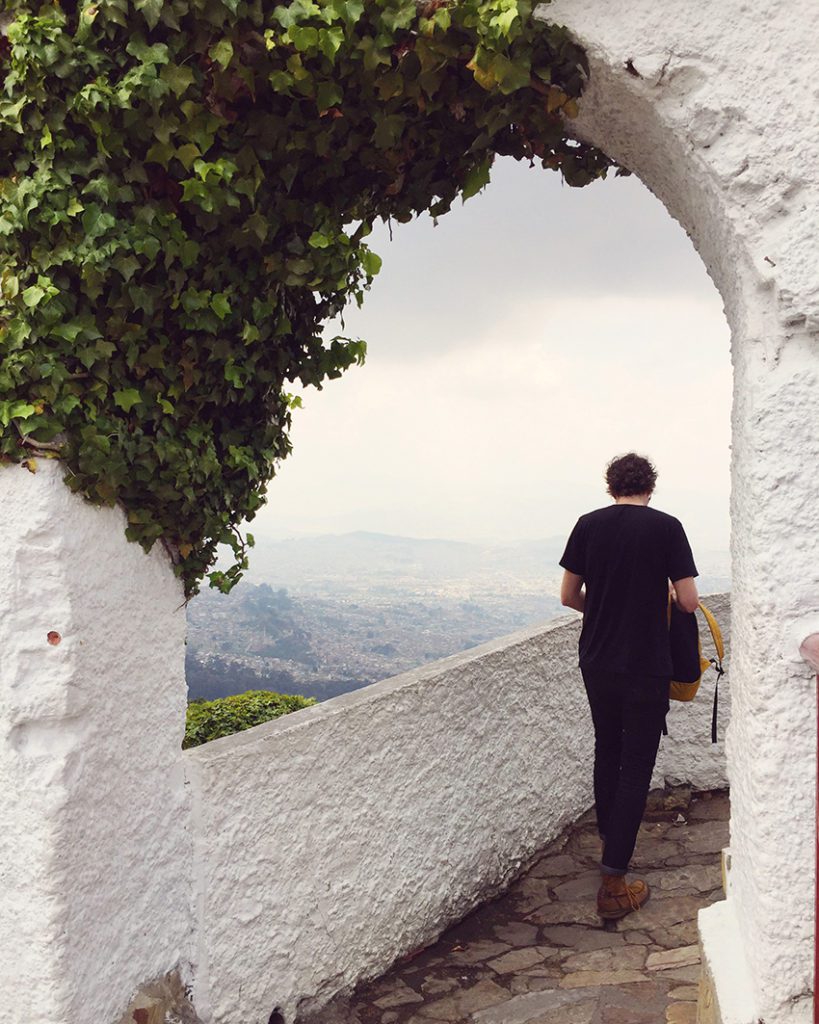 Before you leave, try an almojábana from the bakery next to the exit. The line can be long and the cheese puff is delicious!
Wander the streets of La Candelaria
La Candelaria is the most touristed and also the most beautiful part of the city. It's the old Centro, so is full of beautiful old churches, and colorful buildings.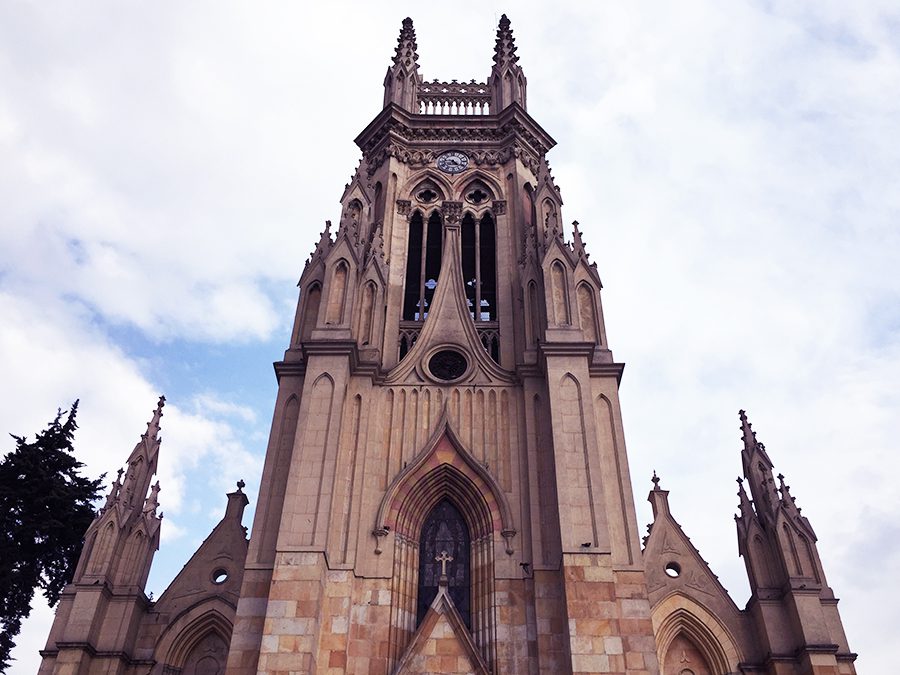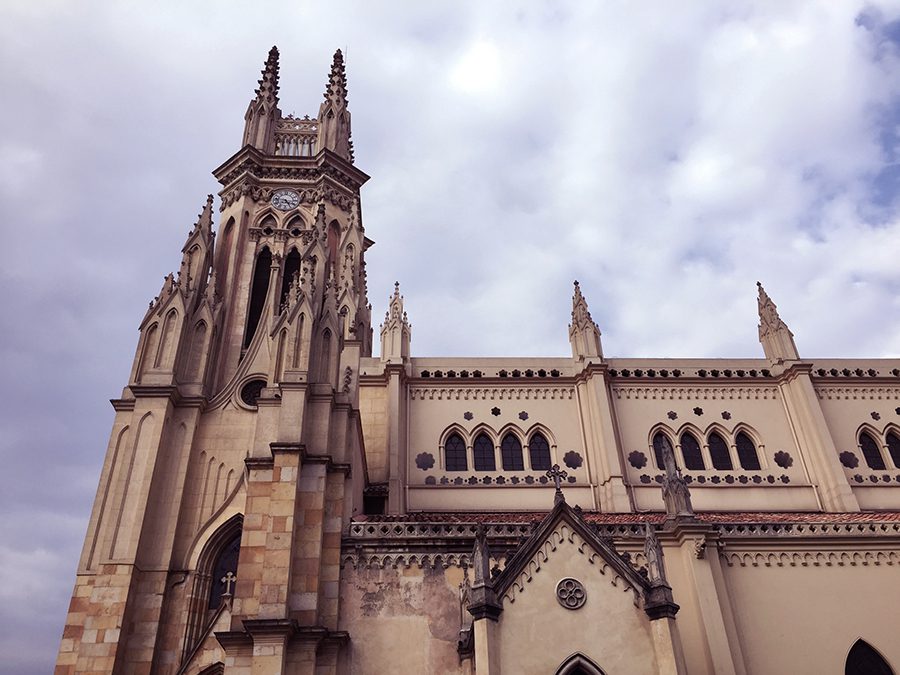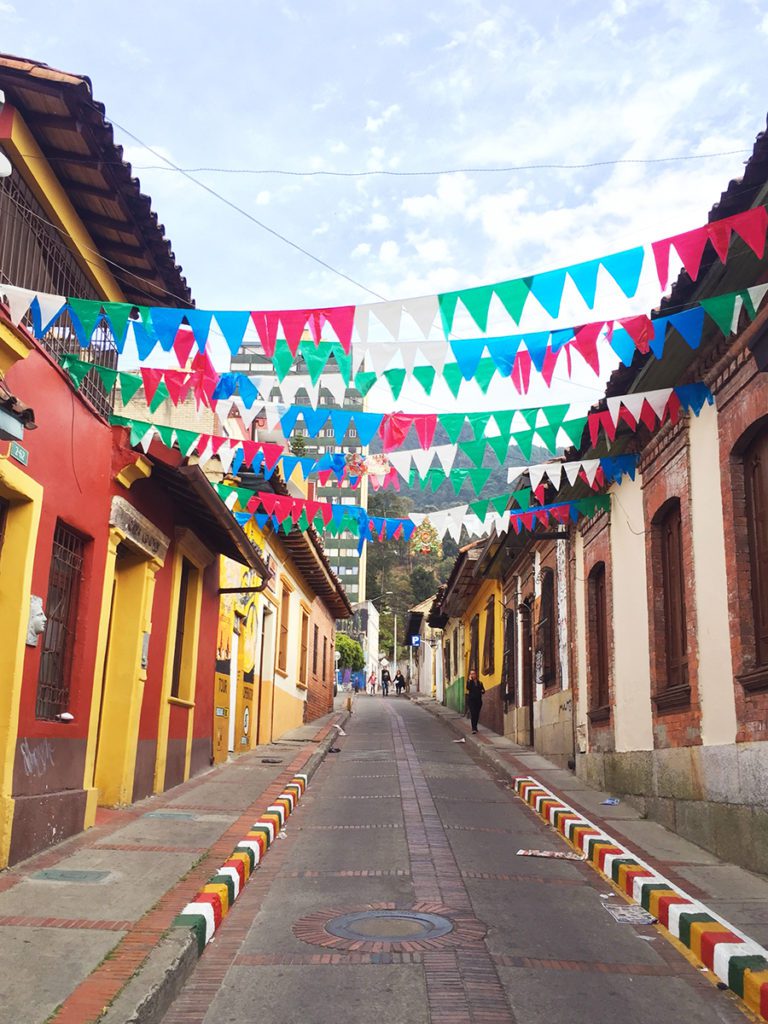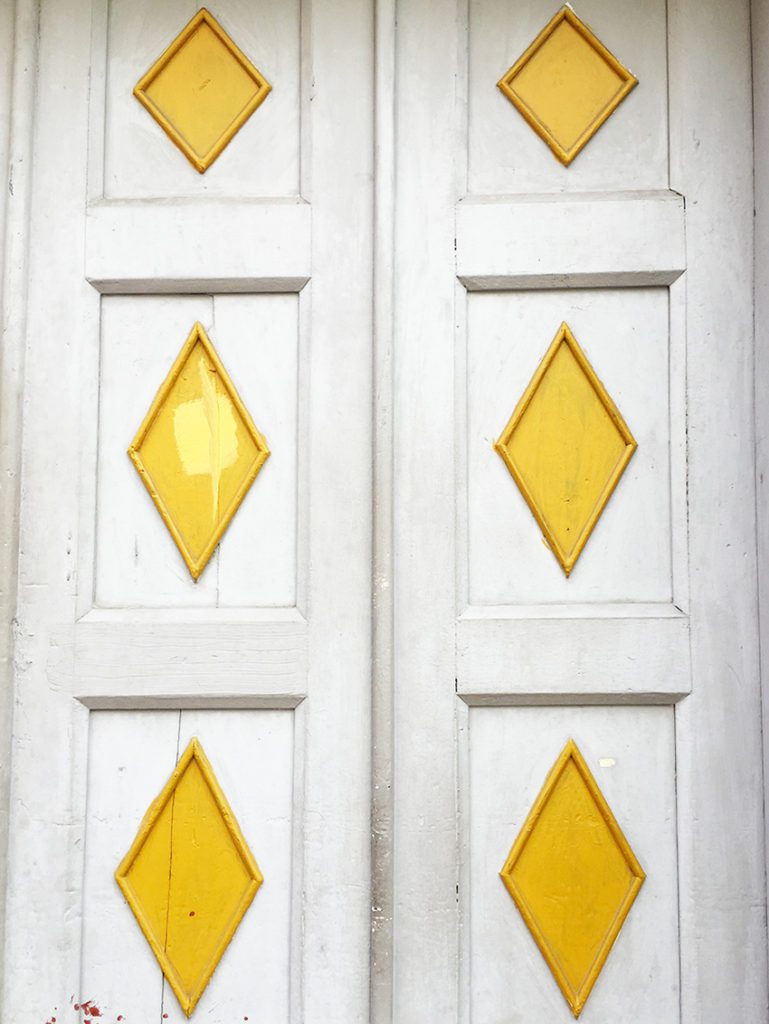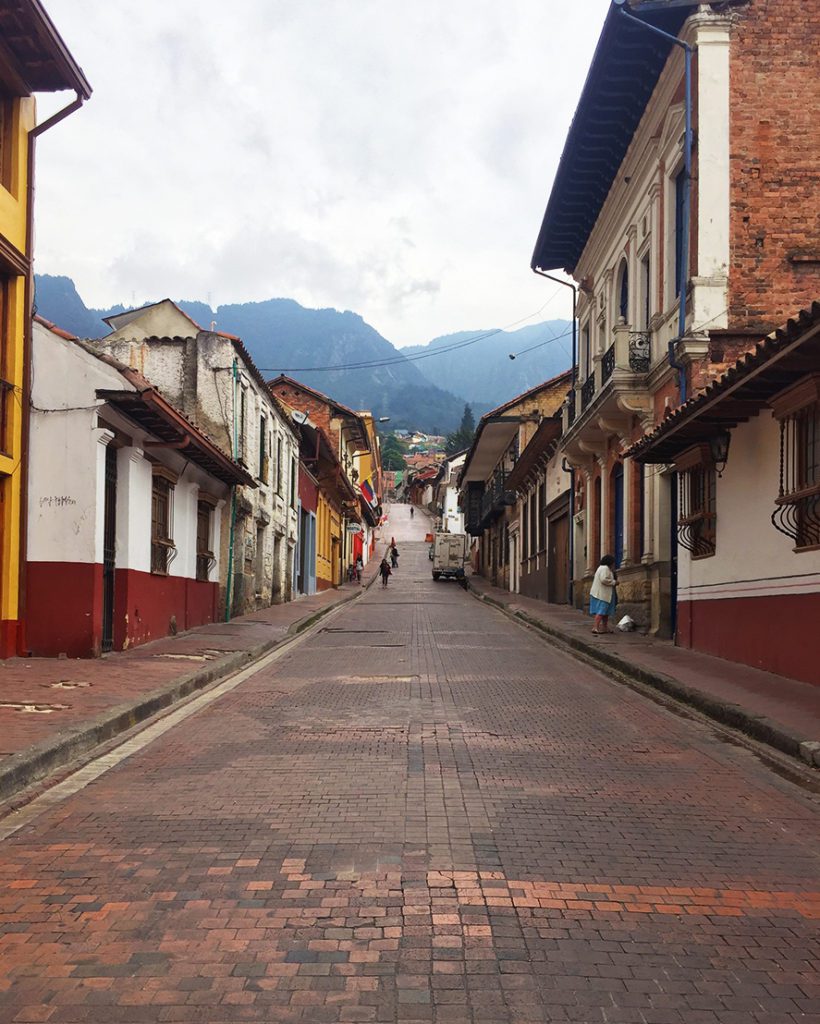 Bogota is also famous for it's abundant and colorful graffiti. You'll see plenty of it as you wander these streets.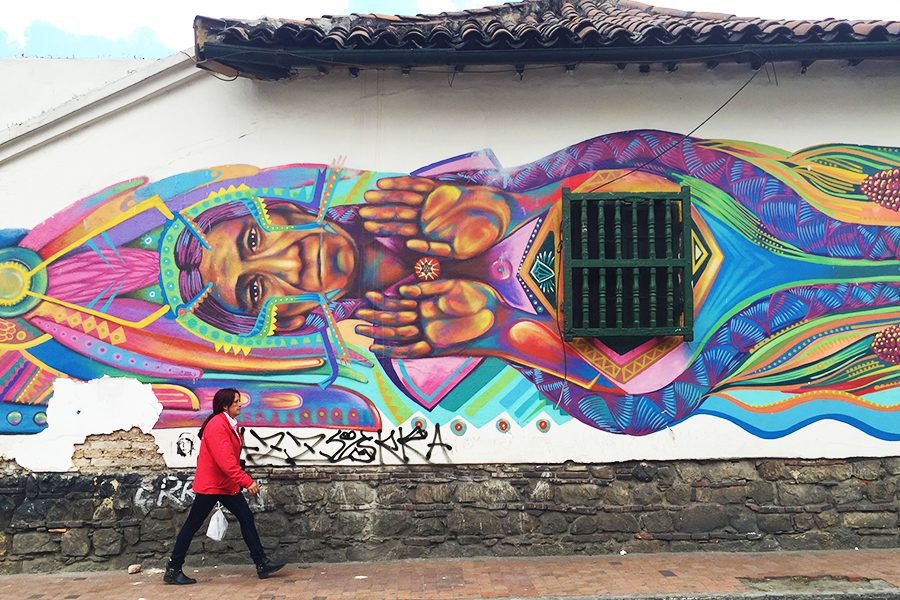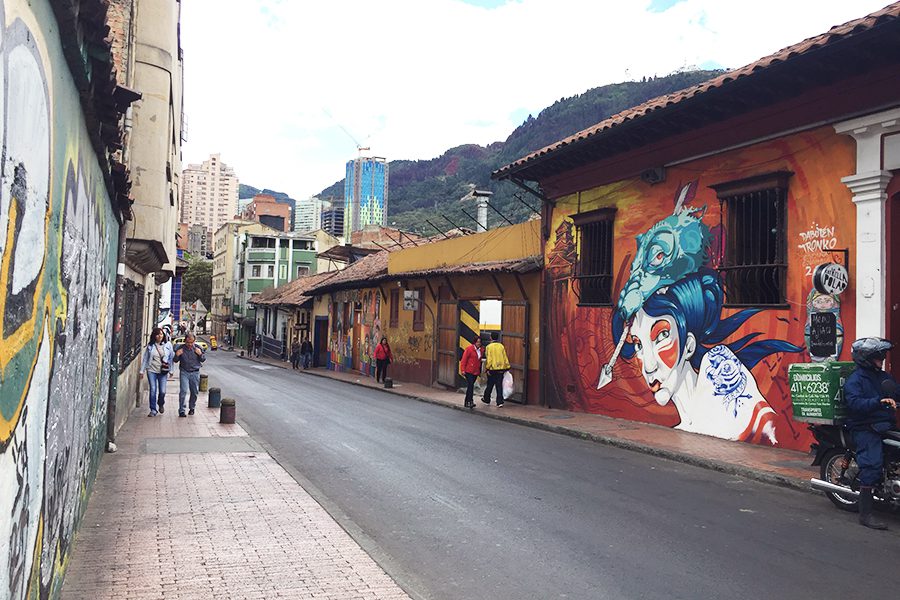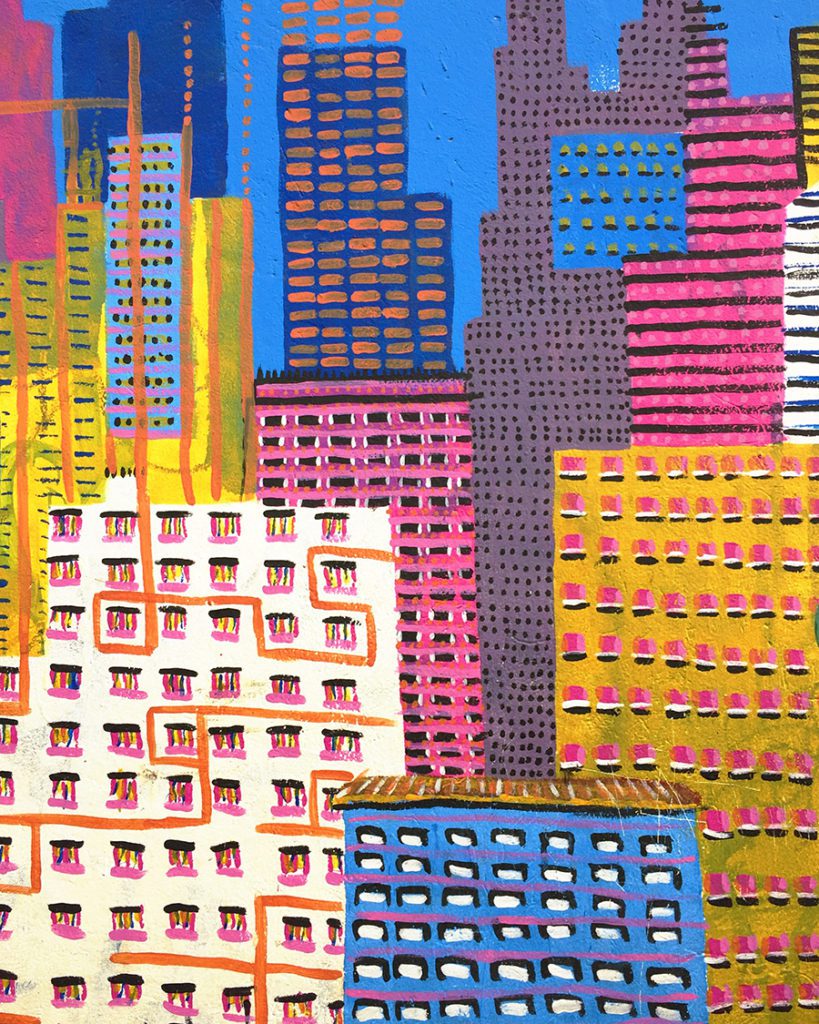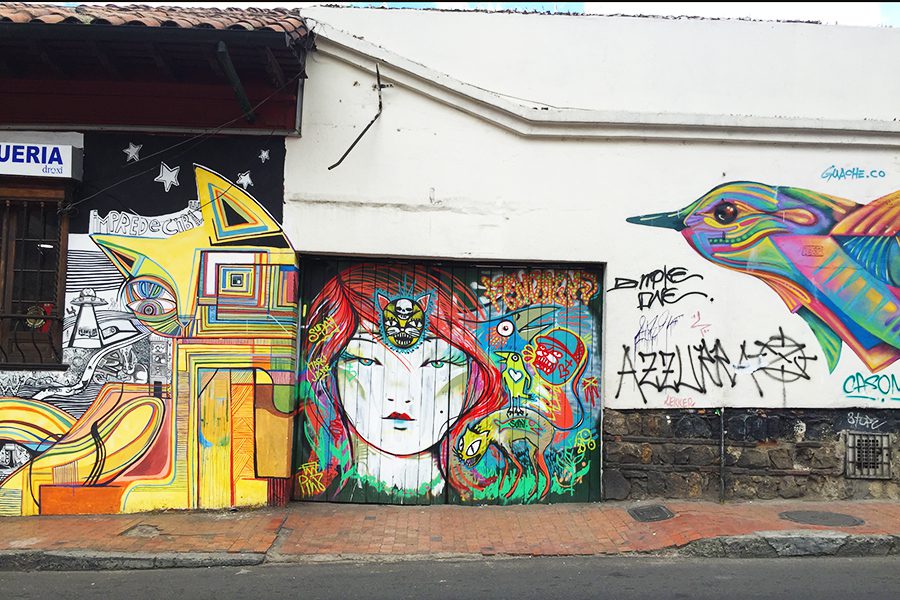 Be sure to head to Bolivar Plaza, the center of the action. It's surrounded by the primary cathedral of Bogota - built between 1807 and 1823. Government buildings such as the Palace of Justice and the National Capital line the other sides of the plaza.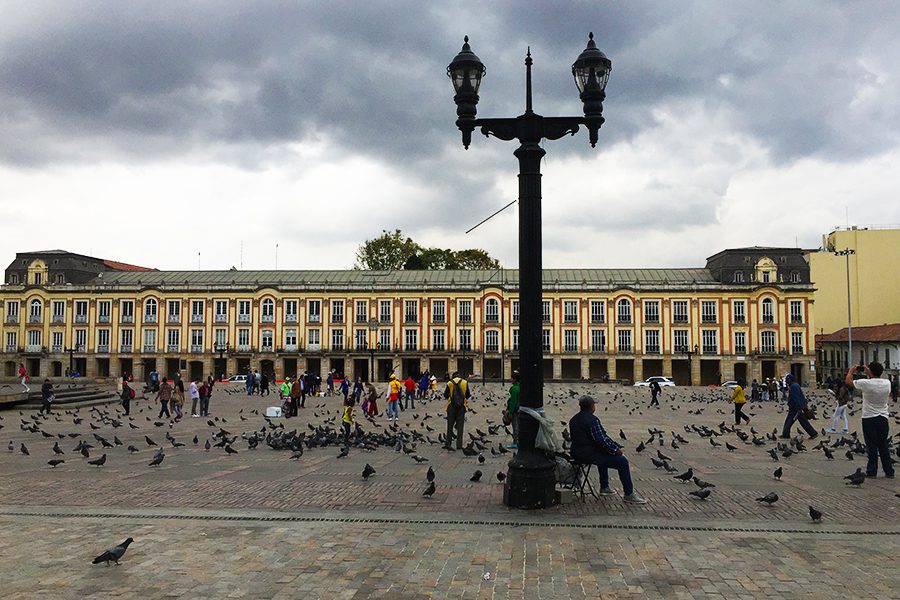 Visit the Botero Museum
Fernando Botero is the most famous Colombian artist and a national icon. The Museo de Botero is dedicated to showing the progression of his work throughout his lifetime. His style is unique, depicting people and animals in large, exaggerated sizes. It's thought to hold one of Latin America's most important international art collections so this museum is a must see.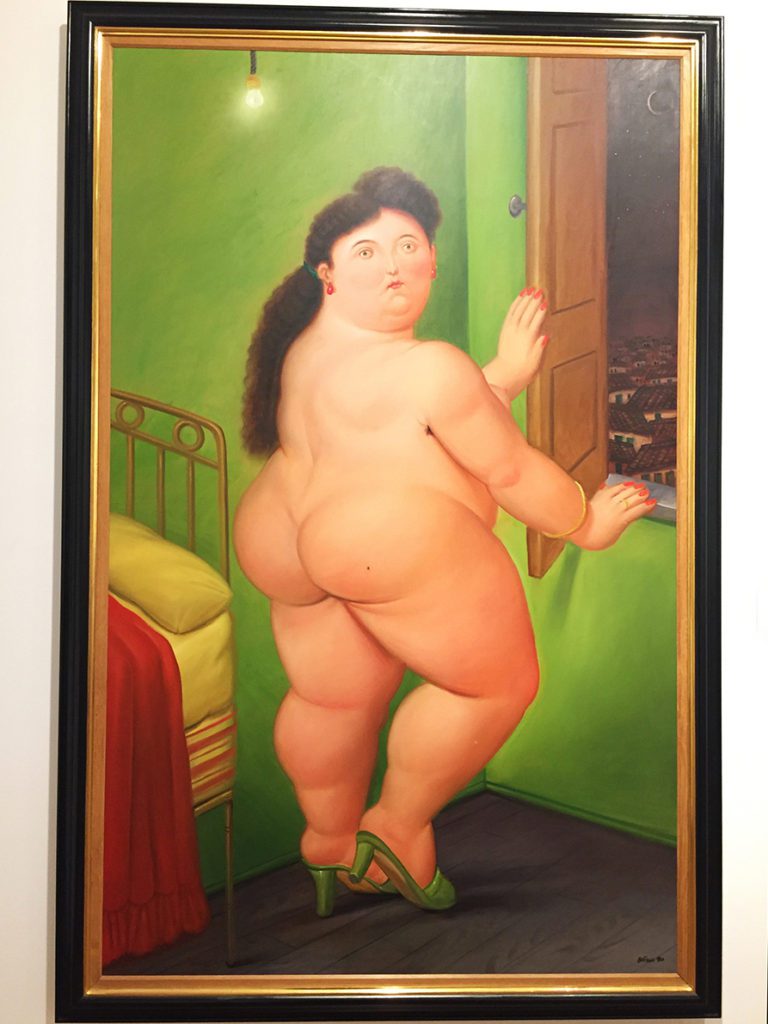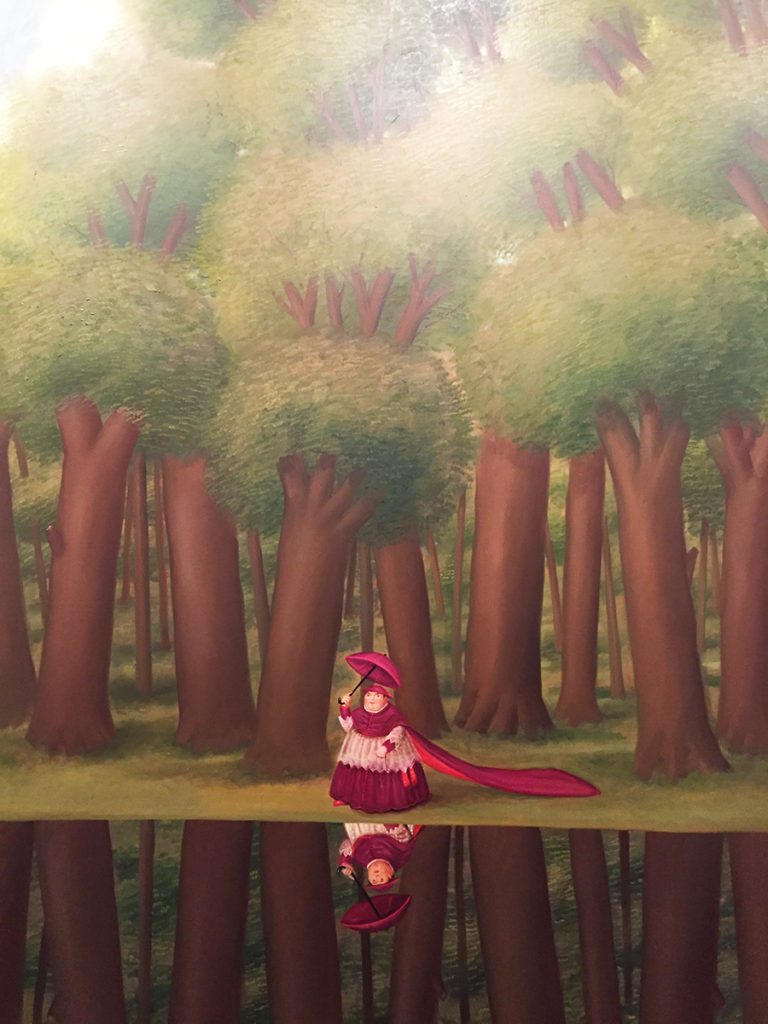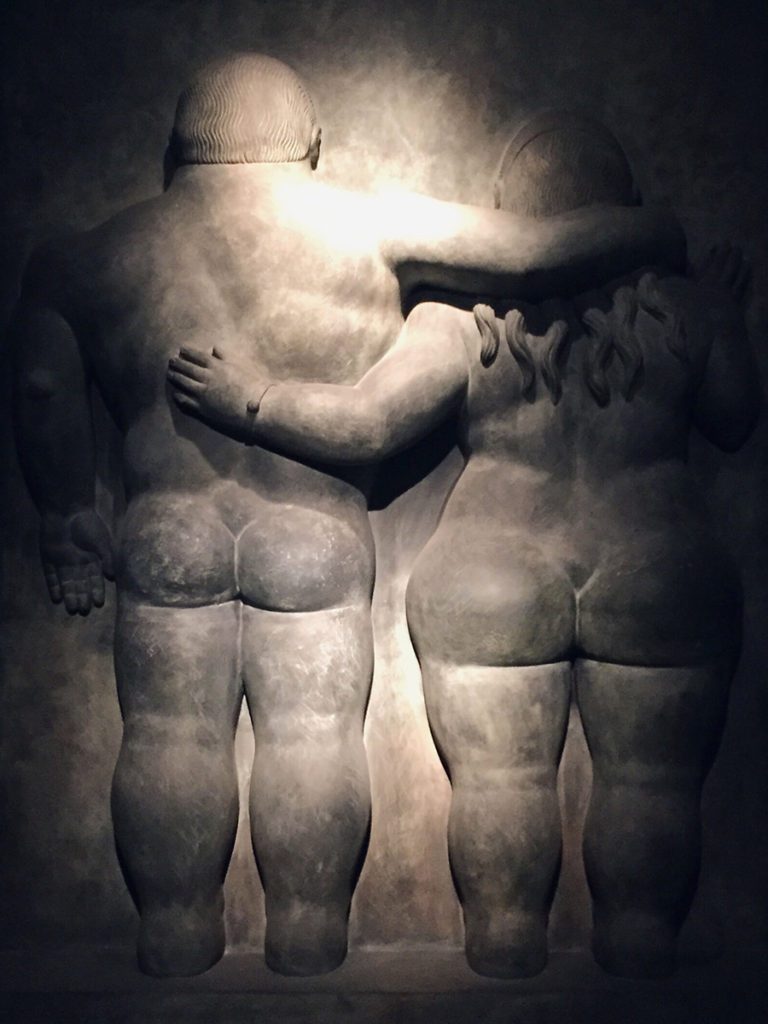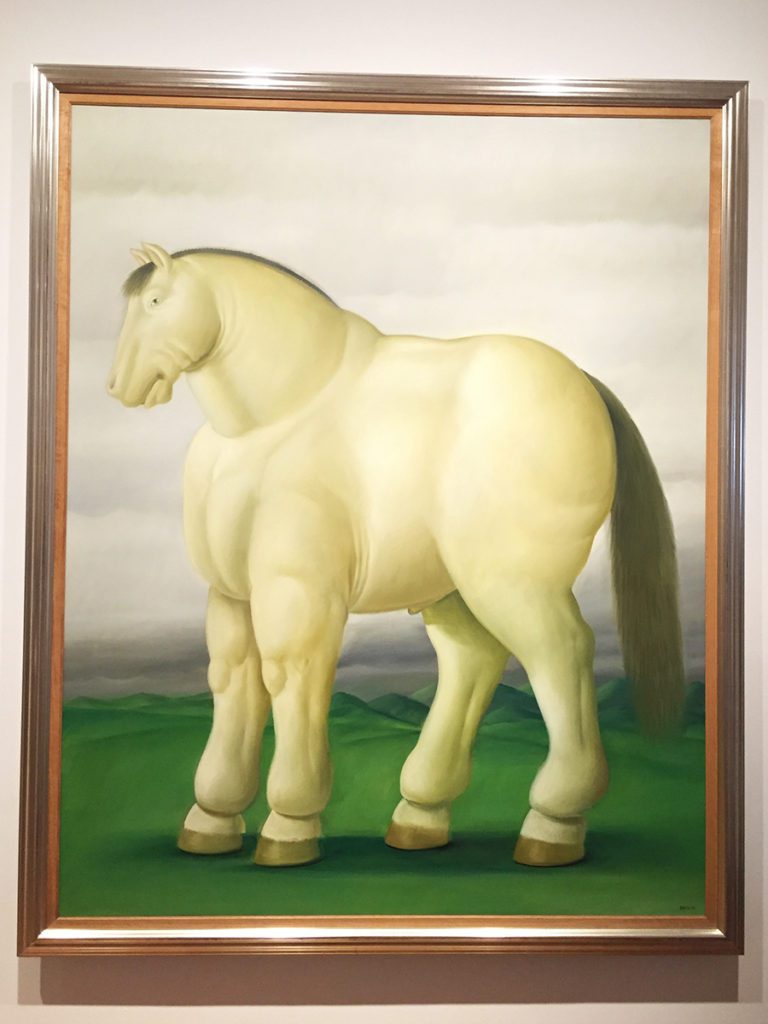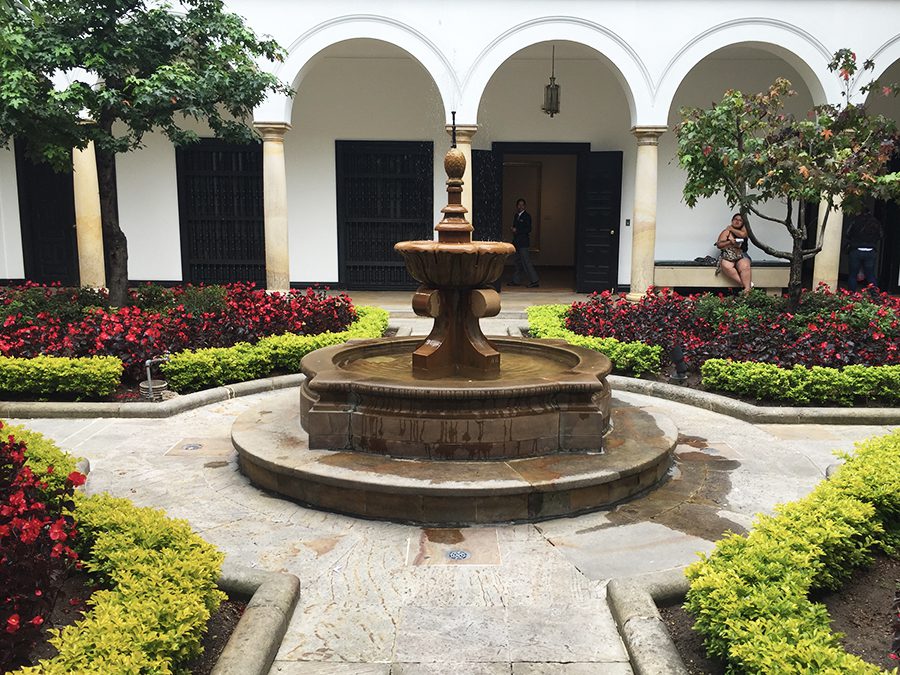 Other parts of the museum include famous international artists such as Monet, Chagall, and Picasso.
Museum hours are Monday, Wednesday-Saturday: 9am-7pm, Sunday: 10am-5pm. Admission is free.
Hike Quebrada La Vieja
This amazing hike is literally steps from the city, takes you up the side of a mountain, and provides stunning views of the city and valleys below.
Be sure to leave very early. This hike is patrolled by local police and is only open from 6am-10am. The patrolling is important, as crime is a big concern in and around Bogota. It's never recommended to do a hike on your own in the surrounding mountains, there are many instances of muggings.
This hike however is very safe. We encountered policeman every few hundred meters along the trail, and it was busy with locals, getting in an early morning run or hike up the mountain.
To get there:
First you need to make your way to Rosales, an upscale neighborhood. Walk to Parque Quebrada La Vieja (same name as the actual hike) at Calle 71. This part is a little confusing - but you can ask a local if you are not sure - you make your way down in the park to a little canyon with a stream running through it.
You'll then find a large tunnel with cement blocks along one side and the water flowing underneath. Walk through there, using the cement blocks as a bridge. The lights in here are bright yellow and the walls are covered in graffiti. It makes for a slightly eerie walk, but it's great for pictures.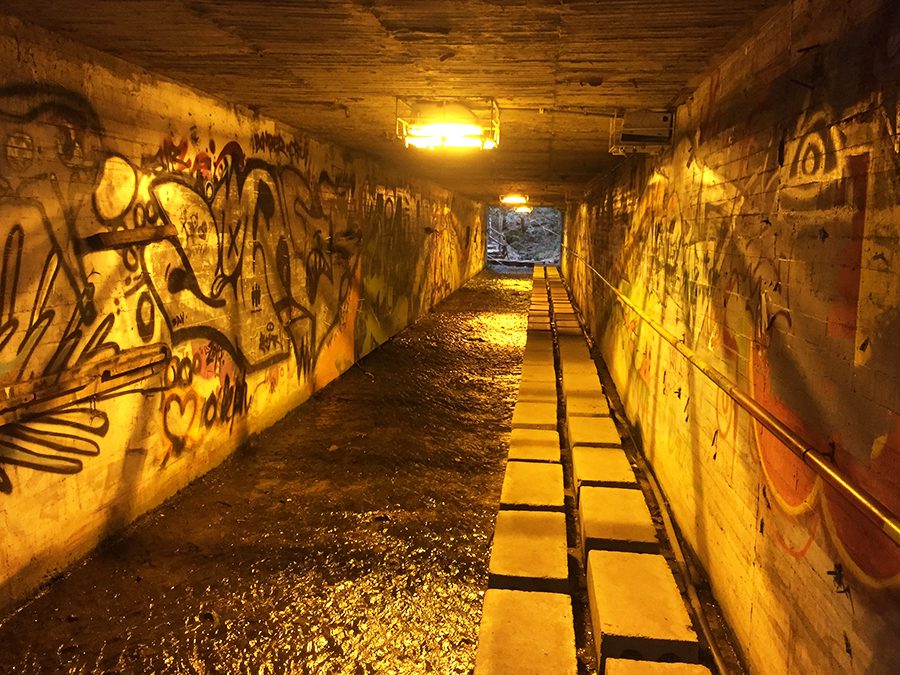 After you exit the tunnel, you'll come up some steps, cross a street and find the entrance next to an apartment building.
The hike takes about 2-3 hours total but leave yourself plenty of time. The elevation in Bogota is already high at 2644 meters (8675 feet). The hike takes you up even higher to about 2979 meters (9775 feet). Don't attempt this on your first day or two in the city. Try to give yourself a couple days to acclimate to the elevation.
After just a few steps you are out of the busy, loud city, and in a beautiful forest. It's incredible how quickly the scenery changes.
You follow the main trail up into the forest. You will see a fresh water creek flowing by, moss, ferns, and birds. Portions of the trail have what feels like endless stone steps where the trail heads straight up.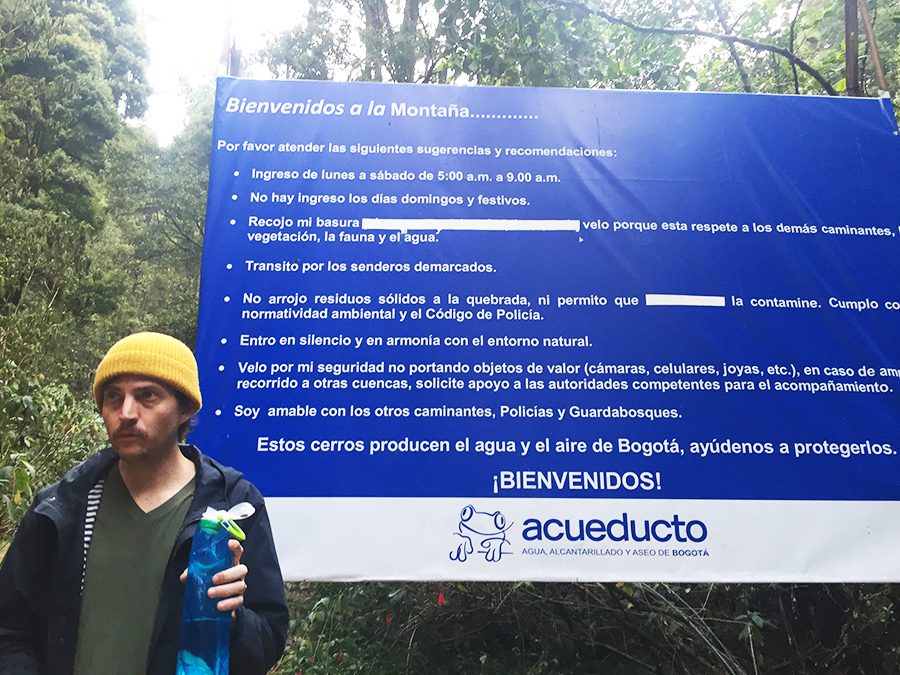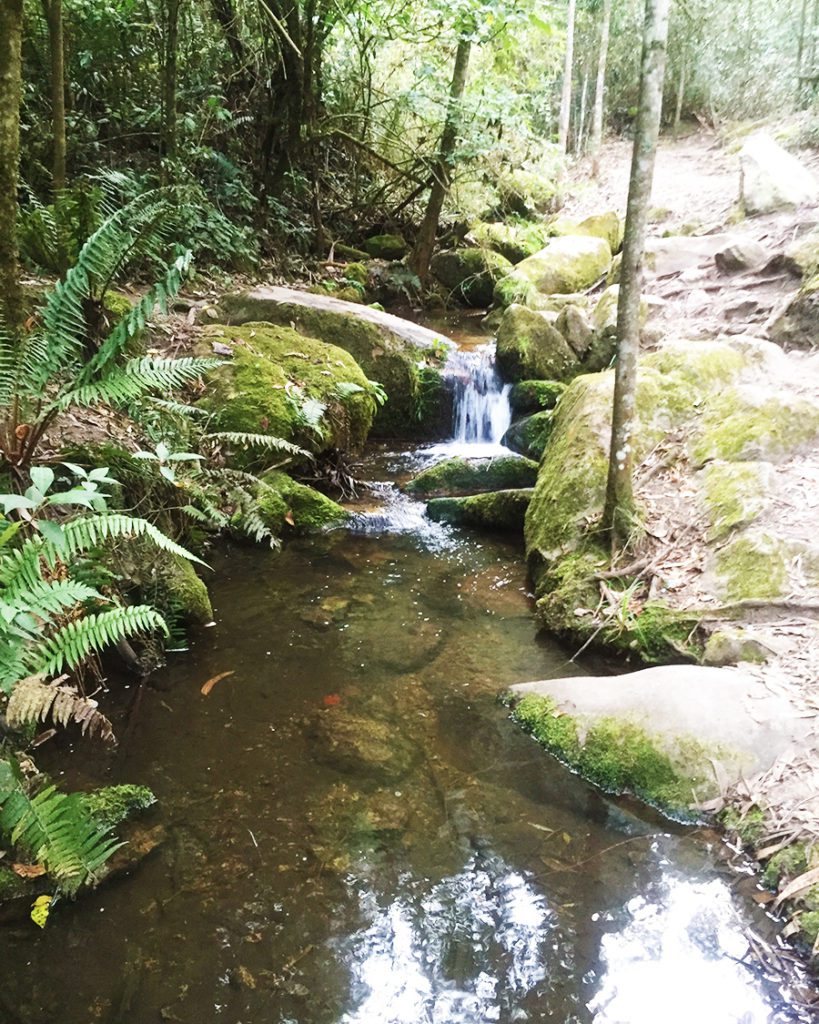 There is a beautiful pine forest near the top. The ground is a burnt red color from the bed of dry pine needles, the trees are tall and beautiful and the air is cool. This is a great spot for pictures. You'll be amazed that this place is in a country so close to the equator.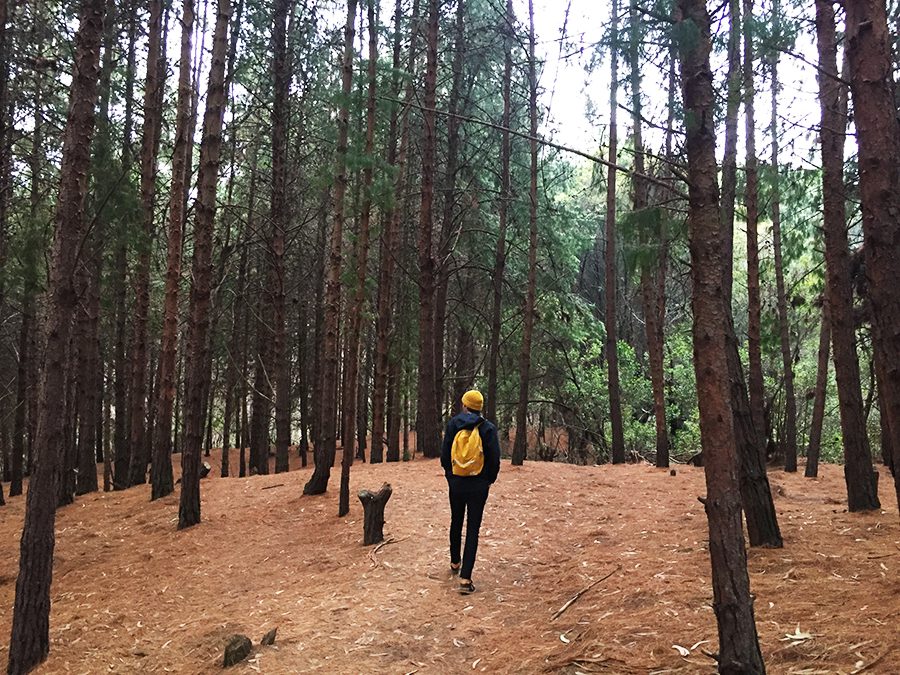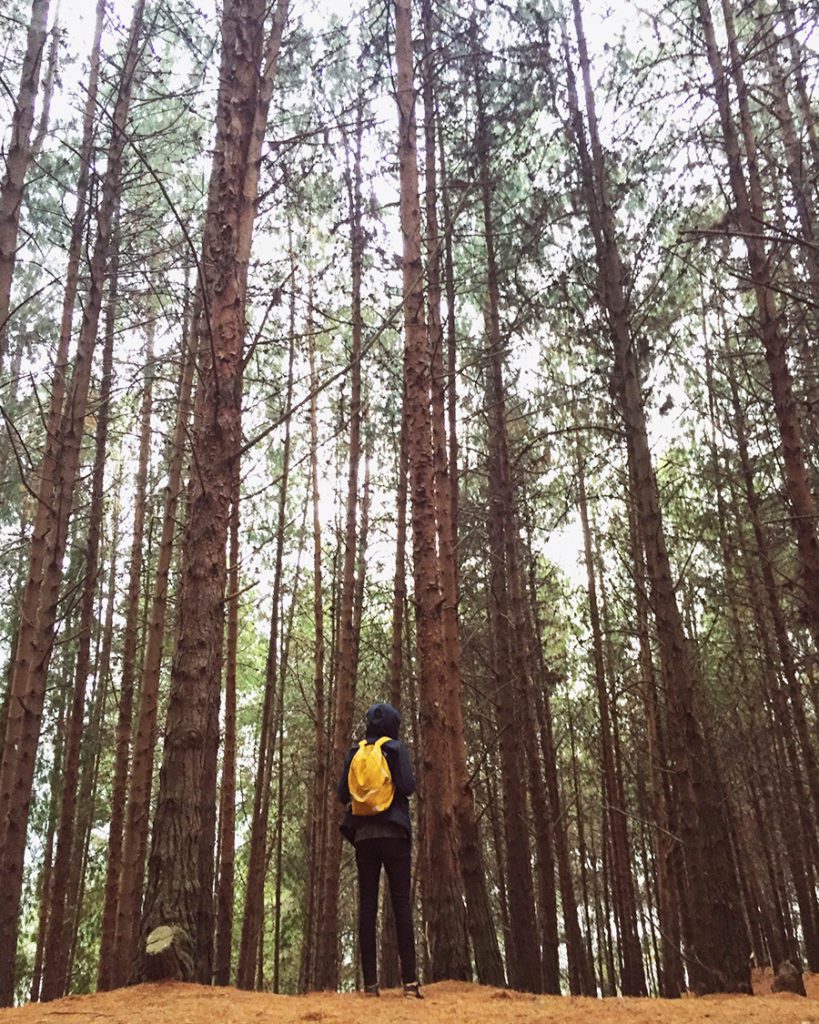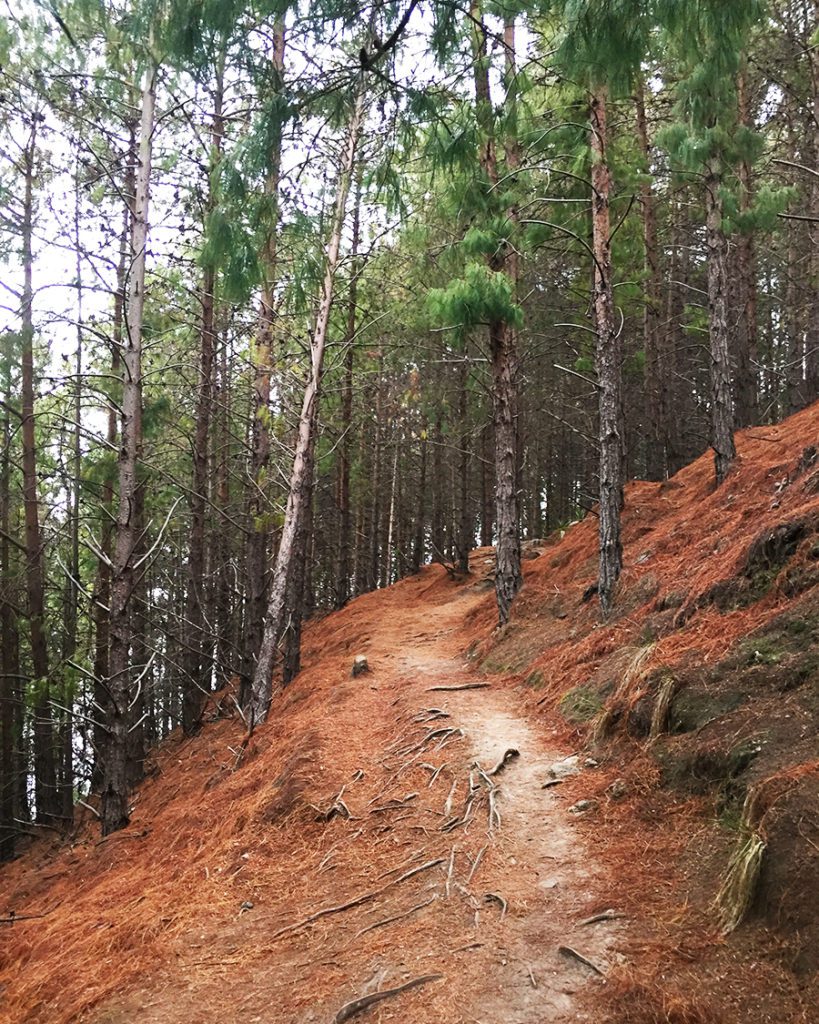 You continue up to an area with rock outcroppings and views in the foggy valleys below. This is another great spot for photo-ops.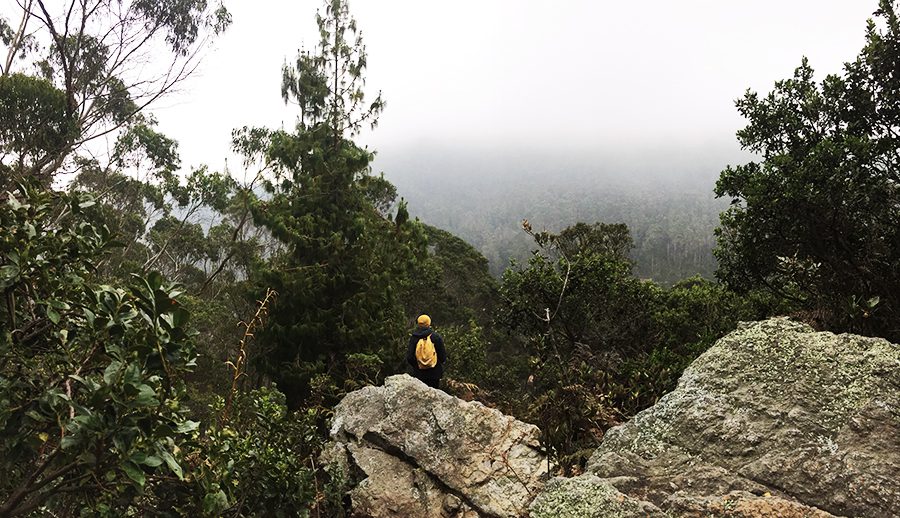 Continue on the trail to the left and you'll finally come to the top, called "El Virgen" (made obvious by the large cross and statue of the Virgin Mary). There are views almost 360 degrees around. This is one of the best views of the city, as well as views of the valleys on either side.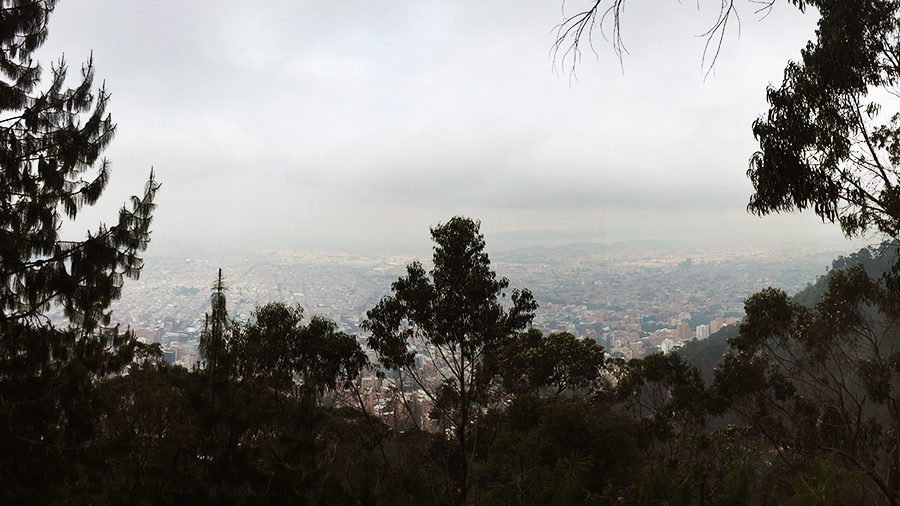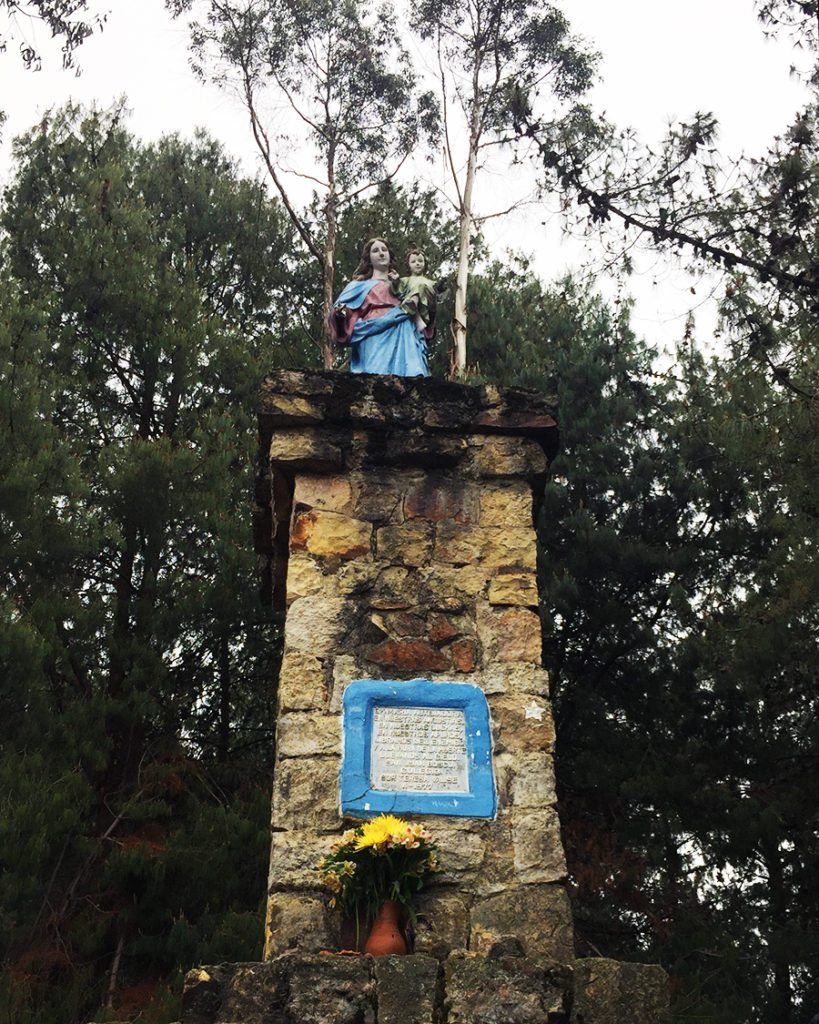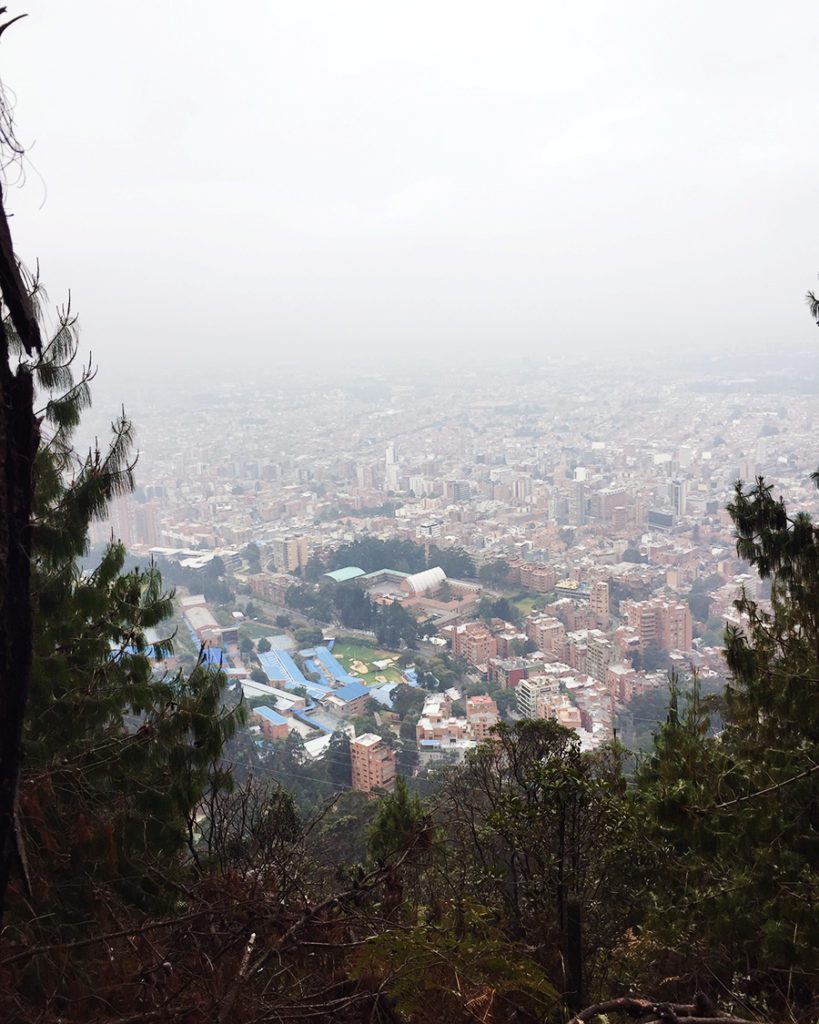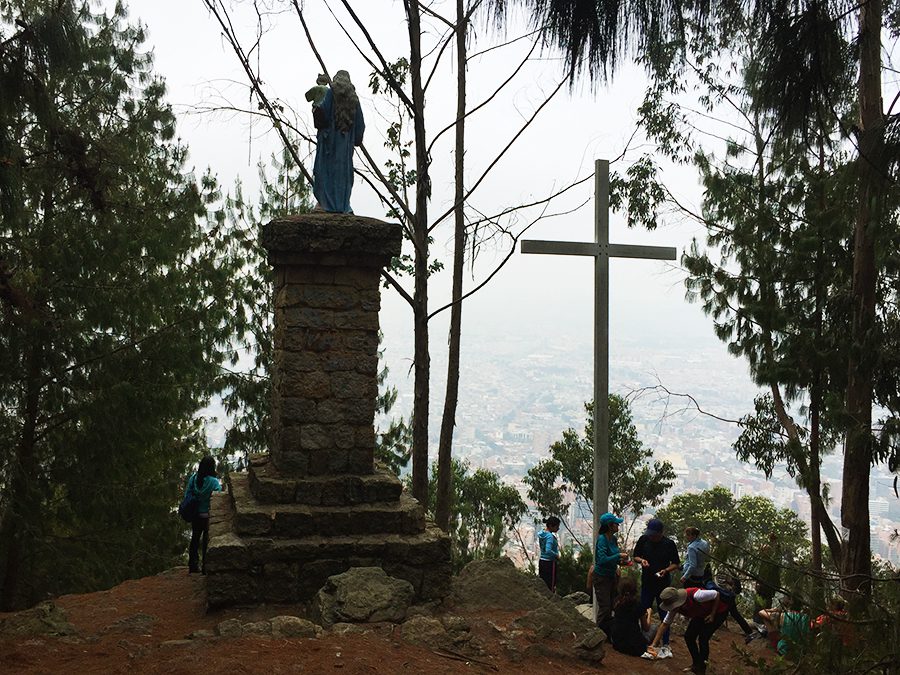 Explore Bogota's Food Scene
Bogota is a very worldly city, and this is reflected in it's food culture. There were a couple main neighborhoods I found the best and most interesting food:
North Chapinero -
This area is more developed, and upscale. The streets had a bit of an LA vibe to them - clean, modern, and dotted with palm trees.
Masa -
This little eatery is cute and trendy. They serve fresh, healthy breakfast foods, and sandwiches. They also have the best hot chocolate I've ever had. Order some with a roll or croissant and be sure to dip the bread in the chocolate often!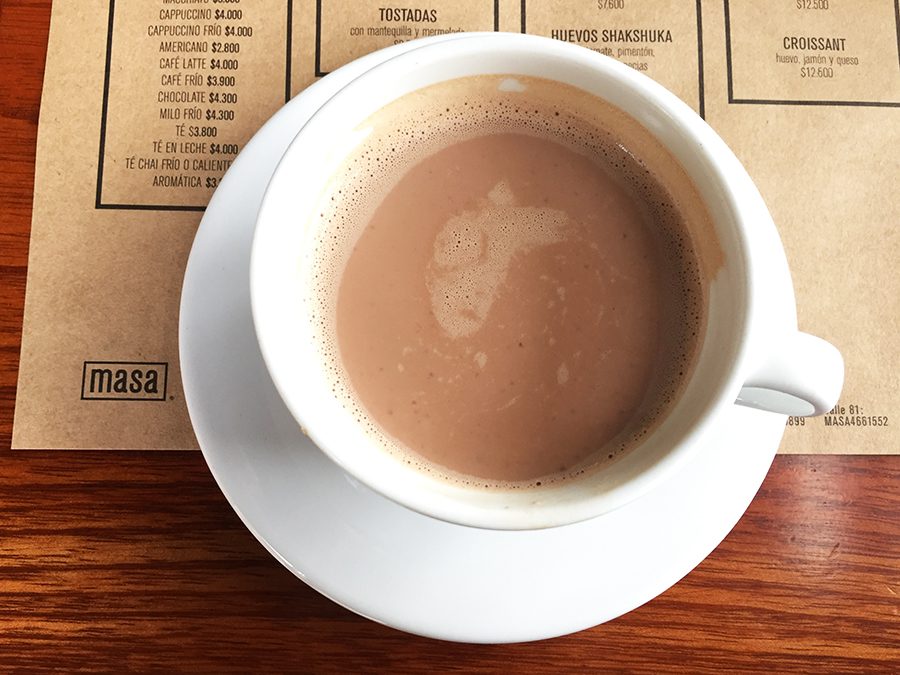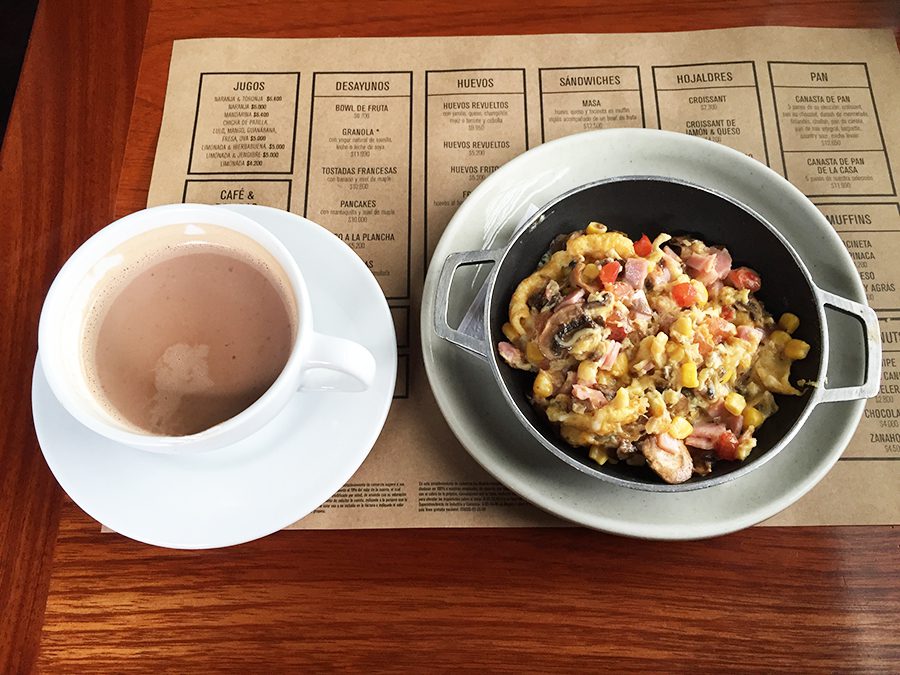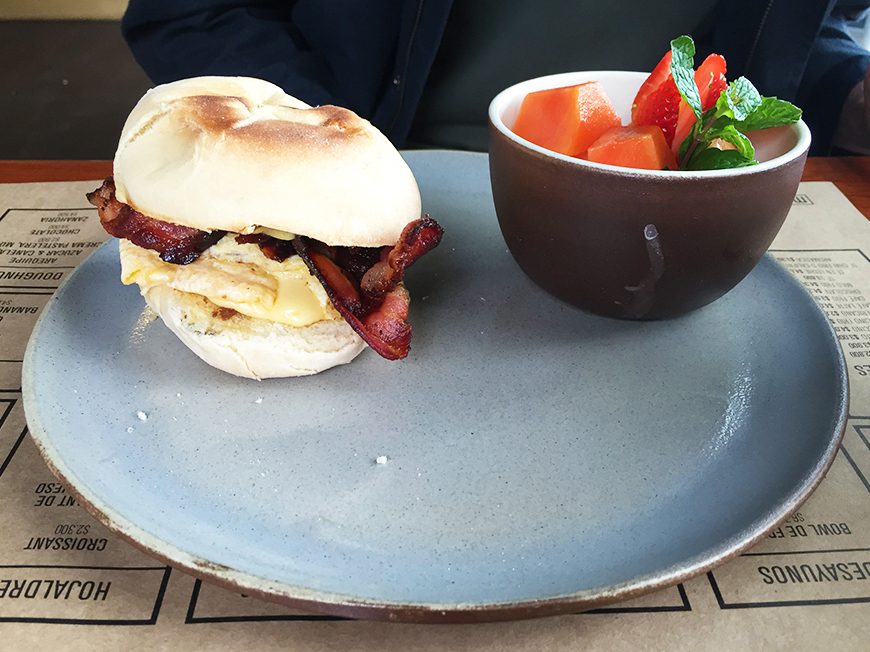 We ate here for my husband's birthday. It was pretty ironic for us, because we had just left our home in Brooklyn to explore South America and Mexico for a few months. But this restaurant is Brooklyn themed, and proud of it. Signs for streets and subway stops in the borough decorate the walls (even a sign for Montrose Avenue - our old street!)
The food is really good though! It's a really hip place, serving trendy food and cocktails.
We tried the fried pickles, dates with bacon, fried chicken, and a pulled pork sandwich. All were delicious.
This brewery has 3 locations in the city. We visited two - one on Calle 71 and another on Calle 59. Both were nice and comfortable, but the 59th location is a little cuter and cozier. The crowd seemed young and hip. The beers were tasty, and the atmosphere was great.
Chapinero Central -
This area seems to be where all the young, creatives are hanging out. It reminded me a bit of Bushwick in Brooklyn. Still a little rough around the edges, but has a lot of cool spots opening up. It's just West of Carrera 7 between Calle 56-60
There are lots of bakeries, restaurants, and clubs here. We stopped for a late lunch in one of the traditional restaurants on Calle 58. The Ajiaco (or creamy chicken and potato  soup) was delicious, hearty, fresh, and very reasonable.
North Bogota and Outside the City -
Another spot that shouldn't be missed is Andres Carne de Res.
This is the most famous restaurant in the city. They have 2 locations - one is a 2 story restaurant/club in Northern Bogota, and the other is outside the city in a town called Chia. They are famous for their steaks, and the party atmosphere.
Be Prepared:
Elevation:
Give yourself a day to wander slowly, rest, and drink lots of water. Don't do Monserrate or the Quebrada La Vieja hike on your first day.
Weather:
Bogota can be warm during the day when the sun is out, but gets quite cold in the evening. Be prepared with a sweater, jacket, long pants, and closed toe shoes.
Be sure to wear sunscreen everyday, even if it's cloudy. The city is high in elevation, and you'll be surprised at how quickly you can burn!
Safety:
Safety can be a concern - don't walk alone at night. Walk in busier areas/streets, even during the day. Don't use expensive smartphones in the street.
Use Tappsi or Uber to call a secure taxi. Don't hail taxis off the street. There have been instances of fake taxis picking up patrons and robbing them. Tappsi and Uber are super easy to use, and secure. Tappsi gives you your taxi driver's name, license plate number, and even gives you a password to give back to him when entering the car. You can then pay your driver in cash, or you can set up a credit card in your app's account.
Culture:
Very few people speak English (outside of teenagers and young adults), learn some basic words in Spanish.
Most restaurants and amenities are closed on Sundays (though Exito, the major supermarket, is usually open). Try to plan your shopping and eating out during the rest of the week.
Bogota is a pretty conservative city. You will never see woman wearing dresses with bare legs, or skimpy tops. If you want to blend in with the locals, consider having long pants or leggings, and a jacket or sweater.