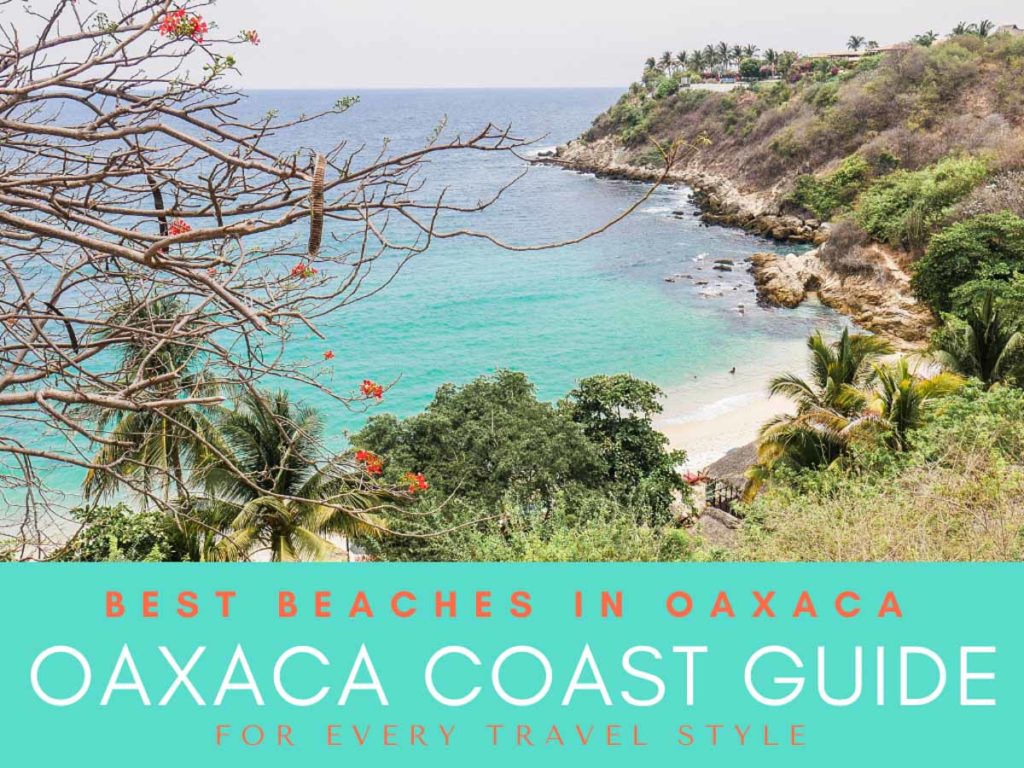 The Oaxaca coast is full of different cove beaches and towns. The unique thing about this coastline is that every Oaxaca beach and town has a totally different vibe, so you can find a place for any type of traveler or travel style. So this Oaxaca coast guide is going to break down the best beaches in Oaxaca so you can find the best fit for your next vacation.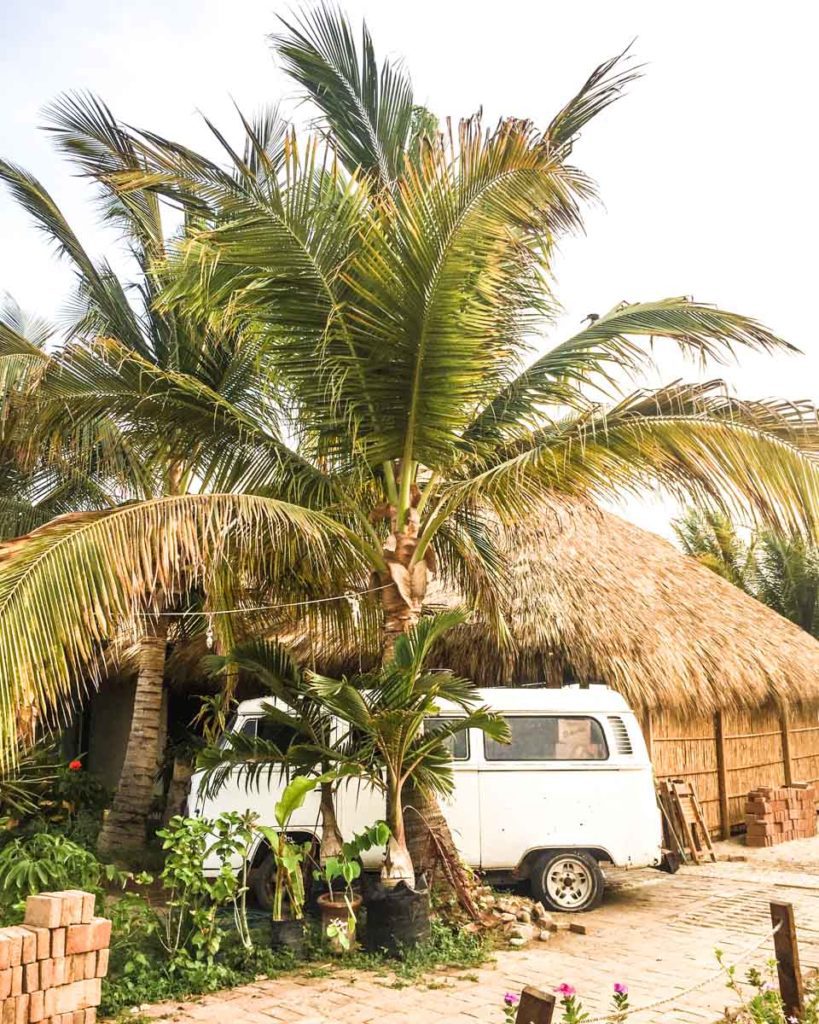 Puerto Escondido: Oaxaca Coast Guide
Puerto Escondido is a small city, so this is one of the most developed parts of the coast. However, it's also a real Mexican town, so it has tons of culture to mix in with your Oaxaca coast beach vacation.
Puerto Escondido also has some of the best beaches in Oaxaca, so you can get the best of both worlds – lots of amenities and action, but also beautiful Oaxaca beaches. Check out my full guide for what to do, where to eat and where to stay in Puerto Escondido.
The town has several beaches within it, so I'll break down each one below…
Find Your Oaxaca Coast Airbnb or Hotel: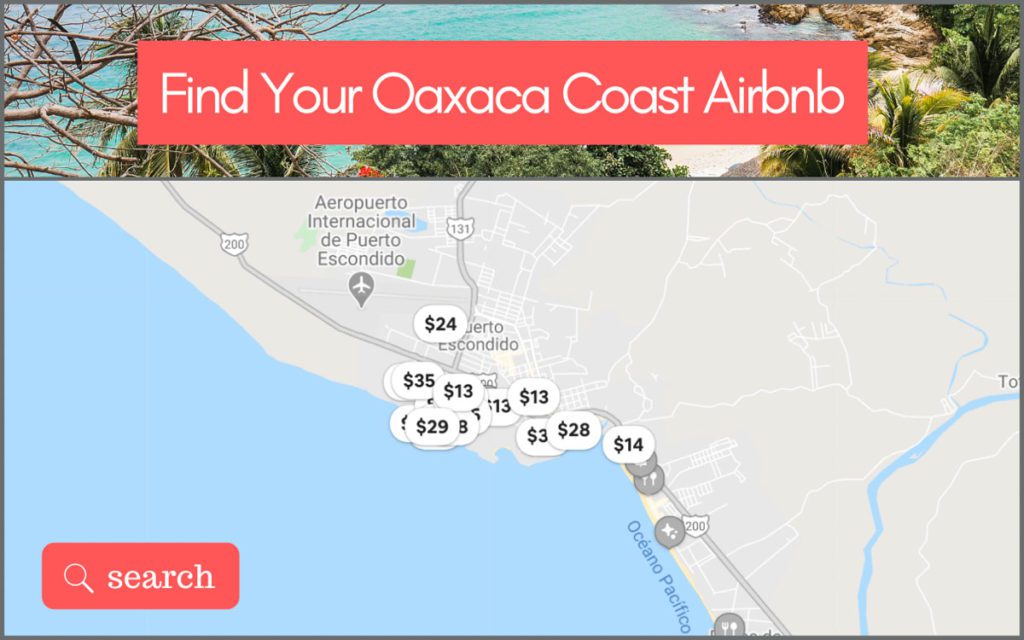 Playa Bacocho: Best Beaches in Oaxaca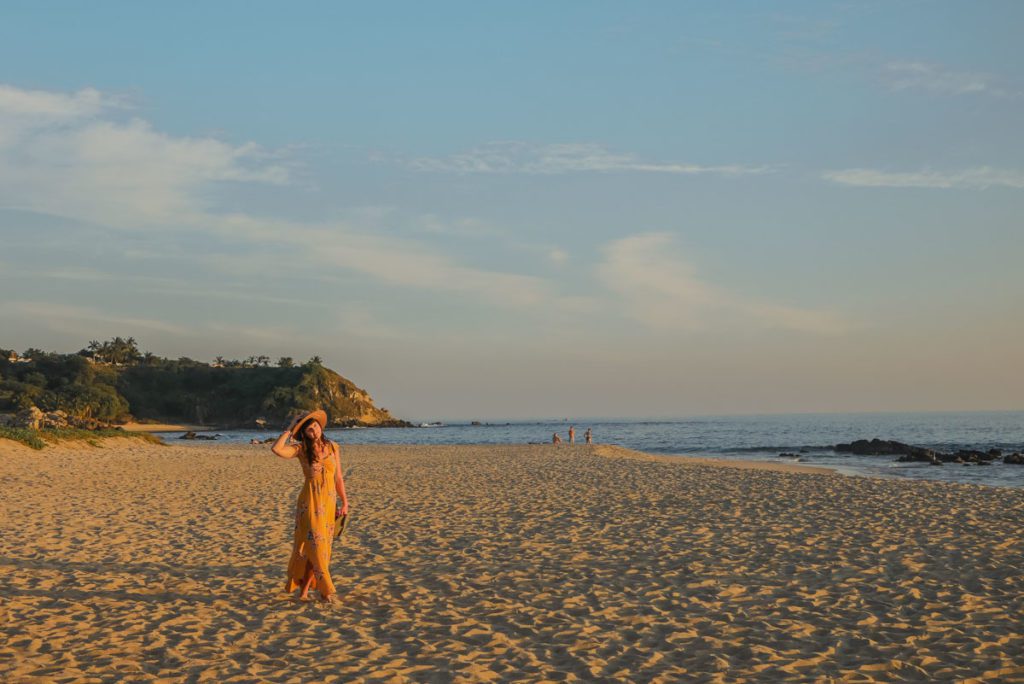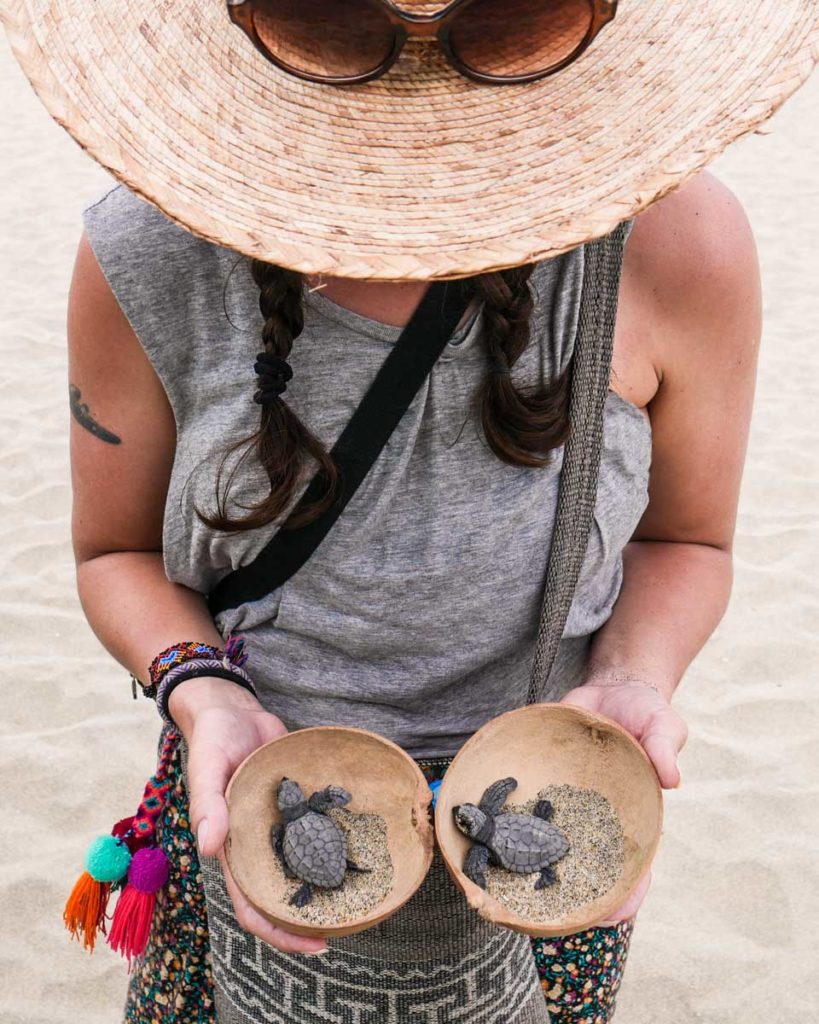 Playa Bacocho is one of the best beaches in Oaxaca if you want to have a totally quiet relaxed vacation, but be only a couple minute taxi ride from all the action.
Playa Bacocho is famous for the turtle release (scroll down in my PE travel guide to find out the details) that happens every evening during turtle season. This Oaxaca coast beach is beautiful, but not really safe for swimming – so you'll probably want to book a hotel with a pool. Hotel Villasol is a great vintage hotel with multiple pools, a restaurant, and a beach club on the beach. Or choose a vintage Airstream Puerto Escondido Airbnb for a design-worthy inspiring stay.
Find your Airbnb in Playa Bacocho.


Playa Carrizalillo: Best Beaches in Oaxaca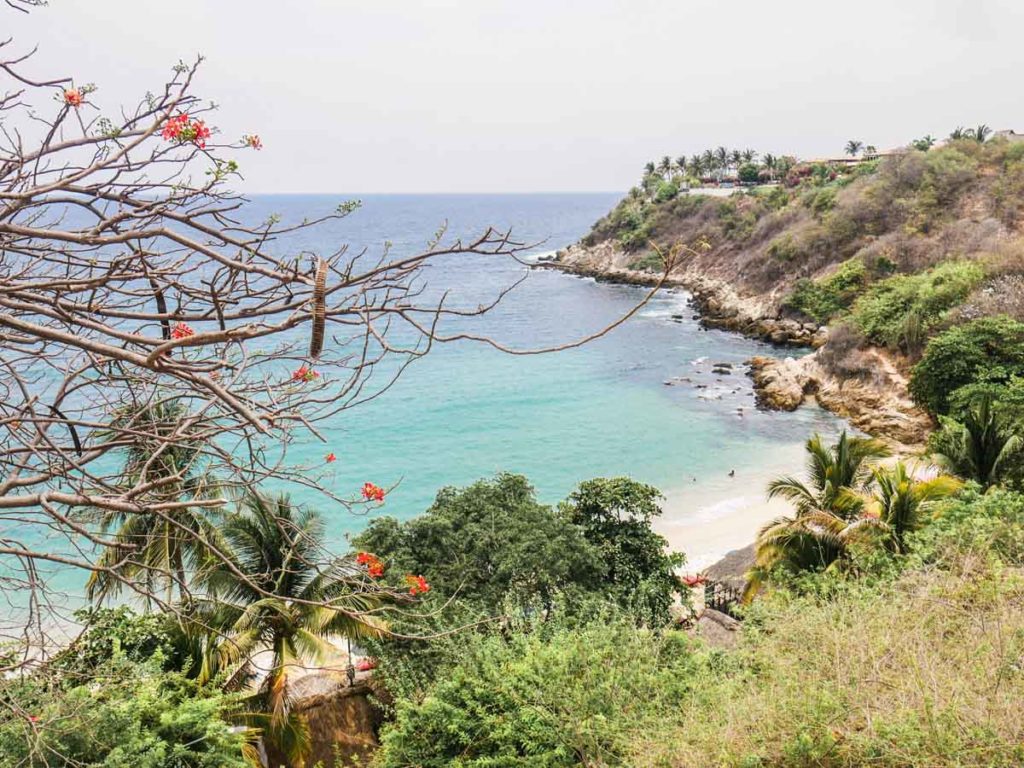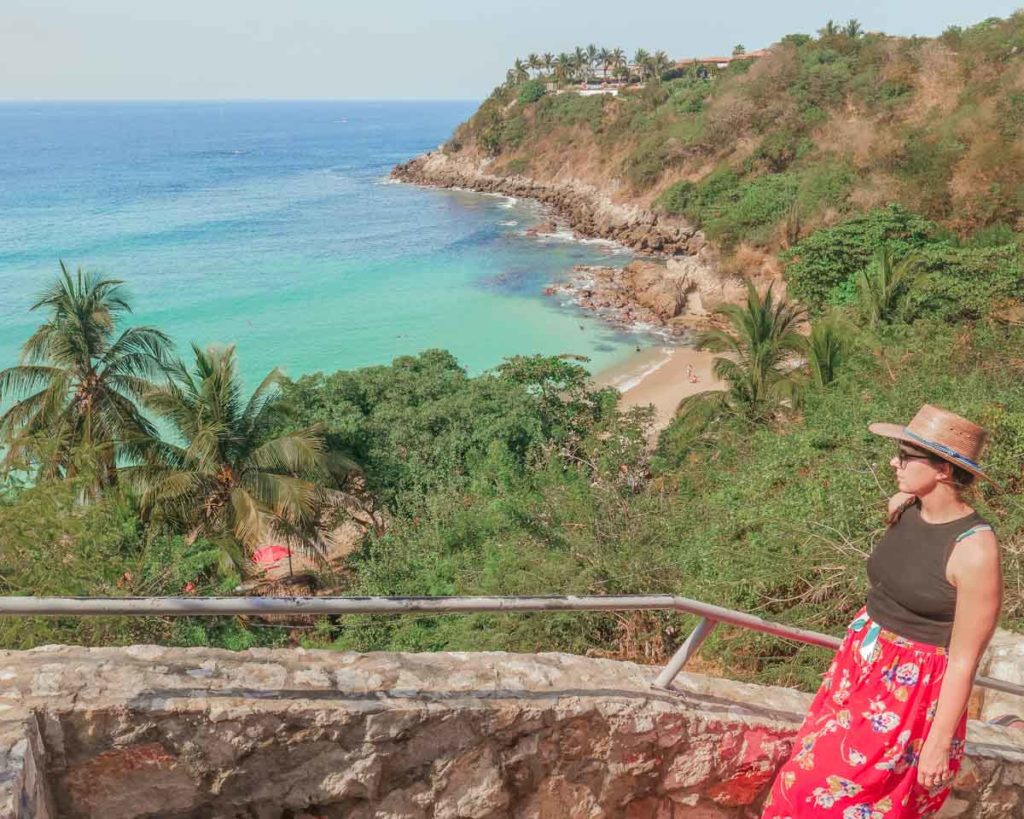 Playa Carrizalillo is hands down one of my favs and one of the best beaches in Oaxaca. It's a small, but gorgeous cove, filled with turquoise clear water, and an almost perfect and gentle wave.
You arrive at the top of the cliff, so you get an amazing birds eye view of the cove. You will have to descend and climb back up many steps – so this isn't an accessible Oaxaca beach for those with mobility limitations.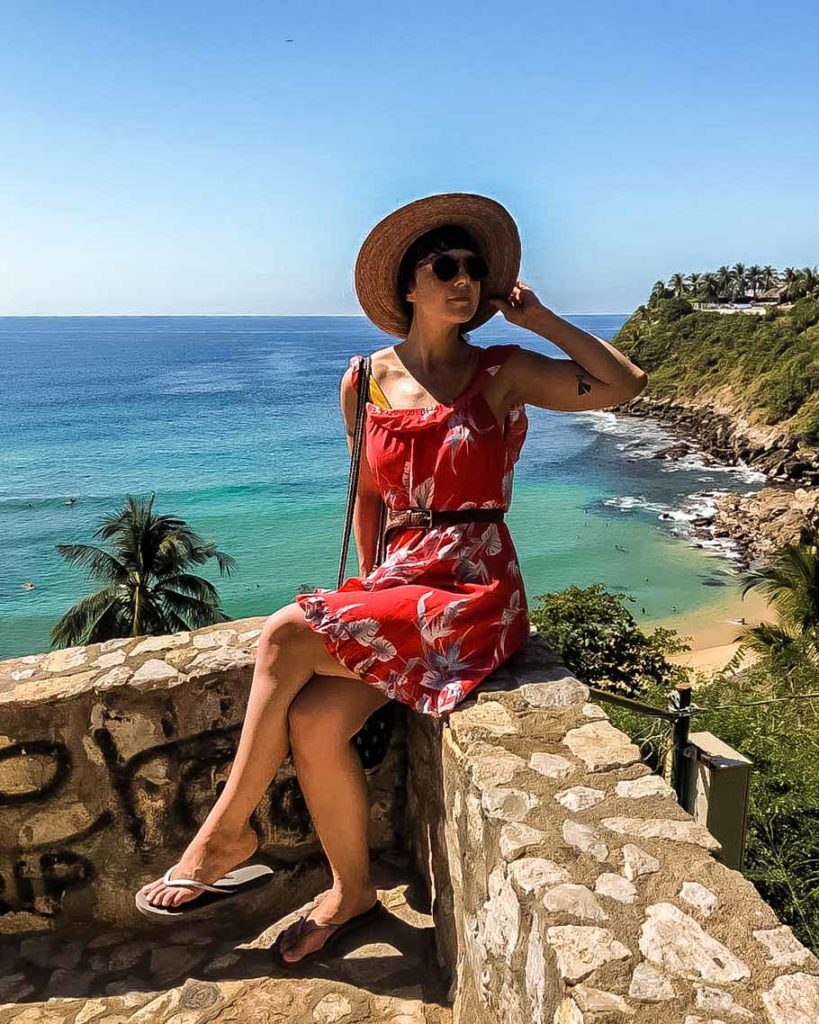 This Oaxaca coast beach is safe for swimming, and great for a long day of lounging around. You can also take beginner's surf lessons here, or do SUP.
There are only a couple hotels on the cliff overlooking the beach of Playa Carrizalillo, so most people stay in the little neighborhood just inland from the beach. There are several amenities here, but it's a quiet area, and very quiet at night.
This Oaxaca beach is best for those that want to relax on a beautiful beach all day and have a quiet night. Although it is very easy to take taxis to other parts of Puerto Escondido with more action.
Find your Airbnb in Playa Carrizalillo.
Playa Puerto Angelito/Playa Manzanillo: Best Beaches in Oaxaca
These two Oaxaca beaches are actually in one cove, just separated by a jetty. They are both pretty beaches, safe for swimming, and often filled with locals.
These aren't my favorite beaches in Oaxaca because I think that Playa Carrizalillo is so much prettier, but they are worth a visit and give a glimpse into local life.
Zicatela: Best Beaches in Oaxaca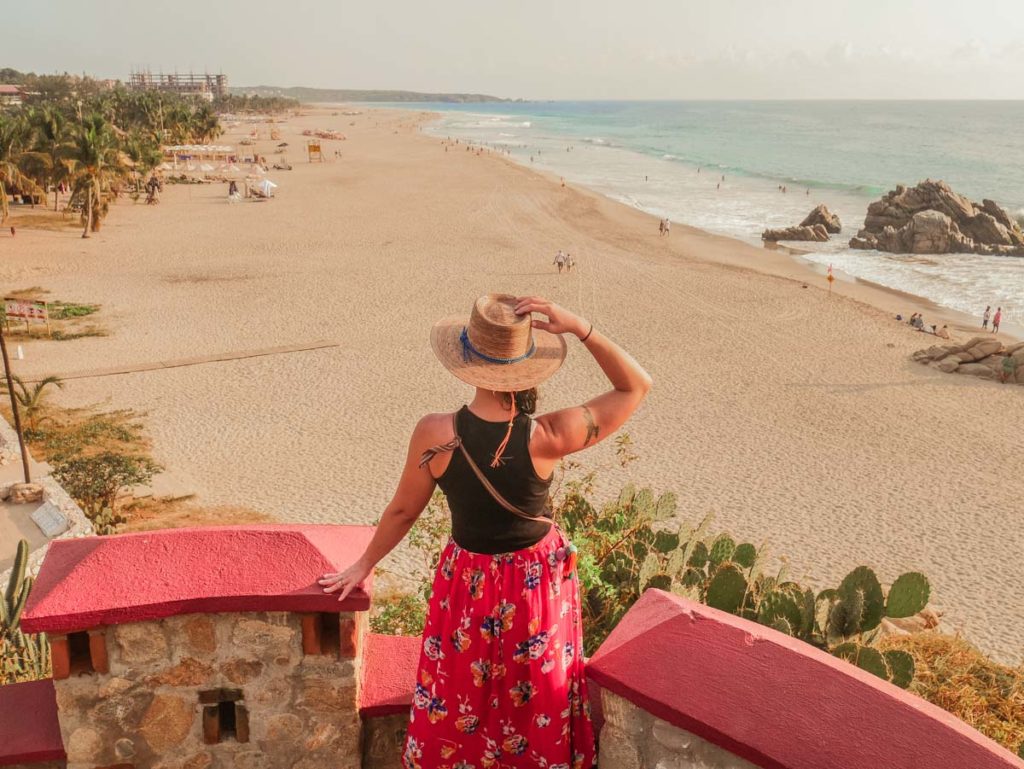 Zicatela is one of the best beaches in Oaxaca and even the world for surfing – it's famous for its giant and intimidating wave that can get huge during rainy season. They hold international surfing competitions here.
Because of this, there is a strong rip tide and it's not a safe place to swim (at all). But it is a pretty beach with a long stretch of sand and a fun place to enjoy the restaurants and bars.
I've stayed in Zicatela a few times, and I love this Oaxaca coast beach for the vibe. There are tons of great restaurants and bars here – the nightlife is full of energy. There are lots of great hotels here – from nicer hotels to mid-range to basic and very affordable. I have a full guide about what to do, eat and where to stay in Puerto Escondido, with an emphasis on Zicatela & La Punta (the beach below)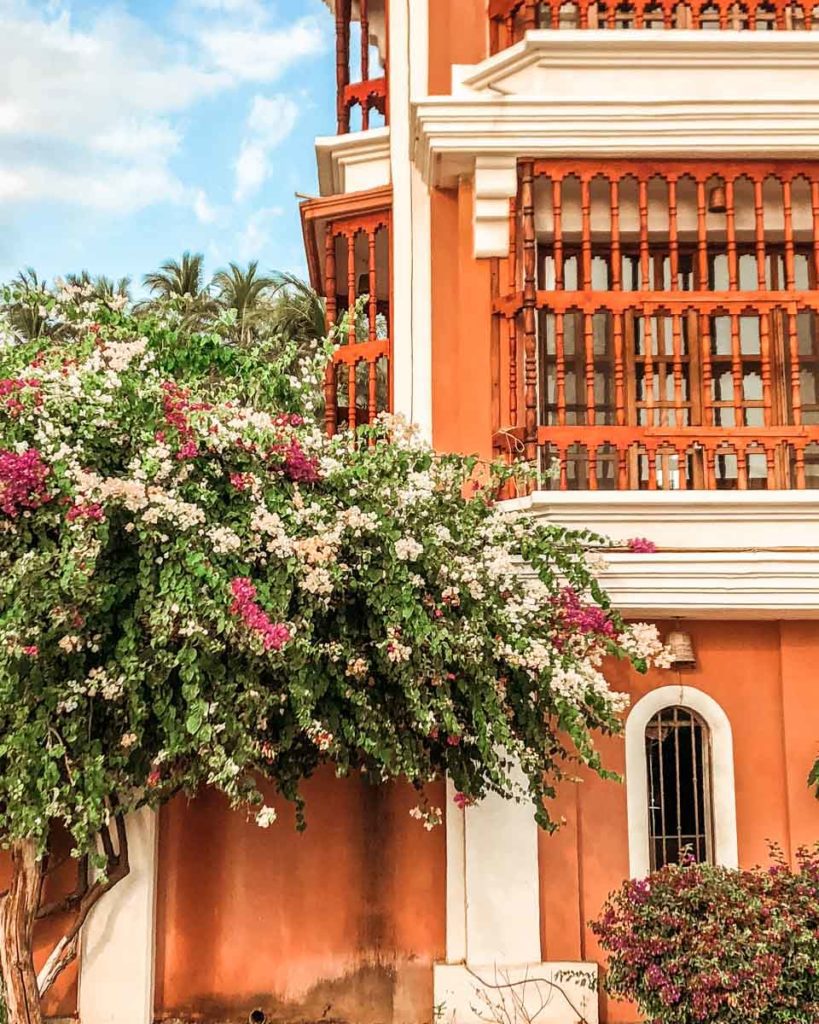 It feels part backpackery, part domestic tourist, and a little bit of everything else mixed in.
Even though you can't swim at Zicatela, you can taxi or hop on a pasajero (the local transportation) to any of the other Puerto Escondido beaches in minutes. I've often payed around 40 pesos per taxi trip within Puerto.
Find your Airbnb in Zicatela.
La Punta/Brisas de Zicatela: Best Beaches in Oaxaca
La Punta is the very southeastern edge of Zicatela beach, but it has it's own vibe.
La Punta is becoming a hip place to stay, so lots of organic shops are popping up, boutiques, and restaurants. You can find some good food here and good nightlife, though it is a bit quieter than Zicatela.
The center of La Punta feels like it's own village, the roads are unpaved, and the feeling is very relaxed and barefoot.
The beach at La Punta is actually safe to swim, though with caution. You'll have to pay attention to the flags and be aware of the current. It can be stronger here than some of the very calm beaches, like Playa Carrizalillo. To be honest, it's a little too strong for me, but other friends of mine usually feel comfortable.
La Punta is also one of the best beaches in Oaxaca for surfing, by far. There is a great consistent wave that crashes over the point (la punta), so it's great for intermediate surfers. Lots of surfing classes and surf board rentals are available at this Oaxaca coast beach.
Find your Airbnb in La Punta.
Find Your Oaxaca Beach Airbnb or Hotel:
Just Outside of Puerto, Punta Pajaros: Oaxaca Coast Guide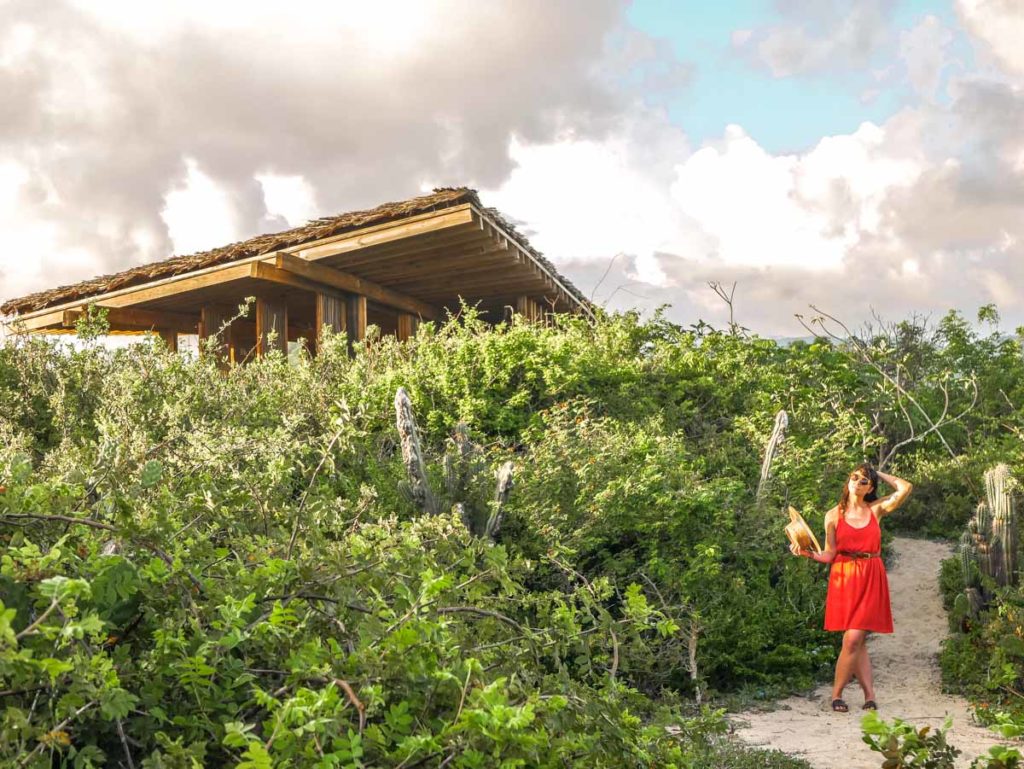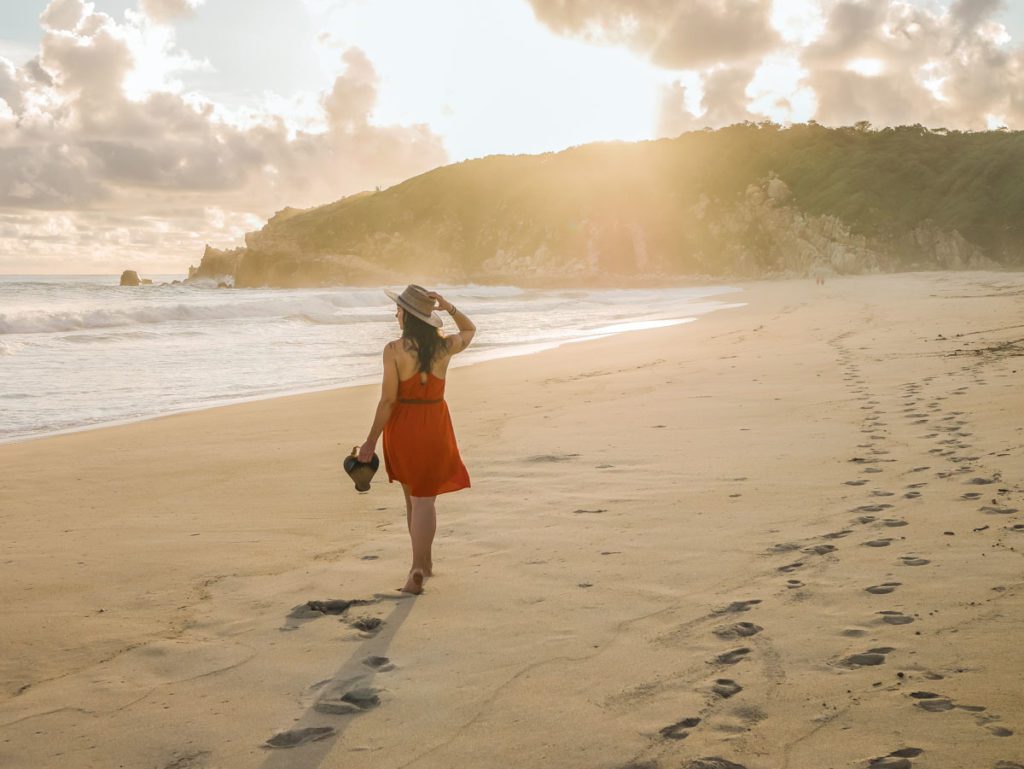 This up-and-coming beach area is beautiful, wild, remote and artistic.
I've stayd here twice, once in 2019, and again in 2022. It's a beautiful natural place to disconnect from regular life, plus has the artistic, design-oriented atmosphere that permeates this beach.
It's a long sandy beach about 30 minutes south of Puerto Escondido. It doesn't take long to arrive on the highway, but then you navigate a dirt road for awhile to your Airbnb or hotel.
In 2019, I stayed in Casitas by the Sea, designed by architect, Alberto Kalach. Then in 2022, I stayed in the gorgeous Casas Maria Matilda, designed by the architects of Gaeta Springall Arquitectos. Nearby is the art foundation of Casa Wabi, also designed by a famous and award-winning architect, that you can tour. There are just a couple of hotels here including, Hotel Escondido and Hotel Terrestre. Otherwise you'll find several beautifully designed airbnbs like the ones above.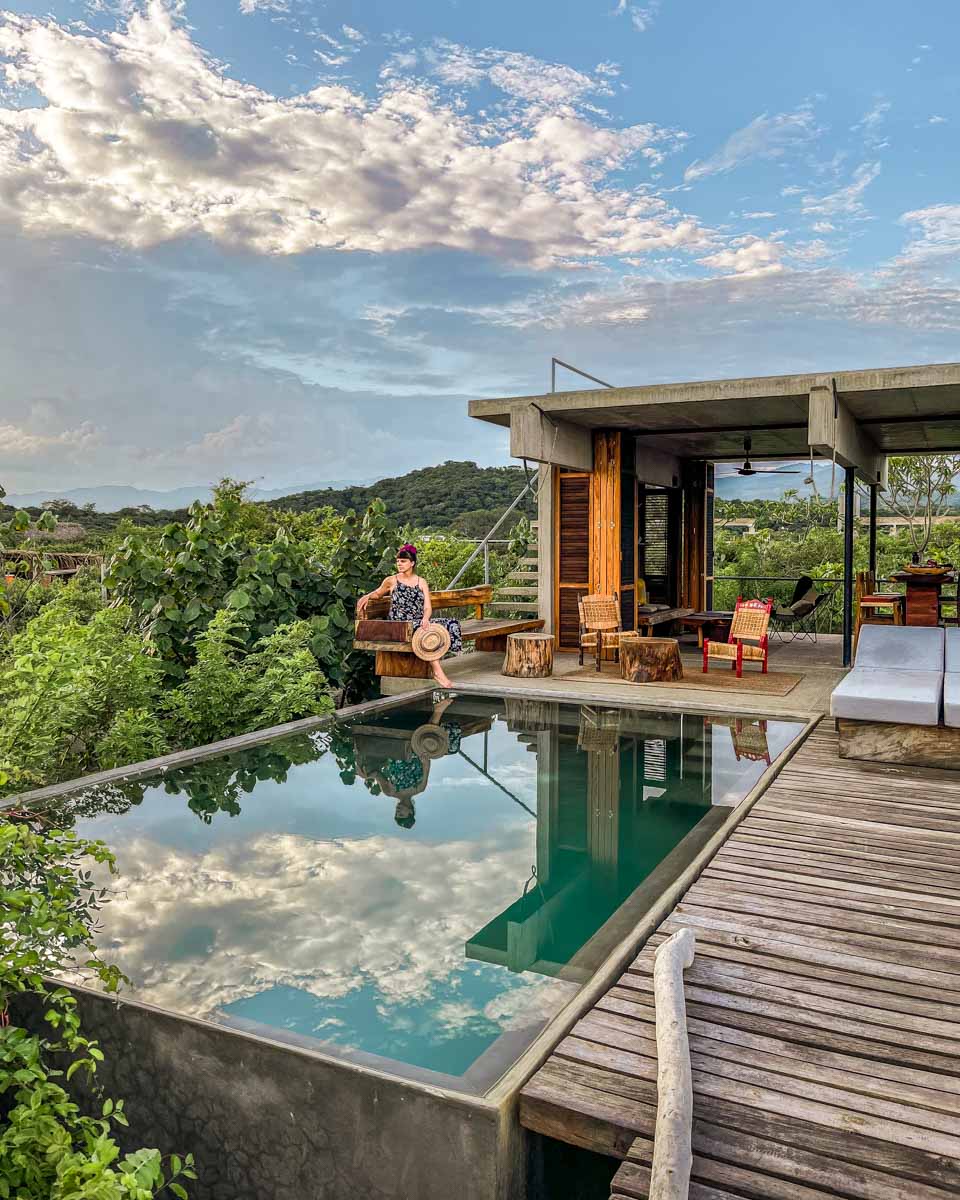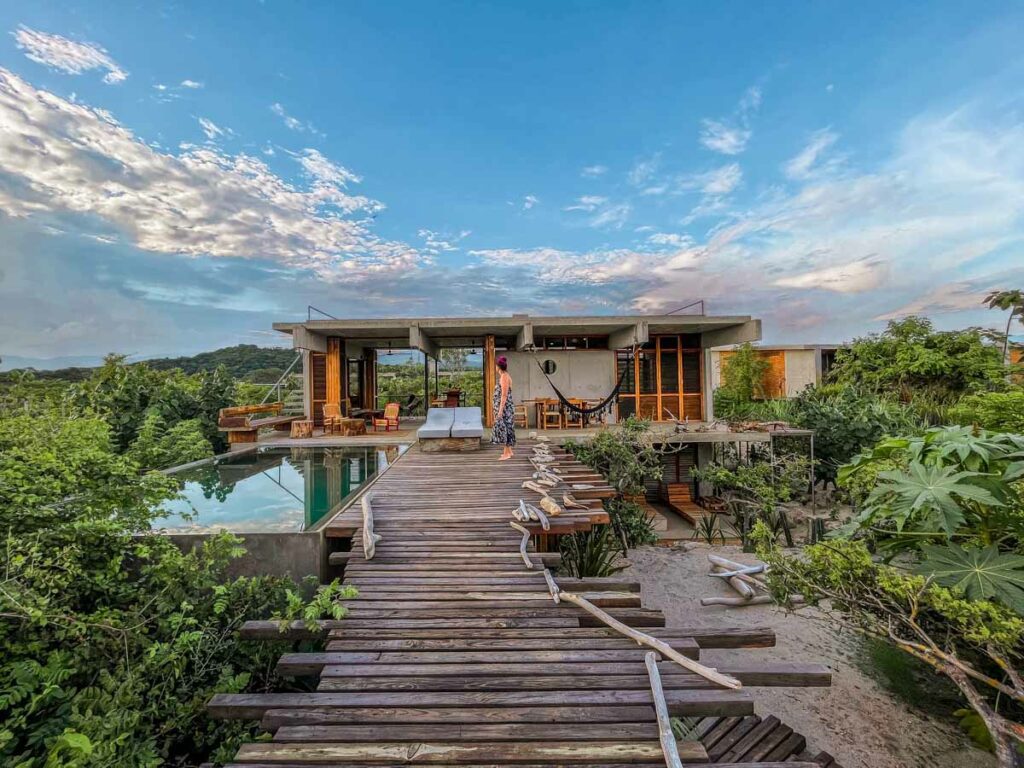 If you choose to stay in an Airbnb, you can dine at Cobarde Mezcaleria, Hotel Escondido, La Palapa at Punta Pajaros, Kakurega Omakase , just make reservations ahead of time. Otherwise there are no other food options, so you'll want to stop at a grocery store in Puerto Escondido on your way to stock up.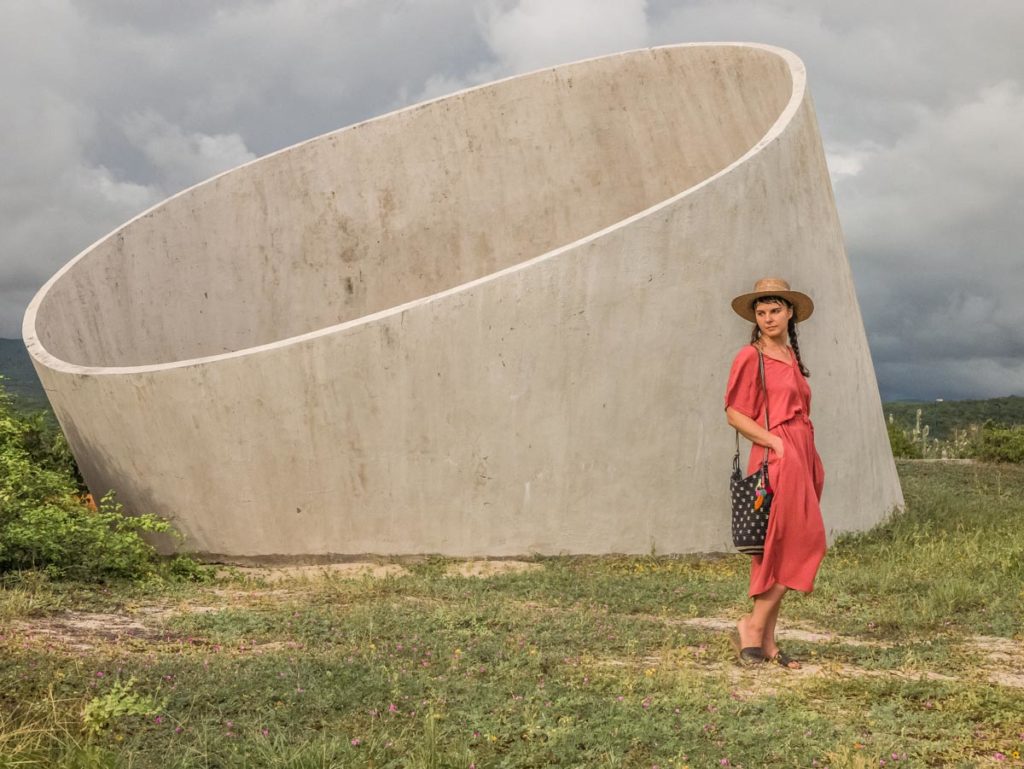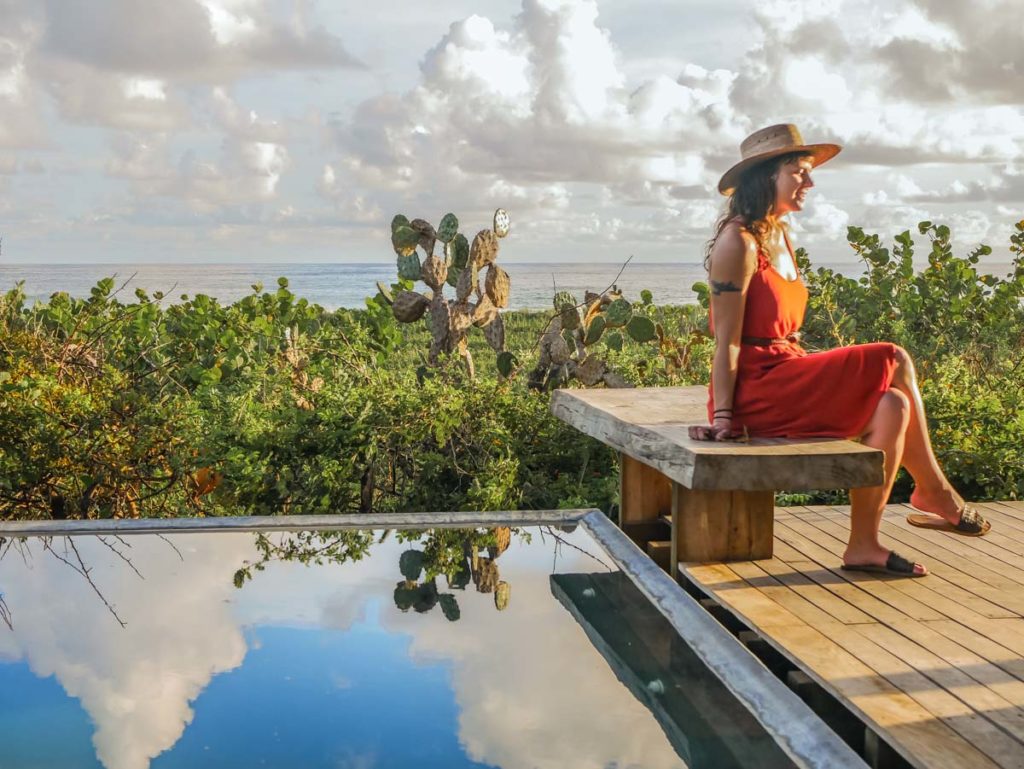 I'd recommend renting a car to arrive or to visit Casa Wabi for a tour. Or you can take a taxi like I did during my visit.
This is a place to relax, disconnect, swim in your on-site pool (the ocean's current is dangerous for swimming), and do some early morning or evening beach walks/hikes. If you're looking for an off-the-beaten path Oaxaca beach experience, Punta Pajaros is lovely.
Find your Airbnb in Punta Pajaros.


Mazunte: Oaxaca Coast Guide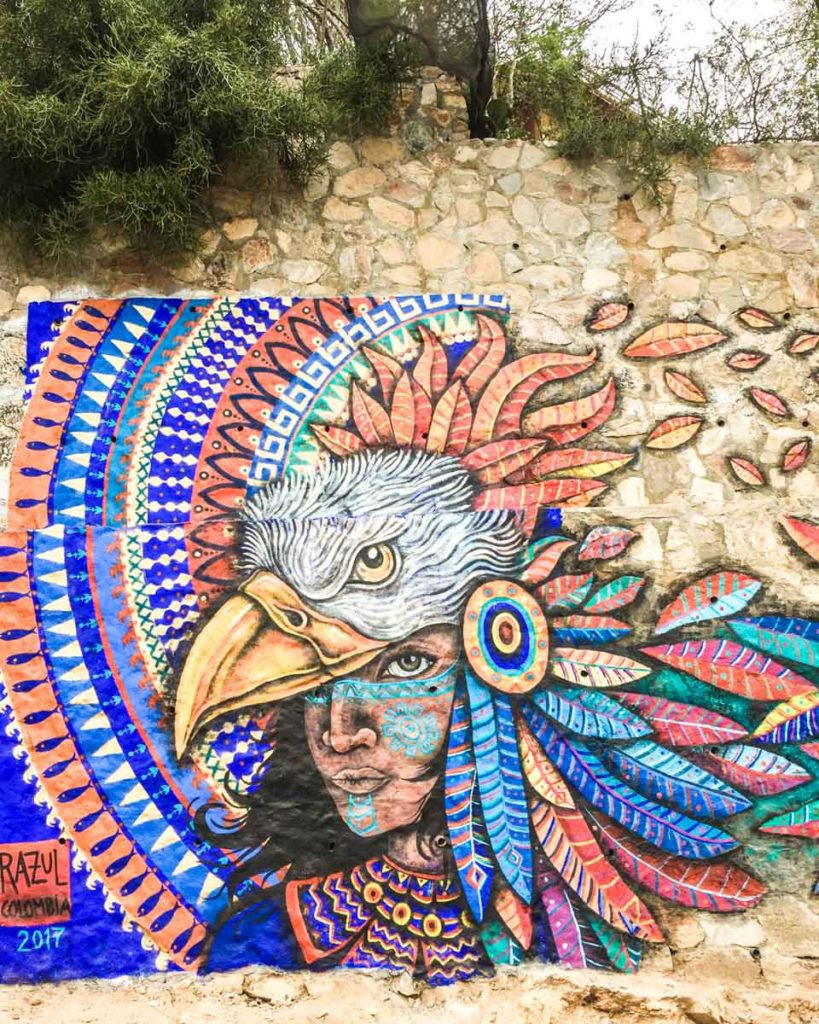 Mazunte is a little Mexican village on the Oaxaca coast that is famous for it's huge population of sea turtles. There is plenty of wildlife to see here – turtles, dolphins, crocodiles (in mangroves, not on the beach) and whales during the winter season.
Mazunte is one of the best beaches in Oaxaca for the people who like to get off-the-beaten path, but still want to have some comforts and amenities.
There is one main beach in town that is pretty and has a calm area for swimming. There are also a couple of other pretty beaches within walking distance (Playa Cometa and Playa Mermejita). These beaches aren't safe for swimming but are beautiful and nice to explore.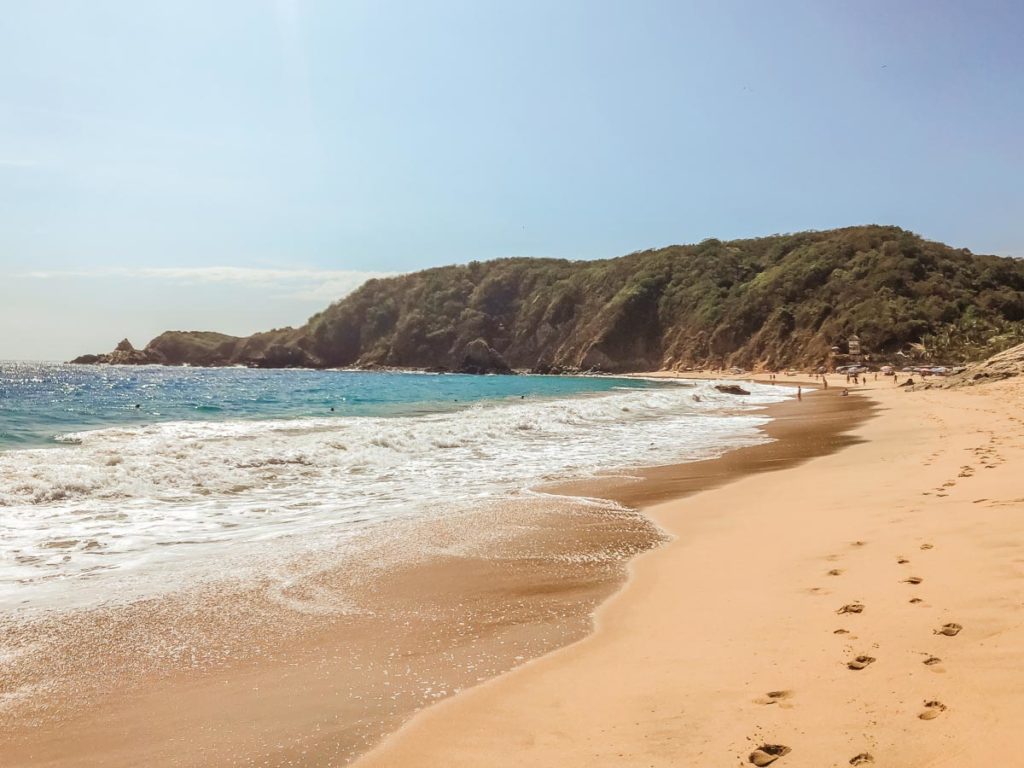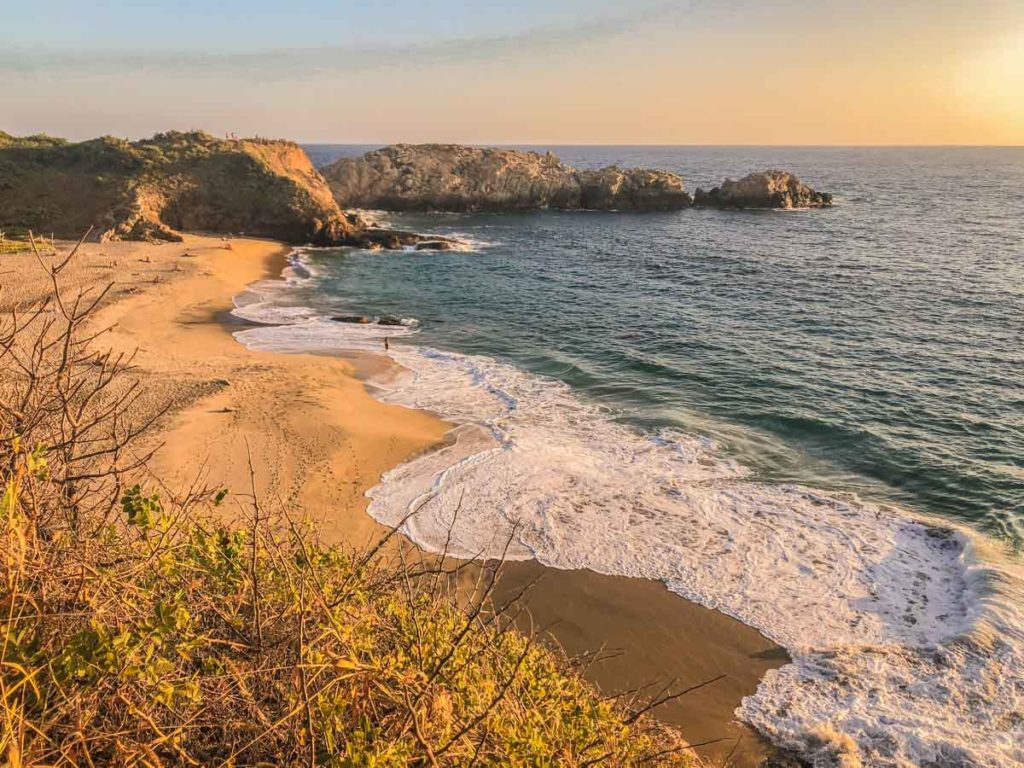 The traveler type in Mazunte leans young and bohemian. But of course there is still a mix of many types of travelers.
One of my favorite things about Mazunte is the gorgeous park – Punta Cometa. This point jetties out as the southernmost point of the Oaxaca coast. There are easy trails to walk along the cliff and admire the waves crashing on the rocks below. There is a small remote beach here you can explore, and it's also the best place to watch the sunset in Mazunte…and maybe on the whole Oaxaca coast.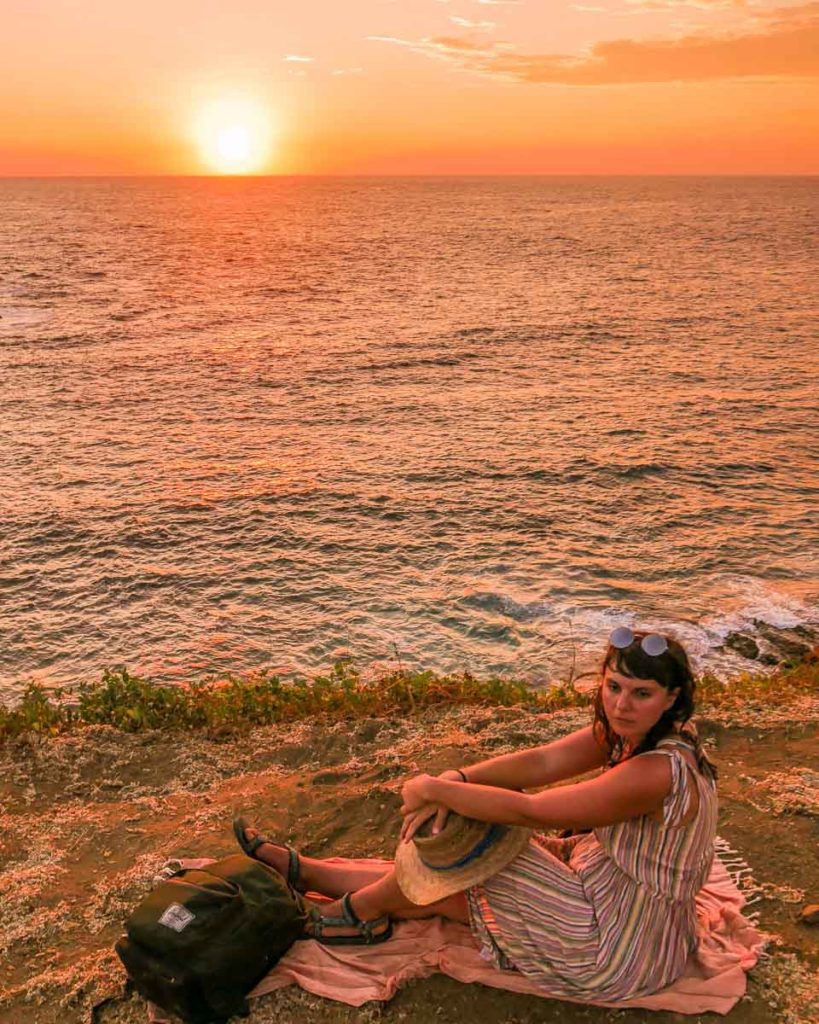 If you are heading to Mazunte, check out my full guide of what to do, where to eat, and where to stay.
Find your Airbnb in Mazunte.
San Agustinillo: Oaxaca Coast Guide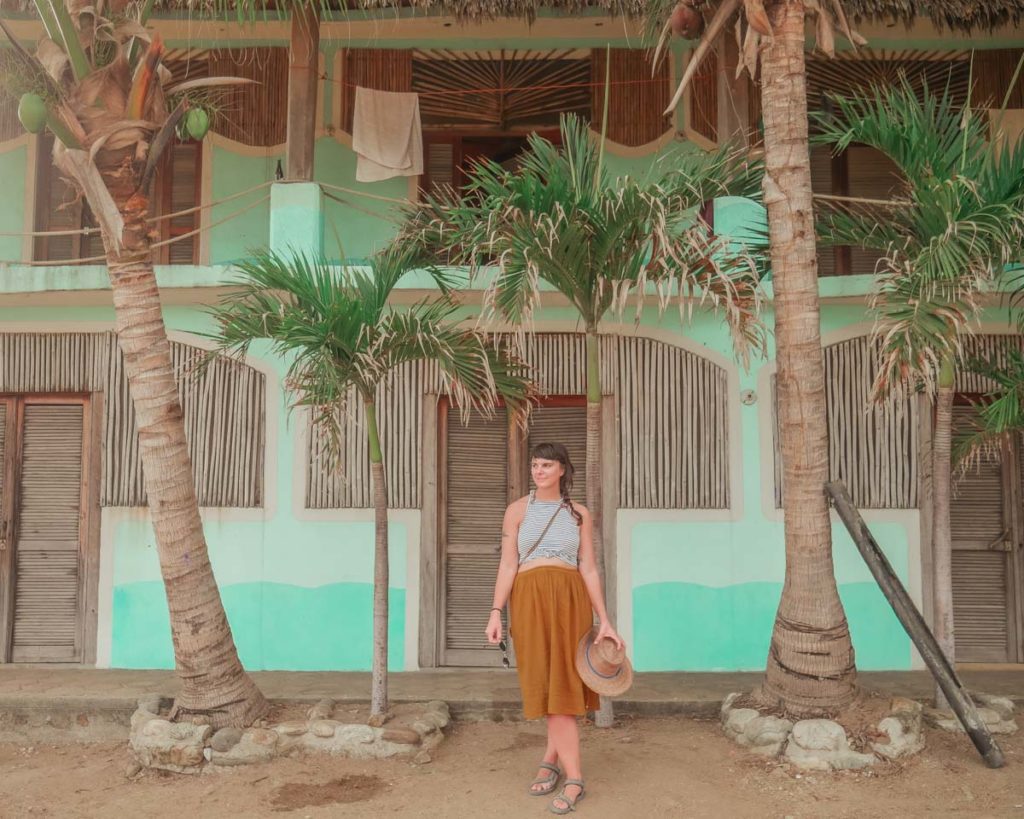 San Agustinillo is a little town directly adjacent to Mazunte and within 10-20 minutes walking distance, so most things that I've said about Mazunte apply to San Agustinillo too – the access to wildlife, the ability to hike Punta Cometa, etc..
San Agustinillo is even a bit smaller than Mazunte, so it has an even more relaxed and quiet vibe. The traveler type also skews slightly older – with the majority of people seeming to be in their 30s-40s. Lots of couples and young families. I've met many creative young people here from various countries who had interesting jobs or hobbies. Though, again, there is a little bit of everyone here.
There are lots of cove beaches on the San Agustinillo Oaxaca coast that wind around and have rock formations dotted here and there. This is nice because for its beauty but also because it makes lots of different wave and swimming environments – from calm areas to more aggressive waves.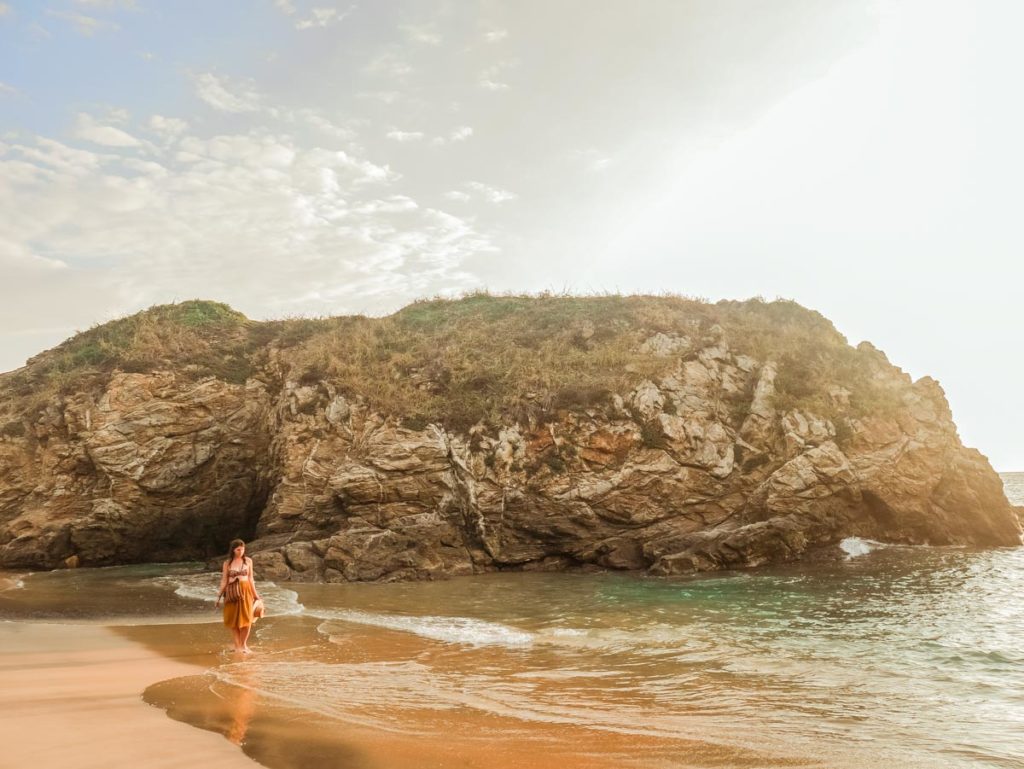 San Agustinillo is one of the best beaches in Oaxaca because it gives you the best of both worlds – quiet and relaxation with lots of amenities close by. If you are heading to San Agustinillo – check out my full guide for the town.
Find your Airbnb in San Agustinillo.
Zipolite: Oaxaca Coast Guide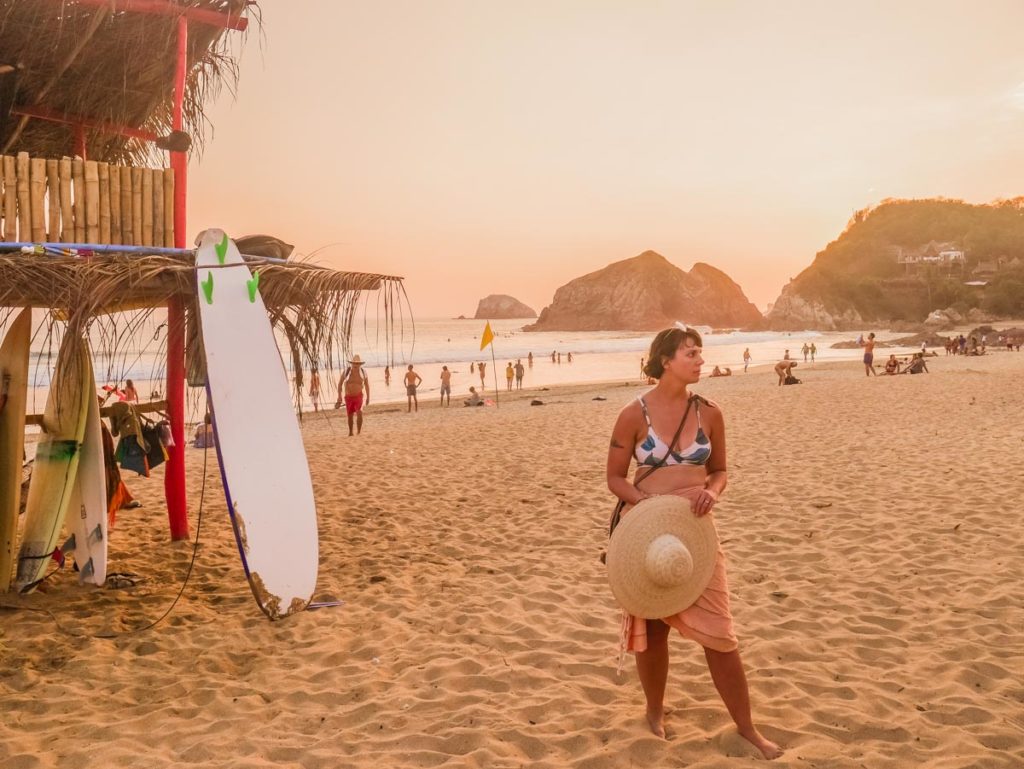 Zipolite is definitely the best beach in Oaxaca for people who enjoy nudist beaches – because that's just what it is!
But even if you prefer to visit the beach clothed, it's a beautiful beach and a cool little town.
The beach is quite long and guarded on both ends by big cliffs. It's picturesque and a beautiful place to watch the sunset on the Oaxaca coast.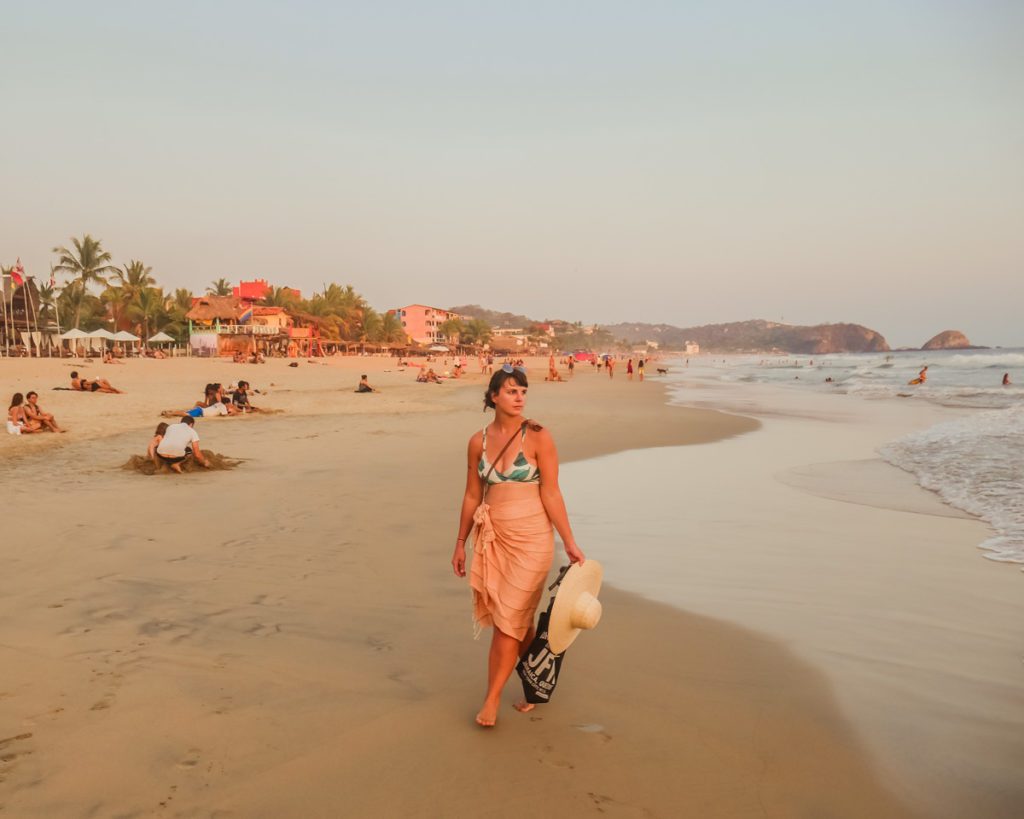 The water extends out shallowly for a long time. It can be a little tricky to swim here, depending on the tide and currents, because the currents are strong. But it's definitely nice for wading, splashing, and enjoying the beach.
The town has a very laid-back feel, but with plenty of good restaurants. The type of traveler here tends to lean European, but I have seen a mix of all ages and backgrounds.
Find your Airbnb in Zipolite.
Puerto Angel: Oaxaca Coast Guide
I have only passed through Puerto Angel, but got a glimpse at the town and the beach and have read a bit about it. Puerto Angel is a traditional Mexican fishing village on the Oaxaca coast. The town beach is a good port, so you will see boats docked all around. Still it is picturesque with it's steep cliffs bordering the small cove.
Puerto Angel seems to have less tourism than some of the other towns, so would be a glimpse into traditional Mexican life on the Oaxaca coast.
Find your Airbnb in Puerto Angel.
Playa Estacahuite: Oaxaca Coast Guide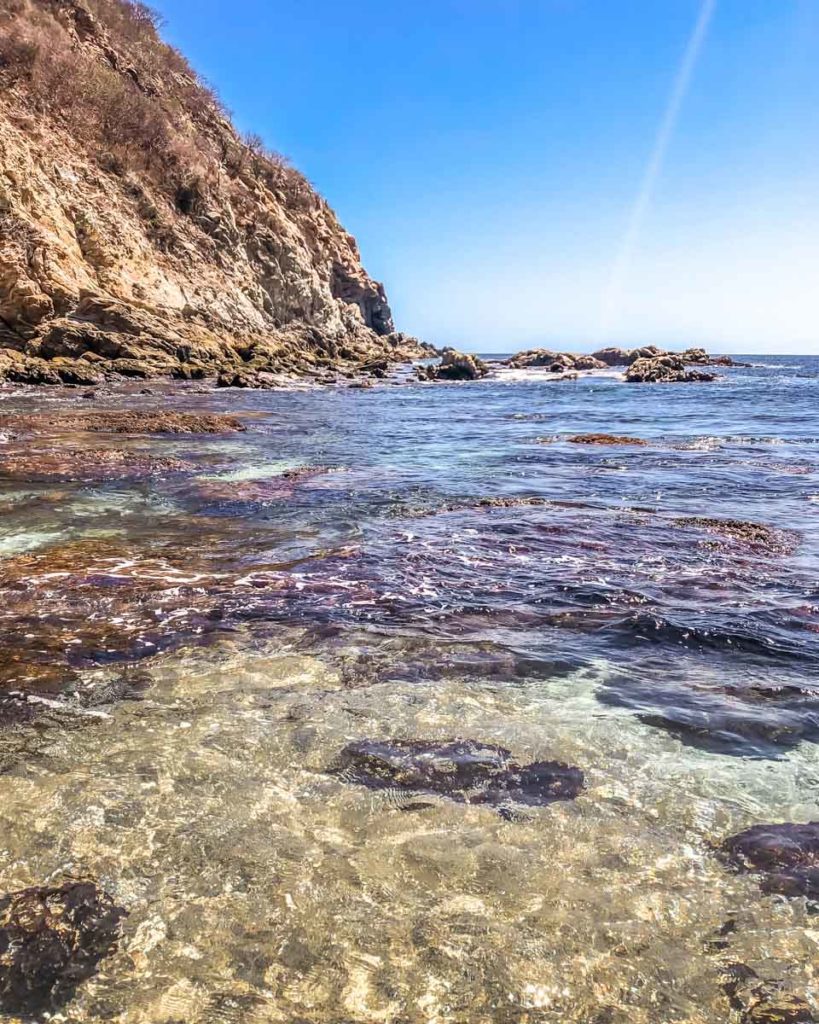 Playa Estacahuite is a tiny cove beach right next to Puerto Angel. It's off-the-beaten path, quiet and beautiful.
This Oaxaca beach is super quiet with only a couple of palapa beach restaurants. However, it's only 5 minutes drive to Puerto Angel so you could easily get back and forth for amenities. Especially if you rented a car.
I had the immense pleasure of spending a few days at the luxurious and beautiful Airbnb, Bianni Beuú. This home is perfect for groups as it sleeps 10 and is spread out of 4 floors. The architecture and decor is stunning and there is an incredible aerial view of Playa Estacahuite from every floor. Plus the infinity pool, rooftop jacuzzi, and incredible artist designed tile really seal the deal. Highly recommend.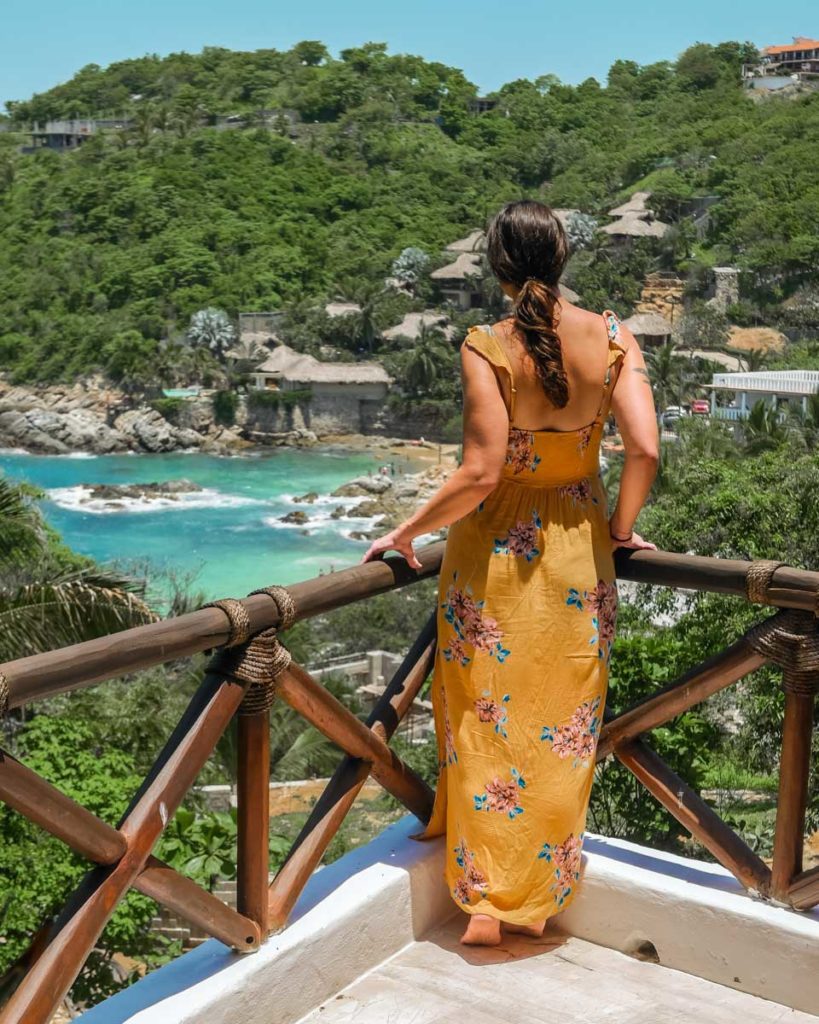 This would be one of the best beaches in Oaxaca to disconnect and enjoy a remote vacation.
Find your Airbnb in Playa Estacahuite.


Huatulco: Oaxaca Coast Guide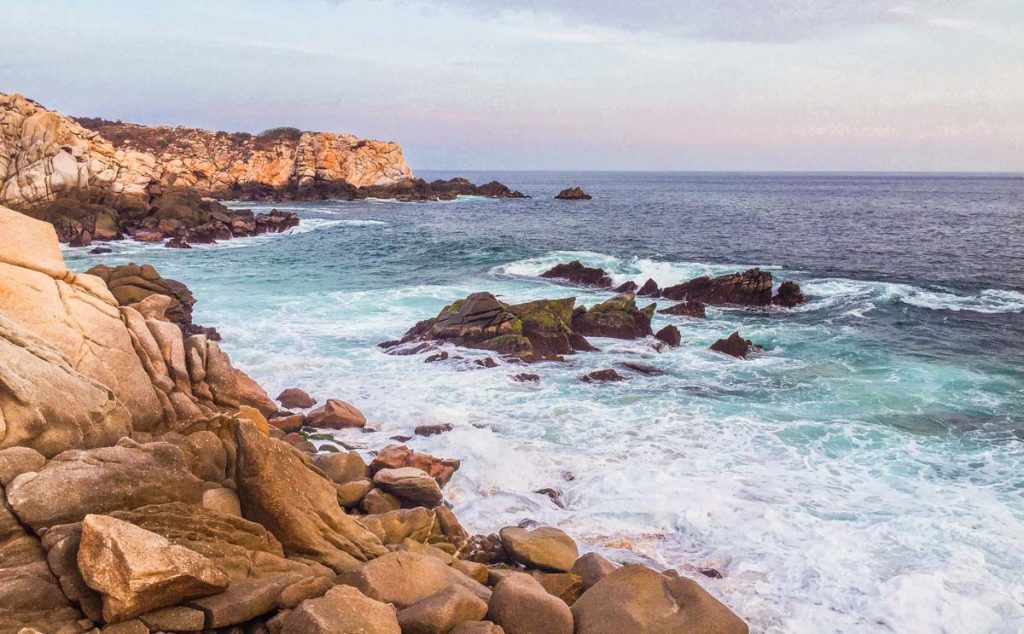 Huatulco is a Oaxaca beach area known for it's big resorts. The town is actually a few minutes inland, and the coastline is dotted with resorts – many all-inclusive.
But the interesting thing about Huatulco is it's completely beautiful 7 Bays. It's a National Park consisting of 7 cove beaches. Some of them are pretty remote and completely empty. I visited one on a road trip once and we literally had the beach completely to ourselves. We drove about a half hour down a bumpy dirt road and found a dramatic, beautiful and empty beach on the Oaxaca coast.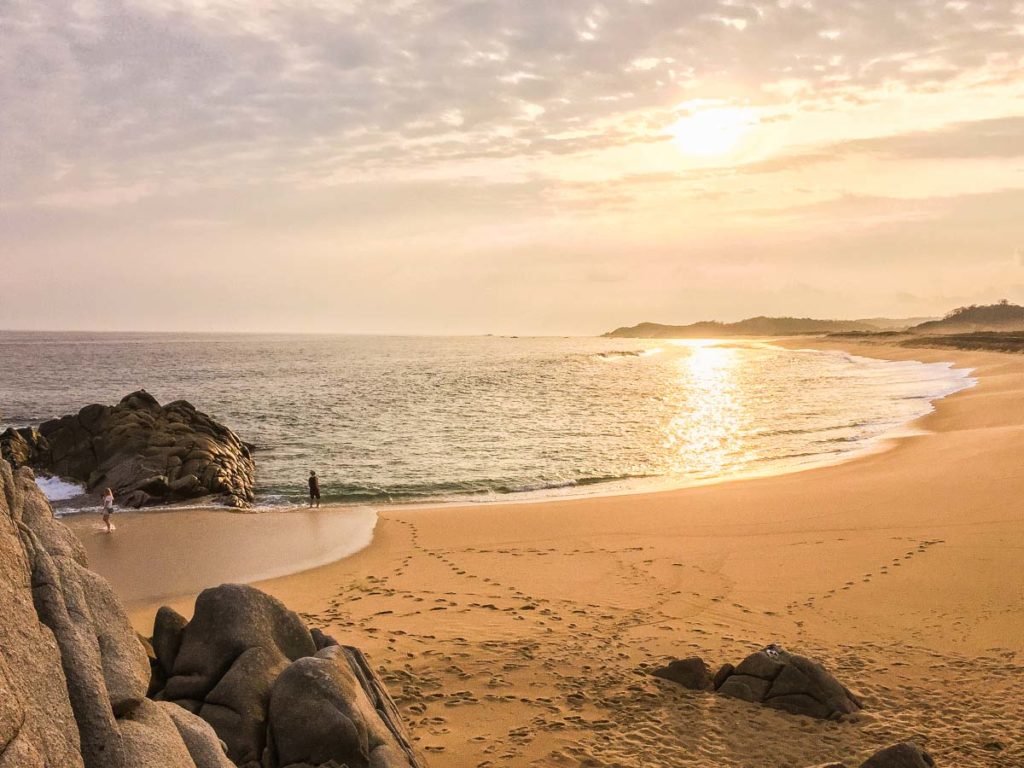 Huatulco is the best beach in Oaxaca for those who want a resort experience. But it can also be amazing as a day trip if you have a car. Or if you prefer not to stay in a resort, there are definitely some smaller hotels and more remote areas to stay/explore in this area.
Find your Airbnb in Huatulco.
I will keep this list of the best beaches in Oaxaca updated each time I return to the coast. And even as my travel style changes I find myself attracted to different Oaxaca beaches on this coastline, which I find telling.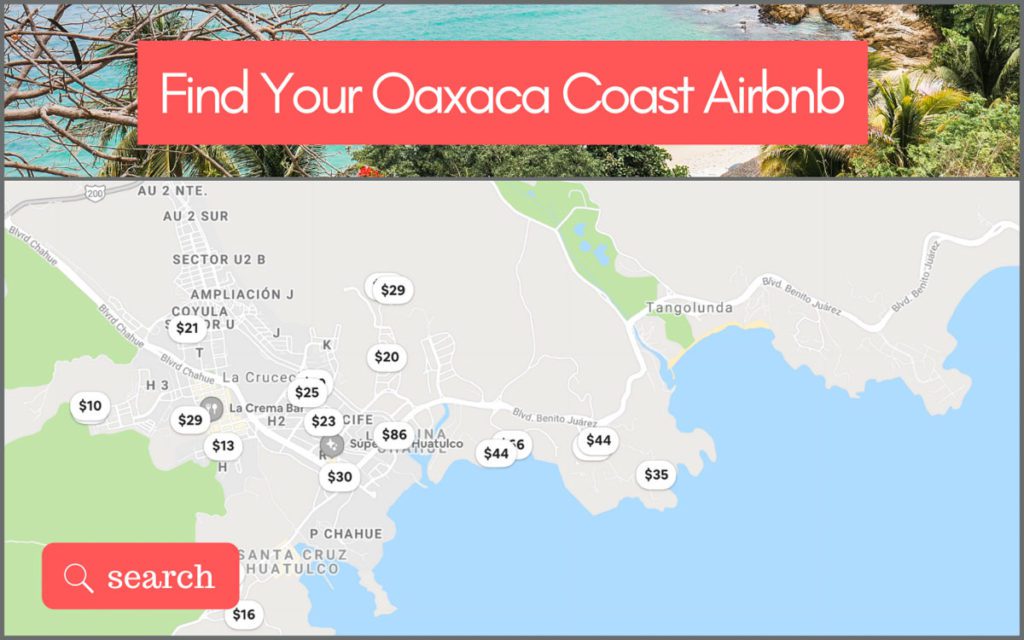 Moral of the story – the Oaxaca coast is super varied and has something for every travel style.
More Oaxaca Coast Guides:
Complete Oaxaca beach guide, choose the best beach for your travel style.

Puerto Escondido, Zicatela and La Punta Travel Guide.
Transportation:

How to Get to Mazunte, San Agustinillo, and Zipolite from Oaxaca.

How to Get from Puerto Escondido to Mazunte/San Agustinillo.
Hotels + Airbnbs:

Boutique Hotel in San Agustinillo.

Hotel and Beach Club in Puerto Escondido.

Design Lover's Airbnb in Punta Pajaros, near Casa Wabi.
Oaxaca city:

And tons of Oaxaca city posts here.

Mexico posts here.

Chiapas posts here.
What to Pack for the Oaxaca Coast:

Pin it for Later!