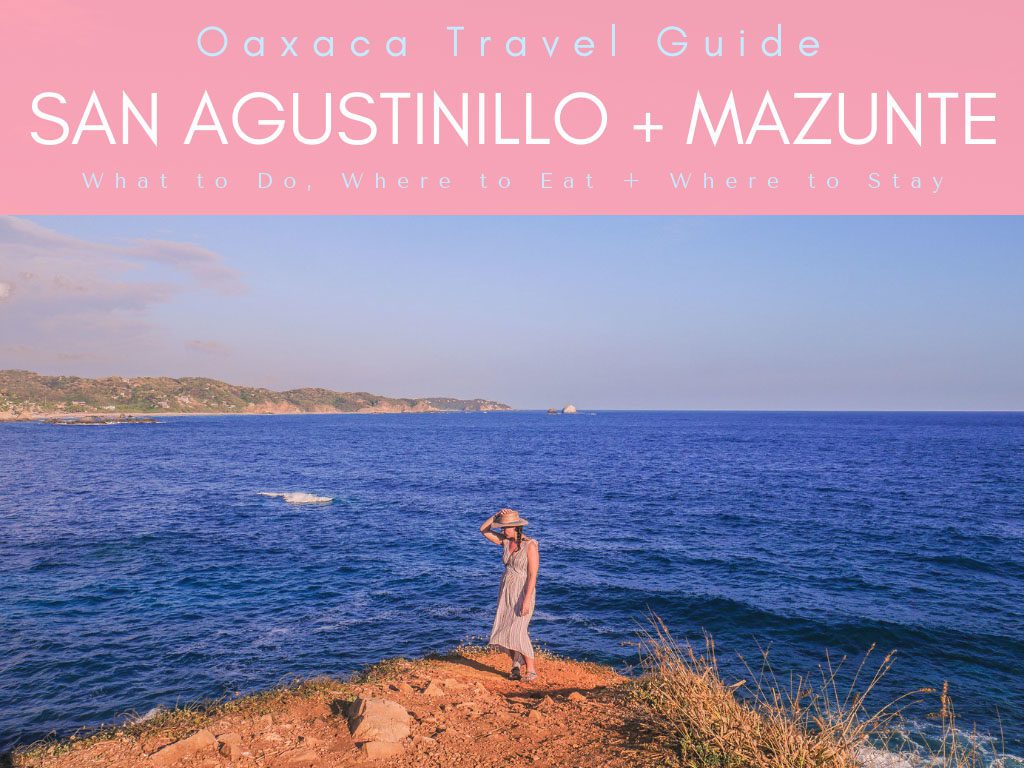 The Oaxaca coast is still pretty unknown to tourists, so you can escape the crowds here and be treated to some of the most beautiful beaches in Mexico. My new favorite part of the coast are the adjacent towns of San Agustinillo and Mazunte, Oaxaca. They are so close you can walk between them in 10 minutes, and there are several beautiful beaches to enjoy, lots of good restaurants, dreamy hotels, and a peaceful beach vibe that is hard to find in touristy places.
Tons more links for my other Oaxaca coast posts at the end of this post.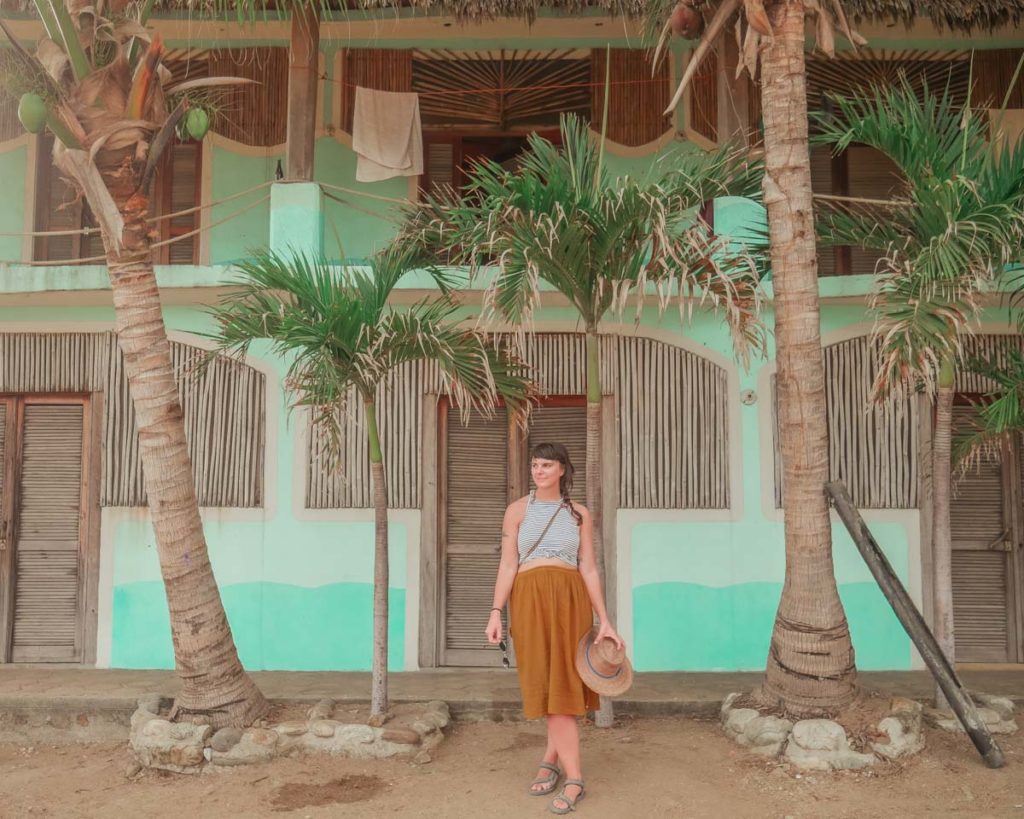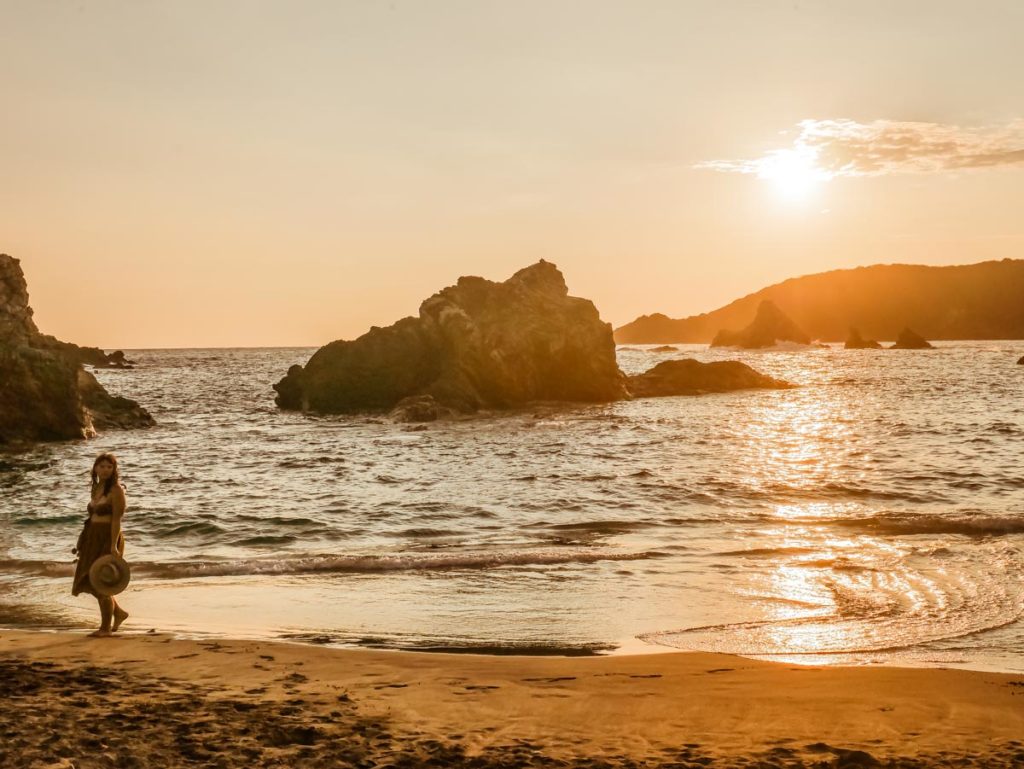 Read on below to find out:
What to do in Mazunte and San Agustinillo: turtles, boat tours, the best place for sunset, day trips to boho Zipolite beach, mangrove tours…
San Agustinillo + Mazunte restaurants – octopus tostadas, pizza as good as in Italy (really)…
And where to stay (and if you should choose Mazunte or San Agustinillo).

What to Do: San Agustinillo + Mazunte Oaxaca Travel Guide
Boat Tour to See Dolphins, Turtles & Whales (During Whale Season):
What to Do: San Agustinillo + Mazunte Oaxaca Travel Guide
I took a morning boat tour to see the sea life and it far exceeded my expectations.
I was told we would see lots of turtles (what the area is most known for) and most likely dolphins. We saw plenty of both which was amazing in itself.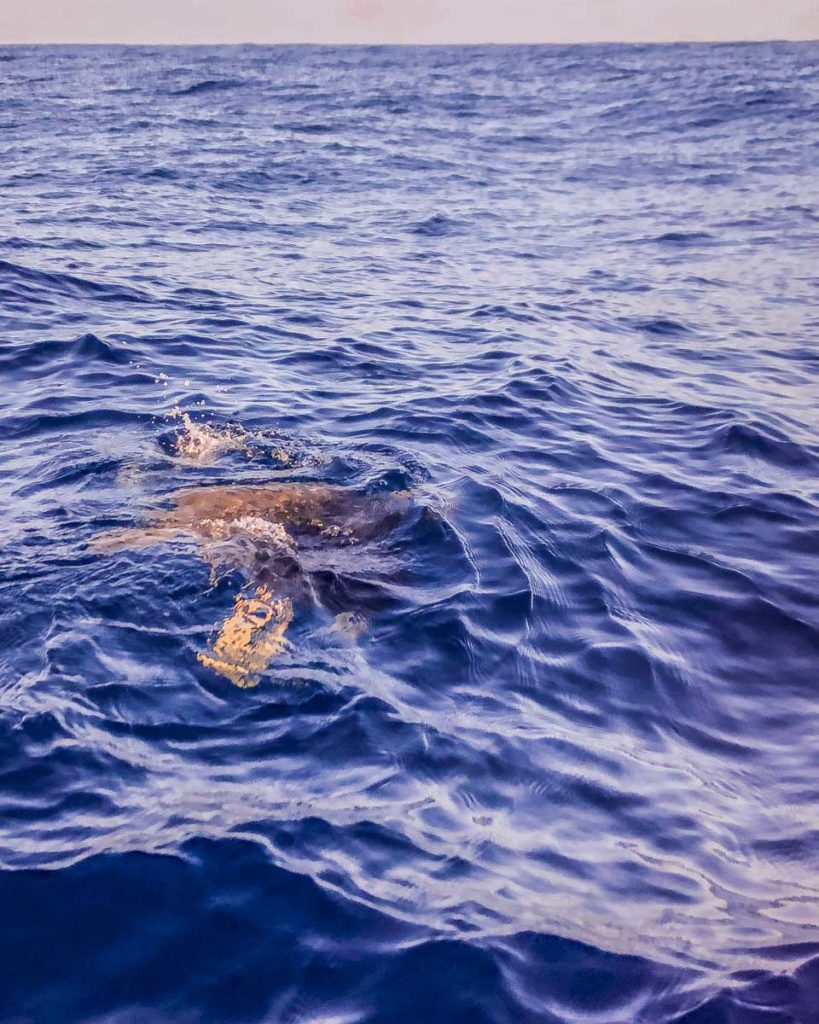 But we were super lucky to see a giant whale as well. It was the right season for it, but I could also tell our guide was great at spotting where they would be. We were able to motor alongside it (from a respectful distance but still close enough that it was very awe inspiring) for some time. I have never seen a whale in the wild and it was a pretty magical experience. It's hard to explain how giant and beautiful they are.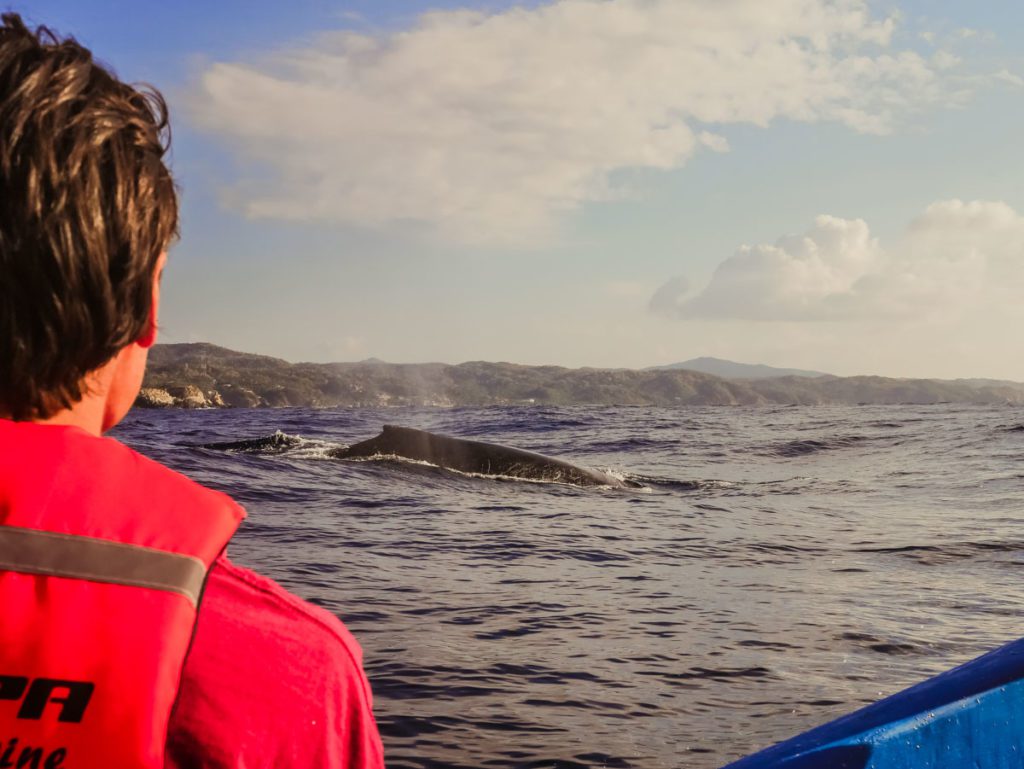 Our guide was wonderful and was recommended to us by Zazil Retreat's wonderful owner. There are lots of guides who offer this tour – you can find them down at the beach where the boats are.
Hotels and Airbnbs in San Agustinillo or Mazunte, Oaxaca
Explore the Many Beaches of San Agustinillo + Mazunte, Oaxaca:
What to do in San Agustinillo + Mazunte, Oaxaca
San Agustinillo Beaches: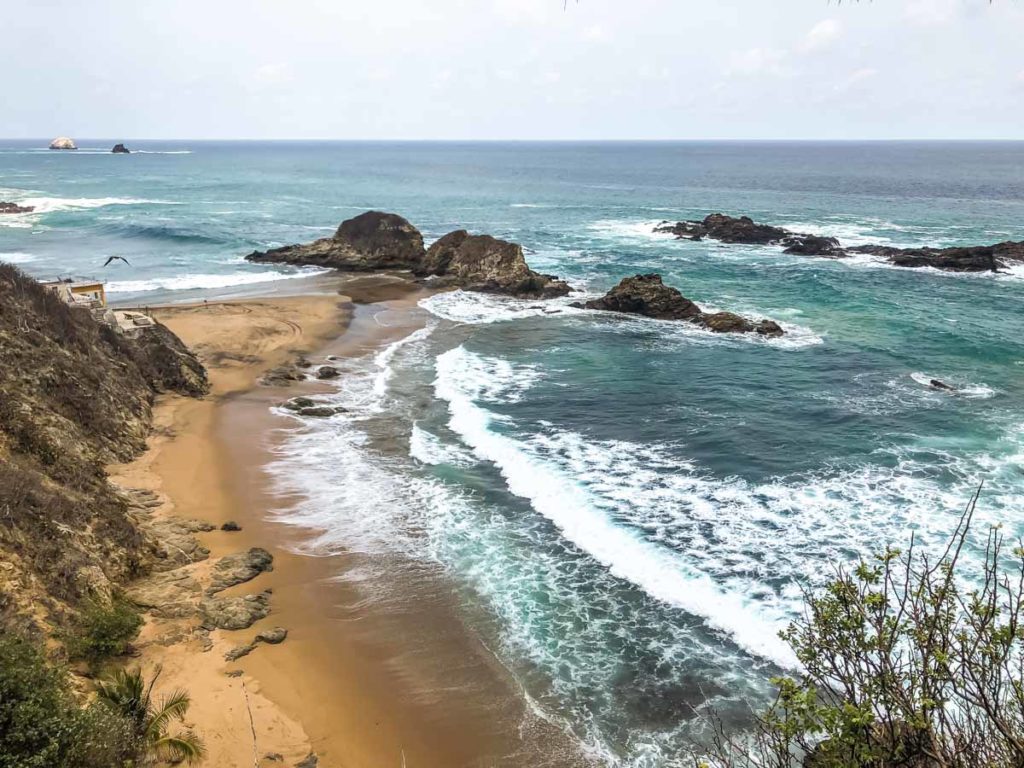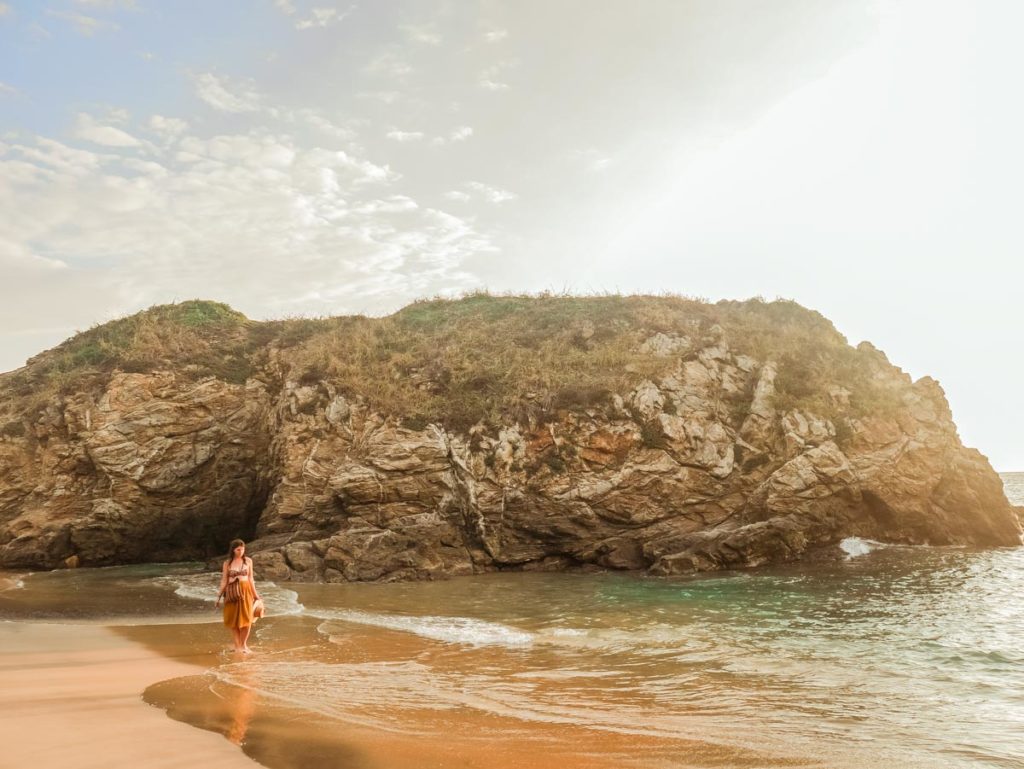 As far as I know, the San Agustinillo beaches don't have different names, but there is a series of 3 loops or wide coves that connect. It's nice to walk along the coves, explore where the rock formations meet, and see how the scenery and perspective changes a bit.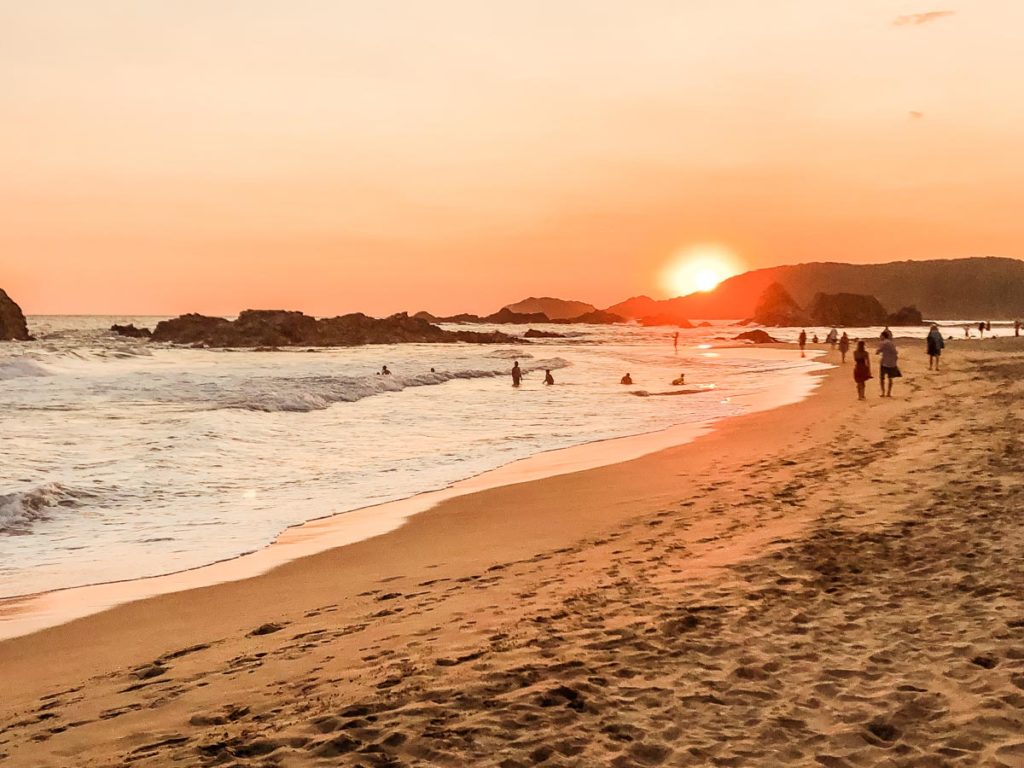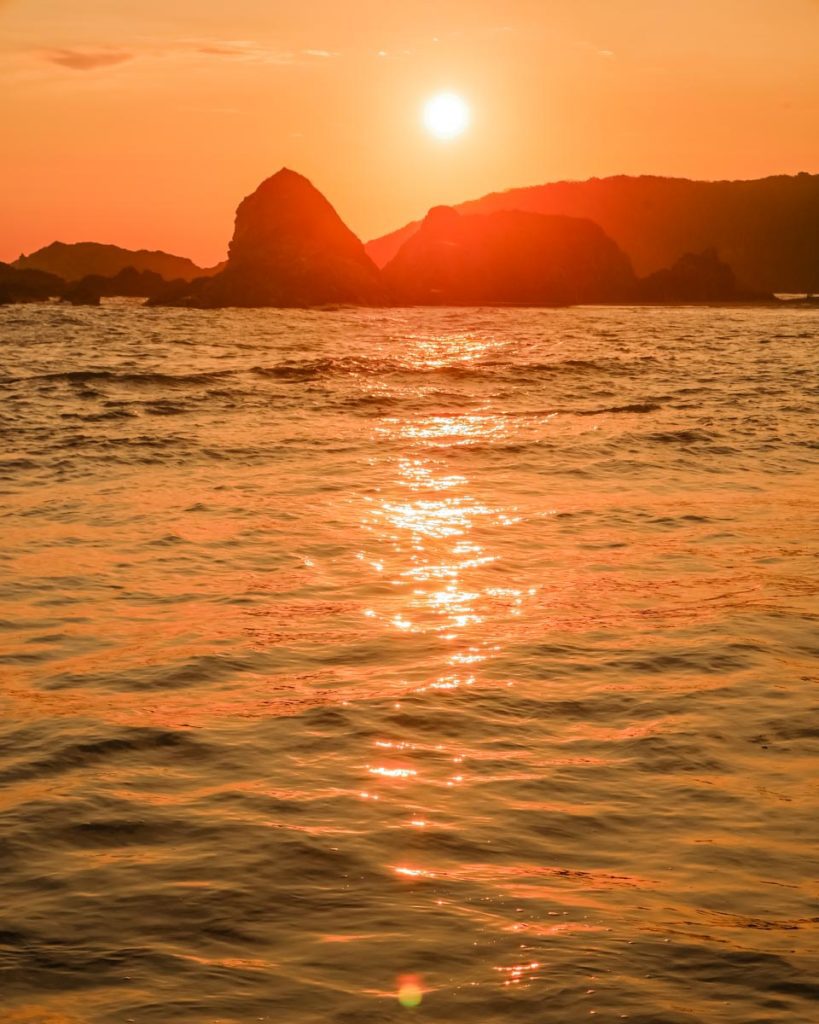 Because of these different loose coves and rock formations, there are different types of wave breaks all over the beaches. So you can have really calm swims in certain places or can do body surfing if you prefer bigger waves.
Mazunte: Playa Mazunte & Playa Rinconcito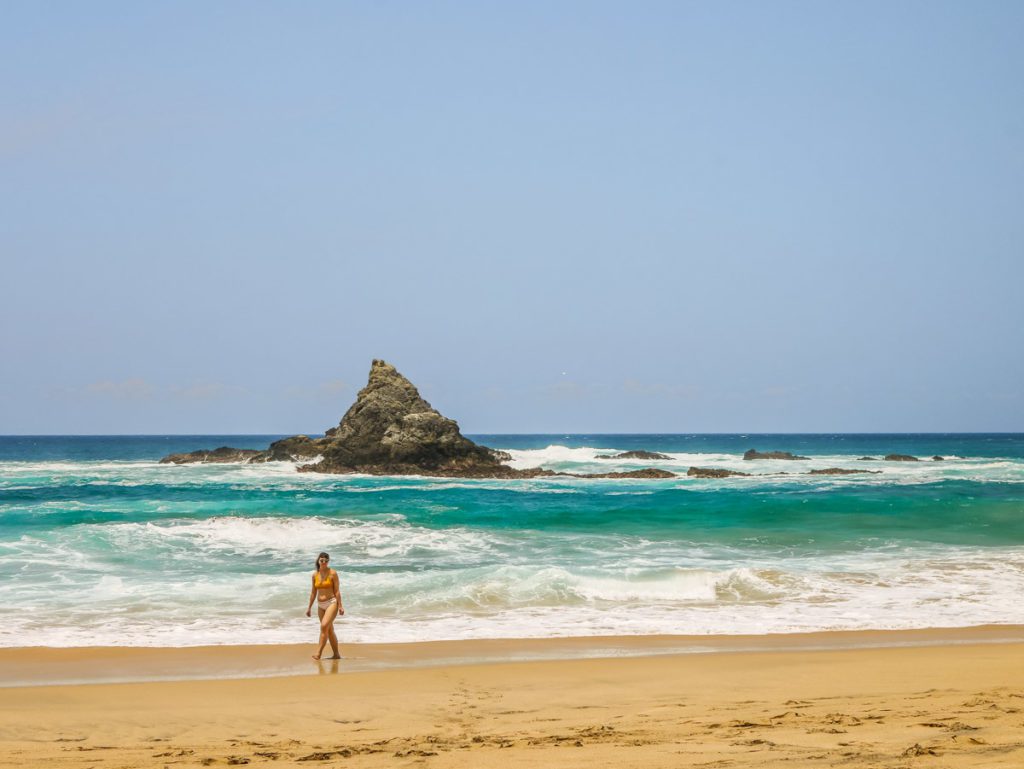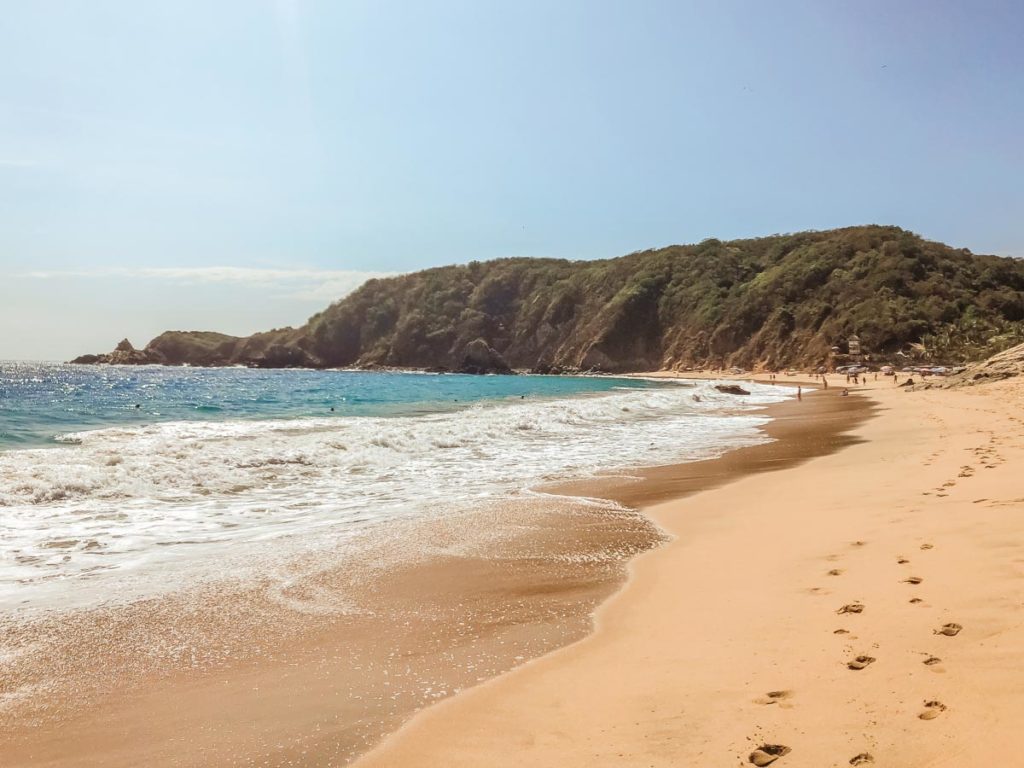 This is the main beach in Mazunte, take any of the roads in town towards the beach and you will run into it. I prefer to lounge in the area on the southwest side near the rocks and cliff. There are a few restaurants and amenities here if you want to rent a chair or grab a cold beer.
Mazunte: Playa Cometa in Punta Cometa Park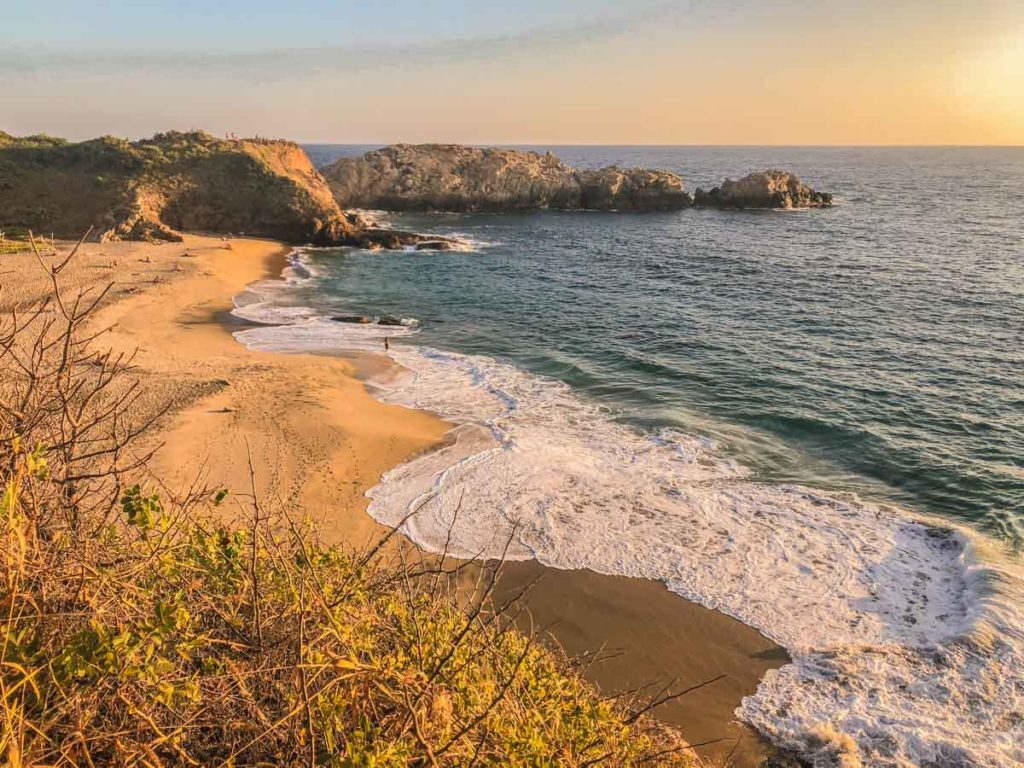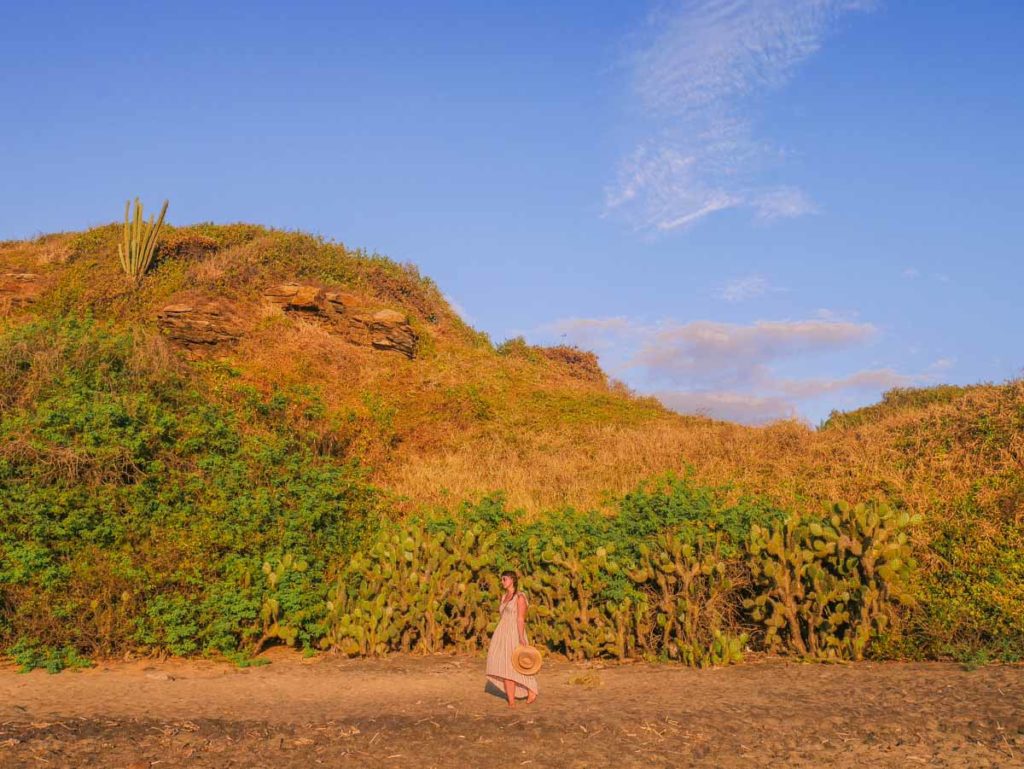 This little beach feels like your own deserted island. You can get here by taking the Punta Cometa hike from town (see below) and then veering towards the west.
It's usually empty or just has a handful of beachgoers. It is not recommended to swim here – the current is very strong and there are no lifeguards. But it's a beautiful peaceful place and there are amazing views of it from the ridge as you arrive or on the opposite cliff if you climb up.
Mazunte: Playa Mermejita
This beach is beautiful and only a 10 minute walk from the center of Mazunte, Oaxaca. It's very peaceful, with fewer people than on the town beach. It also has a dangerous riptide, so it's not recommended for swimming.
Day trip to Zipolite Beach:
What to do in San Agustinillo + Mazunte, Oaxaca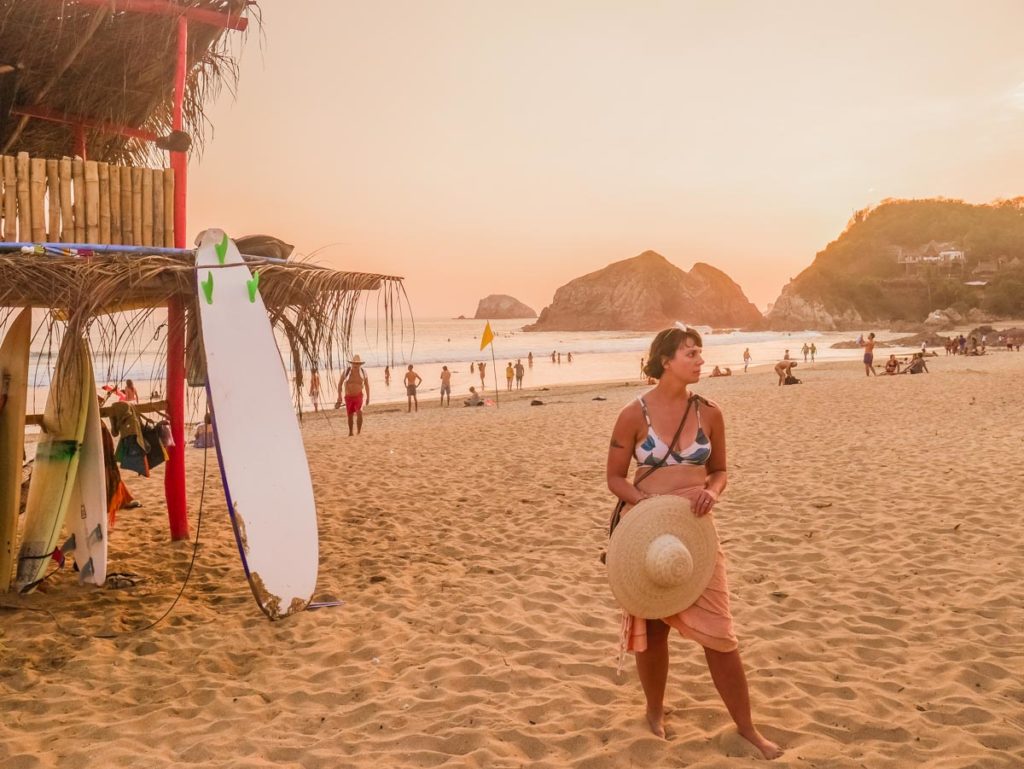 Zipolite is another town only a 10 minute drive from San Agustinillo or 15 minutes from Mazunte, Oaxaca.
Zipolite beach has its own specific vibe. It's known for being a nudist beach, but also has a fun bohemian laid-back vibe.
You can catch any pasajero (truck taxi) that passes by to reach Zipolite beach. Pasajeros are the trucks with canvas colored roofs that serve as mini-buses. Wave one down and hop in the back. Ring the bell when you are ready to jump off.
The town is cute and colorful, and I happened to find the best artisan products I've found on the coast here. There is a little shop without a sign, where the family makes the products out back. Lots of colorful woven hats, purses, wallets, etc..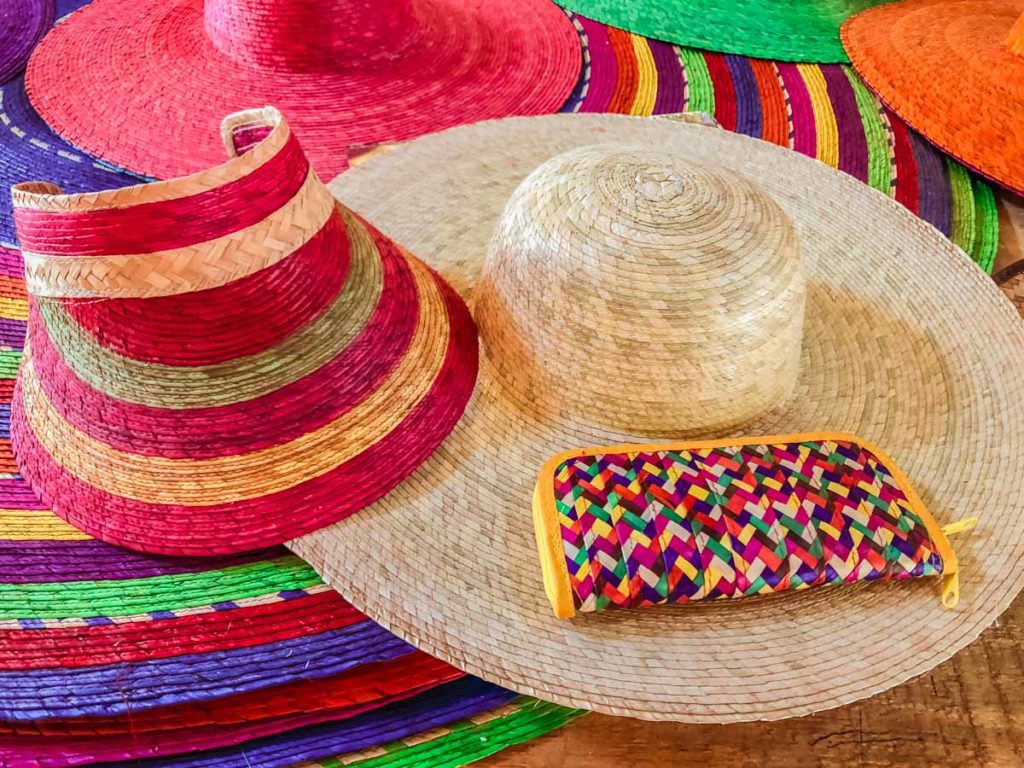 Zipolite beach is giant and beautiful. It's a cove but a big one. The water is very shallow a long way out, so it's good for wading. The waves can be intense in some places and during certain tides. Pay attention to where other people are swimming at Zipolite beach or ask the lifeguards where it is safe.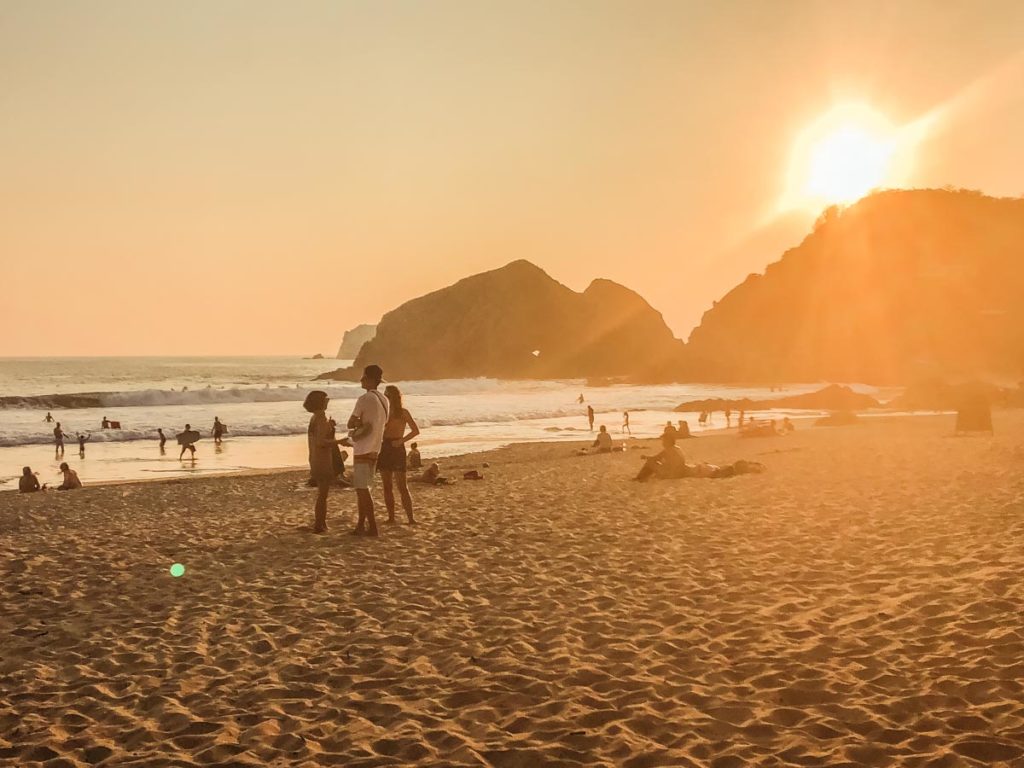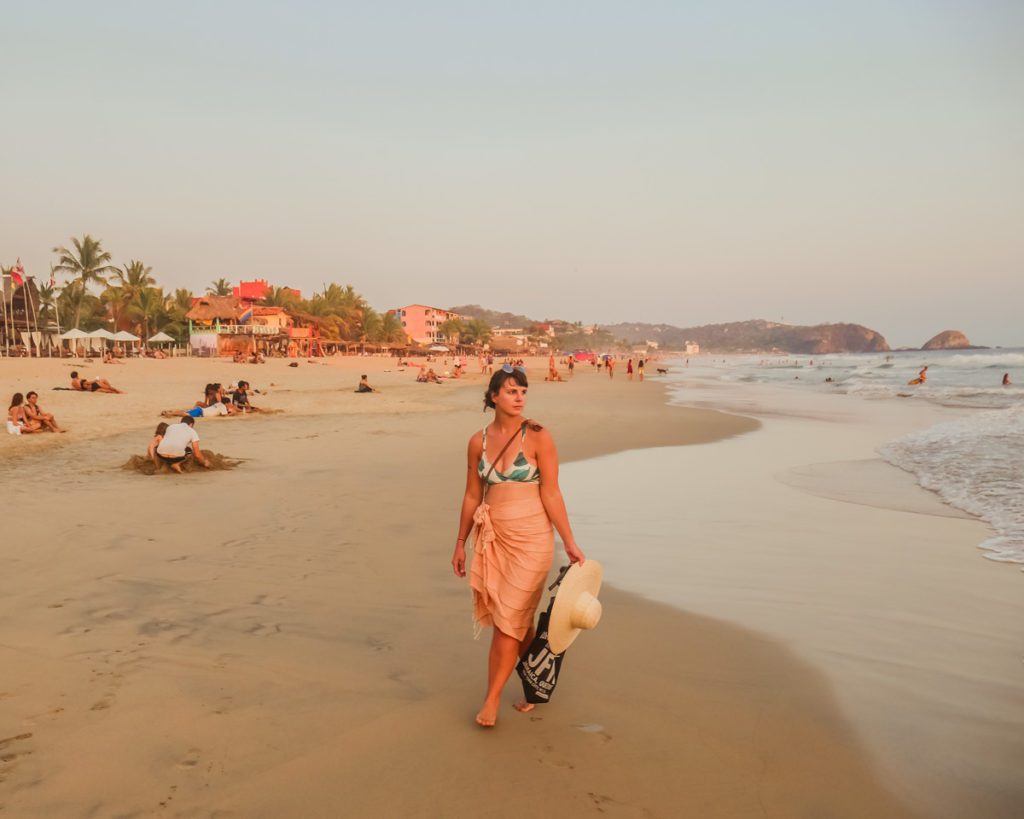 Spend the afternoon on the beach chairs at Hotel Nude. They have beach chairs out front and don't require a minimum spend. The service is great and the chairs are cute and comfy. Order a cold beer, guacamole, or a beachy cocktail and relax. Also be sure to have lunch at the delicious Sal y Pimienta.
El Alquimista looked like a well designed hotel and restaurant on Zipolite beach. Would definitely like to check them out next time.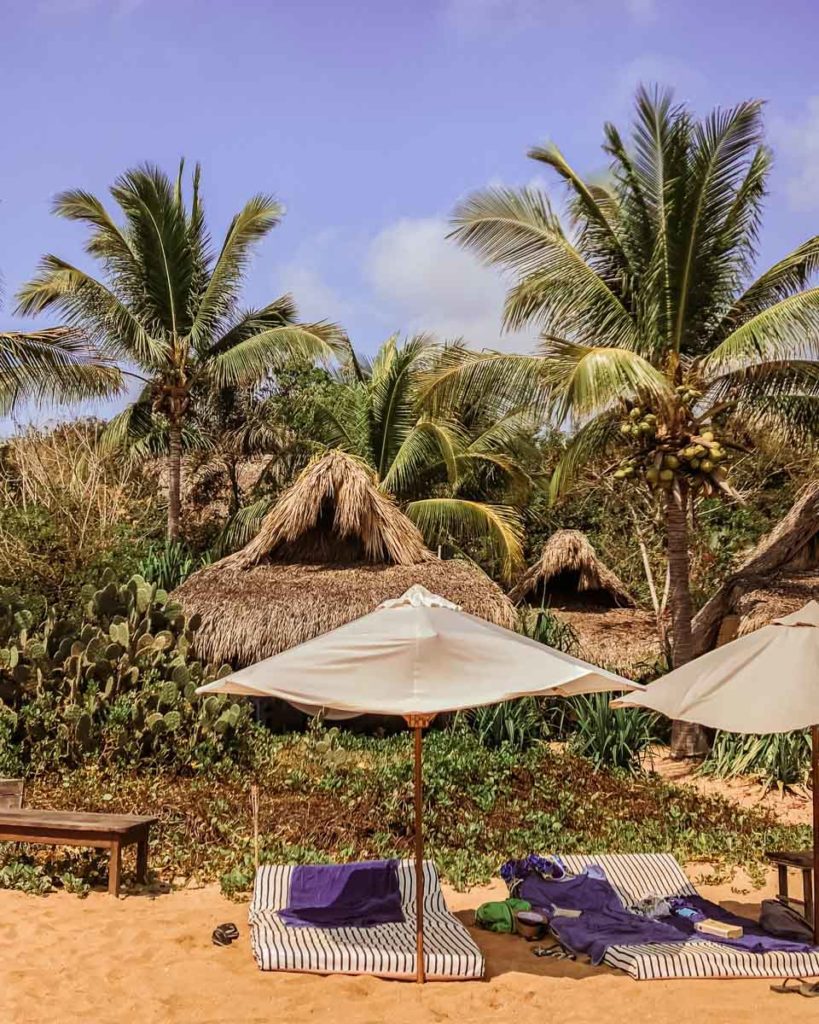 Hotel Noga looks like another beautiful option at Zipolite beach if you are looking to stay overnight.
Afternoon Trip to Relaxing Playa Estacahuite
Playa Estacahuite is a small cove beach with stunning turquoise water, dramatic cliffs and rock formations, and yet is usually relaxed and not too busy. You'll want to rent a car, or you can take a taxi, you'll just need to walk back towards the main road to find a return taxi.
Hike Punta Cometa & Sunset at Punta Cometa:
What to do in San Agustinillo + Mazunte, Oaxaca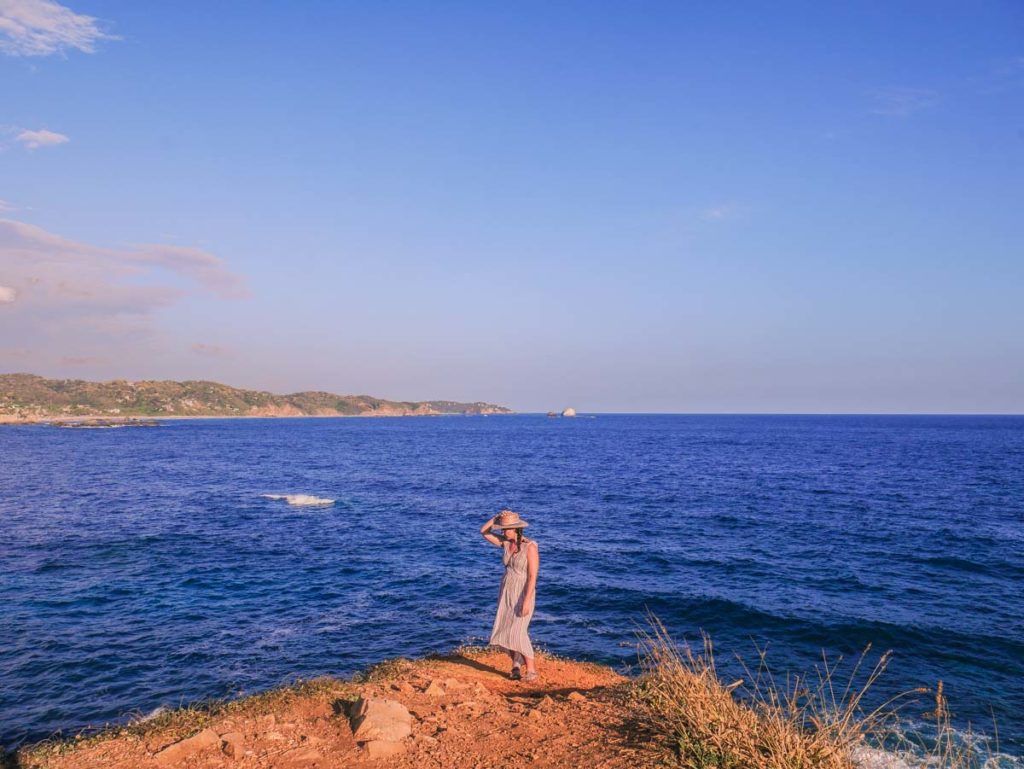 This is may be my favorite thing to do in San Agustinillo and Mazunte, Oaxaca. This park is a cliffy point that extends out into the ocean – it's actually the southernmost point of Oaxaca.
It's super easy to reach Punta Cometa from San Agustinillo or Mazunte, Oaxaca. From Mazunte beach, you can walk to the southwest corner and you'll find a set up of steps in the cliff at the end of the beach. If you take these up, you will climb up to the dirt path, make a left here and you'll find the park.
Or from Mazunte, Oaxaca town, walk down Camino Mermejita, and then turn left at the dirt path just passed Casa Huijazoo. You can see the path to Punta Cometa on Google Maps as a dotted line.
Once you walk down this path for a few minutes, the forest will clear and you'll be walking on a path with the ocean crashing below.
The path makes goes out to the end of the point, and you can loop down to Playa Cometa and then back. Or if you have more time, you can continue the path that goes from the other side of Playa Cometa, up over the next cliff. I haven't had a chance to do that part yet, but hopefully will next time.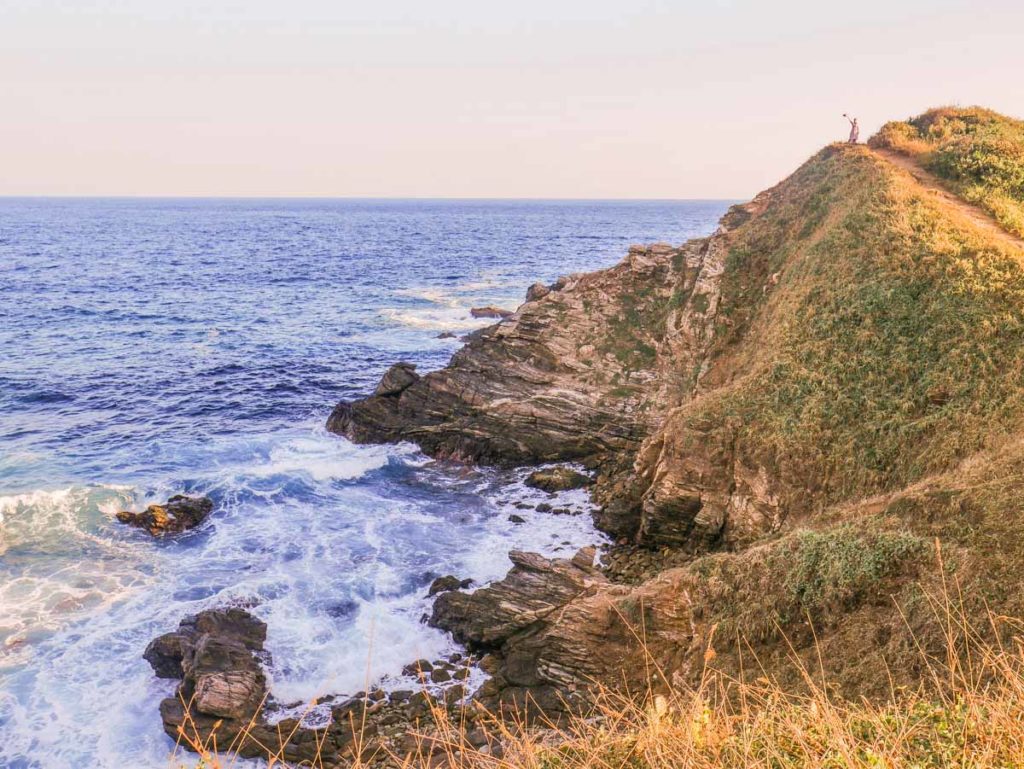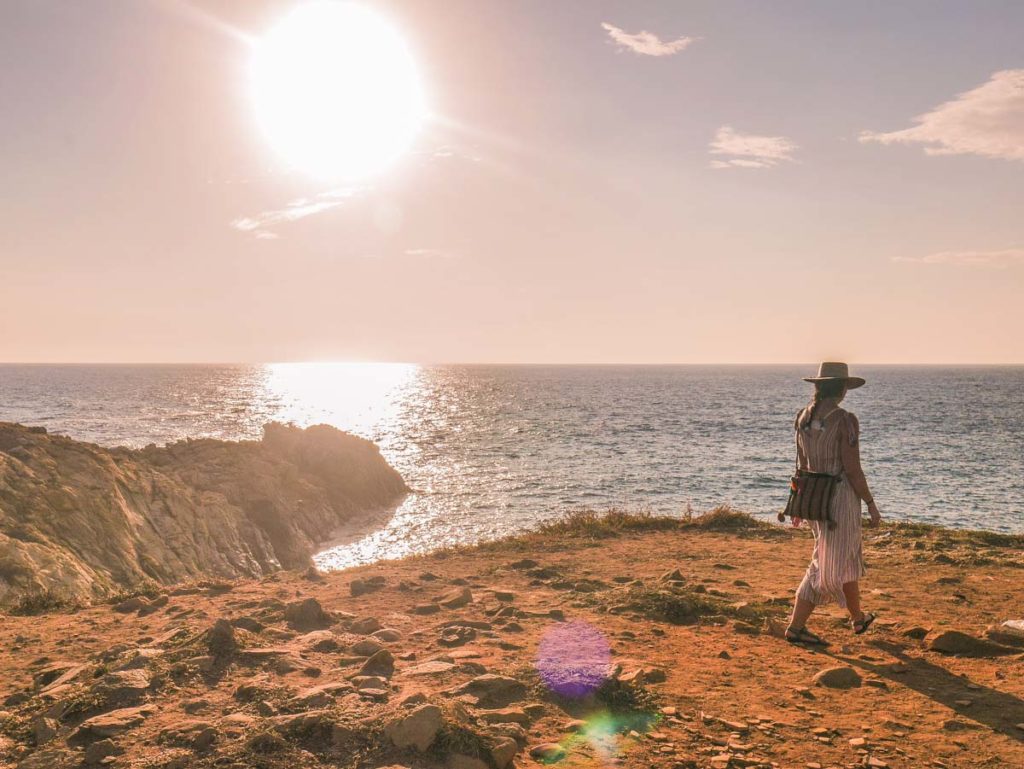 Punta Cometa is also the best place to watch sunset in San Agustinillo or Mazunte, Oaxaca. Crowds gather here at the point to take it in – and it's really a gorgeous experience.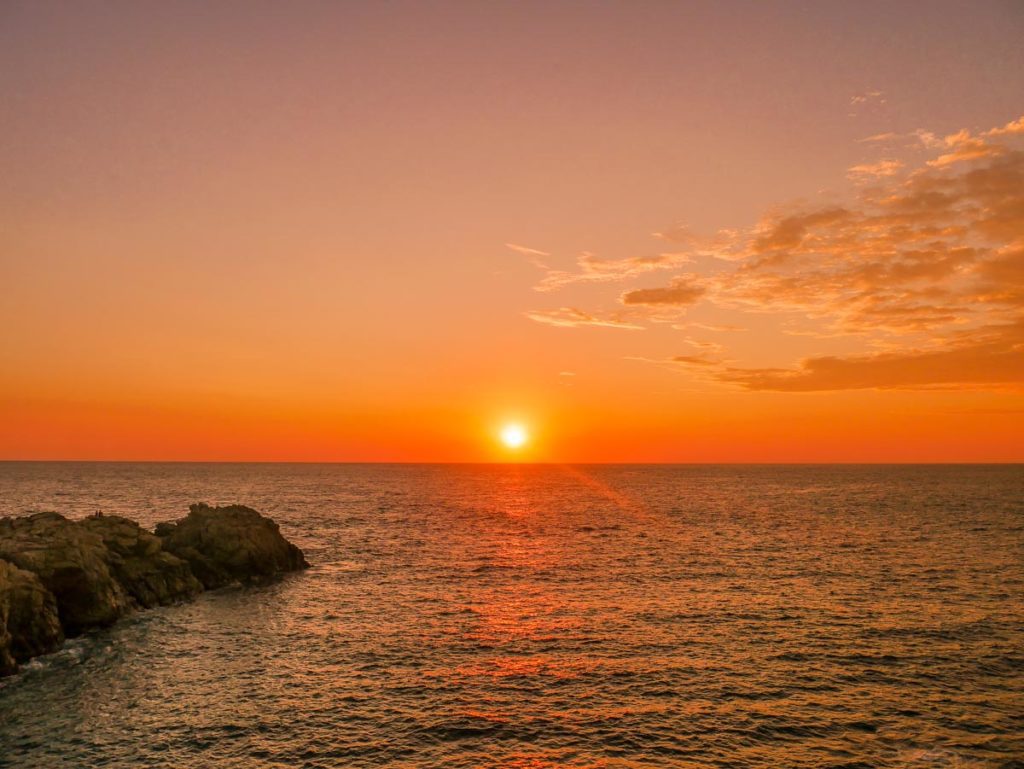 Things to remember about Punta Cometa, Mazunte, Oaxaca:
There are no amenities – bring plenty of water, a hat, sunblock, and a snack or lunch if you plan to be out for awhile.
This isn't a difficult hike, but I would advise wearing at least sport sandals or shoes.
The water at Playa Cometa has dangerous riptides, I wouldn't advise swimming.
This is the BEST place for sunset. Enjoy it with most of the rest of the town.
Yoga: What to do in San Agustinillo + Mazunte, Oaxaca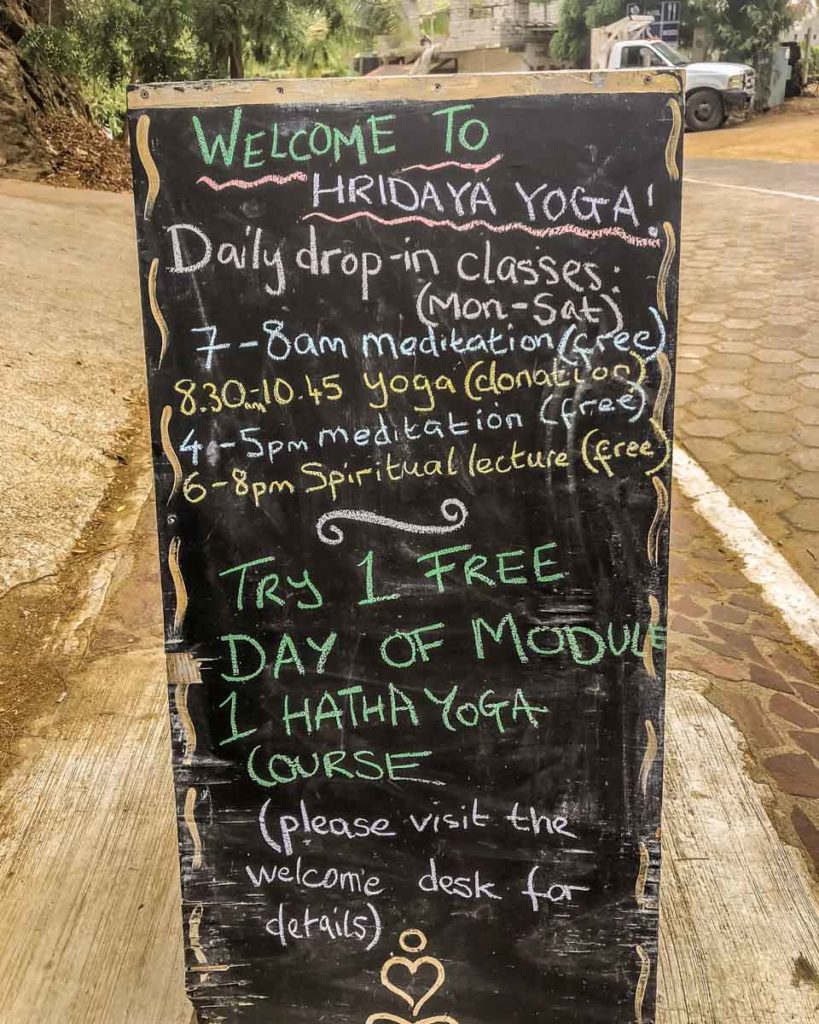 The relaxed and beautiful beach towns of San Agustinillo and Mazunte, Oaxaca are the perfect place to practice yoga, in my opinion.
Hridaya is a yoga center that offers retreats, teacher training and more. They also offer daily drop in classes. Check their website or pass by the location to see their current schedule.
Hotels and Airbnbs in San Agustinillo or Mazunte, Oaxaca
Wildlife Mangrove Tour at La Ventanilla: What to do in San Agustinillo + Mazunte, Oaxaca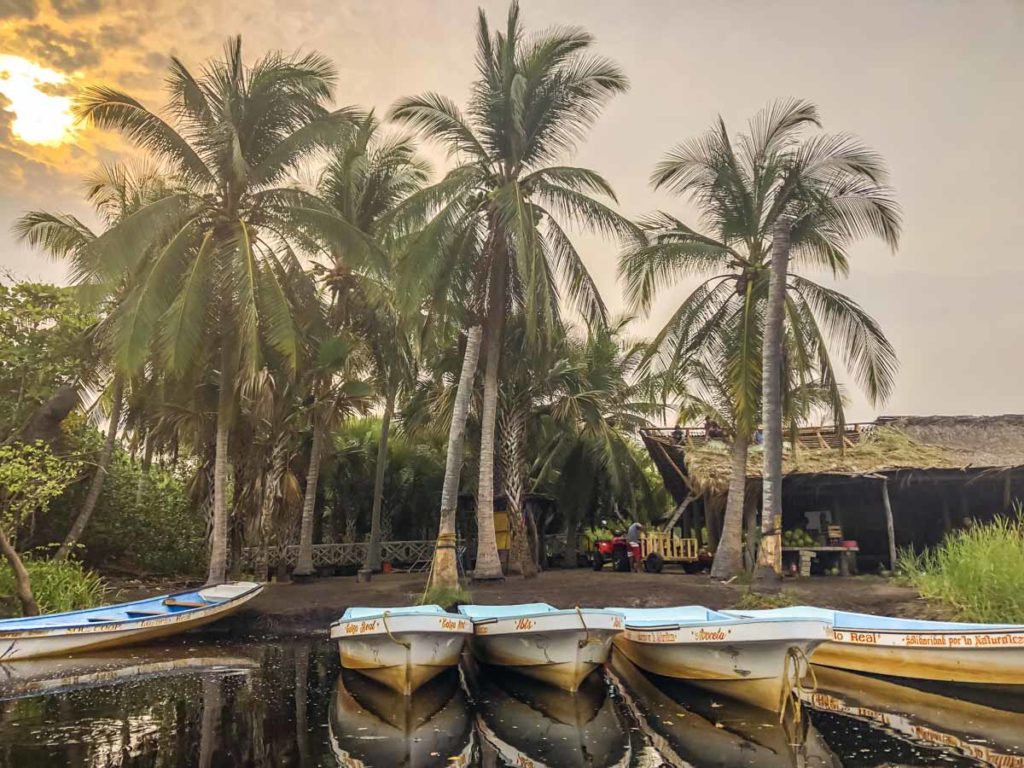 If you like wildlife and nature, this is an amazing experience. It's really easy to visit on your own, just take a taxi from San Agustinillo or Mazunte, Oaxaca, and ask to go to La Ventanilla. Once you arrive in this small fishing village you will immediately see a sign for the mangrove tours by Servicio Ecoturisticos de La Ventanilla.
Once you sign up and pay the fee, you'll be given an explanation about the village and the reforestation work they are doing to rebuild the environment after a hurricane in the late 90s. Profits from the tours go to this and other ecological projects.
You then take a boat tour along the river and see amazing lush plantlife, tons of tropical birds, iguanas, and crocodiles.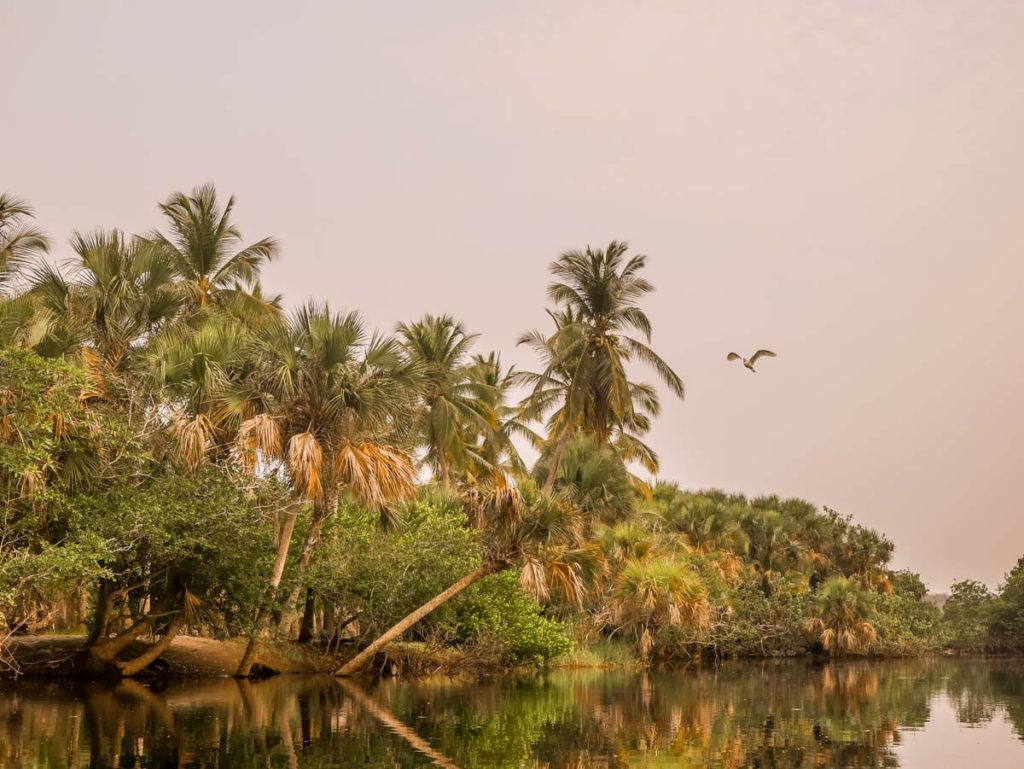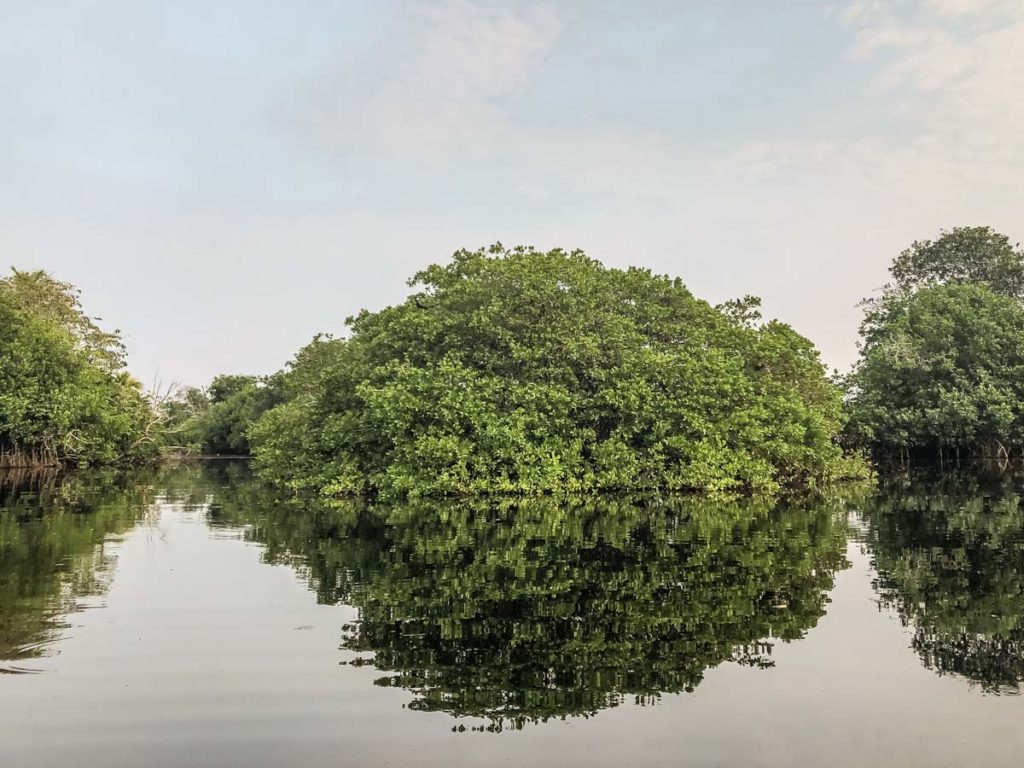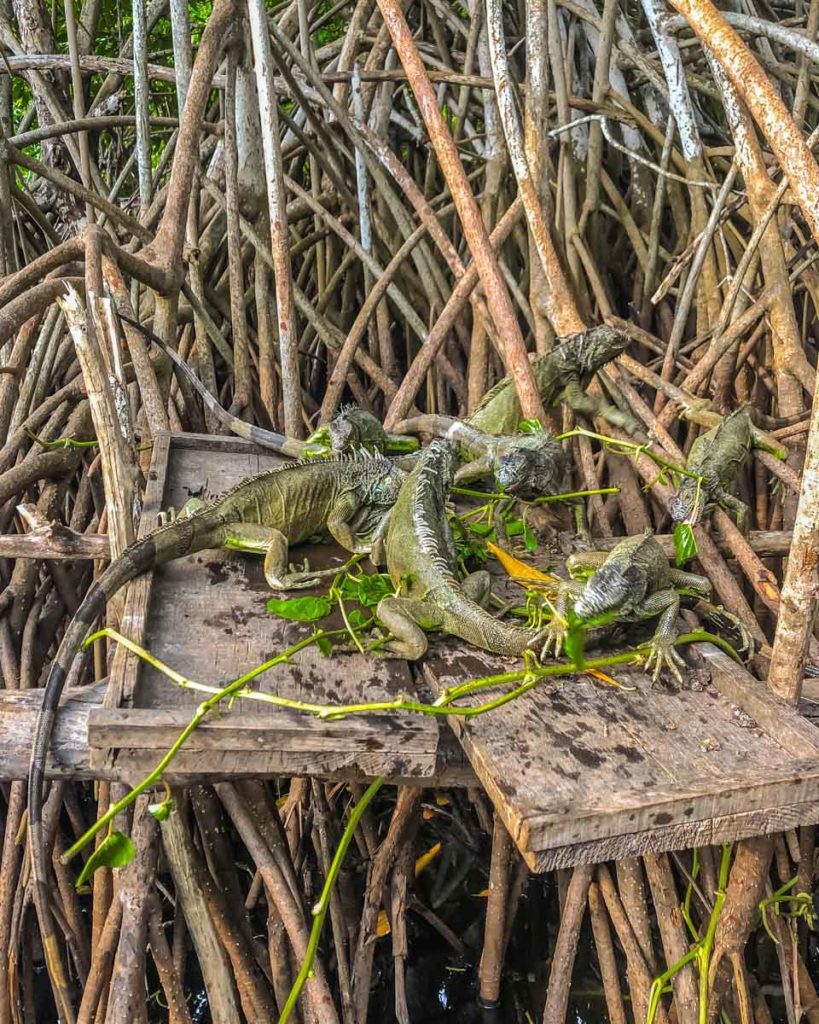 I believe that tours are only given in Spanish, so if you need translation, bring a guide from Mazunte or San Agustinillo. I would also recommend going early in the morning as the wildlife will be more active, and the weather more comfortable. And bring bug repellent! At the time of my tour, the cost was $100 per person.


Visit the Turtle Conservation Center:
What to do in San Agustinillo + Mazunte, Oaxaca
Mazunte, Oaxaca is famous for the huge number of sea turtles here. But it wasn't always a happy story – Mazunte became a town because there was a market for turtle meat and eggs, and by the 1970's Mazunte was famous for their turtle hunting in Mexico. Once this became banned in the country, this center was developed to protect the turtles, replenish their numbers, and educate the public.
You can see lots of turtles here in different shapes and sizes and you can learn about how the center is researching ways to better protect the area turtles.
If you prefer a guided tour – try this option for the turtle center + Ventanilla mangroves:
San Agustinillo + Mazunte Restaurants:
San Agustinillo + Mazunte Oaxaca Travel Guide
San Agustinillo Restaurants:
La Ola is one of my favorite restaurants in San Agustinillo, so much so that it is always my first stop when I arrive.
They have some comfy beach chairs in front that you can lounge on, or plenty of space in the restaurant.
The food is tasty and fresh. I like the octopus and shrimp tostadas. The nopales (cactus) salad was also good. Their micheladas are festive and refreshing.
This is my favorite place to hang out on San Agustinillo beach.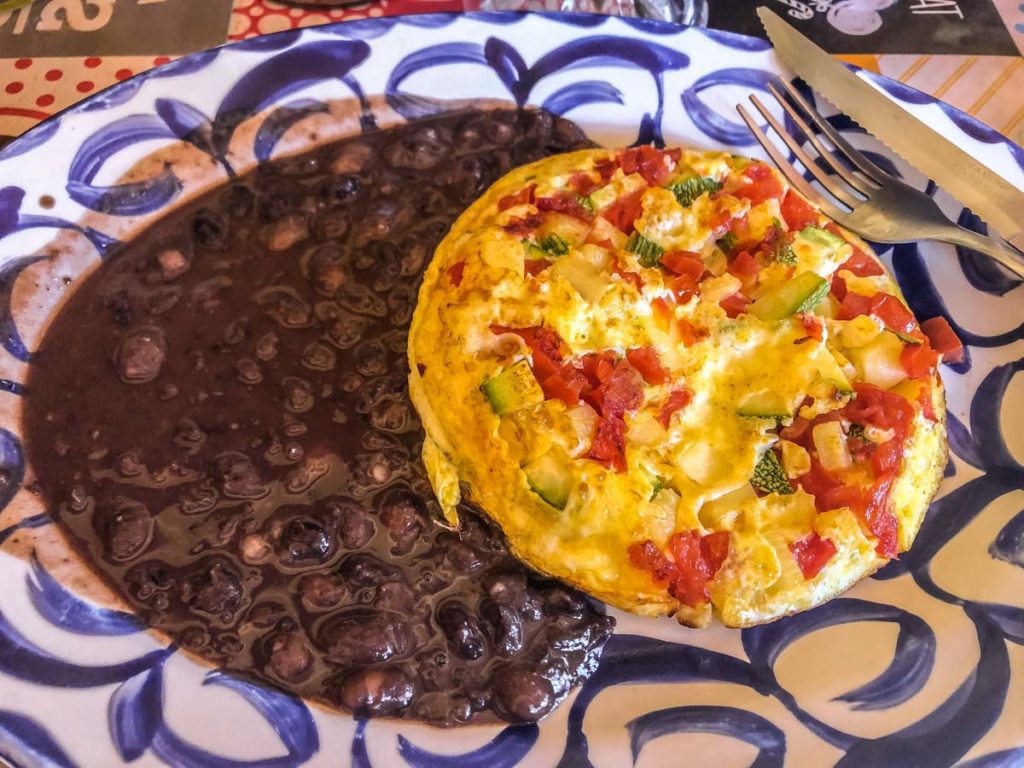 La Mora Posada is a beachfront hotel and cafe on the San Agustinillo strip. This is my favorite place to have breakfast in San Agustinillo. I've eaten here several times and everything is always fresh and tasty. They also have a terrace out back that looks out onto the ocean, so the atmosphere is great too.
La Termita is another great restaurant in San Agustinillo. It's an Italian restaurant with great pizza and a romantic atmosphere. You can sit at a little table on the beach at night with your feet in the sand and a bottle of wine to sip as you eat. It's lovely.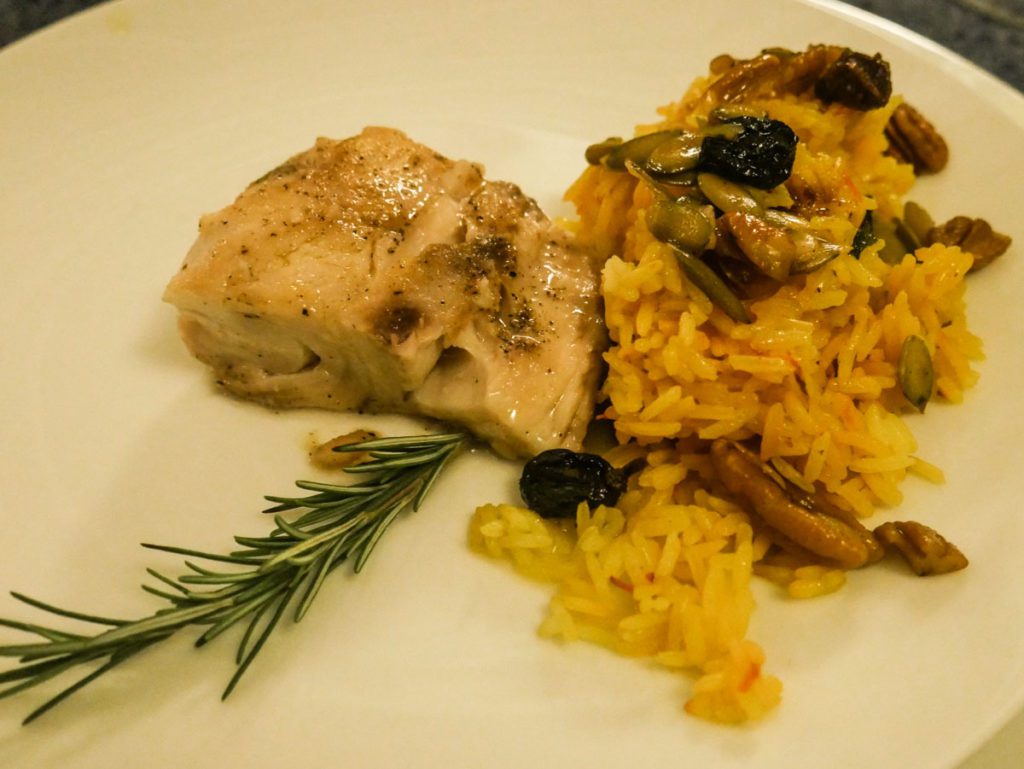 I had the immense pleasure of having a beautiful dinner at Zazil Retreat during our stay. If you are staying at Zazil, I highly recommend asking about a dinner one night. They may only have a chef on staff during high season, but when they do, the food is outstanding. We had a multi-course meal where all the food was delicious, artfully displayed, and the flavors were complex.
Mazunte Restaurants:
La Pizzeria is my favorite restaurant in the area, definitely my favorite of the Mazunte restaurants. Before my first visit, I had read some good reviews and people saying the pizza was as good as in Italy, but I was skeptical. Well I can confirm, it is in fact as good as any pizza I've had in Italy during my 2 month stay there.
The owner is Italian and he mans the big traditional oven. The space is rustic but comfy with big communal tables. The staff is wonderful. And as I said, the pizza is incredible. There are several Mazunte restaurants for pizza, but this is the best!
Taqueria El Mazunte is a good spot for traditional Oaxacan food. They have lots of taco options, tlayudas, guacamole and more. One of the best Mazunte restaurants to stop in at night to fill up on some tacos.
This is a bar that is located inside a big hostel. The bar area is near the beach and a great place to hang out and have some beers or mezcal. One of the best Mazunte restaurants for nightlife.
Beach Treats
Having some snacks on the beach is a great way to curb your hunger during the afternoon. You'll see lots of vendors passing by, especially during lunch time. We saw more of this on Mazunte beach than on San Agustinillo.
I got some fried taquitos from a women and they were tasty and hit the spot – fish, chicken and potato filled, respectively.
You'll see lots of vendors passing with ice cream (coconut, yum), fresh coconuts to chop up and drink, freshly baked bread, and more. Don't be afraid to ask "Que tiene?" (what do you have?)
Where to Stay: San Agustinillo + Mazunte Oaxaca Travel Guide
San Agustinillo vs. Mazunte, Oaxaca?
Both towns are right next to each other, but have pretty different vibes.
Mazunte, Oaxaca is a little bigger, with more amenities, and a town church and yearly festival. It also has a few more tourists, and tends to attract a younger crowd with hippy leanings. If you are looking for nightlife, this is a better bet, as many of the restaurants in San Agustinillo close by 10pm or earlier. If you are looking for a quieter part of Mazunte, consider staying down near Playa Mermejita.
San Agustinillo, Oaxaca is very quiet and small. It's basically just the main road that runs up along the beach – with hotels and restaurants on either side. Then there are a few small dirt roads that wind up the mountain. Here you can find quieter hotels, and often amazing ocean views, and cool comfortable breezes.
The type of traveler seems to range quite a bit in San Agustinillo from young travelers, to young families, and older generations. I would say that the 30s and 40s crowd is the biggest traveler segment. I've met lots of other interesting creatives from around the world here.
Both have beautiful beaches to explore, dramatic rock formations and cliffs, and great food. And the towns are only 10 minutes walking distance from each other, so it's quite easy to enjoy both towns from wherever you stay.
Monte Uzulu – San Agustinillo Hotel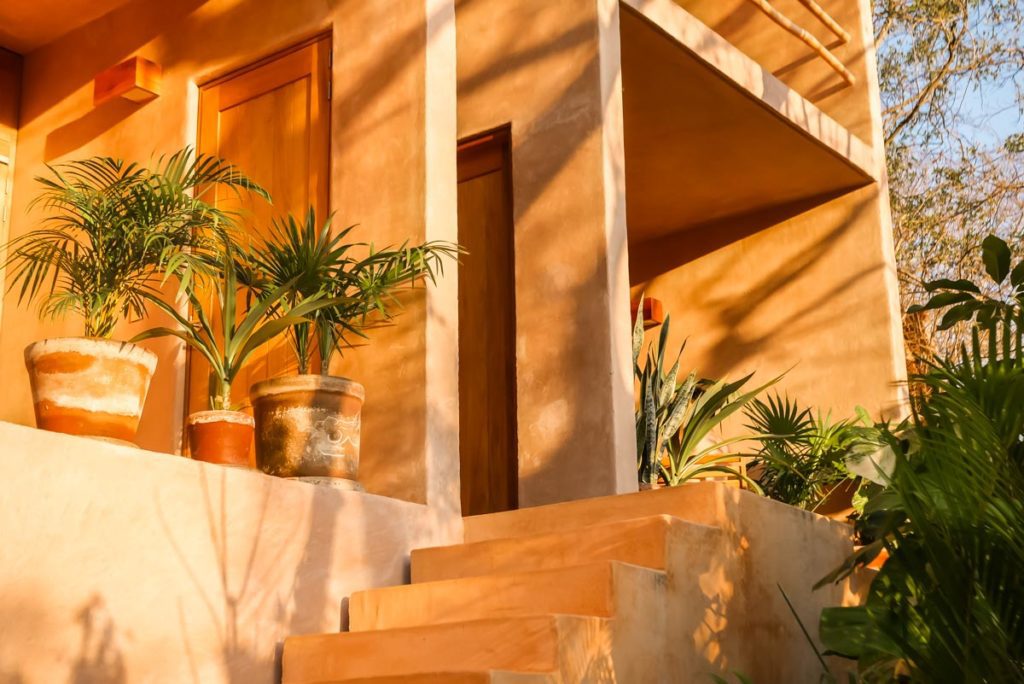 This gorgeously designed hotel strikes the perfect balance between minimalist modern design and warm natural details. It's also a few minutes walk up the hill, so you immediately feel tucked into nature with beautiful views, yet are just a 5 minute walk to the beach and amenities.
Zazil Retreat – San Agustinillo Hotel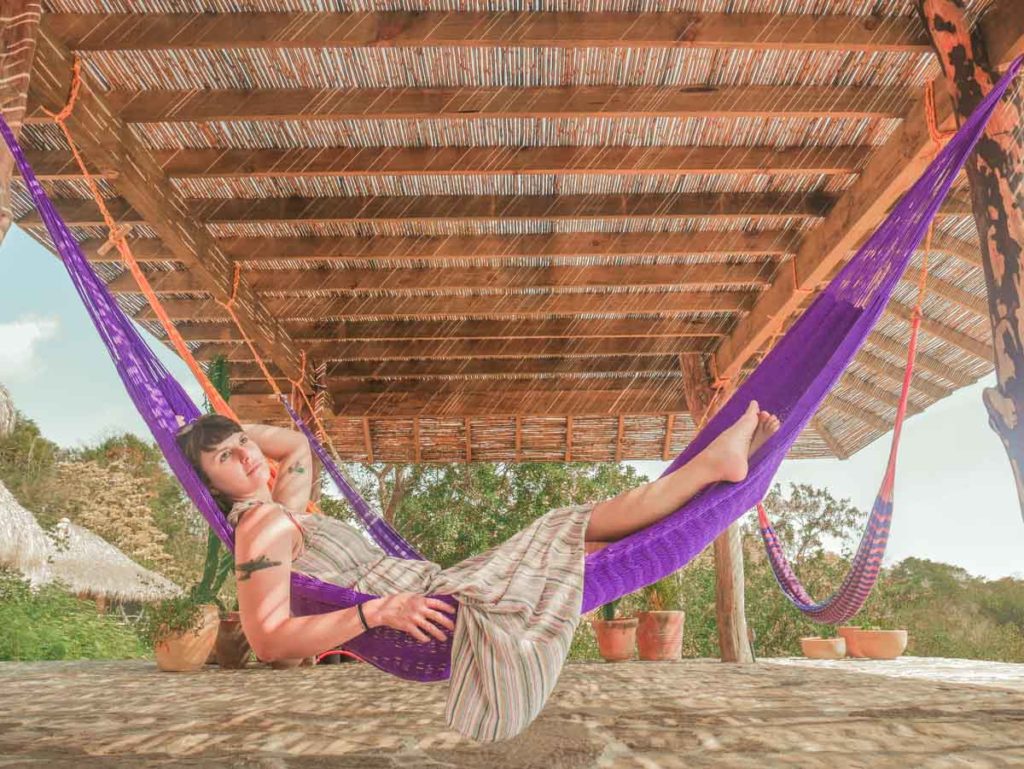 I will heartily recommend Zazil Retreat for anyone looking for a special and beautiful place to stay in San Agustinillo. The hotel is high up on the hill, so it has an absolutely spectacular panoramic view of the ocean below. It does take effort to climb up the steep hill, but only takes about 10 minutes and the views and surrounding nature make it worth it. Or if you have a car, it's an easy drive up.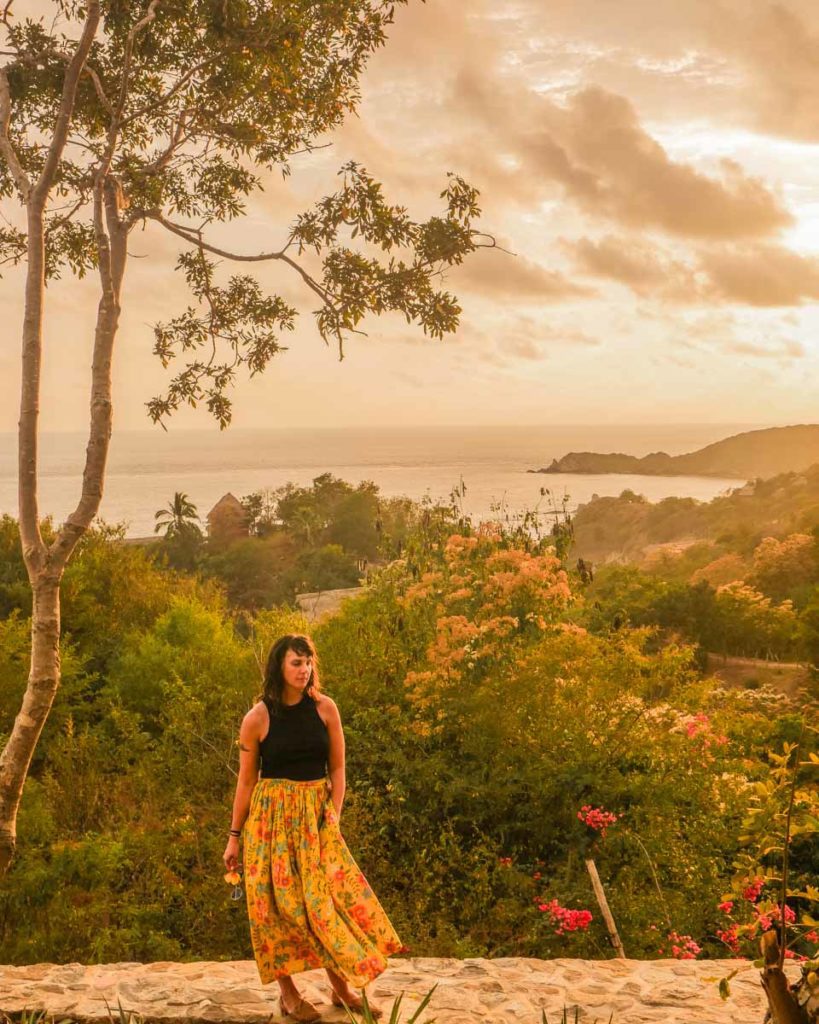 The owners are spectacular, some of the warmest hosts I've ever had. The included breakfast is delicious, the staff is wonderful, and the suites are absolutely beautiful.
These San Agustinillo suites are made from local thatched roofs, but with very high dramatic roofs and are beautifully done. All suites have their own private balcony with amazing ocean view and several hammocks. The bed is super comfy and huge. I couldn't have asked for more during my 5 night stay.
San Agustinillo, Mazunte Airbnb with Stunning View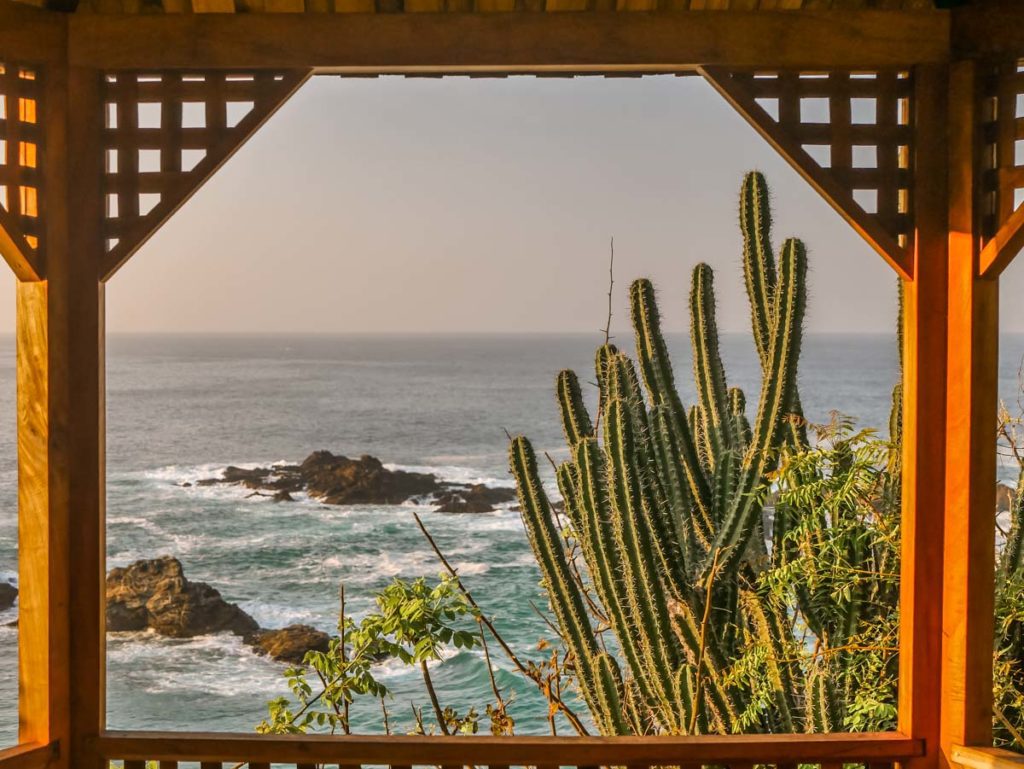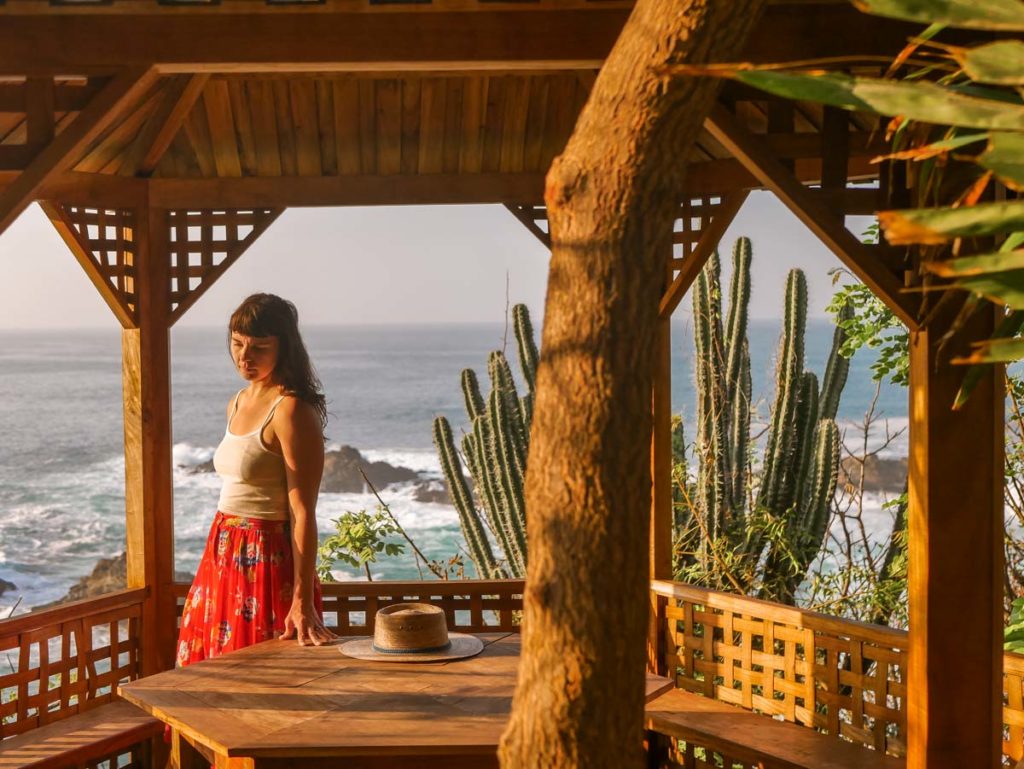 Another option would be to stay in this San Agustinillo, Mazunte Airbnb with a stunning view. It's right in between the two towns, and is perched on the high cliff above the water.
It is quite a simple and rustic place. The bathroom is separate from the main building and the toilet is a compost toilet. No air conditioning is available, but there are fans. There is a small outdoor kitchen. The main building is 2 floors, so can sleep up to two couples.
There is also a balcony, and a separate gazebo closer to the ocean. After a few days here, I did notice a bathroom smell drifting down towards the gazebo. So again, this is for adventurous travelers who don't mind roughing it a bit for the amazing location.
You can book this San Agustinillo, Mazunte Airbnb here.
More Options for Hotels and Airbnbs in San Agustinillo or Mazunte, Oaxaca
Those are my best recommendations for one of my favorite places on the Oaxaca coastline – San Agustinillo & Mazunte, Oaxaca. I keep this post updated after each visit.
More Oaxaca Coast Guides:
Complete Oaxaca beach guide, choose the best beach for your travel style.
Transportation:

How to Get to Puerto Escondido from Oaxaca.

How to Get to Mazunte, San Agustinillo, and Zipolite from Oaxaca.

How to Get from Puerto Escondido to Mazunte/San Agustinillo.
Hotels + Airbnbs:

Boutique Hotel in San Agustinillo.

Hotel and Beach Club in Puerto Escondido.

Design Lover's Airbnb in Punta Pajaros, near Casa Wabi.
Oaxaca city:

And tons of Oaxaca city posts here.
What to Pack for San Agustinillo + Mazunte, Oaxaca:



Pin it for Later!