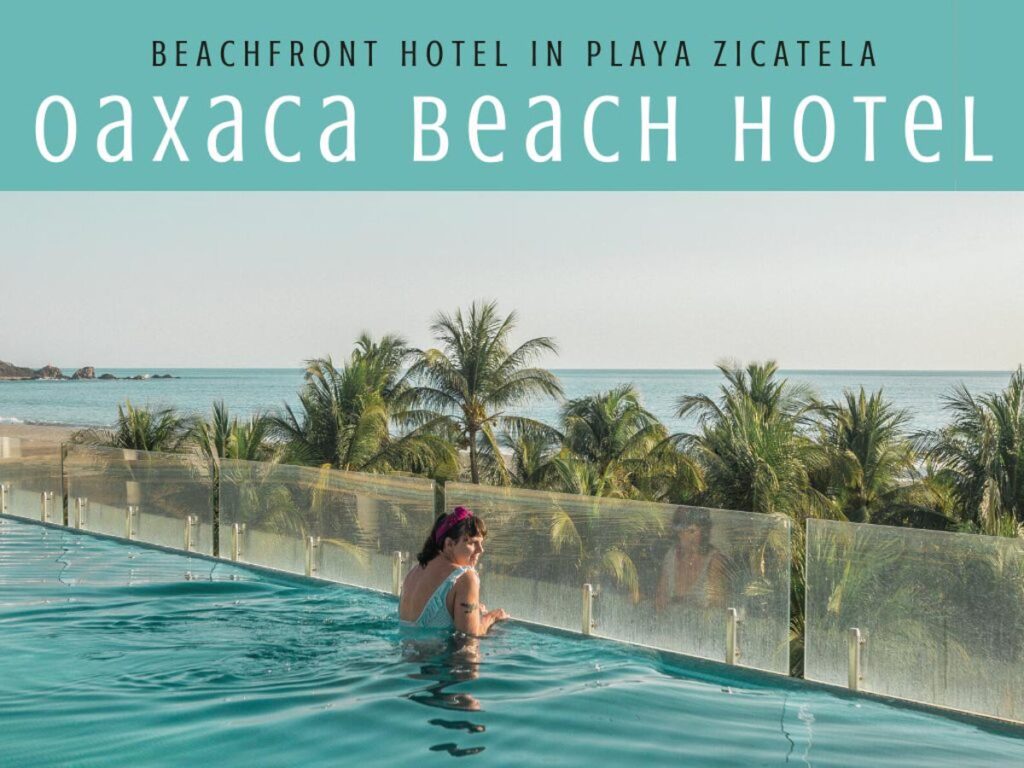 What's better than waking up on vacation and seeing the ocean's waves outside your room window? Better yet, swimming in an infinity pool with a sweeping view of the Pacific Ocean and a long beautiful beach below? If you're looking for a Oaxaca beach hotel in Puerto Escondido, Blater Hotel is an affordable, comfortable stay in an excellent location on Playa Zicatela, with an impressive rooftop infinity pool.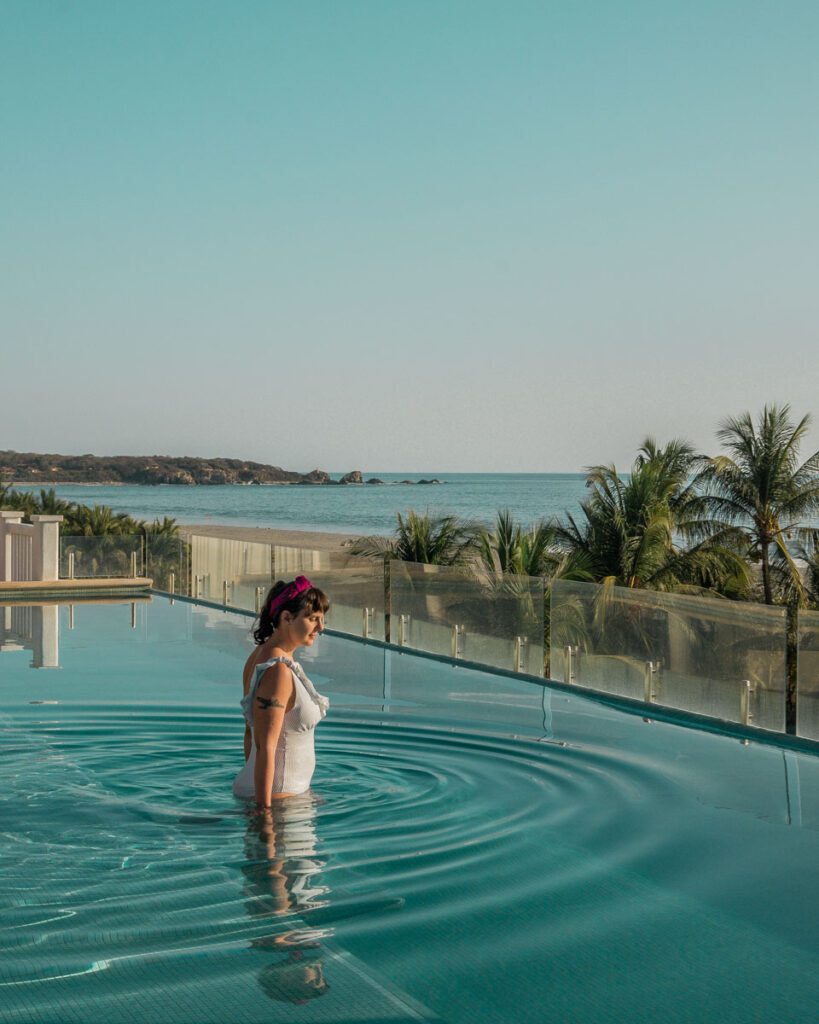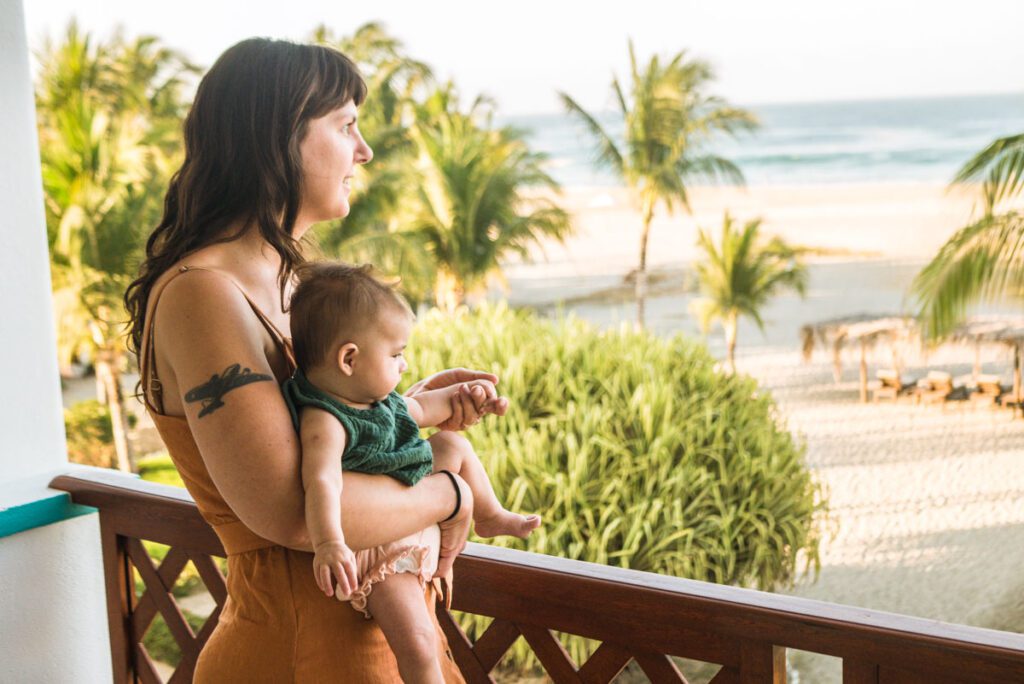 Disclosure: This post was written in partnership with Blater Hotel. As always, every thought, opinion, and experience is my own.
See all my Oaxaca coast blogs here.
Pin it for Later: Oaxaca Beach Hotel
The Ocean Views: Playa Zicatela Hotel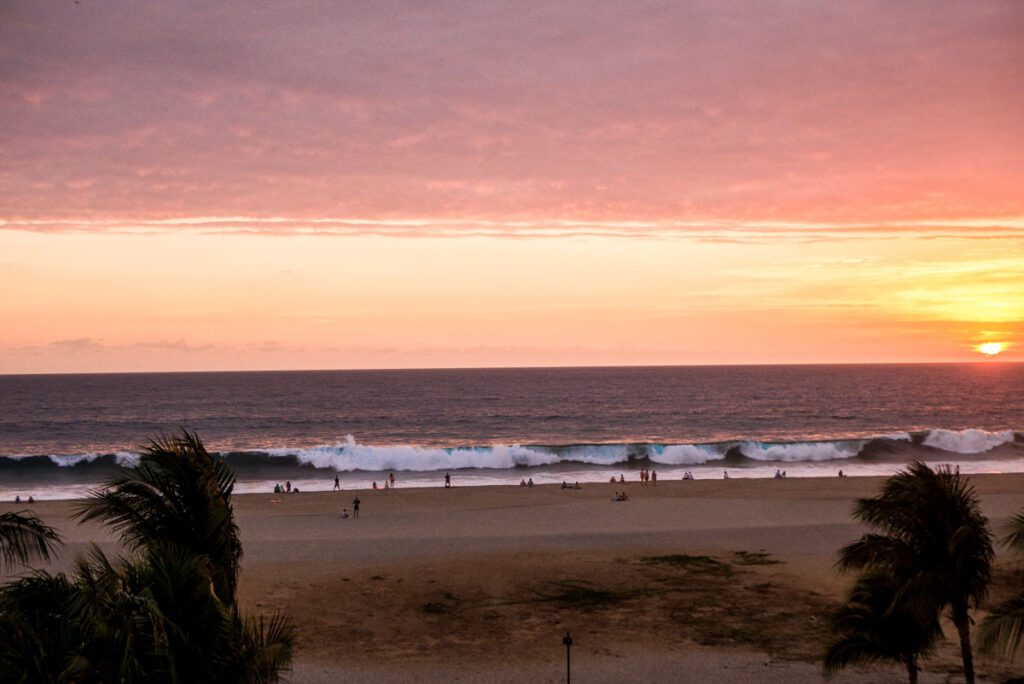 In my opinion, if you're escaping to the beach, being able to stay in a hotel with direct ocean views just makes the experience so much more enjoyable and relaxing.
Blater Hotel is right in front of the beach with ocean views from all rooms in the front of the hotel. Plus there are common spaces on each floor and an infinity rooftop pool with aerial ocean views.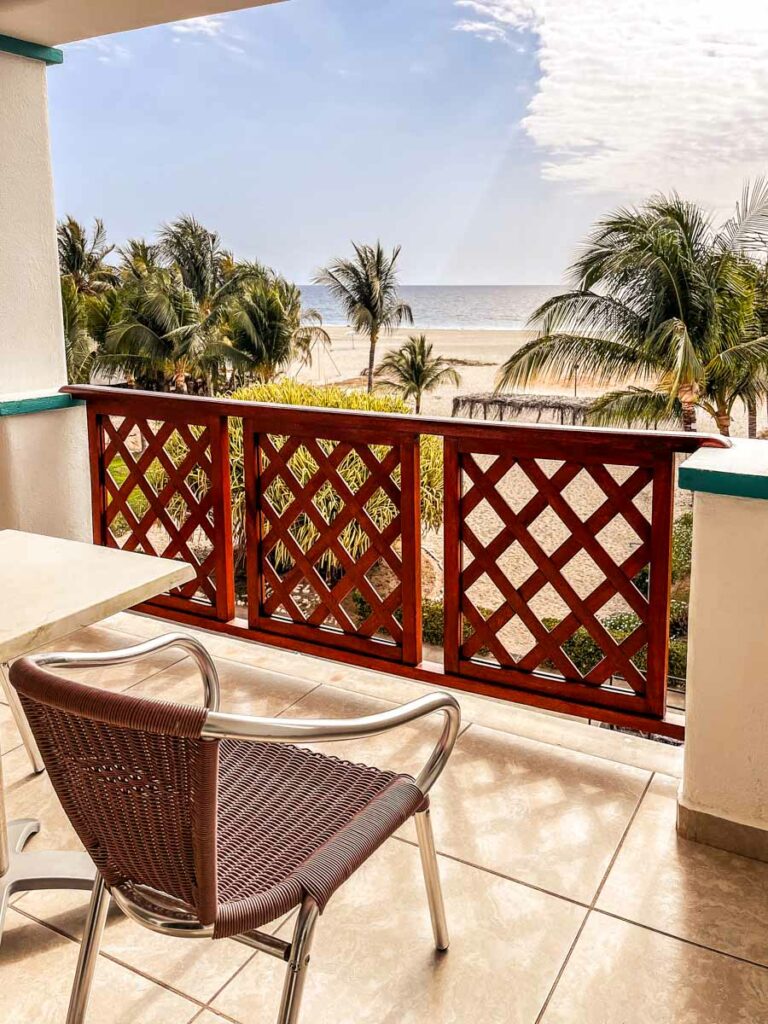 The Location: Oaxaca Beach Hotel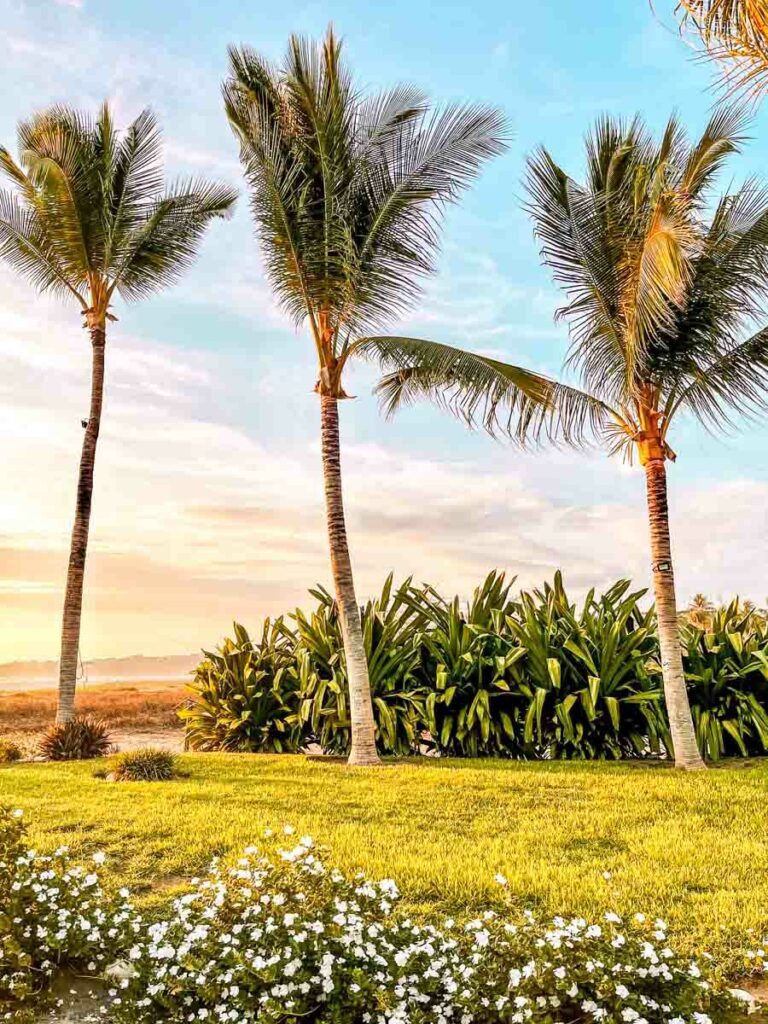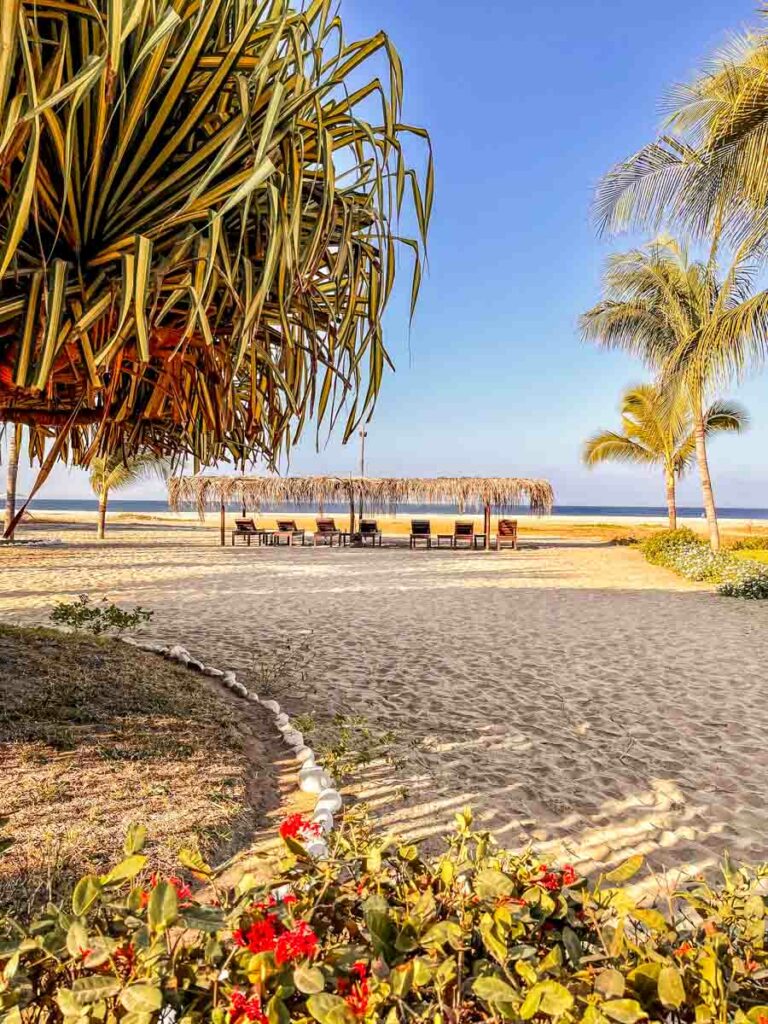 This Oaxaca beach hotel's location in the middle of Playa Zicatela makes it central and easy to get around, but still in a quiet and calm area.
Playa Zicatela is famous for its incredible huge surfing wave. You'll be able to witness the impressive consistent wave from many vantage points in the hotel. Blater Hotel also has a beach lounger and palapa area for guests to enjoy lounging on the sand in front of the ocean.
Within walking distance you'll find several restaurants, including the restaurant connected to the hotel, which serves a tasty breakfast and delicious juices. Then just a longer walk or short taxi ride, you'll find the bustling developed section of the Zicatela strip with lots of nightlife options, or in the other direction, boho but also bustling and nightlife heavy, La Punta Zicatela.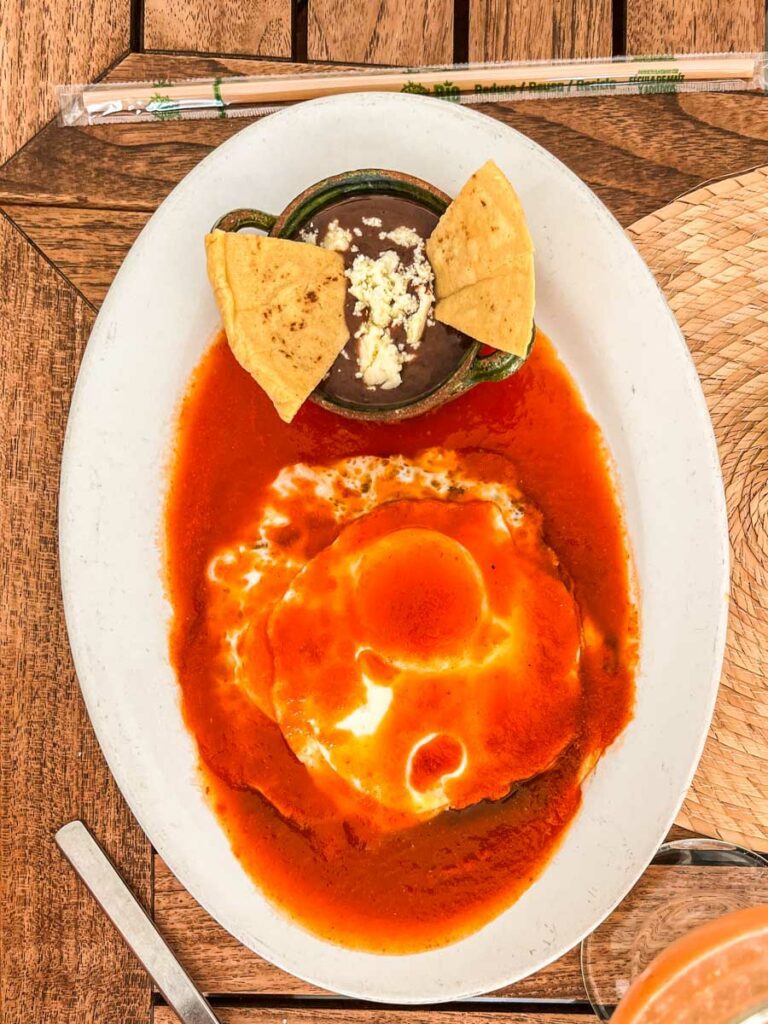 Here you have the best of both worlds at this Playa Zicatela hotel, a calm beautiful environment with enough amenities, and a quick taxi ride to lots of beautiful beaches, nightlife and everything that Puerto Escondido has to offer.
The Beautiful Oceanview Pool: Playa Zicatela Hotel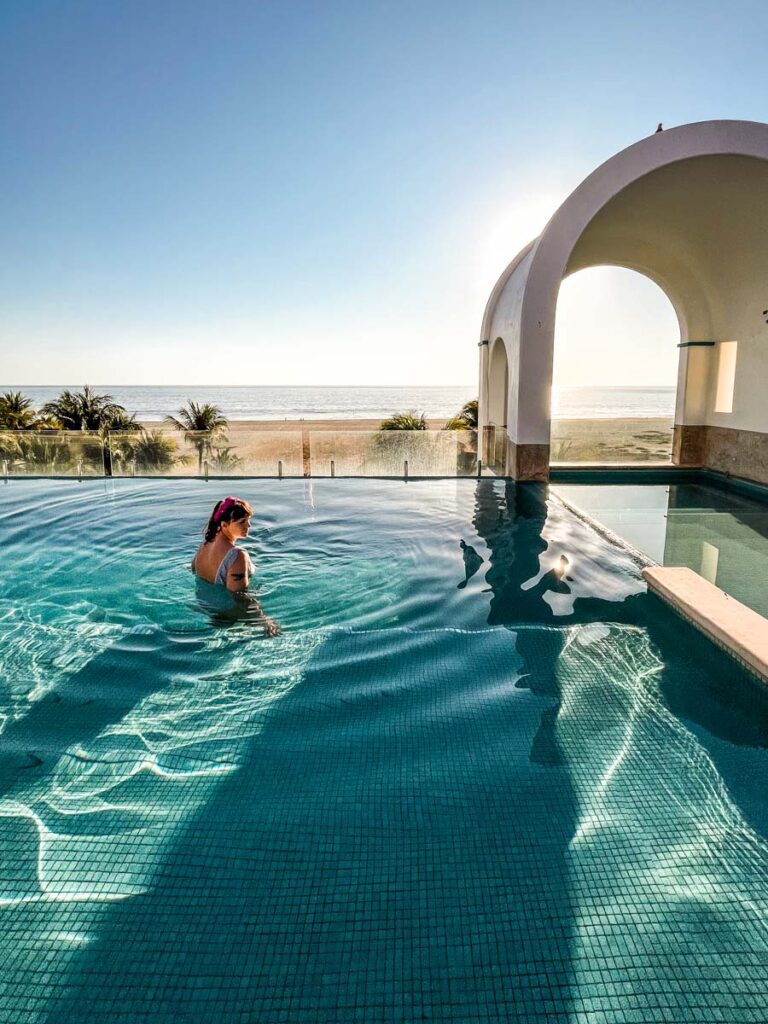 For me the rooftop pool at this Playa Zicatela hotel was my favorite highlight. It's a large infinity pool on the beachfront side of the hotel, offering sweeping views of long Playa Zicatela and the ocean below. This pool was perfect for a morning, noon or sunset swim.
The rooftop deck includes big comfy loungers, tables, and traditional pool loungers. The hotel also offers drink and restaurant service in the pool areas.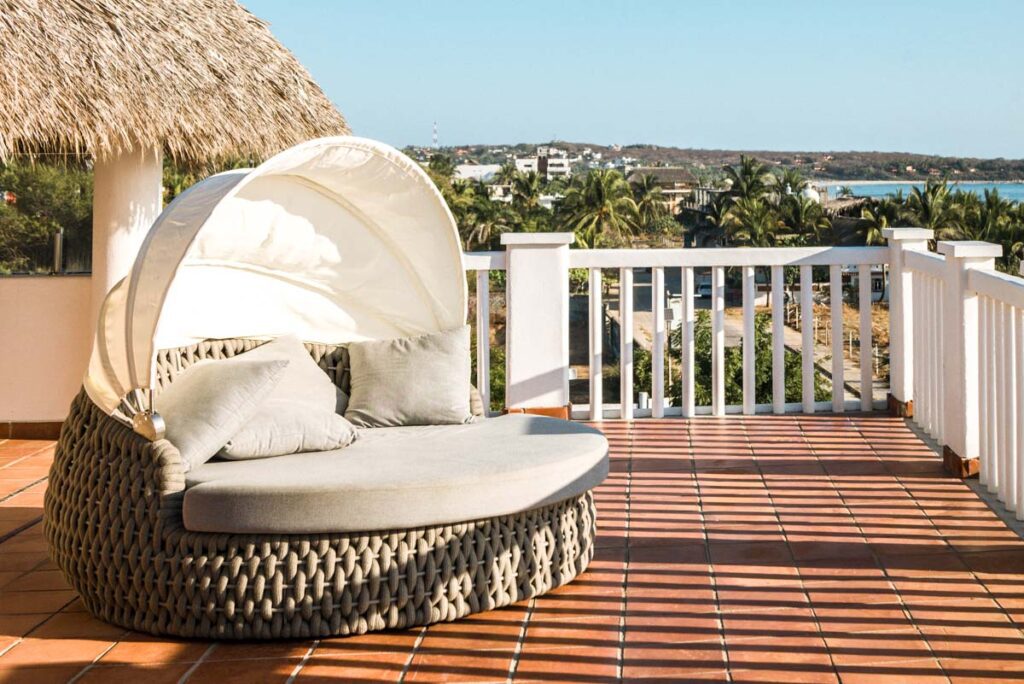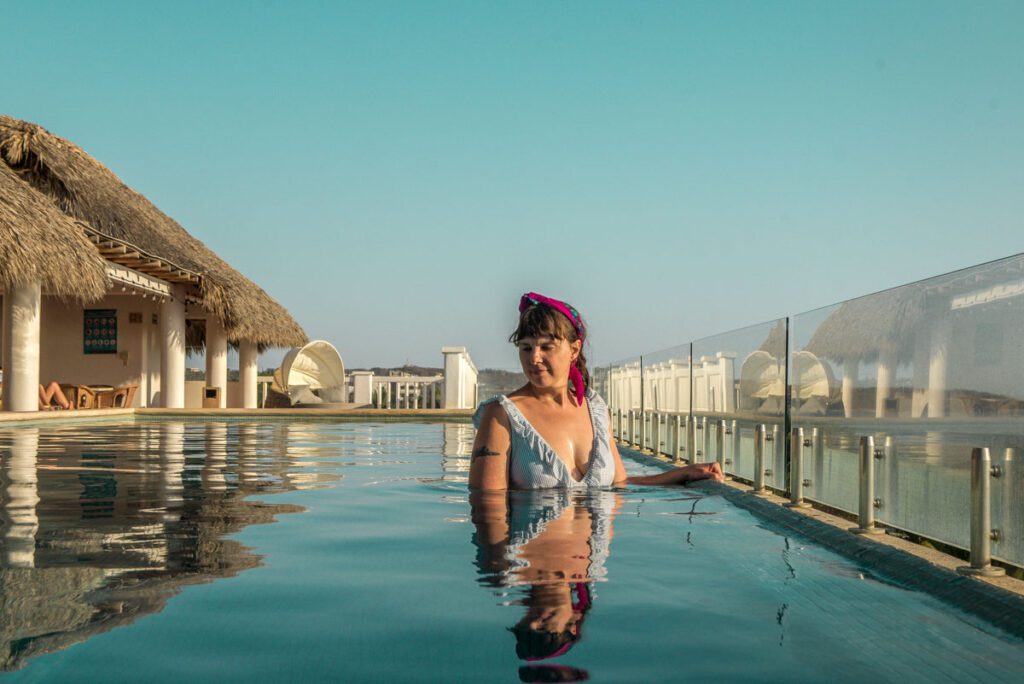 Besides the gorgeous rooftop pool, there is another pool on the second floor. There is a children's pool area, and it's a bit more shaded, so great for enjoying during the day when you don't want to get burnt!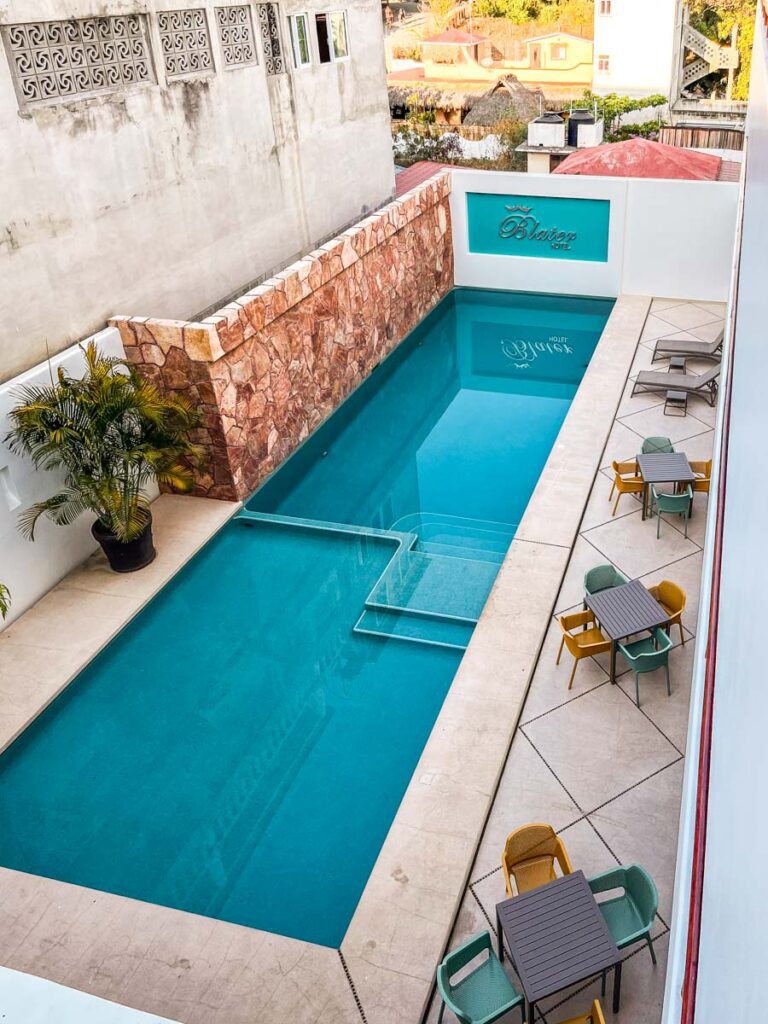 Convenience and Comfort: Oaxaca Beach Hotel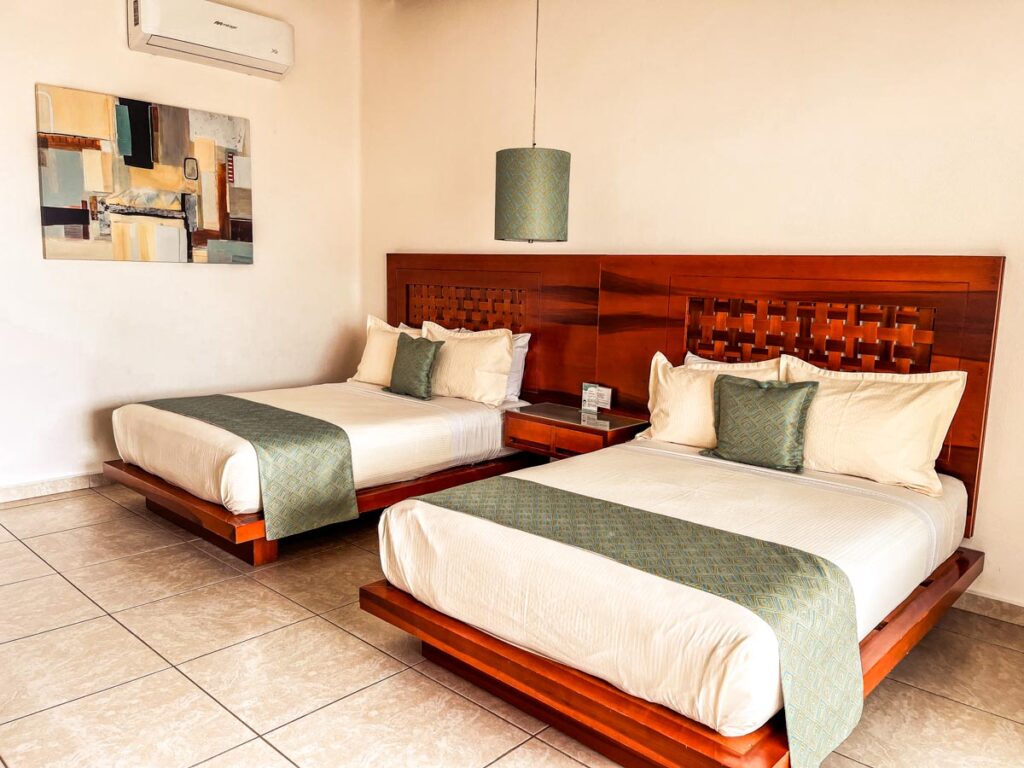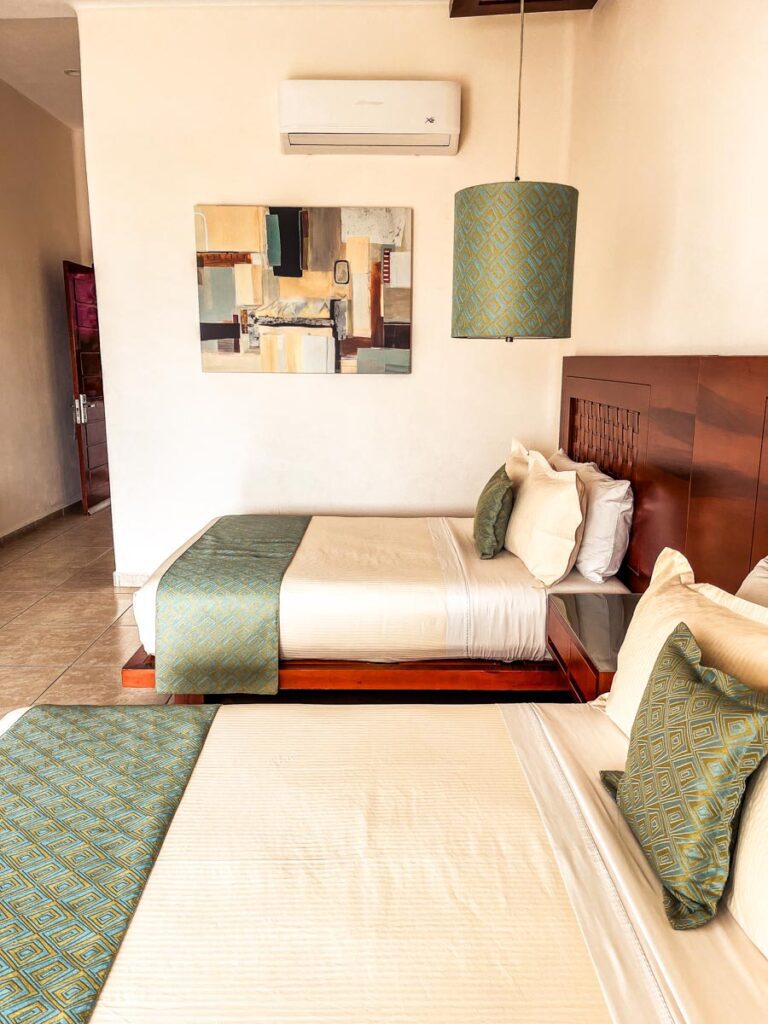 The thing that struck me while staying at this Oaxaca beach hotel is how comfortable it was, how easy our day to day was. Our room was decked out with air conditioning, black out curtains, two comfy beds, a desk, and a large tv. There was plenty of hot water and the wifi was sufficient to get work done. It felt so much more dialed in than many airbnbs or even other hotels I've stayed at. Everything works, and is comfy.
Great for Families: Playa Zicatela Hotel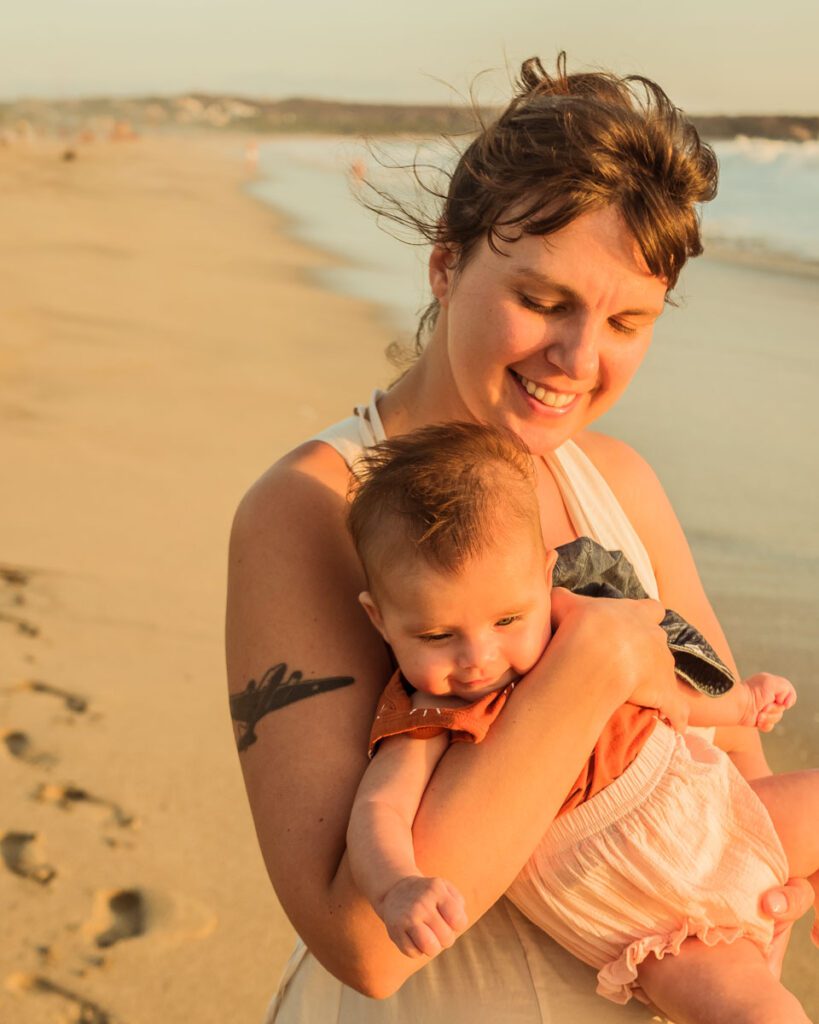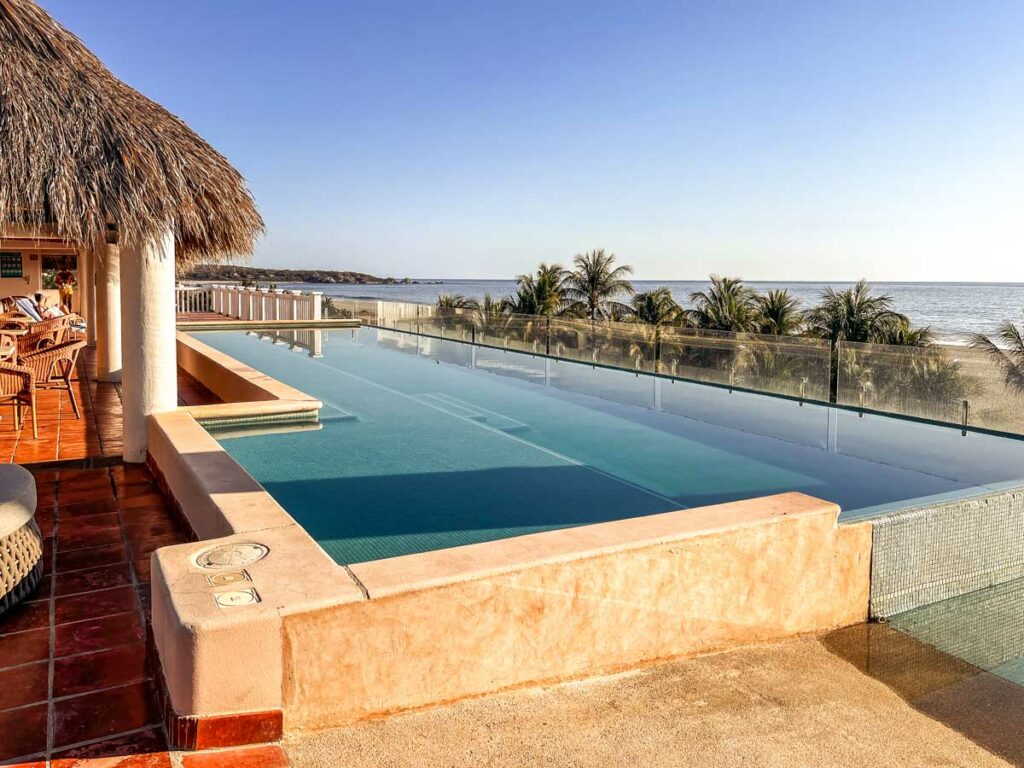 This was our first trip with our 4-month old baby and this hotel on Playa Zicatela was perfect for families. As I mentioned before, the rooms have blackout curtains which are fantastic for children's naps. Plus the a/c always keeps the room at a comfy temp. The common areas are built with families in mind. Both pools have shallow pool areas for kids, and the hotel has an elevator so you don't have to carry a bunch of kid stuff up stairs.
It felt like such a relaxing few days for us and I really appreciated that. It's not always easy traveling with children. There is more to think about, plan for, and navigate. But Blater is a really good hotel for families. They also have larger rooms with two beds if you have older kids.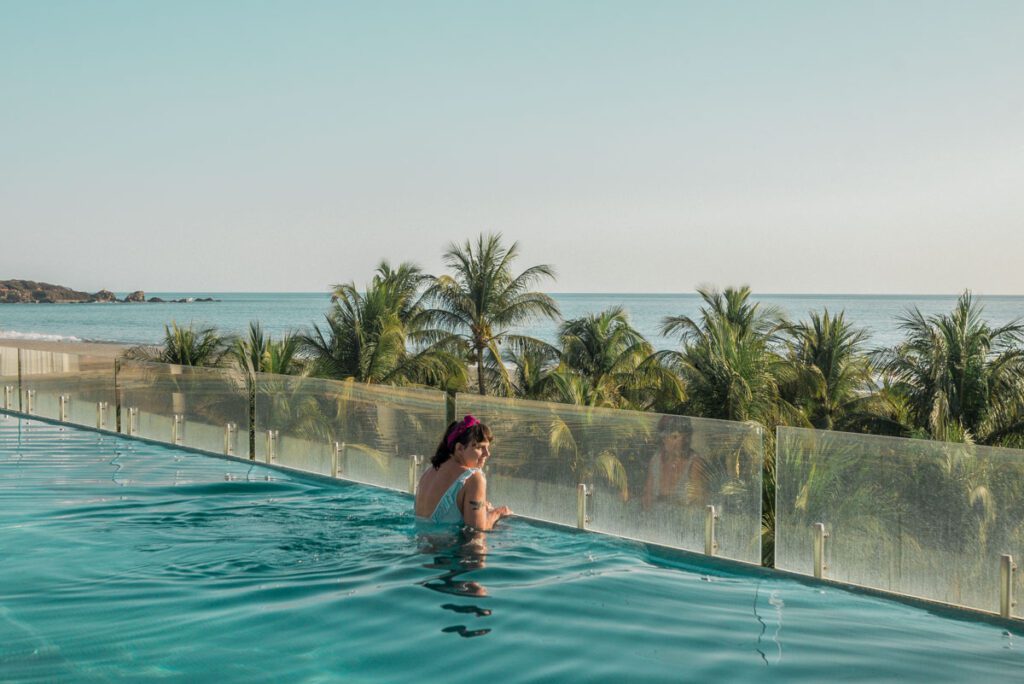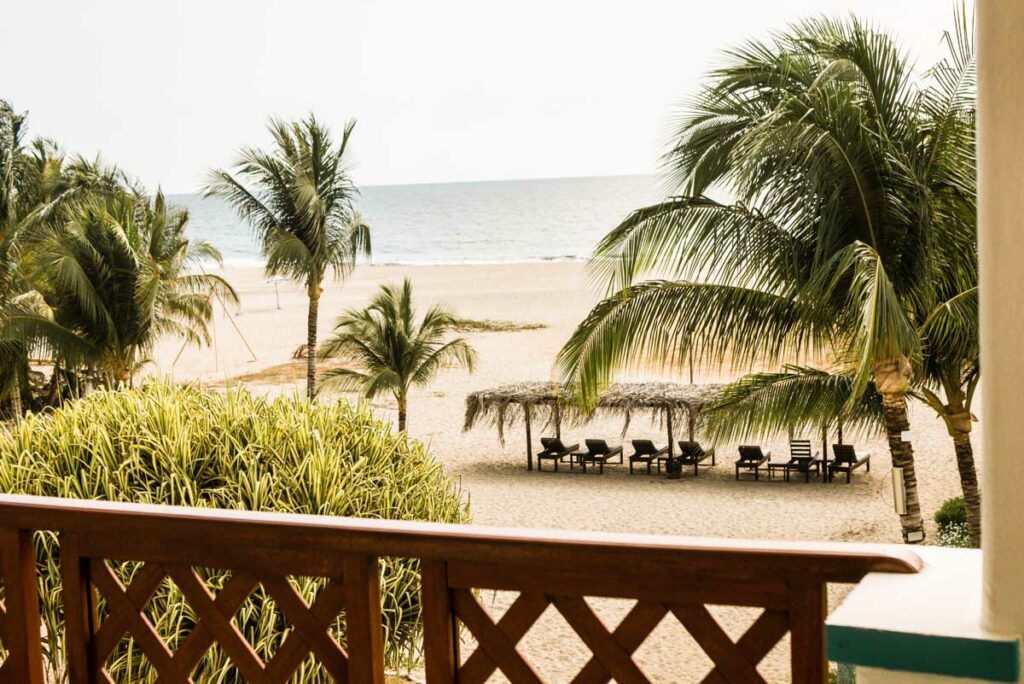 Overall, we had a really great stay and I'd be happy to go back and recommend this Oaxaca beach hotel to others looking for a comfy beachfront stay with all the necessary amenities and lovely pools to enjoy. This Playa Zicatela hotel hits all the marks and is in a great central location in Puerto Escondido.
Hotel and Reservations: Blater Hotel
Social Media: Instagram, Facebook
Best For: Families, couples, surfers, anyone who wants a comfortable, convenient stay in the middle of Puerto Escondido
Price: From 1800mxn (about $90usd). Check the above link for current prices and availability.
Includes: A/C, wifi, access to two large pools, free drinking water dispensers, in-room tvs, common areas.
Location: Playa Zicatela, Puerto Escondido, Oaxaca
See all my Oaxaca coast blogs here.
See all my Oaxaca city posts here.
And all my Oaxaca food & mezcal posts here.
Pin it for Later: Oaxaca Beach Hotel