Travel Daydreaming is a virtual travel series, where I take you day-by-day through an itinerary in one of my favorite places. Today we will spend 1 week traveling to the best Oaxaca beaches, including Puerto Escondido, Mazunte, San Agustinillo, Zipolite and Punta Pajaros. I'll take you to my favorite restaurants, wildlife tours, cocktail bars, day trips and more. Everything is already planned out for you, so all you have to do is copy this 1 week coastal Oaxaca itinerary for your next beach vacation. Let's go!
Note: This post has been written during the COVID-19 pandemic. Mexico is currently not open to leisure travel. When travel restrictions loosen, it will still be important to think about the communities you are visiting, where you are coming from, and how your arrival might affect the health of those in those communities. Make responsible and careful decisions with other people's health in mind. That being said, this itinerary is for future travel inspiration and future travel planning. Bookmark this for later!
Pin it for Later! 1 Week Coastal Oaxaca Itinerary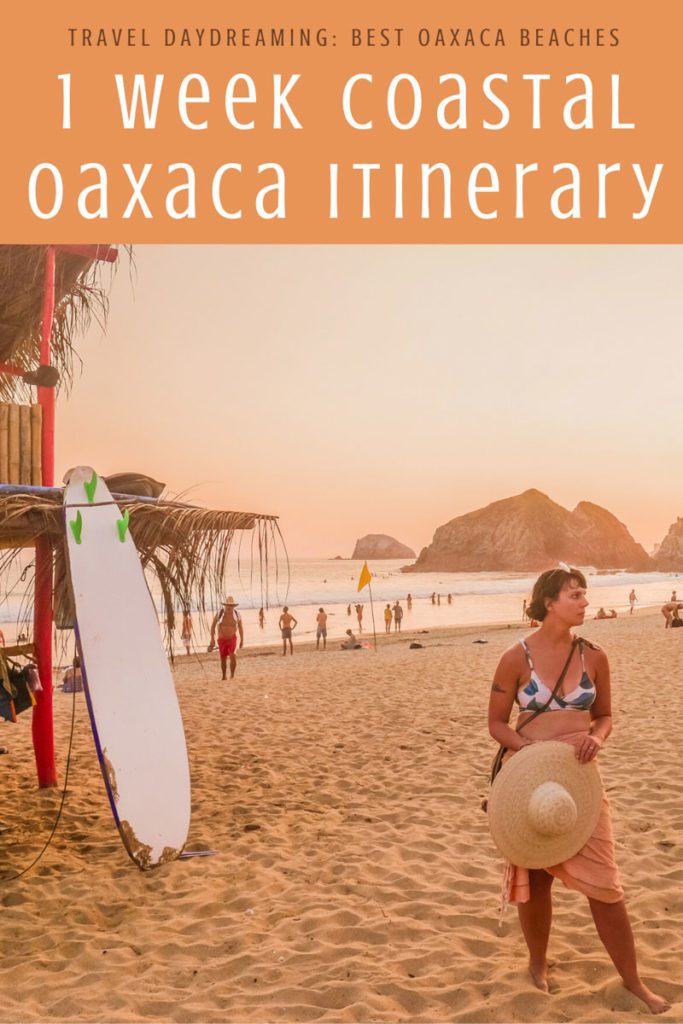 These off-the-beaten path beaches are some of my favorites in all of Mexico and still not very well known.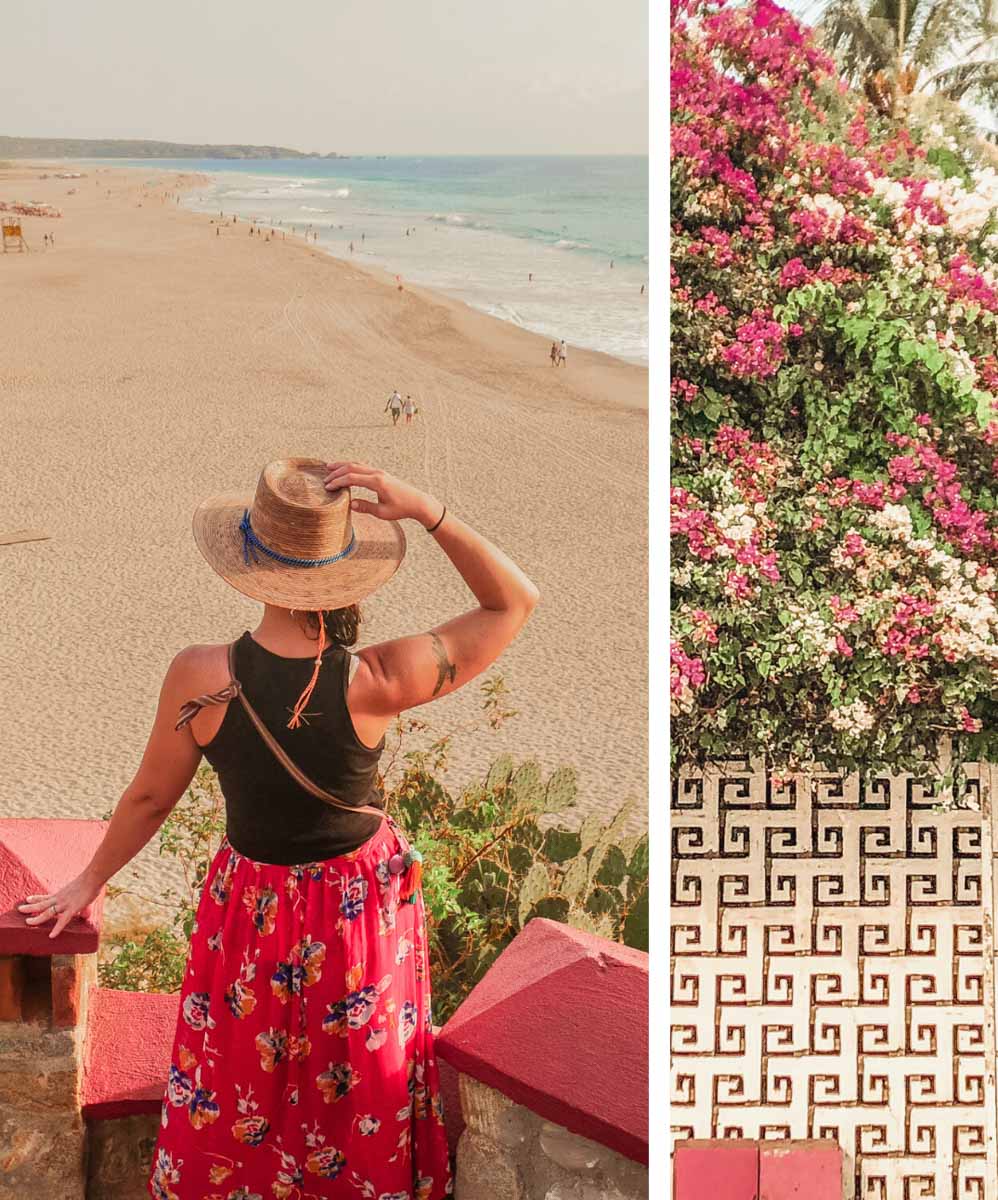 Day 1 – ARRIVAL IN PUERTO ESCONDIDO
If you're coming with me, we'll head to the colectivo van station in Oaxaca City really early. We'll make the curvy 7 hour trip through the mountains so we can arrive in Puerto Escondido in early afternoon. Pack your dramamine, just in case.
If you're short on time or prone to car sickness, you can always fly via small planes from Oaxaca city or regular flights from Mexico City.
Head here to read my detailed post about how to get to Puerto Escondido from Oaxaca or CDMX.
Check in Time: 1 Week Oaxaca Itinerary on the Coast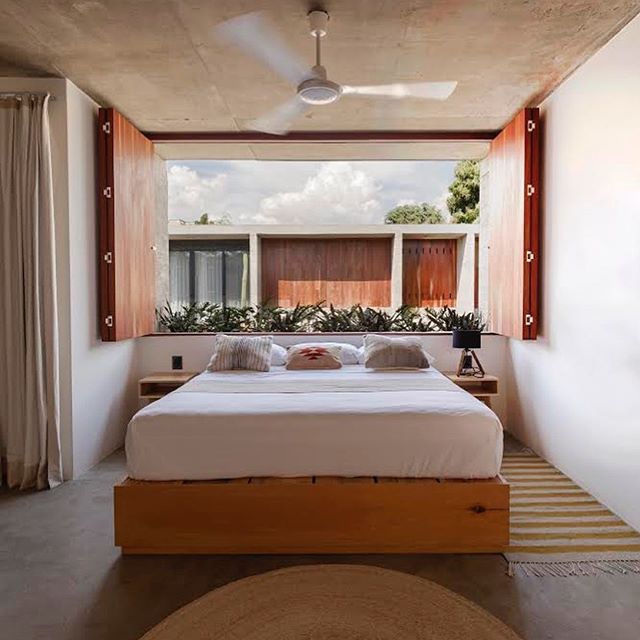 We're heading to Casa Umi, a dreamy boutique hotel in one of my favorite parts of Puerto Escondido, La Punta. Click here to book.
Or find other Puerto Escondido hotels or Puerto Escondido Airbnbs.
La Punta, Tacos & Sunset: Best Oaxaca Beaches Itinerary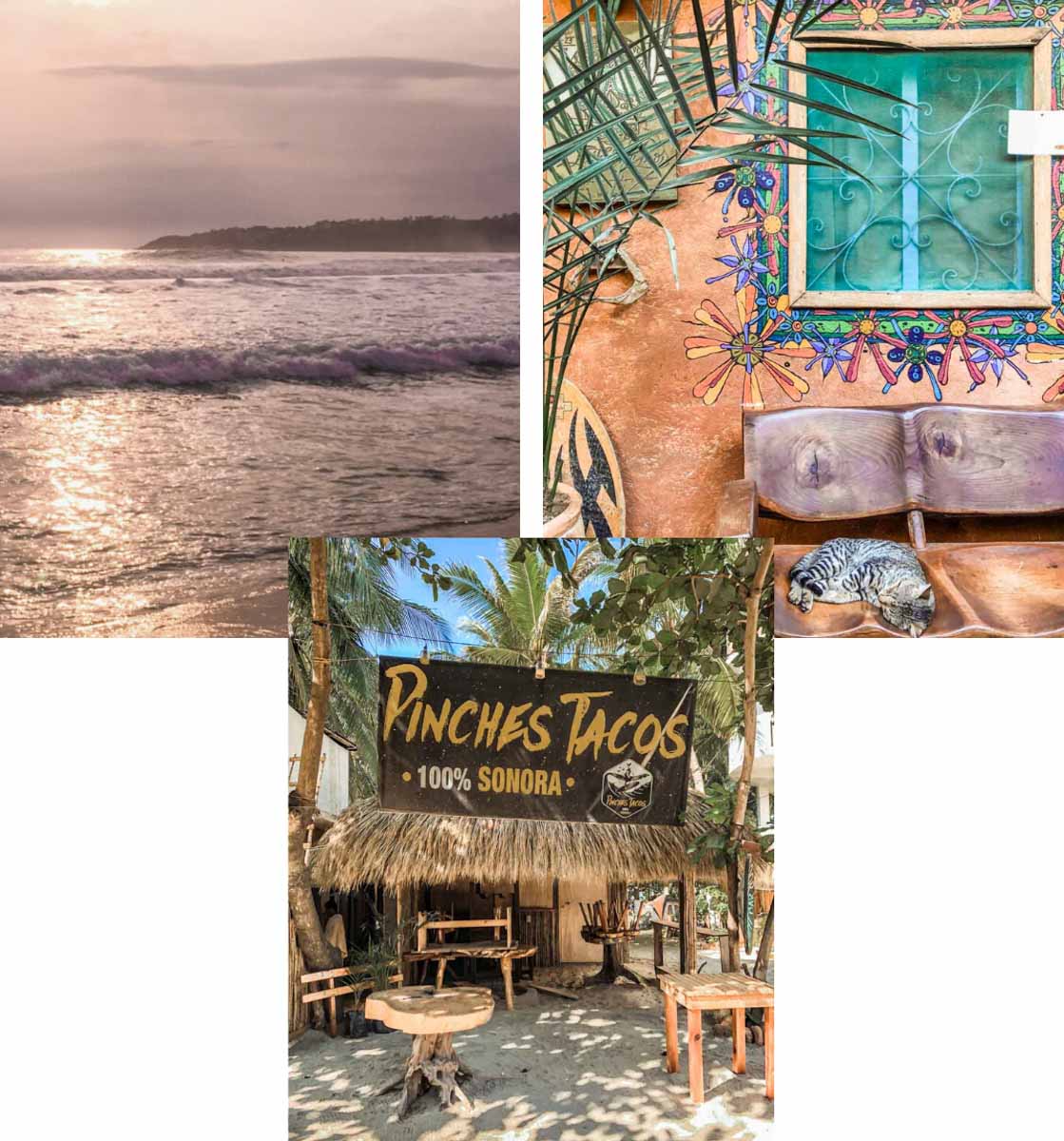 La Punta is filled with dirt roads, chill cafes & beach bars, people wandering barefoot, and some of the best surfing on this coast.
We'll grab some delish fish tacos at Pinches Tacos (La Punta location), do some shopping at boutiques from local designers like Ana Mexicana, and then drink a cold Victoria on the beach as the sun sets.
DAY 2 – BEACH, CEVICHE + TURTLES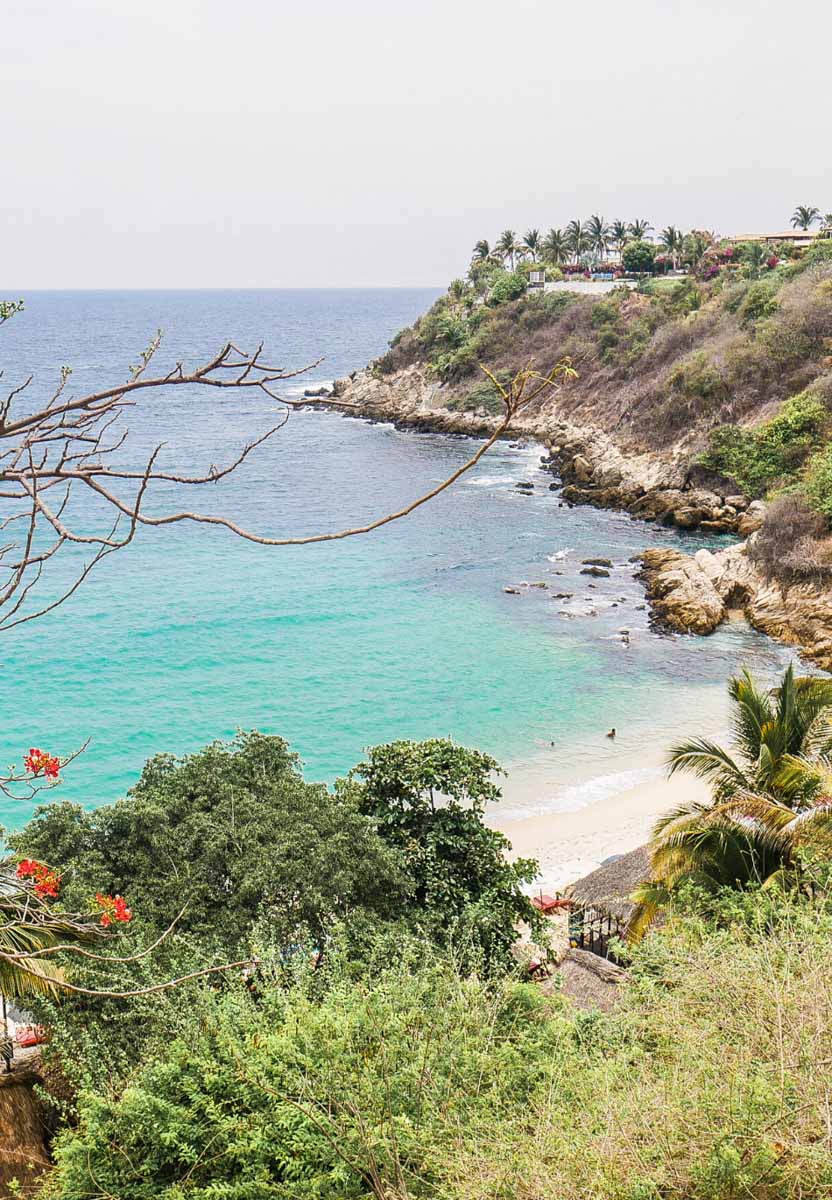 It's day 2 of our Oaxaca itinerary on the coast, and we'll spend most of the day at one of the best Oaxaca beaches, Playa Carrizalillo – a tiny turquoise cove that you arrive to from above.
You can grab a seat on one of the lounge chairs on the sand and order a cold beer or snack. They usually just require a minimum spend in exchange for the use of the beach chairs, but check with the servers.
Local Ceviche Lunch: 1 Week Oaxaca Itinerary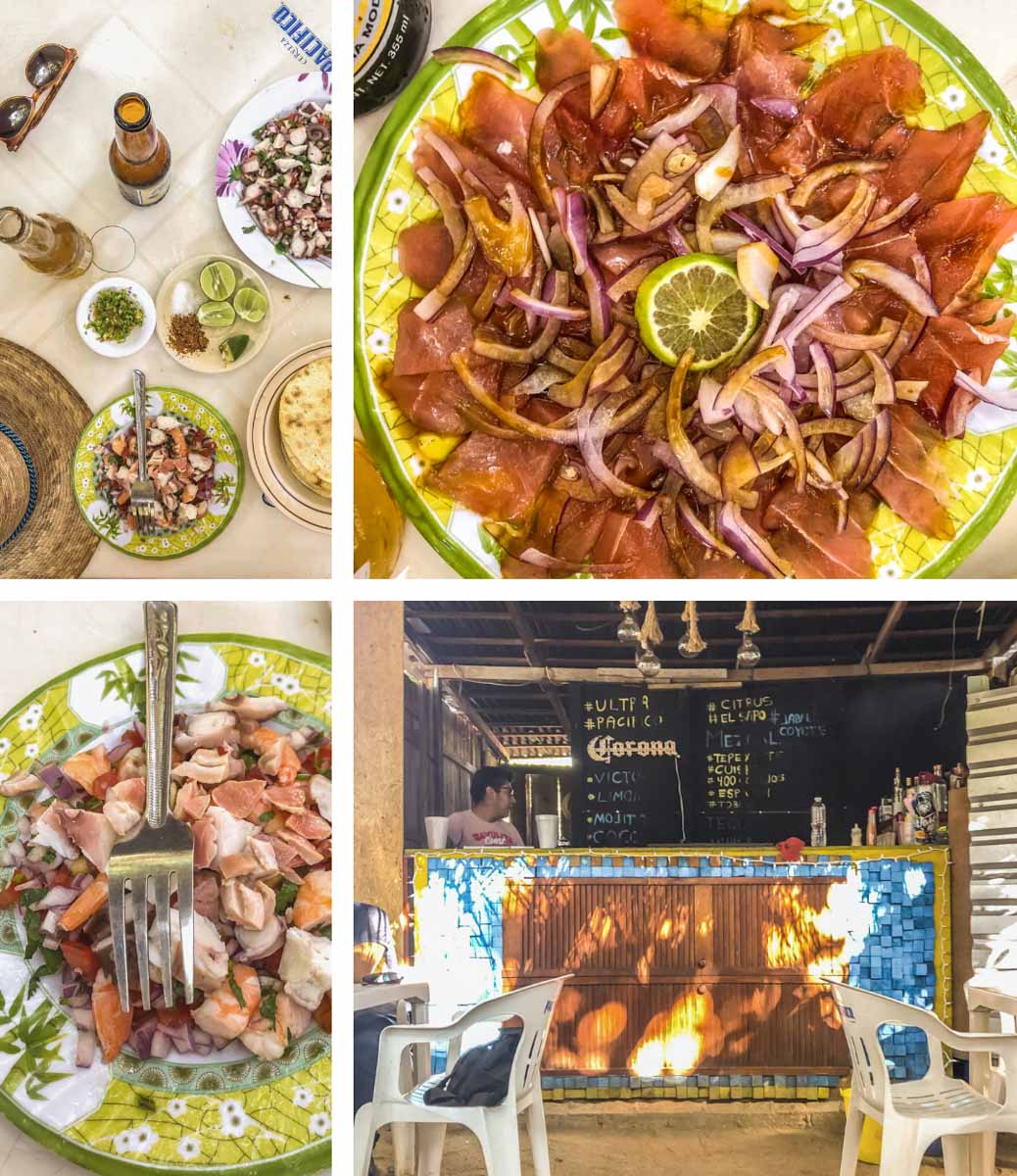 Then we'll have a late lunch at one of my fav food spots in all of Puerto Escondido, JP Bunker, a local favorite for fresh seafood and beer. Order the ceviche, sashimi, and a michelada.
This isn't a tourist spot, but a casual sand floor local eatery next to a car wash in the center of the city. You'll get a taste of local culture and some of the best seafood around.
Baby Turtle Release: Best Oaxaca Beaches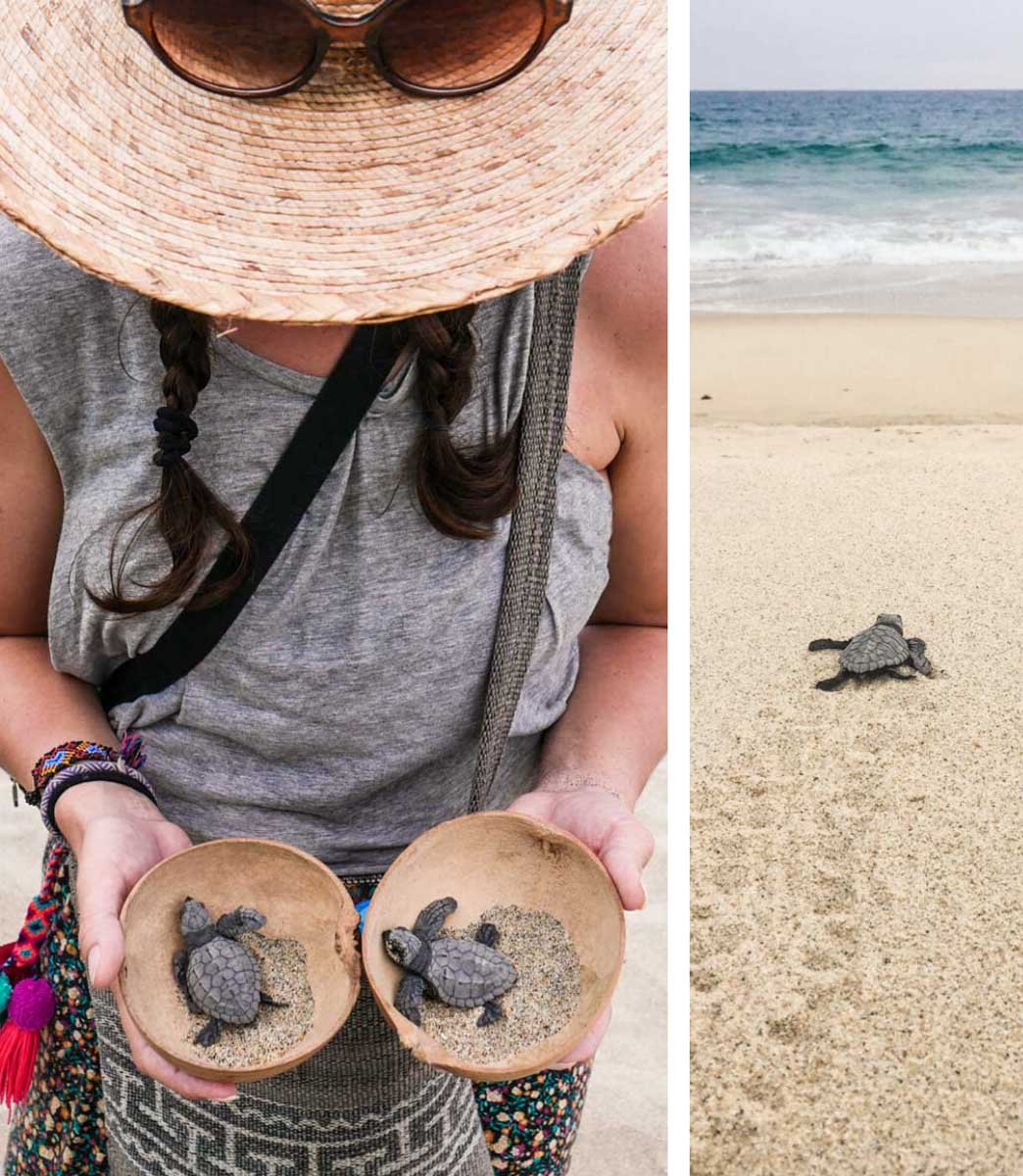 Next we'll head to Playa Bacocho to take part in a baby turtle release. Vive Mar, a turtle conservation organization, allows participants to release the babies into the ocean every evening in exchange for a donation to support the project.
After, we'll wander the picturesque beach, and grab a sunset drink and bite at Pez Gallo. This is one of the best Oaxaca beaches for its beauty and its uncrowded stretches of sand.
DAY 3 – SURFING, ART, COCKTAILS + DANCING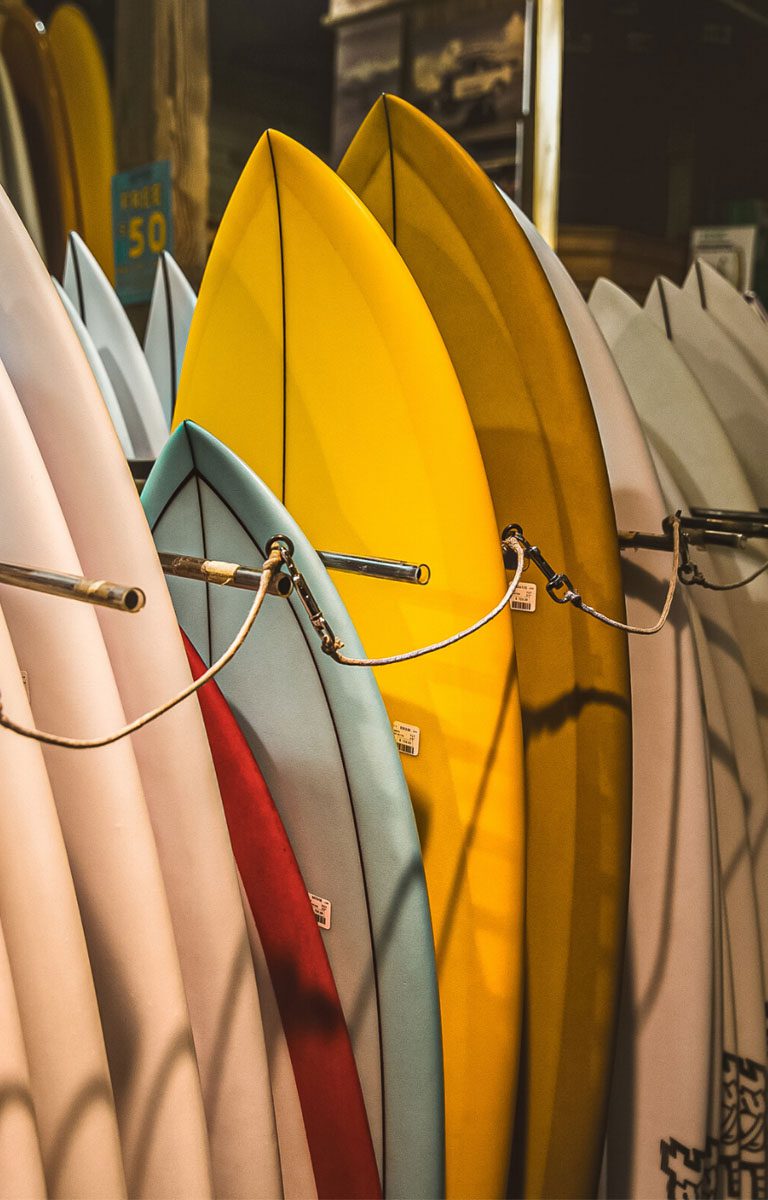 We'll start off our 3rd day of the coastal Oaxaca itinerary with some surf lessons in La Punta. There are plenty of places to find an instructor or rent a board on the La Punta strip.
Casa Wabi: 1 Week Coastal Oaxaca Itinerary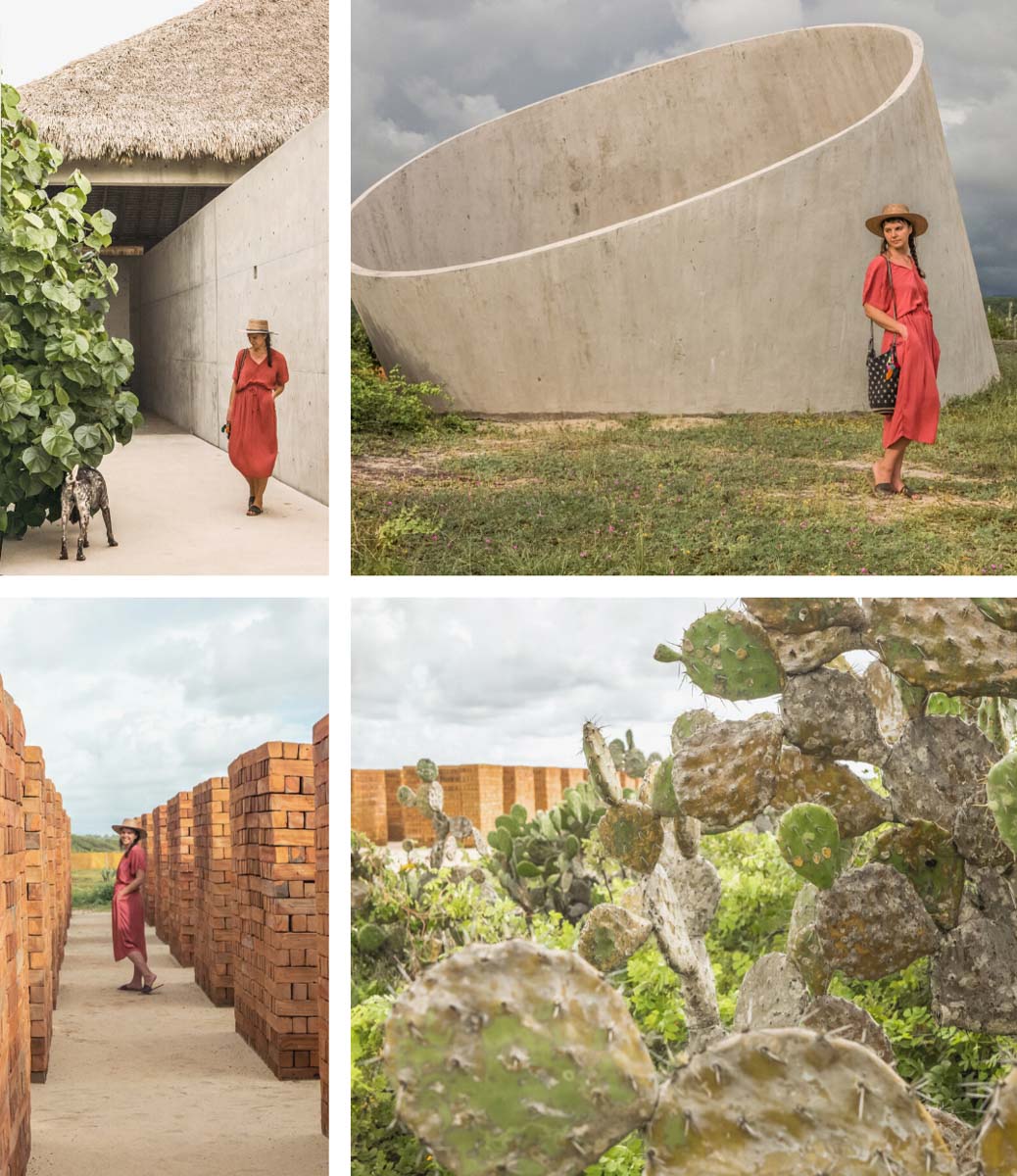 After smoothies and a fresh lunch at Cafe Ole, we'll take a dip in the pool and then grab our rental car and head to art foundation, Casa Wabi.
This beautiful space was built by renowned architect, Tadao Ando, and offers artist residencies as well as social programs for the community.
Dinner, Cocktails + Dancing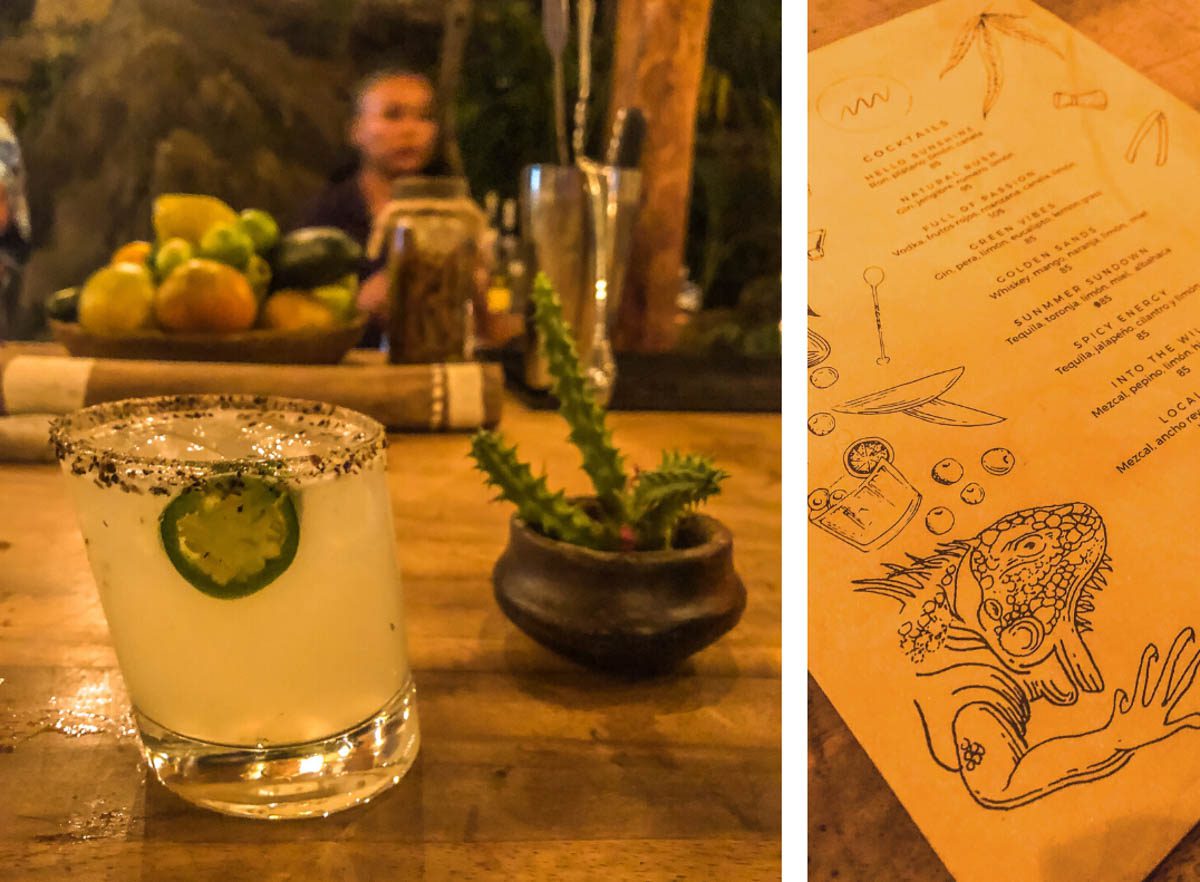 Finally we'll head to my favorite nighttime hangout – Mar & Wana. This open air spot is a combo of a bar, food stand center (think food trucks), and club.
We'll order a mezcal cocktail, some tacos, and then see where the night takes us.
Click through for my full Puerto Escondido travel guide.
Find Your Airbnb or Hotel at the Best Oaxaca Beaches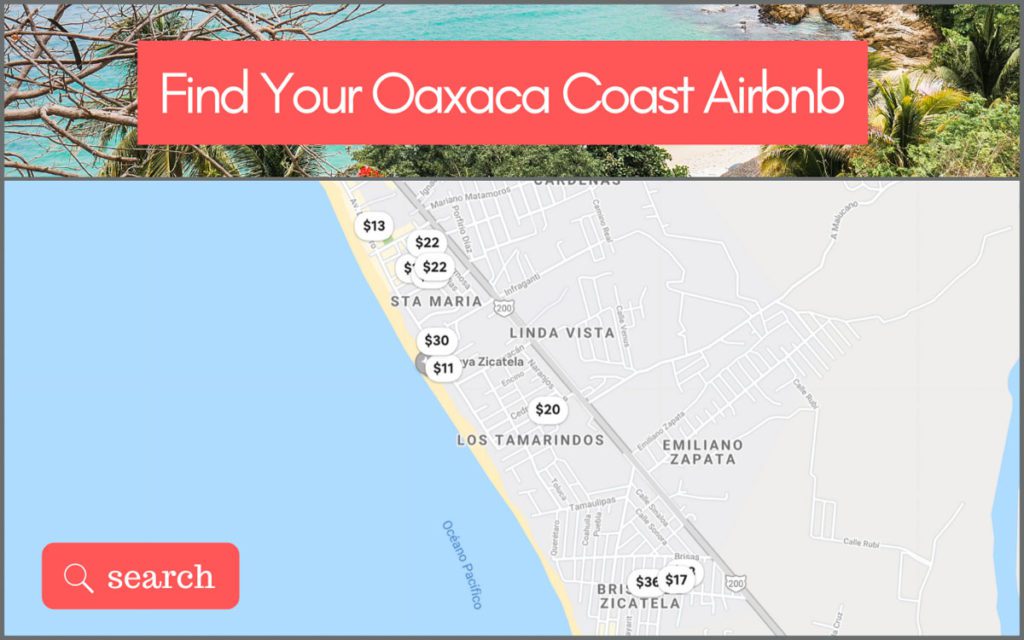 DAY 4 – MAZUNTE + SAN AGUSTINILLO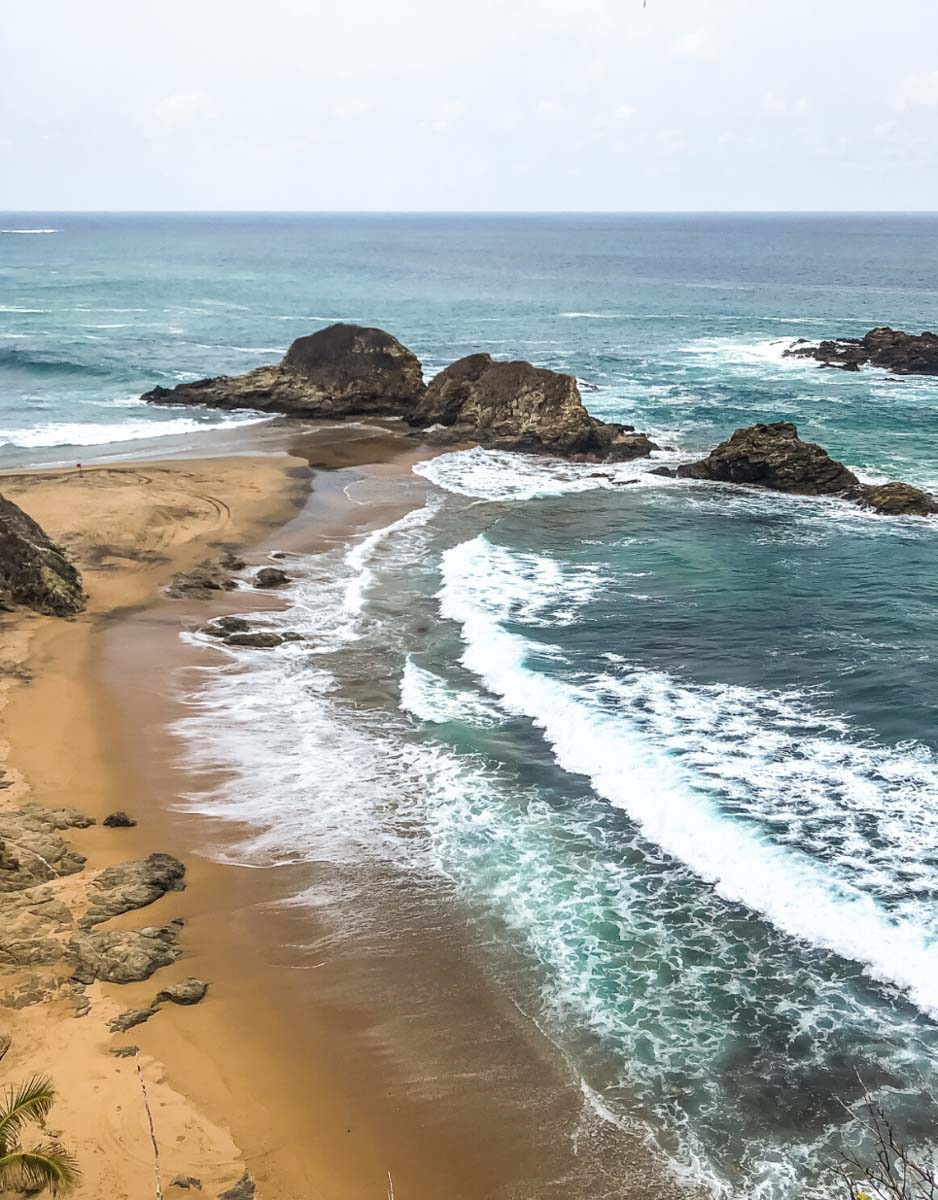 Today we'll head to some small Oaxaca beach towns for an even more laidback experience during the last couple days of our 1 week Coastal Oaxaca itinerary.
Full details on how to get from Puerto Escondido to Mazunte and San Agustinillo.
Check In Time: 1 Week Oaxaca Itinerary on the Coast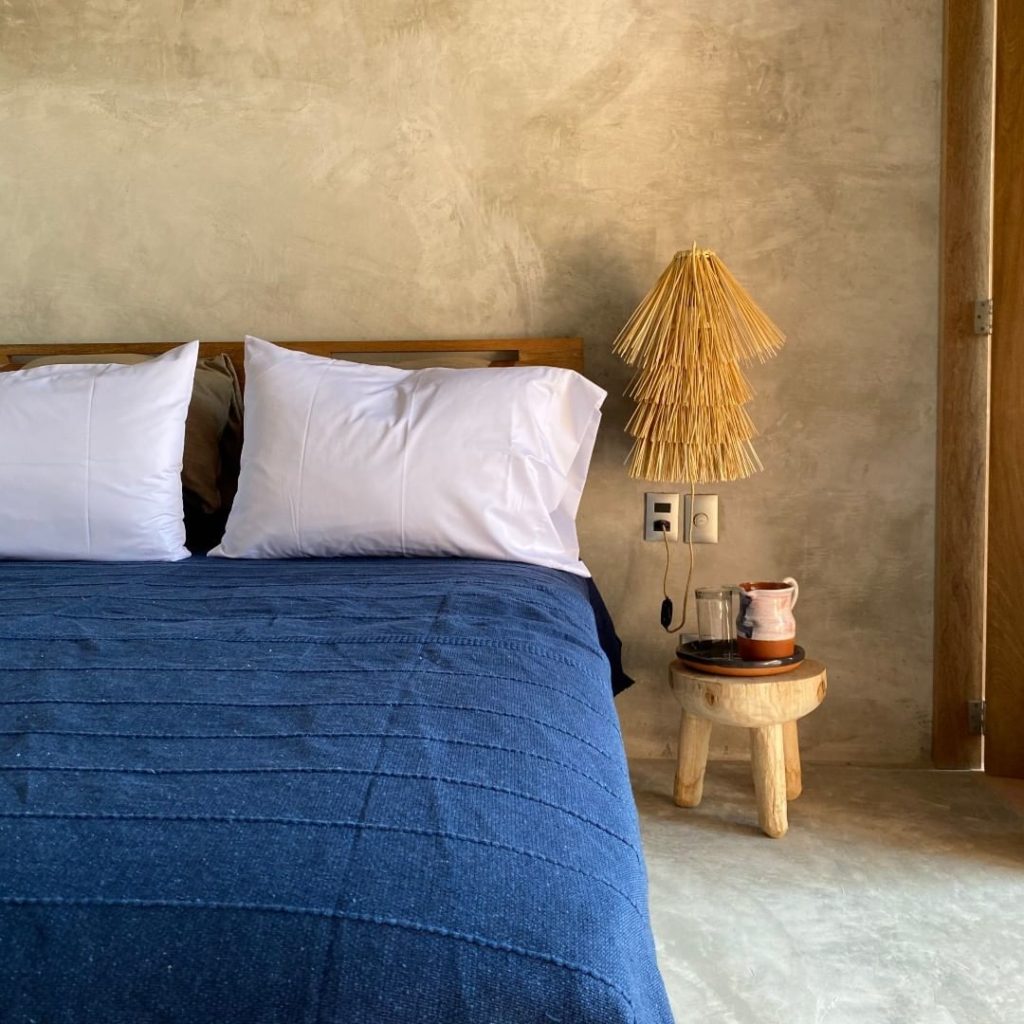 We're spending the rest of our 1 week coastal Oaxaca itinerary at MonteUzulu a beautifully designed boutique hotel in San Agustinillo. Click here to book.
Or find other Mazunte/San Agustinillo hotels or Mazunte/San Agustinillo Airbnbs.
San Agustinillo Beach: Best Oaxaca Beaches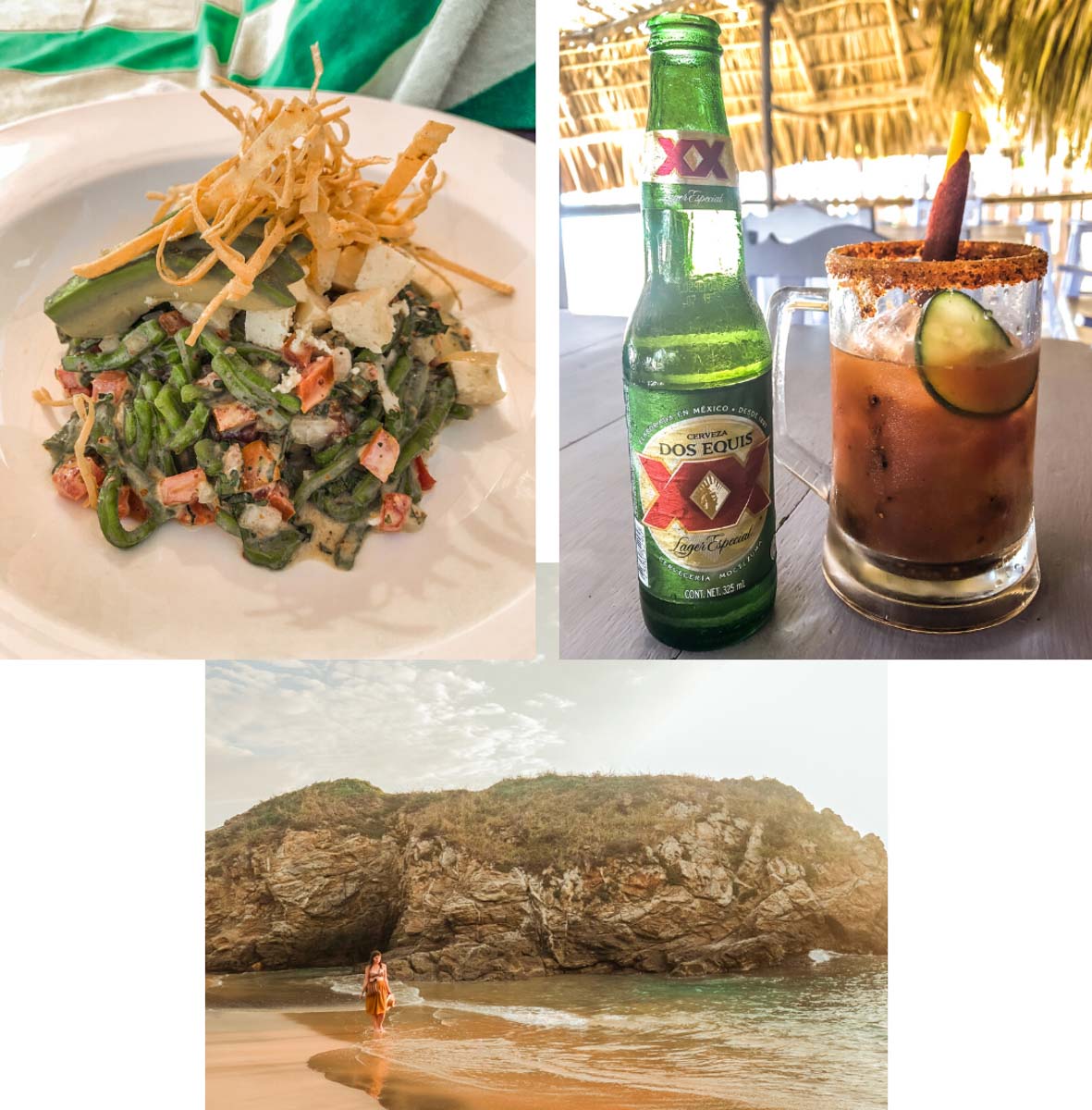 We'll spend our first day in San Agustinillo lounging on the beach, eating fresh seafood, drinking micheladas, and swimming in the Pacific.
We'll grab some beach loungers at La Ola, a great restaurant that also happens to be right in front of this picturesque beach.
Punta Cometa Hike + Sunset: Best Oaxaca Beaches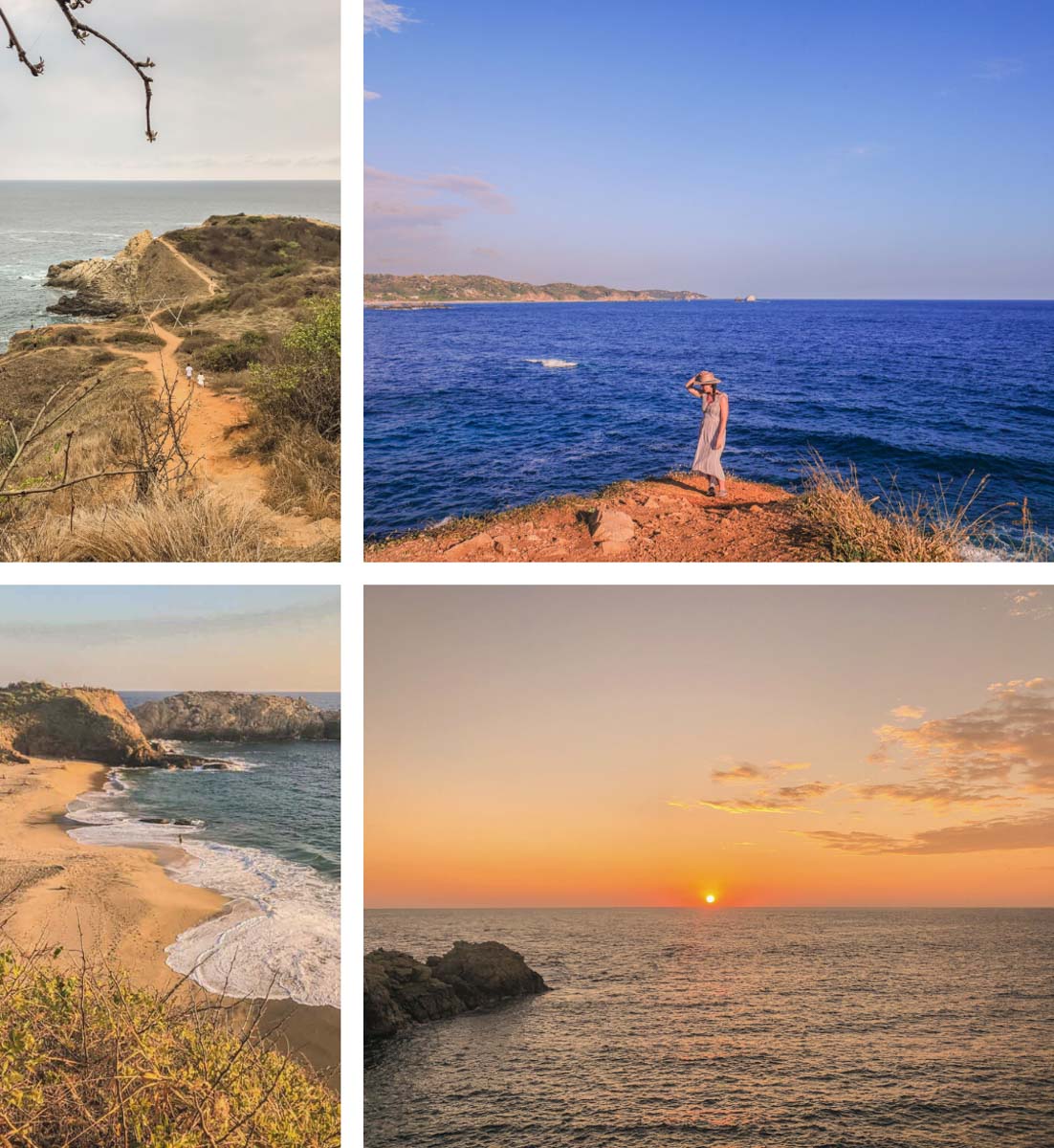 After a lazy beach day, we're going to watch the sunset in the most beautiful spot on the whole Oaxaca coast, Punta Cometa, a peninsula that extends out into the ocean.
It's a short but easy hike to the point. We'll follow the signs, explore the paths and ocean views on all sides, and then grab a spot to watch the best sunset show in town.
Authentic Pizza Dinner: 1 Week Oaxaca Itinerary on the Coast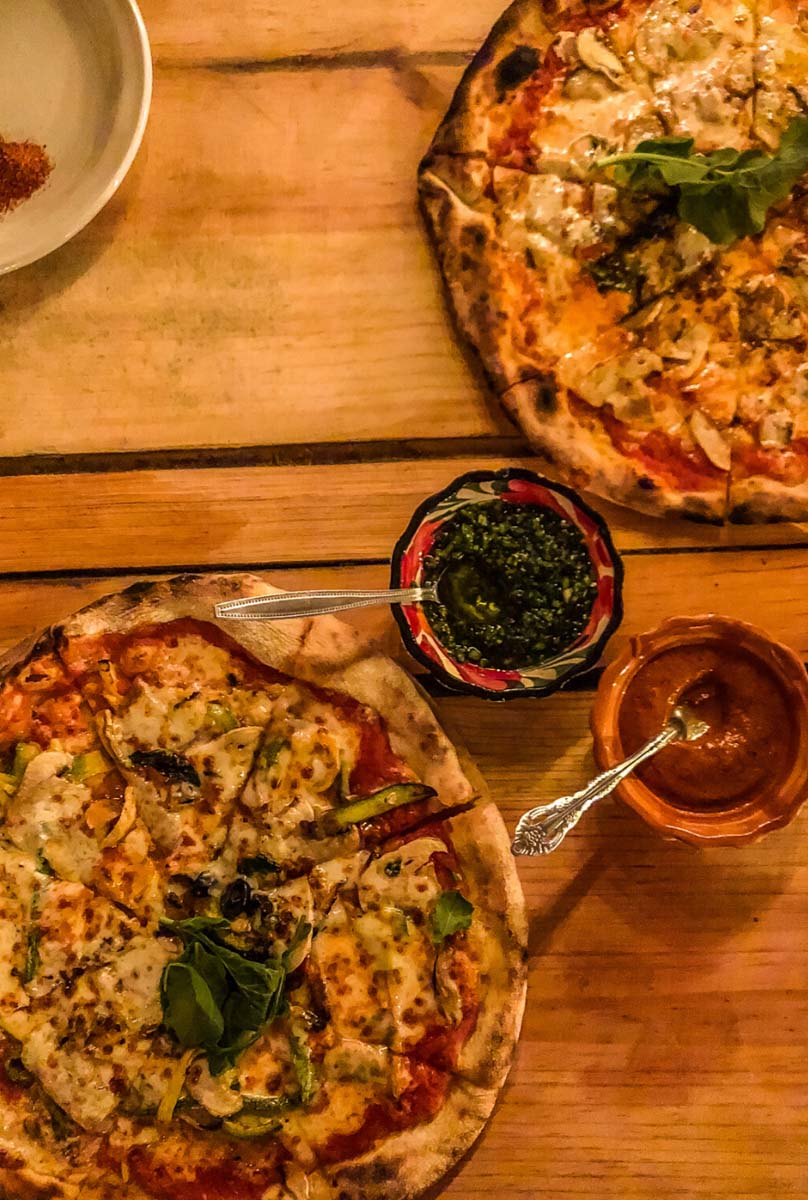 We're ending the night eating pizza that is so shockingly good that you'll think you're in Italy. This outdoor pizzeria (aptly named La Pizzeria) is run by an Italian who knows his stuff.
DAY 5 – NATURE + WILDLIFE, SHOPPING + ZIPOLITE BEACH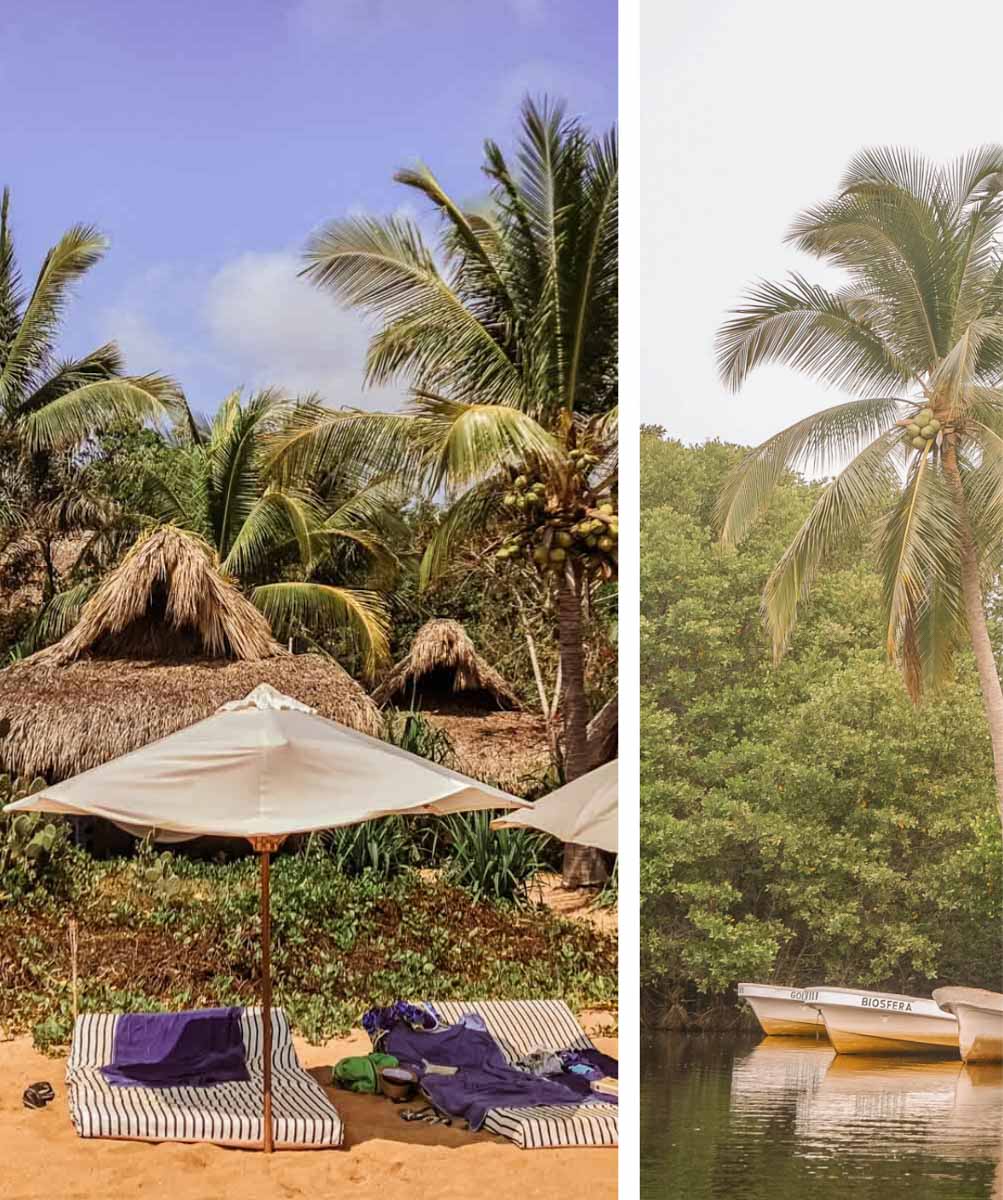 On Day 5 of our coastal Oaxaca itinerary we'll explore mangroves, see lots of wildlife, and then visit another beautiful beach in a small charming town with some great shopping and a dramatic coastline.
La Ventanilla Nature Tour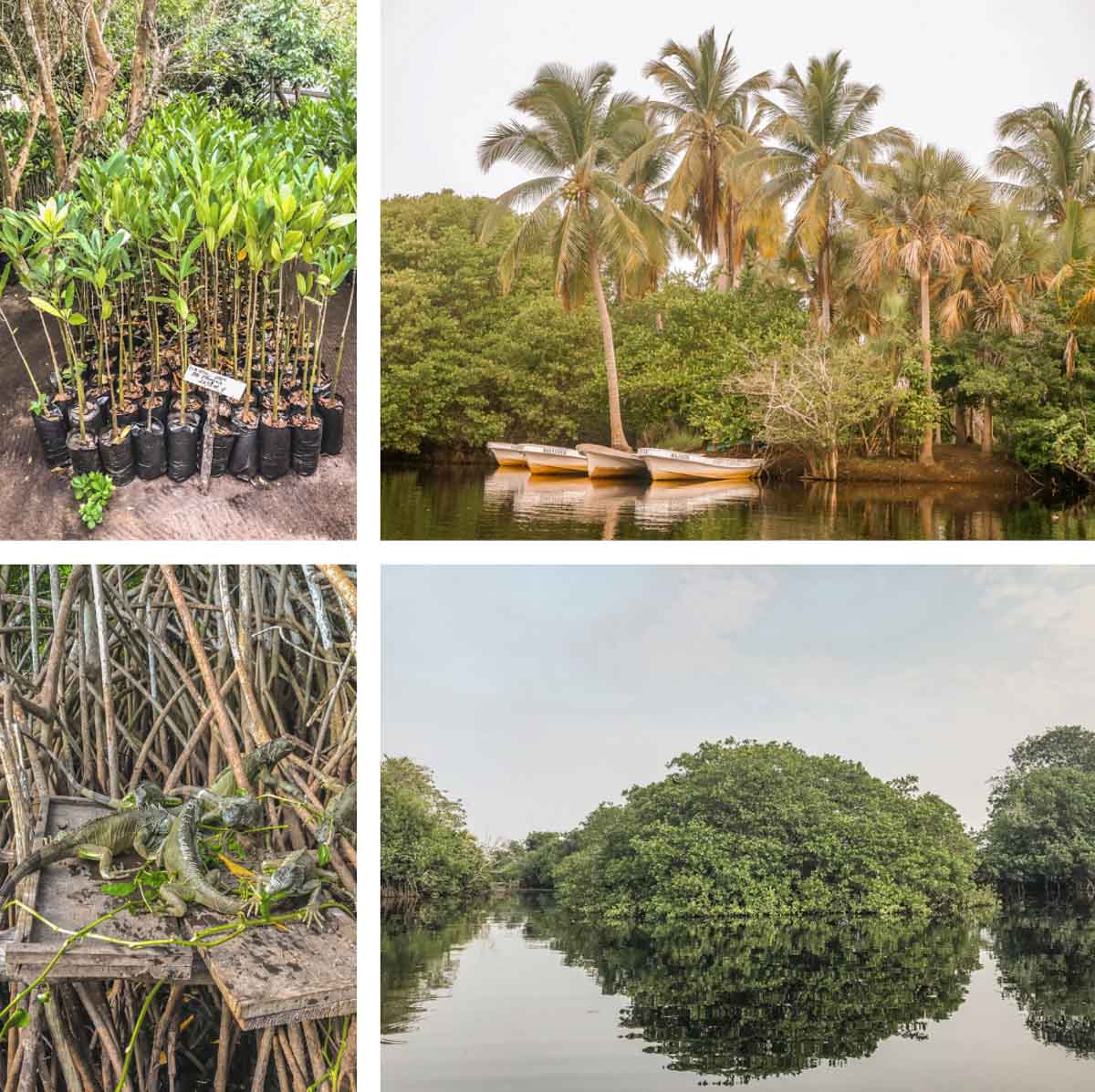 One of my favorite nature experiences on the Oaxaca coast is a boat tour through mangroves in the tiny fishing village of La Ventanilla.
This project supports reforestation of the area. During the peaceful morning ride we'll see iguanas, tropical birds, and crocodiles while learning about the area. After, we'll make a quick stop in a women's coop in Mazunte that makes toiletries and cosmetics from local natural ingredients.
Zipolite Beach: Best Oaxaca Beaches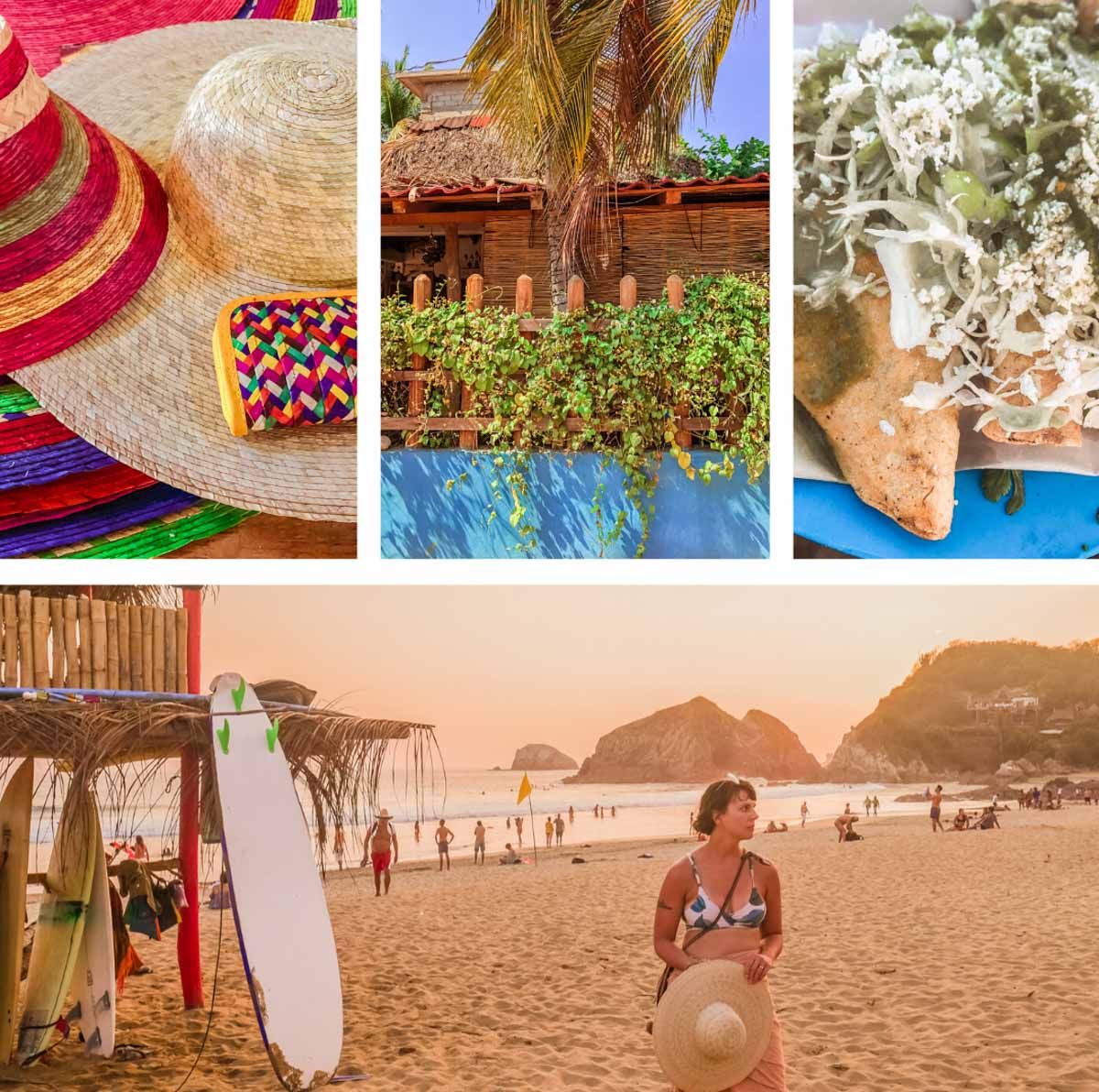 We'll spend the rest of the day at the beautiful nearby beach, Zipolite. This tiny, charming town has some great artisan work and restaurants. The beach is famous for it's clothing optional rules and laid back vibe. It's also a gorgeous long stretch of sand with impressive rock formations.
After some shopping, we'll head to Nude Hotel & Bar to lounge in beach chairs, eat ceviche, and splash in the water.
DAY 6 – TURTLES, DOLPHINS + SAYING GOODBYE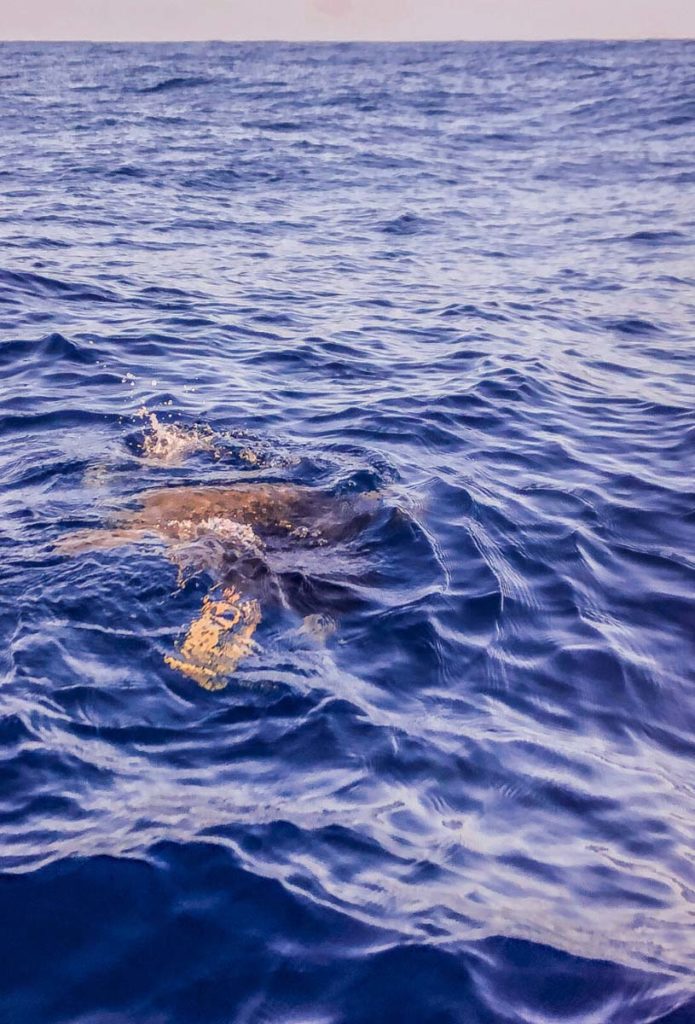 It's our last morning of our 1 week coastal Oaxaca itinerary and we'll fit in some more nature, a yummy breakfast, and sea turtles before we go.
Dolphin, Turtle Tour + Breakfast: 1 Week Coastal Oaxaca Itinerary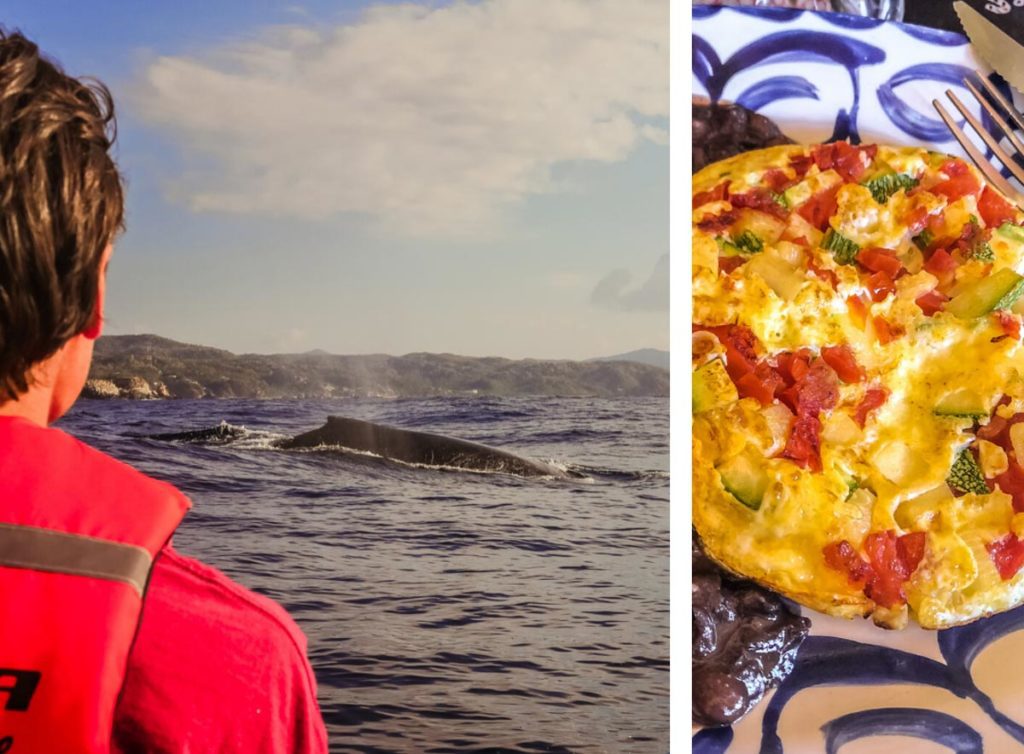 We'll take an early morning boat tour into the ocean from San Agustinillo to view the large sea turtles that this region is famous for. We'll also see lots of dolphins along the way, and if it's whale season, we might see one up close!
After we'll enjoy a fresh breakfast and juice at La Mora Posada.
Read my full travel guide to Mazunte, San Agustinillo, Zipolite.
Turtle Conservation Center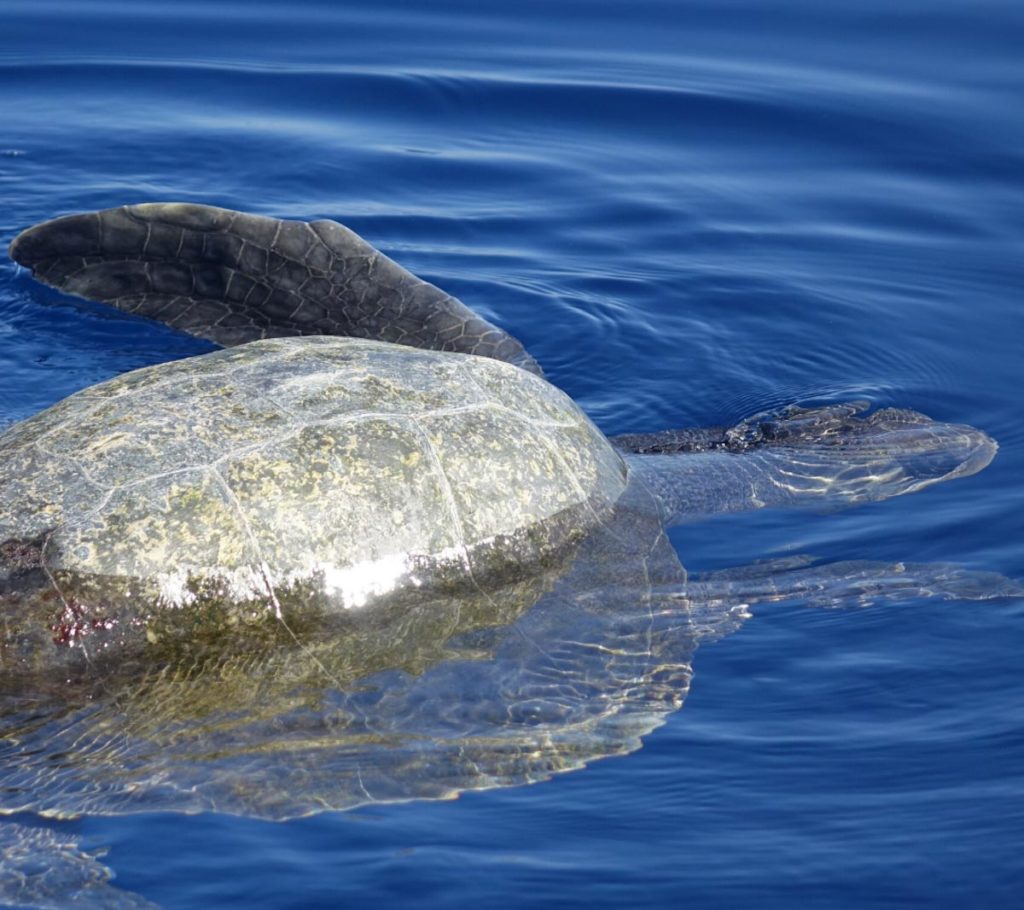 Finally, we'll head to the turtle conservation center. Mazunte used to be famous for turtle hunting, but when this was banned by the government, this center was started to protect and replenish their numbers.
We'll see turtles of many shape and sizes and learn about the center's research.
Time to Head Home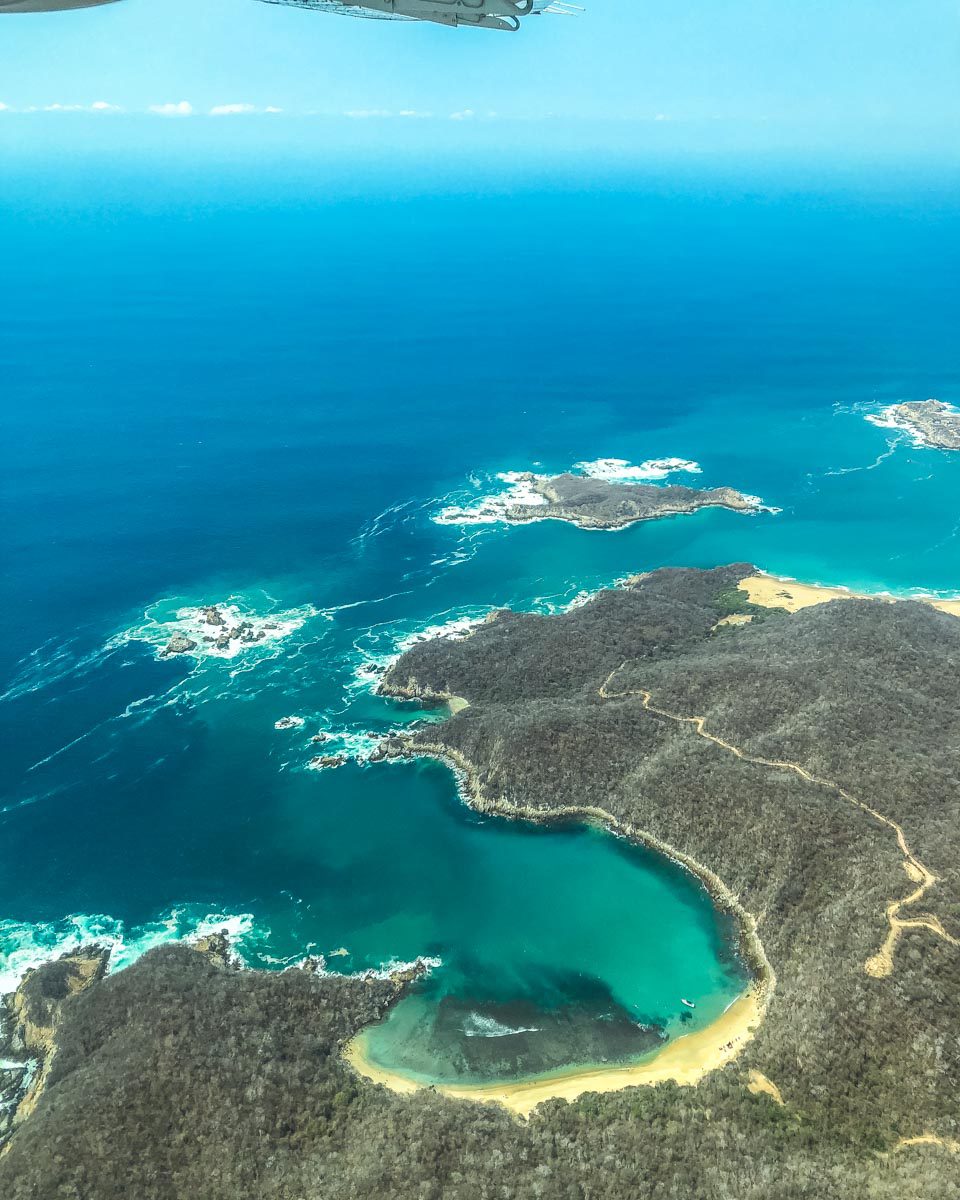 Come with me to catch a colectivo van back to Oaxaca city, or head to Puerto Escondido or Huatulco to catch a flight.
Full details on how to get from Mazunte, San Agustinillo, Zipolite to Oaxaca.
---
I hope you enjoyed our virtual trip to the beautiful Oaxaca coast!
If you're still not sure which beach is right for you, read my complete Oaxaca beach guide, with a breakdown of each one.
Check out my other 1 week itineraries and stay tuned for more travel daydreaming virtual travel through weeklong itineraries in my favorite places. Or get my 7 itineraries for 7 day adventures around Latin America below, right to your inbox.
What to Pack for the Best Oaxaca Beaches

Pin it for Later! Best Oaxaca Beaches