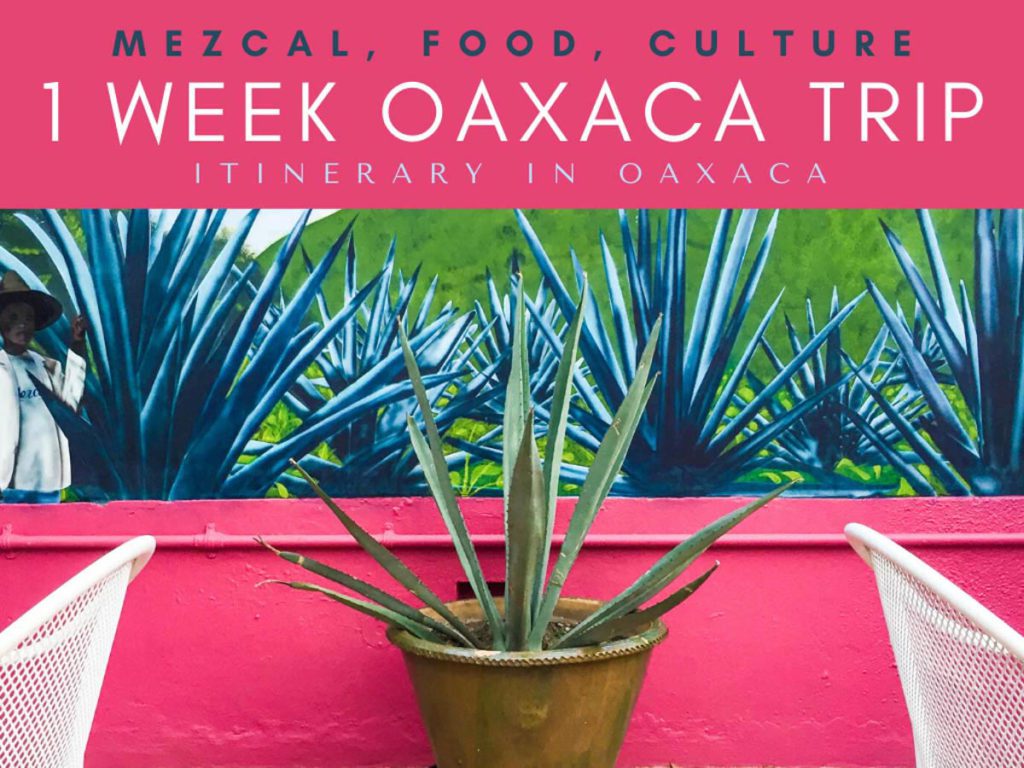 Many people only plan a long-weekend Oaxaca trip, and miss out on so much food, culture, and beauty in the city and pueblos. I can't tell you how many times those visitors have started planning their next trip before their first is over. So we're going on a 7-day itinerary in Oaxaca full of mezcal, mole, traditional artisan work, nature, and historical sites. Vamos!
*See end of post for important logistical tips for planning your trip.
Note: This post has been written during the COVID-19 pandemic. When travel restrictions loosen, it will still be important to think about the communities you are visiting, where you are coming from, and how your arrival might affect the health of those in those communities. Make responsible and careful decisions with other people's health in mind. That being said, this itinerary is for future travel inspiration and future travel planning. Bookmark this for later!
Pin it for Later! Itinerary in Oaxaca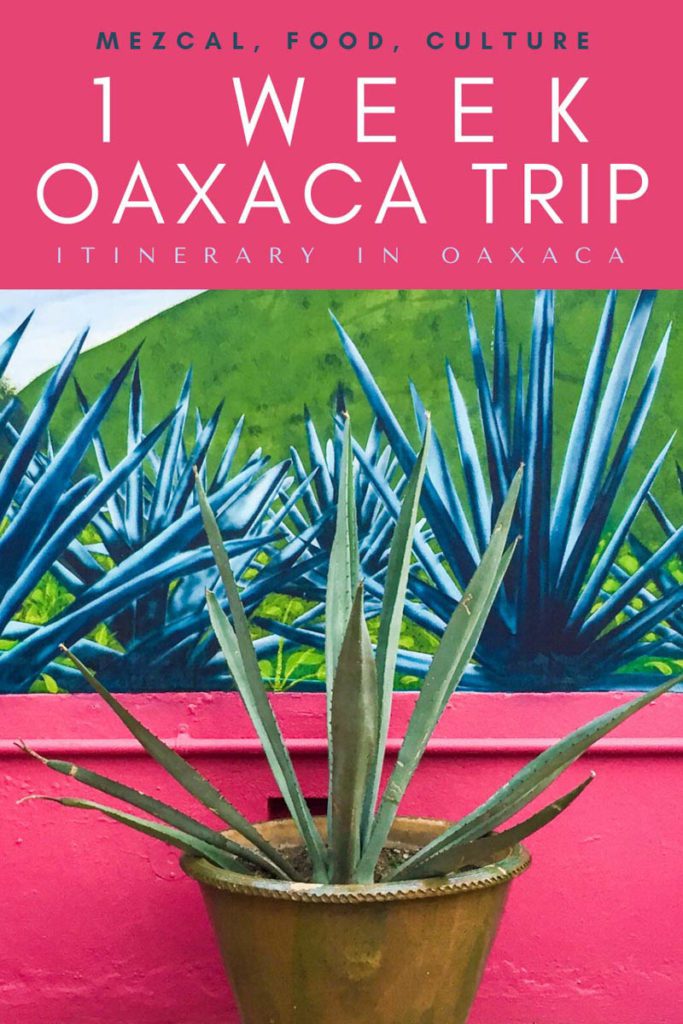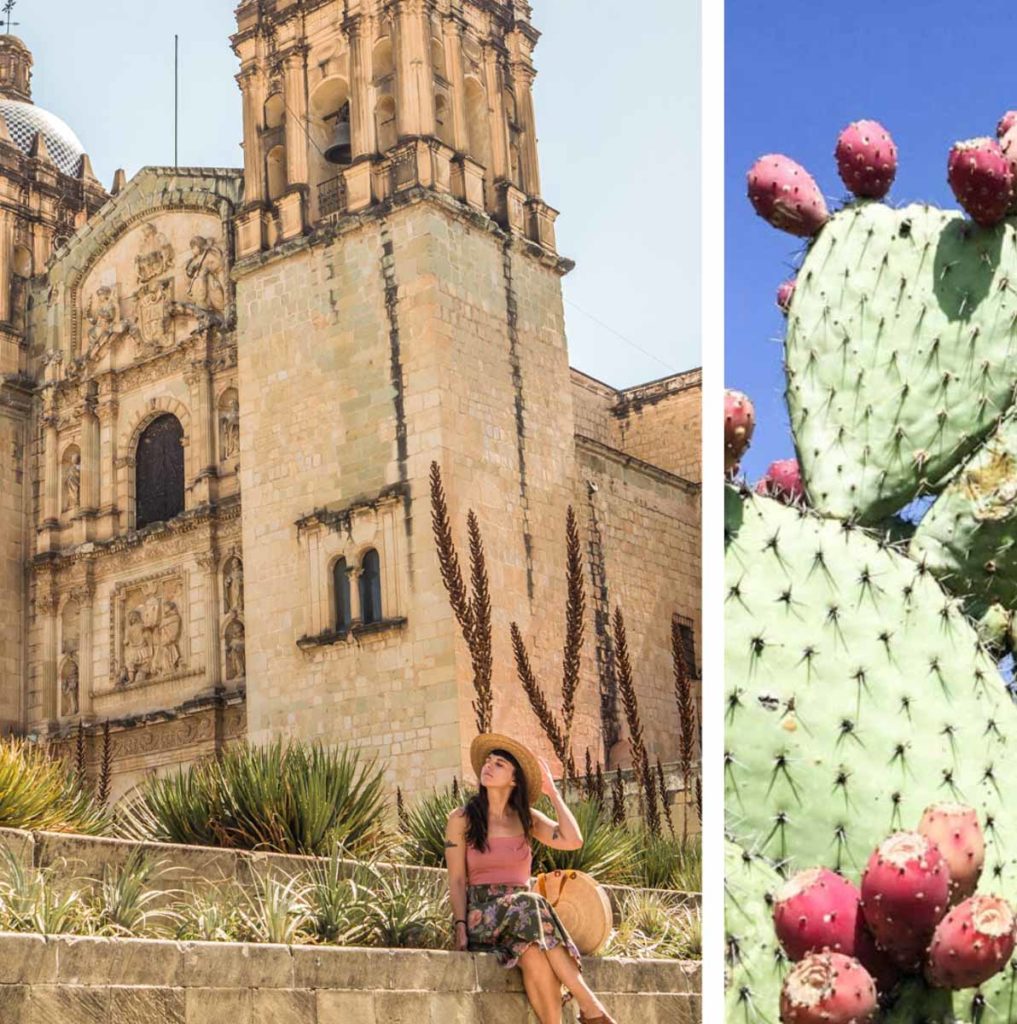 Check in Time: 1 Week Oaxaca Trip
We're heading to the beautiful Casa Antonieta, a perfectly designed boutique hotel in a historic building.
Or check out my full list of the best hotels in Oaxaca for every budget and travel style.
Or search Oaxaca Airbnbs below: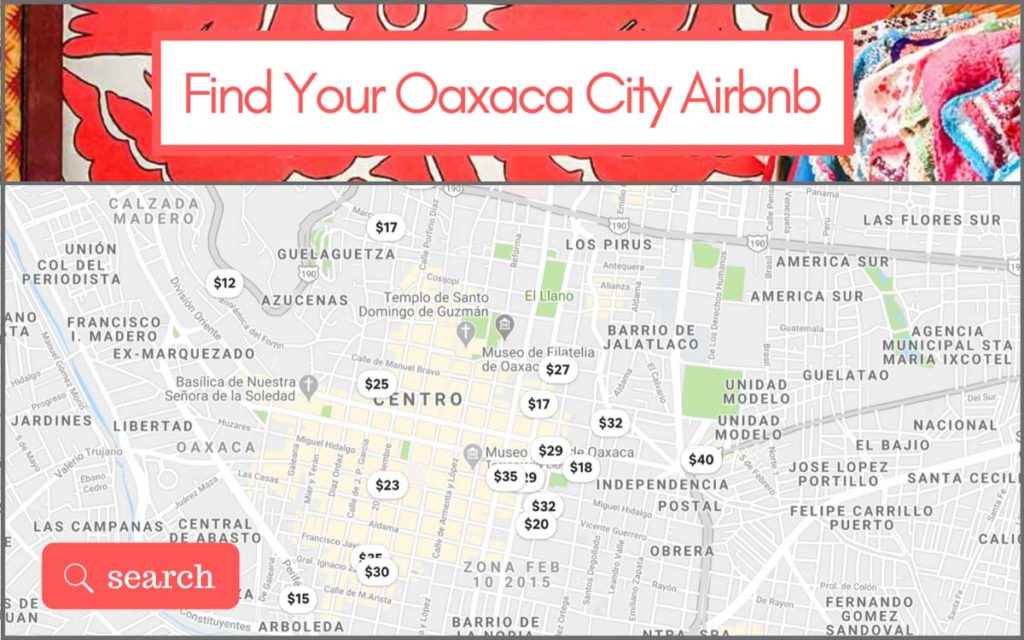 Day 1 – Arrival: Itinerary in Oaxaca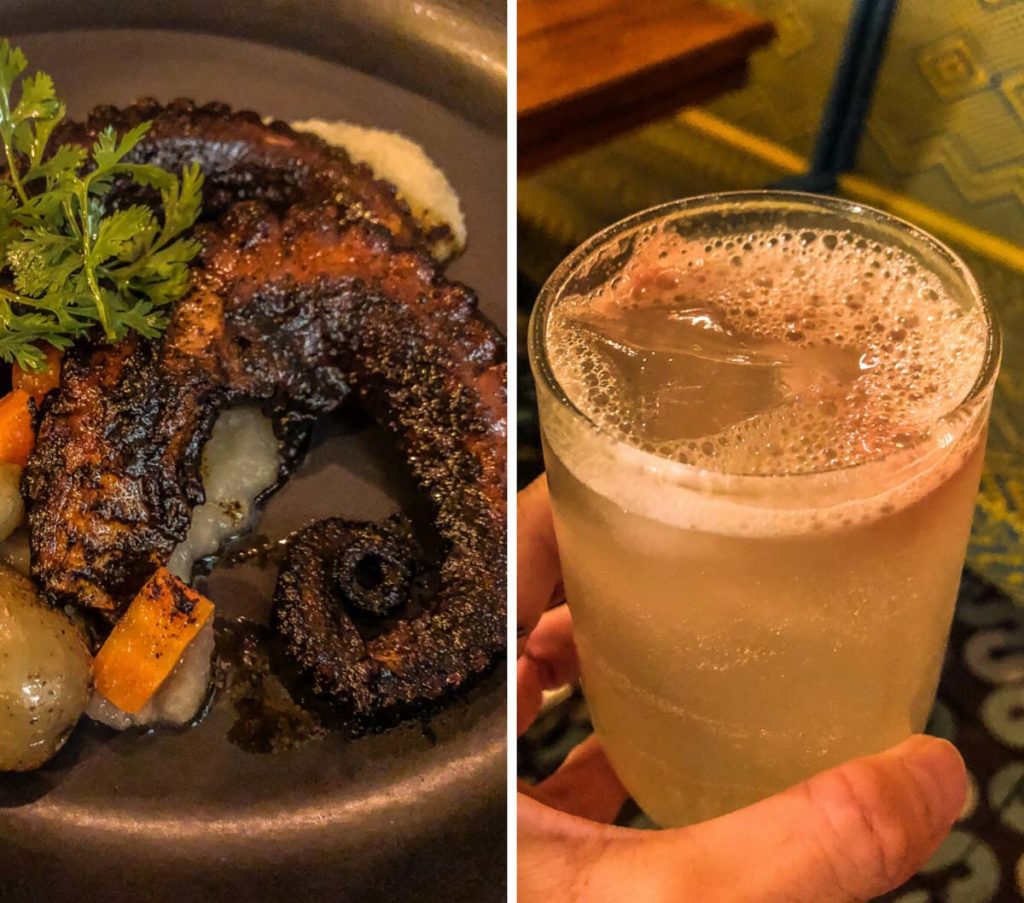 Most international flights arrive into the Oaxaca airport late in the afternoon or evening, so we'll have a simple night before jumping in tomorrow.
We'll get dinner and drinks at Sabina Sabe, a beautifully decorated restaurant with great food and mezcal cocktails, and a kitchen that stays open a bit later.
Day 2 – Petrified Waterfalls, Pre-Hispanic Mosaics + Mezcal Palenque: Oaxaca Trip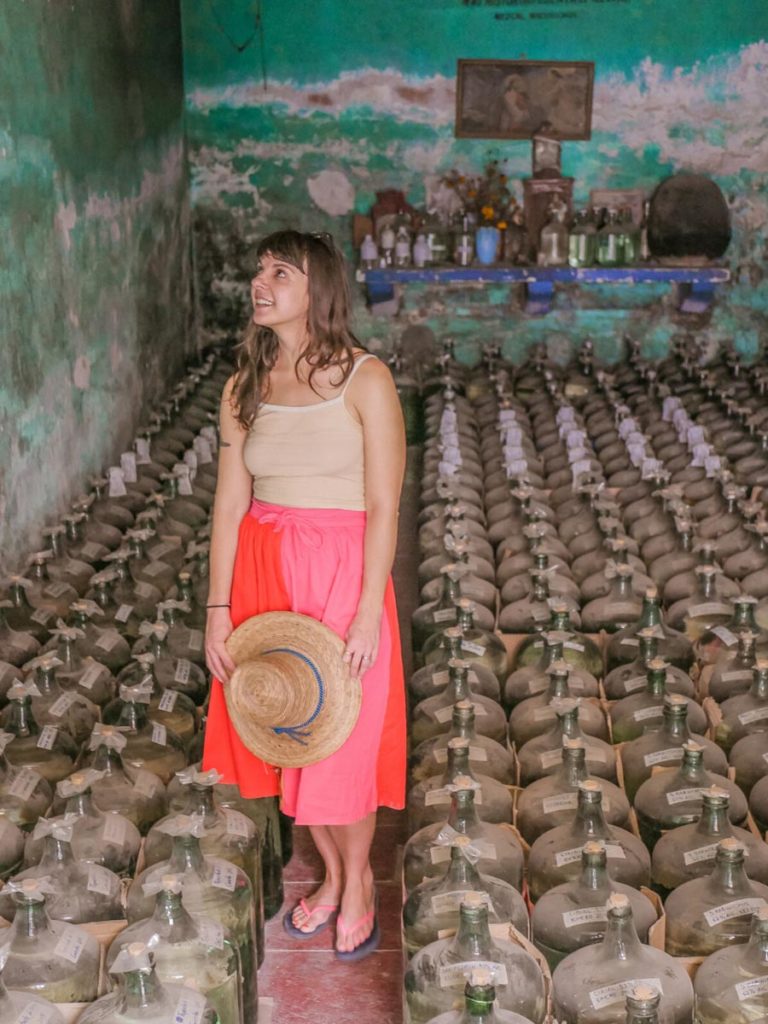 Today we'll head out on a day trip to visit an epic natural phenomenon, tour an important archaeological site, and finish the day at my favorite mezcal palenque.
Hierve el Agua: 7 Day Oaxaca Trip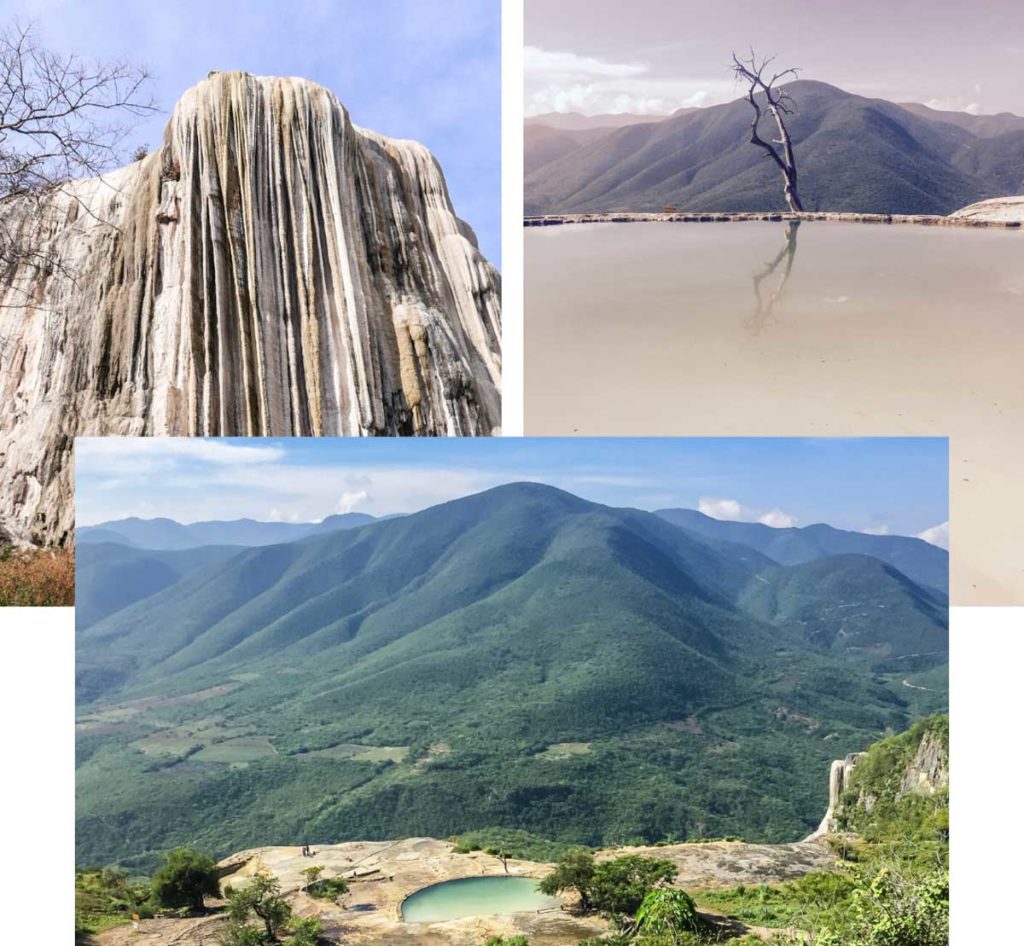 After picking up pastries and coffee to go from Boulenc, we'll grab our rental car or hop in with our tour guide (try Las Bugambilias tours).
After a scenic drive through the valley, we'll arrive to a unique natural phenomenon, petrified waterfalls formed by mineral springs. We'll spend some time hiking around and then take a dip in the pools.
Mitla Archaeological Site: Itinerary in Oaxaca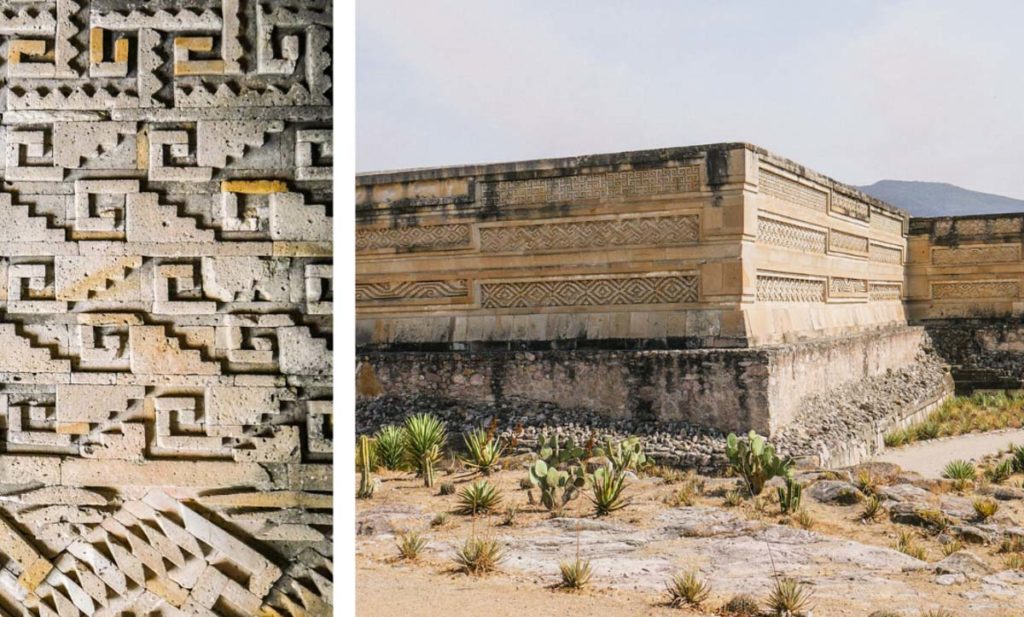 Next on our itinerary in Oaxaca, we'll stop in the Pueblo Magico of Mitla to visit the important Zapotec site of the same name.
This site is famous for the intricate and beautiful carvings throughout the ruins.
Mezcal Palenque + Tasting: 7 Day Oaxaca Trip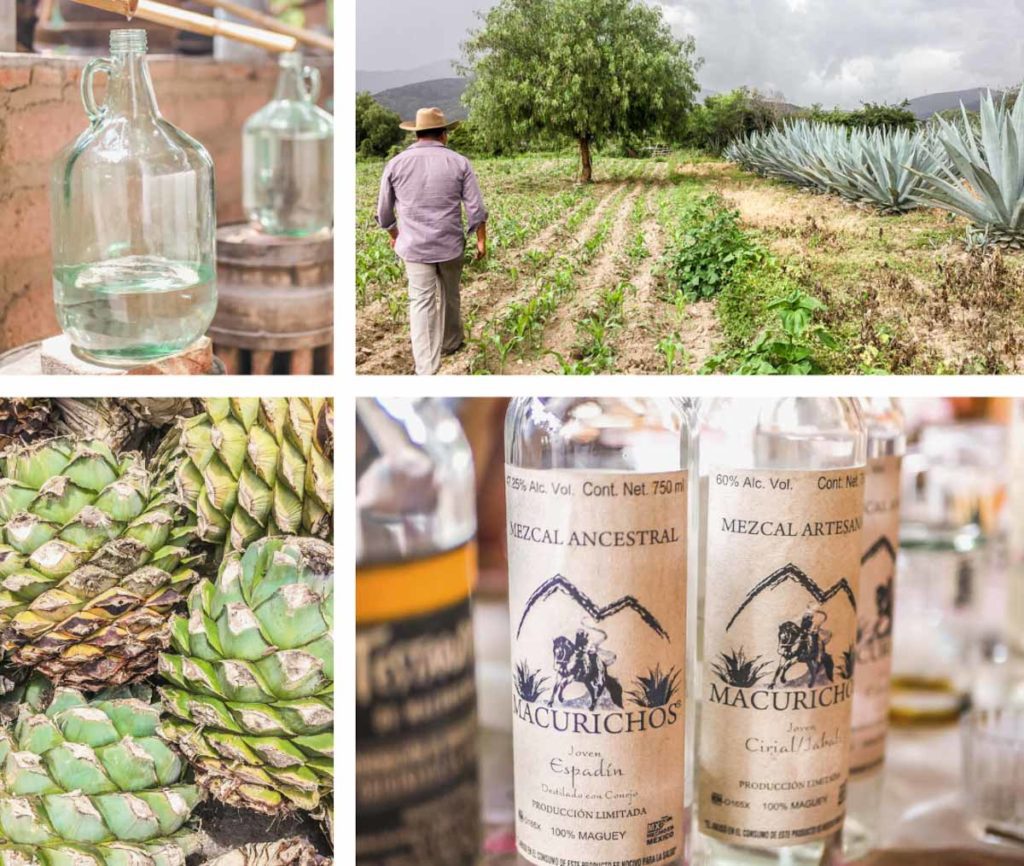 I know the real reason you came to Oaxaca: mezcal. 🙂 We're headed to my fav mezcal palenque, Mezcal Macurichos (El Sabino).
This is some of the most special mezcal I've ever tasted. We'll learn the process from start-finish at their traditional palenque, plus taste & compare some incredible varieties.
(*During our Oaxaca food retreat, we'll dive deep into the history, tradition & process of mezcal with tours, demos, tastings & more. Click through to learn more)
For more details of a mezcal tour, read my full Oaxaca mezcal tour post.
Tasting Menu Dinner: Itinerary in Oaxaca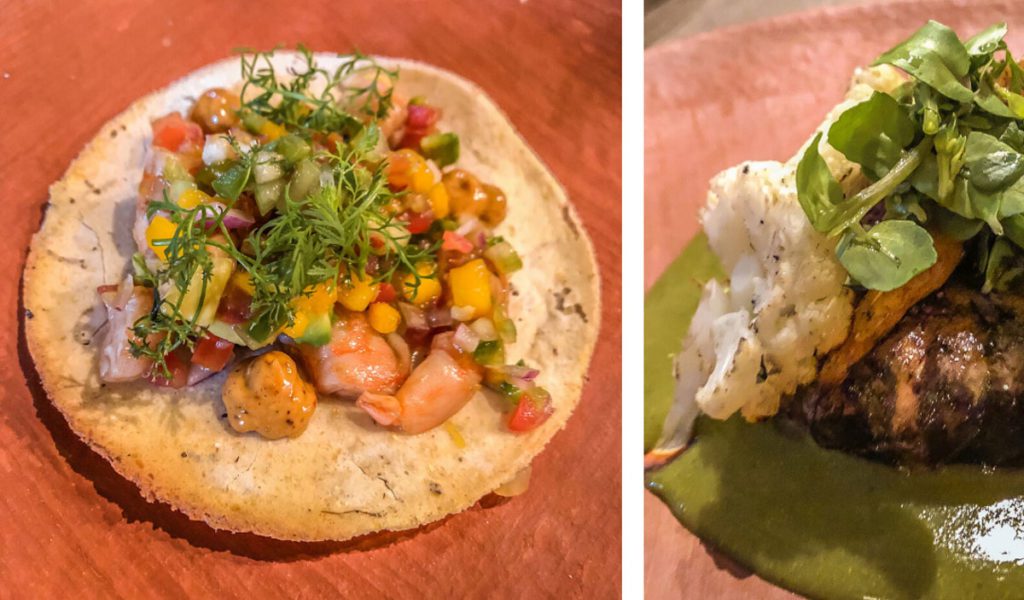 We'll finish out the day with a special tasting menu at Teocintle. This restaurant is run by a group of chefs from the Mixteca region of Oaxaca that are passionate about indigenous and fresh ingredients.
Day 3 – Murals, Museums + Mole: Oaxaca Trip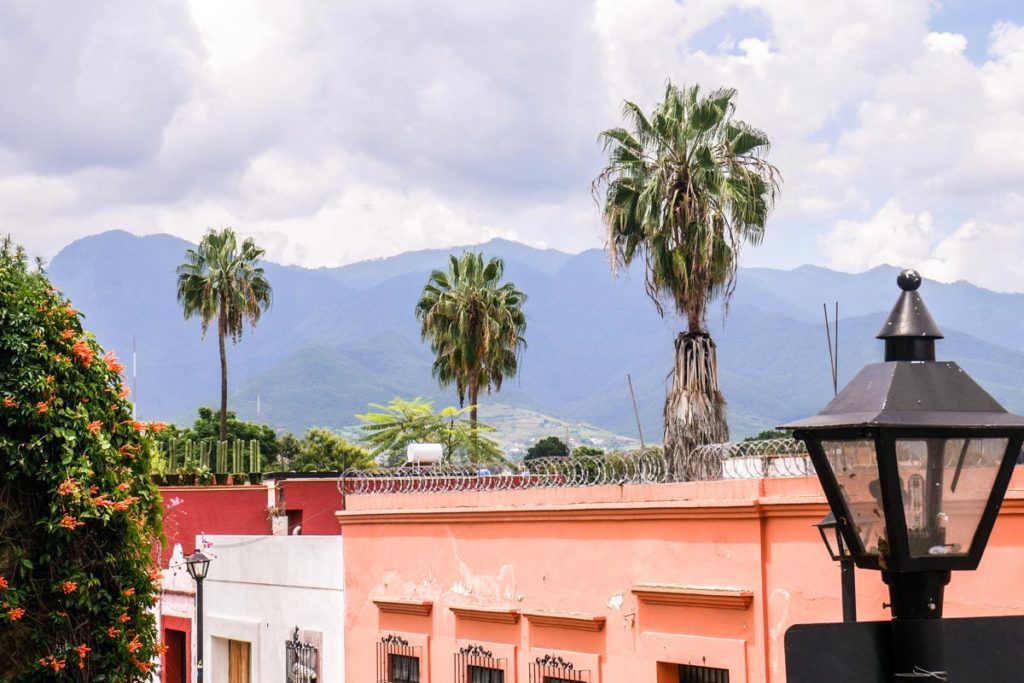 We'll spend our whole 3rd day wandering the historic center, eating, learning, and taking photos.
Breakfast + Murals: Weeklong Itinerary in Oaxaca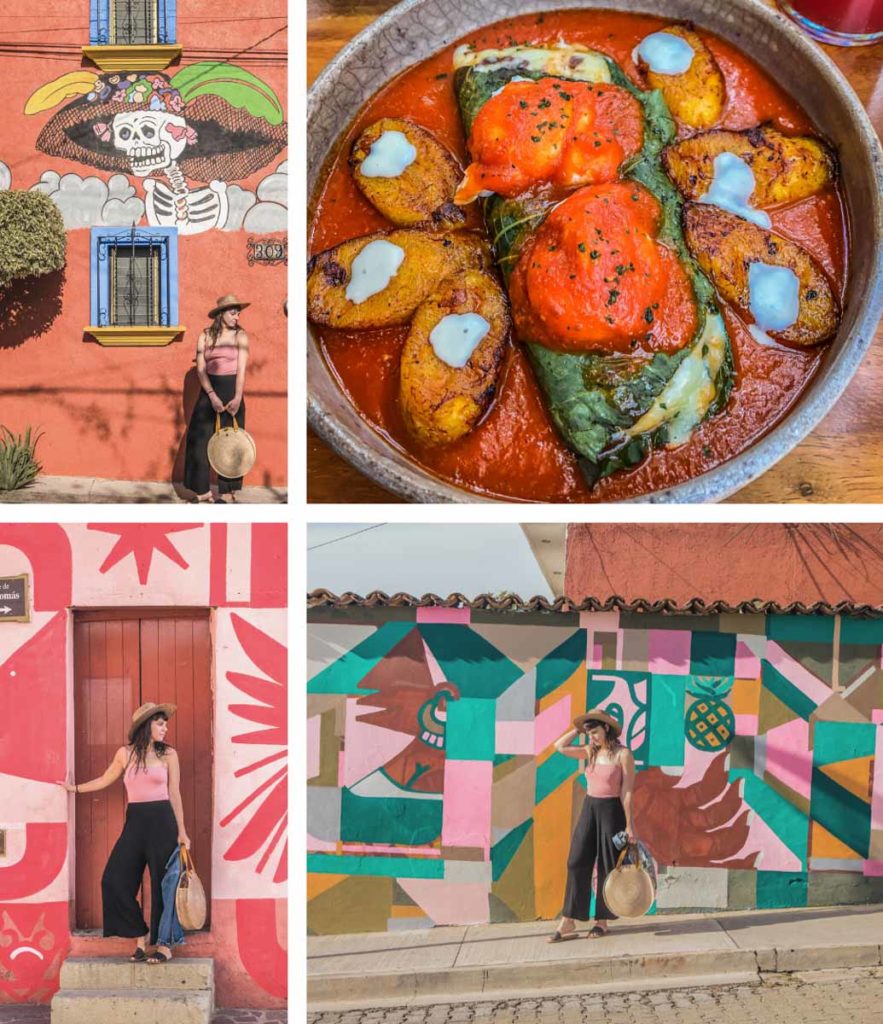 We'll head to my fav breakfast spot, Chepiche Cafe. Order the La Santa: eggs bathed in tomato sauce with hierba santa & platano.
After, we'll make our way back to the Centro by passing through Xochimilco, one of the most colorful neighborhoods, full of murals by local artists. Pack your camera.
Ethnobotanical Garden + Mole: Oaxaca Trip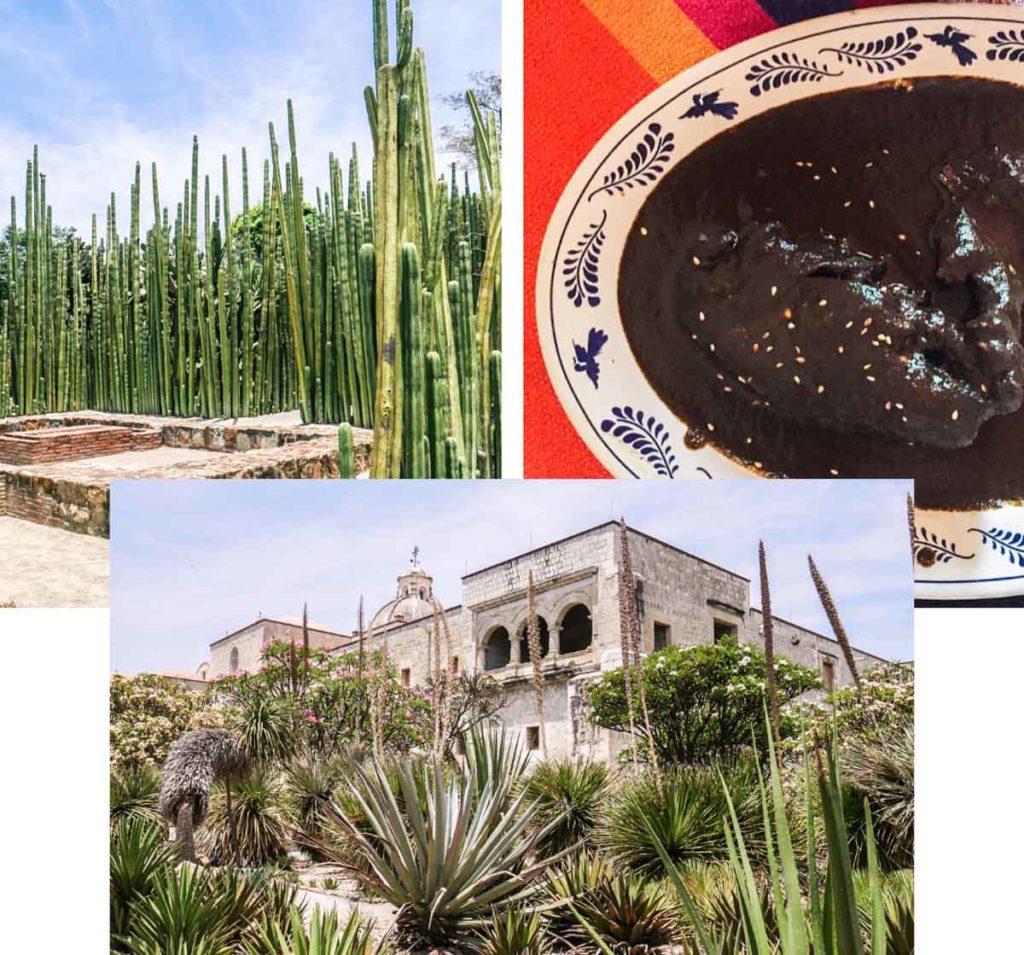 We'll arrive to the incredible Ethnobotanical Garden in time for the required guided tour. We'll learn the origin and importance of the plants that fill this biodiverse state.
After, we'll be ready for more food, so we'll head to Biche Pobre to try one of the most important Oaxacan dishes, mole negro.
Click through for 10 other must eat dishes and where to find them in Oaxaca.
Museums, Craft Beer + Tacos: 1 Week Itinerary in Oaxaca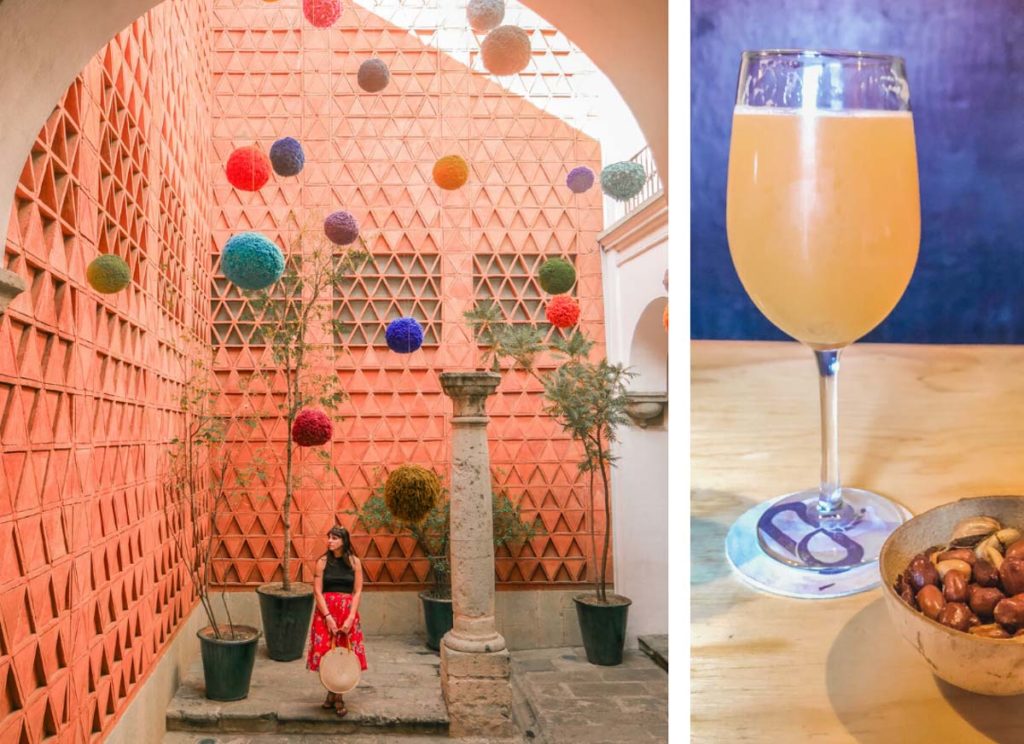 We'll work off lunch by visiting some of the best museums in the city; the Museum of Cultures in the ex-convent Santo Domingo, the Textile Museum, and the Rufino Tamayo Museum.
We'll take a break for delicious craft beer at Oaxaca Brewing Co., and then finish off the night with street tacos from Lechoncito de Oro.
Or click through for an delicious and fun taco tour Airbnb experience.
Find Your Airbnb or Hotel in Oaxaca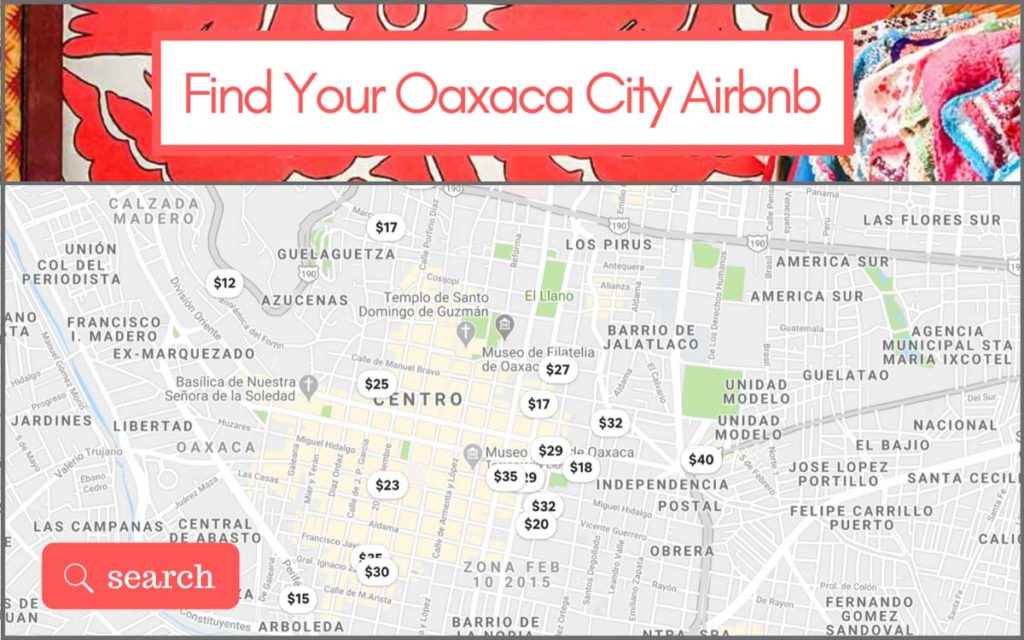 Day 4 – Pueblos, Artisan Work + Award Winning Lunch: Oaxaca Trip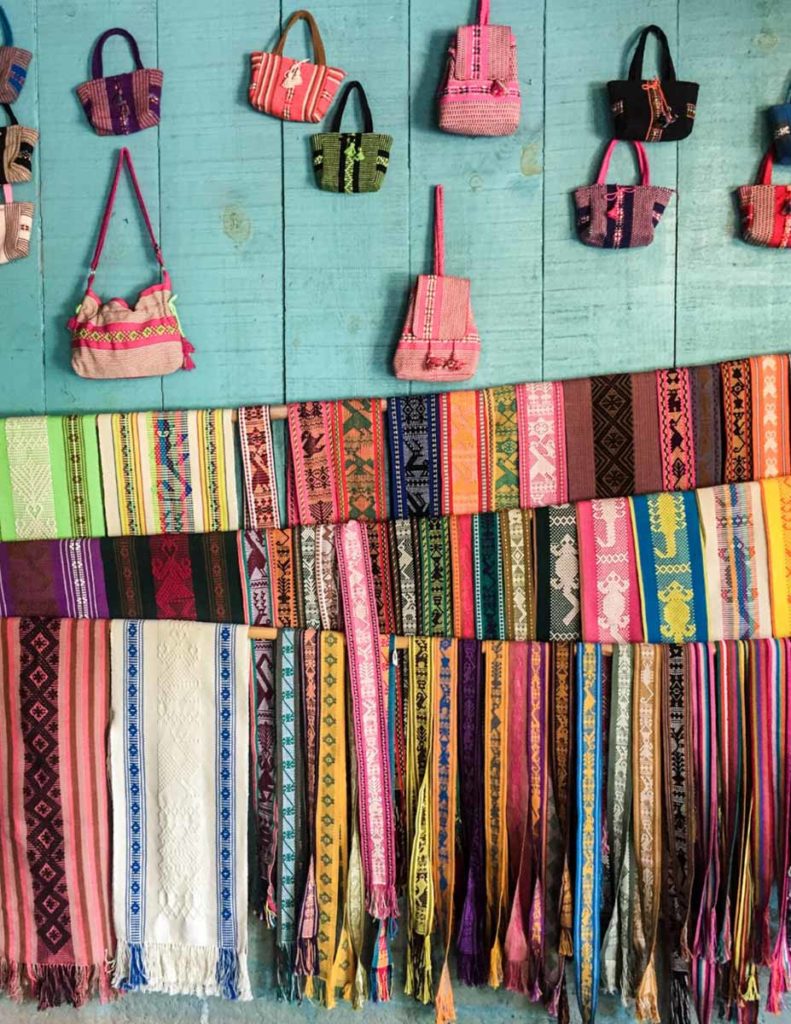 We're getting an early start to visit some of the most famous artisan villages in Oaxaca. Let's hop in our rental car, or join our guide.
Pottery in San Antonino: Itinerary in Oaxaca
First we'll visit the workshop of José García Antonio, a blind ceramicist that makes beautiful, interesting, and surreal works of art. His children are also talented ceramicists and sell their pieces as well.
Textiles in Santo Tomás Jalietza: Oaxaca Trip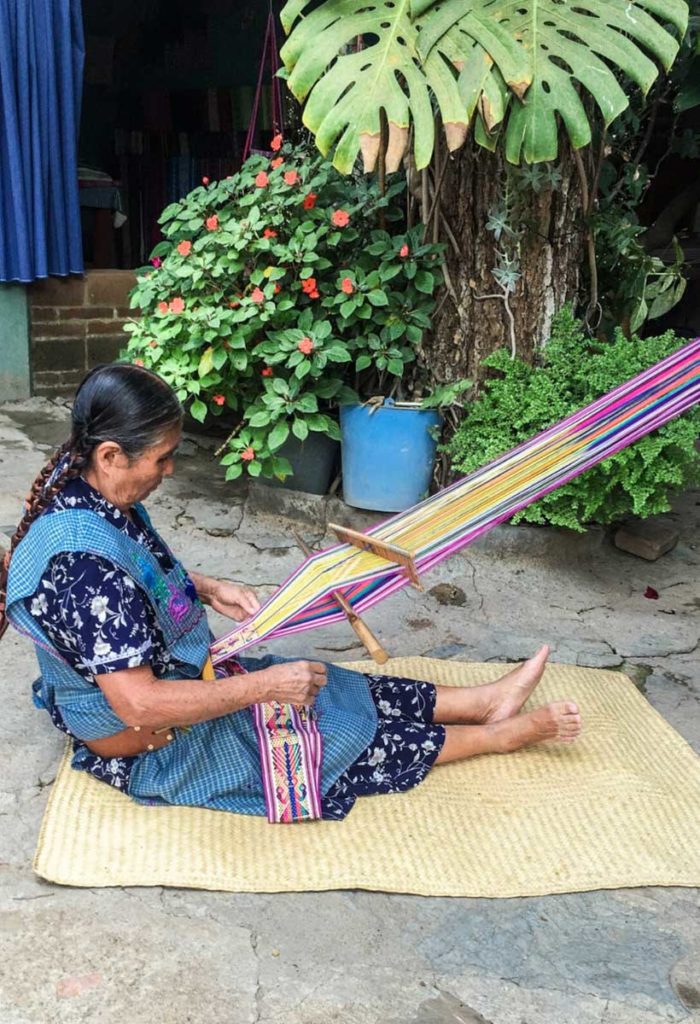 Next we'll head to the village of Santo Tomás Jalietza to visit the Navarro sisters who create beautiful textiles from traditional backstrap looms.
Award Winning Lunch in a Traditional Pueblo: Itinerary in Oaxaca
We're off to a tasting menu lunch at award-winning restaurant of the year, Alfonsina, in a quiet pueblo outside the city.
This restaurant is run by chef Jorge León, who trained at Pujol (consistently named among best restaurants in the world) & was in charge of the most important dish, the famous mole.
He now creates delicious traditional dishes in his childhood home with his family. There is something very special about taking in the fresh country air, watching the chef cook in a traditional open kitchen, and tasting these special dishes as they were meant to be enjoyed.
Check out my huge Oaxaca food guide with all the best restaurants in Oaxaca.
Mezcal + Garnachas: Itinerary in Oaxaca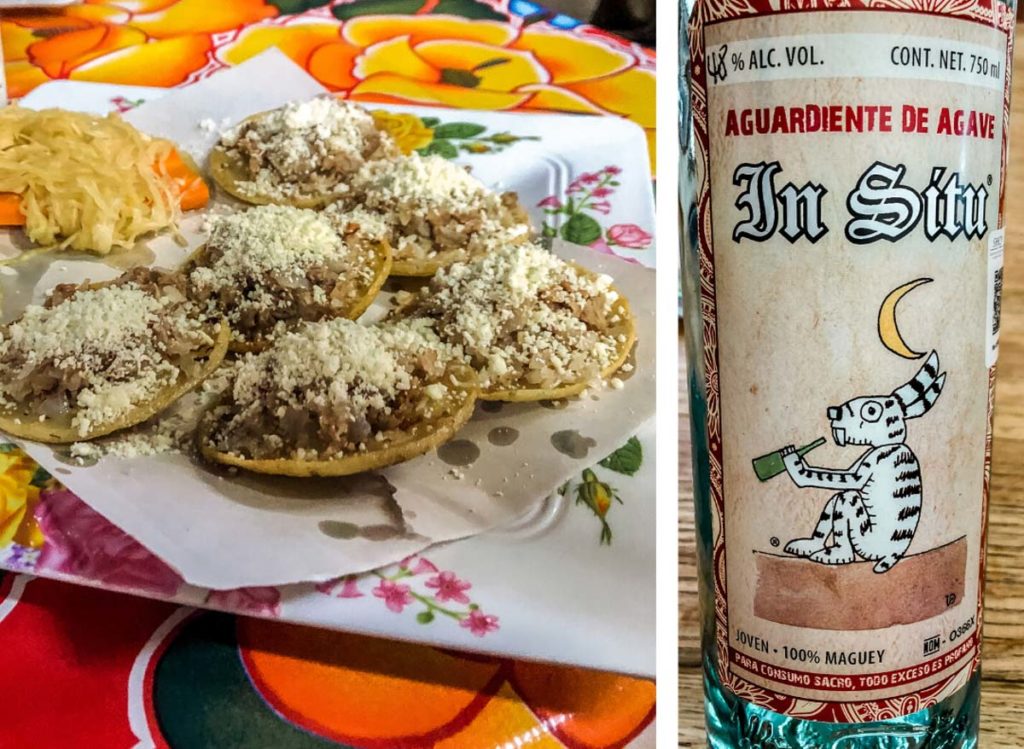 After taking a late-afternoon break, we'll head to In Situ Mezcaleria to sample some delicious mezcals in their tasting room.
After we'll have a light dinner at El Son Istmeño. We're ordering garnachas, a traditional food from the Isthmus region of Oaxaca state.
Click through for some of the best mezcalerias in Oaxaca.
Day 5 – Zapotec Ruins, Markets + Mezcal: Oaxaca Trip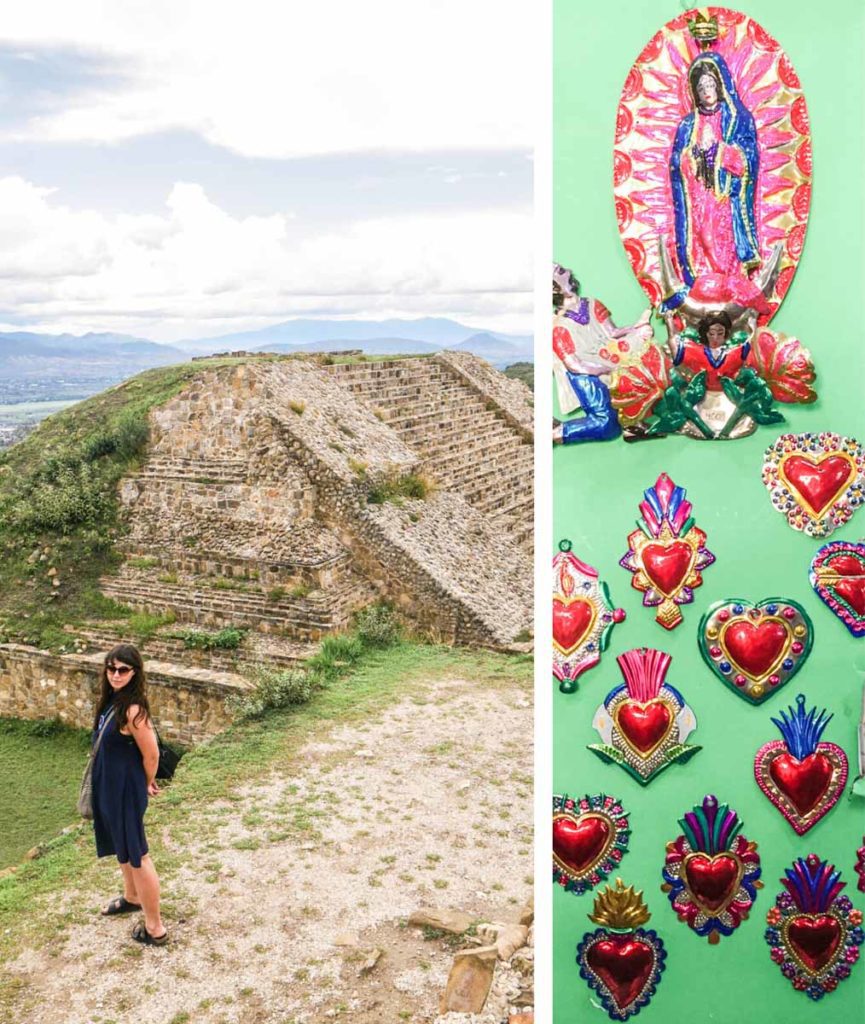 It's day 5 and we'll spend the morning at the most important archaeological site, browse markets and shops, and educate ourselves more about mezcal.
Monte Albán: 1 Week Itinerary in Oaxaca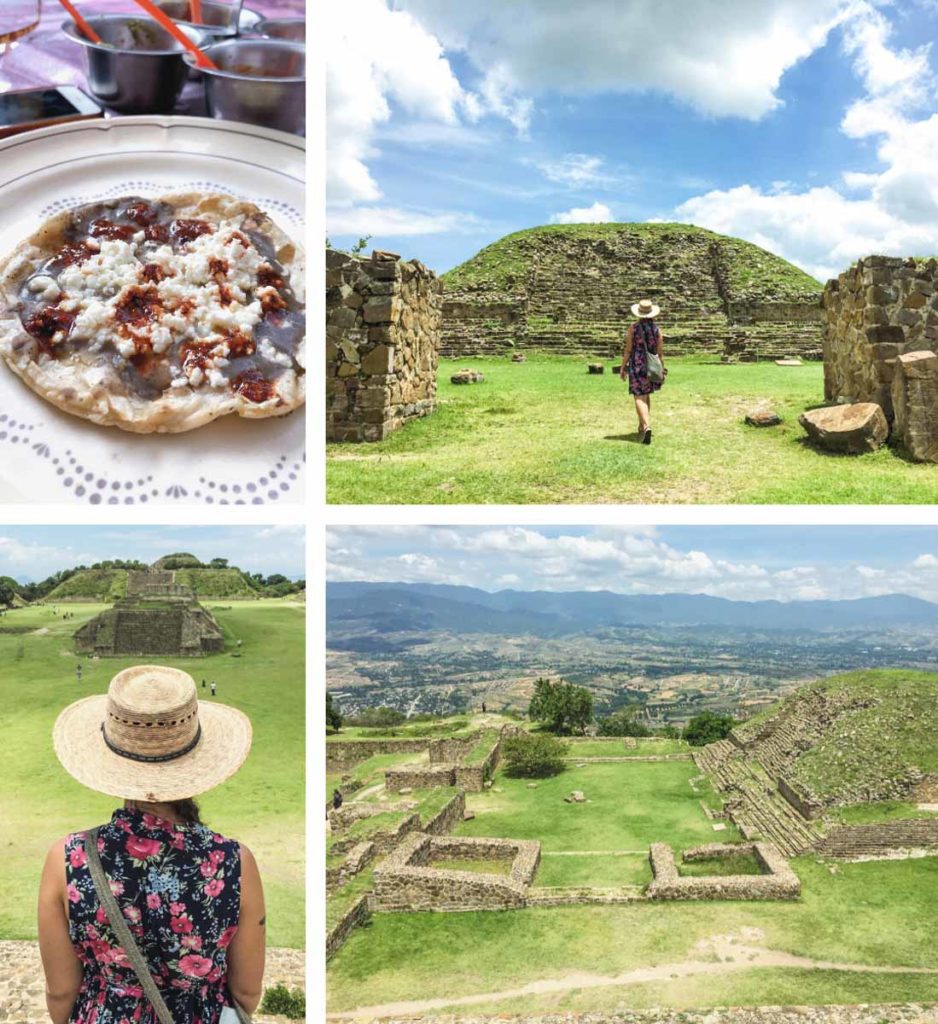 We'll start off the day with a classic Oaxacan breakfast of memelas at La Merced Market.
We can't miss visiting the most important Zapotec site in Oaxaca, Monte Albán. It's located just a few minutes outside the city, yet is a large impressive site, with sweeping views of the whole valley.
Market Lunch and Shopping: Oaxaca Trip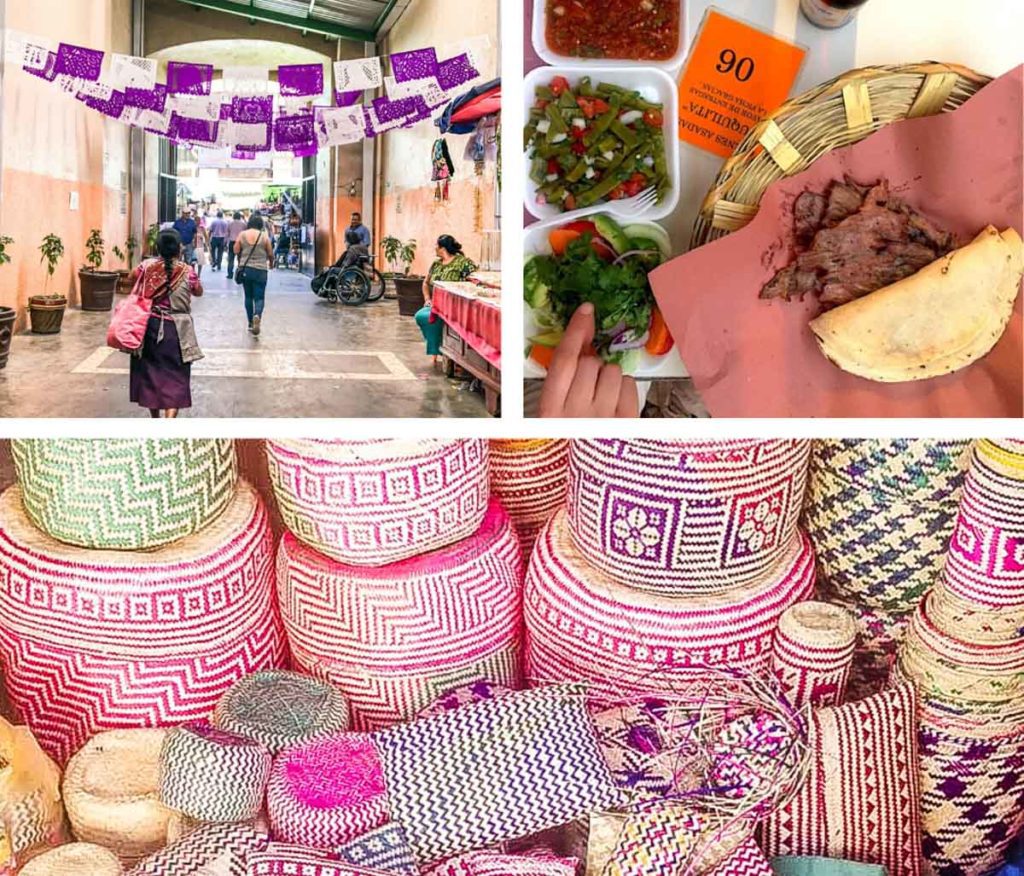 Back in the city, we'll go to El Pasillo de Humo in in 20 de Noviembre Market to eat some freshly grilled tasajo, chorizo, and cecina, with grilled veggies and fresh salsas.
Then we'll cross the street to Benito Juarez Market, pick up some of my fav mezcal to bring home, drink pre-hispanic tejate, taste chapulines (toasted grasshoppers), and do some shopping for artisan products like huaraches, leather bags, woven baskets & textiles.
Click through for 7 things to eat in Oaxaca markets
More Shopping, Mezcal + Dinner: Itinerary in Oaxaca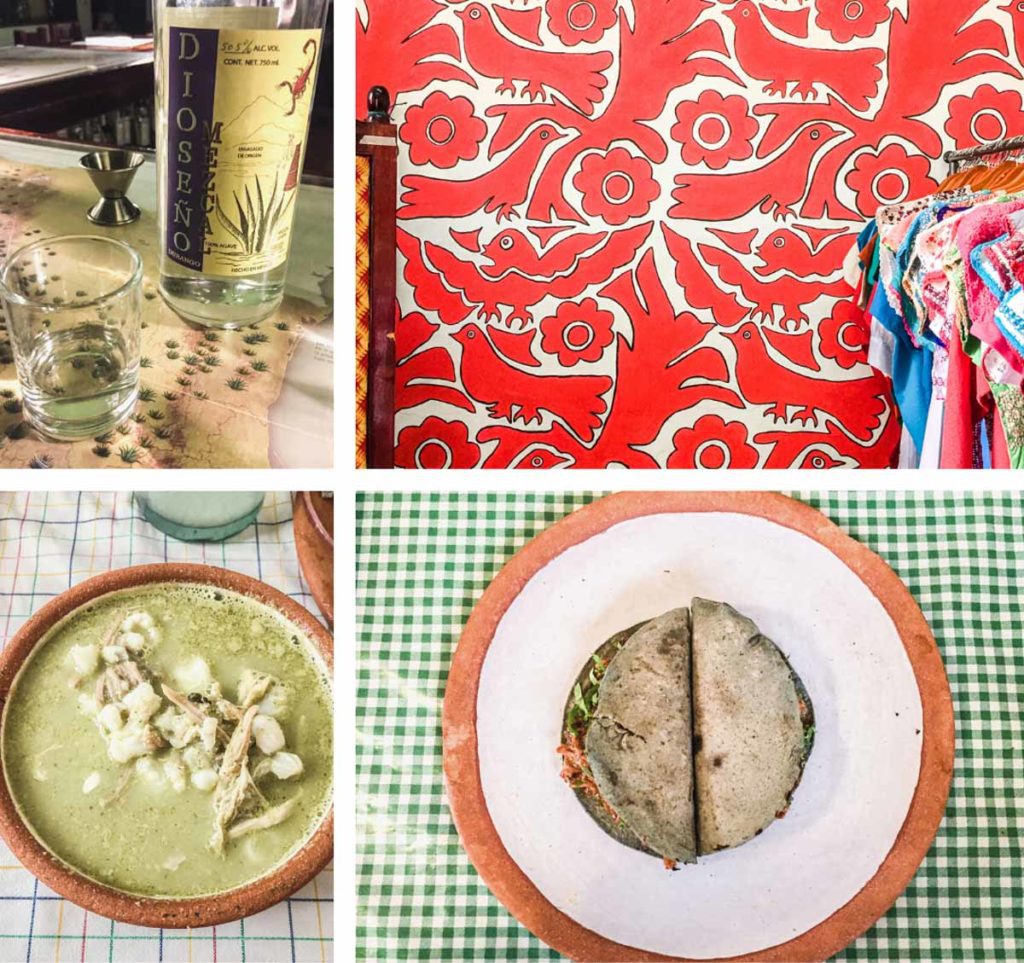 We'll do a bit more shopping for artisan work at Colectivo Huizache & Aripo. Then visit Habiticulo & Marchanta to find some contemoporary clothing, jewelry & accessories by Mexican designers. Let's stop in Rito Chocolateria for a traditional hot chocolate along the way.
Then we'll head to our reservation for a educational mezcal tasting at Mezcaloteca, and finally dinner at Cabuche. Order the pozole or some tacos de guisados.
Day 6 – Traditional Market, Textiles + Tlayudas: Oaxaca Trip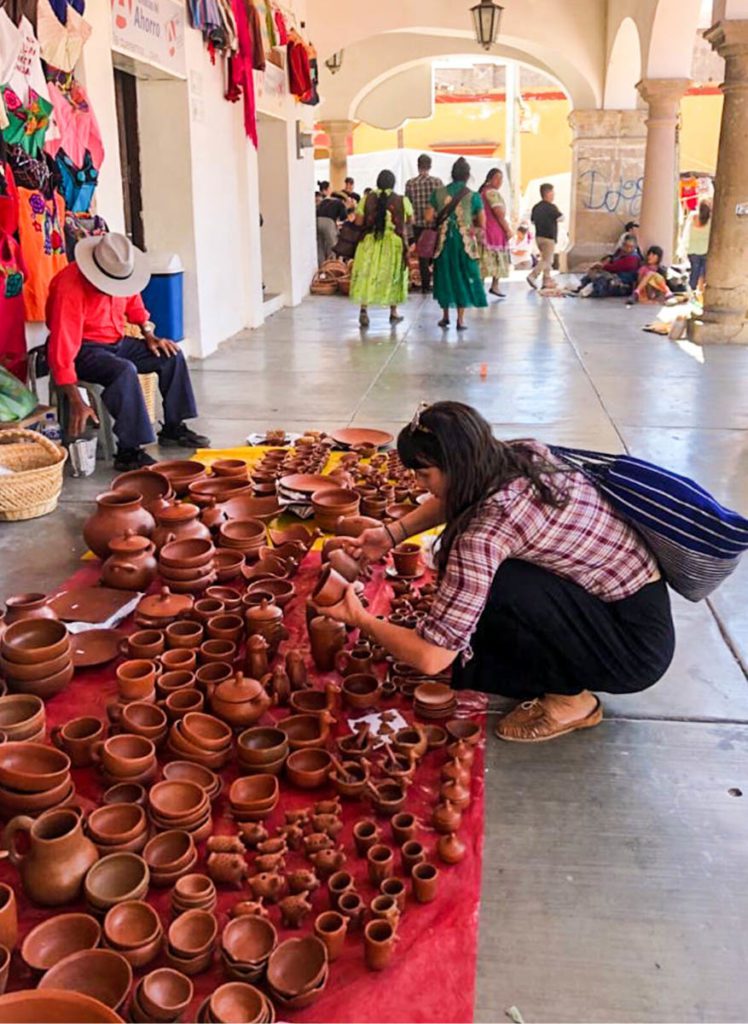 We'll spend our last full day visiting the most bustling traditional market, learning about naturally dyed artisan made rugs, and eating tlayudas.
Click through for rental car options or choose a guide.
Tlacolula Sunday Market: Itinerary in Oaxaca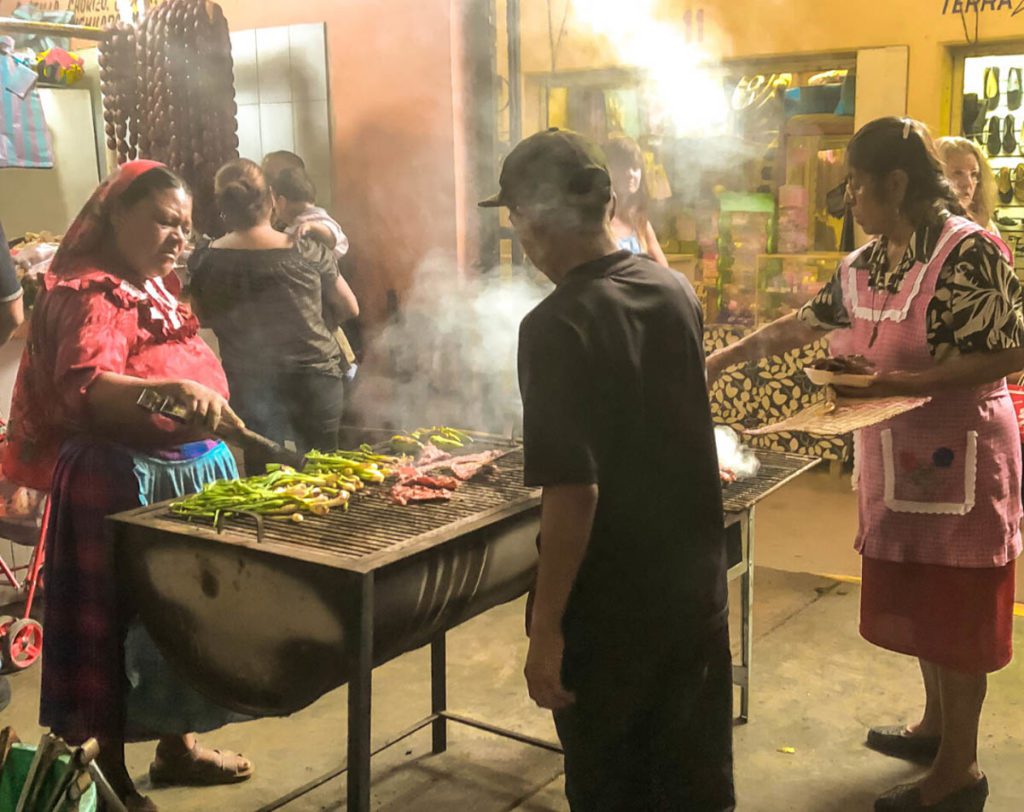 First we'll head to the Sunday market in the town of Tlacolula. This bustling market is full of vendors selling everything from prepared food, fresh produce, clothing, household items & more. There are also many great artisan products to choose from like textiles, woven baskets, ceramics, and rugs.
Tlacolula is also famous for their delicious barbacoa. We'll have some at a market stand, and then sample other local delicacies like pulque and fresh fruit.
(*During our Oaxaca food retreat, we'll tour traditional markets, stopping to taste the important local and delicious products. Click through for more details.)
Teotilan Artisan Rugs: 1 Week Oaxaca Trip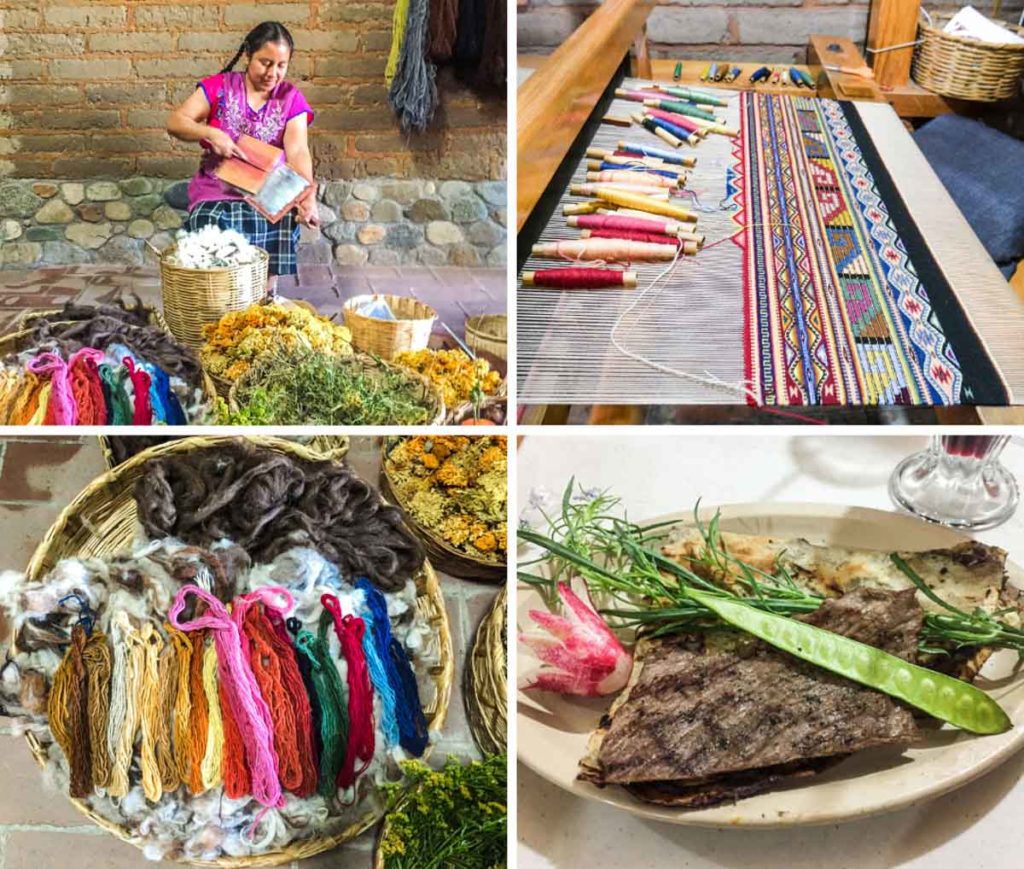 Next, we'll head to the nearby village of Teotitlán del Valle to learn about artisan-made woven rugs from master weavers Jacobo Mendoza Ruiz and Maria Luisa Vasquez de Mendoza.
We'll watch how natural ingredients are used for dye, how the wool is spun, & how intricate designs are woven on the loom.
Click through for how to see some of the best textiles in Oaxaca.
On our way back to the hotel, we'll stop at Doña Flavia's to pick up some freshly grilled tlayudas for dinner.
Day 7 – Cooking, Pottery + Street Art: Itinerary in Oaxaca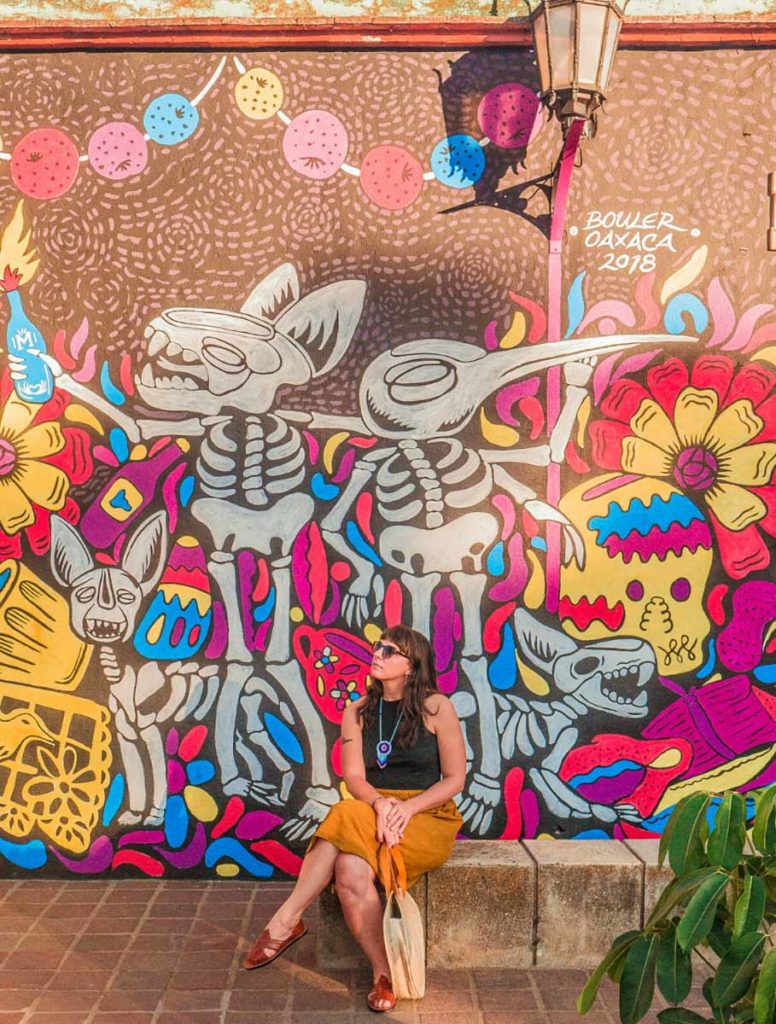 It's our last day and we have some important decisions to make. we'll fit in either cooking or pottery, stroll the streets one last time, and then pack our bags for our evening flight.
Cooking Class or Pottery: Oaxaca Trip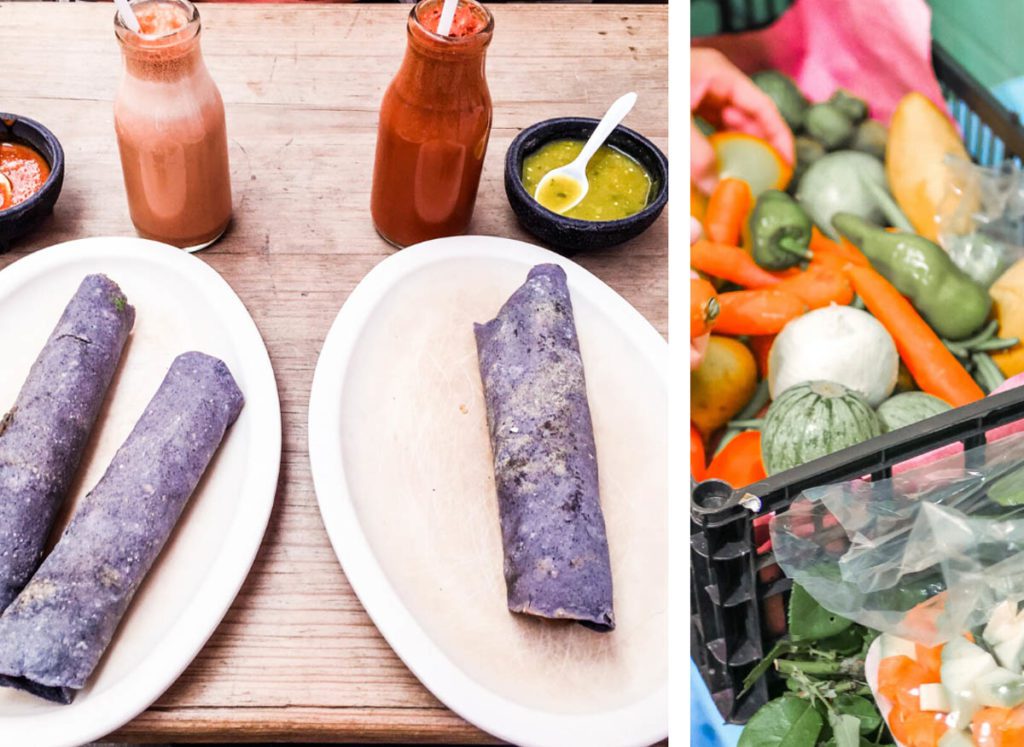 We'll have an early breakfast at Itanoni, a restaurant that specializes in all things heirloom corn. Order the tetelas, de eses, and some tascalate.
(*Heirloom corn Lovers: During our Oaxaca food retreat we'll take a nixtamal workshop to learn the traditional process of turning raw corn into tortillas. Click above for more details).
Next you'll decide if you'd like to take a market-table cooking class (Click through for an Airbnb experience) or we'll head to the nearby village of Atzompa, famous for their beautiful pottery.
Street Art, Coffee, and Heading Home: Itinerary in Oaxaca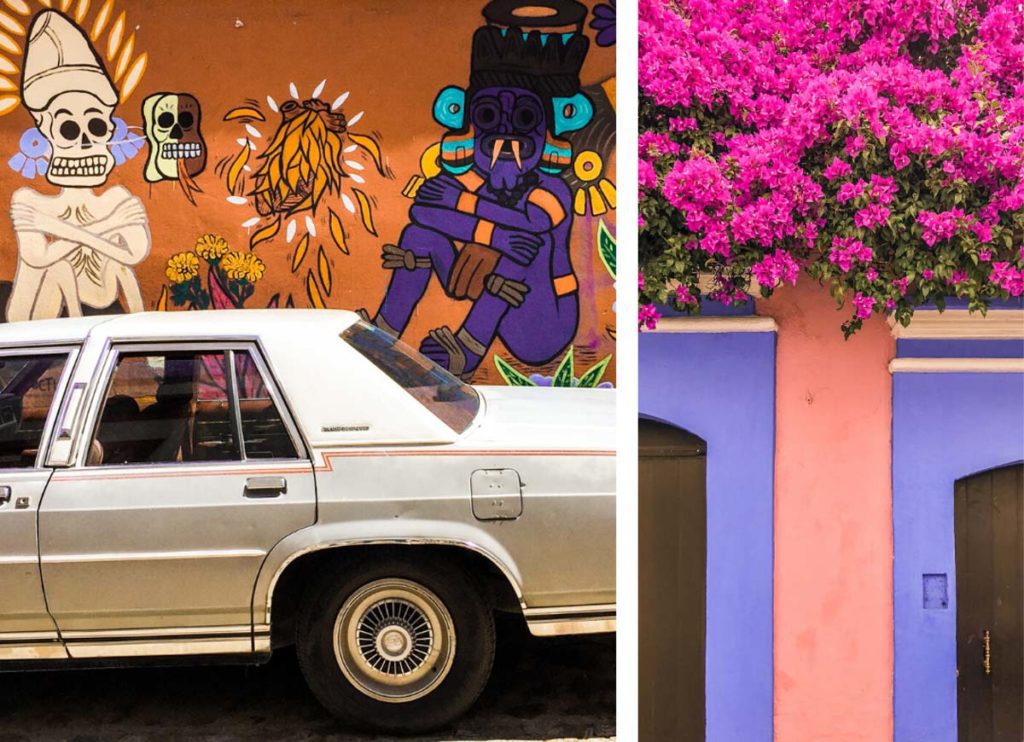 We'll finish out our last afternoon wandering the colorful, art-filled and historic streets of the Jalatlaco neighborhood. Pack your camera to capture the murals.
Finally we'll have a coffee from Muss Cafe, grab our bags filled with artisan work and mezcal, and head to the airport to make our way home.
Are you already planning your return trip?
Find Flight Deals to Oaxaca: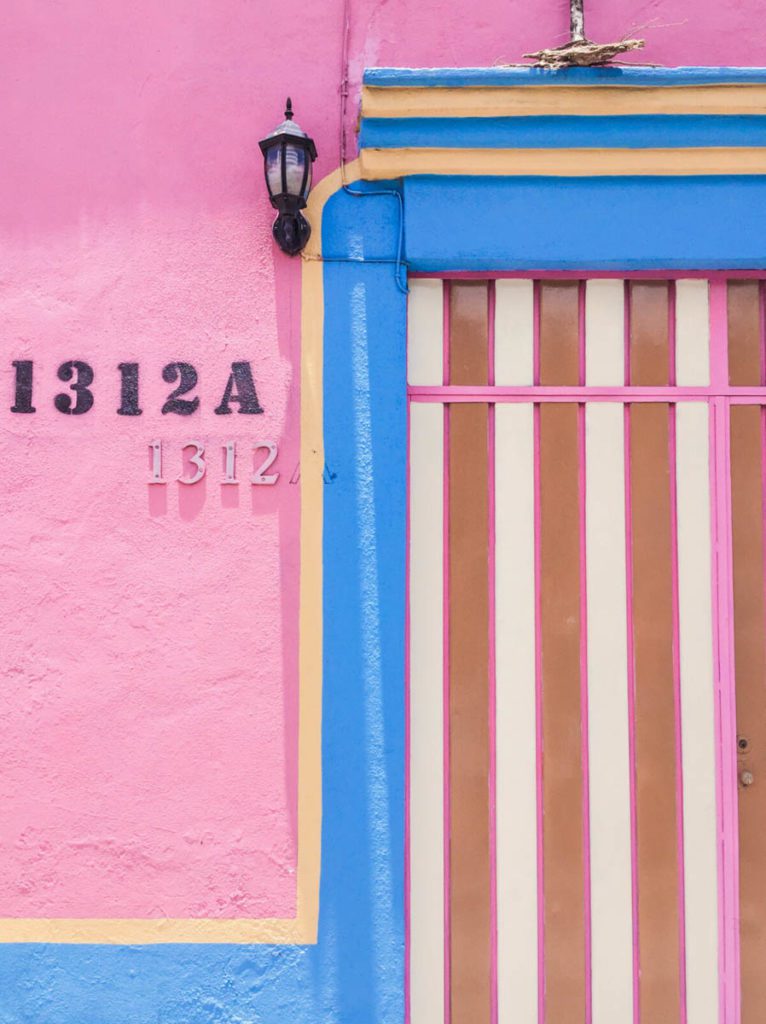 I hope you enjoyed our virtual trip to vibrant, culture-filled Oaxaca..
If you're still looking for more info about Oaxaca, Click through to find all my posts under my Oaxaca tag.
Oaxaca Itinerary Notes:
This is a general itinerary meant to hit a little bit of all the amazing things Oaxaca has to offer – food, mezcal, artisan work, nature, history…
But it's also possible to plan more theme-based itineraries and have a super in-depth experience.
If you're fascinated by Oaxacan food + mezcal, click through to check out our Oaxaca food experience + retreat. Hope to release rescheduled dates soon!
A few retreat workshops:
*nixtamal workshop-from raw corn-tortilla
*organic farm plant-cook-eat workshop
*mezcal palenque tour + traditional meal
*cooking class with renowned local chef
*mezcal cocktail demo by expert bartender
+meals in some of the most delicious restaurants and local spots
Email me here to be put on the waitlist.
Or if you'd like a custom personal itinerary, email me for details!
Oaxaca Itinerary Notes Continued:
If you don't speak Spanish, it is a good idea to bring a guide for artisan visits. They can also provide a lot of context and further info to enrich your experience.
If you do plan to go on your own, call or message to schedule your visit.
This itinerary is pretty full and aims to take advantage of your time. If you prefer a more laidback trip, you may want to skip 1-2 activities from each day.
Check out my other 1 Week Itineraries and stay tuned for more travel daydreaming virtual travel through weeklong itineraries in my favorite places. Or get my 7 itineraries for 7 day adventures around Latin America below, right to your inbox.
Pin it for Later!