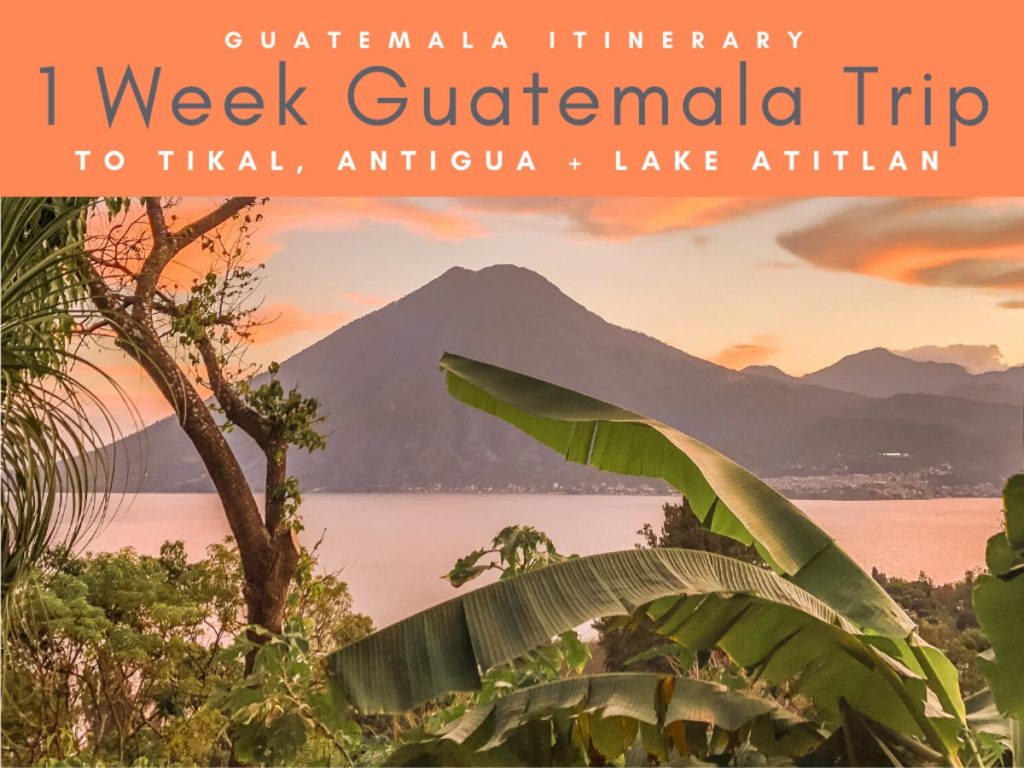 Guatemala is an incredible, diverse country and it's impossible to do everything in a week. But we'll visit 3 distinct regions during our 1 week Guatemala trip. From the jungle and ruins of Tikal, to the beautiful colonial city of Antigua, to magical Lake Atitlán, we'll learn about Mayan culture, history, artisan work, and typical food on this Guatemala itinerary.
Pin it for Later! Guatemala Itinerary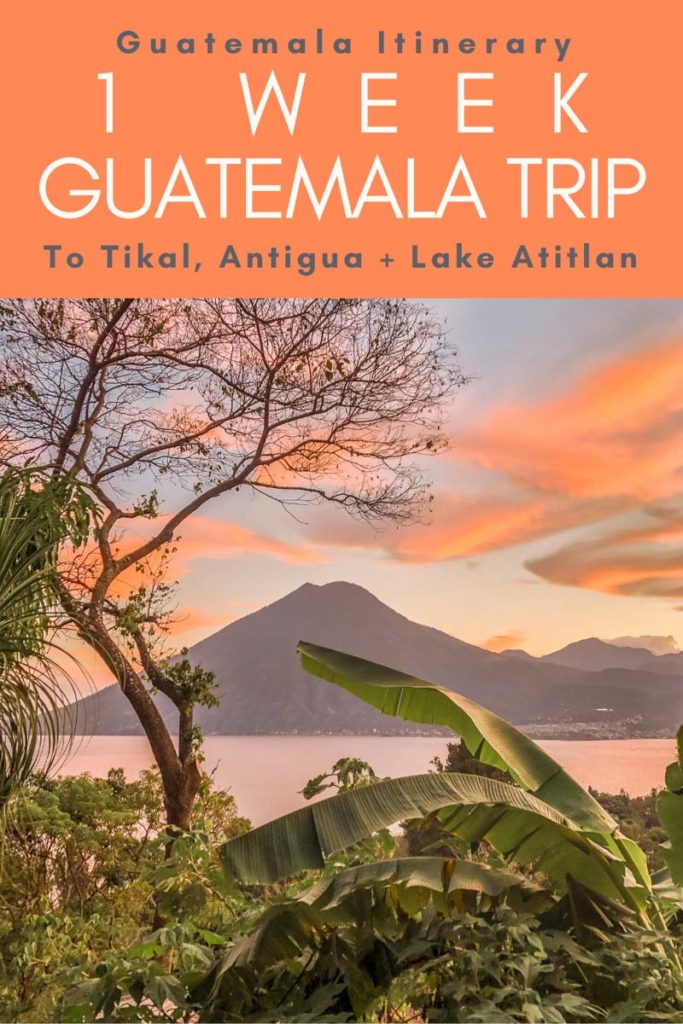 Day 1 – Arrival: 1 Week Guatemala Trip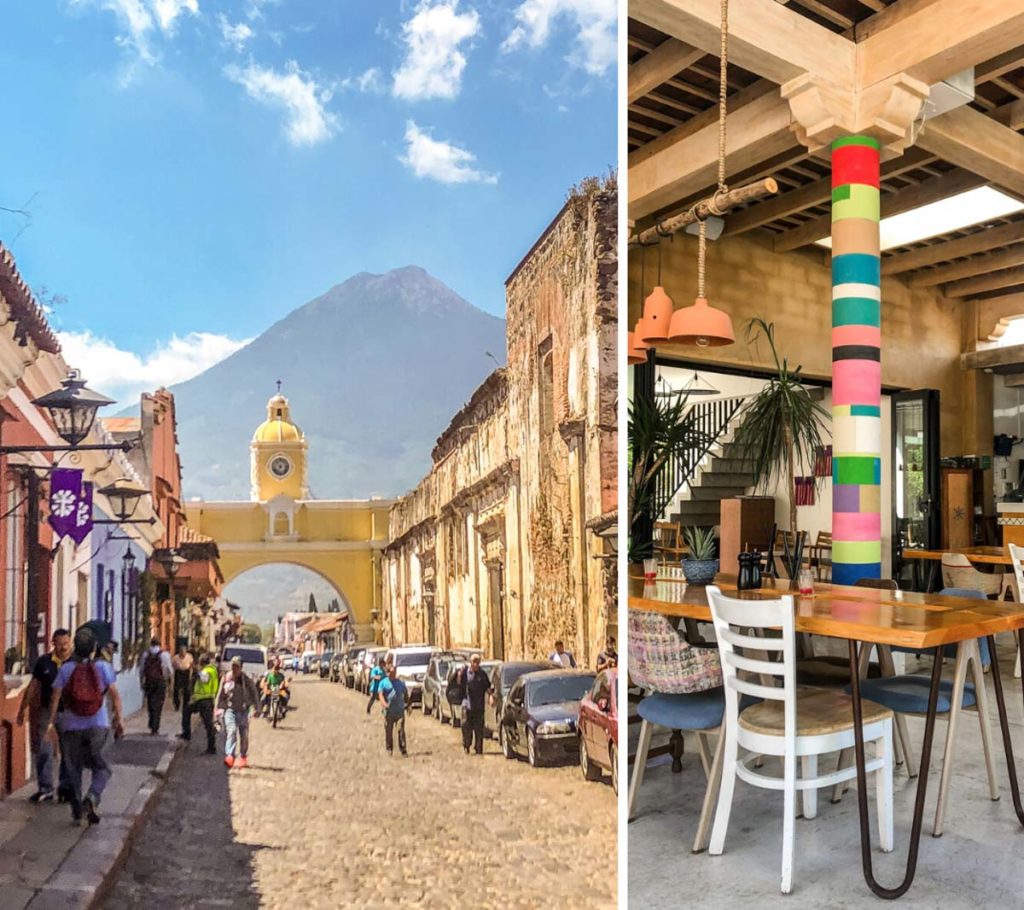 Once arriving at the Guatemala city airport, we'll take a taxi or shuttle to the nearby beautiful colonial city of Antigua.
If we arrive early enough, we'll have a happy hour beer on the rooftop at Antigua Brewing Company to catch the sunset. Then we'll have dinner at the beautifully designed L'Osteria, on their open air patio.
Search flight deals to Guatemala.


Check in Time: Maya Papaya
Maya Papaya is a hostel that is beautifully designed. It's a good choice for many different types of travelers – from design conscious to budget conscious.
Or check here for Antigua Airbnbs.
Day 2 – Breakfast, Flight to Flores, Exploring: Guatemala Itinerary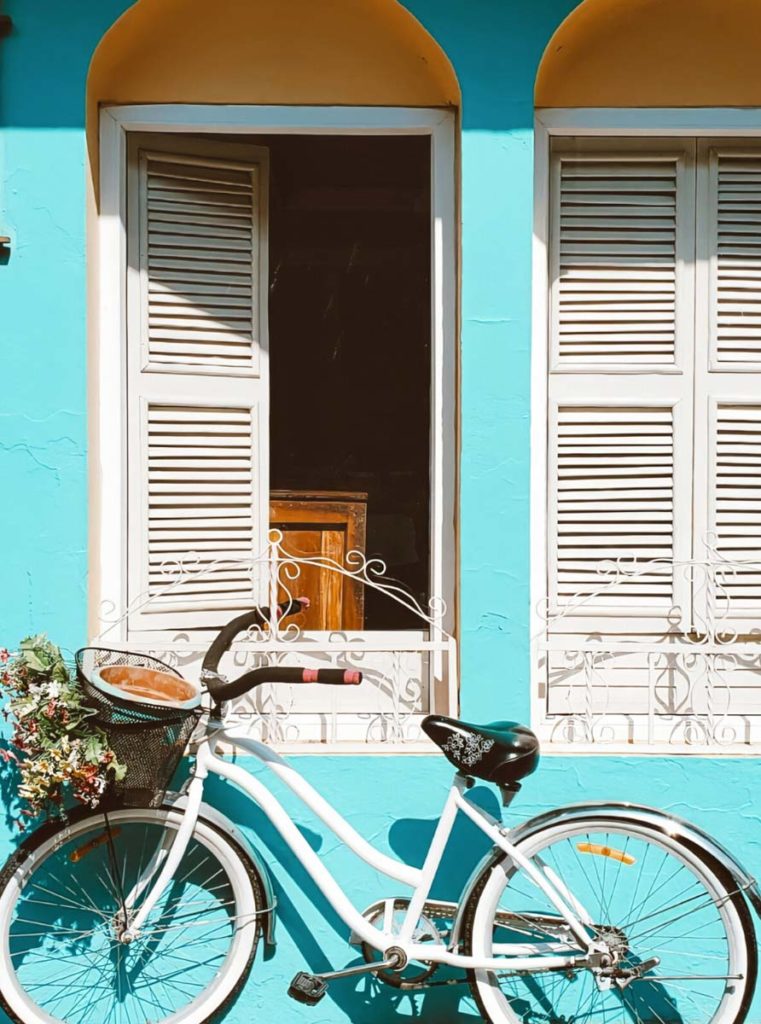 Today we'll be taking a quick flight across the country to the small, colorful lake town of Flores, our jumping off point to visit the ancient Mayan city of Tikal.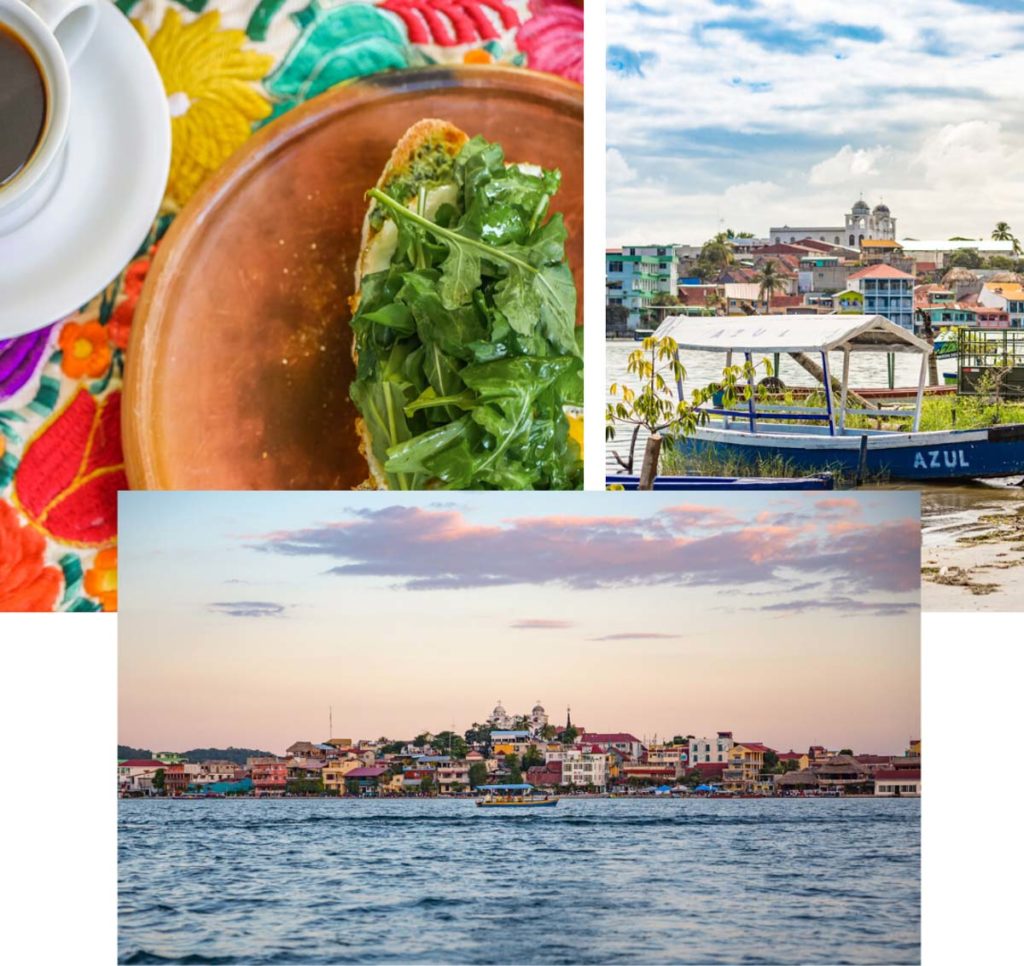 Flores: 1 Week Guatemala Trip
After breakfast we'll hop on our quick 1 hour flight to Flores, in the northeast corner of Guatemala.
Search here for the best flights from Guate-Flores.
This town is on an island surrounded by Lago Petén Itzá. It's a historic, colorful place full of cobblestone streets, plazas, and lake views.
Check-In + Exploring & Swimming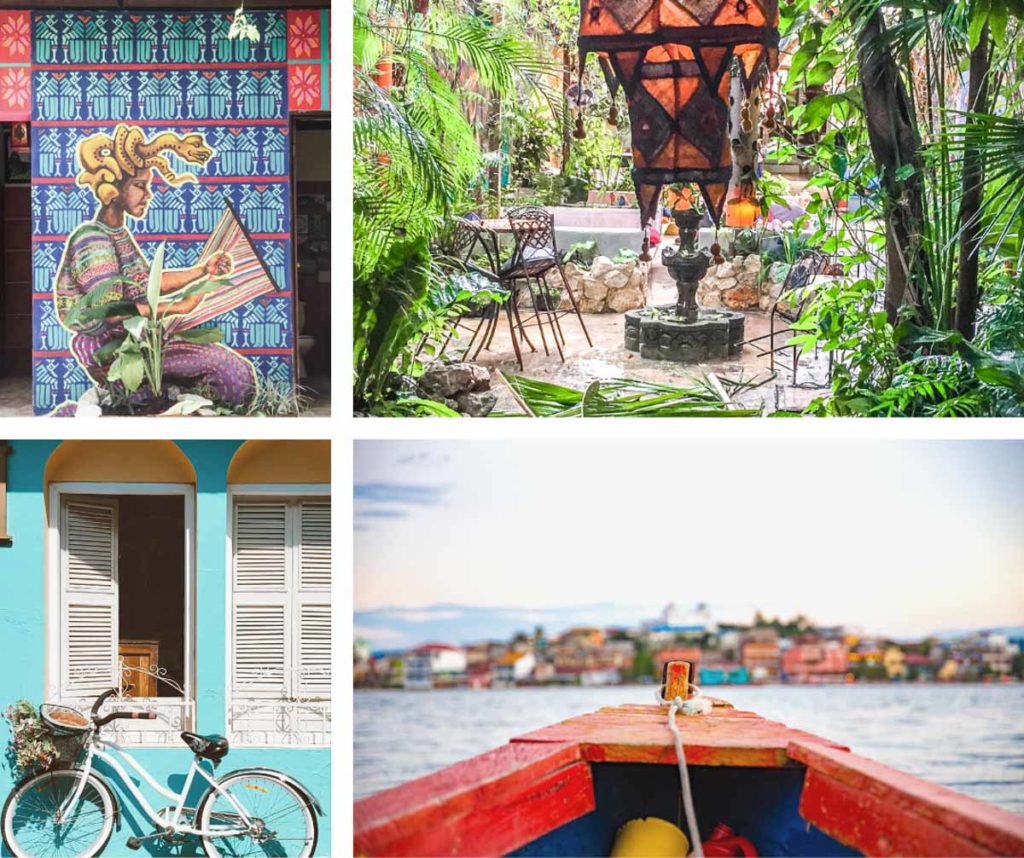 We're checking at Los Amigos for our short 1 night stay. This hostel has a friendly vibe, clean rooms & a leafy pretty communal space with a tasty restaurant.
Or check here for Flores Airbnbs.
Then we'll wander the colorful streets, and take a dip in the lake at sunset.
Day 3 – Tikal, Flight to Antigua + Dinner: Guatemala Itinerary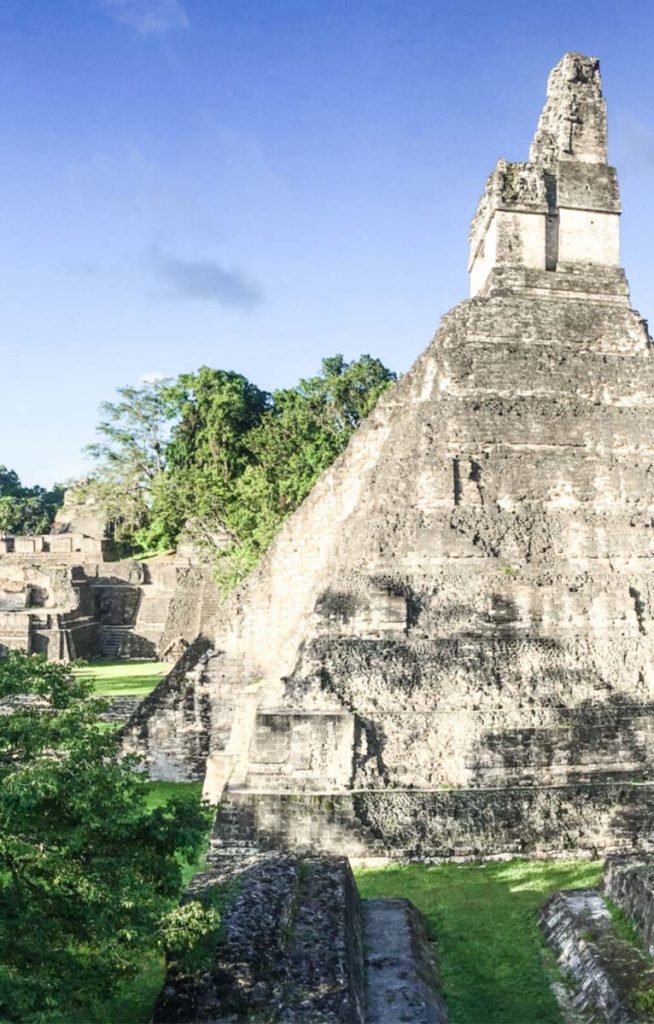 We'll head to one of the most important Mayan cities for a sunrise tour, then head back to Antigua in the evening.
Tikal Sunrise Tour: 1 Week Guatemala Trip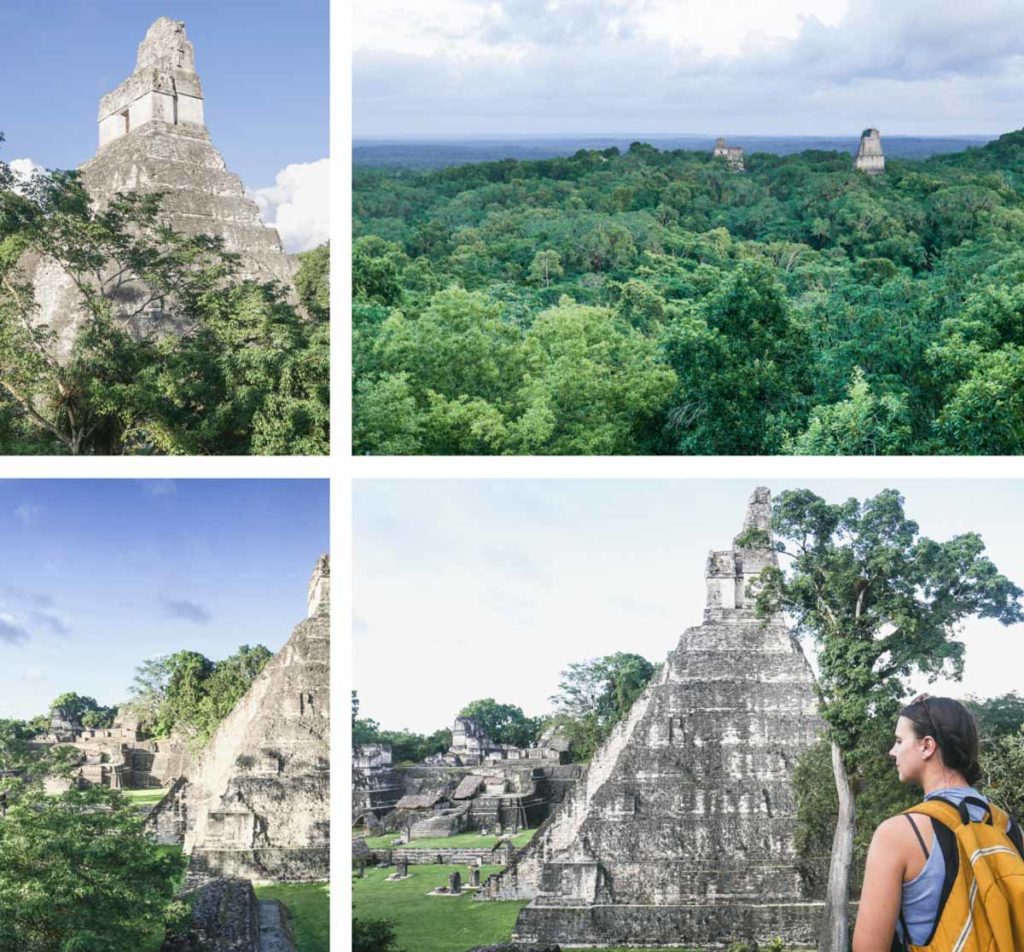 We'll leave Flores at 3am to make it to the ancient city of Tikal before sunrise. We'll make our way through the jungle with our guide to watch the sunrise & see the wildlife wake up.
Then we'll be lead on a guided tour of this huge archaeological site, learning about the history, jungle, and wildlife around us.
Or click here for other Tikal tour options.
Flight, Back to Antigua, Dinner: Guatemala Itinerary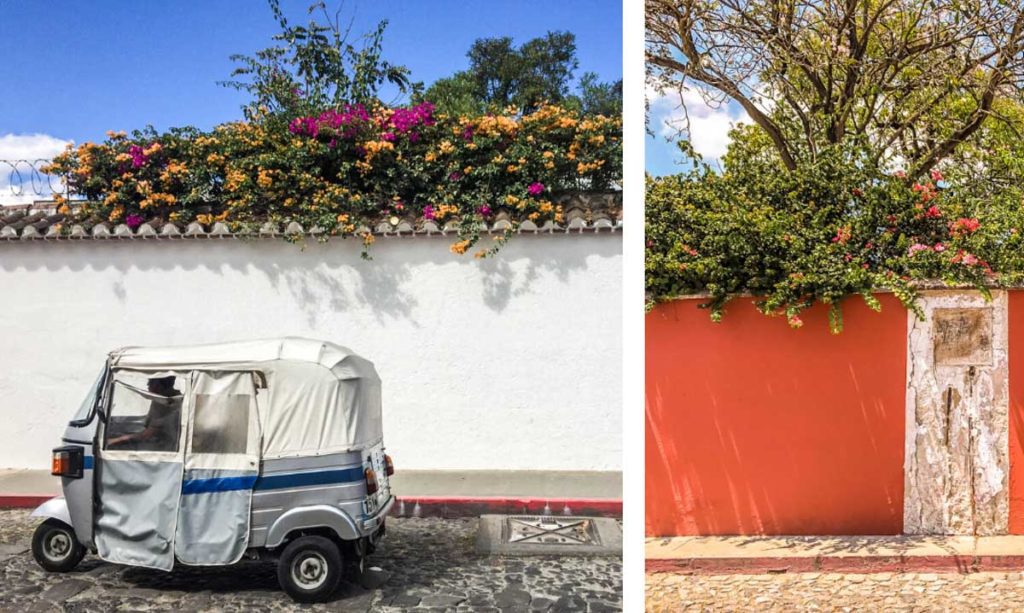 We'll take the quick flight back to Guatemala City in the evening, transfer to Antigua, and check back in to our hotel or Airbnb.
We'll then grab a tasty dinner at Por Que No?, a bar/restaurant that serves excellent food.
Day 4 – Antigua: Shopping, Tasting + Sightseeing: 1 Week Guatemala Trip
Today we'll have a full day wandering the historic city of Antigua, visiting coffee farms, shops, ex-convents, typical restaurants, and more.
Coffee Tour + Textile Studio: Guatemala Itinerary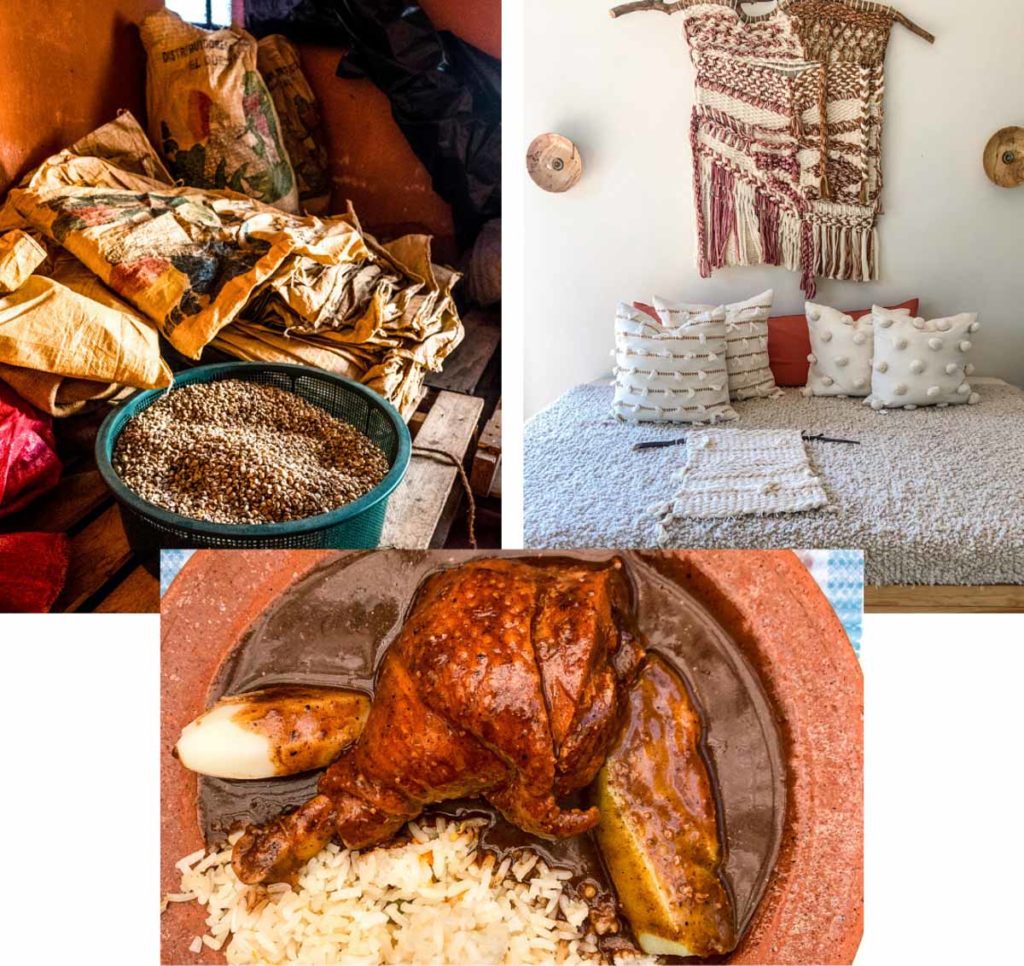 We're off to an educational coffee farm tour at Finca La Azotea.
Or check here for other coffee tour options.
After, we'll stop by the beautiful textile studio of Luna Zorro, a brand of gorgeous locally woven textiles in a perfectly designed setting.
Later, we'll have a traditional lunch of Pipian at Rincon Tipico.
Historic Sites: 1 Week Guatemala Trip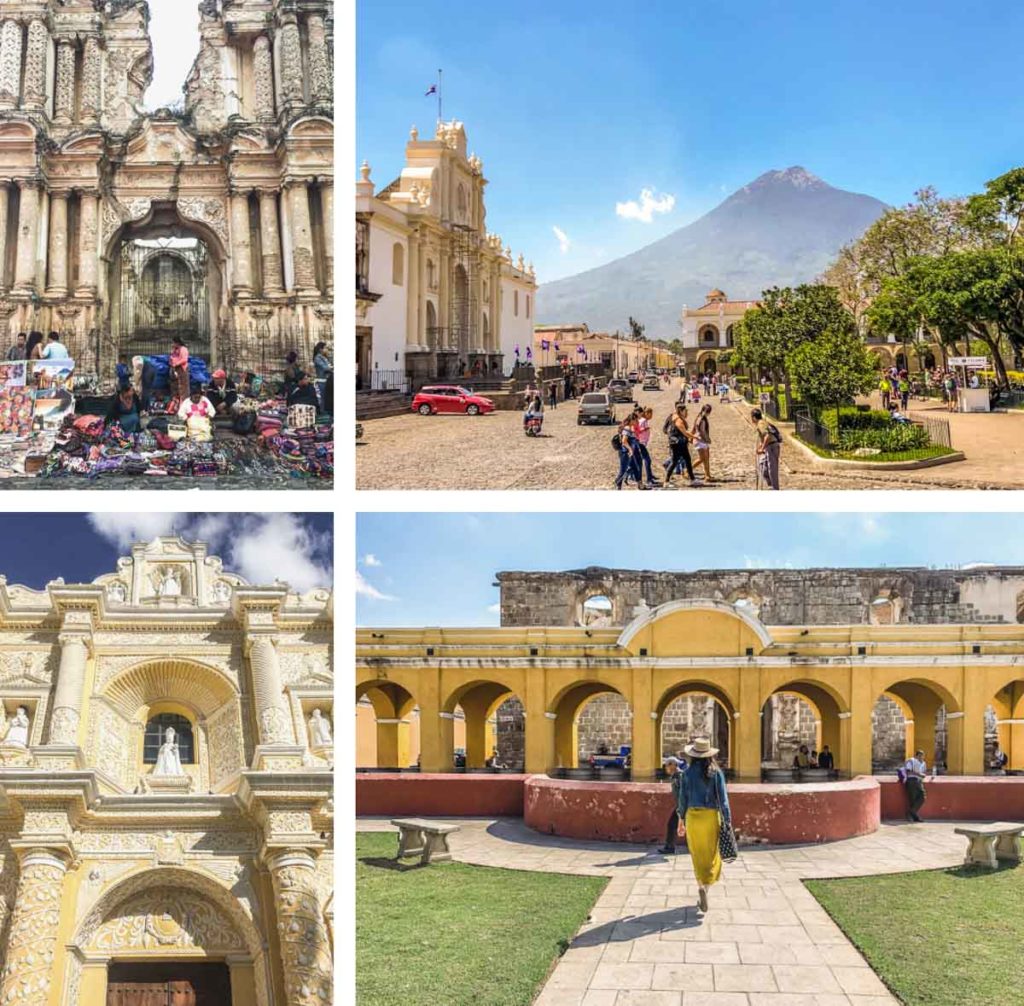 One of the most memorable activities in Antigua is to simply wander the UNESCO world heritage city and marvel at the gorgeous churches, ex-convents, and historic buildings.
Make a loop or zig zag the streets but be sure to pass by the most important historic sites.
Click through for full list of the sites in my Antigua travel guide.
Ex-Convents: Guatemala Itinerary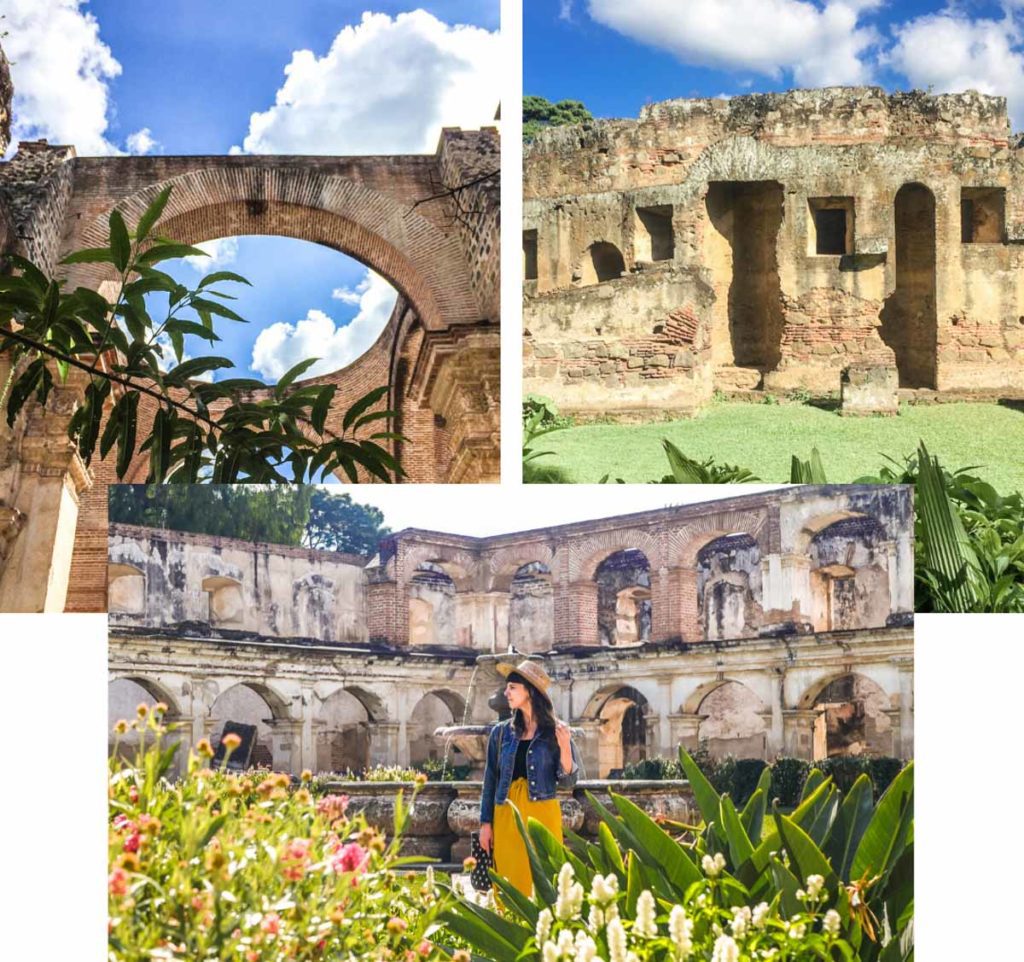 Speaking of historical sites, two of my favorite places to spend some time are the ex-convents of Capuchinas and Santa Clara.
We'll wander these lush leafy sites, spend time in the courtyards, admire archways, and take tons of photos.
Afternoon Shopping: 1 Week Guatemala Trip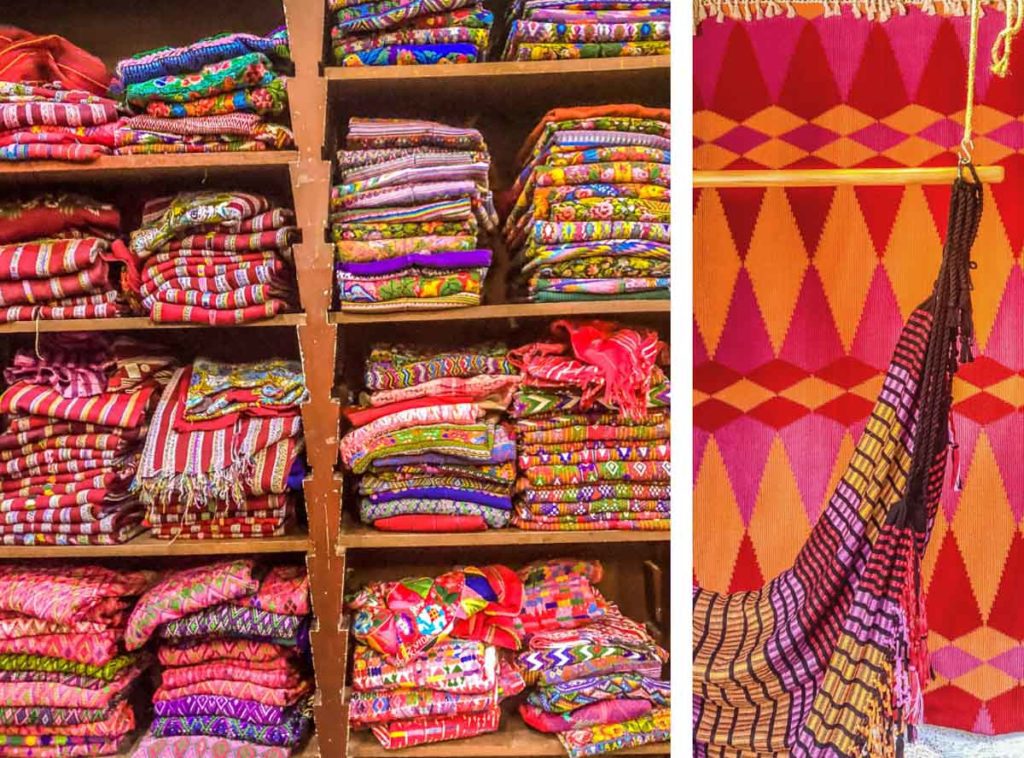 We'll spend the rest of the afternoon shopping for textiles and artisan work around the city.
My first stop is always Nim Po't, a huge store full of traditional artisan work from Guatemala. Be sure to dig in the vintage huipil bins.
Then we'll stop into a few of the stores that carry traditional textiles and modern interpretations.
Check out my full list of my favorite Antigua shops.
Scenic View + Dinner + Mezcal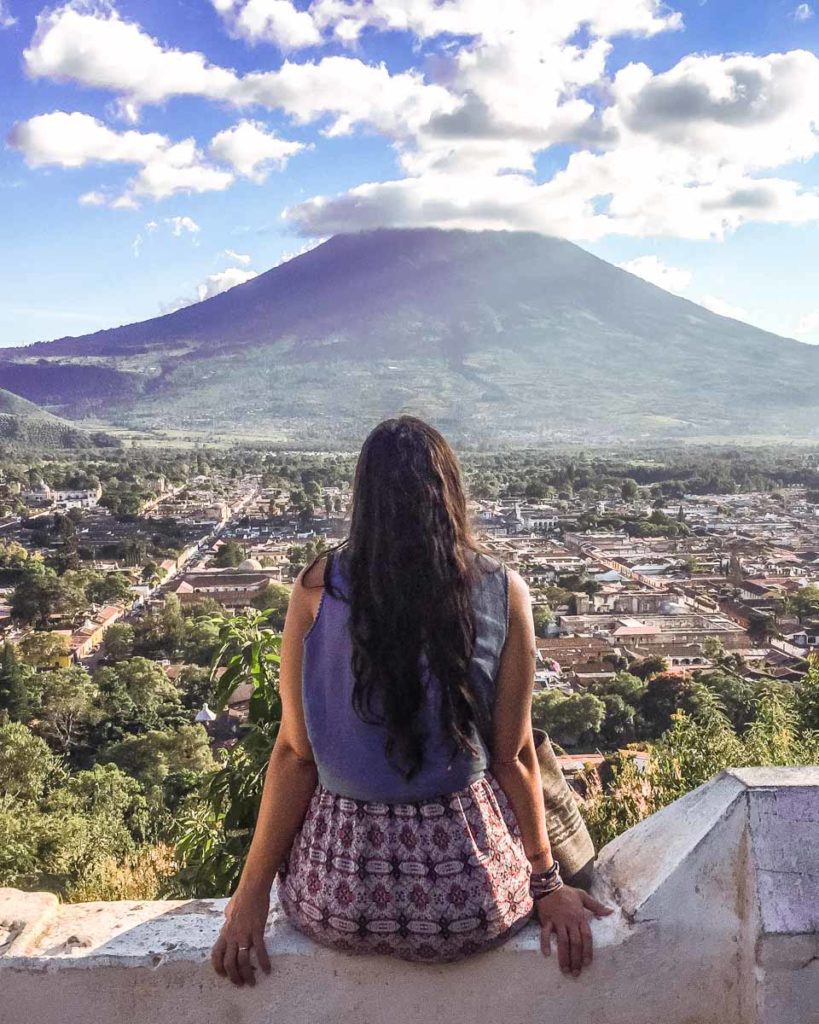 We'll hike up the small hill to Cerro de la Cruz before sunset for the best city view, then head to a legit ramen dinner at Kombu.
Dessert is exotic ice cream flavors at Sobremesa Helados, or mezcal at Café No Sé. Or both.
Click through for full Antigua travel guide with more restaurants, shops, sites & hotels.
Day 5 – Lake Atitlán + Traditional Backstrap Weaving & Textiles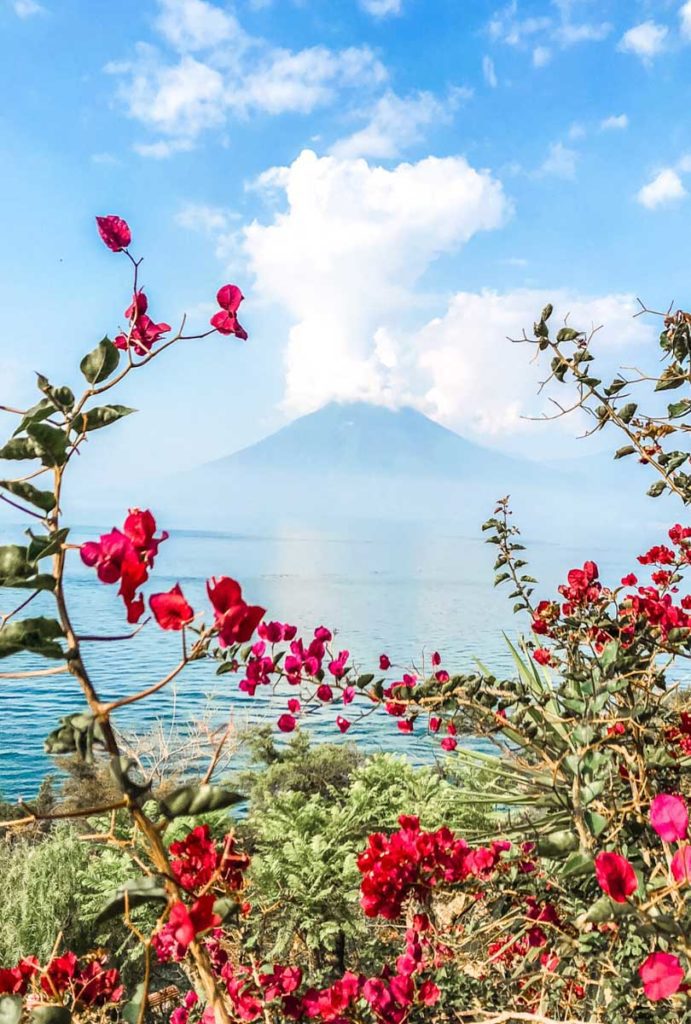 Today we're heading to magical Lake Atitlán for the rest of our trip. In the afternoon we'll learn about the traditional textile artisan culture.
Check In Time: Lush Atitlan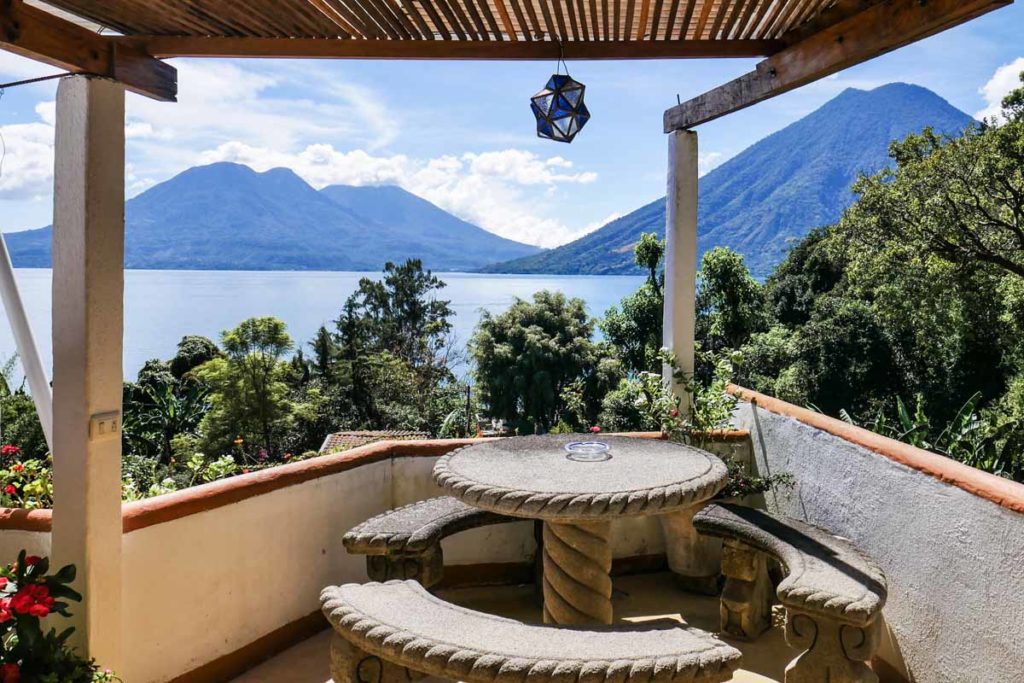 We're checking in to the aptly named Lush Atitlan.
This leafy hotel is just a few minutes walk from the main pedestrian street in San Marcos, but feels tucked in the jungle.
Click here to book (or bookmark).
San Marcos + San Juan: Guatemala Itinerary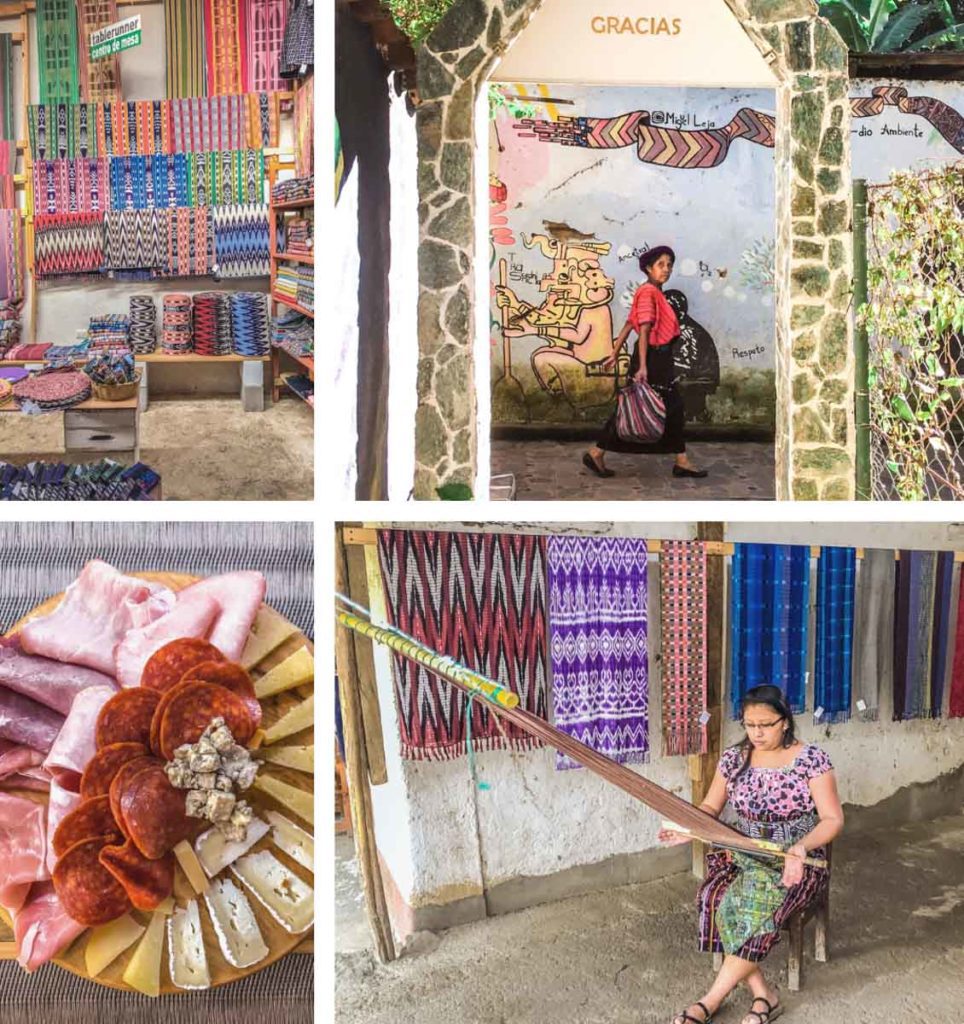 We'll spend some time walking around the cobblestone pedestrian streets of San Marcos village, stopping for lunch at Circles Cafe.
Then we'll take a short boat taxi to the village of San Juan, famous for traditional weaving. We'll visit workshops where we'll learn about natural dyes & backstrap weaving, do some shopping, then stop for cheese plates & wine at El Artesano.
Day 6 – Epic Sunrise Hike + Colorful Pueblos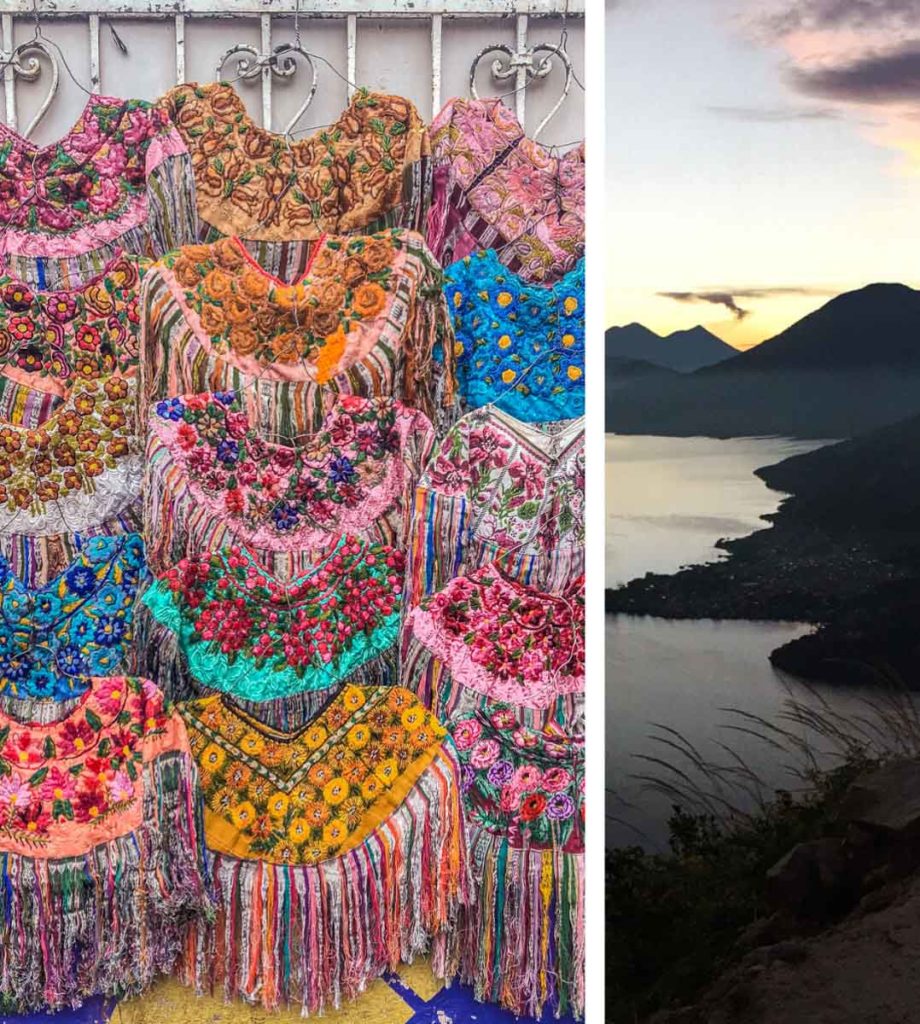 We're getting up before dawn to see the sun rise over the lake in one of hte best viewpoints. Later in the day we'll visit a couple colorful pueblos full of culture and artisan work.
Sunrise Hike at Mayan's Nose: 1 Week Guatemala Trip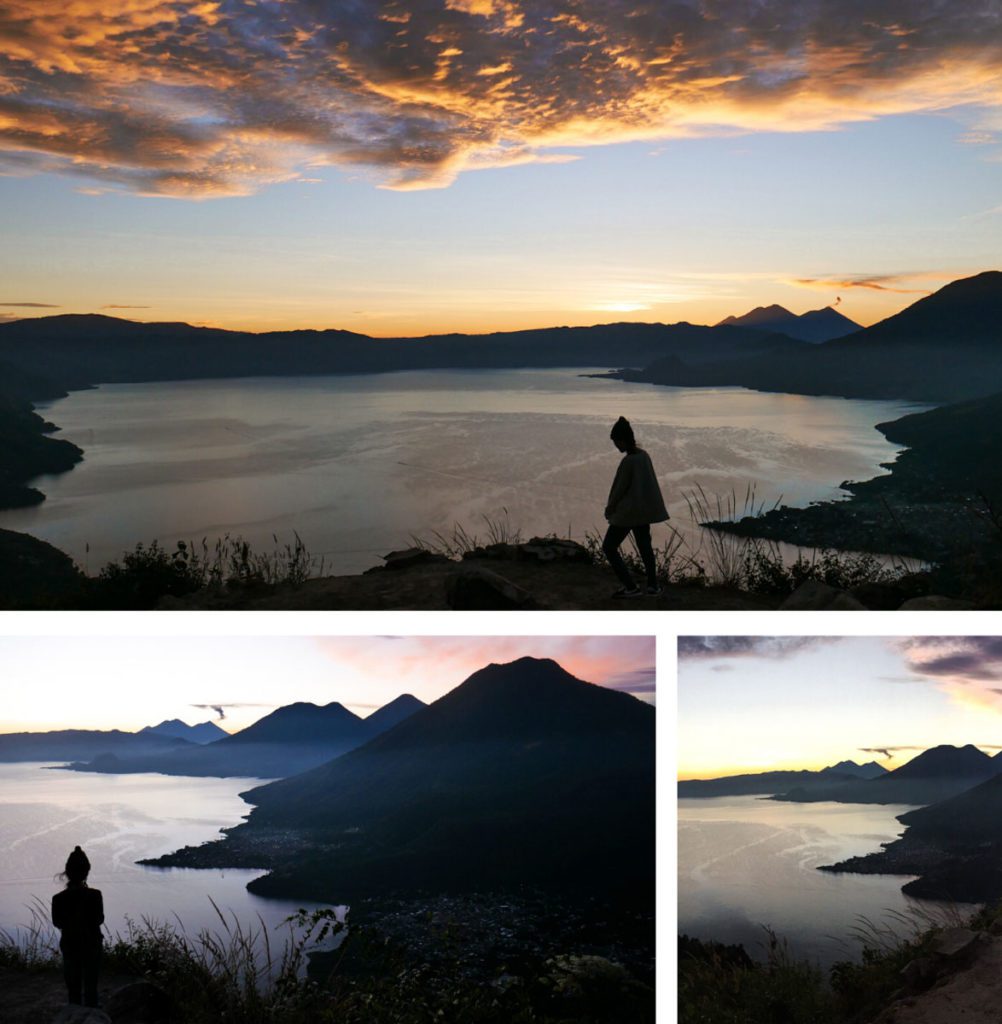 We're getting up before dawn to join our guide and hike to the top of Mayan's Nose mountain.
We'll watch the sun come up behind the volcanoes, adding dramatic color
to the lake and sky. I never get tired of this incredible experience.
Check here to find a guided sunrise hike, (free cancellation up to 24 hours of tour)
Colorful Pueblos + Shopping: Guatemala Itinerary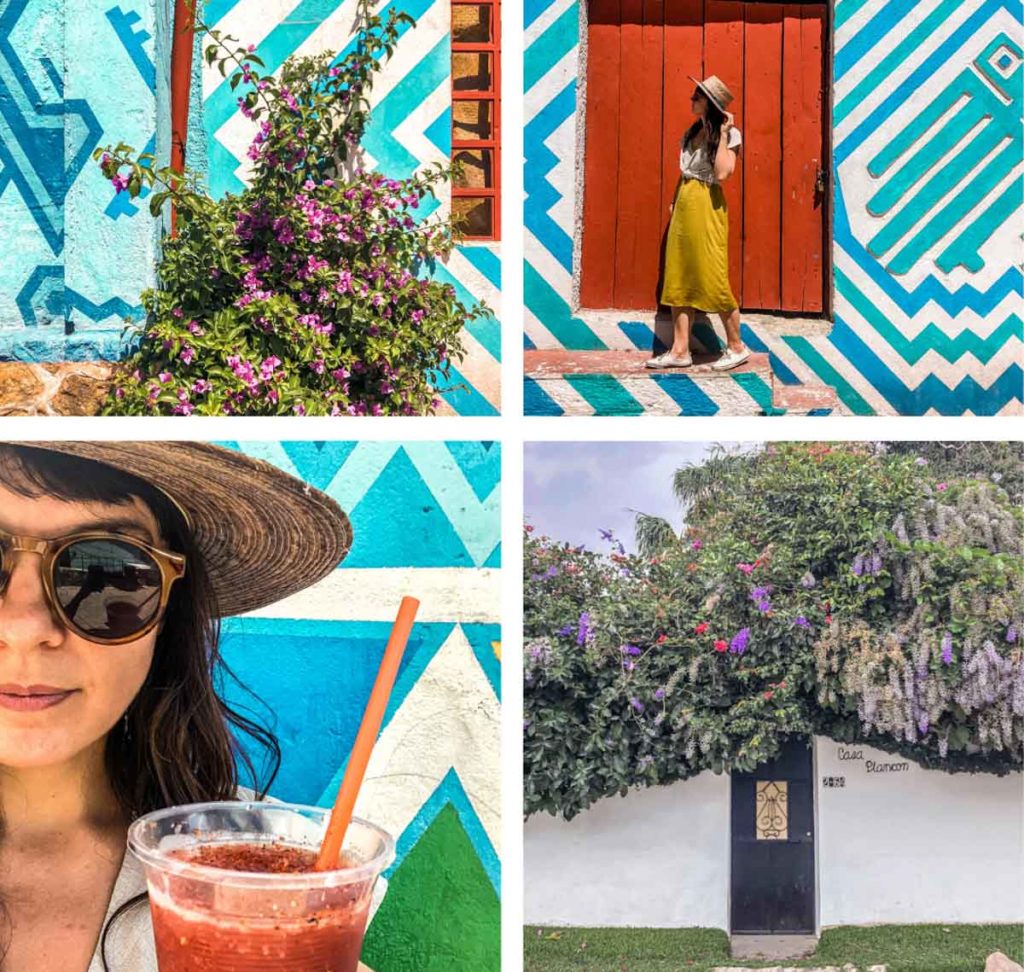 After a late morning nap, we'll hop on a boat taxi to the main tourist town of Panajachel. Here we'll have a delicious lunch at Deli Jazmin.
After, we'll take a tuk tuk to the nearby town of Santa Catarina Palopó where we'll see how this town is turning into a colorful mosaic of art via its building facades. Pick up an iced michelada to cool off on the warm afternoon.
Day 7 – Traditional Market + Yoga & Rest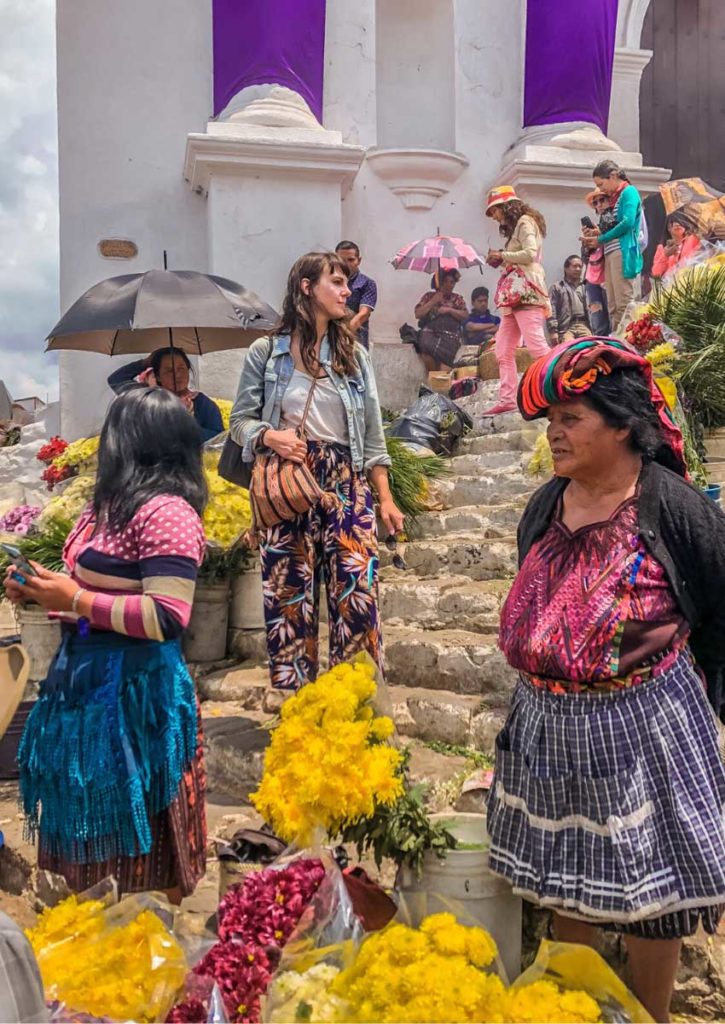 Today we'll visit the largest market in Guatemala and all of Central America, and then spend the rest of the day on some self care via yoga, meditation, and massage.
Chichicastenango Traditional market: 1 Week Guatemala Trip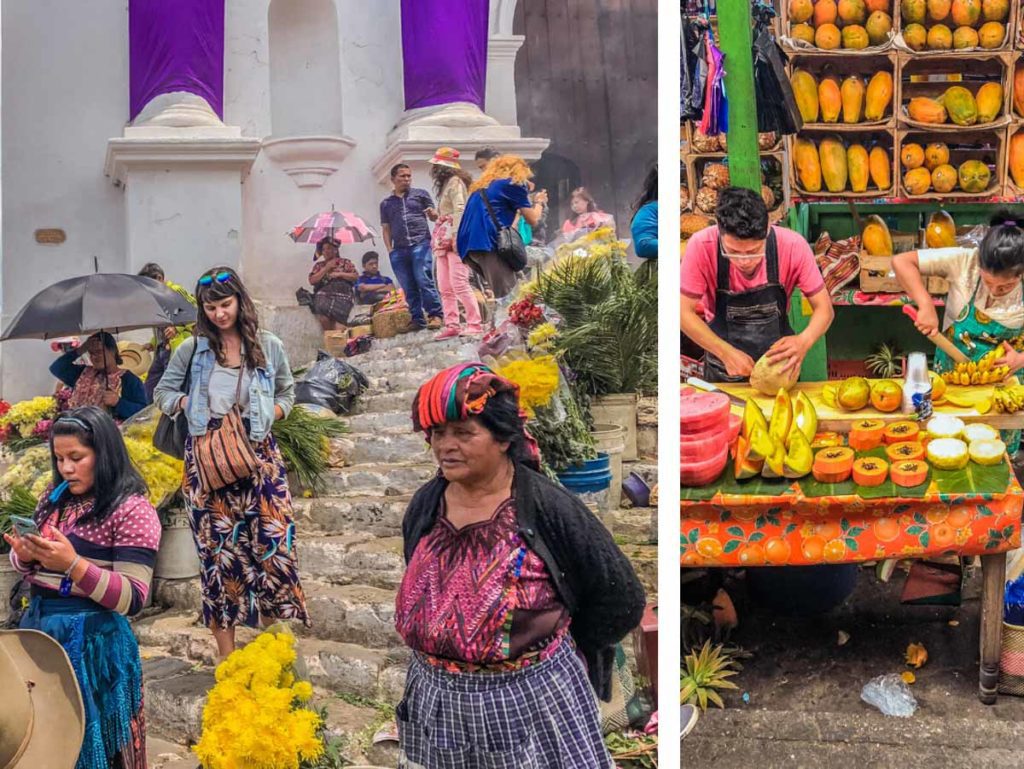 If you like visiting traditional markets, Chichicastenango is a must. The main market days on Thursdays and Sundays are bustling and full of amazing traditional textiles, artisan work, fresh produce, prepared food, and anything else you can think of.
Stop by the church stairs to view a flower market, and burning incense.
Self Care in San Marcos: Guatemala Itinerary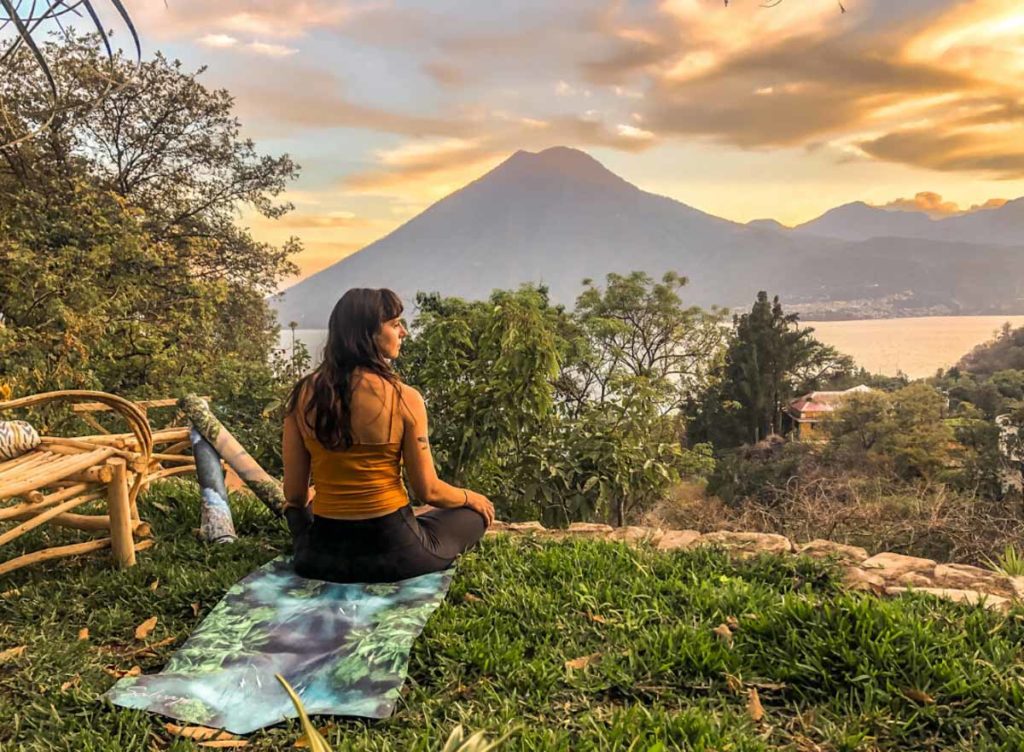 Our temporary home in San Marcos is a traditional Mayan village, but has also become a hub for yoga, meditation, massage, and other healing practices.
Since we've been busy making the most of our time in this beautiful country, we'll take a few hours to rest and relax. Join a yoga class with a lake view or book a massage session in town.
Finally we'll have a delicious traditional dinner at Konojel.
Day 8 – Saying Goodbye: 1 Week Guatemala Trip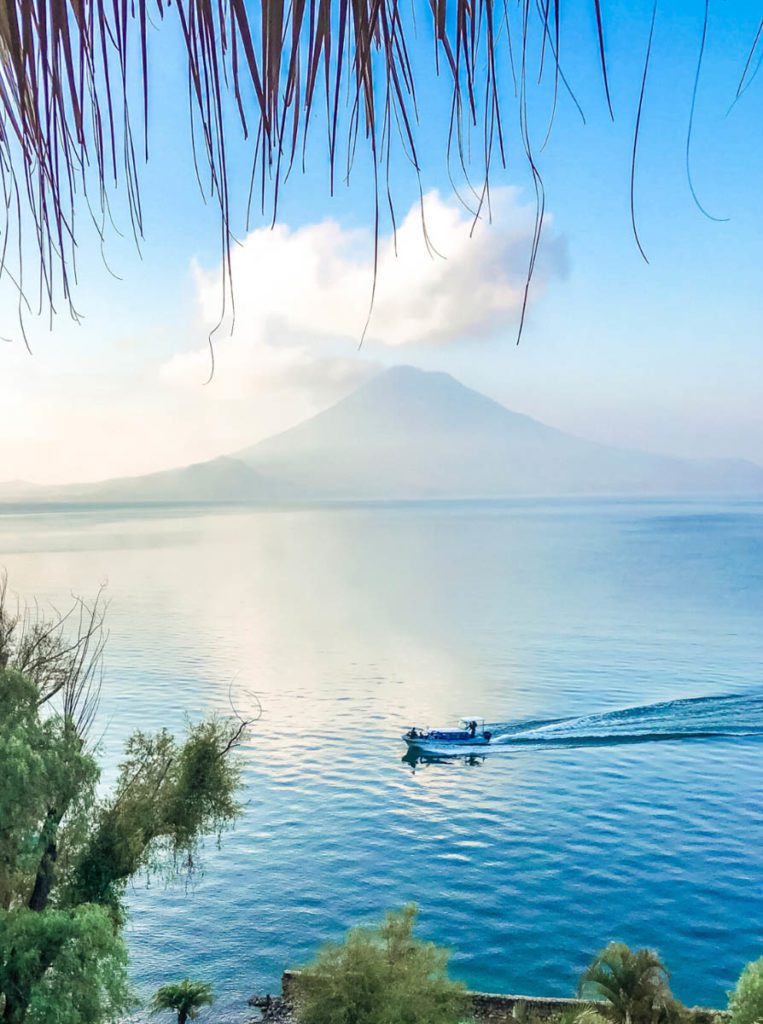 It's our last morning in Guatemala. We'll enjoy a healthy breakfast, one last yoga session or swim, then we're off to the airport.
Breakfast + Yoga or Swimming: Guatemala Itinerary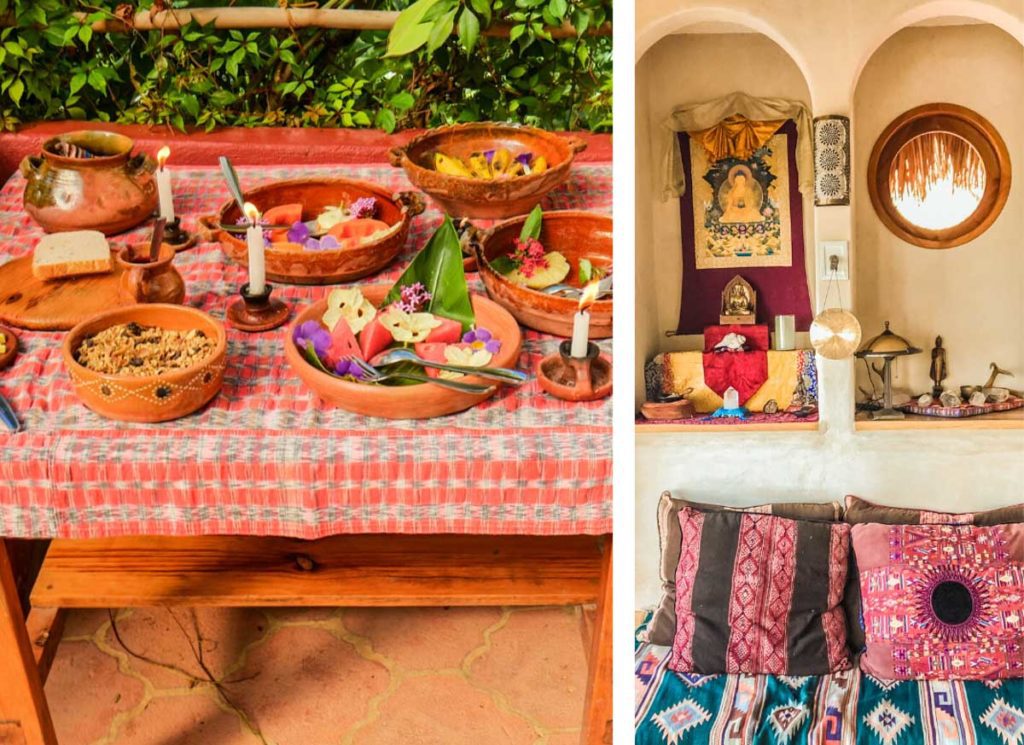 We'll enjoy our last fresh included breakfast at Lush, then join one more yoga class or take a swim in the lake before we have to hop in our shuttle to the airport.
We'll take in the dramatic lake and volcano views, the fresh morning air, and the beautiful nature one last time before we go.
Click here for my full Lake Atitlan guide about where to stay and what to do at the lake.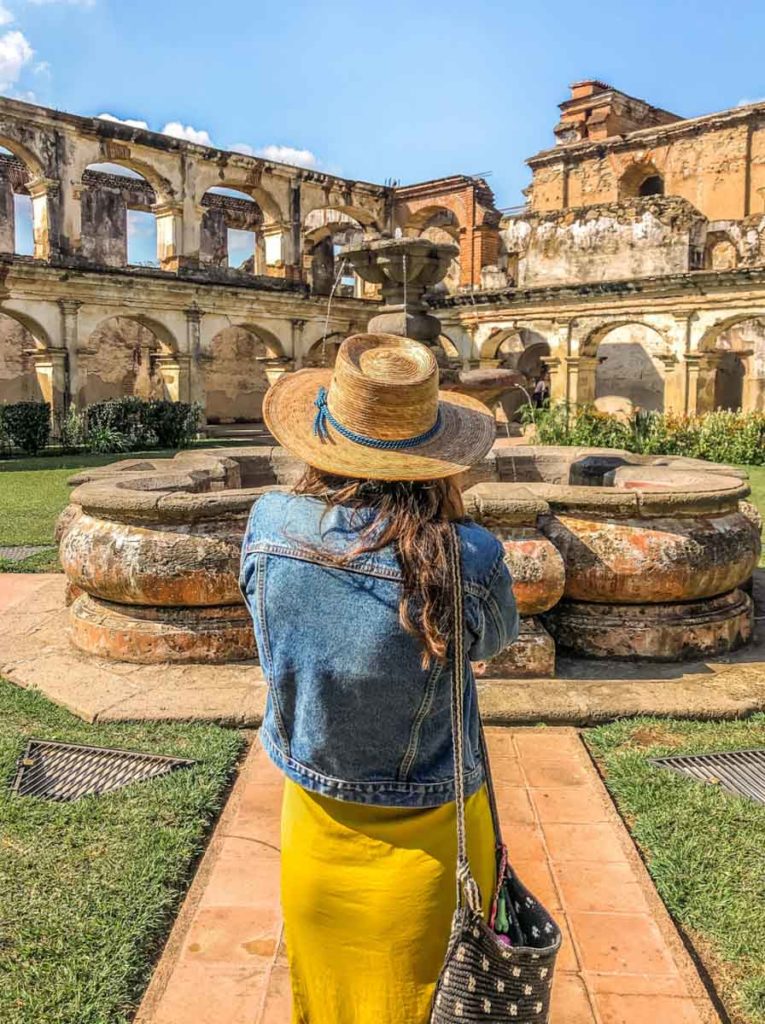 I hope you enjoyed our virtual trip through some of the most special places in Guatemala!
If you're still looking for more info, Click here to find all my posts under my Guatemala tag.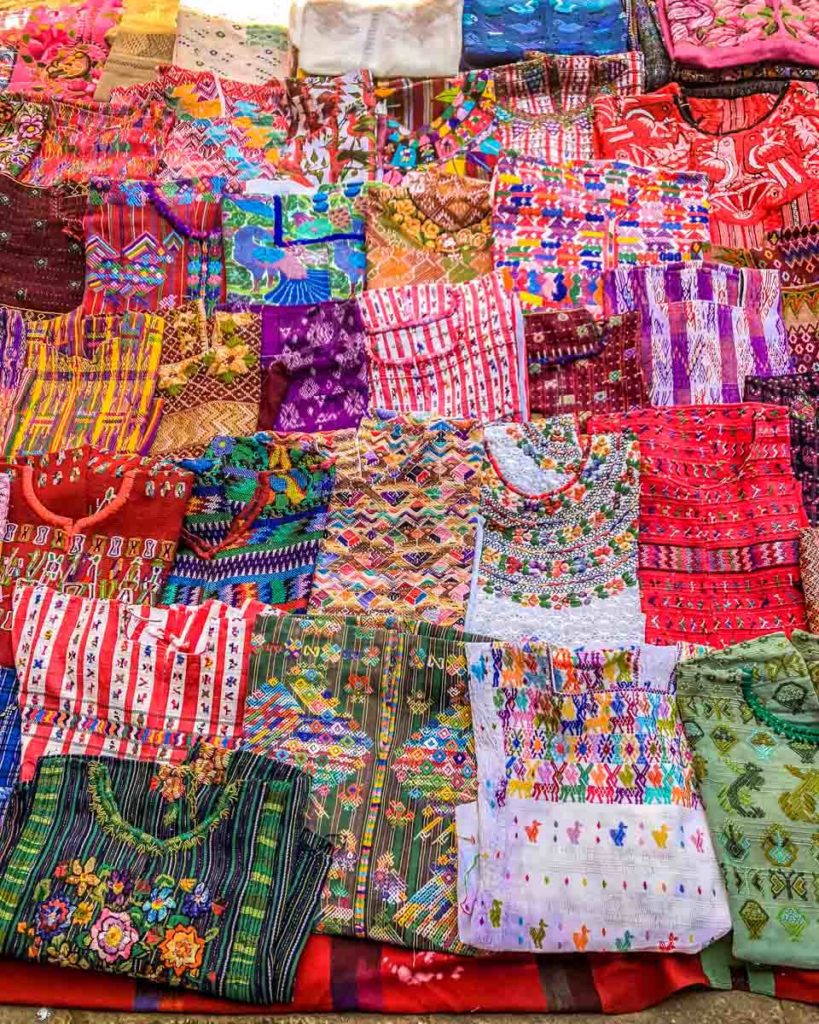 Search flight deals to Guatemala.


Guatemala Itinerary Notes:
This is a very full, active itinerary. If you prefer a more laidback trip, consider skipping Flores/Tikal and adding one day each to Antigua and Atitlán.
I don't recommend doing hikes (with the exception of Cerro de la Cruz in Antigua) solo in Guatemala. It's more secure to hire a guide.
It is very easy to find tourist shuttle transportation between all tourist sites in the country. I recommend this rather than renting a car.
Check out my other 1 Week Itineraries and stay tuned for more travel daydreaming virtual travel through weeklong itineraries in my favorite places. Or get my 7 itineraries for 7 day adventures around Latin America below, right to your inbox.
Pin it for Later!