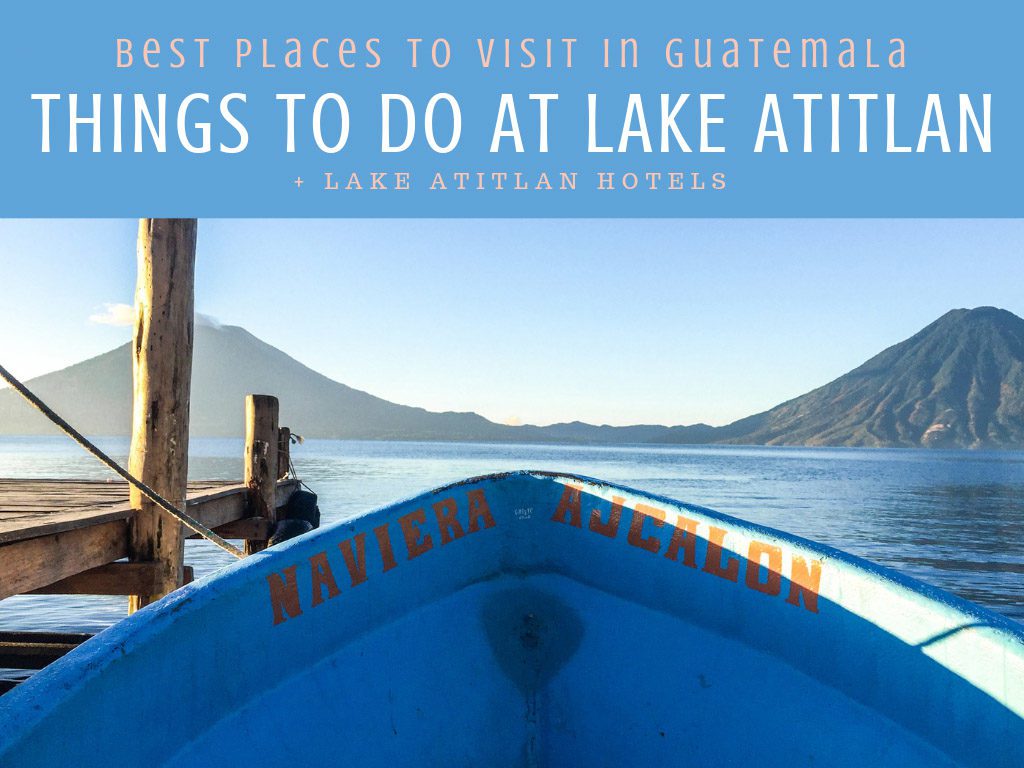 After several trips to the country, I can absolutely say that Lake Atitlan is one my favorite places to visit in Guatemala. When I think about Guatemala, I picture the magical lake surrounded by epic mountains and volcanoes, and the vibrant traditional Mayan towns that surround it. I want to write about all the villages that I've visited, which are best for different travel styles, things to do during your stay, and some suggestions for the best Lake Atitlan hotels.
Find Lake Atitlan Hotels and Airbnbs:
Or continue below for personal recs.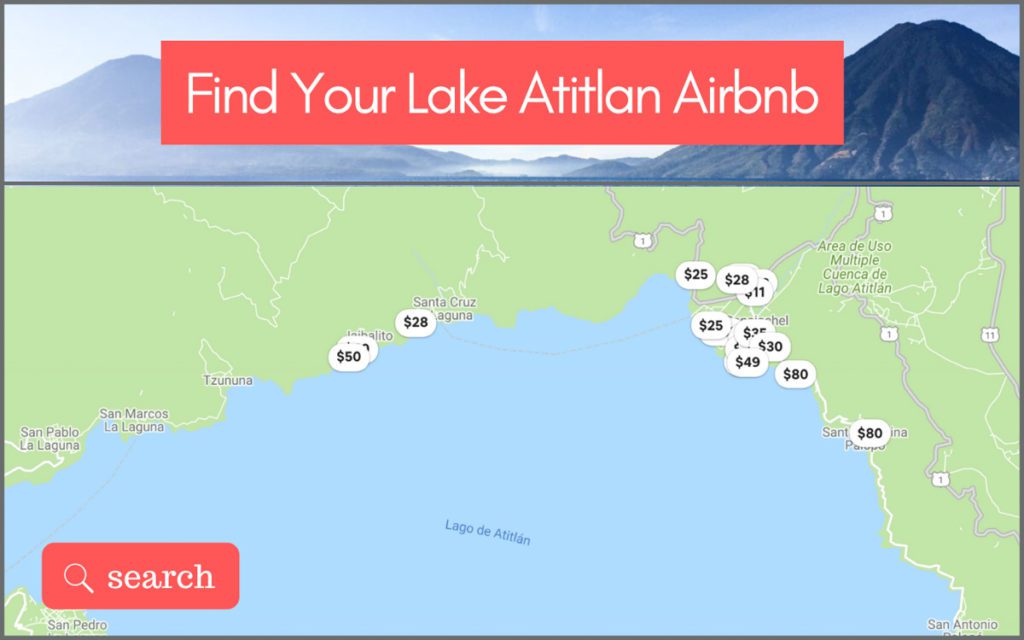 Lake Atitlan Travel: Best Places to Visit in Guatemala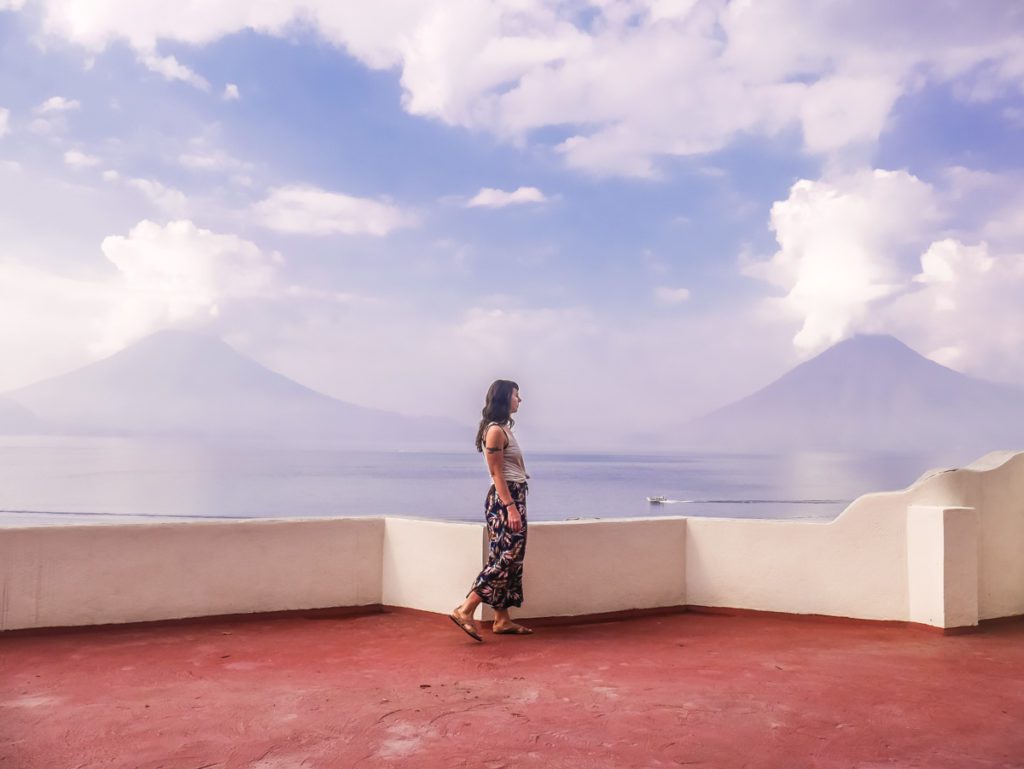 It's hard to put into words how beautiful Lake Atitlan is – it's just one of those magical places that leaves you in awe.
It's a huge crater lake surrounded by rugged mountains and volcanoes. There are only a couple of roads that come in from the rest of the country. Once you arrive, the main transportation is by boat taxi. I love being on a boat, so I have always enjoyed going from town to town this way, taking in the views along the way.
There are 11 villages on the lake and they each have their own distinct vibes. The Mayan culture is strong here, so it's common to see people dressed in traditional clothing and living in a traditional way.
Things to do at Lake Atitlan: Best Places to Visit in Guatemala
Sunrise Hike to Mayan's Nose: Things to do at Lake Atitlan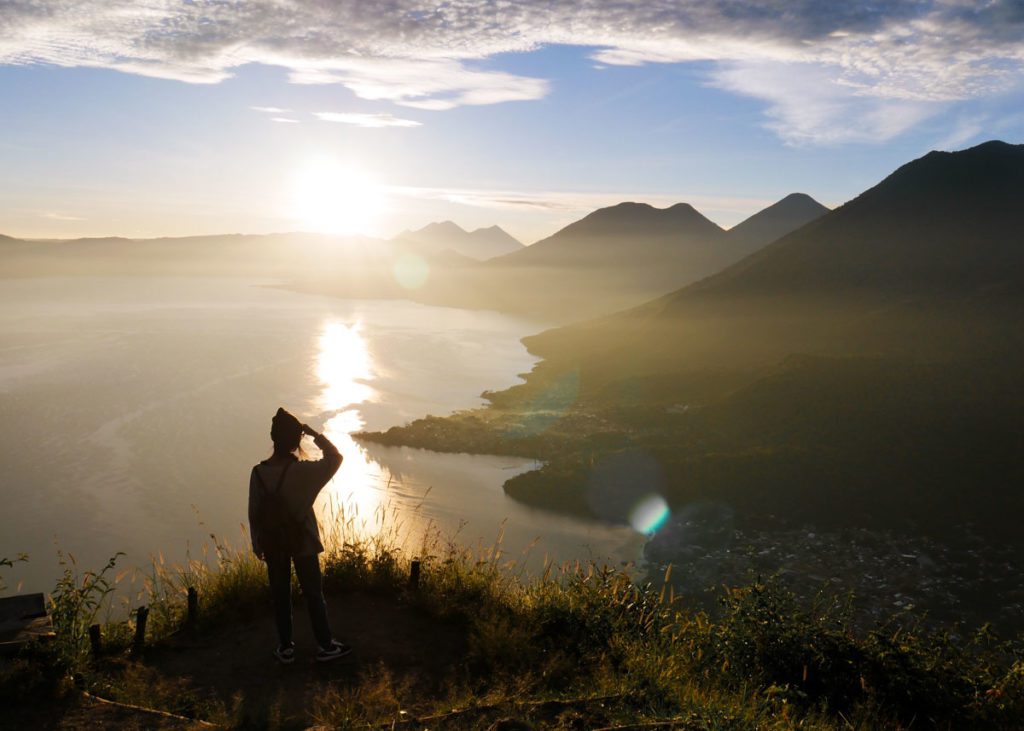 This sunrise hike is so epic I've done it on two different trips, and will likely do it again sometime.
You wake up before down, meet your guide, and head to the start of the trail, above San Pablo La Laguna. This tour/hike seems to be easiest to do from San Marcos, as you can get to the starting point by the road.
Each time I did this was a bit different – the first time was with a guide, but using public transportation. It was actually super interesting to get the glimpse at local life before even starting the hike. We took a tuk tuk from San Marcos to San Pablo, and then hopped in the back of a packed pick up truck to make the trip the rest of the way.
The second time we booked a tour with private transportation from San Marcos to the start of the trail.
Then you walk 30-45 minutes up a trail to the summit of the mountain. It's not a very difficult hike but it is a continuous incline, and you are at elevation, so keep that in mind. The guides are experts at helping you find your way in the low light.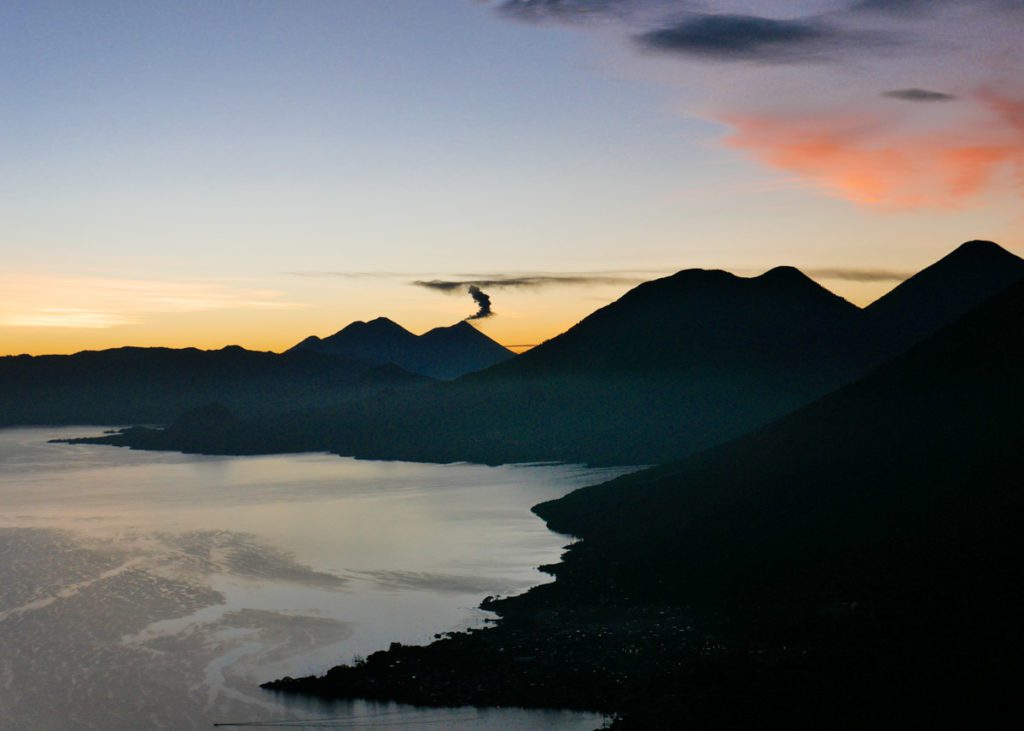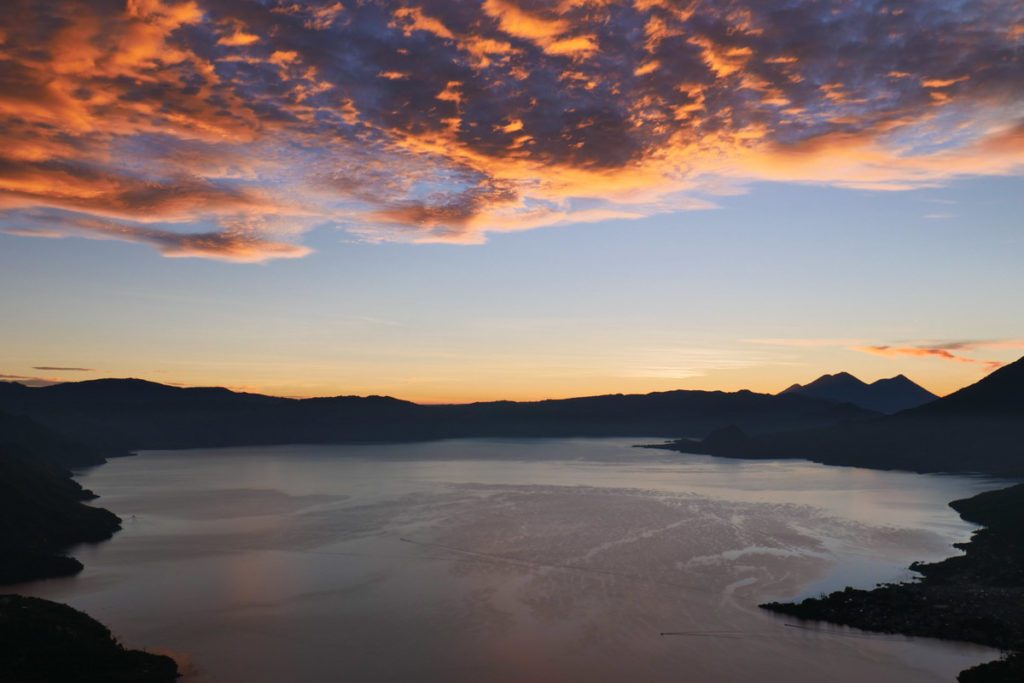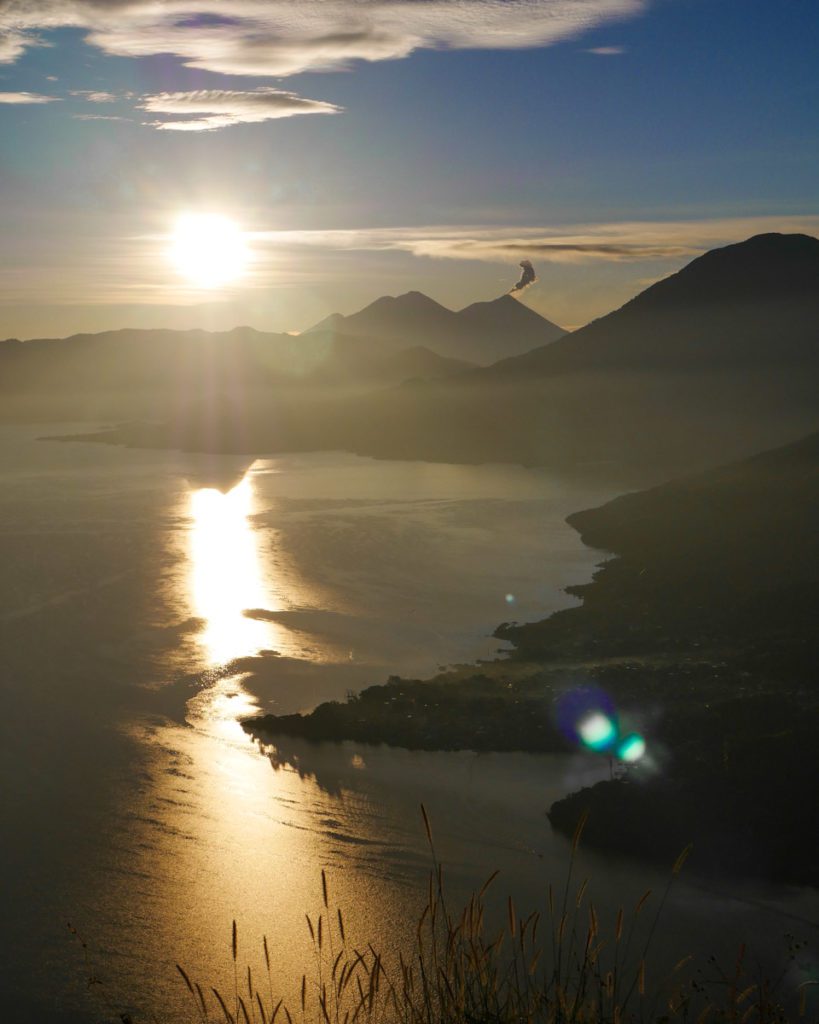 Then you reach the top right as the sun starts to rise over the mountains and the lake. It's incredibly beautiful and absolutely worth the effort and early wake up call.
Find Flight Deals to Guatemala:


Visit Some of the 11 Villages: Things to do at Lake Atitlan
This is actually one of my favorite activities to do. There is so much opportunity to learn about the culture here, and the people are generally very warm and open.
Here's a breakdown on a few of the most visited towns:
San Marcos La Laguna: Best Places to Visit in Guatemala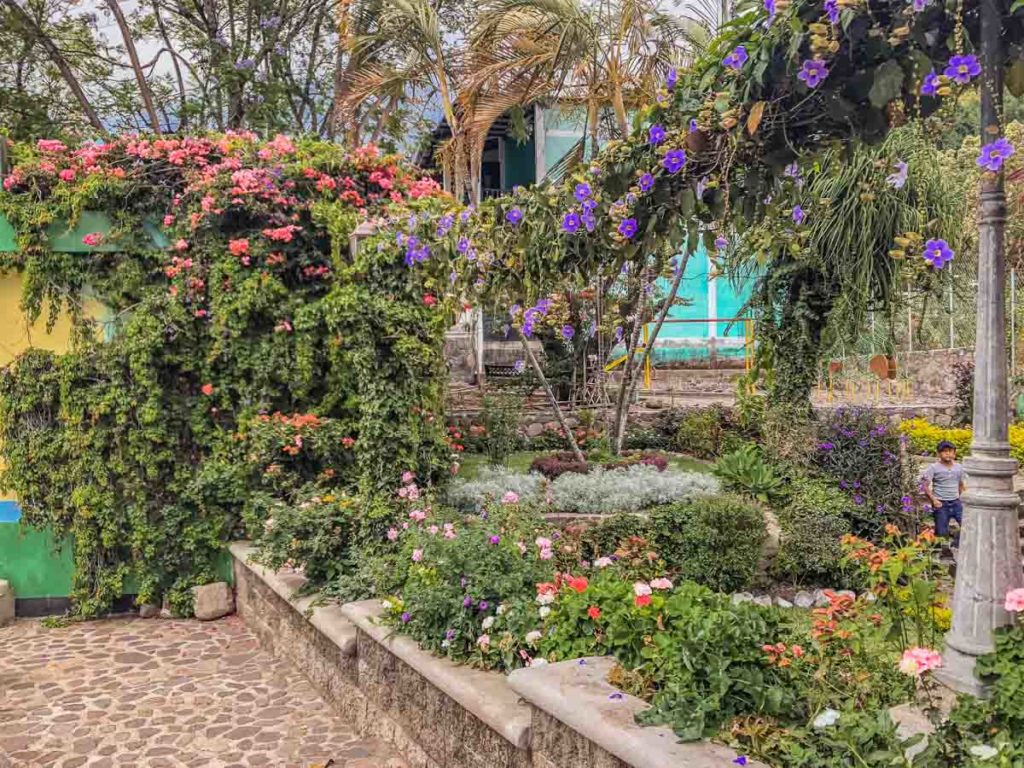 One of my favorite towns to stay in on Lake Atitlan is the town of San Marcos La Laguna. It's a small, traditional town, but has seen an influx of yoga, reiki, and meditation centers.
It is becoming a more popular destination and at times can feel full of backpackers and tourists. However, I still find it to be a charming and lovely town with strong local culture, and would happily continue to stay there. And as someone who loves yoga and meditation, the proximity to these resources is attractive to me.
The center of town is mainly footpaths – cobblestone and dirt paths – and they are interesting to explore.
See: Lake Atitlan hotels section below for some of my favorite hotels in San Marcos la Laguna.
Santa Cruz La Laguna: Best Places to Visit in Guatemala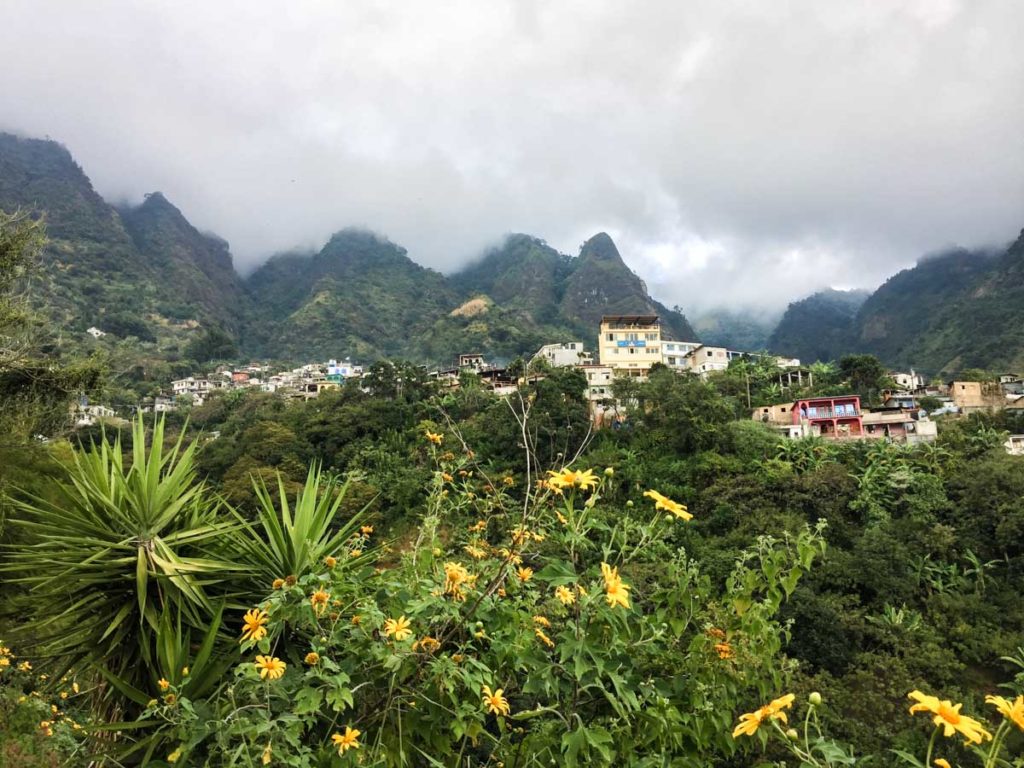 Another of my favorite towns on Lake Atitlan is Santa Cruz La Laguna. The actual town of Santa Cruz is up a small but very steep hill, just above the lake. At the lake's edge, there are several hotels, hostels and retreats as well as a lakeside pathway.
This gives you the unique option to stay in a very quiet natural environment on the lake, but still be a short distance from a traditional town to explore (and the town actually has less tourists for this reason).
See: Lake Atitlan hotels section below for some of my favorite hotels in Santa Cruz La Laguna.
San Juan La Laguna: Best Places to Visit in Guatemala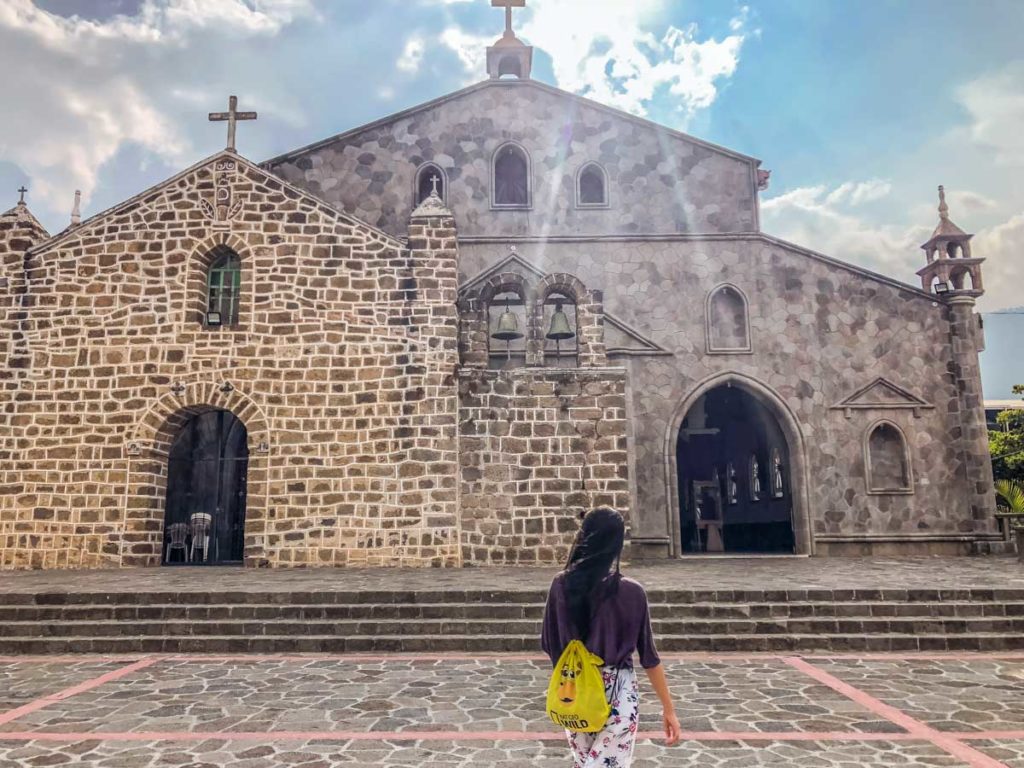 San Juan La Laguna is another of my favorite towns. It's famous for the traditional weaving and textiles that are made here. It's a great stop if you like textiles or learning about artisan work. I'll talk more about it below. You can also find great coffee and chocolate here.
Panajachel: Best Places to Visit in Guatemala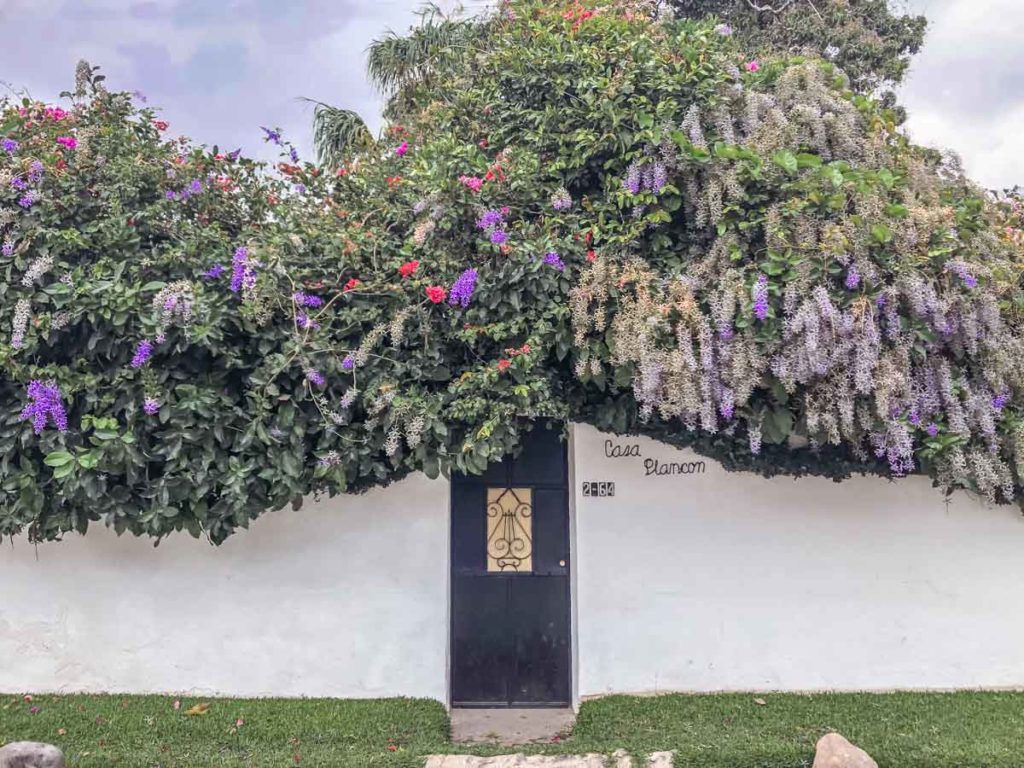 Panajachel is the biggest tourist town on the lake. I sometimes stay here on my way in or out of the region, but usually prefer to stay in one of the above towns if I can.
Panajachel does have a ton of artisan work for sale that shouldn't be skipped over. On one trip I did a hardcore shopping session at the Chichicastenango market (see below), but once I got back to Pana, I still found many things I liked that I hadn't seen in the market.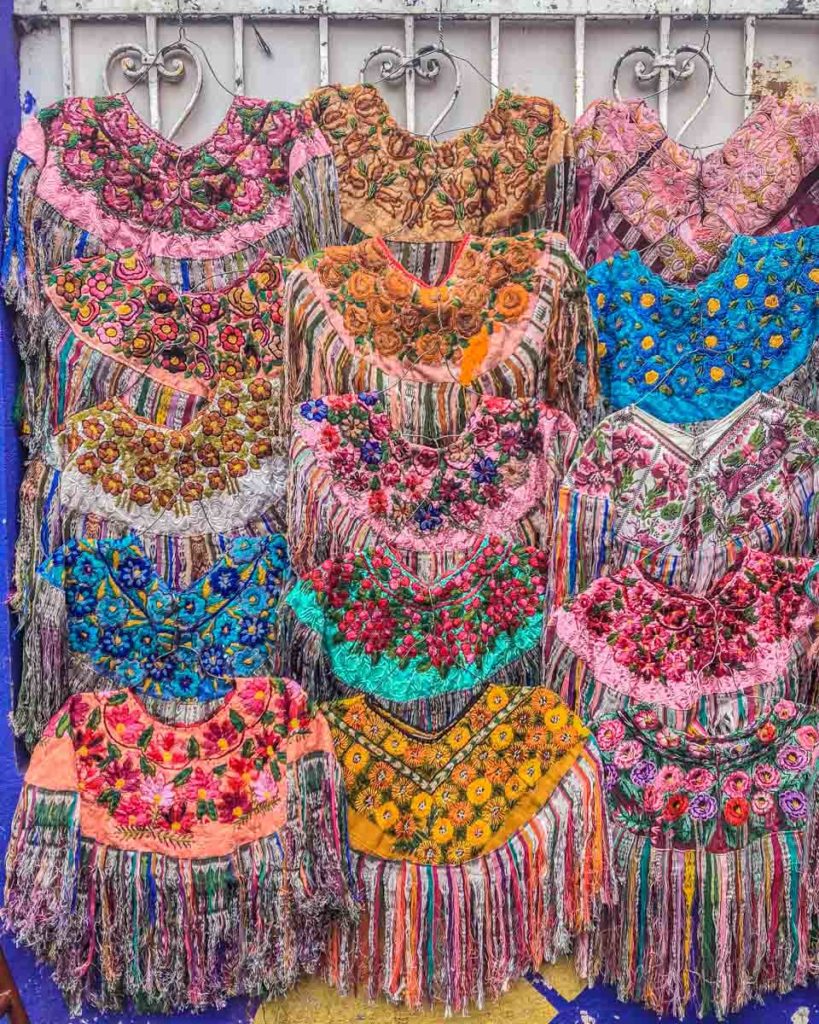 The main street, Calle Santander, is where you will find almost all of the market stalls.
San Pedro La Laguna: Best Places to Visit in Guatemala
San Pedro La Laguna is the second most touristed town behind Panajachel. It's on the larger side and attracts a backpacker crowd. If you are looking for action or nightlife, this would be the best village for you.
Besides that, it is still worth exploring some of the cobblestone streets, cafes, and lake views.
Santiago de Atitlan: Best Places to Visit in Guatemala
Santiago is a the biggest town on the lake, and really is more of a city. It's an interesting place to see real life in Guatemala.
It's quite far from most of the tourist destinations on the lake, on the opposite end from Panajachel. It takes more than an hour by boat to reach Santiago from that part of the lake.
When I visited Santiago, I went to visit Maximón – the very important saint celebrated here. He is housed in a new home once a year, a great honor to the family who guards and cares for him during that time. Another unique thing about Maximón is his love of smoking and drinking, a habit his hosts help him keep up with.
It has been several years since I've visited so if you are interested in a visit, I'd suggest checking out this post for a little more background, and this one for more logistics about how to visit Santiago Atitlan and Maximón.
Santa Catarina Palopo: Best Places to Visit in Guatemala
Santa Catarina Palopo can be reached by a tuk tuk from Panajachel. This traditional village is just starting to receive tourism due to Pintando Santa Catarina Palopó, a social community project that is transforming the town.
The project is painting homes and buildings all around the village. Each family chooses the color and design for their own home. The designs are based on elements from traditional huipiles from this town. The goal is to bring beauty to the community, increase tourism, and bring job opportunities.
You can come for a couple hours to walk the picturesque streets, do some shopping, and then enjoy the view from dock. If you see this michelada stand, I recommend ordering a refreshing frozen michelada.
You can arrive by tuk-tuk from Panajachel, or by boat. I enjoyed doing each method one way to get views from land and sea.
Other Villages: Tzununa and Jaibalito: Best Places to Visit in Guatemala
I haven't yet had a chance to visit the above villages but have heard great things about them.
Tzununa and Jaibalito are tiny villages between Santa Cruz and San Marcos. Jaibalito can be reached by walking along the lake-side walkway from Santa Cruz (or by boat taxi).
Find Flight Deals to Guatemala:


Do Yoga or Attend a Retreat: Things to do at Lake Atitlan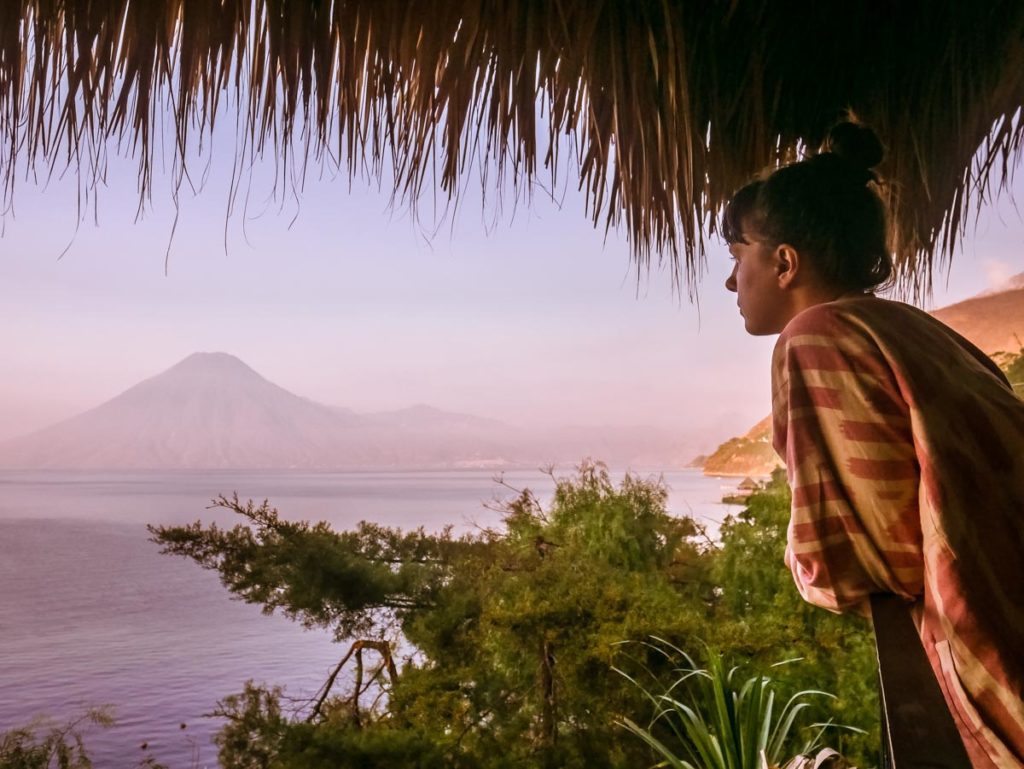 This region is known for wellness retreats, as it's a beautiful place to…well…retreat! And there are so many great resources and teachers here for all kinds of wellness methods, especially yoga.
I attended a wellness retreat at Villa Sumaya in Santa Cruz that I can highly recommend. It's a gorgeous space, with delicious healthy meals, talented teachers, and a wonderful staff. Check out my post above for full details.
You can also find plenty of options for yoga and meditation classes or other wellness resources to put together a la carte during your trip. If this is your preference, I'd recommend staying in San Marcos for ease of access.
Learn Traditional Weaving Techniques and Go Shopping in San Juan La Laguna: Things to do at Lake Atitlan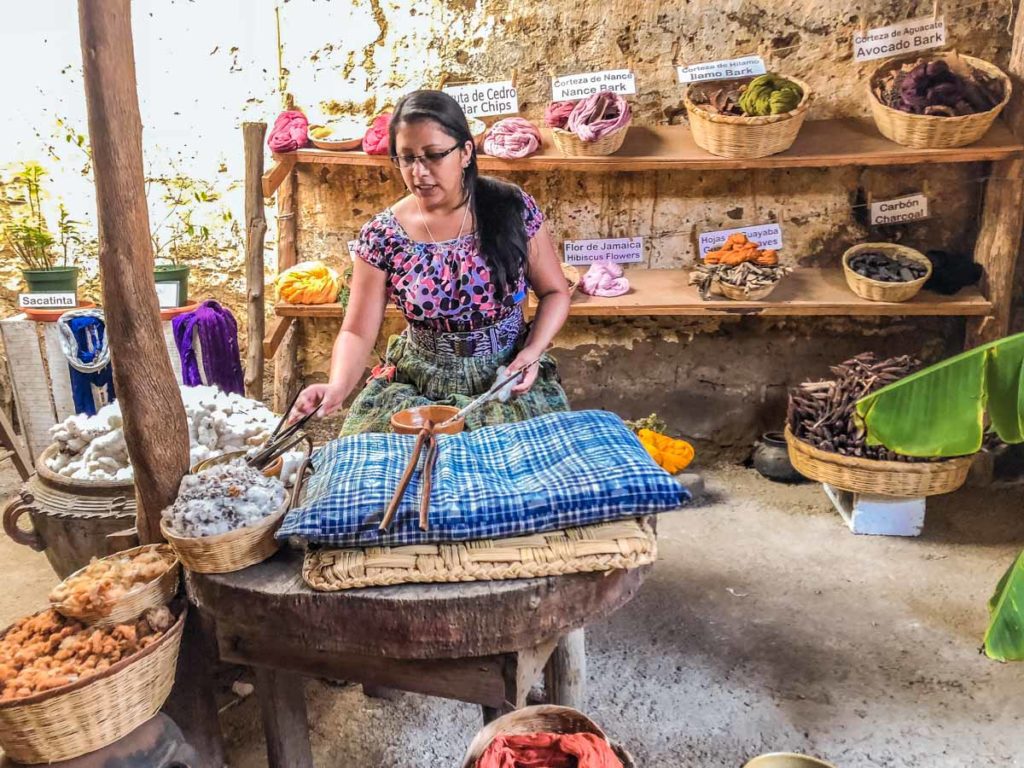 I have always been in love with textiles, and was fascinated to learn all about the traditional Mayan techniques on my first visit. I have continued to return to San Juan La Laguna each visit to learn more and see what beautiful textiles I can find in this village.
There are many women's coops in this town that will offer to show you a free demonstration of their process. This usually includes showing you how the fiber is spun, dyed with natural ingredients, and then woven on a traditional backstrap loom.
You can find lots of high quality artisan goods here. And if you visit a women's coop, the women artisans are being paid a fair wage for their work.
You can reach San Juan La Laguna by boat taxi from any village, or by tuk tuk from San Pedro.
Visit the Traditional Market in Chichicastenango: Things to do at Lake Atitlan
If possible, try to time your trip to Lake Atitlan for a side trip to Chichicastenango, the largest market in Guatemala and all of Latin America. The market days are on Thursdays and Sundays.
This market has some of the best textiles and artisan crafts in the country. If you like to visit local markets or are looking for a cultural experience, this is a must do!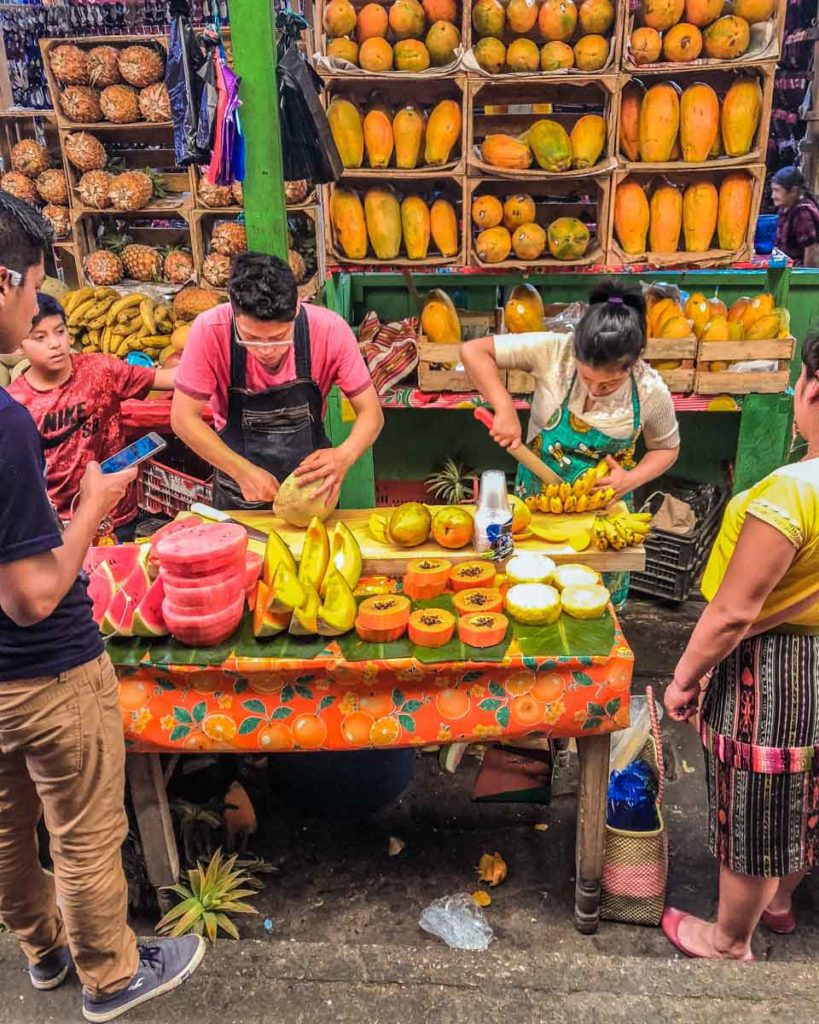 You can arrange a tour with transportation from any of the tour agencies around the lake. The easiest jumping off point is probably Panajachel.
Where to Stay: Lake Atitlan Hotels
My two favorite towns to stay are San Marcos La Laguna and Santa Cruz La Laguna, so I'll be focusing on Lake Atitlan hotels in these two lovely towns.
Here are my favorite Lake Atitlan hotels:
San Marcos La Laguna: Lake Atitlan Hotels
Satori: Lake Atitlan Airbnbs
Satori: Essence is an Airbnb on the edge of San Marcos that has one of the best views of any place I've stayed. This studio features a bed facing a huge window that looks out over the lake with a volcano view. It was such a huge pleasure to wake up every morning to sun lighting up the lake and mountains.
There is a bit of a steep climb to make it up the hill to reach the Airbnb, but it's totally worth it for this view. Or you can always hire a tuk tuk in town to drive you up.
Besides the view, the Airbnb is super comfy and beautiful. It has an elevated loft style living/dining area with a desk, a couch, and a full kitchen. Everything is new, in great condition, and easy to use. The bathroom is a mini tiny-house bathroom, but pretty with the stone details, and plenty of hot water.
If you prefer a more economic option, Satori: Utopia is a smaller studio with a kitchenette in the same building.
Lush: Lake Atitlan Hotels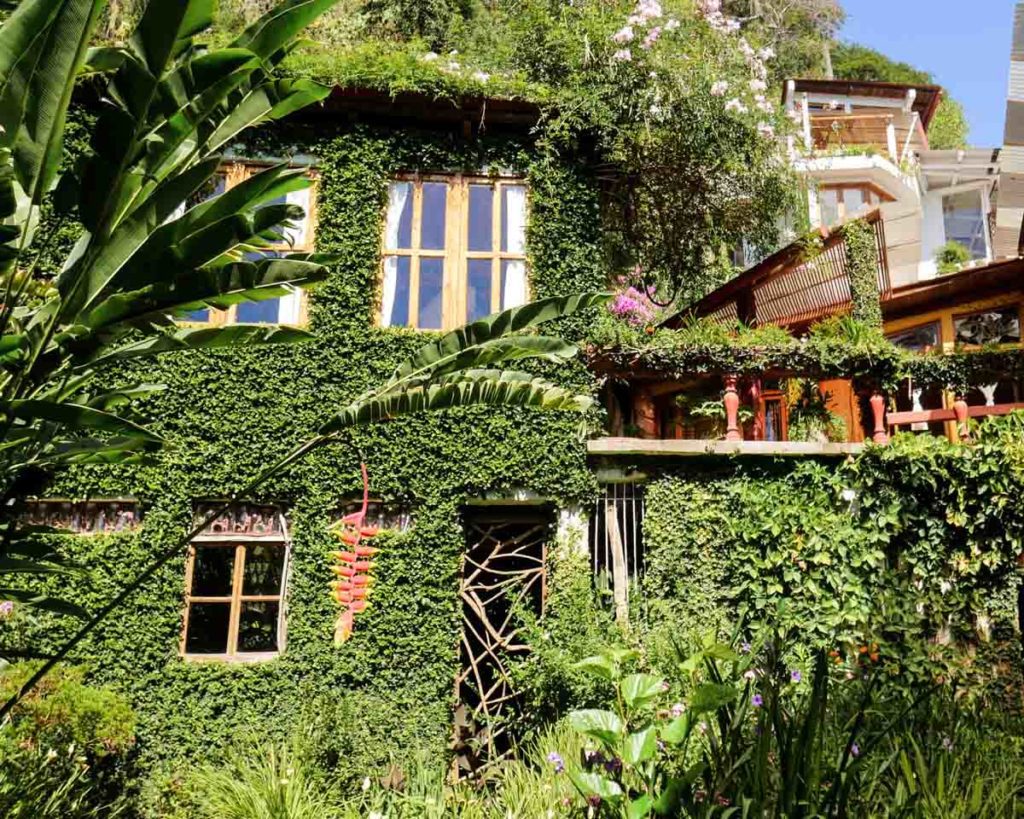 Lush is just that, so super lush. It's full of beautiful plants, trees, and tropical flowers. The buildings and rooms cascade down from the hill, many of them with spectacular views. There is an included breakfast each morning.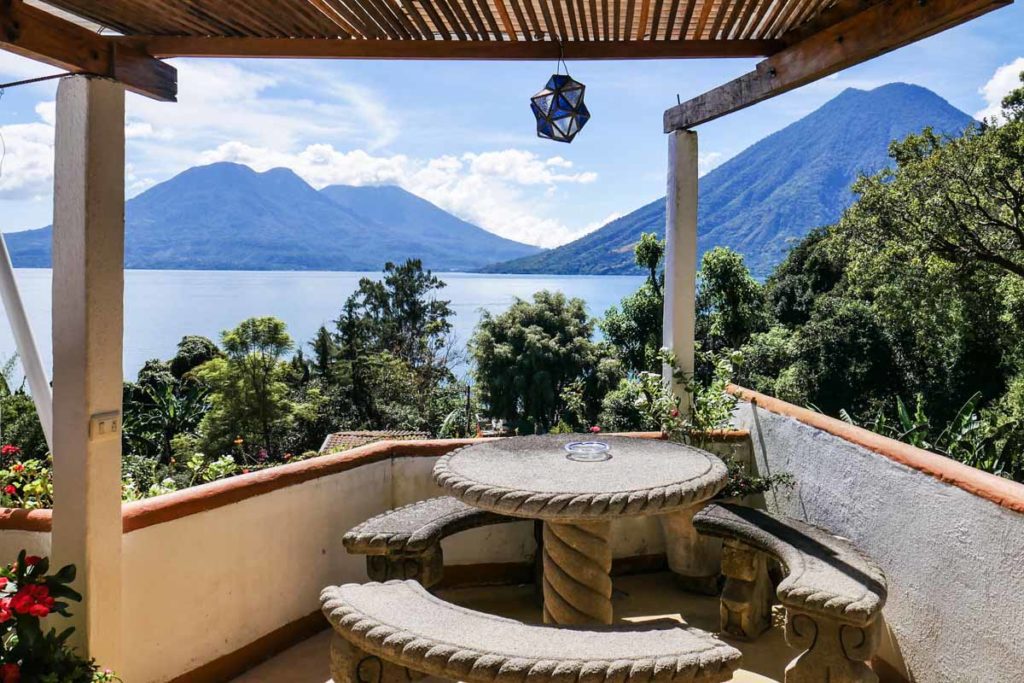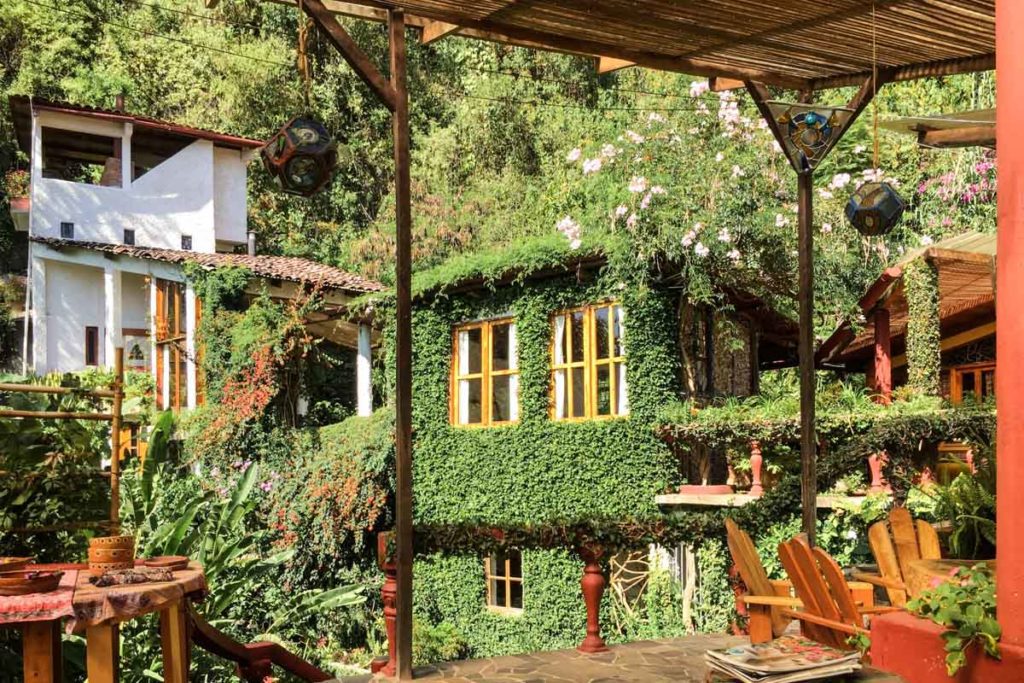 It's also a short walk from the center of San Marcos, which gives it a secluded in nature feeling, but just a few minutes from the middle of town.
This Lake Atitlan hotel has a range of rooms available from mid-range to deluxe suites.
Jinava Bay is the first Lake Atitlan hotel I stayed in and it was really lovely. It's not in the center of town, but on the main road (and lakeside) just outside of the center. However, it's still just a few minutes walk to the middle of town. It feels secluded and quiet, and the views from the rooms are amazing. Just keep in mind that you have to walk up and down stairs to enter the hotel, and up and down a hill to get to the town.
It's a good cost value for a Lake Atitlan hotel.
Hostel del Lago is the place to stay if you are on a budget, or want a social atmosphere. This San Marcos hostel is also one of my favorite places to practice yoga. They offer daily classes on their deck that overlooks the gorgeous lake.
They have dorms and private rooms available.
There is also a restaurant on site, and they often have events at night. Breakfast is included.
Santa Cruz La Laguna: Lake Atitlan Hotels
Isla Verde: Lake Atitlan Hotels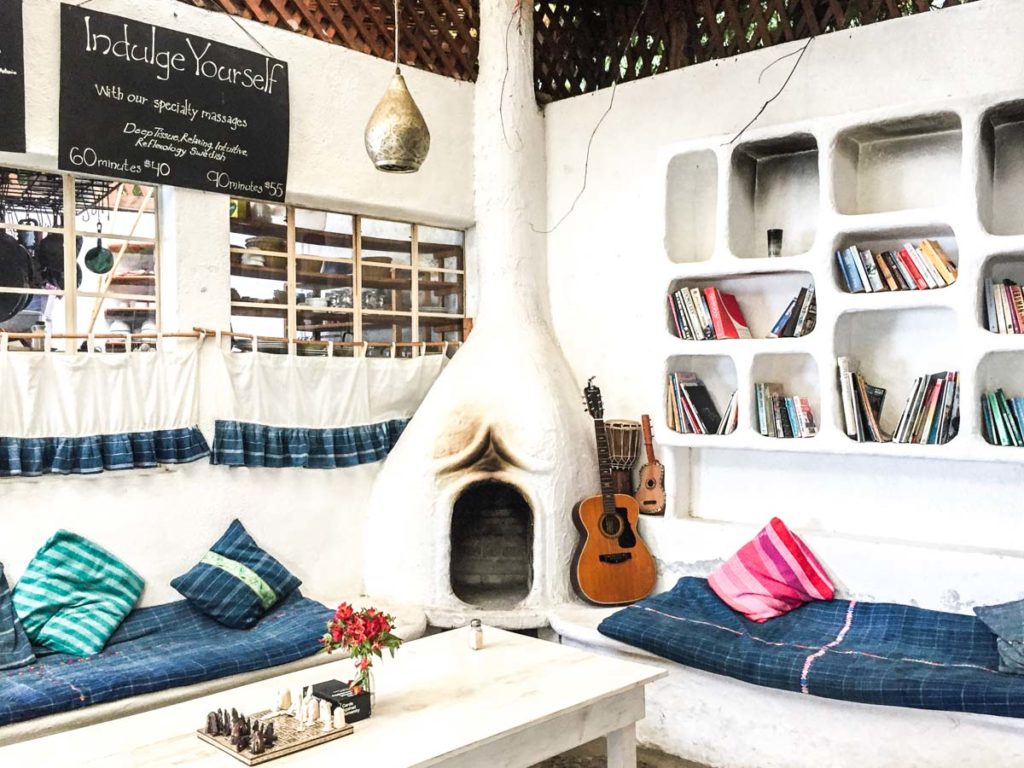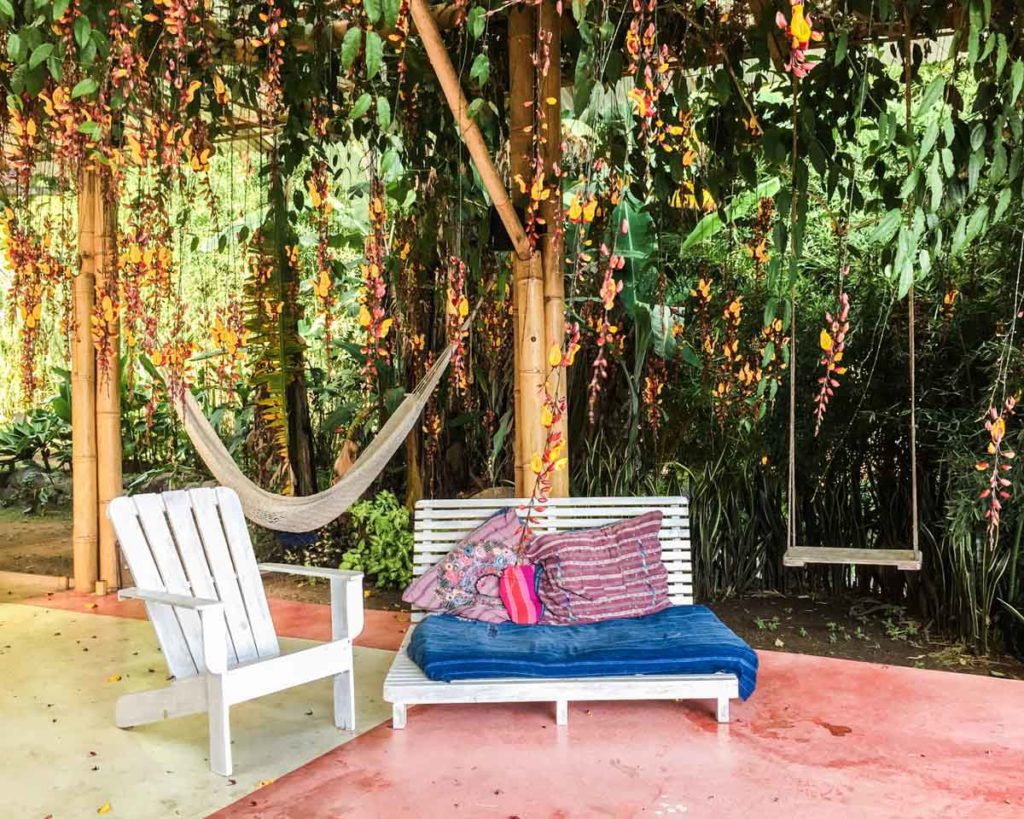 Isla Verde is a beautiful little boutique hotel a few minute walk from the main Santa Cruz dock.
This Lake Atitlan hotel has a lovely design, and a pretty yoga studio.
They also have an onsite restaurant and bar. Even if you don't stay here, you can follow the lake-side walkway to have an afternoon drink or bite on their deck with a lake view.
La Iguana Perdida is a Lake Atitlan hotel with a wide range of rooms, from dorms, to private rooms, to suites.
This is a good spot to stay if you want to be social and meet people. But it didn't feel like a party hostel to me – there was a wide range of ages and backgrounds. This Lake Atitlan hotel also offers a family communal dinner that you can choose to take part in. I loved meeting people at the dinners, the food was very good, and there would often be music or other events.
La Iguana Perdida is right next to the main Santa Cruz dock, so very easy to get around.
The onsite bar/restaurant is right on the lake with great views while you sip a happy hour beer.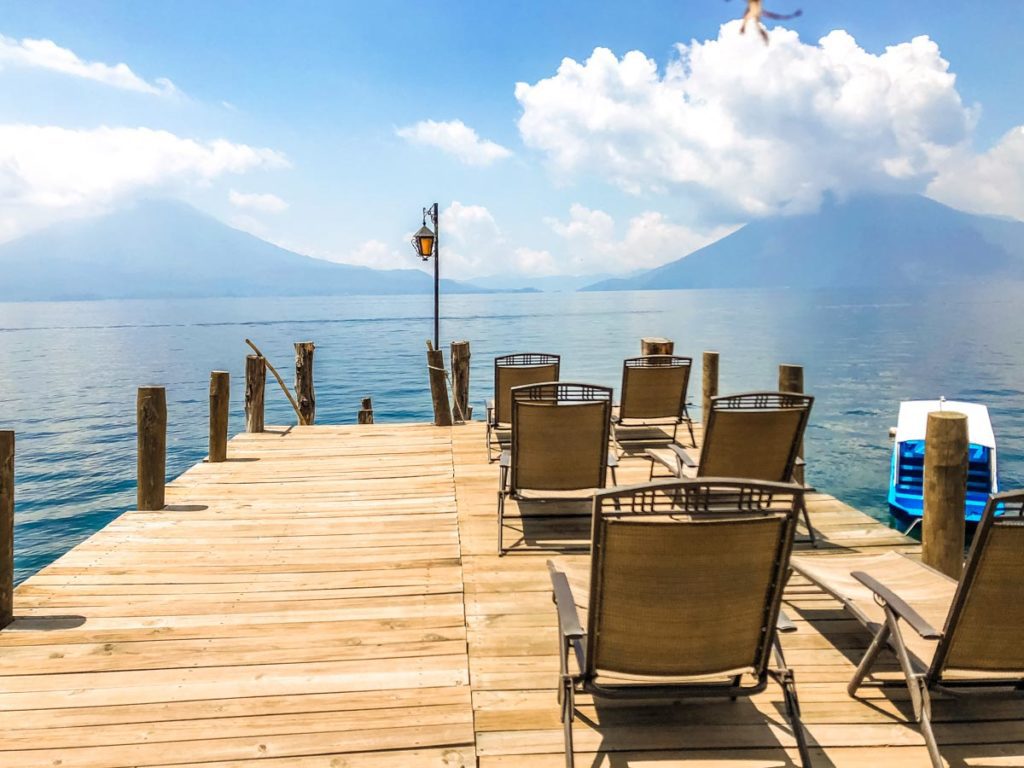 Villa Sumaya is a step beyond a typical Lake Atitlan hotel, it's a wellness center. But it also offers very flexible stay experiences based on what you prefer. You can choose to come on a personal or couple retreat, use the center as a hotel, and add on any wellness resources you might be interested in – like yoga classes, massage therapy, acupuncture, sauna, and more.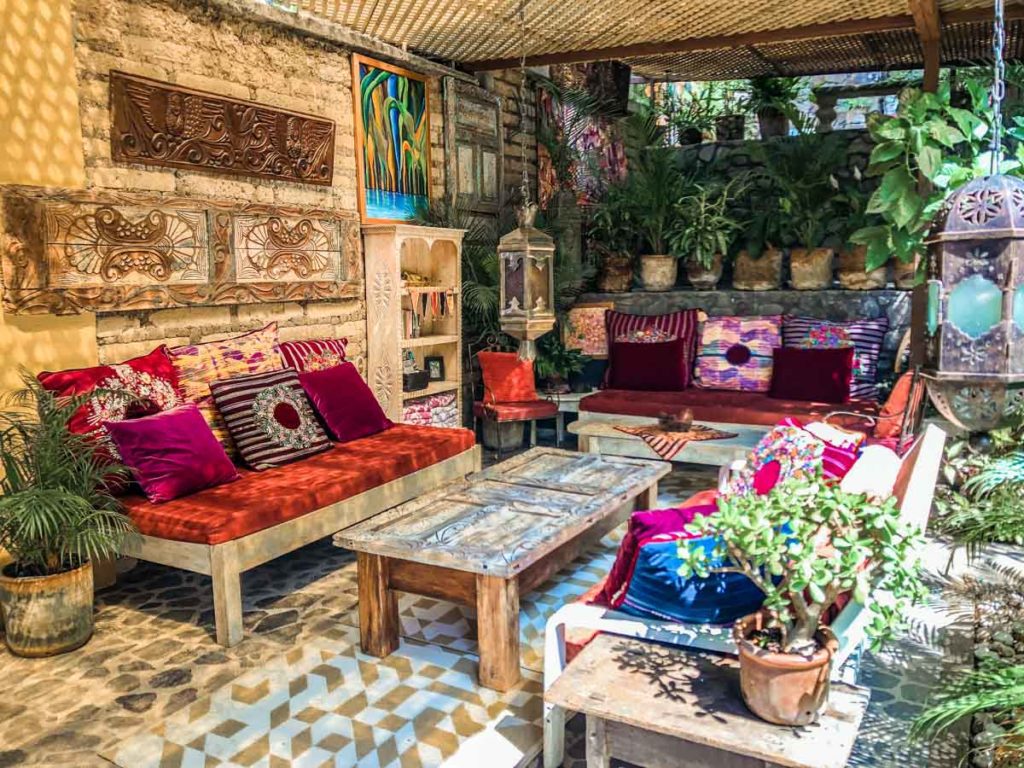 Villa Sumaya is on the shore of the lake about 15 minutes walk from the Santa Cruz dock. But you can also hail boat taxis here from the hotel's own dock.
The grounds are gorgeous, full of leafy greens and flowers. There are countless little patios and spaces to sit, read, think, meditate, nap, or chat. The center offers 3 delicious meals a day, and has very comfortable rooms and suites.
More Lake Atitlan Airbnbs or Hotels: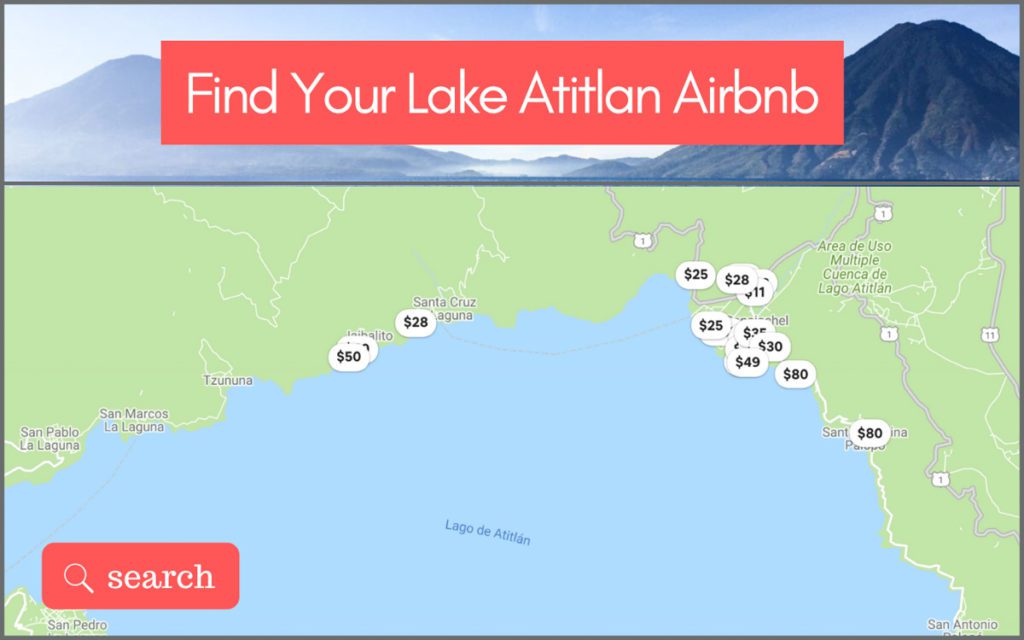 Lake Atitlan is a gorgeous natural area full of strong culture, and opportunities to rest, exercise, learn, or do whatever you prefer. It's definitely one of the best places to visit in Guatemala with some lovely Lake Atitlan hotels for every budget.
Pin it for Later!