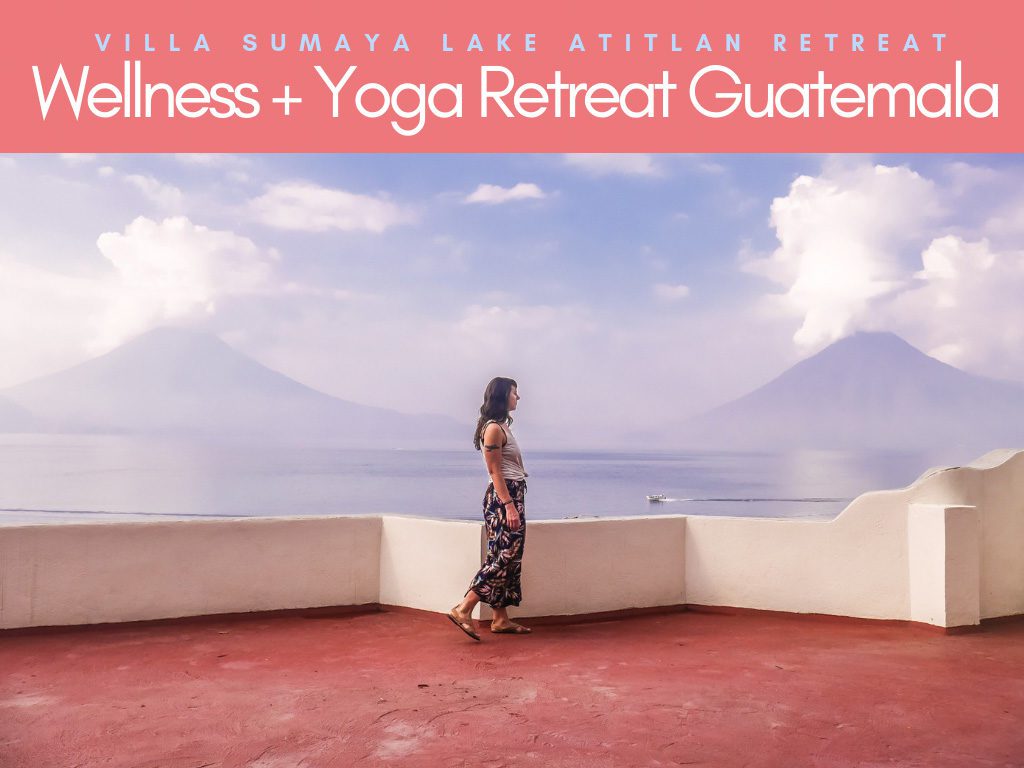 A couple of months ago, I started planning a solo trip, but wanted to be in a space where I would: 1) meet interesting people and 2) have a meaningful experience. I had planned on finding a yoga retreat somewhere in Central America, and when I stumbled on Villa Sumaya, Lake Atitlan retreat, I knew I had found the perfect option. This wellness & yoga retreat Guatemala had glowing reviews, was in a stunning location on Lake Atitlan (a place I already deeply loved), and had lots of resources to work on whatever personal journey you were interested in.
Disclosure: This post was written in partnership with Villa Sumaya. As always, every thought, opinion, and experience is my own. I truly had a transformational experience at this wellness center.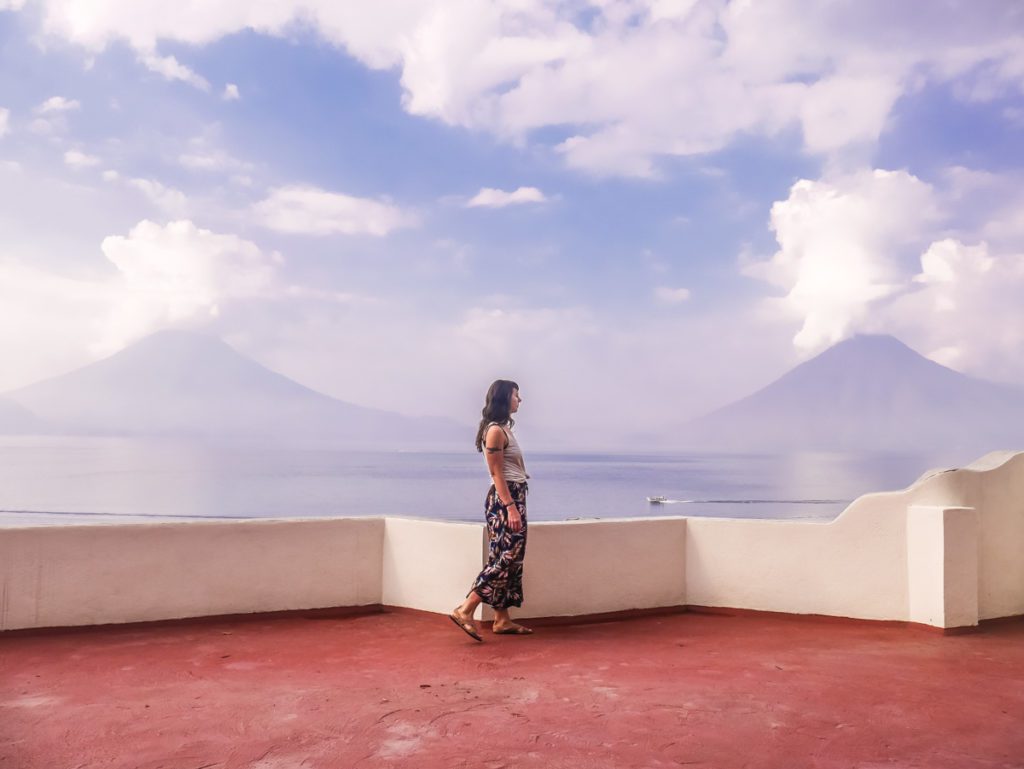 How it Works: Wellness + Yoga Retreat Guatemala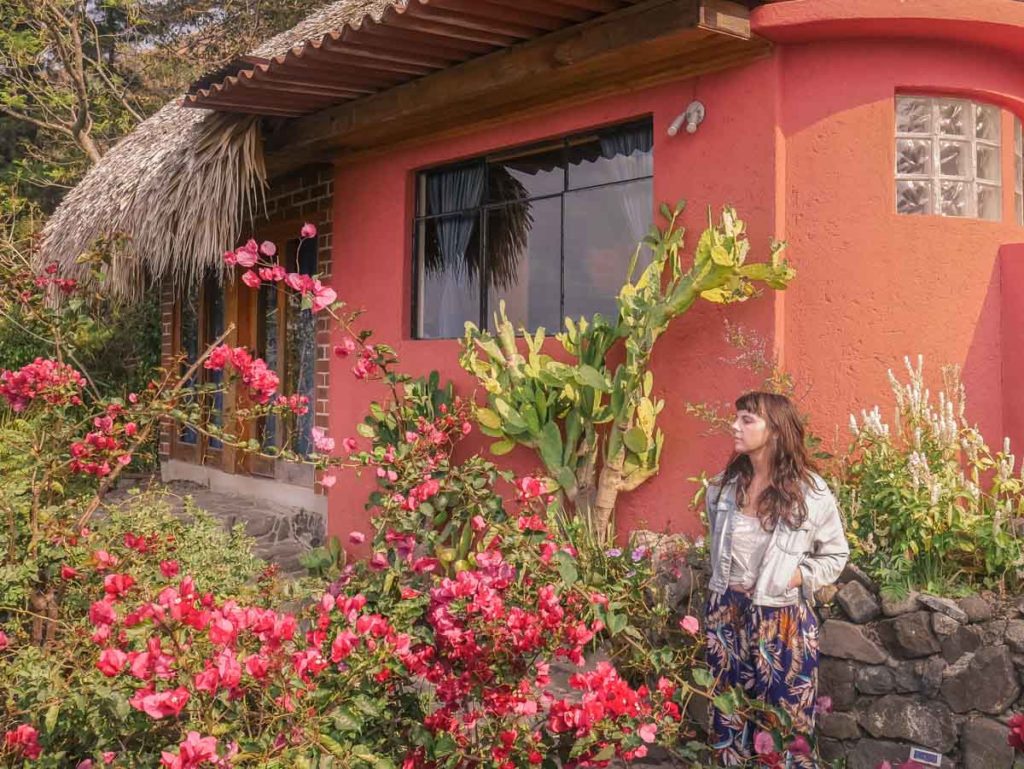 Villa Sumaya has been in operation since 2001 and has a unique approach to their retreat system. Group retreats come in and out of the retreat center – many of them yoga retreats, but there are also a variety of other types of groups who hold their retreats here. During my stay, there was a pole dancing retreat.
In addition, the retreat center is always open to personal retreats. This is the option that I chose. Personal retreats are totally customizable. You can come for however many days you want and whichever dates you have available. You can choose to have all your meals included, and then add on yoga classes, spa treatments, acupuncture, and any other wellness resources that you would like. There are a plethora of options available (more on that below), so you can really have the customized experience that you are looking for. The common thread here is wellness – finding an experience that will help you improve your health, your mind, your perspective, or whatever it is that you need.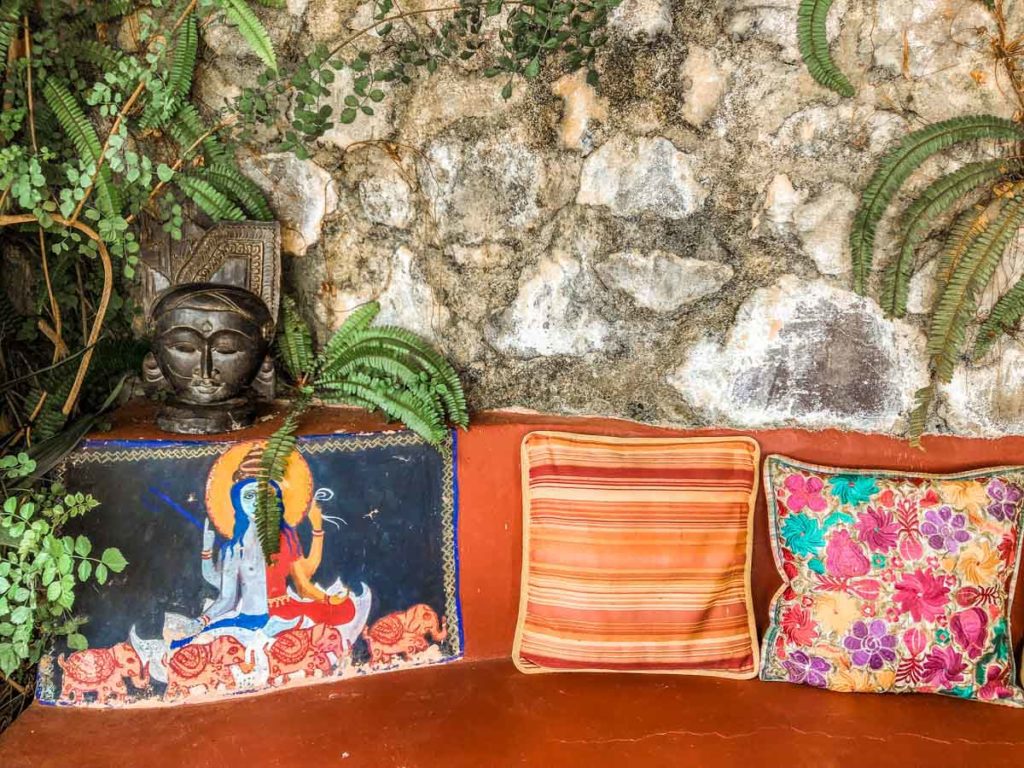 Besides the group that was onsite for most of my retreat, there was one other woman doing a personal retreat. We both had different goals and approaches, so enjoyed the facilities in our own different ways.
I loved the communal, social atmosphere at Villa Sumaya. The other woman on the personal retreat and I ended up becoming friends and spending a lot of time together. I also really enjoyed getting to know a lot of the people attending the group retreat. Villa Sumaya is set up so that you can socialize or spend time alone, as you like. I really appreciated the communal atmosphere and the types of interesting, and thoughtful people that this Lake Atitlan retreat center attracts. Meeting people was a big goal of mine, and I was able to meet many wonderful people who I had great conversations with and still keep in touch with.
Comfortable Rooms with a View: Wellness + Yoga Retreat Guatemala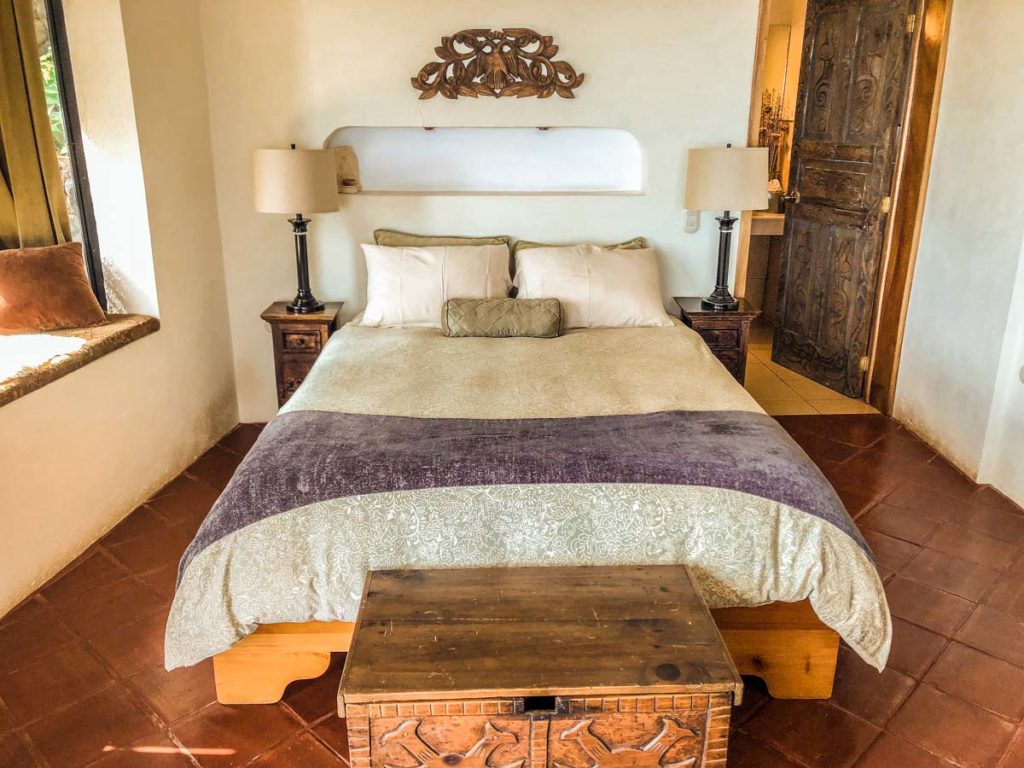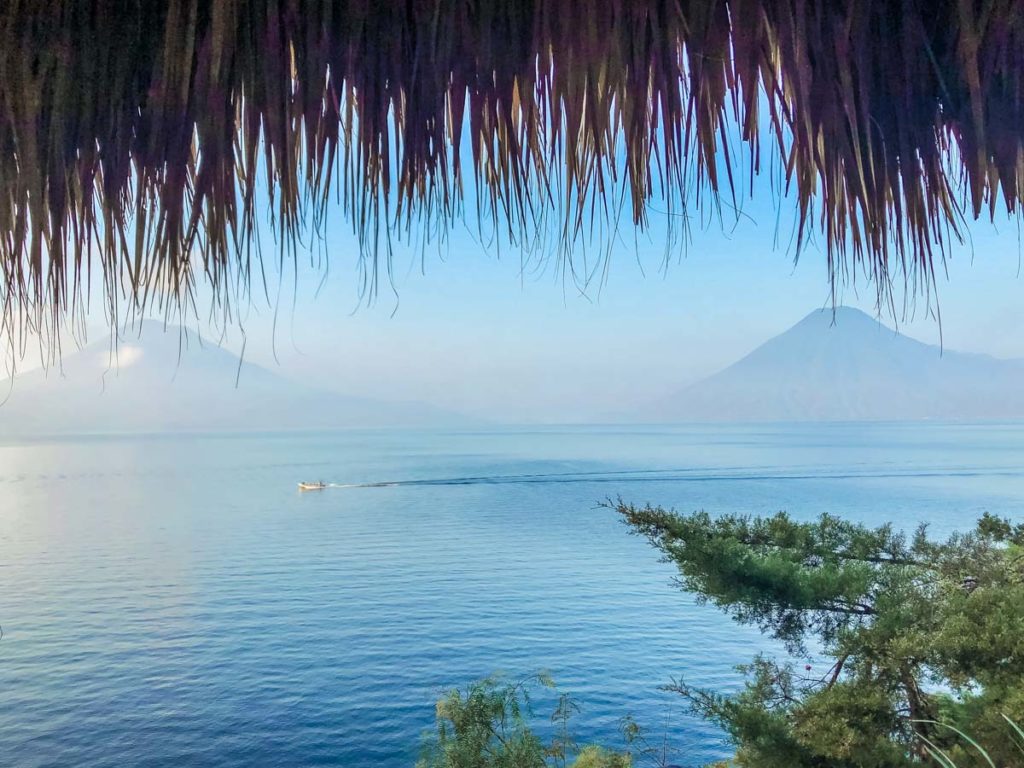 The rooms at this wellness + yoga retreat are scattered across the sloping hill that rises out of the lake. There are a variety of types – from rooms in house structures, to stand alone villas.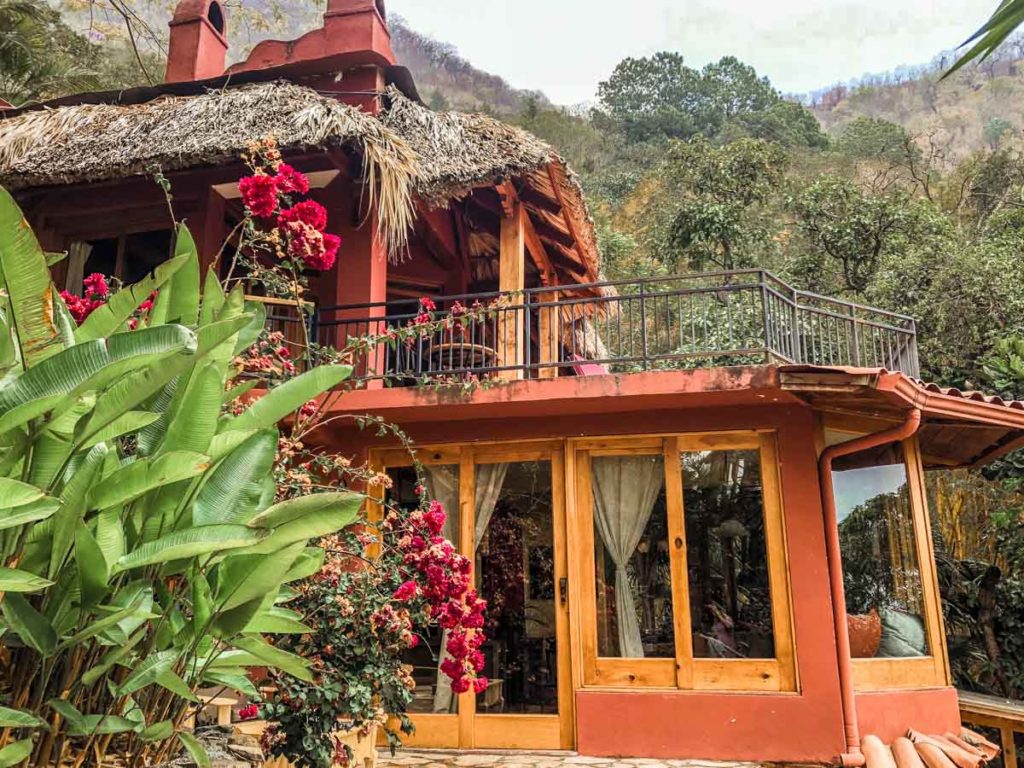 My room was near the top of the room area, and had an absolutely stunning view of the lake, both from my private balcony and from inside the room. Though I suspect almost every room or space outside of a room has a view – the way the hill rises out of the lake means that you can have a lovely view from wherever you are.
My room was well furnished and made me feel right at home. It had a very comfy and plush bed with luxurious bedding. There was an armoire to store my clothing, a suitcase stand, a desk and chair, and a balcony out front with chairs and a small table. I spent several times a day on this balcony, gazing at the lake. This was the perfect place to spend a quiet morning meditating, thinking, or watching the sunset in the evening.
The desk faced the picture window and had a stunning view. Since I had to do some work while here, it was wonderful to do it while occasionally looking up and gazing out at the blue water of the lake and the volcanoes across the way.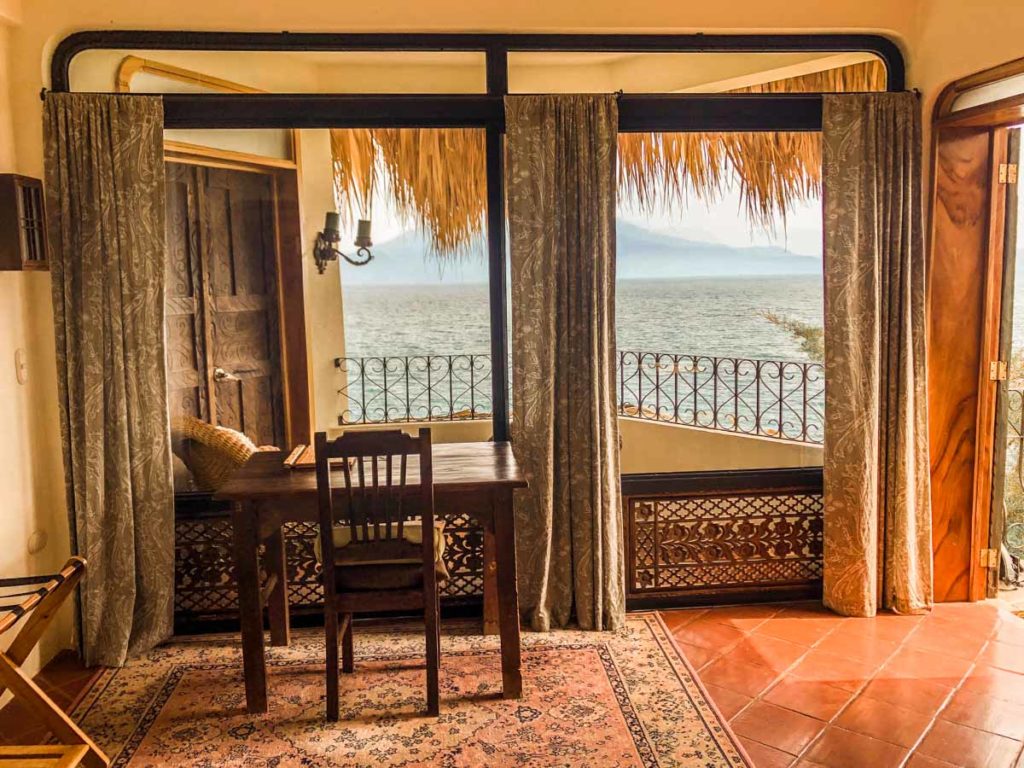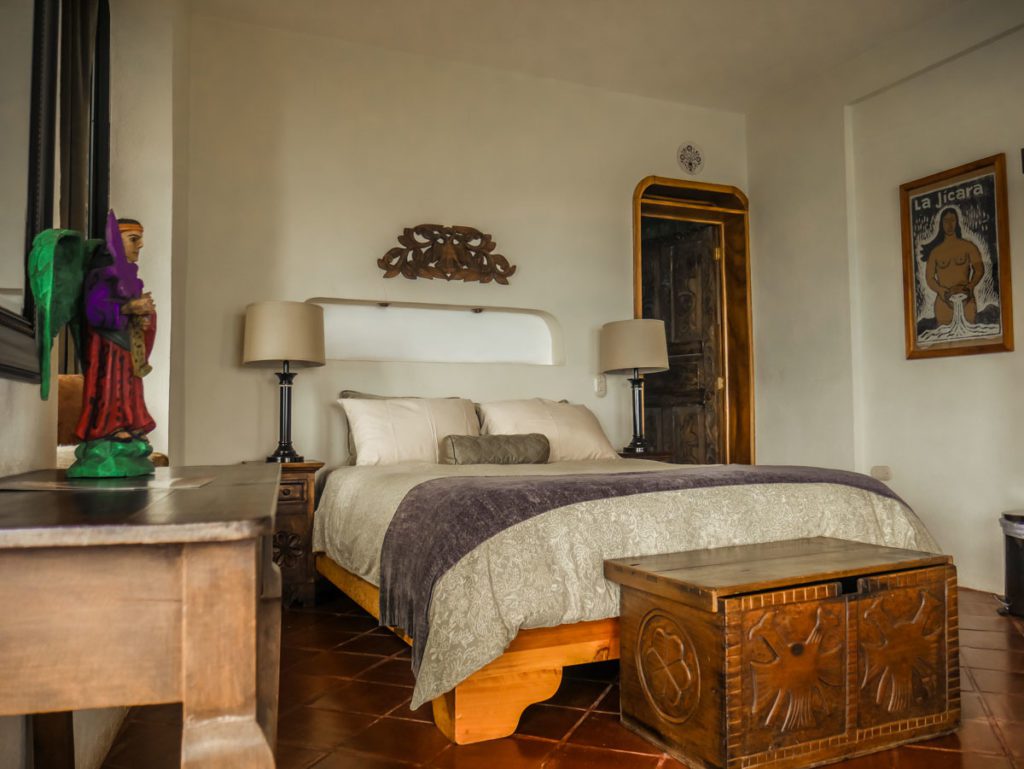 The bathroom was huge, with everything I needed. I appreciated that they had a system to dispose of plastic and paper inside of containers that would then be used for sustainable building projects. I also appreciated that all shower products provided were in large bottles that were refilled – to reduce the waste of all those small hotel bottles.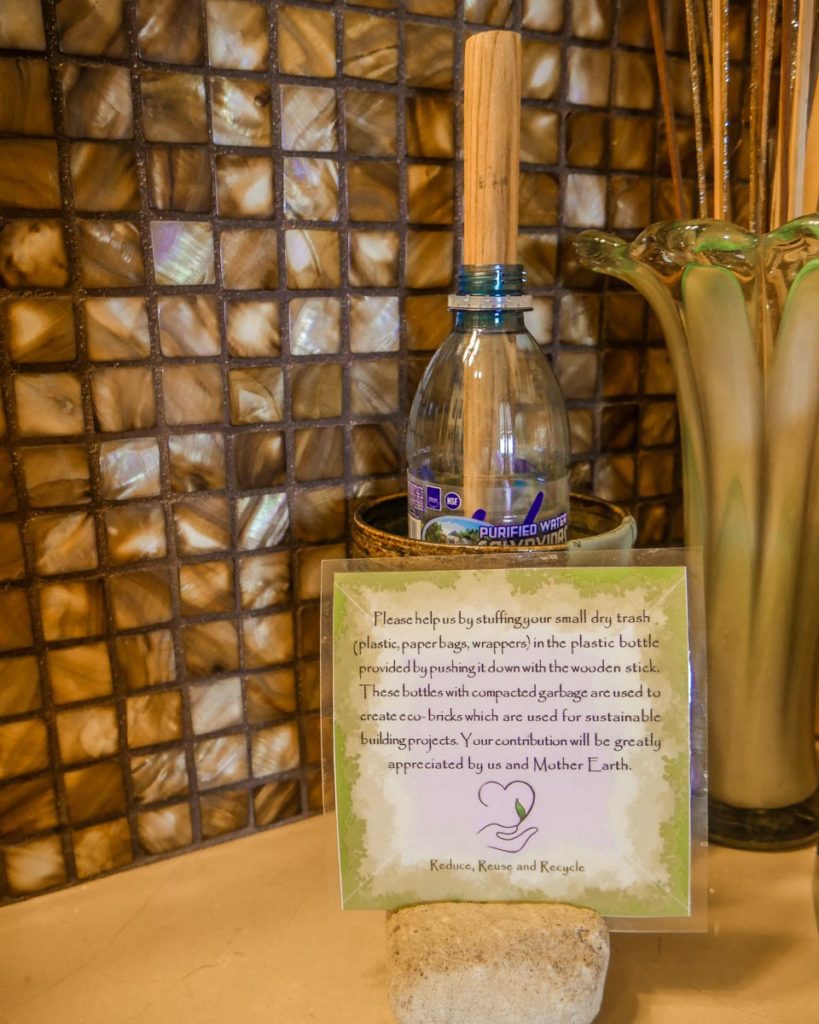 The towels and bathmat in the bathroom were ultra plush. All the facilities were modern and worked well.
Beautiful Common Spaces: Villa Sumaya Lake Atitlan Retreat
The grounds at Villa Sumaya are huge and sprawling. It makes for lots of options to explore, hike, or find little corners to relax and find solitude at this wellness + yoga retreat Guatemala.
I spent a few different days walking in different directions to explore. You can climb up quite high, up near where they farm ingredients for the on-site restaurant, and get even more stunning panoramic views. If you like the jungle, leafy greens, and nature, you will love strolling the grounds here.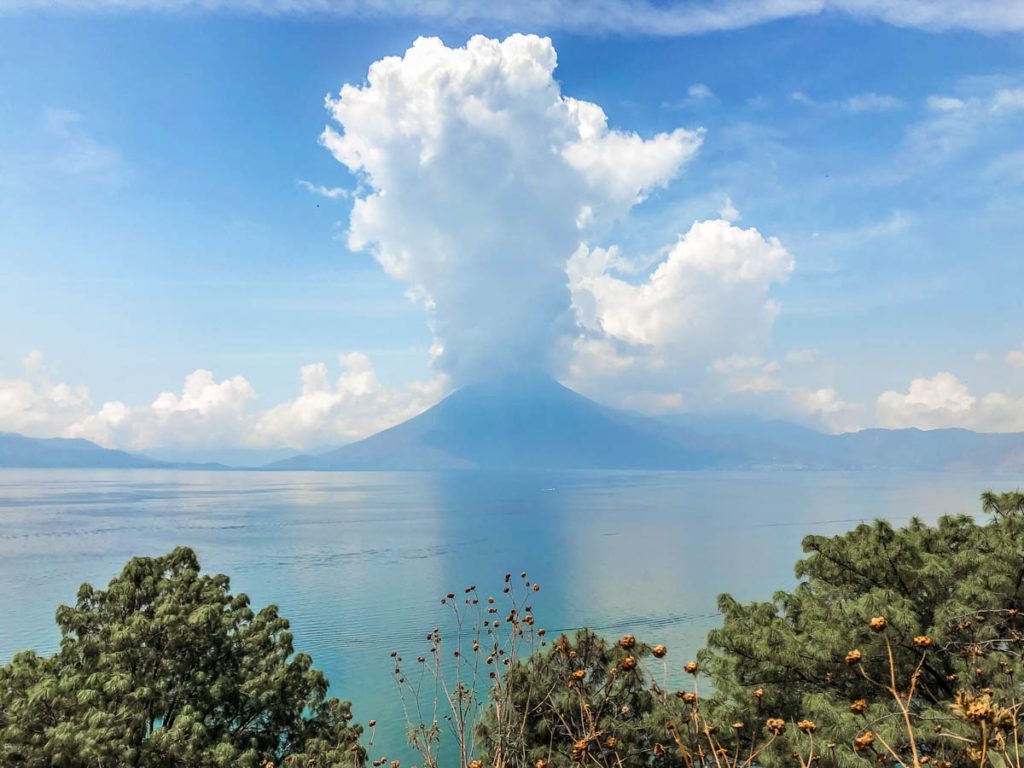 Besides the walking, there are so many beautifully decorated nooks to hole up in. There are tons of sitting areas and mini patios all over the grounds. Even if there is a retreat group, you can surely find your own space – there are just so many options.
There is also a solar powered hot tub to enjoy, lots of hammocks hanging here and there, flat grassy areas, and lush jungley areas. You can find any space at this Lake Atitlan retreat for your mood.
Healthy Vegetarian Meals: Wellness + Yoga Retreat Guatemala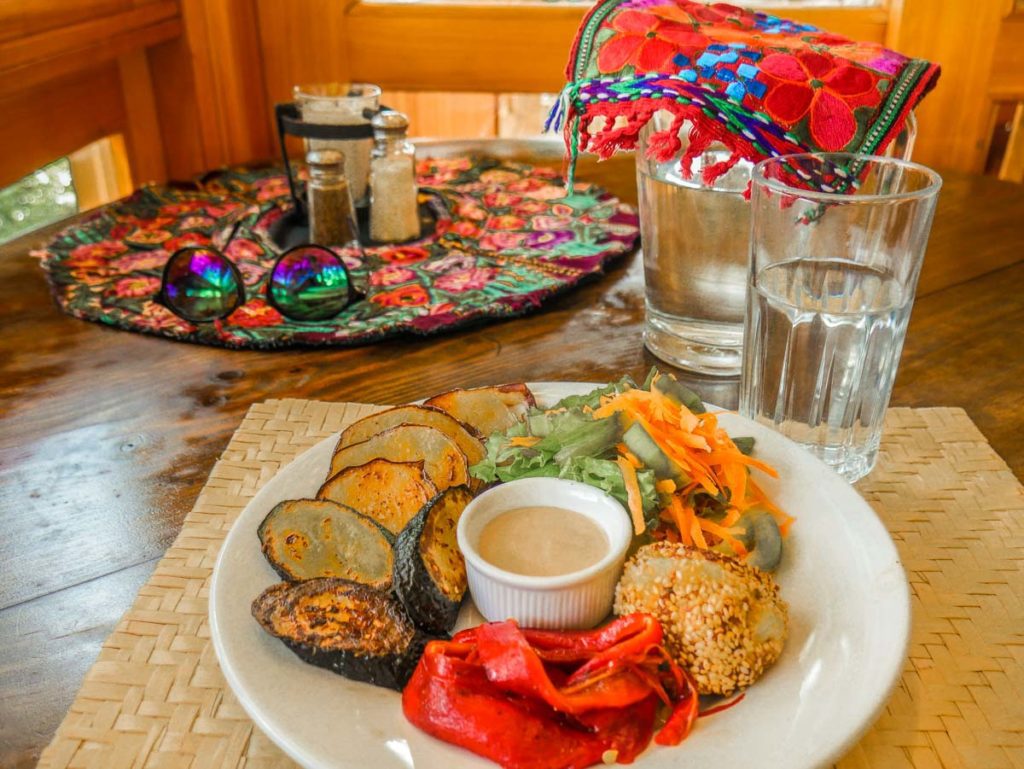 Most packages at this wellness & yoga retreat Guatemala include 3 meals a day. All meals are very healthy and are vegetarian. You can choose to switch to chicken or fish for an additional fee if you request this option ahead of time.
If there is a group retreat at the grounds, all meals will be served buffet style. This was the case for me for almost all of my meals. The quality of the buffet was impressive – everything was fresh, the right temperature, and the right texture. And the meals were really tasty and rotated – so you wouldn't eat the same thing in the same week.
There were also always gluten free and vegan options available.
I did have one meal before the group arrived. For this circumstance, I ordered off the menu, and was served a meal as in a restaurant.
There is a 24 hour self-service bar with unlimited local organic coffee, organic teas, and water available. The tea selection in particular is amazing – so many varieties to choose from, all delicious, and several right from the grounds.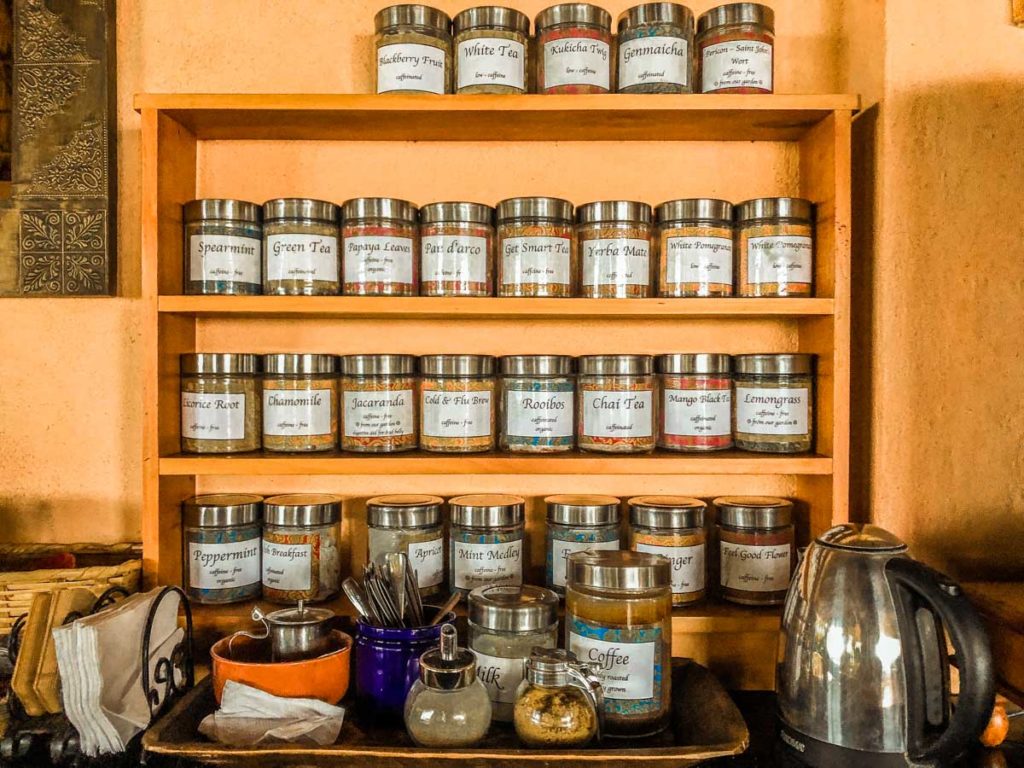 You can also choose to order an alcoholic beverage for an additional fee.
The dining room is gorgeous. It's lined on all sides with giant windows to enjoy the lake view and the leafy gardens. There is an outdoor section as well, and most tables are large to encourage family style meals and conversation. My meals and chats with the other retreat goers were a highlight each day.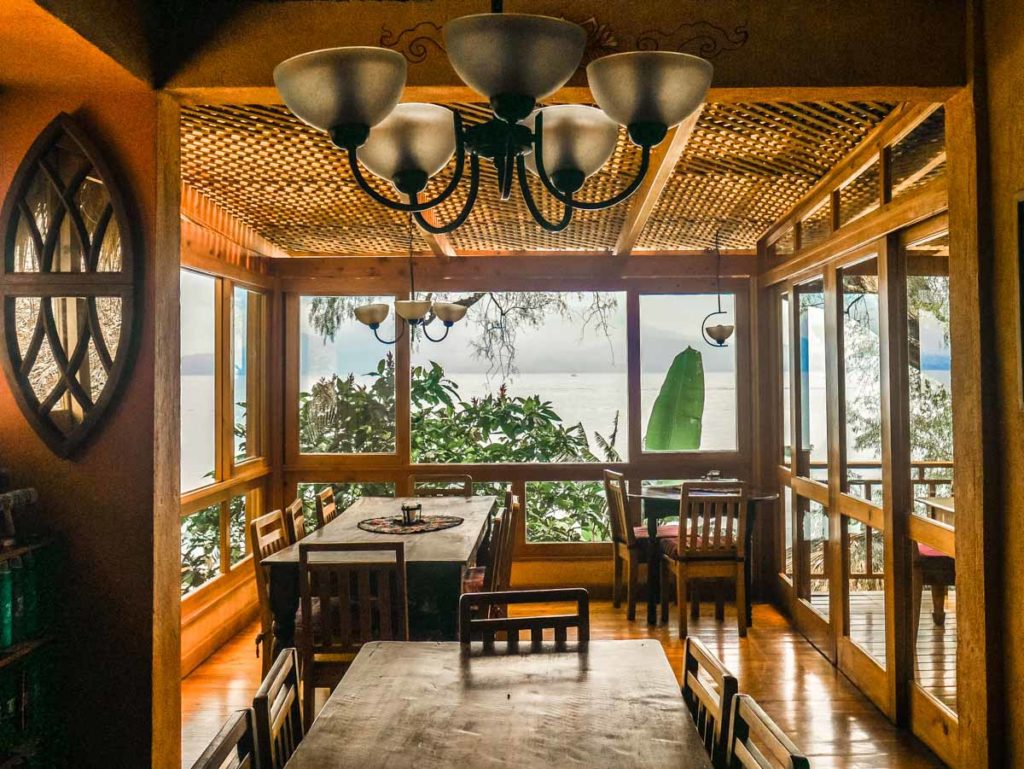 Yoga Classes: Villa Sumaya Lake Atitlan Retreat
There are a few different yoga teachers and yoga styles available at this Lake Atitlan retreat. I was able to take two classes with the wonderful Ayurveda Yoga teacher, Dee Leborgne.
I had never tried Ayurveda before so it was very interesting for me to learn about the philosophy behind it. I loved that the classes were very well rounded – they included lots of breath work, internal work and visualization, as well as challenging physical portions.
I also really loved Dee's style. She is a warm, empathetic, and intuitive teacher with amazing energy. I would highly recommend her to anyone at this wellness & yoga retreat Guatemala.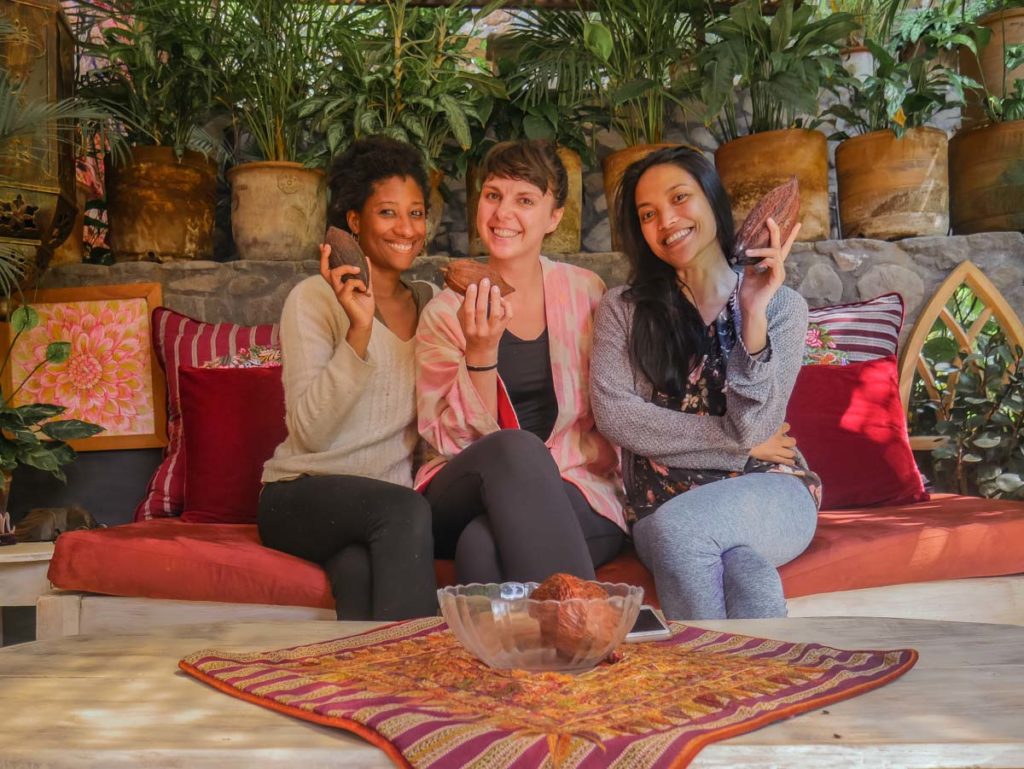 There are two temples to use on site, plus a few other yoga/group spaces. These two temples are gorgeous, spacious, and have stunning lake views. If there is a retreat group using one of the temples, the other is usually available for personal practice. They are really inspiring places to work on a personal yoga practice or do some meditation.
Wellness Resources: Wellness + Yoga Retreat Guatemala
Besides the variety of yoga styles and teachers, there are several other wellness resources at this Lake Atitlan retreat.
Many spa services are available, including Swedish, Thai, Reiki, reflexology, energy healing, acupuncture, and meditation instruction. There are a variety of practitioners available for these services, and I had a chance to meet some of them and hear about experiences from some of the other guests.
There is also a complimentary stone solar powered hot tub to enjoy. Or you can choose to reserve their electric sauna for an additional fee, or book a sweat ceremony in their lakefront sauna.
Peaceful Location with Side-Trip Options: Villa Sumaya Lake Atitlan Retreat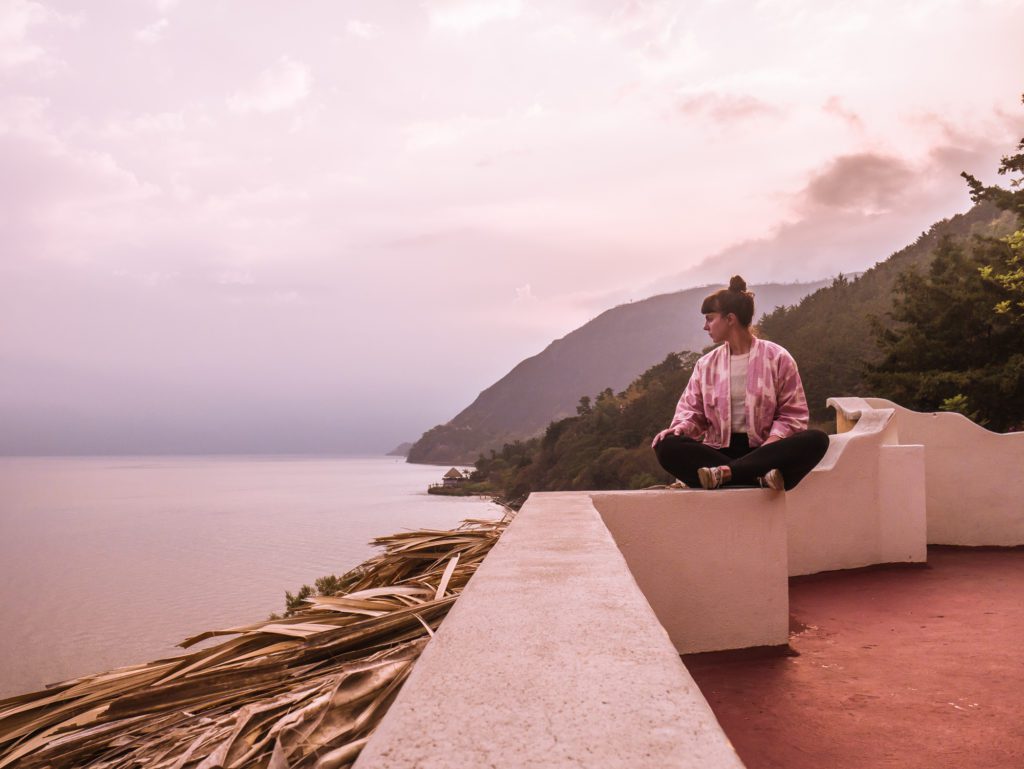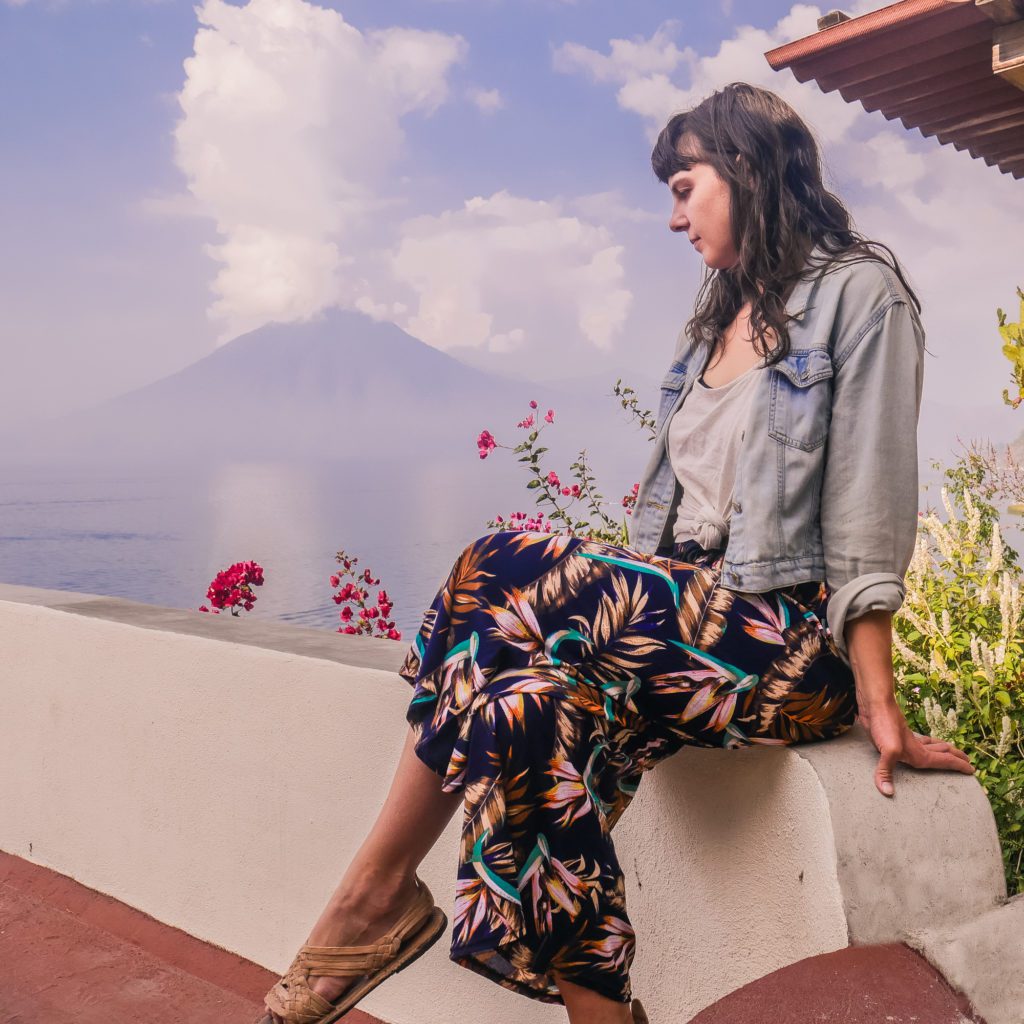 The location of this wellness & yoga retreat Guatemala is incredibly peaceful. If you want to totally disconnect, you can just stay on the grounds, envelop yourself in nature, and relax.
However, there are a lot of options for activities if you choose. You can walk 15-20 minutes along a lakeside path to the little town of Santa Cruz. Or you can catch a boat taxi from the retreat's dock and head to any of the 11 traditional villages along Lake Atitlan.
All these villages are different, so you can choose to visit the bustling San Pedro, the textile heaven of San Juan La Laguna, the hippie haven of San Marcos, or the traditional town of Santiago, to name a few.
Or you can choose to do guided hikes around the lake, a hike up the San Pedro volcano, or a trip to the traditional Chichicastenango market. You can also kayak off the dock, swim, and bird watch on-site. Check out my full guide for the best things to do at Lake Atitlan.
Warm + Helpful Staff: Wellness + Yoga Retreat Guatemala
I spent 5 days at this wellness & yoga retreat Guatemala and felt cared for by the staff the entire time. Anytime I had a question, someone was available at, or near the front desk. Anyone I talked to was warm and helpful.
One evening I found a spider in my room after returning from dinner (Lake Atitlan is a very lush natural area, so some interaction with nature is to be expected.) When I went to reception to ask for some help, one of the staff members happily and immediately came, carefully removed the spider from my room and brought it outside. I felt silly to ask, but they made me feel very comfortable about my request. And I was able to sleep easily and soundly.
Everyone who works here always seemed to have a smile or would be laughing. It felt like a very happy, family-esque atmosphere. Many staff members speak fluent English as well as Spanish.
Final Thoughts: A Space to Be Used For Exactly What You Need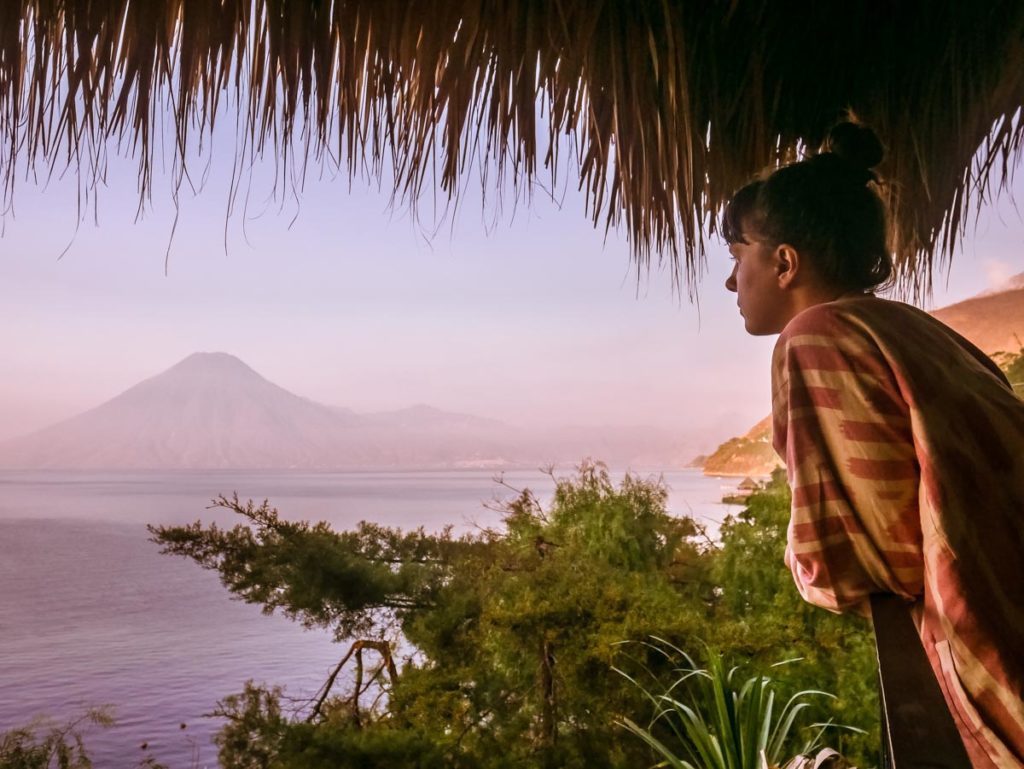 The unique thing about this wellness & yoga retreat center is that it can be whatever you need it to be. I shared the space with many women on a pole dancing retreat that were improving their techniques for their sport. Meanwhile, I was working on my personal journey. And to be honest, I didn't know exactly what that was when I arrived. But I ended up having a very transformational week.
I approached my time at Villa Sumaya with an intention to be open to anything. I ended up spending lots of time with many new women who had different perspectives and lifestyles – and I loved learning from them. I was also proud of myself for pushing out of my comfort zone, as I'm an introvert, so living amongst strangers isn't necessarily natural for me.
But this Lake Atitlan retreat also gave me plenty of time to myself. I could spend a couple of hours in my room working, or on my balcony thinking, or writing in my journal on the roof terrace above my room.
I spent time every day meditating, journaling, thinking, and talking to new people. I also was able to take 2 beautiful and affecting Ayurveda yoga classes with Dee that made a huge difference for my mindset and perspective. By the time I left the retreat center, I had clarity about changes I wanted to make in my daily life and my yoga practice.
I think I was lucky to meet some really wonderful people during my time there. But I believe that this retreat center must attract thoughtful and interesting people. I'm in contact with several people from my experience there that I expect to stay in touch with for a long time, and see again in the future.
For someone who is open and looking for a transformational experience, you can absolutely find it here at this beautiful wellness center. Or if you are looking for a chance to disconnect, to rest, or improve your health, Villa Sumaya has so many resources for your journey, and the setting and staff are the perfect additions to help you along.
Pin it for Later!