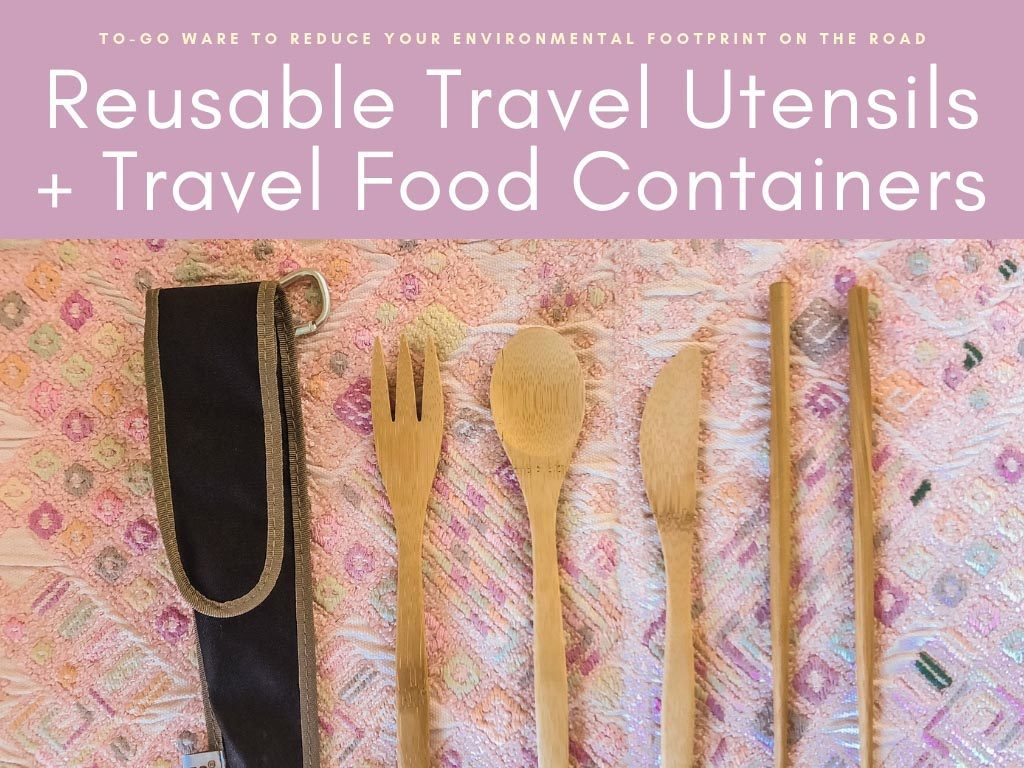 I'll be honest, I spent a few years of travel being lazy about my environmental choices. When I was traveling full-time, I didn't feel like I had time to research and find natural, healthy, and sustainable products. Now I know that was an excuse (I could have made time) so I've become determined to cut out all of my plastic and wasteful usage one by one. I was excited to find these reusable travel utensils and travel food containers by To-Go Ware , to help cut out unnecessary plastic utensils and to-go food containers.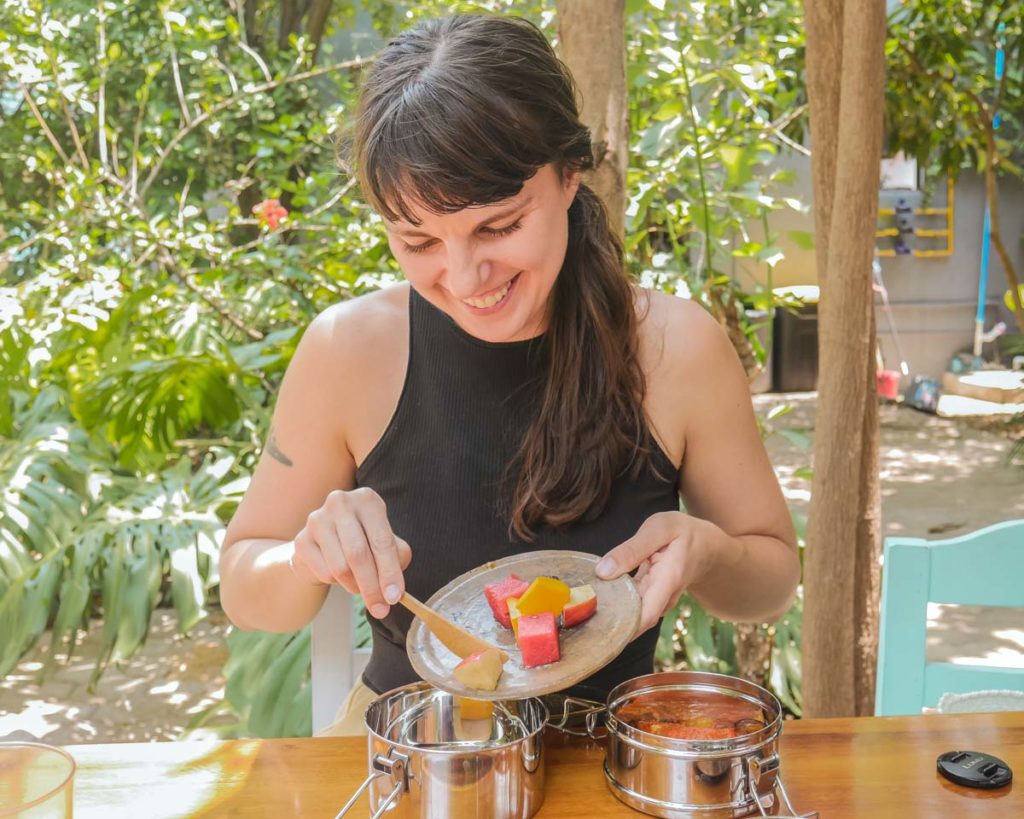 Disclosure: This post was written in partnership with To-Go Ware. As always, all thoughts and opinions are my own. I contacted To-Go Ware because I was excited about their products.
Reusable Travel Utensils: Bamboo Utensil Set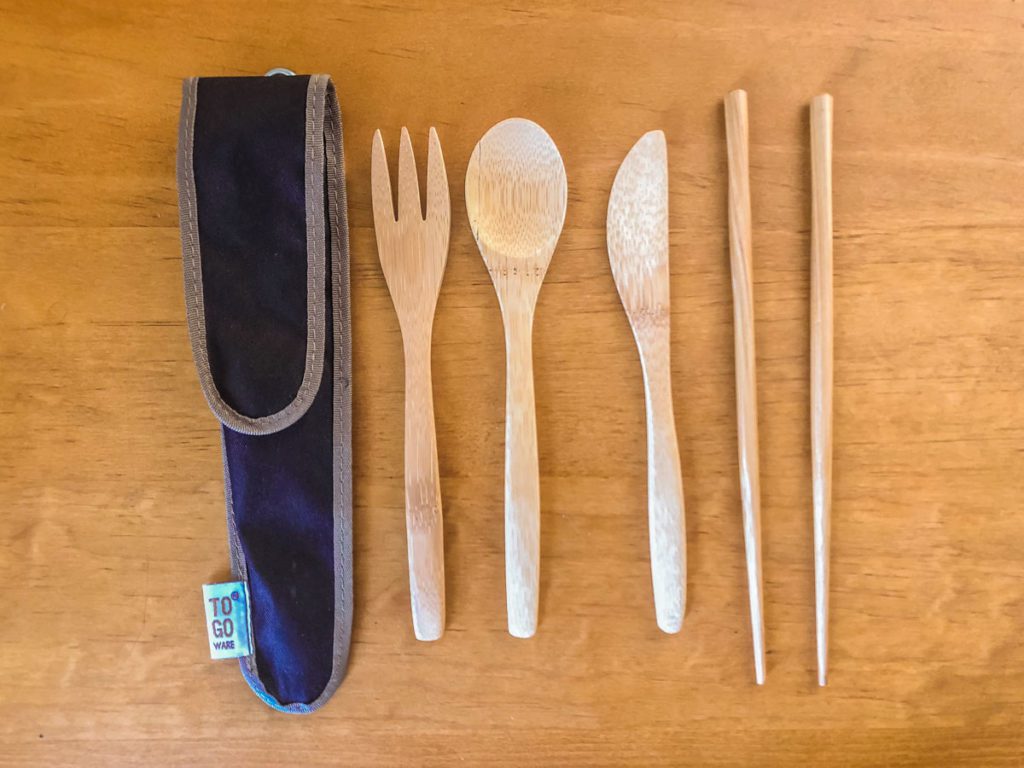 The reusable travel utensils from To-Go Ware are extremely light, but still feels sturdy. The bamboo utensil set includes – a travel fork, a spoon, a knife, and a set of chopsticks.
They all store easily inside a smooth black pouch with a cover and velcro. The whole package is light and slim, and fits easily into my purse. There is also a clip on the back that allows you to clip this to a backpack if you are heading out on a picnic, backpacking trip, or camping trip.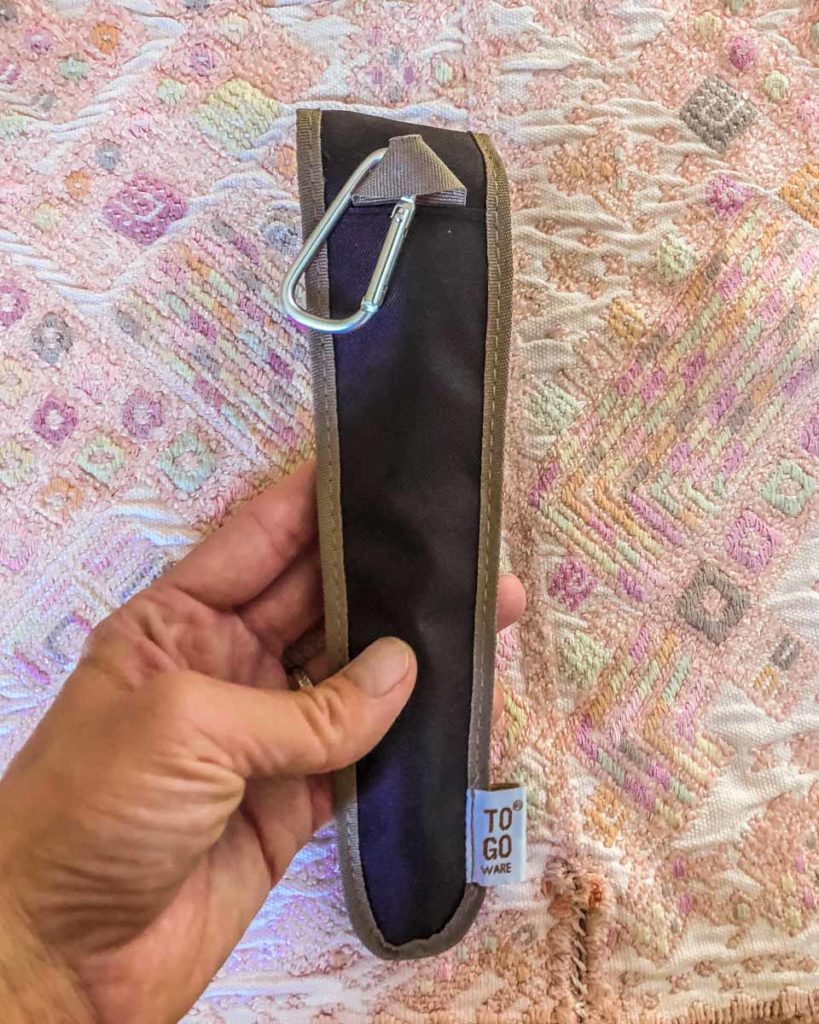 Reusable Travel Utensils: How They Hold Up on the Street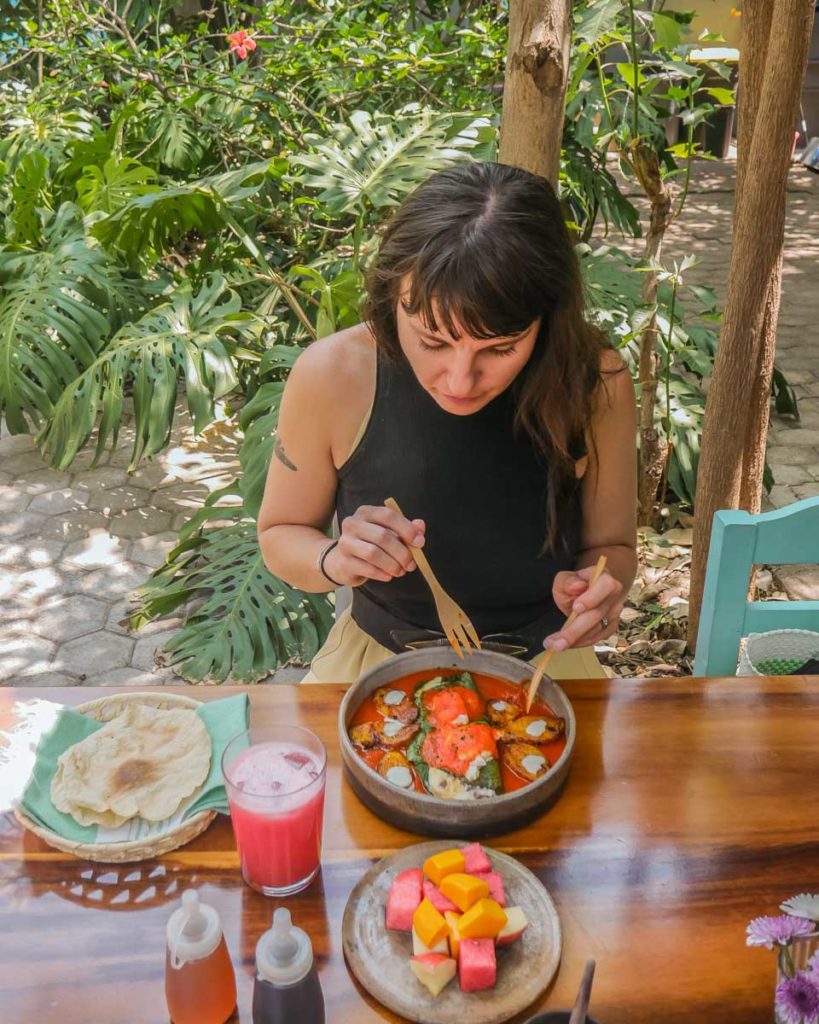 I've been popping these reusable travel utensils into my purse whenever I head out to eat, and think there might be a chance that that I'll encounter plastic utensils. The light and slim package makes it easy for me to fit into any of my purses, including my smaller ones. I always seem to be carrying a ton of stuff, so it's important to me that this bamboo utensil set is lightweight and doesn't take up much space.
Unfortunately, plastic utensils are pretty common in Oaxaca and a lot of Latin America (well actually the whole world). It's common to find them at street food stands, in some simple restaurants, and sometimes at the market. Carrying this bamboo utensil set means I can politely decline the plasticware.
Other places you encounter plastic utensils while traveling – the plane, long distance transportation, fast food restaurants, and festivals, to name a few.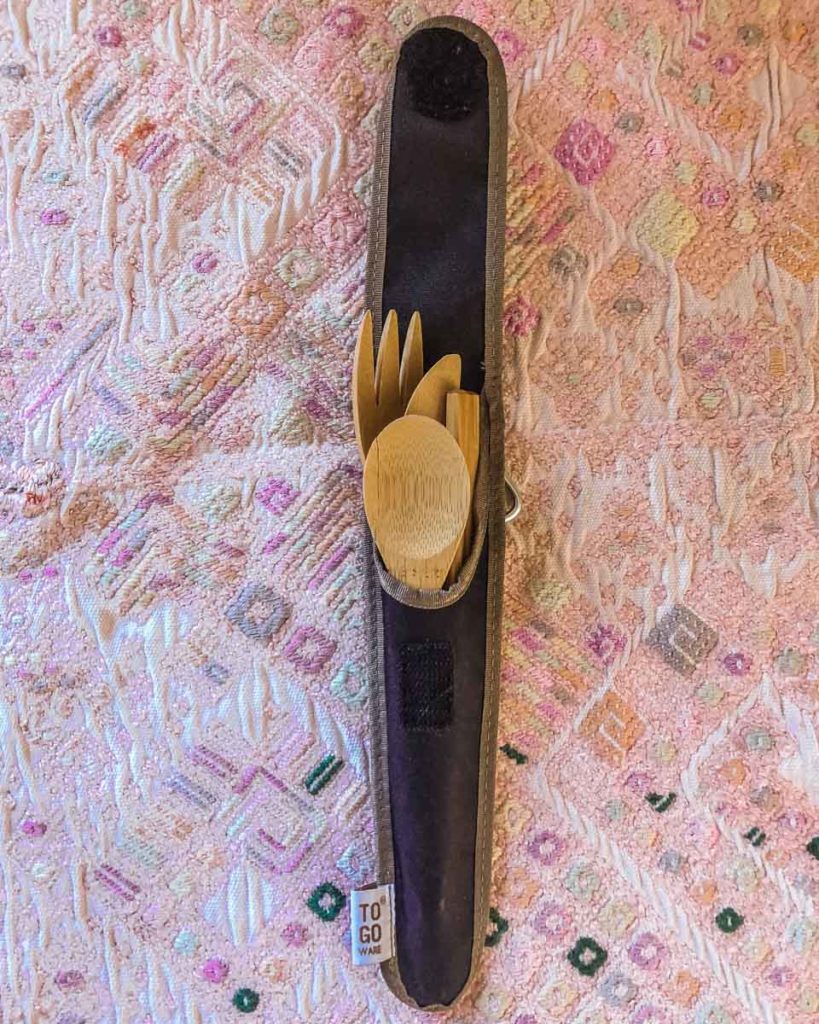 Travel Fork + Travel Knife:
I've used the travel fork and travel knife to eat proper meals and they feel strong, sturdy, and hold up well. The knife surprisingly cuts through a lot. I haven't tried it with meat or anything very tough since I've been eating mostly veggie lately, but it's worked well with the meals I've used it with.
Travel Spoon:
The spoon is not very deep, so might not be the right option for soup, but would work well with ice cream, esquites (Mexican street food corn in a cup), salsas, or things like that.
Travel Chopsticks:
I haven't had a chance to use the chopsticks yet (not a lot of Asian food here to eat), but I love that they're included. I remember how many disposable chopsticks I'd go through in Nyc. While they were wooden, so a bit better than plastic, it still felt wasteful to me.
Other notes: These reusable travel utensils haven't stained or absorbed flavors. And I think they look pretty beautiful. To-Go Ware states these are dishwasher safe (I don't have a dishwasher so am not able to test) and also BPA and Phthalate free.
Reusable Travel Utensils: Sustainable Materials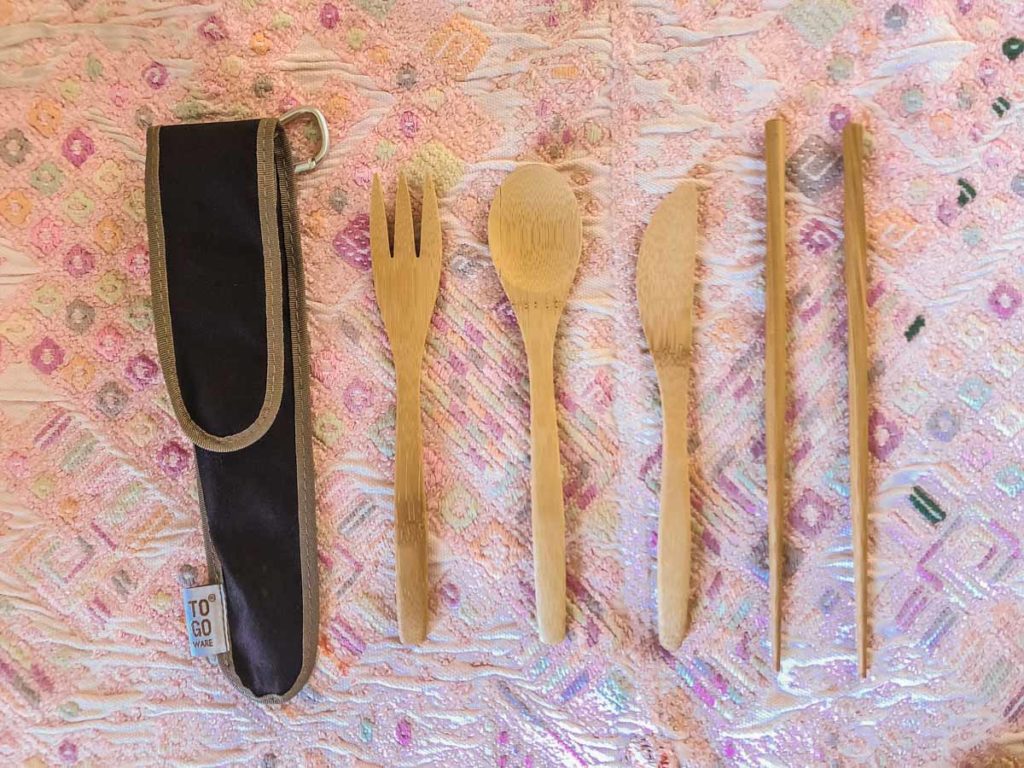 Worldcentric.org estimates that 40 billion plastic utensils are used every year just in the USA. !!!
These reusable travel utensils are made from bamboo which is a renewable and sustainable material.
Why is bamboo sustainable? When it's harvested, it does not need to be replanted because the large root system will automatically sprout a new shoot. Bamboo is also extremely durable, so these reusable utensils should last you a long time. To read more about bamboo and To-Go Ware's sourcing – check out their FAQ page.
The bamboo utensil set case is also environmentally friendly. It is made from a recycled plastic bottles, so keeps plastic trash out of landfills.
Travel Food Containers: Stainless Steel Tiffin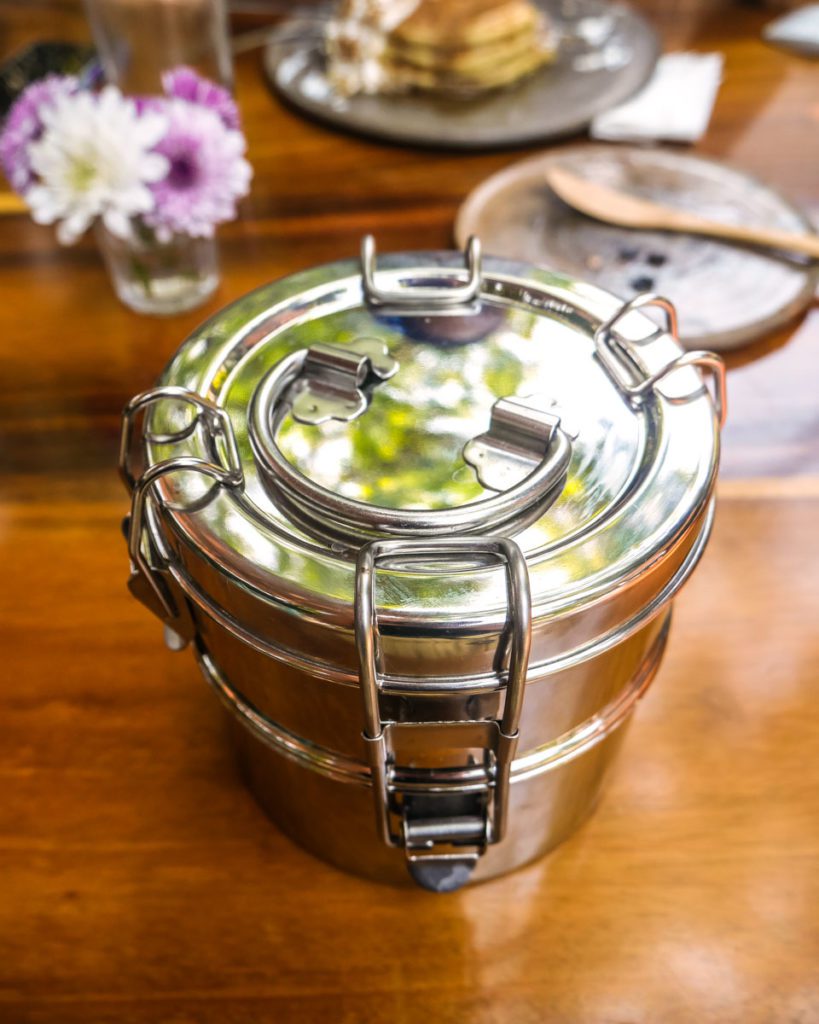 I've also started bringing my new travel food containers out with me when I go to restaurants. While this tiffin set is a bit bigger and takes up some space, it's made from lightweight stainless steel and is stackable, so it's manageable in a bigger purse or tote bag.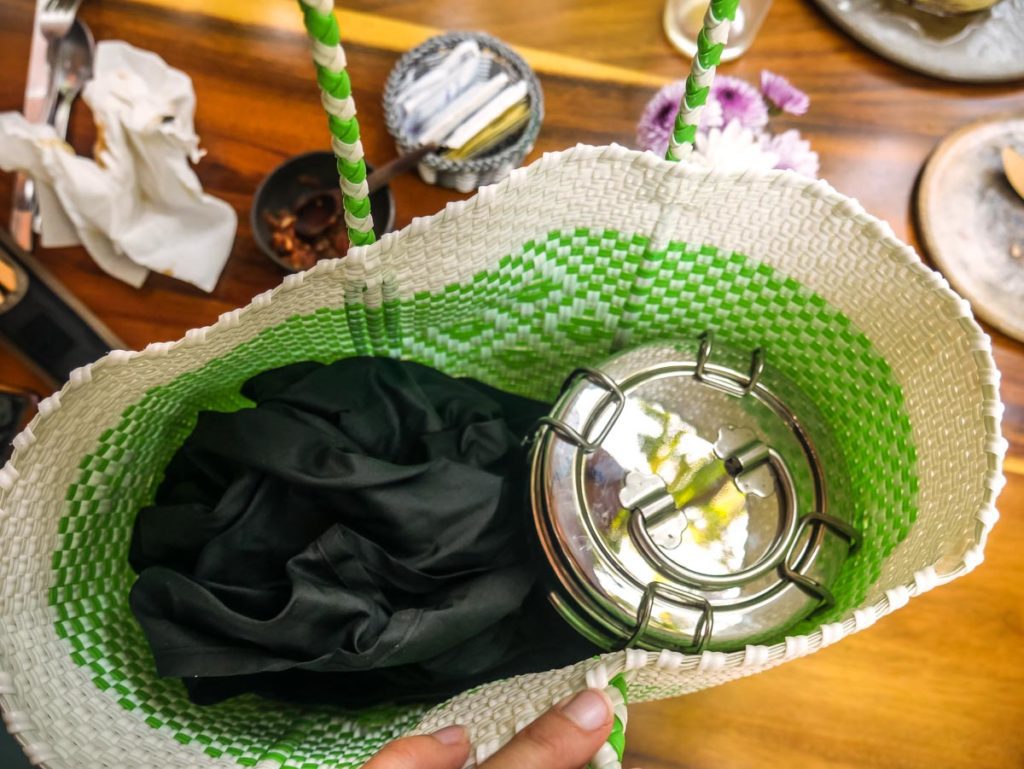 I think of all the to-go boxes, bags, foil, plastic and containers I've used over the years and I cringe. More times than not, I'm taking some food to go from a restaurant. So I'd like to do my part and bring my travel food container to cut down on the unnecessary waste.
I have the Snack Stack which is 4.75" high when assembled and 5" in diameter.
Travel Food Containers: How it Holds Up on the Street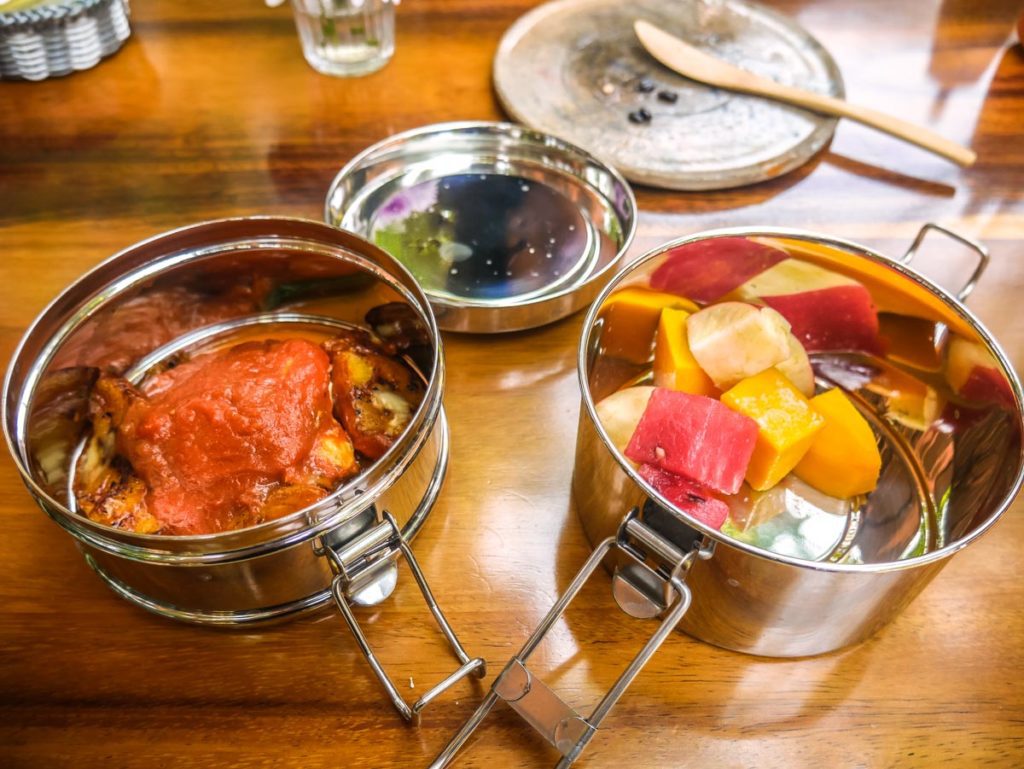 I like that this tiffin set is two separate containers that stack one on top of each other. Because of that the travel food containers only need one lid – as the top container acts as the bottom containers lid. This saves space and overall weight of the travel food containers.
I also like that the two separate containers allow me to separate food. If Justin and I are out, we can put separate leftovers in separate containers. Or the other day I had leftover fruit and a saucy egg dish. This way I could easily separate the two dishes without a mess, without mixing flavors, and keeping separate temperature foods away from each other.
I haven't had a chance to go on a picnic or outing with these yet, but they seem like a great solution for bringing prepared foods out on a trip. My Snack Stack food container size doesn't seem very large, but each one of the travel food containers is actually pretty deep and could hold a good amount of food. (To-Go Ware also makes larger sizes of these food containers, if you are looking for something bigger).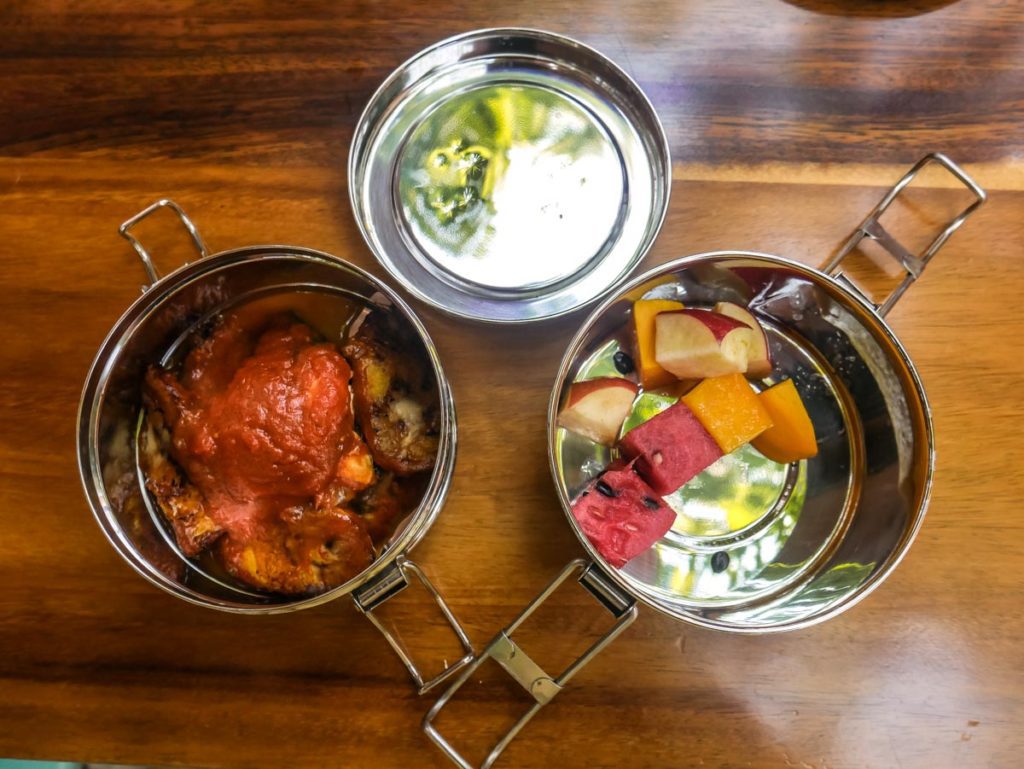 The latching system works well, feels strong, and I haven't had any problem with leaks. I haven't filled the containers to the brim with liquids, but everything I've carried has stayed in place and the lid and containers feel like they securely lock together. And the metal latches lock very securely.
I've used glass food containers in the past as a way to get away from plastic, and find that they are extremely heavy and often still have plastic lids that crack and break. I feel confident that these stainless steel travel food containers will last a long time and be a lightweight solution to carry around with me.
Other notes: The stainless steel containers can be safely used in the oven or over a flame – which makes them handy for camping. It is also dishwasher safe
Final Thoughts: Reusable Travel Utensils + Travel Food Containers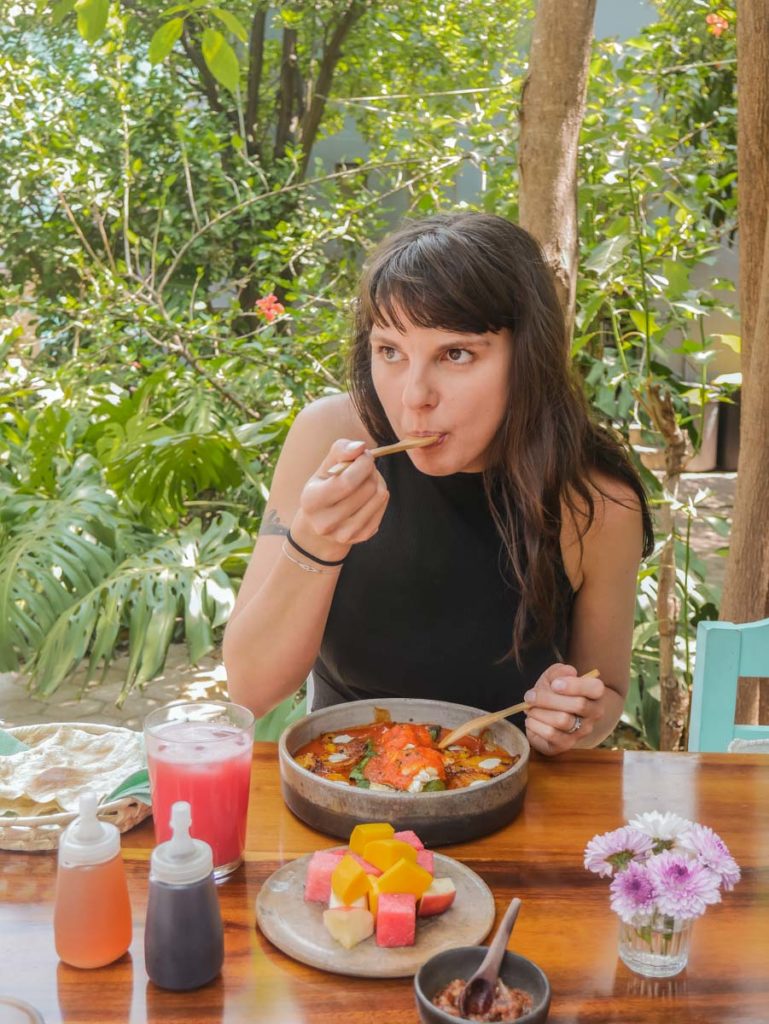 I know it's not easy to make better choices. It takes research, purchases, planning, and carrying extra things. But those small changes go a long way. I've been able to train myself to always carry around reusable shopping totes, I almost never leave the house without one. So why can't I train myself to carry a couple things when I know I'll encounter plastic utensils or need to take leftovers home? I know I can, and will be pushing myself to make these better choices more and more until they are ingrained habits.
I feel really good about the quality and ease-of-use of To-Go Ware's reusable travel utensil set and travel food containers. I think I'll be using them to make better choices for many years to come.
For other packing tips like sustainable travel clothing, minimal packing solutions and more – check out my packing tip posts.
Pin it for Later!