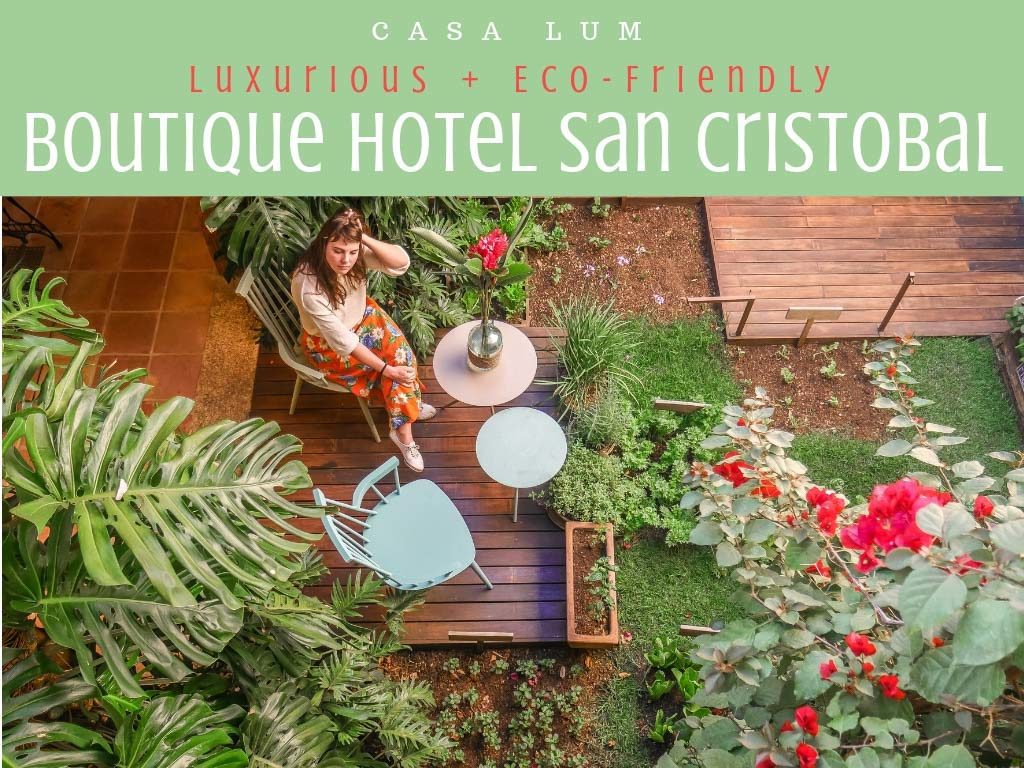 Last month I had the pleasure of staying in the beautiful and welcoming Casa Lum Boutique Hotel San Cristobal, Chiapas. For 4 days and 3 nights. I felt at home in the thoughtfully decorated hotel, taken care of by the attentive staff, and was just steps away from everything I wanted to see and do in charming San Cristobal de las Casas, Chiapas.
Read on to find a breakdown of the hotel's features and my experience at the leafy green Casa Lum.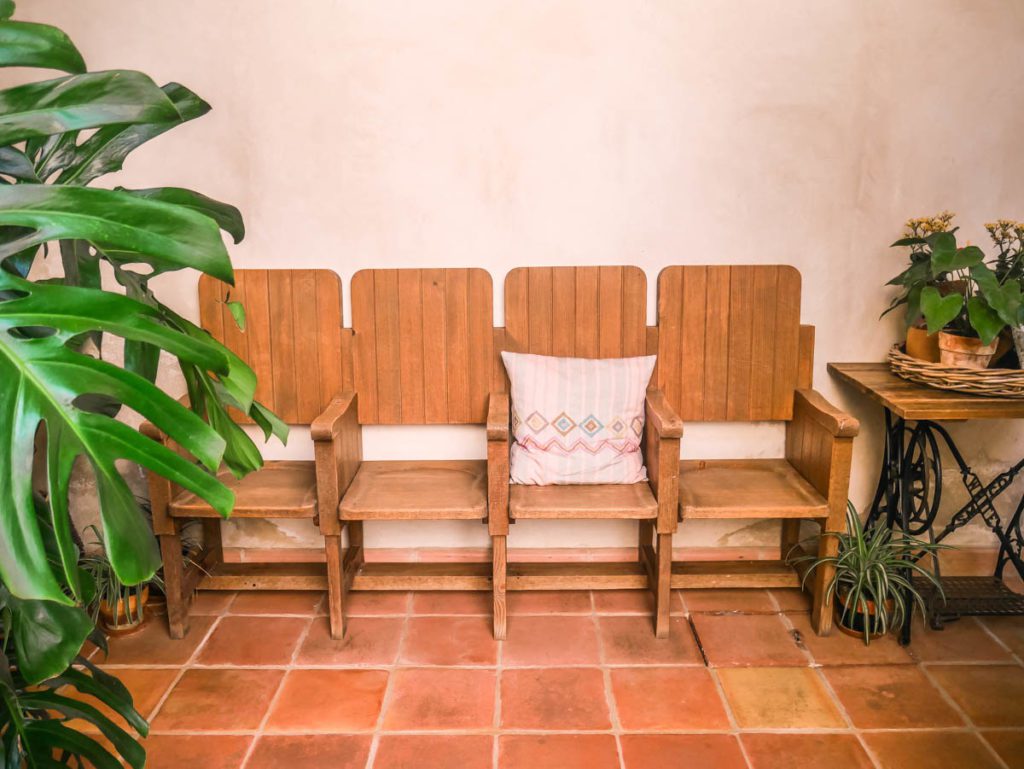 Disclosure: I was offered a complimentary stay at Casa Lum in exchange for my honest review. As always, all opinions are my own. I hope to return to Casa Lum soon!
Beautifully Decorated Rooms: Boutique Hotel San Cristobal, Chiapas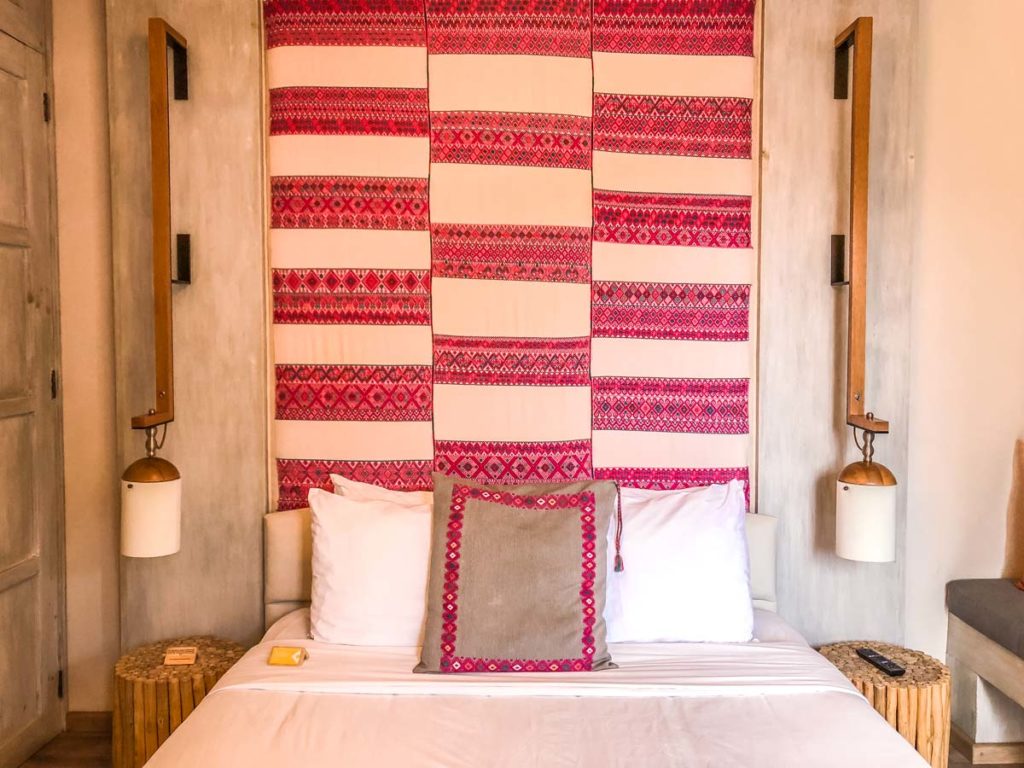 When I was looking for a boutique hotel San Cristobal to book, the first thing that caught by eye was the beautiful and tasteful decor at Casa Lum. Each room and space is thoughtfully put together, with local art and accents that don't clutter, but add some color, warmth and character.
My room was decorated with some beautiful locally embroidered pillows and a headboard. San Cristobal, Chiapas is famous for their traditional textiles, so it was great to see examples of these throughout the hotel.
This boutique hotel has furniture that is modern, but sleek and simple. Everything is made with clean lines and feels fresh. Lots of wood details add a warm and cozy feel to the rooms.
Lighting is also well thought out in this hotel San Cristobal. There are modern hanging lamps on either side of the bed, a lamp on the desk, and several other lighting options.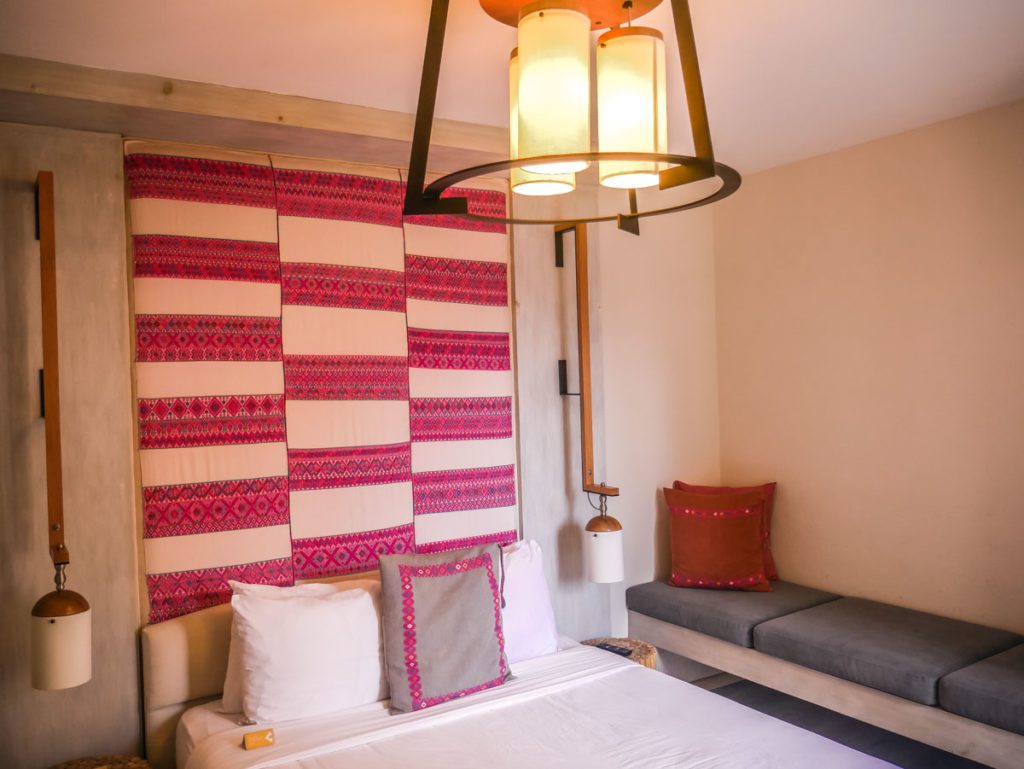 I had a large desk and chair (great for people like me who need to do some work here and there) in my room, and a sitting area.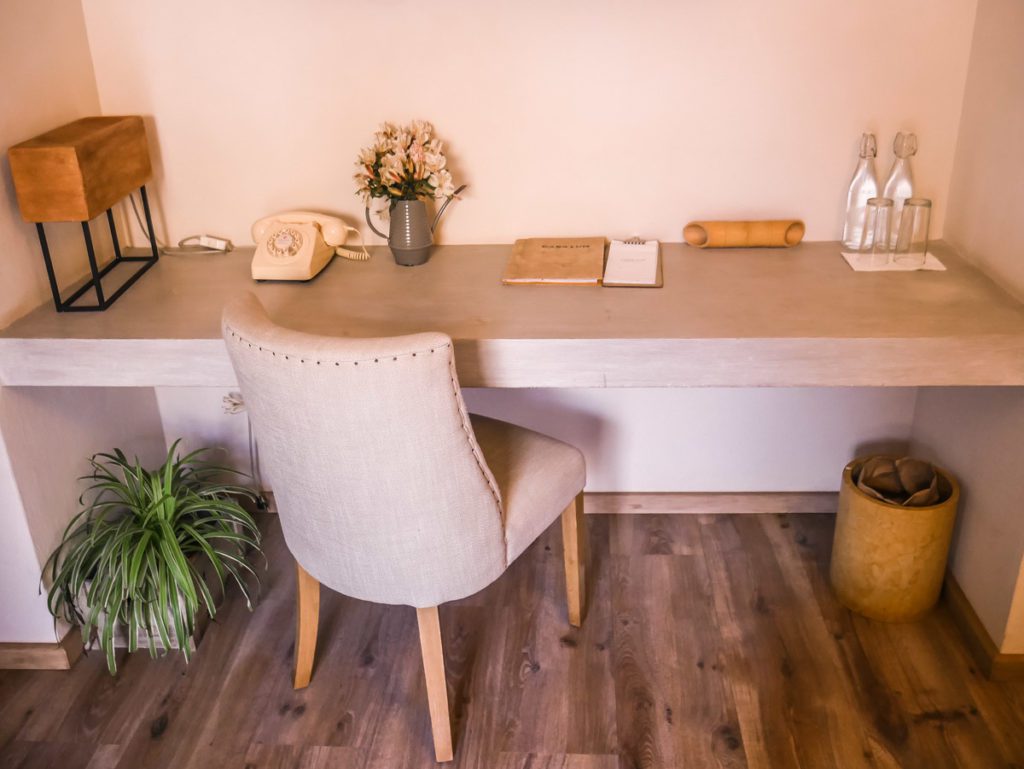 Lush + Comfy Common Spaces: Boutique Hotel San Cristobal, Chiapas
If you know my blog, you know that I am an absolute sucker for anything green and leafy. Casa Lum boutique hotel San Cristobal, Chiapas made me feel right at home with the lively green plants that can be found in the common spaces and rooms.
The main leafy area is in the central courtyard that was below my room. There were large monstera plants, ivy, bright flowers, grasses, and other leafy things.
My room, Ipil, had a small balcony and a great view over this lush, flowery space. It was so lovely to open the balcony doors in the morning to let in the light and the nature.
Another great thing about this hotel San Cristobal is that they have a small garden in this same courtyard where they grow many of the greens and herbs that they use in the onsite restaurant.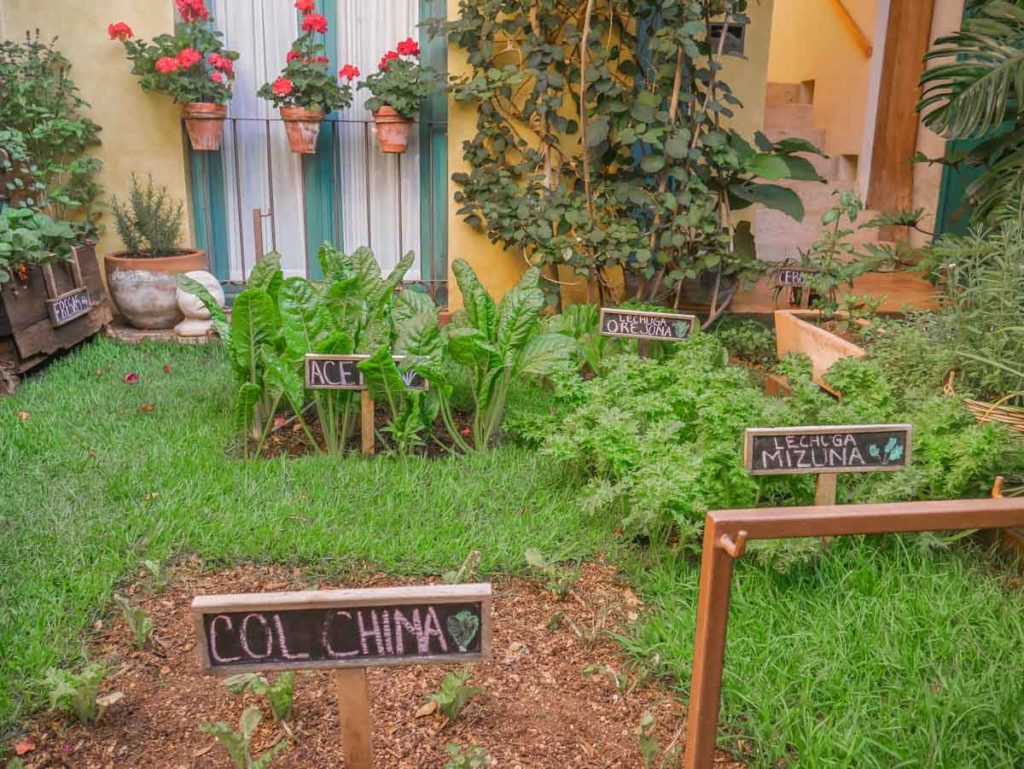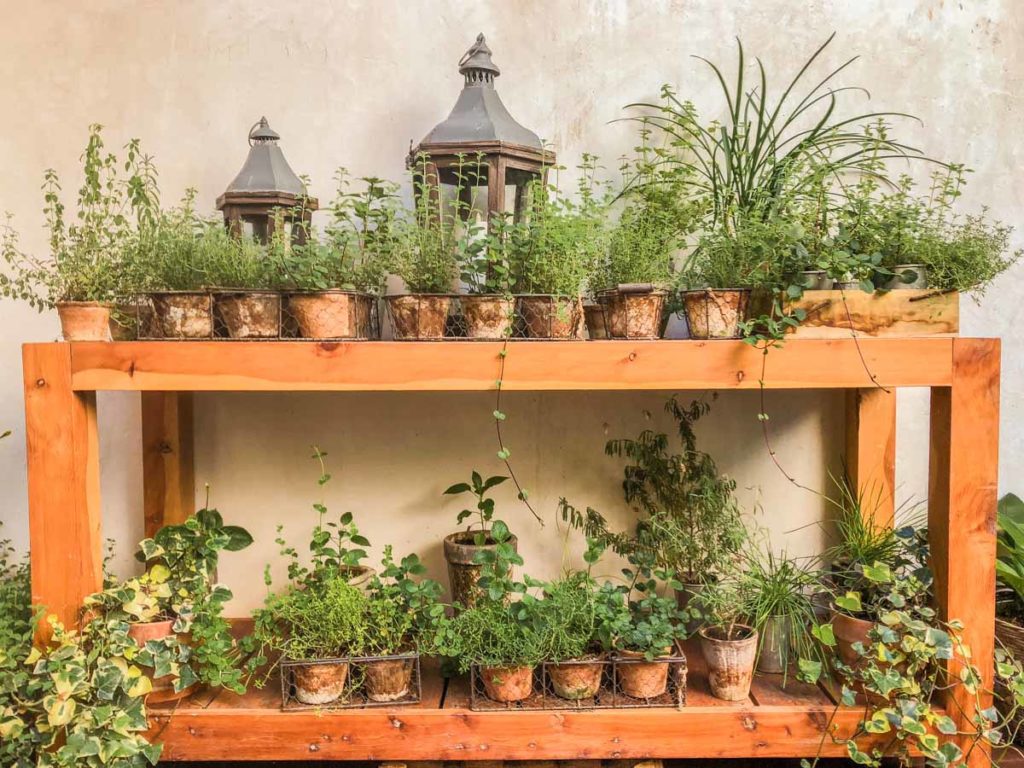 A Roof Terrace With a View: Boutique Hotel San Cristobal, Chiapas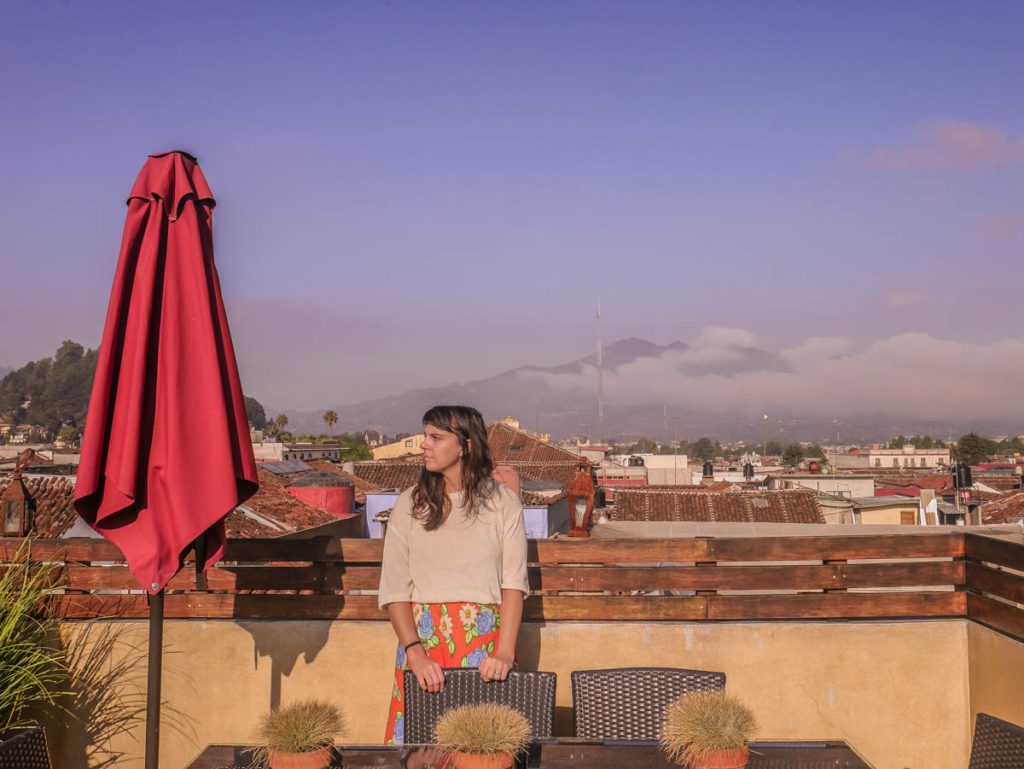 I always love an outdoor lounge area, especially one on a roof with a view. There is a small but comfy roof terrace that was located just above my room.
It has a large table and chairs, a 360 view of the city, and the surrounding mountains. It's a great place to watch the sunset after a day of sightseeing.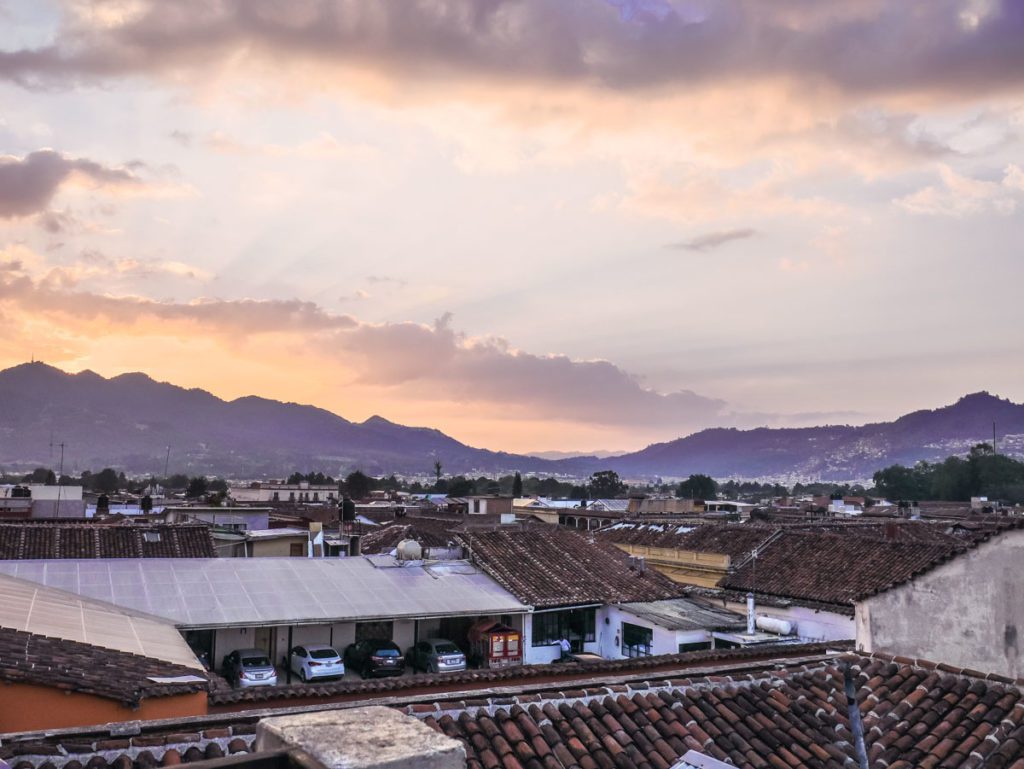 A Great On-Site Restaurant: Casa Lum Boutique Hotel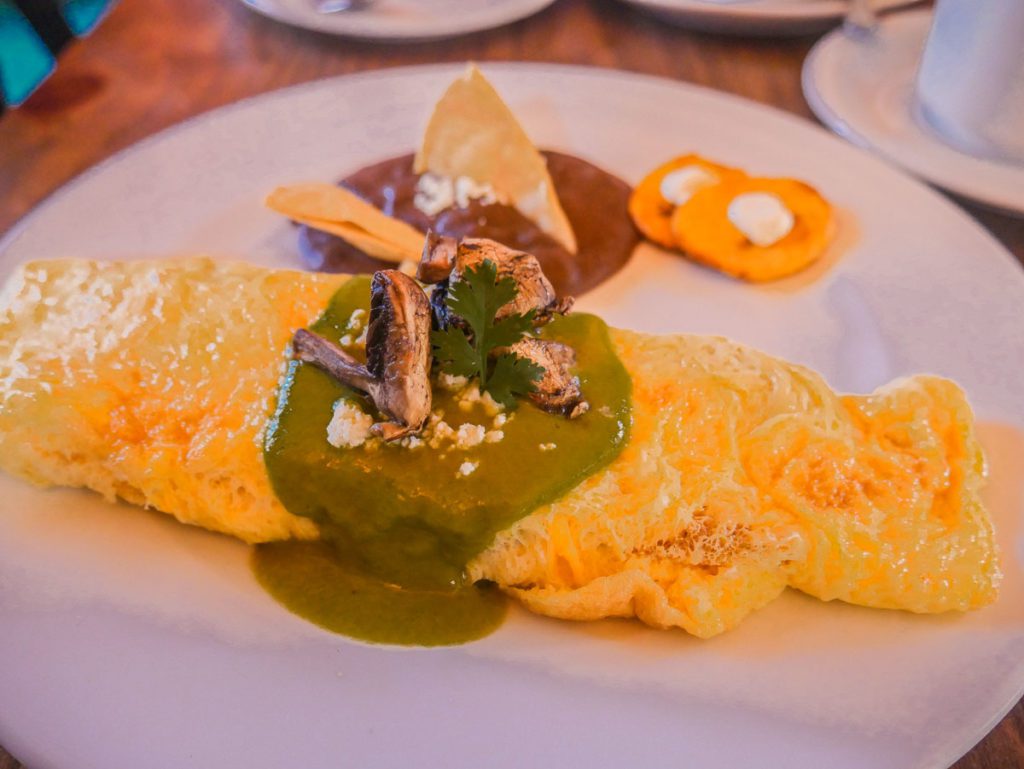 I was only able to eat once in the on-site restaurant, but I enjoyed a fresh and well prepared breakfast and a delicious green juice. The staff was attentive, the space was modern and nicely decorated, and the food was very good. And like I mentioned above, many of the fresh ingredients come from the onsite garden.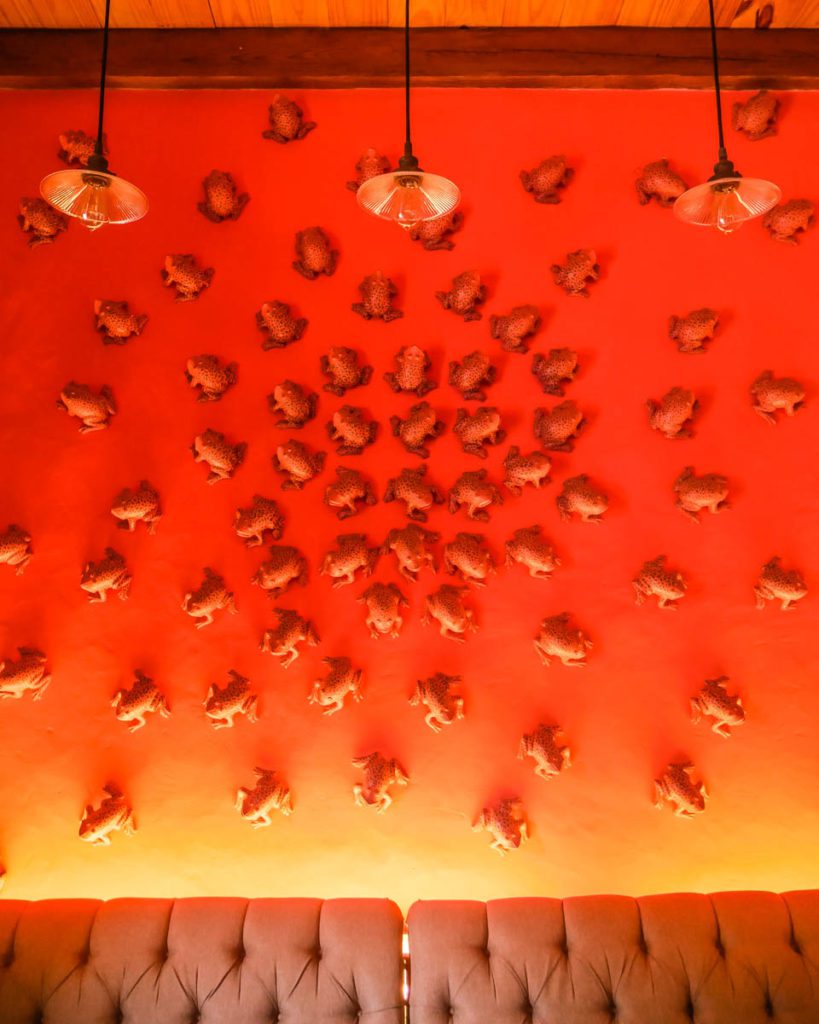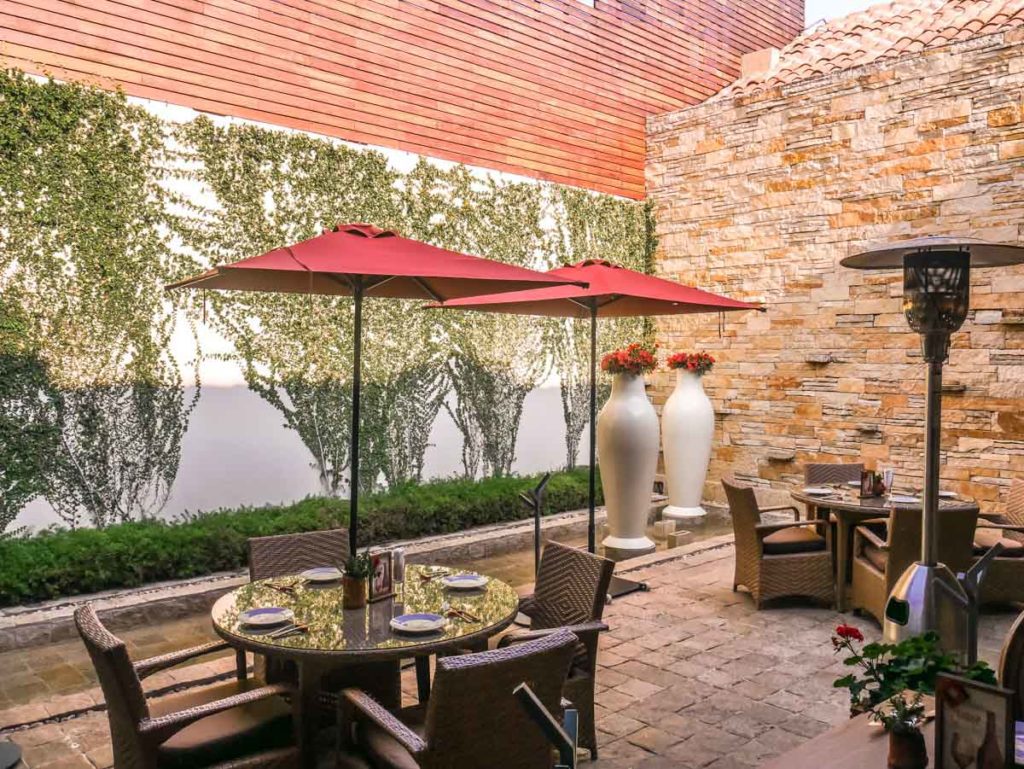 Accommodating + Attentive Staff: Casa Lum Boutique Hotel
One thing I have to emphasize about this boutique hotel San Cristobal, Chiapas is how helpful and accommodating the staff was. I think I was a bit annoying on this stay because of my crazy itinerary. 🙂
My stay was for 3 nights, but broken up with 2 nights in Palenque in the middle. When I arrived, I came from a night bus from Oaxaca, so arrived super early at 8am – way before check in. The staff welcomed me anyway, got me checked in, held my bags until the room was ready, and let me wash up in the common bathroom.
I then checked out in the morning a couple of days later, but wasn't going to leave until the night on a bus to Palenque. The staff held my belongings, and even allowed me to leave a bag of artisan things I purchased so I could pick it up on my return, rather than lugging it to Palenque.
Finally, I arrived back for the second part of my stay again from a night bus, very early in the morning. This time they even had the room ready for me to check in to right away. I was so grateful to have a quick rest and shower before tackling my day.
I don't usually have this unusual of a schedule, but was really touched by how helpful the staff was with all these requests, and how easy they made my seemingly difficult itinerary.
When I arrived back for the second part of my stay, I felt like I was returning home, and that's probably the best compliment I can give.
Reliable Wifi: Boutique Hotel San Cristobal, Chiapas
Wifi is always something I am stressed about, but once I logged on to the wifi at Casa Lum, I never had a problem or interruption.
Eco-Friendly Initiatives: Boutique Hotel San Cristobal, Chiapas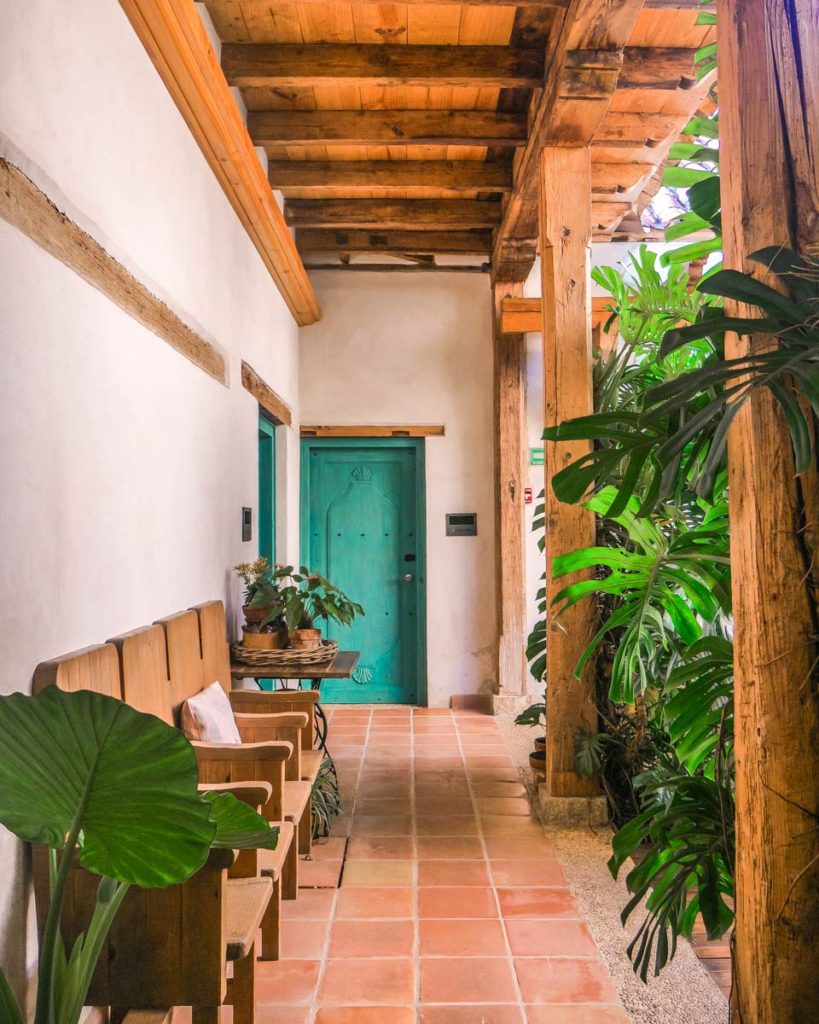 Casa Lum has received the Silver Certification from EarthCheck (and was the first hotel in Chiapas to receive this kind of certification). This certification requires that Casa Lum is implementing an environmental policy and monitoring measurements in 10 areas, including greenhouse gas emissions, energy efficiency, freshwater resources, ecosystem conservation and more.
The building uses many reclaimed and reused items for the decor, like doors and tile.
Casa Lum limits water and energy use whenever possible. When the key card is removed it automatically shuts off the lights in the room and guests are encouraged to be mindful of their water usage.
Central Location: Casa Lum Boutique Hotel
The location of Casa Lum boutique hotel San Cristobal, Chiapas couldn't be better. It is right on one of the 2 main pedestrian streets in the centro, and in my opinion, the more lovely of the two.
As soon as you step out the door, you are greeted by the picturesque colorful buildings and storefronts. You have great restaurants, bars, and cafes within steps, and most of the biggest tourist sites are within just a few minutes walking including the main square which is one block from the hotel.
Even with the central location, my stay was very quiet. All the rooms are located in the back of the hotel, away from the street. I don't remember hearing any noise during my stay.
Final Thoughts: Boutique Hotel San Cristobal, Chiapas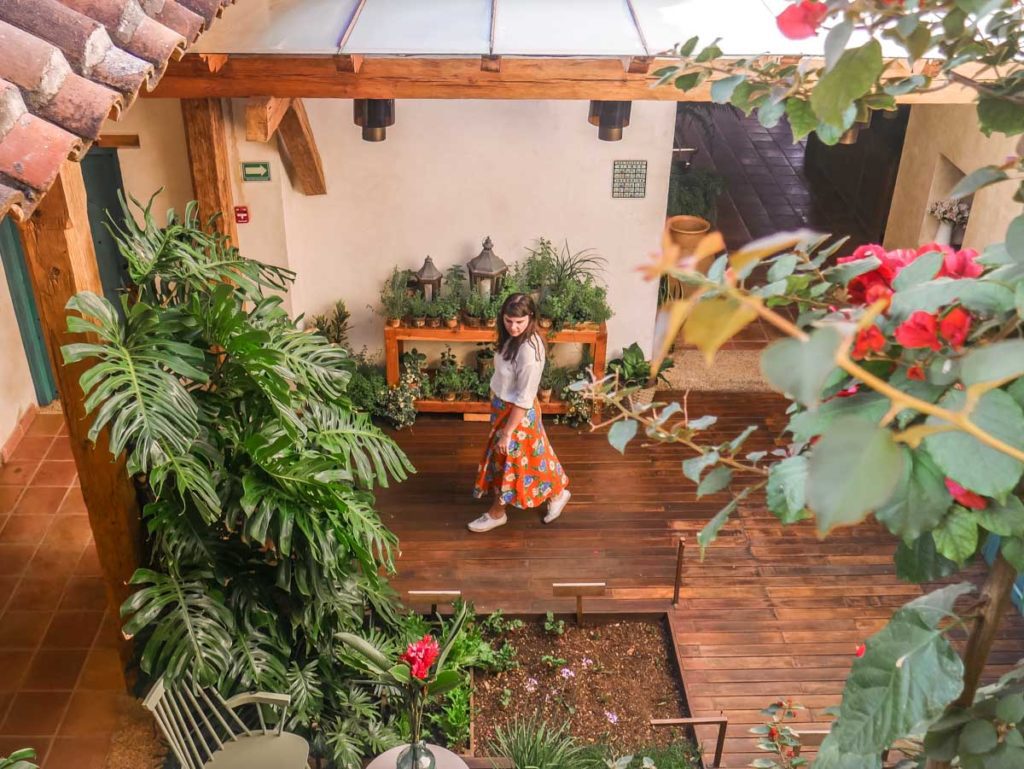 I can't think of a better place to stay in San Cristobal, Chiapas. This hotel was beautiful, comfortable, well located, staffed with wonderful people, and eco-friendly.
Like I mentioned, coming back for the last leg of my stay felt like returning home. I was so excited to be back in my comfy room, with the modern hot shower, see the staff's friendly faces, and explore more of the charming streets of the city from this boutique hotel San Cristobal. I hope to return to Casa Lum soon!
---
Hotel: Casa Lum
Social Media: Facebook, Instagram, Twitter
Best For: Conscientious travelers, design-lovers, foodies, and travelers looking for the utmost comfort.
Price: 2150 MXN (approx $114USD) and up, depending on season and room. Check booking link below for current rates.
Includes: Wifi, drinking water, toiletries.
Location: Calle Real de Guadalupe #30, Colonia Centro
Book Here: Reservations
---
If you are heading to San Cristobal, check out my full guide of things to do in and around the city, and my guide to find the best restaurants, bars & coffee shops in San Cristobal de las Casas.
Or find all my many Mexico posts here.
Pin it for Later!