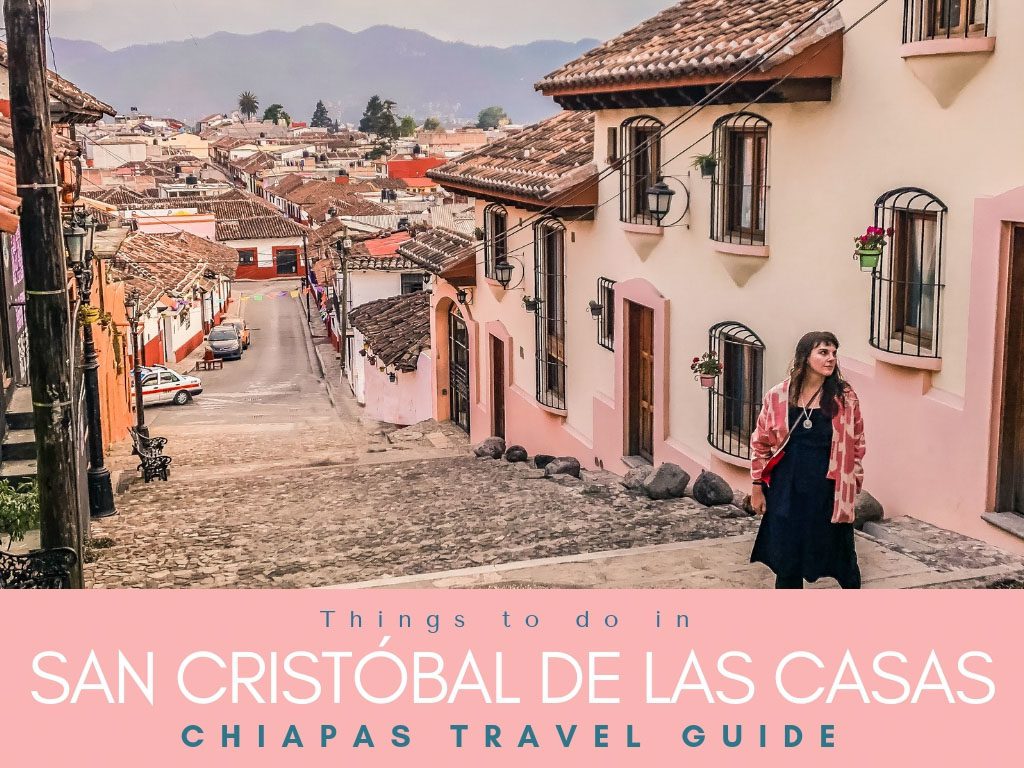 After years of dreaming about Chiapas travel, I finally had a chance to explore the southernmost state in Mexico. It's a beautiful and unique place, really different from anywhere else I've been in the country. If you like visiting places with stunning, wild nature or cultural destinations, you will love this region. Over my week traveling Chiapas, I spent 4 days wandering around charming San Cristobal. I want to share my favorite things to do in San Cristobal de las Casas, including the most beautiful streets to wander, the best day tours and side trips, and top markets to find artisan products.
Wander with a Camera: Things to do in San Cristobal de las Casas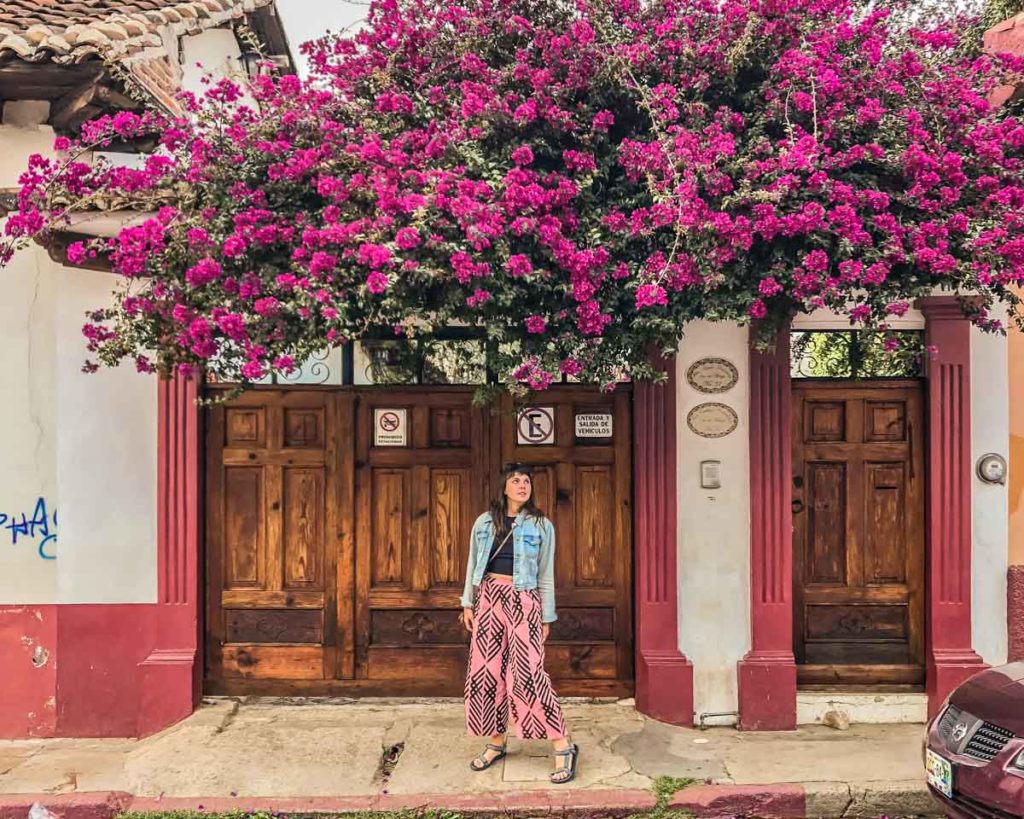 My favorite thing to do in San Cristobal de las Casas, and really any picturesque city, is to wander on foot and take photos. This is especially great as your first order of business, to get a feel for the place, find hidden gems, and get your bearings. San Cristóbal is full of cobblestone streets, colorful buildings, pretty colonial churches, and pedestrian streets and walkways.
Definitely walk up and down the two main pedestrian streets: Real de Guadalupe and Miguel Hidalgo/Av 20 de Noviembre. But also wander off the typical tourist path and down some of the other side streets. Walk up the pedestrian stairs on the north end of the centro (around Av Cristóbal Colón & Dr. Navarro) to catch views of the rooftops and surrounding mountains.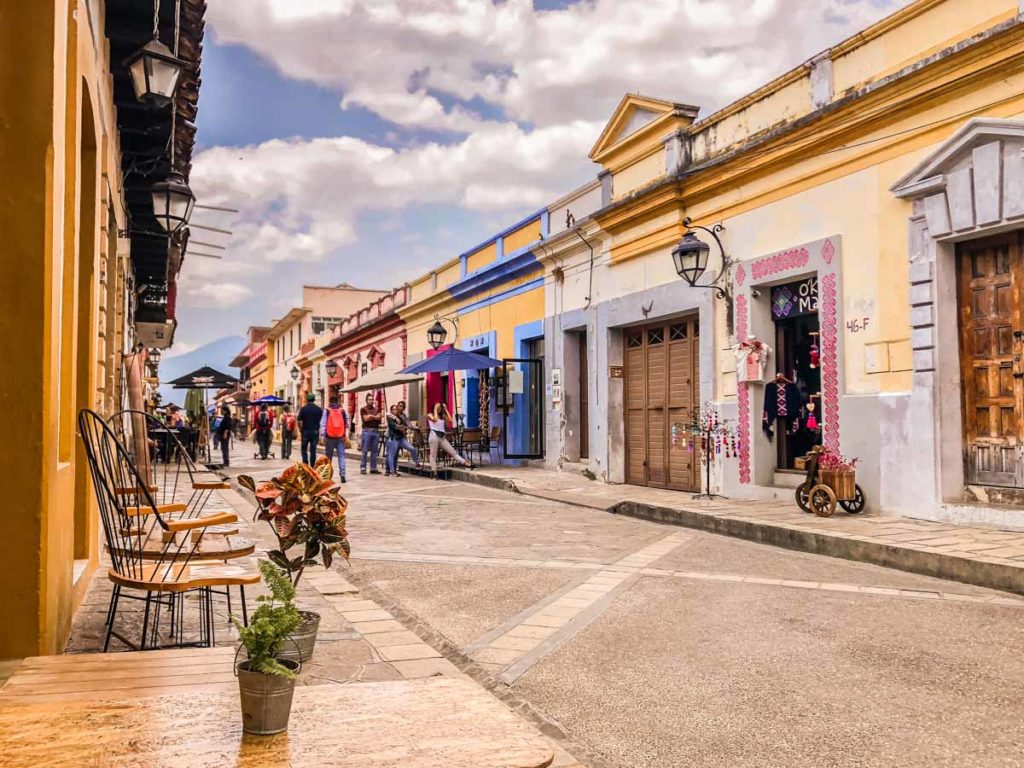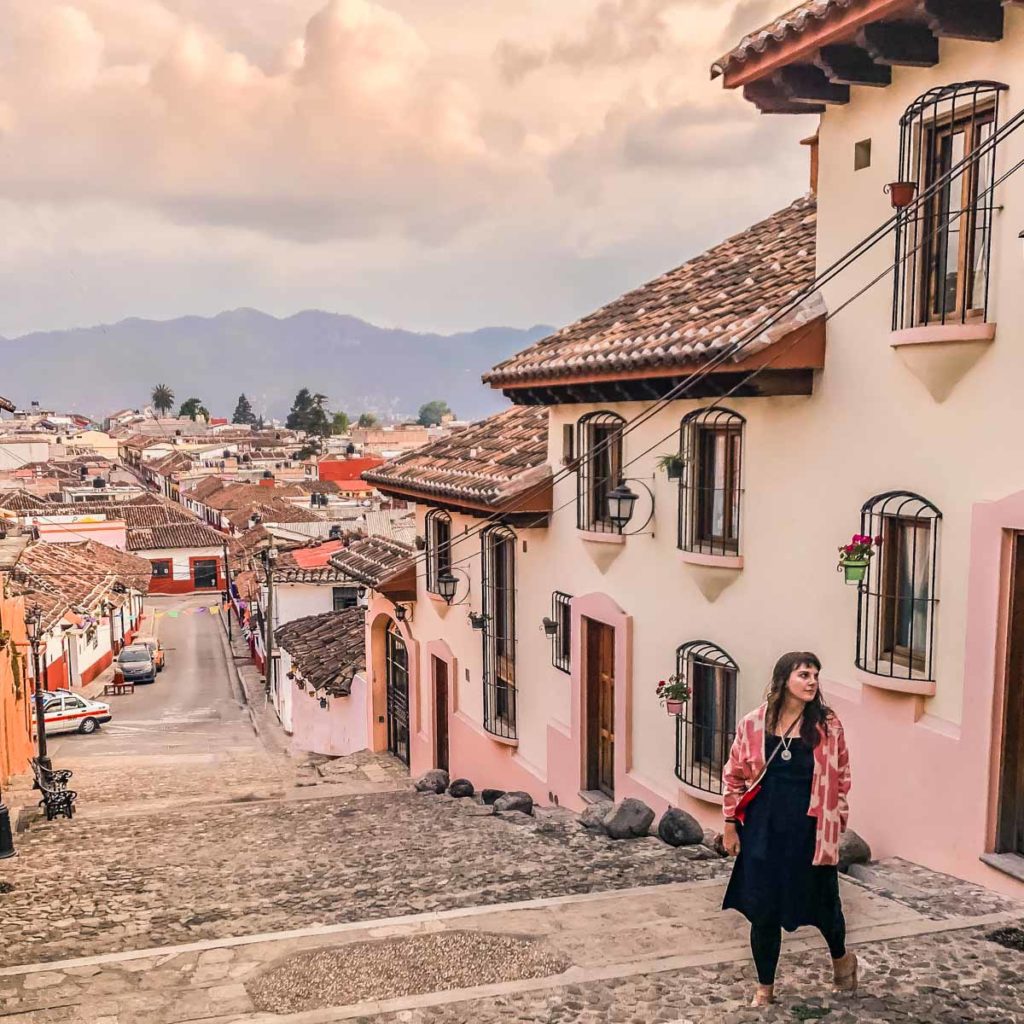 To check out some of the best architecture, pass by: Templo y Ex Convento Santo Domingo, Cathedral of San Cristóbal, Iglesia de San Cristóbal, Iglesia de Guadalupe, Arco de Carmen, and the Iglesia de Santa Lucía.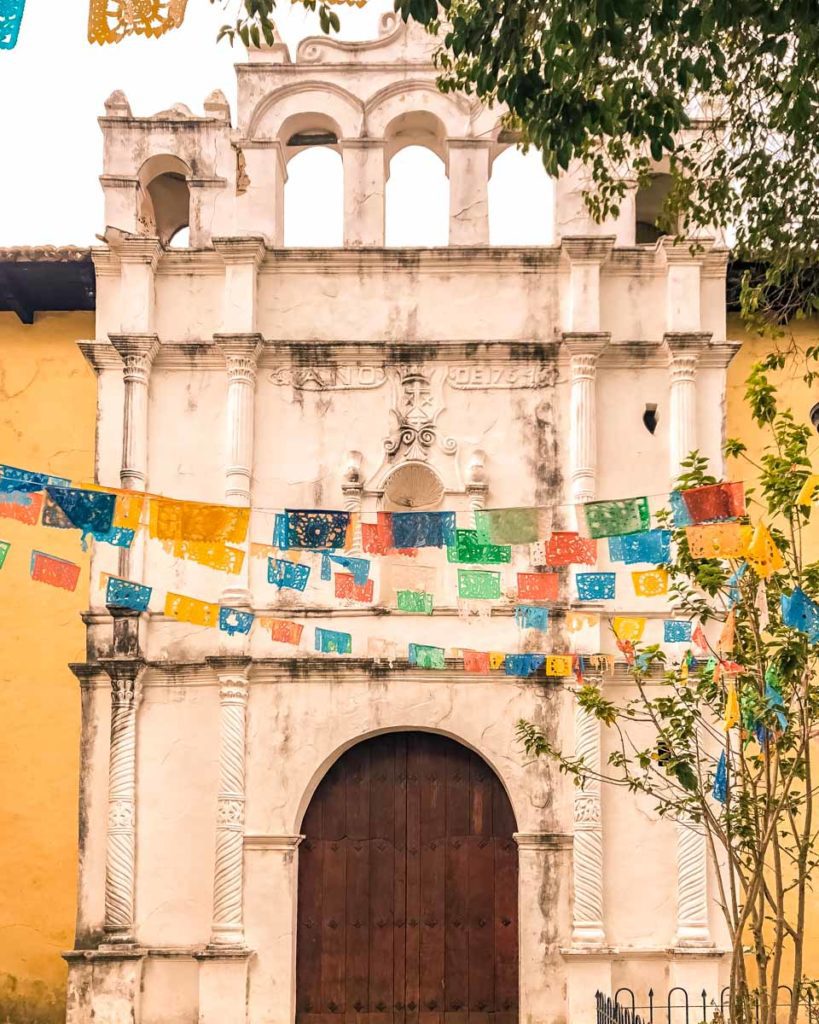 Visit Traditional Pueblos: Chiapas Travel Guide
Visiting some nearby traditional pueblos is a must to get a better understanding of Chiapas culture. Here are a few options:
San Juan Chamula
This pueblo is the most visited by tourists and also the closest to San Cristobal. You can easily take a colectivo (a shared taxi) here, or a private taxi. To find the colectivo to San Juan Chamula, head to the corner of 16 de Septiembre and Calle Honduras. If you are having trouble finding it, ask anyone on the street.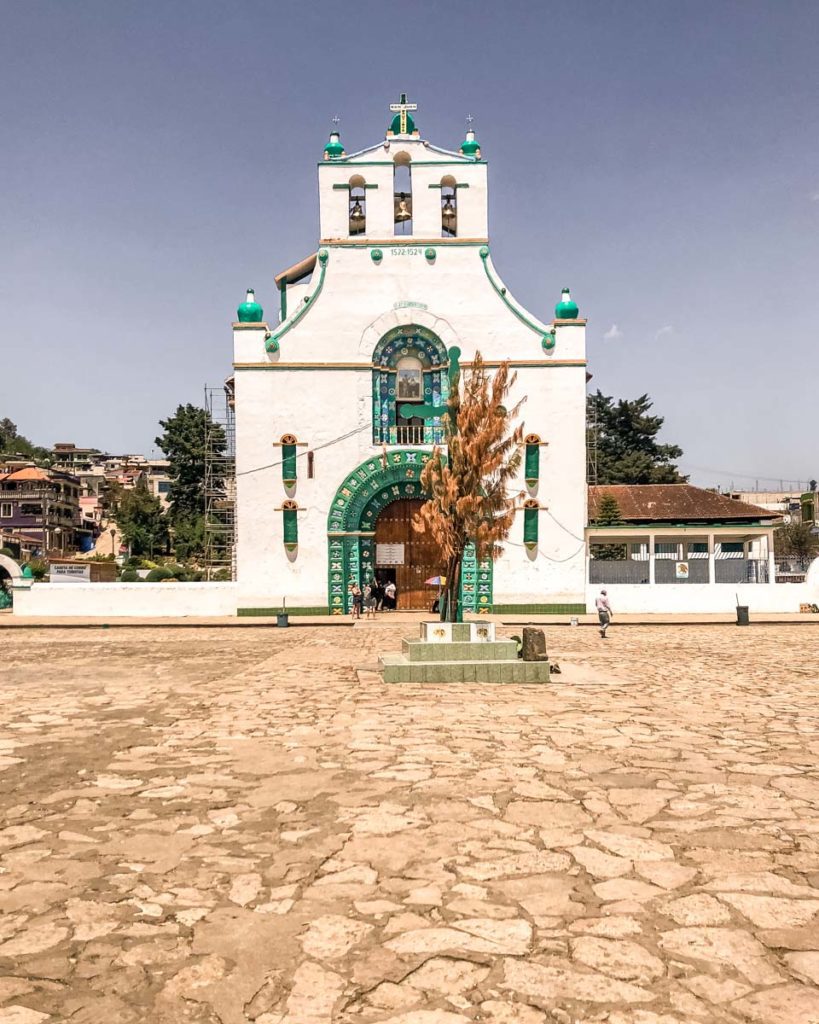 San Juan Chamula is famous for their church and unique blend of Catholicism and traditional Mayan religion. You can pay a small fee to enter the church.
I just want to stop here and say that it is absolutely essential for you to be respectful. Pictures are not allowed, please don't even think of breaking the rule. And the religious customs might be very different than what you are used to, but I urge you to be quiet and humble and give the locals their space to worship.
That being said, here is what you can expect. The church looks similar to other catholic churches from the outside. Once you enter, there are no pews, and the floor is covered in pine needles. There are catholic altars along the sides and back of the church, and tables are covered in thousands of burning candles. Worshippers often gather on floors and create their own altar with candles. They may perform limpias (spiritual cleanings) or pray. I've read about a few other traditions and rituals but didn't witness them myself.
The town also has a huge amount of textiles and artisan products on the main street leading up to the church and outside the local market next to the church. I picked up a lot of beautiful things here.
San Andrés Larráinzar
This pueblo is a bit further than San Juan Chamula, but still within an hour's drive. We combined visiting San Andrés Larráinzar and San Juan Chamula in one day since they are on the same route. We first headed to Larráinzar in a colectivo for the Sunday market, and then took another colectivo to San Juan Chamula.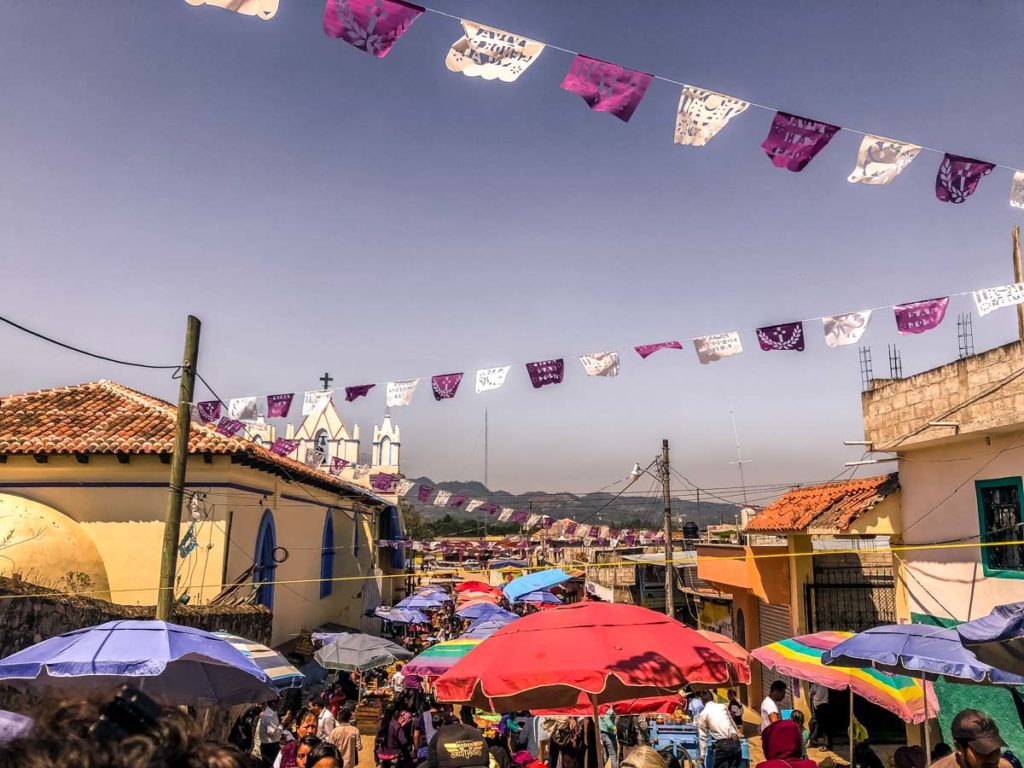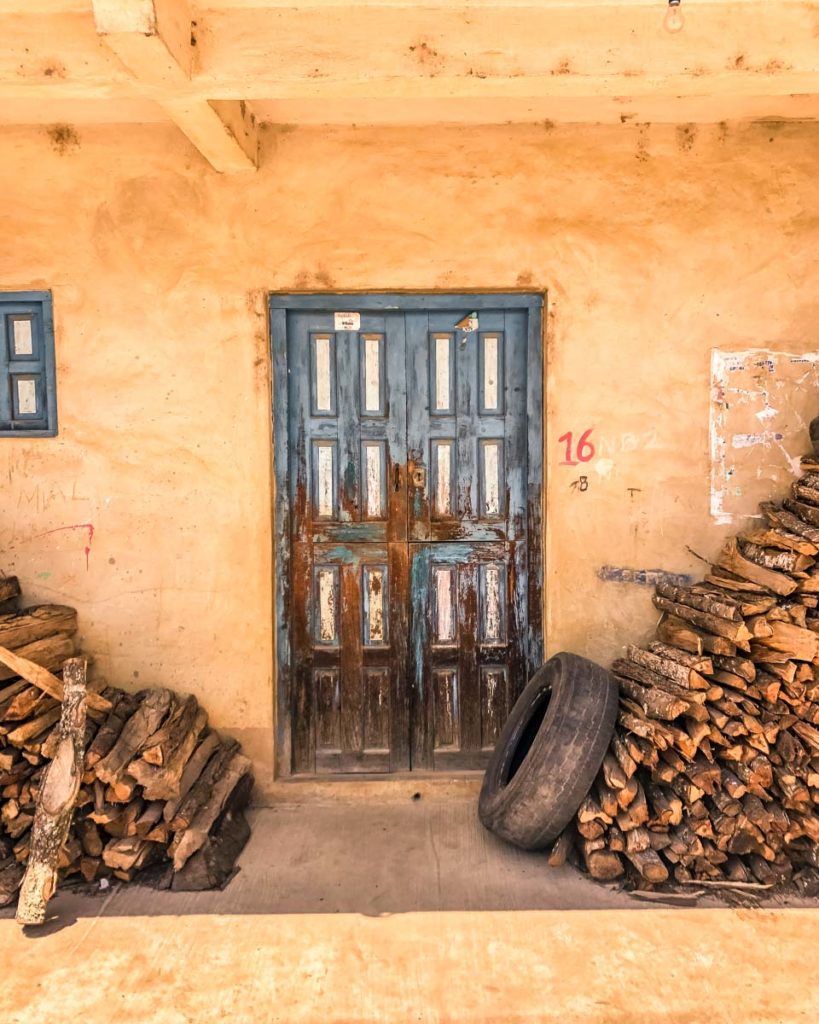 You can find the colectivo to San Andrés Larráinzar at Cda. Salomón González Blanco 7A.
The town is a simple traditional town. Their weekly Sunday market was interesting and full of fresh produce. We didn't see any other tourists there, so this is a good chance to get a glimpse at everyday life during your Chiapas travel.
The town is also famous for its textiles. There is a women's coop at the entrance to the town on Ignacio Allende – heading left at the fork as you enter town, just a few meters down. Many of the shops in the complex were closed when we arrived, but a couple were open and I did pick up a beautiful pillowcase here.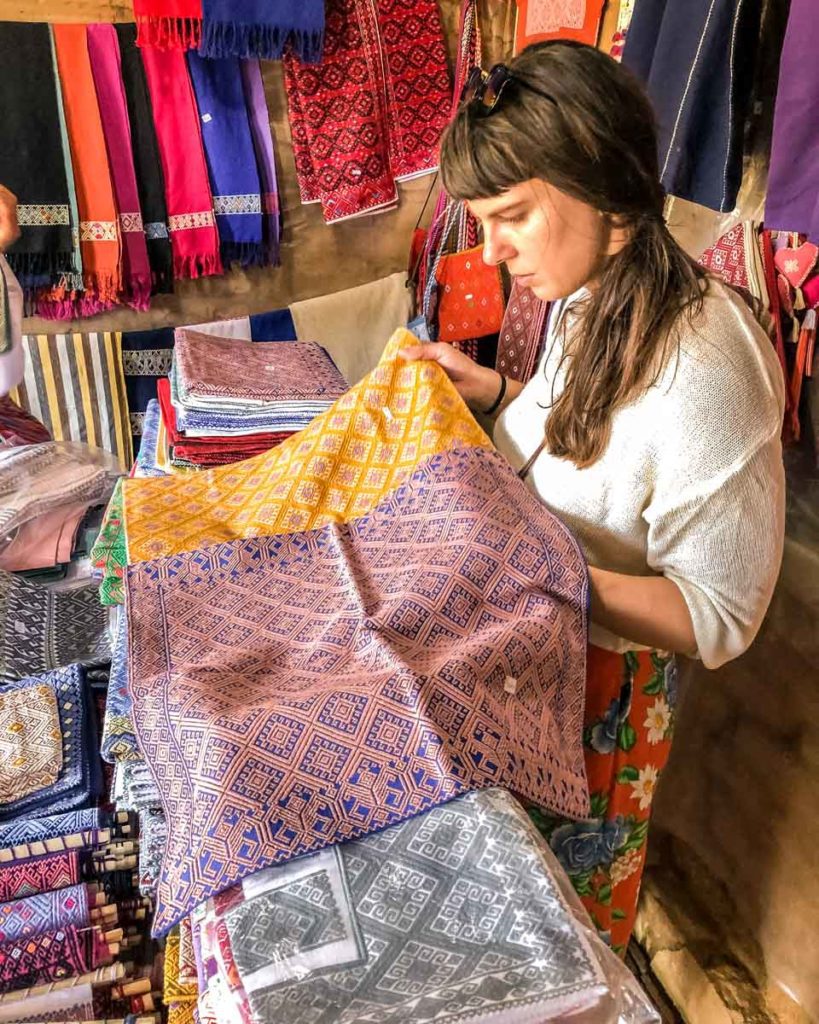 If you are really short on time, Larráinzar might not make sense to fit in your things to do in San Cristobal de las Casas itinerary, but if you like learning about traditional village life, it's a worthwhile stop. This village is also known for it's strong Zapatista history.
Zinacantán
I didn't get a chance to visit the village of Zinacantán, but have heard they make beautiful textiles and have a nice weekly Sunday market. A visit here is at the top of my list for my next trip to Chiapas!
Sumidero Canyon: Things to do in San Cristobal de las Casas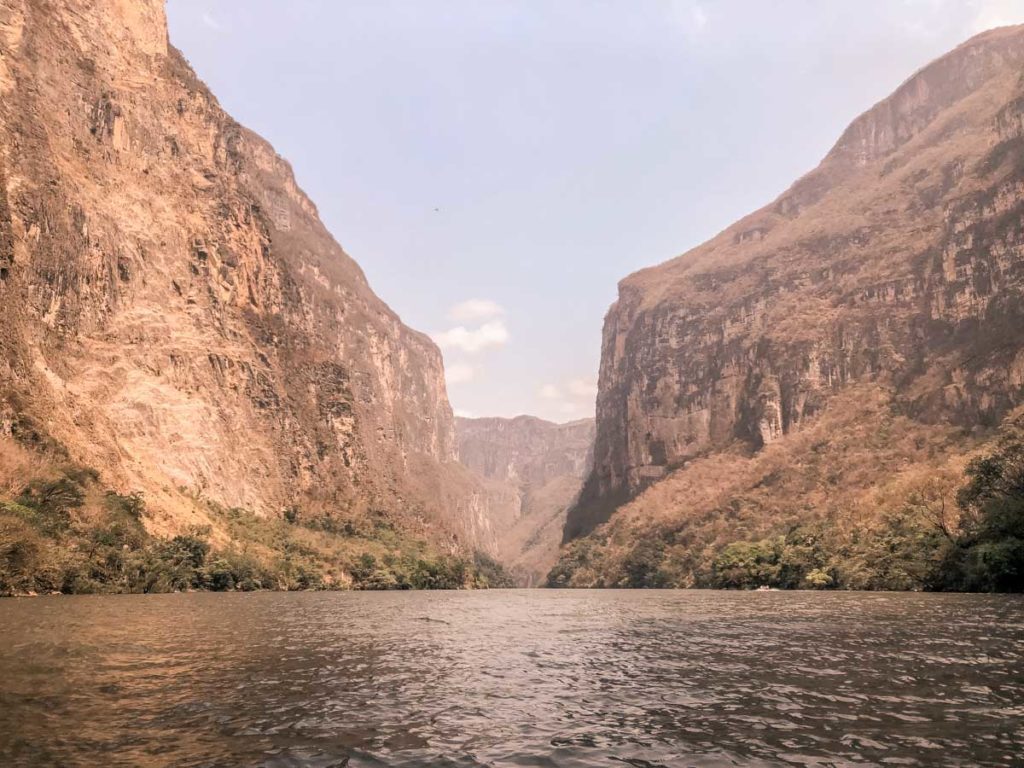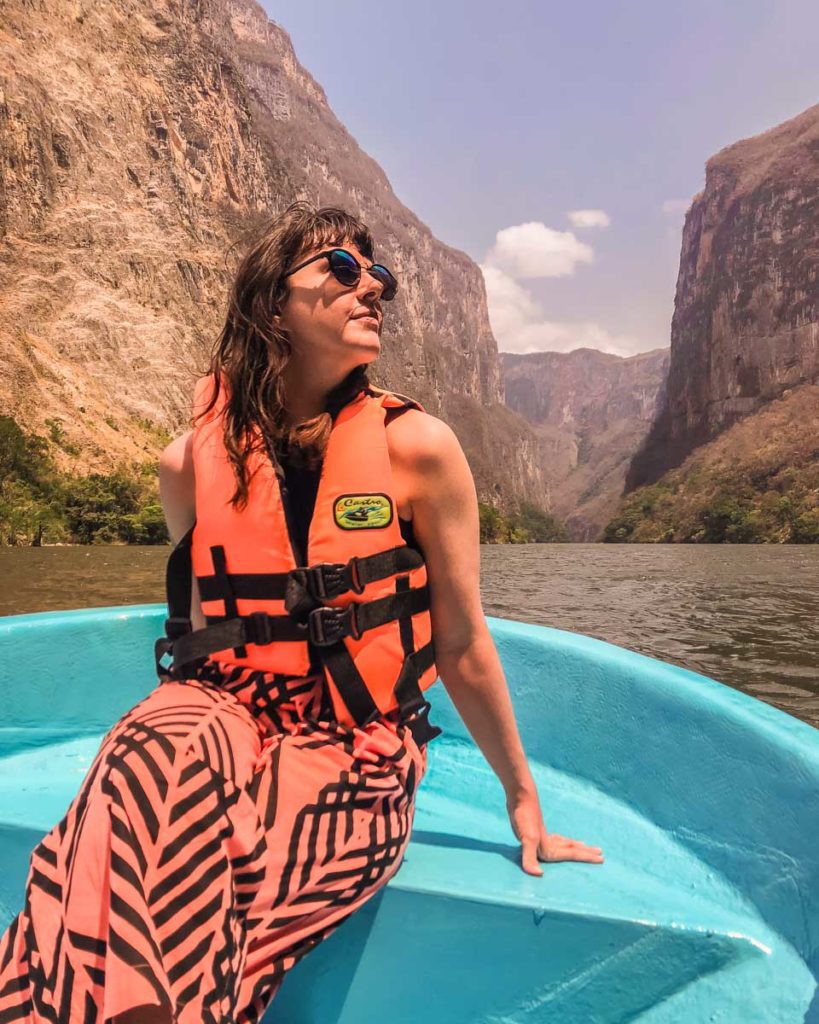 This epic canyon is a must see if you love nature and is included on every Chiapas travel itinerary. The tour is a 2-3 hour boat ride through the river that runs between the steep canyon walls. The start of the tour is in a more open section, but once you travel deeper, the walls rise up to 1000 meters or 3,300 feet on either side.
You can also see lots of interesting wildlife here – like crocodiles, vultures, and birds.
You can add on a visit to one of the miradors (viewpoints) to get an aerial view. We didn't have enough time in our schedule to do this, but it would have been nice to get that perspective as well.
All tours seem to add on a visit to the nearby town of Chiapa de Corzo. I would have preferred to use my time to return to San Cristobal, but I'm not sure you can find a tour that skips this visit.
Visit the Markets: Chiapas Travel Guide
One of my favorite things to do in San Cristobal de las Casas is to visit the local markets.
The municipal market, "José Castillo Tielemans", is large, bustling, and interesting. I definitely recommend a stroll through the aisles here to get a better glimpse at everyday life.
The artisan market in the Plaza Santo Domingo, is full of beautiful textiles, bags, shoes, jewelry and more from across the area.
Finally, the Mercado de Dulces & Artesanías is another artisan market that has many products that the region is famous for, including traditional sweets (or dulces).
Visit the Textile Museum: Things to do in San Cristobal de las Casas
I absolutely love textiles, especially beautifully made pieces from traditional techniques. The Centro de Textiles del Mundo Maya in the center of San Cristobal de las Casas has a great collection from all over the Mayan world (including Guatemala), and was a really interesting visit for me. If you're not a huge textile fan, this might not make sense for you, but if you are interested in the Chiapas textile tradition, this is a great museum.
Check out the Vista from Iglesia San Cristobal: Chiapas Travel Guide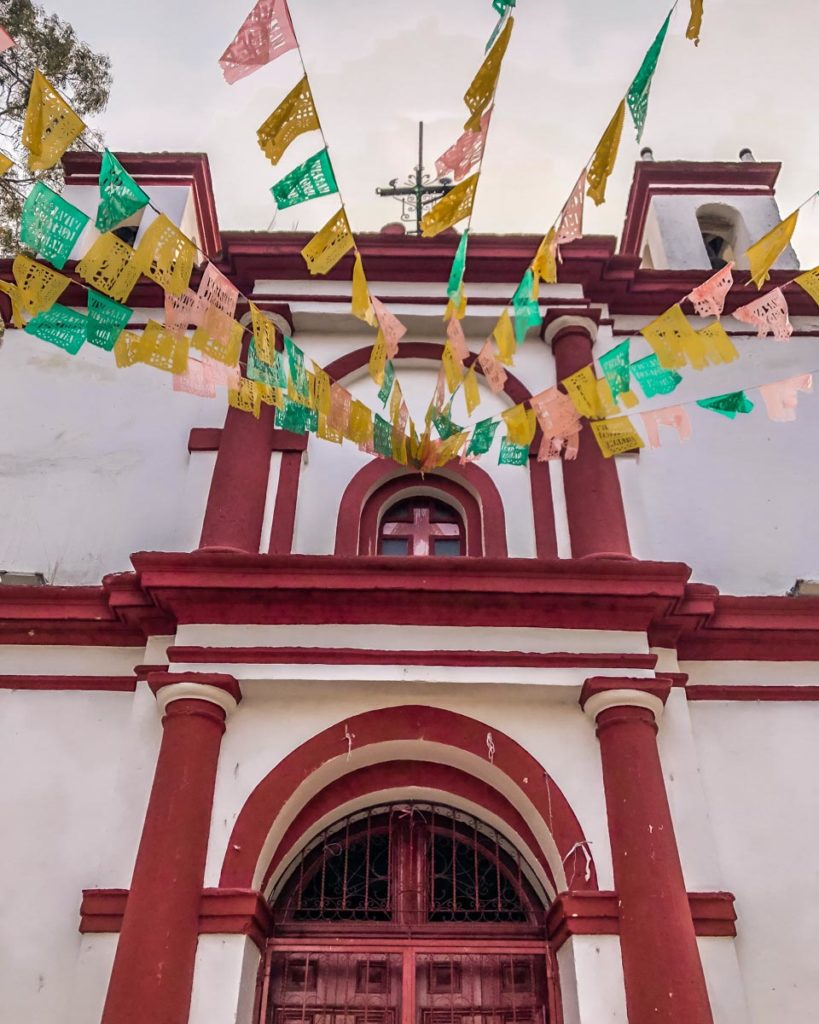 If you feel like getting a little exercise and a view, make the climb up the steps to the Iglesia San Cristobal. You'll get a nice aerial view of the town below, and the church at the top is picturesque.
Side Trip to Palenque: Things to do in San Cristobal de las Casas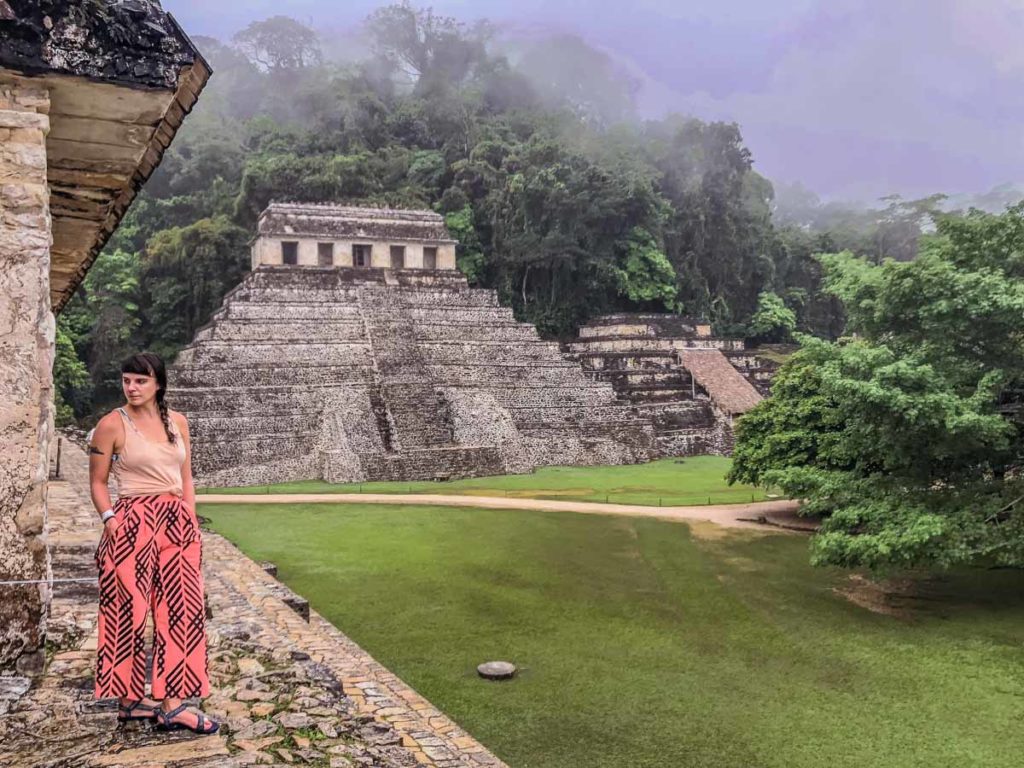 The Palenque ruins are one of the most famous sites in the region, and a part of almost any Chiapas travel itinerary. This impressive site is tucked deep in the jungle. Palenque is not easy to get to, but it's definitely worth the effort.
The bus from San Cristobal to Palenque no longer takes the short route, as there have been too many safety issues including robberies. So the OCC bus trip takes 9 hours. We took this as a night bus both ways to save our days for exploring. The buses are comfortable with seats that recline quite far and are pretty easy to sleep in.
There are still some tour companies that offer tours taking the short route. To be honest, I find this quite confusing. I'm not sure why that option would be safe when the buses don't find it to be safe. So you'll have to make your own decision about what option you choose.
There is also an option to do Palenque as a day tour from San Cristobal but it is an extremely long day. For me, it was too much driving and not enough time to spend in the Palenque area.
There is a lot more to do in Palenque besides the ruins. I'll be writing another Chiapas travel guide blog post about Palenque with more details on waterfalls to visit nearby, where to stay and more.
Other Side/Day Trips from San Cristobal de las Casas: El Chiflón, Sima de las Cotorras, Lagos de Montebello: Chiapas Travel
There are really so so many things to do in San Cristobal de las Casas including day or side trips to other beautiful sites. I didn't get a chance to visit the following places, but have read and heard great things about them, and have them on my list for my next visit.
El Chiflón – A beautiful waterfall closer to Guatemala. You can visit this place based from San Cristóbal or the closer town of Comitán.
Lagos de Montebello – These turquoise and blue lakes are on the border with Guatemala.
Sima de las Cotorras – This is a giant sinkhole that is quite dramatic and picturesque. It's most famous for the thousands of parakeets that live here.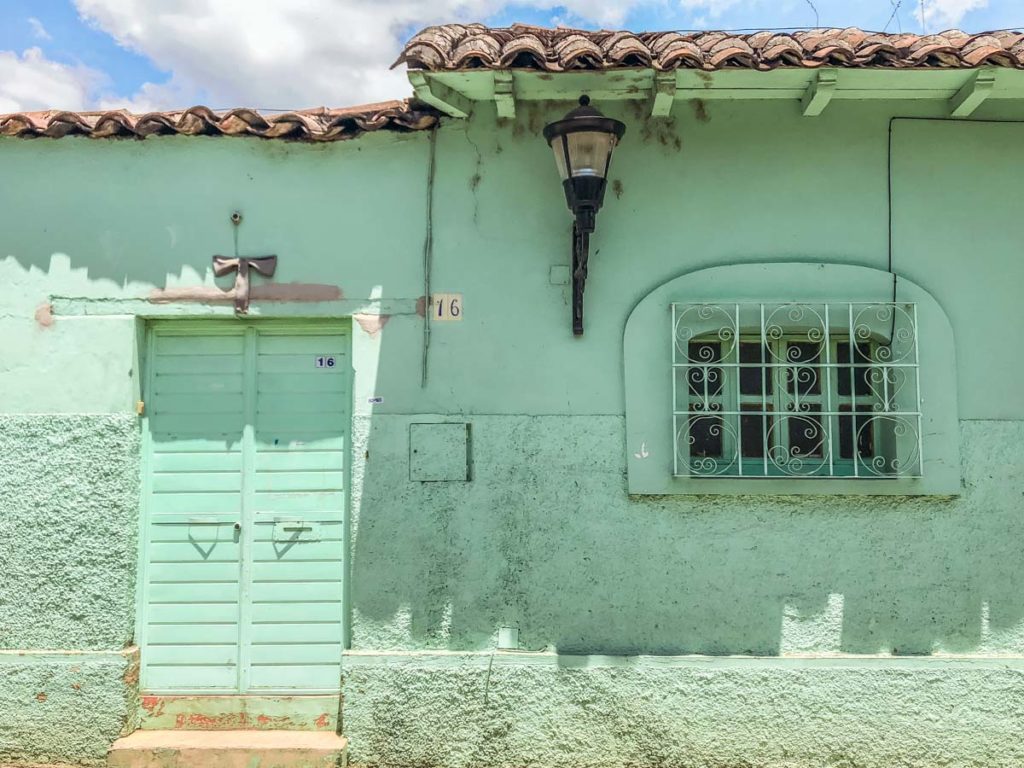 San Cristobal Hotels: Where to Stay, Chiapas Travel
Casa Lum: Eco-Luxury + Beautiful Design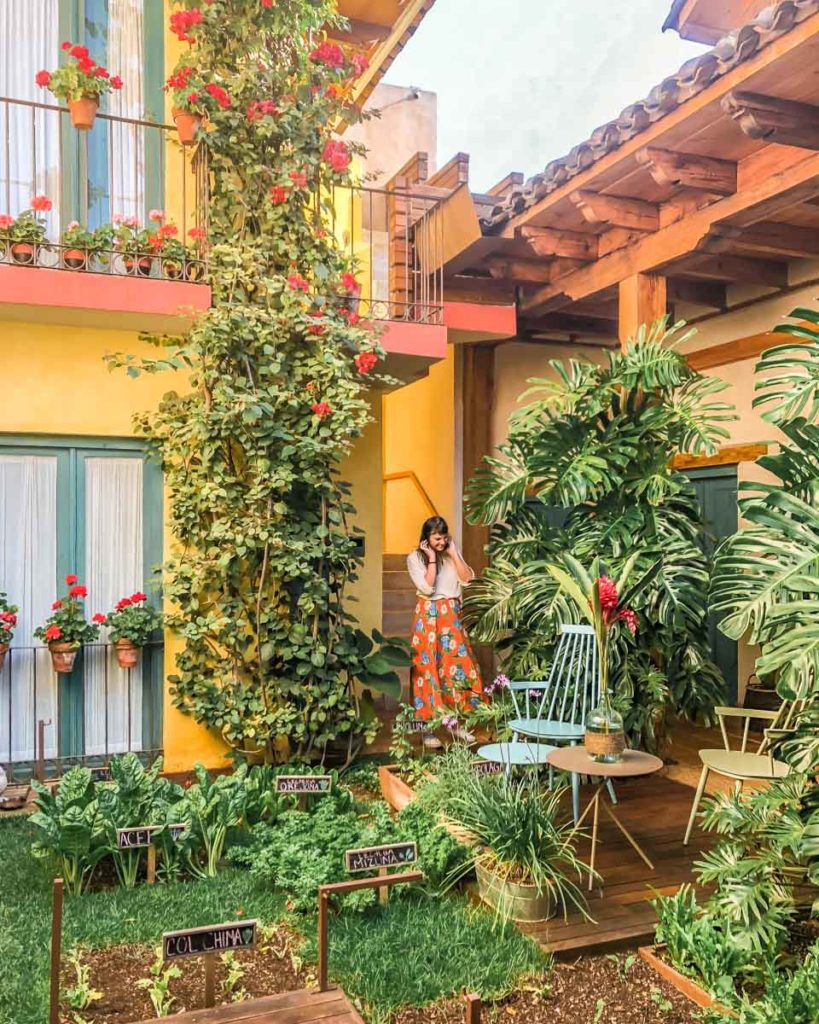 My best recommendation for where to stay in San Cristobal de las Casas is the gorgeous, eco-friendly and perfectly located, Casa Lum. I had the pleasure of spending all my nights in this beautiful and comfortable hotel. The location couldn't be better, the decor is carefully curated, and the staff is wonderful.
I'll be writing a full blog post review on lovely Casa Lum soon.
If that doesn't work in your budget, here are a couple of other options:
Budget San Cristobal Hotels/Hostels:
Iguana Hostel – Iguana has locations in Oaxaca and Chiapas, has great reviews and excellent prices.
Puerta Vieja – Another budget option San Cristobal hotel/hostel option with fantastic reviews, included breakfast, and an on-site bar.
Mid-Range San Cristobal Hotels:
Nuik – a beautifully decorated and small San Cristóbal hotel with Pinterest-esque spaces.
Or check the list map for more options: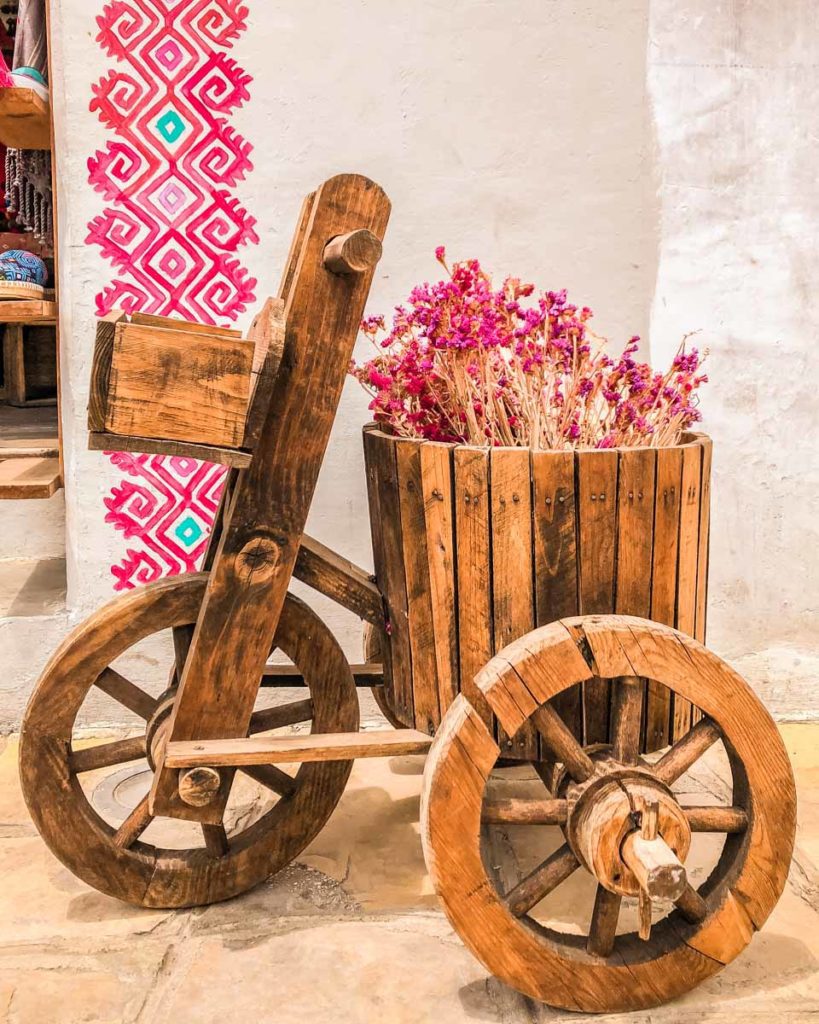 I spent one week in Chiapas – 4 days in San Cristóbal and 3 in Palenque – and I came away with a long list of places I couldn't fit in and want to see next time I visit. Hopefully this list will help you decide what you are most interested in and make the most of your time in beautiful San Cristobal de las Casas and all of Chiapas!
Stay tuned for lots more posts about Chiapas including where to eat and drink in San Cristobal, how to get around the state and over to Guatemala, and what to do in Palenque.
Pin it for Later!