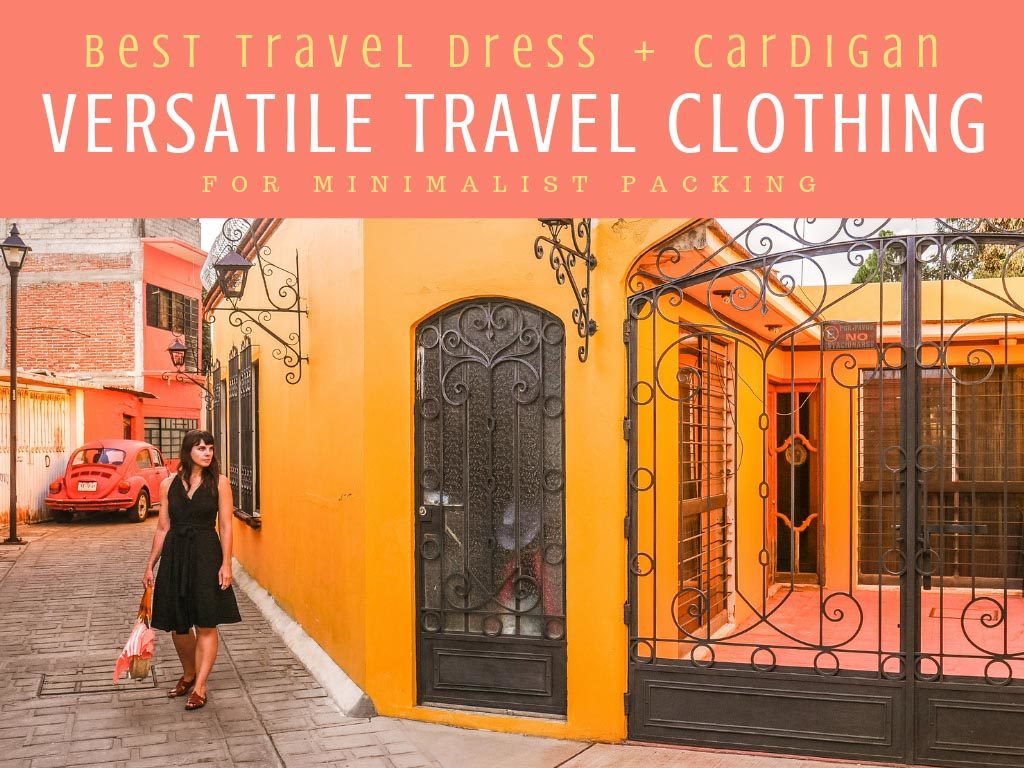 For 3 years all I had was one suitcase and about a week and a half of outfits. I loved the minimalist packing lifestyle, and was a bit worried once I settled down that I might start amassing a bunch of things I don't need now that I have some closet space. I'm happy to say I've only been thoughtfully adding versatile clothing, like this multi-wear travel cardigan, travel dress from Encircled. This has to be the best travel dress + cardigan as it can be worn 8+ ways!
I've been wearing this versatile piece and traveling with it for a month, so I want to break down how it's worked out for me, all the ways you can wear it, and how it's ethically and sustainably made.
How to Wear the Encircled Chrysalis Travel Cardigan + Travel Dress
The Encircled Chrysalis cardi can be worn 8+ ways, and I even experimented and came up with some other dress variations. Here are some of the ways you can wear the best travel dress + travel cardigan.
Wear it as a Dress: Versatile Clothing for Travel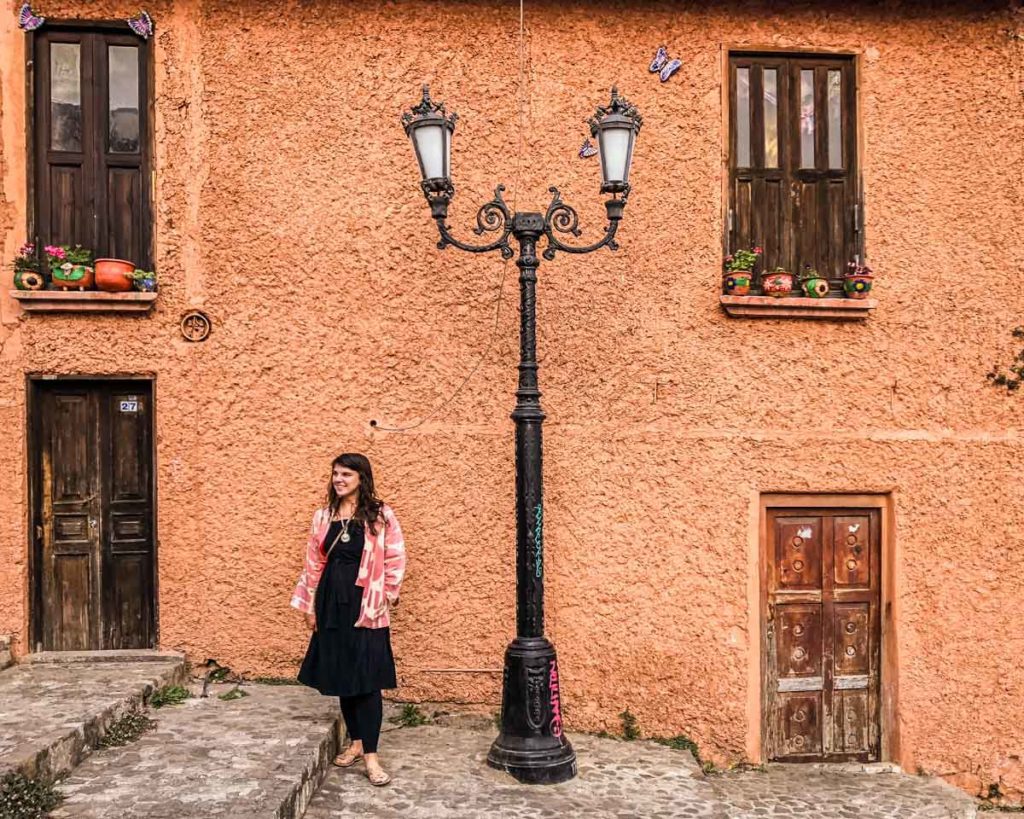 I happen to think dresses are the perfect travel clothing. One piece to throw on just makes life easier.
The Encircled cardi booklet that arrives with your Chrysalis Cardi walks you through 3 dress variations. I played around (as a former DIY-er to the core, it was only natural) and came up with several other variations. It's easy to do once you have the dress on tunic style and then start twisting the belt around and experimenting with fabric placement.
The 3 basic styles are a classic and flattering wrap-dress, a grecian tunic, and a one-shoulder dress that looks fancy enough for a wedding or a nice night out.
Wear it as a Cardigan: Minimalist Packing
The Encircled Chrysalis Cardi is named after a cardigan, so of course it looks great worn as a cocoon cardigan. It took me a little bit of practice to get this one right, but once I did it was super comfy and unique. You can adjust the drape to lay the way you want it to and control the length a bit.
Wear it as a Scarf: Versatile Clothing for Travel
The scarf option is probably the most versatile clothing option of all, and the one I've worn the most. When I was traveling for 16 days through Chiapas and Guatemala, changing elevation and climates, riding very long buses with varying degrees of a/c – the scarf was always within arm's reach. I bundled up with it on cold buses, threw it on at night in chilly mountain climates, and even pulled it up as a hood when I wanted extra protection.
The Encircled card acts as a circle scarf, so you can choose to loop it as many times as you want to get the look that you prefer.
Wear it as a Top: Minimalist Packing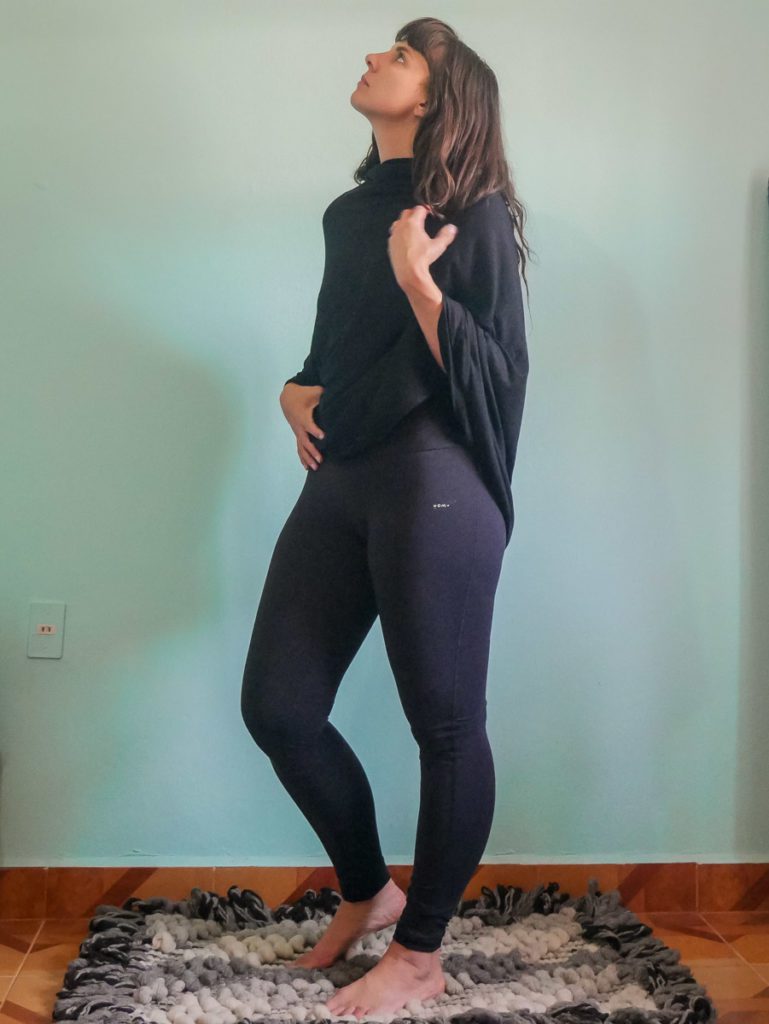 There are a few top versions of this versatile clothing piece as well – a cape, a wrap, and a halter. For my body type, I don't usually wear looser tops as I don't find it very flattering for myself. But these are nice options if you like drapier tops.
Wear it as a Skirt: Versatile Clothing for Travel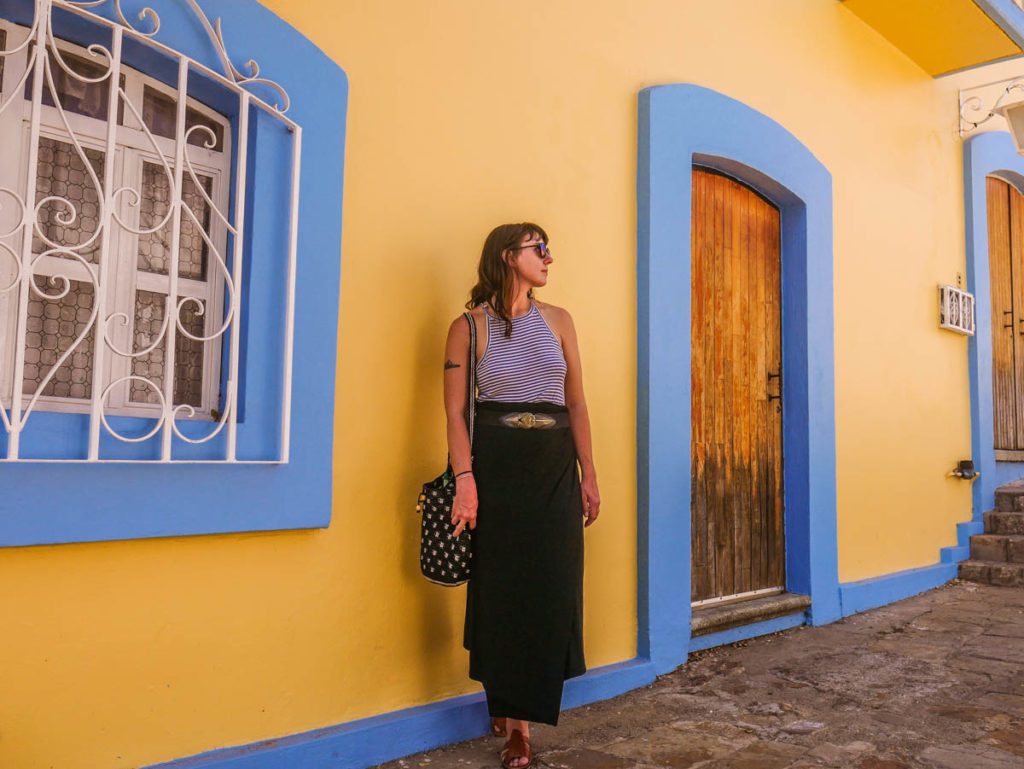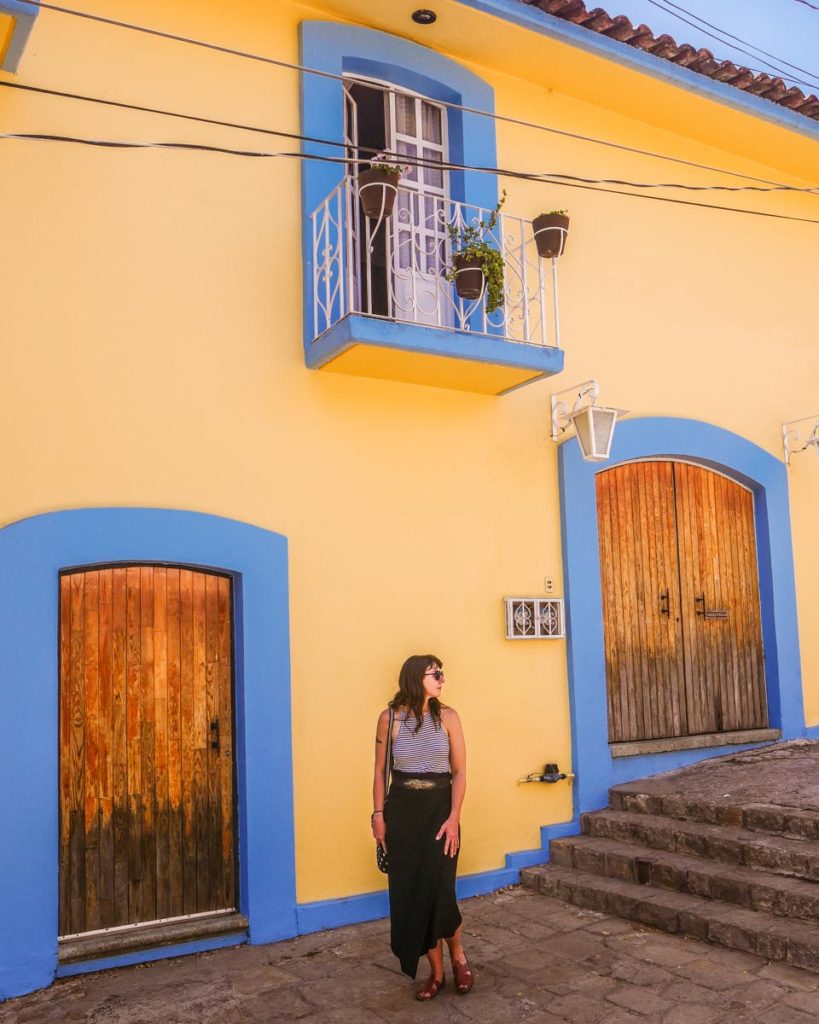 This clothing option wasn't in the booklet, but after traveling through Chiapas and Guatemala and seeing many of the women's traditional dress consisting of a wrap skirt, I thought this would work the exact same way. It's super easy, you can just step in the middle and wrap it however tight you'd like, then fasten with the included belt, or one of your own.
Versatile Clothing for Different Body Types
One other thing to note is that this travel cardigan is totally adjustable, so it can work on different body types and body shapes. You wrap and tie the fabric exactly the way you want it, that fits you, and makes you feel comfortable.
As a woman, our bodies are also always changing and fluctuating. It's great to have a versatile clothing piece that adjusts with me throughout the month or years.
How the Encircled Chrysalis Travel Cardigan is Perfect for Minimalist Packing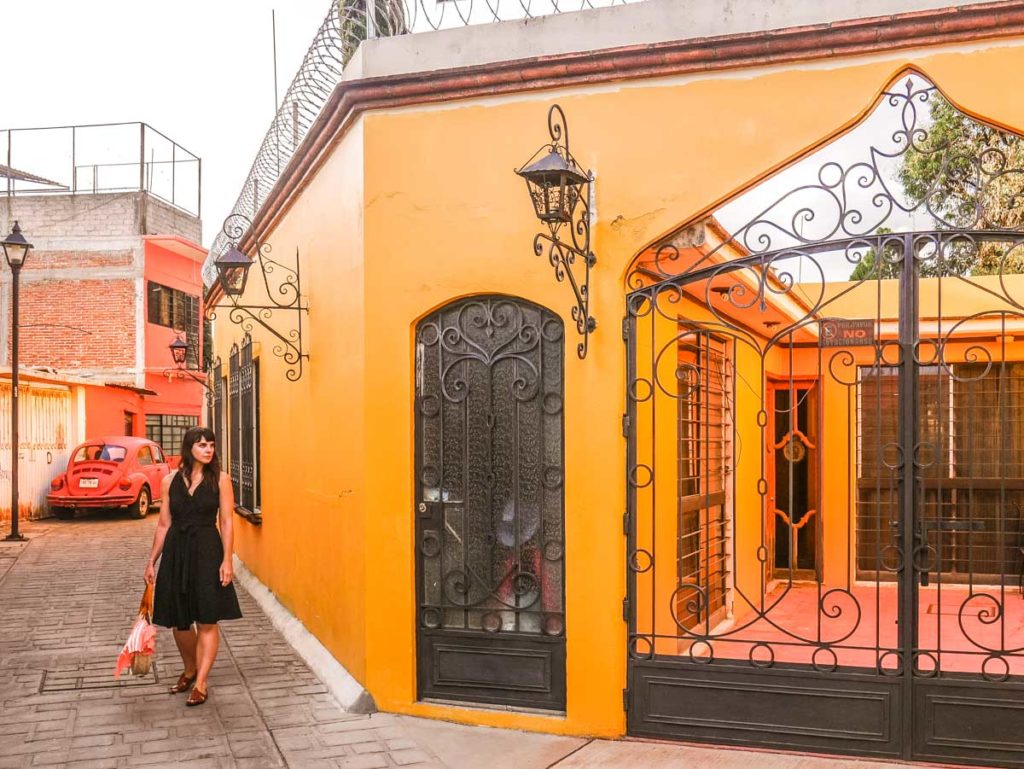 One of the main values of Encircled is to encourage women to have less clothing that they wear more. So creating high-quality, versatile clothing that people will want to wear again and again, in different ways.
This travel cardigan can be worn so many ways, so it's really ideal for a minimalist closet, and even more so for minimalist packing. You can have a fancy dress, a casual dress, a skirt, a scarf when it gets chilly, some top options, and a cardigan all in one piece of fabric.
I traveled with the cardigan for 16 days, wearing it often, sometimes every day as a scarf, and the fabric still looked great by the end of the trip without a wash.
Minimalist packing with only a carry-on makes your trip so much more pleasant, allows for spontaneity, and saves money on baggage fees. This travel cardigan is a great way to pack a lot into your suitcase with only one piece of versatile clothing.
How the Encircled Travel Cardigan/Dress is Ethically + Sustainably Made
Beyond all the pluses above, Encircled is an ethical company – which has become incredibly important to me. As someone who used to work in the fashion industry, I know how bad for the environment and social issues this industry can be. I want to only support companies that are making their pieces with the good of the environment and their employees in mind.
Encircled makes all of their travel cardigan/dresses and other pieces in Toronto, Canada, where they can have closer oversight, ensure labour regulations, nurture face-to-face relationships and also be more able to produce by demand to eliminate waste.
Encircled uses natural fabrics that are biodegradable and sustainably sourced. They also knit a portion of the fabric in Canada, and are working to grow that as their business grows.
They are incredibly transparent with their whole process from start to finish, office practices, packaging, and longterm business goals. You can read much, much more about their values and practices on their values page .
Final Thoughts: Versatile Clothing for Minimalist Packing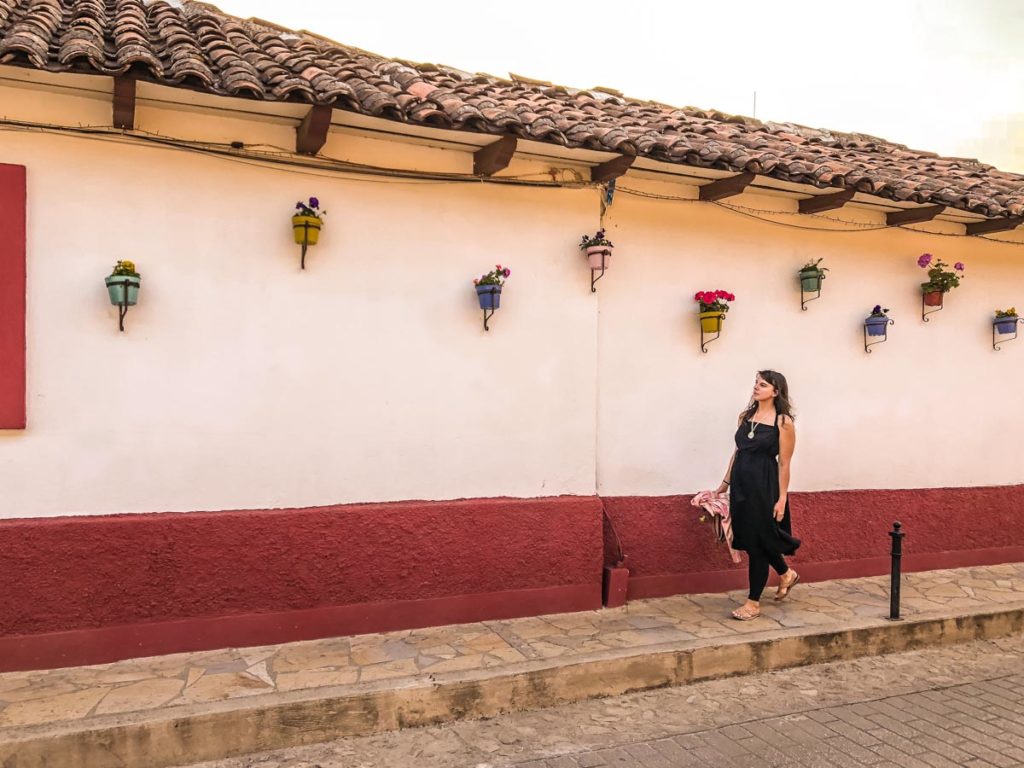 I can tell that I am going to have and wear the Encircled cardi for many years to come. It's a high-quality piece that I can switch up based on the climate, what I'm doing, and how I feel.
I love that it fits so many body shapes and personal styles. It feels like such a safe bet because there will always be at least a handful of options that look great on you and are comfy.
I really feel compelled to make better decisions about every purchase and product choice I make. I don't want to amass a bunch of things that I never wear or use. I'm happy to have this versatile item in my closet and suitcase, that is responsibly made and will serve me well.
Disclosure: This post was written in partnership with Encircled. As always, every opinion is my own. I've been wearing the Encircled Chrysalis Cardi all over Mexico and Guatemala over the last month and it's been comfy, cute and super multi-functional.
Pin it for Later!