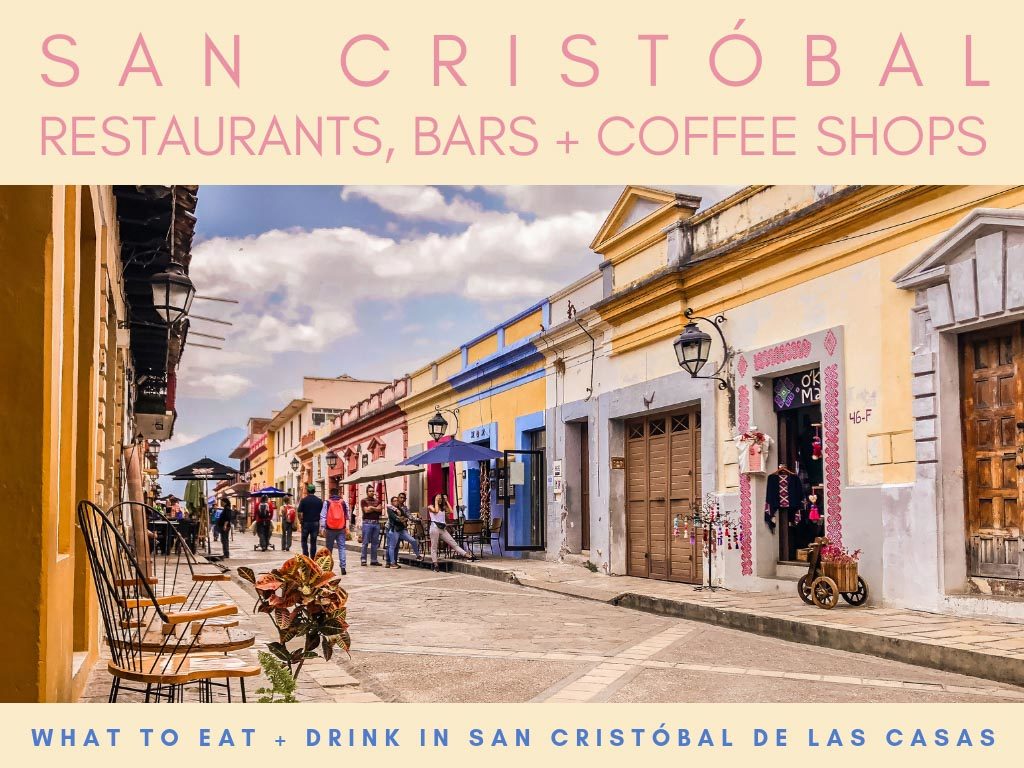 Before my trip to San Cristobal de las Casas, I did some searching for where to eat and drink in the city. I had a hard time finding info that wasn't only directing me to tourist restaurants – and while some tourist restaurants are fine, I love to get a taste of typical local food and drink. So I did my own research, asked locals, and benefited from the research of my foodie friend to find some of my favorite San Cristobal restaurants, bars & coffee shops.
I am ordering the list with the local spots first, and then tourist spots next. So if you're looking for a more typical experience, you'll find those in each category at the top.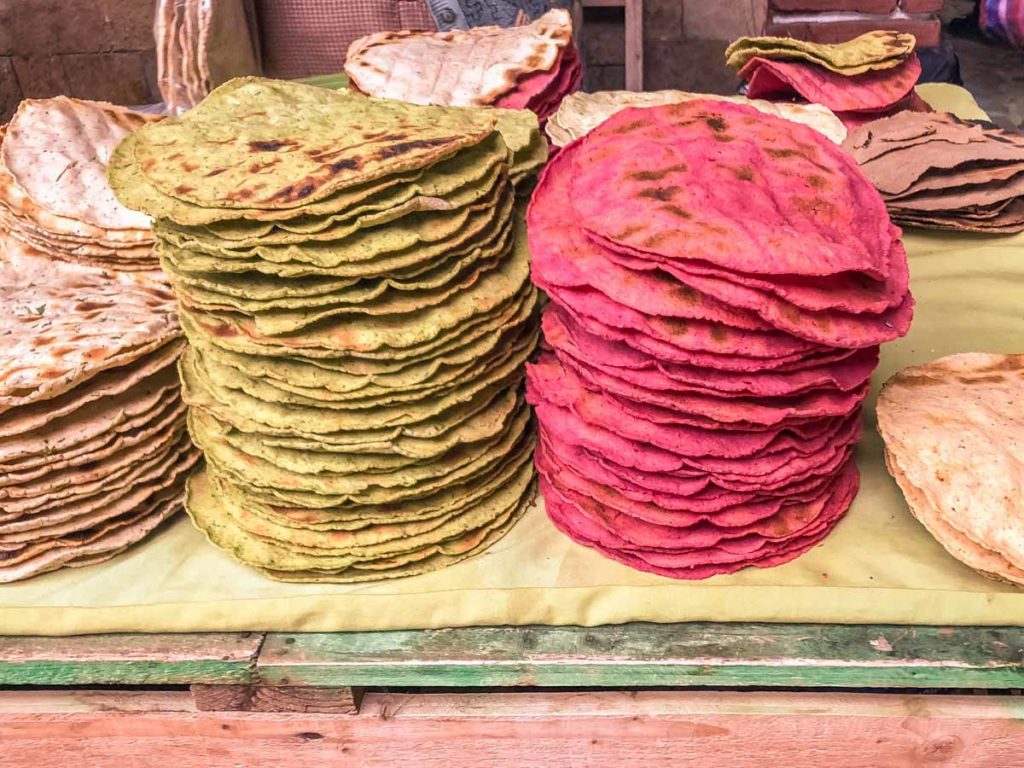 Food Safety Note:
It's worth mentioning that you'll want to be aware and careful about your food choices in Chiapas. I was warned about this twice (from locals and foreigners). As someone who lives in Oaxaca, I brushed it off since I feel confident that I can tell when food is safe. However, I did get an upset stomach. I think I know what caused it and have left it out of the list. But just use your best common sense when choosing where to eat in San Cristobal. Look for places that are busy and have high turnover.
I have an older post about how to find good and safe food in Latin America. I think it's always a useful when looking for safe places to eat.
San Cristobal Restaurants:
This is the spot to head if you are looking for tacos. Their specialty is the tacos al pastor off the trompo, among other things. This San Cristobal restaurant and taqueria always seem to be busy with locals, so it's delicious and a fun local atmosphere. It will probably be the first place I return to next trip!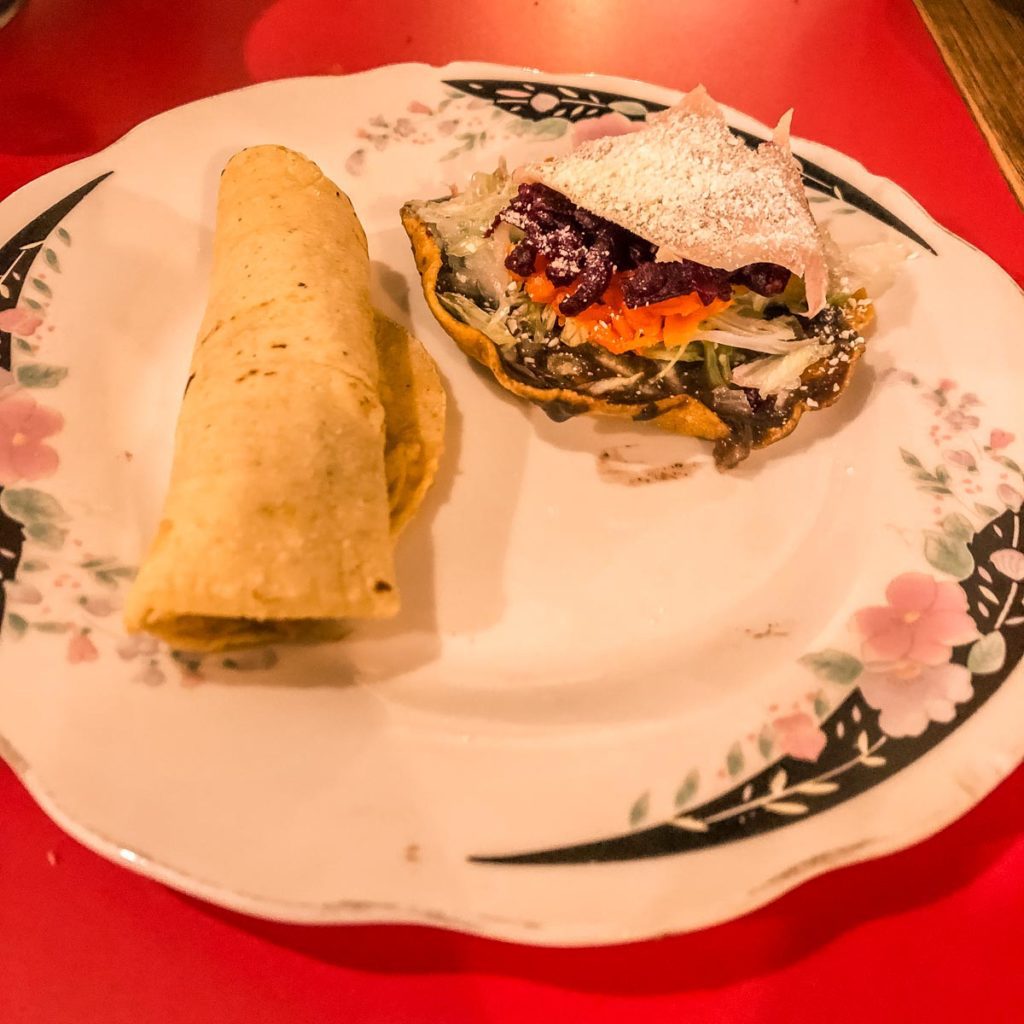 This San Cristobal restaurant was recommended to us from a local for their tacos de cabeza and they didn't disappoint. You can also try a chalupa (pictured above right) here – a local staple that is a tostada topped with beans, and a salad of shredded beets and carrot, Chiapas cheese, and chicken or pork.
Frontera Cafe: What to Eat in San Cristobal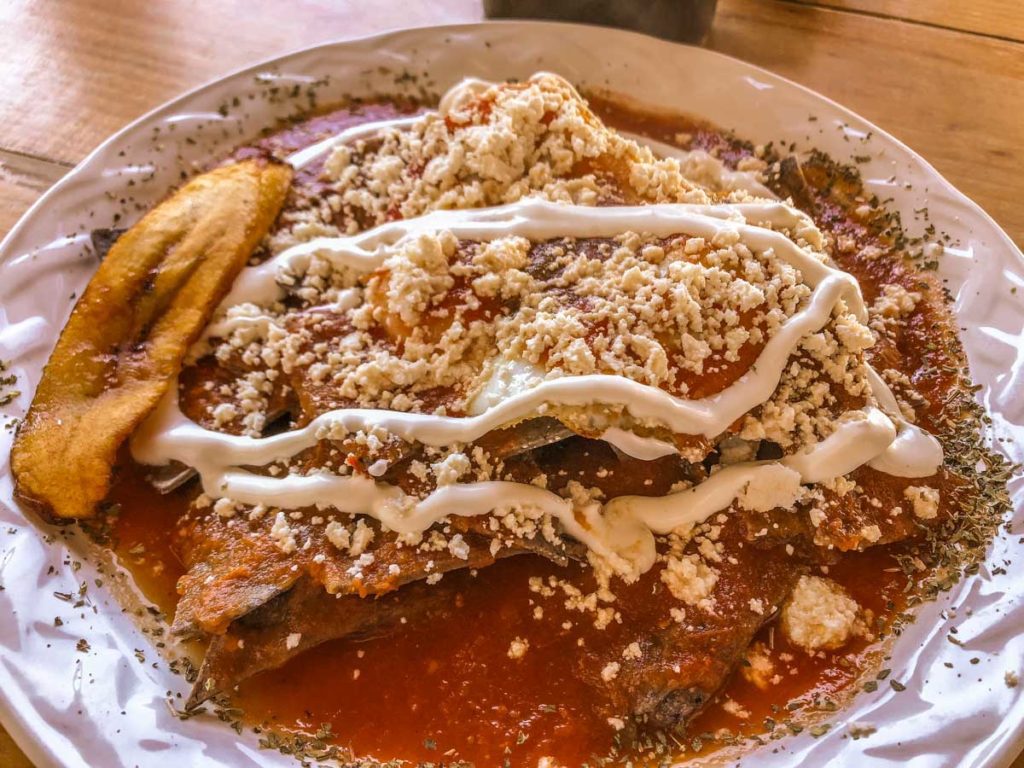 I had a great chilaquiles breakfast at this San Cristobal restaurant, made with blue corn tortillas. The coffee and juice are also great. I had lunch here another day that was not my favorite, but the breakfast is a sure bet, and there is a nice outdoor garden.
El Caldero: San Cristobal Restaurants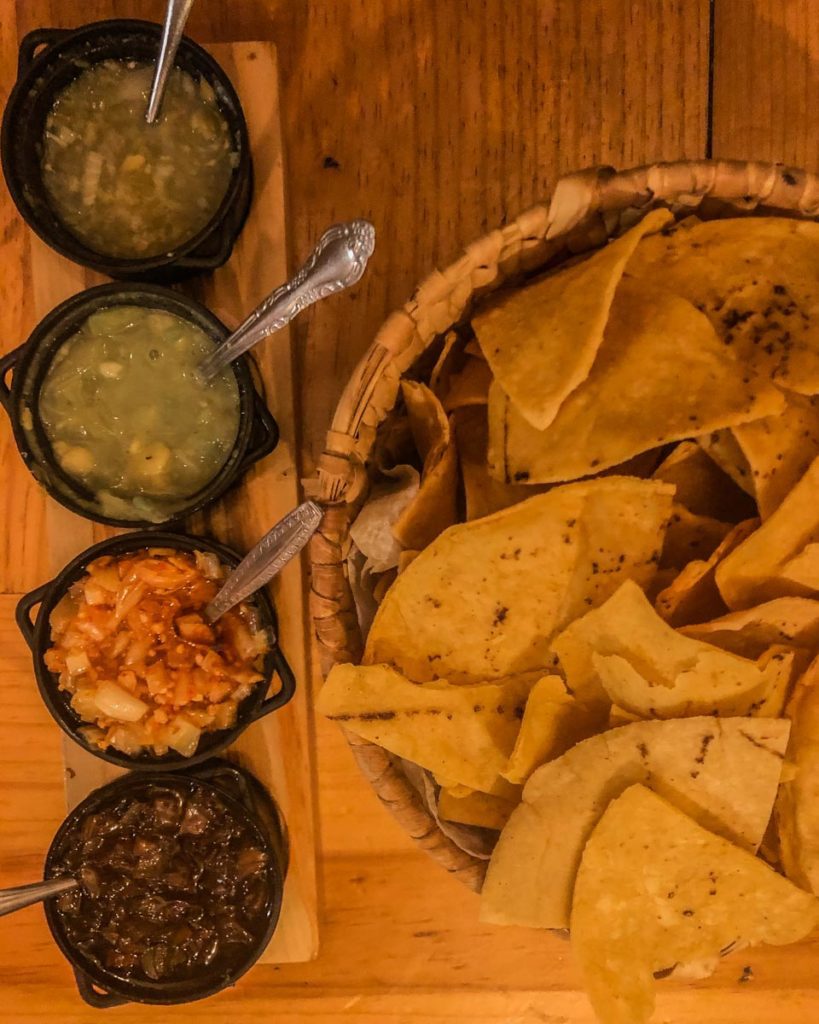 This is one of the most popular San Cristobal restaurants and it serves soup every which way – traditional local versions as well as other types of cuisines. I got the vegetarian soup and it was delicious, totally exceeded my expectations.
Natura: What to Eat in San Cristobal
This is a cute San Cristobal restaurant right in the middle of the centro. They have a breakfast special with fruit and a main plate + coffee and juice.
Casa Lum: San Cristobal Restaurants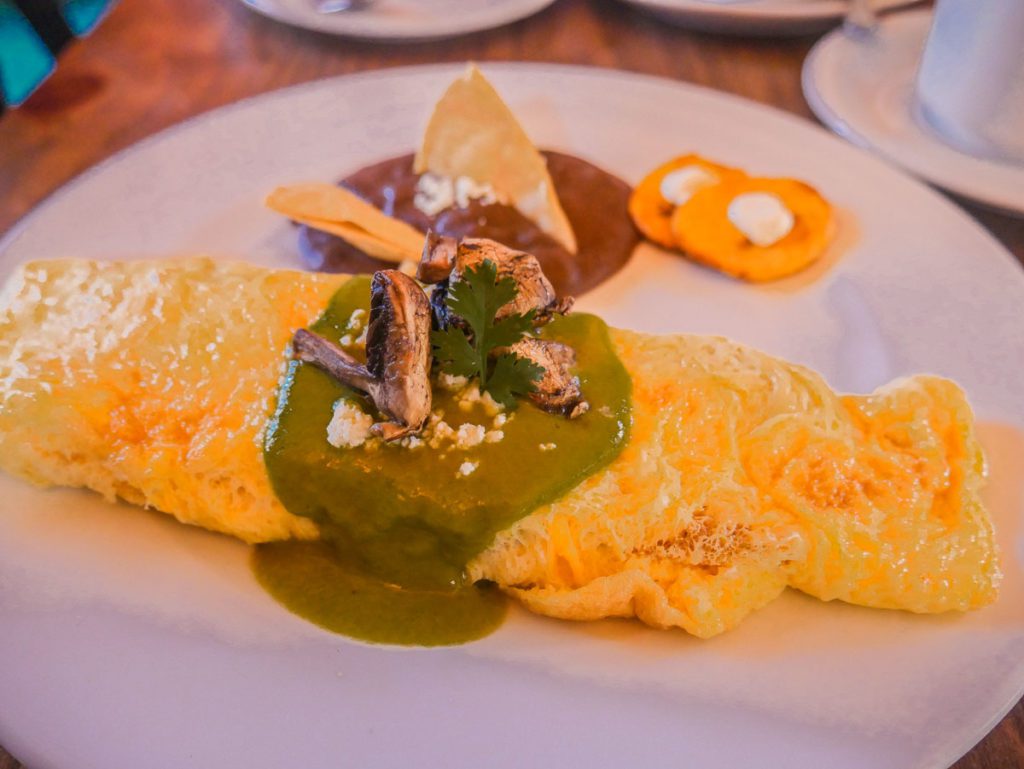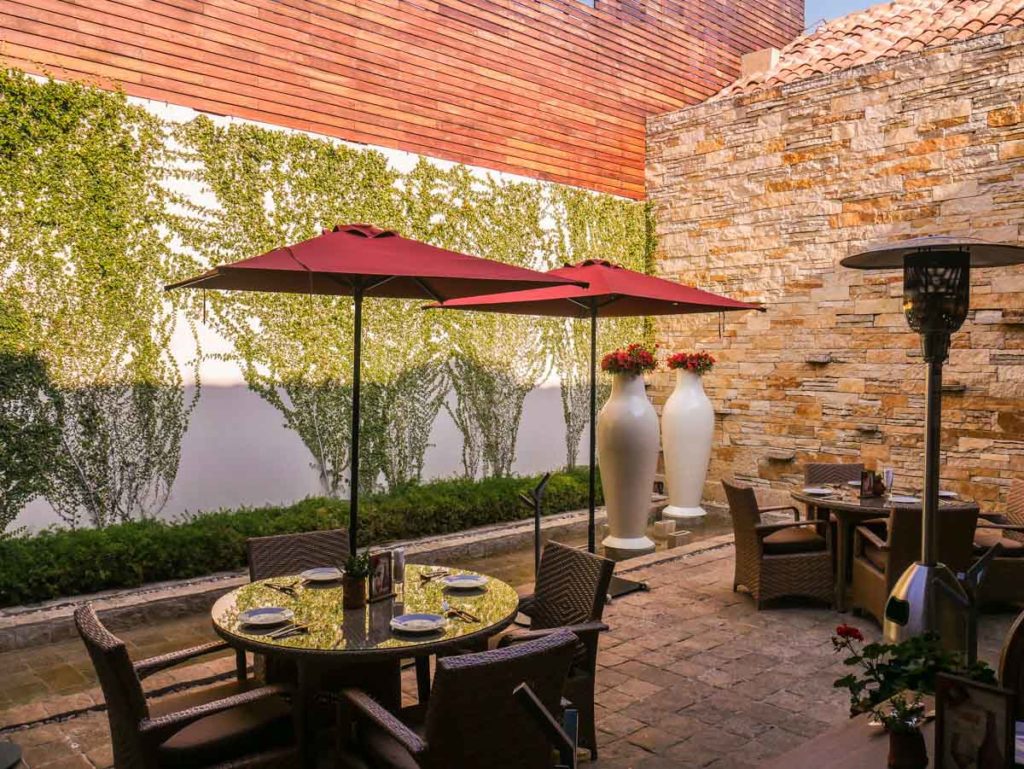 We had breakfast here one morning and everything was very fresh, well-prepared and balanced. The service is also excellent. This is a nice upscale San Cristobal restaurant experience.
Bangcook: What to Eat in San Cristobal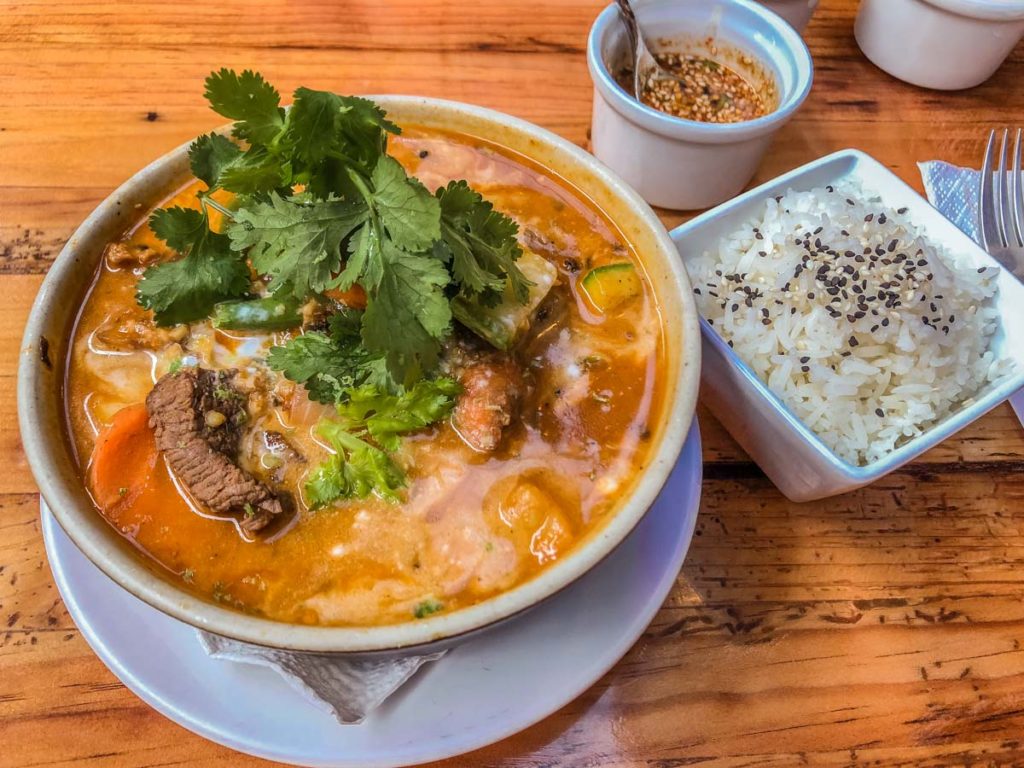 If you are craving something different, Bangcook serves Thai food and was surprisingly tasty.
Best San Cristobal Bars:
Of course it's fun to have a night out during your trip, but there are also some traditional drinks from Chiapas that are absolutely worthy to try, to understand the culture more. Here are my favorite San Cristobal bars.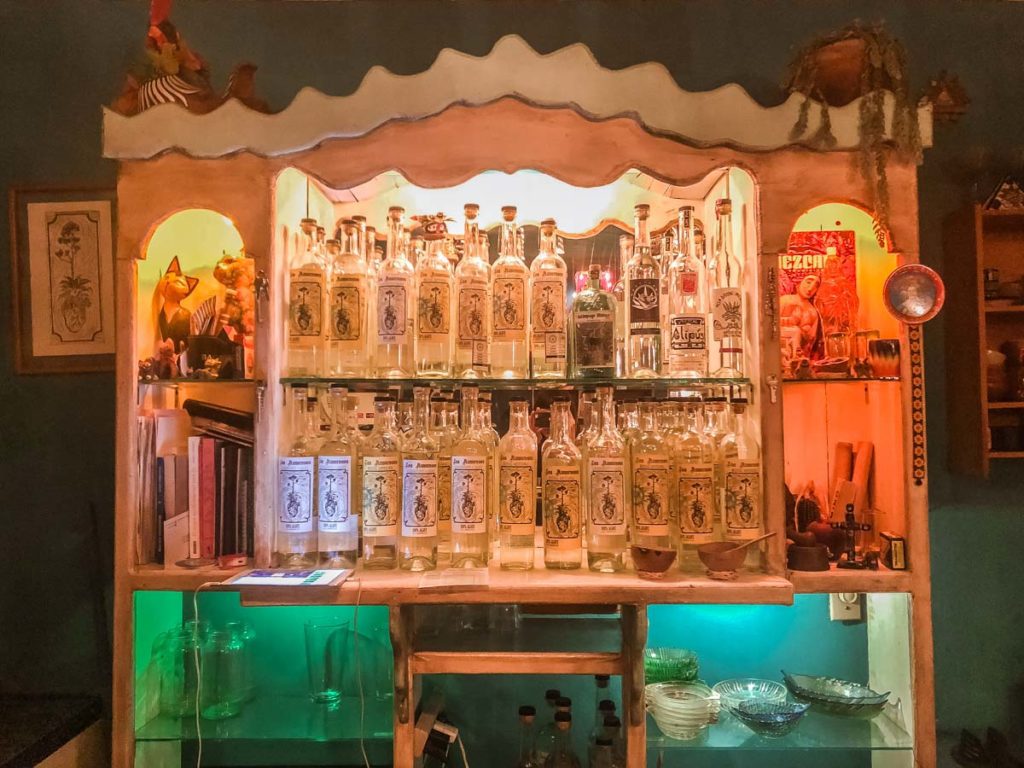 Puro Mexicano is hands down my favorite bar in San Cristobal. I ended up coming here 3 out of my 4 nights in town so that should tell you how much I loved it!
The owner, Luis, is super knowledgeable about mezcal from all over the country, the process, and the history. He has a carefully curated collection of mezcal and other small batch traditional liquors that is more varied than a lot of the mezcalerías I've visited.
Ask for the comiteco – it's a distilled pulque from nearby Comitán. I had never heard of pulque being distilled into a liquor before, and it was delicious and super interesting. Or ask for any other recommendations, there is so much good stuff to try in this mezcalería.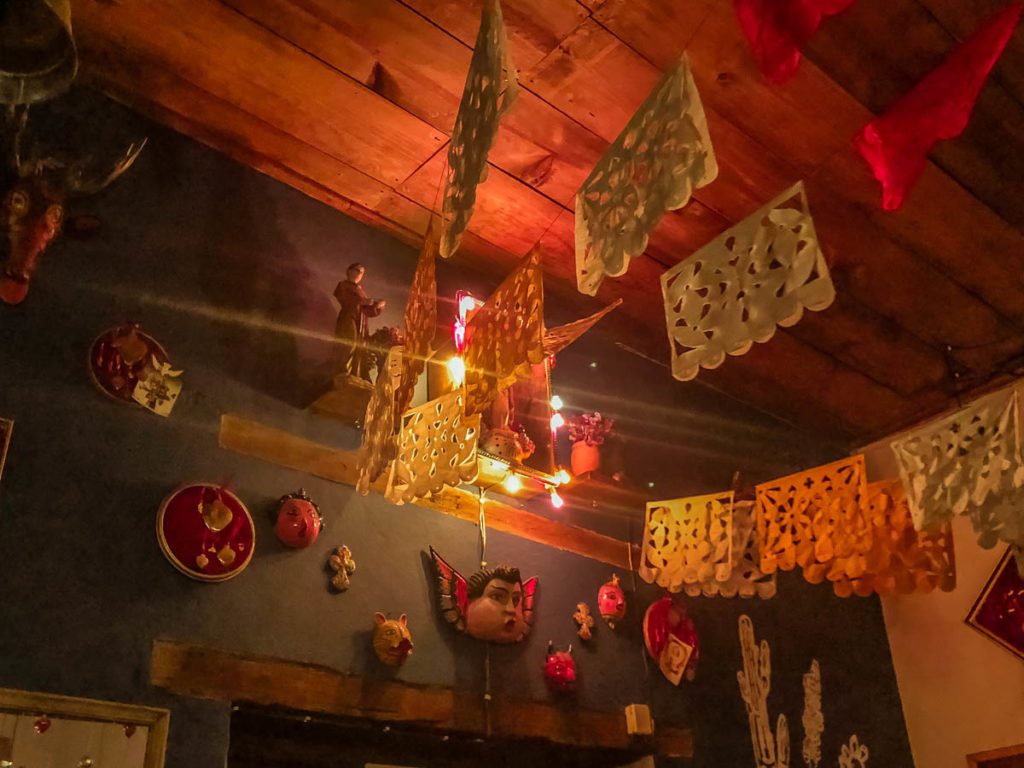 It's also a super fun San Cristobal bar that often has live music and a lively local crowd. This is a must do in San Cristobal de las Casas. Check their Facebook or Instagram to find out about music and special events.
Posheria: San Cristobal Bars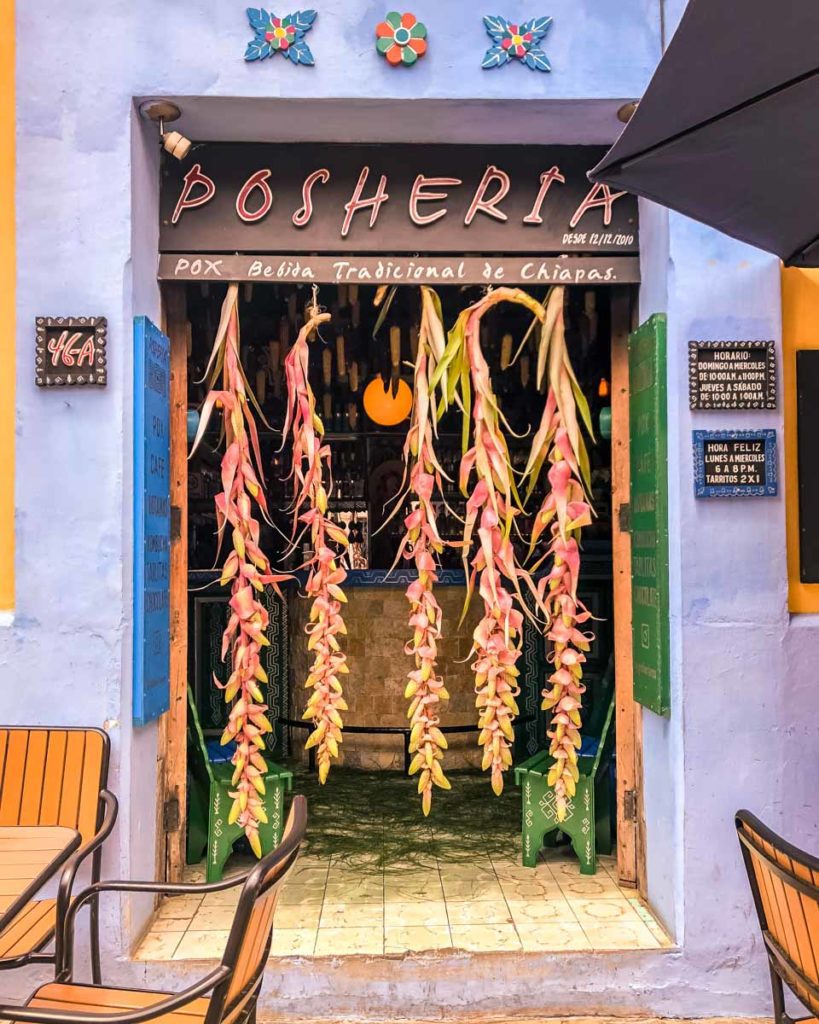 If you aren't familiar, pox is a traditional liquor made from corn that is from the state of Chiapas. It's used in ceremonial contexts, but also enjoyed on a night out.
Posheria is a San Cristobal bar right on one of the main pedestrian streets and has an eclectic and fun decor. It's a great place to check out if you'd like to try out the local drink.
Pox MYL: San Cristobal Bars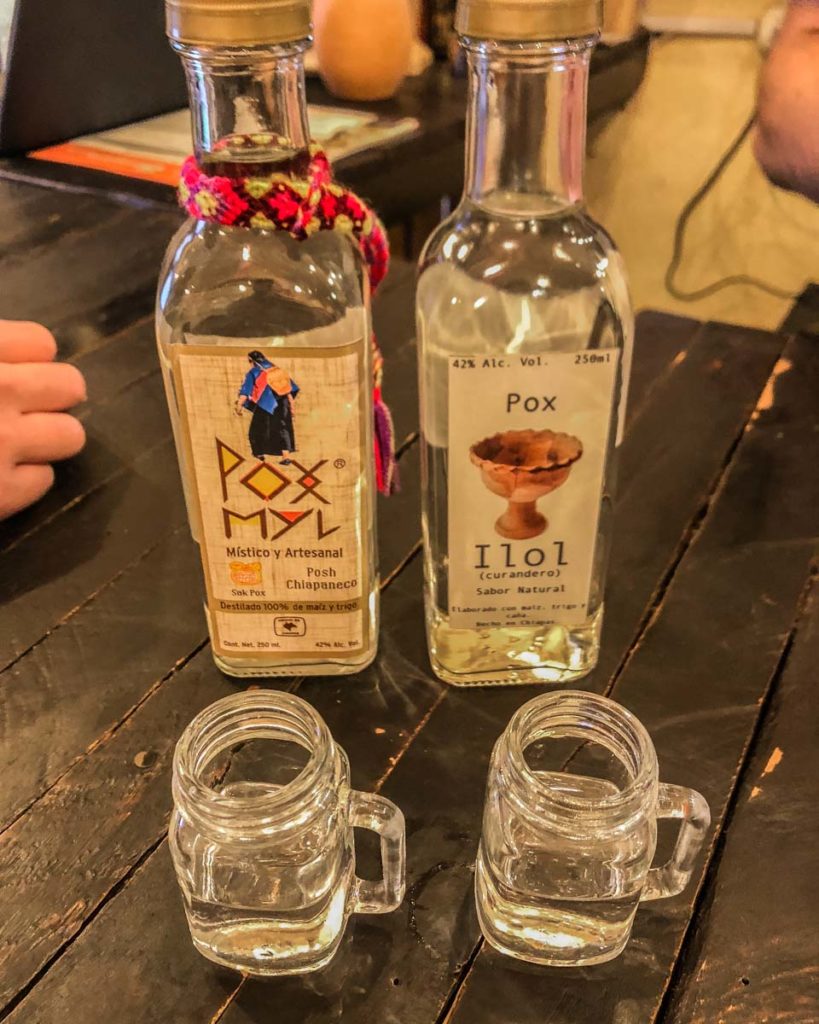 Pox MYL is another San Cristobal bar to try local pox. I liked this place because the bartender was happy to spend time answering our questions and explaining the differences in the versions that we tried.
Vino de Bacco is a very popular San Cristobal bar on one of the main tourist streets, but for good reason. They have a lengthy wine list and serve free tapas with each drink. It has a cozy, comfy atmosphere, and a nice patio out front (if you can grab a place, it's usually packed).
San Cristobal Coffee Shops:
Coffee is a very important part of Chiapas culture. The beans grown in this state are some of the best in the world, and almost every cup of coffee I had was so smooth, rich, and delicious. Here were my favorite San Cristobal coffee shops.
Frontera: San Cristobal Coffee Shops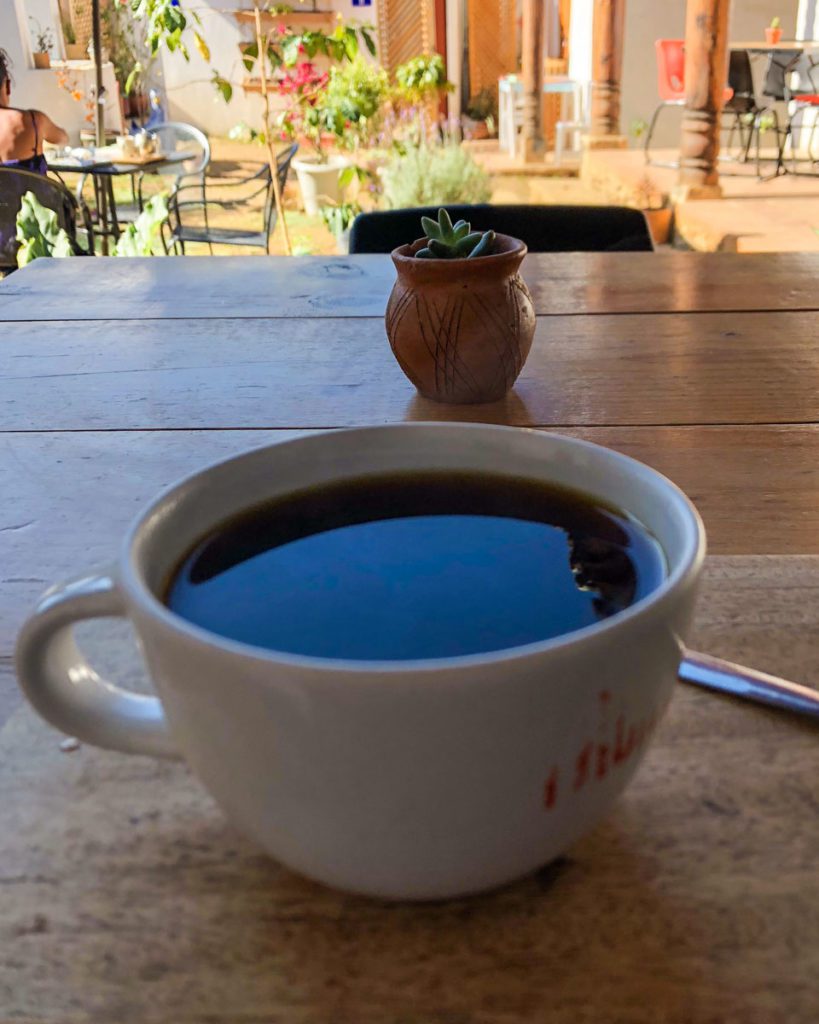 Frontera was the very first place I visited and it immediately made me feel at home.
This cute San Cristobal coffee shop is a tiny bit away from the tourist bustle, but still easy to get to. The coffee was delicious and like most places in San Cristobal, you get the option of having it brewed the way you want – drip, chemex, aeropress, etc..
Amor Negro: San Cristobal Coffee Shops
Amor Negro is a San Cristobal coffee shop located inside a modern building with several shops and restaurants, called Esquina San Agustin. The coffee shop is on the top floor, nicely decorated, and comfy.
This is the first place I would recommend if you need to get some work done or use the internet for awhile. The staff was so nice and let me hang out for hours while I frantically caught up on work. The internet was dependable and there are a few outlets to plug in.
The coffee was also great, and the food was tasty. I ordered one of their savory waffles which was a nice change of pace, good texture, and had fresh toppings.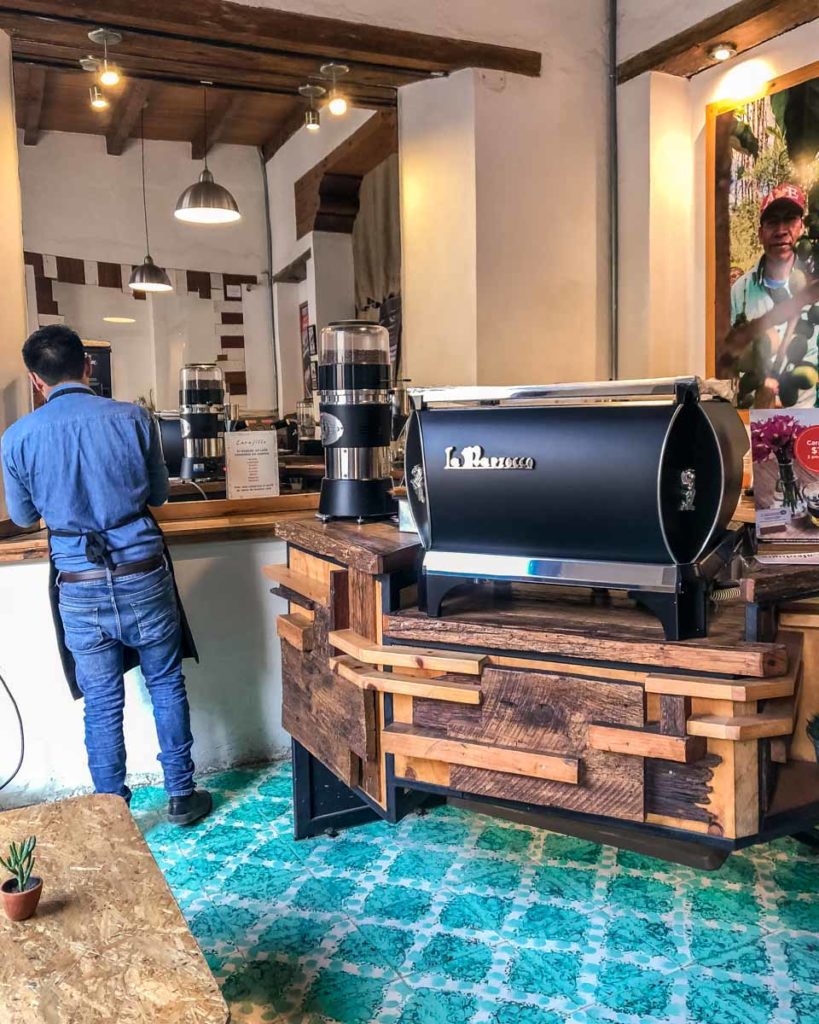 This is a pretty San Cristobal coffee shop on one of the main tourist streets. The staff is friendly, and the coffee is smooth. They also have a few outdoor seating options which are great for people watching.
Best San Cristobal Hotels:
Check out my post of things to do in San Cristobal + a few hotel options.
Or my most recommended hotel in San Cristobal was the absolutely beautiful Casa Lum.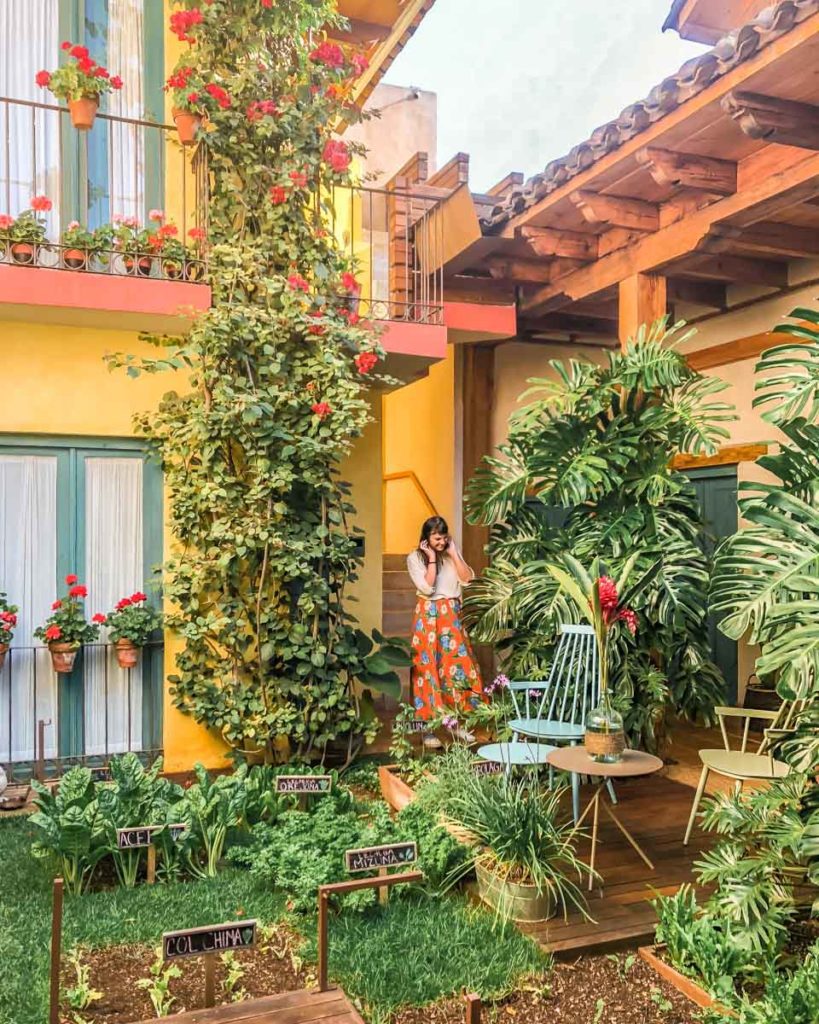 Or check the map below for other options.
If you're heading to Chiapas, read my favorite things to do in San Cristobal plus day and side trips nearby. Or check out all of my many Mexico blog posts.
Pin it for Later!
San Cristobal Restaurants
San Cristobal Bars
San Cristobal Coffee Shops