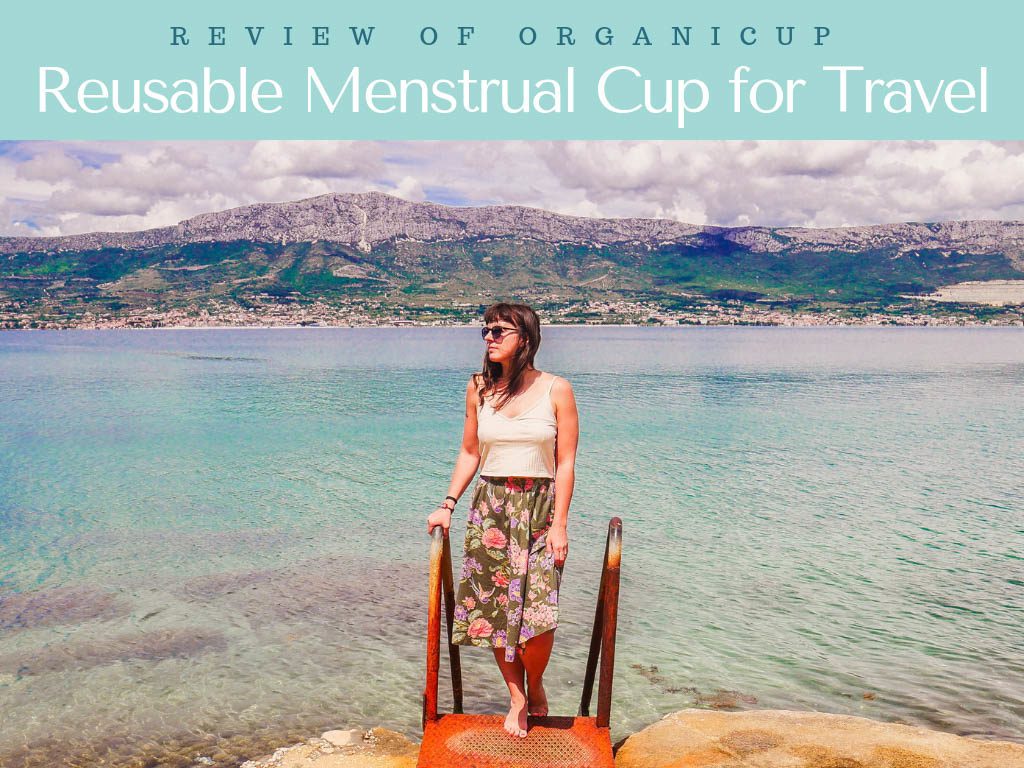 This post is for the ladies (men now is your chance to click away!) Let's talk about periods while traveling – annoying, expensive, and inconvenient are words that come to mind. But a couple years ago I discovered something that has made my periods so much easier – the reusable menstrual cup for travel.
It really changed everything for me. It's saved me so much money, so much time running around rural remote areas looking for tampons, and so much headache having to make sure I'm near a bathroom every couple of hours. Oh yeah, and I haven't been dumping lots of waste into the environment or using products full of chemicals in my body.
This month, I tried a new reusable menstrual cup – the OrganiCup. It's actually been the smoothest period I've had in awhile. I'm going to tell you all about it below – a bit about what menstrual cups are, how the OrganiCup stacked up, and why I've found menstrual cups to be the most convenient solution for periods while traveling.
DISCOUNT: OrganiCup is sharing a promo code with my readers for the next 2 weeks. Use BT20 for 20% off your purchase. until June 7th! Click the link above and enter code at checkout.
Disclosure: this post was written in partnership with OrganiCup. As always, every opinion and word is my own. Menstrual cups have changed my life and I'm really happy with my OrganiCup.
Reusable Menstrual Cups: What Are They?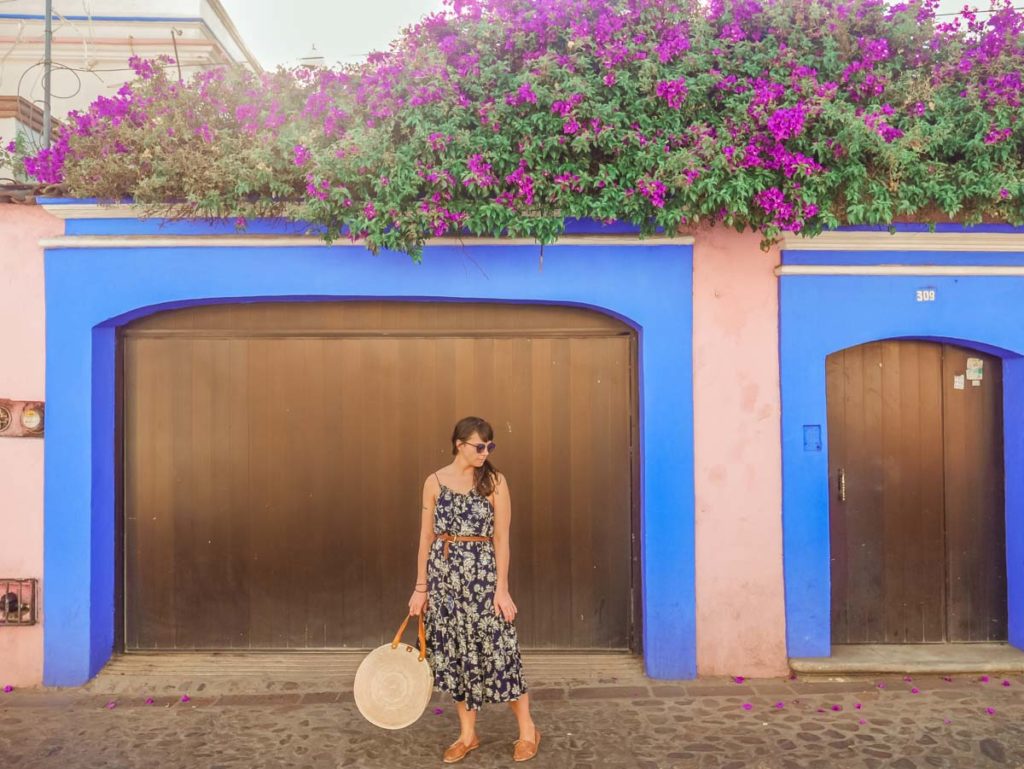 If you aren't familiar with a reusable menstrual cup, don't feel left out. They are a newer product, and are just starting to become popular. I wouldn't say they are mainstream yet, but lots of women are making the change for a variety of reasons.
The menstrual cup is a flexible silicon cup that you insert to collect your period. It's an alternative to pads and tampons.
Reusable Menstrual Cups: Why Use Them?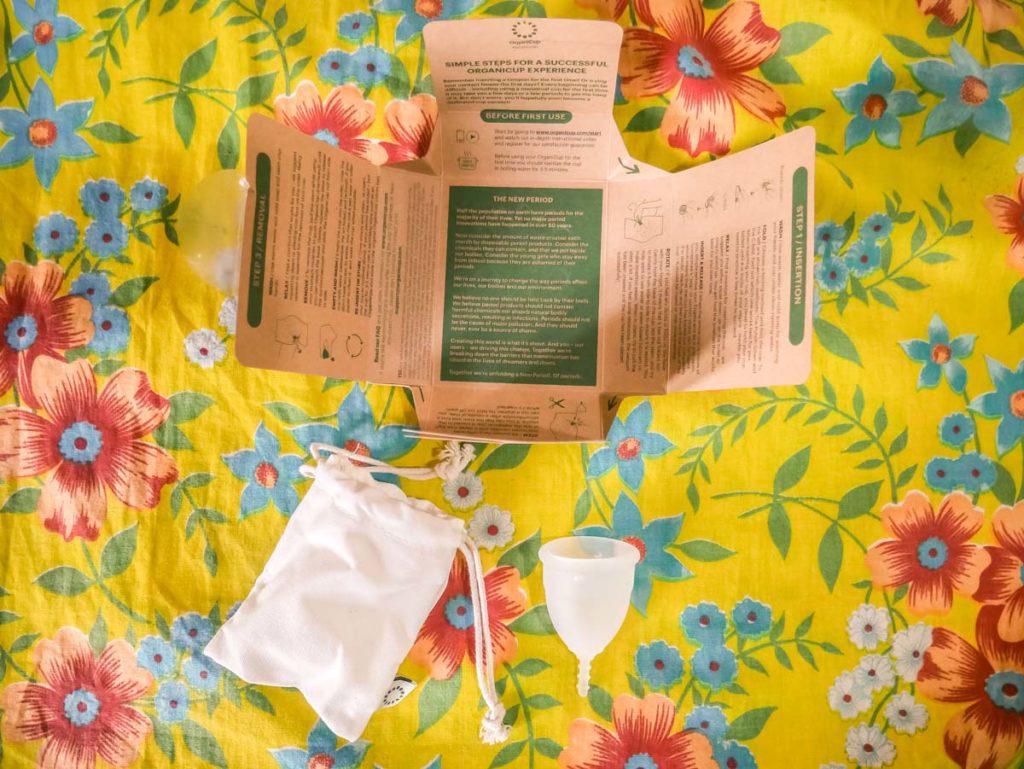 There are so many great reasons to switch to reusable menstrual cups. Here are a few:
They Are Healthy for Your Body
Reusable menstrual cups are chemical free. The OrganiCup is made from soft medical grade silicone. It is free of BPA, latex or dyes. It's a completely safe and chemical free product for your body, as opposed to most tampons that contain chemicals that your body can absorb.
They Are Good for the Environment
Reusable menstrual cups are just that – reusable. You can use the same cup for years. My last cup lasted about 2 ½ years. Many can last up to 3 years. Think of all the tampons and pads you go through in just one month. They all go into the landfill or septic system. Reusable menstrual cups save tons of waste.
They Save Lots of $
You won't just save waste, you'll save lots of money. You won't need to buy boxes of tampons and pads every month. You can purchase the reusable menstrual cup once and use it for up to 3 years.
They are Convenient
You can leave menstrual cups in for up to 12 hours. I usually only remove, clean and reinsert mine 2x a day – morning and night. This means I only have to think about my period twice a day. If you have a pretty heavy flow, you might need to do this a little more often, but for me 2 times is sufficient. You do need to do a couple of extra steps during this process – it's best to clean the cup every time, but for me it's overall a huge time saver.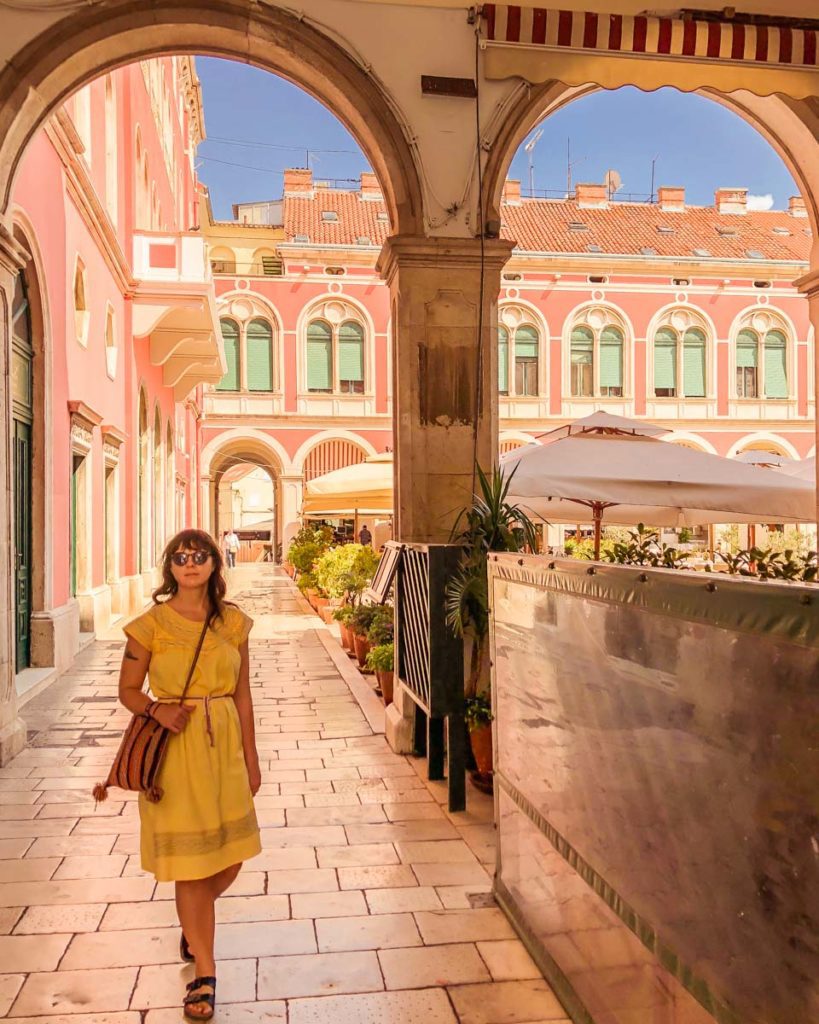 And this is especially convenient when traveling. If I am exploring a new city, I don't want to think about having to find a bathroom frequently. Even more inconvenient are long bus rides, plane rides, backpacking trips, hiking, day trips, and more. You can relax and forget you have your period (for a little while) when you are using reusable menstrual cups for travel.
Review of OrganiCup, Reusable Menstrual Cup for Travel
I just tried out the OrganiCup this month and love it. This was the smoothest, easiest period I've had in awhile. I realized that my previous menstrual cup must have been on its last legs. I was having some leaking and trouble with insertion the last couple of months.
When I used the OrganiCup, it worked perfectly on the first try. It was super easy to insert and seal every time. I never had any leaking, never felt any discomfort, and found the size and shape of it easier to manage.
Using a Reusable Menstrual Cup for the First Time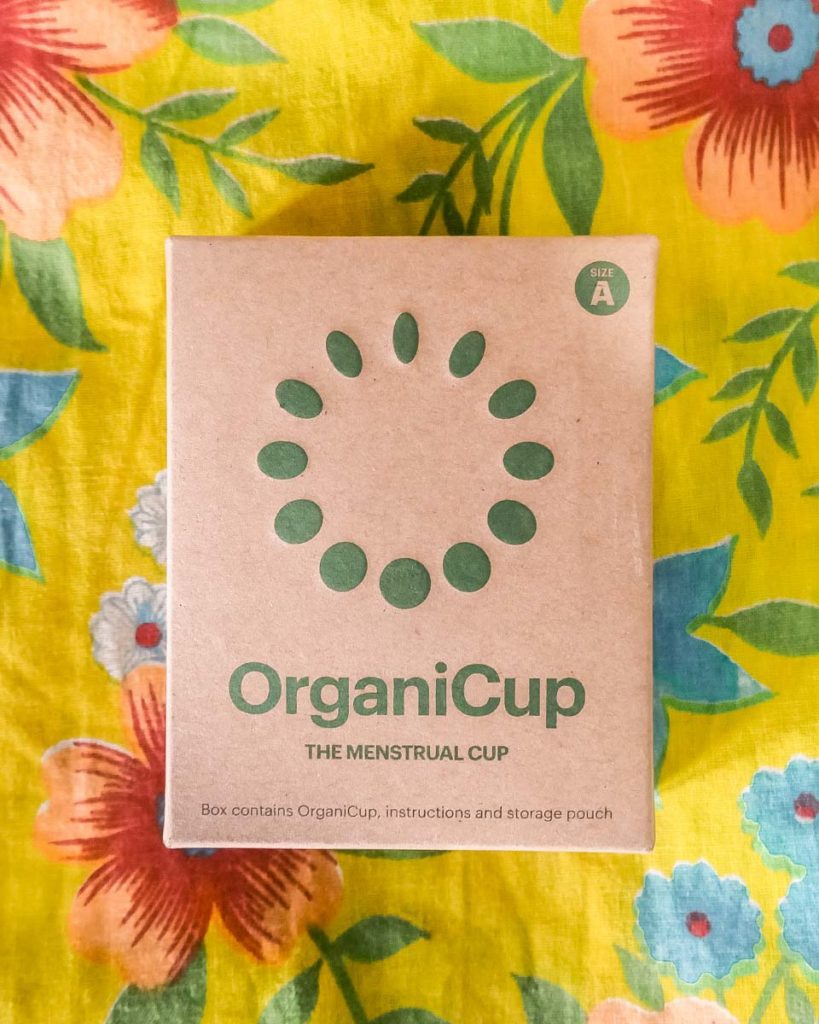 If you are considering using a reusable menstrual cup for the first time, just keep in mind that there is a bit of a learning curve. When I started using them a couple of years ago, it took me maybe 2 periods until I really mastered the insertion and removal technique. You should expect this too, and might need to wear pantyliners the first couple days or couple periods. If you wear contacts, you might remember when you first started wearing them, it took awhile to figure out how to insert, remove, and clean them. It's a pretty similar learning process. But totally worth it in the end.
However, the OrganiCup site has some really great instructional videos and info. I'd encourage all first time users to read through as much of this stuff as you can. You can also find online forums where people will share tips and info.
And be sure to read through how to disinfect your OrganiCup before the first use and between each period.
Reusable Menstrual Cups for Traveling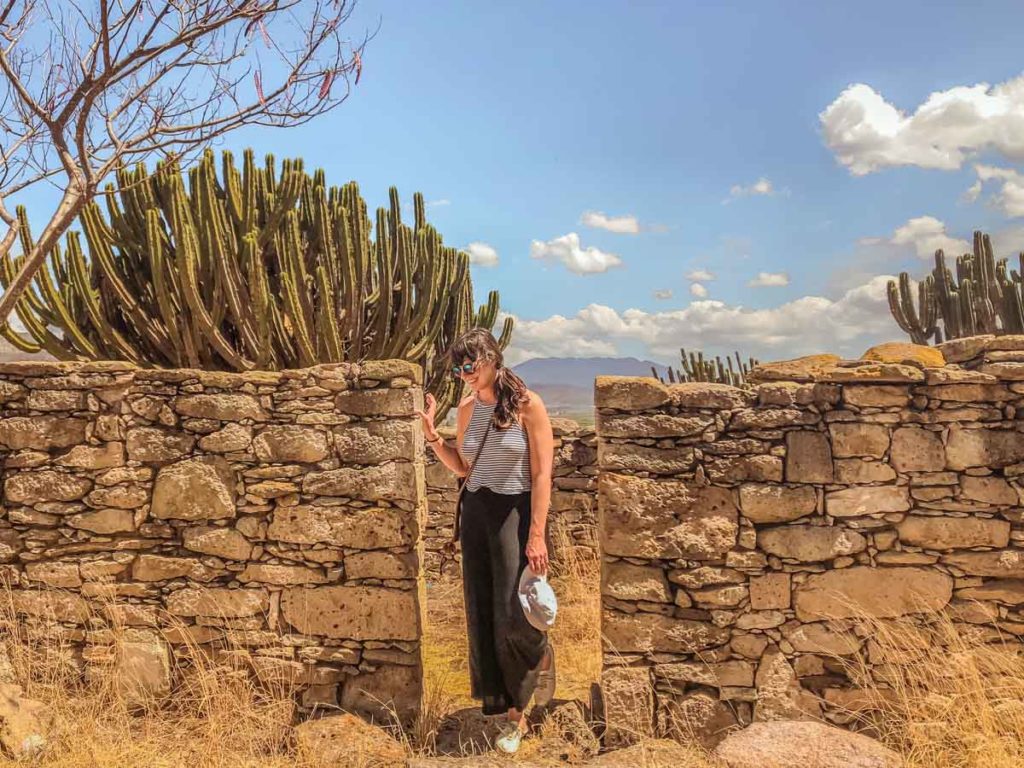 As I mentioned above, this has been a total game changer when traveling. I can go the whole day without thinking about it at all.
It's great for activity too. If you want to swim, do yoga, run, exercise, play sports, hike, etc – the reusable menstrual cup for travel is flexible so it'll move with you and you shouldn't feel it at all.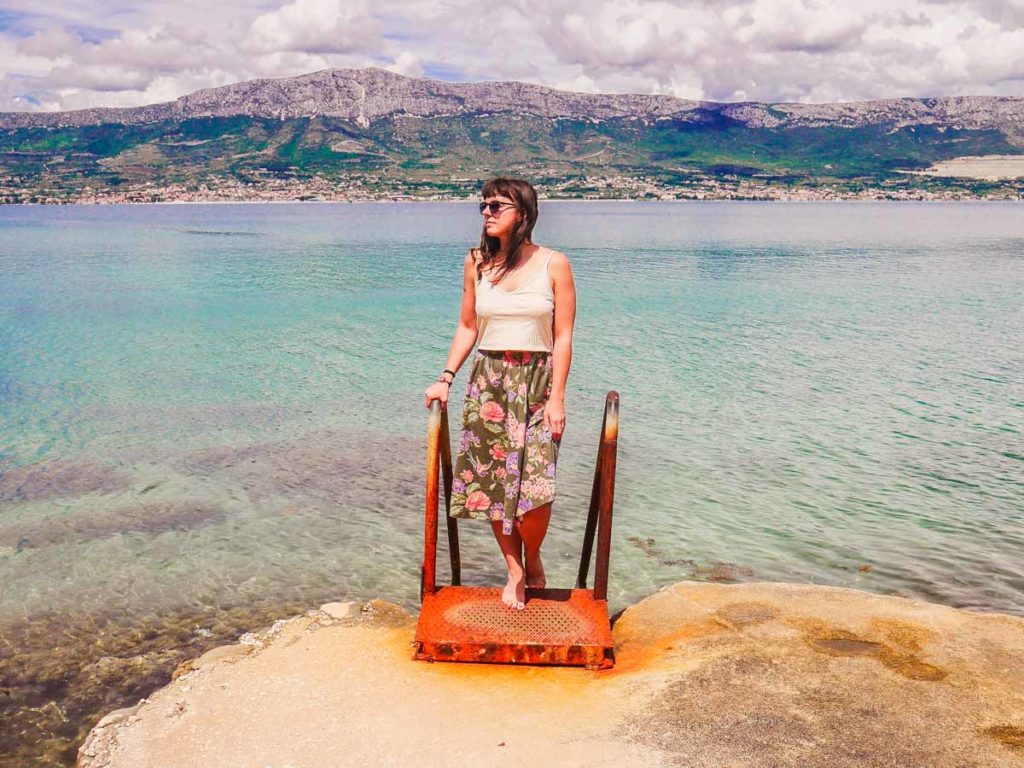 If you time the removal times in the morning and night when you are in your hotel/Airbnb, you shouldn't have to worry about public restrooms. But even if you do need to use one, you can empty the contents in the toilet, wipe the cup and reinsert it. Or you can use OrganiCup's OrganiWipes to disinfect on the go. This might also be a good solution for overnight camping.
One thing I should mention, is that reusable menstrual cups are meant to be washed after each removal with potable water. This was something I had pondered a lot before purchasing my first cup. I am almost always in places without safe tap water for drinking.
Here is my system – I wash the cup with mild soap and tap water, dry it, and then insert. To me, this is the same decision as brushing my teeth with tap water (which I do in most places I travel in Latin America, I just don't swallow any of the water). I have been doing this for years without a problem. However, this is not what OrganiCup recommends – they say you should use potable water, aka purified water for the washing. You can make a decision about what you are comfortable with.
Another option is to purchase the OrganiWipes or OrganiWash to disinfect. These might be good solutions if you are nervous about the water quality where you'll be traveling.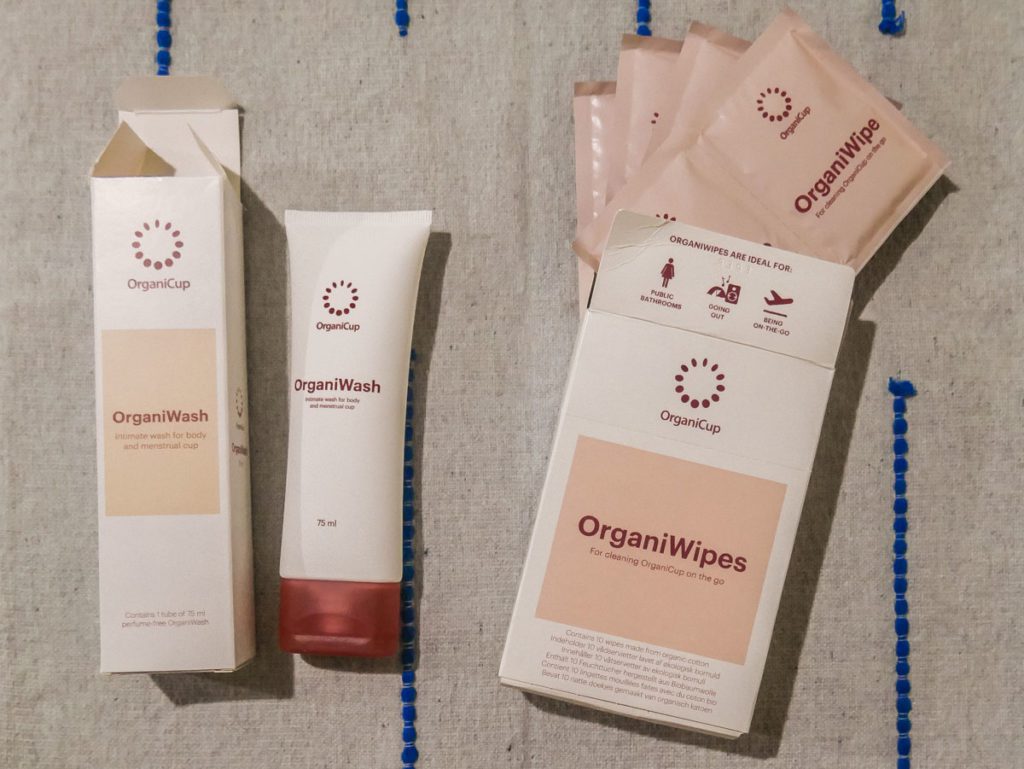 Final Thoughts: OrganiCup Reusable Menstrual Cup for Travel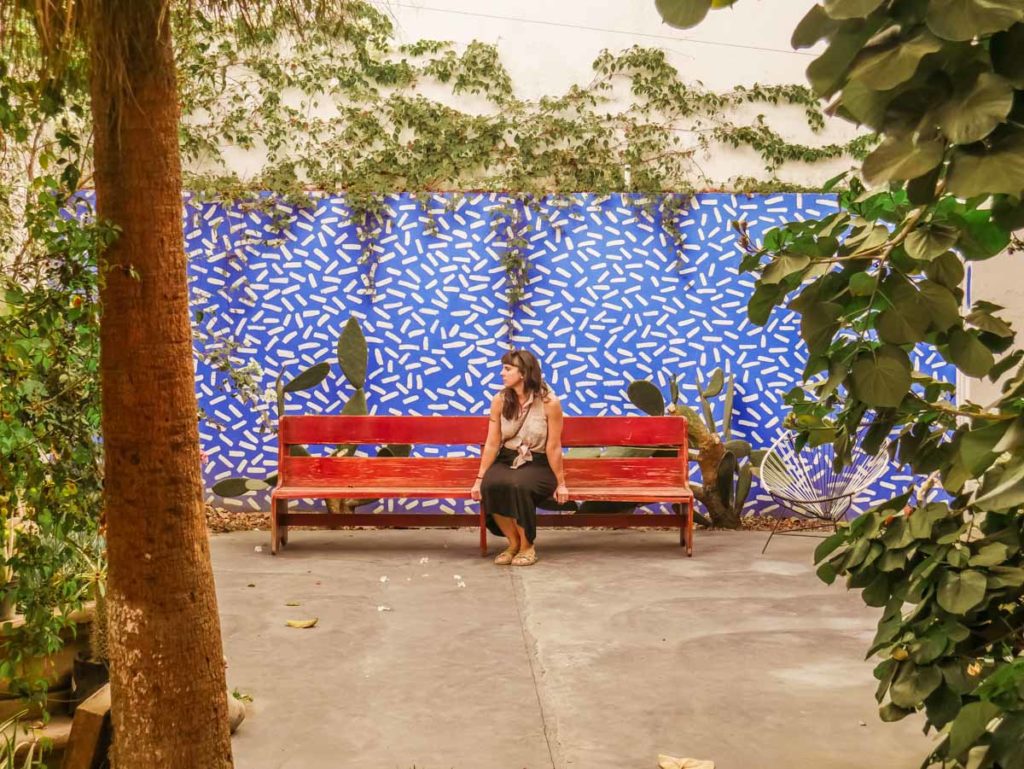 I will never go back to tampons or pads if I can help it. Reusable menstrual cups have made me feel more in control of my body, my health, and my lifestyle. I am also so happy that I'm producing less waste and saving money while I'm at it.
I'm also so pleased with the OrganiCup. It has been very easy for me get used to (granted, I have been wearing cups for a couple years now), it's comfortable, and it doesn't leak for me one bit. I feel very confident with it, and am looking forward to a couple of years of smooth periods while traveling or at home.
DISCOUNT: OrganiCup is sharing a promo code with my readers for the next 2 weeks. Use BT20 for 20% off your purchase. until June 7th! Click the link above and enter code at checkout.
For other packing tips to make your travels easier, lighter, and more ethical, check my packing list posts.
Pin it for Later!